Chocolate Covered Fruit Kabobs
When you shop through links on our site, we may earn an affiliate commission. This educational content is not intended to be a substitute for professional advice.
I think I'm having blogger withdrawals. I took a day and a half off to move into our new place, but it feels like a week! I missed you guys! Anyway, before we moved I made one last decadent dessert.. chocolate covered fruit kabobs! These are great when you want to indulge your sweet tooth without going overboard and devouring an entire box of chocolates… yep.. I've been there! They're easy to do and make a great addition at parties!

…..

(Chocolate is enough to cover 6 kabobs with 5 pieces of fruit each. Adjust measurements according to how many kabobs you'll be making.)

Ingredients:

1 pint of strawberries, leaves and stem removed

10-15 chunks of fresh pineapple

2-3 kiwis, peeled and cut into chunks

1 bunch seedless grapes, green or red

6oz semi-sweet baking chocolate

Optional:

White chocolate (directions follow)

Sprinkles

Nuts

What's great about these is that they're completely customizable! You can do any number of assorted fresh fruits and toppings!

Wash all fruit and pat dry with a paper towel. Line a baking sheet with wax paper and set aside.

Fill a medium saucepan with 1 inch to 1 ½ inches of water and bring to a simmer over medium heat. While waiting on the water, skewer the fruit.

(1.) Once water is simmering place a smaller saucepan or metal bowl inside of the larger saucepan. Just make sure the water is not touching the bottom or the pan. Add chocolate to smaller pan and (2.) stir until chocolate is completely melted and smooth.

*Side note: You can also melt the chocolate in the microwave, but personally I've never had success with it. It always gets overcooked or the consistency is off. If you've done it before then by all means microwave away, but I noticed much better (successful!) results by melting it in the pan.

(3.) Remove from heat and spoon chocolate over the fruit kabobs, turning to coat. They don't need to be completely dredged in chocolate, just enough to cover most of the fruit or to your preference. I also found that 5 pieces of fruit was the perfect amount to fit across the saucepan so I didn't have to make a huge mess! (4.) Place coated skewers on prepared baking sheet with wax paper. If adding nuts or sprinkles, add them now. If adding white chocolate, you can wait until the rest of the skewers are finished.

For white chocolate you want to use the same method as before. Fill a medium saucepan with about an inch of water and bring to a simmer over medium heat. Add a metal bowl or smaller saucepan inside the first one and make sure water is not touching the bottom. Add ½ cup white chocolate chips and stir until melted. Add 1 tsp canola or olive oil and stir until mixed in.

Remove from heat and use a fork or spoon to drizzle over chocolate covered skewers.

Place baking sheet in the refrigerator for at least 30 minutes for the chocolate to set up. Serve right away or you can make them the night before you plan on serving.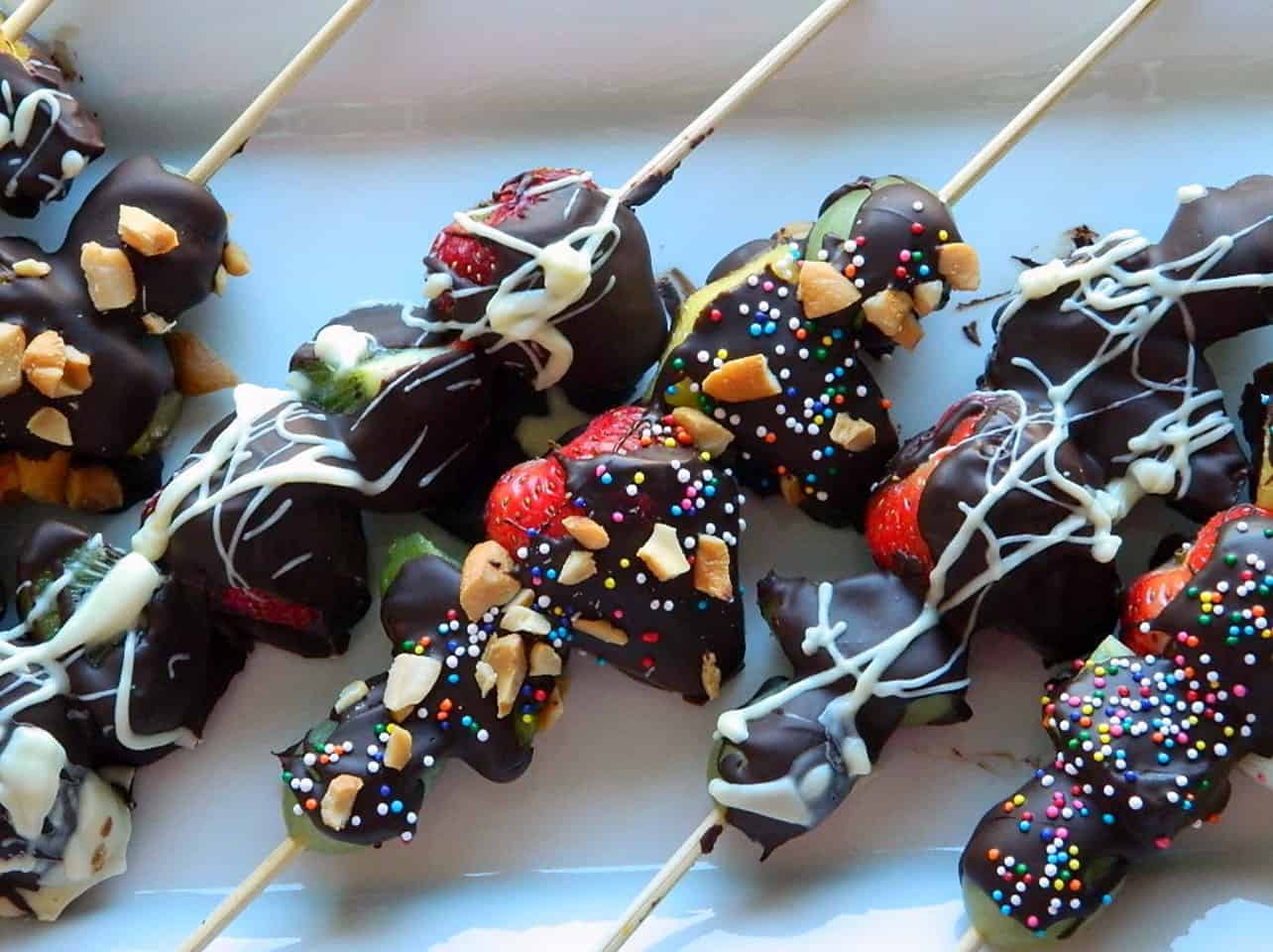 Enjoy!