20+ Short Haircuts Ideas for Girls (Young, Pre-teen And Teenage)
When you shop through links on our site, we may earn an affiliate commission. This educational content is not intended to be a substitute for professional advice.
When it comes to kids, there is nothing better than giving them a brand new hairstyle. It lifts their style and helps them to stand out from the crowd. They love getting a haircut and showing off a new style. And there are so many choices when it comes to styling your girl's hair. Some girls want to keep their hair at a longer length.
Whether it's straight, wavy, or curly, they choose to keep it at this longer length and then either leave it down or tie it up when they go out or to school. However, it's often the case they decide to go for a shorter style.
Why Go For Short Hair
For starters, it's much easier to keep on top of it if the hair is of shorter length. They can just add some hairspray and then head out to school or to see their friends without too much fuss. They don't need to spend ages in front of the mirror styling their new lovely locks. It's also ideal for when they are taking part in activities as they will not have to tie it up or move it out of their face.
They can just get involved in the activity without worrying about sorting their hair. A short hairstyle often brings out the lovely features of a face too. From the eyes to the nose, it shapes the face beautifully and ensures they look stunning. And it still looks beautiful and stylish even as a short length when girls are young. They can style it with a range of bows and hair clips to help them create an enviable style.
The Celebrity Influence
Also, a lot of young girls and teens prefer shorter hair as it's appealing and very popular with their favourite stars. Just look at singer Katy Perry's killer short hair, actress Millie Bobby Brown's curly short locks and singer Miley Cyrus's sharp short haircut for inspiration.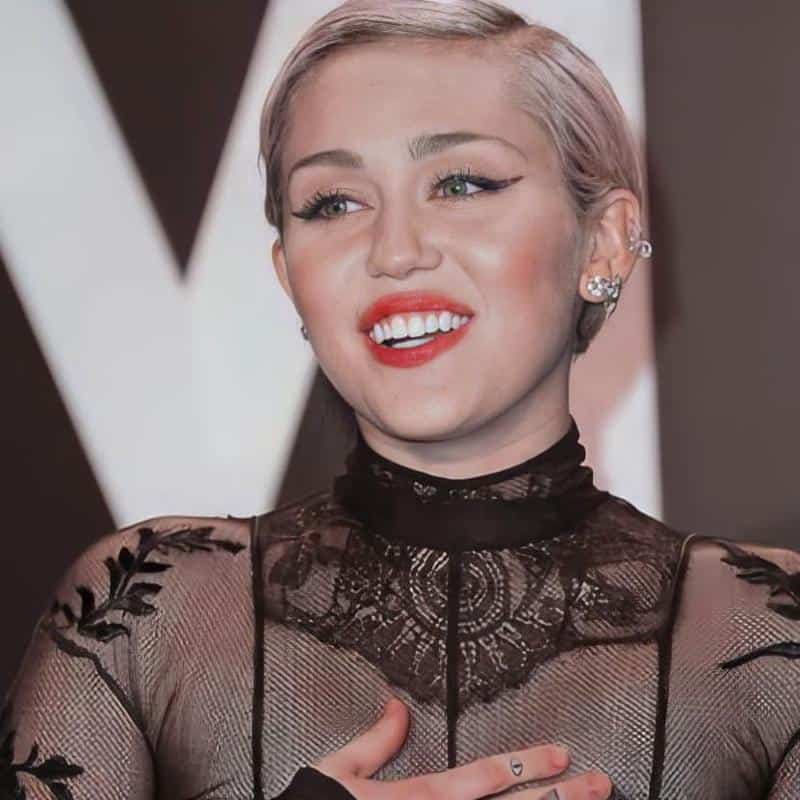 What Cut Would Suit Your Little One's Hair?
After all, there are different hairstyles out there that would suit young girls or those in their teens. And the style of their hair, whether curly or straight might mean a certain style suits them better.
Here is our guide to short haircuts for girls, with the latest trends and the perfect cuts for young girls, pre-teens and teenage girls. That way, you can find the perfect short haircut for the girl in your life.
Young Girls Short Haircuts
For those young girls, they are starting to experiment with different hairstyles. They want to play with their hair and have a stylish and fun look. They are young enough to agree with their mum's decision but they might have a few views on what style to go for which is fitting for their personality. if you want to keep their hair short and stylish, there are some great haircuts out there for little girls.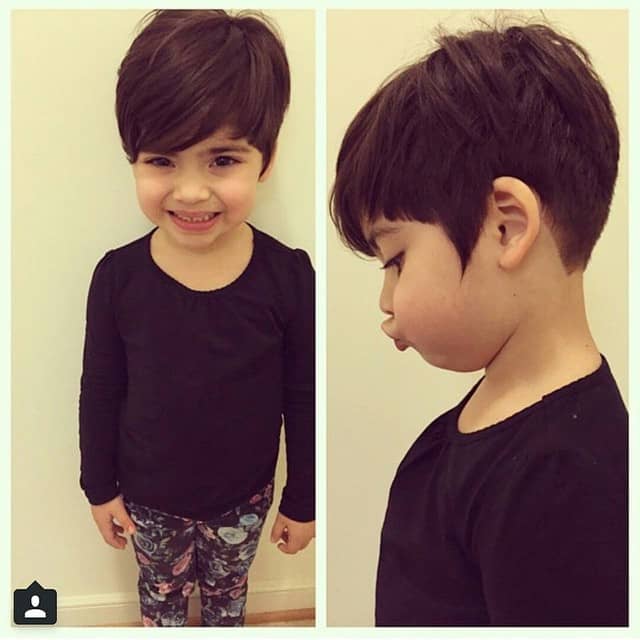 Here are some great short hairstyles which are perfect for little girls who are starting to find independence and want to try out a cool new haircut.
Read More: 40+ Little Girl Hairstyles: A Quick And Easy Hair Styling (2022 Updated)
A Pixie Haircut
This popular hairstyle is a great choice for little ones who want fashionable haircut that is stylish and cute. A pixie hairstyle is ideal for framing their adorable face and also brings out their eyes. It's a short style with a lot of personality.
You will see more and more little ones with this cute cut which really helps them to look so sweet at an early age. It's been named as one of the top haircuts of 2022 with young and old embracing a beautiful pixie. You can either go for a short pixie or a messy pixie which both work well if the child has straight hair.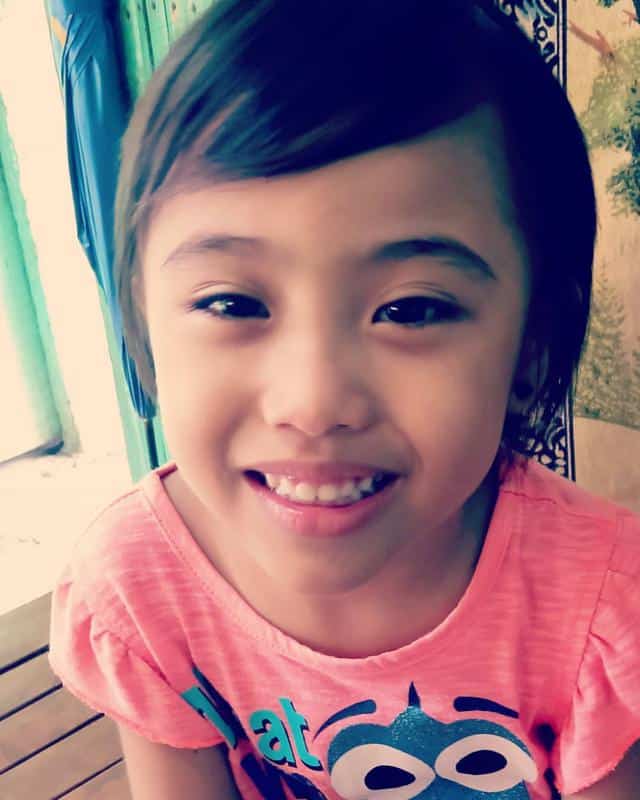 An Inverted Bob
Another cute choice that would look lovely on your little girl is an inverted bob. This helps your little girl to have a beautiful style with a bit of layer. This again is a popular style which is growing around the world. The style is unique as it is cut higher at the back and then has more length at the front. The texture will really bring your girl's hair to life and will capture the beauty of her face.
The angled cut is perfect for children that are reaching school age and is ideal with shorter hair. It's very familiar to a traditional bob but has the added sweet touch of being inverted to give it a more textured look. It's also easy to keep on top of and can be grown out if necessary to go back to a traditional bob style.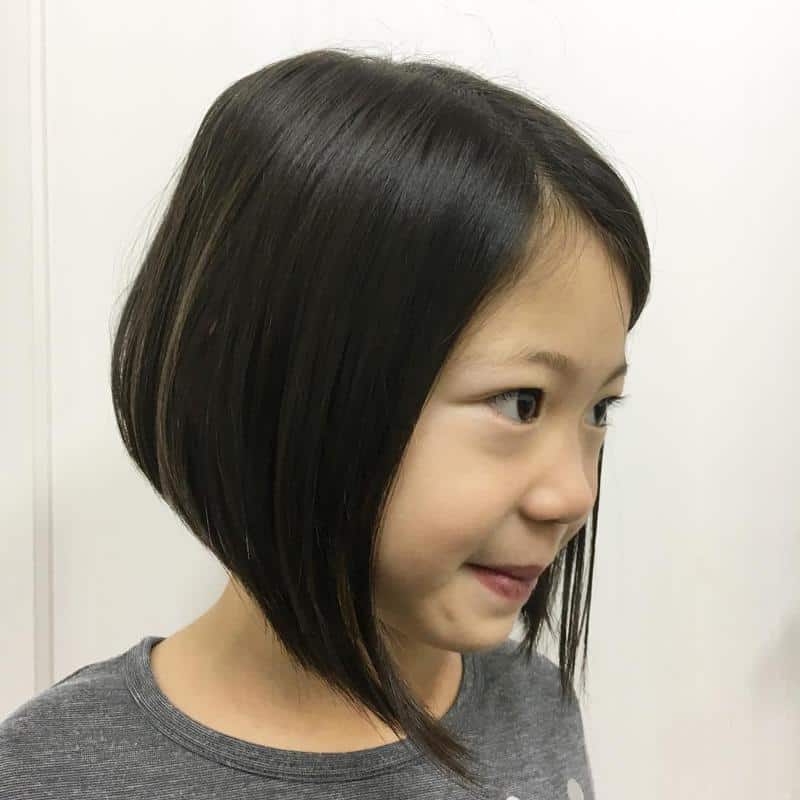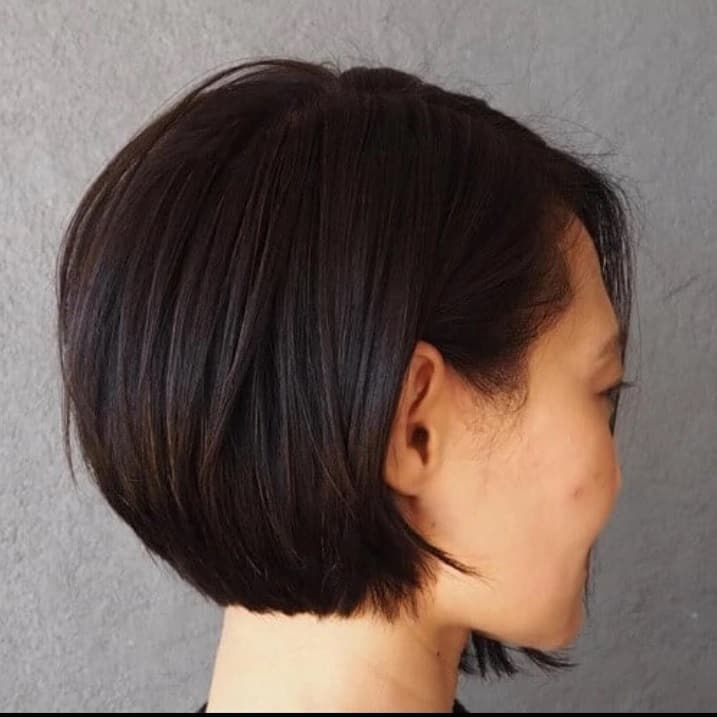 A Rounded Bob
Little girls look really adorable with one of the all-time favourite hairstyles- a traditional bob. The bob style is a popular choice when it comes to short hairstyles for girls. It's easy to do and to keep on top of. The rounded bob is the most popular choice as it styles around the face and helps to provide the perfect haircut. There are ways to boost the appeal such as giving a full fringe alongside the rounded bob or even adding bangs to the cut.
You can also add clips and bow to give it a touch of added appeal for your little one. It's a sleek and stylish look that doesn't get old when it comes to your young girl.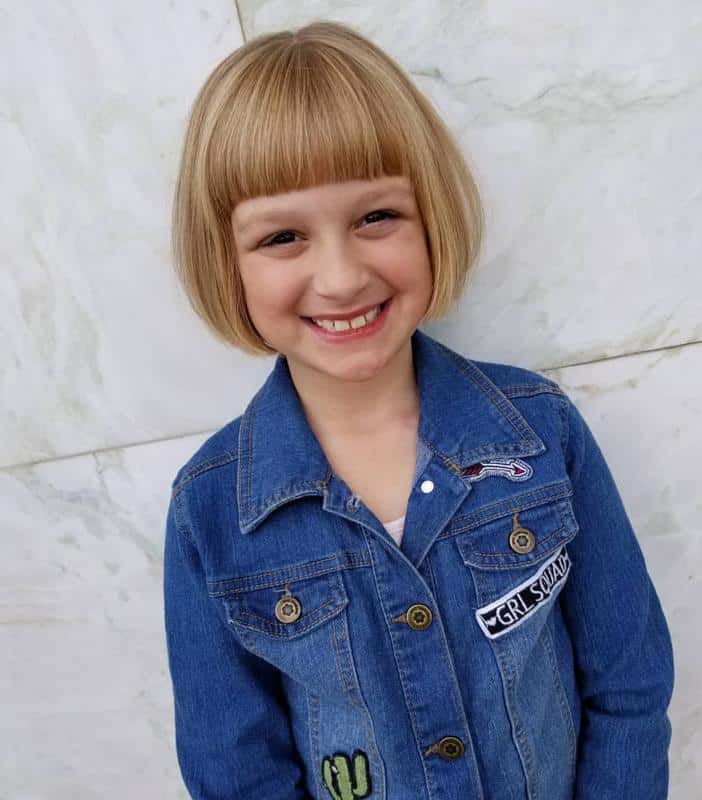 A Bangs Style
Make the bangs the main feature of the cut with this beautiful short style. Girls look adorable with cute bangs which look stylish as their hair cut. It's an old favourite which is still bang on fashion now. It helps to shape their face and is easy to maintain as long as you keep them styled regularly.
Bangs particularly look cute on girls of a young age and when you want to have a break from them, you can clip them away from your little one's face. They are also easy to grow out of if you get bored of this style. The bangs hairstyle is very popular with little girls around the world.
Also Read: Top 30 Medium Layered Haircuts With Bangs (Different Color)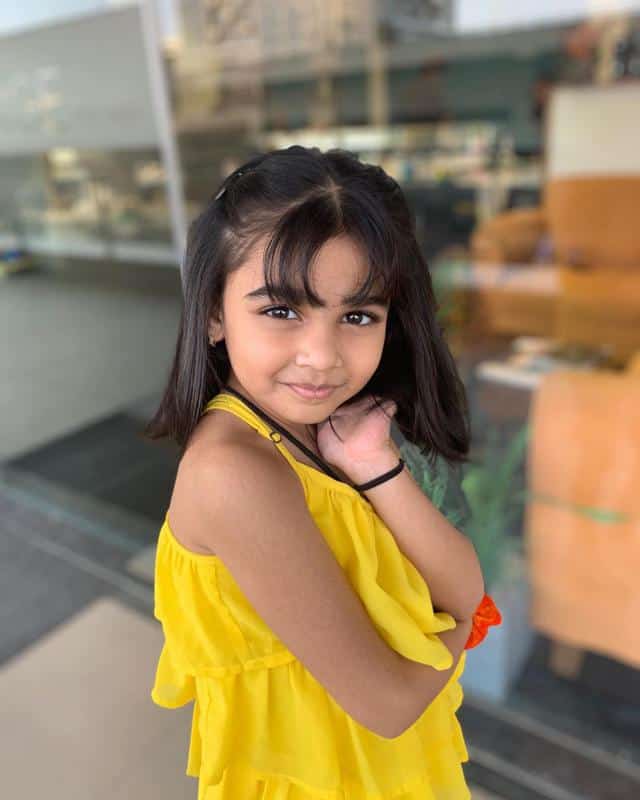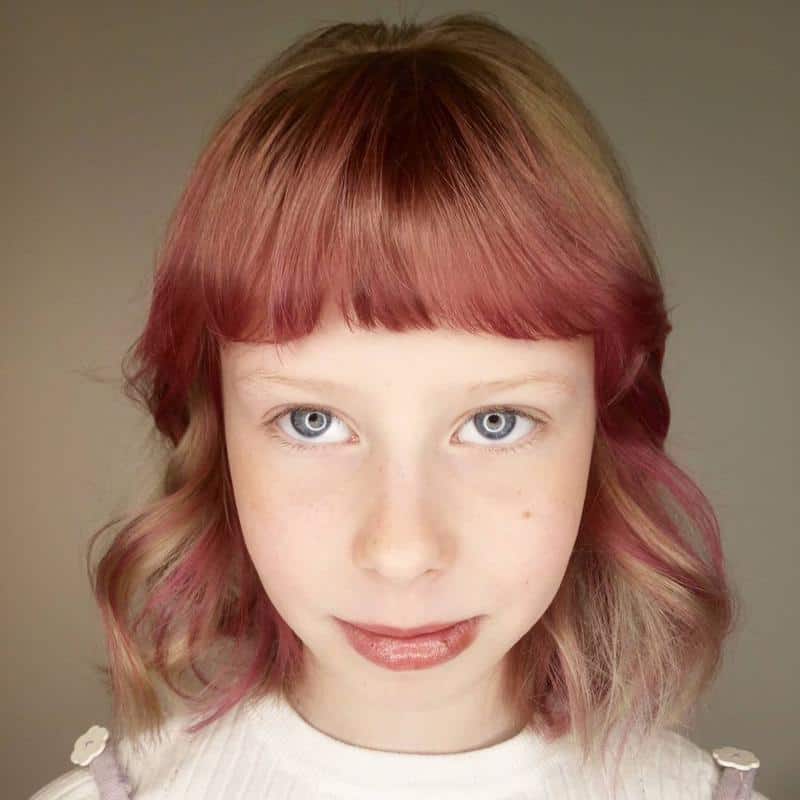 An Angled Bob
An angled bob can work with both straight and curly hair, but it is a great look for younger girls with curly locks. It's a look full of character as the style lets the curls come to life. And the way the style is angled ensures that the curls stand out while of a bob length.
It's a really cute look and it also looks very smart- perfect for those occasions and parties where you want your little one to stand out. It's perfect for the age group and will grow with your little ones as they go through the years.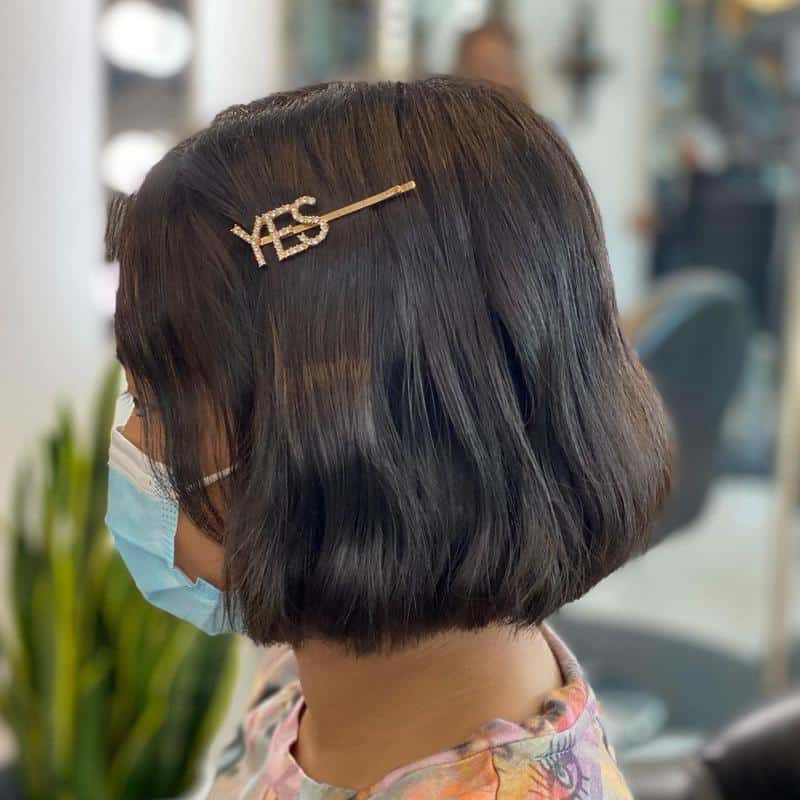 Shoulder-Length Curls
Those curls will look beautiful if you let them just hang naturally in a shoulder length style. The haircut will show off her gorgeous natural curls which will bounce up naturally if you do go for a shoulder length style. And in a bob style, the curls will look really beautiful and sit well on their shoulder. You will find that at this young age, the curls tend to be tight ringlets that look so cute on little ones. It's a great look that will grow with her as she begins to reach an older age. It's the perfect look for those with curls.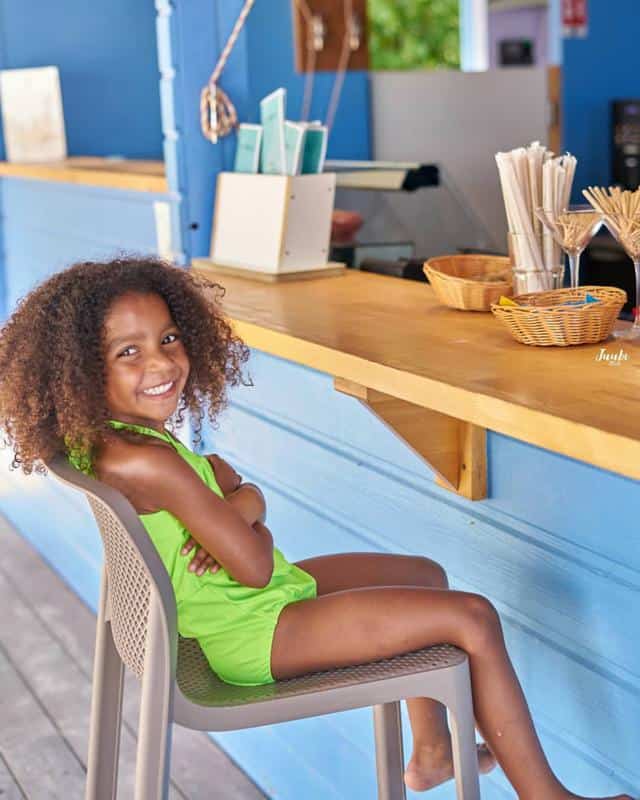 Short Haircuts For Pre-teen Girls
As your girl starts to get a bit older, she will have a lot more input into her hairstyle. She's getting more independent and will be a lot more experimental with her look. She will be more interested in having a choppier, stylish cut that wows her friends and adds a touch of style to her look. At this pre-teen age, you will want them to have a slightly more grown up-style without letting them look too much like a teenager.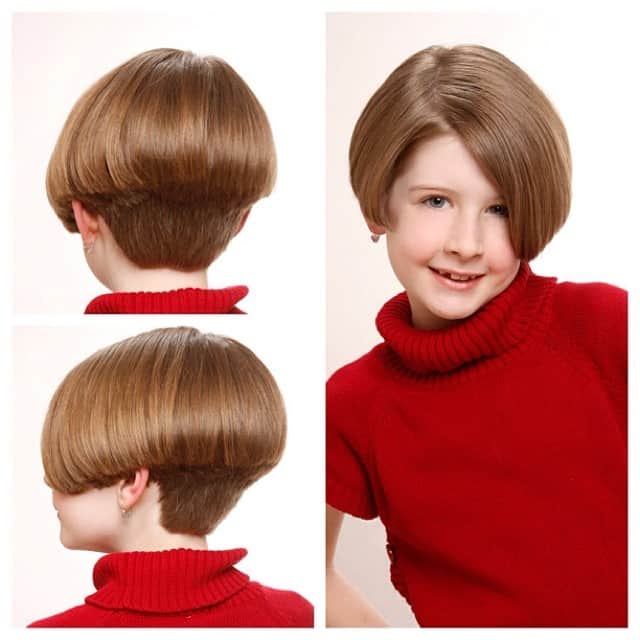 There is a variety of short haircuts at this age which will suit them. Here are some short haircuts for preteen girls that are currently trending during 2022.
Mohawk Cut
If your pre-teen is feeling like an edgier look, they might want to consider a cute mohawk. It's cool and quirky and if you go for a mohawk in a fun colour, it will be bang-on trend too. A lot of people associate mohawk with a look that is hard to pull off. But it actually can work well on a pre-teen and with straight hair, it gives your little girl a new, funky look. You can even go for a mohawk which is a layered style.
That way, it doesn't look too bold and it will suit your little one. It's also bang on trend and your little one will be the talk of the school with one of these. It's also ideal for those with straight hair who want to add some texture to their look.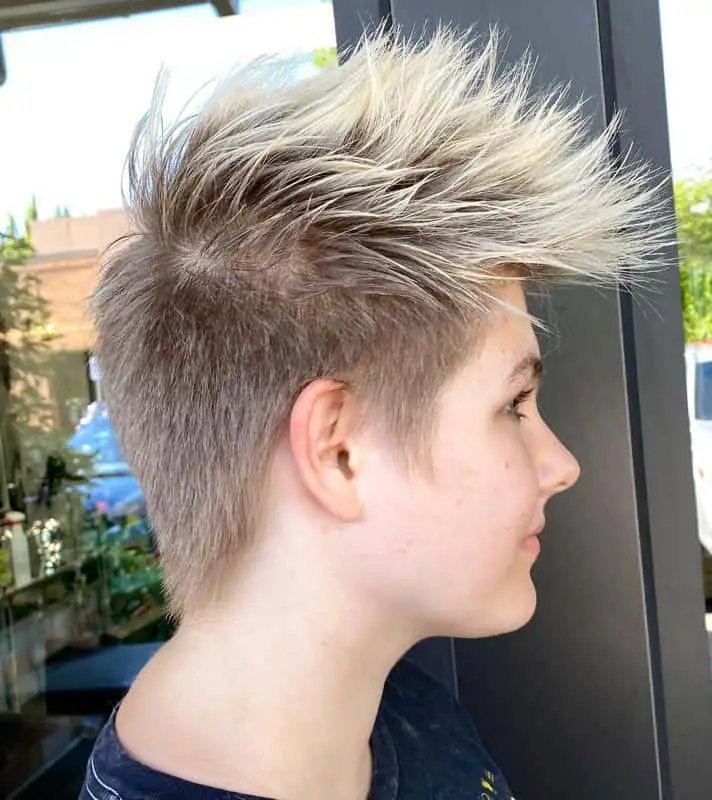 Short Sides And Long On Top
If your pre-teen girl likes the pixie style but wants to go for something different, she could opt for a style that has short sides but long on top. It's a lot edgier than a traditional pixie cut and has a lot more texture to the hair. It's easy to do with the sides clipped very short and then the top has a longer amount of hair to still give it a bit of texture. It creates an impact and offers a retro feel to the hair. We love this look on pre-teen girls who have straight hair and want to create a fun look.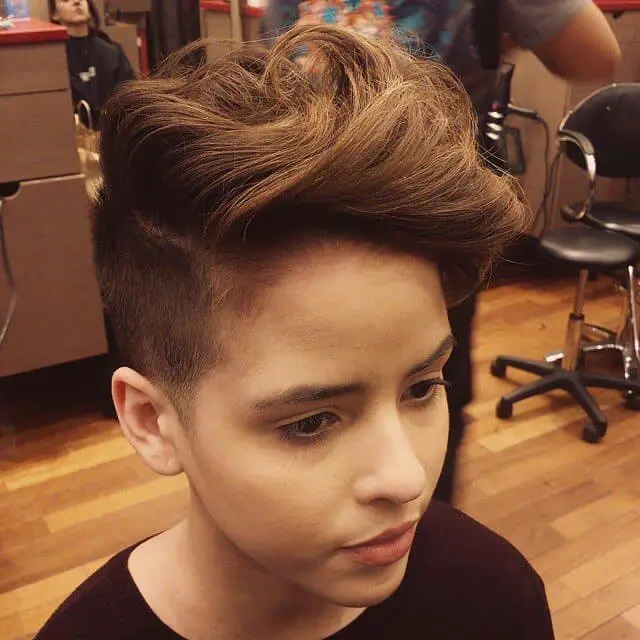 A-Line Bob
Another great choice that would look beautiful on those girls that are pre-teen would be an a-line bob. This stylish look is really cute and will ensure they have perfect hair when they are heading off to school. It's a great look that would look best with straight hair. It's a great a-line shape that really works to show off the face and it's easy to move off your face when you are out and about. The a-line style gives the traditional bob a bit of a cute look too.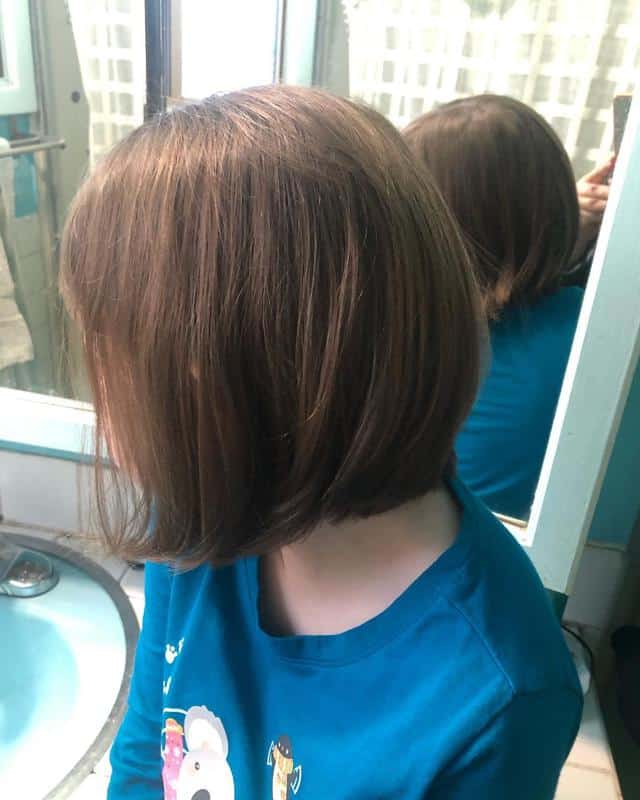 Short Hair Cuts For Teenage Girls
When they reach their teens, girls are full of ideas of how they want their hair. They often don't want to follow others and want to opt for an individual style that will help them to stand out from the crowd. They also know at this age what would look with their own face shape and what they want from the cut. They will know what suits their personality and what kind of cut they want to try.
They will also be in charge of maintaining their hair when they reach this age, so it's not a surprise that a lot of them go for a short haircut. It's quick and easy to maintain, especially when they are going to school. And they can also pimp up the hair with some fun colours or accessories. Here are some of the best short haircuts around for kids in their teen years.
Choppier Bob
One of the best styles for those girls who have reached teens is a choppier bob. They love the traditional bob style but to give it more of a grown-up and textured feel, a choppier bob is the way to go. It's a fun look that adds some character to their hair and makes them feel more individual. It's so easy to do; the hairdresser will just cut some fun new layers into the traditional bob cut. You can then use a range of hair products to help give it a boost.
If the child has curly hair, it can still work to add some character to the cut. You can even add some colour to give it an even more funky look. You can go for something quite colourful like a red or a blue which will really show off the hairstyle.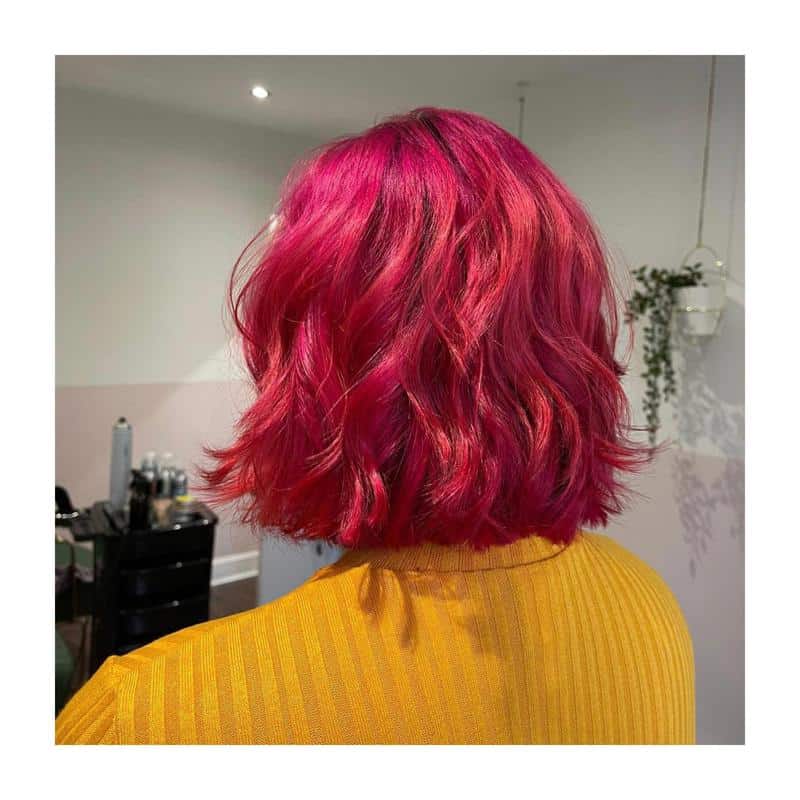 A Pixie
As we discussed above, the pixie haircut is such a popular choice right now for girls to give their hair a new lease of life. And while it's popular with little girls, it's also bang on trend for teens. They can't get enough of the pixie hair cut which is perfect for giving young women an independent and free look. It's also easy to make it look even more beautiful by adding a touch of colour to the locks.
Why not go for a red, a purple or even a grey to ensure your hair looks fire. The pixie works best with straight locks but can also work okay with curly hair. It will give the pixie cut a bit of texture and will have tonnes of personality.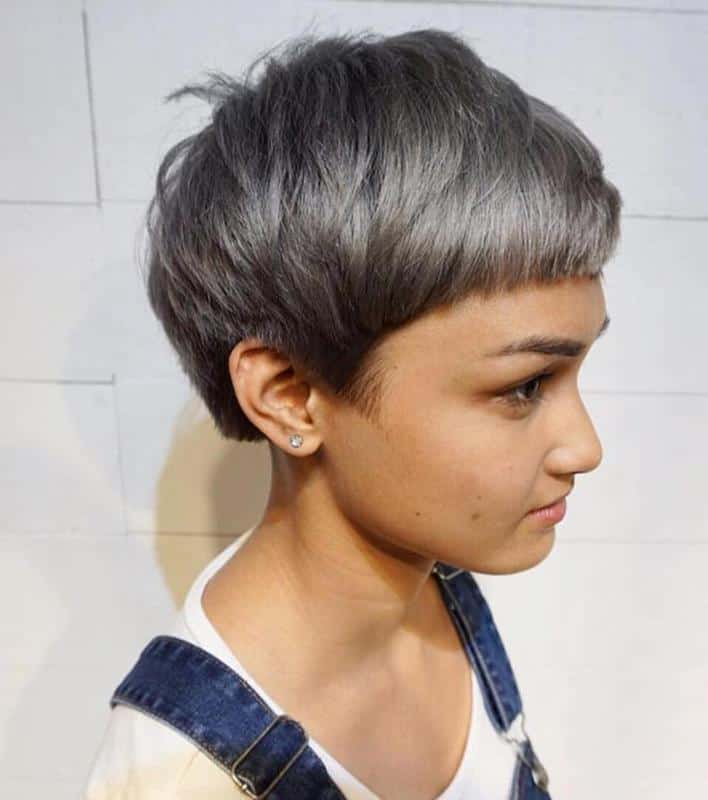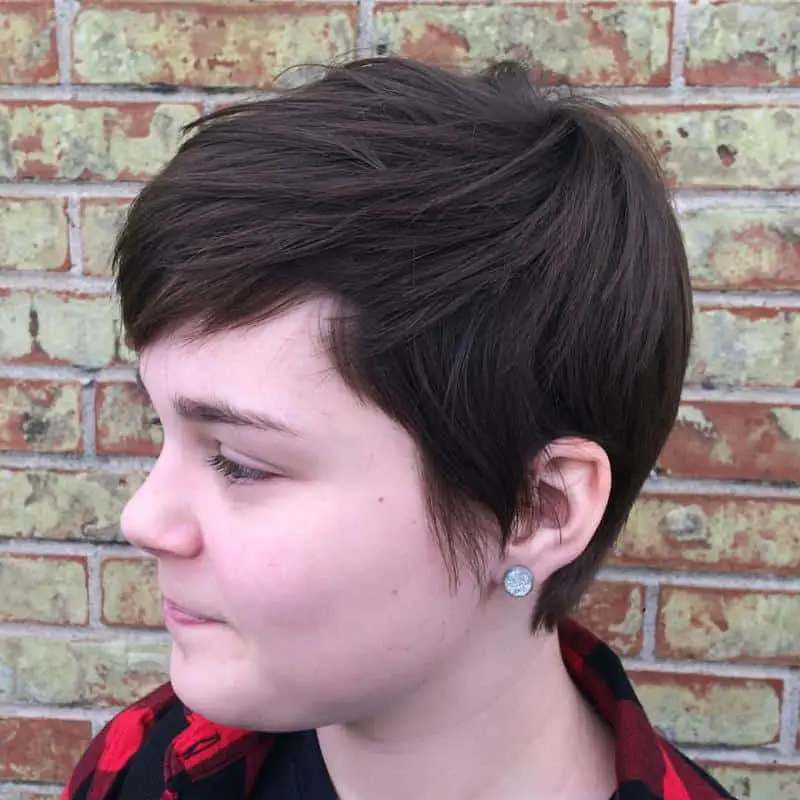 Jagged Cropped Hairstyle
Another hairstyle that is perfect for teens who want to go short with their hair is this cropped haircut. The jagged style is different and is super short; perfect for those who want to make a statement with their locks. It's on-trend at the moment with this style being the talk of the town with the teens.
It's also super to maintain and will be so easy to look after every single day. It's very bold. You can easily give the jagged look a bit of life by adding some hair gel to it every day to ensure it's textured. And you could always go for a different colour to also give it some extra life.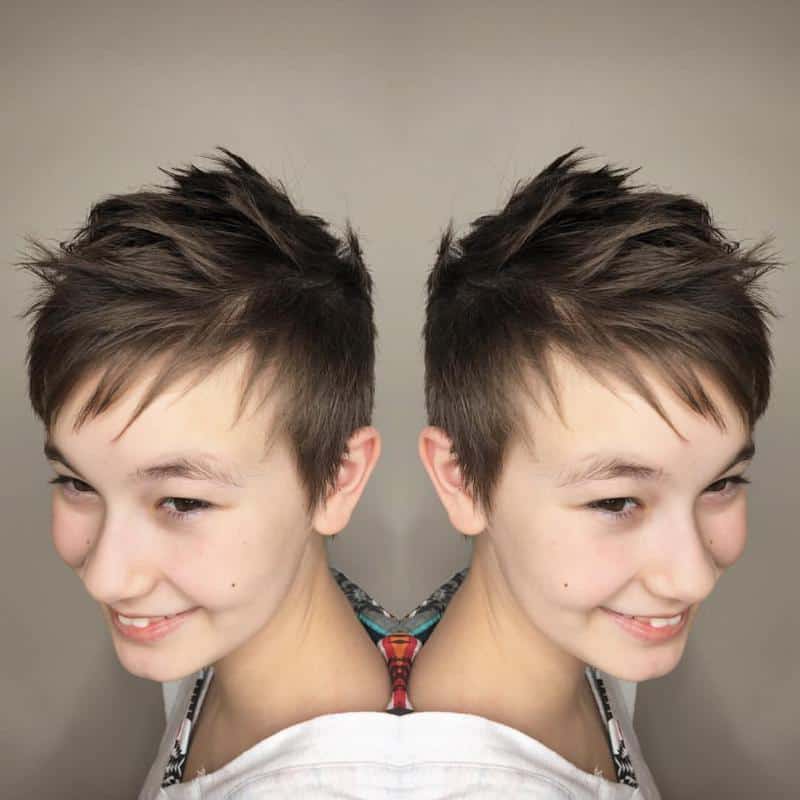 A Stacked Bob
A perfect choice for those with thick hair, this stacked bob will add bundles of personality to your locks. Instead of a traditional bob, the stacked bob has wispy layers which will really take your hair to new heights. It's hugely popular and gives the hair a wavy and textured look. It's easy to add even more volume with a range of products. For those teens with curly hair, they can still pull off this look which grows in texture towards the back of the head.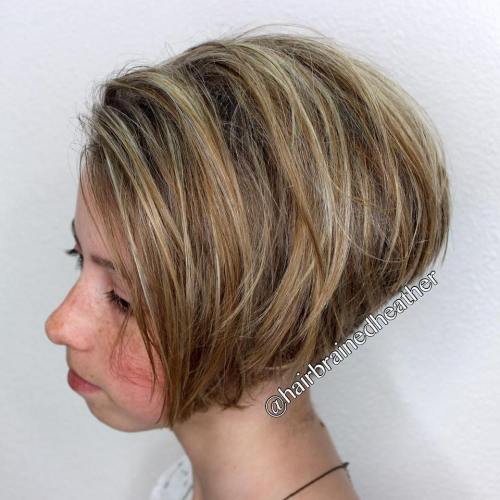 Products For Short Hair
There are some great products out there too if you have short hair and want to style it effectively. Here are just a few we recommend to get to help style your hair if you are going to have it short.
L'oreal Pixie Cream Short Styling Wax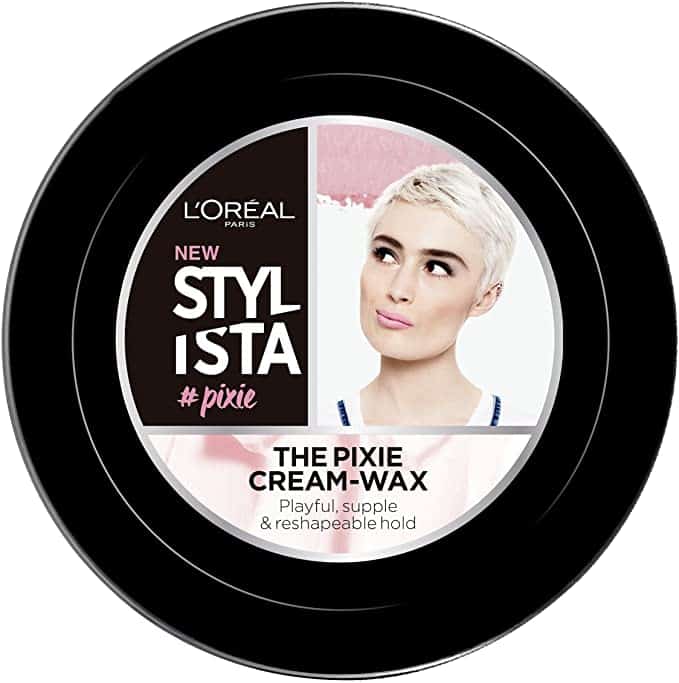 Ensure you get that flexible look you are after with this styling wax from L'oreal. It will hold the hair in place for hours and is perfect for short hair.
Vision Haircare Fiber Wax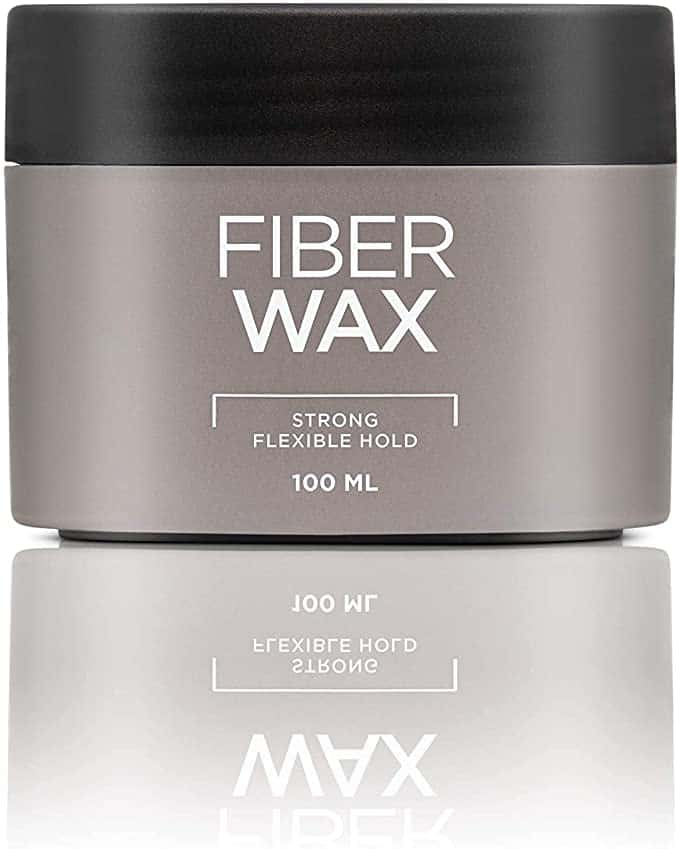 Ensure your hair is styled to perfection with this fiber wax which is perfect for spiking up your hair and getting it to look beautiful at a short length.
Also Read: