How To Remove Nail Polish( Without Nail Polish Remover)?
When you shop through links on our site, we may earn an affiliate commission. This educational content is not intended to be a substitute for professional advice.
Nothing is worse than finding out that you ran out of acetone after you've just messed up your manicure! Girl, there is no going back now…
A lot of women can find themselves in this situation, which can often seem helpless (and stressful).
However, what if we told you that there are ways for you to remove your nail polish, without using acetone?!
If you want to explore your options keep on reading and figure out how to remove nail polish without a nail polish remover!
Top 7 Ways To Remove Your Nail Polish Without A Nail Polish Remover
1. Use Alcohol To Peel Away The Product
You can use any alcohol-based product to remove your nail polish. The higher the alcohol percentage, the better the removal! The best alcohol to use is always rubbing alcohol, so give a quick look and see if you have any of it at your home, or in your cabinets.
If you don't have any alcohol and you don't feel like going outside to the nearest store to buy it, you can use actual alcoholic drinks – such as vodka or gin. Open up a bottle, and use beverages that have higher concentrations of alcohol in them.
Don't use beer or wine since these have only around 4% alcohol.
How to do the removal process? Step By Step!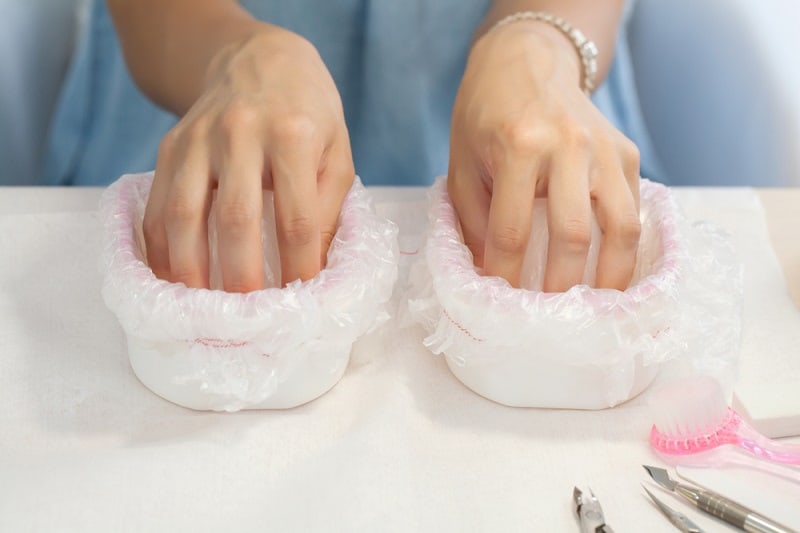 You should soak your nails in alcohol for 15 minutes straight. This will remove your product with ease.
Pour up one glass for yourself while you're at it!
You should fill a bowl with either rubber alcohol or your alcoholic drink up to 2 inches from the bottom of your bowl.
Turn on something interesting to watch on either your phone or TV and kill some time.
After you're done soaking your nails, make sure you wash them with a hydrating & scented soap. This will help you remove the overpowering alcoholic scent.
2. Use White Vinegar
You probably have white vinegar at your home, don't you? This is an amazing acid that is all-natural and perfect for cleaning of your home, as well as cleaning of your nail polish!
If you want the best outcome with this item, you should mix half a lemon with vinegar. This removal process can be done by anyone, just make sure that you have no open cuts or wounds around your fingers since these ingredients may sting the skin, and this may lead to a burning sensation.
How to do the removal process? Step By Step!
Add half a lemon to your vinegar mixture. Pour both of these ingredients to a bowl and prepare a soak.
Find something interesting to watch and invest 15 minutes in the soaking process.
After 15 minutes your polish should lift on its own. Simply scrape it off and wash your hands with warm water.
Clean your hands and fingernails and add a nourishing cream on top of your skin to bring back the lost moisture.
3. Use A Toothpaste
A dollop of toothpaste will give you phenomenal results! And the best part is, we all have toothpaste at home, which makes this solution an affordable, as well as a non-time-consuming one!
If you want to achieve flawless results, you should mix a bit of your toothpaste with baking soda. These two make an amazing cleansing solution once mixed!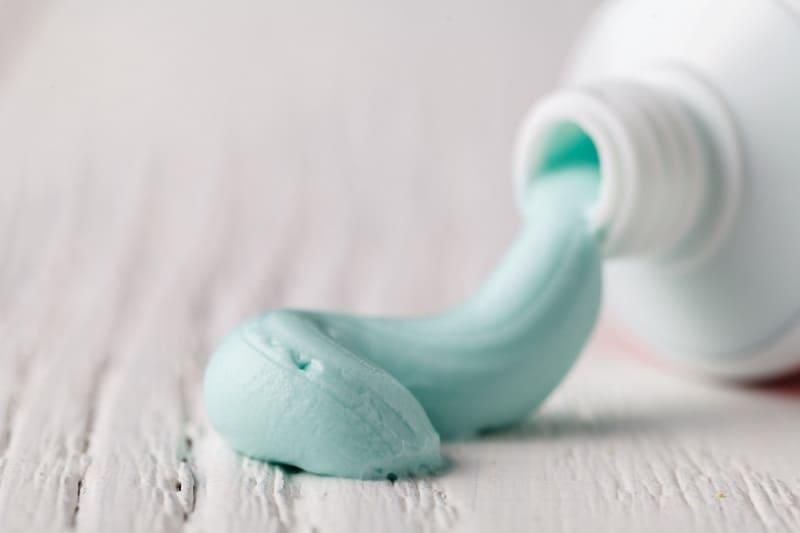 How to do the removal process? Step By Step!
Scrub your fingernails with this mixture. Use an old toothbrush and brush away till the polish is lifted!
Make sure that your motions are gentle as well as not too rough since you don't want to damage your skin or cause your fingernails to bleed.
Also, the skin around your nails and your cuticles is quite sensitive, so be cautious when rubbing your fingernails.
Usually, it will take you around 15 minutes to remove the nail polish.
4. Mix Some Hydrogen Peroxide With Water
If you have hydrogen peroxide in your home make sure to mix it up with one cup of hot water. You should never use hydrogen peroxide on its own since it is so powerful and can be damaging to your skin.
Hydrogen peroxide is known for its lifting properties, and it is recommended only for women who don't have sensitive skin, as well as for those who are not prone to allergies or skin irritation.
How to do the removal process? Step By Step!
Use one cup of hot water and add two cups of hydrogen peroxide.
Make sure you mix these two with a spoon for phenomenal results.
Soak for 5 minutes and afterward file the polish off with a nail file. You should use the 100/180 nail grit file. Also use a nail buffer.
PS: Don't do this process if you have any wounds around your hands or fingernails.
5. Paint Remover For Extreme Results
If you are not afraid of chemicals and you have a paint remover at home, you can reach for it to achieve polish-free nails.
A paint remover or a paint thinner can remove the polish with ease; but only turn to this method as your final and last result (if all else fails).
You shouldn't use such harsh chemicals frequently, so be smart & cautious before turning to this method.
How to do the removal process? Step By Step!
Use your chosen product (paint remover or paint thinner) and add it to a cotton ball – as you would use and apply if you were using acetone. Dab the product over your nails. Let it sink in and leave it on top of your fingernails for 5 minutes.
Remove the cotton after those 5 minutes and scrape away the excess with a nail file.
You can also soak your hands in hot or lukewarm water afterward to remove the leftover chipped parts of your manicure, and to remove all the harsh chemicals.
6. Use Your New Nail Polish Remover To Lift Up The Old One
This is an old-school trick that will actually remove your nail polish with ease and in a matter of minutes! All you have to use is another nail polish that doesn't dry too quickly (so avoid matte kinds at all cost).
Add another coat of nail polish since it will act as a solvent. By applying the product, your polish will return to a liquid state, which will allow you to wipe it away in just a couple of swipes!
How to do the removal process? Step By Step!
Use a clear top coat since it may give you the best results since it tends to dry slowly. If you don't own one, you can use any other shiny/satin nail polish.
Paint one nail at a time and make sure to cover the entire nail plate.
Use a paper towel to wipe away the product. You can also use cotton balls, although they may not be as effective as paper towels.
It may take you several tries and attempts to get perfect results. However, repeat the process and stay persistent! If you have had thick polishes (like glitter-based ones). It will take you more attempts to get flawless and chip-free results.
7. Use A Hair Spray
Every woman probably owns a hair spray in her bathroom cabinet, right?
You can use any hair spray you own to lift your nail polish. Just make sure you also use cotton balls to wipe the product.
However, if your skin or hair is prone to irritation, you should skip this step. Also, if your hair spray is quite old, rather skip this method and try out some other ones from the list. Never use expired products.
How to do the removal process? Step By Step!
Take a cotton ball and place it over the nozzle of your hair spray.
Swipe the cotton ball over your nails and use your hairspray as if it was your acetone.
It may take you several attempts to remove the color completely. Once it is off, wash your hands with soap and warm water.
Apply your favorite hand or nail cream after that and let it sink into your skin. It will also boost your hydration level and nourish your nails.
Summary
So, which of these 7 methods will be first on your to-do list? All of these hacks can successfully remove your old nail polish.
However, make sure you choose a method that suits your skin type, nail length, as well as your budget! No reason to shop for some items or ingredients since you probably own at least one of these in your household, right? Let us know which one down below!