Looking for your new red hair wig? If you're not too sure where to shop or who to trust, don't worry, since we have your back covered! In this article, we will list a ton of different, cool, and cute red hair wigs that you can wear for everyday or formal events. Find your next perfect wig down below!
Who Should Go For A Red Wig?
Every girl can consider a red wig. These are mostly worn by teens, party women, as well as those who like bright vivid red hairdos that will attract looks and seek attention at all times! Red is a common color for the fall, often worn by women who like drama! However, you can go for this wig despite your age or chosen event. It is a personal choice after all.
How Pricey Is A Red Wig?
The price of a red wig will vary. Red wigs usually go for $30 (super affordable synthetic hairs) and up to $500 (real hair and authentic type, installation price included). Heads up since not every hairstylist knows how to do wigs, so book the best one you know before you commit to the look.
30 Best Red Wigs You Can Get Online That People Actually Swear 2022
1. Red Wig Mermaid Look
You can get this wig on Amazon for less than $30! It comes in true red color and has a slight curly pattern. It is made out of synthetic. The package includes 1 wig + 1 free wig cap. Dimension is 26 x 6 x 25 inches.
Cute crimped red hair look that has that subtle wave and mermaid vibe! This type of wig and red color will look amazing on any age group while the outcome is somewhat formal and fancy. If you have a dance going on check out this beauty!
2. Red Wig Side Swept Look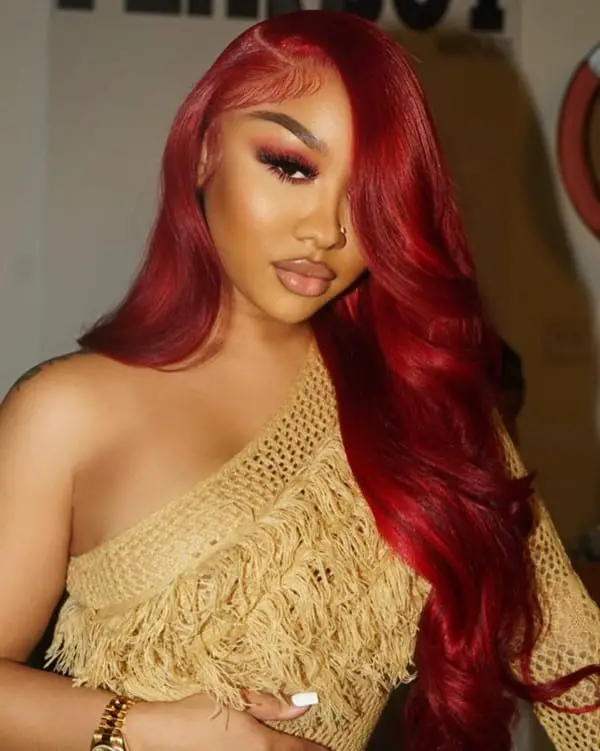 Buy this long red wig on Amazon. It goes for $25 and has a slight red and orange hue to it. Women love it due to its Jessica Rabbit vibe! This wavy wig is made out of human hair.
A side-swept red wig will look amazing on women who want to embrace their Jessica Rabbit fantasy! If you're a fan of elegance, volume and drama, this look will suit you. Decorate it with bright dramatic makeup to make the hairdo a lot more elegant and seamless.
3. Long Curly Red Wig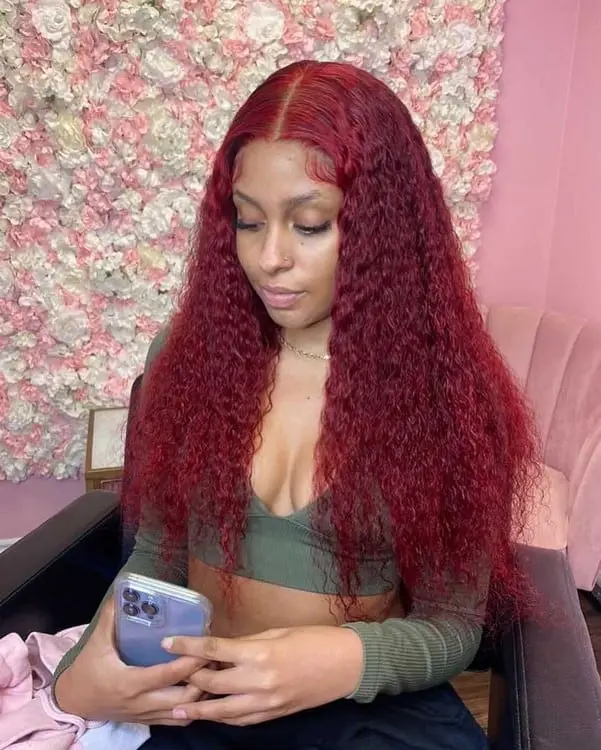 This burgundy lace frontal wig is 100% unprocessed Brazilian Remy hair. You can get this wig in 16, 18, 20, 22, or 24 inches in length. It runs from $200-$300 and is marked up so high thanks to its unprocessed human hair approach, swiss lace, and HD lace features.
A lot of women like curly red wigs. Are you one of them yourself? This wavy hairdo with a middle part looks fancy without being too overpowering. If you enjoy curls for everyday wear and you're a fan of longer wigs, do consider this beauty.
4. Short Red Curly Wig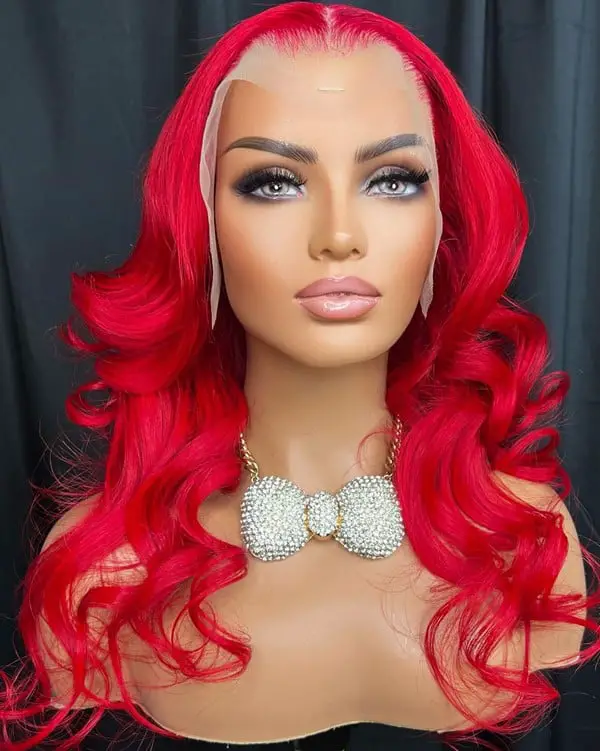 Get this scarlet red wig for $450 and choose the size that suits you (S, M, or L), while also being allowed 4-interest-free installment payment options. This is a 5×5 closure wig with transparent lace. It is 16 inches in length and is a custom-colored ruby red beauty with subtle highlights.
A short red wig but with a pop of vibrancy is for women who want to look playful and flirty. Attract looks and attention through this design! You will love it if you're on the low-maintenance side.
5. Long & Voluminous Red Wig
Women who love to have options will adore this wig since it comes in 10, 12, 14, 16, 18, 20, 22, 24, or 26 inches! You can even choose the density of your wig. This long wig is made out of 100% virgin human hair, which is why its price varies from $100-$375!
Ultra-long and sensual, this long bright red wig is for women who like dramatic blowouts! Show it off only if you can handle the inches and if you're ready to attract looks at any given point. Heads up since it is high-maintenance.
6. Red Wig White Bangs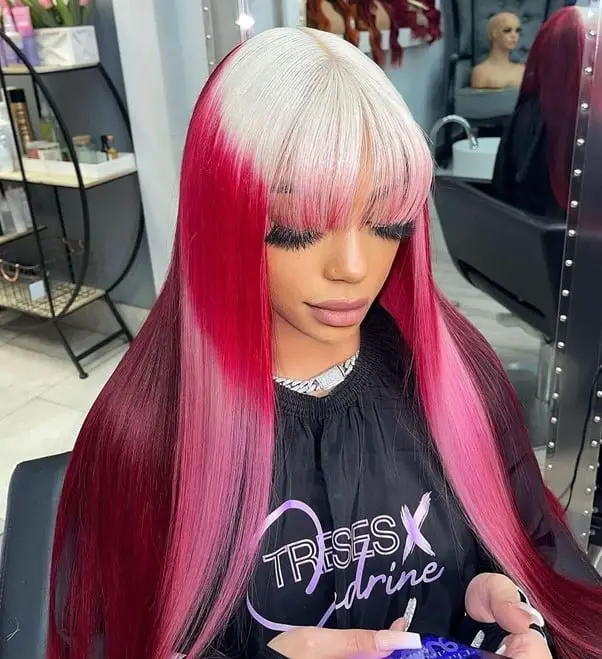 Choose this long beauty in lengths from 12-30 inches and also choose your preferred density (150 or 180%). This wig is made with 100% healthy virgin hair, hence why the prices of up to $500! However, you will have to bleach the bangs on your own or at your hairstylist to achieve this unique color blend.
This wig has had a unique coloring touch-up which you will also like if you're a fan of unique looks. Why not consider adding some silver or platinum moments to your hairdo? This way, you will look a lot more youthful and bold, as well as a party enthusiast.
7. Short Light Red Wig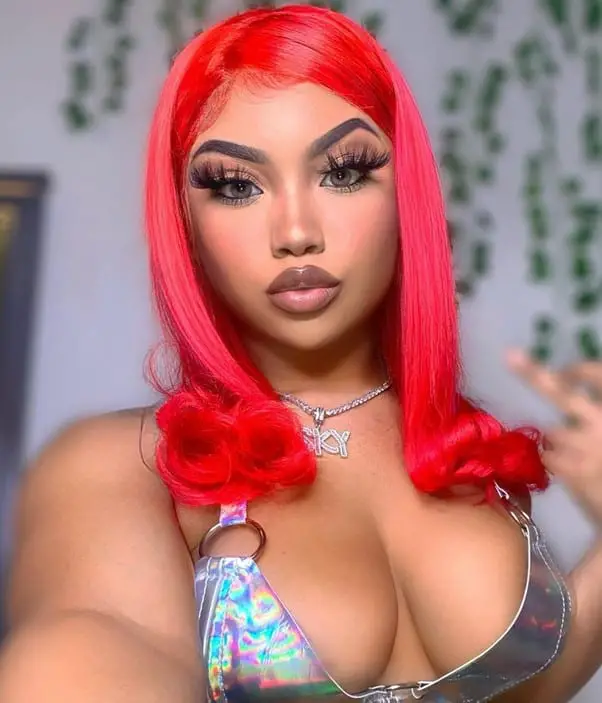 Get this short red wig on Amazon and also browse through 10 more color options! This beauty is super affordable (less than $20), yet 14 inches long and can be styled per your preference. An adjustable belt and breathable rose net are also included.
A short red wig with curled ends will suit women who like that retro old-school vibe. If you enjoy low-maintenance and simpler hairstyle ideas this one will suit you. Make sure that you install it properly since shorter and thinner looks can be hard to recreate.
8. Dark Red Long Wig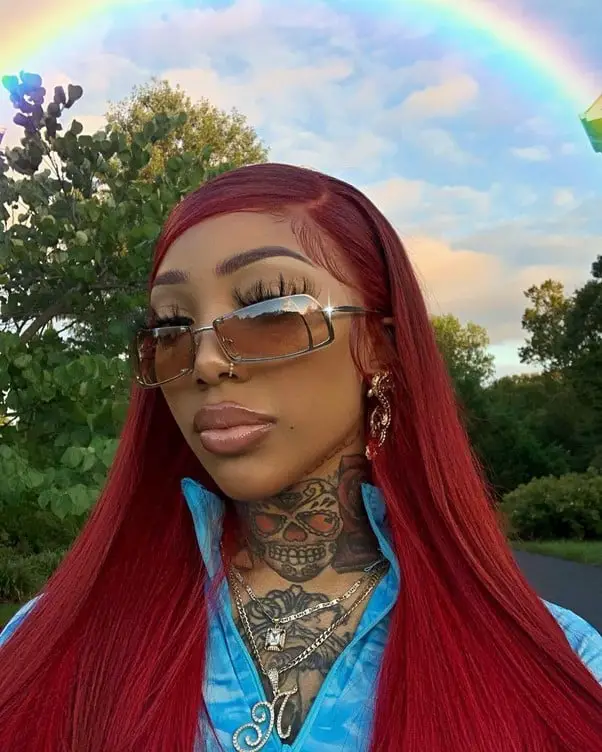 This dark red burgundy wig is available in lengths from 14-26 inches. You can also choose its density (150, 180, or 250) while also choosing the texture! Go for Brazilian, Peruvian, Indian, or Mongolian hair type and enjoy high-quality. Prices can vary from $150-$350.
This gorgeous sleek straight dark red wig is for women who like to switch it up often. If you're a fan of straight long looks and if you want something that is easy to get out of, consider this! It is retro, playful, and super low-maintenance.
9. Straight Red Bob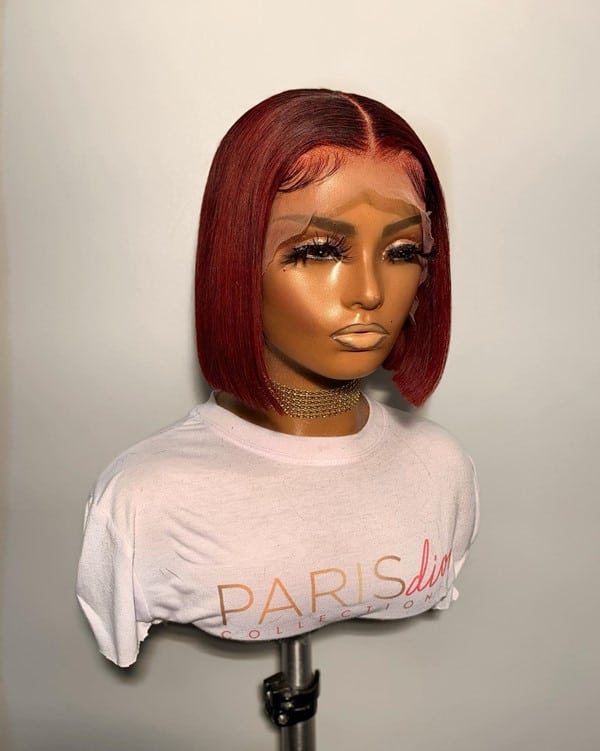 This gorgeous bob wig is made with 100% human hair and it hasn't been chemically treated. You can get the wig in 8, 10, 12, or 14 inches. Its lifespan is around 2 years while the wig is less than $140!
Bob looks are so chic and so in right now! If you prefer something low-maintenance and easy to do and recreate, this is it! Show that you're a cool girl with this low-maintenance bob. You will love it for any gathering.
10. Short Red Wig Bob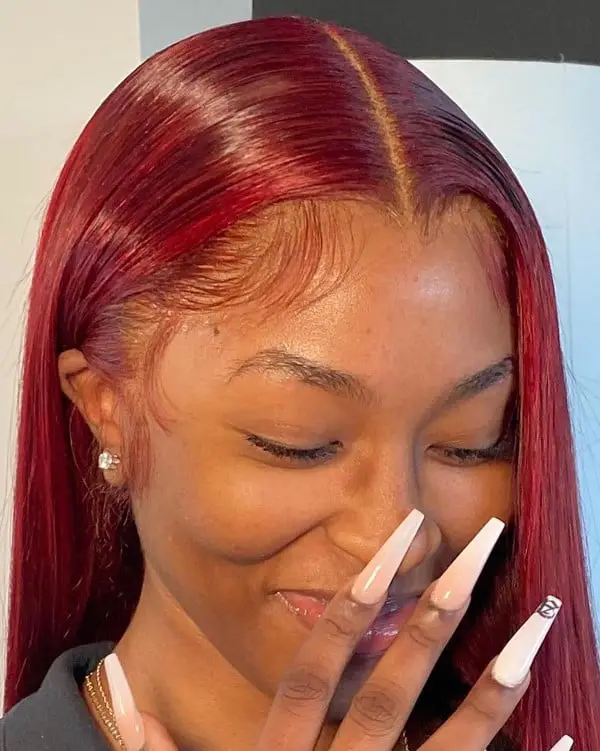 This bob lace front wig comes in 8, 10, 12, or 14 inches and is also made with human hair. Enjoy its transparent lace color, adjustable cap, and affordable price of $100!
Once properly installed, this red bob will look great in any age group. Shorter hairdos are harder to install and maintain, so only consider this hairstyle if you can keep up with the appointments.
11. Dark Red Voluminous Wig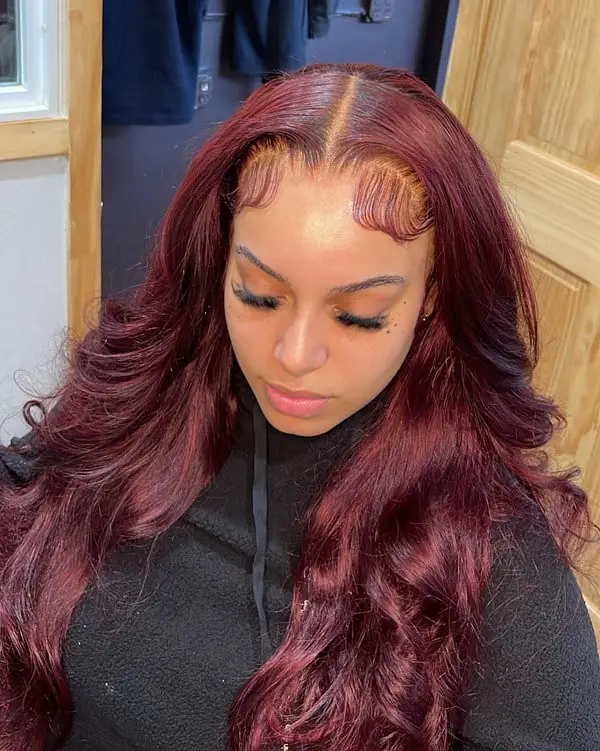 The best part about this wig is that it can be customized per your needs and requirements. Simply contact the Instagram seller and tell them your wishes! They are NYC-based and offer 100% virgin hair wigs with fast shipping.
A half-up half-down dark red wig is for women who need a party-perfect look and something that is wearable to any big or small gathering. Show that you're a fan of elegance and that you like dramatic wigs through this design.
12. Straight Bob Wig Hairdo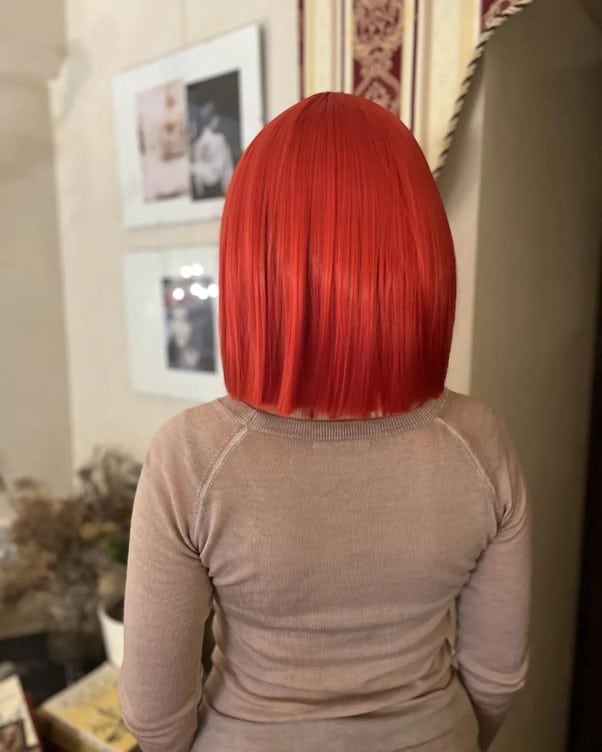 Aside from this red beauty wig, you can also get the same model in 12 more unique colors. This wig is only $18 and is 14 inches long while being made out of synthetic hair. Super affordable and easy to maintain.
Bright red bob wig is for women who want to attract looks and attention. If you're a fan of straight hairdos and elegance all in one, this will suit you. Why not give it a go?
13. XXL Red Wig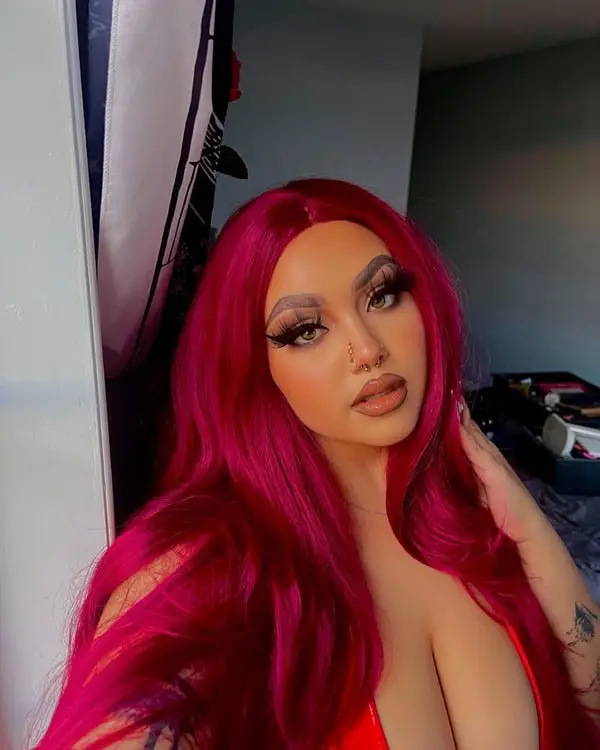 Cherry red wig is a synthetic lace frontal that is 100% heat-resistant, perfect for parties and styling! You will also get 2 wig caps and enjoy a density of 150%. It is 24 inches long and $100.
Ultra-long and feminine, this bright red loose wig will suit women who like the combed-out effect. If you're a fan of volume and low-maintenance curls, this is for you. Set the hair with your favorite setting spray to prolong its curl pattern.
14. Red Wig Frontal Lace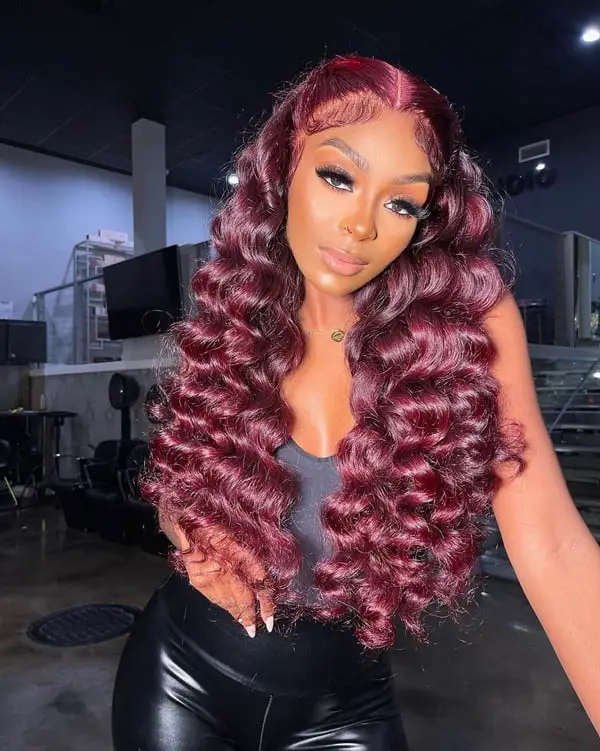 This is a pre-plucked 13×4 lace frontal wig that has a 150% hair density. The site offers great deals and discounts for first-time shoppers and wig newbies. You can get this wig in 8, 10, 12, or 14 inches. The wig goes for $140-$180 + you can pay in installment payments.
Defined curls can be achieved on top of your red wig with ease! Use your favorite curling iron or flat iron to achieve this pattern. You will enjoy the outcome for dance, parties, birthdays, and clubbing moments!
15. Silky Red Wig
Get this long wavy wig on Amazon and choose either the 26 or 30 inches. It is a synthetic yet heat-resistant wig that comes in 8 more colors! It is super affordable and sells for less than $40 while being comfortable to wear and put on.
This wig looks legendary. It is long and bold, often worn by those who are not afraid of the length and the inches. Show this beauty off for anything that's ahead. You're going to enjoy it especially if you're in your twenties!
16. Red Wig Human Hair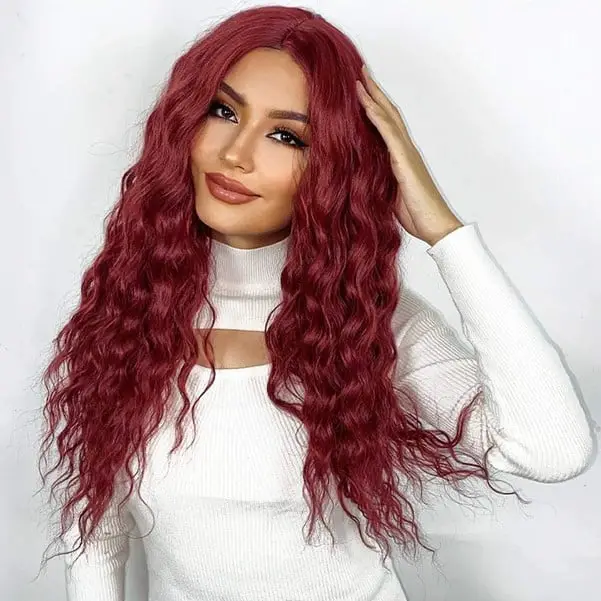 This wig is often out of stock because of its low price. It goes for $20 and is available in 12 more different colors and lengths from 12-30 inches! Made with quality synthetic fiber and is even tangle-free.
A long and voluminous curly hairdo that you're going to enjoy for parties. This wig will suit women who are always in the mood for something sensual. If you like curls and attention-seeking vibes, this will suit you. Make sure that you take your time when it comes to this curl pattern.
17. Long Red Wig With Bangs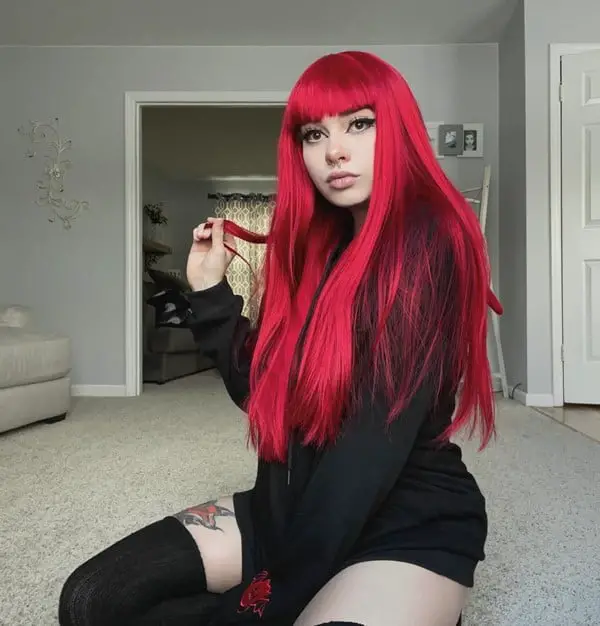 The silky straight red wig also comes in 11 different colors, perfect for those who easily get fed up with their style. This is a heat-resistant wig that sells for $20. It is 24 inches long and easy to install.
How about this fringe red hair wig? You're going to enjoy the elegant outcome it gives out. Make sure that you pay close attention when it comes to cutting these bangs since it is not an easy thing to do on your own.
18. Red Wavy Bob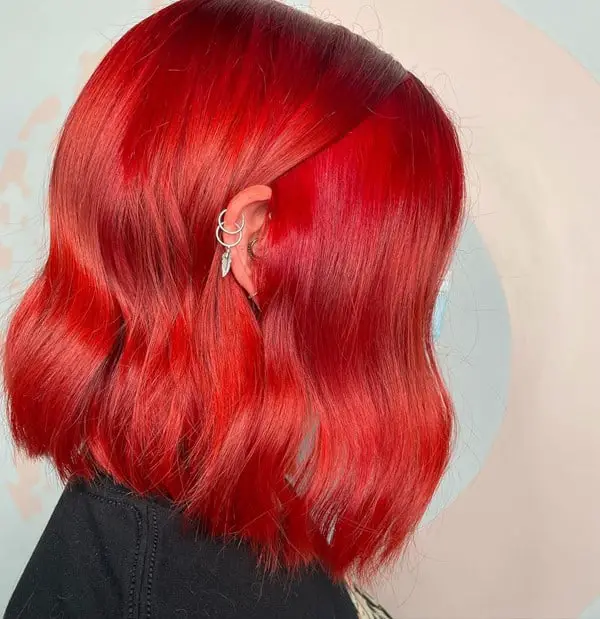 Lace frontal bob that comes in lengths of 8, 10, 12, 14, or 16 inches. This wig has a 150% density and varies in price from $50-$100. Made with human hair and available in 23 colors in total, perfect for brave, bold, and colorful women!
This bob has a subtle curl pattern. Women who like cute bobs for everyday wear will enjoy this red bob wig. Add some stylish bangs as well to finish off the vibe and the outcome.
19. Black & Red Duo Wig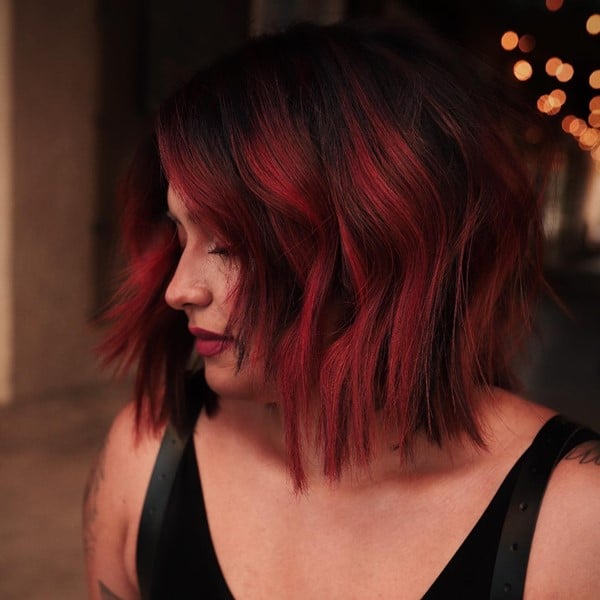 This wig comes in 4 different colors and is 14 inches long. Made out of synthetic hair fibers with a heat-resistant feature, as well as being less than $30! You will also get 2 adjustable straps with the net cap to make your wear experience more enjoyable.
You can always customize your wig and color it however you like. In fact, this dark red and black color combo is a killer duo! Make sure that you take your time when it comes to mixing this hair dye since it is a tricky thing to do, yet a hairdo worth rocking!
20. Straight Red Hair With Bangs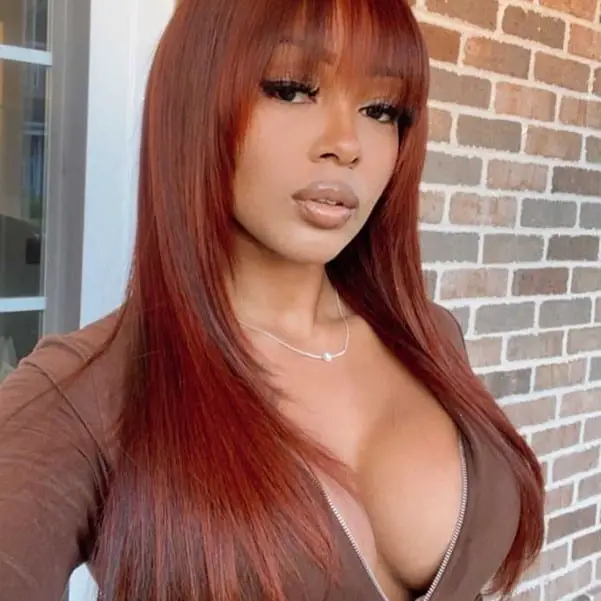 Choose this wig in 18 or 20 inches and enjoy the discounts that the site has to offer to all the shoppers! Made with real virgin human hair, the wig goes for $100-$200.
This copper red wig with bangs is so sexy and glamorous. Women who enjoy longer looks and wigs that are feminine and elegant will see the beauty with this one. Make sure that you get the right bang length to achieve the exact same outcome.
21. Red Hair Wig Curly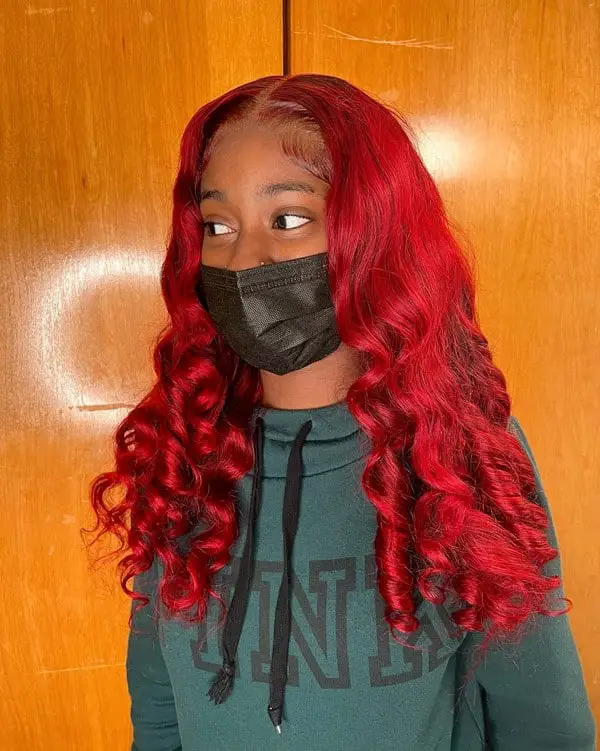 This gorgeous wig with bangs is available in 4 more colors (but is often out of stock since it is $20 only). You will enjoy its 24 inches and synthetic fabric. There is also the 100% breathable wig cap.
A bright red wig with some curls will never go out of fashion. Stick to this look only if you can do the style on your own regularly. This hairdo will take some time to perfect on a daily, but it will be well worth it in the end.
22. Tight Curly Red Wig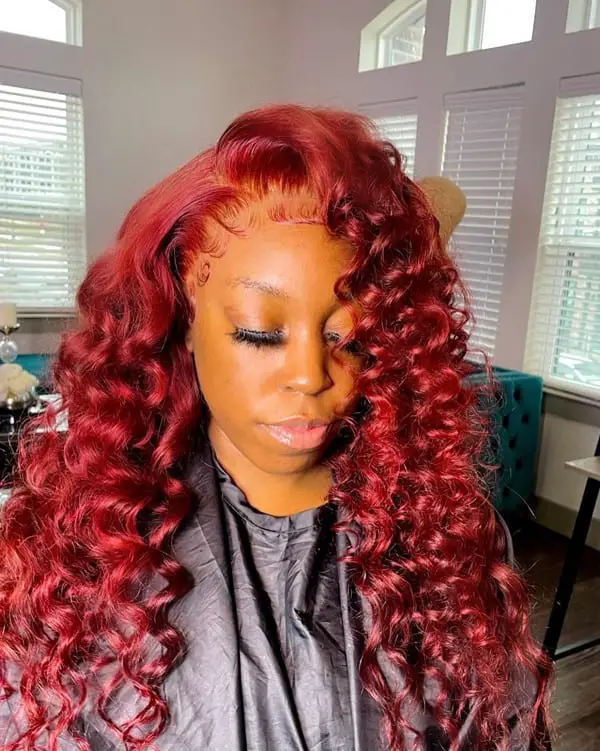 A loose curly wig is available in sizes from 16 – 24 inches. It is made with human hair and has a hair density of 150%. The site offers great discount codes and can sometimes save you up to 50%! Pay anywhere from $200-$600 (depending on your chosen discount).
Go for some subtle side-swept bangs to achieve this outcome. This wig will suit women who are in their thirties the best. Enjoy it for office wear or everyday casual wear. Don't forget a ton of hairspray while you're at it!
23. Voluminous Red Hairstyle Idea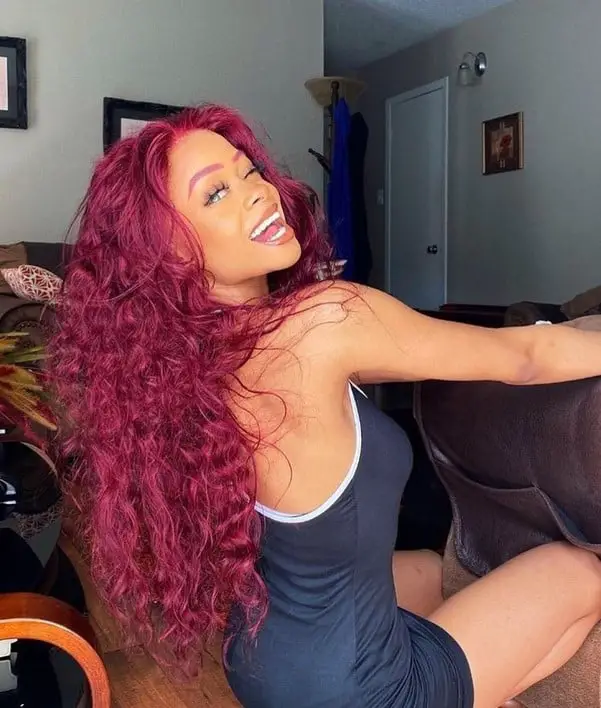 Women who demand options will love this site! On there, you can get wigs from 14 and up to 32 inches in length! Customize your cap size and elastic bands! Enjoy the 150% hair density, real human hair, and prices from $100-$500!
How long do you want your hair to be? This look is for women who are not afraid of elegance and drama. Go for this sexy outcome if you're a drama queen yourself, always wanting to rock longer locs and a ton of volume!
24. Long Red Wig With Black Bangs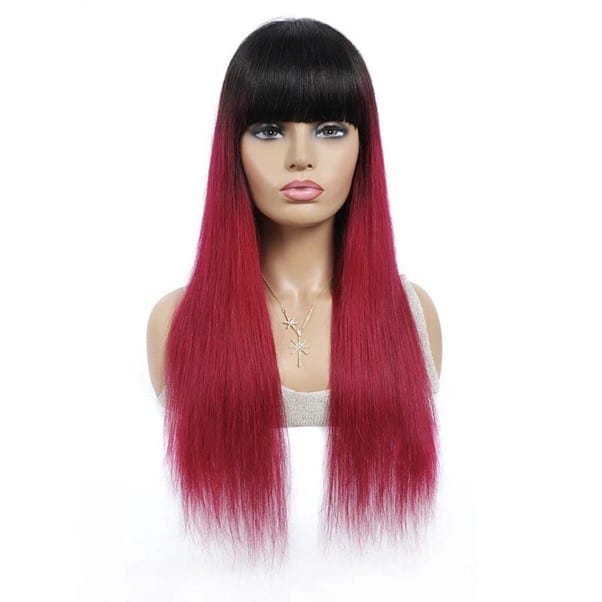 This red beauty is also available in 22 fun different colors, perfect for women who love to switch up their look often (and for cheap). It is a synthetic wig that goes for $20! It is also heat-resistant and 23 inches in length.
Black bangs on top of your red wig will suit teens and women who want to stand out. This hairstyle is dramatic and different than anything else on our list. If you're a trendsetter yourself and you want something unique, this is a good creation to follow!
25. Black Base Red Highlights Wig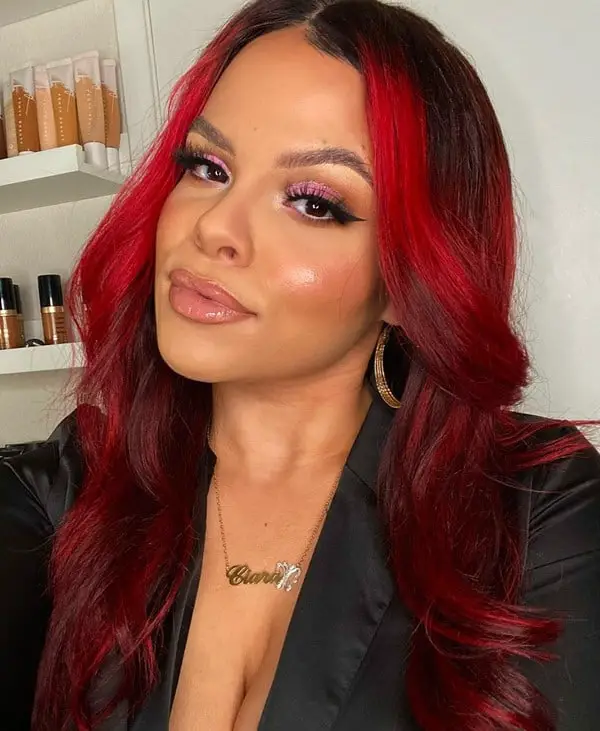 Choose your length from 12-24 inches and enjoy hair fulness of 150% density! This is a virgin human hair wig that can last you for up to two years. Easily adjustable and goes for $130-$300.
If you like to look glam and you have time to do your hair and makeup on a daily, consider this design. You're going to enjoy it for any event or gathering thanks to its simplicity and elegance, all in one!
26. Maroon Red Wig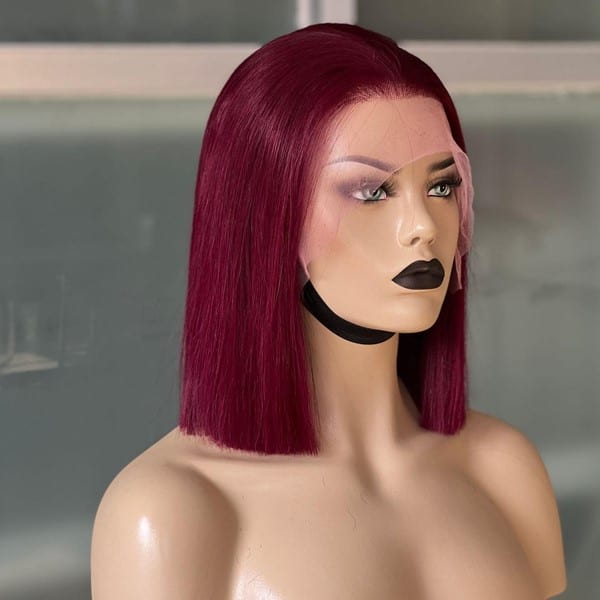 A cute maroon red wig that is made with 100% soft heat-resistant fiber, feels and looks like real human hair. It is 12 inches long and often out of stock since it is a popular and affordable model ($25).
Straight hair and dark red wigs are for women who like the low-maintenance outcome. You won't spend a lot of time doing this look but you will appreciate its straight and sleek beauty, perfect for school, office, or college!
27. Silky Smooth Red Wig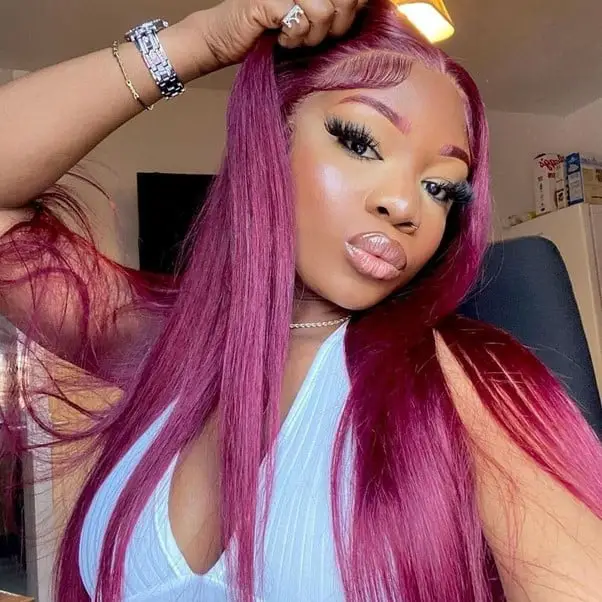 Another great site that offers amazing deals for customers and discount options! Enjoy this beauty in lengths from 8-26 inches! This is straight virgin hair that can be anywhere from $50-$350, depending on when you shop.
Add some shine and elegance to your cut with a ton of hairspray to achieve this shiny hairdo. This long red wig is for women who like to look sultry without doing too much. You will enjoy the vibe and the shine, all in one!
28. Red Wig Ponytail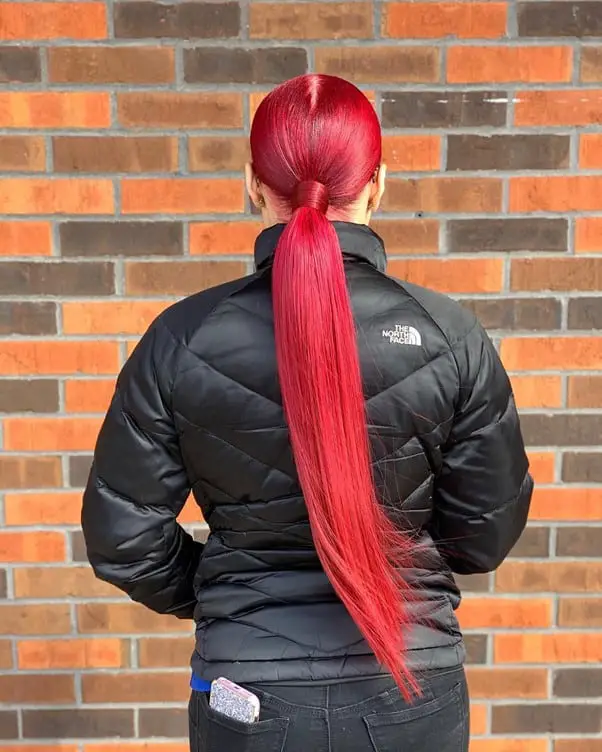 This party ponytail is super practical and affordable. You can get it for $12 only and enjoy its clip-in synthetic extension. You can also get it in 6 more colors. It is 24 inches long.
You can also opt for a sleek ponytail! This red ponytail wig is so gorgeous and party-perfect, often worn by women who like elegance, glamour, and drama! This look will suit those who like to do transformations, perfect for younger girls.
29. Bright Red Bob Wig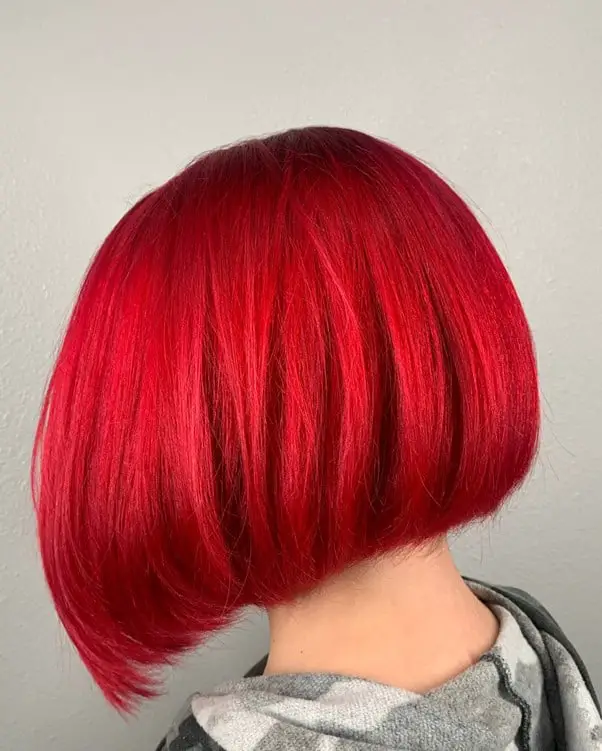 This short bob is 11 inches long and made with synthetic hair. It has a 130% hair density and can easily fit most women for everyday wear. Super affordable as well ($20).
Defined short red bob is for women who like to keep their wigs sleek and straight. This style will take less than 5 minutes to style on a daily, so why not give it a go?
30. Half-up Half-down Red Wig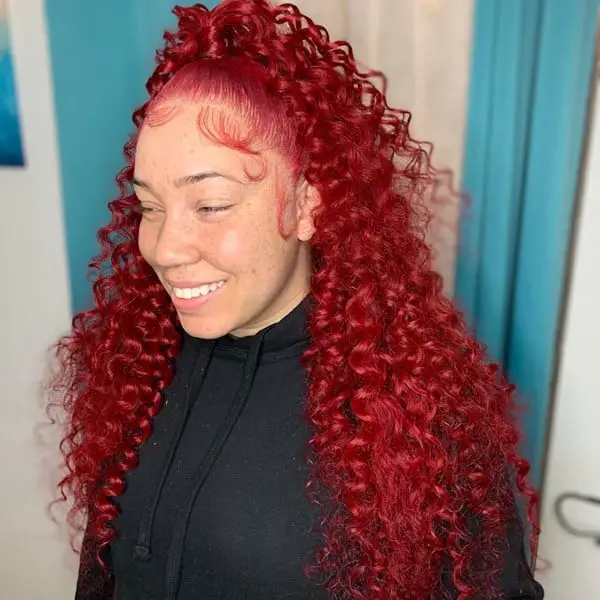 This long ponytail clip-in is 24 inches long and made with synthetic fibers. It is also available in 7 different colors while being super versatile to style and wear. It is one of the cheapest options as well ($16).
Lastly, how about this half-up half-down hairdo? It is so retro and flirty, perfect for women who want to empathize their curl pattern and dramatic presence! Round up the look with the right makeup and outfit to enjoy the elegant vibe.
Are You Ready For Your New Red Wig?
Which one of these red wigs is your new must-do and must-try? Let us know what you can't wait to get your hands on sometime soon, as well as what's your preferred budget for a red wig. We can't wait to see what you end up picking!
Also Read: 30 Best Blue Wigs You Can Get Online That People Actually Swear 2022