30 Claw Clip Hairstyles That Will Make You Look Stunning
When you shop through links on our site, we may earn an affiliate commission. This educational content is not intended to be a substitute for professional advice.
Are you looking for hair claw clip hairstyles ideas that will make you look stunning? You are at the right spot. These accessories will be heroes of your bad hair day. Or give you aid if you are running of time and need some quick hairstyle.
Claw clips were an absolute hit back in the '90s and then came back in 2020 and still rocked the boat in 2021. And if you think there is only one way to wear it, you are wrong! Scroll down and get inspired with 30 design ideas that will turn you into a stylish Queen!
30 Stunning Claw Hair Clip Hairstyles
Let these 30 ideas inspire you and ensure you why you need a few claw clips in your accessories bag!
#1 Claw Clip Hairstyles For Long Hair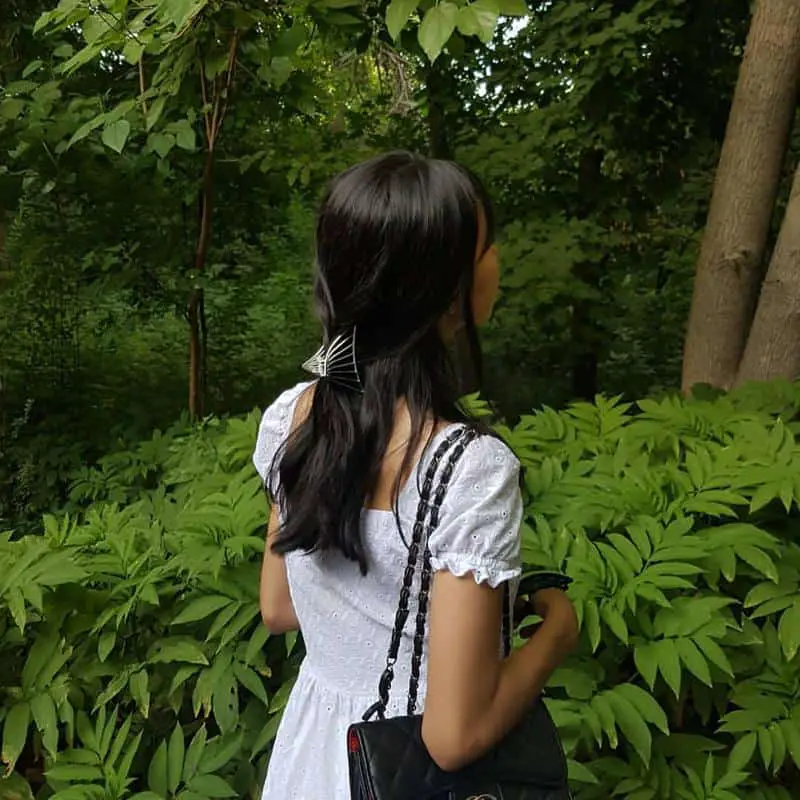 Do you have long hair? It does not matter if your hair is wavy or straight – this style will suit you! It is super simple yet sophisticated enough for the day in the office.
#2 Simple Bun With Clip Claw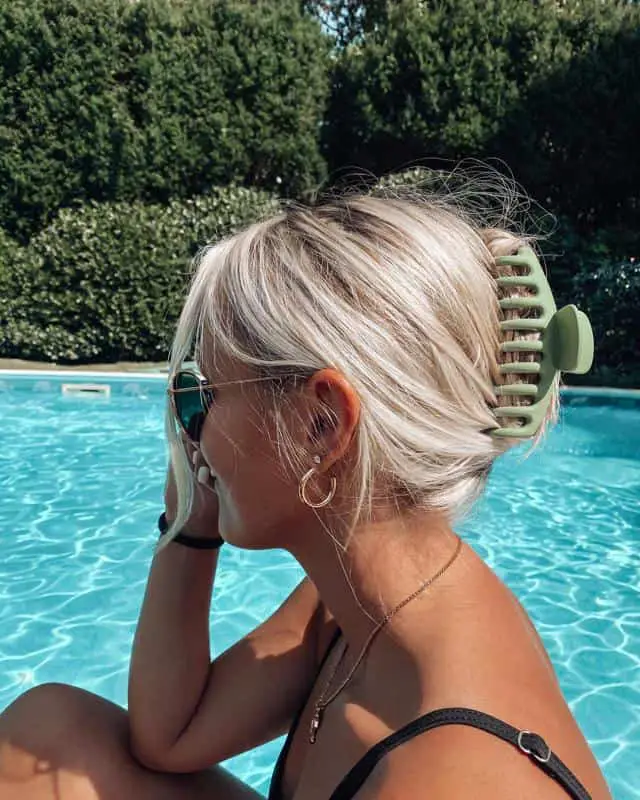 Who said that a simple bun cannot be incredible? All you need is a claw clip, and your beautiful hairstyle will be ready in a second! You can wear it on a night out or while you are chilling next to the pool, or even when skiing.
#3 Classic Bun with Clip Claw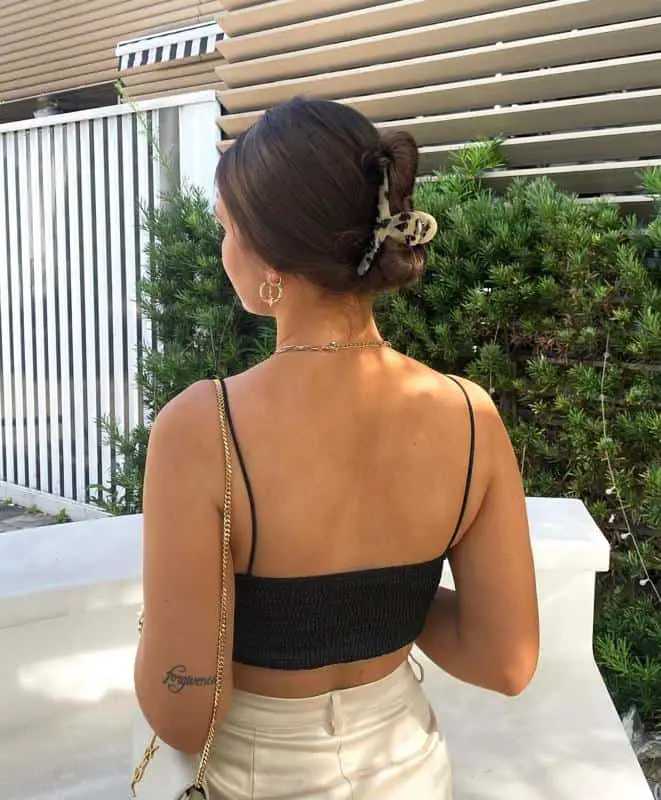 Need a hairstyle for lunch in a fancy restaurant or for a business meeting? Make a classic bun with a clip claw and embrace a chic look!
#4 Half Up, Half Down Hairstyle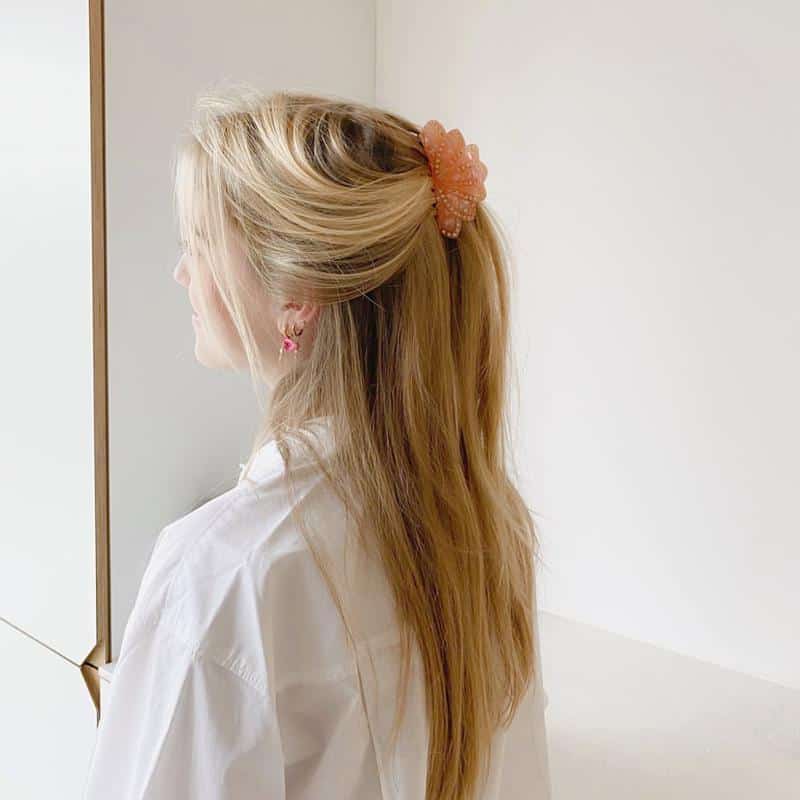 Let us admire this style for a bit! Is it our favorite way to wear a clip claw? One of my favorite ones for sure! We are in love with how it mixes classiness and casualty. It will take you a moment to create it, but you can wear it all day long and look gorgeous.
Also Read: 60 Half-Up Half-Down Hairstyles You'll Fall in Love with (2022 Updated)
#5 Ponytail With A Clip Claw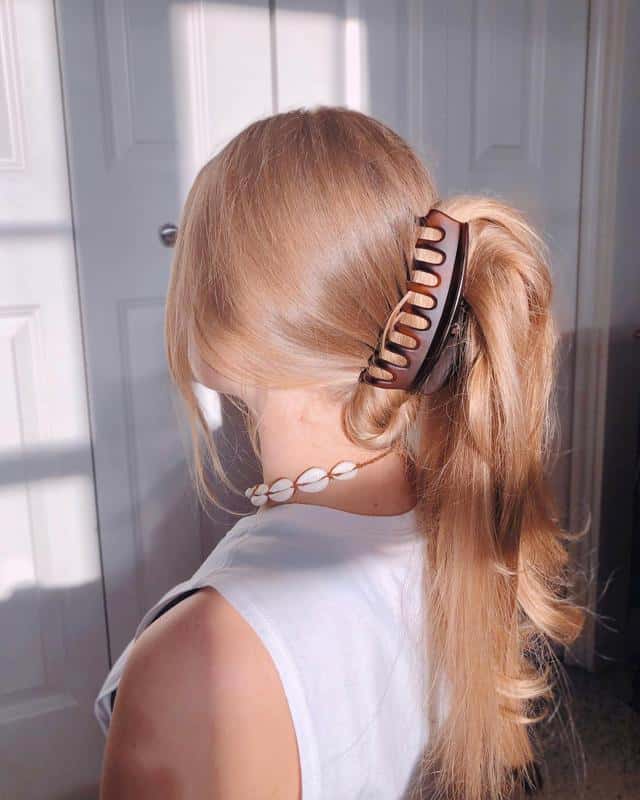 Yes, you can make a ponytail with it, too. That is if you have long hair!
Also Read: Top 40 Elegant Messy Ponytail Hairstyles (2022 Updated)
#6 Slicked Back Hairstyle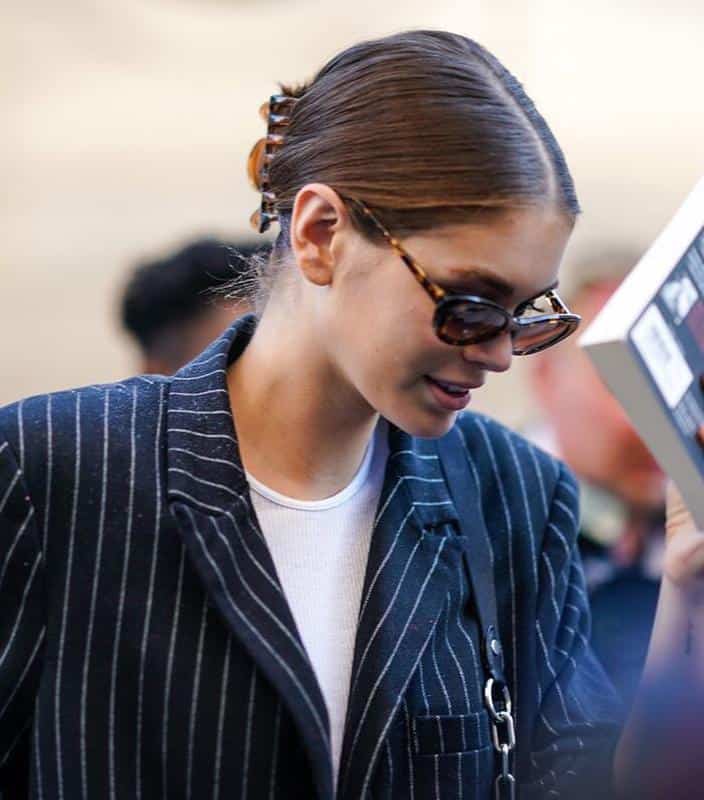 Short does not mean you cannot fulfill your business style with a claw clip. In fact, there are many claw clip hairstyles for short hair. But slicked style will make you look all professional!
#7 Messy But Sassy Hair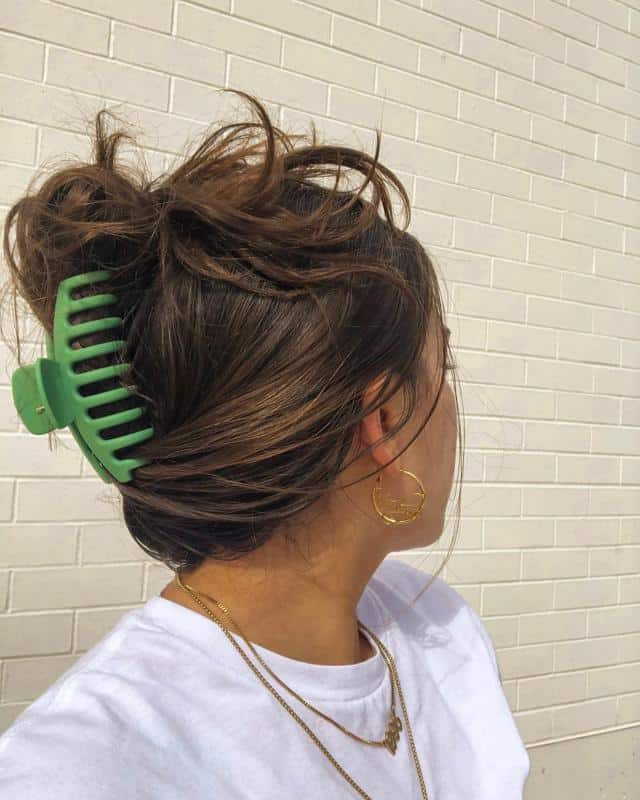 Before, this was a hairstyle we had while taking a bath. Nowadays, it is a trending design for going out! Like we already said for clip claws – it takes just a moment, and you are on the way. Super casual, messy, and yet sassy!
#8 A Sleek French Twist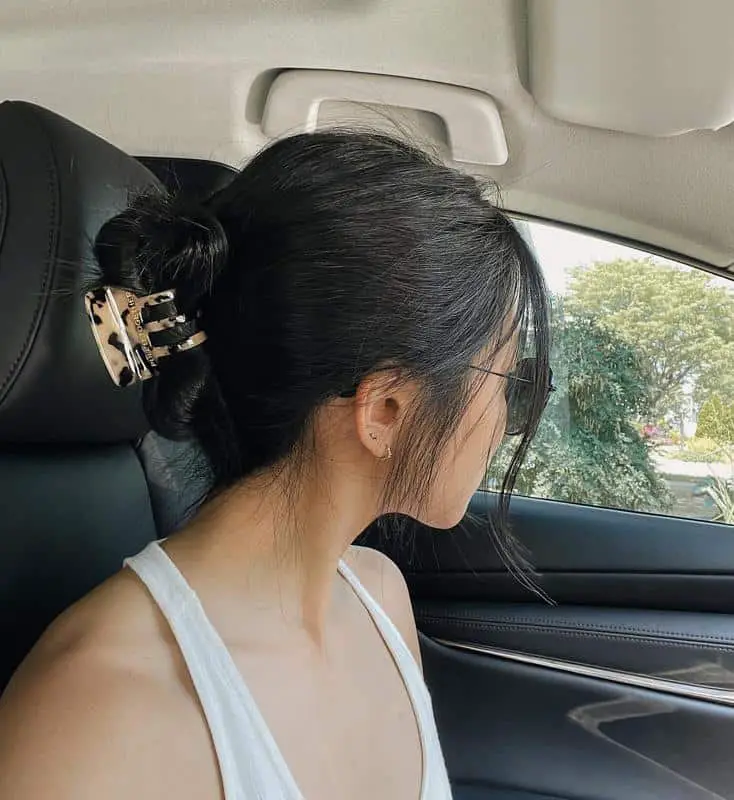 Wear your clip claw like this, and you will already feel a little bit French yourself.
#9 Half Bun Hairstyle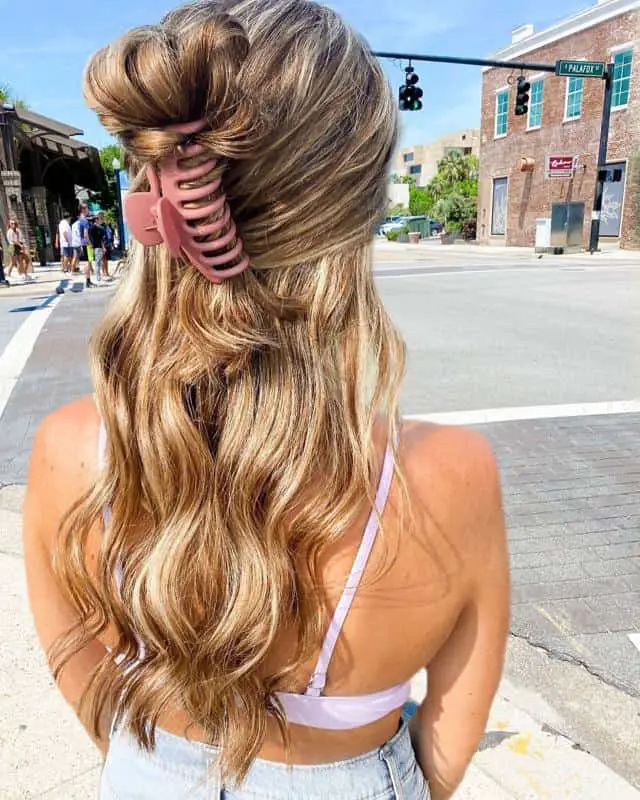 Instagram trendsetters are crazy about this style, and it is no wonder! But did you know it is nothing new? Rachel Green used to wear it! Thus, it is like wearing a '90 in your hair while still being in 2022. And all of that with a simple move of your hand!
#10 Half Ponytail Style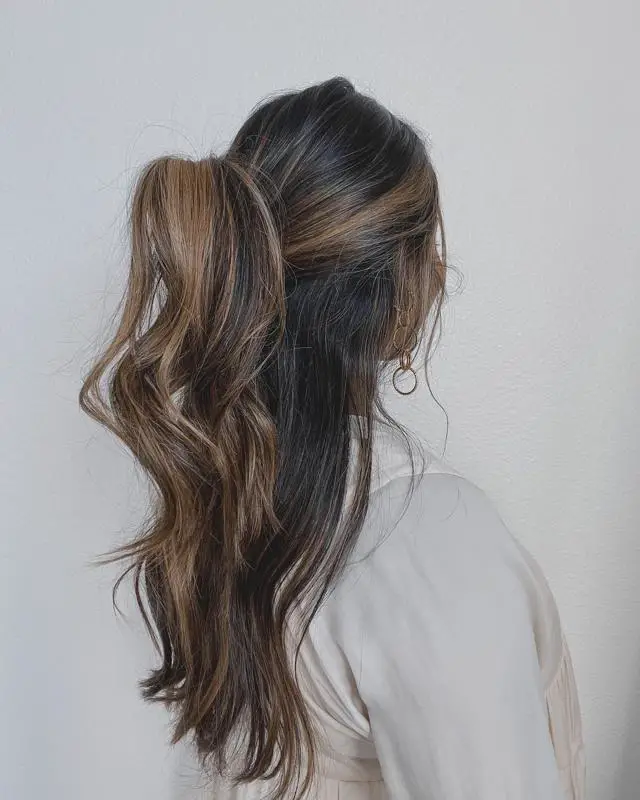 Who would think that a half ponytail can look this stunning? You can wear it as a casual look, as it can be with some elegant night-out combination.
#11 Clips And Curles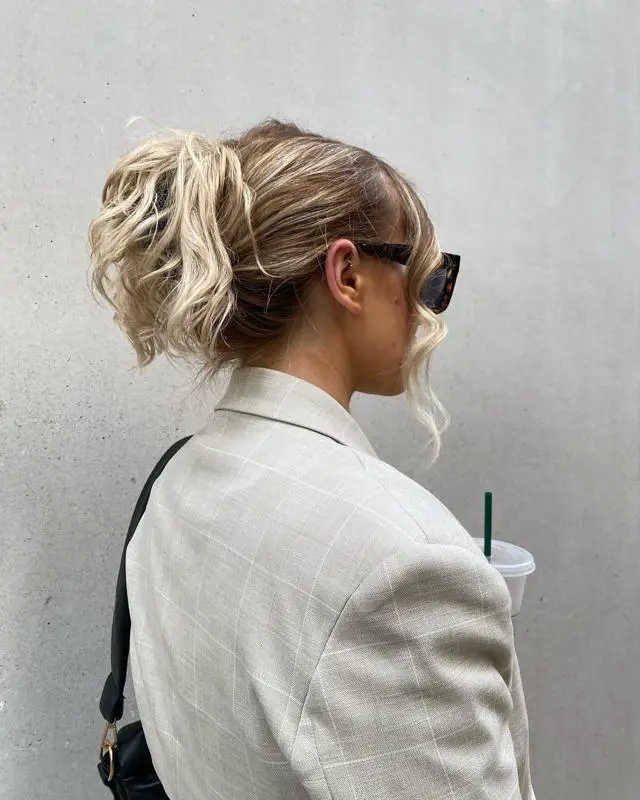 Are you looking for one more way to shine with large clips? Just play with your curls, and one, two, three, voila! You are ready to rock!
#12 Elegant Low Bun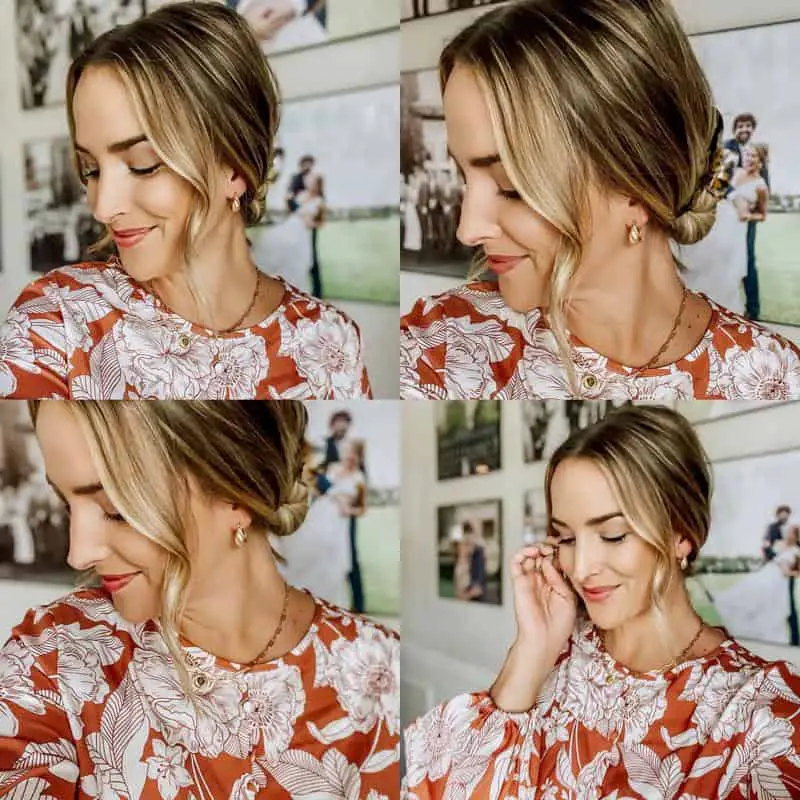 Are you looking for something ideal for a business dinner, meet-a-parents dinner? Or for whatever occasion when you want to leave an impression for a strong, serious lady. You can lead a country with this hairstyle, we promise!
#13 Side-By-Side Bun Style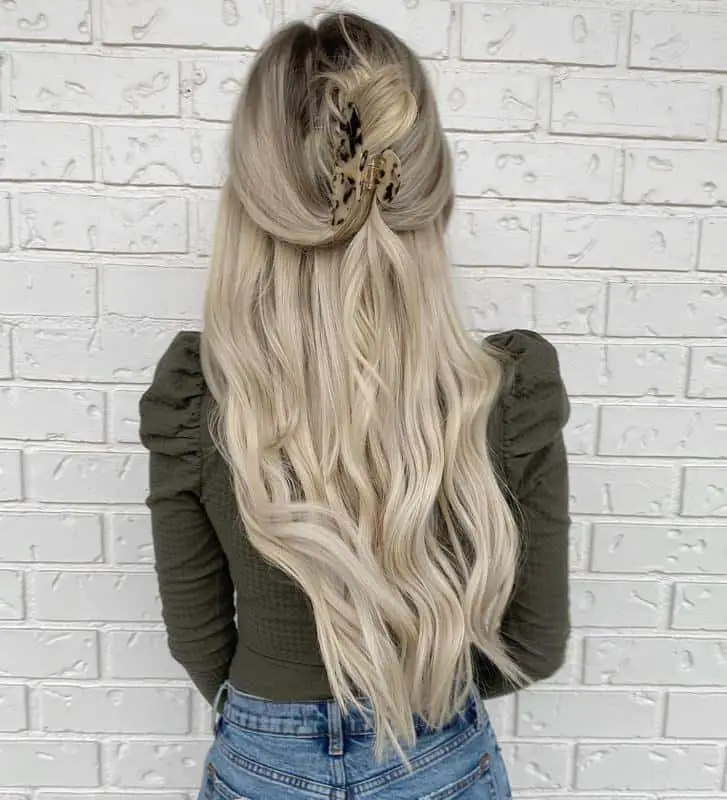 Just take two locks of your hair from each side and roll them in a bun. And there it is where a claw clip steps in!
#14 Sunday Vibe Hairstyle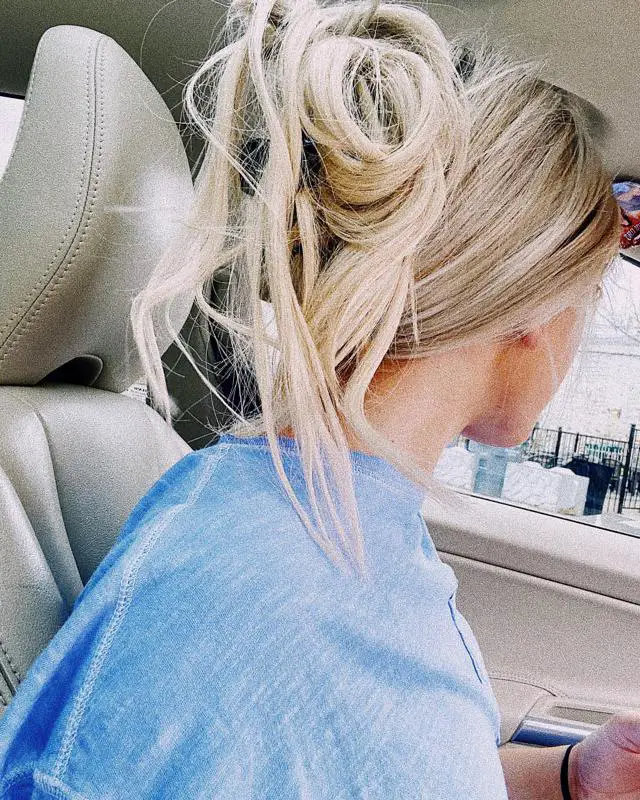 The name speaks to itself: PJ-s all day long, and messy hair – the longer, the better. Messy never looked this sexy!
#15 Braids And Clips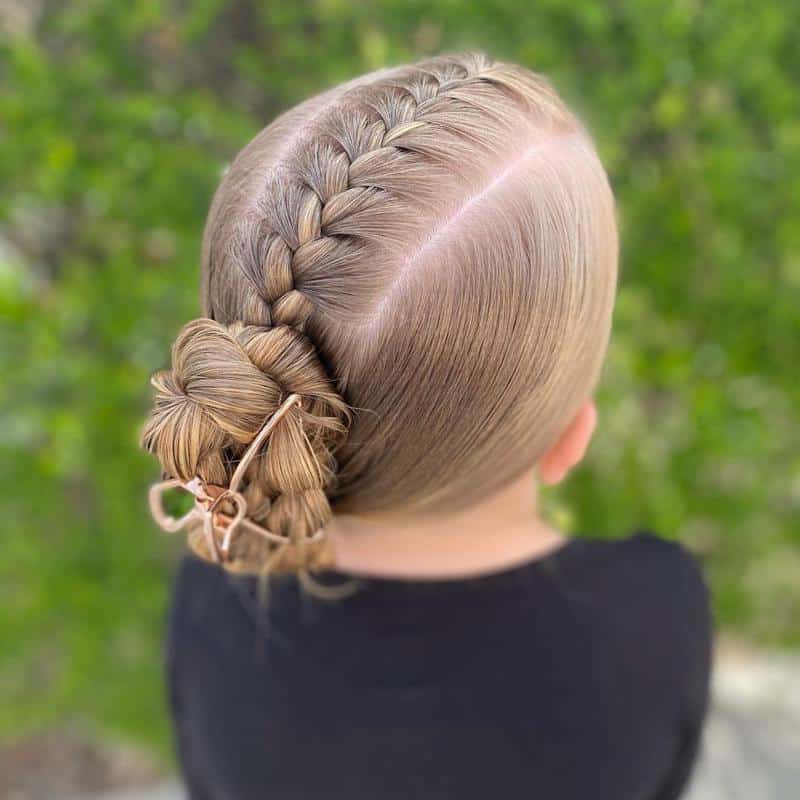 People have used braids for thousands of years now. And popularity is still the same! There are many incredible patterns to follow, and you can wear them for any occasion. One of the ways to do it is to make a braid and put it in a bun on the back of your hair. In the end, add a clip claw. It is another elegant way to achieve it!
#16 Huge Bun Hairstyle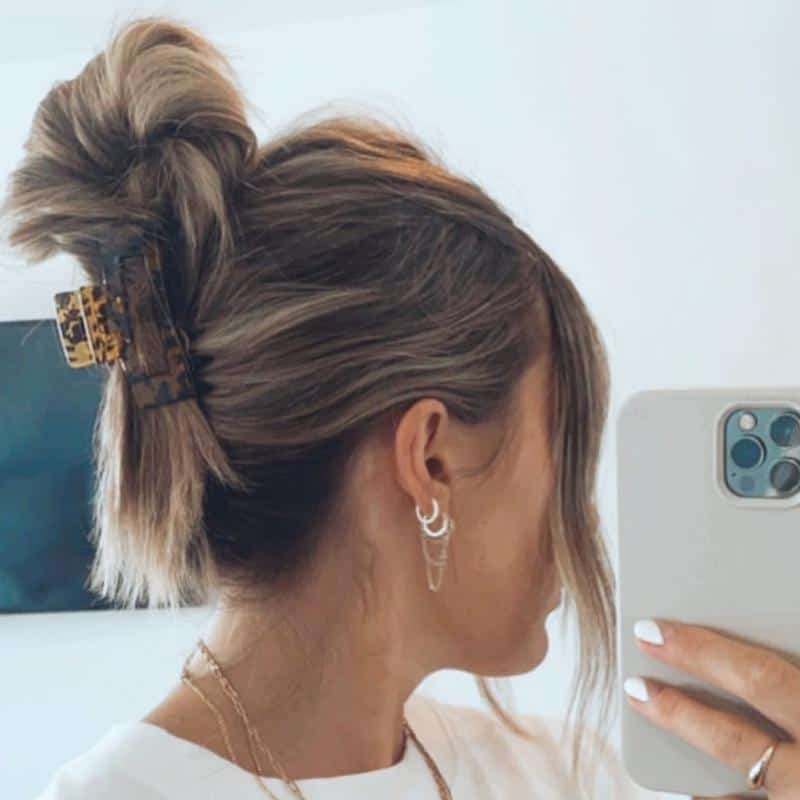 For this stylish hairstyle, you must have grand and great volumed hair. Just that. And our favorite accessories – clip claws – of course.
#17 Heart Claw Clips – Romantic Hairstyle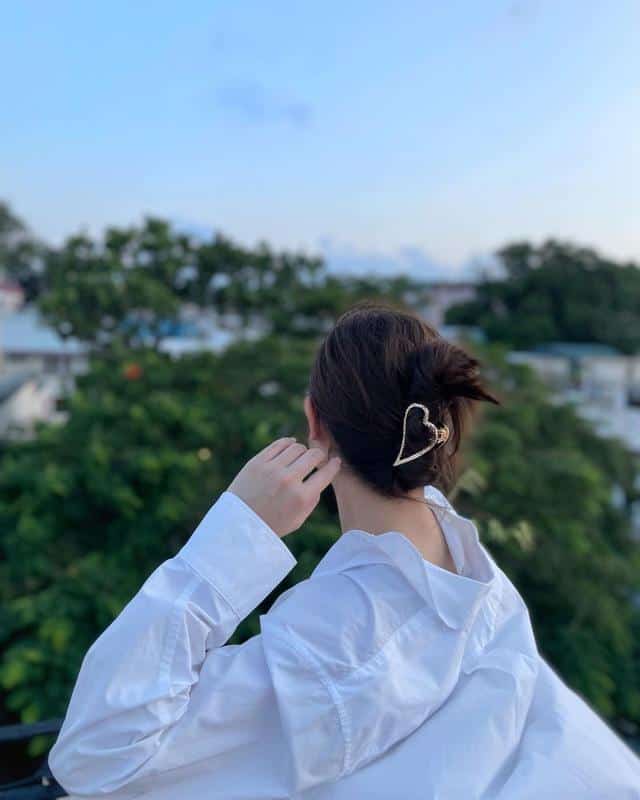 Just fine claw clip with heart shape, and you are halfway ready for your perfect hair day. What is another half? Your imagination, of course – it is up to you what you will create with your claw.
#18 Pearls In Hair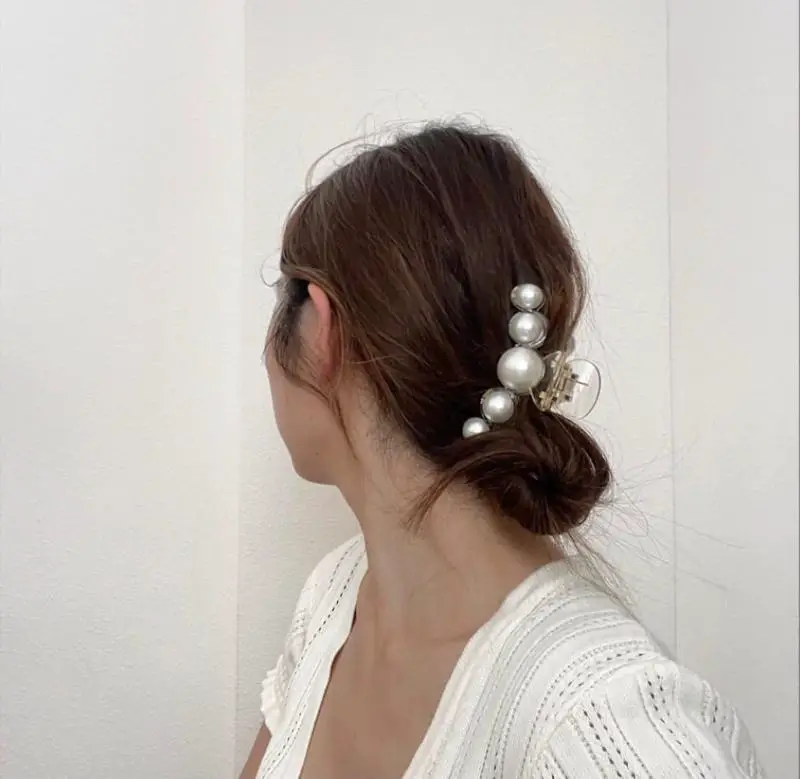 Do you own a pair of clip claws with pearls? If not, now it is the time! Sure, diamonds are our best friends. But then, pearls are like our favorite cousins! You will look super gentle and feminine. And this gorgeous style will even suit you on your wedding day!
#19 Claw Clip In The Middle Of The Bun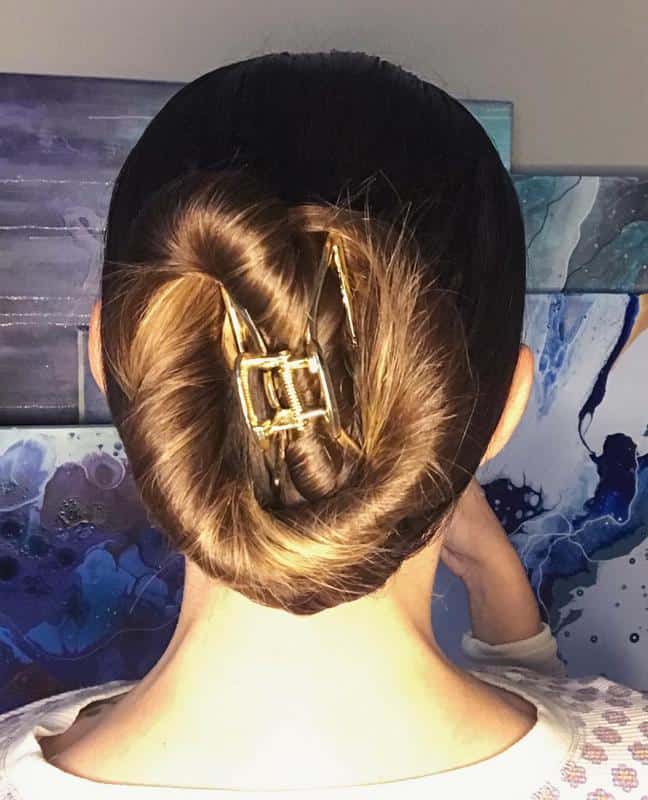 Make a circle around your claw clip and create a big bun. It is a perfect yet quick hairstyle, right?
#20 Mini Claw Clip Hairstyles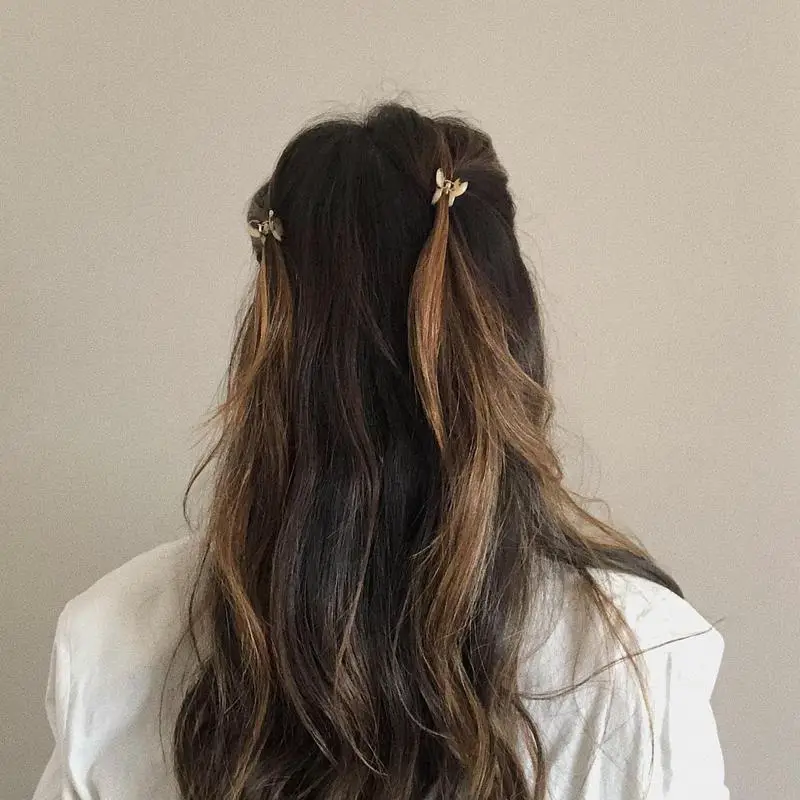 Tiny claw clip hairstyles are cute big time if you ask us! Then will not hold your locks like large ones. But they will add up to your style, so it is worth having them!
#21 Double Bun Hairstyle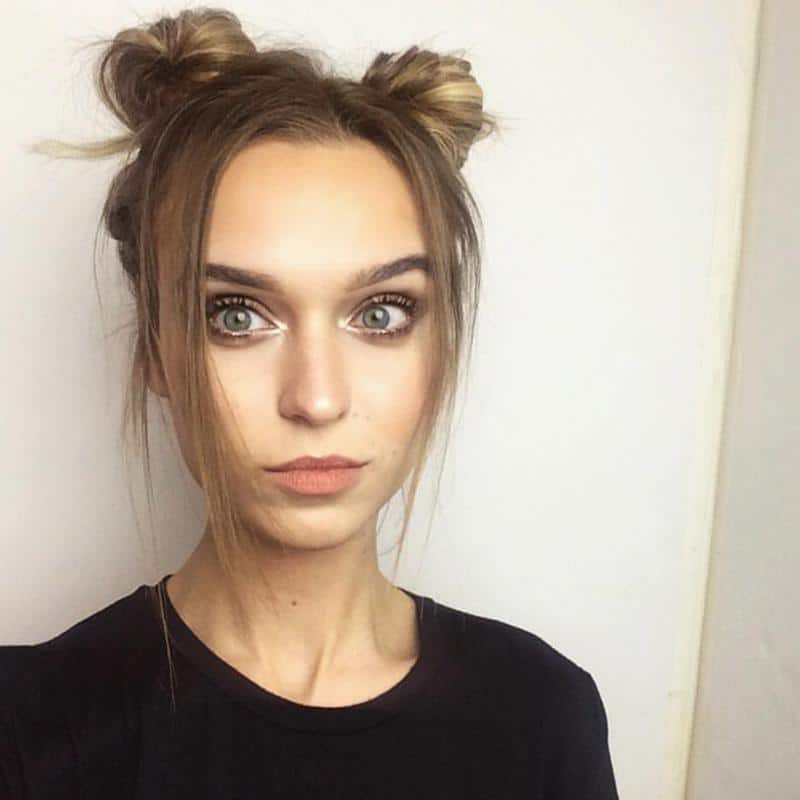 Do you know the origin of a double bun? It is Japan! And the Japanese know how to be stylish, don't you agree? Now, you can pick between large claw clips hairstyles or small claw clip hairstyles. Both are completely cute!
#22 Floral Claw Clip Hairstyle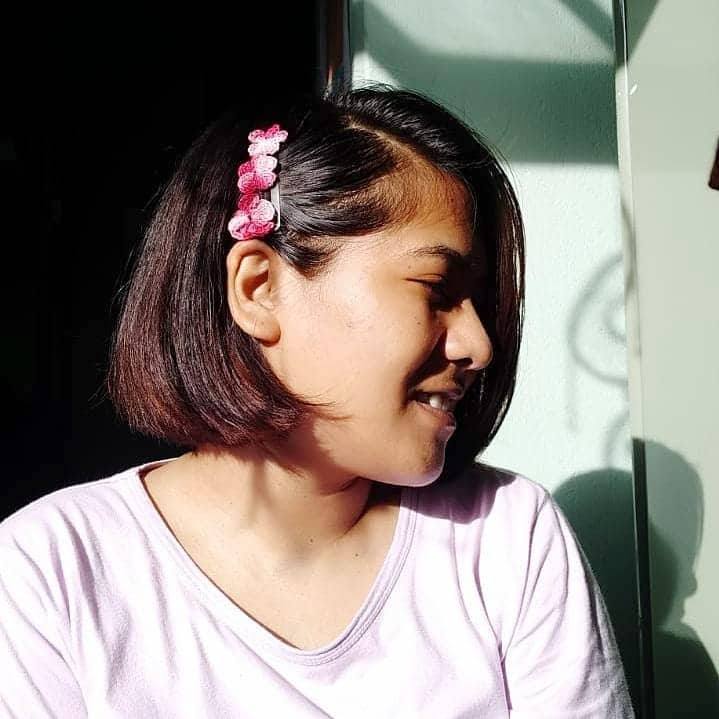 Floral brings association on life, spring, love, life, and all that represents happiness! It will look great on you for informal, everyday wear. Or for formal wear – yes, combining this with a fancy dress will look gorgeous! Get in touch with your feminine side.
#23 Little Flower Claw Clip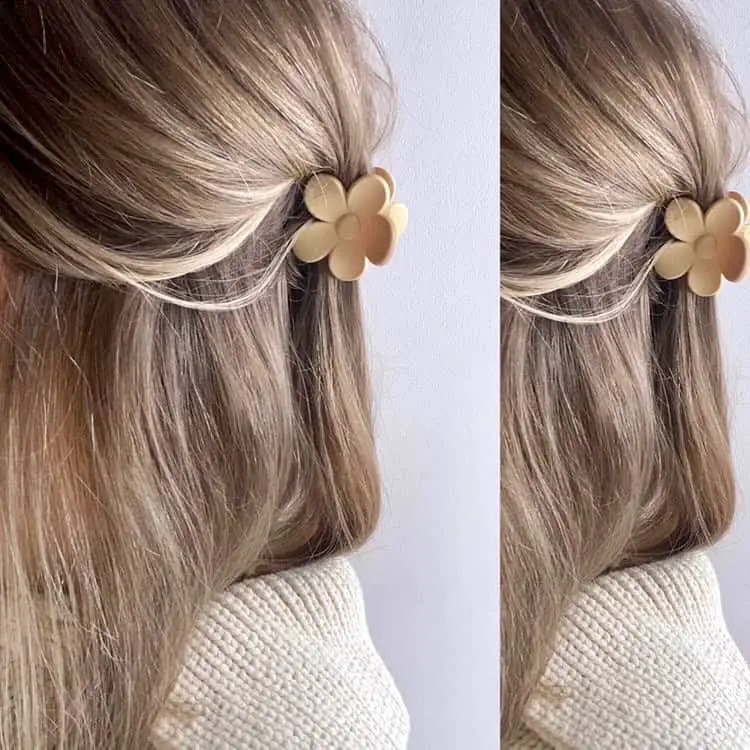 As we said, flowers are the way for you to get in touch with your feminine side. If you have longer hair, this claw clip will not collect too much of it. But it will feel as you wear an eternal spring on your head! Cuteness overload!
#24 Butterfly Hair Clip Claw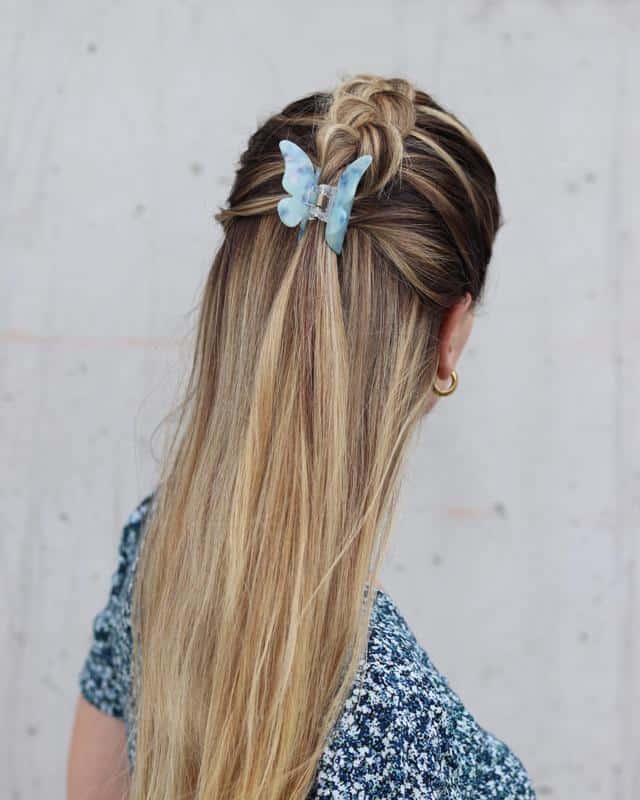 Butterflies are representations of development, rebirth, and freedom. Thus, your hair claw clip will say to the world that your free spirit, ready to embrace changes. And still, you will resemble cute and lady-like!
#25 Animal Hair Claw Clip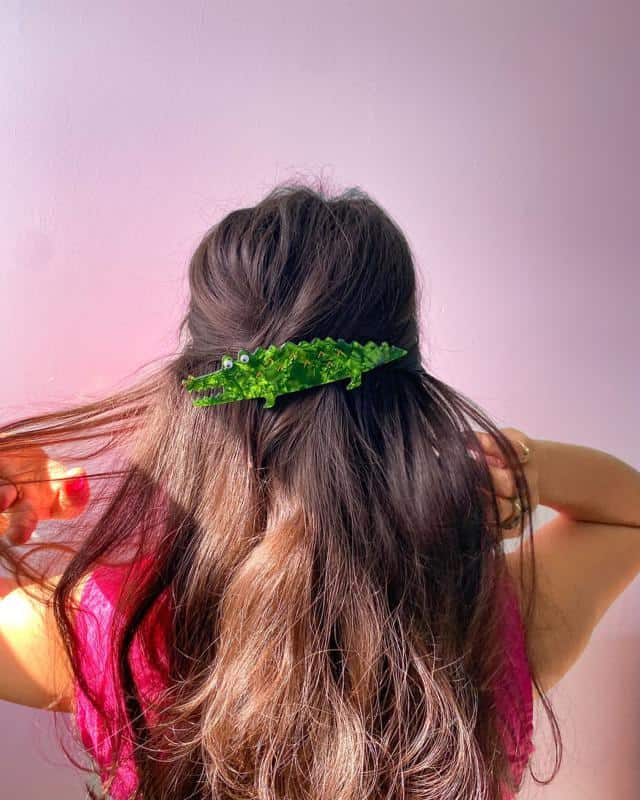 Animal hair claw clips are adorable and youthful. Depending on which animal you choose, you will tell something about your personality. Maybe you want to say to everything that bothers you: See you later, alligator!
#26 Crazy And Youthful Hair Claw Clips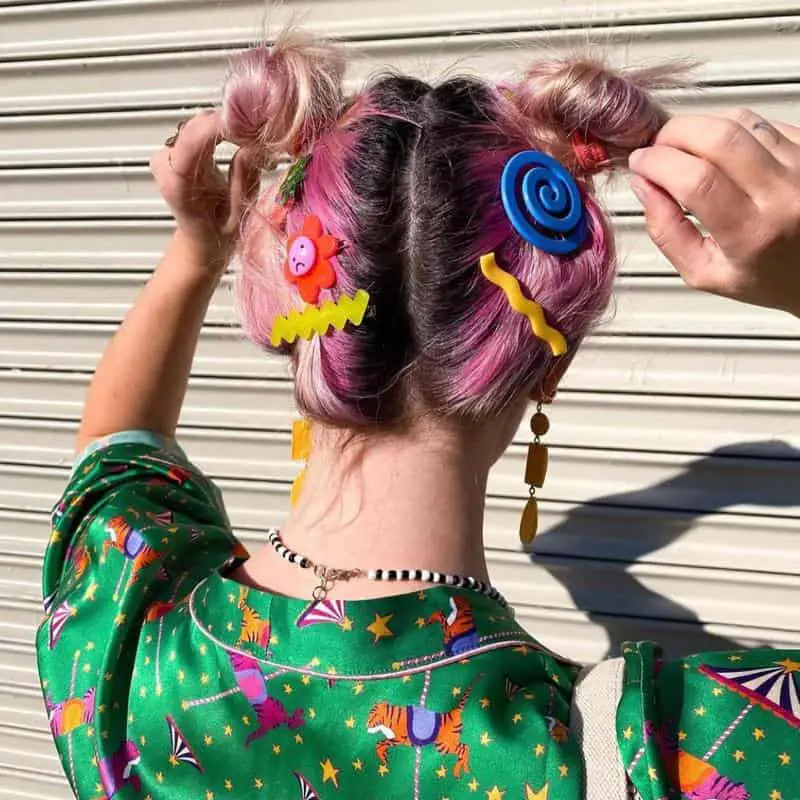 Hair claw clips can be super youthful, charming, and kinda crazy! No need to hide your reckless spirit! Who wants to grow up? Growing up is a trap anyway!
#27 Colored Claw Clips For Happy Hairstyle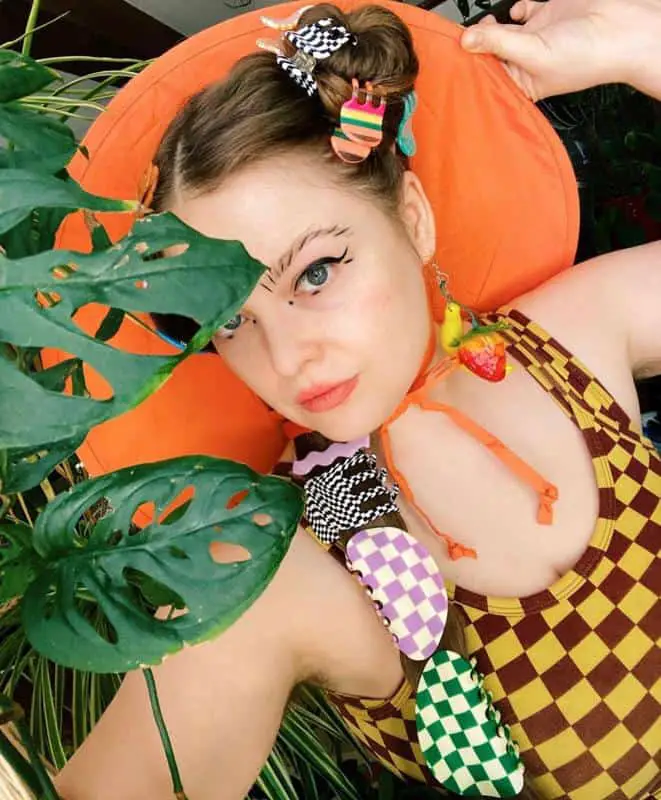 Colors are adding happiness and beauty to the world. A couple of small hair claw clips in multi colors will show off your bright character. But if you pair it with odd makeup, you will stand out from the crowd ever more! Be an artist!
#28 Eye Claw Clip For Oustanding Hairstyle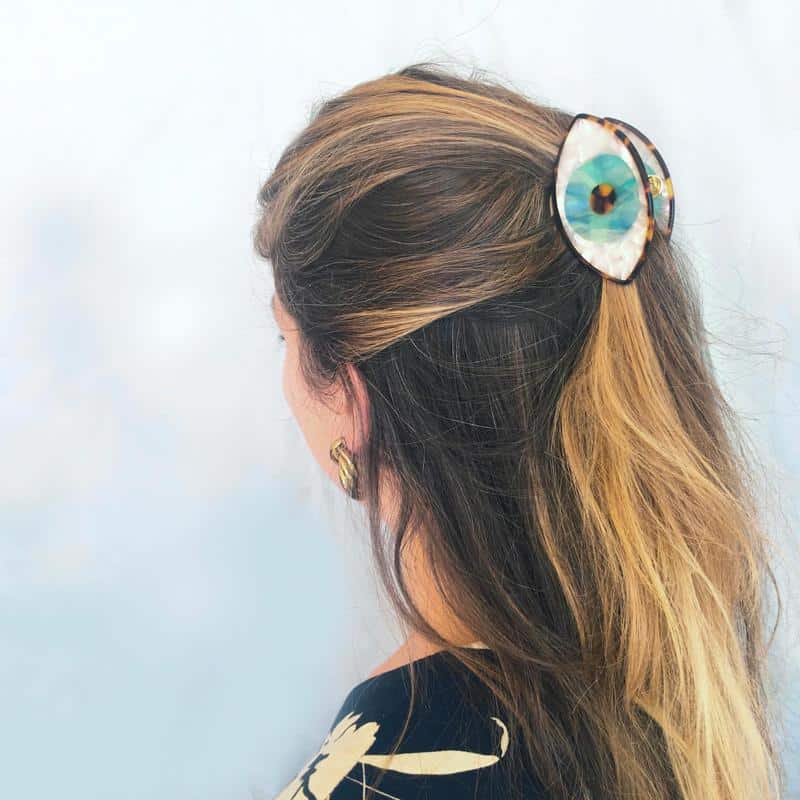 Eye claw clip is super famous since it looks strangely pretty in the hair. It will add to any fashionable wear you are after. And if we may notice, there is something spiritual about it too!
#29 Black And White Claw Clip For Hairstyle
White is absolute light, and black is the vacancy of light. And people love the story about Ying and Yang! Thus, that is already a reason to choose a black and white claw clip. But add to that how elegant it looks!
#30 Hair Claw Clip And Bandana – Elegant Combo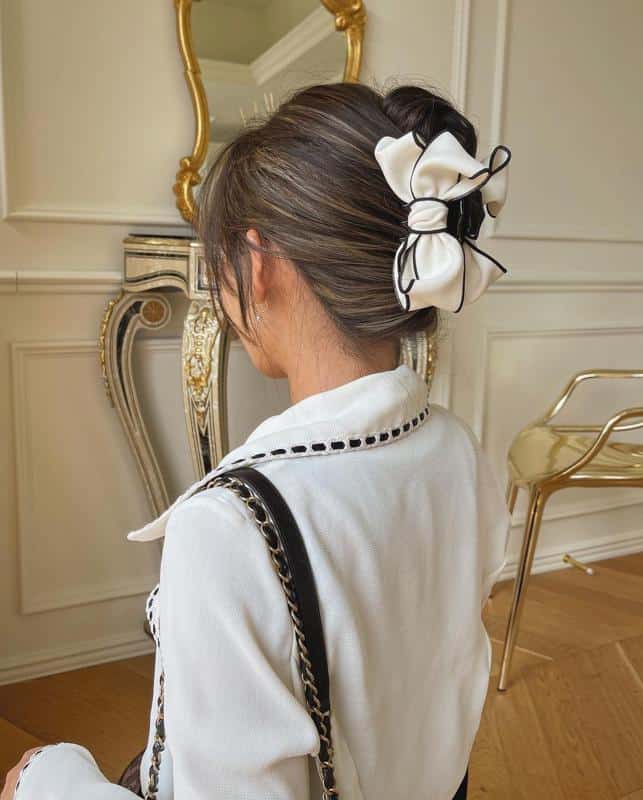 Hair claw clips can be fashionable when you wear them alone. But maybe it is not enough for you? Do you prefer to take a step forward in your chicness? Join in the bandana! Both of these accessories are super fashionable.
Tutorial For Perfect Use Of A Hair Clip Claw
There are numerous ways to make perfect hairstyles with claw clips that will remain in the place. How you do it depends on the design you are trying to gain. Bellow, we will explain the most popular ways!
A French Twist With Hair Clip Claw
You will be surprised to hear that for a perfect French Twist, you need only 30 seconds! Plus, it will suit almost all hair textures. Now, step by step how to do it:
Get all of your hair into a low-hanging ponytail. Then, spin until half of the width of your ponytail is firmly curled
Put the curled strip of your ponytail up and against the central part of the end of your head. The tangled hair should be firm enough not to slacken up fast
Ensure the highest part of the tangled hair against the roots with the claw clip. Repeat it till you reach the result you wanted
Allow the relaxed ends (the lower part of the ponytail) to drop over the French twist
The Ponytail Twist
The Ponytail Twist is higher and more fastened than a French twist. And it is perfectly fitting for thicker or more extended in lenght hair. Follow these easy steps to make it:
Put your hair into a ponytail, and make sure it is in the middle of your head, not low down! Secure it well, so it does not move
2. Wrap the width of the ponytail about two-thirds. Do it down to the ends and form a solid bun. Do not worry – some bits of the ponytail will stay, and that is fine
Lock where the bun twist stops by using a claw clip. That is also the spot where an unfastened ponytail starts! Imagine your hair design is a clock, and then place the claw clip at 12 o'clock
The Half-Up Twist
The half-up twist style is exceptional for adding volume. It will suit you if you have shorter hair, wavy and similar hair texture. And we suggest you get medium-sized claw clips.
You want to work with a top half first. So to warrant that, you could loosely put an elastic on the bottom half to separate it
Spin the lenght of the ponytail around three-fourths downward to the ends. And then wrap it a couple of times like you are making a bun. When you finish, the ends will be turned down. And it will look somewhat like a classic bun but with a few inches of width from the ponytail leftover, drooping down
Again as before, imagine your hairstyle is a clock and set the claw clip at 6 o'clock. Basically, it is where the bun twist ends. If you have long or thick hair, you can put an elastic before spinning to assure your style will not fall apart
Claw Clip Hairstyles: Q&A
1. Are Hair Claw Clips Trending?
Sure! Hair claw clips are high fashion in winter 2022, and it is expected to keep the same spot in 2023. It is even more when it comes to floral claw clips and pearl claw clips.
2. Why Are Clip Claws Popular For Hairstyles?
Claw clips are beautiful, charming, and yet effortless hairstyles accessories. And in some way, it seems like you are carrying jewels in your hair.
3. How To Make A Claw Clip To Stay In Your Hair?
Imagine your hair design is a clock. Then, you should place claw at least 6 o'clock. That will make it stay.
4. Can Claw Clip Damage Your Hair?
Claw clips are safe for use if you follow two rules! First, keep in mind that your hair is highly elastic when it is damp. So, if you stretch it more, it can easily break. That means that you should not put claw clips on your hair before it dries. Secondly, prolonged wear of clip claws, such as some other hair accessories, may produce the hair to befall. Further, you should not wear them all the time.
5. Which Celebrities Wear Claw Clip Hairstyles?
Many celebrities are spotted wearing hair clip claws, which is not a wonder since this accessory is trending. But some of them are Kendall Jenner, Bella Hadid, Hailey Bieber, and Kaia Gerber.
The Bottom Line
So, are you still in doubt about wearing hair clips? We are sure you will fall in love with these stylish queen accessories if you try them. The best about them is that you can take them in your handbag and change your hairstyle along the way. That means you cannot ever get bored with your look! Rock it in 2022!