32 Best & Free DIY Makeup Vanity Table Ideas
When you shop through links on our site, we may earn an affiliate commission. This educational content is not intended to be a substitute for professional advice.
Looking for some of the best and prettiest vanity tables? Luckily for you, you've come to the right place! Women who are into makeup or hairstyles, as well as professional artists will appreciate this article. Here, we will review and show you some of the best and most popular vanity table ideas. If you're on a lookout for your ultimate model, keep on reading!
Why you should get yourself a vanity table?
A vanity table can be quite useful if you're a professional makeup artist, and especially if you plan on storing or holding a lot of makeup in your vanity.
Aside from makeup artists or people who love to do makeup, you can also get yourself a vanity if you're a professional hairstylist or a hairdresser. You can store all of your small and little tools in your vanity and do hair at a convenient and more practical way.
Storing your makeup, accessories, or tools is way easier when done in your vanity.
What to store in your vanity table?
Some of the items that you can store in your vanity table are:
Hairbrushes
Makeup brushes
Cotton rounds
Jewelry
Makeup
Hair rollers
Q-tips and nail polishes
Hair ties
This is quite different for everyone and it is an individual experience. Make sure to customize and set-up your vanity per your preference and your needs.
How expensive are vanity tables?
Their price can truly vary and this depends on your manufacturer, as well as the materials that have been used in the production. However, you can DIY your own table and save some money by decorating and remodeling an old table. Usually, a vanity can cost you around $400-600.
However, with the right tools and accessories, you can create a practical yet handy vanity for less than $200. Always adjust it per your preference and your budget before you begin the process.
32 Best & Free DIY Makeup Vanity Table Ideas
1. Subtle Rose Pink Vanity Table Idea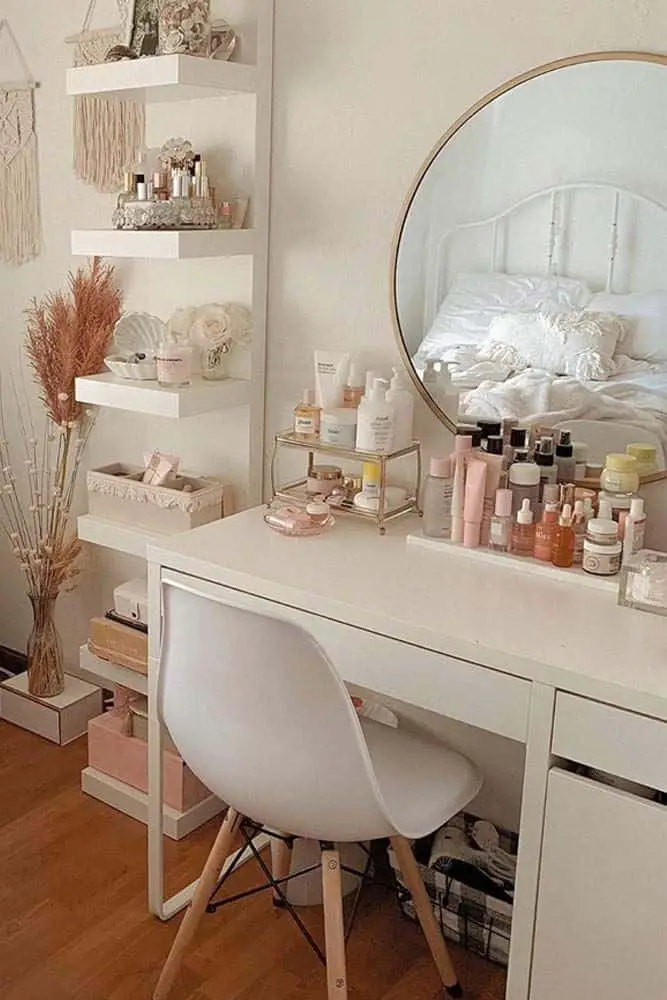 This is a gorgeous subtle pink & white vanity that has a princess vibe to it. If you are a fan of feminine colors and you like that soft feel, go for this vanity. It is very easy to set-up as well.
2. Minimalistic Dark Green Vanity Table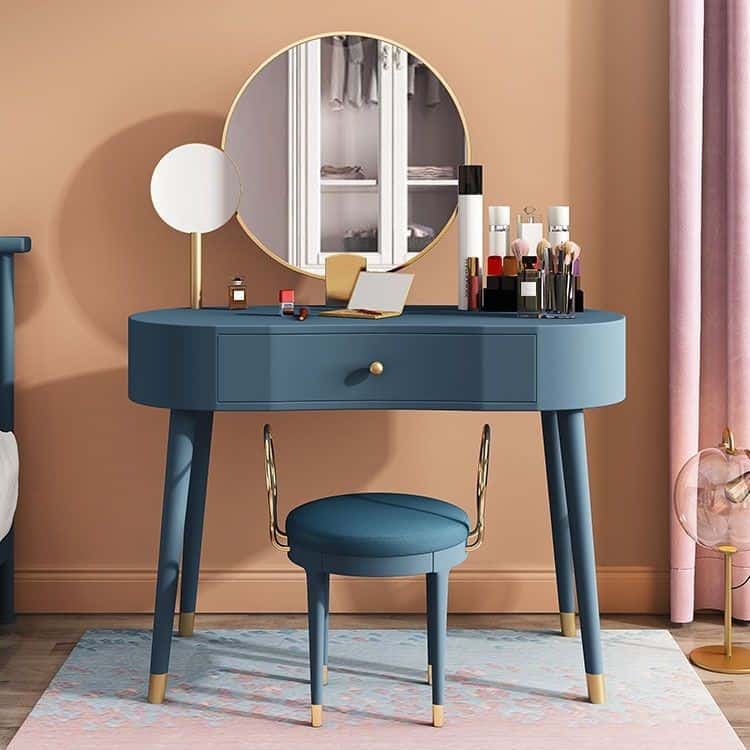 Dark green color can look so lovely with hues of golden details. This dark green vanity is super playful as well as modern. You can store most of your makeup brushes on top of it, and some of your makeup items in a drawer!
3. White Wooden Vanity DIY Table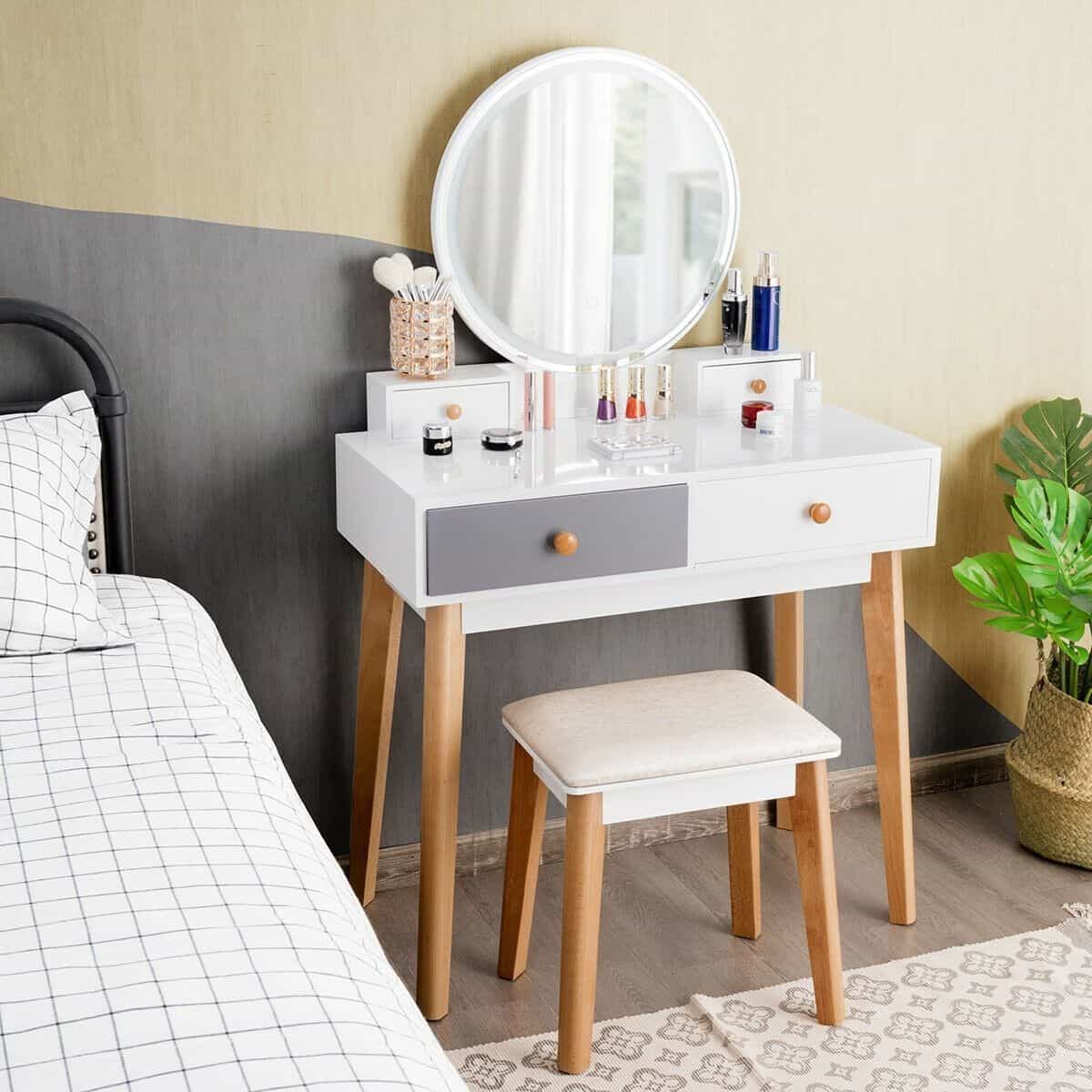 This white wooden vanity table will look cute in your room and next to your bed. If you don't have a lot of space and you're not too sure what to do, this is a great idea and an inspiration that many will love!
4. Elegant And Feminine Vanity Table With Bulbs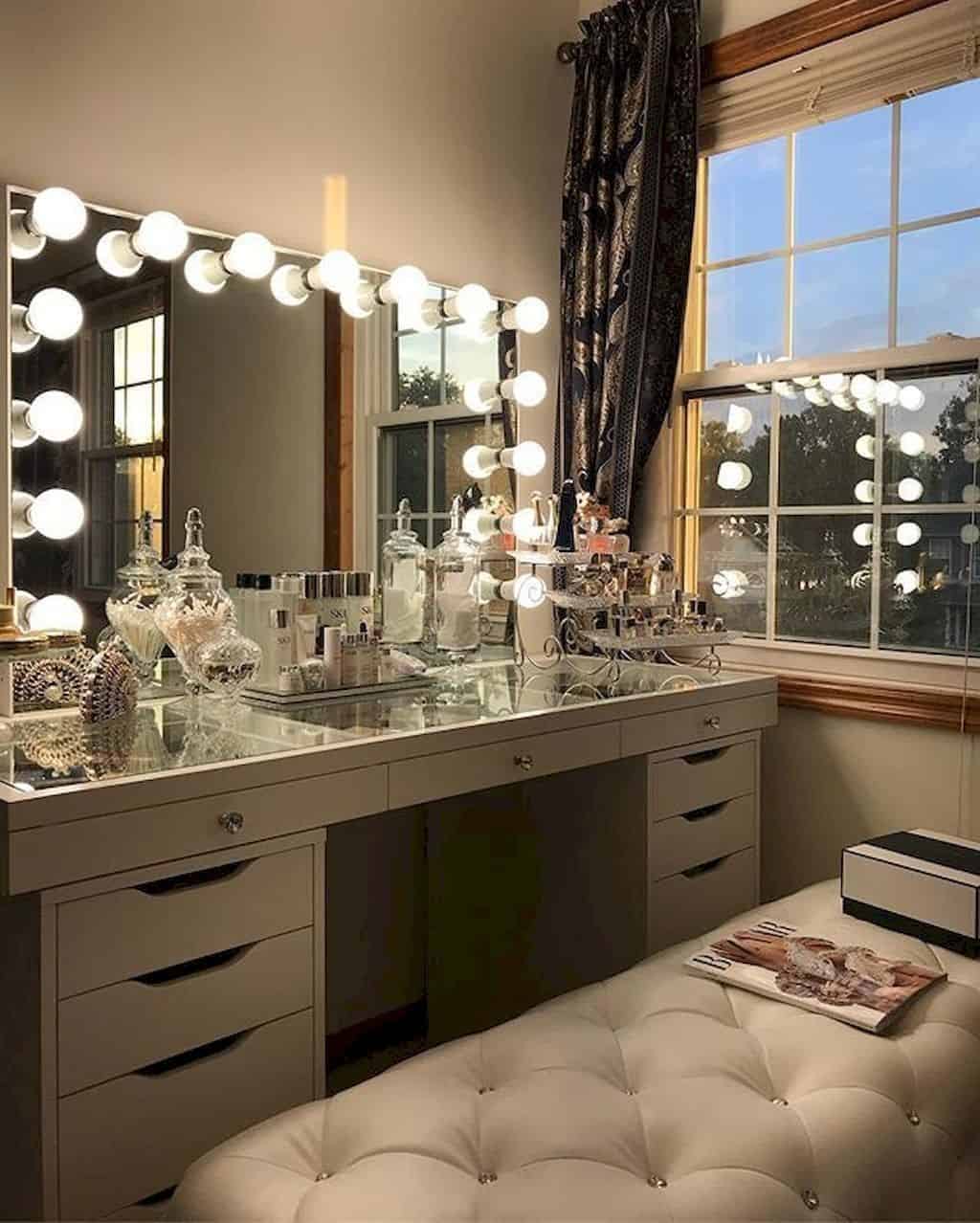 If you're a fan of feminine and luxurious looking vanity tables this one will appeal to you the most. It has loads of lights, giant bulbs, as well as a glass surface. This vanity is great if your budget is not strict and you're trying to achieve that extravagant vibe!
5. Beautiful White & Wood DIY Vanity Table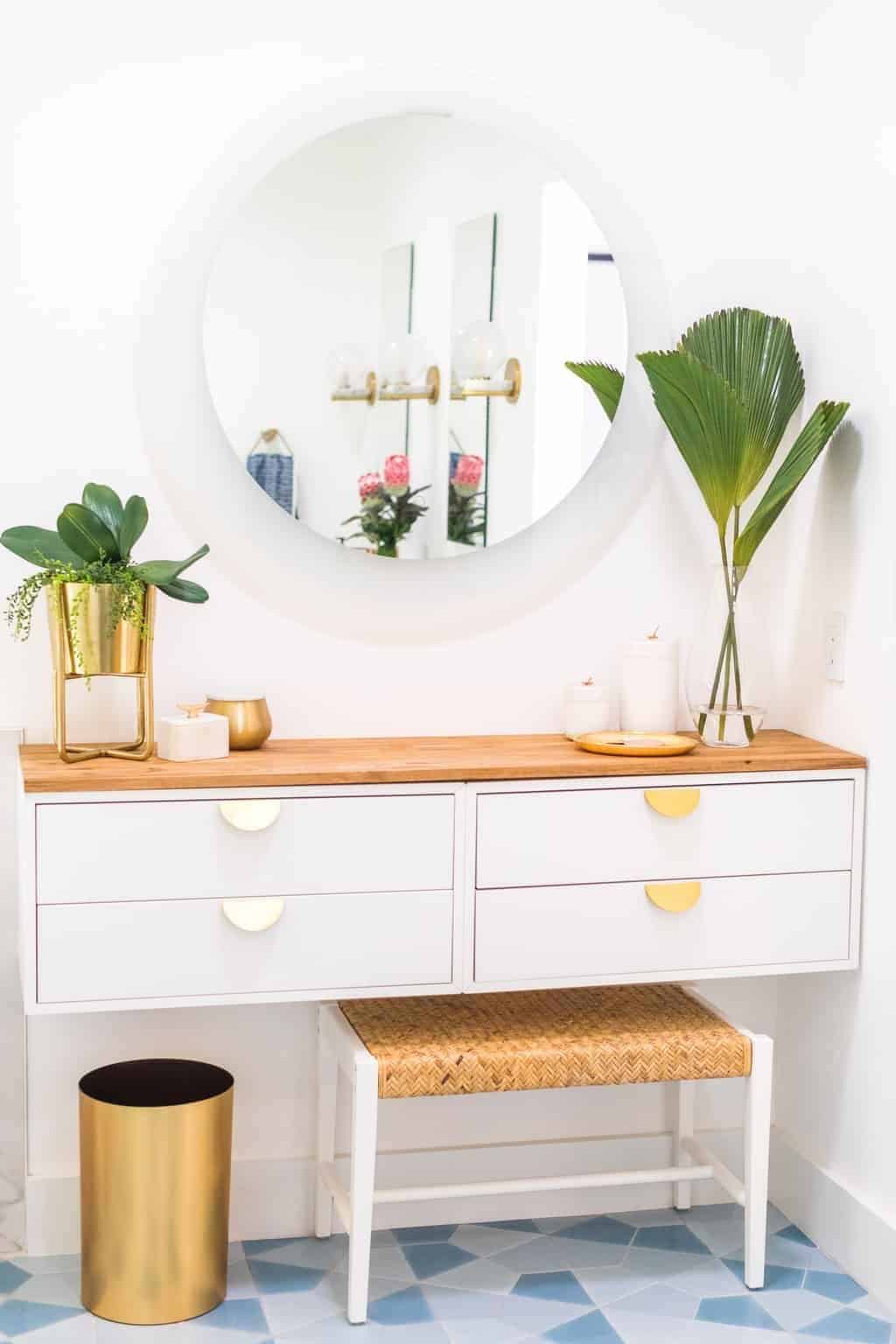 You can throw a plant or two over your vanity. This wooden white vanity table looks very rustic and you will love it in your bedroom, but especially in your bathroom! You can also throw in a candle or two to make the whole vibe more boho and playful.
Fun fact: Go for plastic or fake flowers since they are way easier to maintain. They also look a lot more pretty over your vanity due to their vibrant colors.
6. Gorgeous Large Vanity Table With Closet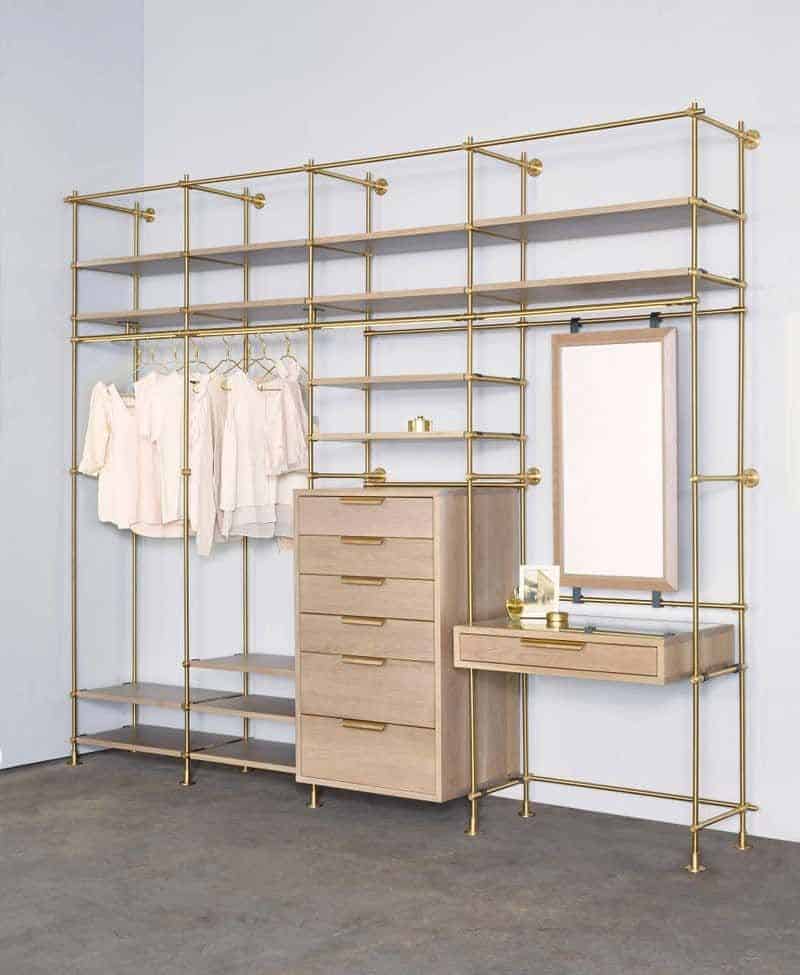 Dramatic wood elements with golden details look feminine and rustic. Is this the vibe that you like? This large piece will look amazing in your bedroom, especially if you prefer to have your closet storage next to your perfumes, shoes, as well as your makeup!
7. Cute & Petite Vanity DIY Table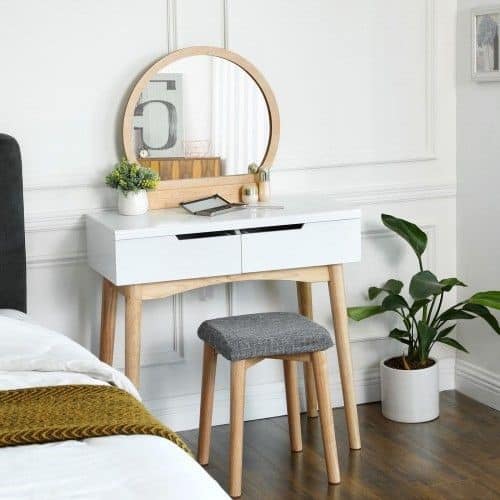 Low-key and minimalistic furniture will make your room pop. This vanity is perfect for women who don't have a lot of makeup to store. Go for white, nude, grey, as well as green elements and you will make your room comfy and cozy at the same time!
8. Modern & Beautiful Grey Vanity Desk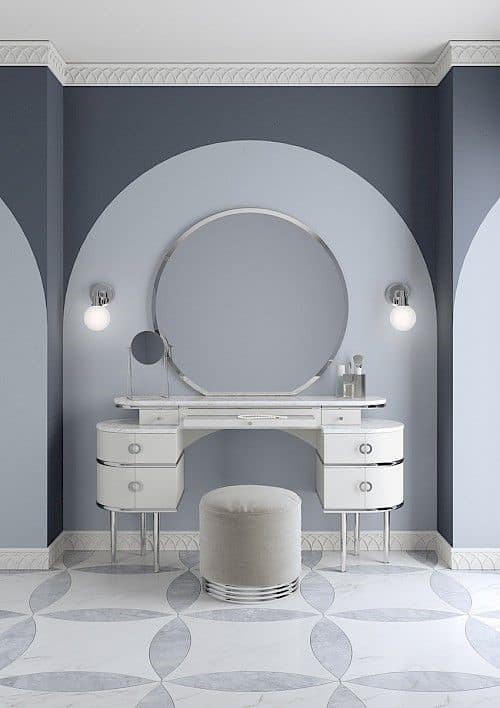 Some women may prefer futuristic as well as high-tech rooms a bit more than others. This is why you could also go for this vanity – if you love modern looks. This vanity is great for women who have a lot of extra space and additional storage at their home.
9. Petite Pink Vanity Table For Small Room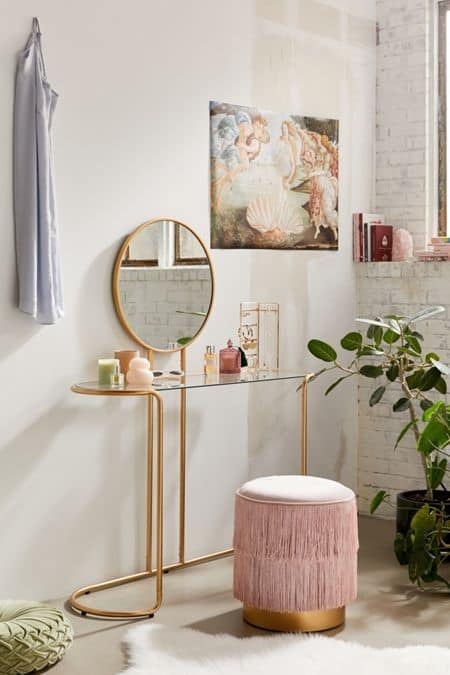 This feminine pink vanity looks great and will complement smaller spaces the best. Just get yourself a pink cushion chair and make the room pop! This vanity table will come in handy for women who don't have a lot of makeup to hold.
10. Unique Shaped Mirror For Vanity Table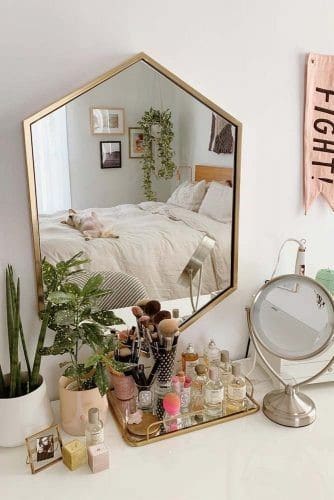 Your vanity can be simple and minimalistic, but you can give it a pop with an unusual mirror. This hectagon shape is beautiful and not too pricey to get either. Place your most-commonly used items on a tray and enjoy this French vibe!
Fun fact: You can also place all of your perfumes on your vanity table. Store them on a tray or in a unique organizer to browse through them a lot easier.
11. Feminine & Cute Vanity Table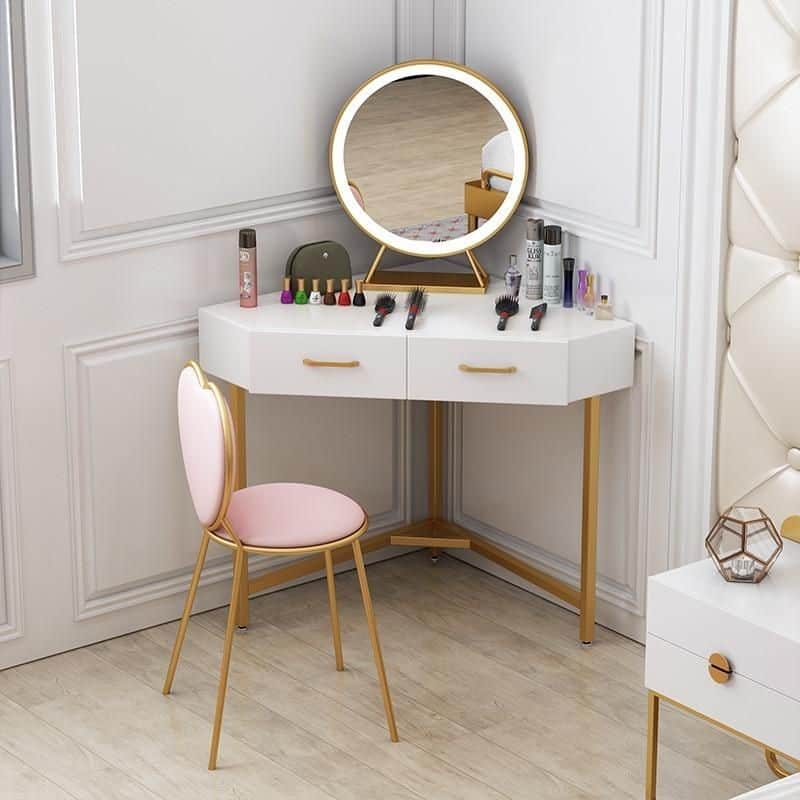 This cute little French-inspired corner is great for girls or women who love to do their makeup in peace and quiet. You will also love this heart-shaped chair next to your organized vanity.
12. Green Table With Golden Mirror Vanity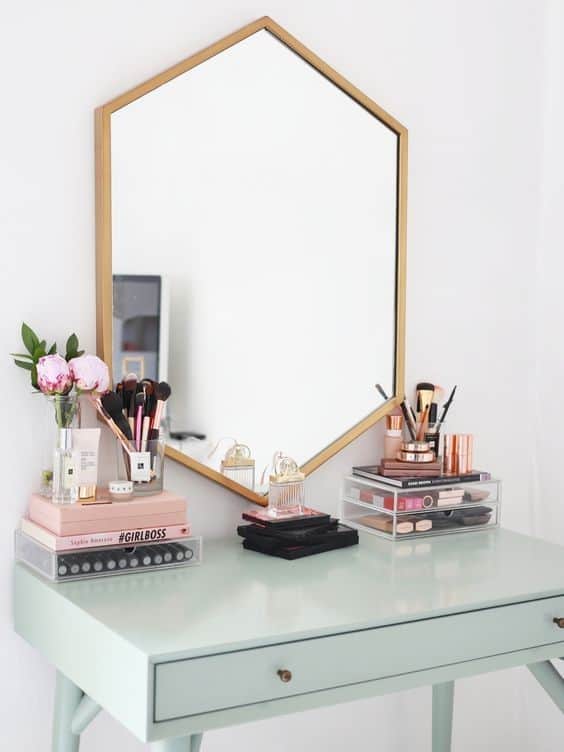 You can color your vanity in this beautiful green color and enjoy a high-shine table such as this one. It will look great once placed next to pink makeup and accessories as well. If you are a fan of retro corners – you will love this one.
13. Dramatic & Feminine Pink Vanity Table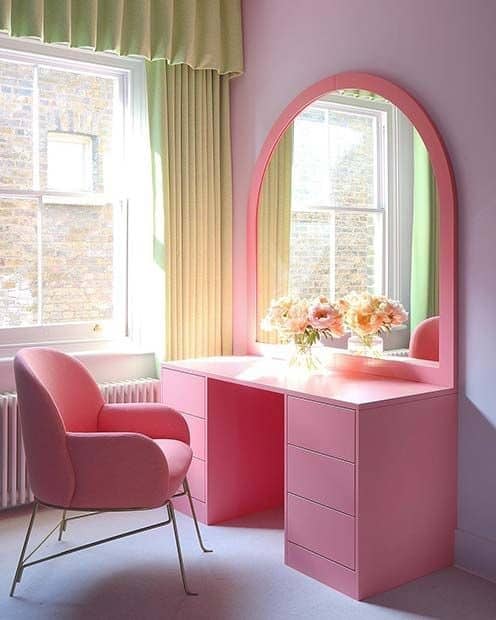 All pink vibe is super cute and will suit women who love this true Barbie pink color! If you are a fan of noticeable vanities and you love flashy colors you will enjoy this one in your bedroom. Place loads of different flowers on top of your vanity to make it even more feminine.
14. Gorgeous All Green Vanity Set-up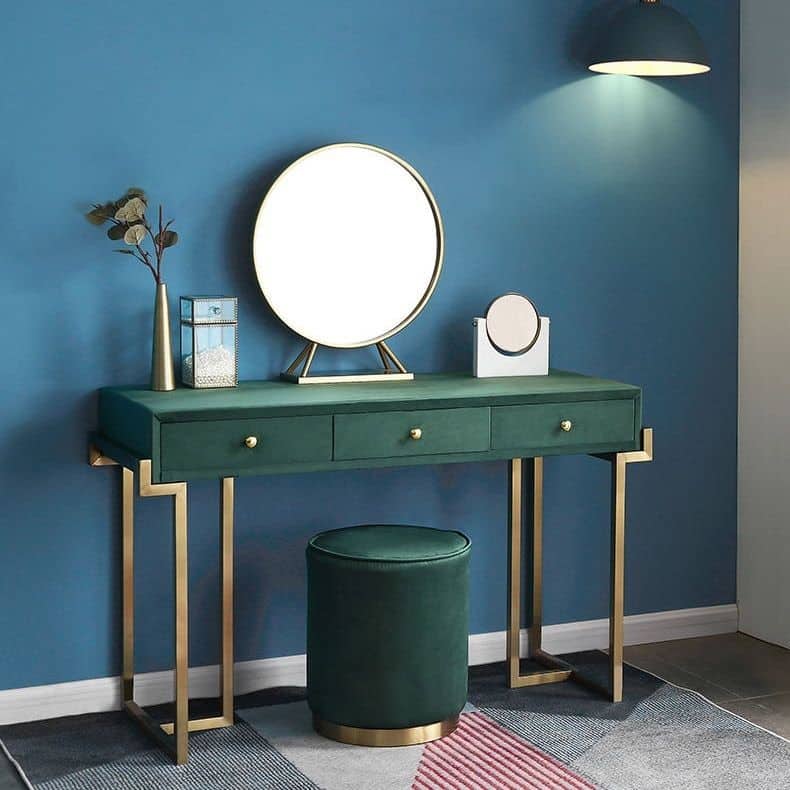 If you want to make your room unique and you are a fan of bold colors, green & gold is your perfect go-to! This vanity table can store most of your makeup as well as hair items and accessories.
15. Pink & Grey Vanity Table
Your vanity table can look sophisticated and formal! This vibe will suit older women, as well as girls who love this tidy look. Place a plant of some sort on top of your vanity to make it pop even more and to give it this feminine vibe.
16. Urban & Modern Chic Vanity Table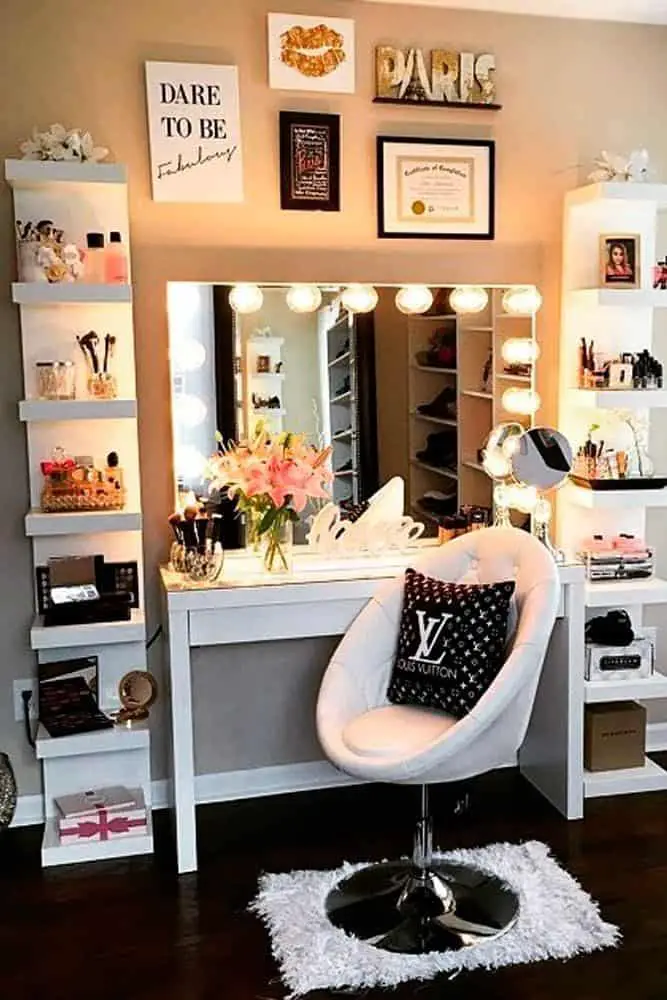 Urban and modern vanities such as this one will look amazing for women who love a futuristic vibe. Decorate your table with loads of makeup and your chair with cushions. This will give it that playful and girly vibe, perfect for teens!
17. Romantic And Vintage Victorian Inspired Vanity Table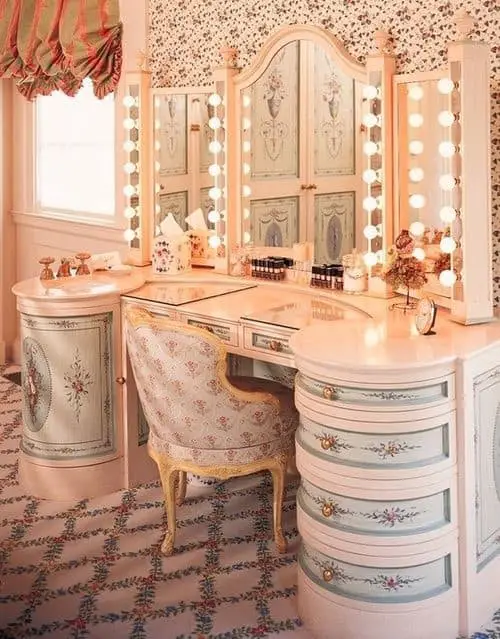 If your budget is flexible and you're trying to achieve something different, unique, as well as extravagant, this vintage vanity is for you. It looks so romantic and as if it was inspired by the renaissance!
18. Cute White Corner Vanity Table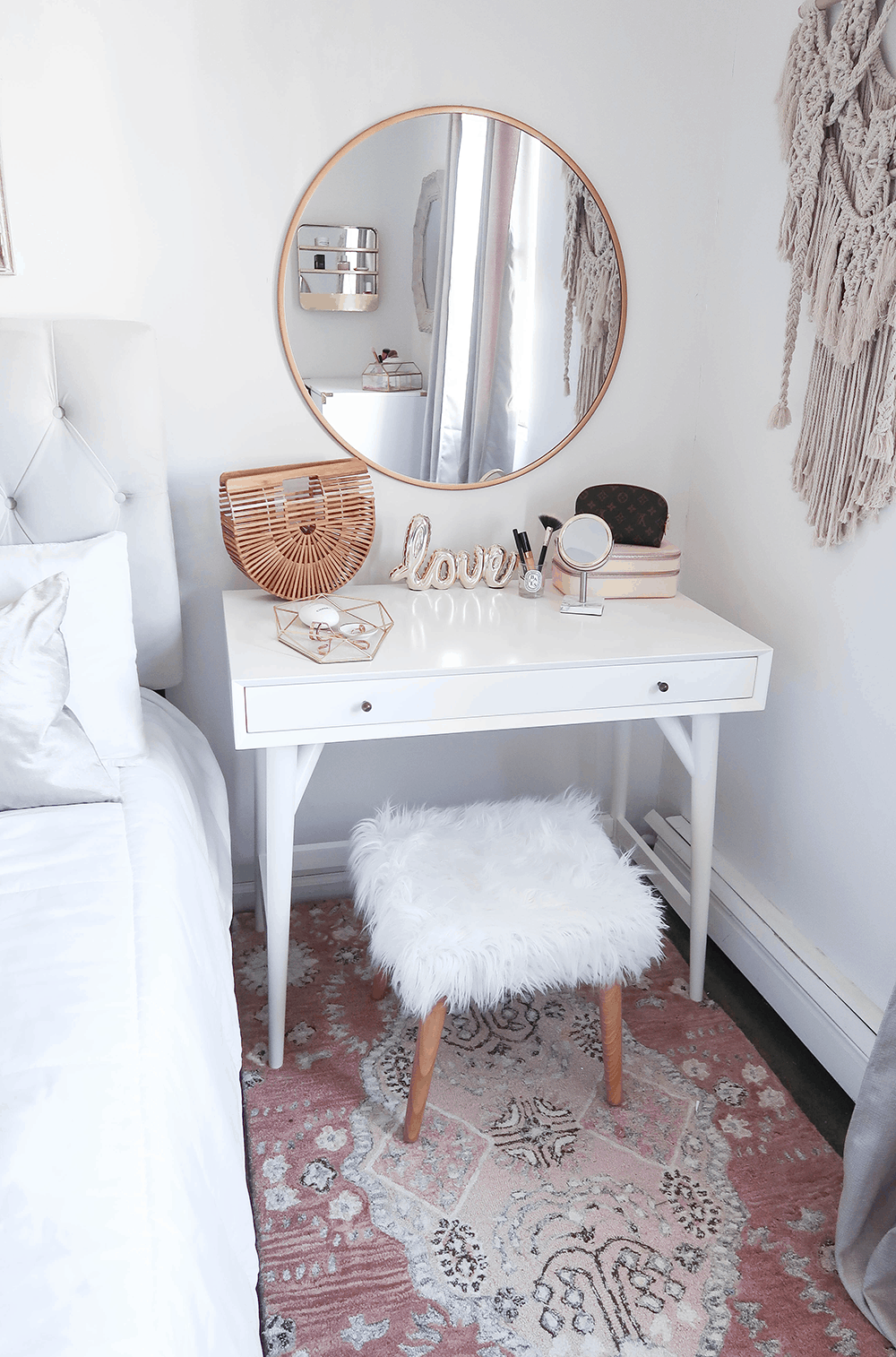 If you dislike color and you are into white furniture, as well as white decorations, go for this vanity. It looks feminine, low-key, as well as retro at the same time. This vanity table will look the best in a smaller room and right next to your bed and your window.
19. Feminine Pink & White Vanity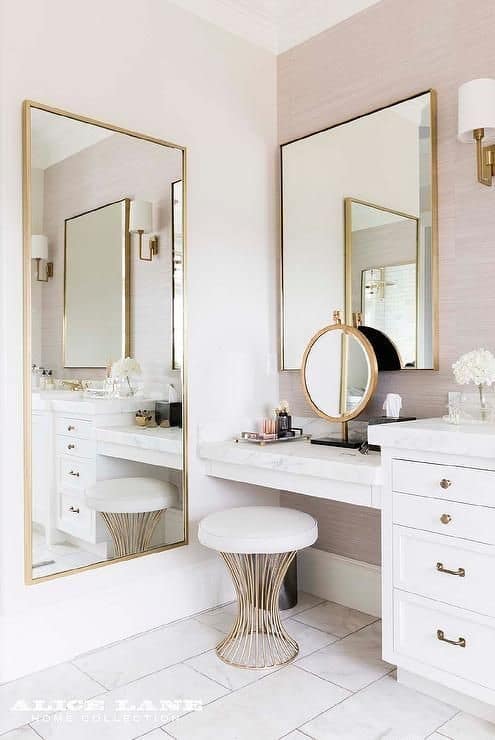 If you don't have loads of space to spare, think about placing your vanity in your bathroom. This look is vintage, practical, as well as beautiful. All you have to do is place one small chair underneath your vanity and you'll love your little makeup corner.
20. Retro & Wood inspired Triangle Vanity Table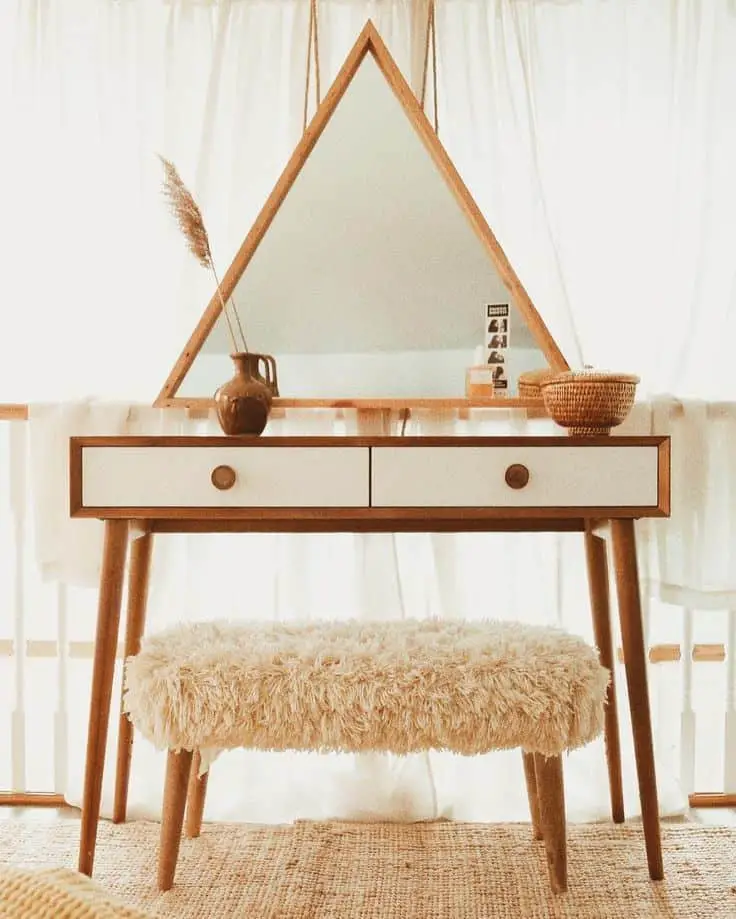 You can enjoy your boohoo vibe and this retro style and create your own little vanity. It looks very fashionable and you will enjoy it since it is so unique and different than the rest. Place some wooden pots as well to give it a casual vibe.
21. Romantic All White Vanity Table
Elegant and vintage vanity tables will look formal and extravagant. This look, in particular, may be a bit hard to pull off. However, if your room is quite big to begin with, you will love this grandiose look!
Tip: Add a pop of color with some elements. For instance, you could have a colorful lamp on top of your vanity just to break-up the monochrome look.
22. Dark Brown Wood Inspired Vanity Table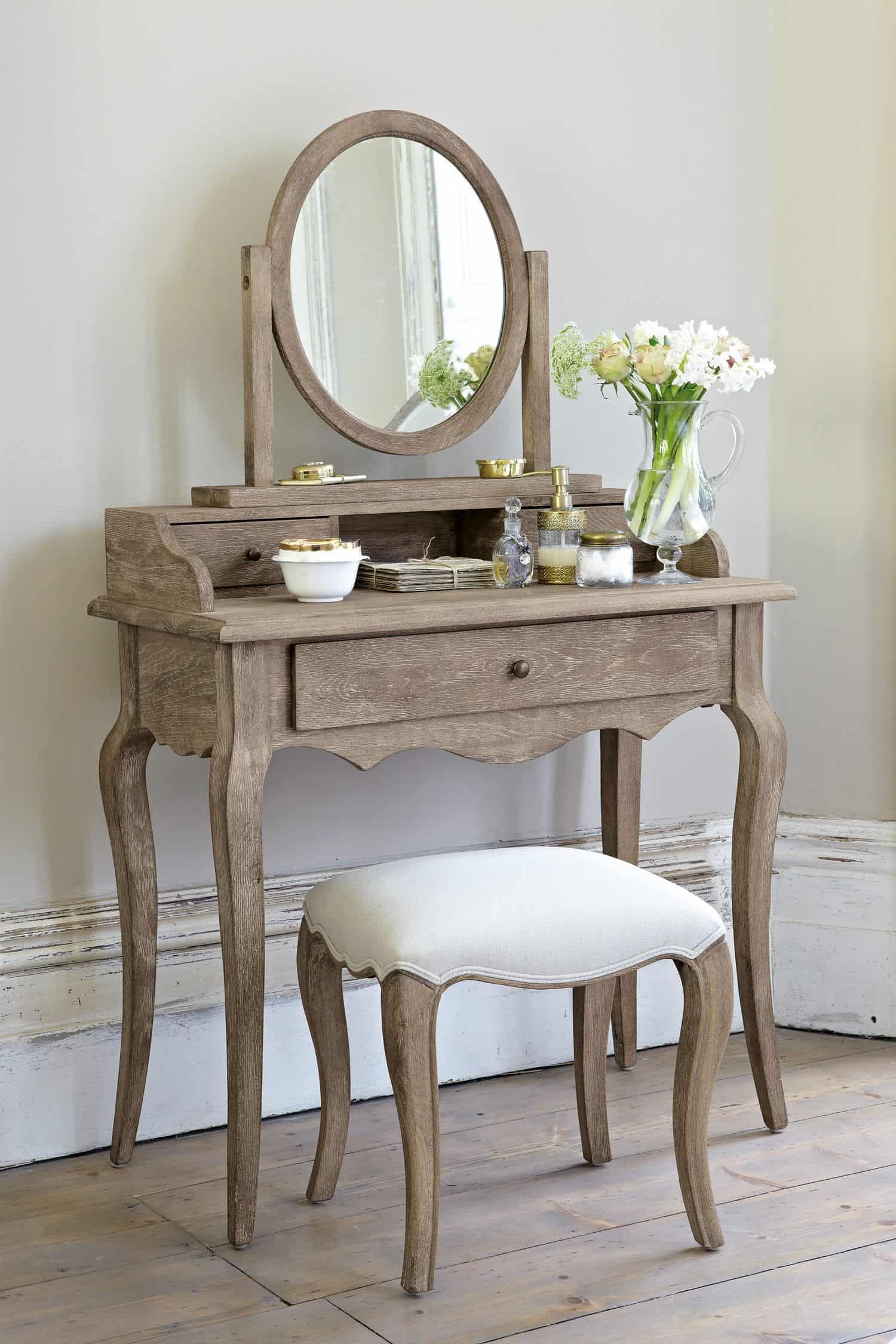 You can paint your old table in this gorgeous color and use a small chair to give it this vintage pop. This color combo will look soothing + beautiful when paired along with some flowers on top.
23. Feminine, Flirty & Floral Pink Vanity Table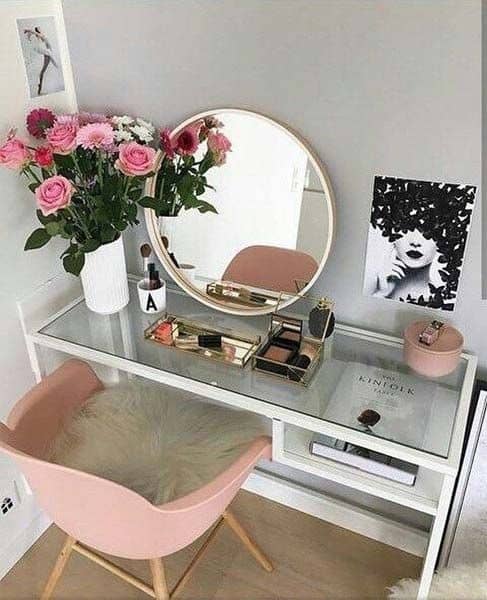 If you're not afraid of color and you're a fan of gorgeous pink combos, go for this vanity. It looks soft and romantic + it is the prettiest choice if you're a fan of luxurious looks that are super affordable to achieve.
24. Gorgeous And Modern Vanity Table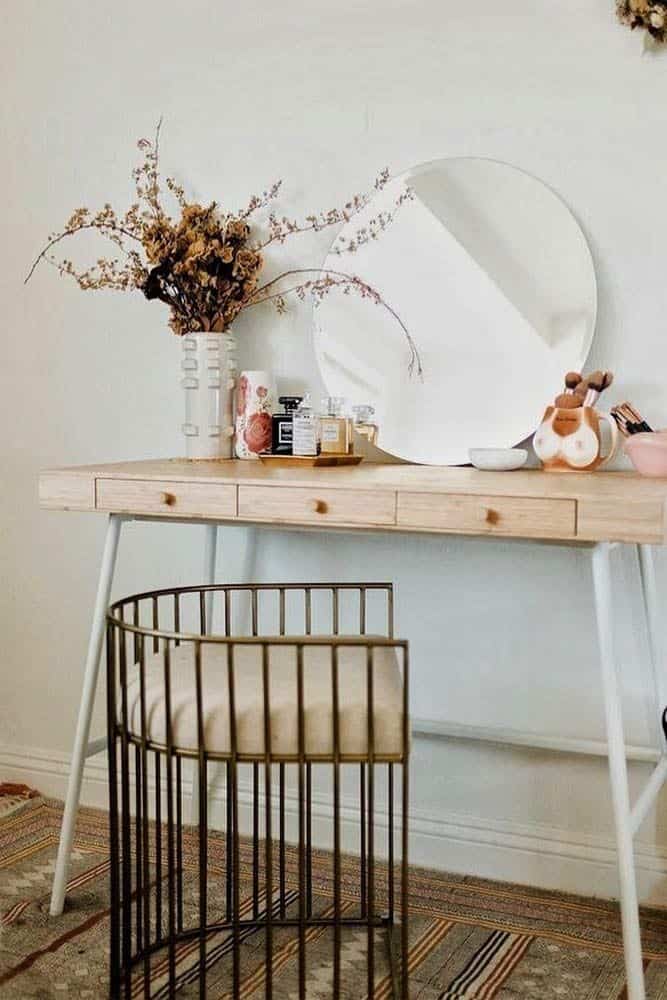 This black chair is full of life and is such a unique and cool piece. You can decorate it as well with some flowers, but keep the vanity low-key and minimalistic in that case.
25. Rustic Vibes Dark Brown Vanity
If you want something beautiful for your bedroom, go for this vanity. It has a unique brown, black, as well as white color combo. You will enjoy it since it is so neutral and is perfect if you live with your boyfriend or your husband. This is such a unique piece that will complement most bedrooms.
26. Unique And Elegant All Silver Vanity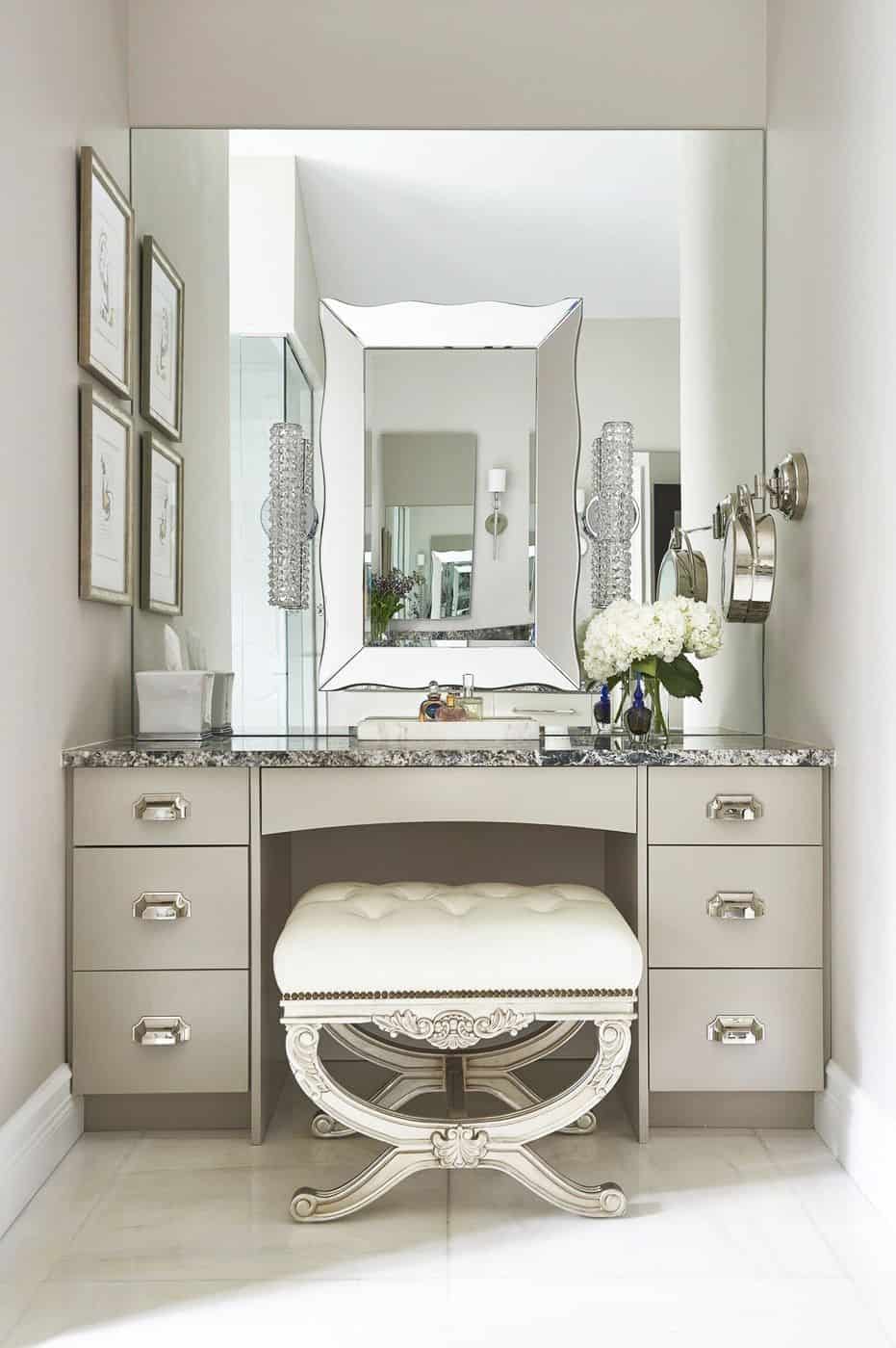 If you're working with a small corner and a small section in your room, go for this vanity. It is so minimalistic, perfectly squeezed in + is very feminine and easy to set-up. Women who prefer elegance will love this vanity section.
27. Playful White Corner Vanity Table
You can combine your makeup, clothes, as well as jewelry and accessories in one corner. This vanity can store most of your items + it will look lovely in larger bedrooms as well as living rooms.
28. Rustic & Old Inspired Vanity Table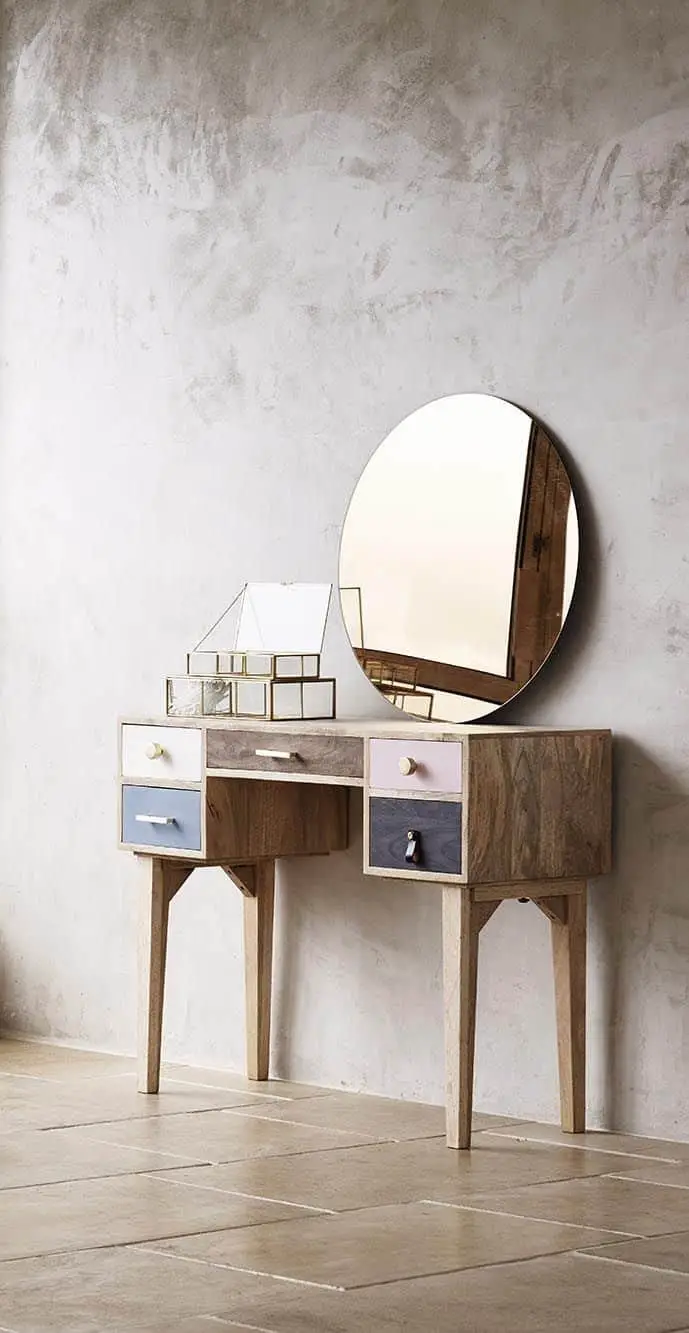 This gorgeous & large mirror with wood elements is the perfect vanity if you share a room with someone. It is such a neutral piece that you will love for any corner of your home.
29. Elegant And Feminine Minimalistic Vanity Table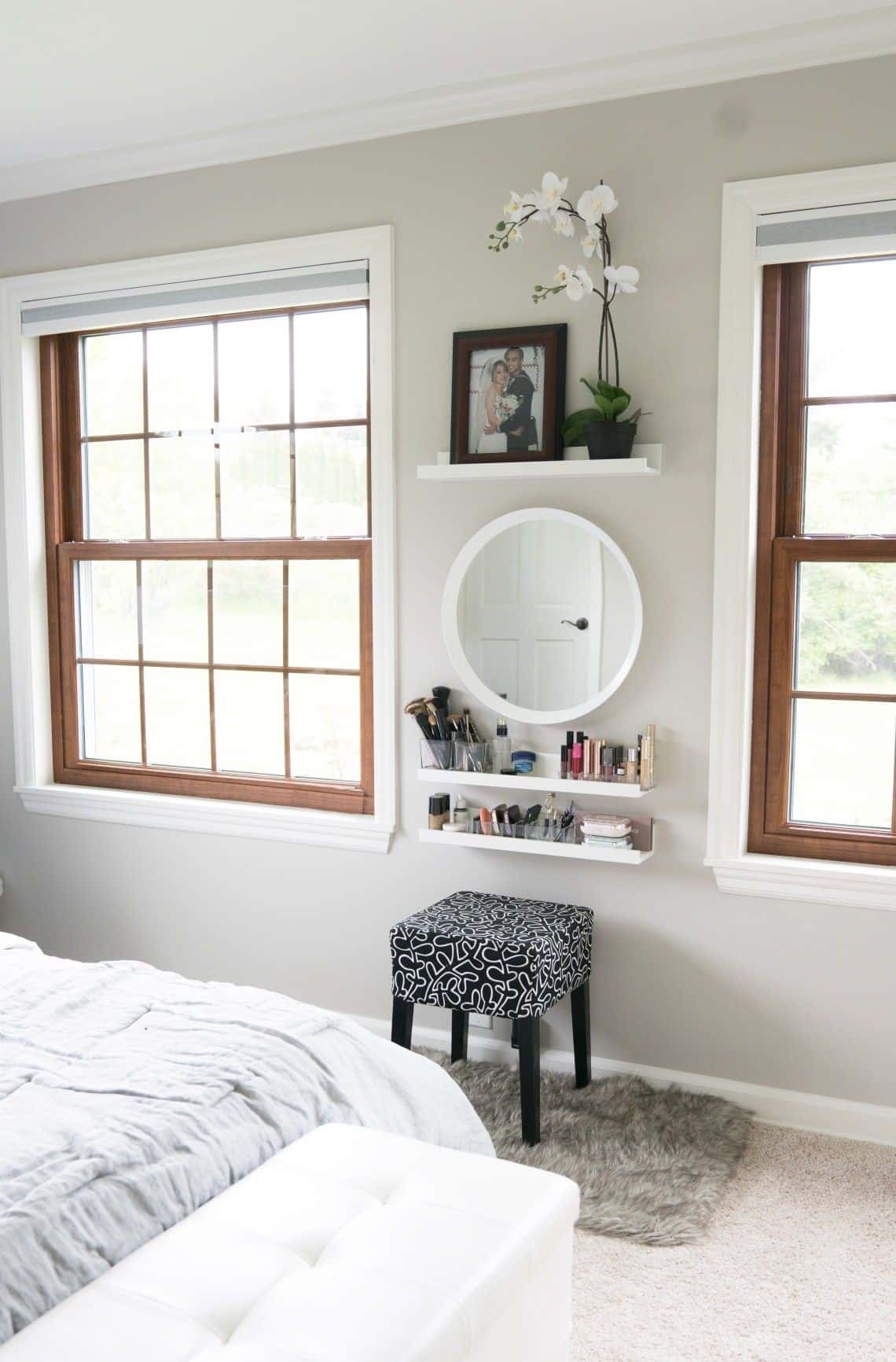 Grey, white, as well as off white colors are super easy to pull off. If you're not too sure about your ideal go-to color combo, give this one a chance. You will enjoy this little makeup corner right in front of your windows.
Tip: If you can't place your bulbs over or in front of your vanity, make sure to take the advantage of natural sunlight. Place your vanity in between windows for that extra sun boost!
30. Retro Wood Brown & White Vanity Table
This little vanity is an amazing makeup corner if you have loads of makeup that you need to place and organize. If you are on a lookout for something feminine yet easy to pair along no matter the room – this is your vanity!
31. Unique Vintage Inspired Vanity Table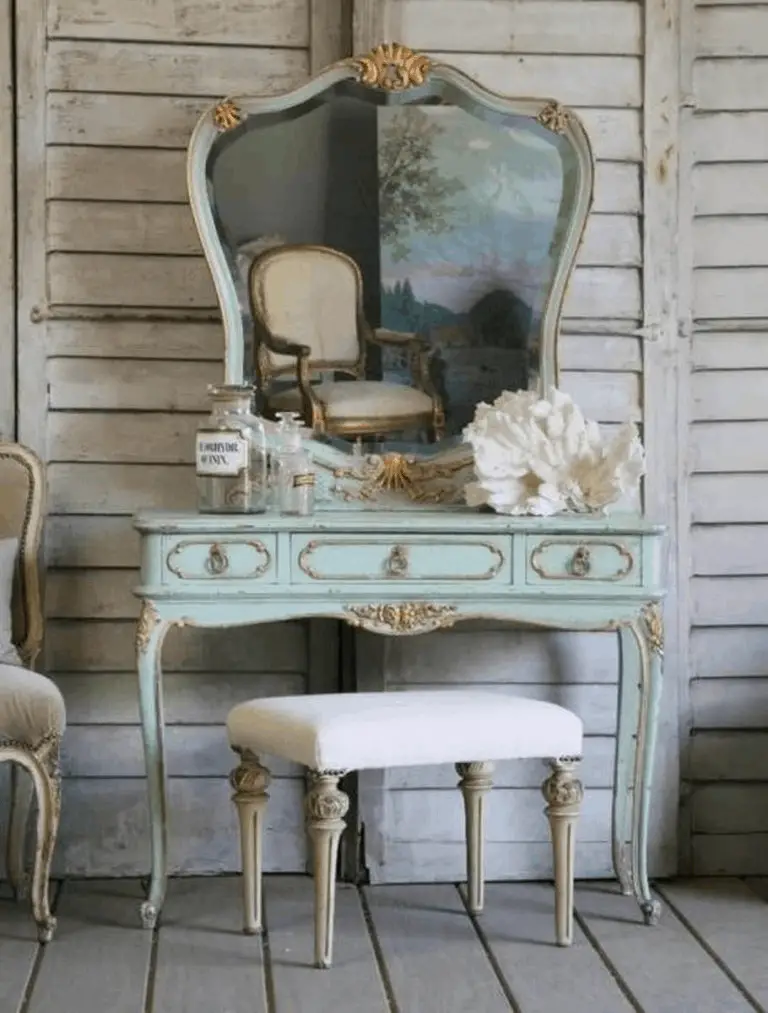 If you love the renaissance era and you love this little French vibe, go for this vanity. It looks so feminine and beautiful in this green color combo, especially with some white flowers and a white chair.
32. Chic & Boho Inspired Vanity Table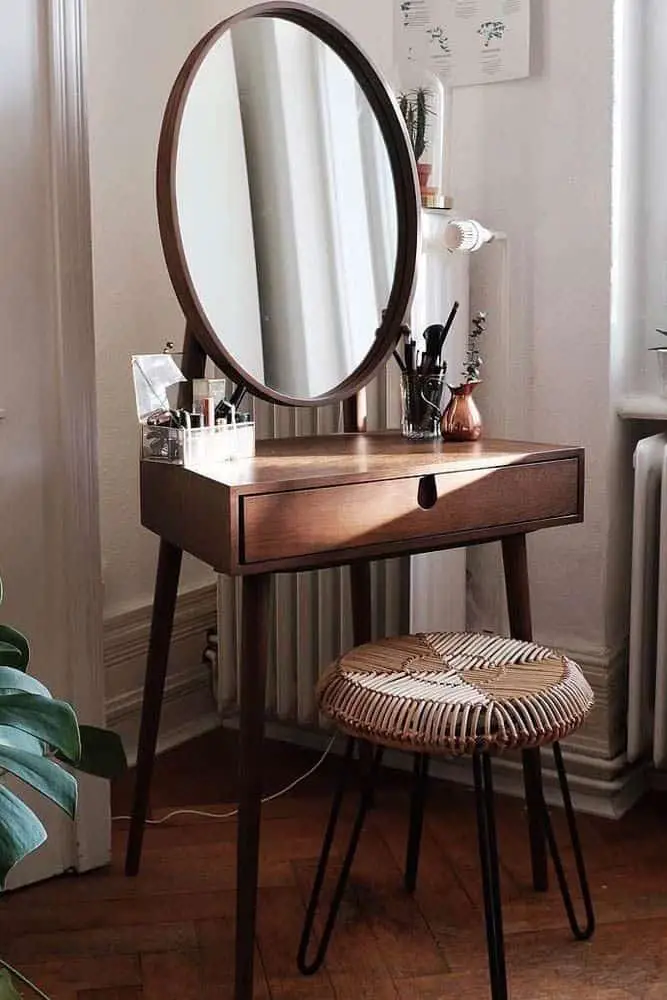 Last, but not least, if boho is your lifestyle and you're a fan of asymmetrical pieces as well as unusual designs, you will love this vanity. It is pretty small yet it can make an amazing impact once done the right way.
Q & A Section
Q: Is it better to DIY my vanity table, or to purchase a new one?A: This is pretty individual and it can vary from one person to another. How big is your budget, and how much money are you willing to spend on your vanity? Also, if you are a crafty person and you love to DIY most of your furniture, decorations, as well as little projects, create your own and customizable vanity!
Q: How big does the vanity have to be?
A: How many things do you have and you wish to store on top? Go for a vanity that will suit most of your (if not all) cosmetic products. Most women love to get one or two drawers, as well as a few containers on top to make their vanity work.
Q: Where to place my vanity?
A: Most women love to place it in their bedroom, their bathroom, or their makeup/closet room. In general you can place it wherever you like, just make sure that it is close to your windows since you'll be needing a lot of sunlight.
Ready For Your New Vanity?
Are you ready to test out your new vanity? Let's get to building and creating your own unique makeup corner, asap! Let us know which one of these 32 options was your favorite. Also, let us know if you plan on making or purchasing your next vanity in the comments down below, we would love to know!