14 Clever Diy Wine Rack And Storage Ideas
When you shop through links on our site, we may earn an affiliate commission. This educational content is not intended to be a substitute for professional advice.
Interested in creating your wine rack? It is possible! You don't have to spend loads of money to display your fabulous wine collection since you can DIY your own racks!
In fact, in this article, we will review and present some of the best options that you will fancy for your home, flat, or cafe! Keep on reading and find out how to do these on your own, and explore some gorgeous ideas down below!
Why Get A Wine Rack?
A wine rack can be an interesting accessory for your kitchen, or your living room. You will enjoy displaying all of your wines and presenting them to your guests in proper order.
A wine rack is not too expensive to get, or even make on your own! You can enjoy presenting your collection in different ways and interesting cabinets.
Both men and women will enjoy this handy and practical tool + you will love it for your at-home, shed office, or even party set-up surrounding!
Who Should Get A Wine Rack?
A wine rack will suit younger adults, as well as mature men and women who love to collect wines and different kinds at their home. You can get it if you are:
Someone who likes to drink wine with every dinner or any other meal
You are a collector
You love to decorate your house
You are a fan of sophisticated scents and flavors
You are on the lookout for a practical and sentimental present for you or someone else
You want something that will give an element of elegance to your living room or kitchen
How To DIY Your Wine Rack?
You can DIY a wine rack by following a certain set of rules and by gathering all the needed tools. Here is how to do it in a couple of simple steps!
Step 1: Use a drill and cut through your plywood pieces of an old shelf.
Step 2: Assemble the cabinet sides and figure out how you want them to look.
Step 3: Drill 3/4" pocket holes on each side of your cabinets, and attach screws.
Step 4: Figure out the angles and glue the leftover parts back together.
Step 5: If you want, color your wine rack with some paint that is suitable for wood, or you can even use acrylics.
If you wish to know a bit more and you need an in-depth tutorial, give Addicted2diy a click! They have everything written down.
Our Top 14 Best DIY Wine Rack Ideas For You To Try Out
1. Metal Handle Bathroom Inspired Wine Rack And Glass Holder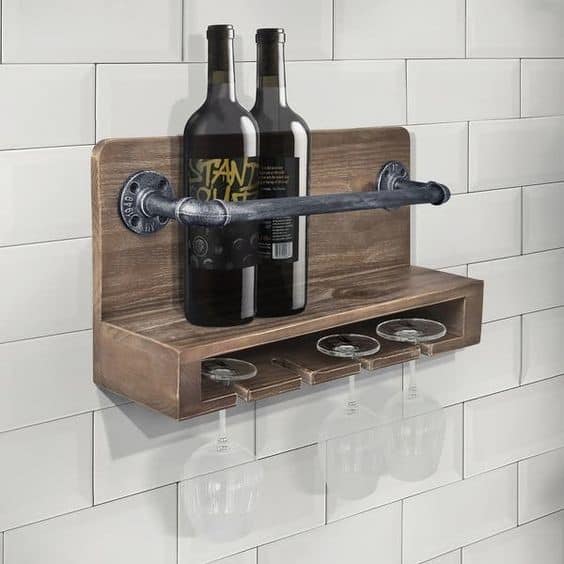 Are you a wine lover, but a passionate one? If so, you will appreciate the beauty behind this wine rack! It is installed in your bathroom, and t looks so unique and perfect for fancy couples or families.
How to do it?
Step 1: Drill two holes in your wall.
Step 2: Use your old towel holder, or a large handle (from barn door, for instance).
Step 3: Place the handle over your previously made rack (just use plain wood plates and get this practical piece).
2. Picture Metal Frame With Wooden Boards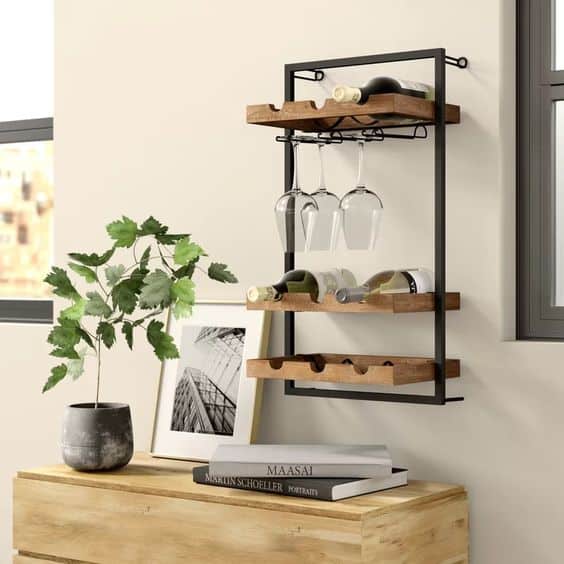 This modern and luxurious wine rack with a black frame is sophisticated, yet super easy to make! It will look the best once placed in your living room, along with some books or flowers.
How to do it?
Step 1: Use your old picture frame (make sure that it is the biggest one that you own).
Step 2: Drill four holes in your wall.
Step 3: Purchase 3-4 larger cutlery holders and screw them in between the metal parts.
3. Asymmetrical Zig Zag DIY Wine Rack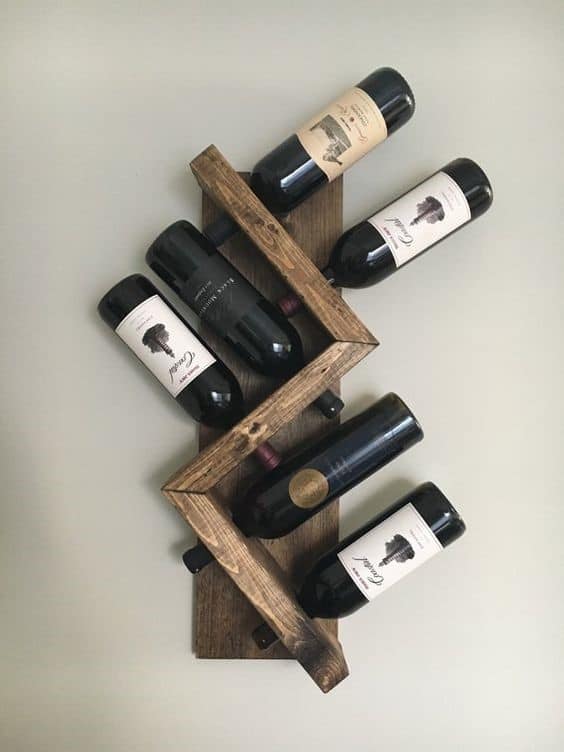 Are you an artsy person who prefers unique and unusual pieces at your home? This gorgeous and giant wine rack will suit you! It is luxurious-looking, screams high-end, but the truth is that it is so easy to make!
How to do it?
Step 1: Make sure that you have required tools, such as a miter saw, pencil, tape measure, and a wooden glue.
Step 2: Color your wood beforehand if you're trying to achieve that monochrome and simple design.
Step 3: You can check out Rogueengineer for an in-depth tutorial on this amazing design!
4. Hexagon Shaped Metal Wine Rack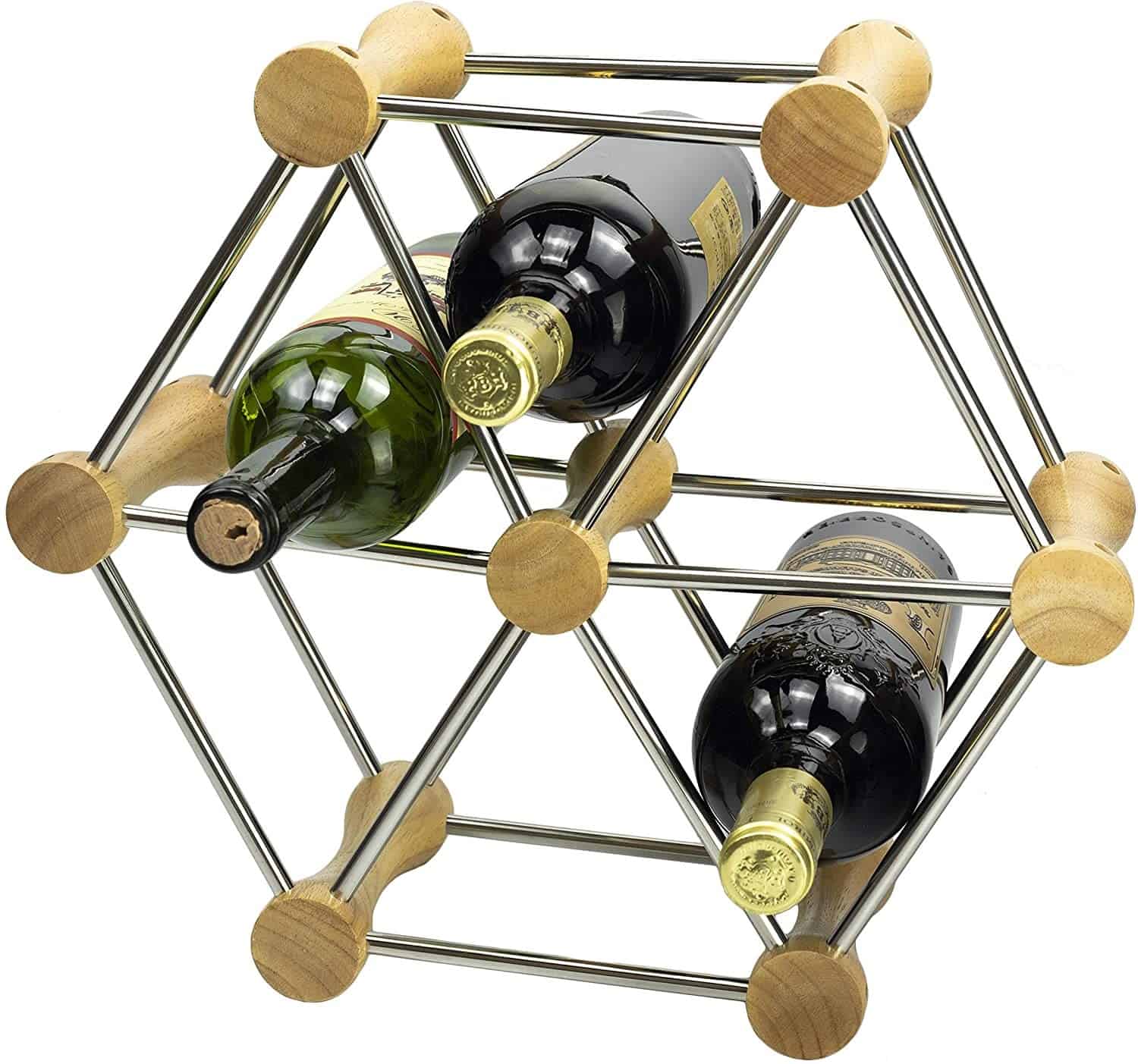 This hexagon-shaped wine rack looks great for people who love to showcase their collection. It is different than any other kinds, and it will easily hold up to six different kinds of wine!
How to do it?
Luckily for you, this rack is available on Amazon! However, if you wish to do it on your own, make sure that you:
Step 1: Have a couple of sturdy wine corks that you will use as a base.
Step2: Use thin metal straps and place them into the cork by drilling little holes.
Step 3: Use a sturdier glue so that it seals in the end.
5. Gorgeous Black Metal Wine Rack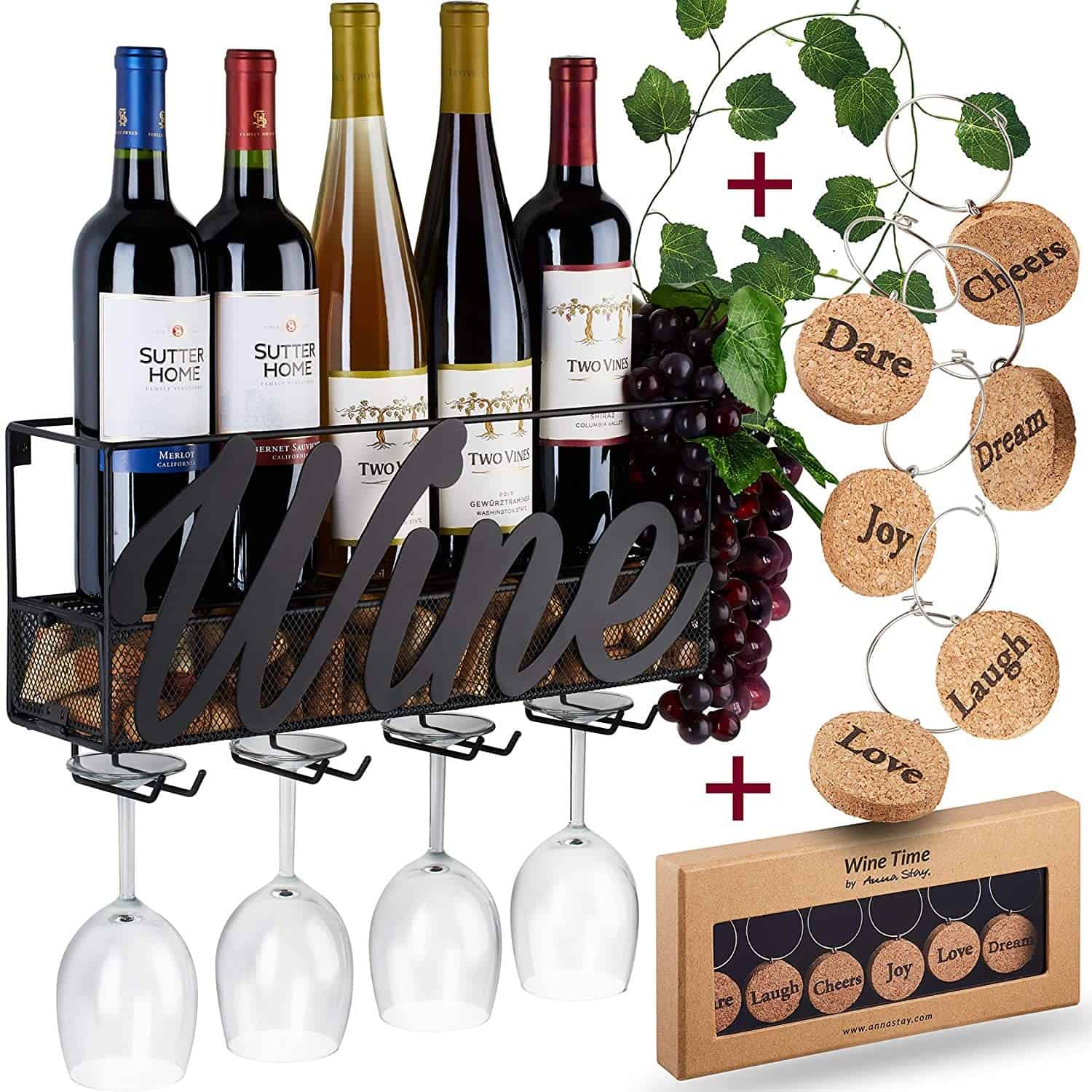 This is another amazing wine rack idea that you might love since it is only one click away! You can purchase the assembled version and display it in your kitchen, or you can create your own version!
How to do it?
Step 1: Get an old pencil holder or container, and place several hooks underneath.
Step 2: Make sure to screw these hooks with the right equipment.
Step 3: Get some accessories to decorate the rack per your idea.
6. Cabinet Inspired Open Concept Wine Rack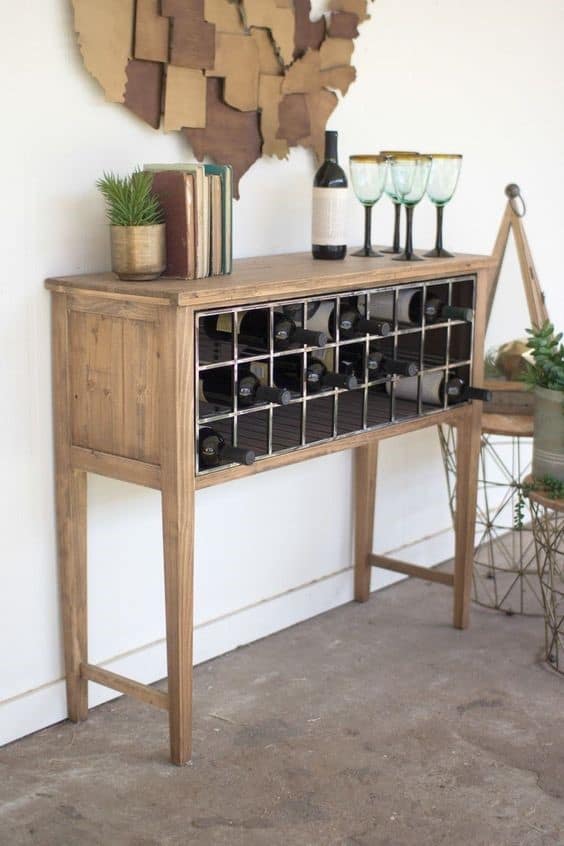 If you have a lot of drinks that you wish to display, go for an old-school wooden book cabinet. It will store everything with ease + it will look amazing in your living room + will easily blend in.
How to do it?
You can find out how to get this amazing cabinet inspired wine rack at Thesprucecrafts since they have different wine rack ideas, as well as tutorials on how to get the exact same design!
7. Industrial Style Wooden Inspired Wine Rack In A Set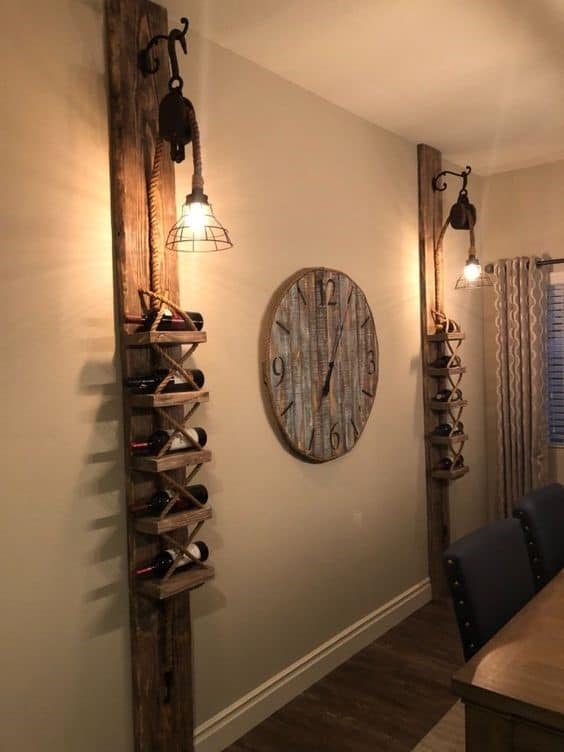 This two-way and multipurpose wine rack idea will suit you if you have loads of different vines to show off. It will also suit men and women who love that rustic vibe to their kitchen or living room.
How to do it?
At CountryLiving you can browse through different yet similar wine rack ideas! They suggest that you do the following:
Step 1: Get yourself a wine stud and a wine board, make sure that they vary in size.
Step 2: Place the main board onto your wall and drill it with a screw. Add smaller boards on top one by one.
Step 3: Make sure to space them out and set with wooden glue.
8. Black Metal Wine Rack Wooden Holder Coffee Table Design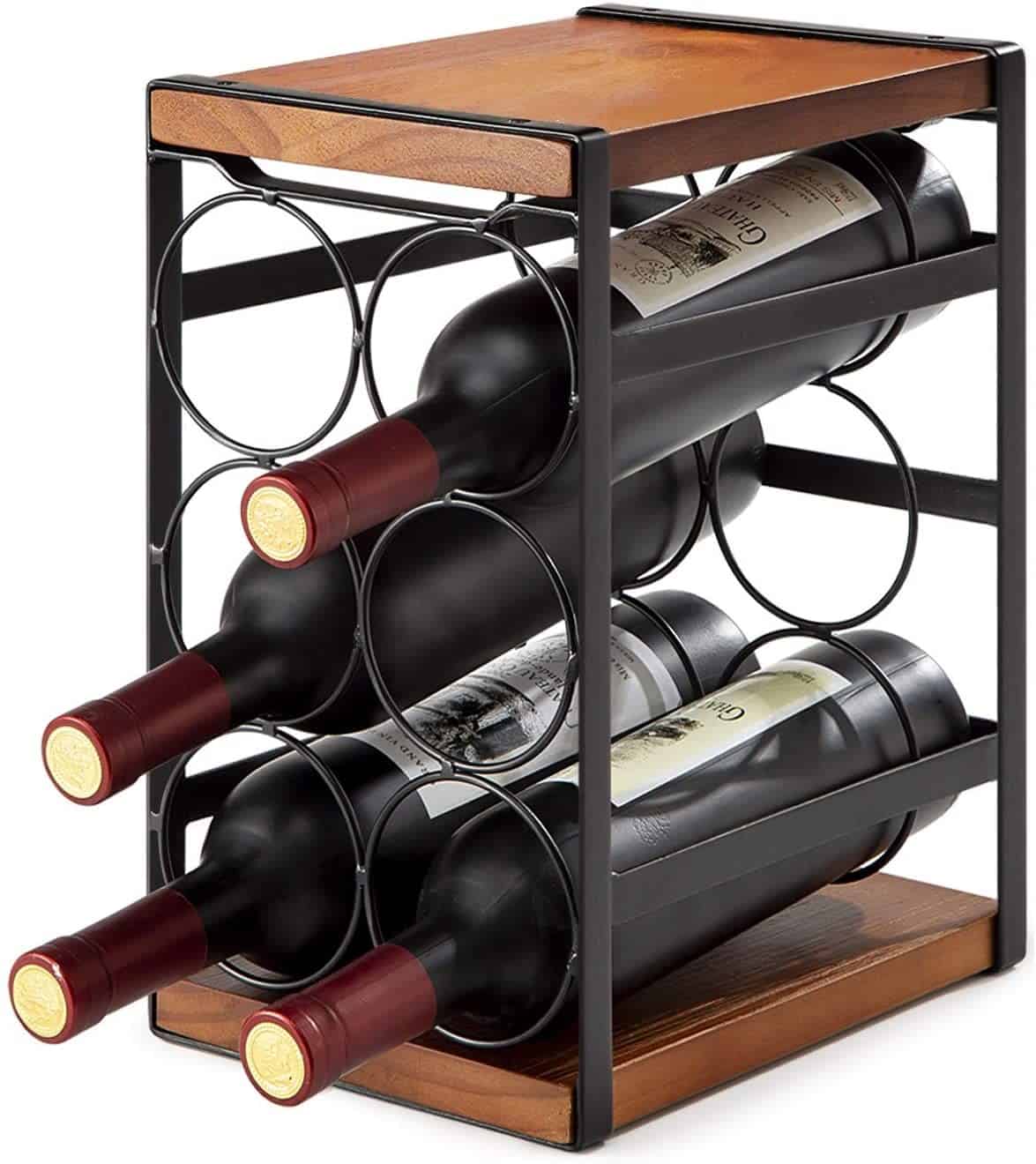 You can make your wine rack practical and stunning at the same time. If you love that rustic vibe, this is perfect for you! The best part? It is often on sale as well!
How to do it?
Step 1: You can create and transform your hall stool into a wine rack.
Step 2: Go for several metal circles which you will place in between the handles and you will use them as a holder for your wine.
Step 3: Color the metal so that it can match the aesthetic of your mini chair, stool, or coffee table!
9. Black Frame Wine Rack Jenga Game Inspired Design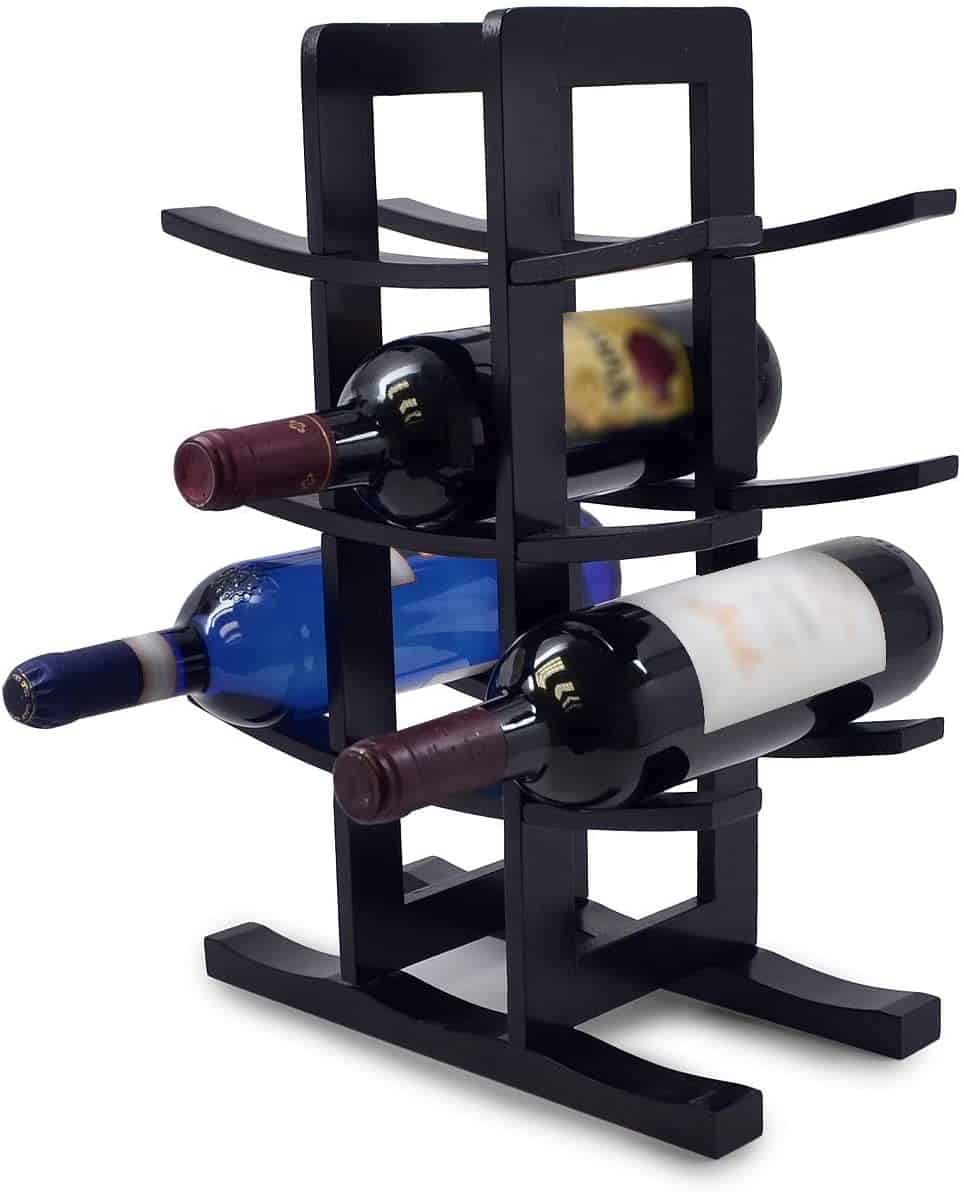 Men or women who love that straightforward vibe for their furniture and who usually purchase black materials, items, or accessories will adore this rack! It is made with metal and quite practical for your living room!
How to do it?
CraftboxGirls have some amazing ideas on how to achieve funky designs. If you want to get a bit of help on your wine rack, give them a click!
10. Large And Practical Barrel Idea Wine Rack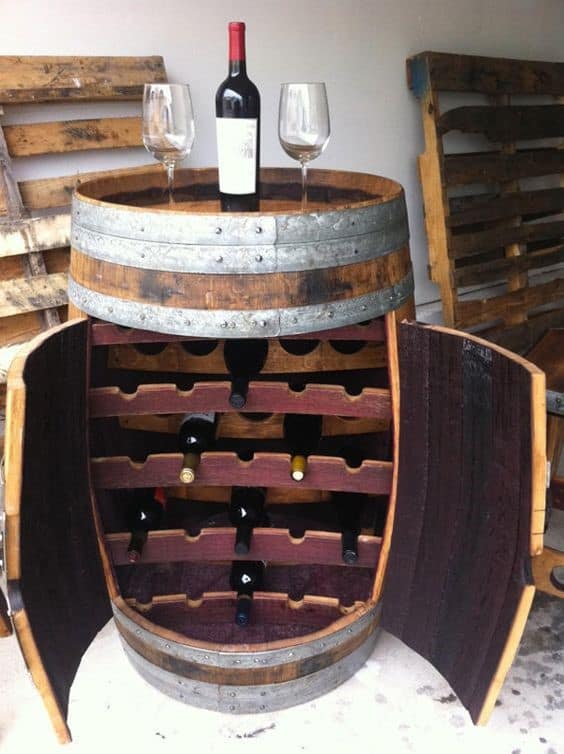 You can go for an actual barrel and store all of your bottles in it! This funky design will suit collectors, people who usually keep their beverages outside, or in their Summer house/shed.
How to do it?
Step 1: Get the barrel prepared by removing the front part of wood by hand where you will create enough space for new and small doors.
Step 2: Screw your doors with 6 screws and decorate your little handle.
Step 3: Place different separators in the barrel so that you can show off your vine with ease.
11. Door Frame Inspired DIY Wine Rack In White Color
This is the perfect wine rack idea for your living room, or even your study! It looks sophisticated, perfect for workaholic men, as well as guys who love to show off their passionate side. Combine this rack with some plants to give it a bit more life and to make a statement, no matter the room!
How to do it?
Step 1: Use your old door, barn door, or even a book shelf and transform it to a rack.
Step 2: Get a couple of metal holders, or even a U-shaped hook that will hold your beverages.
Step 3: Screw them into your door and color with some paint or acrylic color if you want the rack to make a statement.
12. Umbrella Holder DIY Wine Rack With French Vibe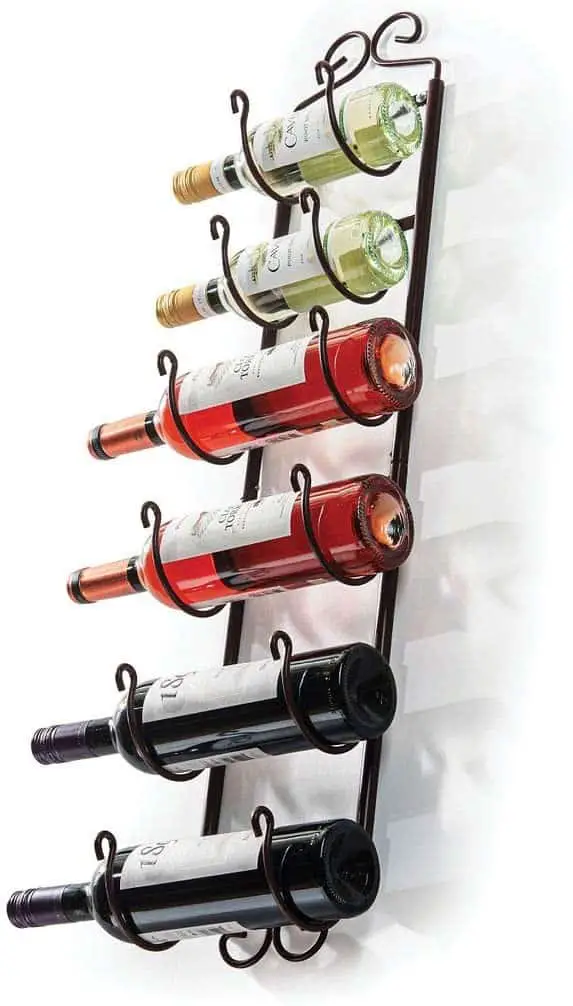 Are you a fan of old-school, romantic, and French/antique vibe when it comes to your interior or exterior design? If so, this wine rack will look lovely at your home! You will also love it since it is only one click away.
How to do it?
You can purchase it on Amazon, or try to do it on your own!
Step 1: Get a large metal rack that you will use as a base.
Step 2: Some old umbrellas might come in handy at this point, since you can use their pointy ends for wine storage.
Step 3: Screw the metal holders to the base. Color the finished product in your favourite color!
13. Wooden DIY Wine Rack With A Practical Glass Holder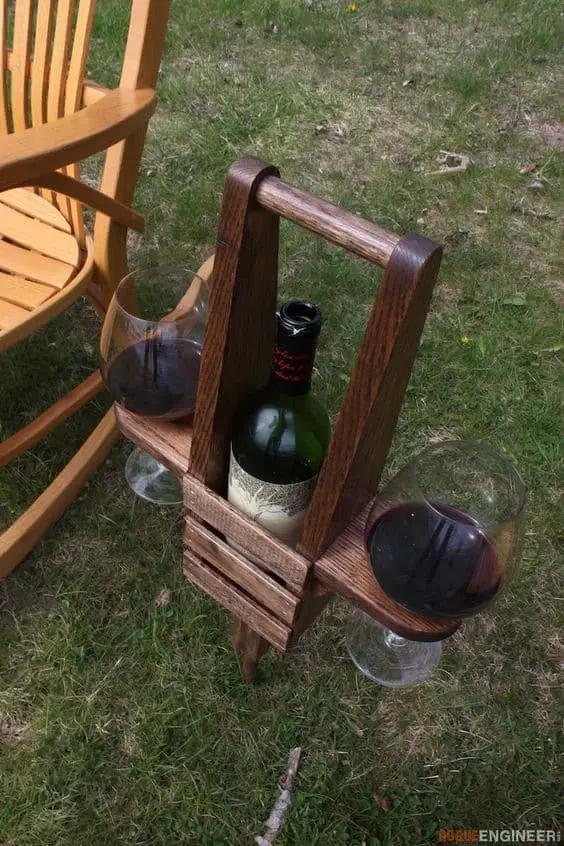 Are you an outdoor person? If you are someone who spends most of their days outside this wine rack is for you. It is also the perfect wine rack for couples, married couples, as well as friends that live together!
How to do it?
This is an amazing rack that you can create by combining your bed frame or your night stand! You can find some amazing DIY ideas at Ispydiy and see their detailed article on how to achieve some amazing wine racks!
14. Spiral Metal Inspired DIY Wine Rack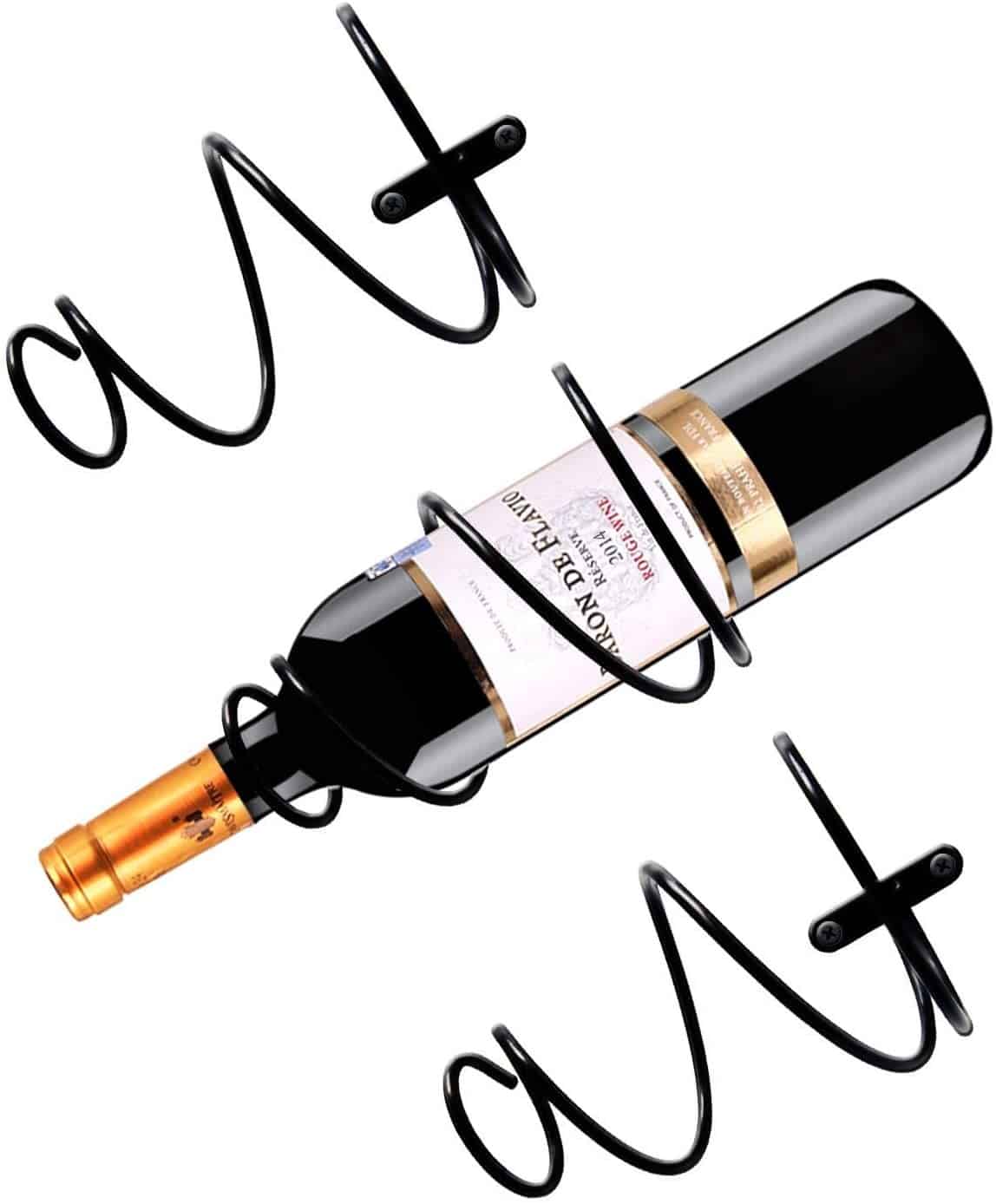 Last, but not least, you can go for this modern model from Amazon! It is super easy to set-up, place, as well as show off at your home. Its classy black stainless steel model will look lovely in your living room, but it is also a must-have for those who have a cellar!
How to do it?
Step 1: You can use some old cloth hangers and shape them till they are this bendy.
Step 2: Make sure that you use high-quality metal since other kinds may not be able to hold your beverages.
Step 3: Screw them onto the wall and show off your collection.
Ready To Enjoy Yourself Even More?
So, are you ready to try out any of these wine rack ideas? You can make them on your own, as long as follow specific set of rules, purchase the right materials, and give it time! Trials and errors, remember! Sooner than later, your wine collection will flourish and you will enjoy showing off your DIY wine rack to your friends or family!
You will also appreciate something that you've created on your own from scratch, although we have loads of different options to offer from Amazon. The choice is up to you!