10 Amazing DIY Pizza Oven Ideas (And 3 You Can Purchase Easily)
When you shop through links on our site, we may earn an affiliate commission. This educational content is not intended to be a substitute for professional advice.
Nothing is better than enjoying your free time with your company and a glass of wine. Add a good barbecue to that or a delicious pizza and you will have the time of your life!
However, make sure that you're also a good chef, and that you're satisfied with your cooking abilities. How to do that? Have an amazing pizza oven! In fact, you don't have to purchase one if you don't want to.
You can create one on your own and also enjoy the DIY process with your friends, family, or on your own!
We will present some of the prettiest options down below and we will let you choose the perfect oven for you!
Why You Might Need A Pizza Oven?
A pizza oven is for everyone, literally! You will need a pizza oven for your home, summer house, front yard, or your back yard – you name it! It is also an amazing birthday present, and it will suit both men and women.
If you are someone who loves to eat delicious meals and you love to have some fun every Sunday with your friends or family, get a pizza oven, and make a party!
How to DIY Your Pizza Oven­?
If you want to make your own pizza oven, make sure that you are well equipped. You will be needing:
At least 20 bricks
Around 20 blocks
Cement
Wooden beams
Big stones
Sand
Clay
Chimney or plant pot (optional)
Tape measure
Step by step process:

Step 1: Make a plinth, and invest around three hours.

Step 2: You should do the dome mould, which will take one hour to do.

Step 3: Create the first oven layer, and let it dry down for four hours.

Step 4: Make an entrance for your pizza oven.

Step 5: Do not forget to build the brick opening. For people who need an in-depth tutorial, make sure that you check out Deliciousmagazine. They have everything written in-depth!

Step 6: Do not forget about your insulation layer.
However, if you are more-so a visual person, you can figure out how it's done by watching this video right here! It is quite simple because the approach is totally different.
Top 10 DIY Pizza Oven Ideas
1. Gorgeous Outdoor DIY Pizza Oven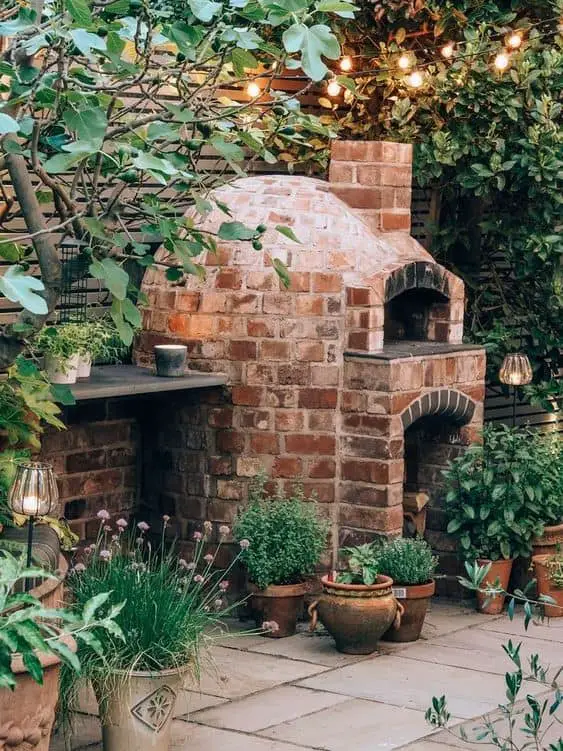 This pizza oven would look lovely in your backyard! It is a bigger and larger model that you might prefer only if you are a family of four (at least) and you love to eat and set-up giant parties! Luckily for you, you can learn how to create this exact model at HGTV, so give them a click!
Who would love this pizza oven?
This oven would look lovely in your backyard, especially if you have a lot of flowers, grass, as well as greenery placed around. You can further decorate it with some earth-colored pots to give it a unique and irresistible vibe!
2. Light Brick And Stone Colored DIY Pizza Oven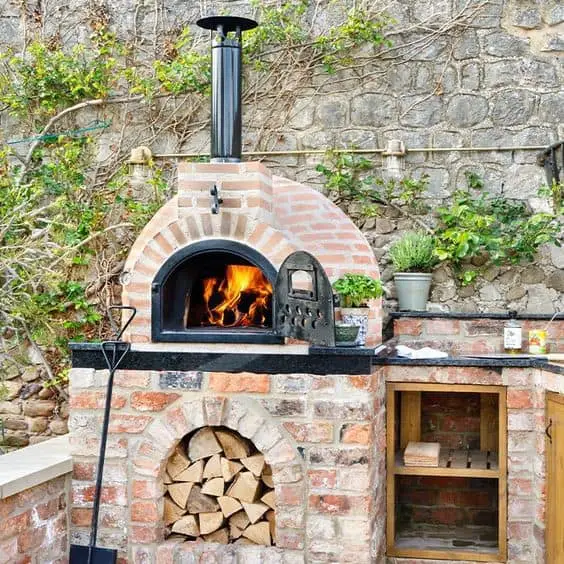 This pizza oven has a slight Mediterranean vibe, and it is perfect for people who want to set-up something chic and playful in their backyard. Make sure that you have:
White bricks
Sand & cement
A metal opening
At least five hours to spare
Who would love this pizza oven?
It is the perfect oven for women, as well as men who love classy designs. This pizza oven is not as grandiose nor giant, so it may suit younger couples a bit better, or smaller families.
Fun fact: Did you know that there are three different types of pizza ovens?! You can choose either the barbecue-top pizza oven, a portable pizza oven, or a freestanding charcoal oven, which is the one that we prefer and talk about all throughout the article!
3. Dark Grey Fireplace And Pizza Oven In One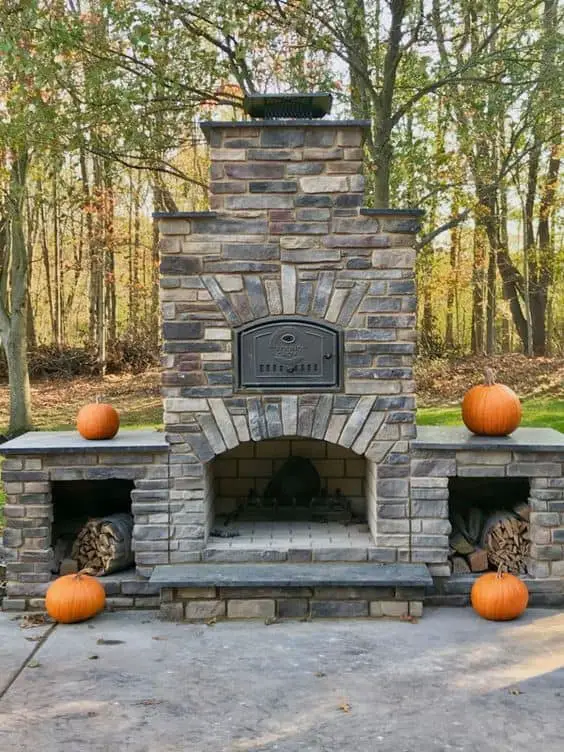 This giant pizza oven will demand a lot of help from your friends or family. Time-wise, you are looking at a project that could take up to eight hours to finish! At Wood-Create you can figure out how to create a similar model to this one! They've also explained the entire process in-depth, and will make the process pleasurable, as well as fun for everyone!
Who would love this pizza oven?
It is a bit unusual than some other models, but it will suit you if you like grey and charcoal-based elements. This dark design is more-so appropriate for mature couples, as well as people who prefer and demand functionality over design.
4. Grey Colored And Simple Design DIY Pizza Oven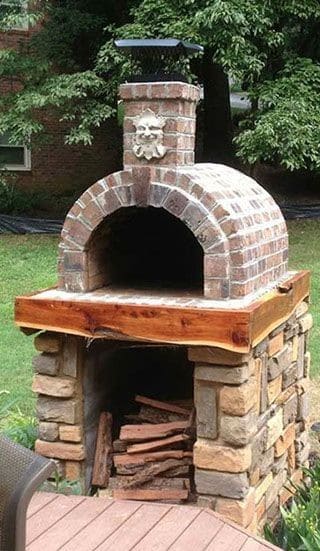 If you're running short on money, time, and you need a quick and easy solution, this is it! This mini oven is super easy to create and will take you only three to four hours to recreate it. The best part about it? You can use any colored bricks, since its beauty lays in its simplicity, as well as retro colors.
Who would love this pizza oven?
It is the best oven for seniors, as well as mature couples. Since it is a smaller model, it may suit two to three people the best. It is placed outside of the house, and is very low-maintenance.
Fun fact: Pizza oven prices can range in price, drastically! The most affordable model can start at $40, and you can pay even up to $7,000 for some extravagant designs. These are usually custom made, and even done with blueprints.
5. Outdoor And Mystical Wood Inspired Pizza Oven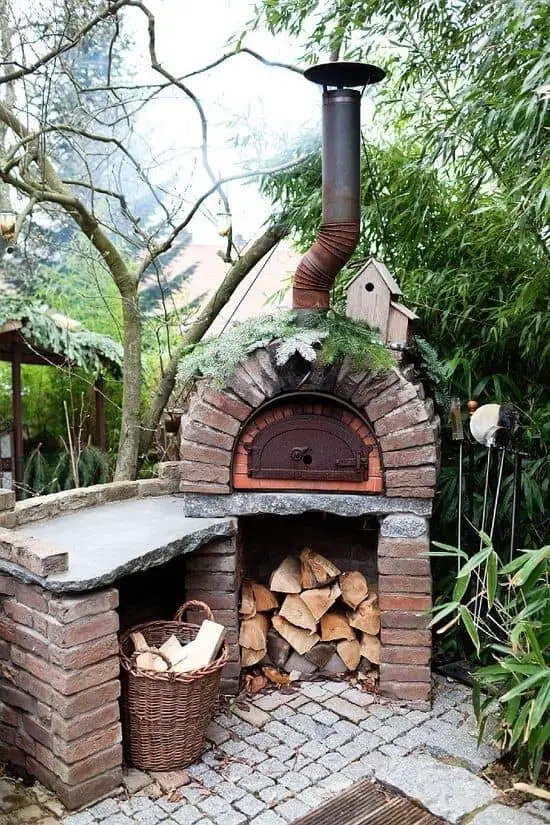 Wondering how to set-up a pizza oven and also incorporate it with your exterior? Always combine dark green and brown elements. You can also go for a bit of red, dark orange, or even yellow. If this set-up is something that suits you and you find this design intriguing, check out HandyGround and see their entire process on how to create a beautiful oven!
Who would love this pizza oven?
If you are someone who loves that whimsical and enchanting vibe, this is the perfect inspiration for you and your backyard! It will suit married couples the best since it is a practical, beautiful, as well as gorgeous design + it can help you make smaller pizzas, great for your closest friends!
6. Dark Grey Oven With Outdoor Kitchen Design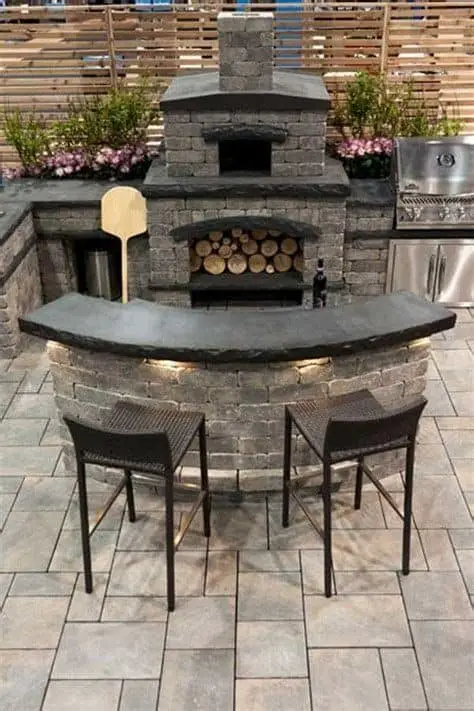 Dark grey elements often look super classy, and are well-loved in the UK. This oven design was perfectly blended with the entire outdoor kitchen concept. If you have 7+ hours to spare and you also have an outdoor kitchen, this project will interest you! Heads up however, since it will take you 30+ bricks to bring the design to life!
Who would love this pizza oven?
It is great for people who love to spend most of their time outside, and especially in their backyard. This pizza oven is for everyone, singles, married people, or people with kids. Just make sure that you feel your happiest once hanging around in this extravagant surrounding.
7. Super Modern DIY Pizza Oven Idea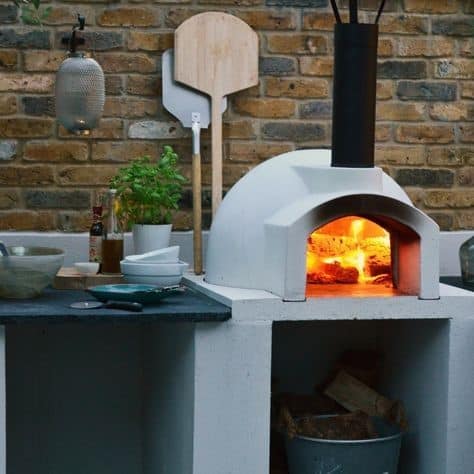 Are you into high-tech and futuristic designs? If so, this oven is for you! It is super classy, different, unique, as well as done in such a fun way. If you love unusual shapes and this asymmetrical design suits you, make sure to give it a go! Just be patient since the entrance may take some time, as well as trials and errors.
Who would love this pizza oven?
It is the perfect oven for single guys who know how to have fun! It is a stunning model as well, but only if you are into sci-fi movies and outstanding exterior.
Fun fact: The most expensive pizza in the world costs $12,000!
8. Large & Extravagant DIY Pizza Oven With Outdoor Exterior
If you are into art and you love to build things, give this giant masterpiece ago! This pizza oven has a sturdy base, and is an extravagant model for people who are patient, and who don't mind enjoying this process for a couple of months! Meanwhile, you can learn how to create the perfect base at Instructables, and enjoy the simplicity (at least for now).
Who would love this pizza oven?
This oven has such a beautiful and unique vibe that reminds of Italy, doesn't it? If you are someone who has a lot of friends, you are quite social, and you find your backyard moments to be relaxing and soothing, enjoy the process of creating this wonderful oven!
9. Mosaic Inspired Pizza Oven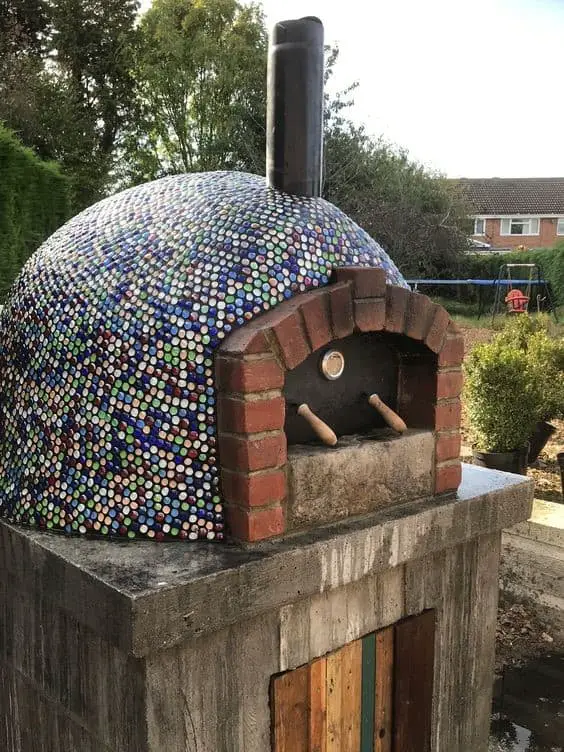 Colorful ovens can still look cute, without being tacky! This one, for instance, is the perfect playful model that you can get in a matter of hours. Just make sure that you have mosaic tiles or small stones that will give it this shiny effect.
Who would love this pizza oven?
It is mostly catered for women, as well as those who love to create! This colorful piece can suit some friends as well, as long as you all agree on the color.
Fun fact: Did you know that, on average, Americans consume 46 pizza slices in a single year?
10. Simple Summer House Inspired Pizza Oven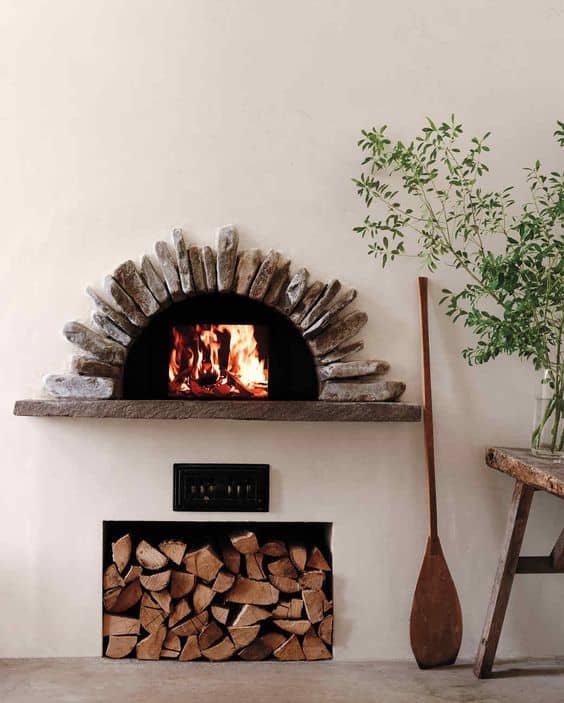 Last, but not least, you can go for this small yet practical design. If you are someone who doesn't have a lot of space, and you are on a budget, this oven is perfect for you! All you need is a wooden beam, around 20 stones, and up to two hours of your spare time.
Who would love this pizza oven?
This model is super practical, easily adjustable to your surrounding, as well as easy to recreate. You will love it if you're 19, or even 59! It is timeless, as well as beautiful.
Top Three Pizza Ovens That You Can Purchase
On the other hand, if you're in a rush and you need something overnight, you can still purchase some unique ovens! Here are our top three kinds that we highly recommend.
1. Unique & Funny Pizza Oven Box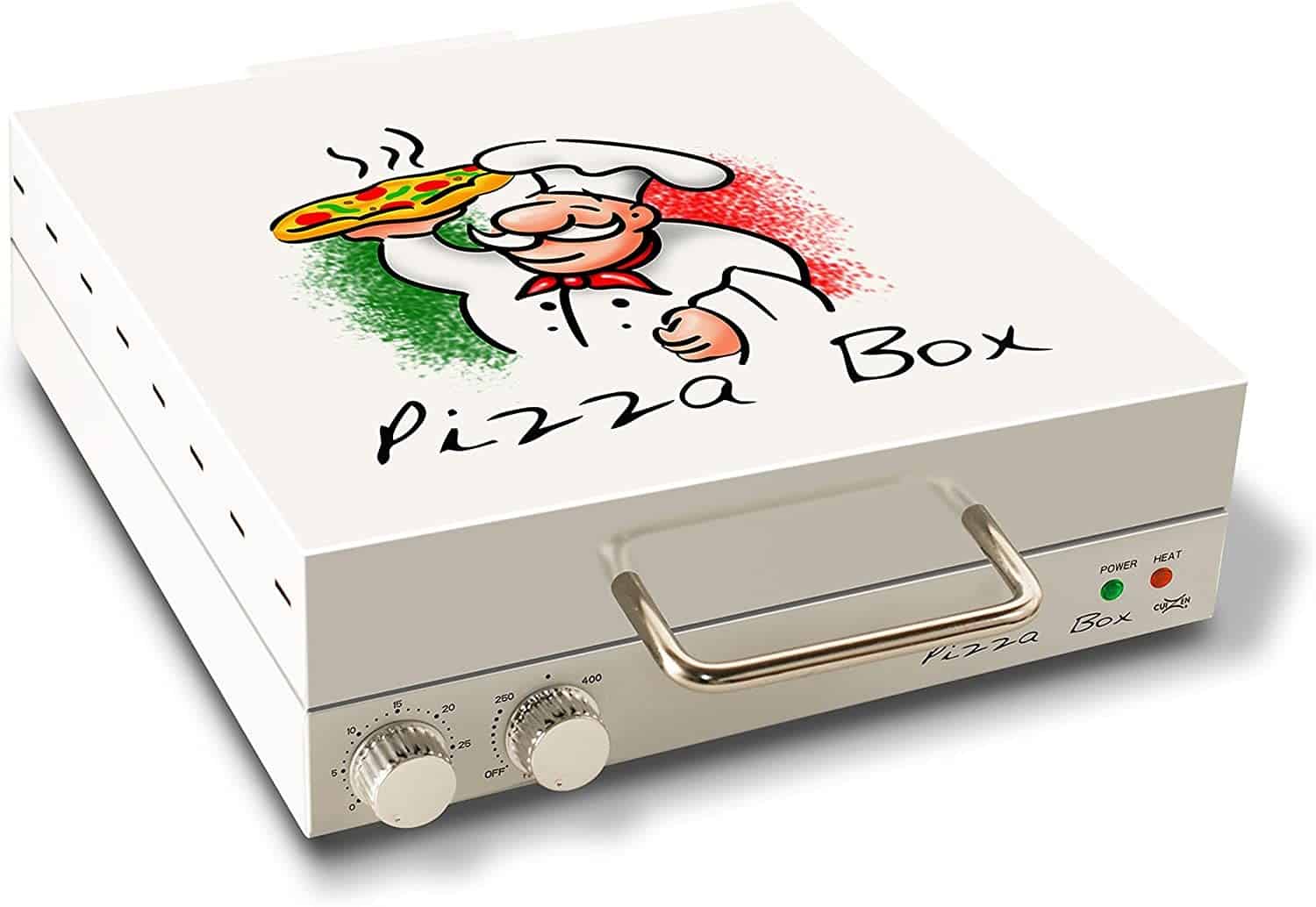 This is a simple yet gorgeous pizza box that you will love since it can cook up to a 12-inch pizza! It has an adjustable thermostat that you can control up to 525 degrees Fahrenheit. If you have kids and you love funny as well as simpler designs, you will love this pizza box for your entire family!
2. Dark Black Matte Pizza Oven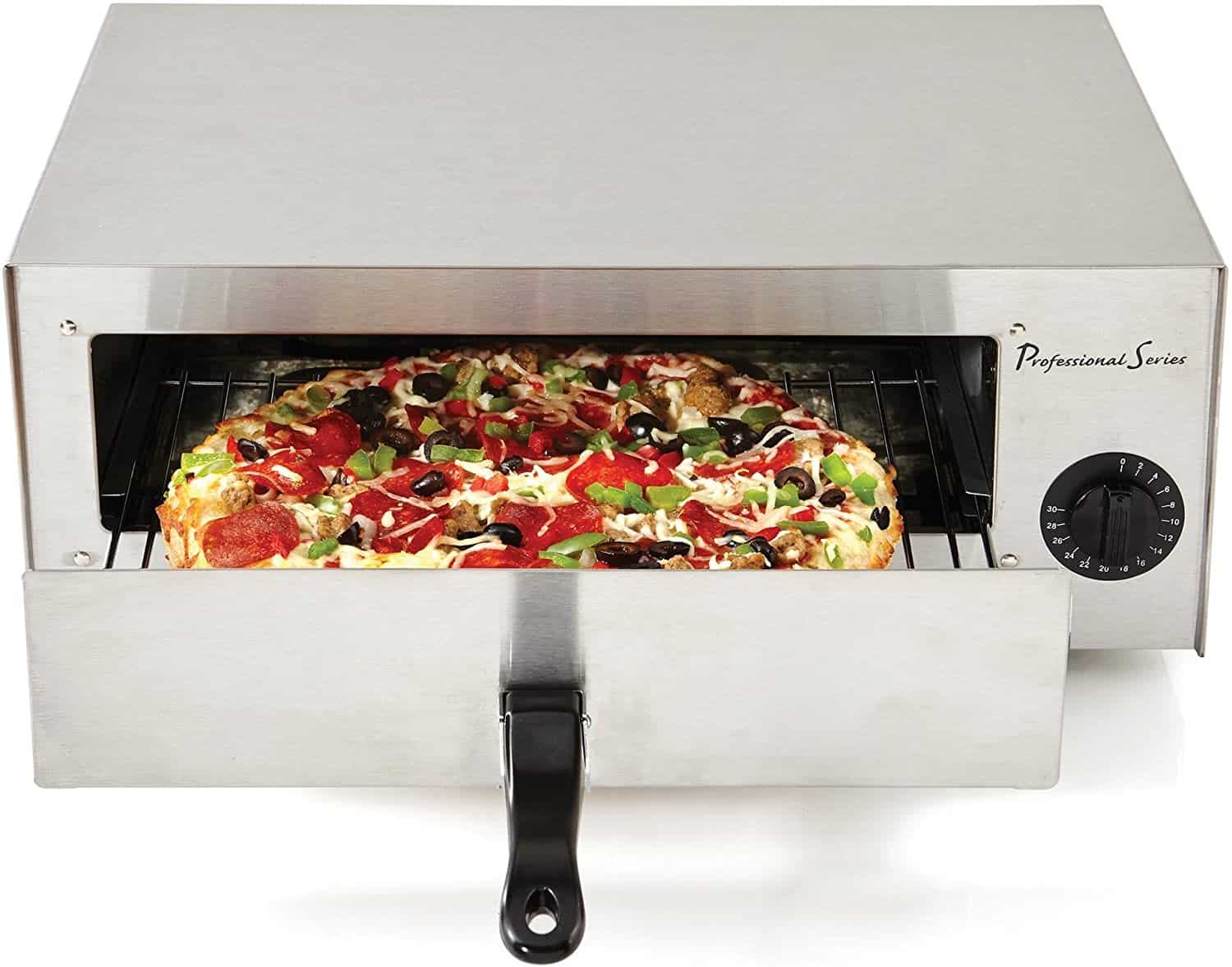 If you are someone who prefers practicality overlooks, and you need something that is great for the entire family, as well as your guests – you will love this oven! This oven can cook a 12"inch pizza in less than 10 minutes.
It has a 30-minute timer and is made with durable stainless steel. The oven can heat up to 460 degrees! It has a classic silver finish, and is an amazing go-to for people who love high-quality yet affordable gadgets.
3. Mini Design And Replica Of A DIY Pizza Oven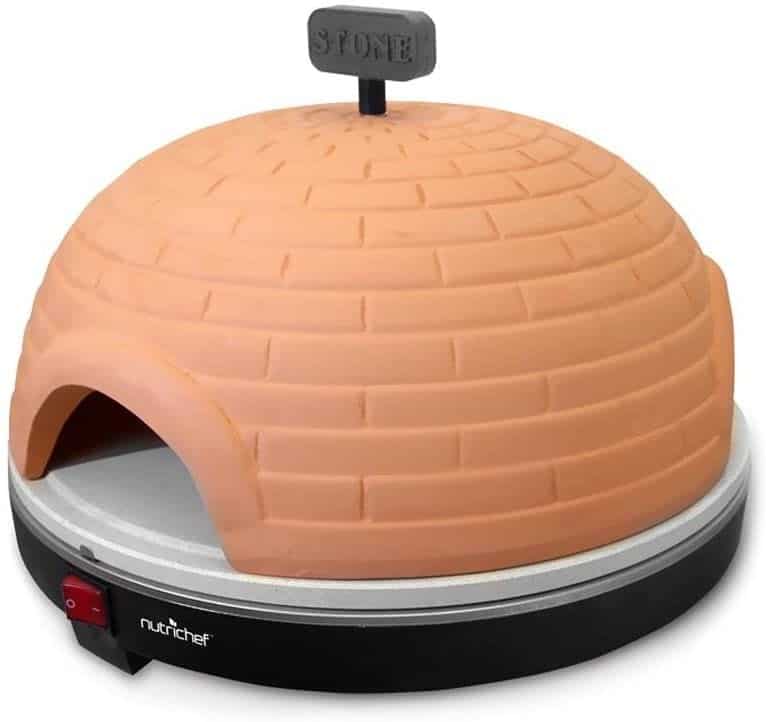 Last, but not least, if you are huge on visual presentations, and you would rather like a replica of the real thing, get this mini oven! It is an electronic model that is super affordable, and it has a gorgeous classic Italian design. It can heat up to 464 degrees Fahrenheit, and it has 1100 watt power. It will suit both families and younger individuals + it is super easy to use.
Ready To Make Your DIY Oven, Or Are You Ready For Your Next Purchase?
So, which one oven was your favorite? Are you more-so into DIY models, or do you love to shop on Amazon for some smaller and affordable items? Either way it is, we are sure that you're going to find your preferred and ideal oven in this article, so let us know your favorite down below!