32 Elegant Nail Design With Rhinestones (2022 Version)
When you shop through links on our site, we may earn an affiliate commission. This educational content is not intended to be a substitute for professional advice.
Rhinestones nails designs look super chic and sophisticated. Thus, many consider they are not so suitable for an everyday outfit. We do not agree with it: being elegant might be part of your style! But you have to bear in mind that size matters: bigger is not always what you need.
Rhinestones should go in a fine combo with minimalism. You might come to the lure to add more of them. But resist the temptation. Instead, enjoy in many shapes and patterns. Sure, you must have specific abilities and patience if you want to do it yourself. Or, you could visit your favorite nails salon.
Whatever you invest into it will be worth it. Pair it with fancy clothes and good make-up, and you will look stunning whenever you show up somewhere. In the name of all said, we collected more than 30 alluring and chic manicures with rhinestones.
What Do You Need To Know About Rhinestones Nails Styles?
Rhinestones for nails are imitating the precious stones. Thus, they shine like real ones too! Also, they are available in many types, such as crystal, glass, acrylic rocks, and plastic and zirconium components. And then, glass crystals are divided into machine cut and unprocessed. Which one is the pretties depends on the personal preferences – it is in the eyes of the viewer. Even the cheapest model can look good.
As you could conclude, rhinestones come in various shapes, dimensions, and hues. Which color could it be? Transparent, colored, and with a hologram impression. The opposite side of the stones is always flat because it allows gluing then.
The best about this manicure? You can use rhinestones in numerous moments, making new designs. If you do it all right, you can reuse them up to ten times.
Tutorial For Rhinestones Nails
It is always a good idea to sketch your plan for nails. You can see how it will look like and if you need to modify something. But we are not all amazing artists. And anyway, with all the technology we have today, why would you even botter? You can look at the pictures of different designs and pick your favorite. We collected 40 patterns we absolutely love!
Now, the tone of stones is affected by the color of the base. You have two choices: combination or sharp contrast. If you have a neutral background on your nails, the hue of the rhinestones can mimic the color of your jewelry. And if you pick rhinestones in various colors, do not go too wild. Even two colors can be enough. Or at least follow the corresponding color scheme.
Which size should you pick? Larger pieces go exclusive on longer nails.
32 Rhinestones On Nails Ideas
#1 Simple Rhinestone Nail Designs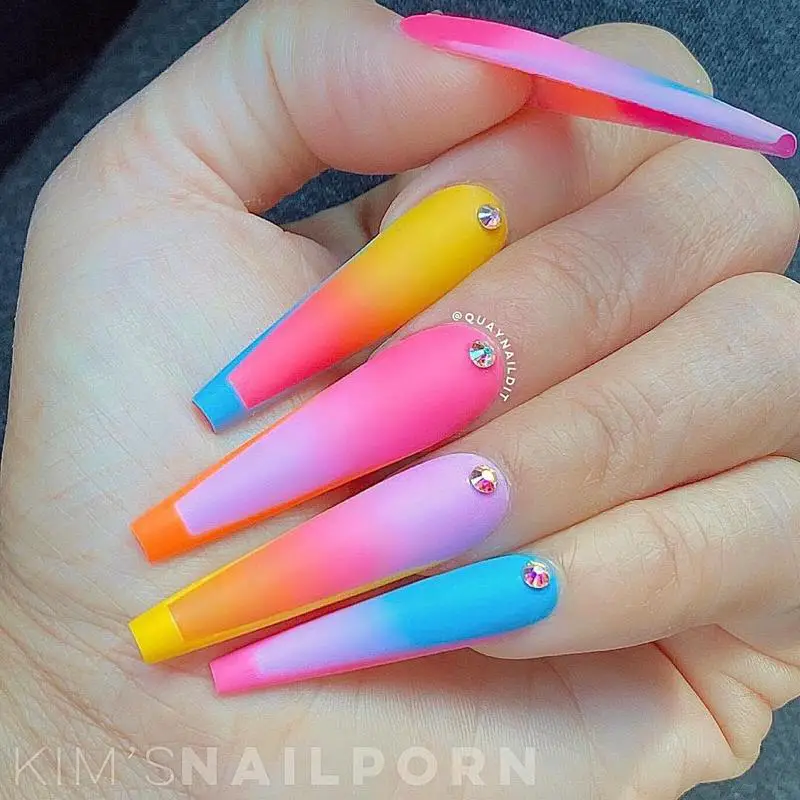 Let us start with the simplest idea! Put a single rhinestone on each nail. You can paint your nails in a color palette for a more fierce look. Or opt for one color.
#2 Blue Rhinestones Nails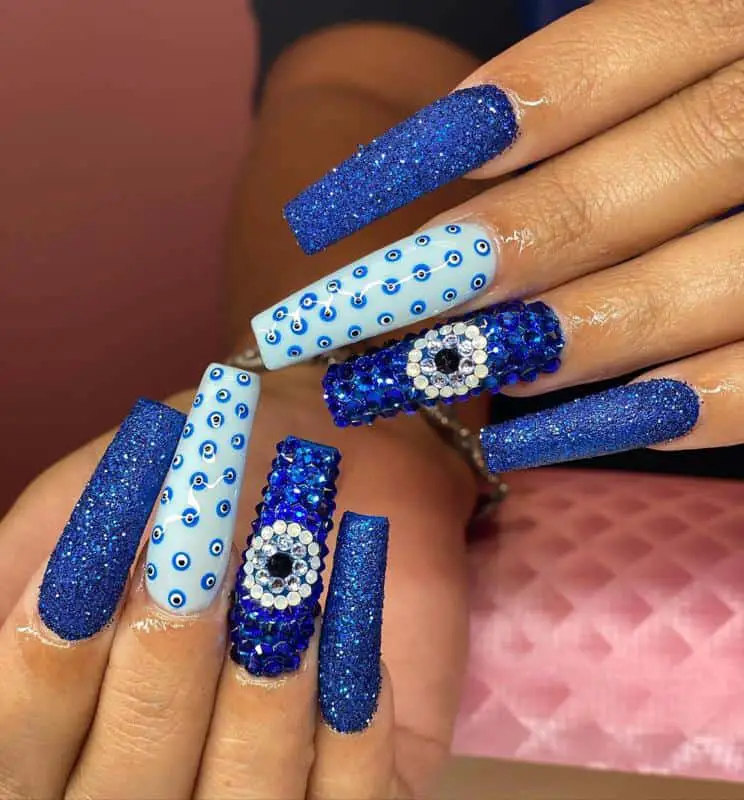 Blue is defined as a preferred color by many people. Maybe because it brings serenity. Might be that blue is the warmest color. Thus, you cannot make mistake if you add it to your style. But serenity does not mean too simple. The design we are suggesting will give the fierce makeover to your look!
#3 Baby Blue Rhinestones Nails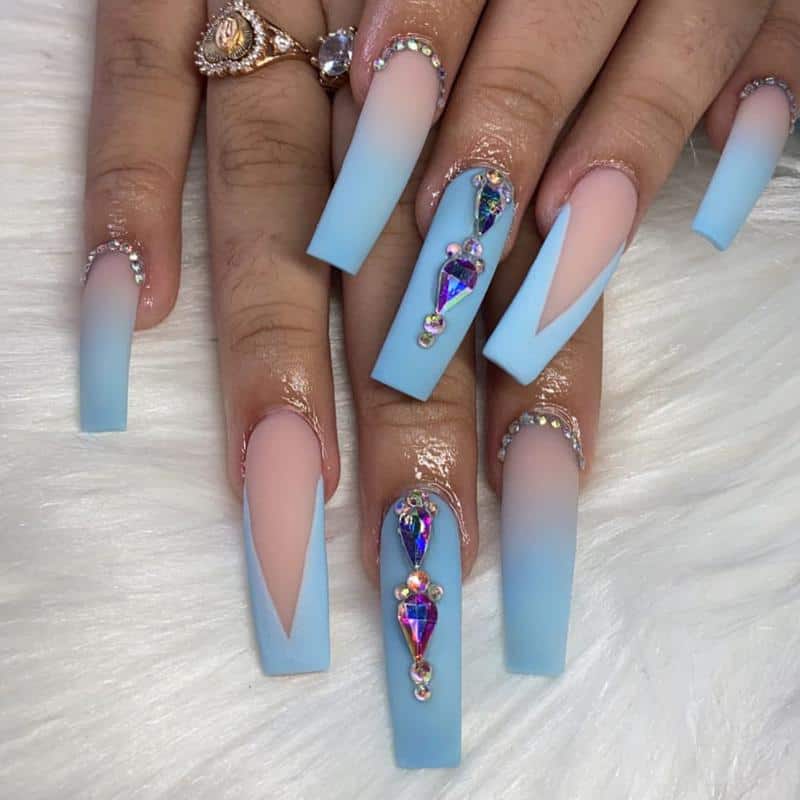 Okay, but nothing brings as much peace as baby blue does! By choosing to wear it on your nails, you will make a trustworthy and reliable appearance.
#4 Pink Rhinestones Nails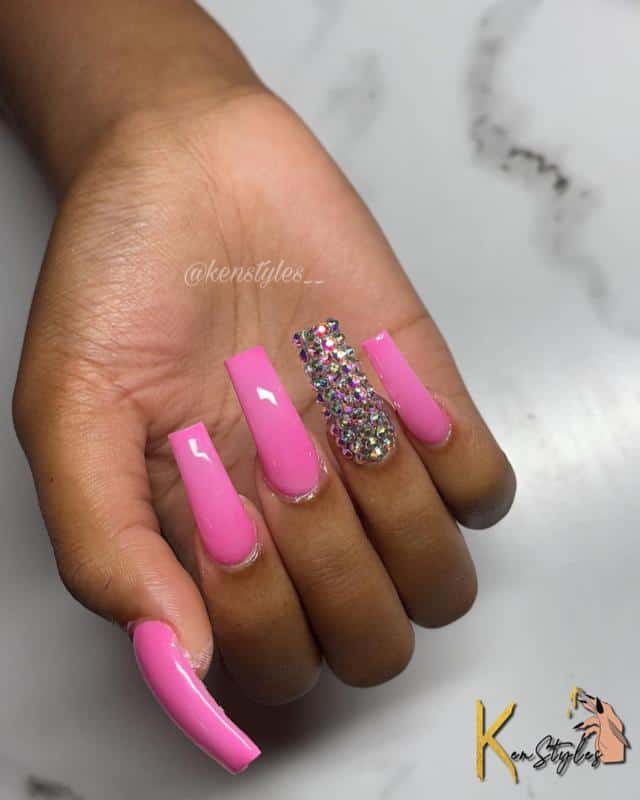 Any shade of pink is beautiful, but there is something cool about vibrant pink. And it is even better if you add rhinestones! You will give a strong (and sparkling) statement with it!
#5 Red Rhinestones Nails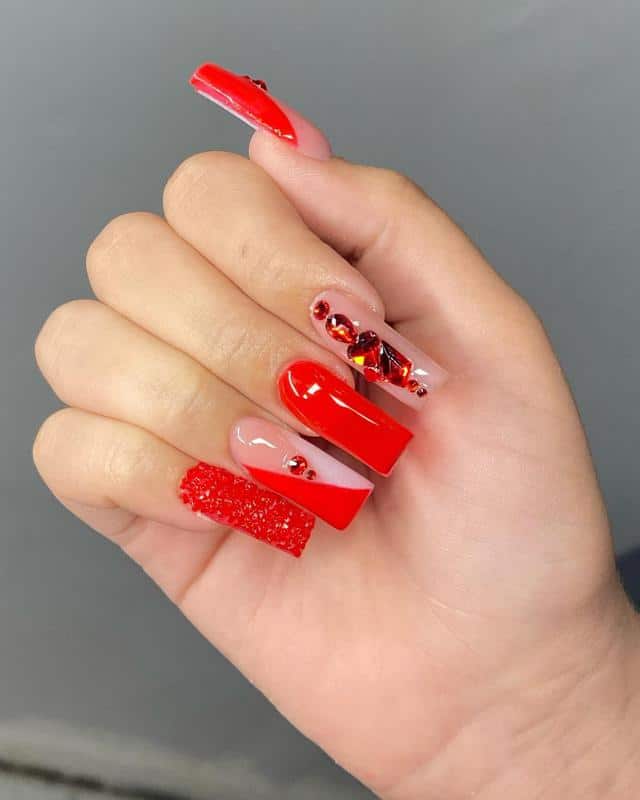 Red has a spectrum of symbolic applications. It could represent life and health. But also anger and war. And finally – love. So, whatever feeling and whatever kind of energy you want to show off, you can with this color. To make rhinestones more visible, keep their background neutral or nude.
#6 Red Rhinestones On Nude Nails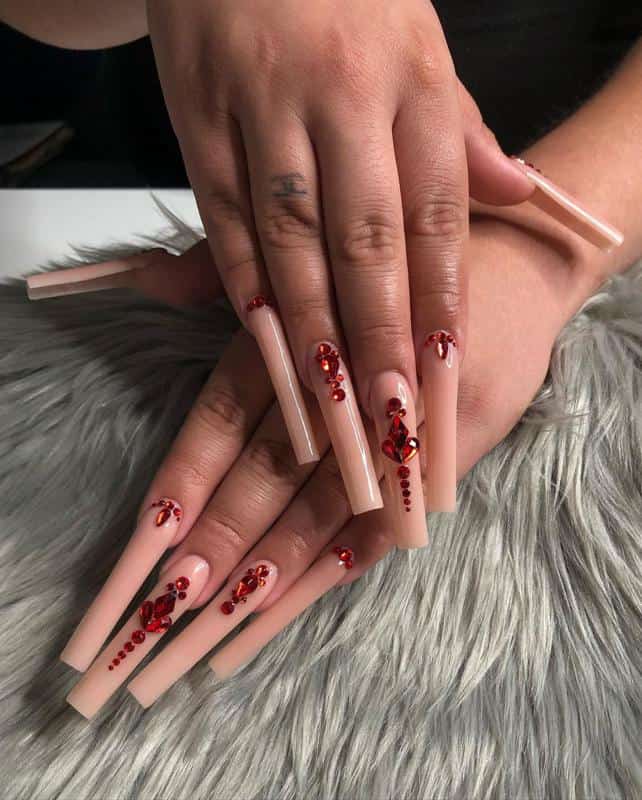 Ruby is a super popular gemstone. And even one of the most expensive ones. Do not worry: your rhinestones will not have that price since it is only mimicking the gem. Either way, rubies are linked with wealth and prosperity. Thus, the stone that imitates it will make you look kinda posh. Plus, the deep red color will make you resemble a passionate soul. Since red rhinestones are effective enough, you can keep the color of your nails neutral or in a nude shade.
#7 Pastel Rhinestones Nails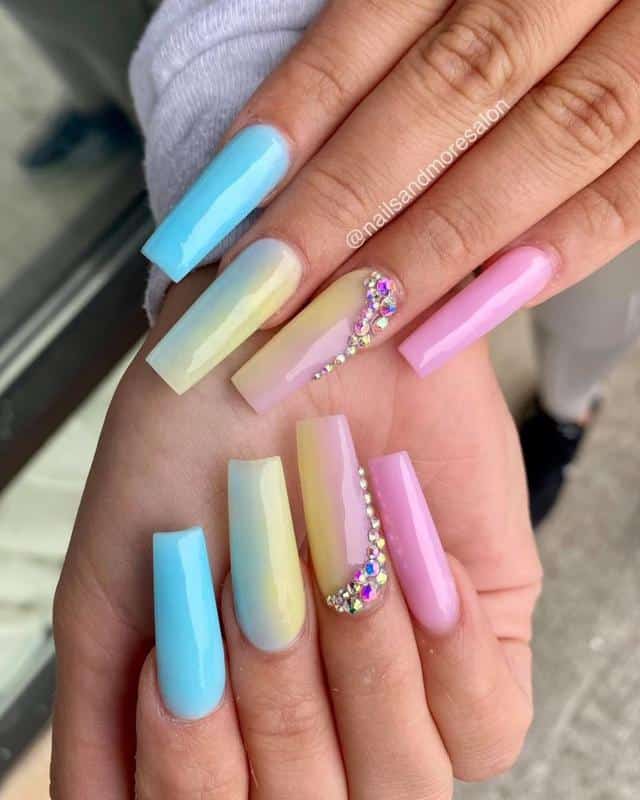 What are the most usually used pastel colors? Pink, mauve, and baby blue. And then also mint green, peach, periwinkle, and lavender. You can pick your favorite combination and give yourself a gentle look with nails colored in pastel hues. Do not overdo stones- you do not want to mix any aggressiveness with pastel.
#8 Black Rhinestones Nails
Did you know that there is the psychology behind your chosen nail color polish? If you opt for black, it means that you like to have authority. You are showing everyone that no one can mess with you! Besides, you can match it with any clothes! Again do not overdo your stones. We would advise you to pick ones with a metallic look!
#9 Gold Rhinestones Nails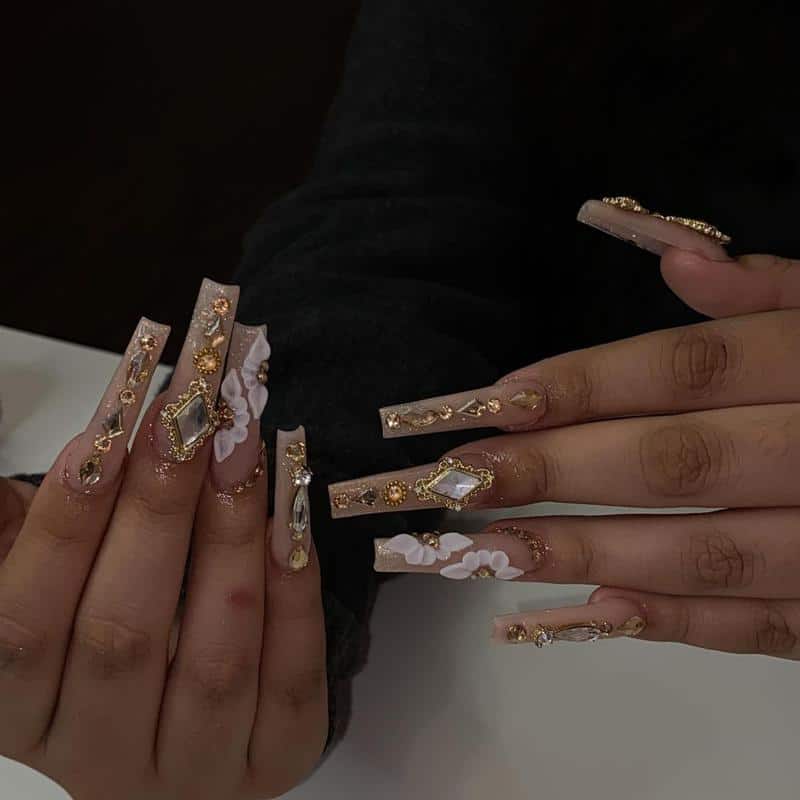 Golden will always have the attention: it looks so prosperous and fancy! Thus, gold rhinestones nails will make a great impression! They are ideal for any special occasion, including weddings.
#10 Nude Nails With Golden Rhinestones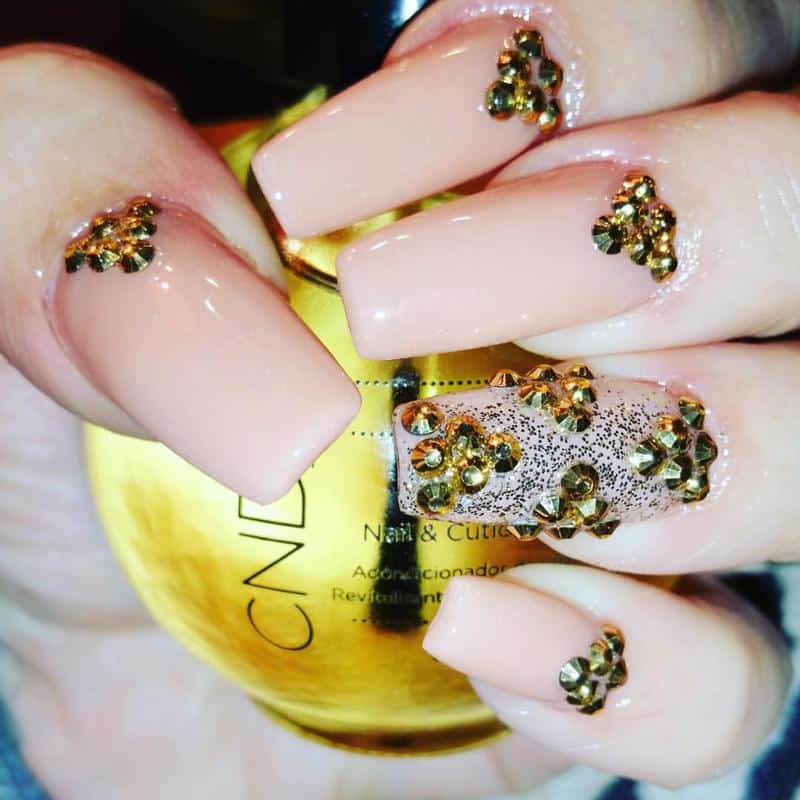 Do you want something that will grab all attention, look prosperous and fancy? And still, to have something of minimalism so that you can wear it every day? Color your nails nude, and then attach golden rhinestones.
#11 Louis Vuitton Nails With Rhinestones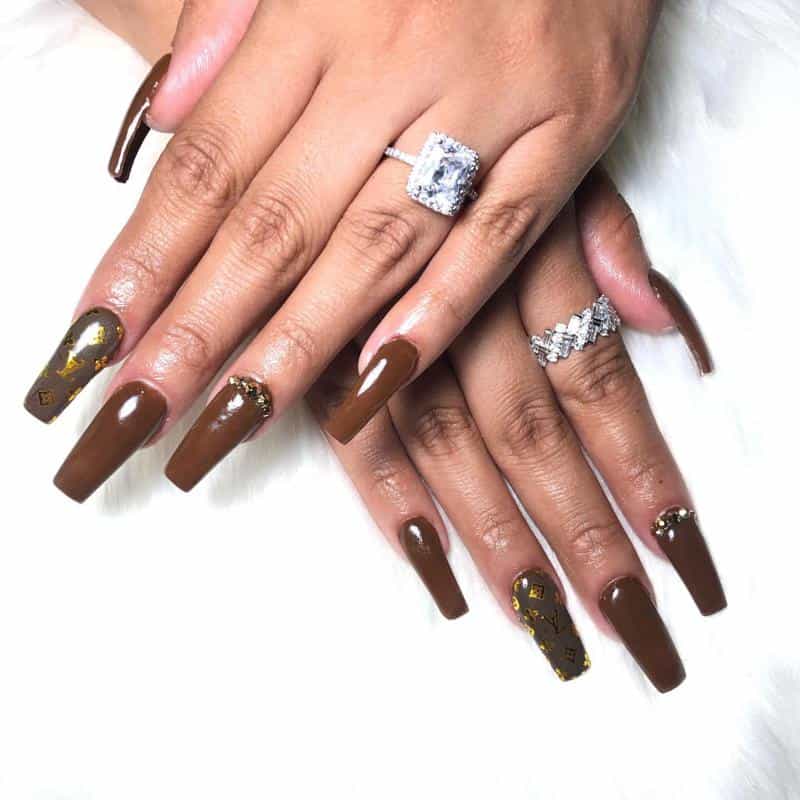 Wearing Louis Vuitton will make you as chick as it gets! Although, we are aware of how expensive it is. That is why we suggest you paint your nails brown and draw a symbol of this fashion mark. As a bonus, add some rhinestones. Fabolous will become your middle name!
#12 Golden Tips Nails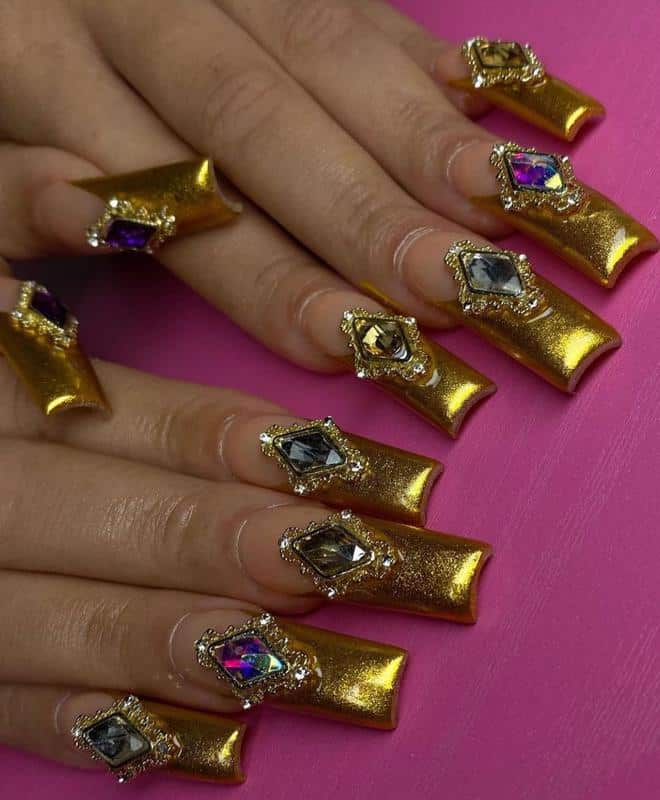 Are you ready to nail tips to a whole new level? There is no way there will be a person who will not notice your infinity stone vibes. Although, remember that this is not really for everyday wear, but for that special event. Pair with some gorgeous dress! And do not wear rings – it might be too much.
#13 French Nail Style With Rhinestones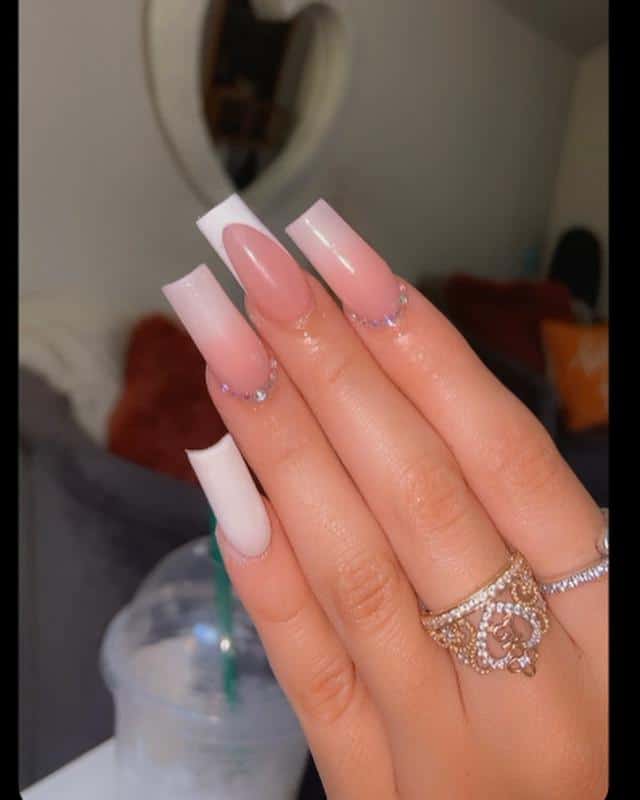 A French manicure is classic and one of the favorites of all the time. If you do it neatly, it is super classy. But why keep it too random? Add a bit of magic of stones.
#14 Ombre Nails With Rhinestones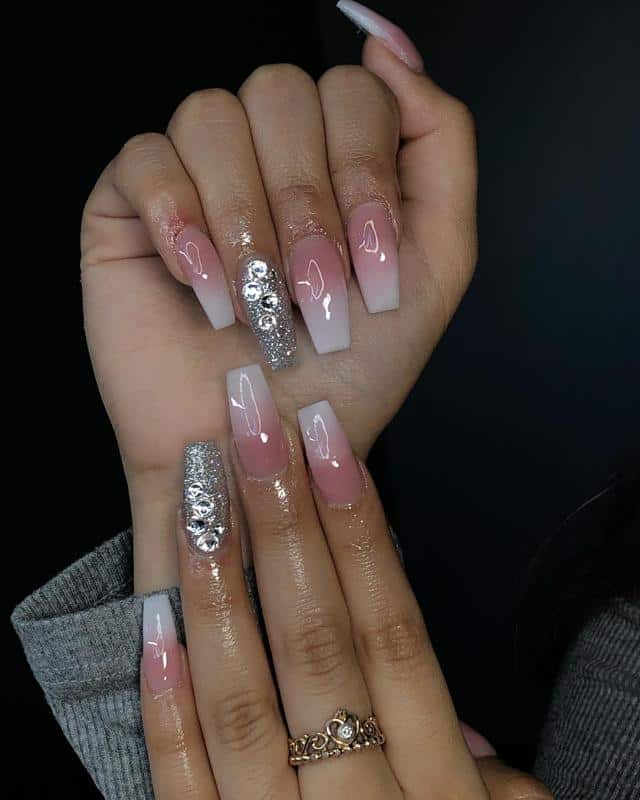 The white ombre nails look super-soft, chic, and incomparable. And acrylic will let you have your nails on desirable size and in desirable shape. On one nail of each hand, add as many rhinestones as you want – the longer extent allows you that.
#15 Fifty Shades Of Grey And Silver Nails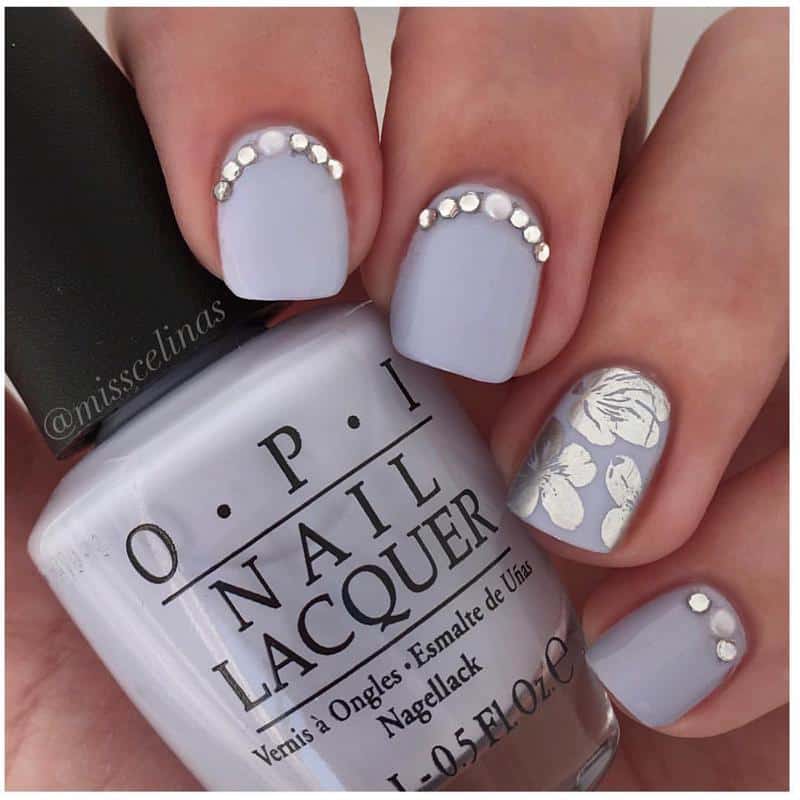 Grey and silver are not an aggressive combination. Thus are perfect for rhinestones! You do not need to add nail art to this design, but we courage you to do! A floral accent will look lovely.
#16 Pretty Matte Nails With Shine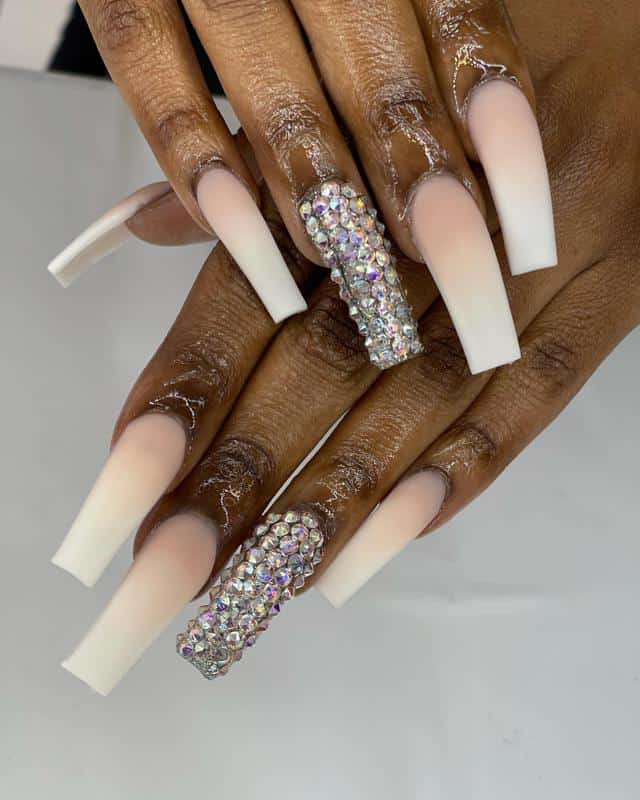 Matte nail polishes are fashionable. We gave you an example of how it can look, but you can go for any color you prefer. And then, you could fully cover one nail on each hand with sparkles.
#17 Elegant Coffin Nails With Rhinestones
Long coffin nails with good color can look classy enough without adding anything else. But fancy stones will make it more stunning. We highly recommend this design for prom or a wedding!
#18 Sparkly Nail Design With Rhinestones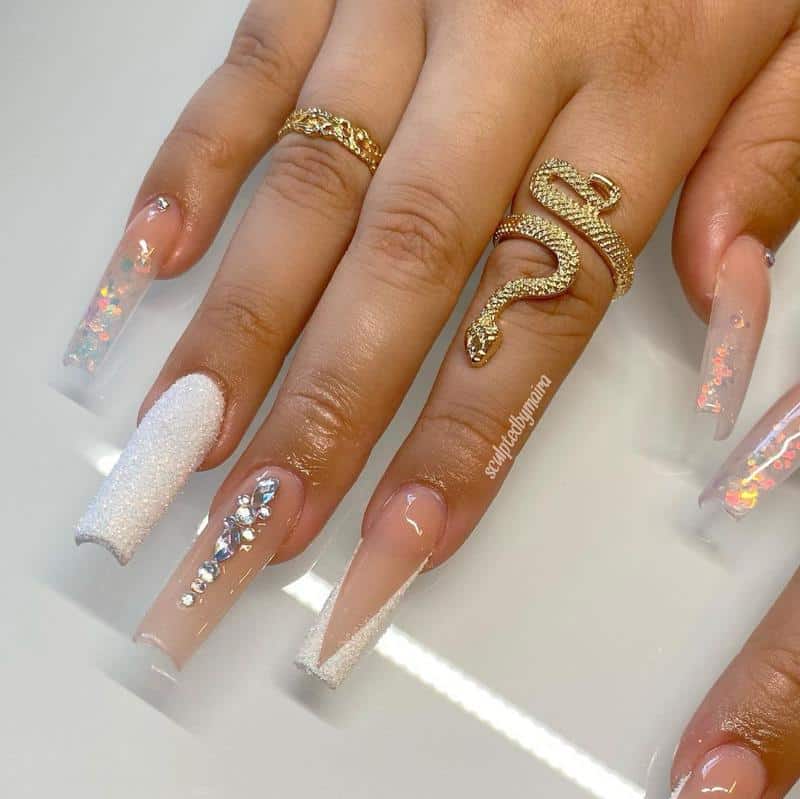 Rhinestones and glitter are the perfect pair. Pick some neutral or light nail polish – you do not need something vibrant because you already have these two buddies doing the job. It is the ultimate glamour design!
Also Read: Top 40 Stunning Nail Designs With Glitter 2022(Short & Long)
#19 Swarovski Rhinestones Nails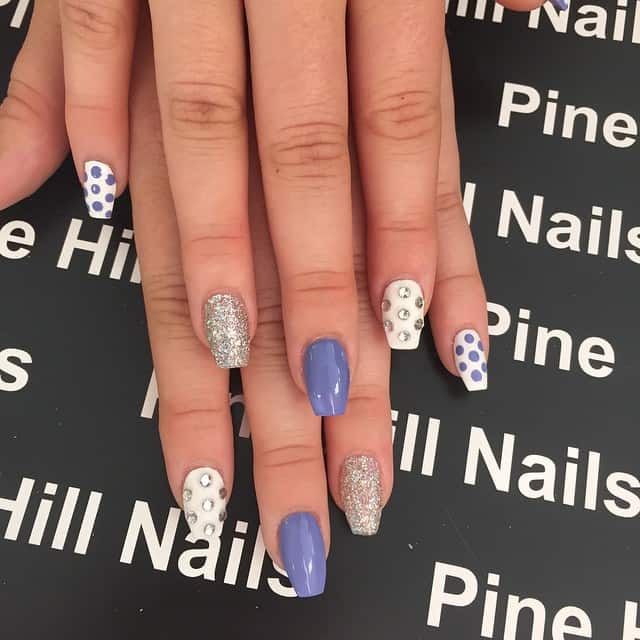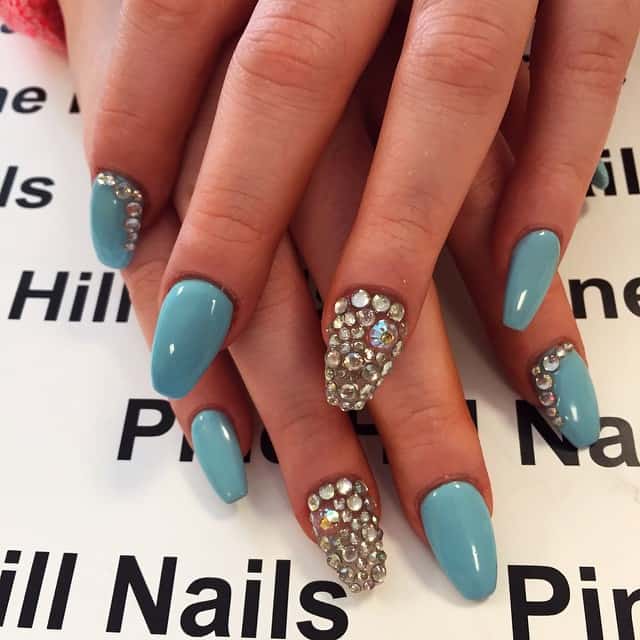 Swarovski crystals are as brilliant as it is a diamond – and for it, we all adore them! But what separates them from other rhinestones? Swarovski crystals always have a circular shape and a designated amount of faucets. It is a high-quality crystal. And it has a reflective film. Do you wish to grant your nails with the magnificent expression? You found your design!
#20 Fully Covered Swarovski Rhinestones Nails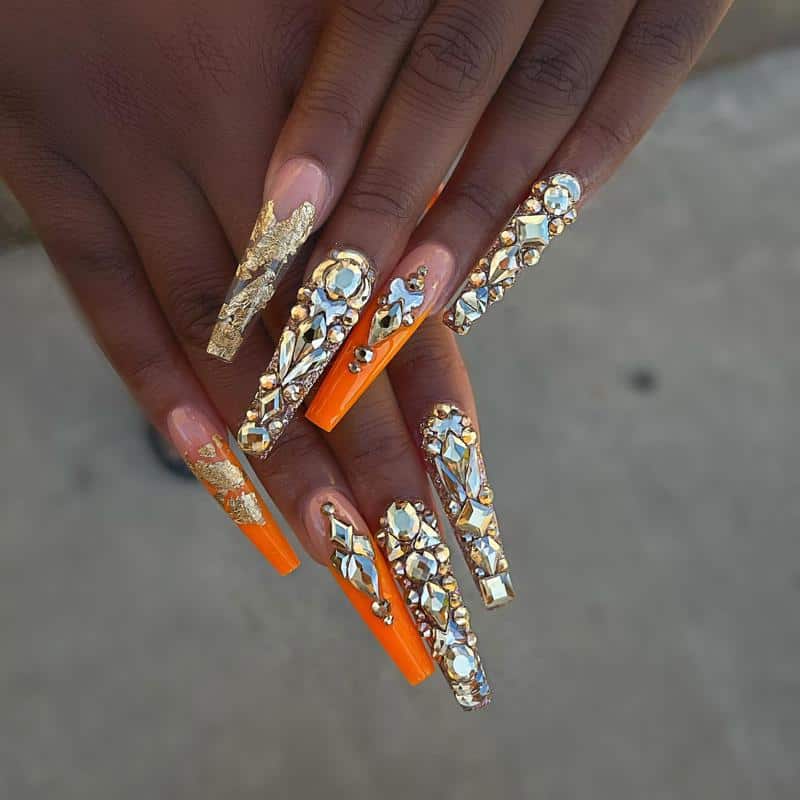 Fully Covered Swarovski Rhinestones Nails? Why not?! All eyes will be on you – but you want that anyway! Again, this design is for a special occasion rather than every day. For everyday wear, you should consider the Swarovski design mentioned earlier.
#21 Subtle Sparkle With Rhinestones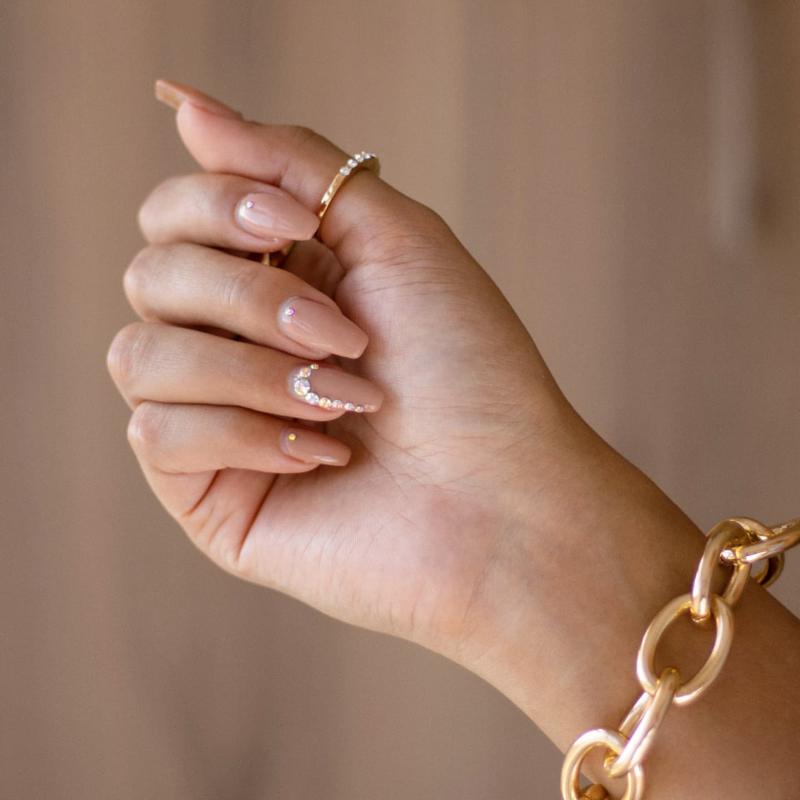 Do you want to keep your nails subtle? Pain them in nude tones and add a rhinestone accent nail. Place one small stone on each nail, apart from one finger where you can add more.
#22 Stiletto Nails With Rhinestones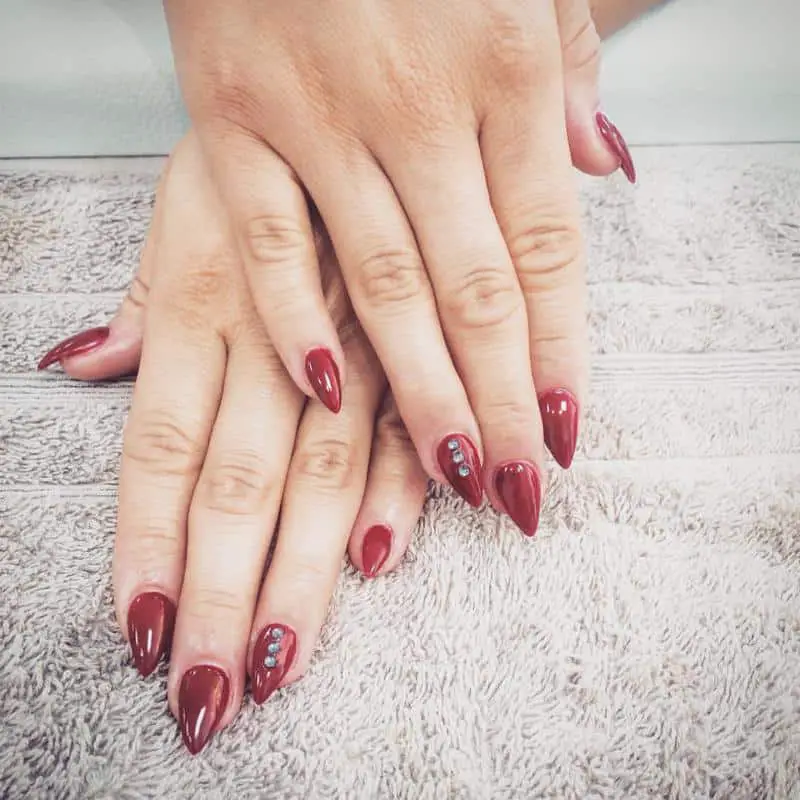 Stiletto nails are super sexy! Pair them with a beautiful nail polish of your choice and some small stones.
#23 Spider Web With Rhinestones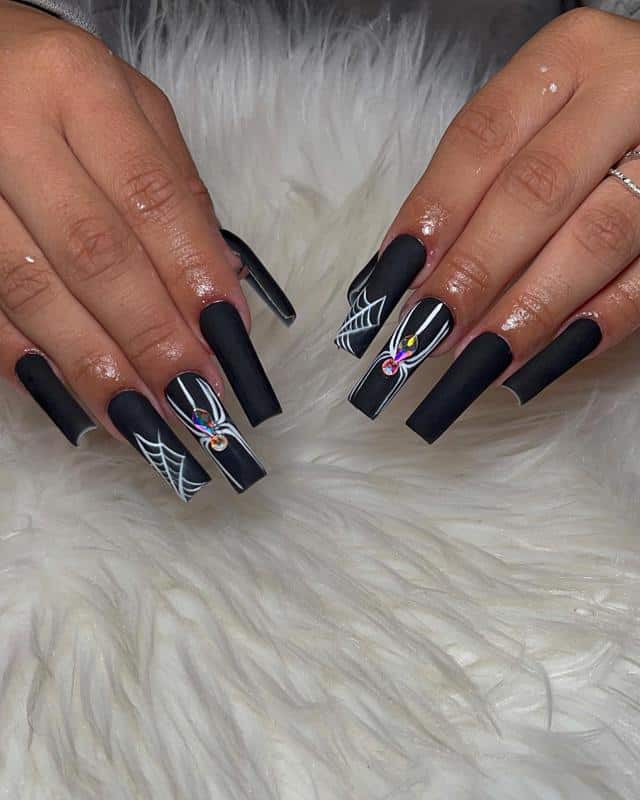 Some designs make you stand out from others because you look anything but ordinary! That is the case with spider web nails too! Paint them in black, draw a white web, and join some rhinestones.
#24 Horror Meets Sparkles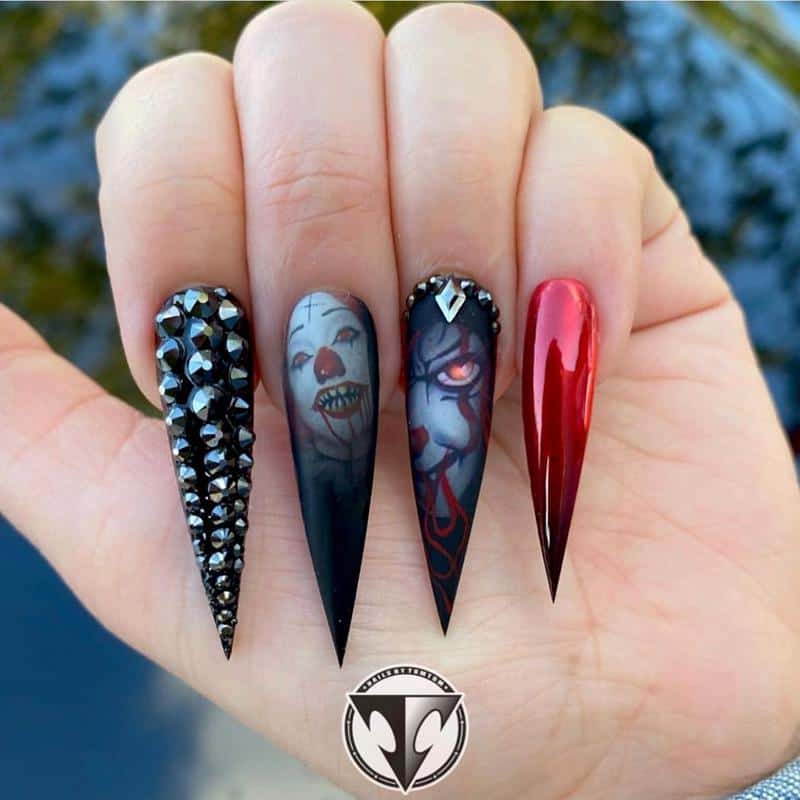 Are you a horror movie fan? Do you love to shock? To be noticed? To completely different from others? If you answered yes to all the questions, this design is for you.
#25 Red & Black Rhinestones Nails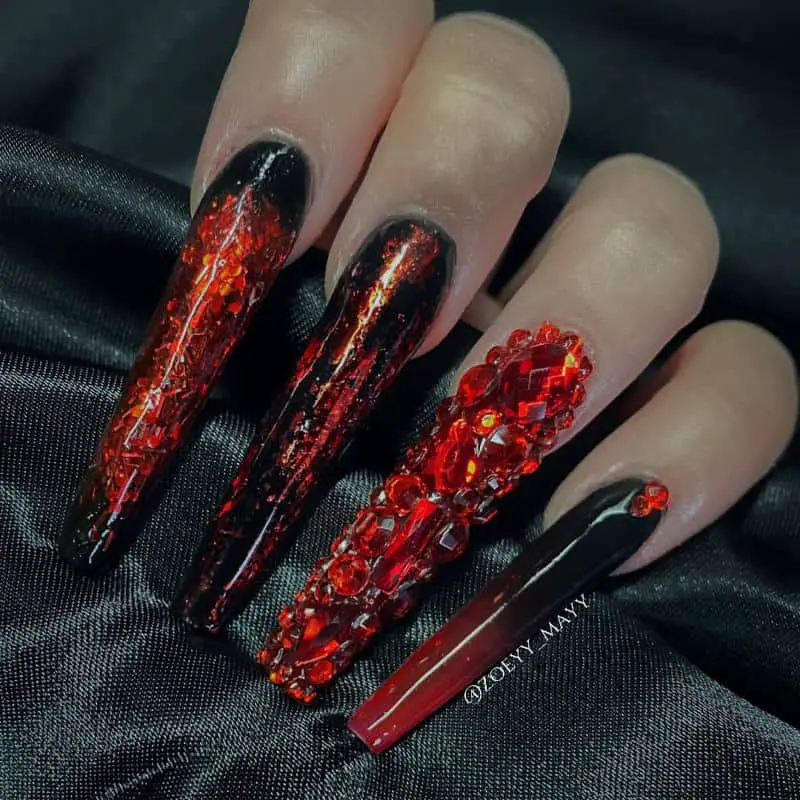 A combination of red and black makes you look sexy, rebel, and strong. But instead of simply coloring your nails in these two colors, why would you not take a step forward? Cover them in rhinestones and glitter. Are you bold enough to do it?
#26 Matte Top Coat With Rhinestones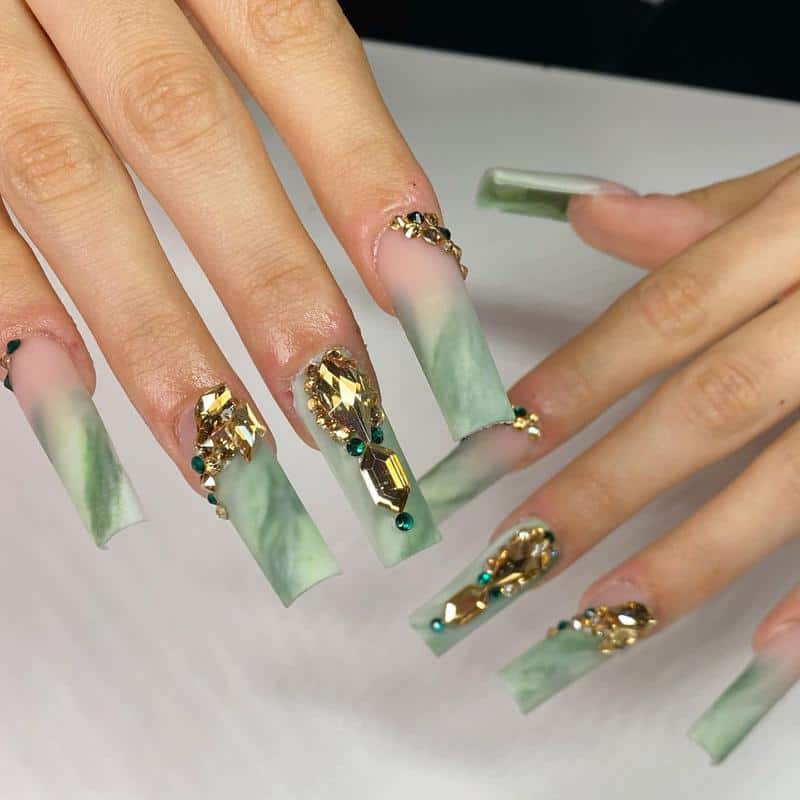 A matte top coat will improve your manicure! You can also find a quick-drying one. Make your nails look extremely good by adding some stones to them. Extra tip: Play with different sizes!
#27 Colorful Set With Rhinestones Nails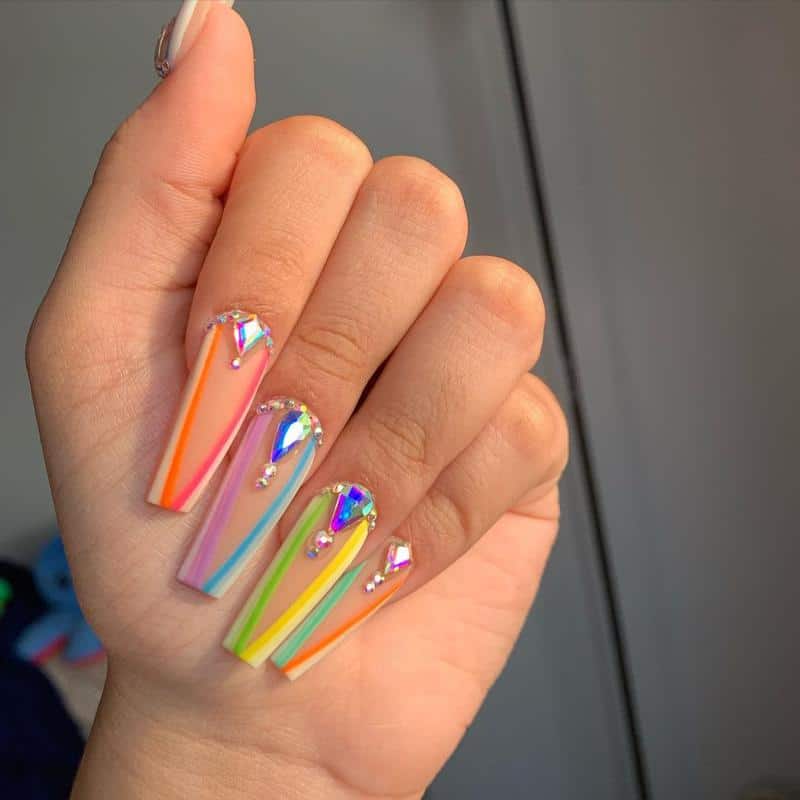 Colors bring up joy and life into the world. Making your nails colorful will be like you are wearing neverending summer on them. To compute some elegance to it, put some stones too.
#28 Nail Art With Rhinestones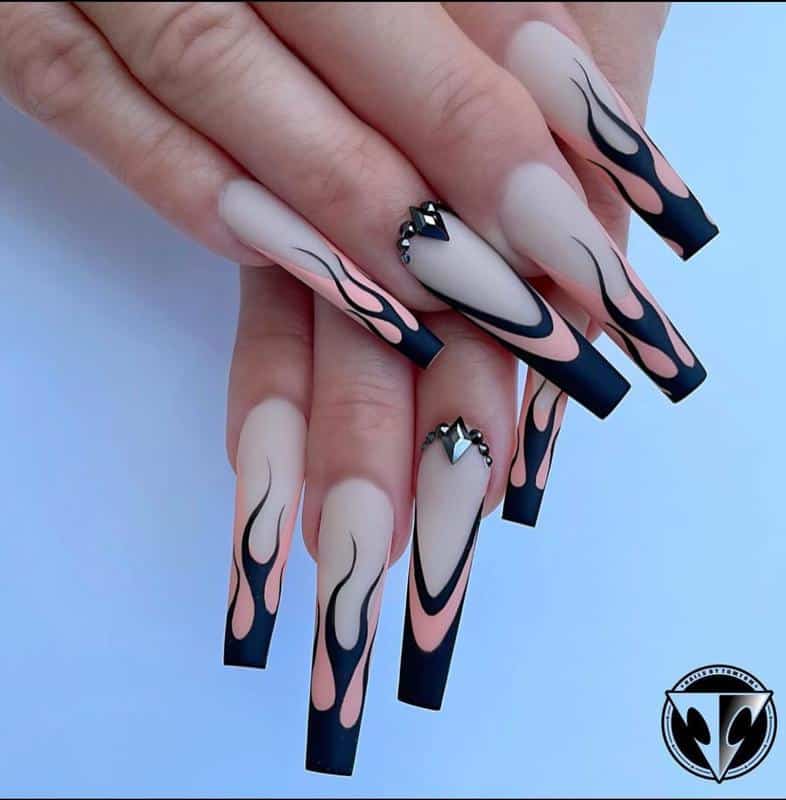 We are hopelessly in love with nail art. Are you the same? Then run to your favorite beauty salon, and allow art to be born. Now, too many stones will take away the attention from it, so add just a few small ones on the top of your nails (but do not do it on each finger).
#29 Mermaid Vibe Rhinestones Nails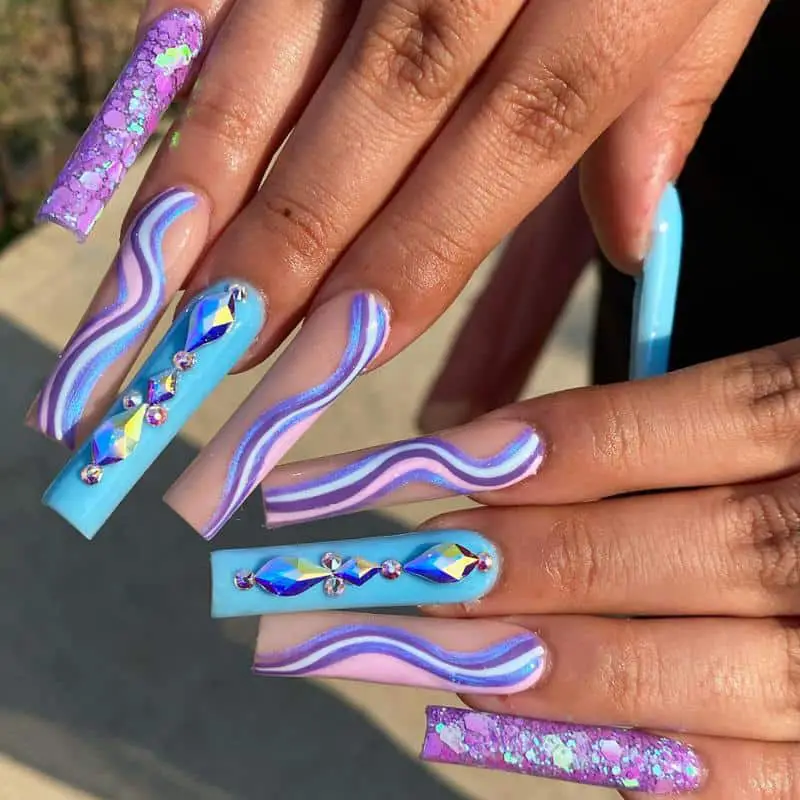 People adore mermaids because they are mysterious, gorgeous, and stand out from the random, ordinary life. And for the same reasons, we all love adding some mermaids vibes on our nails. Do not forget the stones!
#30 Leopard Rhinestones Nails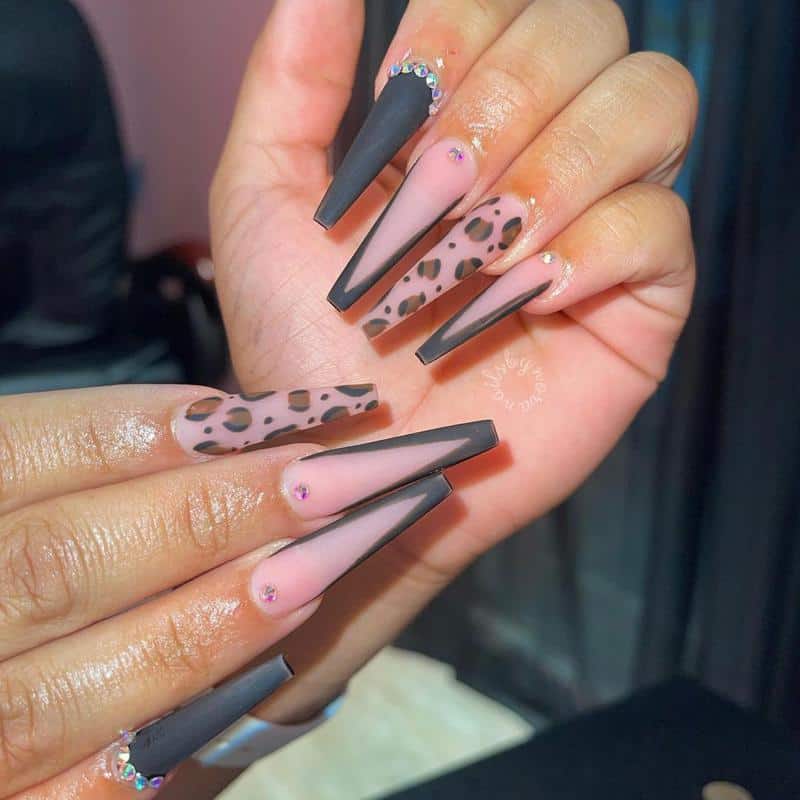 Nails with leopard print are hot and wild. Connect with your inner animal! But do not opt for the most common animal print – add some minimal stones.
#31 Rhinestones On Acrylic Nails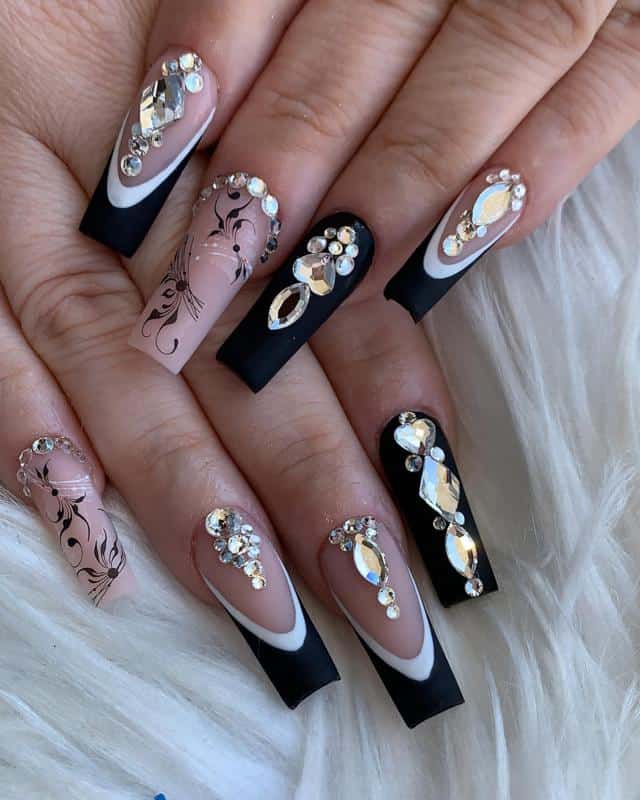 Acrylics should not ruin nails – and whoever tells you contrary is mistaking. But you can mess it up and even seriously damage your nails if you do a bad applying and removal process. So, all you have to do is make sure that the beauty salon you visit is 100% secure. And then, there are unlimited designs with rhinestones that acrylic nails will allow you to have. Set your imagination free and enjoy!
#32 Rhinestones On Short Nails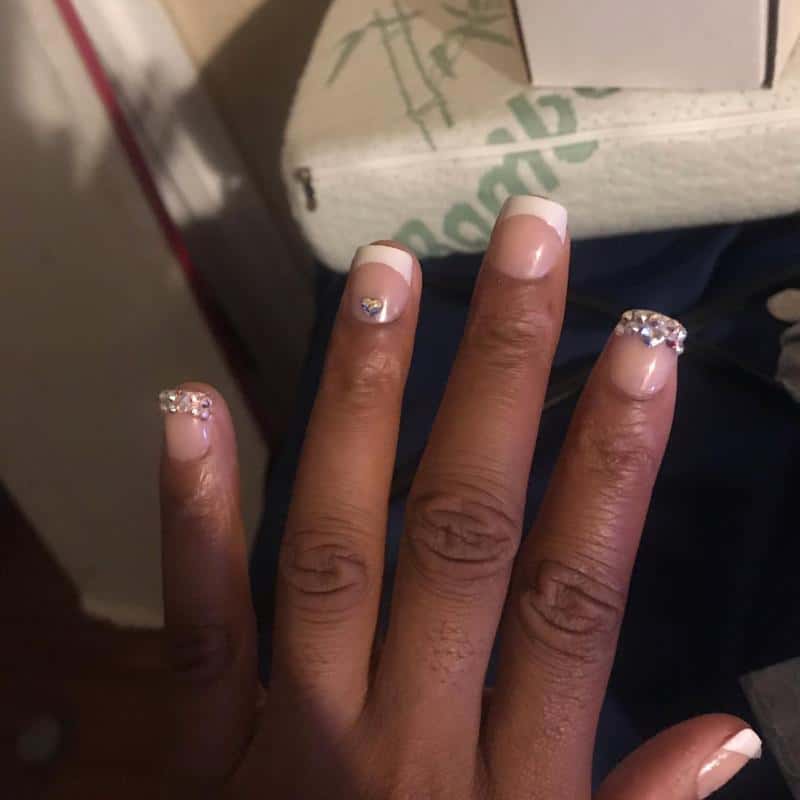 Rhinestones are not merely for long nails, but short too. So, yes, you can have them on the natural nails too! You can add stones to your tips or on the sides of your nails. We would not recommend only placing them on the tops of your nails, and no ever else, because it will make them seem even shorter.
Nail Design With Rhinestones: Q&A
1. Do Rhinestones Stay On Nails?
The average time that rhinestones will stay at your nails is at the last two weeks. The same goes for any other technique that nail tech can do to your nails.
2. How Much Rhinestones On Nails Cost?
The price varies from place to place (where is a salon located, how posh it is). But, you may find the cost of 1$ per nail when hand painting. And then, any further work or jewel will build up the charge for 25-50 cents per jewel. Bear in mind that Swarovski crystals will be more expensive.
3. Can I Do Rhinestones Nails DIY?
Absolutely! You can do rhinestones nails DIY. If you have never done it before, do first some simpler style, and leave more complex ones for when you get a bit more experienced. And how to do it? Put enough glue on the nail, and then join the rhinestones. Hold the crystals on the gel lightly, and keep it like for some time. If your stones are more extended, apply no wipe top coat, as well.
4. Can I Apply Nail Glue Over Polish?
Sure! In fact, you should put at least one coat of polish on your nails before adding glue. That will work as a shielding barrier.
The Bottom Line
Nails are the most prized ownership of women. Thus, no matter how stressed your day was, manicures and pedicures will always brighten up your day! But should you pick rhinestones? Absolutely! After all, they are not anything new – they have been used as ornamental pieces on nails for decades.
You will look super feminine and classy with them. Besides, there are so many ideas to play around with stones. And if you decide to do the DIY, it is easy to find them in your favorite store or online. Thus, make your nails shine today!