36 Butterfly Nail Designs Ideas That Will Make Your Heart Twinkle
When you shop through links on our site, we may earn an affiliate commission. This educational content is not intended to be a substitute for professional advice.
Are you looking to extend your nails designs beyond French tips and glossiness? We do not blame you. Doing the same nails style and painting them in the same hues can become a boring routine. Do not get us wrong: French nails became classic for a reason. But sometimes we need something new.
That is where a new nail trend, aka butterfly nails design, step in! And yes, they are adorable as they sound! You can do them on your natural nails or do acrylic butterfly nails. If you are artistic, painting this sensitive creature we all adore should not be a difficult task. If not, go to your favorite beauty salon, and get perfect butterfly acrylic nails. Bellow, check out butterfly nails that will make your heart twinkle.
Why Should I Get Butterfly Nail Design?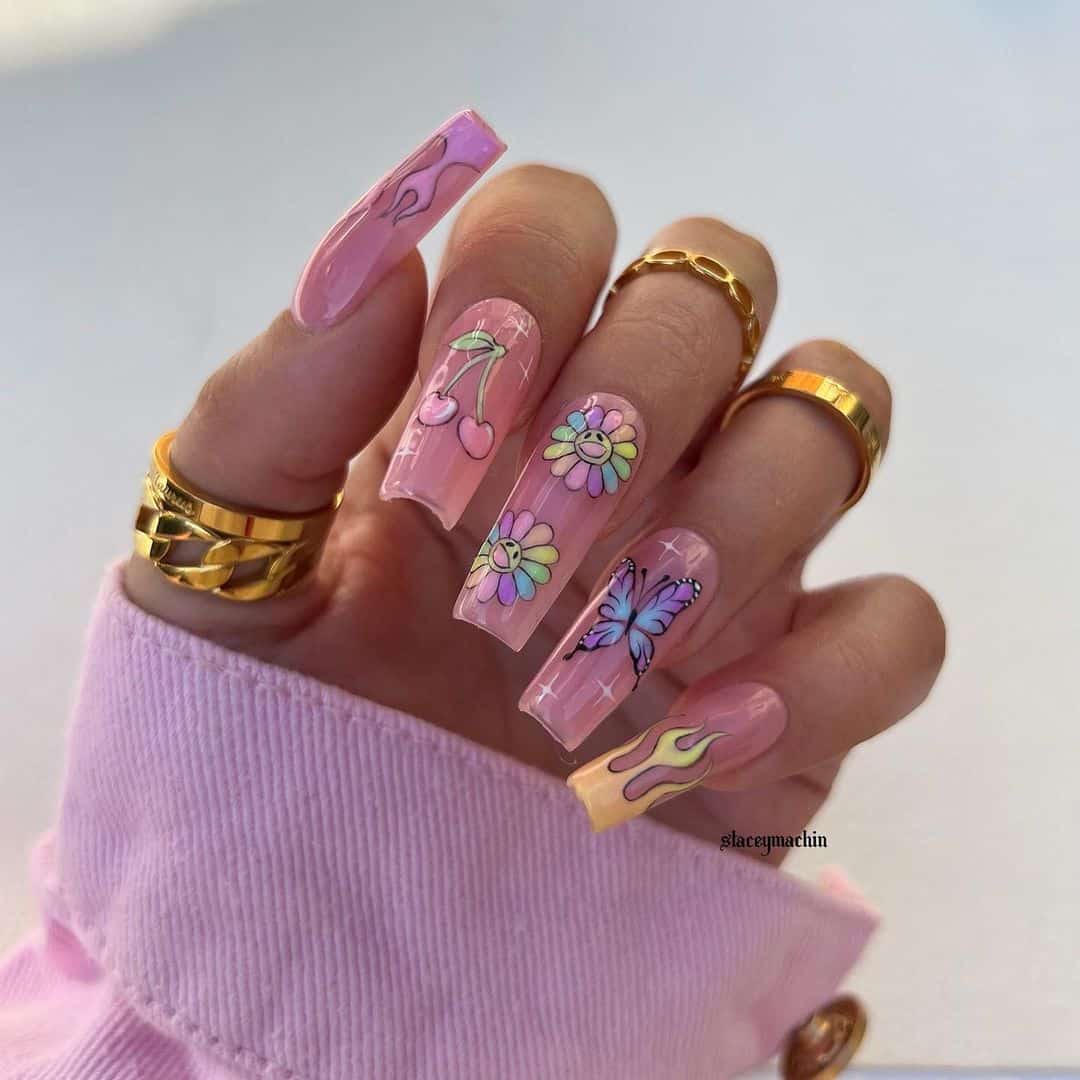 Butterflies are one of the noblest beings on Earth. They are sensitive and elegant. Thus, we could say that they beautifully represent a woman. And that is the reason why you should put that art on your nails! It will perfectly fit your feminine side. Besides, it will look particularly likable on the soft and well-cared hands.
We are not surprised a butterfly nail art designs became so popular over time. Are you?
Is Creating Butterfly Nail Art Designs Simple?
It is not necessary to be a professional artist so that you can do this design. If you feel like it, set your creativity free, and give it a go. Yet, unlikely to popular opinion, it is not that simple. You cannot draw a perfect butterfly if that is not one of your talents. And it is not even merely talent – drawing needs practicing. Thus, going to the beauty salon is always an option.
No matter if you wish for a simple but adorable or complex design, we got you covered! Bellow, you can find a wide range of ideas to choose from for the perfect nails.
36 Butterfly Nail Designs Ideas To Make Your Heart Twinkle
#1 Blue Butterflies Nails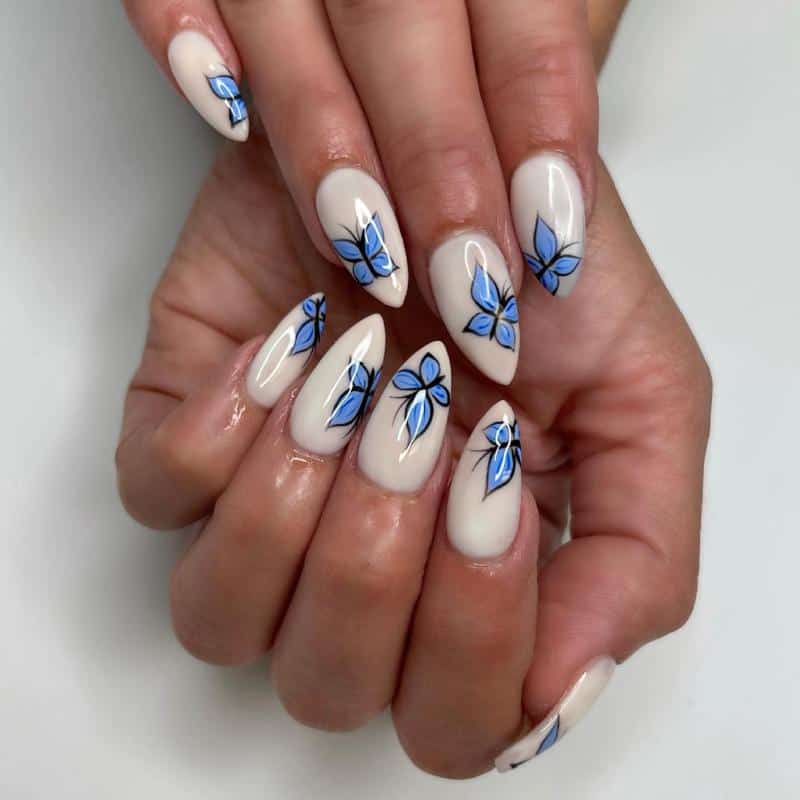 The blue color symbolizes the sky, freedom, and sensitivity. So, isn't that a perfect match with gentle butterflies? Besides, there is some beauty in the simplicity: adding a butterfly in a solid color grants your nails a soft look. But, as an extra tip, we would suggest you adding a shining topcoat.
#2 Bright-Blue Butterflies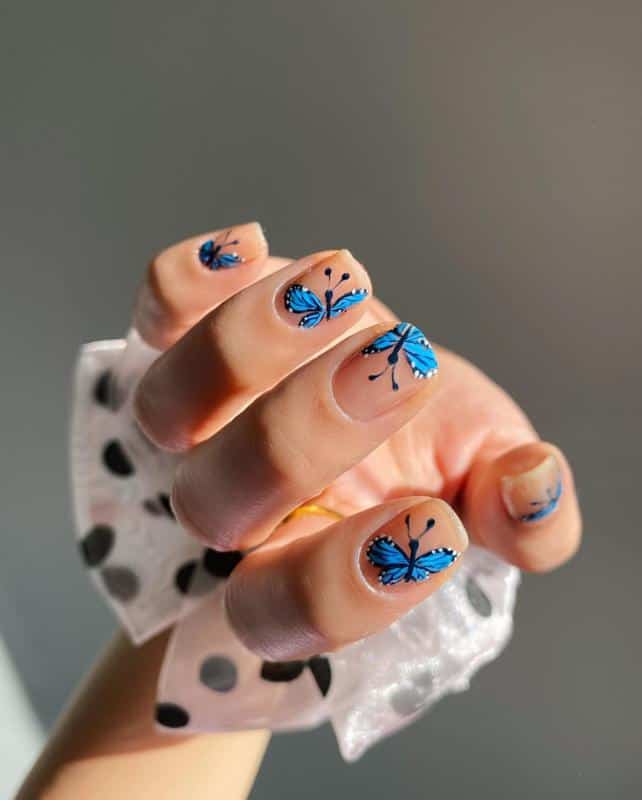 Now, this is super cute and super simple! Keep a neutral base, and then add colored art to it. Generally, butterflies are summery. But blue comes in a cooler tone too. Thus, you can have this design during the winder too!
#3 Mint Butterflies Nails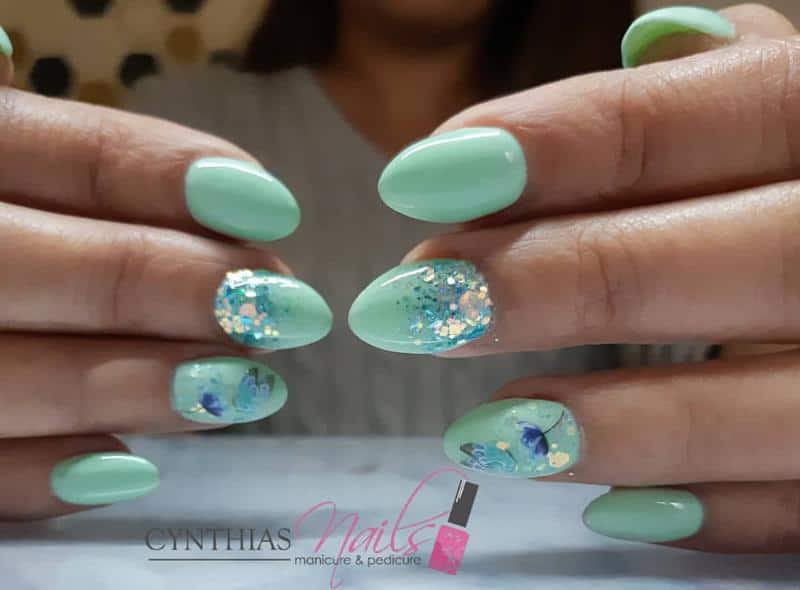 Mint shade is uber popular. There is something fresh about it and even flirty. Even if you add glitter, it will not look too much. And butterflies you can add as much as you want, but two on each hand will be enough too. Either way, because mint is gentle, your artwork will stand out.
#4 Lavender Butterflies Nails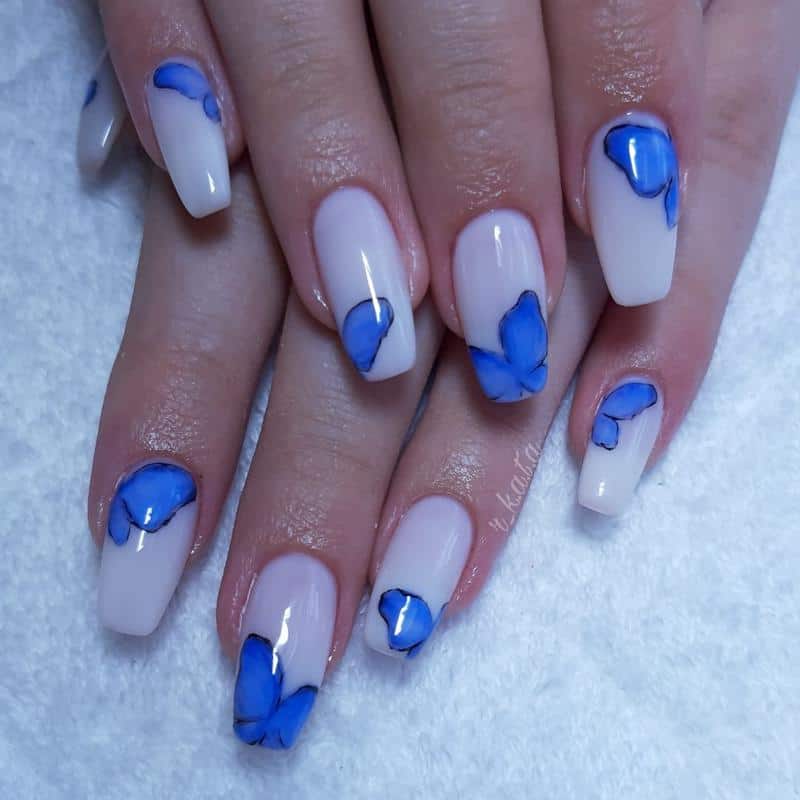 Lavender color symbolizes purity and tranquility. Plus, it is connected to femininity. Is this rings a bell of something? Butterflies, right? Yup, one more perfect match. Besides, lavender is a color hue. Thus, you can again have it during any season. Tip for longer-lasting: apply a gel nail polish to prevent early chipping.
Also Read: Top 30 Prettiest Lavender Nail Design Ideas (2022 Updated)
#5 Purple Butterfly Nails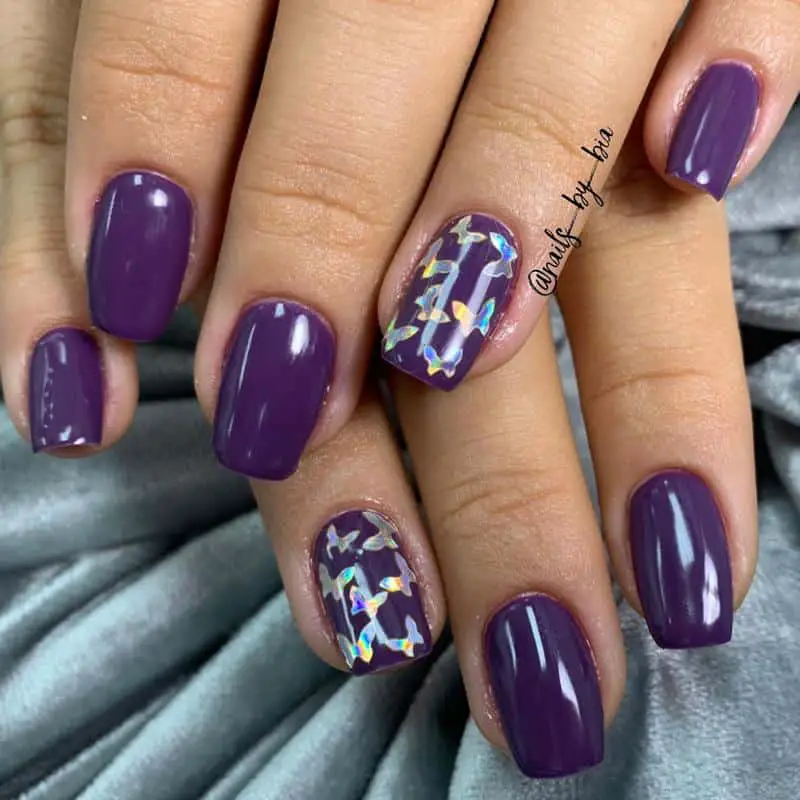 Purple is a hot and impressive shade that will make your nails look charming. It does not matter are your nails long or short and what the shape is. This color goes with all! So, paint your nails in purple, and then add silver butterflies. It will only add to the charm!
#6 Pastel Butterfly Nails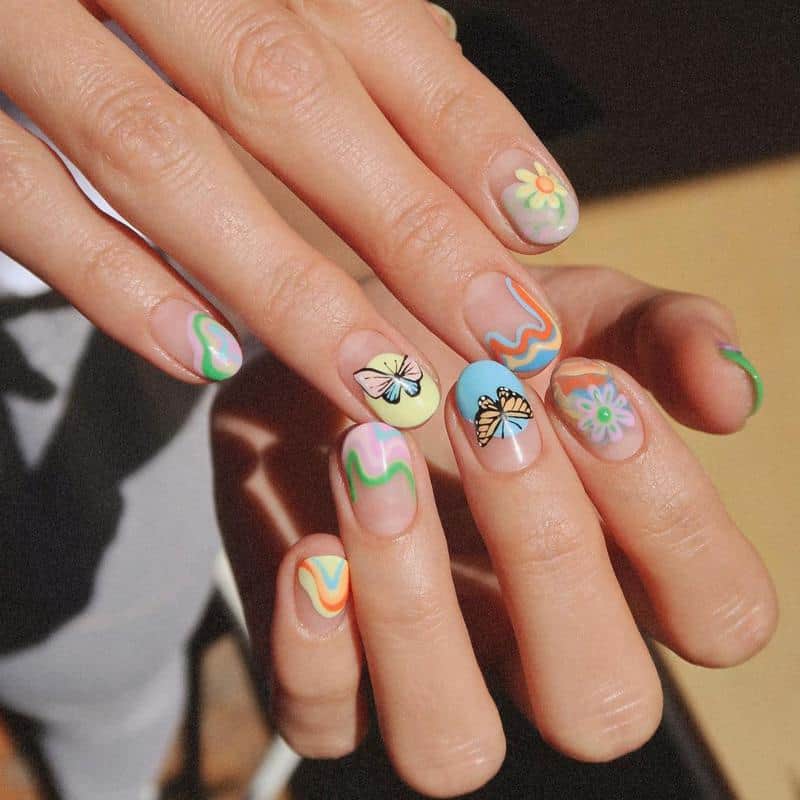 Butterflies and pastels are perfectly teaming up. It gives some '60s retro vibes! But at the same time, it is super soft.
#7 White Butterfly Nails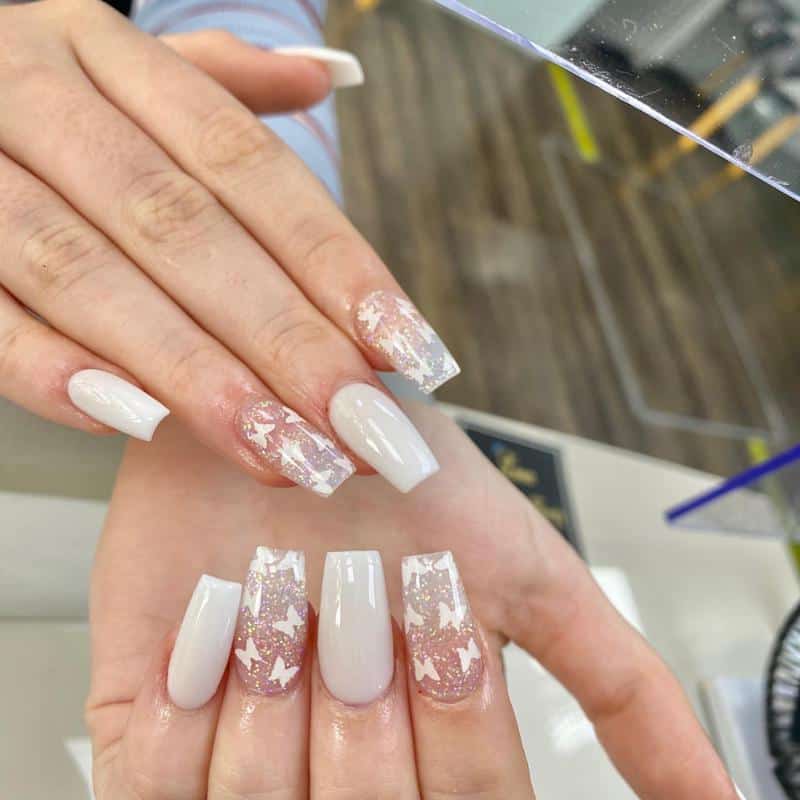 White signifies purity, innocence, and everything positive. So, we are sure you are not surprised that this tone finds its place on the list of butterflies nails designs.
#8 Red Butterflies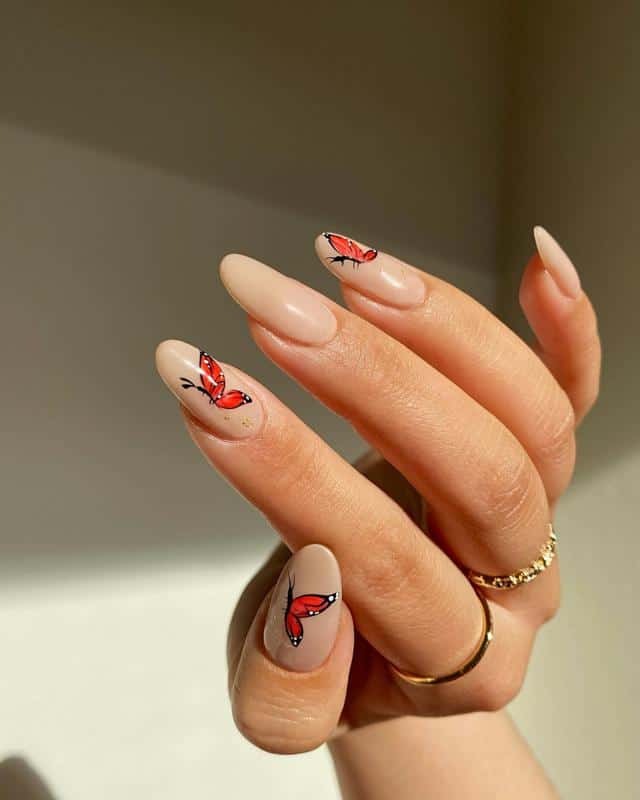 Paint your nails in a neutral tone. And then red butterflies. To make it extra unique, do only the sides, not both sets of wings. Besides, you do not even have to do each finger – two or three would be great too!
#9 Pink Butterfly Nails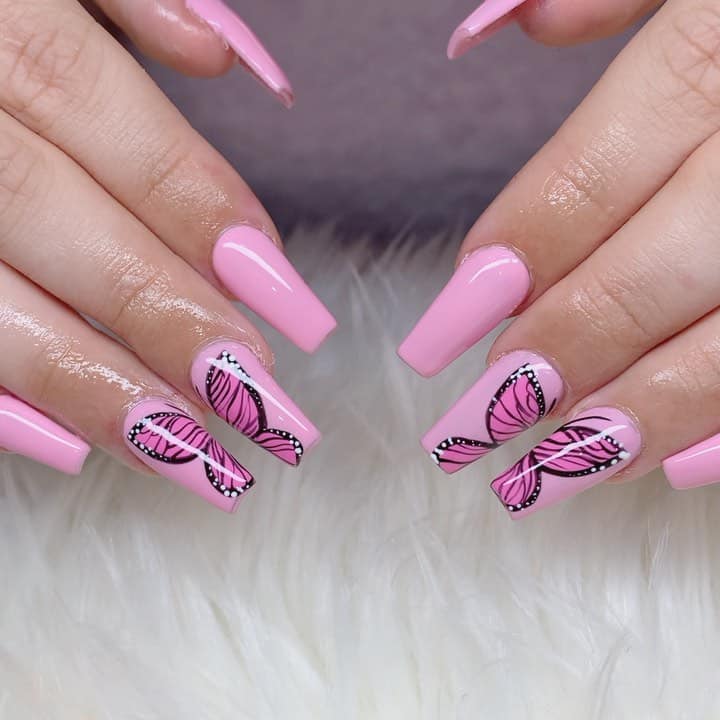 We can name several colors as feminine, but pink is the Queen of femininity and girliness. Add sophisticated butterflies for the extra result.
#10 Baby-Pink Butterfly Nails
https://www.instagram.com/p/B1MwiIBHaSB/
Kylie Jenner is the Queen of nails style – prove us wrong! And she loves this style with butterflies and gems! Do not stress if you do not have long nails. You can do them on the shorter, rounder ones, too.
#11 Pink and Yellow Butterfly Nails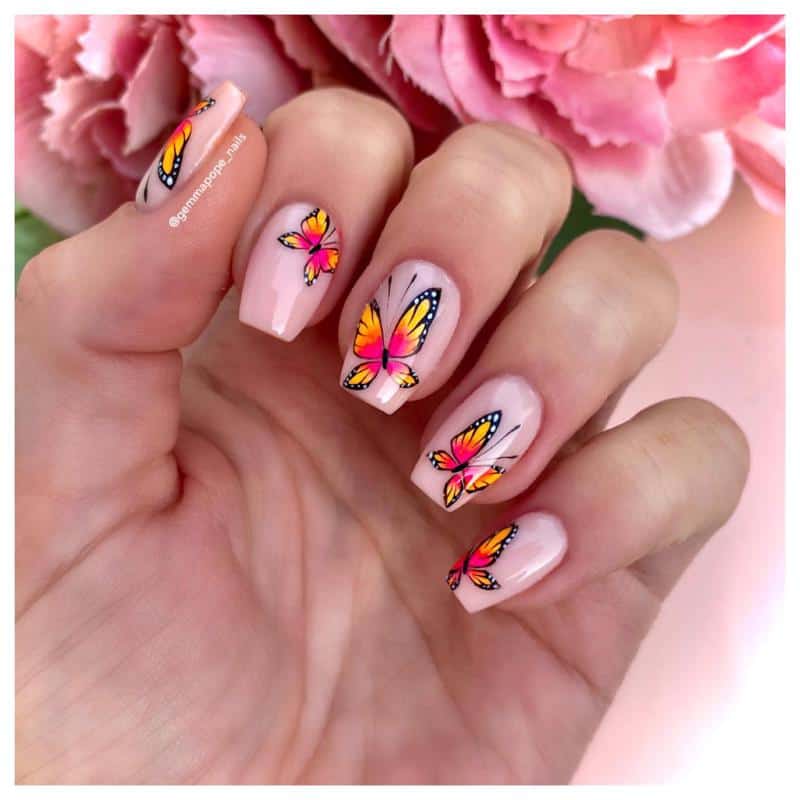 Pink and yellow fit every single season. Besides, there is something so calming, and at the same time, vivid about it. For this delicate panting, we would strongly suggest a visit to the nails salon you trust.
#12 Pink And Light Green Nails Colors With Butterflies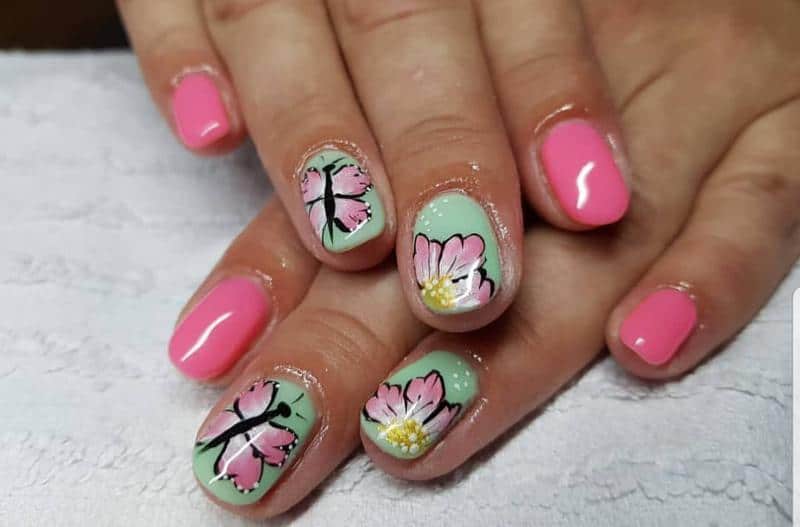 This nail design is anything but ordinary! If you pick the right tones, pink and green will match so naturally and beautifully. Now, if you want to paint butterflies by yourself, you will need a lot of patients. You do not have to use a nail art printer, although it would help. And if it is too hard, you can draw your abstract version or any artistic impression. And, of course, you can always see your nail technician.
#13 Purple And Pink, Butterfly Nails With Gems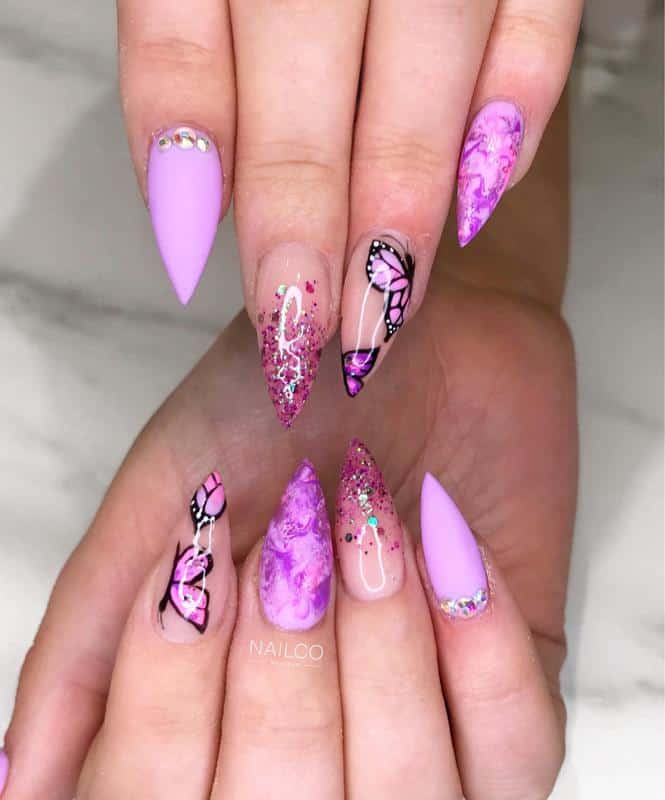 The multicolored trend has the souls of many people. If it won you too, check this nail design! To make it more interesting, do a different style on each finger. Sure, all those details will require loads of time, but it will pay off. You can wear it on a crazy night out or an elegant wedding – it is that flexible!
#14 Gold and Marble Butterfly Nails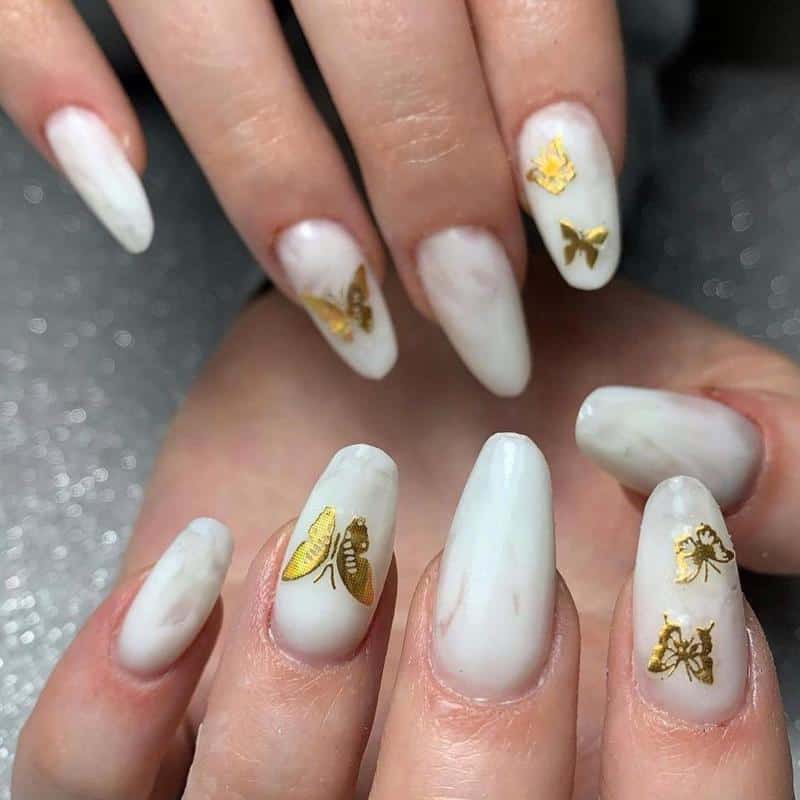 This could be one of the classiest designs! The marble effect will seem impressive on you no matter how long or how shaped your nails are. But if you want to have a lighter color with butterfly nails, you must be aware of one thing: Your cuticles are on complete show now. Thus, your major preoccupation will become nursing them with cuticle oil.
#15 Gold Butterflies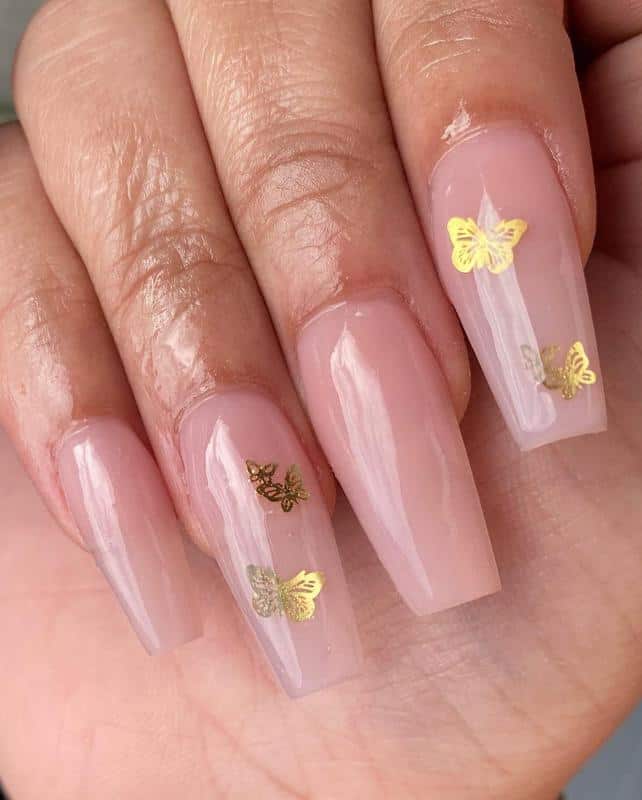 The gold color is a symbol of luxury. Thus, you will surely look classy with gold butterflies! Also, it is not an aggressive tone, but more neutral. So, you do not have to worry when you have a different clothing style.
#16 Butterfly Glitter Nails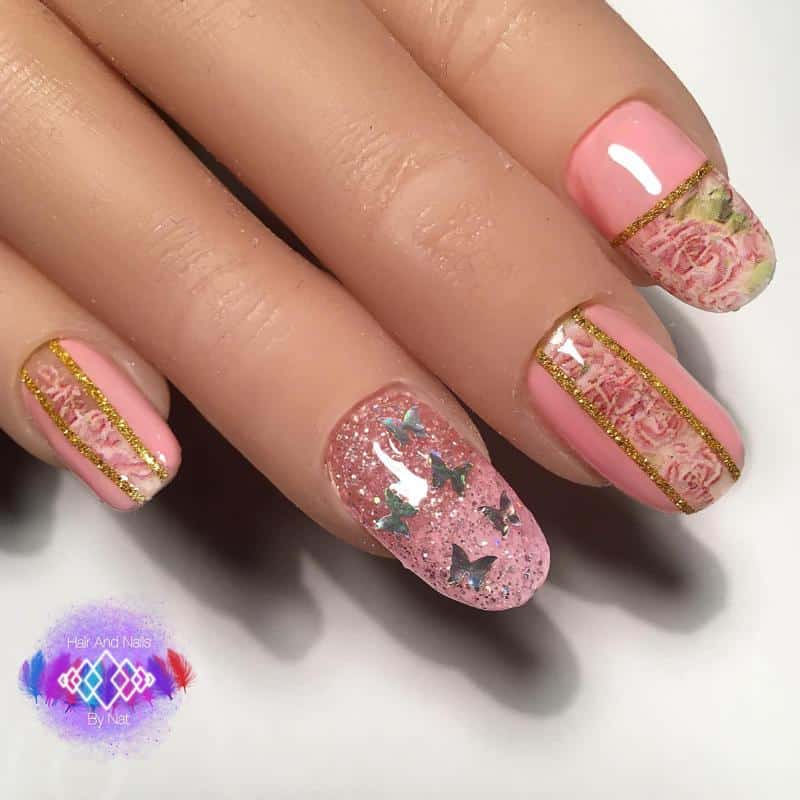 Glitter always has all attention. But did you know that this is not only for aesthetics? It is all connected with human instincts. Cool, right? So, everyone will surely have eyes on your butterflies!
Also Read: Top 40 Stunning Nail Designs With Glitter 2022(Short & Long)
#17 Multi-Colored Butterfly Nails
You are not sure which is your favorite hue. Thus, it is so hard for you to pick how to paint your nails. It is okay! Who said that butterflies in the wild are all the same color? They are multicolored and so can be your nails!
Also Read: Top 30 Cute Two Colored Nail Design Ideas (2022 Updated)
#18 Peach-Ombré Butterfly Nails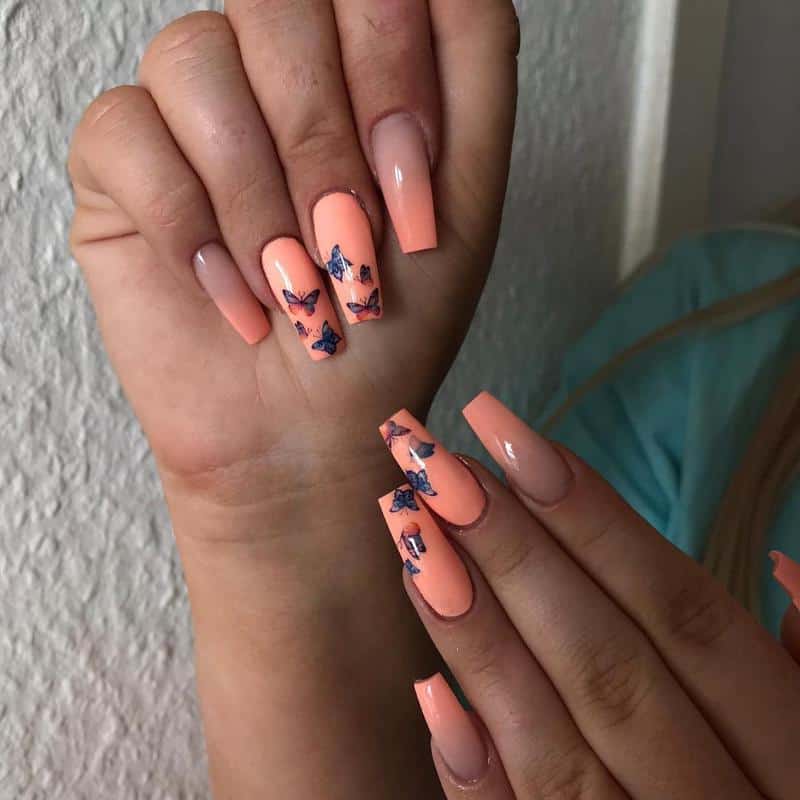 Every style-conscious lady is aware that dressing from top to toe requires to care about detail. Ombré is super fashionable, whenever are hairstyle or nails. There is nothing minimalistic about this style in combination with butterflies. But there is nothing too much about it either! Extra tip: apply it with an eyeshadow sponge applicator. In that way, it will blend smoothly.
#19 Butterflies and Clouds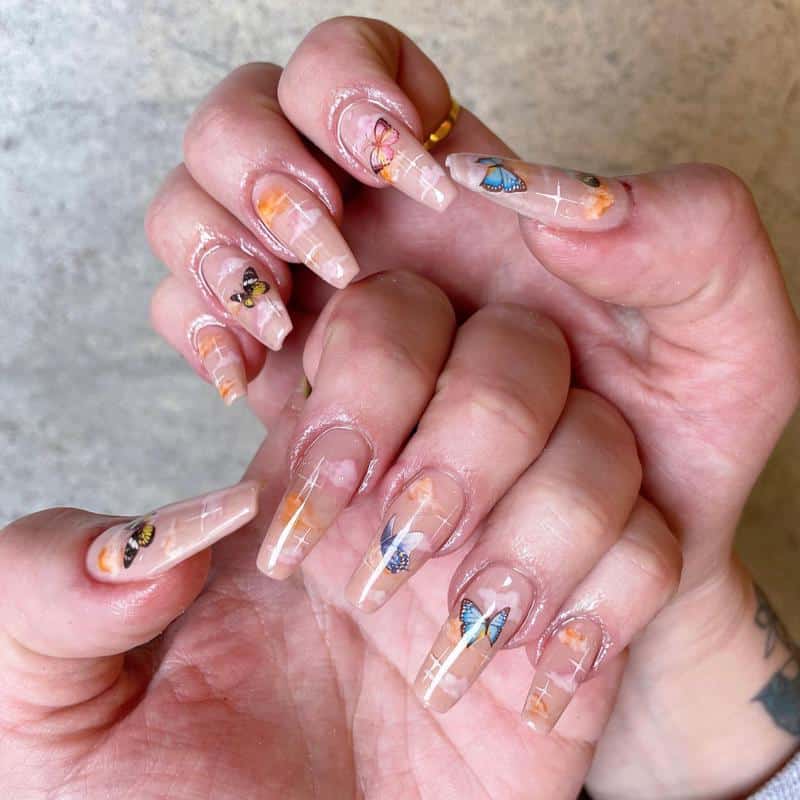 The dreamiest idea for romantic, gentle souls! It is nice to add more drawings to your nails, apart from butterflies, but that can be too much then. Yet, it cannot be too much if you add cute pastel clouds!
#20 Blue Butterfly Tips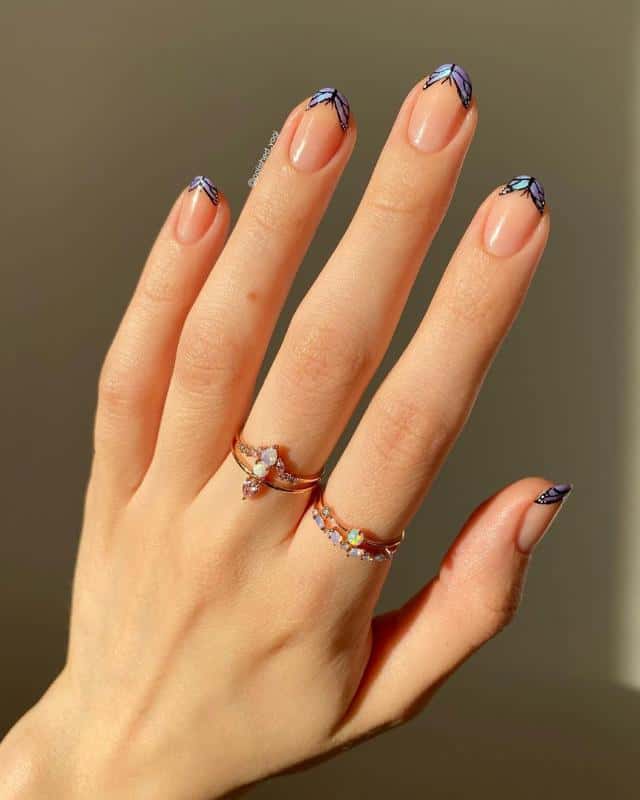 French tips seem to be always in style! But they do not need to be basic! Sometimes, beauty is in versatility. This style is not even so difficult to do by yourself. Besides, you can do it in one way every time, but in a different hue, and by experimenting with matte and shiny. Like that, you will always have a new look!
#21 Orange Butterfly Tips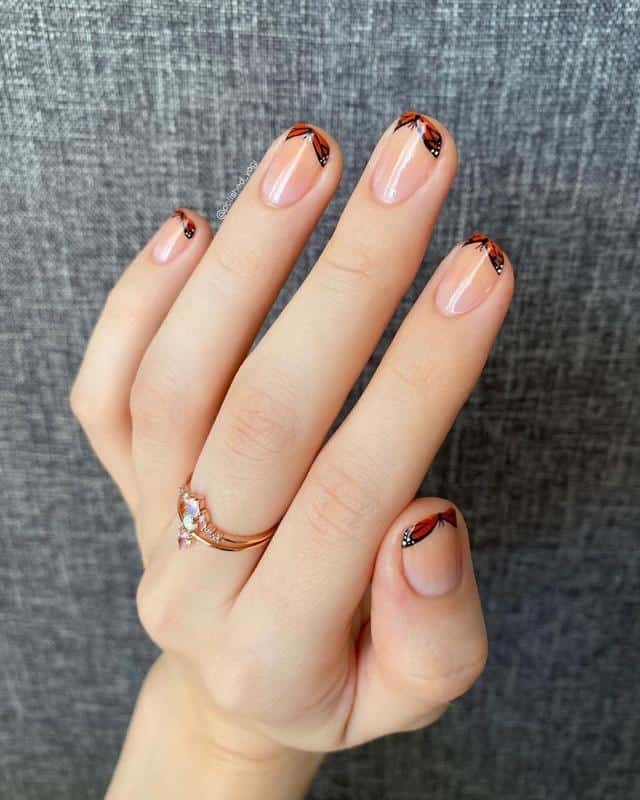 One more French style, but now with vivid orange color! Choose the black and white polishes for extra details.
#22 Black & White Tips + Colored Butterflies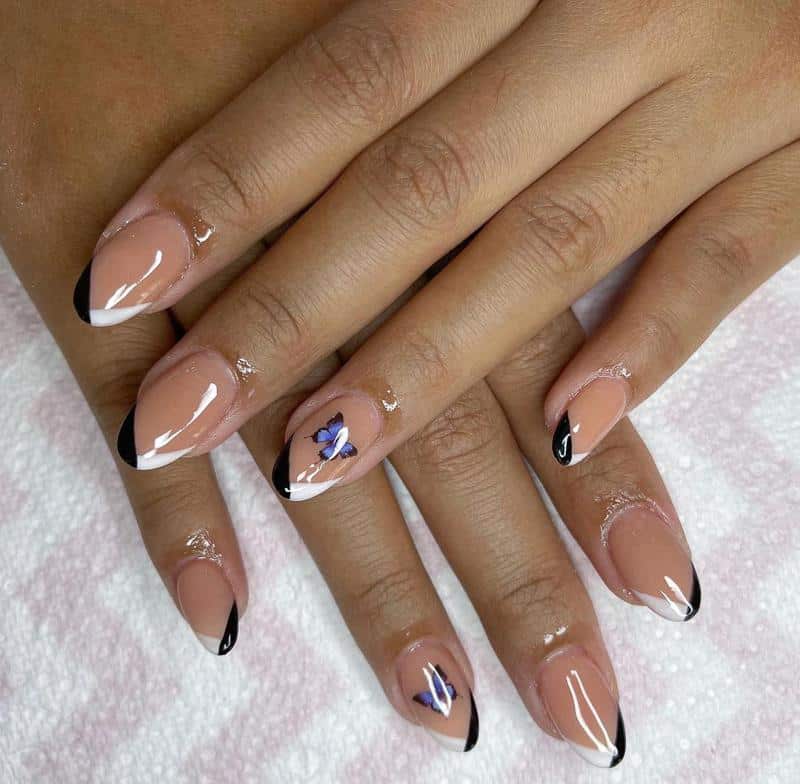 Something is appealing about the black & white combo. Maybe it is about elegance. Or about Yin & Yang myth. Either way, we are in love with these black & white tips too! We would not advise adding too many butterflies. One colored in blue, or whatever color you pick, would be enough.
#23 Black And White Butterfly Nails
As we said, black and white is an appealing combo. And if we may add, it will make you resemble as a courageous and strong character.
#24 Watercolor Butterfly Nails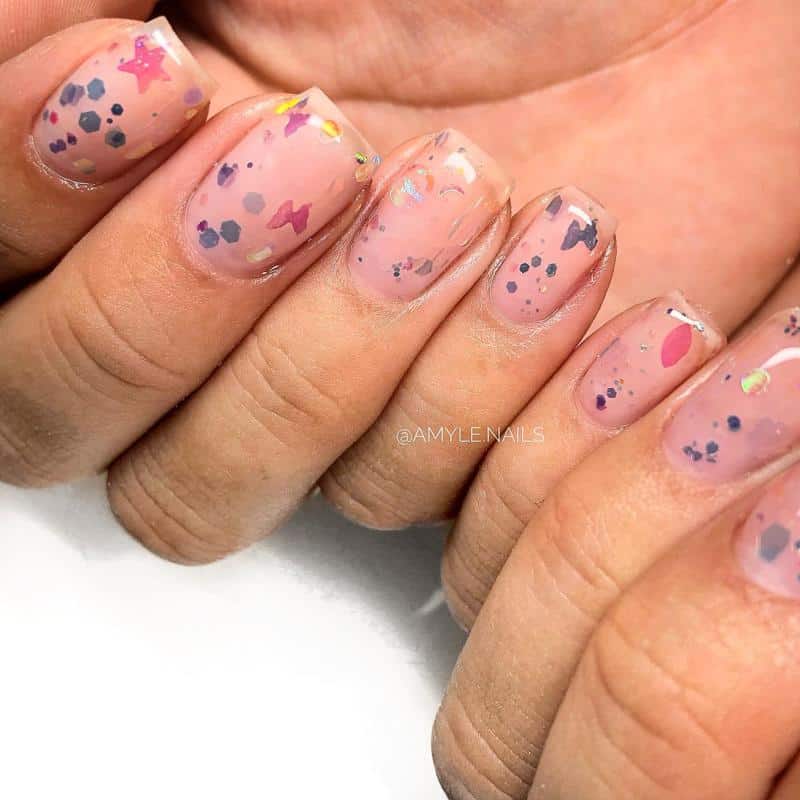 Watercolor is extremely versatile. You can use it for whatever – tattoos, nails, everything will get a wow effect! Your manicure and your butterflies will stand out!
#25 Clear Butterfly Nails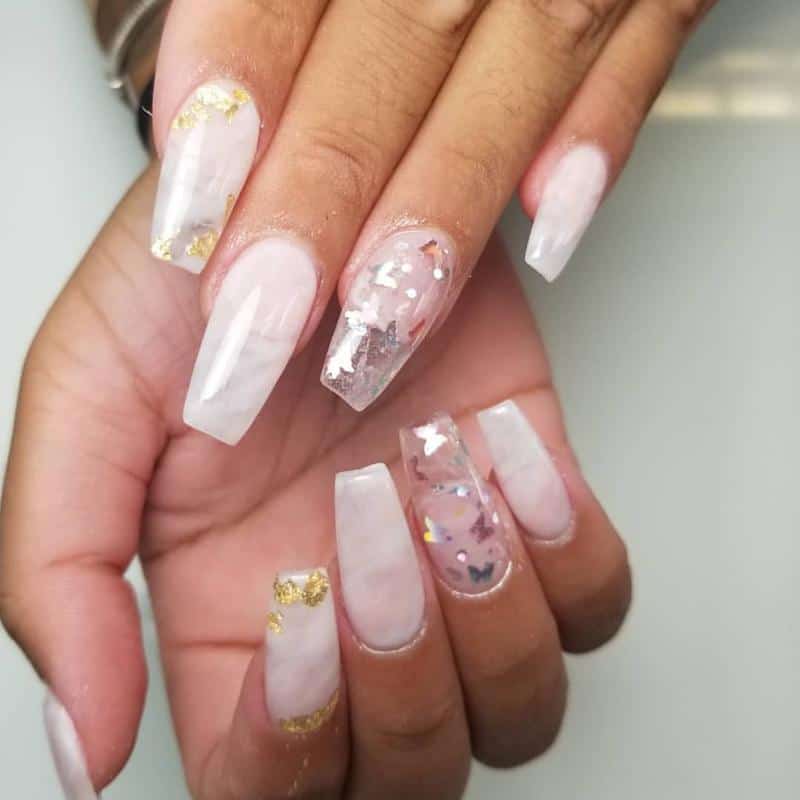 Clear nails are a combo of simple and stylish. Besides, you will not need to worry will your nails match the color of your clothes! Butterfly nails clear are the easiest solution to fit all occasions.
#26 Neutral Butterfly Nails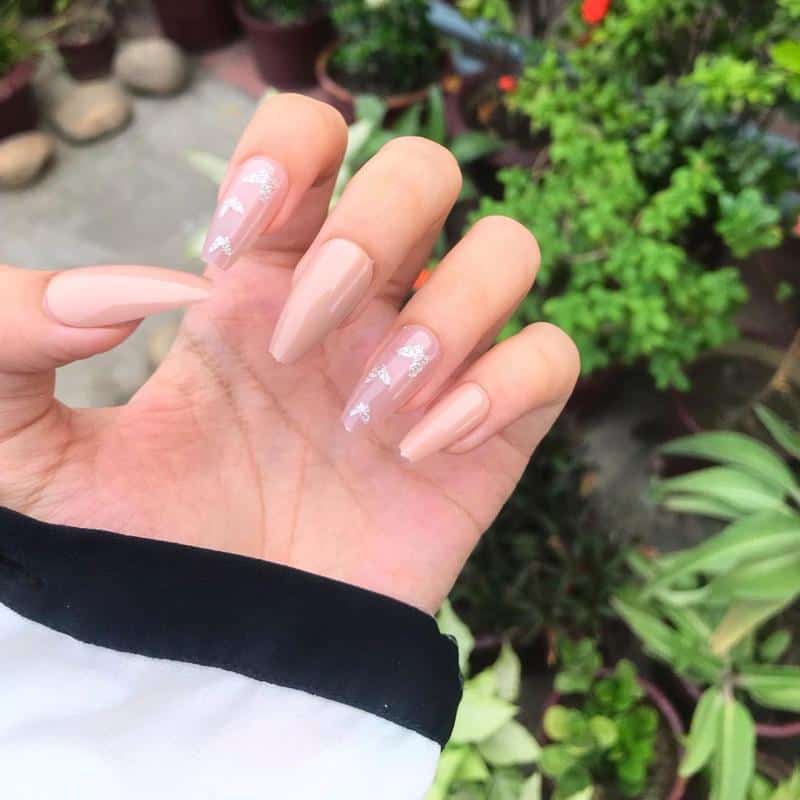 Introverts like to keep everything a bit more discrete. If you are the one too, we suggest neutral colors! You will look classy without standing out too much!
#27 Butterfly on Just One Finger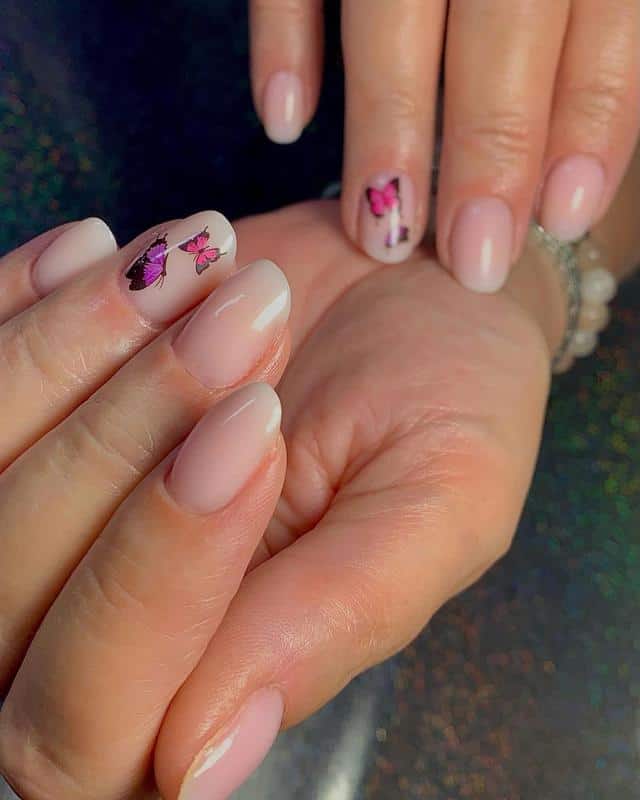 If you want to keep on totally minimalistic, you can paint just one cute butterfly! After all, details matter!
#28 Monarch Butterfly Nails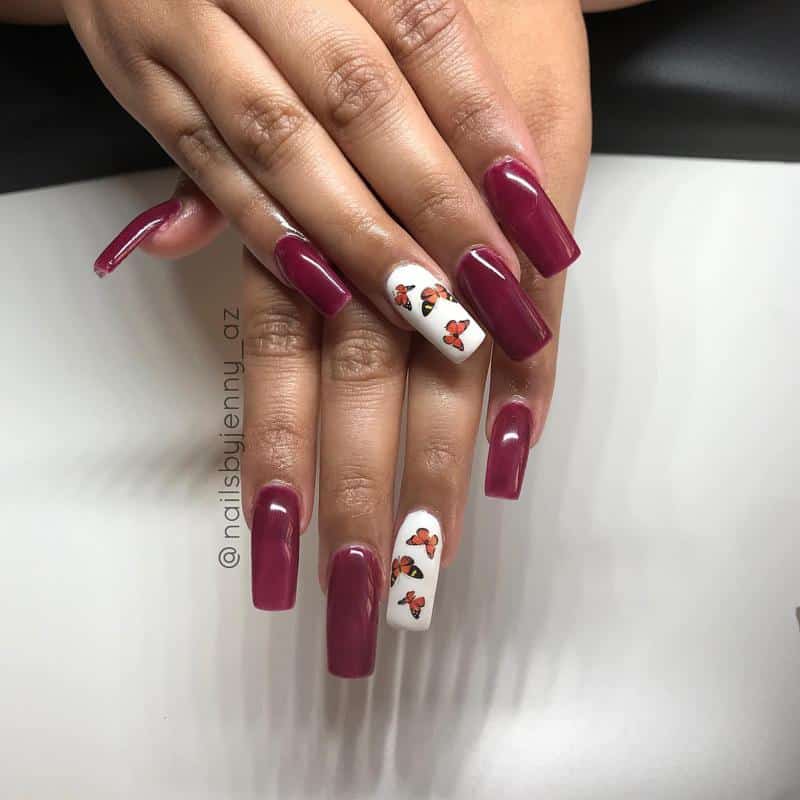 Monarch butterflies are so pretty. They look simple, while at the same time they are detailed enough. So, why not paint them on your nails? We would suggest not to draw them on every finger, but just on one on each hand. Keep the background behind your loved creatures white. And other nails could be however you prefer, but we love the color of the wine. This design is suitable for any occasion, no matter if it is formal or casual.
#29 Realistic Butterfly Nails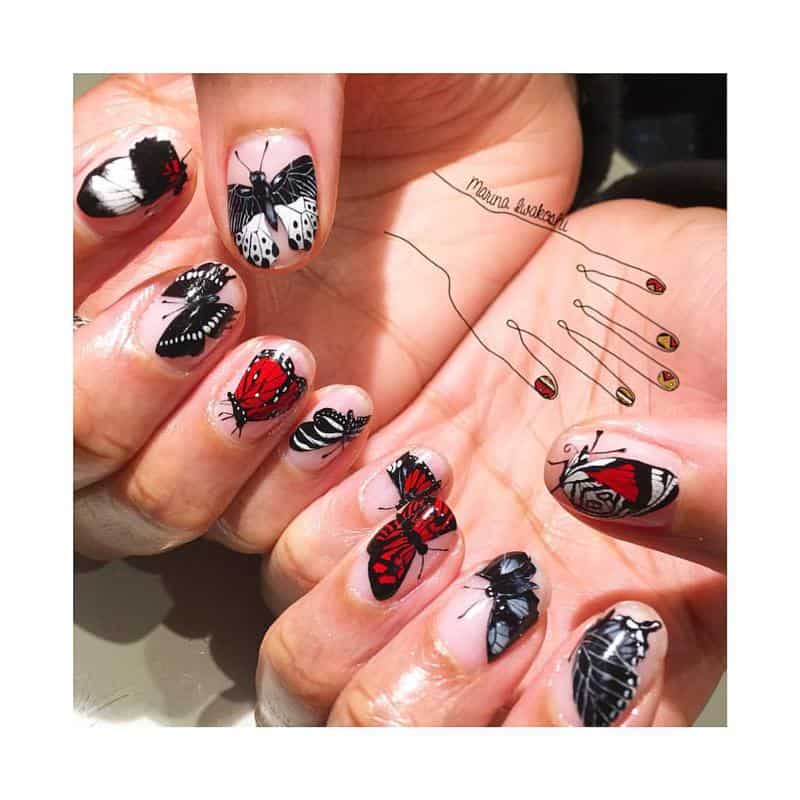 The red and black combo is like the hottest couple ever. But you do not need to pick these two colors – you can go for any. Now, to do realistic drawing, you have to be a super good artist! Thus, be sure you go to the right salon.
#30 Square Butterfly Nails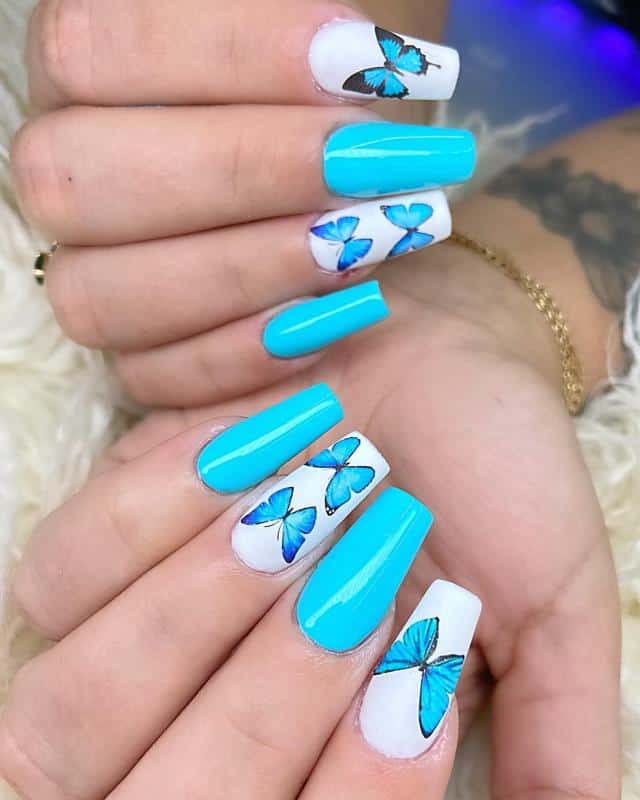 Butterfly design goes perfect on any nail shape – and that is a fact! And we simply love squares, so we had to mention them! You can do it on natural shorter nails or extensions!
#31 Butterfly Nails Long And Pointy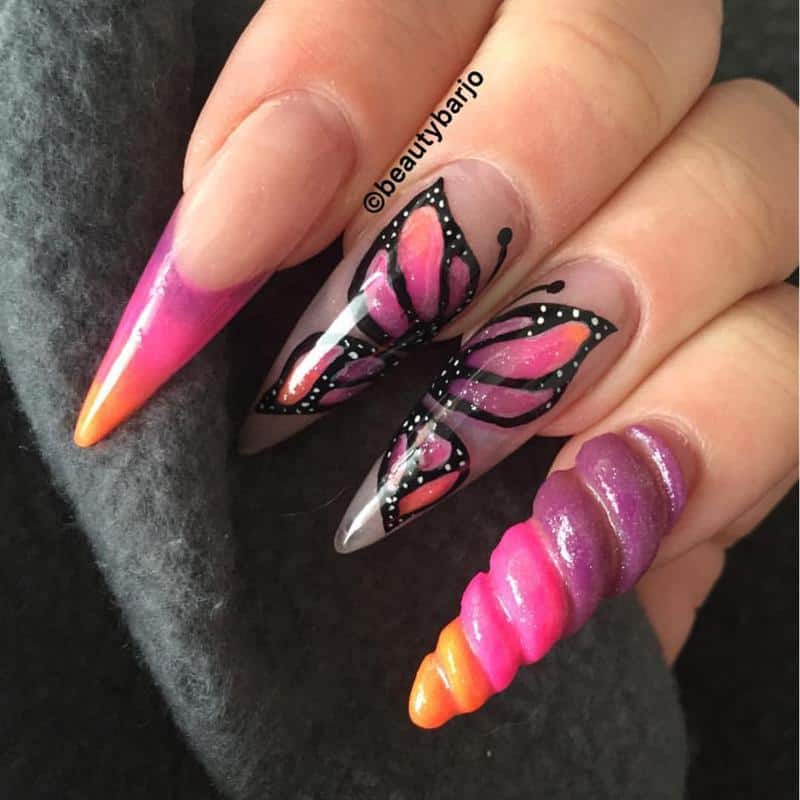 Do you like to have long and pointy nails? If yes, then you are fierce and daring. You can combine any colors you fancy, but we suggest nude, pink, and orange. And if you feel like, you can even add some unicorn alongside with butterflies! Be as magical and mystical as you want to be! Besides, it will go well with any clothes combination: classy or casual.
#32 Butterfly Nails Short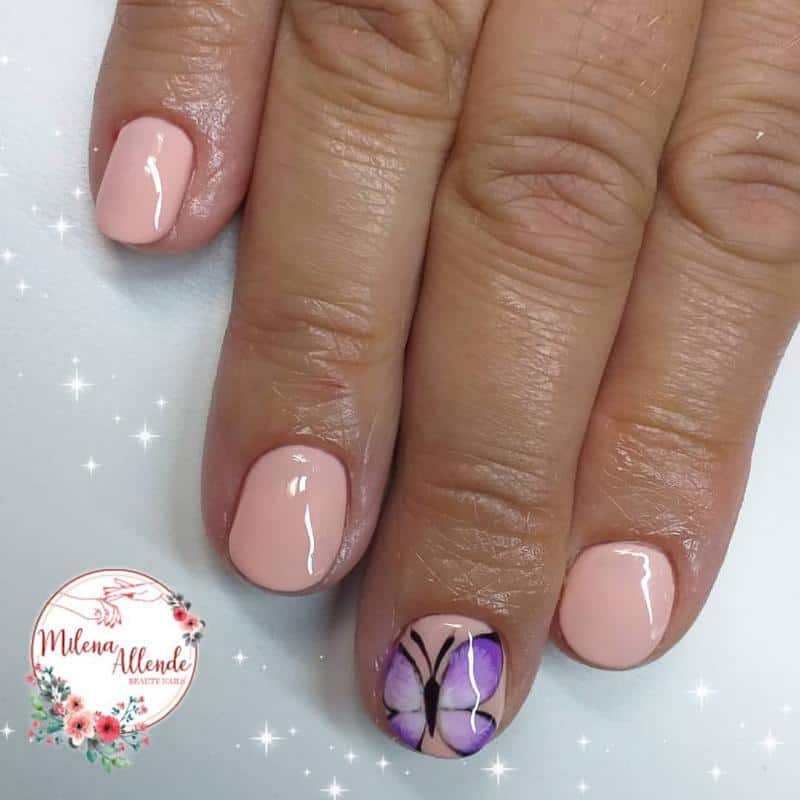 Who said you need long nails to have desired design on them? Paint them the way you wish, draw butterflies and enjoy in your natural nails.
#33 Butterfly Gel Nails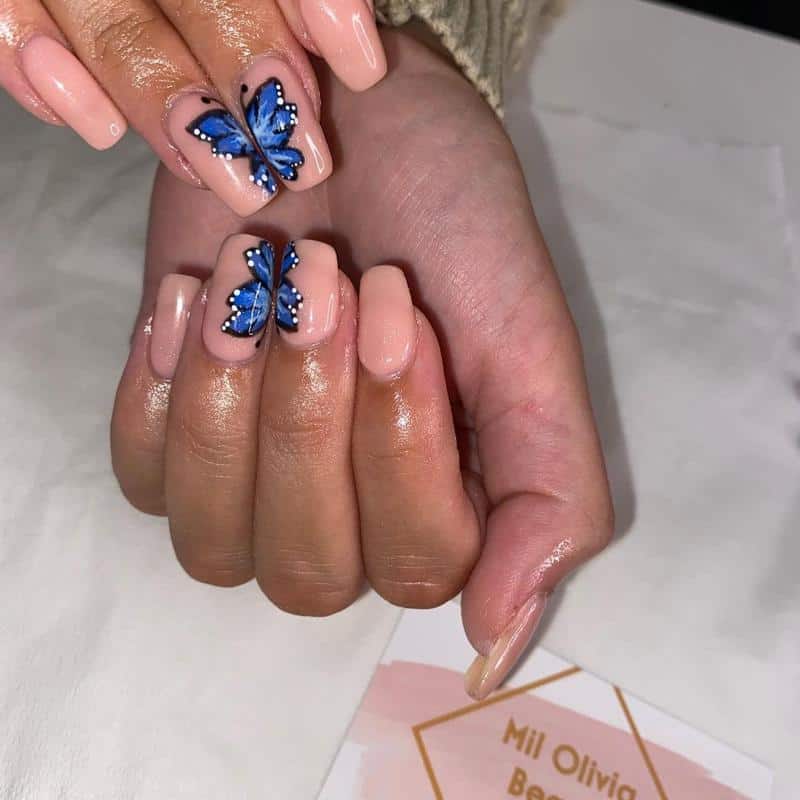 Gel manicures are pretty and long-lasting. On average, it can even be three weeks – that is nearly a month! So, why not pair it with butterfly art?
#34 Butterfly Press On Nails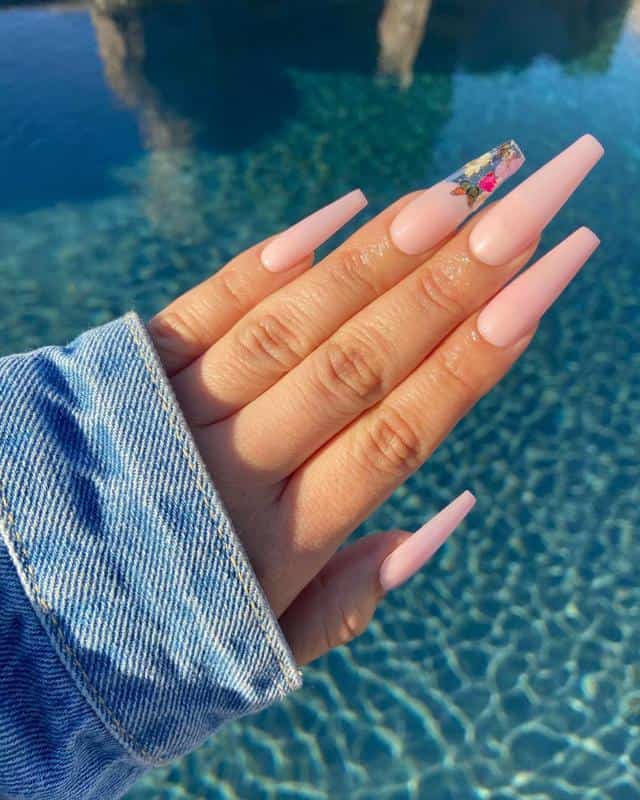 Press-on nails are an excellent method to provide an immediate manicure at home. They do not need time to dry and will not lose shape and shine. Besides, they are less damaging than acrylics nails. Do butterfly art on them, and you will give them a vintage look!
#35 A Little Bit Of Everything With Butterfly Nails Design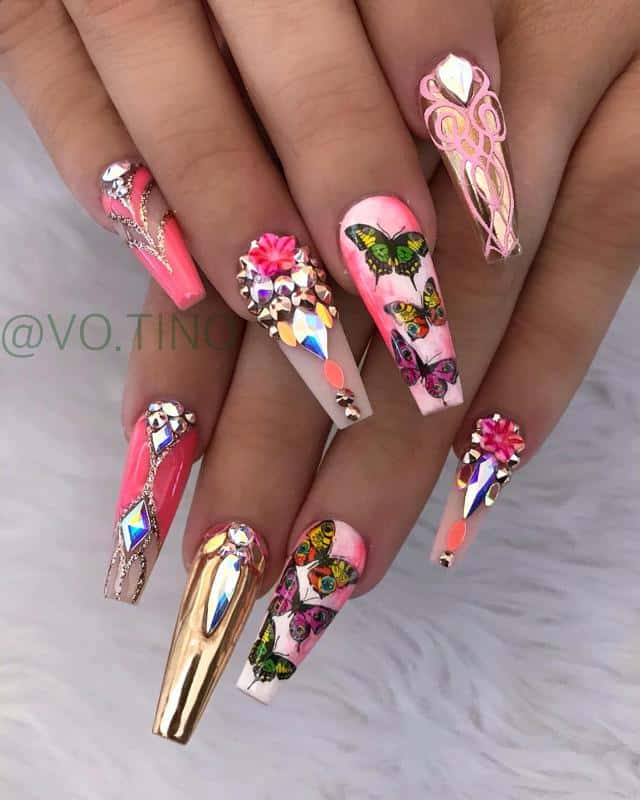 Go big or go home! You do not need to choose a design you prefer – you can add a bit of everything. The variety of it will make it playful and visually capturing. It will make you look like a chic lady!
#36 Butterfly And Cheetah Nail Art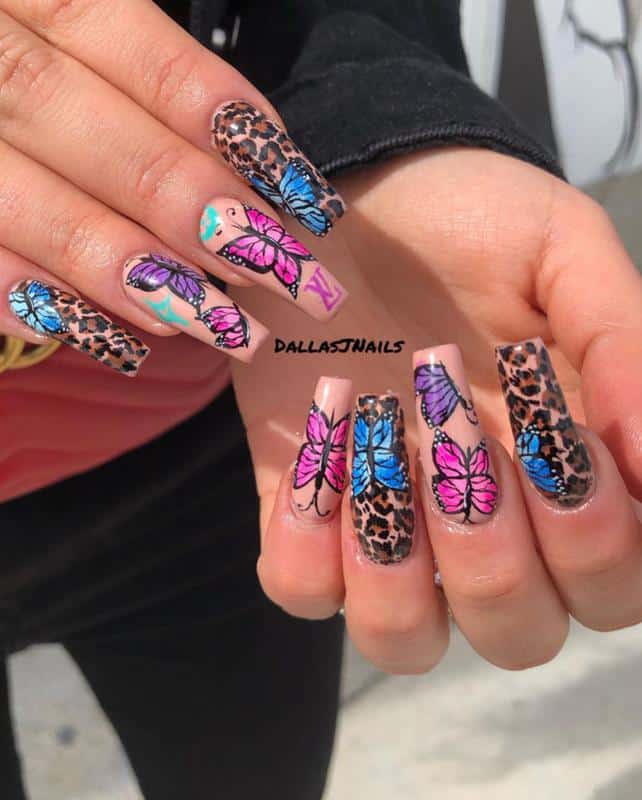 We can say that this was saving the best for the last! It is a perfect artwork, perfect sophistication. All components blend together and creating a masterpiece.
Butterfly Nails Design: Q & A
1. How Much Does The Butterfly Nails Design Cost?
It really depends on what is the shape of your nails, and what is their lenght. Also, is it regular color or gel? And then, the location of the beauty salon you choose has a say on how expensive it is. But, it can be around $20.00.
2. How Much Should I Tip For A $25 Pedicure?
You should tip with the amount you are comfortable with. But the standard is anywhere between 15 to 20 percent of the cost of the bill before taxes. In some cases, the invoice is too small. Thus, the tip would be less than $2. Then, you could give more than 20 perfect if you are particularly happy with the service.
3. How Do I Attach Butterflies To Nails?
There are numerous ways to design butterfly nails. Some of them include drawing the designs with nail tools and polish. And other involves utilizing jewels and stickers.
4. Can Glue Damage My Nails?
The glue will not damage your nails if you follow a few rules. Firstly, you must purchase it from a reputable brand. Then, do the right process of applying and removing them. Do not rush! Also, take a break from using it again. Overdoing will lead to harm.
5. I Want To Paint A Butterfly On My Nails: Which One Is The Most Beautiful?
When you are doing butterfly artwork on your nails, you are not limited to realistic drawing. You can opt for abstract or whatever you fancy. But if you want to pick the most beautiful real-life butterfly, it is without doubt blue morpho. People all over the world agree it is the most beautiful creature. The reason for that is probably its bright blue tone on the upper side of its wings.
6. Which Celebrities Have Butterfly Nail Designs?
Celebrities know to follow trends and are known for having good aesthetic abilities (or good stylists). Kylie Jenner, aka Queen of awesome nails design, adores butterfly theme. But then also, singers Demi Lovato and Dua Lipa. Same as a YouTube star, Tana Mongeau.
The Bottom Line
Maintenance of your fingernails and toenails is crucial for both health and aesthetic reasons. Although men are not noticing nails as much as women do, both sex will find attractive good colors. And butterflies will give a statement: you are caring about your look, you are artistic (or lover of art), you are free-spirit and feminine. If this suits your personality, you know what to do next!