60 Elegant French Tip Nail For A Super Trendy Manicure (2023 Update)
When you shop through links on our site, we may earn an affiliate commission. This educational content is not intended to be a substitute for professional advice.
Hello, beautiful ladies.
Today we are talking about a very serious topic. French nail design. An iconic, classic trend that never goes out of style. French nails are classy and their versatility suits every girl and her preferences.
French nail is absolutely magical thanks to its design that is evolving through the years. Every design is unique and it keeps getting more and more beautiful. Let's face it; French nail, manicure, and pedicure are the most common beauty treatment. French nail designs can be simple or you can choose designs with more colors, patterns the sky is the limit.
History of the French Tip Nail
Have you ever wondered how the French nail got its name or who invented the French nail?
First of all, here's the shocking truth. French nail didn't come from France or the invention of the French nail did not come from someone of the French nativity.
French nail is, actually, an American invention.
It is believed the French nails technique came from Max Factor in the 1930s. Then, the father of modern cosmetics invented the Frech nail look for the girls in Paris, for the fashionistas.
The term French nail manicure or French nail pedicure was first used in late 1978 by man Jeff Pink, founder of brand Orly, the company that revolutionized the nail industry.
French nails started to become more and more popular when Jeff created the first DIY French nail kit for the actresses in Hollywood. That kit was an instant hit.
The idea for the French nail kit was born when the director used to complain about how long the actress needs to change the nail color to suit the wardrobe. Because of that, Jeff invented a kit that suits every outfit. Jeff thought that natural color suits every outfit and looks elegant at the same time. And he was right!
Kit was called "Natural Look Nail Kit" and it contained fresh toned nail polish and white polish for the tip of the nails. Everyone was crazy about the kit. The directors loved it because the kit saved time and money while actresses appreciated the feminine, beautiful, and soft natural colors that look great with every outfit. Jeff started to call it "French manicure" in honor of his friends and models in Paris that started to wear his look in the runways. The rest is history.
60+ French Nail Design Ideas
Check out the hottest designs for French manicure and get inspired for your next nail appointment.
1. French Nail Tip Designs for the Summer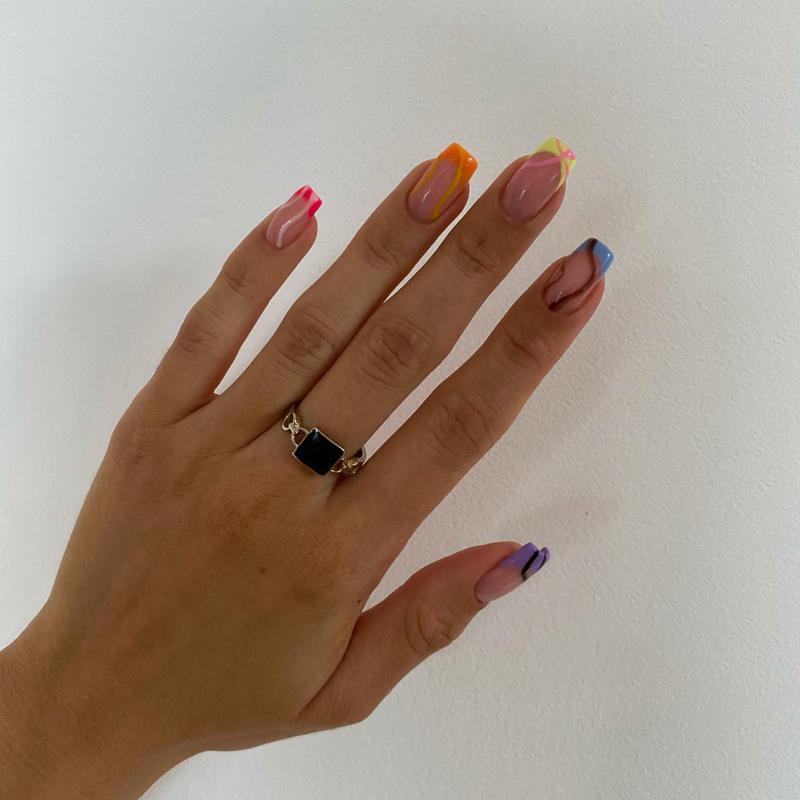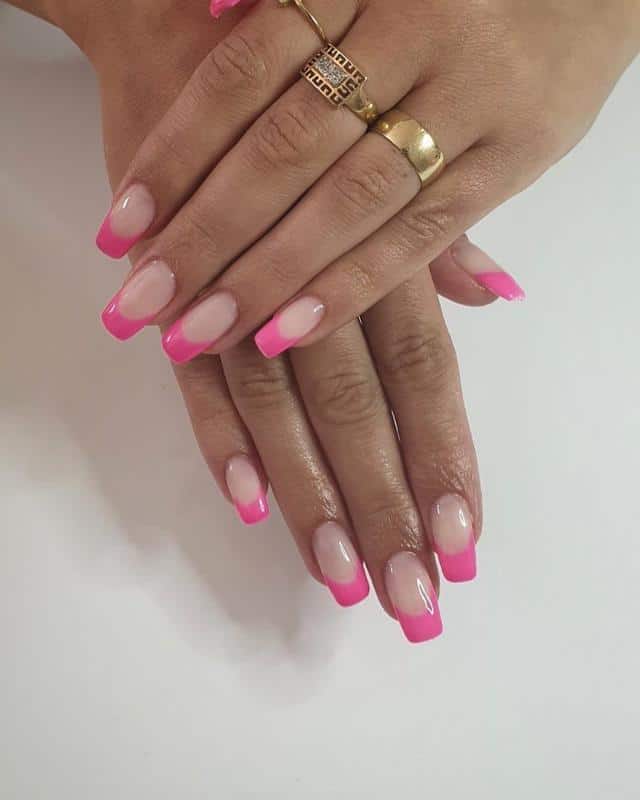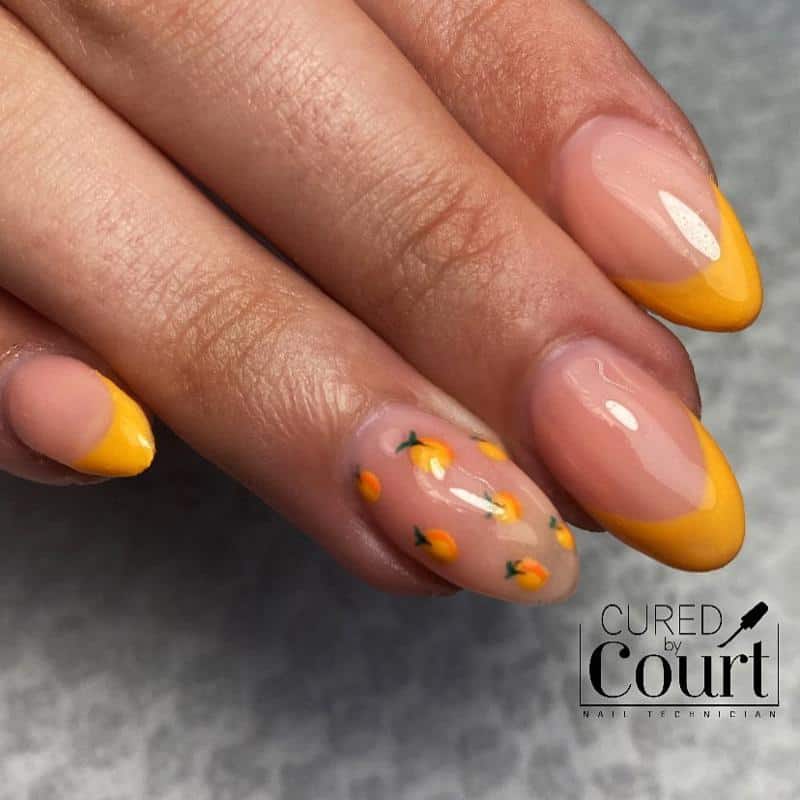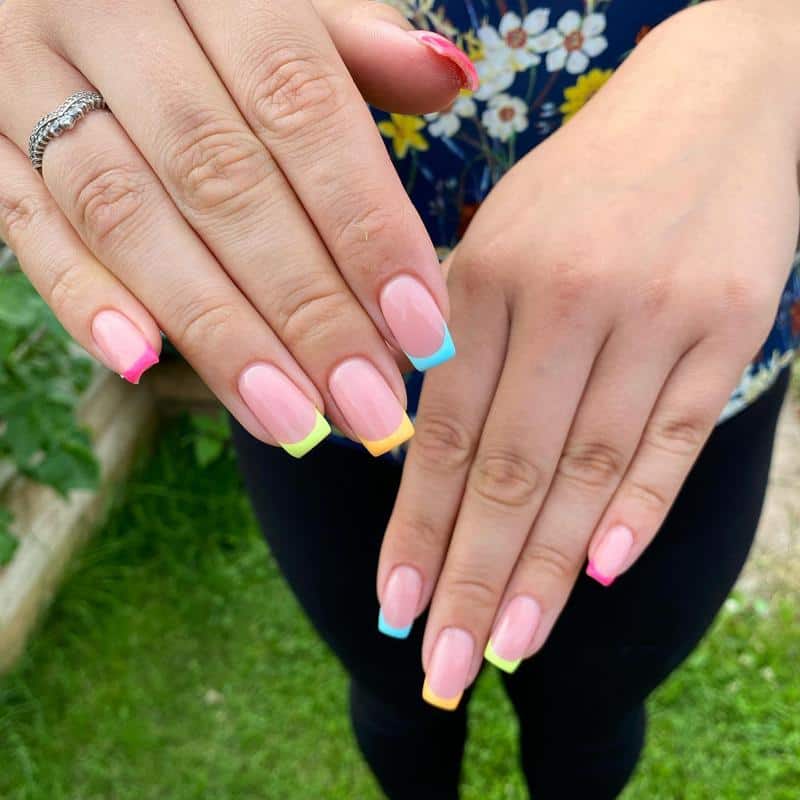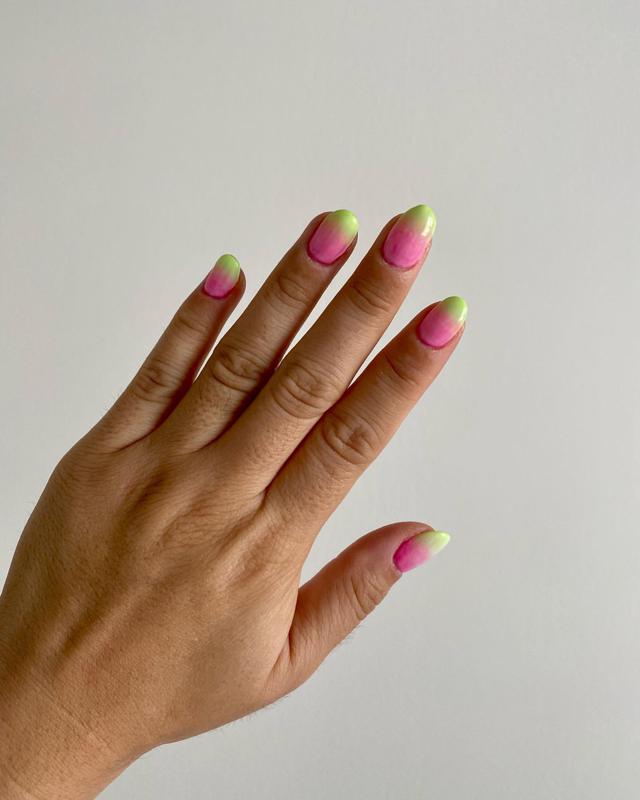 Every summer nail appointments are fully booked, every girl wants to keep up with the latest trends and have impeccable nails when she's at the beach or poolside. If you want to go beyond classic white French nails this summer the colors are in.
Step away from the white tip and introduce colors in your life. Nowadays every color is a trend from the soft tones, pastels to the electric tone of the neon shades.
Or you can think outside of the box and choose a mix of the pastels and the neon. Colors are girly, feminine they can be loud and at the same time, colors can be quiet and shy.
Another option is to use a different color on each nail e.g. yellow, violet, pink, green, red, etc. like a rainbow. If you love the attention, your nails with a rainbow design will be very eye-catching. Have fun with the design of your French nail.
Also Read: 10 Best Summer Nails Designs in 2022
2. White French Nail Design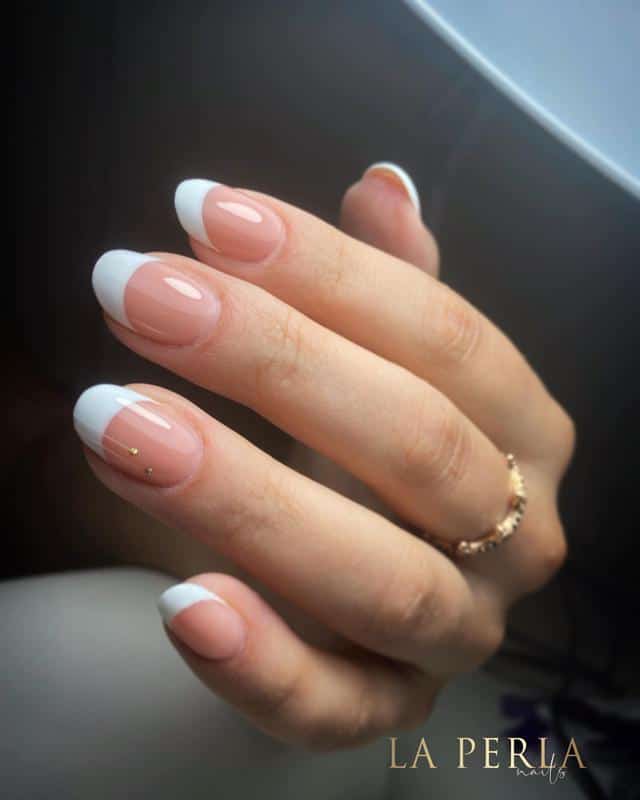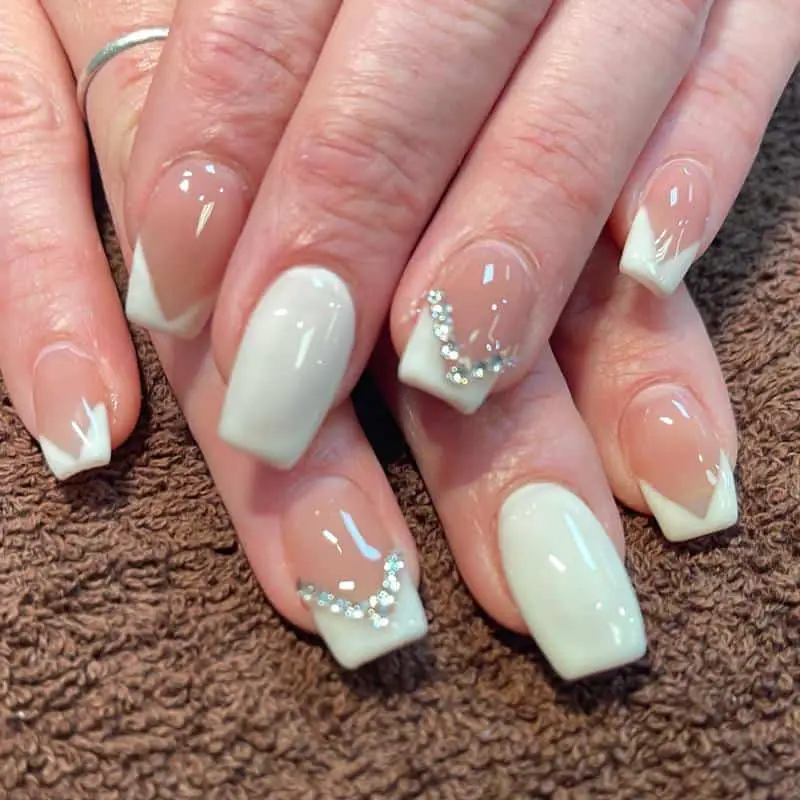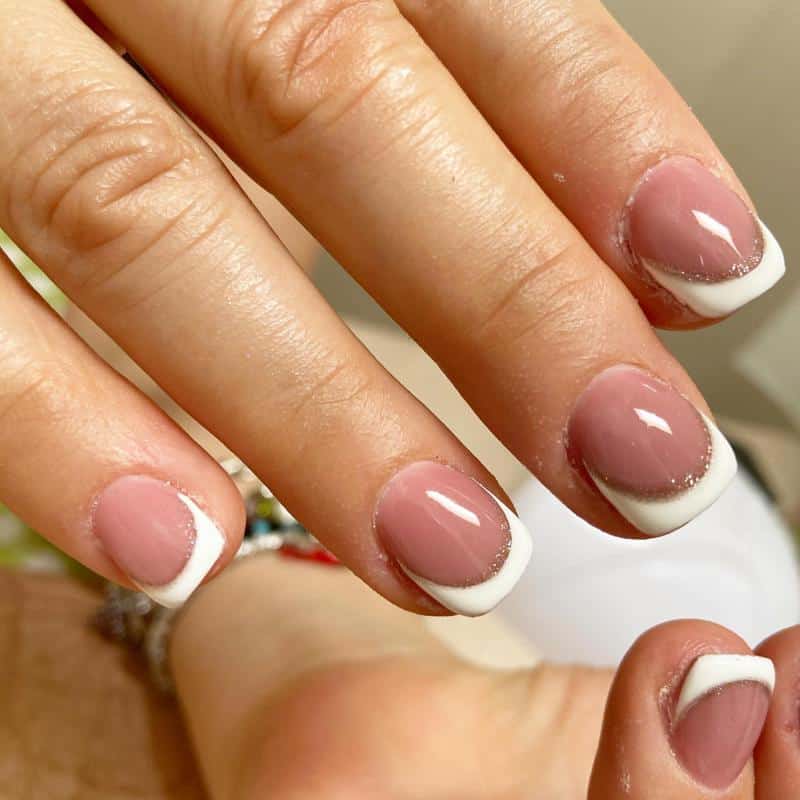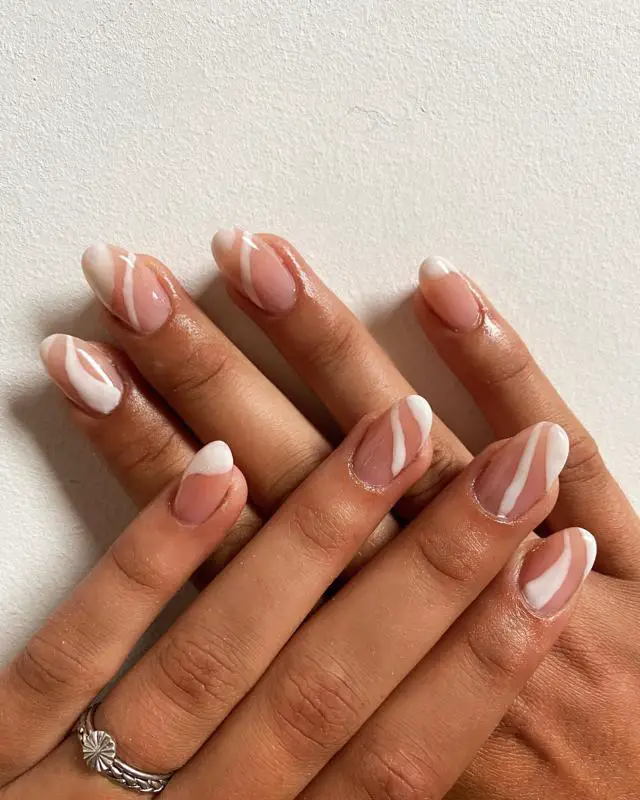 Do you like a classic look? In other words, do you like the old-school nail design?
If your answer is yes then this design is for you. A neutral look with a white tip with a lack of colors is an oldie but goldie. We can easily say this is a tradition for fashionistas.
White French nails are amazing but if you are want to spice it up feel free to do so. You can choose to put some shapes near your tip, or maybe the white tip to be in lace syle. A nail artist can put some decorations on your nails like a white sparkle or glue some rhinestones.
Today's popular look is "minimalist look", let your white tip be a thin line, let it be a subtle French nail. White French nail tip is a very soft look, and it looks that is most popular among the brides because it has a classic clean romantic vibe on it. Feel free to choose what feels the best for you.
3. Long French Nail Tip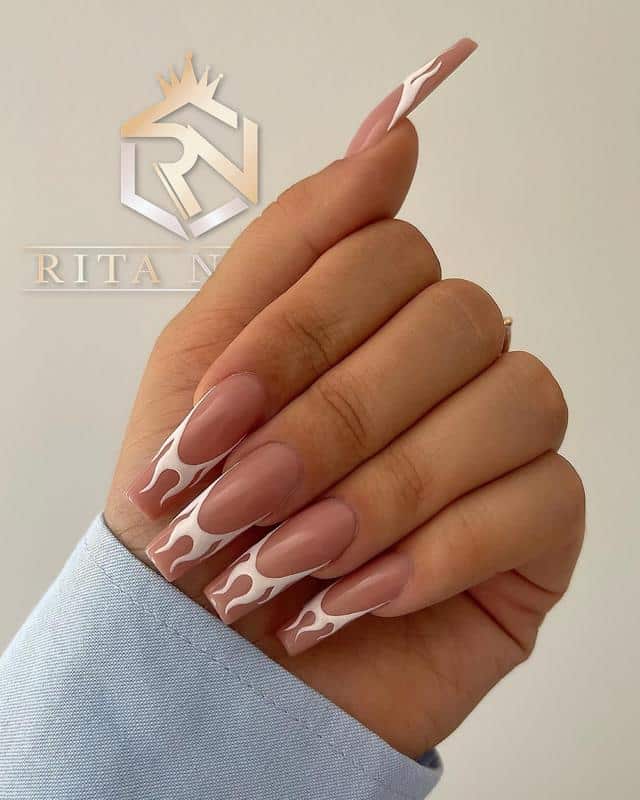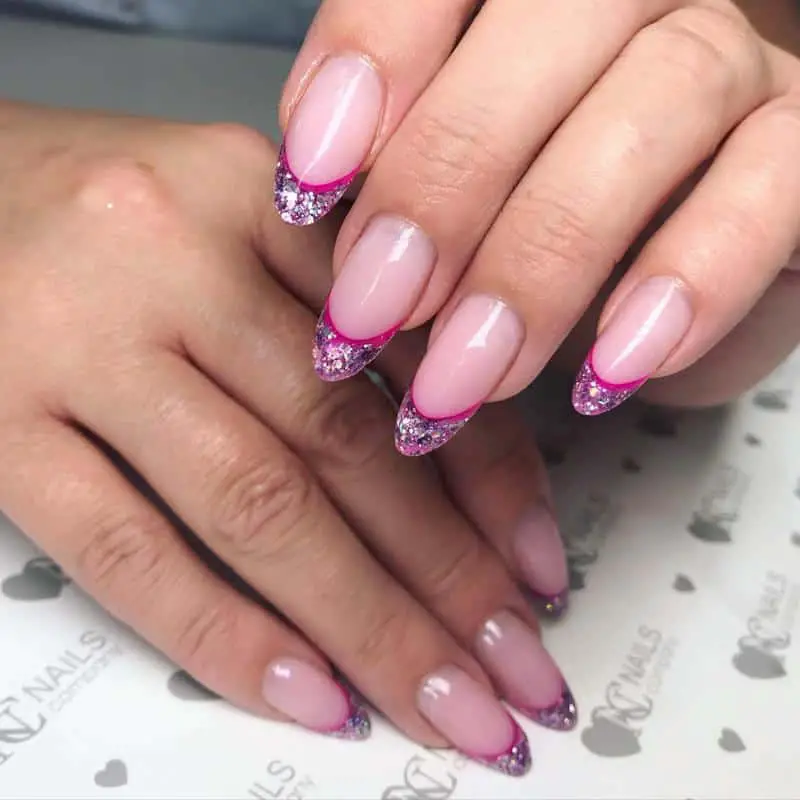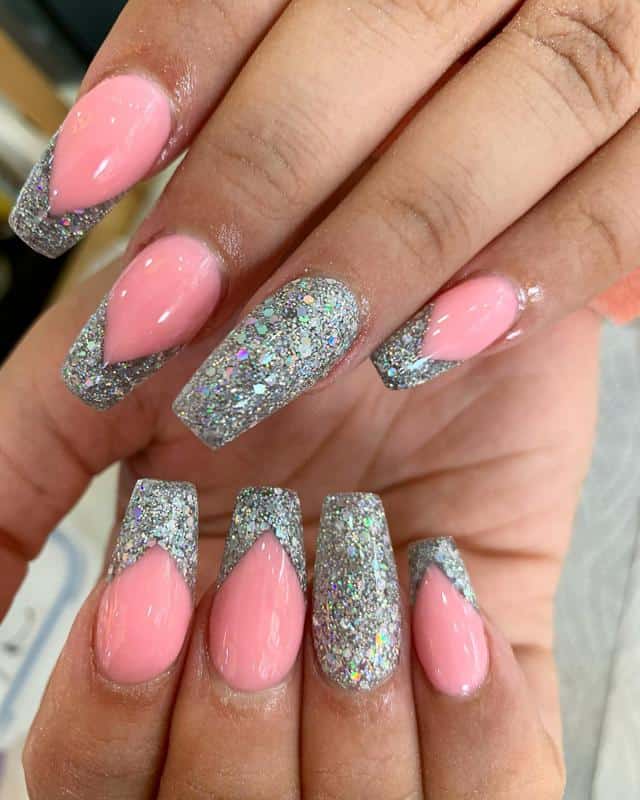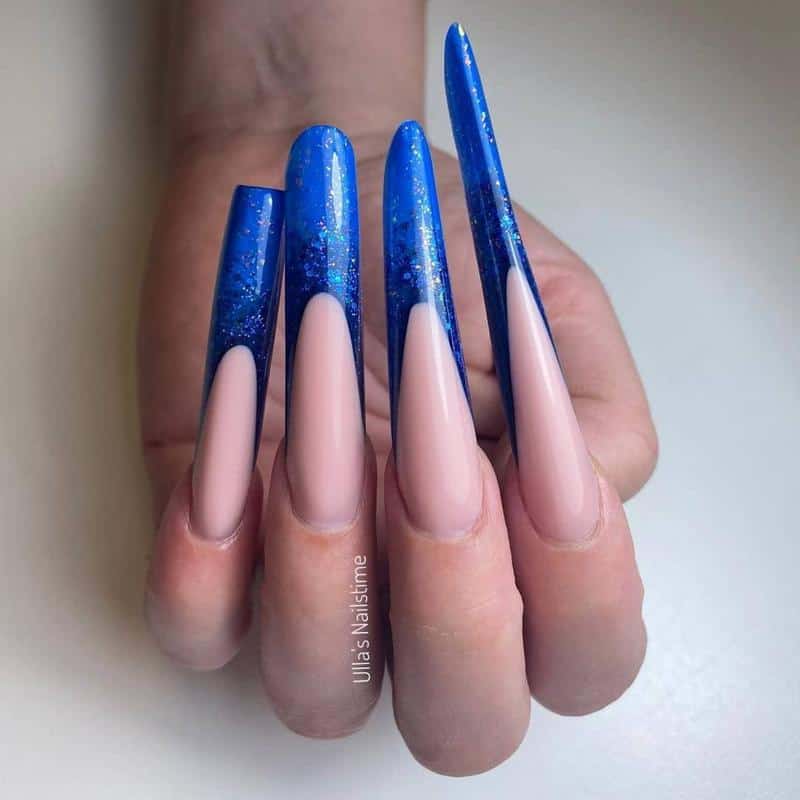 How long we like our nails is a very personal thing. Some girls like long nails, other girls like extra-long nails. Facts are that more surface equals more space for your designs. Long French nails are cool, bold, and very trendy.
Although long nails are very girly keep in mind that they have a few cons too. First, they are a little bit expensive. If you are new to the long nail trend, be careful with your nails. It can be very painful if you chip one of them or rip it from your finger. Nail care is essential. Also, small tasks like picking up your coins or press the small buttons can turn into a small challenge, but in time you will figure it out.
Truly long French nails can really be a piece of art. Nowadays nail artists are bolder and bolder about the designs, patterns, mixing colors, and shapes. If you want to be in the spotlight this is one way to make it happen.
4. Short French Nail Tip Designs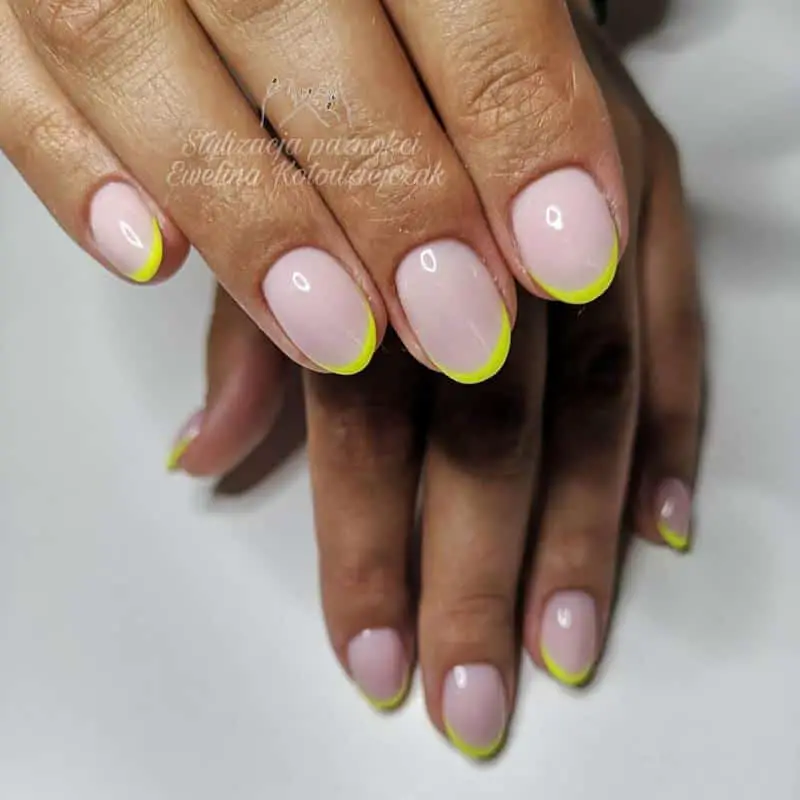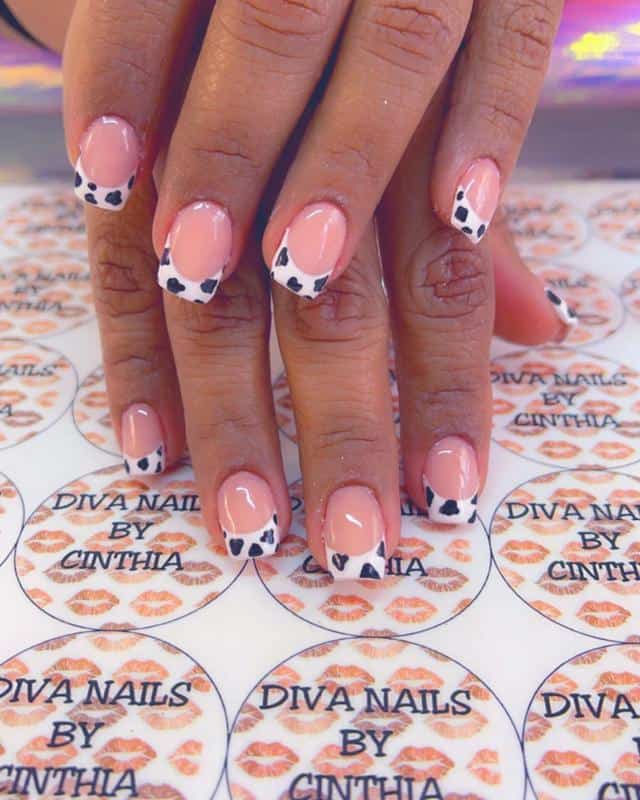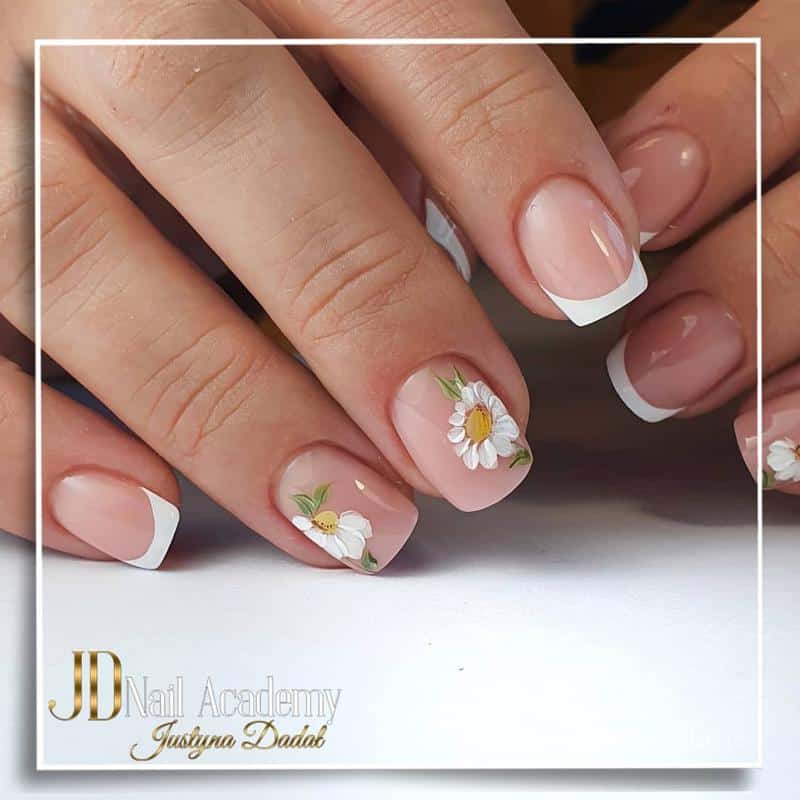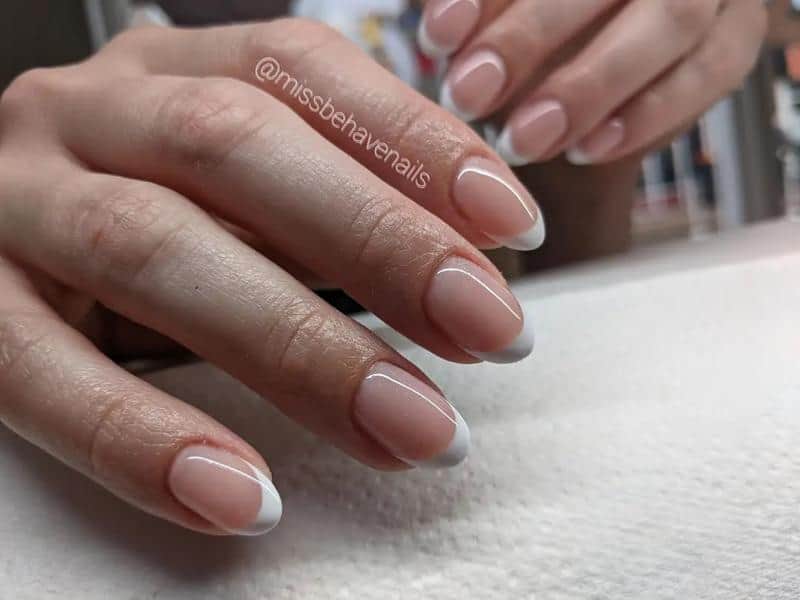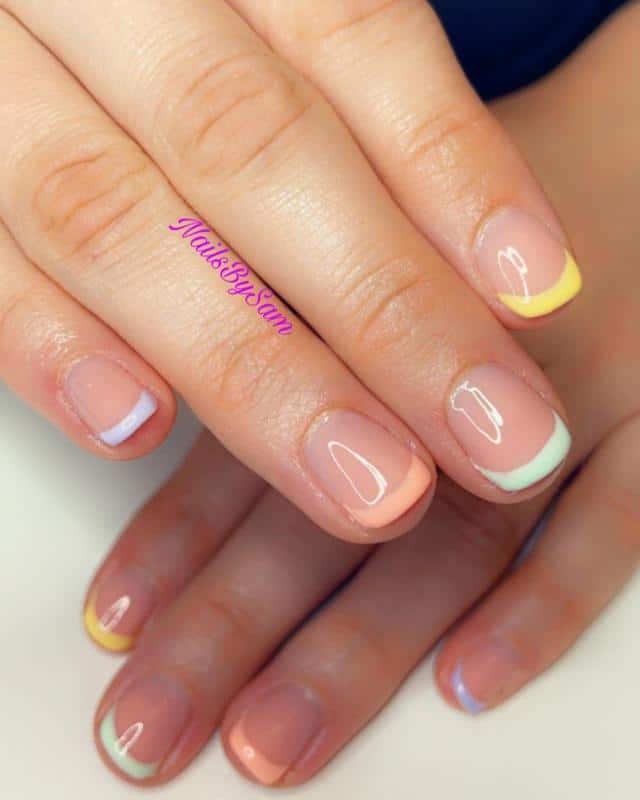 Small French nail tips are timeless and are the epitome of feminity. But who says that short French nails can't be bold and furious too?
This is a perfect look for girls in school, mommies, women that are working in the industry and can't have long nails, or for someone who is growing nails, or simply for all girls and women who just prefer short nails.
French nail tip gives an illusion of longer nails. White and bright colors look magical, bold, and cool. To elevate the whole nail and look you can choose a different pattern for one nail or more nails.
Some think that short nails are healthier but that is old-school thinking. It is just what you prefer the best or what your working environment allows you to rock. Just be happy with your choice and yourself.
5. V French Nail Tip Design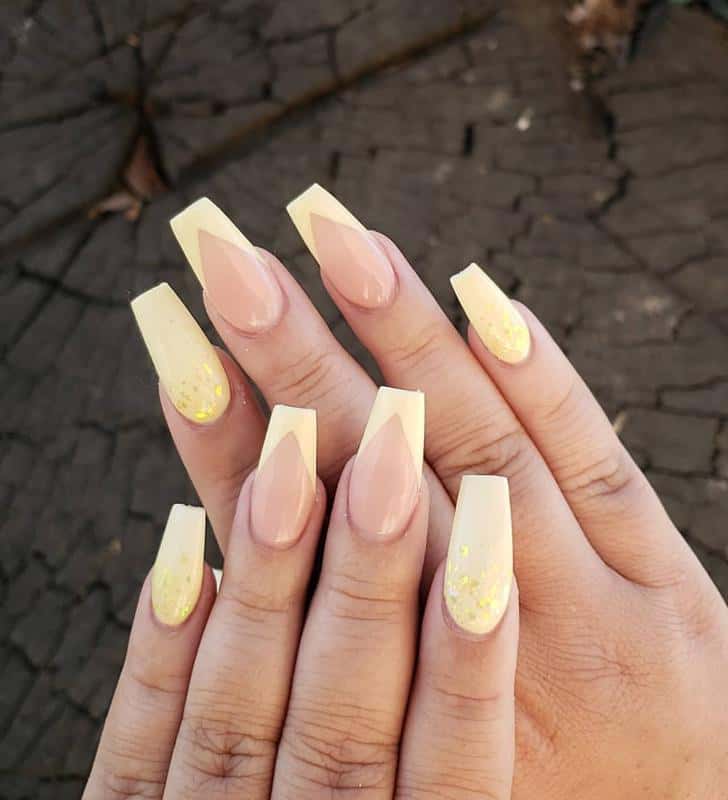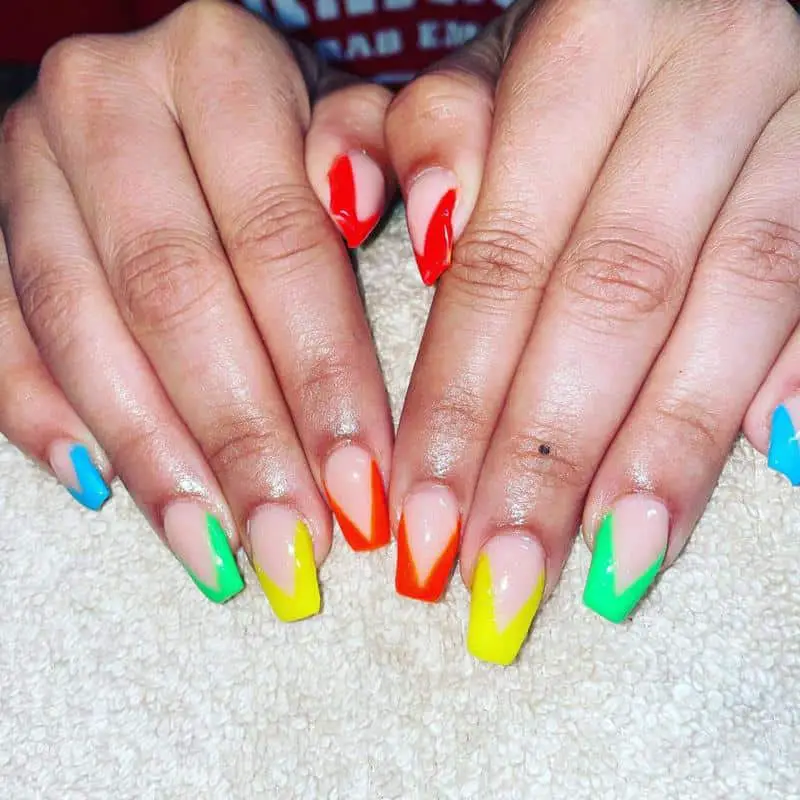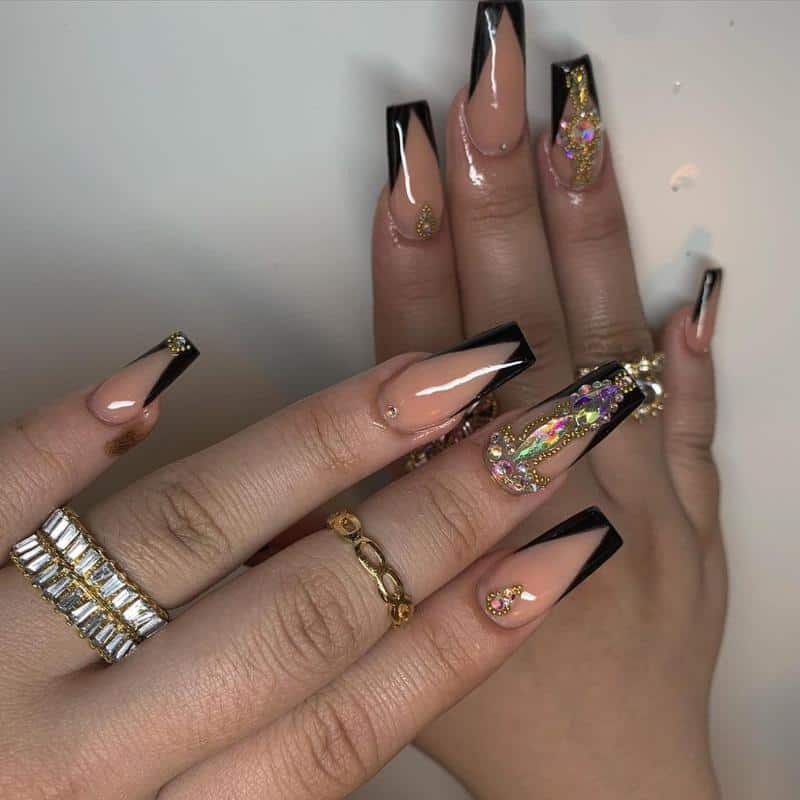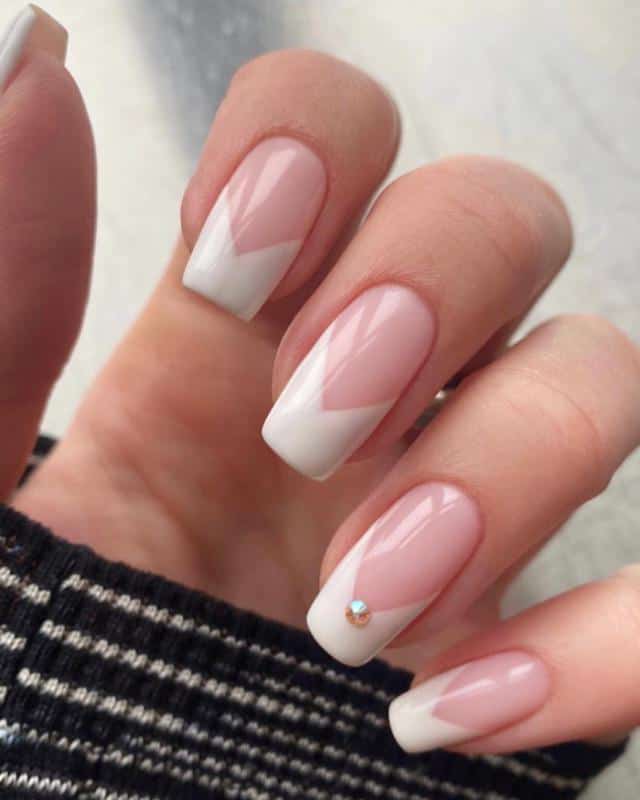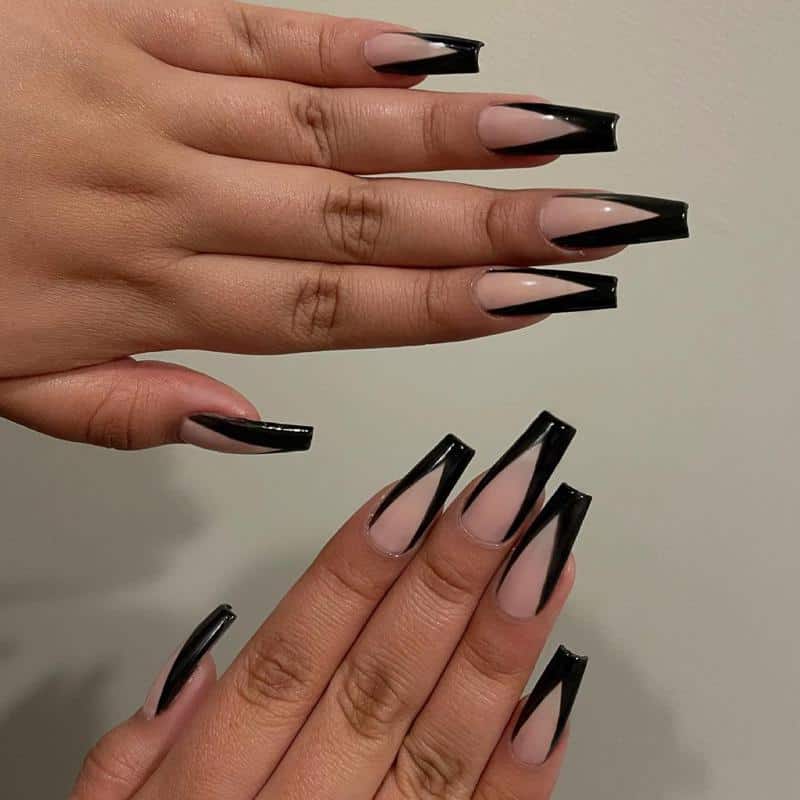 Today it's impossible to go on any social media platform and not see V French nail designs. V French nail designs are modern, popular, crazy, everything that trendy girls like and need. This design marks the new era of French nail designs.
Every style of the nail tip suits the V French look, the almond shape, coffin, etc. Every design suits them also from the classic white tip to the bold neon colors and patterns.
The best thing about these nails is that they can even rock rhinestones and look subtle at the same time. Or you can choose light and dark shades at the same time, combine nude and black, incorporate glitter. Options are endless.
For this style, the question is not what designs you will choose, because every design and shape are awesome. The real question is are you ready for a modern look that Instagram girls are crazy about? Hint, yes, yes you are.
6. Ombre French Nail Tip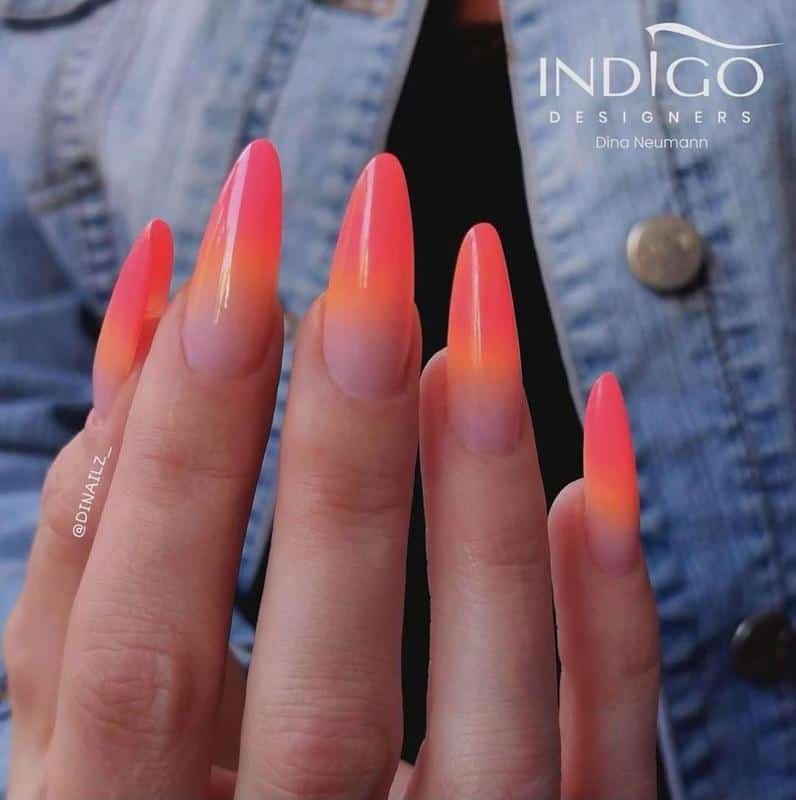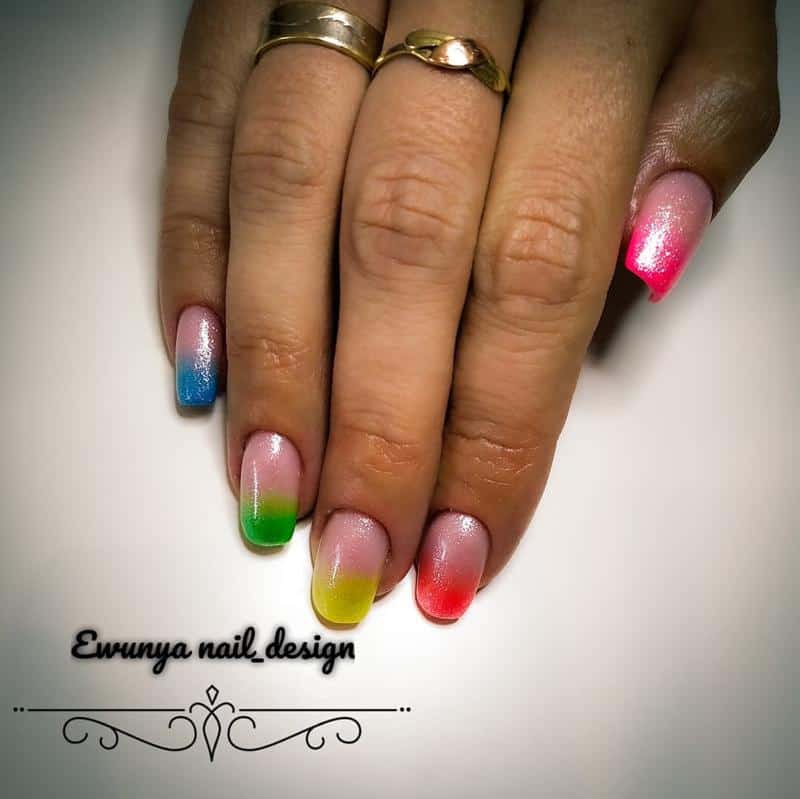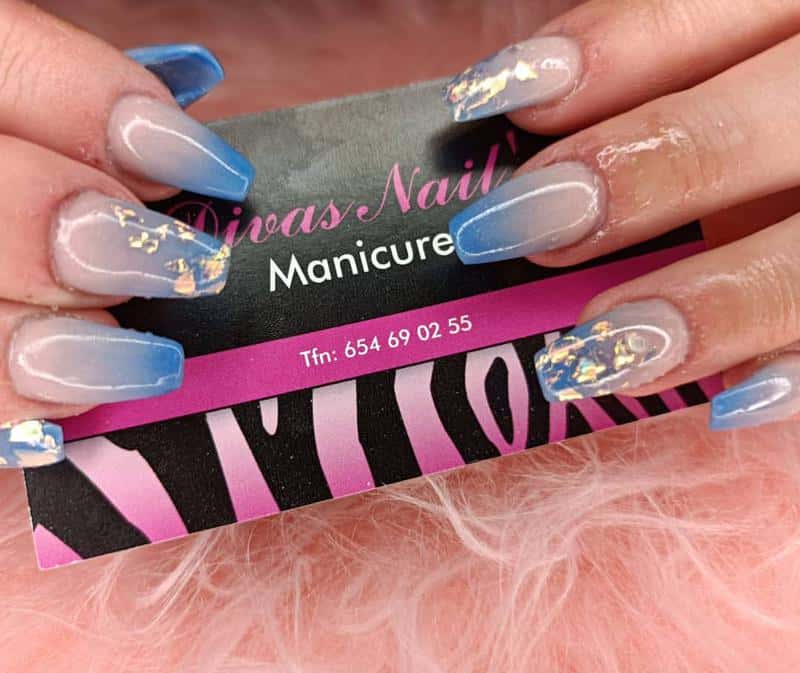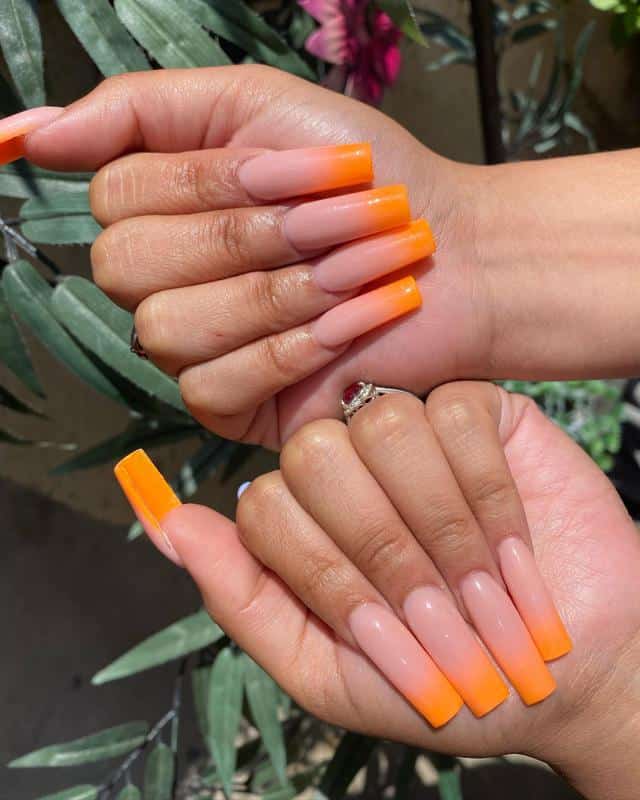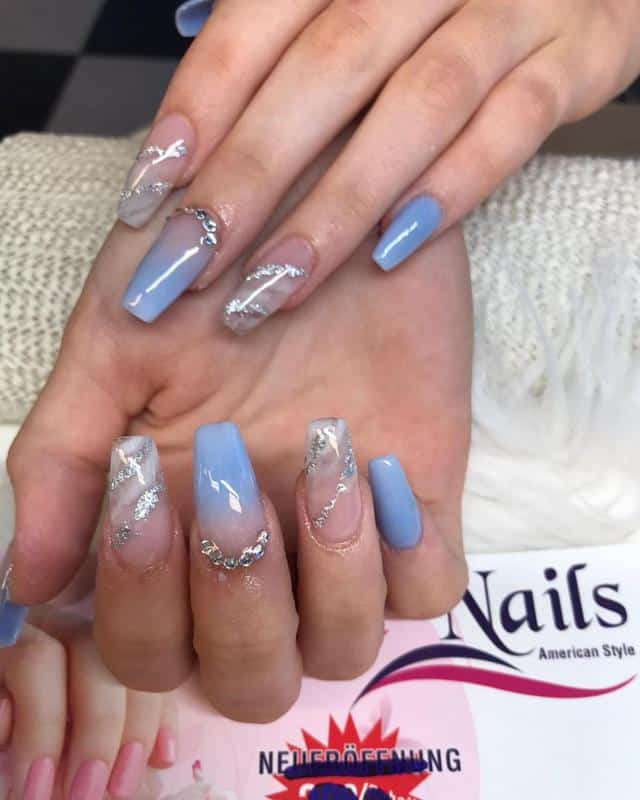 What is an ombre?
Ombre in French latterly means shadow or shade. In the beauty industry, ombre is the practice or technique of blending one color to another. Usually, it is from a lighter shade to a darker shade.
Ombre has become a popular hair color trend, but it's also common in nail designs. In nail design, ombre is a manicure or pedicure technique where color is added gradually.
Ombre French nails are usually soft, romantic looks that don't seek attention. If you want the perfect ombre French nails you need to find a nail artist that knows their business because this style requires time to practice to make it perfect.
Although it doesn't look that way, ombre French nail design is a difficult technique to master. When your nail artist is good at what they do, they can create a perfect, unique ombre French nail tip with breathtaking designs.
Ombre French nails take a lot of time, so do not be surprised if you sit in a nail salon a little bit longer. But as we say, beauty is worth the while.
Also Read: Top 30 Beautiful Ombre Nail Design Ideas For 2022
7. Glitter French Nails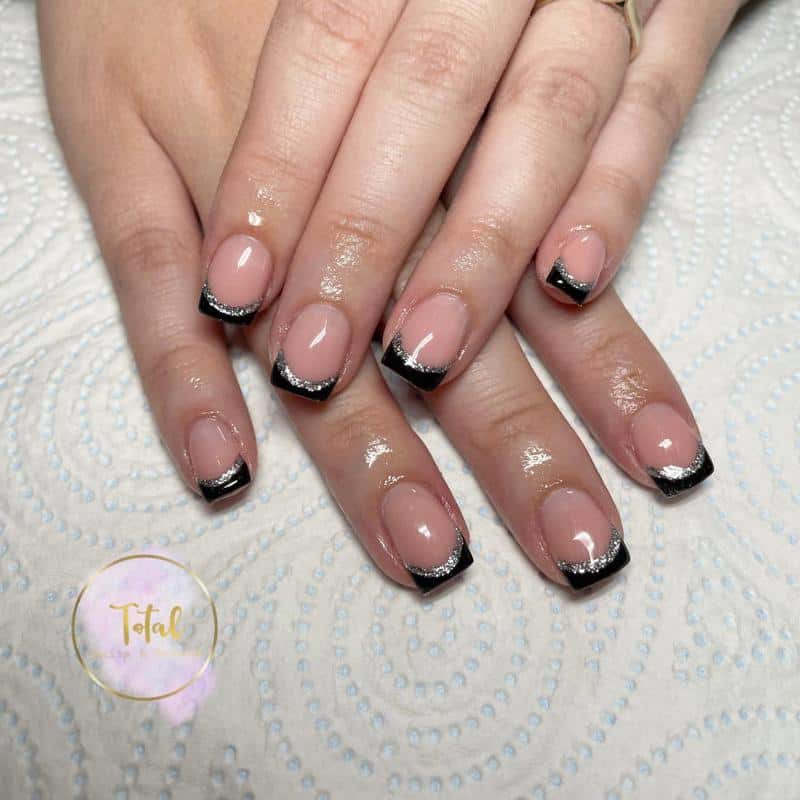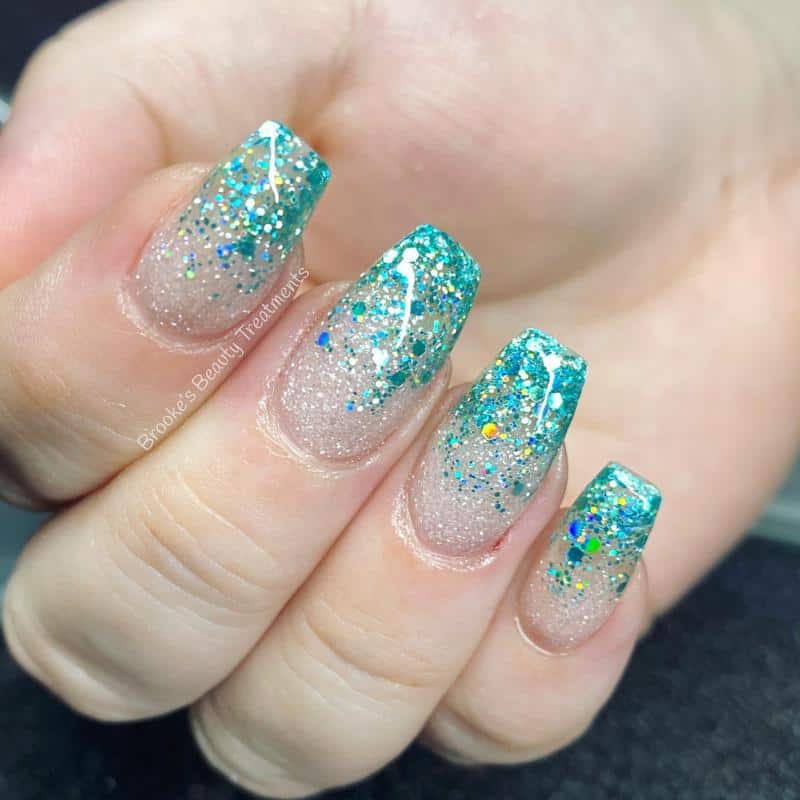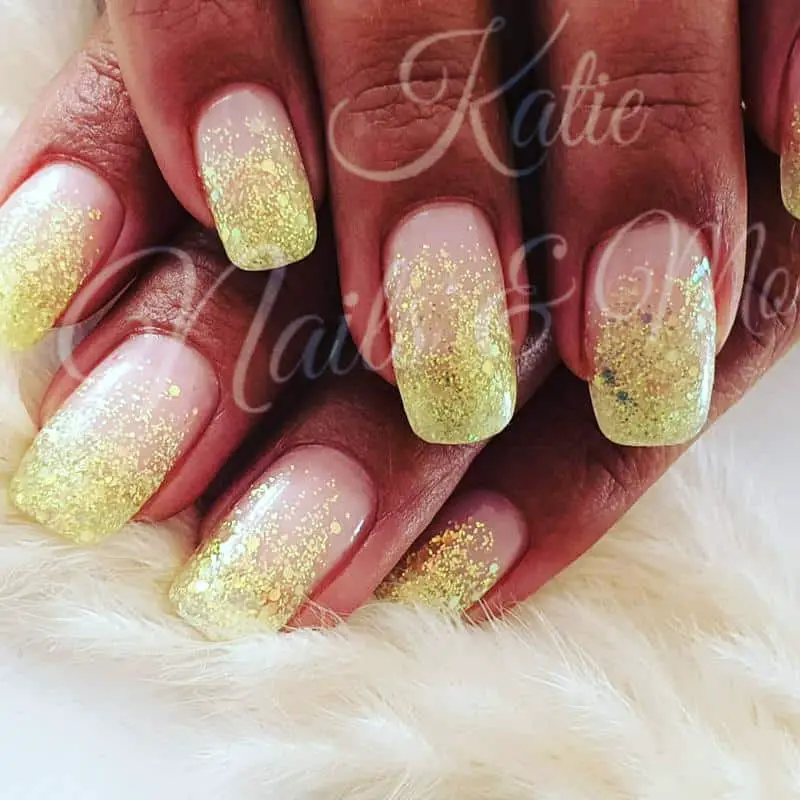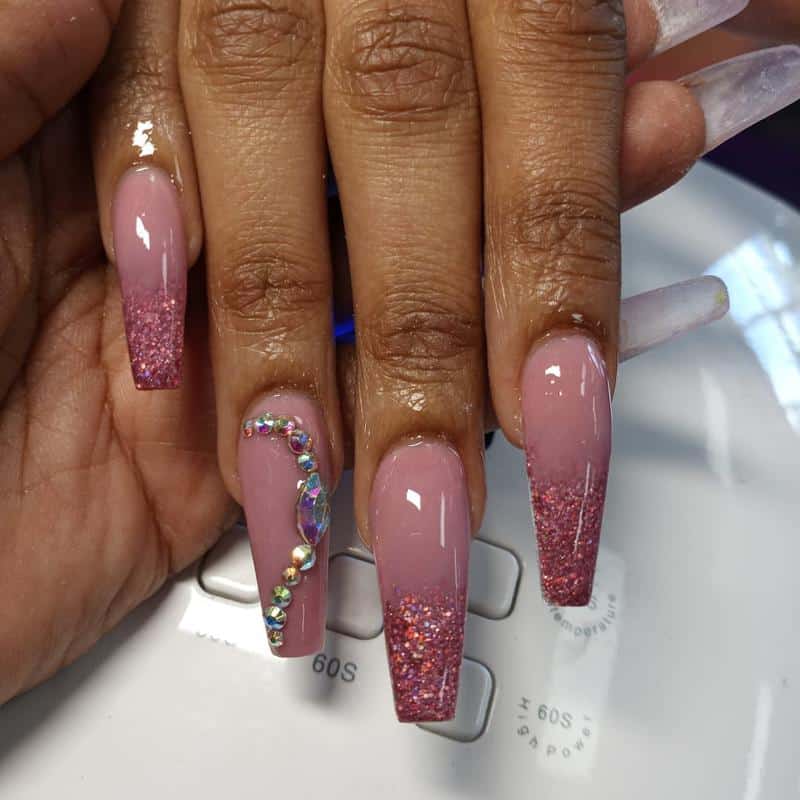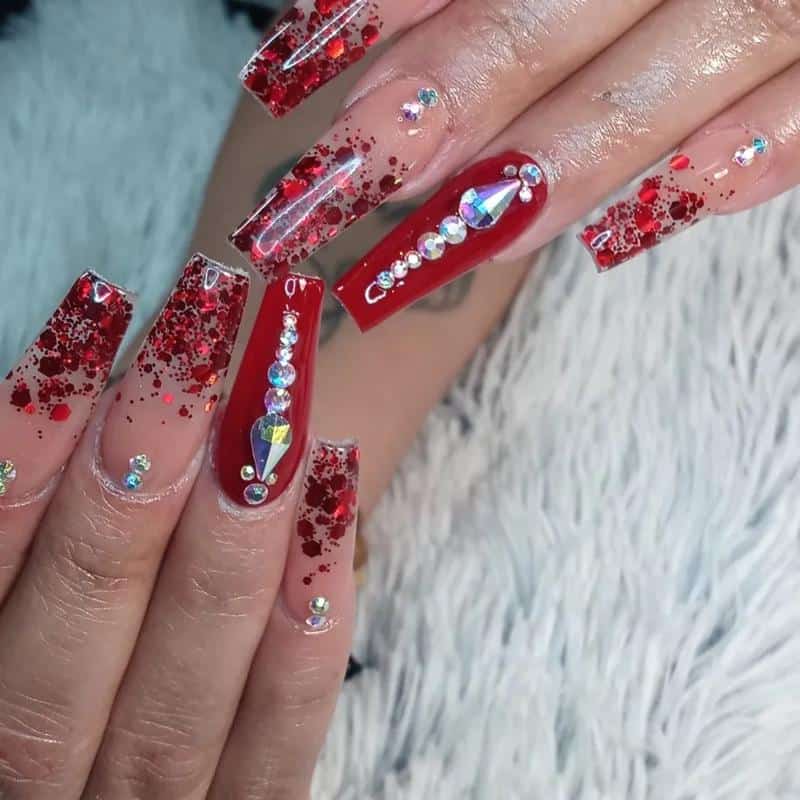 Even though it's 2022, all trends and fashion from the early 2000s are coming back. From the high wasted jeans to the colorful makeup. That includes glitter. Glitter is for sure girly, fancy, and beautiful.
The beauty of the French manicure and pedicure is that you can wear it in enormously different ways and be cool and eyecatching. Glitter French nail tips are special because they allow you to be playful while looking elegant at the same time. This is a fresh and cool look at the same time.
We don't need to talk a lot about this design it is self-explanatory in the title. You can wear glitter French nails on all occasions, especially at parties and special events.
Choose a base of glitter and tips of the nails in typical color or you can choose the opposite, a glitter tip. For this design mixing and matching, colors are fun and a great way to express yourself. Nude colors with the same color glitter or neon color on it offer extra dimensions.
Read More: Top 40 Stunning Nail Designs With Glitter 2022(Short & Long)
8. Floral French Nail Tip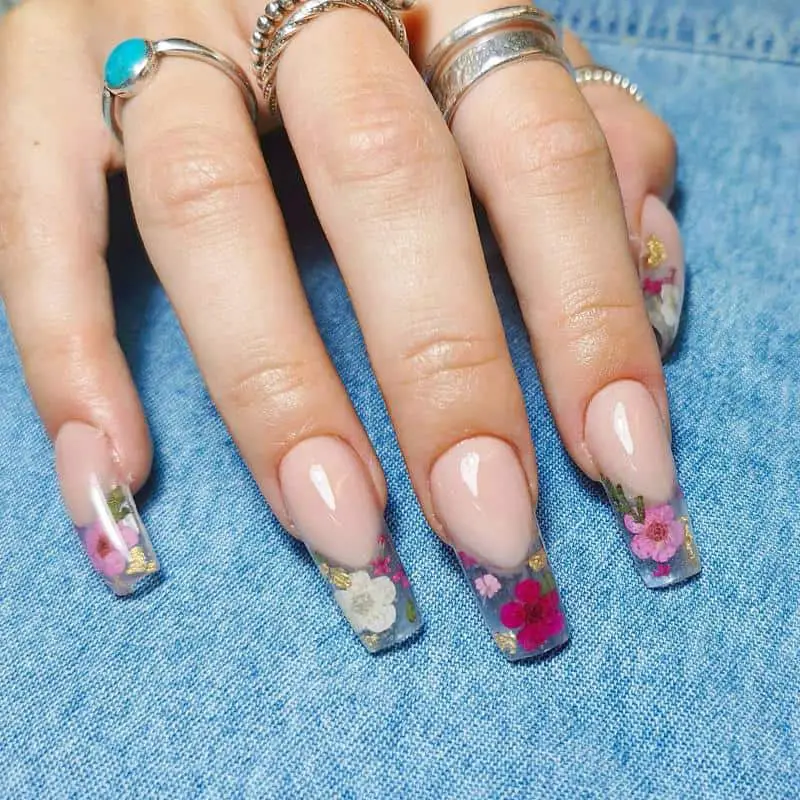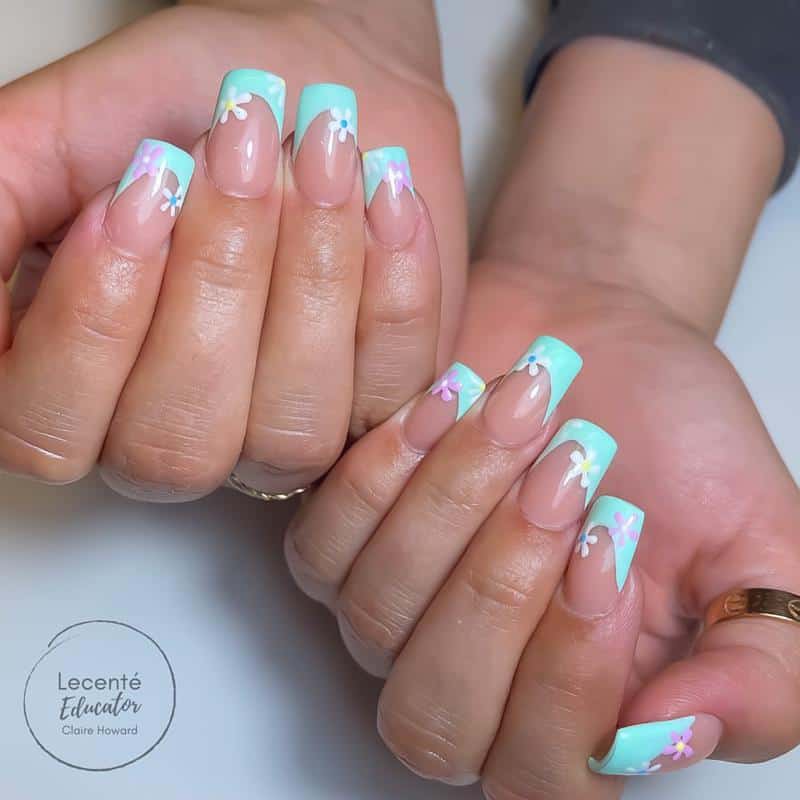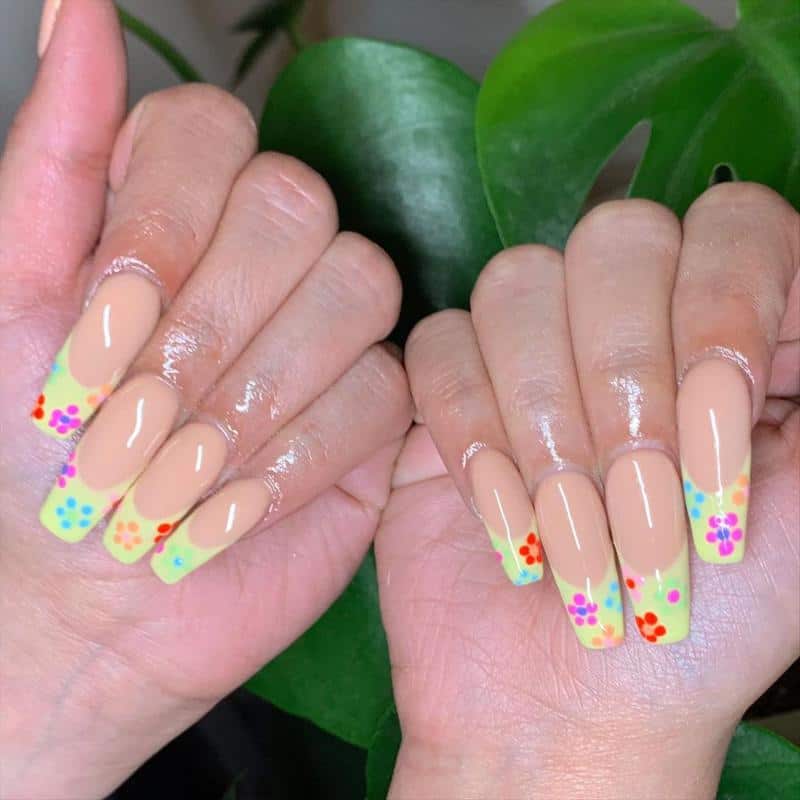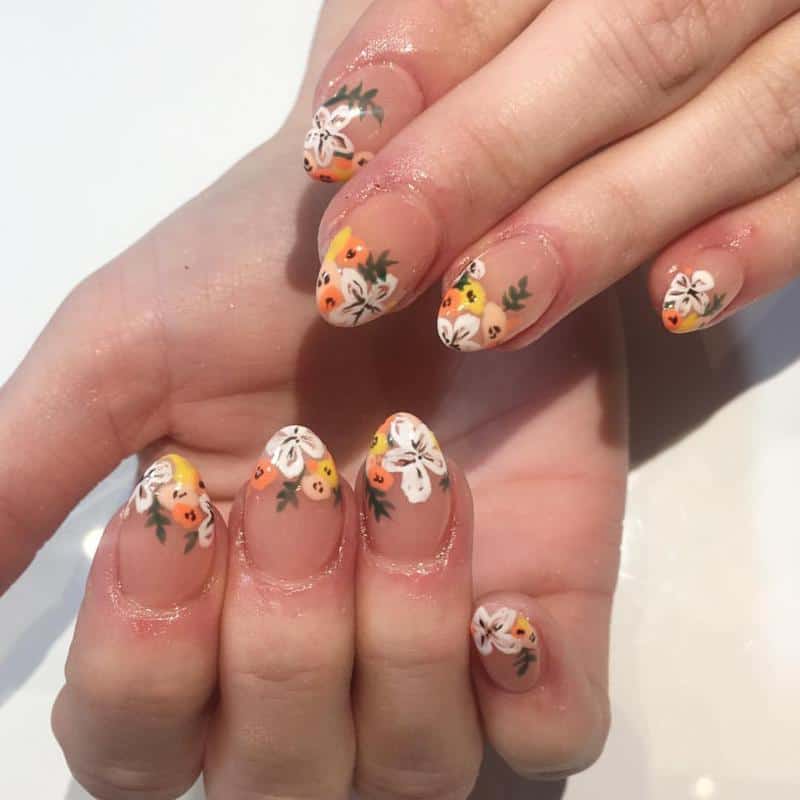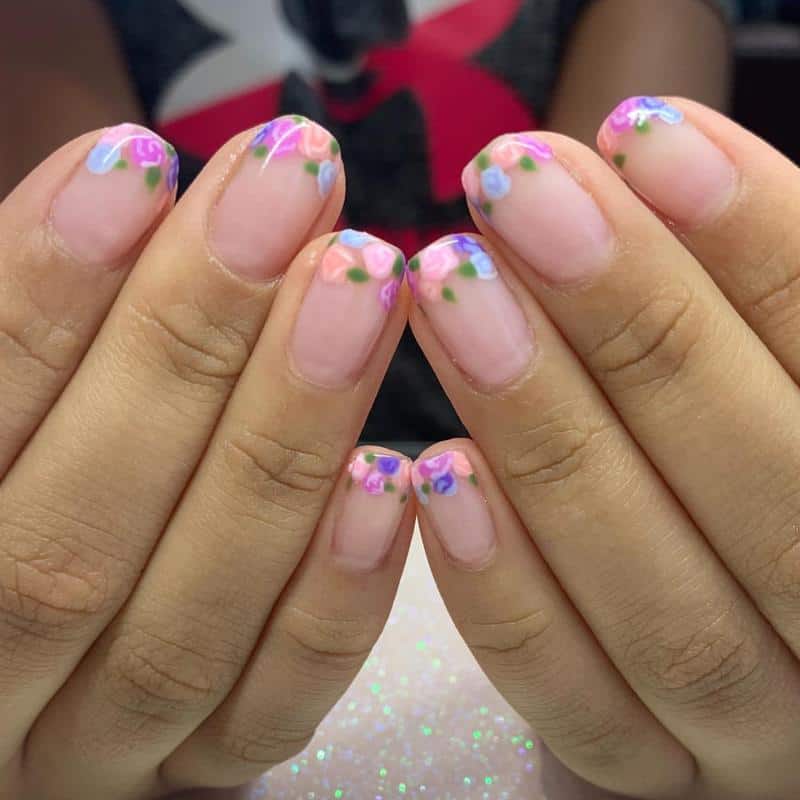 Flowers. Who doesn't love them?
Every nail design with flowers feels fresh and unique. Let us take advantage of the summer and introduce floral themes to our French nails.
There are so many different ways to wear flowers on your nails. You can choose a retro style with the orange tips that makes you feel like it is the 70s again or choose a romantic white flower with pastel colors or white tip.
Flowers are the best way to express your girly side. If you are new in nail design and you don't have inspiration for what to create on your nails, flowers are always a safe zone.
Be you and explore your creativity and your masterpiece will be there. Rose, lily, daisy, sunflower there are so many different beautiful flowers on our planet.
Let's put a smile on our faces because we all deserve it.
9. French Nail Tip with Elements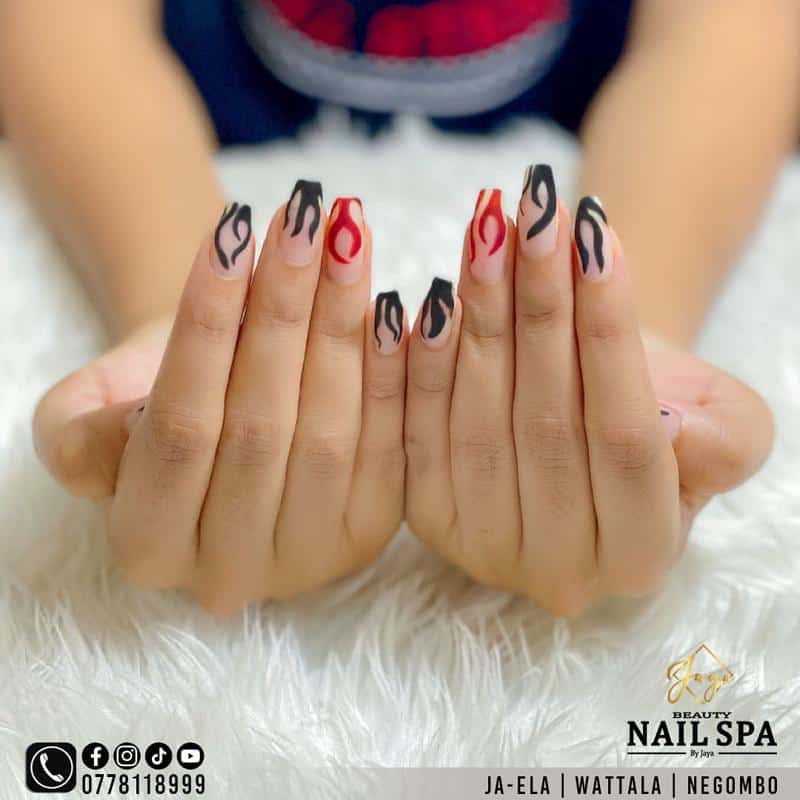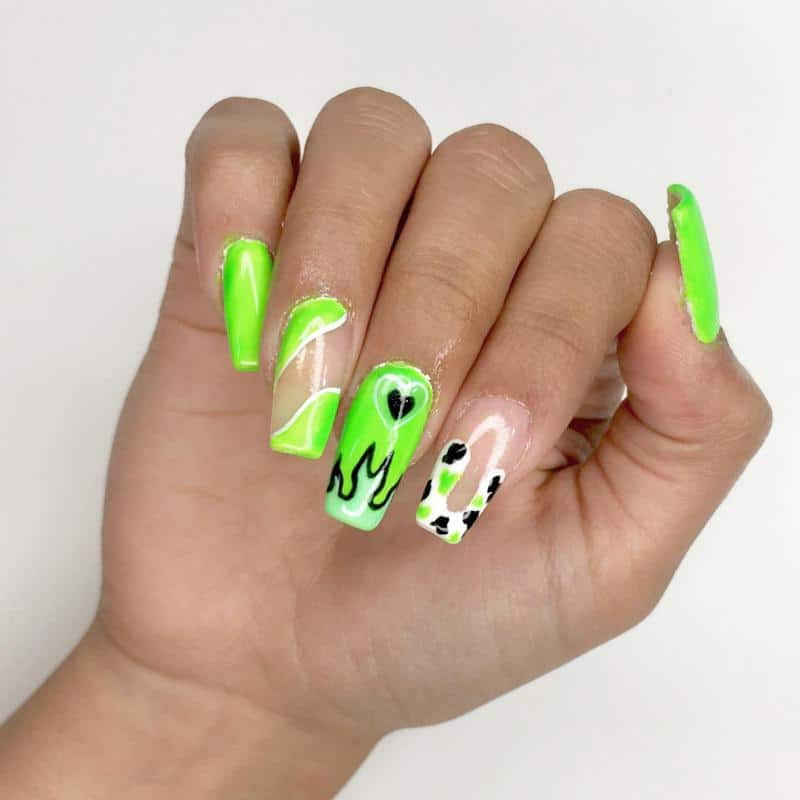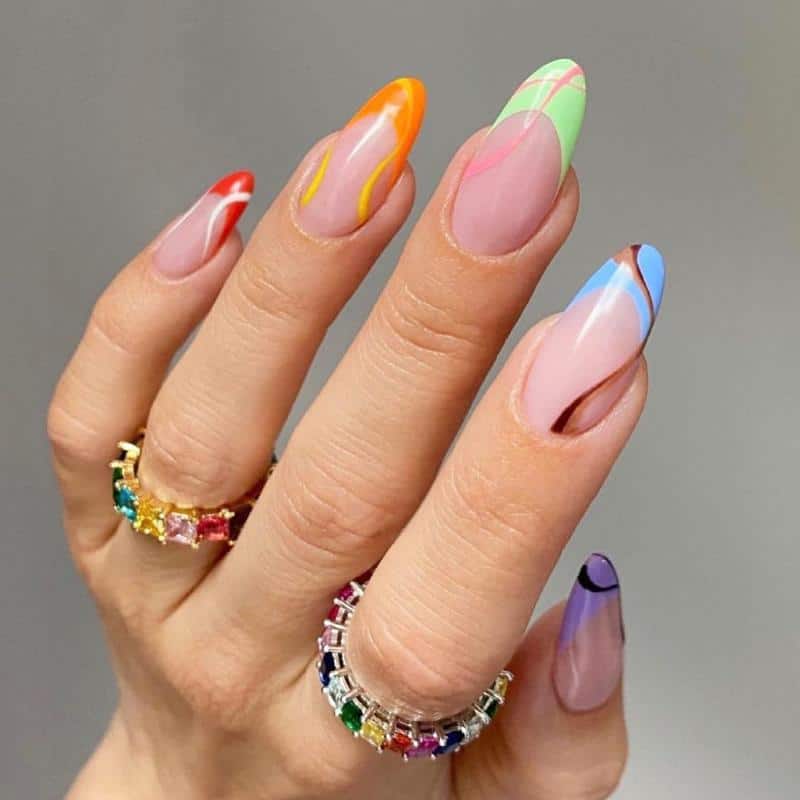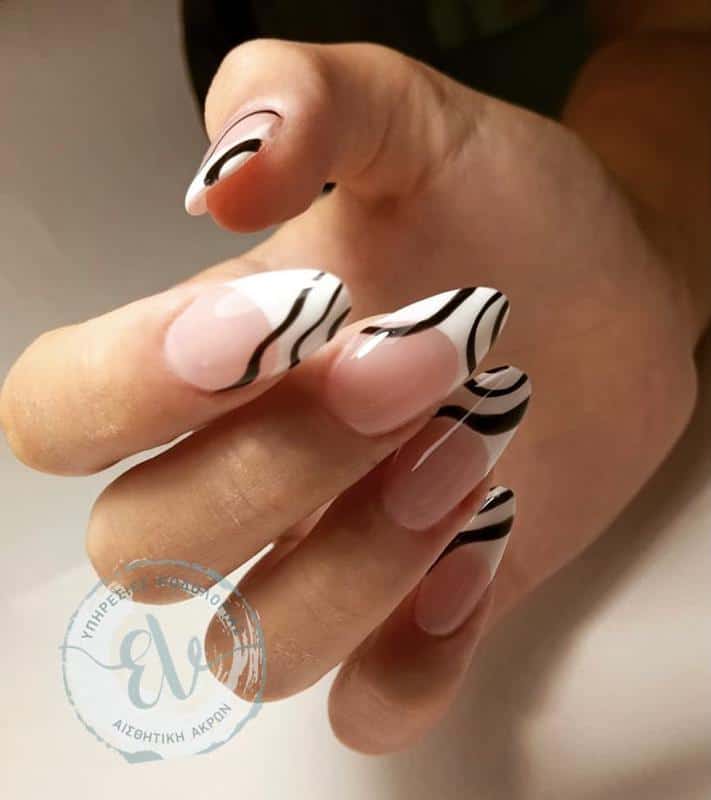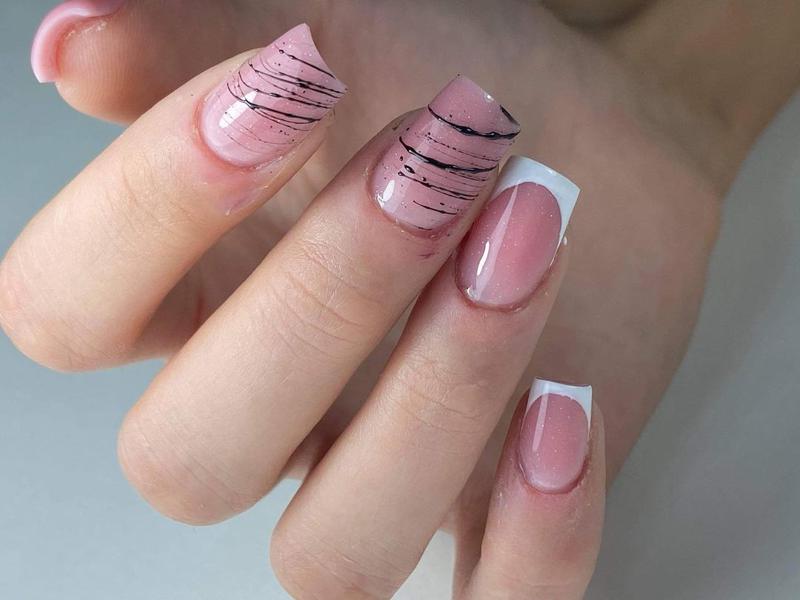 Every day, every minute there is a new concept of the design in French nails. Girls all over the world put all their imagination into the design and come up with truly amazing ideas.
Flames and all earth elements are now a trend in this industry. Earth elements are powerful and they represent strength. For the nail artist, these designs are attractive and easy to do.
Element French nail tip comes in all shapes and sizes. With all colors and different styles. All you need to decide is what type do you want a classic girly or a punk feeling with a lot of details.
For some girls, this is out of their comfort zone because this is not a typical design of the French nail tip but hey some girls love to be in the center of attention. Style preferences vary from one person to another, we love what we love and we need to embrace it.
10. French Nail Designs for Toes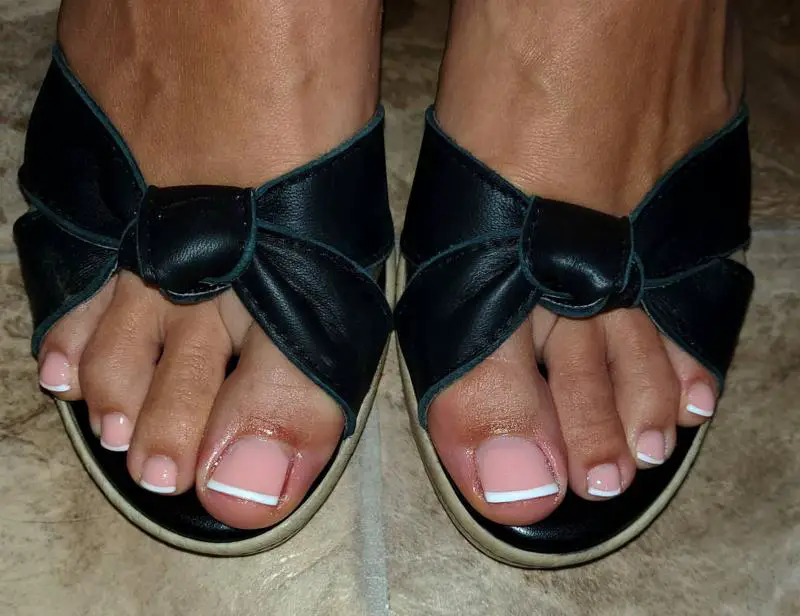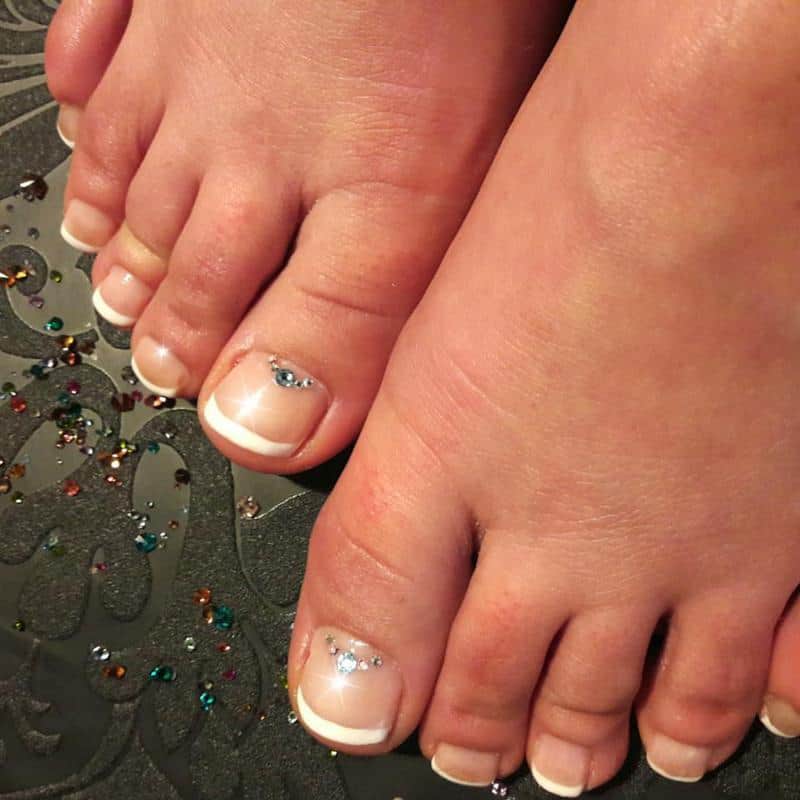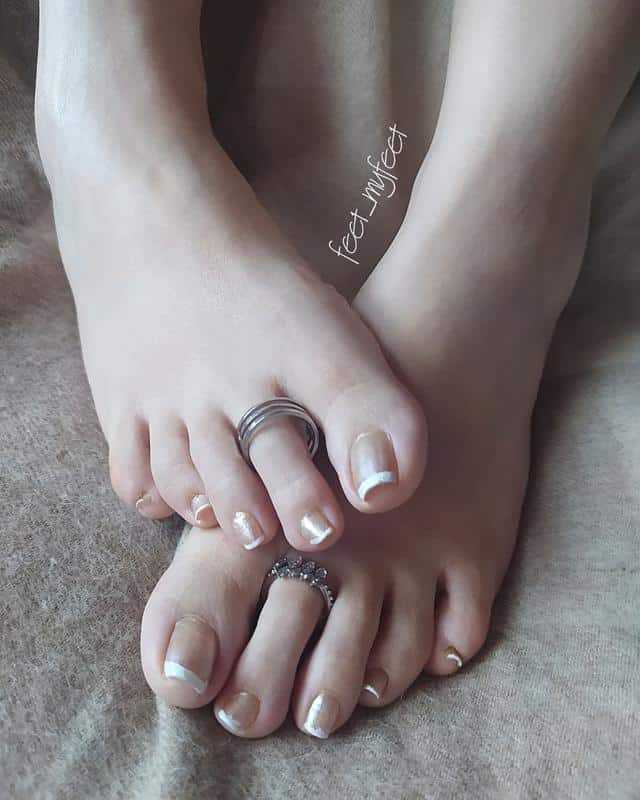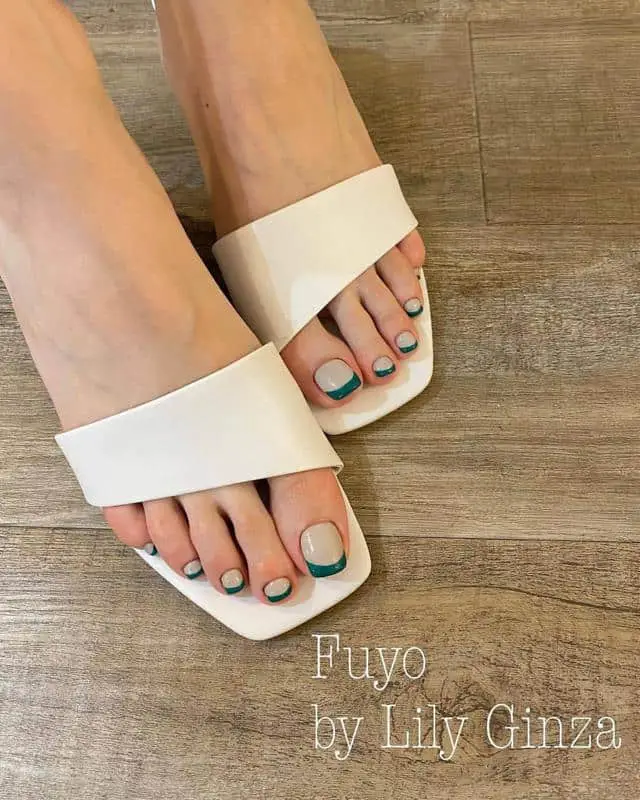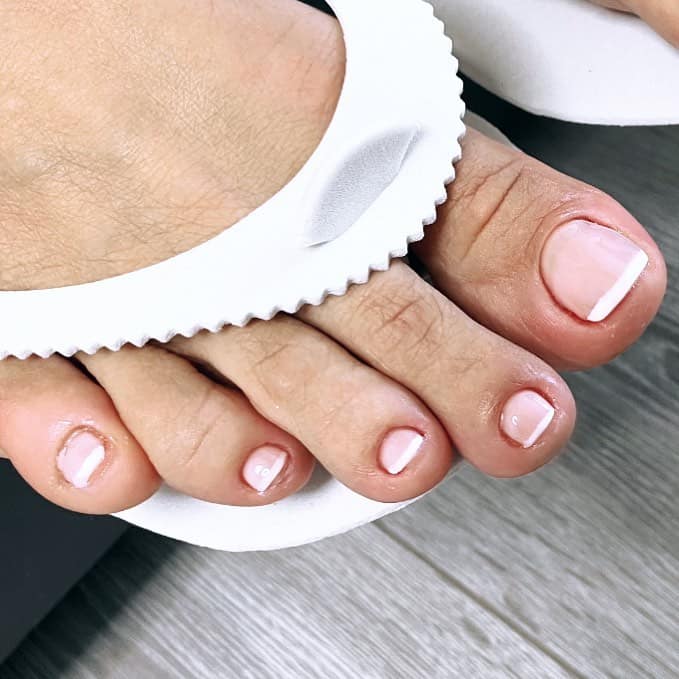 There is nothing more beautiful than the girl who took some time and do a pedicure, to take care of her feet. Everybody especially a girl needs to take care of their hygiene, but it's more than that. Our feet endure a lot during the day so it's nice to pamper and nourish them. A French pedicure is a way of treating our feet and we love it.
Summer means wearing sandals and slippers so that means that our toes must be appealing. French nails pedicure, like manicure, has a lot of designs to choose from. From the classic to the bold. It all depends on what you are in the mood for.
French nails you can do in the comfort of your home or you can make an appointment in the spa and get a relaxing massage included.
11. Stiletto French Nail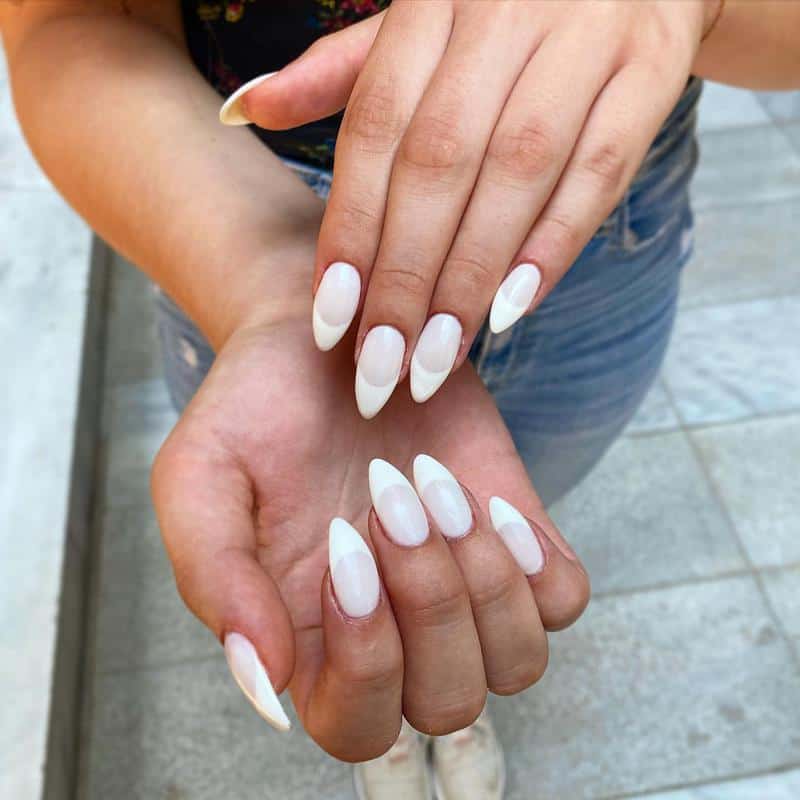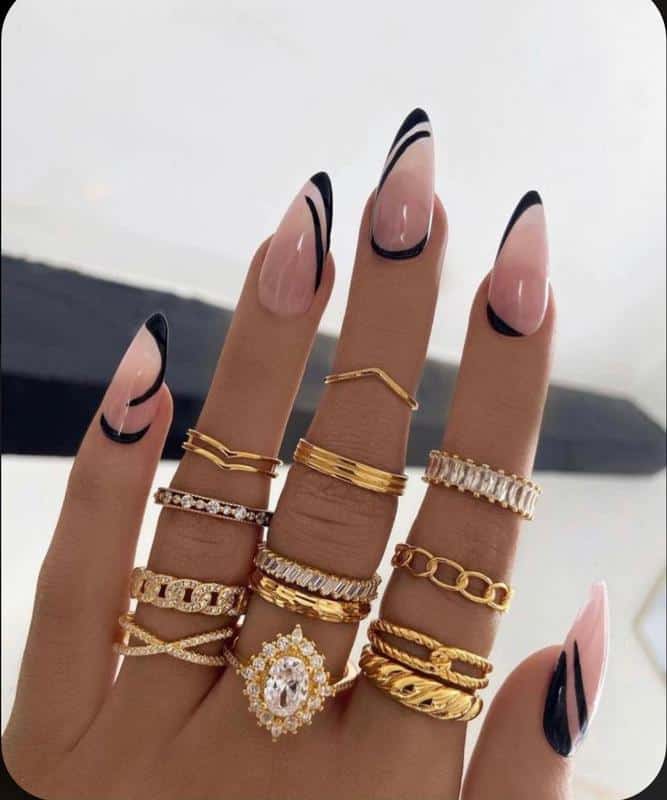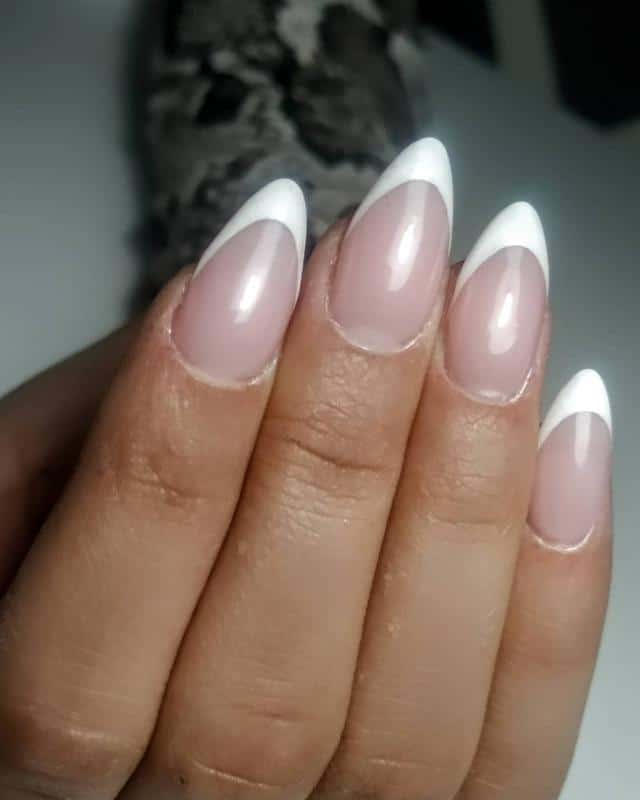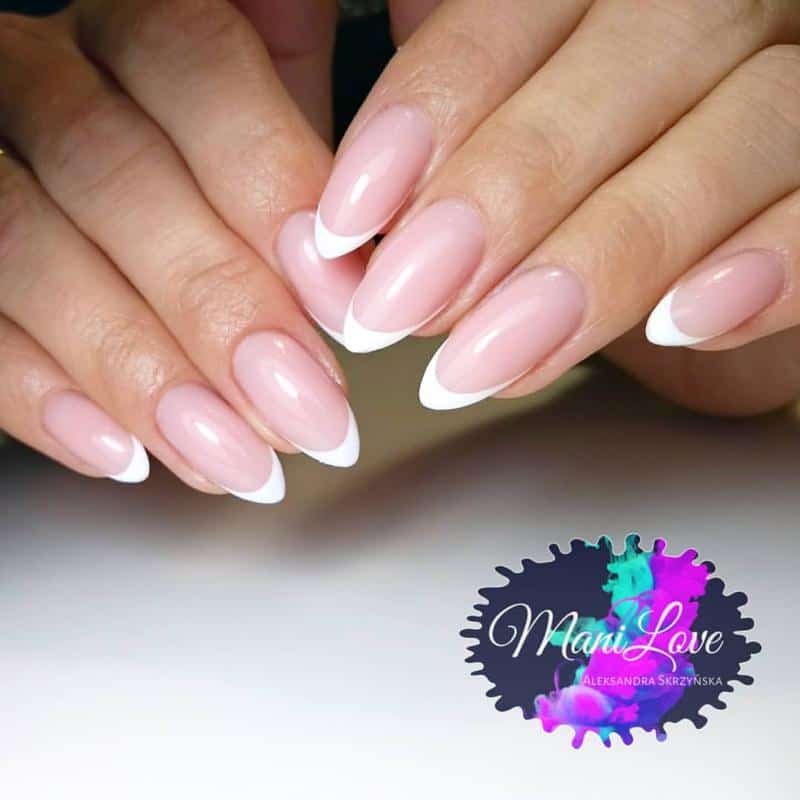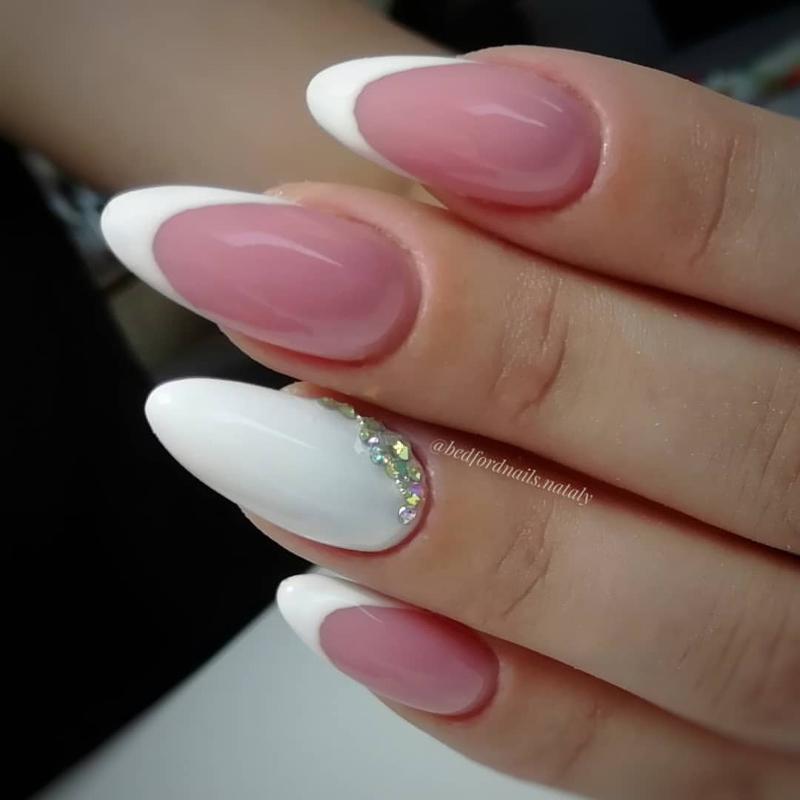 In the past, there weren't many nail shapes options for women who wanted to get their nails done. They usually had to choose between round and square nail shapes. Times have changed and we have more options available today.
In the modern world, there are a dozen shapes to choose from. There is an almond shape, coffin, pointy and even the stiletto shape. The stiletto shape keeps getting more and more popular on social media platforms.
The stiletto shape is easy to recognize. The shape is designed to look like the shape of stiletto shoes. It has razor-sharp points. And of course, this shape is not for everyone. Not many girls like long nails, but to have stiletto French nails keeping your nails long is a part of it.
Stiletto French nails are dramatic and very futuristic. If you like an electric trend this shape is for you. Neon ombre French nails are the vibe. For our girls who like simple stuff, you can choose classic French nails with a Stiletto shape. It will give more illusion to the classic look.
12. Animal Print French Nail Design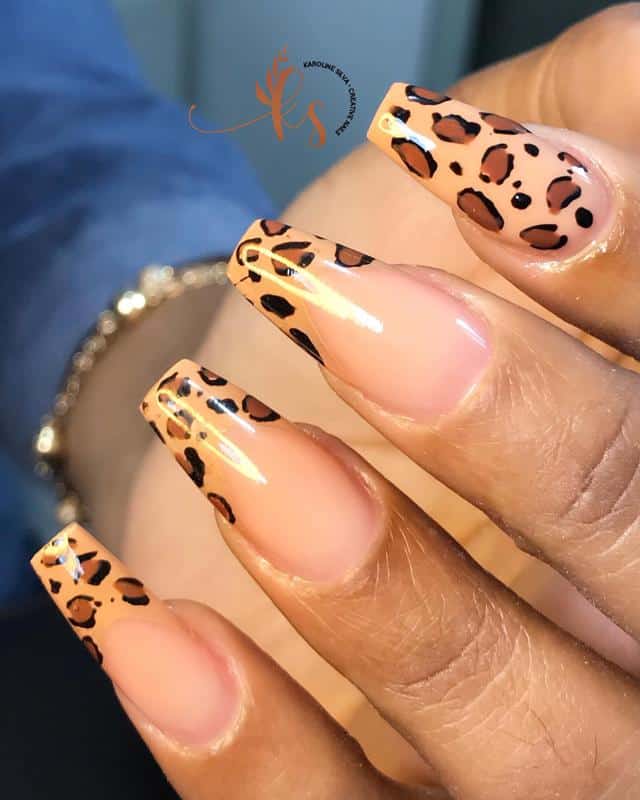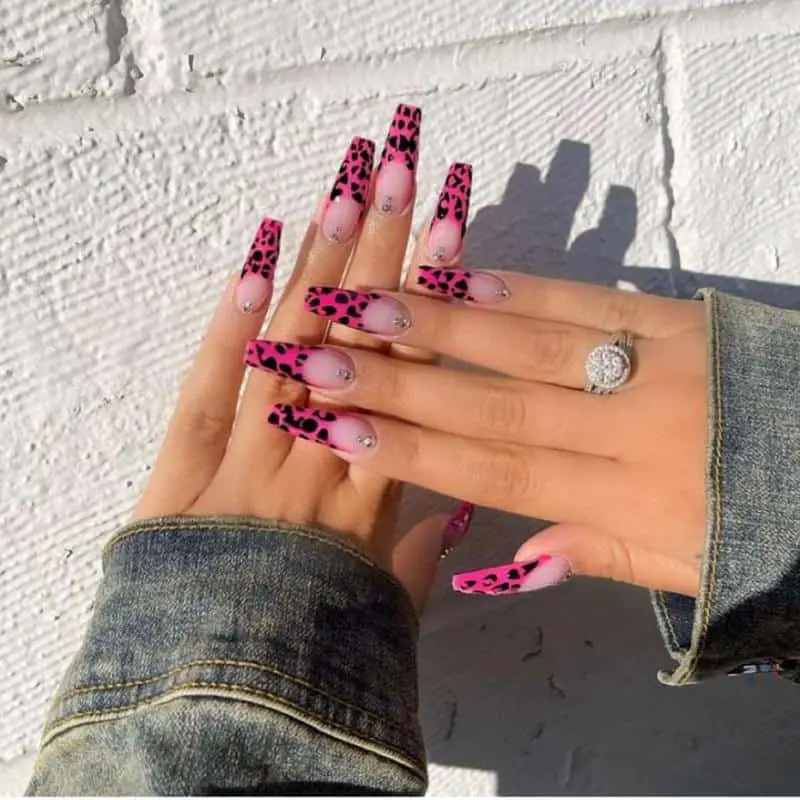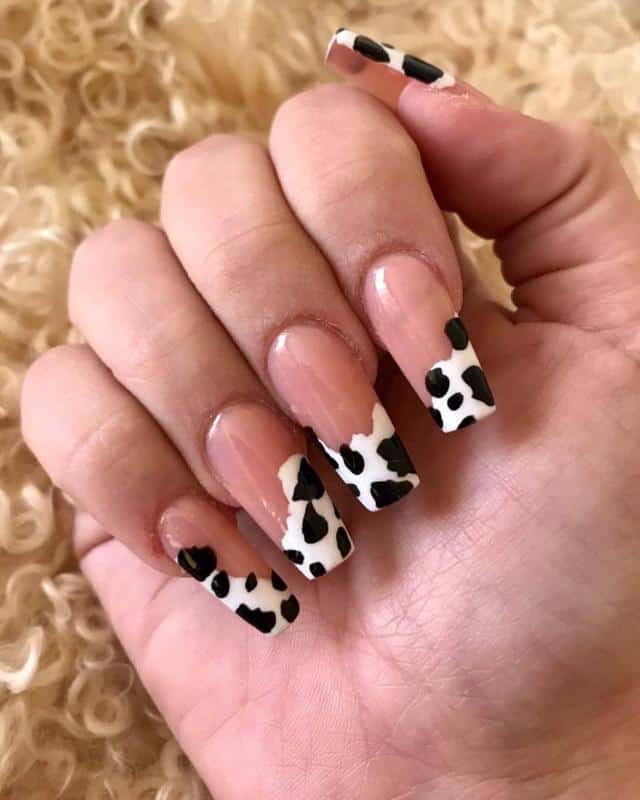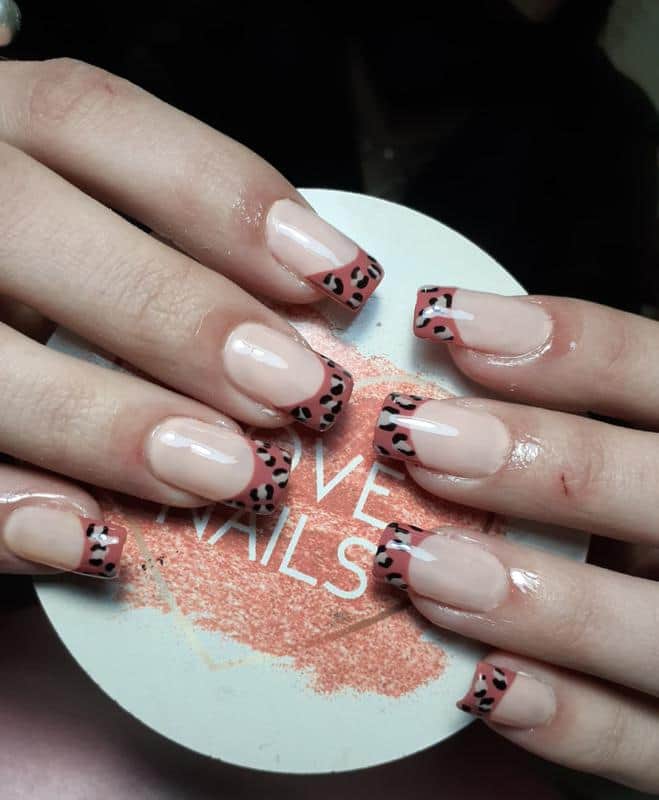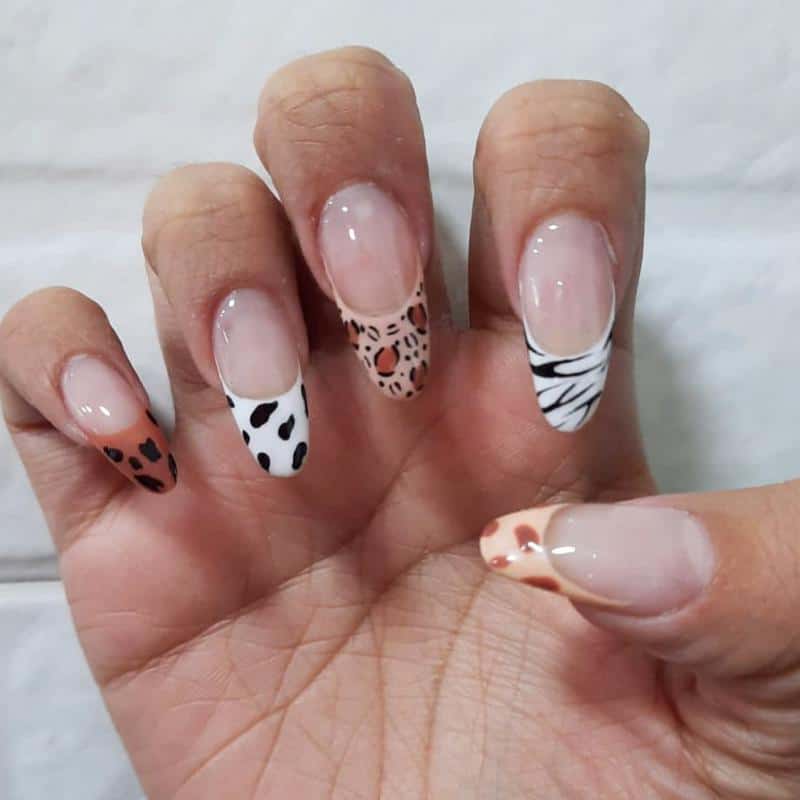 Looking for inspiration for your French nails? If you are an animal lover this part is for you. You can consider animal print for your next nail appointment.
You can express love for the animal in many ways, and nails are included. Use any animal print, cow, zebra, leopard, cheetah, tiger, snake. Options are endless. Any look can be cute for example cow's tip of the nails with a base of light pink. Cheetah print is very trendy this season. Show your wildlife side.
This print and zebra print is so easy, you can do it in the comfort of your home and save money at the same time. Or choose a specific animal print design for every finger. Nude French nail tips with some animal print will complement all your outfits.
What we love about animal print is that it's a versatile design. Besides authentic colors that resemble animal fur, you can go in a different direction and choose other colors instead. For example, instead of black and white zebra stripes, you can opt for pink and white. Instead of black or brown and white cow spots, you can choose other colors instead.
Also Read: