50+ Delicious Caramel Highlights on Brown Hair: Trendy Ideas For A Hair Makeover
When you shop through links on our site, we may earn an affiliate commission. This educational content is not intended to be a substitute for professional advice.
When I think about caramel, the very first thing that comes through my mind is its sweetness, along with the warm color and the delicious hues.
No wonder why so many hairstylists and hair-care products got inspired from the culinary world. It is incredible how professionals succeeded in replicating such unique shades and put them in people's hair.
Caramel is a unique color that shares so many great feelings: the sense of warmth, even a particular perfume. Do you need more reasons to choose caramel as the primary color for your hair highlights, dip dyes, and downlights?
When it comes to caramel hair shading, there are many shades to choose from: the neutral beiges, to cool, soft, or creamy caramel tones. Moreover, you can go even further with your creative mind and choose some tangerine and dark brown sugars.
Caramel highlights have always been one of the leading choices among celebrities. The medium brown or blond base will go excellent with these shades and offer a sophisticated look and unique hair color.
Even if, for now, it is pretty hard to imagine yourself wearing the caramel highlights, well, why not get a gourmet treatment and unlock your possible fears?
Once you read this article, you will have a different idea about caramel hair inspiration and final looks. Here is my absolute favorite gallery of caramel highlights looks. Check them all and find your top inspirations for a "caramelized" appearance.
Who Can Wear Caramel Highlights?
From the very beginning, what is important to know is that this shade is universally flattering. So, you don't have to worry about your skin tone, the length of your hair, or how thick or fine your headdress is.
Secondly, both blondes and brunettes can enjoy the caramel highlights. This shade is less aggressive with your hair and will not affect the health of the locks.
And lastly, life is too short to wear dull hair shades, so why give a try to this sweet look? Any basic hair color can be such an excellent base to make the caramel highlight simply pop out. Besides, you can be creative and try different variations of highlights:
Tender or subtle caramel highlights
Vivid and distinct caramel shades
Dark and rich highlights
Creamy caramel shades
Light colors of caramel
Multi-tonal caramel highlights
So, brunettes or blondes, do not fret anymore, as there are so many caramel options that it's hard not to find the best-suited one for you.
Just follow the engaging examples, and you are ready for a lovely makeover. So, before your very next appointment, check out the information below.
Sweet-Looking Caramel Highlights On Brown Hair
I took the best-looking caramel highlights on brown hair examples, along with the top images, so you can figure out which hairstyle would suit you best.
There is no doubt that you will find some fresh ideas, but without further ado, let's go straight to the precious information:
Well-Blended Caramel Highlight On Brown Hair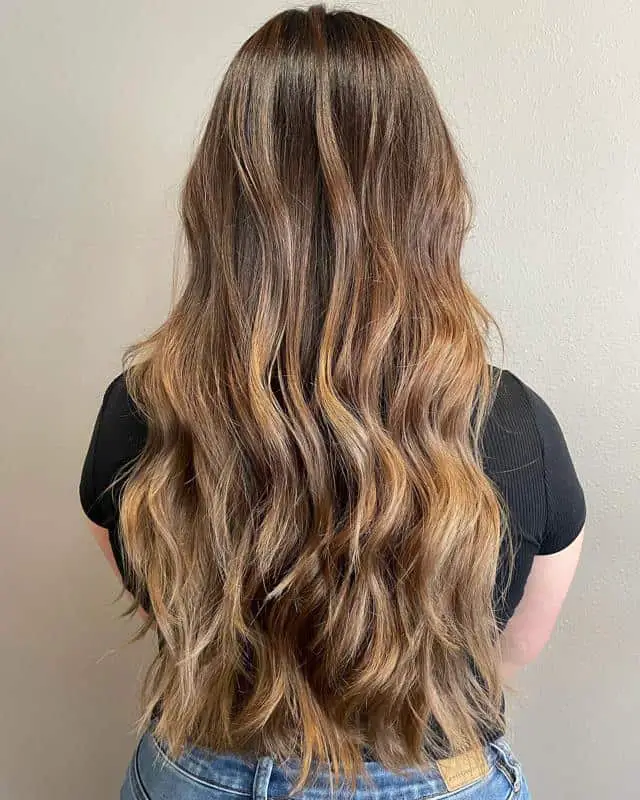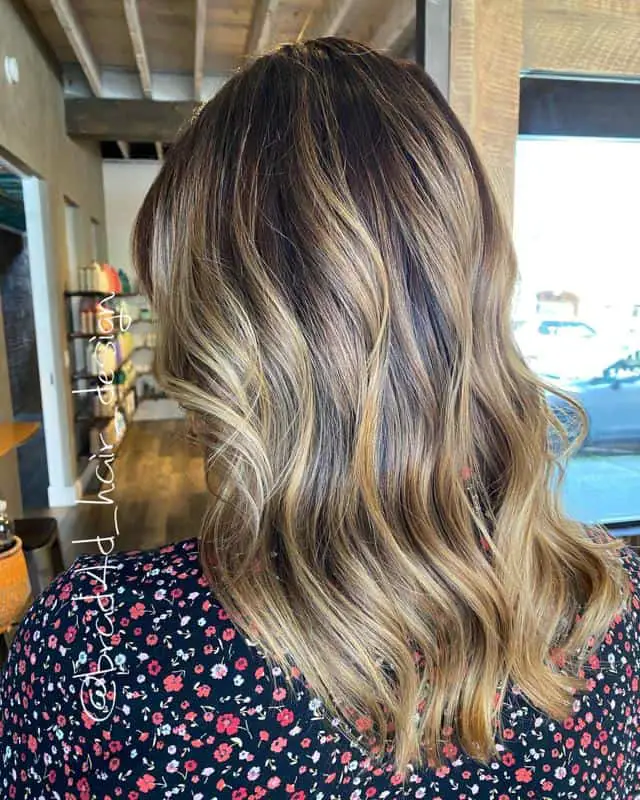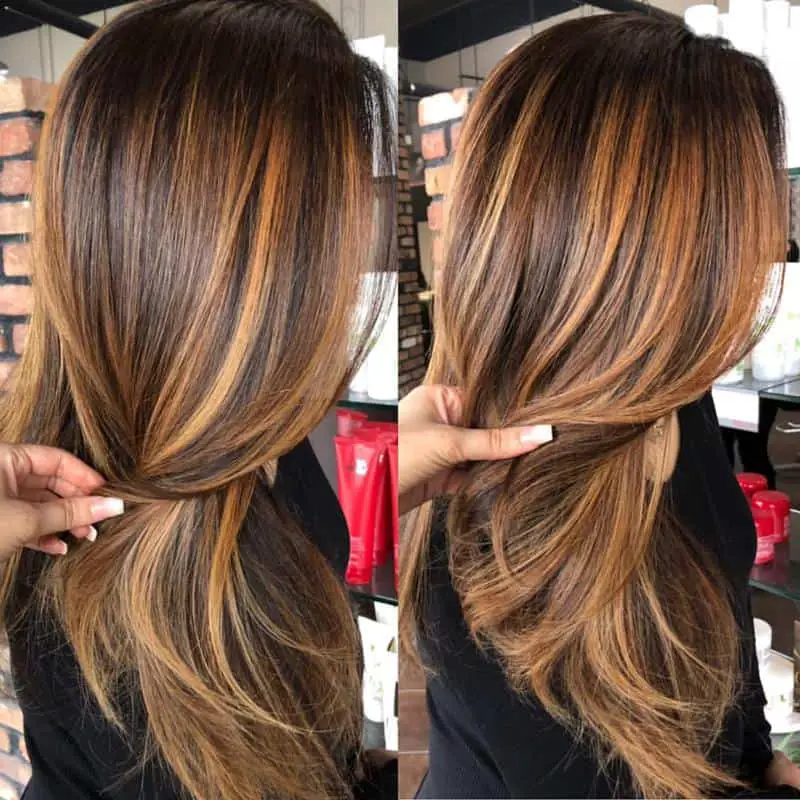 Add some intrigue to your brown tresses and adopt a well-blended, natural-looking caramel style. As seen in these images, this is one of the most appealing yet subtle and timeless looks you can get.
Personal opinion: The vast variations of tones and hues will make your look much sophisticated.
Tip: If you want to make the coloring even more remarkable, you should style your hair with great waves.
Chocolate Hair With Strawberry Blonde Highlights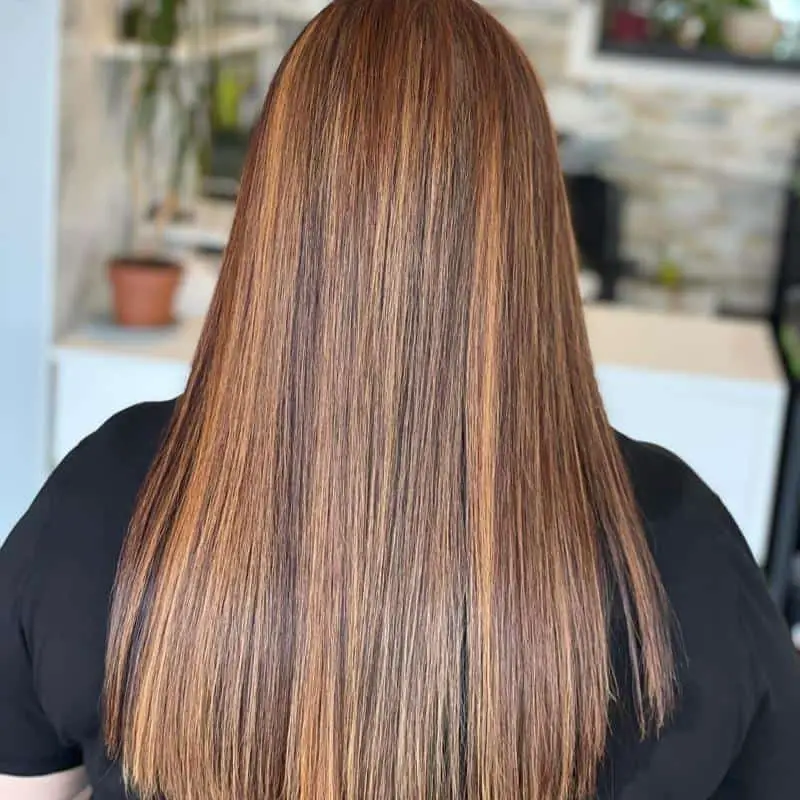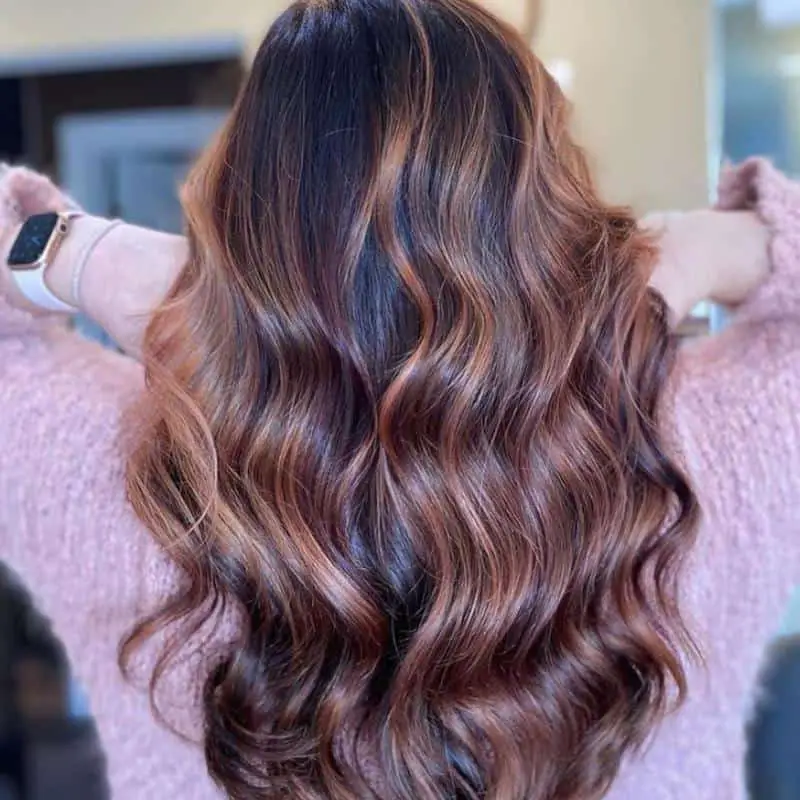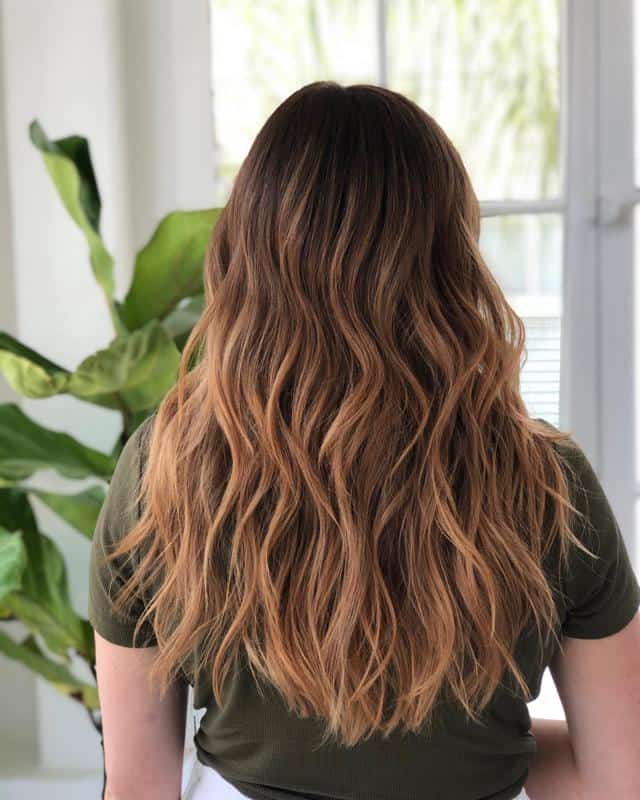 Do you want to have a particular hair color that will make you look unique, young, and fresh? Strawberry blonde highlights come with a rose subtone, and I promise you everyone will turn their sights on you. Prepare to find your future favorite hairstyle.
Caramel Balayage With Front Blonde Framing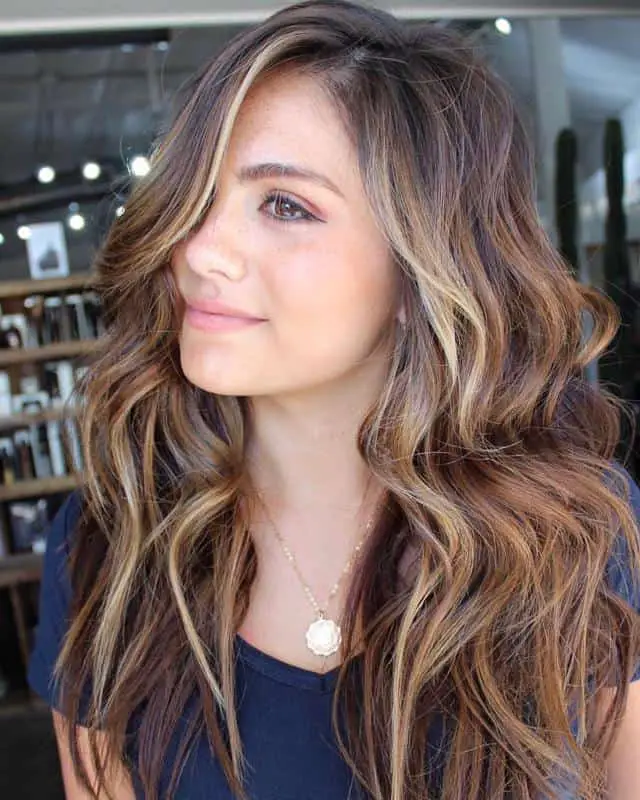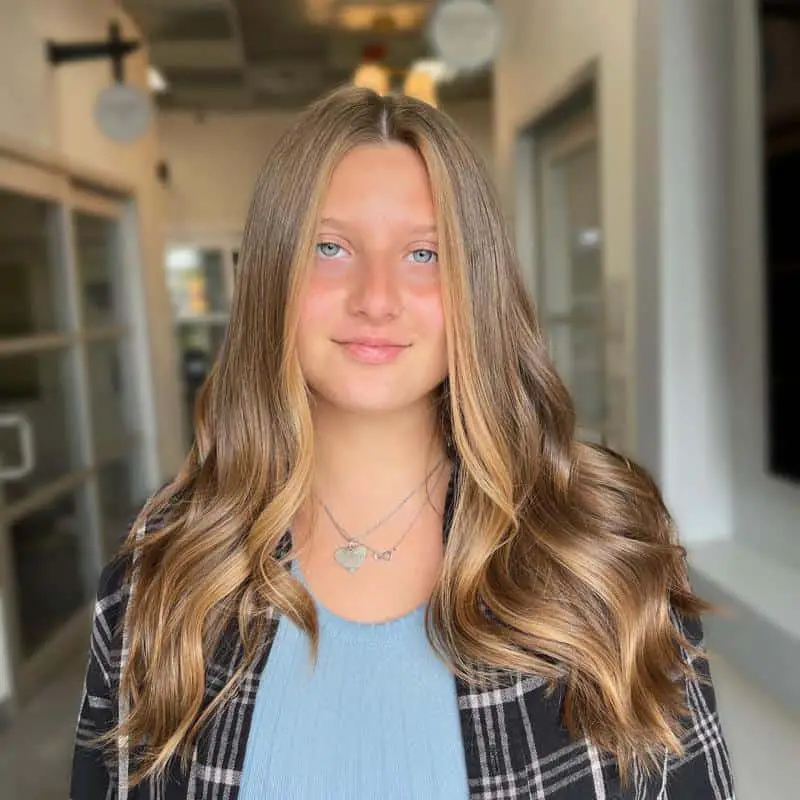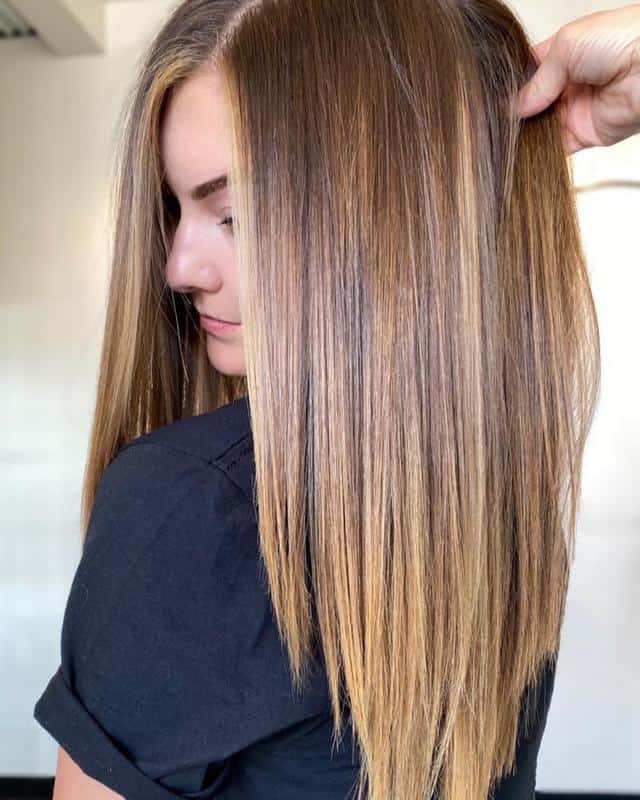 What about a caramel balayage with unique blonde frames in front that will contour your face? I simply love the front sections, which are a real thing now.
Tip: If you want to style this hair color even better, add some loose waves with a thick curling iron, then run your fingers all through the hair. The result will be an effortless impression.

Also Read: Balayage Highlights For Dark Hair: 30+ Stunning Examples And FAQ (2022 Updated)
Shiny Walnut Brown With Balayage Effect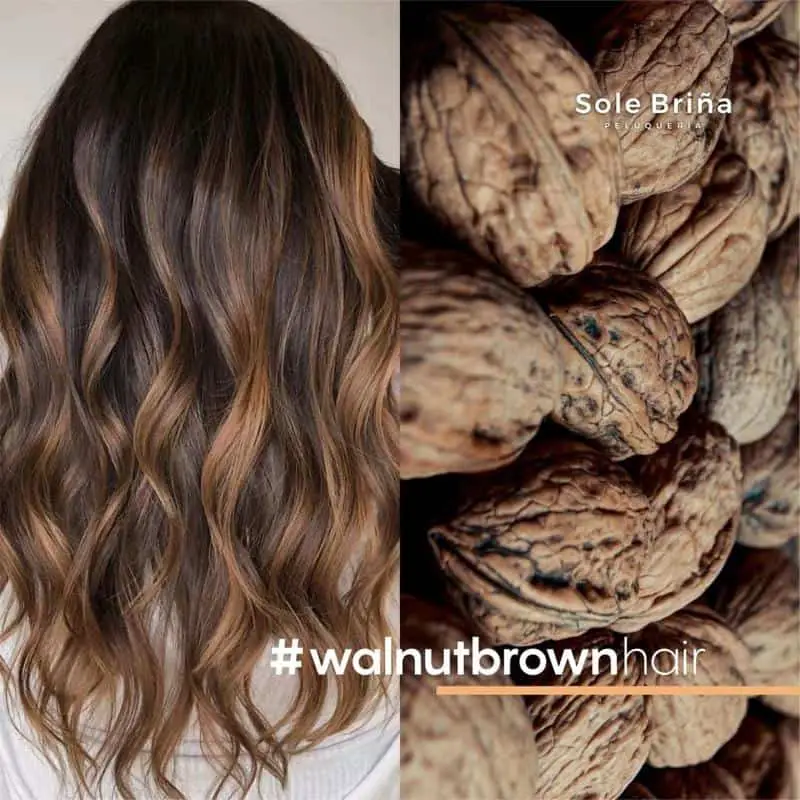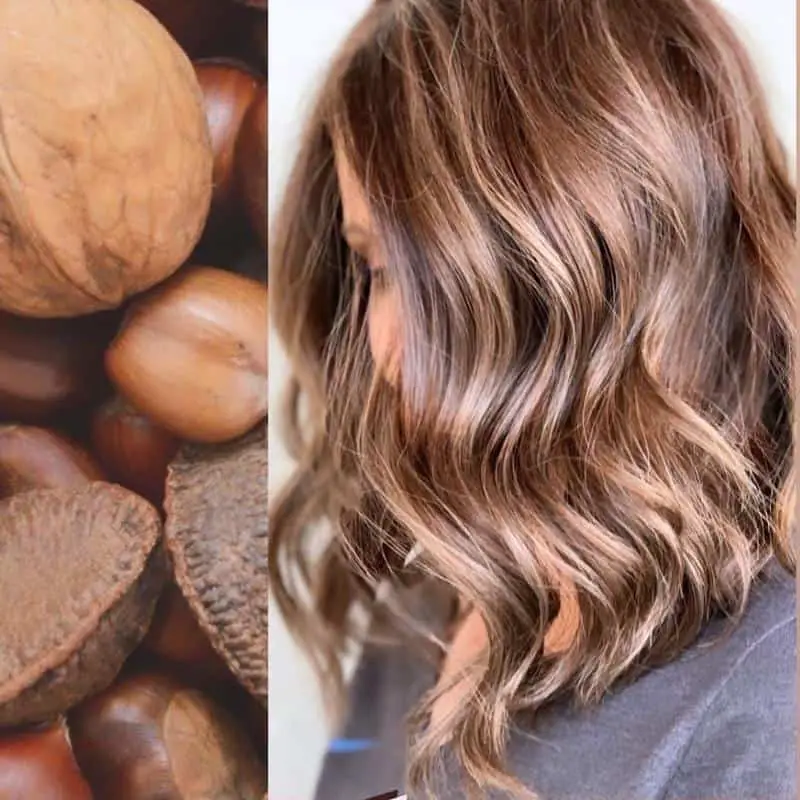 One of the most relaxed looks with caramel highlights is wavy walnut brown hair and a delicious balayage.
Personal opinion: This look is so present in lots of fabulous magazines. Once you use the right hair colors, you will be able to keep your hair all shiny and genuinely eye-catching.
Bright Tangerine Highlights for Brunettes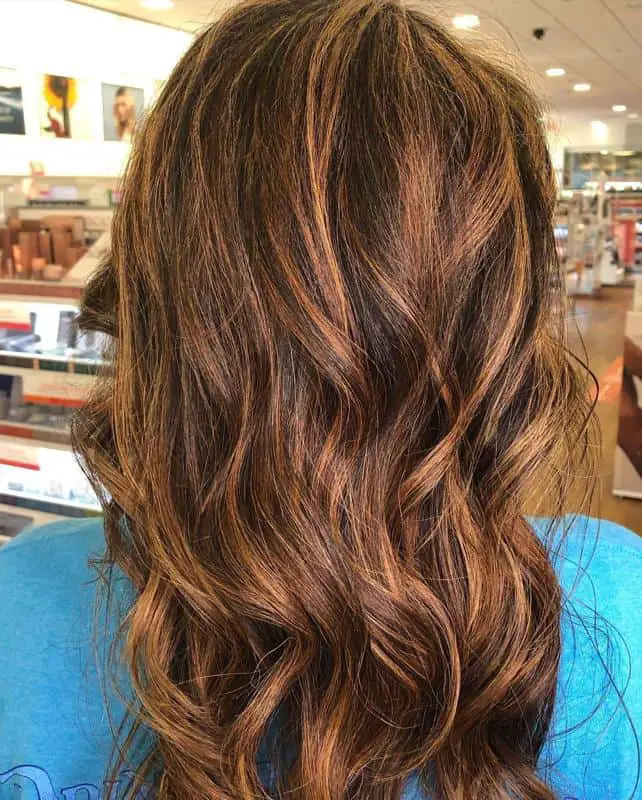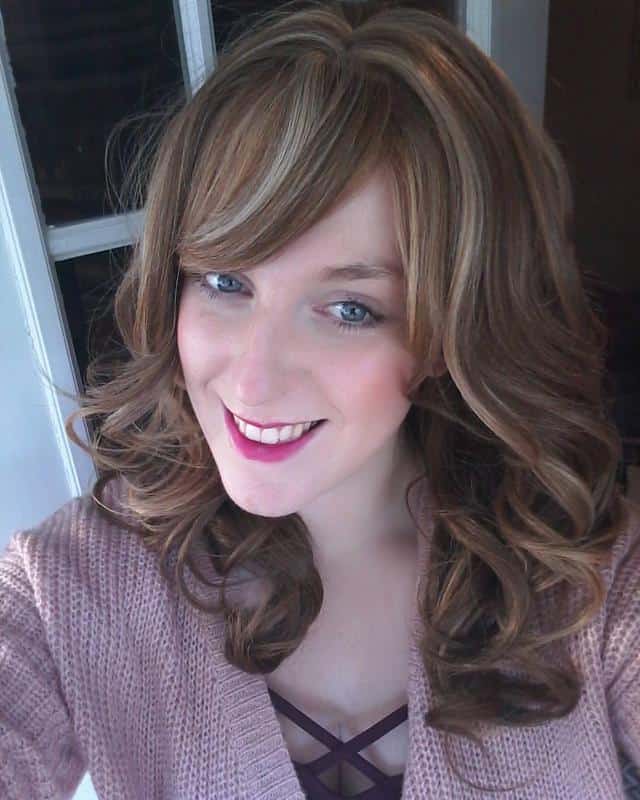 If you are a brunette, it does not mean you cannot enjoy some beautiful caramel highlights. Tangerine highlights are notable for brunette hair; whether you have a classic middle part of your hair is indeed long.
Tip: Do not forget to add some large waves so that the highlights will be as visible as possible.
Messy Tawny Waves for Brunettes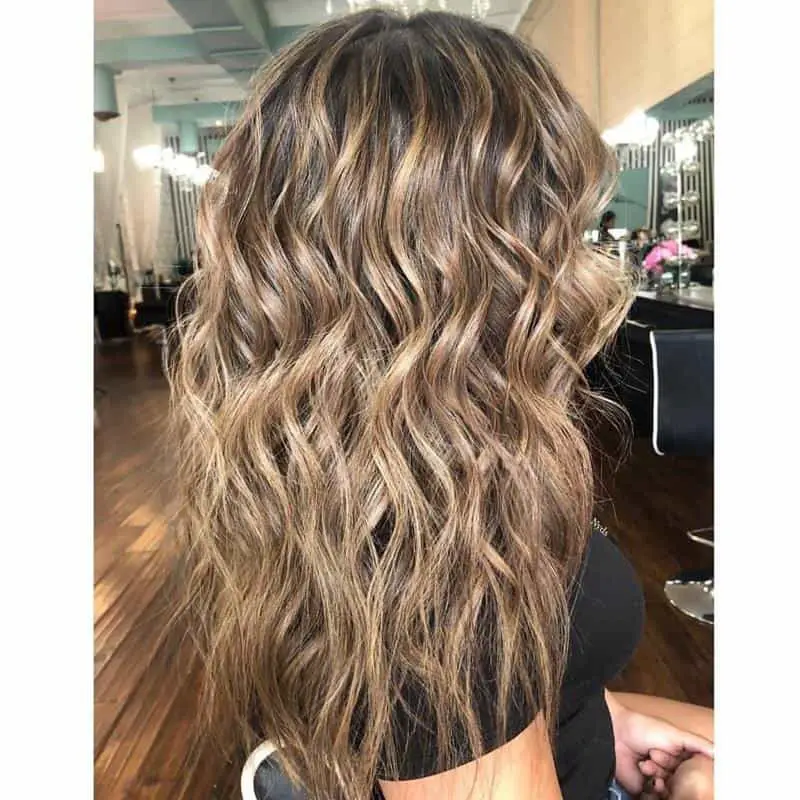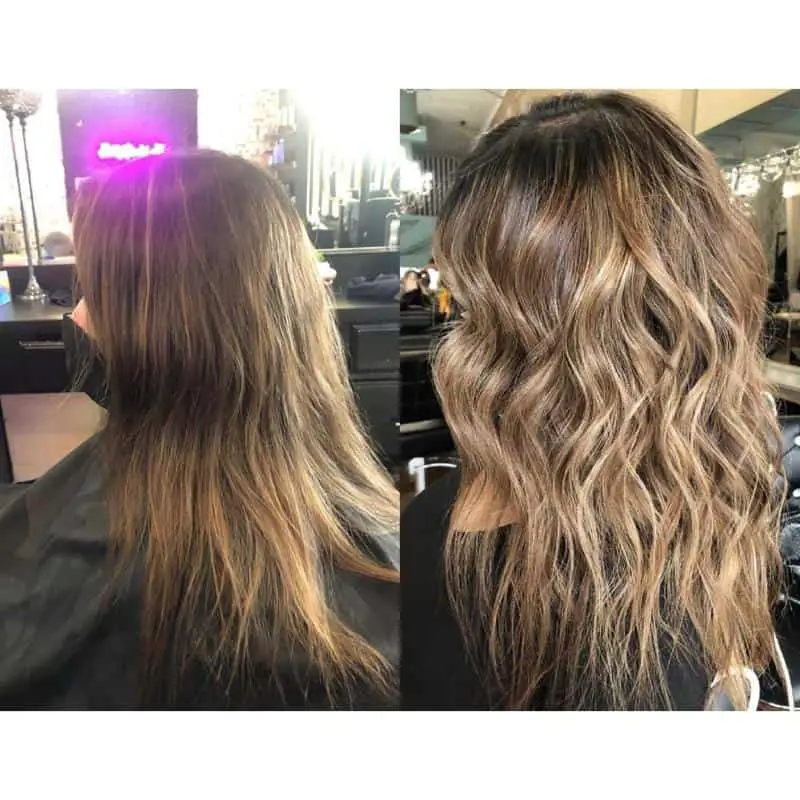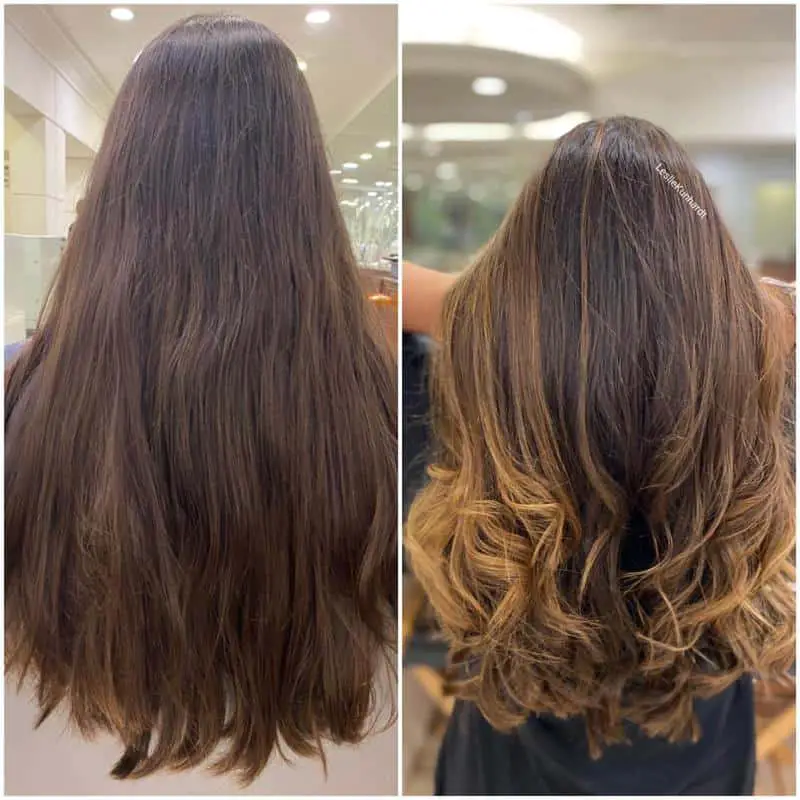 Some of the timeless looks that I simply adore are the messy caramel highlights on long hair. So if you are searching for a contemporary look but want to avoid the classic golden-brown color, try these tawny waves.
Tawny is a unique color, a beautiful combination of light brown with a bit of orange. The aesthetic is unique.
Personal opinion: Caramel highlights tend to vary; however, when you do your hair all messy, the tawny hair will look so natural.
Soft Caramel Balayage for Dark Hair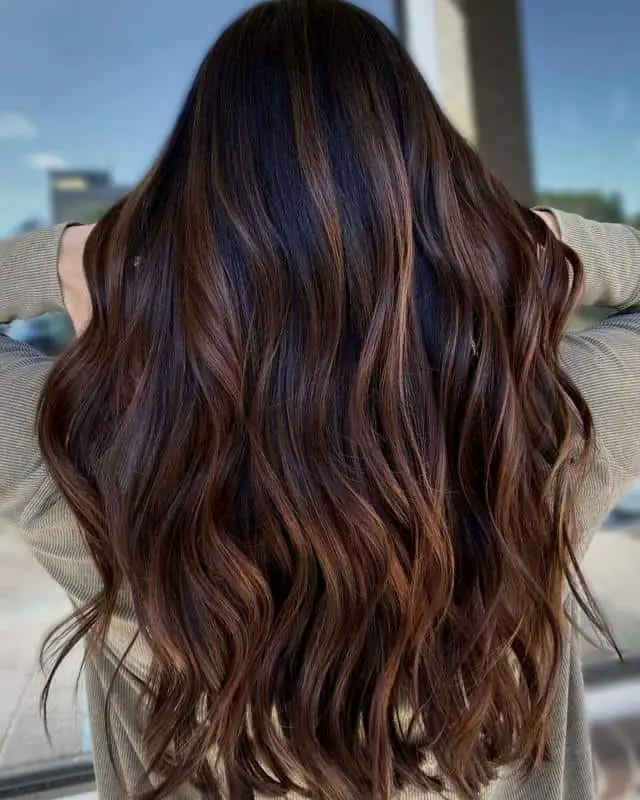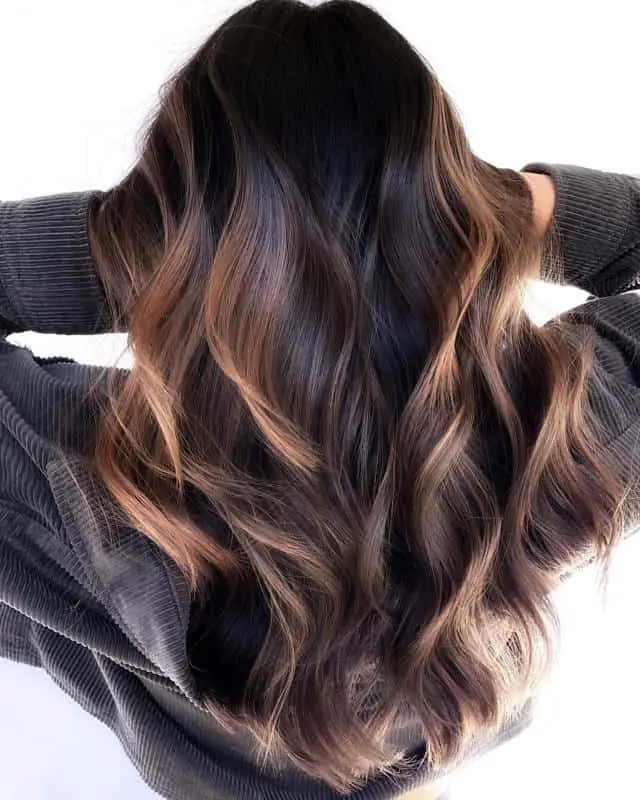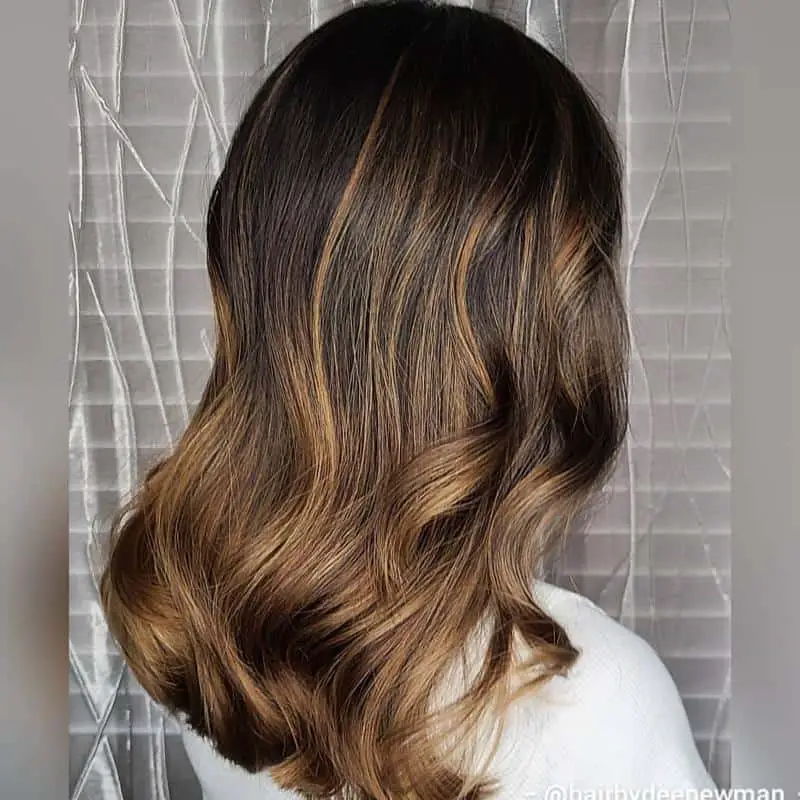 If you want to be always on trend, go for the soft caramel balayage for dark hair. This is one of the timeless looks we want to share with you.
There are infinite methods to style your look and to bring out the beauty of these caramel shades. If you have a party, don't hesitate to add a few rhinestone barrettes or grab all of your hair into a chic bun.
Personal opinion: The sky's the limit, so be creative and show off your hair makeover.
Caramel Highlights with Blonde Touches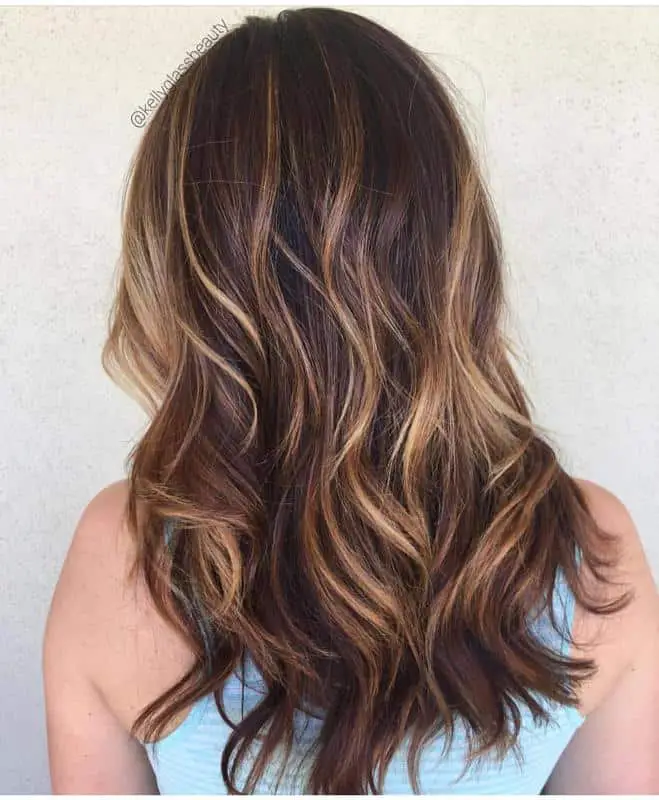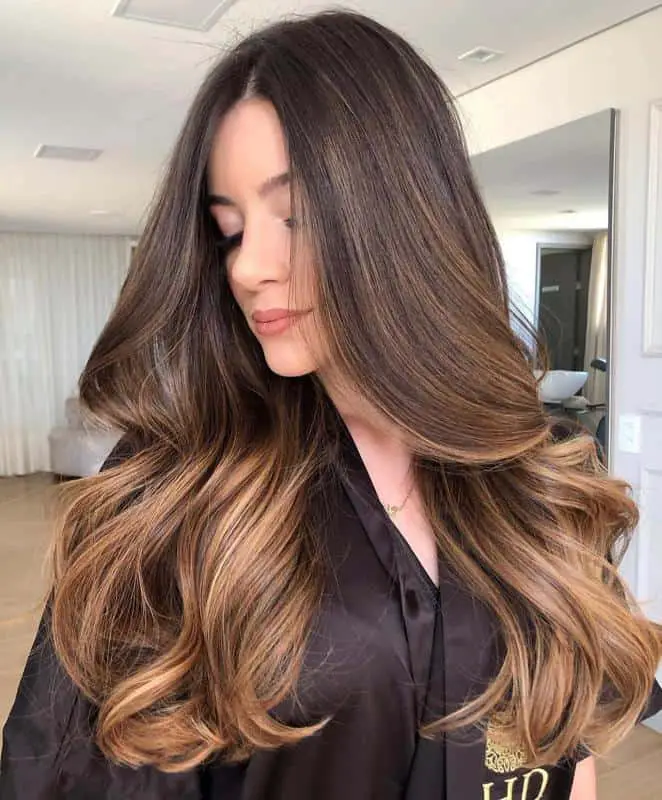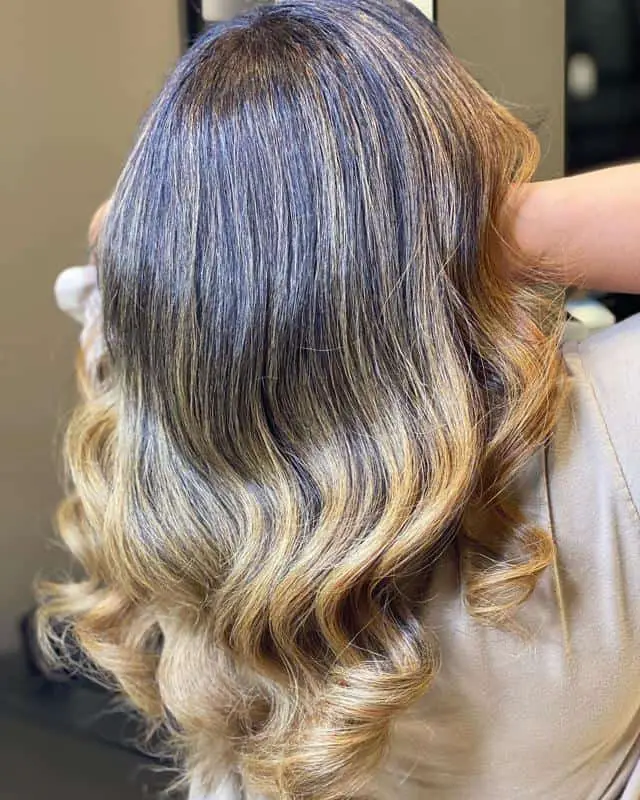 If you have dark brown hair, the caramel highlights will not only provide a fabulous touch but will create such a nice contrast that will undeniably make your appearance unique.
If you want some hair that seems to look naturally kissed by the sun, this caramel highlight with some blonde touches is what you need.
Personal opinion: Keep the blonde part at the bottom section.
Ruby Caramel Waves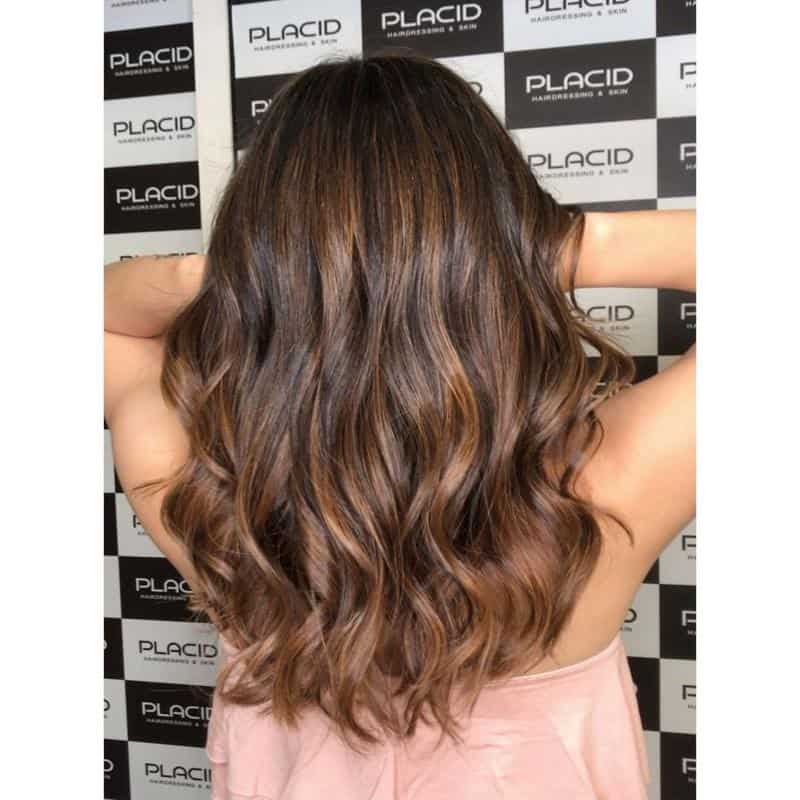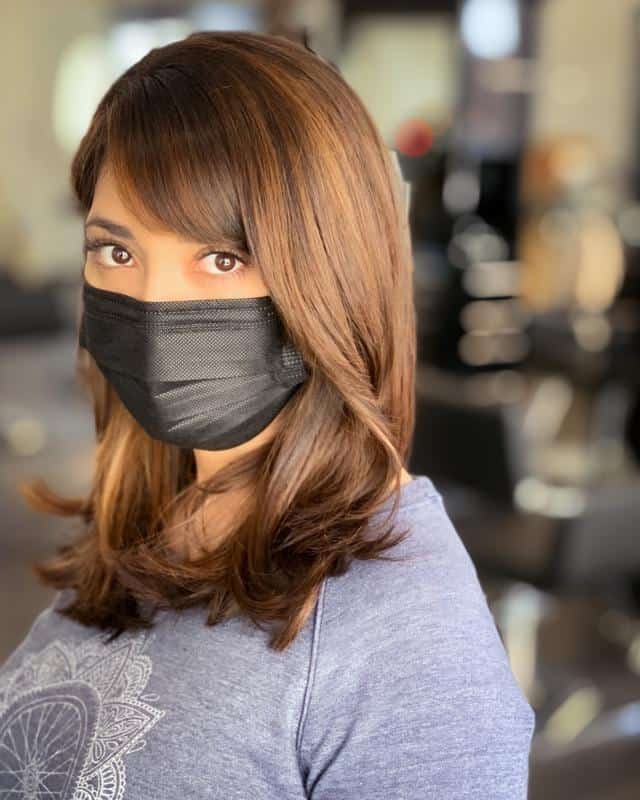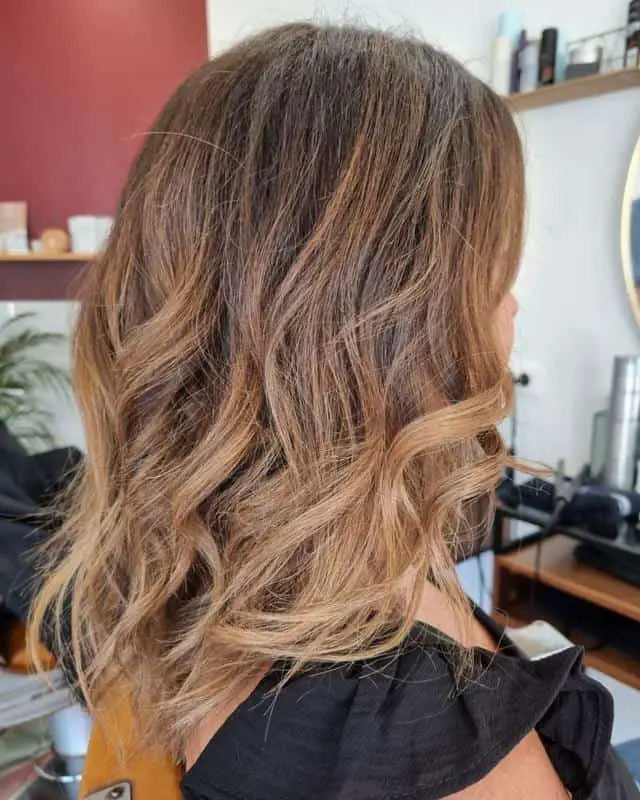 What other stylish way to arrange your hair than with some ruby caramel waves? The red tint makes this color unique, which will automatically change how you look once mixed with the brown color.
Tip: You will love how the twist of caramel goes with the waves, so don't forget about buying a curler too.
Brown Hair With Caramel Highlights On The Lowlights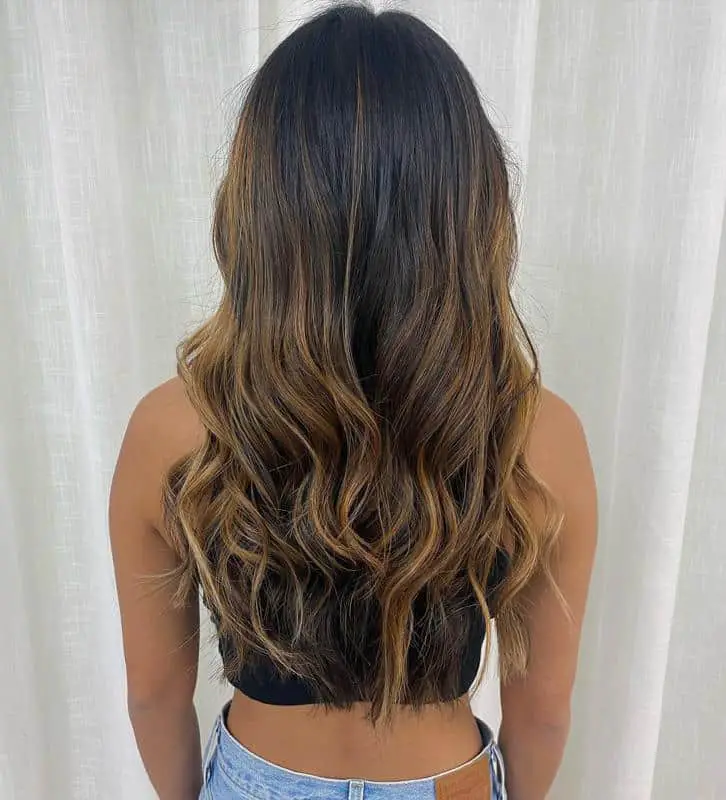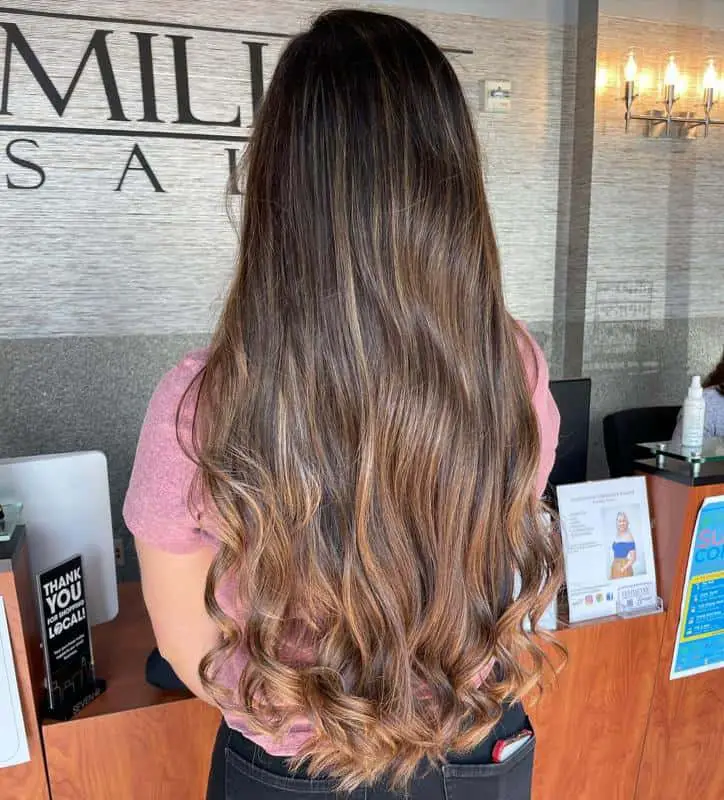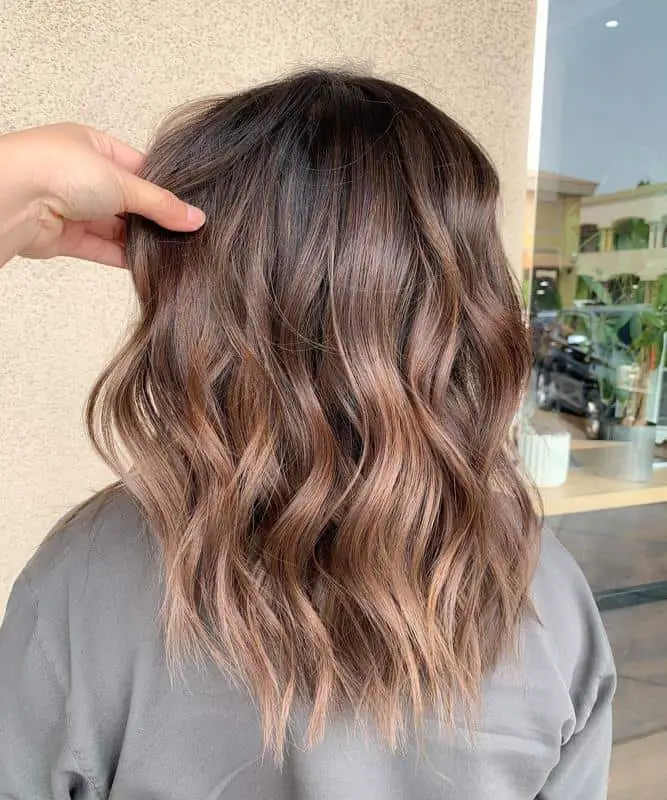 Applying the caramel highlights on the lowlights looks like a professional balayage, but not the classic one. Do not stop at only one shade, when you can combine different brown and caramel shades.
Tip: Make sure you relate your skin tone with the change of look. Have a short glimpse of the images and convince yourself.
Fashion Caramel Bronde Bob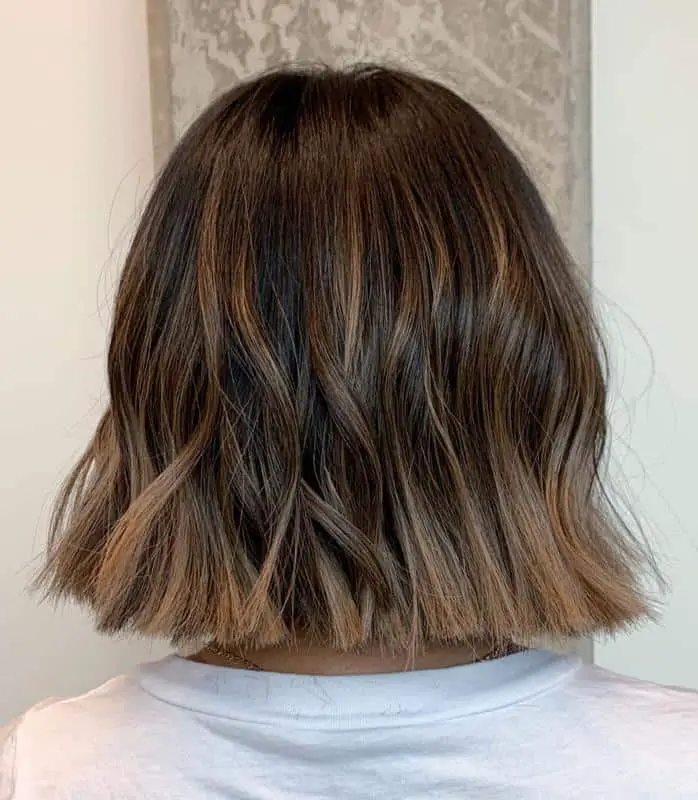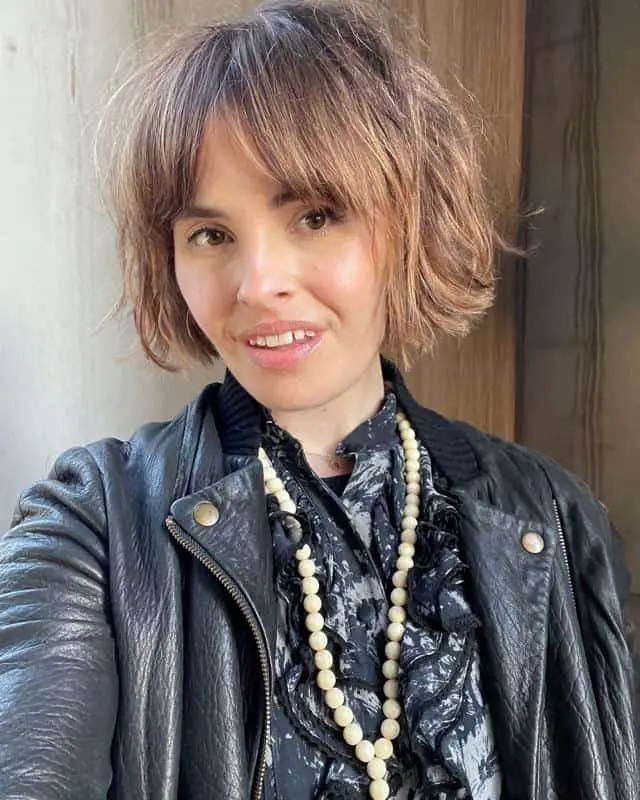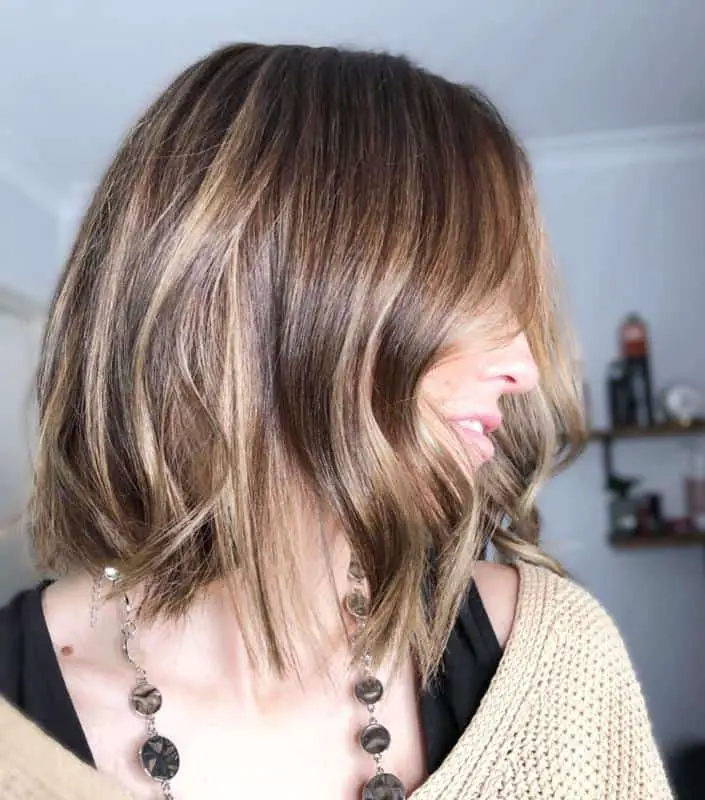 The bob is one of the chicest hairstyles ever. You will always look elegant once choosing to cut your hair like this. Check how elegantly these caramel layers are falling on the hair.
The caramel, along with the blonde highlights, creates a dimensional effect.
Tip: Add some waves to enhance these colors.

Personal opinion: I would go with a shorter length and then try a small curling barrel so that the waves would look natural.
Sunset Caramel Highlights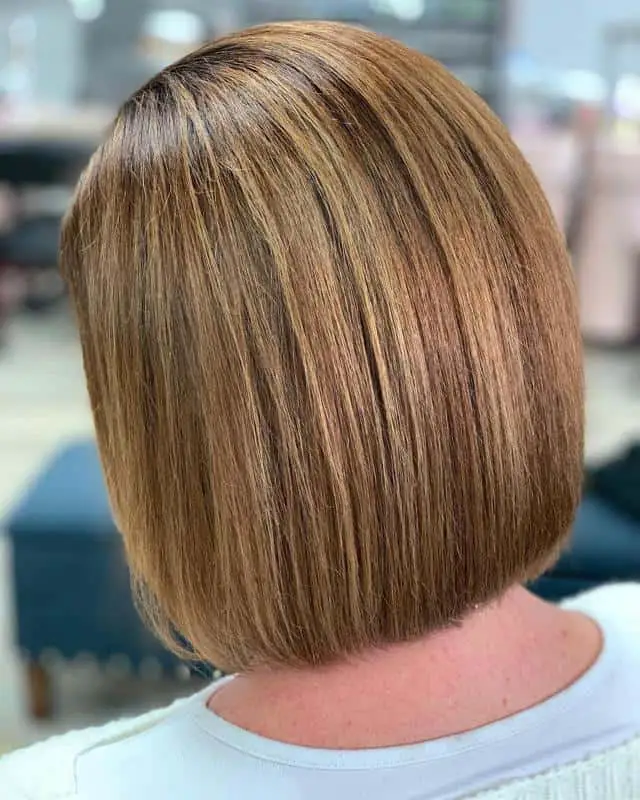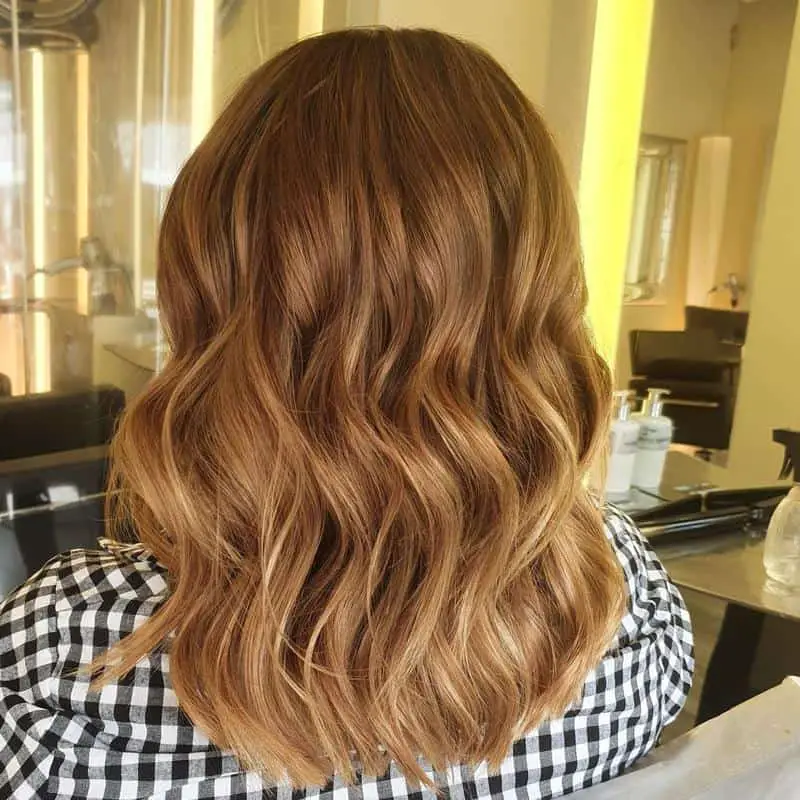 Take a look at these sunset caramel highlights. Don't they look like a dream? If you are going for this look, apply the highlights only on the lower part of the hair. It is better like this, and the effect is so apparent.
Personal opinion: These shades are for those of you who want to look gorgeous anytime.
Caramel Blonde Balayage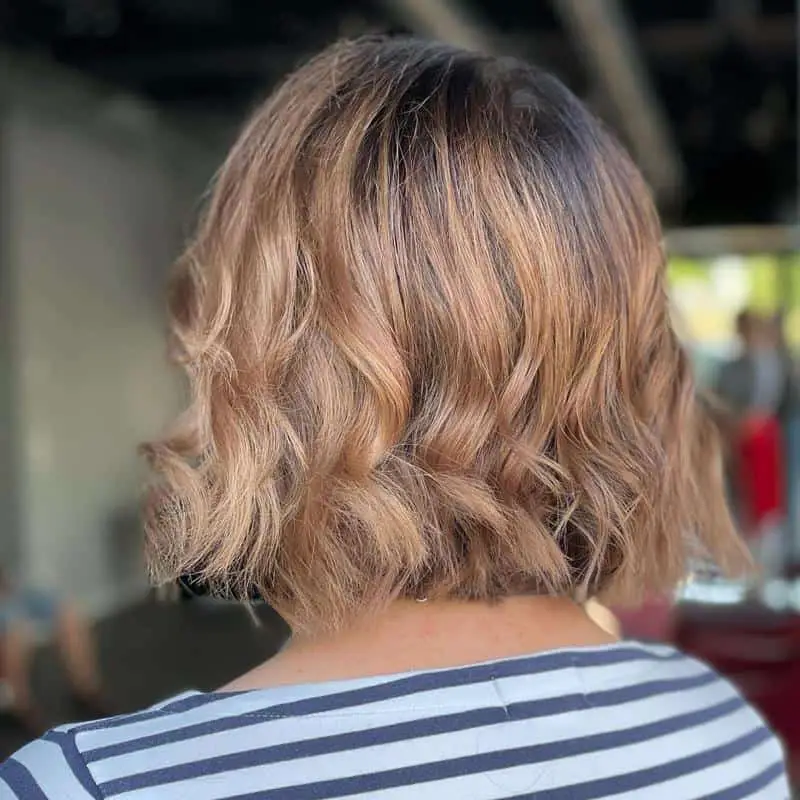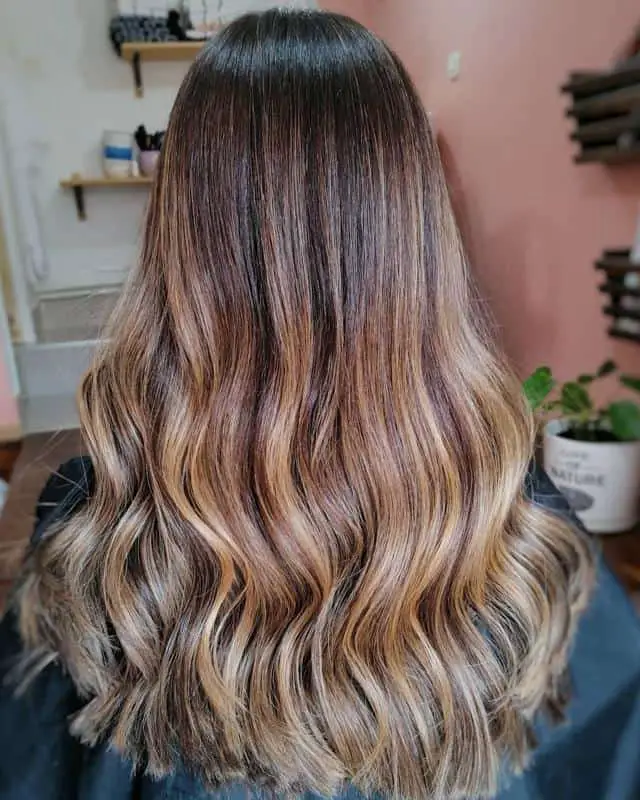 Do you want to have a relaxed look? Think about "hygge", maybe you know little about this concept. This is the actual definition of Dutch coziness. We can place the equality symbol between balayage and hygge.
This caramel balayage goes nicely on any hair length, short or long, and will always bring summer to your look.
Personal opinion: The warm colors suggest comfort, sunshine, warmth, and they are pretty subtle. As such, you will not scream for attention but have a special aura around you.
Medium Brown Hair with Caramel Highlights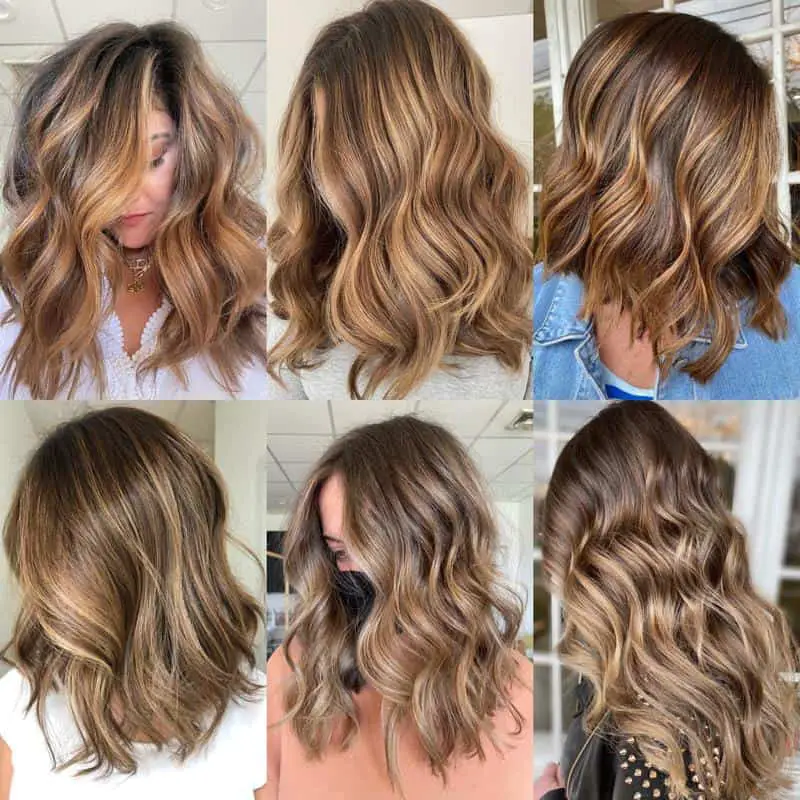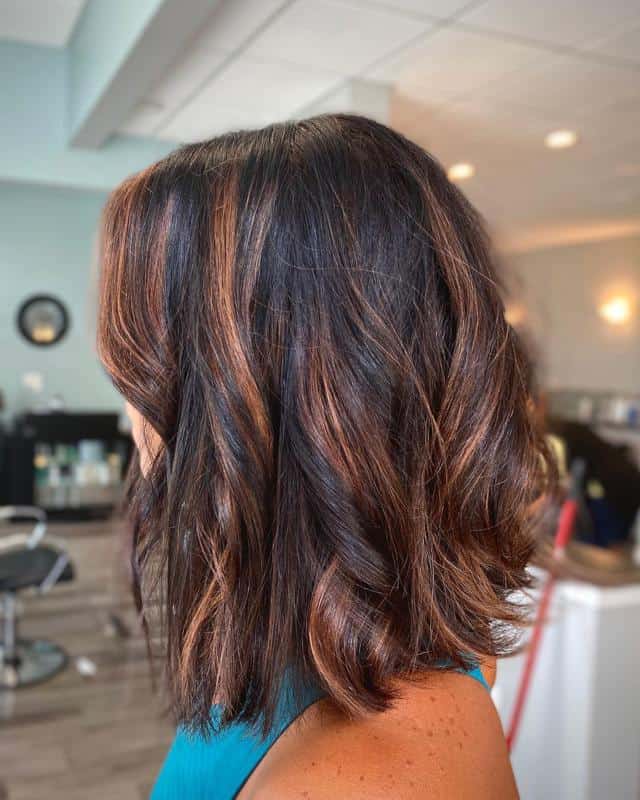 Bring some sunshine all through your hair and add some caramel highlights. During the colder days, you will look so joyful and warm.
The professionals are recommending those who want the caramel highlights go for the darker shades so that they won't fade into yellow. Moreover, you don't need unique products, as these darker highlights promise to be low-maintenance.
Tip: Bring your hair all together into a ponytail or a sweet bun to show off your new caramel highlights.
Curly Caramel Highlights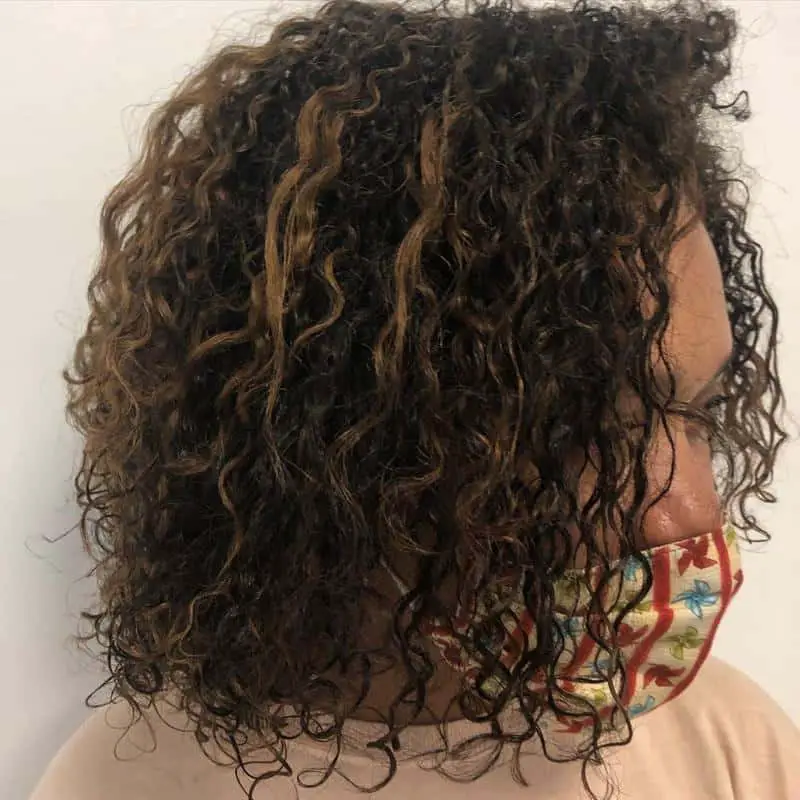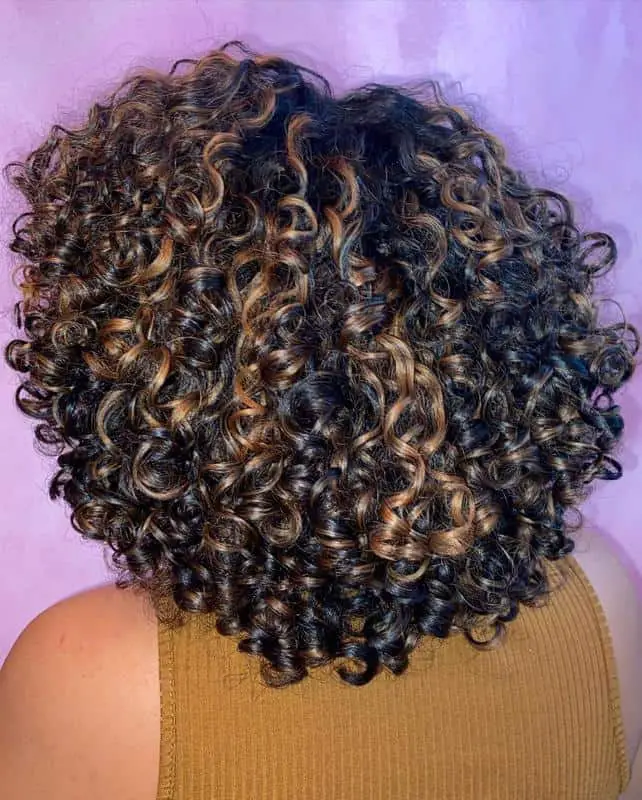 Let's have a moment and admire the volume of this hair. Wow! The caramel highlights look amazingly chic on curly hair. If you want to go extra and create more height, get a narrow curler and create some tight waves.
Tip: Keep the curler on each highlight for about 20 seconds, then enjoy the final look.
Dark Brown Hair with Caramel Highlights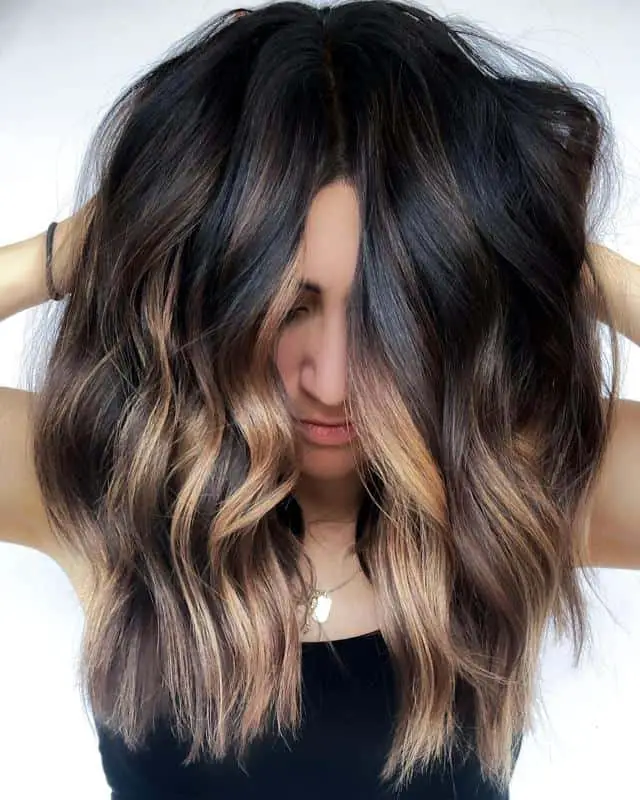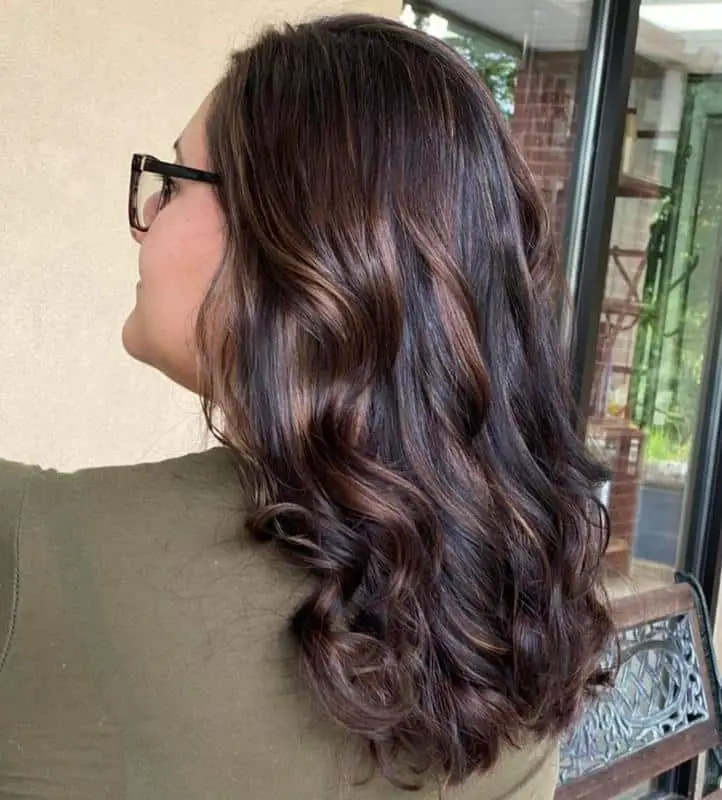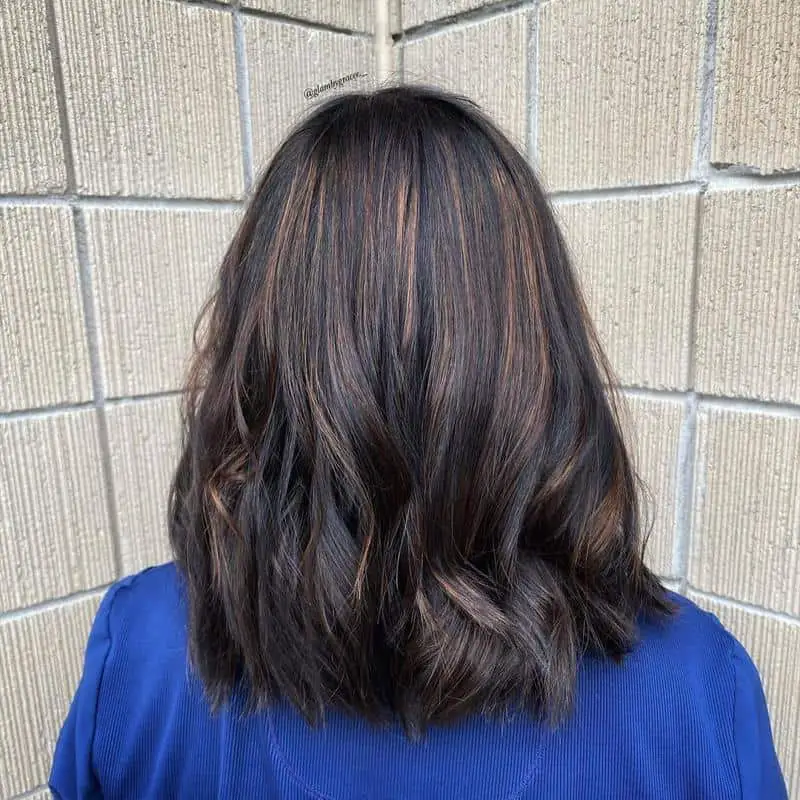 If you have simple dark brown hair, you should add some caramel highlights and break the dullness. The caramel color will look like an effortless addition; however, always chic and timeless.
Personal opinion: If you have natural hair color, go for the darker shades of caramel so that they won't fade too early. However, blonder highlights would look better on people with a warm skin tone.
Rose Gold and Caramel Balayage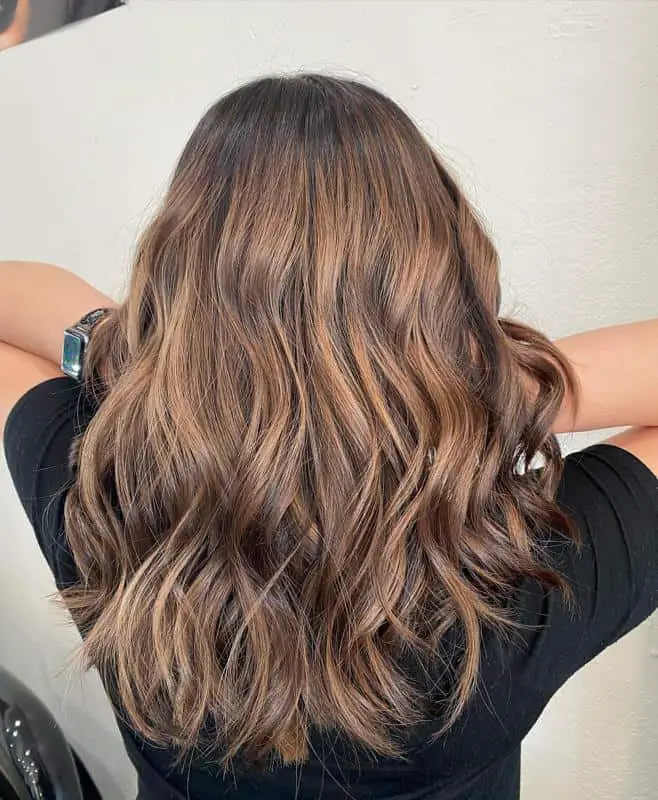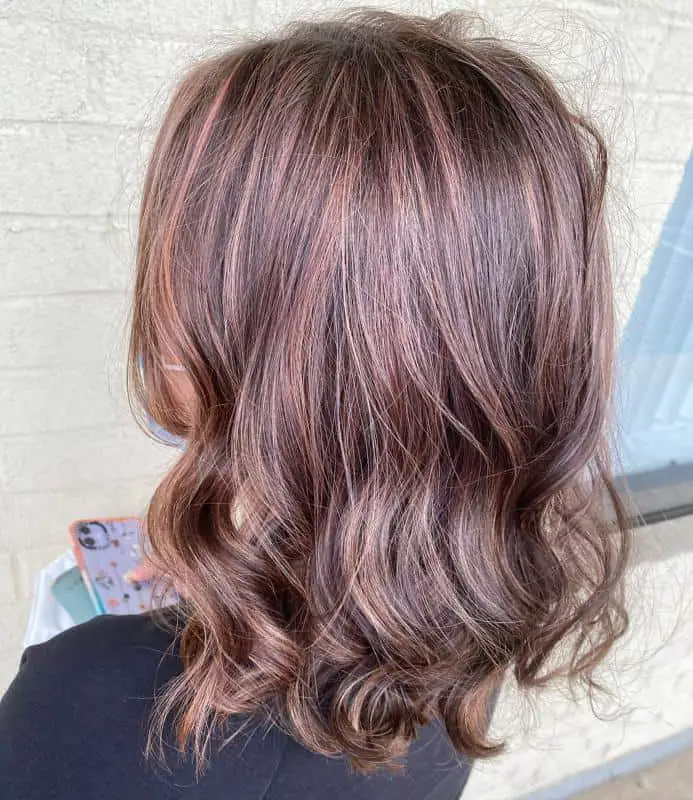 Do you want to go fancier? If you want a unique look, then opt for these rose gold caramel highlights. These go so well on darker hair, but also the light brown shades.
Go for unique colors, and choose the rose gold hue once you want to look particularly distinctive. The beautiful caramel balayage will catch all the light around you. Some beautiful waves would enhance your look.
Add some hair spray or sea salt spray for more texture and crunch. The result? A mermaid-worthy look that everyone will admire.
Tip: Once you do the curls, straight them at the ends so that the look will be smoother.

Also Read: 50+ Gorgeous Rose Gold Nail Design Ideas (2022 Updated)
Chop it Up With Highlights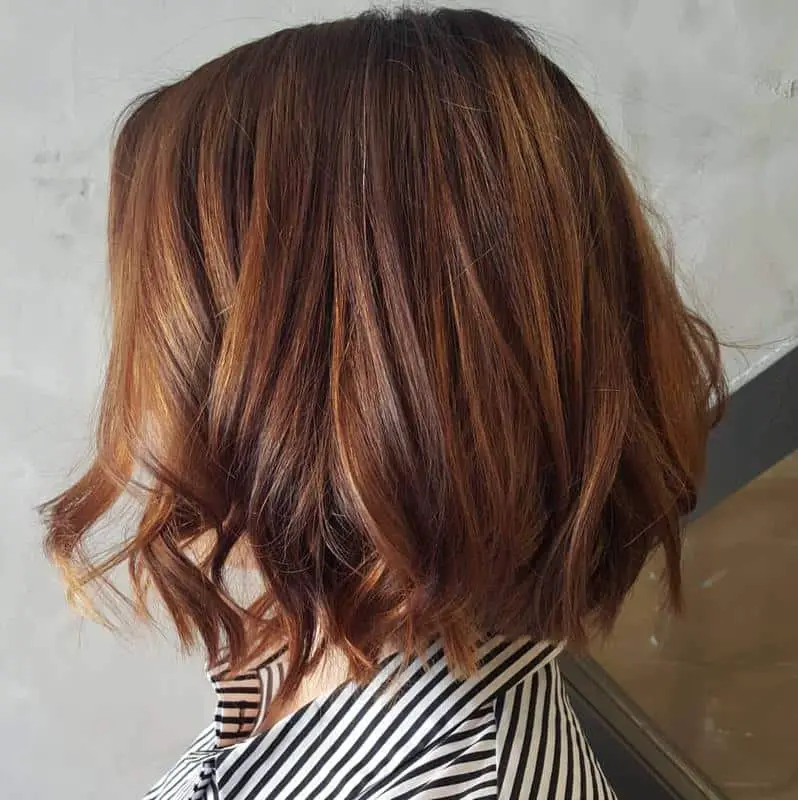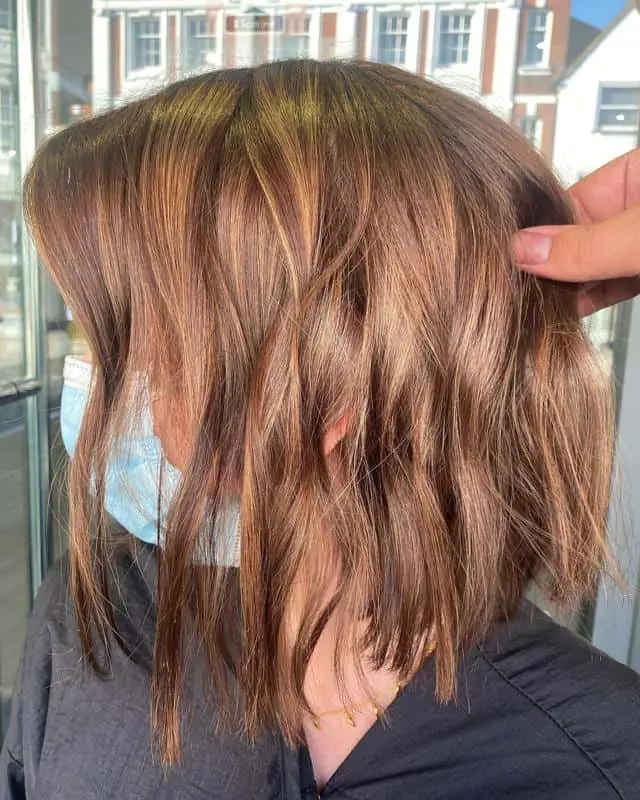 Avoid all those bland looks and choose a more chic haircut. Add some caramel highlights, then chop everything evenly. The hair should be very short, so only the ends are beautifully colored.
The best part? You will spend less-less money while keeping the look genuinely modern.
Tip: Go for the choppy cut if you want to have more fun and avoid all those traditional looks.
Caramel Highlights and Tousled Waves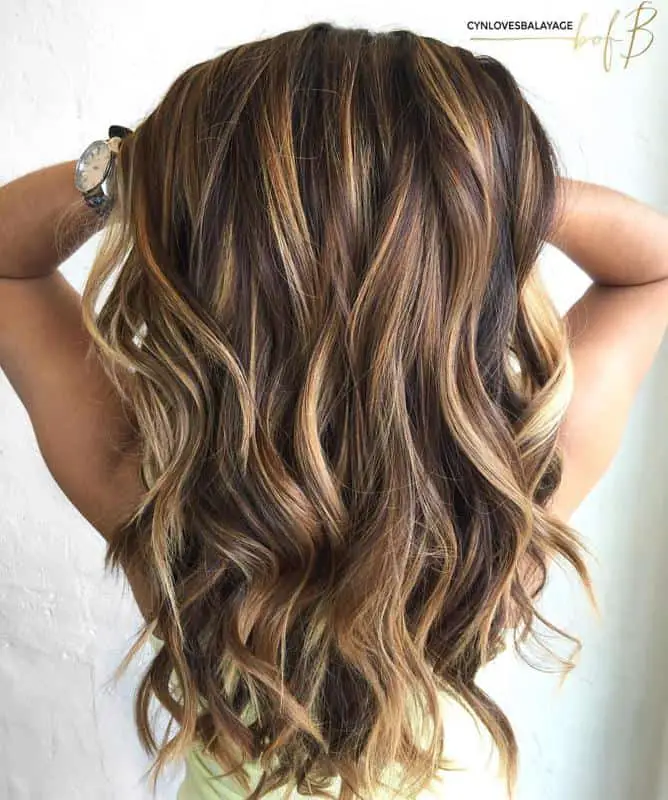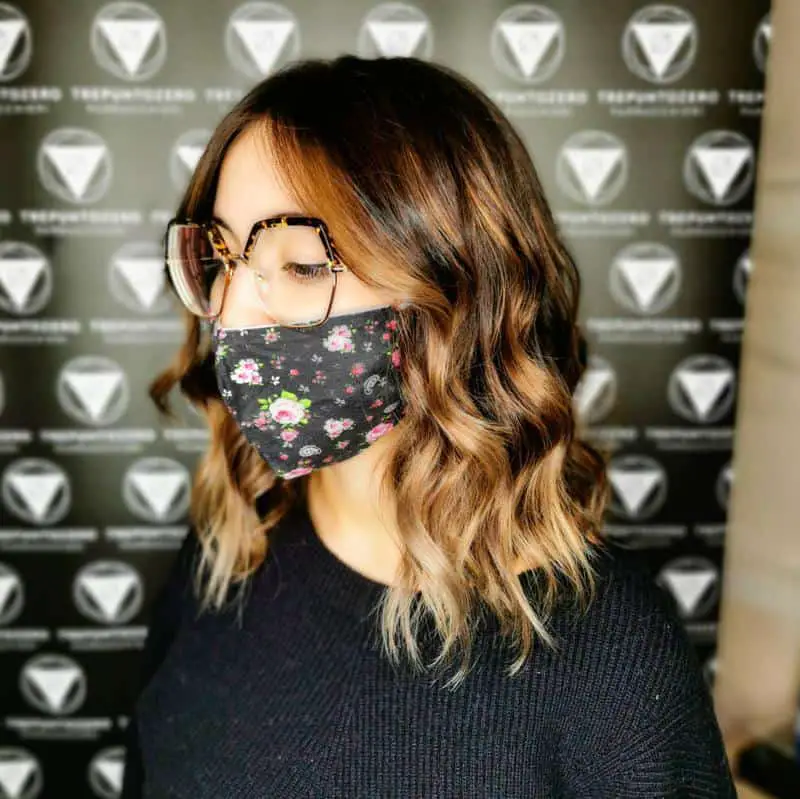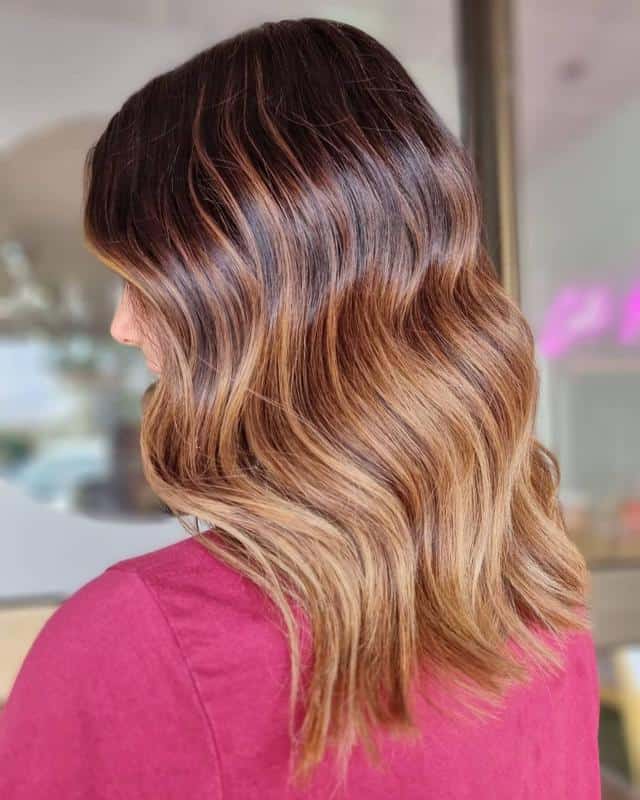 Undone waves are one of the most admirable ways to style your hair. Especially if you have caramel highlights, the combination will be unbeatable.
Tip: If you want to add a little bit of more dimension and contrast, have some darker caramel brown pieces.
Personal opinion: Play with lighter and darker shades, and enjoy the tremendous effect later. Don't forget about using a thicker curler for the tousled waves.
Medium Bob with Golden Curls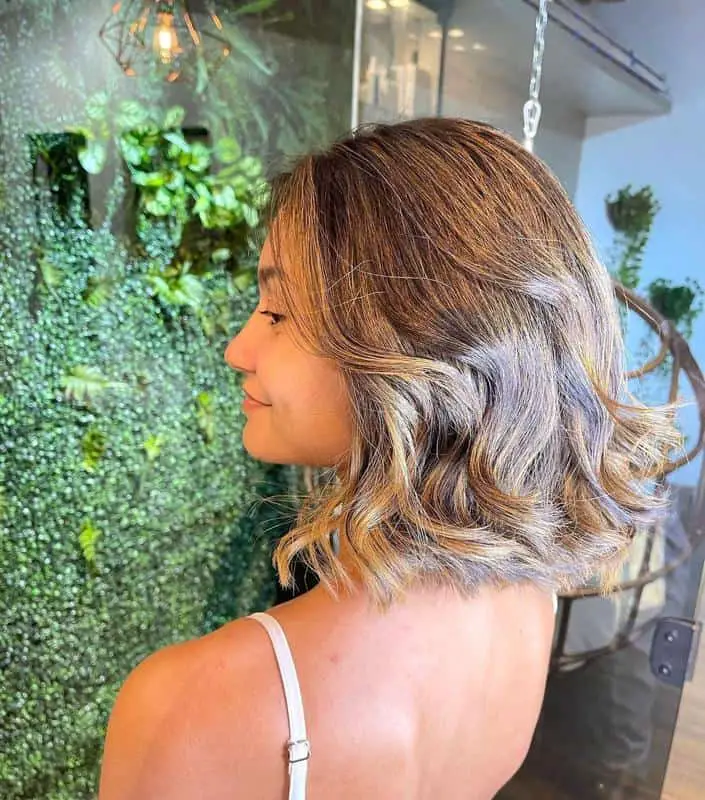 The bob haircut will always be a statement. Everything changes once adding some caramel highlights, and it is hard to believe not everyone will turn their sights on you.
You can play in lots of ways when it comes to medium bob. We have to mention the balayage technique, as this is one of the trendiest styles ever.
The sun-kissed highlights are bliss for a medium bob hair, especially those honey-brown subtle highlights. The final effect is natural and timeless. So, are you ready to unlock your inner beauty and show some glow?
Well, the medium bob with golden curls is always a good starting point.
Tip: If you have a natural base, ask for some golden brunette highlights as well.
Medium Chocolate Hair with Caramel Highlights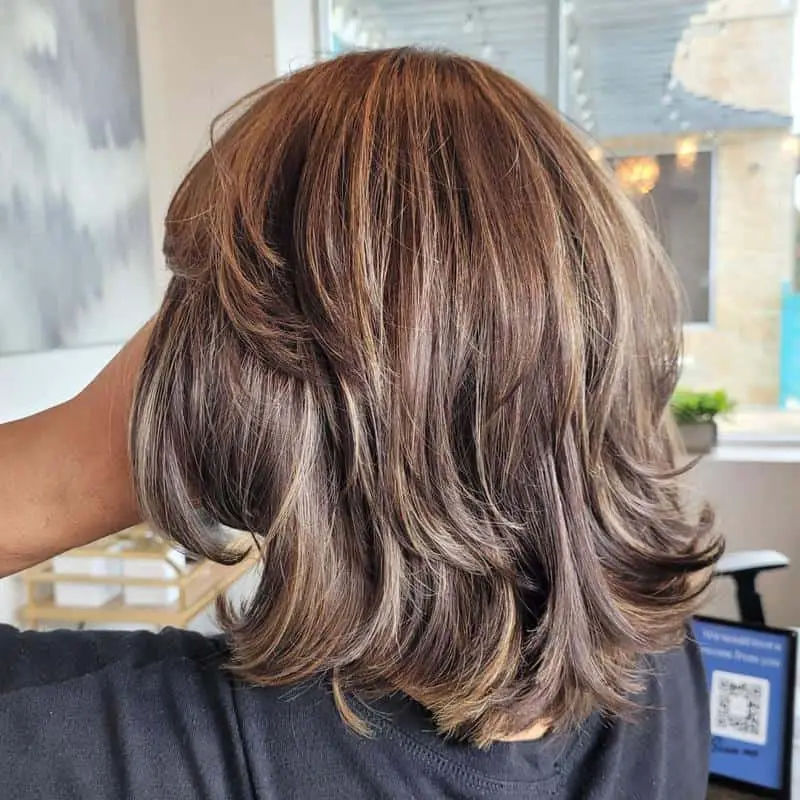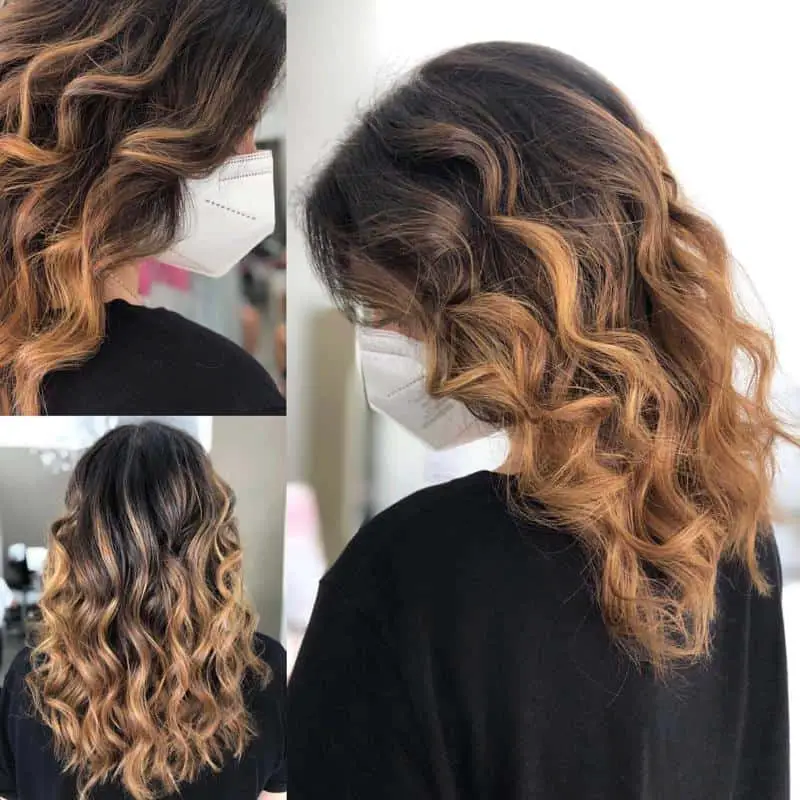 Another luscious medium-hair hairstyle is the dark caramel hair color, with balayage highlights. Enjoy this look even more by adding some big waves or knitting the hair altogether.
Personal opinion: The brightening effect will be visible, and you will be enjoying a fantastic look every single day.
Last Thoughts
Are you getting tired of your dull brown or dark hair? Put a little caramel in with strawberry or gold highlights, and enjoy your stunning look. If you want to be always on-trend, there is no little effort to make.
Moreover, the inspirations today are at one click. The images we chose can be a nice inspiration to start from, so be ready for your makeover.
Also Read: