Red Highlights on Brown Hair: 40+ Most Trendy Ideas to Try Out
When you shop through links on our site, we may earn an affiliate commission. This educational content is not intended to be a substitute for professional advice.
While having completely red hair can be a statement to your personality for itself, adding red highlights is a more elegant way to hint a fierce personality without having it be the main topic.
Actresses have been blowing up red carpet hairstyles with their red tones for decades now. Whether it was a ginger spiced Spice Girl, Gerri Halliwell, or Nicole Kidman with her iconic strawberry blond hair nuance, or Julian Moore's copper toned hair, red hairstyles were always considered as fierce and passionate.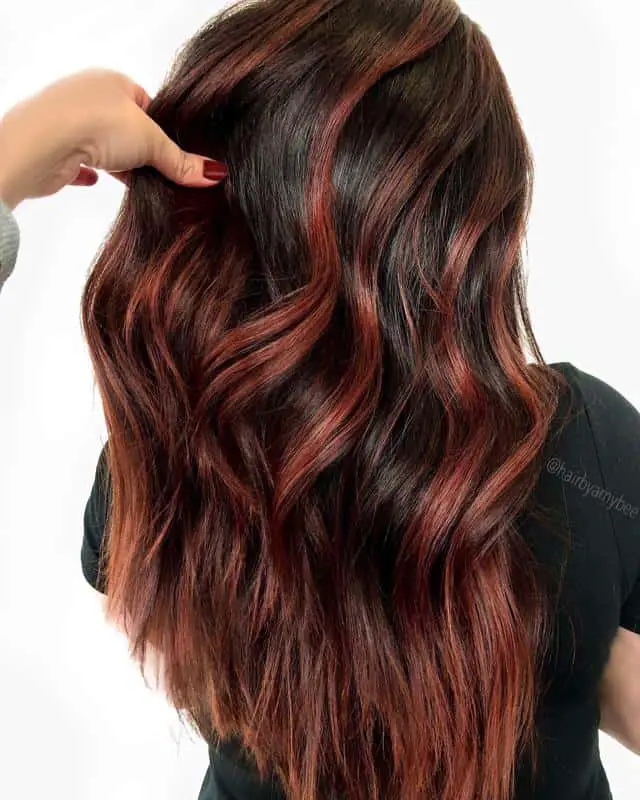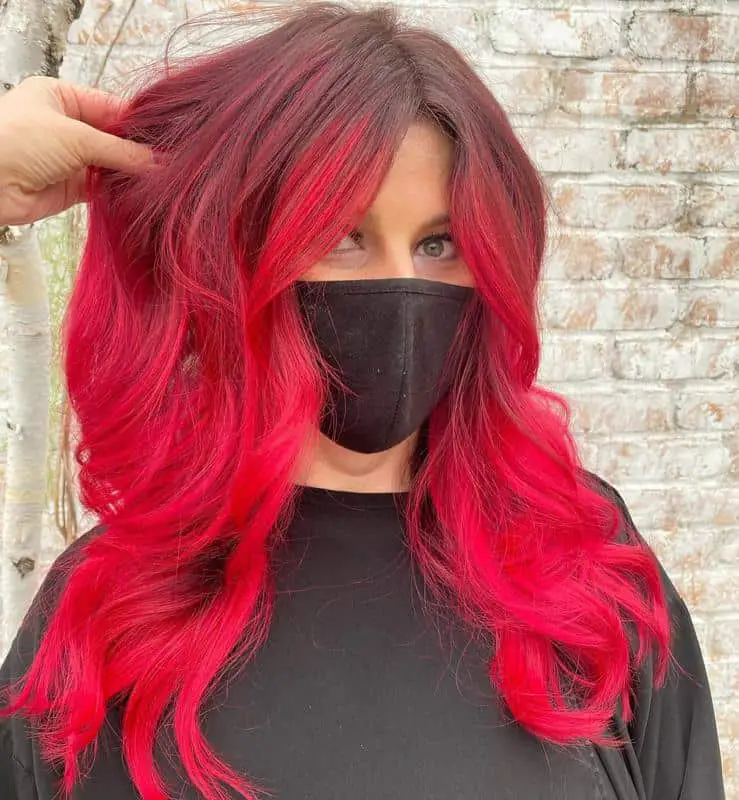 There is no better time to spice up your style than at the end of a hot sunny summer in August while we wait for colorful copper leaves to fall in Autumn.
Red Highlights on Brown Hair: 3 Things You Need to know
Red highlights will add power to your overall style, although it's important to know how to take care of them. Red color fades very easily, and is hard to take out if you wish to change it. Depending on whether your hair has been dyed, bleached or if you haven't colored it at all, it will take a professional hairdresser and probably multiple sessions to achieve the shade you wish to achieve. As for the hair care treatments at home, most professionals recommend to use sulfate-free shampoos that are color safe, and recommend a fresh coat at 4-6 weeks mark.
If you want lighter shade of red, you'll have to use more bleach. Whereas if you go for deep and dark red shades, you have to take good care of it or it will turn brassy overtime. It is not recommended to try to do it yourself if you're not familiar with the condition of your hair and are not an expert on tones and undertones of different colors. It would be best to leave it to professionals!
Can I Use Henna to Dye My Hair?
The color you get when dyeing your hair with henna will depend on your base color. It can vary from a very vibrant orange red, to darker red like burgundy. Although it's natural and good, it's a very potent and permanent hair dye, which can be a problem if you want to bleach your hair after it.
Some brands add metallic particles to their dye which can cause your hair to smoke if you try to use a chemical dye over it, so it's best to be careful and let your hairdresser know if you ever used henna on your hair. The color will be most vibrant for the first 4 to 6 weeks, and after that it will fade over time. You can also find indigo henna which is normal henna mixed with some pigments to obtain a darker dye.
How Do I Choose a Shade That Suits Me Best?
Like any other color, red has multiple shades and undertones. If you have a neutral skin undertone, every shade of red will suit you well.
However, if you have a cold skin undertone, colder shades of red are a better option, as warm tones will look best on warm skin undertones.
If you don't know whether you have a cooler or warmer undertone, try putting on some gold and silver jewelry, if gold complements you more than silver, you have a warm undertone, and if silver looks better on your skin than the gold, you have a cold undertone.
History of Red Hairstyles
Only 2% people in the world have natural red hair. Since it's so rare, it's considered different and eye-catching. Throughout history, it has been associated with vampires, witches and magic.
Depending on the part of the world, it was more or less common. In Ancient Egypt and Greece, it was considered very popular which is why they used henna to dye their hair red. Red has always been a statement of a hot temper and fire personality.
Red Highlights on Brown Hair: 30 Most Trendy Ideas to Try Out
1. Ruby Red Highlights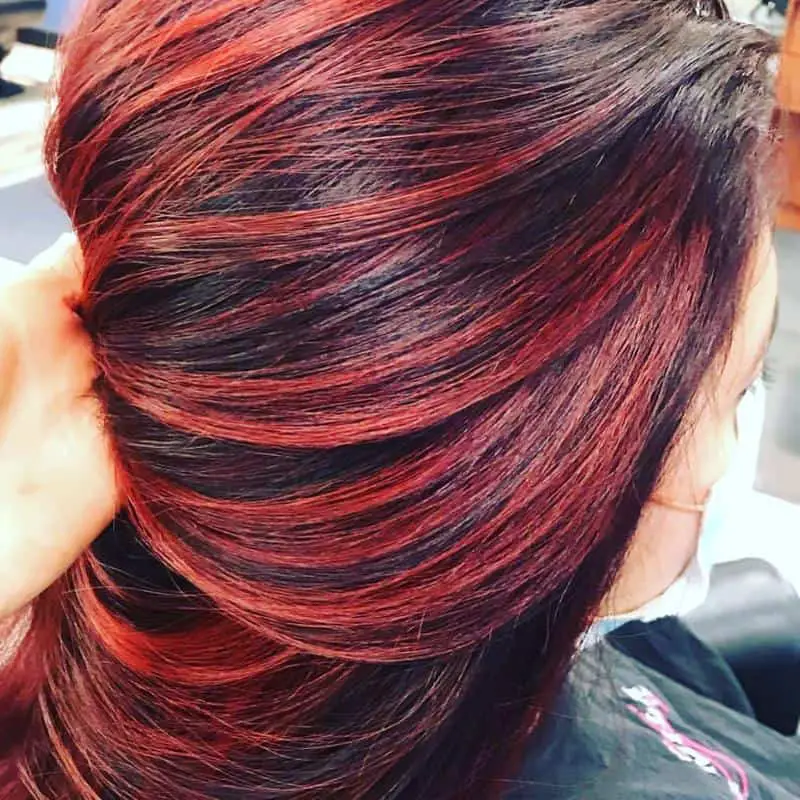 Like the ruby gemstone, this hairstyle is vibrant and cheerful. This shade of red is usually used to spice up dark brown hair. It's a perfect way to keep a tone of warm August sunsets a little bit longer with us, while still having hints of brown color for fall weather. Depending on your tone of brown base, you can get a more or less bright shade of ruby red. Curly or straight, this style will bring out fierce parts of your personality. Ruby red highlights are also good for face framing.
2. Copper Highlights on Brown Hair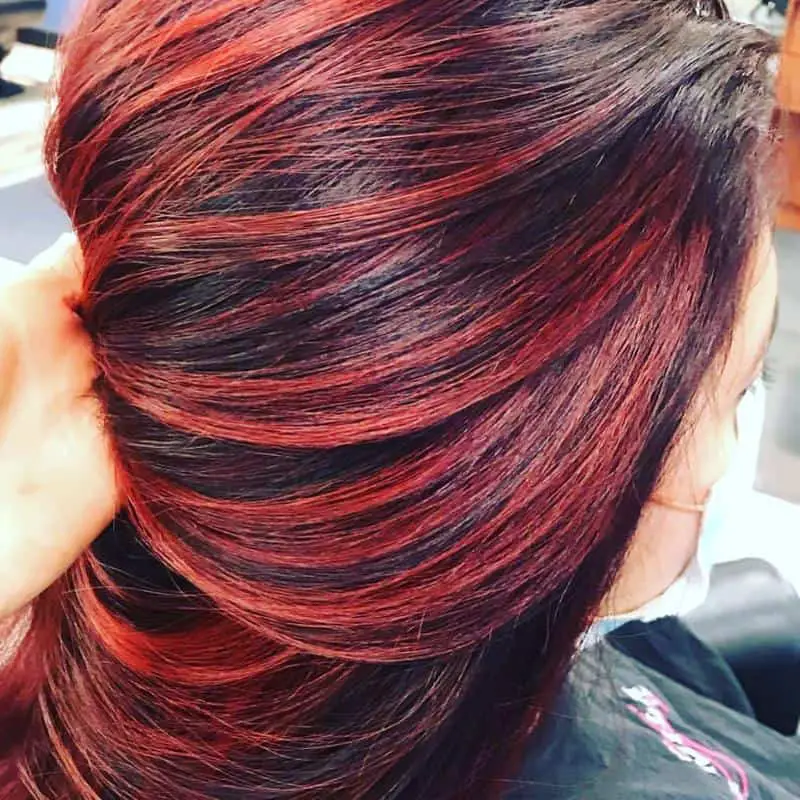 Copper is known as a natural looking shade of red. These beautiful warm tones are perfect for the end of summer and the beginning of fall. These 2 warm colors united give a more cohesive look with a hint of gold. It's subtle yet sizzling at the same time. Beach waves with side bangs would give it a great twist.
3. Rich Aamber-Red Highlights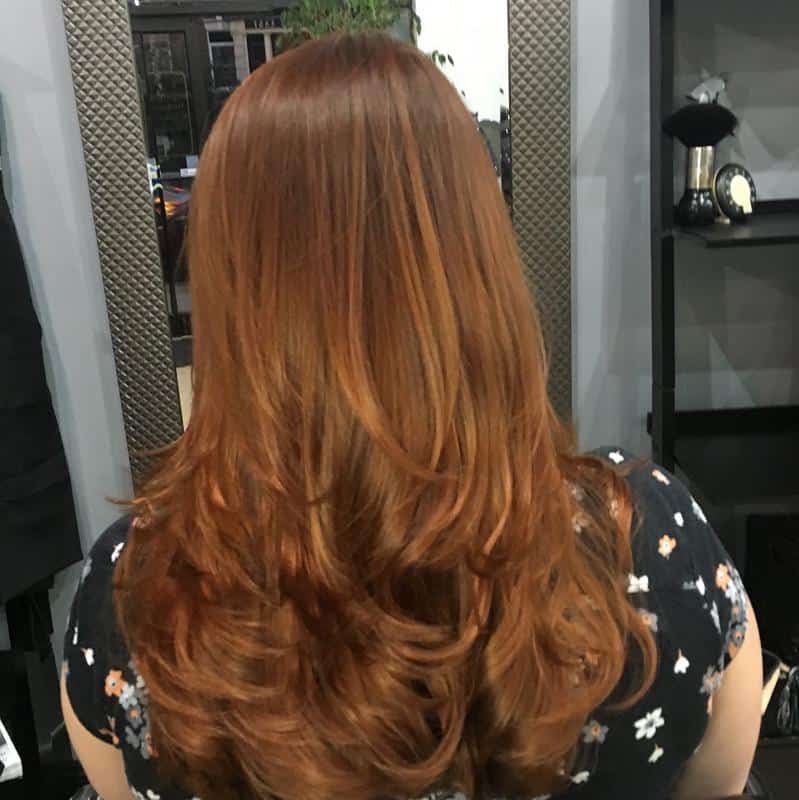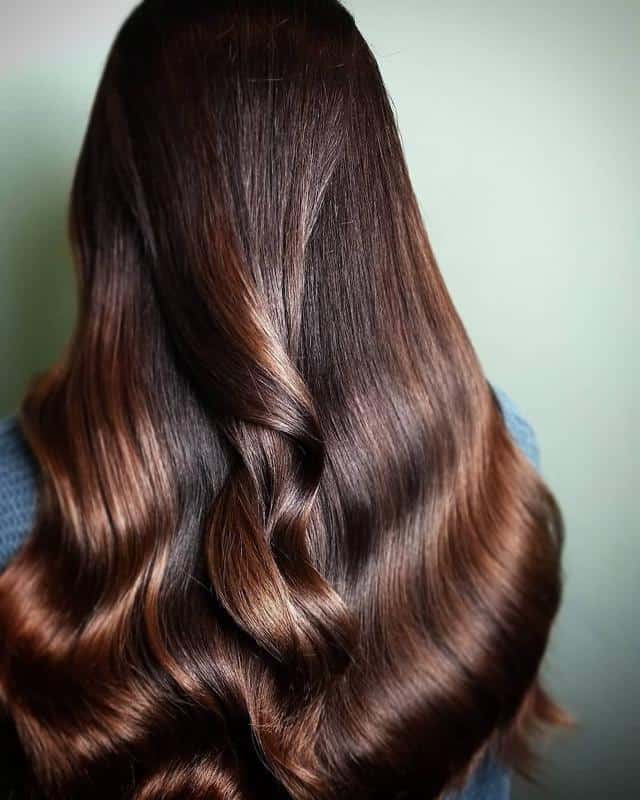 Although amber is a warm color, in this combination it gives a sense of calmness and coziness. Perfect look to wear during the sweater weather. It looks very luxurious and if you curl it up and combine it with some dark shirt and jeans, it will spice up your entire style.
4. Cherry Red Highlights on Chocolate Brown Hair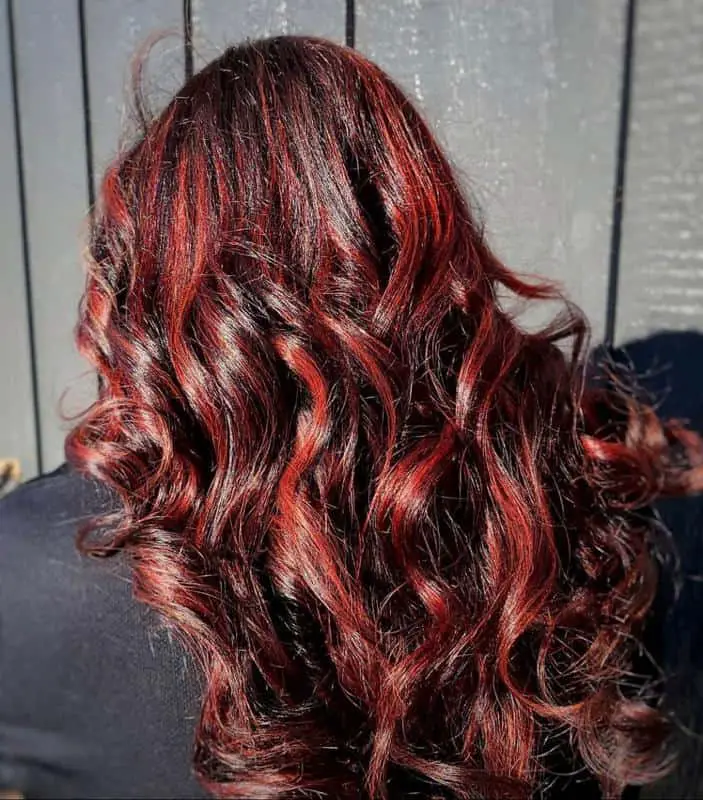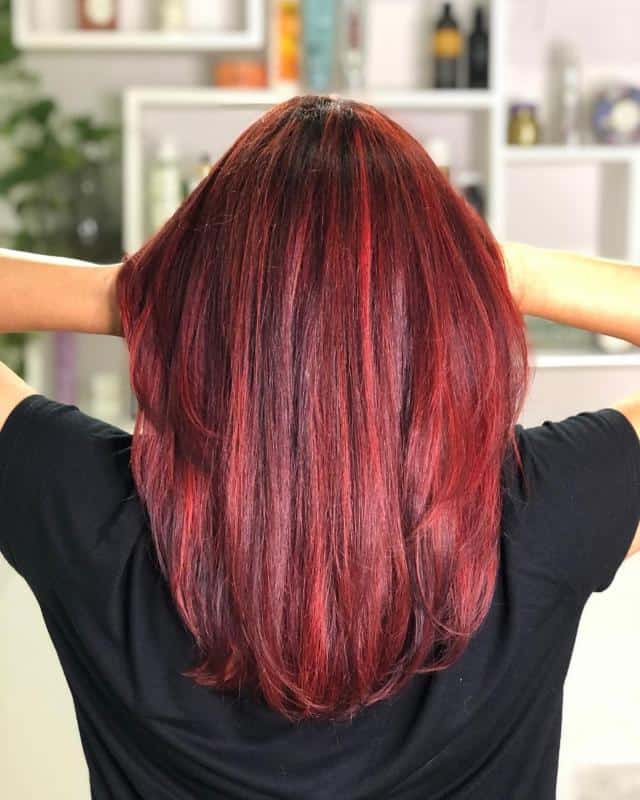 Adding cherry red highlights on chocolate brown hair gives a glimpse of a fierce vibe but it's not too much to handle. It's more of a contrast hairstyle, both colors are very rich and bright. It can lighten up your face and under natural light, red will pop out like a cherry on top of a cake. This combination can be very transformative for your look.
5. Deep Burgundy Highlights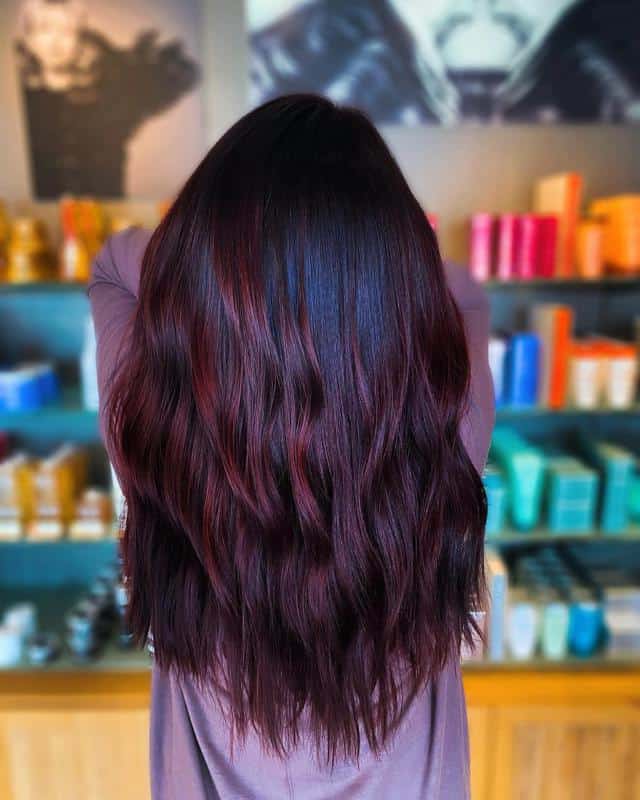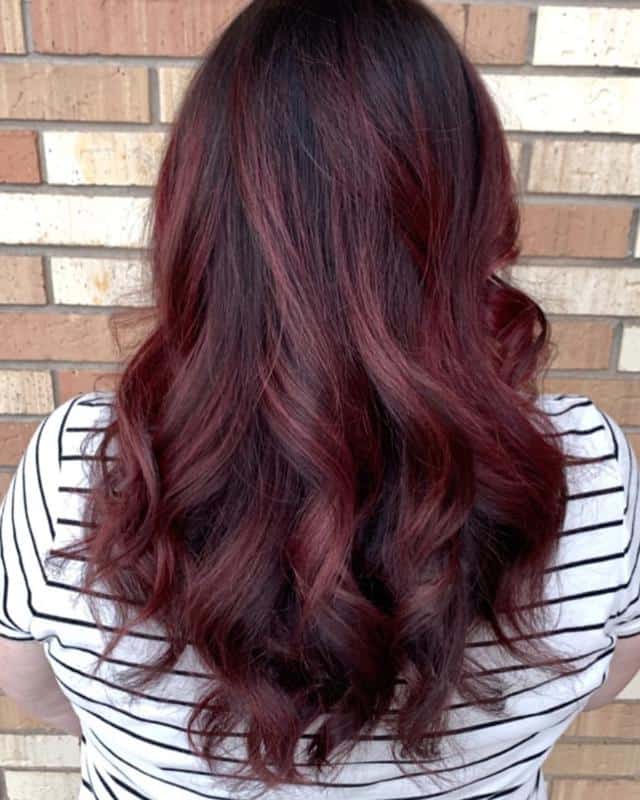 Burgundy combined with brown hair will give sophistication to your style. It's a complex and powerful combination. In this hairstyle, burgundy will outshine the brown. Darker brown base will go better with this nuance of highlights. Your stylist will probably need to use a combination of premixed color and bleach. To avoid fading and getting a brassy shade with time, use color-safe (preferably sulfate-free) shampoo and a revisit your hairdresser every 6 weeks. You can check out recommended products at the end of this article.
6. Strawberry Peach Highlights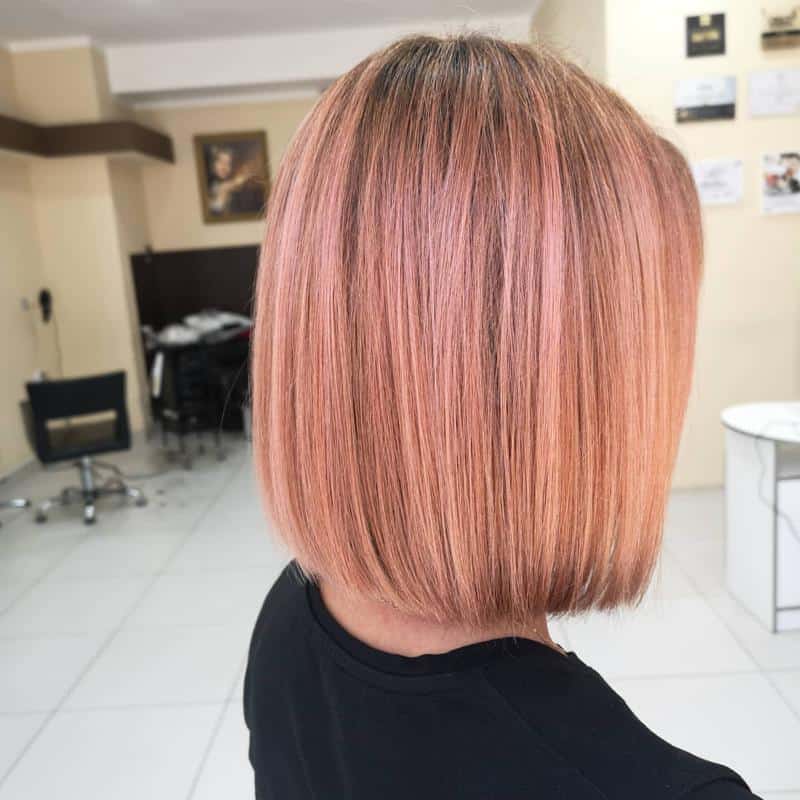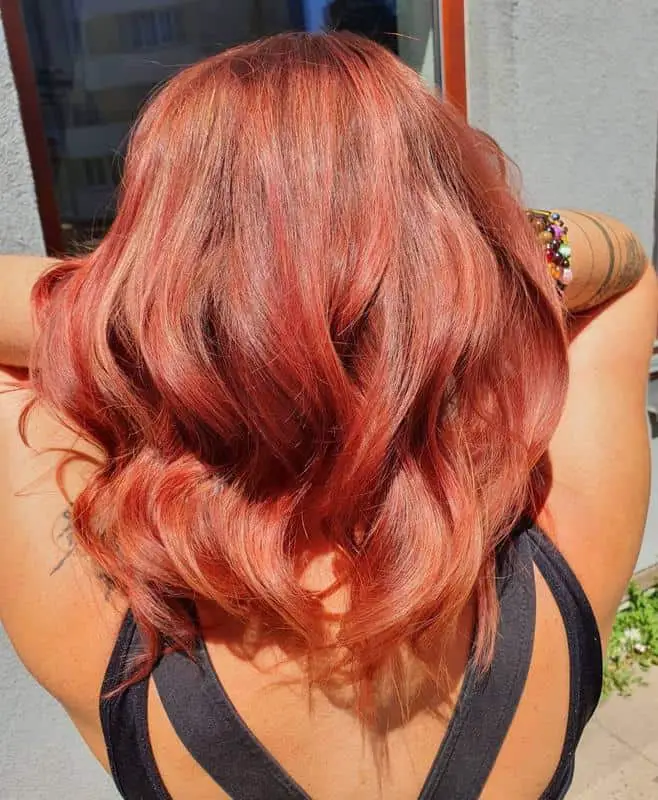 It's a very unique fruity hairstyle that is getting more and more popular. Strawberry peach highlights will give you a more pastel look. This style will look a lot more cohesive with a lighter brown base. Although if you do choose to add these highlights to a darker brown base, a more romantic shade of red will be brought up to the surface.
7. Mahogany Highlights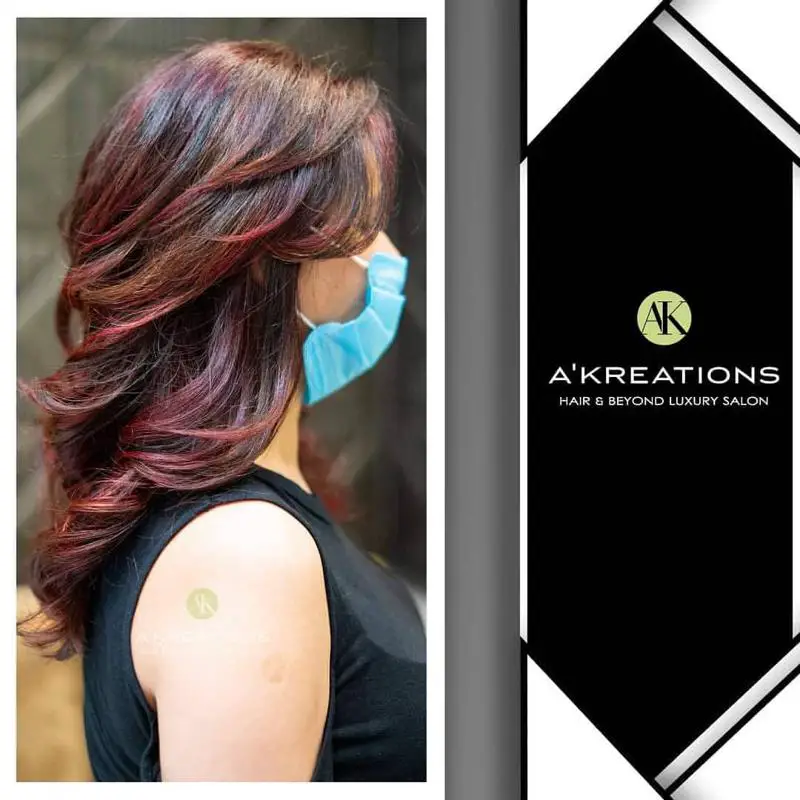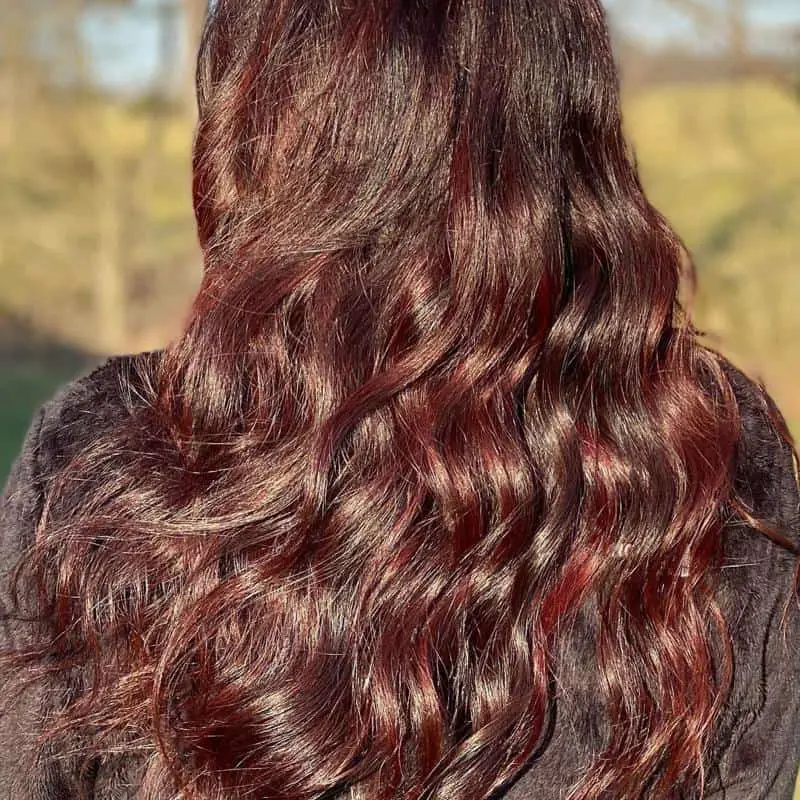 Mahogany is the most commonly used shade of red. It's a mix of brown and red hues. Its natural warm tones blend in perfectly with a deeper brown color. This combination looks like dark chocolate mixed with red wine. It's a very rich blend to go for. Streams of sunlight will bring out warm tones of this hairstyle.
8. Cinnamon Toned Highlights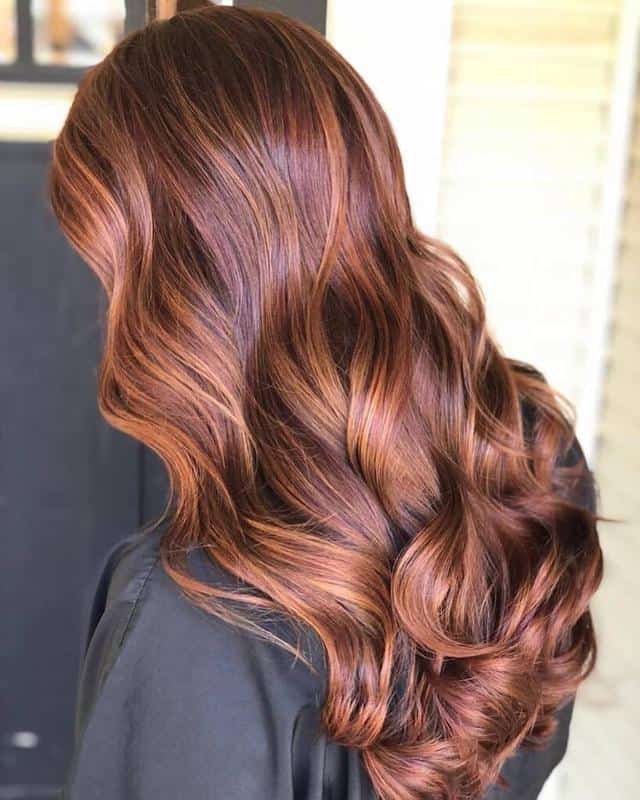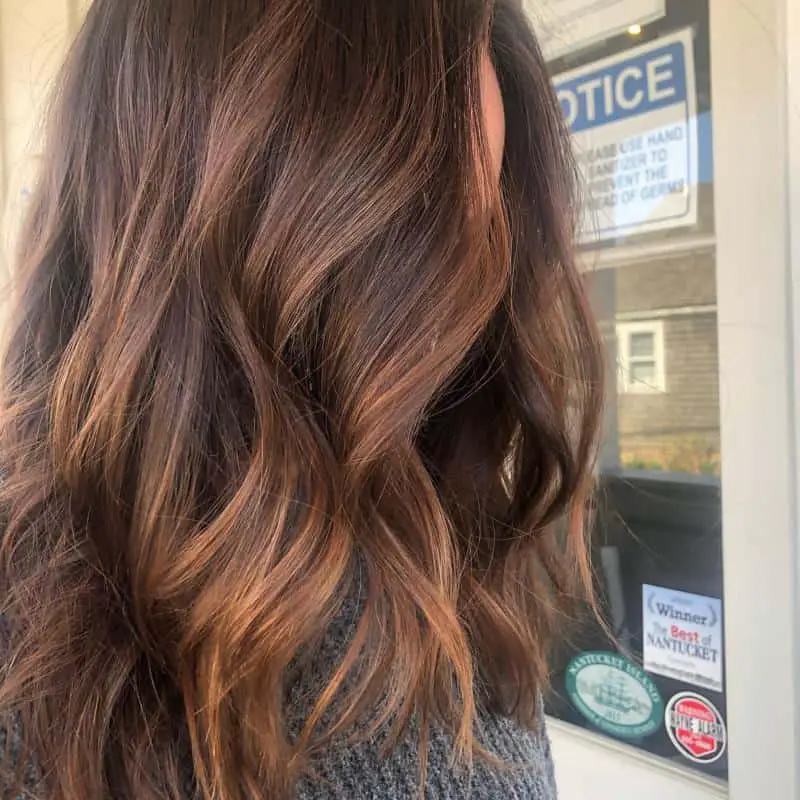 Besides cold weather and warm sweaters, another thing that reminds of fall are cinnamon flavored sweets. Adding cinnamon highlights to natural brown base will add just enough spice to your hairstyle. Its red tone will shimmer under the sunlight. It's a very glamorous and trendy hairstyle.
9. Magenta Highlights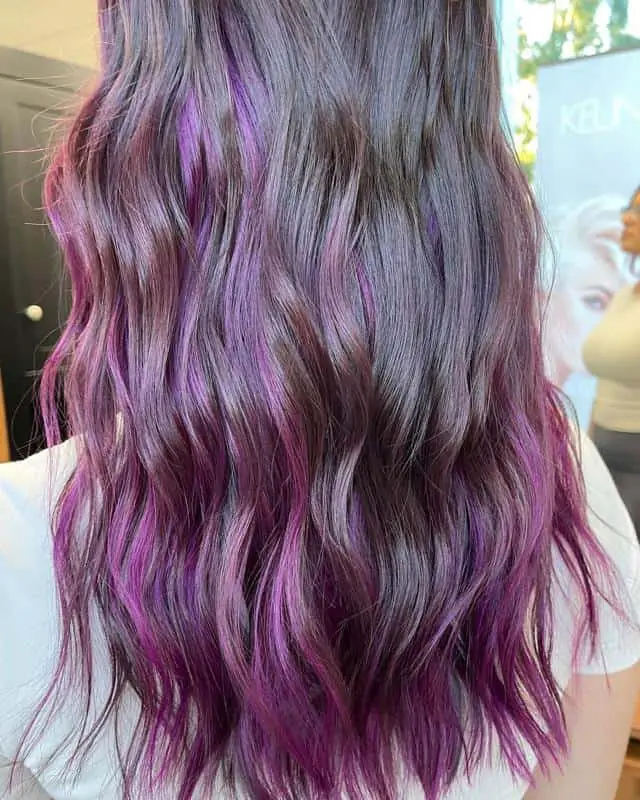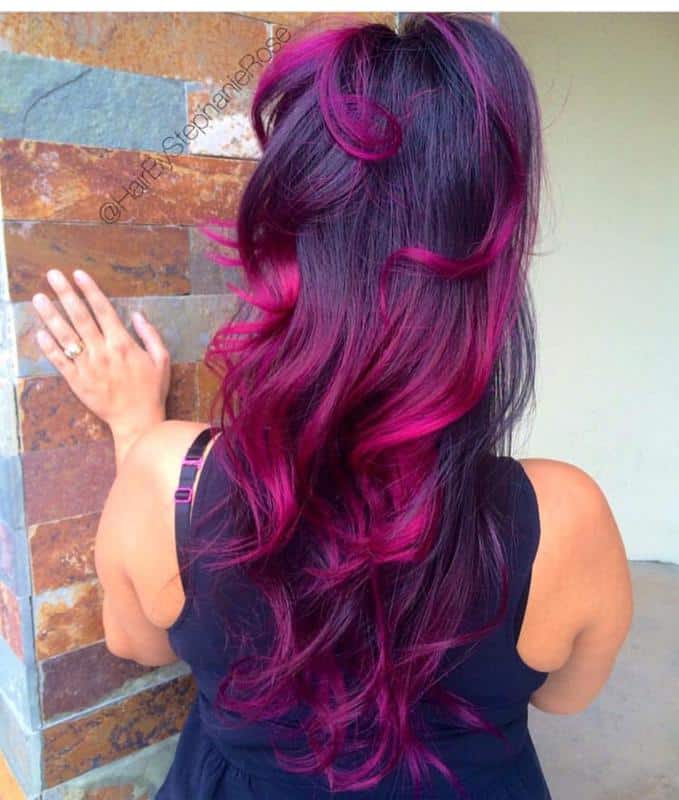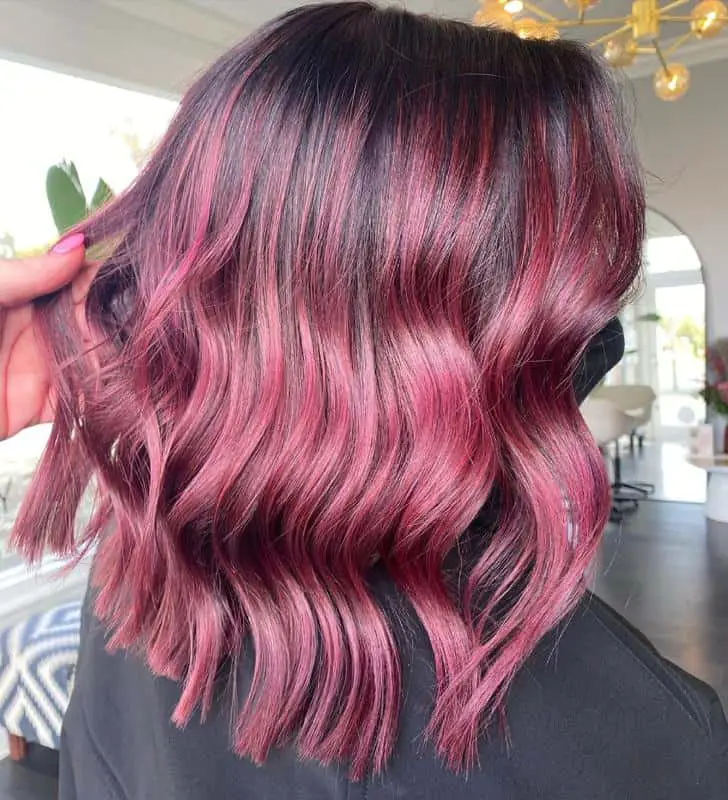 There is something about a purple tone in this hairstyle that gives out a more luxurious charm. This cold toned red with purple undertones is perfect as a projection of a daydreamer personality. Balayage is also a good option if you want to opt for a more potent result, and if you stick with just highlights, you'll get a magic pop of color.
10. Merlot Highlights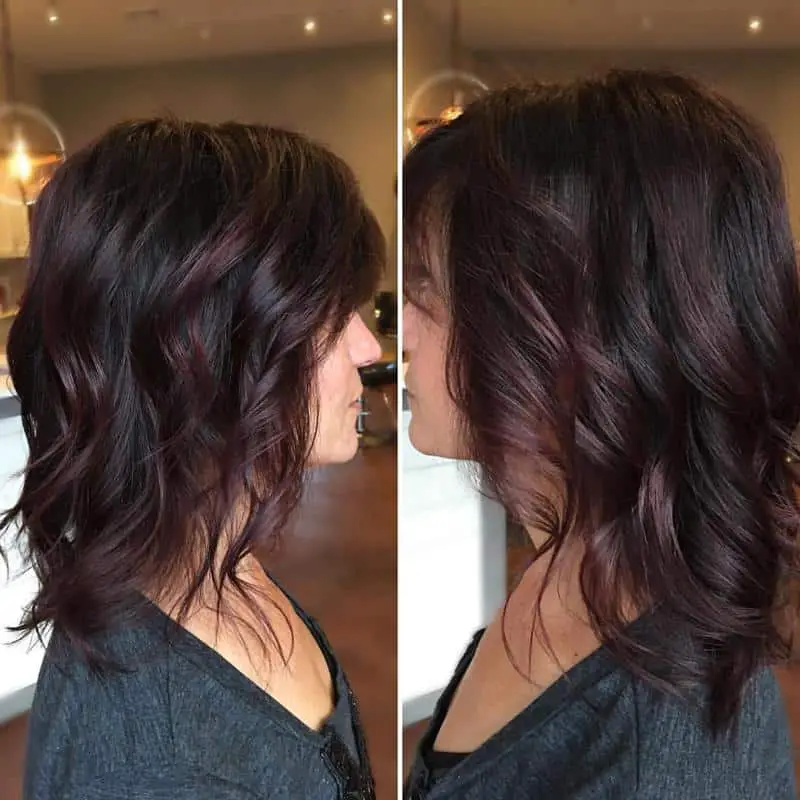 Merlot is a very dark hue of red, and when combined with dark brown base, it ends up looking like a very dark brown hairstyle with very small hints of red hue. This is a very warm hairstyle and it gives out a passionate and luxurious vibe as the wine itself.
11. Crimson or Vermilion highlights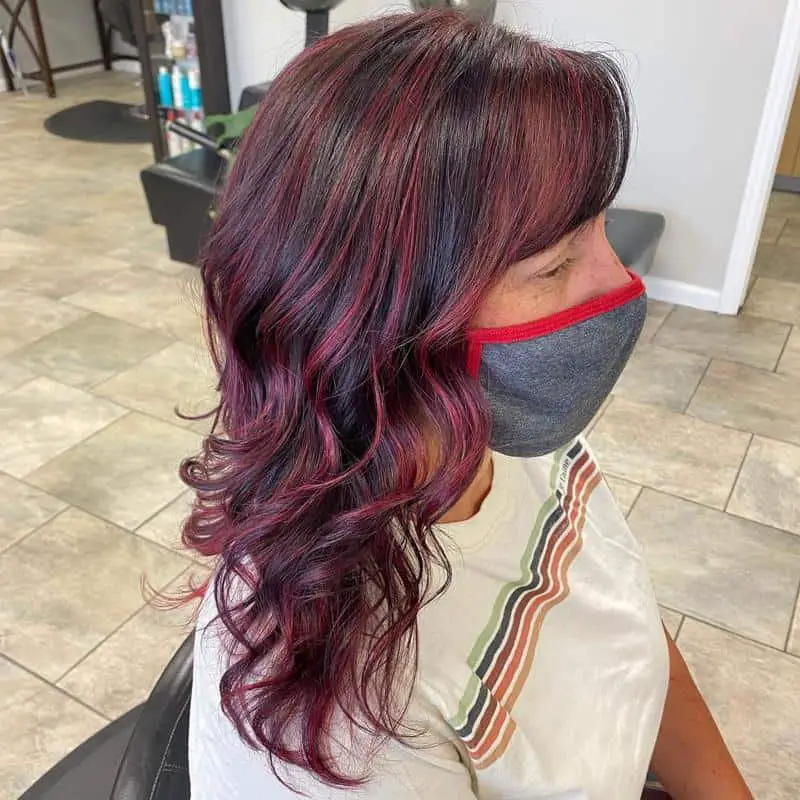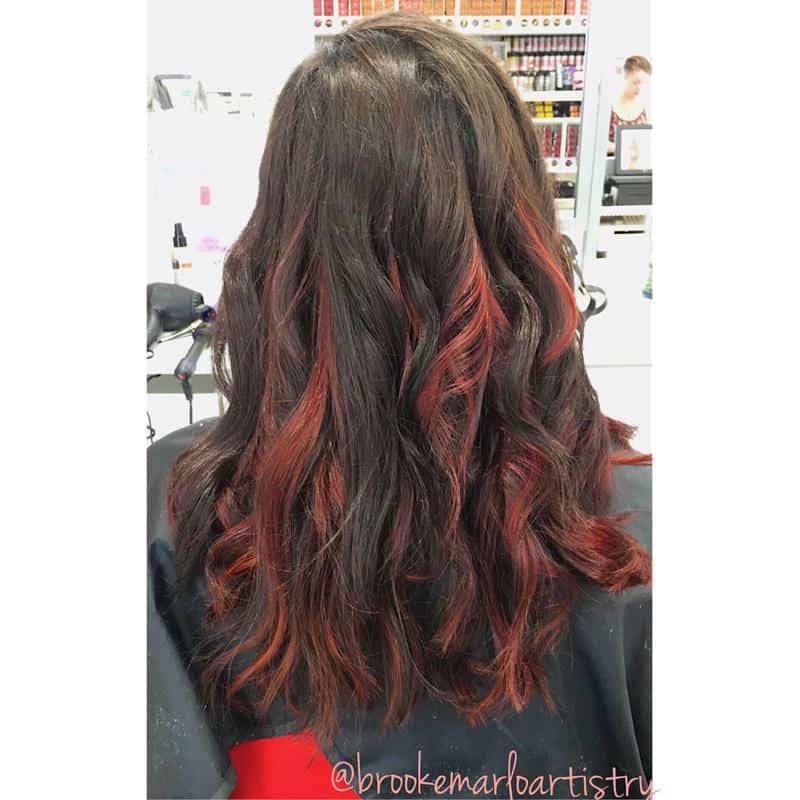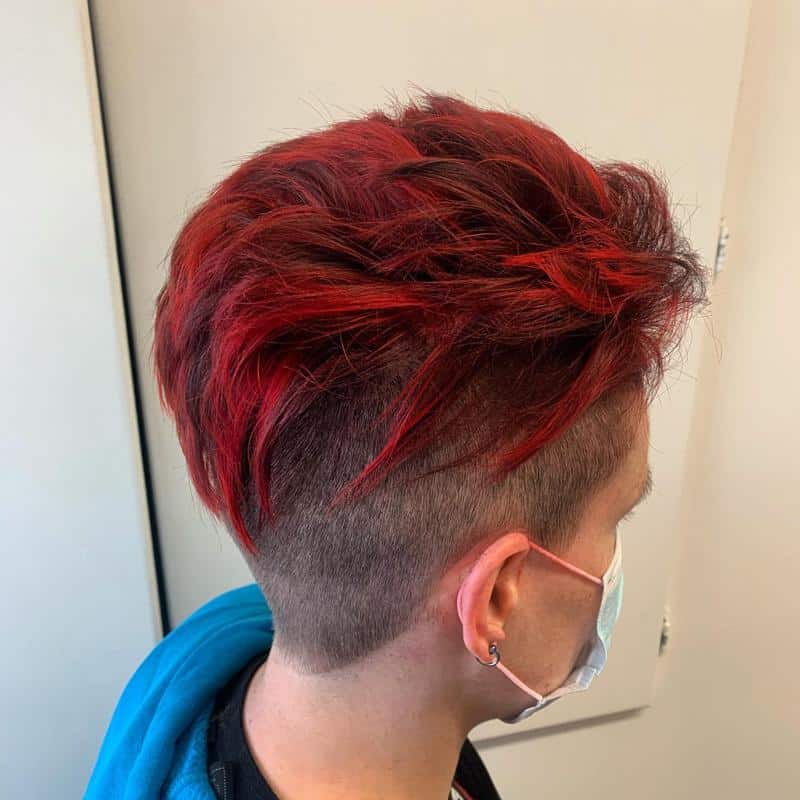 This style will suit warm and neutral skin undertones. It's a very popular color for fall season. It's a rich and deep red hue inclining to purple. Loose curls will complement the color and make it pop out even more.
12. Maroon Highlights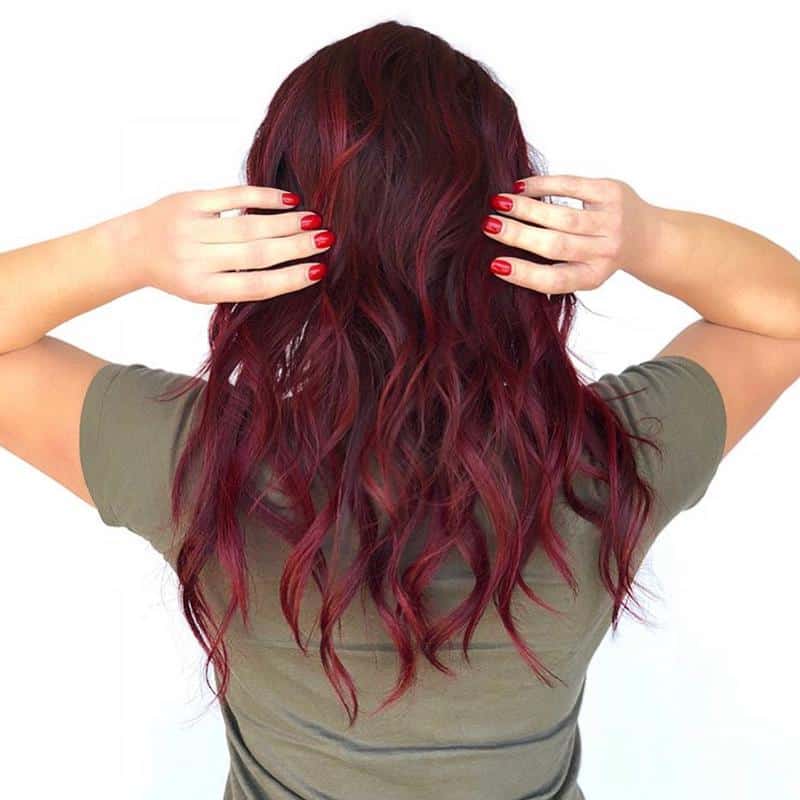 Maroon is a brownish shade of crimson red. It comes from the French word "Marron" which means chestnut. Not so accidentally, it goes best with chestnut brown base. It's a very cohesive and, some would consider, a safe hairstyle to go for.
13. Red Velvet Highlights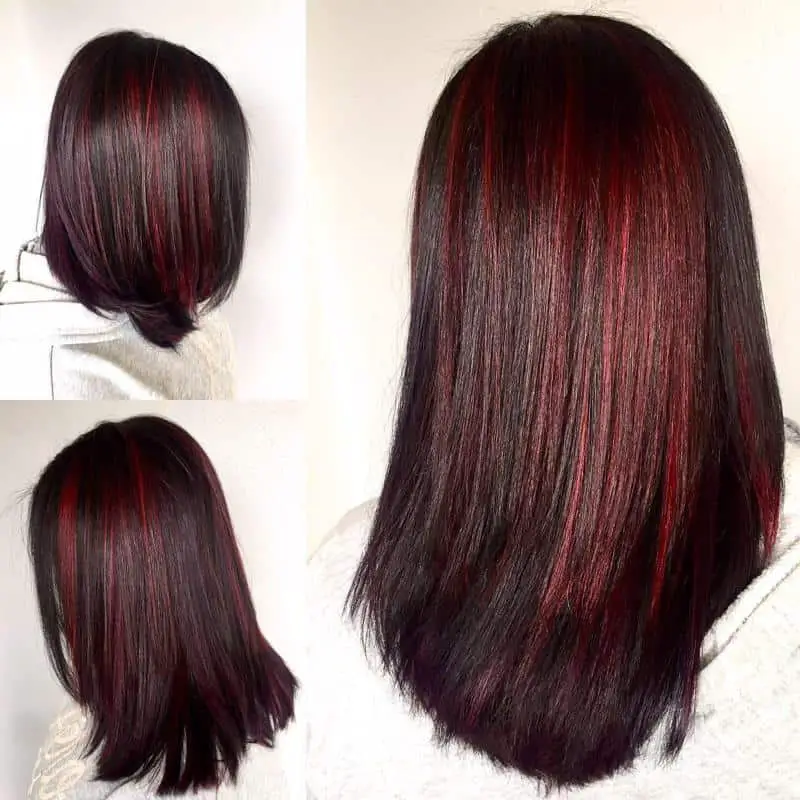 Unlike bright delicious red velvet cake, this hairstyle emerges from the darkness. It is a very popular shade of darker red that goes perfectly with dark brown base.
14. Auburn Highlights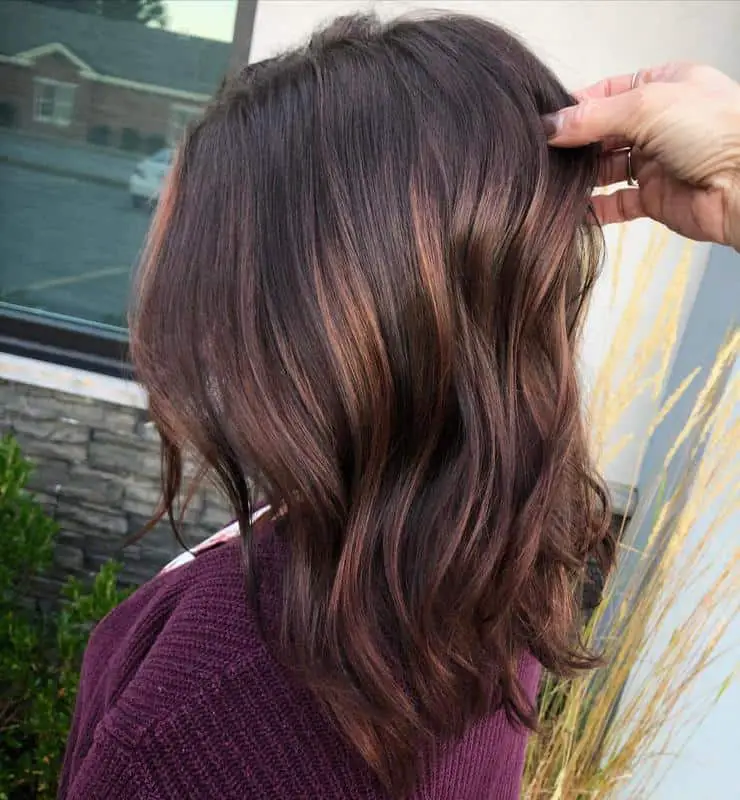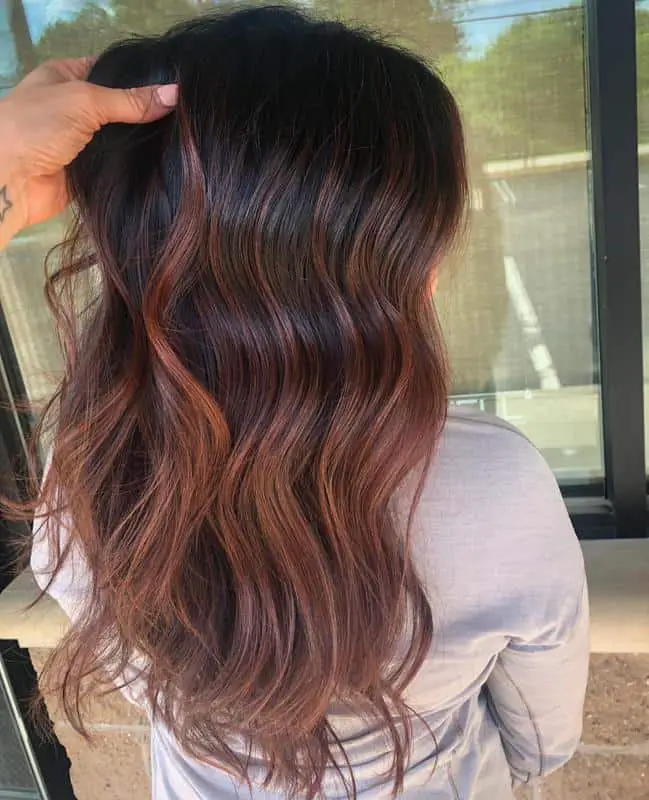 Auburn is a very attractive brownish color with red hues. It's associated with activity and energy so it's a perfect hairstyle to lift yourself up for an upcoming fall season. It gives out a very cozy and warm feeling.
15. Rosewood Balayage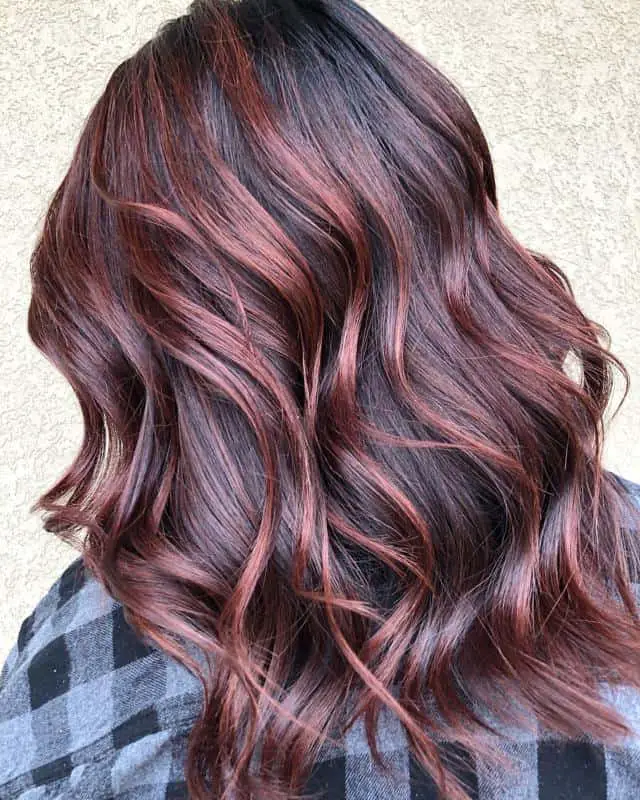 This dark pink-red hairstyle has become more and more popular over the years. It's a very natural look and a bit more vibrant version of auburn red highlights. These highlights are very subtle but will make a drastic transformation for your style.
16. Raspberry Red Tips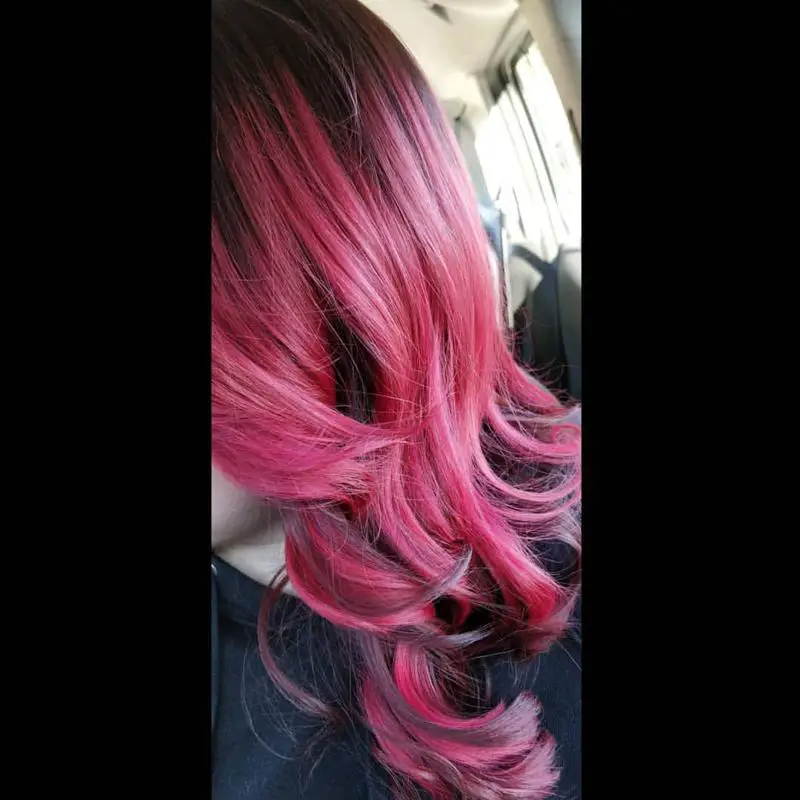 Raspberry red is the trendiest shade at the moment. It's associated with vitality but is a very calming color. Even if you highlight just 1 or 2 strands of hair or choose a balayage, you will get a very modern and vibrant look.
17. Neon Red Balayage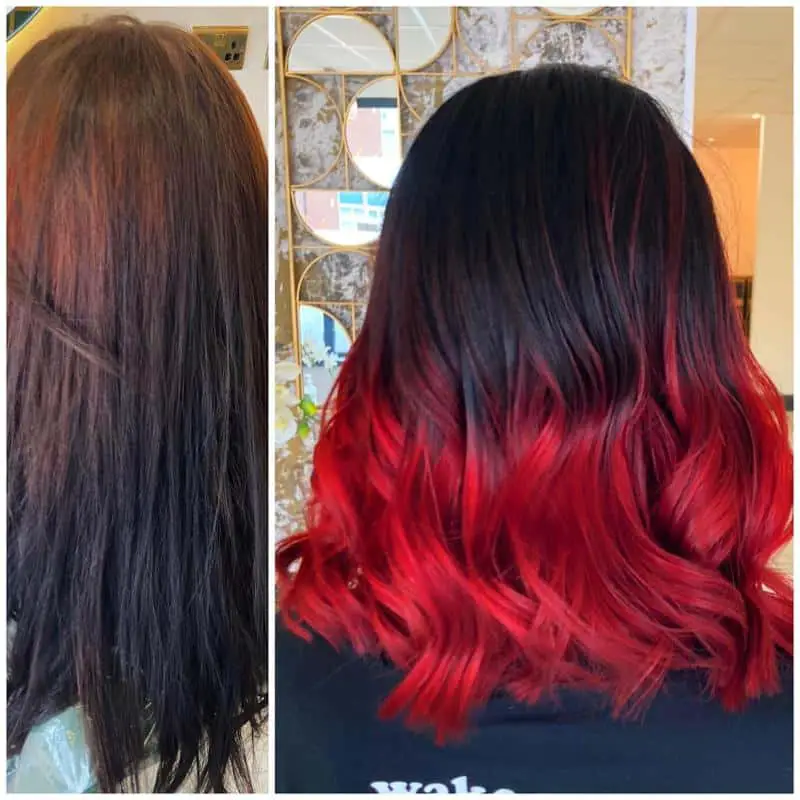 A very vibrant and potent hairstyle to choose. The most popular balayage technique for this color is to start with a dark brown or almost black roots and increase the red gradient ending in pink tips. This way it's more of a crossover between multiple shades of different colors, rather than one big vibrant shade of red.
18. Peach Pink Hairstyle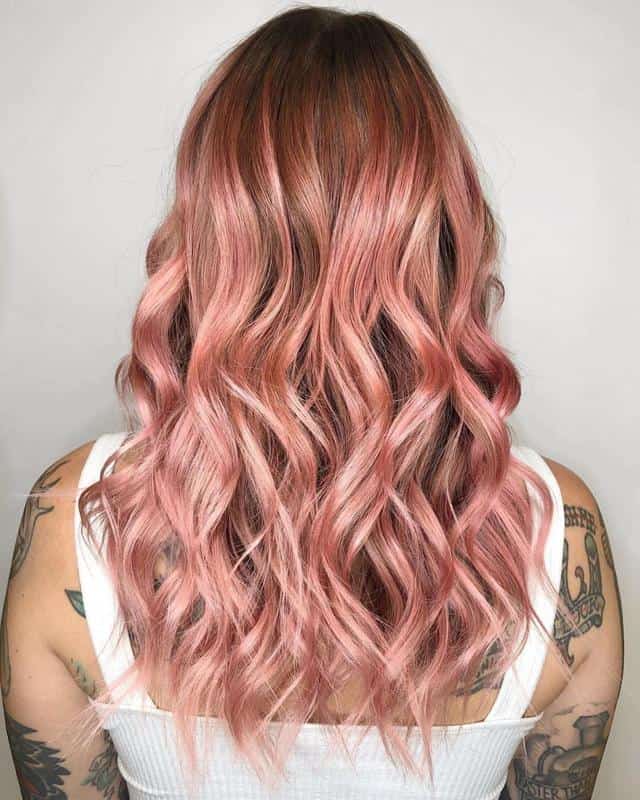 If you want to incorporate a red tone in your hair slowly, this is the style for you. A beautiful romantic shade of red that starts with darker roots and looks like a balayage. Perfect for a subtle style transformation.
19. Short And Curly Hairstyle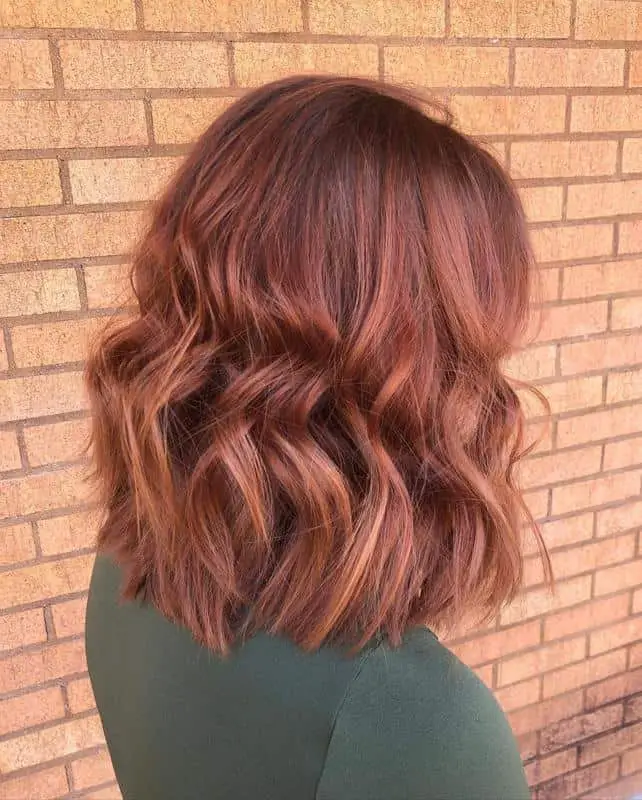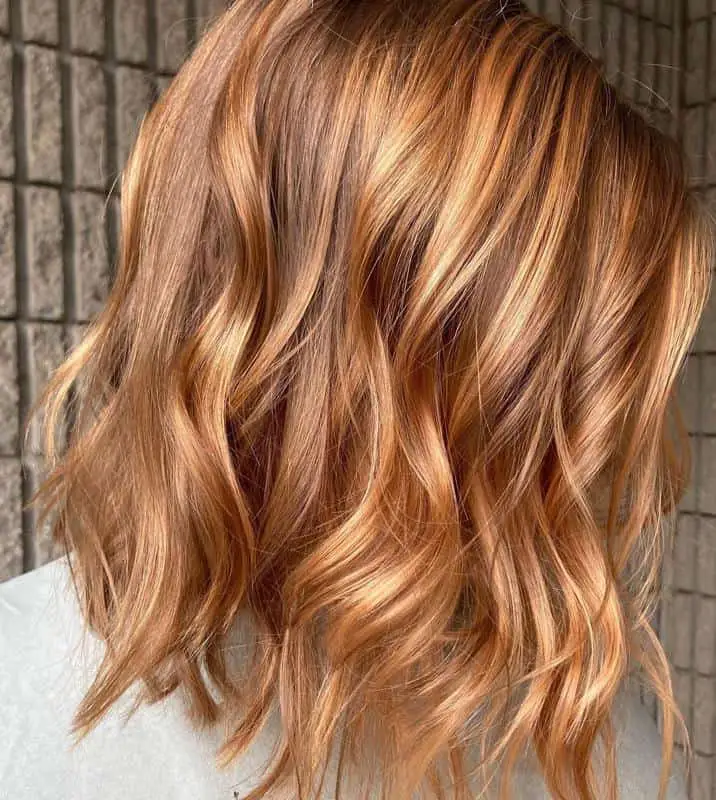 If you don't like or want to have long hair, know that red tones look great on short hair too. With copper highlights and curls like this, you'll achieve a more professional and sophisticated look. It's more manageable than longer hair and quicker to do in the morning. It's simple and quick, yet it is perfect for a formal gathering.
20. Long And Wavy Hairstyle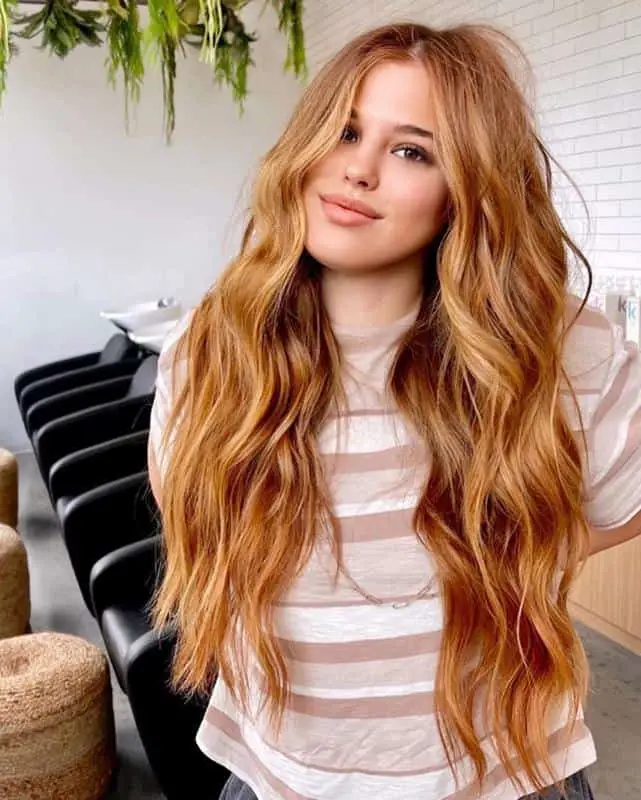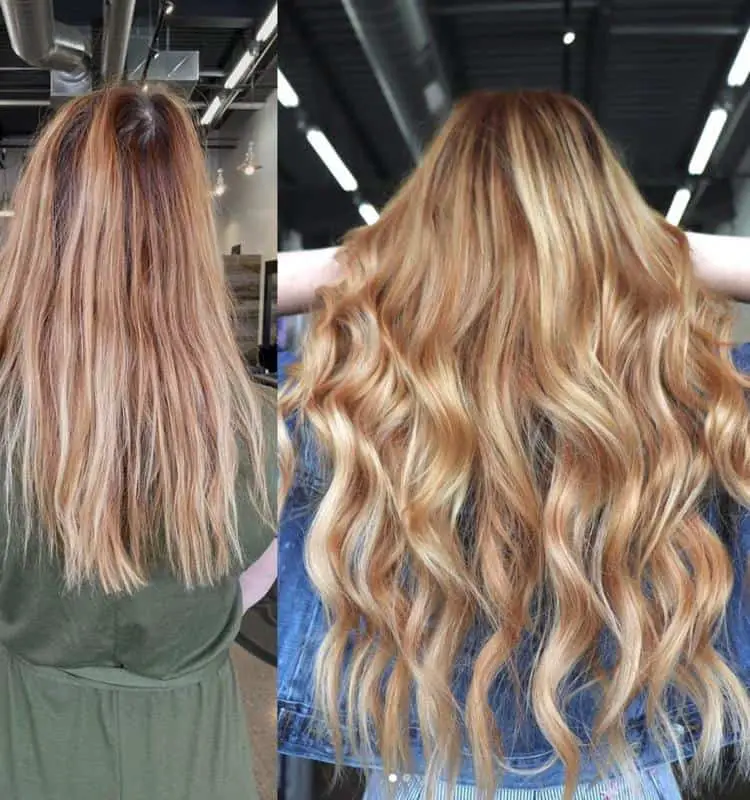 Sometimes long hair can be difficult and time consuming to manage. You want to avoid using heat on your red highlights, so the perfect solution is to make loose beach waves. There are different methods you can use to obtain this look, whether it's sleeping with braids or curling just a few strands of highlighted hair, it can really transform your whole look.
21. Luscious And Dreamy Long Red Hair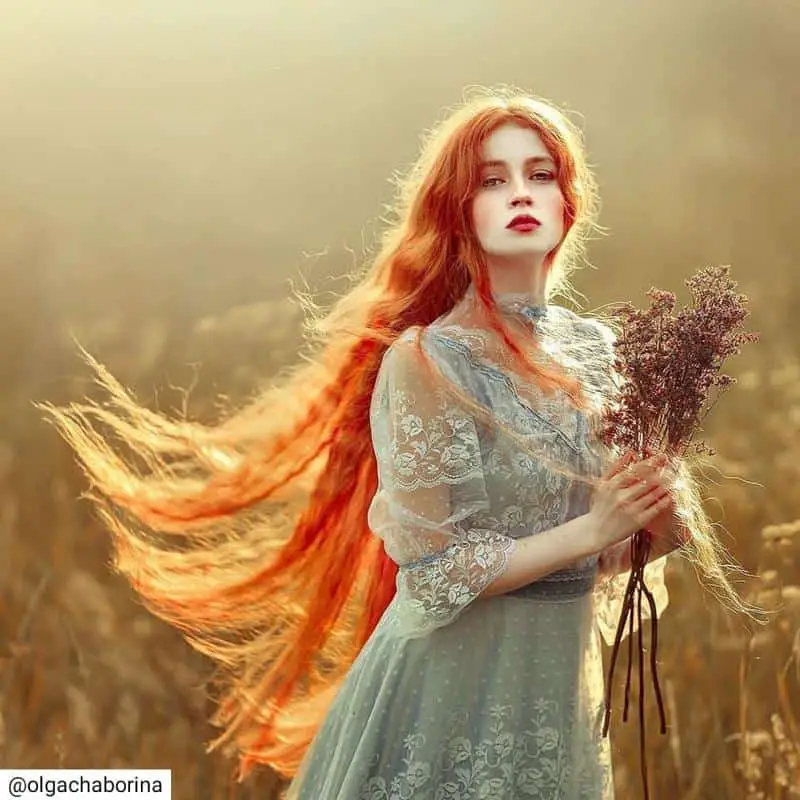 A lot of people dream for their hair to be ankle-length. This hairstyle is absolutely dreamy and it almost like it came out of a fairytale. Curls may be too heavy for such long hair, therefore undefined waves combined with the red color shimmering on sunlight are much better combination for stealing someone's heart.
22. Red And Pink Curls
This is a more edgy hairstyle that shows the contrast between the dark brown roots and red fiery balayage that ends in a bright pink. The hairstyle becomes much more powerful when you add curls to the equation.
23. Short And Straight With Crimson Balayage Hairstyle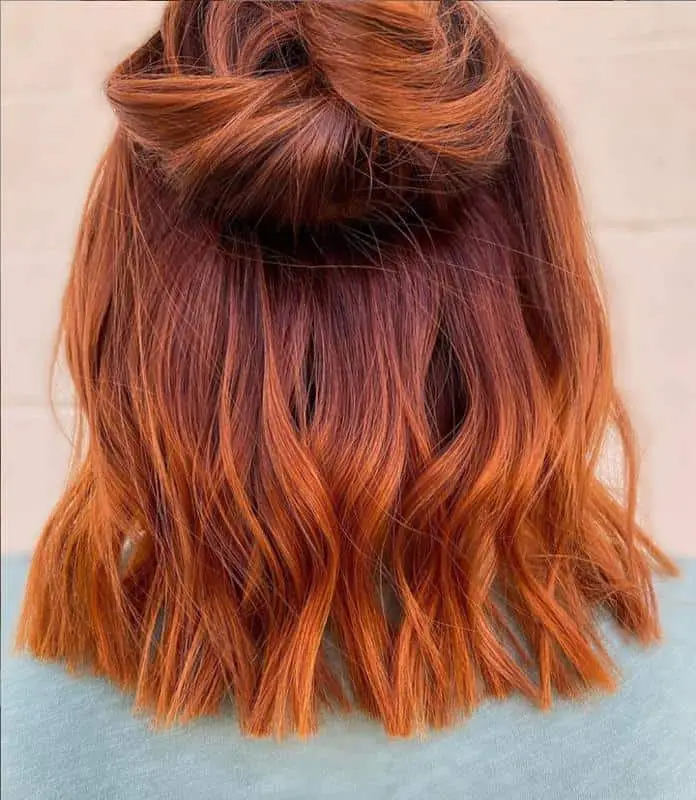 Who says that you can't combine two red colors in a balayage? Starting with a darker red and finishing with vibrant crimson at the end is a very colorful and fun balayage combination. Seeing that this hairstyle is very powerful on its own, you don't need to do much else in order to make it more powerful. Simply straight is a win for this style.
24. Magenta Braids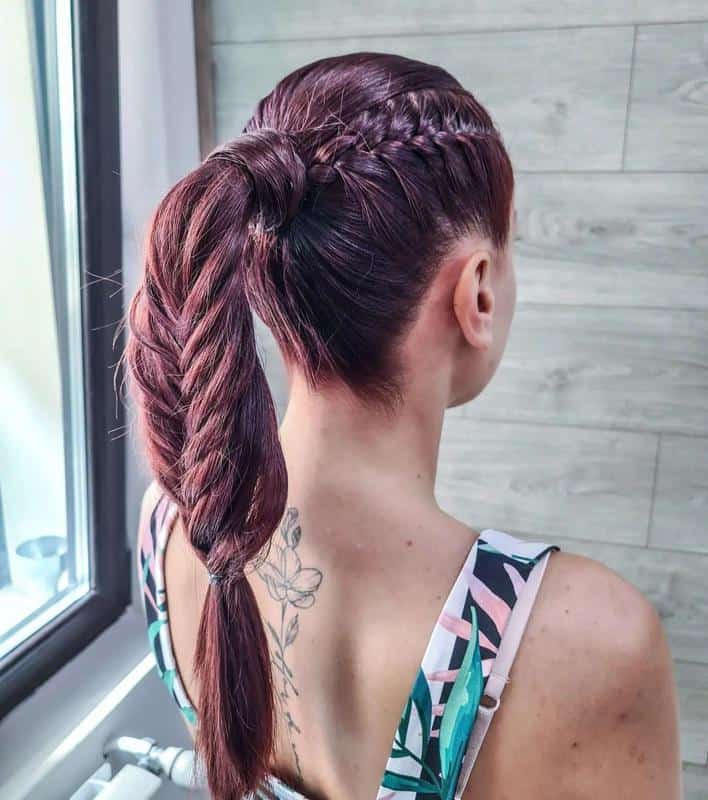 Even though magenta highlights can give a magic pop to a hairstyle, it's a cold-toned color. That's why when combined with some interesting braids, the hairstyle can become much more alive. It's also a perfect hairstyle for a more formal party.
25. Straight Burgundy Balayage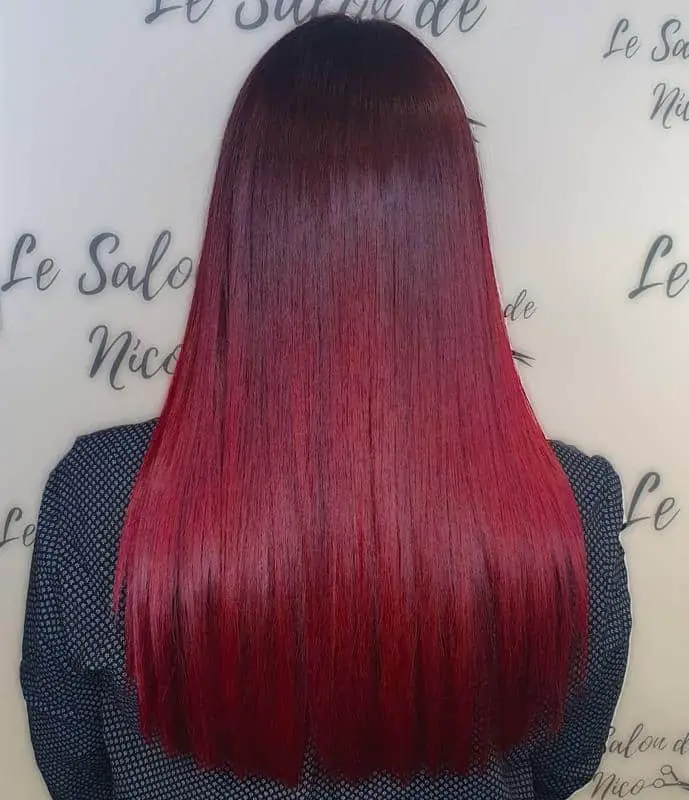 Perfect hairstyle for a Valentine's Day dinner, since it reminds of wine and chocolate. Not only it gives out a sensational feeling but looks very sleek and professional at the same time.
26. Curly Burgundy Balayage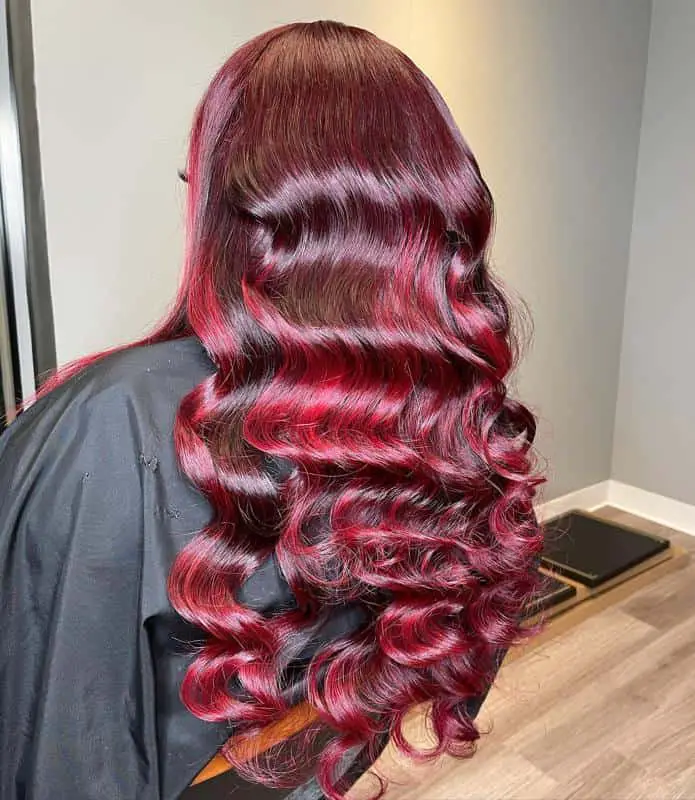 This hairstyle is very similar to the last one. It's a great example of how the same-colored hair can look very different when combined with curls or is straight. Curls will make your mahogany highlights pop immensely and make it a very much more passionate hairstyle.
27. Curled Fiery Highlights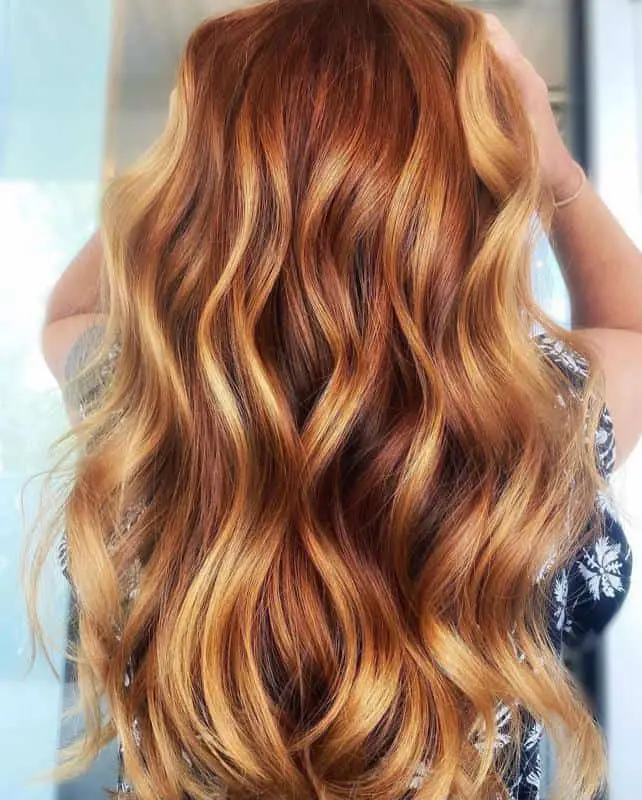 These copper highlights represent fire in this hairstyle. It's a very vibrant and outgoing color, that doesn't need much else. Simple curls will make it bouncy and more exciting.
28. Long Mahogany Braided Hairstyle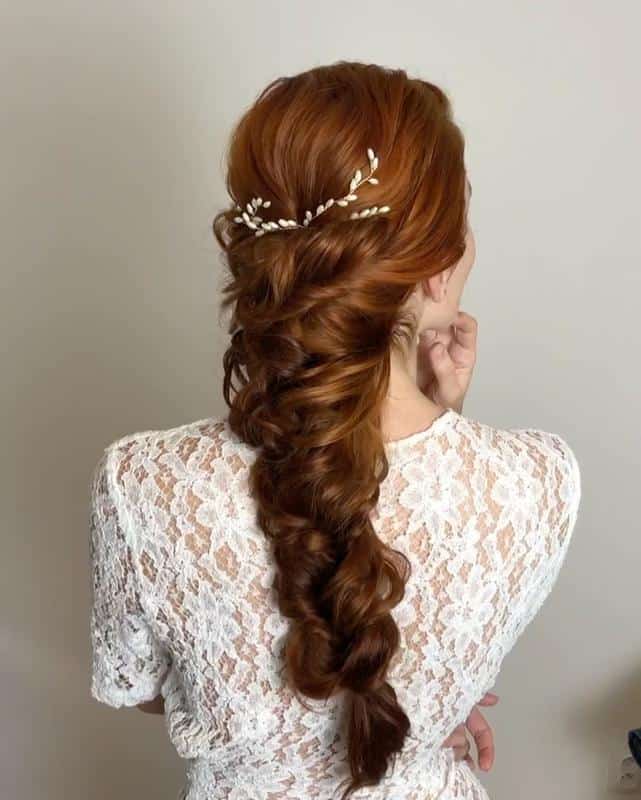 Perfect bridal hairstyle. A glamorous loose braided style that lets your mahogany highlights shine under the sun. It's perfect for special occasions and gala type of nights. It's what you'd imagine a princess would wear to a ball.
29. Red Braids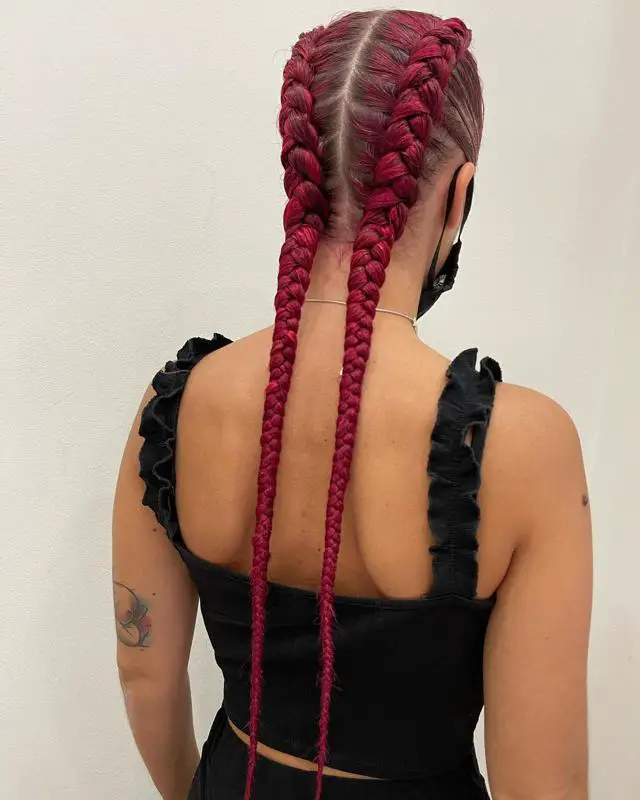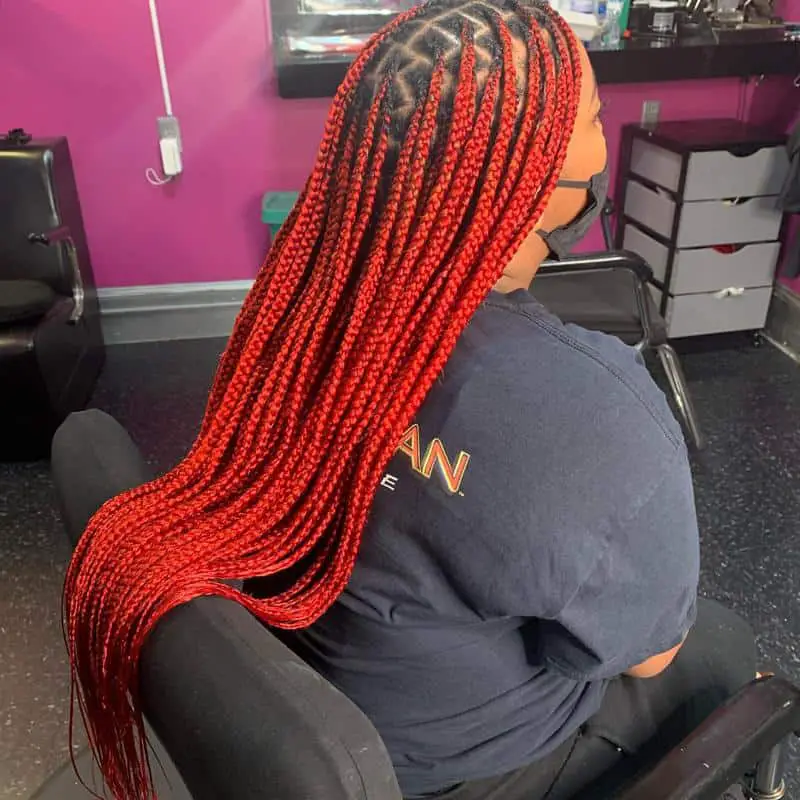 Braids are a great option for a quick hairstyle twist. In this case, they can make your highlights pop out and show more. It's a fun and quick way to spice up your hairstyle.
30. Messy Ginger Hairstyle With Bangs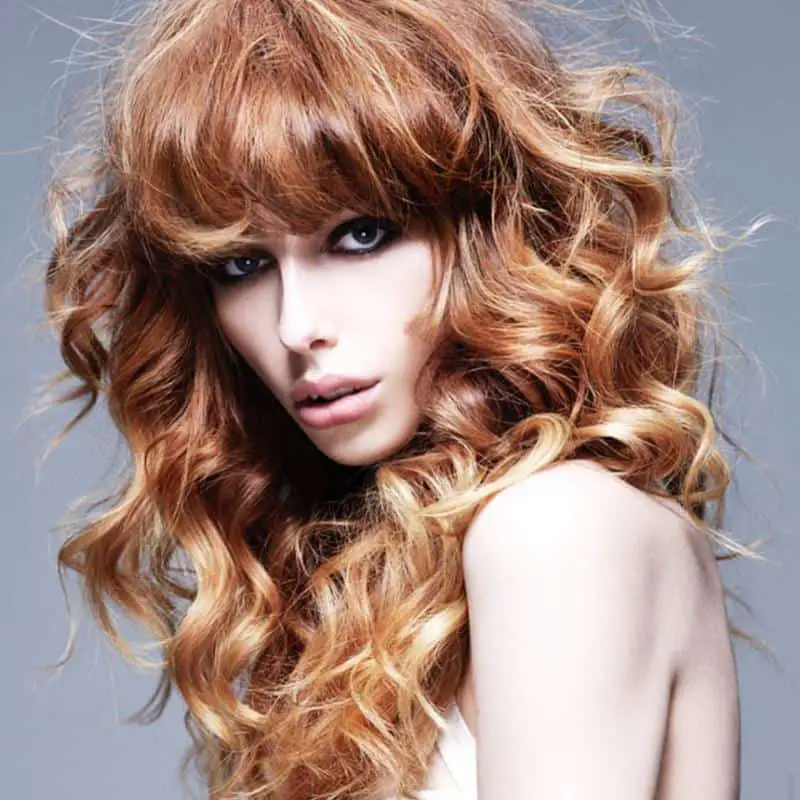 Bangs are always in. There's probably not a person in the world who hasn't had bangs in their life, or hasn't at least thought about cutting them. Bangs can change the look of your entire face, and will show off your red hair more than without bangs. Combined with curls, the hairstyle looks very outgoing and vibrant.
How to Take Care of Your Red Color?
Use sulfate-free and alcohol-free shampoos. Alcohol will dry out your hair and since a lot of bleach has been used on your hair, you don't need any more damage. Sulfates usually strip way more oil than they should, leaving your hair dryer than you want.
Don't wash your hair too often. Every time you wash your hair, you strip down a layer of your dye. Red color has large dye molecules that are harder to keep in the hair, so washing it too often will just speed up the process of fading. You can also try a cleaning conditioner, it's usually gentler and it moisturizes the hair.
Avoid heat treatments. Heat dries your hair out, which will make fading of the red color quicker. If you do end up using heat, make sure to use a thermal protectant on your hair! This can also be applied to water temperature. Try to wash out your shampoo/conditioner with colder water.
The same goes for sun, if you're going out to the beach, wear a hat to protect yourself from UV It will prevent your shoulders from burning and keep your head and your freshly colored hair safe! Some shampoos have UV protection.
Use a hair mask at least once a week. Hair masks will nurture your hair and moisturize it. You can ask your hairdresser to recommend a brand to use or you can try out a DIY mask. Honey is a great ingredient for homemade masks, it's a humectant so it will keep your hair moisturizes, you can mix it with yogurt and pumpkin puree.
Use conditioner every time after washing your hair. You can also use an at-home glazing treatment or do it in a salon every 4 weeks. It will give gloss to your color.
Watch out for the chlorine. Chlorine will bleach your hair, so if you're going swimming, use a hair cap or try avoiding putting your head in the water. You can wash out the chlorine with a clarifying shampoo but it will fade your color. Saltwater can also speed up the process of fading.
Most Recommended Hair-Care Products And Hair Dyes
Redken Color Extend Magnetics is a sulfate-free shampoo recommended for treating colored hair. It has a color extending formula which will help you keep your shine longer. It has a balanced pH formula so it will balance out the pH of your hair.
This Zotos Quantum Riveting Reds set of color-replenishing shampoo and conditioner is a great choice. It will gently clean and hydrate your hair. Thanks to its carefully picked out ingredients that treat colored hair, besides hydrating, it will repair and condition the hair. The only downfall is that it leaves stains so you have to watch out while using it.
L'Oréal Paris Feria Permanent Hair Color dye has many shades you can choose from. It's known for edgy and shimmery shades. You will also get a conditioning shampoo with this dye.
You can also choose a semi-permanent color like this Manic Panic Semi-Permanent Hair Color Cream. It's designed to gradually fade within time. You can also mix different colors and come up with your own shade. It's a perfect choice for a temporary transition which lets you see if you would really want to add red to your hairstyle.
If you decide to use henna, Godrej Nupur Henna Mehndi is a good choice. It has additional herbs added to the powder so it promotes hair health. Make sure to protect your skin from staining when using henna.
Also Read: