Purple highlights – whether violet, plum or lilac – are an easy way to add a pop of color to brown hair, without having to subject your tresses to a full-on dye job. And no matter what shade of brunette your hair is, adding purple tones is a great way to incorporate a bold and edgy look whilst also giving dimension.
Purple Highlights on Brown Hair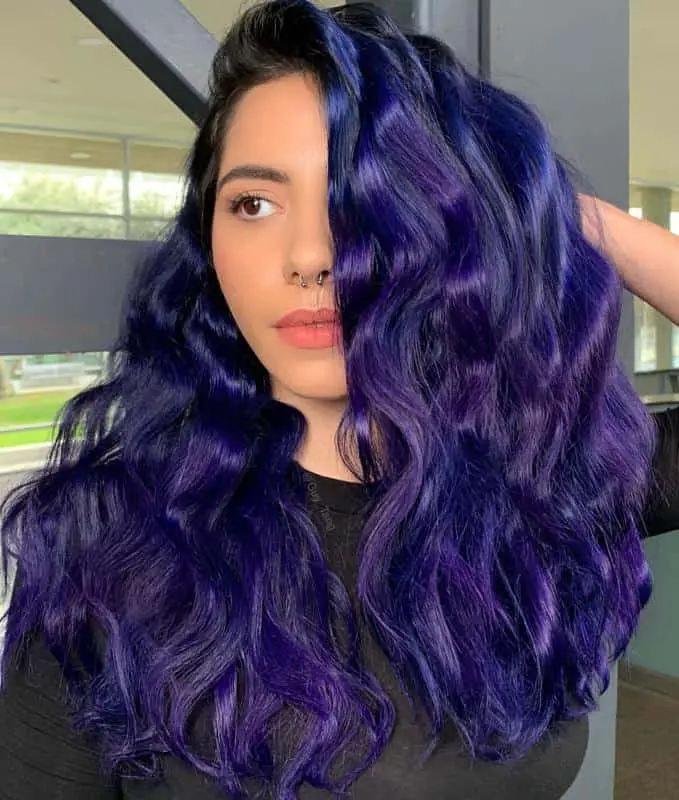 Purple highlights on brown hair can be as bold or as subtle as you want it to be. From chunky purple highlights to ombre and subtle lowlights, this look can suit you. Purple highlights can be added to any area, drawing the light and focus.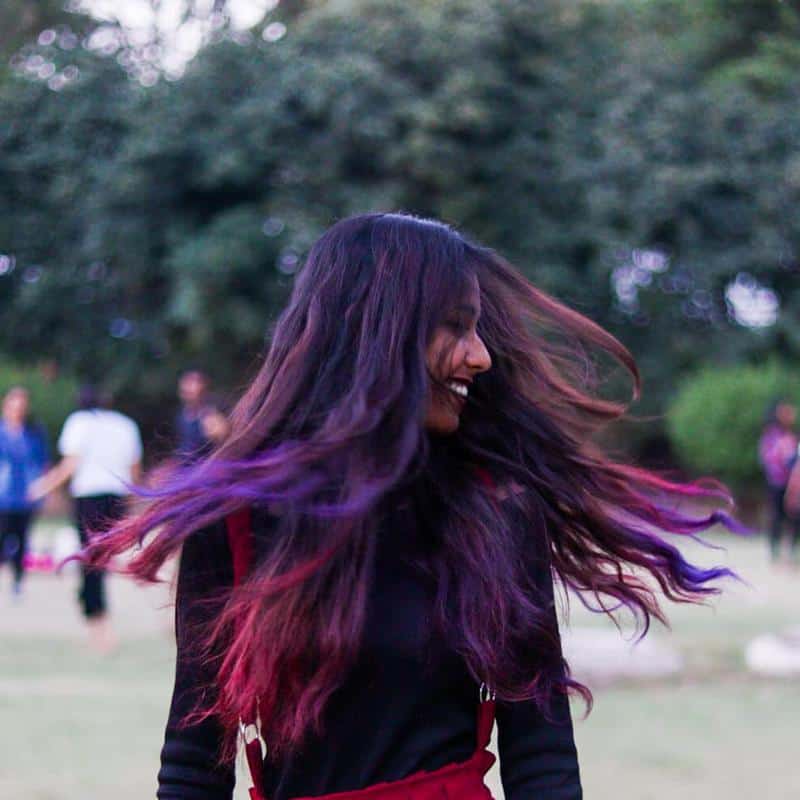 Like the idea of adding purple highlights on brown hair? Take a look at our guide for inspiration and the best shades for your skin tone and hair.
Midnight Purple Hair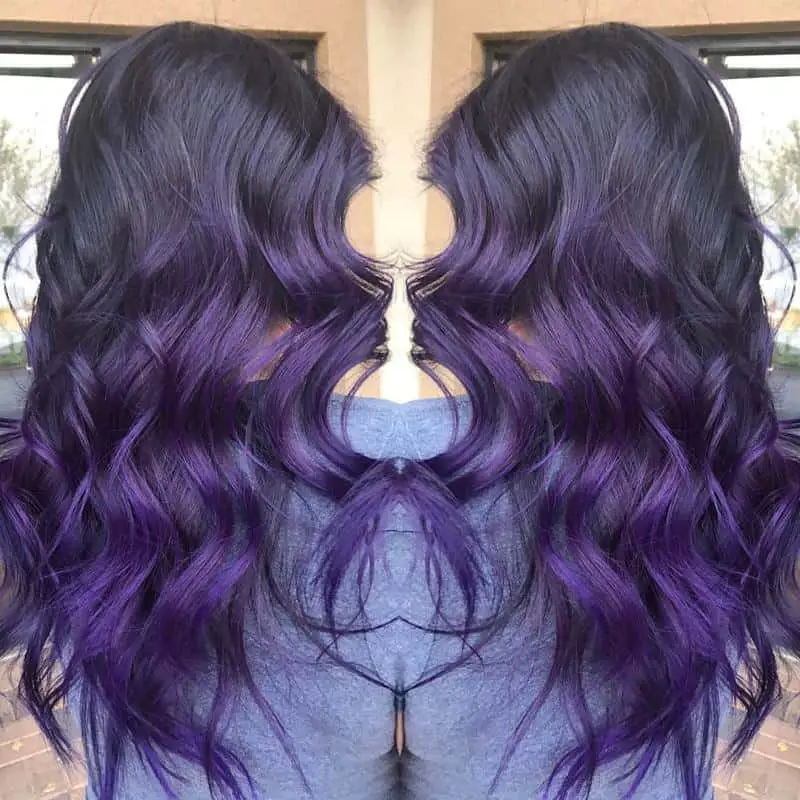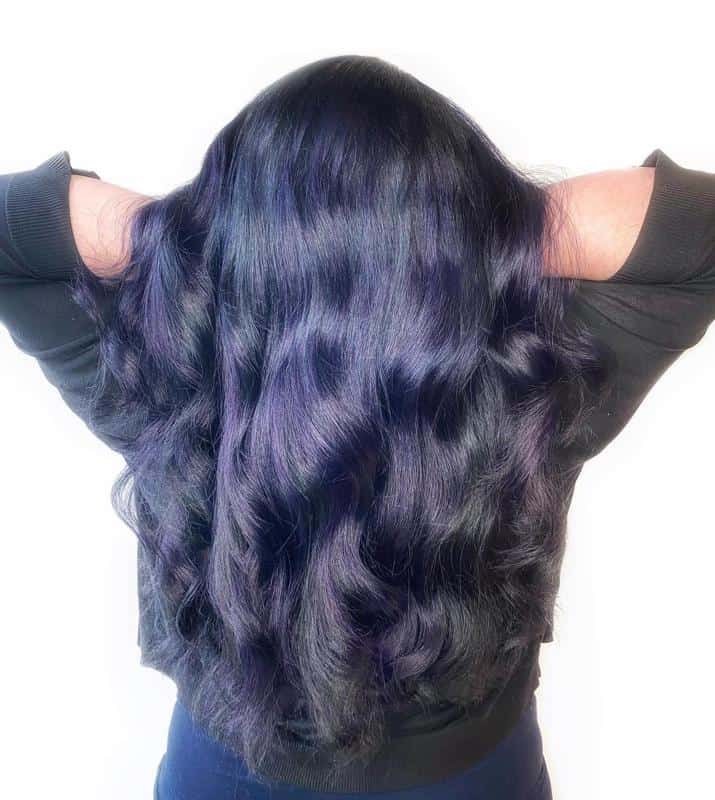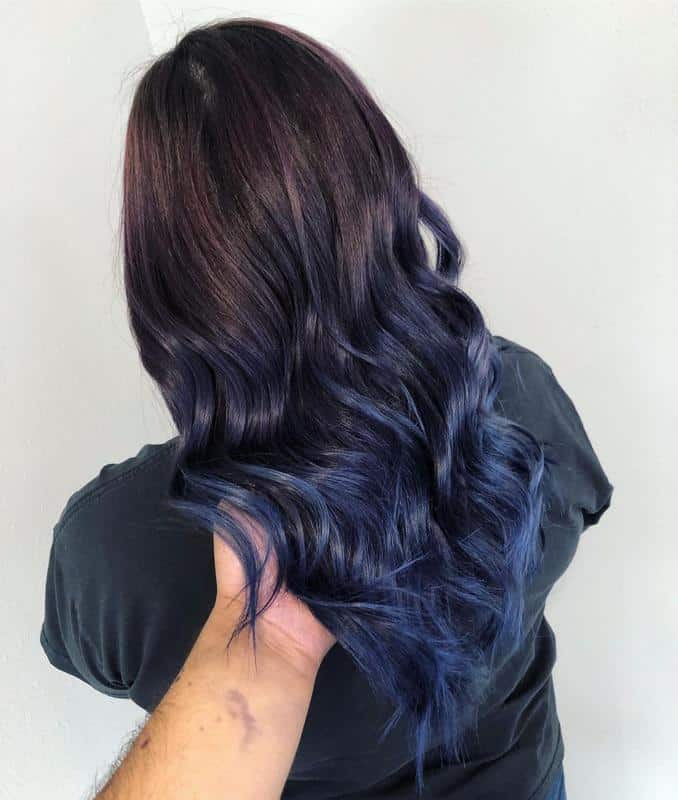 Choosing a midnight purple is a subtle but impactful highlight on dark brown hair. The color is so deep it may not be noticeable until the light hits it. Once the light hits the shade, it will reflect blue and purple hues. It can also be applied all over the hair but will appear as highlights depending on how the light hits it.
Petrol Hair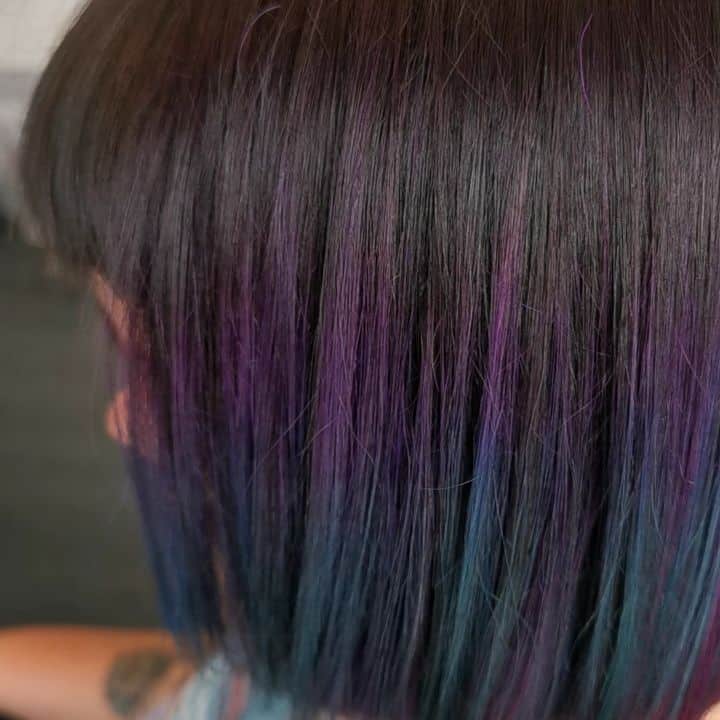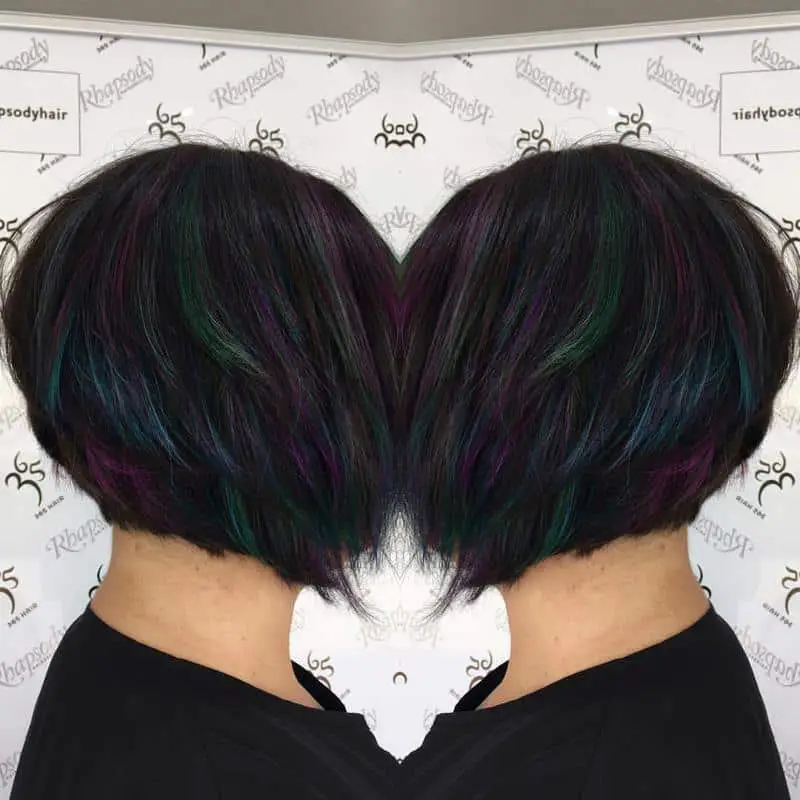 Get that petrol slick effect by using green and purple steaks. This is especially attractive on a brown base. Your stylist will likely pre-lighten strands using a classic full head of highlights, then use the same highlighting technique on blow-dried hair, alternating between purple, green and sometimes blue.
Purple Boxed Braids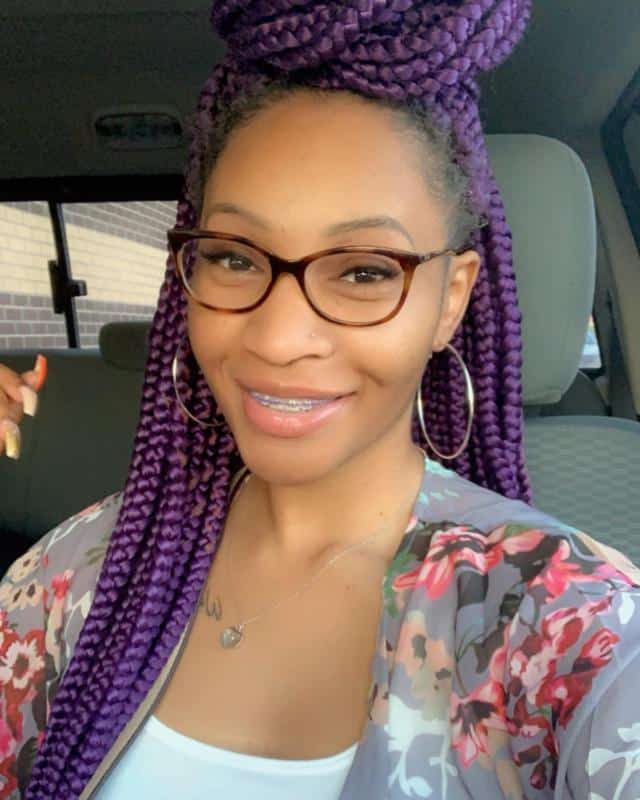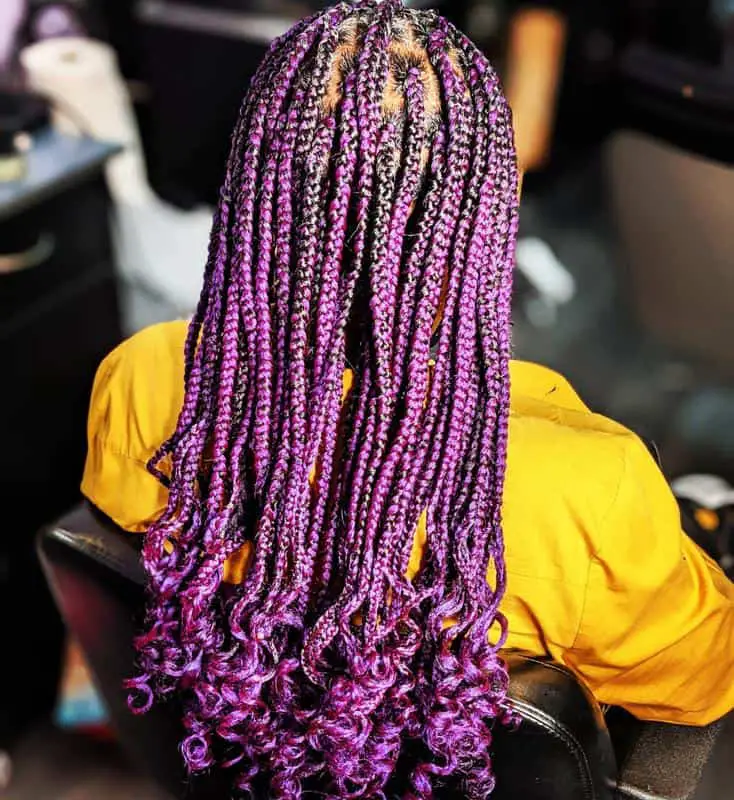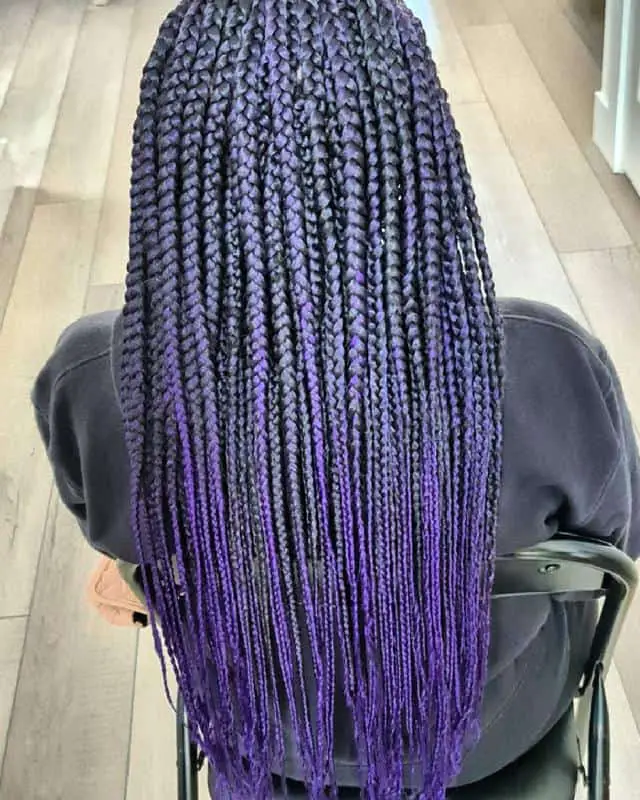 Mix up your regular box braids with shades of purple. Leaving the roots or tips undyed for a more dramatic effect. This contrast will make the purple shade pop more.
Magenta Highlights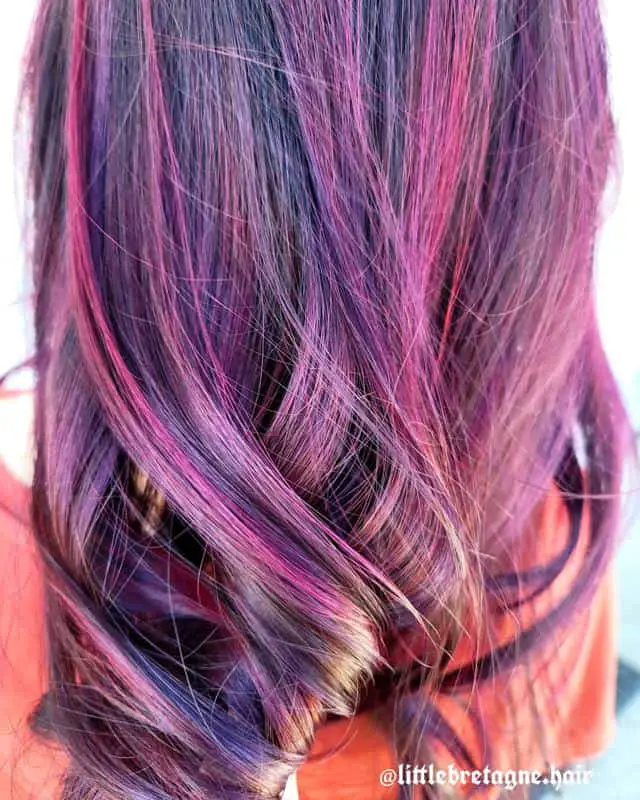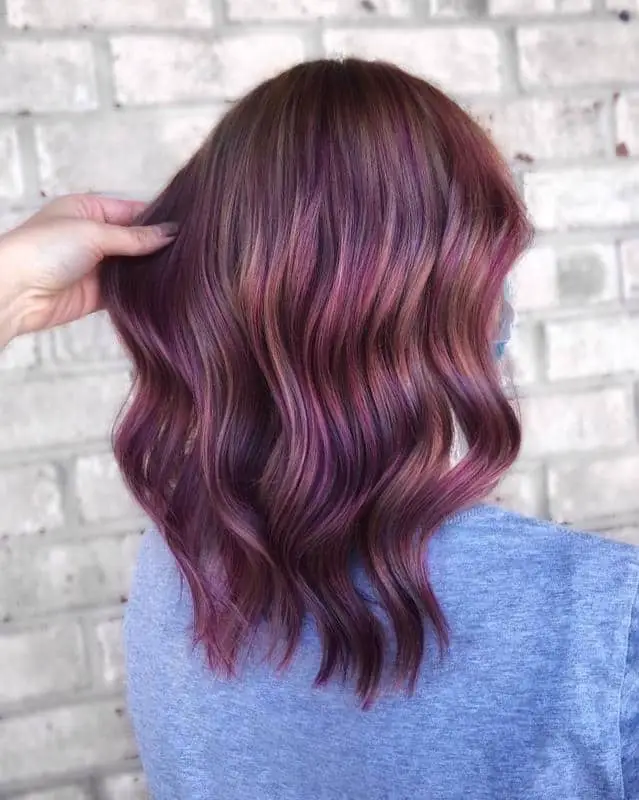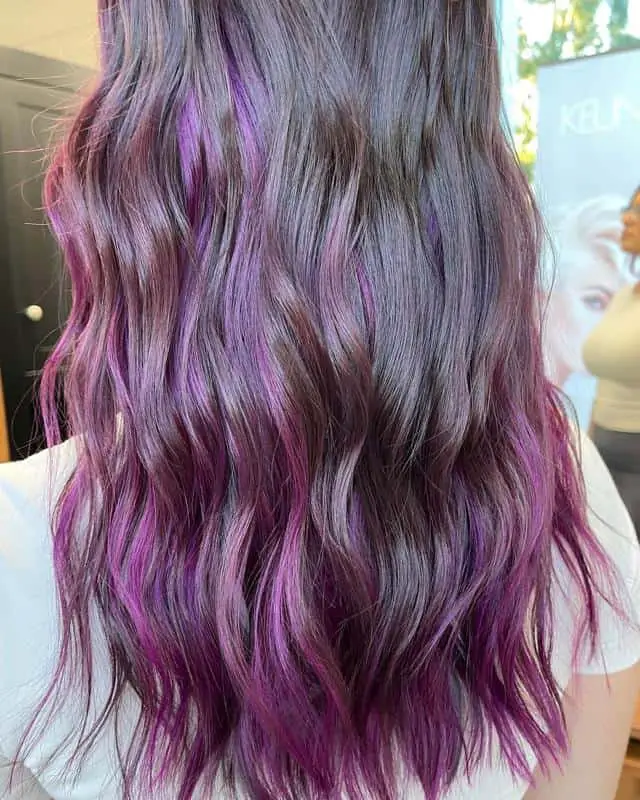 Magenta is a combination of pink, red and purple shades blended together to create a dark and vivid shade of purple. Magentas is an eye-catching hair color that looks fantastic on brunettes.  Dark, medium or fair – all complexions suit this tone of wine hued purple.
Hidden Purple Highlights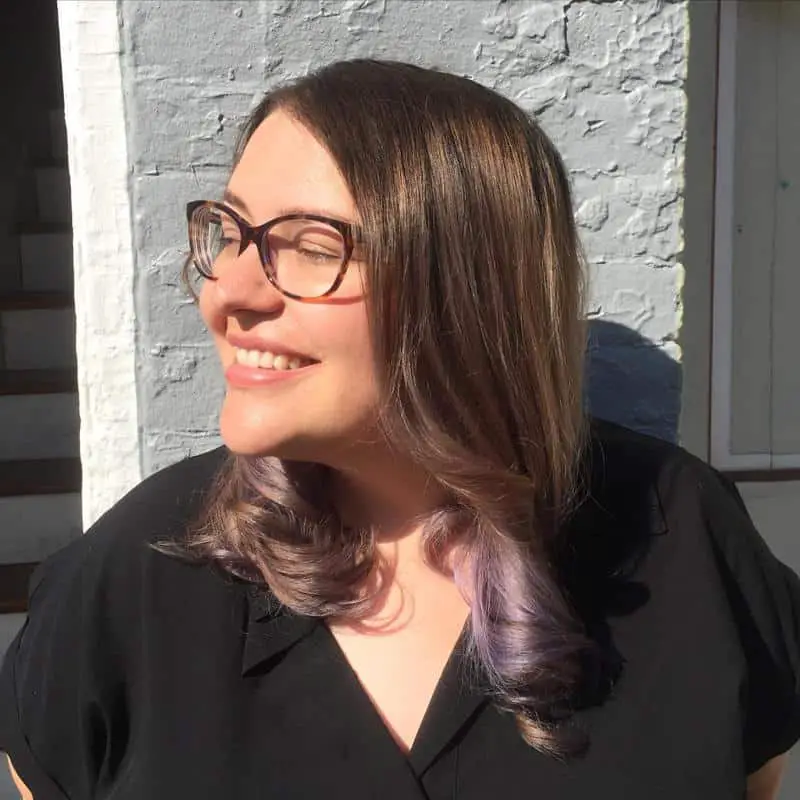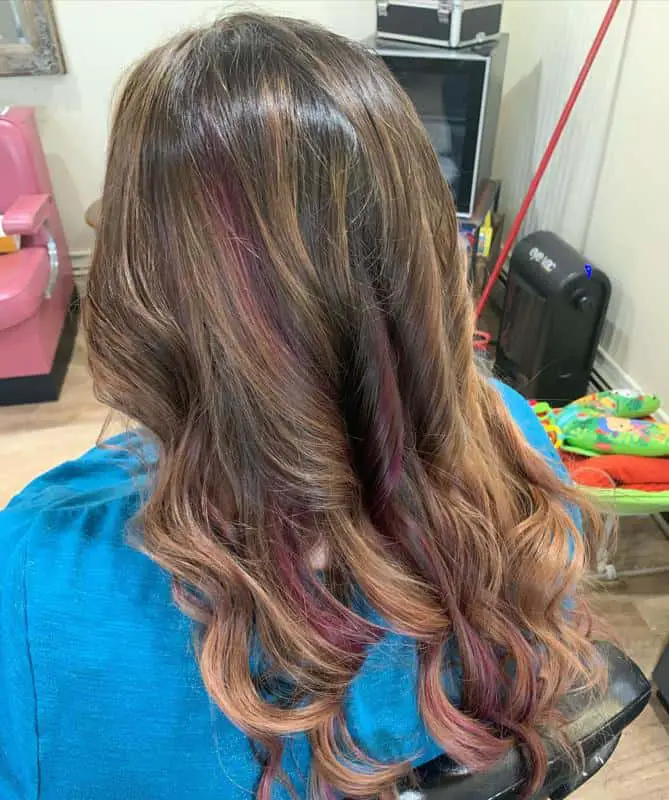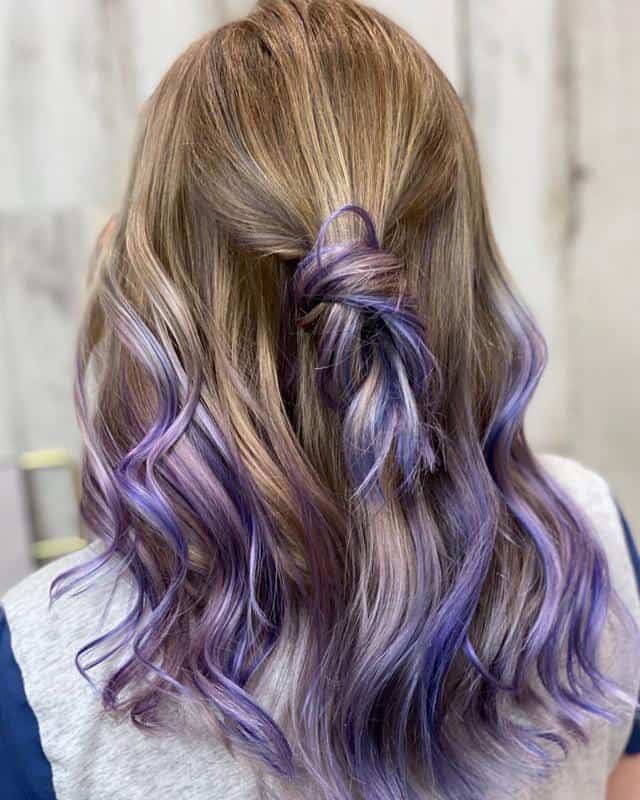 If you want a more muted look, try hidden purple highlights. They're a regular highlight that has been cleverly placed underneath the top layers of your brown hair. The color will be concealed with your hair is worn down. Yet, you will be able to see it when your hair moves or when you style it into braids or updos.
Neon Purple Hair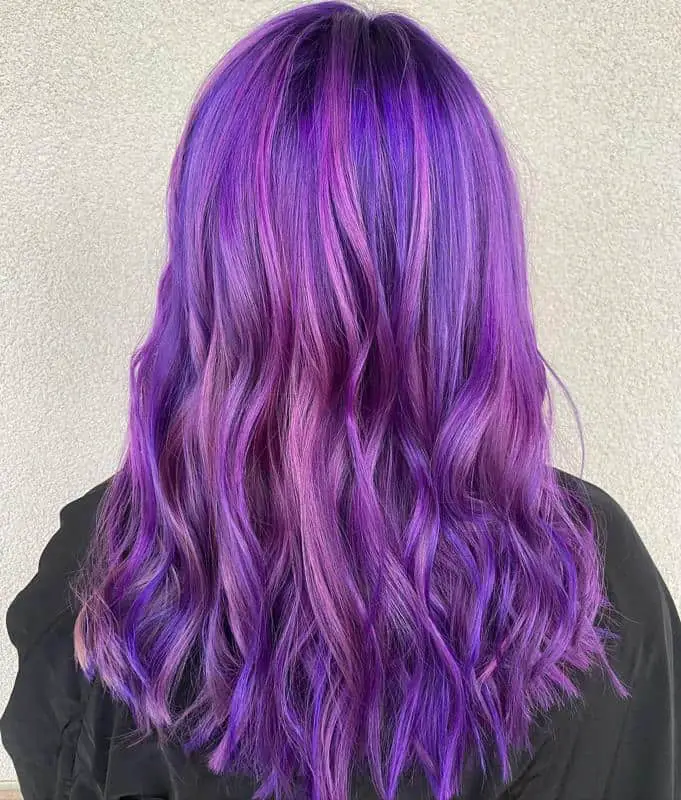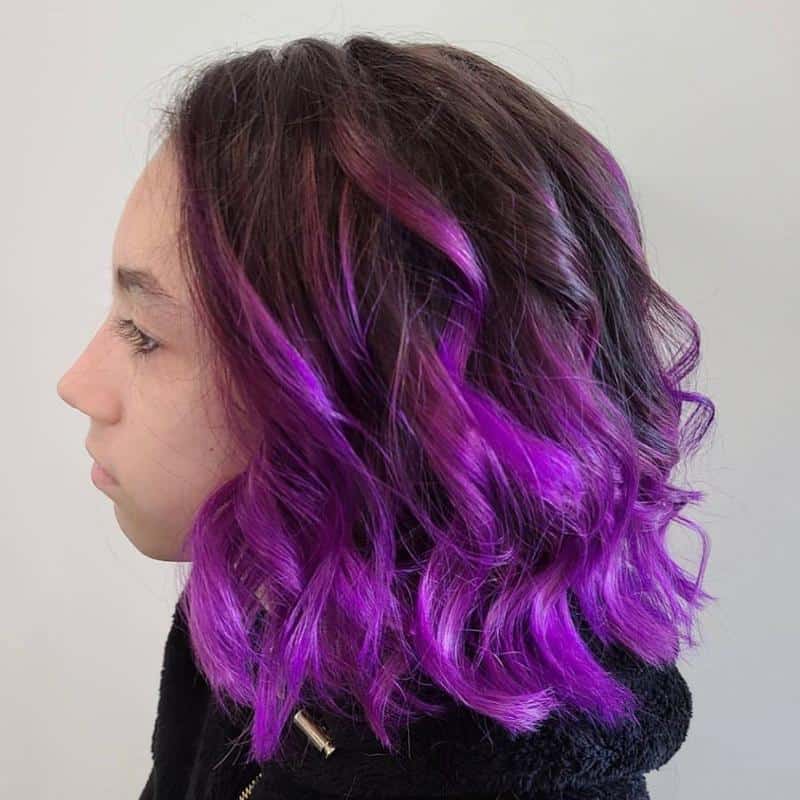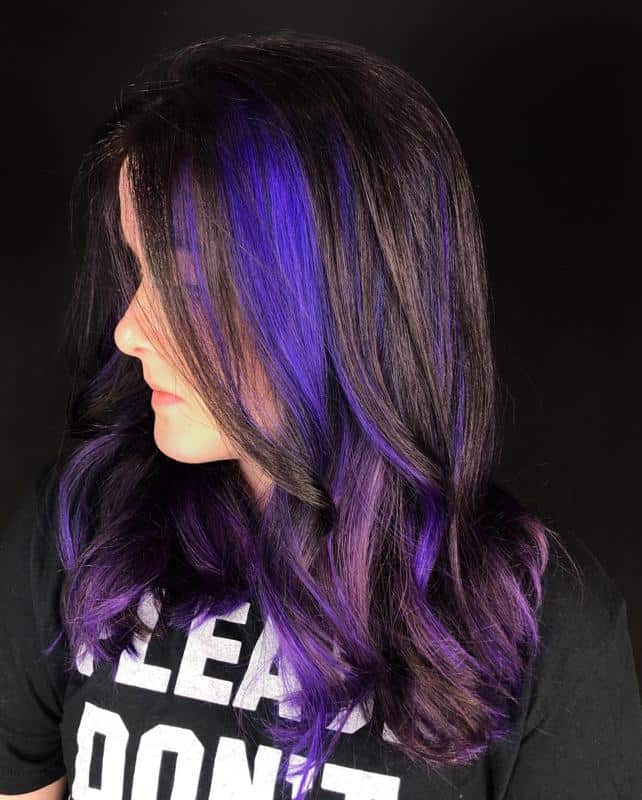 Neon purple hair is one of the coolest trends. It's bright and makes a huge statement, especially against dark brown hair. Be warned, because it's such a bright, vibrant hue, it may be difficult to maintain and will fade faster.
Lilac Babylights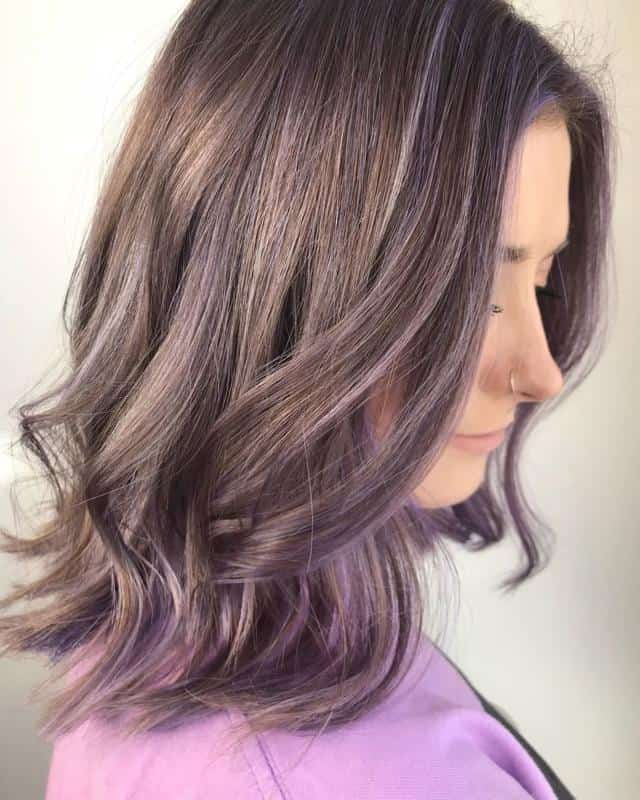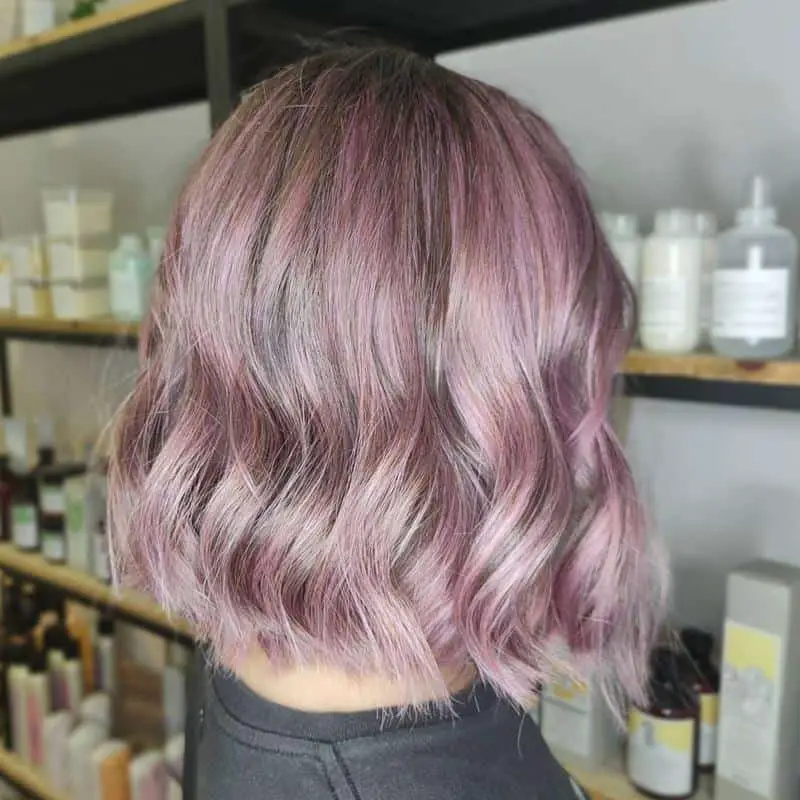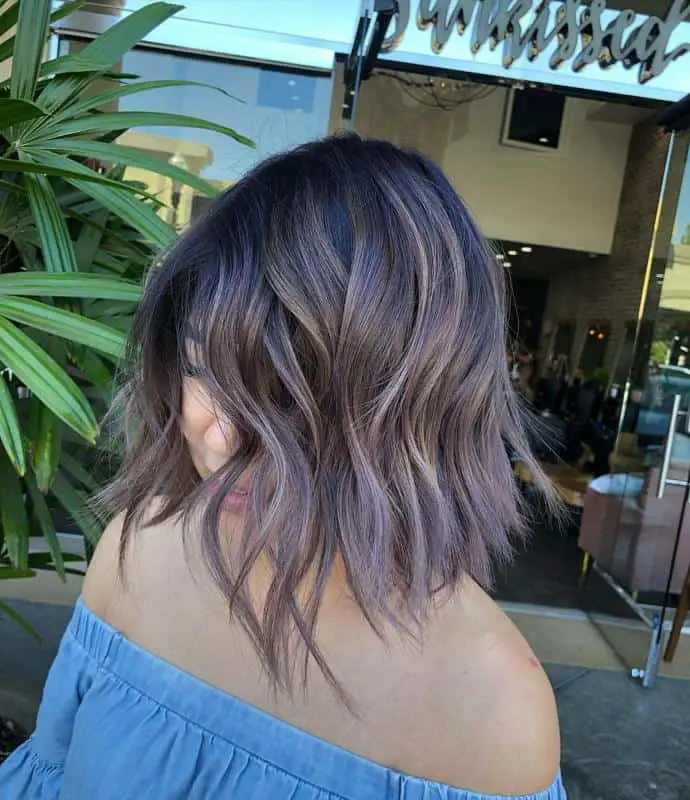 Not ready to go fully into purple highlights? Try these subtle pastel lilac babylights, that work on all tones of brown hair. They are an ideal addition to someone with the classic balayage that doesn't want to transform their how hair style.
Smoky Lavender Hair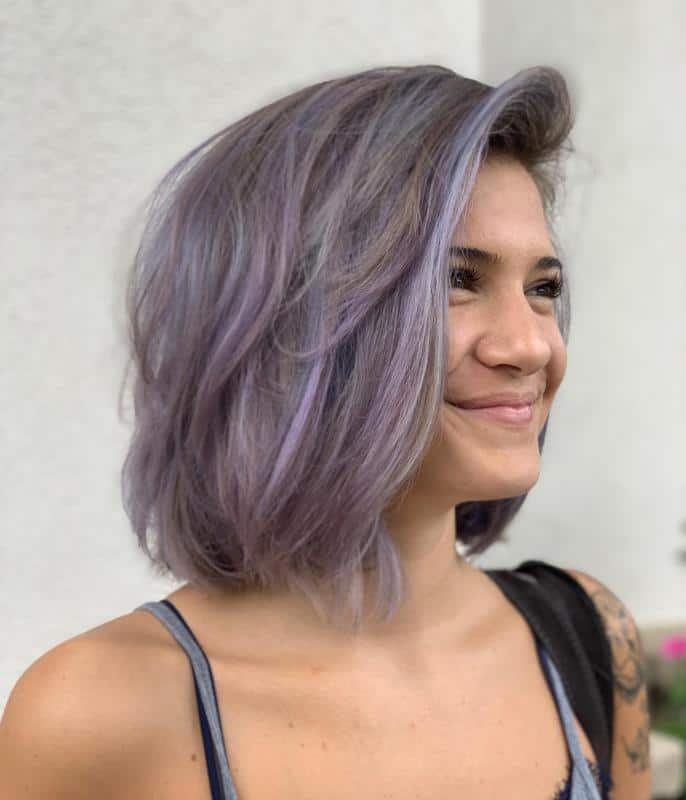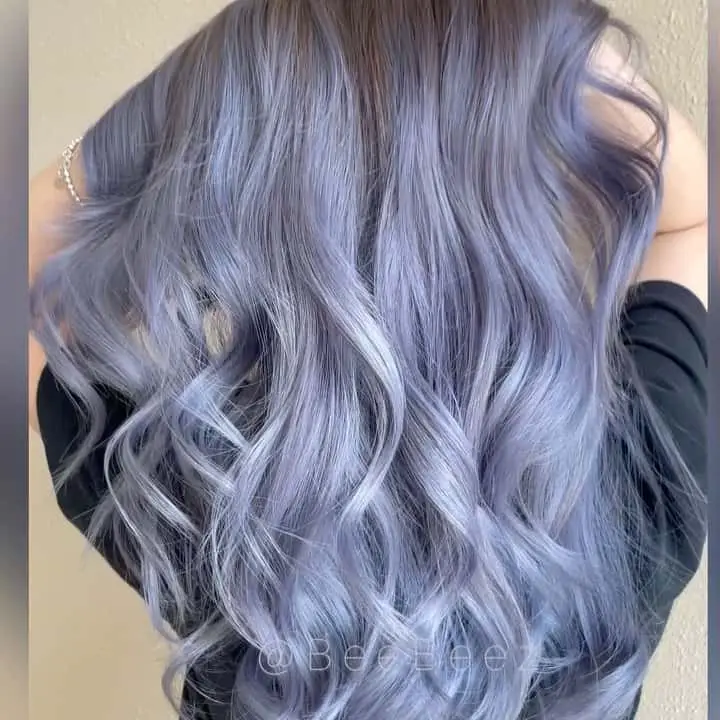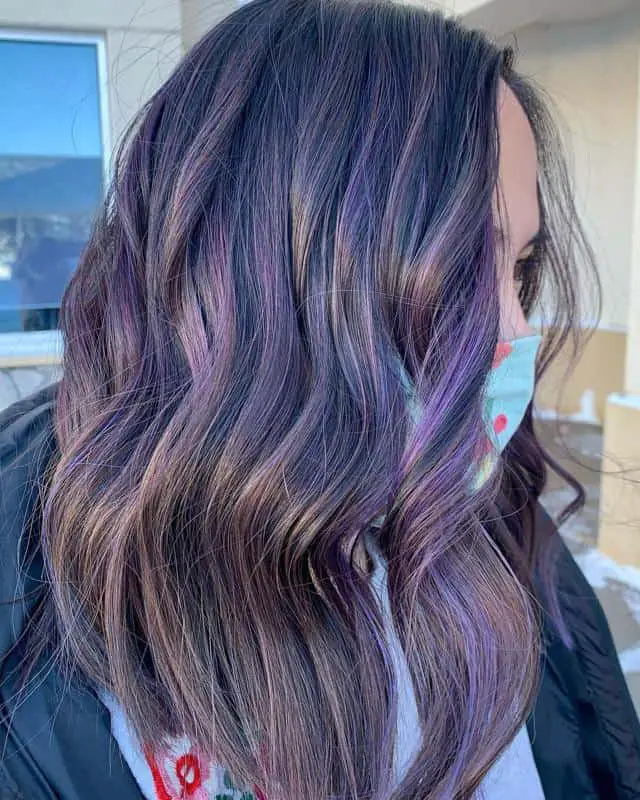 Smoky lavender hair blends purple-leaning grays and blondes to create this gorgeous cool toned look. This hair color adds dimension to hair, making fine hair look thicker and fuller. Smoky lavender is achieved with a heavy balayage technique, which helps achieve a variety of blonde and gray tones throughout the hair.
Chunky Purple Highlights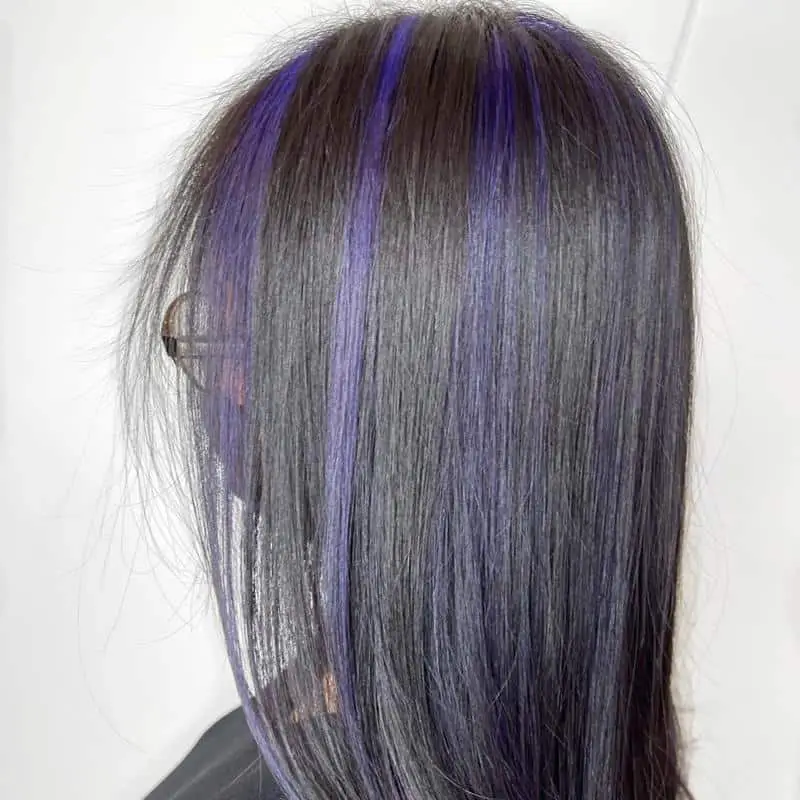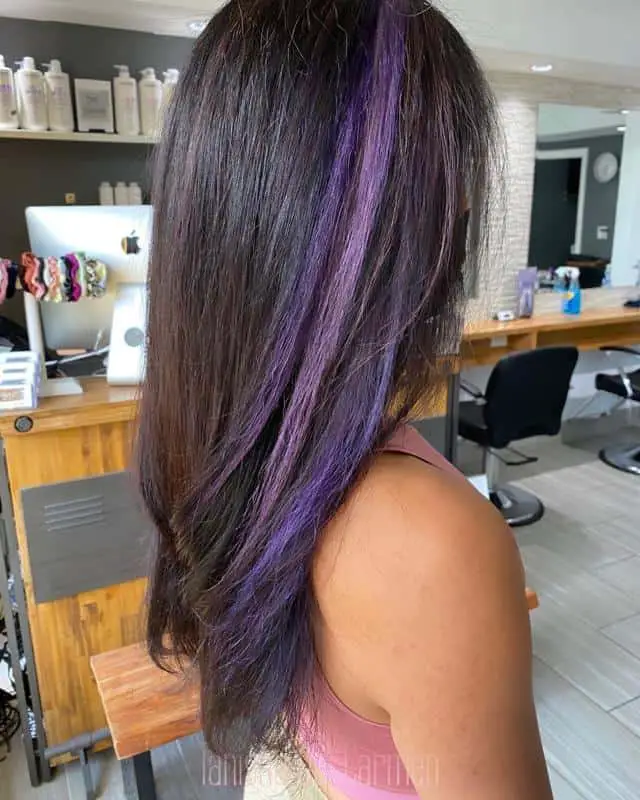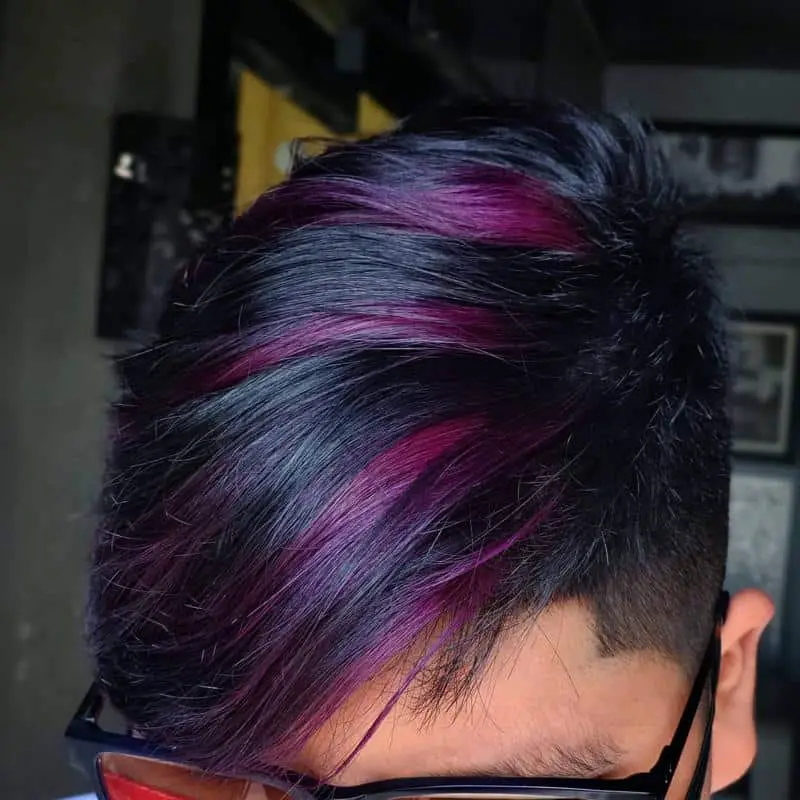 Love the tone of your brown hair but want to add a little purple. Try the classic purple highlights looks. These chunky highlights are super fashionable at the moment as they make a bold statement and let you embrace your brown toned hair.
Purple Dip Dye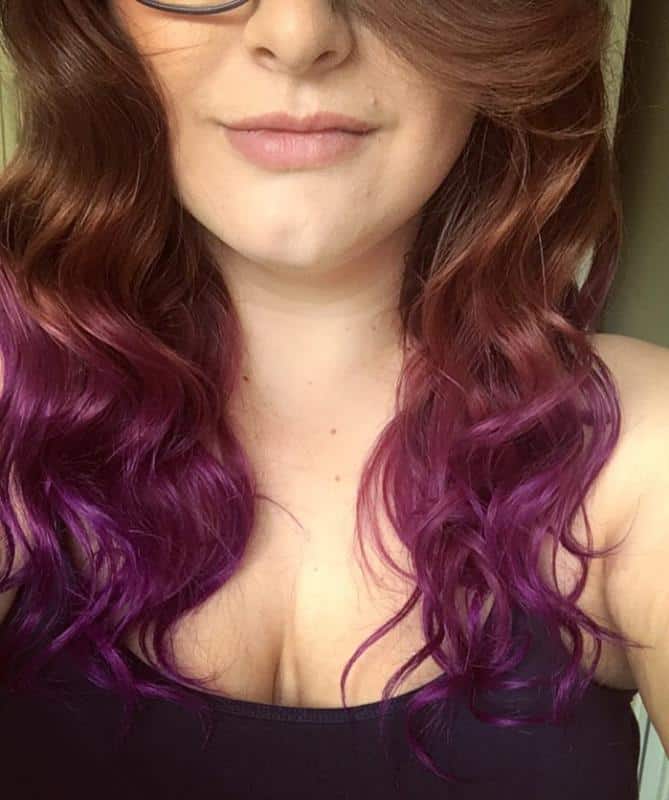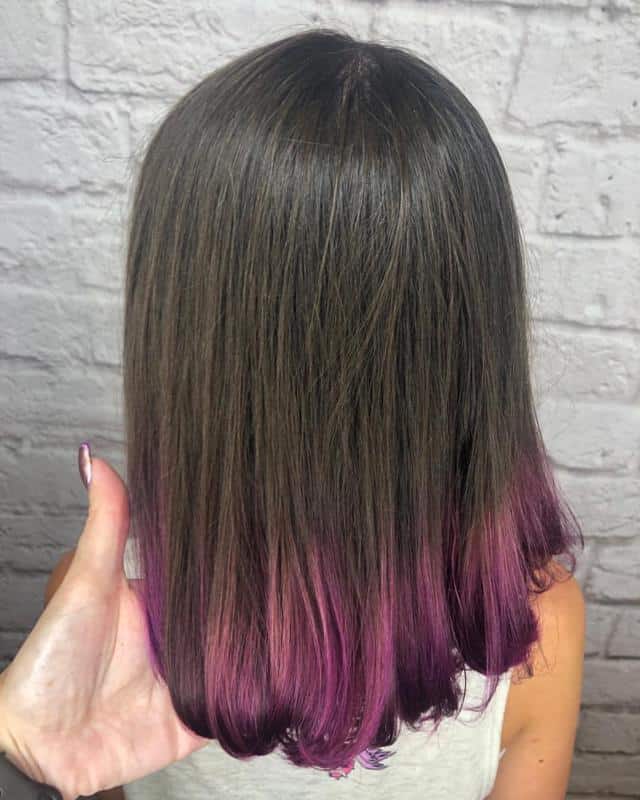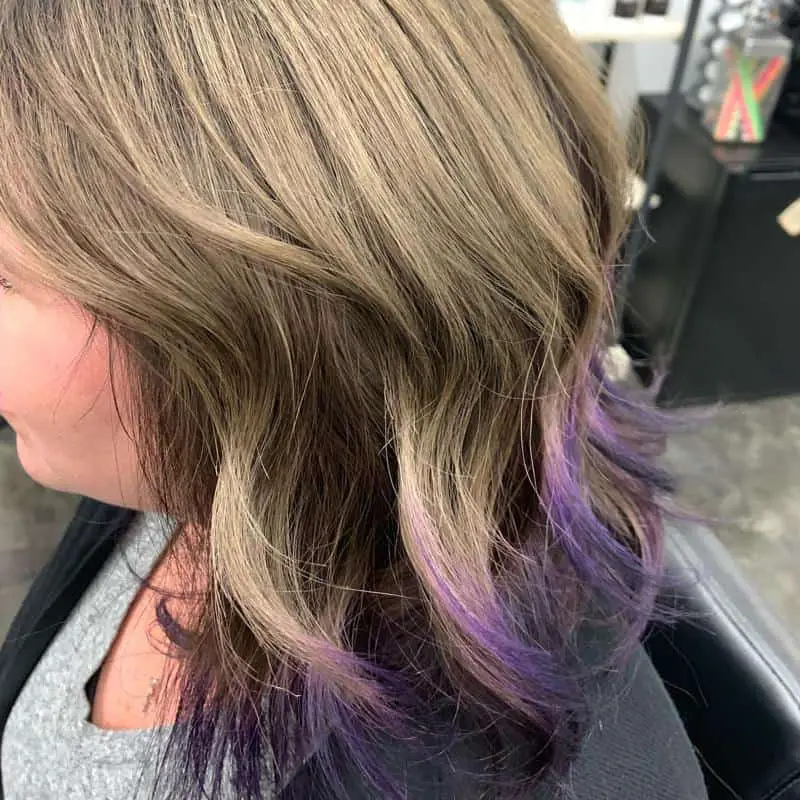 Less blended than a balayage, purple dip due hair is a striking look. Dip dyeing focuses the color on the ends of the hair. This hair technique is sharper and noticeable, so choose a contrasting color that complements your brown hair.
Purple Balayage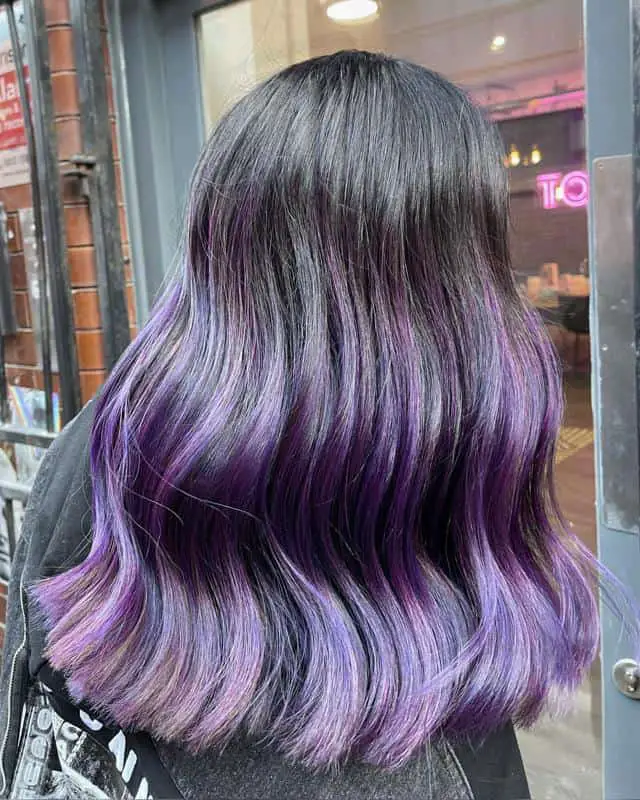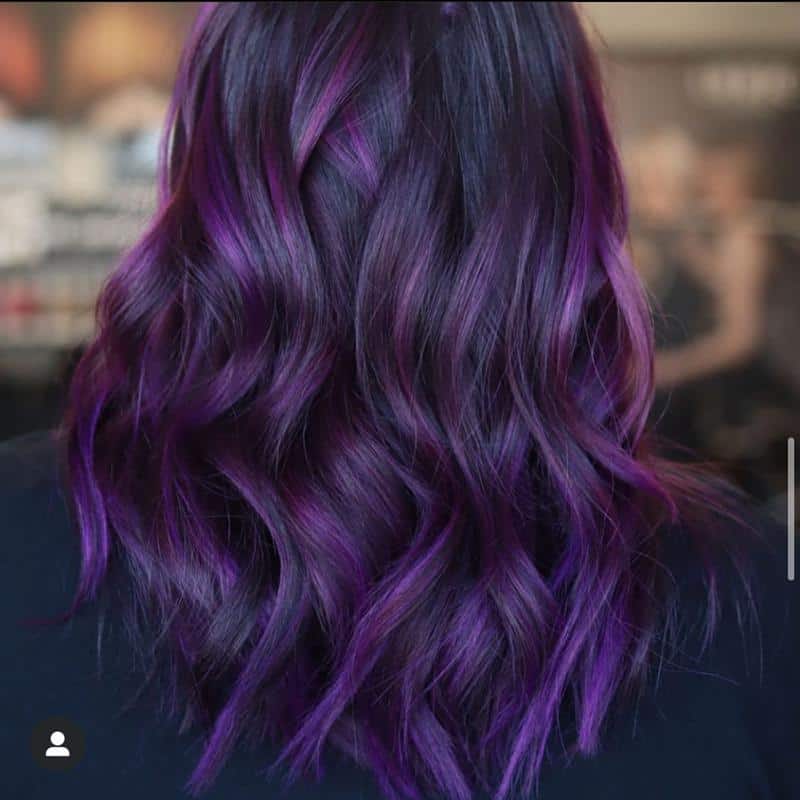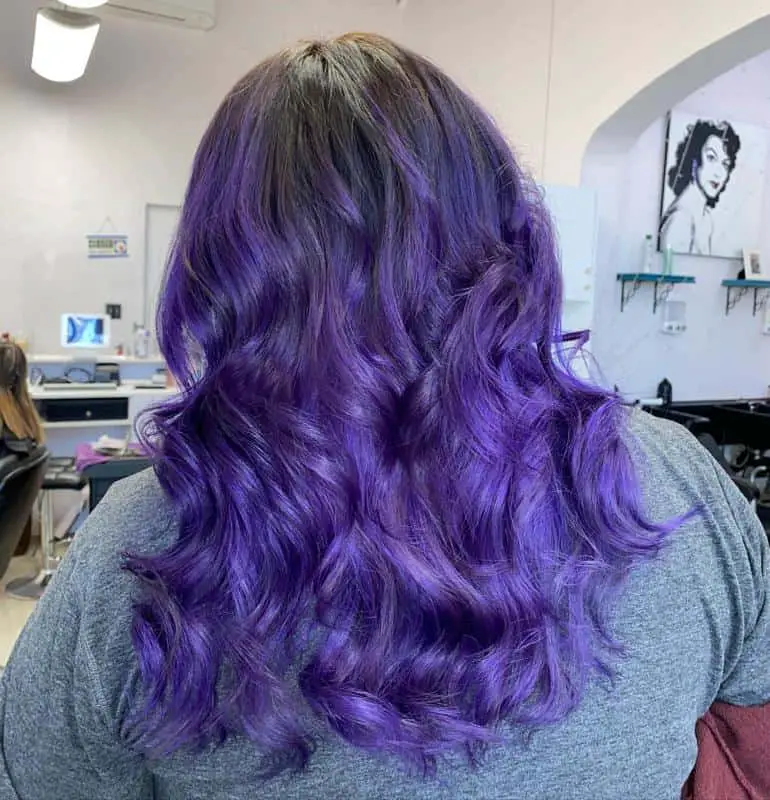 Purple balayage is a low maintenance way to get this trendy hue into your hair. Choose from a selection of purple shades that suit your brown hair and skin tone. Purple balayage combines soft hand-placed highlights with hot hues. Balayage is achieved by painting strands of hair that have been lightened, then toned to a purple shade of your choice.
Did you know:

Balayage is best left to the professionals, so we recommend going to a salon.
Purple Undercut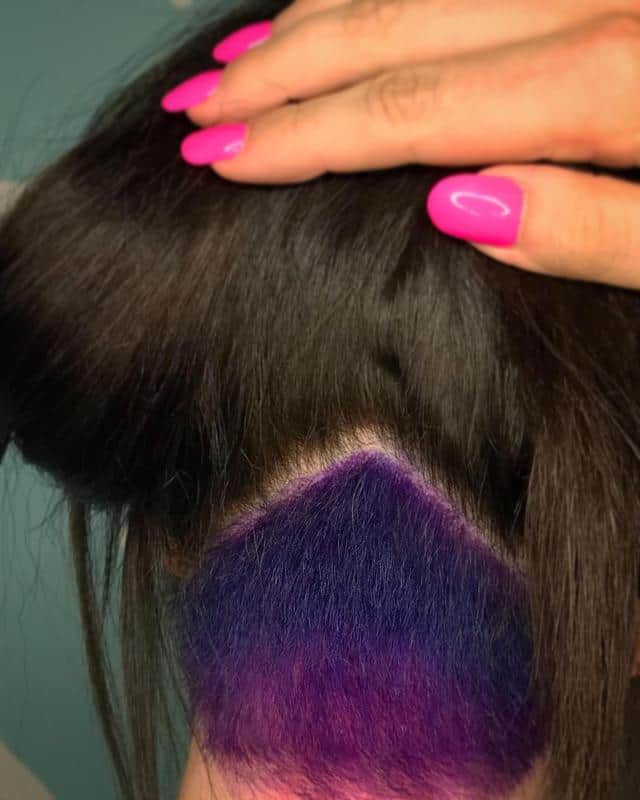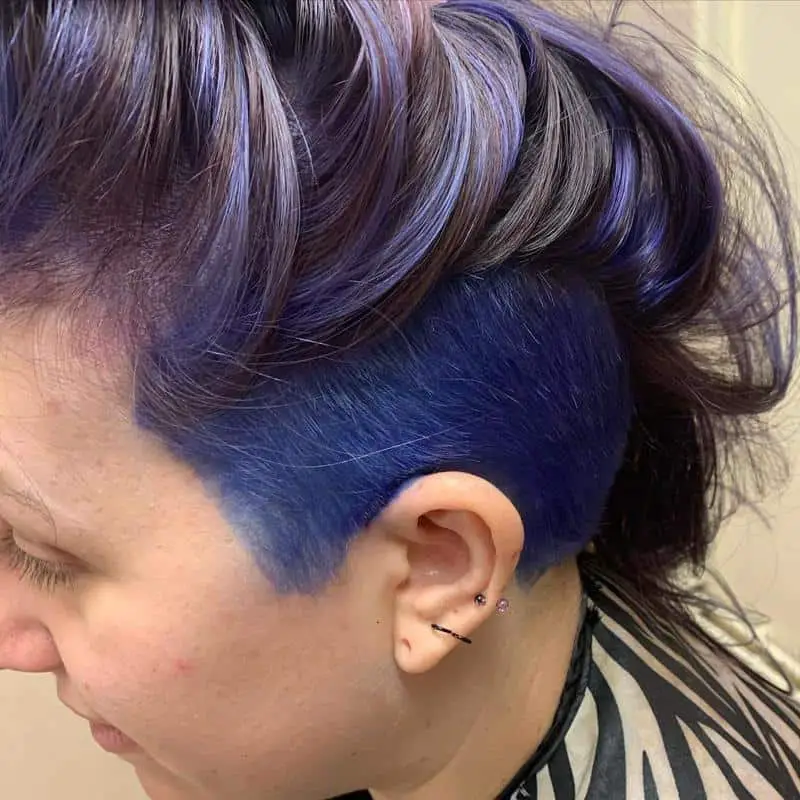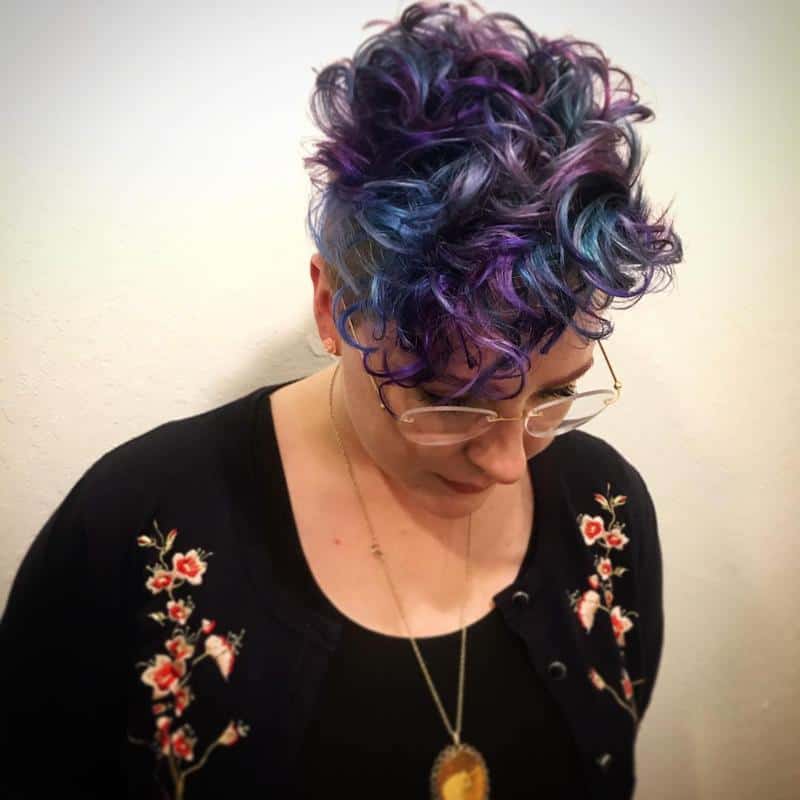 Undercuts can be used on short, medium, and even long hair. It can be visible, essentially shaving a huge portion of your hair off, or sudden and hidden. Make this edgy hair look even edgier by incorporating purple into it. Add purple highlights to the non-cut side or dye the whole undercut a bold shade of purple.
Purple Curls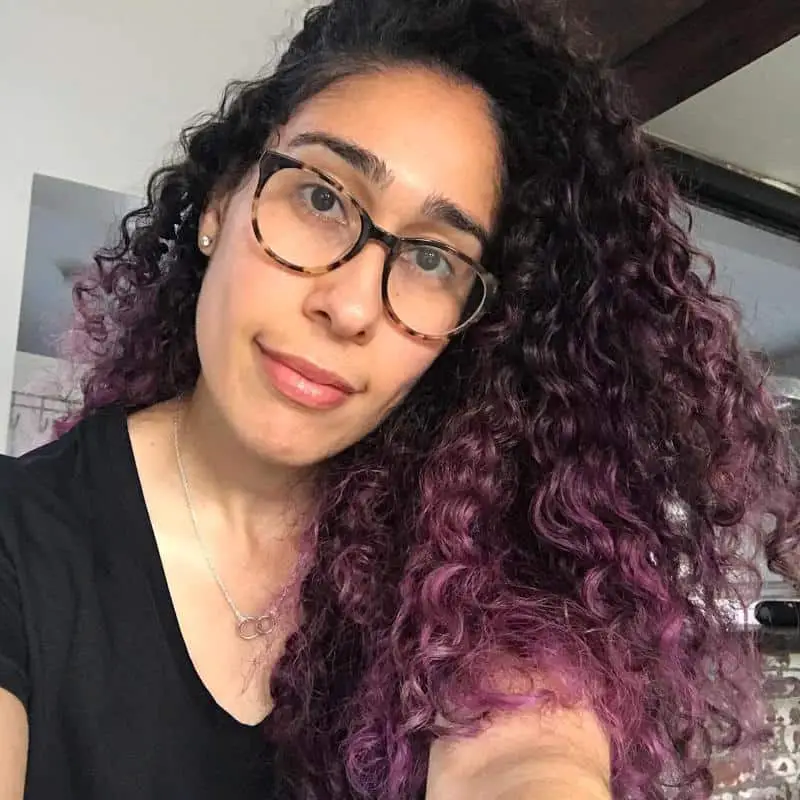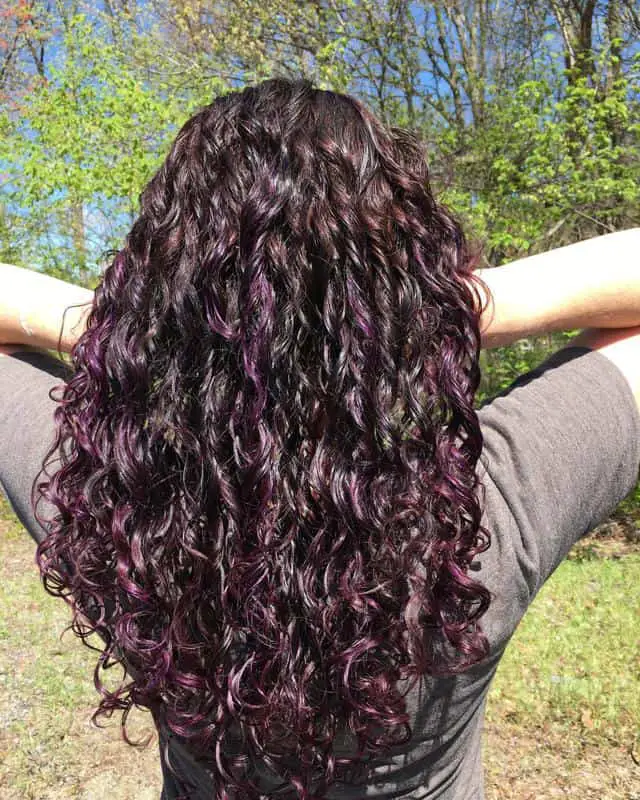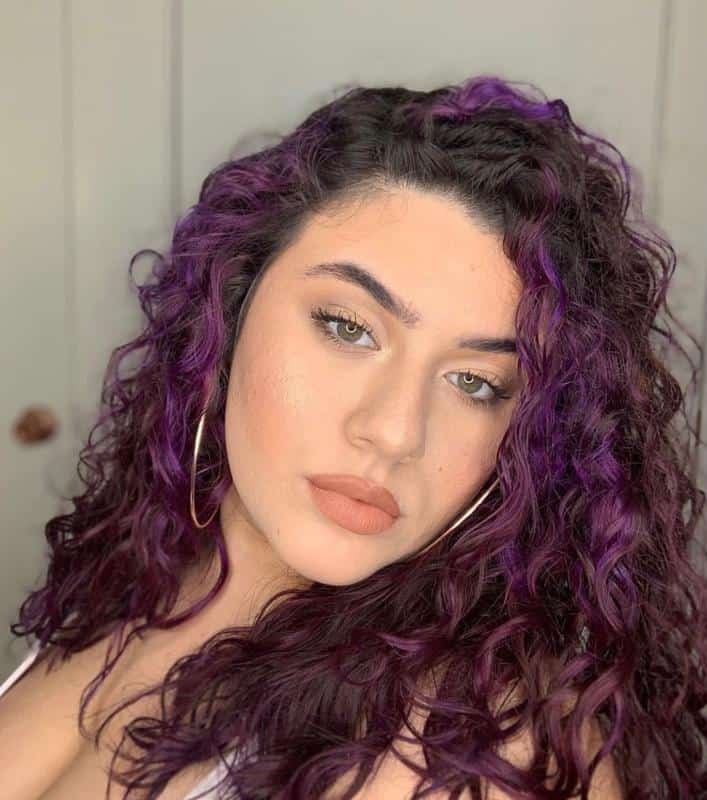 Brown curls are naturally stunning, but some highlights can really give it a dimension. Any tone of purple will look stunning from warm magentas to lilac hues. The purple spirals will open up your face and give your hair the illusion of being fuller.
Peacock Hair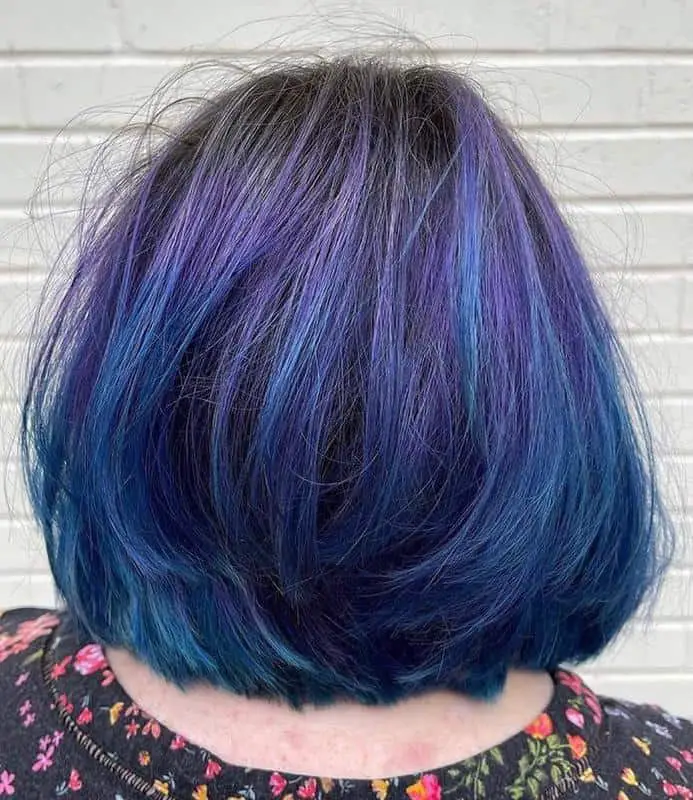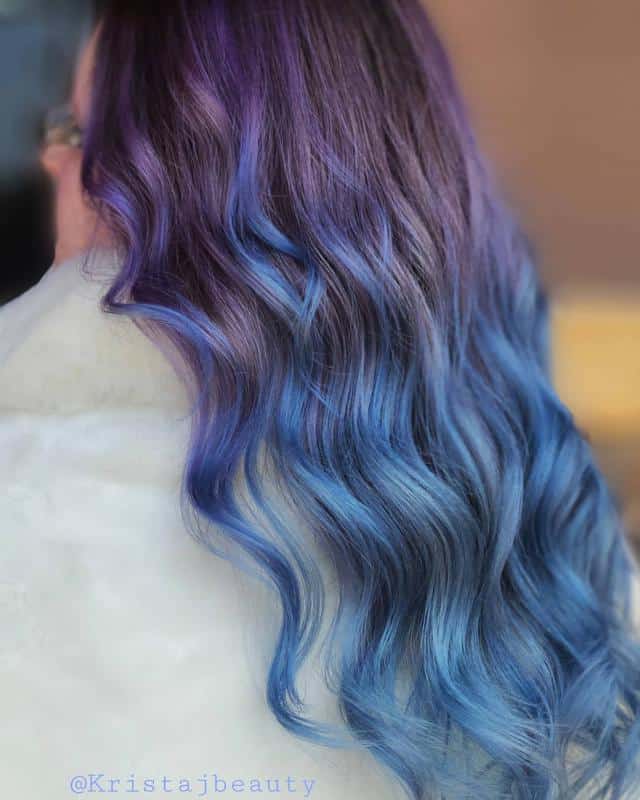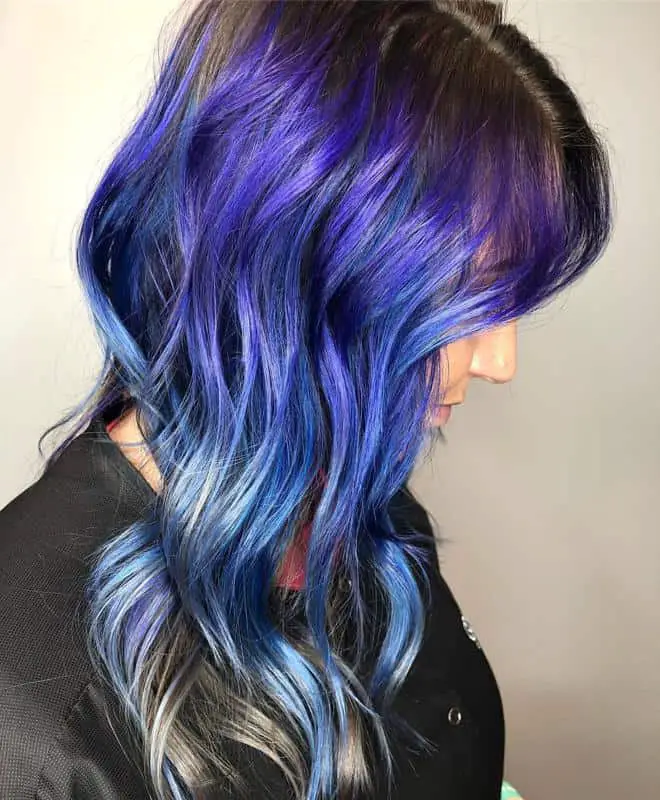 Get that magical unicorn hair by mixing purple and blue tones. Purple and blues blend well together, just look at the majestic peacock. Choose a cool tone purple to complement the blue hues. These shades blend well into dark brown tones, adding extra dimension.
Purple Dreads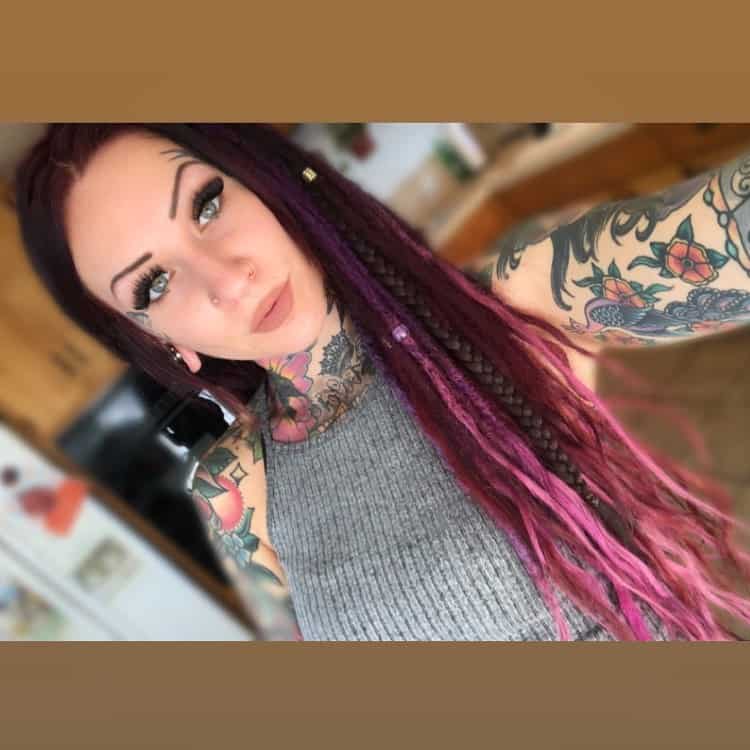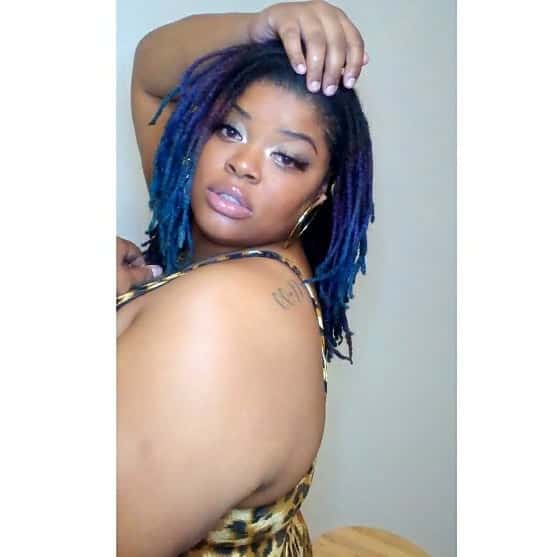 Dreadlocks are becoming more and more trendy, with a lot of the stigmas associated with the style slowly fading. Beloved by stars like Zoe Kravitz and Zendaya, you can add color to your dreads. From dip dye, to separate colored strands, purple dreads look extra stunning if you wear your hair in updos.
Purple Ombre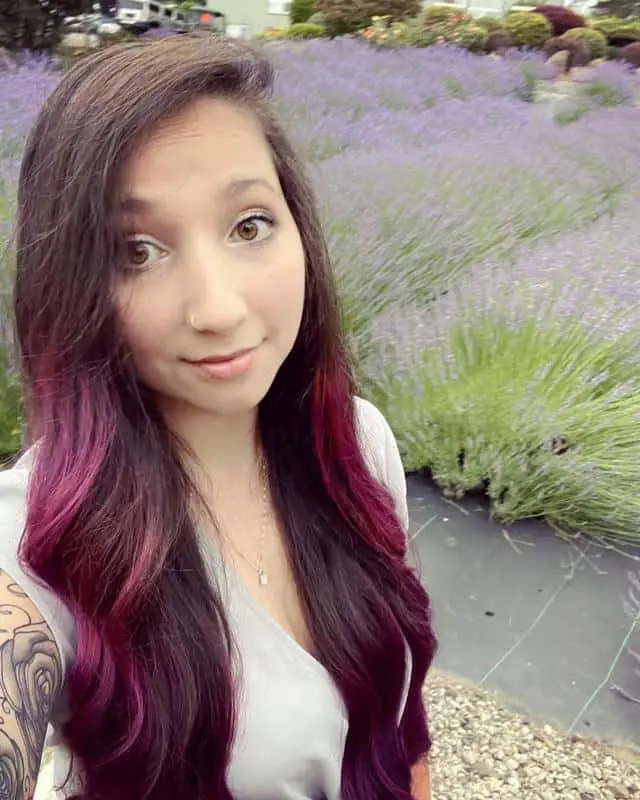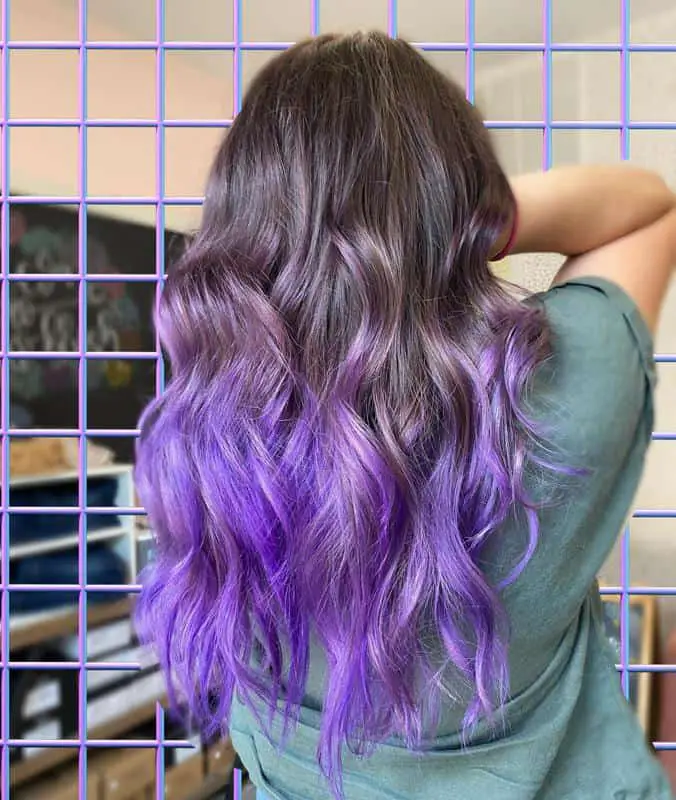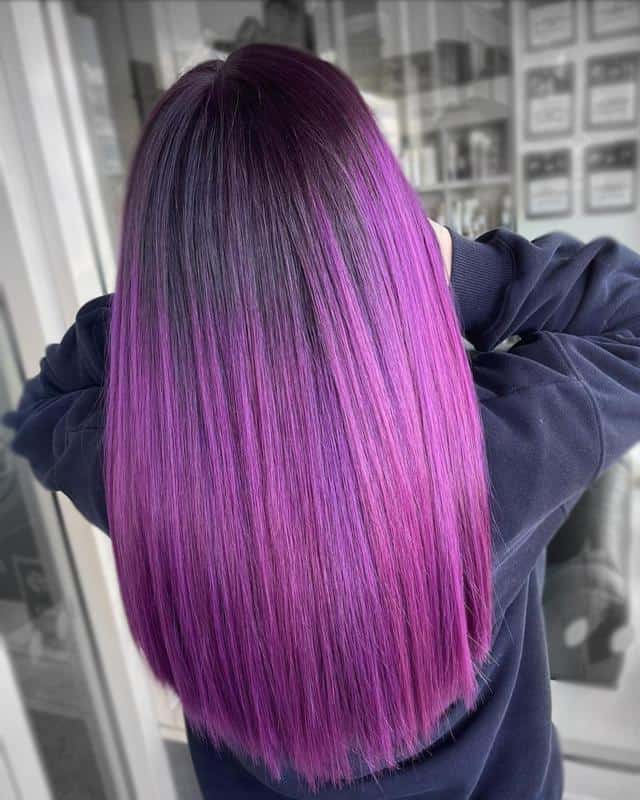 Purple ombre is a versatile hair trend that is one of the coolest hair transformations of recent years. Traditional ombre has a dip dye effect where color is placed at the ends. Ombre can be placed mid-shaft or closer to the crown. This technique is best done by a professional so the purple and brown blend effortlessly together.
Purple and Pink Hair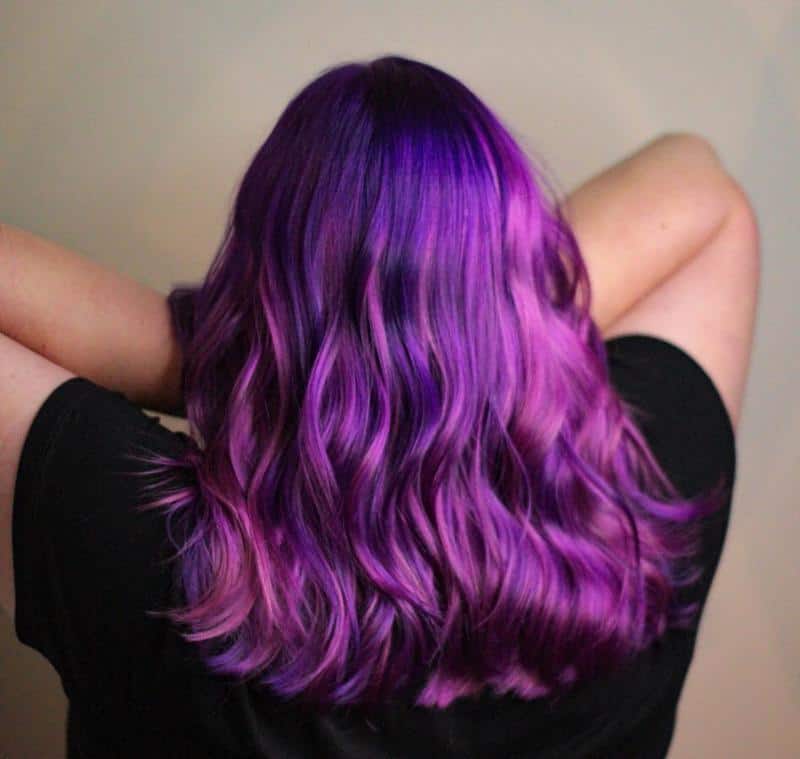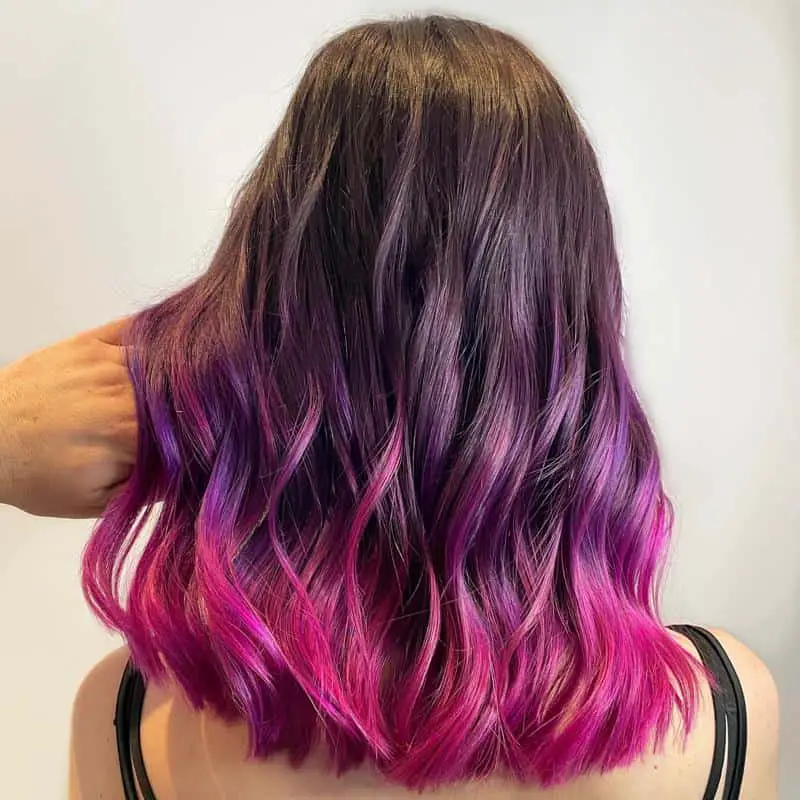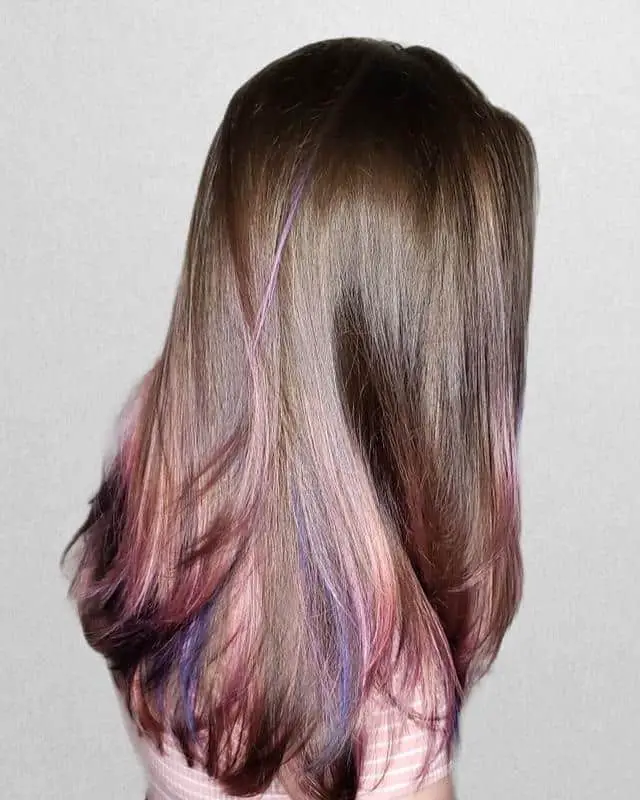 You may think purple and pink together could be childish and tacky, but you couldn't be more wrong. Dark brown hair works as a fantastic base for these dark purple and bright pink highlights. Purple and pink, when you choose the right tone, blend perfectly into each other. You could choose subtle peekaboo highlights or chunky streaks that make a major impact.
Indigo Highlights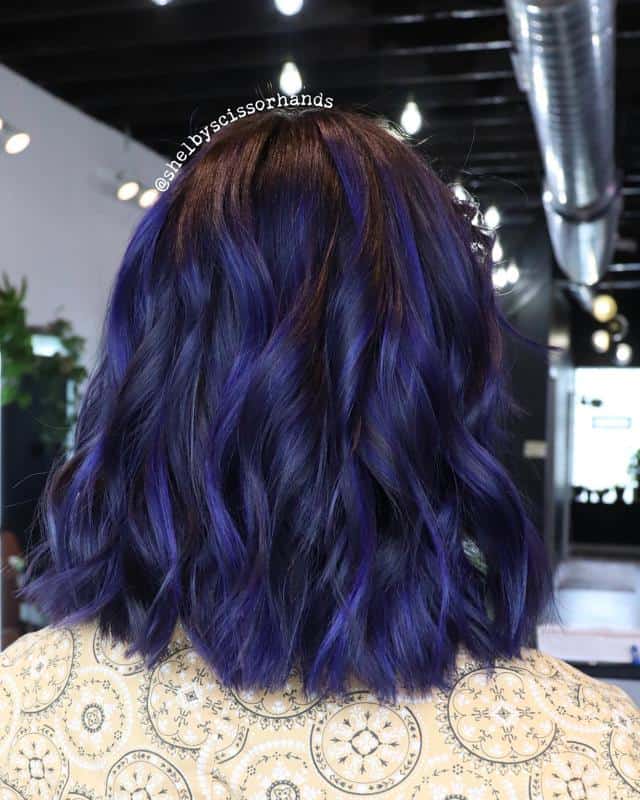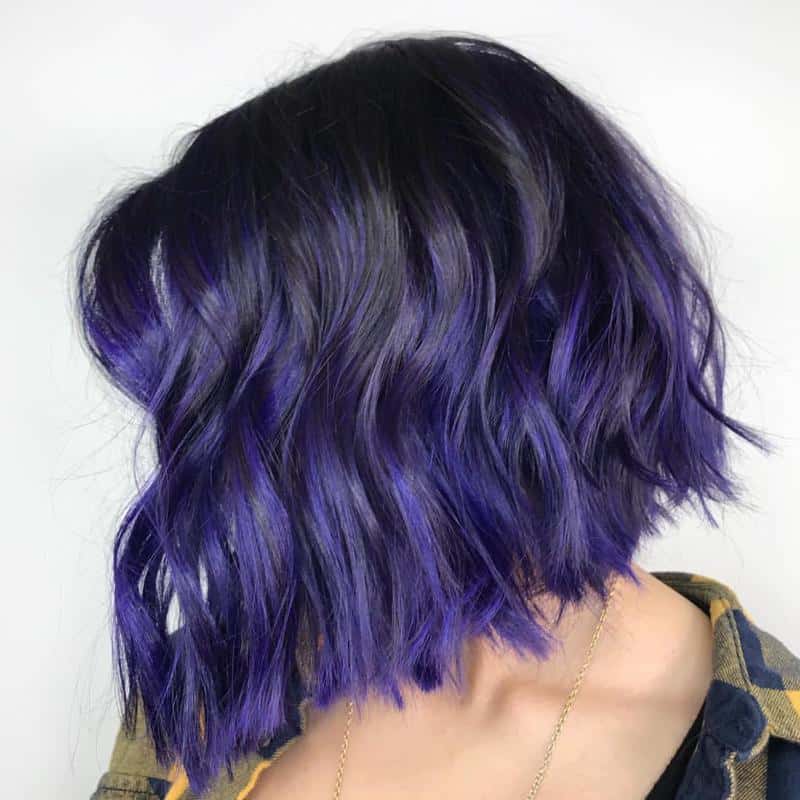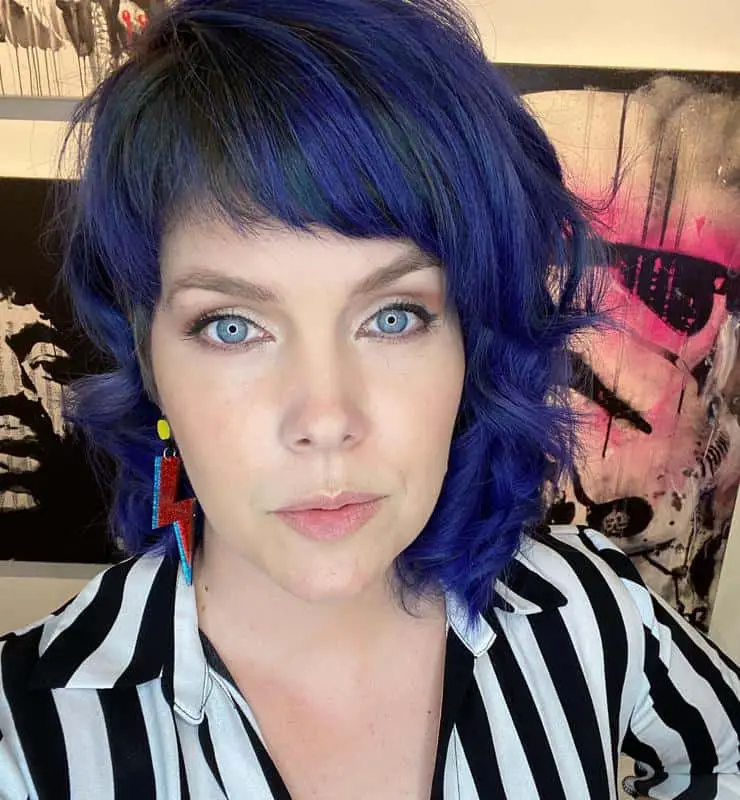 Indigo highlights look stunning on very dark brown or black hair. This cool tone purple that looks almost blue works well with cool toned hair shades. You could add this color as balayage, ombre or dip dyed. As it's so close to your natural hair color, it's not a huge contrast so a fantastic beginner shade if you're concerned.
Also Read: Top 30 Black Hair Caramel Highlights (2021 Updated)
Purple Bangs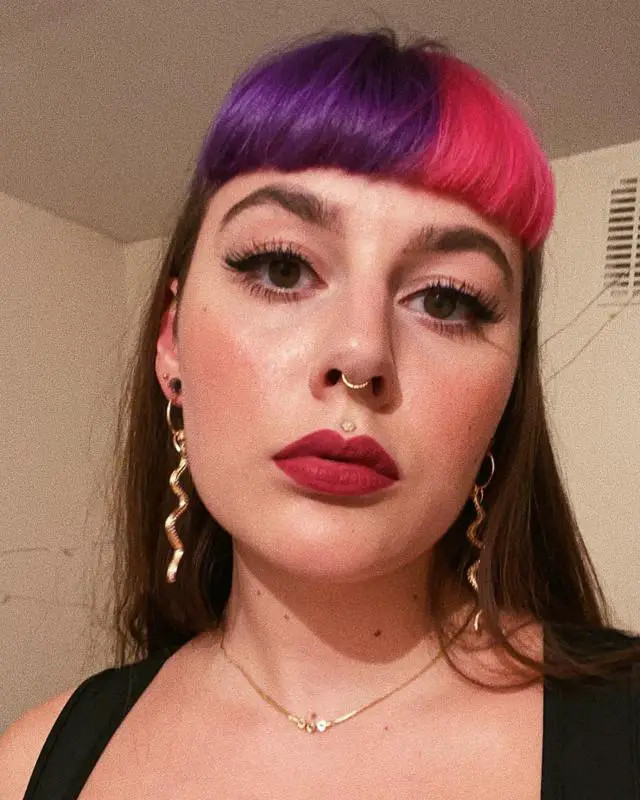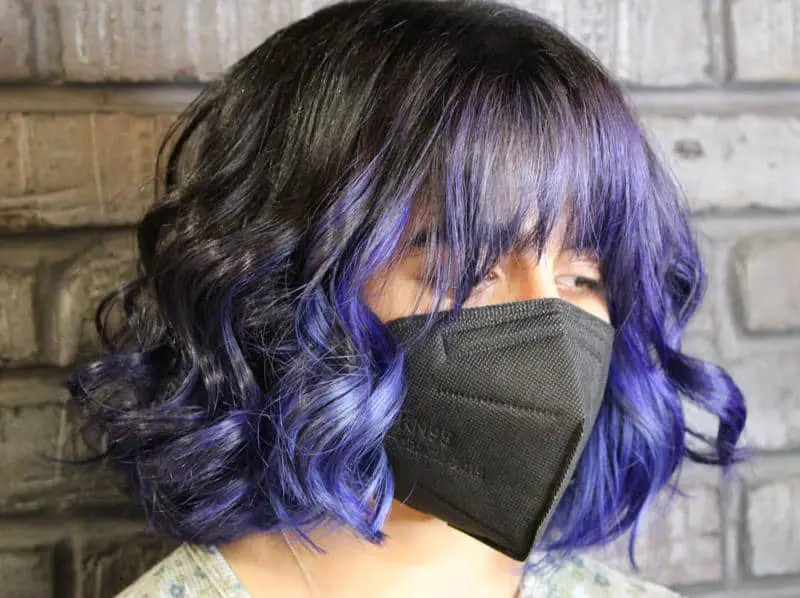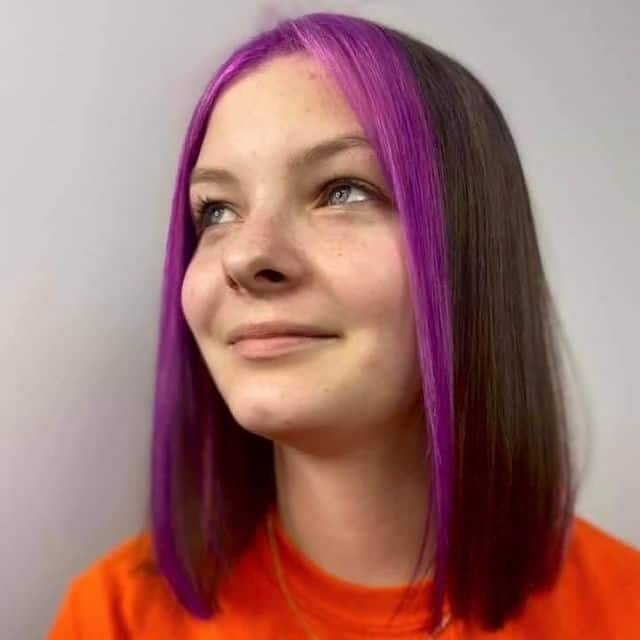 Want to draw attention to your bangs? Focus your purple highlights on the front of your hair. Whether you have side bangs, a full fringe or wispy framing strands, purple can put on the focus on your beautiful face. It works with all shades of purple and all lengths of hair from long and curly to straight bobs.
Tip For Dyeing Your Hair Purple
Before you start the highlighting of dyeing process, make sure your hair is in a fantastic condition. The better the condition of your hair, the long the purple will last. In the washes leading up to dyeing your hair, apply a nourishing mask or the place of your usual conditioner and get as much moisture into your hair.
If you have black, dark brown, or brown hair  (1-5 level on a hair color chart) a purple dye, which often comes in semi-permanent or toner form, will not be visible without the hair being bleached first).
If you want to add pastel or light purple highlights on brown hair, you will have to lift your hair color up to the lightest blond (level 10) to rock it. The healthiest way to bleach black or dark brown hair is to bleach it gradually. Go 3 to 4 levels lighter at your first hairdressing appointment. If your hair is damaged, only go 2 or 3 and use a mild developer.
If your hair is a lighter shade of purple, you could try more intense purple shades without the need to bleach. You may be able to slightly lighten your brown hair with a purple dye if your hair is light enough.
Avoid using your expensive light-colored towels and sheets with your new purple hair as the tone could easily bleed into them and stain the material.
The Best Purple Hair Dyes
If you think you can replicate these stunning purple highlights on brown hair looks, there are lots of brands which sell high quality dyes. There are plenty of shades of purple available in the market, ranging from long-lasting dyes to semi-permanent options. Here are some of the best purple hair dyes on the market.
Arctic Fox Vegan and Cruelty-Free Semi-Permanent Hair Color Dye offers stunning royal purples and magenta hair dyes. Created by model and influencer, Kristen Leanne in 2014, these dyes are cruelty free and environmentally friendly. They specialize in pigmented and zany hair colors.
Manic Panic Amplified Hair Color offers a range of different purple toned semi-permanent dyes. This hair color doesn't include any sort of chemicals like Parabens or ammonia and will give you a vibrant shade. Although semi-permanent, this brand is one of the most pigmented colors so the shade should last for about 8 weeks.
Jerome Russell Punky Colour in cream violet is easy to use for those DIY hairstylists. Made using vegetable products, this long-lasting semi-permanent shade gives a bright punch of color.
Lime Crime Unicorn Hair is a full coverage semi-permanent dye that gives you a bold bright color. Lime Crime, a quirky beauty brand, offers a range of bold colors for a magical finish. The formula is damage-free, and it has no harsh chemicals like ammonia or peroxide.
Garnier Nutrisse Ultra Color Nourishing Hair Color Crème comes in a violet shade that is made with natural ingredients. This dye is made using grapeseed oil, to keep your hair nourished. If you have naturally dark brown hair, this shade is the best option for you as it can make hair three shades lighter without the brassiness.
Adore Creative Image Semi-Permanent Hair Color is free from alcohol and doesn't include ammonia and peroxide. This hair dye will leave your hair looking and feeling great. When the purple color starts fading, instead of making your hair look faded and gross, it will turn it into a blue shade.
L'Oréal Paris Feria Multi-Faceted Shimmering Permanent Hair Color comes in magenta, fuchsias, and midnight shades. This easy to use dye also doesn't contain any chemicals and works on lots of different hair textures.
Purple Highlights on Brown Hair: More FAQ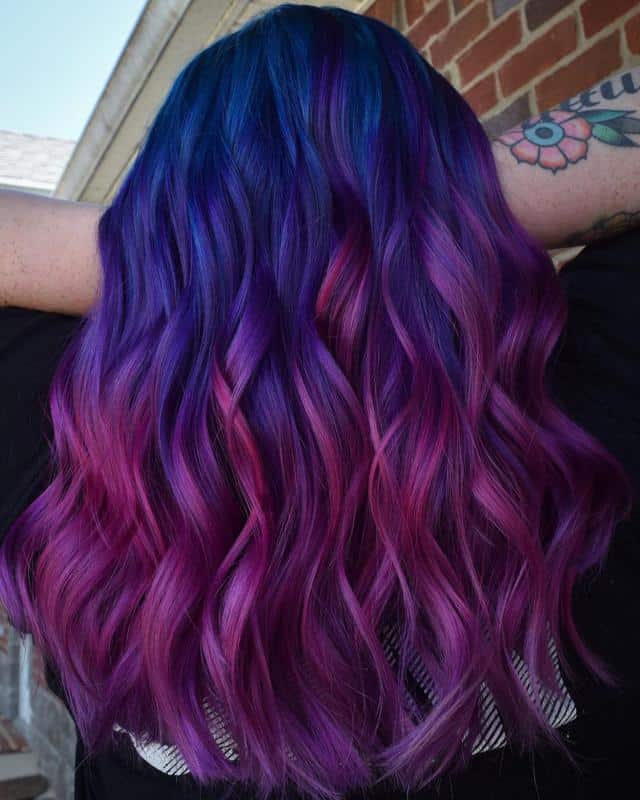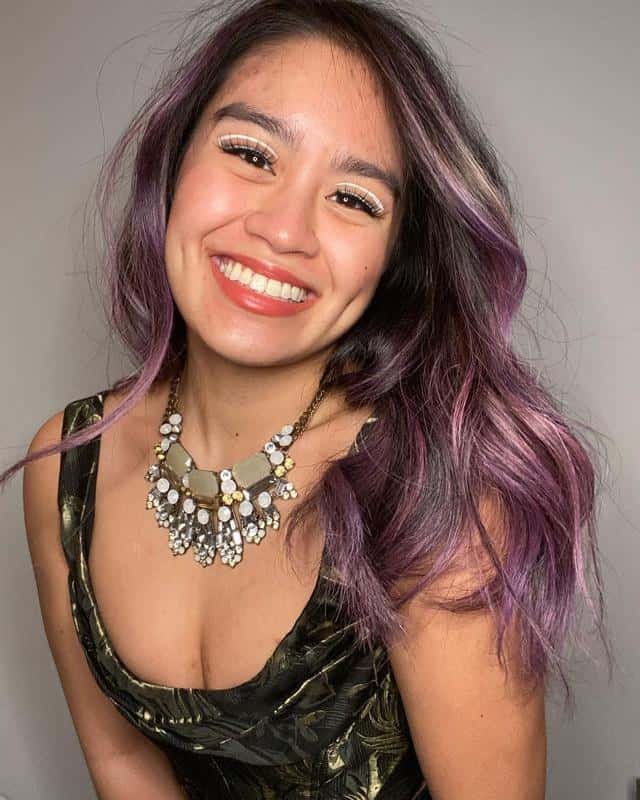 Which Celebrities Have Purple Highlights on Brown Hair?
Regina King switched up her stunning box braids by adding a purple tone. Demi Lovato rock the brown to purple ombre a few years ago. British actress Ella Purnell added purple highlights to her naturally brown locks.
Singer Justine Skye loves adding various shades of purple to hair. Vanessa Hudgens was rocking purple streaks back in 2012. Katy Perry frequently experiment with purple hair from lilac shades to deeper shades and bold ultraviolet on black.
Actress Lana Condor added purple tips to her dark grown out bob for dramatic effect. Model Jourdan Dunn dyed her curly hair lilac, leaving her dark roots on show. Vivica A Fox enjoys adding bold colors like magenta to her locks.
Missy Elliott enjoys bright tones like indigo blue and petrol slick streaks.
How do I Choose the Right Shade of People For Me?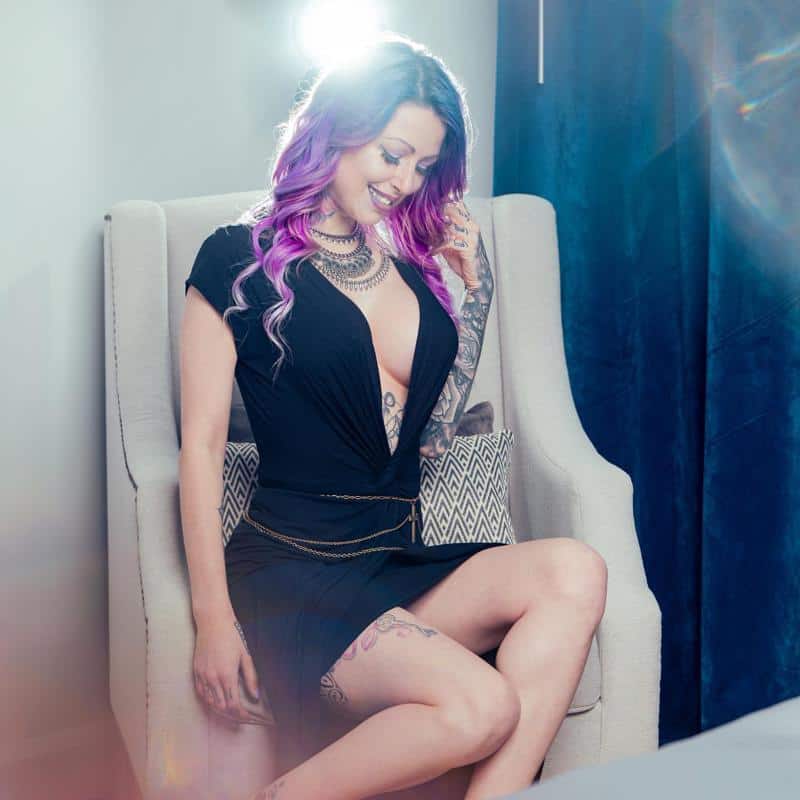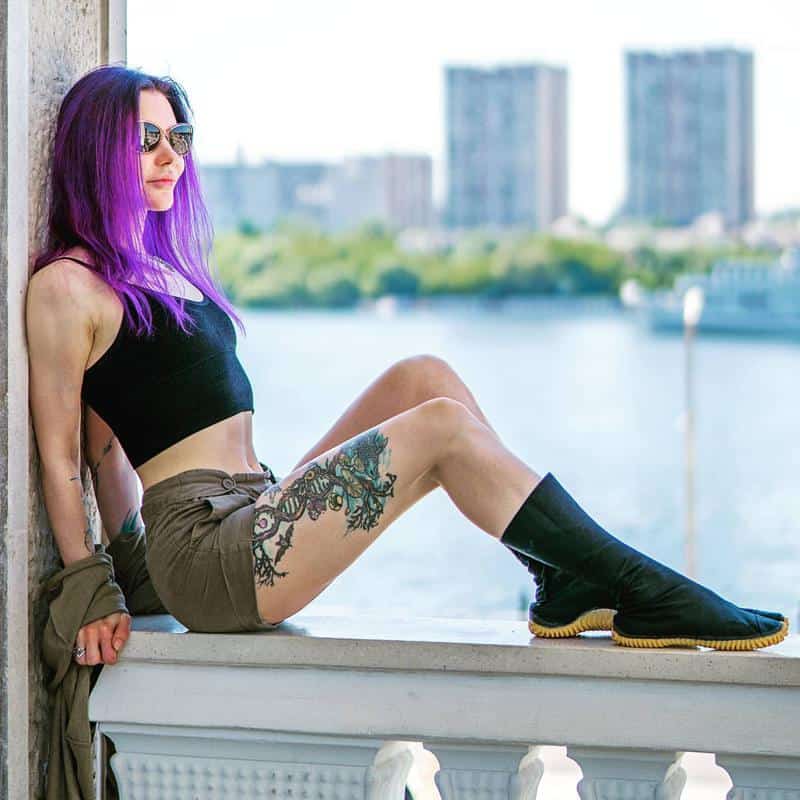 When selecting any hair color of choice, even a vibrant shade like purple, you'll likely get the best results if you match your overall tone. Brunette can pull of the same purple shades as brunettes, but make sure it suits your skin tone.
No matter what shade of purple you choose for your brown hair, bleaching and lifting will be part of the process. Warm purples are easier to achieve, where else cooler purple tones need more aggressive lifting to remove any warm undertones. A darker purple will be easier to achieve on brown hair, but it will make less of a contrasting impact.
People with yellow tones in the skin (a warm undertone) should choose warm purple hues that are in the red violet color range. Those with a cool skin undertone should try purples in the blue violet palette.
If your veins are green, your undertone is warm. The purple shades that will suit you best are magenta, plum, eggplant, or red grape.
If your veins are blue, you have a cool undertone. Try pastel hues within the purple family, like periwinkle, lavender, lilac, or indigo.
If your veins are not blue neither green, you have a neutral undertone. Most shades will work on your skin tone, even dusty mauves and smoky purples.
How do I Maintain My Purple Highlights?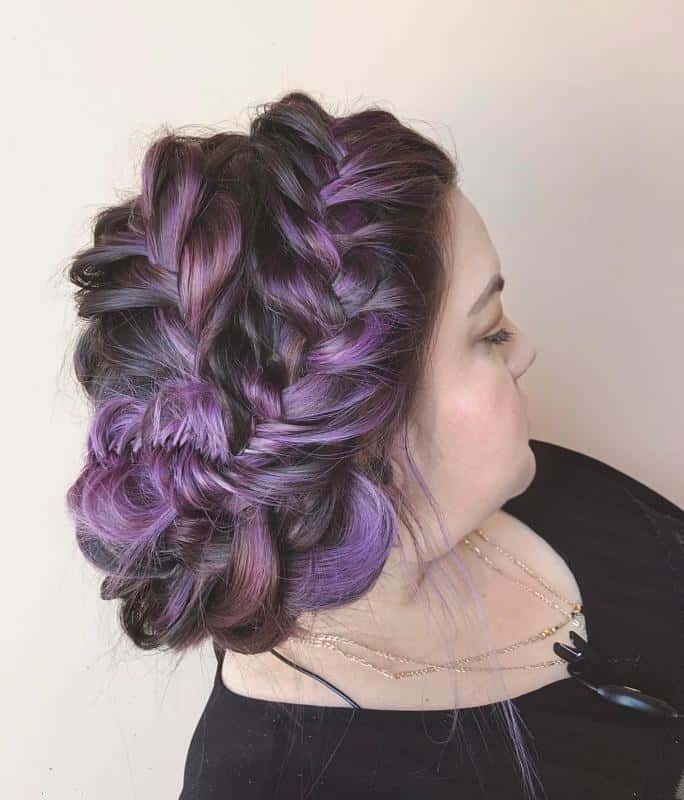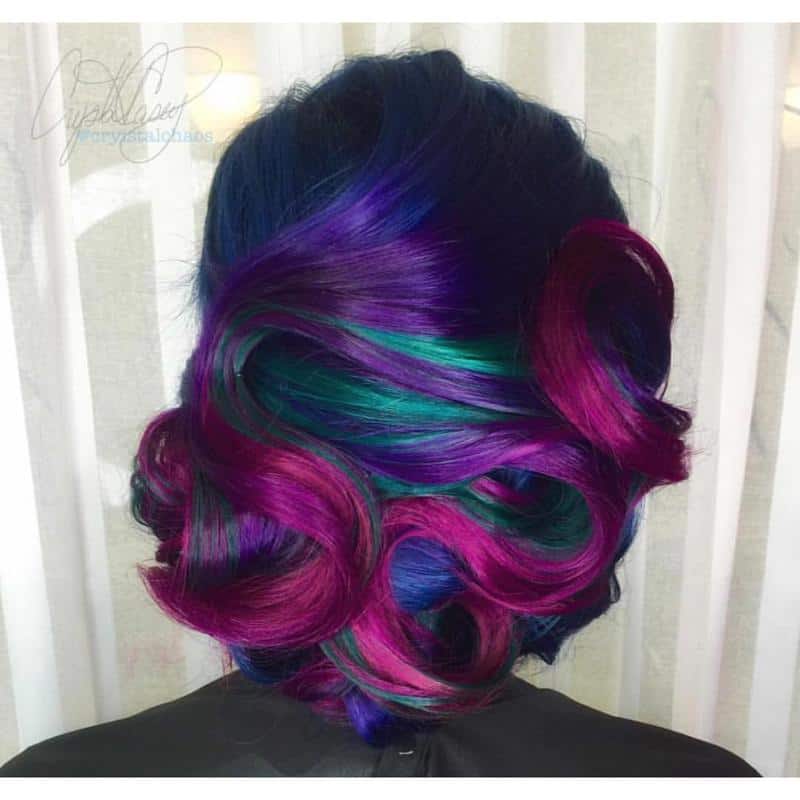 Want to keep your purple highlights as rich, bright and vibrant as possible. Follow some simple steps:
Use a shampoo and conditioner system that is designed with color-treated hair in mind. There a lots of fantastic brands on the maket that protect and shield hair color to stop it from fading so quickly.
Use hair masks to keep your hair in a good condition. Lots of brands as lots of price ranges offer leave in mask aimed at dyed hair.
Super-hot water can strip your strands of essential oils, which can leave your hair feeling dry and looking dull. Rinse your hair in lukewarm water to maintain the color for longer.
Always use a heat protectant before using hot tools. No look is worth damaging your hair. Taking a break from heat can minimize damage and keep your color looking better for longer. Reach for heat-free styling products to show your strands some extra love.
Be prepared to need to get regular touch-ups as purple highlights can be high maintenance.
Wash your hair less and use more dry shampoo on those in-between days.
Keep your hair out the sun as this can fade your color more. Wear a hat on a bright sunny day.
Can Men Get Purple Highlights on Brown Hair?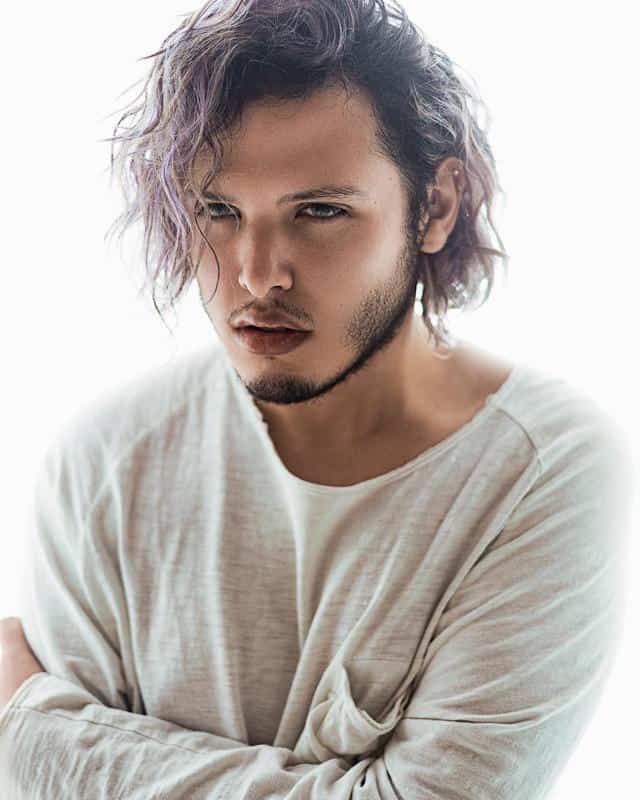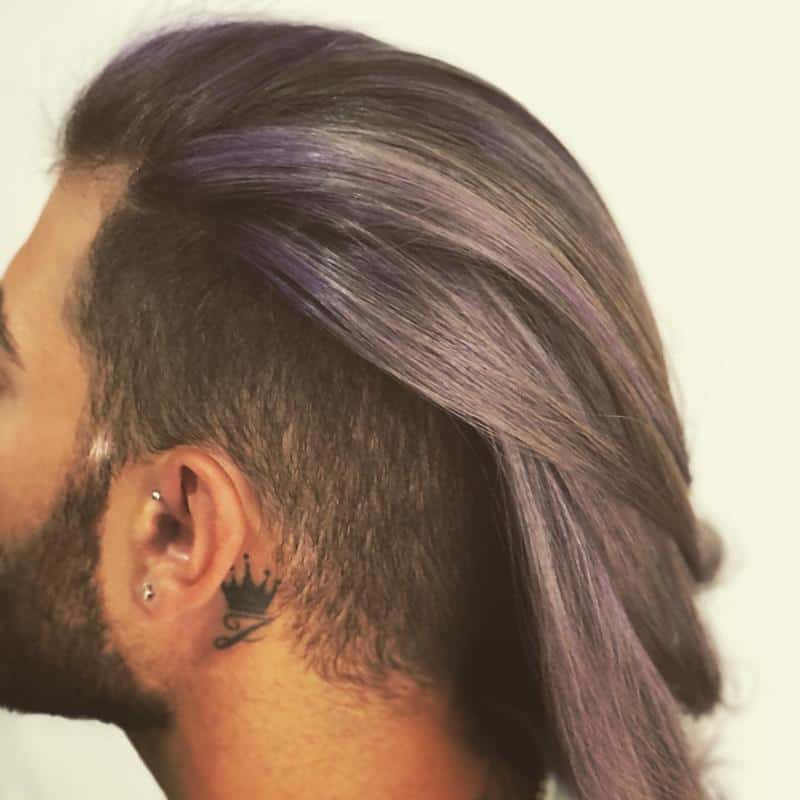 Yes, purple highlights can also be added to a range of male hairstyles. Purple highlights can be added to tousled bangs, quiffs, long strands of hair and curls to give your haircut a pop of color. You can even add purple to your beard.
The same rules about maintain your hair and choosing the right purple shade for your skintone as above.
Also Read: