50+ Gorgeous Rose Gold Nail Design Ideas (2022 Updated)
When you shop through links on our site, we may earn an affiliate commission. This educational content is not intended to be a substitute for professional advice.
Rose gold is not only a variant that is popular in jewelry. Although it grew in popularity as a jewelry color that compliments both trendy and classic jewelry from earrings and necklaces to bracelets and rings, it's also becoming more popular when it comes to selling electronic goods. Apple's iPhone and MacBook Pro in Rose Gold variant are prime examples. Still, these are not the only spheres where the rose gold shines.
Rose gold is a popular alloy of 24 karats yellow gold, blended with silver and copper. Silver is what gives it its shine, while copper gives it a rose-like color thanks to its reddish hue. All these materials are quite durable, which is why rose gold jewelry is a popular choice for many women. Surprisingly enough, the same goes for nails.
Rose gold is a super-popular variant for nails. Whether you're looking for a simple and minimalistic gel manicure with rose gold textures, or full acrylic work done with rose gold patterns and designs, look no further. Here's everything you need to know about this majestic color and how to style your nails with it.
Additionally, we'll provide a thorough look into Rose Gold designs as well as everything that you need to consider when visiting a salon for a Rose Gold nail work.
That being said, let's dive into the properties of rose gold and potential symbolism that could inspire you to get a rose gold manicure done. Finally, check the best rose gold nail designs for inspiration to share with your beautician.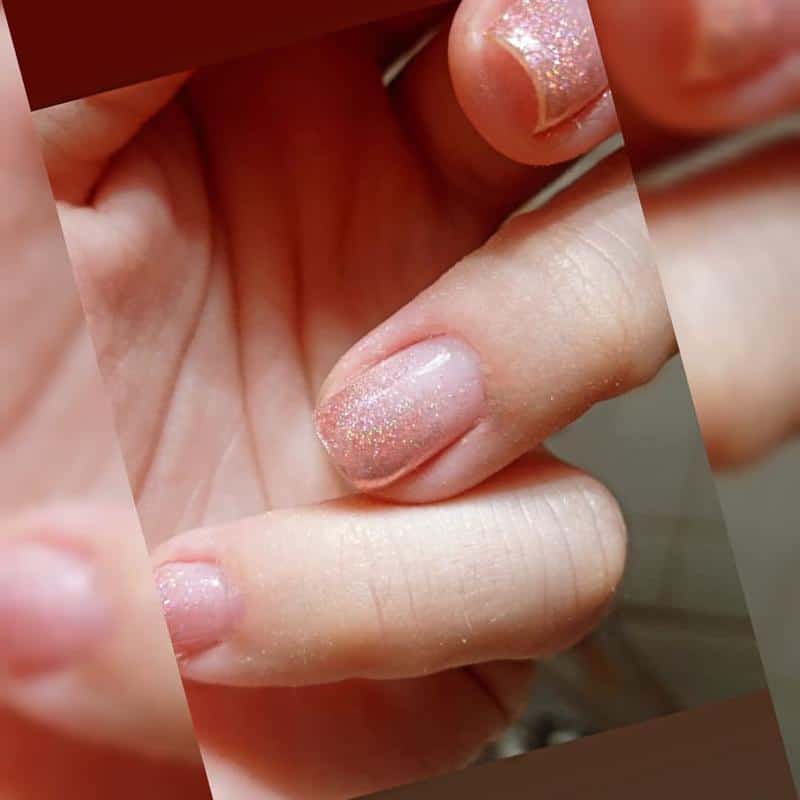 Everything About Rose Gold And Rose Gold Nails
As mentioned earlier, Rose Gold is a gold variant made out of silver, copper, and 24 karats gold blend, also known as an alloy. However, given that it's blended with copper, which is cheaper among the precious metals rose gold is also more affordable compared to gold or white gold.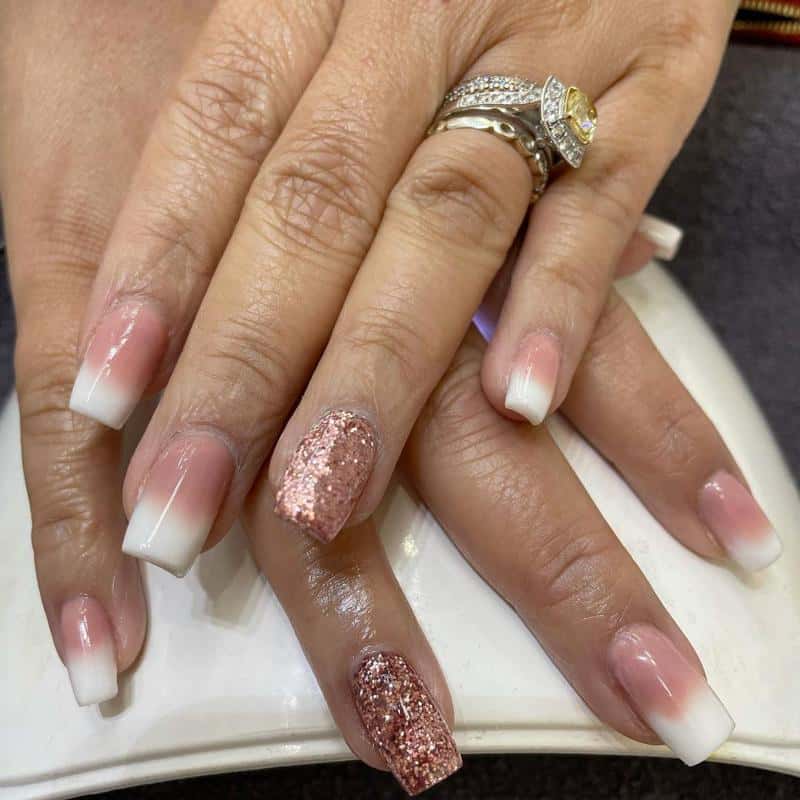 What's also important to note is that thanks to copper's durability, rose gold is more durable than simple yellow or white gold. It's however, weaker than platinum, although that won't reflect on your nails, as it's only the colors we consider.
History
You'd be surprised that the Rose Gold variant is relatively recent compared to other variants of gold. That's exactly what makes it so special. It is the bridge that connects old and classic and modern and trendy.
First discovered in the second half of the 19th century, Carl Faberge combined yellow gold with another metal, copper. Since it was originally discovered in Russia, the initial name for Rose Gold was "Russian Gold." Today, it's not called that way.
Since its discovery, it has gained immediate popularity and fame. It was worn during the early 20th century and could be found among all the gentry and noblemen, thanks to Cartier that didn't waste time in including it in its jewelry collections.
Although its popularity fell and rose for some time, it never went out completely. It's commonly used on rings, especially by people who wanted to combine it with their warm skin tones, which is where they look like the best.
It exploded in popularity once again when it started being featured as one of the color variants of popular iPhones and MacBooks. That being said, ever since 2015 and 2016 it's been a popular iPhone, iPad, or MacBook option.
Today its popularity in jewelry continues growing and shining. Other variants are combined with rose gold, but these days rose gold hair colors, as well as nail colors, are prominent around women, mostly so to match their jewelry or gadgets such as MacBook.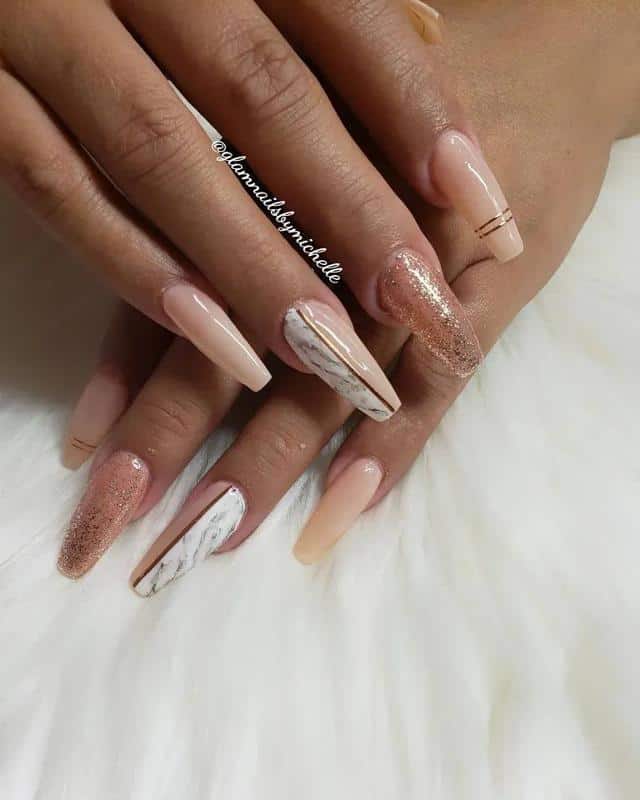 The Symbolism
Some people stray away from wearing rose gold because they're scared that it looks cheap, but it's far from that. It's the ultimate symbol of luxury and wealth, especially at the times when it was discovered when women and men adorned themselves with rose gold jewelry and brooches.
Because of its pink and reddish color, it is also the symbol of romance and sex appeal. It can also symbolize friendship, loyalty, passion, and excitement.
Finally, it can be used by all genders. Its pink-like texture may make it look approachable more to women than men, but we can freely say that it's gender-neutral. Of course, if you're aiming to get rose gold nails and combine this color with some other texture and variant, it'll naturally look more feminine.
What To Combine It With?
Rose gold is a perfectly neutral color because it's neither considered too yellow gold nor too pink. It's rather neutral, calming, and composed, which is its alternative symbolism. It's associated with balance and although it may look better with warmer tones, it'll go well with pale skin tones too.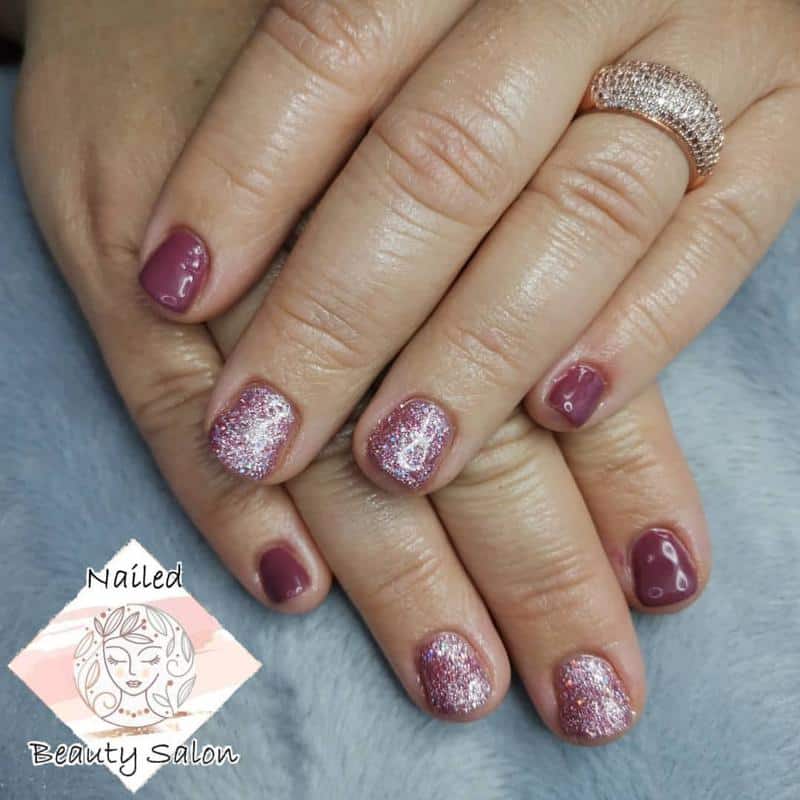 If you're not a fan of the minimalistic color palette when it comes to rose gold nails, there are other colors to combine the nail polish with. It can freely be used with other shades of pink or alternatives that we'll mention in the next section, but you can also use it with colder tones such as green and blue.
Here are the colors and tones to combine rose gold nails with:
Earth tones
Teal
Cream
Gray
Lilac
Baby Blue
Violet
White
Emerald
Azure
Rose Gold Nails Alternatives
Some alternative polish colors are similar to rose gold and that you should consider if you're not exactly a fan of pure rose gold. In that case, you can go for a glossier or more gold-like technique or opt for a more balanced tone, maybe even a matte.
Here are some similar alternatives:
Quartz
Rose Quartz
Rosewater
Dusty Rose
Pink
Gold
Rose-red
Rose Gold Nail Texture Ideas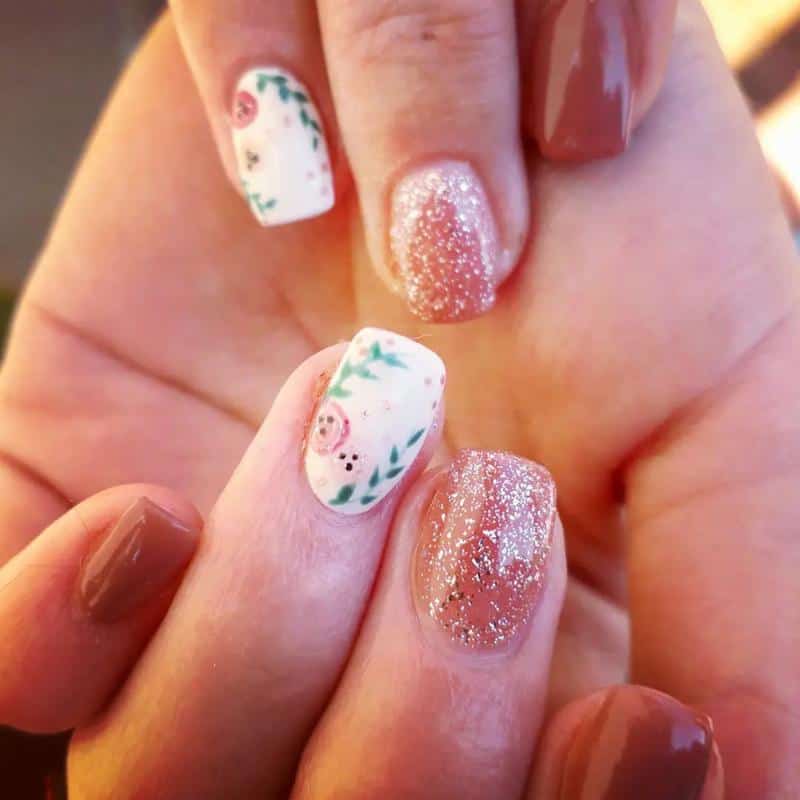 If you want to spice up your nails with some gold sprinkles, or some other accents that will make your nails the center of attention, let's take a look at some rose gold accent ideas to help you come up with your own idea.
Rose Gold French – French manicure is timeless. It'll always be a popular option for someone looking for a neutral nail design. With that in mind rose gold French nails are the winning combination, especially because rose gold is close to our natural skin tone's texture.
Rose Gold Reverse French – Reverse French nails, as their name suggests, include flipped French tips so that they're at the bottom of the nail. It's a great combination for rose gold nails, especially if you add some gold accents at the French bottom of the nail.
Rose Gold Ombre Nails – Ombre style was quick to transit from hair onto nails. It's a powerful combination with brighter options of cream, gold, or even white. Just make sure to add some sprinkles for a better style.
Rose Gold Stripes – Rose gold texture is always good on some bigger nail works. You can use it on a pastel tone for more detail and an attention-grabbing finish. Rose gold looks great as nail strips at the top.
Rose Gold With Glitter – Glitter goes well with everything, especially a warm tone such as pink gold. Sprinkles will reinforce your nails and make them look gorgeous and stunning.
50+ Best Rose Gold Nail Designs
If these tips didn't help you visualize an ideal rose gold nail design, we prepared amazing rose gold nail designs for you to check out. Embark on this journey with us.
Combined Rose Gold Nails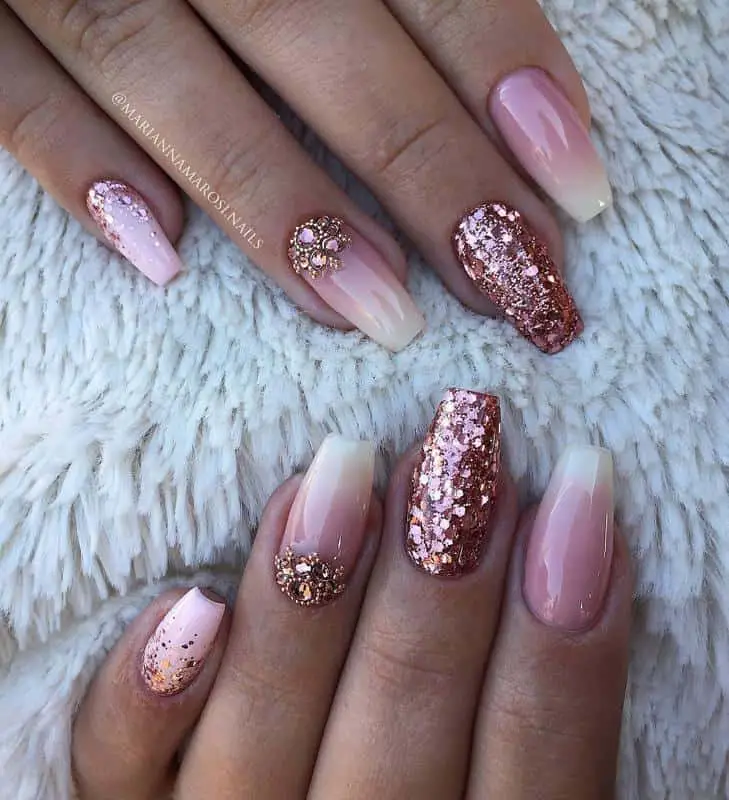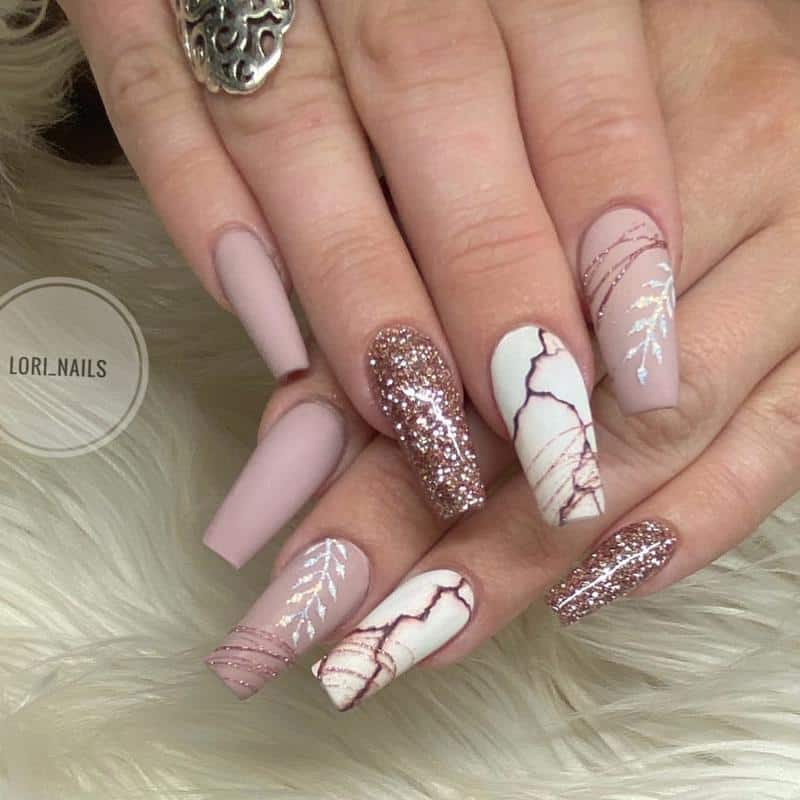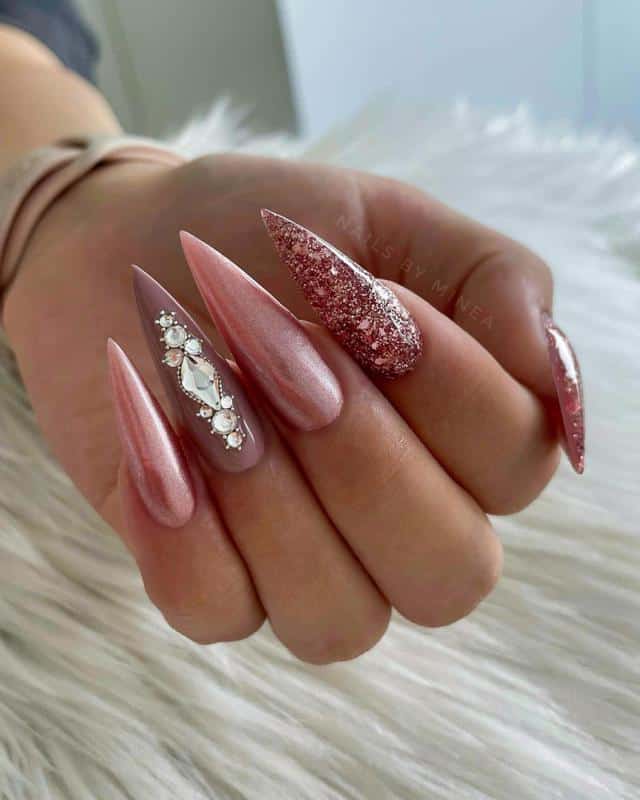 Although they require a lot of work, as well as time, combined nails make a masterpiece among those who make them. It's like you're painting and adorning multiple canvases with breathtaking art, and allowing someone else to wear it for a significant amount of time.
Like you can see in the image, there's everything – from simple nude tones to glitter, zircons, and top-notch ombre nails. If you want to combine multiple rose gold tones in your manicure, talk to your beautician, or show them some of the images above to get a better picture of what kind of work you need to be done.
Polka Dolt Rose Gold Nails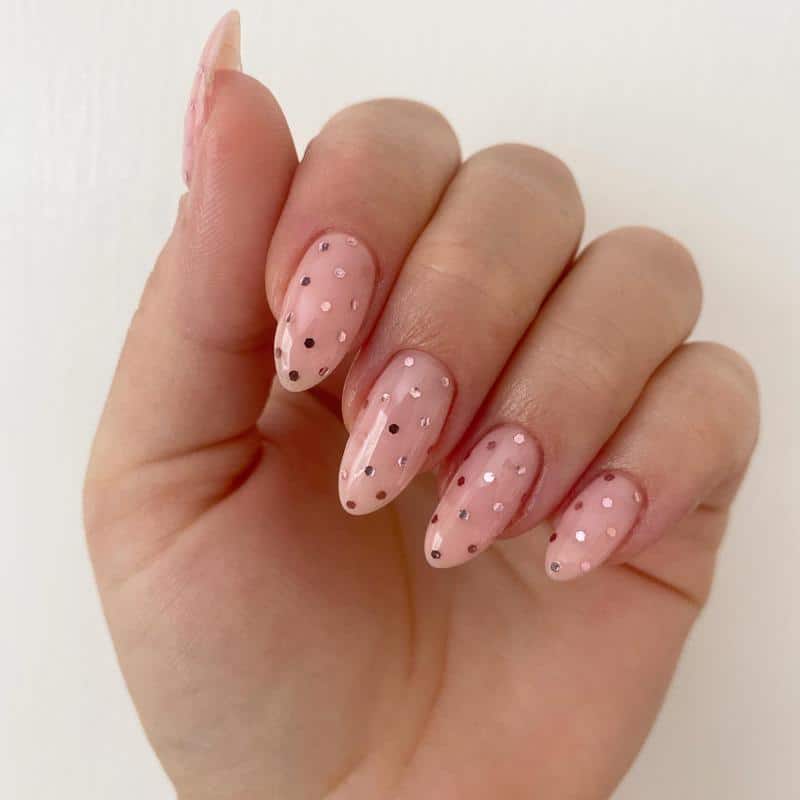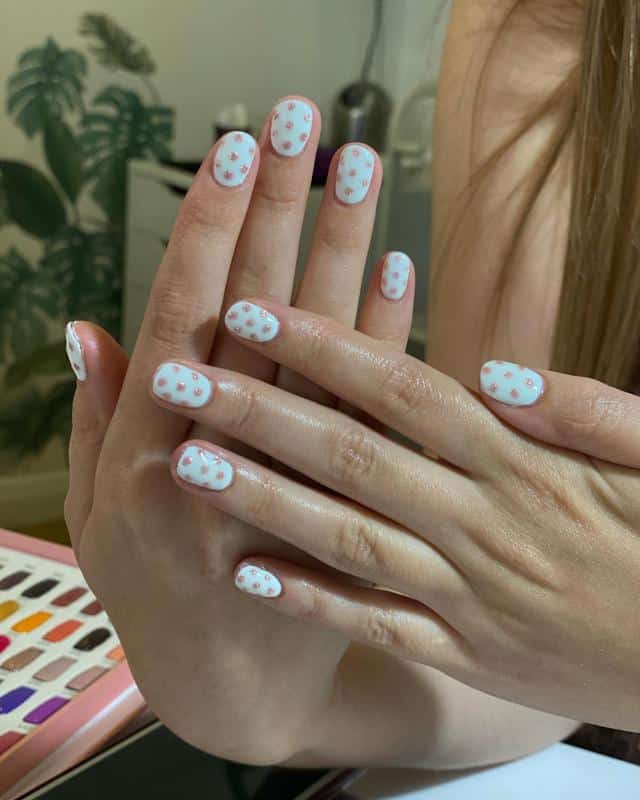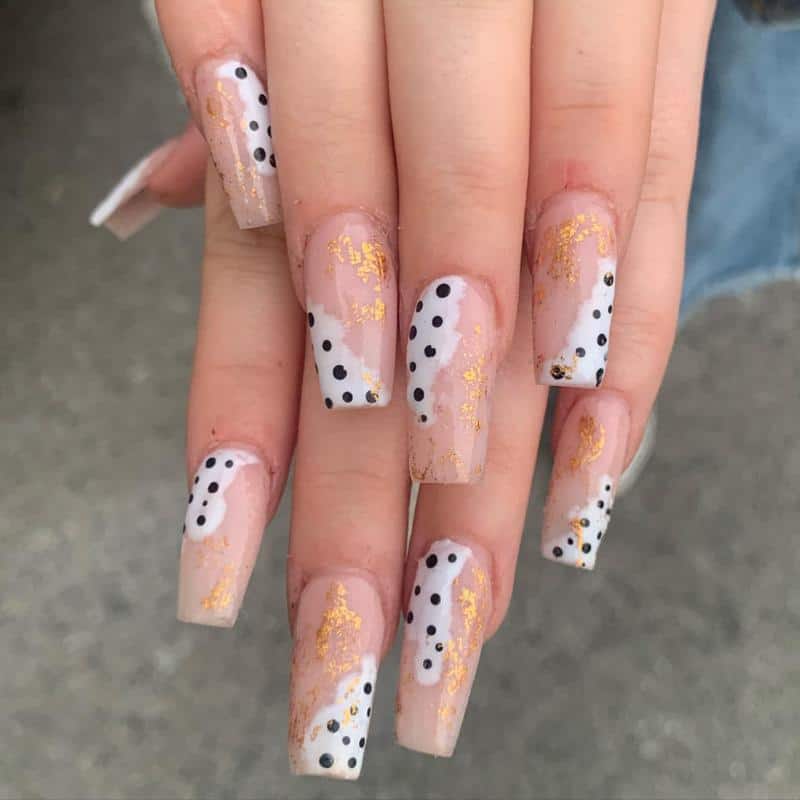 Polka dots are everywhere. As of some recent times, they're making their irresistibly cute appearance on nails. Although rose gold nails often have a design that is more supposed to make someone feel luxurious rather than cute, these polka dots we presented will melt your heart.
Whether you want to add them to a single nail, a small nail work, or acrylic gel work, you won't go wrong. You can use rose gold glitter, gel, or matte to create the polka dot effect, and it looks the best when decorating some nude tone, as well as a simple white gel polish.
Rose Gold Nails With Glitter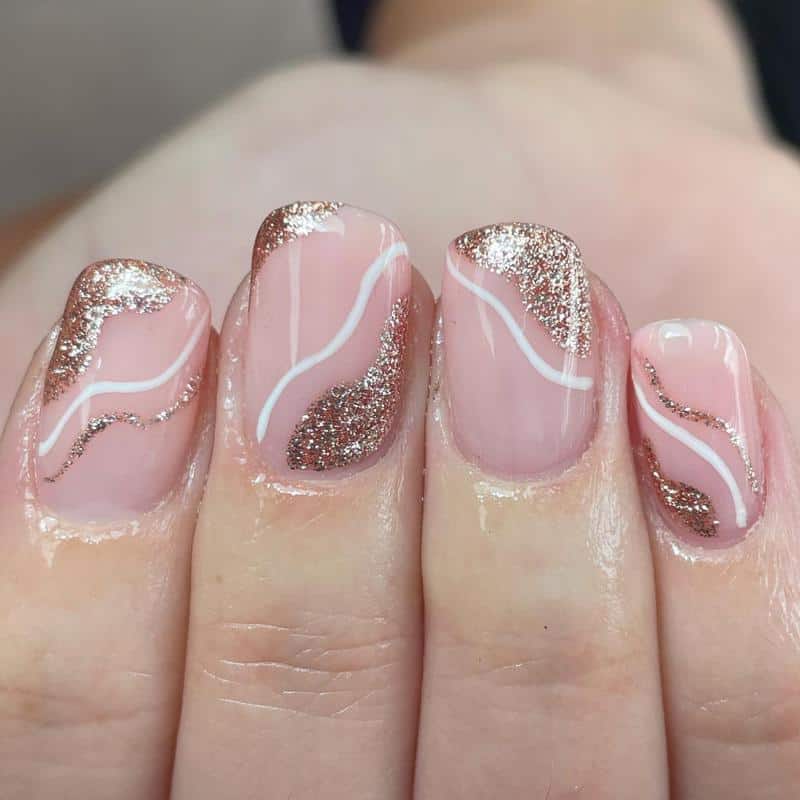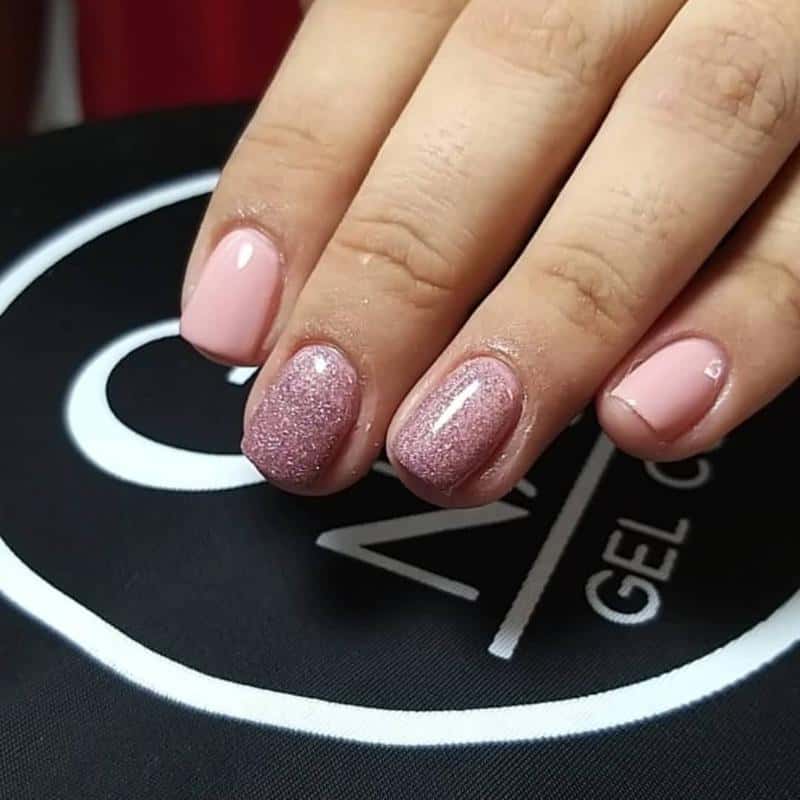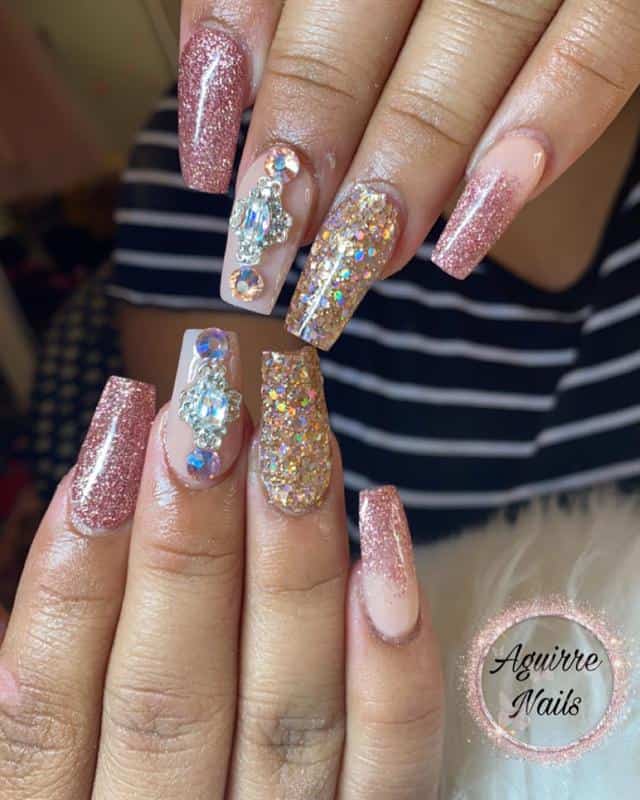 We believe that glitter will never go out of style. Even though fashion and beauty are embracing pastel and minimalistic matte tones, the shining glitter produces is far from getting dumped just yet. Whether you're going for a simple gold effect or rose gold effect you won't make a mistake.
Rose gold glitter can be painted on a whole nail to give it a wealthier and more luxurious look, as well as combined with other designs and nail patterns. Finally, it can be stripped onto the nails and added as some kind of a French style with rose gold glitter tips.
Nude Rose Gold Nails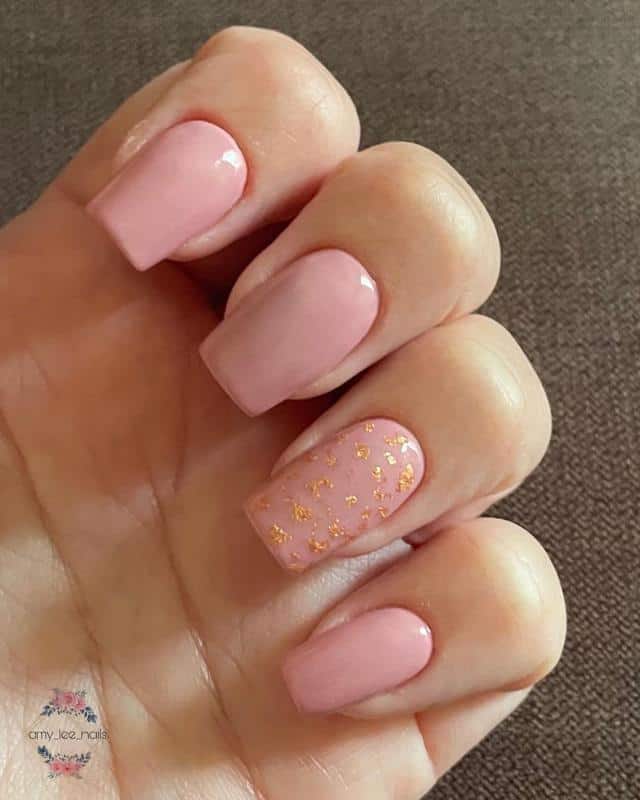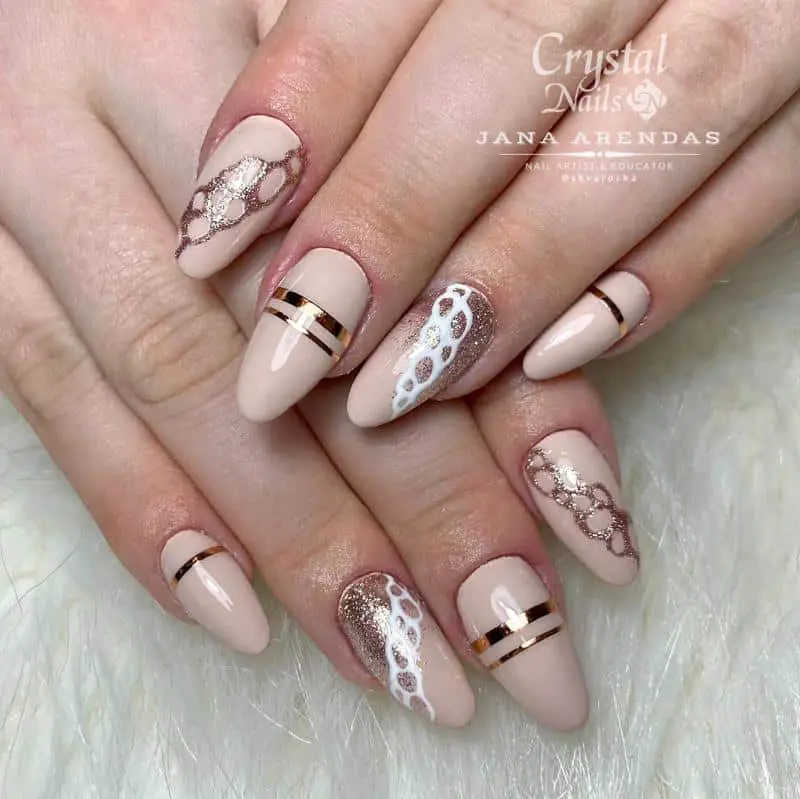 While glitter is widely popular and always welcome on rose gold nails we find rose gold nude tones just as enchanting. How can something as simple and minimalistic as a nude tone make your hands feel so much warmer while enhancing the healthy look of your nails and fitting in perfectly with all clothing styles and designs?
While rose gold nude tones can go great on all shapes of nails, we believe that keeping nails minimalistic and even natural can yield the best results for rose gold nails.
Rose Gold Ombre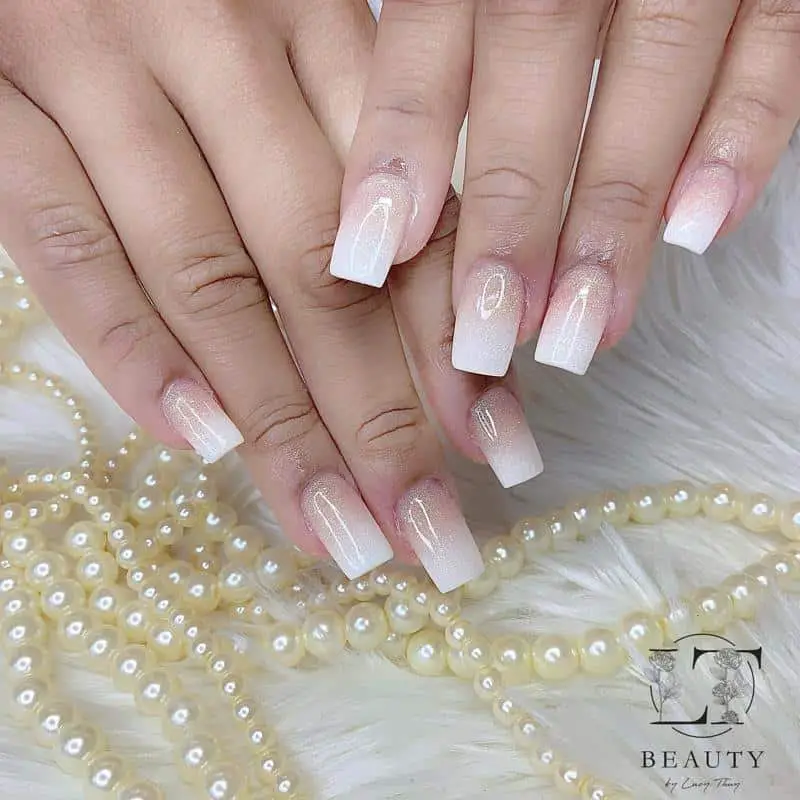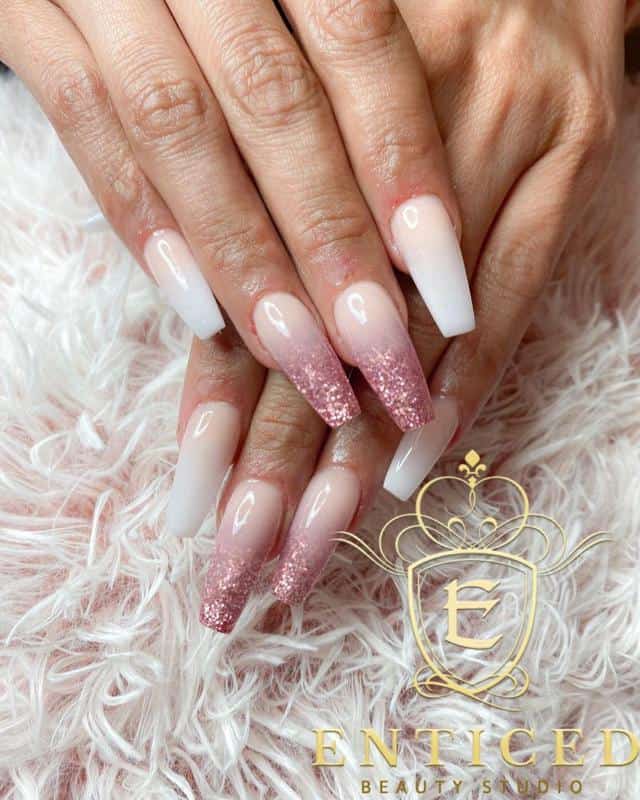 Ombre is a popular texture that first emerged on different hairstyles of different lengths. It wasn't long after that to emerge onto different nail techniques. There are various rose gold variations and alternatives that make ombre a possible and stylish option.
Many women also have a preference to combine rose gold nails and white texture for a bigger transition in ombre nails. Whatever you decide, we hope that the designs above, as well as some other ombre combinations from this article, will help you make an informed decision when it comes to styling your rose gold nails.
Rose Gold Gel Nails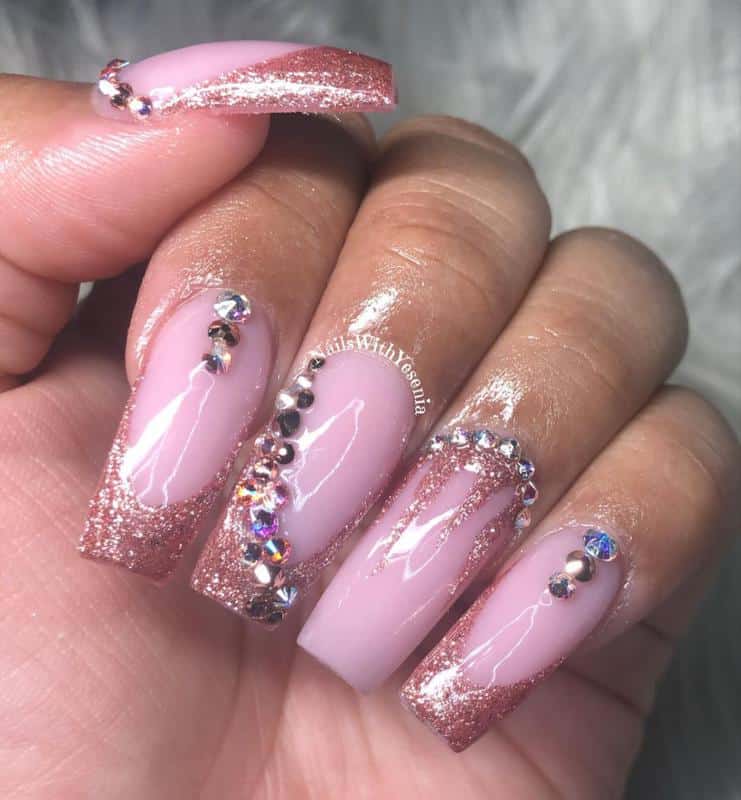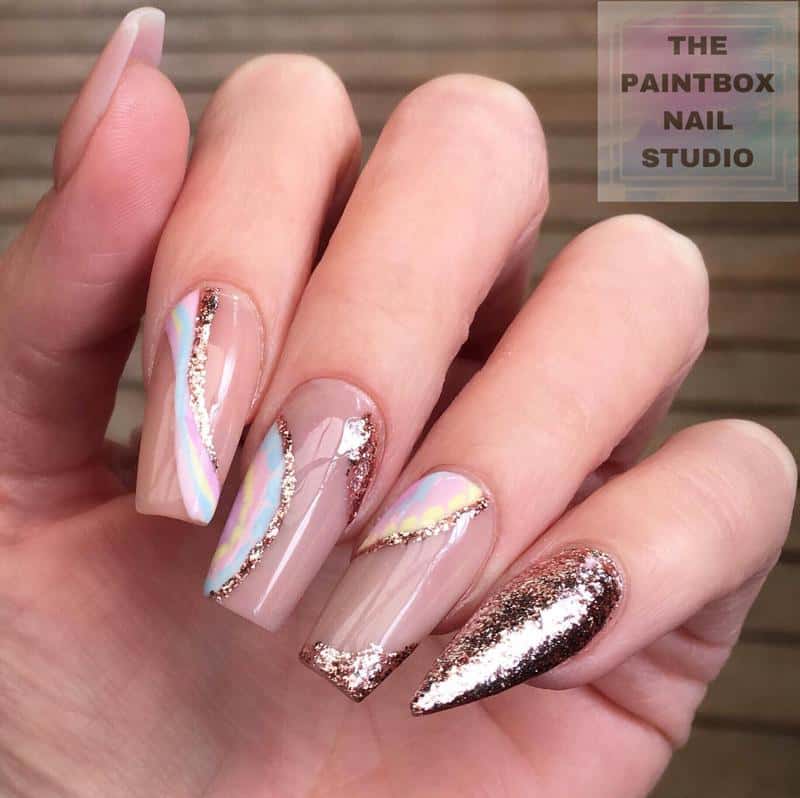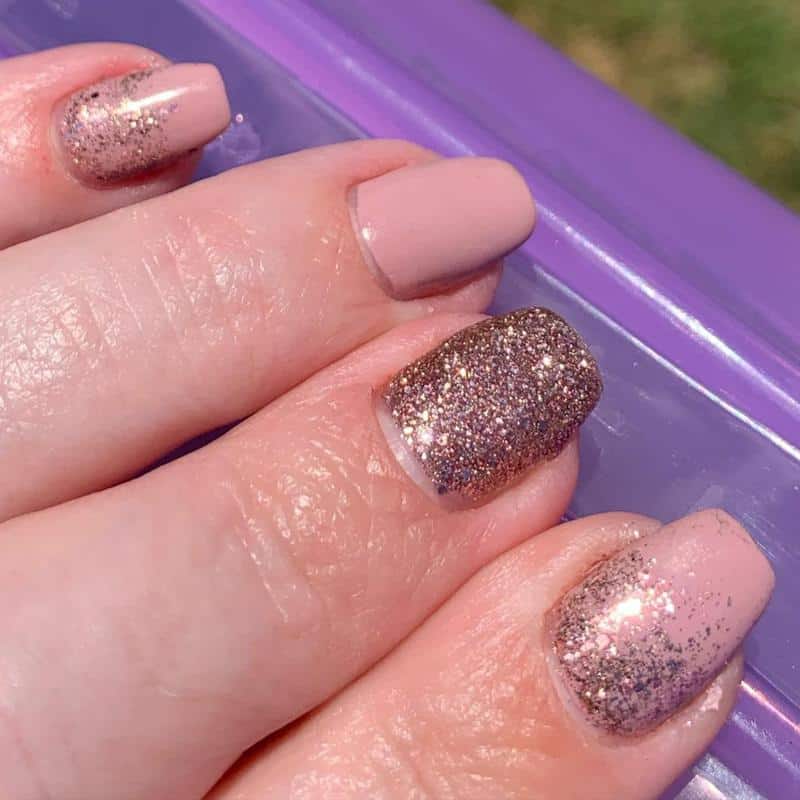 Most of these nail designs are nail polish, but if you're undecided on making your turn with warm rose gold nails, you can check these gel designs out and decide for yourself. If you've never had your gel nails done, talk to your beautician about how you can care for your rose gold nails easier.
Different rose gold gel shades will help you find your perfect variation and balance between too warm and too cold tones. Rose gold gel is also stylish and has accents of both trendy and classic.
Rose Gold Matte Nails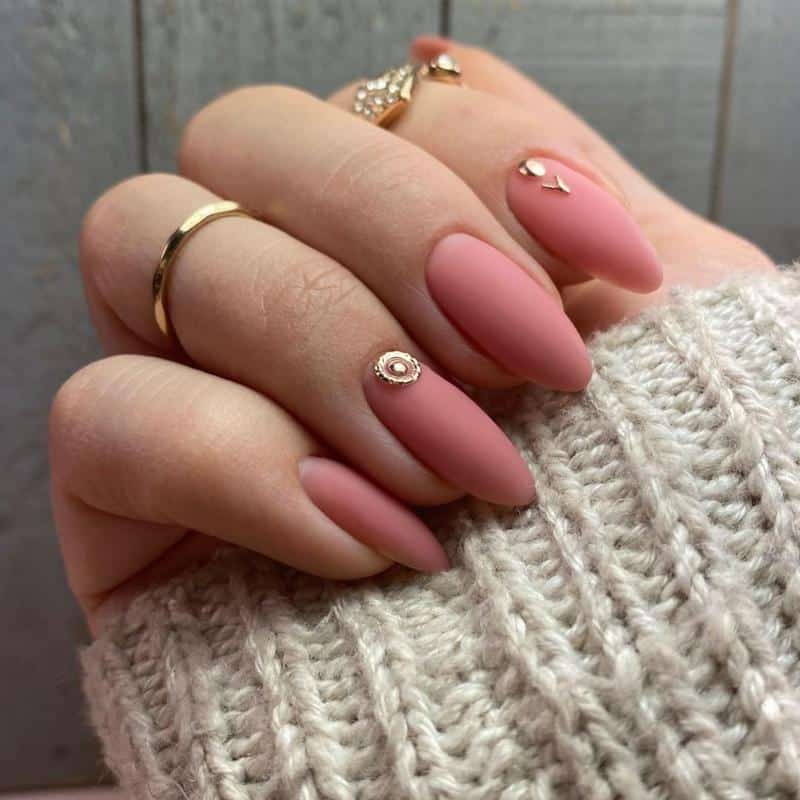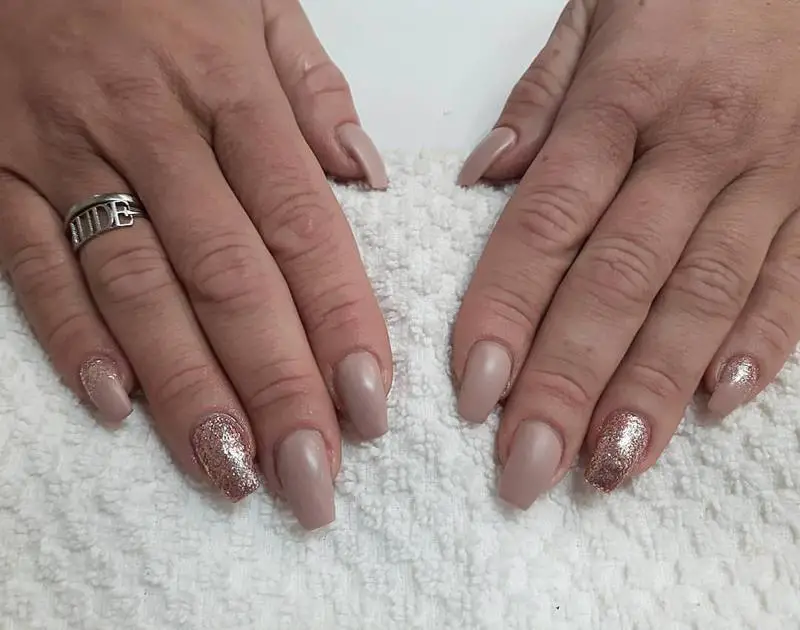 Matte rose gold nails may cause your rose gold to lose its original shine and warmth that comes with this shade. However, you'll get a nice combination of pink and gold, that may feel a little colder, but also more composed and balanced in the process. This option may not feel attractive for everyone but if you're generally a fan of matte nails, you should check the designs above for more inspiration!
Rose Gold Chrome Nails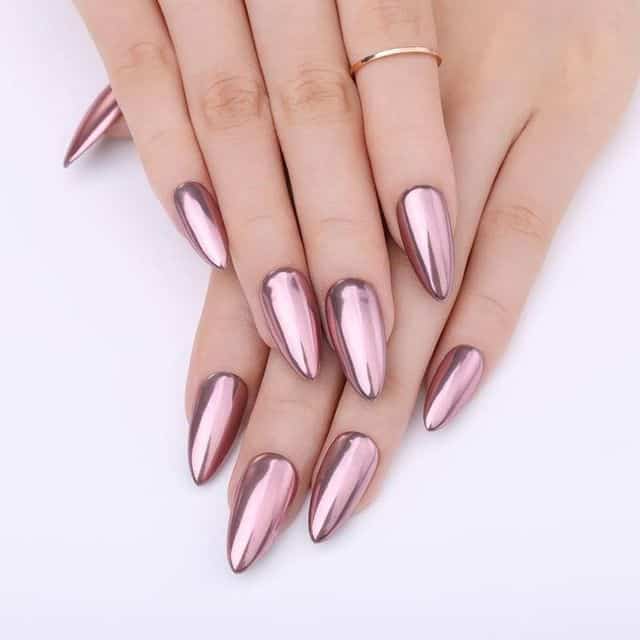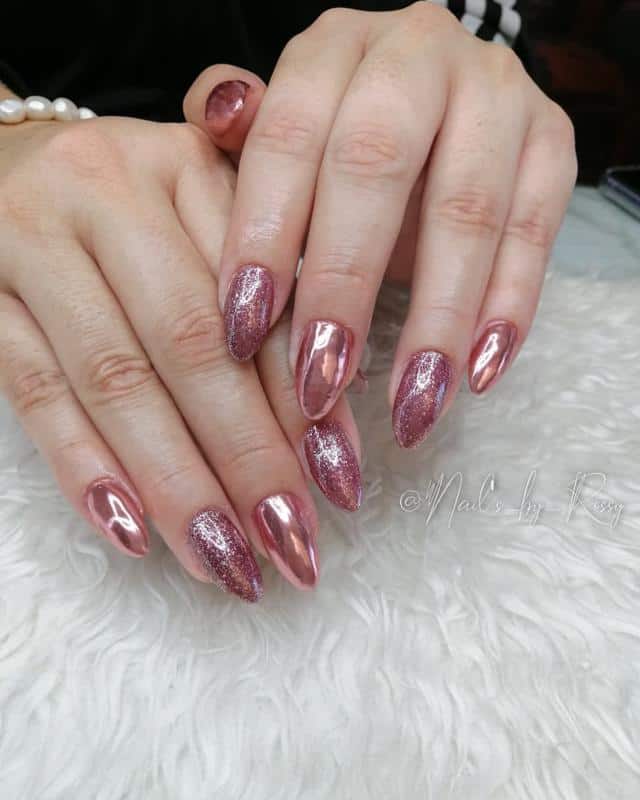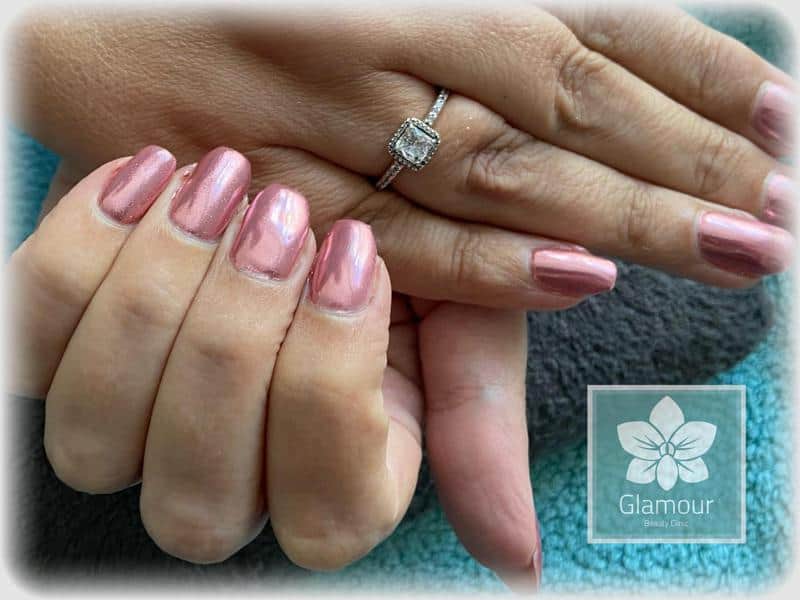 Chrome nails are growing in popularity, especially if you're a fan of that metallic and electric look that is fierce and bold. Rose gold nails have such a texture that in combination with a metallic shade will look even hotter and more attractive. Chrome nails are totally a party material and will go great with daring outfits and set a trend for themselves.
They are usually kept minimalistic without added zircons and glitter, but it's you who decides how the end result will look like.
Short Rose Gold Nails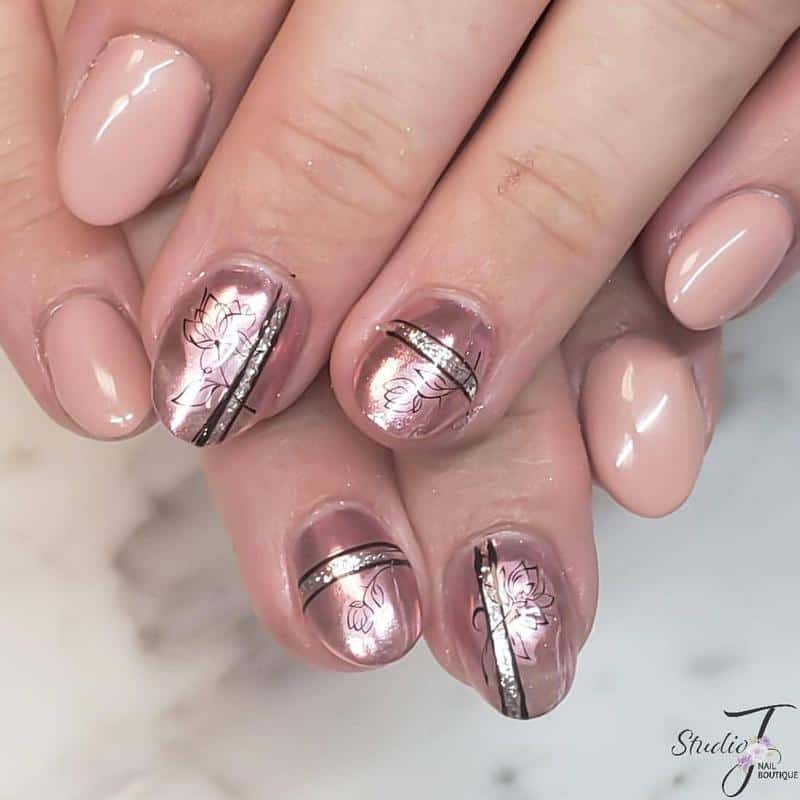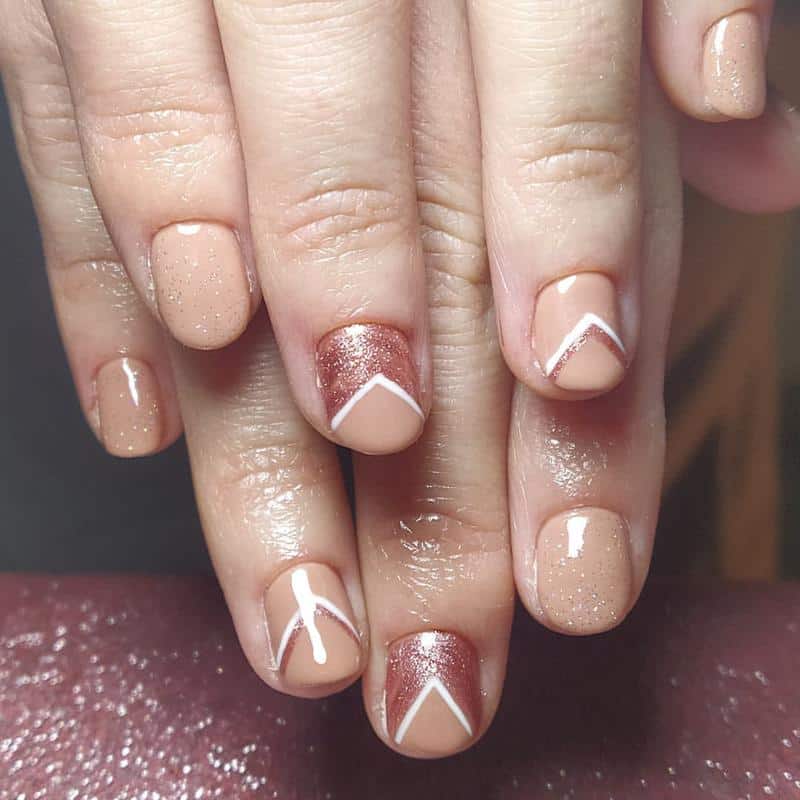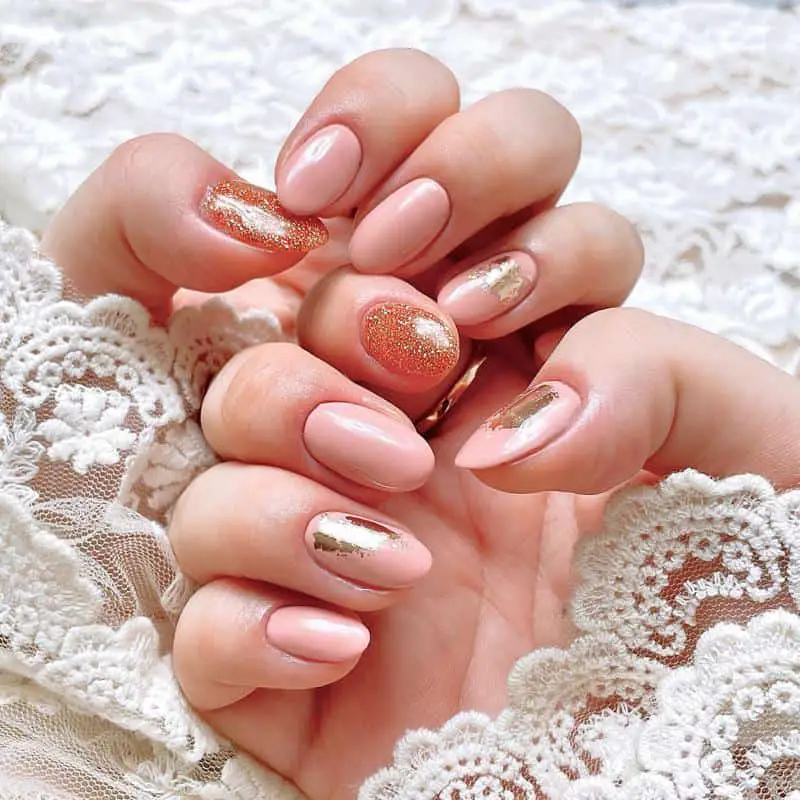 You may not always want to get acrylic accents on your nails and that's alright. You don't have to extend them or keep them super long for an enchanting and attention-grabbing look. Short and well-maintained nails can look just as good with a warm rose gold shade and added glitter or some other adornment or decoration to add up to its style.
If you have short nails and are contemplating a hot and flashy rose gold design, don't hesitate. Make sure to take a look at the designs above for a more original idea to showcase to your nail stylist.
Rose Gold Nails With Stripes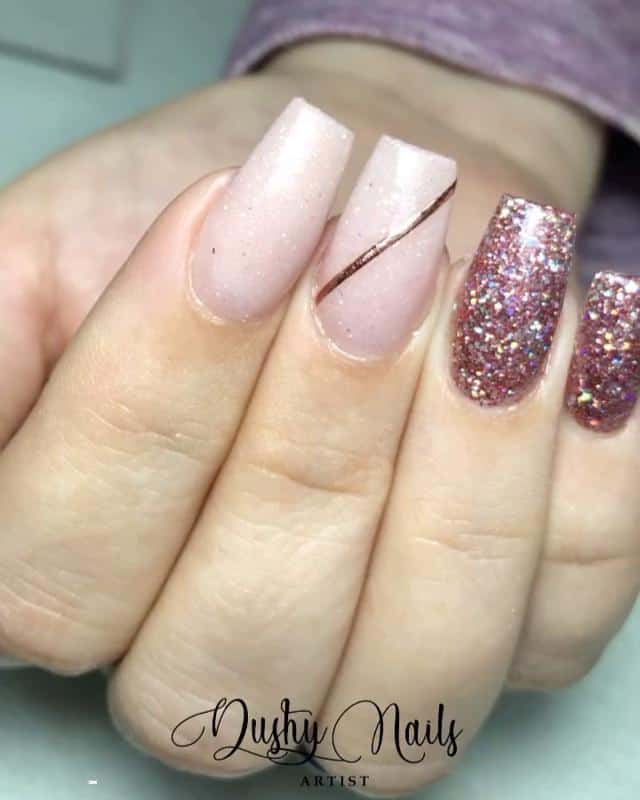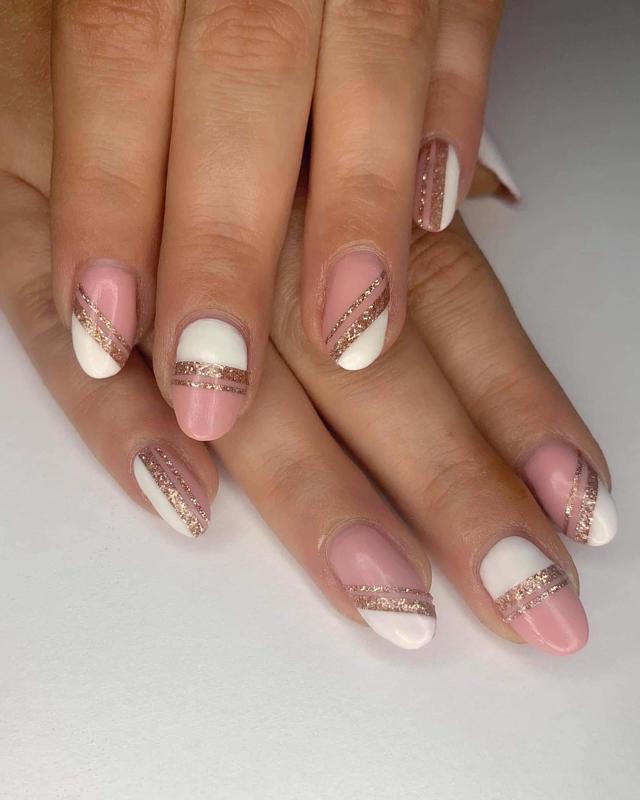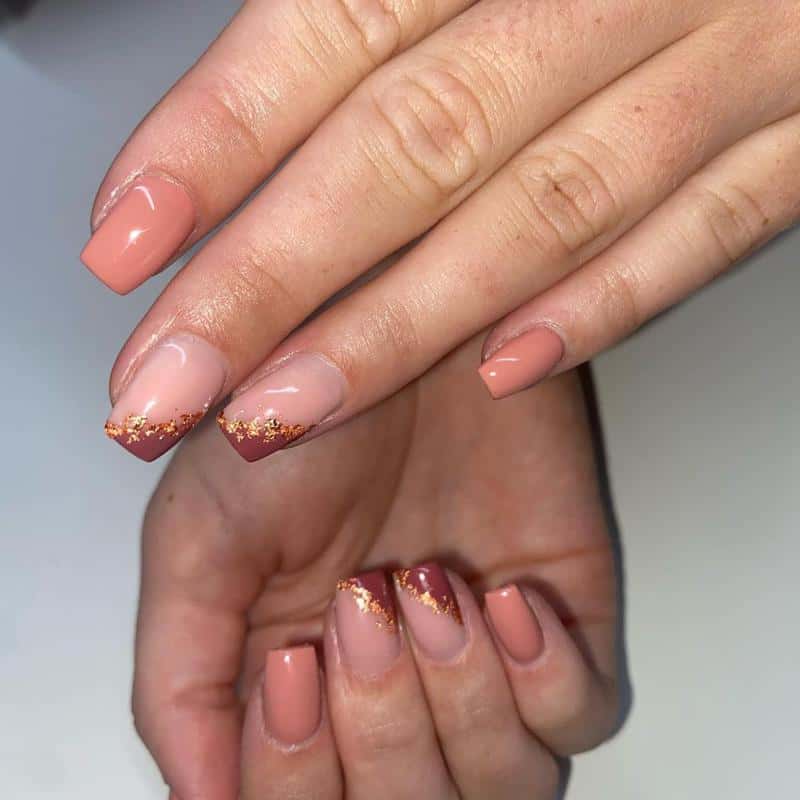 Stripes will make your nails appear wealthier. They add up to the premium and luxurious look but may take some time to make and shape it which can be tasking on your stylist. You can always go with some DIY design if you're confident in your skills and you're patient enough to work with nails for an extended amount of time.
Reverse French Rose Gold Nails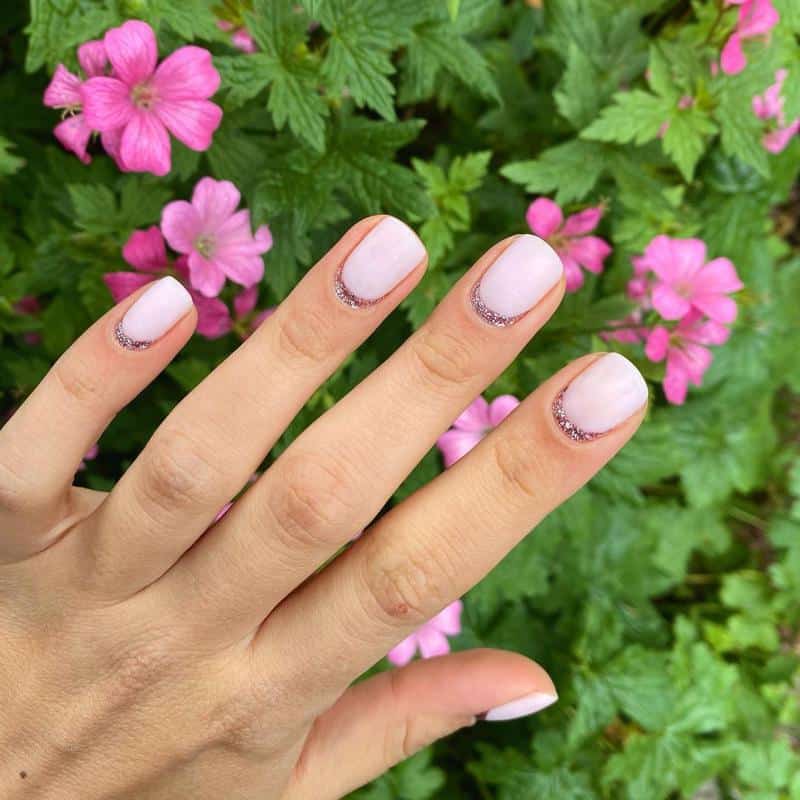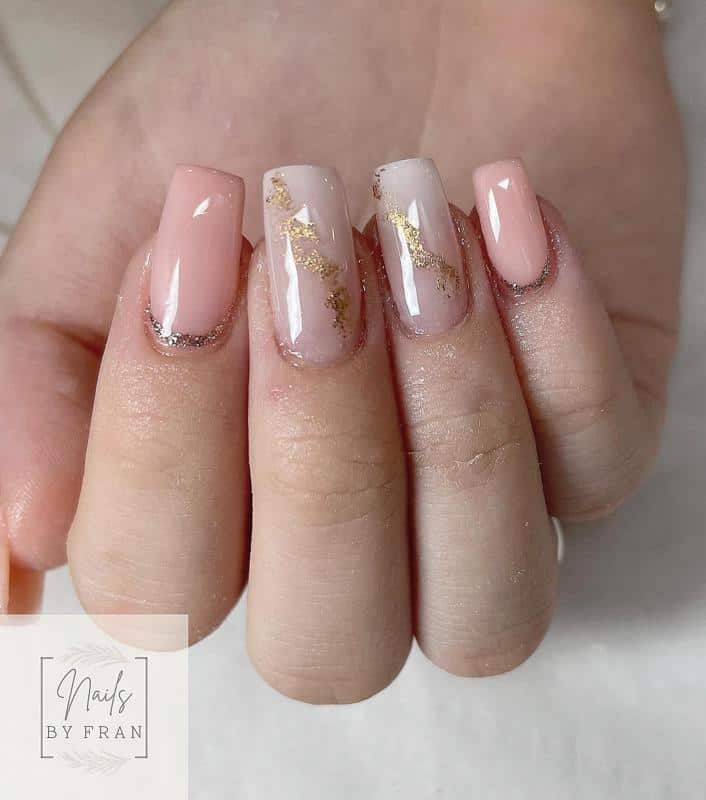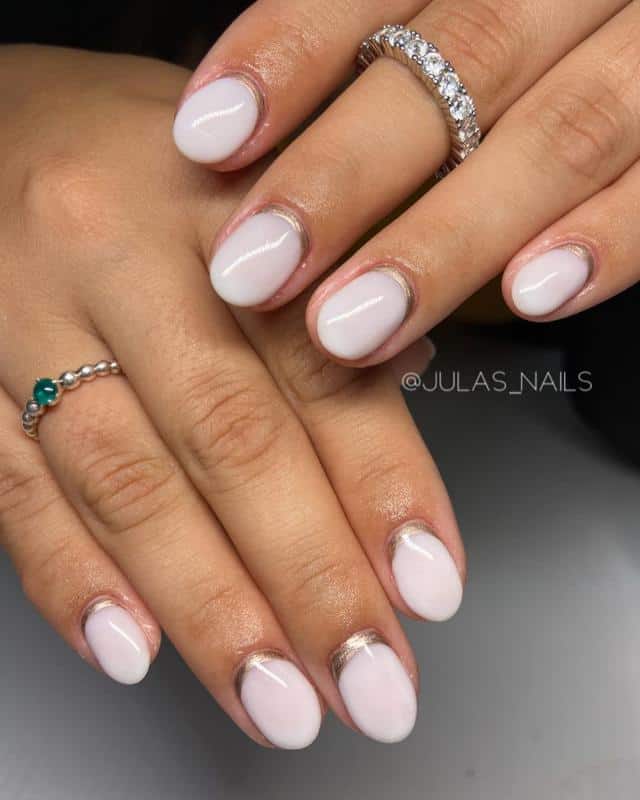 Reverse French nails are a popular choice when you're working with a shade of gold or pink. In fact, these two can be combined to create a gorgeous and breath-taking design without using the signature rose gold shade.
Make sure to check the designs above to see how minimalistic and balanced they look like. Of course, your stylist is encouraged to use a bolder variant of rose gold if they want. These designs should give you a general idea of how to style rose gold reverse French.
Rose Gold Nails With Golden French Tip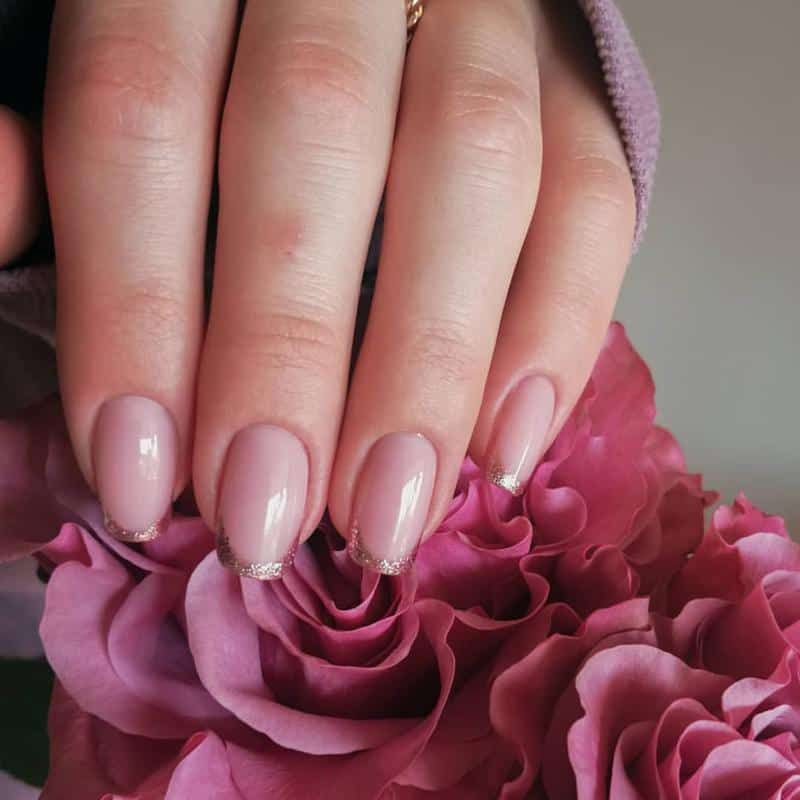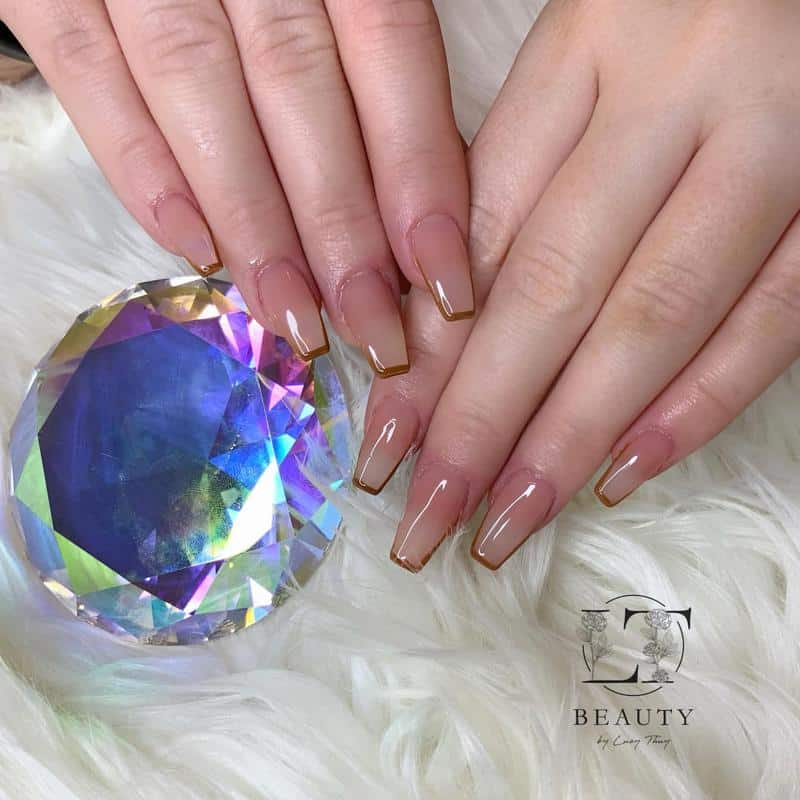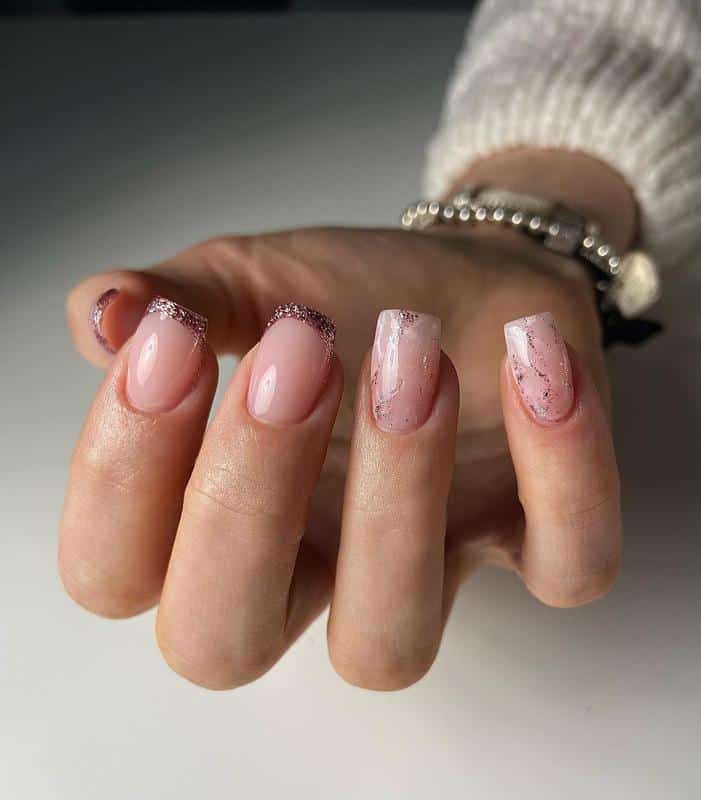 If you want to get close to the original French design you can use rose gold or gold glitter texture to put on the nail tip instead of the signature white French style tip. It will make your nails appear bolder, more textured and will give a clean transition from rose gold into gold glitter.
There are many ways to style this. However, we think that the designs we provided above give the clearest picture of how a gold French tip should look like. The images are also quite tidy and show a trendy, yet classic and elegant way to style your rose gold nails.
Rose Gold And Black Nails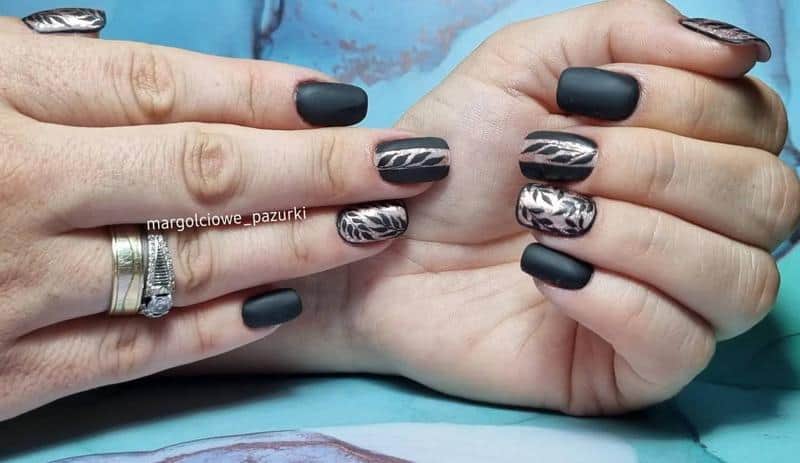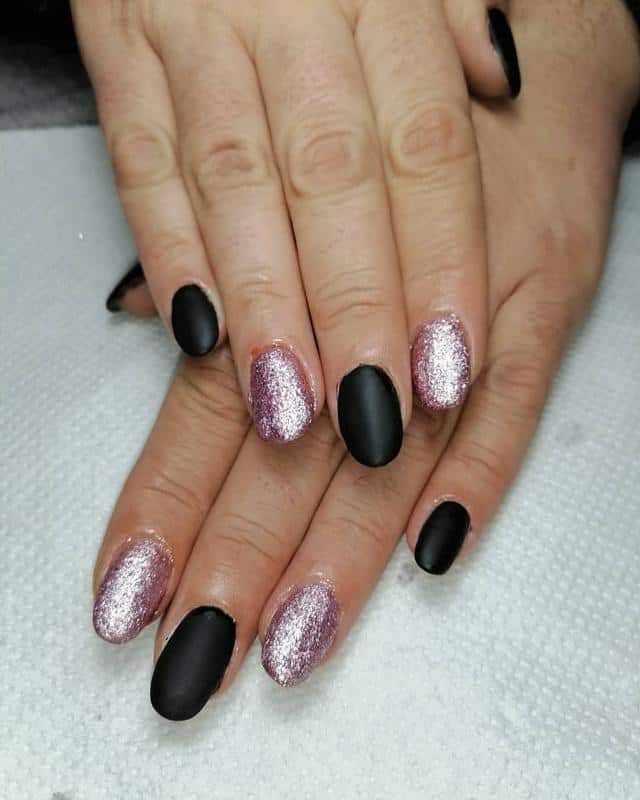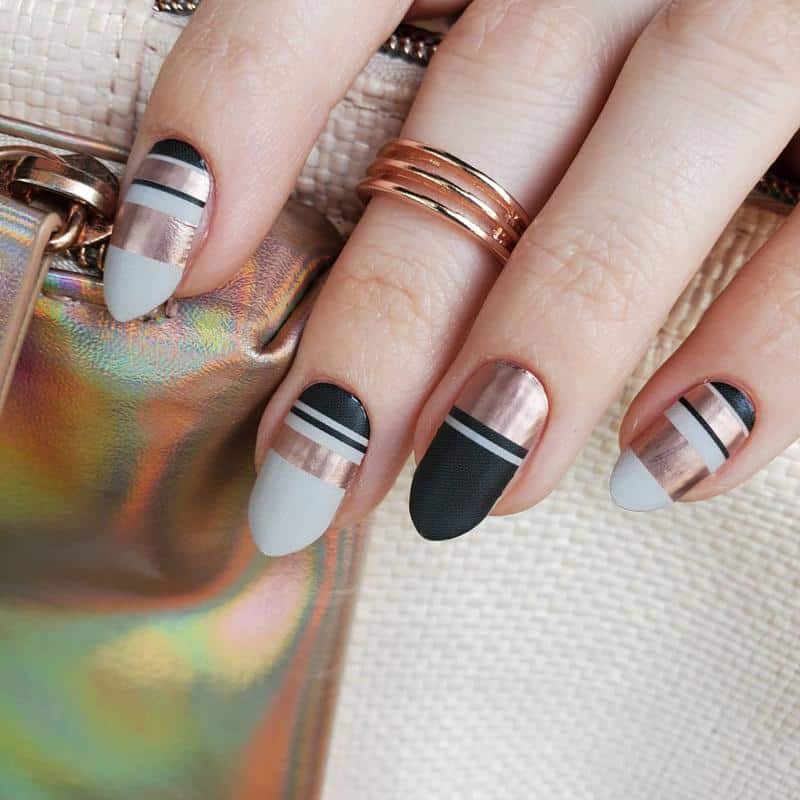 Out of all colors and shades, dark gray and black seem to go well with everything. It's the color of elegance, sophistication, and oftentimes of luxury. If you combine two luxurious colors such as rose gold and black, you'll get the winning combination.
There are many ways to combine this. You can go with a matte black shade and rose gold glittery texture, a French design, or even an ombre. It's up to you, but our favorite picks are black nails with rose gold floral and other textures.
Rose Gold And Gray Nails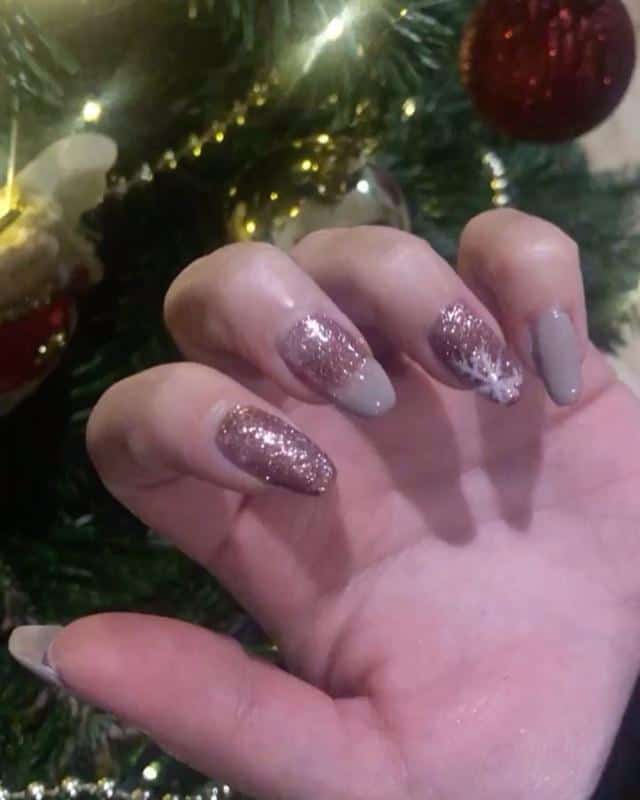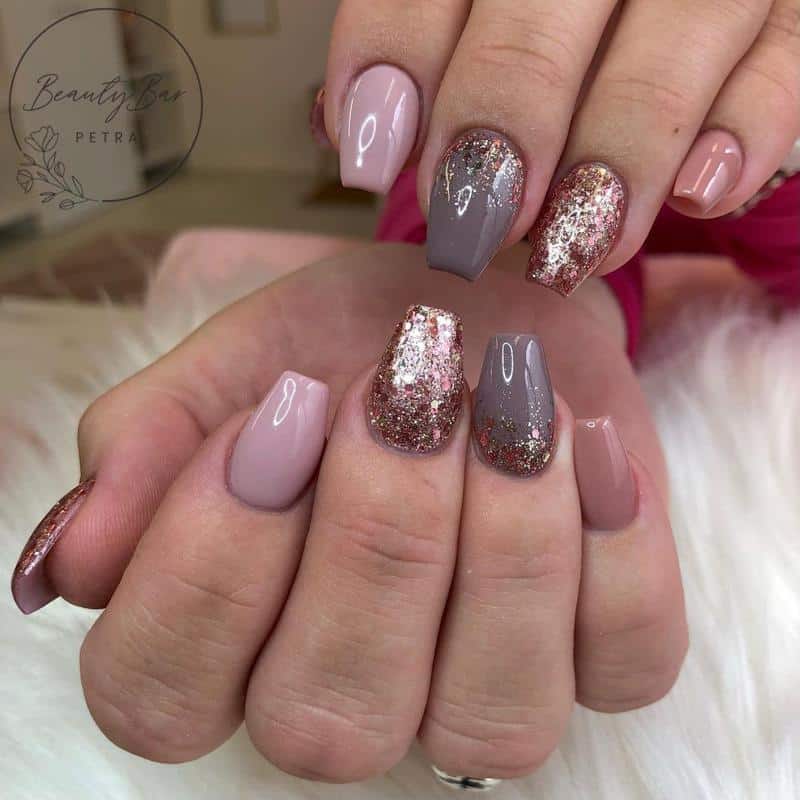 If you're not a fan of black color, but you want a dark transition, you can combine rose gold and dark or bright gray any way you want. Bright gray would give a mild transition, with warm, yet composed and balanced tones.
Dark gray in combination with rose gold gives a more confident and bolder look. Your nails will look gorgeous regardless of the length and style of your nails. Check the pictures we included with this combination for a fuller look and more inspiration before you visit the nail salon.
Rose Gold And Red Nails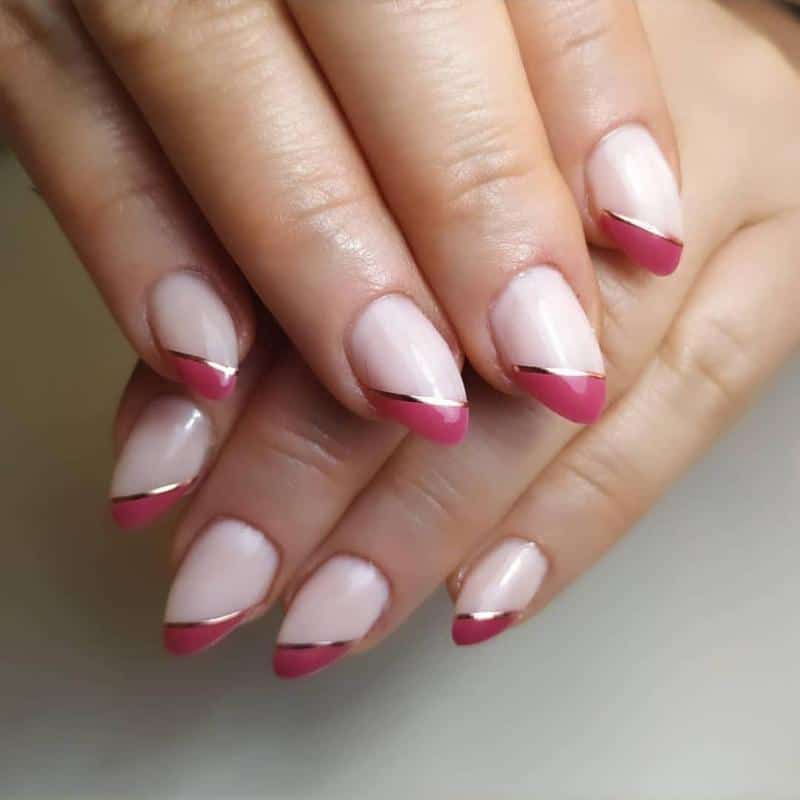 Even though rose gold is the color that gives a blend of pink-red texture with gold accents, the most beautiful roses are red. When combining rose gold with red texture we got gorgeous designs. We researched other attempts to bring rose gold and red combination to life and we found breathtaking designs.
The featured nails have a special dimension to them. They feel classy, romantic, passionate, and confident. All the nails we featured give a flirty vibe and are great for the warmer temperatures and outfits, giving them extra depth and shine.
Frequently Asked Questions About Rose Gold Nails
When considering rose gold nails, many questions arise. We wrote this section to try to answer on some of these questions. Make sure to check them out.
Q: Can you make DIY rose gold nails at home?
A: Just like with every nail polish, rose gold shade is available in most of beauty and cosmetics shops. If you have a UV lamp and other equipment to create salon-like nails, then you could even try recreating some of these looks. However, if you're inexperienced, it's the best to let a professional handle it, so that you don't get injured or damage your nails.
Q: Are rose gold nails with glitter still in style?
A: Absolutely! As you can see throughout the articles, many rose gold accents persist through a lot of glitters or mimic a glittering structure. Although pastel tones and nude tones, in general, are more popular these days, glitter is not going away anytime soon.
Q: How much does it cost to get Rose Gold nails done?
A: It depends on several styles, techniques, and other factors. For starters, acrylic rose gold nails can be found in most online shops and you should be able to attach those on your own. Alternatively, you can consider multiple beauty salons and ask them for a price.
These designs can go anywhere from $30 in cheaper salons and extend up to $100 with top-notch gel, acrylic textures, and drawn patterns, as well as ombre or French style. It can be difficult to say a price on a whim, especially because there are so many factors in play, as well as the popularity of the salon you're visiting.
Also Read: