Top 37 Gorgeous Circle Tattoo Design Ideas 2022 (Small, Big, Black, Colorful)
When you shop through links on our site, we may earn an affiliate commission. This educational content is not intended to be a substitute for professional advice.
Circle tattoos can truly vary and there can be a lot of different designs, starting with meaningful and personalized or super simple ideas. The circle can represent a ton of different stuff and emotion in people, starting with the journey of life, prosperity, and their will to stay true to themselves. If you want to know and explore loads of different circle ideas, keep on reading! Here is all that may interest you.
FAQ
1. What Does A Circle Symbolize?
A circle can symbolize a lot of things and big emotions, but it is mostly used to describe your path and the journey that you've chosen for yourself and your future. Circle tattoos are cute and simple without being too overpowering, which is why minimalists love them and tend to go for them.
2. Are There Different Meanings When It Comes To Circle Tattoos?
Yes! Circle tattoos will vary quite a lot. Your final definition and meaning will depend a lot on the context and colors used. Different colors are used to express different emotions in people. This means that you can make your circle tattoo personalized and truly unique based per your preference.
3. How Pricey Is A Circle Tattoo?
Expect to pay around $100 for a small black and white simple circle tattoo. Bigger designs that are done in color and with a meaningful picture, quote, or some symbol will go for $250.
4. What Is The Best Placement For A Circle Tattoo?
This depends a lot on your gender and your personal preference. For instance, a lot of women prefer forearm placements or collarbone ideas. Guys prefer to go for leg, thigh and back placements. Go for something that suits you and your style.
Small Circle Tattoos
1. Circle Tattoo Design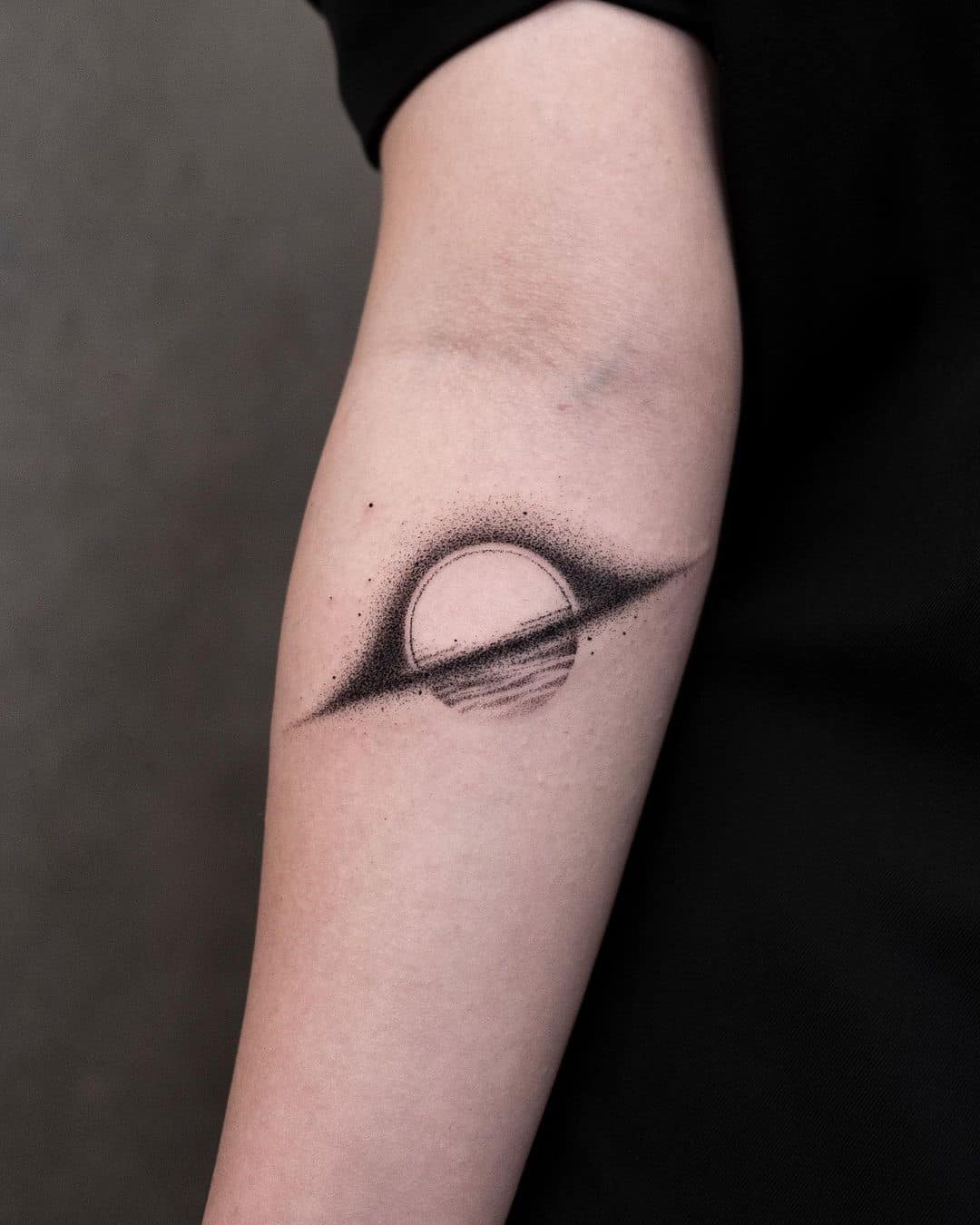 Go for a forearm placement if you like the fact that it is a common solution and a practical tattooing option. This little circle design won't take more than two hours to achieve, which makes it a pain-free tattoo.
2. Unique Circle Tattoo Ideas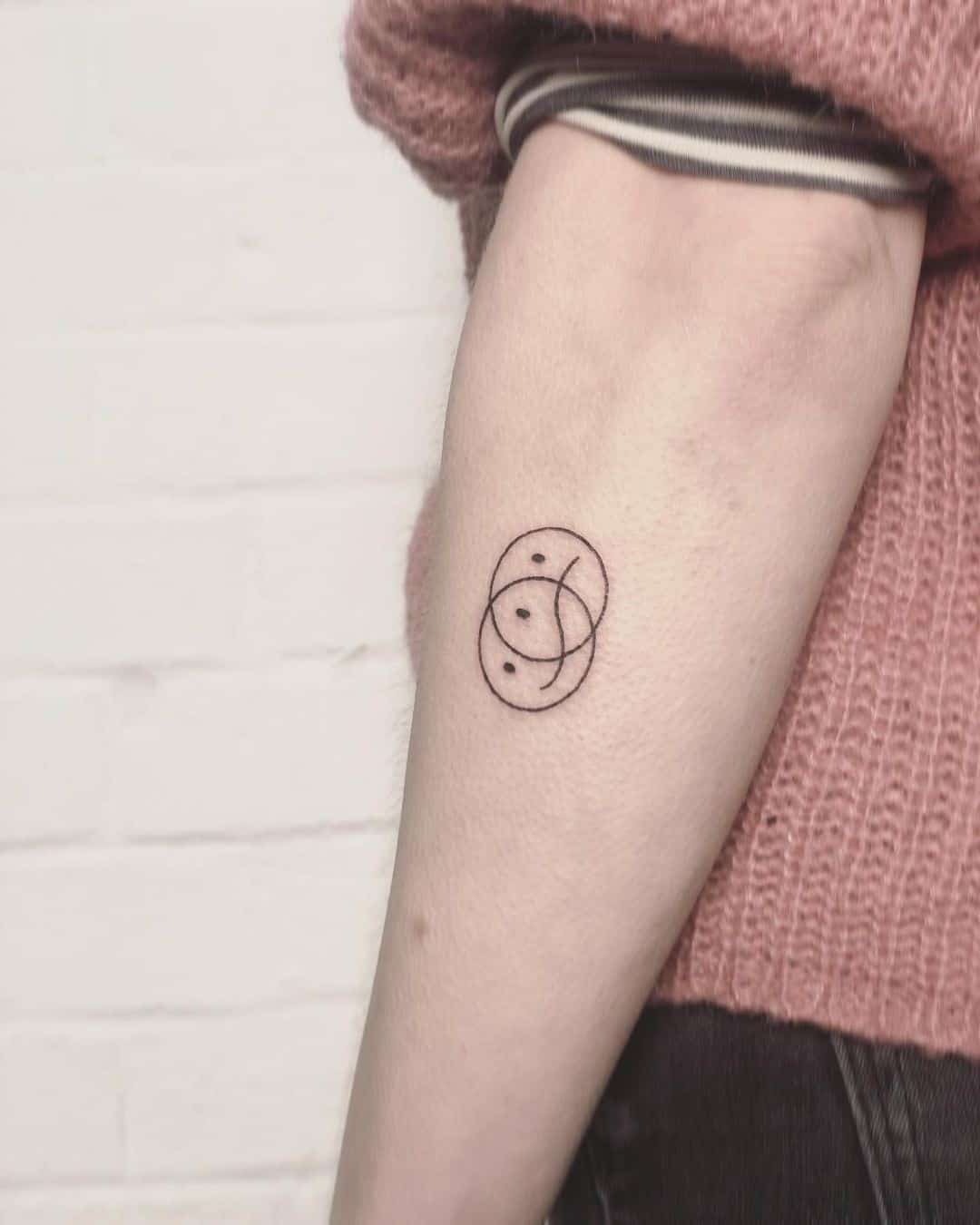 These two intertwined circles represent you and the two moods that you can have. One is happy and the other one is a sad circle. Both of these are used to describe your emotions at a given point and during the day. If you want to come off as a straightforward person this will suit you.
3. Forearm Circle Tattoo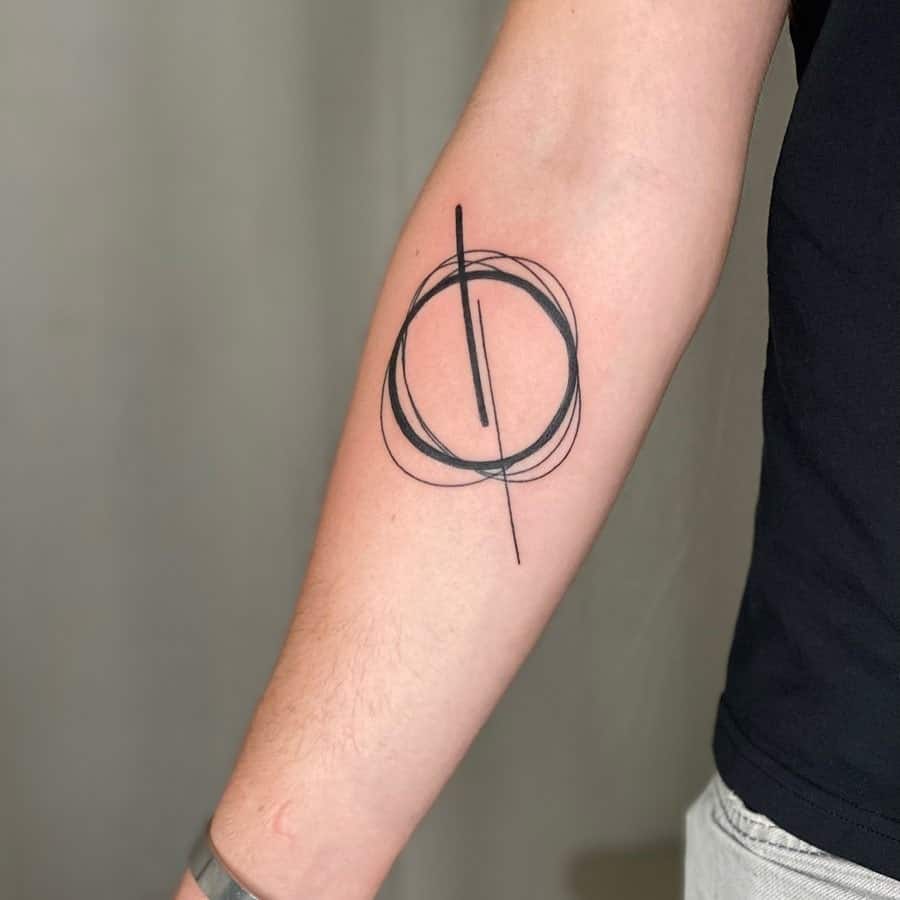 This small and little circle tattoo over your forearm shows your precision and your will to learn and express creatively. If you're someone who is an artsy soul this black circle will suit you.
4. Wrist Circle Tattoo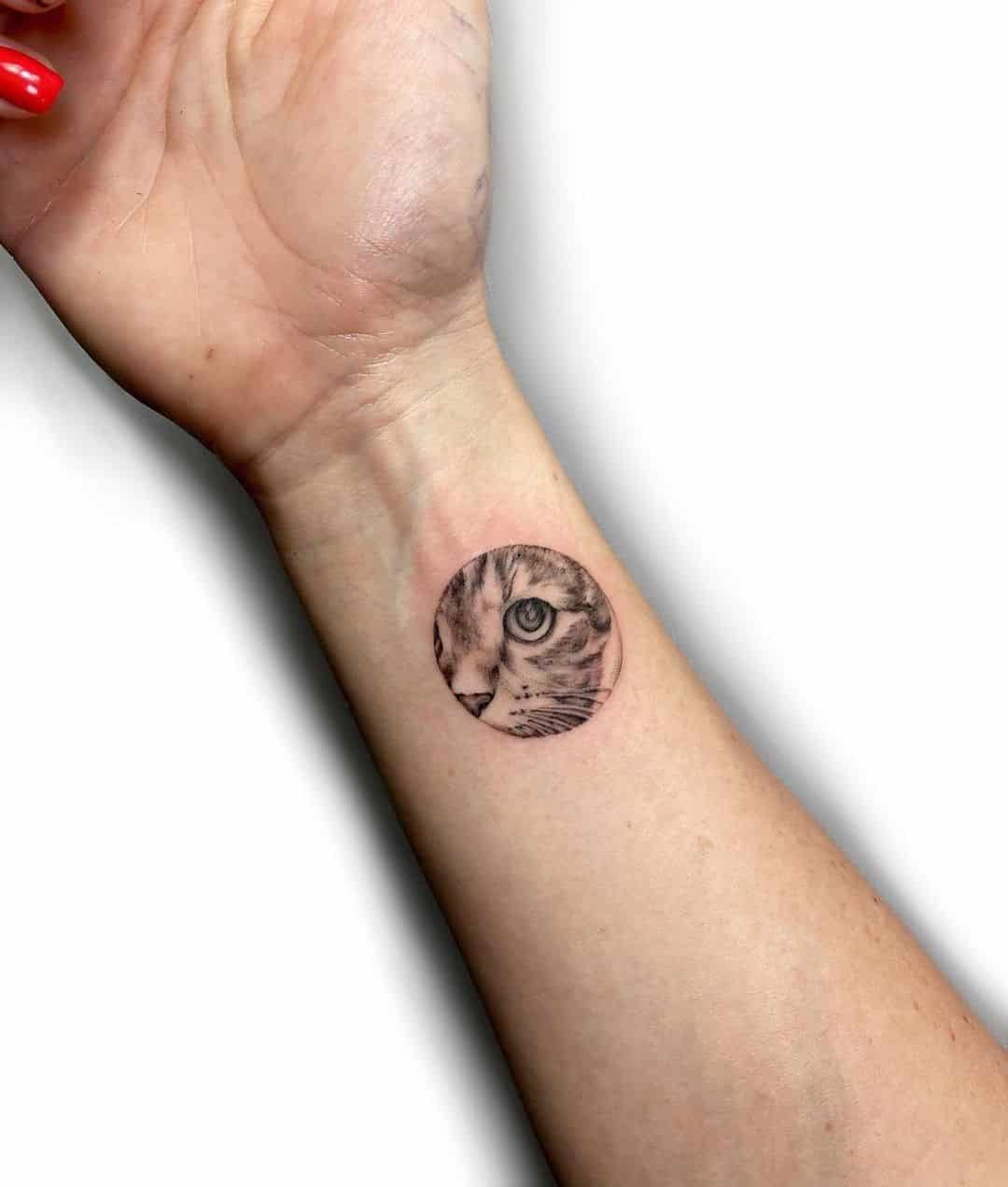 If you're a cat or a pet person you're going to like this beauty. It is a circle-shaped cat tattoo that represents your love for your closest little furry pal. Men or women who are cat people will see the beauty and elegance of this precise tattoo.
5. Foot Circle Tattoo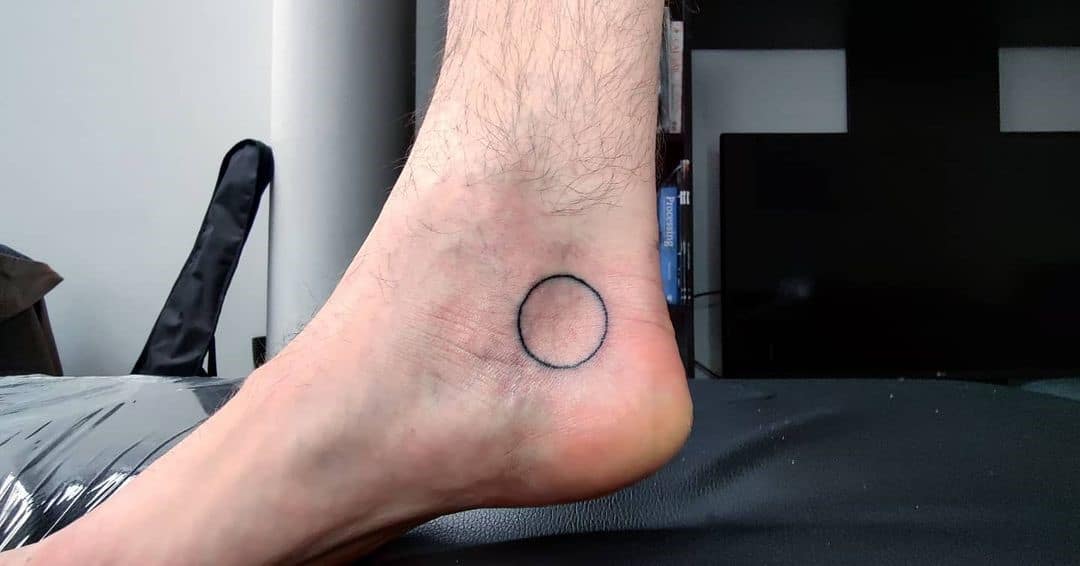 Foot tattoos are quite unusual and unfortunately, painful. If you dare to wear something like this and you're a fan of hidden and secretive tattoos, this is for you! No one will know what this little circle represents or means in your case, so you get to tell the story yourself.
6. Full Circle Tattoo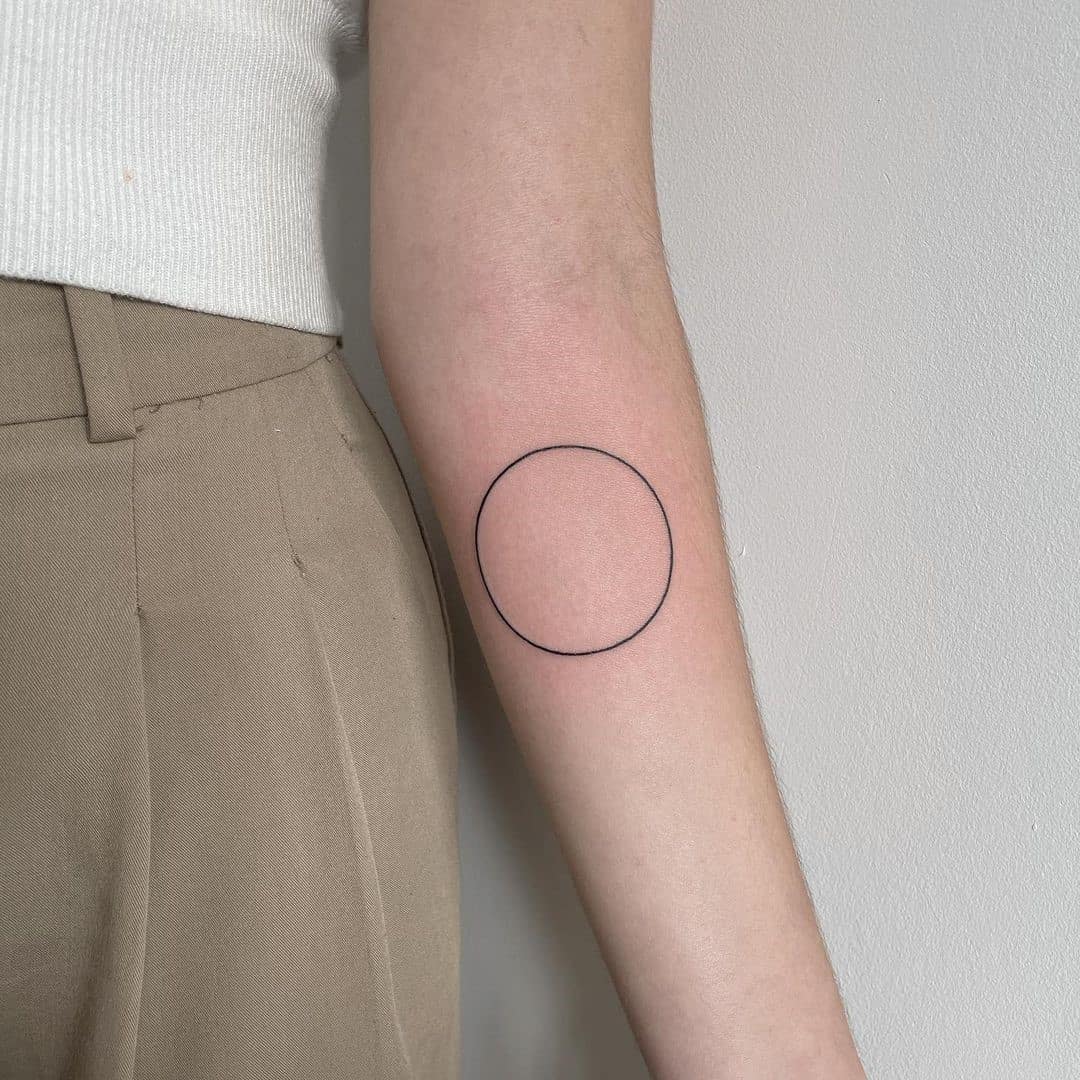 Go for a simple and precise circle tattoo design over your forearm. Women who end up getting this tattoo will easily represent their feminine side and their love for purity and perfectionism.
7. Circle Tattoo On Arm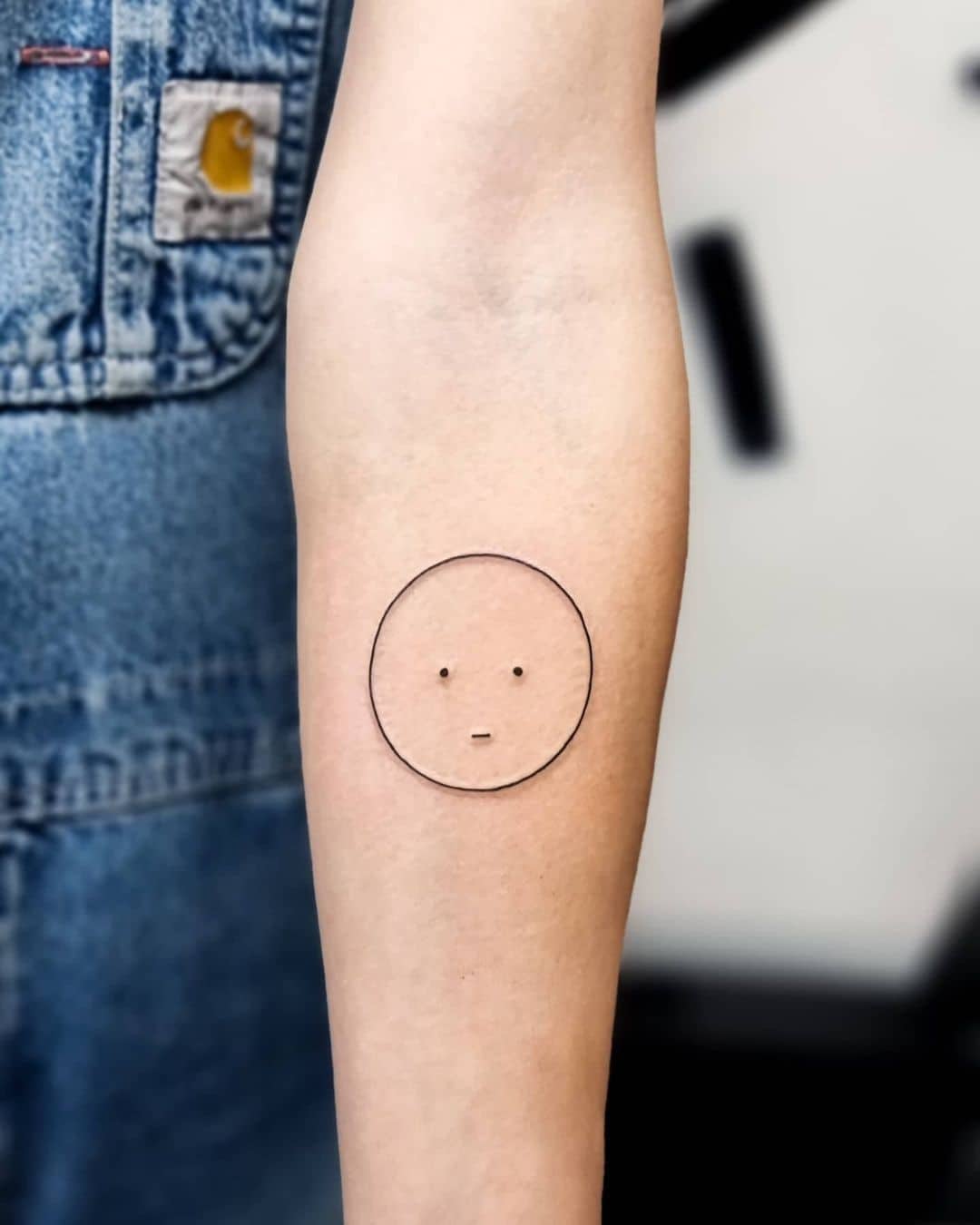 How about this little and discreet tattoo? Is it a casual, normal, or worried face little emoji? Women who like to look mystical will enjoy this print. If you are someone who is in their prime years just know that this design will speak to you in a unique way.
8. Dog Circle Tattoo
Are you a dog person? Women or men who like their furry pals can pay respects to their animals through this circle tattoo. Show to the world that they are your "focal" point and that you like to have them in the center of attention.
9. Minimalism Circle Tattoo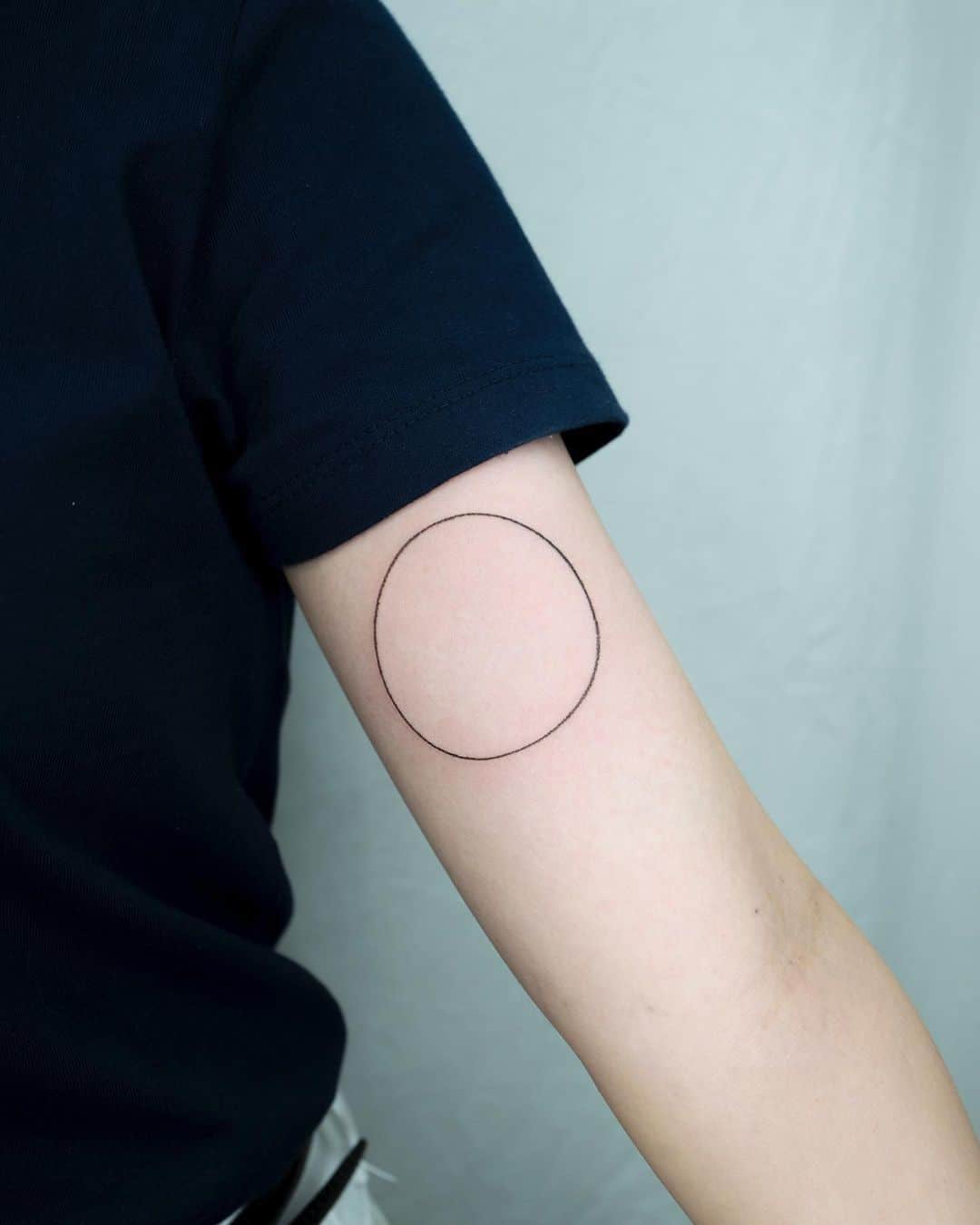 If you are a true minimalist and someone who likes simpler tattoos you're going to enjoy this piece. It is often worn by those who like elegance and men or women who are afraid of the tattooing process. Show that you see the beauty in little things!
10. Artsy Circle Tattoo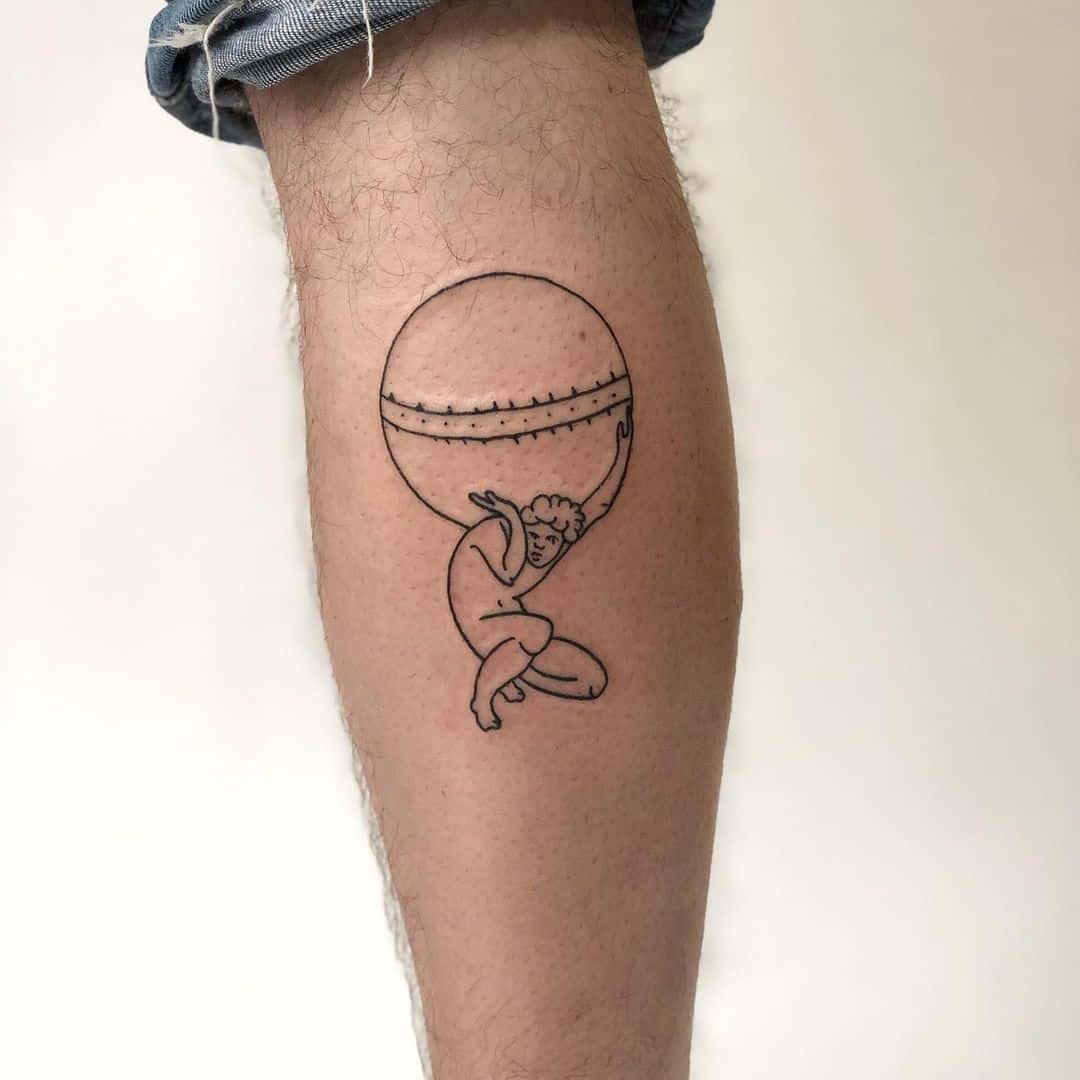 This small tattoo is so powerful! It literally holds a lot of "weight", meaning that it is not for those who are soft or don't have a tough life story to tell. Show the world that you're someone who is always growing and constantly fighting new battles.
Black Circle Tattoos
1. Artsy Black Circle Tattoo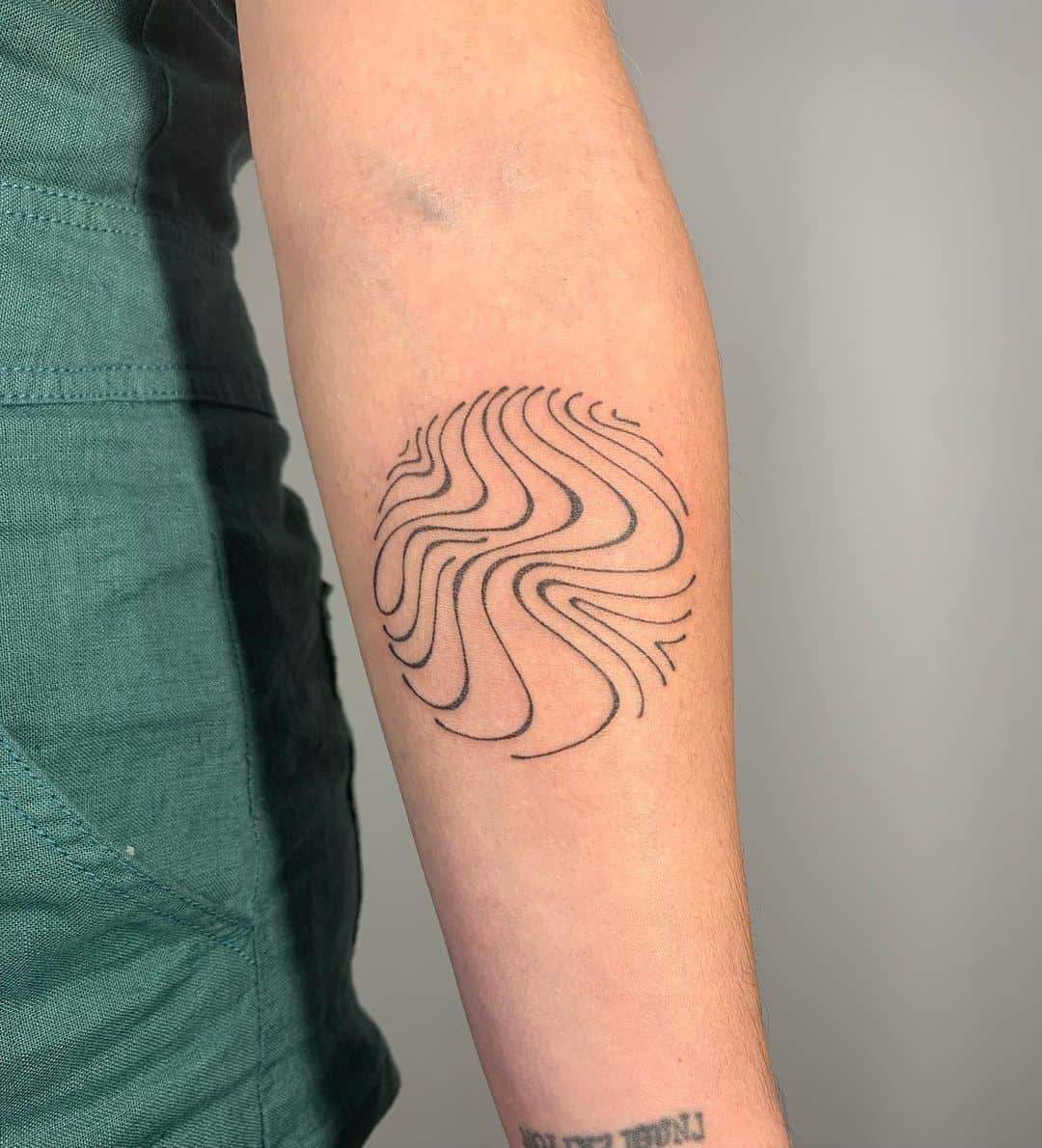 Such a cool illusion, right? Do you enjoy fancy tattoos and those that have a unique vibe and character to them? This one is definitely one of those stunning and unique pieces that you won't see everywhere. It will take you some time to achieve it, so heads up beforehand.
2. Forearm Circle Tattoo Alien Design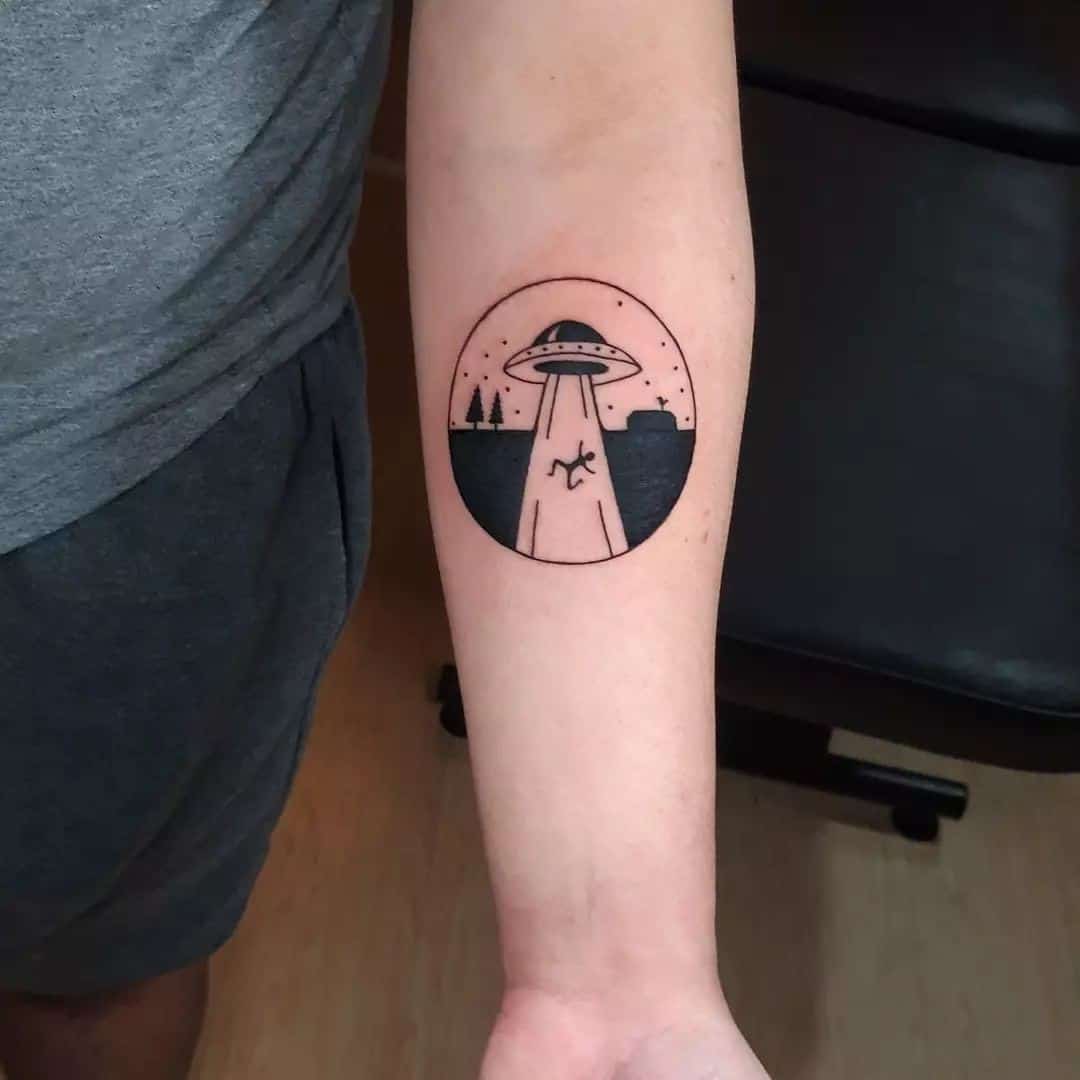 Do you believe that there are aliens surrounding us? If so, this tattoo will suit you! Make sure that you get it if you're an open-minded person and someone who enjoys the beauties of the galaxy!
3. Unique Nature Circle Tattoo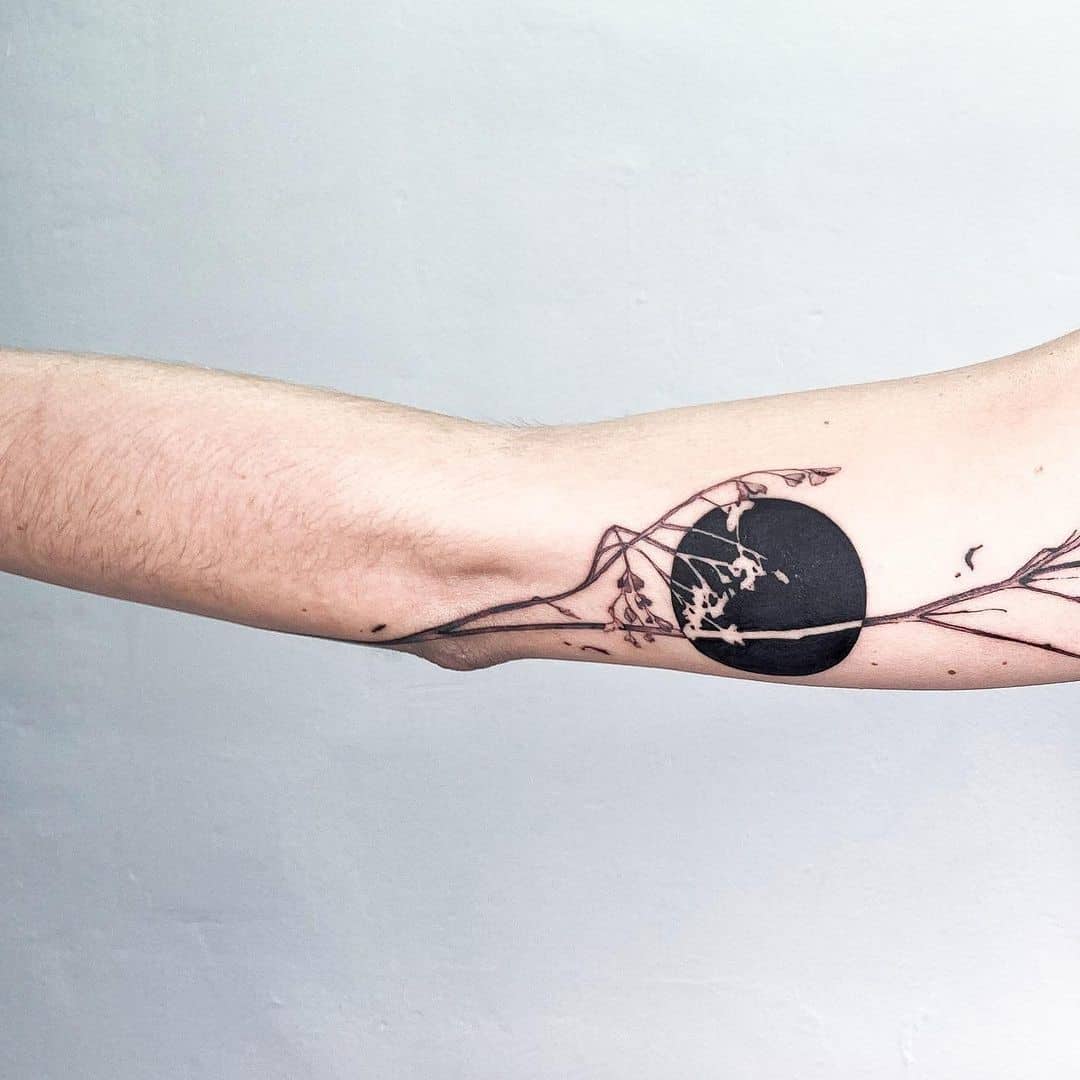 If you're a nature lover you're going to enjoy this tattoo. It shows how connected you're to nature and that you're a unique delicate flower yourself. If you're a fan of classy elegant tattoos done in black ink this will suit you.
4. Thigh Moon Circle Tattoo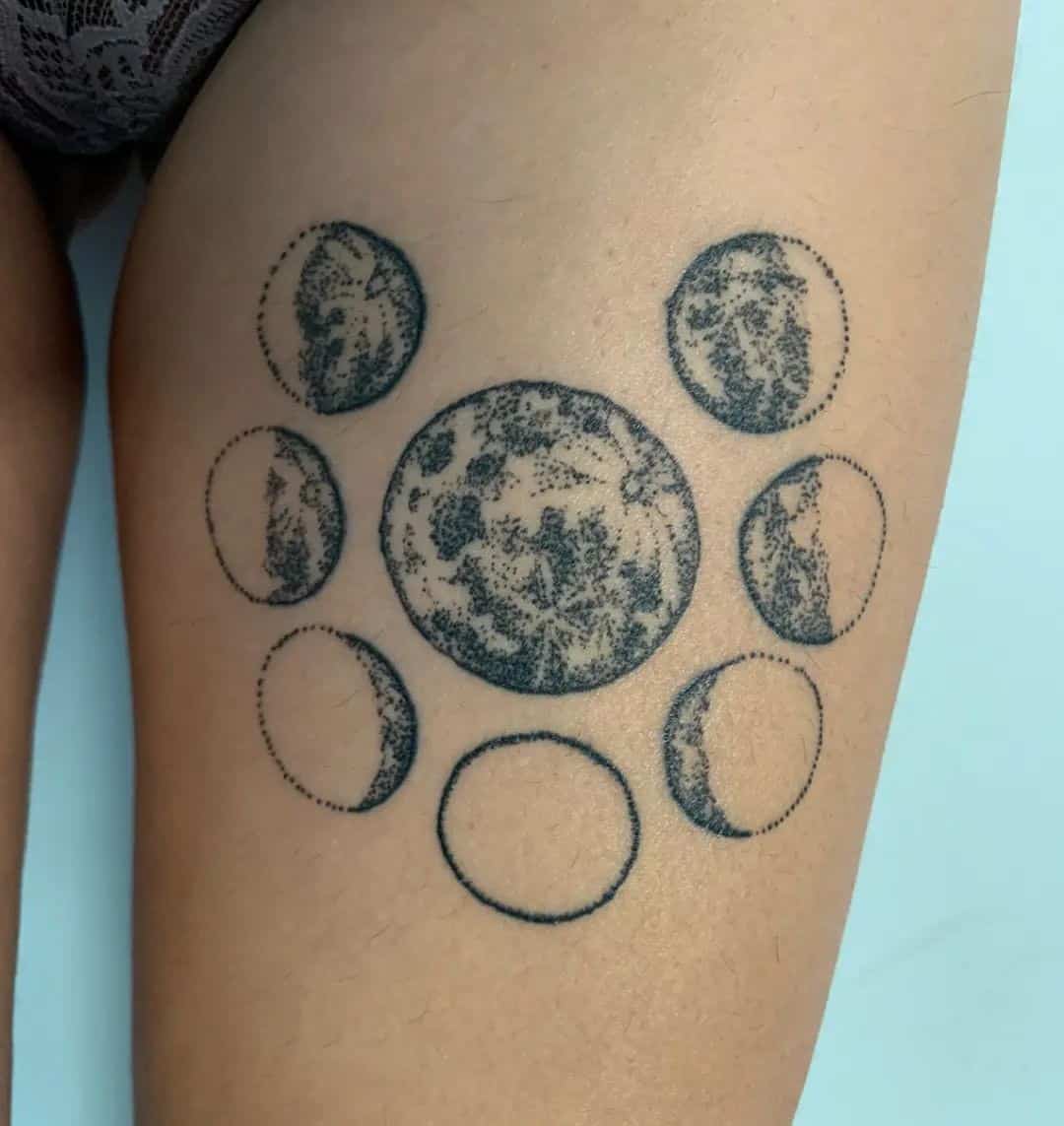 Who doesn't love the mysterious elements of the moon? This cute little circle tattoo is for anyone who is a nature lover. If you're driven by elegant black and white tattoos and you know what looks good on you give it a go with this print.
5. Circle Angel Forearm Tattoo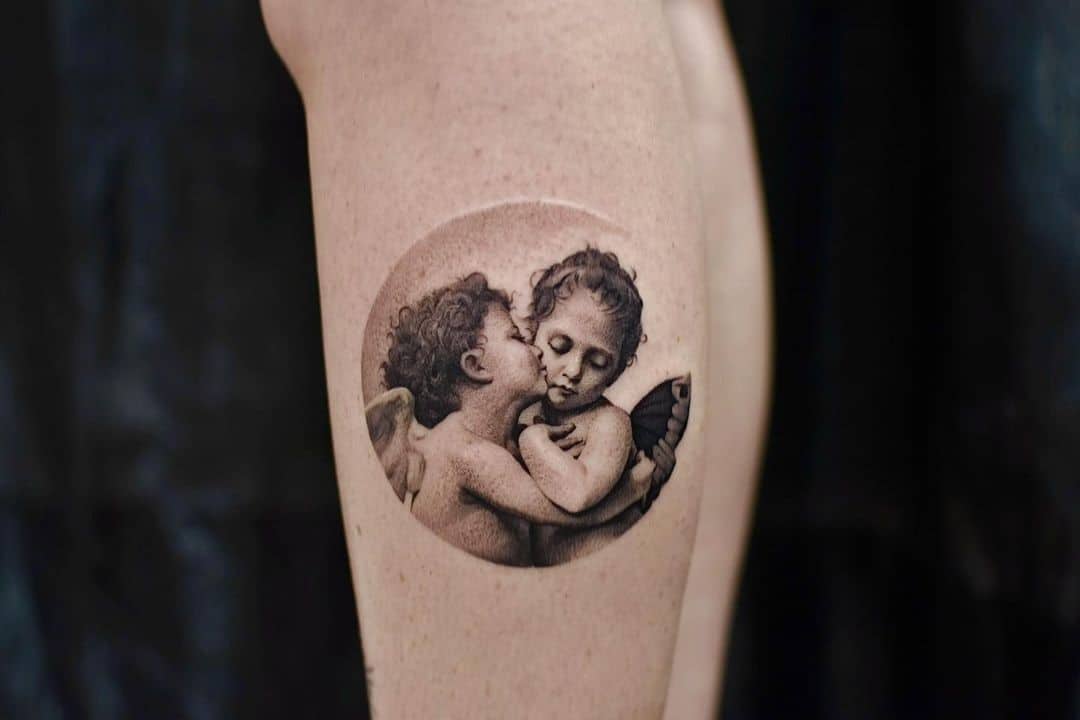 Some people enjoy family-oriented tattoos a bit more than others. You can show your love for your favorite person through this tattoo. Get an image of your sibling, father, mother, or closest cousin. They will appreciate the gesture. This little angel tattoo will look so personal.
6. Floral Circle Tattoo Feminine Design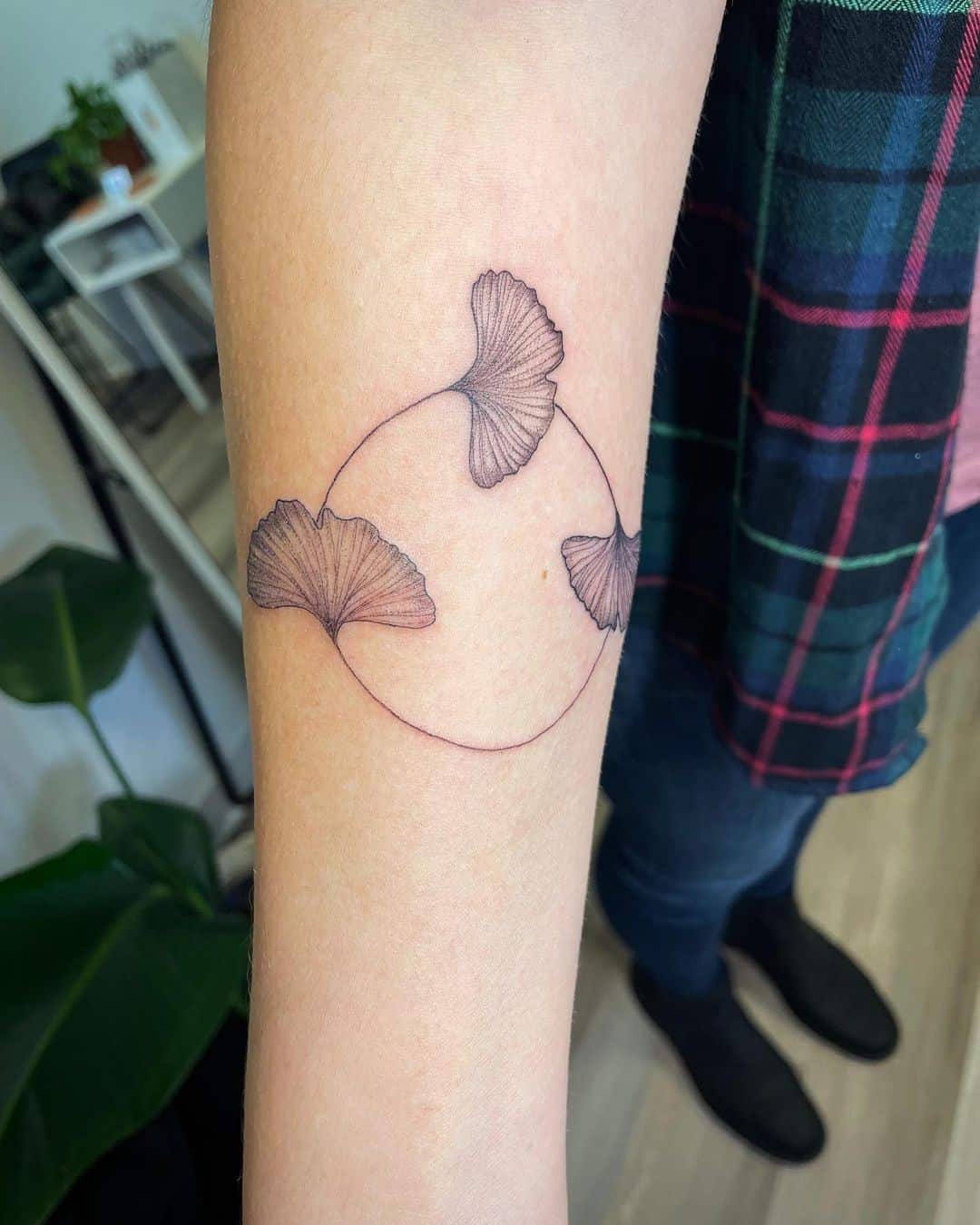 If you feel that deep connection to nature and the things that surround you, try out this tattoo. It will show that you're often linked to natural beauties and that nothing can prevent you from expressing your true character.
7. Neck Circle Tattoo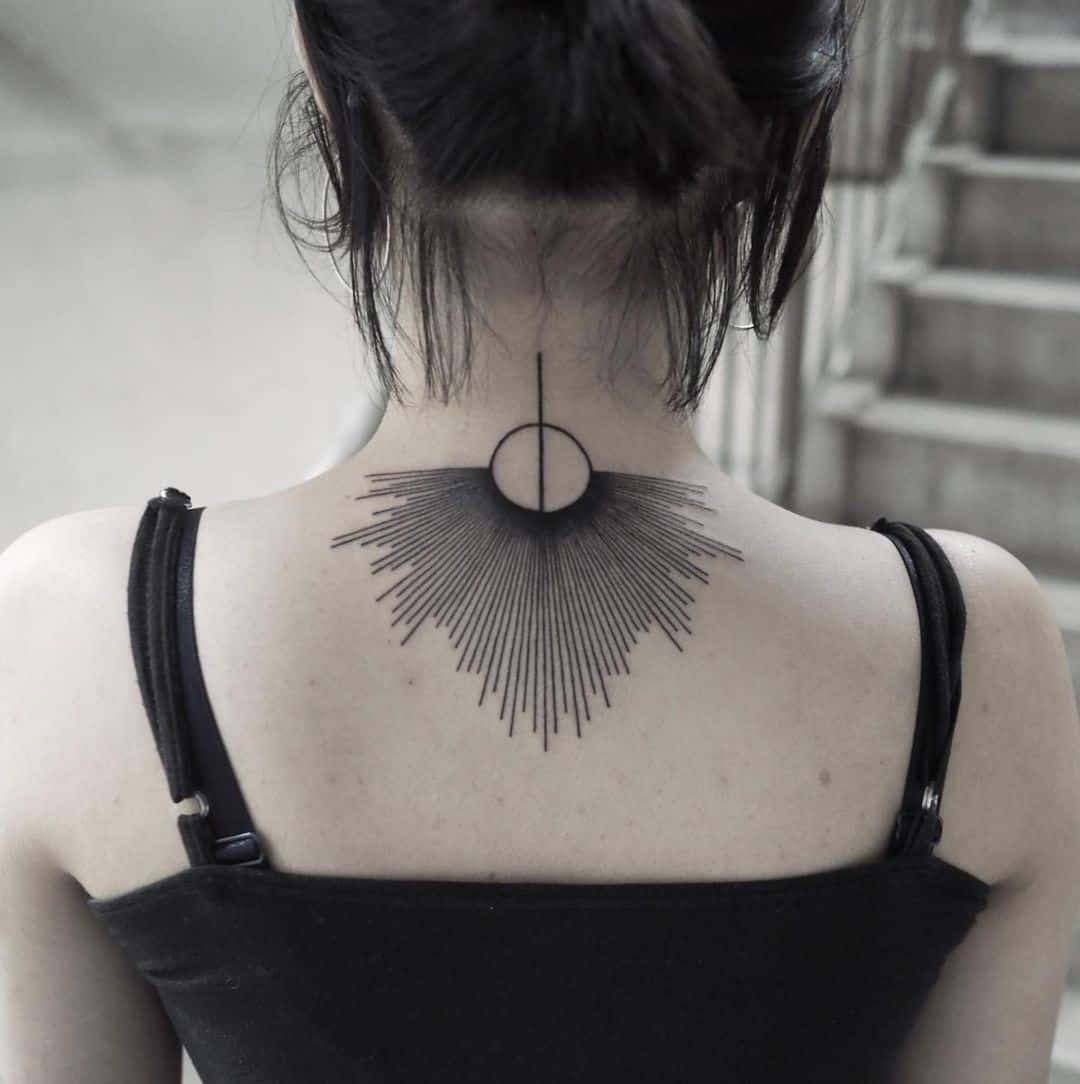 This hot neck tattoo is for women who like to do artsy prints. If you're a fan of precision and bigger tattoos that have that tribal vibe to them, this is perfect! Show that you know how to appreciate a good drawing and that you're always in the mood for something experimental and new.
8. Detailed Circle Tattoo Design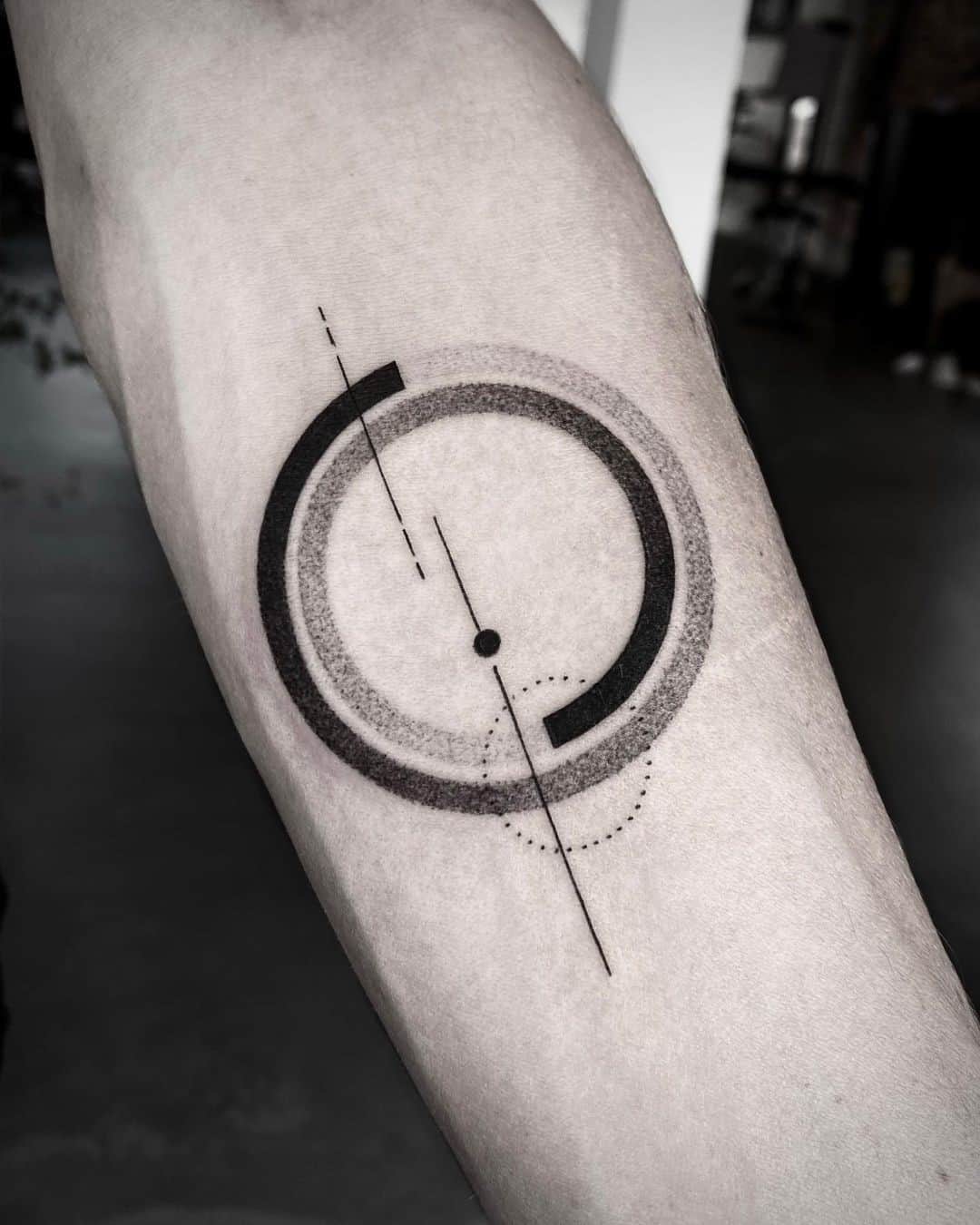 If you enjoy elegant shapes and precision this tattoo will suit you. It represents harmony and a person who is cool, calm, and collected. If you're a fan of unique black and white tattoos this one will suit you. It won't take too much time to do either.
9. Half Moon Circle Tattoo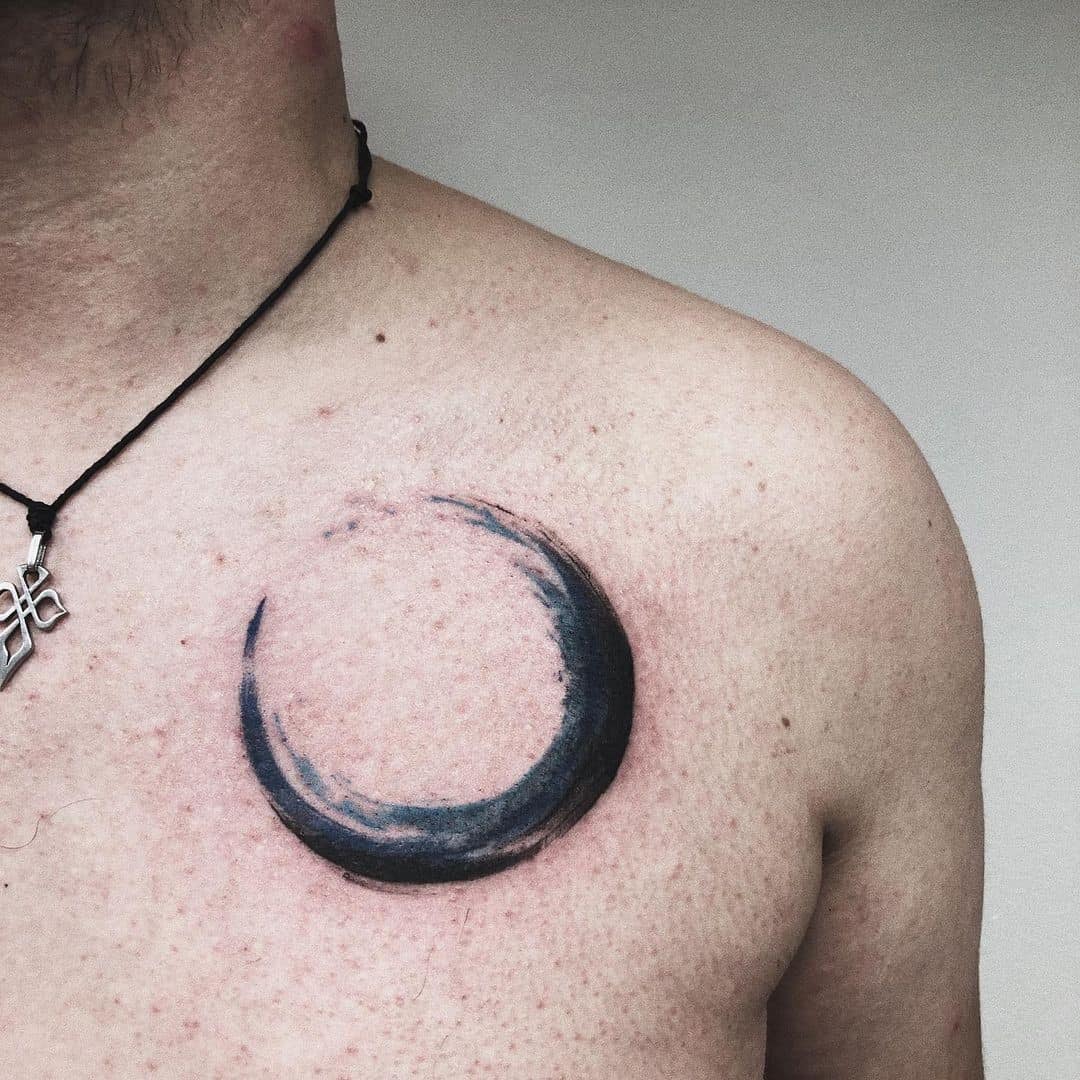 Chest tattoos can be painful, so heads up before you give them a go. If you're a fan of precision this half-moon in a circle shape will suit you. Show off and know that you will look like such an alpha male with this design.
10. Back Tattoo For Women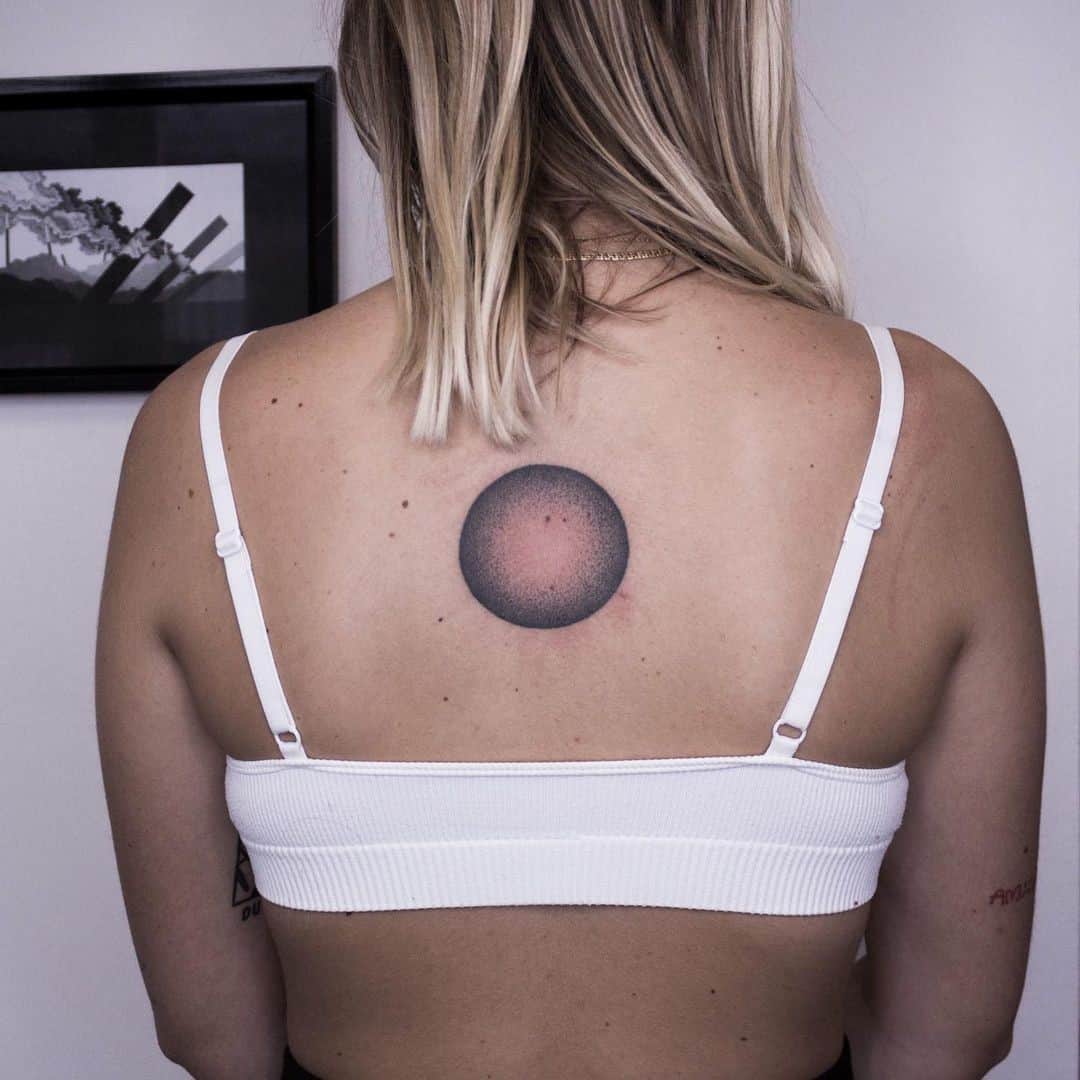 Some women prefer to wear back tattoos. Are you one of those women? In fact, this tattoo shows a person who is determined and bold. You are not afraid of taking or doing any new challenges, which is what makes you outstanding.
11. Floral Leaf Tattoo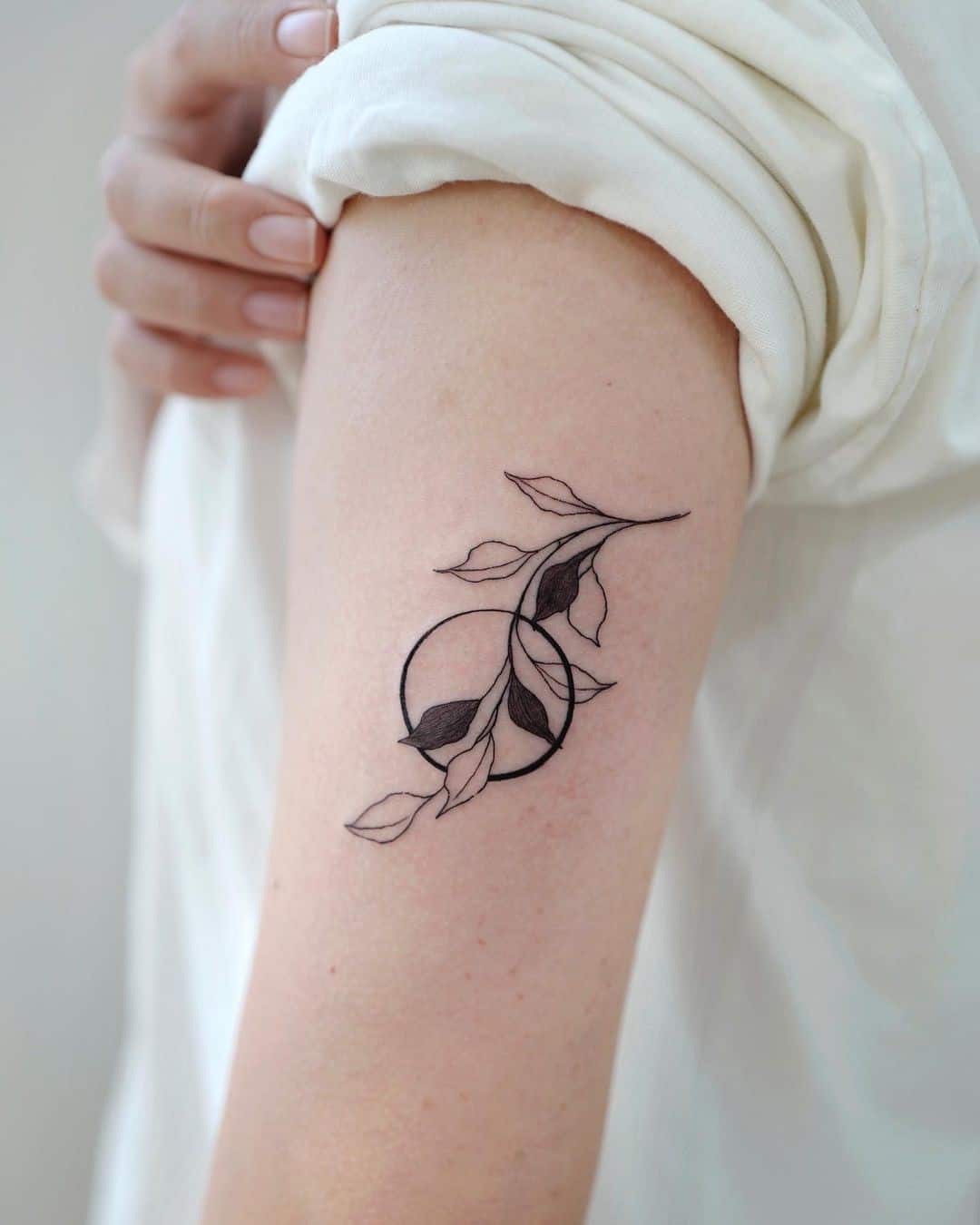 Do you enjoy plants and nature itself? If so give it a go with this round tattoo. It is done in black ink and it will take you 2 hours to do. The end result shows a person who is feminine and sensual. If this sounds like you give it a go with this print.
12. Wave Circle Tattoo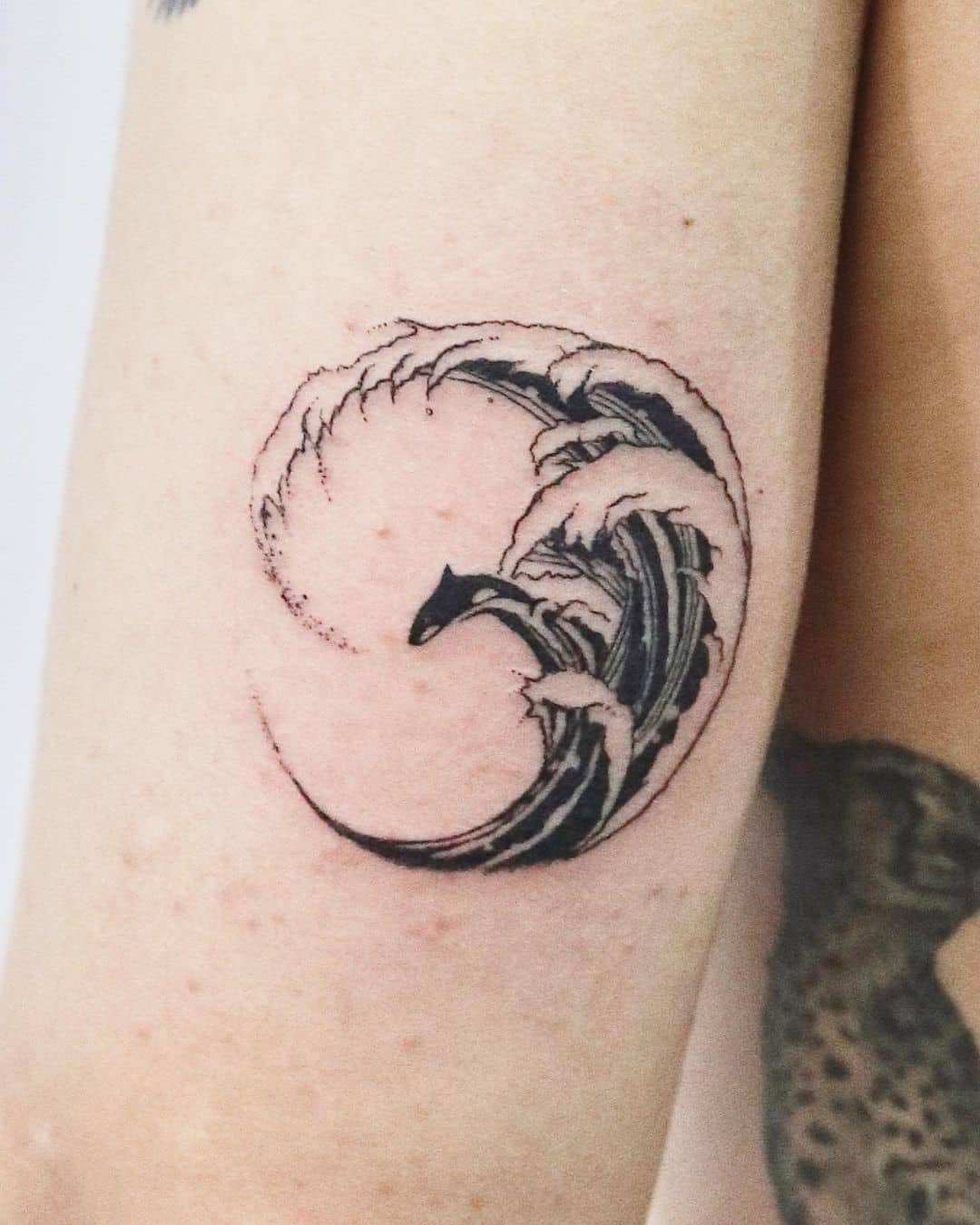 Go with this forearm tattoo if you enjoy flashy placement ideas. This print will suit younger and more mature generations. It is so universal and represents your will and power to overcome any waves or stormy paths that are ahead.
Colorful Circle Tattoos & Big Circle Tattoos
1. Forearm Colorful Circle Tattoo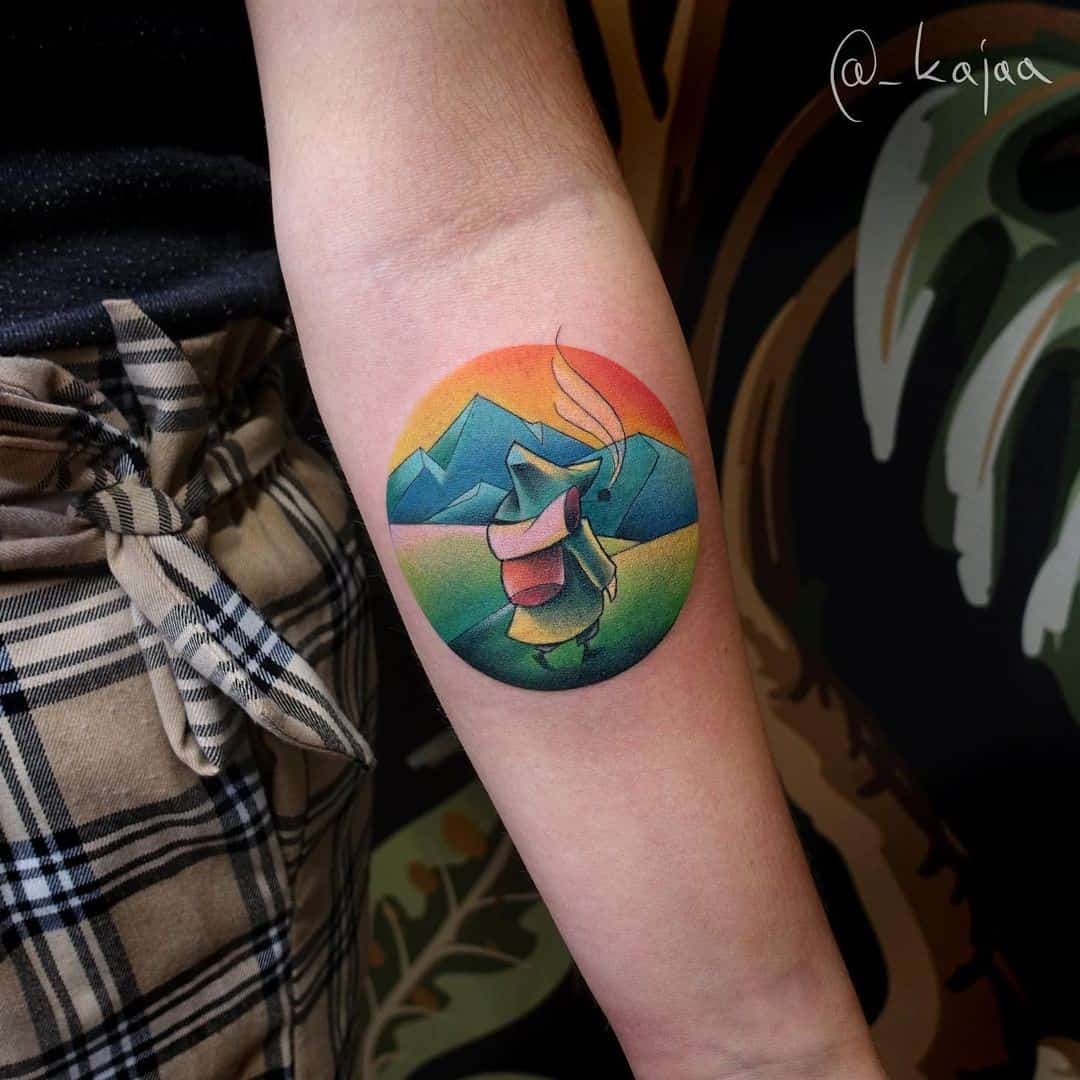 Why not add a bit of color when it comes to your tattoo? This design is for those who are driven by color and elegance. Go with this tattoo if you want it to show your creativity. Men or women who like nature and hikes will see the beauty of this tattoo.
2. Geometric Circle Tattoo
Play around with different shapes and you will end up with this flawless tattoo and circle concept! This tattoo shows a person who is always detailed-oriented and prepared for any scenario.
3. Forearm Colorful Print Circle Tattoo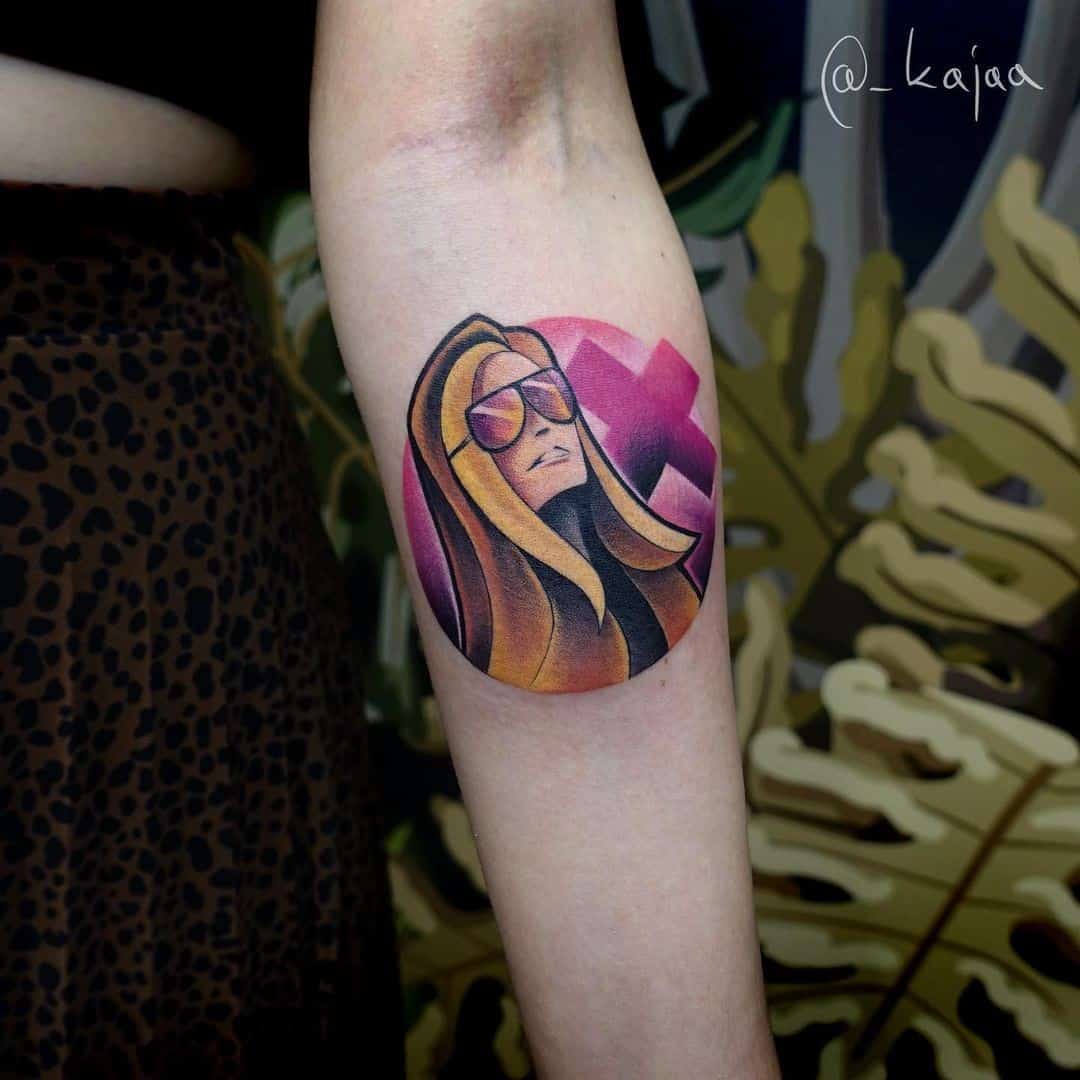 Go for yourself in a form of a pop art and circle shape! Women who enjoy color and elegance will like this tattoo. It is a pricier design but something that is worth it, as well as your spare time.
4. Blue Circle Tattoos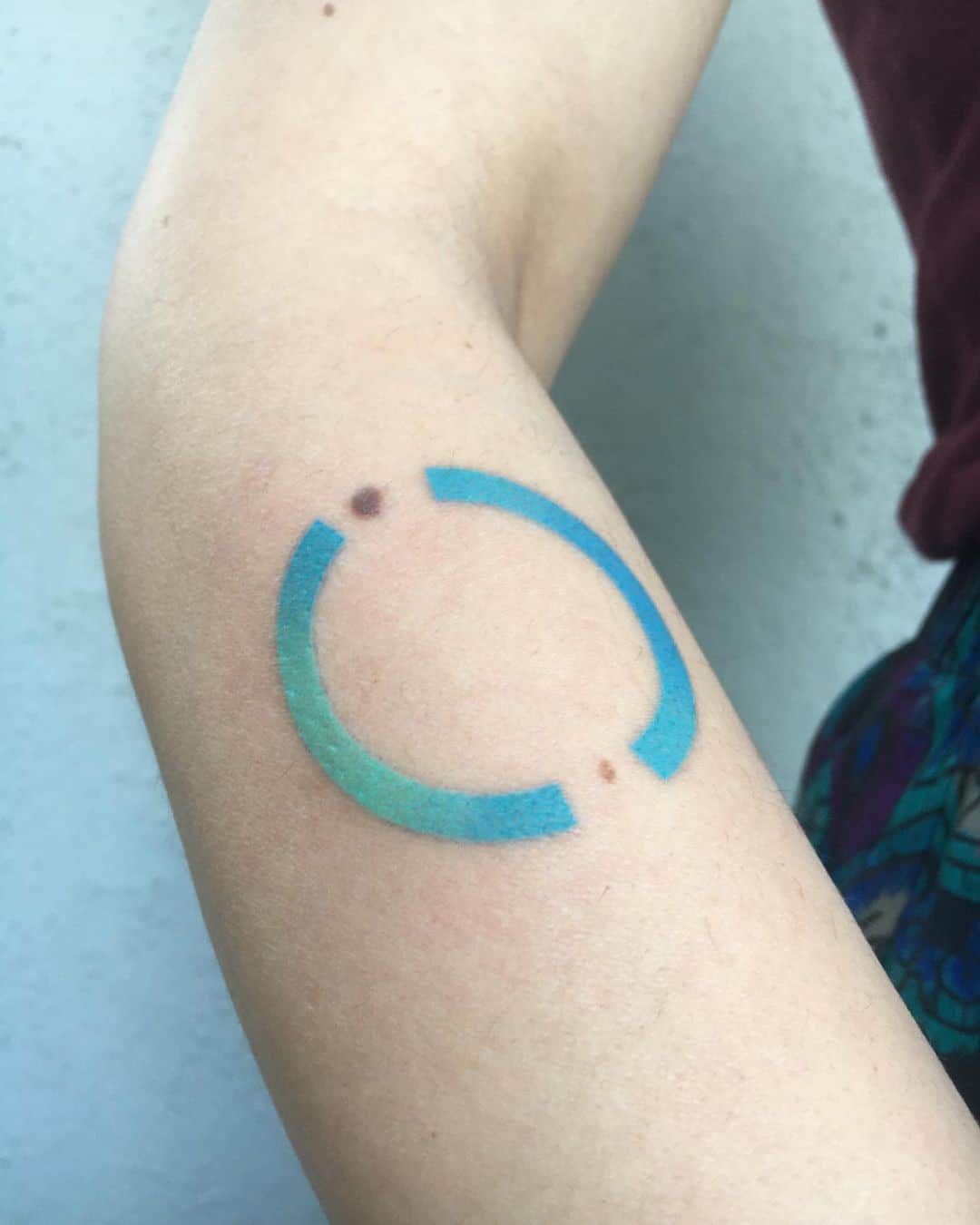 This small yet colorful blue circle shows your elegance and will to overcome a new challenge. Blue is a color of mystery, perfect for those who are sensual ladies wanting to look cheeky and secretive.
5. Forearm Car Inspo Circle Tattoo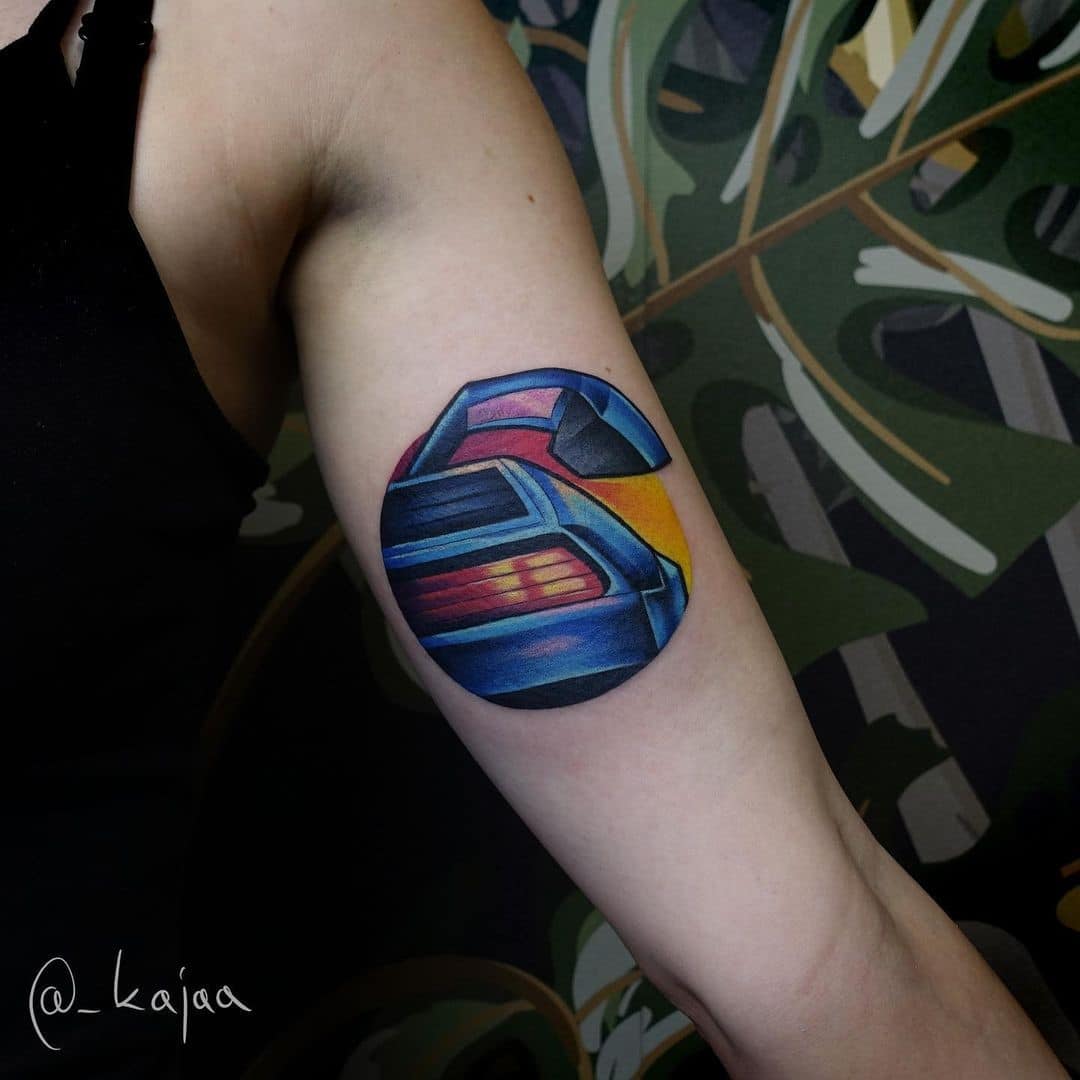 Go with this bright and large forearm tattoo. It has elements of mystery and playfulness. The end result shows a person who is innovative and creative, always craving new challenges and fun routes to take during life.
6. Cat Circle Tattoo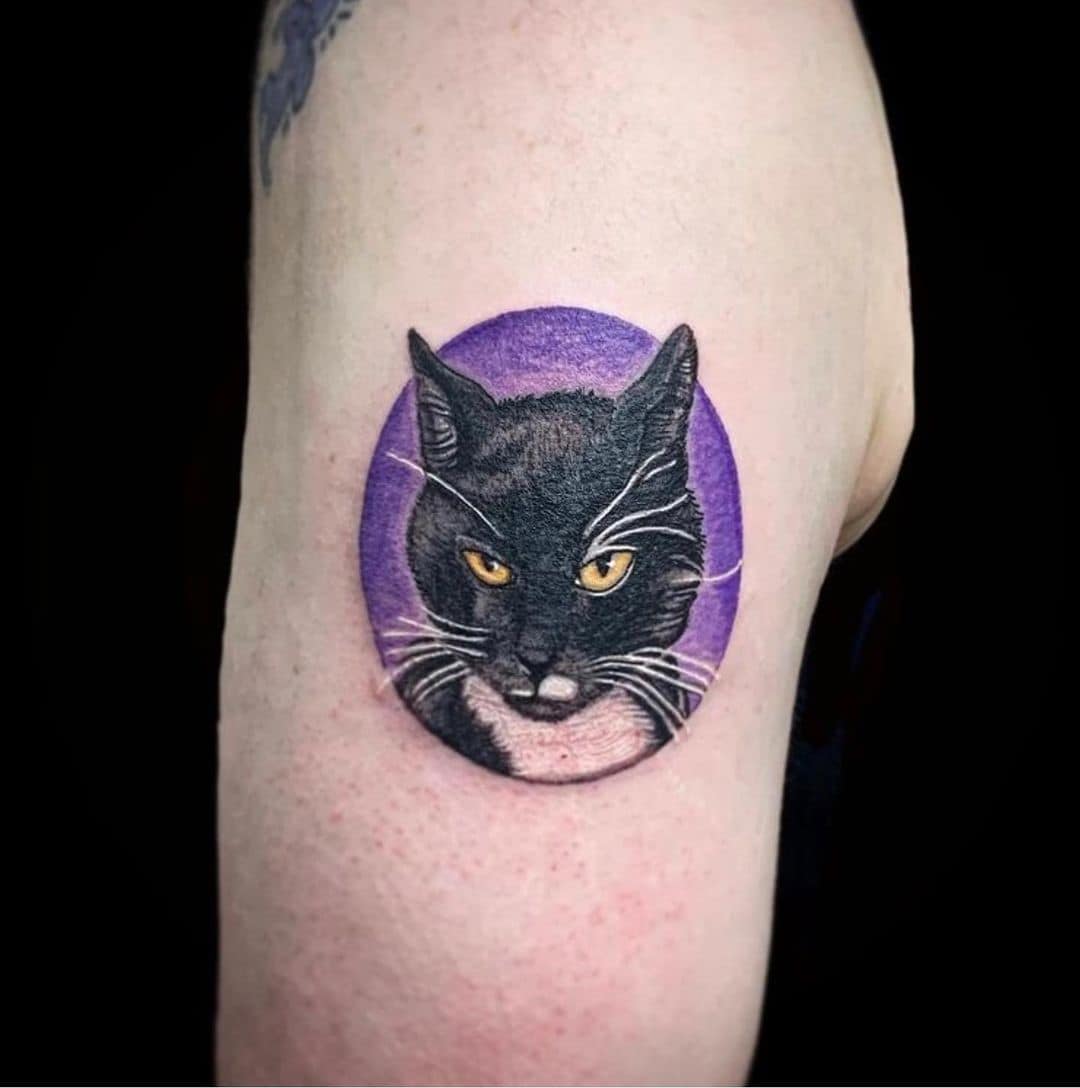 Why not portrait your cat in this colorful way? This tattoo will take some time to get and it is a pricier design to go for. If you're in the mood for chic designs and you want to show that you're connected to your furry pal, this is ideal!
7. Artsy Forearm Tattoo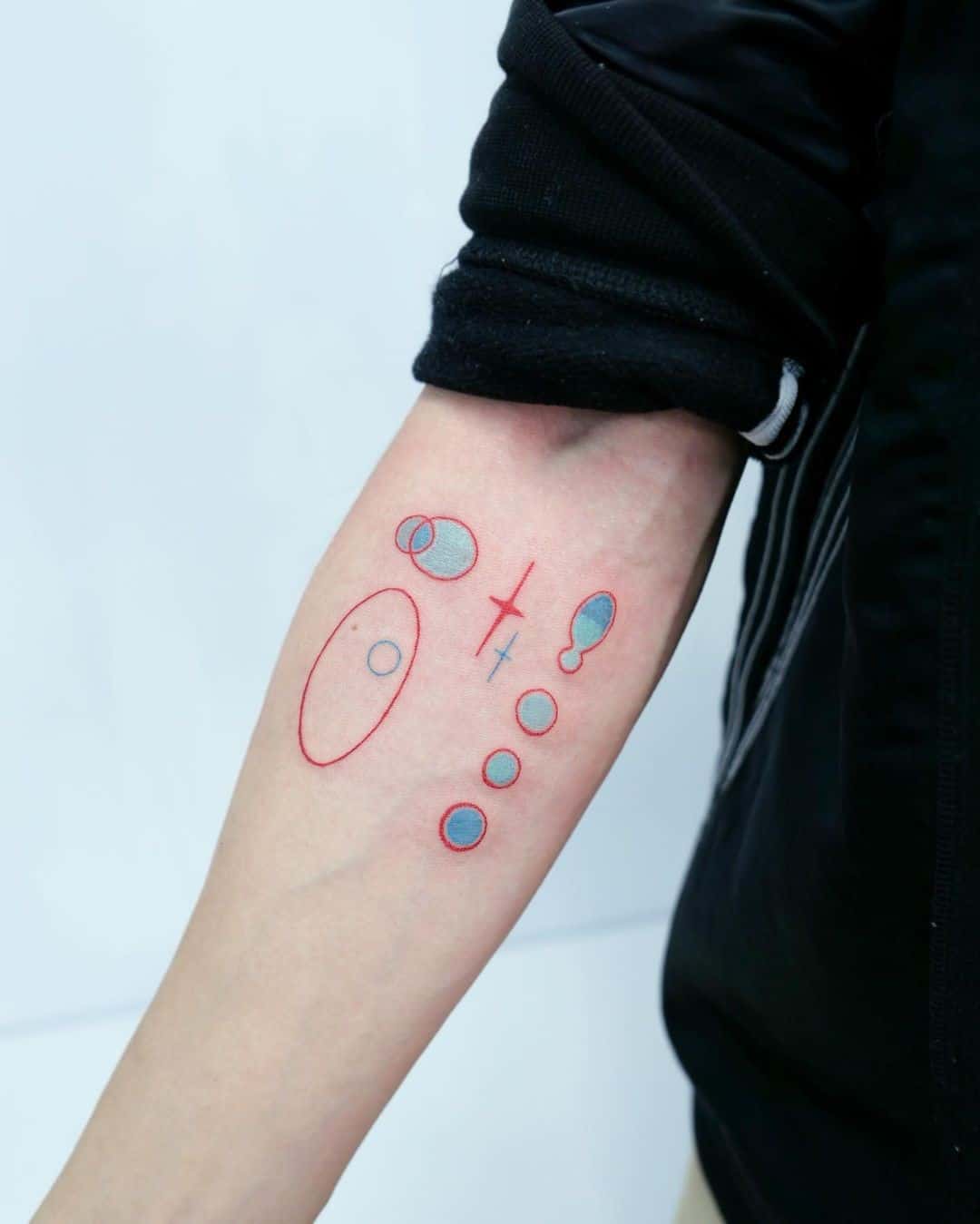 Play around with different shapes and you're going to enjoy this tattoo. It is often worn by those who like cute and detailed artsy ideas. It will take you 3 hours to achieve this playful little picture decorated with different symbols and elements.
8. Minimalism Circle Tattoo Design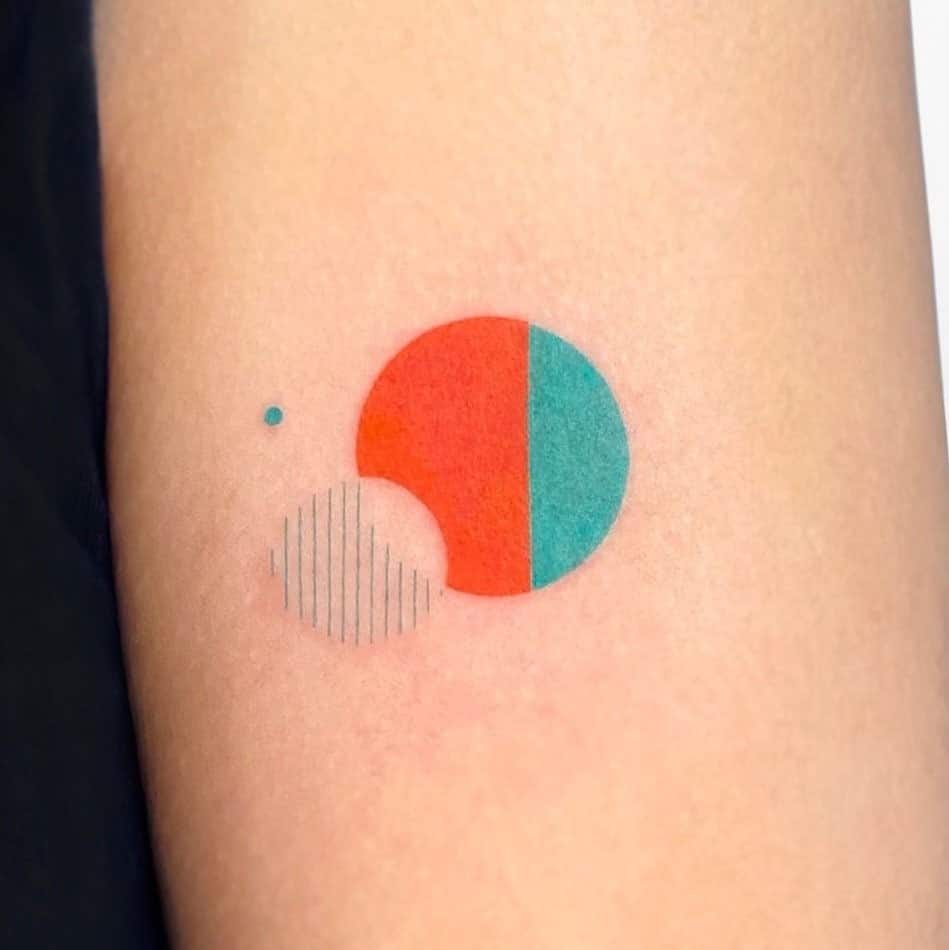 Combine red and blue if these are your favorite colors. Men and women who like details and those who are driven by precision will enjoy this circle tattoo. It will symbolize your creativity and will to succeed in your own way in life.
9. Forearm Flower Circle Tattoo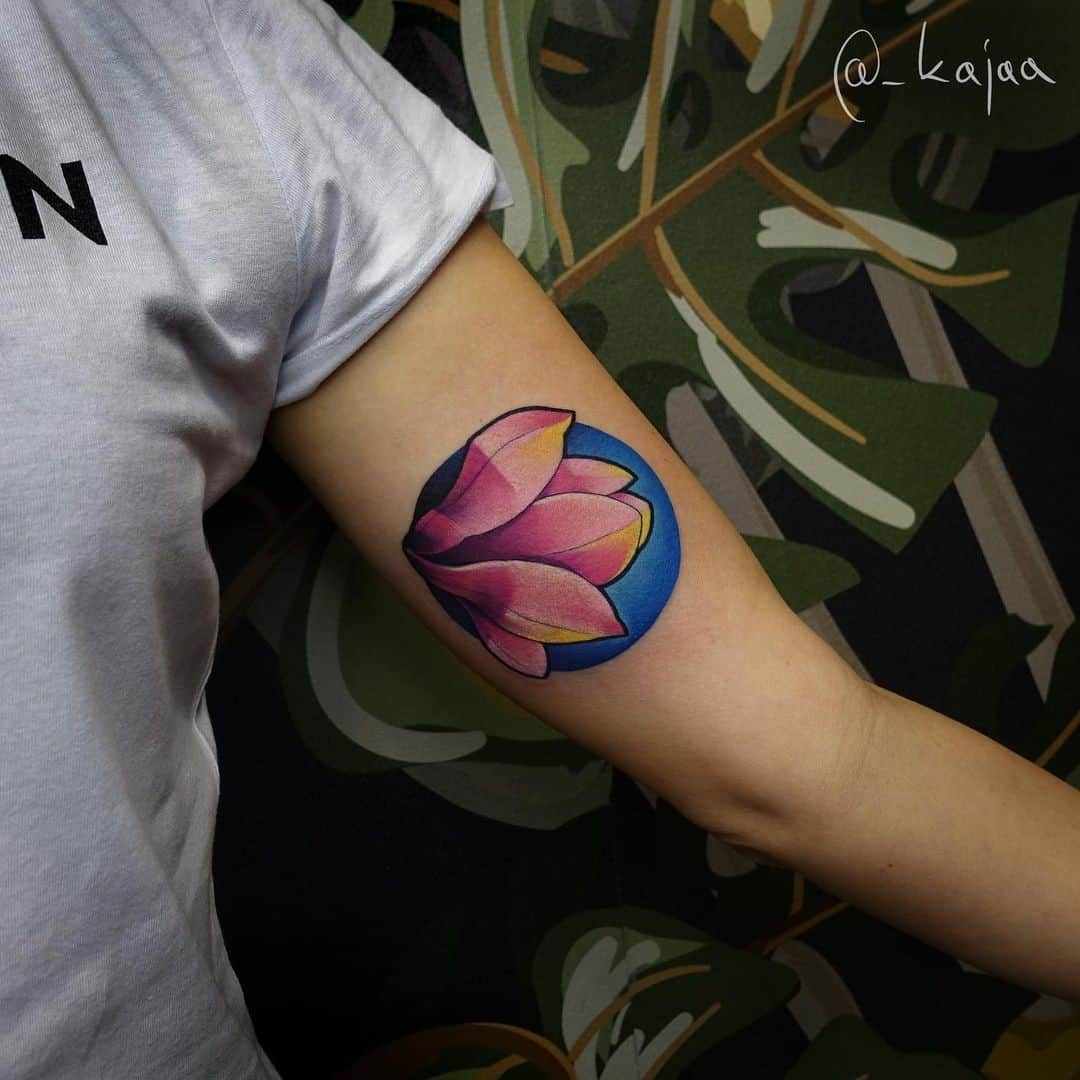 This forearm tattoo is done in a circle and with a flower shows your elegance. Show that you're someone who knows how to value little things in life. If you're naturally driven by inner beauty and you are as soft as a flower, this will suit you
10. Several Circles Tattoo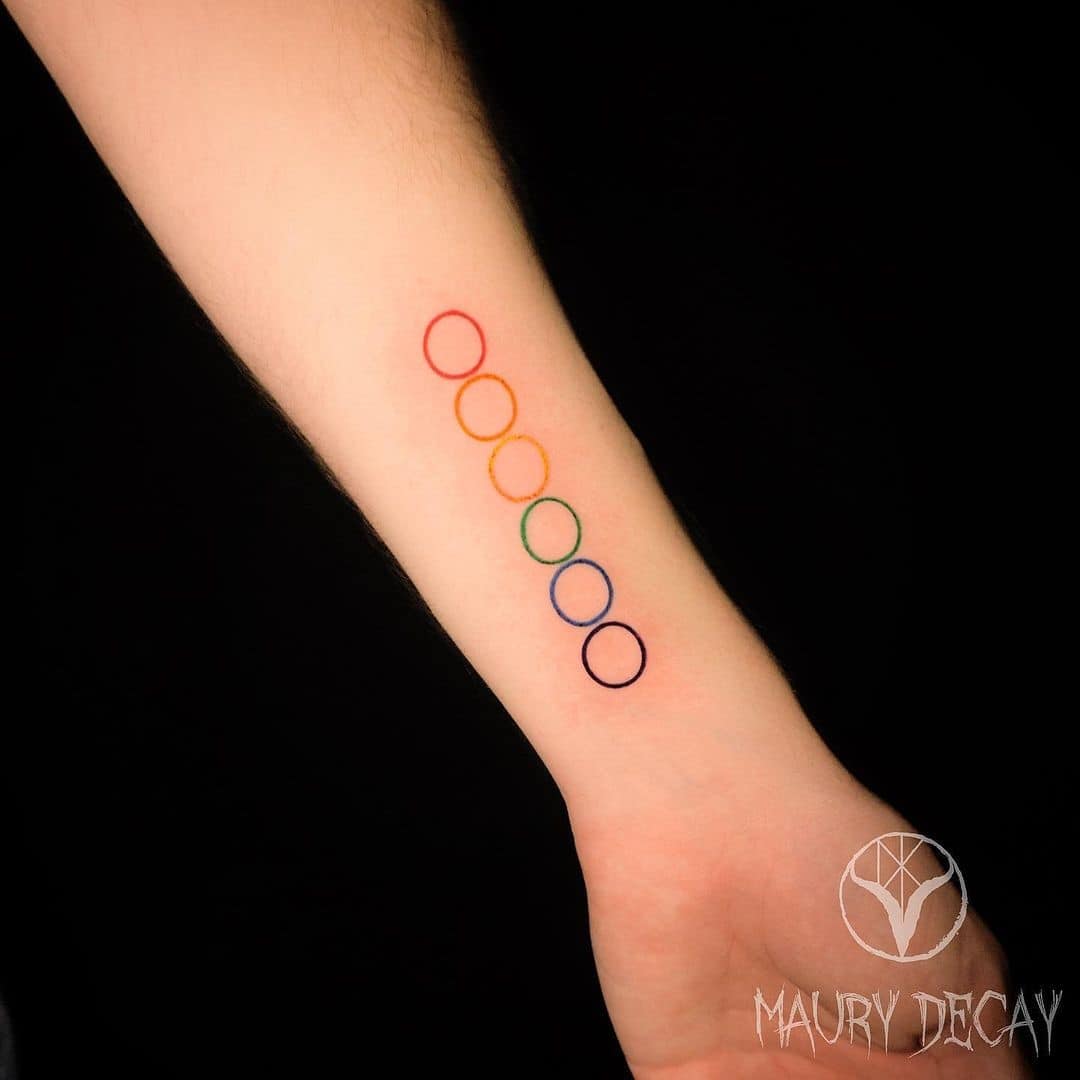 Why not go for loads of different small circles? This tattoo will suit anyone who prefers smaller colorful ideas. These circles will show that you're always growing and developing, as well as trying out new fun challenges.
11. Big Back Circle Tattoo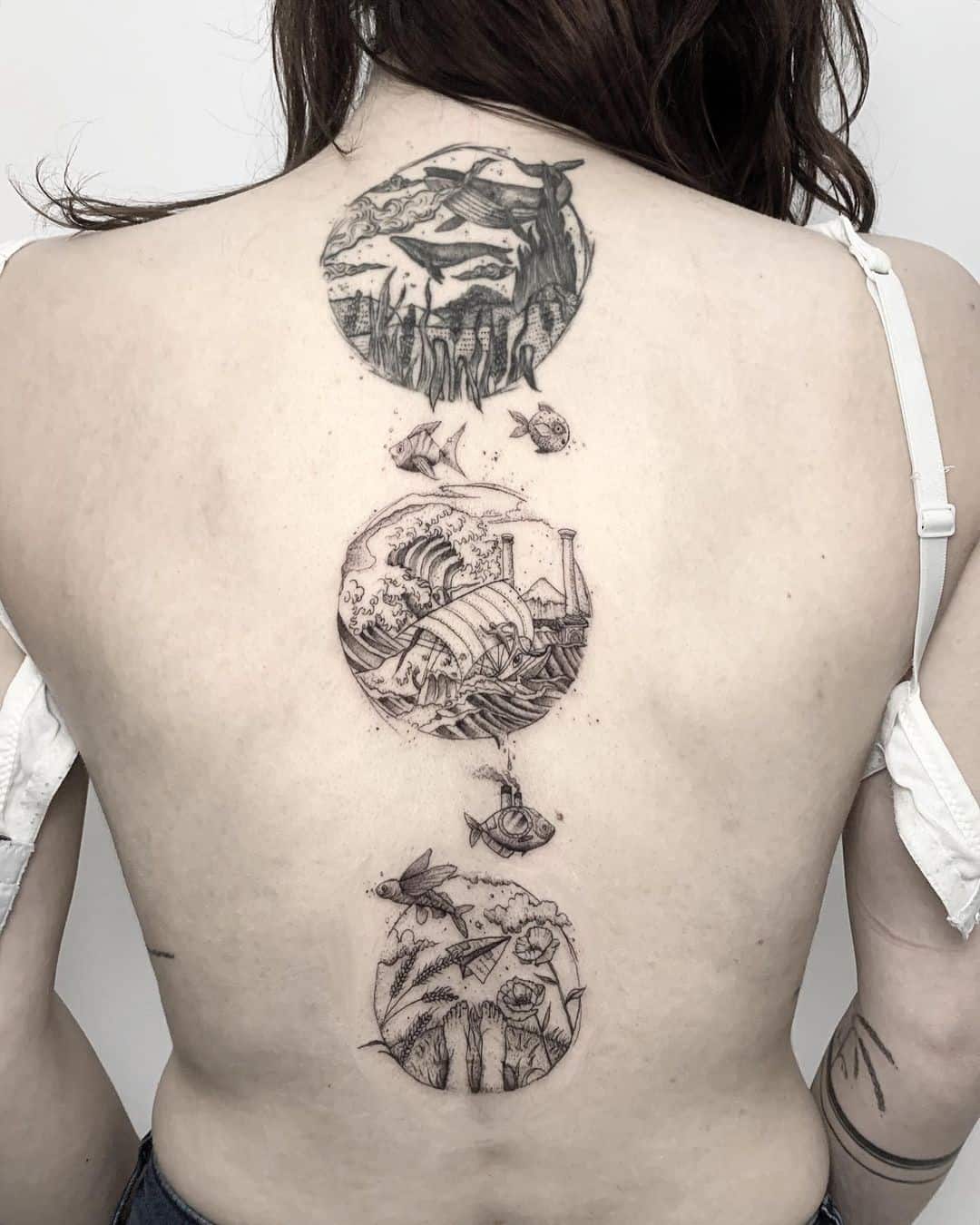 Back tattoos and bigger tattoos are for those who like dominant tattoos. If you're a fan of drama this will suit you. This design will show that you're always learning and trying out new paths in your life. Those who are driven by their own instinct will like this concept.
12. Giant Circle Tattoo For Women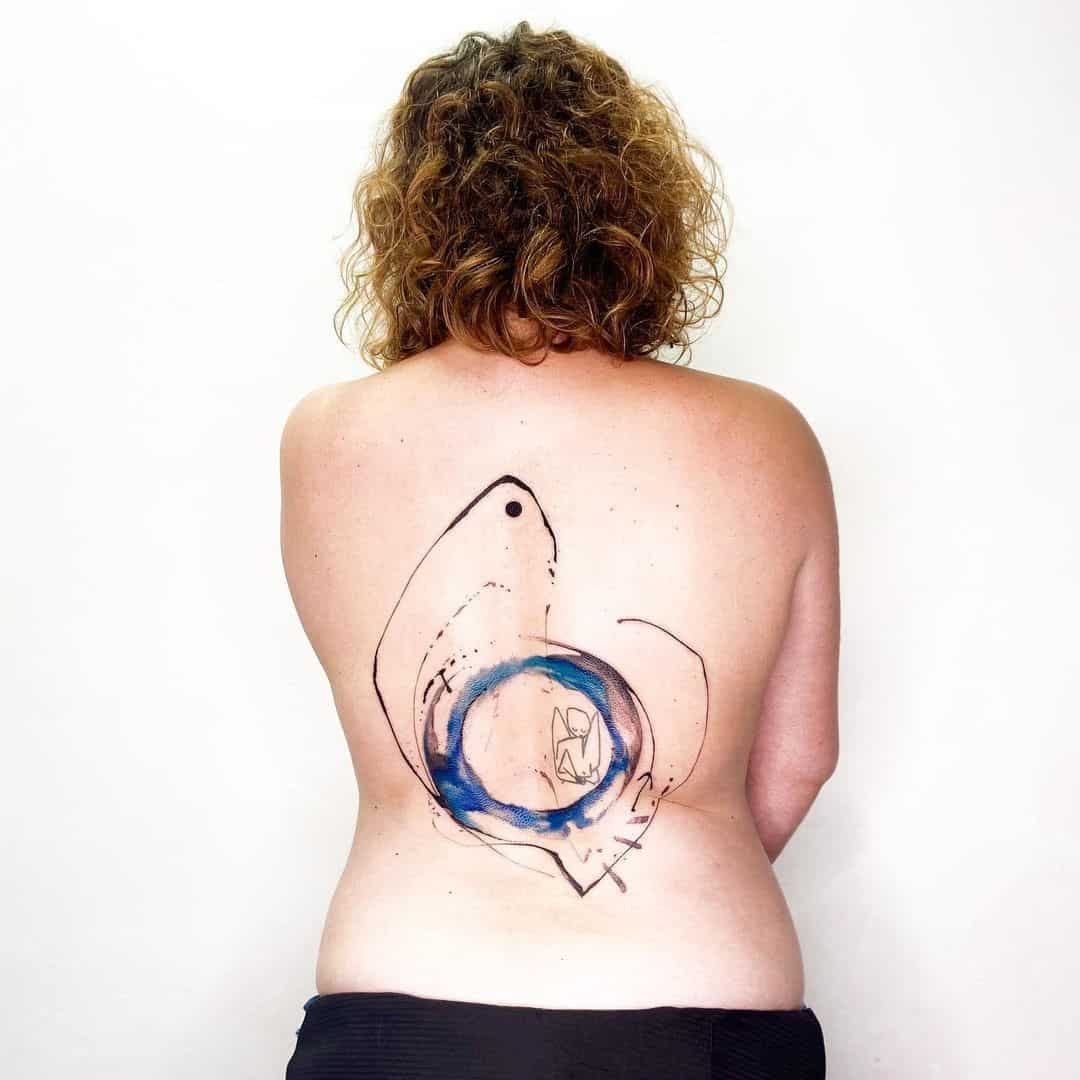 Such cool and playful larger tattoos that women can rock and go for over their back. This circle shows that not everyone is perfect and that all of us have little impulsive decisions. If you are driven by your inner energy this is a must-do!
13. Front Chest Circle Tattoo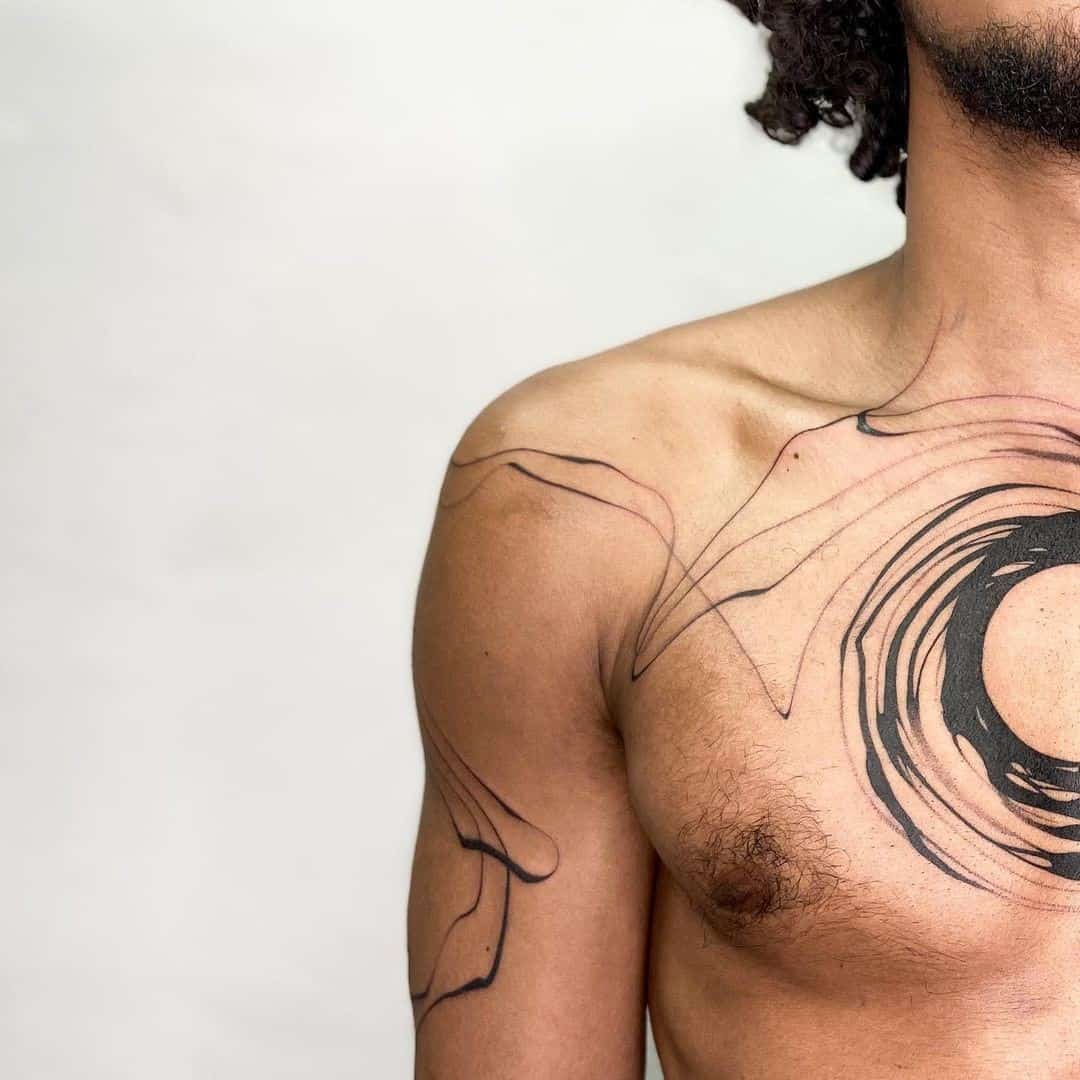 This giant chest tattoo is for those who like to stand out. If you like bigger designs and you're not afraid of the tattooing process we recommend giving this a go. It will take you 2 hours to achieve and it will look the best on dominant people.
14. Flower Circle Tattoos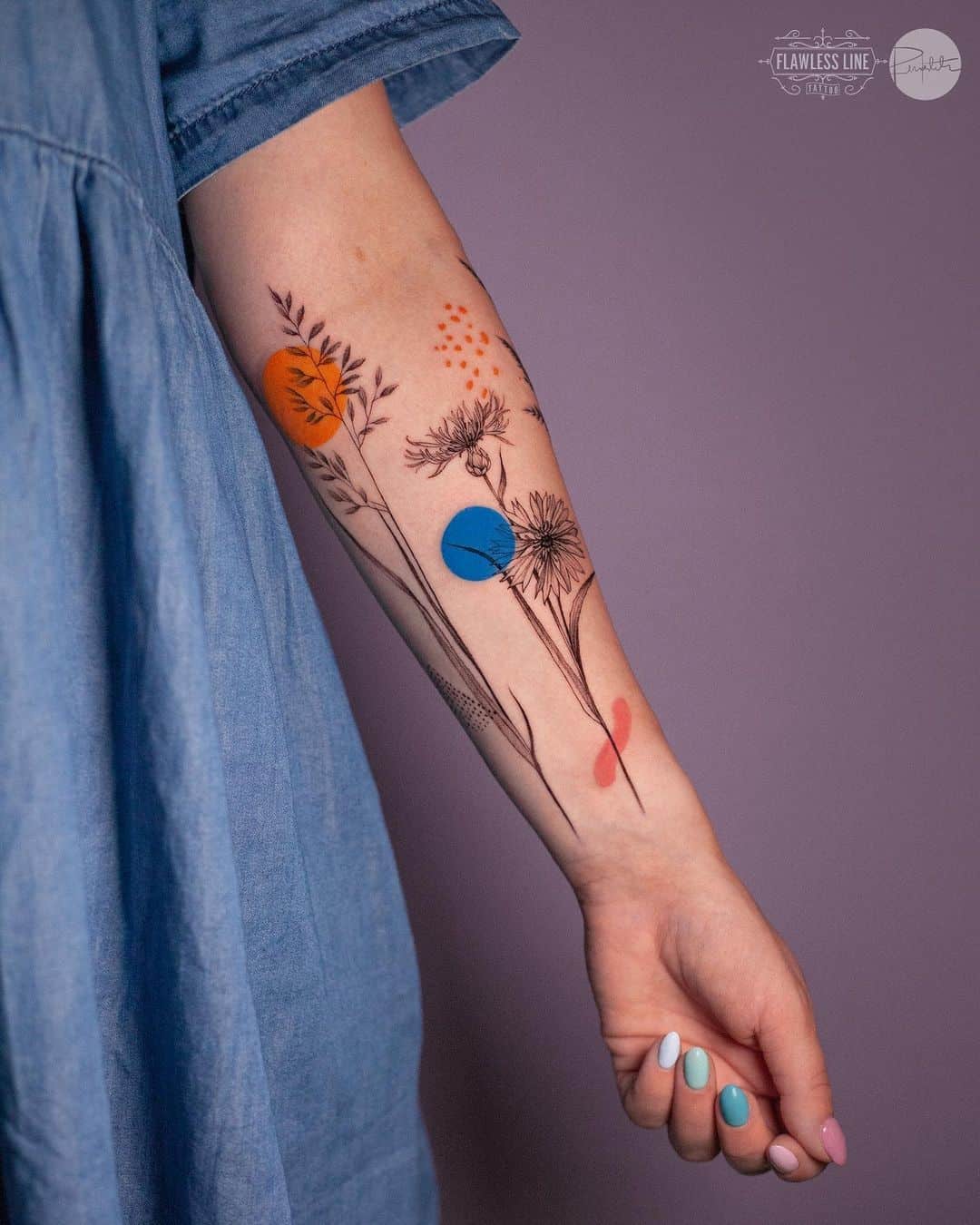 This forearm tattoo is for men or women who like colorful art and designs that are truly unique. This design will show your will to create and stay informed and up to date! It is also an innovative take and approach that you should go if you are an artsy creative person yourself.
15. Rainbow Circle Tattoo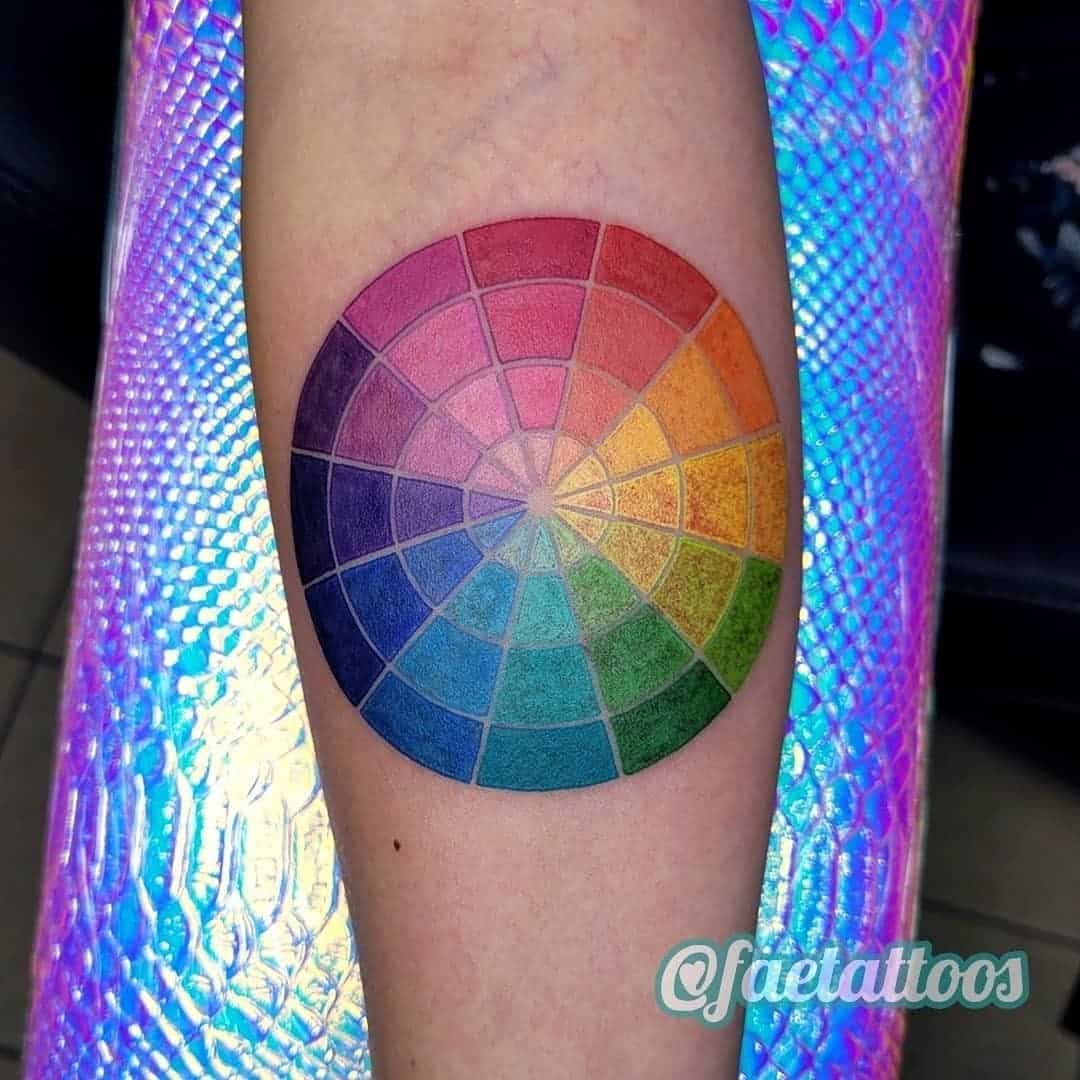 Lastly, why not give it a go with this colorful circle? It is used to describe your vibrant personality and your will to adapt to new changes. If you're a fan of color and you dislike monochrome things (style, friendship, clothing), this funky tattoo will suit you!
Want To Go For A Mesmerizing Circle?
Which one of these cool little circle tattoos was your favorite? Are you a fan of bigger or smaller tattoos? Let us know where you stand when it comes to these gorgeous options, we can't wait to see what you end up choosing.