40+ Unique Medusa Tattoo Design Ideas 2022 (Meaning and Symbolism)
When you shop through links on our site, we may earn an affiliate commission. This educational content is not intended to be a substitute for professional advice.
Getting a truly unique and meaningful tattoo that also looks incredible can be really hard. In the sea of interesting tattoos that almost every single person gets, finding that one hidden, unique gem can feel like discovering a new continent. One of those hidden, secret tattoo design gems is the Medusa tattoo design.
Now, being a popular character of Greek mythology, it can be hard to believe that people haven't discovered Medusa for their tattoos, but truth to be told, Medusa is rarely the option for a tattoo design. And that is usually because of the evil and jealousy quality usually associated with Medusa. But, those who like to explore Greek mythology will know that Medusa is a powerful character, that exudes female power and freedom.
So, if you're interested in finding a new unique tattoo design for your next ink session, you're at the right place. In the following paragraphs, we'll talk about Medusa tattoo symbolism and show you why the Medusa design should be your next tattoo. So, let's get started!
The Story of Medusa
The Mythology
You've probably heard of Medusa from the stories in Greek and Roman mythology. Medusa is a popular character, and as such can be traced back to being a part of ancient Greek and Roman writers' and poets' work (for example, Homer's Illiad or Ovid's Metamorphoses). Even nowadays, Medusa is a well-known and globally recognized character, often associated with popular historic villains.
Now, compared to other Greek mythology characters, Medusa was not a goddess, nor a monster. In fact, Medusa was a human. She was described as a beautiful woman many desired and envied. Her beauty was so otherwordly that she was even noticed by the Gods and there seemed to lie all of her power.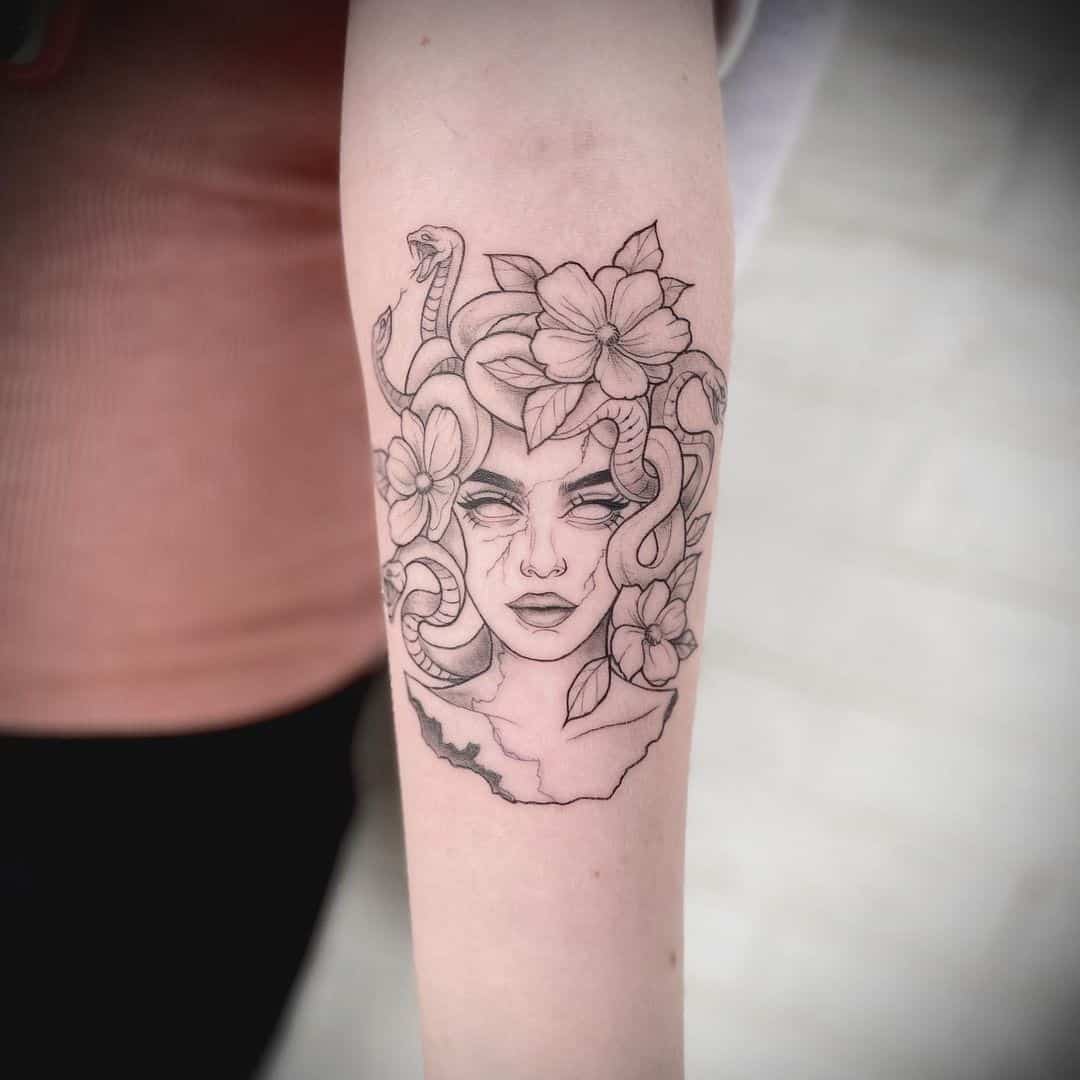 When it comes to her life, Medusa was an avid and loyal support of the Greek goddess Athena. Medusa believe Athena is the most powerful goddess, so in return, Athena also respected Medusa for choosing her over Gods and men.
Now, the problem between Athena and Medusa arose when Poseidon decided to humiliate Athena by claiming Medusa as his forever partner. Since Athena was hurt and couldn't bear to watch Poseidon and Medusa together, she cursed Medusa and claimed she betrayed her.
One of the ways Athena decided to punish Medusa was by turning her incredible hair into serpents and legs into the legs of a bird. To complete the punishment, Athena made it impossible for anyone to look Medusa in the eyes; not even Medusa could look at her own reflection. If someone was to look Medusa in the eyes, they would turn into a rock.
Medusa's story continues as she gets banished to an island with her two sisters. Medusa, even with all the punishment, remained mortal. Later, a demigod named Perseus came to Medusa to get Medusa's head. Hades and Athena helped Perseus get to Medusa, so he managed to decapitate her and used her head (or rather her gaze) to fight the enemies in his later adventures.
The Symbolism
Generally speaking, Medusa's story is interpreted as Medusa being the villain. However, some interpretations see her as a victim of Poseidon and him pushing himself onto Medusa and forcing her to be his partner. Many see Athenes as the victim here, but we cannot simply ignore the fact that Medusa was also a victim, because of her incredible beauty and friendship with Athena.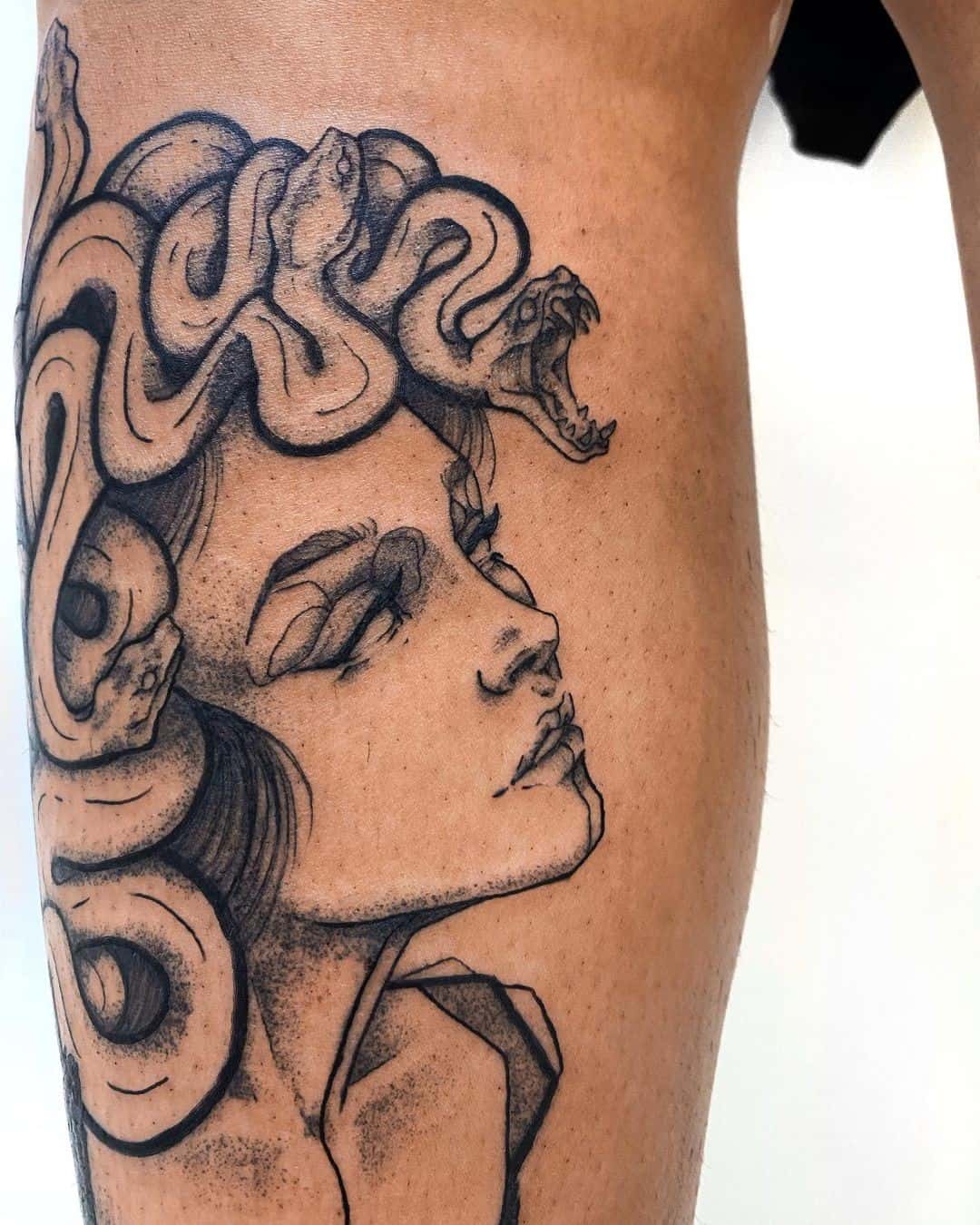 Now, considering that Medusa is mostly depicted as this evil woman with snakes on her head, it isn't surprising that many see her as a mythological symbol of evil or as a monster. Many don't even know that Medusa was a regular, mortal human. But, modern interpretations see Medusa as a feminist symbol and a powerful woman.
That is why, nowadays, Medusa symbolizes feminism, female power, the power of female seduction, female wisdom, and everything female overall. Medusa also symbolizes the power of the female gaze as well as the power of female charm and passion.
The Medusa Tattoo
Now, when it comes to a Medusa tattoo, many initially associate Medusa with this monster-like image and evil actions. However, with the modern interpretations and a deeper insight into Medusa's story, we can see that she is wrongly seen as a villain. T
hat is why getting a Medusa tattoo should be associated with the symbolism of female power, womanhood, and femininity. And, that is also why a Medusa tattoo is an excellent choice for a new, interesting and unique design.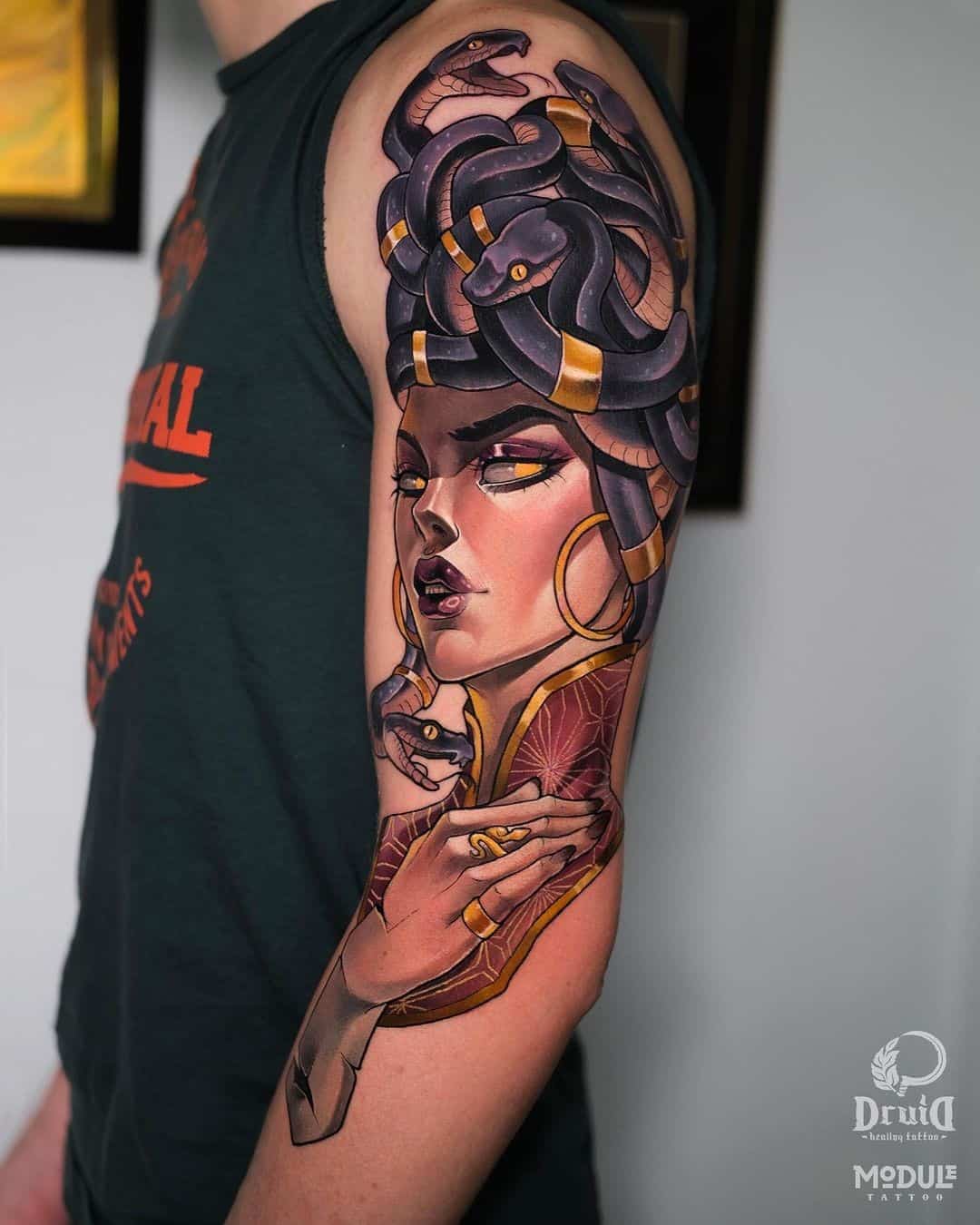 Many generally ignore the larger meaning of Medusa's story as well as the Medusa tattoo. So, if you do get a Medusa tattoo, you should bear in mind that people will comment and maybe even question your choice. If you can, try to explain Medusa's story. Apart from the villain image, Medusa was actually a victim of Poseidon, and if something similar to what happened to Medusa happened today, she would be viewed as a sexual assault survivor and a true feminist figure.
Medusa, and powerful women resembling Medusa, make people uncomfortable. It seems that beautiful, smart, powerful women were always stigmatized, even in ancient times and mythologies. So, by getting a Medusa tattoo, you're contributing to a change of the narrative and how society views characters like Medusa.
Medusa Tattoo Inspiration
If you're interested in the story of Medusa's life and you're considering getting a Medusa tattoo, then you're in the right place. In the following paragraphs, we'll take a look at some of the most interesting takes on Medusa tattoo designs. Maybe you'll get even more inspired and go for a similar design yourself. So, let's take a closer look;
The Medusa Gaze Tattoo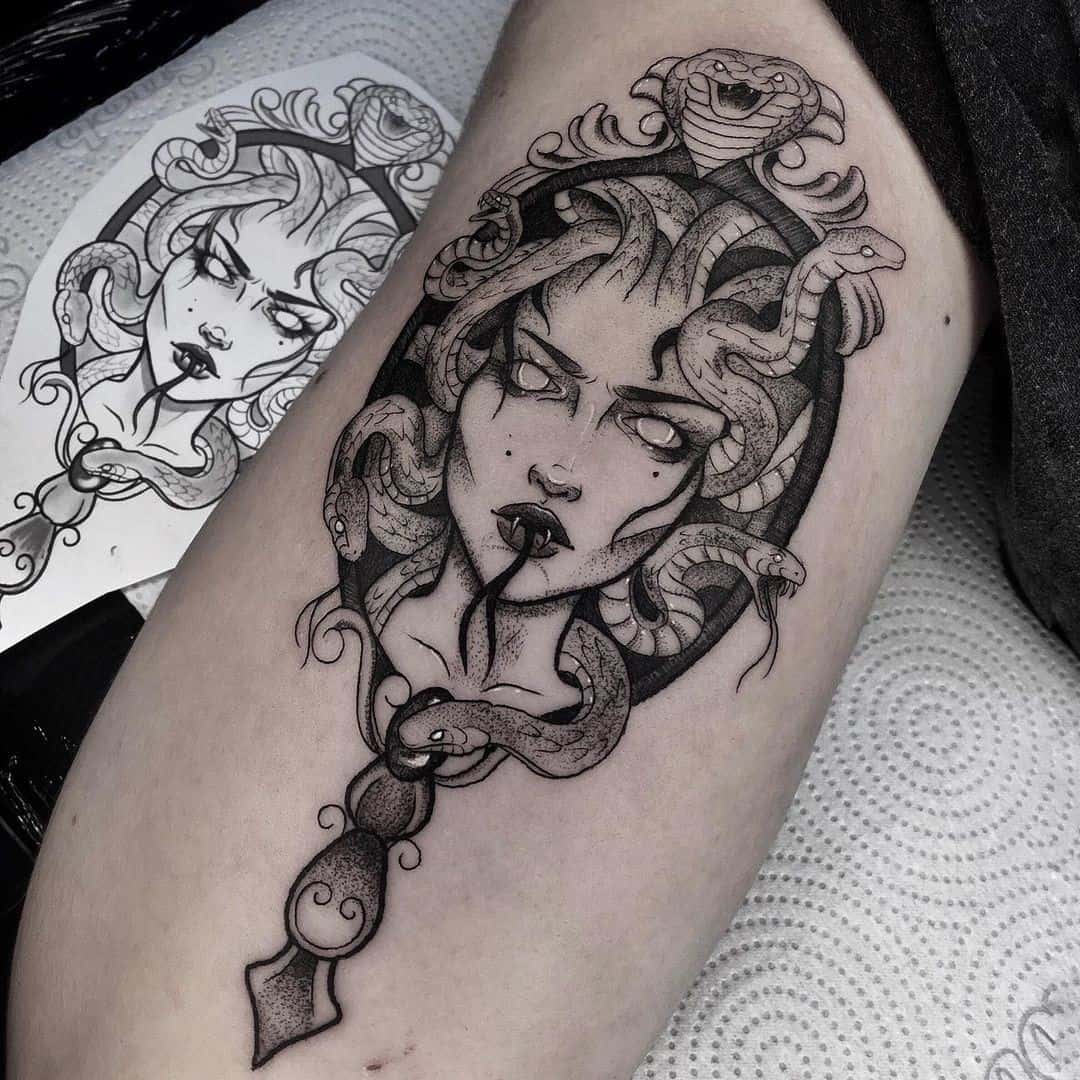 One of the main inspirations for a Medusa tattoo is the important detail of Medusa's gaze. Such tattoo designs often depict Meduza with an intense gaze, but her eyes are generally white, without pupils. The tattoo is often accompanied by Medusa's significant snake head and even more accentuated by the beauty of her face.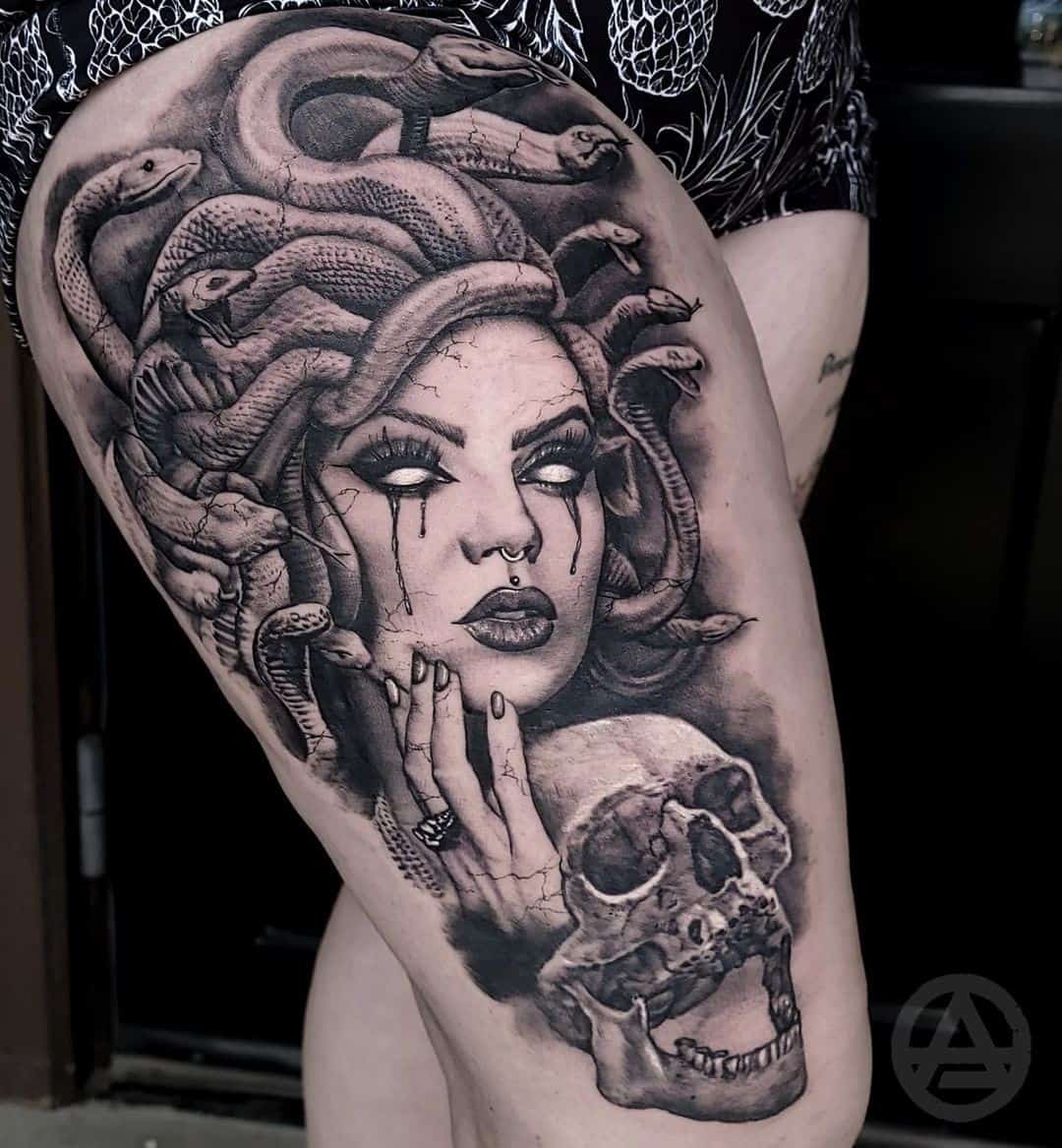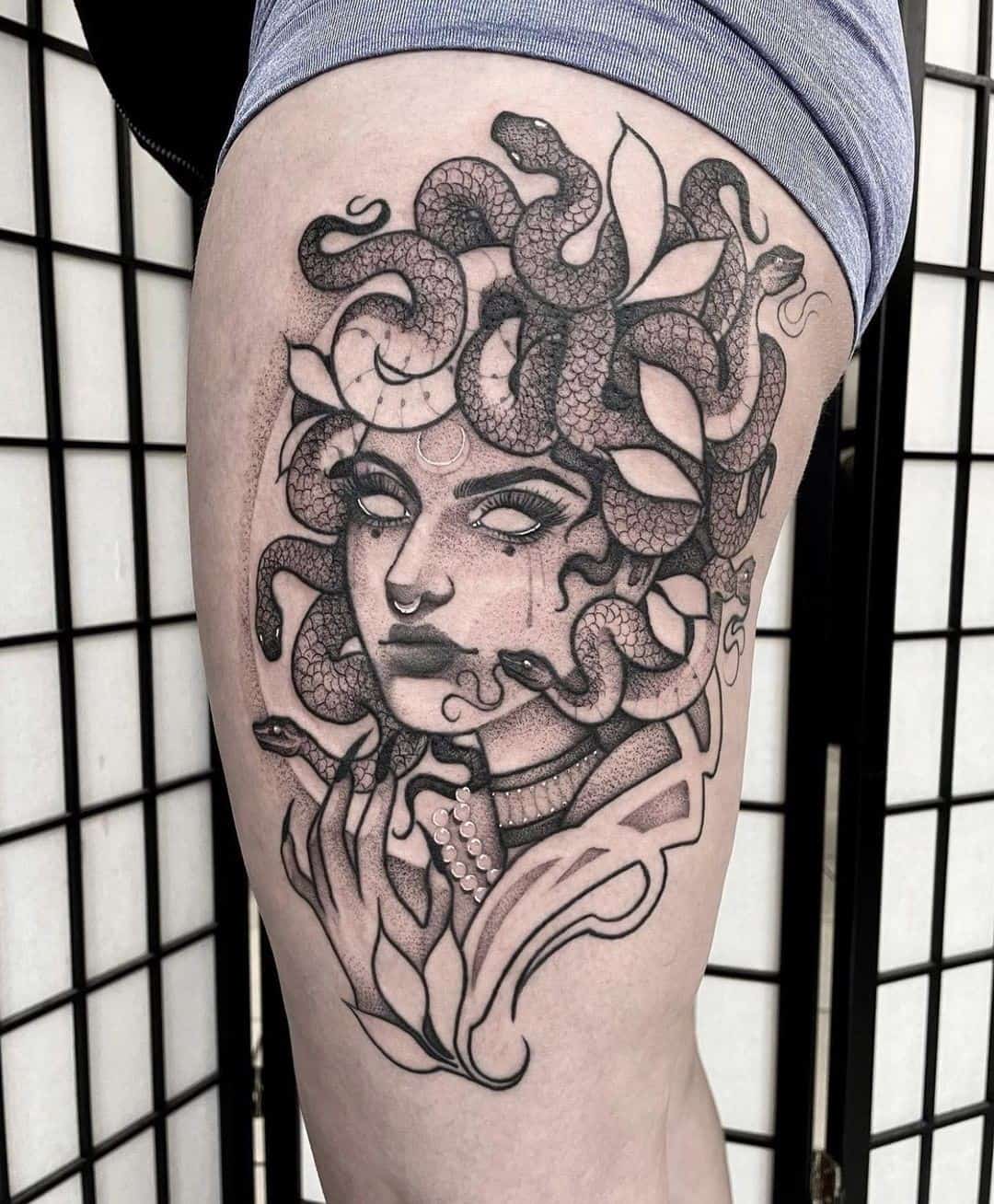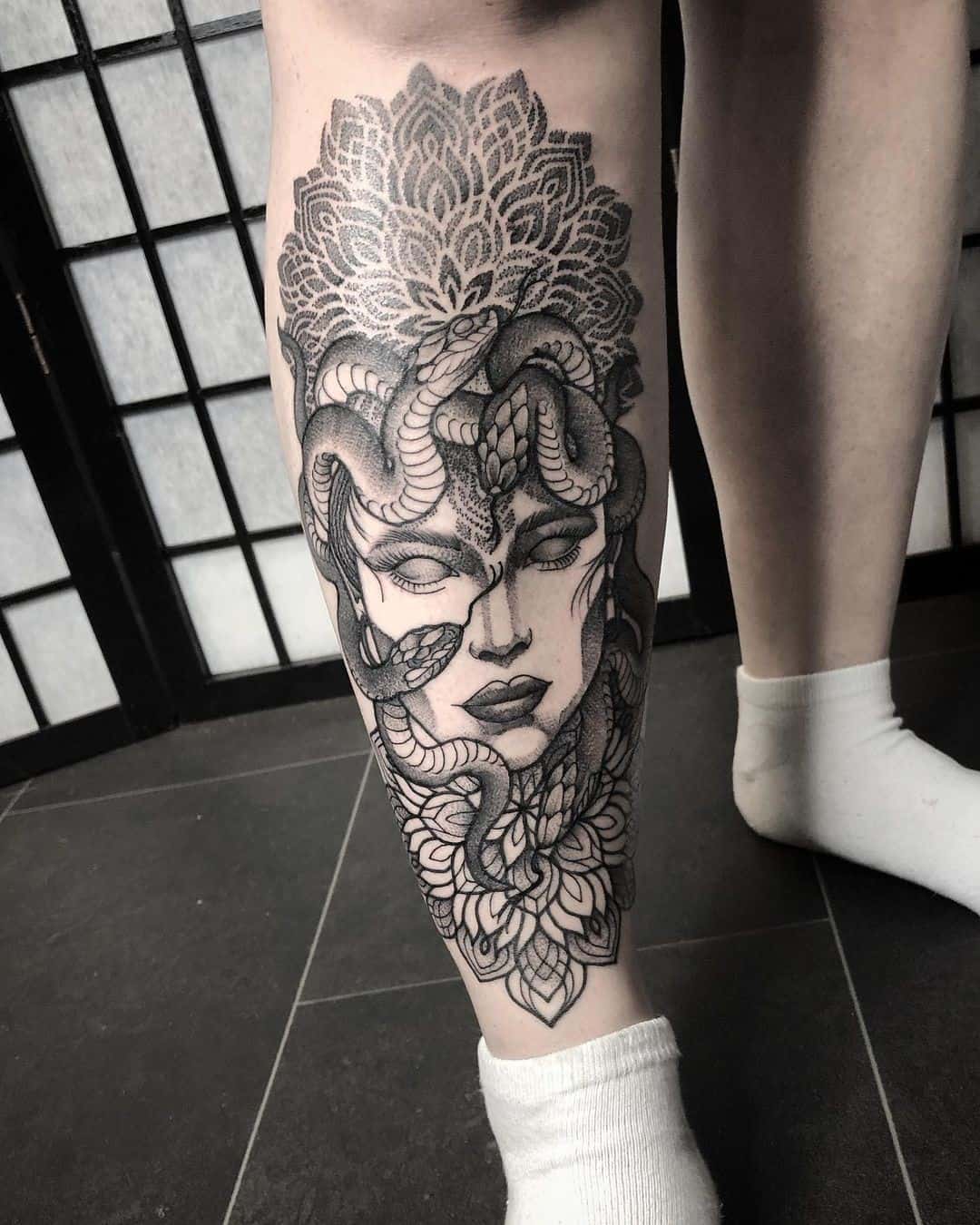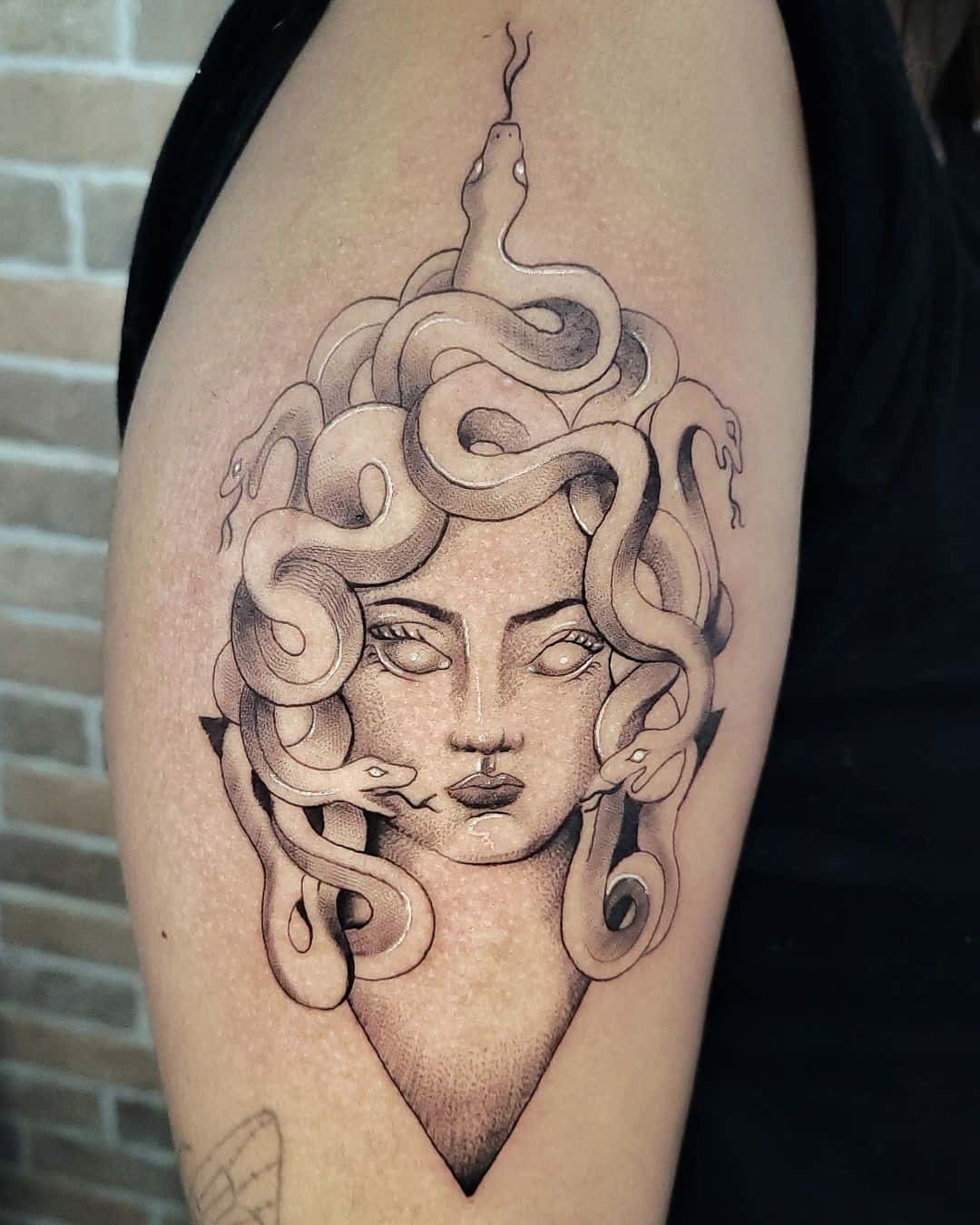 Medusa Bust Sculpture Tattoo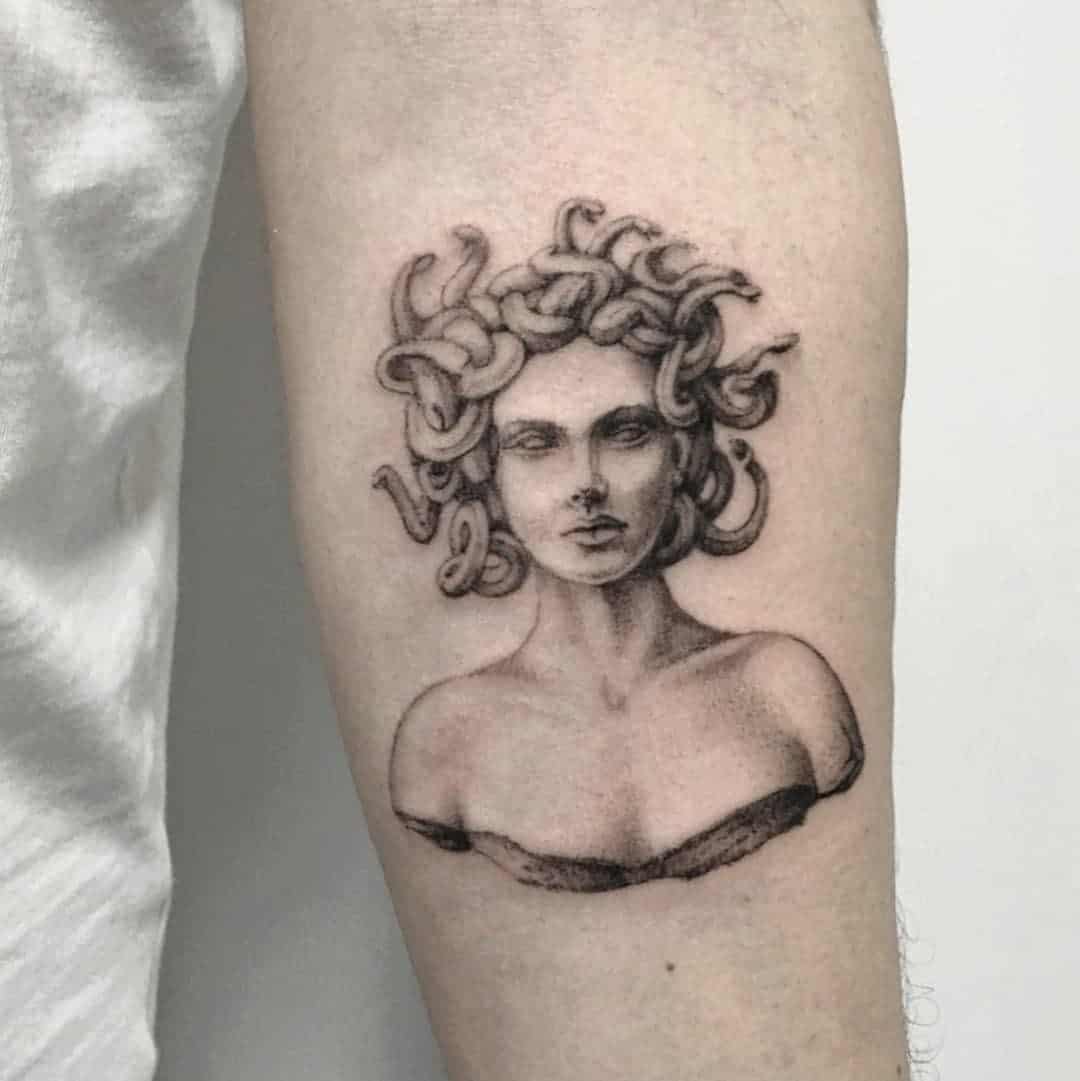 One of the most popular Medusa tattoo designs shows Medusa's bust sculpture. This adds an artistic, ancient, and real feel to the design. The bust tattoo design is a classical artistic take and adds a certain intense depth not only to the tattoo design but also to the very symbolism of the tattoo as well as Medusa's story. The Medusa bust tattoo is truly unique and eyecatching. It is probably the only design that shows Medusa as a human, rather than a monster and a villain.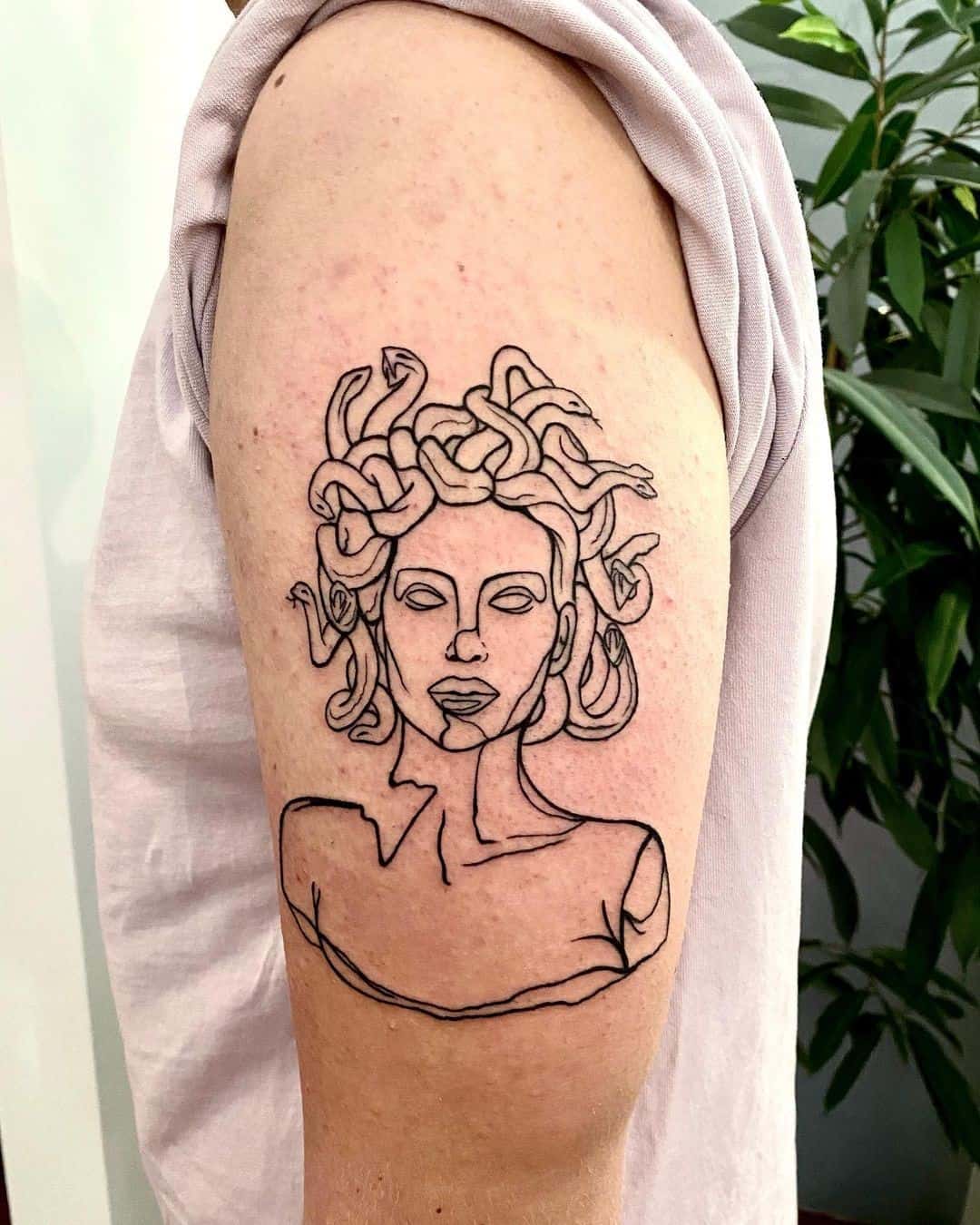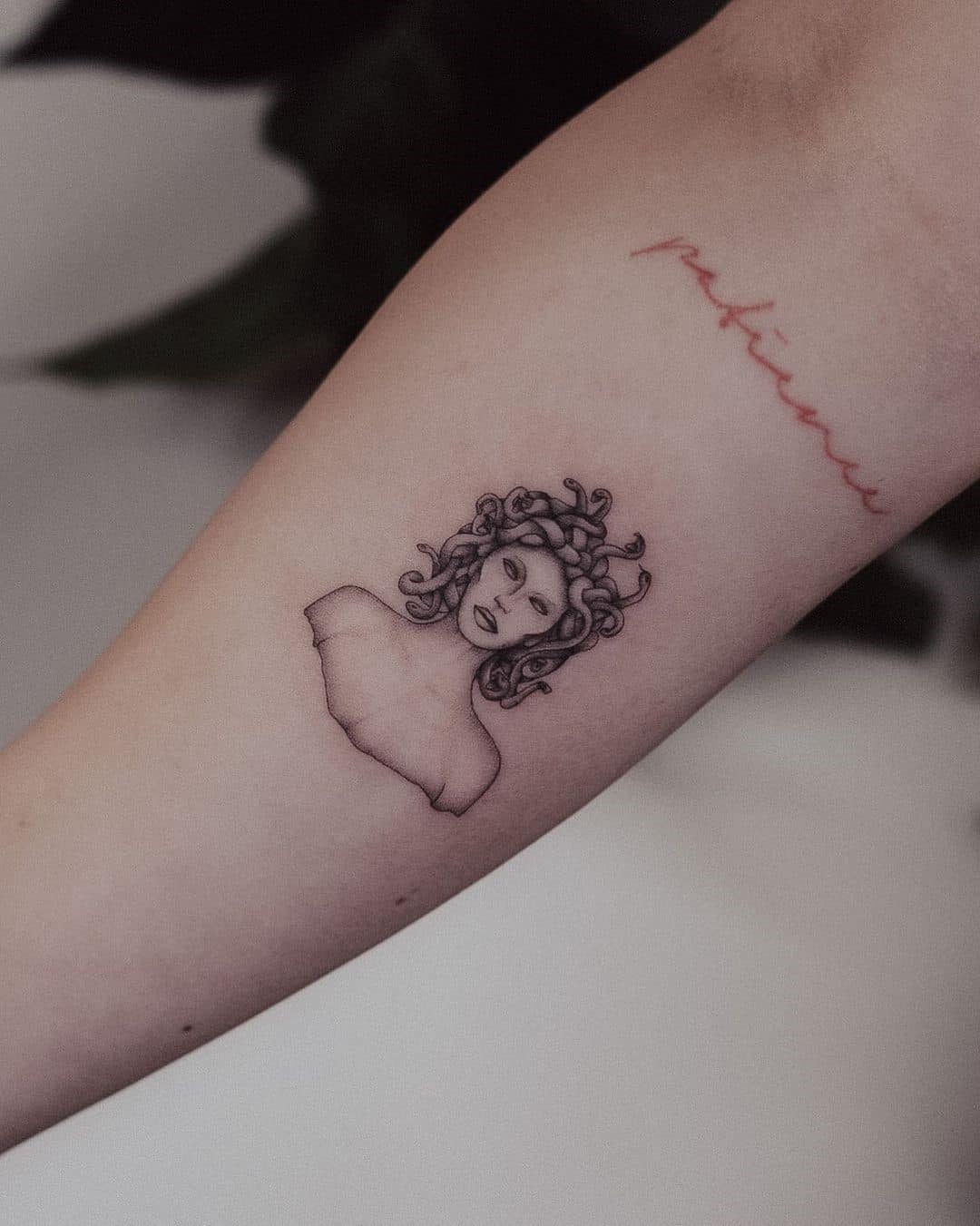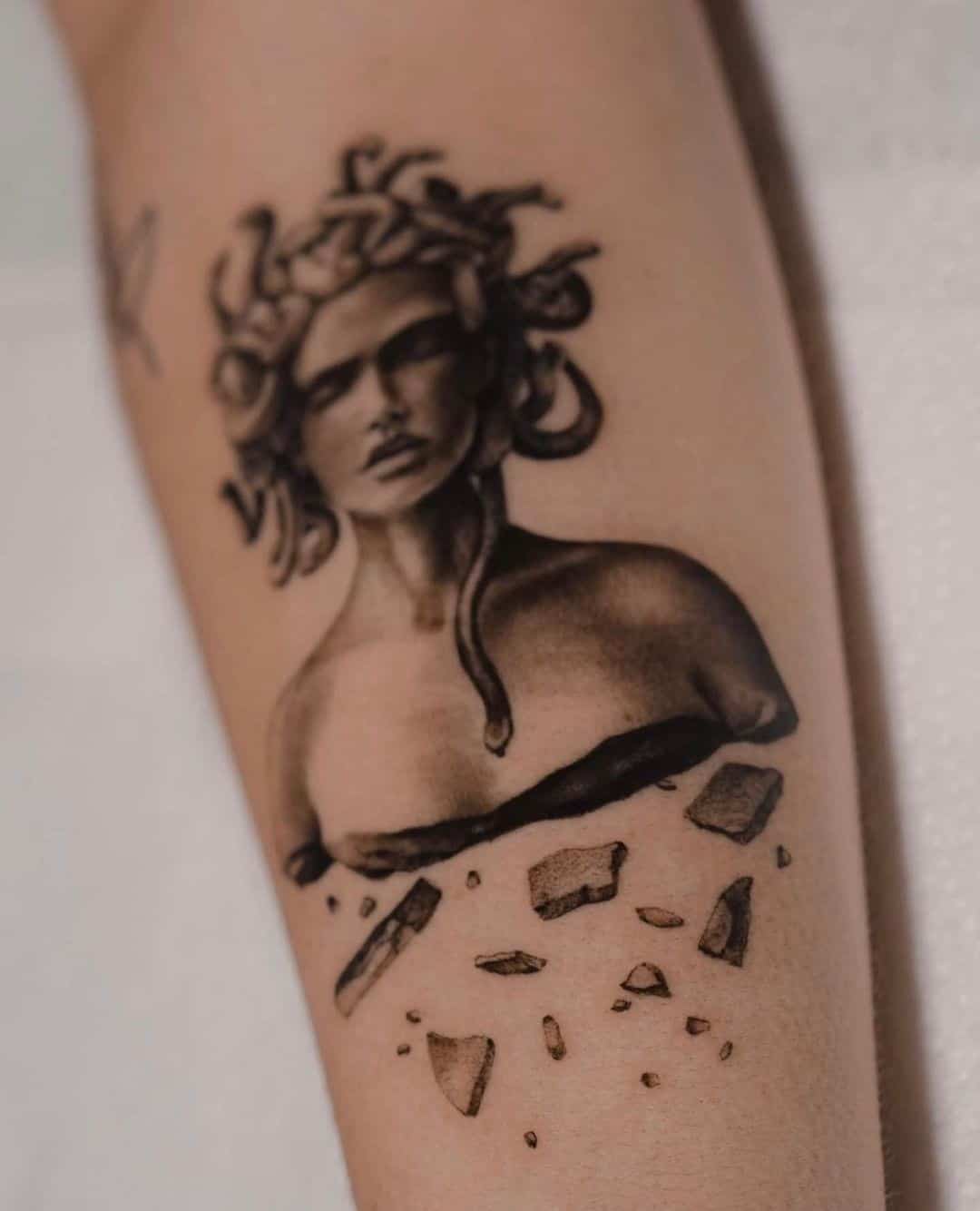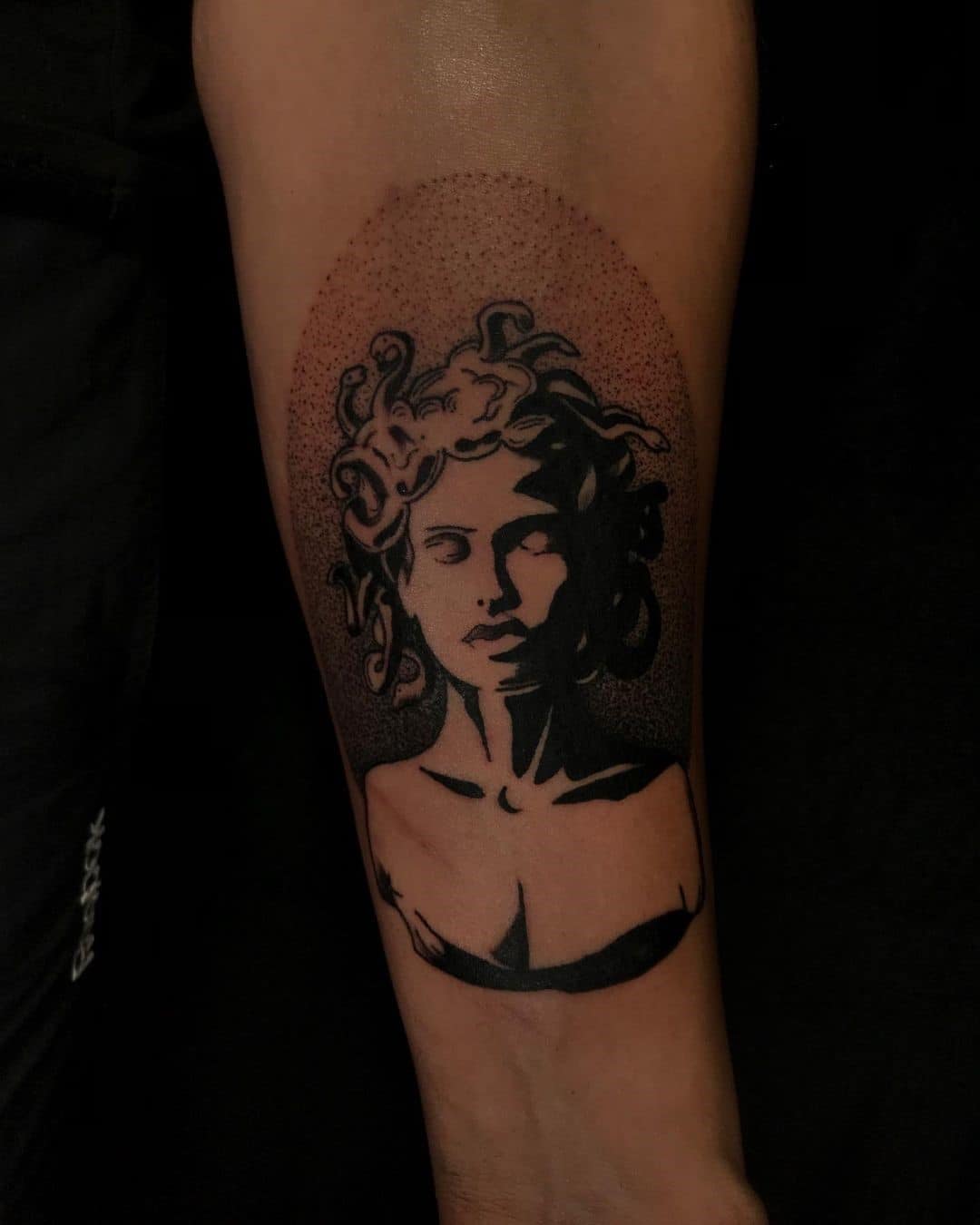 Versace Medusa Tattoo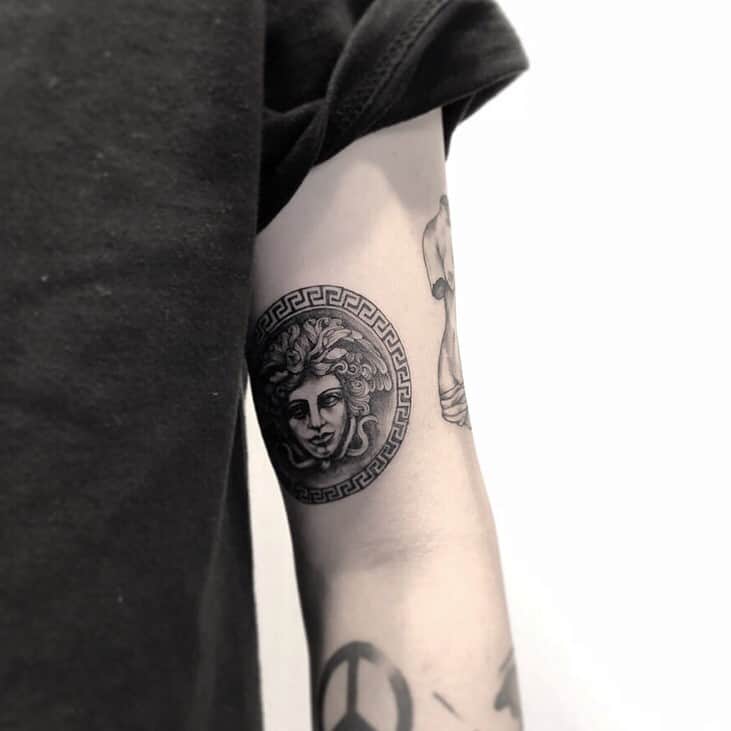 Maybe you didn't know this, but Medusa is the logo for a major fashion brand Versace. The reason why Versace uses this logo lies in Medusa's power to make people fall in love with there, to the point of no return. That's what the brands wanted to feel when they buy and wear Versace; like they're forever in love with the brand.
As interesting as this sounds, we do have to admit that there is a possibility that Medusa has made this brand so popular. Now, because of the iconic logo and combination of Medusa and the Versace design, people are getting more and more interested in getting the Versace Medusa logo as a tattoo. So, we've decided to include some of the tattoo design examples.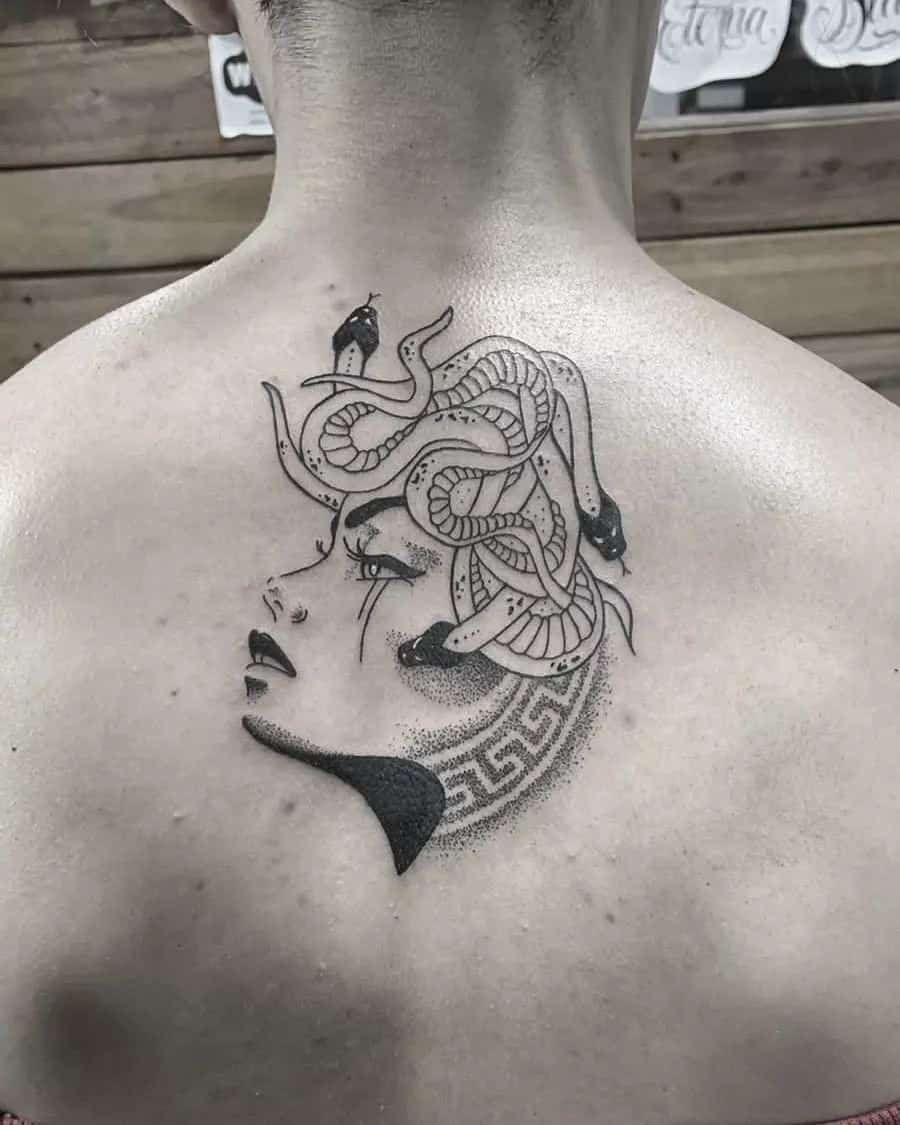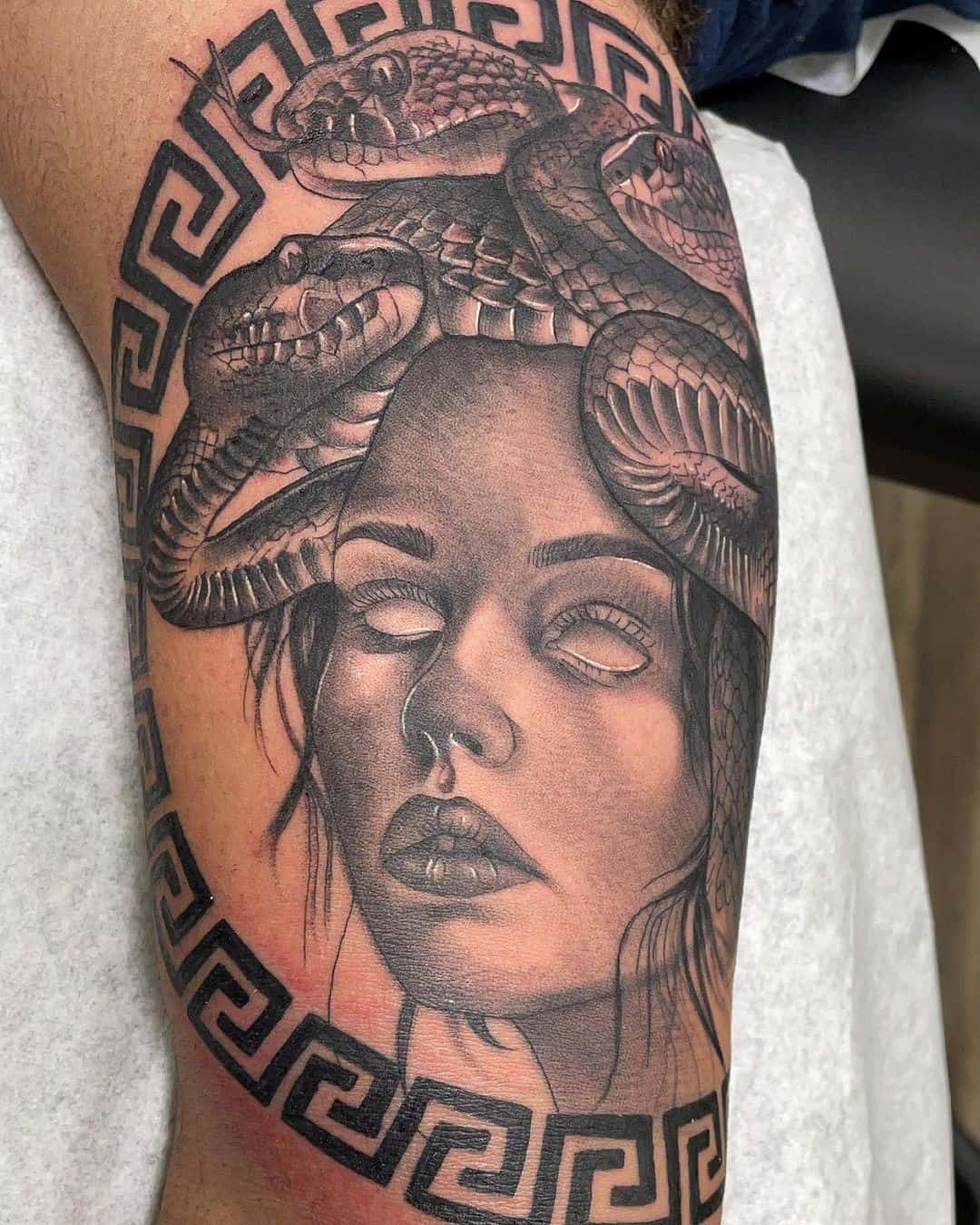 Mythological Medusa Tattoo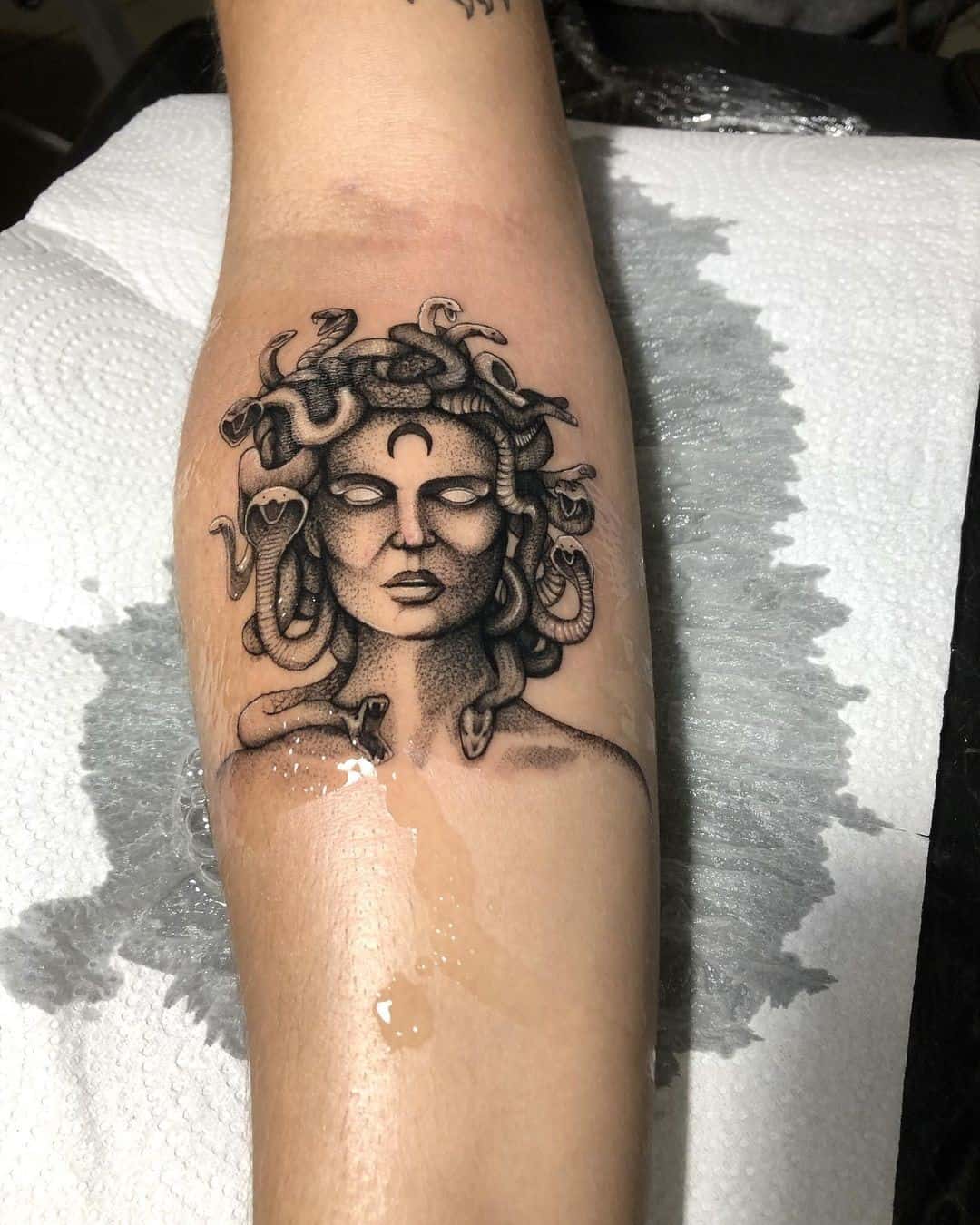 Mythological Medusa depiction is probably the best-known interpretation of Medusa's appearance and beauty. It is also one of the most sought-after Medusa tattoo designs. It evokes the sense of mystery, mythological awe and the tattoo design almost speaks Medusa's story as you observe it.
Such a tattoo is generally intense, and often of a larger format. It translates Medusa's beauty and power, as well as the fragility and hurt she's gone through, focusing on her powerful gaze as well as the event of her decapitation by Perseus.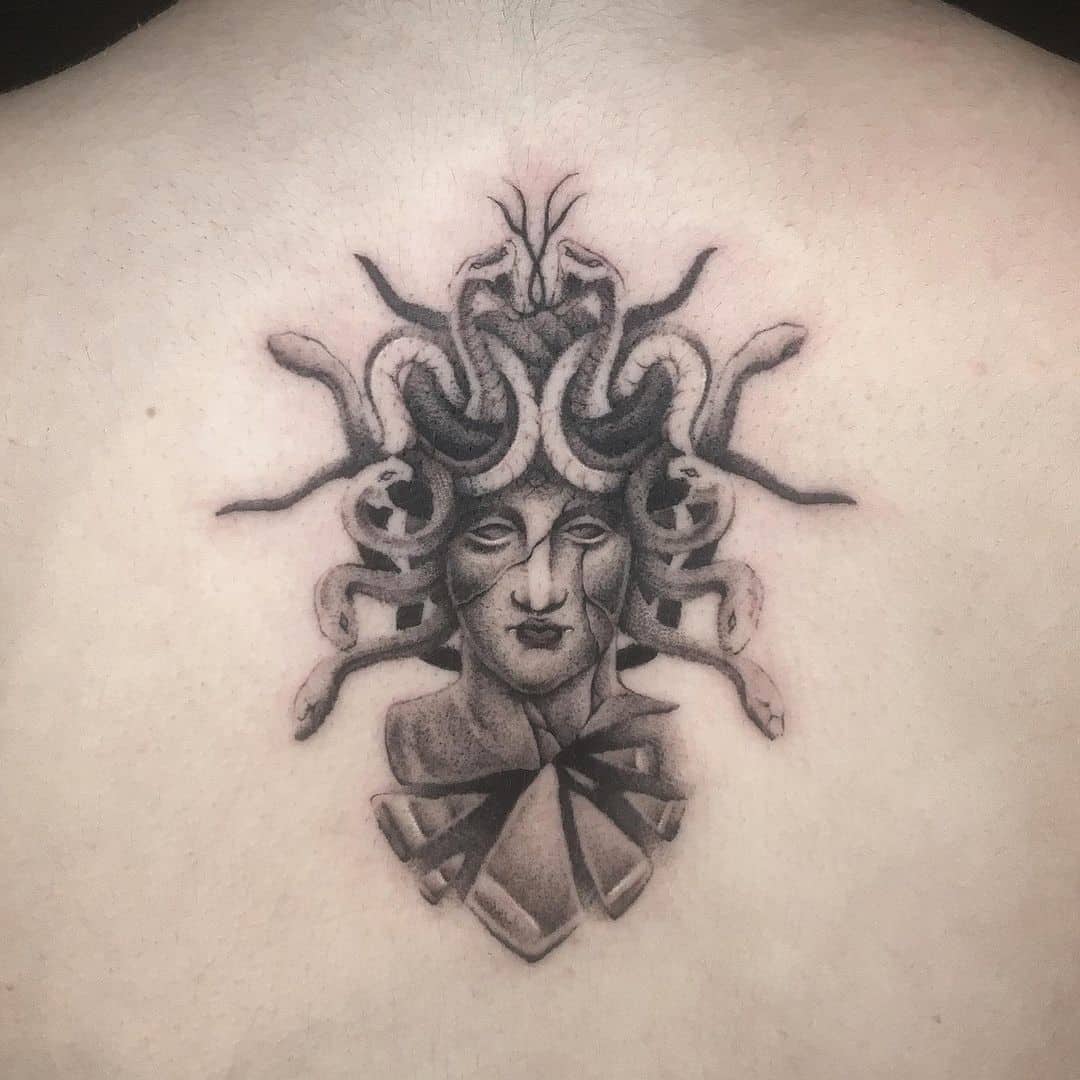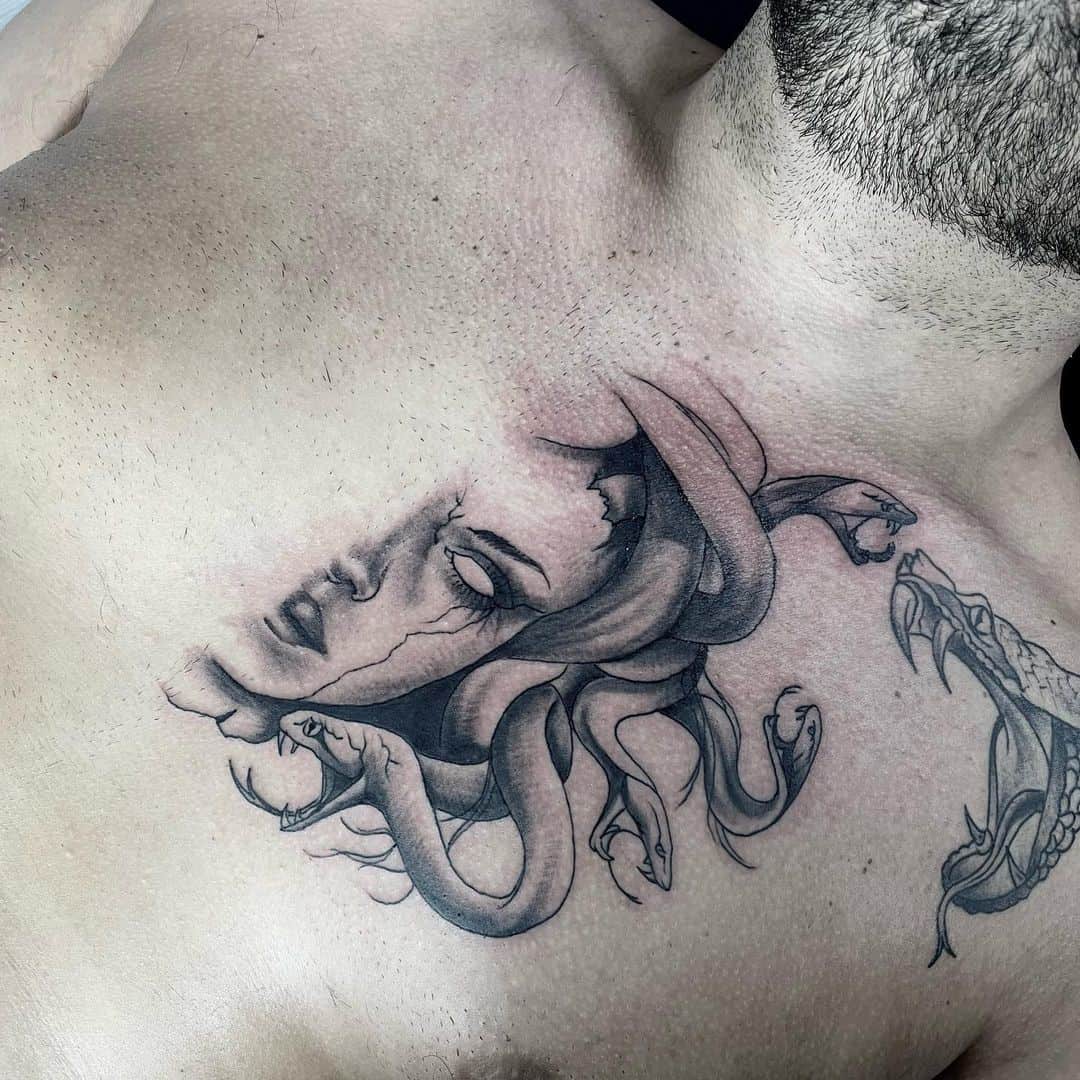 Realistic Medusa Tattoo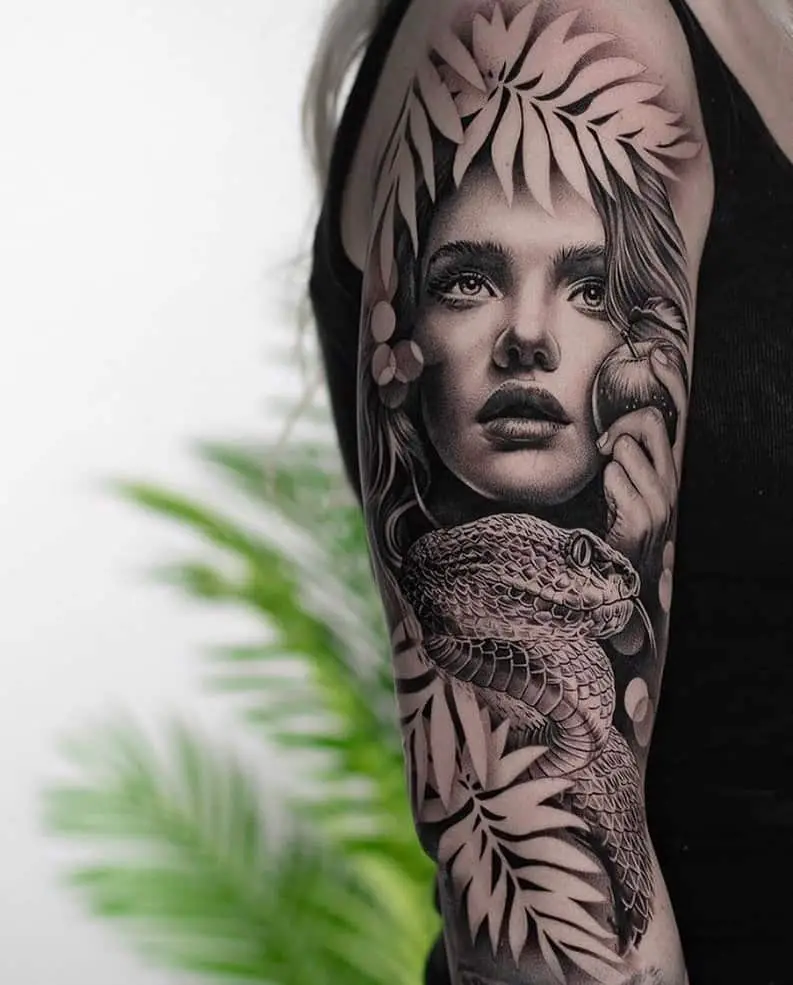 Thanks to modern interpretations, Medusa's appearance is beginning to change. People seem to be drawing her with the attributes of a modern woman, showing that her story resonates among women and men of today. Her beauty is being even more accentuated by certain, intense features, and the focus is on her being a true femme fatale.
A realistic Medusa tattoo is a popular choice, and it most certainly looks good. You should definitely check the following tattoo designs out if the artistic, ancient or mythological vibe of the previous tattoos isn't up your alley.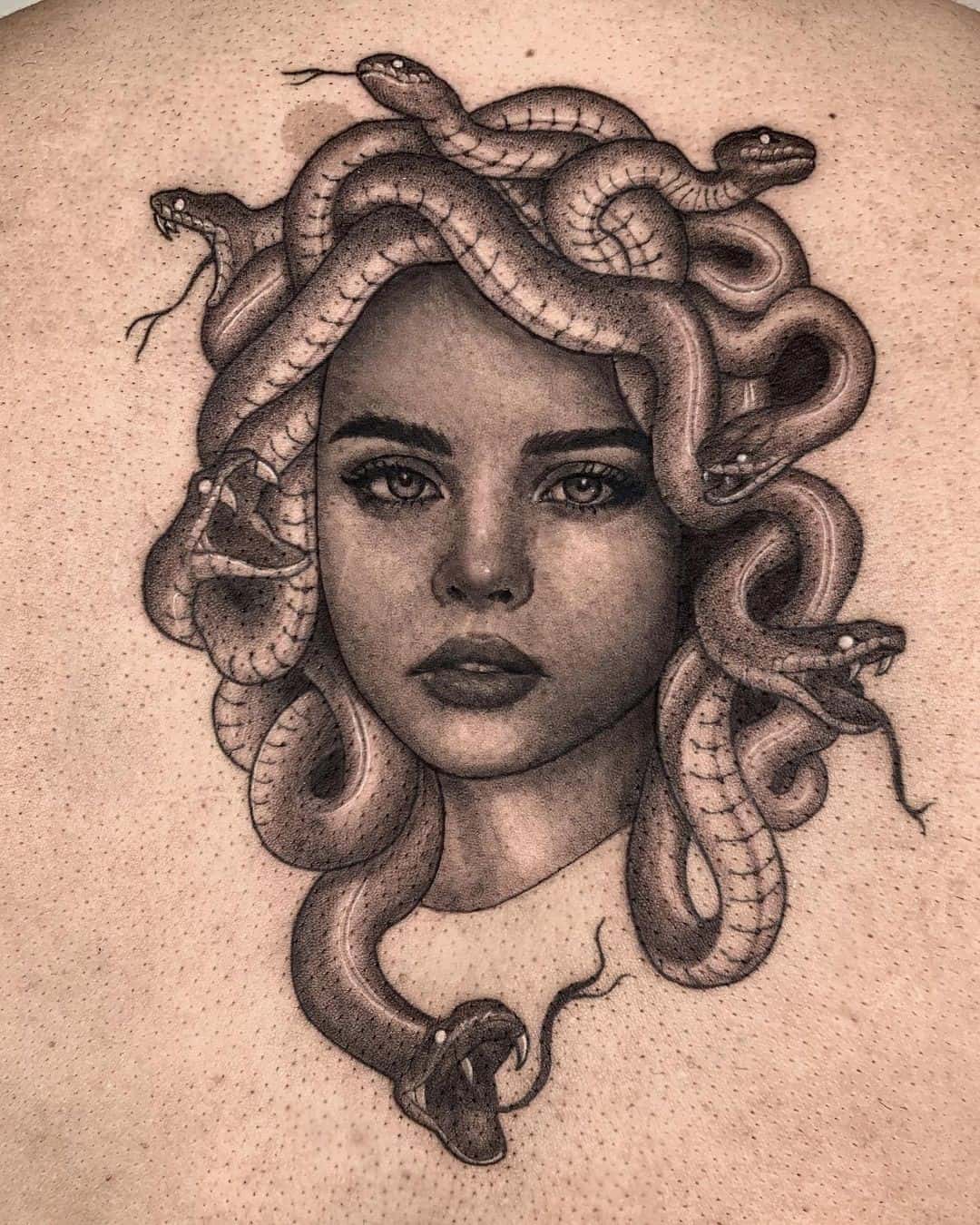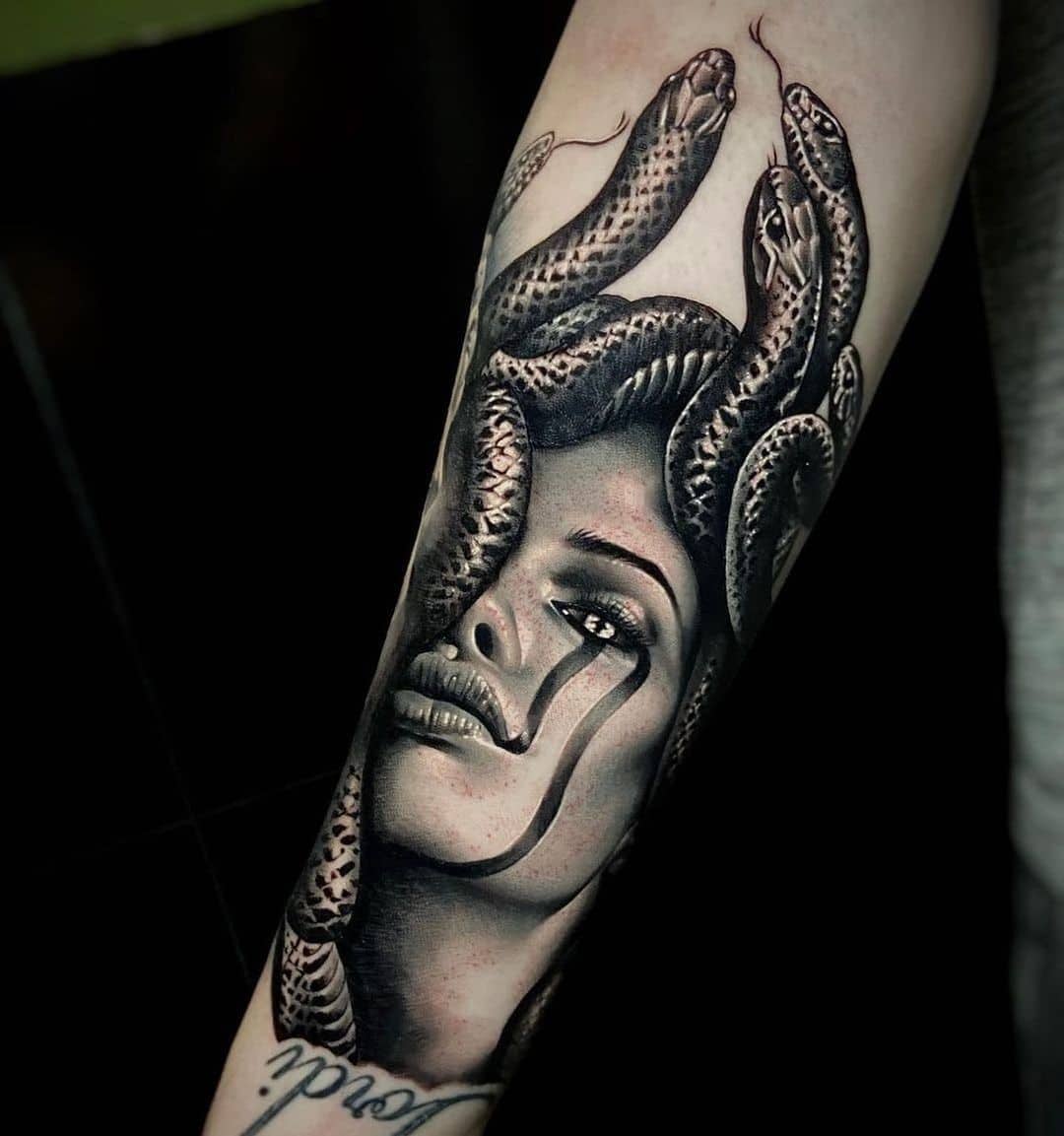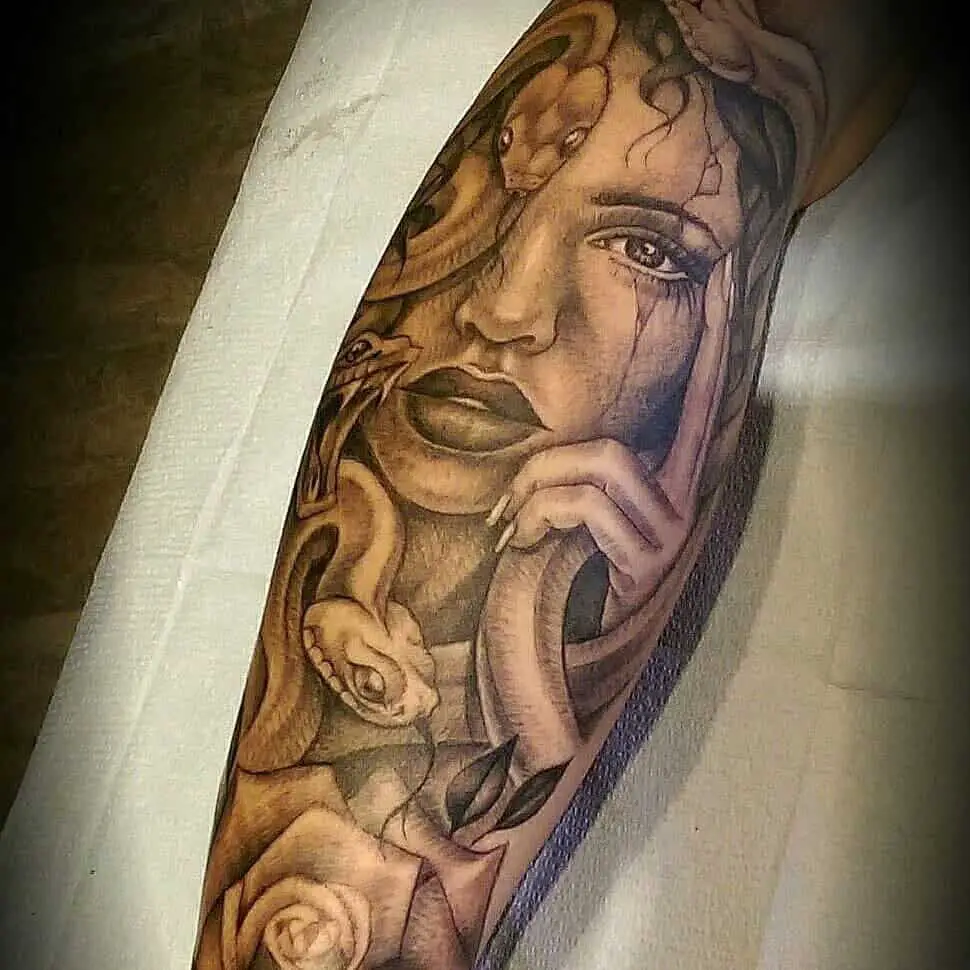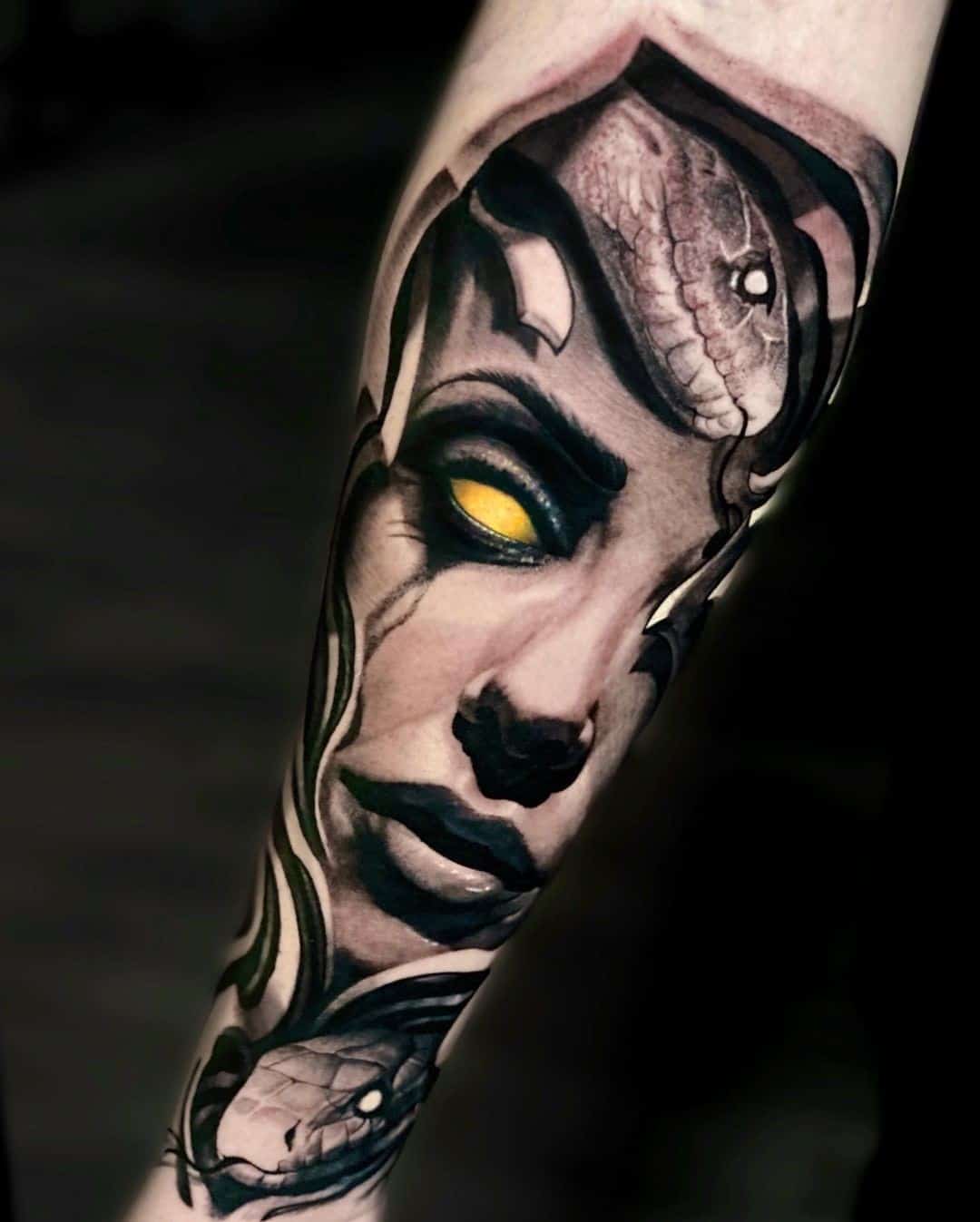 Medusa's Eyes/ Medusa's Gaze Tattoo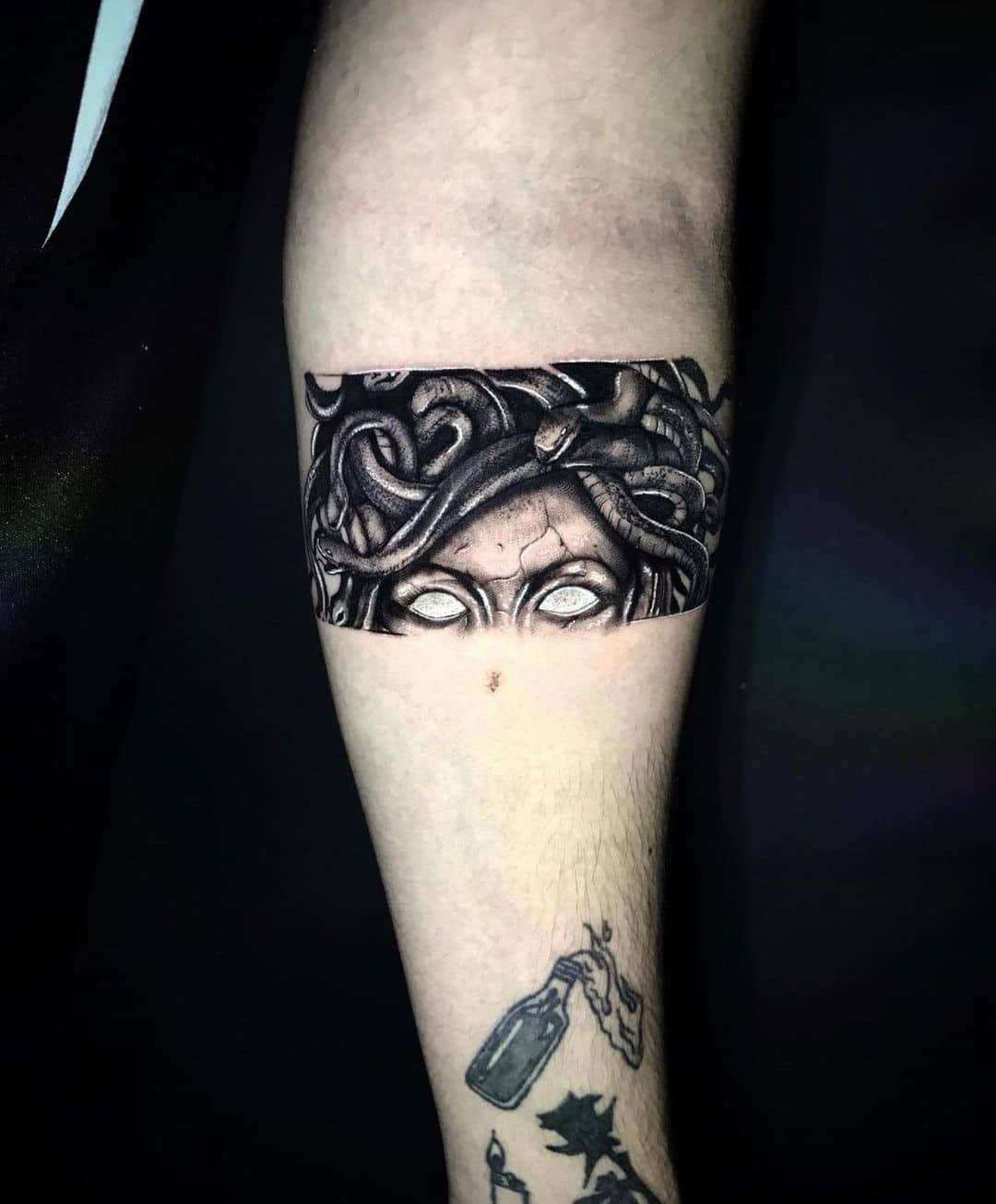 One of the best-known aspects of the Medusa story is the detail regarding her punishment that involved the eyes. Thanks to Athena's punishment, anyone that would look Medusa in the eyes, even if she looked at herself in reflection, would turn into a stone. That is why Medusa's eyes and gaze have become such a major part of the story and inspiration for many tattoo designs. We've found a couple of really cool tattoos focusing only on Medusa's eyes, so make sure to check them out.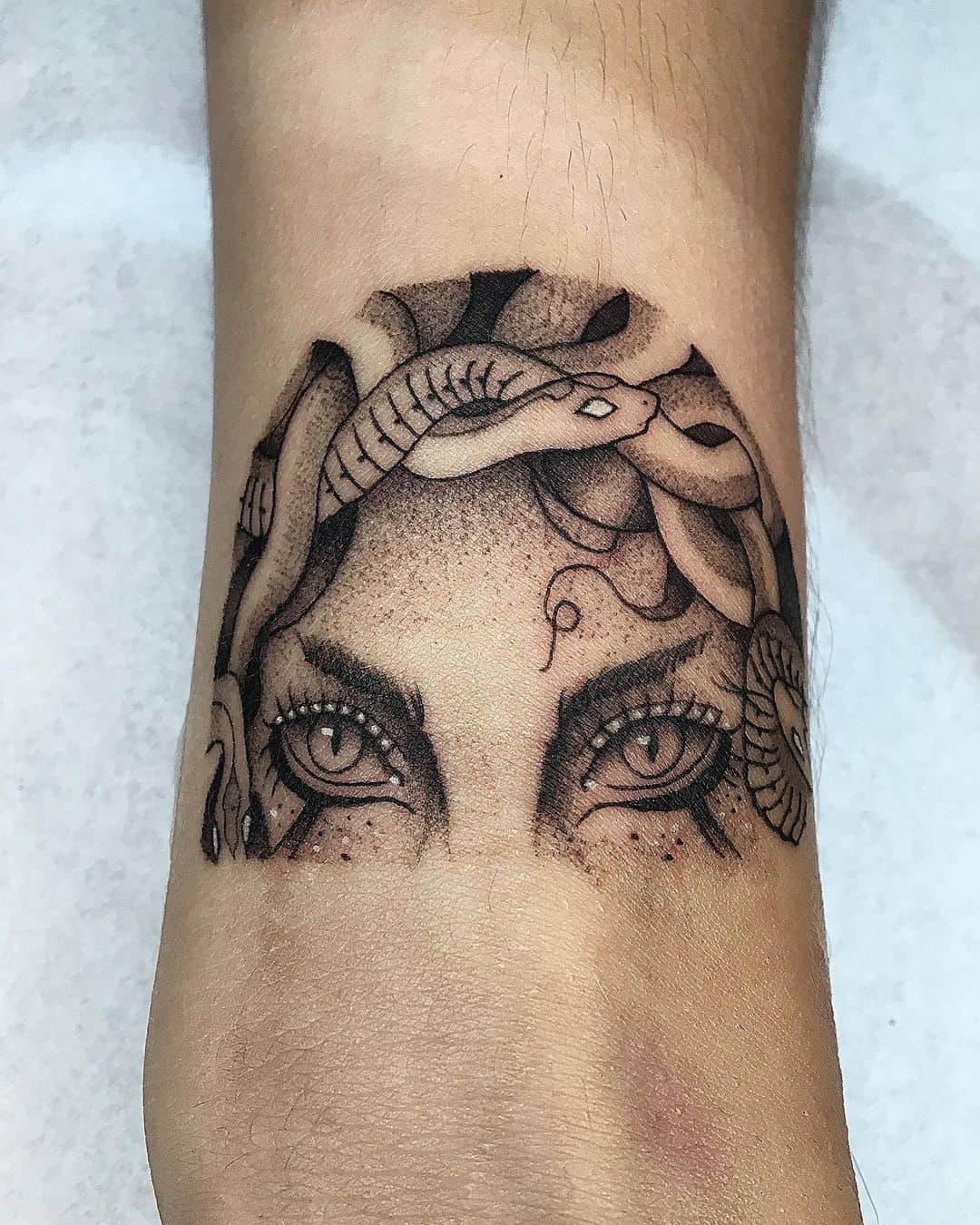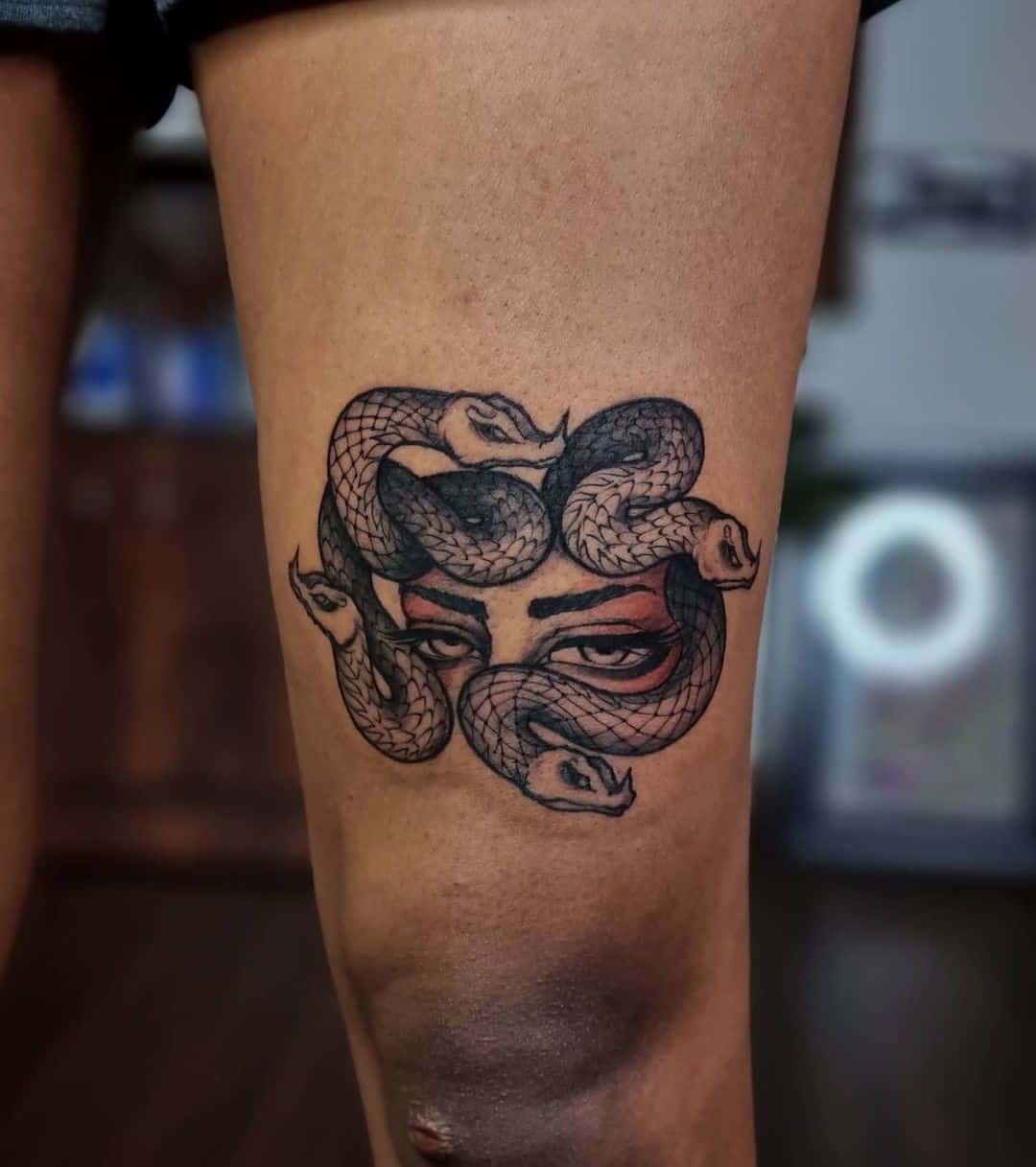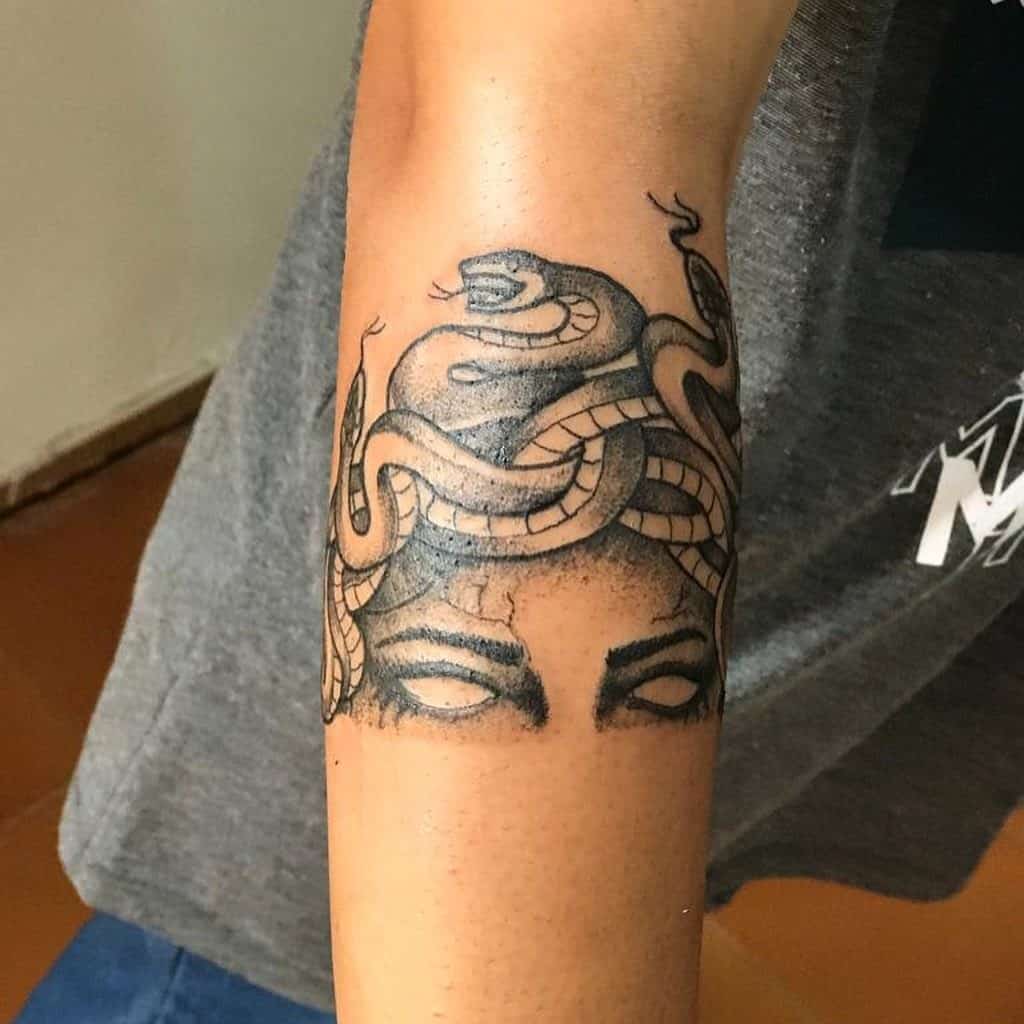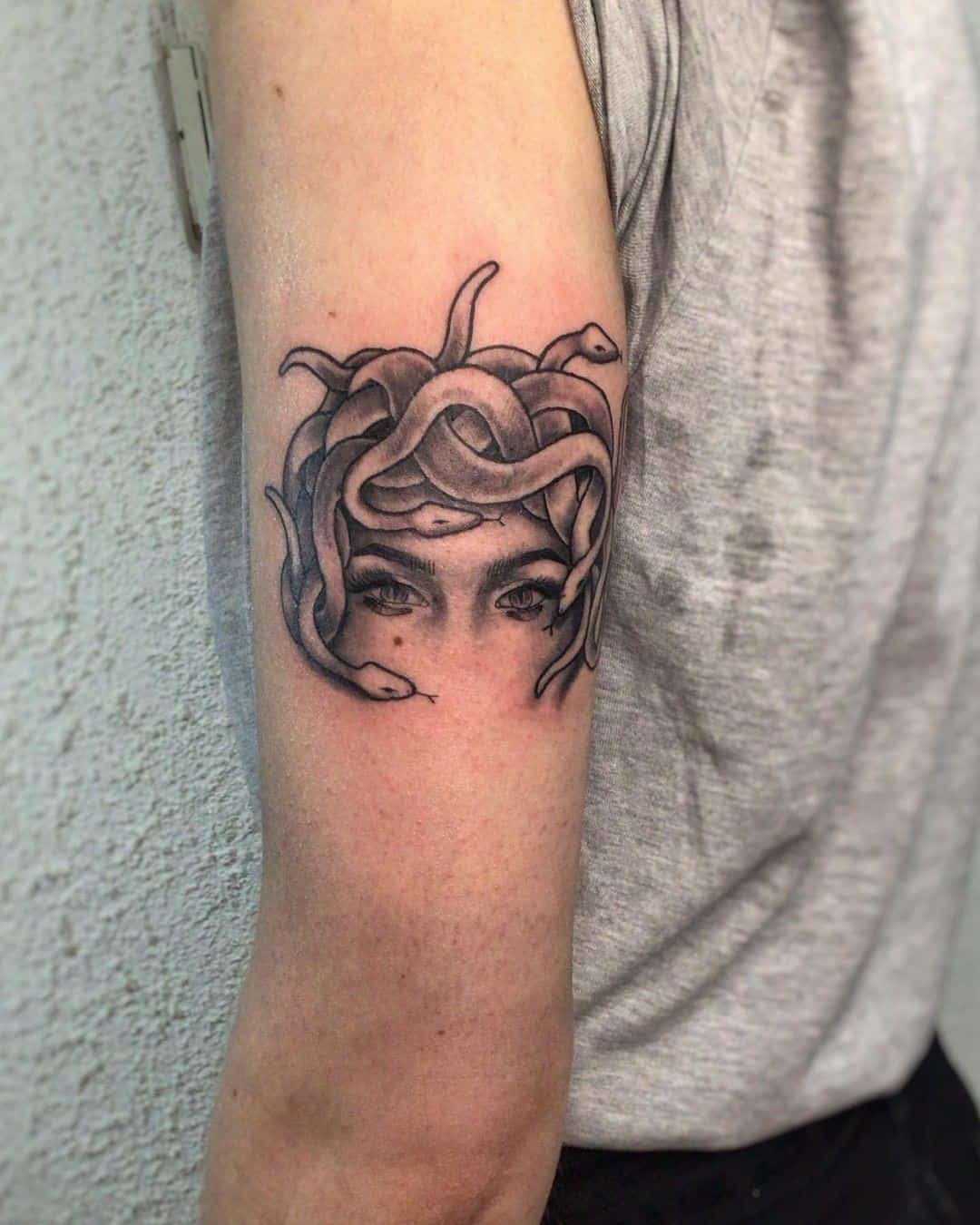 Americana or Traditional Medusa Tattoo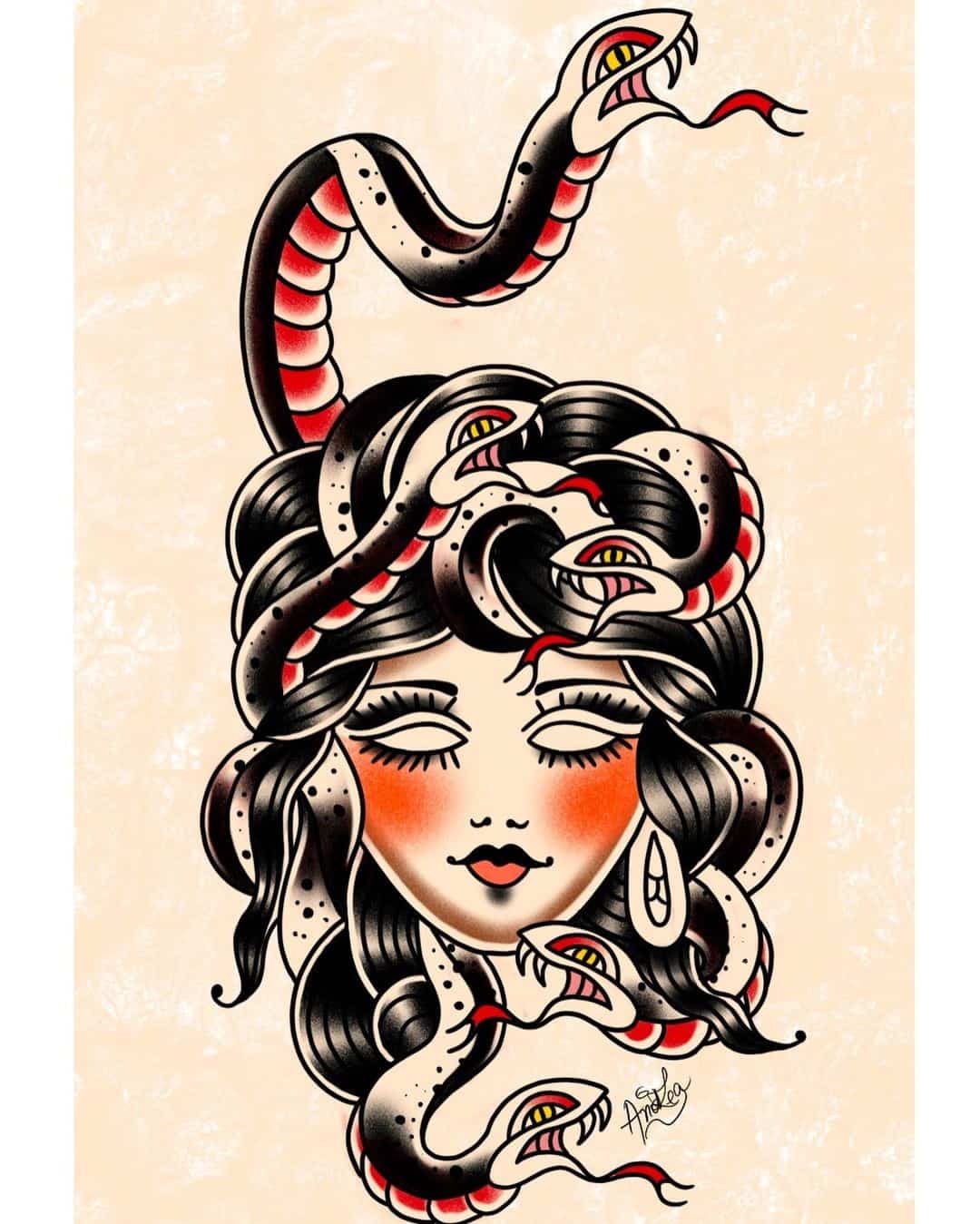 Americana or traditional tattoo style is truly one of the most popular tattoo styles in the world. It is an homage to old-school tattoos and tattooing methods. This traditional style is based on highly saturated, bold, heavily outlined designs. The tattoo is meant to look like a drawing; so there is no realism, or shading, as well as no depth to the image. Overall, a traditional tattoo looks like a 2D image, very simple and straightforward.
We've found a few Medusa tattoos done in this traditional, Americana style, and we're simply in love with how they look. The symbolism is still there despite the lack of shading and realism, but the bold colors and dark lines seem to emphasize Medusa's empty eyes and intense gaze even more than other tattoos do. Make sure to check out what we've found; maybe this will be an inspiration for a traditional tattoo.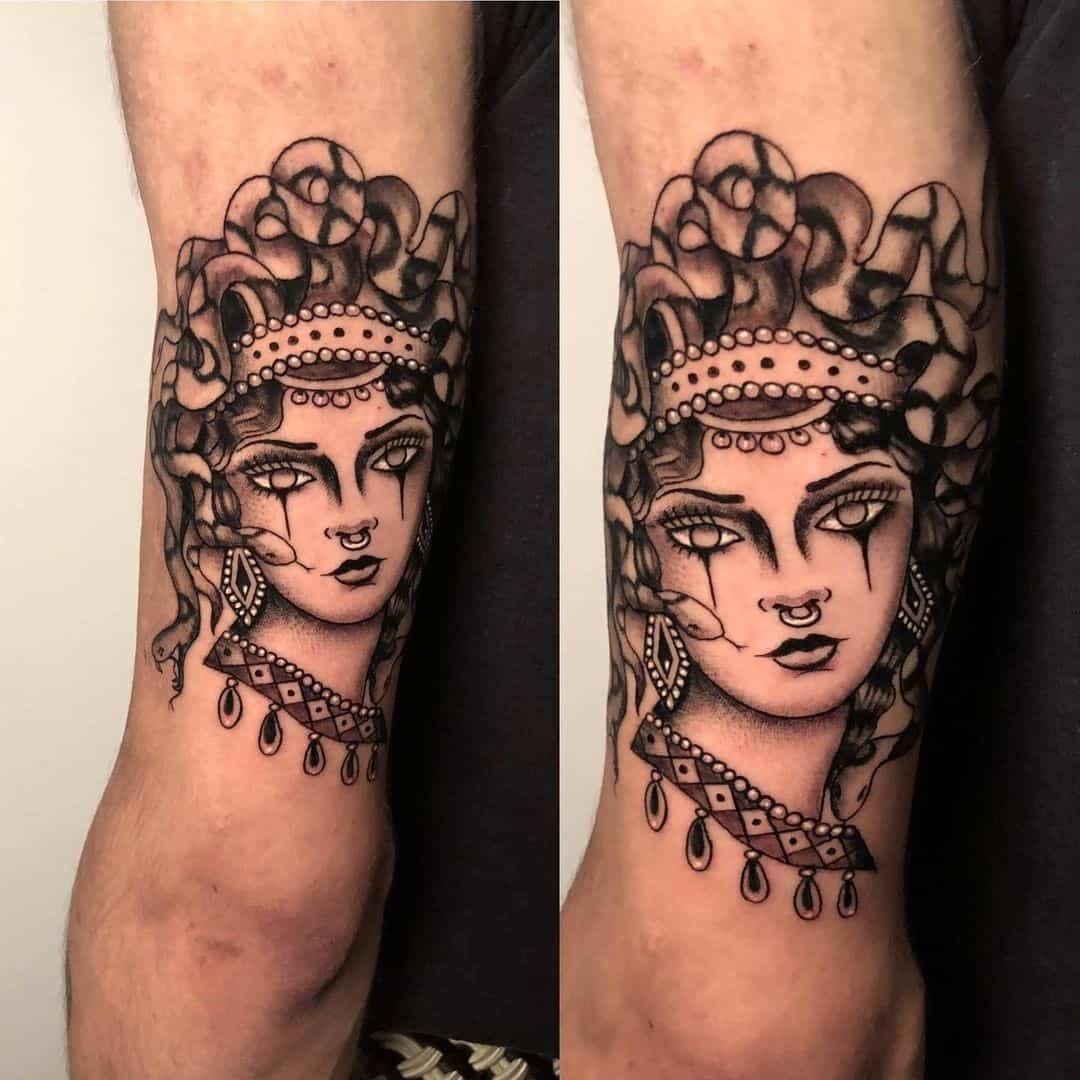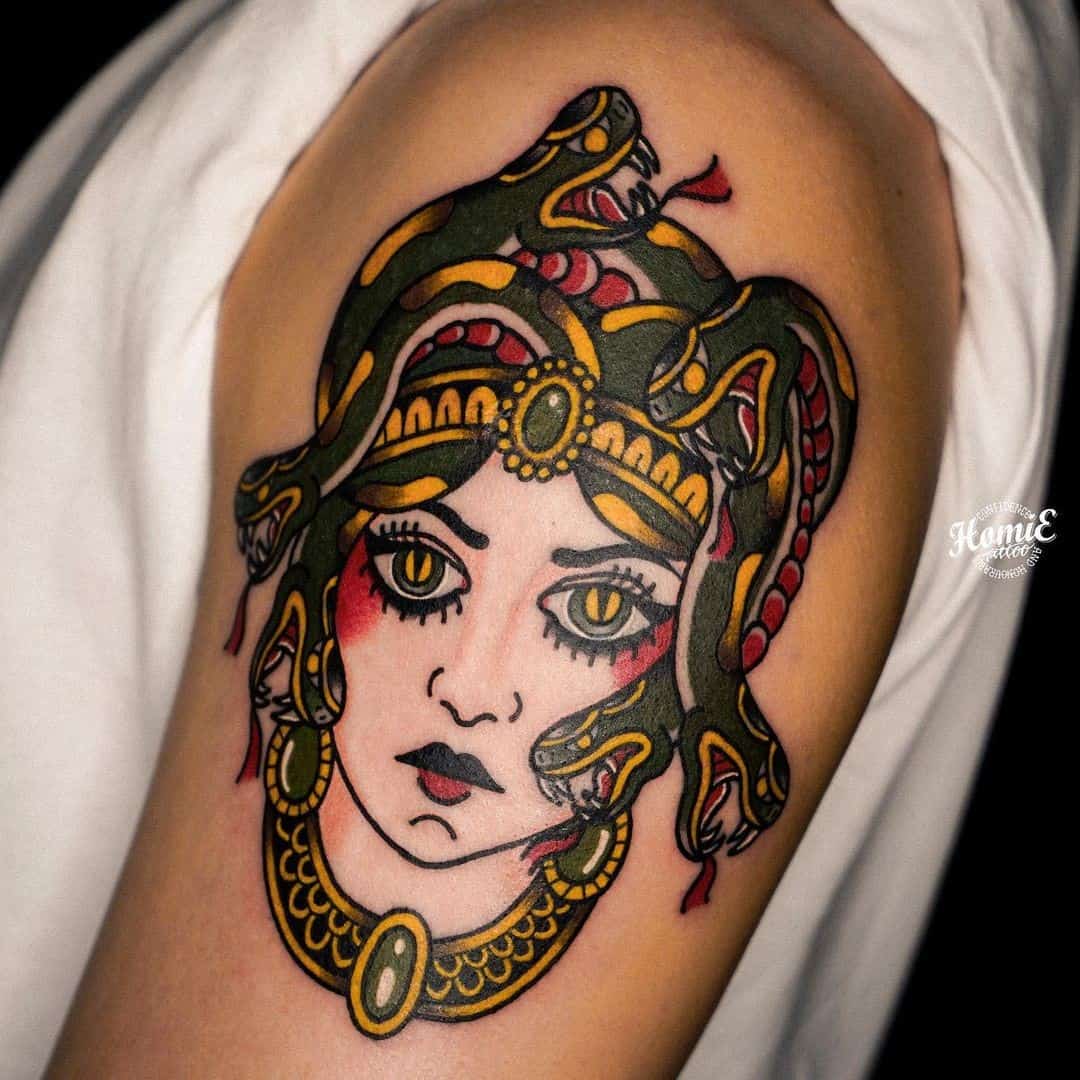 Other Medusa Tattoo Designs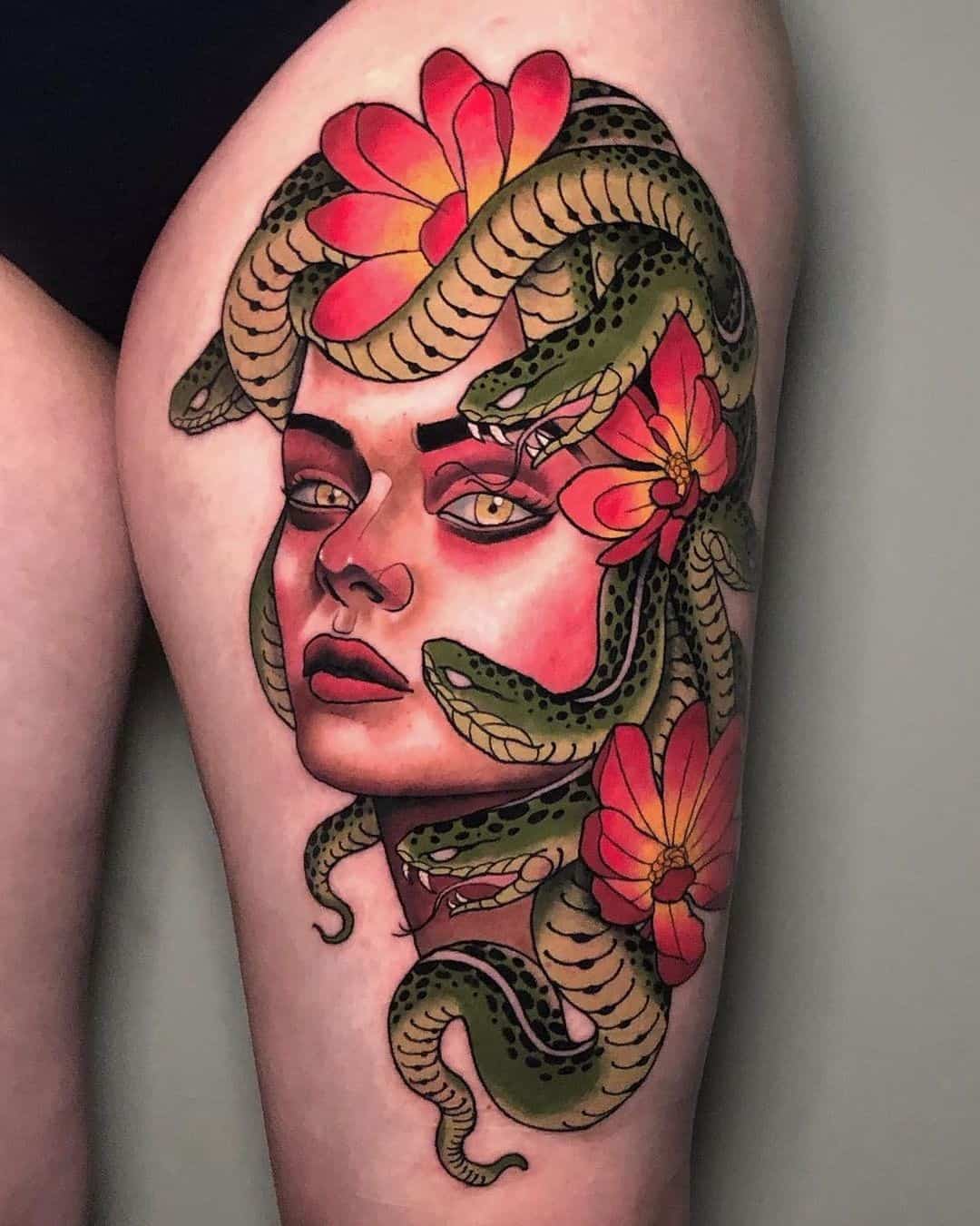 In case you're not a fan of the aforementioned Medusa tattoos and recommendations, we've gathered some of the most interesting Medusa tattoos we could find. They don't fit into any particular category, but they are simply unique and eyecatching. These tattoos still carry the meaning and symbolism of Medusa and her story, so make sure to check them out.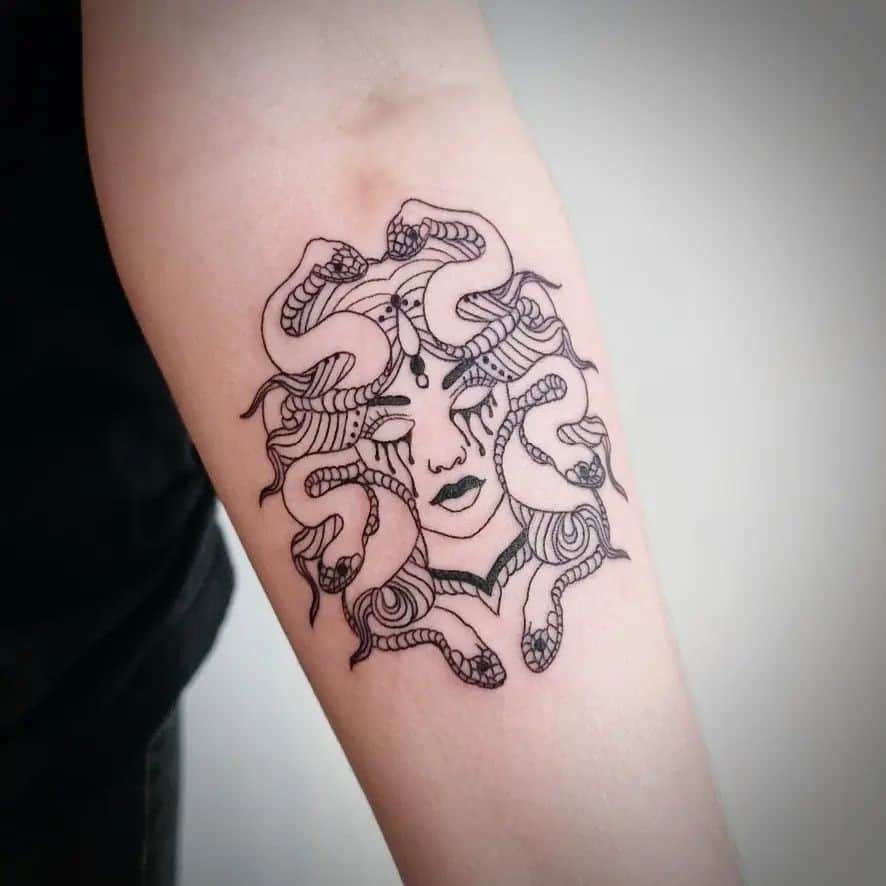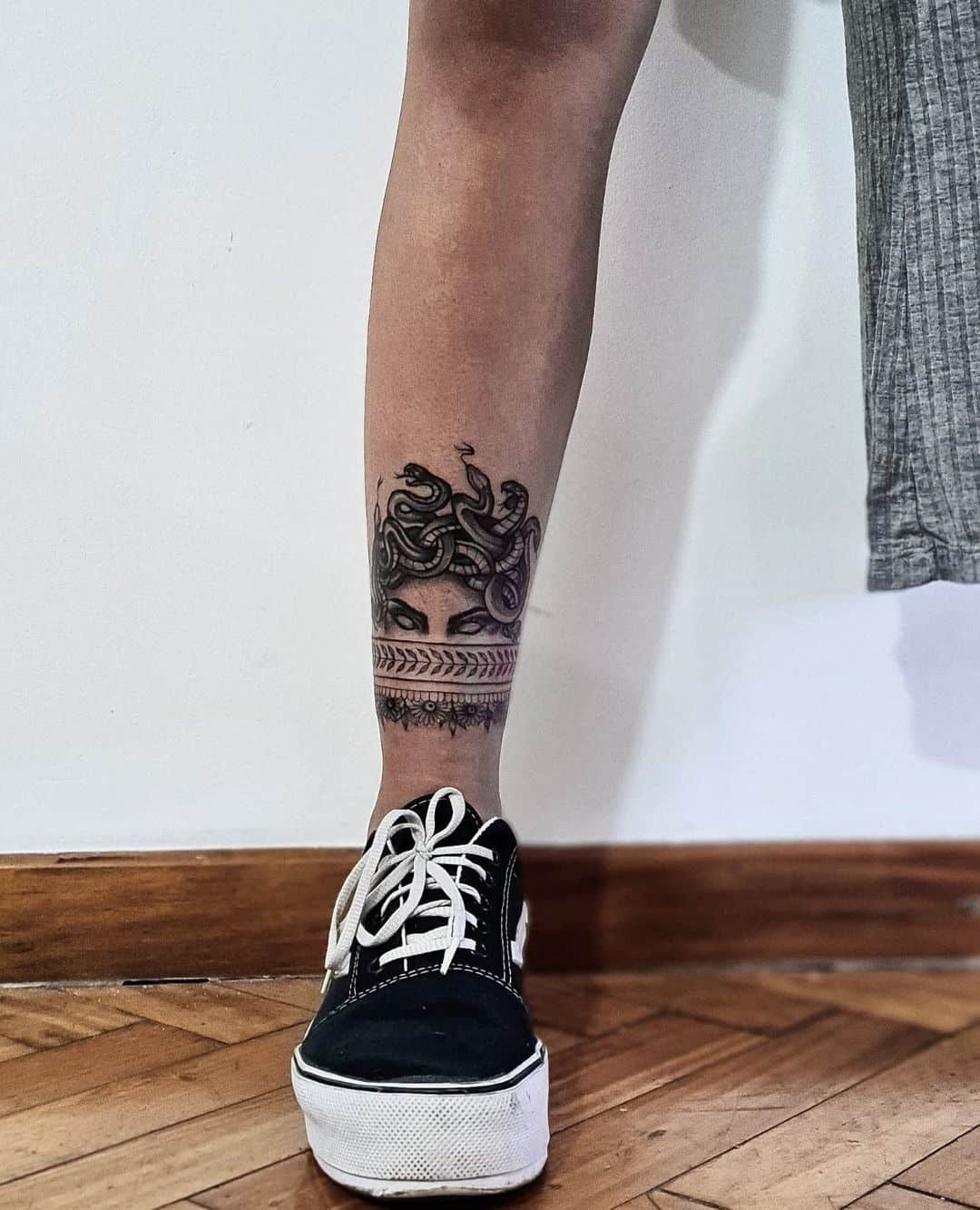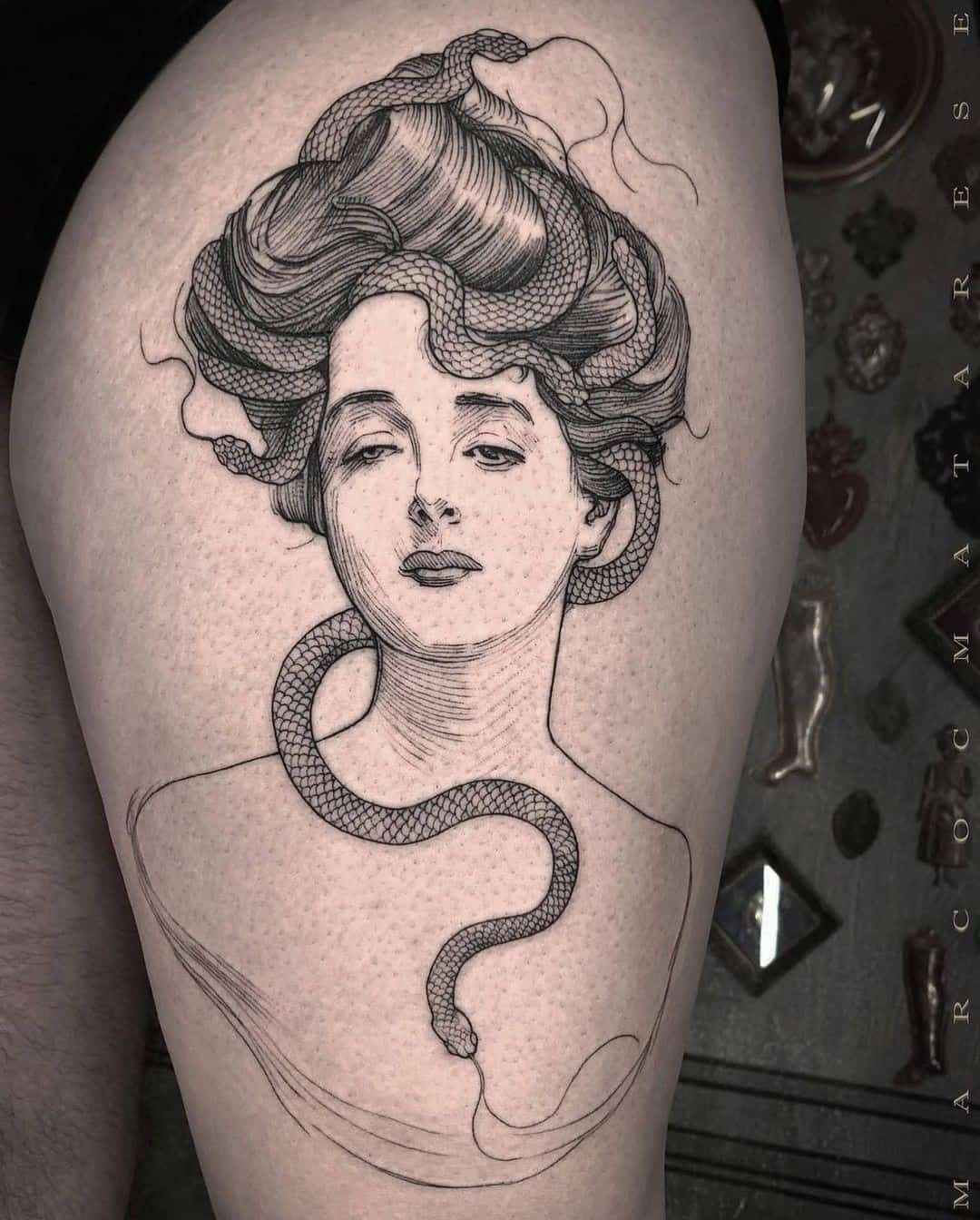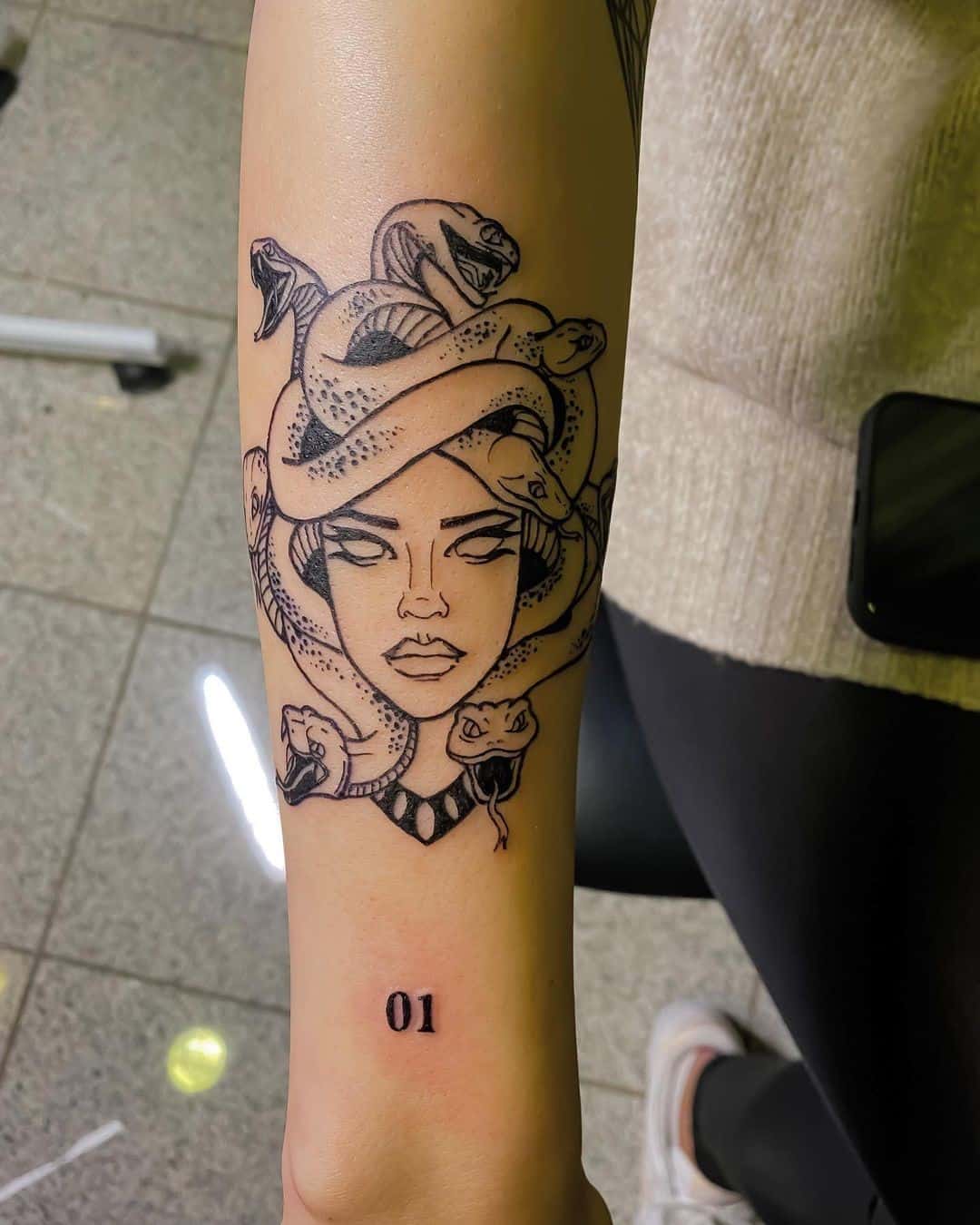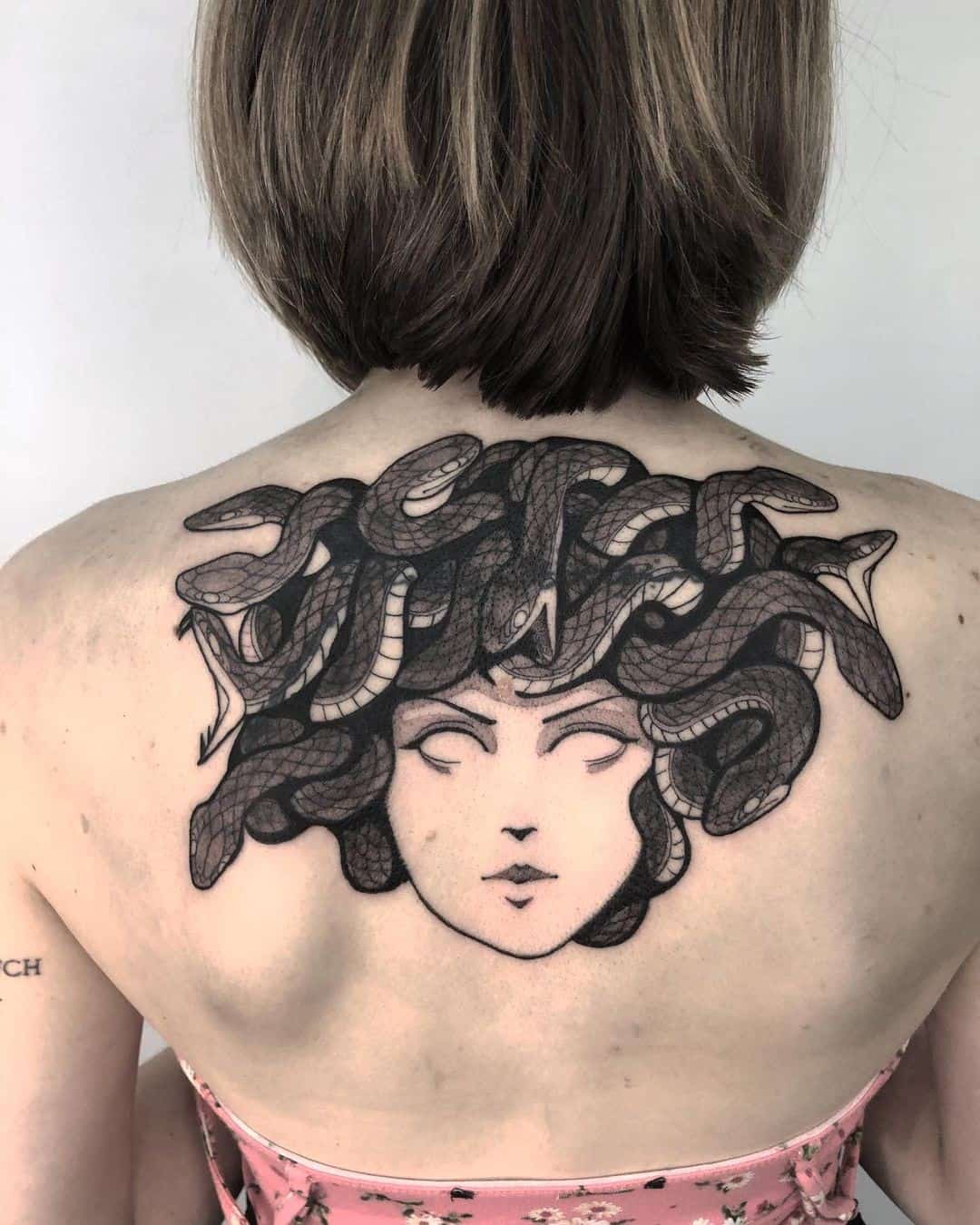 Final Thoughts
Hopefully, this article has helped you learn about Medusa, the symbolism she carries and how Medusa tattoos look, and what they mean. We tried to be as compelling as possible, but there is always more to learn before you actually go and get a tattoo.
What we can advise you is to find a good tattoo artist and discuss a potential Medusa tattoo design. Never use someone's else tattoo as a reference, since that basically means you're stealing someone else's intellectual work and possession. Instead, go for a Medusa-inspired custom tattoo; a good tattoo artist should be able to create a unique Medusa tattoo just for you.
For more interesting tattoo recommendations and design ideas, make sure to check our other articles as well.,