Top 28 Best Celtic Tattoos Ideas: For Both Men And Women
When you shop through links on our site, we may earn an affiliate commission. This educational content is not intended to be a substitute for professional advice.
Interested in browsing through some of the prettiest Celtic tattoo designs? In this article, we will let you know what do Celtic tattoos symbolize, who should get them, and we will list 28 gorgeous designs for both men and women! We will also share some interesting facts about Nordic mythology, as well as their history. If you need some inspiration, keep on reading and find your perfect match down below!
What Does A Celtic Tattoo Symbolize?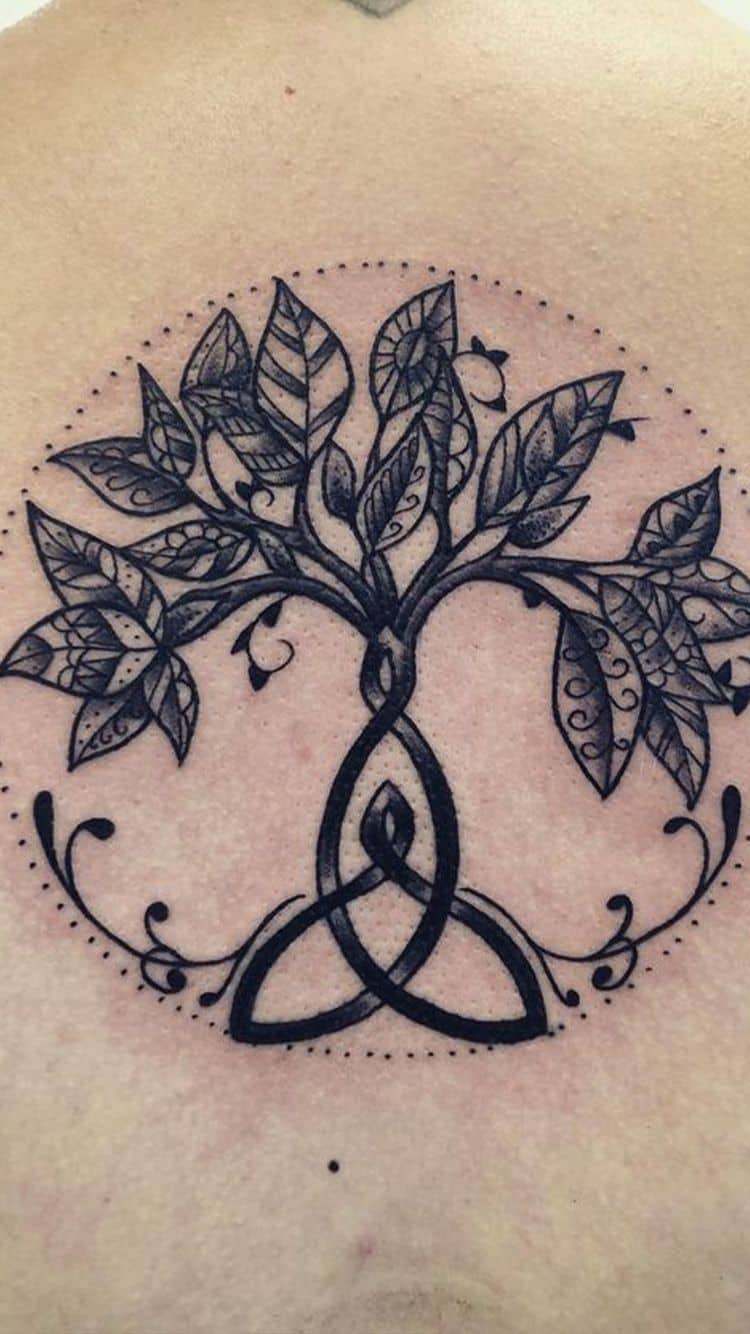 There are loads of different Celtic tattoos that you can go for, and each one will stand for and symbolize something different. However, in most cases, they will represent Celtic warriors who were sent to protect others from their enemies. To battle among the Celts was considered an honor, which is why some people ended up getting the three-pointed symbol tattoo which represented the three-way unity. This symbol is a knot that stands for eternity and is an endless loop which intervenes.
Who Should Get Celtic Tattoos?
If you like artsy designs and you are a fan of precision, you will enjoy getting similar tattoos! Celtic symbols look so mysterious, and they will suit men and women who want to show off something different that has a vintage vibe to it. Also, Celtic symbols can represent your inner strength, your will to fight, as well as your power.
Are Celtic Tattoos Painful To Get?
Celtic tattoos and Celtic symbols are just as painful as any other tattoo or design. When doing these designs, your tattoo artist will take the most time to shade your tattoo and to give you proper outlines for the entire image. The most painful tattoos are ones where you have the least fat. If you are super sensitive and you dislike pain, avoid placing a tattoo over your bones.
Celtic Tattoos Sleeve: Top 7 Designs
1. Norse Tattoos With Detailed Celtic Tree Design Symbol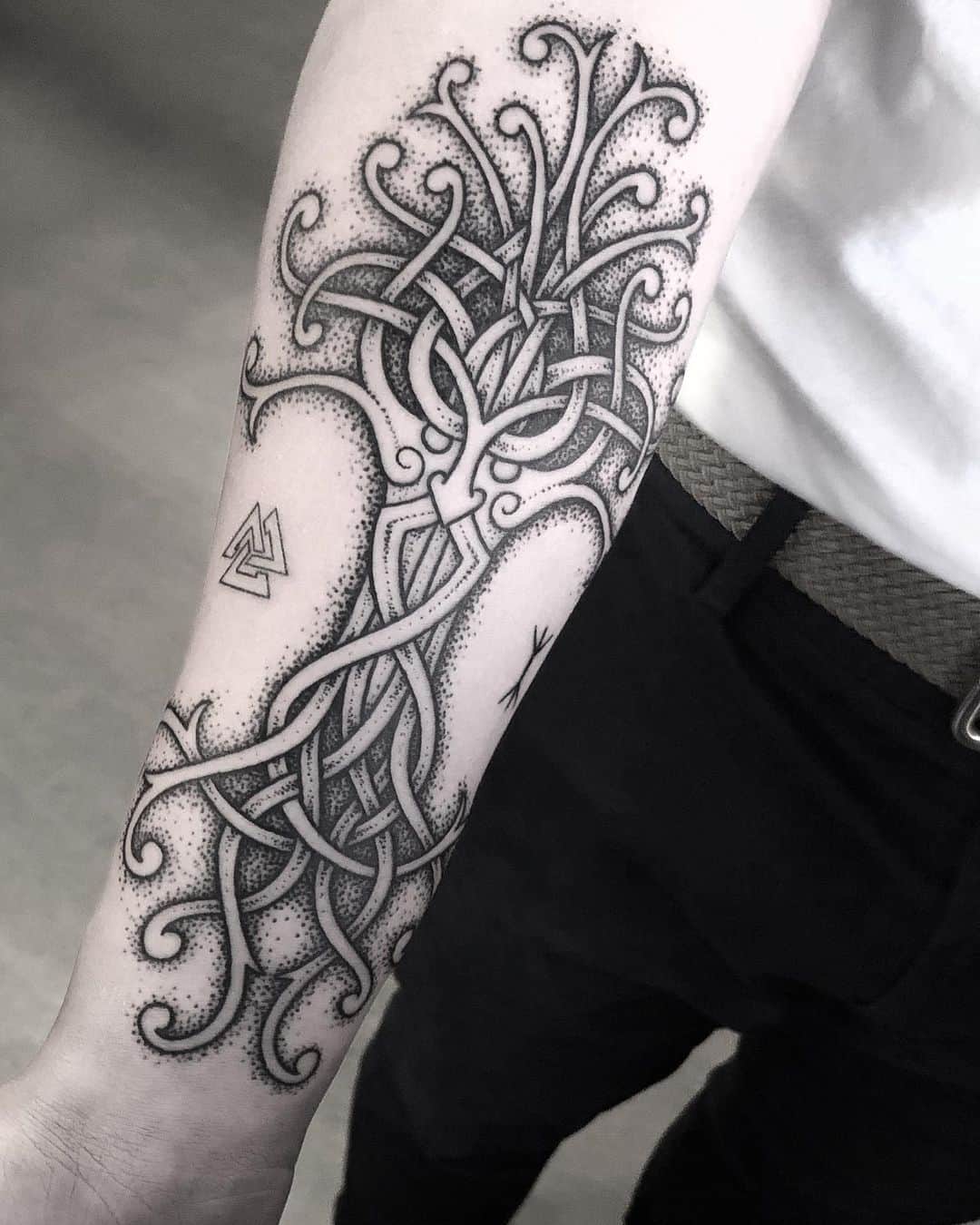 This tattoo will take 4-5 hours of your time to get. It is a well-done and detailed tattoo that will suit men who like precision. The symbol itself represents growth, and it could look great over your forearm.
2. Celtic Tattoos With Mysterious Warrior Woman Ink Design
Men who like colorful tattoos will appreciate this masterpiece. It is a gorgeous design that shows off a woman Viking that represents the entire Norse mythology and warrior era.
3. Traditional Celtic Tattoos Scottish Celtic Tattoos Green Ink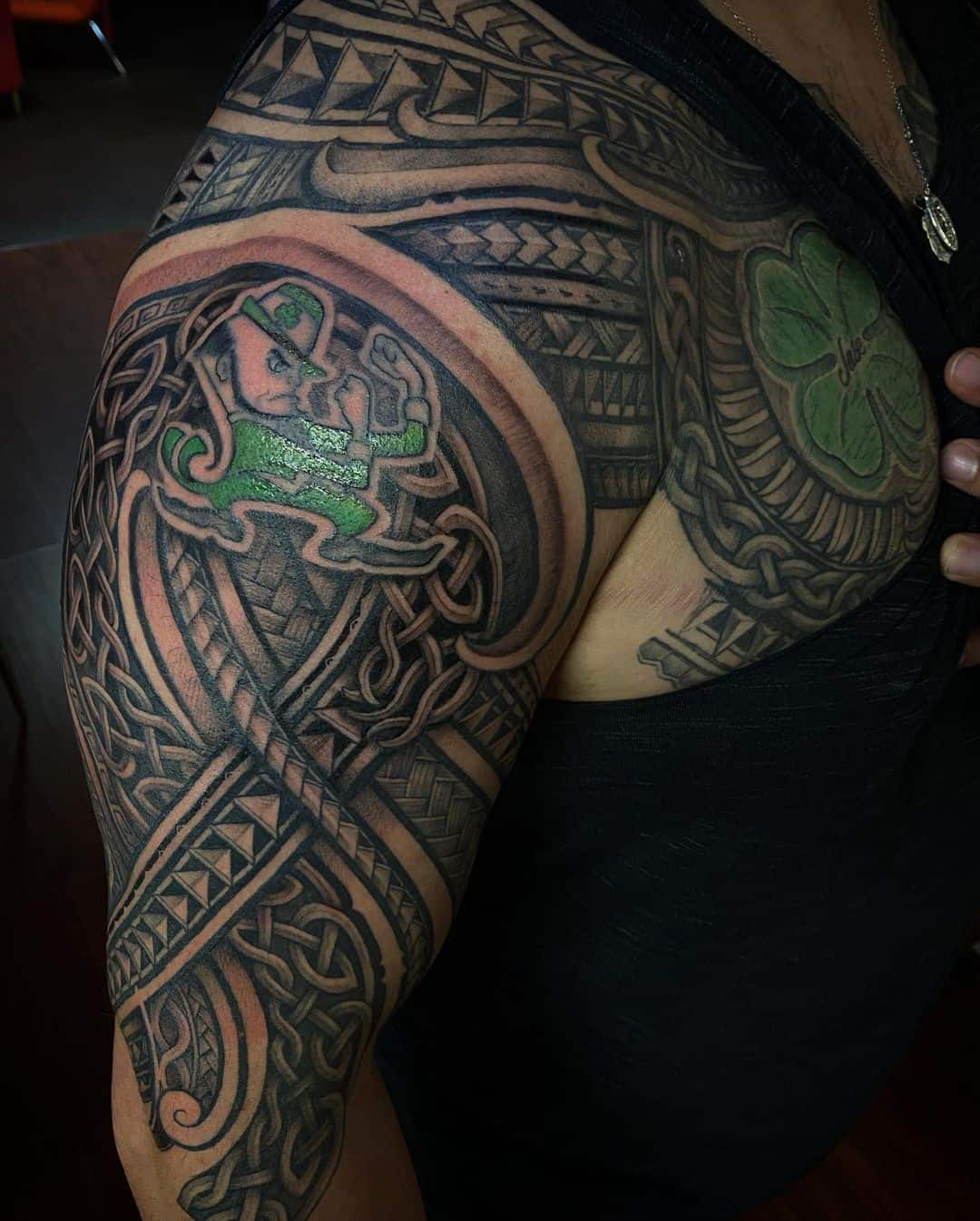 Are you a fan of color? This gorgeous Celtic sleeve tattoo is a time-consuming piece, but it will look great on masculine men and guys who work out. Time-wise, make sure that you have 5-7 hours to spare.
Fun fact: Did you know that in Norse mythology, dwarves were used to shackling the wolf Fenrir? This wolf was made from several different elements, such as a cat's footfall, roots of a mountain, fish's breath, bird's spit, as well as bear's sinews?
4. Scottish Tattoos Warrior Black & White Ink Tattoo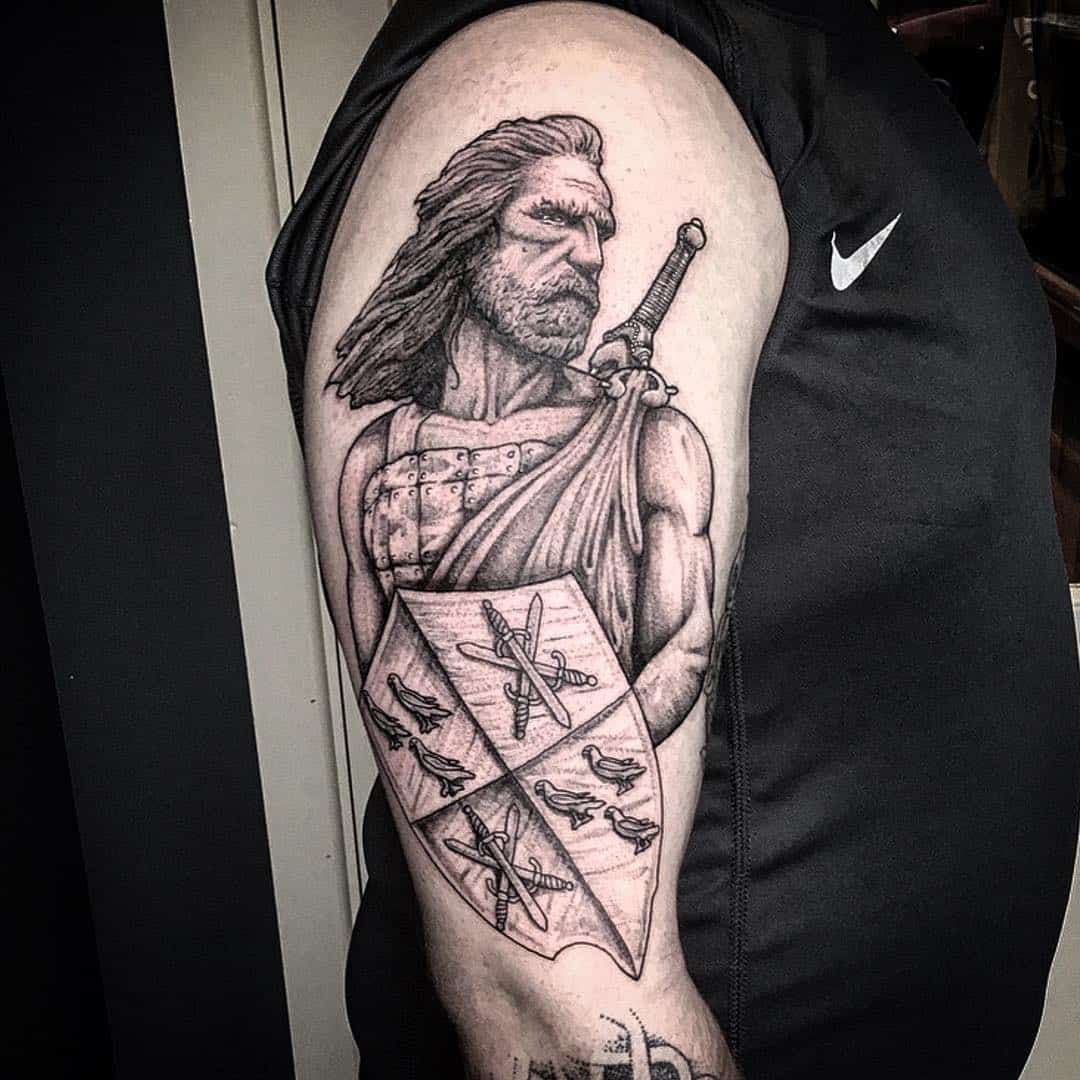 This warrior ink over an entire arm is a masterpiece. Make sure that you go for this image only if you truly love Norse mythology, or if you feel like a warrior in your personal life.
5. Celtic Tattoos Precise Design WIth Bird Ink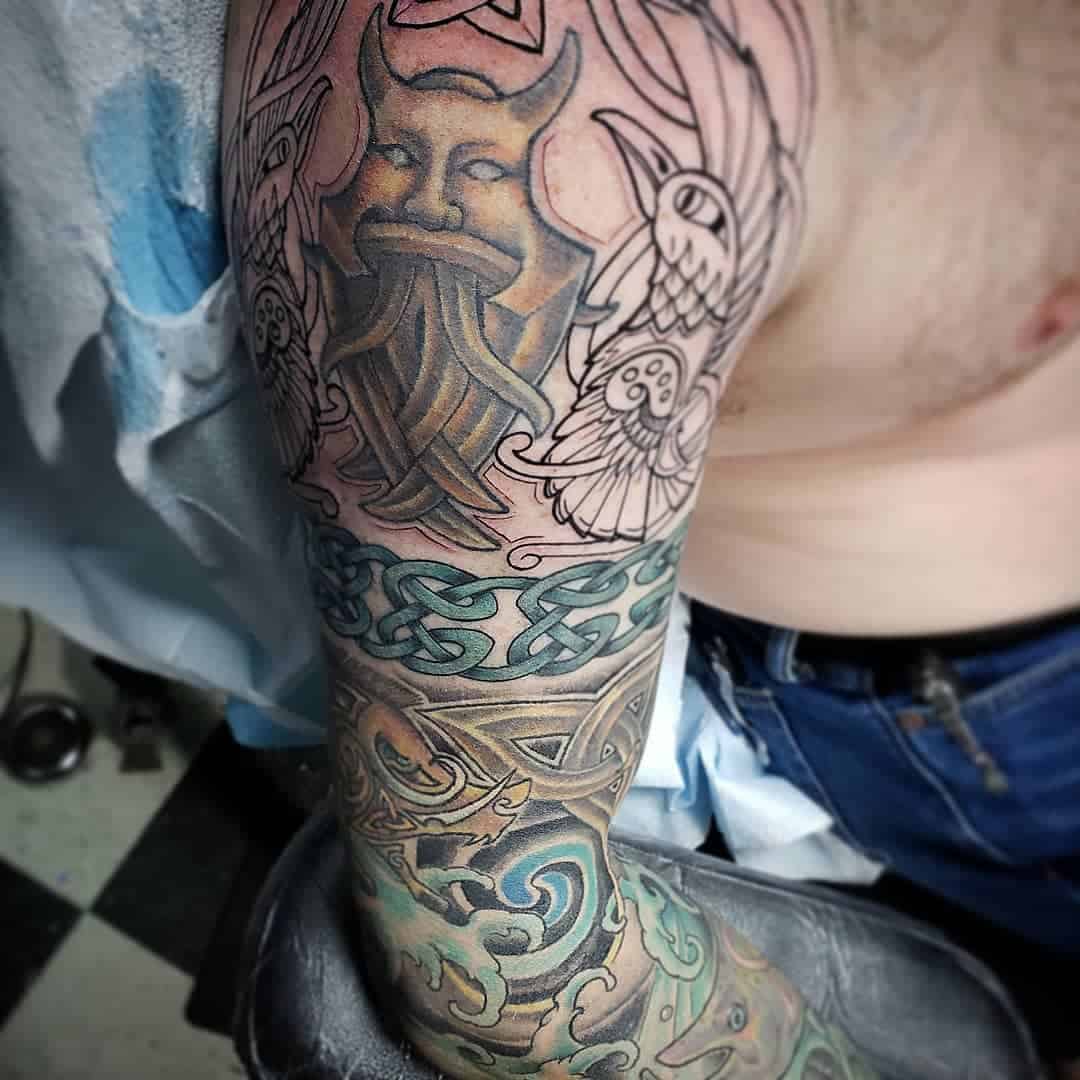 This is a giant piece that you will love over your entire shoulder, only if you work out! This is an amazing blend of Norse mythology, mysterious elements, as well as a bird. Once combined, this tattoo screams and stands for freedom!
6. Gorgeous Sleeve Design Celtic Tattoo Woman Print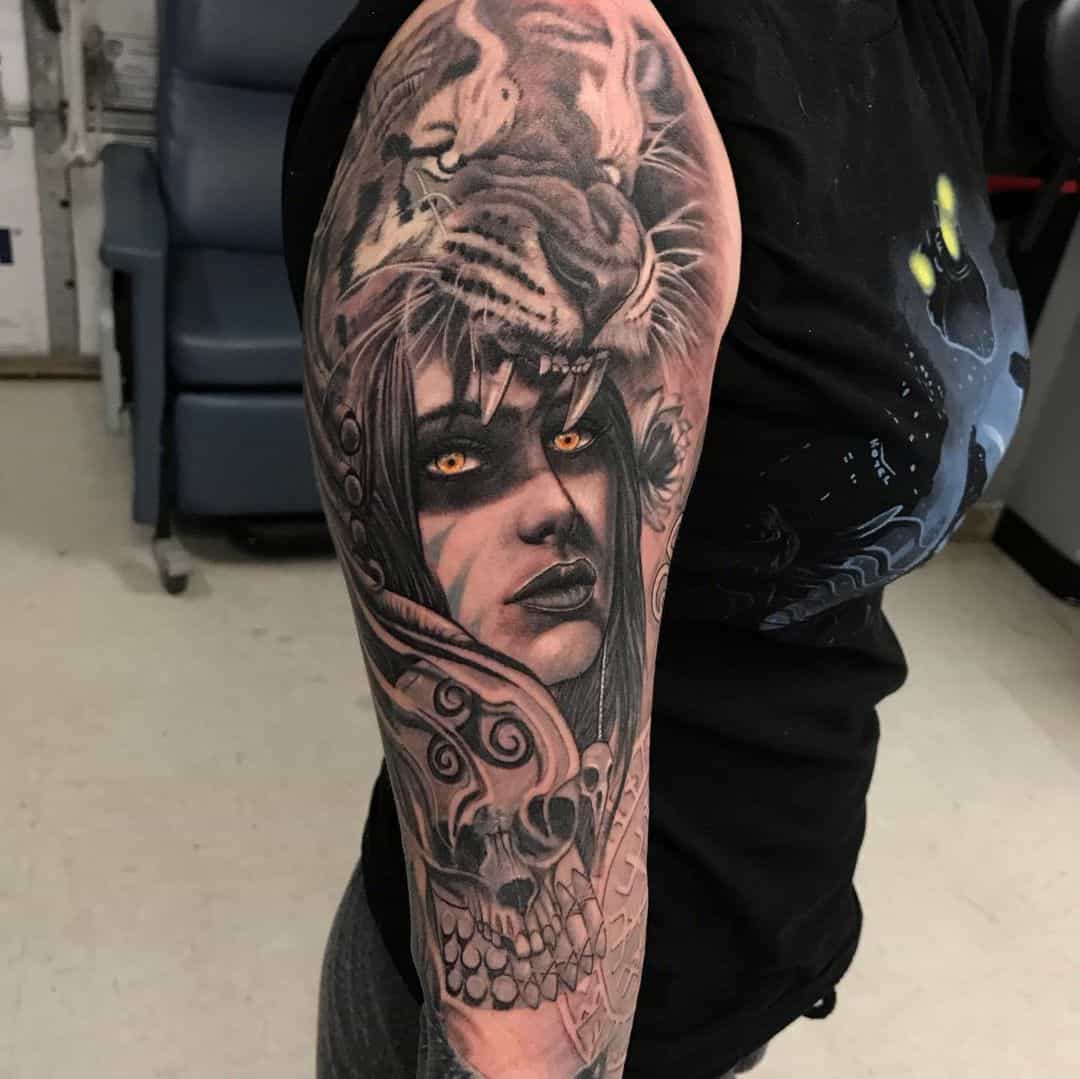 If you love sleeve tattoos and images of women, combine Norse mythology warriors and Norse symbols over your entire arm. It will take you several tries to get this design, but it is a beautiful tattoo in the end.
7. Mystical Norse Tattoos With Celtic Dragon Sleeve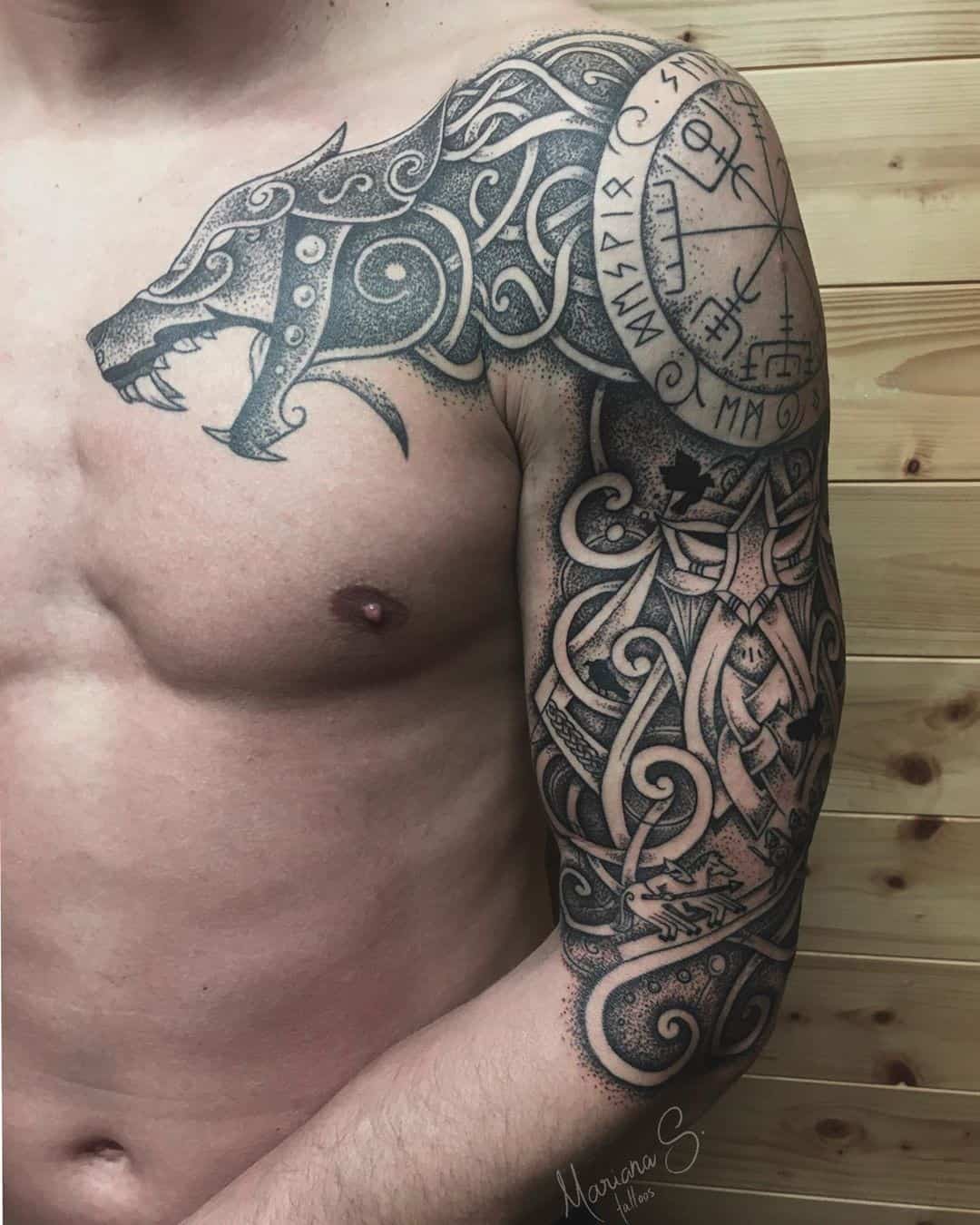 If you are a fan of precision and you love dragon and wolf designs, this is your perfect blend! Decorate the rest of your tattoo with Norse symbols and numbers to get that mystical vibe, and enjoy the fact that you're the only one who truly knows what this tattoo means!
Fun fact: Did you know that Norse mythology stemmed from Norse paganism which was developed around the 2nd century? It is so ancient.
Celtic Tattoos For Men: Top 7 Designs
1. Forearm Celtic Tattoo Design Norse Mythology Inspired Ink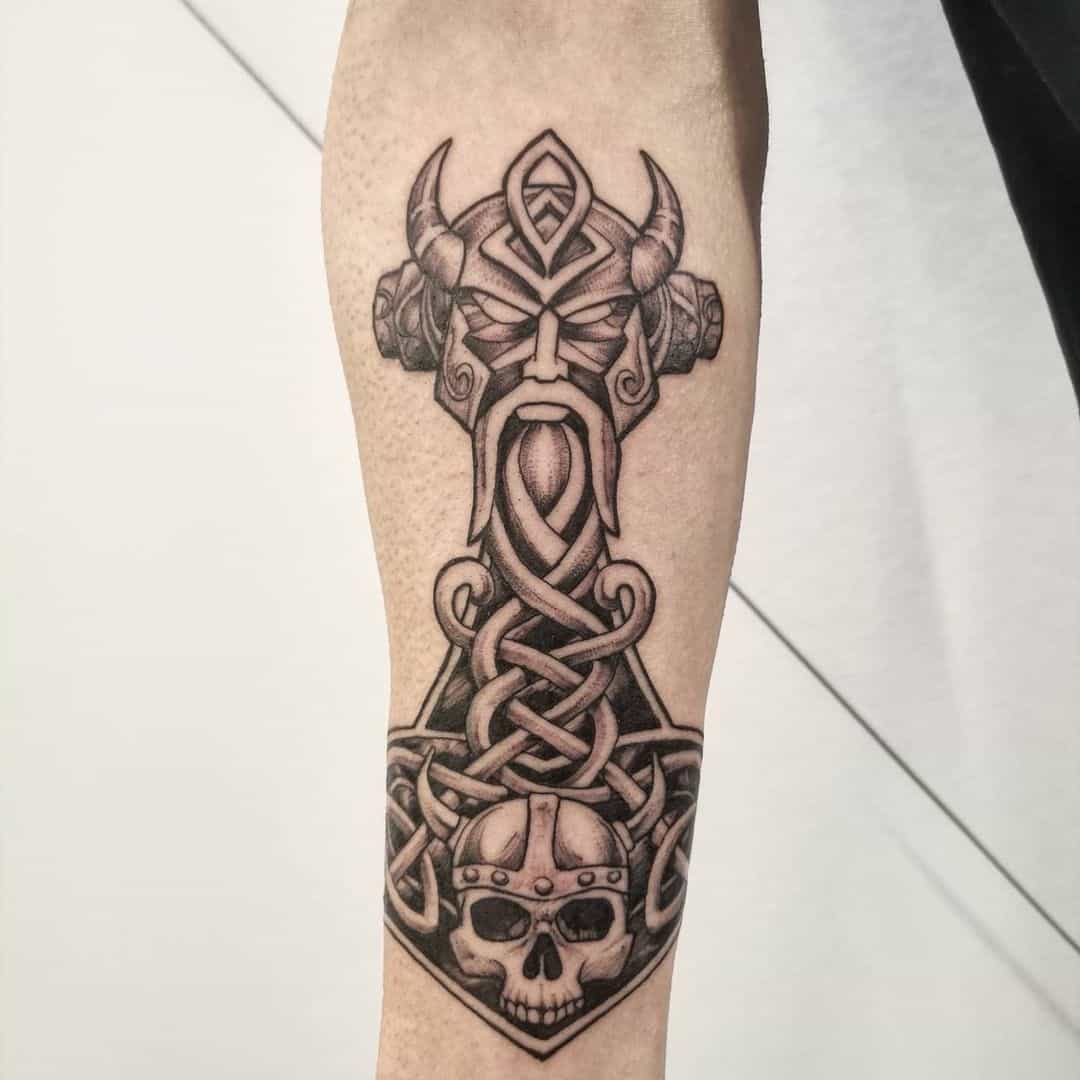 Some men prefer smaller tattoos, are you one of them as well? If so, this skull inspired Celtic tattoo with a Viking will suit you. It also screams power and determination, and who wouldn't love that?!
2. Irish Cross Tattoos Black Ink Design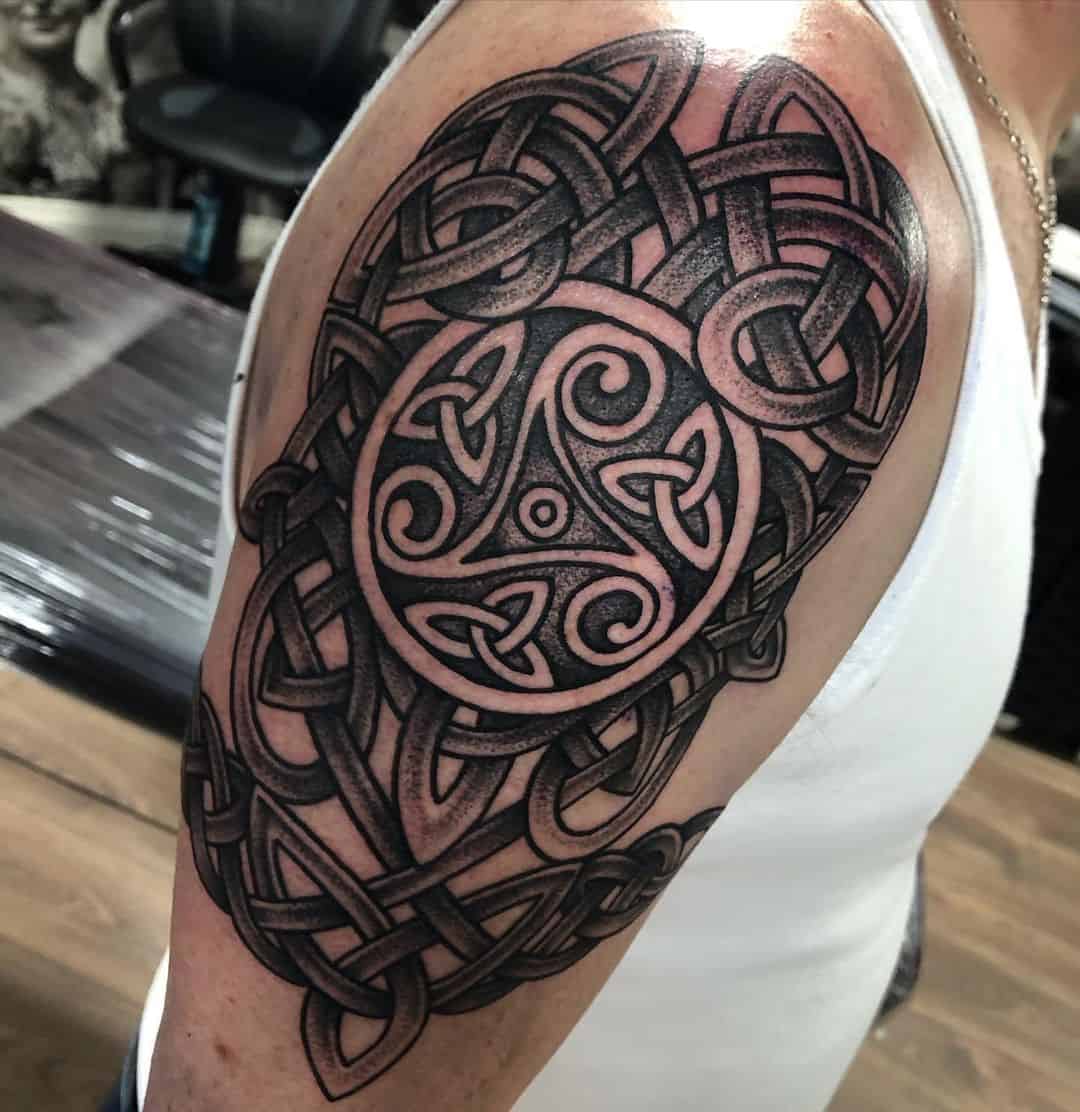 If you know of an amazing tattoo artist that knows how to do precise and detailed work, go with this tattoo! It is an amazing Celtic tattoo that represents the Irish cross through the middle. Time-wise it is a time-consuming piece, but it is so unique and worth the time.
3. Celtic Tattoo Design With Owl Symbol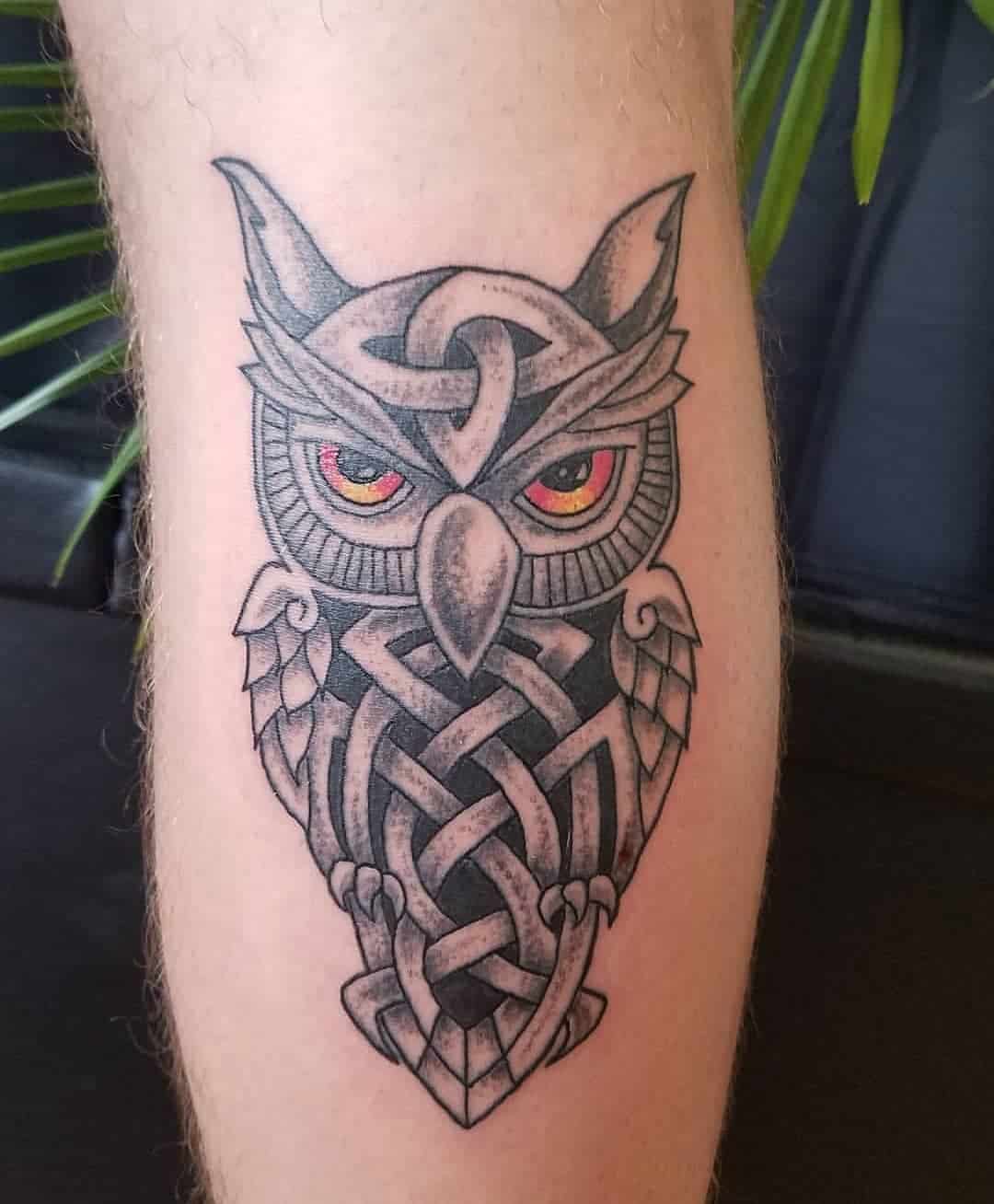 If you are a fan of animals or birds, go for this owl ink that is done in a Celtic way. The owl symbolizes intelligence and wisdom, so why not give it a go?
4. Norse Tattoos Forest Inspired Symbol With Tree Design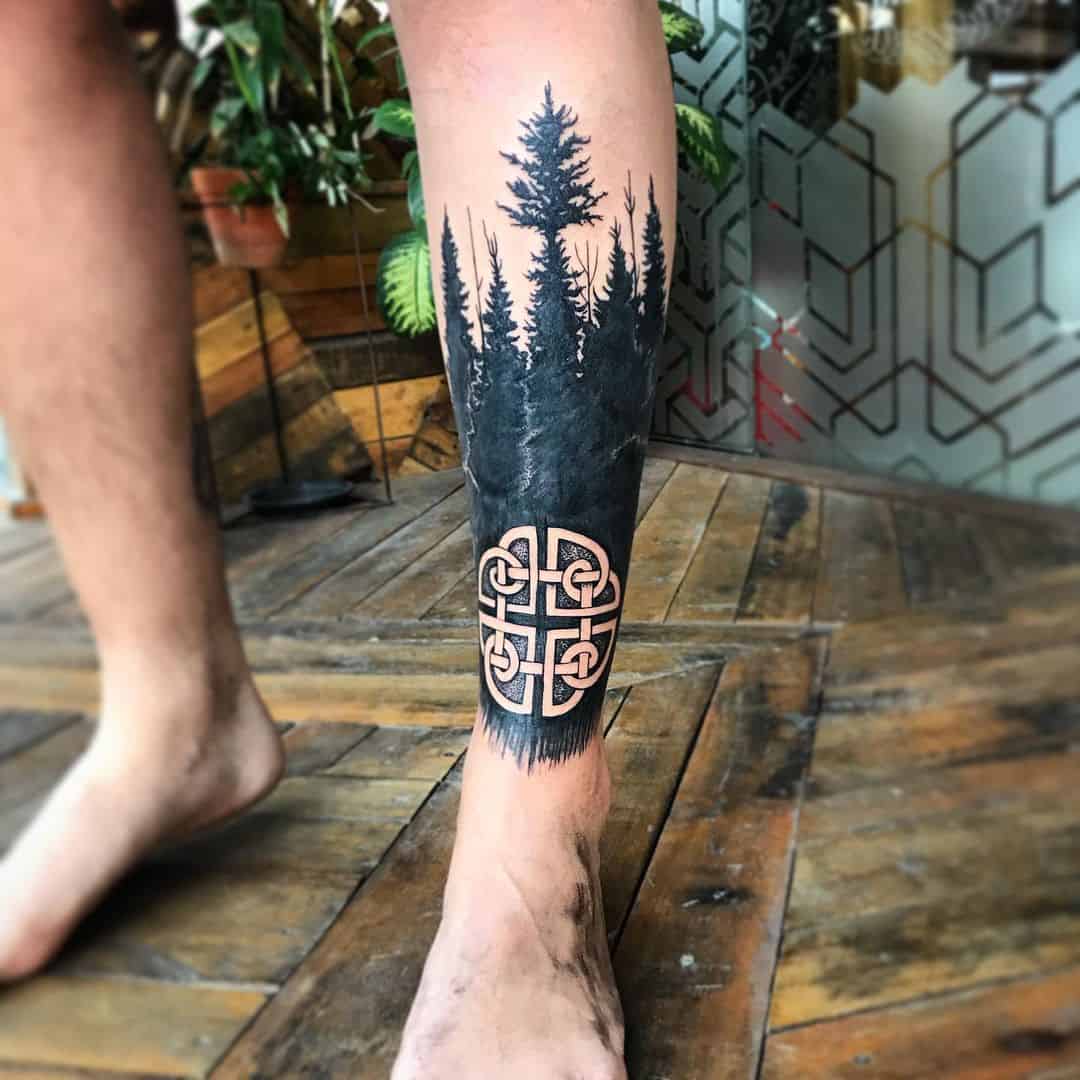 This leg tattoo is shades in such a nice way, and it will look amazing if done properly. Make sure to book a tattoo artist who knows how to do forest tattoos, as well as mysterious elements such as the Celtic symbol.
Fun fact: Did you know that one of the most successful TV shows of our time – Game of Thrones, was heavily influenced by Norse mythology?!
5. Gorgeous Back Piece Celtic Tattoo For Men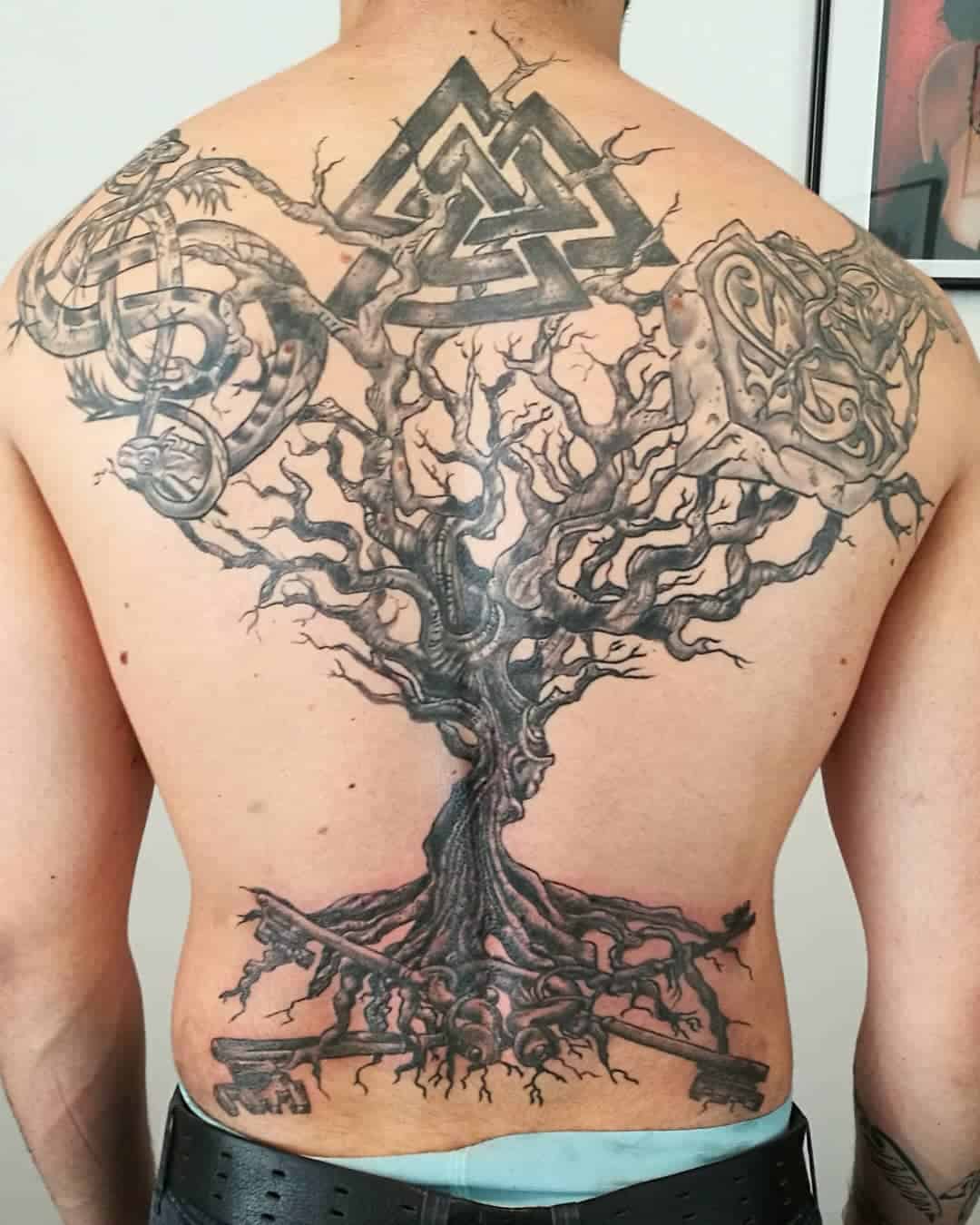 If you want a dramatic tree inspired tattoo, place this one over your back. It is a symbol of growth, personal development, as well as your future plans that are slowly yet surely becoming reality.
6. Norse Mythology Inspired Celtic Image Of A Warrior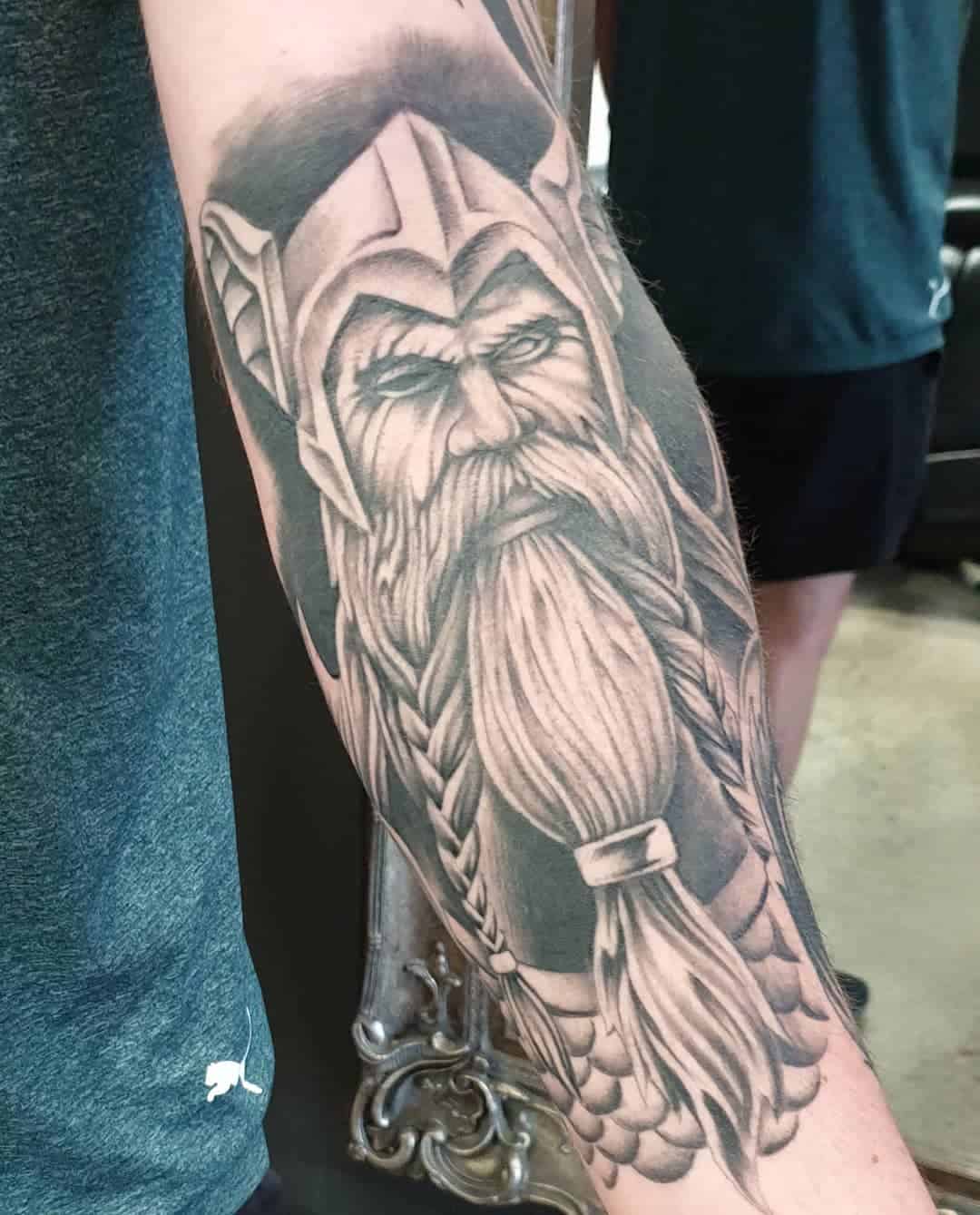 This Celtic and Norse inspired Viking will look phenomenal over your forearm. If you like realistic and portrait-inspired tattoos, this one is perfect for you. It will represent your new beginnings, as well as a will and power to fight through it all.
7. Celtic Knot Tattoo Band Irish Cross Green Ink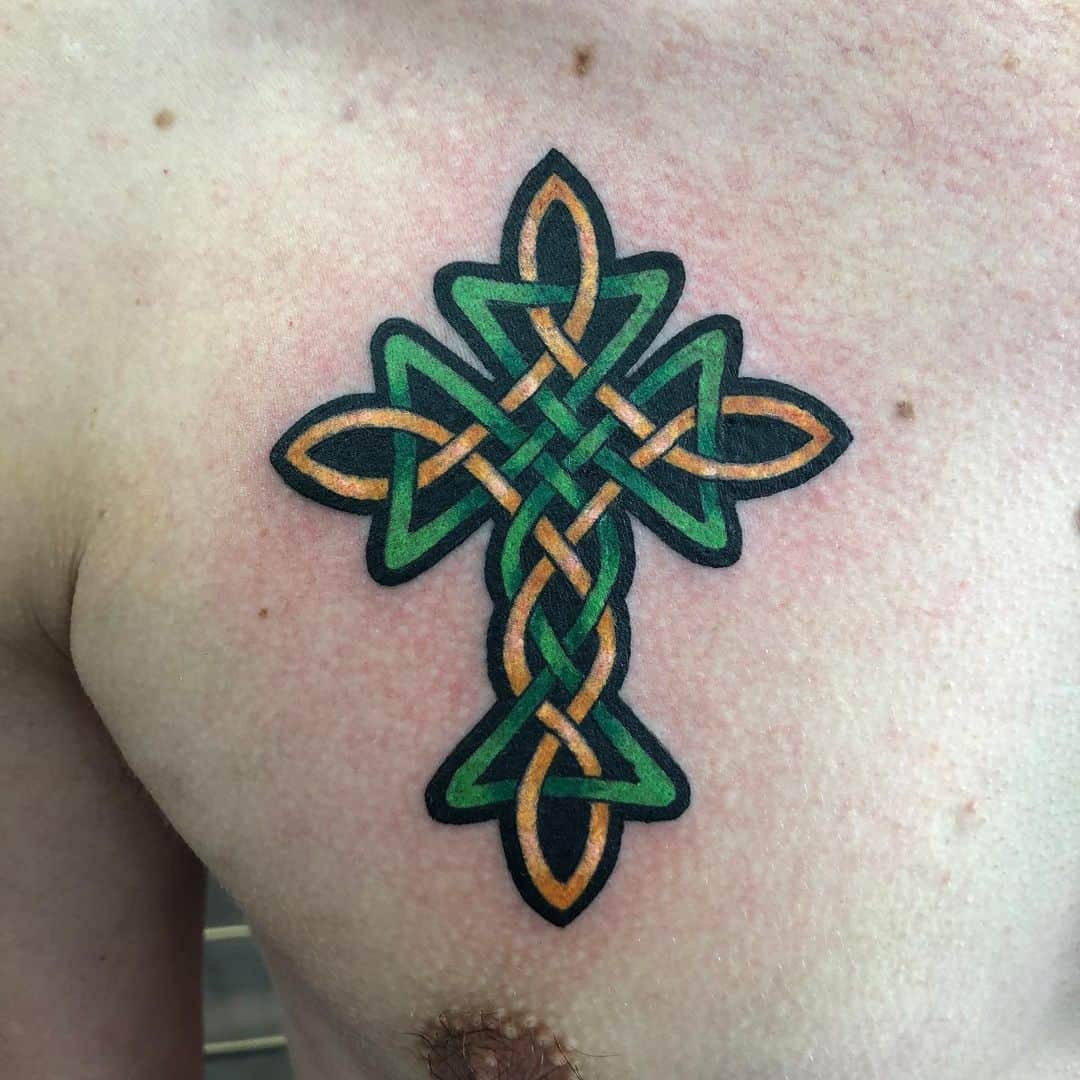 Bright green ink is so unique and you will love this design if you are into color. The Irish cross tattoo will symbolize your determination as well as faith. This design will seek attention everywhere you go, so make sure that you love the final result!
Traditional Celtic Tattoos: Top 7 Designs
1. Black Celtic Tattoo Giant Shoulder Piece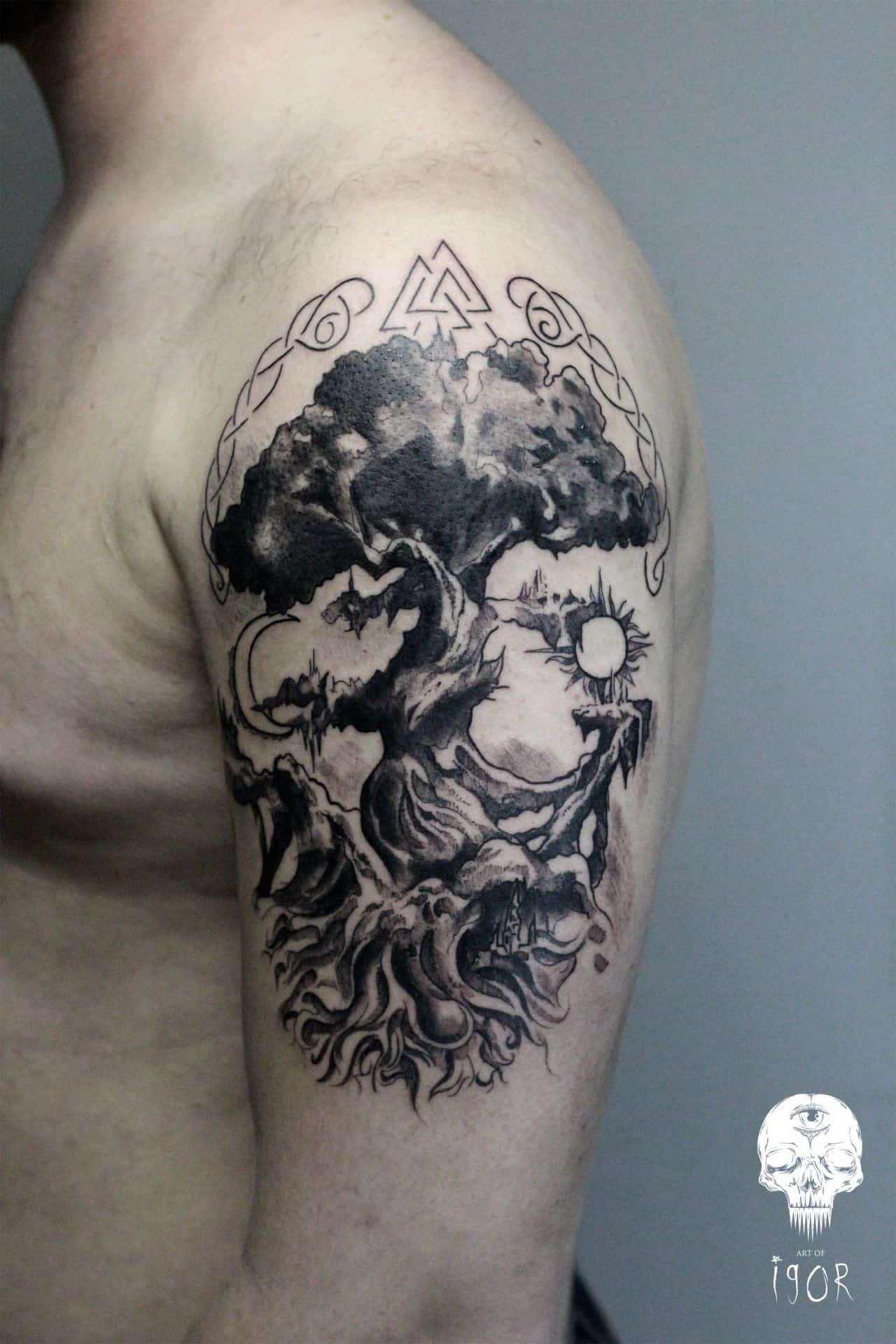 This is a traditional Norse inspired tattoo that shows some of the most basic and common Celtic symbols. This design also represents growth, time, as well as space for any upcoming activities that are headed your way!
Fun fact: Do you believe in dragons? Dragons known as Lindwurms existed in Norse mythology.
2. Simple Celtic Tattoos Shoulder Piece Black Design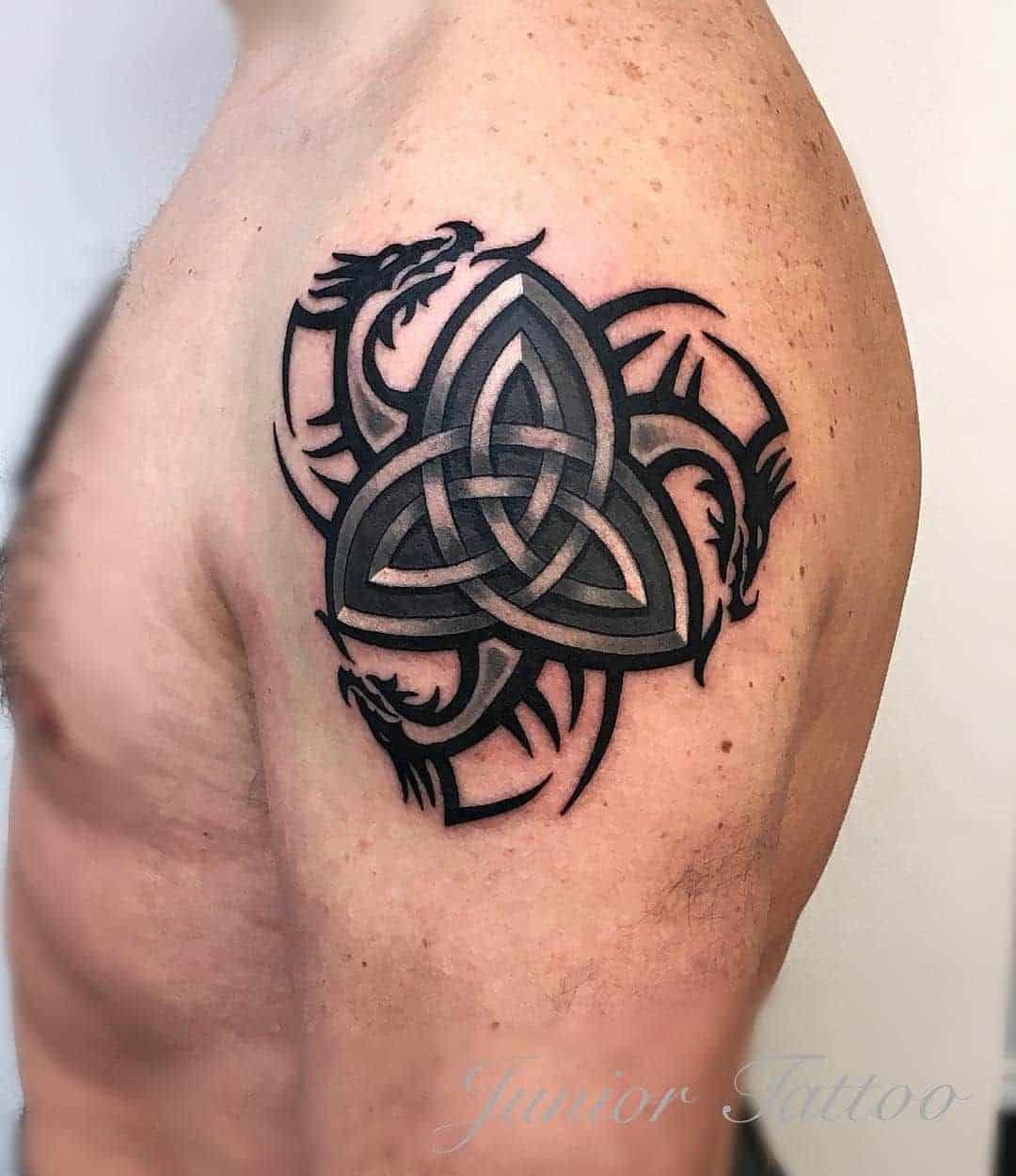 Forearm or shoulder tattoos will suit men who work out, a lot. This black image will take 2-3 hours to get, and it is not a pricey tattoo either. This Celtic symbol with a dragon is a masculine tattoo, perfect for older men!
3. Celtic Cross Norse Tattoo Over Forearm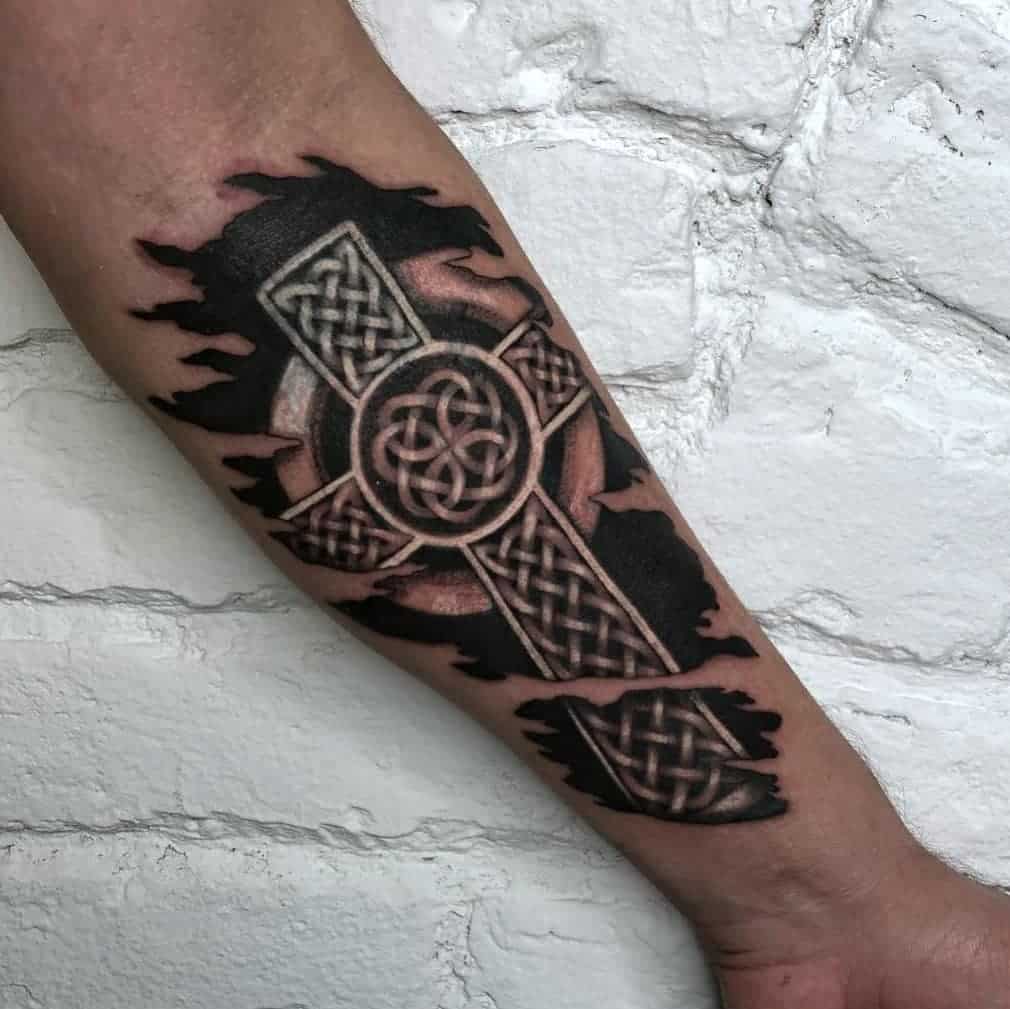 This Celtic cross tattoo looks amazing over your forearm. It is a detailed tattoo that may suit religious men the best. Time-wise, this tattoo will take 3-4 hours to get.
4. Celtic Tattoo Tree Design Over Shoulder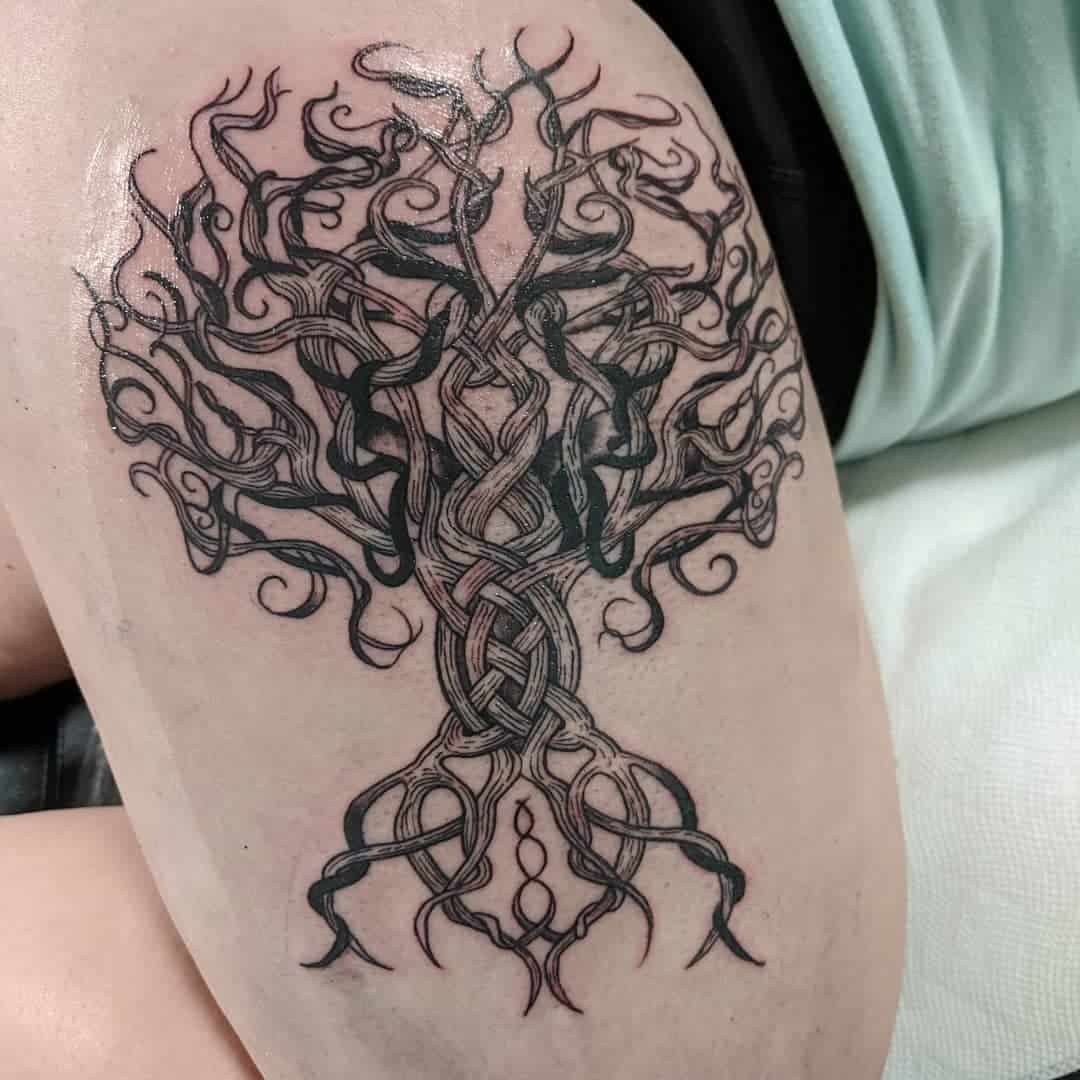 This is another gorgeous design that represents development, personal growth, as well as your free time and your future. If you are quite optimistic and you can't wait for new beginnings, go for this design!
Fun fact: Did you know that the Celtic language survived after Roman conquest?
5. Norse Mythology Inspired Tattoo Over Chest And Shoulder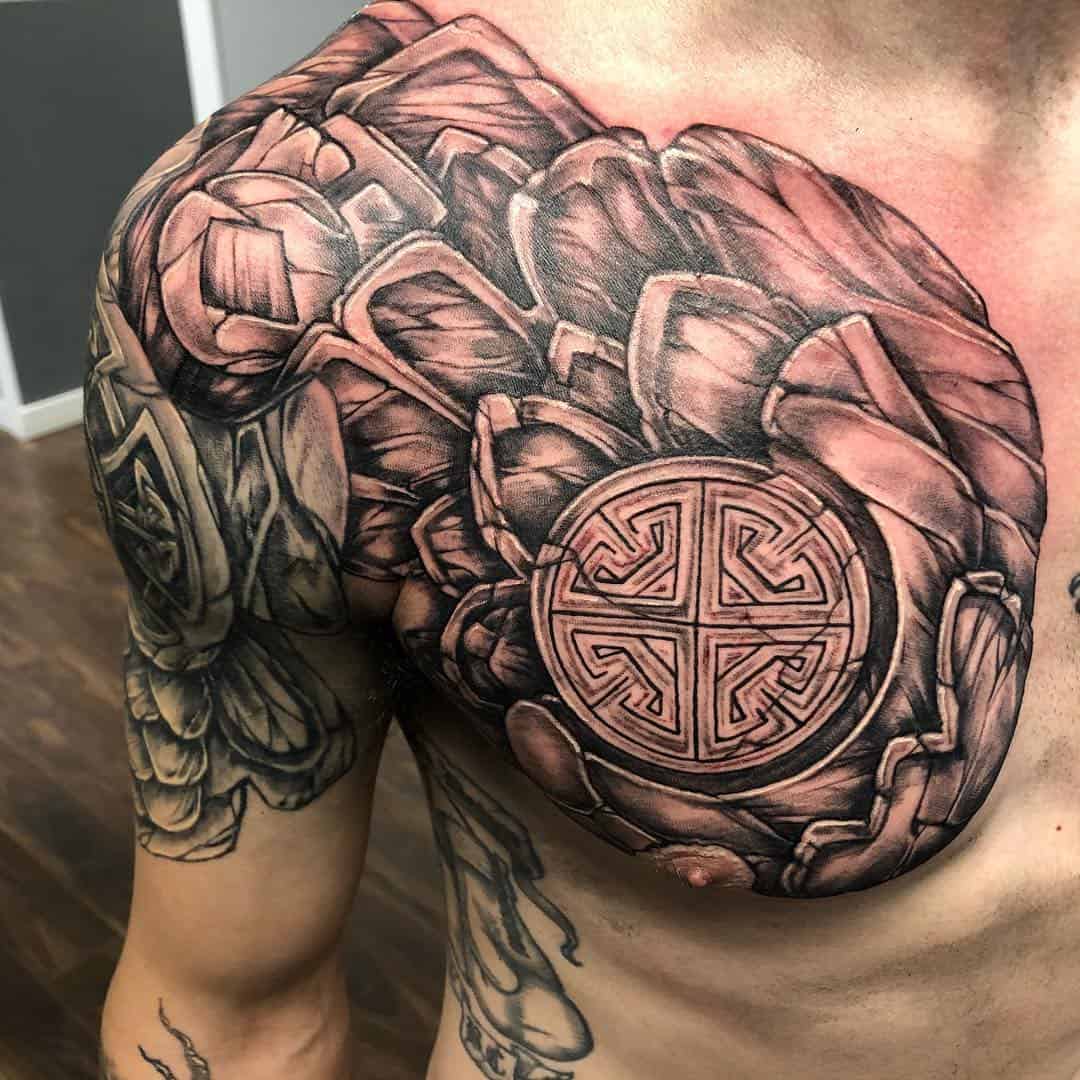 Chest tattoos are a bit painful when compared to the rest of your body. Make sure that you are prepared for this design since connecting it to your shoulder and your arm may take some time to do, and it can be a bit pricey.
6. Scottish Symbols Over Forearm In Black Ink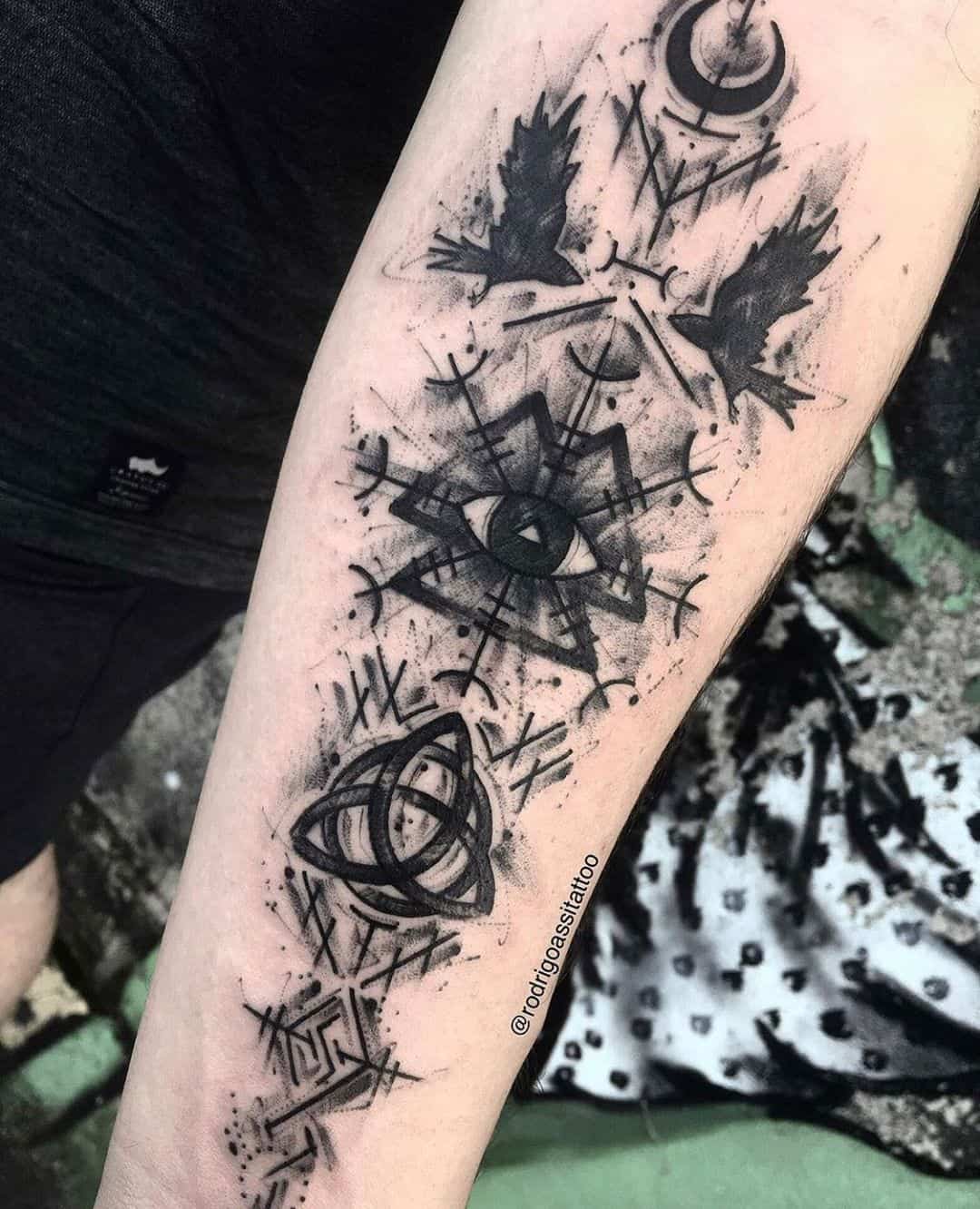 Get several different Celtic elements and symbols tattooed all over your forearm if you love unique elements. You can customize this tattoo and go for something that is unique only to you, and which is also meaningful to get.
7. Norse Viking Mythology Inspired Design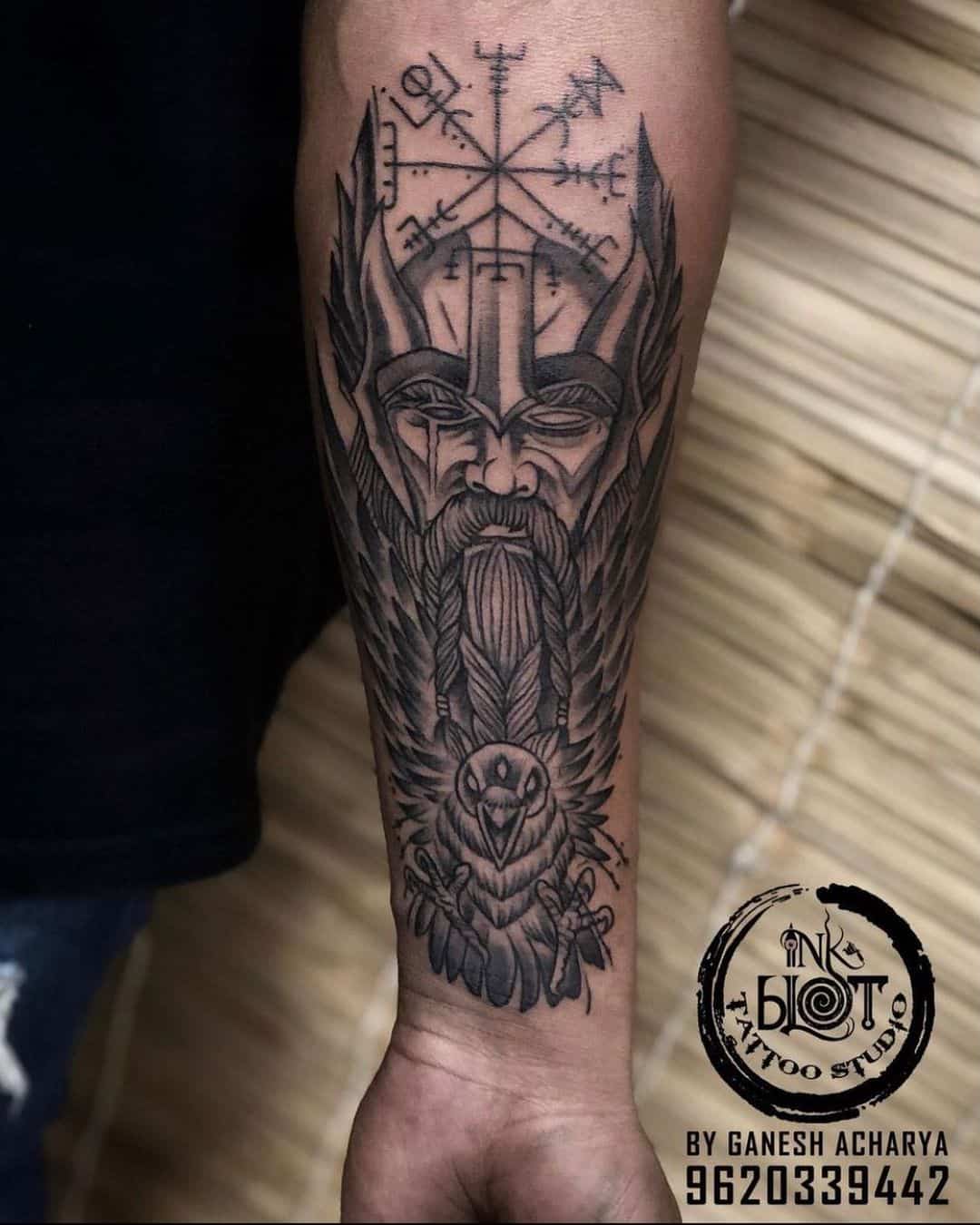 This is a common go-to Celtic tattoo that shows off a Nordic warrior. If you think of yourself as a powerful individual, and you are someone who enjoys manly designs – why not give this one a go?
Small Celtic Tattoos For Women: Top 7 Designs
1. Small Heart Shaped Celtic Tattoo For Women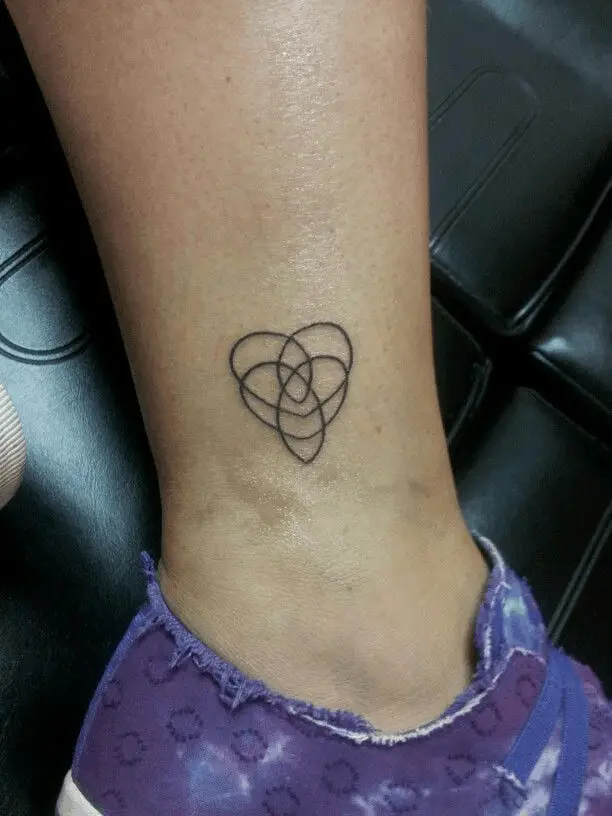 Women can also get Celtic designs. This one is small, petite, as well as cute to get. This Celtic heart will look great over your ankle, and you will enjoy it since it is quick to get, affordable, and it doesn't hurt either.
2. Gorgeous Back Piece With Cat And Celtic Inspired Moon Symbol
If you are a cat lover you can also combine this Celtic moon symbol with your favorite cat image. This back piece will look gorgeous on every woman, especially those who love to show off their back!
Fun fact: Did you know that Celts were quite wealthy? They had loads of gold in their Celtic Gaul.
3. Gorgeous Colored Viking Symbol Over Shoulder Tattoo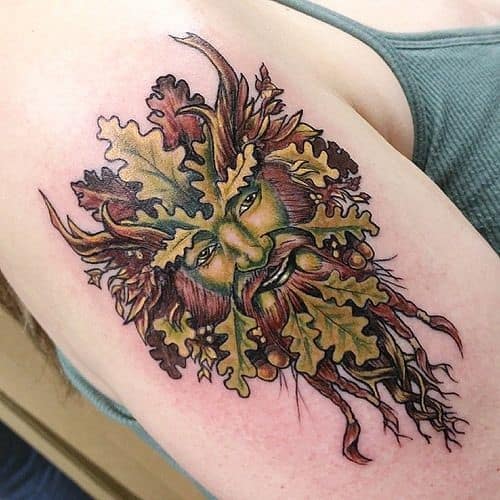 Some of you might prefer colorful tattoos, right? This Celtic inspired Viking looks so unique. You will enjoy this color combo if you are someone who likes bright and noticeable tattoos. This one shows a strong Viking – colored in feminine colors.
4. Norse Mythology Colorful Sign Tattoo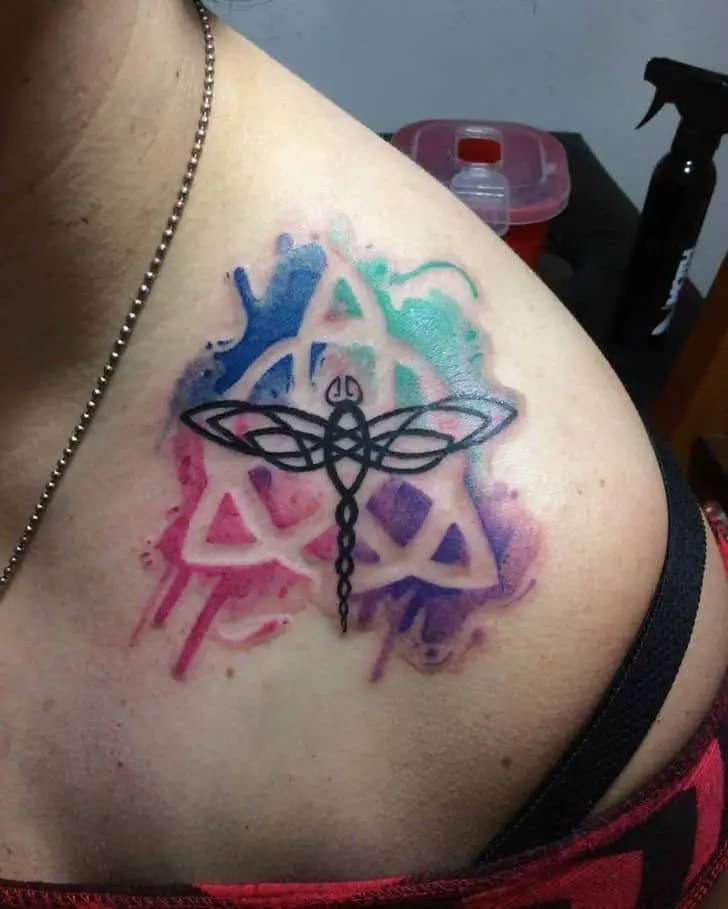 This firefly is tattooed so precisely + it is decorated with colorul ink in the background. This Celtic symbol will look gorgeous over your shoulders, and it will suit younger women who like bright and noticeable tattoos.
5. Norse Symbols Black Ink Design Over Forearm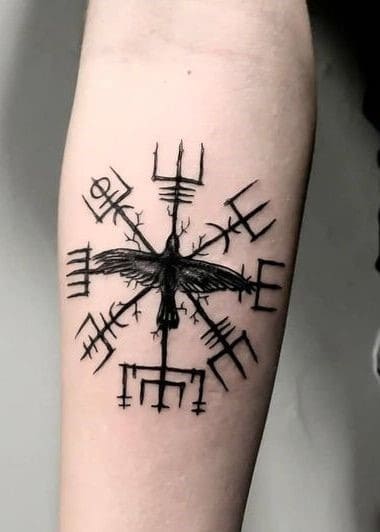 A crow symbol will look mystical and unique once decorated with Nordic symbols and letters. This design is scary, unique, as well as different than the rest! If you are someone who is into detailed artwork yet you are afraid of the needle, this is perfect for you!
6. Norse Viking Tree Celtic Symbol Over Leg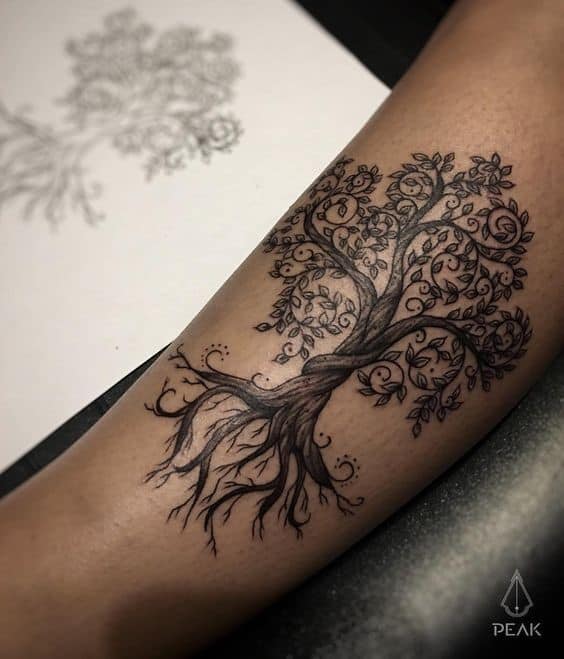 Another detailed tattoo that shows off your personal growth, who wouldn't love it?! This is a smaller Celtic tree, which will look phenomenal on women who dislike pain + who want something practical to get.
7. Lion Inspired Celtic Inspired Tattoo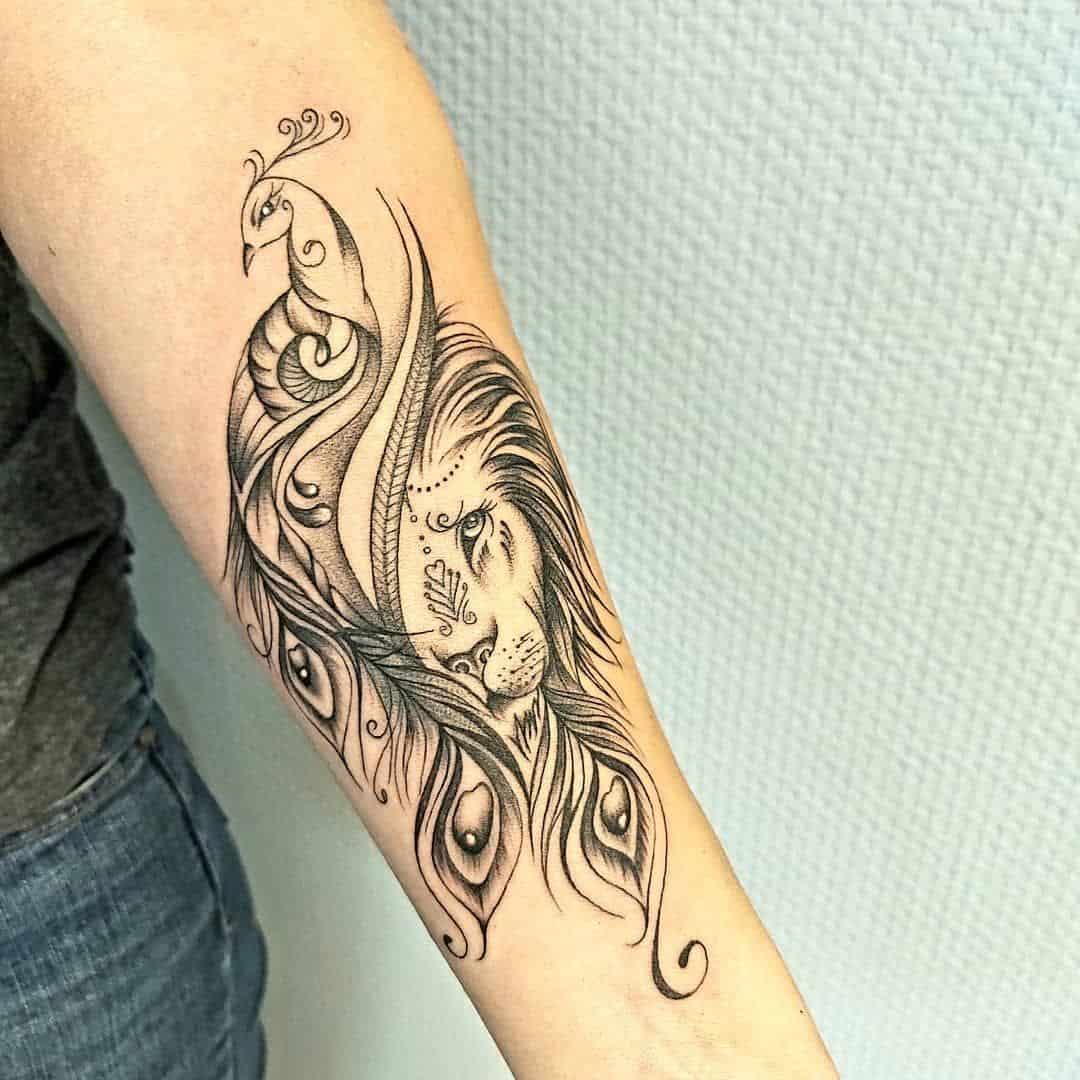 Last, but not least, why not go for this Celtic lion inspired tattoo? This is a feminine tattoo that has its powerful and bold side at the same time! Place it on your forearm and show off your fierce side!
Ready To Get Your Perfect Celtic Tattoo?
So, which design is your favorite out of these 28 amazing Celtic tattoos? Are you into smaller or more noticeable tattoos? Either way it is, this list will suit everyone and their personal preference, as well as taste. Let us know your favorite design, and enjoy showing it off whenever you get it tattooed! Make sure that it has a good story to tell, and only go for tattoos that are personal as well as meaningful to you.
Also Read: Top 30 Best Viking Hairstyle Ideas For Men (2022 Updated)