Hanging Teacup Wall Art
When you shop through links on our site, we may earn an affiliate commission. This educational content is not intended to be a substitute for professional advice.
For our wedding reception I needed some pretty plates, teacups, and saucers for the dessert table, so I headed to my local Goodwill and happened to luck out when I found an entire matching set! They worked out really well, but now I'm left with a surplus of dishes that I probably won't end up using too much. I decided to turn one of the teacup and saucer sets into wall art for my Breakfast Gallery Wall. It's funky, pretty, and adds another fun element to my growing wall of breakfast art! The best part? There's only 2 steps to make it! See how easy it is to make one for your own walls!

…..

Supplies:

1 teacup and matching saucer

Superglue

Picture frame bracket or hook (found in most craft or hardware stores, but I took mine from an old frame)

Hammer

Nail

Oh yea, I almost forgot.. Do NOT try to use hot glue in lieu of superglue!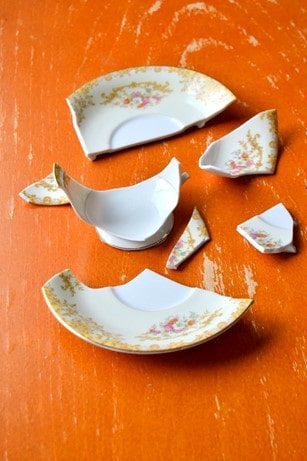 This was my first attempt. I knew it was probably going to happen, but did it anyway because I couldn't find the superglue. Don't worry.. I'll probably create some weird broken teacup art out of this so it won't be a total waste. And attempt number two is still holding strong!

 Start by running a line of glue around the bottom of the teacup. Place on top of the saucer and add more glue around the edge where the cup meets the saucer. Place a heavy book on top and let it dry for 3-4 hours or according to the glue's instructions.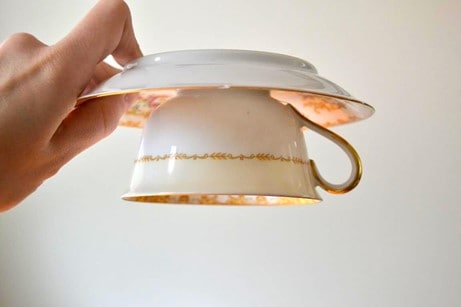 When glue is set up and completely dry, flip the teacup and saucer over. Add glue to the bracket or back of the hanging hook, attach to the bottom of the saucer, and let it dry another 3-4 hours or overnight. Add a book on top again if needed.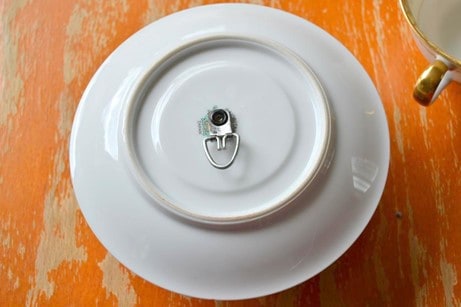 When completely dry, hammer a nail into the wall where you would like to hang, and put your new wall art on display!