40+ Gorgeous Long Layered Haircuts Ideas (Bang, Thick Hair, Curly Hair)
When you shop through links on our site, we may earn an affiliate commission. This educational content is not intended to be a substitute for professional advice.
Every year, hair trends change several times until the perfect one is found. Then, it's boasted by everyone. Hair trends change with such swiftness and vigor that by the time you decide some hairstyle would look good on you and you decide to go get it done, likely, the trend has already changed and gone out of style.
And while hair analysts propose that layered hairstyle is back only for women who fancy some sweet-looking layered bob, many long layered haircut styles have not gone out of trend yet.
Not that we hold anything against the layered bob haircut of course, but it's no secret that long hair looks absolutely stunning on every shape of the face, whether there are layers or not.
With that in mind, sit tight with us and embark on a journey of unveiling all the trends related to long-layered haircuts. Let's decipher their styles and decide which layered haircut would look the best for you.
Finally, we highlighted dozens of long layered haircuts to catch your attention and help you decide which haircut works the best for you. Continue reading this article, and by the time you finished reading it, you'll be able to save or screenshot the haircut to show your hairdresser.
If you haven't had a layered hairstyle before and you're contemplating on whether you should get it done or not, you'd be surprised to see how stunning and refreshing they look. They don't enhance the overall health and looks of your hair, they also improve your face complexion and frame it.
Even though our key focus in this article is on long layered haircuts, it's worth noting that layered haircuts go well on all lengths and styles of hair. That being said, if you eventually get tired of long layered hair, you can consider a shorter alternative that won't compromise on your layers.
The reason why so many women opt for layered hair after a while is that layers of hair will add more dynamics to your hair, it'll appear puffier, especially in the wind where it moves swifter and more dynamic. On top of everything, layers are not affected by bangs, wavy hair, or even curly layered hair that is becoming a trend these days.
A lot of women who want to rejuvenate themselves with a younger look will go for a layered haircut because of the dynamic feel and transitions if you have an Ombre or Balayage style. Regardless of whether your hair is thick or thin, layers are an excellent option to refresh your looks and accent the perfect parts of your facial complexion.
Long Vs. Short Layers
Did you know there are short and long hair layers, which quite show the difference in various hairstyles? That being said, which layers you go for will say a lot about your haircut, but also about your overall beauty style and personality.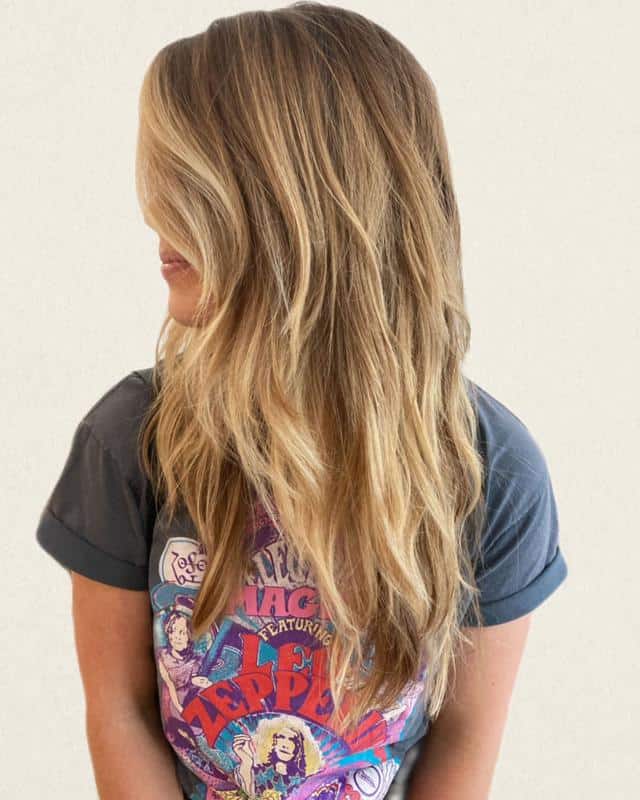 Layered hairstyles were so popular in the last two decades, but many didn't know that you can opt for a different length of layers to flatter your overall haircut better. That's why we wanted to show you the
difference between longer and shorter hair layers so that you can make an informed decision when making an appointment with your hairdresser.
What type of layers you'll choose is totally up to you, but here's everything you need to know about their differences before you go for this decision. Going for short layers means that your shortest layer of hair and the longest end of hair are 1 to 1.5 inches, up to 2 inches apart from one another.
Logically, longer layers mean that the distance between your shortest layer and the longest end of the hair is longer. This style was more popular in the 2000s, but it doesn't show signs of going off the trends anytime soon.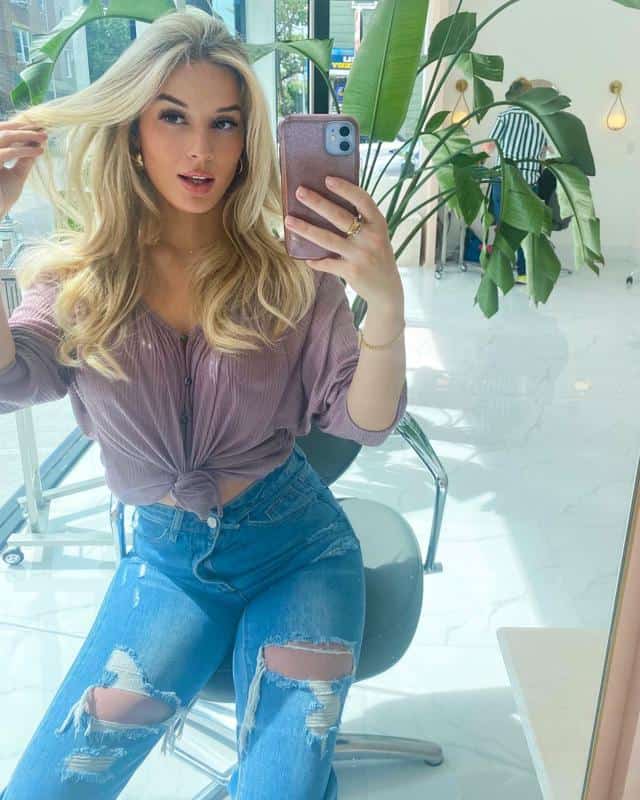 But, there are more differences between these two styles than just their length. Let's take a look at them and compare them so that you can have a clearer idea about the differences and be able to decide for yourself.
Don't worry if you'll take a long time making this decision for yourself. Oftentimes, both of these styles are combined to match the demands of different hairstyles. Take time to read a comparison of differences and to discuss them with your hairdresser later in the salon.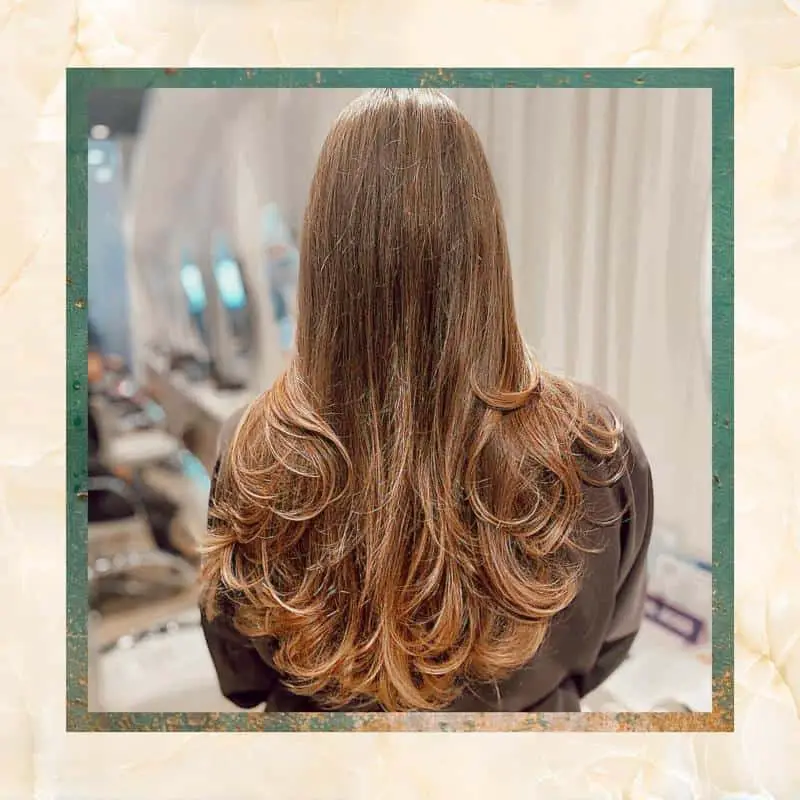 Face Complexion
Face complexion plays a great role in deciding which length of layered hair you'll go for. It's important to note that long layered haircuts go great with both shorter and longer layers of hair. However, to make the hairstyle more appealing and dynamic, here are the face shapes you should consider when getting layered haircuts.
Longer face shapes are great for shorter layers because the face will appear more round or even oval. In simpler words, the face points will equalize and your face will appear more proportional, especially if you add some bangs to the overall design.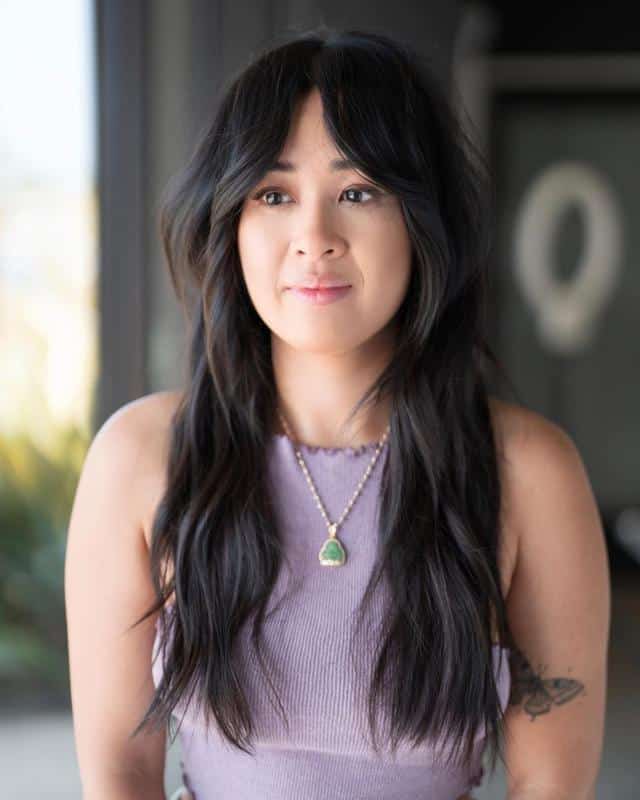 For those who have rounder or square faces and want to make them appear longer, it'd be best to go for longer layers which will extend their face complexion and make their face appear longer. You can also combine longer layers with those shorter ones, there's no limitation in that regard as long as there are long layers that elongate the overall face.
Individuals who boast oval face shape should consider themselves lucky. Their face encourages both longer and shorter hair layers which will add up to their appeal and face complexion. They can also combine the layers without negative consequences. Whatever the decision, your hair will look beautiful.
Styling
The length of your layers will dictate how you style your hair in a great matter. Short layers are quite subtle and oftentimes hard to notice regardless of the length of your hair. They're so subtle that even the hairdressers have difficulties telling them apart and often think that the hair is even in all its layers when it's not the case.
That being said, short layers work for every type of style, from parting your hair differently to waving it, making curls, or just keeping your hair straight with an easy and subtle fall.
For longer layers parting and styling, in particular, is more difficult. It will look great if your hair is quite long (like this article focuses on mostly long hair.)
However, if your hair is relatively shorter and there's a huge overlap between the shortest layer and the longest end of the hair, then hair might appear thicker or thinner than the rest of the parting. It may also appear too dull on some parts.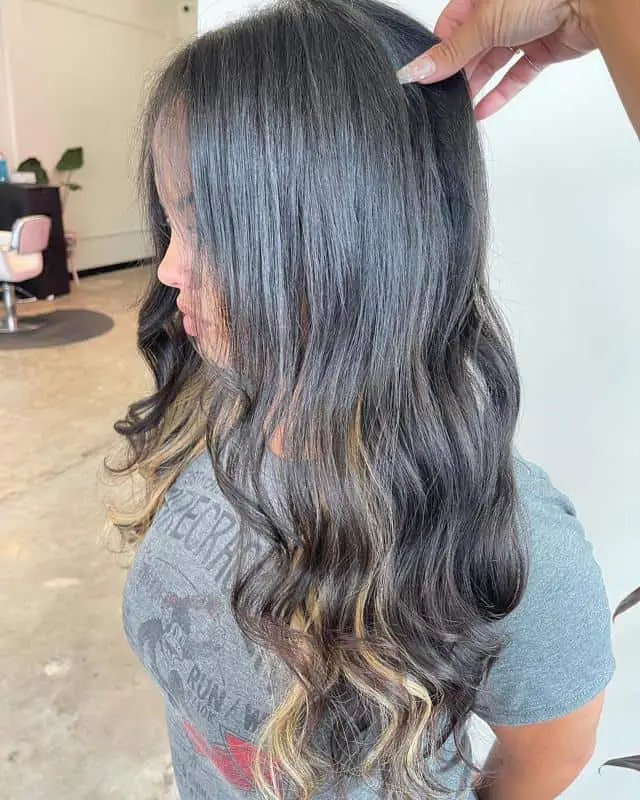 Volume
There are two situations with volume – there's not enough of it, and there is too much of it. That's also where different lengths of layers come into play.
Shorter layers are ideal for people who lack volume and want to mimic having more of it, regardless of whether your hair is shorter or longer. Our hair is usually thinner towards the end which is why our short layers will add more to its overall style.
When boasting long layers, you want to reduce the volume that you already have and make it appear slightly thinner than the hair is. Many women cut their hairs short to avoid having too much volume that makes hair difficult to maintain. If you decide to go with longer layers you can keep long and shiny hair without cutting it too short. The volume will be in just the right amount that you need.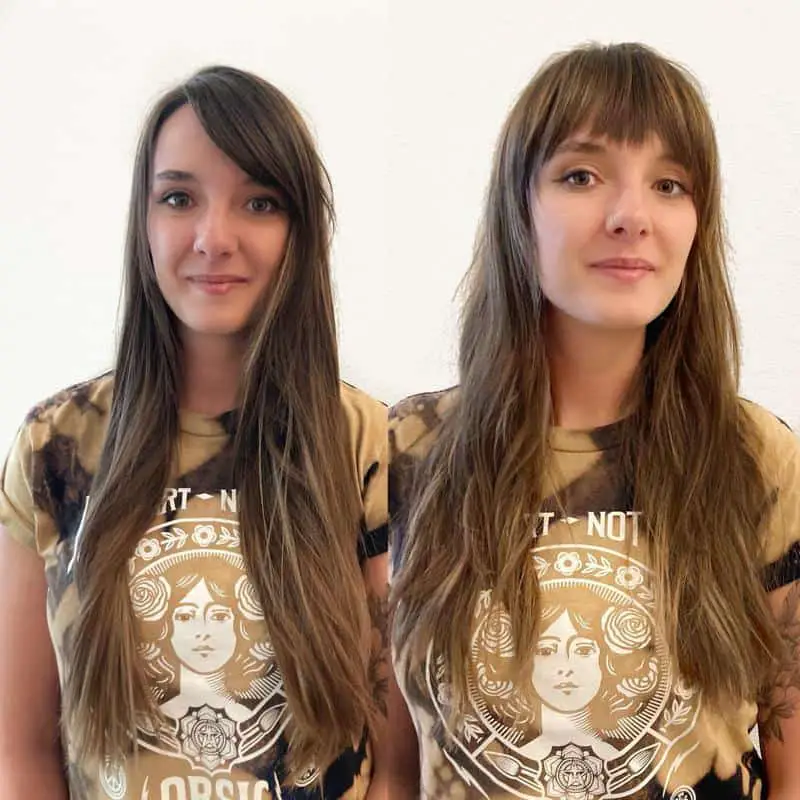 Editor's notes:

Short layers look good on both shorter and longer hair, which is good because in this article we'll talk about mostly long hair. Short layers can make the haircut subtler, and puffier. Shorter layers will also make the hair appear full of volume and more dynamic.

When it comes to long layers, they're better-looking if you boast them on longer hair. There will be a visible transition and you'll have an easier time styling your hair if you'll sport long layers on long hair. If you decide to cut your hair short, you should also go for shortening the layers, as it'd be quite difficult to wear short hair with super-short layers.
Long Layered Hairstyles
If you're opting for long layered hairstyles, it's important to know how you can style your hair once you get the haircut. Don't worry, one of the biggest perks about this hairstyle is that it can be worn with passion regardless of the style you go with. See for yourself.
Layered Straight Hair
Straight layered hair is a subtle hairstyle for those with shorter layers while showing the amazing and breathtaking transition if you combine super-long hair and long hair layers. Straight hair is generally considered a classic style.
It'll never go out of style and it's the perfect presentation of a layered haircut. The best part about it is that it's easy to style and maintain unless you have a naturally curly hair that can get wild and restless.
Layered Wavy Hair
If you have a naturally wavy hair that you face difficulties with styling, we have good news. Wavy hair and layers are a way to go especially if you normally have a long hair. With longer hair, layered waves will frame your face better.
More importantly, they will make you look younger and will take away the unnecessary bulk from your hair. Appear more stylish, but also add more minimalistic accents to your hairstyle.
Curly Layered Hair
Although naturally, curly hair is rarer compared to other styles, a lot of people are wondering can they style their hair to be curly while maintaining the staircase like the transition from different layers. The answer is yes! Even better, curly layered hair is in style and quite popular among all age groups of women.
Layers are some of the best ways to frame your face while giving a cleaner and simpler definition for your curls and coils. Additionally, layers will make your hair bouncier and easier to move and flap on its own.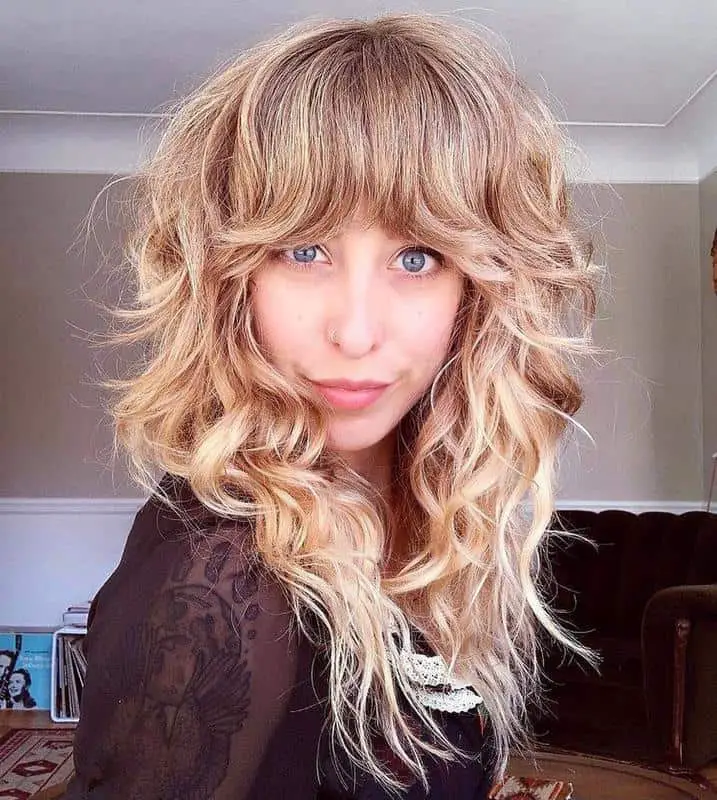 40+ Best Long Layered Haircuts Design Idea
Without further ado, let's dig into the best long layered haircuts for you to show your hairstylist and discuss to add more style and life to your hair.
Long Layers On Long Hair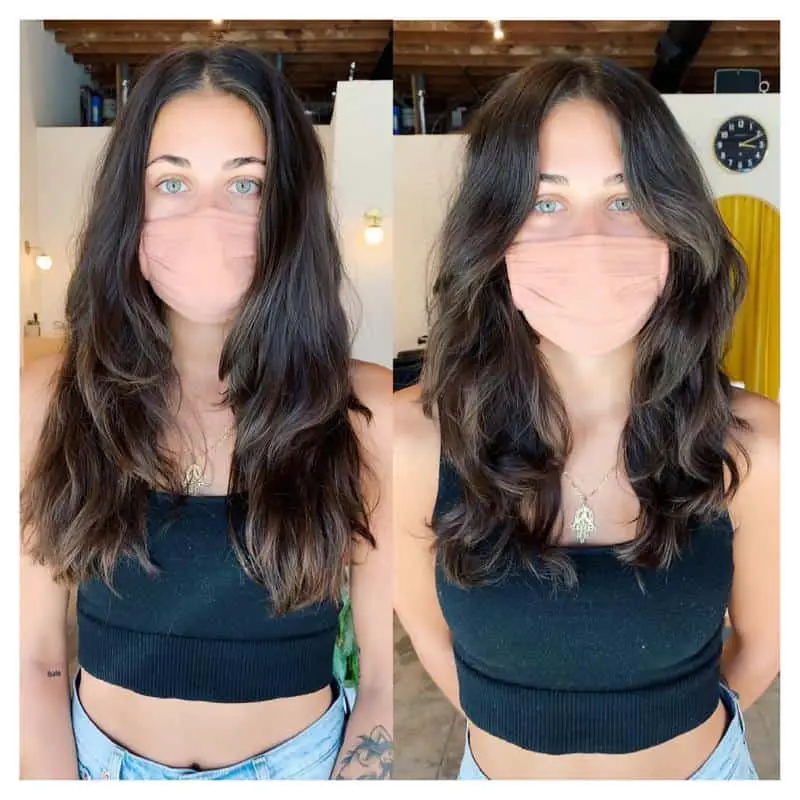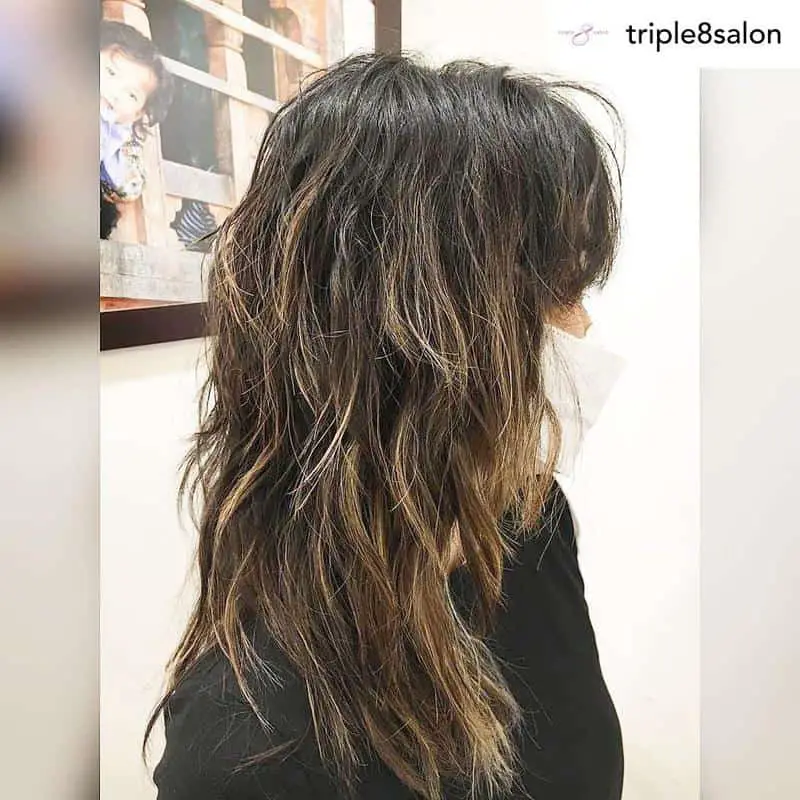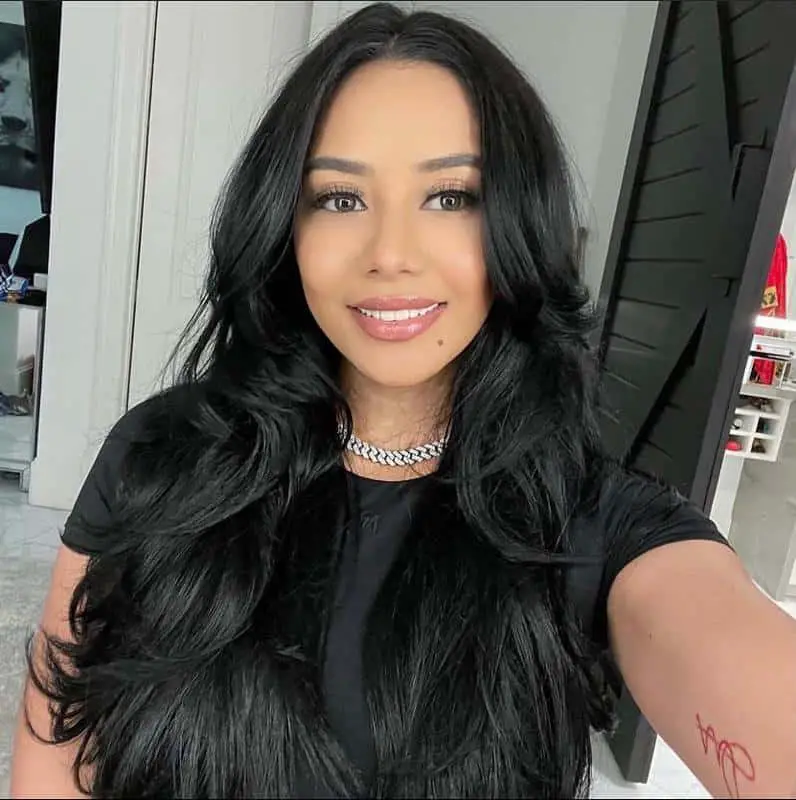 Women with long voluminous hair are left with so many options to consider when it comes to styling. They're also exposed to a great number of different hairstyles and haircuts that they can experiment with without jeopardizing the overall length of their hair.
As shown in the pictures above, some of the best combinations are to combine long layers on long hair. It adds so much movement to your hair and allows lower layers of your hair to be exposed and shine on. Just make sure to have hair that is long enough. Longer layers on shorter hair may make it appear a little brittle and thinner.
Short Layers On Long Hair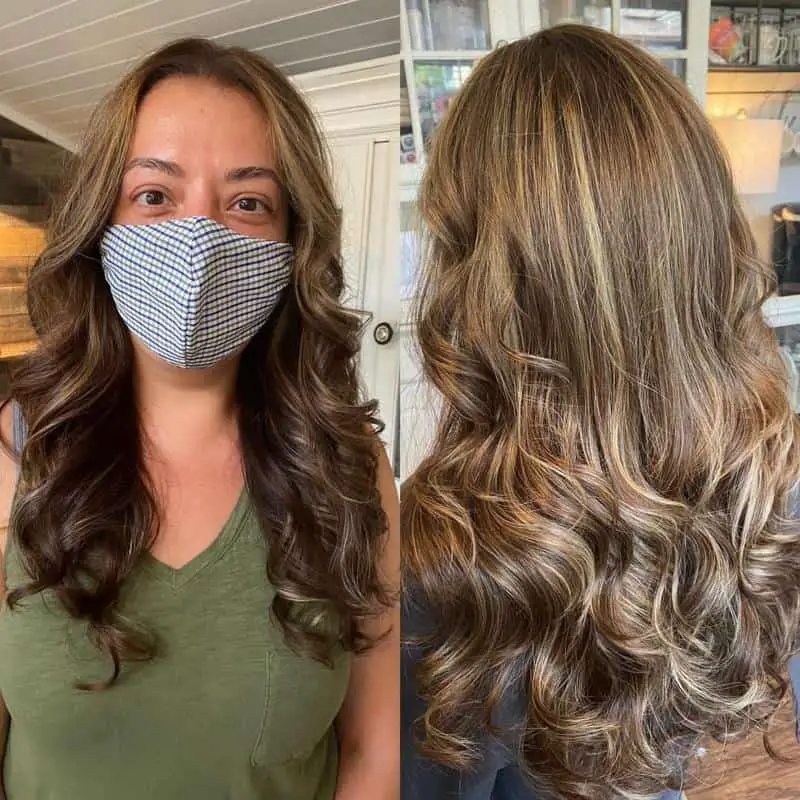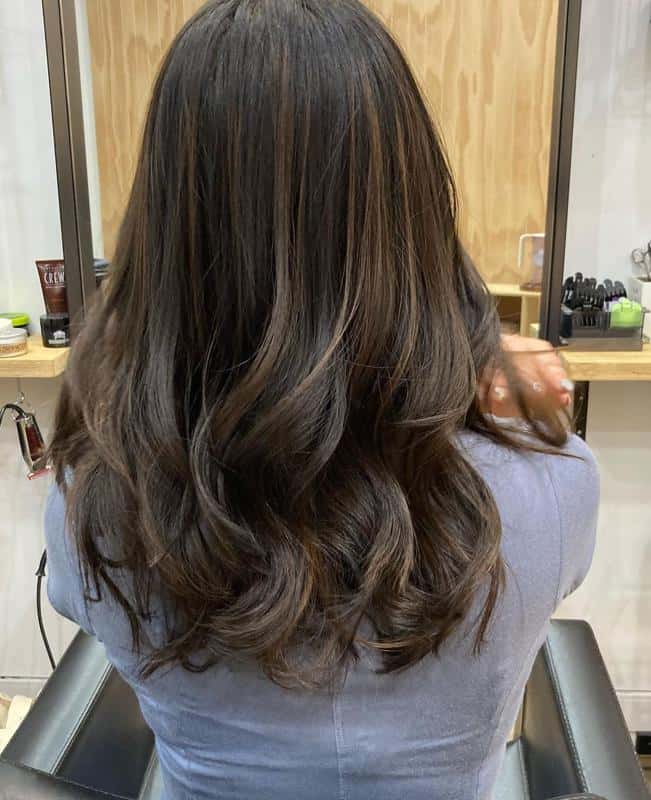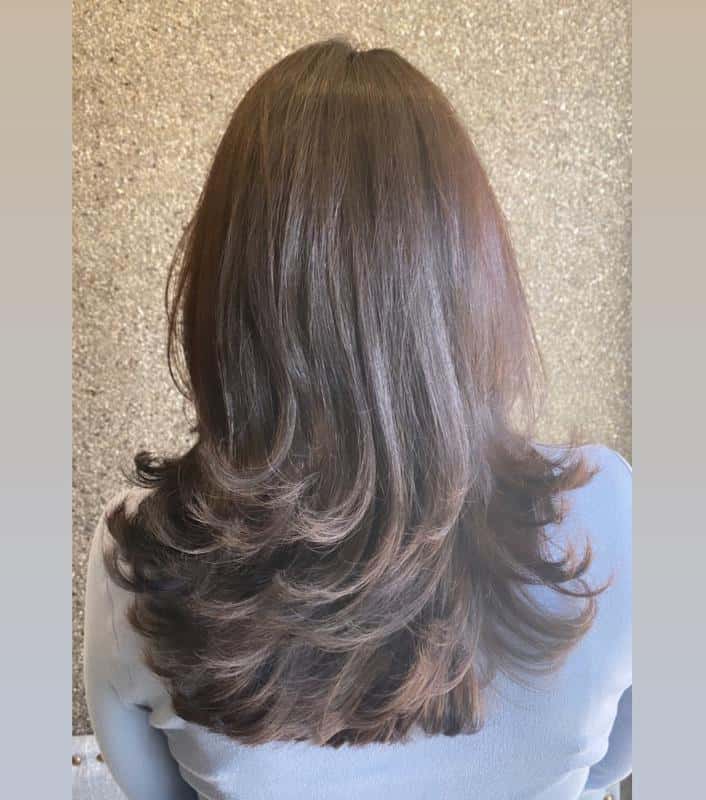 Is appearing subtle with your haircut something that you seriously consider when getting a haircut? In that case, short layers are perfect for you. It will make your hair appear fluffier without compromising on your entire style. Your hair will continue shining, but it will have a bouncy movement and feel dynamic in the process. If you want a change to your hair without looking too dramatic or shaggy, then this haircut is for you.
Layered Hair For Thick Hair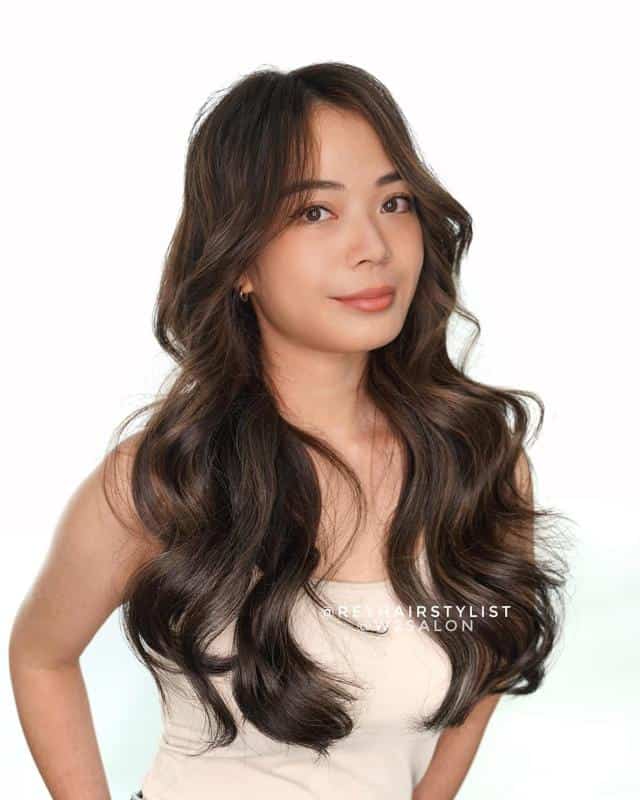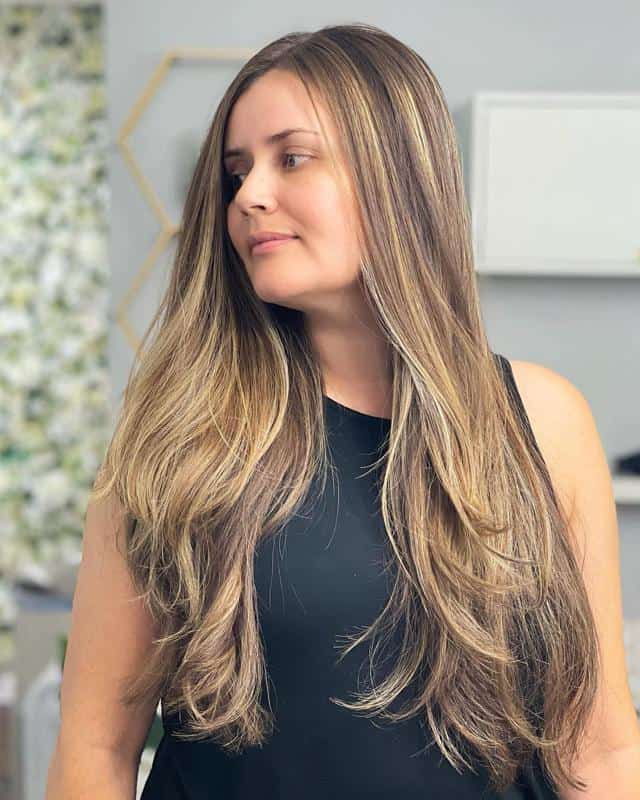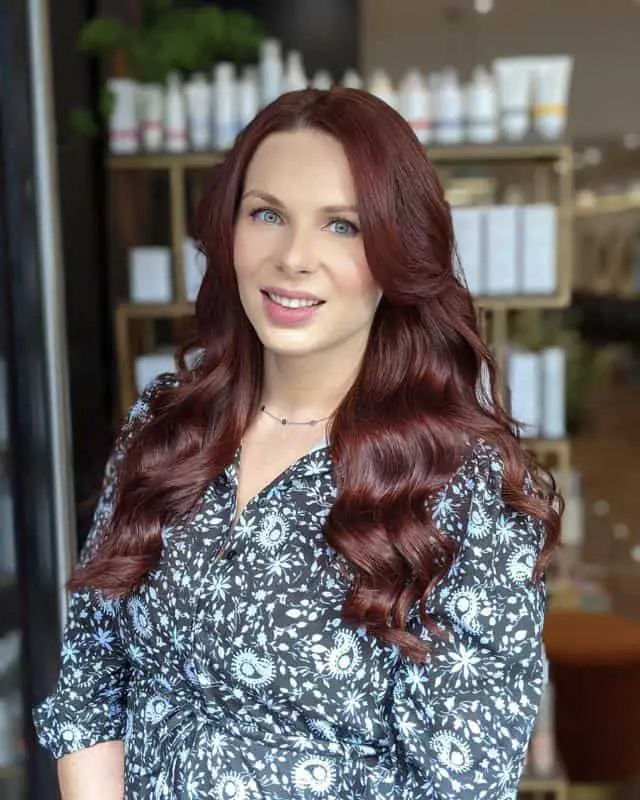 Men and women alike often crave voluminous and thick hair, without realizing that super-thick hair can appear too difficult to maintain. Sometimes, it will look too fluffy and buzzy and be difficult to brush, let alone style. If you want to maintain healthy and thick hair without thinning it, long layers will make it appear naturally thinner without losing its overall density and texture.
Long Straight Layered Hair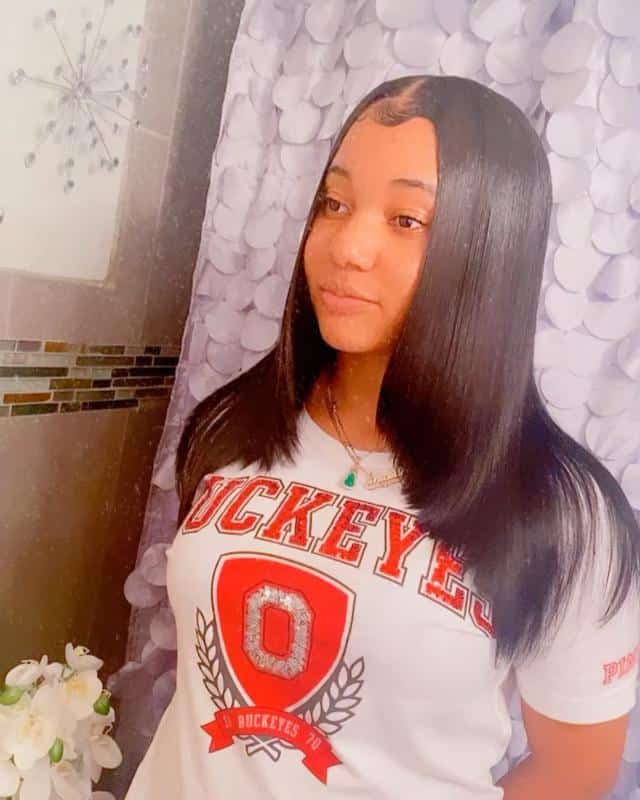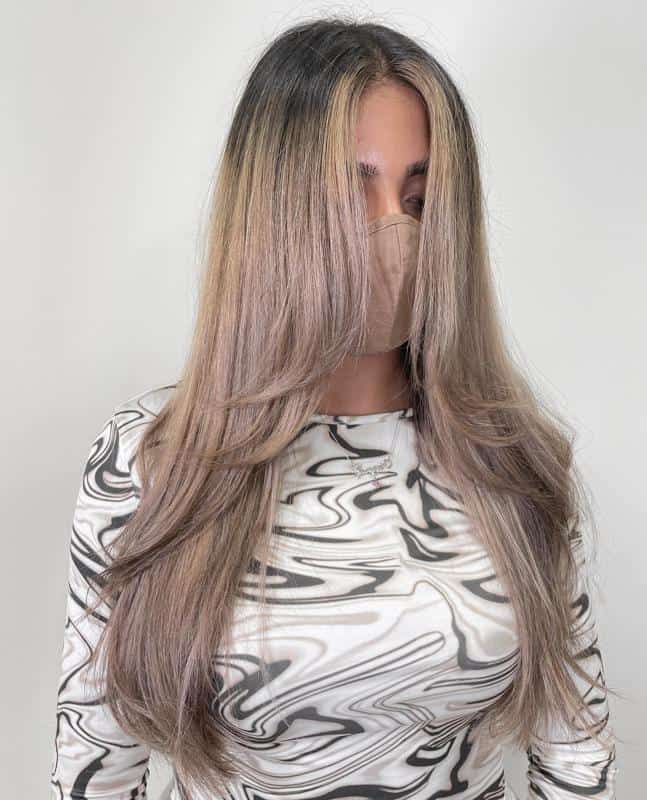 Many women feel unsure about whether they should layer their haircut if they boast straight hair most of the time. The layered straight haircut is sometimes also known as the U and V haircut if that's how you want to style it while keeping most of the layers short. It adds texture, movement and makes the hair appear healthier and more vigorous while it's also easy to brush and style, as shown in the photos above.
Long Layered Hair With Bangs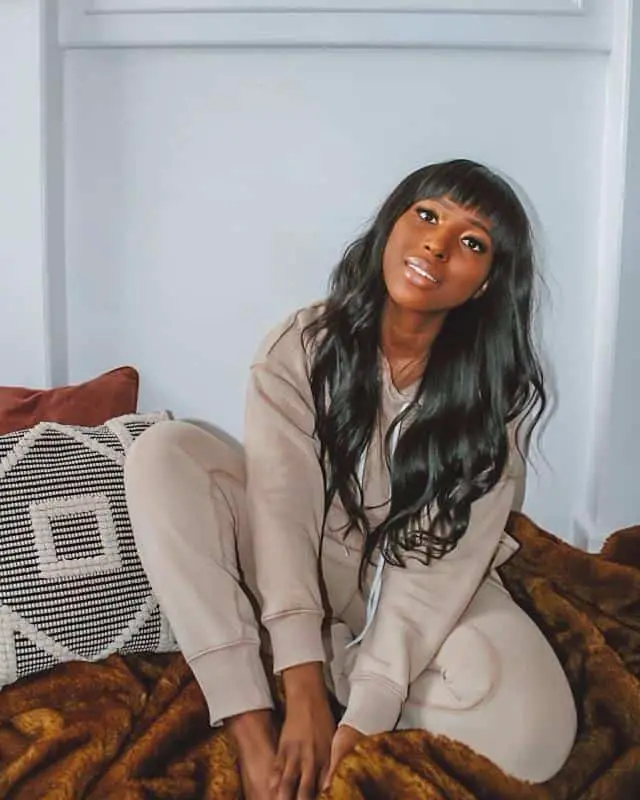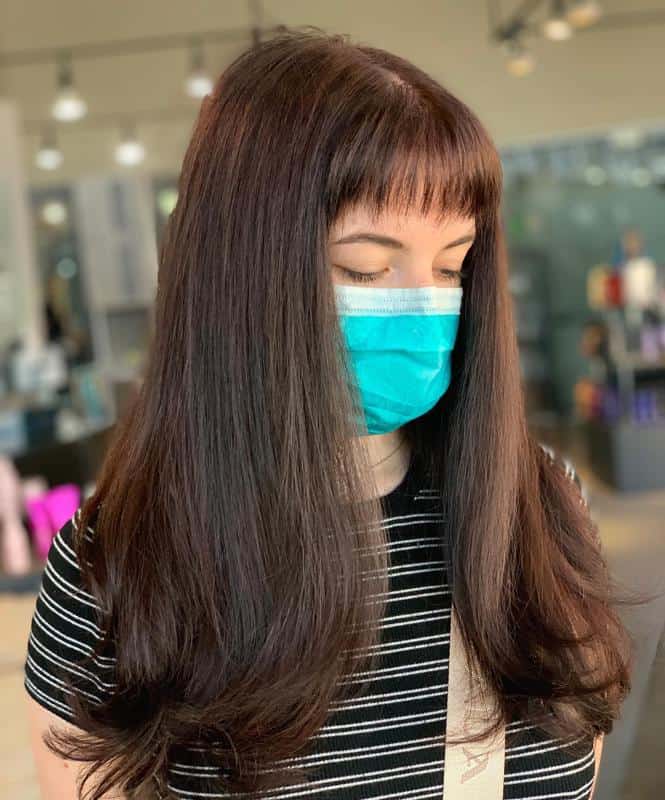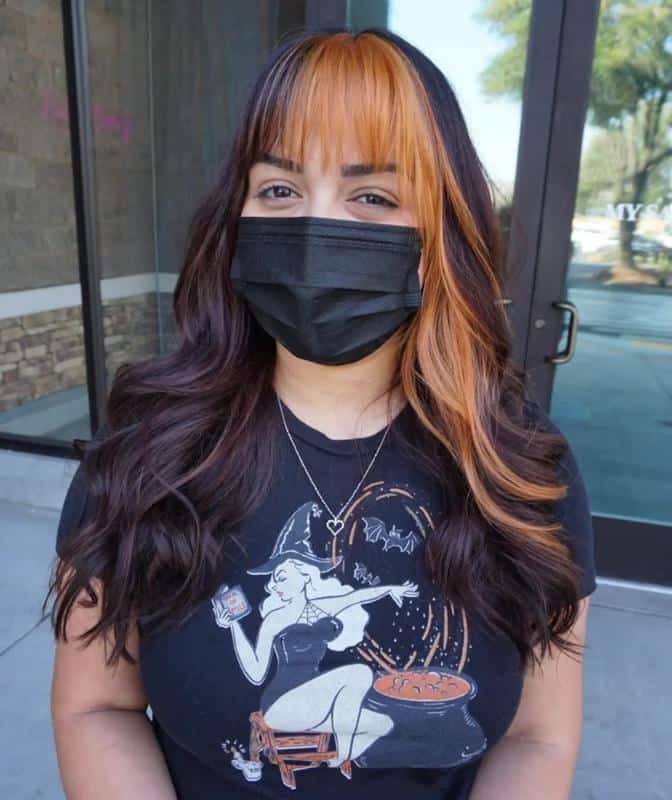 If you don't shy away from having bangs as part of your layered hairstyle, bangs are the ultimate win situation of layered haircuts. They give more texture, while also being quite stylish and easy to maintain for people who have straight hair. They'll also add depth to your overall layered haircut.
Face Framing Layers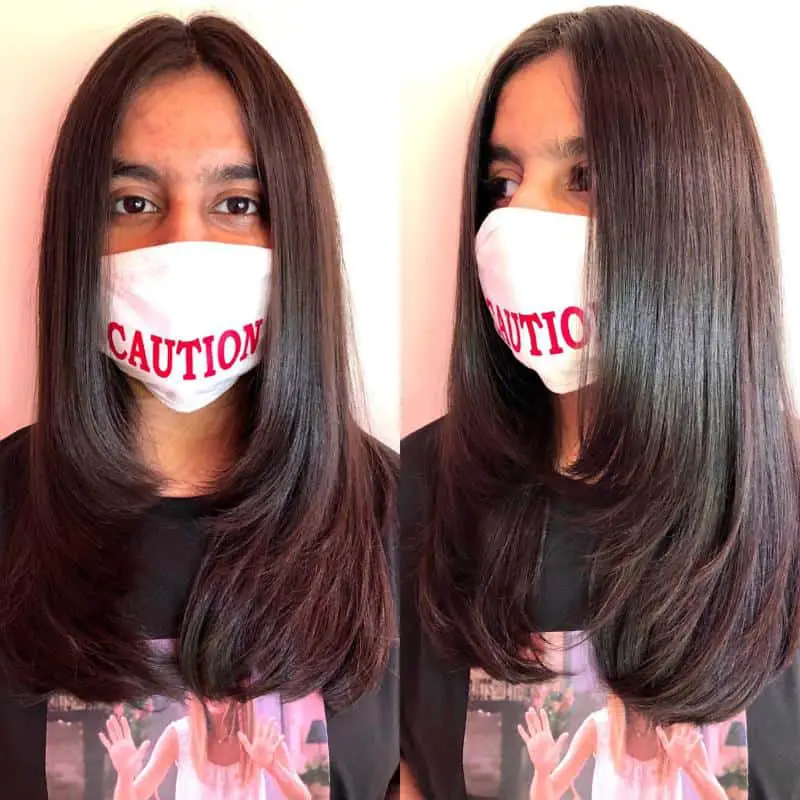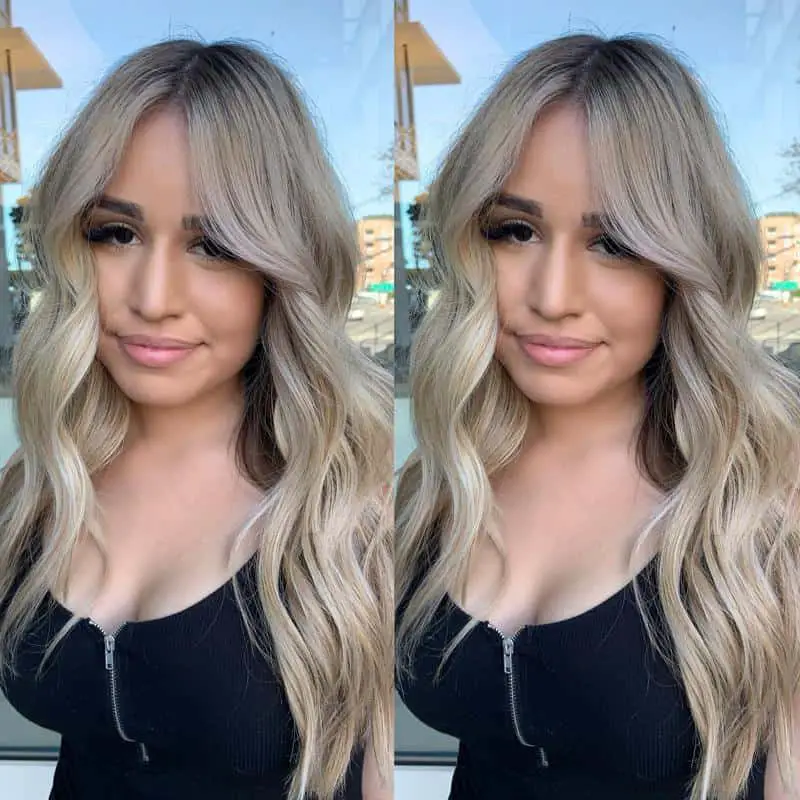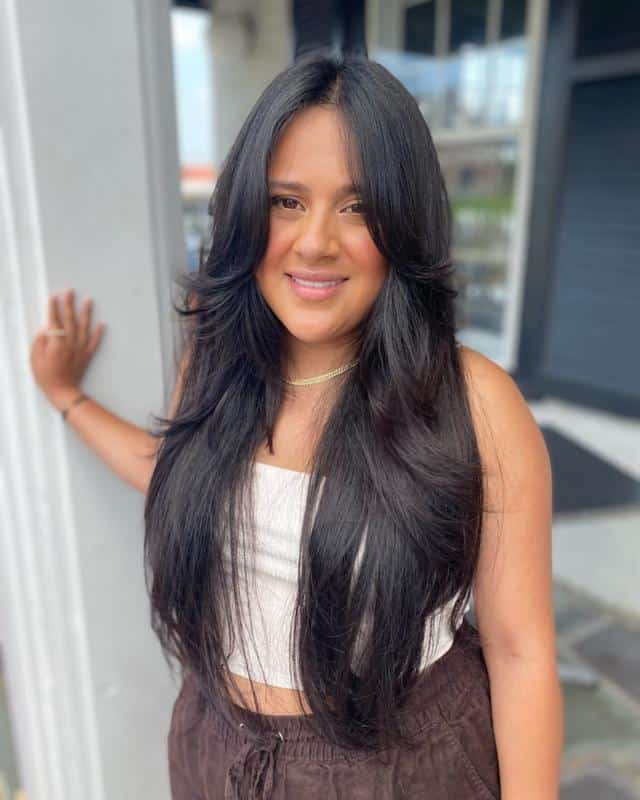 Do you ever feel like hair layers play a great role in how your face complexion is? There are several hairstyles with layered textures that are designed to frame your face and make it appear longer or more round. Talk to your hairstylist about how to layer your hair to frame your face, but make sure to check the designs above for some inspo.
Curly Layered Hair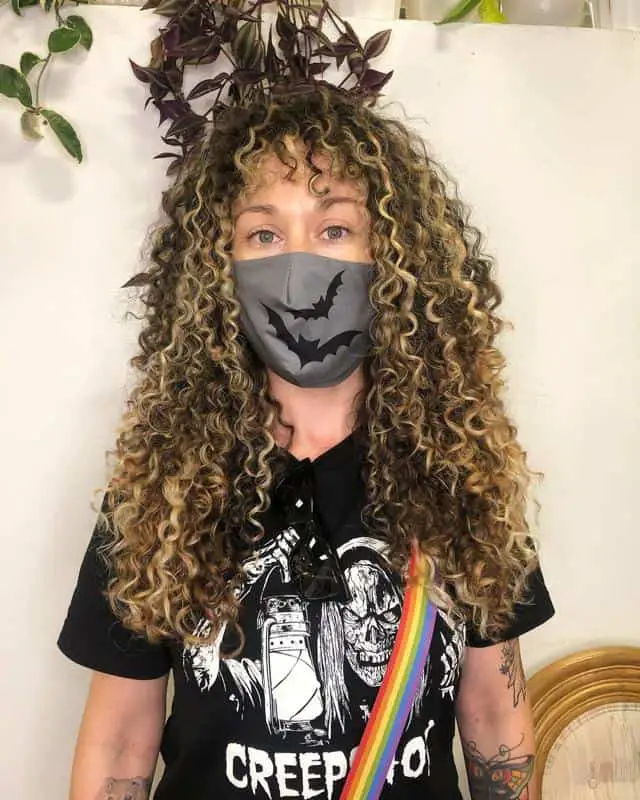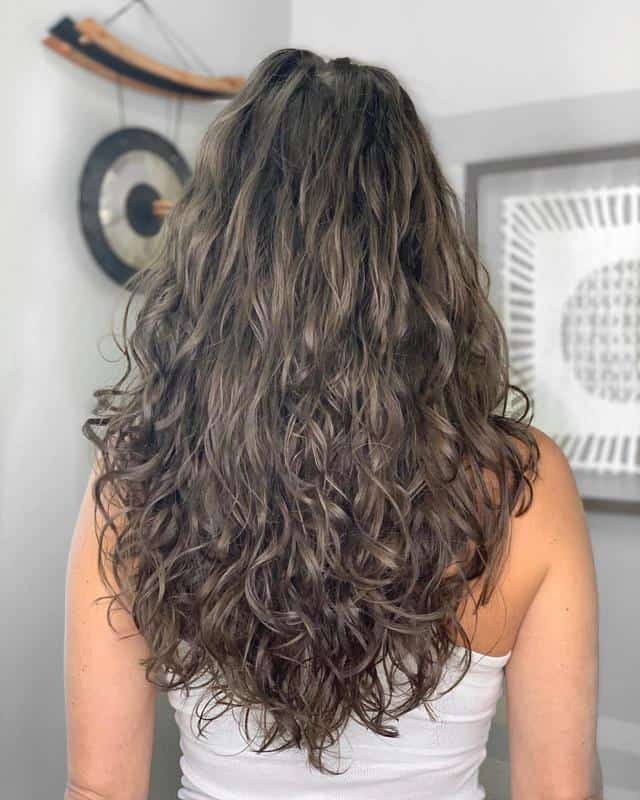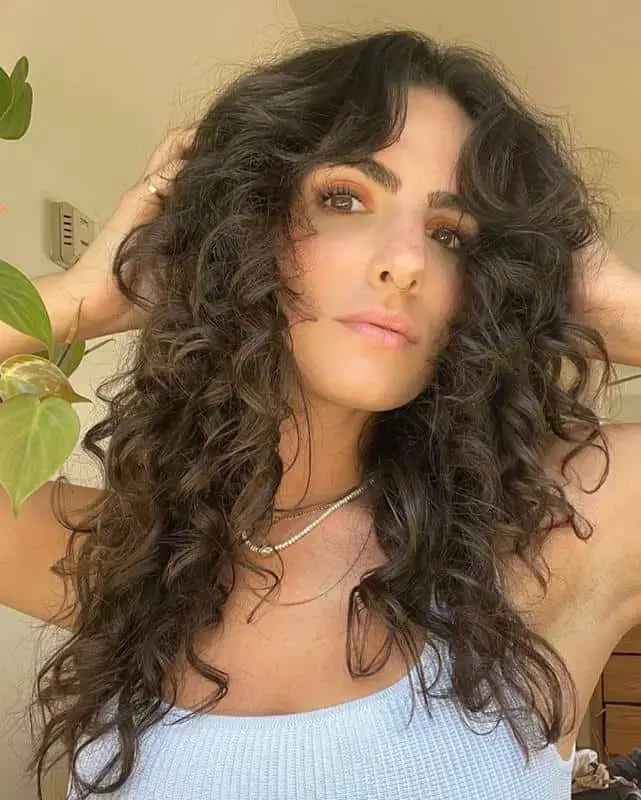 Whether your curly hair consists of general curls, coils, or ringlets, layered hair will look great on you. If you have a long and chaotic curly hair that is difficult to style, long layers will extend your hair's texture and help it get its bounciness back. In addition to everything, layers on your hairstyle will make your hair appear sleeker and it will gain movement.
Long Shaggy Layered Hair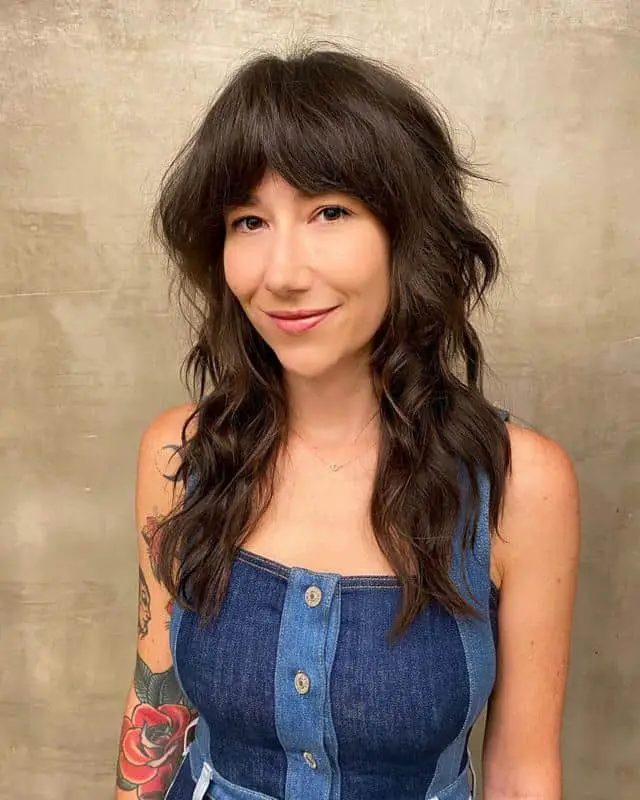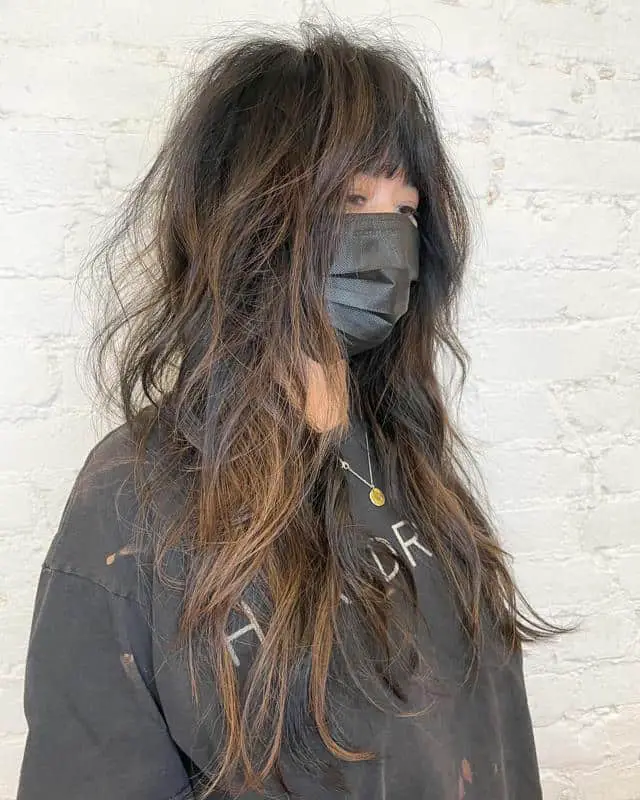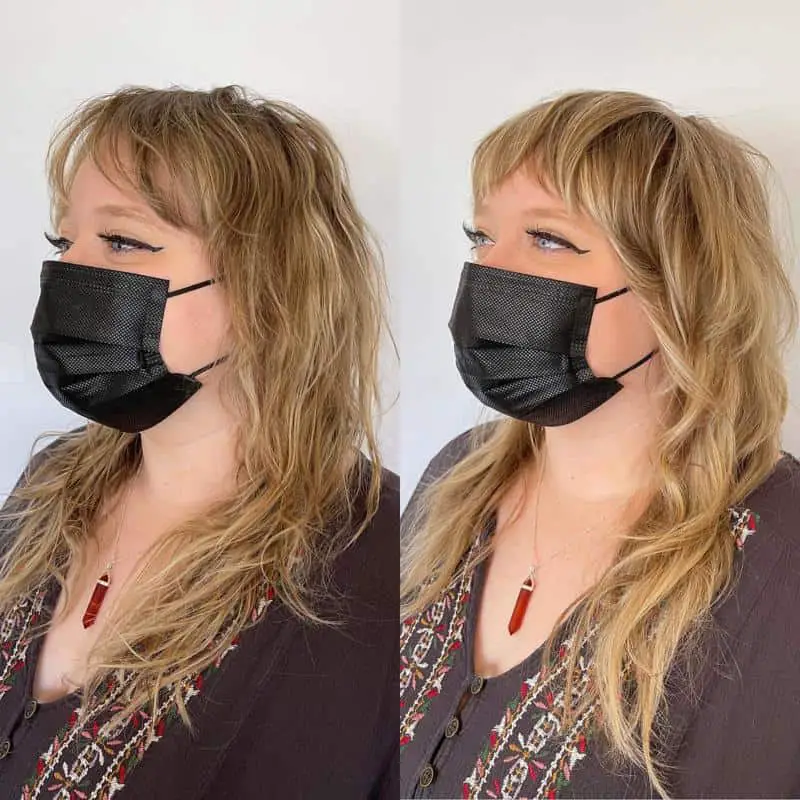 Getting a shaggy layered hairstyle is a bold move, but it's ultimately worth it if you like your hair being restless and wild. With layers, your hair will retain its wildness and freedom, but it will also have a certain texture level to it and feel more agile and bouncy in the process. Whether your hair is medium-long or really long, layers, both shorter and longer look absolutely stunning.
Long Layered Balayage Hair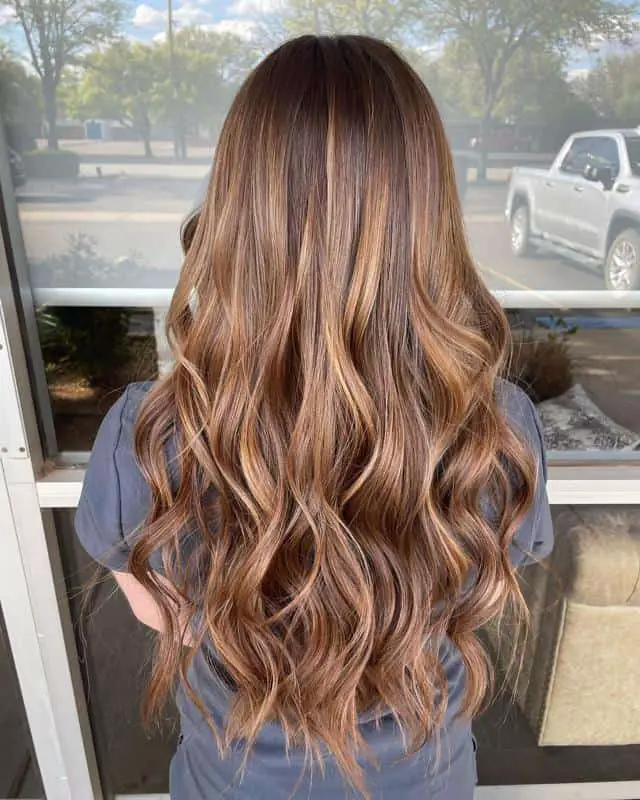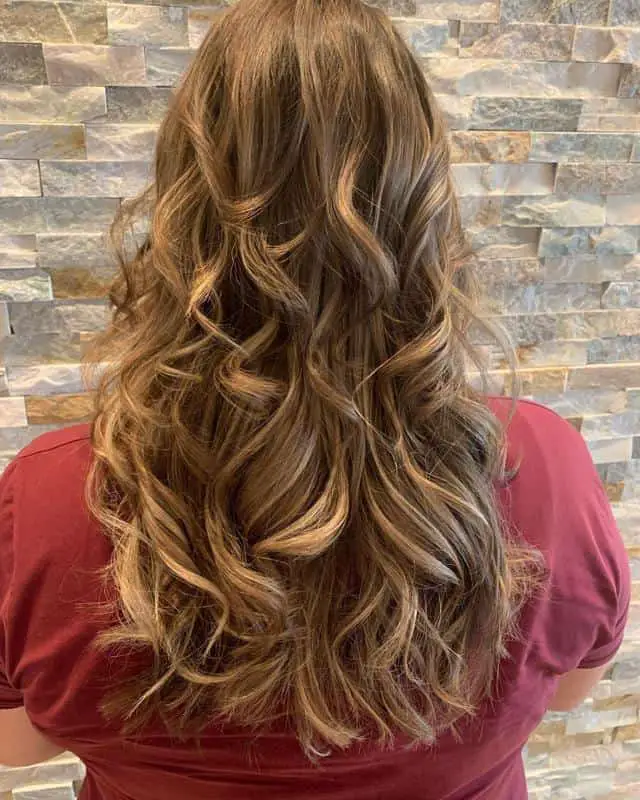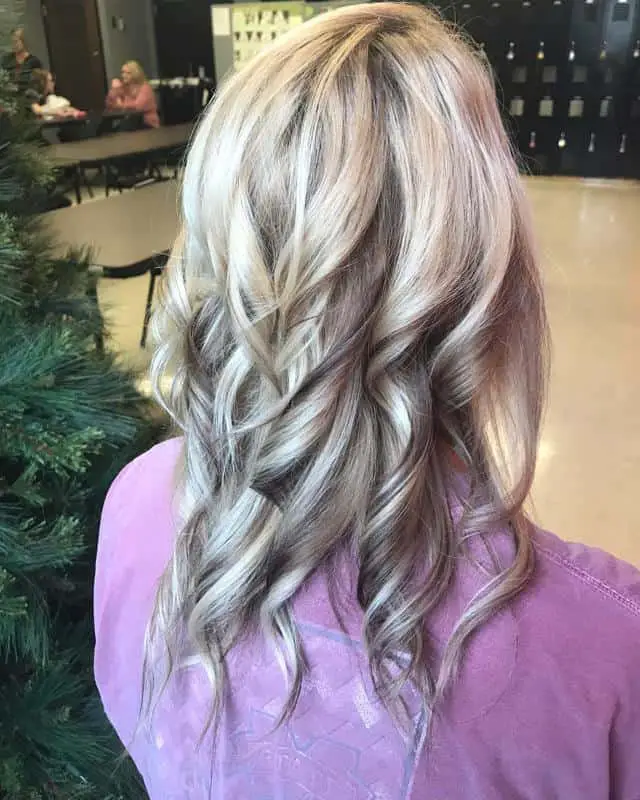 We said earlier that a layered haircut creates a texture, feels trendy and stylish. Add some balayage to it, and you'll get the winning combination that gives your hair more life and an extra dimension. Layers go great with balayage hair, and if the technique is properly made, your hair will shine and take many breaths away.
Very Long Layered Hair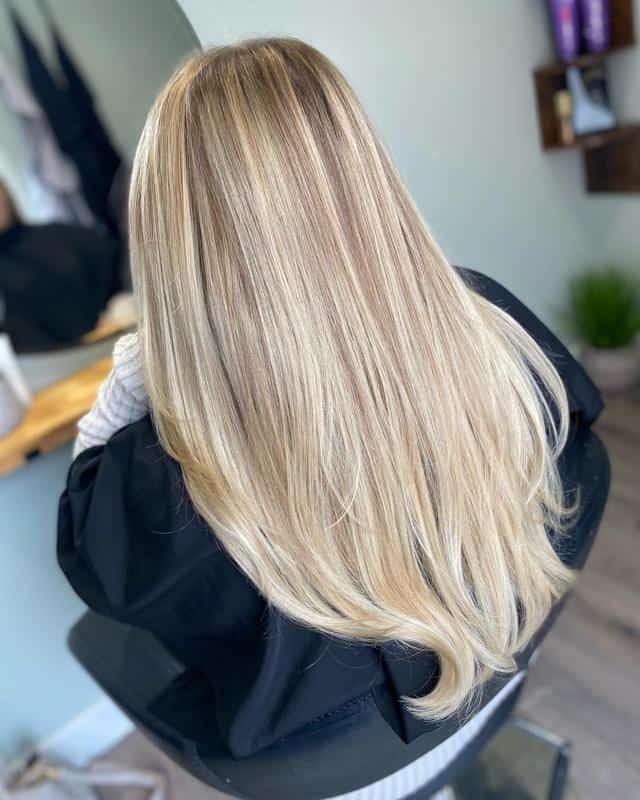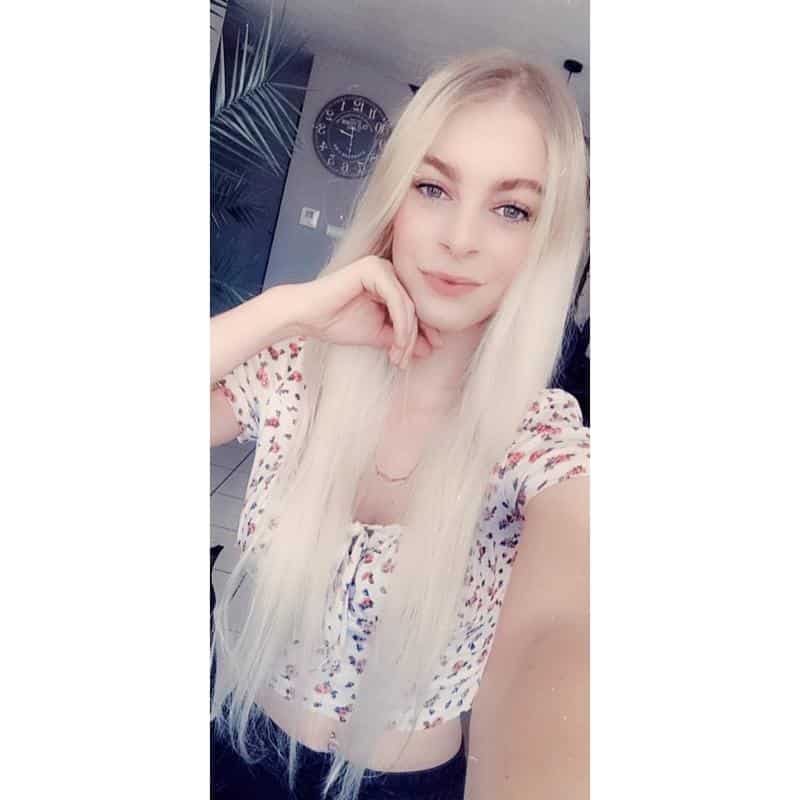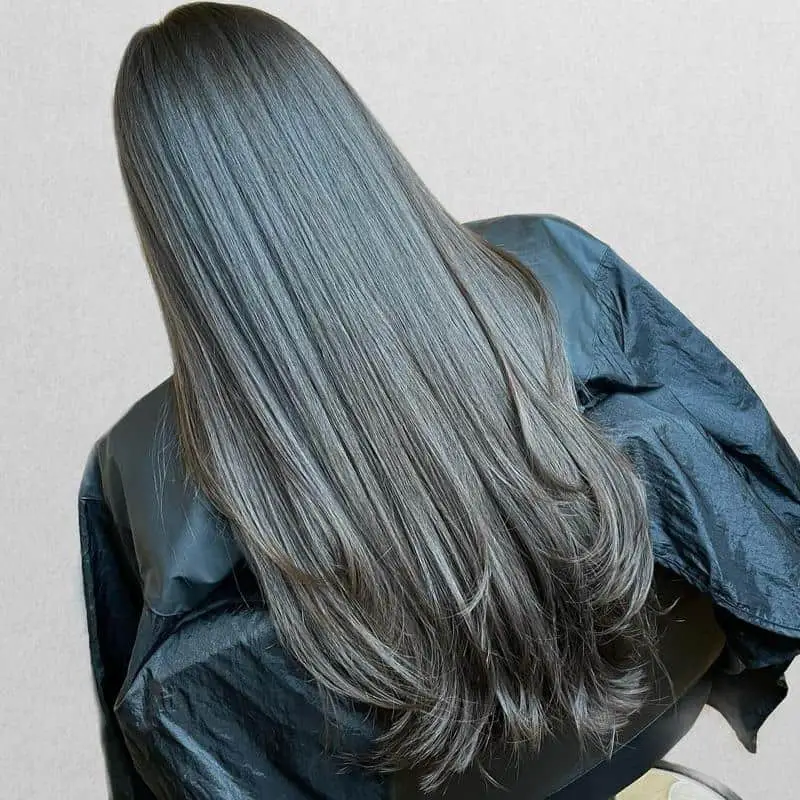 Long hair takes a lot of time to reach. If the hair is healthy, textured, lively, and alluring that just shows how hard it was taken care of. With that in mind, we understand that many ladies are worried about whether they should risk with getting layers or not.
If you want to experiment with layers, feel free to go with long layers and give your hair a deeper look. If you're worried you'll ruin the long hair you've worked so hard for, go with shorter layers and talk to your hairstylist about options that you have.
Long Layered Haircuts For Thick Wavy Hair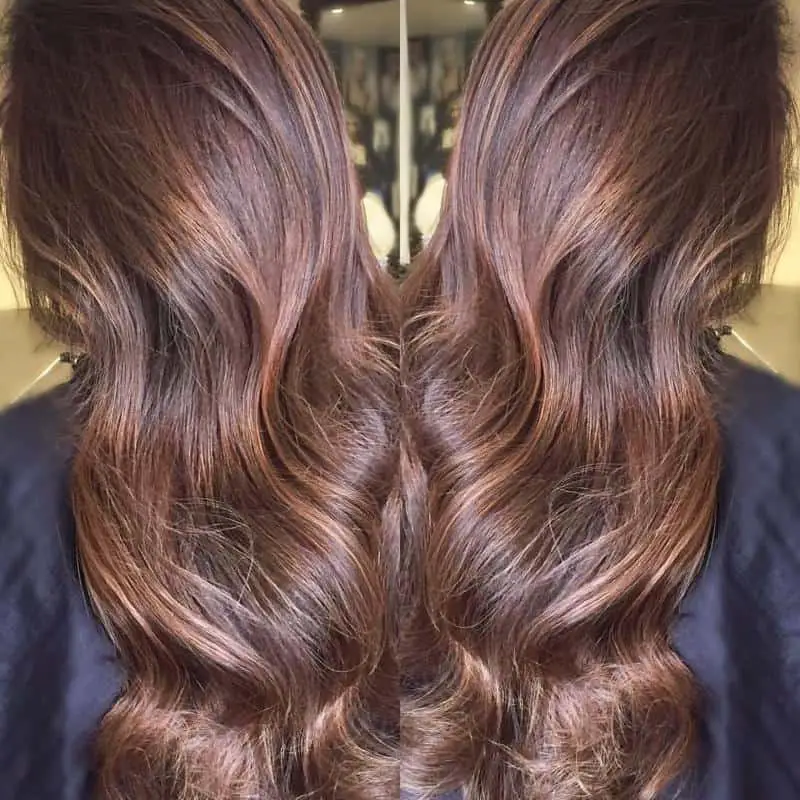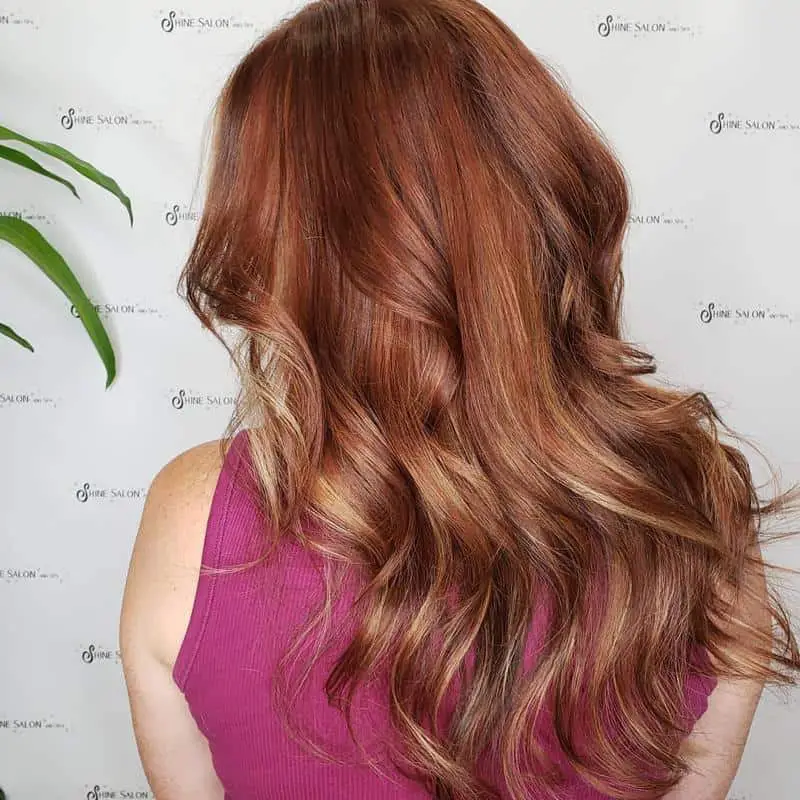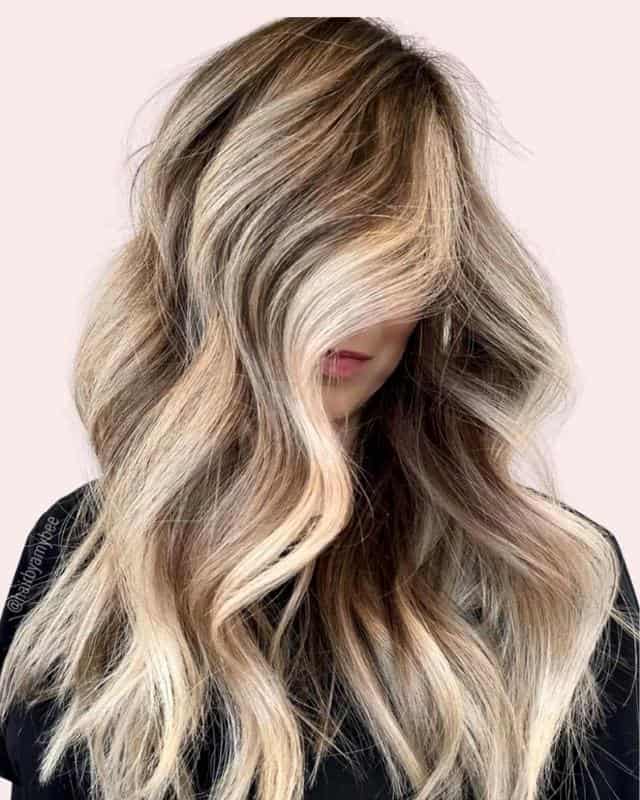 Wavy thick hair and layers go great with one another. Your hair will feel more textured with added depth and dimension, without feeling too fuzzy and rough on touch. If your hair feels too thick, layers will reduce that thickness and make your hair feel like silk, even though it's long and wavy.
Choppy Layers For Long Hair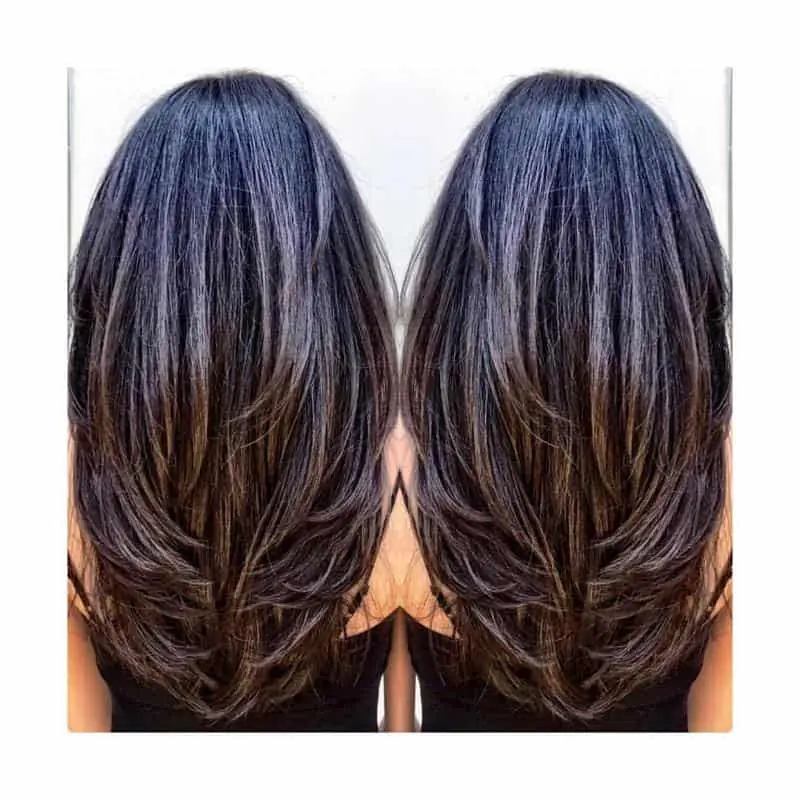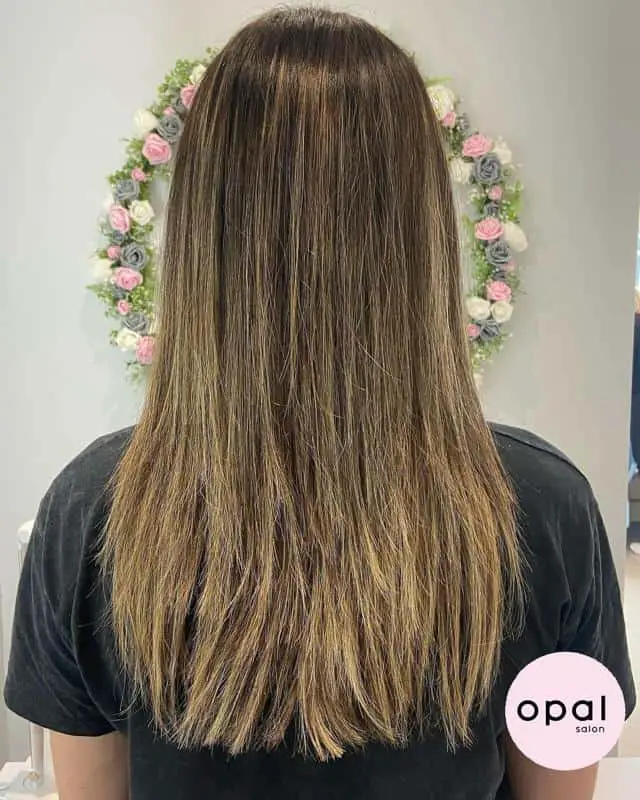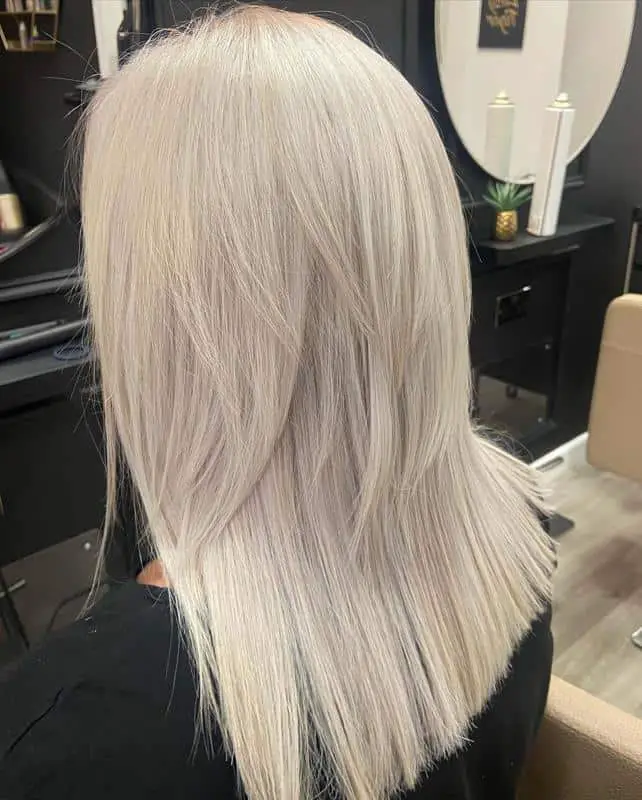 There are a lot of similarities between choppy and shaggy hairstyles. Both feel wild and restless and as if there are multiple-sized layers that detail the hair's texture. For those who feel like chaos makes their hair well maintained, this is a great hairstyle. It also complements the shape of your face and makes you look quite stylish. Add some bangs for a more breathtaking look.
Long Feather Layered Hair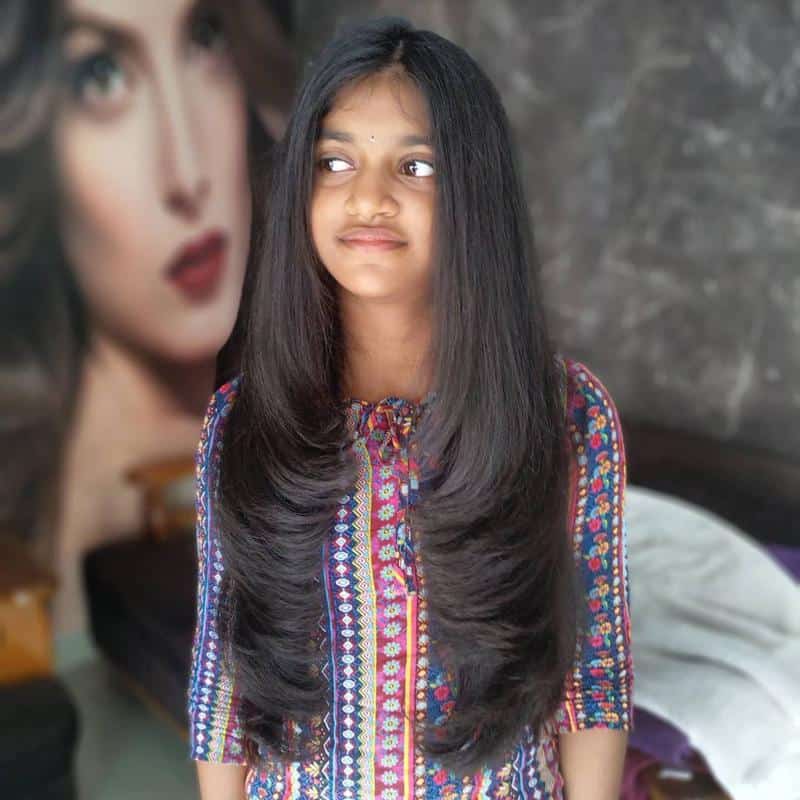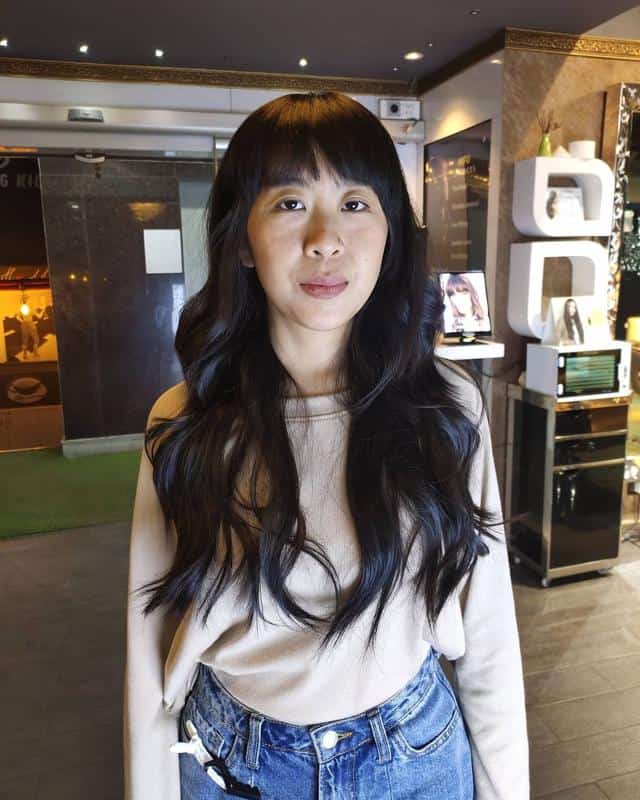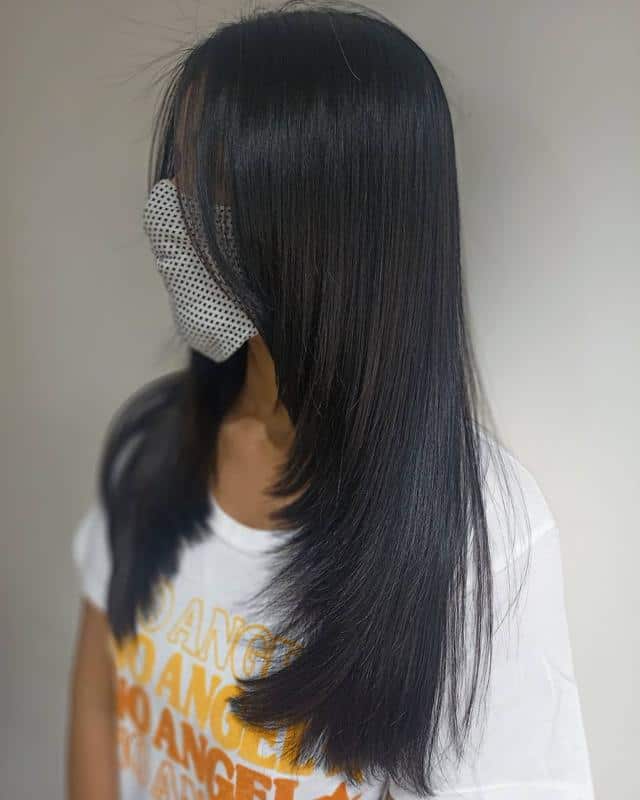 Feathered hair has little differences compared to layered hair. It's a technique that has a special shaping for the ends of the hair. If you combine them with layered hair, you'll get a combination that looks both trendy and classy. The longer the hair the better, just make sure you can take care of that hair properly.
Long Layered Hair With Swoop Bangs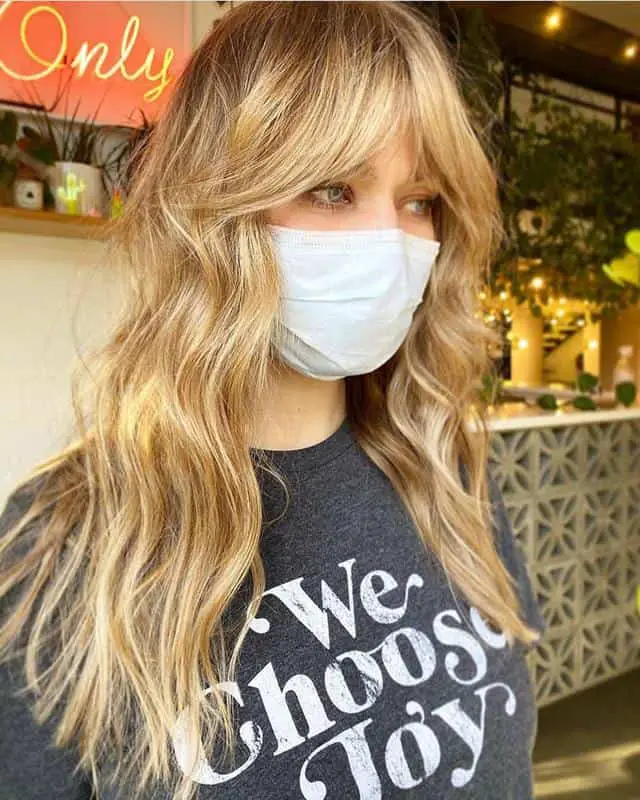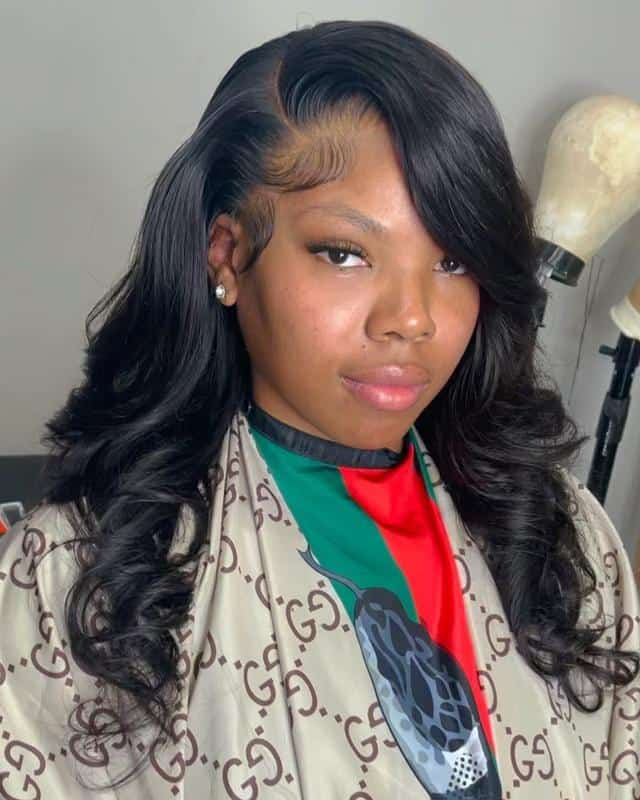 Swoop bangs are commonly combined with layered hair. They offer a nice transition from shorter to longer layers and also enhance your facial complexion. Although they're more popular with shorter hairstyles, they also look great on long hair, as long as you can frequently care for the bangs and style them so that they match with the rest of the hair.
Frequently Asked Questions About Long Layered Haircut
We answered commonly asked questions about long-layered haircuts. Check them out.
Q: Should I go for shorter or longer layers?
A: As mentioned earlier, what layers you'll go for is completely up to you. Still, longer layers usually go with thicker hair and longer. Shorter layers are ideal for those who want to keep their hairstyle subtle, but still, introduce some layered texture and dimension to their hairstyle.
Q: Can you get layered curly hair?
A: Curly hair can be a pain in the neck to maintain at times. The longer it is, the more challenging it is to style and maintain it. It's often very thick, so women face a lot of trouble styling it, especially during the summer months when we're more prone to sweating.
That's why curly hair with layers will cut down some of that thickness and give multiple new dimensions to your hairstyle.
Q: Do bangs look good on layered haircuts?
A: Bangs are always a good option if you want to keep your face complexion rounder and not as long. Nevertheless, they add an extra layer to your layered haircut and generally go well with all styles of layers. You won't go wrong if you keep some fringes to your original layered hairstyle.
Also Read: