21 Gorgeous Bandana Hairstyles For Short Hair That You Will Love
When you shop through links on our site, we may earn an affiliate commission. This educational content is not intended to be a substitute for professional advice.
The icon of the '70s and '90s is back, and it is rocking the world again! Whatever your hairstyle is, a bandana will add a unique sense of fashion. It does not matter if you are into classic glamour, punk, or hip-hop – it will surely match you! This super small accessory is bringing out a strong statement that you are a bold and fierce lady!
And if you have short hair, it will even aid you in hiding bad hair days! So, let us speak now about gorgeous bandana hairstyle ideas that you surely love!
21 Gorgeous Bandana Hairstyles For Short Hair
Did you already buy bandanas? We would suggest you get several you like, in different colors. But of course, make sure they match your wardrobe. And then, you are ready to have some fun by experimenting with different styles! Below find bandana short hairstyles!
Bandana Hairstyles For Short Natural Hair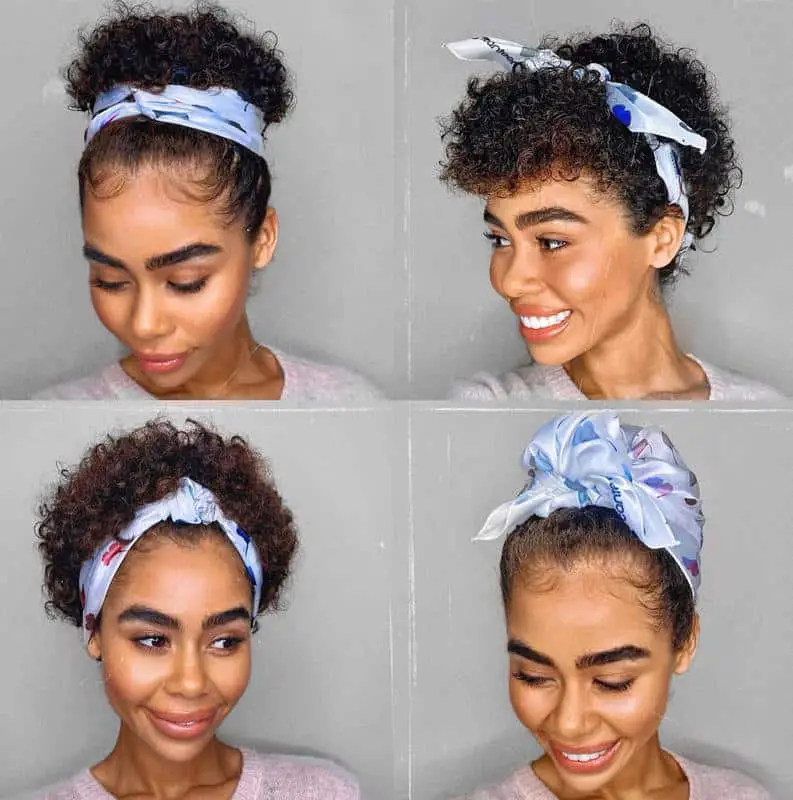 Natural hair is not for everyone. It takes a lot of patience and nursing. After all, it is high maintenance! So, if you have natural hair, you deserve some help to make it stylish and quickly ready to go! Bandanas are perfect accessories for natural hair. You will not need a lot of money, and it will still protect your hair.
Bandana Hairstyles Curly Hair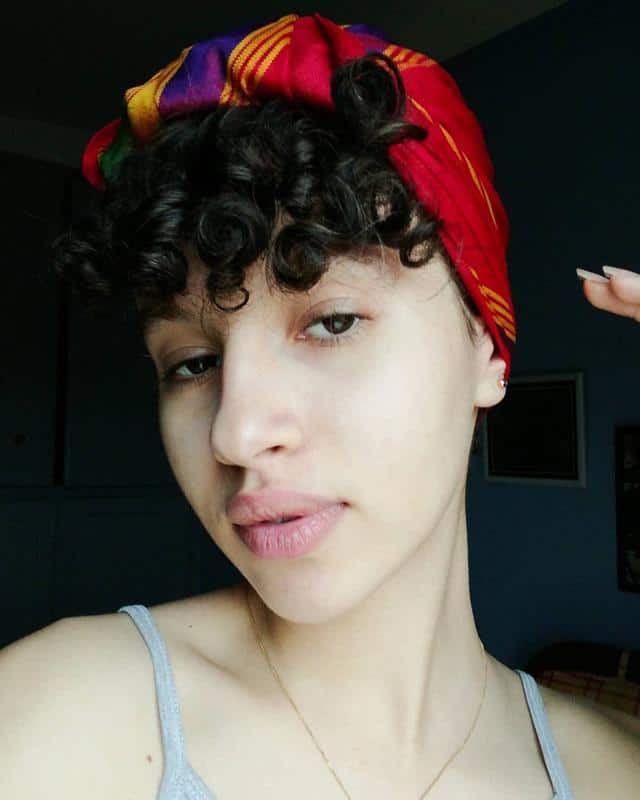 Do you know what we love about curly hair? Every curl is unique! So, if you have it, be proud of it because it makes you stand out from the rest. Once in a while, you could make it even more glamourous with a bandana!
All you have to do is put the bandana approximately an inch over your head and then tie it double at the nape of your neck. Loosen the clip and set your curls free! It is a super cute bandana hair style if you ask us!
Top Tie Bandana Hairstyle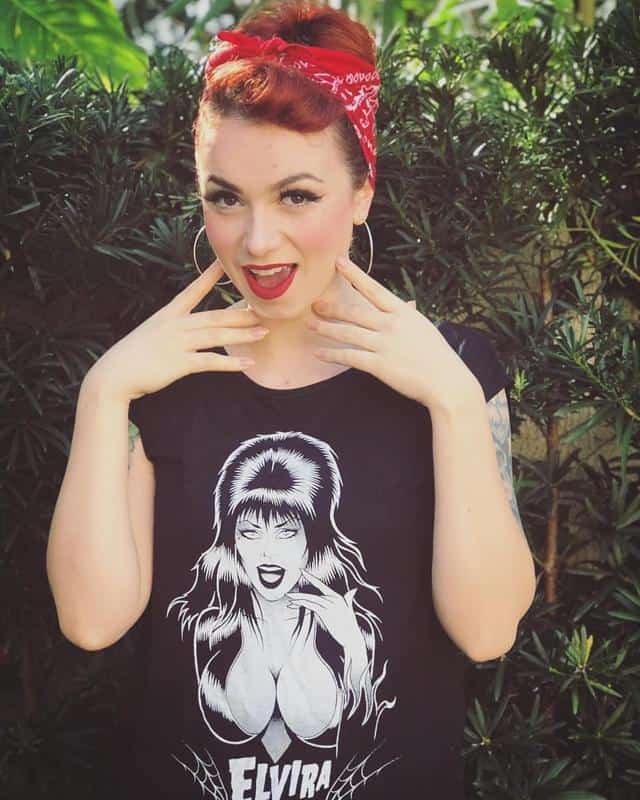 The top tie is an easy bandana hairstyle! It is simple to do it, and it is a great way to keep your hair away from your face. Brush your hair backward, and then secure it with a bandana. Tie it on the top, and you are ready to go! It is probably one of the favorites girl bandana hairstyles!
Large Bow Bandana
If you have an extravagant personality, you need a hairstyle that will match that look. Tying a large bandana into a bow will join in the beauty that you are representing.
Beehive & Bandana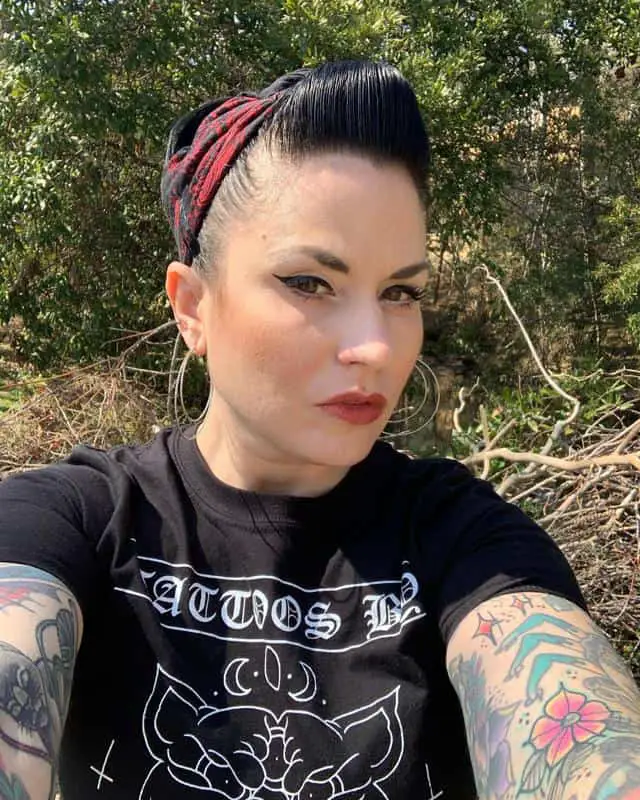 A pixie is a haircut technique that makes your hair shorter on the back and sides and longer on the top. Some people believe that a pixie cut only fits a particular face shape. Yet they are wrong!
All you have to do is wear it with confidence! But that required attitude is the same when you wear a bandana! Also, a bandana will help you to add some volume to your hair. How to do it? Tie it around your head, and then pull it up and backward with the hair.
Asymmetrical Tie Bandana Style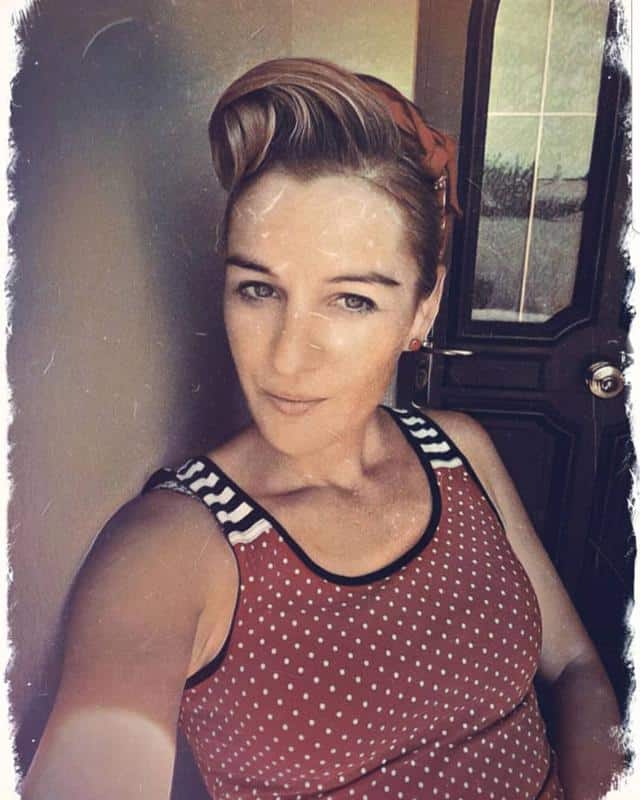 Asymmetry means having two different sides but trying to make balance. And there is something very artistic in that! It is no wonder that tying bandanas into this style is winning the fashion world so fast!
Hide it With a Bandana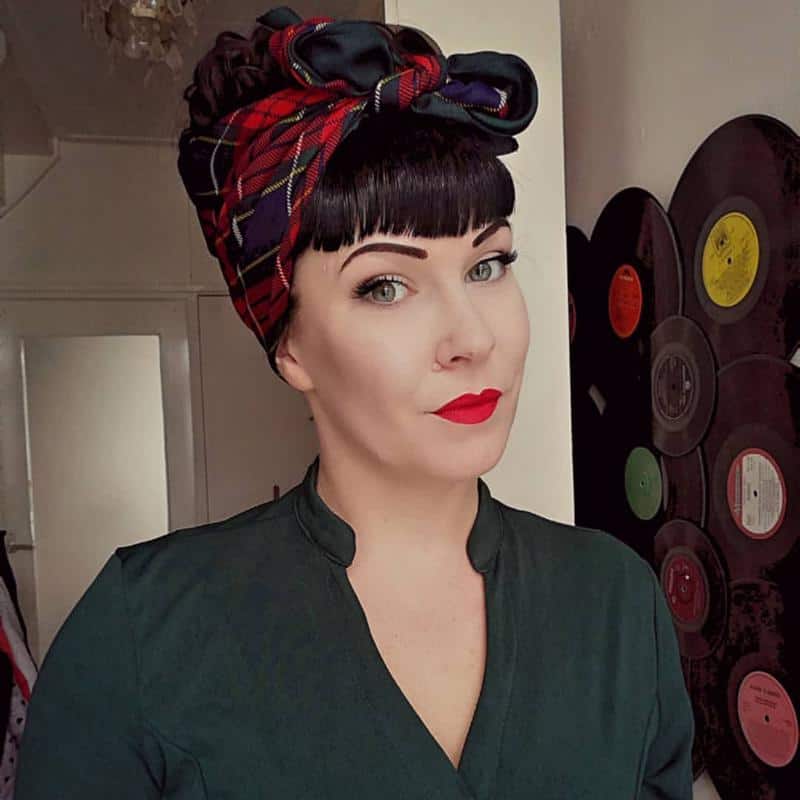 An undercut is making a strong statement that you have a rebel personality. But no matter how rebellious you are, sometimes you need to hide it – for the sake of the work, for example. Or maybe you want to soften your look for a change and not give a rough impression. Bandanas are a great solution for this!
Bandana As The Accessory
A bandana does not always have the purpose of fixing your hairstyle. Sometimes is there as a pretty accessory, and nothing more or less than that! You could do it easily, in the traditional way, without compromising the vogue.
Kerchief Style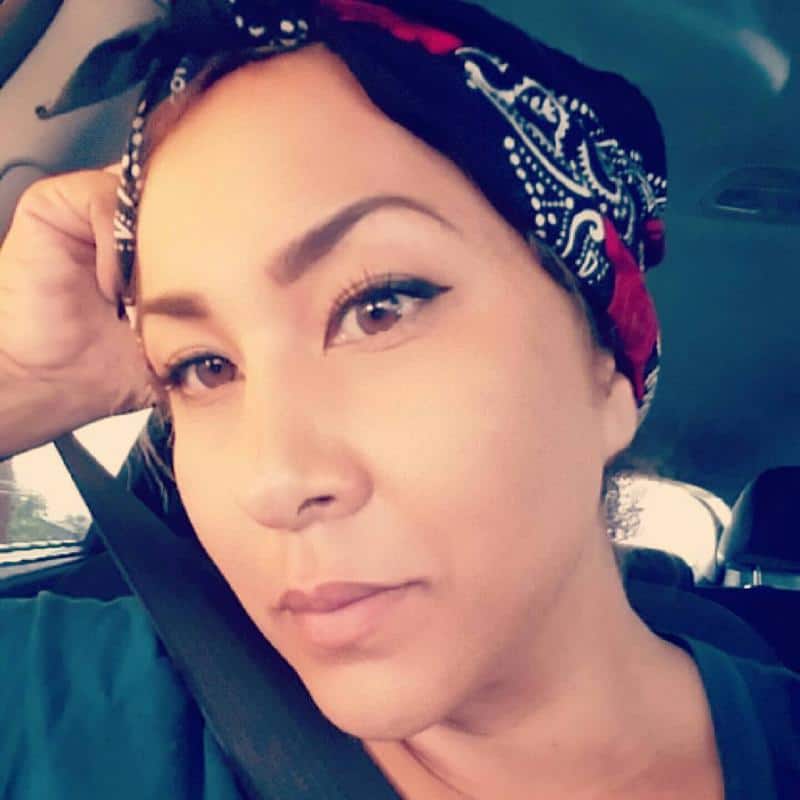 Do you have a really bad hair day? Maybe you did not have time to wash it. Or, you might be cooking and you want to your hair be out of your face, and not to catch some smell from the food at the same time! Do not stress: bandana can assist you in covering your whole hair and still look beautiful!
Messy Style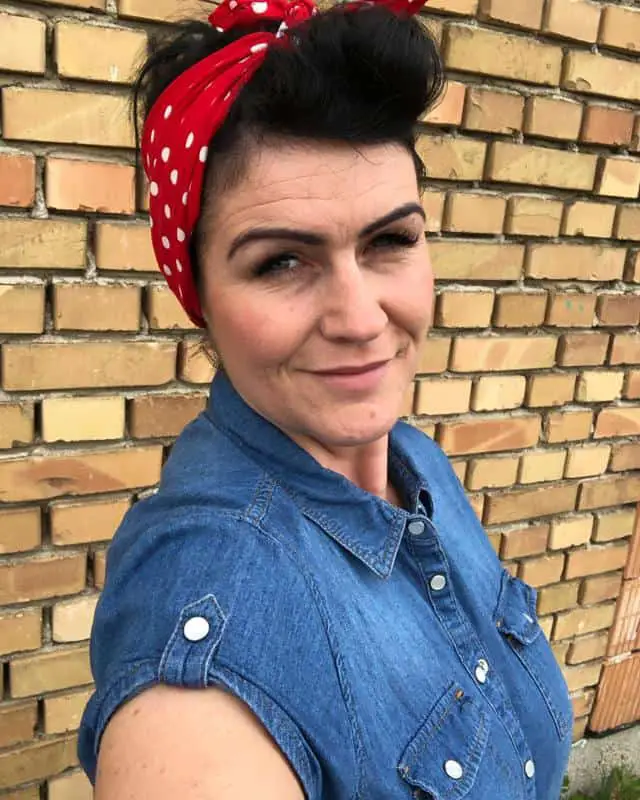 Wearing a bandana does not mean you need to keep it neat! Are you into the messy arrangement? It surely matches your personality as someone who does not follow any rules! So, when you tie your bandana, do it in a way that messes up your hair even more!
Military Bandana Style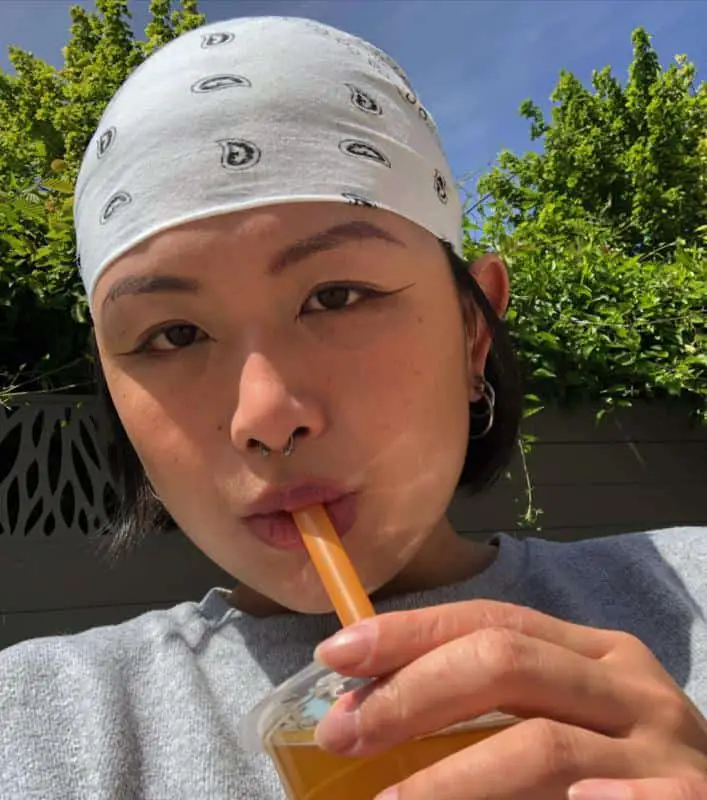 Military-style is way more than just a passing trend. At this point, we can all agree it is evergreen! But did you know that this style might be a way to save your head from the intense sunlight? Yup! The bandana will cover the big area of your head, including the forehead.
High Contrast Bandana Hairstyle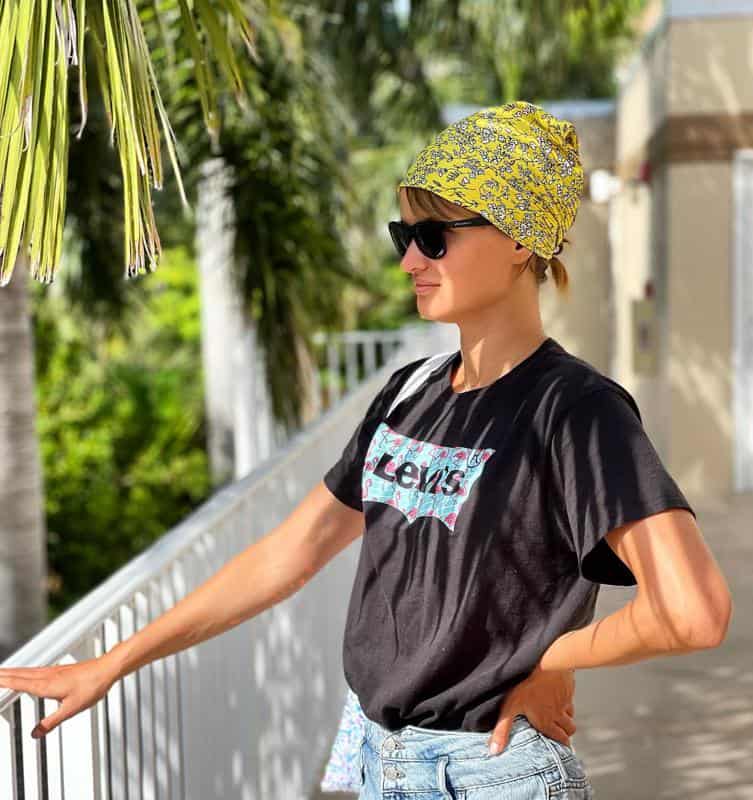 You have long hair, but sometimes you would love to see how it would look like if it is short. Yet, you do not want to cut it because you would miss it. Stop your worries right there! Lift your hair and arrange it below a bandana, and everyone will think you have done a haircut!
A Tousled Tie Wrap Bandana Hairstyle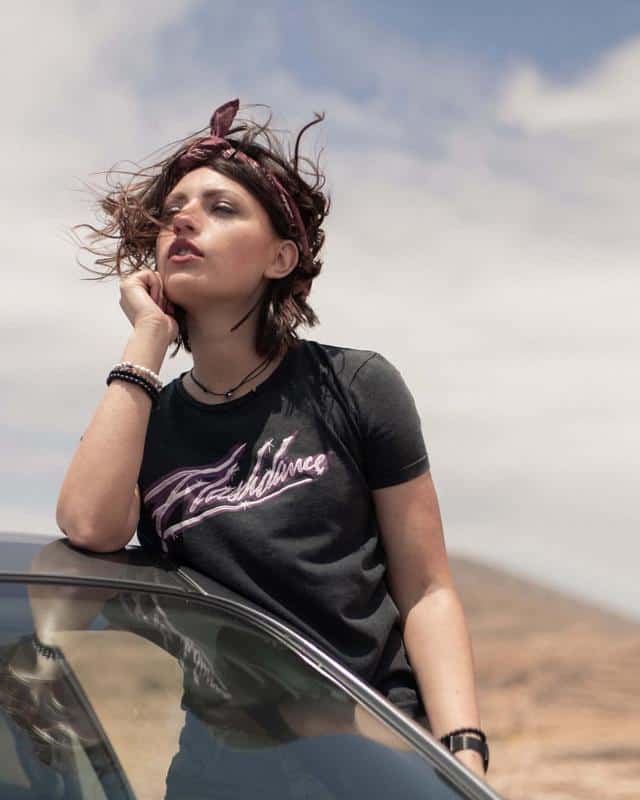 Tousled messy hairstyle is pretty much yelling rock'n'roll. Imagine adding to that a simple bandana wrap? Perfect, right? And it is so fast to do it! All you need is to brush your hair, tie a bandana, and you chic already! We do not agree that laziness is a sin!
Bandana with Voluminous Bangs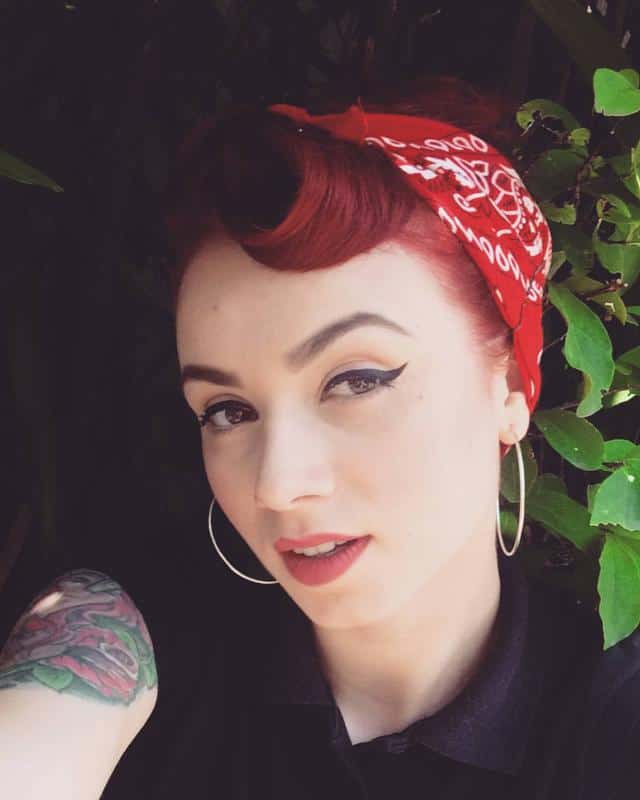 Voluminous bang is an evergreen that turns you younger. So, you can already imagine that it is one of the most loved styles among women! First, buy some gel because you will need it! Apply it on the bangs and brush it gently. Then knot a bandana around your hair. And you are ready to do some business or to rock the nightclub!
Inverted Bob with a Bandana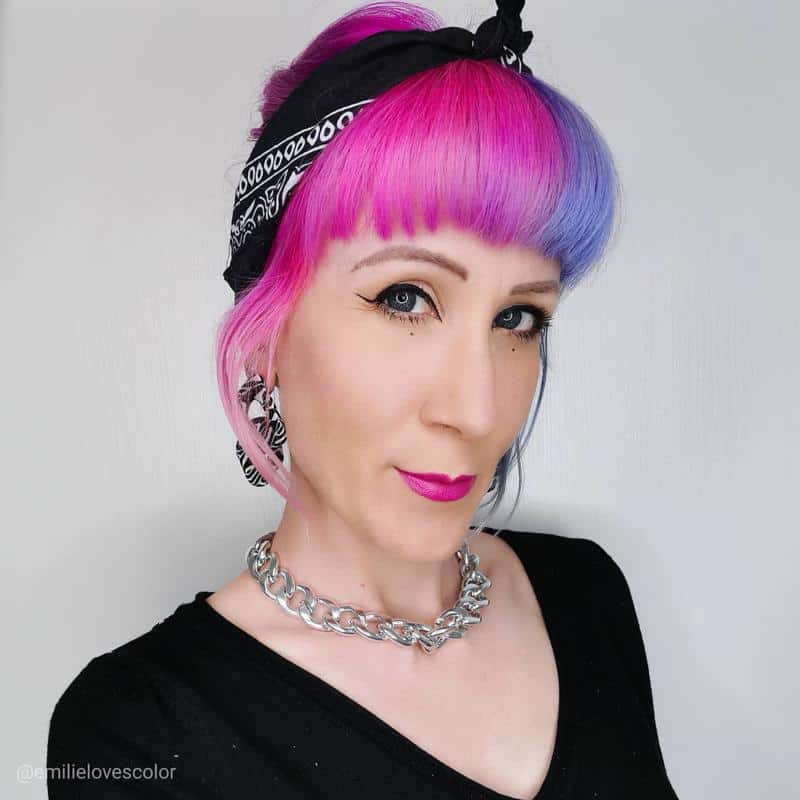 We love the inverted bob hairstyle! In case you are not sure what it is, let us explain! The inverted bob means that your hair is shorter in the back and a bit longer in the front. It is just one of those hairstyles that makes you look extraordinary. But to make it even better, you could tie a bandana around it. When you walk down the street, you will have all eyes on you as they admire your charm!
Pin Up Bandana Hairstyle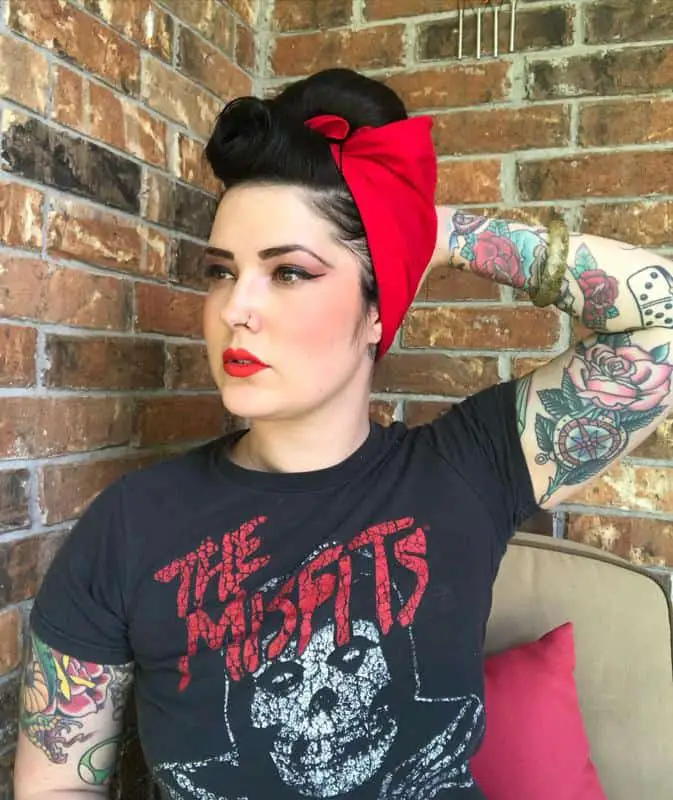 Do you often pin up your hair? Yes? Perfect, we got something for you! Picture this: Pinning up short bangs by wrapping them and then adding tousled waves. And, as a finish, putting a bandana over it. You love it, right? Then go and do it now!
Vintage Bandana Hairstyle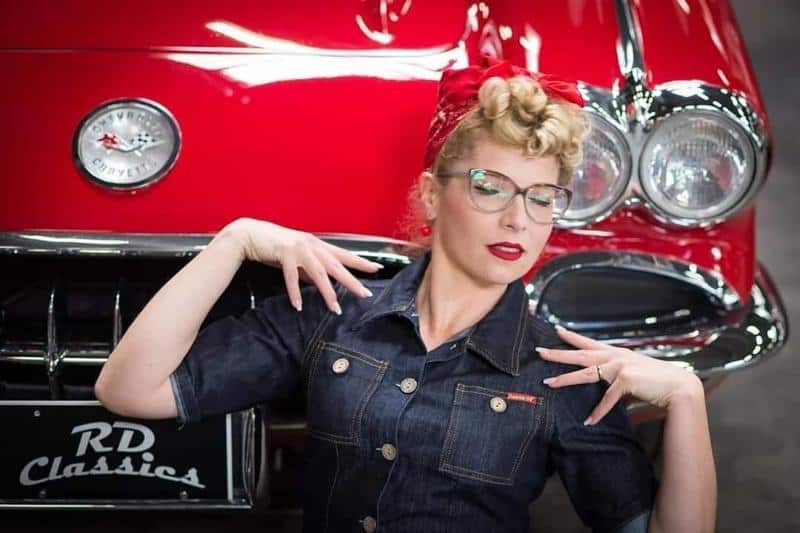 Do you know the reason why people love vintage? It is built to last. It is never-ending elegance. Thus, this could become your new favorite bandana style! Neatly pin up your hair, and then tie up your bandana. And, of course, be ready to impress.
Bandana Updo Hairstyles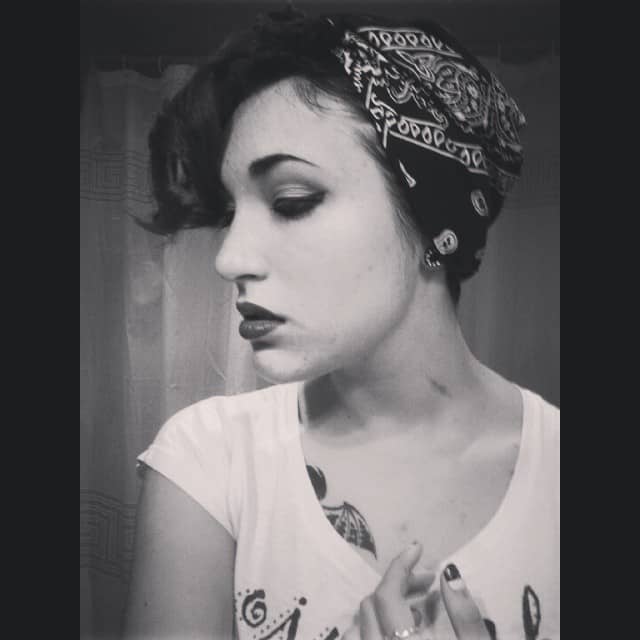 Do you remember that iconic feminist poster with a woman wearing a bandana and showing her muscules? This hairstyle became famous thanks to it! Now, there are many variations on how you can do it. But we recommend you put your hair into an updo. Then secure it with hairpins, and just then put a bandana on it. It is best to tye it on the top. And the curls out!
Bandana Hairstyles With Bun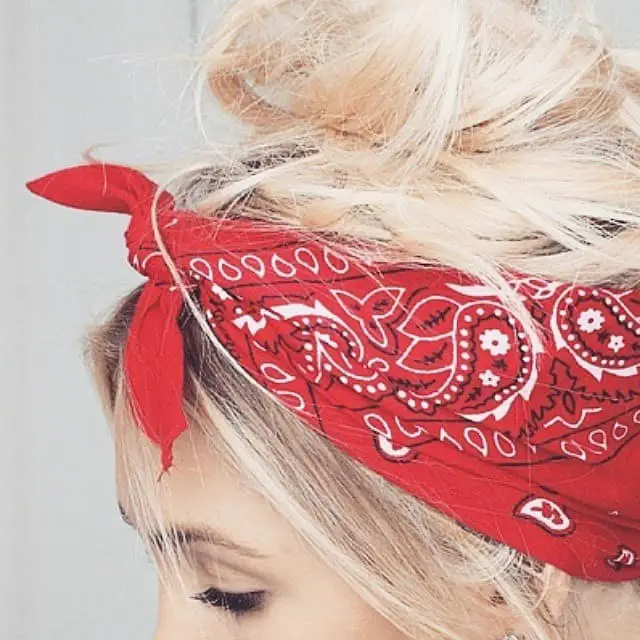 Buns can be super attractive, besides being comfy. And it requires minimum effort! All you have to do is put your hair into a bun, and then tie a bandana over it. To make it extra stylish, match the colors of your clothes and your bandana.
Bandana Headband Hairstyles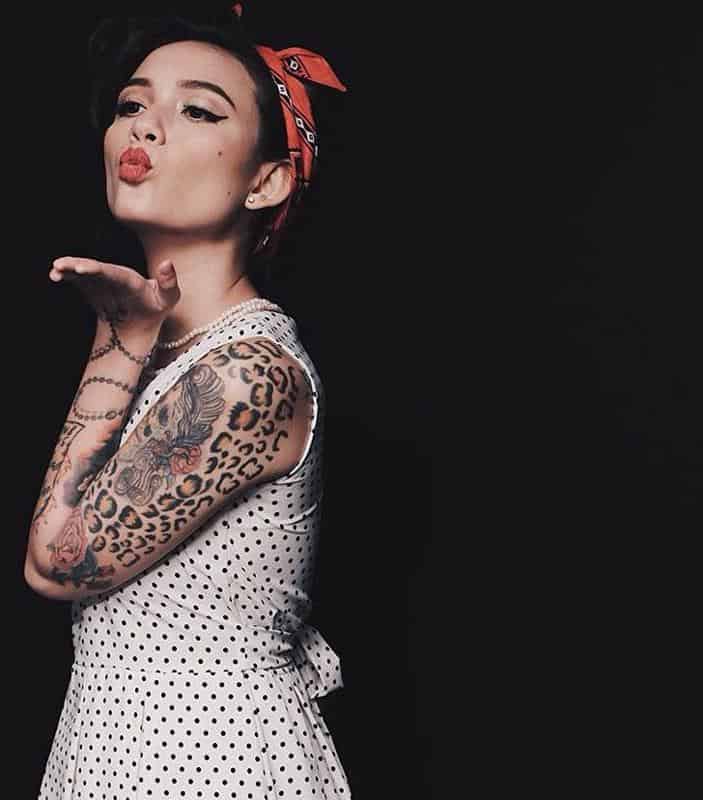 Both bandanas and headbands are famous for their proficiency to make you look stylish just by putting them on! So, then why would you not combine them?
Bandana Hairstyles Male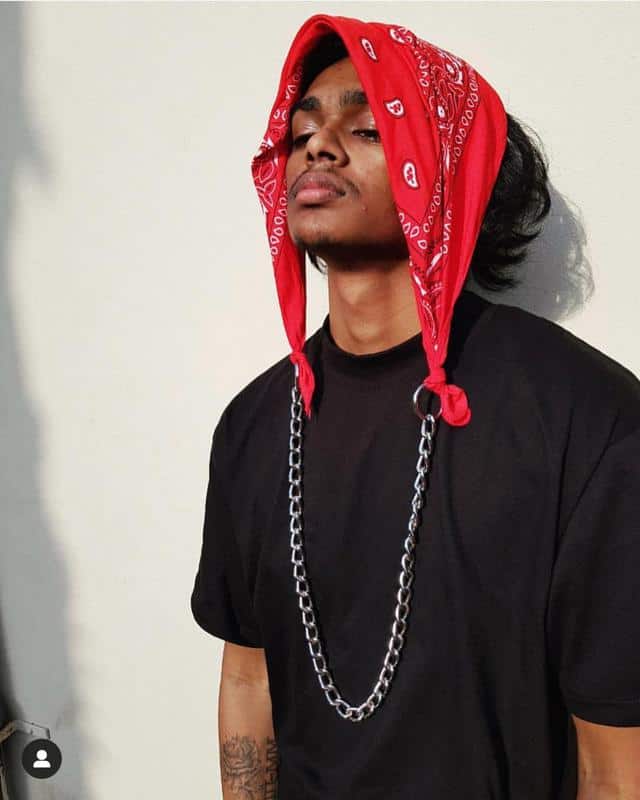 If you ever wondered if it is okay for men to wear a bandana, the answer is yes! It is a classic accessory for men. Thus, it is a timeless pick that will make you look fashionable. Also, it does not matter your style – if you are a biker, punk, or pop. It suits everyone! Bandana hairstyles for guys is the one of the hottest things you will see!
Bandana Hairstyles: Q&A
What Is Bandana?
A bandana is a designed cloth meant for tying around the head. They are available in various fabrics, prints, and patterns. You are supposed to keep your hair away from the face with it, but without compromising the stylish look.
Bandana is around for centuries. Even people in Ancient Egypt used it. Thanks to its name Bandhnati which means to knot, we can see its origin from Asia.
Is Bandana Trendy?
A bandana is an evergreen. It is keeping its place high on the trend since it has arrived. Nowadays, it is still fashionable to wear it regardless of the style of the person.
How To Wear A Bandana?
When they first arrived, people wore bandanas to protect their heads, but for decoration as well. Today, people wear them in many ways! You can put it on your wrist, as a pocket square, around your neck, and, of course, as part of your hairstyle.
How To Do Bandana Hairstyles?
There are many bandana hairstyles tutorials that you can find online. But the easiest is to do it on greasy-hair days since your hair will not be so unconquerable. You need to fold your bandana in half. And then put the straight edge right under your hairline on your forehead. In the end, just tie the corners.
Which Celebrities Wear Bandanas?
Celebrities wear bandanas the same way that we all do- it makes them look good and hide their bad hair day. Some of them are Alessandra Ambrosio, Eva Mendes, Rihanna, Zac Efron, Harry Styles, and John Mayer.
The Bottom Line
Fashion is significant because it tells the story of the world. And style is important because it tells your own tale. So, wisely choose what to put on yourself. The way you wear your bandana will represent you a lot. We hope we inspired you to find the way that is the most appealing to you.
Also Read: