33 Perfect Pixie Cuts For Round Face That You Will Adore (2022 Version)
When you shop through links on our site, we may earn an affiliate commission. This educational content is not intended to be a substitute for professional advice.
Short haircuts are saving you hours of daily fixing your hair to make it look cute and neat. But which one is suitable if you have a round face? Which one will highlight your eyes, lips, nose, and cheekbones? Search no more – pixie is your safest bet! Besides, it will make you seem younger – so what is there not to love? This cut is absolutely trending, and thus we gathered 25 perfect pixie cuts for a round face that you will surely adore!
What Exactly Is A Pixie Haircut?
A pixie cut is a haircut popular amongst ladies. It has half an inch to 3-inches in length. But it is usually shorter on the back or sides than on the top. Also, bangs are quite short.
It first became popular in the 50s, thanks to Audrey Hepburn. After her till the modern-day, many celebrities wore it. That includes Mia Farrow, Pamela Andreson, Miley Cyrus, Cara Delevigne, and so on.
Is Pixie Suitable for Round Faces?
First thing first: How to know your face is round? Put your hair in a high ponytail. And then pay attention: is the shape of your face resembling a ball or baby's face? If yes, then it is round.
Secondly, what exactly is a pixie? It is a haircut that is shorter on the back and sides, and a bit longer on the top. Also, bangs are quite short.
Common disbelief is that pixie does not suit those with round-shaped faces. Actually, this hairstyle does not cause a face to seem more extensive. But why would a pixie cut fit you? Because the shorter length allows adding the volume, which is a great way to make a face look thinner and longer. After all, an oval is held to be the perfect face shape.
A pixie haircut is super flexible, and that is why it is so popular. It will look good on any hair type, including waves and curls.
The benefits of this haircut are:
Practicality – effortless and you do not need much money to spend on it
It is flattering to all shapes of faces – it puts the accent in the right spots like cheekbones
It suits all hair colors – you can experiment as much as you want
33 Perfect Pixie Cuts For Round Face
We gather together 25 ideas to style pixie haircuts for those with round-shaped faces. Take a peek and get inspired!
#1 Auburn Pixie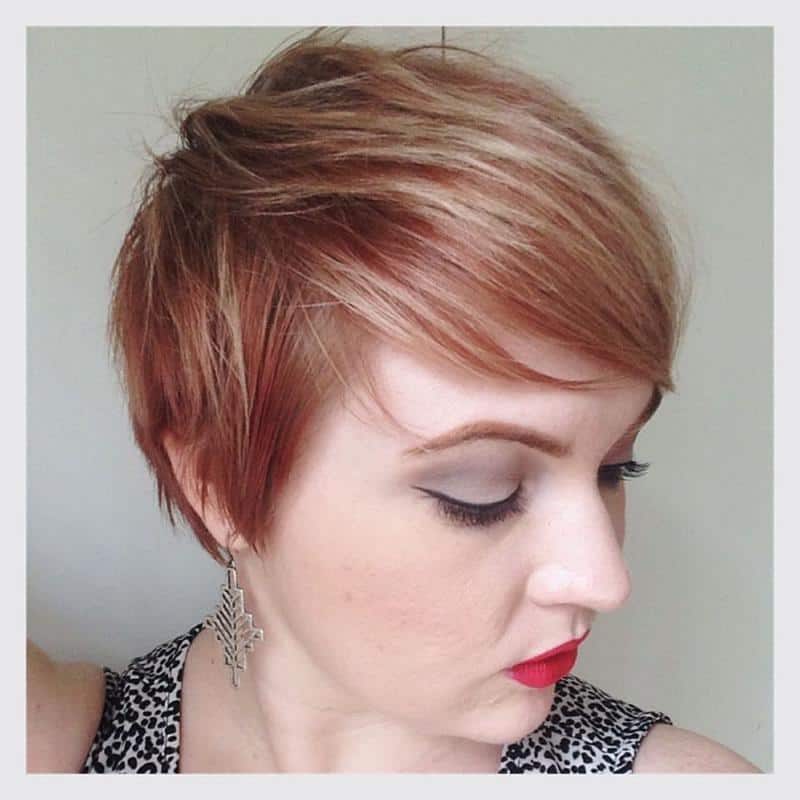 Diagonal lines hung over something round-shaped will make it look longer – that is a golden rule, and you can apply it on the hair too! Thus, ask for a fringe that will display some foreheads in the center. And that will have diagonal lines on both sides. Optionally, add some blonde highlights.
#2 Layered Pixie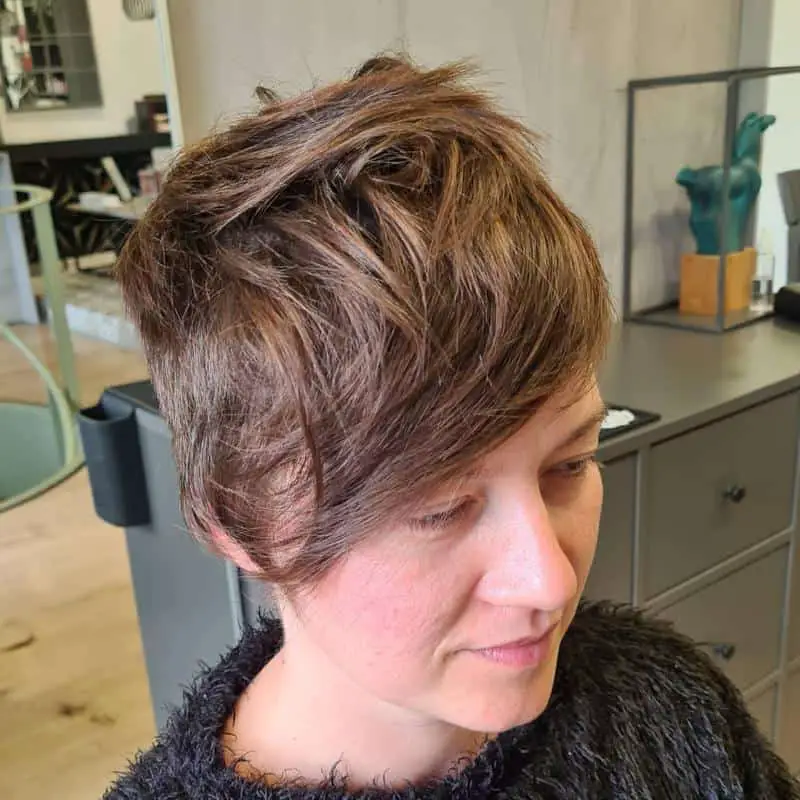 Layered pixie cut looks natural, but it is still trendy. Thus, it is excellent for everyday wear and also special occasions. Besides, the top layers will aid with extra volume. Yet the best thing about it is that women of all ages can do it and be fabulous!
#3 Asymmetric Pixie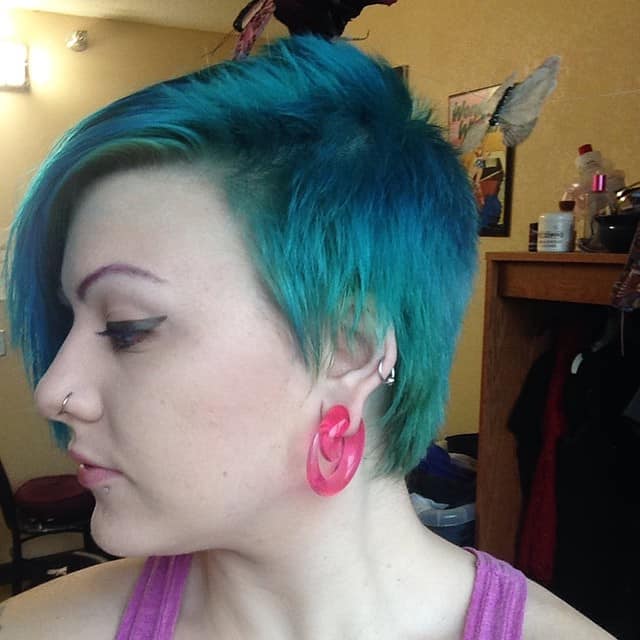 Asymmetric hairstyle draws all attention! Plus, it will take away from the thickness of your chin and put the accent on your eyes and nose. It is unbelievable to think that all of that ask for so little daily effort! This style fits fine and medium hair.
#4 Ultra-Short Pixie
Do you wish to put attention on the upper part of your face? And to settle out the edge of your jaw? Then, you should get a super-short haircut! The even bigger reason to do this cut is if you are a sporty or busy lady that sweats a lot.
#5 Glam Platinum Blonde Pixie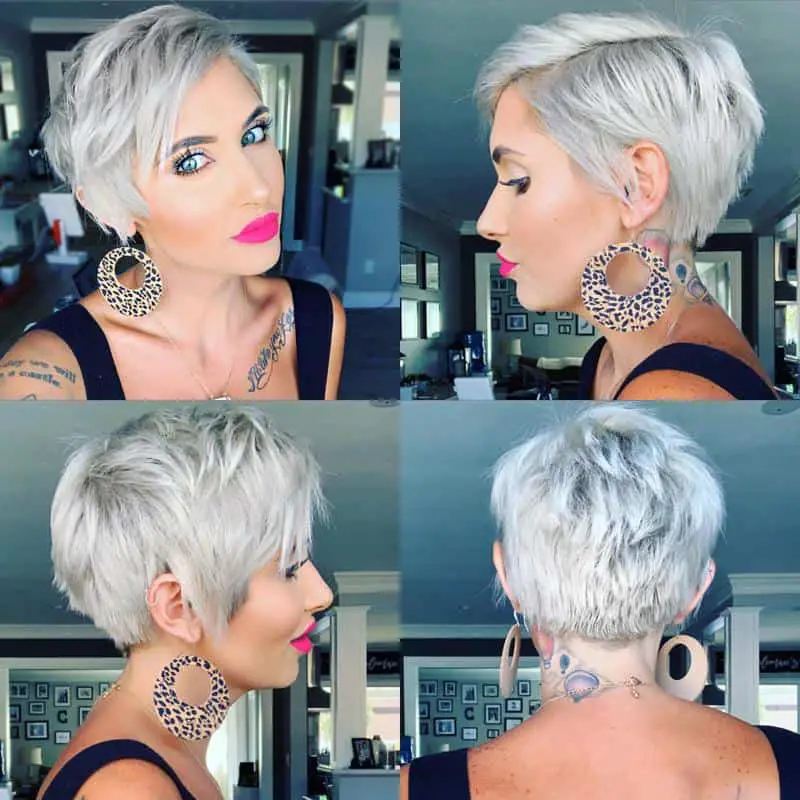 Platinum blonde hair guarantees a marvelous glam shine to your look. It is even more inclusive when you match it with a fancy outfit and lovely lipstick. Bear in mind that pixie with this hue better work for younger women.
#6 Cute Short Quiff Pixie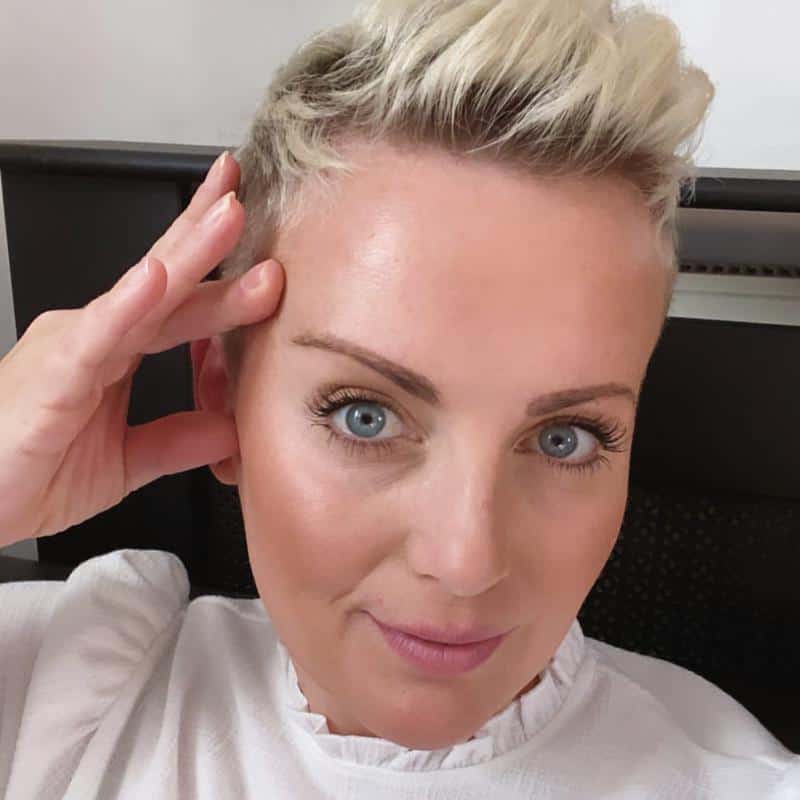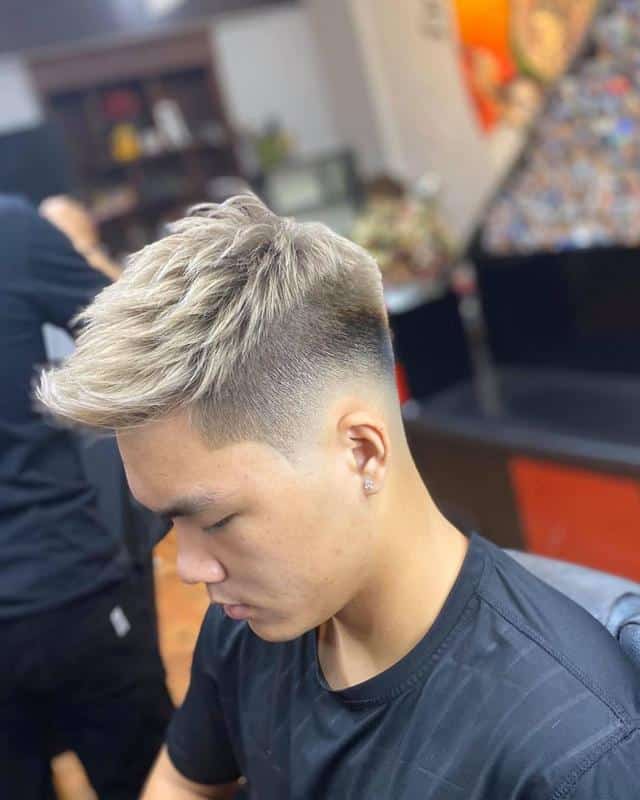 Short quiff survived the test of time and stayed in the trending. That kind of classy appearance is astounding for professional meetings but also any casual moments. And anyway, scoring height above the forehead is an obvious short hairstyles choice!
#7 Long Pixie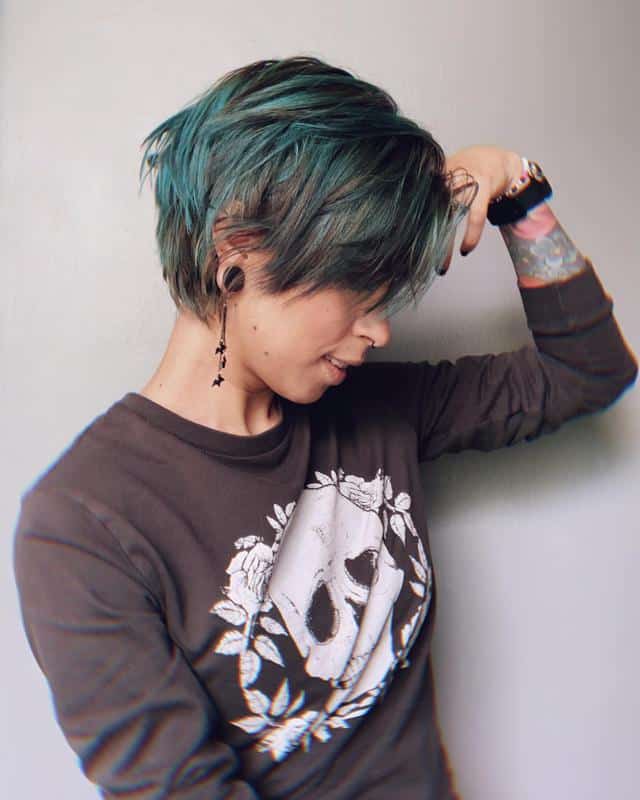 Is long pixie the best face-reduction shape out there? Could be! Surely, it is pretty, effortless, and chic! It will offer you natural volume and good form with a natural volume and texture. And a variety of hair tones and reflections!
#8 Pixie Cut With Long Fringe
This could be the cutest and most youthful haircut! Maybe because it is the first one toddlers have when their hair is growing! And it is perfectly suitable for a round-shaped face since the long fringe cuts the circle. Wear it nonchalantly brushed back or tucked behind the ears – it is up to you.
#9 Edgy Pixie Cuts For Round Faces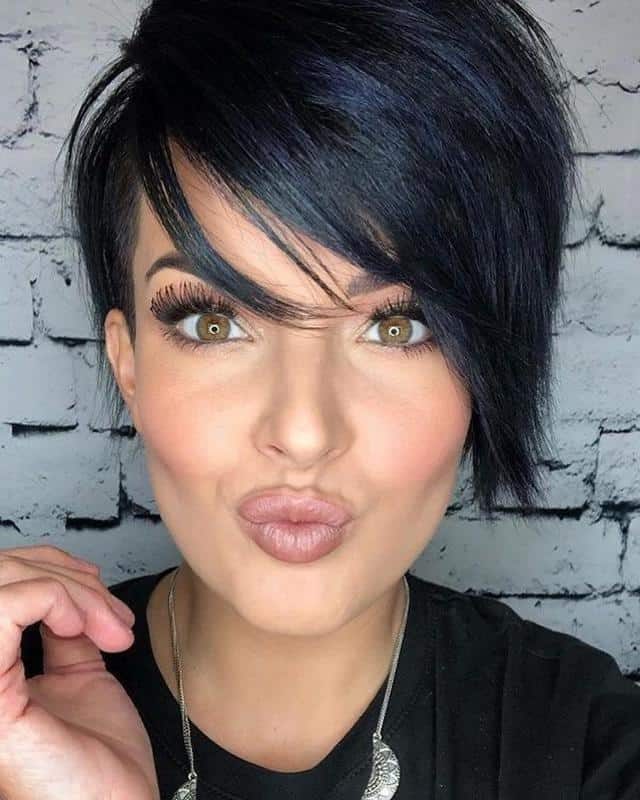 Edgy pixie is heavily layered and thus the most suited for thick hair. Besides, it will flatter your face pattern. You will look stylish and flirty! Femme fatale? You got it!
#10 Pixie with Cropped Back and Sides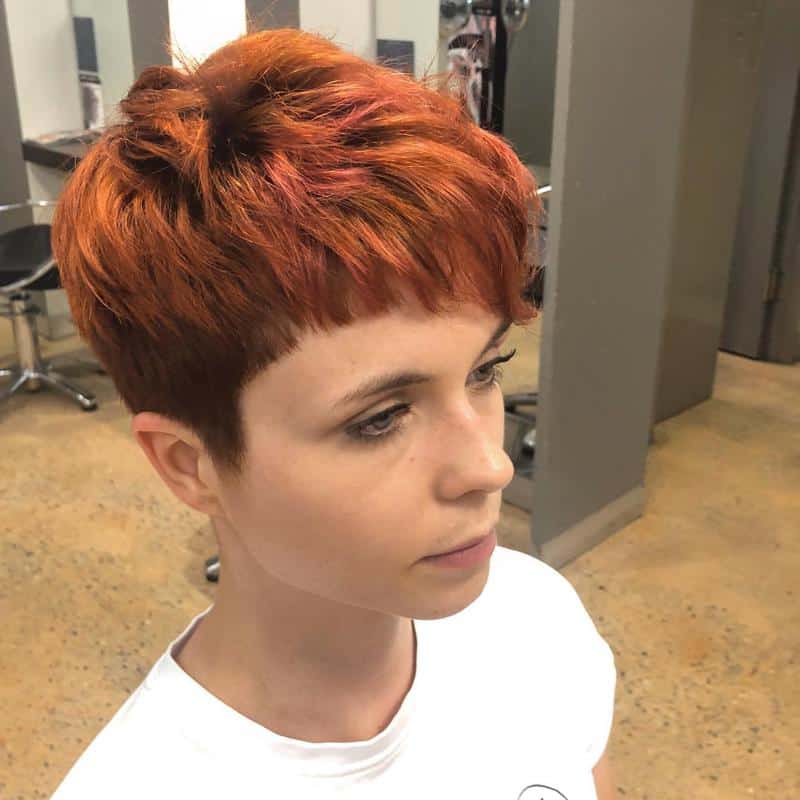 The reason why this style is perfect for round faces is the sharp lines of geometric cuts. The side-burns will put the eyes and upper face in the center of the attention. To make it look more fierce, pick some passionated color to dye your hair.
#11 Forward-Combed Pixie Cut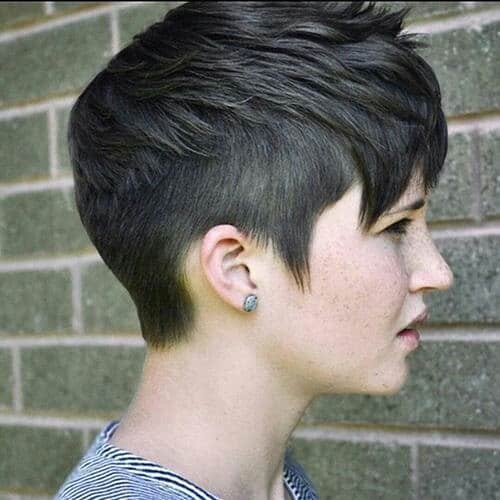 We recommend this style if you have medium and thick hair since you need some solid texture to create it. The sides will be closely cropped around the ears and with sharp-side burns. And all that flatters the shape of your face! You will look stylish and super hot!
#12 Great Forehead-Framing Pixie Haircut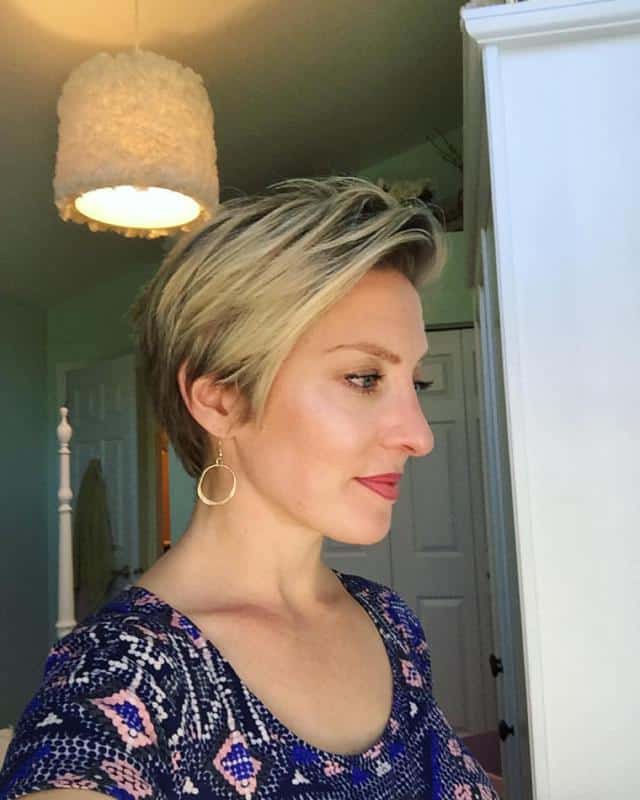 The deep side split crushes the symmetry of a circular face, and the elevated forehead-framing is a unique way to increase a low forehead or even a round face. If you opt for dark-blonde hues, you will bring up a warmness. We would especially advise you of this style if you are over 40!
#13 Mahogany Brown Pixie Cut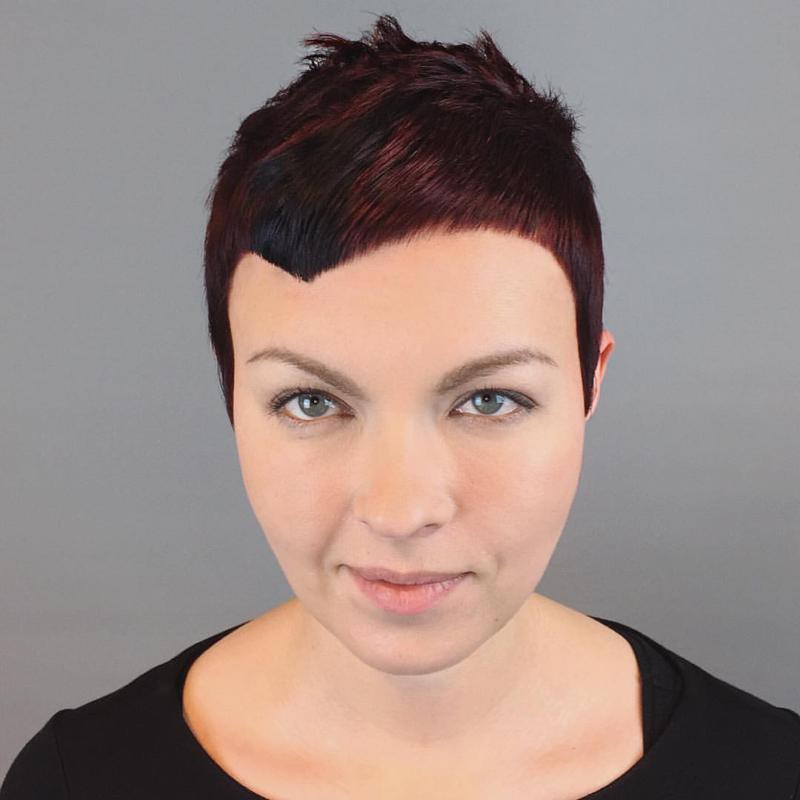 The combination of this cut and the color of deep maroon is so cool if you ask us! This asymmetrical style with black lowlights will make you stand out from the crowd. You will look 100% fierce!
#14 Urban Chic Haircut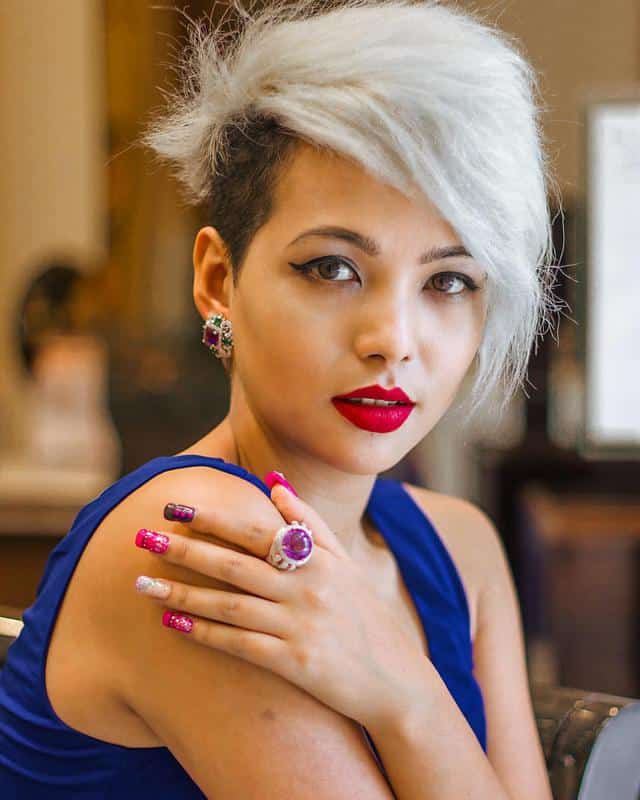 In case it was not obvious enough till now: a pixie haircut can be as urban as you wish. If you wish to opt for an ultra-modern option, do divergent sides with a broad side sweep. Pick the color you like, but we suggest silver blonde. Imagine having red lipstick with this look? Extra hot!
#15 Combo of Pixie and Part Bowl Cut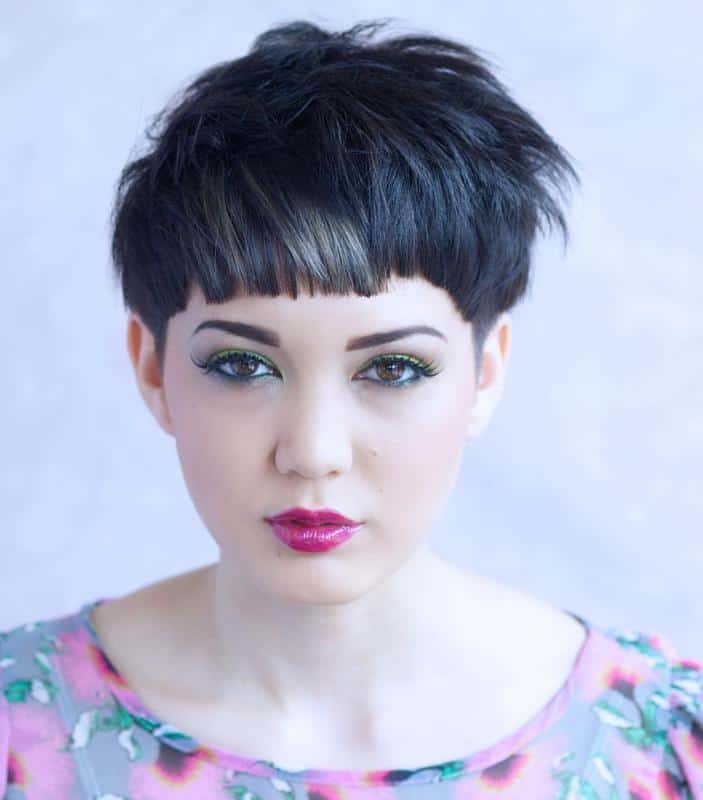 You do not need to pick only pixie, but do pair it with another style, for example, bowl cut! You would need to get blunt-cut bangs, short sideburns, and longer hair tousled on the tip. It is cut but yet revealing a spunky character.
#16 Sleek Blue Pixie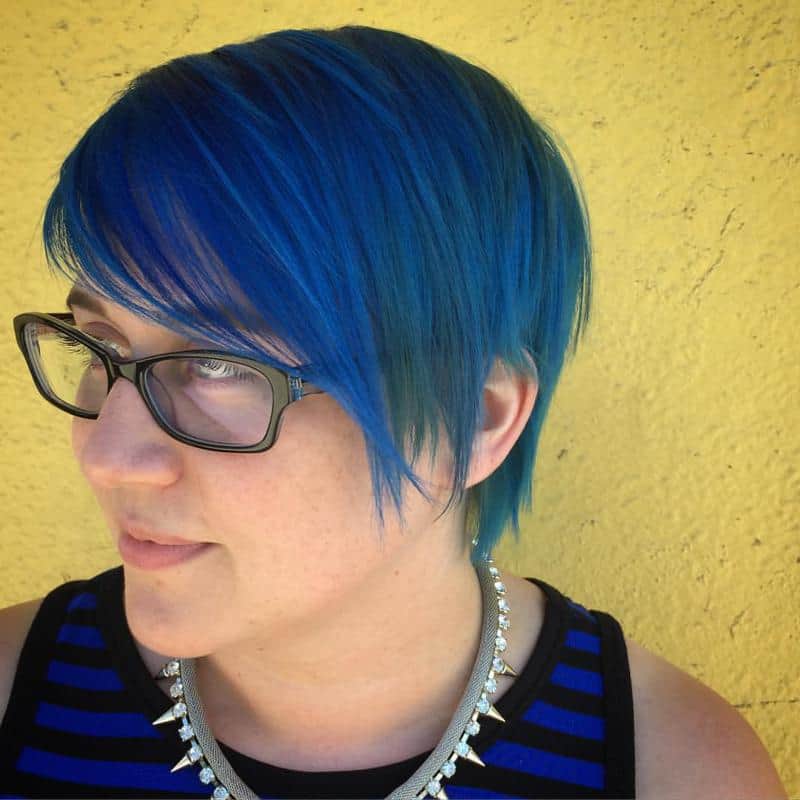 Now, this style goes well on straight hair. All you have to do is brush it over to one side – and voila! You are styled and ready to rule! To make it more interesting, paint your hair into some bright hue.
#17 Spiky Pixie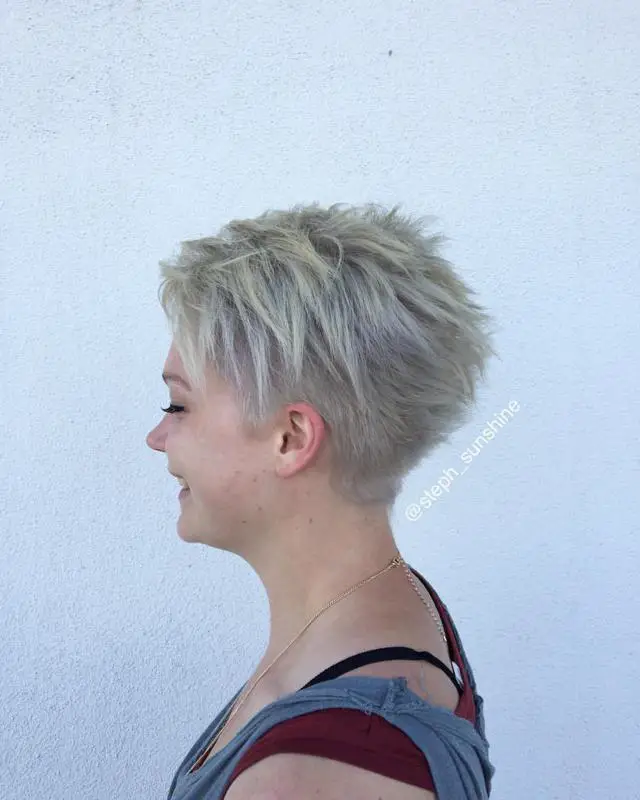 After washing your hair, do a medium grip mousse and blow-dry with a tiny brush. Remember to keep each section away from the head as you do it! Can you do it alone? Sure! But it will take some time till you are pro! Either way, it is worth it!
#18 Punky Bleached Pixie Cut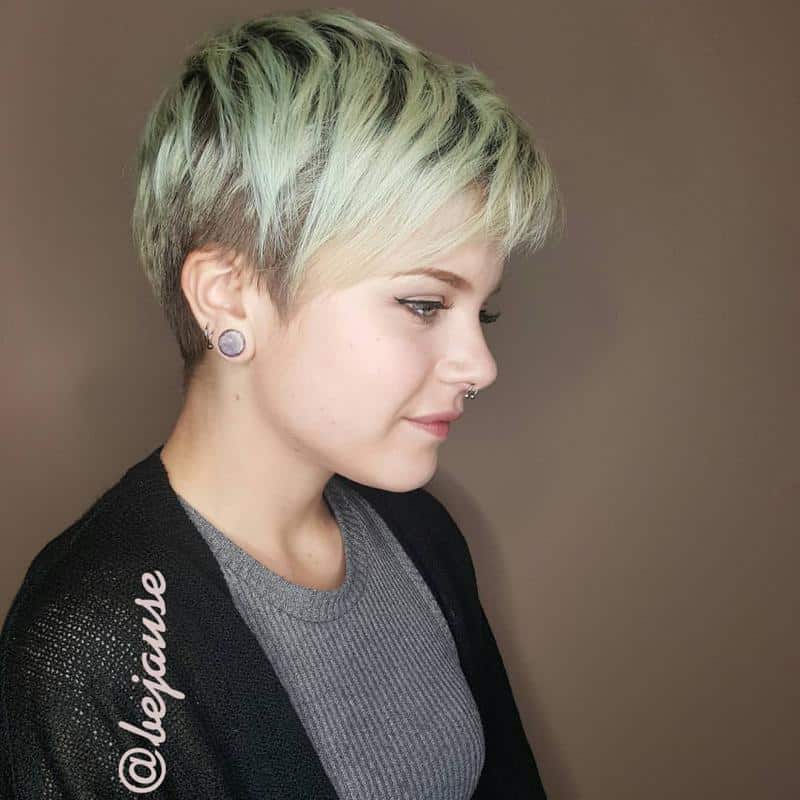 If you are young, why would you pick standard colors? Platinum is pretty much stunning! We would not bother covering up your whole hair, but let dark hair peek through! When we talk about cutting itself, make one piece longer. It will give it a cool shape and grungy look!
#19 Pixie Cut For Round Face Curly Hair
Pixie hairstyle is perfect for curly hair! They will make maintenance easy and take away from the weight that long locks are bringing. But you will need to visit a salon every 3-4 weeks if your curls are natural and once a week if they are not.
#20 Energetic and Creative Pixie Haircut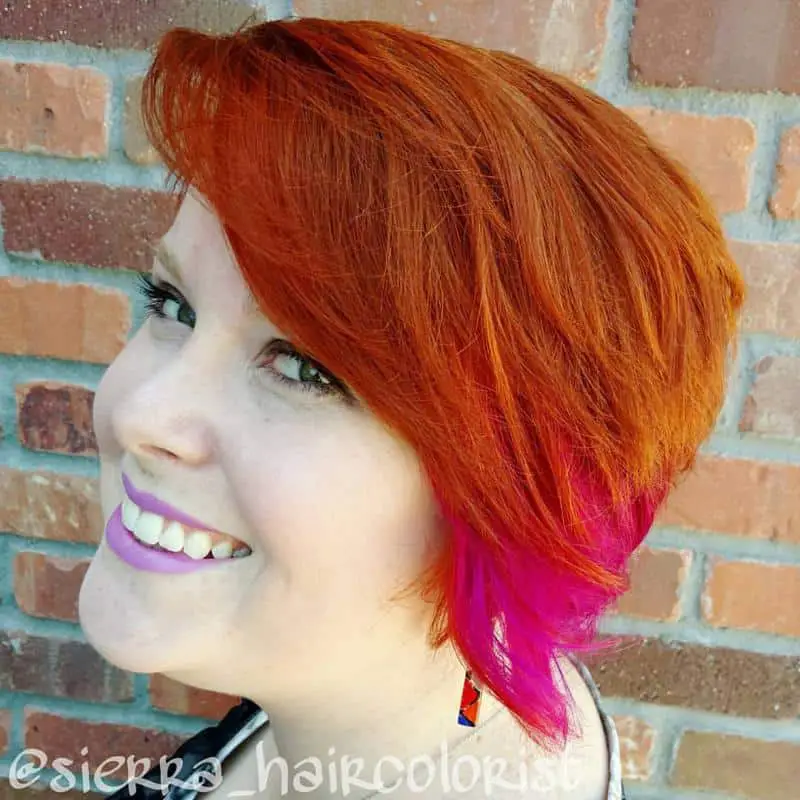 Are you looking for ideal short hair for a chubby face 2022? Or for ideal short hair for a chubby face 2021? Who says it cannot be energetic and creative? If you have a bright character, you should show it with your hairstyle. Color your hair into some vibrant tone, and get a creative long pixie!
#21 Holywood Glamour Pixie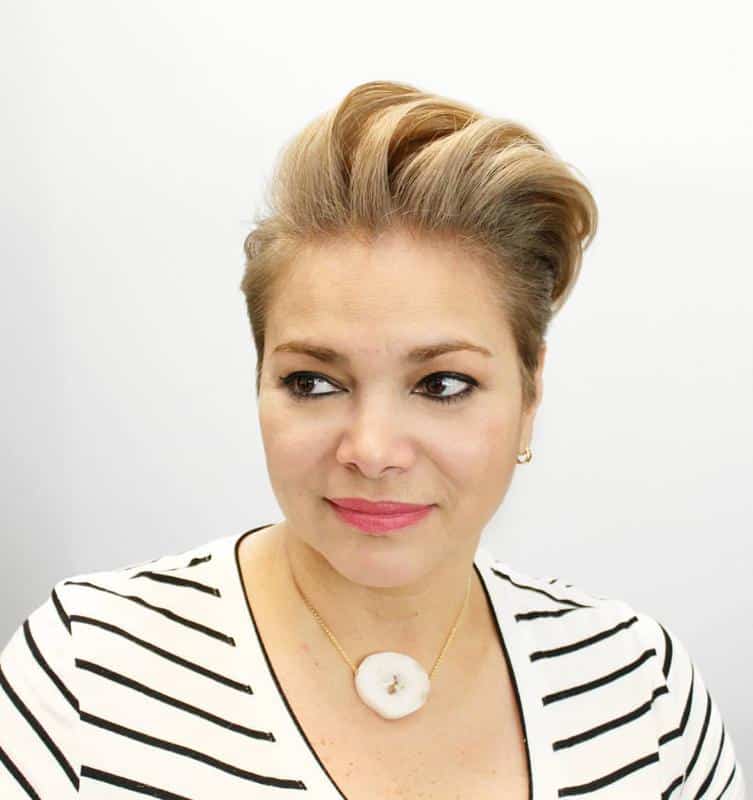 In love with Hollywood glamour? But prefer the old one because old is gold? Try this long pixie with styling up the hair back and to the side! You will always need to blow dry it for the volume. And to have a big-barrel circle brush.
#22 Rock'n'roll Pixie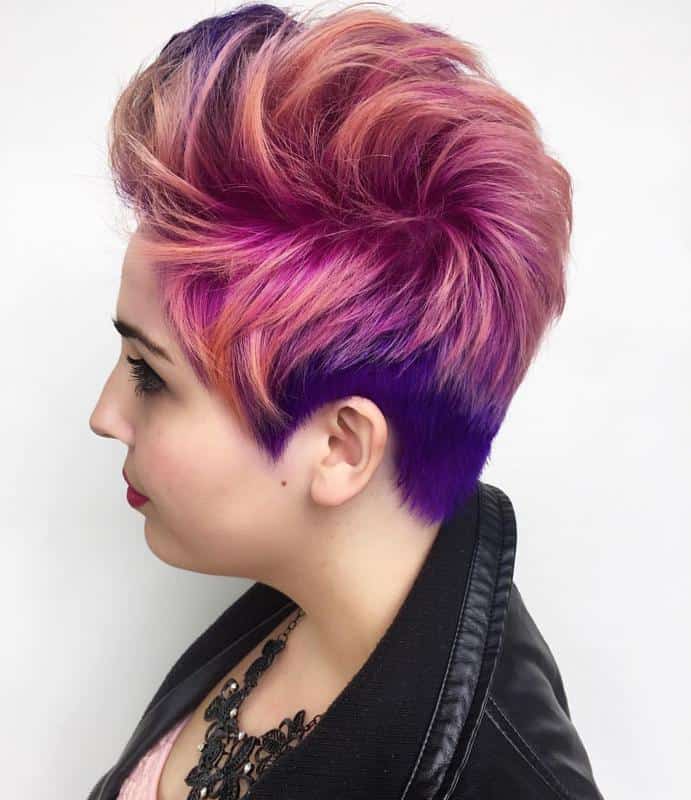 Do you believe that rock'n'roll can never die? Show how rocky you are not just with your clothes, but your hairstyle too! If your hair is thick with natural waves, you can do this style super easily but applying products is always a plus. Whatever color you pick, it will divine, but we love violet! Play it with tones – from lighter to deeper.
#23 Korean Pixie Cut For Round Face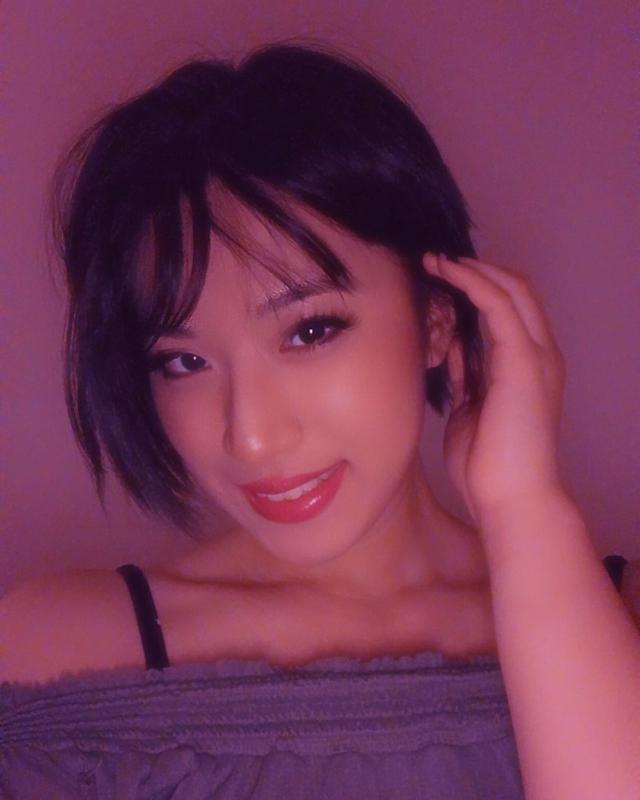 Korean ideal of beauty celebrates roundness – of the face and eyes. And many hairstyles will fit this, and one of them is a pixie cut. Pick any form you like, but we must admit that we cheer for a long one!
#24 Tousled Pixie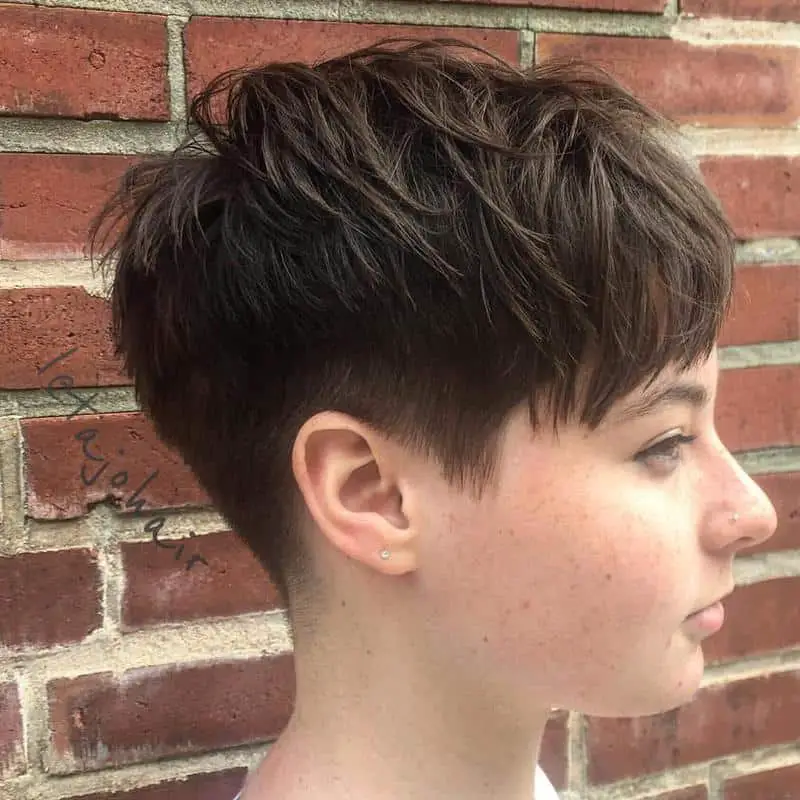 People usually consider long hair to be feminine, but the truth is that a short one can be too. It just depends on how you style it! You could do a super low tapered back and leave it messy on the top. It will suit you both if you have straight or curly hair, but a straight one will be easier to maintain.
#25 Pixie Cuts For Round Faces Over 50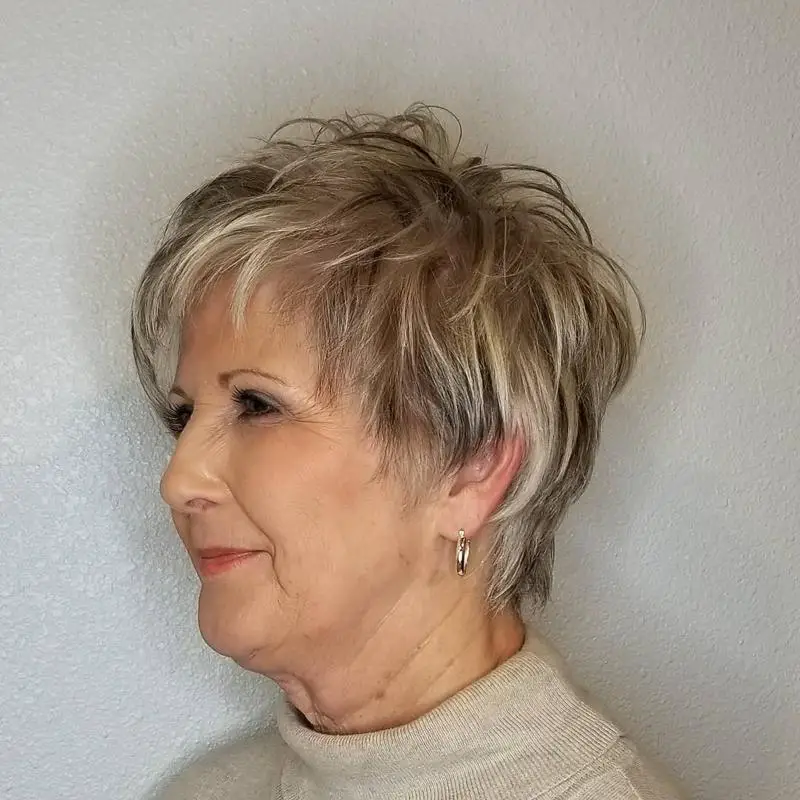 We are in love with short hairstyles for round faces over 50 – since choices are so broad and pretty! You can pick between many variations of the pixie according to which one suits you the best. One of the good ideas is the messy, feathered style. It contains highlights and lowlights.
26. Pixie Hairstyle With Undercut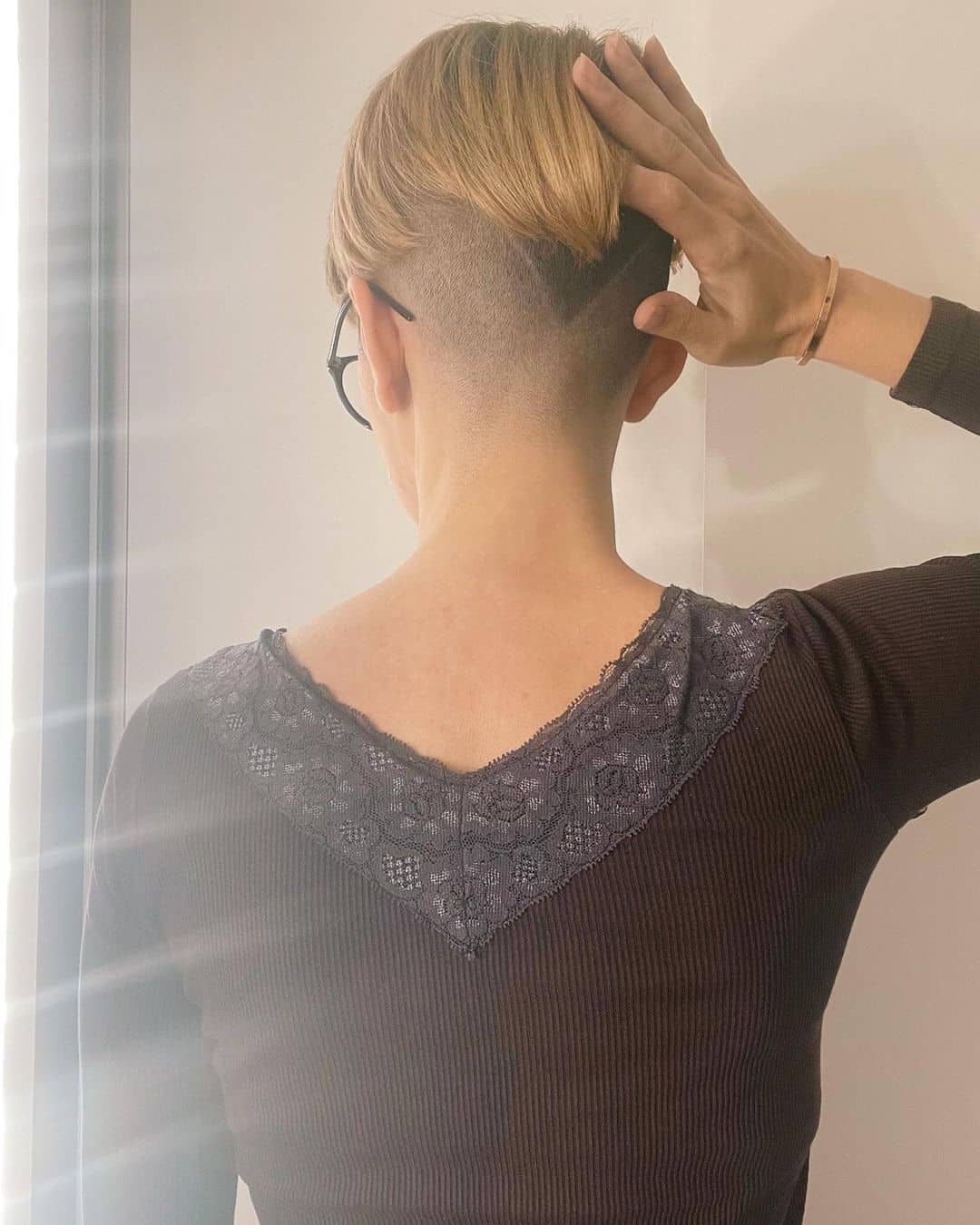 If you love edgy styles, you must fancy undercuts. And that is good news if you have a round face! Pixie will flatter to the shape of your face, and the undercut will put the accent on your lovely neck.
27. Disconnected Blonde Balayage Pixie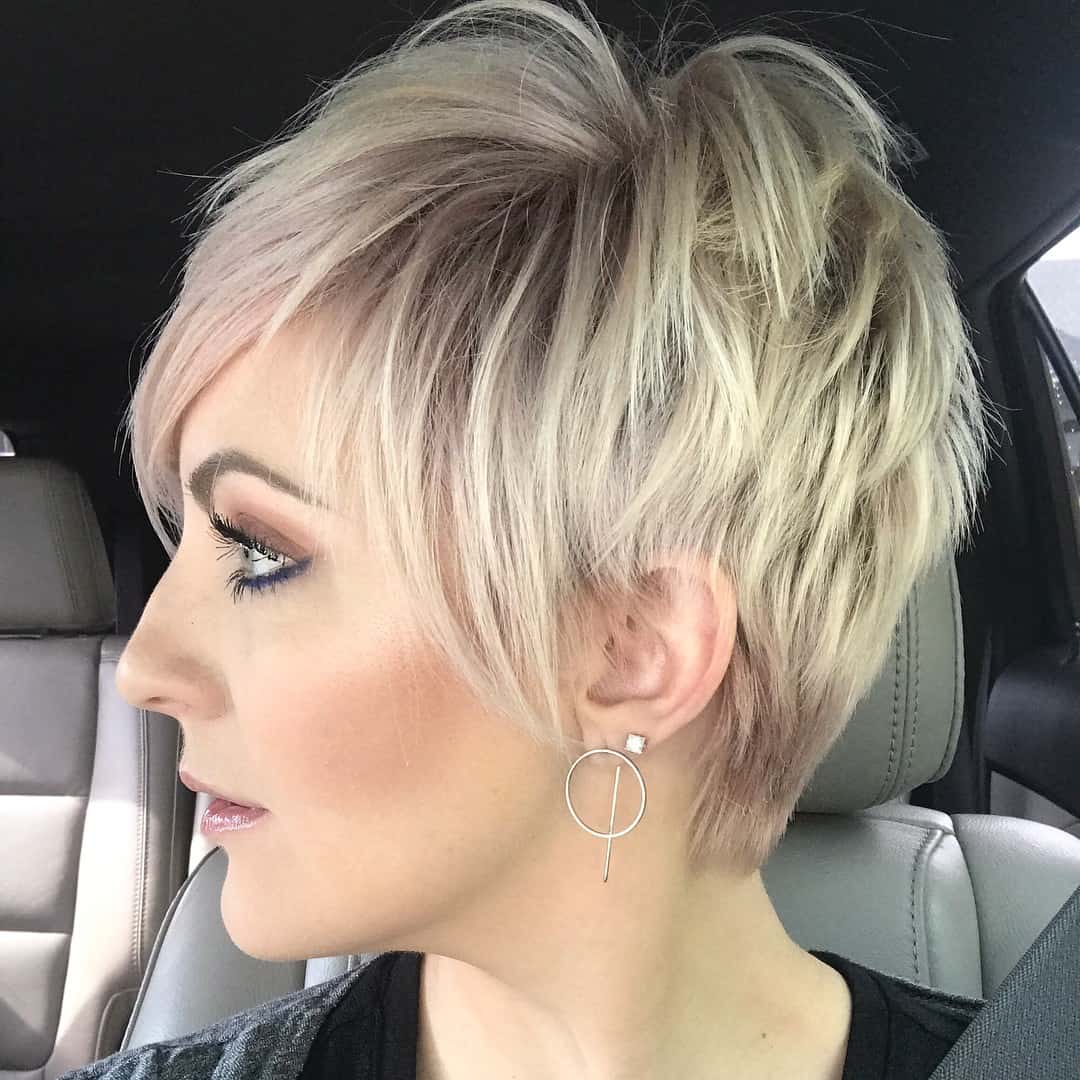 Do you know what we love about tapered pixie with prolonged lenght? It allows you to experiment with various textures and colors. You could pick longer disconnected layers, a gentle neckline, and bangs in pieces. For those with solid straight hair, we suggest a simple tousled vogue. Do it with a bit of root-raising product and a fast blowdry.
28. Choppy Gray Pixie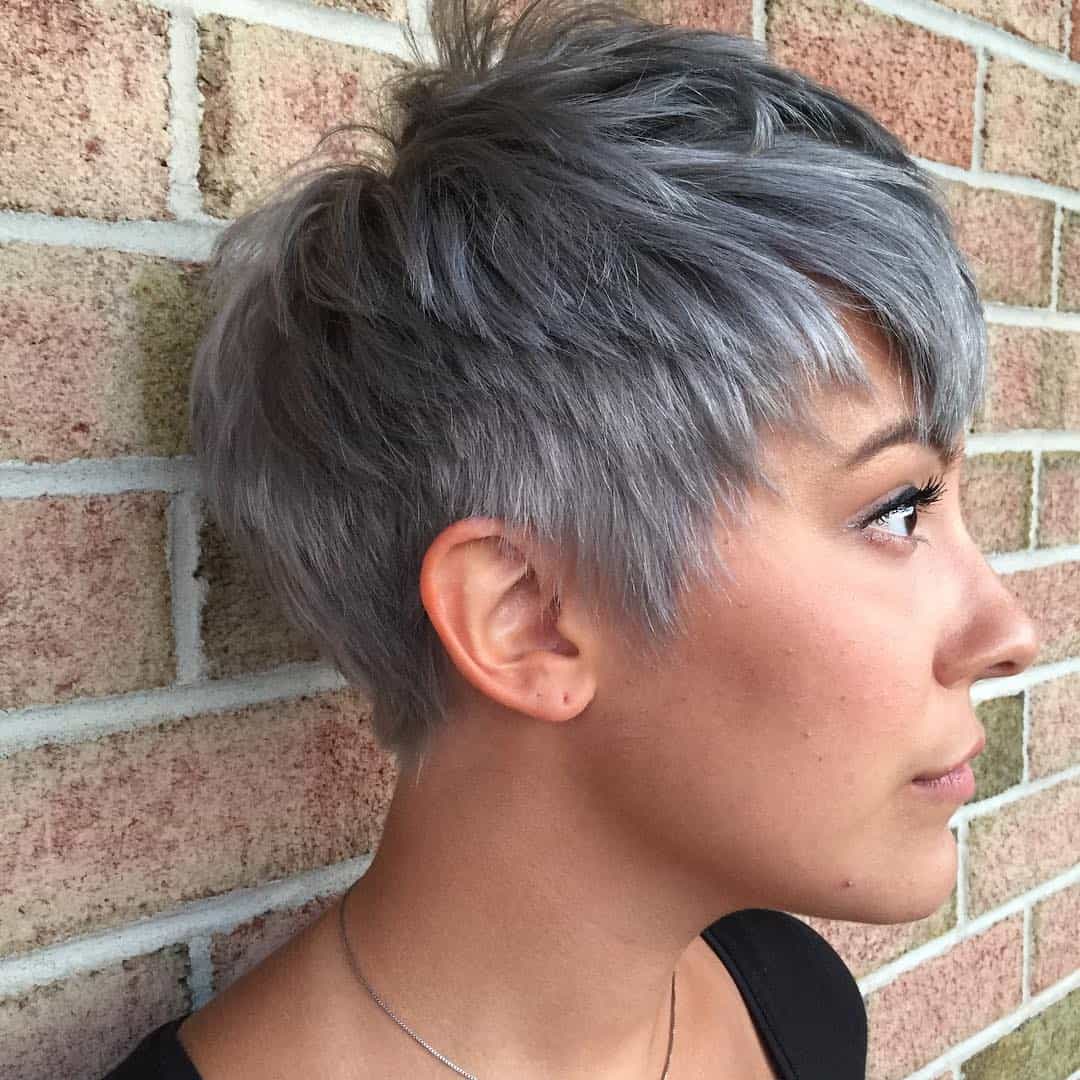 Do you wish to embrace your gray hair or color it that way? Pixie will do your favor! What is great about short hair is that you can grow it fast. So you can easily change it!
29. Razored Cut with Precise Nape and Sideburns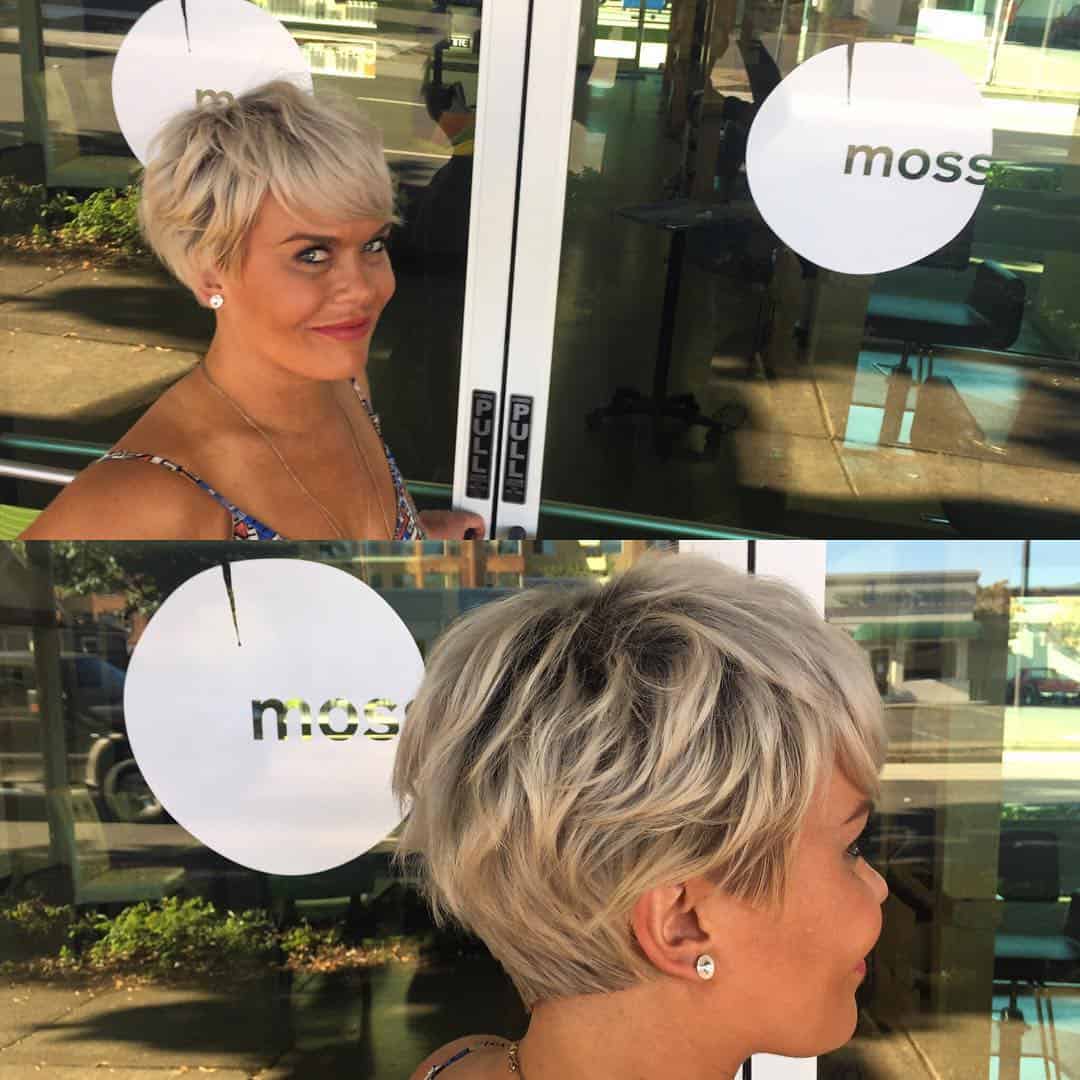 Can you imagine a mixture of wispy layers and correct cuts? Well, if you did not before, now you can with this type of pixie! Plus, ash-blonde layers would gentle the right cut neck and angled bits in front of the ears. Altogether, you get a well-bred style in a short length! And you will seem totally like a lady!
30. Bleach Blonde Pixie
Everyone fancy textured hair! You can style it more easily. And it allows you have a different look every a bit in a while. What about a shorter undercut? It is 100% out of the ordinary!
31. Side-Parted Silver Pixie-Bob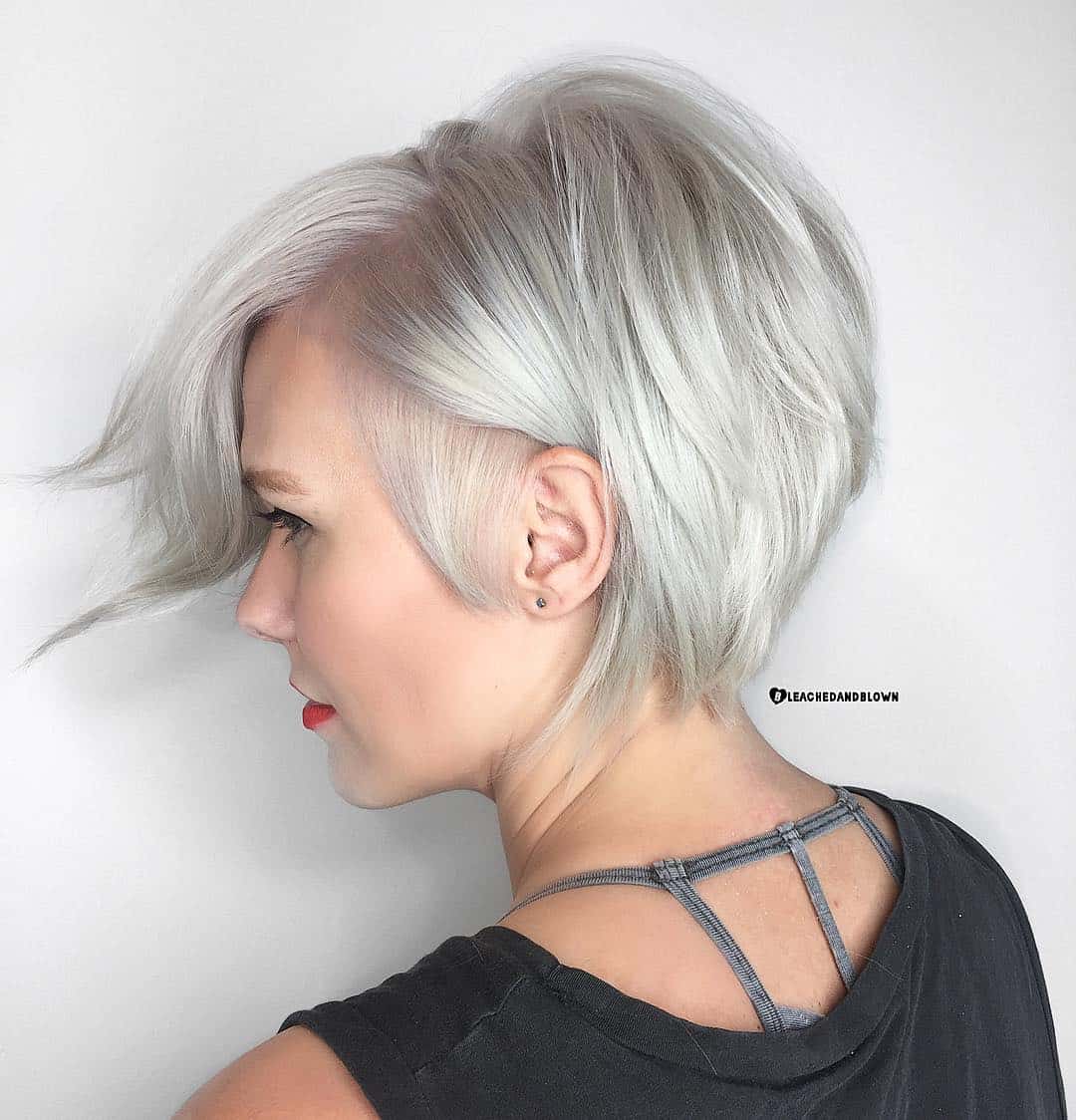 In bangs, we swear! And in fashionable color, of course! Bright silver is a perfect alternative to platinum blonde. Imagine adding shiny lipstick to this look! We say it is flawless, what about you?
32. Uneven Undercut Pixie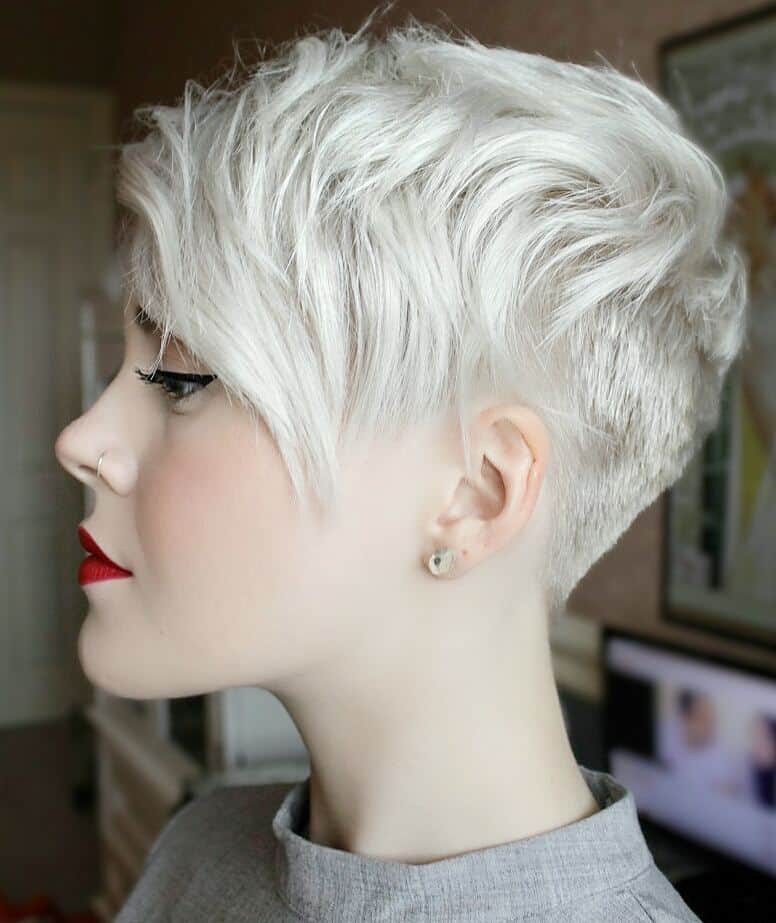 The haircut does not have to be conventional. You can play with it as much as you want. So, if you fancy some undercuts, you can even make them uneven! Asymmetrical is super cool and kinda artistic. When it comes to the color, you can play with it too. With a white, porcelain skin tone, icy hair goes nice – we just say it!
33. Longer Pixie In Honey Tone and Black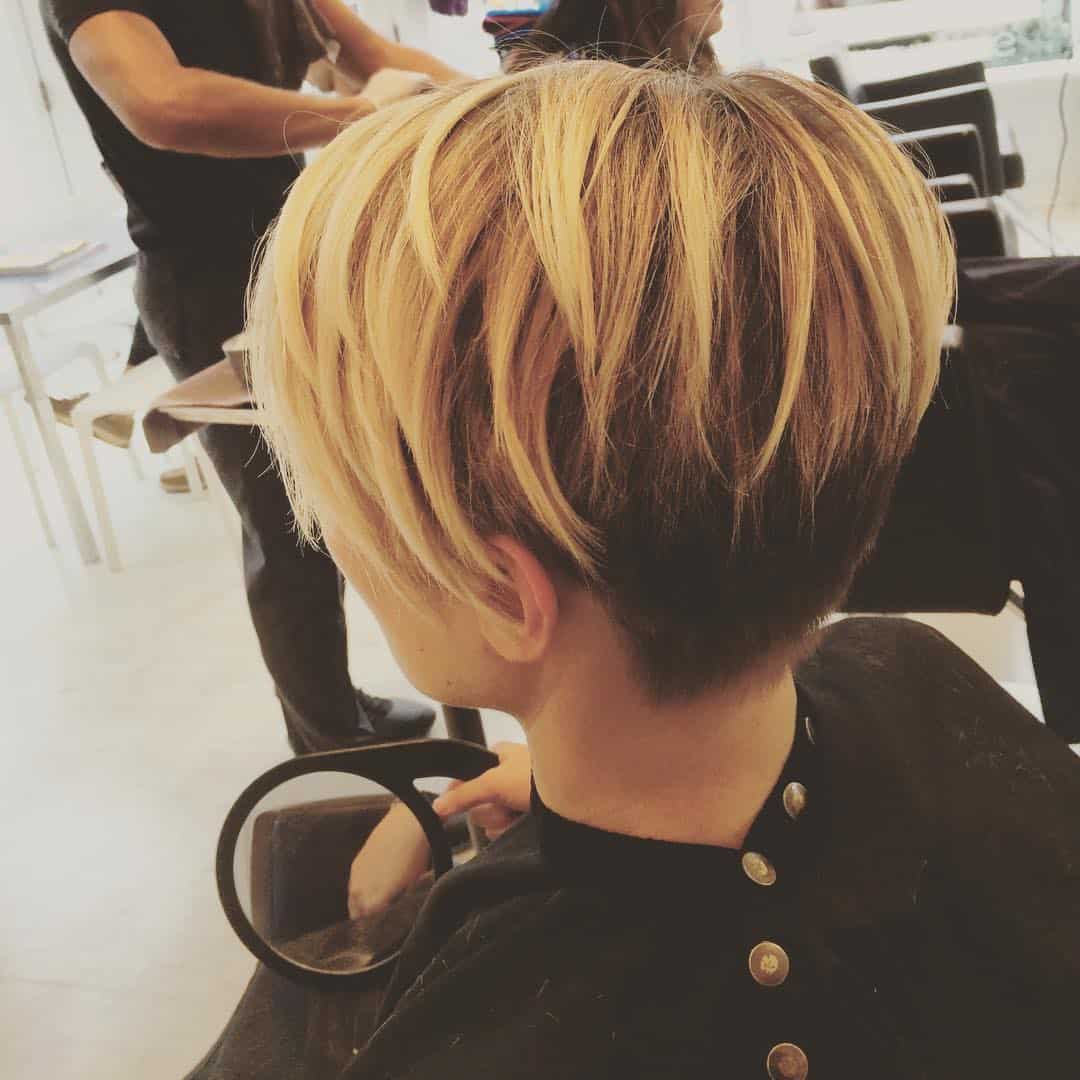 Are you looking for the number one feminine short haircut? There are many of those, as you can see so far. But magic mirror on the wall, who is the ladies of them all? The pixie with long wavy layers! Besides, if you get bored, you can always use a flat iron to modify the look!
Pixie Cuts For Round Face: Q&A
1. Is Short Hair Suitable For Round-Shaped Face?
You may hear beauty advice that short hair does not fit round faces, but that is not true. Short hair will work well for any shape, but you must pick the correct haircut. The correct one will make your face look slimmer and extended.
2. Is There The Most Suitable Short Haircut For A Round Face?
There are many suitable short haircuts for round-shaped faces, but some of those are pixie and bob.
3. Can A Pixie Haircut Slim Your Face?
Pixie haircuts are greatly complimentary if you are daring enough to try them! Joining a textured side bang will cause to your face look slimmer. Plus, it even out the shape.
4. How To Know If A Pixie Haircut Suits You?
Put your hair into a tight ponytail. And then see how your face looks like! If you look better with locks, go for it!
5. Does A Pixie Haircut Look Good On A Fat Face, Too?
You can wear a pixie if you have a chubby face. One of the ideas is with diagonal bangs. Also, angled sideburns will make your face look wider.
The Bottom Line
Short hair is easy to maintain and style, so it is no wonder you like it. But you may get bored with the same look every day. In that case, you will be looking for a new haircut. For anyone with a round face, pixie is a great idea! We hope we inspired you with these 25 designs. And that the next time you walk out of the salon, you will feel fabulous!
Also Read: