Mini Fish Tacos with Mango Habanero Salsa
When you shop through links on our site, we may earn an affiliate commission. This educational content is not intended to be a substitute for professional advice.
Ground beef tacos were one of the first meals that I ever learned to cook by myself and for that reason they'll always be a favorite. Thankfully for my fiancé, I've expanded on my cooking skills since the days of being a single, eighteen year old,  eating nothing but spaghetti, tacos, and ramen! My mango habanero salsa is always a crowd favorite when I make it and I thought it would pair perfectly with some fresh tilapia. I picked up some mini white corn tortillas and threw it all together to bring you a delicious and easy meal that even an 18 year old Tattooed Martha could pull off!

…..

(makes 6 servings)

Ingredients:

2 Tbs olive oil + 2 more tablespoons for cooking

2 Tbs soy sauce

Juice from 1 lime

2 fresh tilapia fillets (you can also use frozen, just make sure they're defrosted)

¼ tsp paprika

6 mini white corn tortillas

Red cabbage, shredded

Shredded cheese (optional)

Hot sauce (optional)

For mango salsa:

1 mango, peeled, pitted, and diced into small cubes

2/3 cup fresh pineapple chunks, cut into small cubes

1 habanero pepper, finely chopped (depending on the season, you might want to remove ribs and seeds and rinse the pepper for a milder taste)

¼ cup finely chopped red onion

¼ cup fresh cilantro, finely chopped

Juice from 1 lime

You can also add avocado chunks, but I left it out this time

Cover a baking sheet or dish with foil and combine 2 tablespoons of olive oil, soy sauce, and lime juice in the dish. Add tilapia fillets and flip to coat in marinade. Sprinkle top sides with paprika and place in the refrigerator to marinate for 20 minutes.

While waiting on the tilapia, combine mango, pineapple, habanero, red onion, cilantro, and lime juice in a medium bowl. Toss until ingredients are mixed together.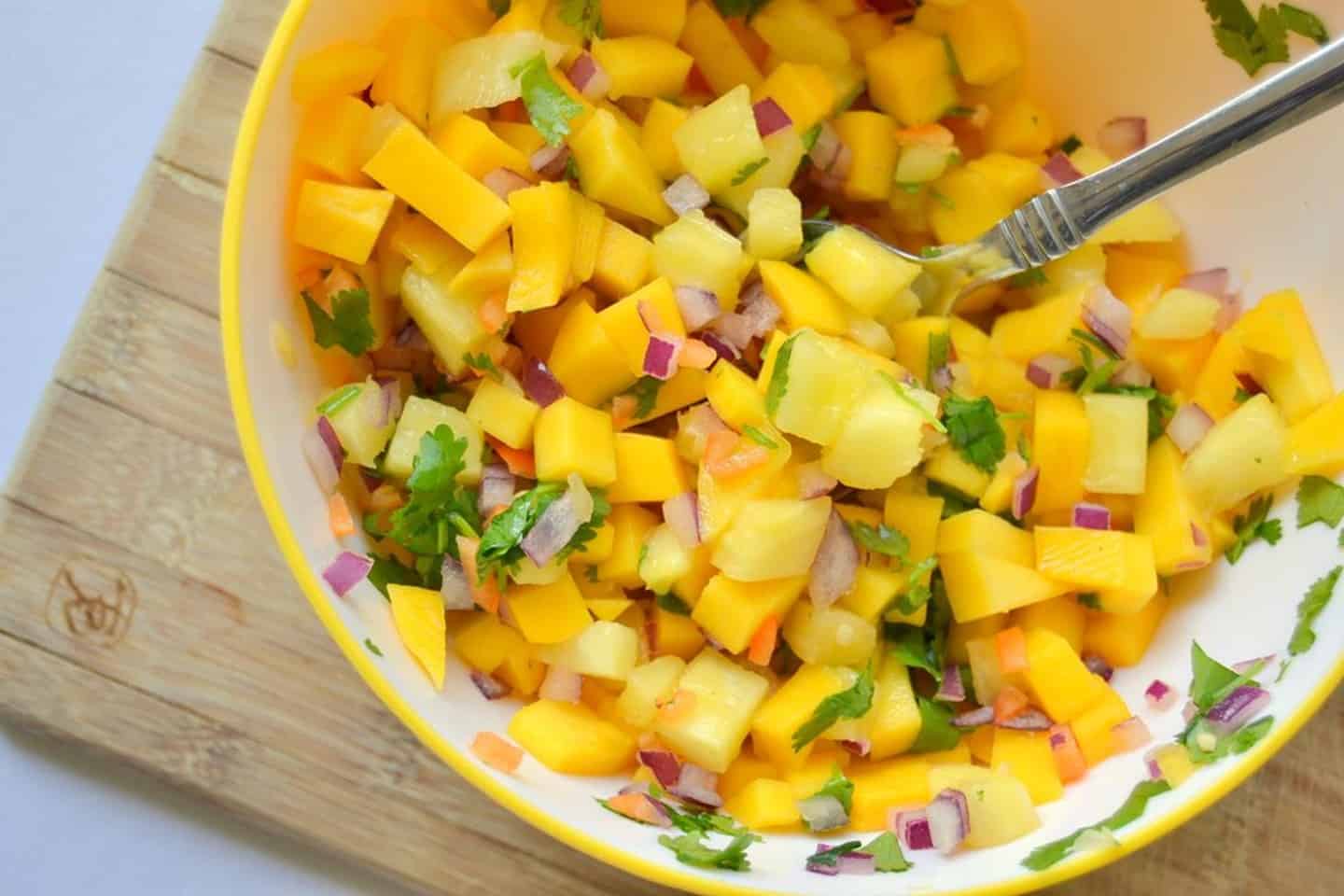 Be sure to snack on some of the salsa with tortilla chips, but be warned: It's addicting!

When tilapia is finished marinating, heat remaining 2 tablespoons of olive oil in a large skillet over medium heat. Add tilapia fillets and cook for 2-3 minutes on one side or until you have a light brown sear around the edges.

Flip and cook another 2-3 minutes on the other side. Reduce heat slightly to finish cooking thoroughly for another 4-5 minutes. Fish should be flakey, yet still tender and no longer transparent in the center. Transfer to a plate and break up into bite-sized pieces.

Heat tortillas in the microwave or on a low setting in the oven. Add tilapia, shredded cabbage, and a few spoonful's of the mango salsa (and any other toppings you desire). Serve right away.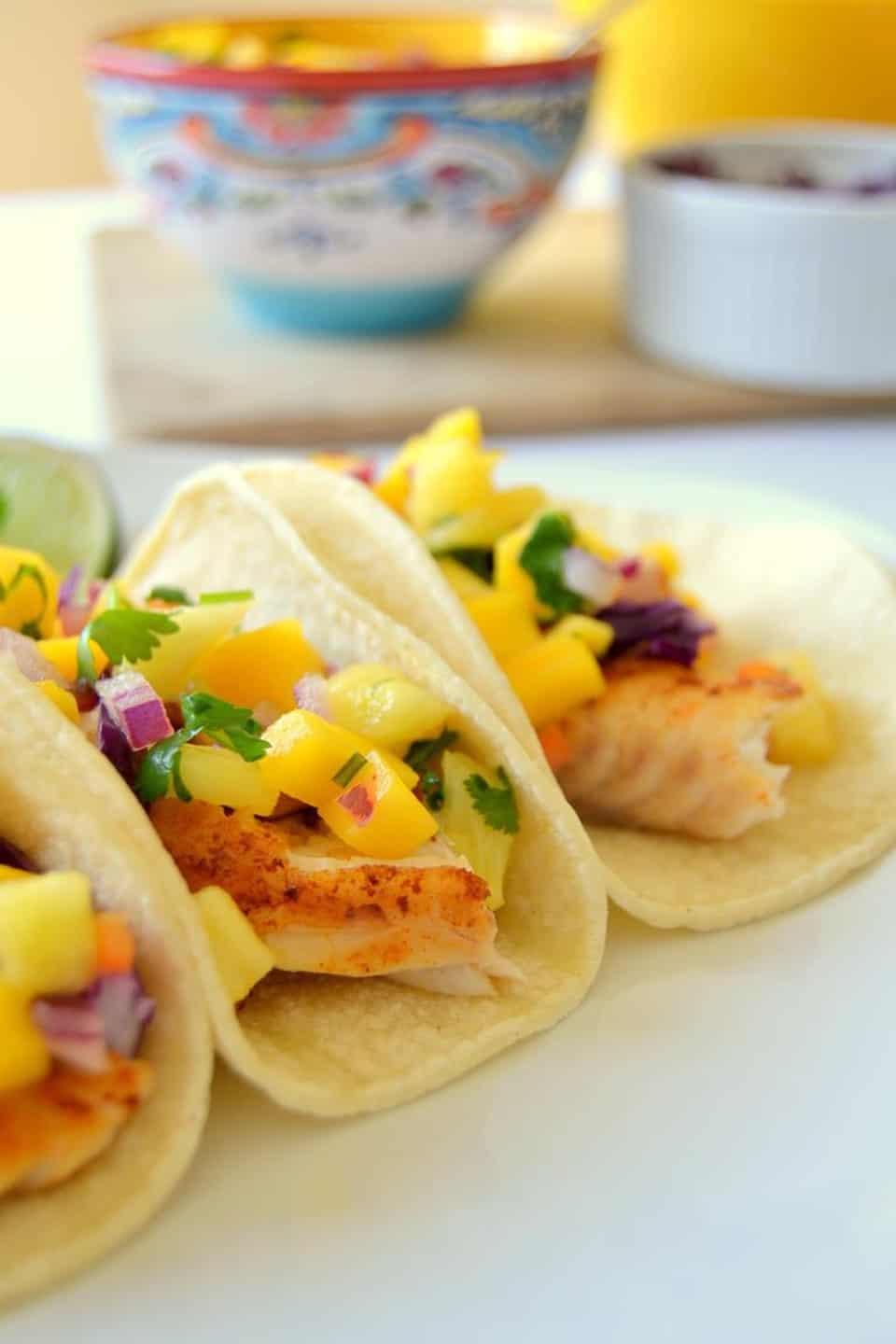 Enjoy!