Top 30 Creative Nail Designs With Lines (Short And Long)
When you shop through links on our site, we may earn an affiliate commission. This educational content is not intended to be a substitute for professional advice.
Thinking about adding some cool lines to your manicure? Why not give it a go with nails with lines? These can be anything and everything that you want them to be and that you imagine! Lines are a form of artwork that a lot of people fancy. Keep on reading as we bring you some of the coolest options for any event or nail length!
FAQ
1. What Is A Nail Manicure With Lines?
Nails with lines and unique cool prints are anything that you imagine and want them to be. These can be monochrome and solid nail polish base with some simple or complex line work on top. These nails are usually very playful and cute while being mostly worn by younger women or teens who like to crave looks and get noticed easily.
2. How Pricey Are These Nails?
You won't let a lot for this manicure in most cases and in most nail salons. Usually, nail artwork with simple lines and the use of nail polish will go for $30. If you want to try out a gel manicure, you're looking at $50. Long and artificial nails such as acrylics will go for $80.
3. How To Do This Manicure?
You can achieve this manicure on your own and without hitting the salon. In fact, all you need are some basic tools and common nail equipment, such as a nail primer, nail file, and a buffer, your favorite polish color, a different color for the lines, and a topcoat.
Step 1: cut and file your nails to your preferred length. Make sure that you have no nail polish on top and work with a clean base.
Step 2: add a base coat and prime your nail plate for your nail polish. Let it dry down within a couple of minutes.
Step 3: place your favorite polish on top. Use two coats to get the pigment you want and desire.
Step 4: draw the lines on top to get the design that you wish for. You can go for criss-cross, dotted, or one simple line artwork. Use a thin brush to get the best precision.
Step 5: set your design with your favorite top coat. Enjoy the shine and buff out the nails to fix up any errors.
Short Nails Design With Lines
1. Simple Nail Art With Lines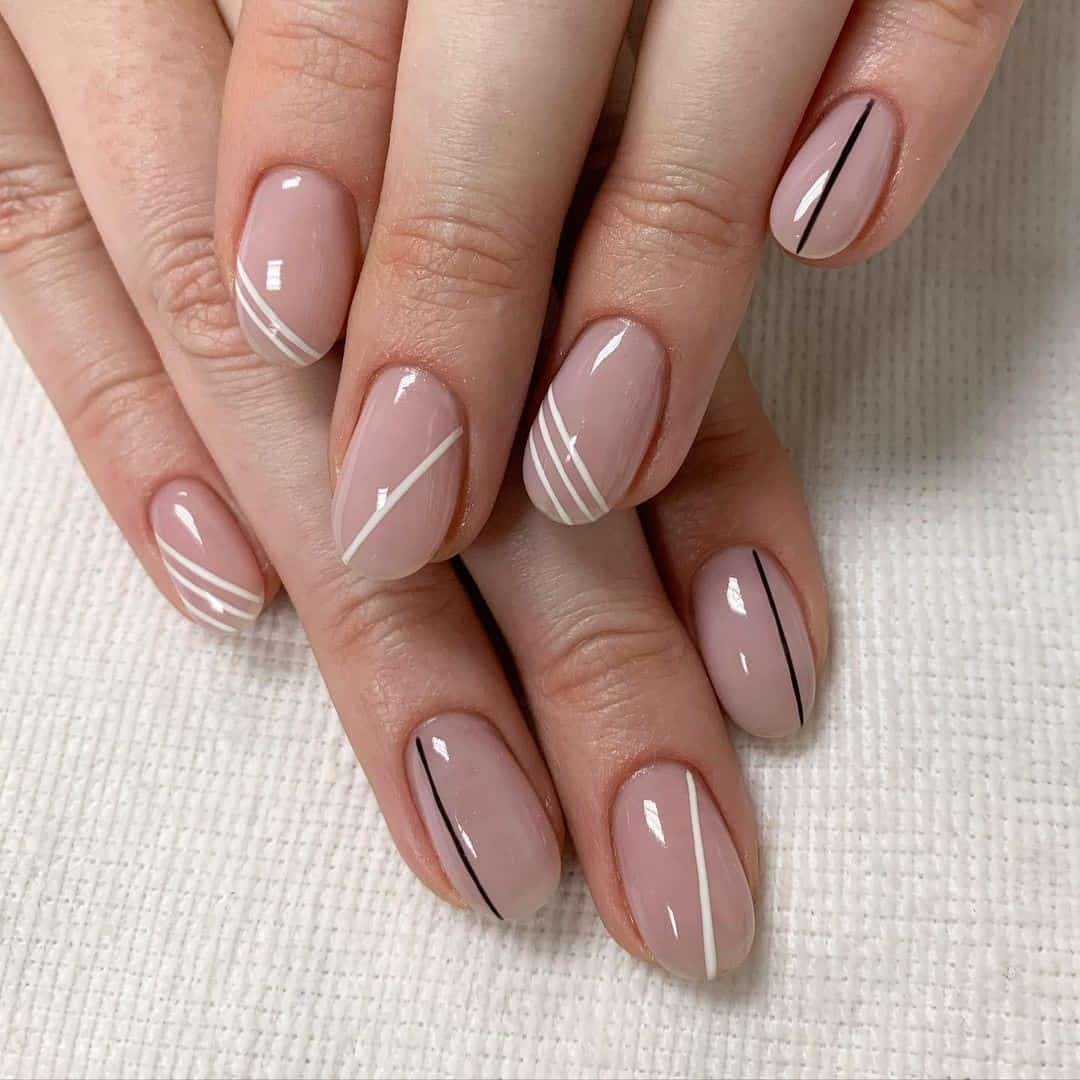 This line artwork will look cute on top of your white base. You can also go for a clear nail polish or gel polish. Add depth and elegance with some white and black lines. Take your time when it comes to achieving this or similar manicure ideas. Use a thin nail brush to achieve defined artwork.
2. Short Nail Designs With Lines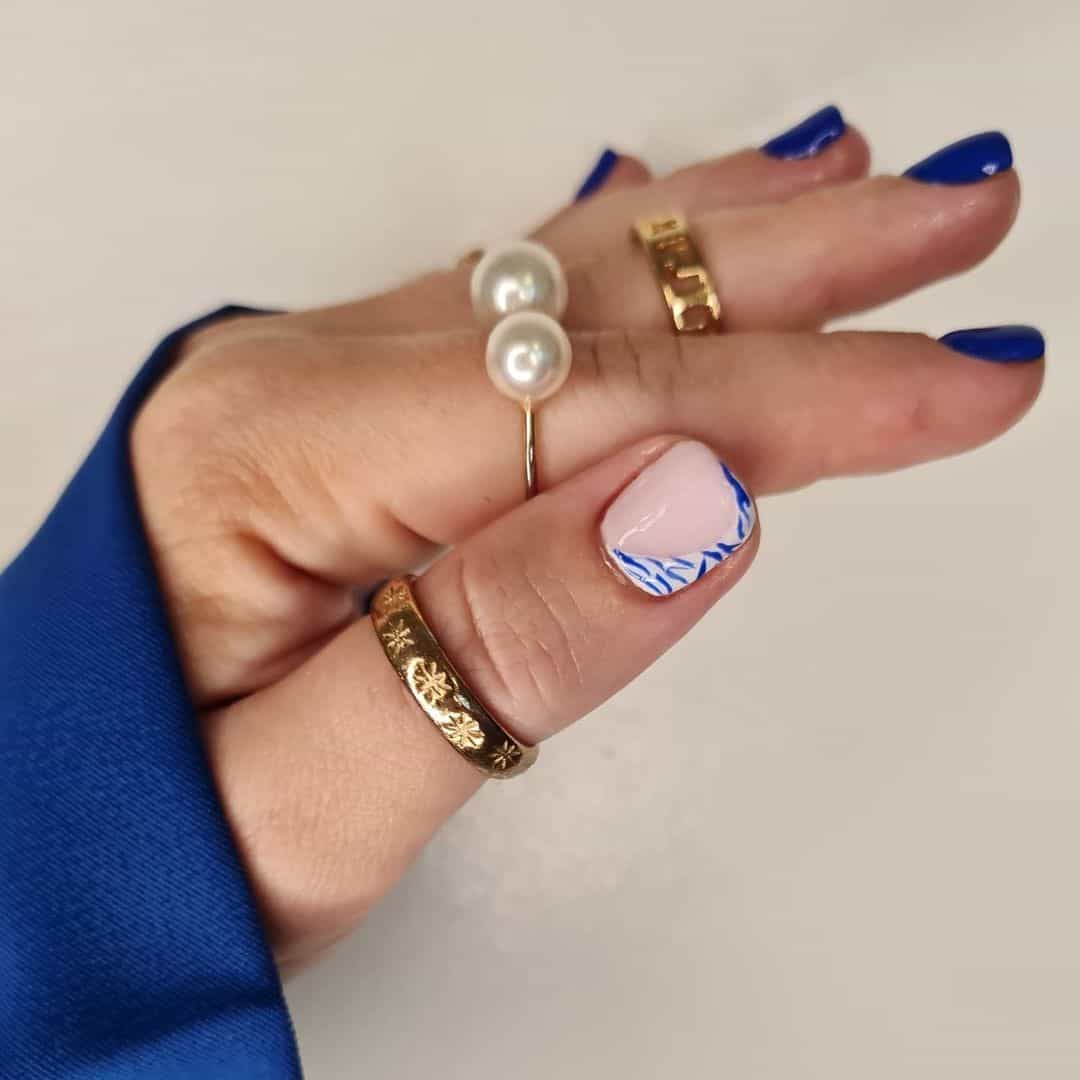 A lot of women enjoy light polish colors and base colors, as well as adding a bit of pop and color with their preferred favorite color. You should consider going with royal blue or light blue on top of a nail plate. This linework will look the best on workaholic women and those who like to create!
3. Pastel Nail Designs With Lines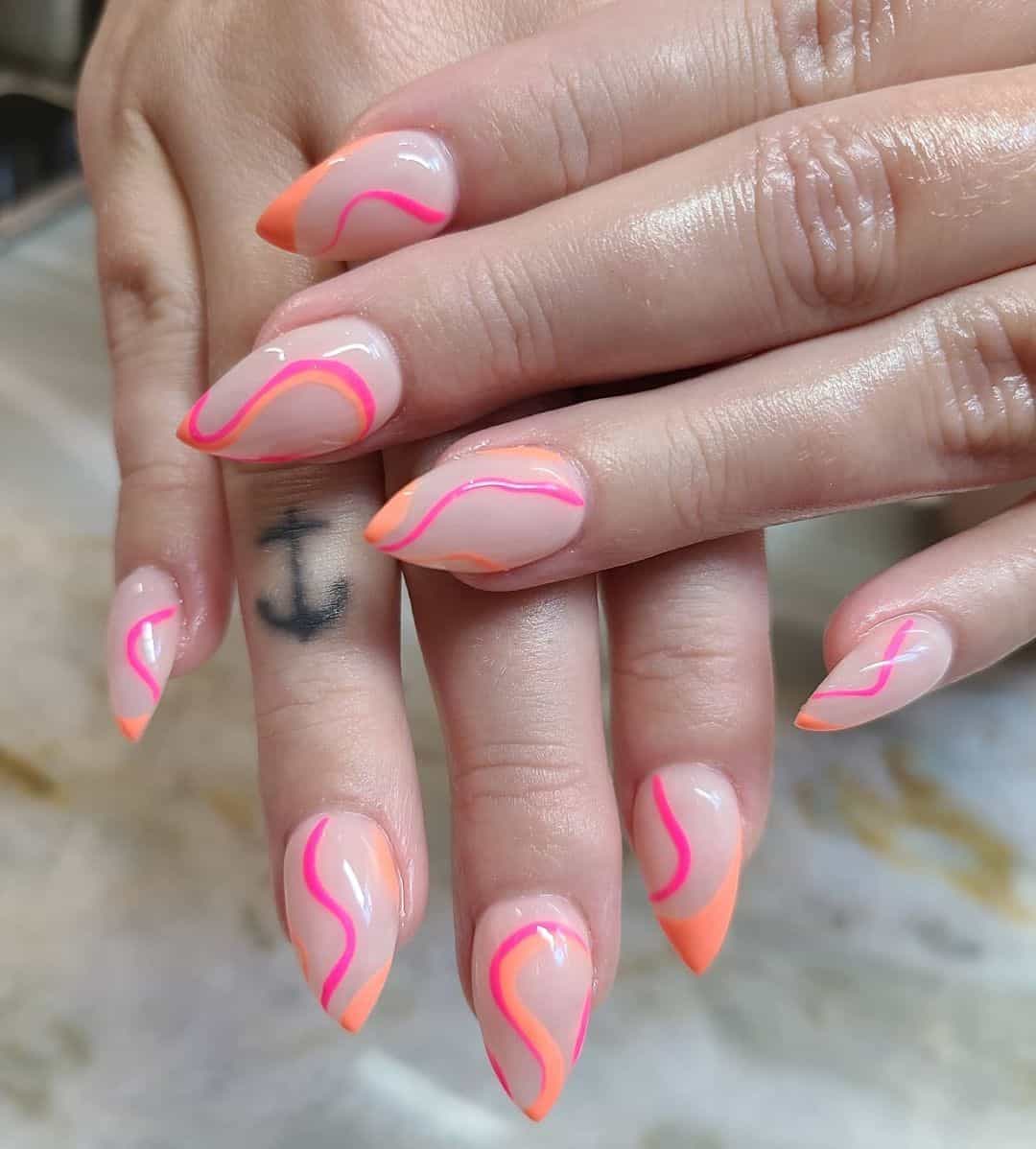 Is pink one of your favorite colors? Do you like to wear cute and colorful pieces? If you enjoy pastel ideas you're going to like this beauty! It will look the prettiest once paired along with a clear or white nail base underneath. Add thin lines and embrace the artwork while wearing it to everyday events. This manicure will suit younger women or teens the best.
4. Square Nail Designs With Lines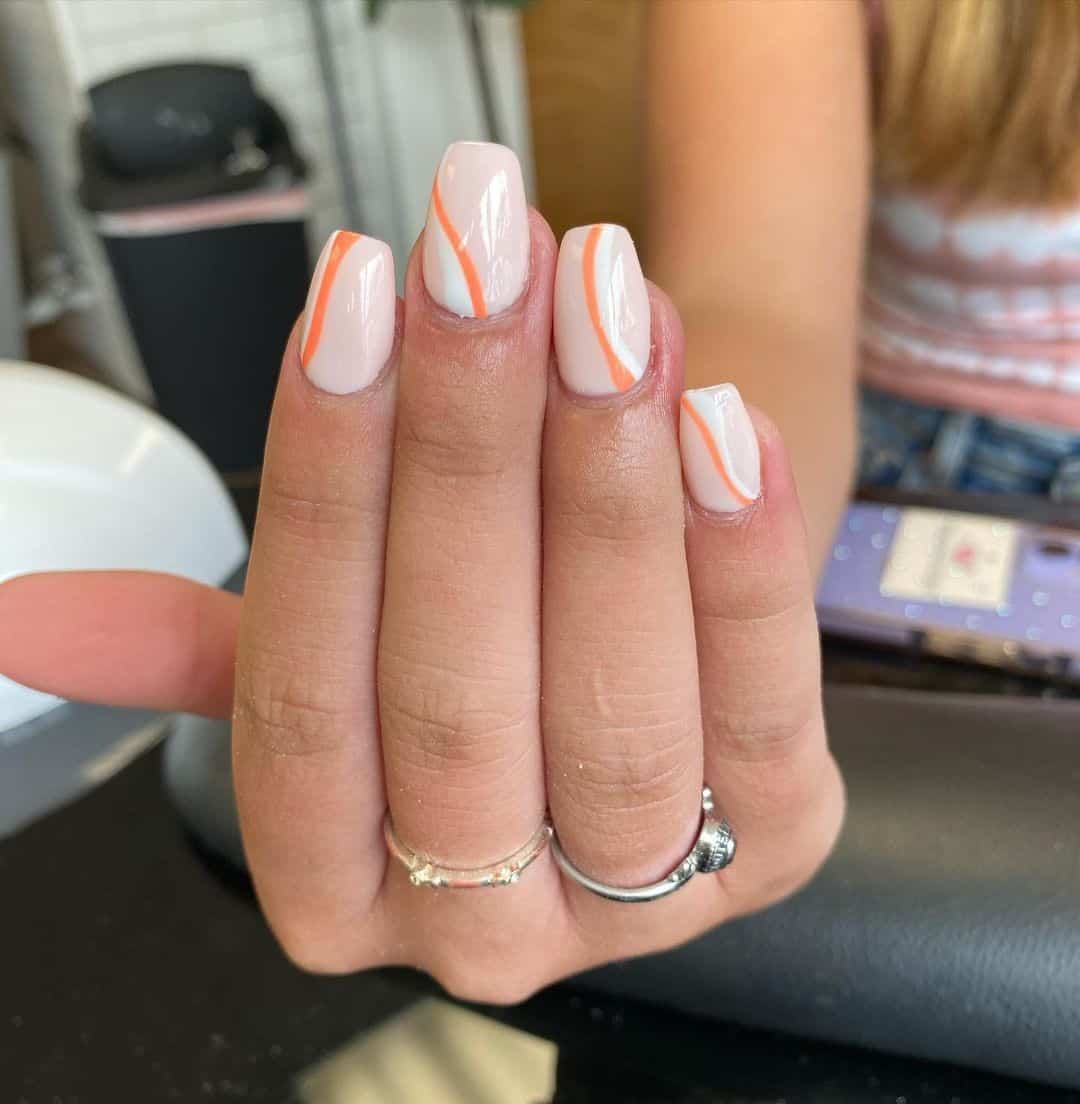 You can add just one color on top of your clear or white base. No reason to go "all-out". Sometimes, simplicity is the way to do it. You will like this square-shaped manicure if you're someone who enjoys gentle and soft transitions that aren't too hard to do on your own.
5. Beige Nail Designs With Lines
A lot of girls like the beauty of nude nail polishes and colors, as well as a soft touch of elements of artsy ideas. If you know and like to draw yourself and you have the patience to do this yourself, why not add some black lines to spice up the work? The end result looks very tribal and chic, while most women who are in their thirties will like the outcome of this design.
6. Gorgeous White Nails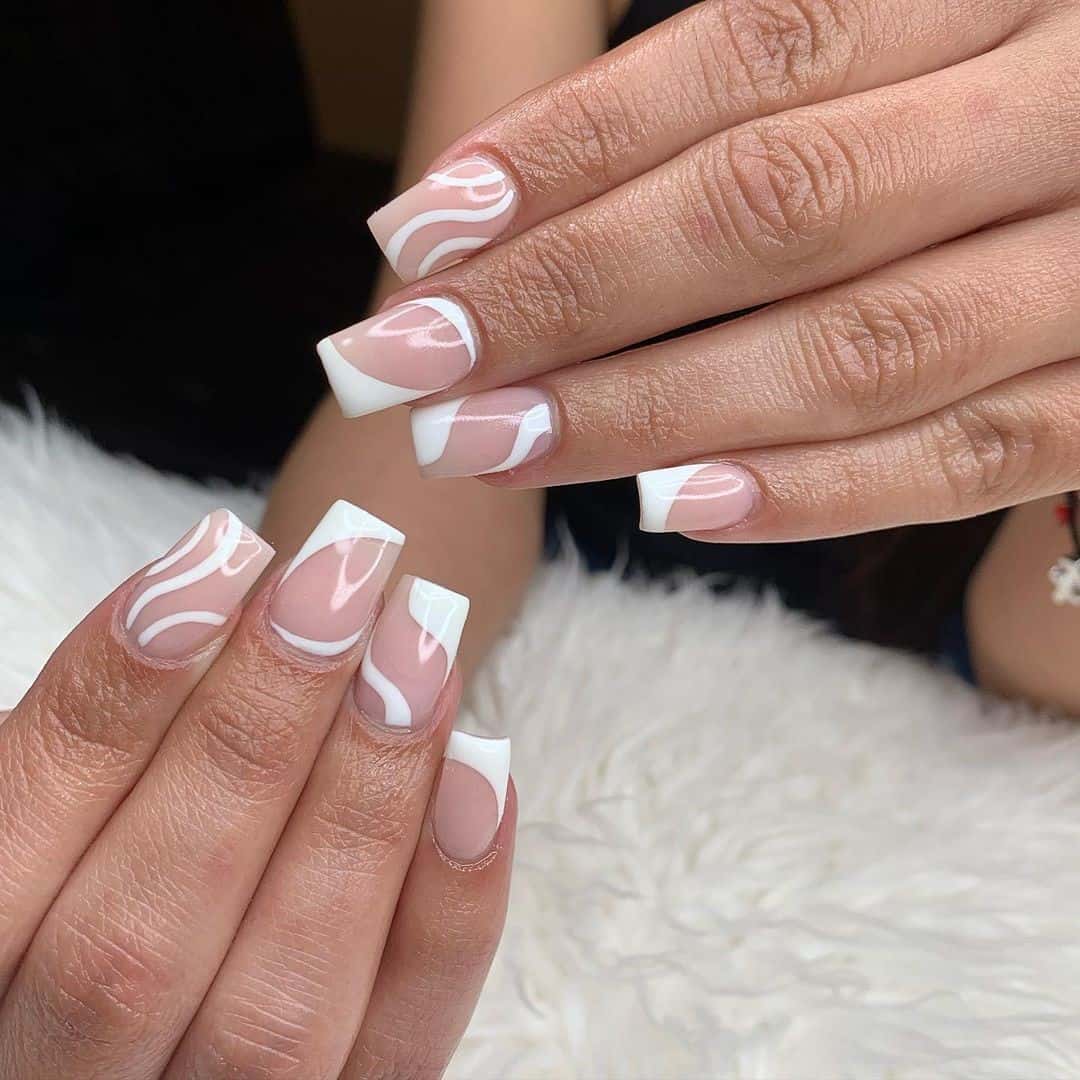 Some women like the bridal concept with their nails. You can go for this design if you're getting married or if you're in the mood for something a lot more fancy and formal. These nails will look so cute when done by the right nail artist and they will look elegant, perfect for important events of any sort.
7. Black & White Line Manicure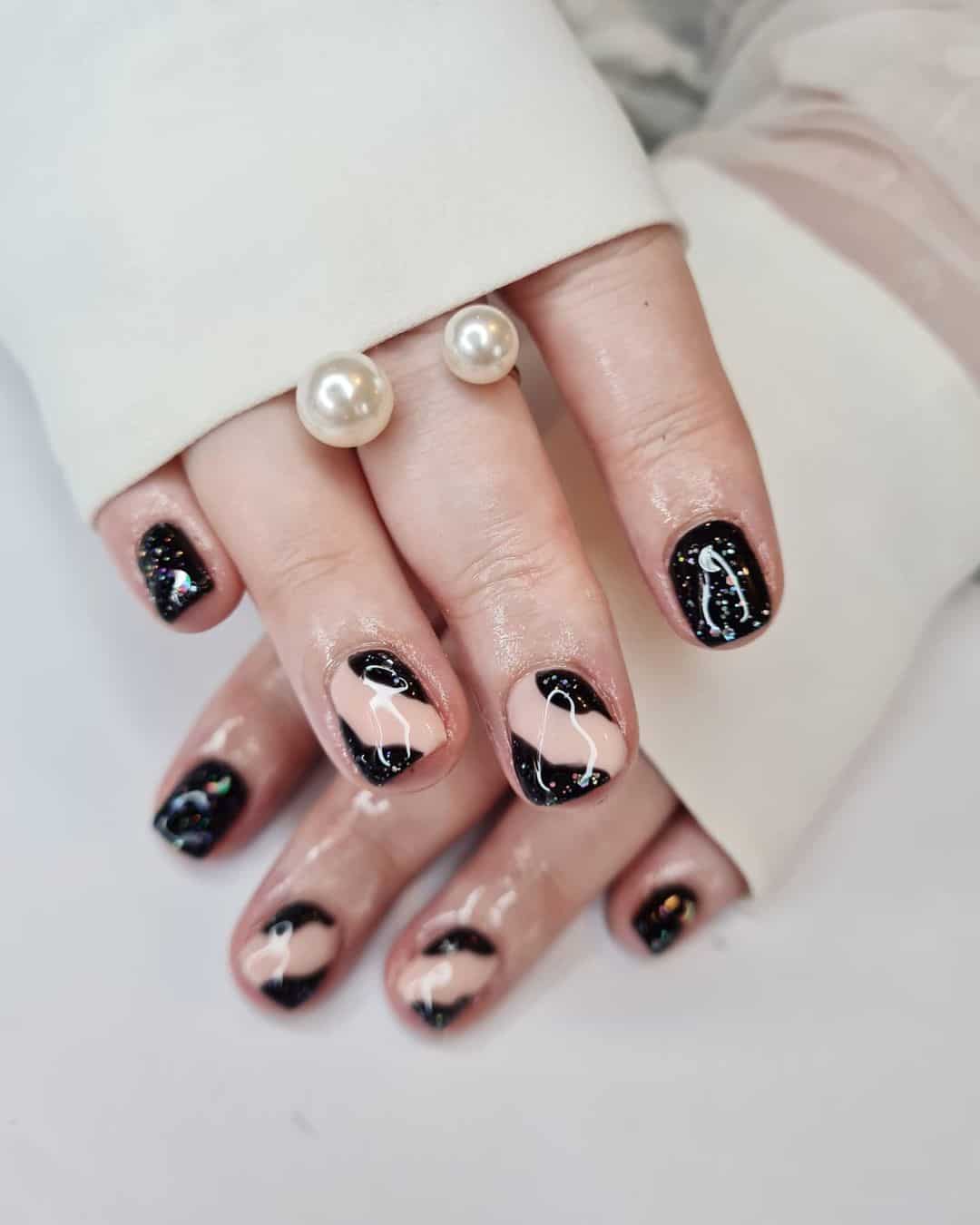 Black and nude when paired together will look so artsy. If you're someone who likes to DIY your nails and manicures, this is a must-do! You can even keep them short and sweet without worrying too much about their length or thickness. The outcome will look so perfect for those who like retro ideas and modern take on nails.
8. Brown & Nude Nail Designs With Lines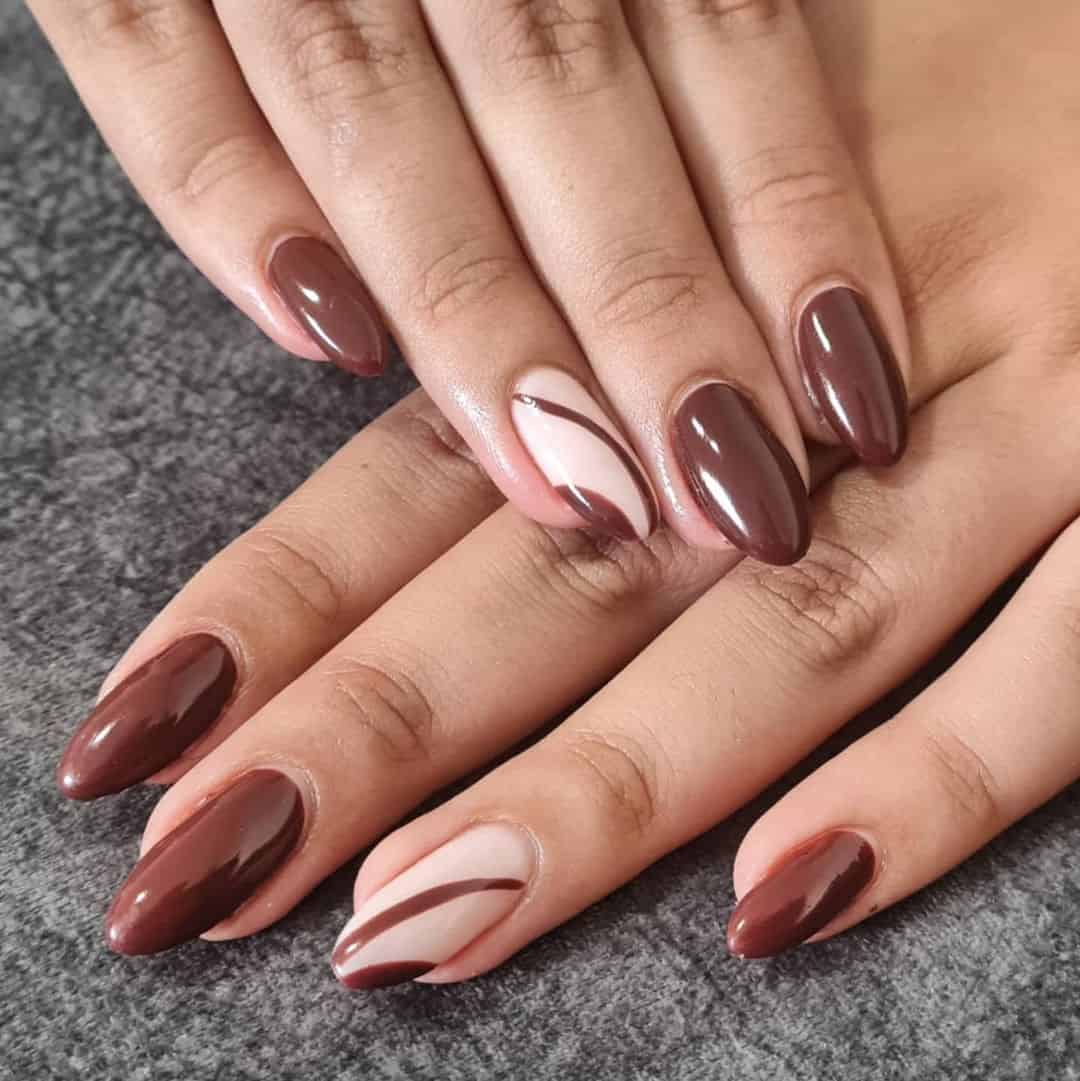 Do you like nude and simple nails? This manicure just shows you that your nails with lines can look so cute and simple without being "too much". If you need something that you can wear on a daily and you're in the mood for elegance, consider this beauty! You'll like the outcome for your chic wear!
9. Black & White Nail Combo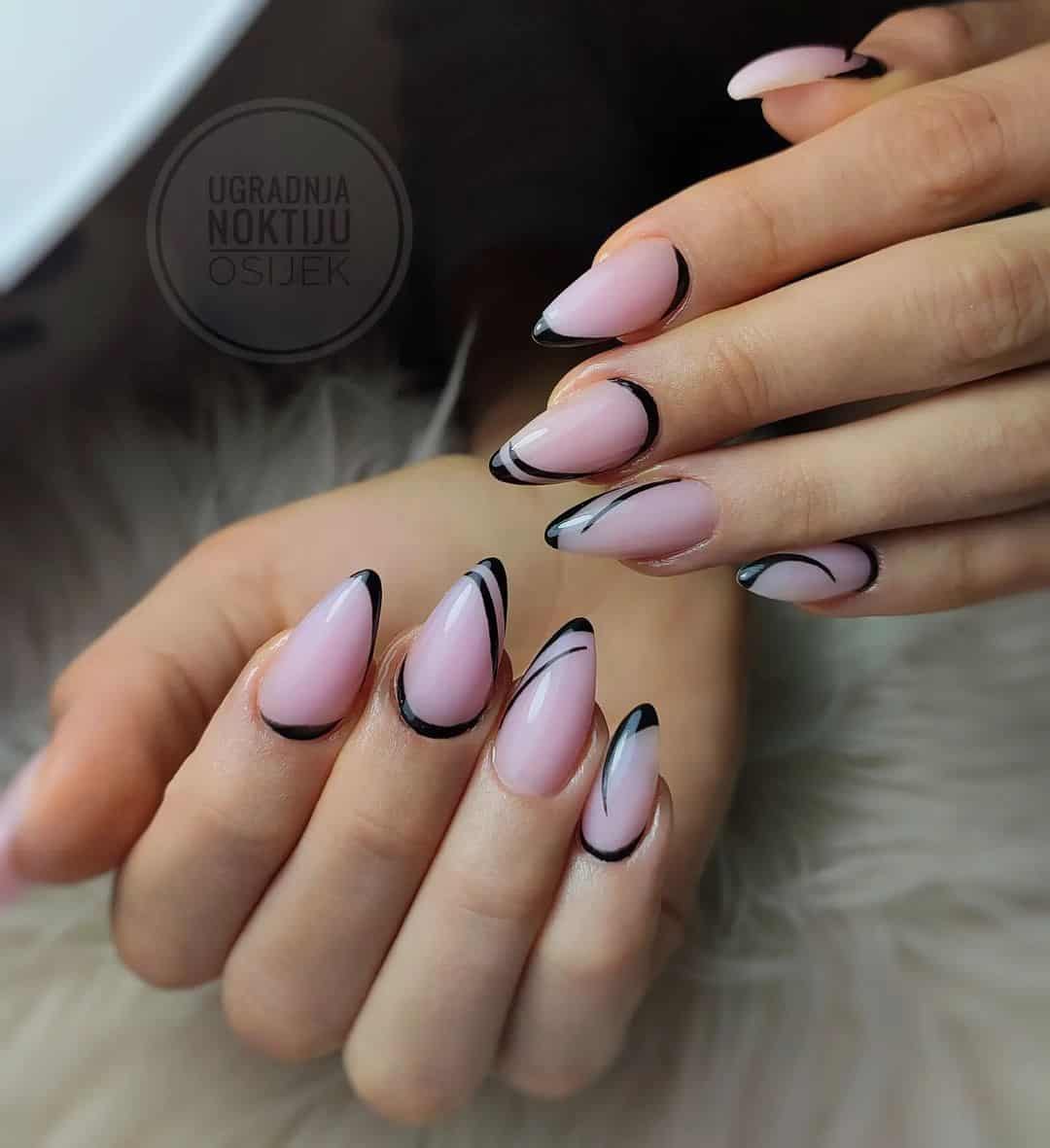 Go with this oval manicure and enjoy the fact that you can do it on your own. It is not too hard or complex. All you need is a white or clear nail polish that you will spice up with some black lines on top. Make sure that you have a steady hand to achieve this design. Black and white can look so gorgeous and feminine when done together, why not test this out?
10. Coffin Manicure With Lines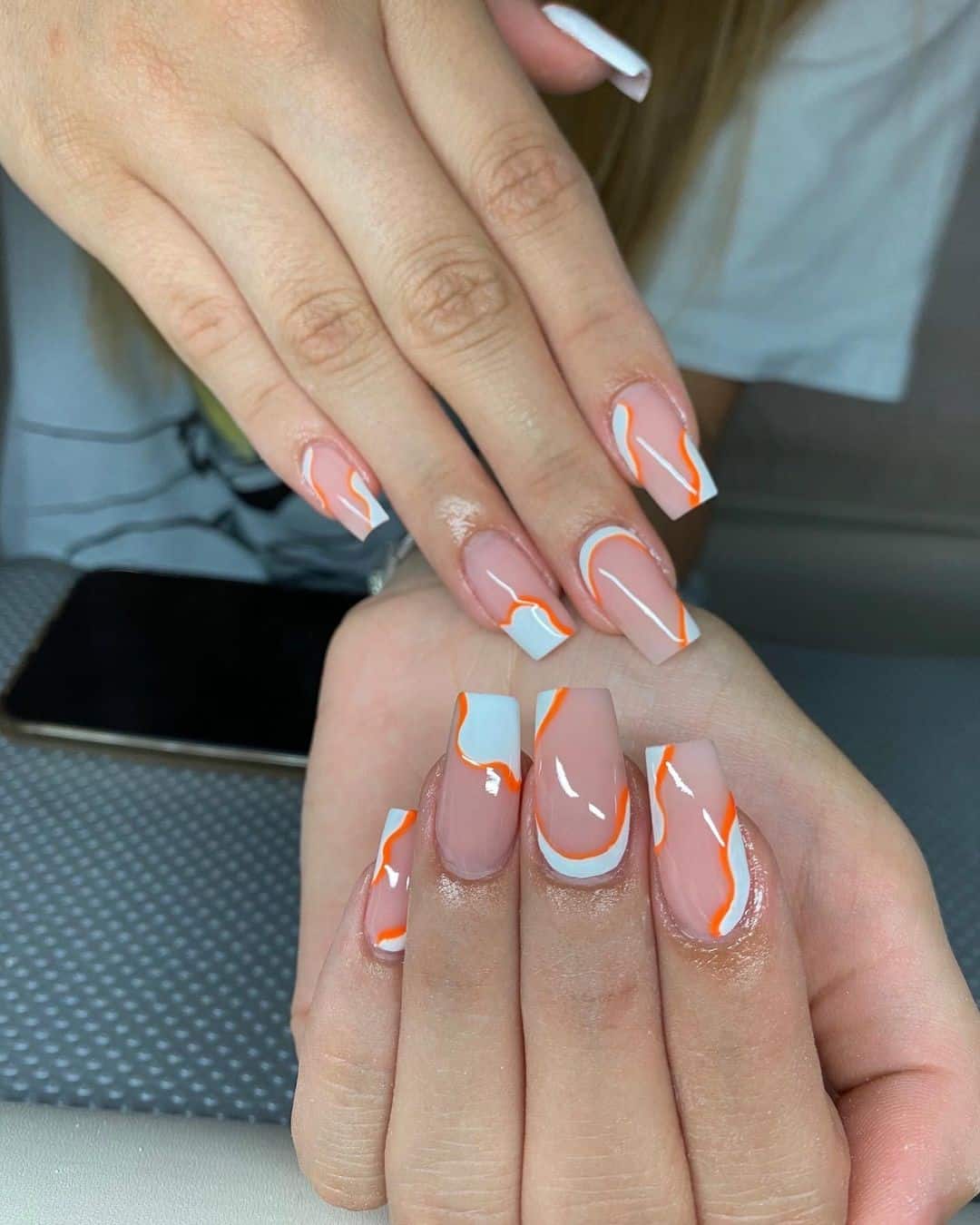 This square-shaped manicure with elements of orange and white will look the best on women who are in the mood for something playful and childish. You can show your style and your chosen favorite color with this concept. If orange is your favorite shade and you want to add dimension on top of your white base, this duo is for you!
11. Rainbow Nail Designs With Lines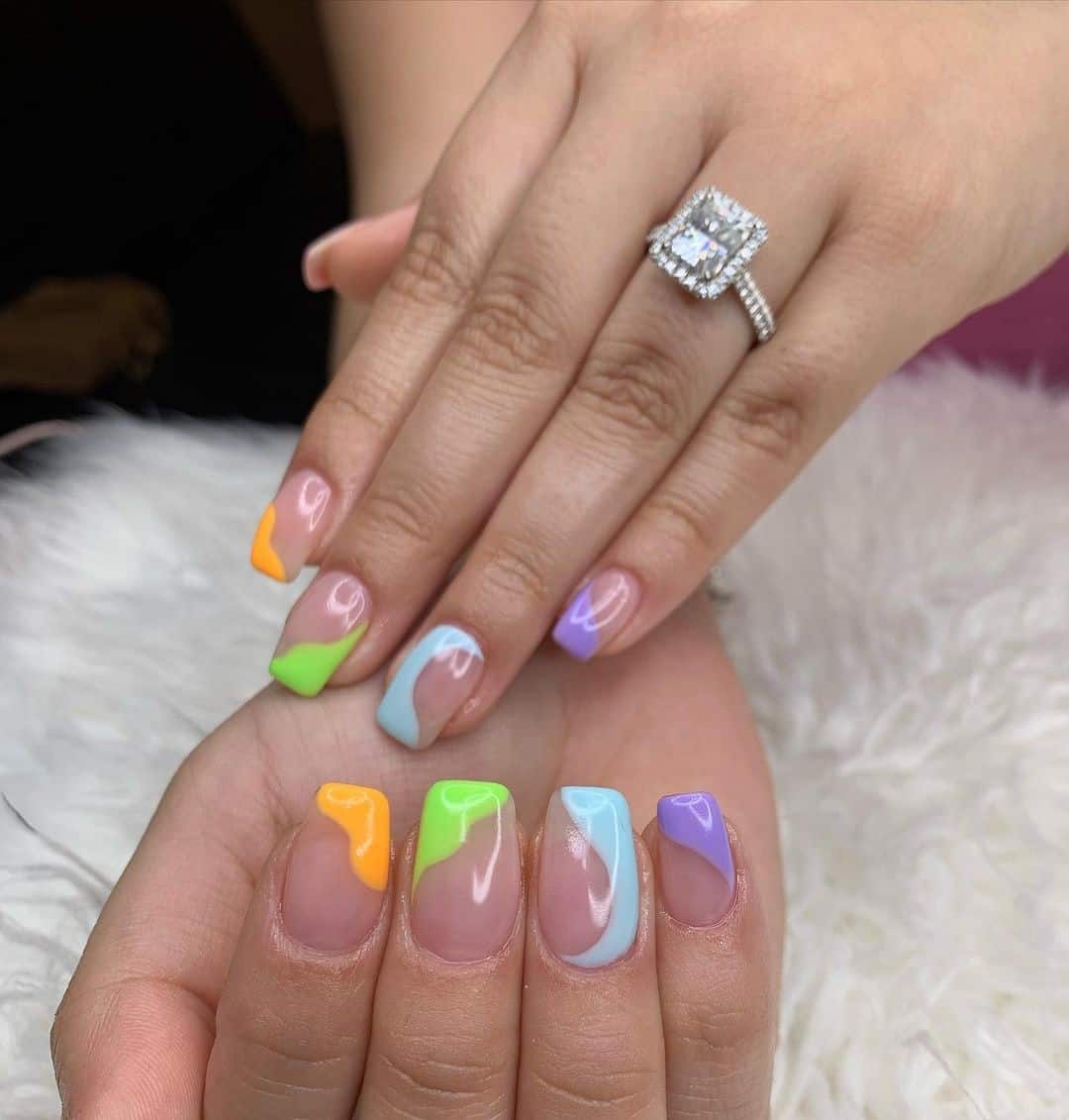 Can't make up your mind? You're not too sure what to wear? If you're in the mood for all the colors of the rainbow and you like pastel designs you're going to like this beauty. Add these lines and work with different colors to show your fun and playful side with your new line manicure.
12. Pastel Candy Nails With Lines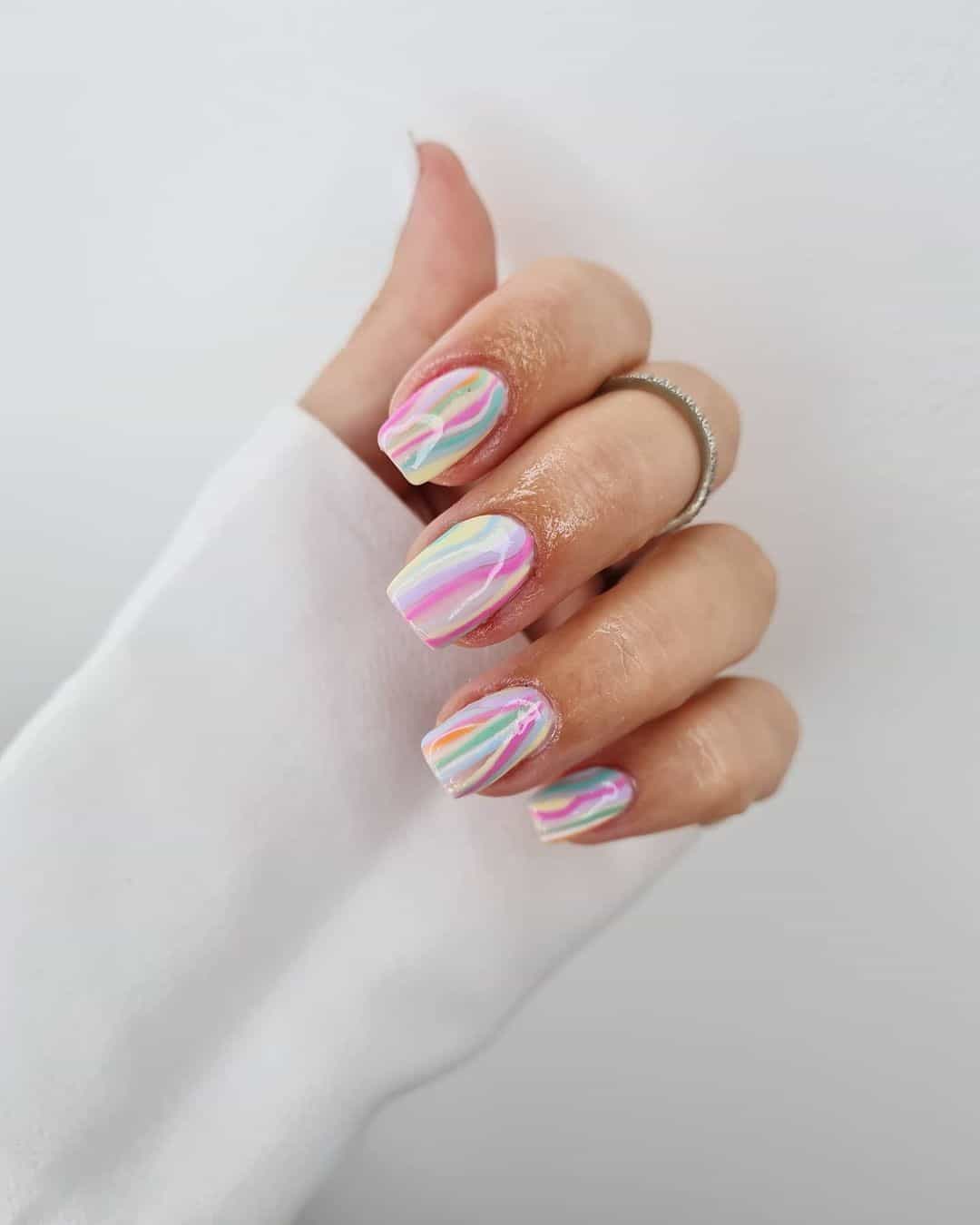 Do you like a rainbow or candy-inspired nail? Women who are always looking for something new and colorful will enjoy this design. Play with different colors and add a lot of shine with your favorite glossy topcoat! The end result will look chic and retro while being perfect for younger girls.
13. Oval Bright Manicure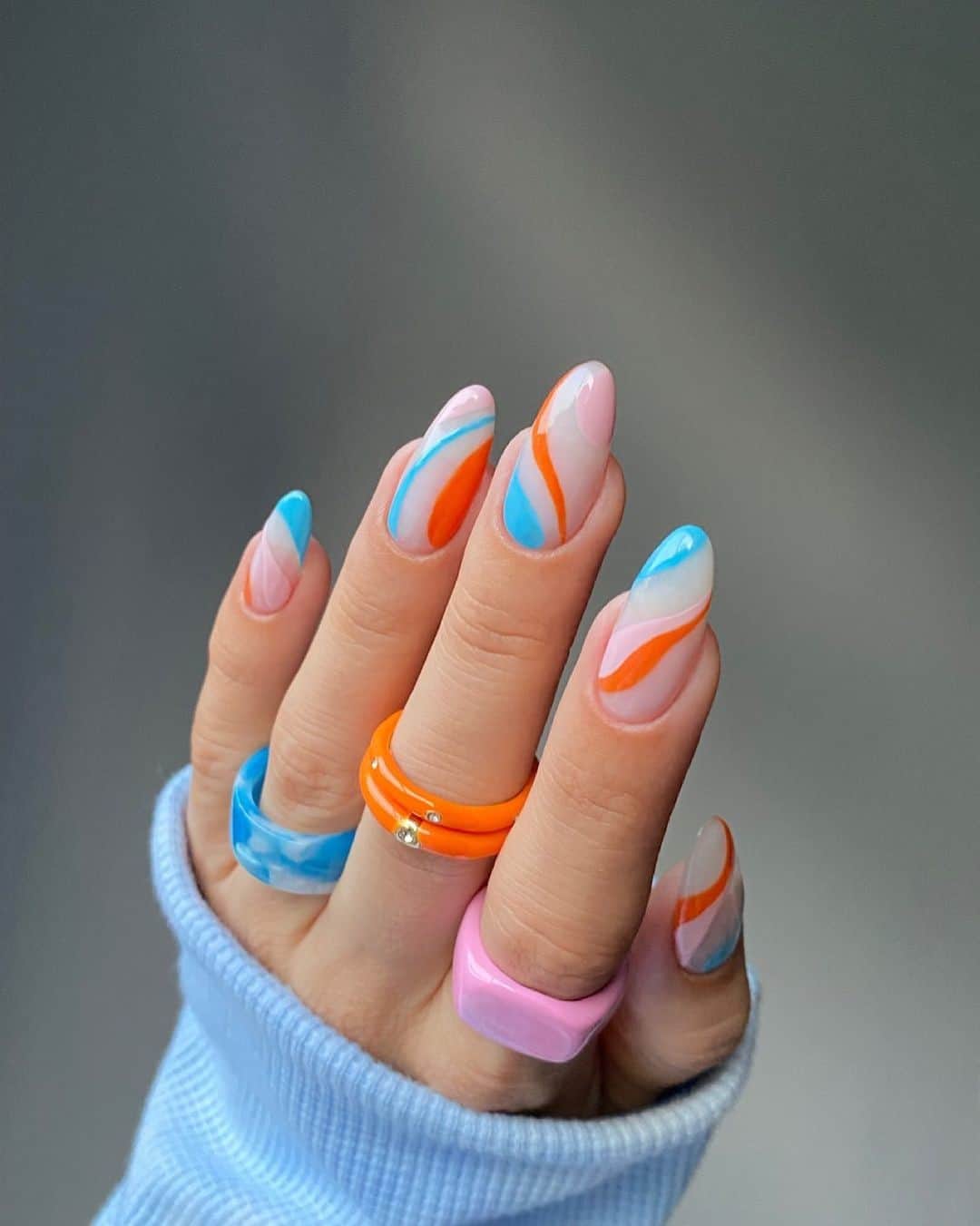 This oval-shaped manicure is for those who like to show off their natural nails. If you prefer your own length and style of nails, why not style them up with some pastel pops of color? This light pastel colorful manicure will look the best for the spring season! Show it off and wear it for your everyday wear or important birthday parties.
14. Blue Manicure With Lines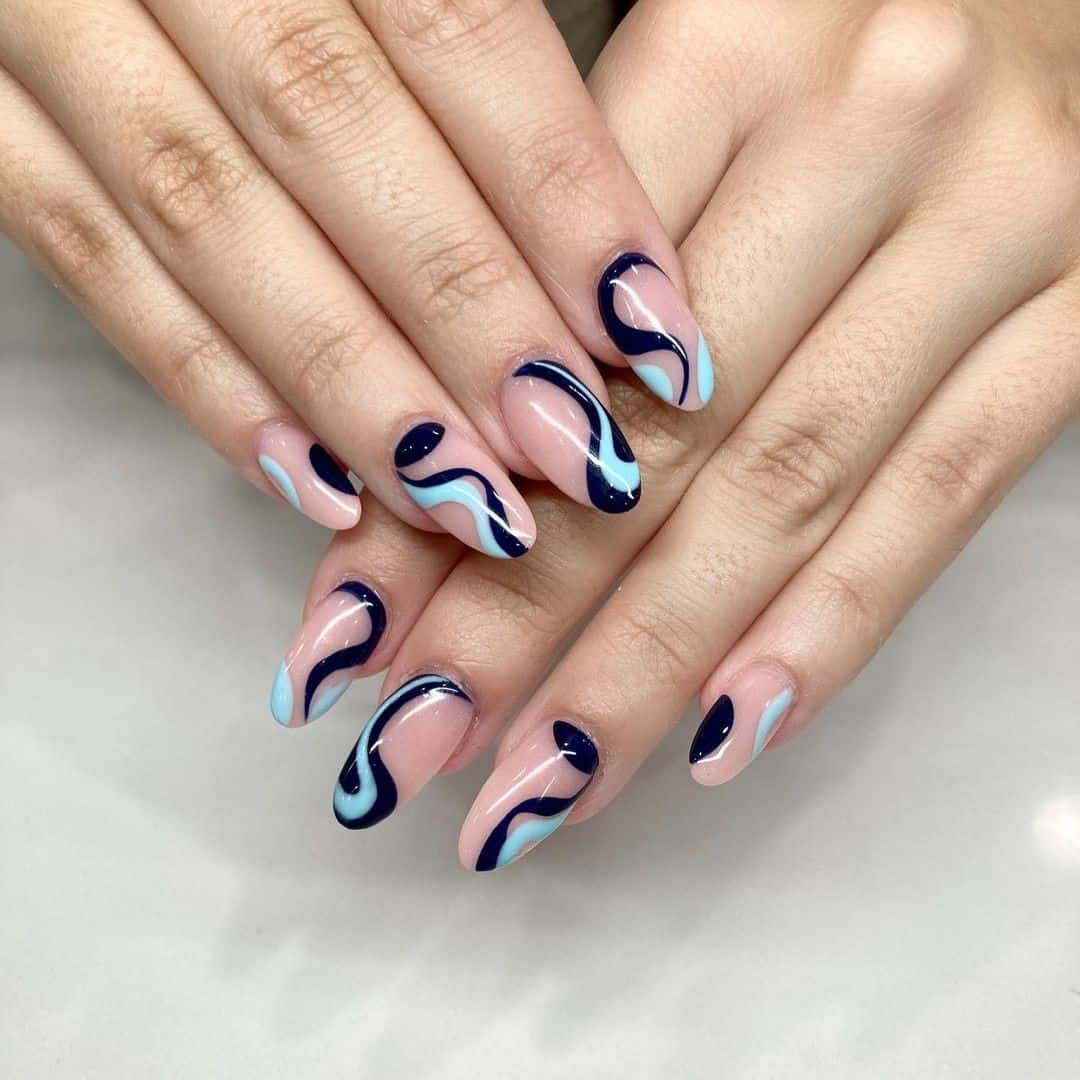 Are you someone who likes darker colors a bit more when it comes to your nails? Maybe you prefer darker cool-tone looks? If that is the case give it a go with this beauty! It will work so well when combined with different kinds of blue lines that are placed on top of your clear or white base!
Long Nails Design With Lines
1. Nude Acrylic Nail Designs With Lines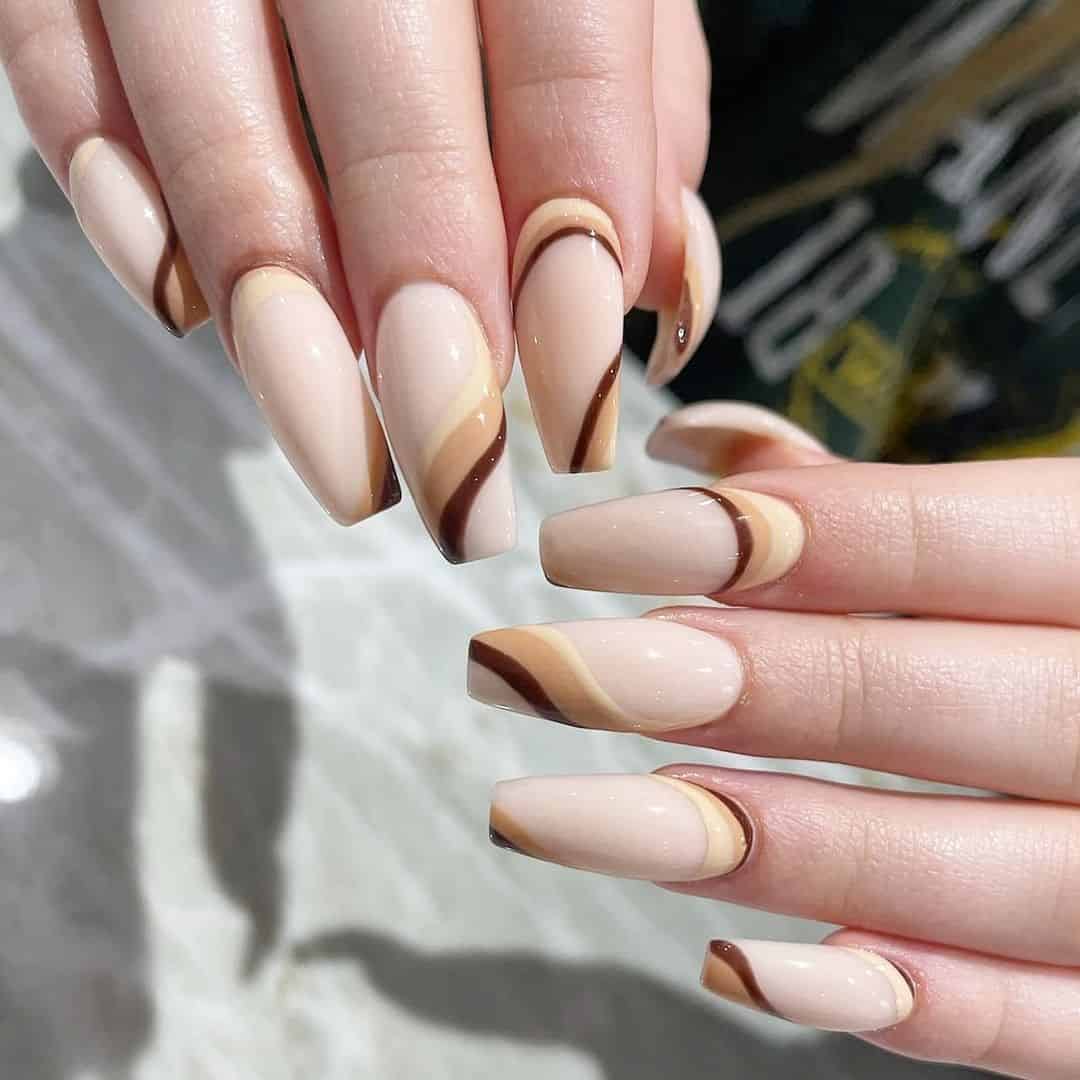 Creamy nails inspired by chocolate and coffee will look so fantastic when done the right way! Do you like lighter colors and do you prefer the nude shade range? If that is the case this long acrylic manicure will intrigue you! Add some lines and fulfill your chocolate light brown dream with this awesome and stylish beauty!
2. Coffin Blue & Beige Mani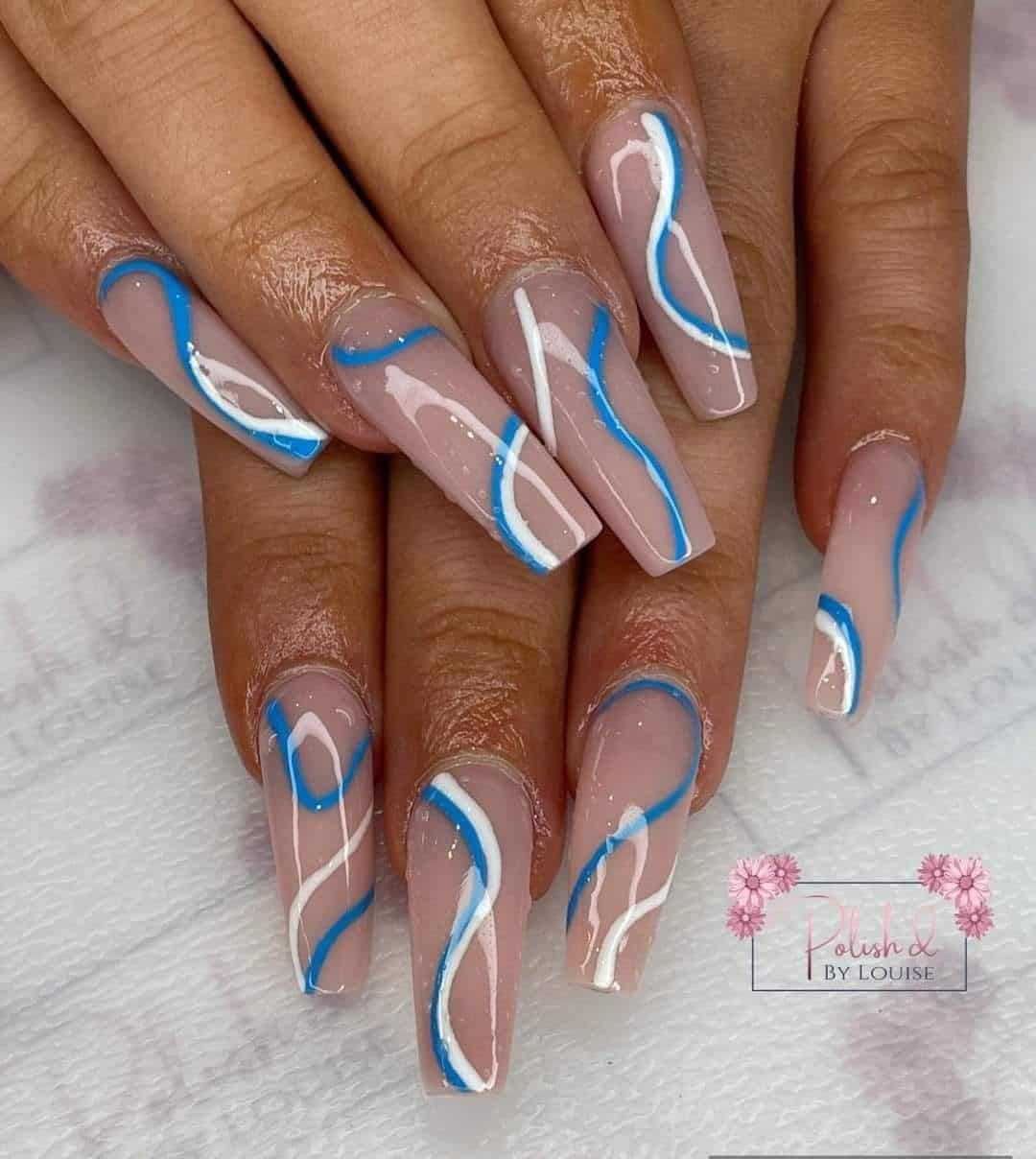 A pink-nude acrylic base will look so well when paired along with blue polish on top. Play around with your manicure and make these two colors work together! These two will look so fierce and the outcome will suit you the best for your formal wear. If it is your prom just know that this is a killer combo!
3. Floral Nail Designs With Lines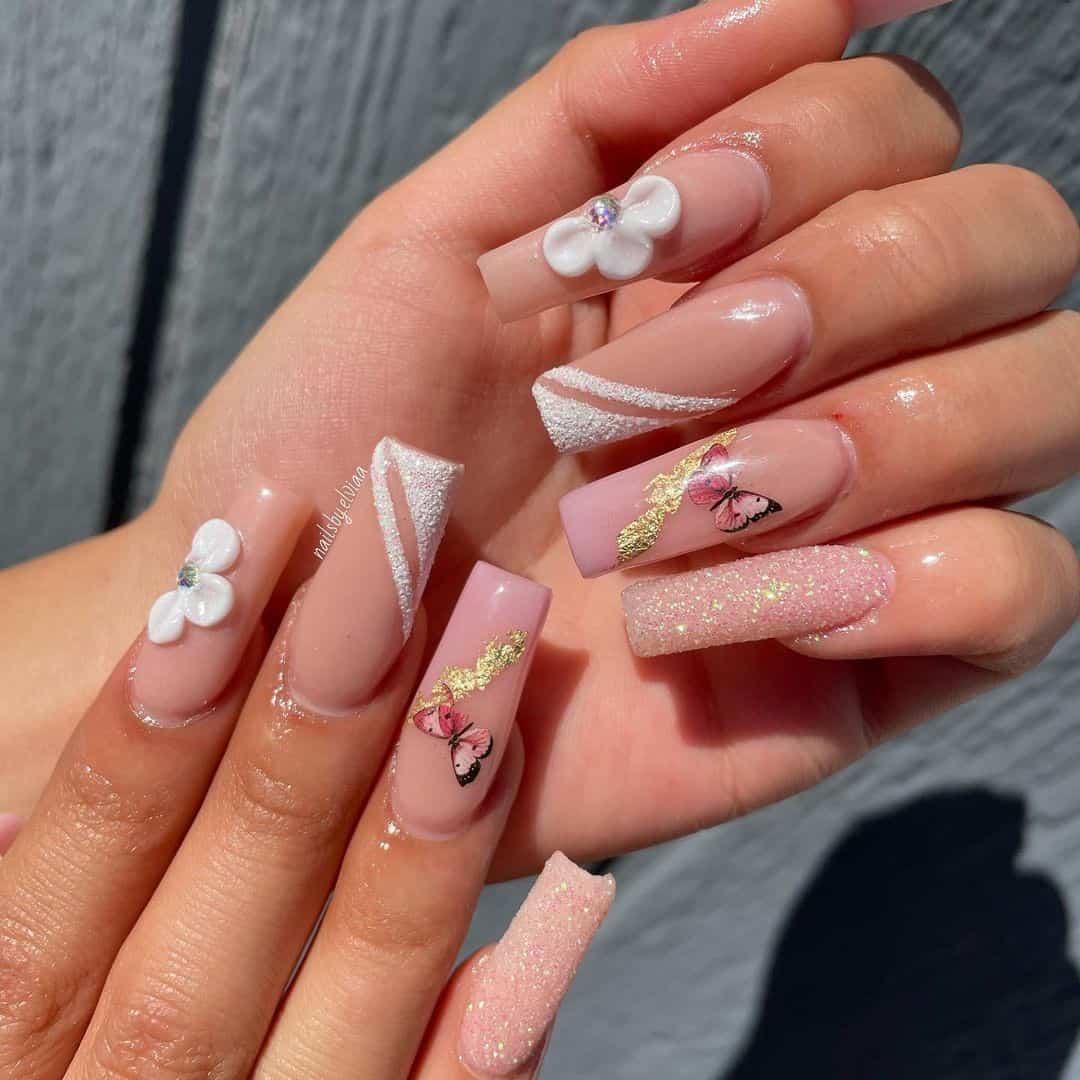 These ultra-long and sweet acrylic nails with a ton of glitter will seek attention and look fancy at any point! If you need a manicure that is sweet and elegant, this will suit you. Make sure that you pay close attention to glitter decorations that are done with these cool lines. The end result will suit women who are off to the prom the best!
4. French Nail Designs With Lines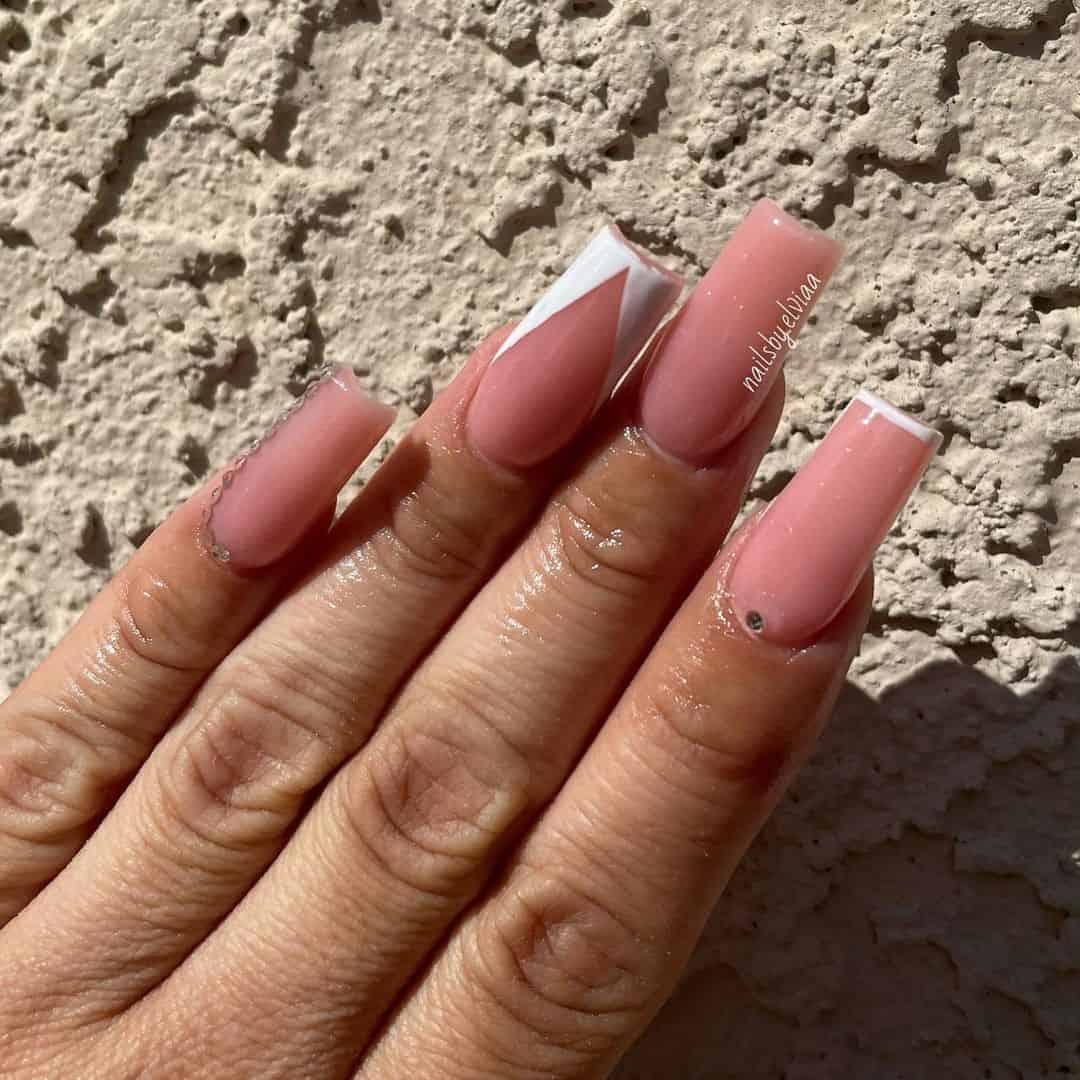 A light pink base with some subtle pop of white lines will look elegant. If you're in the mood for something for everyday wear and you can withstand acrylics, this is perfect! This manicure just goes to show you that anyone can try out longer nails and wear them for big and small gatherings.
5. Creative Blue & White Nails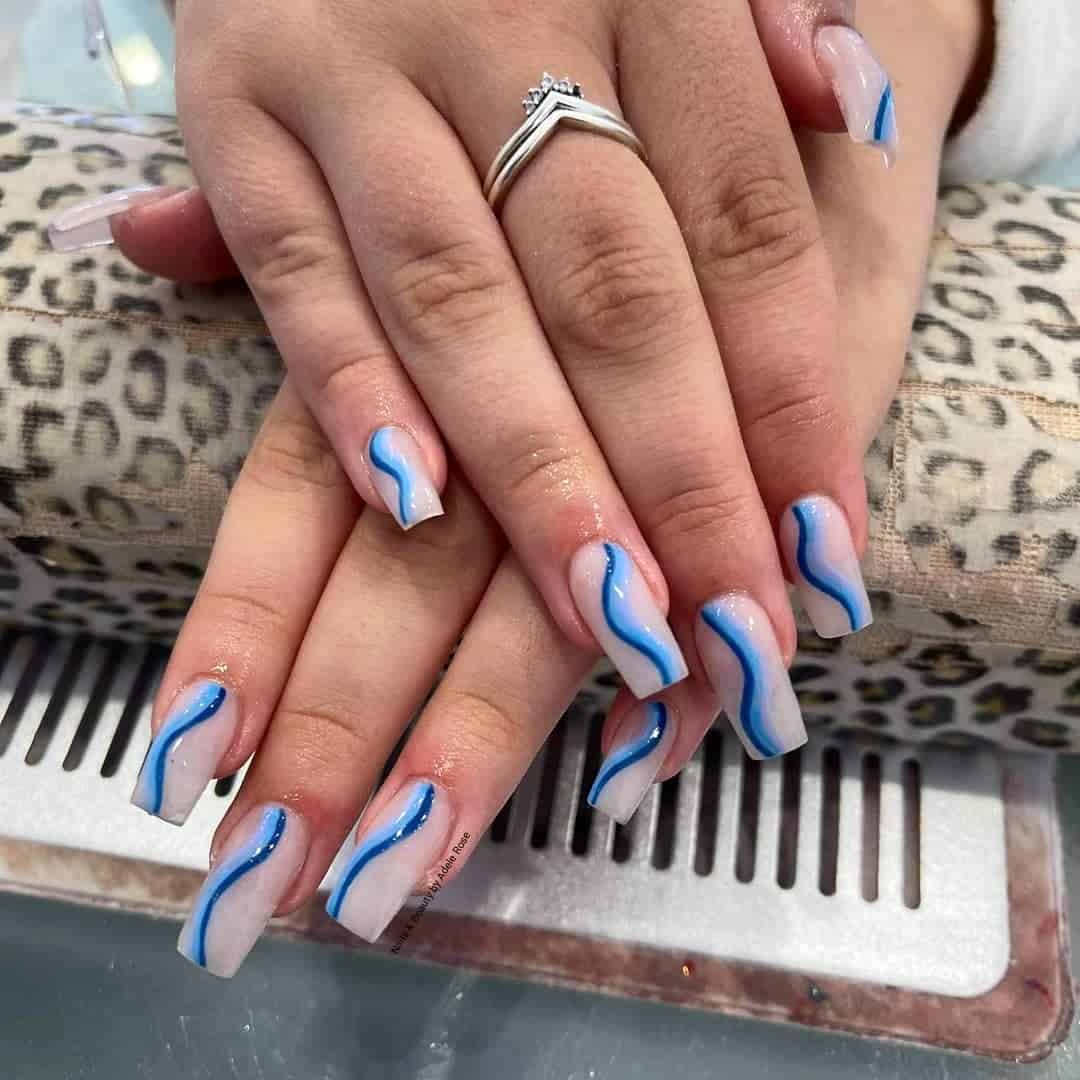 Women who want a summer-inspired design that has some light blue elements to it will like this beauty. It will look the best on longer acrylics and it will suit anyone who wants to try out a unique color combo.
6. Hot Orange Nail Combo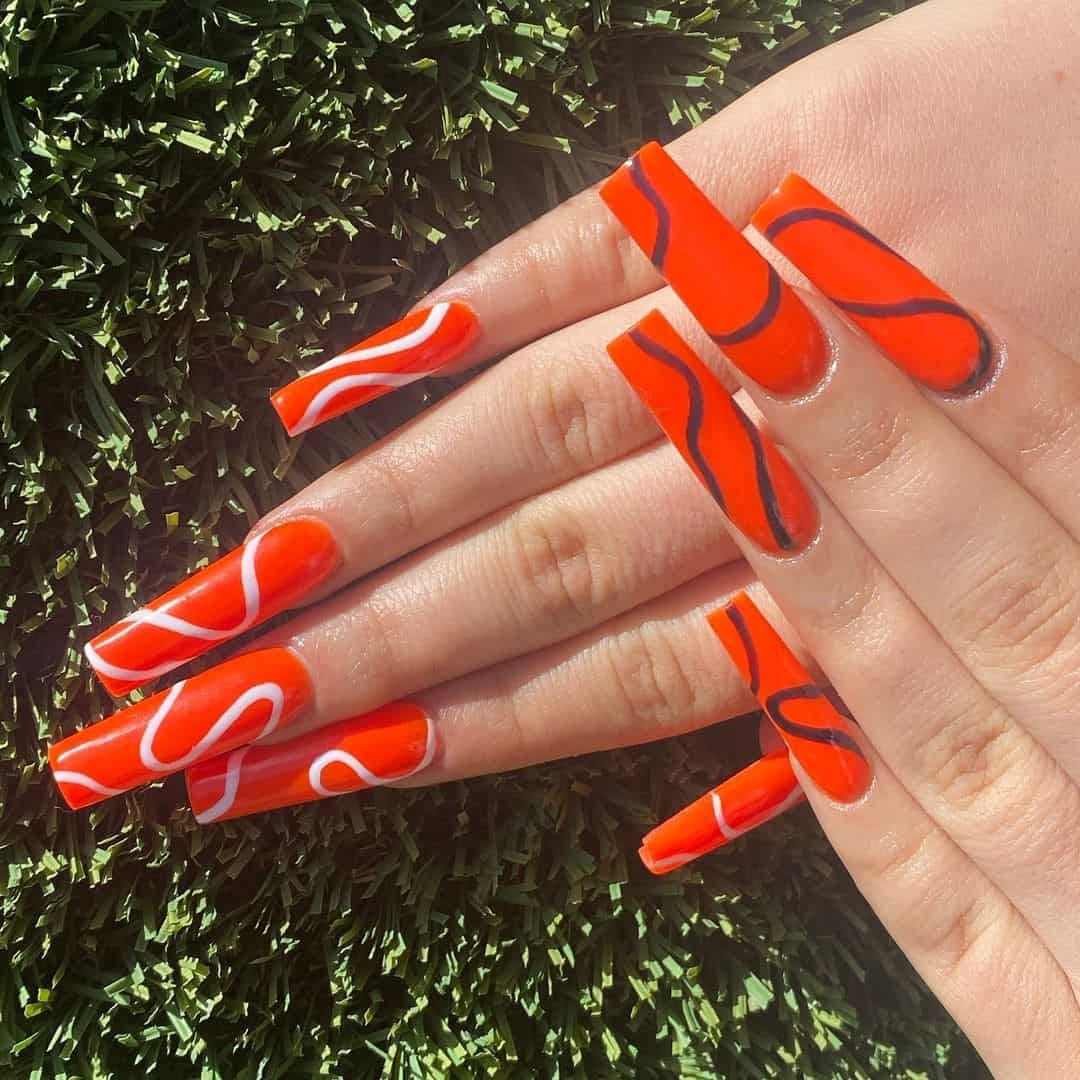 Go with this hot fiery red if you're in the mood for feminine and attention-seeking nails. Add white linework to make your nails cohesive. You can also add black lines on the opposite hand just to experiment with your nails and to play around with the outcome.
7. Pink & Nude Nail Designs With Lines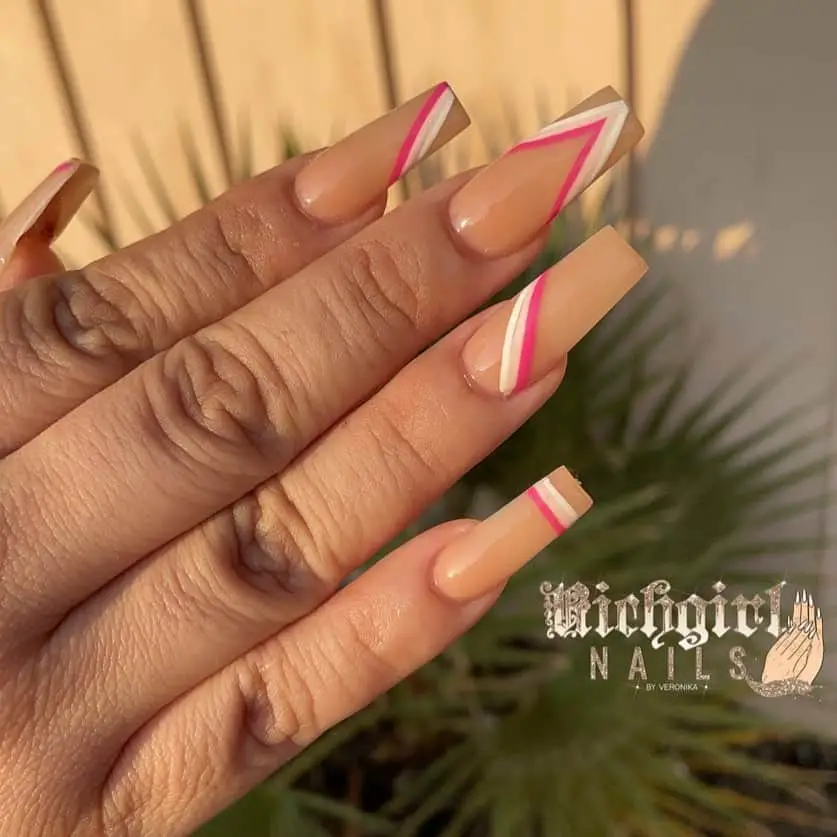 Soft and sweet, perfect for everyday wear! Add pink and white on top of your nude/beige base. If you like pastel colors and soft ideas this will intrigue you. Make sure that you aim for precision and that you know how to do symmetrical ideas on both of your hands.
8. Stiletto Yellow Nail Designs With Lines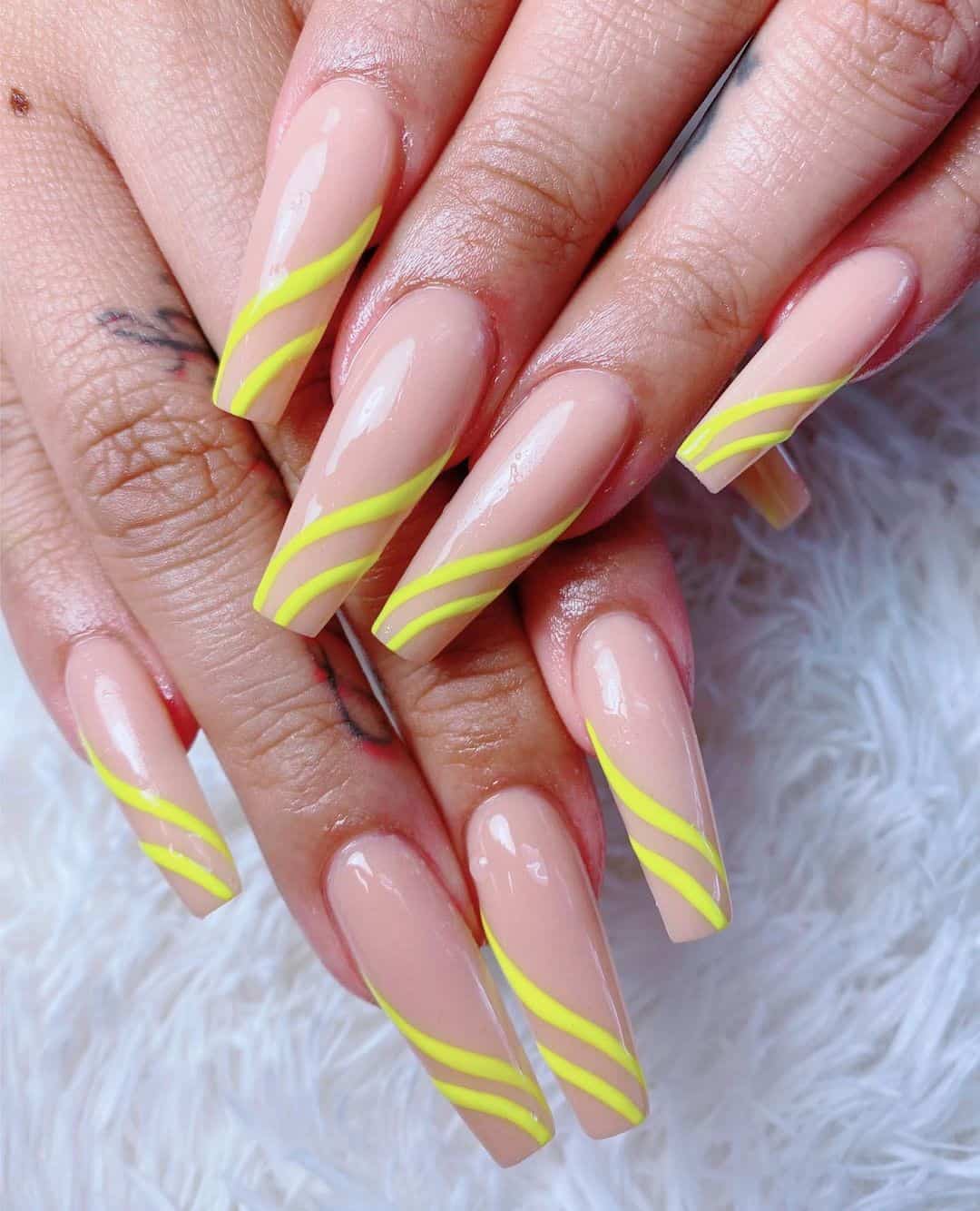 If you're looking for the prettiest manicure for the summer season, experiment with this color! Yellow is a common go-to choice that you're going to like for any event. This color will make you look like a true elegant queen, as well as someone who can represent pastel flirty colors.
9. Acrylic Nails With Lines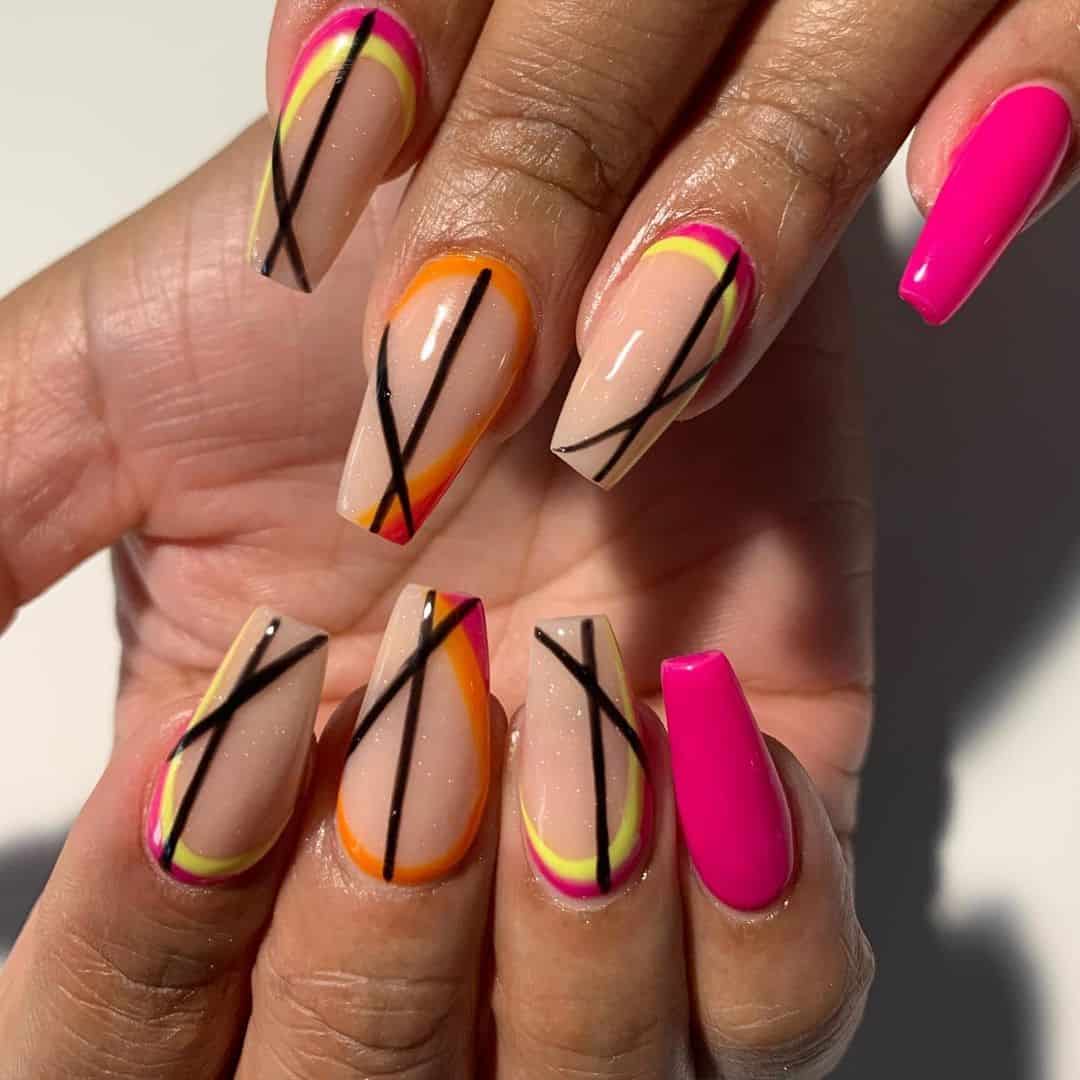 Pink can look so good as a nail base for your artsy line work! If you want something that is so retro and fun while being colorful, give this a go! Once you add black lines on top you will end up with a stylish manicure for any part of the day or night, as well as for any event.
10. Long Acrylics With Line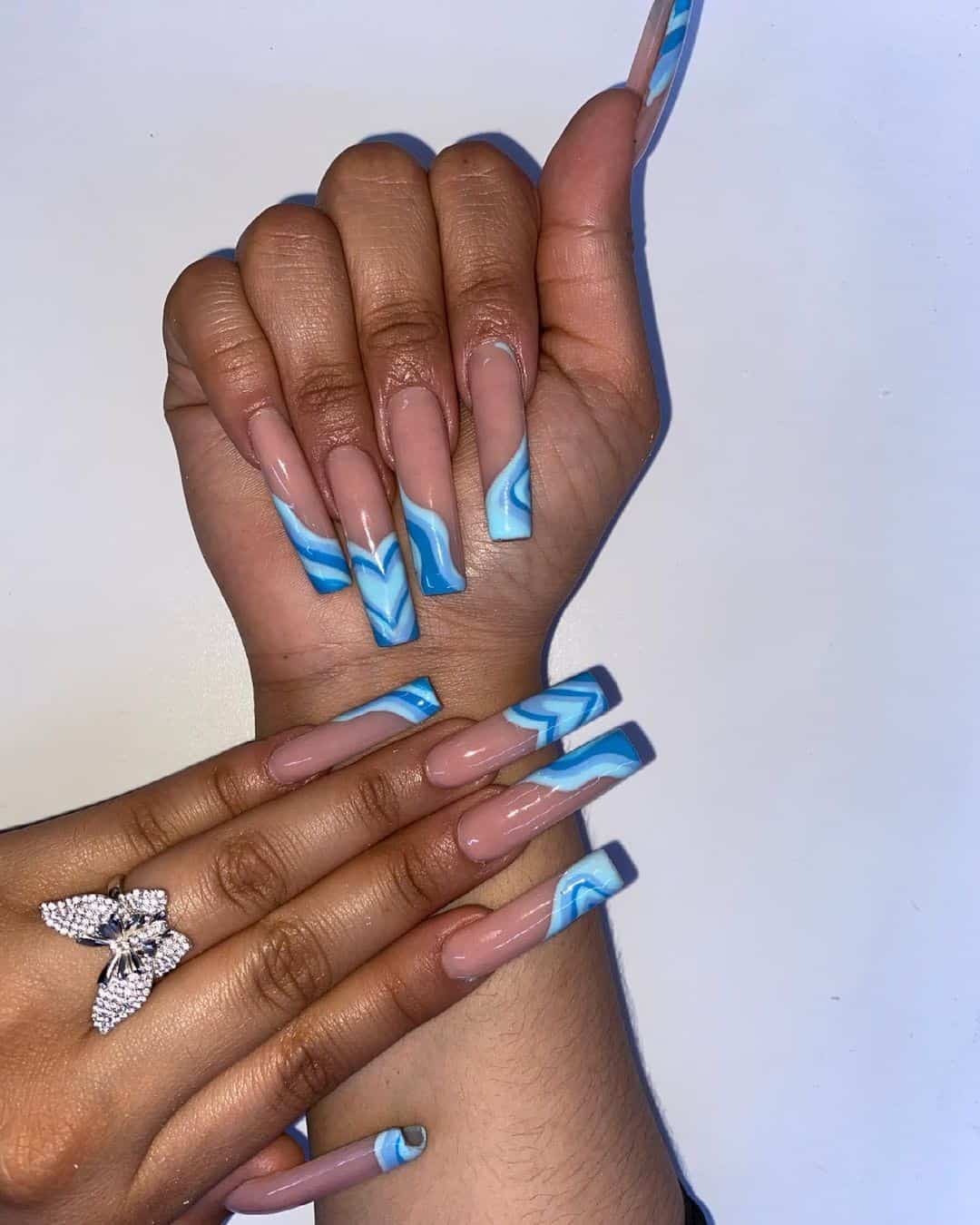 Incorporate light and dark blue on top of your nails to give this manicure a wave effect. Do you like the summer season? Are you interested in showing off your nails and their light pastel duo? This color use will make you look like a true mermaid! Go for these nails if your favorite color is blue.
11. Black & White Nail Designs With Line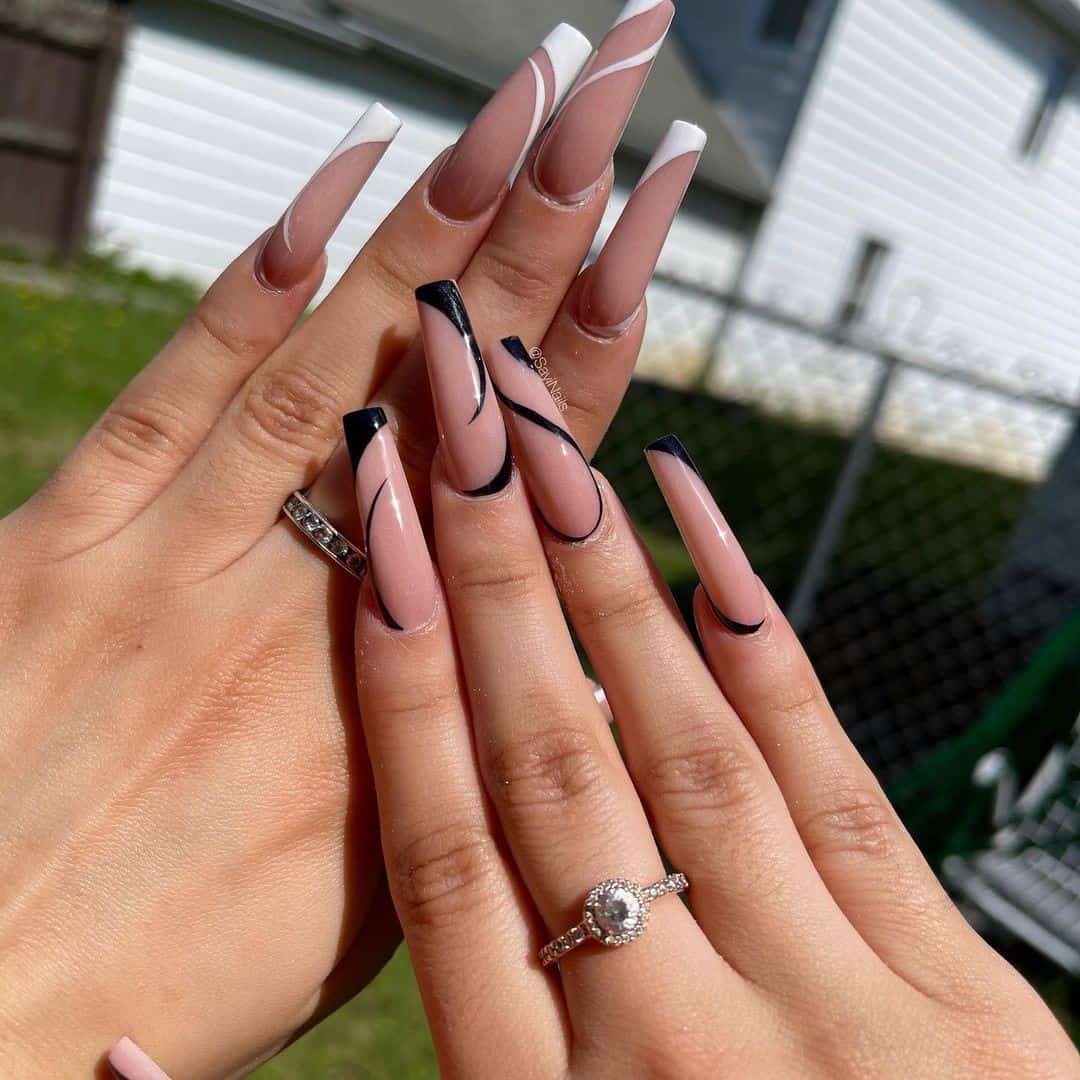 Long acrylics are for women who can withstand the application process. Go for this black polish on top of your longer nude base acrylics if you want to draw some cool lines on top. Women who have a mind or steel and a lot of patience will enjoy this design. It will suit those who prefer feminine yet cute ideas the best.
12. Oval Elegant Nail Designs With Lines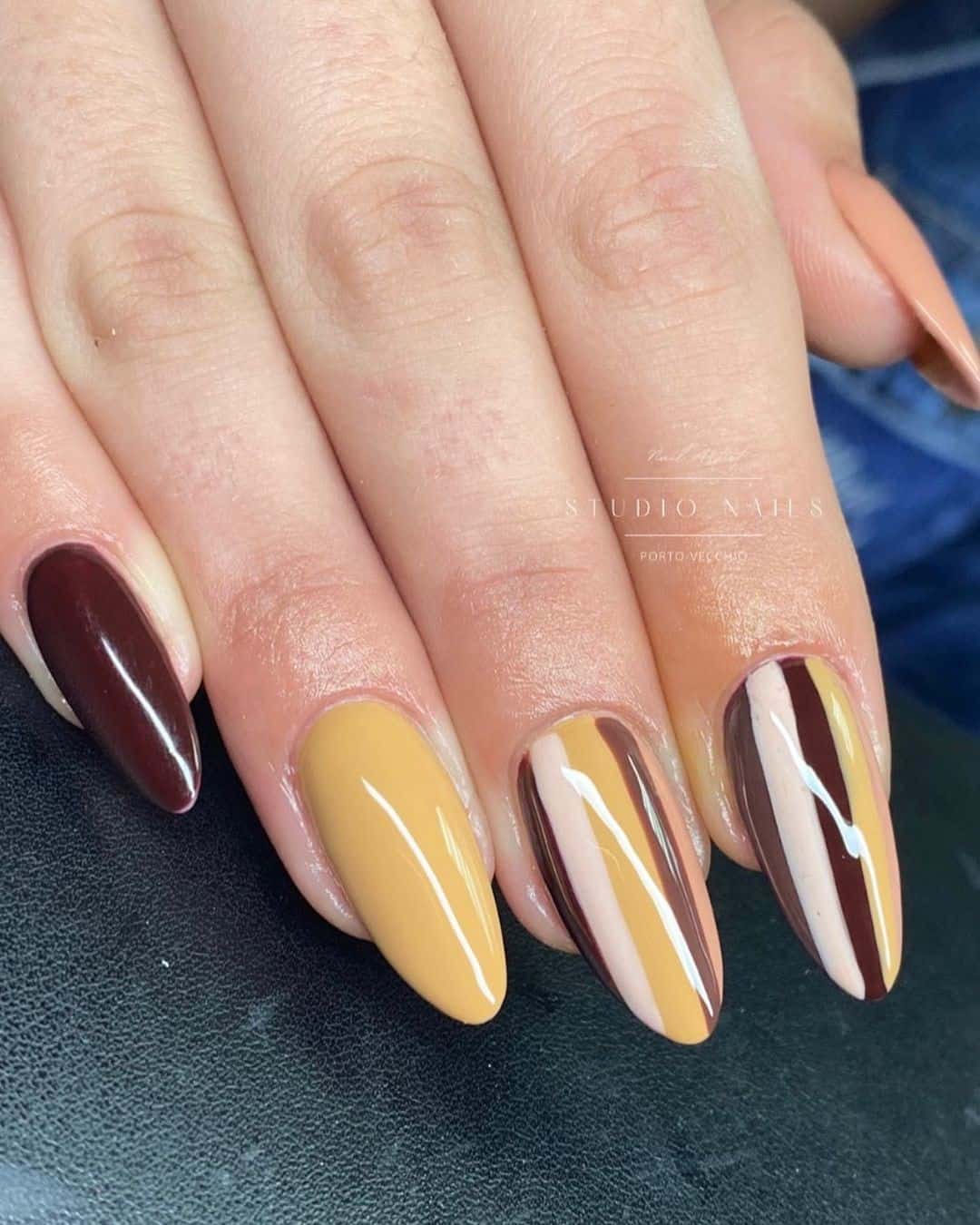 If you need an autumn-inspired manicure and you're a fan of flirty colors you're going to like this design. Can't make up your mind? Why not go for all these lighter nude colors? Add some cool lines if you know how to draw and incorporate cool chic work to show off your artsy side.
13. Tea Manicure With Line Detail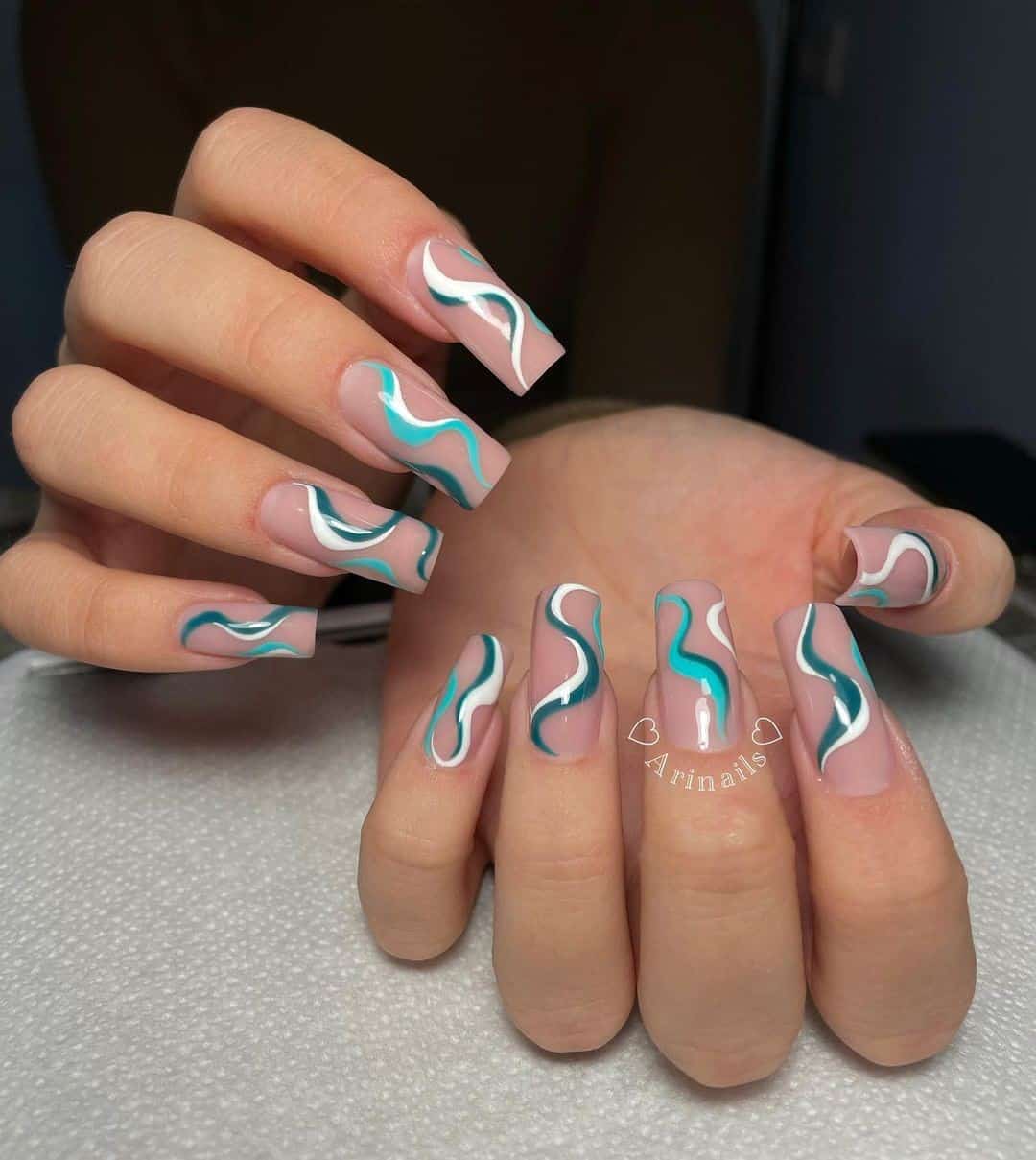 Teal and white can look so good when paired together. Do you like pastel colors and shades that remind you of the summer? This design will suit you if you're in the mood for something creative and retro. Add some blue, green, and white to spice up the look in your own way. The end result is perfect for younger women or those who are looking for a prom manicure.
14. Cool Green Manicure With Line Art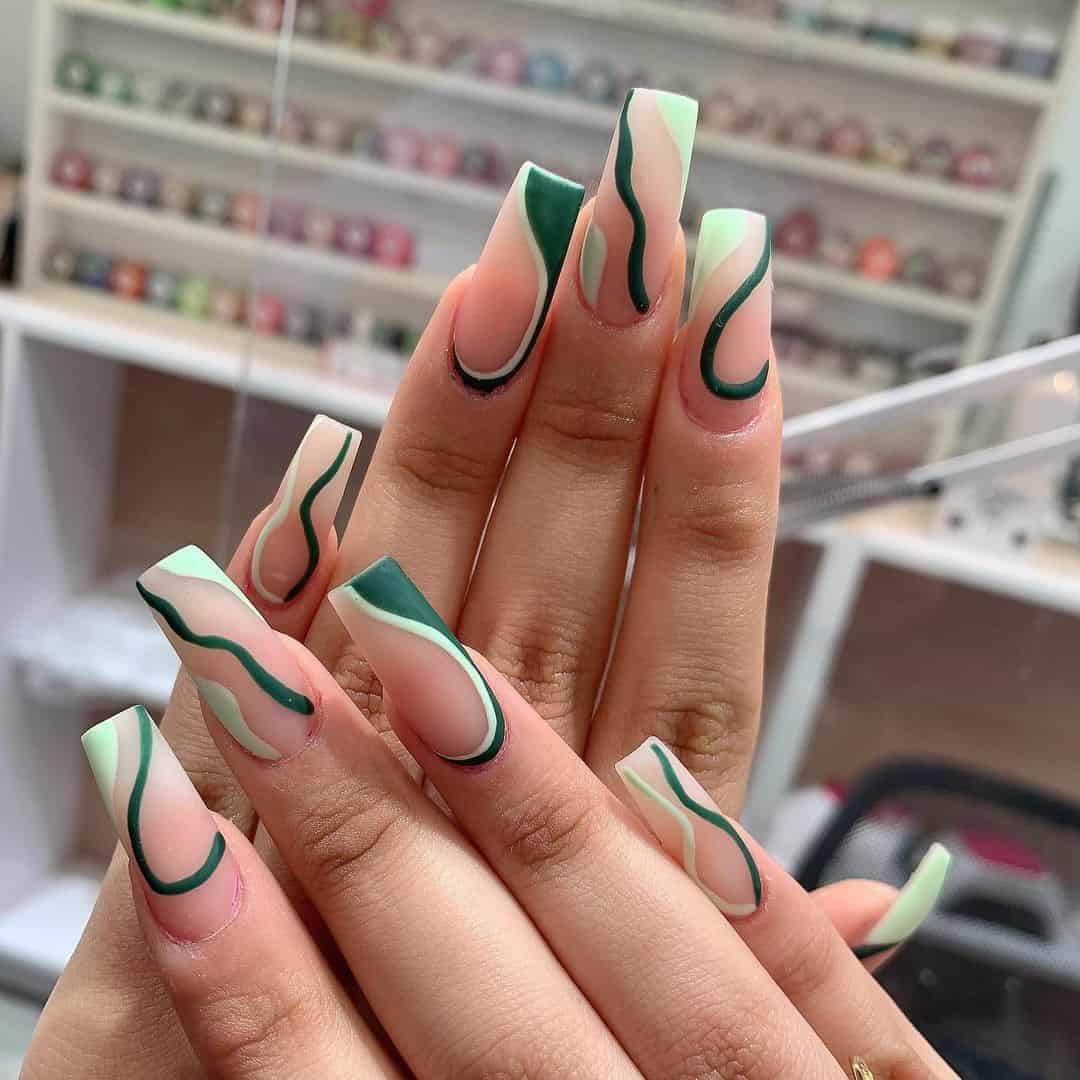 Green done in this way will suit different age groups. Do you like long acrylics? Are you someone who knows how to draw on top of them? Those who have a mind of steel and women who are not in a rush will want to try this out. Let your creative spirit show and wear these long nails for your birthday party or any upcoming formal event.
15. Long Yellow Nails With Cool Lines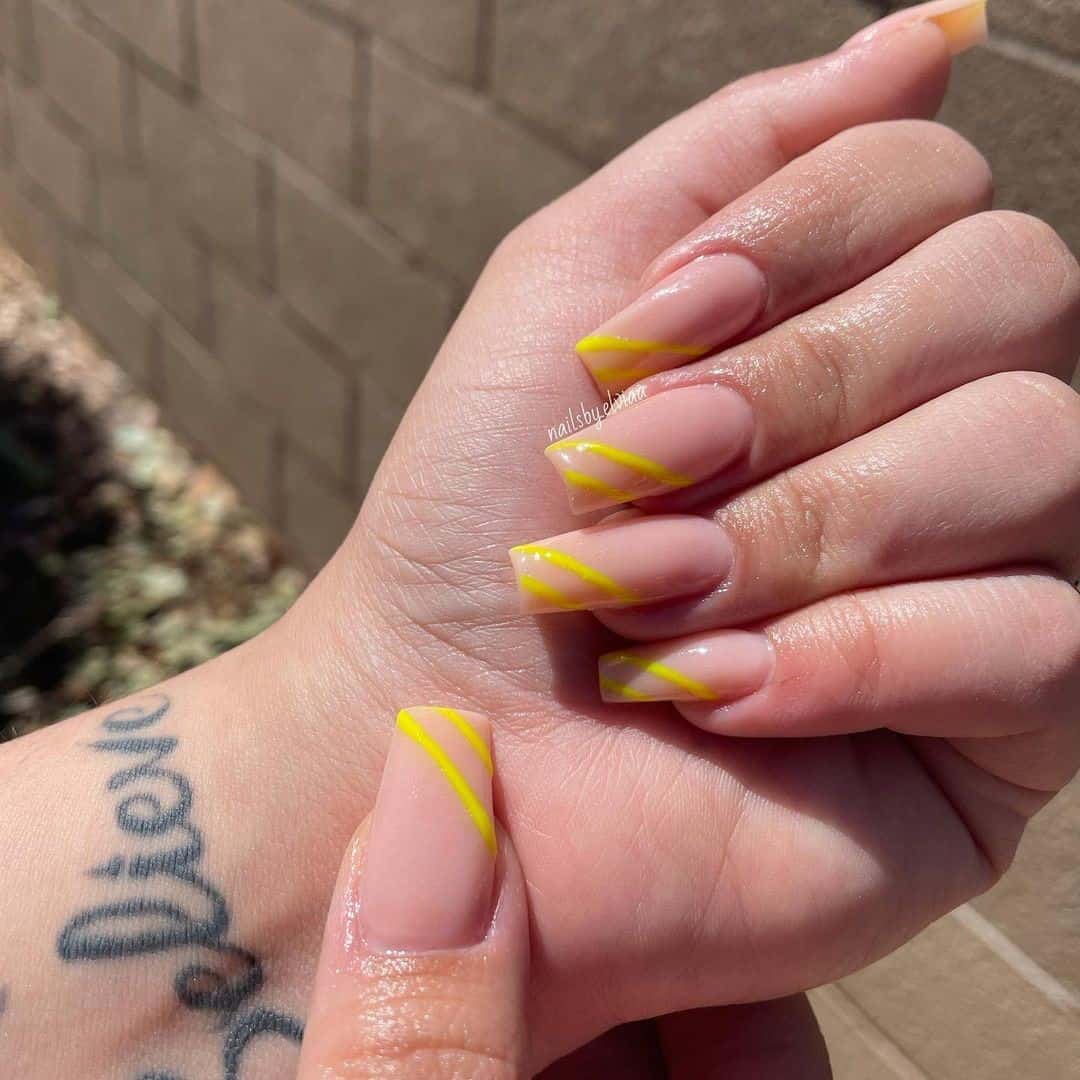 Yellow on top of your nude base will truly pop! Yellow is a common summer shade and this pop is for women who like to look elegant and cohesive. The best part is that you can wear yellow with any other shade. It is so adjustable and easy to recreate. Make sure that you add a matte topcoat to make it more trendy and young!
16. Oval Nails With Blue & White Lines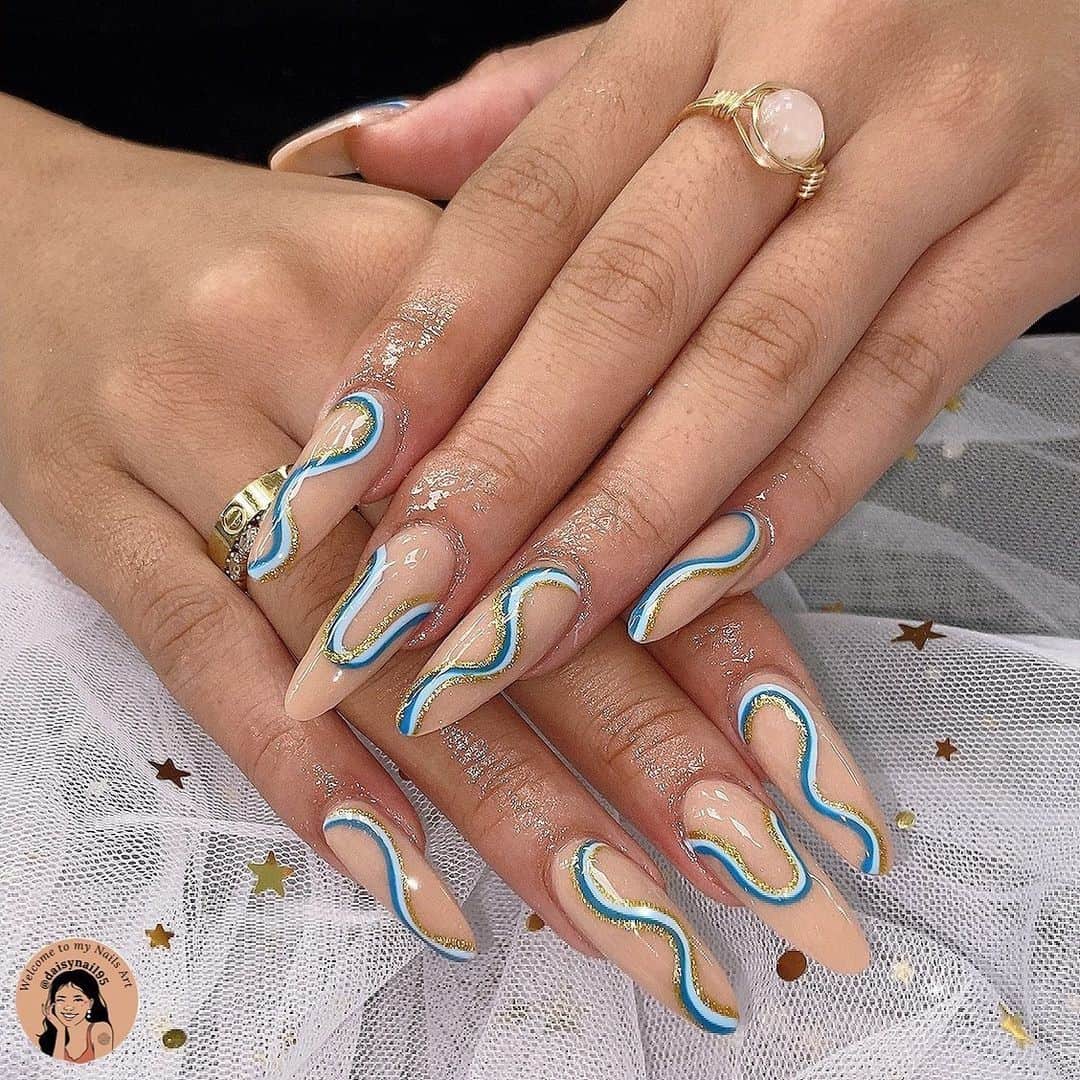 This long acrylic manicure in an oval shape will look on women who prefer serious lengths. Show off these nails along with these blue and white lines for your glamorous events. You will enjoy wearing these nails with a silver/blue formal dress and some elegant jewelry!
Give It A Go!
Are you eager to wear or get something from this list? What design was your favorite out of the bunch? Let us know if you plan on doing any of these nails on your own, or if you are going to book a nail artist. We can't wait to see what you pick.