Top 30 Beautiful Rainbow Nail Design Ideas 2022
When you shop through links on our site, we may earn an affiliate commission. This educational content is not intended to be a substitute for professional advice.
Who wouldn't love a lot of color with their rainbow manicure?! If you're a fan of bright and retro colors that are elegant and attention-seeking, you're going to enjoy our article! Here, we are going to talk about some of the prettiest nail manicures and ideas that are inspired by an actual rainbow! Find your fluffy and happy nail design down below!
Rainbow Nail FAQ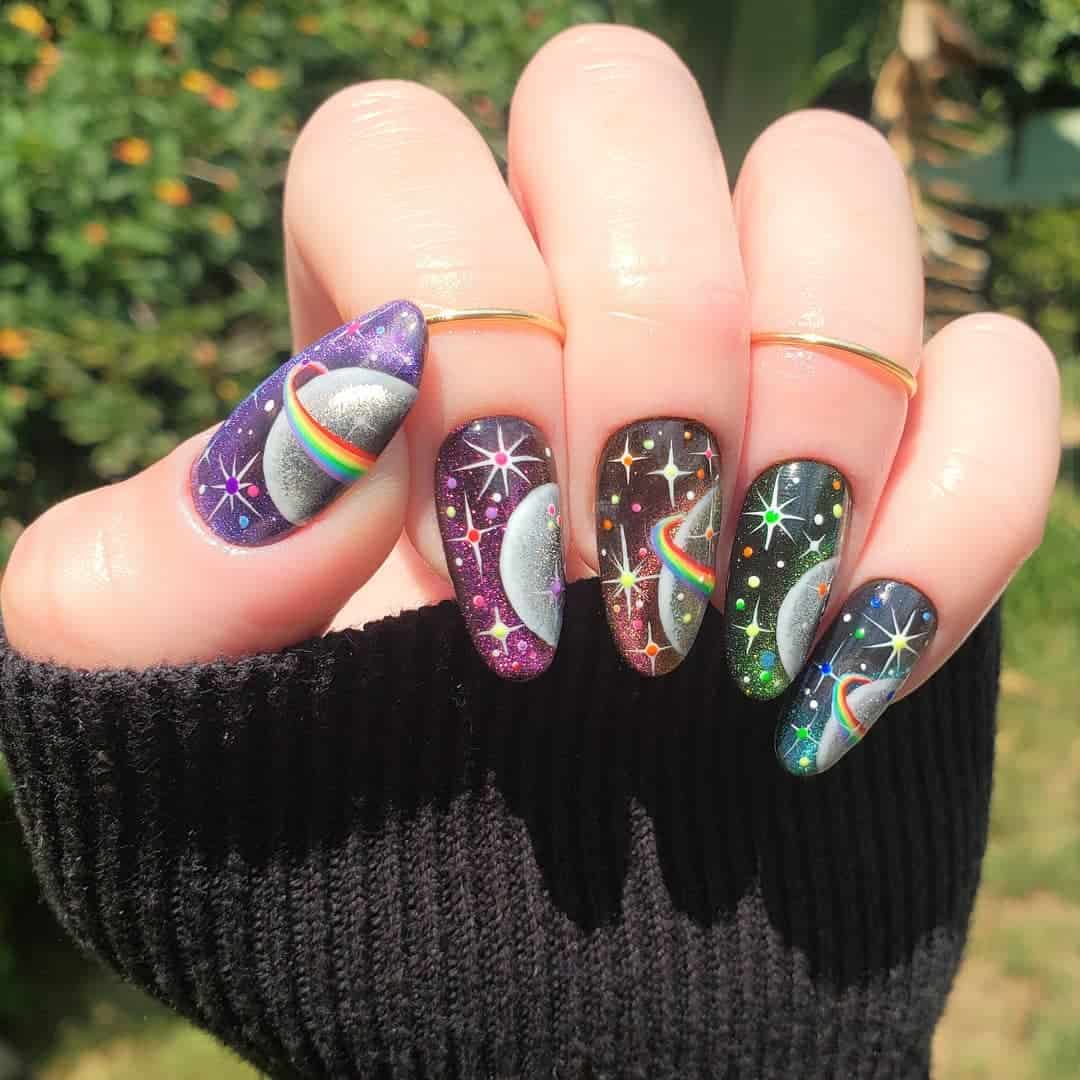 1. What Are Rainbow Nails?
Rainbow nails are nails that have all the colors of the rainbow on top of them! If you're intrigued by crazy looks and you're looking for something that is positive, perky, colorful, as well as bright – this is perfect!
2. Who Can Go For This Manicure?
Although they are super pretty and different, rainbow nails might not be everyone's cup of tea. If you're into different colors and you prefer to look flashy and dominant you're going to like this concept. Mostly and usually, rainbow nails are worn by women who are still in school or college. Also, you're going to like this concept if you're someone who doesn't mind all the attention, as well as glitz and glamour when it comes to your manicure.
3. How Much Are Rainbow Nails Usually?
These may not be the easiest nails to achieve or recreate. This is because they demand a lot of patience and precision. If you're someone who likes to experiment with color and different elements, you're going to like this rainbow design. Expect to pay around $70 for this type of nail art. Longer nails might be even pricier, along with acrylics.
Short Rainbow Nail Design Ideas
1. Cute Rainbow Nails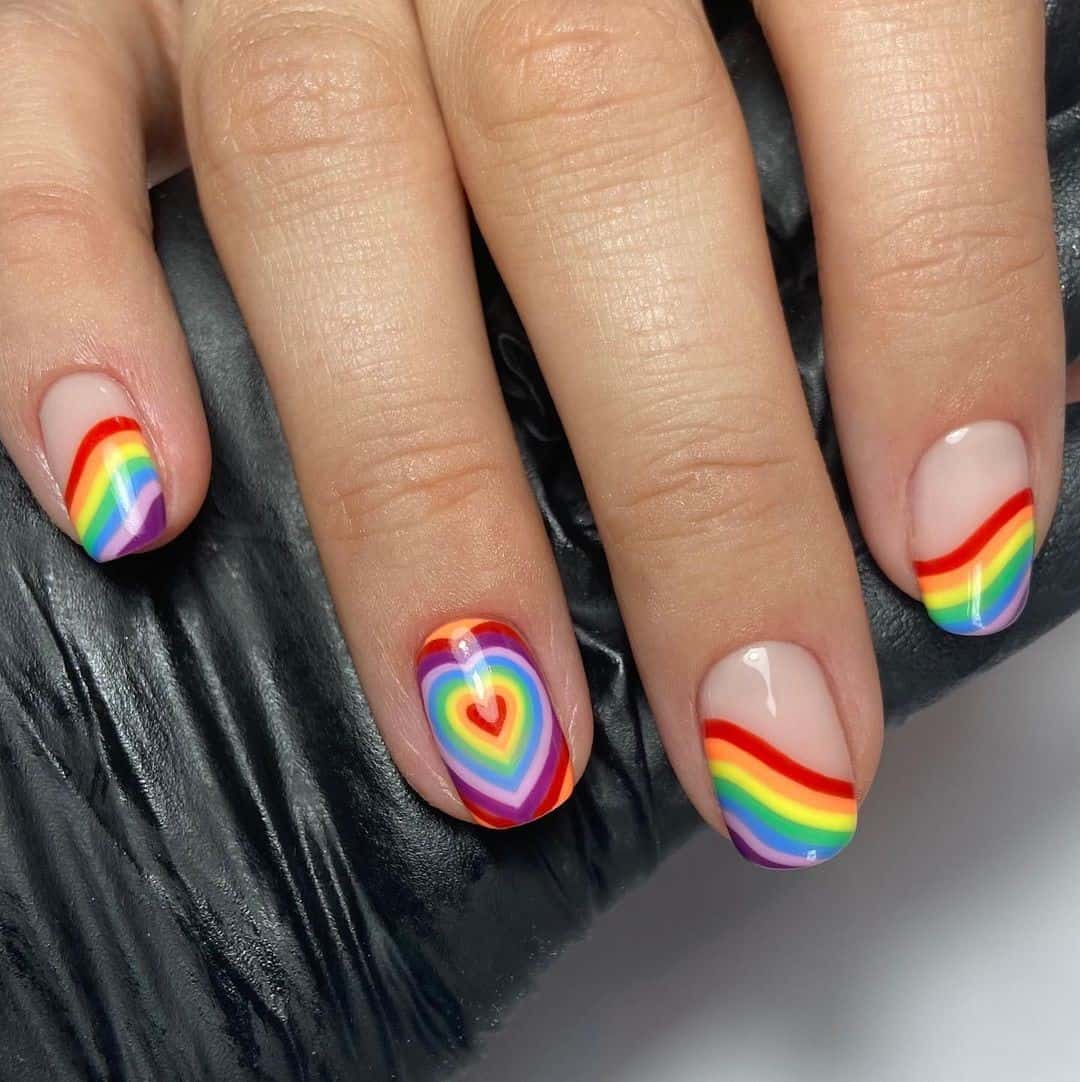 Such a cute manicure that you can do on your own! If you prefer simplicity and you're a fan of glamour that is done in a bright color – go with this print. Show off your love, quirky & positive side with this tattoo.
Did you know that you can never get to the end of a rainbow?
2. Oval Rainbow Manicure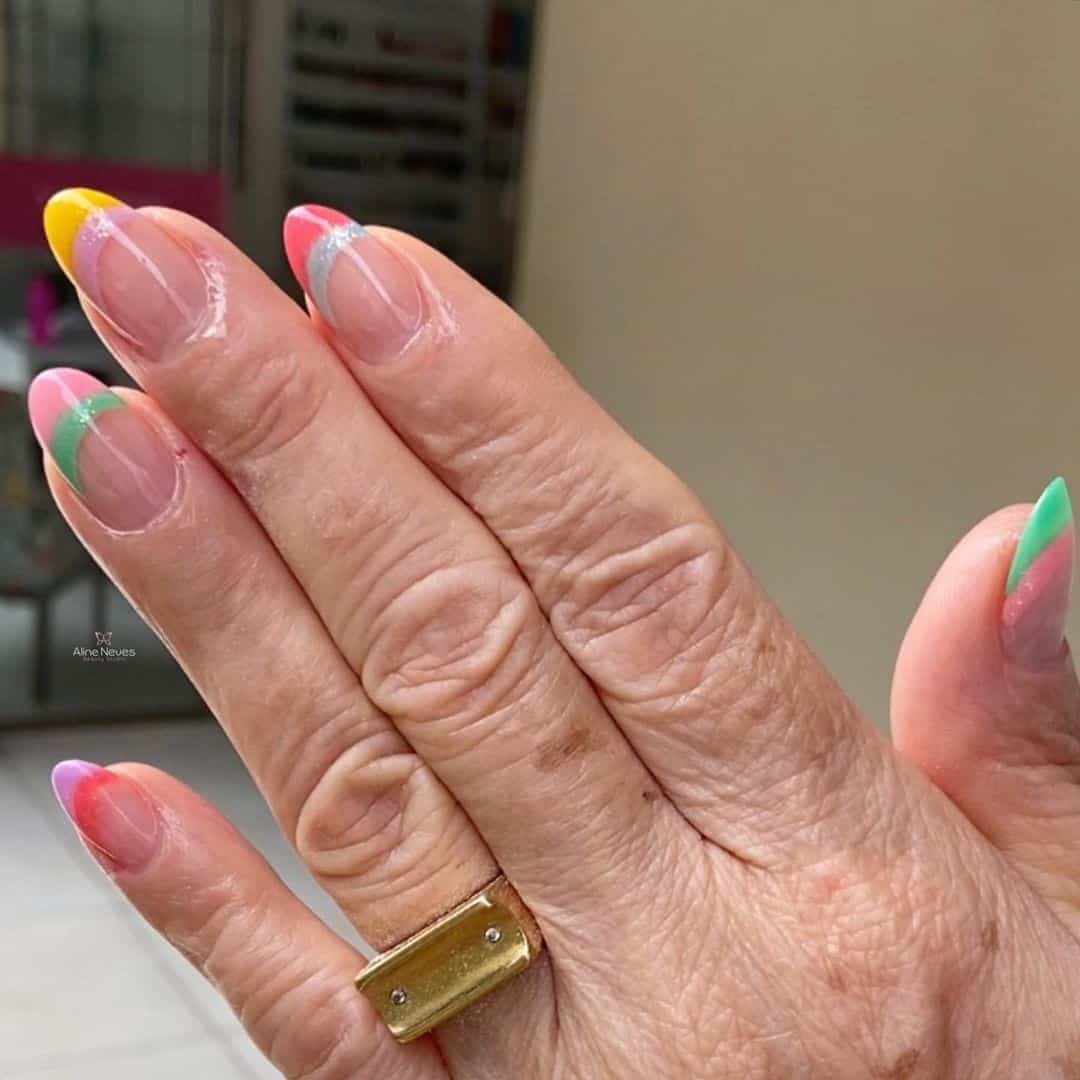 Oval nails can look so chic & sleek. This manicure just shows that you can rock a rainbow print despite your age. Show off the design for day & night-time events, especially if you're into retro pops of color.
3. Rainbow Nail Designs With Stickers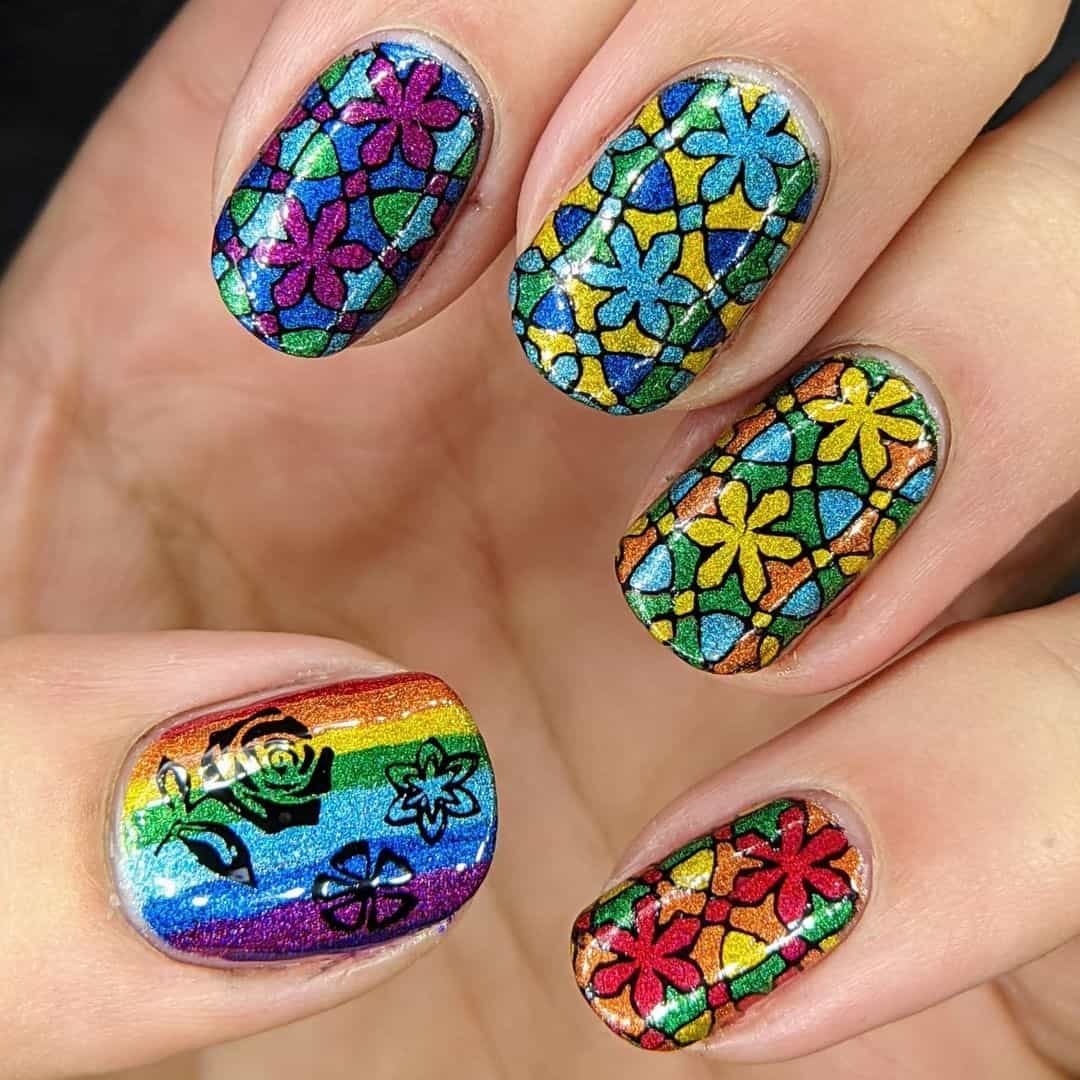 If you prefer nail art and nail stickers you're going to like this design. It will look gorgeous on top of your natural nails. If your nail artist knows how to draw and they are precise – test them with this print.
4. Simple Rainbow Nail Designs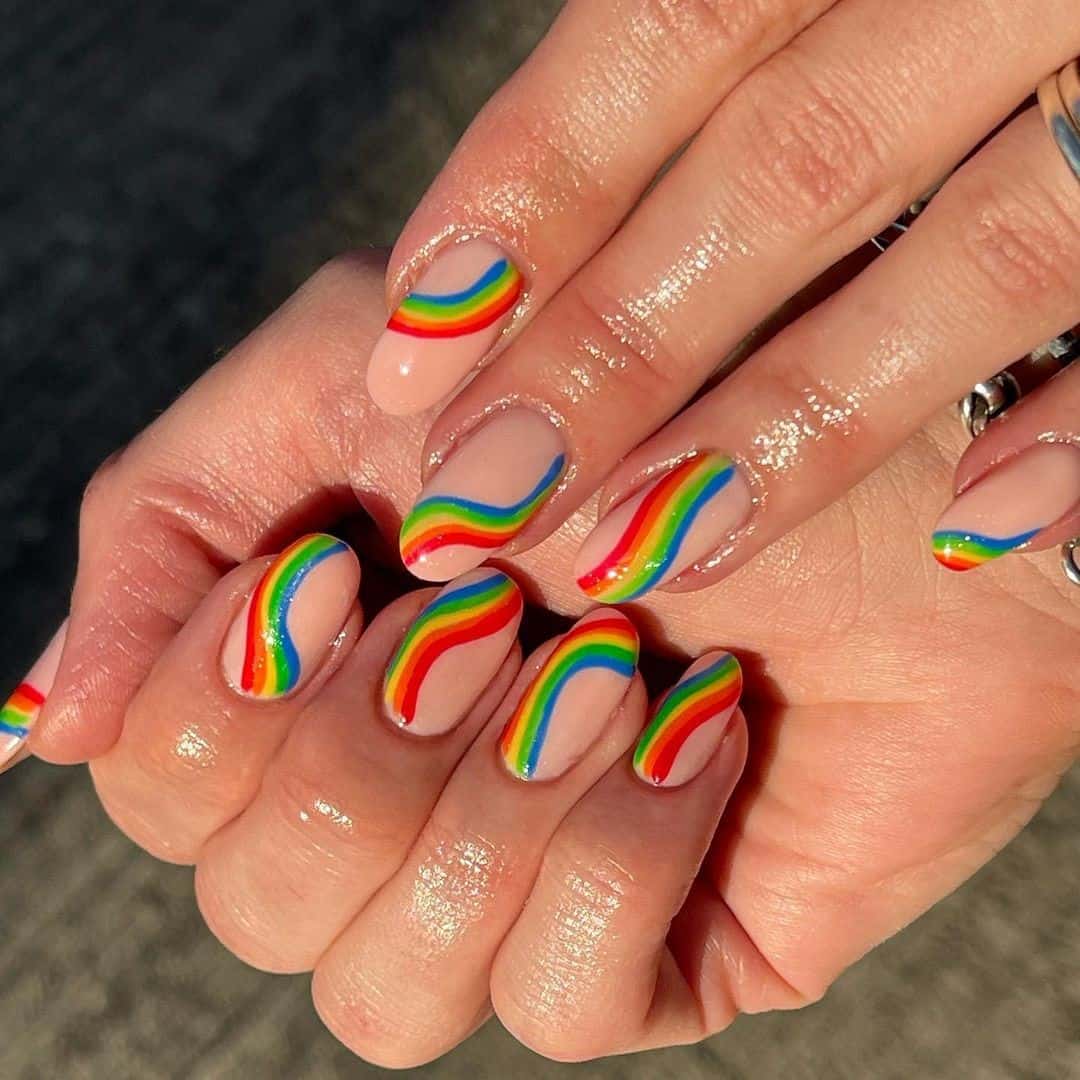 Show off these gorgeous nails with all the colors of the rainbow. Add dominant colors and a lot of gloss to make the design shiny & elegant. Represent an actual rainbow and enjoy these for day-to-day wear.
Fun fact: You are less likely to see a rainbow in the winter.
5. Neon Rainbow Nail Designs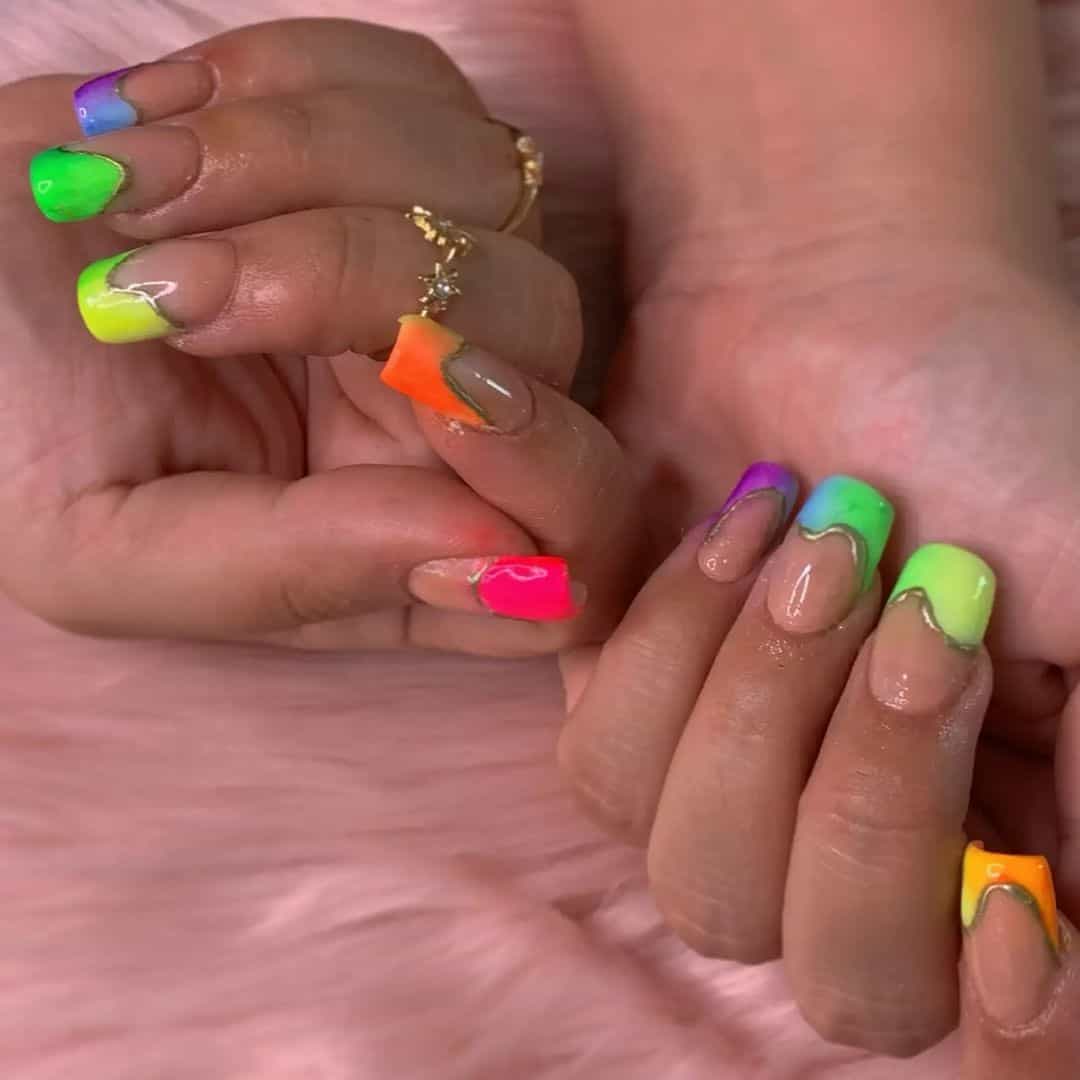 Go for these different colored nail tips and enjoy your feminine rainbow design. If coffin is your favorite shape and you like the ombre approach, give it a go with this design. It will look amazing on women who are in their twenties.
6. Rainbow And Black Nail Designs
Add a black base underneath your rainbow manicure to make it more spicy, different & elegant. If you want something truly unique, this rainbow approach is for you.  Also, if your favorite color is black yet you want a rainbow twist to it, this is a must!
7. French Rainbow Nails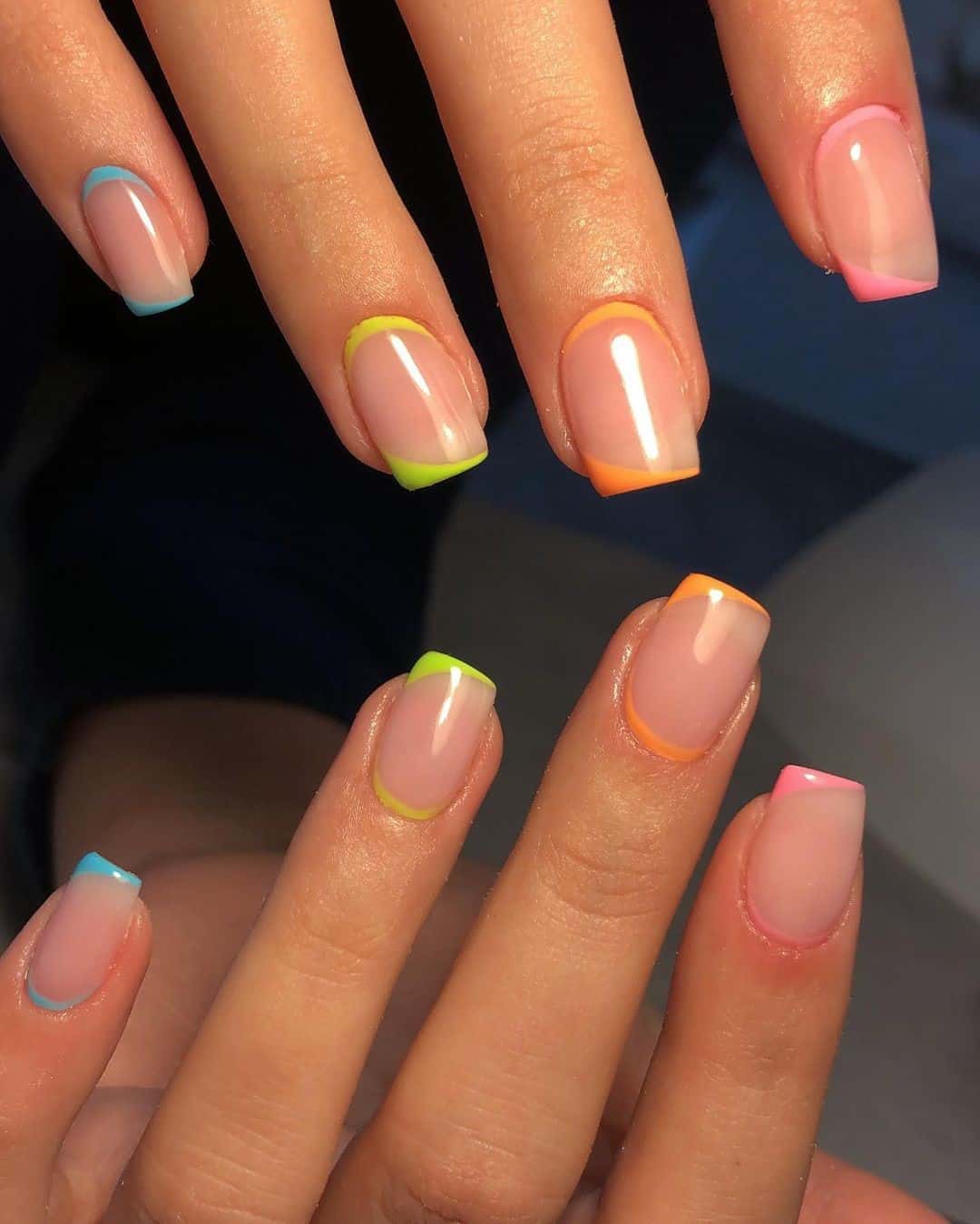 You can rock these nails for the upcoming period! They are the prettiest nails for women who want something short, sweet & natural! If you need a manicure that is office-friendly, you're going to like this pastel outcome.
Did you know that in Greek and Roman times, it was believed that rainbows were a path created by the goddess of the rainbow, Iris?
8. Ombre Rainbow Nails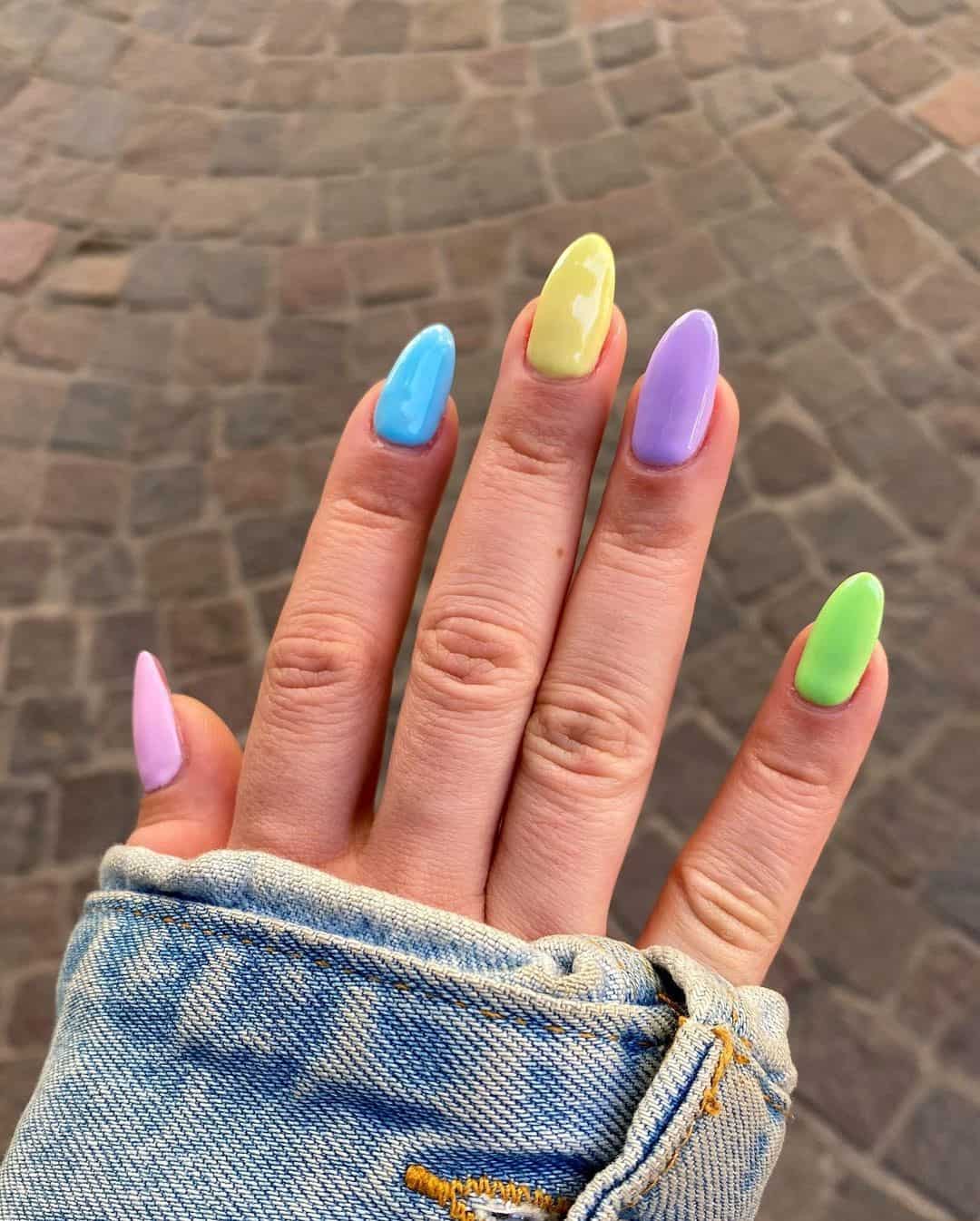 If you want to you can DIY your own manicure in this way. Color your nails in different rainbow colors and go for an oval shape. The outcome will look super cute & natural, while the shape is perfect for thin & short nails.
9. Floral Art Rainbow Nails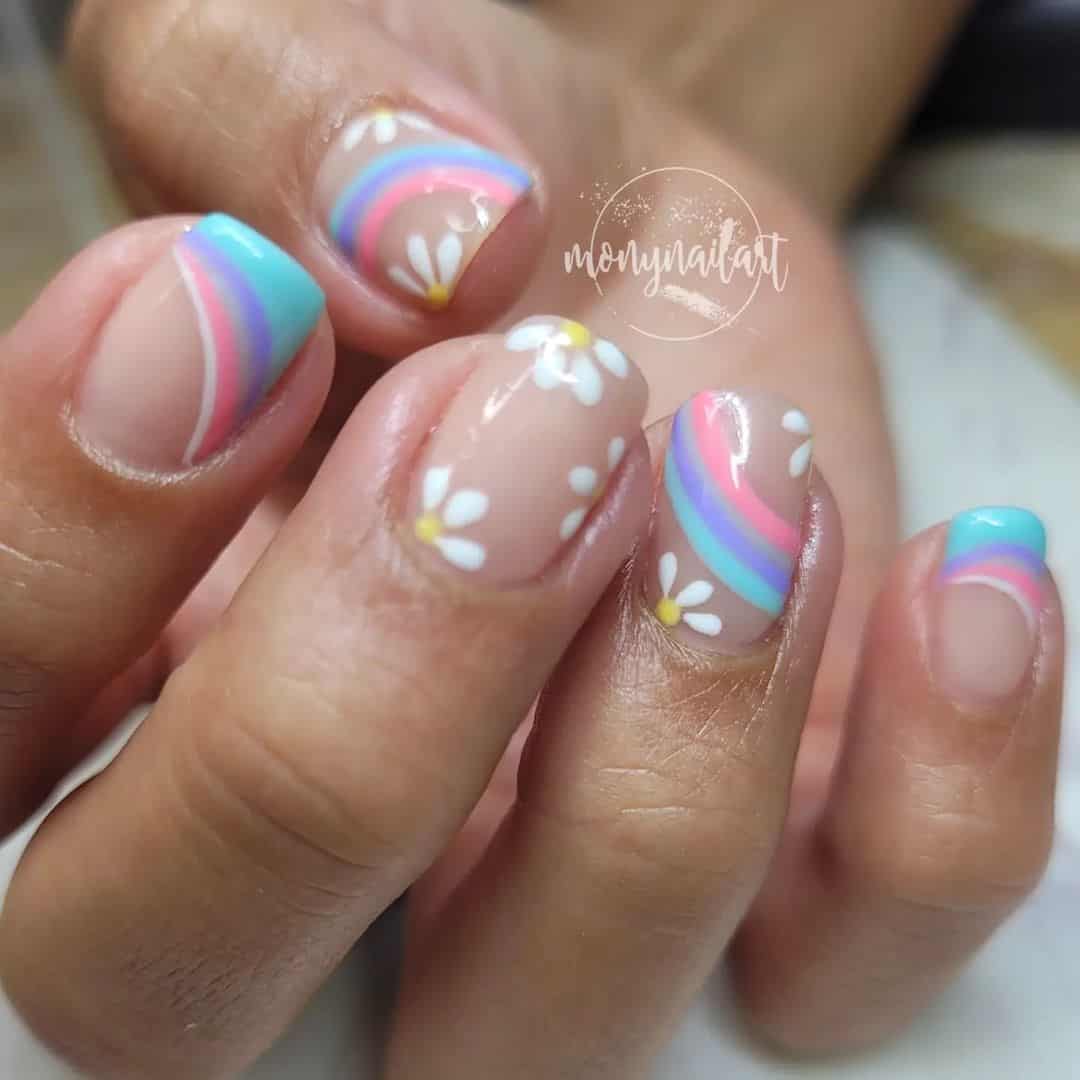 Spice up you rainbow manicure with this cute floral art design and a sticker! You will enjoy these pastel rainbow nails the most for the spring season. They will also suit younger girls or teens the most due to their playful vibe.
10. Rainbow Gel Nail Designs Unicorn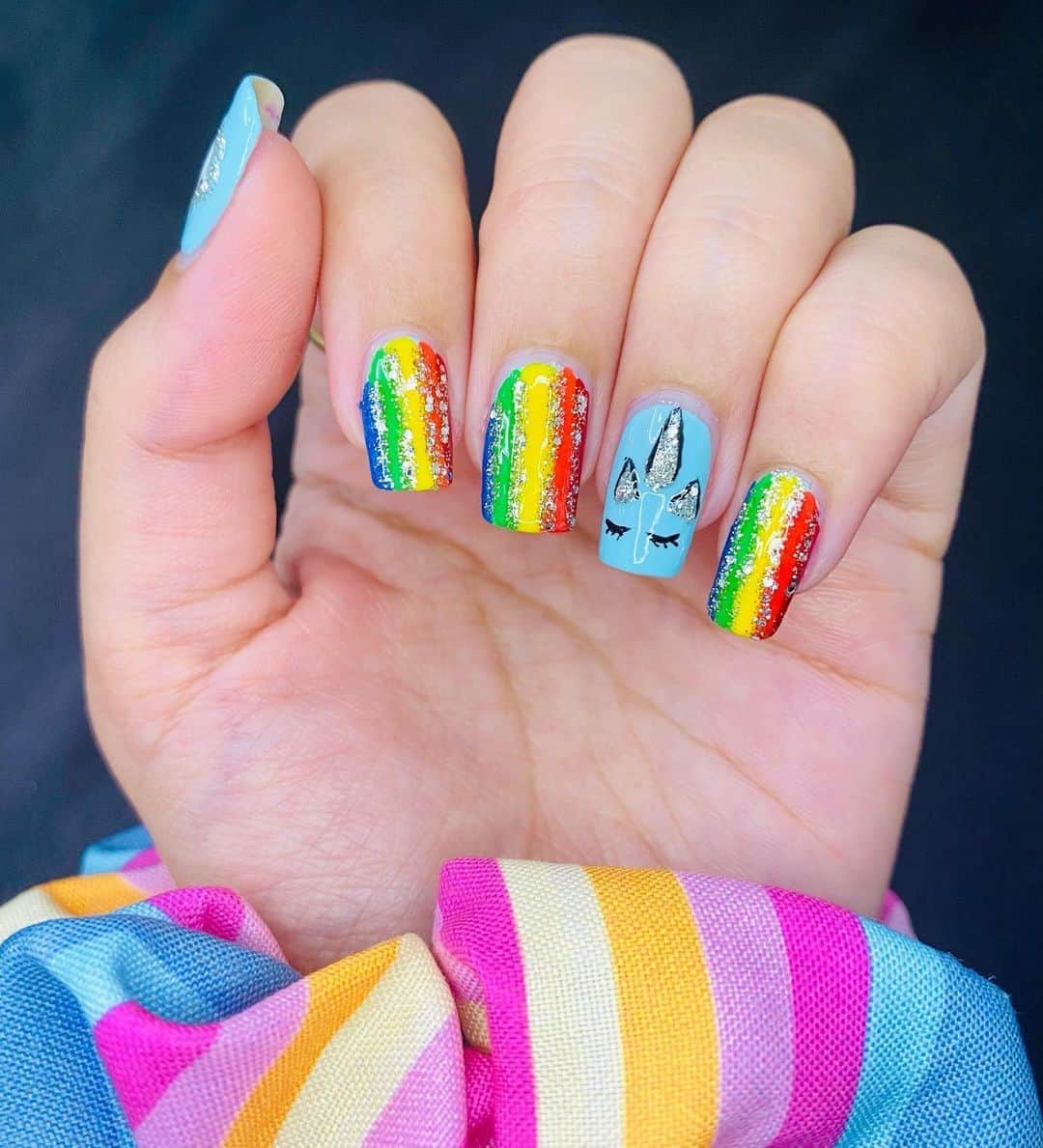 Do you like unicorns? How about bright, loud & fun manicures? If so, try out this retro and vibrant nail design. It will show your love for positive things, fun & interactive designs, as well as your child-like soul. Heads up since this manicure is quite tricky to recreate on your own.
11. Classy Rainbow Nails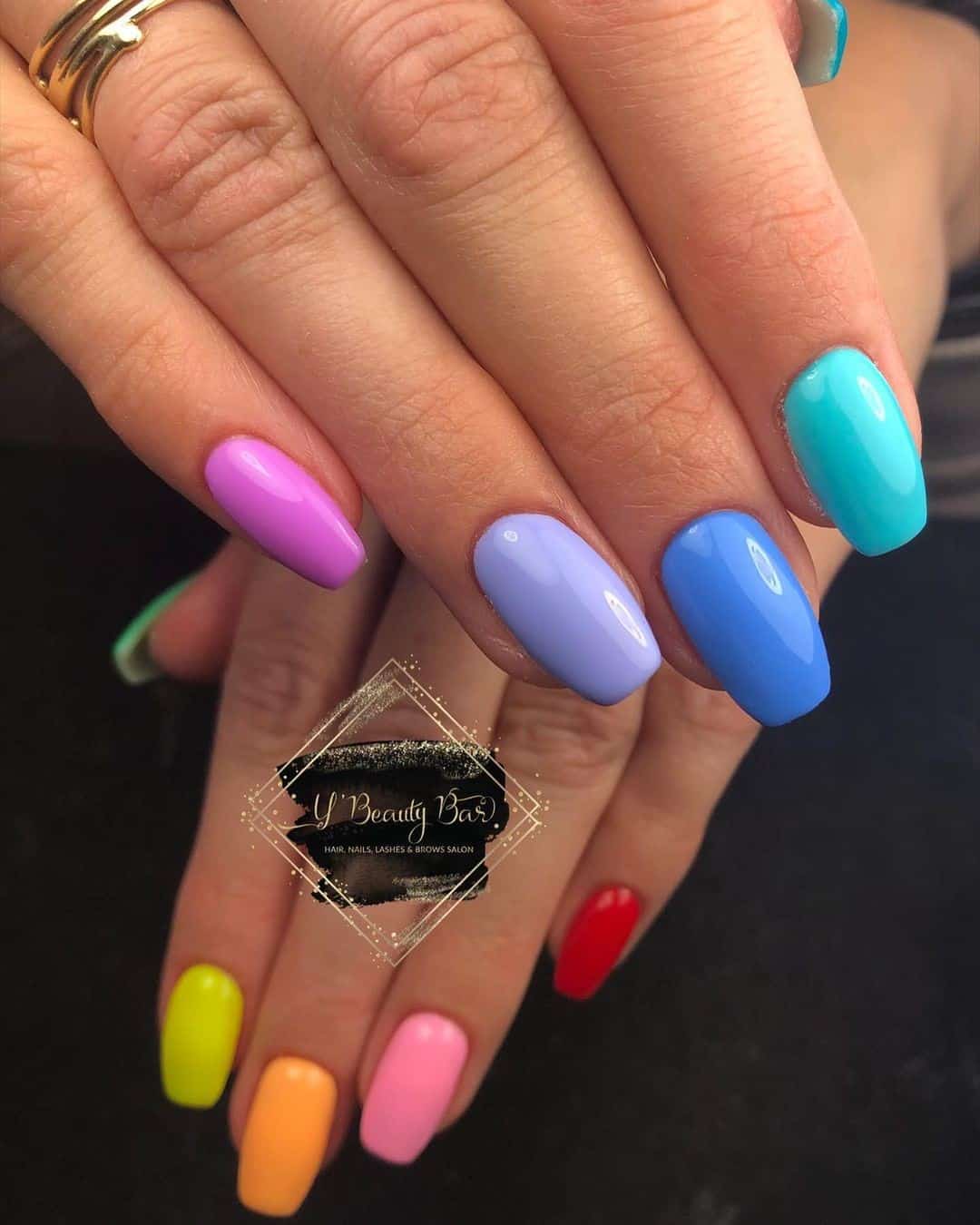 Classy rainbow manicures are so hot & modern! If you need a nail design that is ideal for your everyday and you're also in the mood for something trendy, this will suit you. Show these nails off to parties or for everyday office hours, this is up to you.
Fun fact: a double rainbow appears when light is reflected twice in a raindrop.
12. Rainbow Tip Nail Designs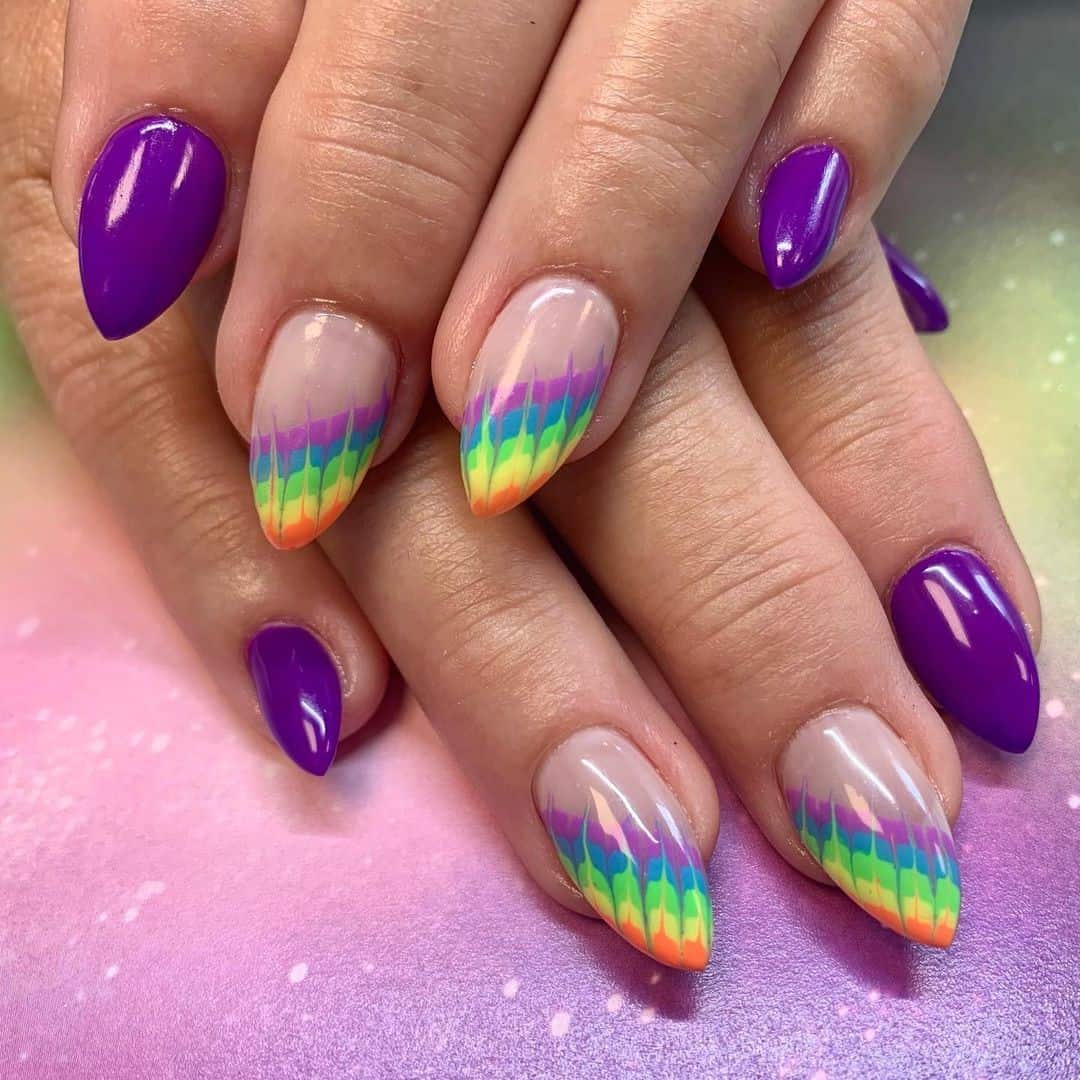 Bright purple & retro shaped nails such as these are for teens who like to have fun & who are into feminine ideas. You can go for these short quirky nails, but also represent the rainbow in a way that fully suits you.
13. Short French Manicure Rainbow Design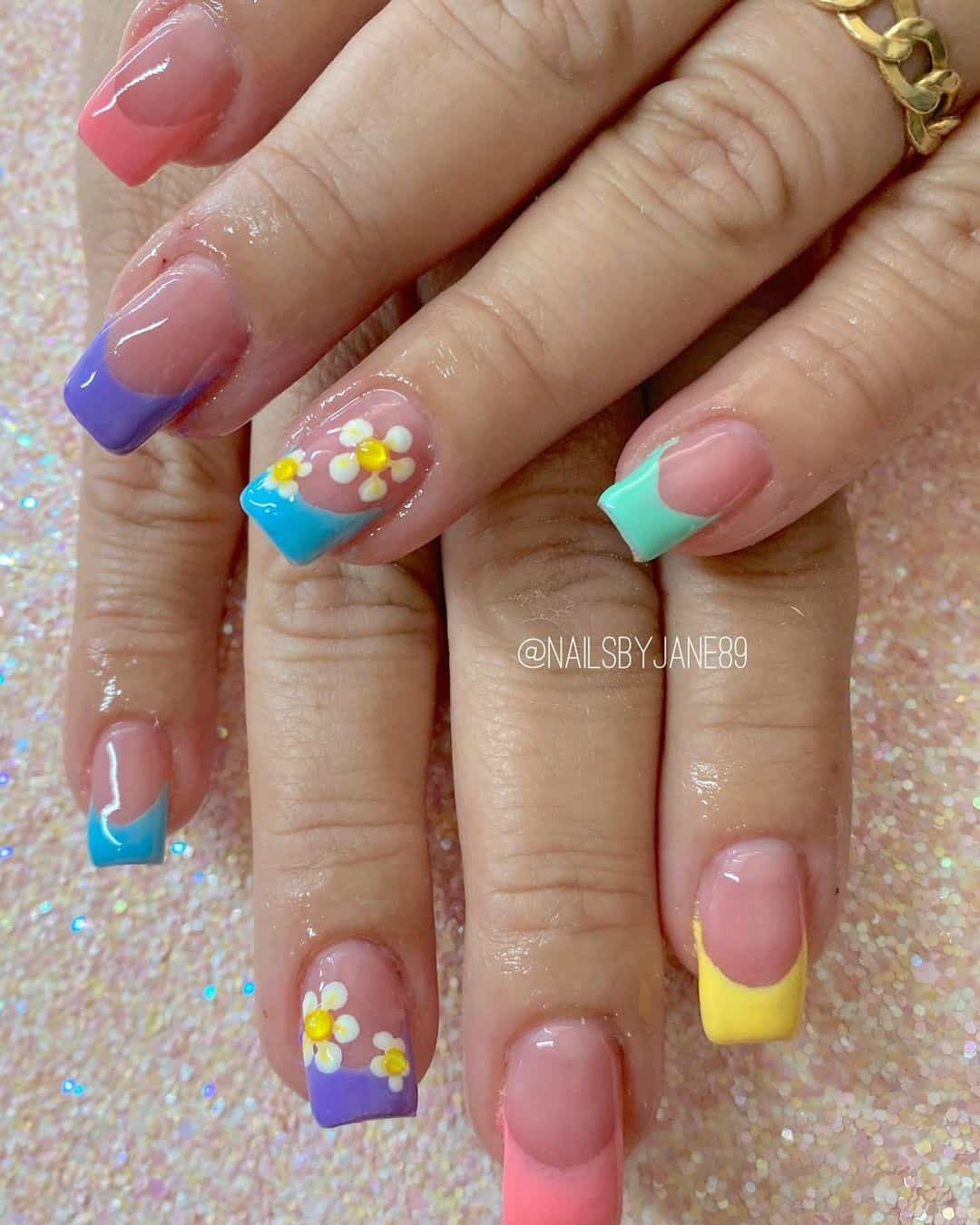 These short French nails and these soft pastel colors can look so good for the office. If you need a colorful change that is not ''too much'', as well as too vibrant or distractive, you're going to like this square-shaped outcome.
14. Oval Rainbow Nails Natural Length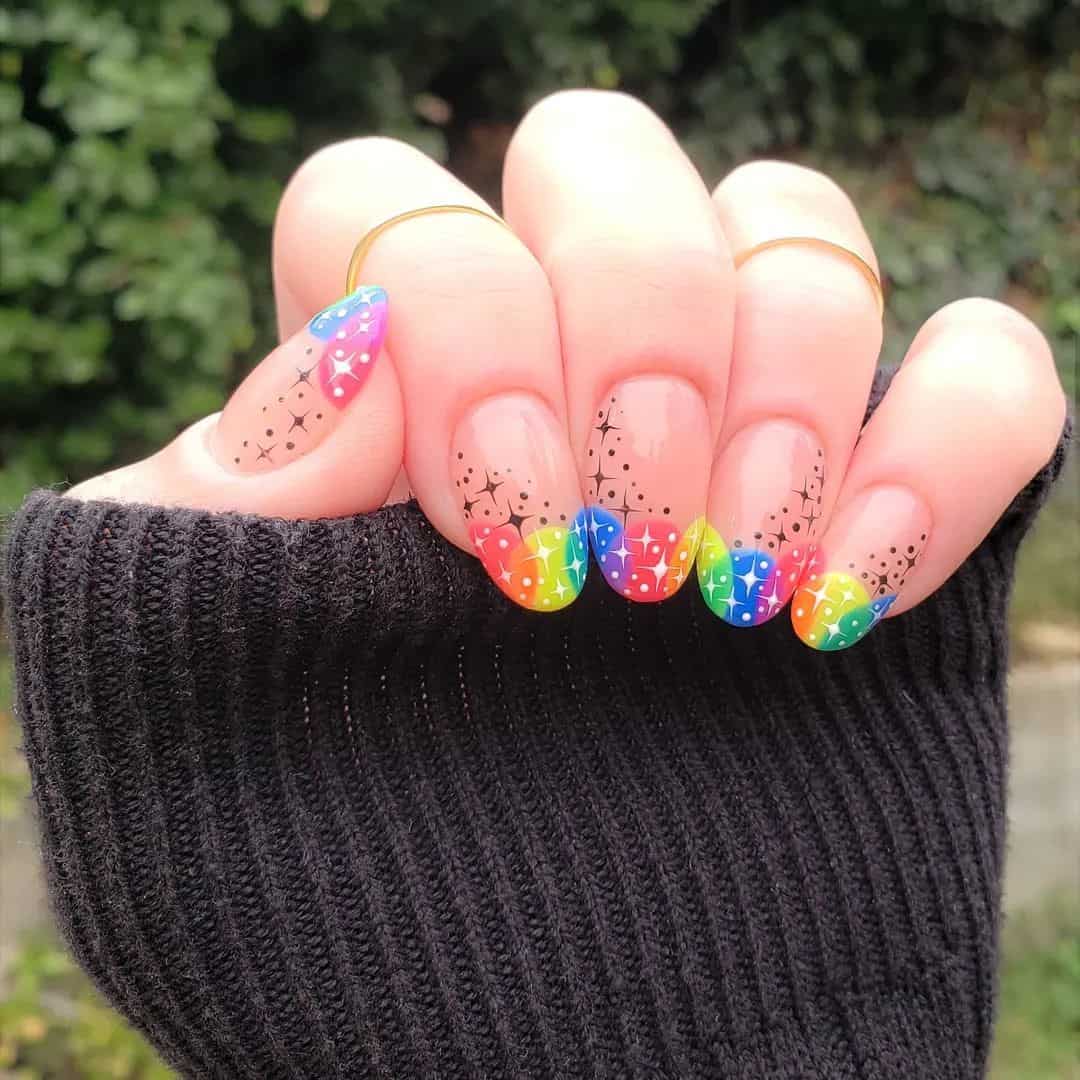 Oval nails are harder to break or chip. Women who need an everyday solution that is resistant and durable, this is for you! Go for some cute star symbols as well to round up your feminine look. If you are a passionate gentle soul this design will suit you.
15. Rainbow Color Tip Nails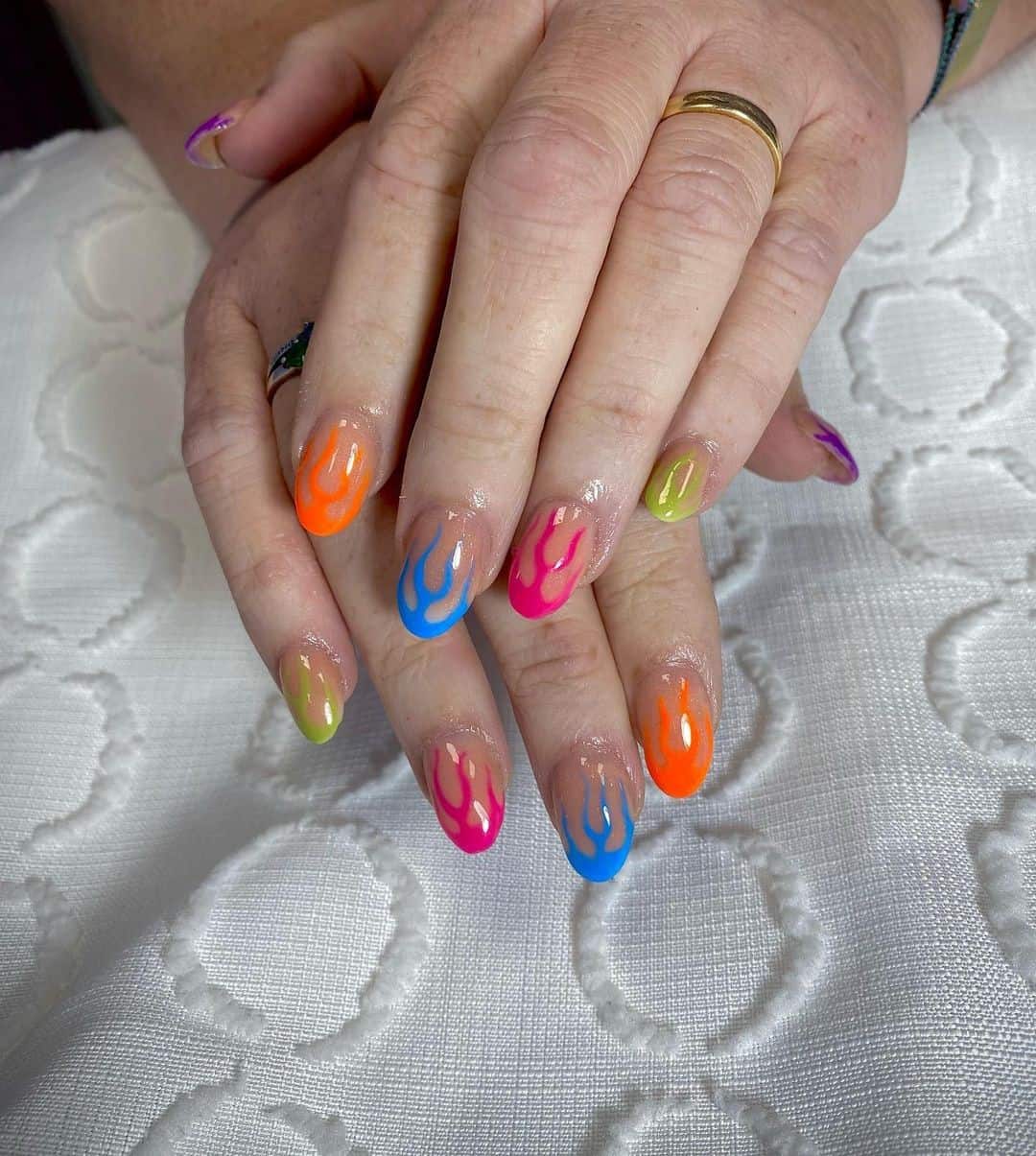 Color just the tip of your nails and still rock this rainbow print! Women who are in their twenties, as well as women who like to party will like this outcome the most. Show your love for elegance, shine & loud prints with this rainbow approach.
Did you know that the world's longest-lasting (or longest-observed) rainbow had lasted from 9 am to 3 pm?
Long Rainbow Nail Designs
1. Acrylic Rainbow Nails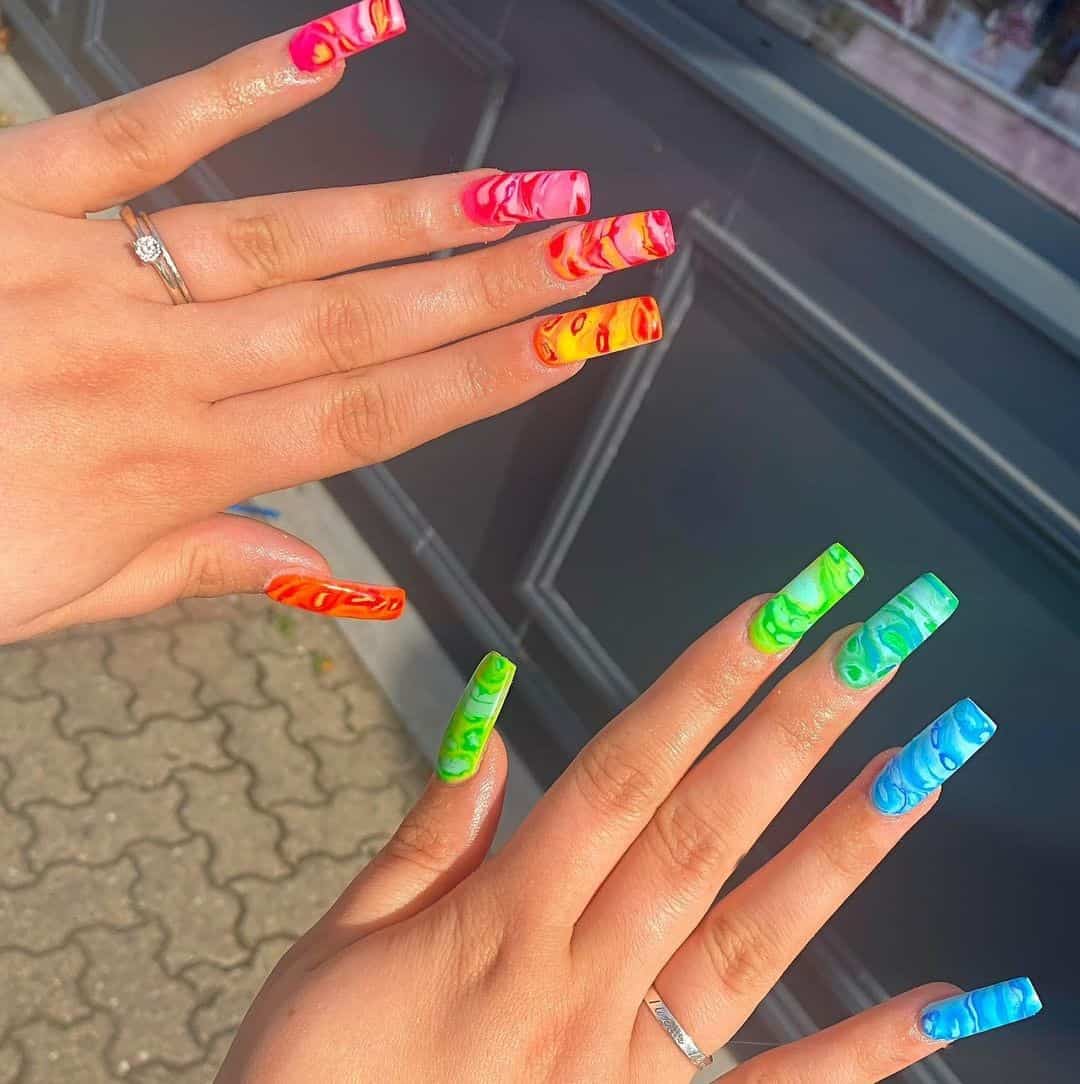 If you are more-so into acrylic nails and bolder styles/lengths, try out this concept. Anyone who knows the beauty of coffin or square-shaped manicures will also understand these funky XXL rainbow nails.
2. Pastel Long Rainbow Nails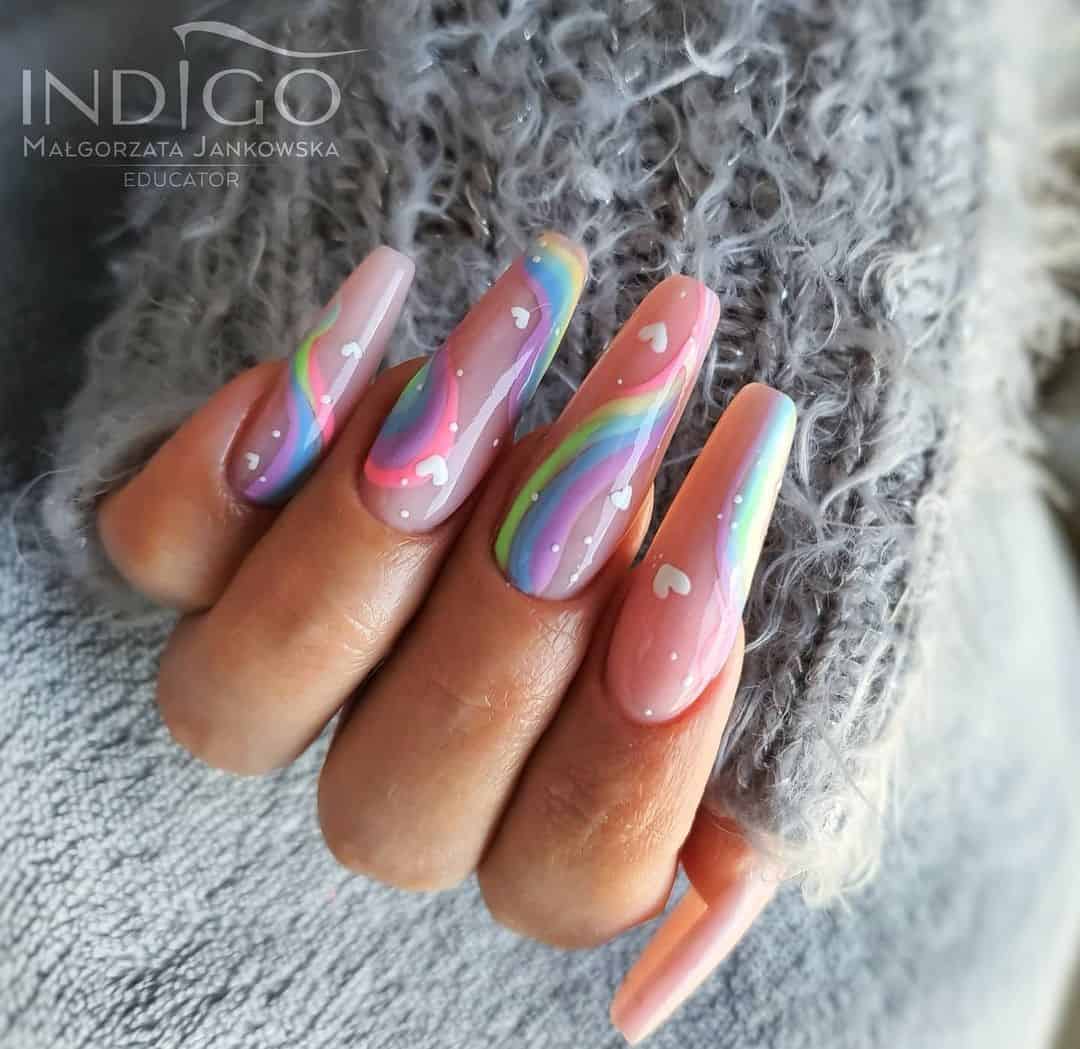 These are the perfect go-to for party women, teens, as well as the spring season itself. Make sure that you are capable of rocking such long nails, as well as that you can handle your everyday tasks. These will suit and look good only on brave & bold women.
3. Fun Cartoon Rainbow Nails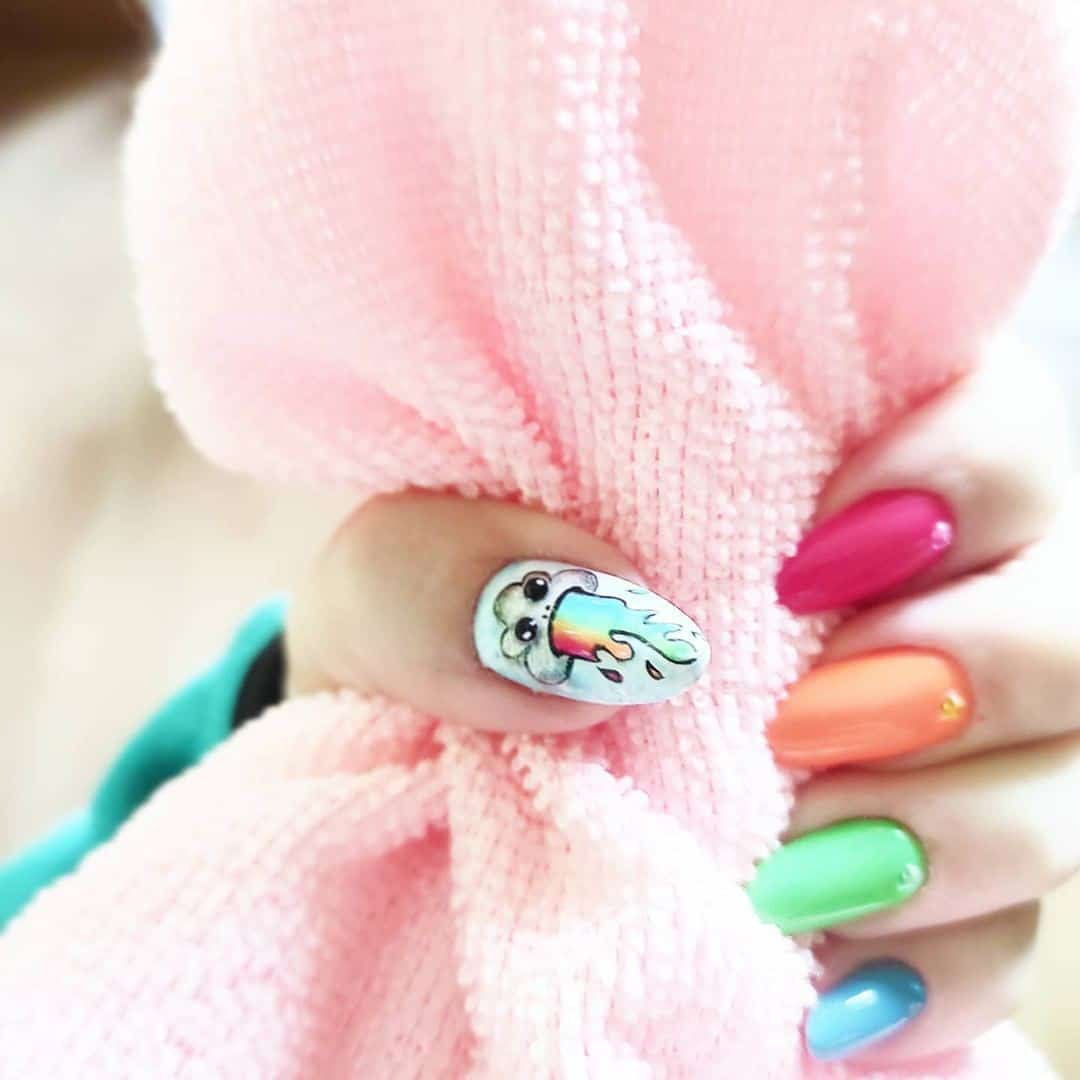 Add a bit of depth and fun to your nails with this sticker. If you're someone who likes to change your nails quite often and you're into dominant ideas – these rainbow nails are it!
Fun fact: Earth is the only planet in the solar system with rainbows
4. Coffin Candy Rainbow Nails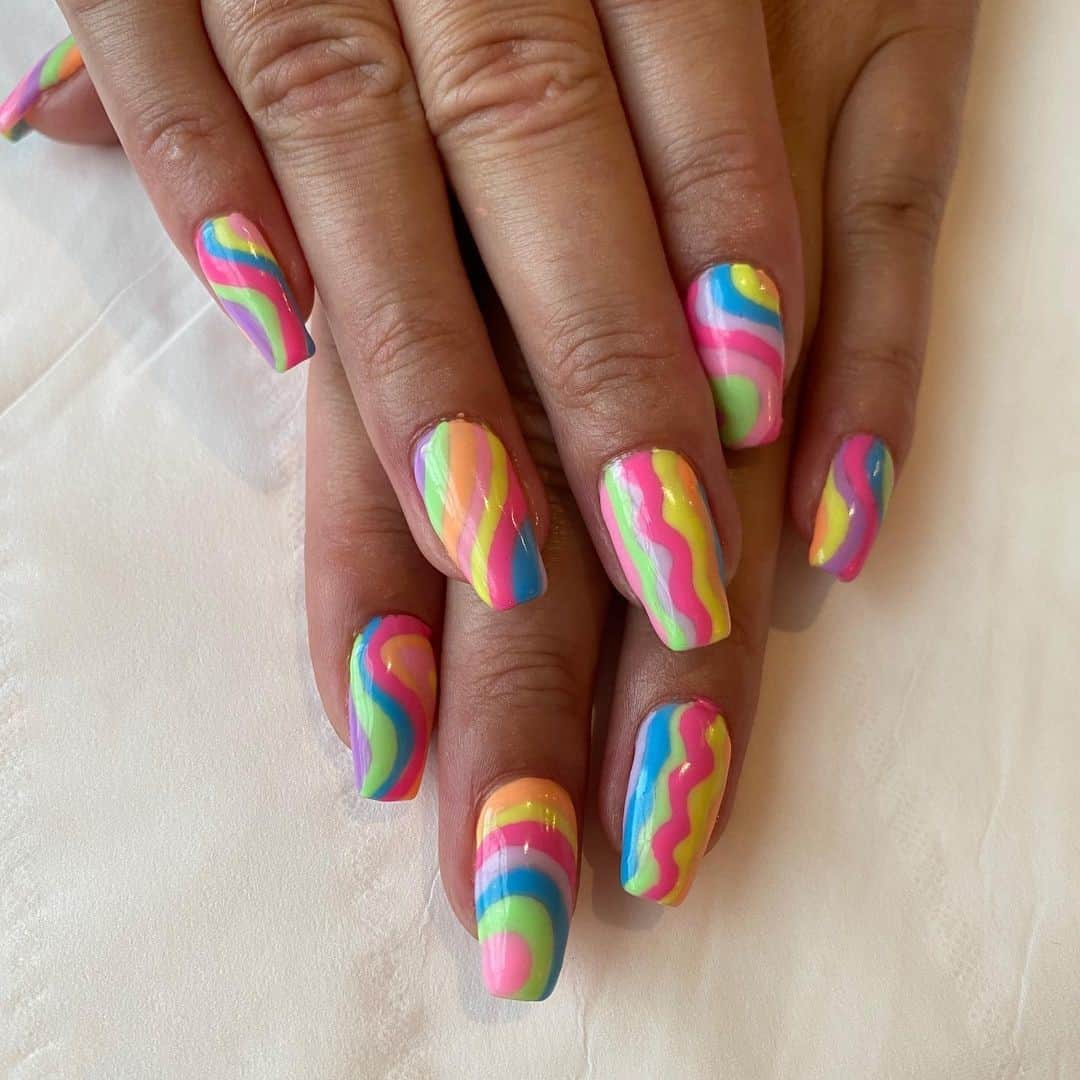 Show off your rainbow yet cotton-candy vibe through this coffin shape. Women who like playful, artsy, as well as ''young'' nails are going to like this outcome. Make sure that you have patience when it comes to coloring this design with such precision.
5. Long Acrylic Rainbow Nail Designs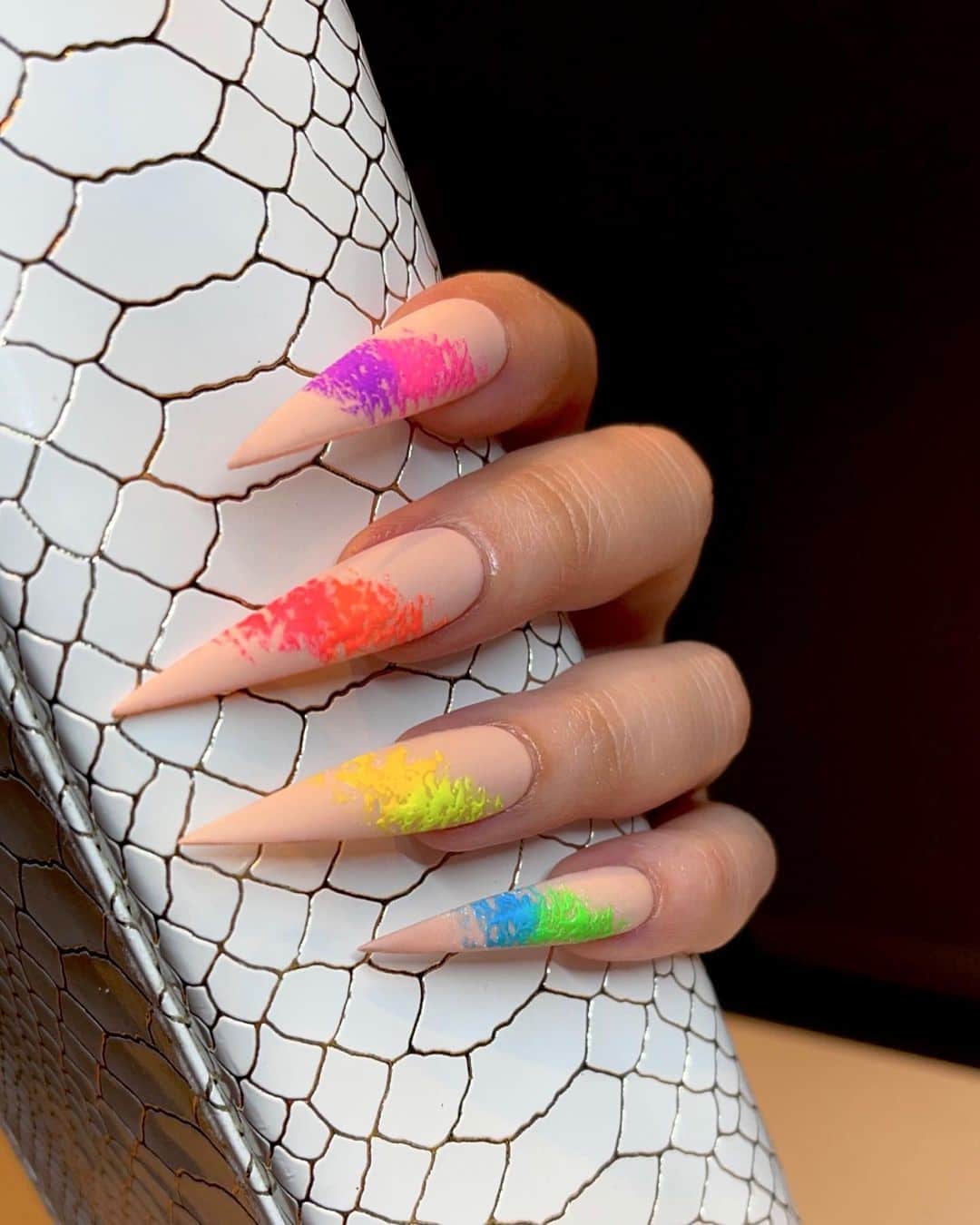 Super long = super fun! This acrylic manicure and this pointy shape will scream for attention and looks. If you're someone who knows of a good nail artist and you can easily rock ultra long acrylics on a daily – these rainbow nails are yours!
6. Powder Nails Rainbow Manicure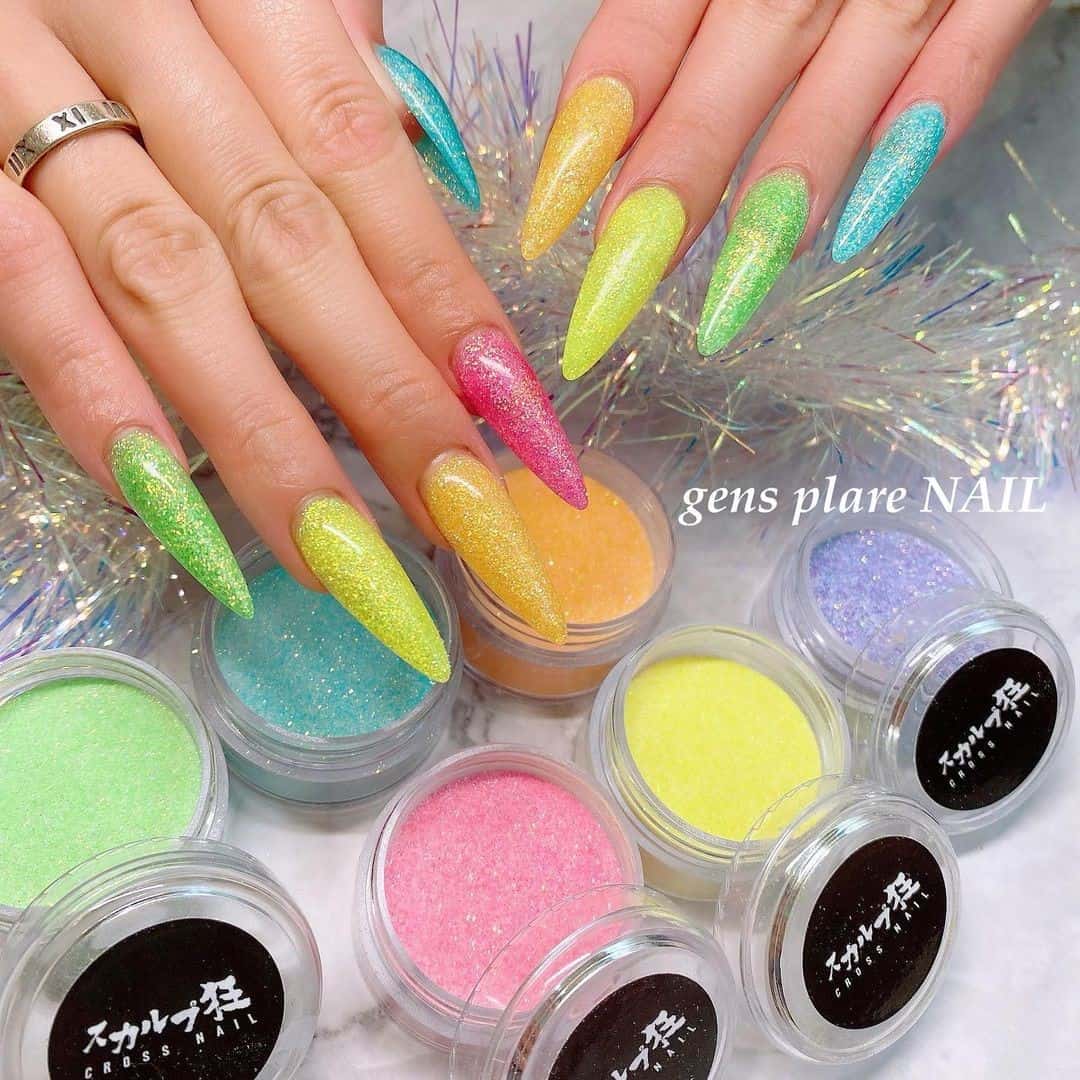 Powdered manicure and powder rainbow nails are the thing of a future! If you like color and vibrant ideas, test this out. It is a unique application process that guarantees durability, longevity, as well as elegance.
Did you know that almost all rainbows show the colors red, blue, green & yellow?
7. Cute Rainbow Manicure Print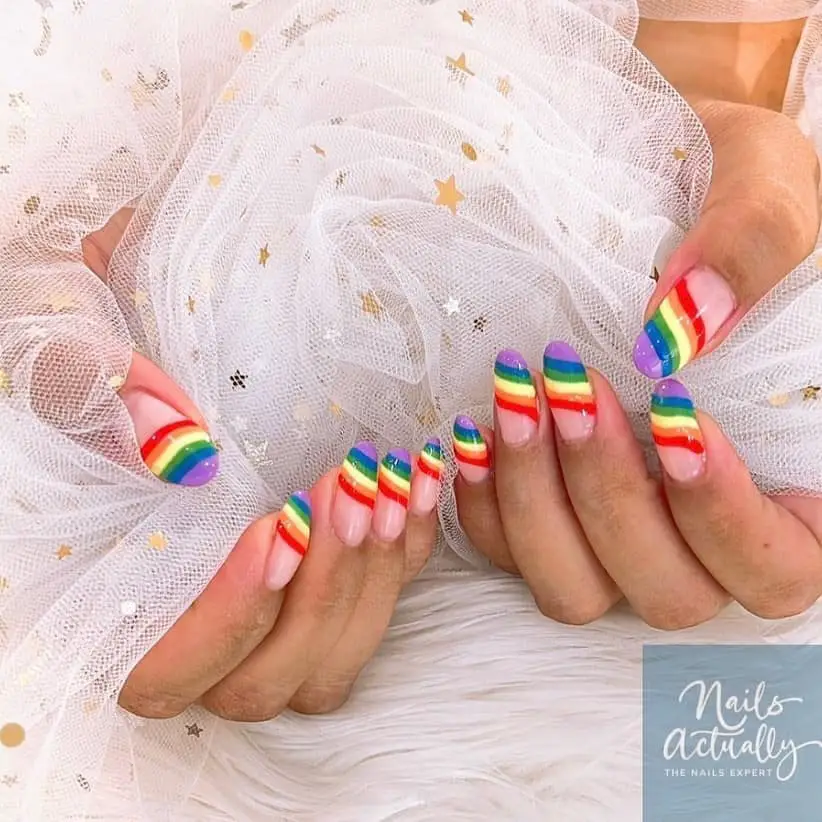 If you prefer elegance and you need something that will not look like too much, stick to this common rainbow print. Set them in the end with your favorite glossy top coat to prolong their lifespan.
8. Long Retro Rainbow Manicure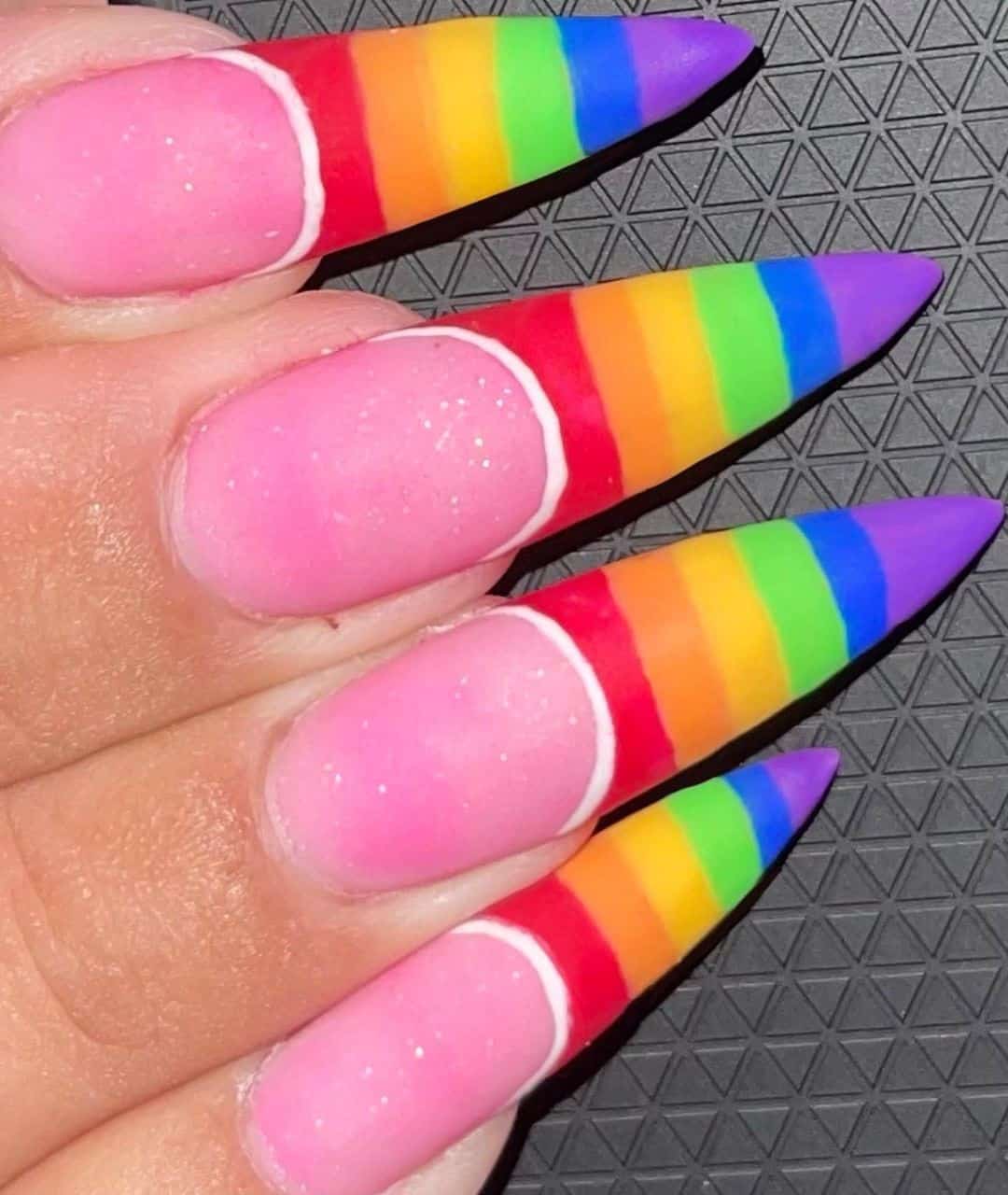 If you like gel extensions or acrylics you are also going to like this rainbow French tip manicure. Ask your nail artist for this extreme rainbow makeover. They will see it as a fun change + you will be the only one with such long & bold nails.
9. Long Square Acrylic Rainbow Manicure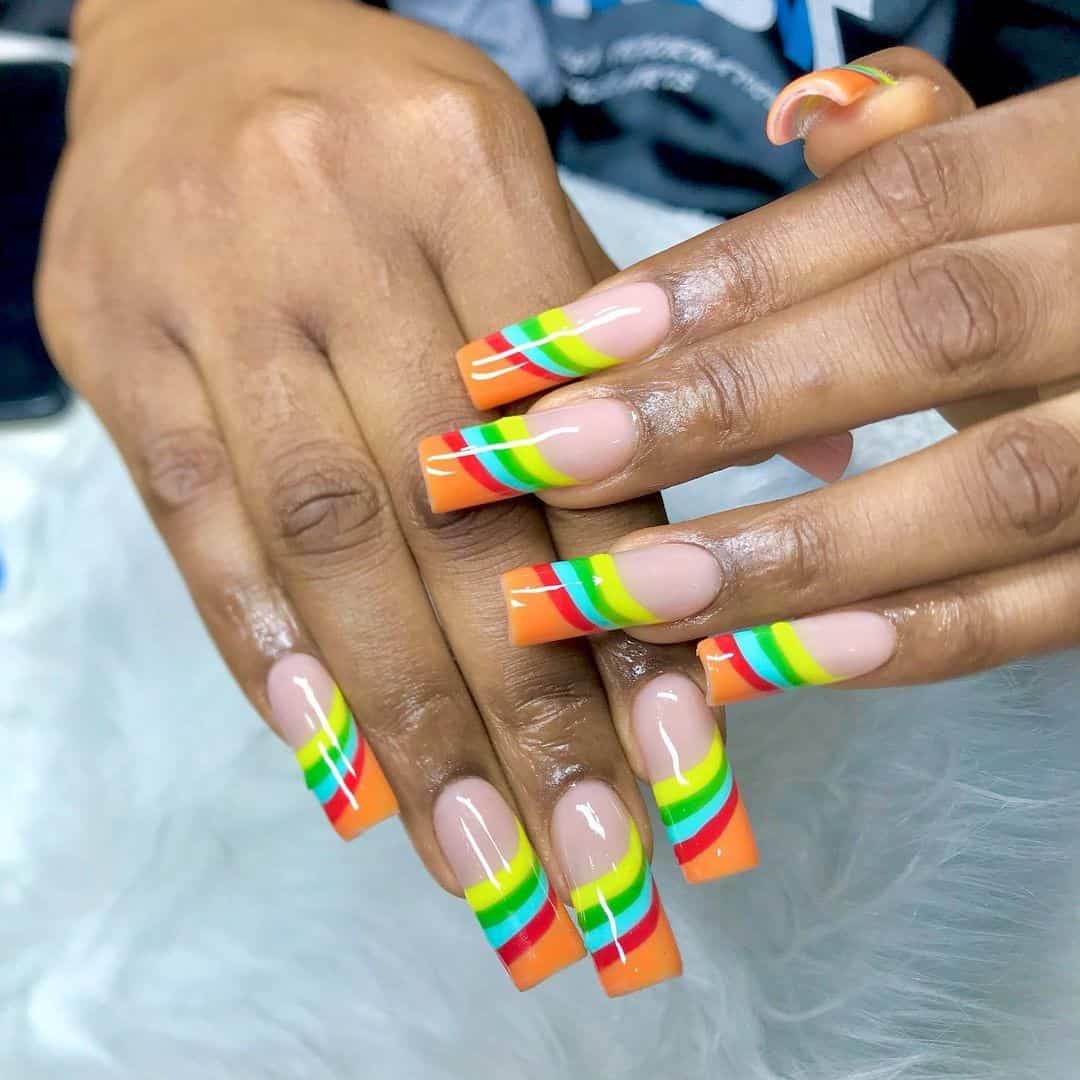 Square nails and this color combo truly complement one another. Color the tip of your nails in these vivid colors, and show off your artsy side. Stick to loud & ''happy'' colors in order to make this manicure more attractive & appealing to the eye.
10. Square Manicure Rainbow Print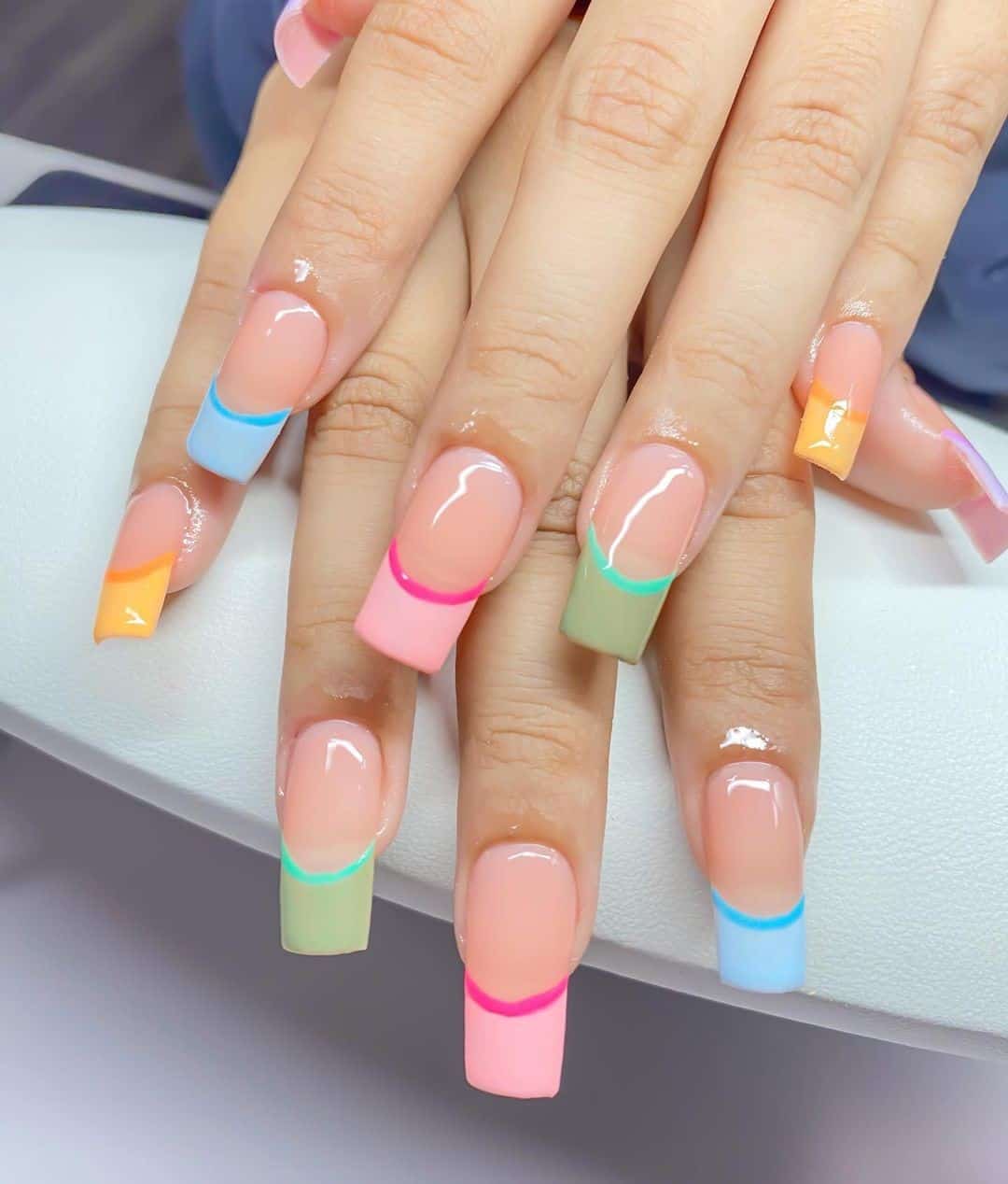 If you wish to rock an office-friendly manicure and you're a fan of colorful looks, this is it! These will suit workaholic women who prefer pastel rainbow colors, yet long square-shaped nails. Add some colored lines and intriguing details to make your nails more showy.
Fun fact: no two people see the exact same type or color of the rainbow.
11. Retro Rainbow Gel Designs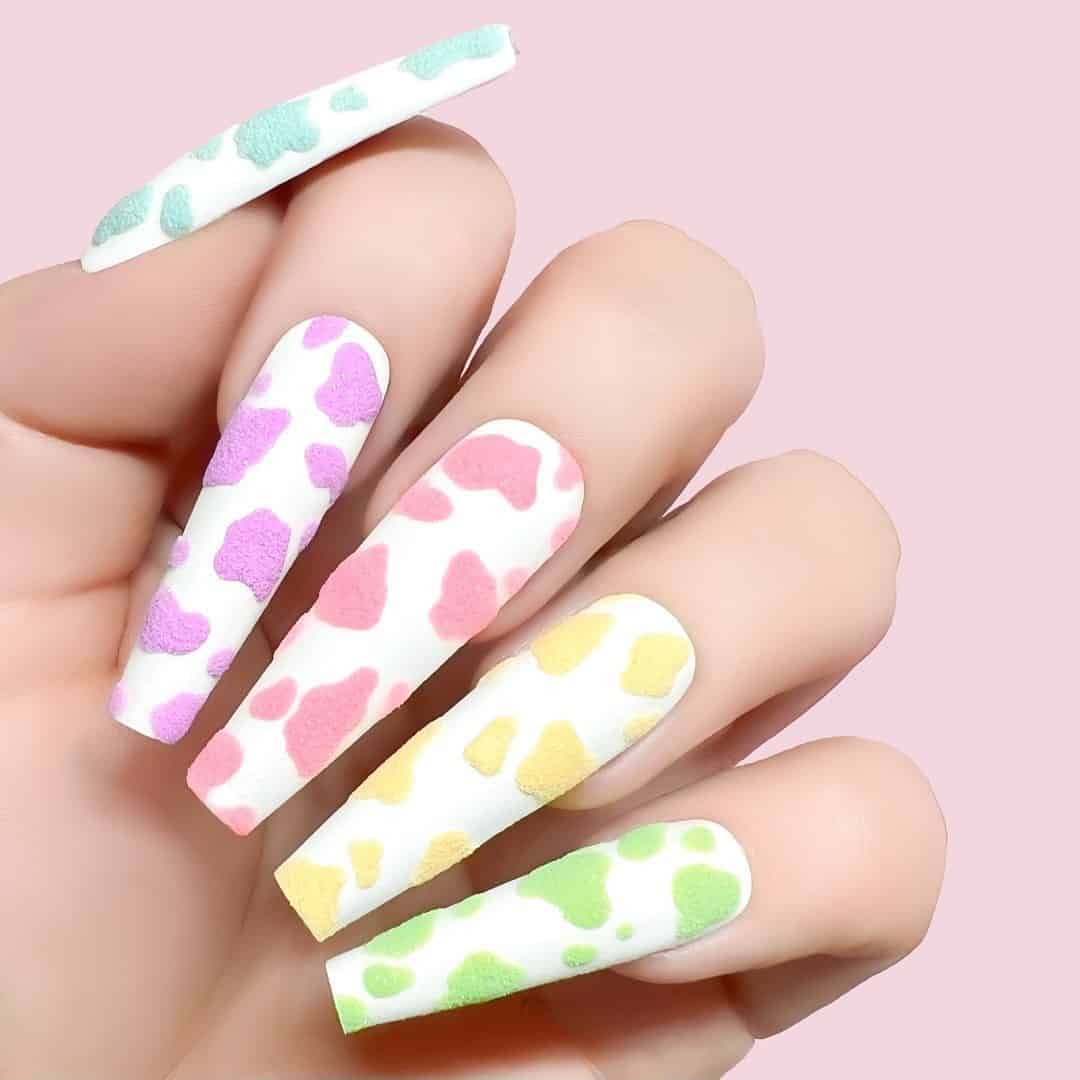 Cow print or dots have been anywhere lately! If you enjoy modern looks and you want to stay trendy with your appearance, test this manicure out. It is a time-consuming print and manicure, so make sure that you have 2-3 hours to spare when at a salon.
12. Feminine Rainbow Manicure
Bright pink & purple shades will always look feminine, soft & romantic. If you're someone who likes elegance and you're a fan of bubblegum colors or rainbow nails, this will intrigue you. Aim to wear these for parties or birthday celebrations.
Also Read: Top 30 Gorgeous Birthday Nail Design Ideas (2022 Updated)
13. Long Coffin Rainbow Design Manicure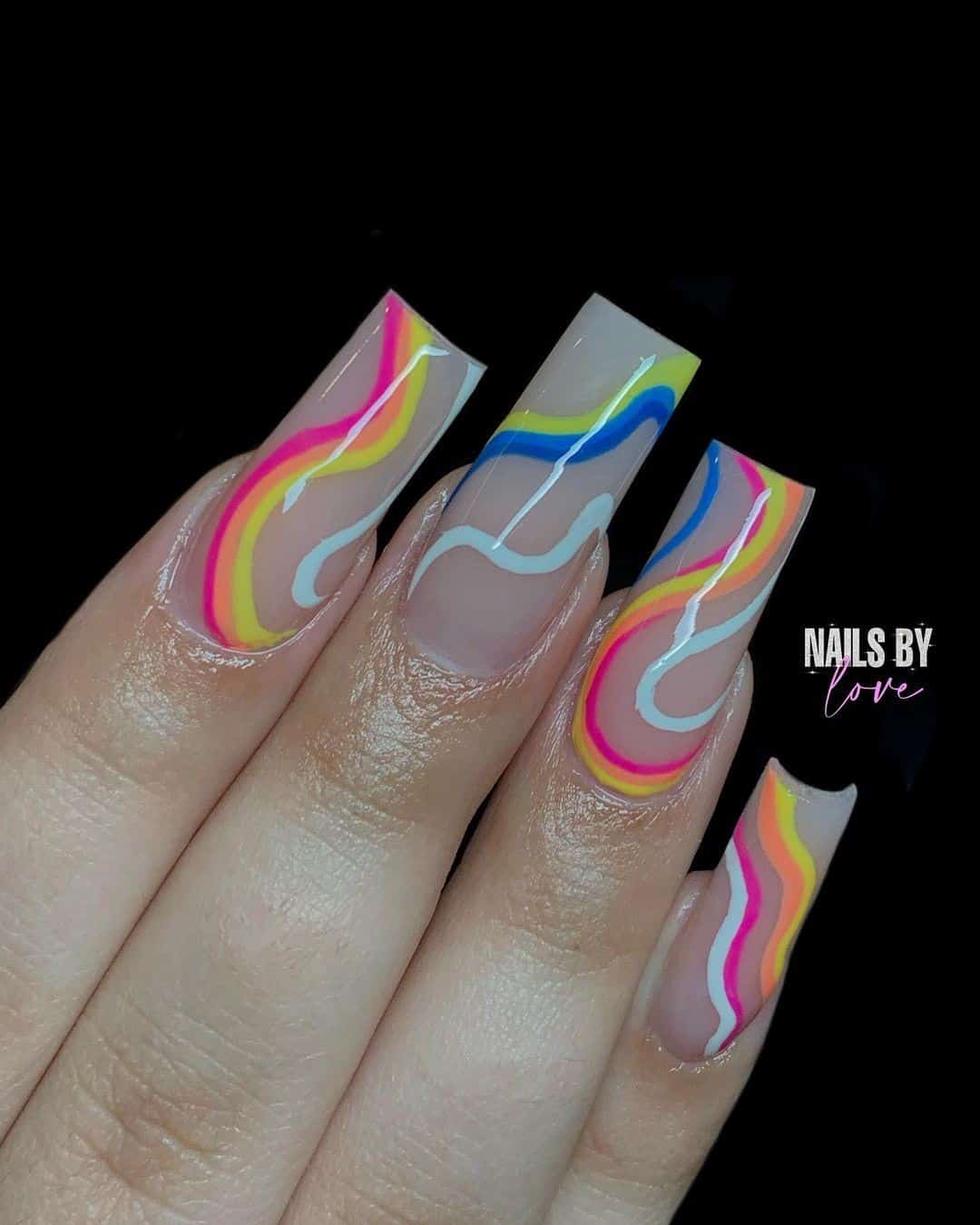 Ask your nail artist for this colorful nail art. If you are into designs that are geometrical and you like to show off your feminine side one way or another, consider doing it all with this manicure. Set it with a glossy top coat to round up the look.
Did you know that rainbows can occur in mist, fog, sea spray, waterfalls, and anywhere where light meets water?
14. White Base With Rainbow Print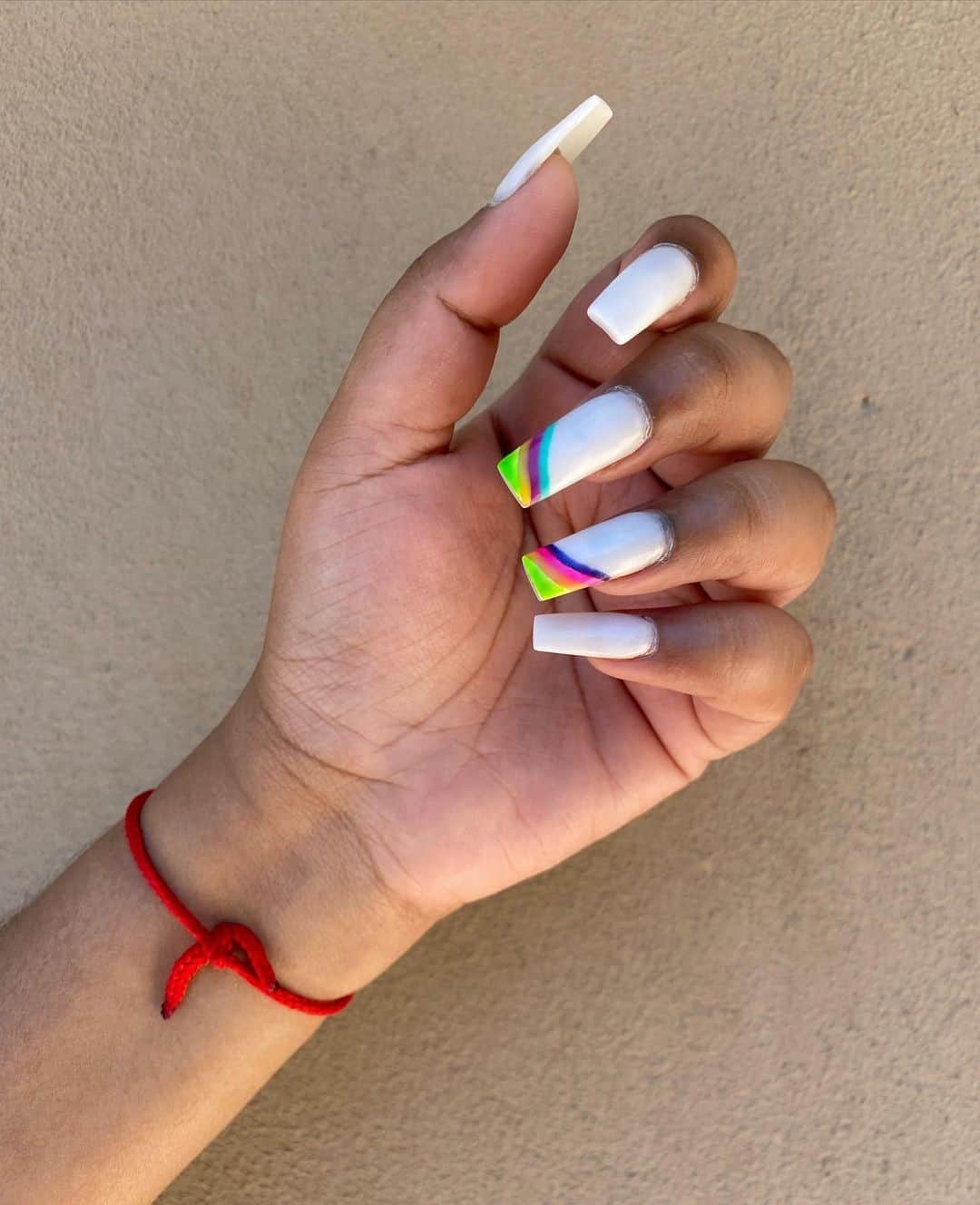 Stick to this simple white base, but decorate your top portion with a lot of fun colors! Draw a rainbow on top and let it speak for itself. Women who are off to a holiday might prefer this look the most.
15. Long Acrylic Nails Rainbow Colors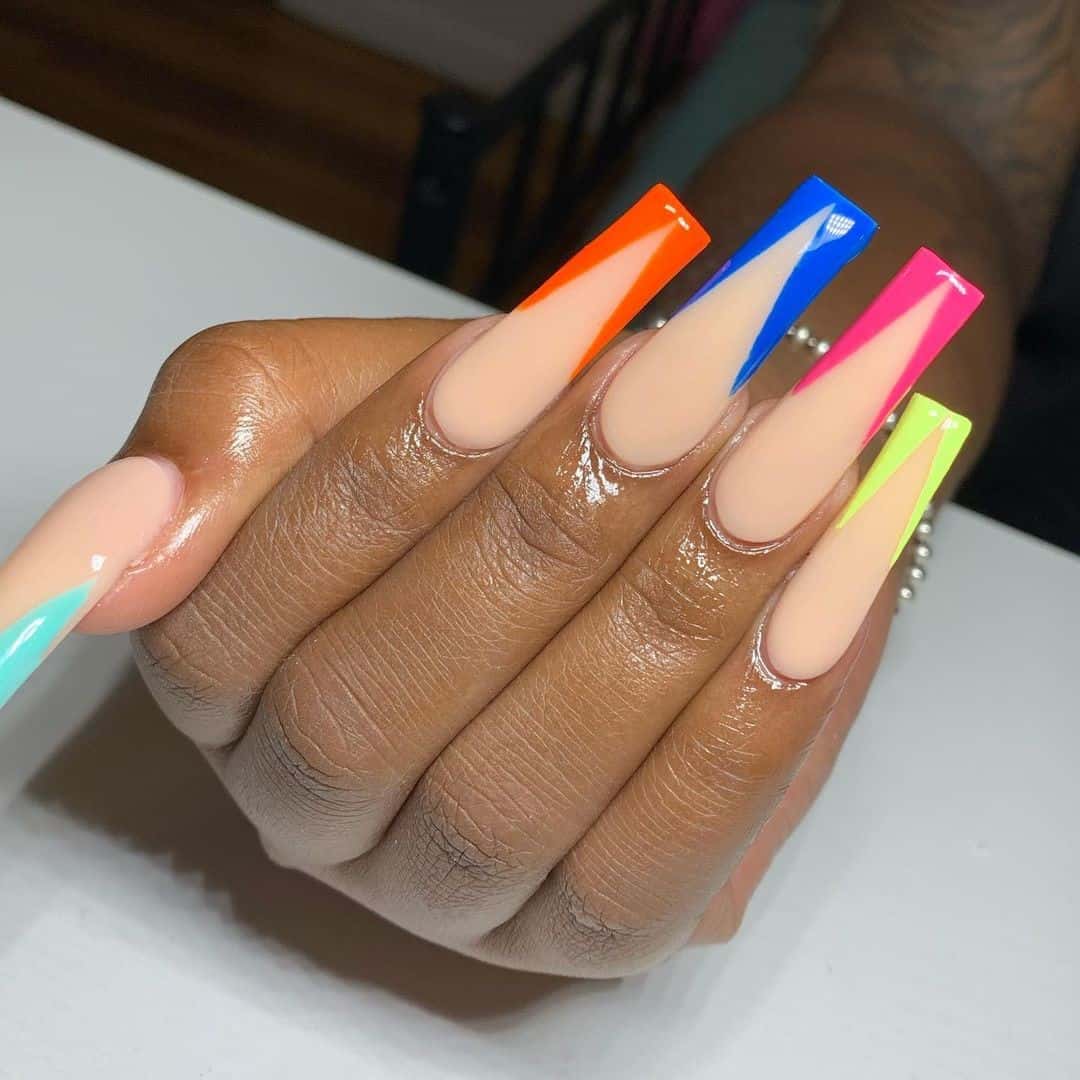 Lastly, you can consider these bold long acrylics with a nude base. Color the top with your favorite color and show off this rainbow dream when off to some formal or extravagant events.
Fun fact: there is no beginning or end of a rainbow.
Rainbow Time!
In the end, there are loads of different nail options that one can go for! Let us know which design you can't wait to wear. We would love to see you rocking one of these unique colorful options in the near future.
Read More: