10 Best Summer Nails Designs in 2022
When you shop through links on our site, we may earn an affiliate commission. This educational content is not intended to be a substitute for professional advice.
Summer is here, and you know what that means! It is time to explore & experiment with a lot of different & bright nail polish colors!
Are you a creative person? Do you love to express your personality through your makeup, clothes & nail polishes?
If so, you will love this article since we will share our top 10 must-do nails for this time of the year! Keep on reading and find your perfect match!
10 Best Summer Nails Designs in 2022
Rainbow Nails
Rainbow nails are the perfect nails for women who like color! Are you a fan of bright and noticeable polish? Maybe you are also indecisive? If so, make this your Summer go-to choice!
How to achieve this manicure?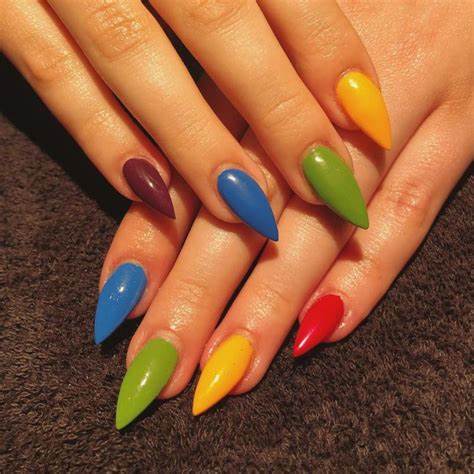 Make sure that you have 5 different and bright nail polish colors. You should purchase or gather all colors of the rainbow, such as green, yellow, blue red & purple.
Color one nail at a time, and make sure to color the nails of your opposite hand in the same color. If your pinky is green on your right hand, make sure it stays green on your left hand!
The application of the polish is simple and easy, just make sure that you're precise with it. Also, do not forget a top coat since it will prolong the lifespan of your manicure.
Marble Nails
Not a lot of nail techs are confident in doing marble nails, which is why it is important to find the right one! Marble nails are super bright, noticeable, as well as eye-catching since not everyone can wear or pull off this design.
How to achieve this manicure?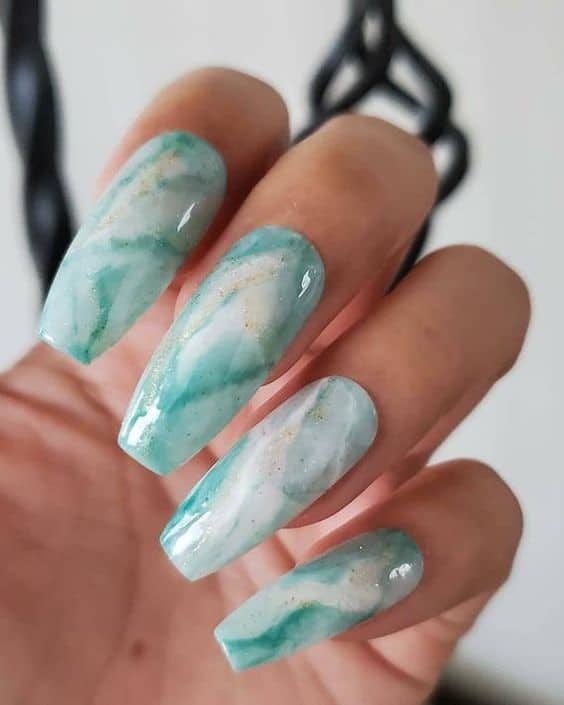 Make sure to do your research and find a nail tech that has a lot of positive reviews when it comes to doing unique designs. However, if you are on a budget and you wish to do this on your own, make sure you have the right tools!
Purchase a couple of nail stickers in-stores or online. A lot of drugstores and bigger beauty retailers carry nail stickers that you can get at an amazing price point.
Place these stickers over your natural nails. Make sure that you cut them & measure properly before placing them on your nail bed. Let the sticker stick in place with one coat of clear polish!
Glitter Nails
Are you a fan of feminine & soft manicures? Some women love & prefer lighter colors during the Summer season. Not everyone is crazy about stepping out of their comfort zone and reaching for bright neon shades. If you are a fan of glitter, you will enjoy this polish design!
How to achieve this manicure?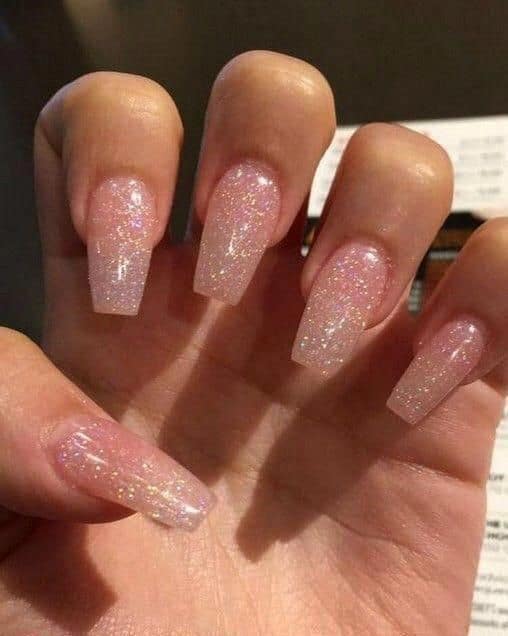 Make sure that you prep your nails with a base coat. Use two coats of it and let it dry before you add polish.
Go for your favorite pink color and add a thicker coat of it.
You can use actual nail glitter that you can purchase at a drugstore. You can also reach for eye glitter or some sparkly shadows that you will add on top.
Make sure that your glitter is applied and spread out equally. Seal the deal with a top coat and let your manicure dry.
Bright French Manicure
You don't always have to wear your nails in a typical French way, you know? Sometimes just a pop of color can make a dramatic change! If you are a fan of neat & feminine manicures, yet you wish to spice it up somehow, go for this blue tip!
How to achieve this manicure?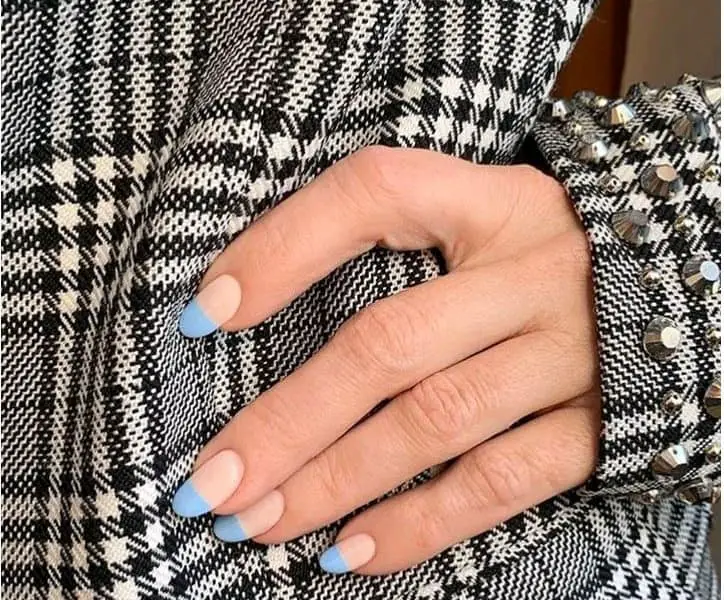 Make sure that you purchase manicure stickers that you will place at the top of your nail. These stickers will act as an amazing guide and will help with the application.
Use bright blue nail polish and color the top of your nails only. Color all the way down till you meet with the sticker.
Once your top has dried down apply a clear gel over it. This will add shine and elegance to your French manicure.
Floral Nails
Floral nails are fun, bright, as well as noticeable & perfect for the Summer season. If you are a flower lover and you prefer unique polishes, stickers, as well as feminine nails, you will enjoy this design.
How to achieve this manicure?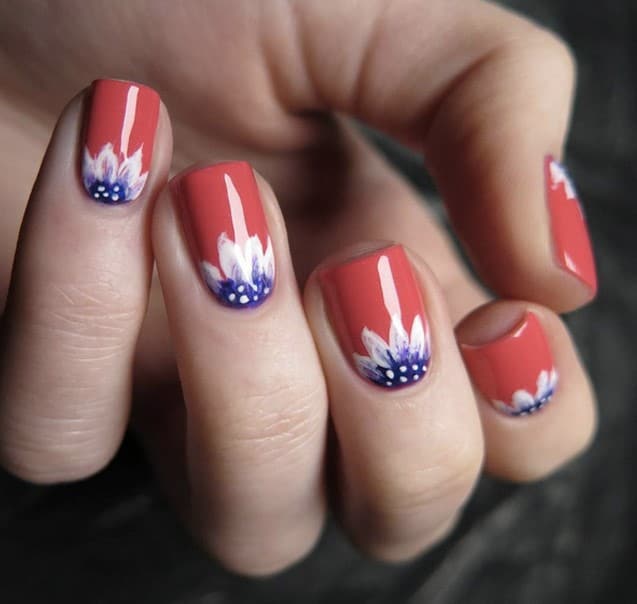 Color your nails in any nail polish color that you like. You can mix & match, or you can stick to one polish only.
Only go for pastel colors since darker polishes won't pop out as much, and they won't look as pretty once paired with your flowers.
Purchase a couple of nail stickers (nail flower stickers) at your favorite drugstore. These are super inexpensive and they are easy to apply.
Peel the sticker off and place the glue-side part on top of the nail. Set the manicure with your favorite top coat.
Tie-Dye Nails
Kylie Jenner made the tie-dye nails popular in 2019. Everyone fell in love with her manicure, and almost every nail tech had to learn how to do the tie-dye nails. If you are someone who is indecisive and you like a lot of color, this polish trick will suit you!
How to achieve this manicure?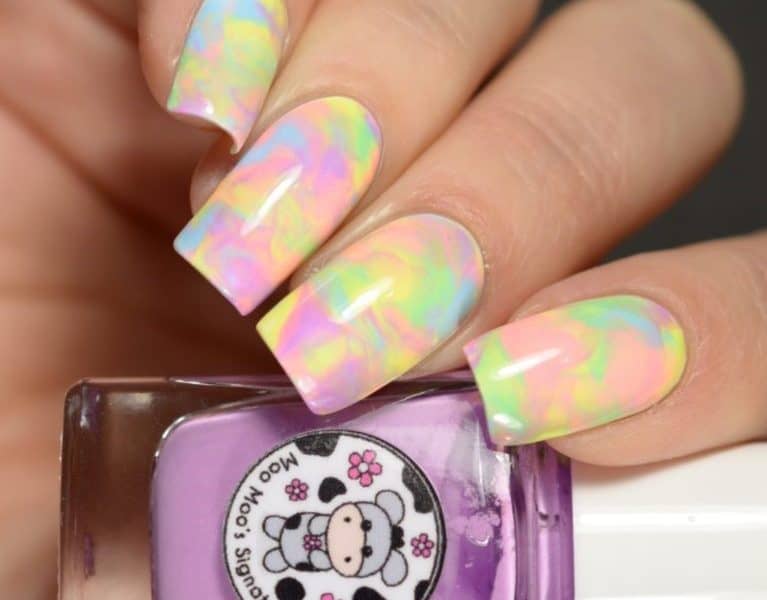 Paint all of your nails white or nude. This color is the best base for tie-dye splashes.
Work one polish at a time. You should apply quick splashes of pink on all of your nails. The best part? This process doesn't have to be neat or precise.
Add the rest of colors onto your nails. You can also use a toothpick to create wiggly lines and to "connect" the manicure.
Yellow Drama
If you are not a fan of dramatic nails, yet you wish for that pop of color, go for this bright yellow neon manicure! A lot of women prefer just a splash of color during the Summer, and yellow is always a definite winner.
How to achieve this manicure?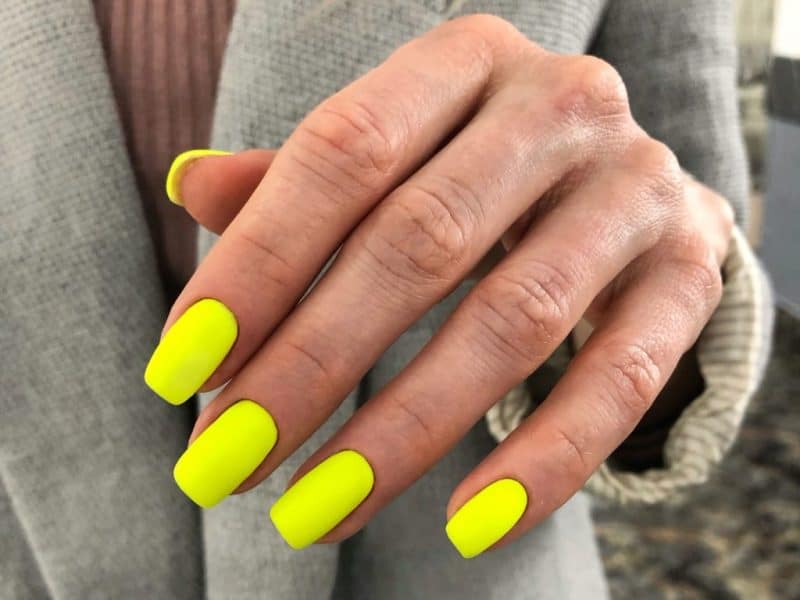 Just prepare your nails with the right nail base. Add one coat and let it air dry.
Add two coats of your favorite yellow or neon yellow polish. Let it dry before you do the second coat.
Seal the deal with a top coat!
Cow Print Nails
Although it might look like an unusual choice, cow print has been one of the most asked-for at the salons! It is almost as popular as cheetah print, and it is definitely an eye-catching manicure! If you don't like bright, flashy neon colors, you can opt for this design!
How to achieve this manicure?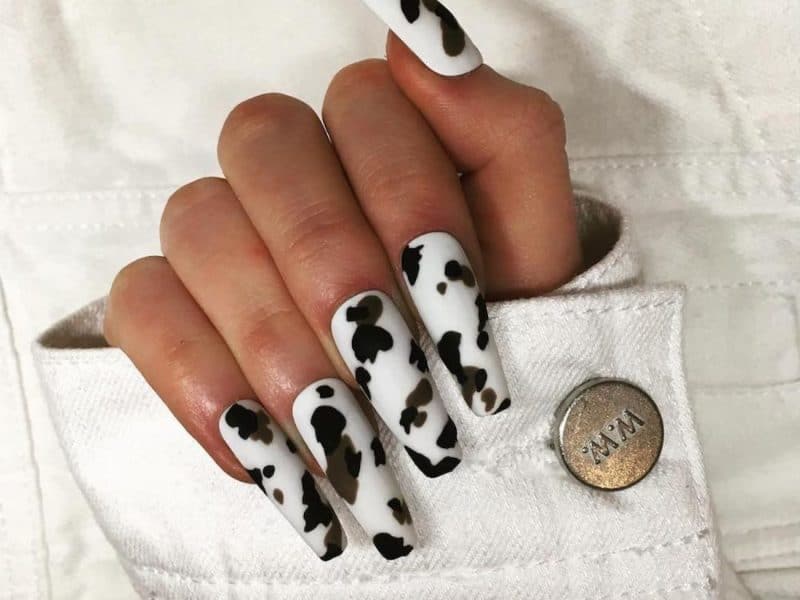 Apply your favorite base coat and let it air dry. After that add two coats of your white polish.
Do brown splotches and take time with your manicure. Creating a 3D print takes patience and time. Use a striper to get the best results.
Add some black splotches and make sure that they are as equally apart. Seal the deal with a topcoat.
Fruit Inspired Nails
Did you know that we eat the highest amount of fruits and vegetables during the Summer period? Our body naturally detoxifies itself and we eat a lot of delicious snacks when exposed to high heat. If you are a fitness freak or if you simply love fruits, you will love these nails!
How to achieve this manicure?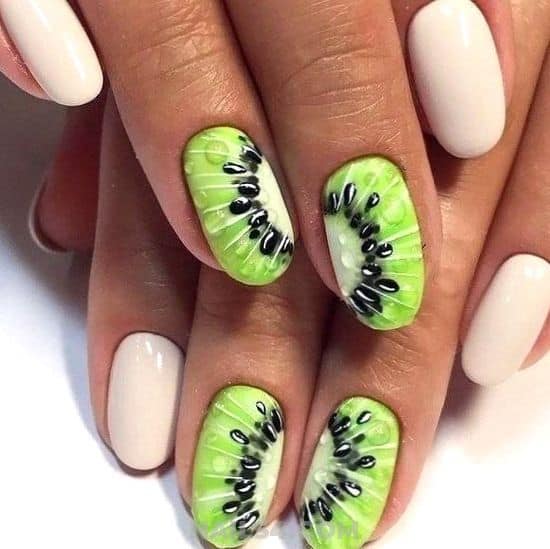 We highly recommend that you book yourself an amazing nail tech that has mastered similar drawings. Only they will be capable of giving you this type of manicure.
If you don't want to spend a lot of money or if your nail tech can't make an appointment, purchase yourself some nail stickers off of Amazon.
Glue down these stickers and make sure that you lay your stickers flat. Set them, as usual, with a topcoat.
Mermaid Nails
Mermaid nails scream Summer! Are you off to a tropical or beach getaway? If so, let everyone see your mermaid side! This print and these nails will suit younger women, and especially those who wish to stand out! Make sure you get a set of acrylics and only wear this manicure if your natural nails are long!
How to achieve this manicure?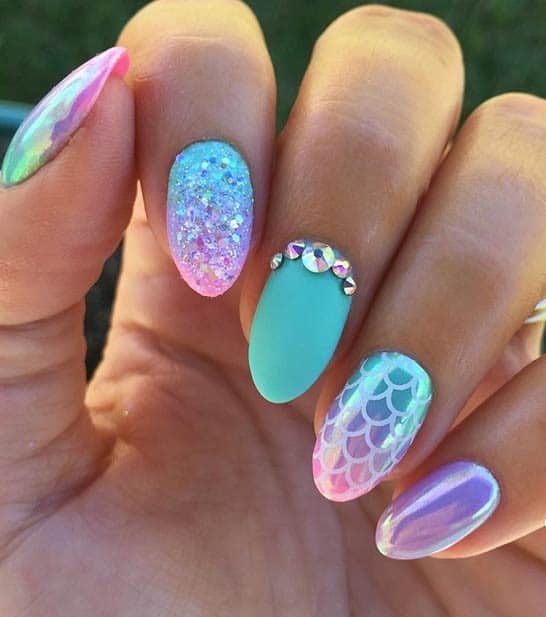 Gather around all of your needed products and tools. You'll be needing some glitter, sparkles, rhinestones, as well as 3 different polish colors. Make sure that these are lighter pastel polishes.
Paint your nails per your preference. Mix blue, purple & pink tones all over your natural nails and make sure that the colors are cohesive before you continue further.
Add some rhinestone and glitter on top of your 4 nails total. This will give them that glam vibe while still keeping up with the mermaid theme.
Once the polish is dry set it in place with one coat of clear gel or with your favorite top coat.
Let Us Know Your Favorite!
So, which design was your favorite? Let us know which of these top 10 Summer inspired manicures is going to be on your next go-to list! All of them are wearable by older & younger women, just make sure that you think ahead about your planned events & activities (or summer getaways) before committing to one design in particular!