70+ Red Hairstyle With Highlights, Lowlights and Balayage (2023 Update)
When you shop through links on our site, we may earn an affiliate commission. This educational content is not intended to be a substitute for professional advice.
Why Is Red Hair With Highlights So Stylish?
While having completely red hair can be a statement to your personality for itself, adding different highlights, or a balayage, is a step further to hint at a fierce personality without having it be the main topic.
Actresses have been blowing up red carpet hairstyles with their red tones for decades now. Whether it was ginger-spiced Spice Girl, Gerri Halliwell, or Nicole Kidman with her iconic strawberry blond hair nuance, or Julian Moore's copper-toned hair, red hairstyles were always considered as fierce and passionate.
There is no better time to spice up your style than at the end of a hot sunny summer in August while we wait for colorful copper leaves to fall in Autumn. Nonetheless, red hair will always be in style, so you can never go wrong with it! Whether it's Christmas time by the fire or hot summery festival nights out.
Things To Know Before Adding Red Highlights To Your Hair
Red highlights will add power to your overall style, although it's important to know how to take care of them. The red color fades very easily and is hard to take out if you wish to change it.
Depending on whether your hair has been dyed, bleached or if you haven't colored it at all, it will take a professional hairdresser and probably multiple sessions to achieve the shade you wish to achieve. As for the hair care treatments at home, most professionals recommend using sulfate-free shampoos that are color-safe and recommend a fresh coat at the 4-6 weeks mark.
If you want a lighter shade of red, you'll have to use more bleach. Whereas if you go for deep and dark red shades, you have to take good care of it or it will turn brassy over time. It is not recommended to try to do it yourself if you're not familiar with the condition of your hair and are not an expert on tones and undertones of different colors. It would be best to leave it to professionals!
Also Read: Balayage Vs. Ombré Vs. Highlights Vs. Babylights: The Only Hair Lightening Guide You'll Ever Need
70+ Fashionable Red Hairstyles With Highlights That Will Transform Your Look
1. Straight Dark Red Hair With Caramel Highlights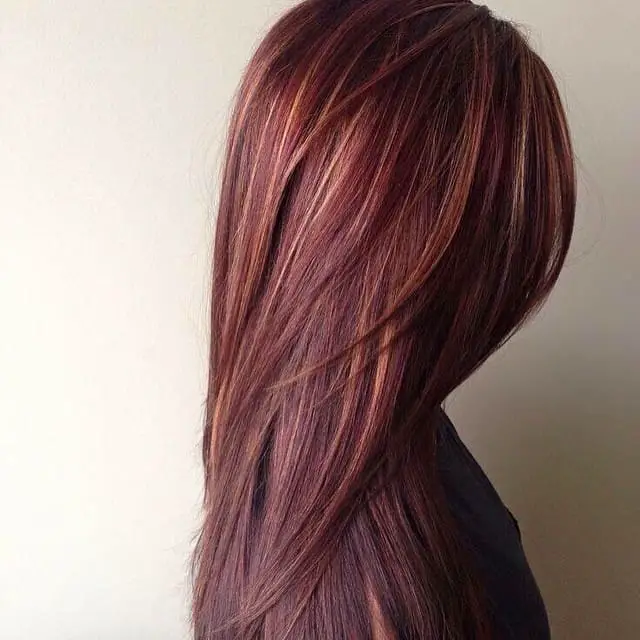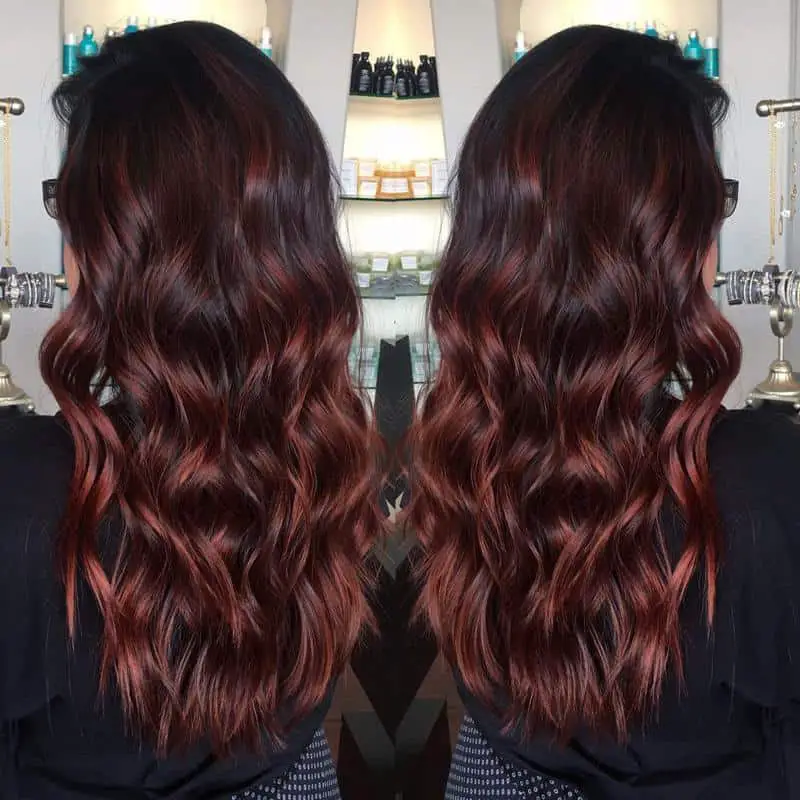 If you have straight long hair and want to spice it up without shortening it, this is a perfect look for you. Cutting layers on straight dark red hair and adding subtle blond caramel highlights will add bright shades to your hairstyle. Overall, it's a very sleek and stunning look. With the front parts of the hair being a bit shorter, you can frame your face with this hairstyle.
2. Adding Red Highlights To Copper Hair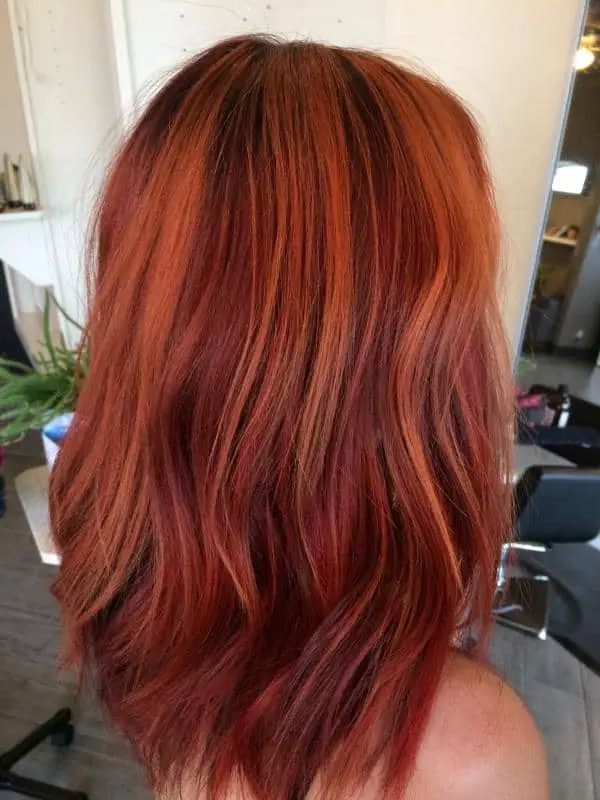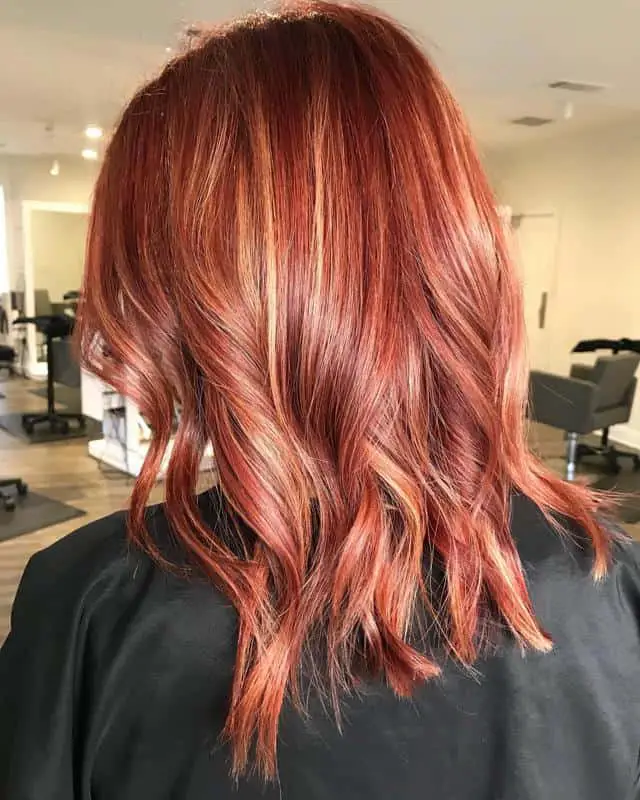 Adding lighter red highlights to an already red-colored hair will add more dimension to the whole hairstyle. The colors will shimmer gorgeously under the sunlight. Plus, if you want you can add side bangs, or even front bangs, in which case you can frame your face with this hairstyle. A very fierce and stunning hairstyle.
3. Cinnamon Highlights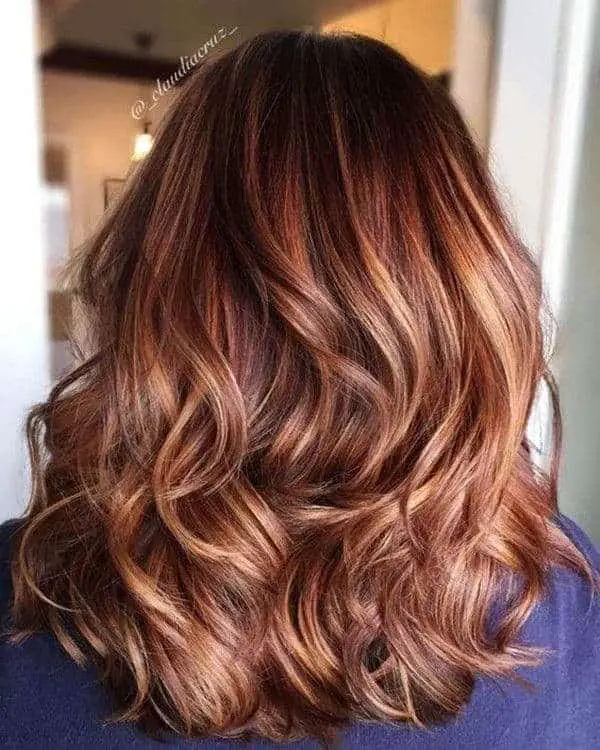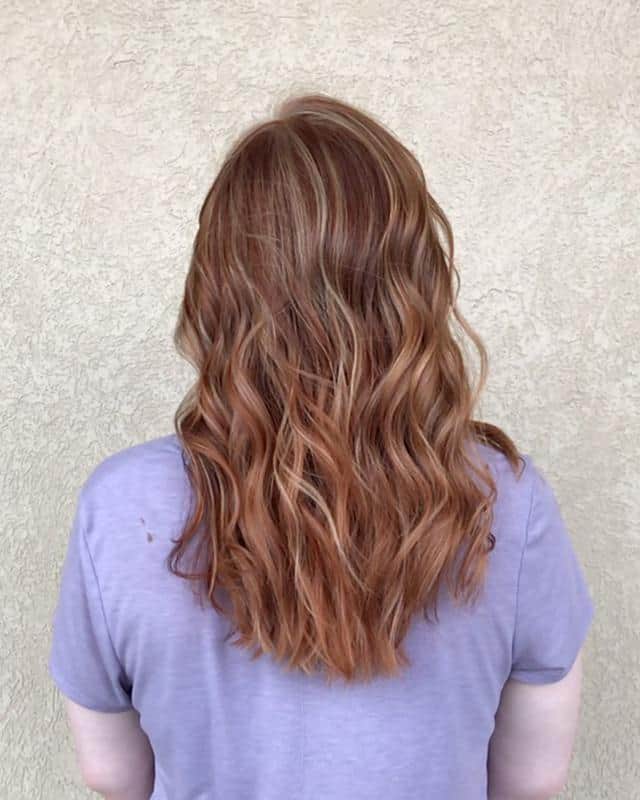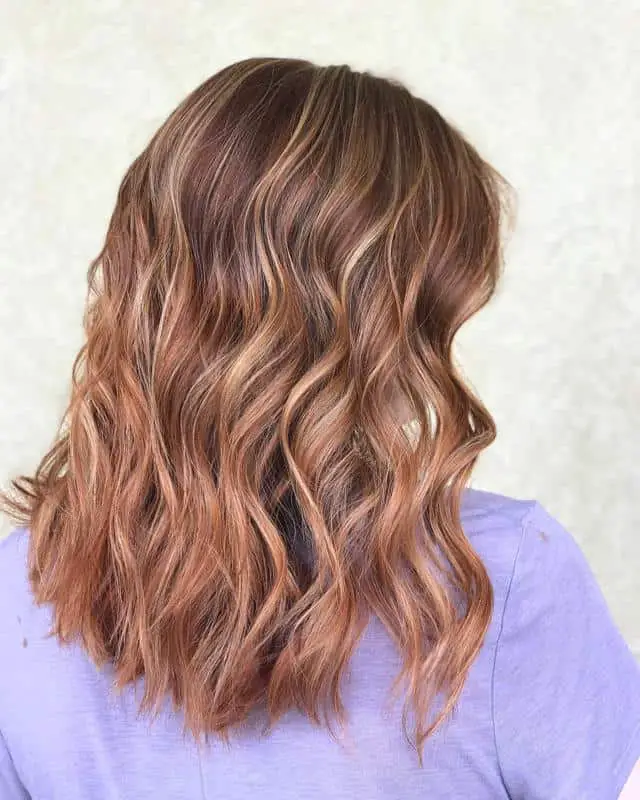 Besides cold weather and warm sweaters, another thing that reminds of fall are cinnamon-flavored sweets. Adding cinnamon highlights to a natural brown base will add just enough spice to your hairstyle. Its red tone will shimmer glamorously under the sunlight. It's a very stylish and trendy wintery hairstyle.
4. Copper Highlights On Brown Hair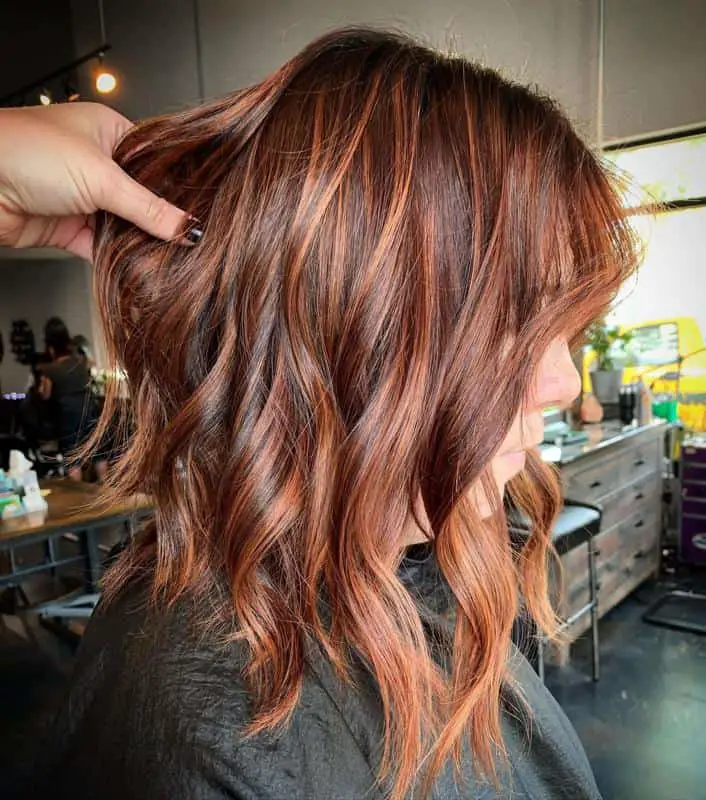 Copper is known as a natural-looking shade of red. These beautiful warm tones are perfect for the end of summer and the beginning of fall. These 2 warm colors united to give a more cohesive look with a hint of gold. It's subtle yet sizzling at the same time. Beach waves with side bangs would give it a great twist.
Read More: Top 30 Copper Highlights On Brown Hair (Short And Long)
5. Short And Curly Red Hair With Blond Highlights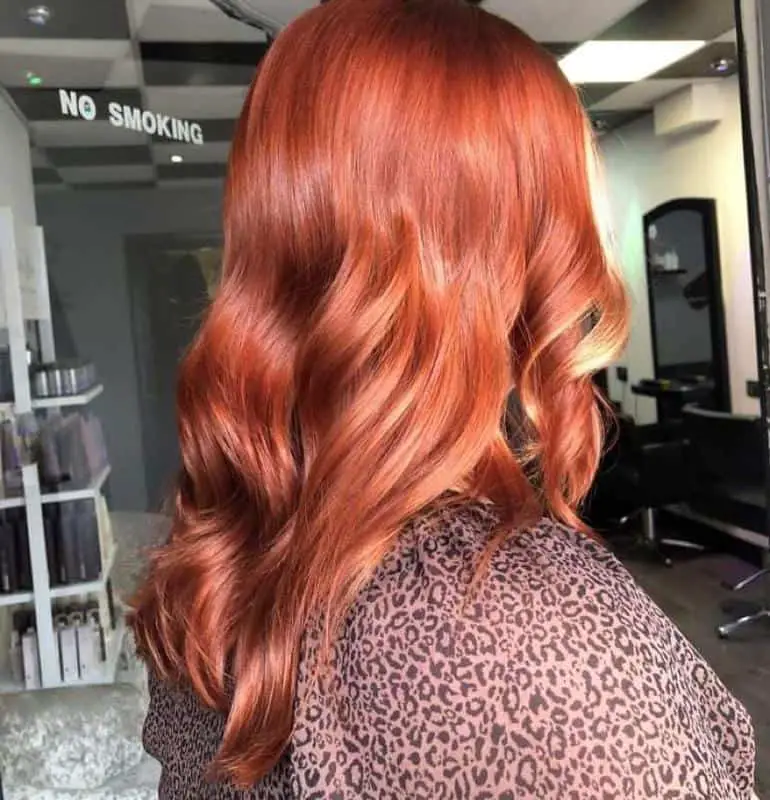 Adding blond highlights to red hair adds a bit more contrast than usual. It's a perfect hairstyle for the end of summer and the beginning of autumn, with those warm tones to keep us cozy in the colder days to come, while we reminiscence about summer. Curls will add volume to an already energetic hairstyle, so it's a very lively and feisty hairstyle.
6. Brown Red Hair With Blond Highlights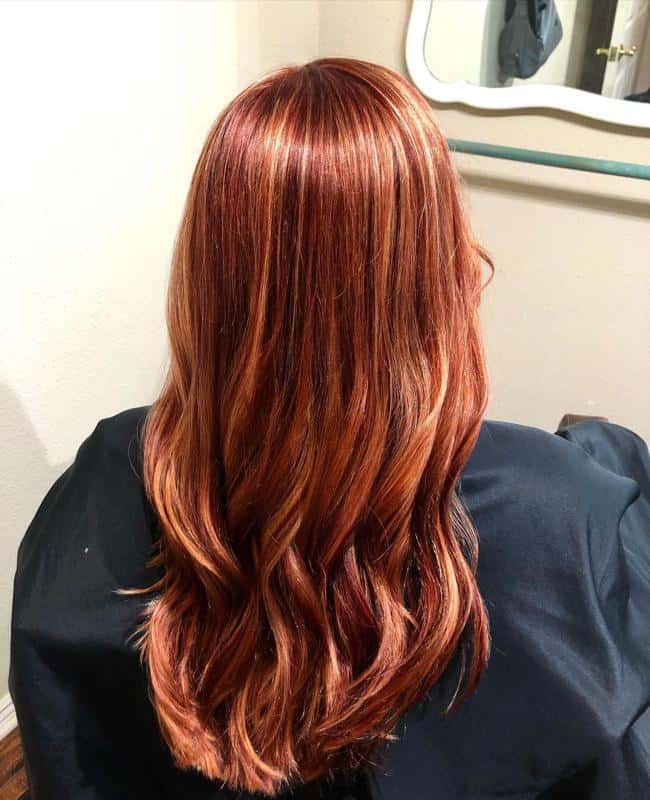 A very cozy and complete hairstyle. With this mix of warm tones, it's a perfect hairstyle for winter. Highlights give the needed dimension to a deep autumn brown base and make it look much more energetic. Curls will add volume to the whole hairstyle and put emphasis on blond highlights. With some dark red lipstick, you've got a killer date combination.
7. Caramel Highlights On The Front Part Of The Hair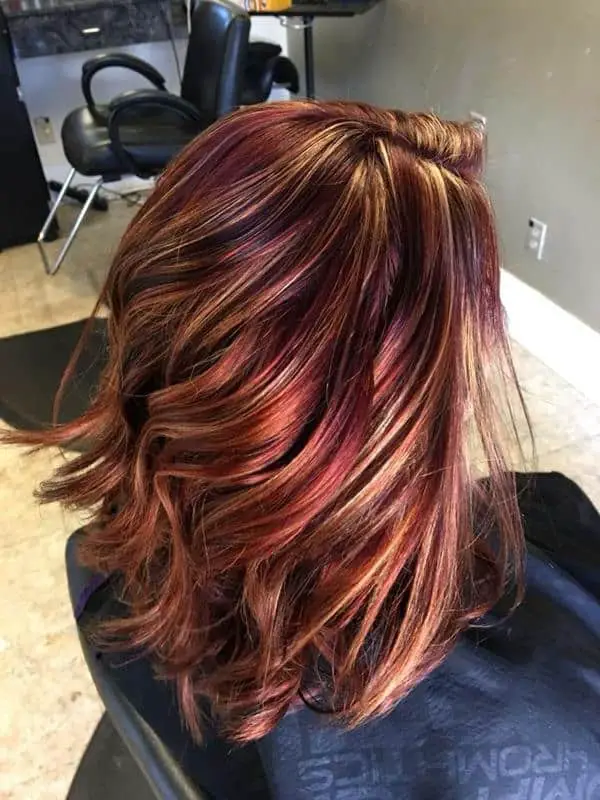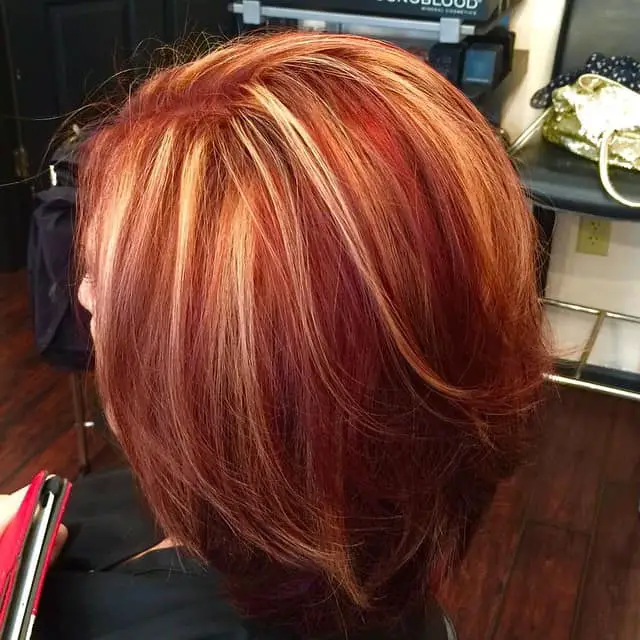 If you want to spice up your hair and you don't mind using a little bit of bleach, this is perfect for you. Blond highlights in the front of the hair will frame your face nicely and put an emphasis on your eyes. Having a completely different situation at the back of the hair is a perfect twist. This hairstyle is very professional but sensational at the same time.
Also Read: 50+ Delicious Caramel Highlights on Brown Hair: Trendy Ideas For A Hair Makeover
8. Rose Gold Highlights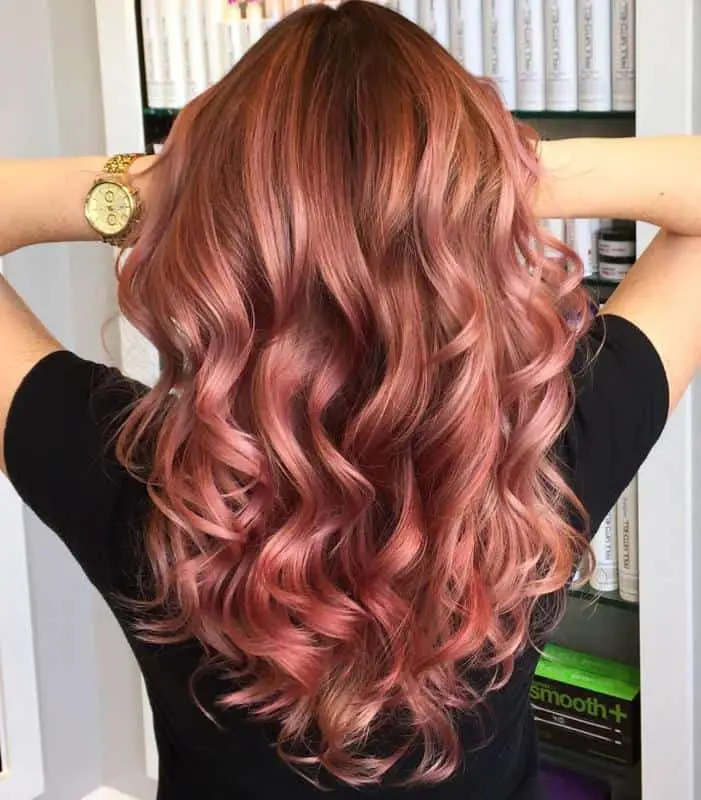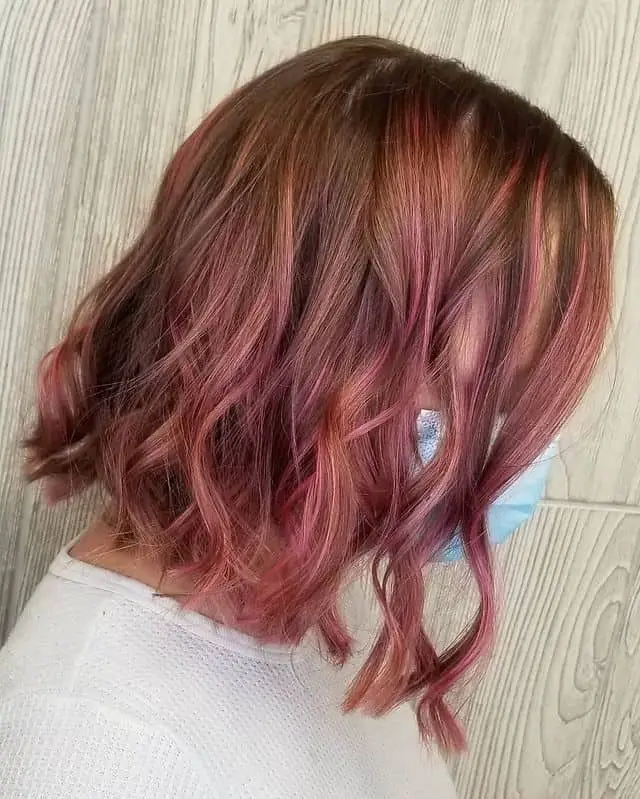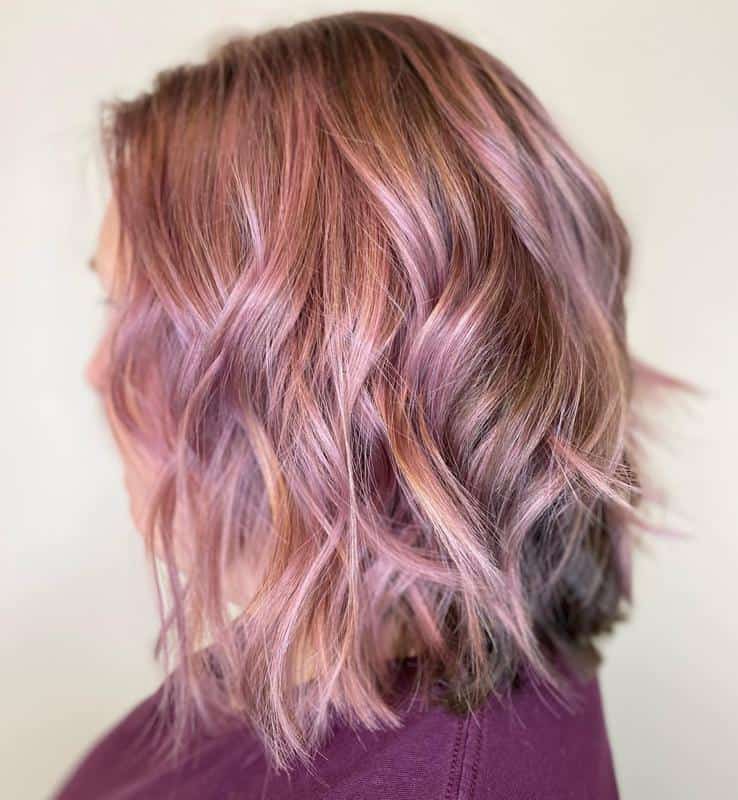 If you want a more subtle red hairstyle, this one is for you. Rose gold highlights will add softness to the dark red color. Curls will make the whole hairstyle look way fuller and luxurious. This pastel look is made for a romantic valentine's day dinner date.
Also Read: 50+ Gorgeous Rose Gold Nail Design Ideas (2022 Updated)
9. Natural Red Hairstyle With Highlights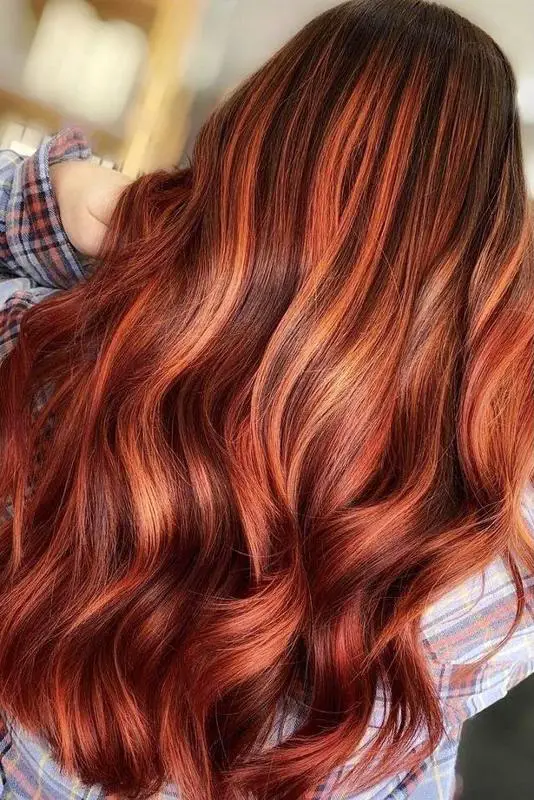 There's nothing better than adding red shades of highlights to an already red hair. It will make your hair color look more natural since the lighter highlights will shimmer under the sunlight, while dark tones give it some much-needed dimension. Curls will make it bouncier and fuller than straight hair would. Either way, a very seamless and simple hairstyle.
10. Dark Red Hair With Lowlights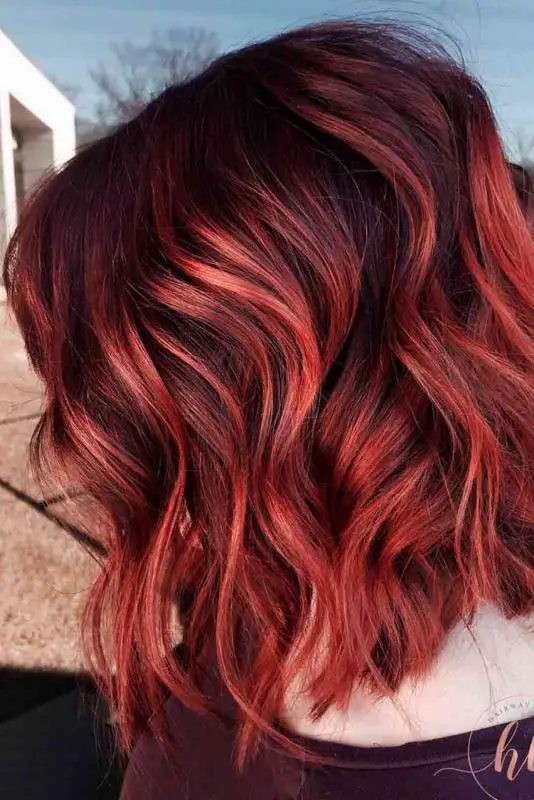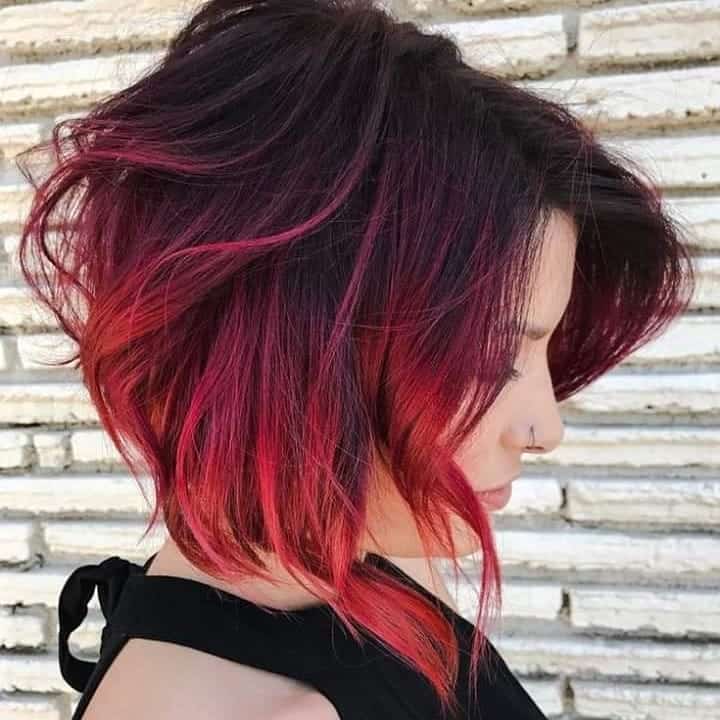 This dark red hairstyle has a very luxurious feel. Red lowlights appearing from the darkness are a perfect picture of potent, powerful flames. This type of hairstyle will look better with darker skin undertones since it will complement it more, whereas the lighter undertones will achieve a rather contrasting look. Dark blond-colored strands of hair will reflect sunlight effortlessly.
11. Wavy Burgundy Hairstyle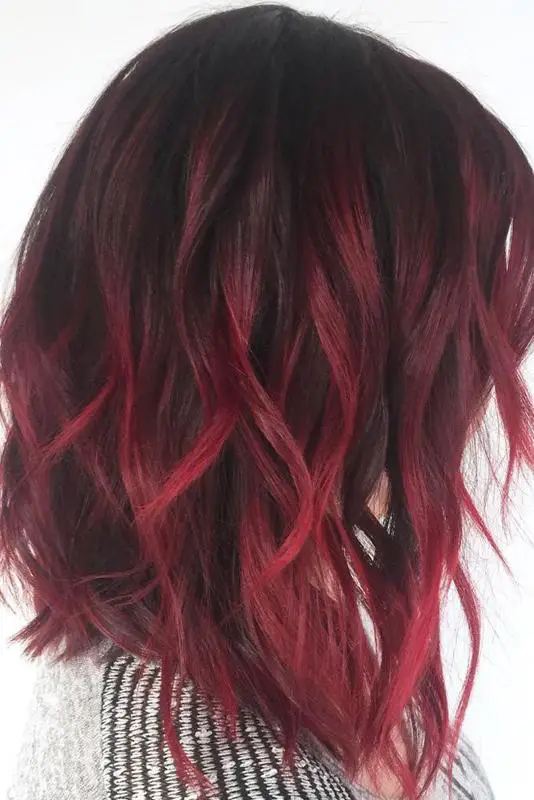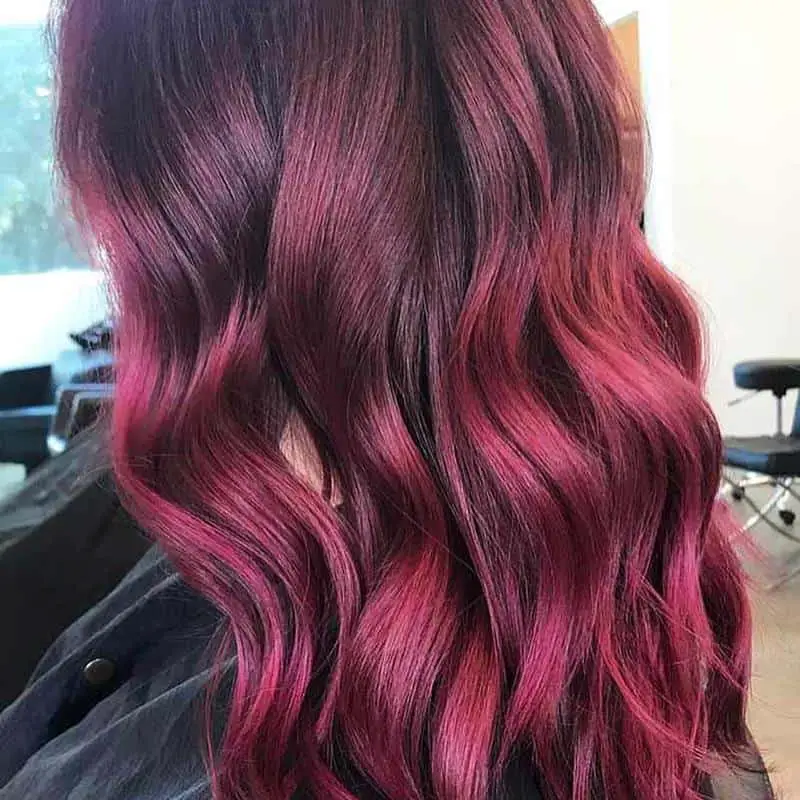 Subtle burgundy lowlights that slowly emerge from the darker base, a real-life example of red wine and chocolate. A very sensational look that is not too much for the eyes and that can be dialed down for more professional hair days.
12. Blond Highlights On Long Red Hair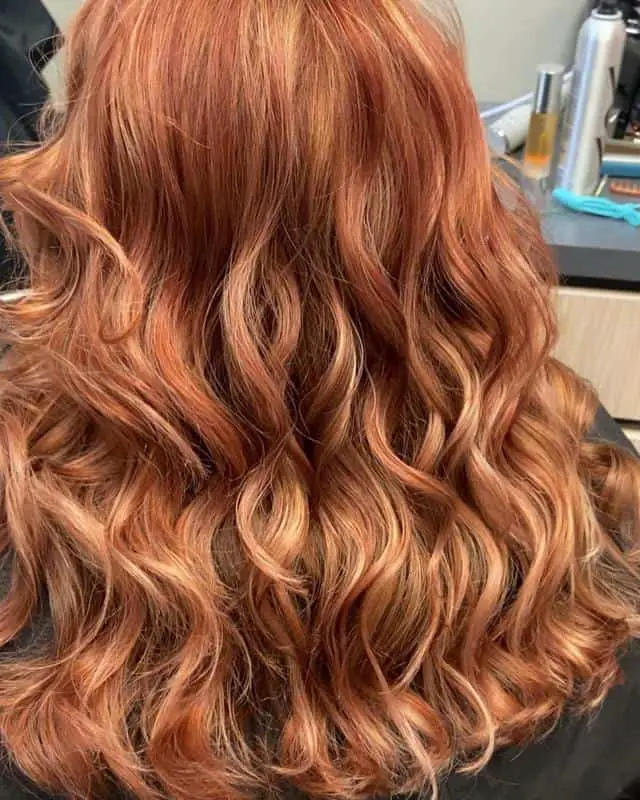 Very mean girls' kind of hairstyle. Blond highlights make the bright vermillion red color pop even more. If you want to catch everyone's attention as Linsey Lohan did in the movie, then this is the hairstyle for you. Curls will add more dimension and fun to the whole look, and side bangs can make it look even more vibrant. While wearing it straight will make the hairstyle look a lot edgier and feistier.
13. Pumpkin Spice Latte Hairstyle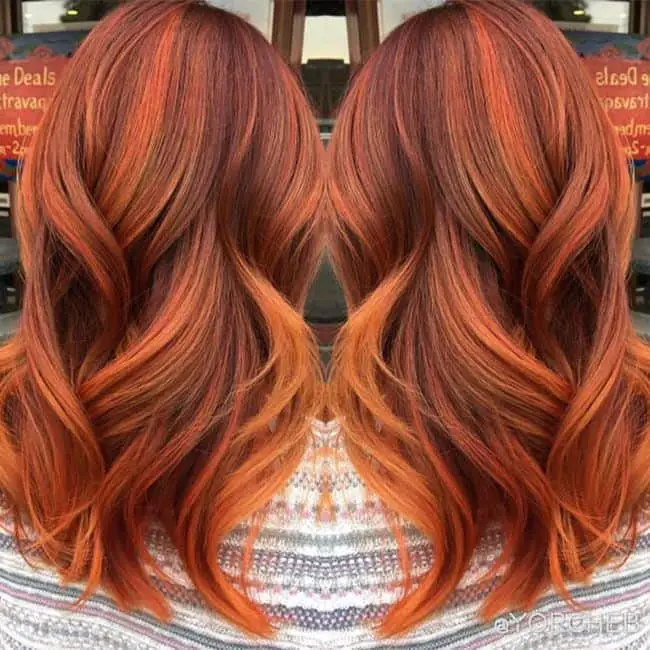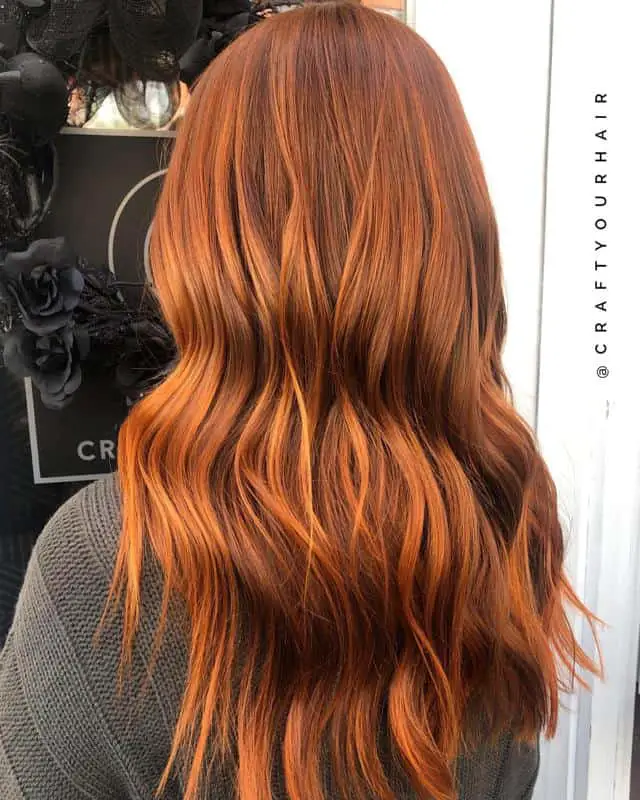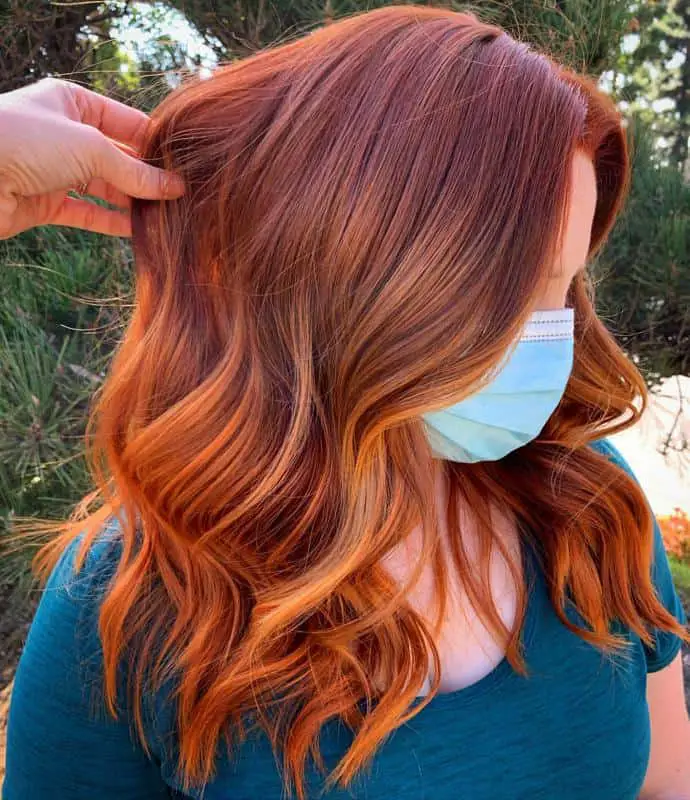 This is a very dreamy-looking hairstyle. Amber highlights on red hair look picture-perfect for cold autumn mornings. Big soft waves will make your hair look bigger and fuller. With side bangs or front parts shorter than the back, you can frame your face with this hairstyle. Make sure to use a moisturizing conditioner to nurture your hair!
14. Fiery Red Hairstyle With Highlights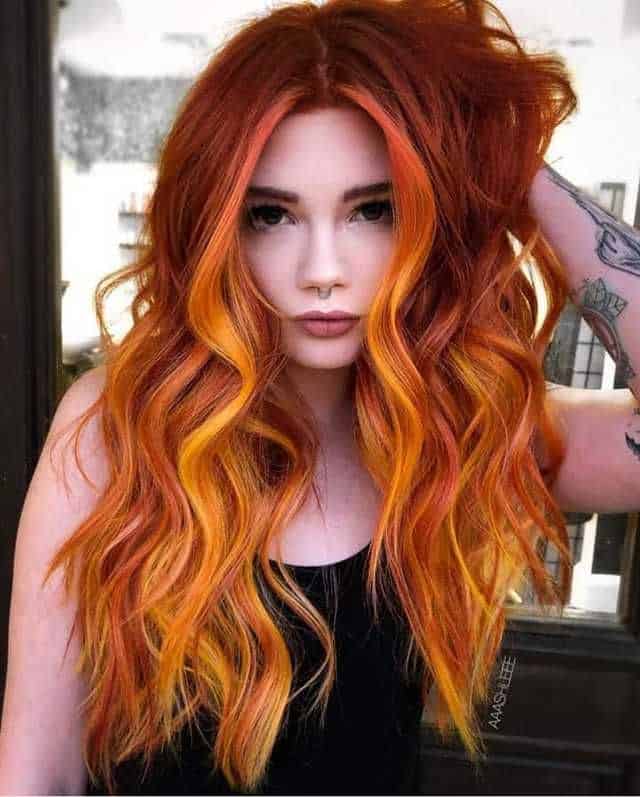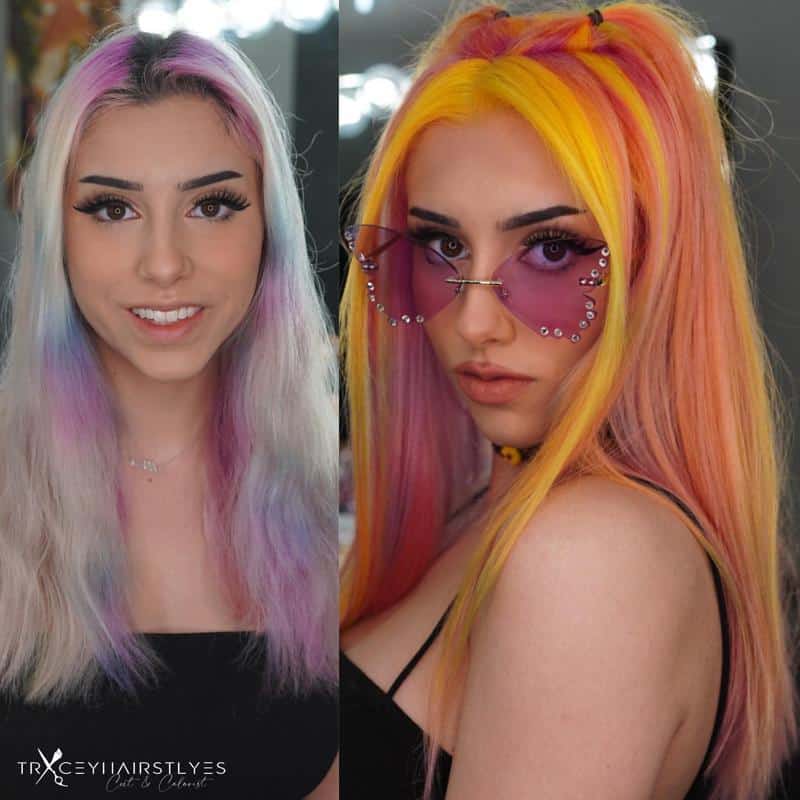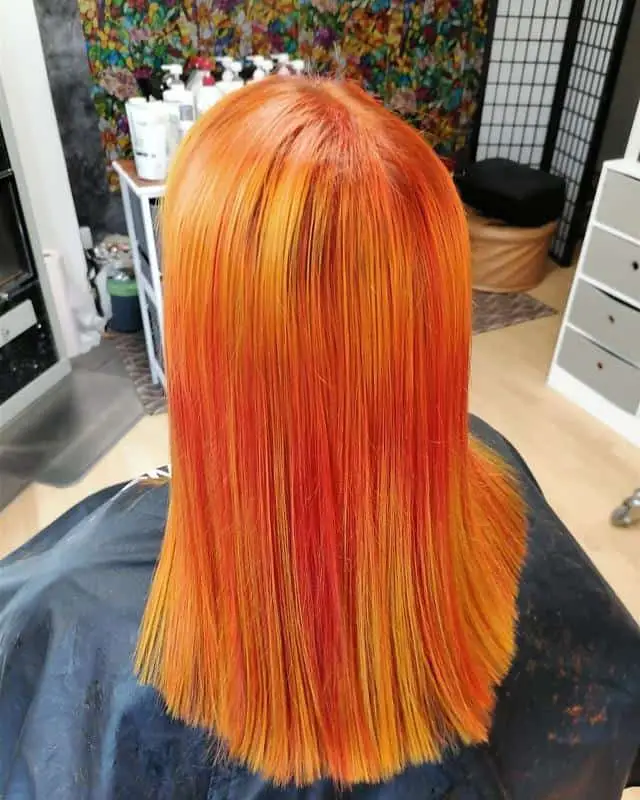 This dark red hair that has yellow and orange highlights at the front is the way you'd imagine a fire fairy would look like. Very high-maintenance but a very bold and interesting hairstyle. Long soft curls make it even edgier and more voluminous. A very hot trendy hairstyle.
15. Fiery Red Ombre Balayage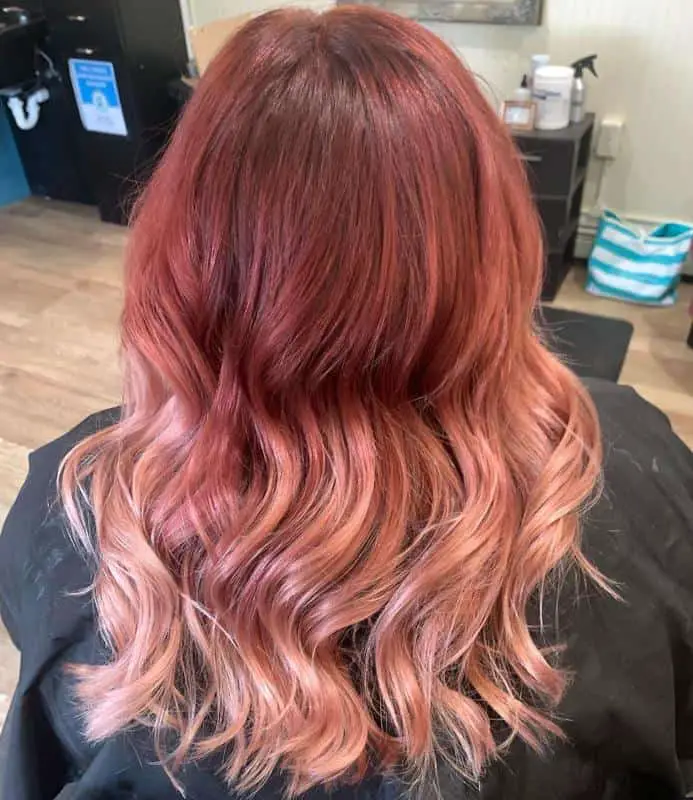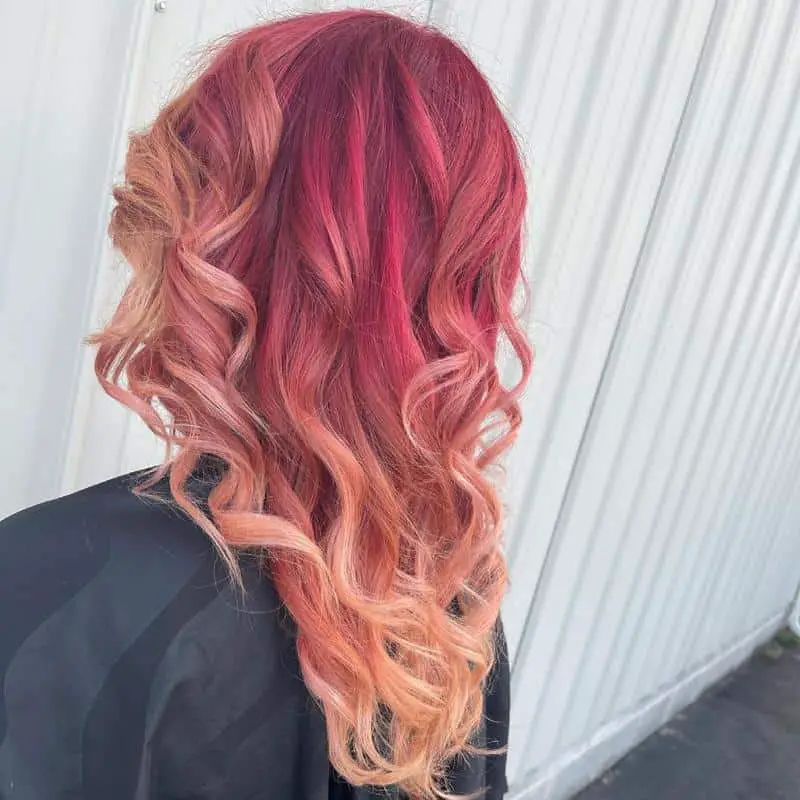 Fierce dark red hair that turns into bright red, and then orange and yellow, is an absolutely gorgeous way of coloring your hair. A very sharp and intense combination of colors for someone who wants a fiery look. Curls add volume to the hair and make it bouncier. This is a very eye-catching hairstyle but it needs proper care due to bleaching and heat treatments it requires.
Also Read: Top 40 Unique Ombre Hair Color Ideas(Blond, Black, Brown And Colorful)
16. Romantic Red Balayage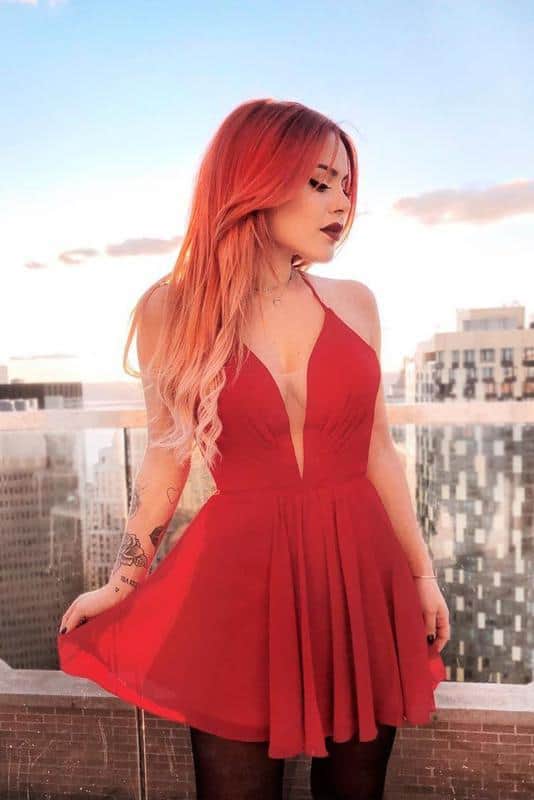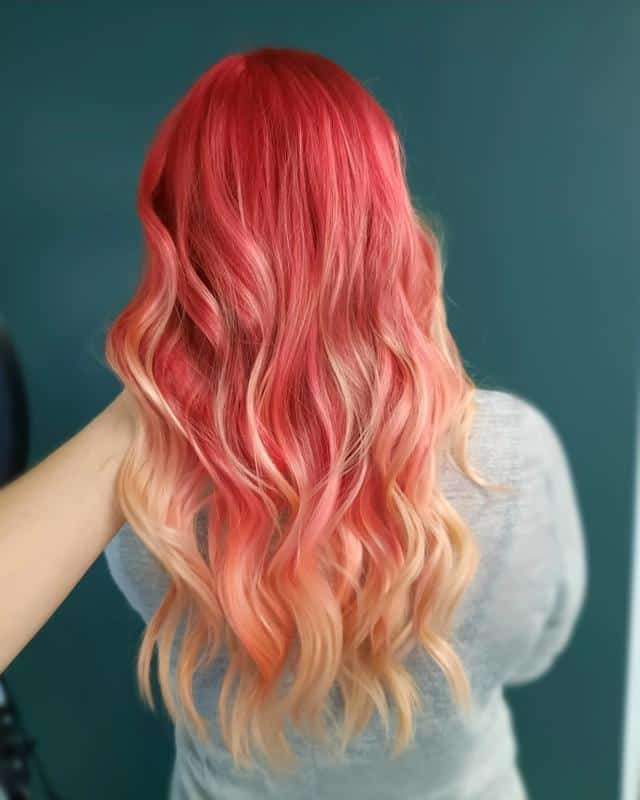 A more romantic version of red balayage that has almost a rose gold feeling to it. Loose soft curls give it just enough volume to make it perkier but not too eye-catching. A very dreamy hairstyle made for a red prom dress or any event of that kind. Just make sure to take good care of your hair to keep that red color!
17. Soft Dark Red With Blond Lowlights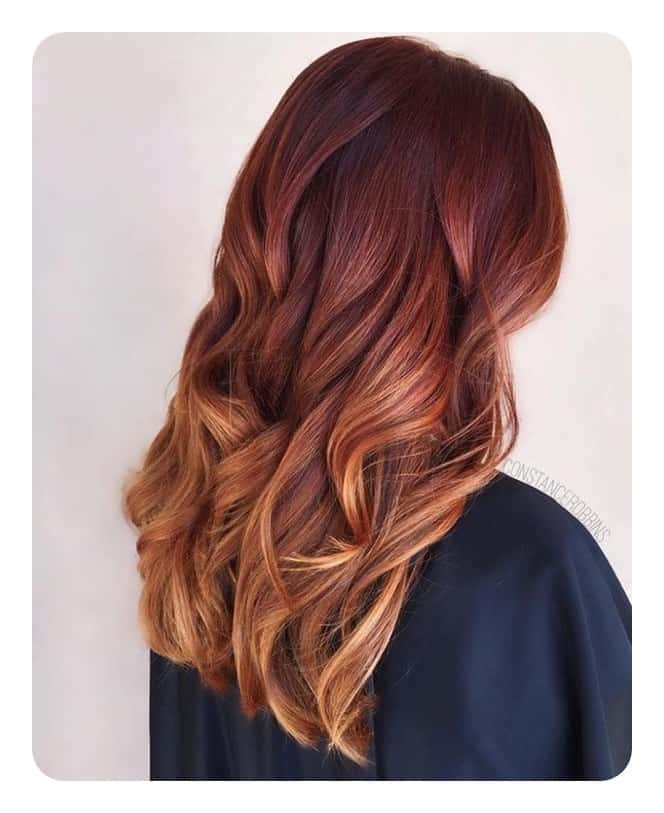 Adding blond lowlights to a dark red base will open up your whole hairstyle. The colors melt in nicely with each other so the transition is not as dramatic. Perfect hairstyle whether it's curly or straight. Reminiscent of warm summer weather while sitting by the fire drinking wine.
18. Reddish Blond Hair With Highlights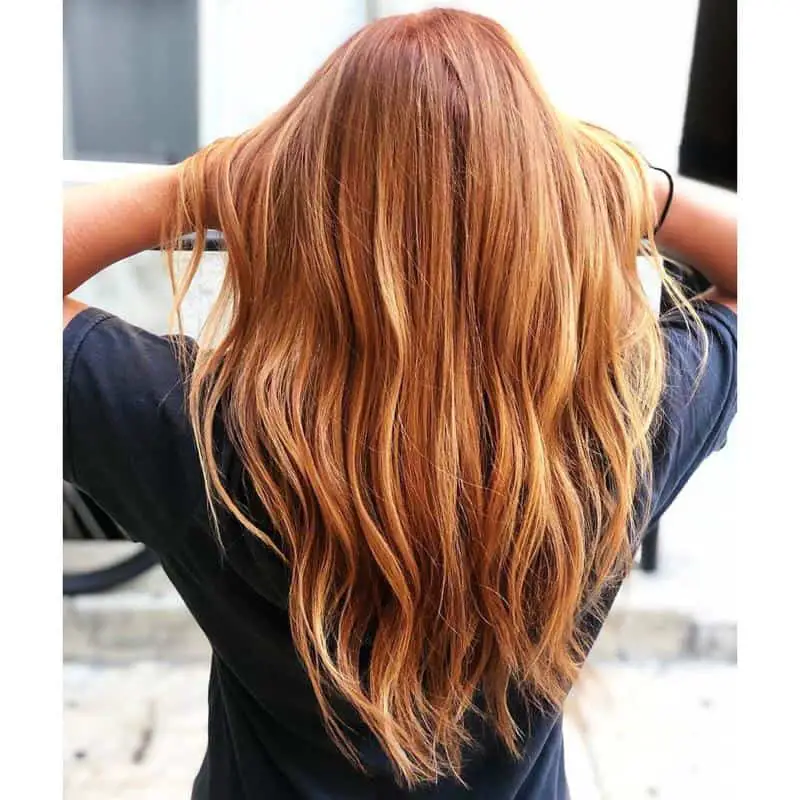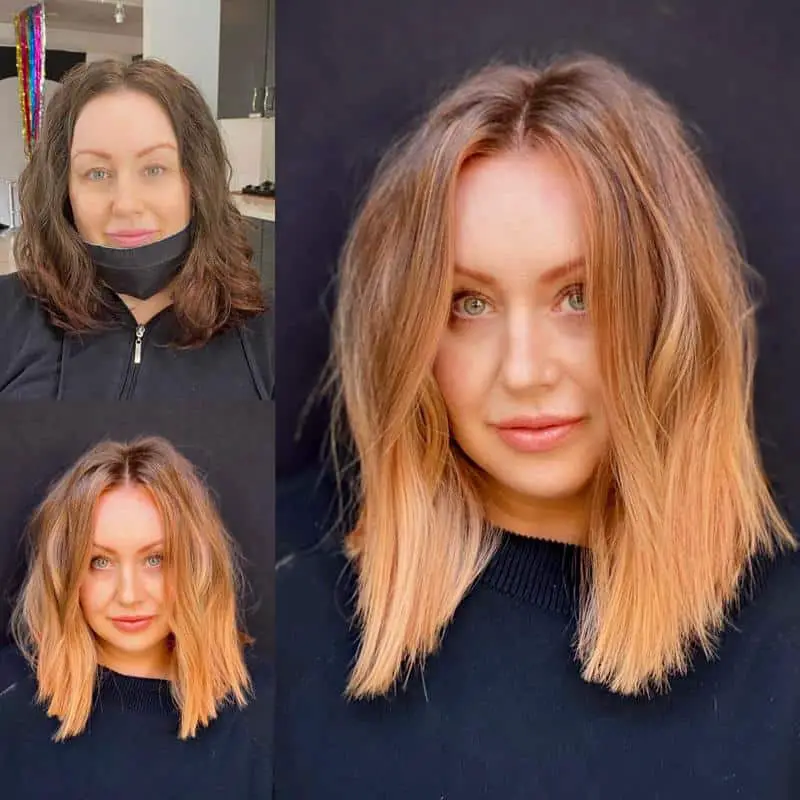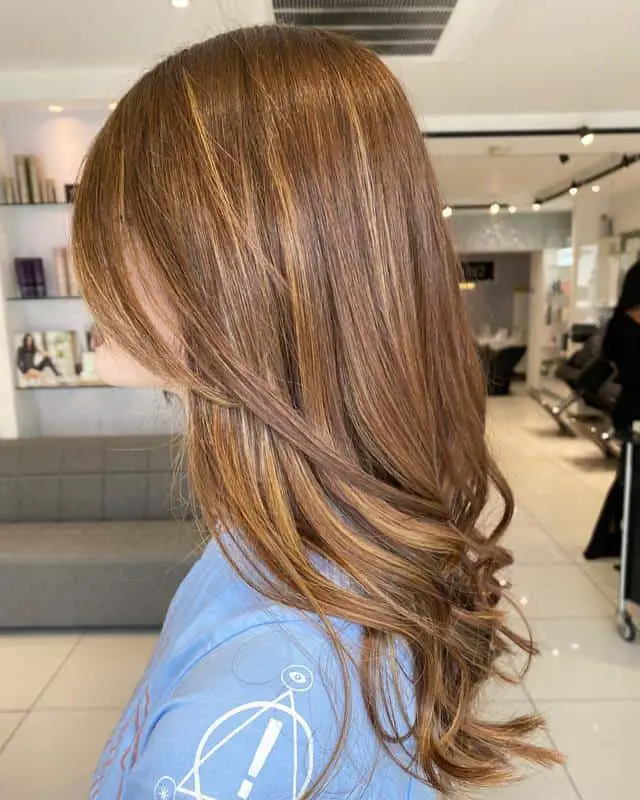 This reddish-blond hair mixed with copper red highlights gives a perfect strawberry blond look. If you think brighter shades of red would look better with your skin undertone, this is a perfect hairstyle for you. Combined with softer curls you will achieve a very elegant but still sexy look.
19. Colorful Red Highlights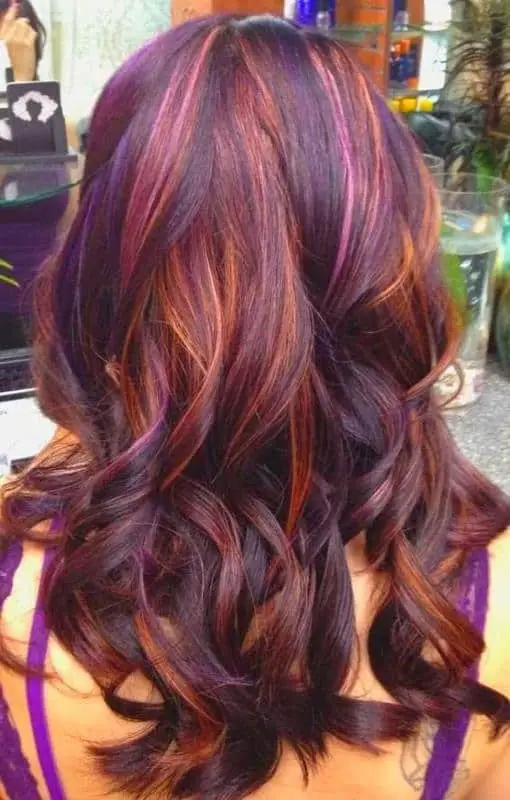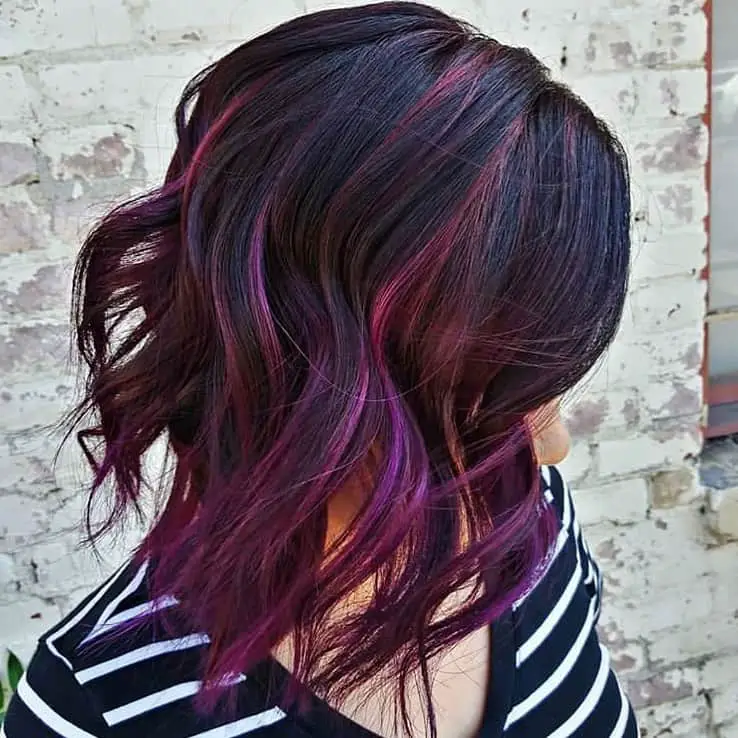 Adding different shades of red like copper and violet to a red base will give a very colorful hairstyle. With layers in the mix, the highlights will be emphasized even more. Curls will make it bouncier and fuller looking. Colors will shine brightly under the sunlight. A perfect hairstyle if you want to play around and try out new colors.
Also Read: Top 40 Gorgeous Colored Hairstyle Ideas (2022 Updated)
20. Violet Red Hair With Highlights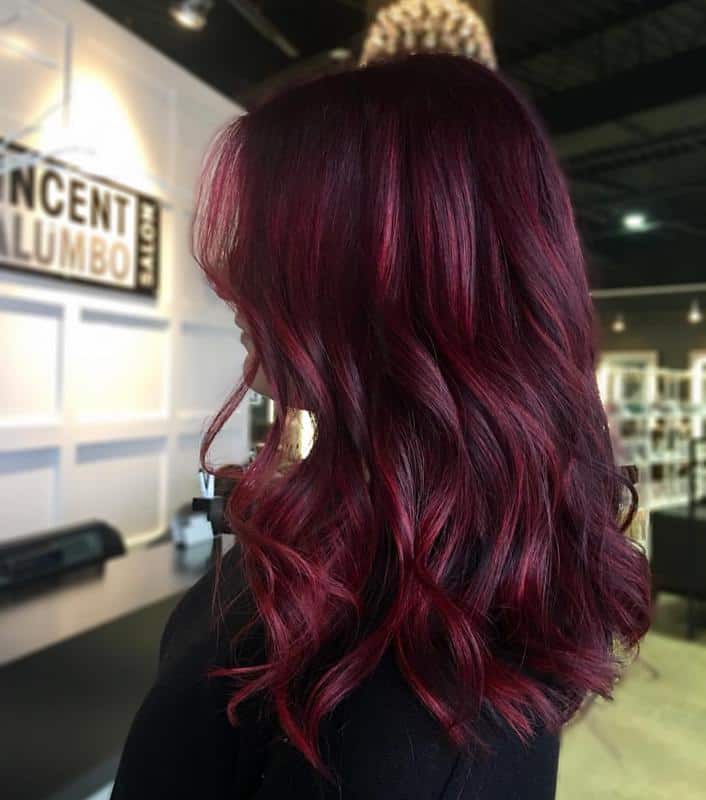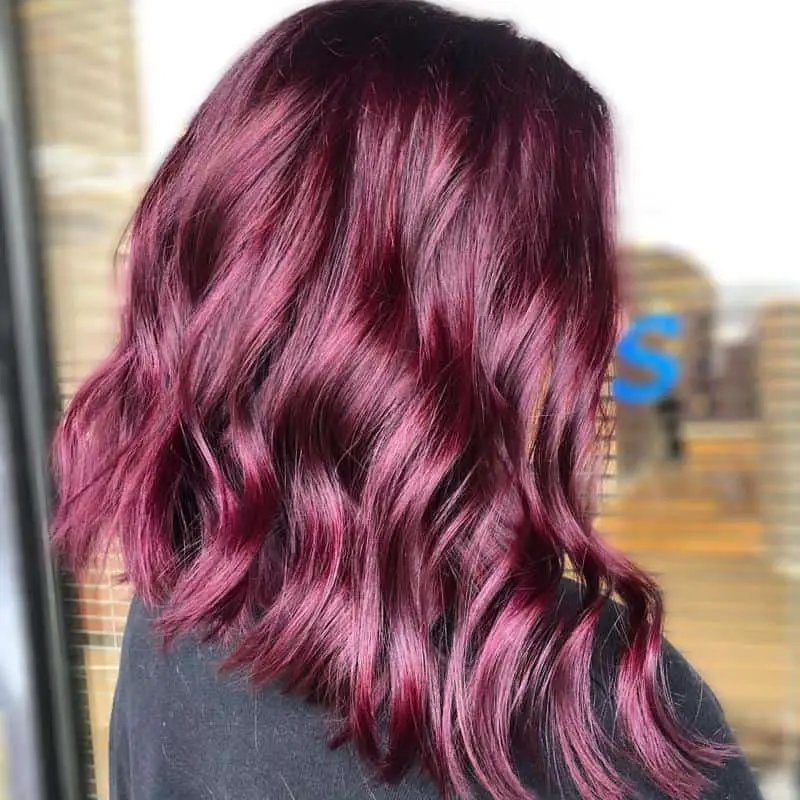 You don't have to color your whole hair red in order to obtain fun and stylish hairstyle. These curly violet highlights on a darker base give dimension and color to the whole hairstyle. If a luxurious silky dress was a hairstyle, it would be this one.
21. Mahogany Red Highlights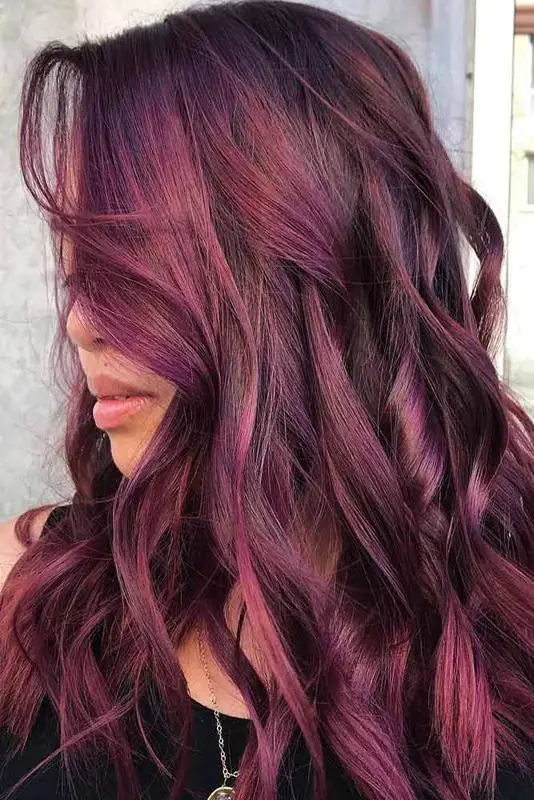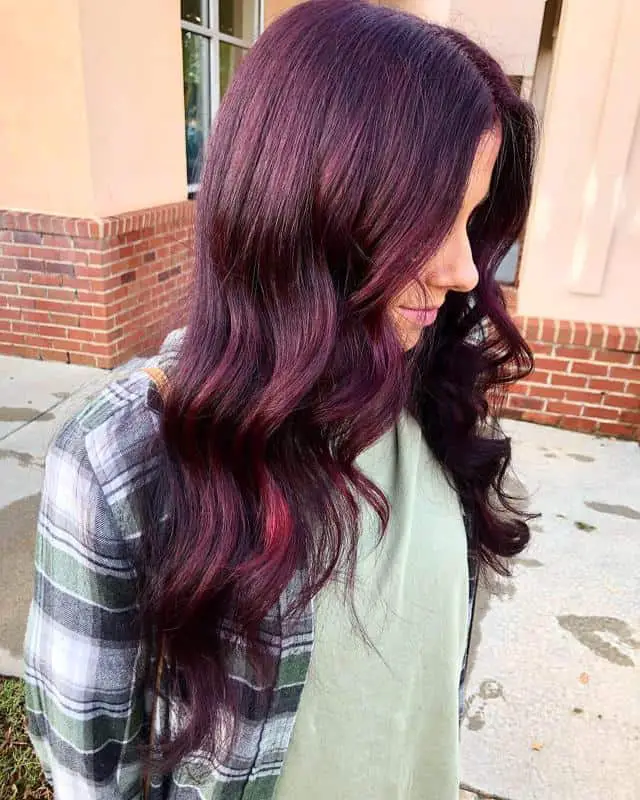 Mahogany is the most commonly used shade of red. It's a mix of brown and red hues. Its natural warm tones blend in perfectly with a deeper brown color. This combination looks like dark chocolate mixed with red wine. It's a very rich blend to go for. Streams of sunlight will bring out the warm tones of this hairstyle.
22. Mahogany Lowlights On Red Hair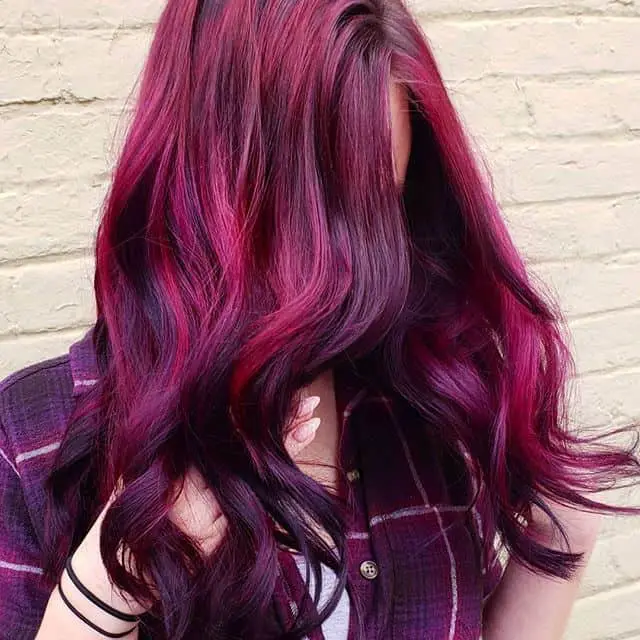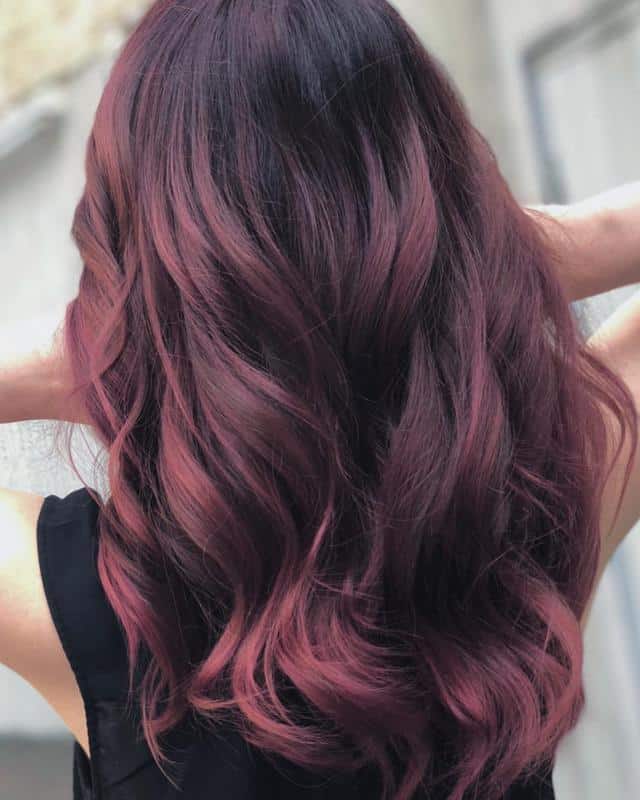 This is a very rich hairstyle with a perfect mix of cold and warm tones. Magical mahogany strands of hair just seamlessly appearing out of a dark red color. A perfect hairstyle for cold winter evenings. Curls will give it dimension and volume, which makes the whole hairstyle look even more luxurious.
23. Bright Red Ombre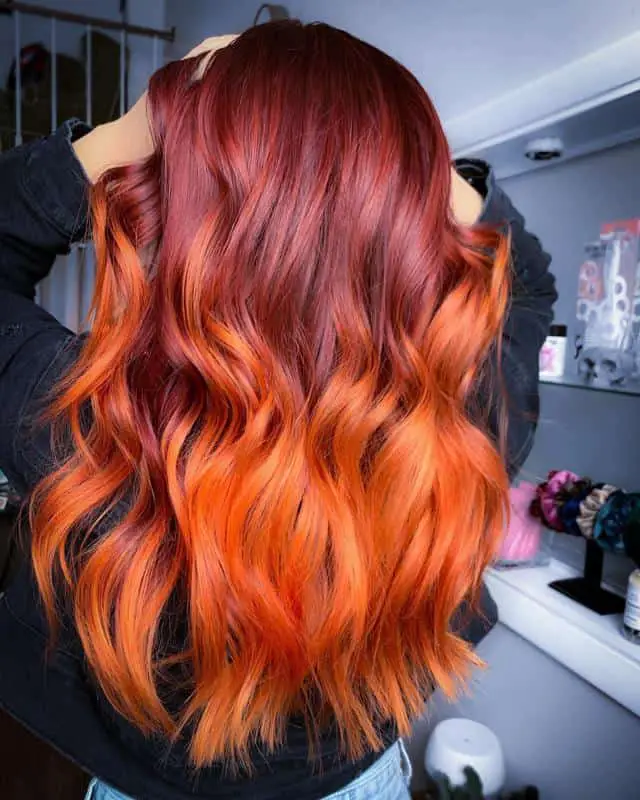 This vibrant red base that starts melting into a lighter tone of red screams fire and power. It's a very complicated combination to achieve. Make sure you use a good moisturizing conditioner frequently since you probably will bleach it if you want to achieve this hairstyle.
24. Short Red Hair With Highlights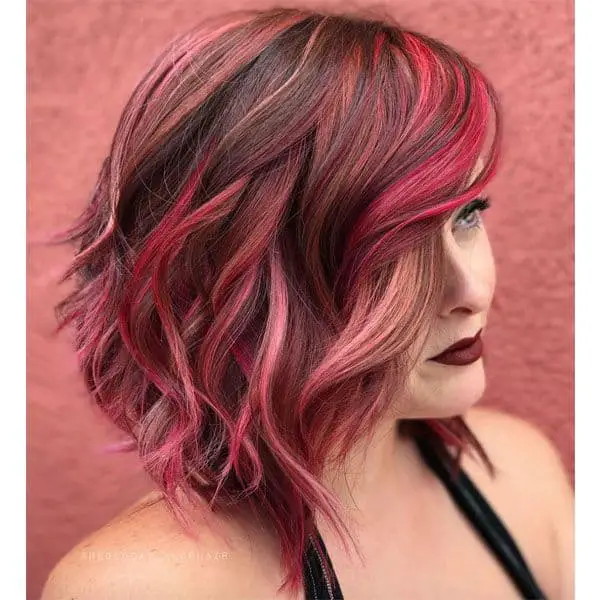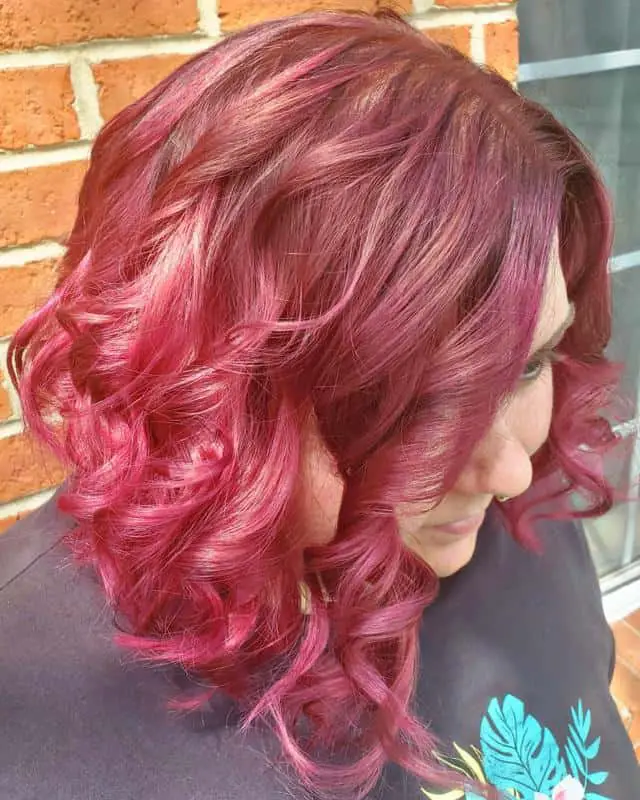 Adding multiple shades of red color to a dark hair base is a great way to make the hairstyle more colorful. Pastel shades melt in perfectly with the dark base, therefore it's not too colorful to look at. It makes a perfectly romantic but still a bit edgier hairstyle. Be prepared to go to the salon every 4 weeks, since those colors need maintenance.
25. Blond Hair With Copper Highlights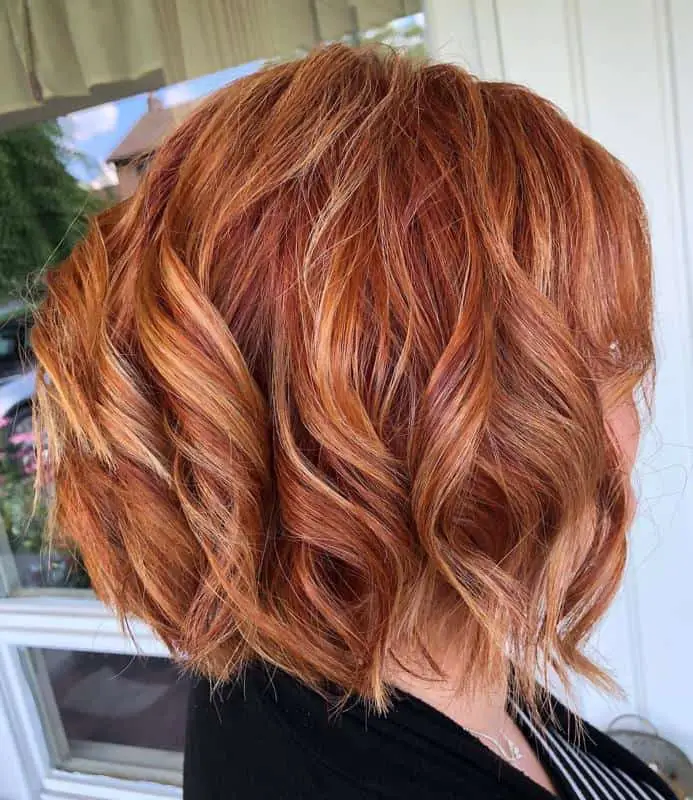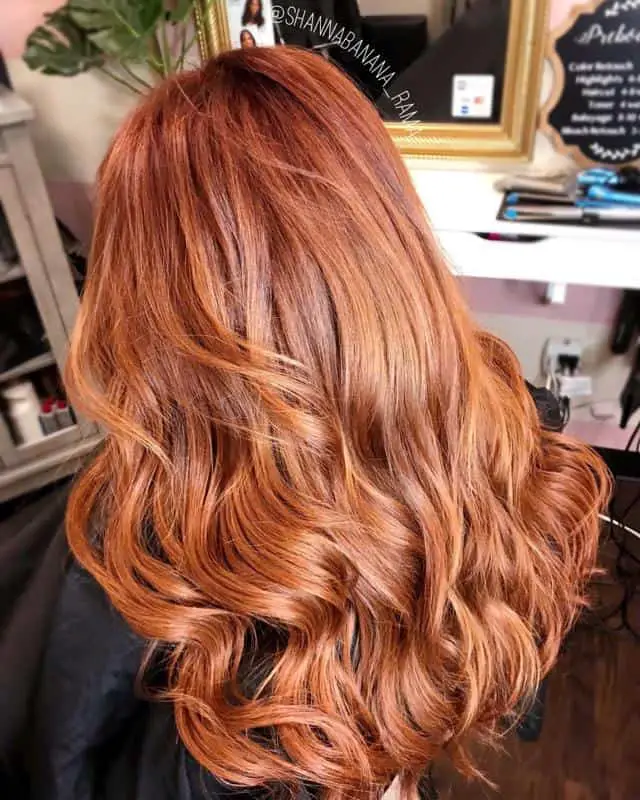 Adding blond highlights to copper-red hair will add more dimension and structure to your hairstyle. If you have an oval or heart-shaped face, having an A-line bob haircut will help you structure your face. Curling those blond highlights will add just enough volume to make your whole hairstyle energized and glamorous.
26. Dreamy Ash-blond Highlights On Pastel Red Hair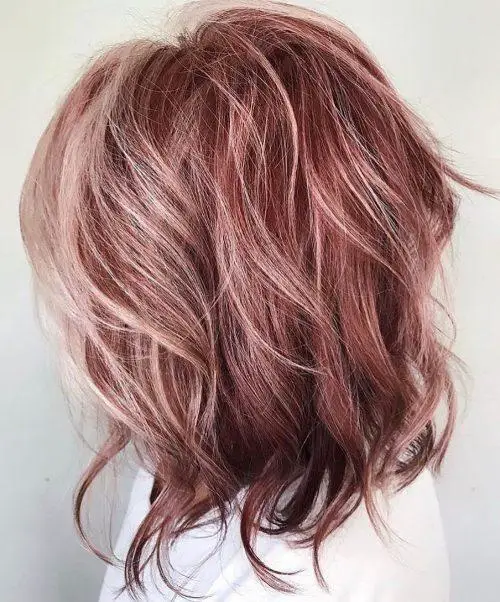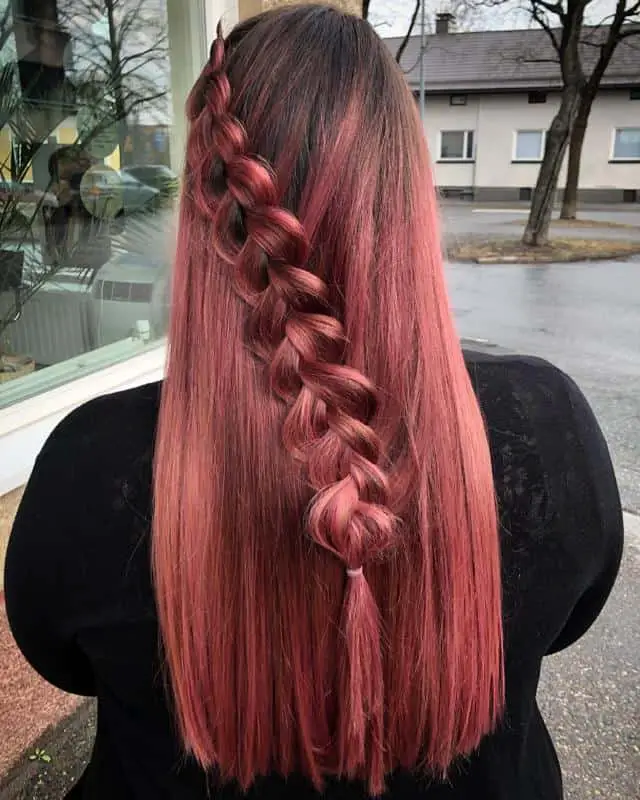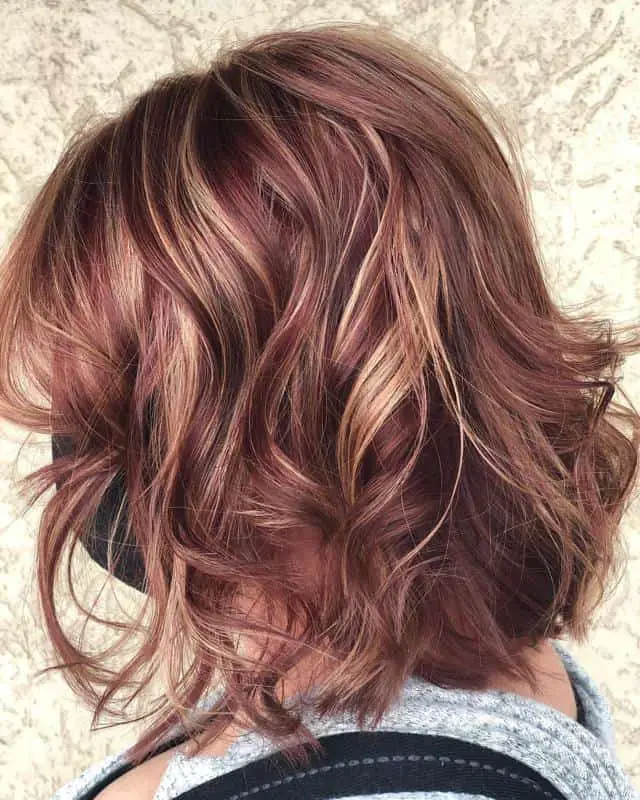 Adding ash-blond highlights to a pastel shade of red, will add much more depth to the hair and make it interesting. A very interesting combination that can, with the right cut for your face shape, structure your face and make your eyes noticeable.
27. Summer Festival Hairstyle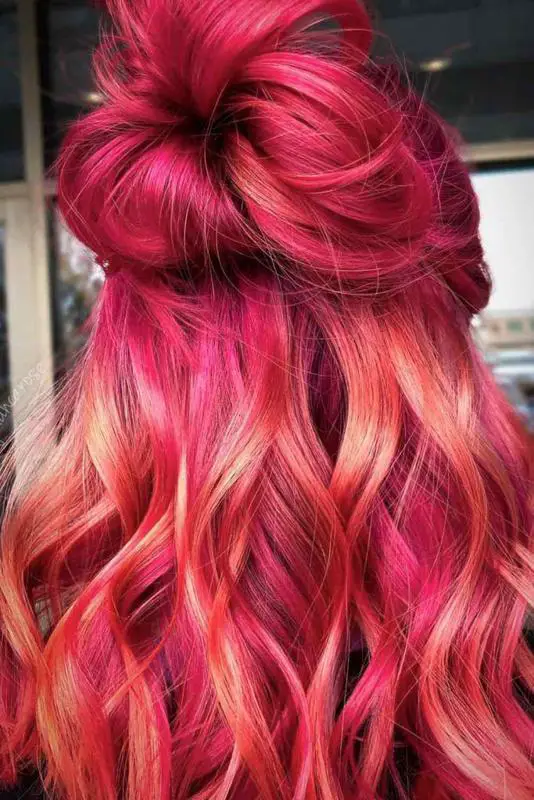 This hairstyle is just perfect for a hot summery festival in the desert. Curly streaks of multiple red shades bouncing are a perfect way to catch everyone's attention at an event. A very vibrant and energetic combination that can bring out your inner fiery traits. However, very high-maintenance hairstyle with all those colors that need to be taken care of in order to stay that color. Worth the trouble!
28. Copper And Blond Lowlights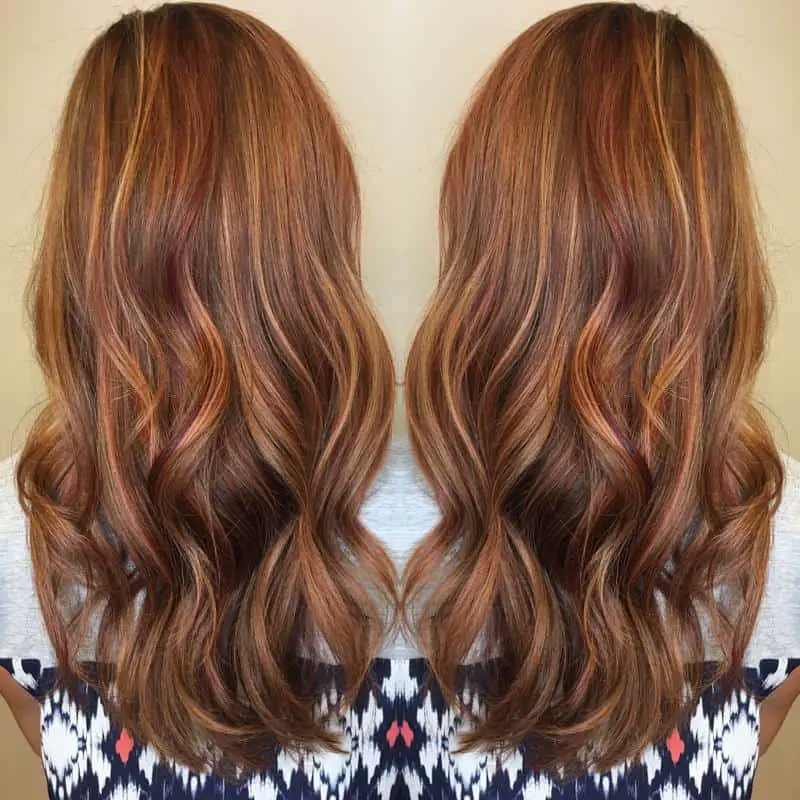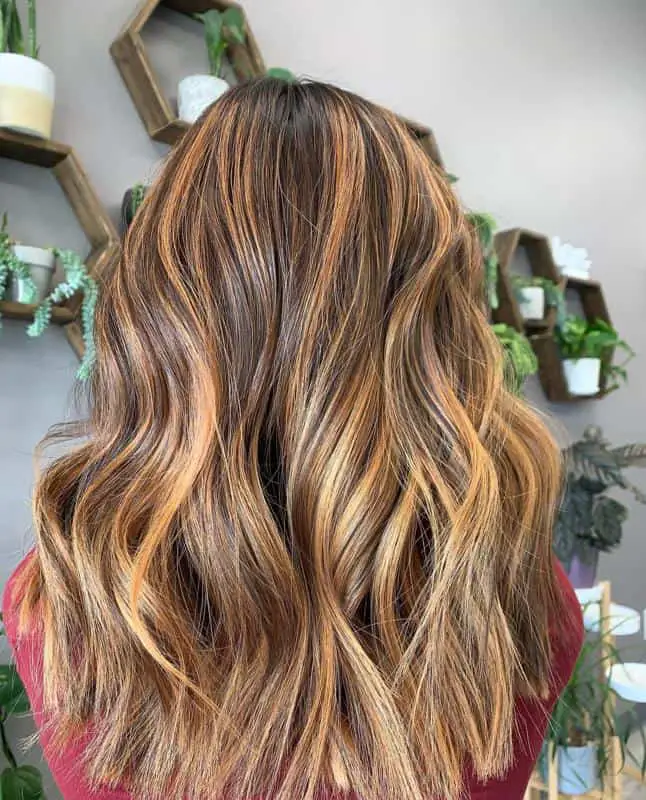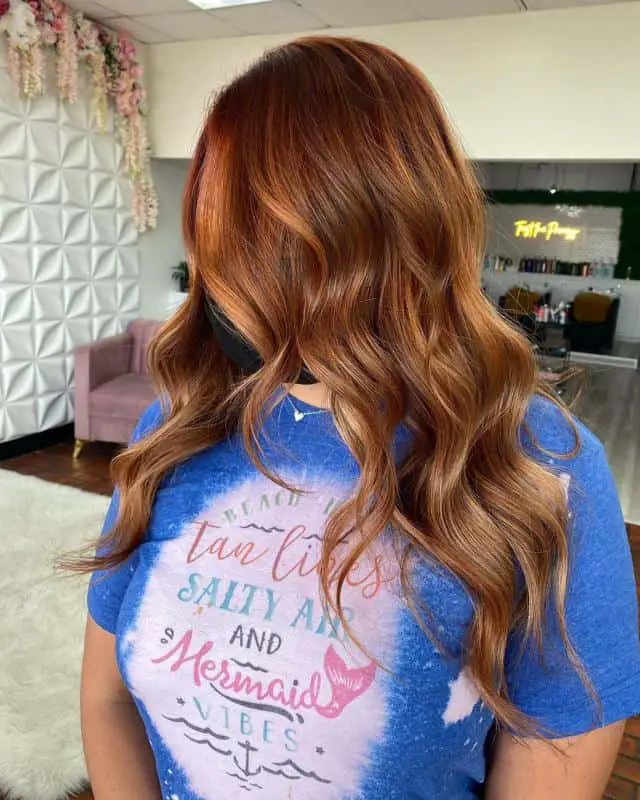 If you want more natural-looking red hair with highlights, this is the hairstyle for you. Adding subtle yet effective blond lowlights will mix in perfectly with warm copper tones. The whole combination is very cohesive and none of the colors stand out for themselves. A very warm and natural hairstyle.
29. Crimson Red With Blond Highlights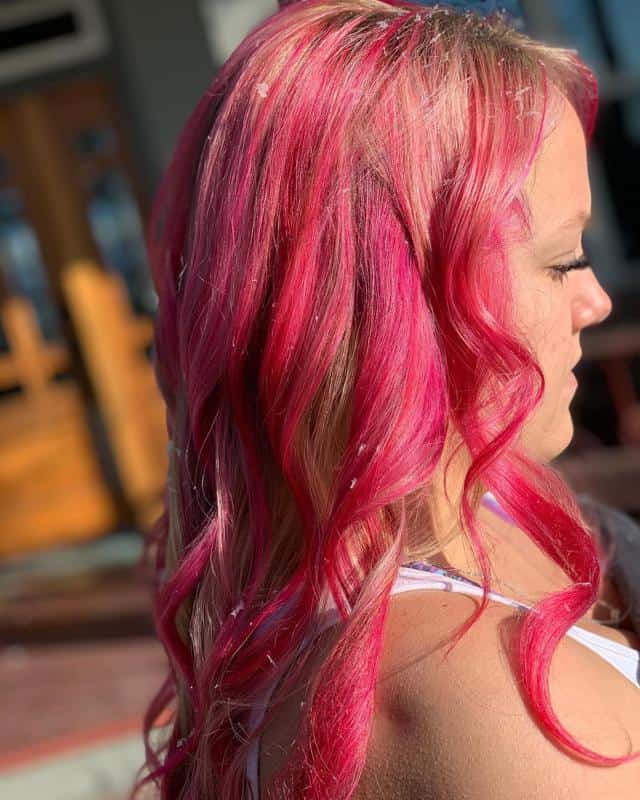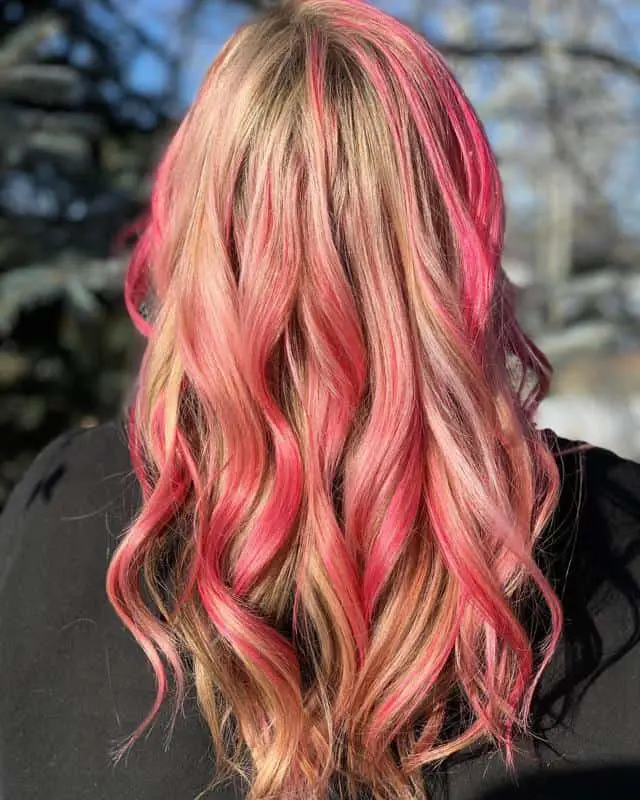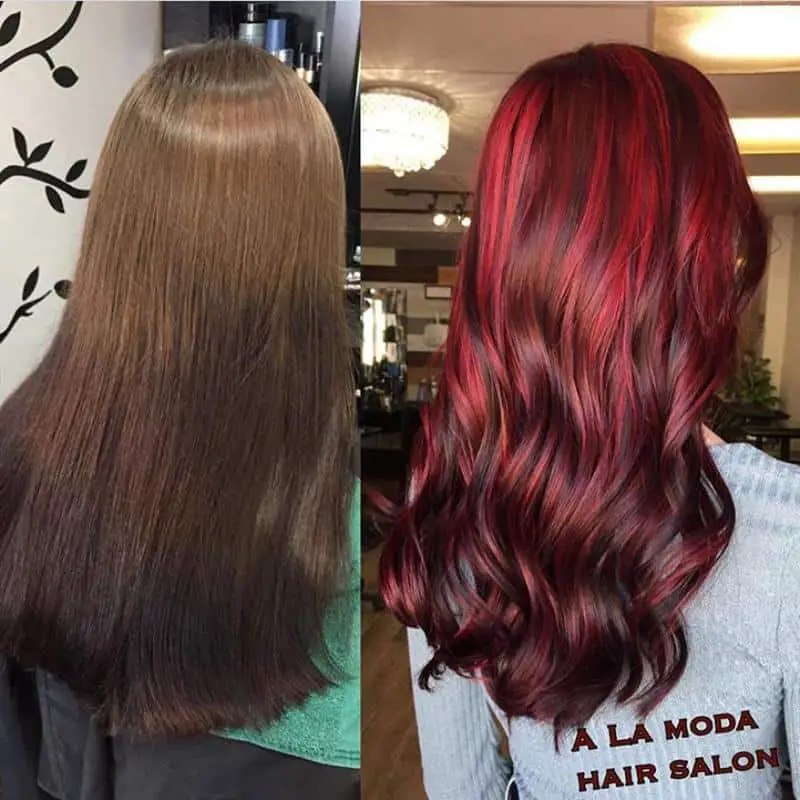 Crimson is a very vibrant shade of red, so adding bright blond highlights will make it even more vibrant. Both color shades are very much bright and each stands out. This combination is a very fun and interesting way to bring a little energy and life to your style.
30. Strawberries And Whipped Cream Dream Hairstyle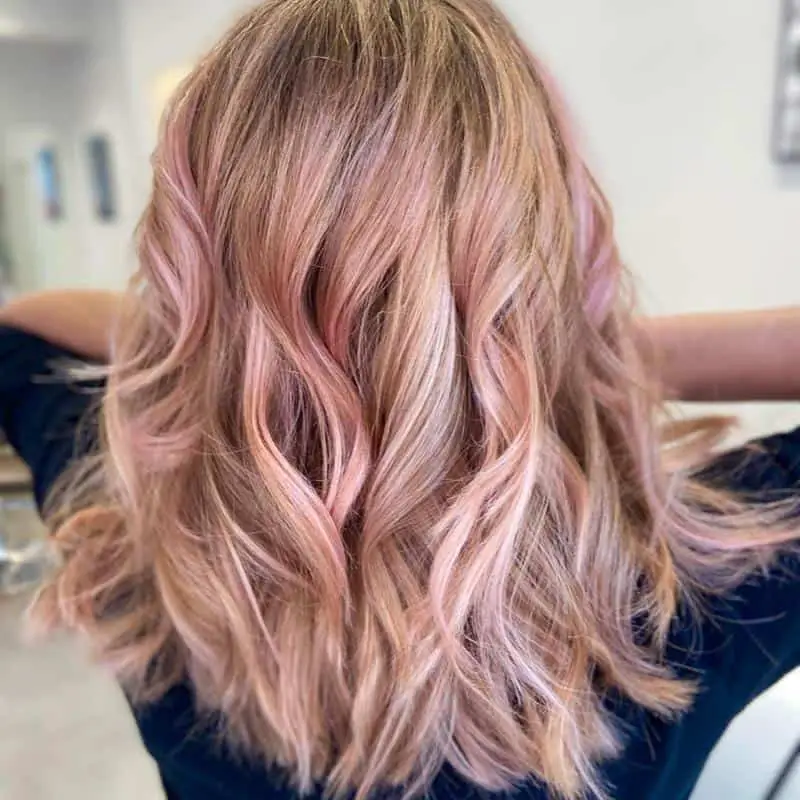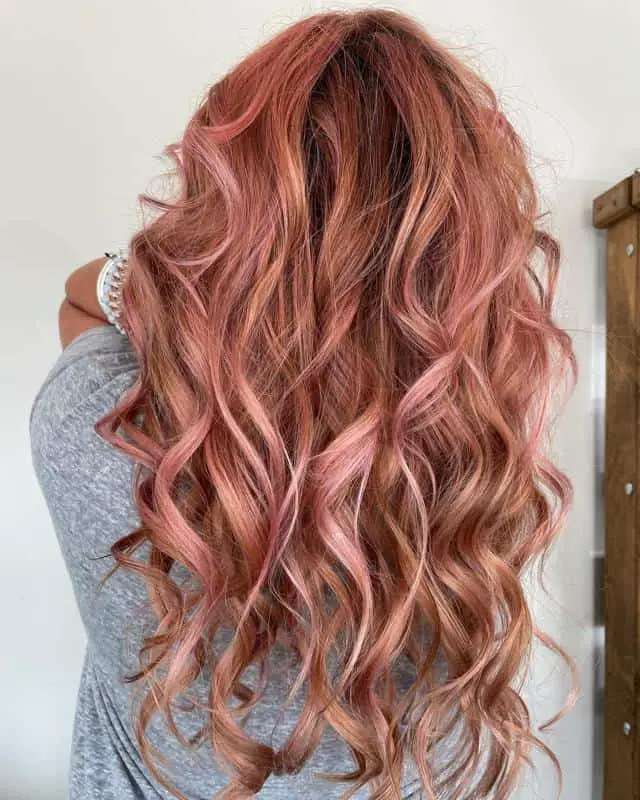 Ashy blond highlights on the top of peach red pastel base, make this hairstyle appear like a sensual dessert. Since the bright highlights are over the top of the red, they dive more dimension and depth into the hairstyle. A perfectly romantic, valentine's day type of haircut.
31. Dark Auburn Mixed With Blond Highlights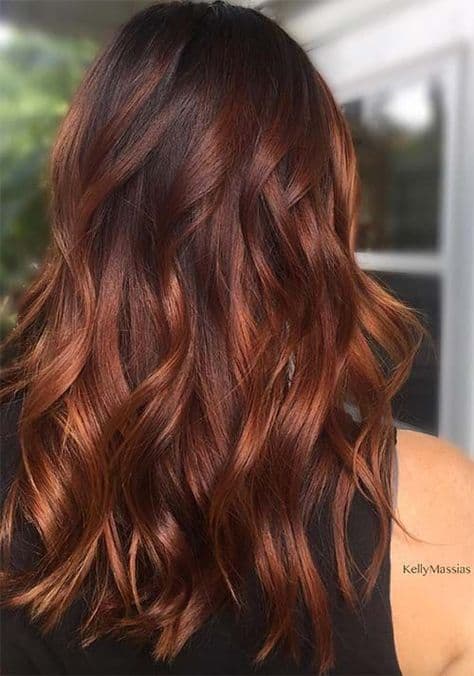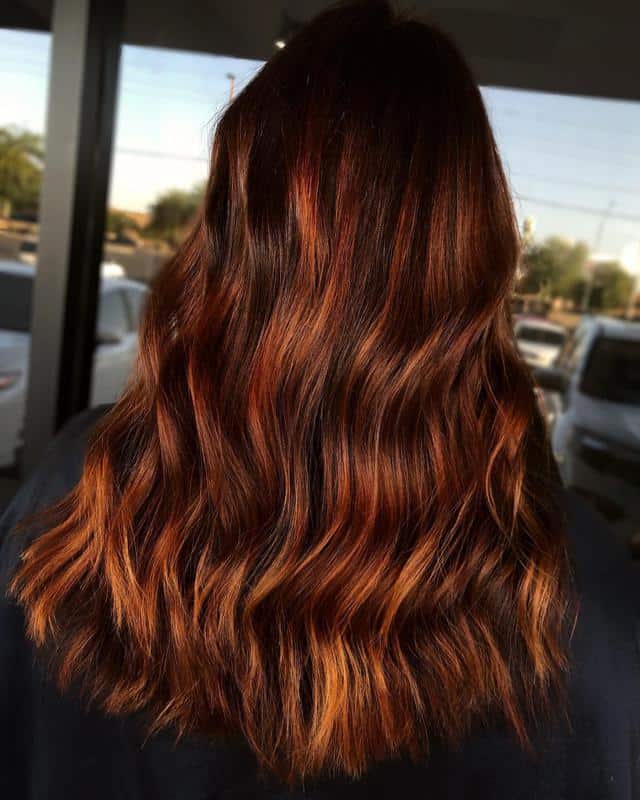 If you want to choose a more natural look with a simple twist, this is the perfect hairstyle for you. Although auburn is a tough color to obtain if you've already bleached your hair, patience is key here. In the end, you'll achieve a beautiful natural-looking hairstyle with blond highlights adding just enough shimmer to it. Be sure to use a color-safe shampoo to keep the colors bright!
32. Dark Strawberry Blond Hairstyle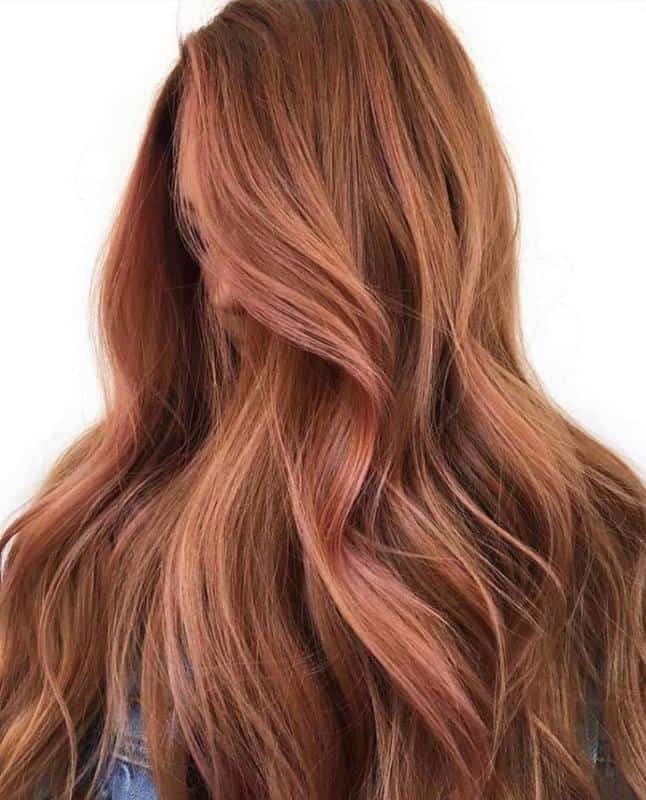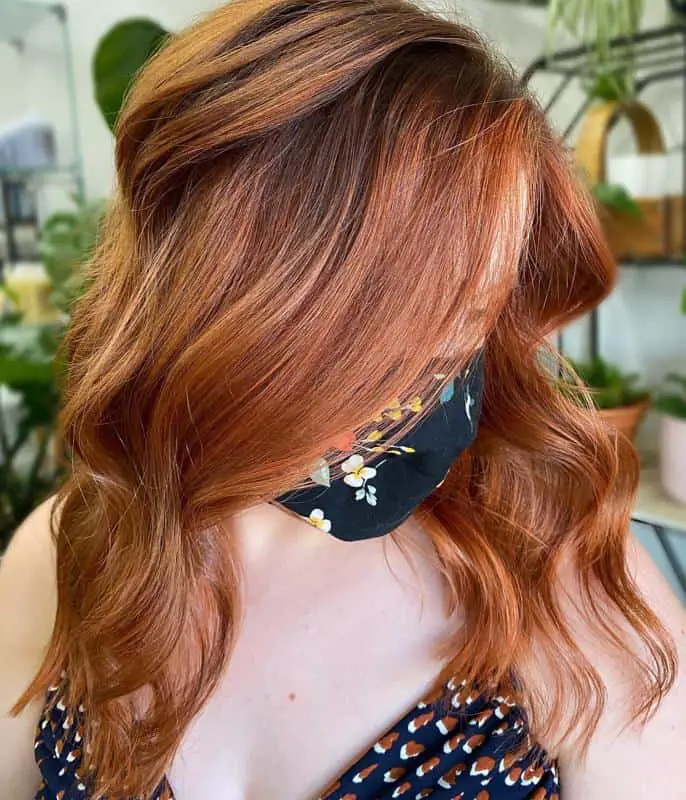 If you want luxuriously looking, subtle red nuances, this is the perfect hairstyle for you. If you have fair skin and are afraid to try red tones, this style will suit you best. A very vibrant but subtle color that screams style and elegance! With soft curls a dark red lipstick, with a subtle necklace around your neck, you'll get a very elegant and sophisticated look.
33. Curly Red Hair With Highlights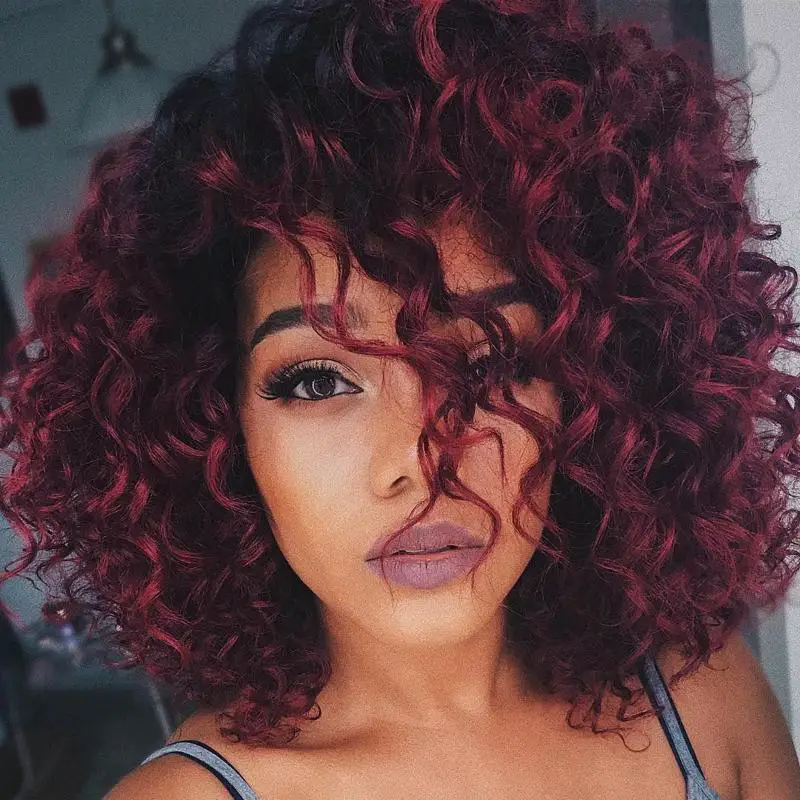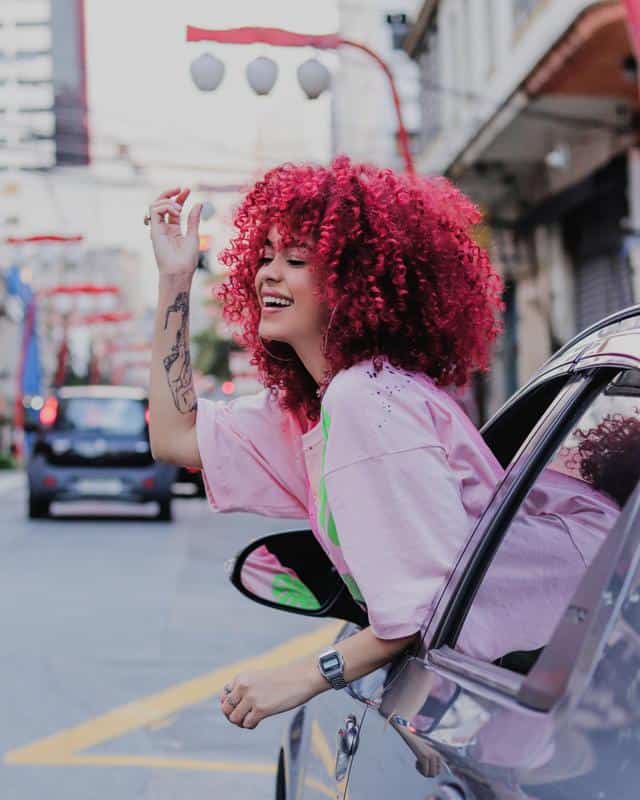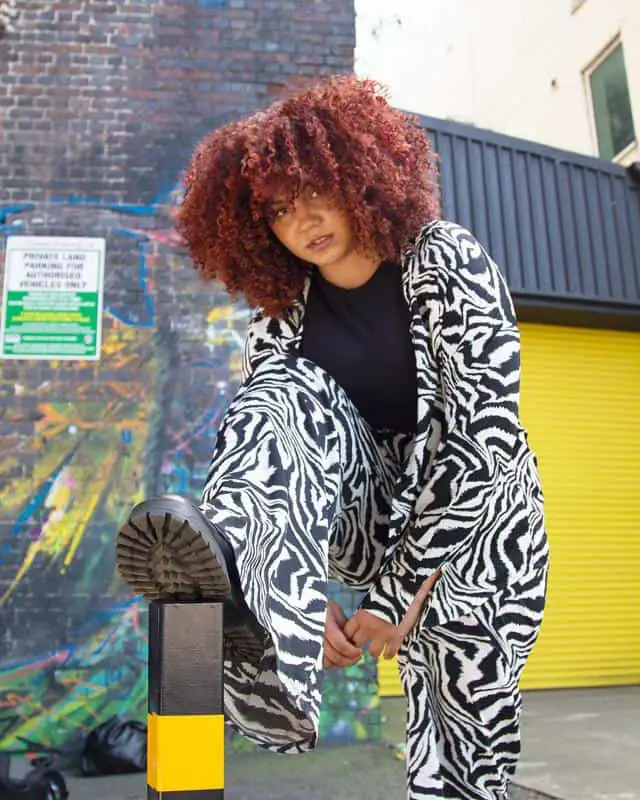 If you have curly hair and you want to spice it up a little, just add mahogany highlights to it! Mahogany is a very soothing shade of red that will give your hair that subtle shine. You don't have to worry a lot about maintaining it, it will naturally give your hair a deeper dimension and make it look interesting.
34. Bright Red Hair With Golden Highlights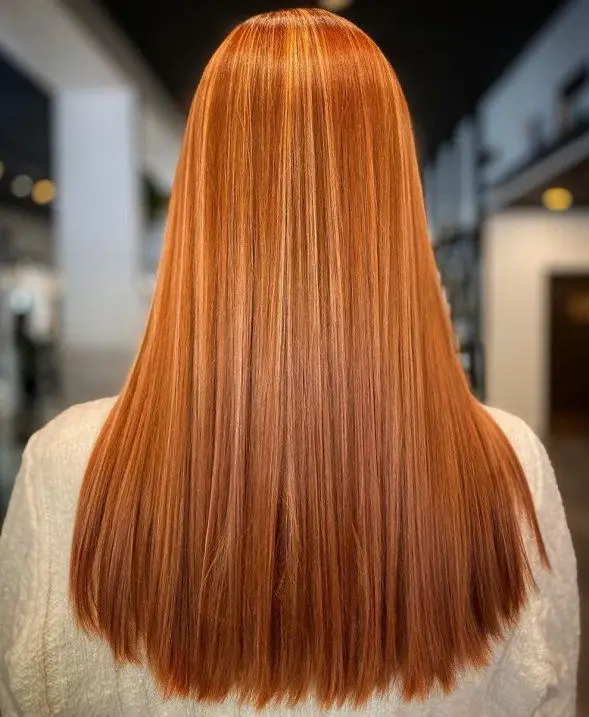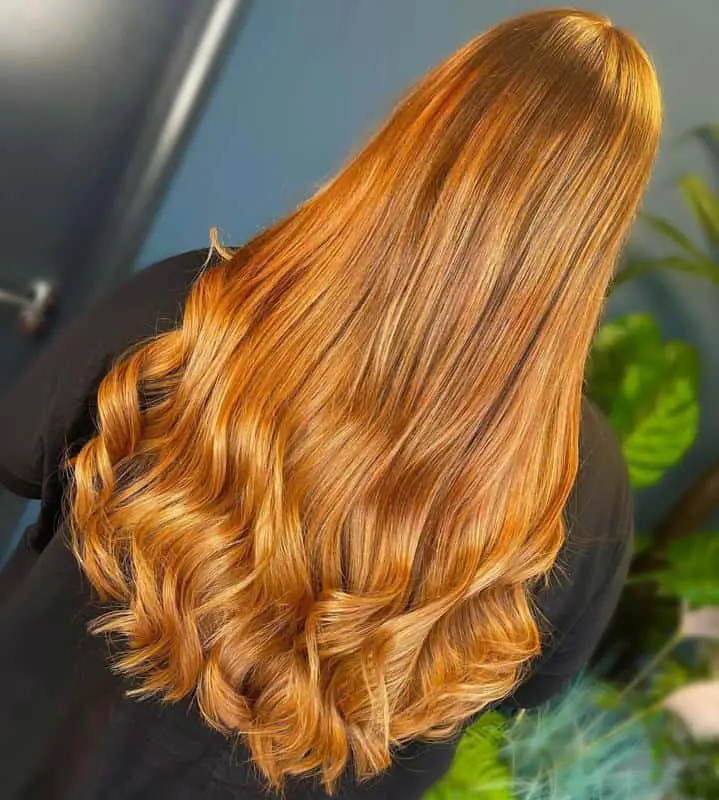 If you want to transform your hairstyle, adding golden blond highlights on a vibrant red base is a perfect choice. Subtle golden highlights are enough to give a pop of color to the red hue. Although this combination is not as cohesive, and both colors stand out a lot, you'll still get a very lustrous look that will bring a vibrant energy to your overall style!
35. Subtle Golden Streaks With A Bright Red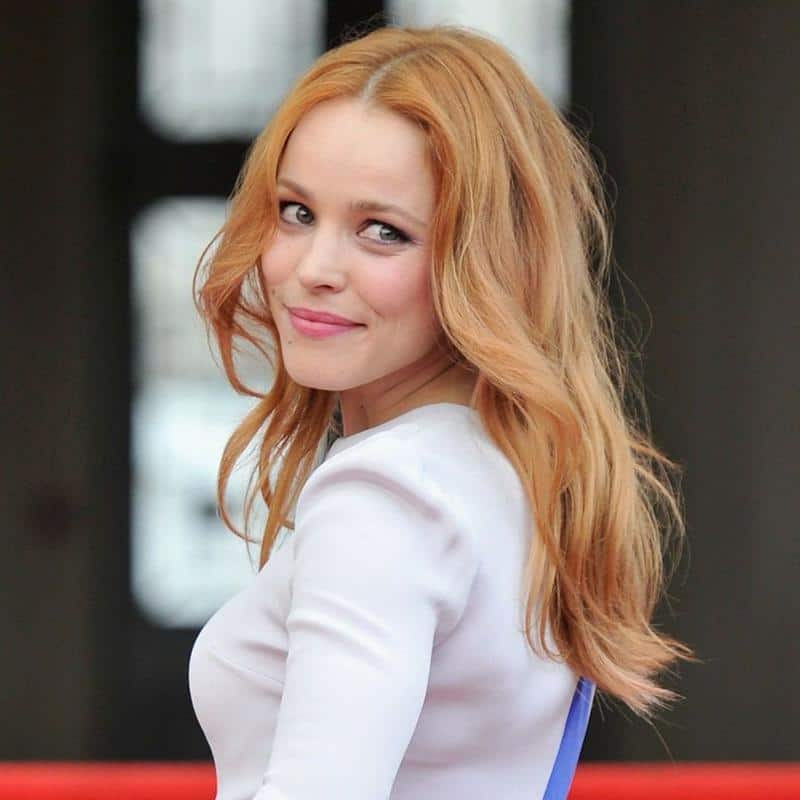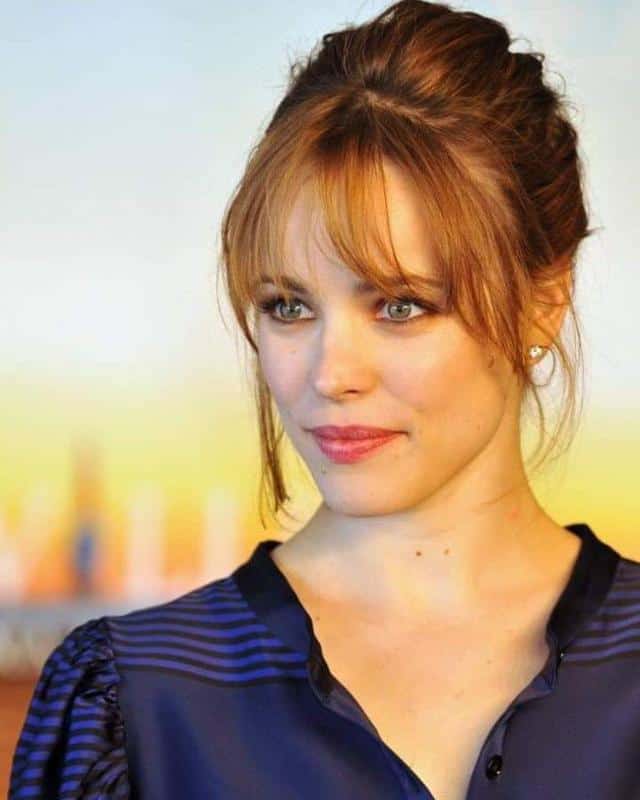 If you've ever wanted a romantic, Notebook worth look, this is your best choice. Having Crimson red melt in golden streaks of hair is a perfect example of a golden sunset hour. Without having the blond highlights stand out too much, they will bring a glow to an already vibrant hair. You can never go wrong with some soft curls that will bring volume to the whole hairstyle.
How To Take Care Of Your Red Color?
Use sulfate-free and alcohol-free shampoos. Alcohol will dry out your hair and since a lot of bleach has been used on your hair, you don't need any more damage. Sulfates usually strip way more oil than they should, leaving your hair dryer than you want.
Don't wash your hair too often. Every time you wash your hair, you strip down a layer of your dye. Red color has large dye molecules that are harder to keep in the hair, so washing it too often will just speed up the process of fading. You can also try a cleansing conditioner, it's usually gentler and it moisturizes the hair.
Avoid heat treatments. Heat dries your hair out, which will make fading of the red color quicker. If you do end up using heat, make sure to use a thermal protectant on your hair! This can also be applied to water temperature. Try to wash out your shampoo/conditioner with colder water.
The same goes for the sun, if you're going out to the beach, wear a hat to protect yourself from UV rays. It will prevent your shoulders from burning and keep your head and your freshly colored hair safe! Some shampoos have UV protection.
Use a hair mask at least once a week. Hair masks will nurture your hair and moisturize it. You can ask your hairdresser to recommend a brand to use or you can try out a DIY mask. Honey is a great ingredient for homemade masks, it's a humectant so it will keep your hair moisturized, you can mix it with yogurt and pumpkin puree.
Use conditioner every time after washing your hair. You can also use an at-home glazing treatment or do it in a salon every 4 weeks. It will give gloss to your color.
Watch out for the chlorine. Chlorine will bleach your hair, so if you're going swimming, use a hair cap or try avoiding putting your head in the water. You can wash out the chlorine with a clarifying shampoo but it will fade your color. Saltwater can also speed up the process of fading.
Also Read: 30 Best Red Wigs You Can Get Online That People Actually Swear 2022