40 Best Blue Highlights on Black Hair Ideas (2023 Update)
When you shop through links on our site, we may earn an affiliate commission. This educational content is not intended to be a substitute for professional advice.
Trying out different variations of highlights became hot stuff in 2022, thanks to the restriction of movement, curfew, and quarantine in general. One particular highlight idea is combining your natural or colored hair with unconventional highlights. That can include green, blue, pink, purple, red, and others. However, if you're looking for highlights that stand out, they look the best on black hair.
Although blue-black or raven black hair is not an easy hairstyle vibe to achieve, especially with brighter natural hair or recently after bleaching treatment, we're here to tell you that it's possible. Additionally, we wrote this article to help you achieve wonderful-looking blue highlights sitting perfectly with your prominent black hair.
But, what is the right highlight formula to use to make them stay? How to make the blue highlights prominent, and more importantly how to make them stay. It's all written in this article. Many people struggle with making the right ratio between black hair and blue highlights, but that should no longer be your biggest concern.
That being said, continue reading through this article with us, and educate yourself on all the possible black hair with blue light highlight ideas and hairstyles to try out. We skimmed through our favorite and most popular hair influencers, to learn about the trends, and dug through numerous combinations to check out.
We're sure that, if you have prominent black hair, all the hairstyle ideas and combinations will look great on you. More importantly, you don't have to break your heart by choosing only one design. If you're not satisfied with it, you can easily add more highlights or a few touchups after a few months.
More importantly, we listed these ideas so that if you're undecided or not satisfied with one combination, you can combine different ideas for a more accented result.
That being said, stay with us through the articles, and choose the hairstyle combination that speaks for yourself, but also helps you feel better about yourself and how you show off.
Blue Highlights On Black Hair: 5 Things You Need to Know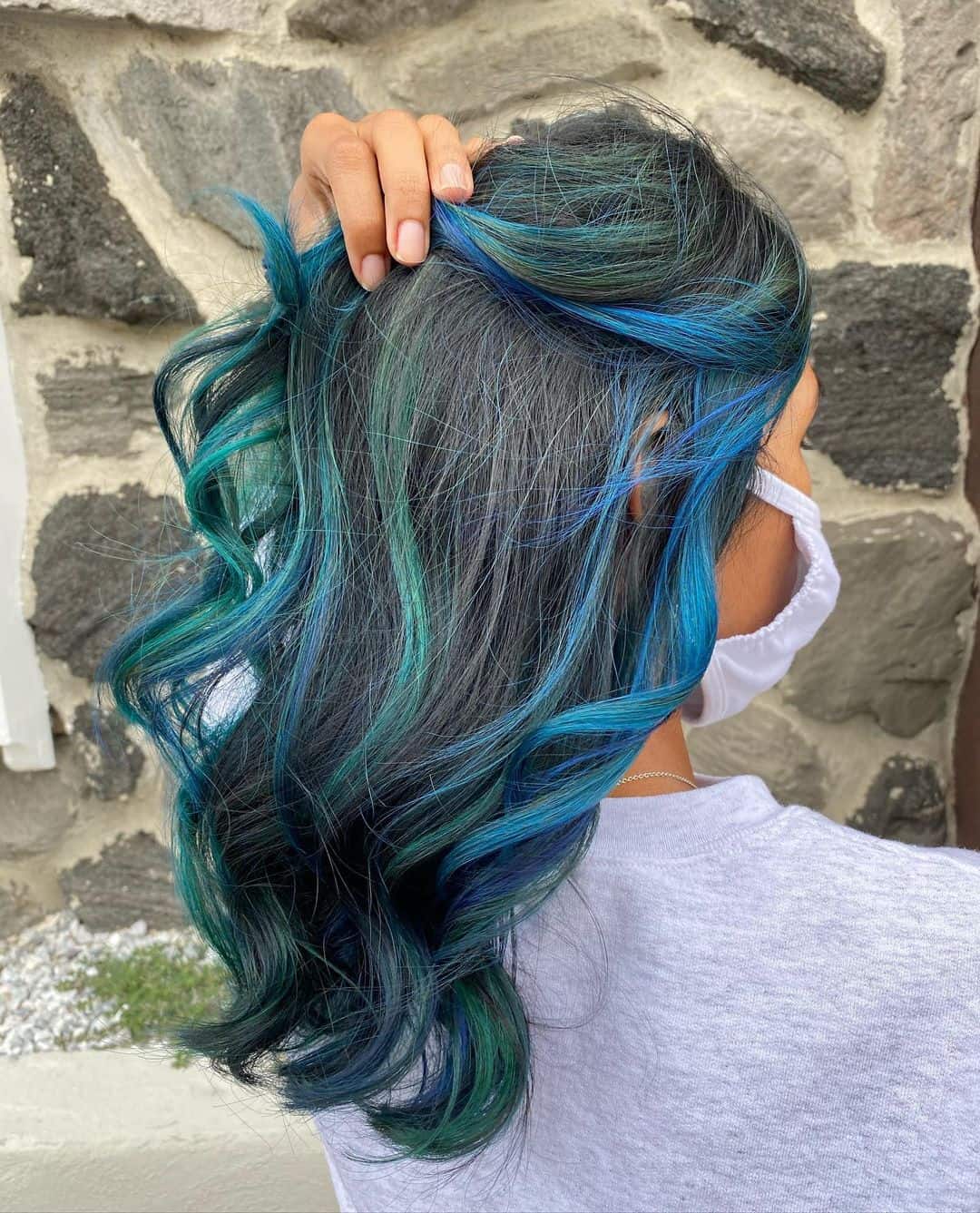 Many people who want to add blue dye to their hair, be it black or some other color, often feel hesitant because they worry that blue highlights could have some bad meaning. However, the good side is that blue highlights aren't connected to some dark symbolism or any symbolism in particular.
If anything, opting for black hair with blue highlights means that you're creative, bold, brave, confident and you enjoy trying out new things and seeing how they'll look like the result. Without further ado, let's check some black hair with blue highlights ideas which will help you ultimately decide what you want to be seen.
1. The Shade Of Your Highlights
Okay, we get it, you want blue highlights on black hair. But, do you want it to be discrete, or do you want it to show and be prominent on your hair? Like you know, blue has many shades, and women and men wanting blue highlights are often left choosing between different shades and seeing what works the best for them.
It also comes down to the shade of black you have on you. Perhaps, you will need to redye because the dye started washing off and exposing your brown or brighter hair, and blending on it. That could potentially ruin your highlights, so it's important to both dye hair black and apply highlights together if it's been a while since you last dyed hair.
There are different shades of blue that you may want to have on your hair. If you want something that will give your black hair extra shine, you should go with shades of midnight blue, charcoal blue, or dark blue. Indigo blue can work with both smaller or larger highlights, as well as other types of highlights.
For a bolder and more confident appearance, you could go with electric blue, denim, or royal blue. Finally, if your blue highlights will be accompanied by different shades at once, we suggest some very bright, almost green highlights such as teal, aqua, or powder blue.
In the end, all the choice comes down to you and what suits you. If blue is your favorite color, you'll easily find what dye makes the highlights look the best for you. The highlights may fade and get brighter over time, and you may end up liking the brighter version of your hair more than the original highlights you made.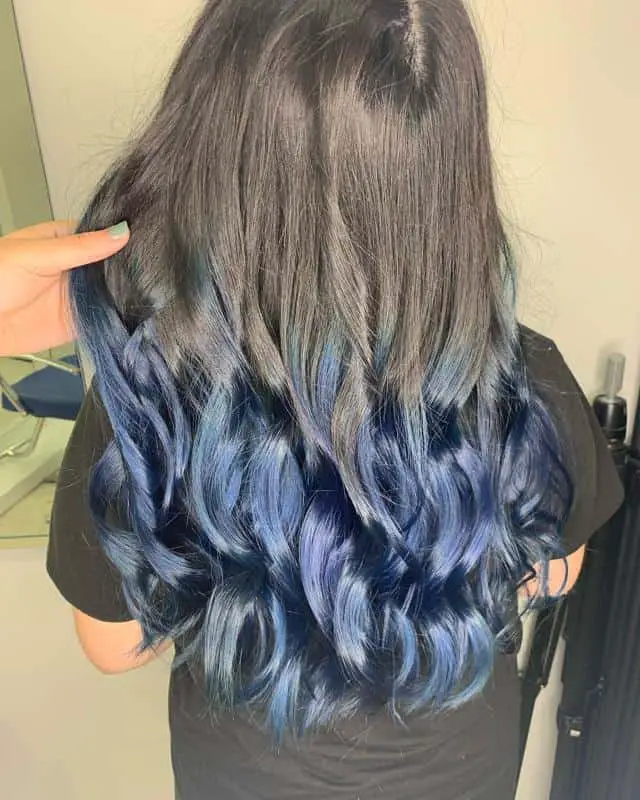 2. Thin or Thick Highlights?
Should you go for babylights or chunky highlights? In all truthfulness, the choice is yours. Many people go for baby highlights because they do an excellent job at making the hair appear thicker, while also showing multiple shades of the color you use. They're also great if you start from the lower ends of your hair, rather than the top.
Chunky highlights are something that was popular back in the early 2000s and now, a lot of people look down upon those highlights. Still, over the quarantine season, these highlights made an appearance again, growing in popularity and being embraced even by the celebrities once again.
If you're unsure on whether you should follow the trend of chunky highlights again it's best to consult your hairdresser. If you're doing it alone, you should ask for a second opinion, or let it all go. You live only once and life is too short not to try out new things. If you'll hate it, you can always go to the hairdresser and correct what you're doing.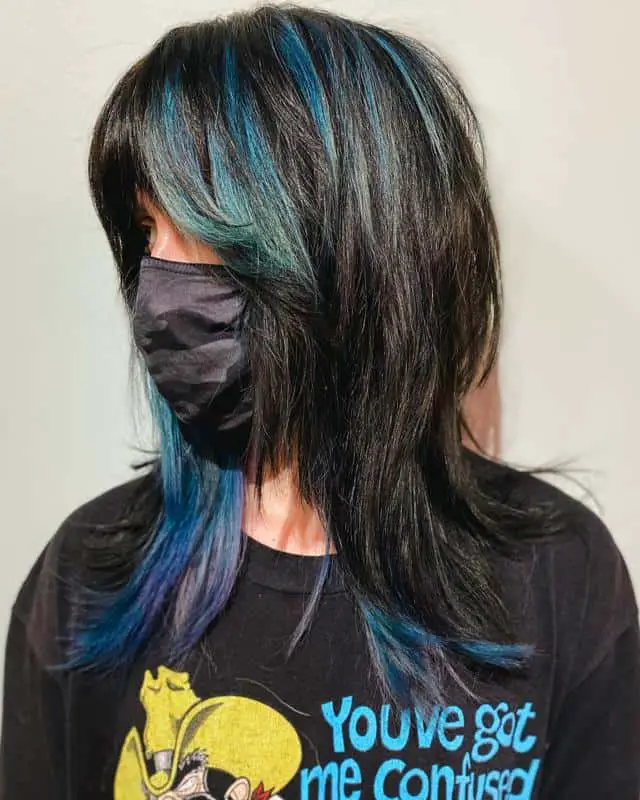 3. Ombre Hair?
Black hair with blue ombre was popularized with the return of Ombre and Balayage hair from 2016 and further. It's also a move for bolder and braver girls who like to try out new things and see how new types of highlights look on their hair.
When it comes to this type of hair, it's best to go for the option that is brighter than your hair. Charcoal and midnight blue colors look like a good match, but the transition between black and blue may hardly be visible, and it'd rather resemble some oddly-shaped blue-black hair, and we're quite sure that's not what you want.
Going for brighter ombre highlights is a better idea because the transition between two colors will be more visible. Also, if you have a habit of picking and braiding your hair, or even using a curling iron on it, you'll love the result of what a combination of black and royal blue hair can do.
Read More: Top 40 Unique Ombre Hair Color Ideas(Blond, Black, Brown And Colorful)
4. Black Hair With Blue Balayage
Many people can't tell the difference between ombre and balayage, except the price, because Balayage can be quite expensive. However, these two terms have visible differences, so if you're eyeing black and blue balayage, you should inform yourself about it before making the final decision.
Balayage is a technique of coloring. That being said, your hairdresser will dye highlights in a way that your hair has more prominent and visible roots, while highlights or the uneven lengths of hair will be colored in highlights, blue in this particular case.
Ombre is just a style of dyeing. That being said, while not every balayage is considered an ombre, every ombre can be said to be a balayage style. This may be a bit difficult for you to perceive. However, it's all about the width and coloring style of your highlights, as well as how exposed you want your black roots to be.
Balayage can be done in a single color, usually a brighter version of blue. However, if you want to have a more authentic hairstyle, we recommend highlighting more than two variations of blue for a fuller effect.
When it comes to conventional hair, hairdressers usually bleach highlights and then use a hair color that will make some highlights appear more white, while some other highlights will appear more blonde. That way, you can also combine your balayage with other shades of blue, if your hairdresser is willing of course, as sometimes, it can be a tedious task.
Also Read: Balayage Highlights For Dark Hair: 30+ Stunning Examples And FAQ (2022 Updated)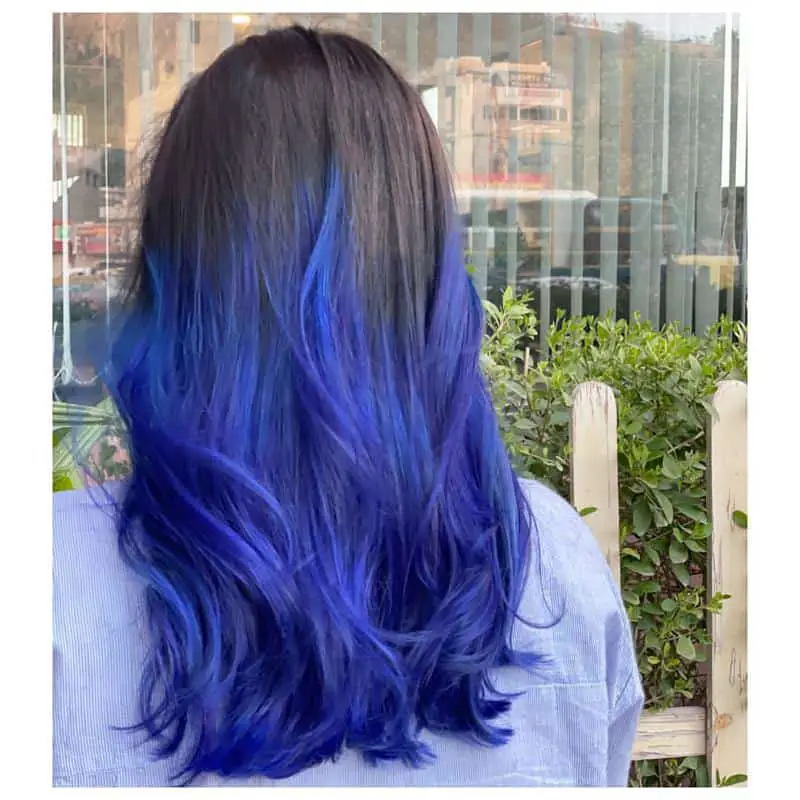 5. What About Blue Black Hair?
If you're worried that too many dyes and bleach on your hair could damage it and make it thin and brittle, one solution is dyeing your hair blue-black. It does not ultimately replace blue highlights but your hair will obtain a dark blue, indigo shine that will make it appear as if you have highlights.
If you can't afford a hairdresser or multiple dyes, but you still want to have black hair with a blue shade on it, then going for this option could work out great for you.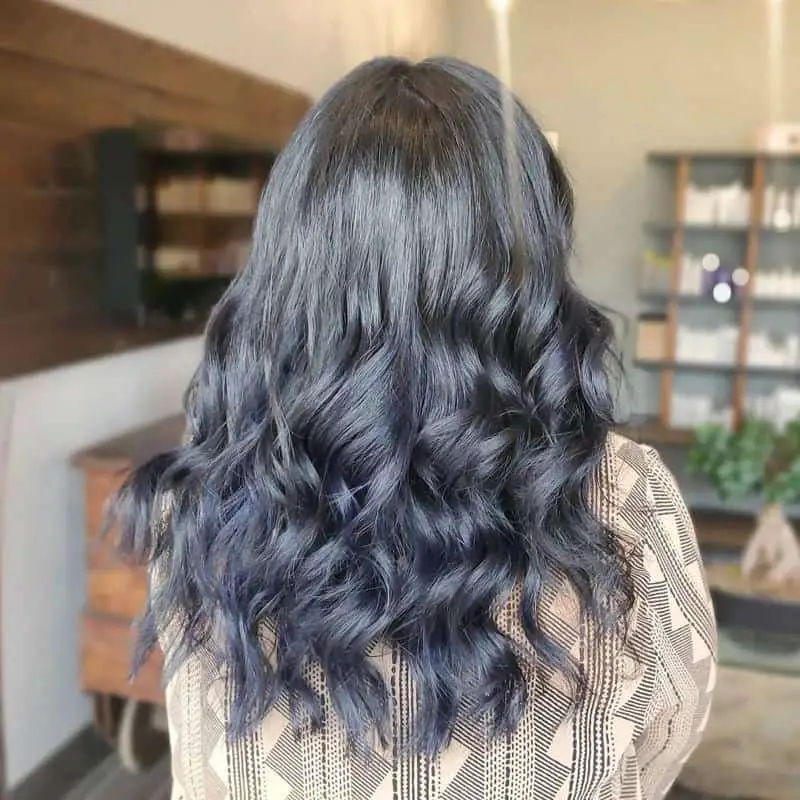 40+ Best Blue Highlights On Black Hair Designs
Now that we gave you general ideas on how to style your highlights and what variations of blue highlights you can choose to go well with black hair, let's dive into the designs themselves. We hope that you'll find the style that will click with you.
Bob With Blue Highlights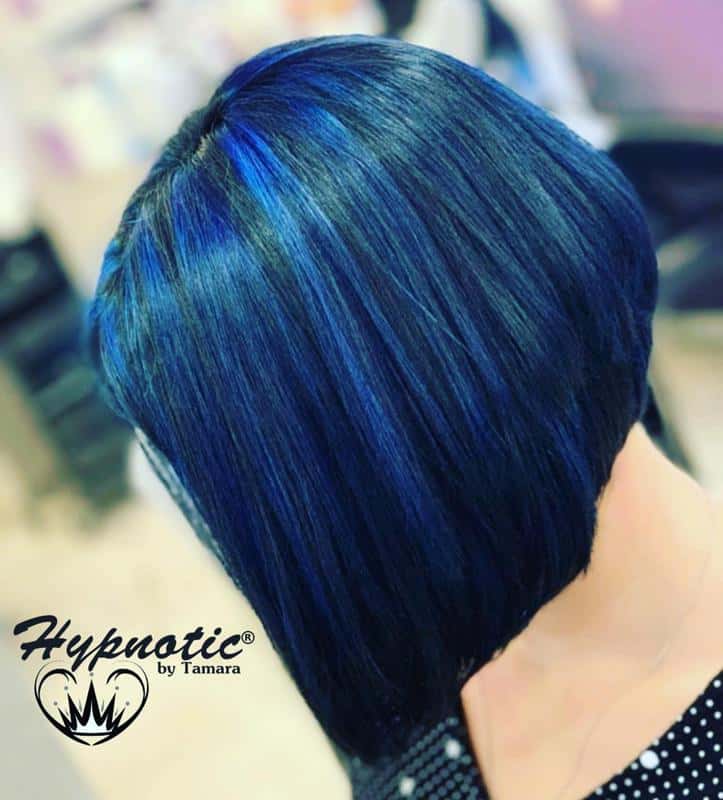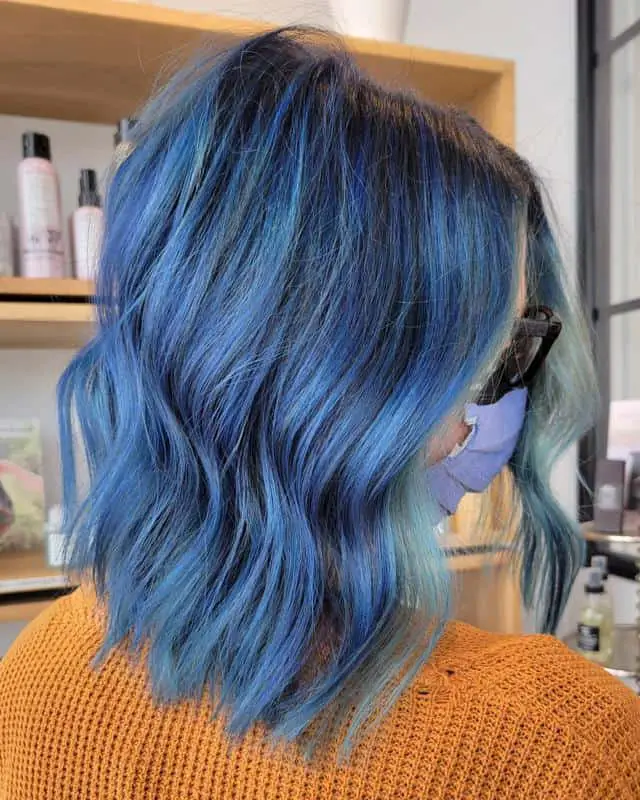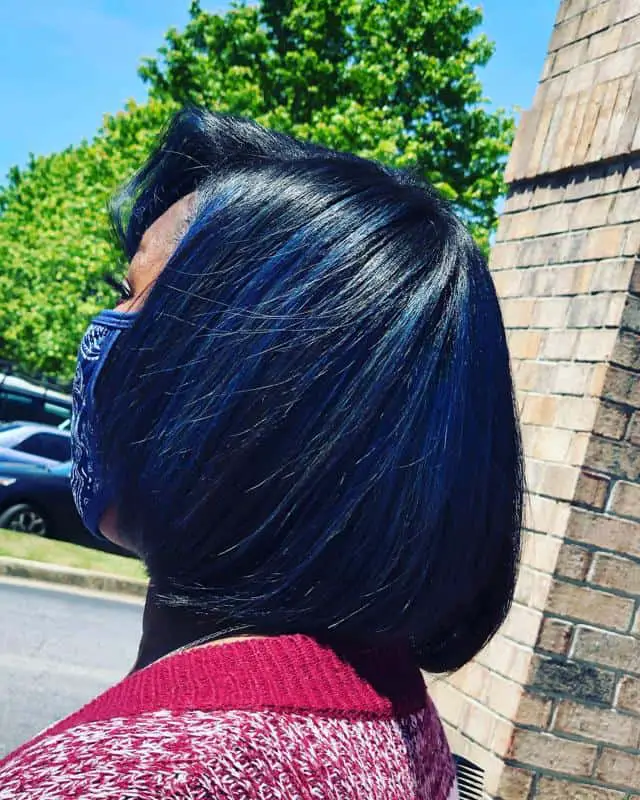 If you're a wild girl who enjoys adventures and trying new things and happens to have a bob haircut, the blue highlights will make you look great. Even if you happen to boast some other hairstyle, Bob will bring refreshment in the summer days if your hair makes you feel sweaty.
Rihanna made a boom when she boasted blue-black hair in 2007. To spice up the things, she wore Bob's hairstyle confidently. Of course, you don't have to boast blue-black hair. You can go with indigo blue highlights or azure highlights for that matter. It all comes down to how creative you are, and how good your hairstylist is. Bear in mind, however, that the choice of the color of your highlights also determines how much you have to get your hair bleached, which is complicated on black hair.
Long Blue Highlights On Black Hair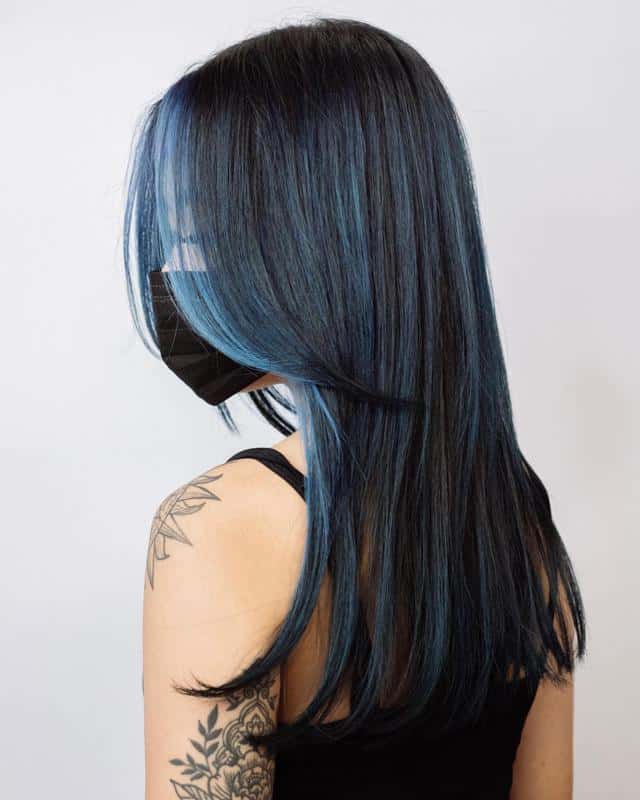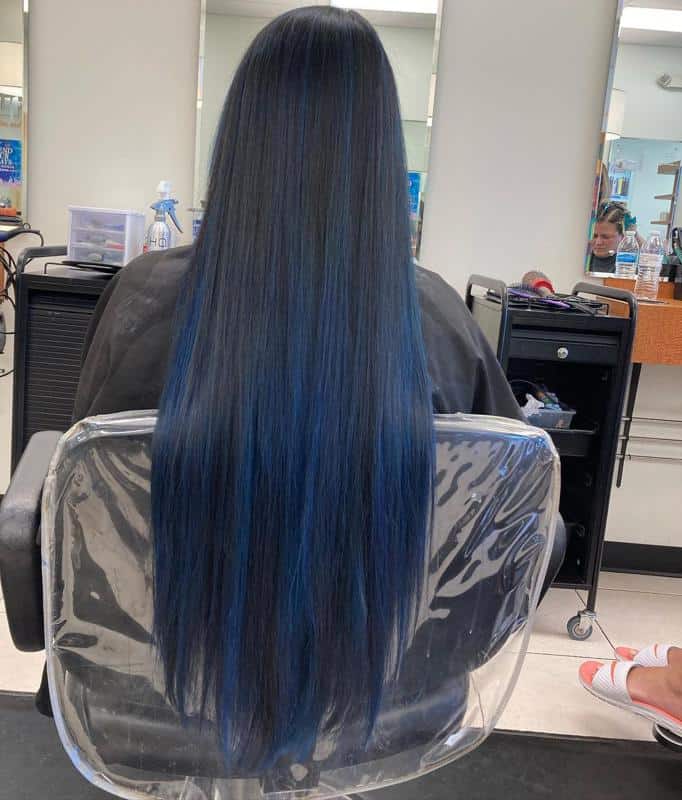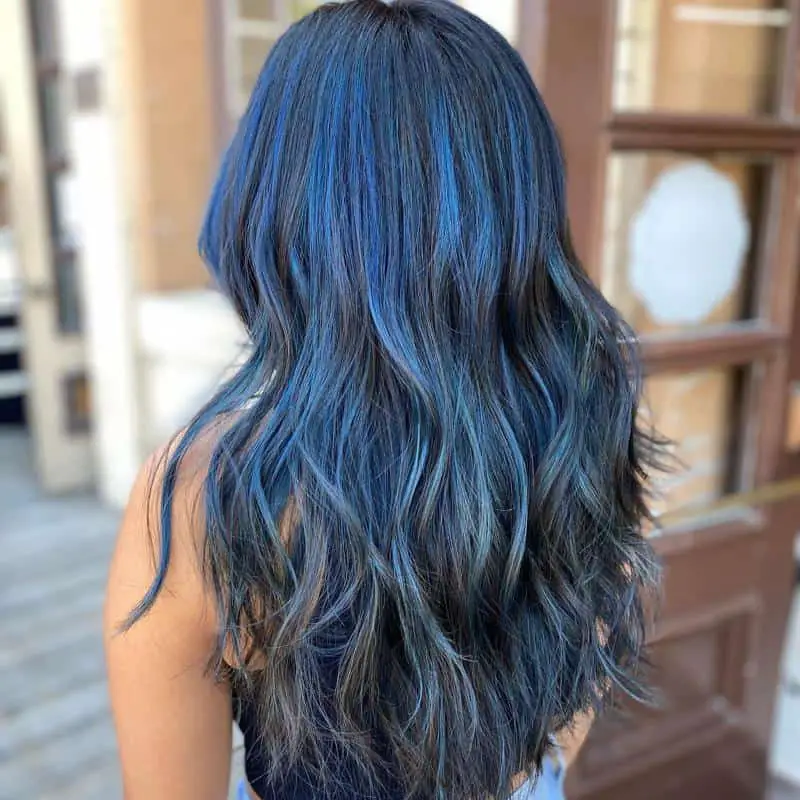 Long hair requires more maintenance, especially if you want to keep it long and healthy for a long time. Still, some highlights here and there won't do you harm. Blue highlights look incredibly magical on black hair. There's a transition that will give your hair shine, and boost you with confidence.
If blue is your favorite color, it'll show through the color of your highlights. Are you going for a more vivid variant or more pastel option? Pastel blue color on black hair can be difficult to achieve if you don't get your highlights bleached, so make sure to use some hair enhancing products that will allow it to keep the volume it needs to look strong and healthy.
Blue Highlights On Black Curly Hair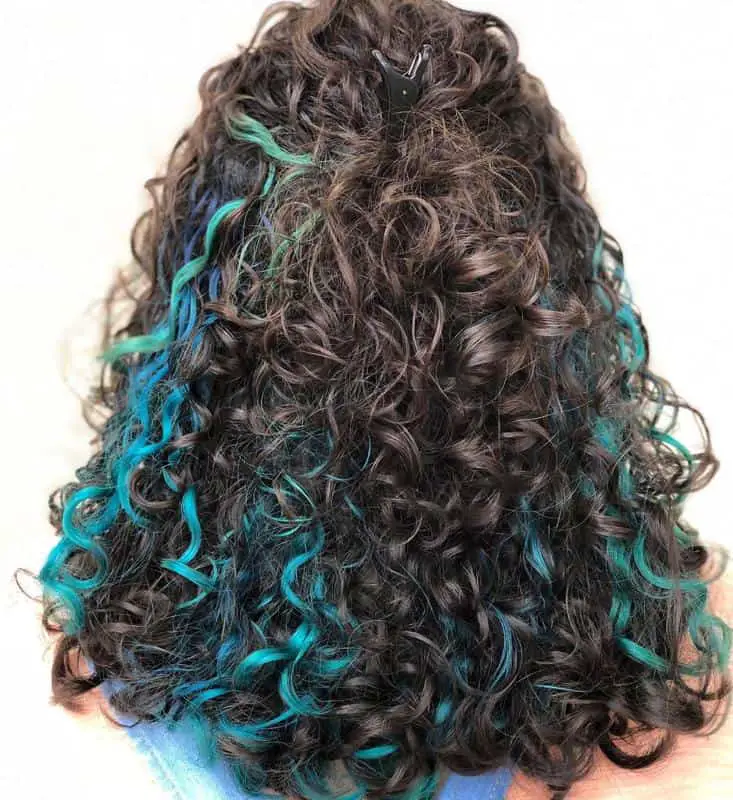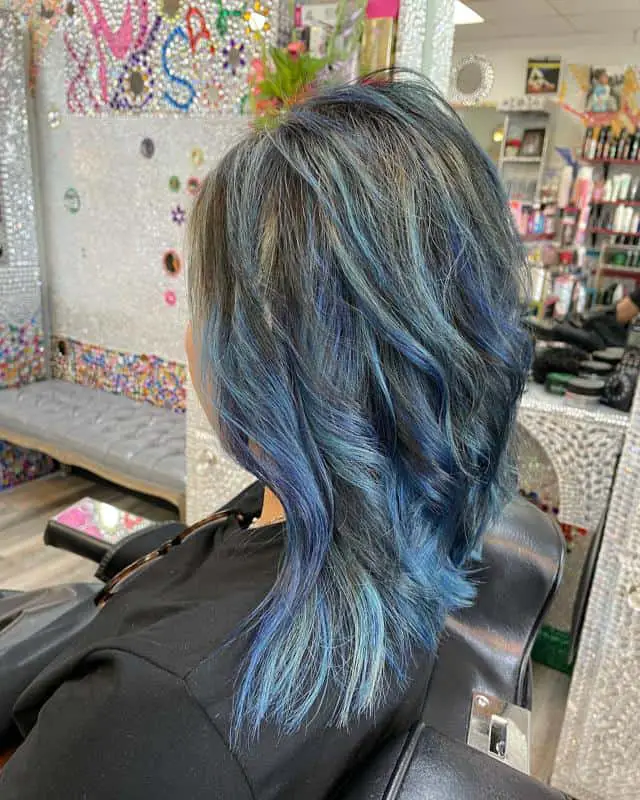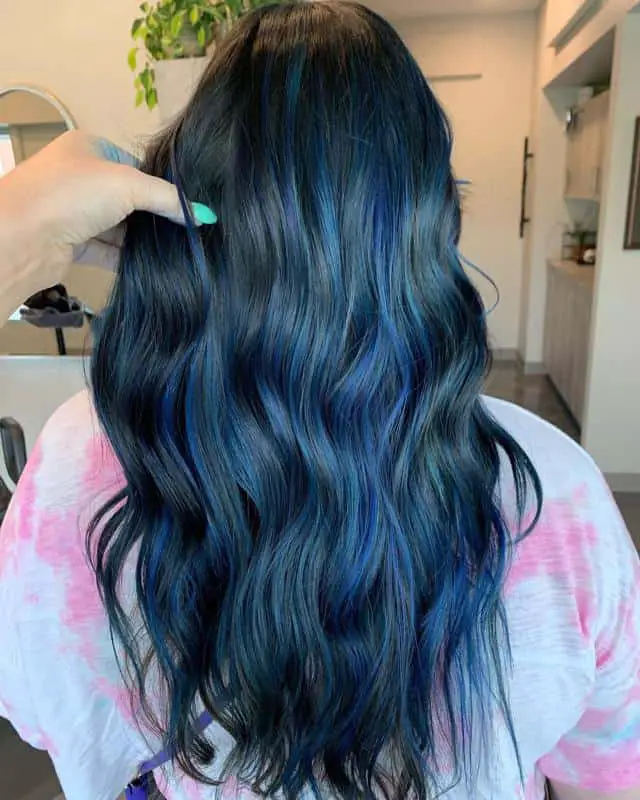 Whether you're going for simple highlights or chunky highlights, or even a color-rich balayage you can't go wrong with blue highlights. Even on super-curly hair, blue highlights, will highlight the beauty of your hair, and make your black hair feel even more powerful. If you get blue highlights, your curls may soften a bit. However, don't worry, if you frequently care for your hair, it won't be permanent.
If you have thick curly hair, the hairdresser will suggest you go with thinner highlights and fewer of them for a trial. If you'll be getting retouched in a few months, you can talk to your hairdresser about adding more beautiful blue highlights, and also try some new shade of blue if you'd prefer.
Blue Money Piece On Black Hair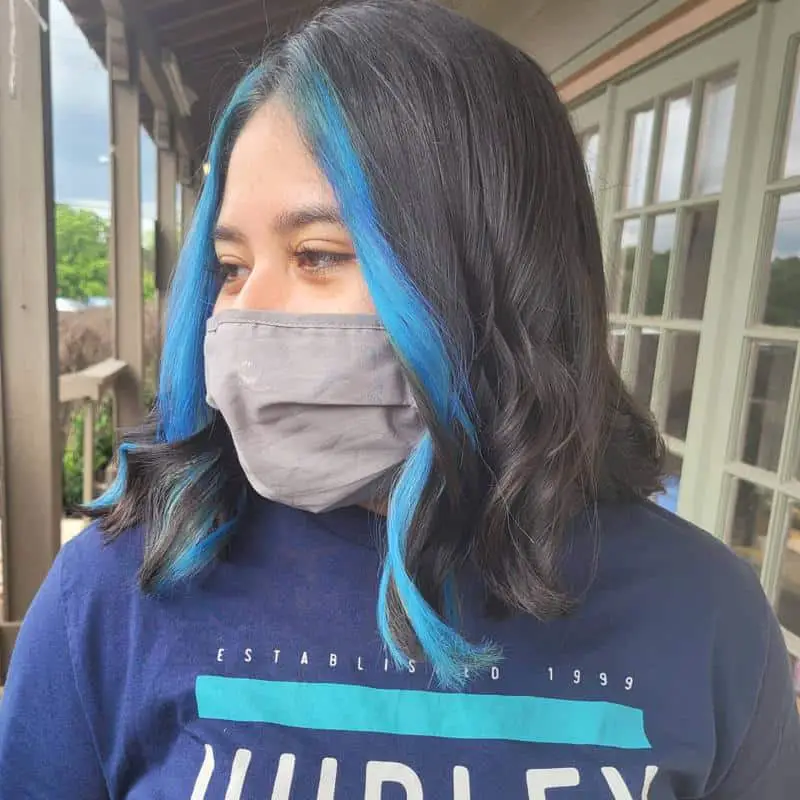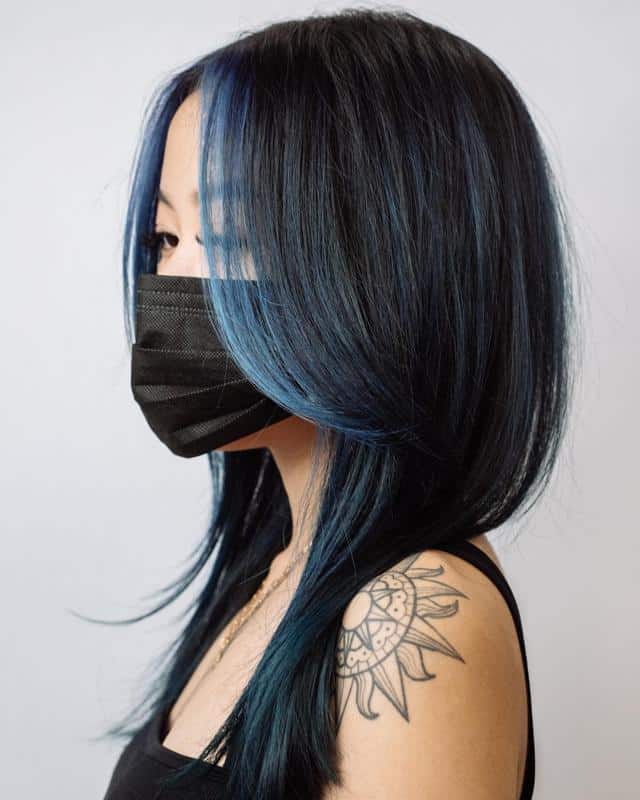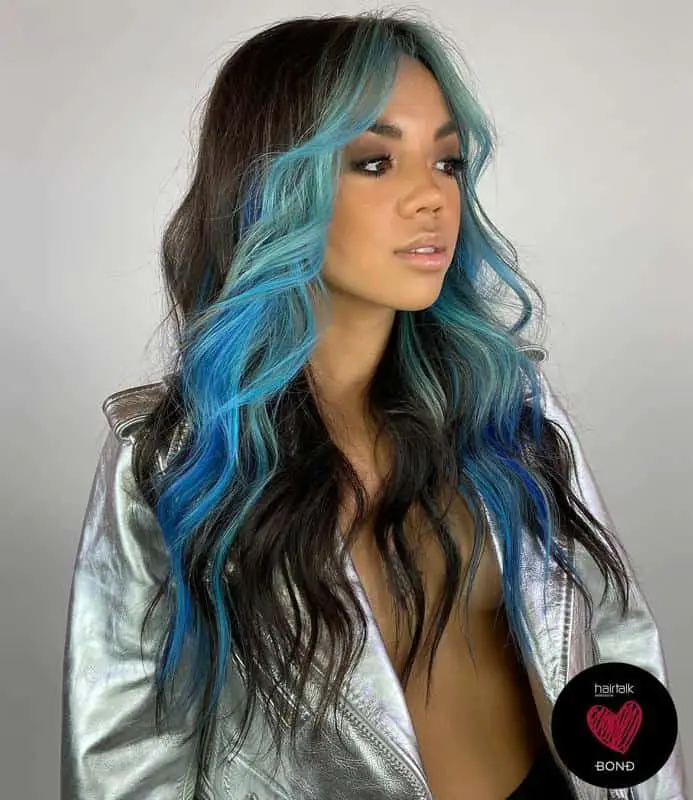 Let's face it, the money piece hairstyle is one of the hottest hair trends over the last two years. It will make your hair look richer and more luxurious. You can curl up your front highlights and they won't lose volume. What's more, blue highlights regardless of their color will look even better and you'll catch all the amazing looks when outside.
Blue Lowlights Under Black Hair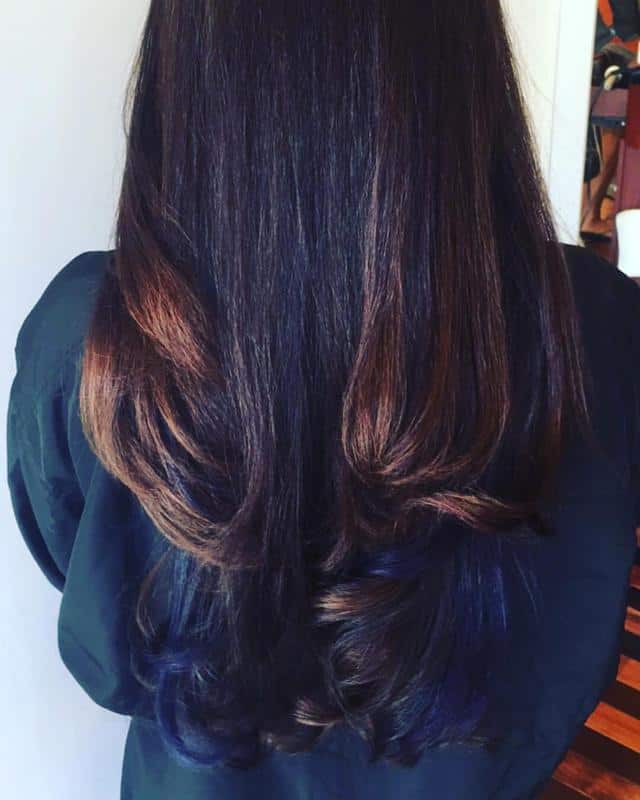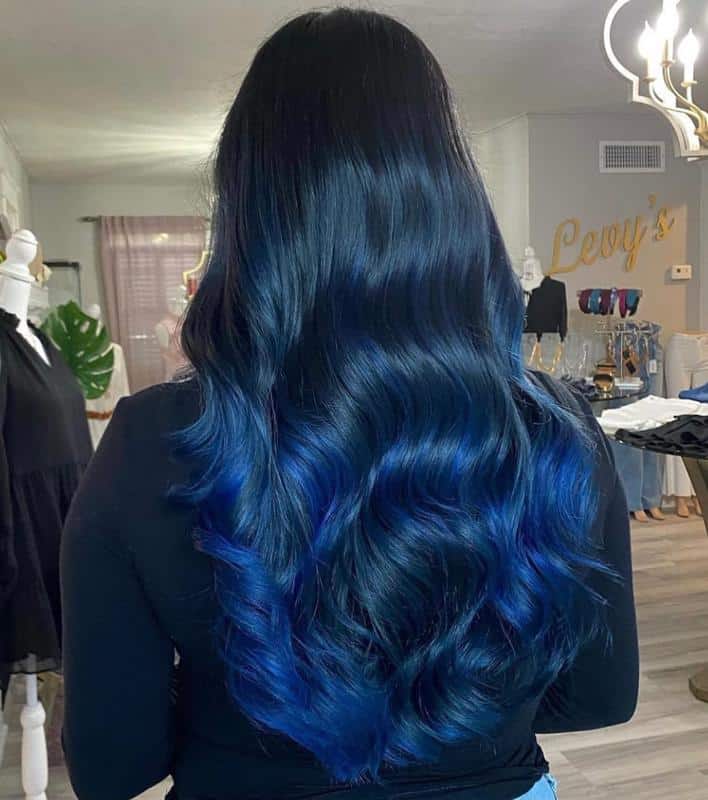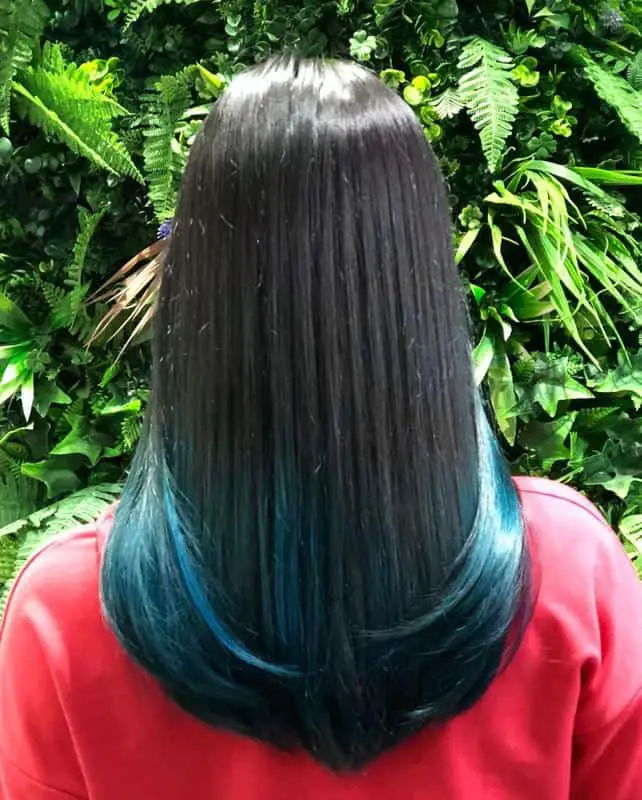 Blue lowlights look extremely stunning, but they're quite tricky and you will have to plan your hairstyle smartly. Your hairdresser will suggest you bleach the lower area of your hair to be able to pull brighter highlights. If you go for vivids and darker textures, likely, all the hard work you pulled into your hairstyle won't be visible.
That's why going for a brighter texture will make your black hair look amazing. There will be a visible transition as if the darkest ocean is embracing the sun rays and becoming brighter. There are a lot of ways to get creative with this hairstyle, so if you want it to be noticed, make sure to pick your hair up, and braid it for that transition to step out.
Short Blue Highlights On Black Hair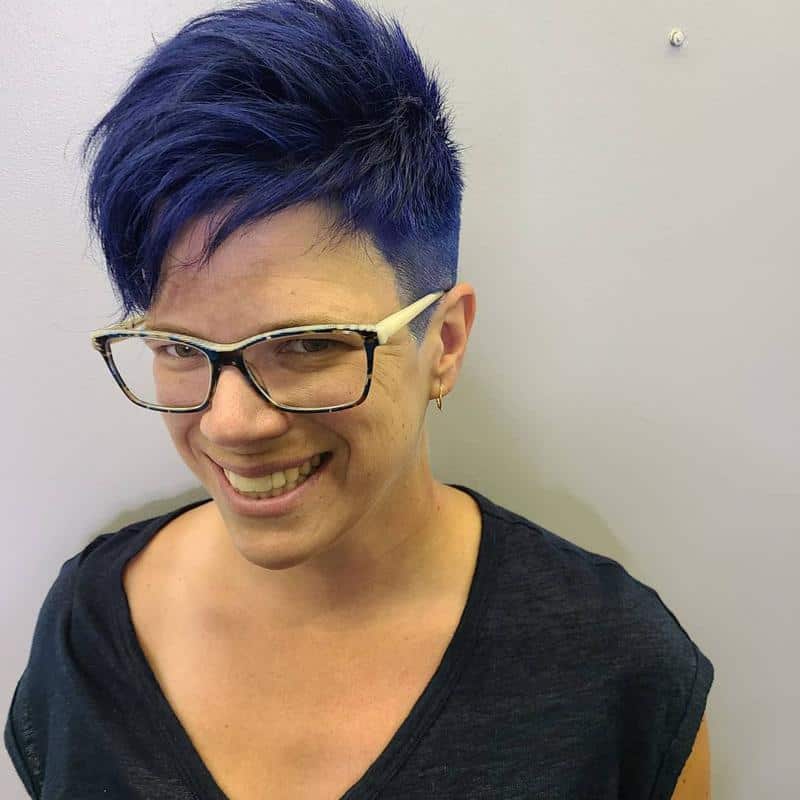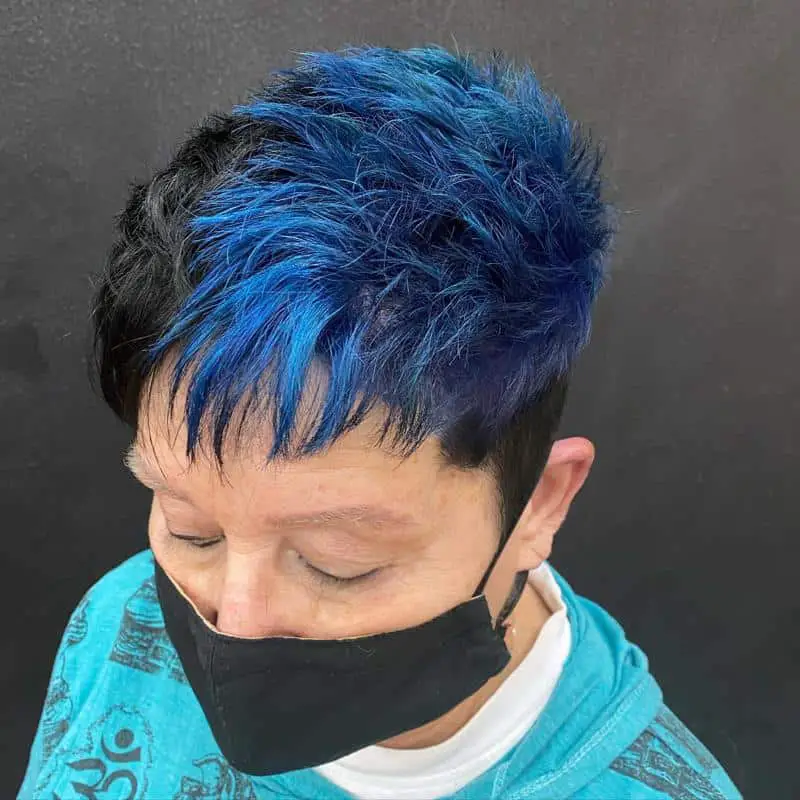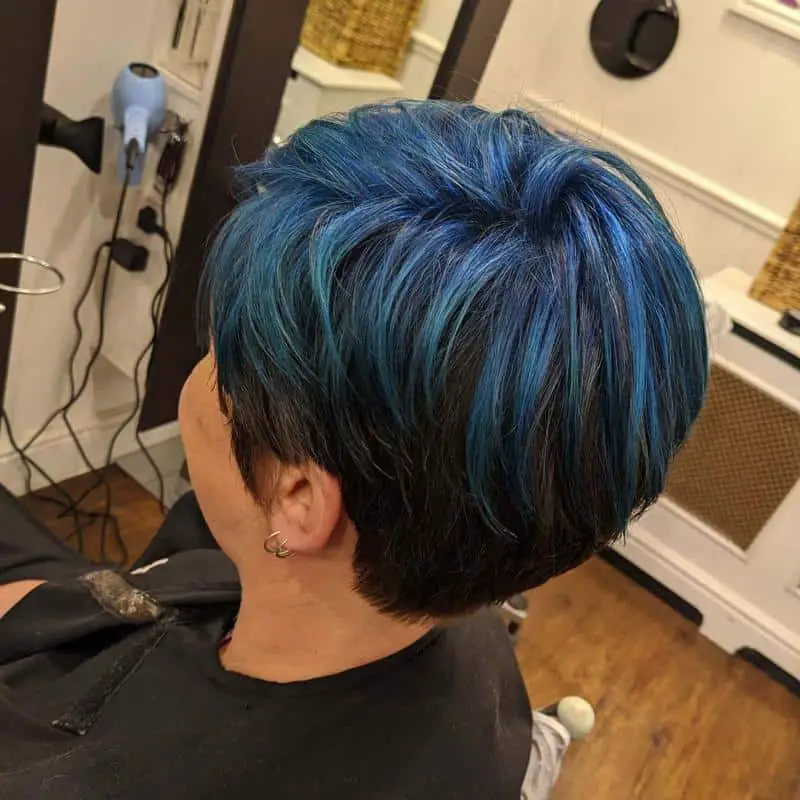 Who says you can't shade blue highlights on short hair? It might look like a mini ombre or balayage to add blue ends to your shorter hair, but the highlights will be stunning and enchanting. They'll give your hair additional shine and a pure transition as your hair is growing.
It's likely that you'll have to retouch it frequently as your hair grows and you cut it, as highlights are usually shorter as the hair is shorter too.
Blue Bangs On Black Hair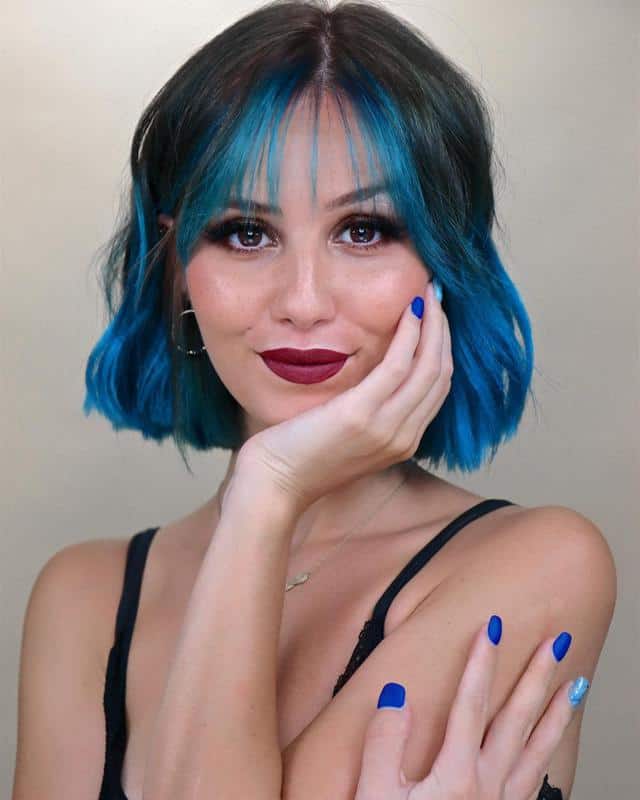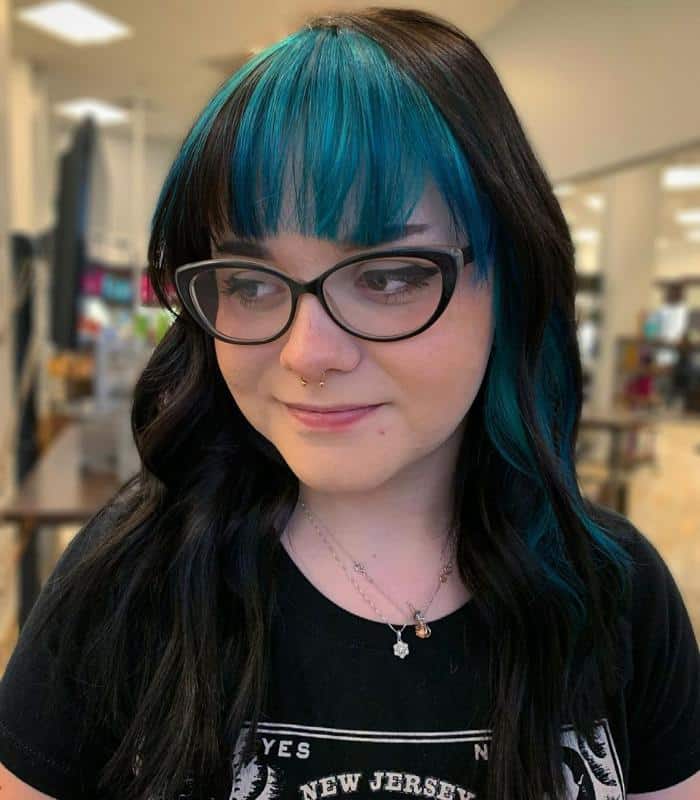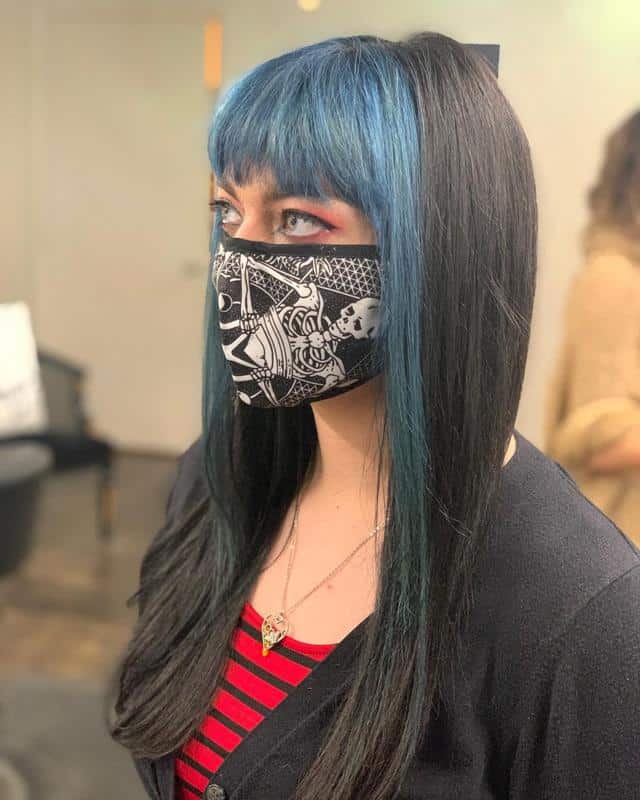 Blue bangs usually aren't a highlight itself. You're practically dyeing a part of your hair into blue, so you will also have to bleach that area of the hair. What we suggest is adding blue bangs next to the blue highlights on your hair. You can also treat your bangs as a chunky highlight that gives more accent to your dark hair and makes it stand out when you're outside, in a club, or party.
The blue bangs combined with your favorite blue, white or purple outfit will give you more edge and help you look more confident.
Half Blue Half Black Hair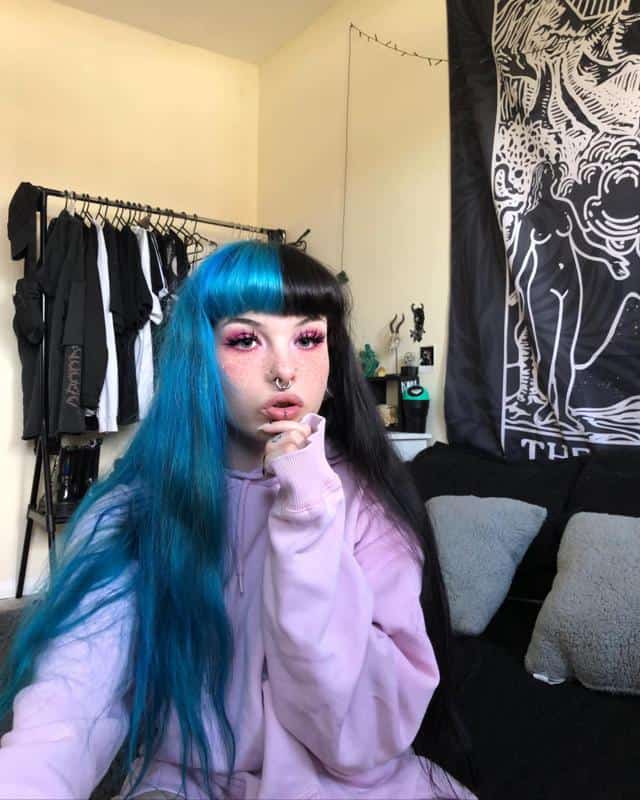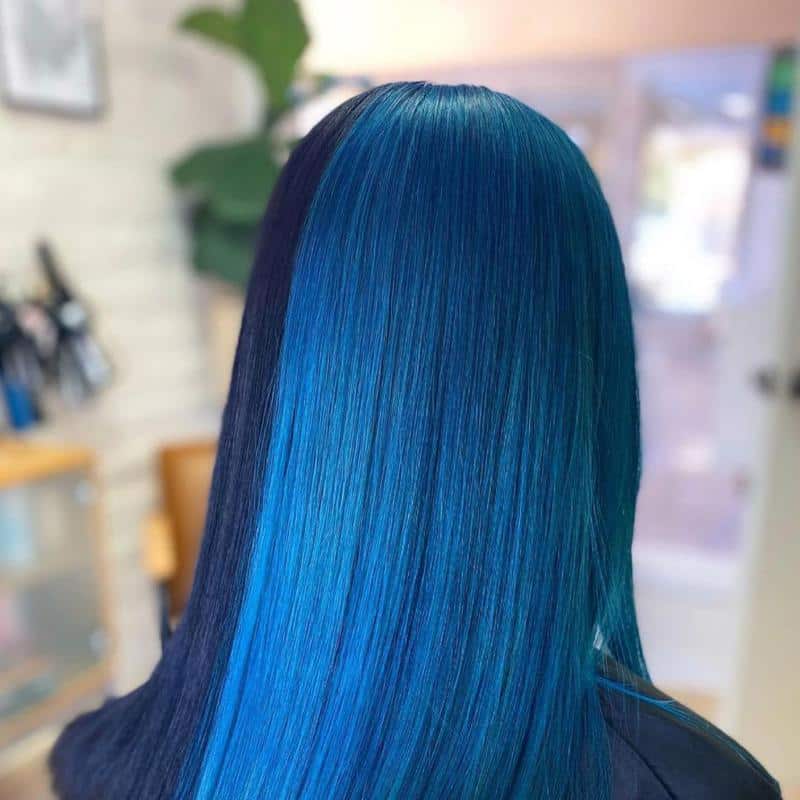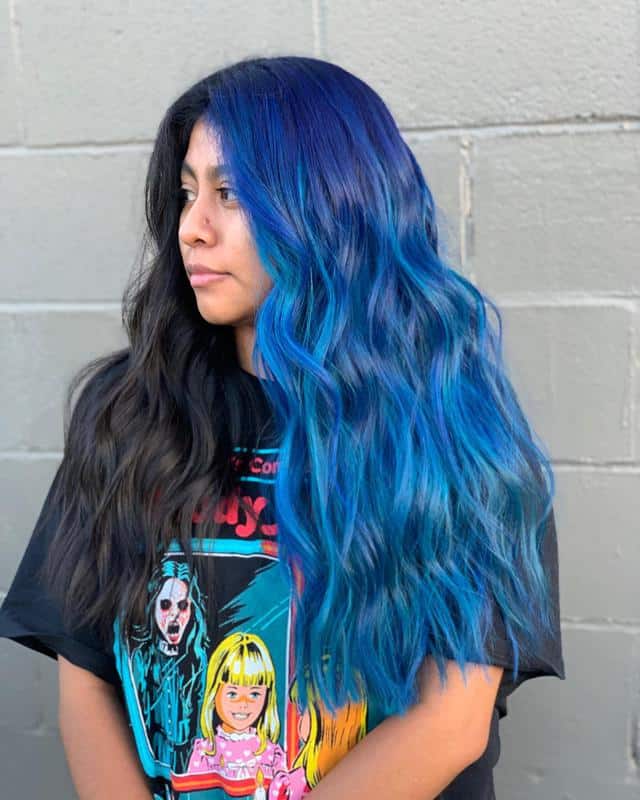 Similar to the blue bangs on black hair, this project also should be carefully thought about. When combining this hairstyle with blue, it's always good to go with the brighter or even pastel texture. Of course, it may be harder to make because you'll have to bleach your hair multiple times to achieve this effect.
Going for the darker blue texture, particularly the navy texture won't make too much difference, and many stylists agree that these things don't go well together. Of course, it all comes down to your preferences and what you prefer on your head. But we wanted to ensure you're keeping up with the trend!
Indigo Blue Highlights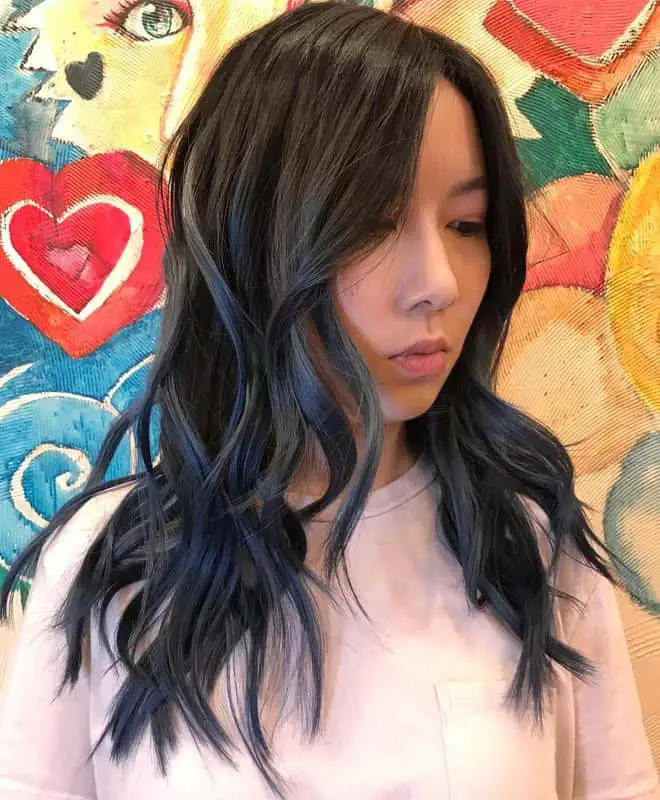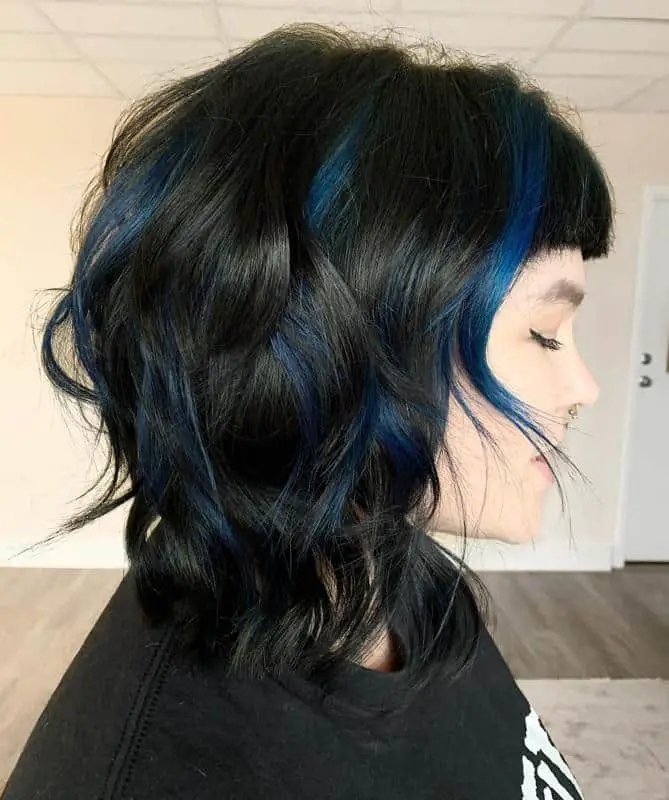 Indigo Blue highlights are usually put so to add more texture and volume to black hair. A lot of people feel that the black color itself feels quite dull after some time and quickly become bored with it. However, going bright from the black can take some time, particularly because you have to bleach your entire hair.
Add some indigo blue highlights for a small gradient transition and sweet texture that will restore shine to your black hair. Maybe this small and subtle step is all you need to fall in love with your hairstyle.
Icy Blue Highlights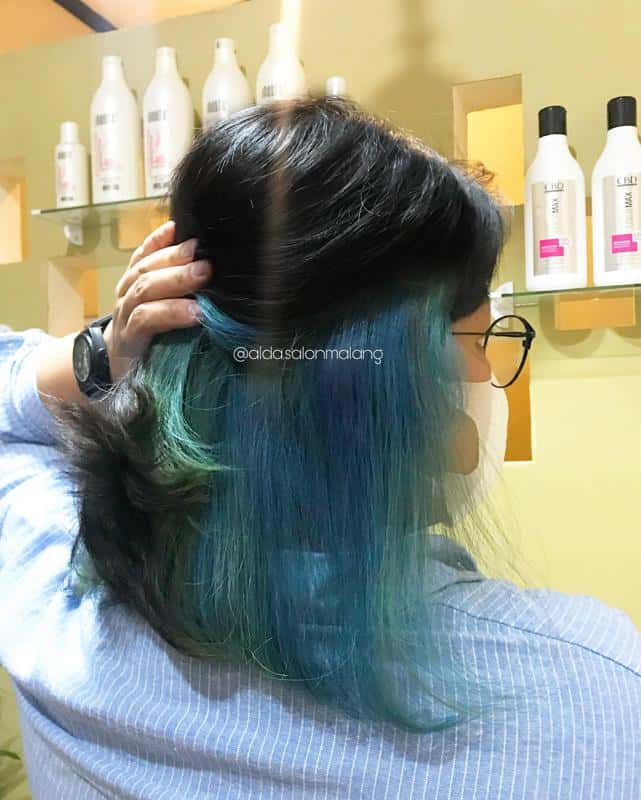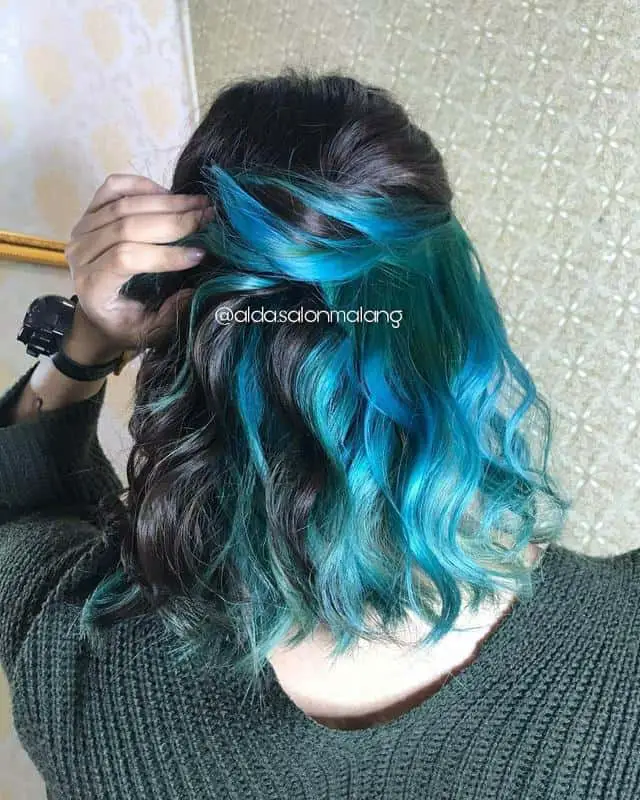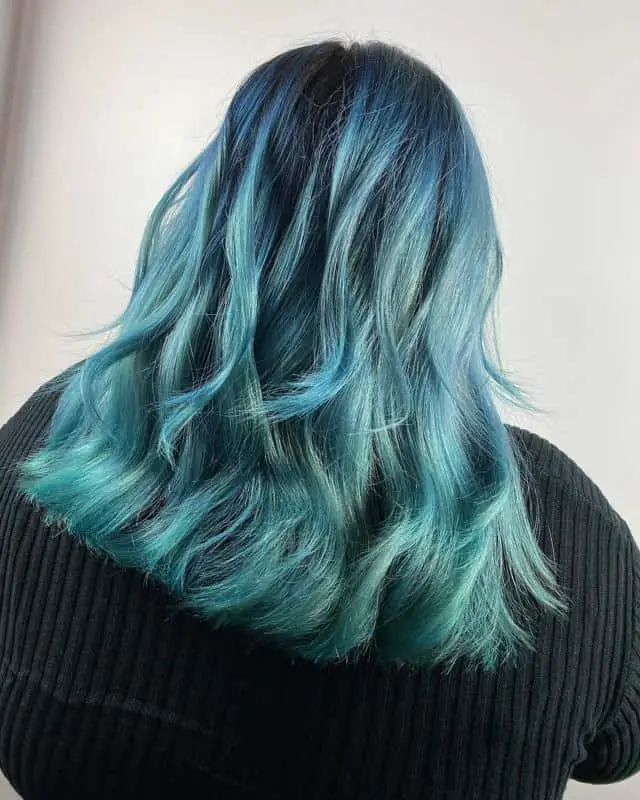 Icy blue highlights can be a lot of work, but the result is not only visible, it'll grab all the looks and take many breaths away, as the icy cold air. In combination with black hair, this hairstyle is spot-on. It's like a gradient that transitions from icy white, into dark blue and black hair.
Make sure to choose a stylist that will execute this hairstyle to perfection. Don't do it on your own as you may damage your hair and have to do it multiple times to get the result you're seeking after.
Blue Ombre On Black Hair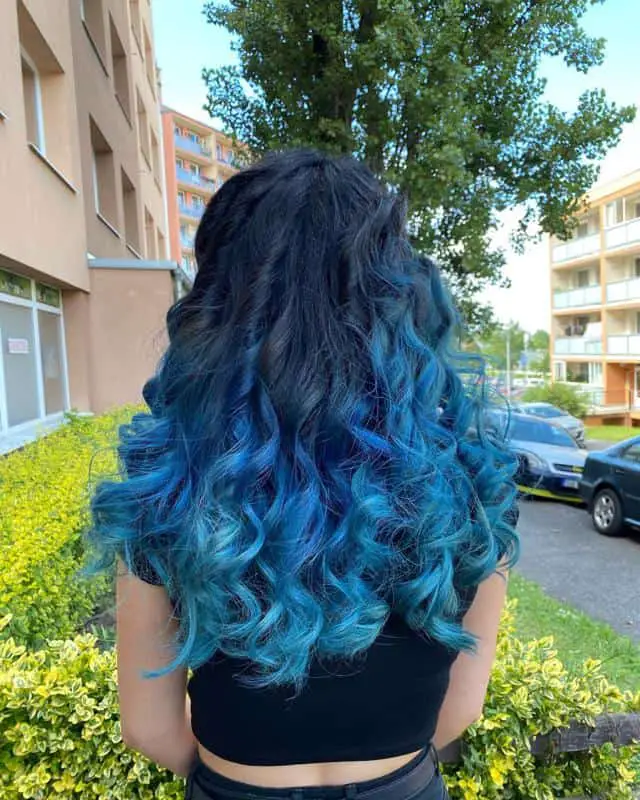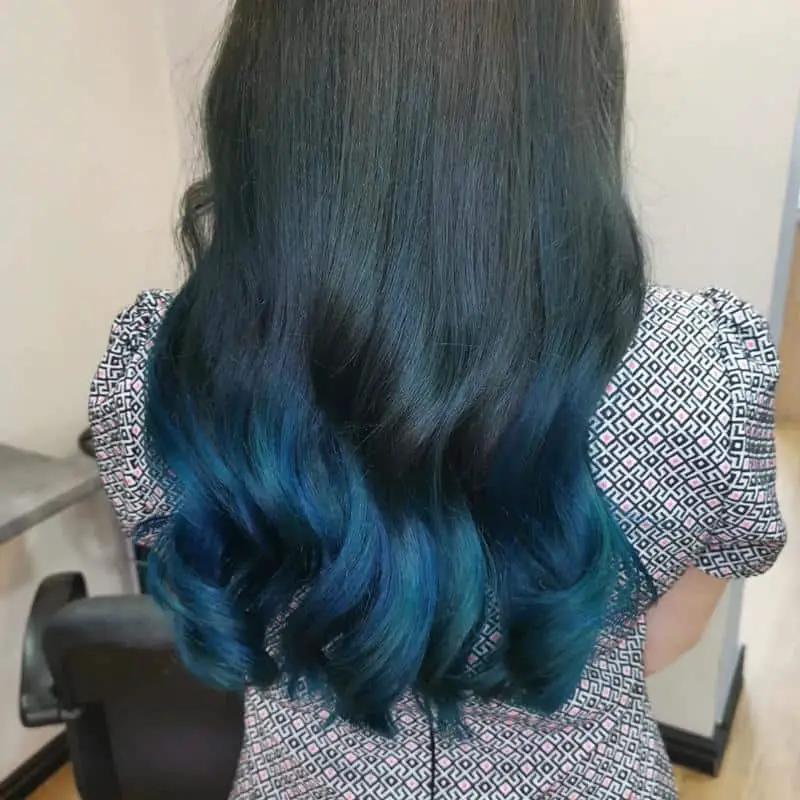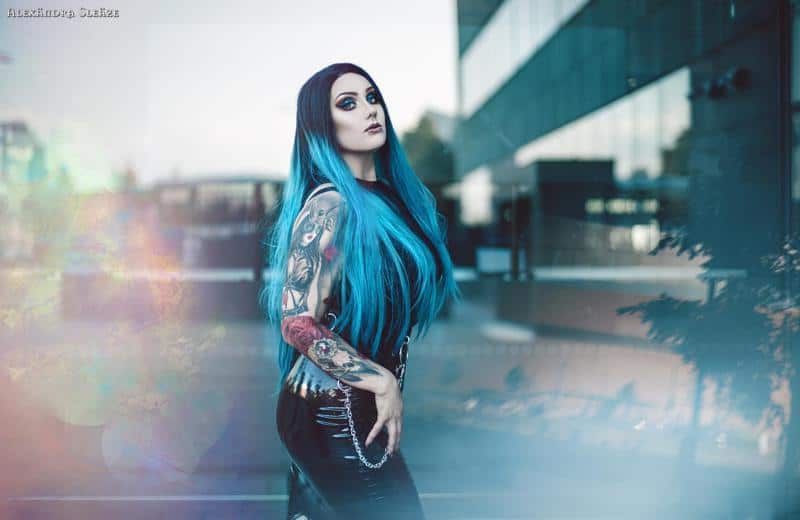 If you want a special touch of blue on your hair, you should try the blue ombre or balayage on black hair, as we mentioned above. If you're undecided on whether you should go for a brighter or darker tone, always go with a brighter tone than indigo hair, so that transition can be visible, and your ends will be brighter than the color on the top.
Bright Blue Highlights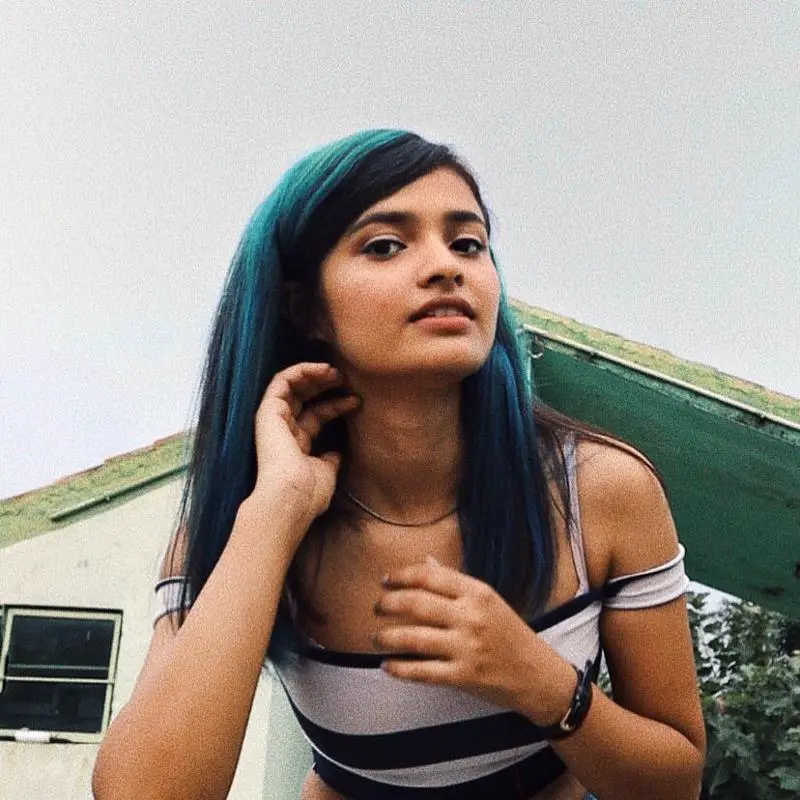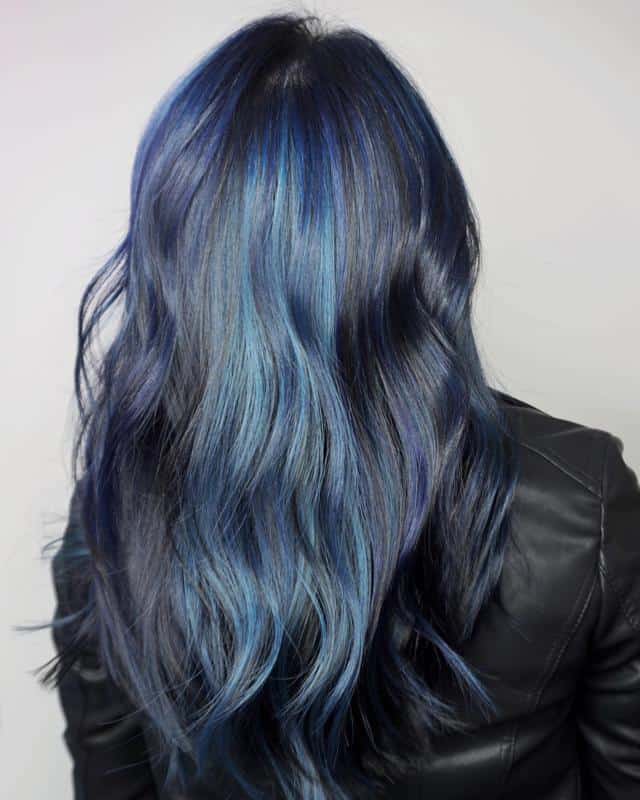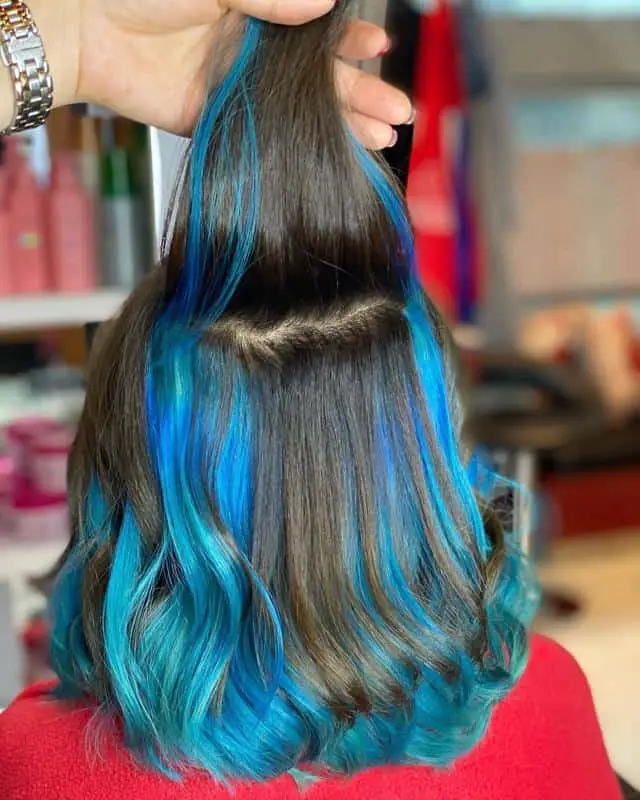 Bright blue highlights on black hair can be time-consuming to achieve because you need to bleach the hair multiple time. However, it will be a major improvement to your overall style. You can also combine your hair with other colors and vivid highlights.
One popular hairstyle with brighter blue tones, that also includes some other dyes is the mermaid hairstyle. It reflects in making a hairstyle with multiple pastel highlights and multiple vivid highlights. Blue is usually combined with green and purple for better designs.
Bear in mind that you will have to combine multiple colors, so you'll have to bleach your hair. Don't forget that black color should also be prominent so choose the vivid tones intelligently.
Also Read: 30+ Popular and Eye-Catching Purple and Blue Combination Hairstyles
Blue Highlights On Black Hair: Frequently Asked Questions
We collected all the common questions on getting blue highlights on black hair and answered them to make the dyeing process easier for you.
Q: Do I have to visit the hairdresser to get my highlights blue or can I do it on my own?
A: Transitioning from black hair to black hair with blue highlights can be time-consuming. That's why we recommend visiting a hairdresser that is experienced and can do it faster and more effectively. There are always color shampoos but their effects are only temporary. If you don't have experience with bleach, always visit a hairdresser.
Q: Can Guys Also Add Blue Highlights On Black Hair?
A: Of course! For some reason, guys bleaching and dyeing their hair are often looked down upon. But, there's no reason for that. All these hairstyles can help inspire guys who want to add some blue color to their hairstyle.
Q: What to do if my color is fading?
A: Balayage and highlights, in particular, should last three to four months, but they may start wearing out earlier. Talk to your hairdresser about potential retouches and touch-ups to bring the old new shine to your hair once the dye starts fading.
Also Read: