40+ Green Hairstyle Ideas That Will Blow Your Mind (2023 Update)
When you shop through links on our site, we may earn an affiliate commission. This educational content is not intended to be a substitute for professional advice.
Nowadays, green hair (in all its shades) is high-fashion. Still, you rarely see people with this hair color walking in the street. It takes quite a character to decide to dye hair into it. Having green-colored hair makes you seem reckless and fierce.
But did you ever wonder what the color green actually symbolizes? It signifies harmony, rebirth, growth, and ambition. Can you think of coloring your hair into something better than to symbol of renewal? Me neither!
Green hair is found its place in the highlights, lowlights, ombre, and many other hairstyle methods. And the best thing about dyeing the hair or cutting it a certain way is that it is not a permanent choice! Your hair will grow, and also you can wash away the color. Thus, if you feel daring today – below you can find inspiration on various green hairstyle ideas for both men and women that will blow your mind.
30 Stunning Green Hairstyle Ideas
1. Chic Bob With Green Hair Color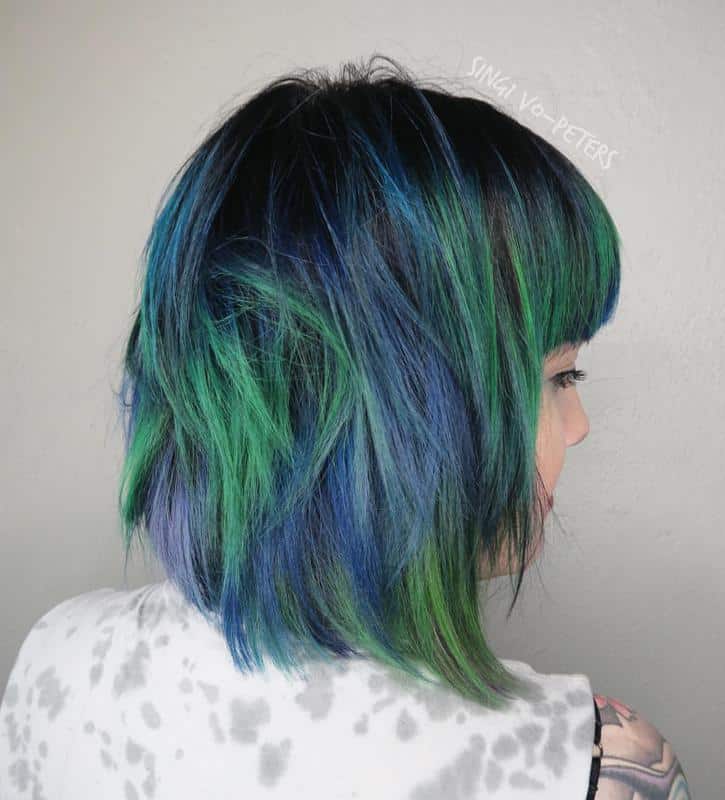 Honestly, I cannot think of a better match than a chic bob and green hair color! Both are so dynamic and excitable. What is also great is that bob cut is suitable for all hair types. So, run to your hairdresser and show everyone how wild you are!
2. Multicolored Pixie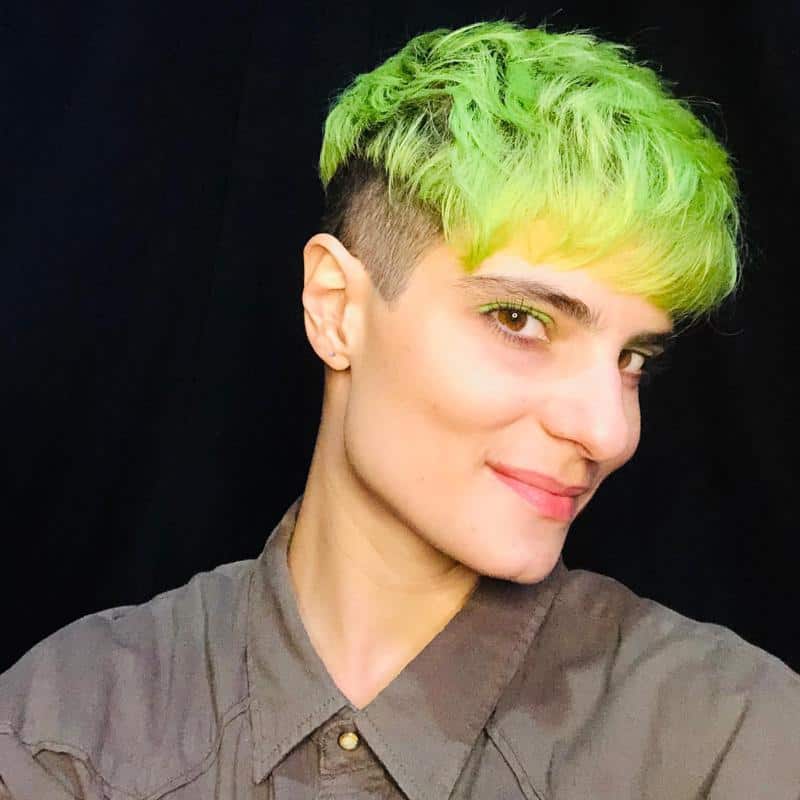 Not sure if you are ready to stick to green hair only? You do not have to be! Match it with any other color you like! For example, lively purple hue! You will seem like a creative, extravagant person!
But do not merely color it, but cut it too. A pixie hairstyle goes perfectly with it! It is a technique in which your hair is short on the back and sides but a bit longer on the top. You might hear that a pixie cut only suits a specific face shape, but it is not the truth! The crucial thing is to pick the pixie style which will fit you the best (yes, they are not all the same). And to have confidence, of course! But, bear in mind that you will have to go to a hairdresser every three weeks!
3. Green Hair Underneath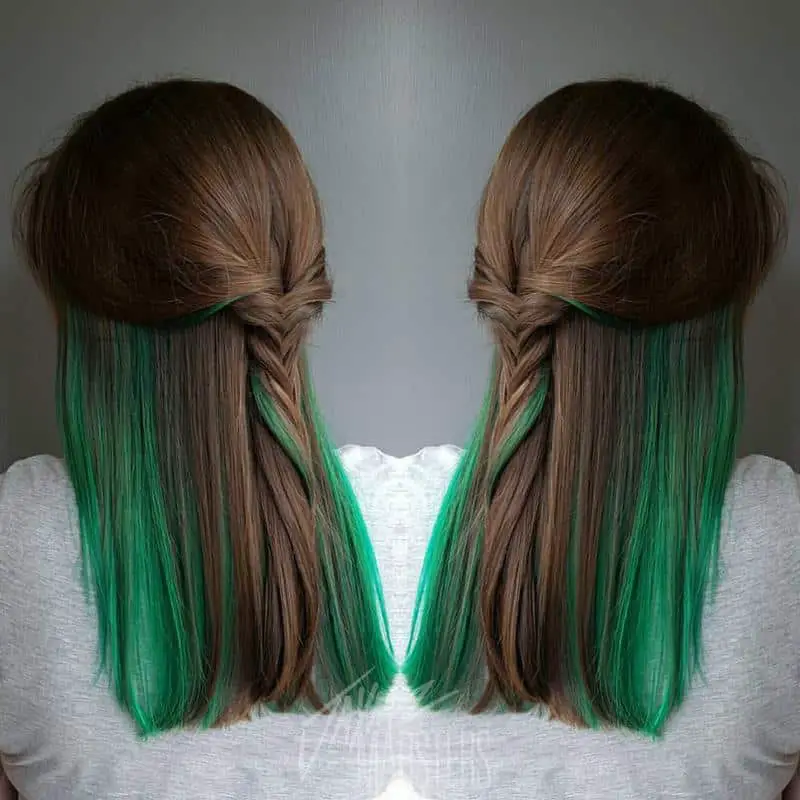 Again, if you are not ready to completely dye your hair or do anything similar that is too daring, you could only color the underneath. It could be dark green hair underneath or any other tone you pick. And it will not make you less brave and fierce that you did not go into fully green!
4. Neon Green Underlights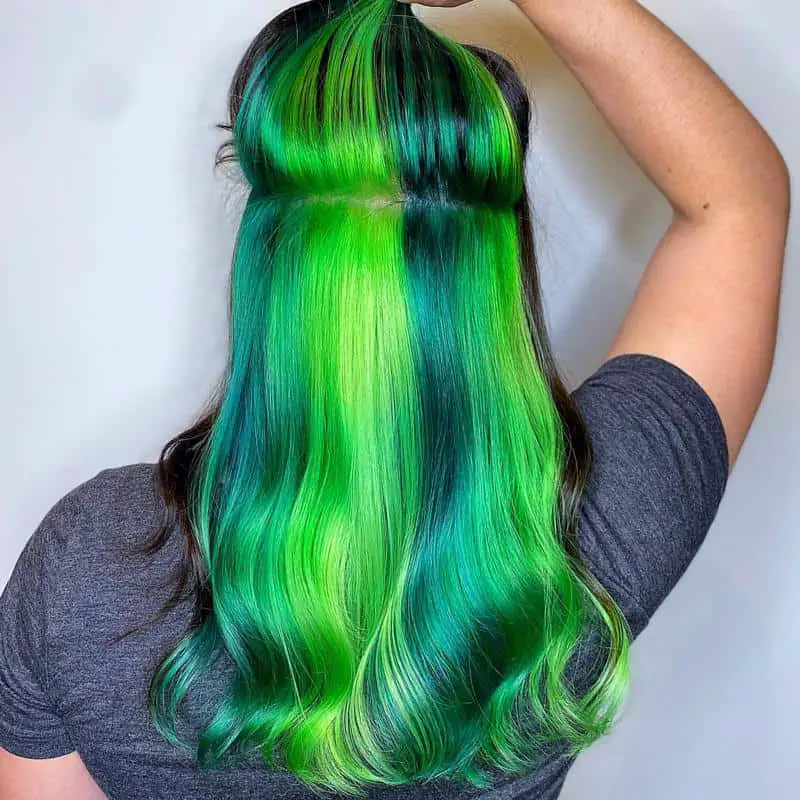 What would the Sorting Hat say for you? I know that for me would scream Slytherin! So, if you are a mate of the same Hogwarts House, bring out our colors with the neon green underlights.
5. Layers of Color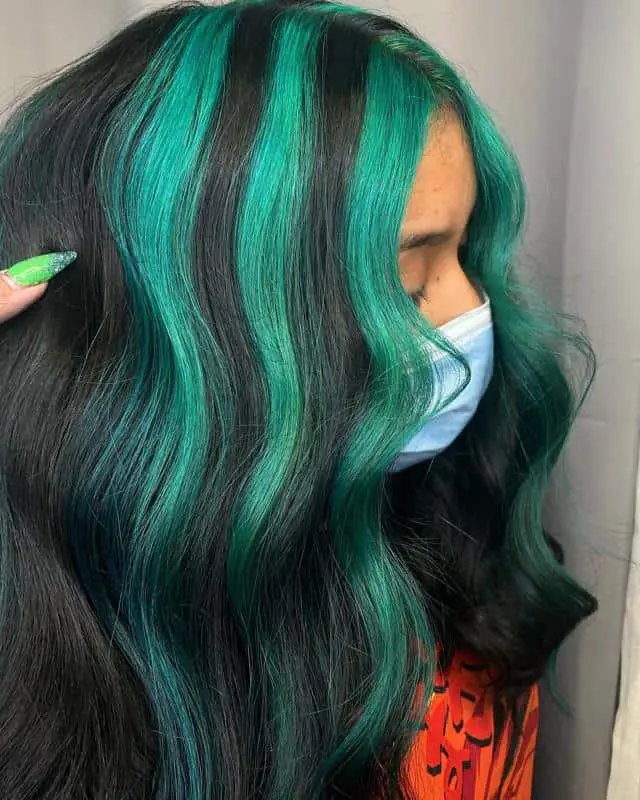 As we said: Small steps are alright! You can add a few layers of green to your natural hair color. In that way, you do not need to step out of your comfort zone, but you are still sassy!
6. Peek-A-Boo Green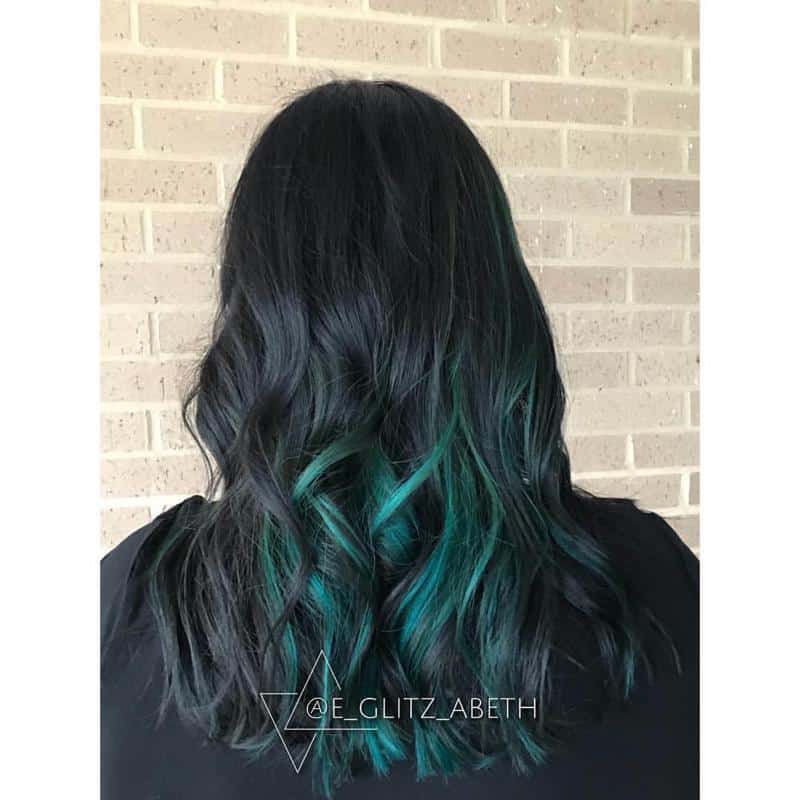 A peek-a-boo effect on a hair is sexy and mysterious. It is a way to look seductive without making a compromise with your rebel side. You could only add green to your natural hair color. Or you could add other colors, including yellow. Your hair- your rules!
7. Dark Green Hair Highlights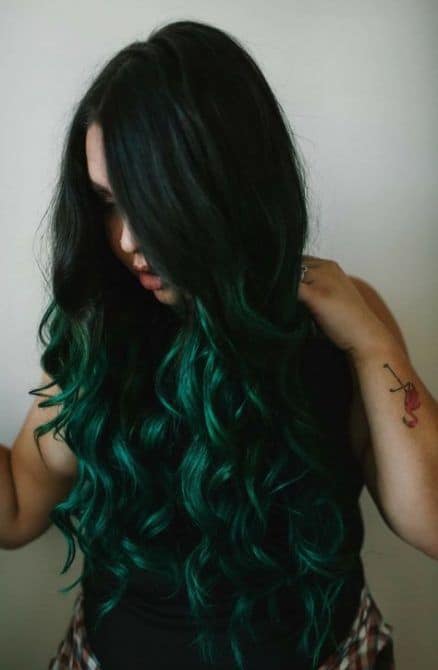 Highlights could put an accent on your eye color or cheekbones. Thus they are always a good idea. And they work perfectly with all tints. Dark green hair highlights would look stunning!
8. Lime Green Highlights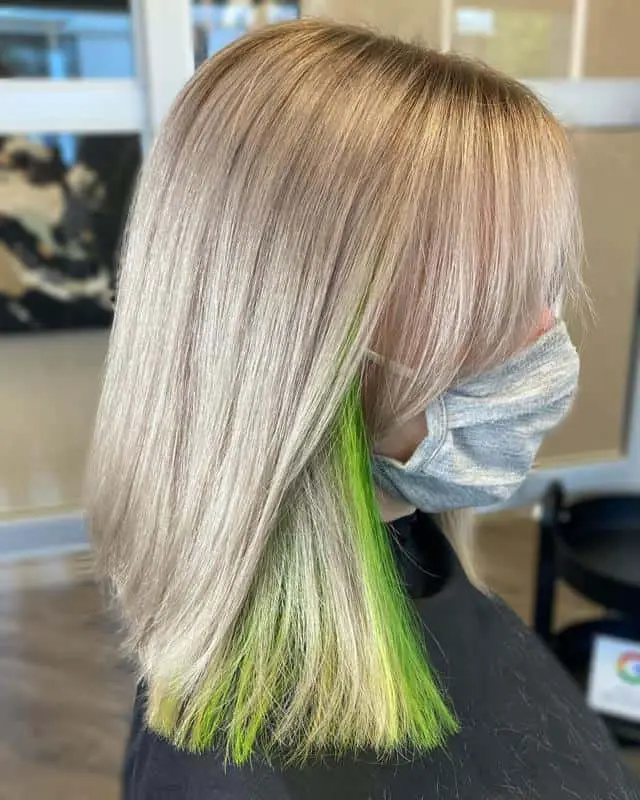 Whatever your hair color is, lime highlights will give it a lively look! It does not matter if you have black, brown, or blonde hair. Still, it will look great.
9. Dark Green Hair Ombré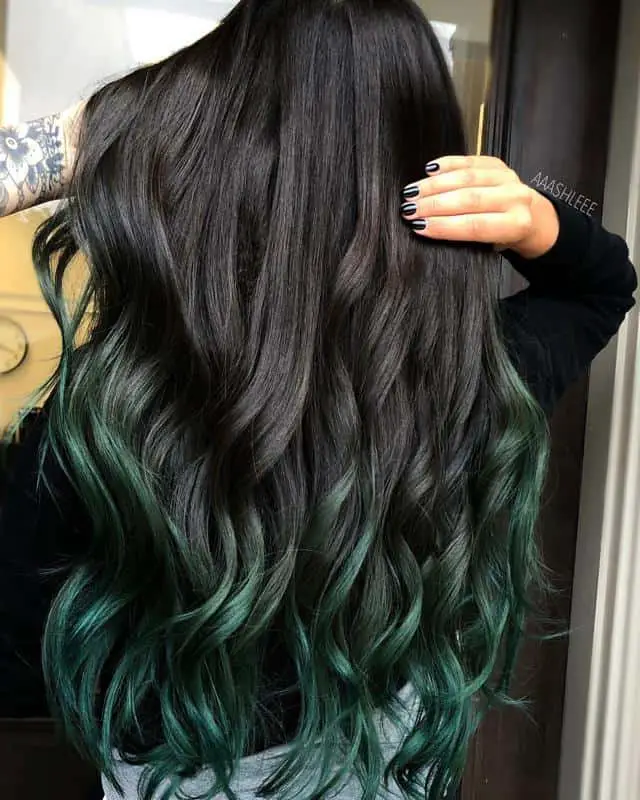 The ombré trend is stylish but itself, but ever thought about taking it on a higher level? What about a blonde base or dark brown base and dark green to the tips of your hair? Hella risky, but worth it!
10. Blonde Ombré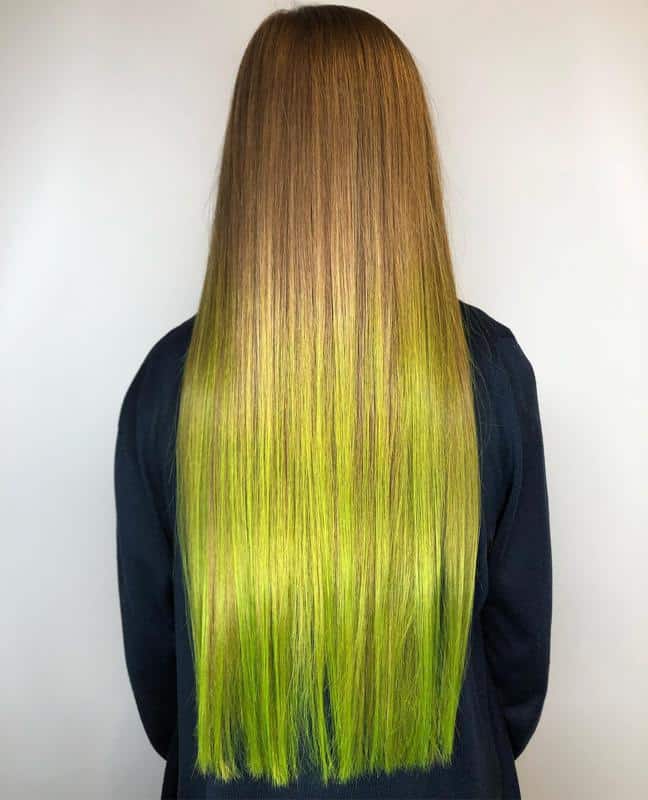 When you think of ombré with a green tone, you would think of dark green, right? But do you know it is not mandatory? Blonde and green can look the coolest ever on your new ombré hairstyle!
Read More: Top 40 Unique Ombre Hair Color Ideas(Blond, Black, Brown And Colorful)
11. Mint Green Balayage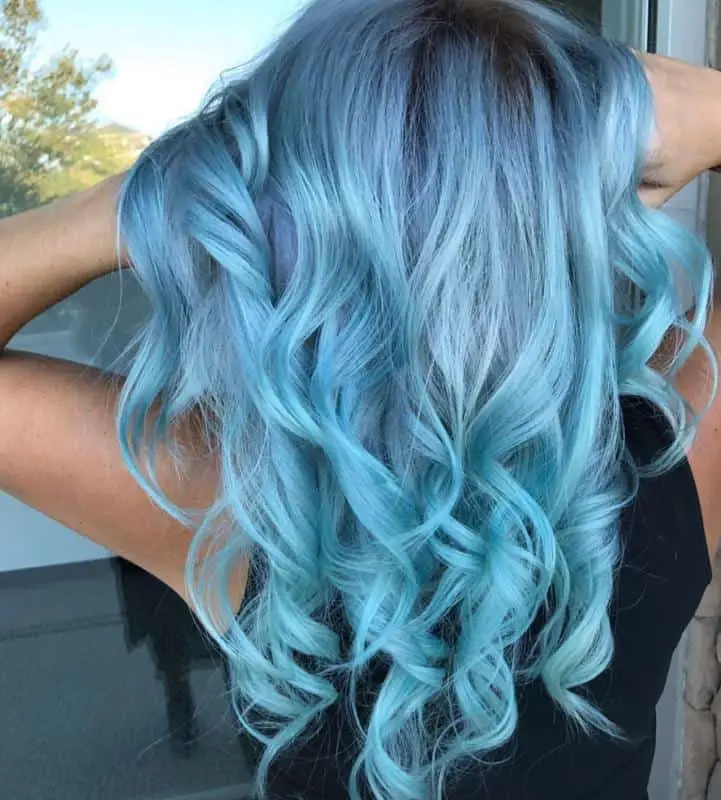 Balayage fits any hair type and any age! And also, it can be beautiful with any color! But why not step out of the box and do something less expective, like blonde to mint green? We know we said it fits any hair type, but we gotta say that this color looks a bit better on the curls.
12. Silver and Green Combo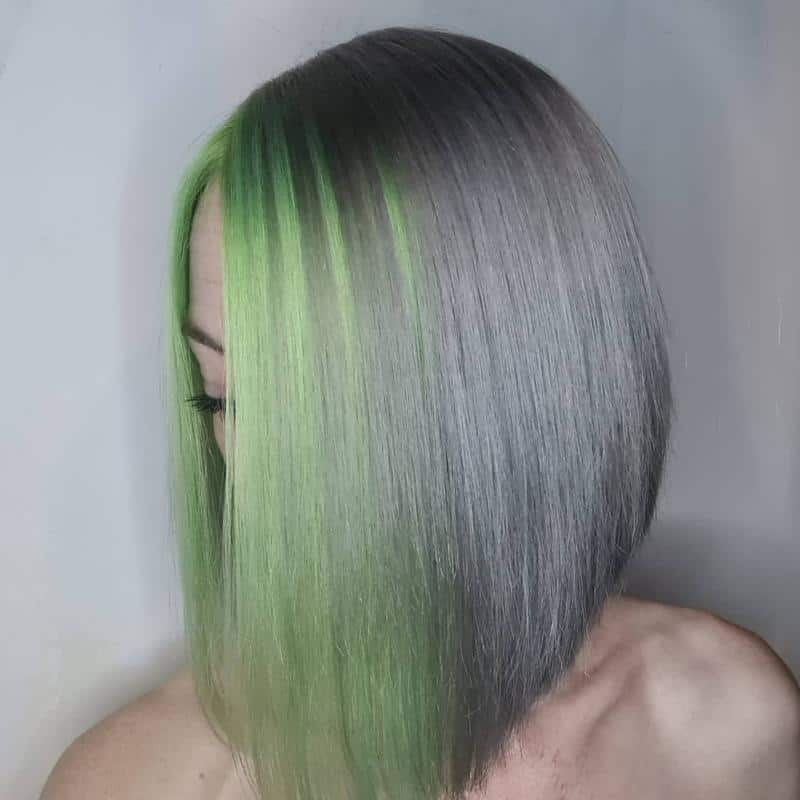 Are you a dynamic person, a walking bomb? Then go ahead and dye your hair into a mix of silver and green! It could be in a balayage style or half-half: whatever crosses your mind!
13. Icy Green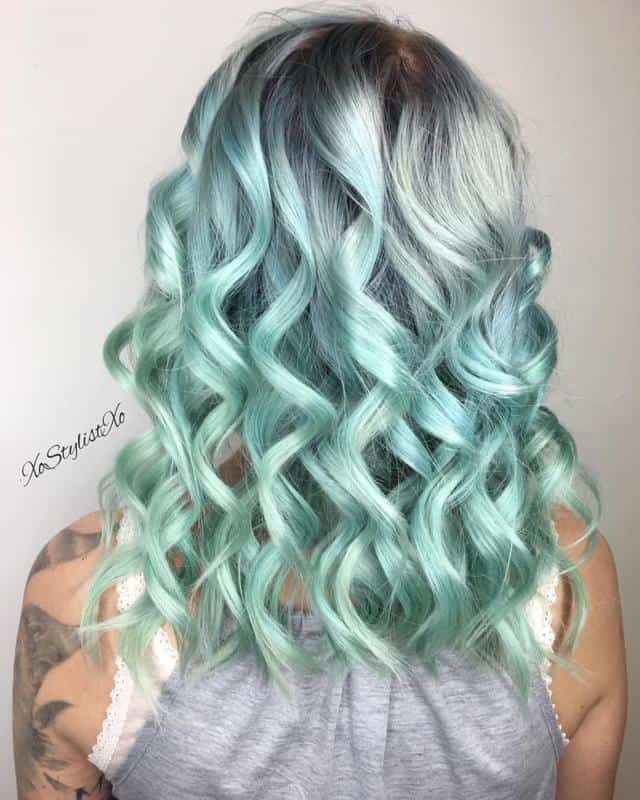 Get a connection with your inner Ice Queen with icy green hair color. I would suggest you silver-blonde roots that convey into the green as you go down the hair.
14. Mixture of Light and Dark Green With Yellow Layer
Why would you have to pick whatever you want dark or light green when you can have both? You can even do a trio by adding a yellow at the end. It is a strong statement that you like walking on the edge.
15. Aquamarine Hair With the Green Layers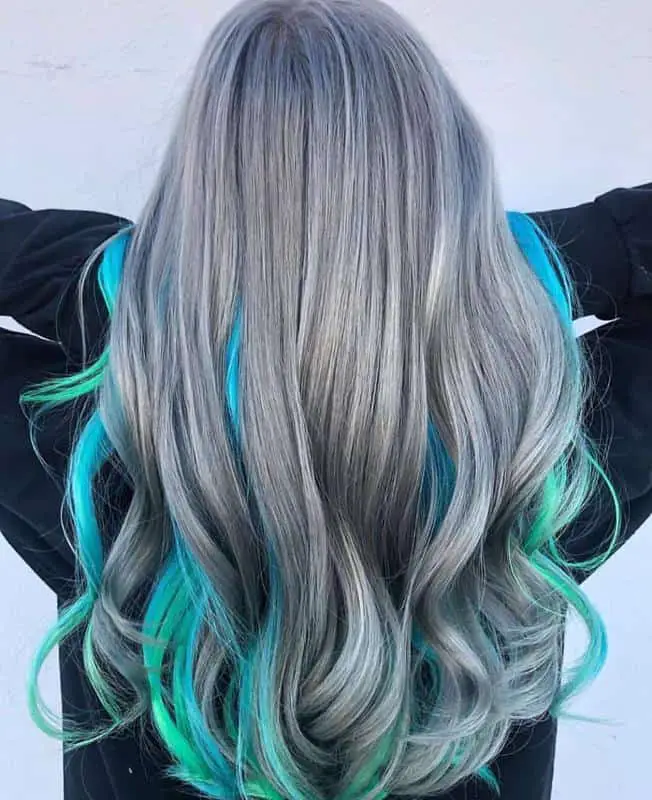 Aquamarine brings serenity and harmony. And that is how people will feel when you walk into the room with aquamarine-colored hair. You could combine silver, blue and green. When it comes to the cut, this color suits everything from bob to long hair.
16. Braided Mermaid Hair
Imagine the combination of deep blue and green. It is like wearing an ocean in your hair. Now add to that a braided mane, and it will seem like your childhood dream became true – you are a mermaid.
Braided mane never goes out of the style (through centuries literally). When done neatly, it is considered professional and elegant.
17. All the Shades of Green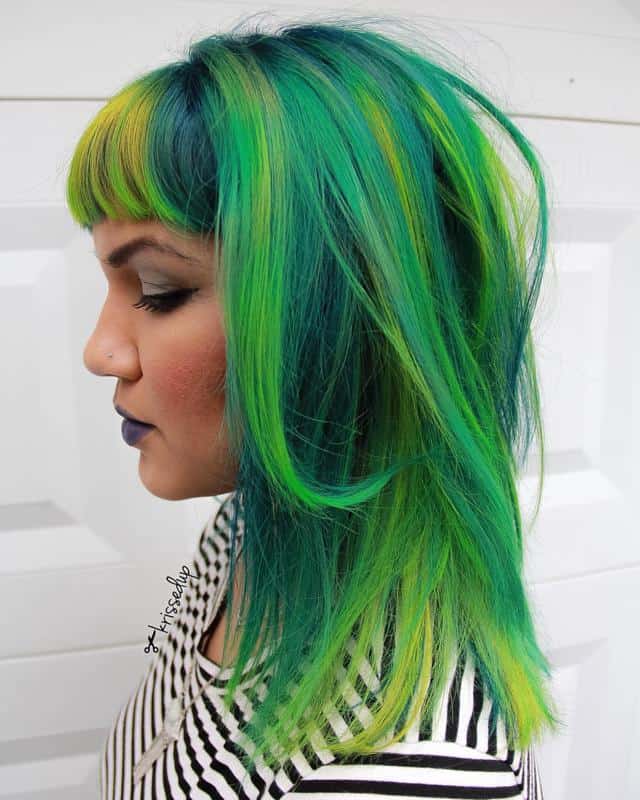 Ever heard of the saying go big or go home? This hairstyle is basically for that – going super green! It means putting on your hair all the shades of green that you can think of! The ones who do it are full of life and 100% daring!
18. Dark Forest Green Hair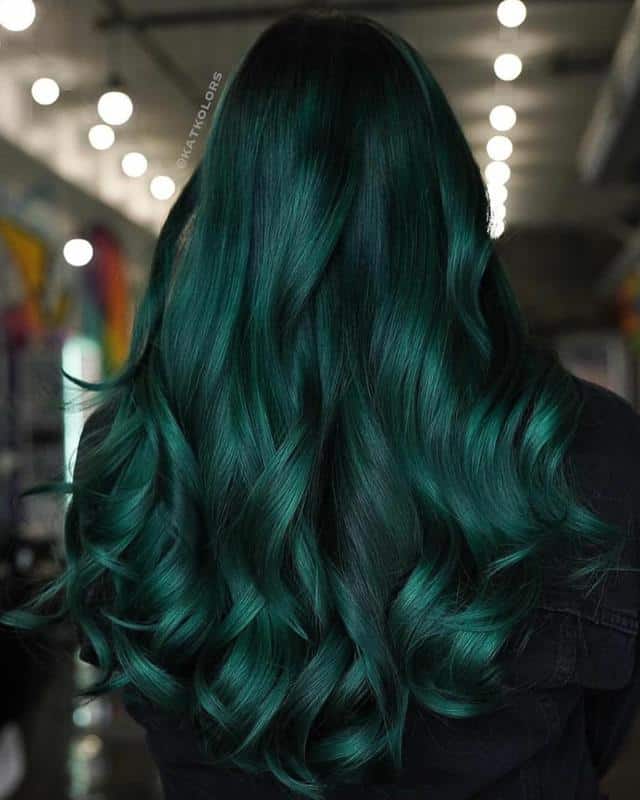 Do you have thick, textured, voluminous hair? Then you might want to consider coloring it into deep hues of forest green? It will look stylish without any hairdo, but also a Dutch braid is a great suggestion!
19. Dark Green Hair Male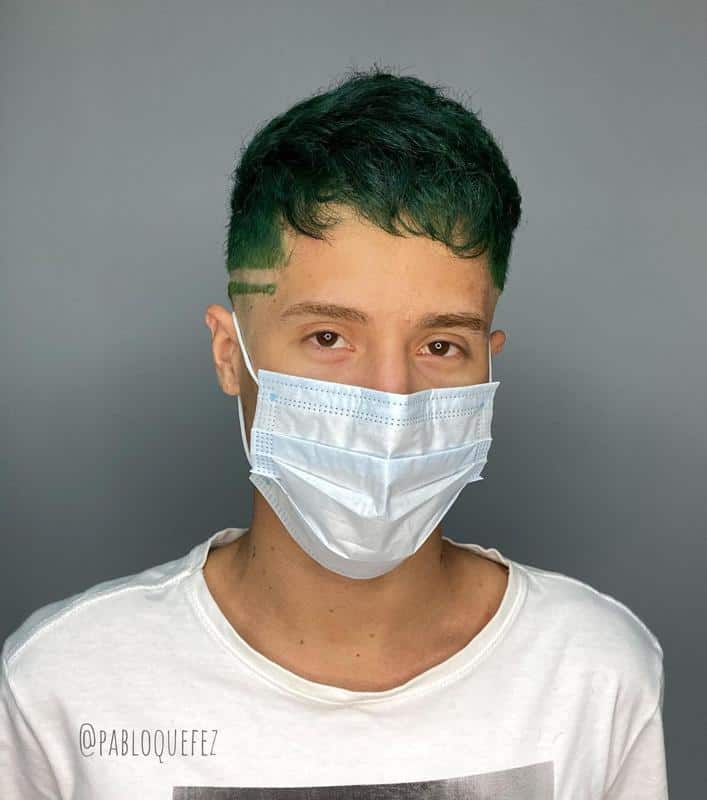 I hate when people are diving the hair colors on males and females. Hello, it is the 21st century! We are allowed to dye our hair in the whole spectrum of hues and to cut them in any way we want! Even girls can wear dark short green hair! But yes, dark green hair guy will draw all the attention and look way too hot!
20. Dark Green Hair Dye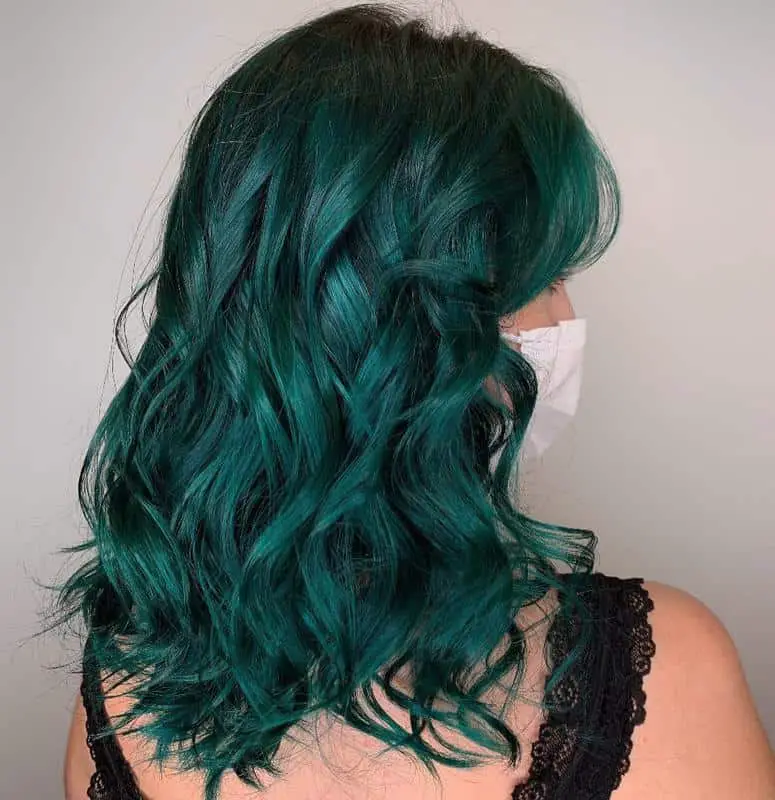 Compared to the rest ones from our list, this hairstyle looks the most humbled, but believe us: it is nothing less provocative, bold, and fun! You will stand out wherever you go! Run to the hairdresser today and glow in the dark green hair dye!
21. Dark Emerald Green Hair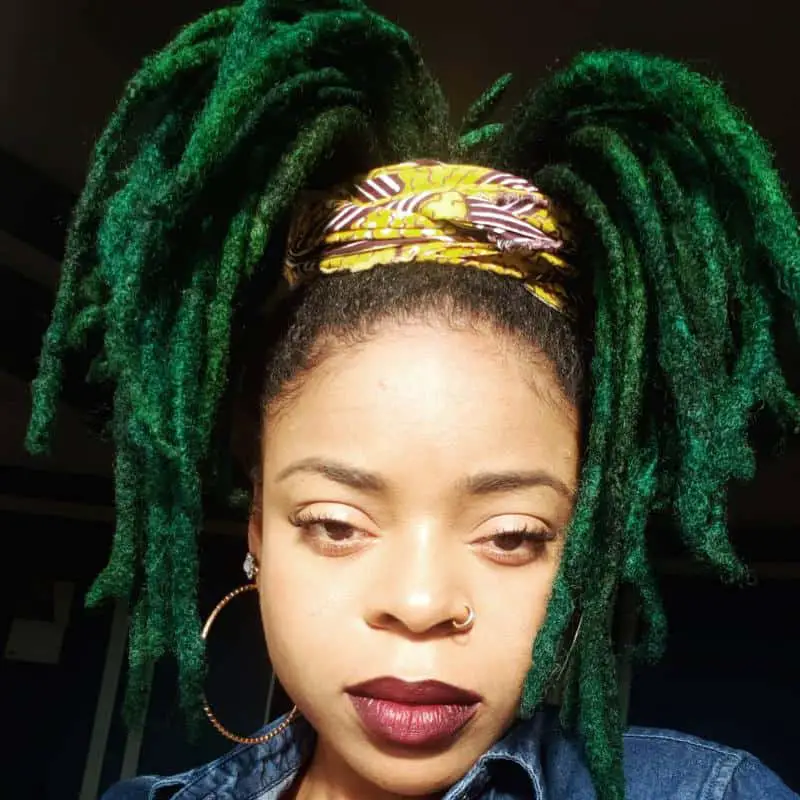 Emerald is so dark green that almost looks like it has black shades! But it is still low-key, and it will be obvious that your hair is green! So, go ahead and do the dark emeraland green hair dye!
Although it can fit with any hairstyle, I particularly love how it goes with locks. Locks or dreads are charismatic, no matter if you are male or female, young or old. But keep in mind that maintaining it is not so simple. Greasy hair is causing dreads to disclose, and the weight of wet dreads is so heavy on the neck.
22. Black And Dark Green Hair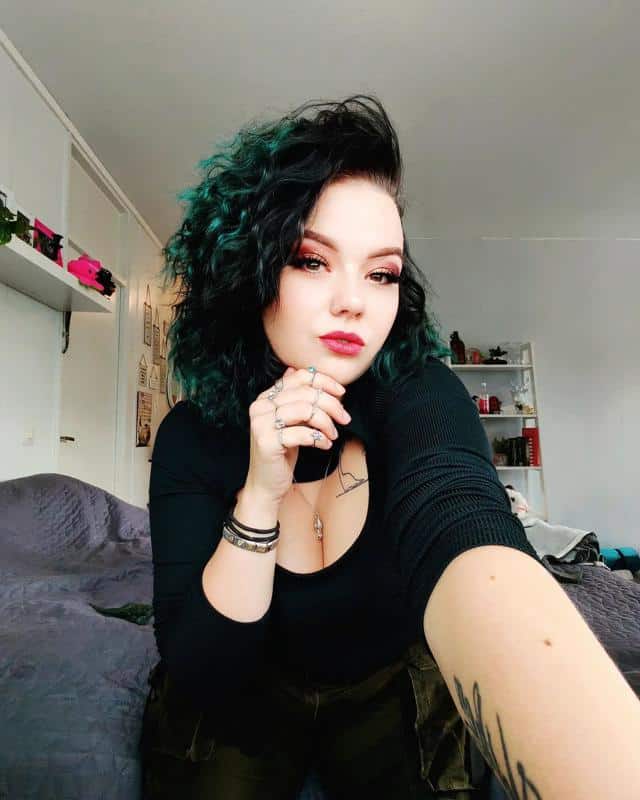 Do you have black hair? What about turning it into dark black green hair? Any haircut you are having will get a special spark if you dip it in the green!
23. White-Green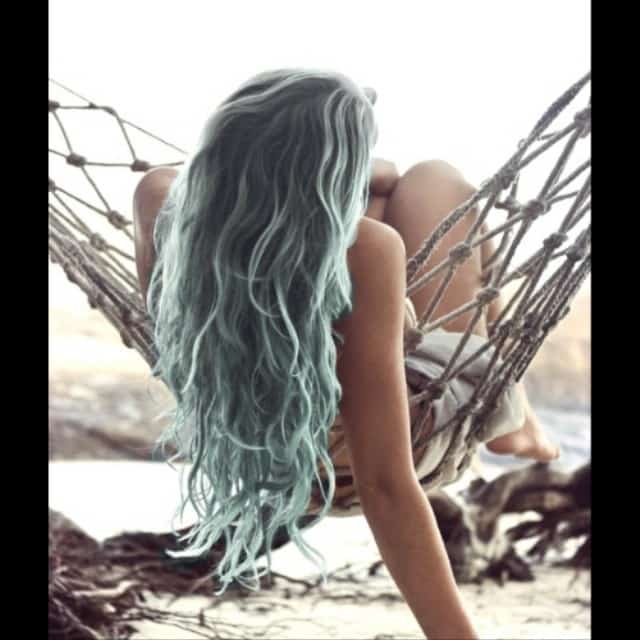 White-green looks so calm and happy – something like candy floss! You can wear it with long or short hair!
24. Lime Frost For Curls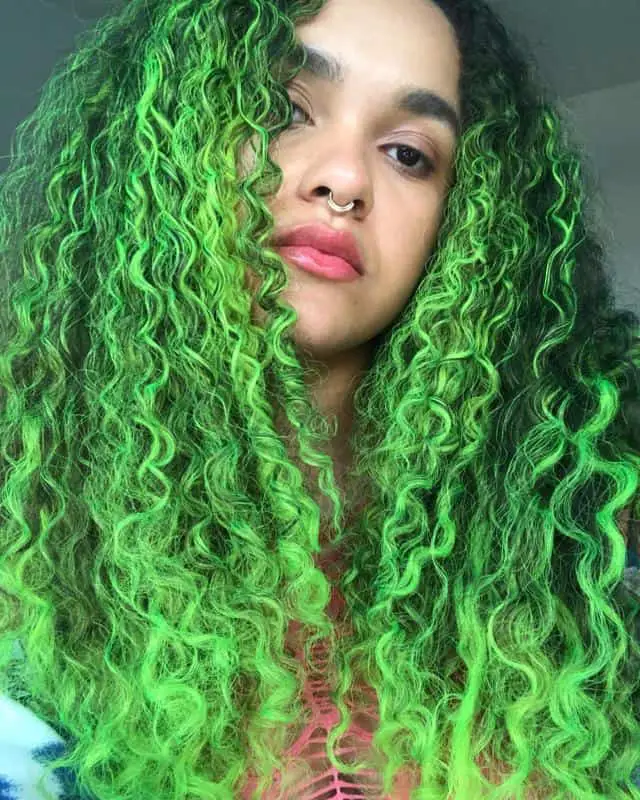 If you have curly hair, frosting your tips with a lime green will make it cutter and wilder than ever!
25. Light Green Roots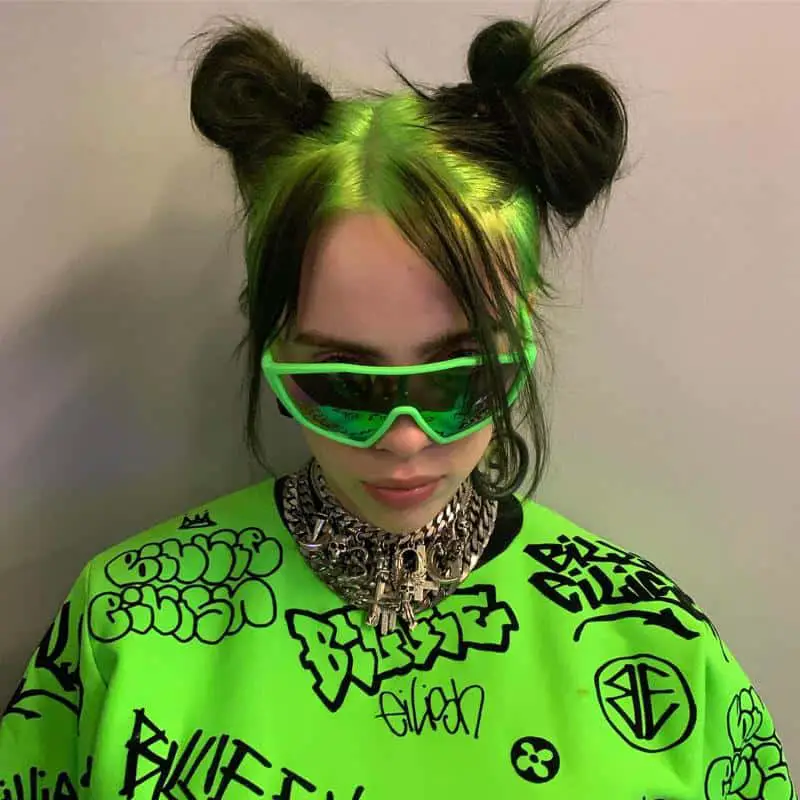 Billie Elish is such a role model! Thus she is the best example of hair with light green roots! No one can wear it more fierce than her!
And why does it always have to be the ends that we color? We can do the roots too and keep the natural color at the ends. Vice versa is always funnier!
26. Bangs Green Hair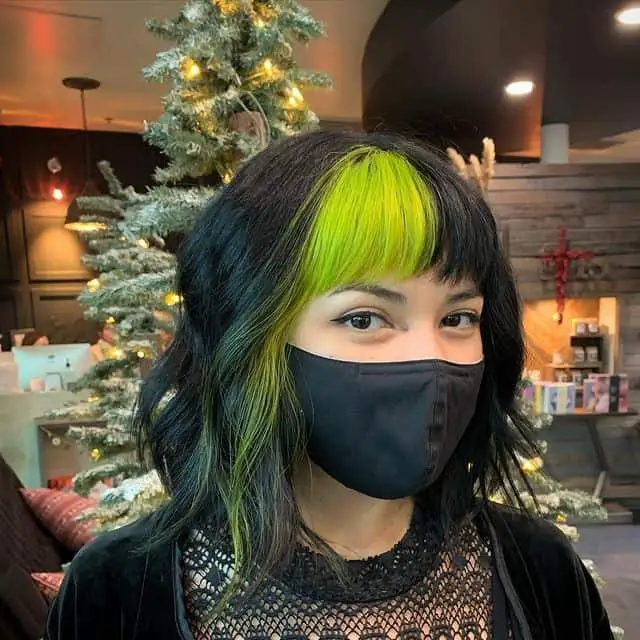 Bangs are never out of the style! Maybe because there are so many types of them! Besides, they make you look younger!
Depending on the tone of the green you pick, it can make you look romantic or punk rock.
27. Green and Primary Colors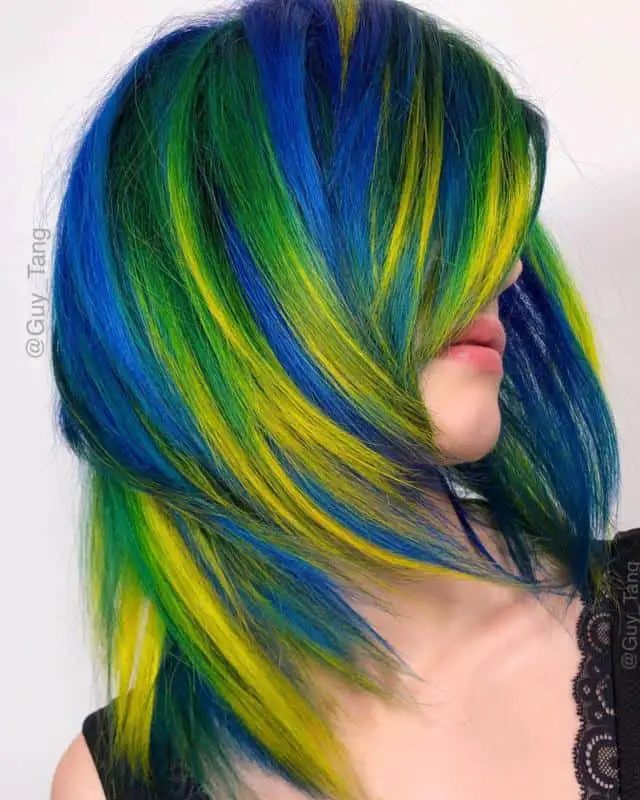 Do you know how the painters getting green? By mixing two primary colors – blue and yellow. Having these three colors on your hair will make you look 100% artistic!
28. Dark Blue Green Hair Color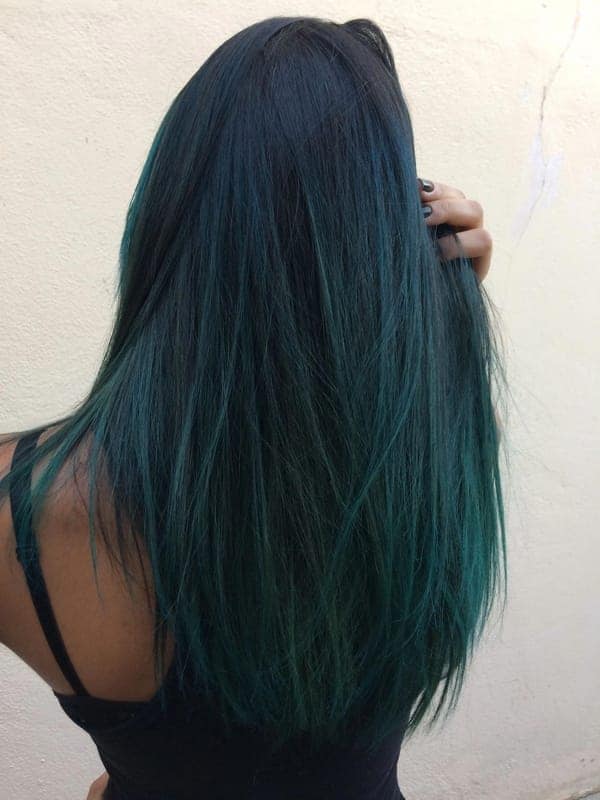 Dark blue and green are two colors that are basically waiting for you to take advantage of them and use them to make yourself the coolest person in the city! It goes the same good with any hair cut! And it is completely unisex!
29. Dark Ash Green Hair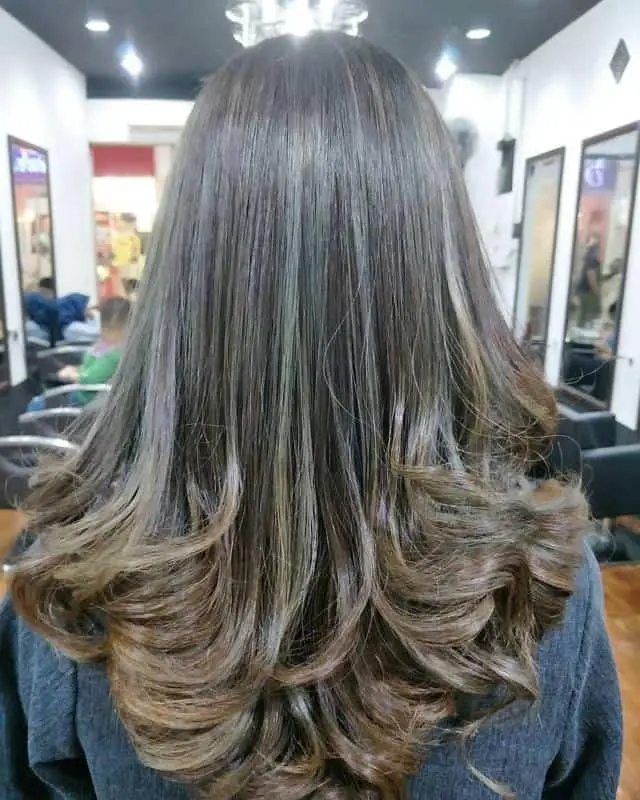 With dark ash green hair, you will never look boring! It will give you a fresh look, but it does not come without the price! Since it is a cool tone, you will have to wear make-up a lot to avoid looking pale.
30. Colorful Green Hair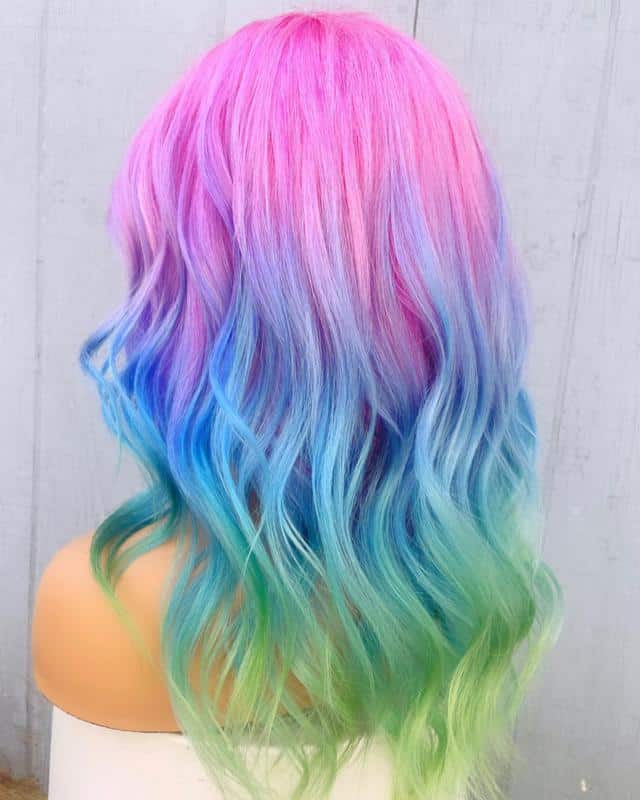 Green might not be enough bright for you (yup, that happens too). If so, you could match it with many other vivid colors. Nothing that draws that much attention and makes you the Queen or the King of the event!
The Best Dark Green Hair Dye
There are more brands on the market than we can name them, and many are selling super-quality dyes. Bellow, we will name a few long-lasting and permanent solutions.
Lunar Tides Semipermanent Hair Dye in Juniper Dark Forest is vegan, thus cruelty-free! It offers you strongly pigmented, and it is long-lasting.
Matrix Total Results Dark Envy Green Shampoo is helping to get a darker tone. Basically, it is keeping your color from fading.
Kiss Tintation Semi-Permanent Hair Color Treatment is for the temporary perception of lime green, neon green, and hunter green. But it is also nourishing your hair!
Pravana ChromaSilk Vivids in Green is giving you vibrant hues without damaging anything but bringing softness instead. It can be used for the full dyeing of the whole hair.
L'Oréal Paris Colorista 1-Day Spray is the perfect pastel mint color that will last for 24 hours only. No matter your hair type, it will give you a quick solution for some event, without asking you to go green tomorrow the next day too!
The Punky Colour 3-in-1 Color Depositing Shampoo + Conditioner is made for correcting the pigments. It will protect your hair, and fix your current green dye!
The Lime Crime Unicorn Hair Semi-Permanent Hair Color is semi-permanent hair dyeing. It has a wide choice of green tones. And it works great for medium blond and brunette hair.
The Iroiro Premium Natural Semi-Permanent Hair Color is lasting from two to five weeks. And it is nurturing the silky feeling of your hair.
The Keracolor Color + Clenditioner is conditioning your hair thanks to keratin while coloring it in emerald.
The Splat Semi-Permanent Hair Color is long-lasting and allows you super-pigmented shade. You can pick anything between neon green and emerald green.
Green Hairstyle Ideas: More FAQ
Which Celebrities Have Green Hair?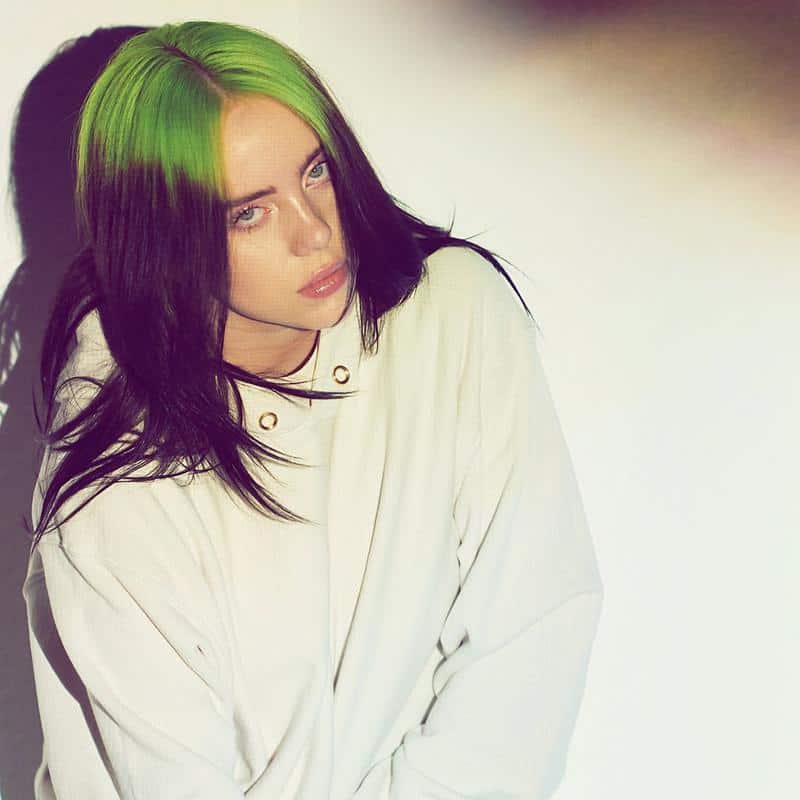 Billie Eilish is the queen of the green hair, and we dare you to convince us on the contrary!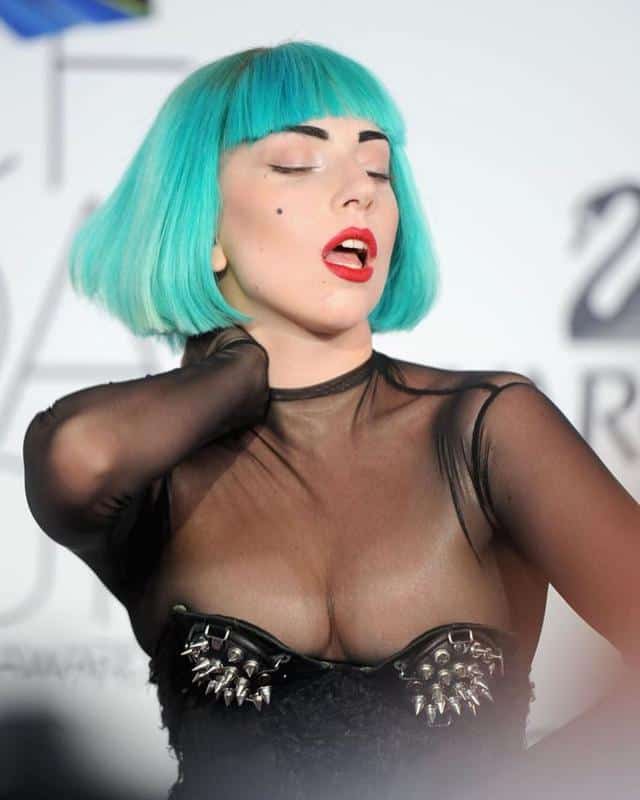 Lady Gaga is the queen… well, the weird things. So no surprise she is listed here!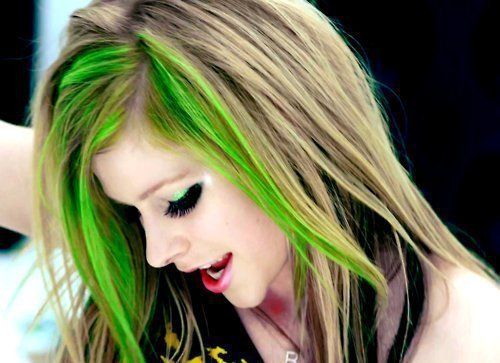 Avril Lavigne again no surpise! And again time to bow down because we are talking about a (punk) princess!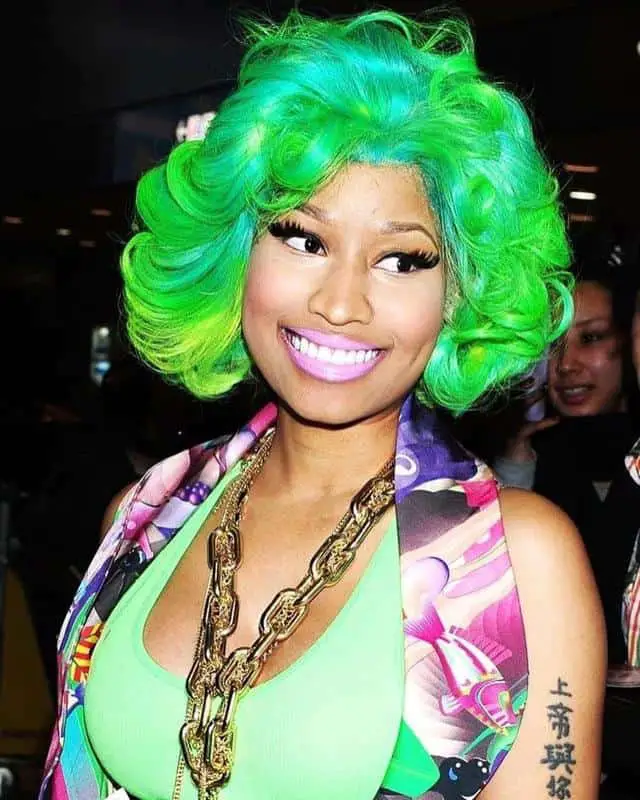 Nicki Minaj loves wings, so we cannot say she went through a lot of trouble for green hair color, but it suits her for sure!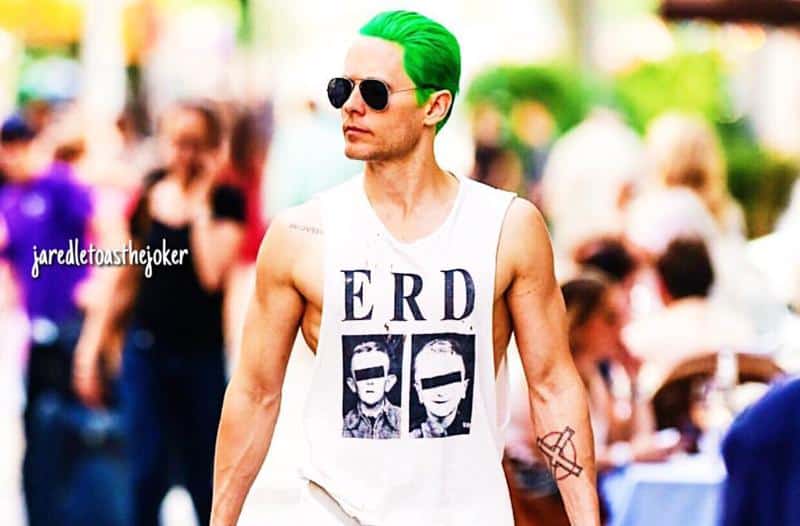 Jared Leto looks reckless and sexy whatever he does, but OMG can we talk about his green hair?
Is it Hard to Maintain Green Color?
Sure it is! Green color hair is bringing magic and drawing attention! But it is super hard to maintain it! So, what will you have to do? You will have to wash your hair with cold water and use color-safe shampoo and conditioners. Thus, it is not so cheap to take care of it.
How to Get the Dark Green Hair?
I know that you will like to have dark green hair permanent dye. But sometimes, it is safer to try temporary dark green hair dye. If it is semi-permanent you will have around eight washes which are not bad! It will give you time to explore, see if you like it, and learn to do it properly, especially if you do DIY home.
How to Get the Light Green Hair?
If you want to have lighter green hair, you first need to have platinum blonde hair. Bear in mind that the brighter green you pick, the more fading will happen to you.
Does Green Color Hair Spray Work?
Yes, it works! But it can also make a mess. So do it very carefully. Although it will wash out after a day or two.
Are Green Hair Extensions Trendy?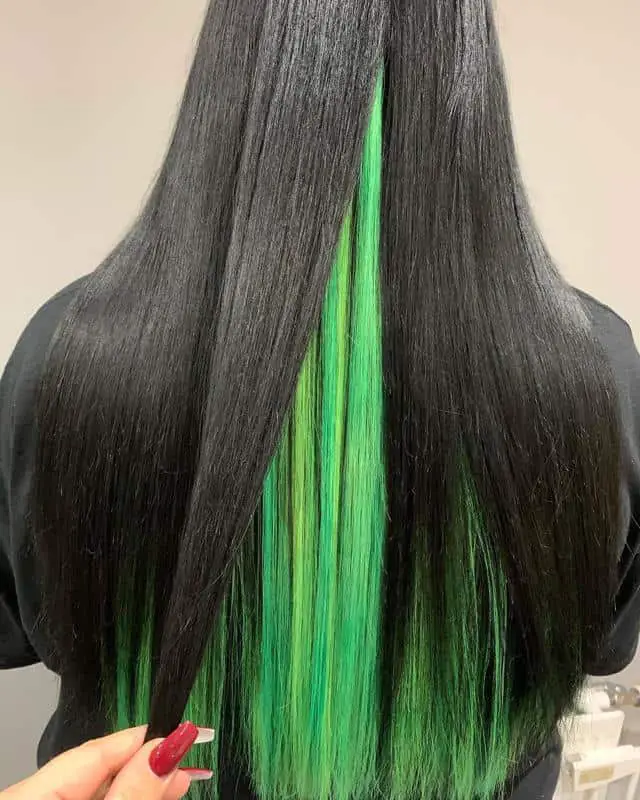 Extensions offer you a unique opportunity to have your dream hair from four to eight weeks. And green hair extensions look super trendy!
The Bottom Line
At this point, you got many ideas about what all you can do with green hair. Now it is time for you to seize the day and rock the world! Paint the wold in greener hues – it will be prettier!
Also Read: