Ron Swanson Inspired Maple Breakfast Cupcakes
When you shop through links on our site, we may earn an affiliate commission. This educational content is not intended to be a substitute for professional advice.
If you're a fan of Parks and Recreation, you know that Nick Offerman's character, Ron Swanson, is the epitome of masculinity. Although he would probably never eat a cupcake (unless it was made entirely from scotch and bacon), I'd like to think he might approve of this one. Inspired by one of Ron's famous line, 'Give me ALL the bacon and eggs you have,' I concocted a maple cake with bourbon and bits of bacon inside, maple frosting that slowly melts like syrup, and topped them off with candied bacon and candy 'fried eggs.' There's also a bonus tutorial for my Ron Swanson cupcake toppers at the end!

……

Cake recipe slightly adapted from Country Living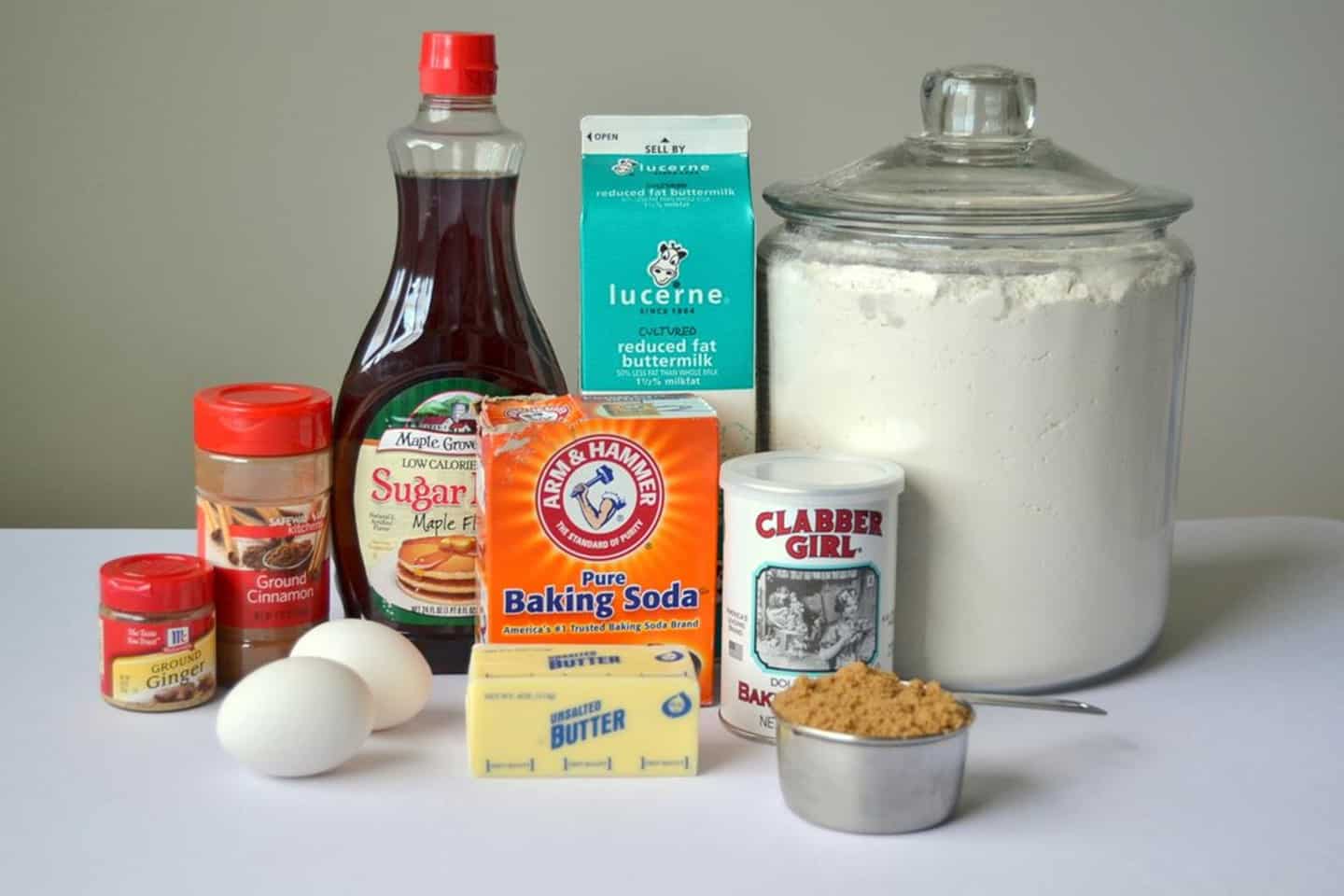 (makes 12 cupcakes)

Ingredients:

6 strips of thick cut bacon

2 Tbs brown sugar

2 ½ cups all-purpose flour

2 tsp baking powder

1 tsp baking soda

½ tsp salt

¾ tsp ground ginger

¼ tsp ground cinnamon

½ cup (1 stick) unsalted butter, softened

½ cup brown sugar

2 eggs

1 ¼ cup maple syrup (I used sugar free syrup which works just fine too)

2 tsp bourbon

½ cup buttermilk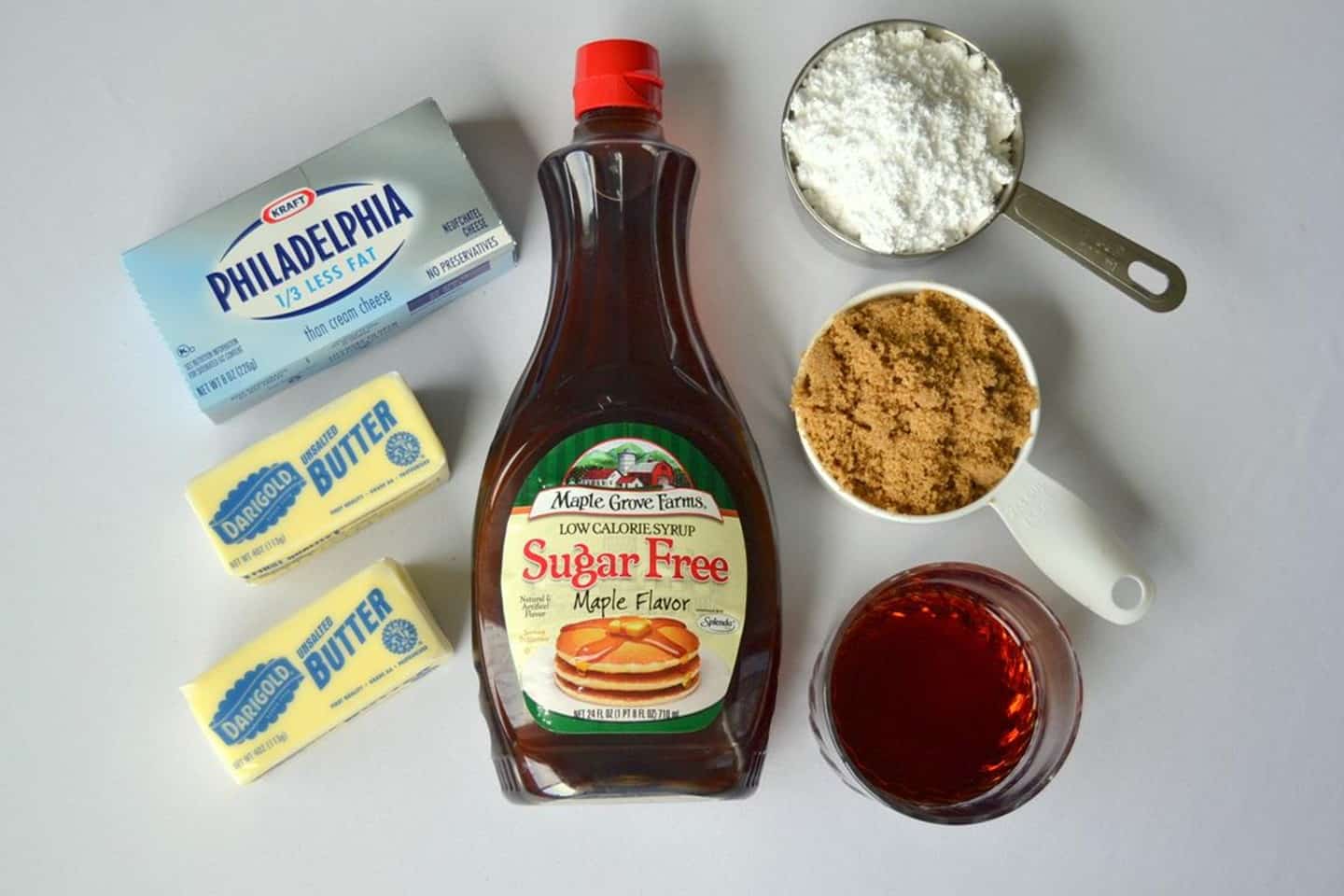 Frosting recipe slightly adapted from Country Living

Maple Butter Frosting:

1 cup (sticks) unsalted butter, softened

4oz cream cheese, softened

2/3 cup brown sugar

¼ tsp salt

½ cup maple syrup

1 tsp bourbon

2 cups powdered sugar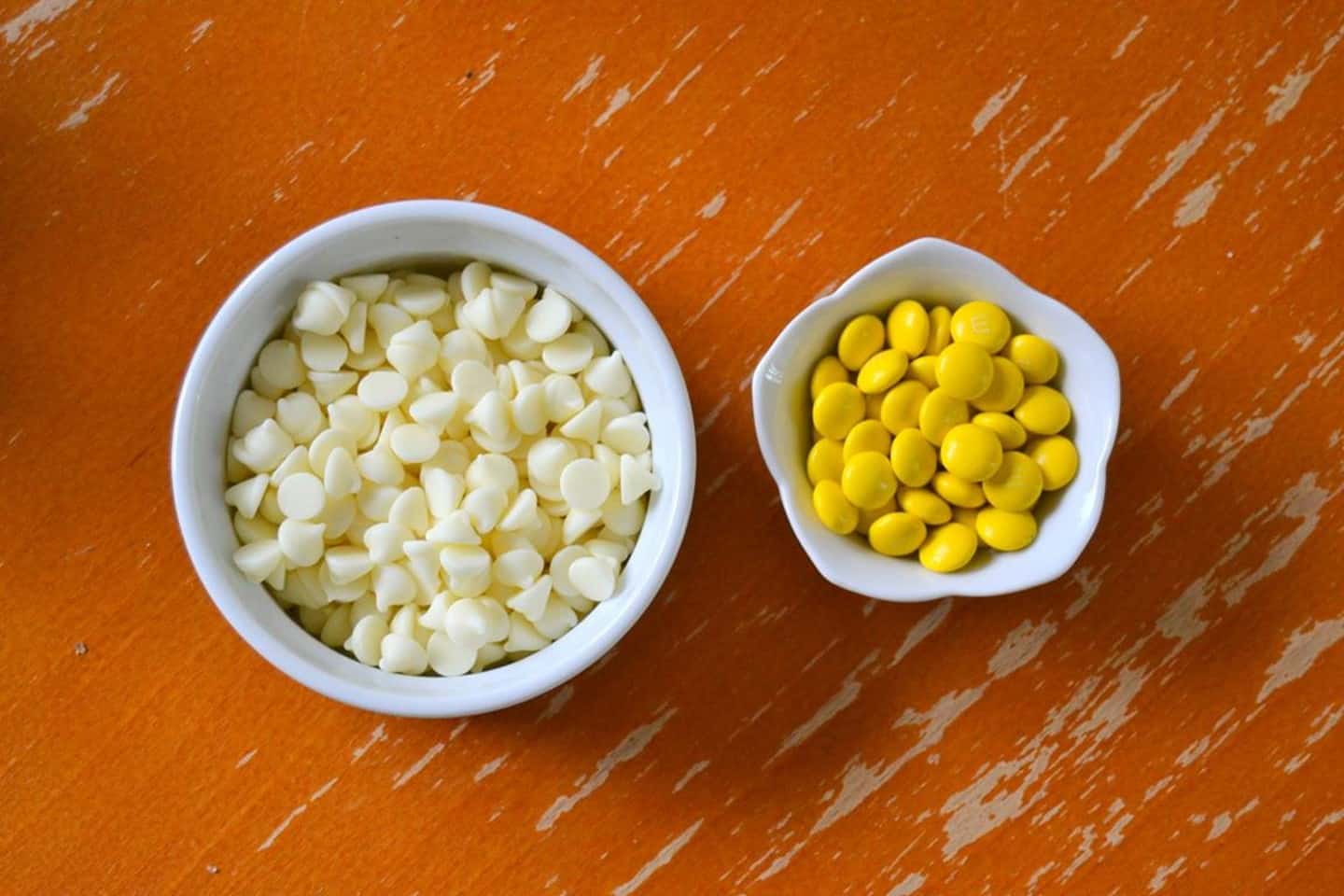 Candy 'Fried Eggs':

½ cup white chocolate chips

Yellow M&M's

(1.) To make the fried egg candies, melt white chocolate chips in a small sauce pan over low heat. (2.) Stir constantly until completely melted and smooth.

(3.) Drop small spoonfuls of the melted chocolate onto a wax paper lined cookie sheet. Add M&M's before chocolate starts to harden. When you're finished, place the cookie sheet in the refrigerator to harden the candies.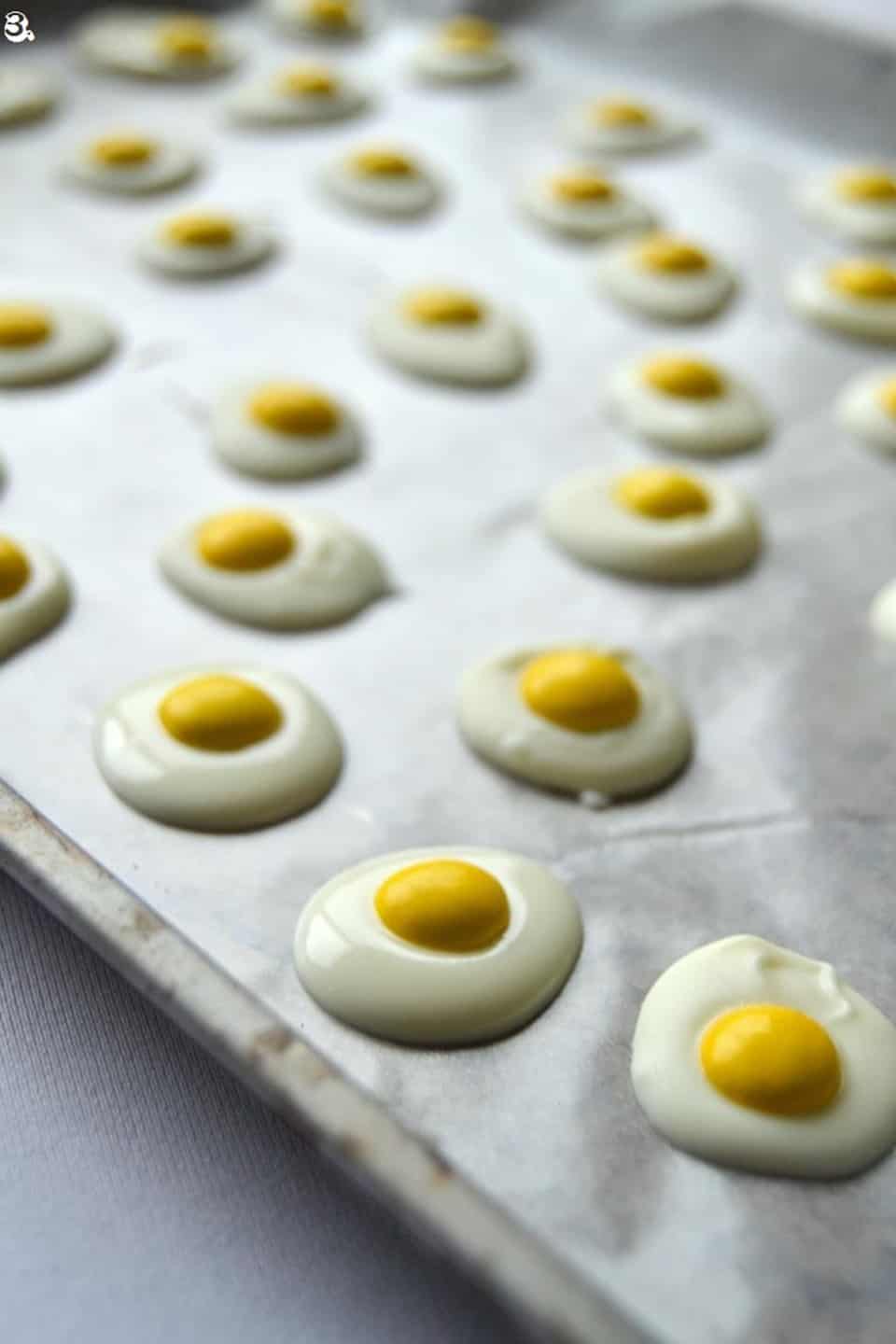 (4.) Preheat oven to 325 degrees F (163 degrees C) and line a large baking sheet with foil. Arrange bacon on baking sheet and sprinkle with 1 tablespoon of brown sugar. Bake for 15 minutes. Remove from the oven, flip the bacon, and sprinkle with remaining tablespoon of brown sugar. Place back in the oven to bake for another 15 minutes. (5.) Transfer bacon to a plate to cool. (6.) Cut strips into thirds, reserving 12 of the pieces to add to the cupcakes when you're finished. (7.) Take the remaining 6 pieces and cut up into small bits (which will go into the batter in just a moment).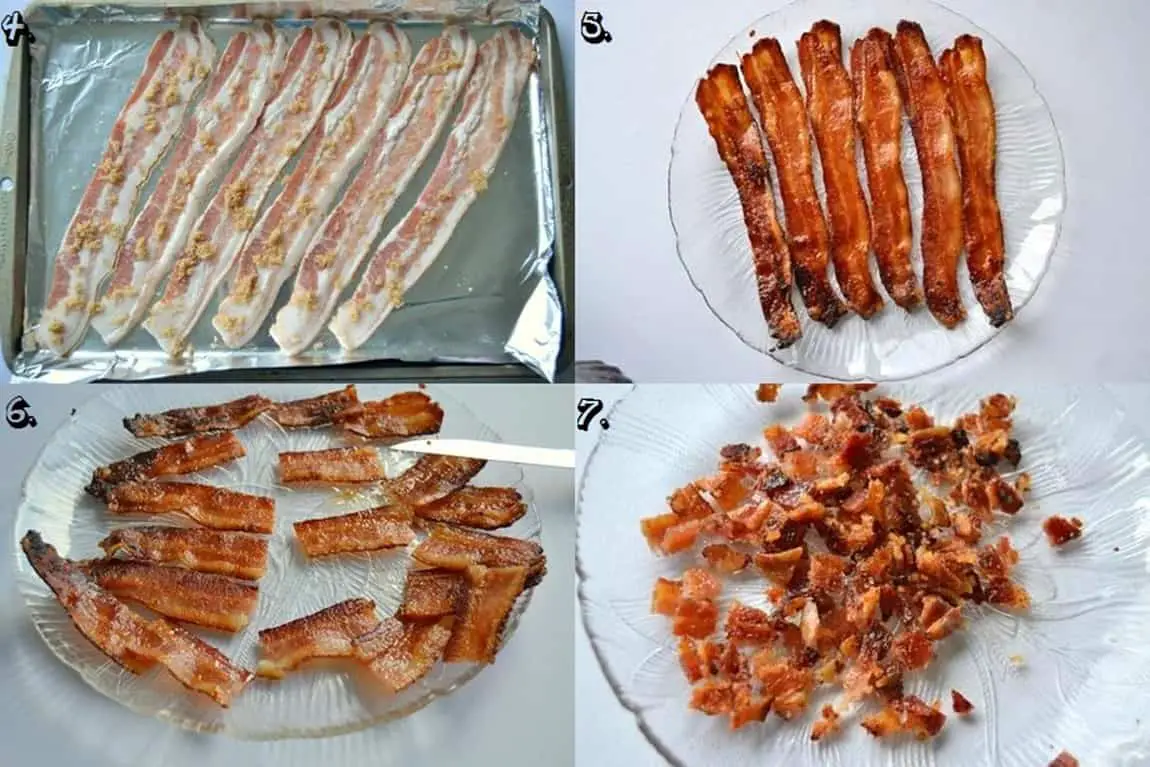 Preheat oven to 350 degrees F (176 degrees C) and line a muffin tin with cupcake liners.

(8.) In a medium sized bowl, whisk together flour, baking powder, baking soda, salt, ginger, and cinnamon. (9.) In a separate large bowl, beat butter and sugar together until fluffy. (10.) Beat in eggs, syrup, and bourbon. (11.) Slowly mix in flour and buttermilk until batter is smooth.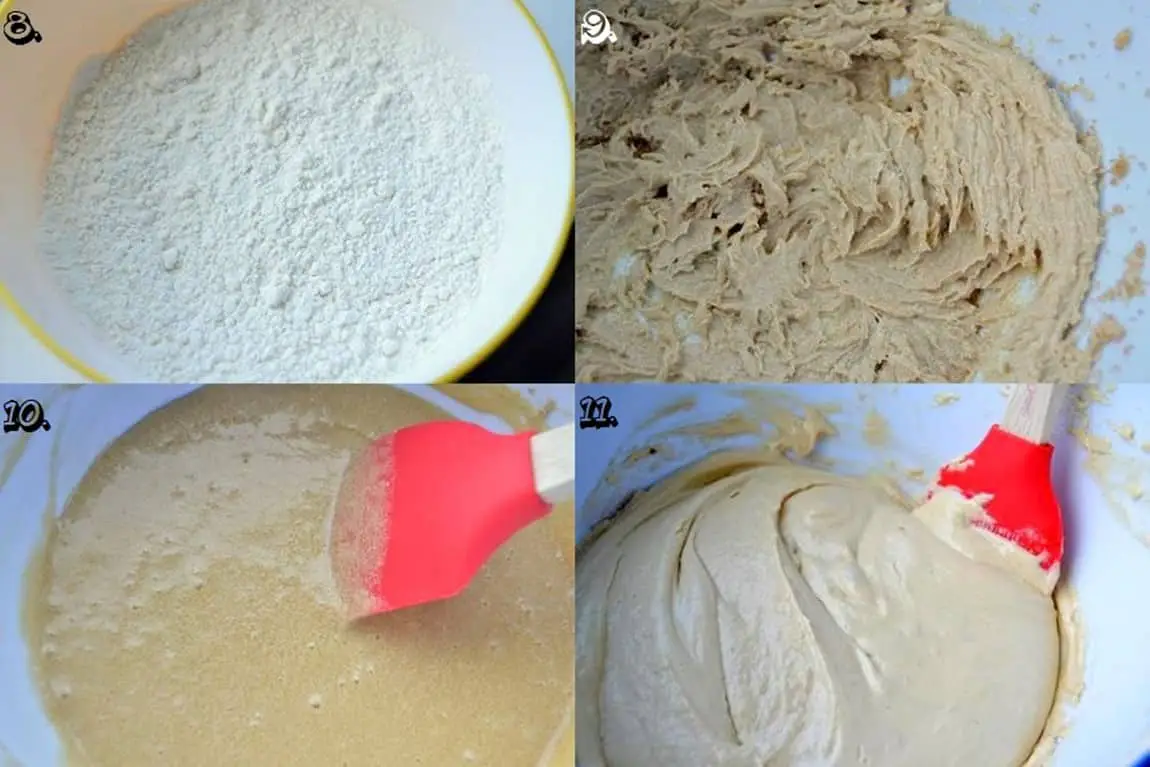 (12. & 13.) Fold in bacon bits until evenly mixed. (14.) Fill cupcake liners about 3/4 of the way full. (15.) Place in the oven to bake for 18-20 minutes or until a toothpick inserted into the center comes out clean. *Bonus points for bacon flavored toothpicks!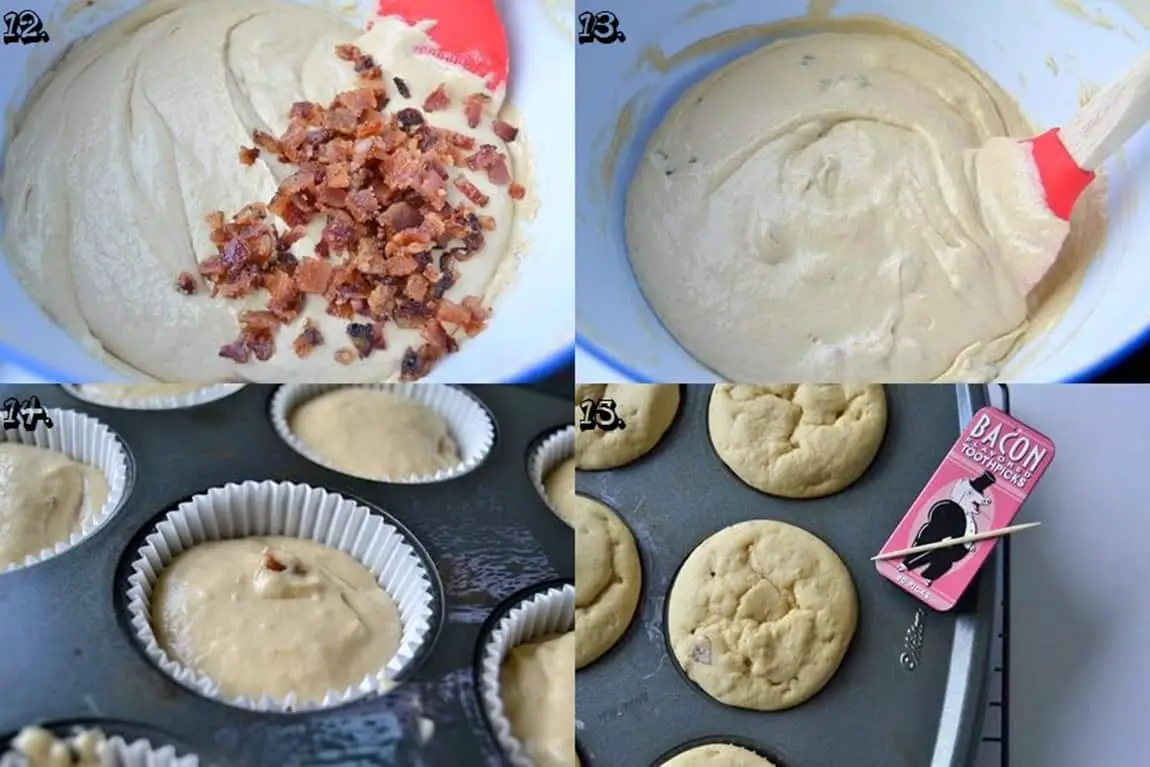 Let cupcakes cook in the tin for 5 minutes. Remove from tin and place on a cooling rack for another 15-20 minutes or until completely cool.

While waiting on the cupcakes to bake and cool you can start your frosting.

(16.) In a large bowl, beat together butter, cream cheese, brown sugar, and salt. With the mixer still running, beat in maple syrup and bourbon. (17.) Add powdered sugar 1 cup at a time, scraping down the sides of the bowl as needed, until completely mixed. Place frosting in the refrigerator for 15-20 minutes.

When ready to assemble, spoon frosting into a pastry bag or a zip-lock bag with one of the corner tips cut off. Frost cupcakes and then top with a piece of candied bacon and a fried egg candy. Serve right away or cover and refrigerate until ready to serve.

Enjoy!

Bonus Tutorial for Ron Swanson Cupcake Toppers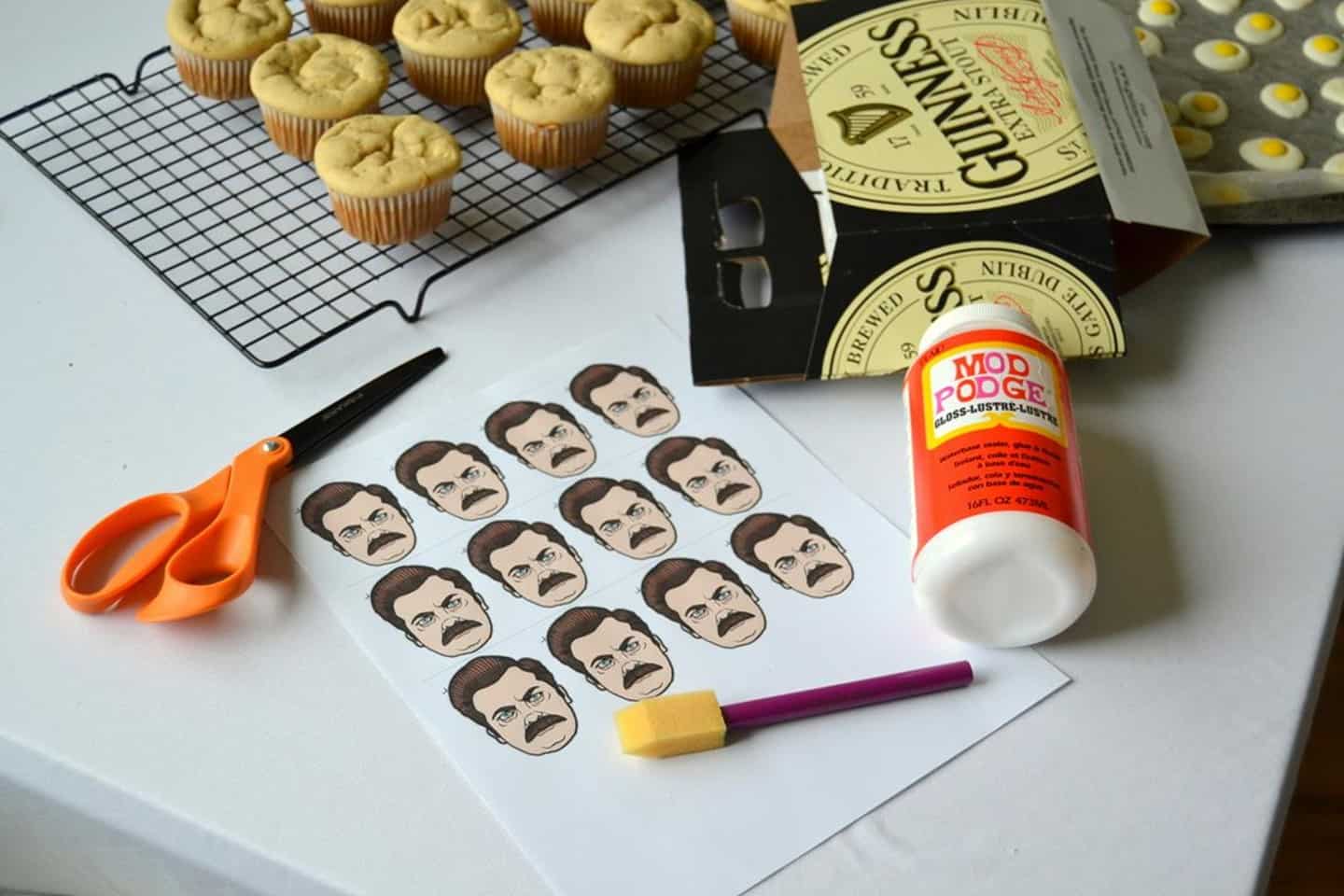 Supplies:

Printer paper

Scissors

Thin cardboard (recycled six pack carriers are perfect)

Mod Podge or glue sticks

Foam paint brush

Hot glue gun and hot glue sticks

Long toothpicks or garnish sticks

I found this cartoon version of Ron Swanson here and saved the image to my computer. I then re-sized the image to 182 x 238px. Copy and paste the image 12 times and then print in color.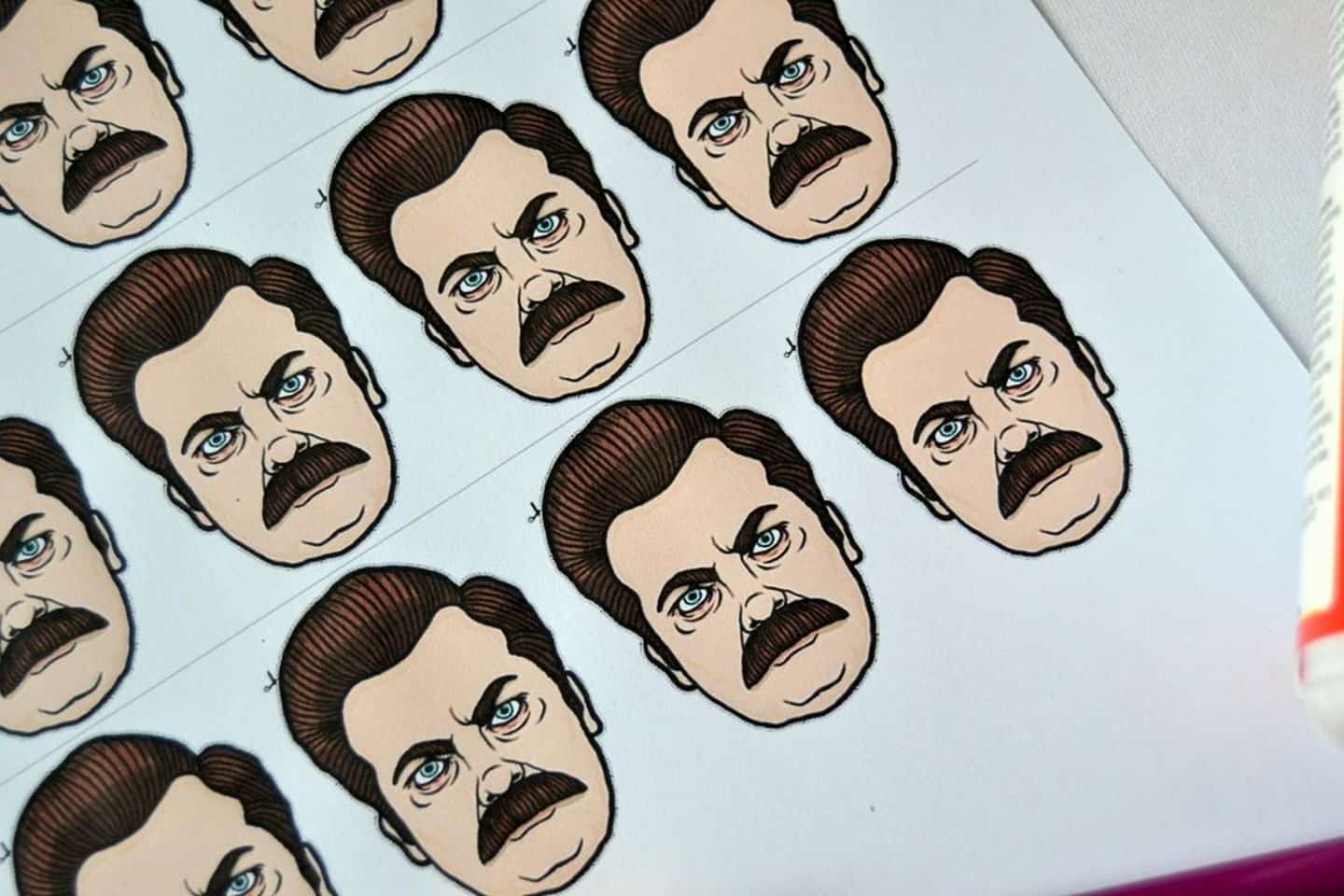 (1.) Cut into strips to fit onto your recycled pieces of cardboard. Brush a thin layer of Mod Podge or glue onto the cardboard and press down your cut outs. (2.) Smooth out any wrinkles or air bubbles and set aside to dry for 20-30 minutes. (3.) Once dry, cut out each Ron head. (4.) Place a dab of hot glue on the back of your Ron Swanson head and press a toothpick or garnish stick to it. Allow the glue to set up for 2-3 minutes. Repeat with remaining cutouts.

When glue is dry, pop them into your cupcakes! If you're feeling really ambitious you could reverse the image and print another set and glue them back to back so you don't see the recycled cardboard and top of the toothpick!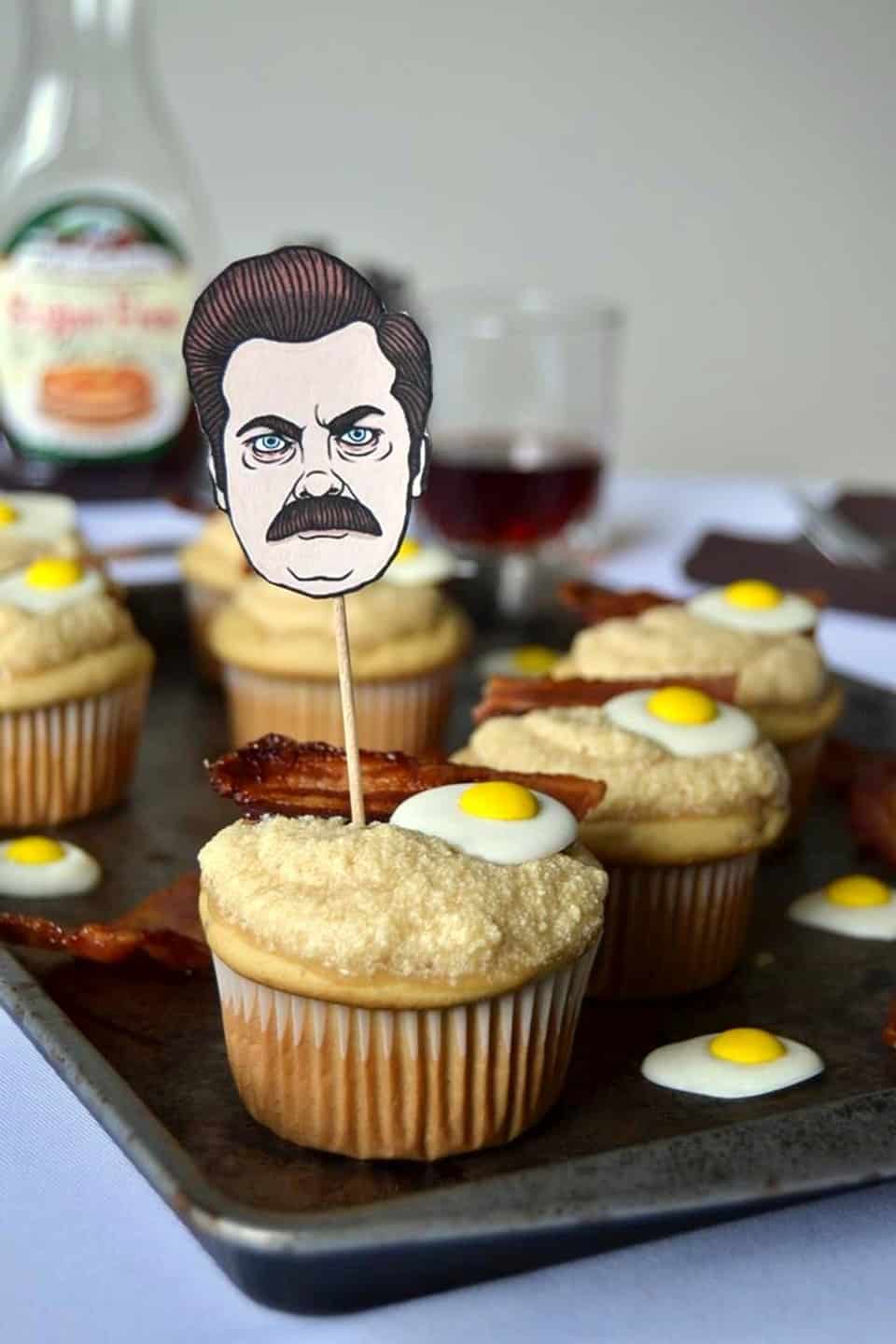 I had a few of these that I didn't use and stored in my baking cupboard so now every time I open it I have Ron staring right back at me! Haha