Top 35 Best Acrylic Nail Ideas (2023 Update)
When you shop through links on our site, we may earn an affiliate commission. This educational content is not intended to be a substitute for professional advice.
In the mood for some of the prettiest and boldest acrylic nails? Say no more, since this list has your back! Acrylic nails are perfect for women who prefer longer nails. This is an artificial manicure that will suit both younger and mature women, especially if you have a prom, wedding, dance, or a birthday event ahead! Keep on reading and find out all there is to know about acrylic nails, and browse through 34 different unique designs.
How To Achieve Acrylic Nails?
Acrylic nails can be done on your own, and at the comfort of your home (as long as if you have the right equipment). What do you need?
A liquid monomer
A hardening gel
Your favorite shade
A top coat
The process is done by combining the rubber paste with a liquid monomer on the fingernail. This unique mixture starts settling within 20 to 30 seconds once exposed to air. It should fully harden within 15 minutes! The process may be a bit hard to understand if you are a rookie, but it is a piece of cake for nail techs.
Usually, a set of acrylics will take you around 60 minutes to do, and these nails will last you for 3-4 weeks.
Who Should Go For Acrylic Nails?
Since these are artificial nails they might suit women who prefer dramatic, long, as well as noticeable nails. Also, you might want to go for acrylics if:
You can't grow out your natural nails
You prefer longer nails over short natural or gel ones
You have a formal event ahead
You want to try out something new & long-lasting
Top 35 Best Acrylic Nail Ideas
1. Summer Inspired Pastel Acrylic Nails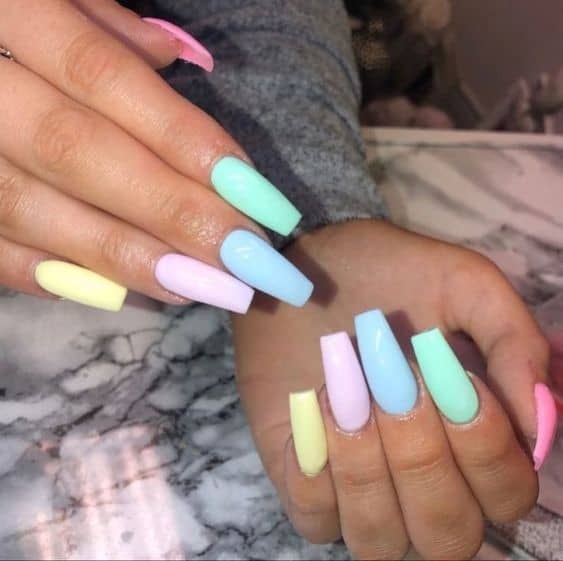 If there is one nail style that will never go out of fashion, it is pastel nails! Choose some of the prettiest colours such as lavender, green, yellow or purple. This rainbow manicure will look lovely on longer & square-shaped nails.
2. Pearlescent Acrylic Nails With Duo Chrome Effect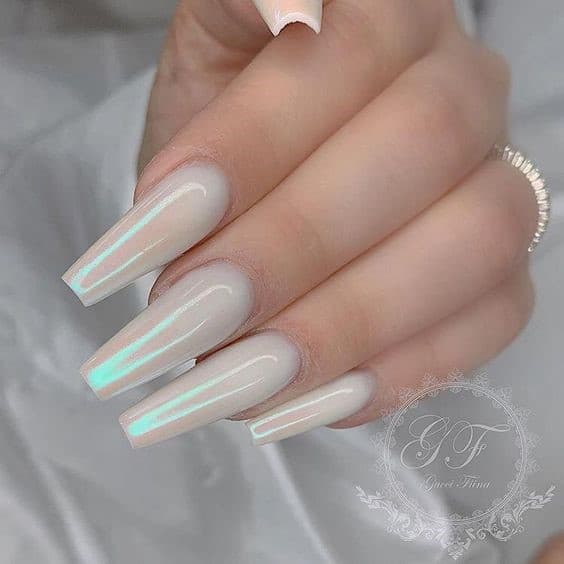 Achieve pearlescent colours and embrace their beauty! If you want to play safe, your best option would be a classic white pearlescent colour. This coffin shape will furthermore emphasize their feminine outcome.
3. Metallic Acrylic Nails Long & Square Shaped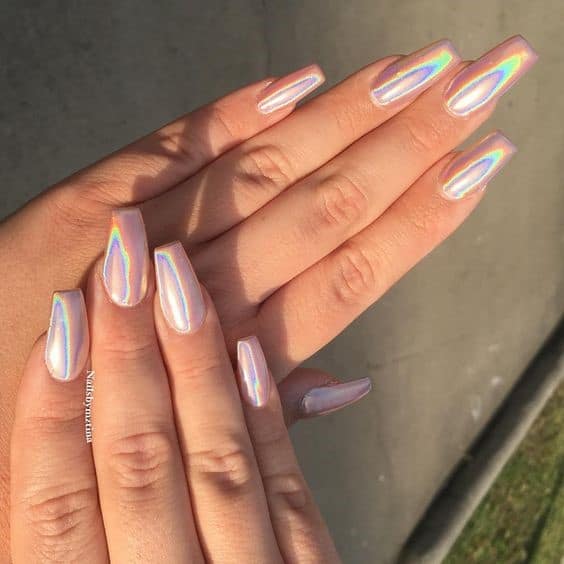 The disco trend now exists all over Hollywood, and loads of celebrities are wearing this look on a daily basis. The silver style goes so well with longer coffin-shaped nails as well as with a square shape + it will suit every formal occasion.
4. Neon Acrylic Nails With Pink & Yellow Details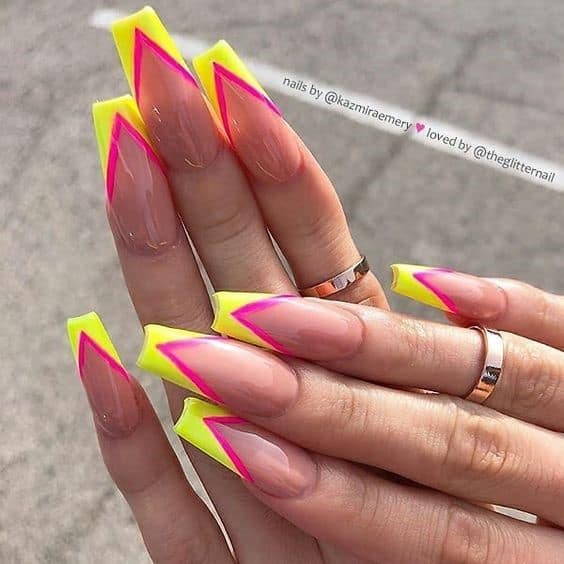 As with the neon style, it is just about finding the best colour that matches your skin tone. Ultra-bright, acid hues like lime green, electric blue, and yellow pop against darker skin-in reality, if you have a really dark complexion, all neon's would match you. Meanwhile, if you are on the fairer side, hold to this bold theme of bright pink and blue manicures.
5. Foil Nail Art With Stiletto Pointy Tips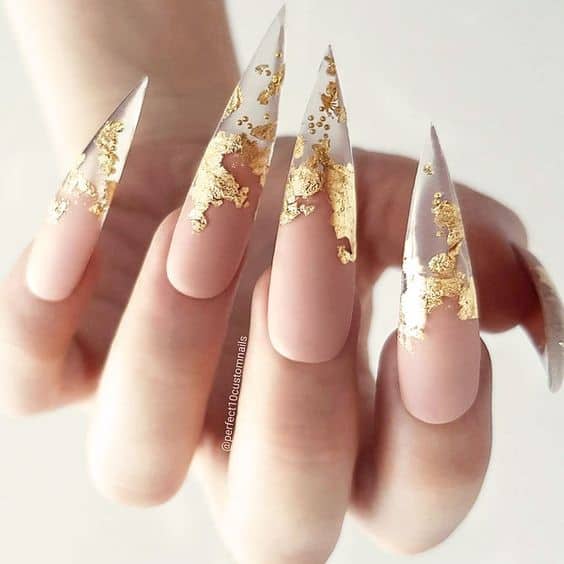 Make beautiful looks of the nail by combining your colourful nails with monochrome darker colours, as well as with leaf details. We love how great these foil nails look once combined in both matte and glossy style. The foil technique is among the most often performed techniques, and is perfect for making abstract art.
6. Nude And Glitter Acrylic Nails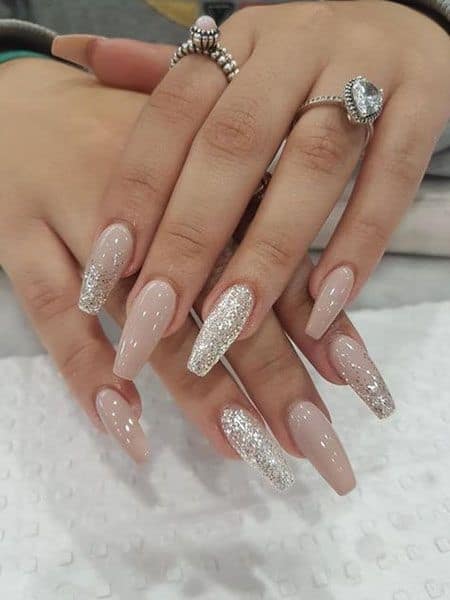 When the colour combination is well planned, the blending of shades and shimmer is achieved properly. Nude and silver glitter is the best combination for all skin tones and all seasons. A bit of shimmer and this coffin manicure will suit you if you are a bride to-be!
7. Coloured Tips Acrylic Nails Rainbow Art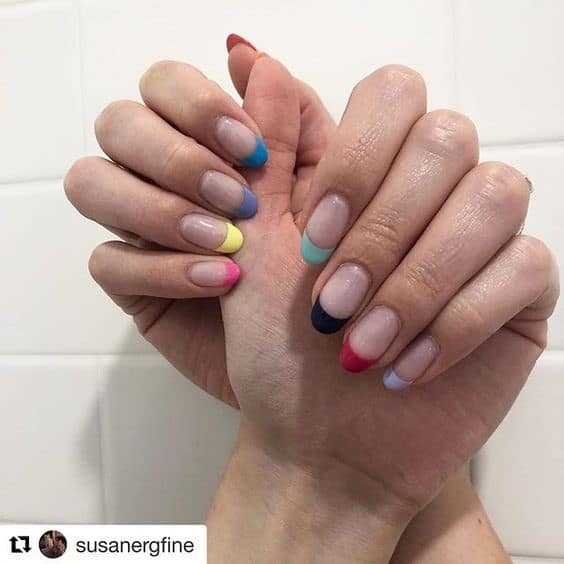 Can't make your mind up? Why not go for all the colours of the rainbow?! Choose fun and bright colours to give it an extra pop. Everyone loves a little bit of colour, especially if you are off to a casual gathering, or you want something a bit colourful for everyday wear.
8. Polka Dots Design Long Oval Nails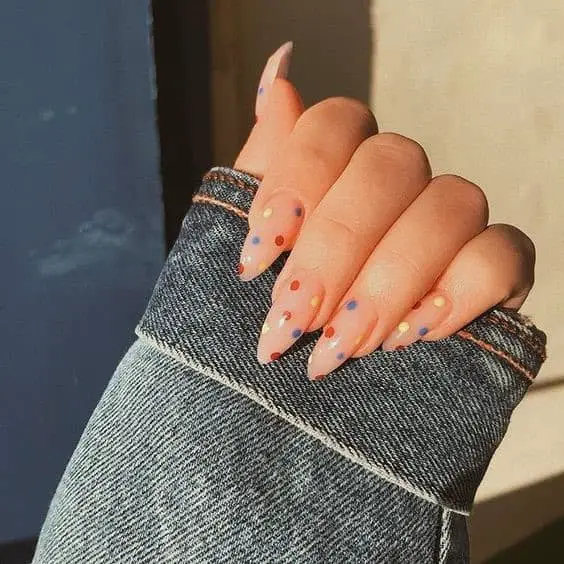 Although it is a nice idea to get an eye-catching manicure all year long, there is just something about summer that leaves you feeling more spontaneous. Whether it embraces ultra-bright colours, new exciting textures, stylish patterns, or adventurous designs, now is the right period to shake it bright, pleasant, and tropical. Create a fizzy, daring shade cocktail – think pink, green, red, yellow and blue with simple polka dots to freshen it all up.
9. Creative Oval Shaped Acrylic Nails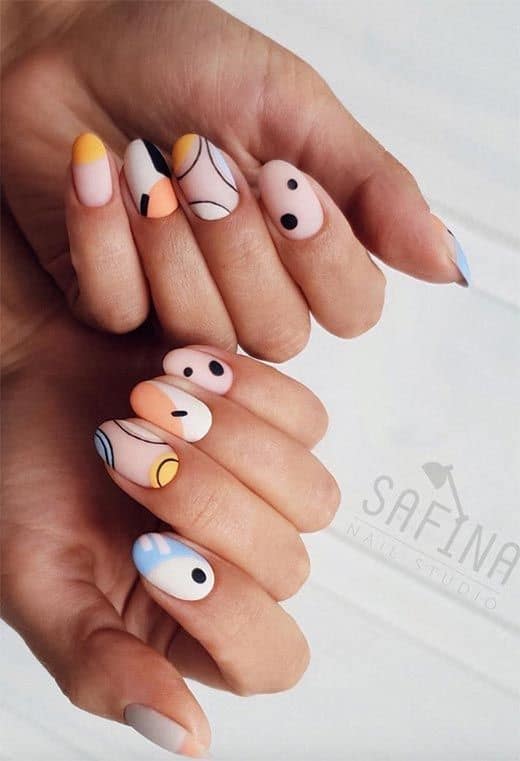 Ovals and line is so pretty and feminine. If you are someone who is all about funky nails, bright colours, as well as impeccable artwork, you will love this manicure for your everyday wear, as well as some casual hang outs!
10.Creative Abstract Nails With Unique Splash of Colour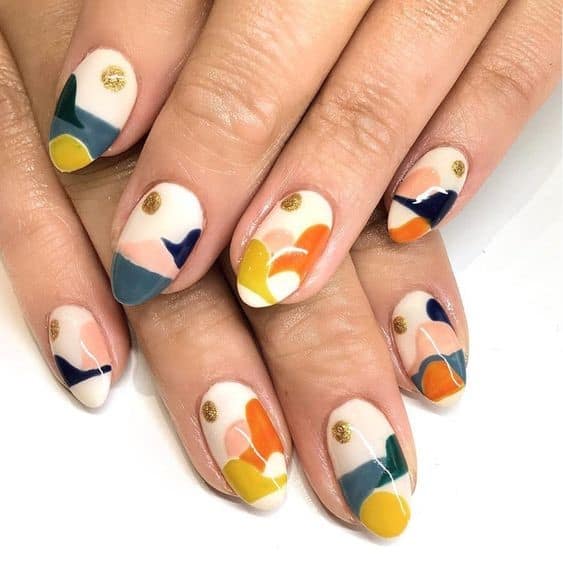 Fun and creative shape is an eye catcher. Abstract nail design is just another common form of beautiful and dramatic manicures. As for geometric shapes, curves and circles appear to become the most popular styles. You can quickly develop the easy and chic design with a casual look. With funky shapes and different colours, you can't go wrong.
11. Striped Acrylic Nails Short & Square Manicure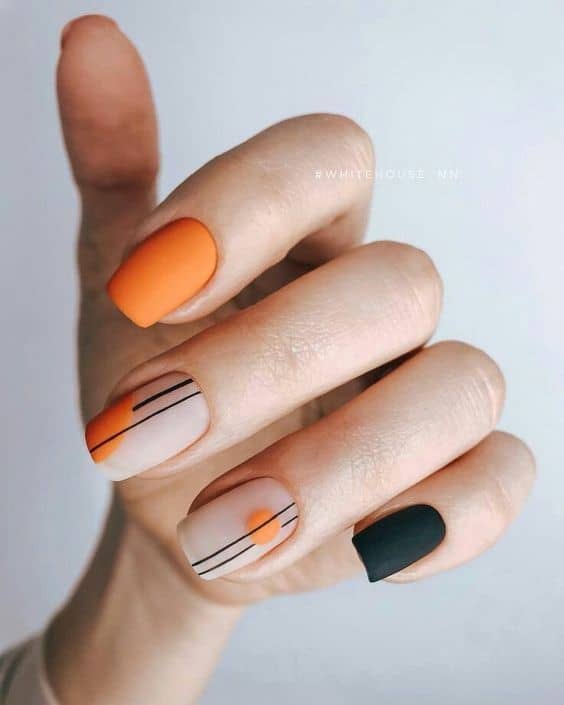 Such vivid streaks seem to stand out in comparison to the nude coloured fingernails, making the marks stick out. We appreciate how simple and elegant this style is! With confident designs, these basic styles look fantastic, and can be wore in casual environments, and definitely on hot date night outs!
12. Dramatic & Long Neon Green Square Manicure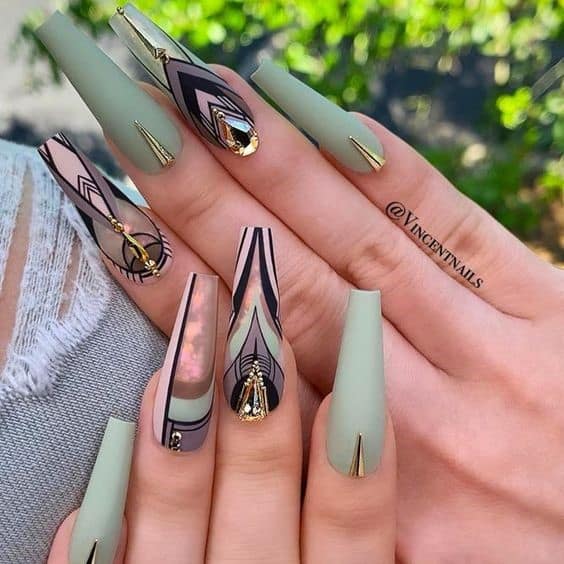 Customize various colour schemes, and make colourful designs for an attractive appearance. Let this abstract pattern fancy up your style. With bright or dark colours and different shapes everyone is going to love it! This manicure will suit you if you are off to a party, or you want everyone to spot you, no matter where you're at.
13. Animal Inspired Acrylic Nails Cow Print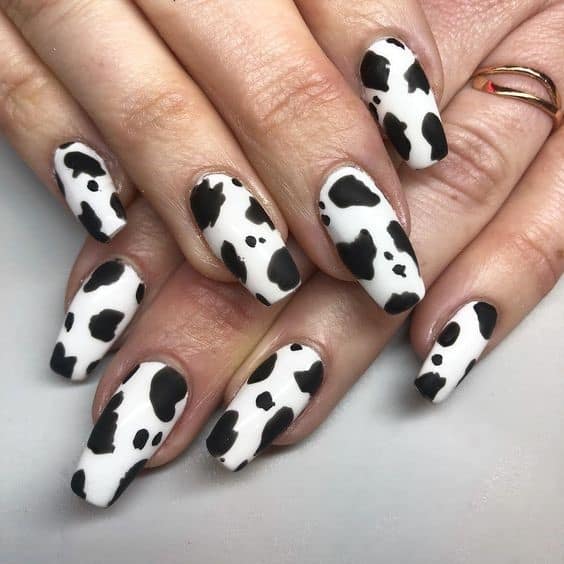 If you are always trying new styles, the cow print should be you next big go-to move! Luckily for you, this manicure is not as hard to achieve since all you have to do is place black dots over your white polish base!
14. Floral Acrylic Nails Baby Pink Colour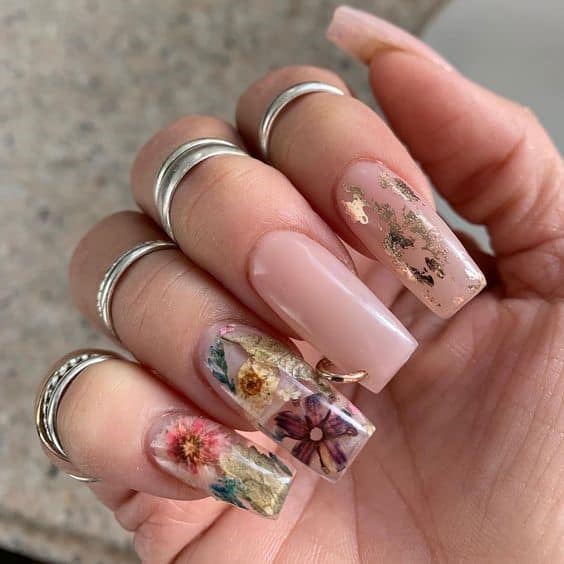 This mega-feminine look is ideal when wildflowers are in full bloom during summertime. Using a white or nude basecoat in medium hue to allow the flowers stand out, beautifully coloured flowers and artistic nails bring the spring feel! Wrap the nails in elegant flower patterns, yet have a few light pink colours.
15. Blended Coffin Shaped Nude Acrylic Nails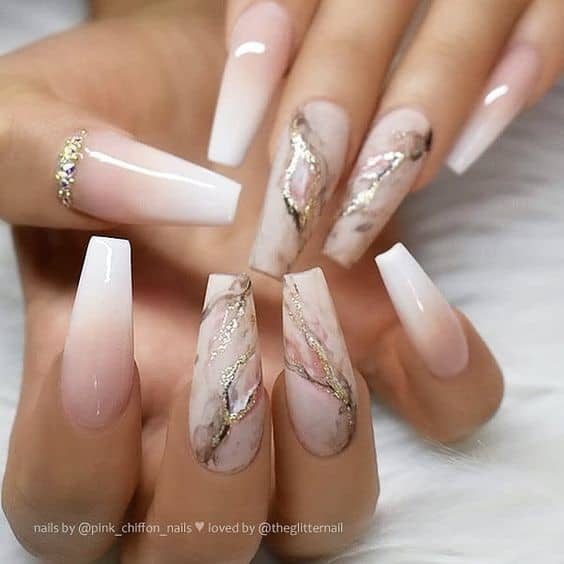 The classic, nude nails with white and pink details are a safe-play. You can play with this elegant design, and you can also give it a pop adding some gold or silver details. You can as well use silver glitter for a nice lift, or use a hot pink shimmer for a spectacular summer feel.
16. Bright & Loud Nails Inspired By Picasso Nail Art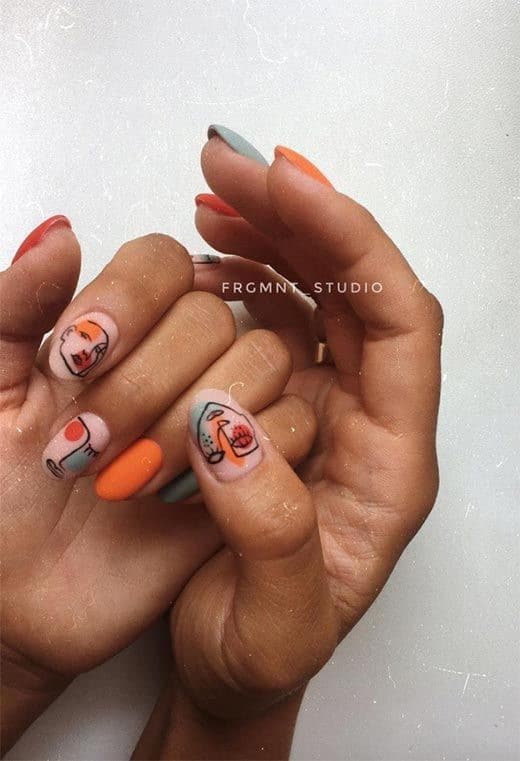 If you are an artistic lover or just a nail lover here is just another work of art with sketchy expressions. We love the elegant style of those nails, making the overall look quite plain and clean. If you are a fan of funky manicures and you need something for a party, or even for Halloween, you will love these!
17. Brush Stroke Blue Icy Acrylic Nails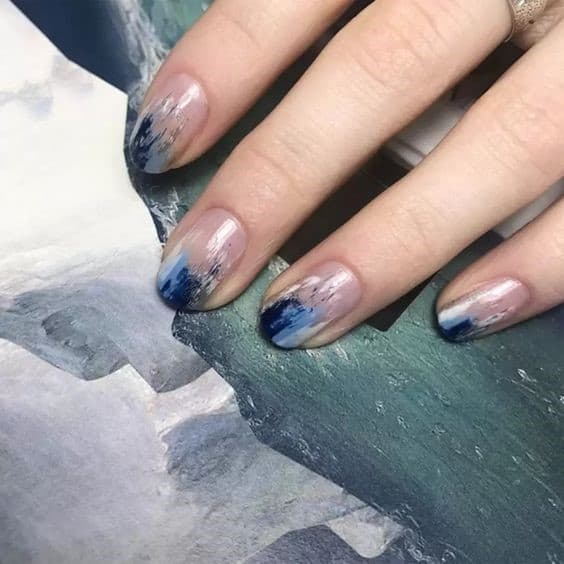 The entire elegance which includes blue, light blue and beige brushwork is a beautiful masterpiece when it comes to this manicure. Add a pop of colour on a nude surface with small pieces of silver petals, creating a great monochrome look.
18. Colourful Acrylic Nails Inspired By Pop Art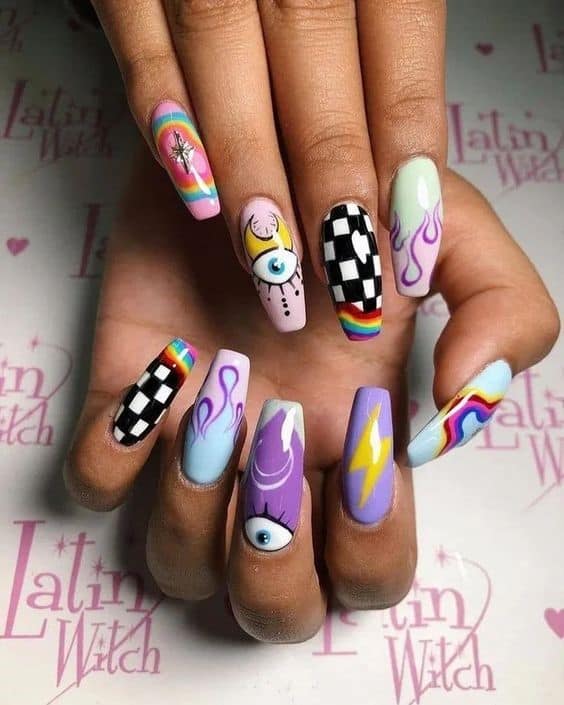 These cheeky yet interesting nails will definitely catch the attention of everyone around you. Every nail is different, bright & loud, as well as fun to look at. If you have an amazing nail artist you will love this look, just be patient as they place these nails!
19. Glowing Neon Bright Blue Acrylic Nails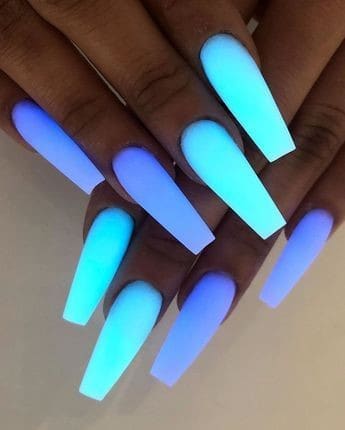 Glow-in-the-dark nails are rising rapidly in internet fame, and it is no mystery why. Stunning nail art and bright deep blue acrylic nails in particular are breath-taking. Once you add this neon vibe to them, you will love them for parties, as well as club night outs!
20. White Marble Acrylic Nails Square Shape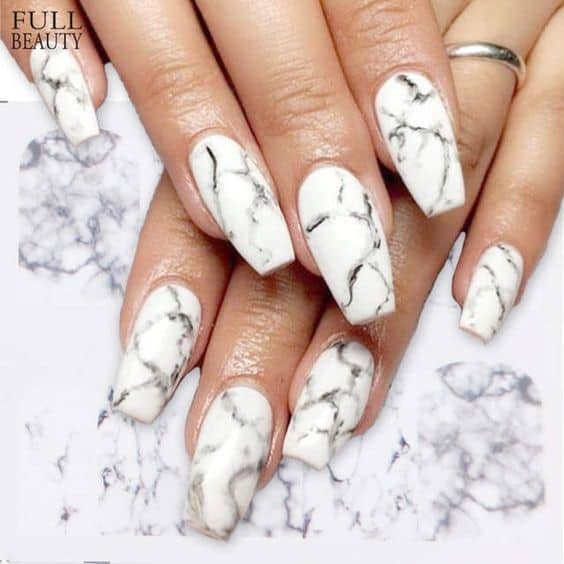 Believe it or not, the marble countertop nail design inspiration can come off straight from your kitchen! The stylish and unique colour combo is very artsy and it will look the best once shaped into a square.
21. Coloured Marble Acrylic Nails Bright Green Design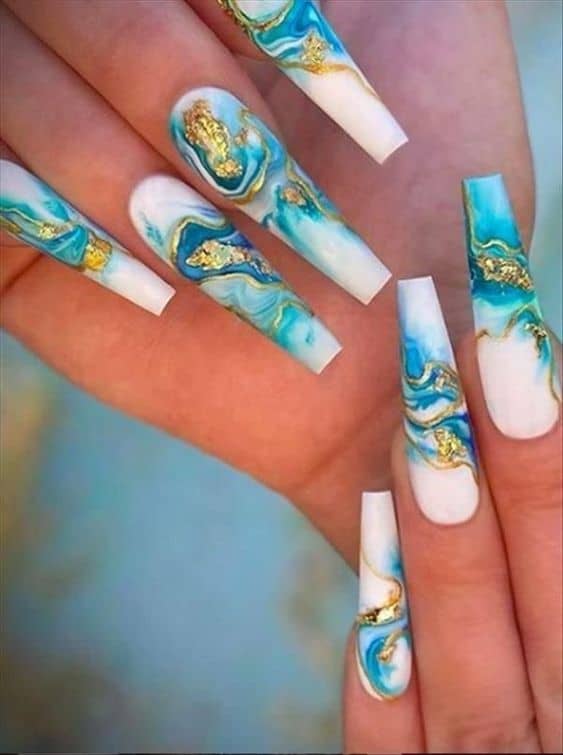 Marble impact is just another common theme in nail art, and this one has beautiful bright blue details! You will enjoy it if you are a fan of abstract nails. Add a couple of studs, marbles, as well as foils and gemstones to achieve this insane manicure!
22. Holographic Acrylic Nails Cinderella Inspired Manicure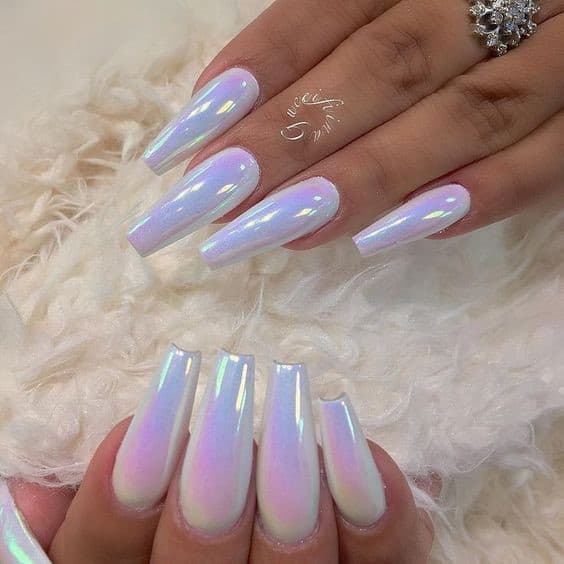 Such acrylic ballerina nails look so feminine due to their duo-chrome shine. If you love a pop of colour and you are a fan of longer nails, these will look lovely on you, especially during the winter season!
23. Ombré Acrylic Nails Square Shaped Manicure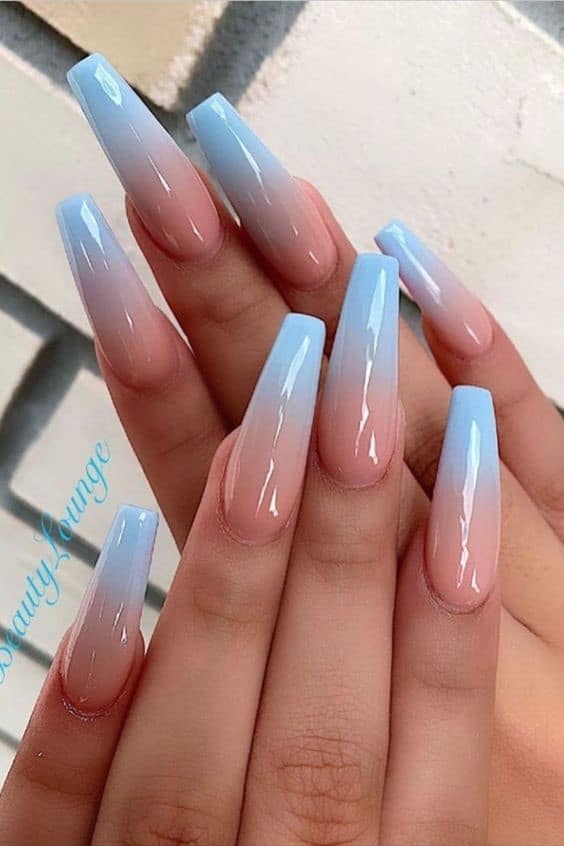 The past years the multi-hued ombré manicure was extremely popular, and it won't slow down any time soon. This blue colour combo will look the best on square of coffin nails + these are perfect for formal wear and dances!
Also Read: Top 30 Beautiful Ombre Nail Design Ideas For 2022
24. Beige Base Acrylic Nails With A Pop Of Gold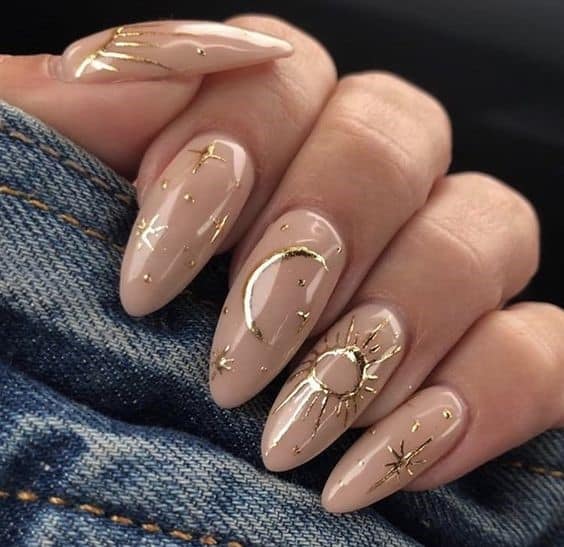 Beautifully hand painted acrylic nails, symbolising sunsets and inner peace will look lovely on any lady. This oval manicure is noticeable as well as elegant at the same time. You can wear these nails all year long, just don't forget to set your manicure with a top coat.
25. Nude Gemstone Acrylic Nails With White Details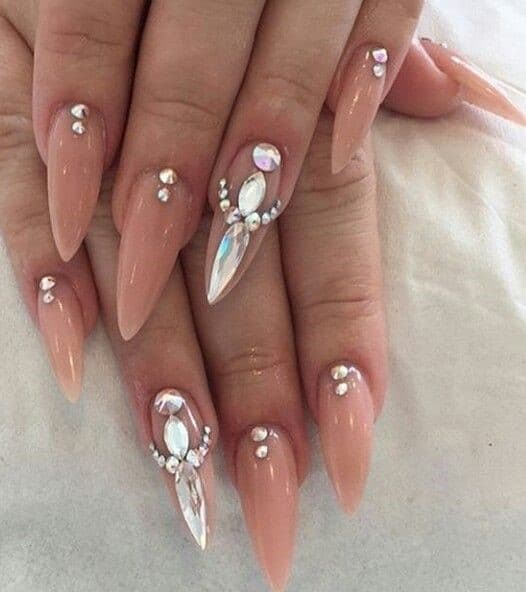 Neutral nails are always pretty and elegant, however when you attach a pair of precious gems to the combination, you are left with a flawless manicure this is so much more spectacular! These nails are perfect for extravagant brides, wouldn't you agree?
26. Creamy Acrylic Nails Square Shape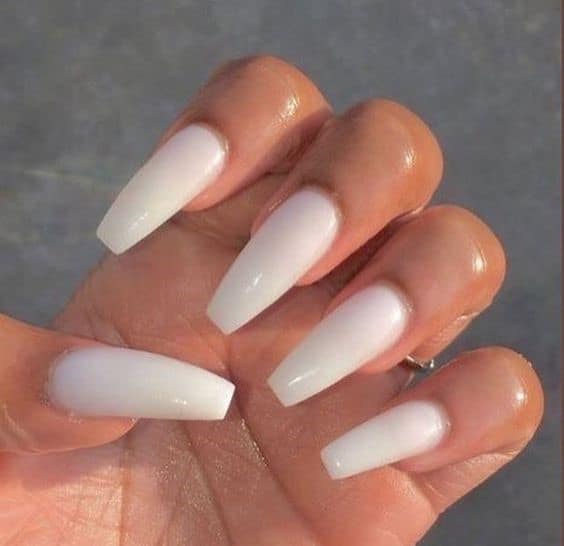 A soft matte polish on medium-length nails is a choice to consider by women who love a clean look but with a bit of colour. Here a soft cream colour is applied and the nails are left looking milky, seamless & natural! This shape & length is perfect for everyday wear by women who love a bit of pop to their nails.
27. Glittery Acrylic Nails With Shimmer Gems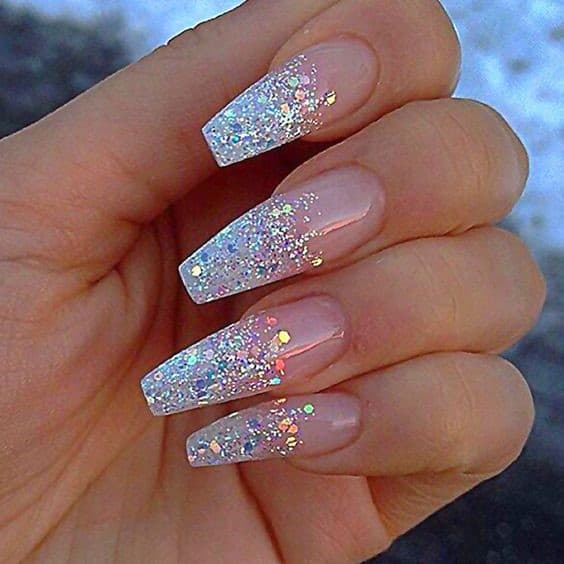 Sheer and glass nails is a new rage in the industry. We love how eloquently these forms were created with the gold shimmer. This style is suitable for weddings and parties, especially if you prefer classy over bold & loud! Age-wise these nails will look the best on women who are in their twenties.
Also Read: Top 40 Stunning Nail Designs With Glitter 2022(Short & Long)
28. Mermaid Themed Acrylic Nails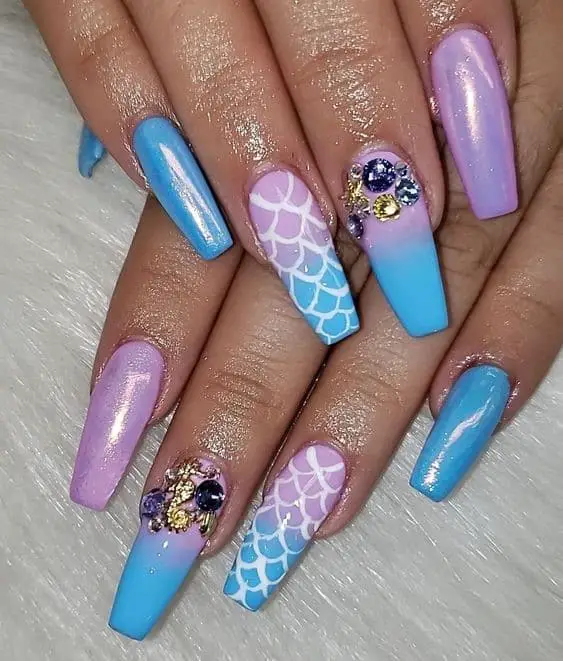 Look at these sea & mermaid inspired nails, perfect for the Summer season! Using pastel shades and a sponge for a marbled look will quickly accomplish this design. Decorate your manicure with some glitter & gemstone details for ultimate formal wear!
29. Chameleon Artistic Nails Pointy Shape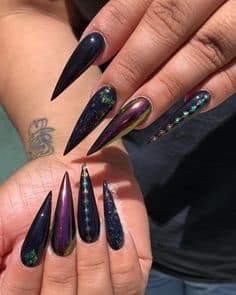 Chameleon design, indigo and purple combined for this interesting combo, with glitter is a full hit for this season! Each fingernail has its own unique design, as well as its story. If you like crafty and witch-inspired manicures, this one is for you!
30. Galaxy Inspired Acrylic Nails Inspired By The Moon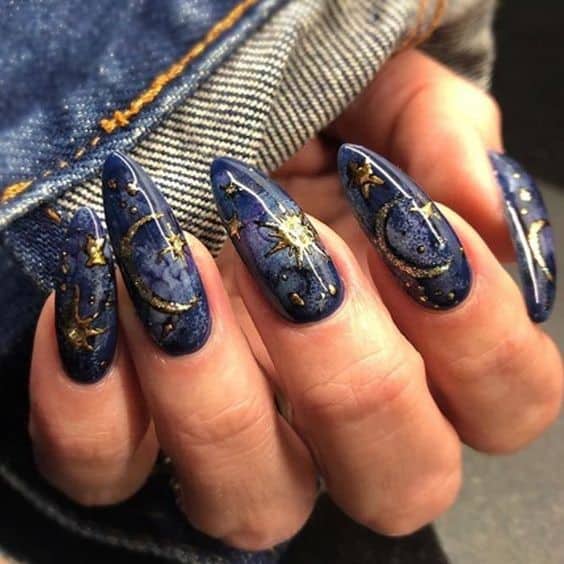 Are you into zodiac, astrology, or numerology? If so, these nails are perfect for you! They are super long and have been inspired by our solar planets. You should go for this oval shape and simply draw the Sun, stars, as well as the Moon by hand. Make sure that you are patient since this manicure is time-consuming.
31. Jewel Acrylic Nails With A Pointy Tip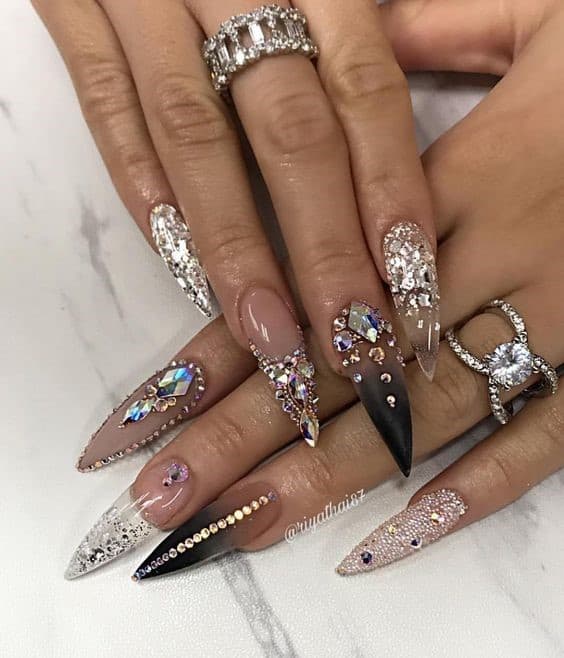 Inspired by the iconic heels of Hollywood star Cardi B, the jewel nails are the most extra fashion of this season yet. Jewels and crystals in various sizes are added to the nails for a sparkling feel. If you need a manicure for your birthday, the club, or any other extravagant & formal event, these are it!
32. Geometric Acrylic Nails Square Shape Black & White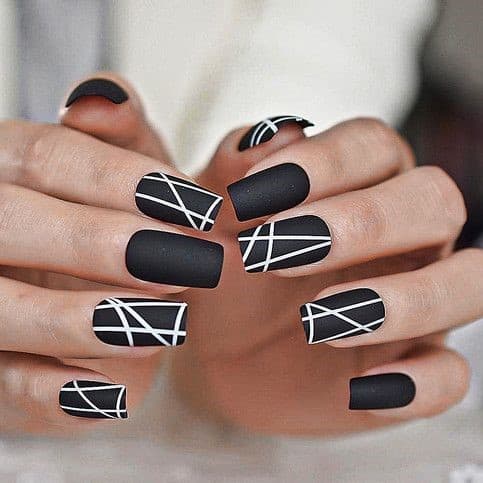 This beautiful abstract nail art is one of a kind, with just the right colours! If you're searching for a break from flat and streamlined styles, here's an elegant black and white line art that will still catch the eye! These nails are perfect for younger women, as well as those who are still in college.
33. Flame Acrylic Nails Coffin Shaped Flaming Manicure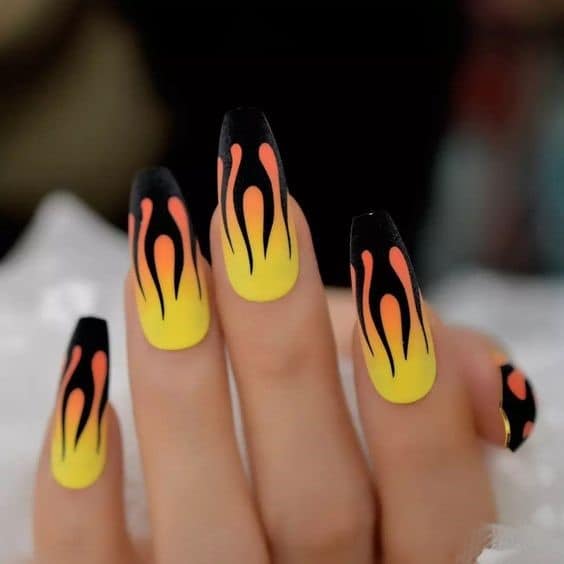 The first thought of this nail art is that they are super trendy and hot. We have orange nails on each finger, with red flame painting. This is a simple-to-wear variant of the style, as red is a traditional colour of the nail and complements the orange and yellow. If you are a teen who wishes to stand out, go for this design!
34. Drip Acrylic Nails Hot Pink Manicure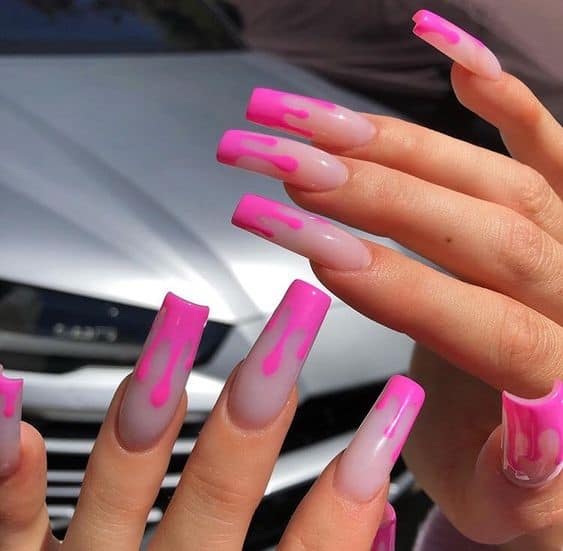 Treat your nails like your own canvas, and encourage this bright pink pattern. These are the perfect Kylie Jenner inspired nails which will suit women who love the drip trend. We consider this manicure feminine & gorgeous + you will easily achieve the look, as long as if you are patient and precise.
35. Matte Acrylic Nails Dark & Feminine Burgundy Colour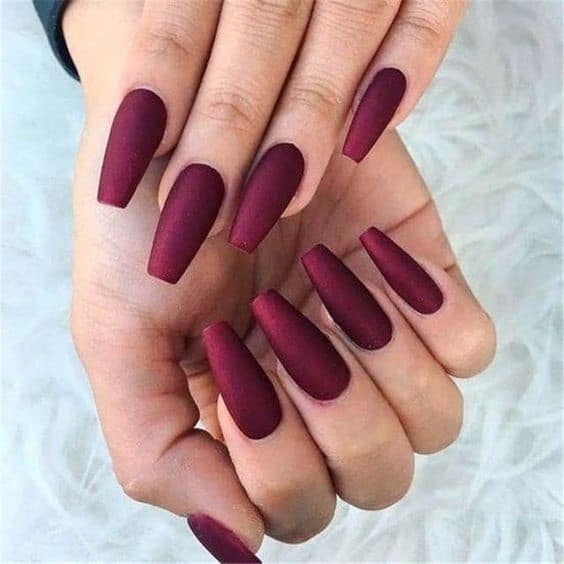 Glossy nails are a typical go-to, but this manicure with a matte finish is unique & fun to get. If you prefer matte over glossy you will enjoy this nail design. Colour-wise, these nails are the best go-to for the Fall season! Also, they are office-friendly.
Also Read:
Ready To Start Rocking Some Fresh & New Acrylics?
We hope you have enjoyed our series of 35 gorgeous, artistic nail acrylic designs from across the world! We have chosen some of the most interesting manicures, from very simple ones (yet elegant) to outstanding and dramatic bright colours! Every woman will find her perfect nail inspo in this article. Let us know which design was your favourite, and let us know what you plan on recreating in the near future in the comments down below!