50 Heart Nail Art Ideas That Feeling Romantic
When you shop through links on our site, we may earn an affiliate commission. This educational content is not intended to be a substitute for professional advice.
Valentine's Day is important because it celebrates love. But why wouldn't you keep a spirit of it all year round? You could paint your nails in one heart nails design. Sure, the red color is classic, but you do not need to stick to it.
Many colors and styles could fit into this romantic manicure. Some of them are super easy, and you could do them by yourself at home, while other ideas you should take to your favorite nail artist.
Wear your heart on your nails! And make a strong statement that love is the strongest feeling! We collected 50 heart nail ideas that will make you fall in deep with your nails!
Wear Your Heart On Your Nails: 50 Hearts On Nails Art Ideas
#1 Red Nails with Nude Heart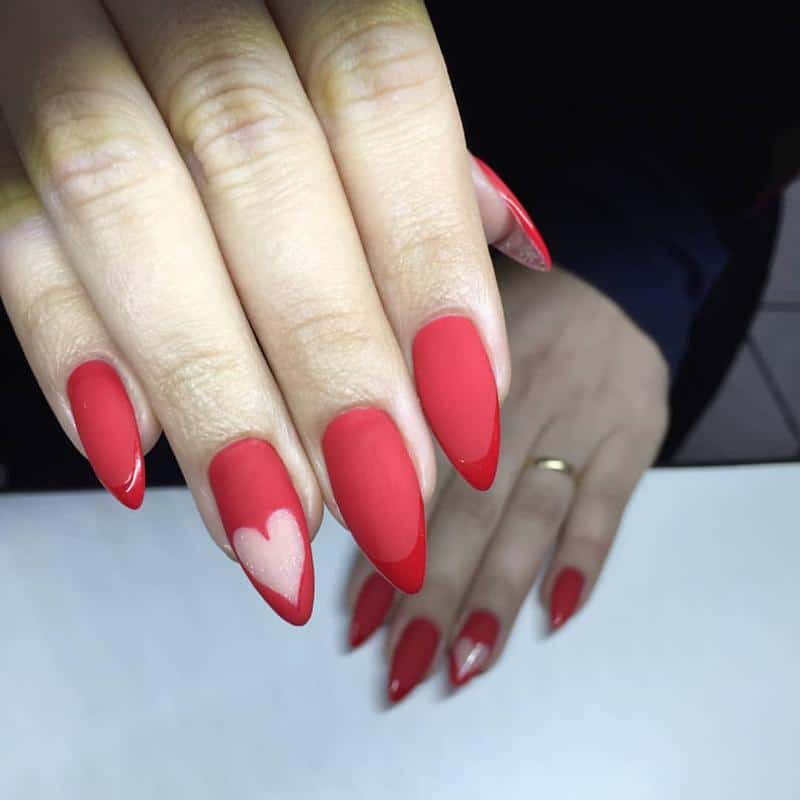 We will start with probably the most romantic design of them all! Paint your nails in red.  And add a nude sparkly heart on one finger of each hand. A tip for doing it is airbrushing the red over a stencil. Remember this design when you are going on a special date night!
#2 Red Heart Nails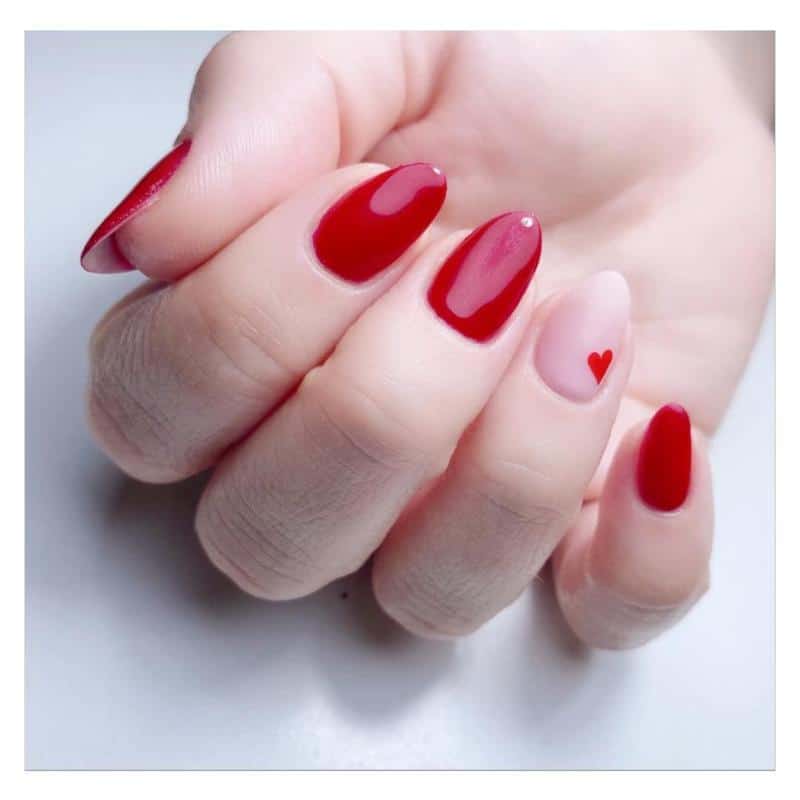 Okay, with this one, you are still painting your nails in red. But you are keeping the heart in the same hue too! Of course, the background for them has to be neutral. Are these the perfect love heart nails? You tell us!
#3 Pastel Hearts – Heart My Nails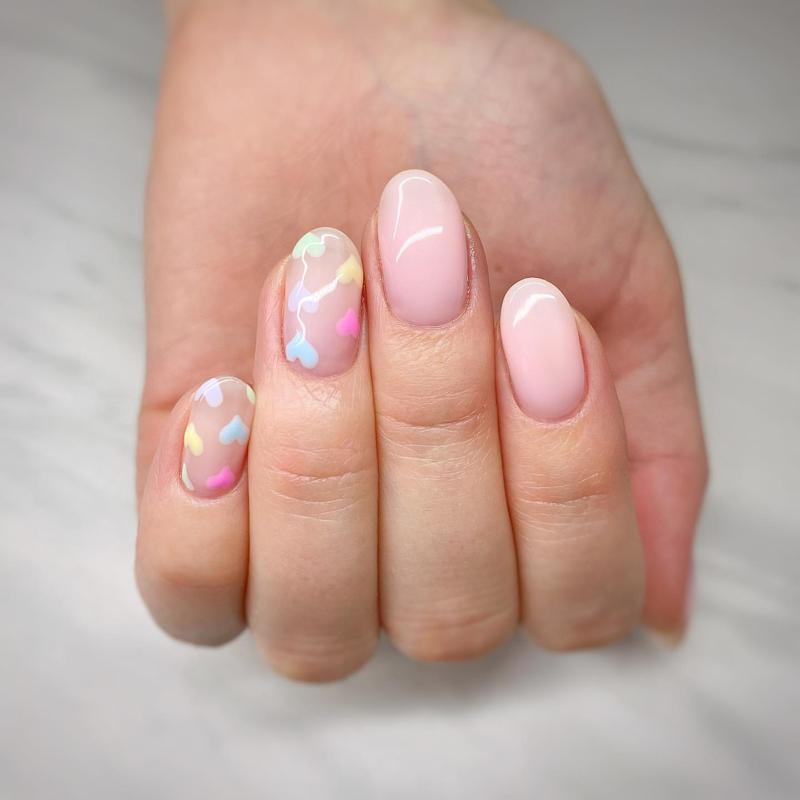 Pastel – the hue loved by all artists. Why? Because it is a deep and rich tone, and it gives a delicious, velvety texture. Now, how to do this design? First, do two side-by-side dots. Then, draw each to a connection spot below. Since it is delicate work, make sure to use a small brush. Also, you want your art to show up. So, leave the natural nail to be your background. Trust us: it is easier than it sounds!
#4 Blue Heart Nails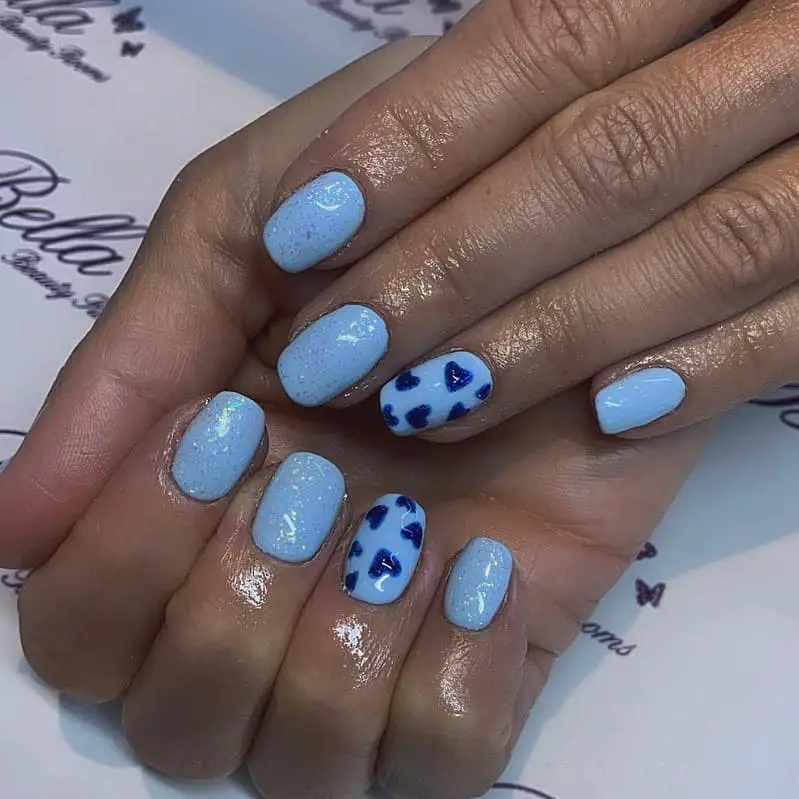 The color blue symbolizes freedom, inspiration, sensitivity, loyalty, sincerity, and stability. So it is no wonder that no one person dislikes it! There is something so calming about it. Further, it will go great with heart. Combinations are endless!
Also Read: Top 25 Best Navy Blue Nail Design Ideas (2022 Updated)
#5 Neon Pink and Hand-Drawn Hearts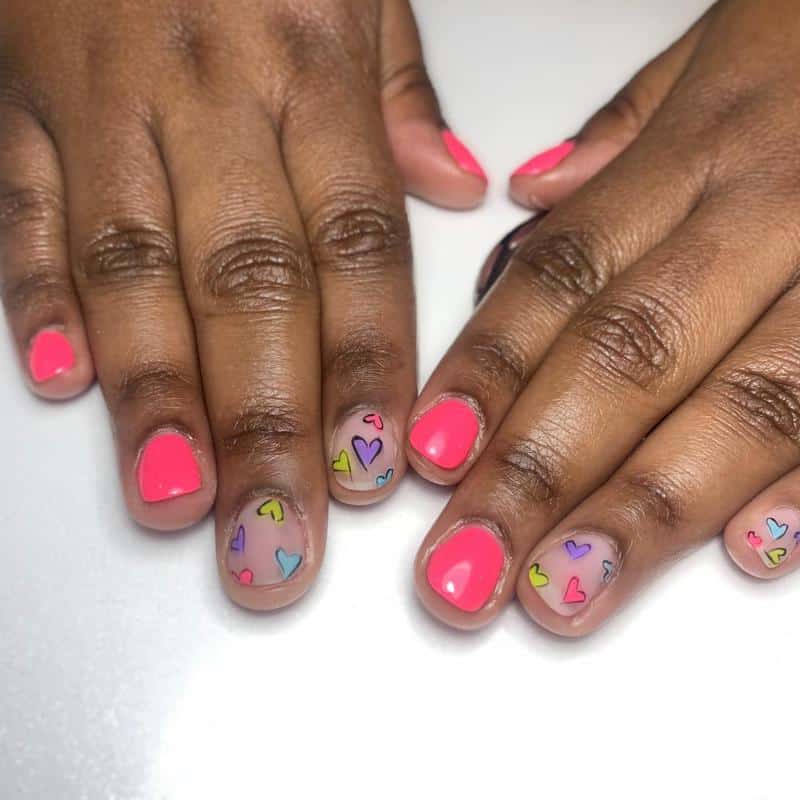 Do not really feel comfortable spending money at a beauty salon at this time? No worries: you can DIY recreate this look as many times as you want! Grab a neon pink polish and several other colorful ones, and start making your own magic! We suggest the use of the dotting tool. And keeping wet cotton next to you – you do not want to mess up the edges.
#6 Pink and A Hint of Blue With Red Hearts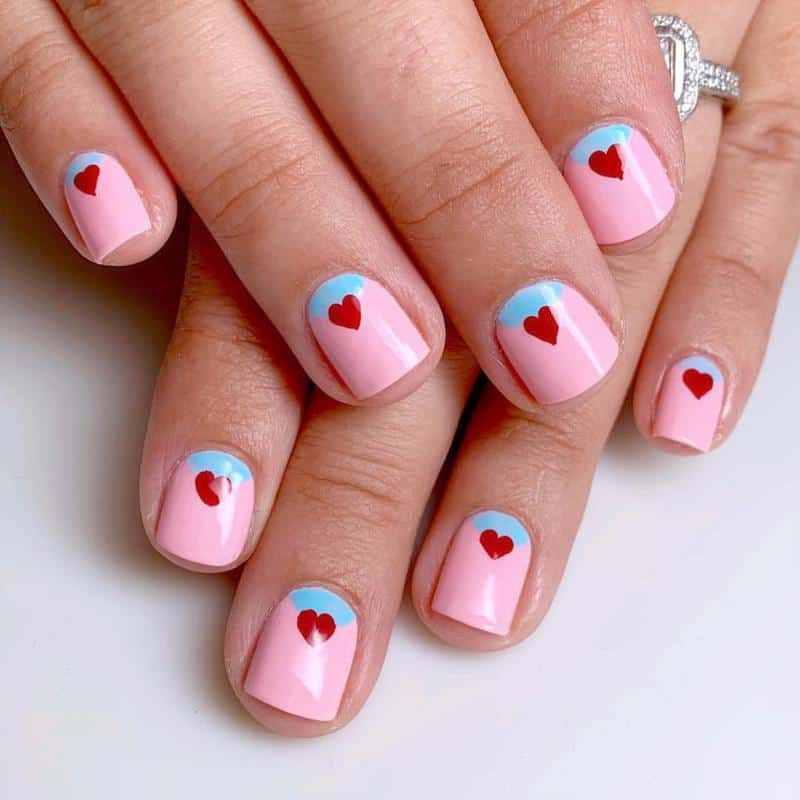 As you already know, red and pink are traditional love colors. Thus they are connected with hearts. But why wouldn't you add one more shade? For example, fit in a bit of light blue. We love how good it looks with both long and short nails!
#7 Dark Red And Black Heart Nails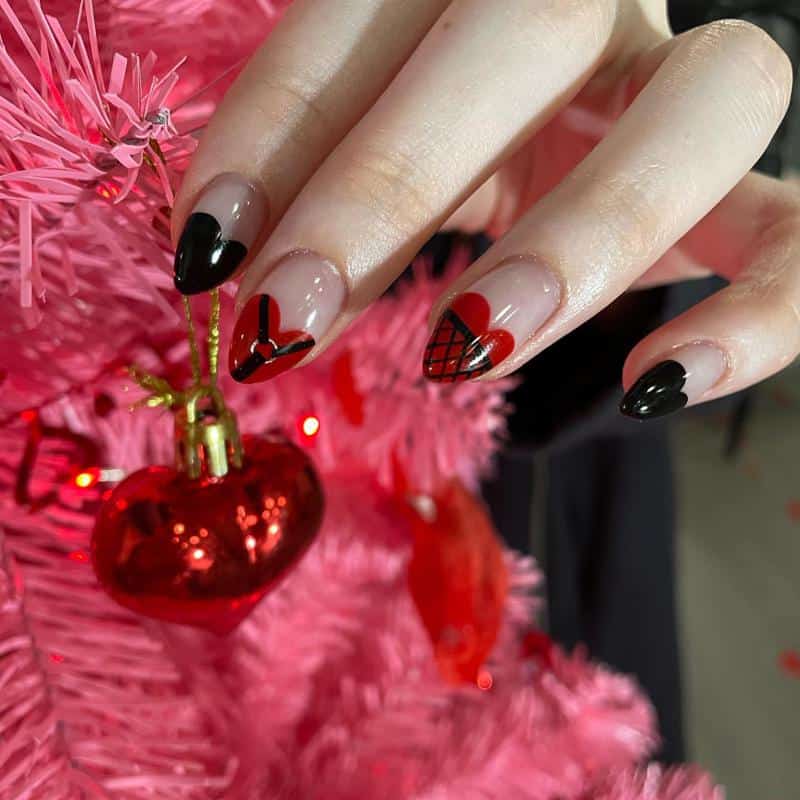 Dark red and black colors are like a married couple that everyone knew would end up together. It is a perfect combo that would go amazing with a fancy dress. Although it has hearts, you are still not risking it will look too sweet.
#8 Black Heart Nails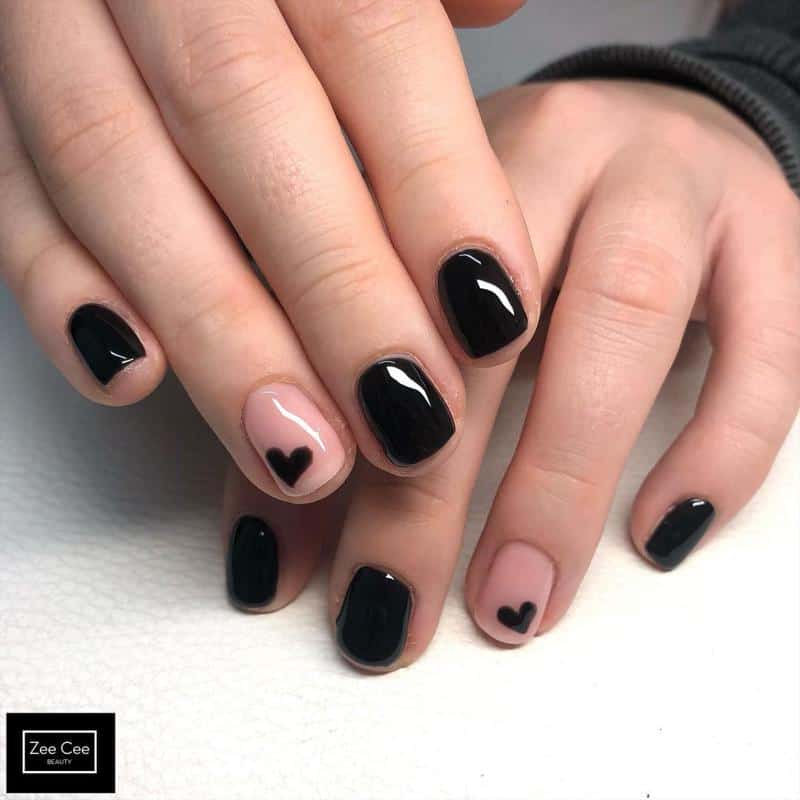 Having black nail polish is sexy. You can wear it on any occasion – it will only benefit your chic and fashionable look. But having all your nails colored in the same color is overused. Thus, keep one nail natural, or add a neutral nude hue. And then pain tiny black heart on it. Let people wonder if it matches your soul!
#9 Coffee Hues With Hearts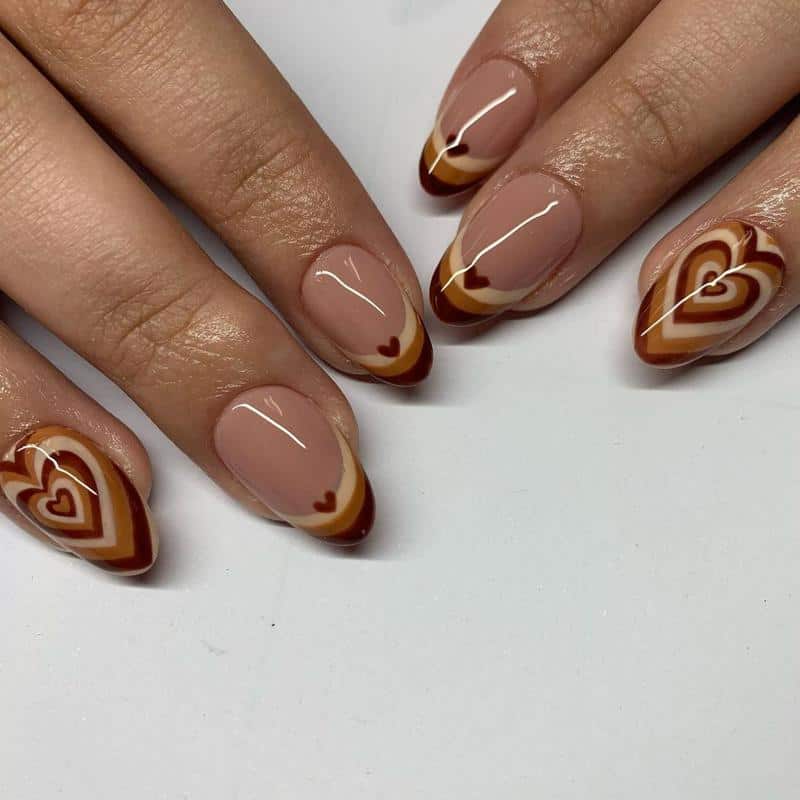 Do you prefer not to speak with people until you have your first coffee? Are you that much obsessed with this drink? If yes, you will be obsessed with these iced lattes too!
#10 Pink Ombré Hearts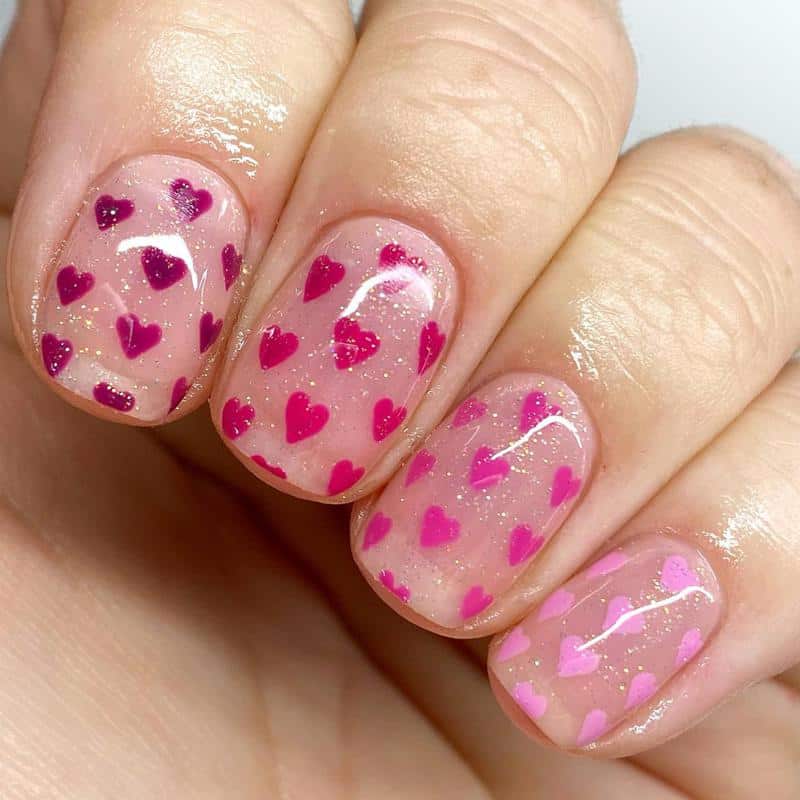 Ombre is wildly popular – and that is with reason! Now, if you are unsure how to do this design, let us give you a few tips! First, you must pick hues that are very pigmented. Start with two dots, then with a nail brush, pull the base of the dots into a triangle pattern.
Also Read: Top 30 Beautiful Ombre Nail Design Ideas For 2022
#11 A Groovy Color Palette Heart Nails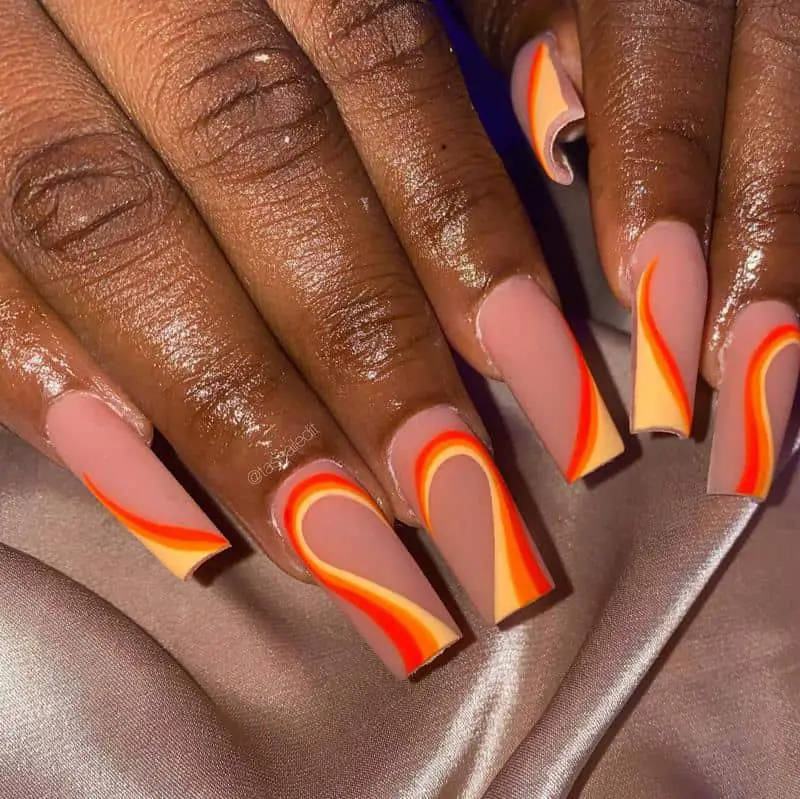 Going for a groovy color palette will change the vibe entirely! You will look rather tough than romantic! Something like an electric soul!
#12 Monochromatic Tones With Heart Nails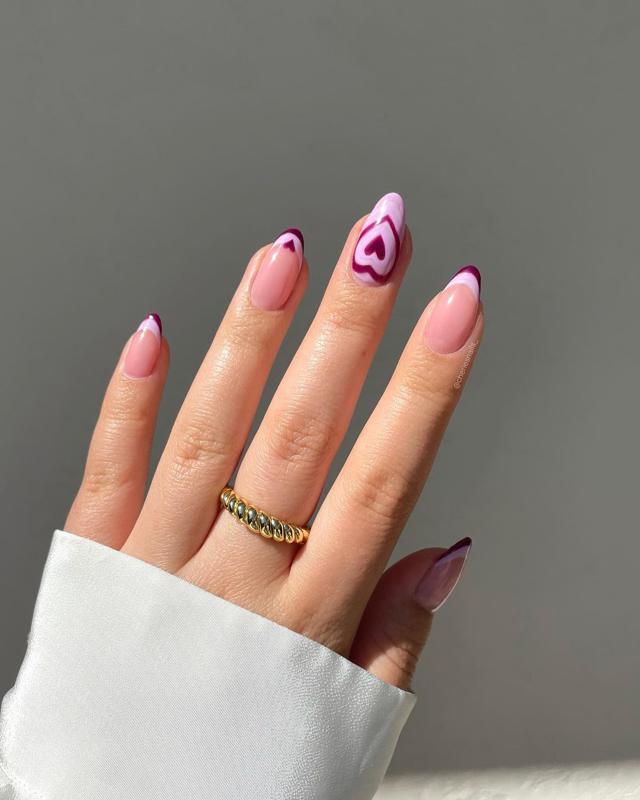 If you are unsure about the meaning of monochrome, let me explain it to you: it is the display of one color but in various tones. We love how purple looks like, but you can really opt for any hue! The good thing with this design is that it does not look simple, yet it is a minimalistic manicure!
#13 Heart Tip Nails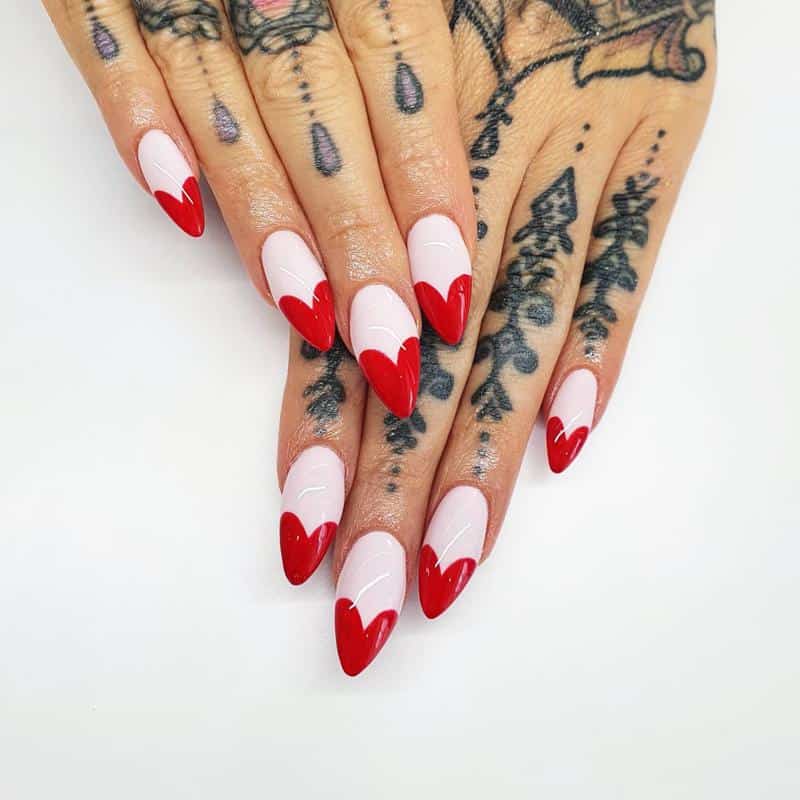 Sweet almond nails are easy to do. All you need is patient! Shade them in white, and then paint the red tips. Make sure they are in the shape of the top of a heart!
#14 Red-and-White Heart Tips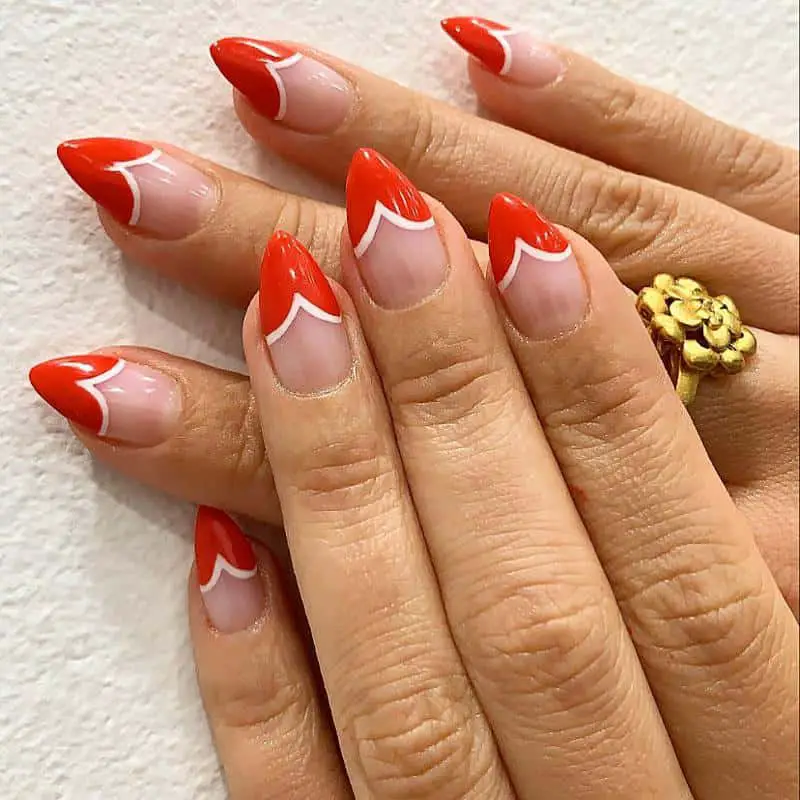 As long as you take your time to keep it neat, it is super easy to do this design. Apply your favorite red polish with a heart-shaped stencil. And then join a white line for further definition.
#15 Heart French Tips Nails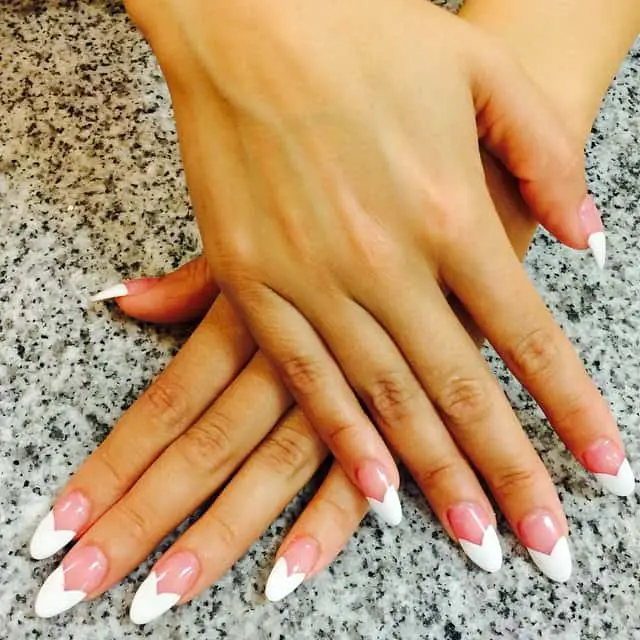 French tip nails are one of the most popular manicures. It is super elegant, and it looks good on everyone, no matter the age. But to make the modern twist, shape your tips in the heart caps.
Also Read: 60 Elegant French Tip Nail For A Super Trendy Manicure (2022 Updated)
#16 Two-Tone Heart Tips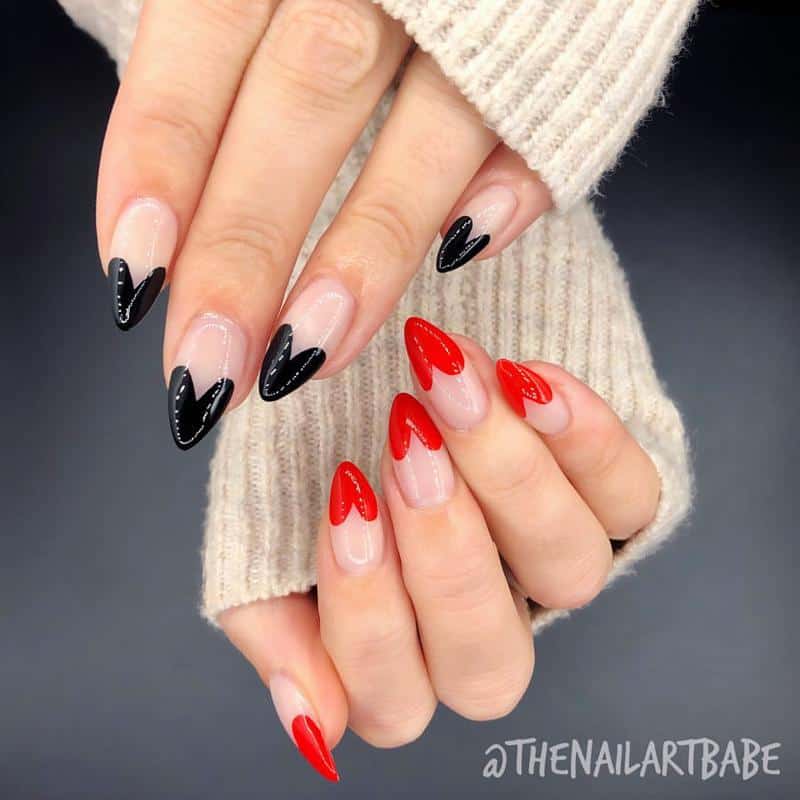 French manicure is the classic we all adore. But why make it too random? One red-tipped hand and one-black tipped hand make a surprisingly good-looking twist! You can wear this combination on a fancy night out or a more relaxed occasion – it is that flexible!
#17 Rainbow Heart Tips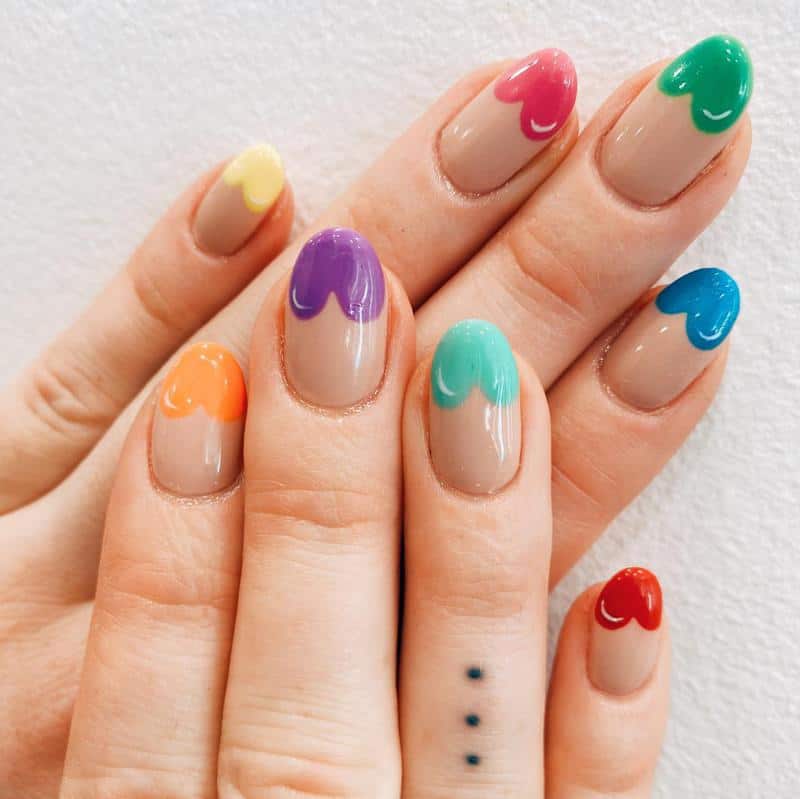 You do not want to go for classic love colors like red and pink. Yet you do like them – you simply do not wish to make yourself look romantic. And you cannot decide which other color to put. You love so many of them! It is okay! Many-colored tips are here to save the day! Make sure to add a shiny topcoat at the end. That will keep your nails looking fresh, and it will decrease their chipping.
#18 Shiny and Matte Mix With Tiny Hearts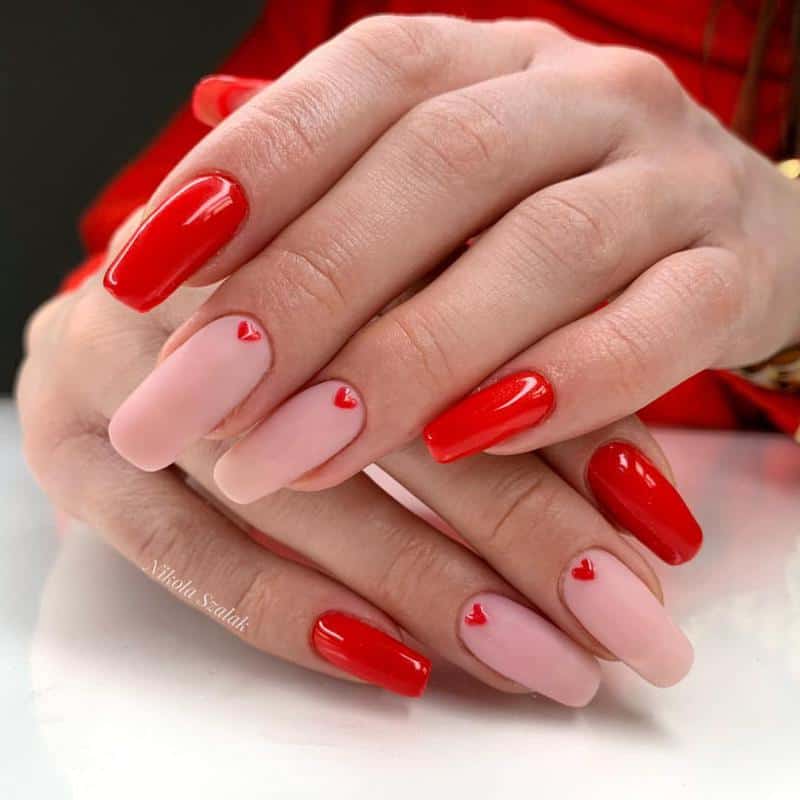 You might think that red and pink are overused when it comes to romantic combinations. But what if we tell you that we have unexpected combinations to suggest to you? Pick matte pink and glossy red! Make sure that hearts remain tiny!
#19 White 3D Hearts
Ready for a bit of glamor? Are you born to walk on Gala? Here is the design for you! The big jewels, sparkly rhythm finger, and gigantic 3D heart – all the eyes will be on you!
#20 Hearts Popping Off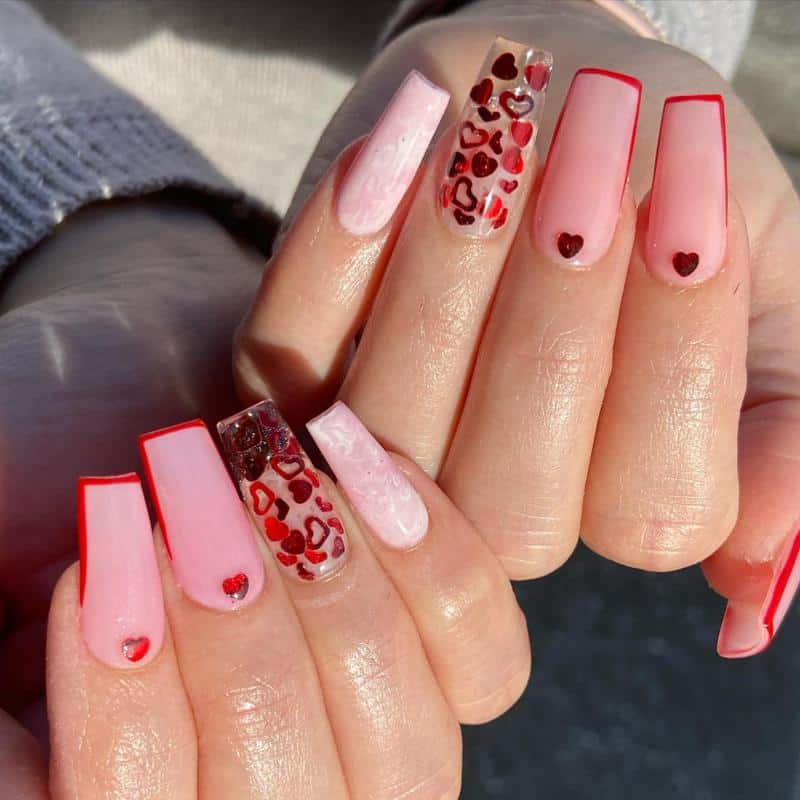 If you want to add hearts to your nails, this design cannot go wrong! We will explain to you how to do it! Loosely apply pink and white gel polishes to the pinkies. For the marble effect, mix the color in a twisting movement with a dotting device. To make red borders on other nails, use a long liner brush. And for little hearts, set two dots next to each other and then utilize the liner brush to unite them.
#21 Metallic Hearts
The perfection in inequality between white and gold always captive attention. To make it, use a nude base, white polish, and gold chrome pigment. When it comes to brushing, we would recommend a liner one. This charming design is minimalistic yet chic.
#22 Strawberry-alike Hearts On Nails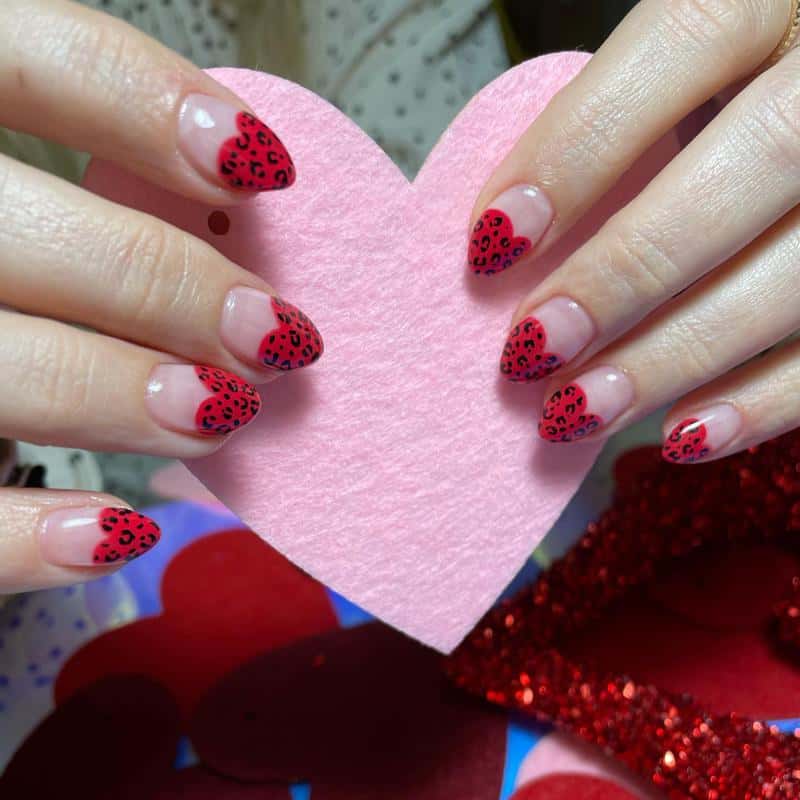 Keep the base neutral, and add a bit of red hearts to cover half of the nail. Make lines and dots on it to almost look like a strawberry. This pattern fits with any clothing style, and that is why we love it!
#23 Seriously Sparkly Heart Nail Design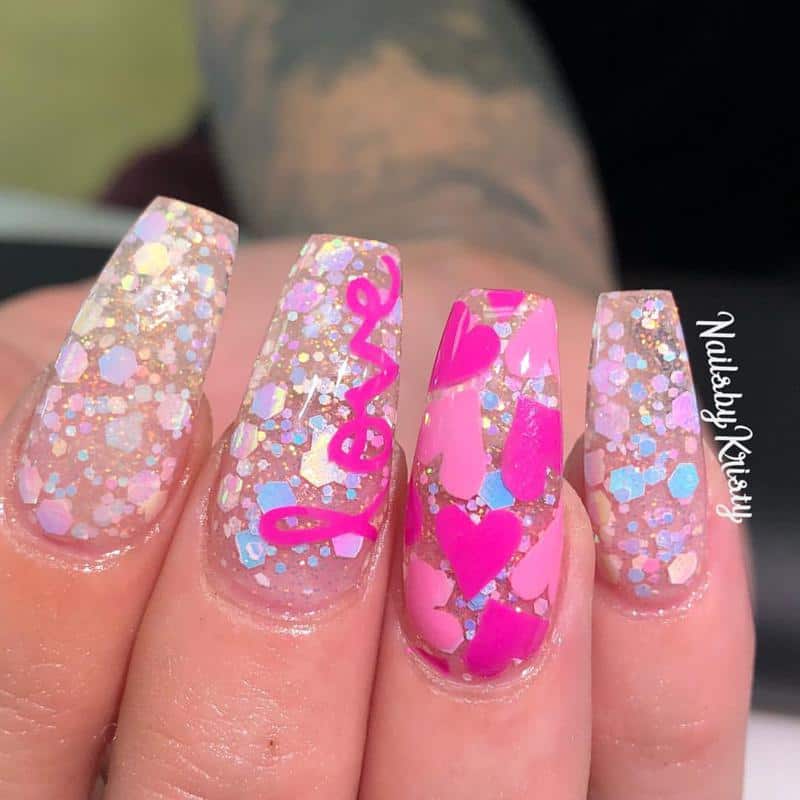 Ladies, frost yourself! It is a super shiny, super sparking, super glittery, and super girly pattern!
#24 Sweet and Simple One Heart
We would especially offer this idea to newly engaged ladies. It will draw all attention to your engagement ring! Color your nails into your favorite color. On the one where you are drawing the heart, add a straight line. Use a tone that is in contrast to your nail polish.
#25 Tiny Heart Accents Nails
You noticed that too, right? This style must be inspired by a retro video game aesthetic! Wanna know how to do it? First, add a milky white or nude base. It is best if you do it with a thin brush. And secondly, add a few minimalist hearts and dots. Now you should use a toothpick or narrow dotting tool.
#26 Sweetheart Nails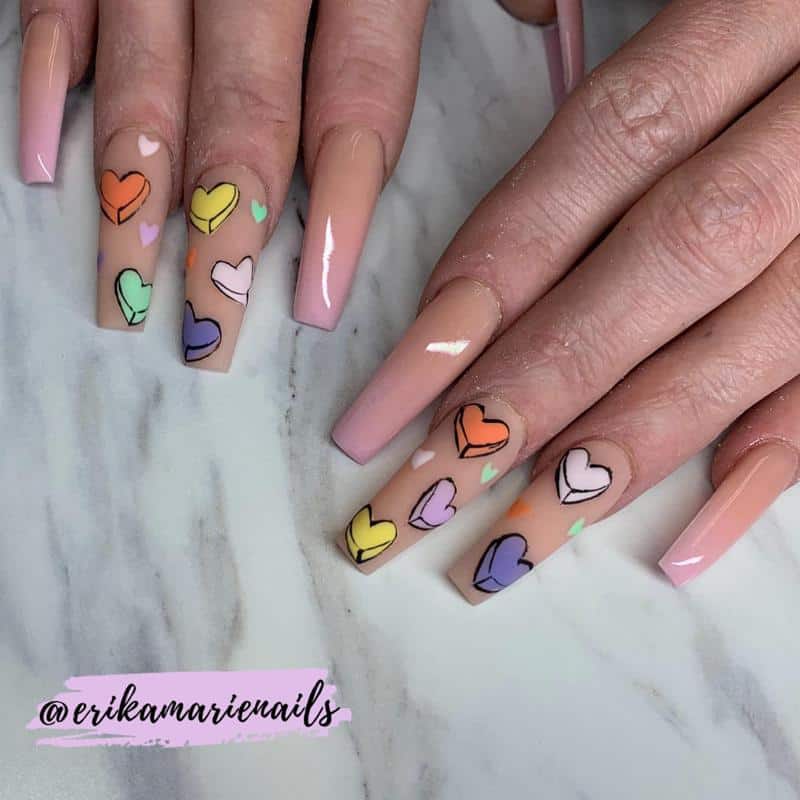 Girls are made of sugar and spice and everything nice. And this sweetheart's nails? Well… of everything nice too! Get in touch with your girly, cute side.
#27 Smiley Hearts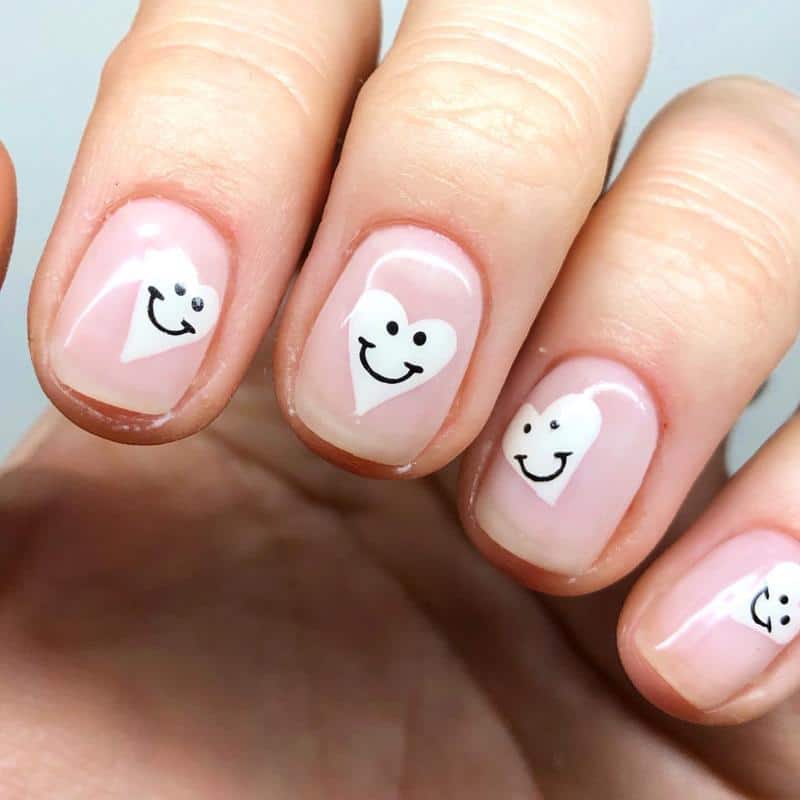 Magic Mirror on the wall, who is the sweetest of them all? Smiley heart nails, for sure! Besides being so lovely, it is even easy to do! All you need is a fine nail brush, and a steady hand, of course!
#28 Messages Within Hearts Nail Design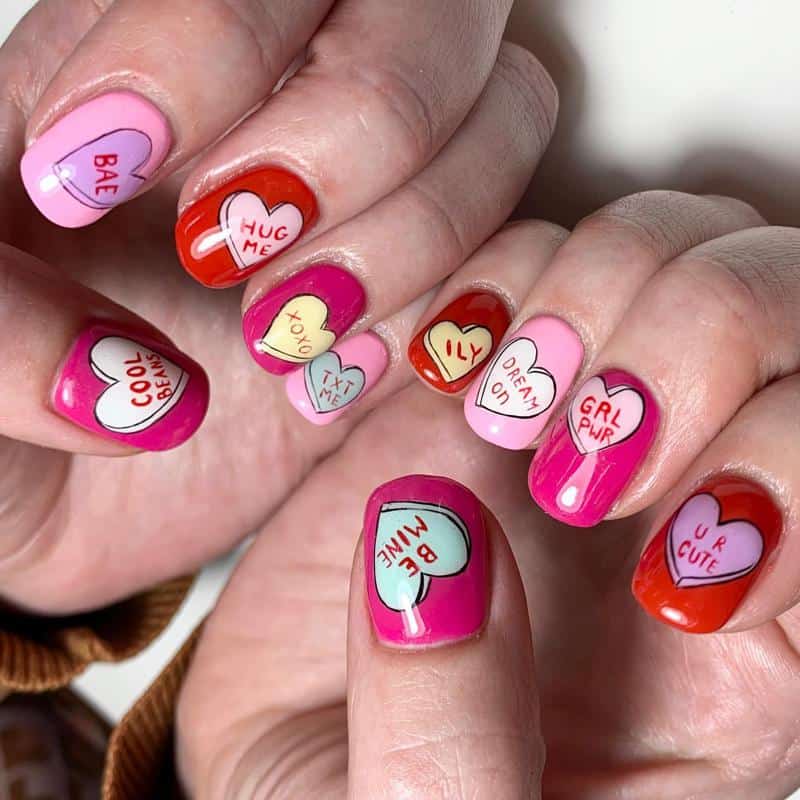 There is something both endlessly romantic and hipster about this design! You can opt for any color combination you want and any writings (as long you keep them short).
#29 Heartbeat Nails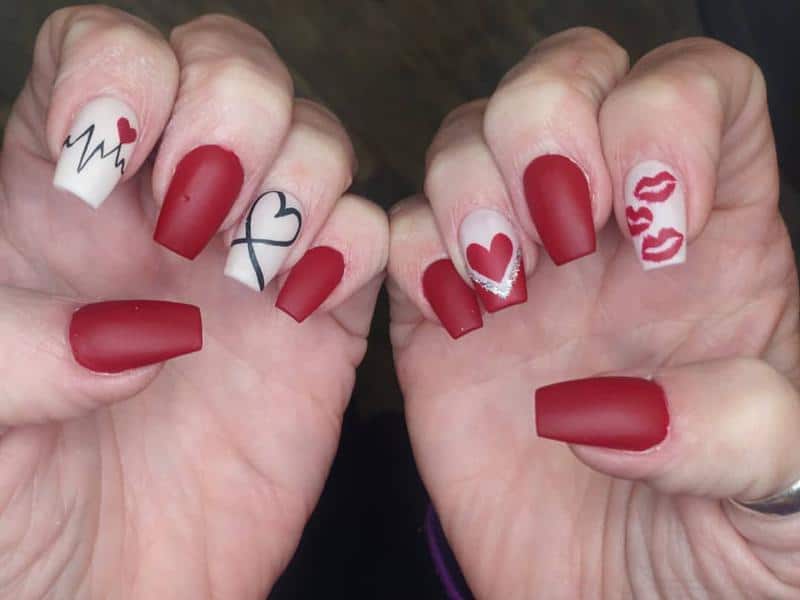 So I put you in a song beside my heartbeat-beat-beat! Did you sing along with us? Even if you did not, we are sure you will love this design! The variations of heartbeat nails are unlimited, and they are perfectly combined with hearts and kisses. But you can have them as the only artwork too!
#30 Heart Nails OKC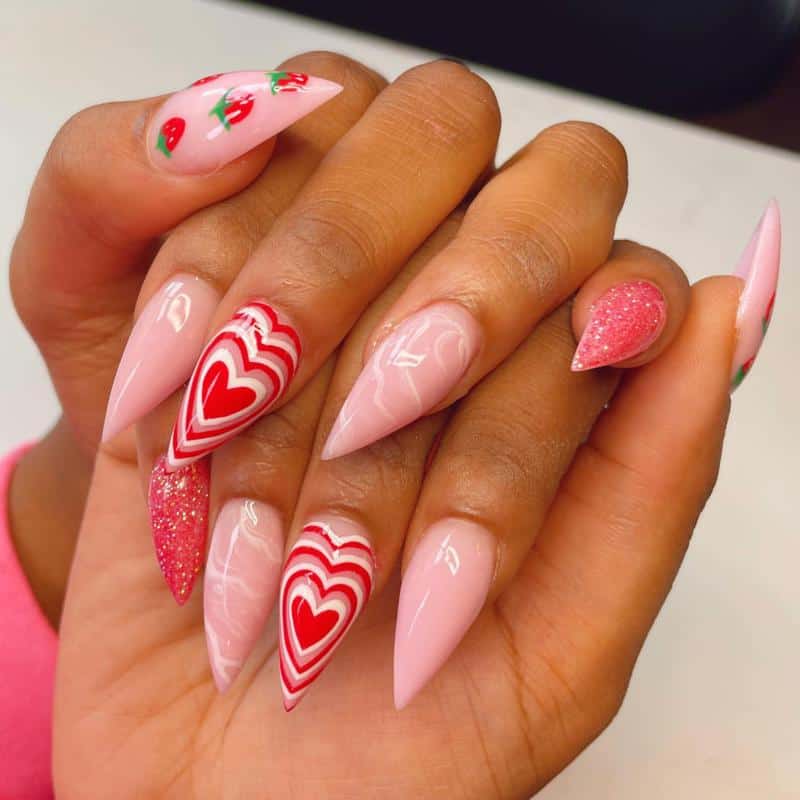 We are stunned by this OKC nail tech! The downside of it? You will not be able to stop looking at your nails! Mix hearts with glitter, strawberries, or whatever you fancy!
#31 Galaxy in Hearts Nails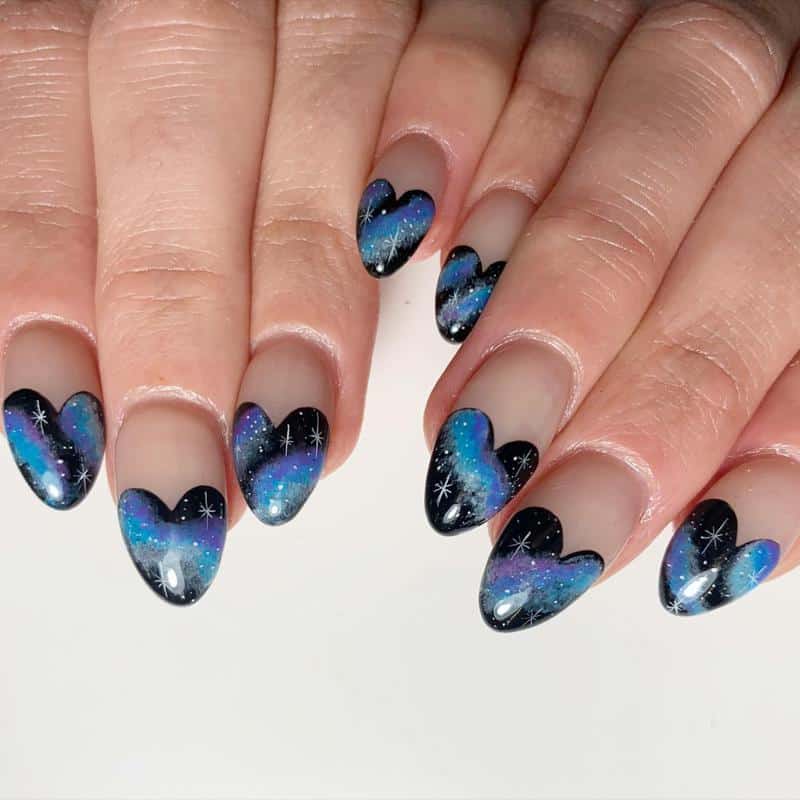 There is no human being who is not amazed by the galaxy. Imagine being always able to look at the picture of it? All you would have to do is gaze down at your hands. And by painting a galaxy inside the hearts, you would give a shape to your drawing and state how much you love the universe.
#32 Zodiac Sign With Hearts Nail Design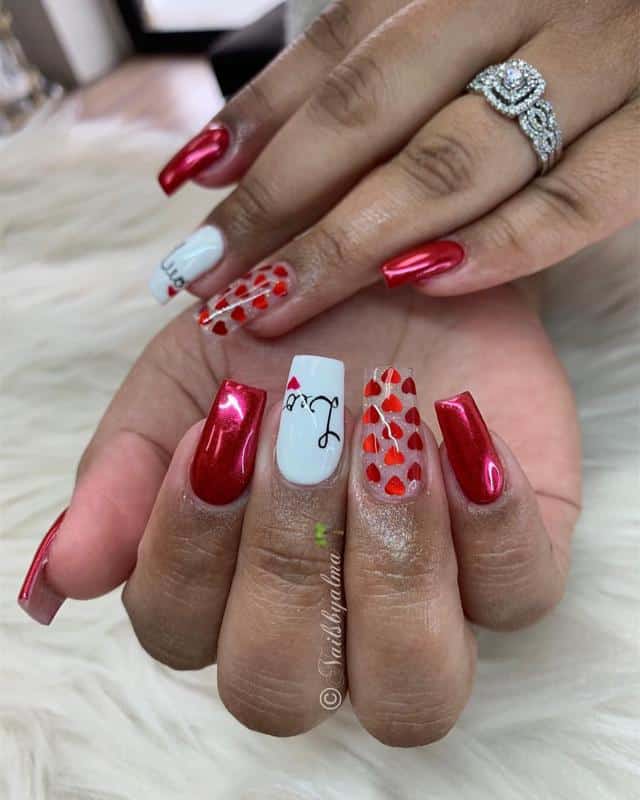 Be proud of your character! Personalize this style with your own Zodiac symbol. You can write the name of your Zodiac, or draw a sign, whatever fits better. Add hearts to make it more interesting!
#33 Scrabble Letter Valentine's Day Nail Design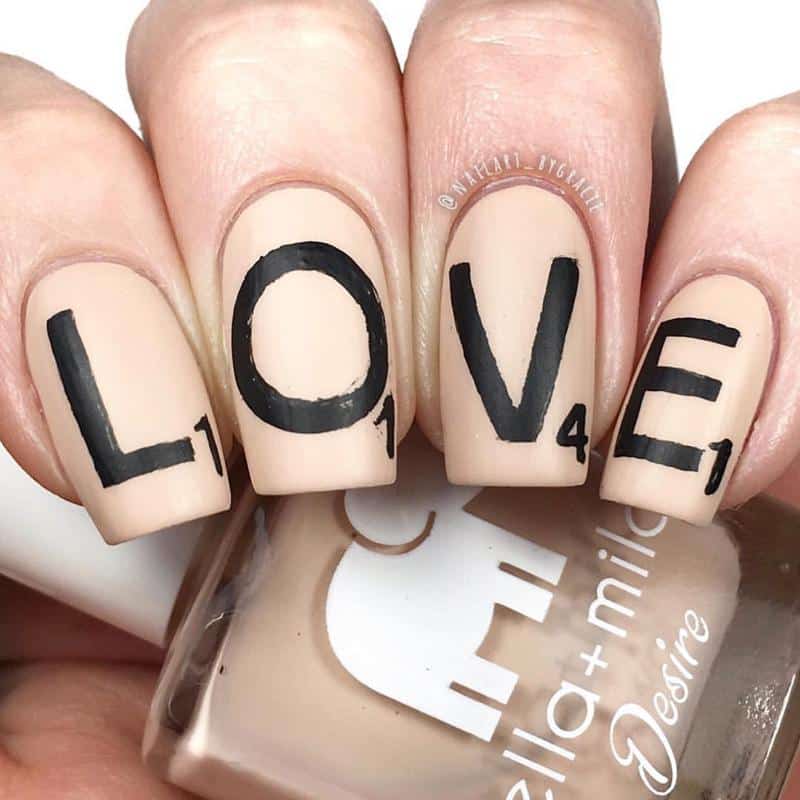 Bring some fierceness (but smartness too) to usually neutral nails by writing out L-O-V-E in a Scrabble manner.
#34 Rainbow with Hearts Nails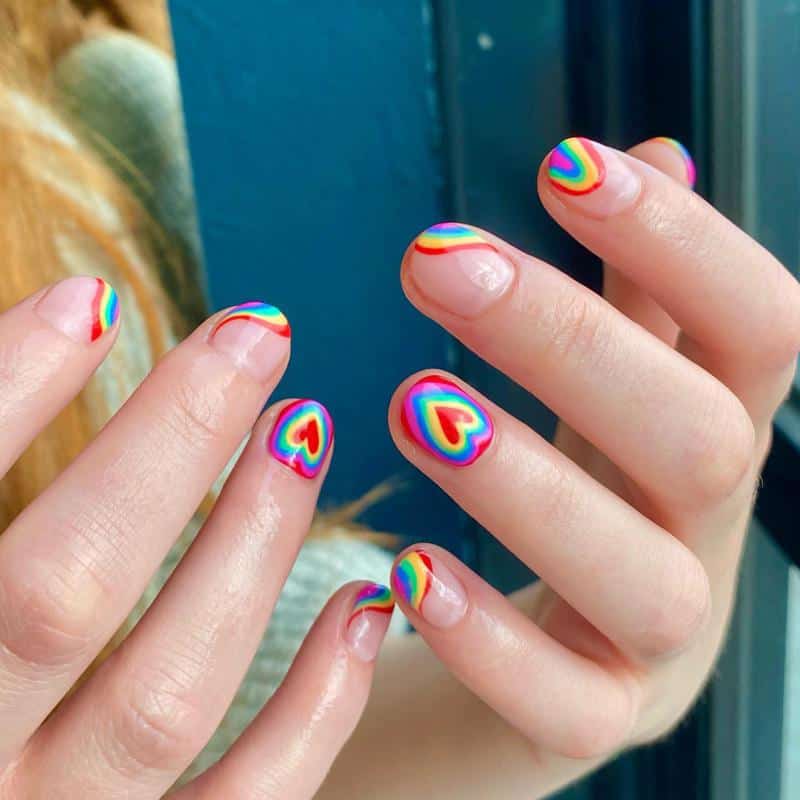 Rainbow represents hope. Thus, every time you look at your nails painted with rainbow and hearts, you will feel hopeful and happy!
#35 Wear It With Pride Heart Nails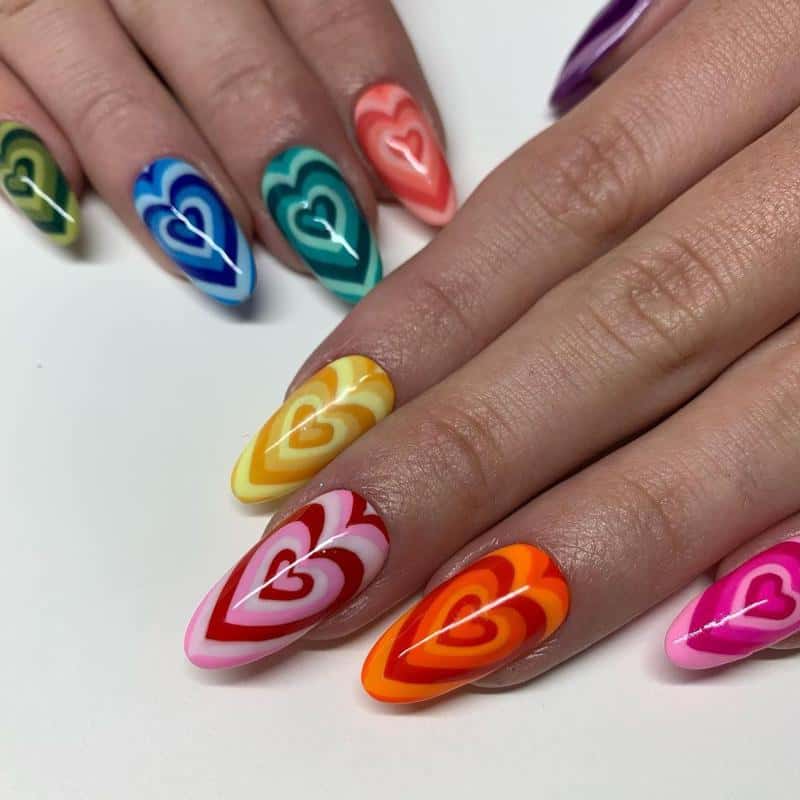 State your pride on your nails, or wear them as a proud ally! Now, you might think that this design is a bit overdone? You are thinking right! Does that make us like it any less? Not at all!
#36 Heart Nails Marion Art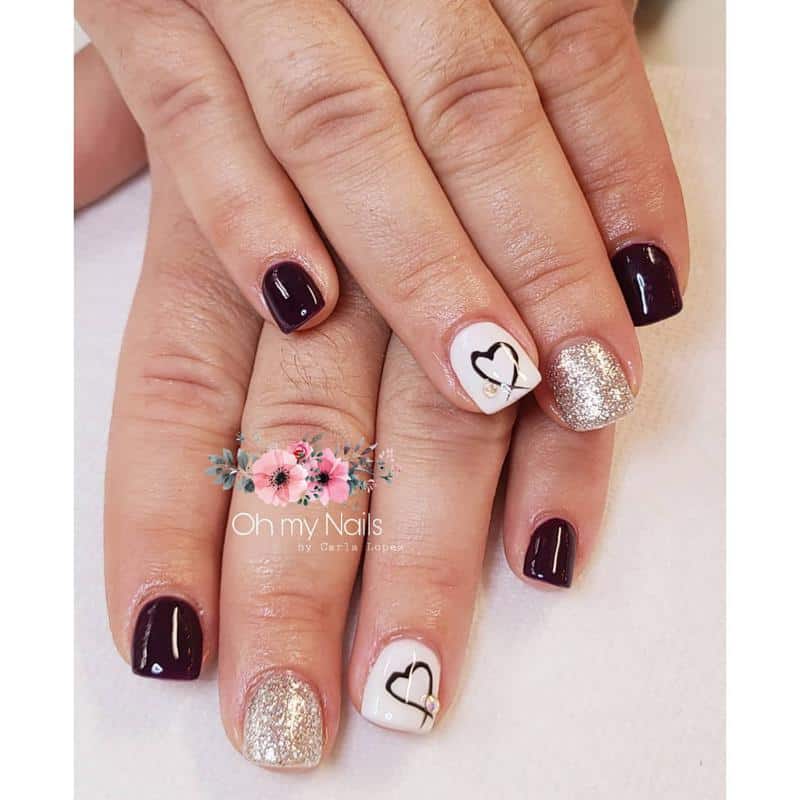 Do you want to use marion technique and heart your nails? Why not? We love dark hearts, but you can opt for any tone!
#37 Anti-love Heart Nails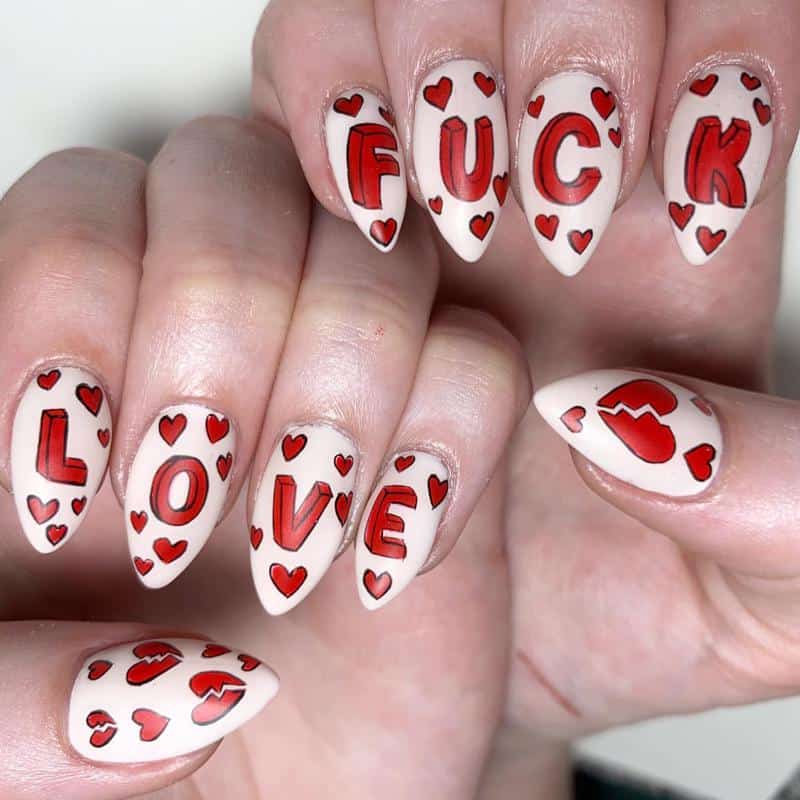 Having a heart on your nails does not have to mean you love love. You can say no to it and show your beliefs on your nails!
#38 Broken Heart Nails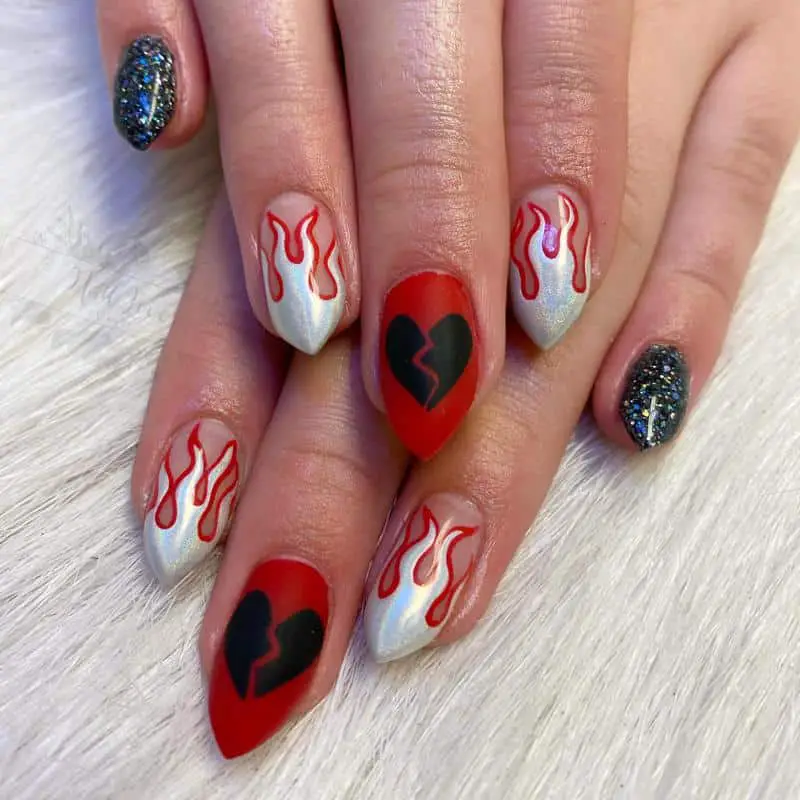 Are you a troubled poet with a broken heart? Do you wish to show your sadness? Or do you just love how an edgy heart looks like? Whatever it is, we cannot help by notice how pretty it is! Keep your nails short but with a small blade. And color them with a bright red hue. And then paint a black broken heart. At the finish, add a few red flames filled with chrome silver. If you wish, you can color your pinkies into glittery black.
#39 Love Your City Nails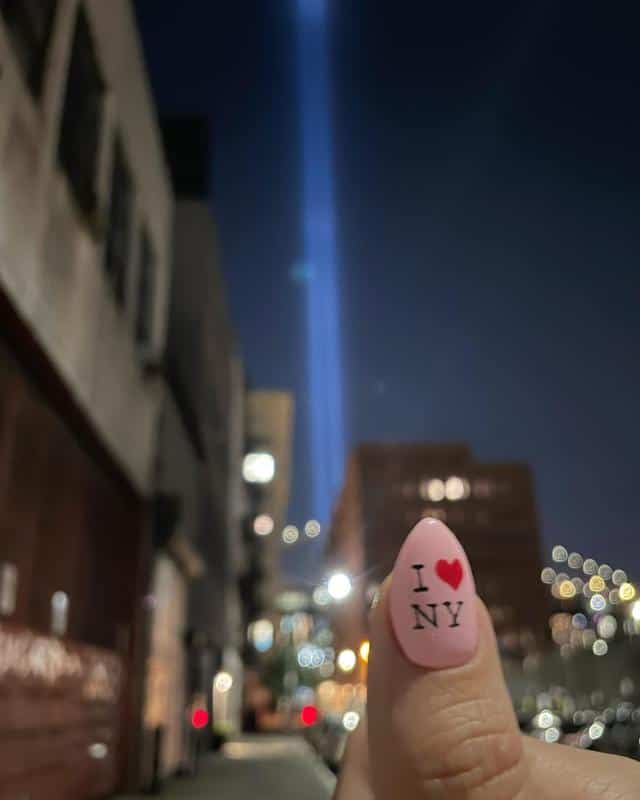 Are you in love with your city? Or do you have a dream city to visit? Wear it on your nails!
#40 Adopt Not Shop Nails With Hearts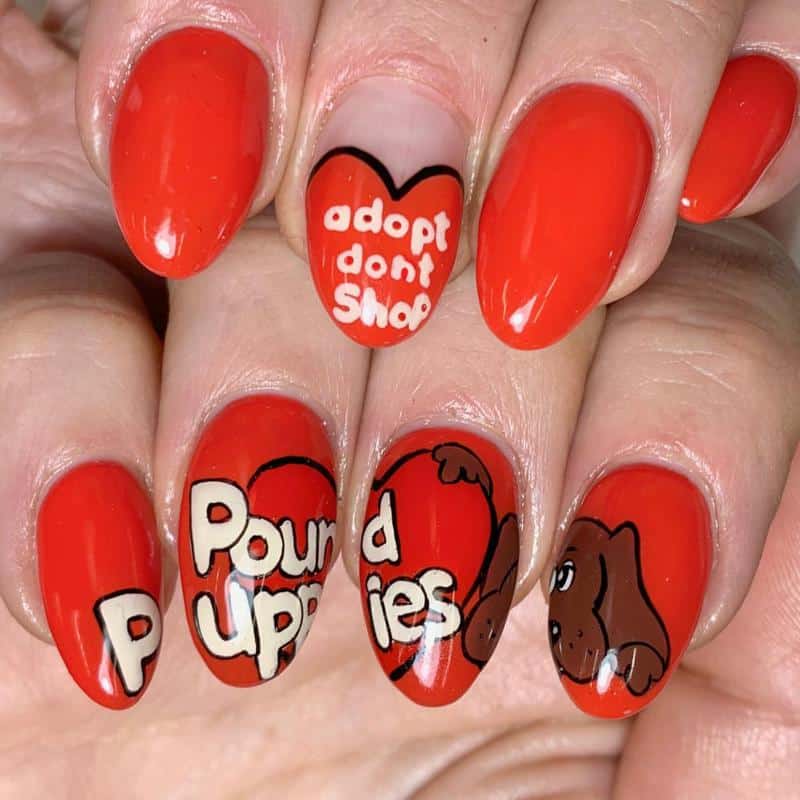 Only the most accurate lovers of animals will understand how much is important this message! There are so many dogs and cats waiting for someone to give them home. And in return, they will award them with endless love. Be an advocate of adopting, bring the change!
#41 XoXo, You Know You Love Hearts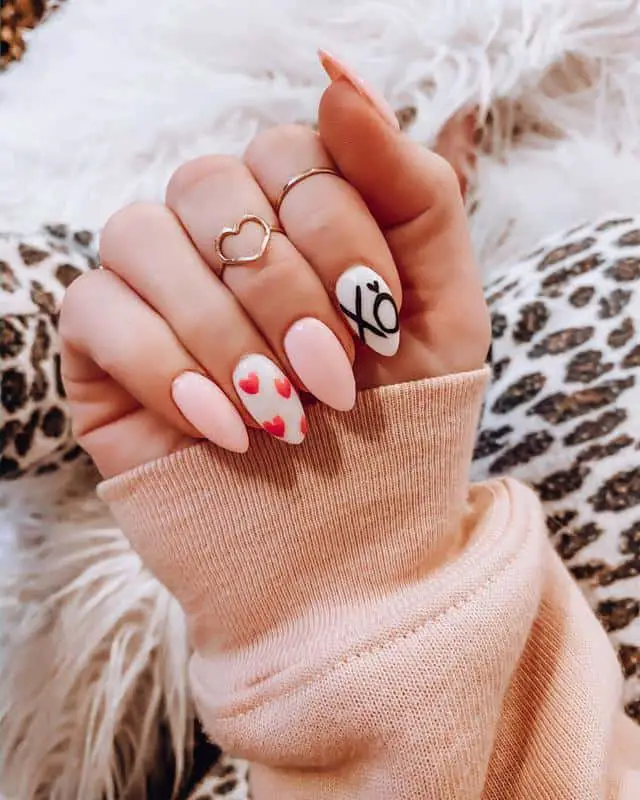 Is it just us, or does this reminds of Gossip Girl? Either way, it is a super feminine combination! Color three nails with a creamy, pale pink, and the other two colors in white. Then write on one white base XO, using black. And on another background, draw red hearts. Super chic, super soft – super good design!
#42 Powerpuff Girls With Hearts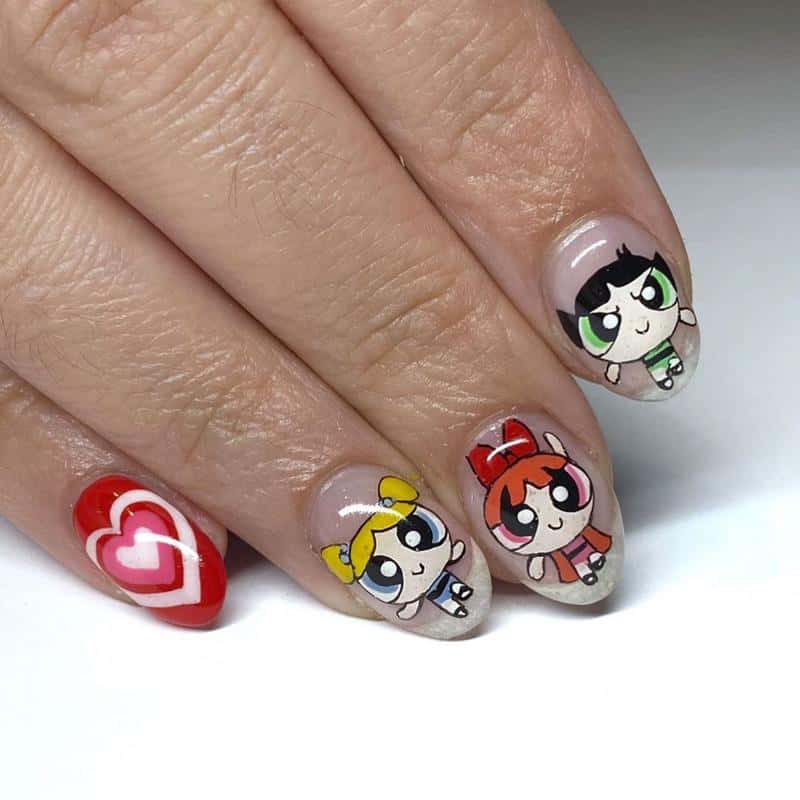 Were you a crazy fan of Powerpuff Girls as a teen? It is not a surprise, we all were! So, what about getting their paintings on your nails? But do not forget to leave one finger for hearts!
#43 Cartoon Crush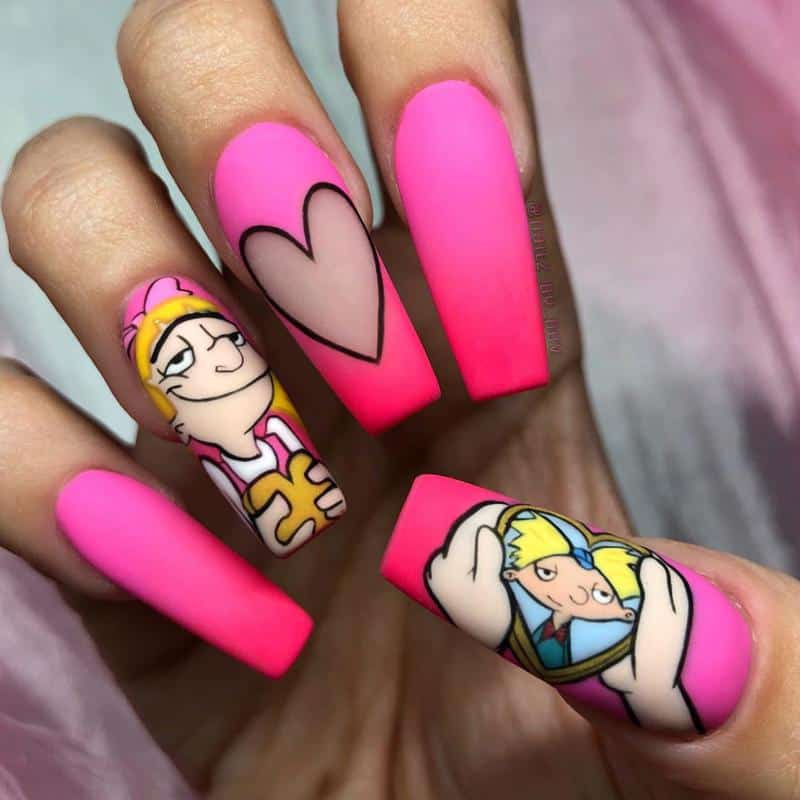 If you were a child in the '90s, you remember the most iconic cartoon crushes ever: Helga and Arnold! You could pick any colors you fancy, but we worship the bright, matte, pink ombré base.
#44 Love for Baby Yoda Nails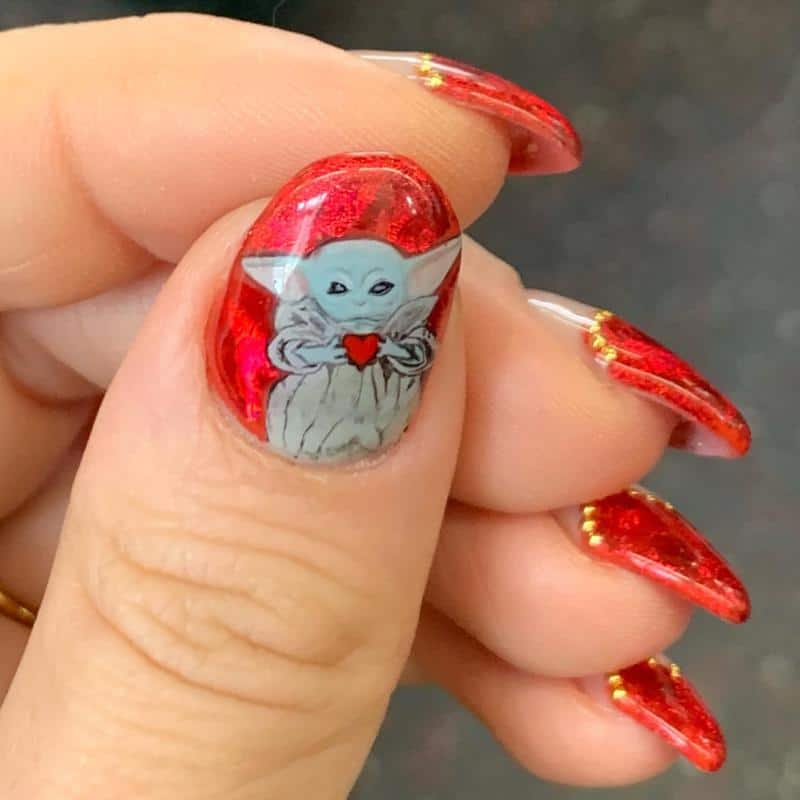 If you say you do not adore baby Yoda, you are bluffing. Thus, we are sure that everyone will fancy this design! Do not overdo it: no needs to do more than one baby Yoda, so paint him only on one of your nails. And make him hold a heart, because why not?
#45 Horror Meets Love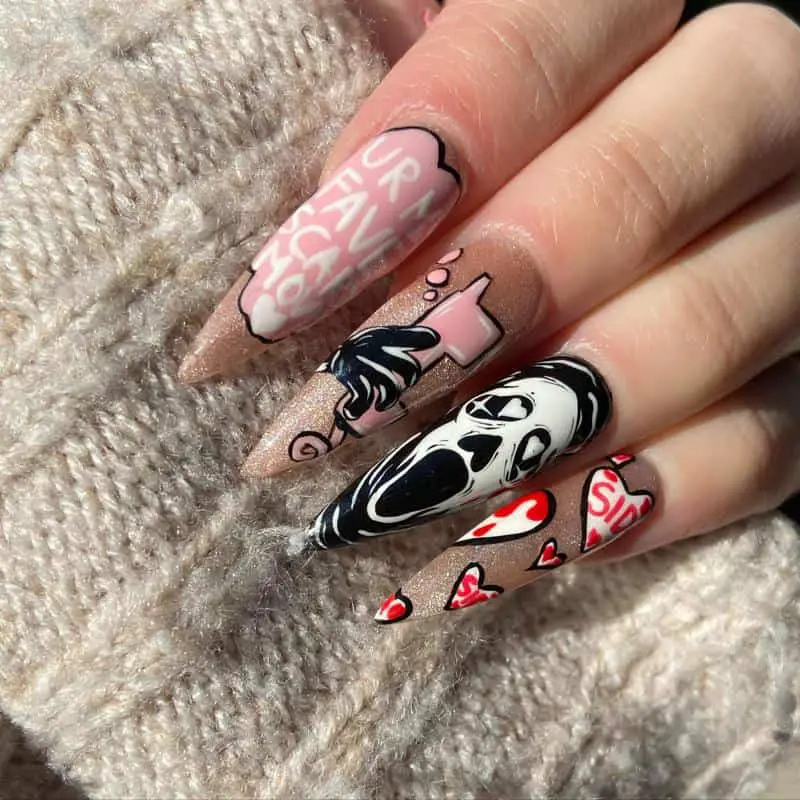 Cannot decide if you love more Halloween or Valentine's Day? Why would you have to choose? What is your favorite horror movie? For us, it is Scream forever! If you are a good artist, and you wish to try to do this by yourself, you can. But having a steady hand is crucial. Also, it would be useful to buy a pack of various-sized dotting devices and a liner brush.
#46 Heart Stickers For Nails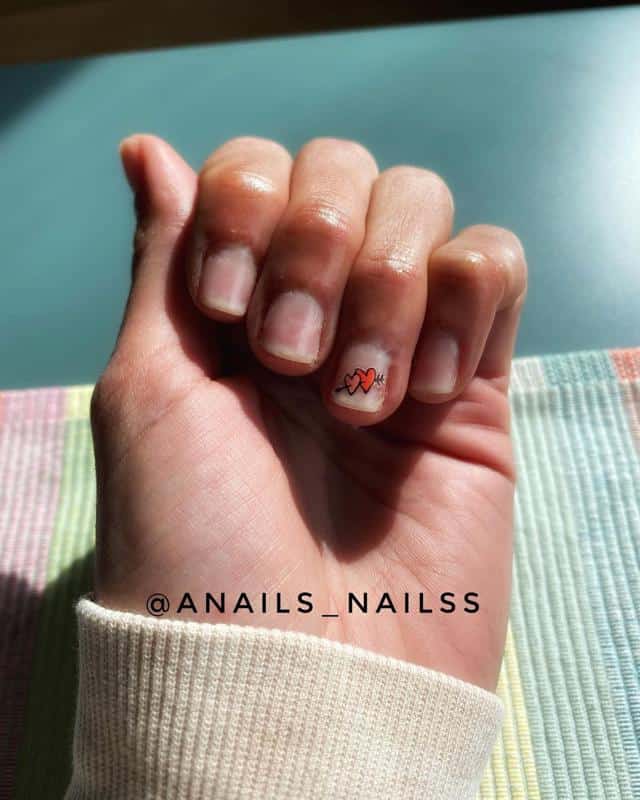 To get a love design, you do not need to be a nail artist, nor to visit one. Simply, choose a perfect sticker and apply it. Plus, stickers cannot damage your nails since they are made of nail polish with a tiny bit of adhesive.
#47 Heart Rhinestone Nails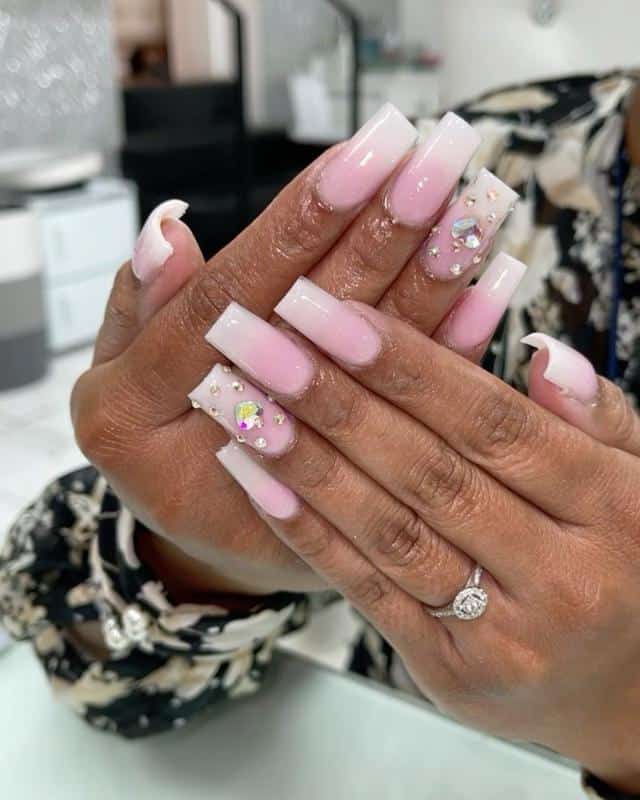 Rhinestones are fashionable and fitting for any fancy occasion. But if you overdo it, it will lose a fancy appearance and seem cheaper. Thus, we suggest you do it with only one finger on each hand. Put one bigger rhinestone heart in the middle and small circular ones around.
#48 Gel Nails with Hearts
Gel manicure could be hard on nails. But it is beautiful and long-lasting. Thus why do people still choose it! Color your nails into your favorite shade while you paint one finger of each hand in white. In the end, draw the heart on the white background.
#49 Heart Acrylic Nails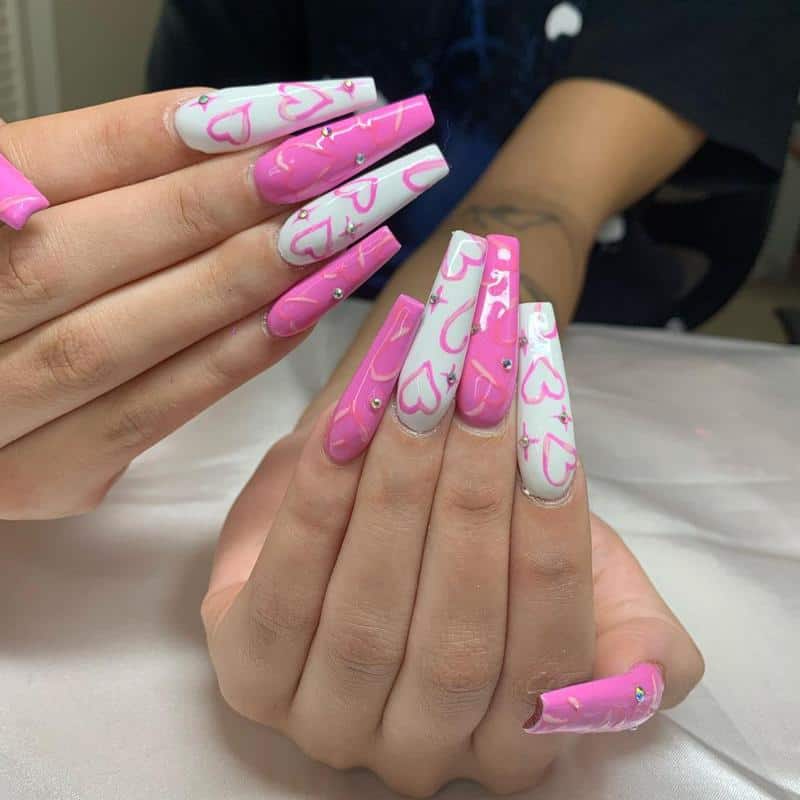 Acrylics should not harm your nails. That is if setting them on and off was correct. Thus, no reason not to enjoy the long nails you always wanted to have. Any design will go well with it, including hearts.
#50 Heart Nail Designs For Short Nails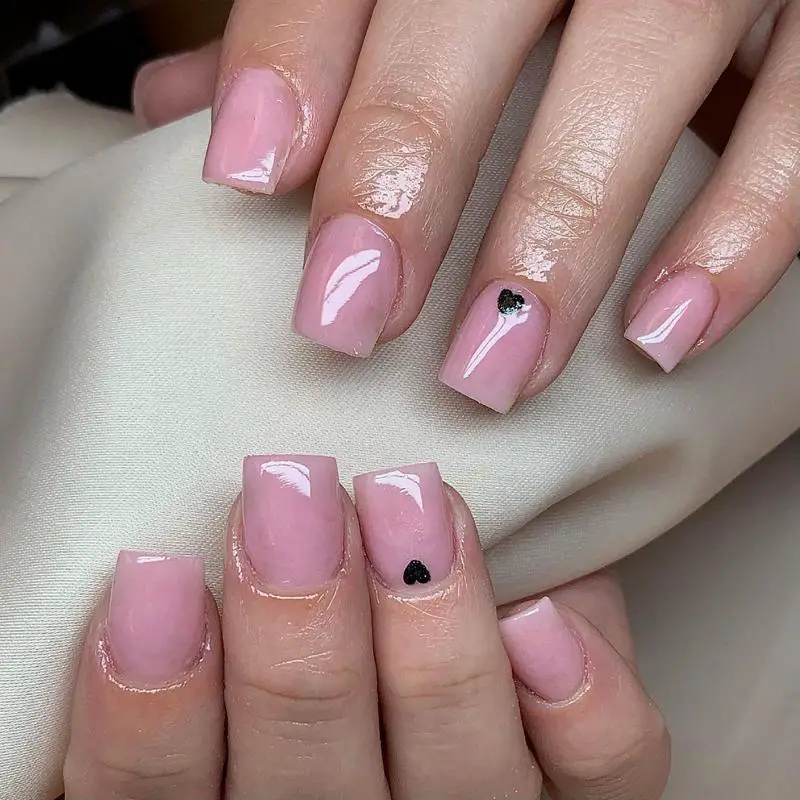 You like to keep your nails natural and short. But that does not mean they cannot be in the ideal shape and with perfect polish and art patterns. We suggest you pick smaller hearts drawings.
Heart Nails Design: Q&A
1. Is Heart Nails Design Trending?
Heart nail design is not a new thing – it has been widely popular in the 2000s. But it is trending this year too, and it is expected to keep in popularity. Thanks to its versatility, it is evergreen.
2. Is Heart Nail Design Hard To Do?
There are too many ideas for this design. Thus, it is impossible to answer with yes or no. Depending on which pattern you choose, you can do it yourself or take your idea to your favorite nail artist.
3. Heart failure nails- Can I Do It Wrong?
Sure, any nail design can go wrong. You could shape the heart with error. To prevent it from happening, make sure your hand is steady, and give yourself time. No rushing is a key.
4. Heart Nails Tutorial – How To Do It?
In our article, we aimed to explain briefly to you some styles. More detailed tutorials, you can find on YouTube. Make sure to pick the video with many likes and comments. That will convince you more about quality.
Bottom Line
The heart is a representation of affection and tender love. And something in shape is charming and pleasing. That is why it is lovely to have them as a detail on the nails. It is a great option if you feel romantic or want a change in your style! We hope our ideas inspired you. Enjoy!