10 Best Tattoo Gloves: Uitimate Guide (2023 Update)
When you shop through links on our site, we may earn an affiliate commission. This educational content is not intended to be a substitute for professional advice.
If you're getting into the work of a tattoo artist, then you must know that working with needles, skin, and ink requires you to own a pair of medical-grade gloves that you can use with your clients, while inking and shading them. But, with the wide availability of gloves, often those of low quality, a lot of aspiring tattoo artists, as well as those experienced ones struggle with the choice to make.
In this article, we'll help you stack up on the best tattoo gloves that you can use in interaction with your clients. We'll explain to you why they're important when it comes to your protection and how to choose the right brand that will suit your needs in finding them.
Product summary:
They don't only help you protect from potential bacteria. They also protect your clients and help promote good hygiene and good healthcare standards in your tattoo studio, which is important in the regulated tattoo studios.
Before we dig into the best models worth considering when shopping for the best tattoo gloves, it's important to understand that tattoo gloves all have different features that help you protect yourself from ink, but that they're more than just that.
They have to fit properly, be sufficiently protective, and more than anything, they need to be durable and not rip with a single swipe of your hands or fingers.
Things to Consider Before You Shop For The Best Tattoo Gloves
As we said, there are some things worth looking into when shopping for the best tattoo gloves. Below are the most important features you shouldn't miss on your shopping venture.
Type of Material
Tattoo gloves are available in three main materials, to ensure the medical grade of protection and put both safety and durability on a high level. Some gloves may work with some people and some may work with other people. For some types of gloves, it's also important to talk to your clients to ensure they're not allergic. That said, there are:
Latex
Nitrile
And vinyl gloves
If you're looking for the most affordable and available option as a tattoo artist, getting latex gloves is the best choice. They are durable, strong, stretchy and a great fit regardless of how big or small your hand is. The material is strong enough to keep you safe from cutting yourself accidentally. It's also good in protecting against punctures.
The fit is comfortable, and you won't lose touch with your tattoo machine, skin, or other things that you need to touch. However, latex gloves can potentially be dangerous for you and your clients, as both you or them can be allergic to them. Latex is one of the common allergens, and reactions can go from mild to severe, from a rash to loss of consciousness or breath.
If you want to avoid allergic reactions to latex, talk to your clients about it. If some client is allergic to latex, using nitrile gloves is a much better alternative. Nitrile is nothing more than a substitute for natural latex. It's a synthetic material so it's more comfortable, stronger, and durable in the process. Although allergy reactions exist in some rare matter, they're far less frequent than allergy reactions caused by natural latex.
Lastly, we have vinyl gloves, which exceed when it comes to strength and durability. They won't only protect you from ink and poor hygienic conditions, they will also help when working with harmful chemicals, oils, solvents, and other material, which doesn't spare the aforementioned types of gloves.
If you need to clean up after getting a tattoo done, this is the best type of gloves to go. Still, vinyl gloves are quite difficult to wear. That's mainly because it's hard to ink the clients due to lower sensitivity. Lower sensitivity makes it more difficult to work on different body parts because there is a lack of control of the needle and tattoo machine in general.
Comfort And Sensitivity
You know that not all gloves will allow you to handle day-to-day activities well. Winter gloves in most cases prevent you from using your phone and other devices properly, due to a lack of sensitivity. A tattoo artist spends hours bringing the design their client imagined to live, and that requires a lot of time investment, dedication, and patience.
However, that's not possible if you're wearing poor-quality gloves. Even though they are the most premium, vinyl gloves don't give that good grip and sensitivity while working on the tattoo, not in the way other gloves like latex and black nitrile gloves give.
If you're allergic to latex, and sensitivity and comfort are important to you, you should definitely consider nitrile gloves, as they'll give you the grip over the pen, and a lot more benefits at a certain angle when tattooing a person.
Professional tattoo artists use vinyl gloves because they are not comfortable with the greasiness and oil left behind the disinfection and cleaning, so they're a great option for cleaning up. Over time, they grew used to the discomfort they cause and learned how to use it in their favor.
Depending on your expertise, you'll consider different types of gloves, and eventually, you'll find what suits you the best in the given situation.
The Fit
When it comes fit of the glove, if it doesn't fit properly, it can cause a lot of discomforts. Gloves shouldn't be too tight, loose, short, and long. Purchasing the right fit can be stressful because everyone's hand is different. Someone has a wider palm, someone has a long finger and someone has a mix of two.
That's why it's important to understand the size you need to make a perfect fit for a glove. It shouldn't cause any sort of irritation, rash, or redness, as that can hint at an allergy.
The glove should neither be too tight nor too loose, the fingers fit just right and can move freely without any type of strain. If the glove is too tight, you may experience redness and even soreness on your hand. If the glove is too loose, you'll have difficulties gripping the equipment you use to ink your client.
The length of the glove is just up to the wrist. If there's some material extending to your hand, that means that the glove is too big and loose on your hand.
High Dexterity
The dexterity has a lot to do with how you use your gloves, and with that, they depend on the fit. Nevertheless, a good pair of gloves should make gripping your tattoo gun as easy as eating a cake. You don't want the gun to slip out of your hand. It's supposed to ensure a tight grip and allow you to work effectively at any angle.
The dexterity depends on a variety of factors like the material, comfort, fit, and others, but it also depends on your hands. It'll take some time for you to discover the gloves that will provide enough dexterity for you to work optimally, but once you do, you'll never want to use other gloves again.
One good tip you can get when it comes to dexterity is to use a versatile pair of gloves that can go on either hand.
Color
You could certainly easily find pink tattoo gloves and blue tattoo gloves. However, the black tattoo gloves are the most commonly used and popular. That's because they are able to hide the stains caused by ink and other shading ink used to color the tattoos.
Best Tattoo Gloves
We hope that our buying guide made the process of searching for the best tattoo gloves much easier, as well as understanding the role different features play. In this section, we will list and review the 10 best tattoo gloves, and see how these features act in practice.
Best Overall: AMMEX Black Nitrile Exam Gloves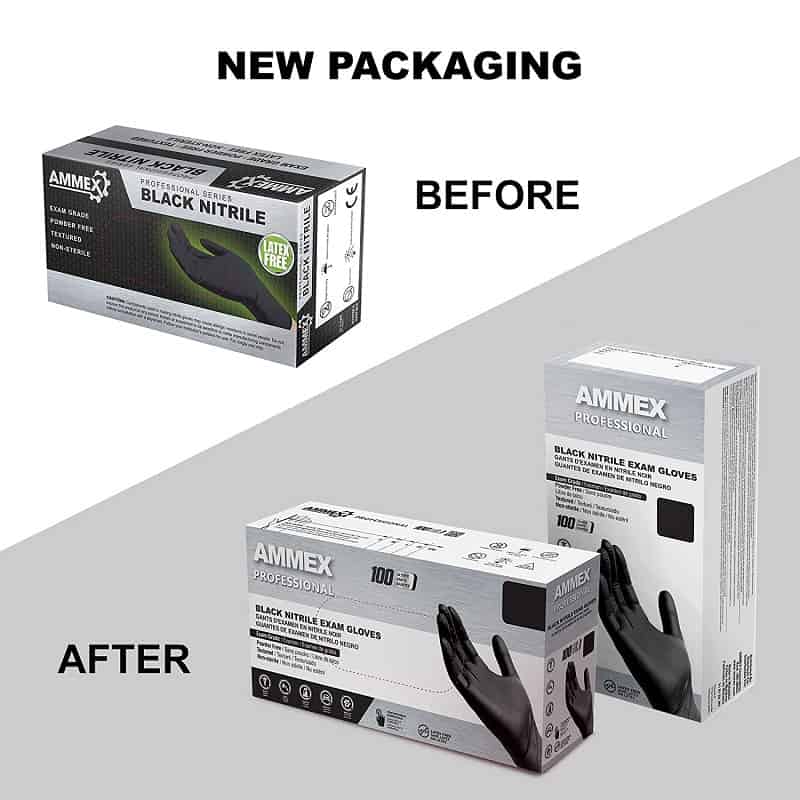 Size: Small
Type: Nitrile
Color Black:
Count: 100
After careful research, testing, and reviewing, we found that AMMEX black nitrile exam gloves are the best if you're looking for a durable package of gloves that will assist you at any time you want, and provide tactile sensitivity while you work on bringing challenging tattoos to life.
Not only are they perfectly versatile and stretchy, but they are also medical-grade, so they are perfectly safe if you want to maintain high hygiene and work with the tattoo gun and needles. Besides the tattoo studios, these can be used for various medical procedures, laboratory work, and even automotive tasks.
They are made out of nitrile, a synthetic version of latex that is much more resistant to allergies and provides the protection caused by latex and rubber in general. Needless to say, they are extremely strong, and although they are small, they could easily be a great fit for even longer fingers and larger palms.
Lastly, they are quite lightweight, so you won't even feel while you're wearing them. Nevertheless, you can expect to feel free while working on tattoos, without feeling extra skin or rash because the gloves are too tight next to your hands.
Editor's notes: The gloves are quite large, so even if you take the size S, you can expect to wear them with a bigger hand. On the contrary, XL gloves are super large and may cause discomfort. Make sure to take one size smaller option than you'd normally take.
Runner Up: Infi-Touch Heavy Duty Nitrile Gloves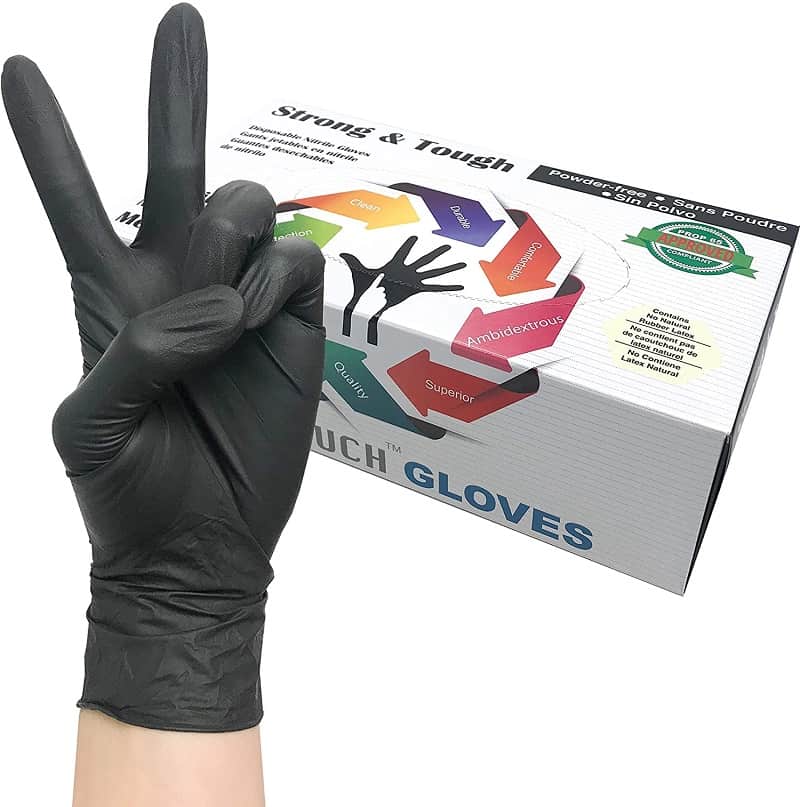 Size: Medium
Type: Nitrile
Color Black:
Count: 200
There are a lot of benefits of using the Infi-Touch nitrile gloves. They are primarily used in the automotive field, which means they are strong, durable, and simply future-proof. The non-sterile durability helps tattoo artists make a tattoo effectively. More importantly, a great variety of sizes for both males and females, makes you able to customize which tattoo you want to get.
Besides the tattoo artist studios, you can use these gloves anywhere, from grooming and hair salons to other beauty salons and car shops.
One of their key features is the micro-textured fingertips which help with gripping, which comes in handy when it comes to gripping the tattoo gun. They are resistant to liquid, so cleaning tattoo should come like a breeze for you. Nevertheless, they are not chemical proof, so it's not advised that you work with chemical compounds while wearing them.
There are also different packaging options. Some come with a 50 count package, while the other ones come in a 200 count package. That's also great for the versatility of the gloves, although we always recommend the bigger package when working in a tattoo studio.
Editor's notes: Keep in mind that these gloves won't resist the chemical compounds and solutions, so avoid using them with these gloves.
Best Budget: PEIPU Nitrile and Vinyl Blend Material Disposable Gloves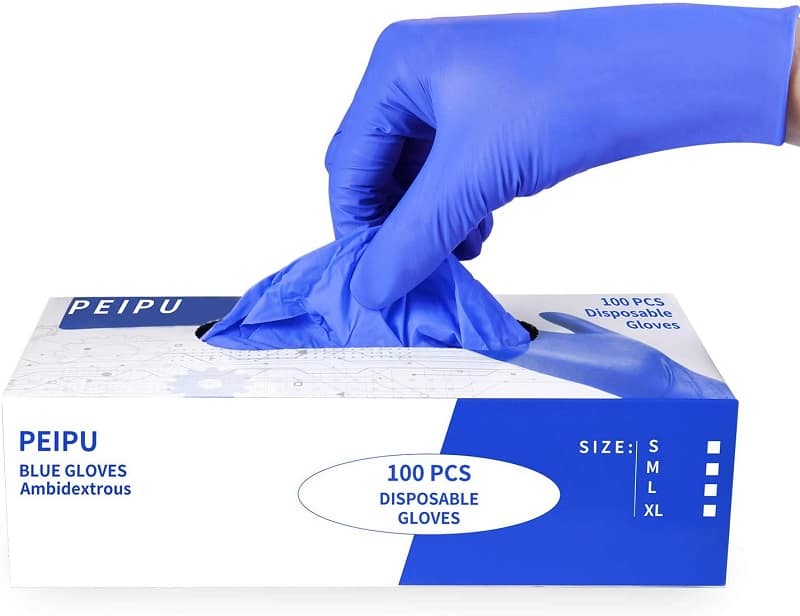 Size: Medium
Type: Nitrile, Vinyl
Color Blue
Count: 100
Getting good nitrile or vinyl gloves doesn't have to be super expensive. Additionally, if you want to step away from the conventional black gloves, PEIPU has a budget-friendly, yet durable option that will keep your performance at the tattoo studio at an all-time high.
This is a blend material type of gloves, so it combines the versatility and great tactile sensitivity, responsive grip, and comfort of the nitrile gloves,  as well as the durability of the vinyl gloves. The tattoo gloves are free of latex and powder, so you don't have to worry about any allergies.
It's an amazing fit, but it can be difficult to use for people with smaller hands. Nevertheless, there's a great level of protection when it comes to liquids, including chemical compounds, grease, oil, and more. They are a great option to consider when wanting to protect yourself from the outside world.
Editor's notes: Although great, they still don't have the entire grip powder of pure nitrile gloves, but this blend at an affordable price will sure benefit someone. It's also worth noting that people who have smaller hands may find it too difficult to wear these gloves.
Best Latex Tattoo Gloves: Adenna Phantom Exam Gloves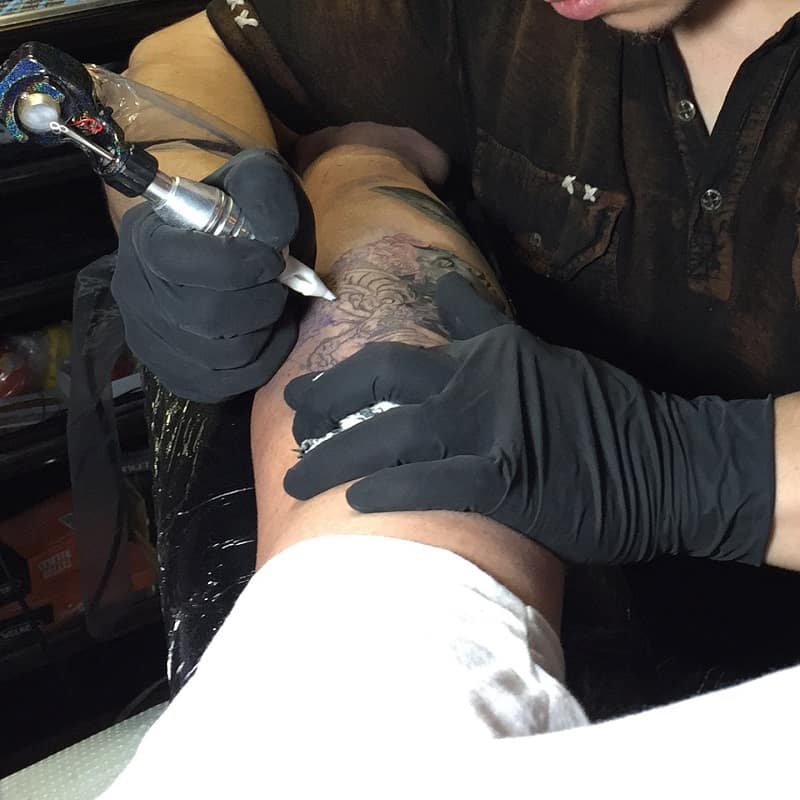 Size: All Sizes
Type: Latex
Color Black
Count: 100
Not everyone wants to use nitrile gloves, and if you're not allergic, you can use latex tattoo gloves. If you were looking for some, this is the best option to have. The gloves are certified with the gold standard GOLD, which means that they are high-quality and durable gloves that are free of powder while using pure latex and black color.
They are one of the hottest picks for tattoo and piercing artists, as well as hairdressers and other workers in the beauty field. They don't leak or absorb the dyes into your skin, so they are an ideal pick for shading and coloring.
They are black, which also means that they are resistant to stains, color leaks, and another unwanted grease on the gloves. More importantly, the black color makes them more durable in sense of not getting dirty thanks to ink.
They are versatile, flexible, and stretching, so anyone can use them to get a tattoo. More importantly, they are available in all sizes. The grip is great, so you won't have to worry about accidentally dropping your tattoo gun or dye. They'll allow you to focus on the work, and not worry about having extra skin on your hand.
Editor's notes: They are not recommended for people who are allergic to latex
Best Nitrile Tattoo Gloves: MedPride Nitrile Exam Gloves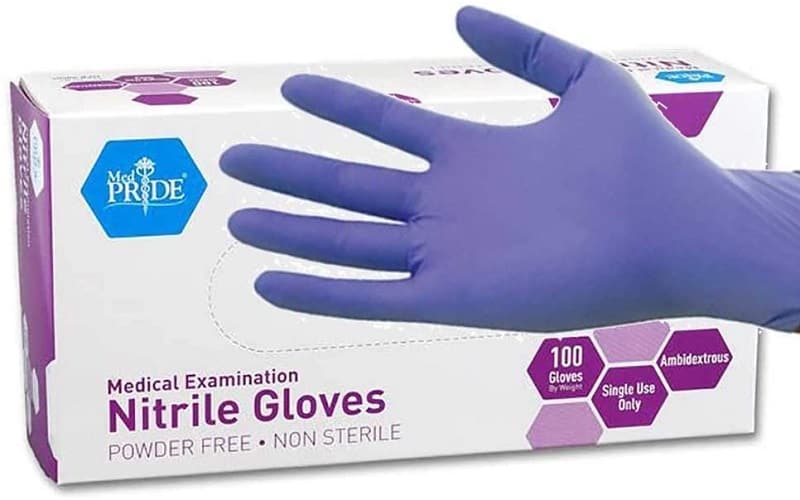 Size: All Sizes
Type: Nitrile
Color Blue
Count: 100
If you're sensitive to rubber and donning powder, this is the right pick for you. Over the years, MedPride worked on improving the construction of its gloves to deliver unprecedented performance and durability. Free or donning powder and natural latex, you can avoid all the unwanted rash, redness, and sores that are associated with the latex allergy.
They are highly durable, even the most demanding tactile grip, and working in one session for hours won't get them ripped apart. There is a high puncture resistance which you will see if you decide to use in your tattoo endeavors.
Editor's notes: They are also available in different sizes, but the fit may be too hard to figure out because they are larger than other gloves.
Best XL Tattoo Gloves: AMMEX GlovePlus Industrial Black Nitrile Gloves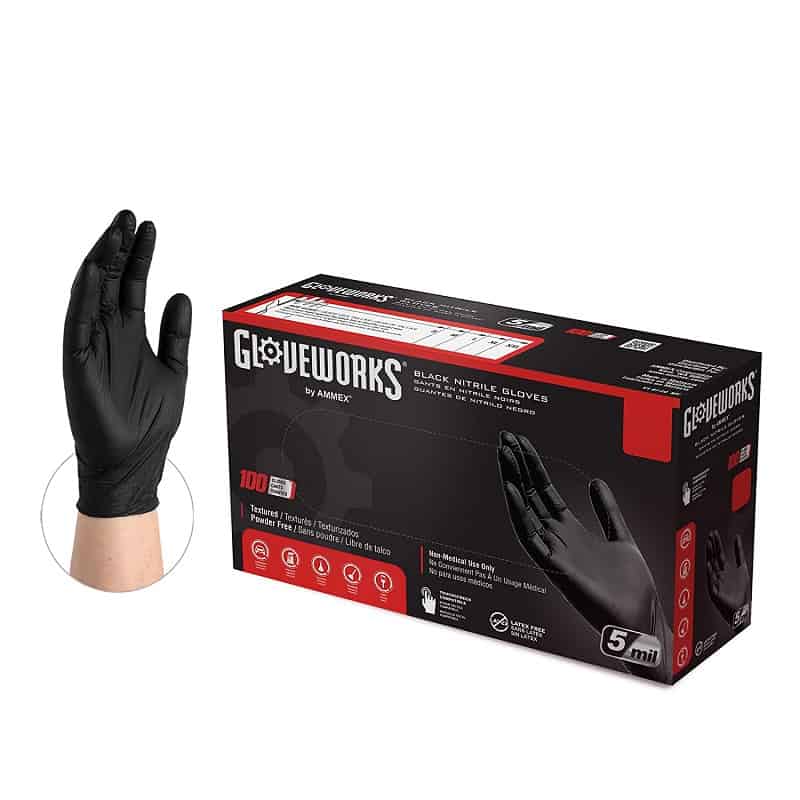 Size: XL
Type: Nitrile
Color Black
Count: 100
Industrial gloves provide more durability for extended sessions where your hands may occasionally sweat. It uses a thick nitrile layer with a textured grip. It's suitable for larger hands rather than small ones. However, the elasticity is great and reliable.
It's worth noting that there are no latex compounds in this type of gloves. Besides the large gloves, you can also look for the smaller options on the site, if you're interested in owning this type of gloves. They are 5 mils thick, which is great if you're worried about them ripping in the middle of the work.
Editor's notes: They're too large for smaller hands.
Black Pearl Latex Gloves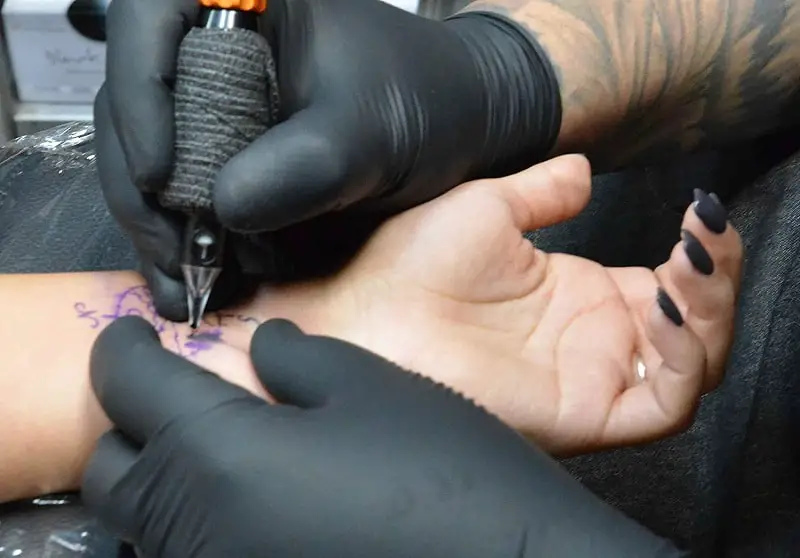 Size: L
Type: Latex
Color Black
Count: 100
If you're looking for large gloves that are designed specifically for the tattoo industry, look no further than the Black Pearl Latex Gloves that are perfectly durable, and we must say, affordable too. They are fully textured which also means better grip and easy to work with them on. They work ideally in a wet environment as well as a dry one.
The average finger thickness is 6 Mil, so you don't have to worry about them ripping or giving you that extra skin feeling while you're working. It's also designed so to be powder-free to minimize the probability of latex allergy. If you also work in other fields like beauty or automotive besides working on tattoos, these gloves will show great advantages.
Editor's notes: They may feel a little uncomfortable at first, but it doesn't take long to get used to them.
Black Dragon Tatoo Gloves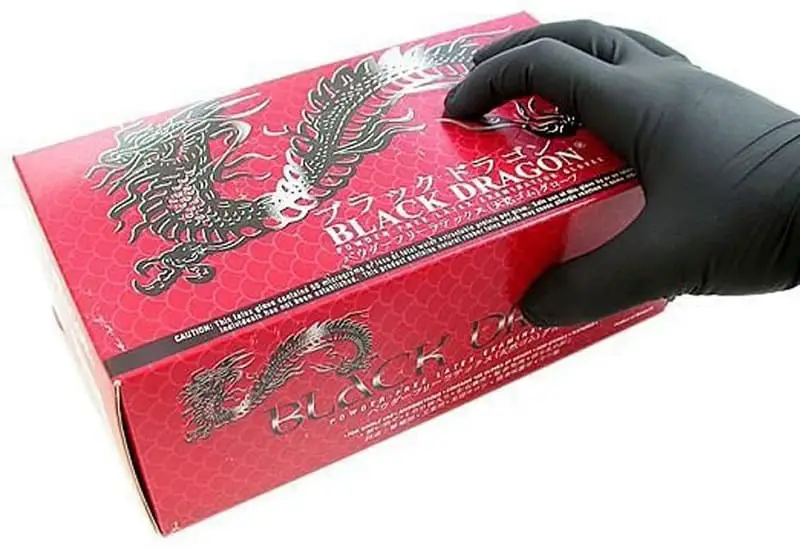 Size: All
Type: Latex
Color Black
Count: 100
Using a natural Latex, Black Dragon tattoo gloves will provide a sleek and comfortable sensation while you're working in a wet and dry environment. Because it's black, it helps camouflage the unnecessary stains from the tattoo ink and different colored shading ink. They have a medical-grade non-sterile design and you should use them only once. With a double polymer-coated exterior and no powder inside, you're certain to use them comfortably. It's also worth saying that they are available in all sizes, so people with all sizes of hands can use them.
Editor's notes: There's no additional protection against the spread of Latex allergies, which is why those who are allergic to natural latex shouldn't use them.
GripProtect Precise Black Nitrile Exam Gloves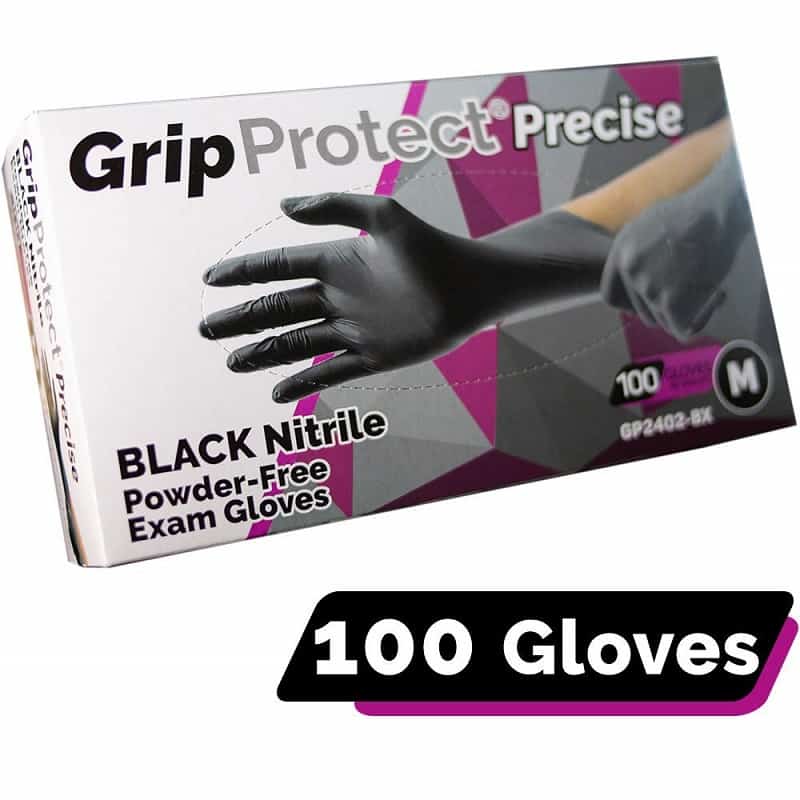 Size: M
Type: Nitrile
Color Black
Count: 100
If you need gloves with a perfect grip, that you won't have to fix all the time, and will be sensitive and tactile enough, then GripProtect gloves are made just for you. They are rated as the medical exam grade gloves, and more importantly, they are free of powder and latex.
The extra grip sensitivity is made in a way that you'll be able to feel what you're doing and grip the tattoo gun soundly, while also enjoying the high durability and not having to worry about the gloves ripping while you're working with large and long sessions.
Editor's notes: Even though they're great in every sense, it's quite difficult to find the size that would suit you well. If you make a mistake, you'll be left with gloves that are either too big or too small and rip easily.
Skintx Black Nitrile Powder Free Medical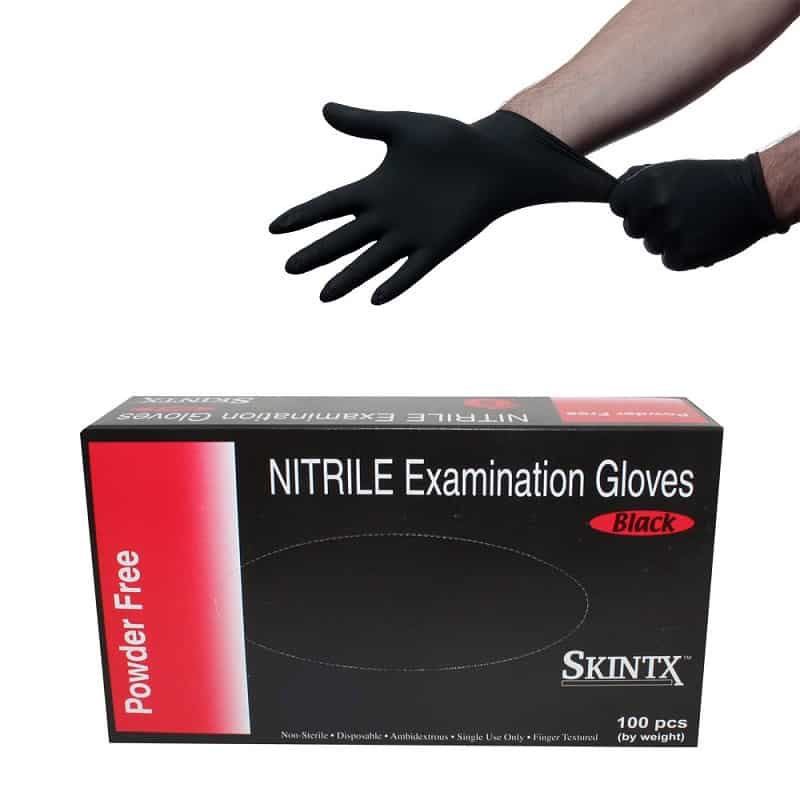 Size: L
Type: Nitrile
Color Black
Count: 100
Non-sterile, ambidextrous, and highly comfortable, you'll enjoy the Skintx black nitrile gloves. No powder, and no rubber Latex that could cause a rash or some worse allergy reaction. They are finger textured, so that you can use them comfortably, and not have to worry about the extra skin while working or poor grip. It's also colored in black to avoid stains from ink.
Editor's notes: It's worth noting that these gloves are quite large, so they're only recommended for people with long fingers and large palms. Wearing gloves that are too large for your hand will make it more challenging for you to work.