To say that these cookies are premeditated is the understatement of the century. I drew up the idea for them last year, but about a week too late since Valentine's Day had already passed. I'm extremely excited to finally share them with you today! I love love, but too much of it shoved in your face around Valentine's Day, can make even the most romantic person a bit sick! My answer to that is delicious broken heart cookies! Whether you're feeling cynical, need to send someone a message, or you just want to take an Anti-Valentine's Day approach this year, these cookies are just the cure!

…..

Inspired by Not Martha's Trick-Or-Treat Cookies

(makes approximately 2 dozen cookies)

Ingredients:

1 ½ cups (3 sticks) unsalted butter, softened

2 cups sugar

4 eggs

1 tsp vanilla extract

1-2 Tbs red food coloring (add more for a darker pink)

5 cups all-purpose flour

2 tsp baking powder

1 tsp salt

You'll also need:

2 heart cookie cutters (one small enough to fit inside the other)

Cookie frosting in white, pink, red, and black

Pastry bag

Fine point icing tip for writing

Candy sprinkles, Red Hots, candy hearts, etc..

(1.) In a large bowl, cream together butter and sugar until smooth. (2.) Beat in eggs, and vanilla extract until mixed. (3.) Stir in red food coloring. (4.) Add flour, baking powder, and salt until all of the dry ingredients are blended in. Cover the bowl and chill in the refrigerator for an hour or overnight.

Preheat oven to 400 degrees F (204 degrees C) and line a baking sheet with parchment paper.

Roll out dough on a floured surface about ¼ inch thick. You'll need to cut three hearts for one cookie using your larger cookie cutter.

Cut out the center of one of those hearts with the small cookie cutter (this will be your middle layer). Place cut out hearts on prepared baking sheet. You can discard the centers back into the bowl with the rest of the dough or bake up little mini-hearts like I did! This is a great way to taste-test without ruining the big cookies that you're going to put together.

Place in the oven to bake for 5-7 minutes. Place cookies on a cooling rack.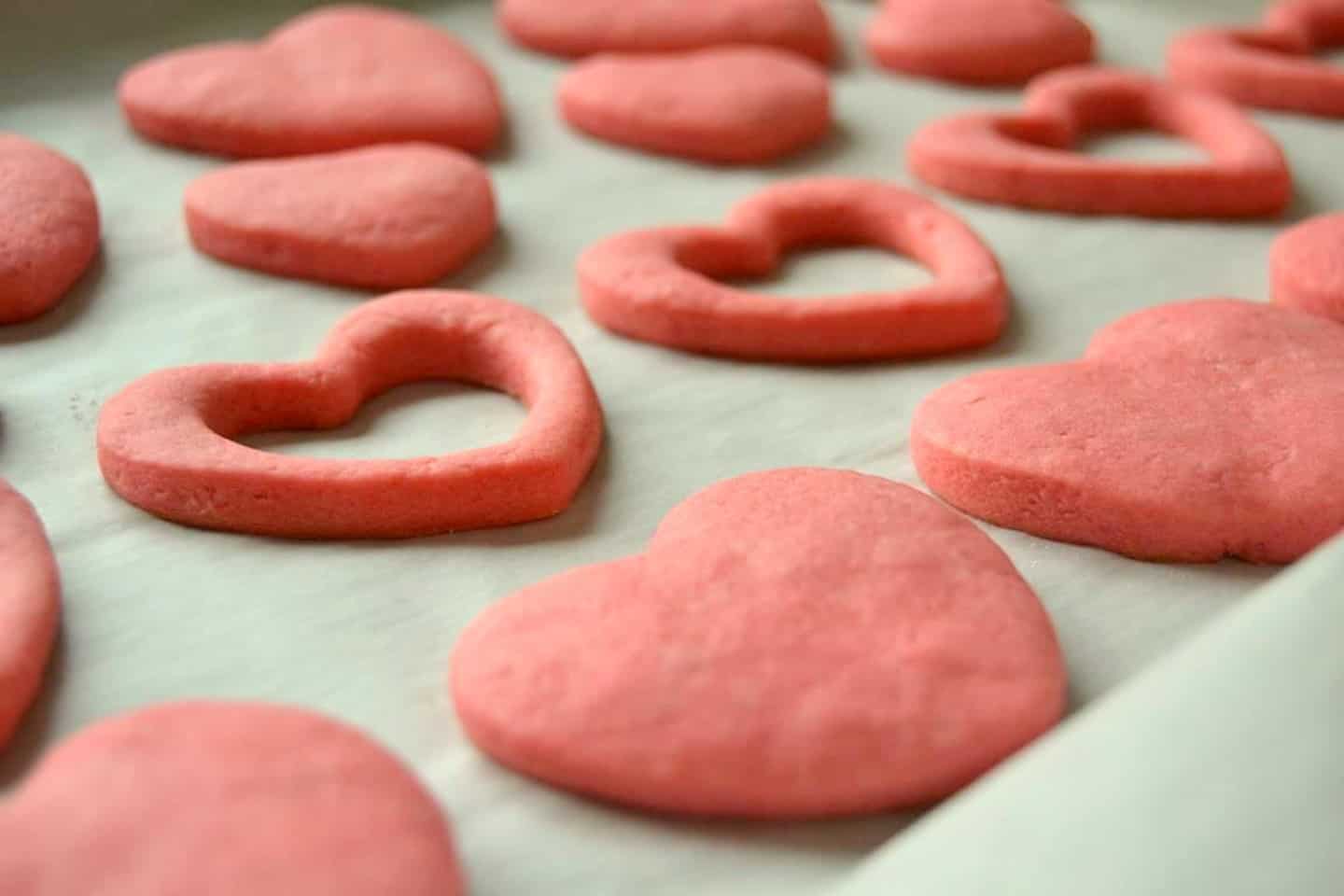 (5.) While the cookies are still warm, frost what will be the top part of the cookie. This will help the cookie icing spread easier and set up smoothly. Once the first layer of icing has set up, decorate as creative, witty,  or as cruel as you like! For most of my decorating I used the Betty Crocker icing straight from the pouch. (6.) For the banners I made 3 lines of white that formed together to give me a banner big enough to write on. (7. & 8.) I let that set up completely before I started with the writing. For that I used a Wilton fine point tip with black icing.

Once the top portion of the cookie is decorated you can start putting them all together!

(9.) Flip over the cookies that will be the bottom portion of your cookie sandwich, so that the flattest side is facing up. Run a small line of frosting around the top edges of the heart. (10.) Place your cut out heart cookies on top of that and lightly press to seal the two together. (11.) Fill the cookies with sprinkles or small candies and make sure they're leveled off. If you fill them too full you won't be able to get the top portion of the cookie to fit. (12.) Run a line of frosting around the top edges and then press your decorated top cookie on top. If you have any gaps on the sides if the cookies didn't cook evenly, just fill them in with extra frosting.

You can make these the night before and store in an airtight container at room temperature or devour right away!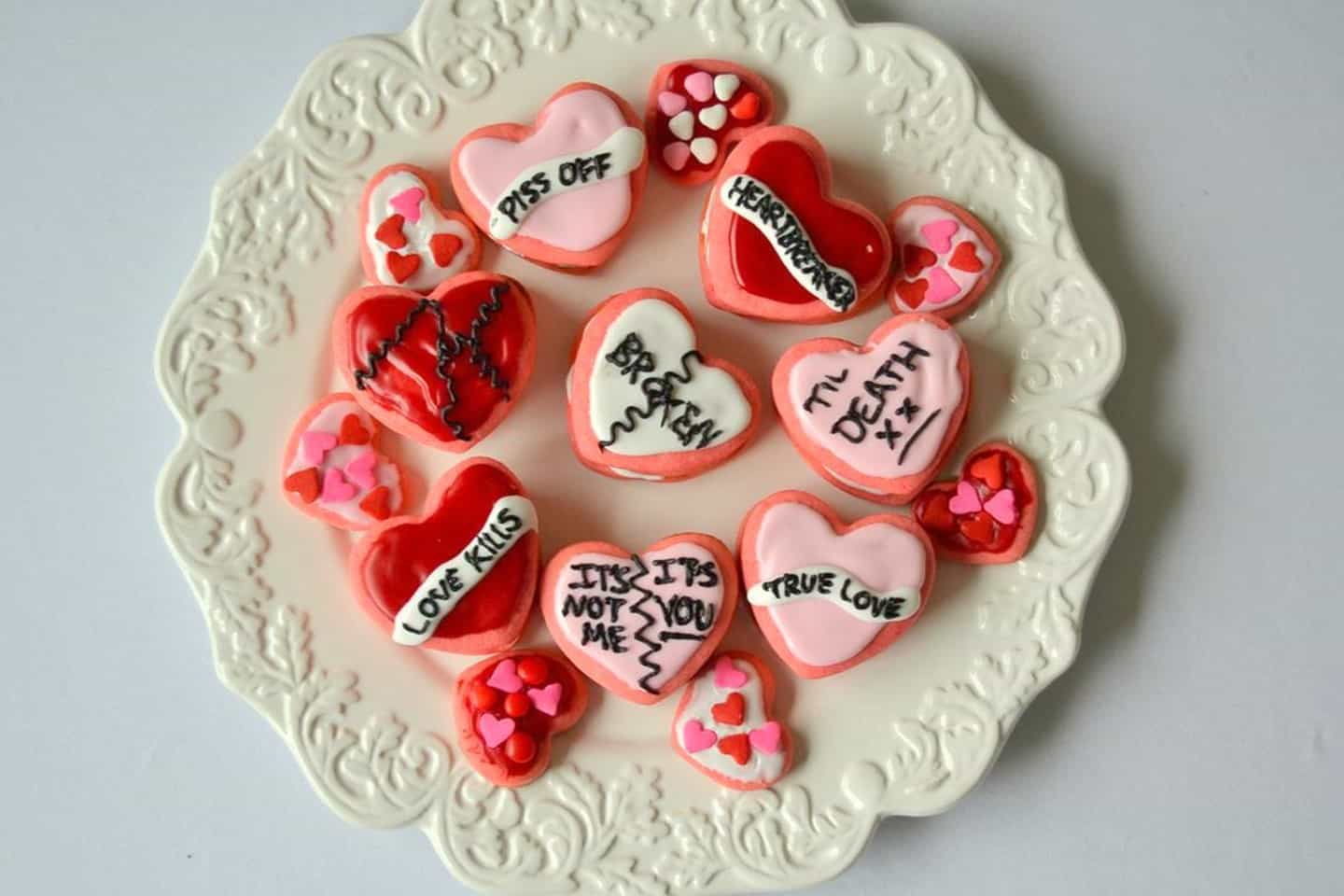 I enjoyed mine with a Red Hot Pin-Up cocktail!

Enjoy!