I'm sure you've seen these before on Pinterest.. I know I have about 3 dozen times! I tried to find the original source, but they've been redone so many times I can't! Now while the idea of dying them may not be original, the recipe most certainly is! This is the one item we always request my mom make for any holiday, picnic, or get-together! Find out how to make these colorful and delicious eggs for your party, baby shower, Easter brunch, or picnic!

…..
Ingredients:

1 dozen large eggs*

½ cup light mayo

2 tsp white vinegar

2 tsp mustard

Paprika and dill weed to sprinkle on top

Salt and pepper to taste

*Tattooed Martha's Tip: I buy the 18 pack of eggs and throw a few extra in just in case some of the eggs get torn while peeling or trying to get the yolks out.

Place eggs in a large pot and fill with water, just enough to cover the eggs. Bring to a boil, turn off the heat, and cover. Let them sit for 15 minutes.

In a large bowl combine mayo, vinegar, mustard, salt, and pepper and set aside.

Drain hot water from pot and fill with cold water. Let eggs sit another 10-15 minutes. Peel under running cold water and set aside on a large plate. Cut eggs in half lengthwise and add yolk to bowl with mayo and vinegar.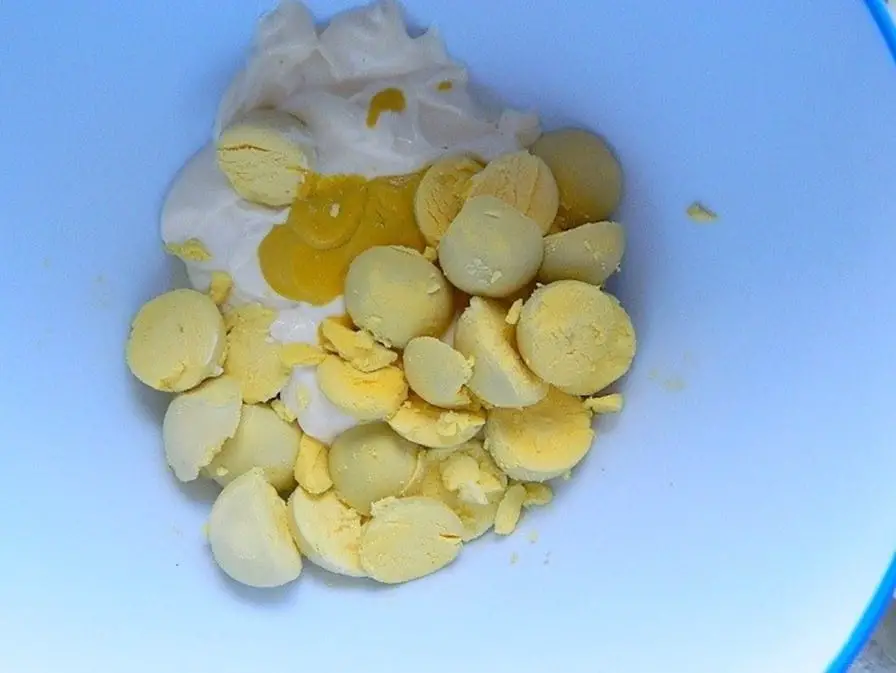 Mash yolks with a fork, then blend together with the rest of the ingredients until most of the lumps are gone. You can save yourself the arm workout by using an electric mixer!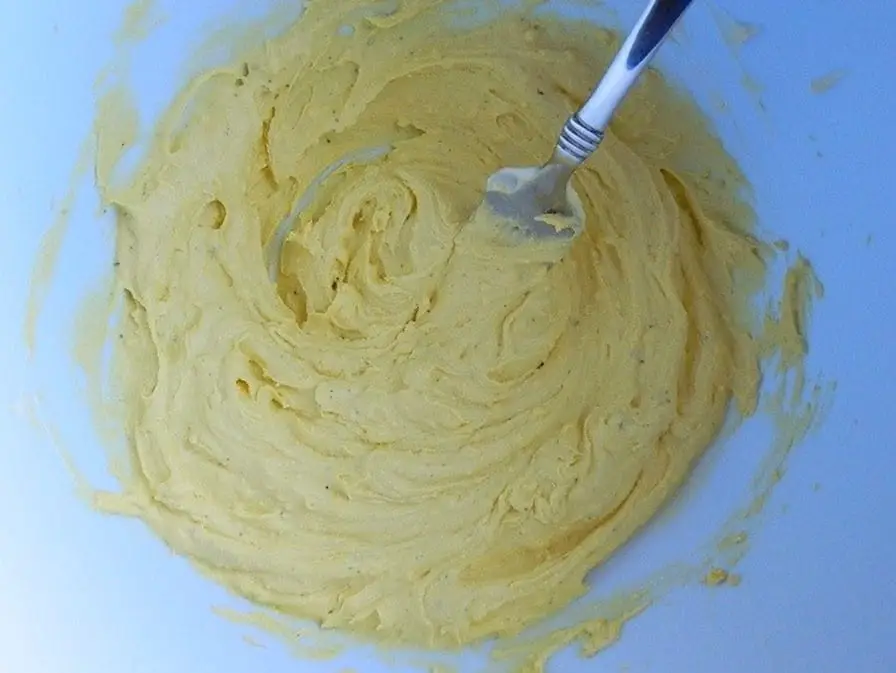 You can place egg yolk mixture in the refrigerator to chill while you dye your eggs.

Fill small cups up with water and add several drops of food coloring. Most food coloring comes with little charts on the back to tell you how many drops of each to achieve different shades.
Drop 1 egg half in each cup and let them sit for at least 30 minutes.
Use a spoon to pull egg half back out of cup, shake off excess dye, and place on a paper towel. Continue with remaining egg halves until you have a rainbow of eggs!
You can spoon yolk mixture into the eggs or you can use a pastry bag with a frosting tip for a fancier look.
Once eggs are filled, lightly sprinkle paprika and dill weed on top. And watch out for anyone trying to run off with them!

You can serve immediately or cover and chill in the refrigerator for 20 minutes… only if you trust your family not to sneak in and devour them in the meantime! See my trick below for making them the night before!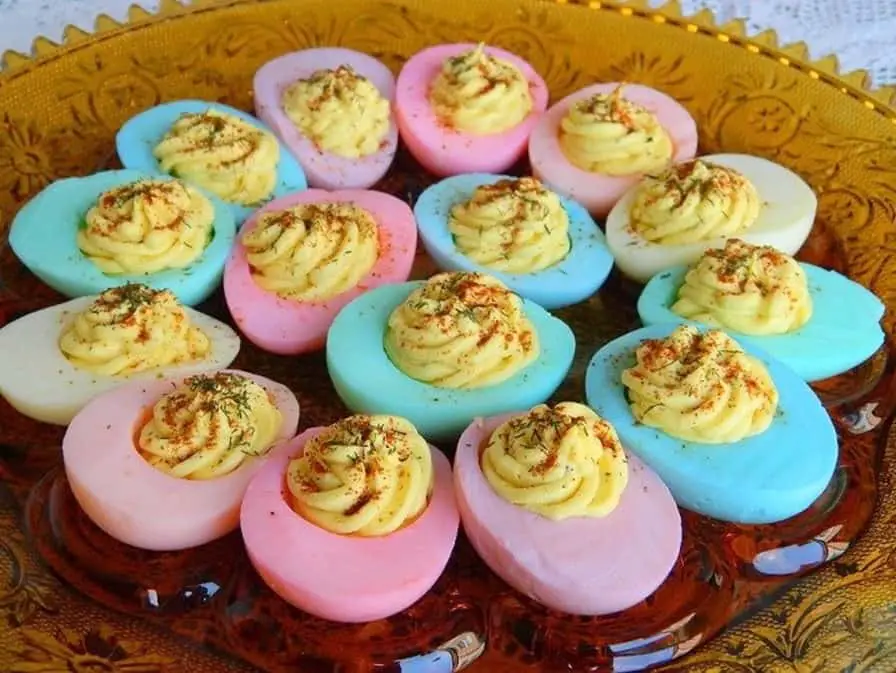 Enjoy!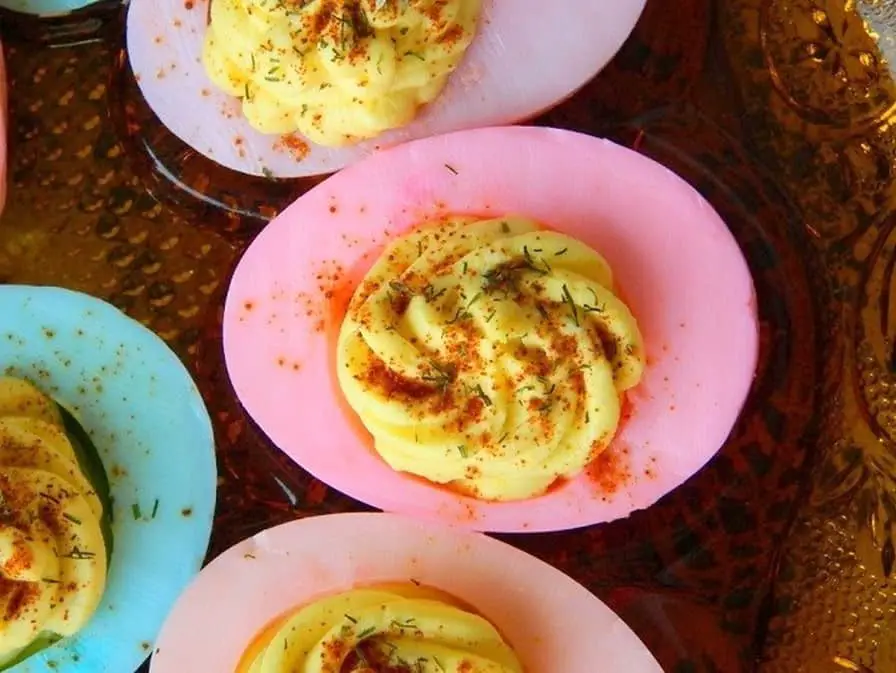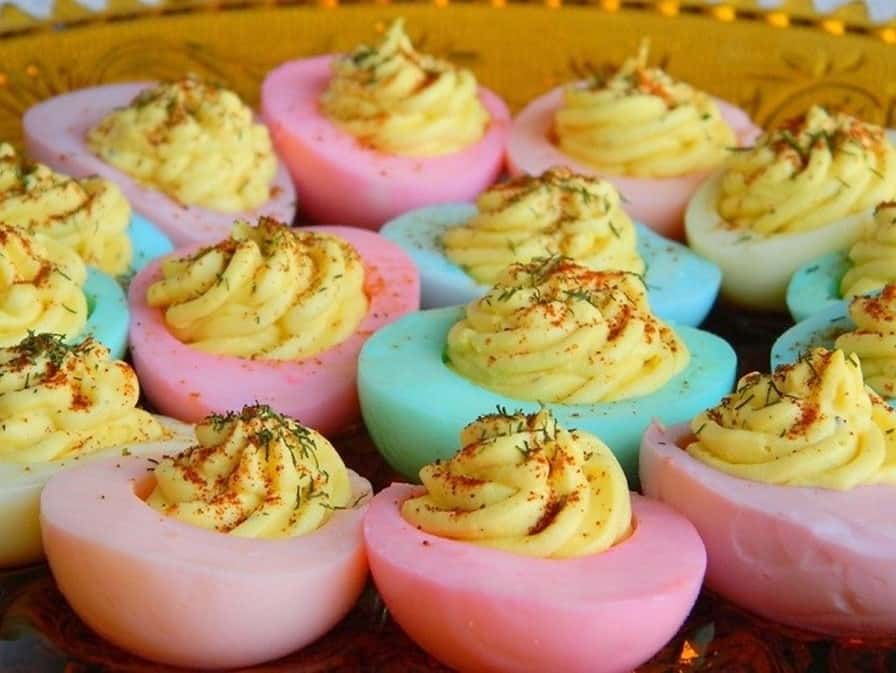 You can make these the night before without squishing the tops of your filling! Place eggs on a large plate and place a shot glass in the middle. Cover with plastic wrap and place in the refrigerator! Easy!