30+ Unique Cat Eye Nail Design Ideas 2022 (Short And Long)
When you shop through links on our site, we may earn an affiliate commission. This educational content is not intended to be a substitute for professional advice.
Do you enjoy funky and cool nail art? Are you someone who likes cute and modern ideas? If you're ready to try out some cool concepts and you want to try out cat nail designs, you're exactly where you need to be! Cat eye nail designs are not a print of your favorite cat or kitty, believe it or not. These nails are actually quite unique and different in their creation. Keep on reading to find out how.
Cat Eye Nail: FAQ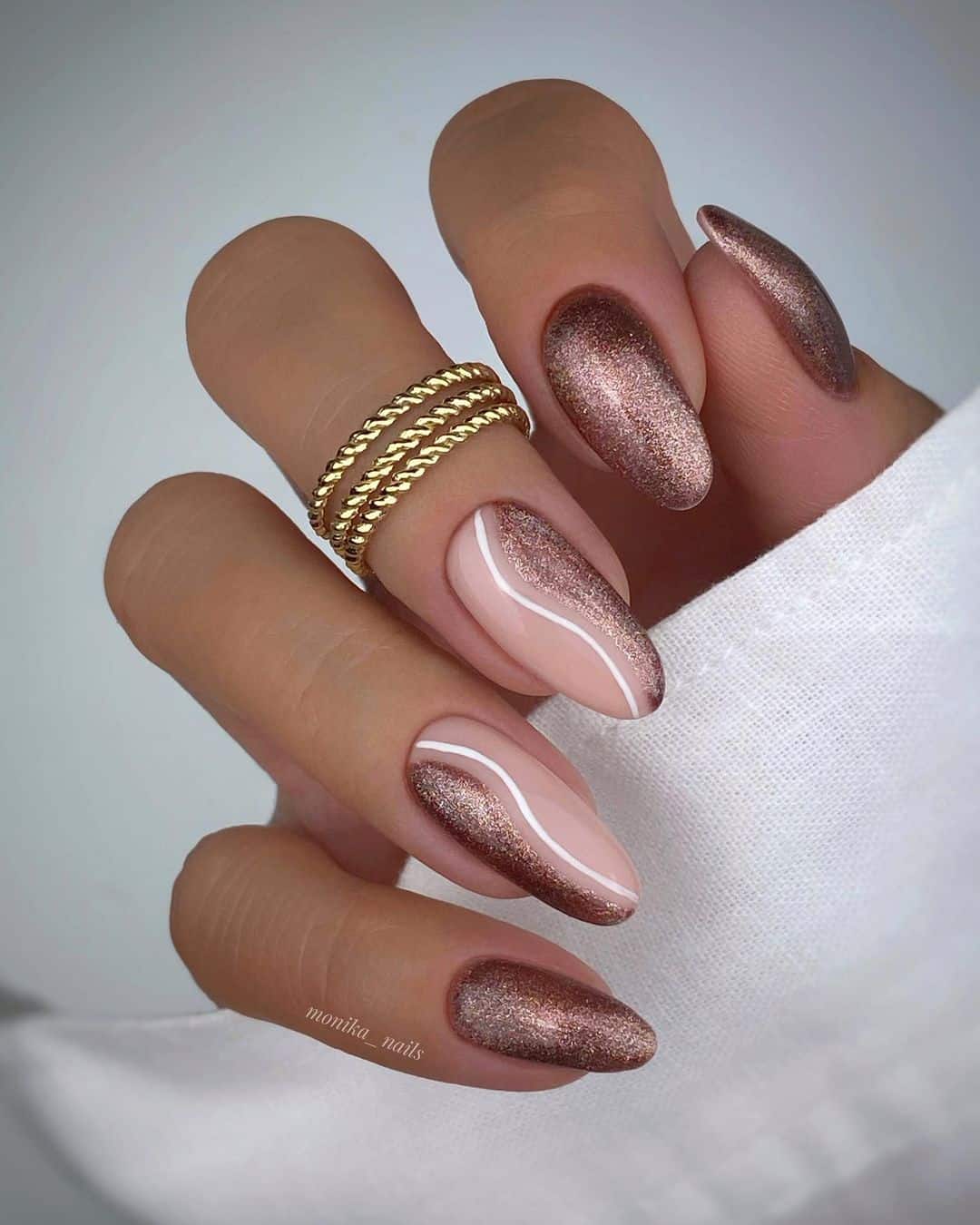 1. Who Can Go For This Manicure?
Women who like their natural length, shape and those who prefer new and modern looks will enjoy this design and this concept. If you're a teen or someone in your twenties we know that this manicure will suit and intrigue you. Anyone who likes to follow trends and play with their design will also enjoy this outcome.
2. What Is A Price Point For Cat Eye Nails?
Expect to pay around $40 for shorter nails and around $70 for your new pair of acrylics. This design will vary in price depending on the nail length, style, as well as reputation level of your nail artist.
3. How To Do These Nails?
The process is not too hard to do or achieve on your own. Most nail artists can do this manicure with the use of just some basic tools. You can do it yourself if you create a diagonal line drawn across the entire nail, with different lengths, thicknesses, as well as colors used. The end result resembles a lot to a cat-eye. You can also do this with a magnet since it will leave different outlines across your nail plate.
Short Nails Cat Eye Designs
1. Silver Cat Eye Nails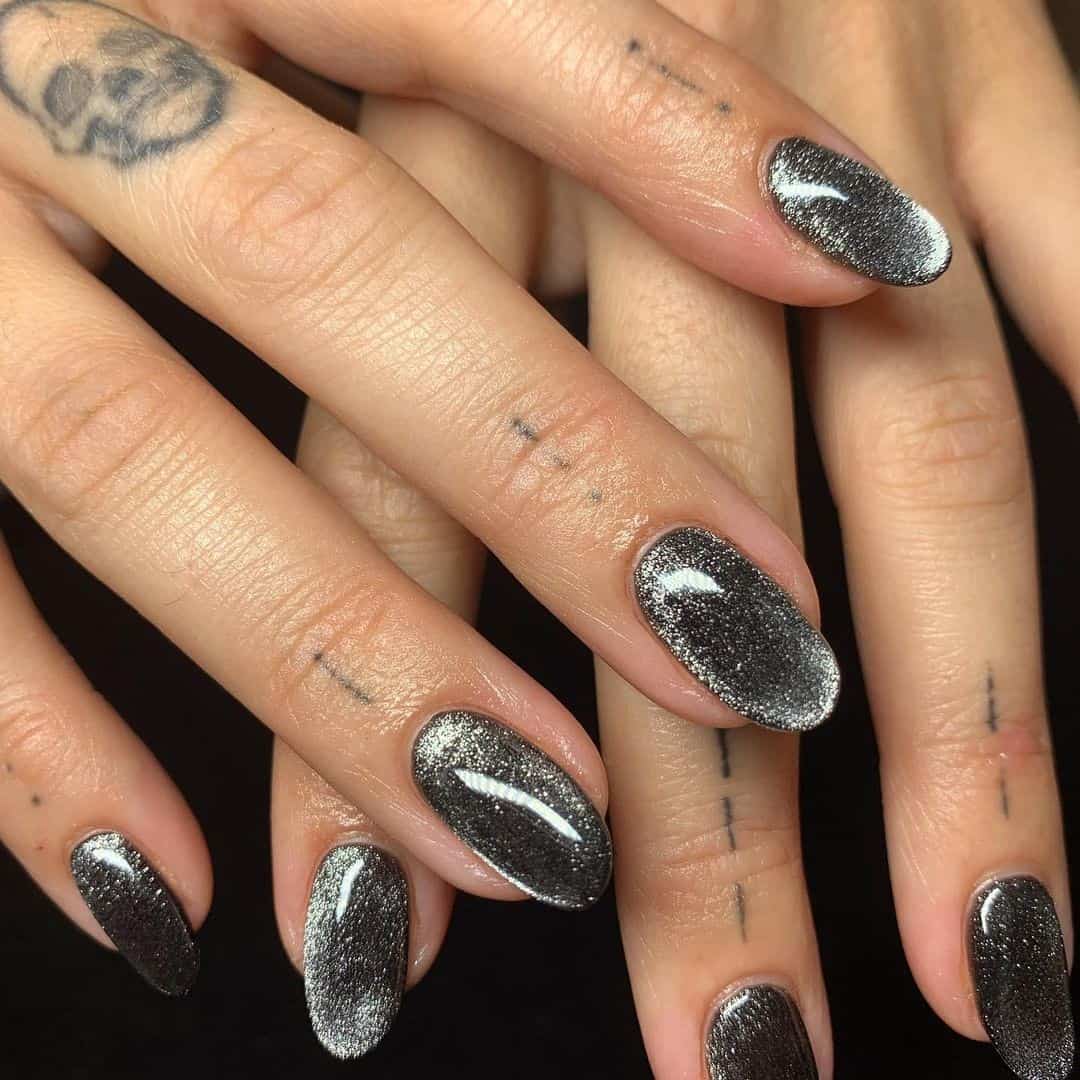 If you enjoy black or grey nails you're going to like this manicure. Women who are in their twenties will appreciate this design the most. It is feminine and flirty without being too dramatic or hard to achieve.
2. Square Shaped Cat Eye Nails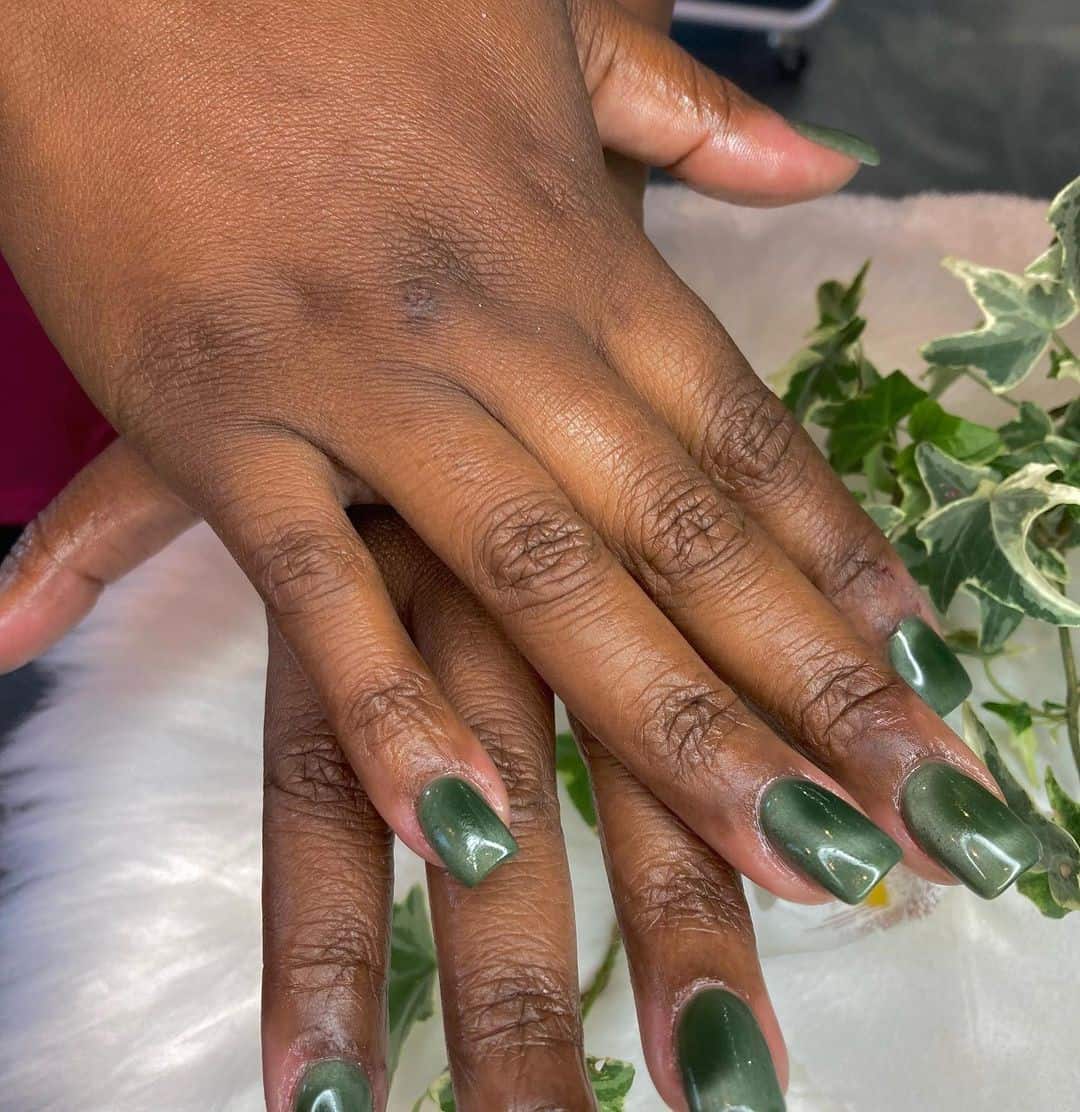 Go for these elegant crisp green nails if you're someone who enjoys bright color and retro pieces. The color green is a color of power, money, and class. Show off your bright and loud personality through this cat-eye manicure inspiration.
3. Short Pink Glitter Nails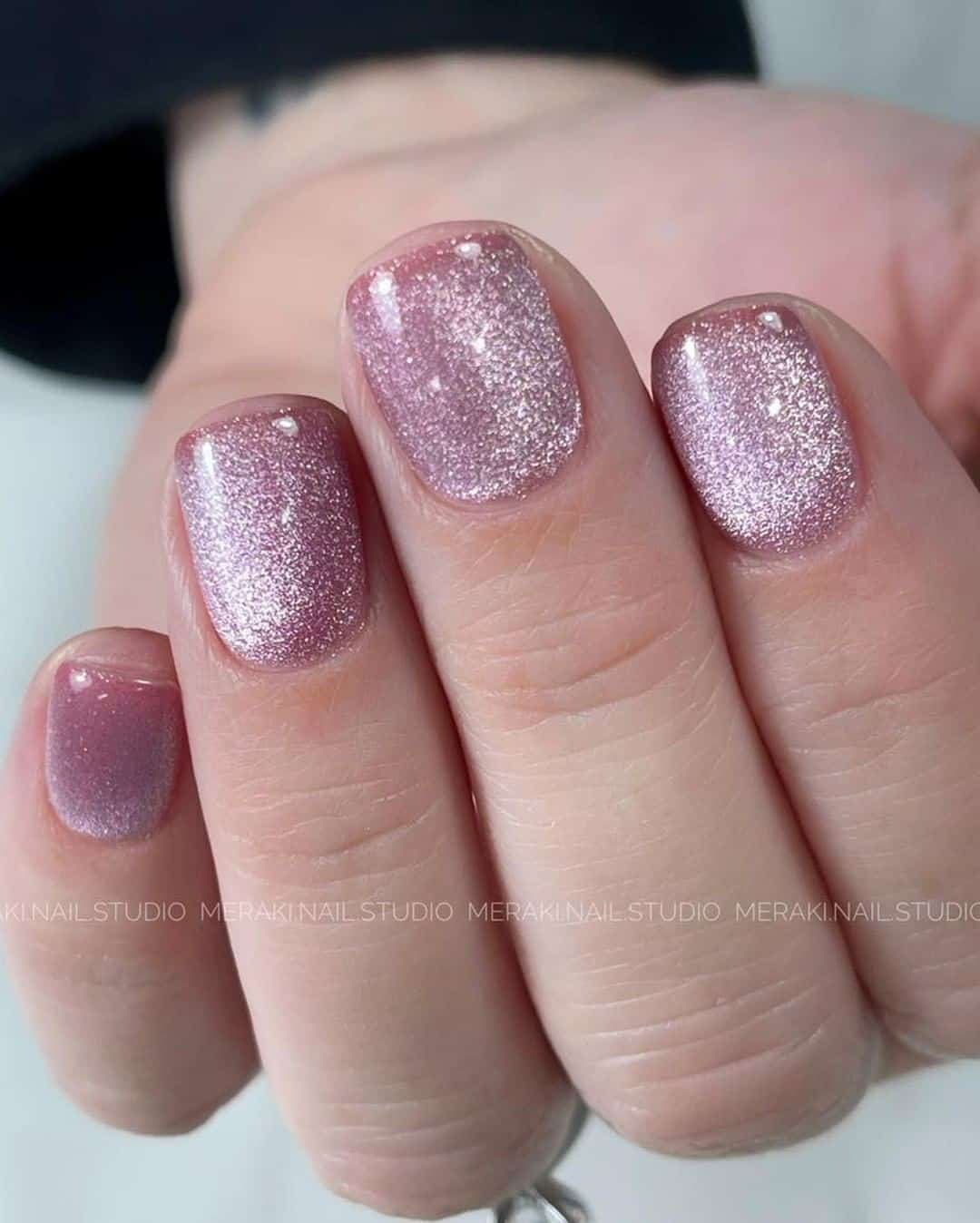 You can stick to your natural length and this feminine outcome. If your favorite color is pink and you prefer shorter nails you're going to like this design. Wear them in this glittery way and show off your feminine princess-like attitude with your new cat-eye print.
Also Read: Top 40 Stunning Nail Designs With Glitter 2022(Short & Long)
4. Oval Purple Manicure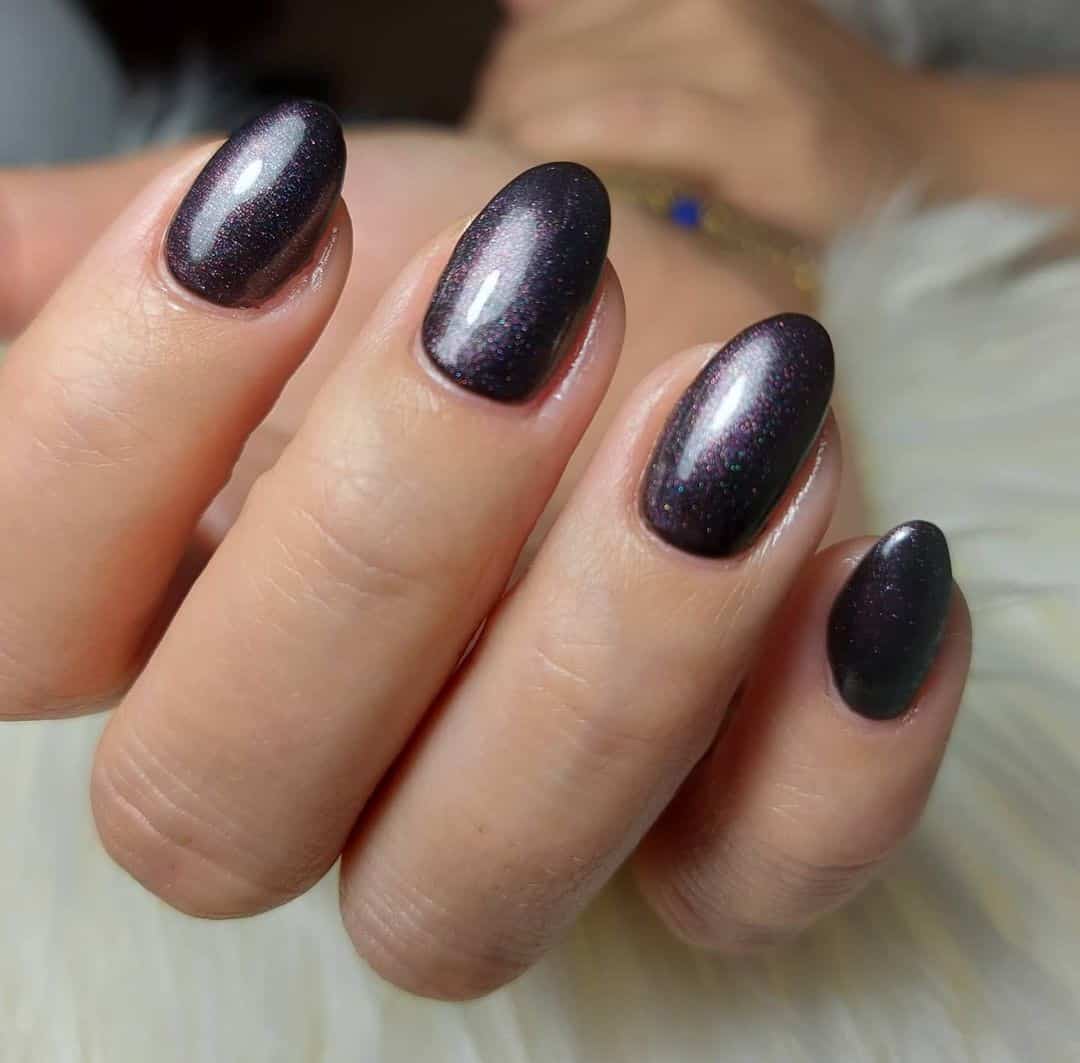 Do you enjoy the galaxy? Wanting to explore it in your own way? How about you bring the galaxy to your nails and your manicure? If you're someone who likes oval-shaped nails and you prefer and want tons of glitter, give it a go with this chic design! It can also be an amazing design for your everyday wear.
5. Brown Cat Eye Nail Art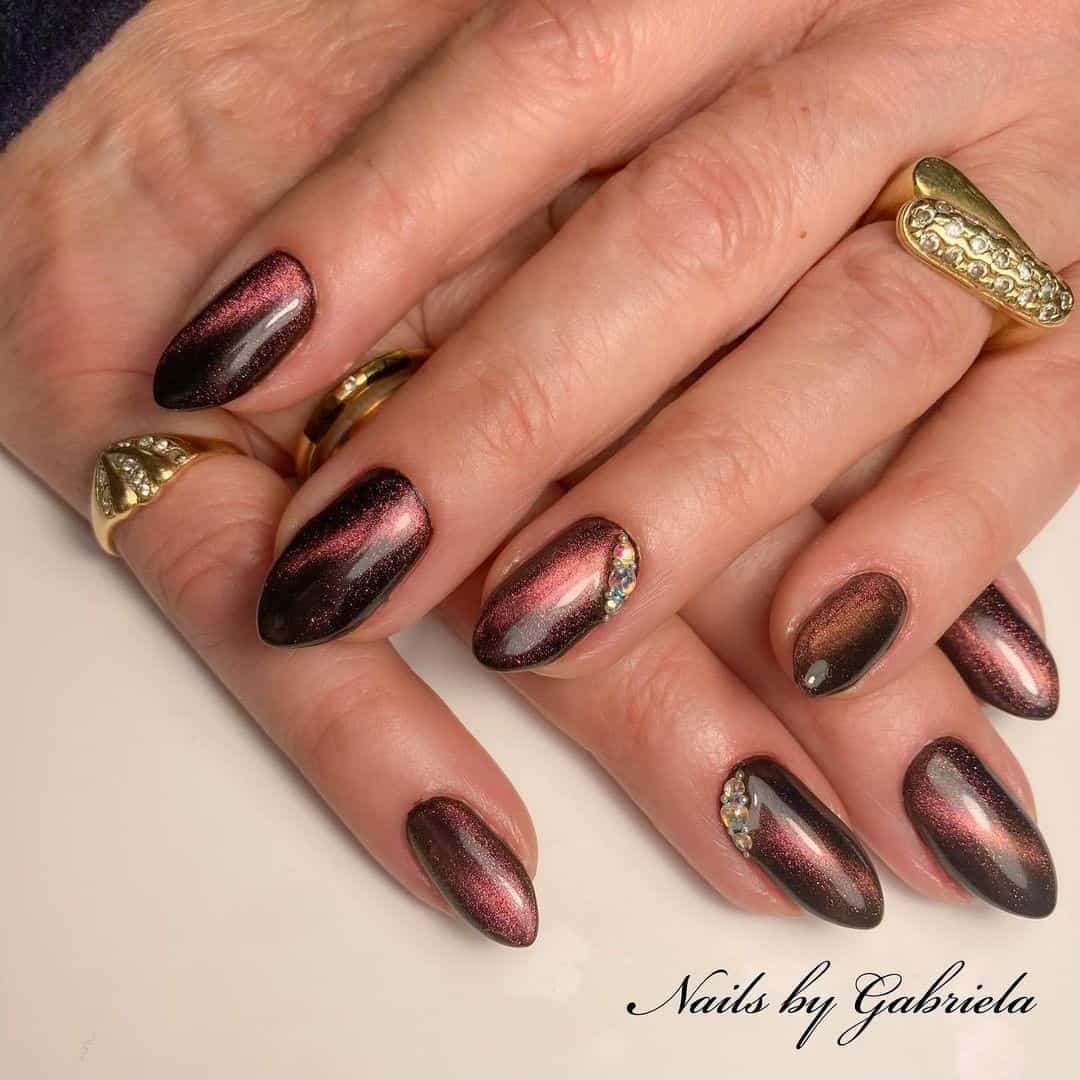 Not too sure about this color combo? But how about you decorate it with some glitter? This nail design can look so flirty once done in this loud way. The end result will suit mature women and those who need something that is business and formal at the same time.
6. Blue Cat Eye Nail Art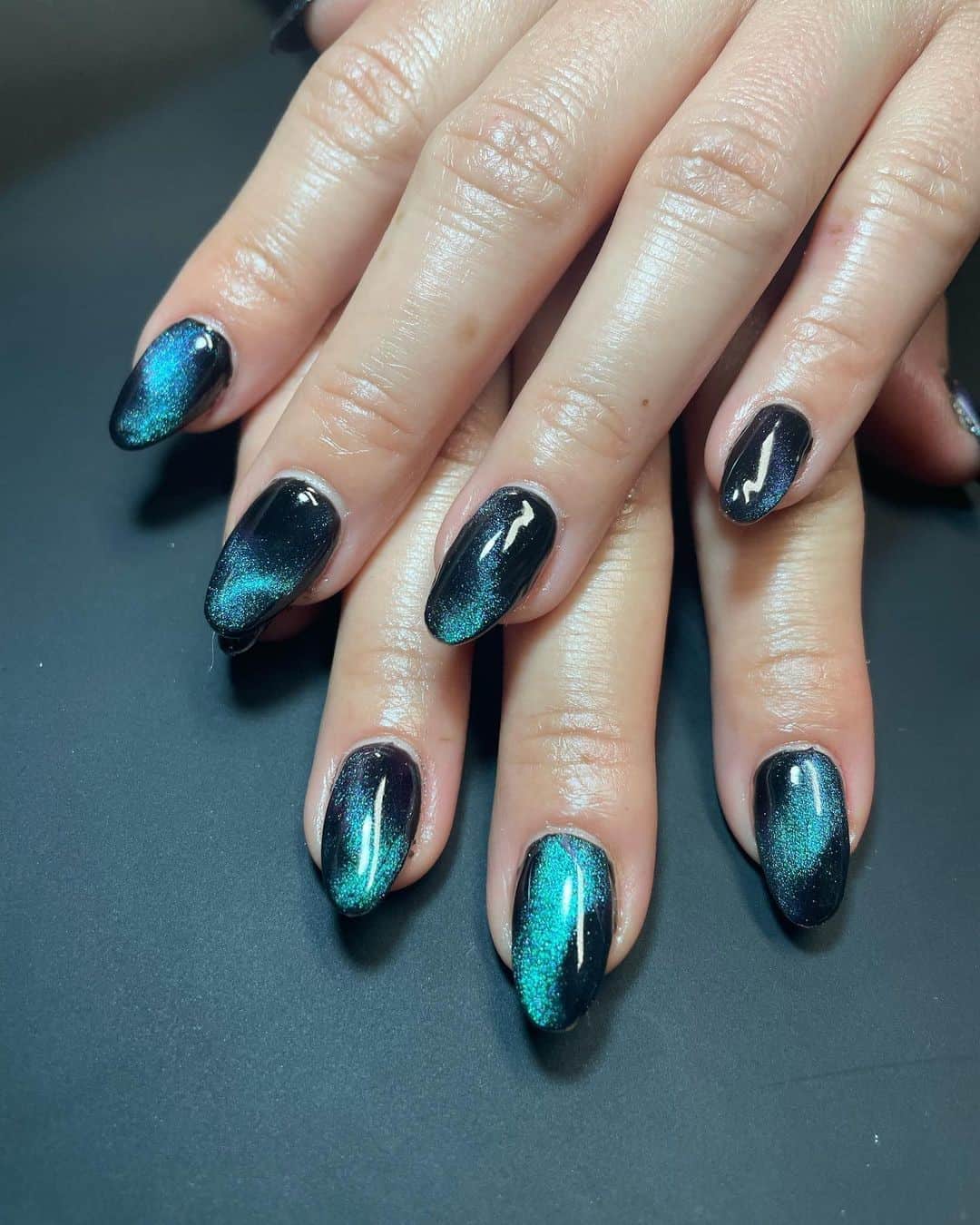 Is blue color one of your favorite ones? If so, experiment with this design! These cute nails will look flawless on women who are in their twenties, as well as those who are looking for a party-perfect and playful manicure. If you're a party girl yourself looking for something creative, give this a go.
7. Short Oval Blue Cat Eye Nails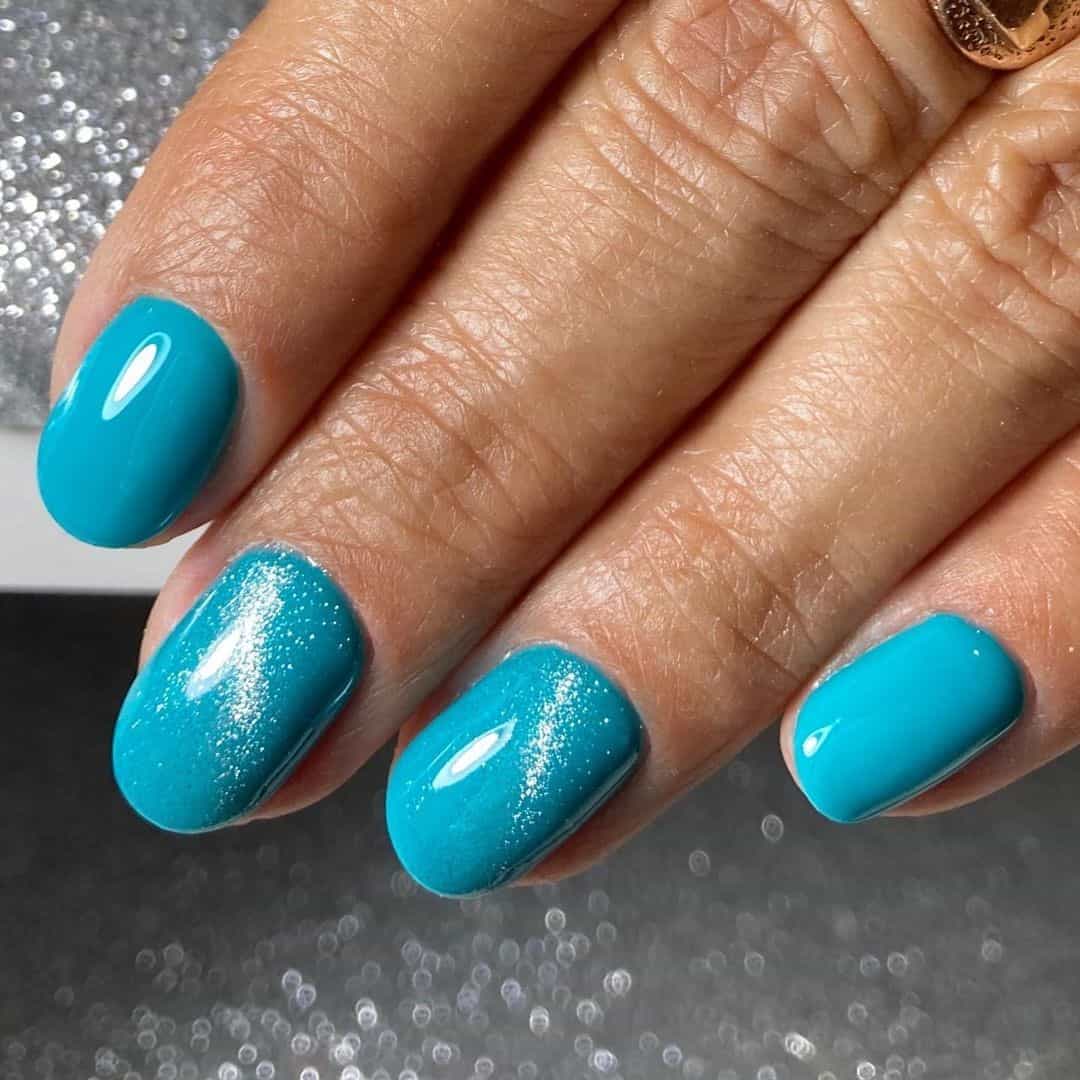 This short oval manicure will look the best on workaholic women. Those who like cute nails that are worn for any event will also want to consider this design. Show off their elegance and this cute light color, as well as its intriguing cat-eye print.
8. Colorful Galaxy Cat Eye Manicure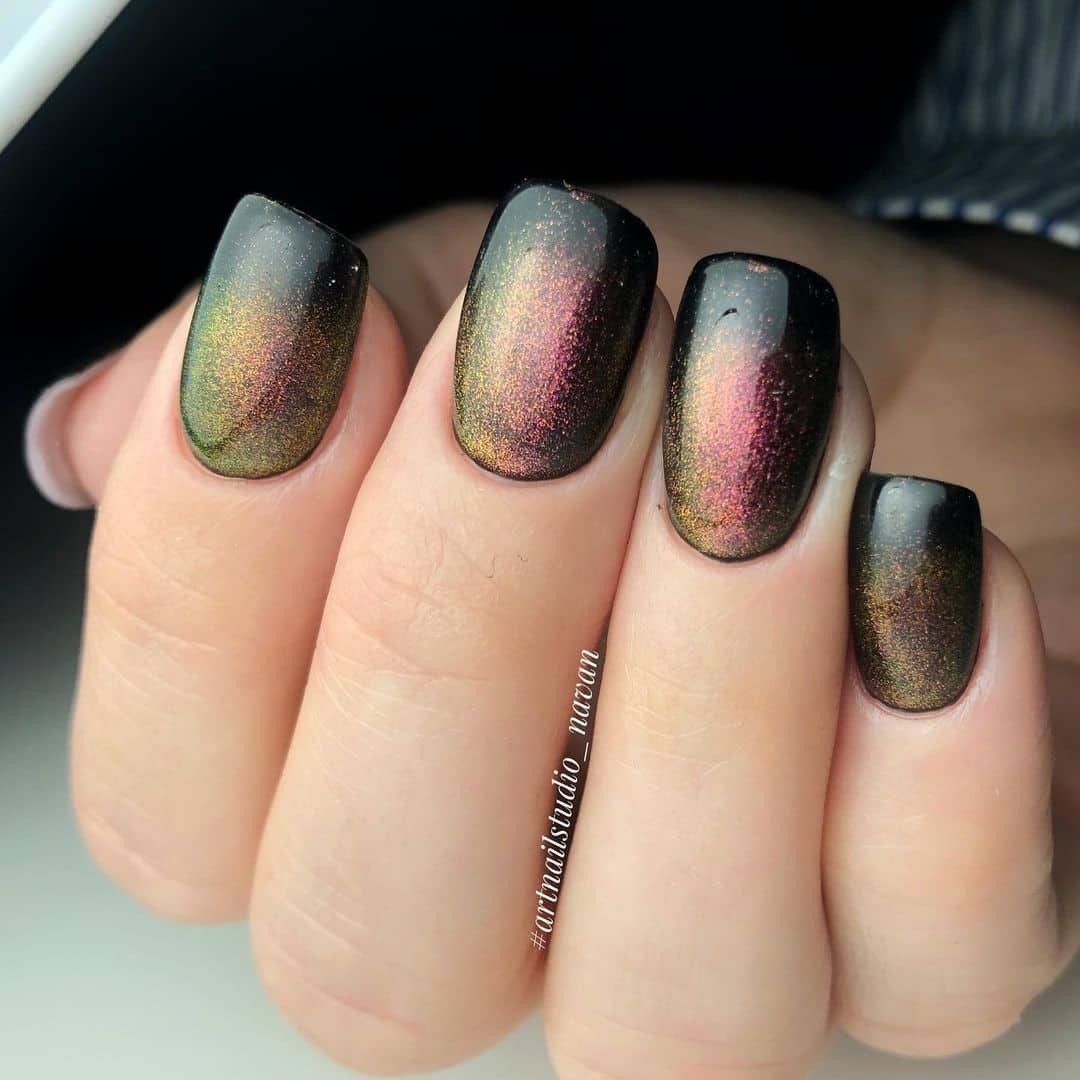 If you can't make up your mind and you're very indecisive we recommend doing these nails. Show them off and their vibrant elegance, as well as a ton of shine. You will end up with the cutest night-out or party nails for any part of the day or event.
9. Party Night Out Nails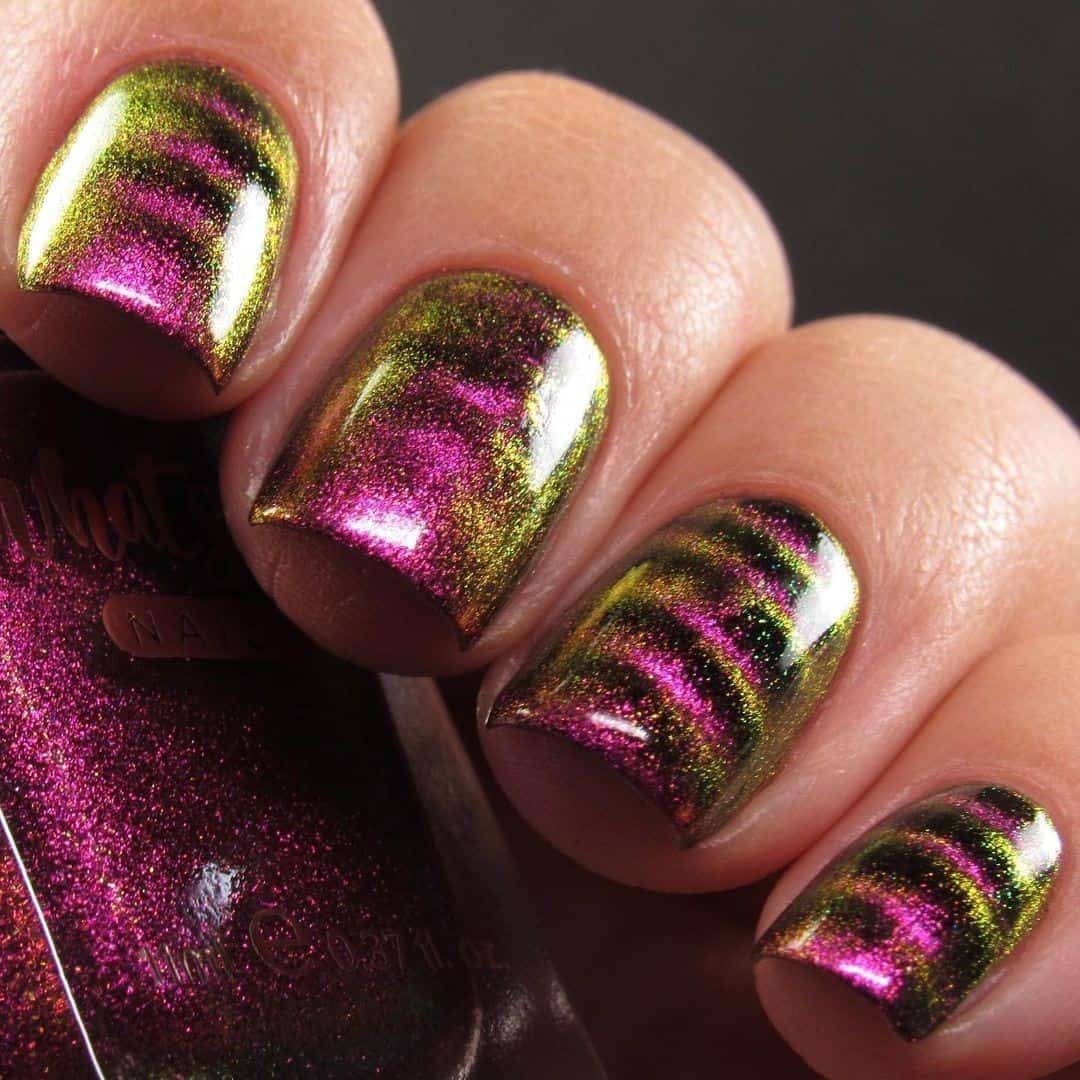 Shorter nails such as these will look the cutest on women who enjoy elegance and simplicity. If you need an office-friendly manicure and you're a fan of color you're going to like this design. Set it with your favorite top coat and enjoy this design for night-outs or any time of the day.
10. Feminine Oval Cat Eye Green Design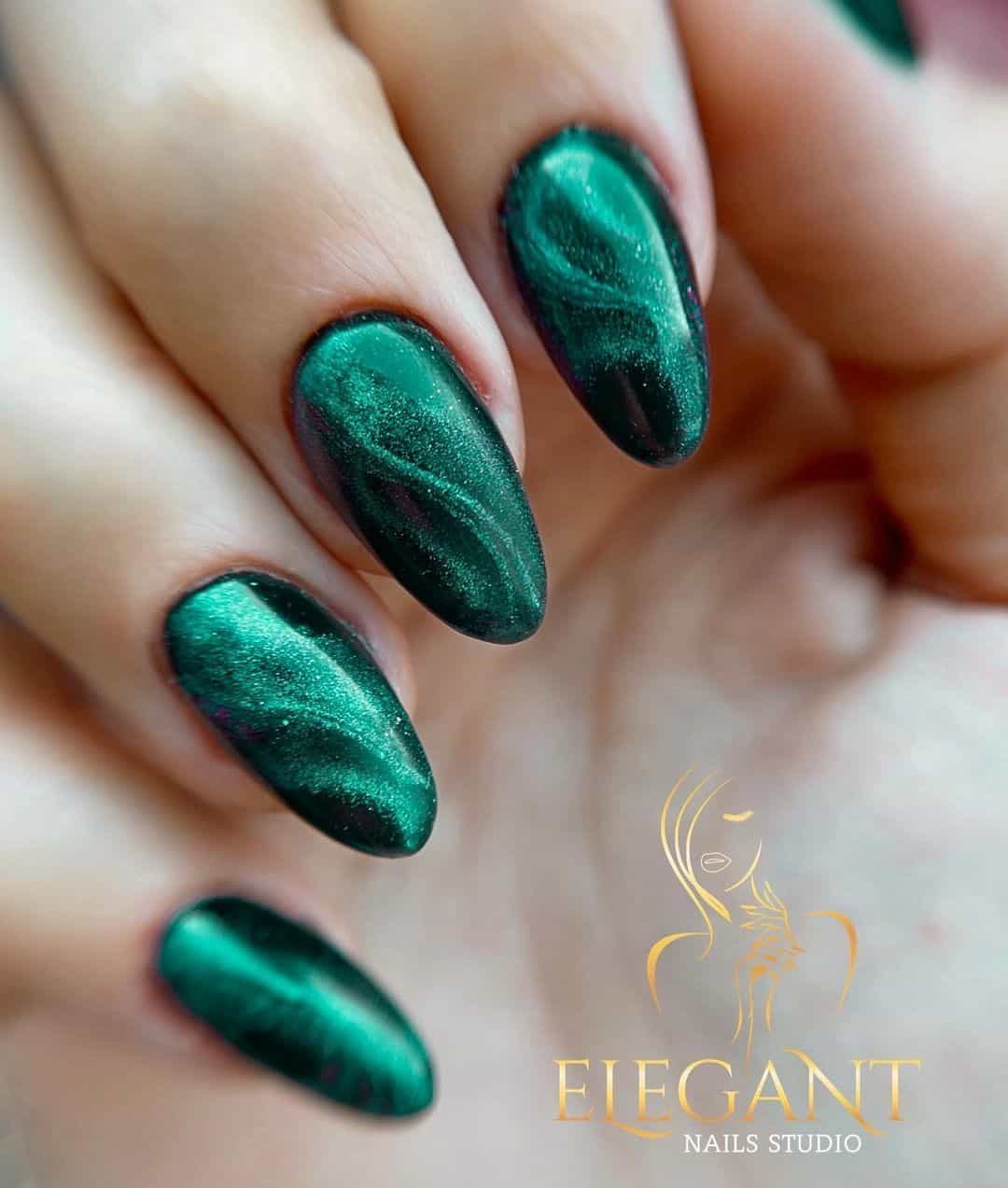 Oval nails are feminine and cute. If you enjoy nails that are bright and flashy you're going to like this design. Show off this green color concept if you enjoy lighter colors and more flashy ideas for day-to-day wear. It will take you 2 hours to achieve these nails at a nail salon.
11. Stunning Brown Glitter Manicure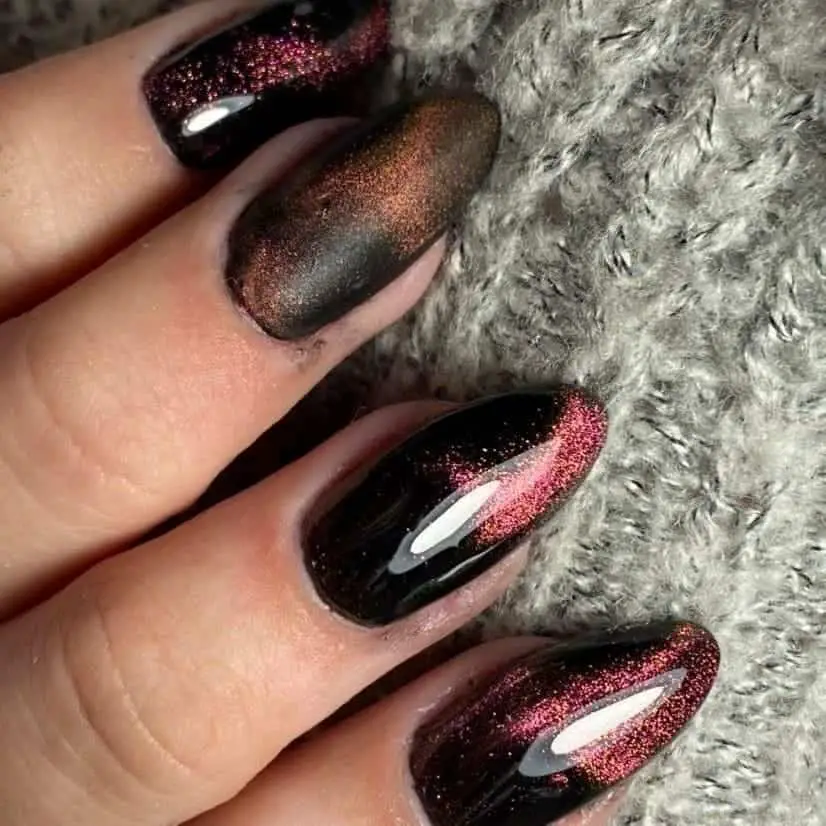 This dark-colored burgundy manicure will suit anyone who is into simplicity and dark-colored nails. Go for an oval shape if you are working with your natural nails and their natural length. Set them in place with a shiny glossy top coat to enjoy their beauty.
12. Silver & Yellow Cat Eye Nails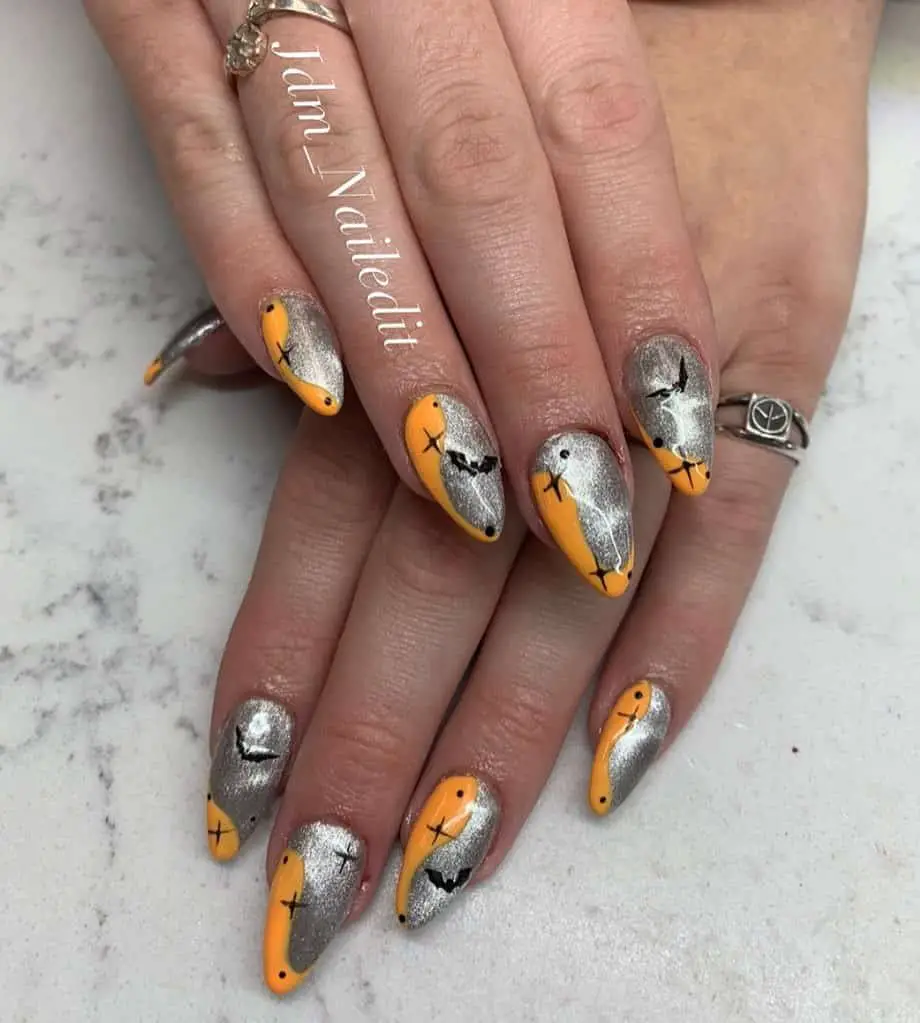 Combine silver and yellow elements if you're looking for something childish and retro. These nails will look good on women who prefer color and those who like to play around with different concepts regularly.
13. Coffin Cat Eye Nails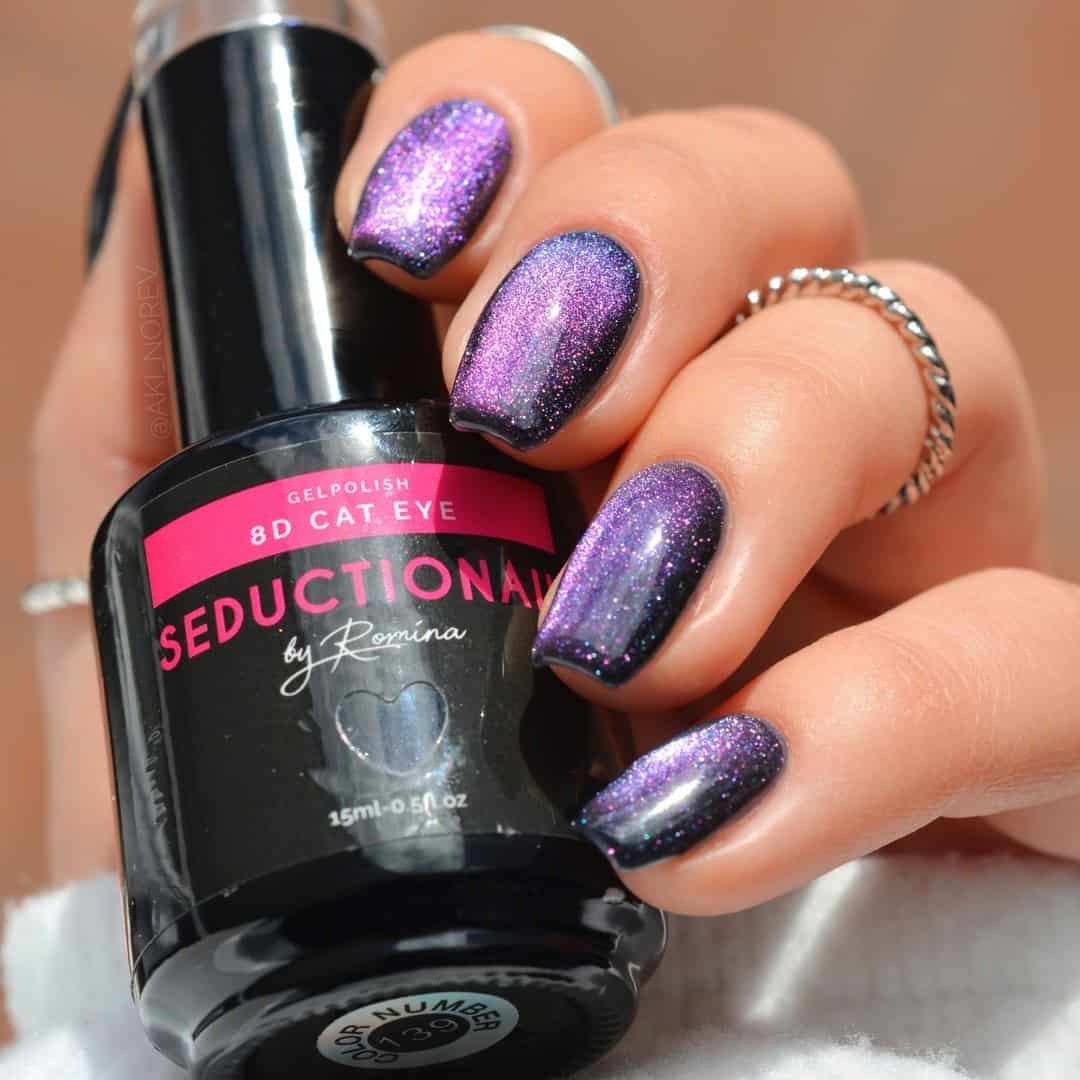 Galaxy nails are not for everyone. If you're someone who enjoys bright glitter manicures and you want to show off your love for square-shaped nails that you can wear on a daily, give these a go. They will look the best on workaholic women who need something elegant and defined.
14. Oval Cute Cat Eye Manicure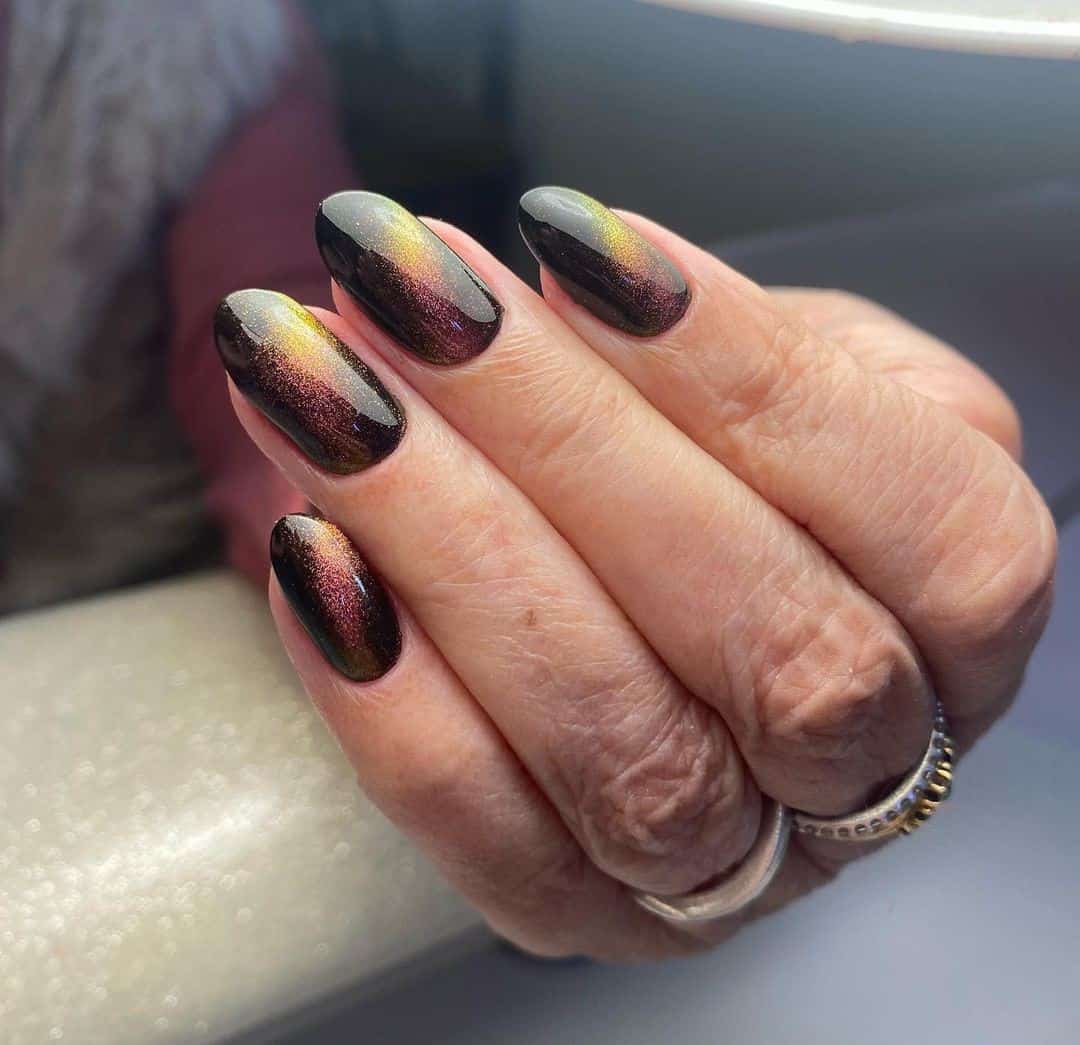 Oval manicures such as this one with a true cat eye print across will look sleek and party-perfect. If you want to look chic and modern, and if you're a fan of colorful looks this will suit you. Show them off for any event knowing that no one else is going to have this or similar print as you.
15. Dark Blue & Black Nails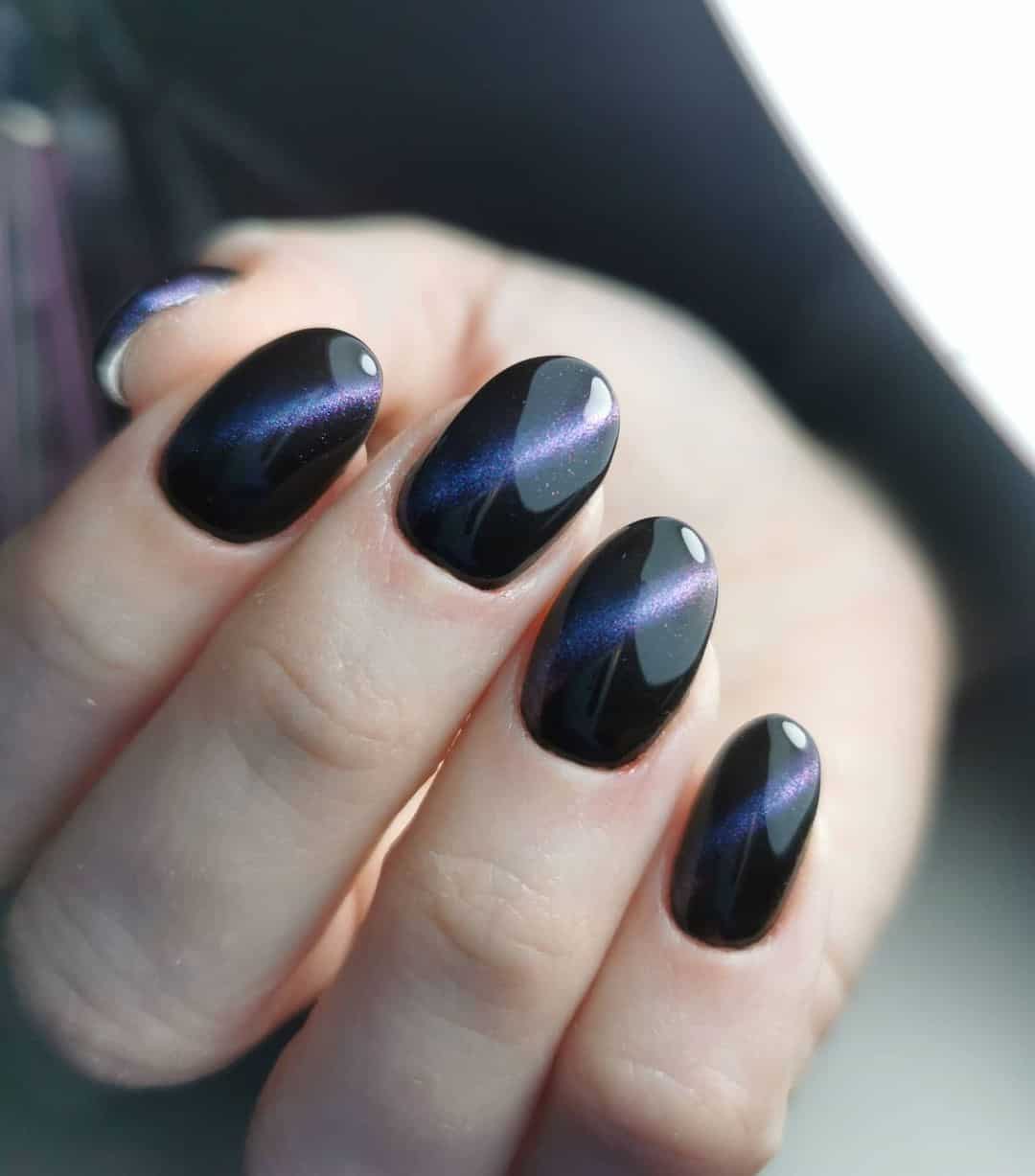 Proper blue and an elegant manicure that you will enjoy for your night-outs. If you usually like and want to wear navy blue nails this will intrigue you. Show them off and know that you can also achieve them yourself! Simply are the cat-eye print detail with a black color polish across the middle portion.
Long Cat Eye Nail Design Ideas
1. Long Stiletto Burgundy Manicure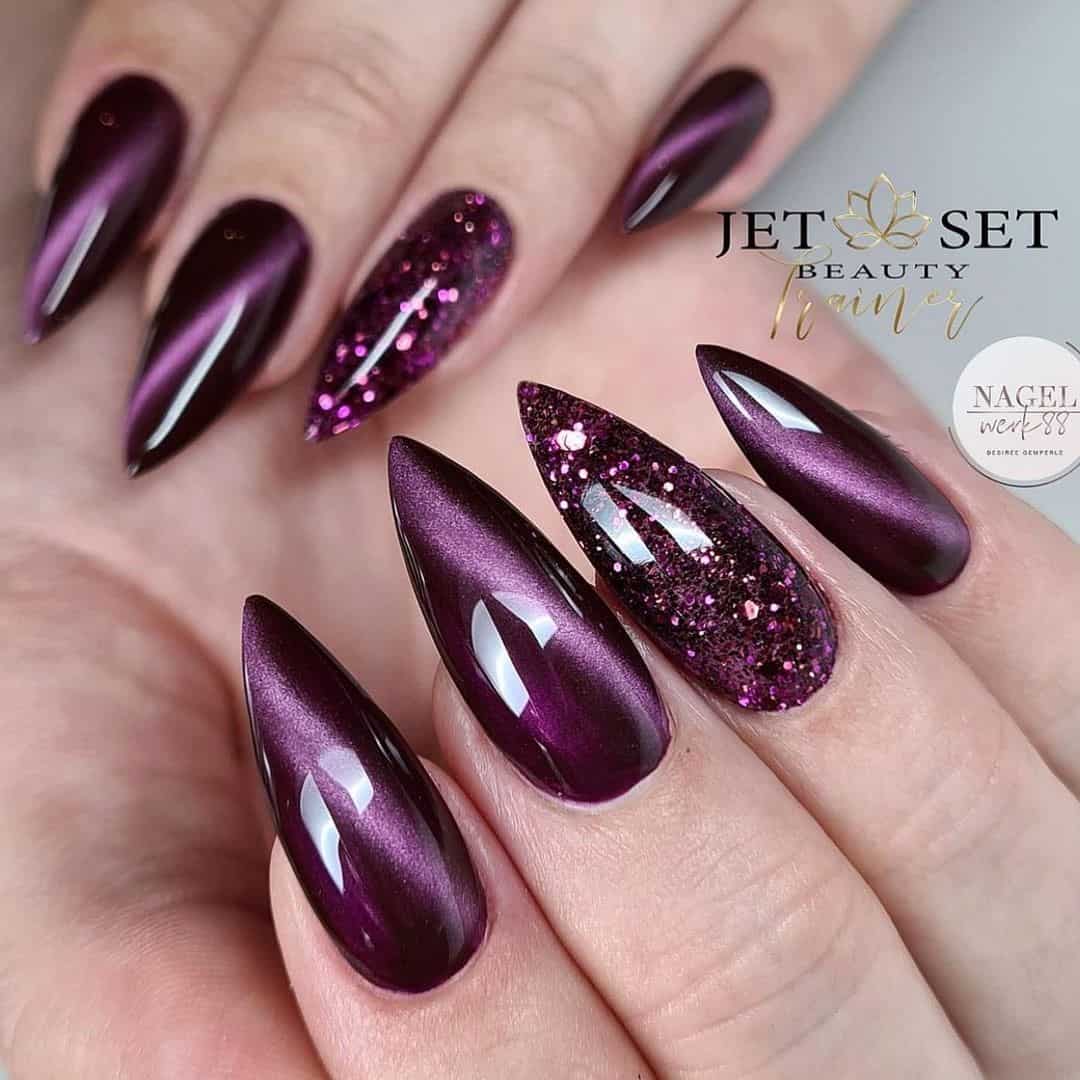 Not everyone dares to wear long and bold nails. Do you? This long hot pink or purple stiletto manicure will make you look like a true elegant queen. Women who enjoy the precision and that shine within will like this as their new go-to.
2. Silver Gray Cat Eye Nails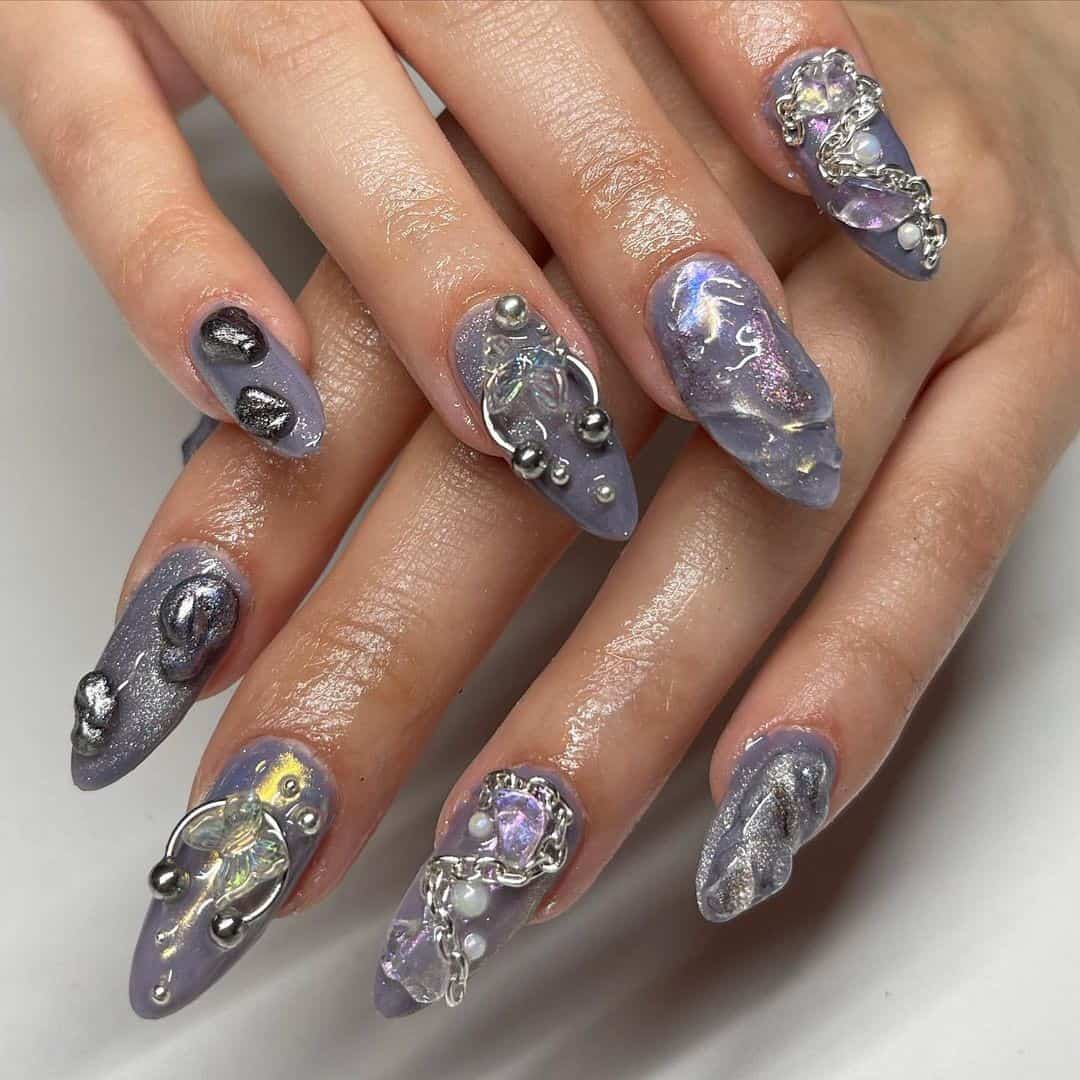 Grey is not as commonly worn. Do you want to spice it up a little bit? If you're a fan of sleek nails and you like to show off your mystical side just know these nails will work for you. Grey is an icy color, perfect for the fall season! If you like to do manicures that are inspired by different sessions consider this design.
3. Galaxy Zodiac Nails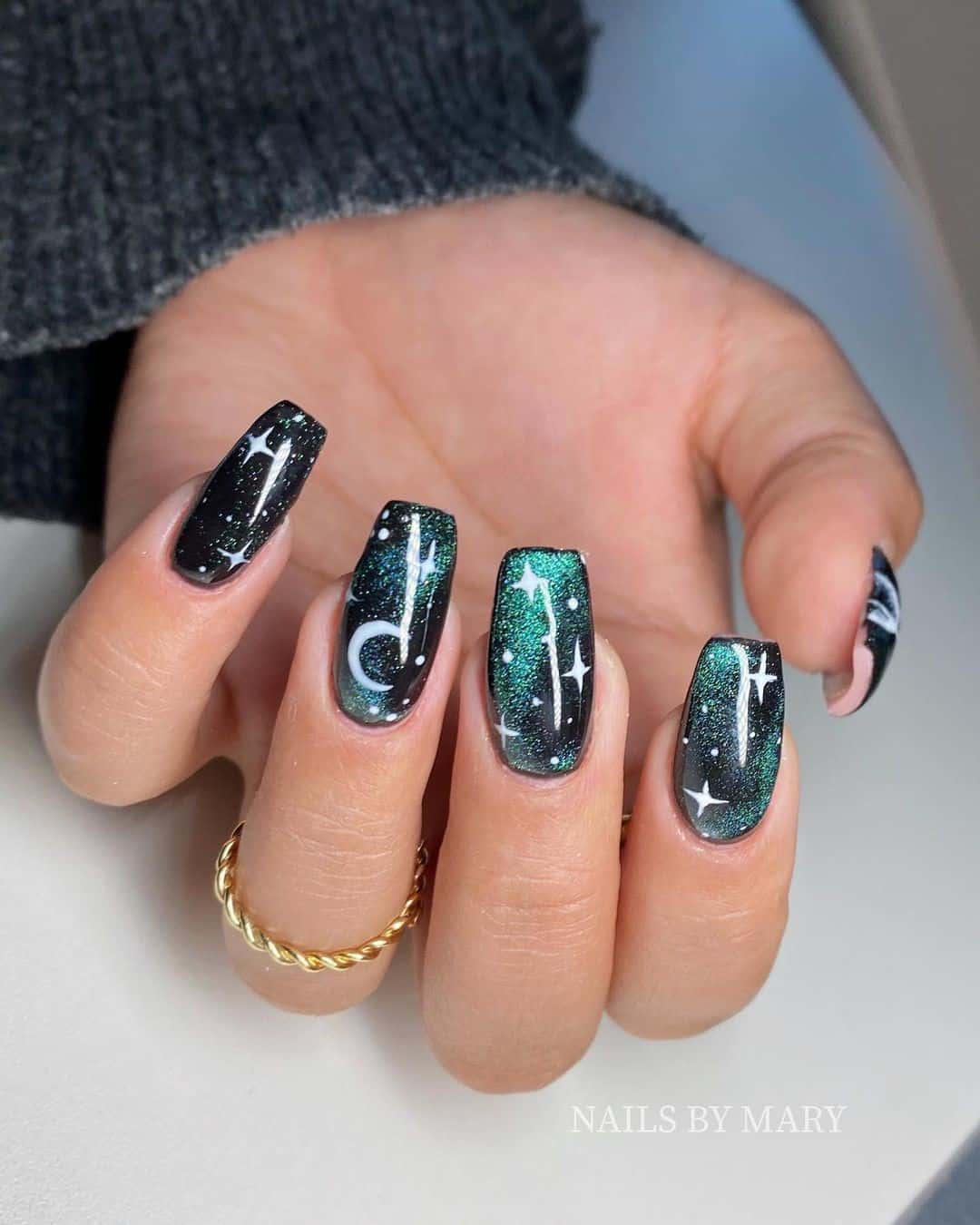 Experiment with this cat-eye manicure if you're someone who likes zodiac or galaxy-inspired concepts and colors. Show to the world that you're a detail-oriented person who knows how to rock loud and intriguing ideas, as well as nails that are quirky!
4. Oval Shaped Manicure Print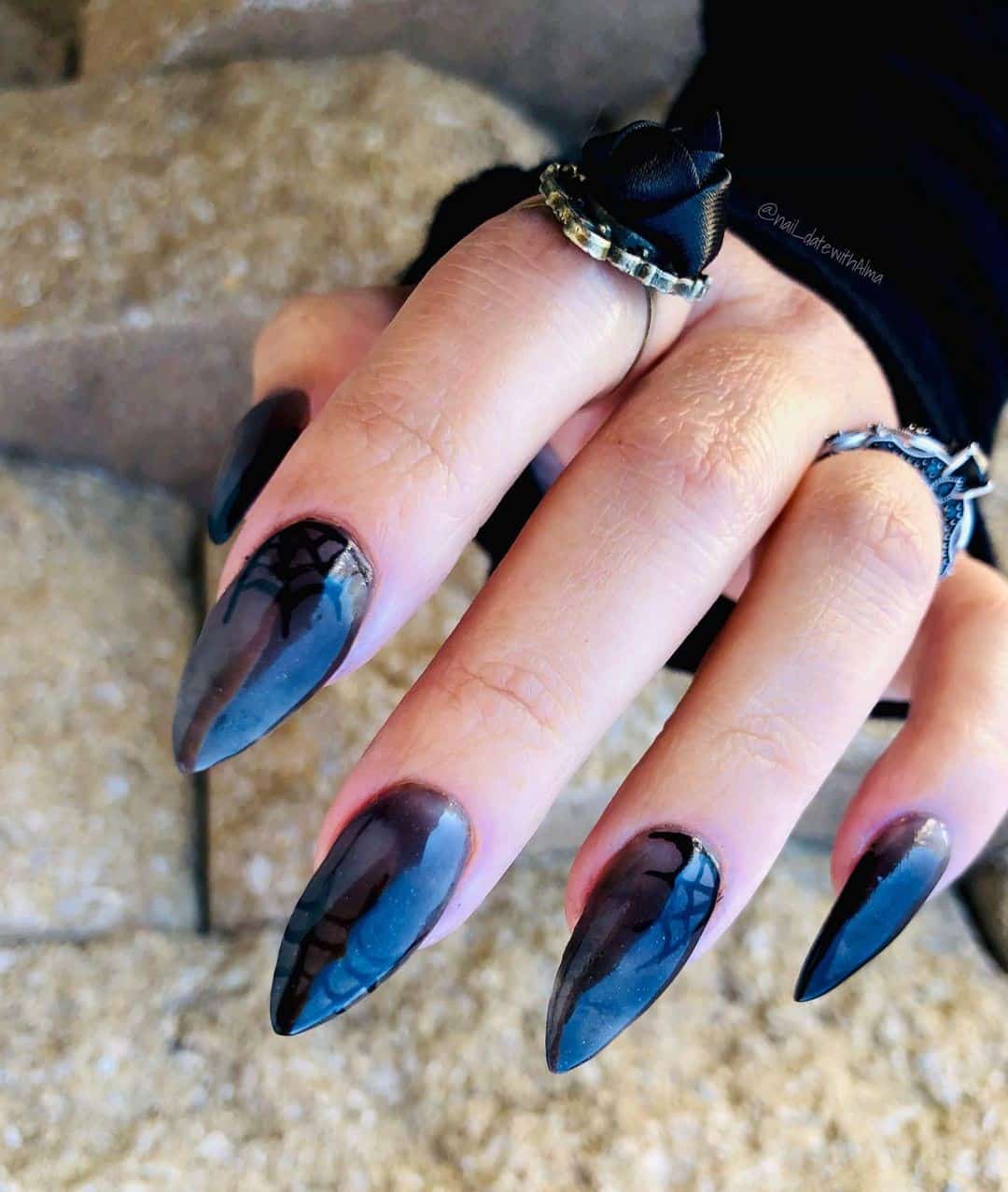 Bright blue stiletto manicure is the one that you will like the most for the spring season. If blue is your favorite color we recommend going for this cat-eye print. Spice it up and finish the design with a black polish across the middle portion to get this exact print.
5. Long Coffin Dark Brown & Purple Manicure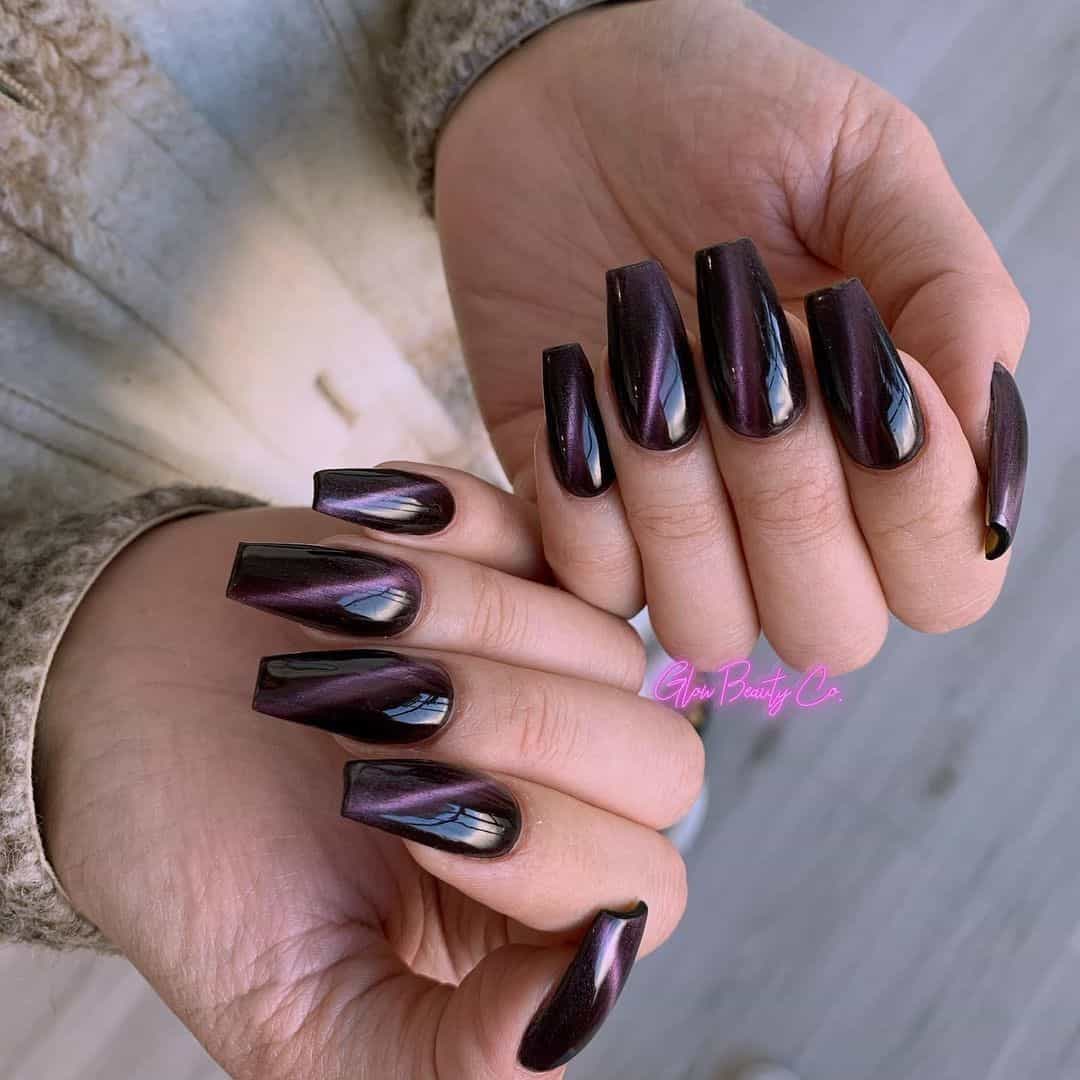 Purple and black are such galaxy colors! Do you like to show off and you're a fan of feminine and lady-like manicures? This outcome will make you look like a true diva! Wear these nails for your parties or birthday events since they are so chic and modern.
6. Long Flashy Acrylic Nails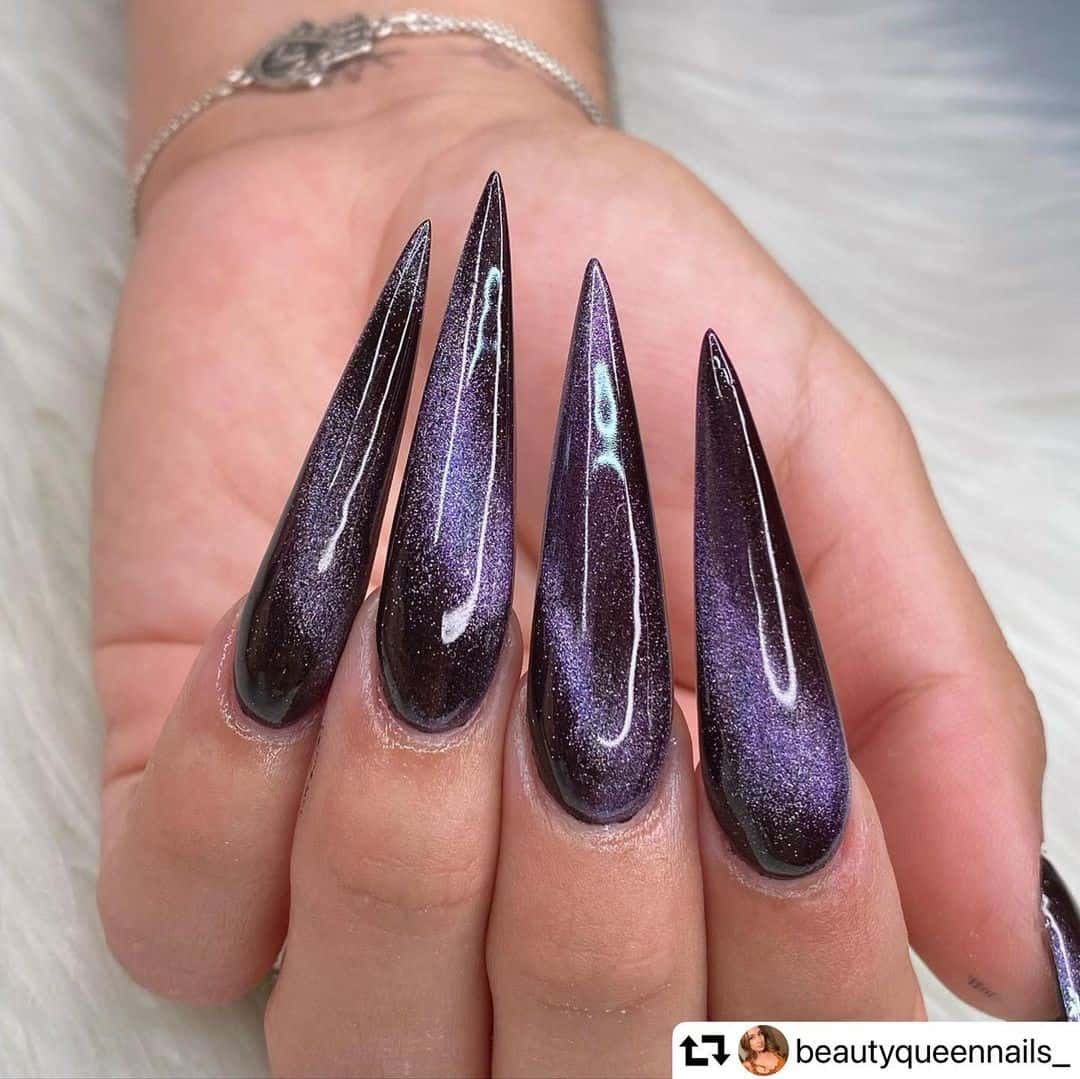 Do you prefer acrylic nails? Are you someone who knows how to wear such bold and bright designs on a regular? If you're a fan of longer cat eye nails and your nail artist is skilled when it comes to their work, consider giving them a call and book this manicure!
7. Colorful Manicure Acrylics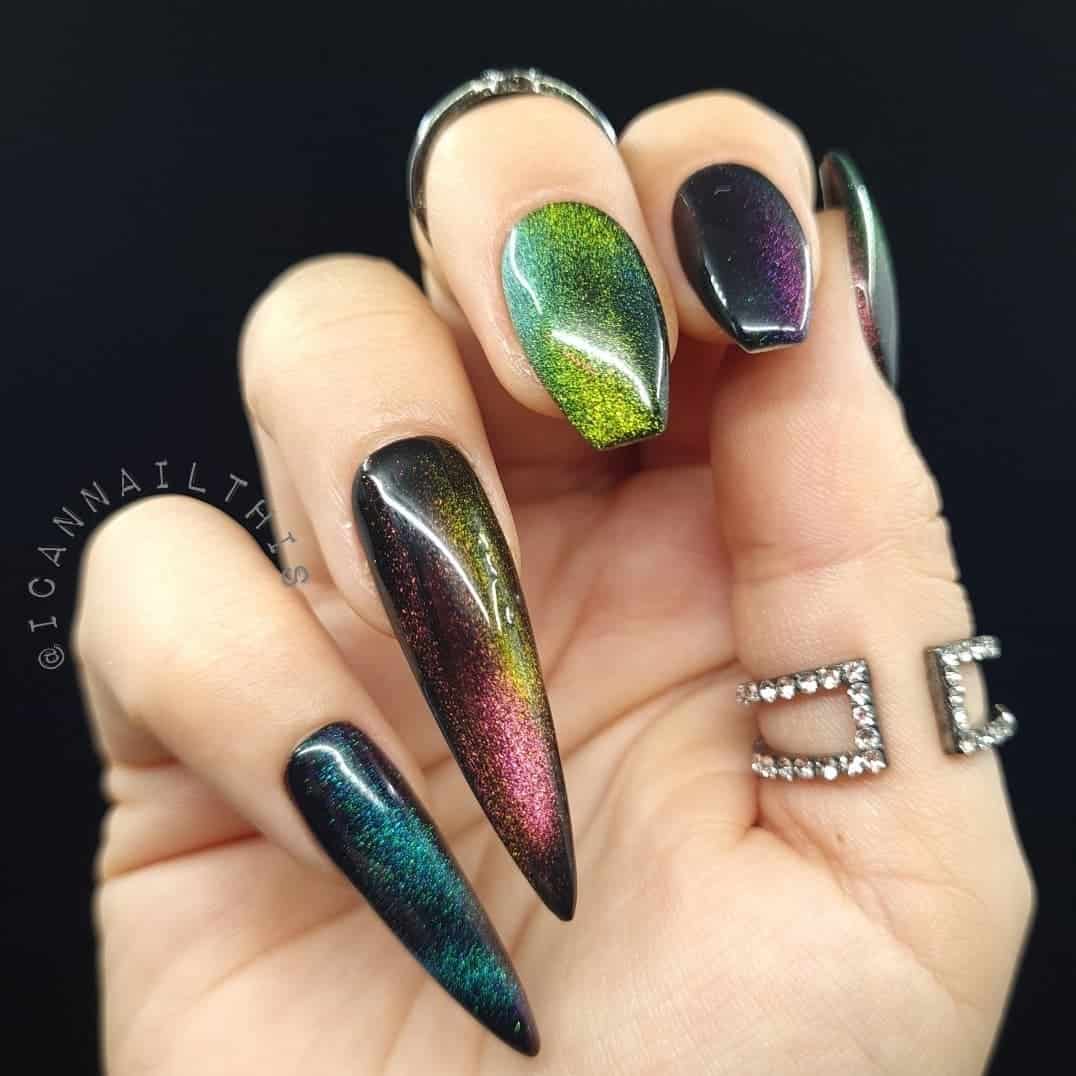 Drama is your second name? Say no more and just say yes to these nails! If you're someone who understands and knows the beauty of acrylics – these will suit you. They can look so good for your upcoming formal events. Give them a go if you're a color lover yourself.
8. Dark Colored Nails Oval Shape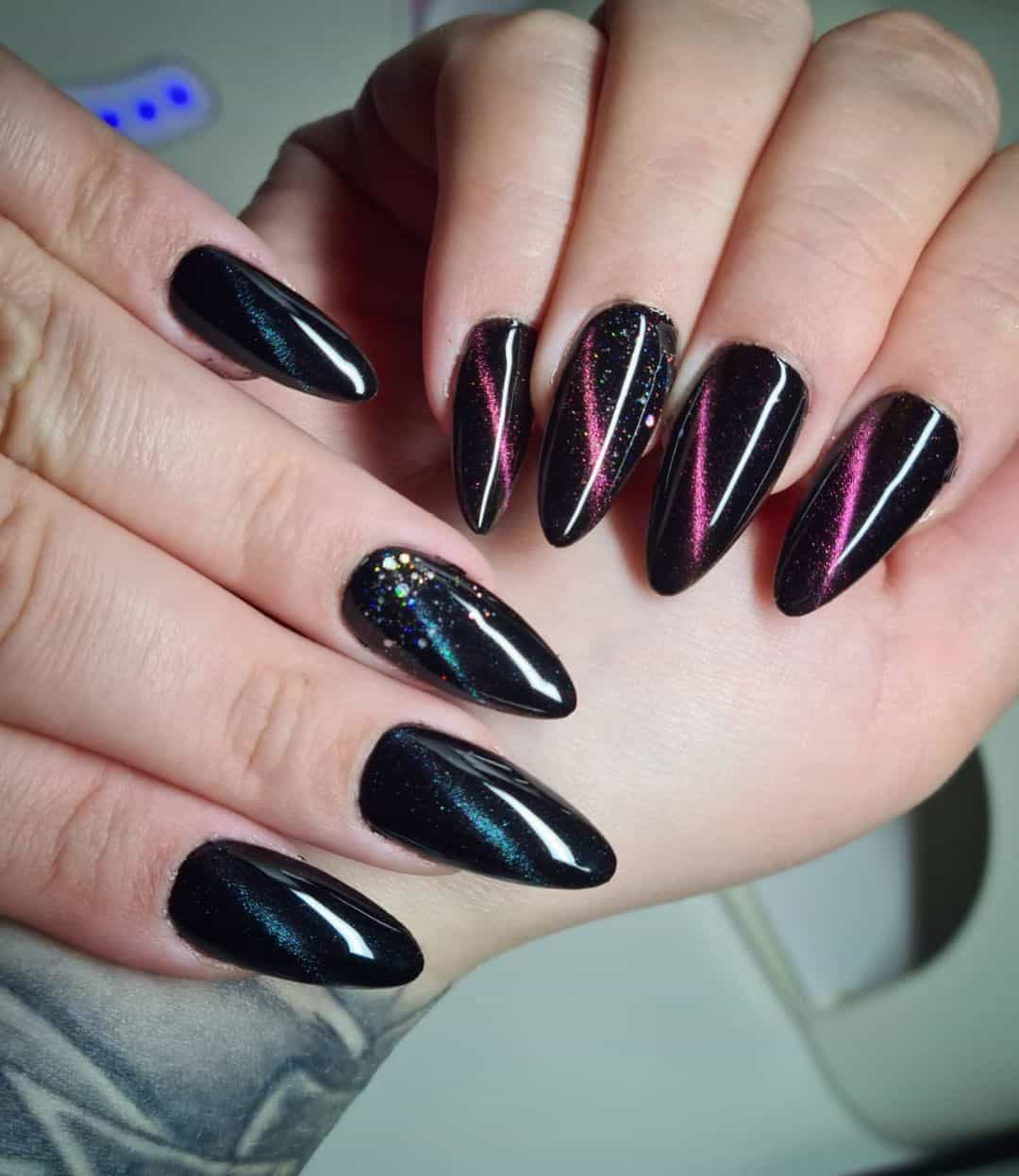 Oval nails and this oval manicure will look cute on top of your natural nails. Combine pink and blue to show your love for these dominant colors. Also, those who can't make up their mind and women who enjoy blue and pink color combos will like this as their final outcome. Wear these to your formal or informal gatherings and moments.
9. Long Oval Shiny Nails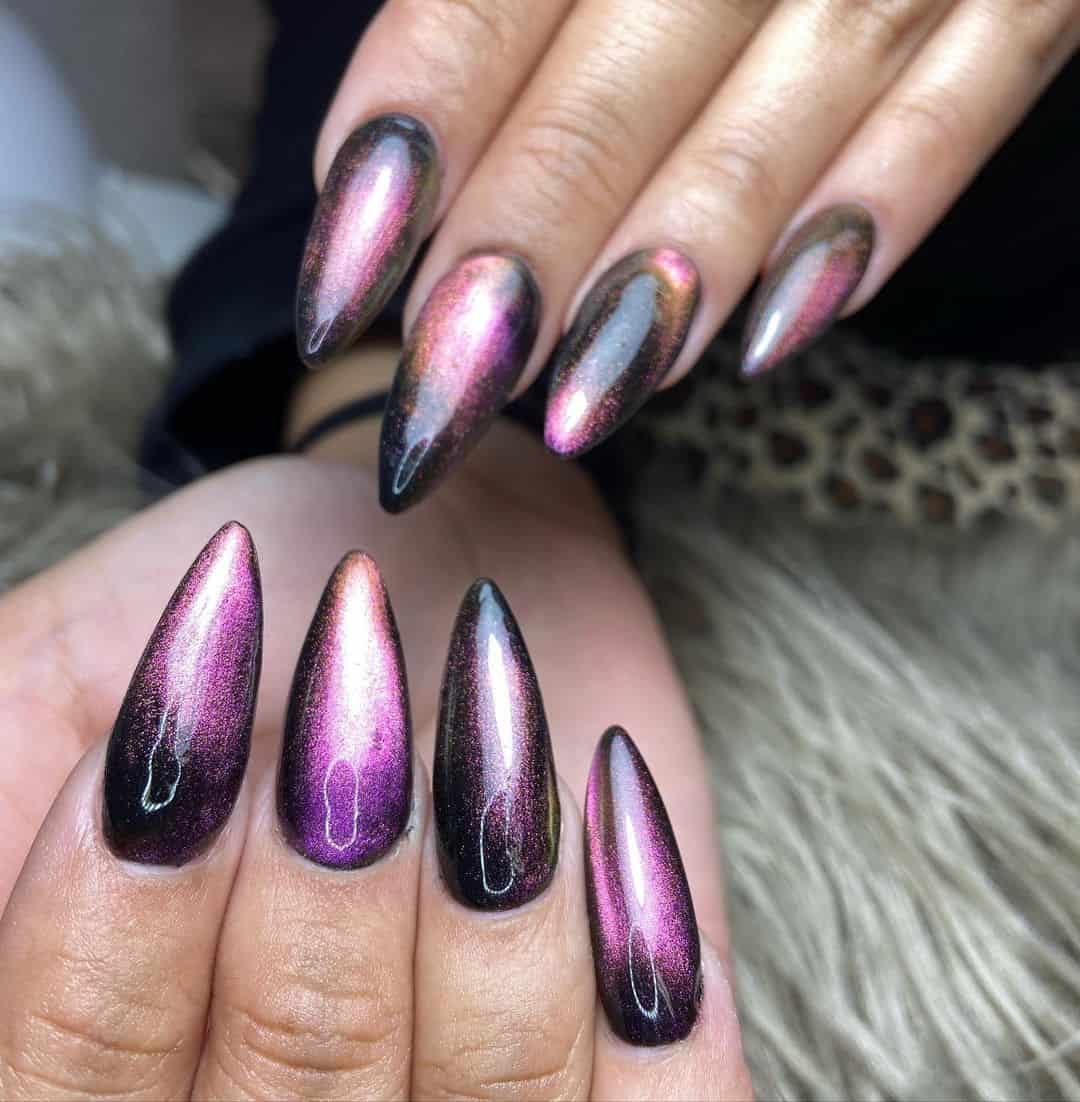 True metallic nails that are going to look so cute and artsy when executed the right way. Are you someone who knows the beauty of metallic cat-eye combos? If so, wear this beauty proudly! The end result is so cute for those who are indecisive yet in love with darker colors.
10. Pink Stiletto Cat Eye Nails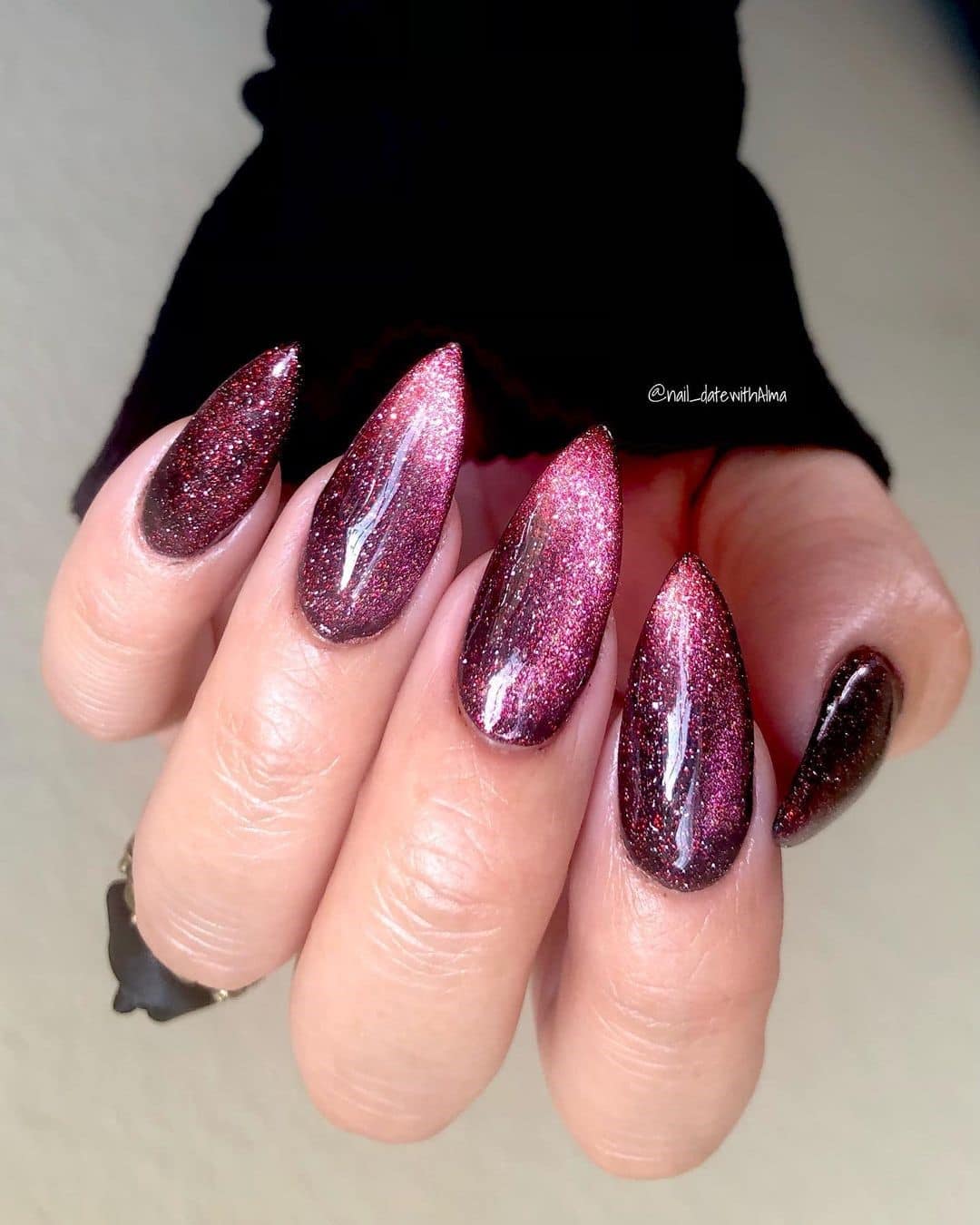 Pink with a ton of glitter – who can say no to it? If you're a fan of elegance and formal looks you will enjoy this manicure. It will take you around 2 hours to end up with such a gorgeous manicure. If you're someone who knows how to do and enjoy glitter yourself try recreating this!
11. Oval Purple Manicure Print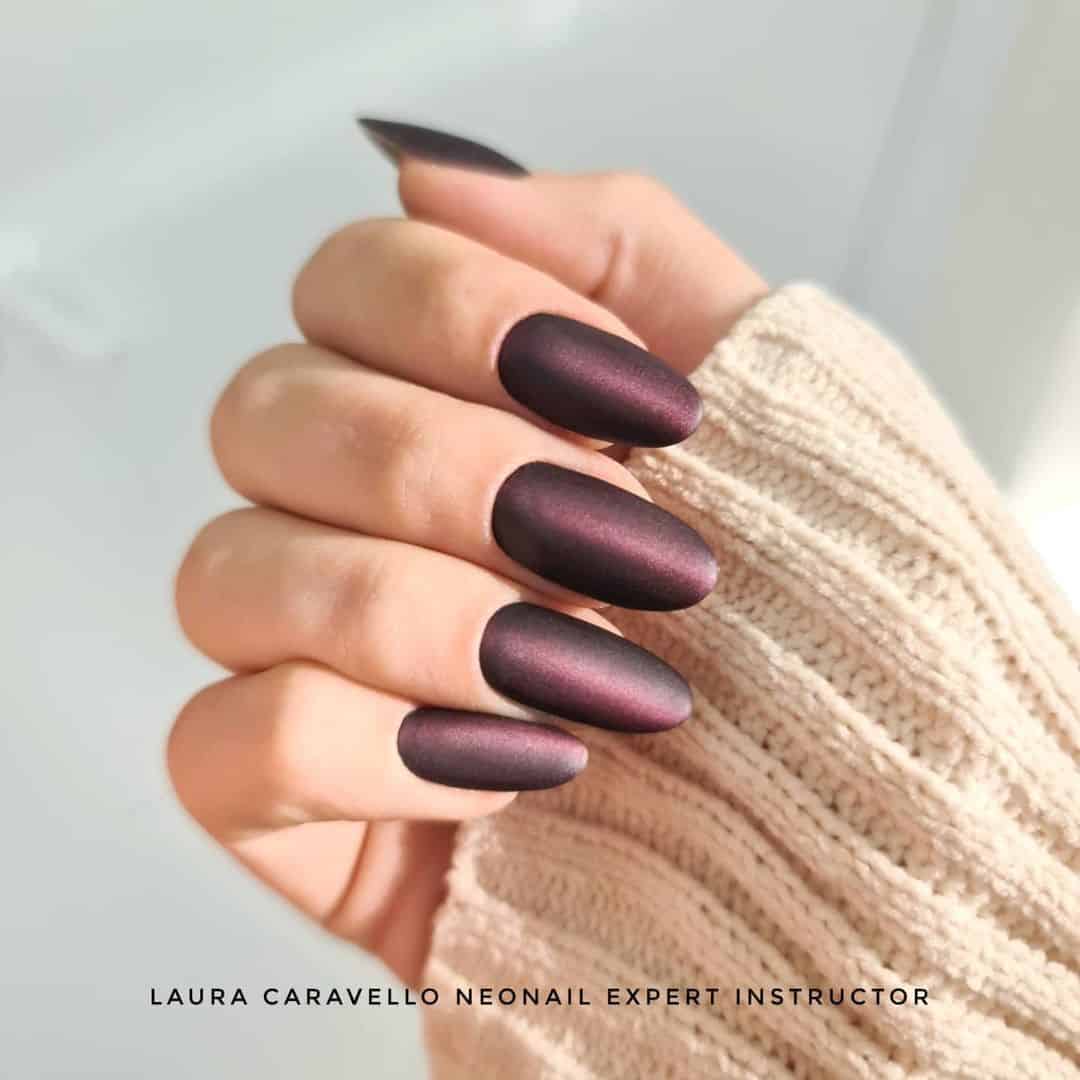 This cool and dark-colored muted manicure is for those who enjoy fall-inspired ideas. Wear these nails anywhere you want and like. Usually, women who are in their twenties or thirties will fancy this shiny feminine outcome.
12. Long Pink Acrylic Design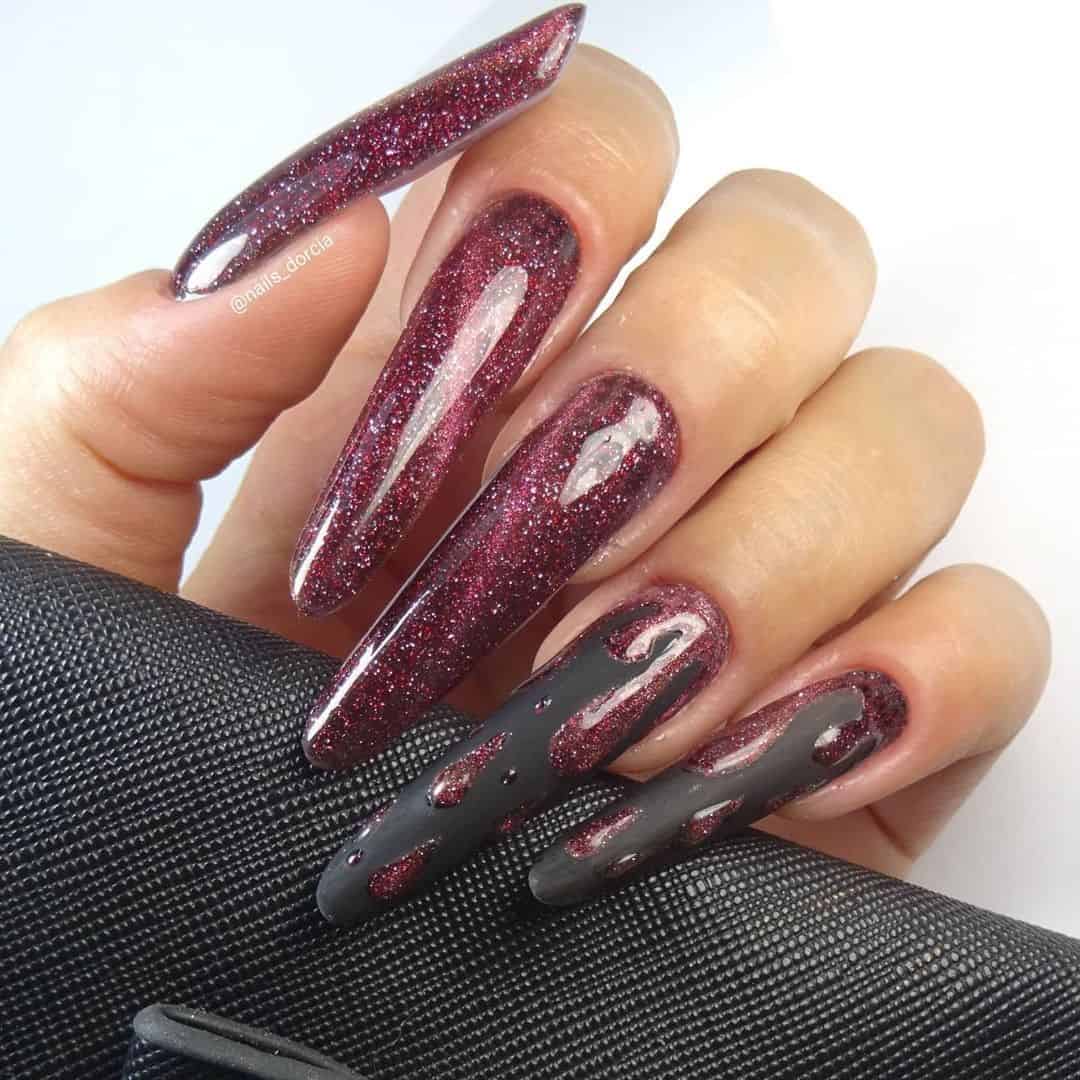 Do you have an important event ahead? Are you someone who wants to make a statement with your choice of color or patterns/designs? Show these off for your next major shoot. You'll like the end result for anything from prom to your big dance or photoshoot!
13. Unique Cat Eye Design Manicure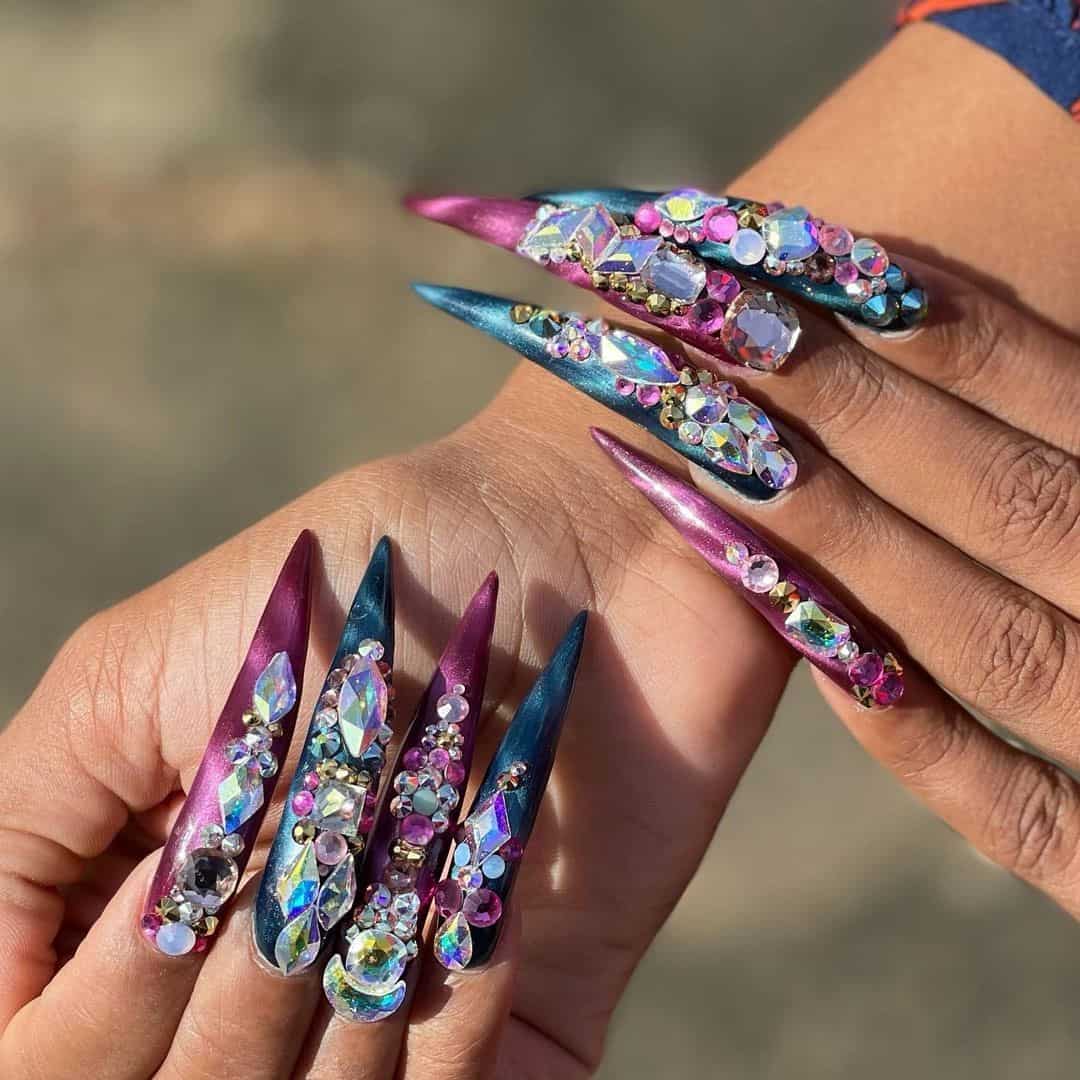 Not a lot of nail artists know how to do these elegant nails. Do you prefer precision and a ton of glitter? If you're someone who likes super long and bold nails you're going to like this manicure. Show them off to your birthday party or when throwing an NYE celebration, you're gonna love them!
14. Cheetah Cat Eye Nail Print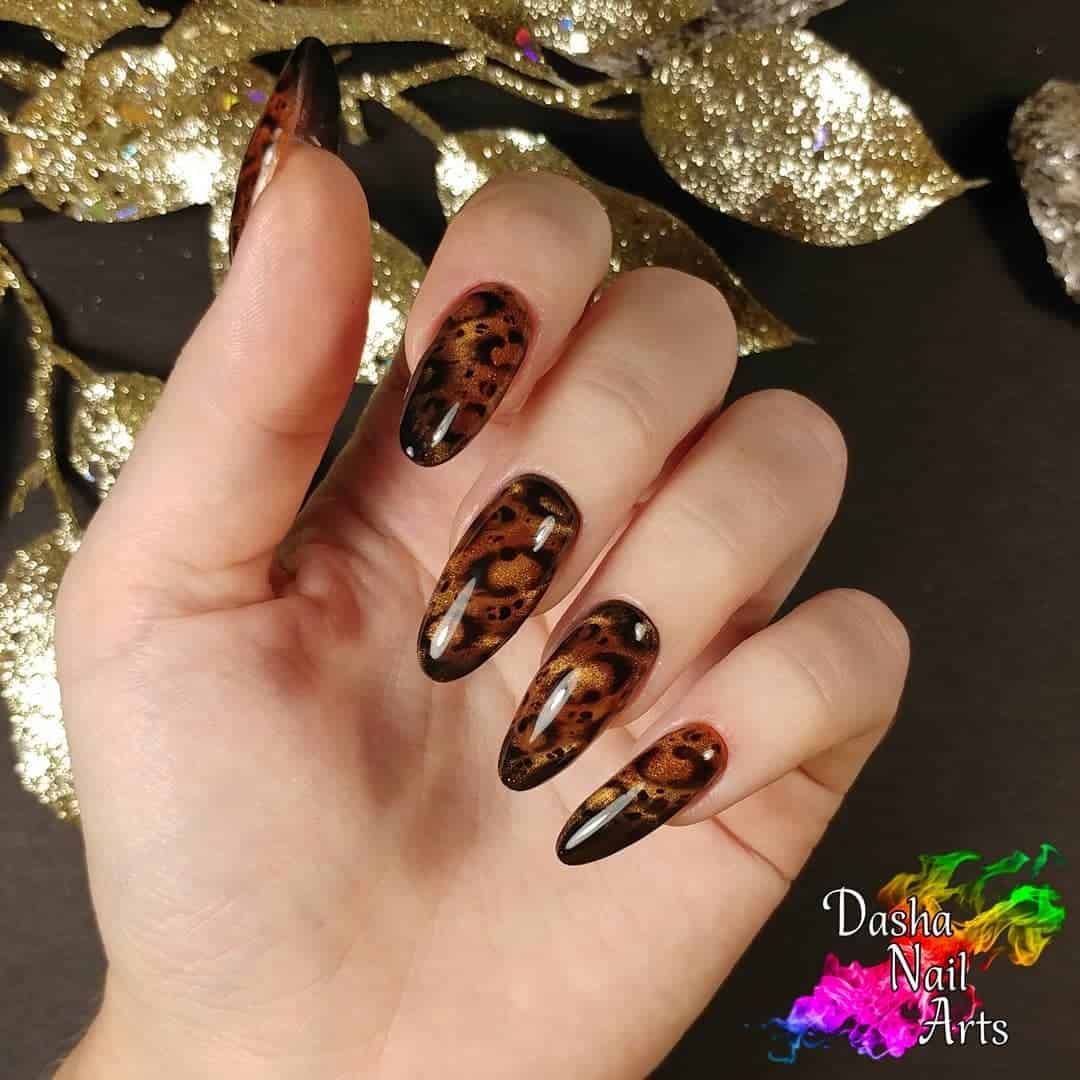 Do you like cheetah prints? Are you someone who likes cute nails? This dark brown and black manicure will take you around 2-3 hours to achieve. Make sure that you book a nail artist who is skilled enough when it comes to these playful and artsy designs. You can also opt for a nail sticker if you can't do the cat-eye print yourself.
15. Floral Cat Eye Nail Design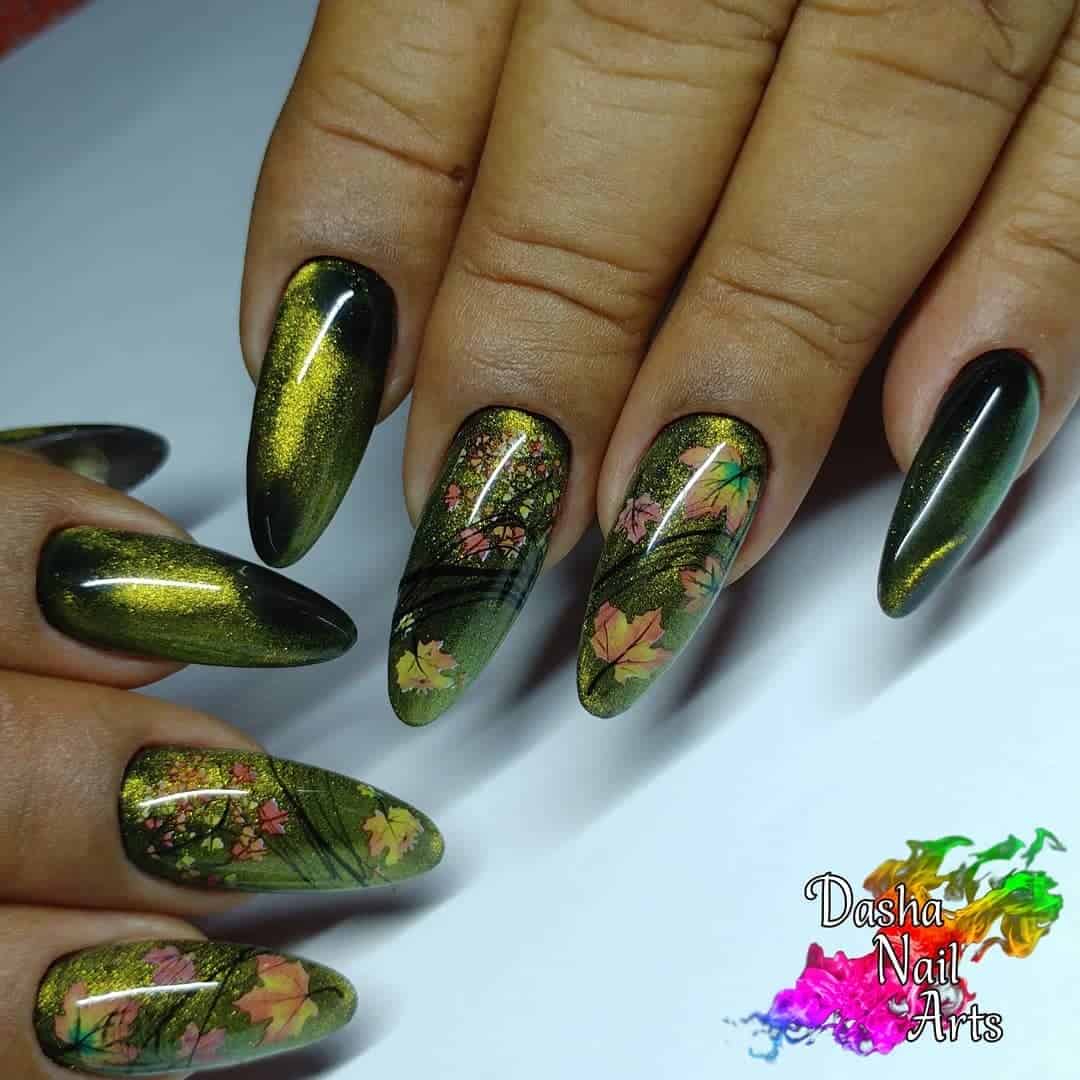 Women who need a feminine and spring-inspired design will like this concept. If you want to show off your catty side and you also prefer nails that are floral-inspired and creative, this will intrigue you. Show off your passionate and flower-driven concept through this new approach.
Want To Book Your Nail Artist Right Now?
Not too sure if this is your cup of tea? Although these nails might look unusual or different, we recommend that you test them out and give them a go! If you're intrigued by this concept we know that you're going to find one flawless manicure in our article.
Also Read: