Top 30 Best Viking Hairstyle Ideas For Men (2023 Update)
When you shop through links on our site, we may earn an affiliate commission. This educational content is not intended to be a substitute for professional advice.
Have you ever thought about getting a Viking hairstyle? A lot of guys who enjoy fierce looks and dramatic cuts will enjoy this change. Are you someone who likes to stand out and you're also looking for a newly improved cut? Keep on reading since we have some of the prettiest and hottest 30 ideas for you to consider down below!
Viking Hairstyle: FAQ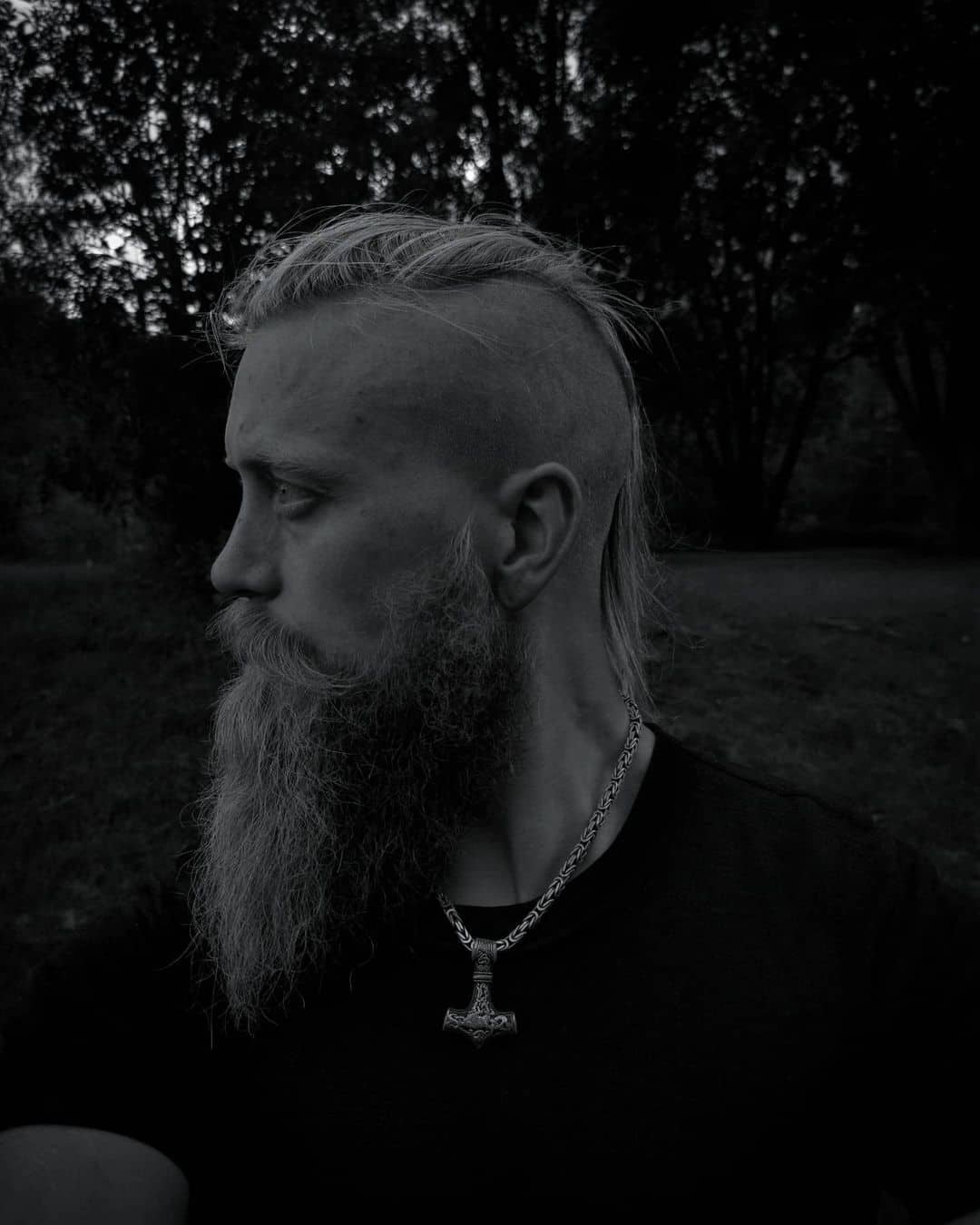 1. What Is A Viking Hairstyle?
A Viking hairstyle is an innovative cut that only some men will dare to try. Although it's been quite popular years ago, it has come back in fashion recently. We can thank TV shows such as Game of Thrones for bringing these cuts back and making them popular nowadays.
2. How To Achieve A Viking Hairdo?
A Viking hairstyle can be pretty much anything and everything that you want it to be. It is important to outline that this hairdo has to resemble an actual Viking and that it has to have a vibe of an old-school and fierce cut. It should be in tune with warrior looks, and the end result will look powerful without being too tacky, which means that most guys can wear it. Your hair cutting process will look a lot like this:
Your hairstylist will cut your freshly dry and clean hair
They will achieve defined lines preferably on the sides
They will keep the volume adjusted and noticeable around your top part
If you want them to, they will also adjust your facial hair to round the look
You will add a preferable amount of hair wax and hair gel to your hair and beard to give it shine and to maintain your baby hairs
It is best to book your hairstylist appointment with someone who has been doing men's hairstyles for years. You could also book a barber for ideal and professional results.
3. How Much Are Usually Viking Hairstyles?
Luckily for you, you won't pay a lot for this hairstyle. The end result is so easy to maintain, it is just hard to achieve the initial results. This is why it is important to book a hairstylist that is skilled. Usually, you're looking at $50-$80 for this cut and this gorgeous trendy result.
Top 30 Viking Hairstyles For Men
1. Viking Hairstyles Long Look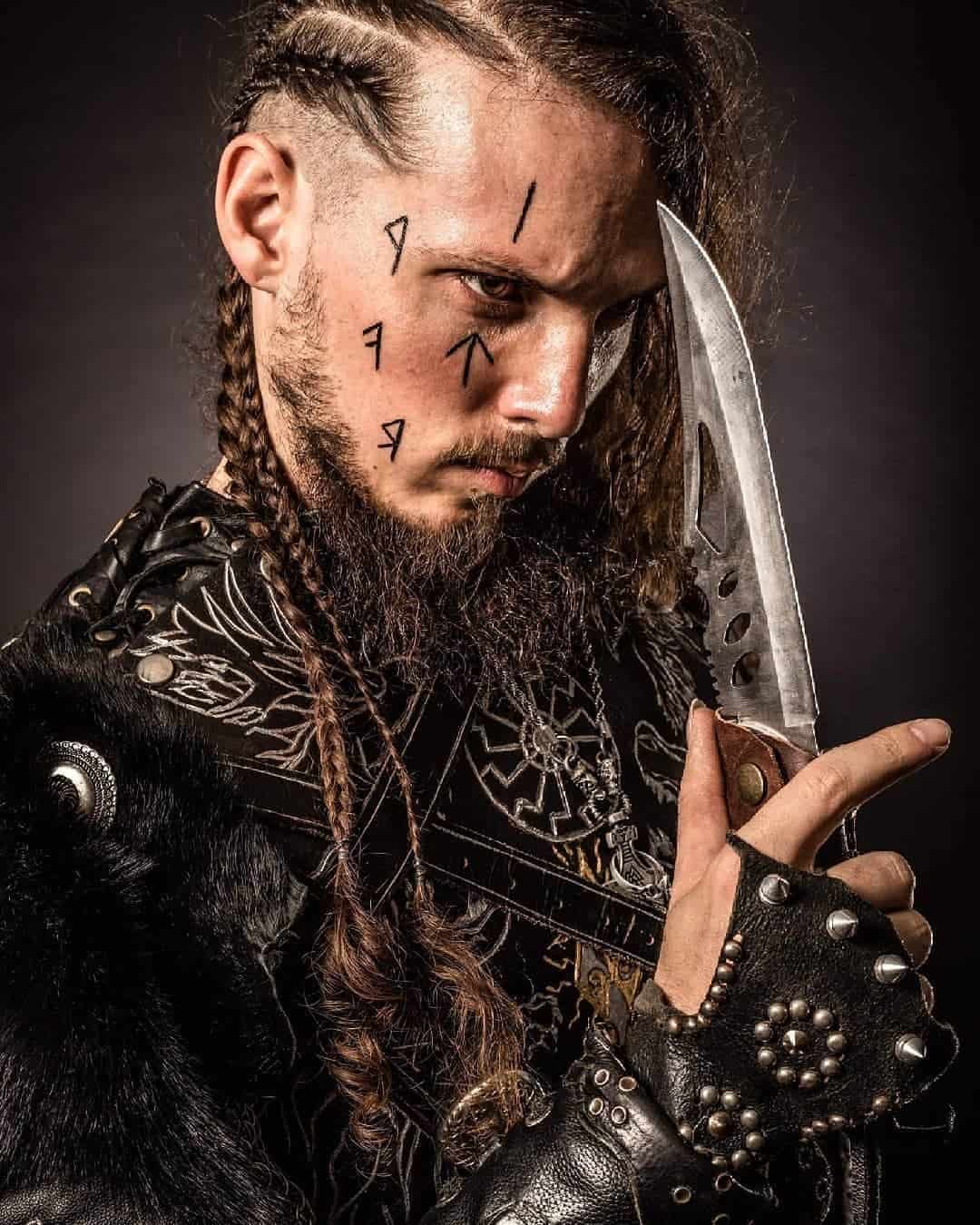 Long braids and dreads are always in fashion and they are quite common among those who know how to enjoy loud looks. If you like to stand out and you're a fan of noticeable cuts, you're going to enjoy this Viking hairdo.
Twist your strands to achieve this amount of definition. Once you cut or shave off your sides you will achieve the warrior look and this fierce hairdo.
2. Viking Hairstyle Male Braid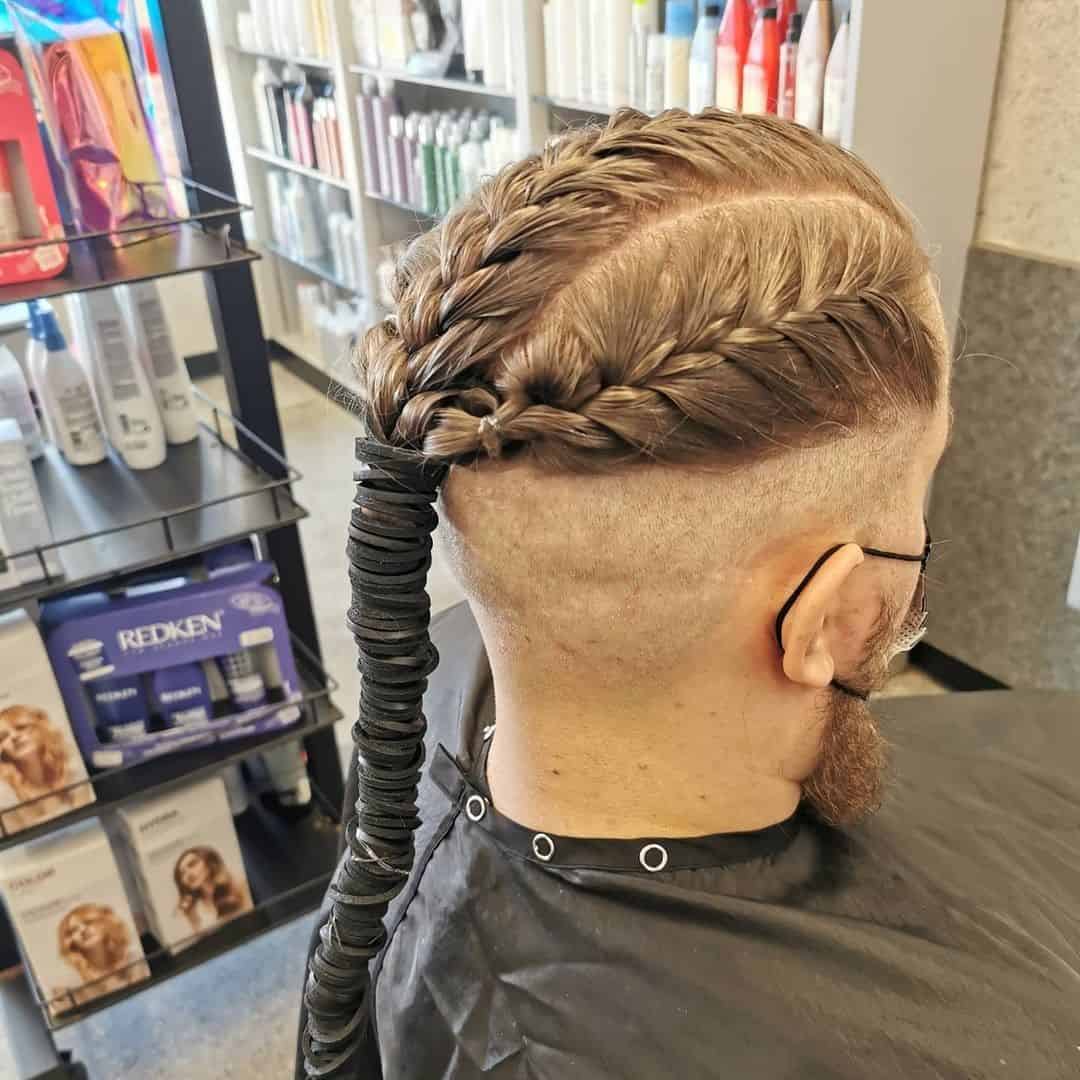 If you're a fan of braid looks and you enjoy ponytail ideas, you're going to like this design. Longer looks usually look fierce on guys who don't mind their maintenance, are you one of those guys?
Tie your hair in one thick chunky braid and show off the beauty behind it. You'll enjoy this hairdo for everyday stylish wear, ideal for guys who are in their twenties.
3. Viking Hairstyle Braids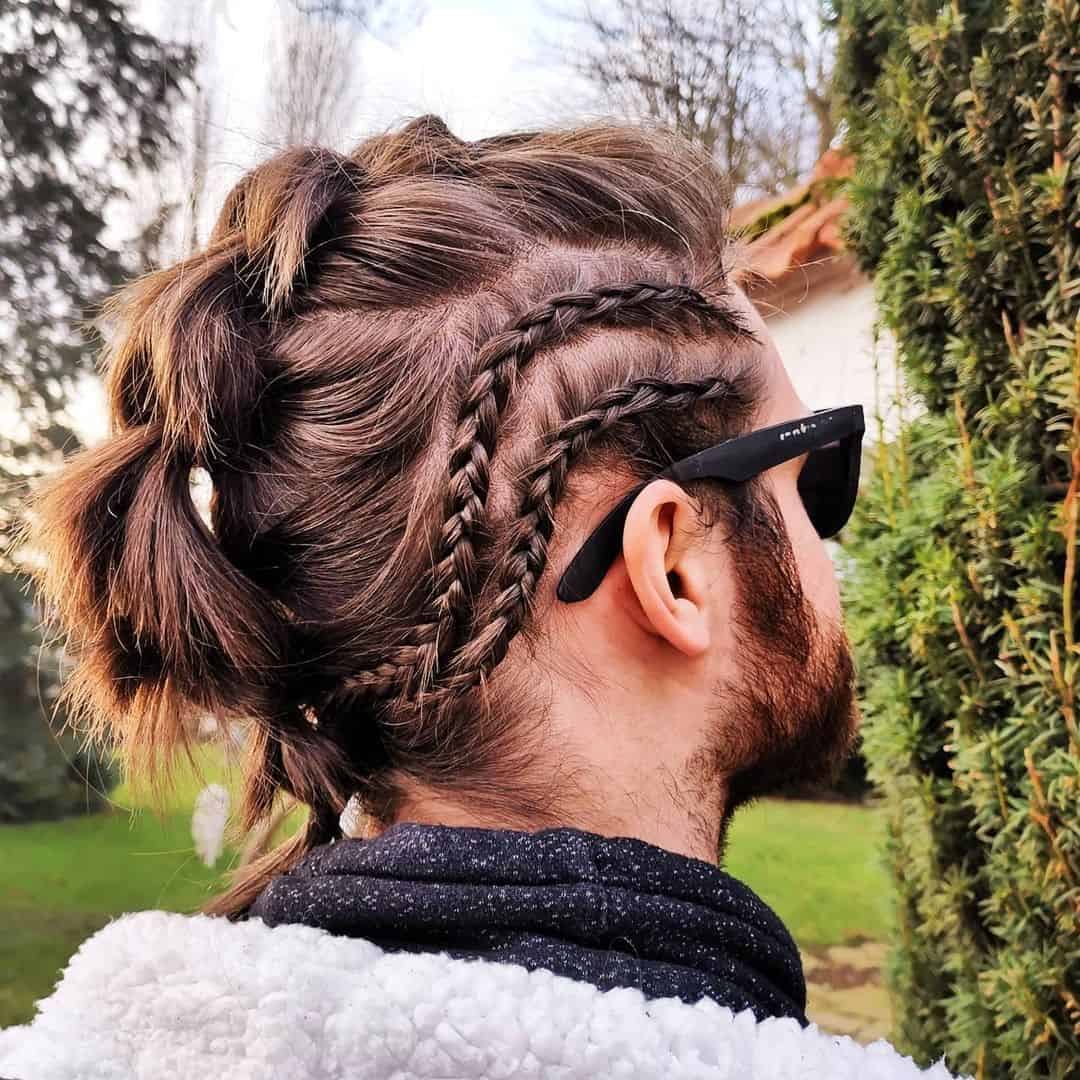 This small tight braid on the side is representative of true Vikings. If you enjoy shorter looks and you're a fan of detailed looks, you're going to like this one.
It will take you 60-90 minutes to achieve this look and to do these retro braids on your own. However, once done and set in place, these braids can last for 7-10 days easily without the need for you to redo them!
4. Viking Hairstyles Male Short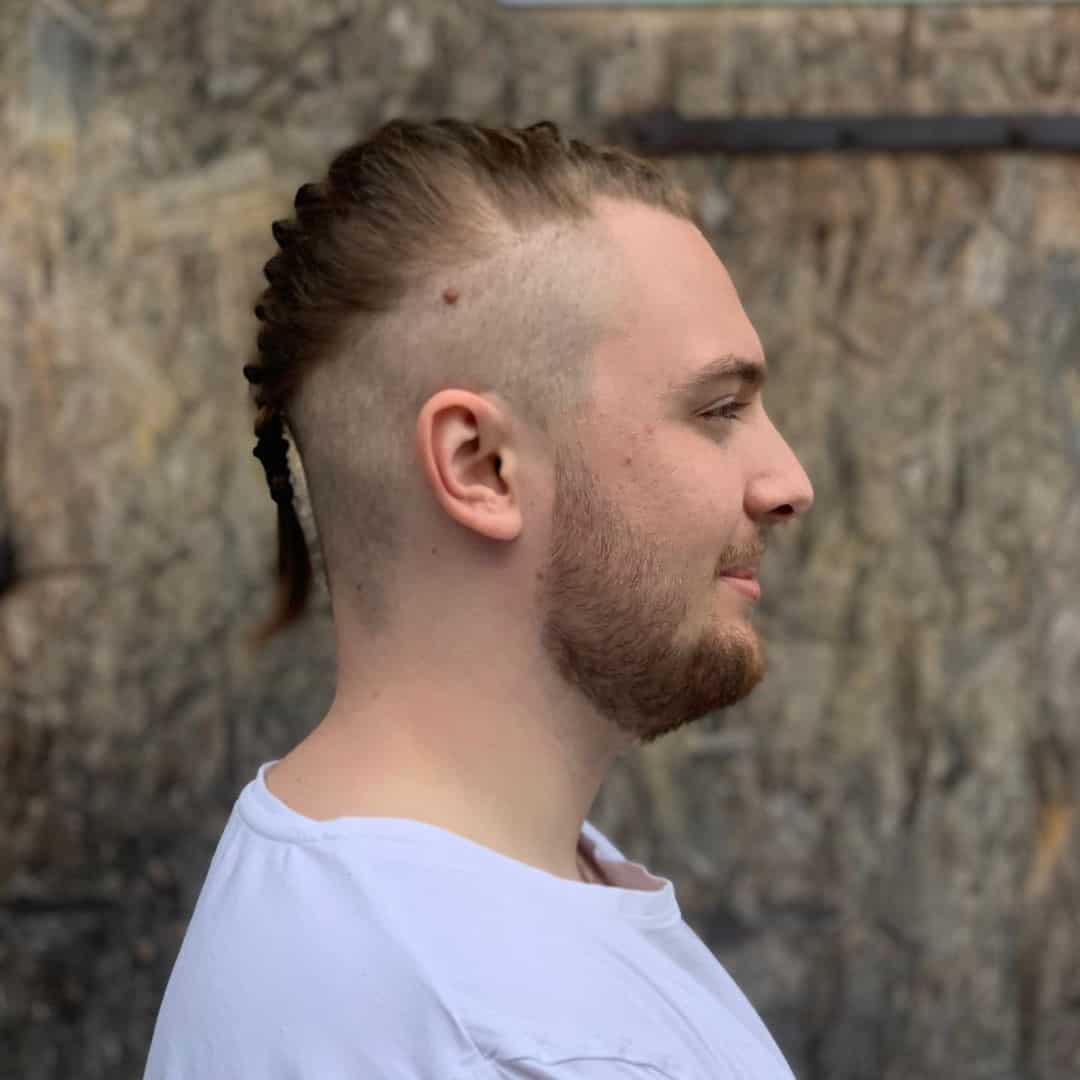 If you're someone who likes shorter hair and you prefer one small tight braid, go with this centerpiece across your entire head. Shave the sides off and rock this summer-inspired hairdo anytime and anyplace!
Your hairstylist or barber will achieve this look in the quickest and shorter time possible. Once they do it, they will ask you to moisturize your curls and redo the braids every 3-4 days for neat wear.
5. Long Blonde Viking Hair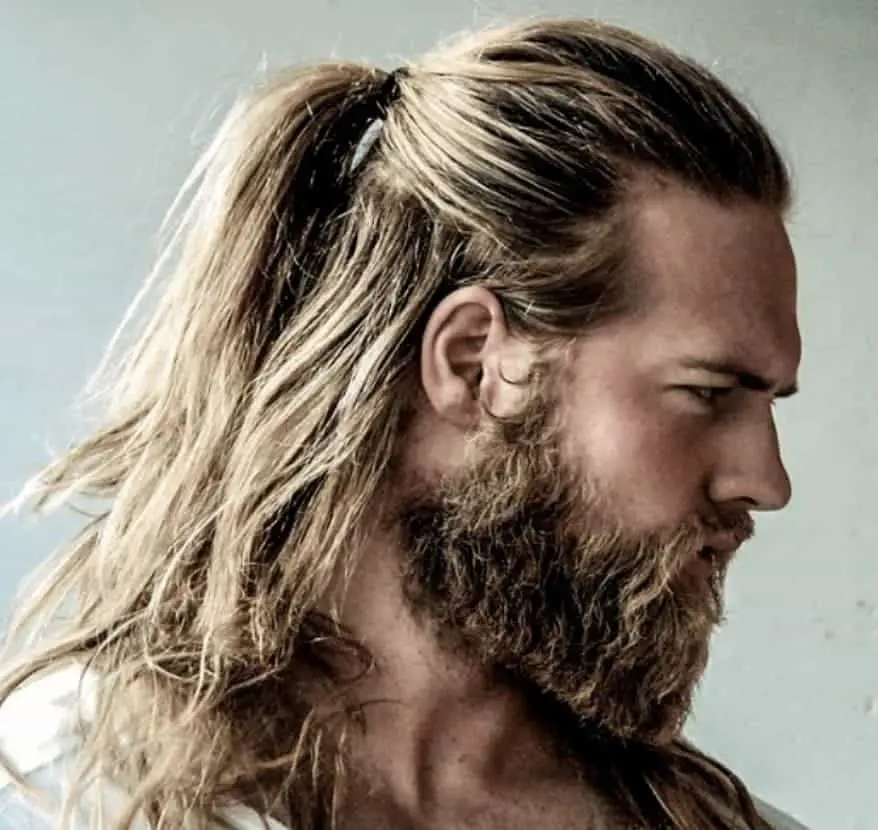 You can always rock your fierce cut and match your facial hair along with it. If you are someone who likes bushy ideas and loud looks, you're going to enjoy this concept!
Brush out your hair in the back and tie it in a ponytail. This half-up half-down hairdo will look perfect for guys who prefer to show their natural and coarse hairs fly and come through.
6. Brown Hair Viking Look With Beard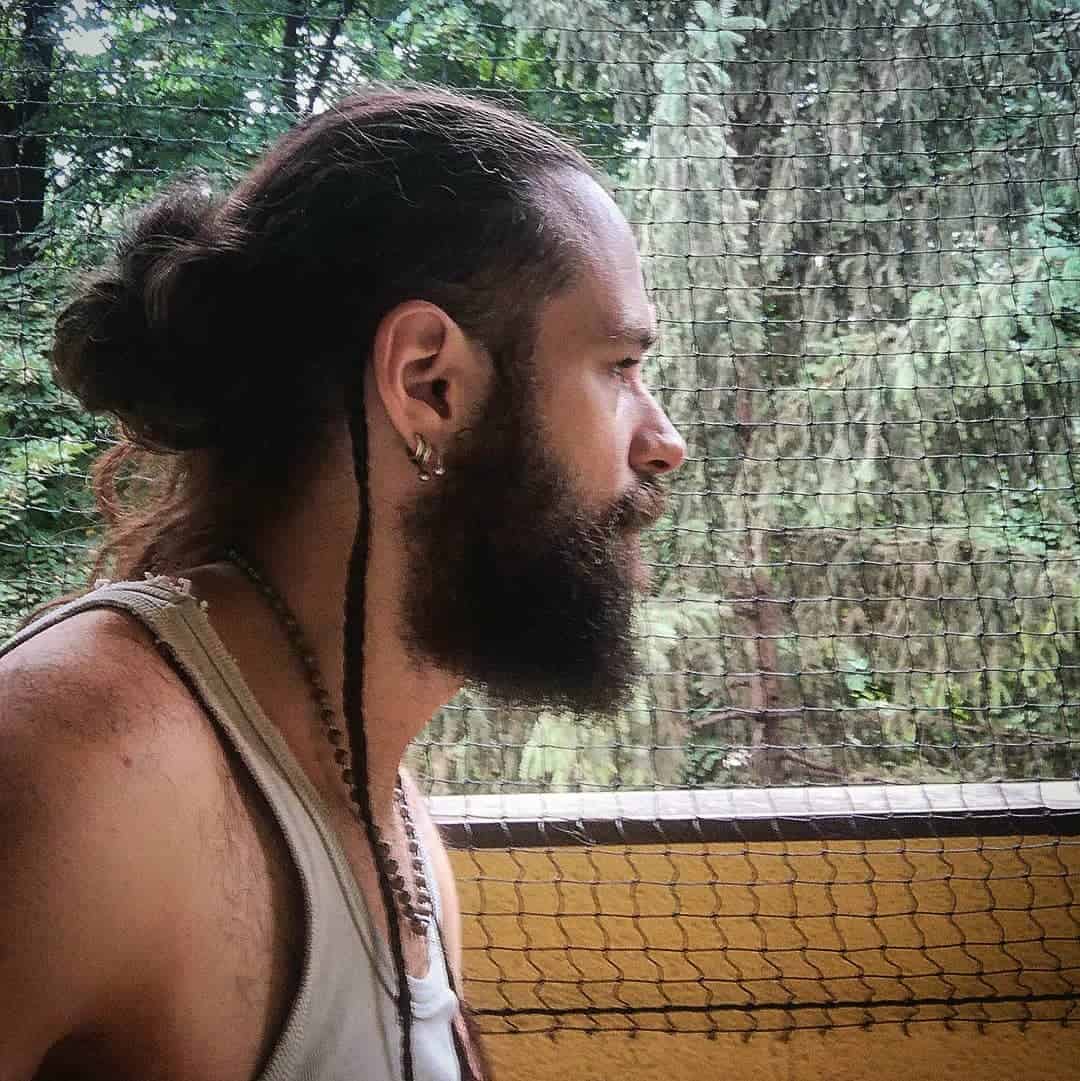 Dark brown hair and a bushy beard can look so masculine and dramatic. If you're a fan of bushy ideas and hairier looks you're going to enjoy this one.
Show off your beard and your voluminous curls for any type of event. Brush out your strands to achieve this gorgeous outcome and masculine hairstyle that is Viking-inspired.
7. Viking Hair Long Braids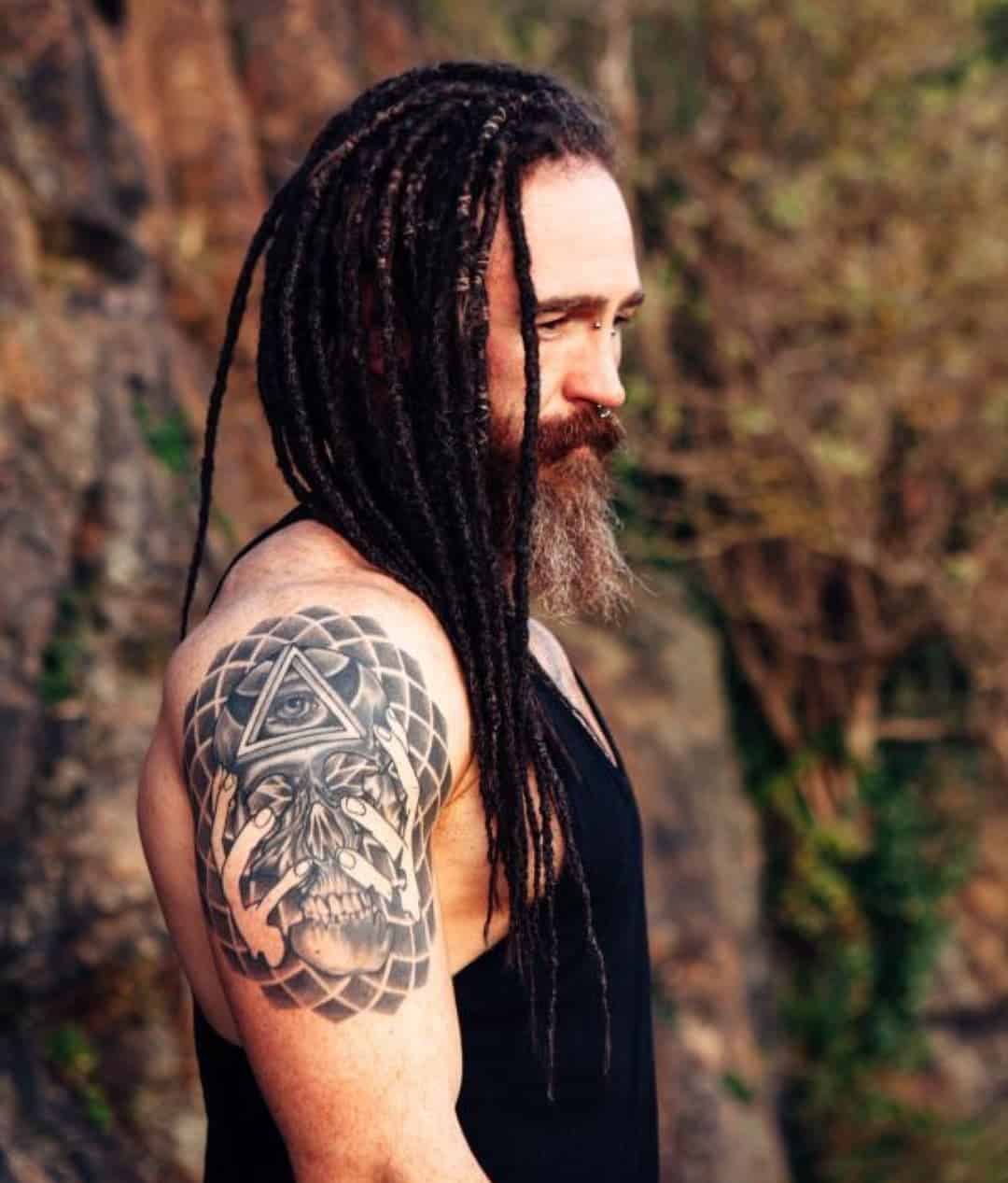 Do you have long hair and stunning tight braids? Are you someone who likes to rock chic looks and you're into noticeable hairstyles? Show off these braids and let your hair stand out at any given moment.
This look is quite time-consuming and hard to do. Make sure that you're patient and ready for a new change since this hairstyle will take you 2-3 hours to achieve at a hair salon. However, once done, the beauty is there to look at for weeks to come!
8. Short Braids Viking Hair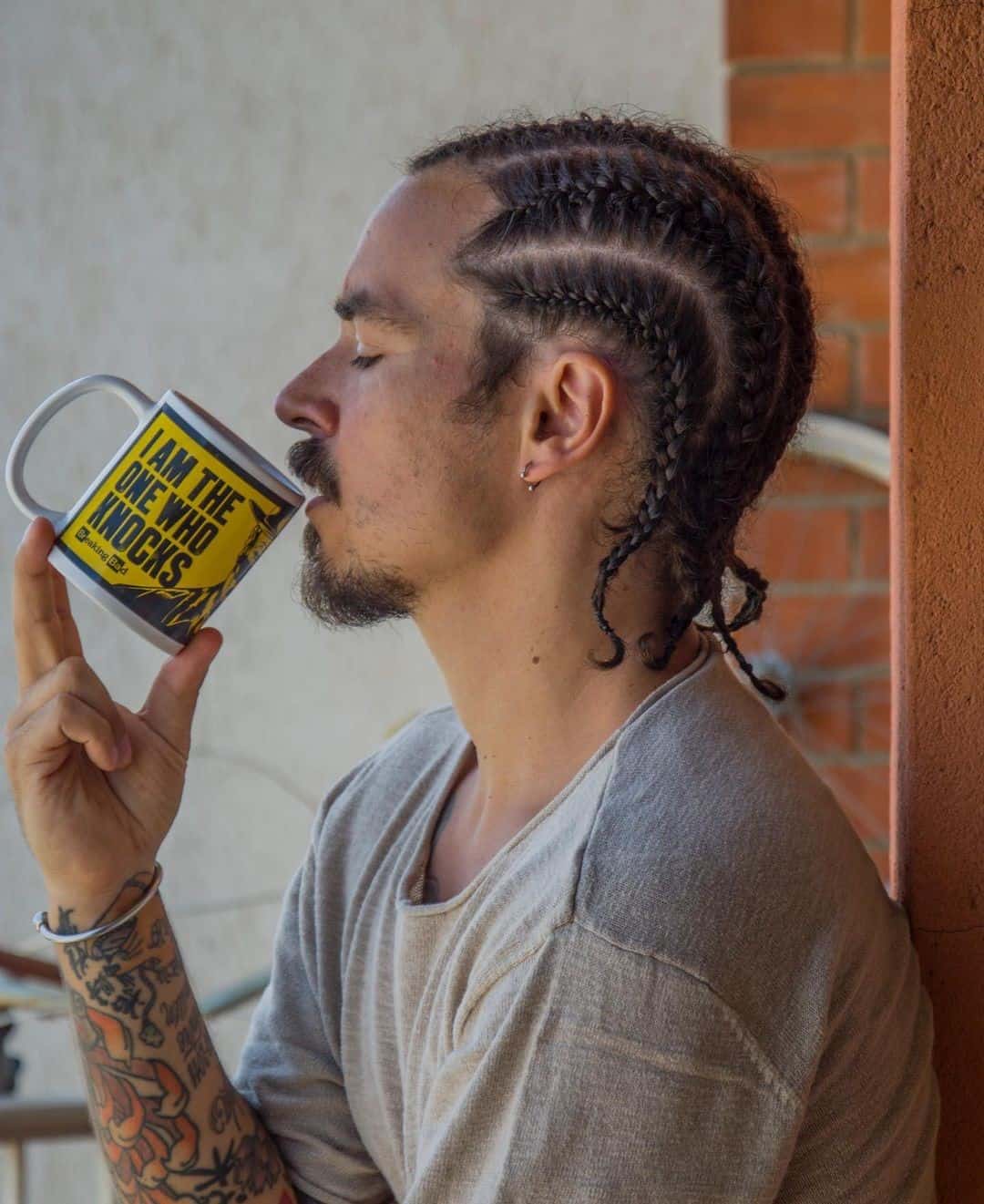 Short, tight and small braids usually look the best on guys who have defined strands and healthy hair. If you can do the braids on your own and you're a fan of cool trends, this is a must in your case!
Secure your braids and use the right kind of elastic. Don't forget to twist the hair to achieve this outcome. Once done the right way and with care, the look will fascinate plenty of men.
9. Tied Hair Viking Look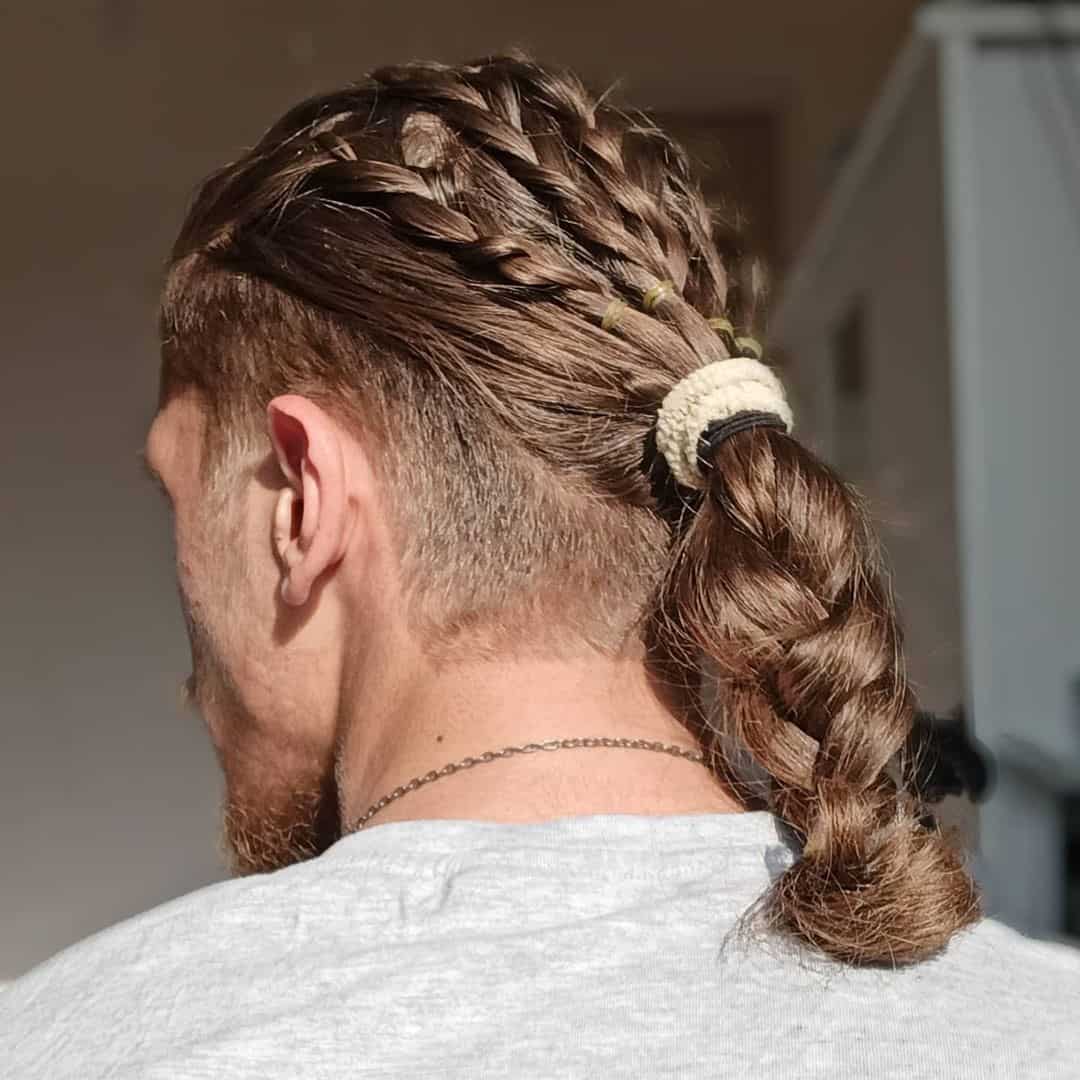 Blonde hair is naturally attractive and pretty, but once you pair it with these braids, it becomes impossible to resist! Lighter looks and this combo will suit guys who are in their twenties, trying to embrace their inner warrior.
Go for a sturdy elastic and something that will keep your hair secured and in place. If your hair is on the shorter side you're going to like the practicality of this look.
10. Short Blonde Hair Viking Look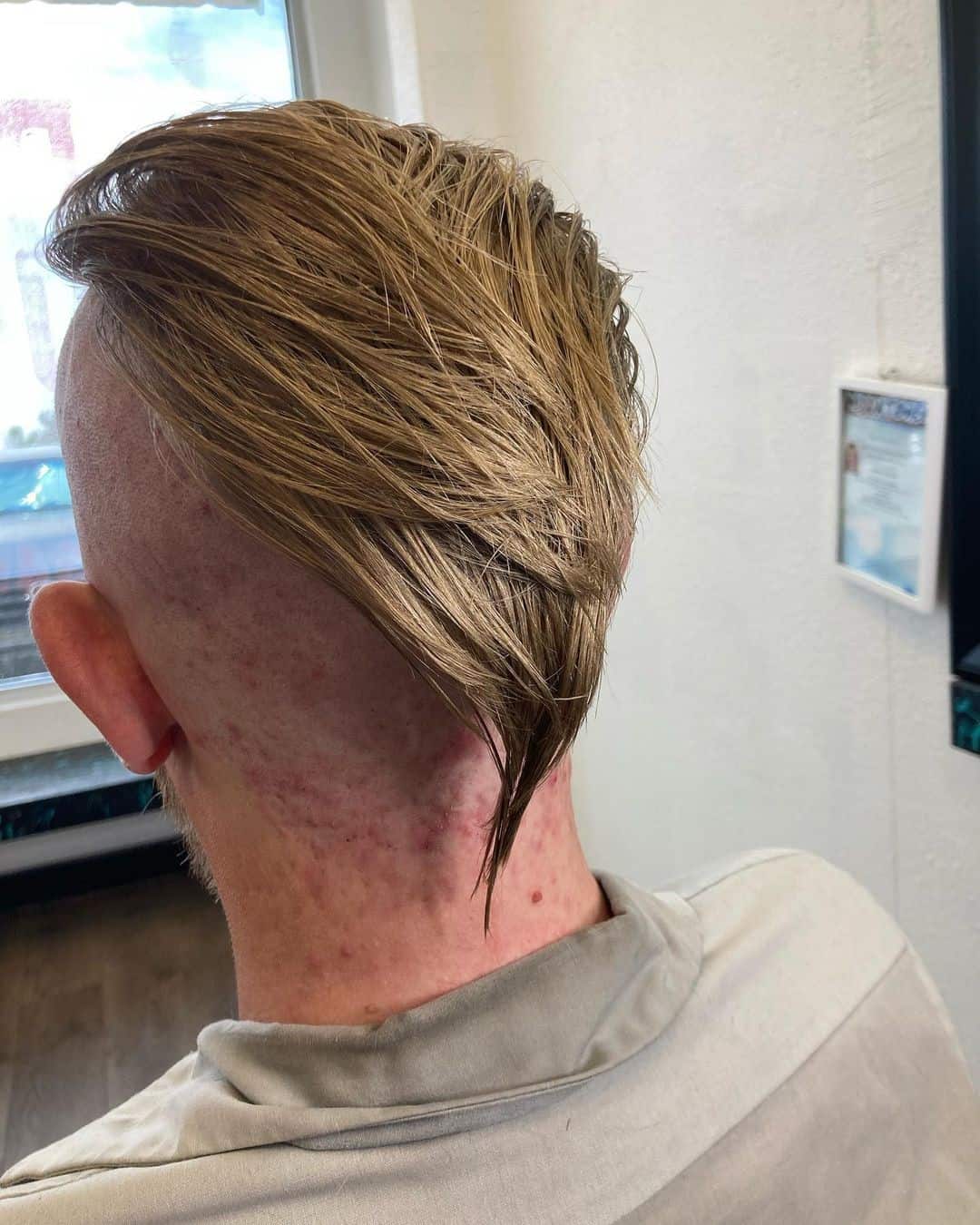 Shaved-off sides and a defined dramatic V are for true Vikings! Show everyone that you know how to enjoy a defined idea and that you enjoy short sides.
Use a bit of hair styling gel and pomade to tame the hair. Go for regular cuts (twice a month) to maintain the outcome. Make sure that your barber is trusted and skilled.
11. Tight Braids Viking Ponytail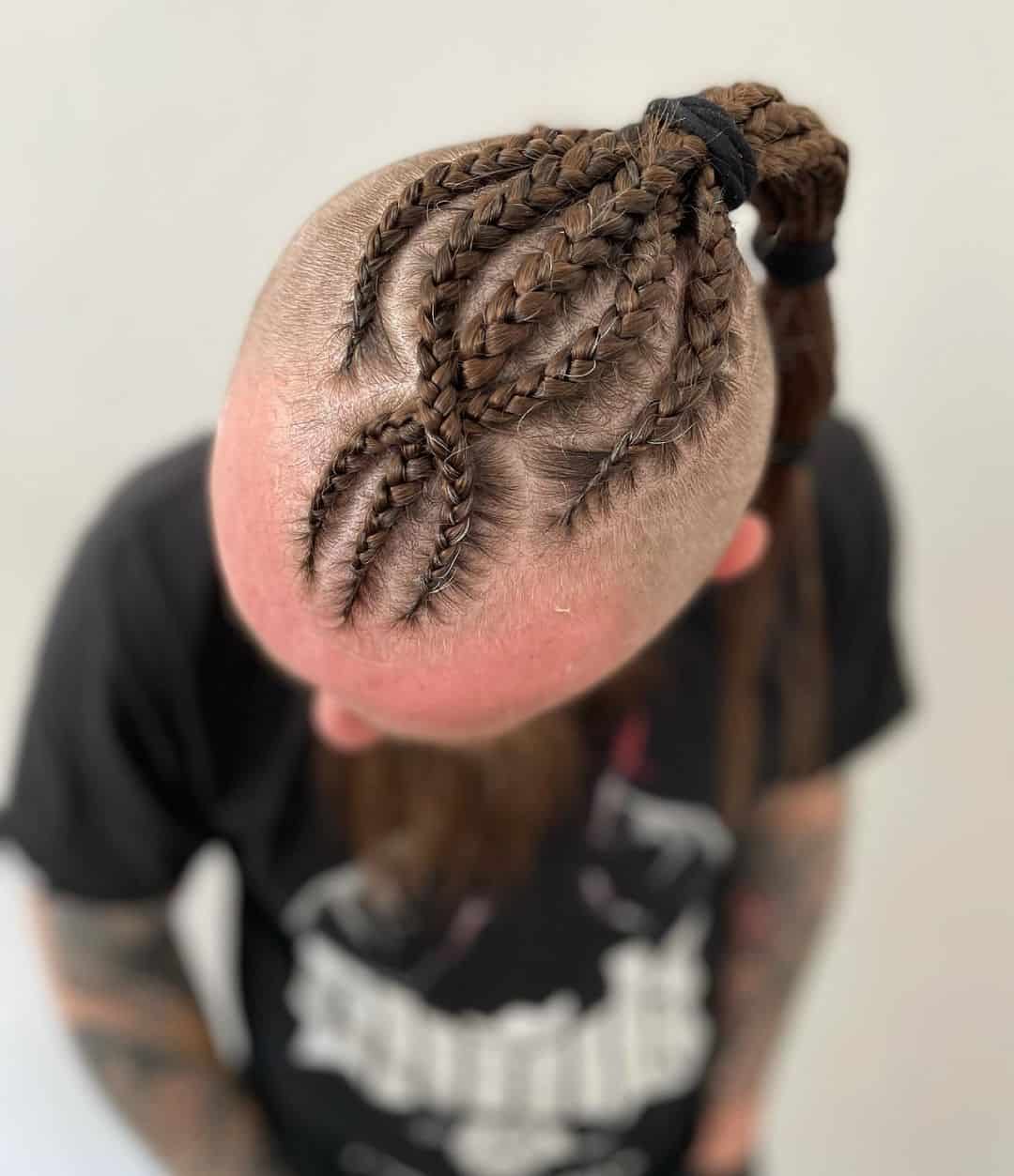 Box braids and tight defined braids usually work well for the Viking hair approach. Are you someone who likes long ponytails and a hairdo from roots till the ends? The end result is powerful and precise.
If you are in your twenties this is a must-do! Show everyone what is hot and how you plan on wearing your hair from now on. Don't forget to secure the ends and show off the intriguing looks.
12. Blonde Look Viking Male Hair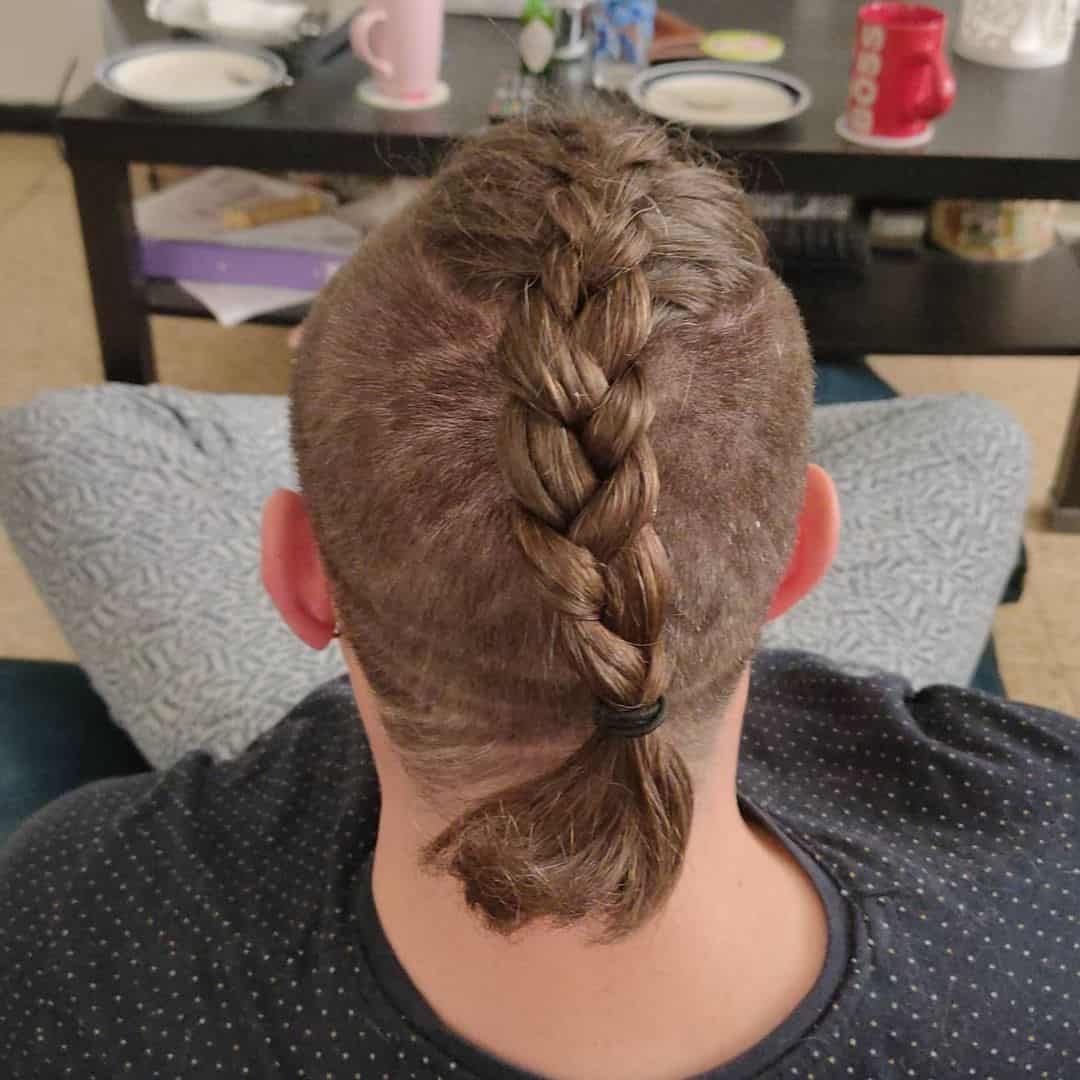 Blonde hair is pretty and elegant, but the Viking look means taking it a step further. To do this hair, make sure that you know how to do braids fully on your own before you give it a go.
Use an elastic to hold it in place. Don't forget to wash your hair and tame down the edges with a pomade to enjoy easier styling.
13. Messy Hair Viking Bun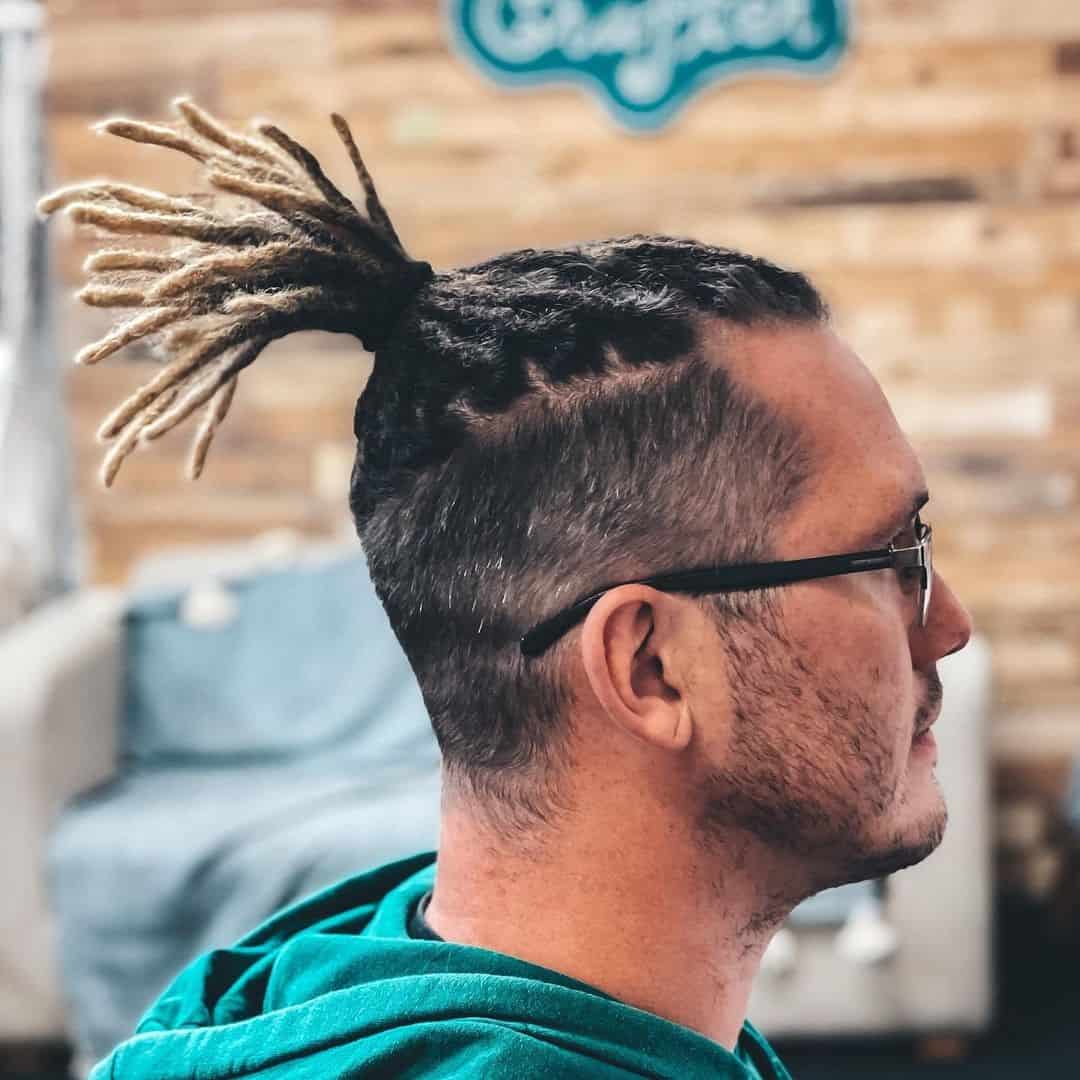 Updos are for guys who prefer low-key and low-maintenance ideas. If you're someone who is into seamless looks and you're a fan of tightly coiled braids, go with this look!
Make the sides a bit thinner or shorter, or preferably consider a buzz cut. Show off the voluminous top by applying the right clay that will keep the Viking strands high.
14. Mohawk Braids Viking Hair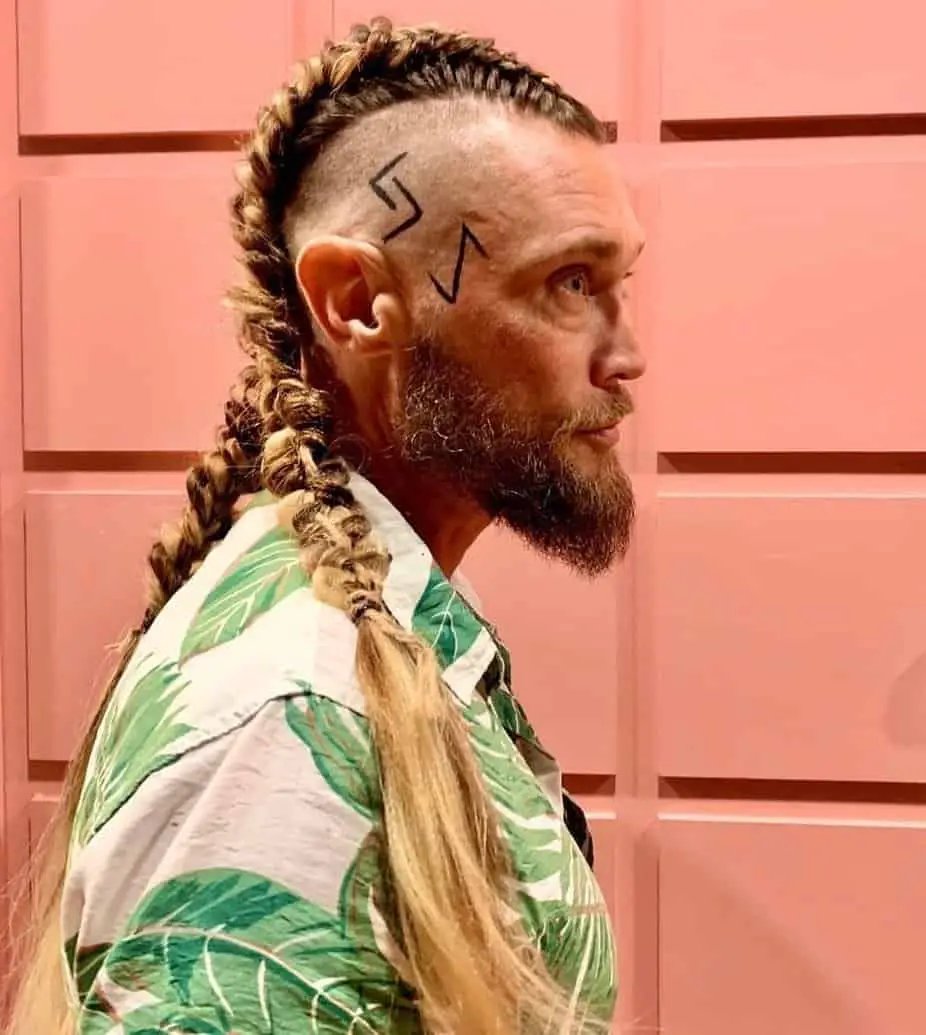 Some guys love mohawks more than others, are you one of those guys yourself? This look is intriguing and quite different, which makes it a must-do for men who know how to rock unique cuts.
Combine your beard and facial hair along with this hairstyle. Once you do, you will look a lot like someone who knows how to represent Vikings and their time and era. Most men who are in their thirties and who are fearless will like the design.
15. Viking Hairstyle Brown Bun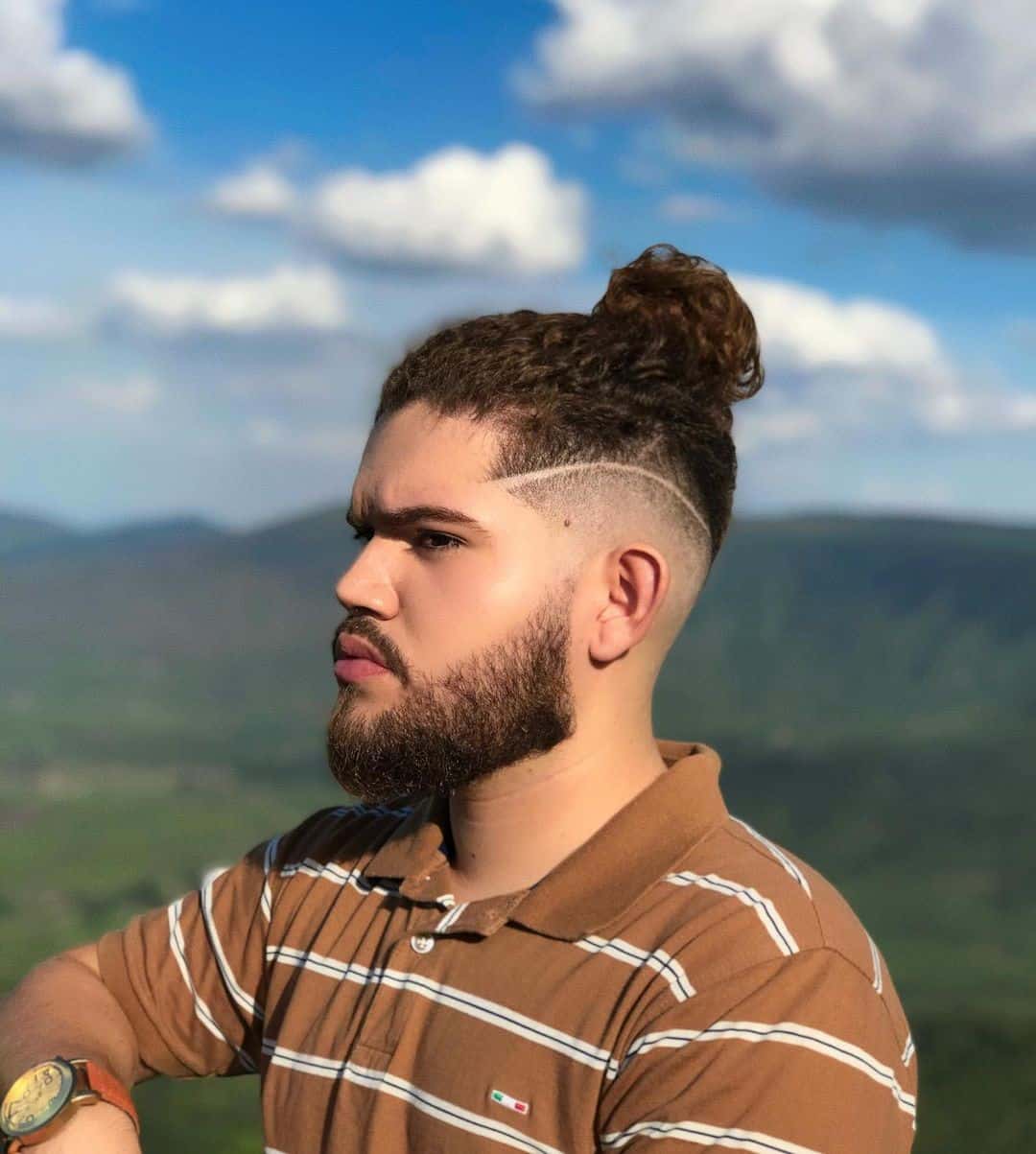 Short brown or black hair with a simple buzz-cut detail is for those guys who know how to look clean and sharp.
This hairstyle just shows you that your Viking hairdo can look clean, neat, and office-friendly. If you're a fan of buns and you need something for everyday wear, this is it!
16. Side Braid Viking Hair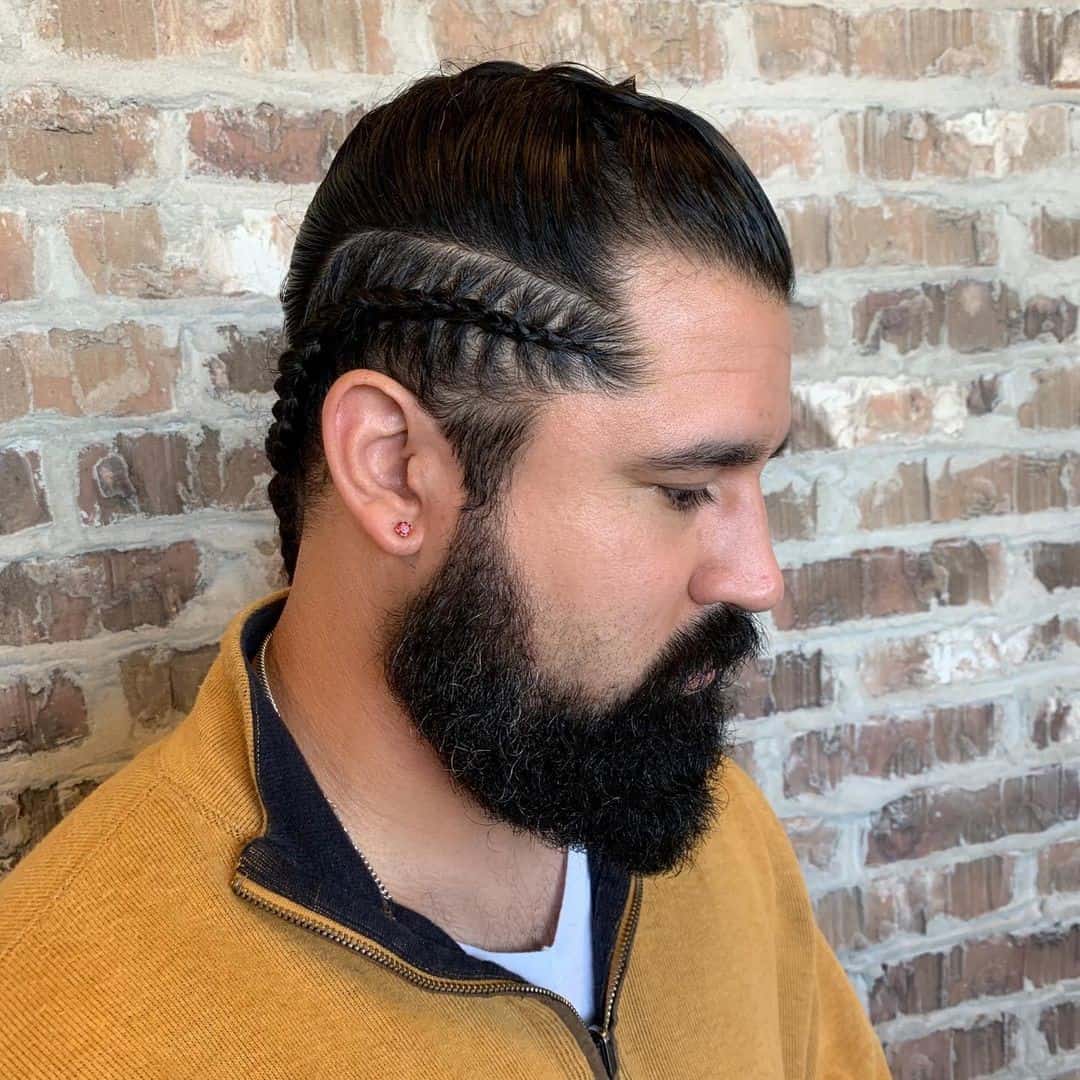 You can show off the beauty of your natural hair color and texture but only spice up the look a little bit with a side braid. This Viking look is for anyone who needs an everyday solution.
You can ask your wife, girlfriend, or just a good friend to give you this cute little braid. Once they show you how to do it you will easily master it fully on your own in the long run and for future wear.
17. Faux Hawk Viking Hair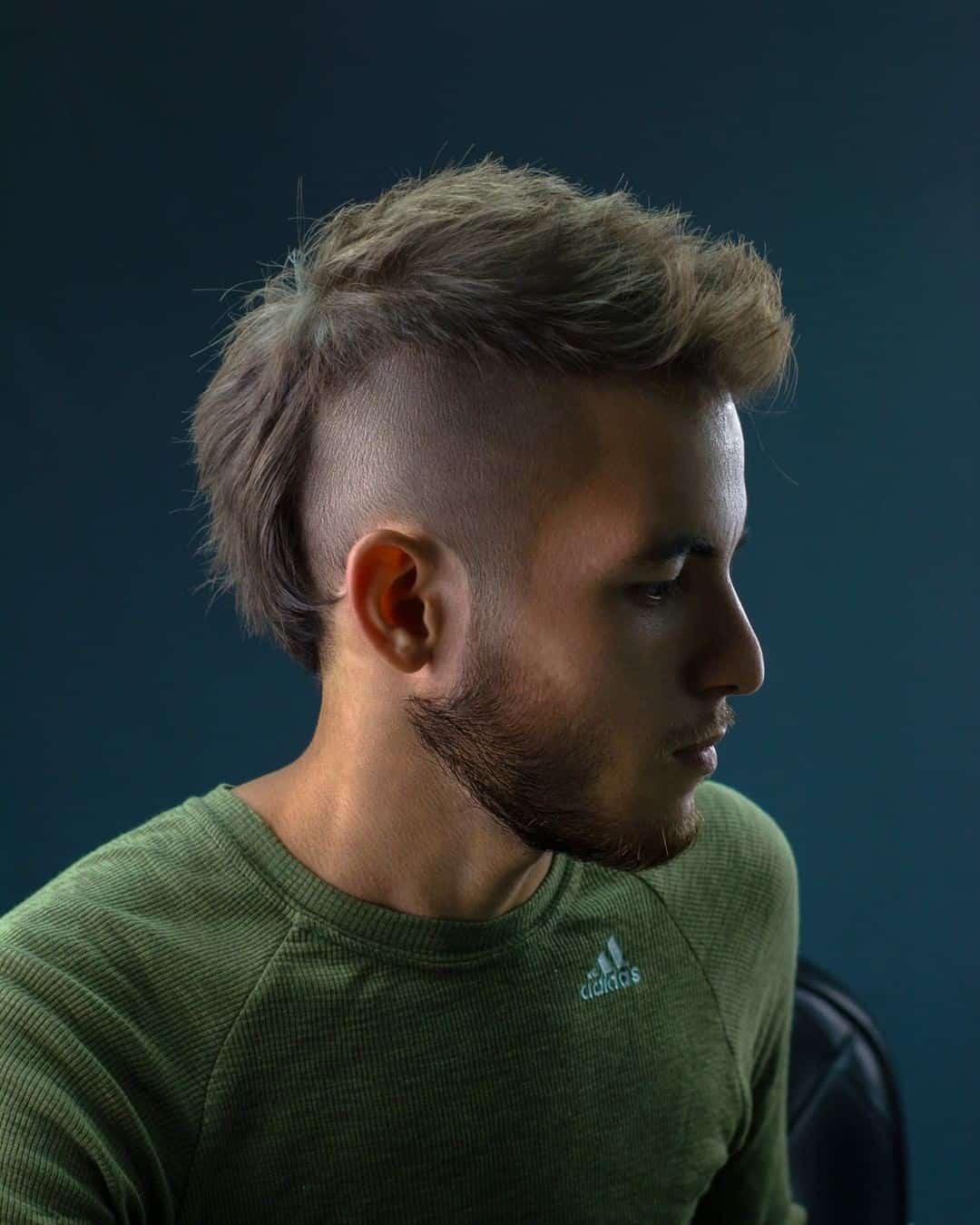 A faux hawk is popular on its own, but it has gained even more recognition since becoming a wearable hairdo that represents your Viking side. If you like wild looks yet those that are for younger guys, you are going to like this outcome.
Shave off the sides and go for a voluminous top. Add a lot of hair gel or hairspray on top to achieve this fierce volume. Let the cut look a bit messy to further enjoy its Viking vibe.
18. Simple Small Braid Viking Hairstyle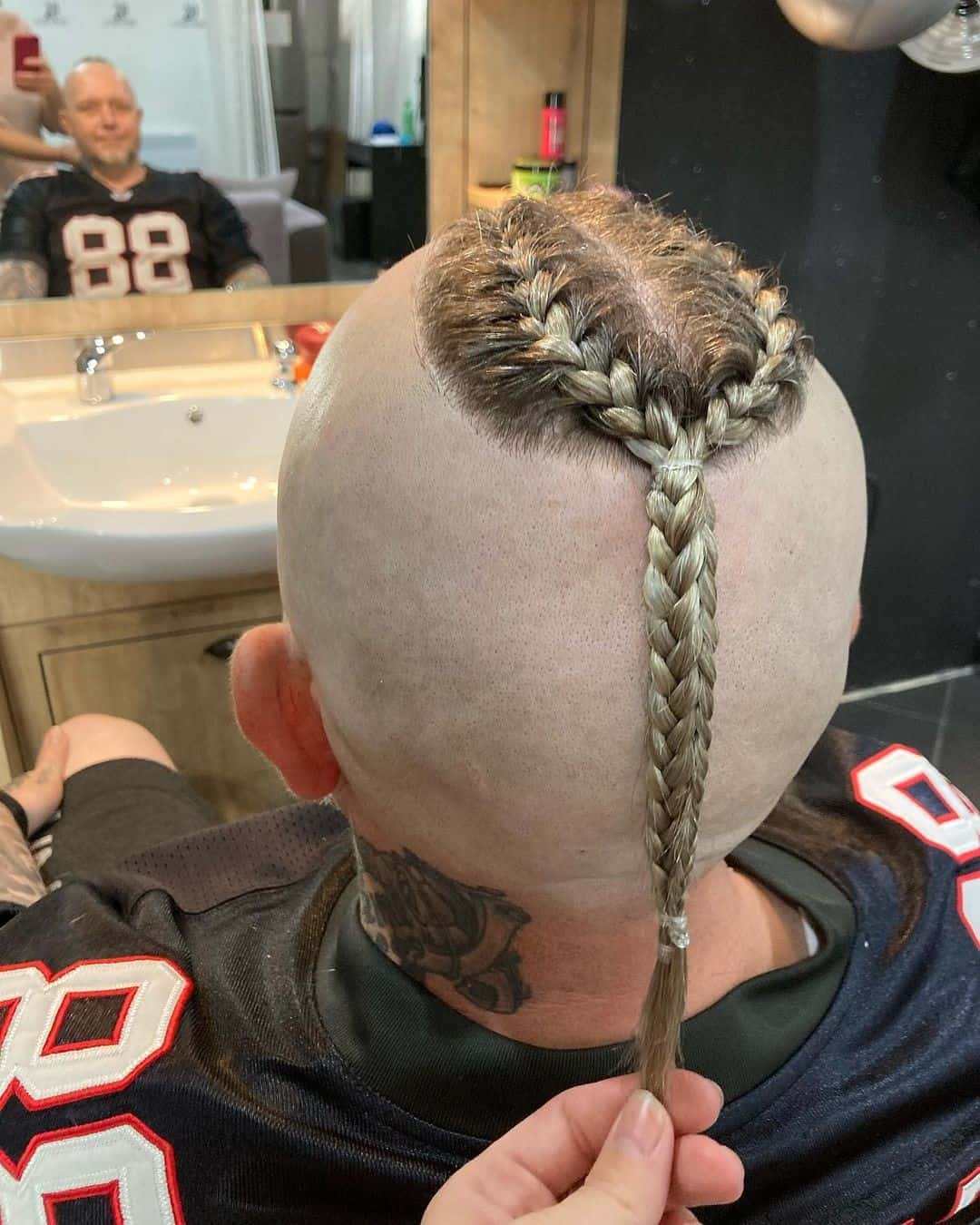 Go for this gorgeous centerpiece braid and show off your Viking hairdo and Viking approach if you're a fan of a unique look. Age-wise, this hairstyle will look the best on younger guys.
Make sure that your braid is tight and elegant. You should secure it with some bobi pins as well. The end result is perfect for any time and part of the day.
19. Black Short Hair Viking Look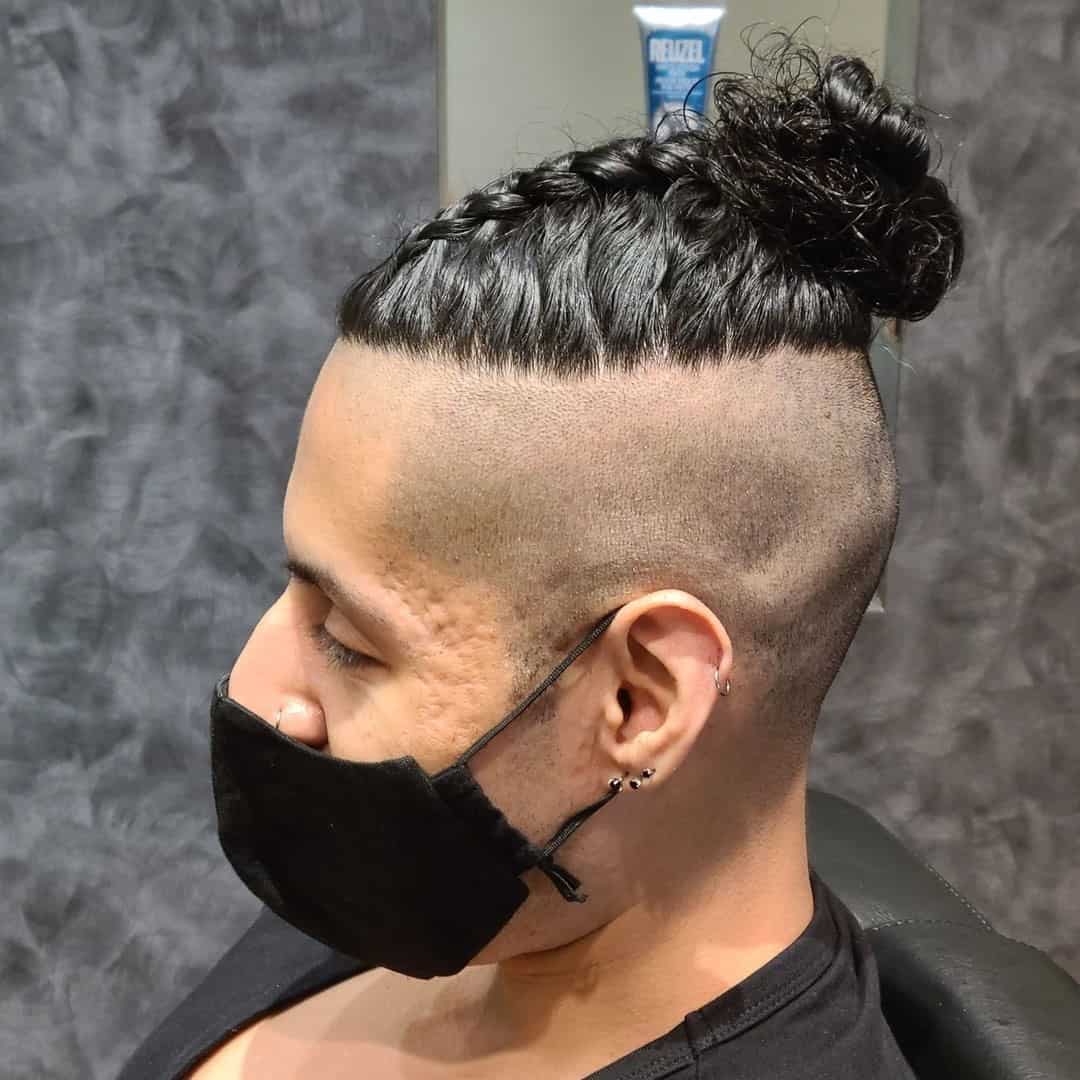 If you wish to shave off your sides but keep the top voluminous, go for this Viking approach. Guys who have dark black or brown hair and a more voluminous top portion (as well as thicker strands) will enjoy this look.
Add a bit of hair gel or pomade to make the strands sleek and shiny. Once styled, your hair will look powerful and perfect for this modern Viking era.
20. Brown Hair Detailed Braids Viking Hairstyle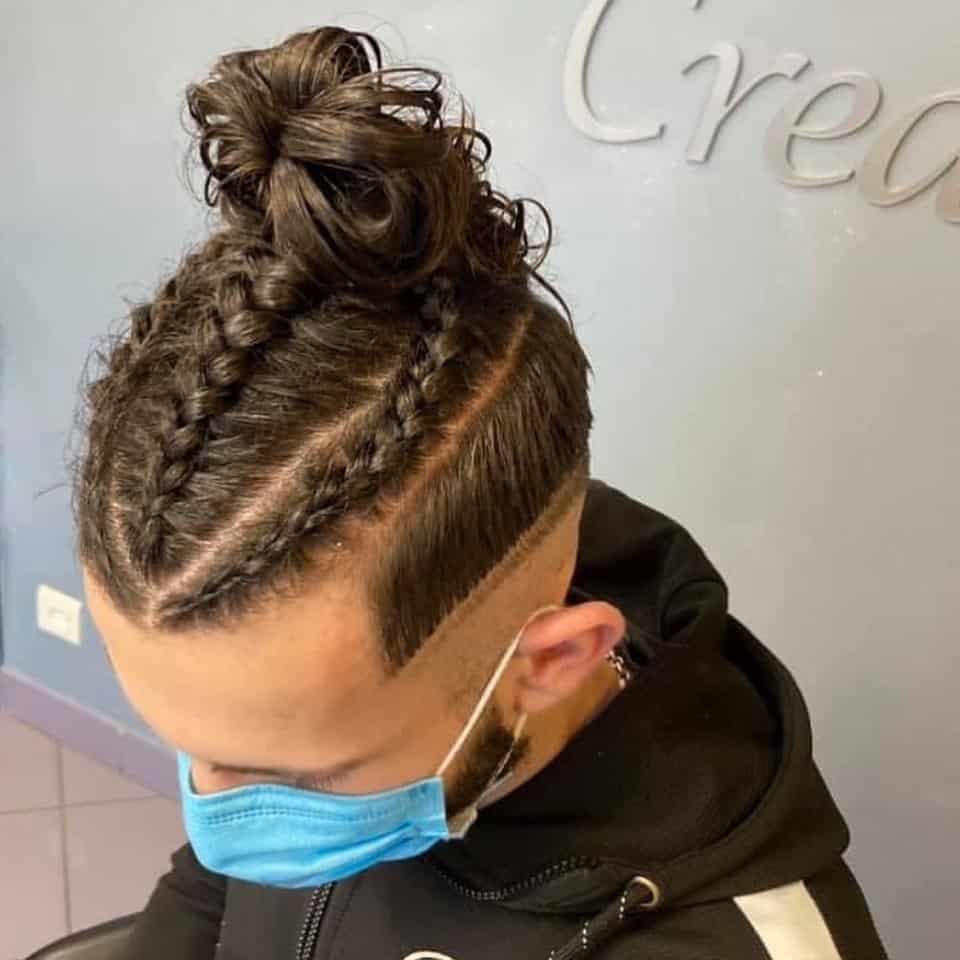 Are you someone who truly lives for braids and noticeable cuts? Are you a fan of the rule that goes "the more the merrier"? If so, try this Viking braid approach for your striking wear.
Leave the top portion voluminous and fluffy. This way, you will create a sense of a more dramatic and serious Viking hairdo, with a lot more volume than before.
21. Short Bun Hair Viking Hairstyle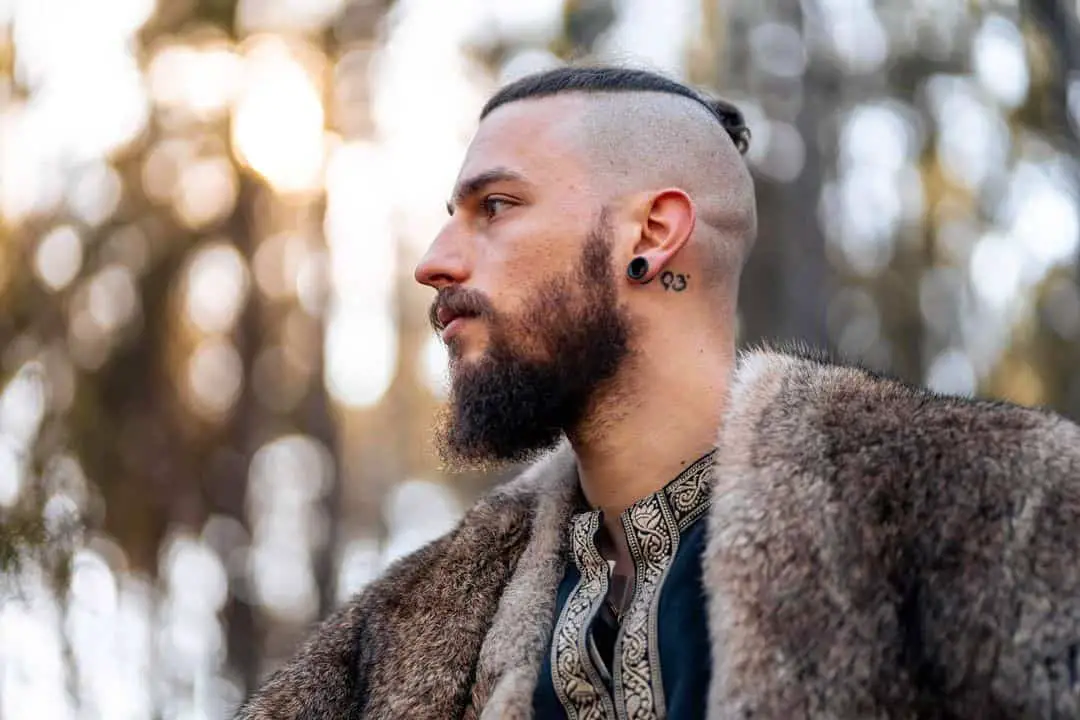 Short buns and shaved-off sides can look so manly and masculine. If you're a fan of shorter hairstyles that still have that Viking vibe to them just know that you're going to enjoy this look.
Add a beard to your look and make the style even more fierce. This beard and this bun will look perfect for everyday wear, especially in the summer.
22. Long Straight Blonde Viking Hair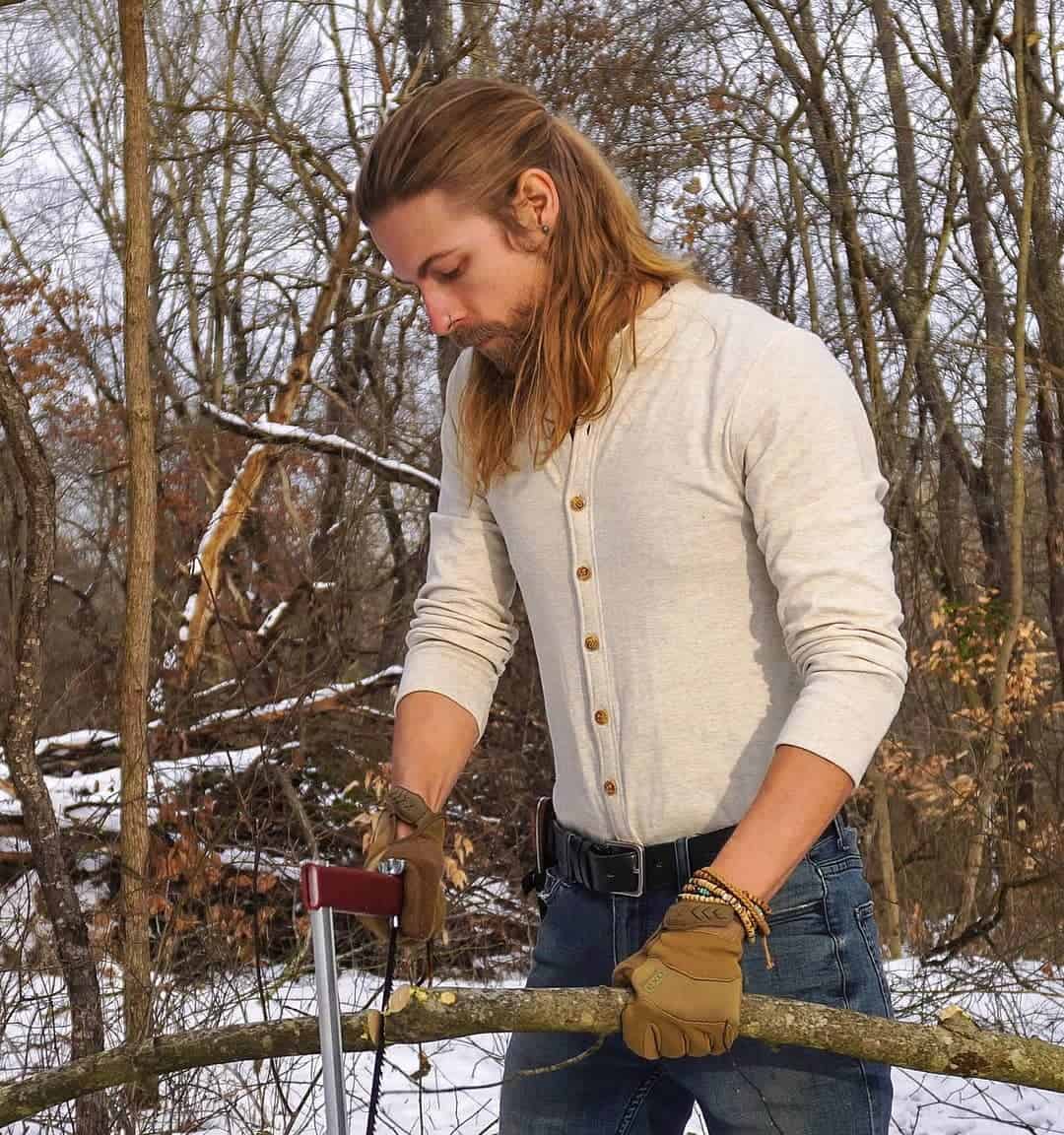 Some guys are born with naturally healthy, straight, as well as shiny hair. Are you one of those guys yourself? If so, let your hair look shiny and elegant with this hairdo.
Comb it out and through with a wide toothbrush comb. Tie your hair up half down to express this gorgeous vibe. Men who like that rustic and Viking vibe will enjoy this outcome.
23. Blonde Slick Back Hair With A Beard Viking Style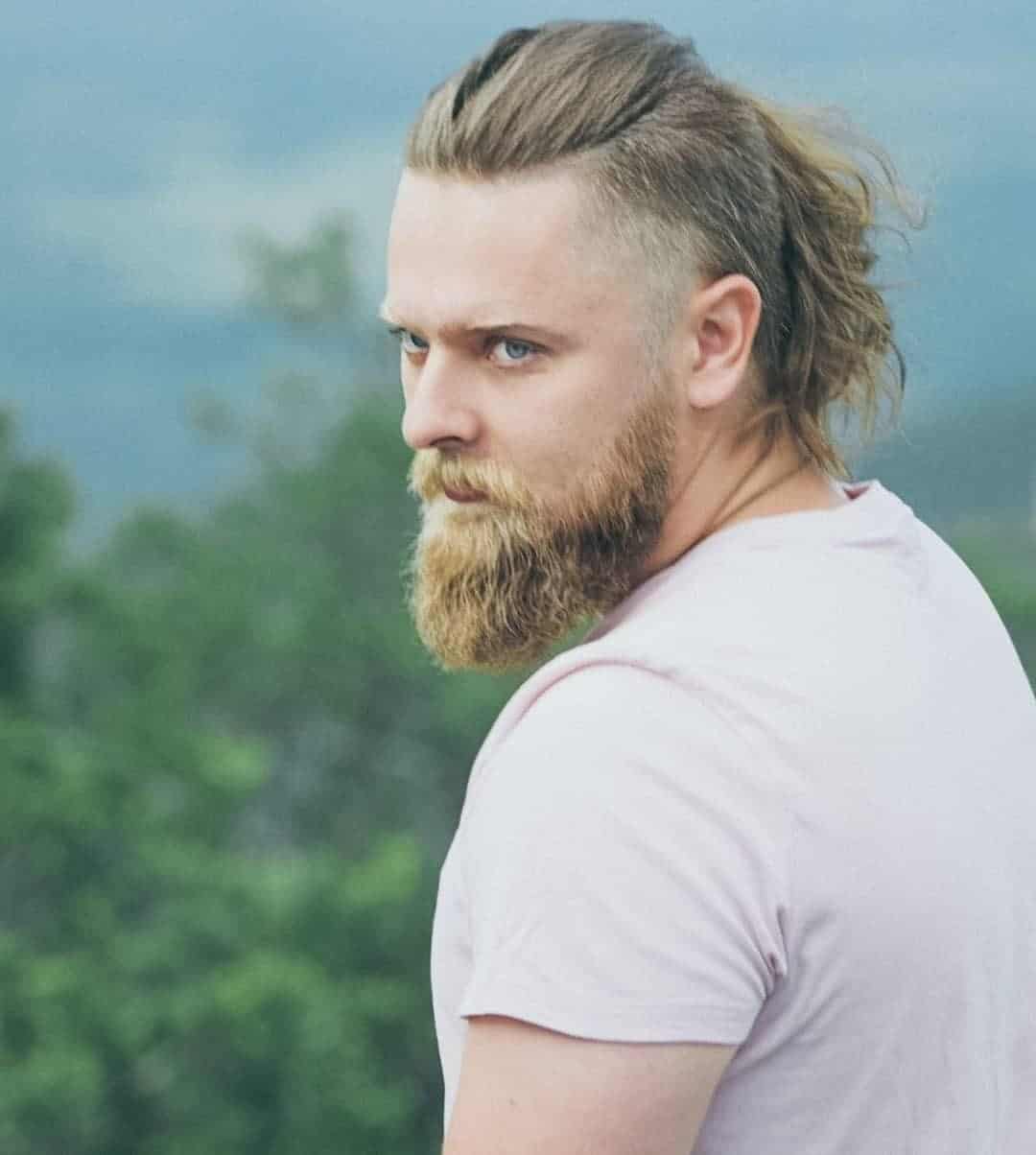 If your hair is naturally healthy and blonde you can do a lot of looks and further experiment with it. For a lot of men, this messy look will do the job for their effortless everyday wear.
Shave the sides and keep them on the thinner side while your top portion stays voluminous. Comb it through in the back with a comb to achieve a neat look.
24. Long Blonde Hair With A Braid Viking Hair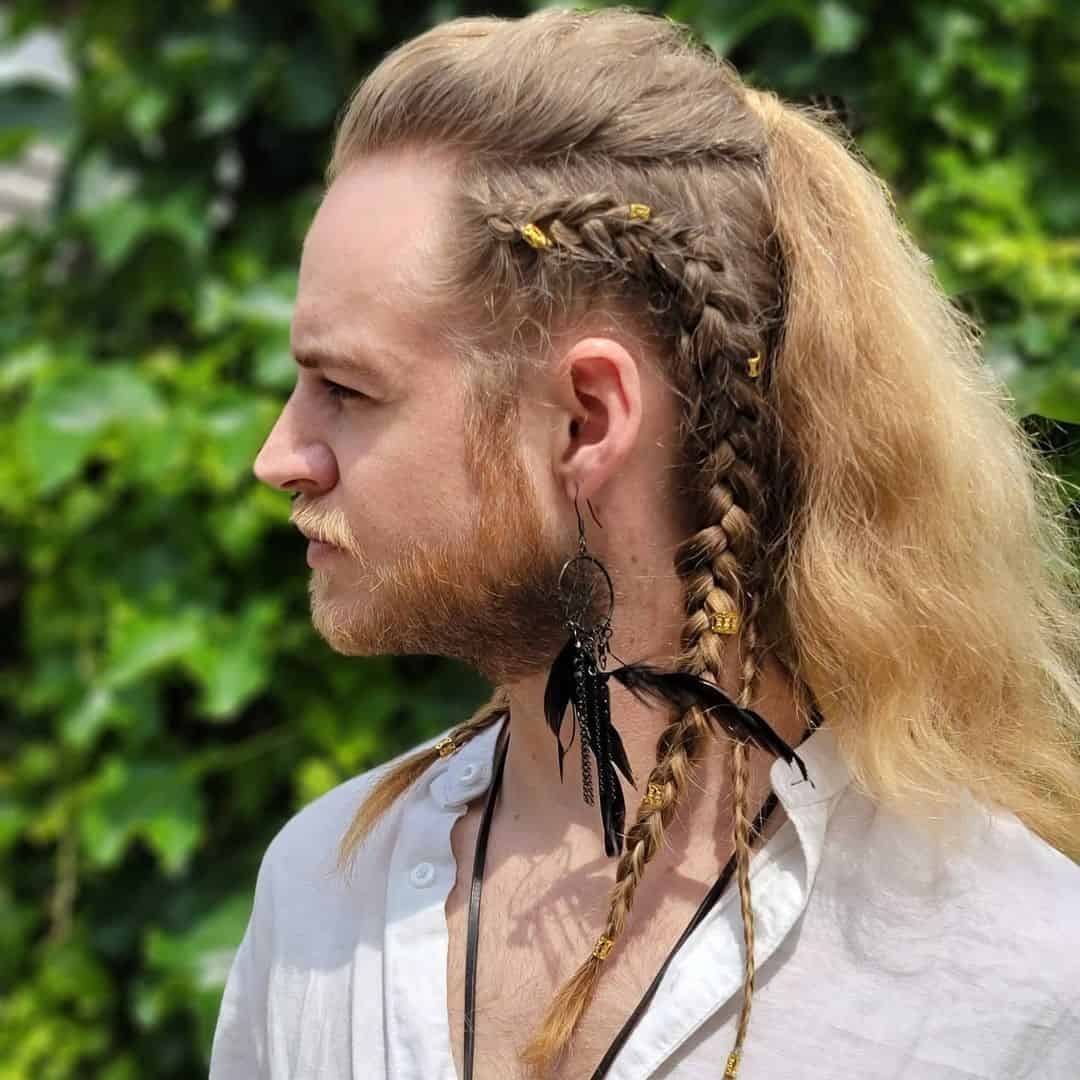 Super long hair and these thick chunky braids will look fierce and modern. Guys who want to make their own Viking-inspired hairdo and those who need their chunky braids to look powerful will enjoy this concept.
Tie a braid to achieve this side piece look. Go for a larger braid since it can make most looks cohesive and dramatic. Tie it with a sturdy elastic to make sure that it holds during the day.
25. Short Hair Faux Hawk Inspo Viking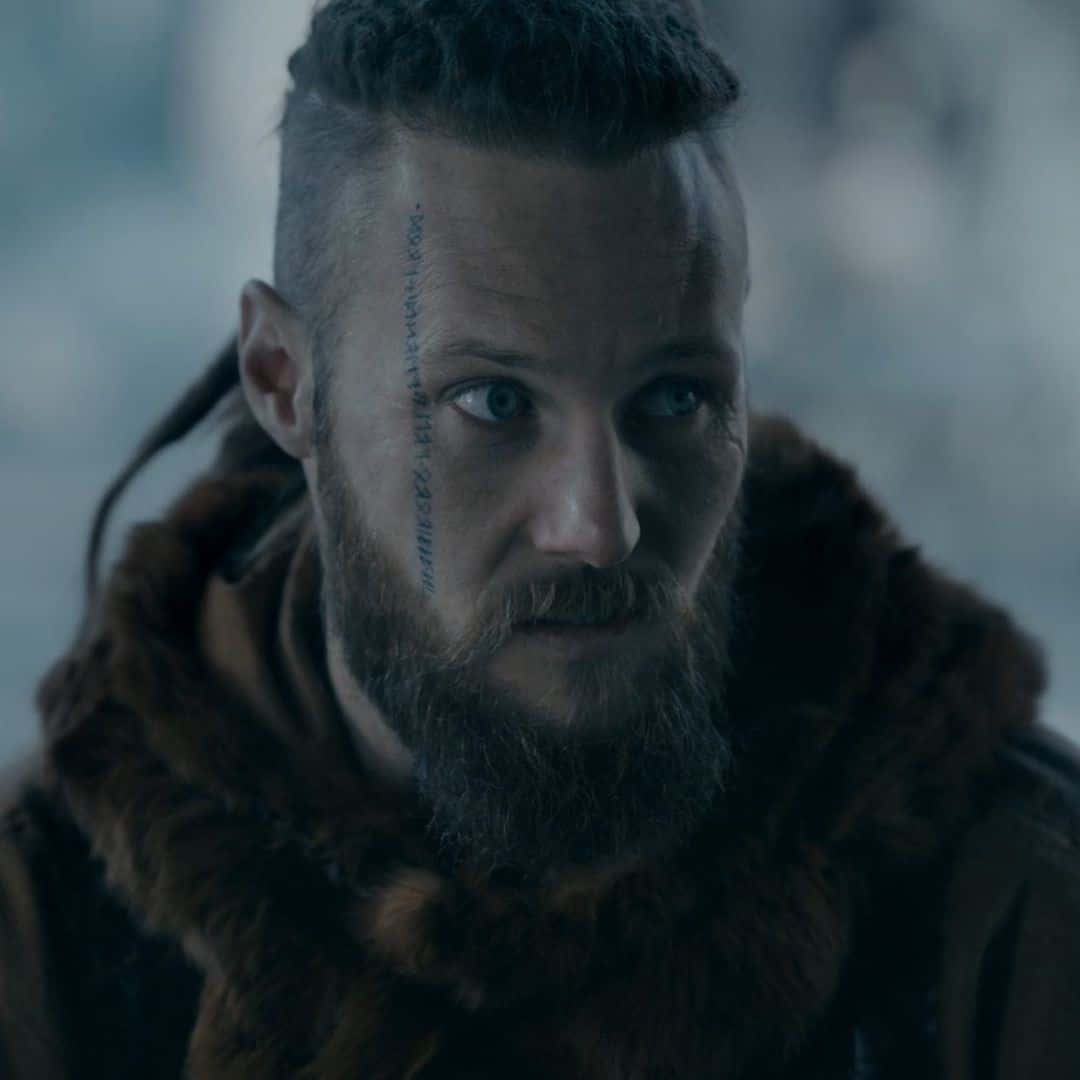 Inspired by the actual movie, this is the ultimate Viking hairstyle for men who want to look fierce & representative of them true bold selves. If you love to look stunning with a simpler cut that is appropriate for different age groups – give it a go.
Be precise & neat around the sides when shaving them off & when styling your hair. Add a decent amount of hair gel on top to round up the look.
26. Shaved Head With A Viking Braid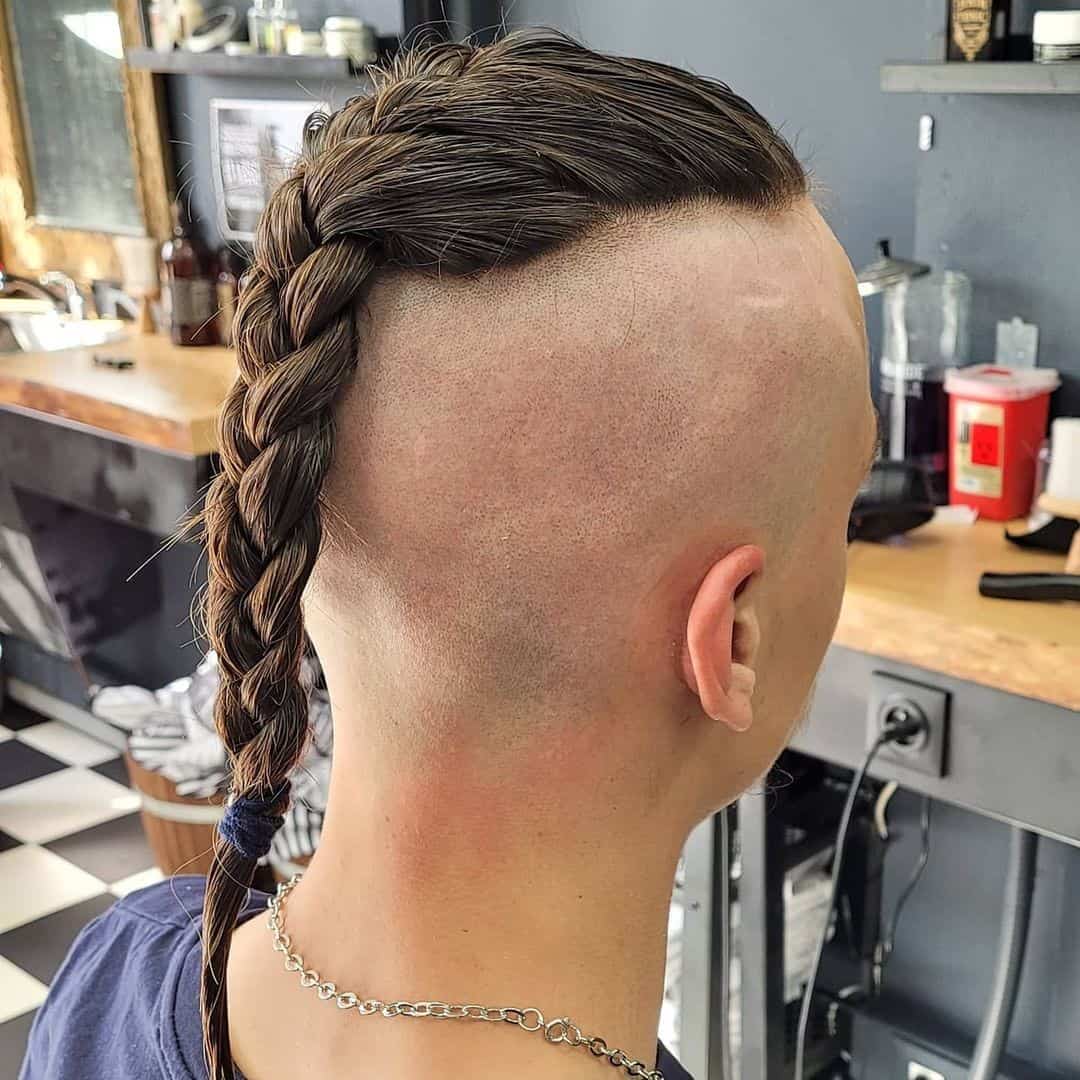 If you like true Vikings-inspired looks you're going to like this idea. Make sure that your hairdresser cuts the sides and shaves them off completely. Leave a bit of hair around the top portion to achieve this unique outcome.
Tie your hair in a small tight braid to get this idea. Make sure that you know how to do braids before you start rocking these looks out and about. The best thing about this hairdo? It is perfect for any age group!
27. Fierce Viking Hair With Braids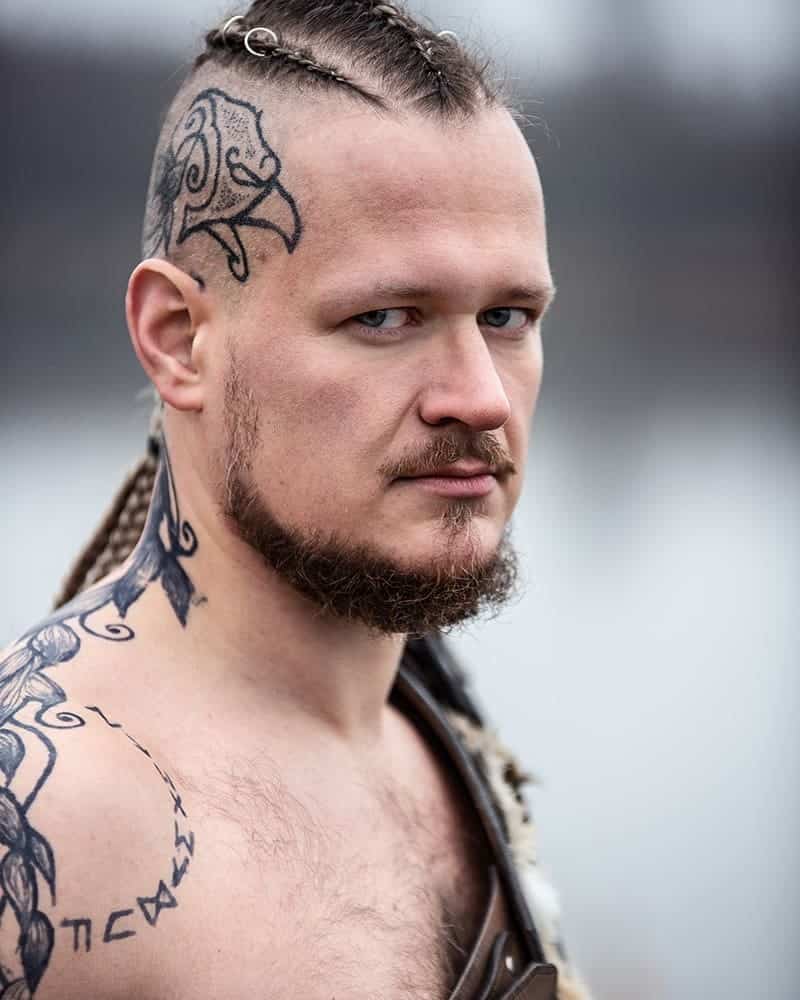 Show a true warrior that is within you and let your hair look this powerful and different. Guys who have a hard time growing out their natural hair will prefer bald looks.
You will look like a true Viking who is not afraid of getting bold looks. If you prefer to be the star of the show at most times, this is perfect!
28. Buzz Cut With A Pony Viking Hair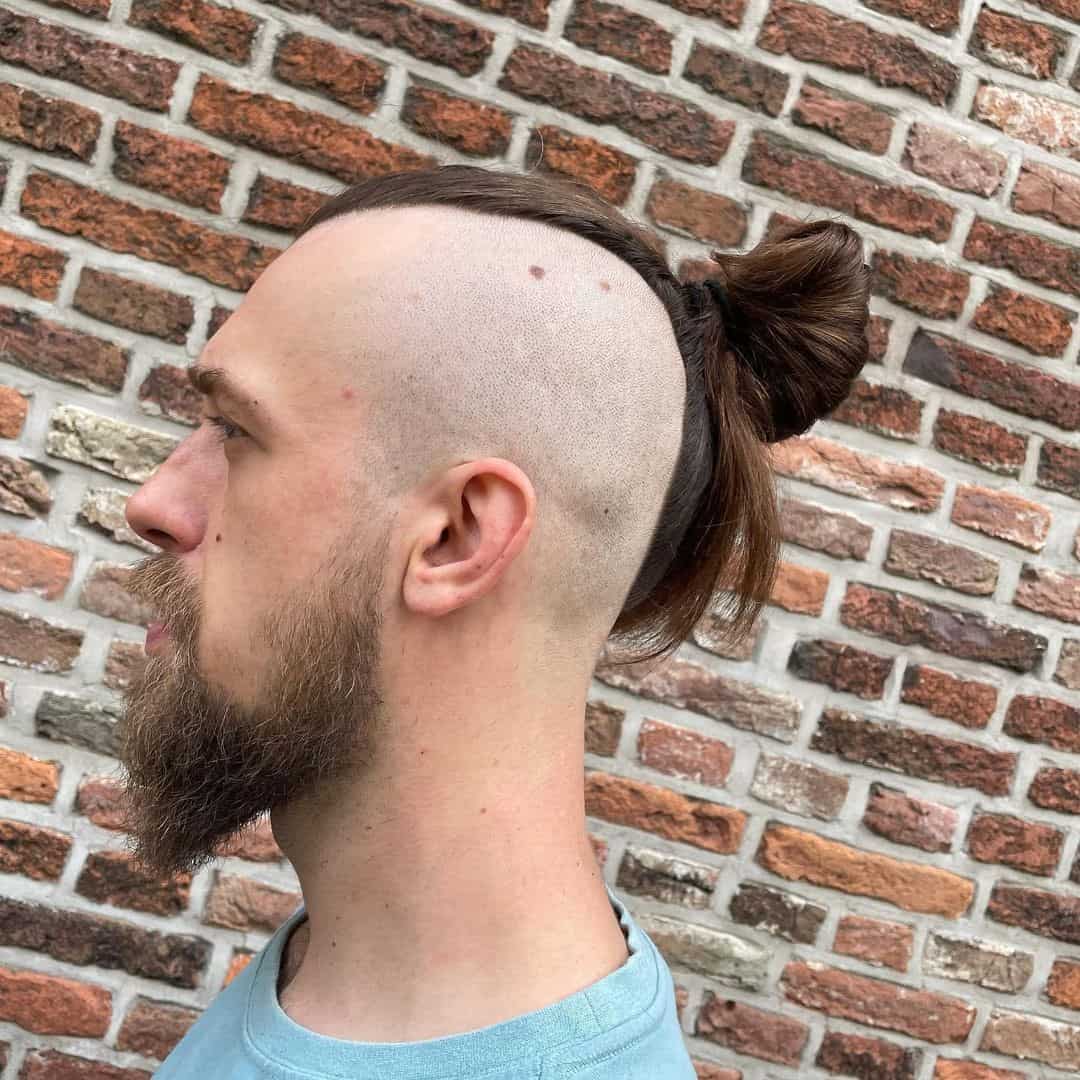 Buzzcut and a ponytail are a dream-team duo. If you are someone who is into modern hairstyles and special takes on cute looks, you're going to like this idea.
Ask your hairdresser for a buzz cut, but leave your hair that you've been growing for years noticeable at the middle portion. This cut will take you 1 hour to achieve, but only 5-10 minutes to style each day.
29. Short Hair Viking Dark Look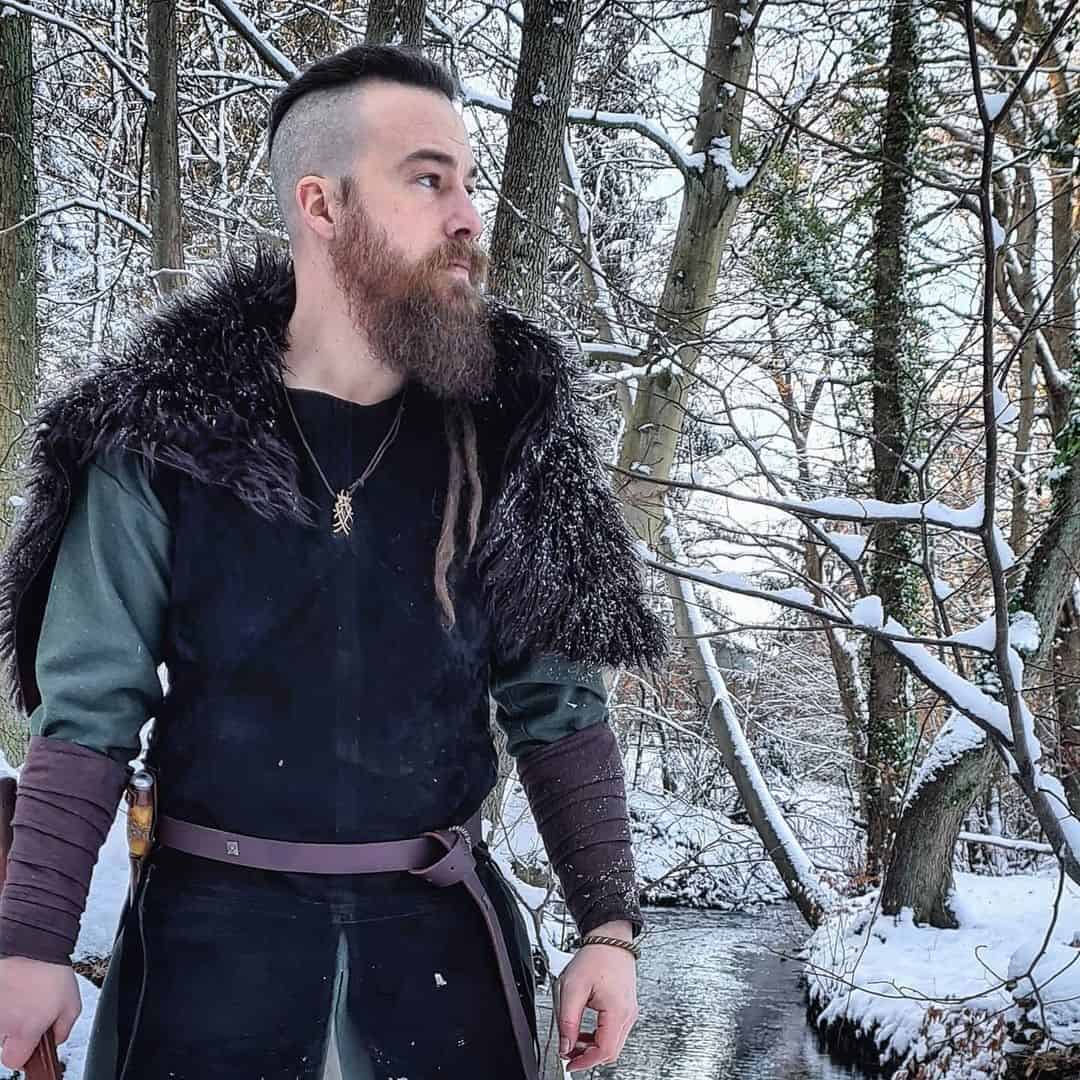 Your super long beard can match your hairstyle, it is just about knowing what works well for your facial features. If you're someone who likes defined looks and you like to look masculine, this is it!
Use beard oil to comb through your facial hair with ease. Don't forget a bit of hair gel and pomade to achieve the look and make it cohesive.
30. Blonde Hairstyle & Beard Viking Male Idea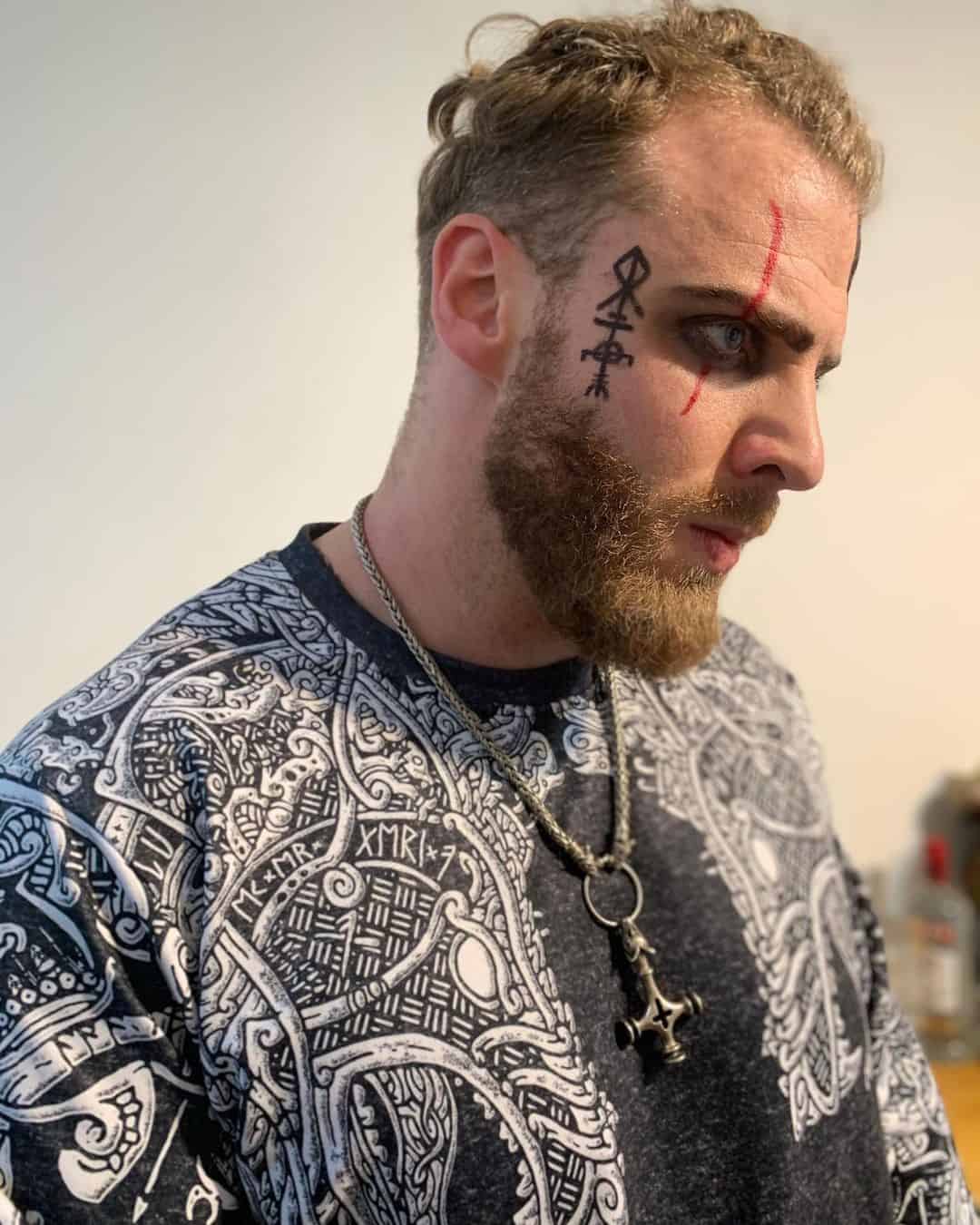 Last, but not least, try to truly express a Viking that's within you! Combine your hair and beard with some face makeup if you have a play going around, or if it is Halloween! Men who know how to attract attention and looks will like this style.
Tie some simple tight braids on the sides. If you're someone who likes practical hairdos and gorgeous beard looks, this will suit you! The face makeup part is totally optional.
Awake The Viking That Is In You!
In the end, we are sure that every person will easily find a look that works well for them. Let us know which cut you can't wait to rock and try out from our list, we would love to see you rocking something new sometime soon!
Also Read: