Wondering what is the perfect back tattoo for you? Women nowadays have a plethora of options, which is why you should explore some of the best kinds down below! Not too sure where to get your inspiration from? Luckily for you, we've gathered our top 30 favorite tattoo ideas for girls and women. Keep on reading and find your ideal back tattoo down below.
Do back tattoos hurt?
Getting a back tattoo can be a painful experience, depending on where you end up placing it. Are you aiming for your upper or lower back? Well, the further away your tattoo is from the bones, the less pain you will feel! Also, if you are not a fan of needles you should stick to some smaller and not as detailed-tattoos.
[su_icon icon="icon: file-text-o"][/su_icon]Know More: Tattoo Pain Chart: 5 Things You Need to Know
Why get a back tattoo?
A back tattoo can look quite feminine and it can look flirty. If you are a fan of detailed artwork and you want a giant masterpiece, go for back tattoos! You can create, mix, and match as well as customize your ideal tattoo per your preference, as well as the size of your back. Women and men can get back tattoos, just make sure that you find an amazing and trustworthy tattoo artist.
Spiritual Tattoos For Girls On Back: Top 5
1. Small & Feminine Dream Catcher Tattoo On Back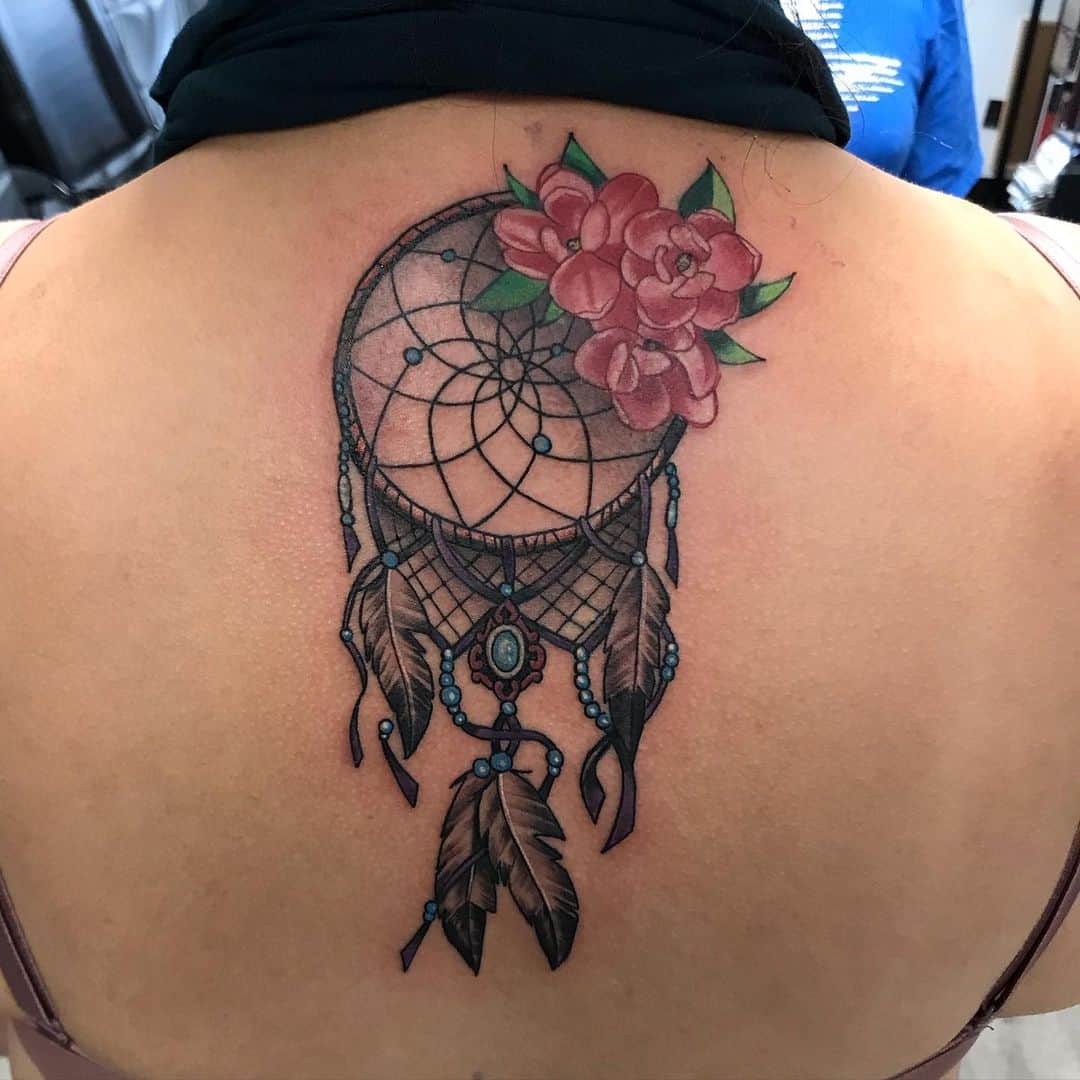 This gorgeous dream catcher tattoo looks feminine and playful. Are you someone who believes in karma, good luck, and faith? Most women who end up tattooing this or similar piece believe that dream catchers can fight off any bad nightmares. Are you someone who often struggles with your sleeping schedule? Maybe you have bad dreams consistently? If so, this tattoo will suit you and it will always remind you that better days are ahead and that there is no need for you to worry.
2. Small Centerpiece Chinese Dragon Symbol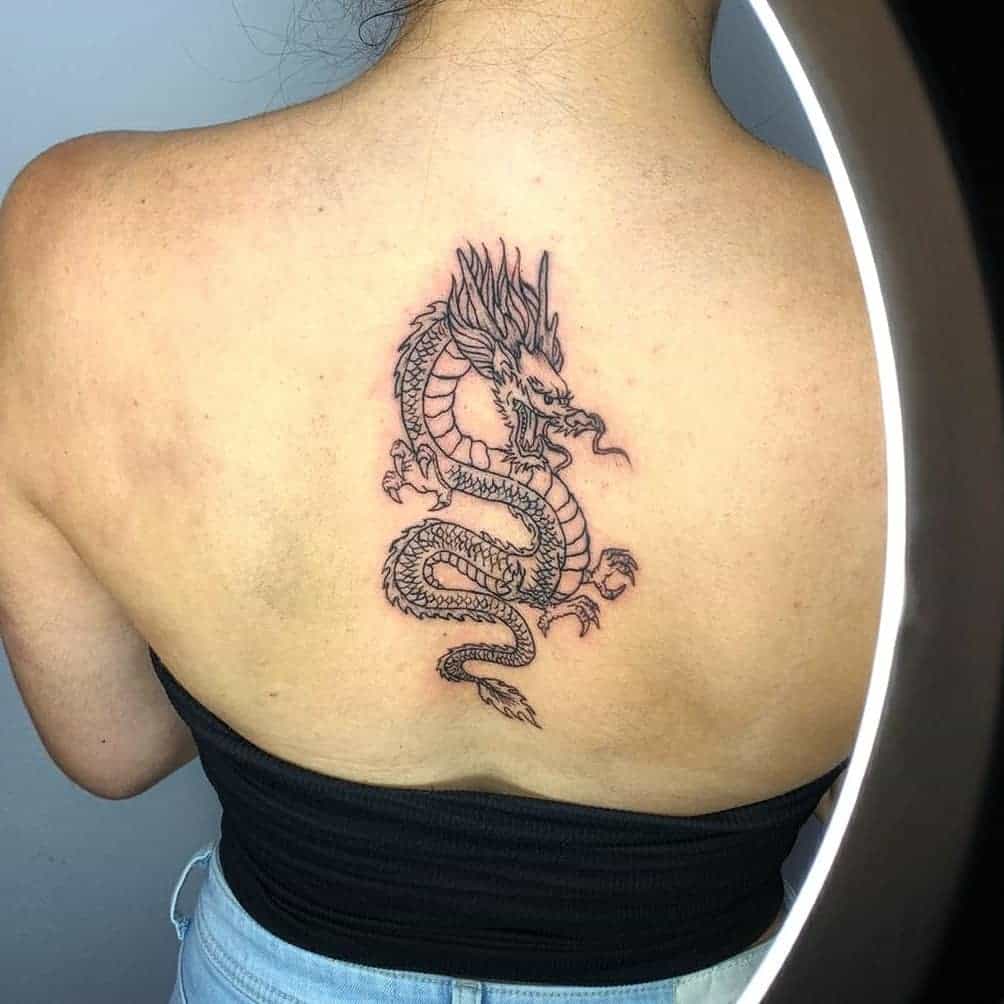 This gorgeous black dragon tattoo represents the fighter that is in you. Are you someone who is a fan of animals or mystical creatures? This Chinese dragon will let everyone know that you are a little warrior who knows her way around people of unfortunate events. A dragon tattoo represents a warrior and it will look gorgeous once tattooed over your upper back portion.
3. Upper Back Illusion Tattoo Mystery Symbols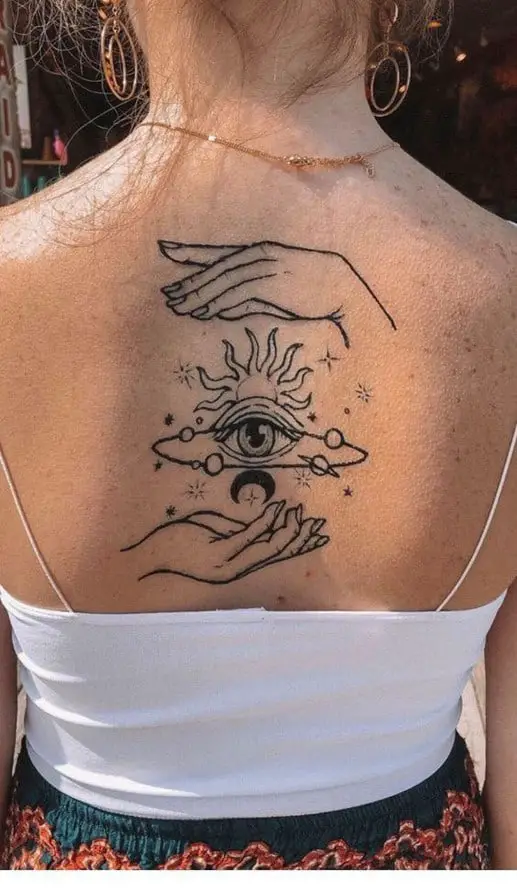 Do you believe that Illuminati is real? Are you afraid of them? This piece is quite unique and interesting and it will suit women who meditate, do yoga, or who are into unique symbols and funky tattoos. There is also a little moon detail along with some clouds and a pair of hands, all of these might represent your current state! If you are a spiritualist you will enjoy this design.
4. Black Ink Dream Catcher Neck & Back Tattoo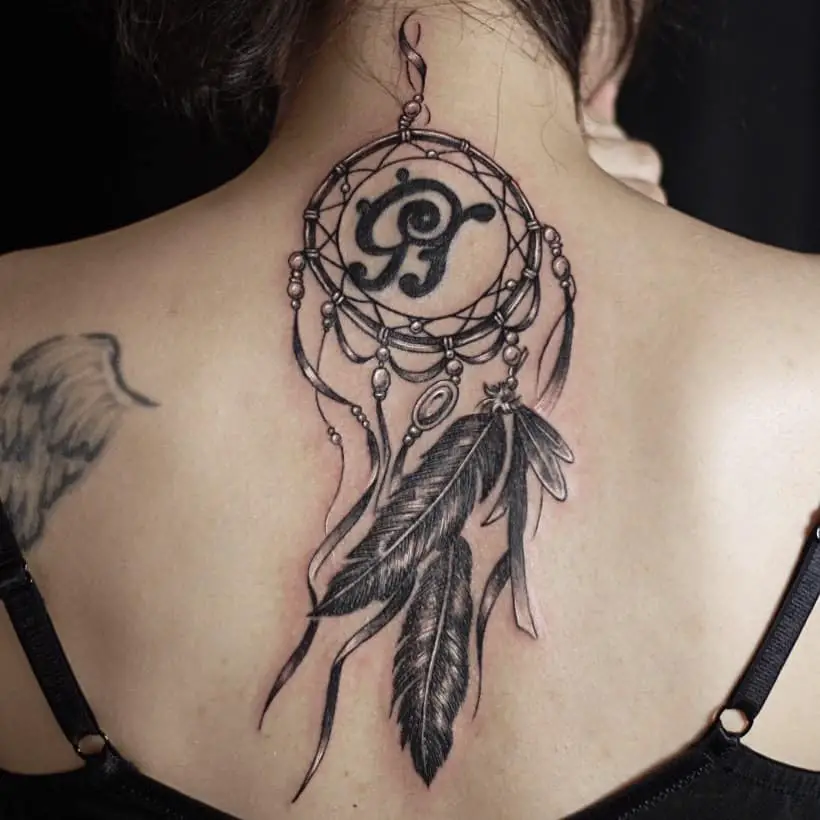 This is another dream catcher tattoo that you will love over your upper back. This one is a bit more straight to point and you will definitely enjoy its simplicity if you are a straightforward person. This tattoo, also, will take around 3-4 hours of your time to get, which is not as time-consuming!
5. Mysterious Angle Inspired Sentimental Tattoo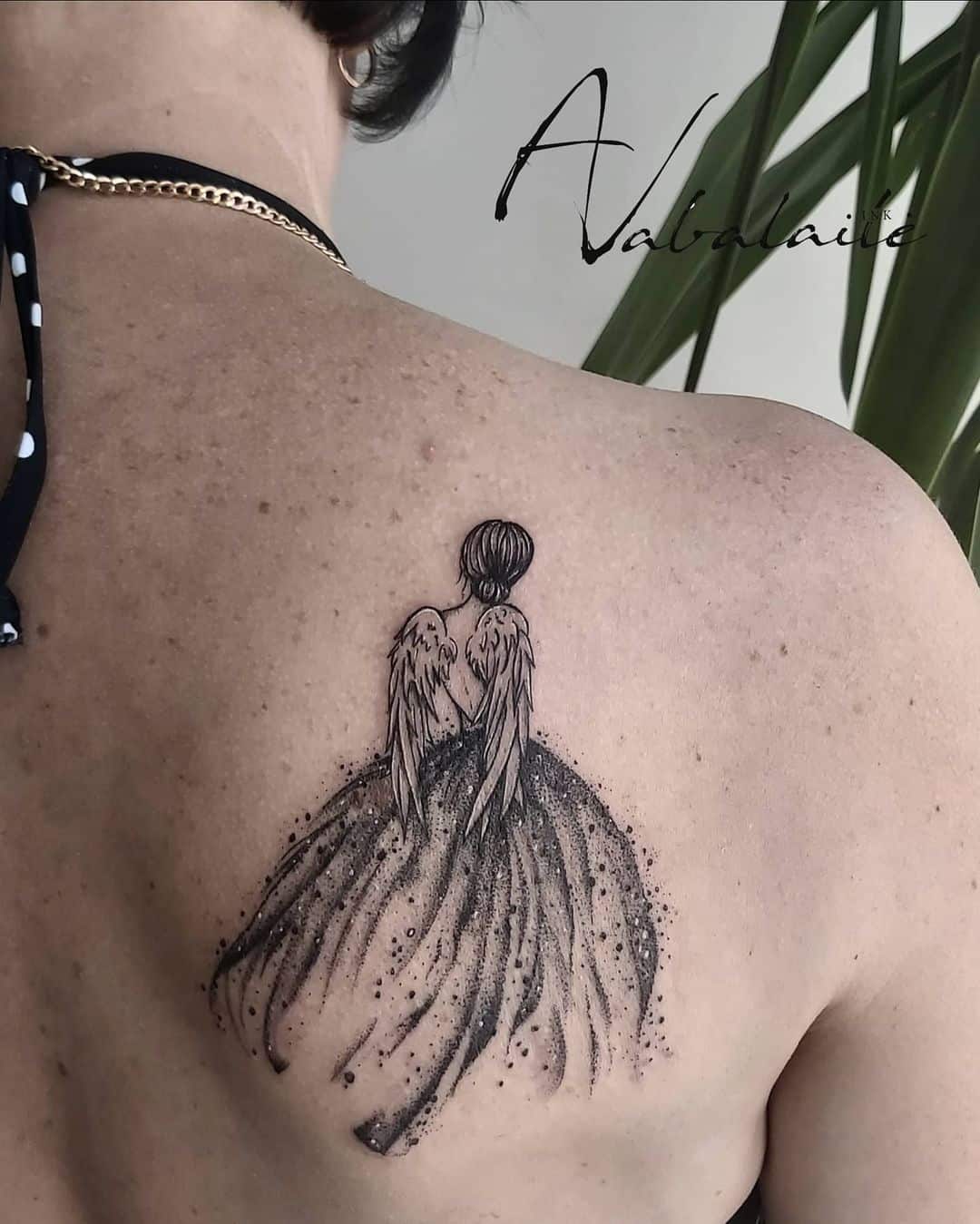 If you feel like you're stuck in life and you're often battling to get out of that circle, get a tattoo like this! This image could represent you and what you would do if you've had a pair of wings. You would be able to fly away and do whatever you want with your life. If you're trying to explore your life and learn new things about you, this is an amazing piece which you will appreciate.
Flower Tattoos For Girls On Back: Top 5
6. Detailed & Feminine Flower Tattoo Outline Work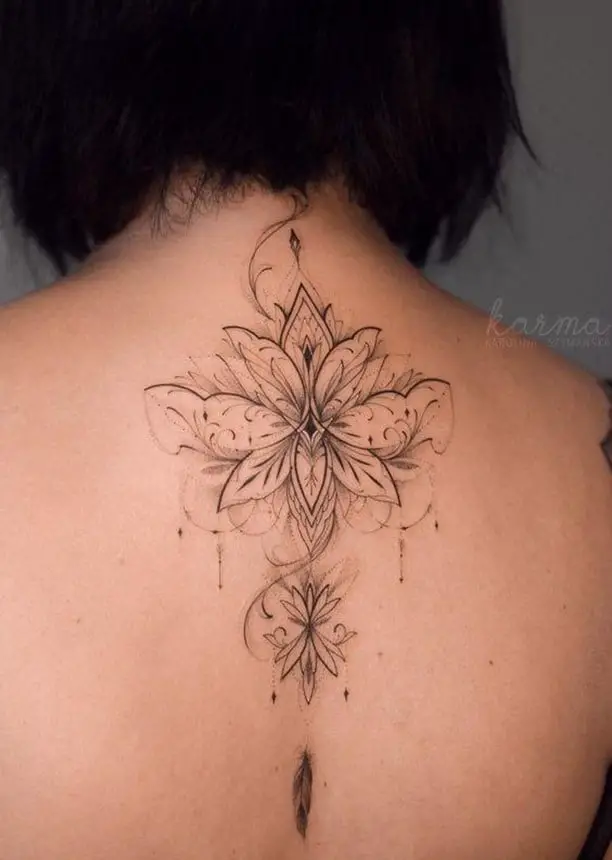 Flowers usually represent your inner and outer beauty, which is why you just might like this upper back tattoo design. If you are into color and you usually gravitate toward funky tattoos, this one will suit you! Time-wise it could take 5-6 hours for your tattoo artist to give you this playful and feminine piece.
7. Small Yellow Flower Tattoo Over Back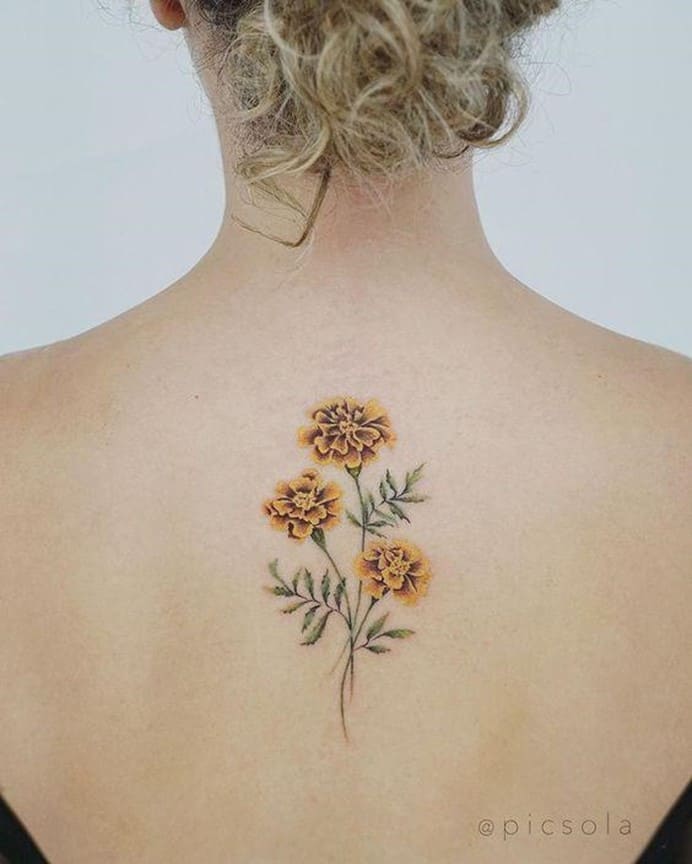 This yellow tattoo and these flowers are playful as well as relaxing and soothing to look at. Yellow color symbolizes peace, wealth, as well as happiness. If you like it's meaning and you are a fan of bright flowers this is your ultimate go-to combo.
8. Gorgeous Flower Inspired Giant Back Tattoo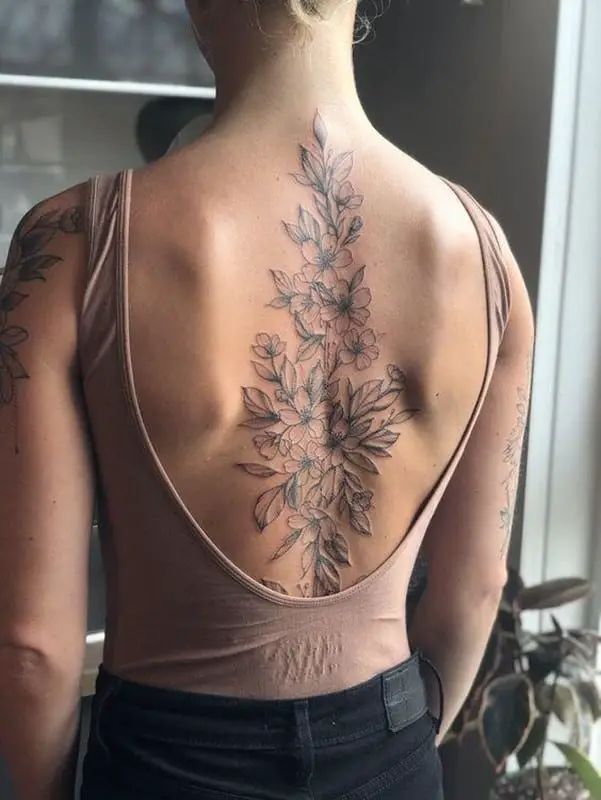 Detailed pieces can be quite time-consuming. Most people are afraid of abstract art, but you don't have to be one of them! This giant flower tattoo will take around 4 hours of your time. It represents and stands for inner beauty, so why not show off this tattoo?
9. Bright Purple Flower Tattoo For Women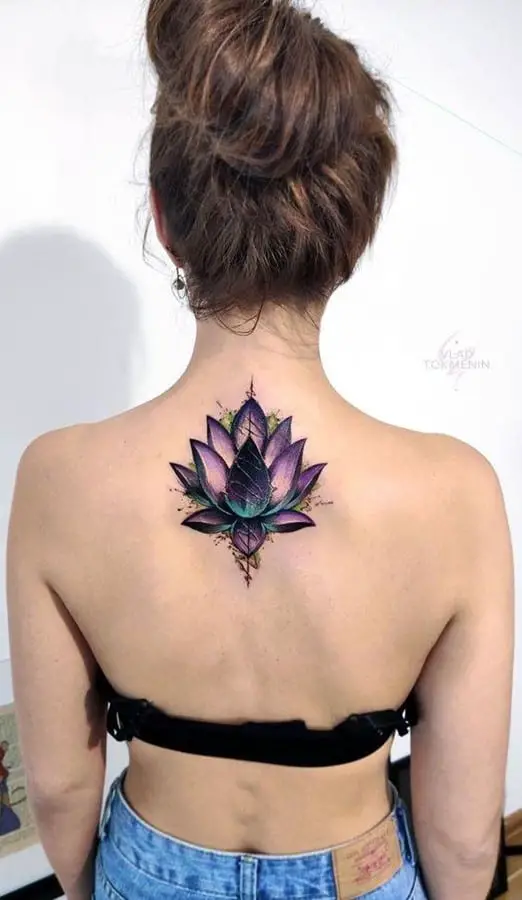 Are you a fan of upper back tattoos? This giant purple piece looks very feminine and playful, you will definitely enjoy its colorful vibe once you get it. Also, this tattoo represents inner beauty and power, so who wouldn't want to get it tattooed on top of their lower or upper back?!
10. Dramatic, Colorful & Feminine Back Flower Tattoo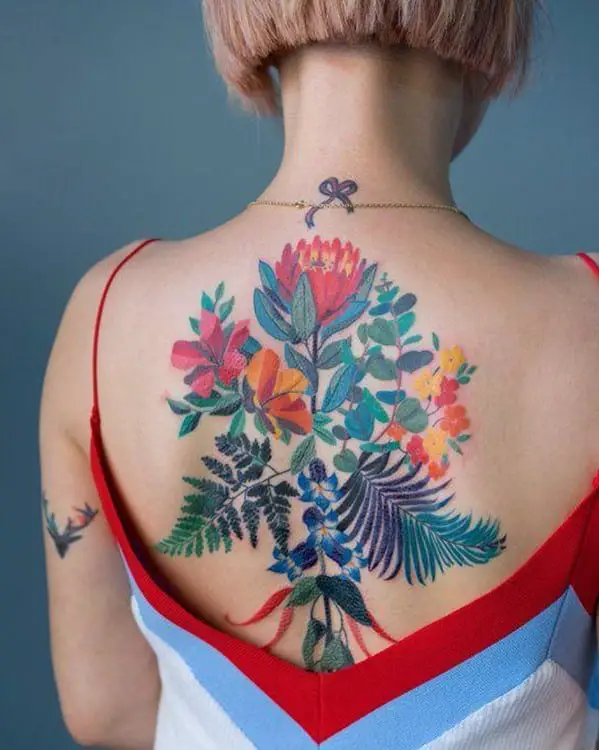 Large and colorful tattoos can be a piece of art and they are quite time consuming to get. Are you into defined lines and mosaic artwork tattoos? This upper back tattoo will take 6+ hours of your time to get. Make sure that you're well equipped before you make your appointment.
Scary & Mysterious Tattoos For Girls On Back: Top 5
11. Giant Demon Inspired Back Tattoo
Is there a devil inside of you? A lot of people love to get scary and devilish tattoos. This one will suit you if you are into unusual prints as well as larger back pieces. This tattoo represents that you can handle it all and that you've been through a lot. You will enjoy its sharp lines, just make sure that you find a tattoo artist who is known for precise line work.
12. Black & Large Bird Inspired Back Tattoo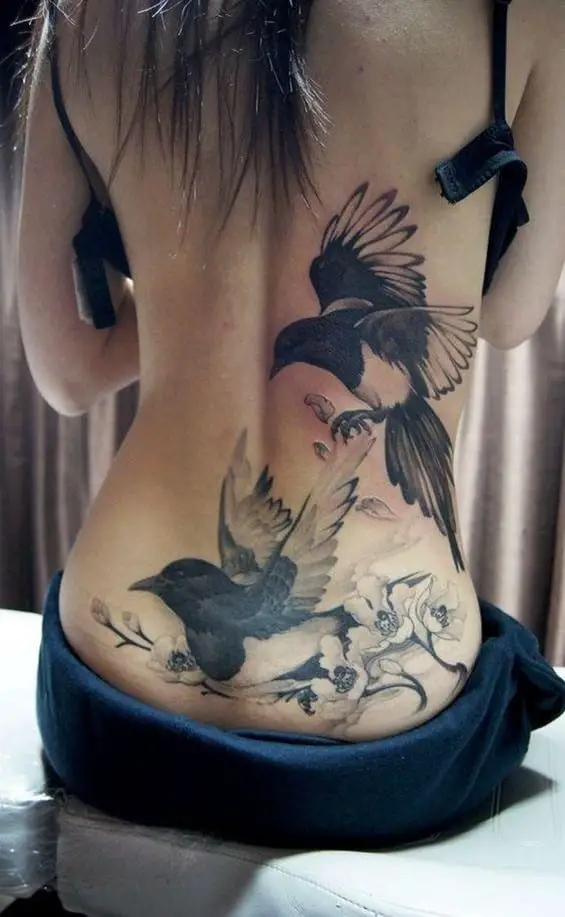 This lower back tattoo of a bird looks feminine yet mystical. If you love tattoos that have a deeper meaning and you usually gravitate toward larger pieces you will love this one. This blackbird represents your freedom as well as your will to run away and explore the wilderness! If you are independent and you prefer tattoos with meaning, you will like this one.
13. Koi Fish Well Detailed Back Tattoo Art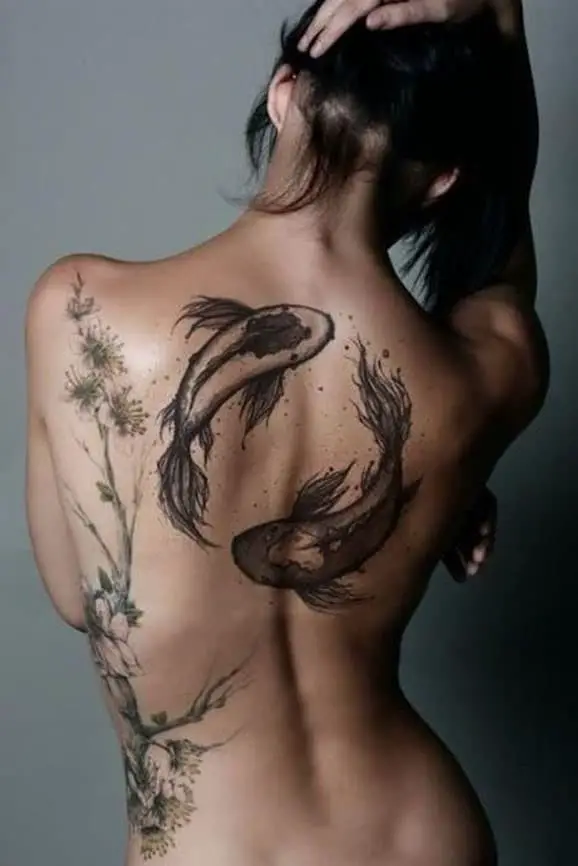 Koi fish are some of the most common tattoos for men and women. They represent peace and are quite pleasing to look at. You will enjoy getting this tattoo over your upper back portion. This tattoo stands for the never-ending circle of life plus it is quite calming and relaxing to look at. You can go for these contrasting colors and enjoy black and white fishes over your upper back. The tattoo is quite mysterious and it will say that you are always up for an adventure.
14. The Sun & The Moon Collapse Lower Back Tattoo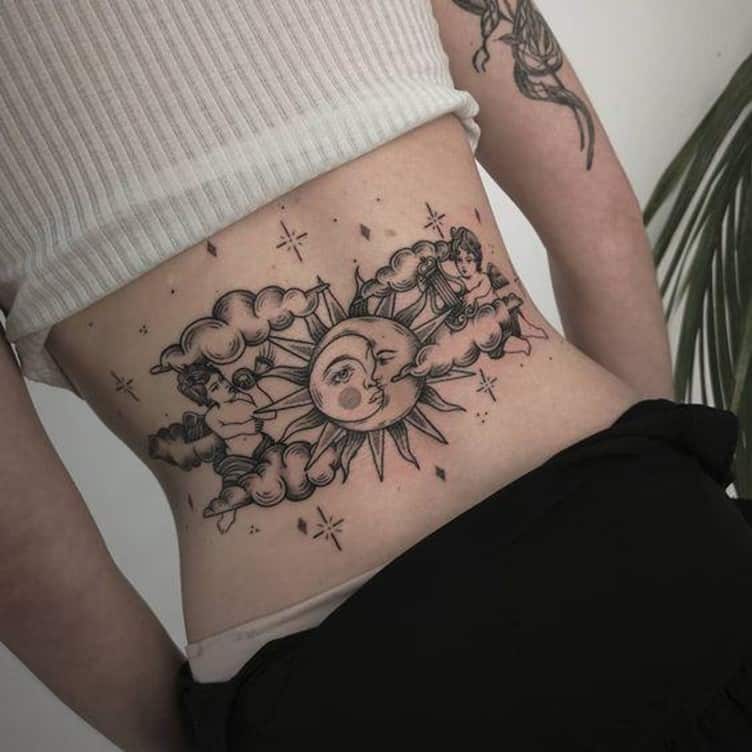 The Sun, the stars, and the Moon are so peaceful and calming to look at. This sky inspired tattoo screams mysteriousness yet positivity. You will love its design since it is covered in little angels as well as wing details.
15. Scary Scarecrow Black Back Tattoo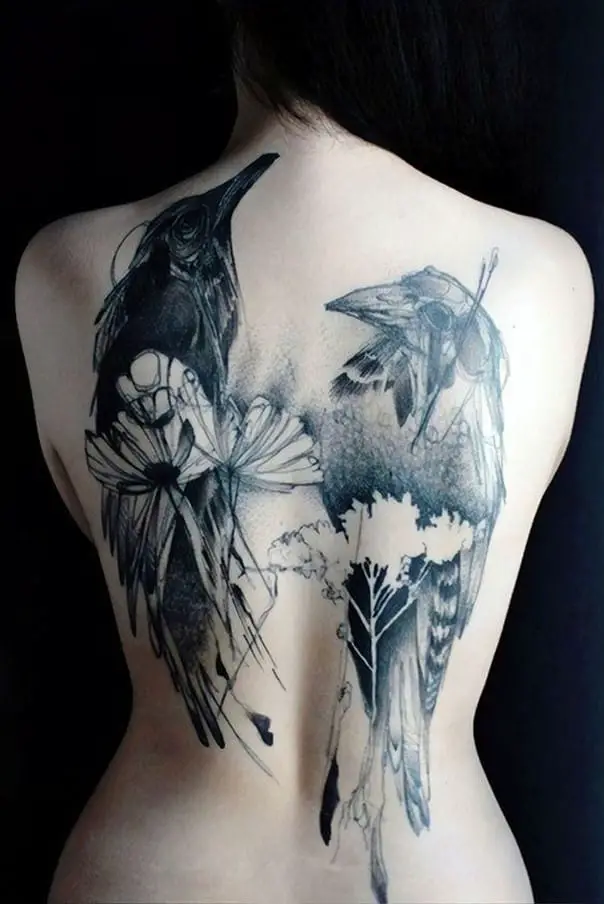 This black tattoo of a scarecrow looks scary and beautiful at the same time. if you are a fan of larger pieces and you also enjoy mysterious tattoos, you will enjoy this design. Time-wise it will take you around 4-5 hours to get this dramatic outcome.
Large & Bright Tattoos For Girls On Back: Top 5 Options
16. Funny Cartoon Inspired Back Tattoo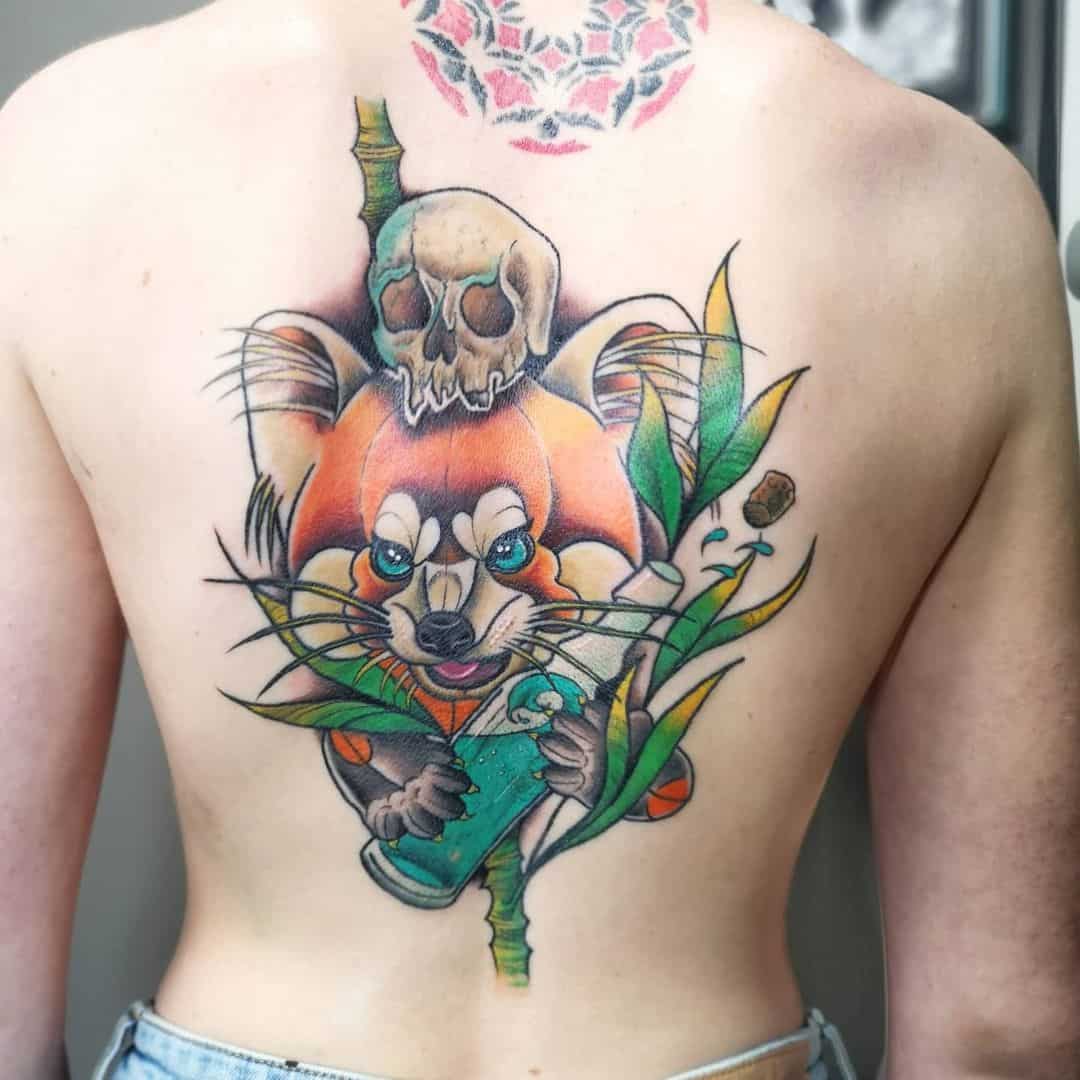 This fox inspired colorful and bright back tattoo will look amazing on both men and women. You will especially enjoy it if you work out and if you're a fan of the wider back. This tattoo will look awesome since it is so detailed and funny to look at at the same time, great for people who love loud and noticeable pieces!
17. Gorgeous Nature Inspired Green Tattoo Over Back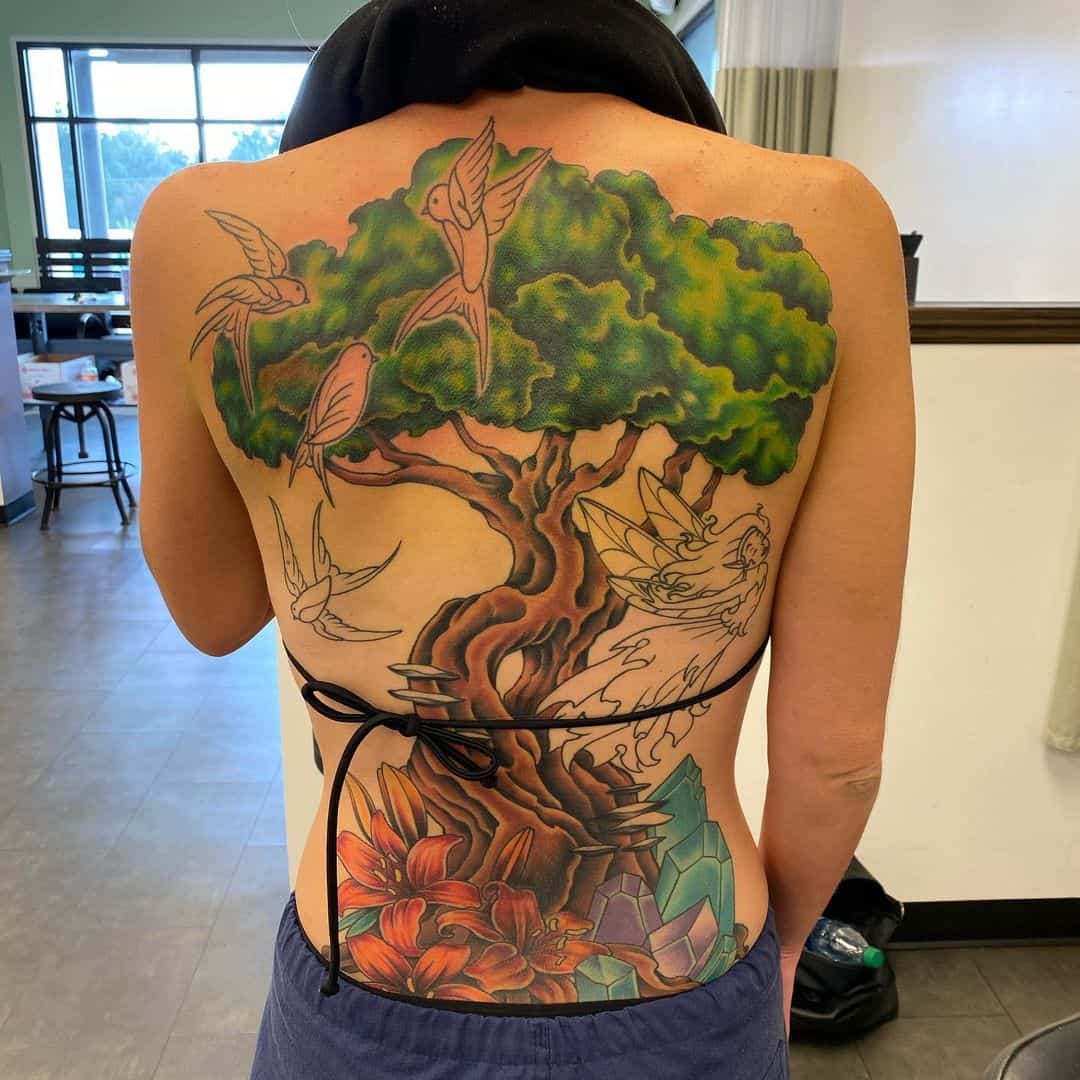 Are you a nature lover? Do you love to cherish everything around you and you love to feel at peace? This giant masterpiece is quite unique and different. If you are a fan of cherishing yourself and things that are around you, you will want this tattoo. Time-wise it is a time-consuming tattoo, and it will take you over 10 hours to achieve this design, for sure. Make sure that you're prepared and well-equipped beforehand.
18. Dramatic & Beautiful Indian Inspired Back Tattoo
Do you like watercolor tattoos and a splash of color to your designs? This giant back tattoo covers your upper, middle, and lower back. It has several different colors mixed up together and it looks well-detailed as well as mesmerizing. If you love history and you're a fan of Indian culture you will want this piece. Time-wise it can take you up to 5-6 hours to achieve this tattoo.
19. Bright & Loud Artsy Back Tattoo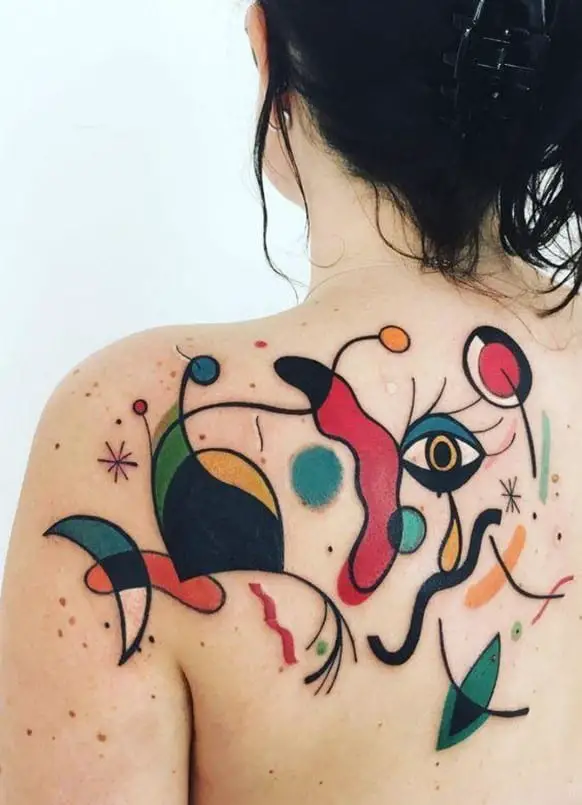 Some women love to tattoo mysterious and artsy symbols. Are you one of them as well? This large tattoo is inspired by all the colors of the rainbow. It is a colorful masterpiece that reminds a lot of Picasso's paintings. If you don't need something that has a deeper meaning and you are a fan of simpler and funny tattoos, you will love this one!
20. Bright Blue & Well Detailed Back Bird Tattoo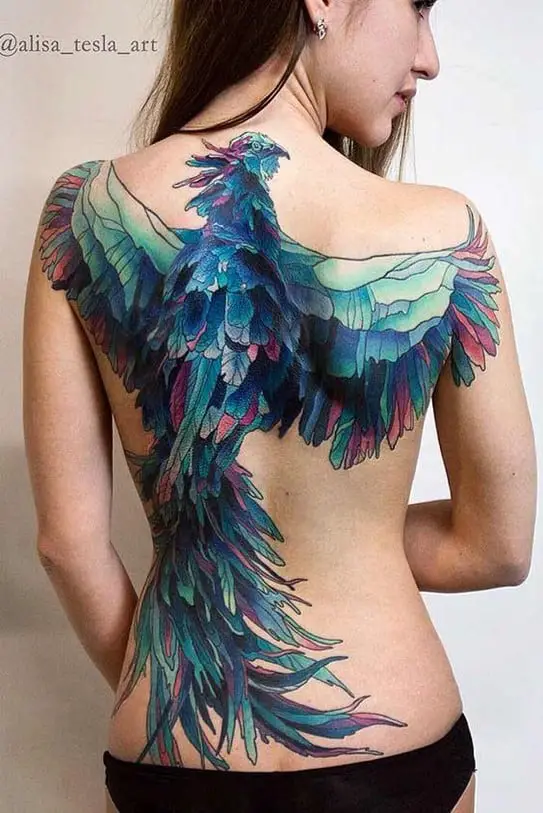 Are you a fan of birds and mystical colors? Do you like their freedom, as well as the fact that they can spread their wings whenever they feel like it? If you want to relate to them and feel as free, dedicate your entire back to this tattoo. It will look playful and mysterious, as well as a masterpiece. Just find yourself a tattoo artist who is known for their detailed artwork!
Small & Discreet Back Tattoos For Girls On Back: Our Top 5
21. Small & Simple Flower Back Tattoo
If you are not a fan of needles and you usually prefer smaller tattoos, this little floral one will suit you. It looks like an amazing and well-done piece. This tattoo represents your inner and outer beauty. It also shows that you're someone who prefers peace and quiet in their life. Time-wise this tattoo will take only 3 hours to get.
22. Small Let It Be Tattoo Over Back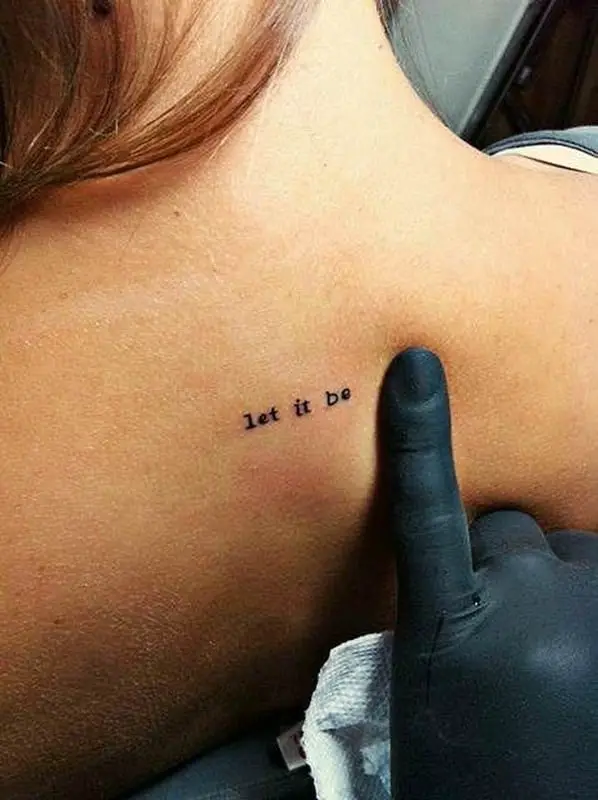 Tattoo the words "Let it be" over your back and embrace the simplicity of it all. You can go for any set of words or for any line that you like. It could be your favorite quote, your favorite song, or your favorite saying. These words will tell that you're ready to move on with your life and that you love to embrace the change at all times.
23. Small & Petite Cloud Inspired Back Tattoo For Women
Do you like clouds, as well as the rainy weather? This small " Moonchild" tattoo can tell a lot about you. It will let others know that you're a spiritual person who was born under the Moon. This small and petite tattoo will take only 60-120 minutes of your time. The upper back placement is a bit painful, but you will get it done in no time!
24. Delicate Lilly of The Valley Back Tattoo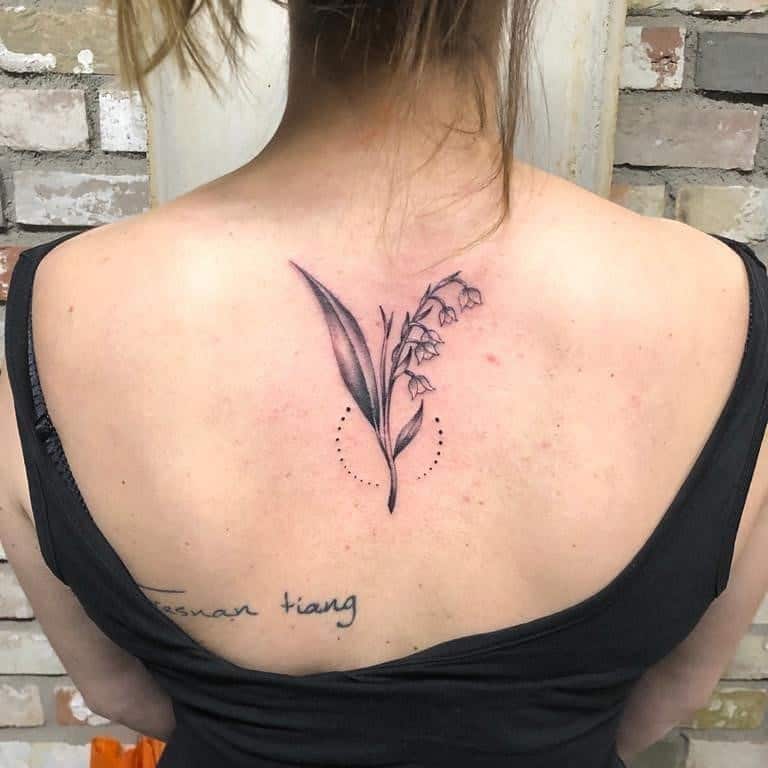 Not every tattoo artist is as handy or as precise when doing similar art. Make sure that you find a tattoo artist who has experience in doing flower tattoos as well as detailed flowers. You will enjoy this Lily of The Valley since it represents growth, as well as inner beauty.
25. Long Tree Inspired Back Tattoo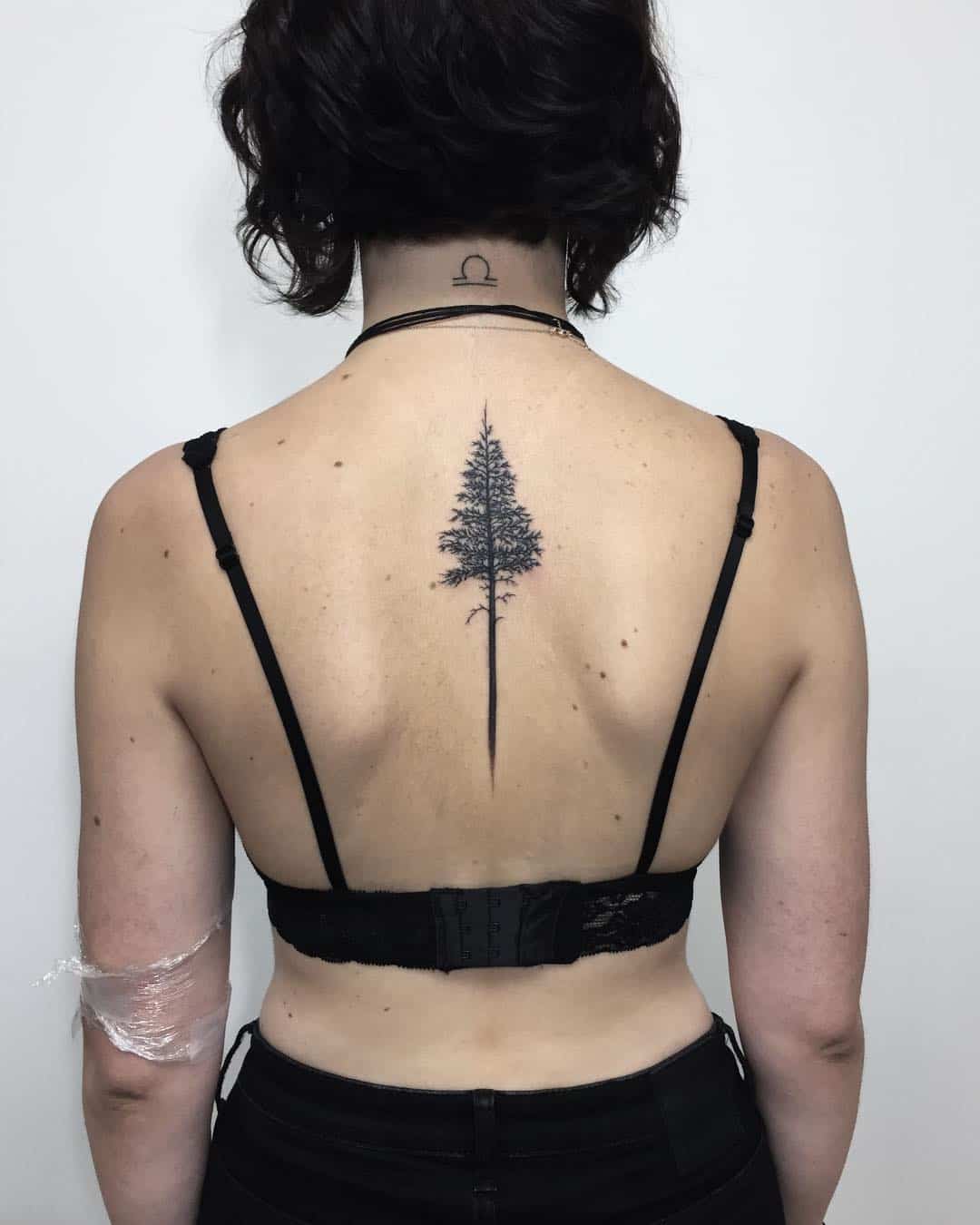 This large pine tree tattoo is a masterpiece! it is done vertically across the back and it represents your will to grow. This tattoo is shaded in all the right places and it looks like a fun piece to get. Women will love it since it symbolizes your passion for growth, nature, as well as any health stuff.
Animal Back Tattoos For Girls On Back: Top 5
26. Large Tiger Inspired Back Tattoo
Every woman has a tiger inside of her, but not everyone is willing to let it out. Do you dare to stand out? You will love this black ink tattoo and its size. This tattoo represents your inner warrior, and it also looks like you're ready to fight for what is right in your life!
27. Elephant Duo Cute Back Tattoo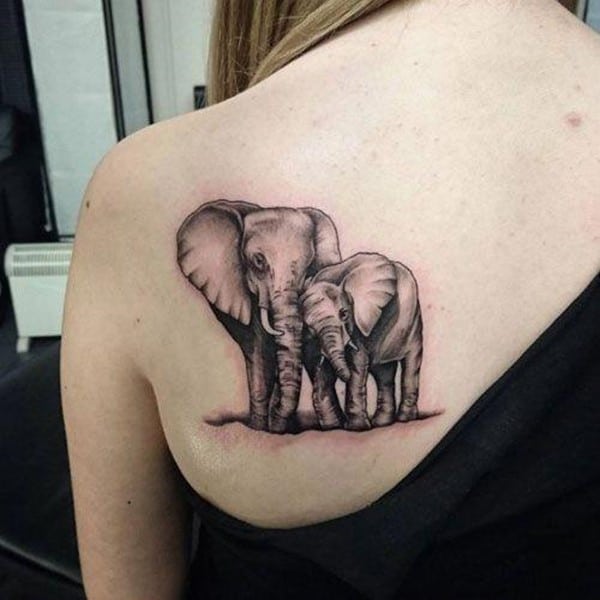 If you are on a lookout for a matching tattoo or a tattoo that you can dedicate to someone, you will love this design. Elephants usually represent freedom, they are spiritual animals, and they can look peaceful at all times. This design with two elephants is an amazing tattoo that you can dedicate to someone you love, so why not give it a go?
28. Gorgeous Bird Inspired Splash Of Color Design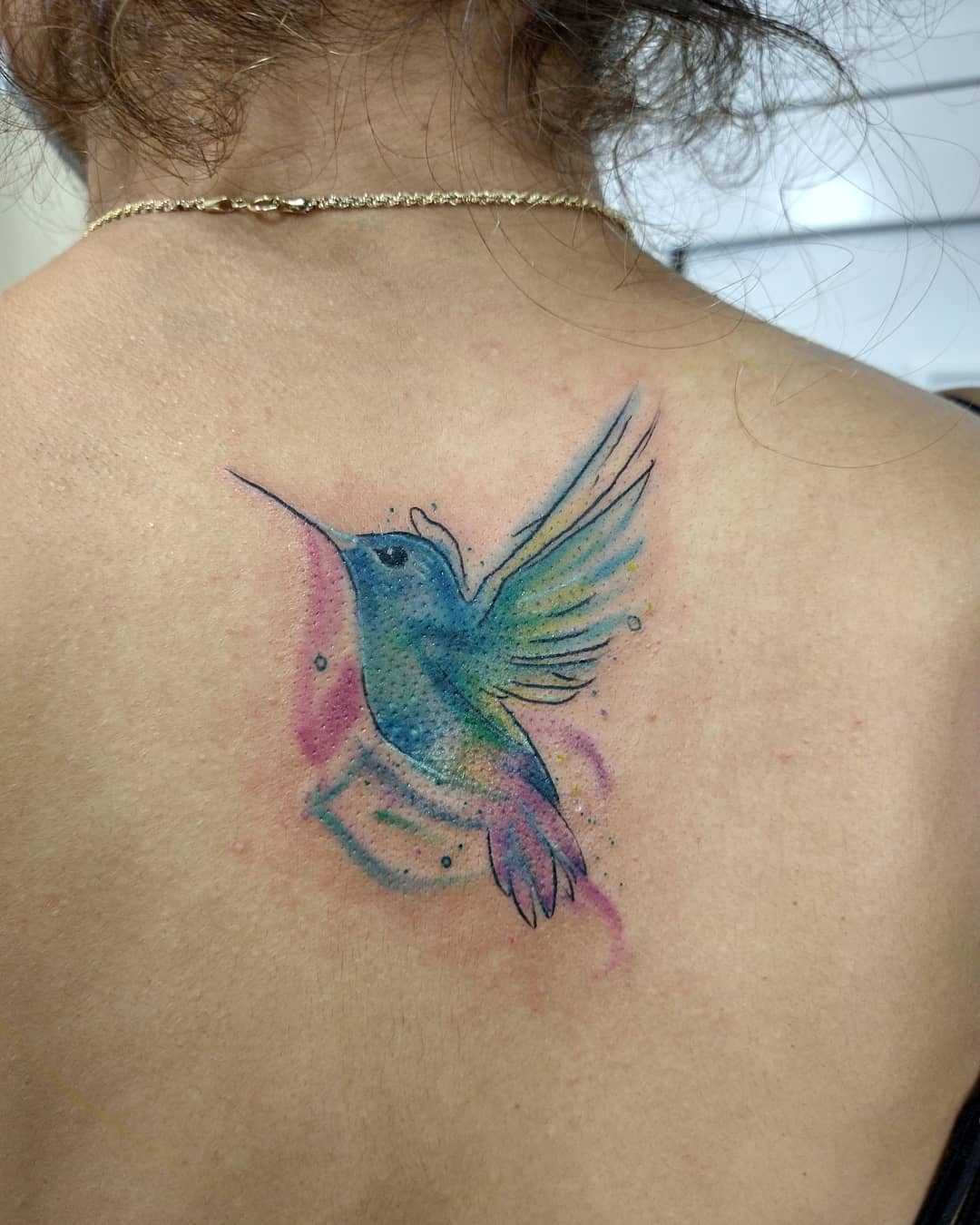 Not every tattoo has to have its meaning. This one just looks cute, and that's about it. Is that enough of a reason for you to get it? Either way it is, you will enjoy this paint, splash of color, as well as all the work that's been put into the design. This small tattoo will take 3-4 hours of your time, and you will love its feminine outcome in the end!
29. Small & Cute Cat Back Tattoo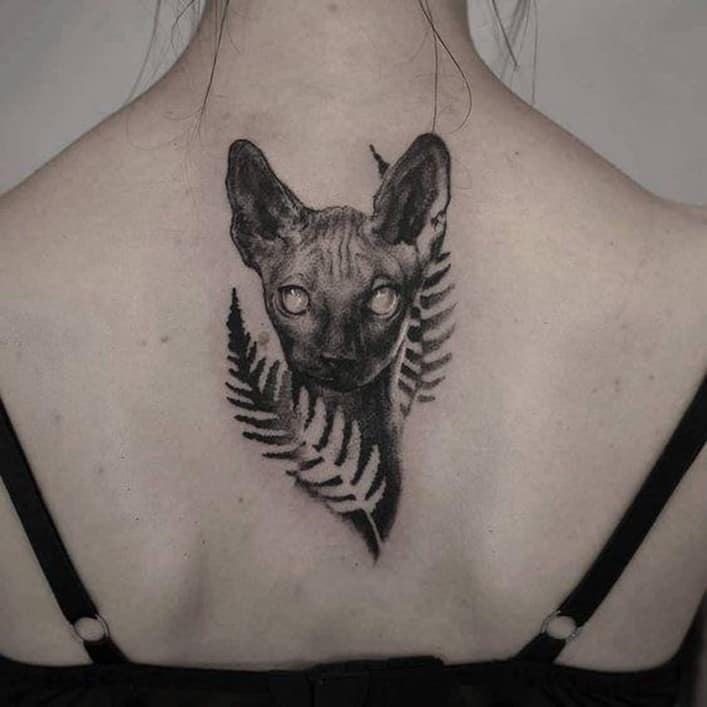 If you are a fan of old Egypt and you loved the Cleopatra, why not go for this Tivali inspired tattoo? It is a feminine back piece that shows your inner strength, beauty, as well as willingness to fight back. Its black ink looks mysterious and sexy + you will enjoy telling everyone what your tattoo stands for.
30. Lion Back Tattoo For Women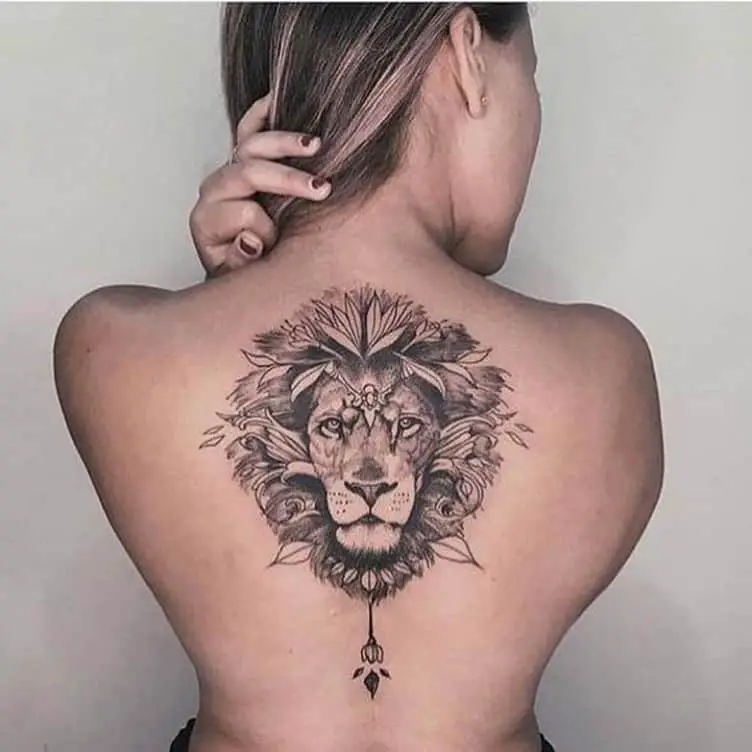 Last, but not least, why not go for the king of the jungle? This large lion tattoo is very beautiful + you will enjoy its precise lines across your entire back. Women who love powerful tattoos and who love the meaning behind this one (lions are natural fighters) will love this unique print! You could also add a significant date to it to make it pop even more!