30+ Best Olive Branch Tattoo Design Ideas (2022 Updated!)
When you shop through links on our site, we may earn an affiliate commission. This educational content is not intended to be a substitute for professional advice.
Have you ever thought about placing an olive tree branch tattoo over your body? Are you someone who enjoys gorgeous elements of nature and you value life? You can show and tell a lot about yourself with your olive tattoo. If you're interested in browsing and exploring different tattoos and you're not too sure where to find your inspiration, you should keep on reading and see your tattoo ideas down below.
Olive Branch Tattoo: Best Choice for Me?
What Does Olive Branch Symbolize?
Did you know that an olive branch was quite used in ancient Greece, and it is still popular to this day in the Mediterranean area? It stands for your peace, victory, as well as power, and is a popular go-to tattoo choice in Europe & the Arab world.
Who Should Get The Olive Branch Tattoo?
Men and women can both rock an olive branch tattoo idea since it is a universally beautiful & unisex tattoo idea. Here are some reasons why you might want to go with an olive branch:
It stands for your empowerment and new beginnings
Can represent your inner struggles & battles
Stands for power & victory
You can mark your new chapter with an olive branch
Stands for fertility & body empowerment
These are just some explanations and reasons why you might want to have an olive branch tattoo on you next go-to list!
What Tattoo Size To Go For?
The hardest question is knowing which size to go for. Are you a minimalist, or do you love extravagant & loud tattoos? When it comes to the olive branch print in itself, sticking to small or medium sized tattoos may be the best solution. Do not go for something too loud or bold since it won't stick well with the meaning and beliefs that are behind your olive print.
What Is The Best Tattoo Placement For Men?
Guys who want a feisty olive branch tattoo will prefer placing it over their shoulder or leg. Going with black print and black ink is the best solution for most guys, no matter their age.
What Is The Best Tattoo Placement For Women?
Women love to stick with collarbone placements, ankle tattoos, as well as back tattoo ideas. Anything that is feminine & flirty will work just as well with your olive branch tattoo!
Which Tattoo Was Your Favorite?
So, how do you feel about these tattoos? Which one print was your favorite from the list? A lot of guys and girls will appreciate our variety, as well as different and unique options that will suit everyone's taste. Let us know if you plan on getting one of these ideas placed somewhere on your body, as well as which one is your top choice.
Olive Branch Tattoos For Men
1. Olive Branch Tattoo Over Stomach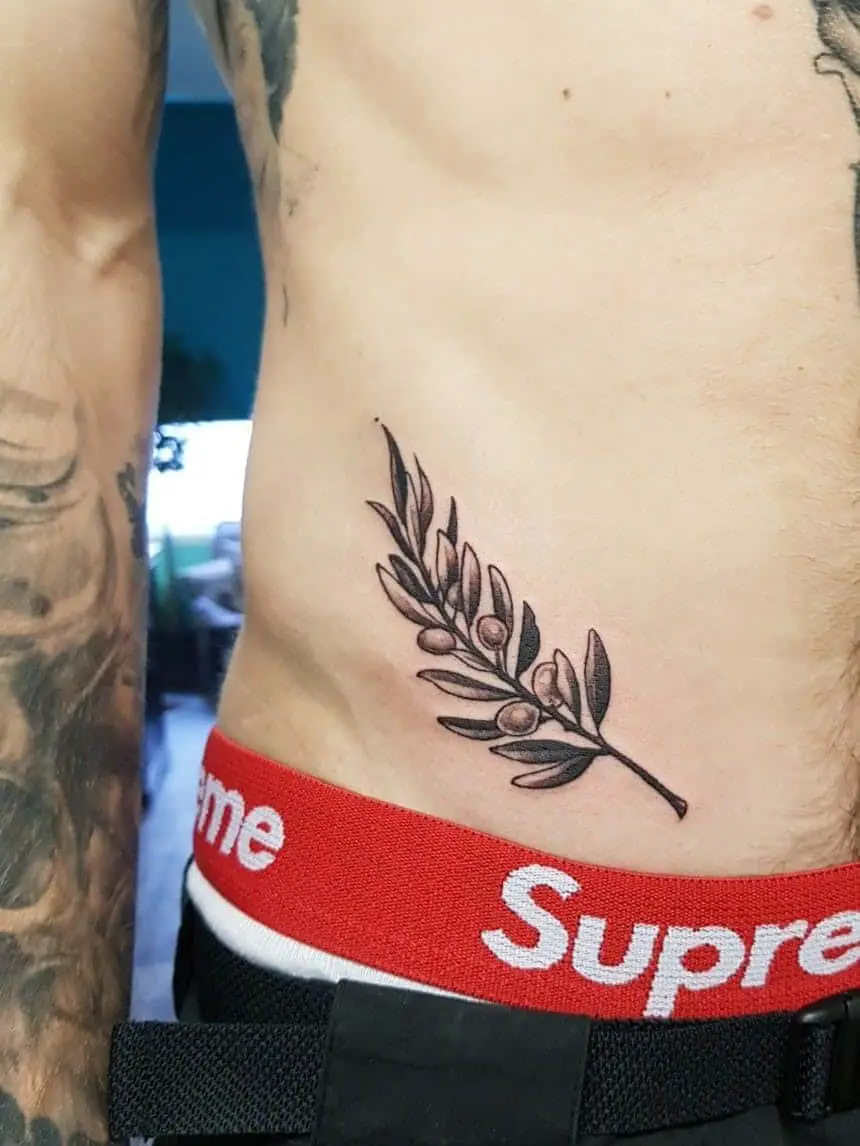 Are you someone who enjoys nature? Do you love to come off as a peaceful person, or someone who is caring and loves nature? This olive branch is for you!
This tattoo symbolizes your encouragement and personal happiness, as well as growth. You're up for exploring and expanding, as well as getting to know all perks of life!
2. Olive Branch Tattoo Forearm
Do you enjoy forearm or arm placement? This tattoo will suit you and will fulfill your wishes.
The placement doesn't hurt and is yet perfect for guys who enjoy noticeable tattoos. It is ideal for anyone who is into medium-sized tattoos.
3. Olive Branch Tattoo Arm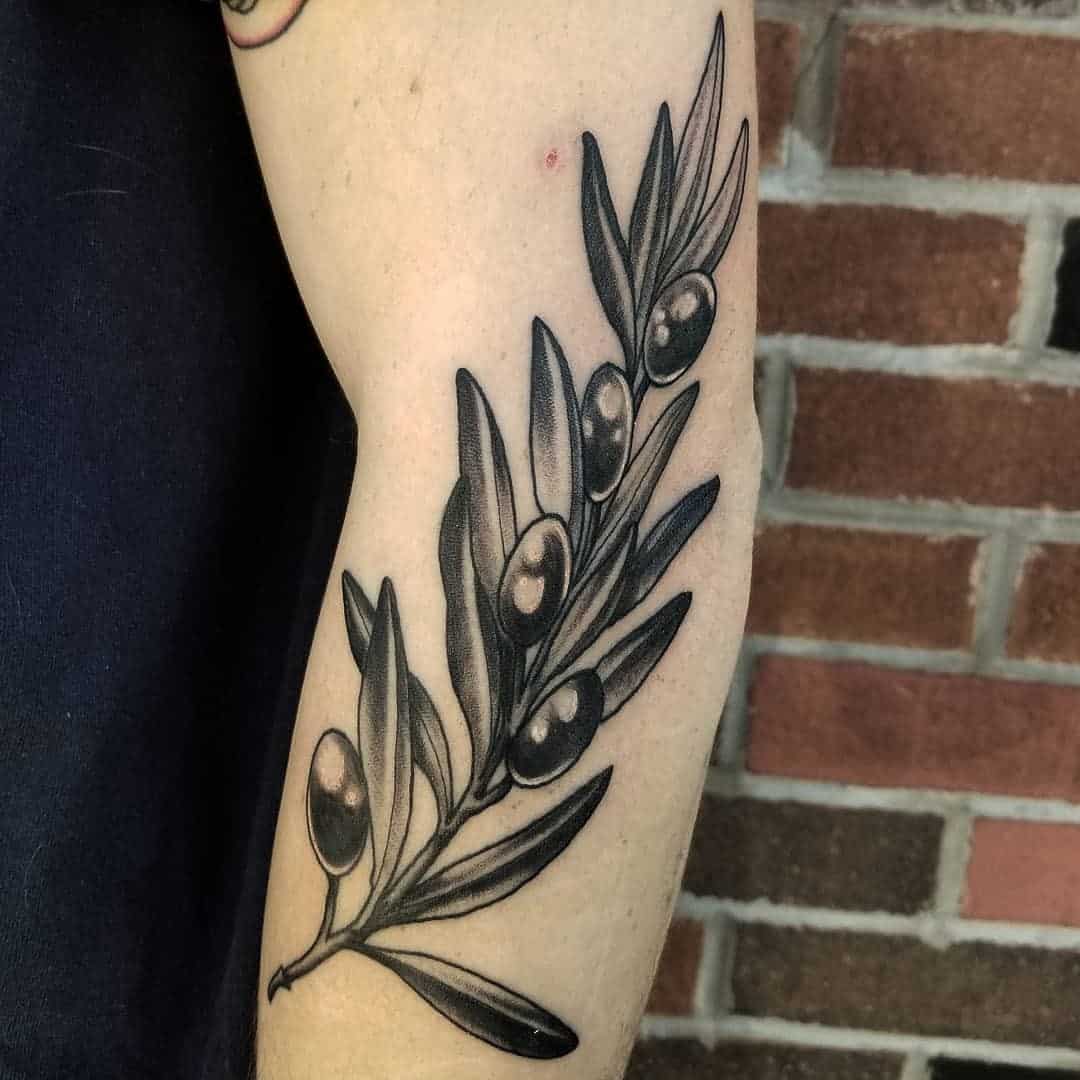 Black tattoos and black ink are not too pricey to go with. If you're on a budget and looking for something convenient yet generally popular and common, this will suit you.
Black is a color of elegance and mystery. If this goes well with your character you should consider it.
Fun fact: an olive is technically classified as a fruit.
4. Arm Olive Branch Tattoo Black Ink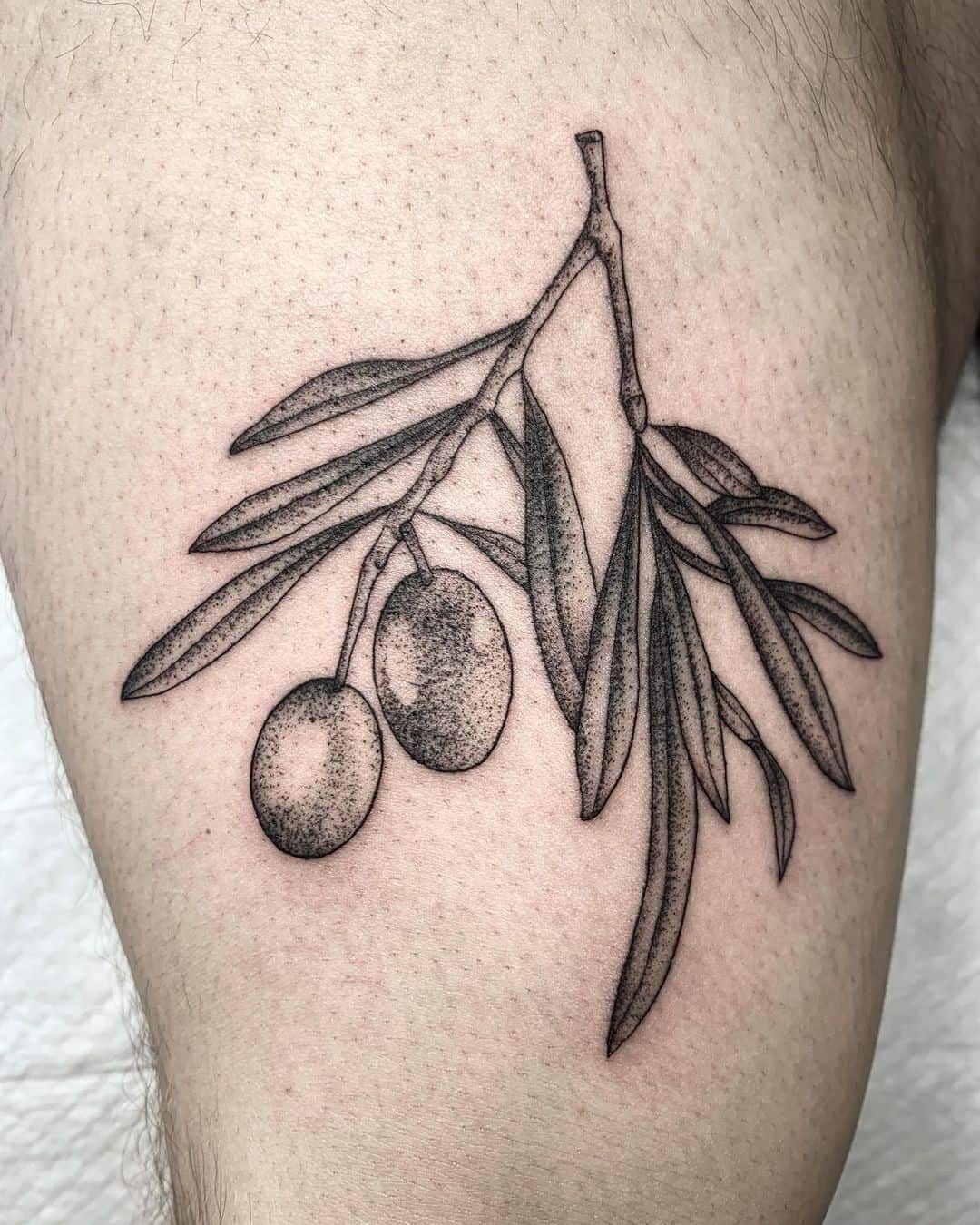 This Olive branch is for guys and girls who are into black images. More people will enjoy this tattoo, especially if they are a fan of less expensive prices and affordable tattoo designs. Go for the arm placement and show off this beauty.
This one represents your purity and rebirth, as well as the growth that you're proudly embracing.
5. Olive Branch Tattoo Collarbone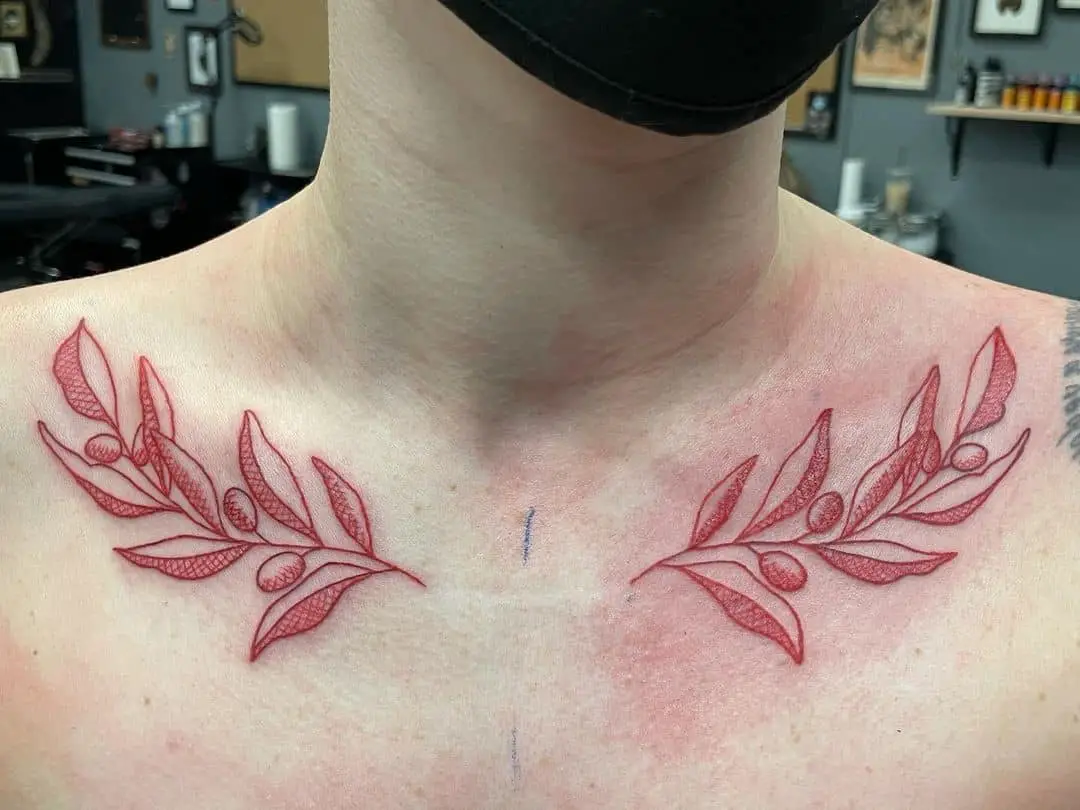 Collarbone placement is quite painful, so heads up before you commit to this ink. If you're a fan of red tattoos you will adore this one. It is so funky and unusual, as well as cheerful.
Red stands for power and energy. If your energy and your spirit are so bright and outstanding when compared to someone else's- show it all with this idea.
6. Traditional Olive Branch Tattoo Over Arm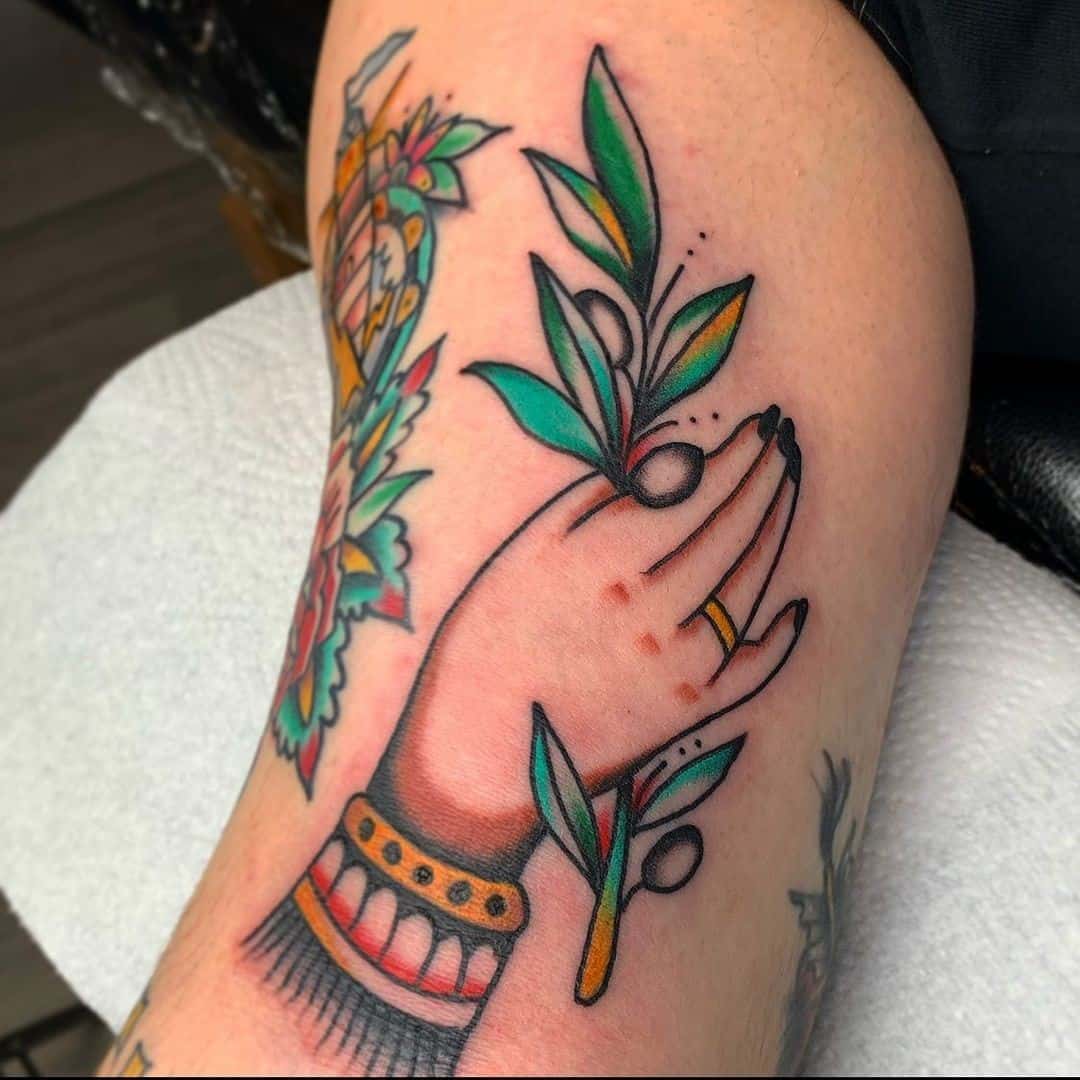 An arm holding a branch and this olive print are quite beautiful and different when compared to some other olive tattoos. If you're someone who enjoys outstanding tattoos you will also adore this one.
It will symbolize your power and your cheerful persona. If you're someone who enjoys being loud and artsy near others this ink will represent you.
Did you know that olives have been around for over 40 million years?!
7. Black Ink Tattoo Olive Branch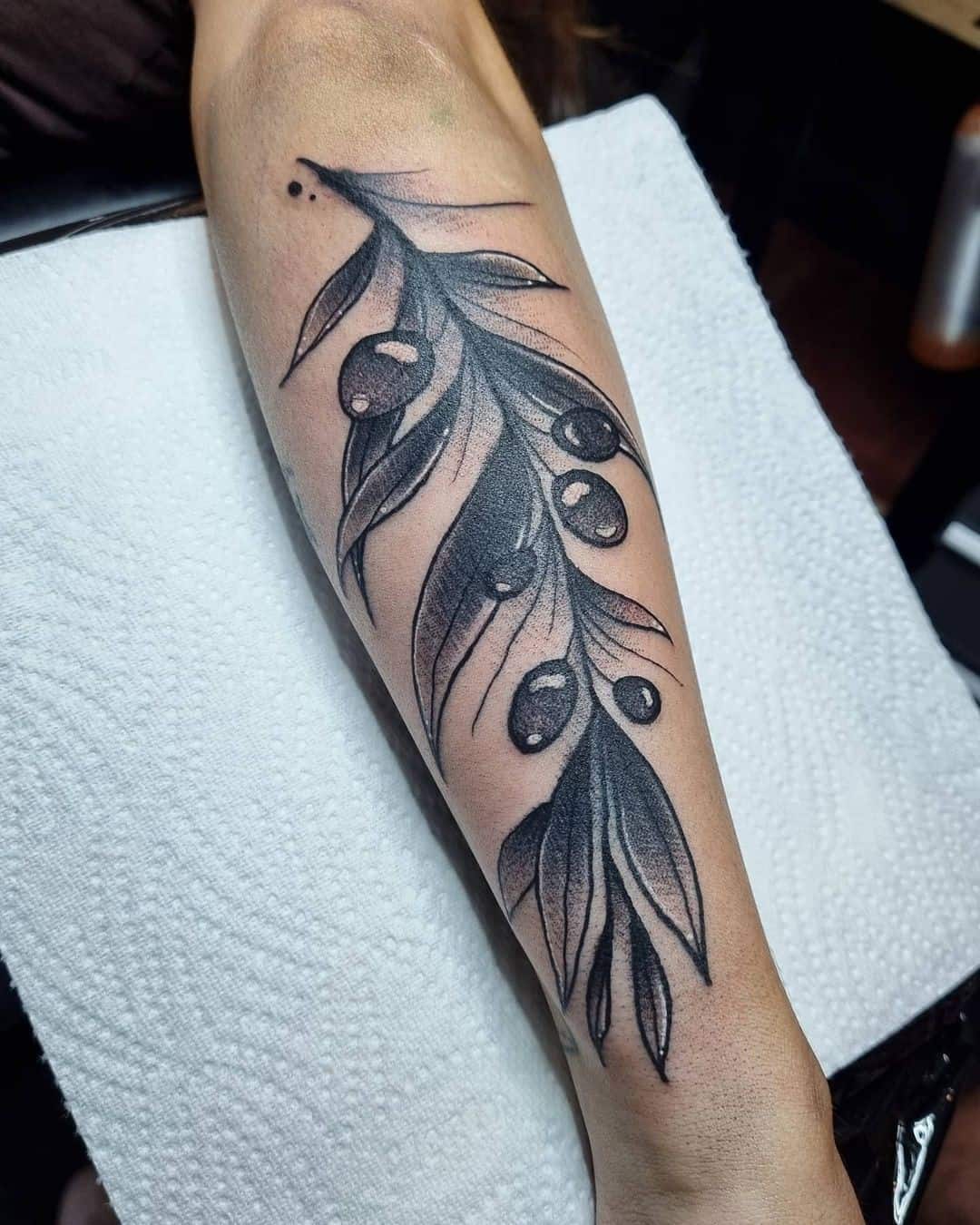 This classical black piece is for anyone who is into simpler tattoos that don't demand a lot of time to get. It is a practical and universal tattoo that will look great on both genders.
Olives stand for imagination and creativity. If you're up for something low-key yet pretty this ink is ideal.
8. Chest Olive Branch Tattoo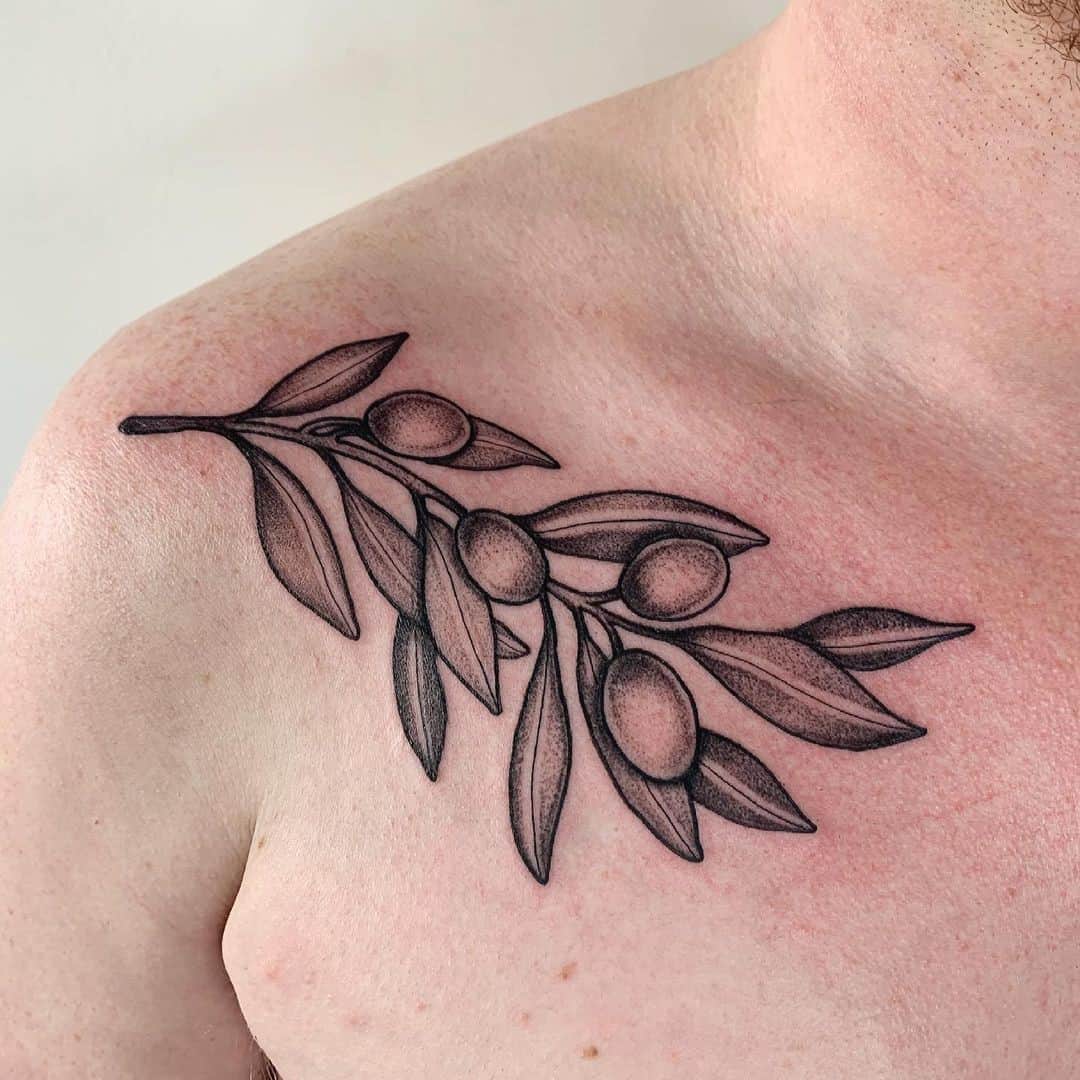 This is another collarbone piece that you'll enjoy. If you're a fan of sexy tattoos and sensual placements, yet you are not afraid of the tattooing process – collarbone it is.
This giant leaf will show your gratitude and your will to grow and learn along the way. If you love to invest in yourself make sure that you let the world know and see with this simple piece, yet an outstanding placement.
9. Olive Branch Tattoo Small Arm Print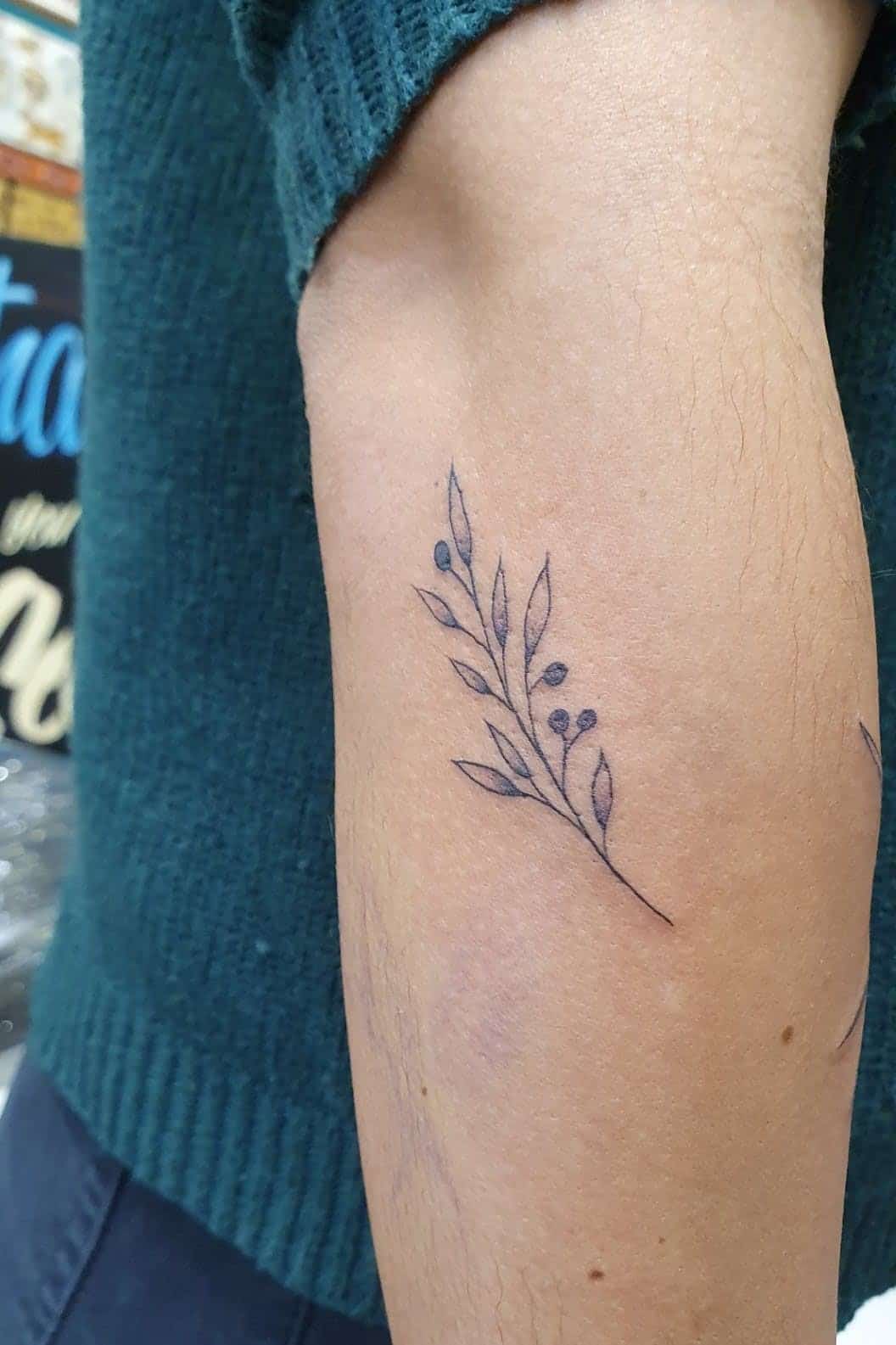 If you're a minimalist and someone who doesn't love to get a lot of attention when it comes to your designs make sure that you show it all with this print.
This mini olive branch tattoo says that you're growing and taking things at your preferred pace. You're okay with things resolving on their own and you seem to manage everything just fine on your own.
Fun fact: in ancient Greece olives were used to anoint kings.
10. Olive Branch Tattoo Design Black Print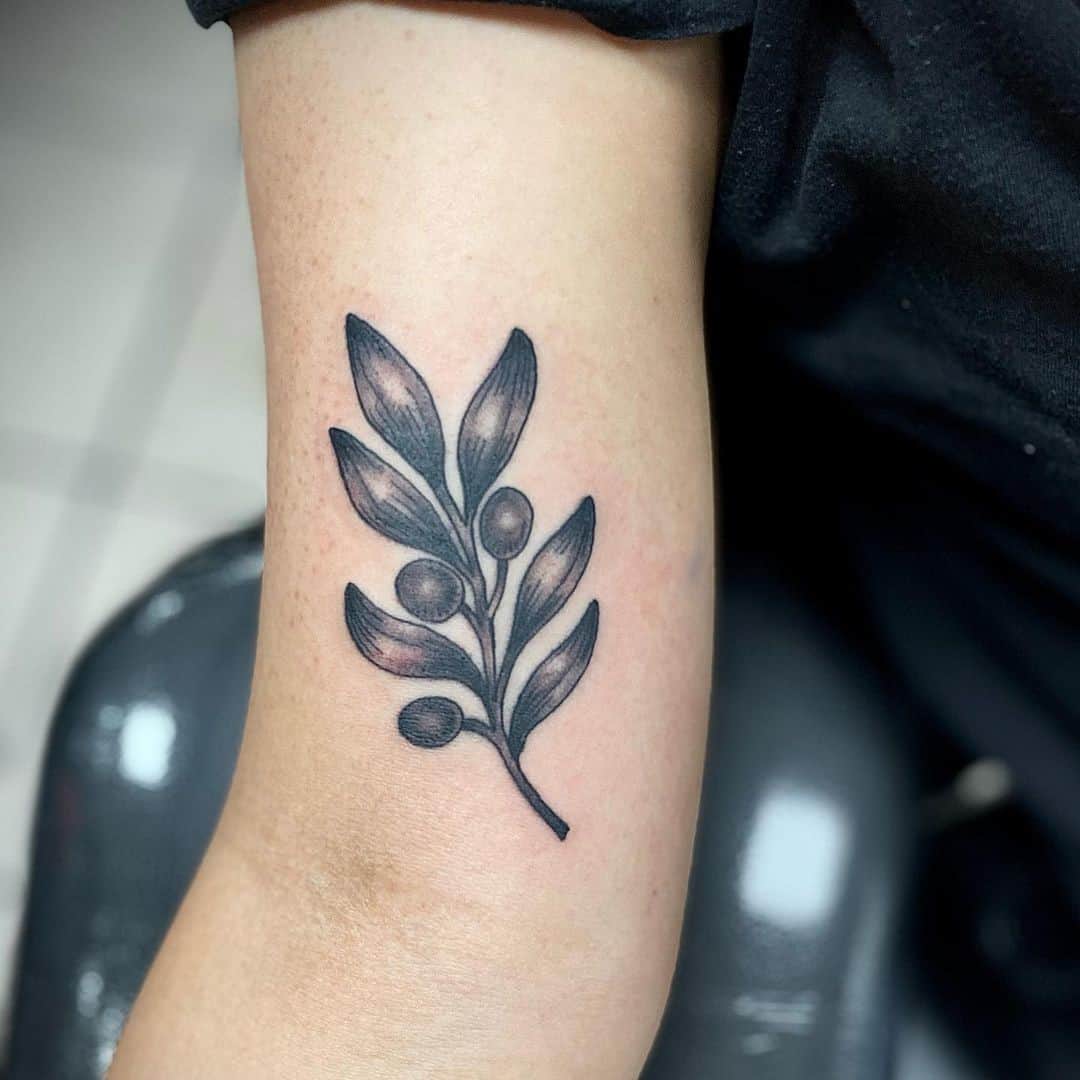 A forearm tattoo like this one is for everyone who is into visible tattoos. This one will not take you more than four hours to achieve and place down.
It symbolizes and shows how far you've come and how you interpret life. You're a slow and steady person rather than someone who is interested in speeding up your process.
11. Artsy Olive Branch Tattoo Male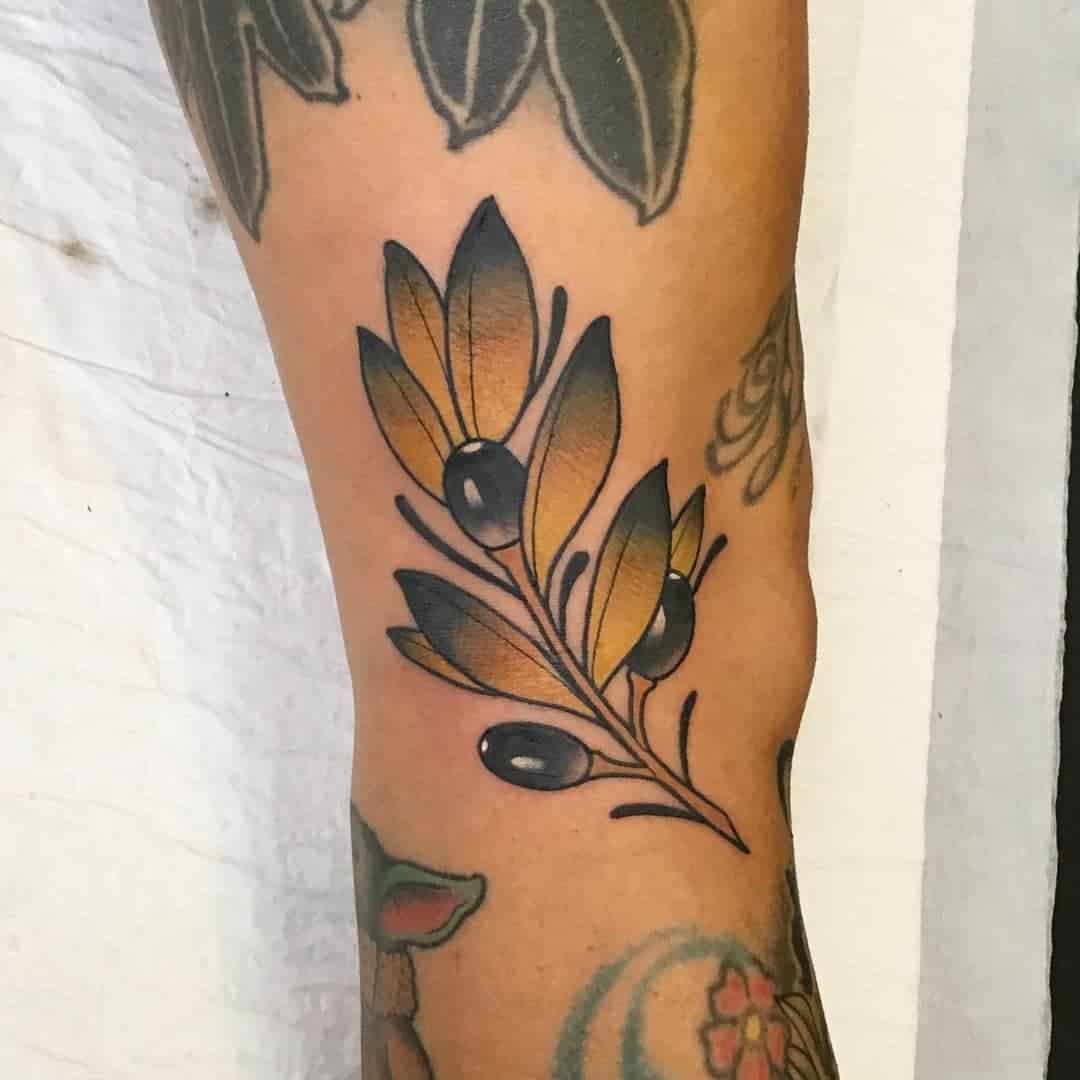 Your olive branch tattoo can also have a slight pop of color. People who enjoy seamless ink and who prefer light and subtle olive branches will adore this image.
Show how perky and friendly you can be with this design. Let the world see you for your genuine and calm personality while also focusing on your inner peace and journey.
12. Olive Branch Tattoo Name Inspired Print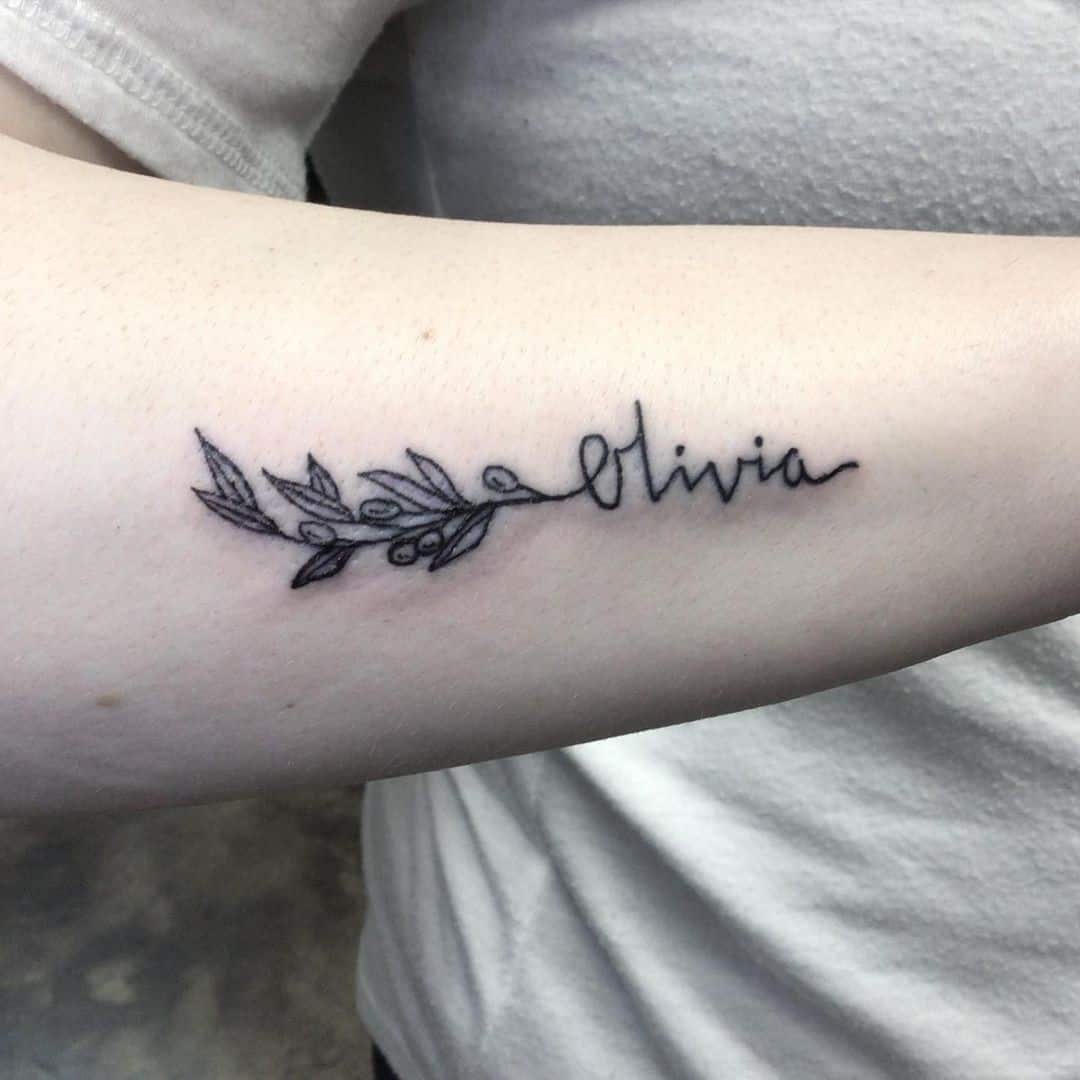 You can also place a name tattoo next to your olive branch idea. If you're up for something sentimental and gorgeous, as well as fully customizable you will adore this idea. It is also perfect for anyone who is in love or who is trying to show their emotions.
This branch will stand for your personal and deep connection that you've created over time. It will represent your appreciation and care.
Did you know that an olive tree can grow up to 49 inches in height?
13. Black Tattoo Olive Branch Inspired
This smaller or medium-sized branch is for an idealist. It is a bold black ink tattoo while looking playful and artsy at the same time.
Show everyone that you're a firm believer in peace and harmony with this print. Symbolize your growth and inner beliefs.
14. Artsy & Delicate Olive Branch Print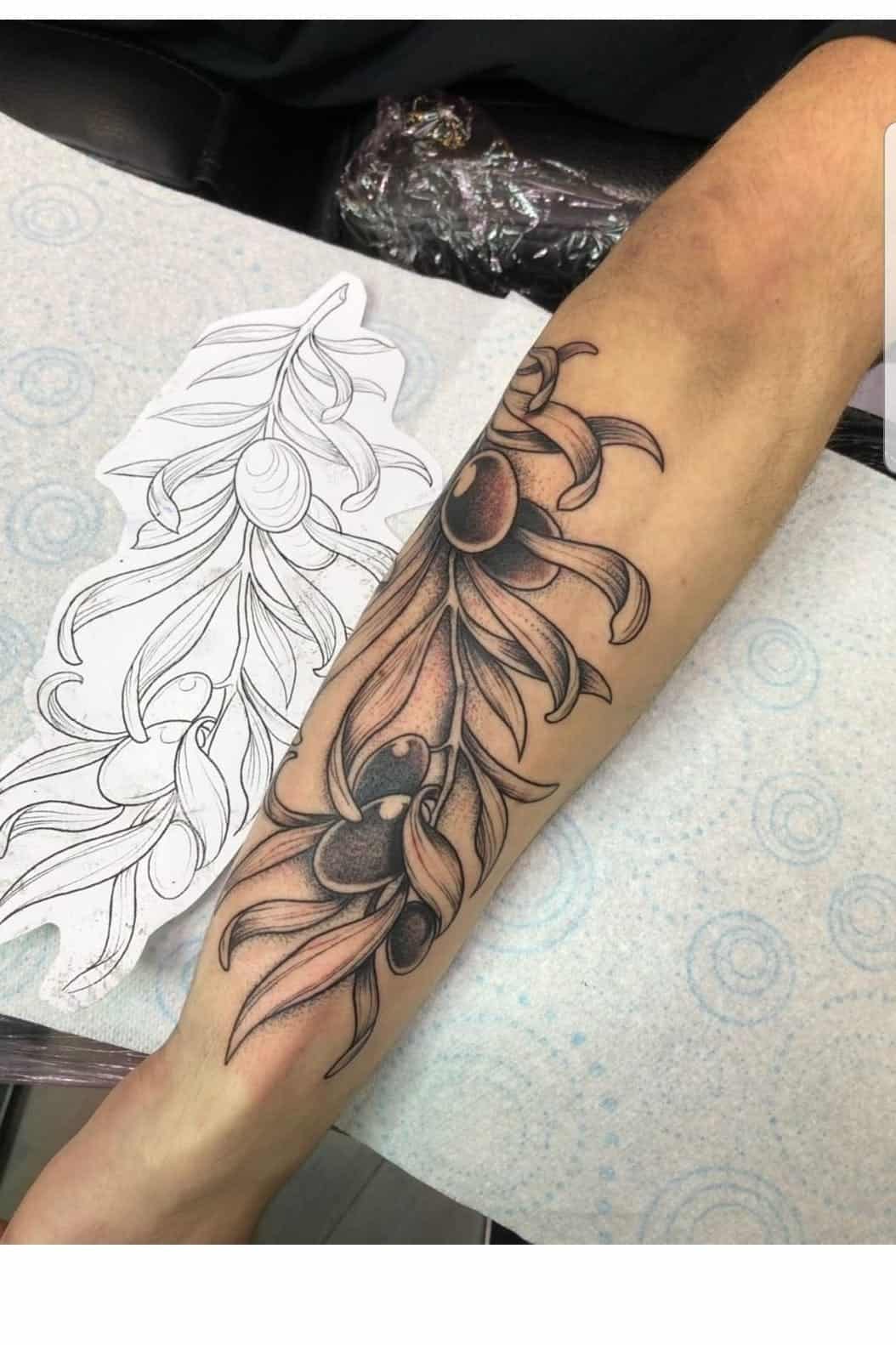 If you know of a professional tattoo artist who is good at giving you shaded tattoos make sure to test this one. It is not for the faint of heart, but it is a symbolic idea.
The olive branch and a pop of color show your inner emotions and idealism. If you want to look loud and like someone who takes care of others with your energy, this is it for you!
15. Detailed Greek Olive Branch Tattoo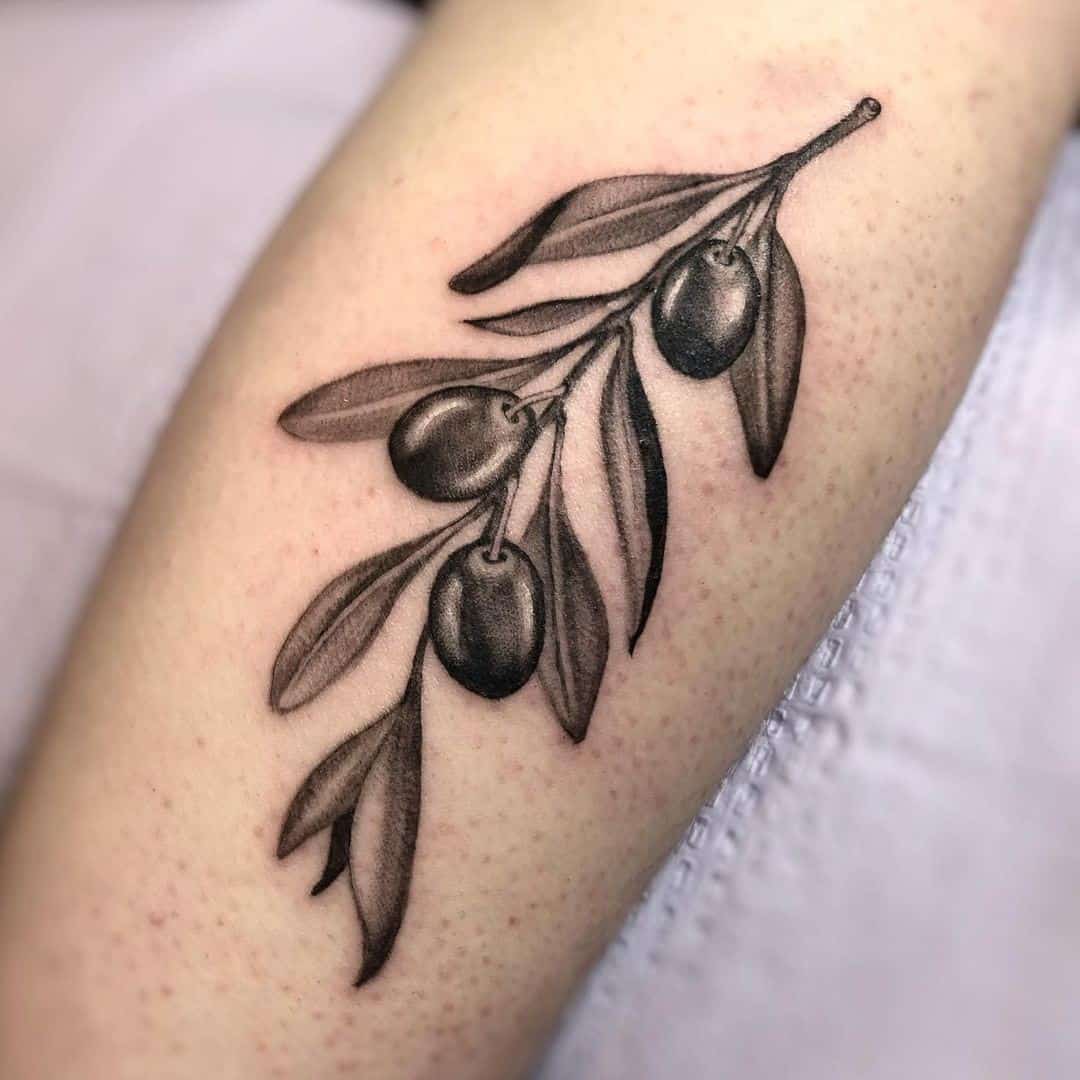 Black tattoos are for simpler souls. Are you one of those guys as well? If you're someone who knows how to rock precision and unique ideas this is your winner!
Represent that you're always fighting for peace and inner calm and power. It will take you around three hours to get this design.
Fun fact: this tree will bloom in four years.
Olive Branch Tattoos For Women
1. Under Boob Olive Branch Tattoo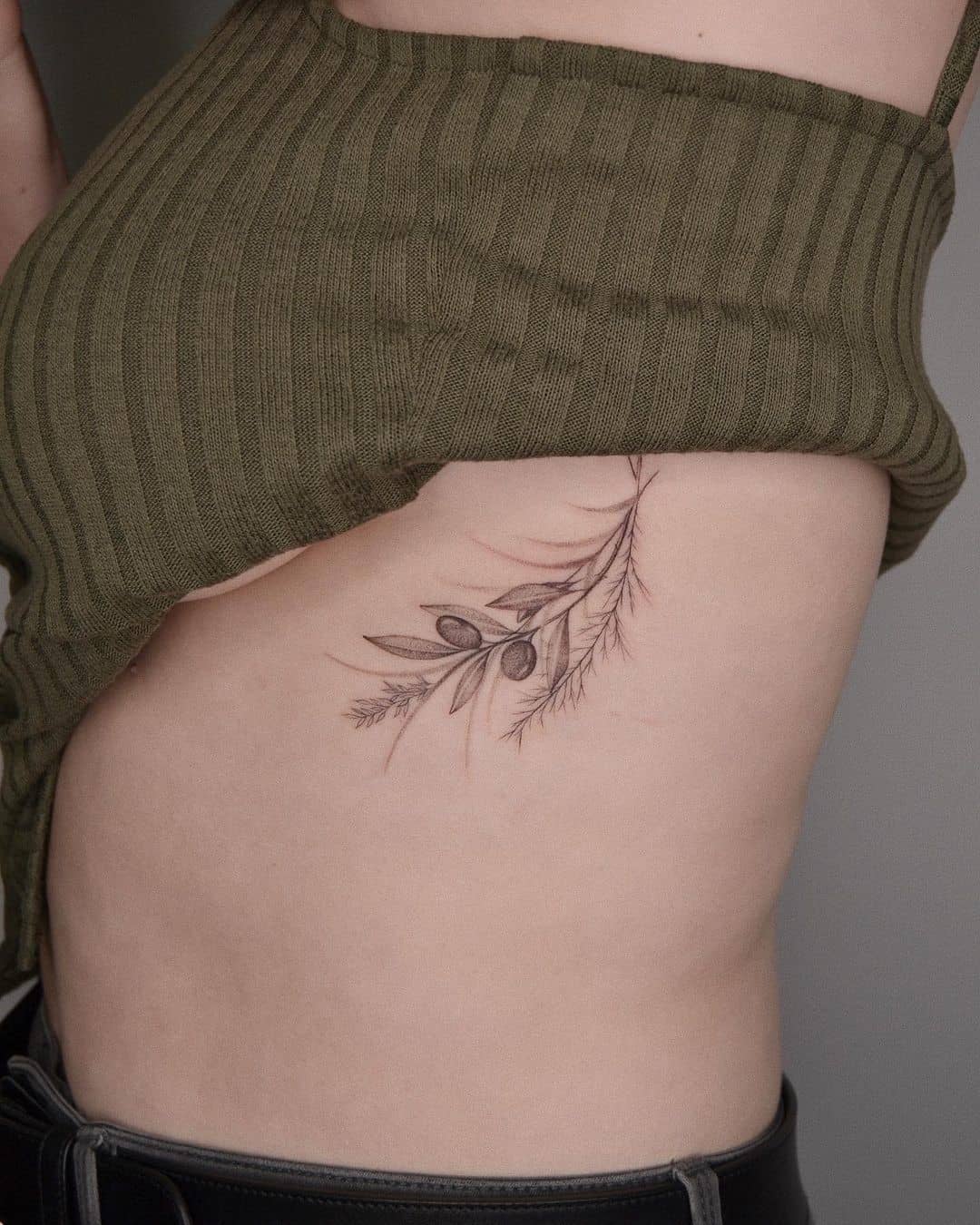 You can also stick to a side chest or underboob tattoo. If you're someone who loves that feminine and sexy side this sensual piece is for you.
This tattoo will represent your endorsement and your personal love and life. If you believe in peace and a sexy approach with most things in your life and personal path, let the world see it with this idea.
2. Feminine Collarbone Olive Branch Tattoo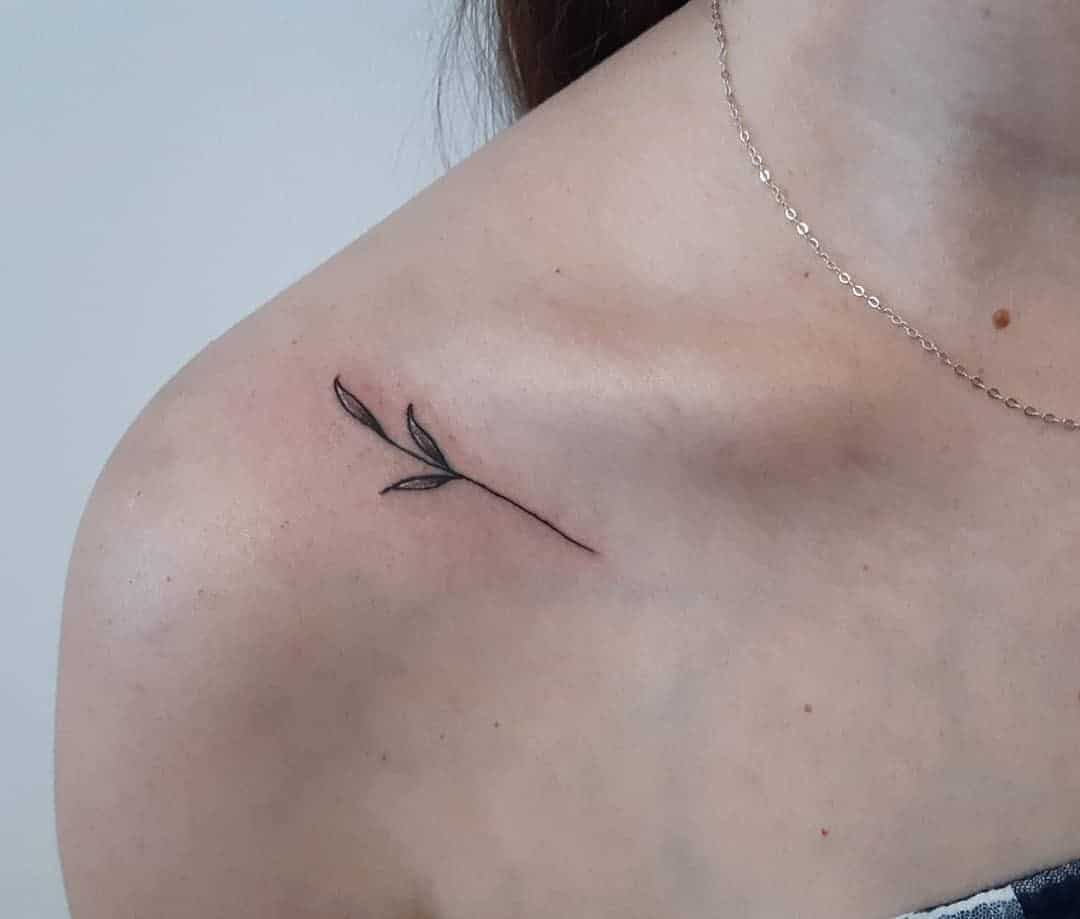 Do you want a cute collarbone tattoo? If you're a girly girl and someone who enjoys showing your feminine side you will easily achieve that with this image.
It represents your path to true womanhood. It lets the world see you as a grown and determined person who has her life under control.
3. Stomach Olive Branch Tattoo For Girls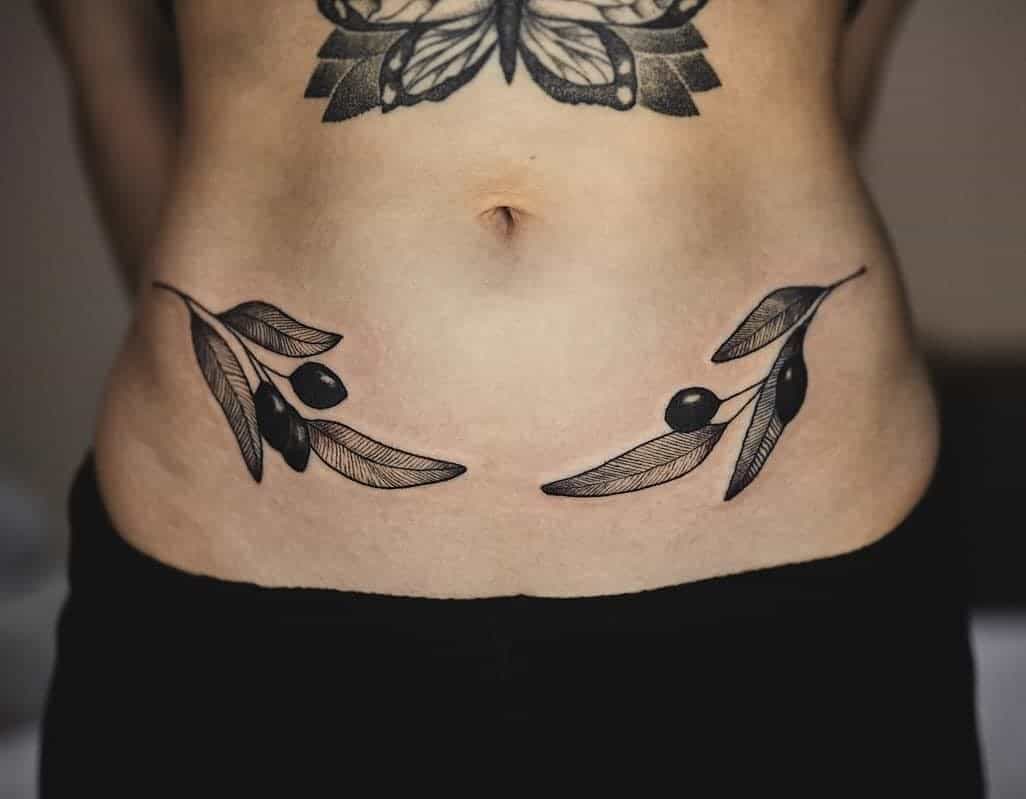 How about you stick to a stomach tattoo? If you're a person who loves to look feminine and easily spotted with your print – consider this image.
Olive branch print will represent your fertile and mother-like side. If you're ready to take the next step in your life and you're looking forward to this new chapter – start rocking it!
Did you know that these trees can live up to 2000 years?
4. Chest Feminine Olive Branch Tattoo Design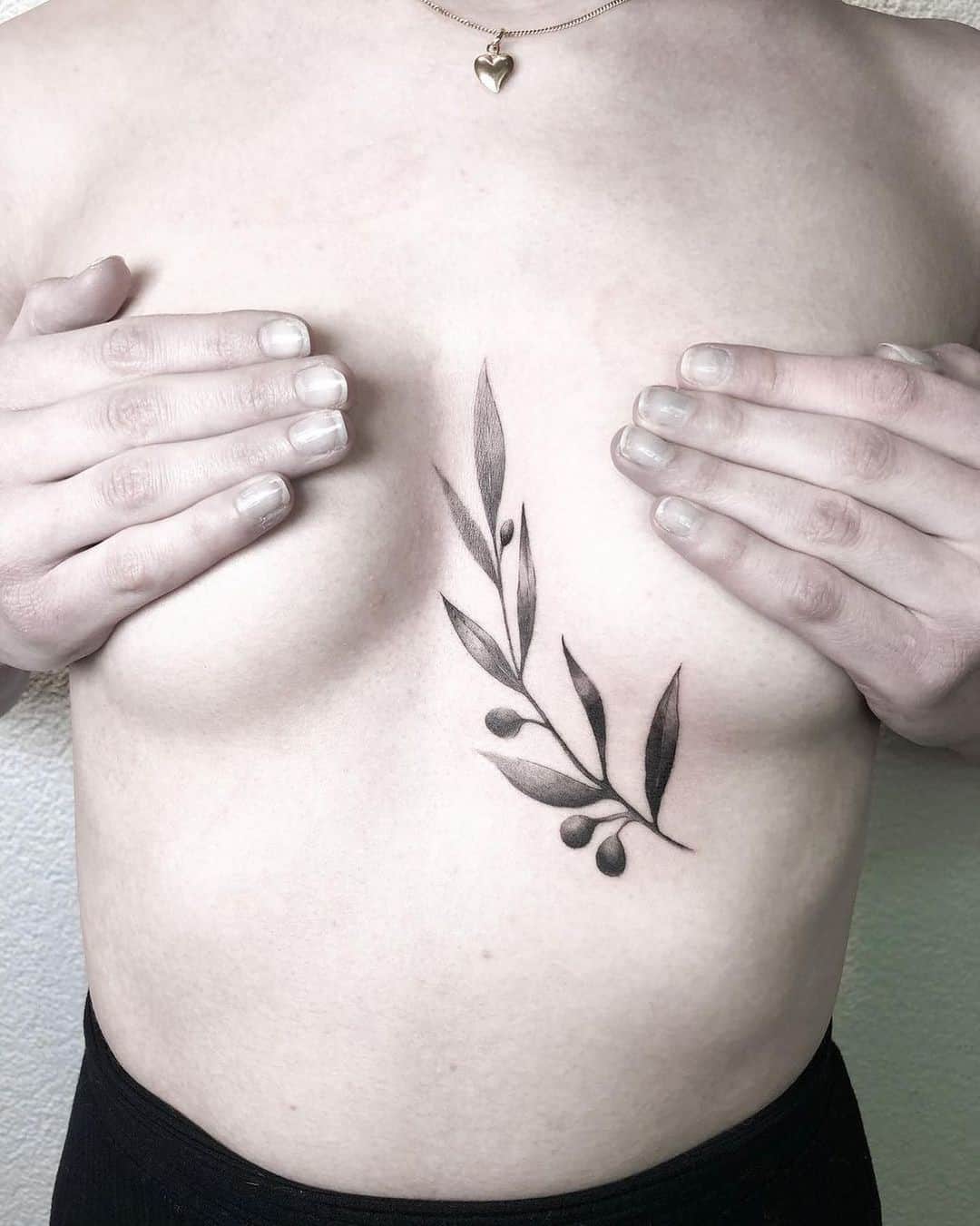 Heads up since this under boob placement can hurt and it may not be the best solution for those who have low pain tolerance. The piece in itself is sexy and empowering.
Let the universe see your glorious presence and your sexy energy. Set the bars high and keep your standards up there to show the world how you powerfully can conquer it all.
5. Green Collarbone Olive Branch Tattoo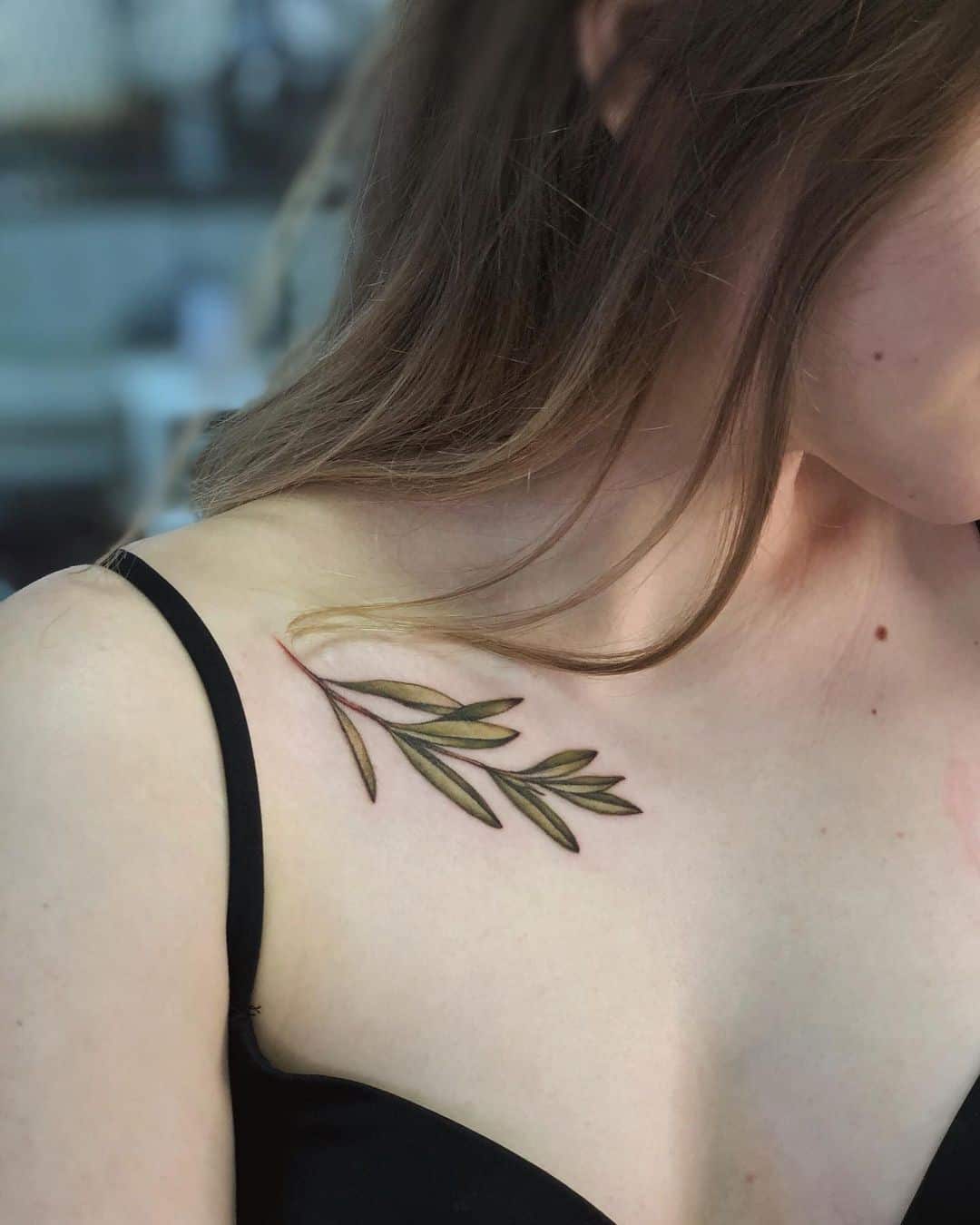 If you're a minimalist and someone who loves a pop of color (subtle color) this collarbone idea is for you. Nature lovers and spiritualists will prefer this olive.
Green is a power of happiness and growth. Are you ready to embrace your new journey and your spirituality? Let everyone see how driven and eco-friendly are you!
6. Thigh Black Branch Olive Tattoo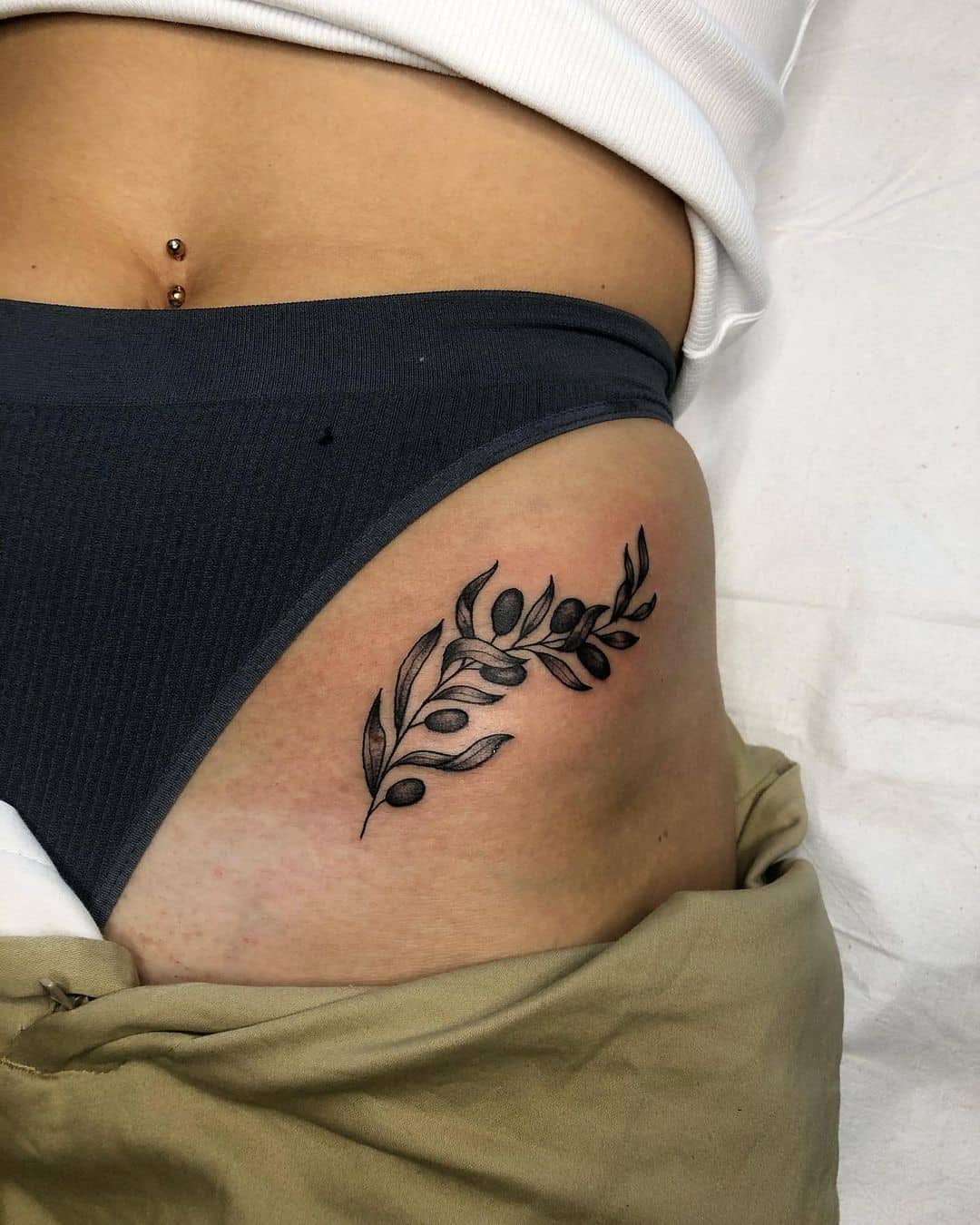 This is another sexy tattoo that you will enjoy if you are a fan of sexy placements. Women who have sensual hips and who are proud of their curves will enjoy this special olive.
Black olives stand for your elegant and thriving side. Let the world see that your goals are achievable and unique to you – as they should be.
Fun fact: around 90% of oils are used to turn into olive oil, while only 10% of it is used for table olives.
7. Olive Branch Tattoo Collarbone/Shoulder Placement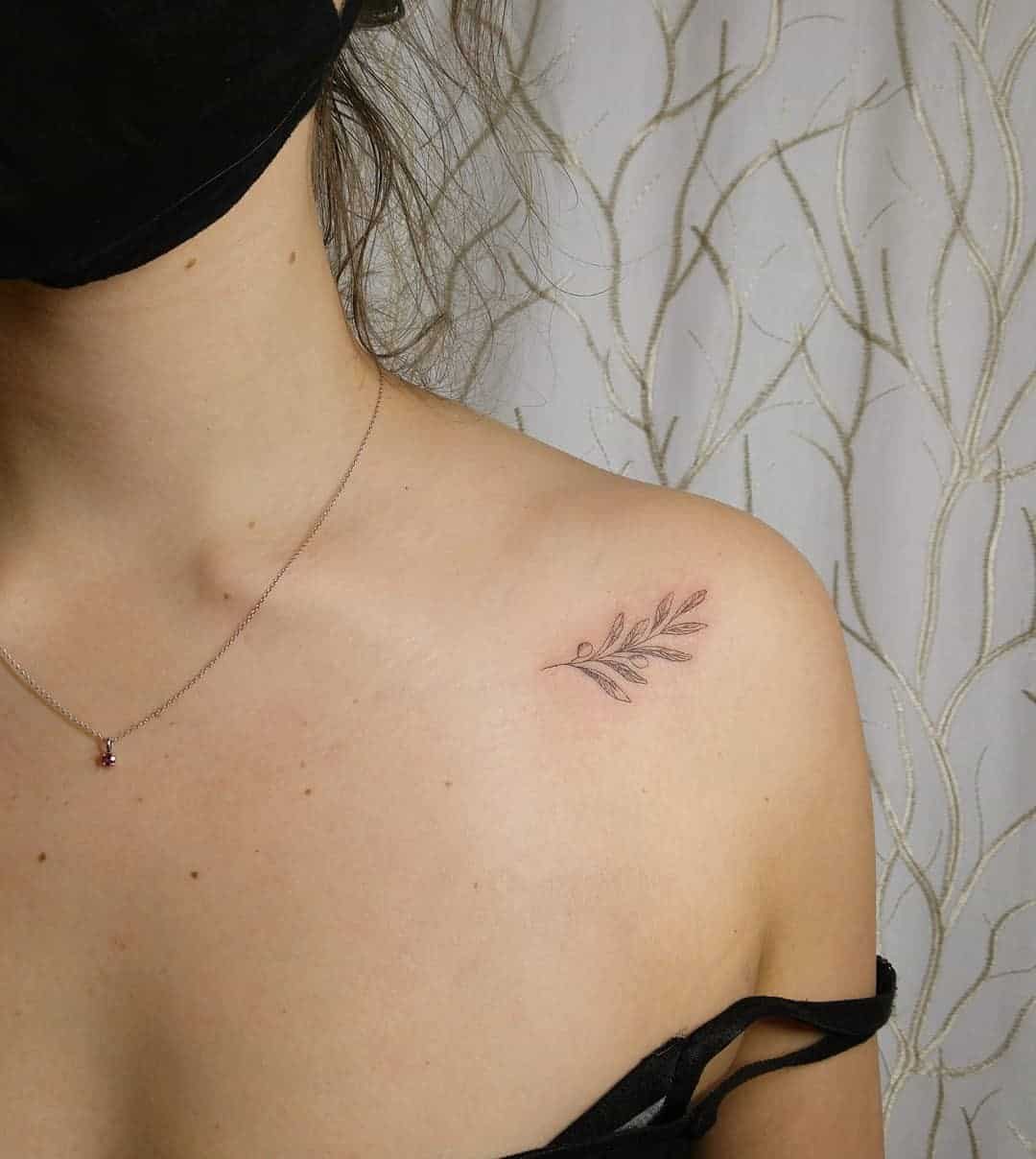 If you're afraid of the tattooing process and you prefer something minimalistic and low-key this is ideal for your preference. If you love small and mysterious tattoos this image is for you.
It represents your adulthood and your will to stay consistent with yourself and your needs. If you're ecstatic and willing to grow as time goes on stick to a shoulder placement.
8. Side Chest & Stomach Olive Branch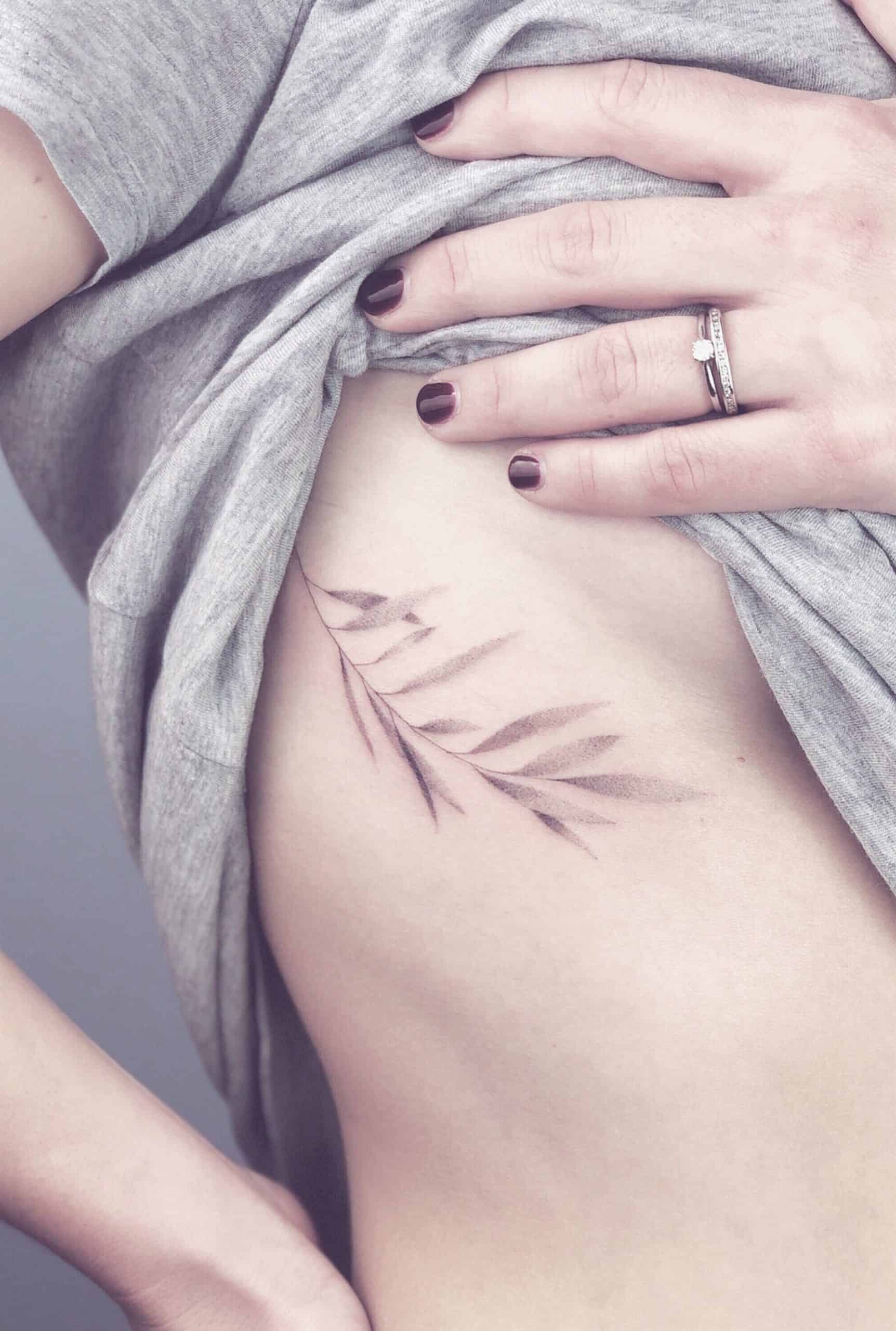 This under boob and side chest tattoo is for sexy girls and women who love to stand for powerful energy. It is a minimalistic and properly shaded tattoo for true heroic women.
Show how much time and love you're willing to give with this print. It is a symbol of pure self-love and premium emotions.
9. Leg Olive Branch Tattoo Small Print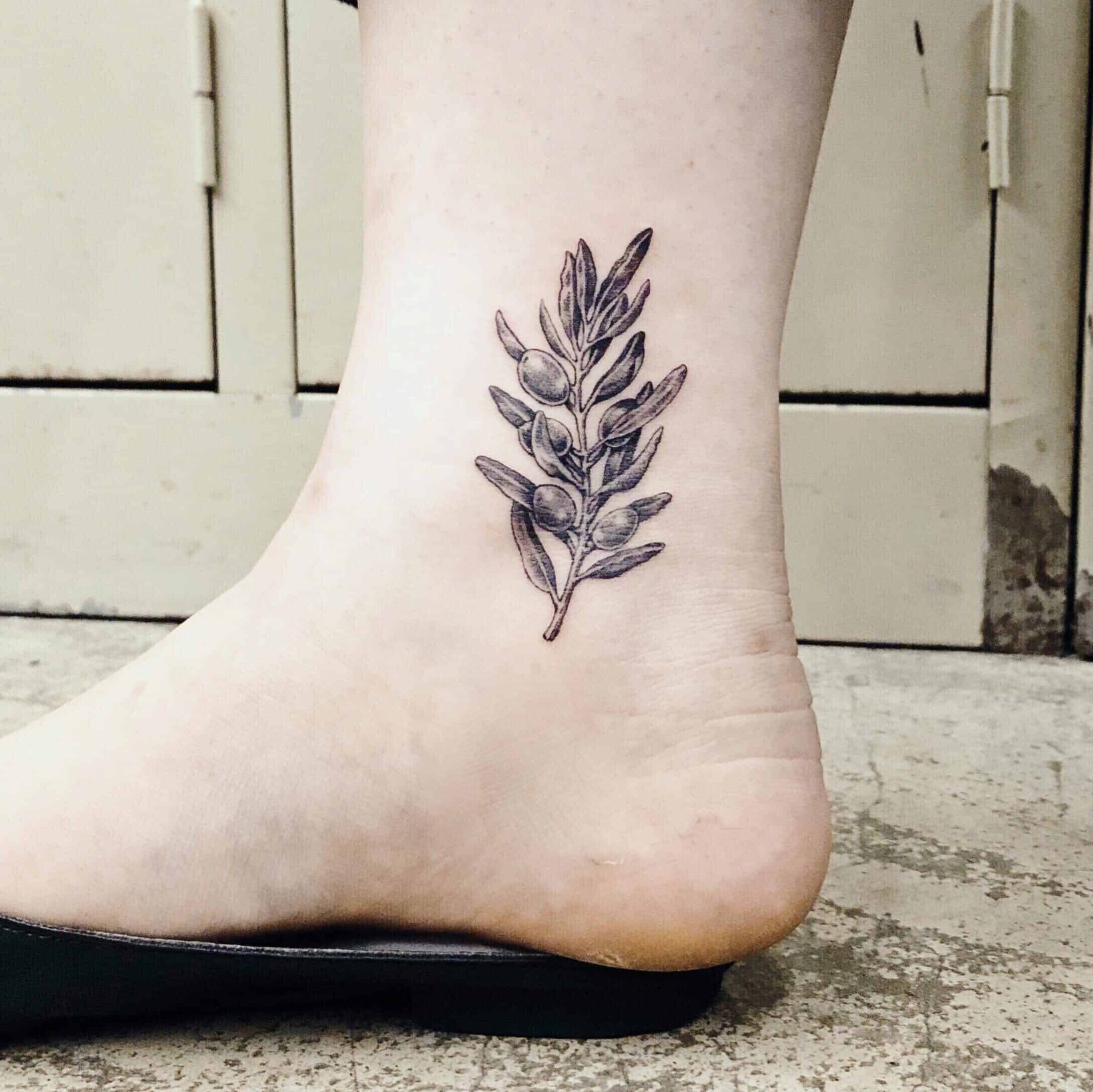 Leg tattoos are for fans of less visible tattoos and simpler meanings. If you don't want to come off too strong with your imagination you can go with this olive.
Ankle tattoos are for anyone who has that soft side and who doesn't love to look too showy with their images. It symbolizes an elegant and cheerful personality as well.
Did you know that olives harvest starts from autumn and last till winter?
10. Black Olive Branch Collarbone Piece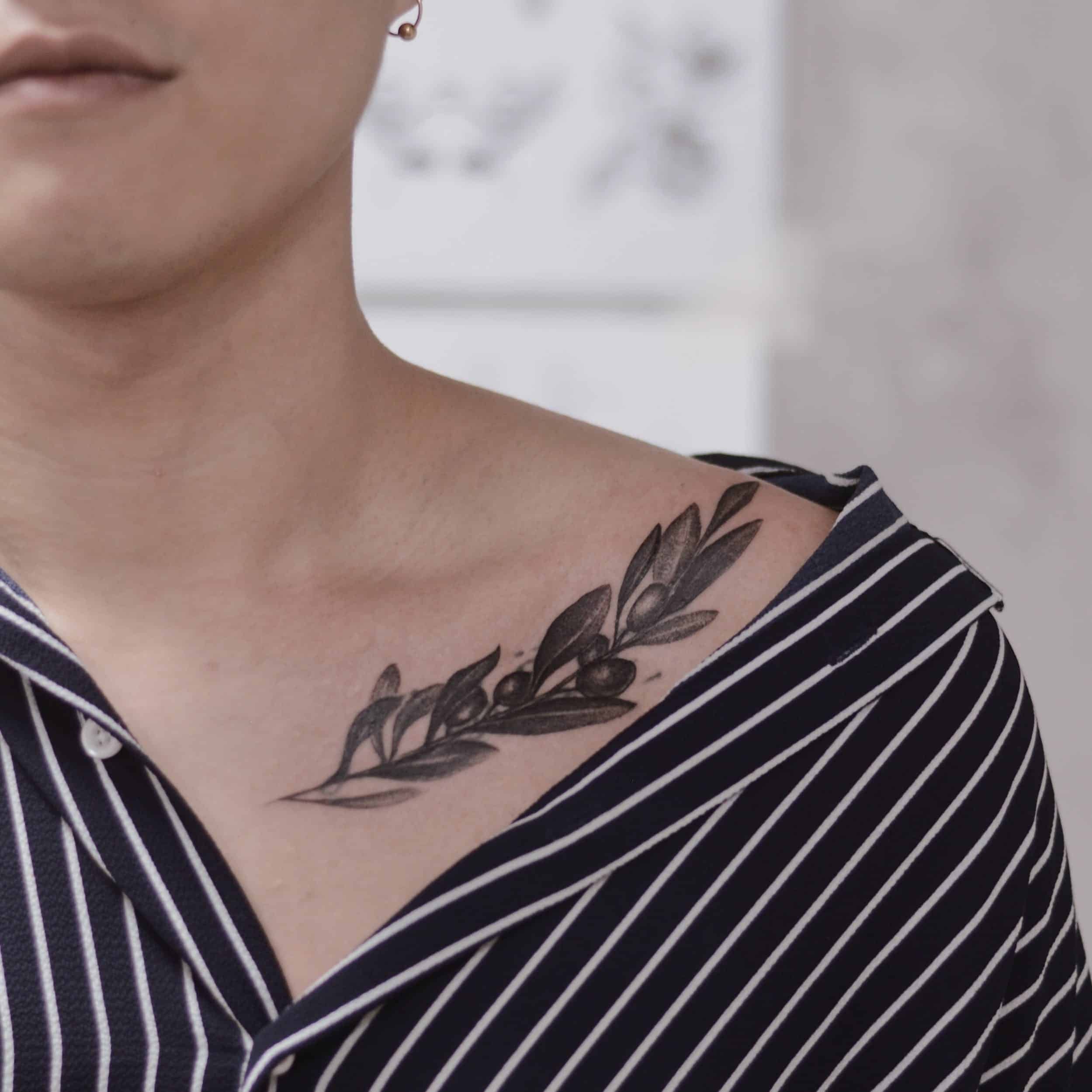 This is a medium-sized collarbone tattoo that will look the best on girls. If you're a fan of sensual tattoos and sexy placements this is for you.
It shows that you love to have a good time and you respect others. You value your time and you're a sexy confident girl.
11. Minimalist Olive Branch Tattoo Design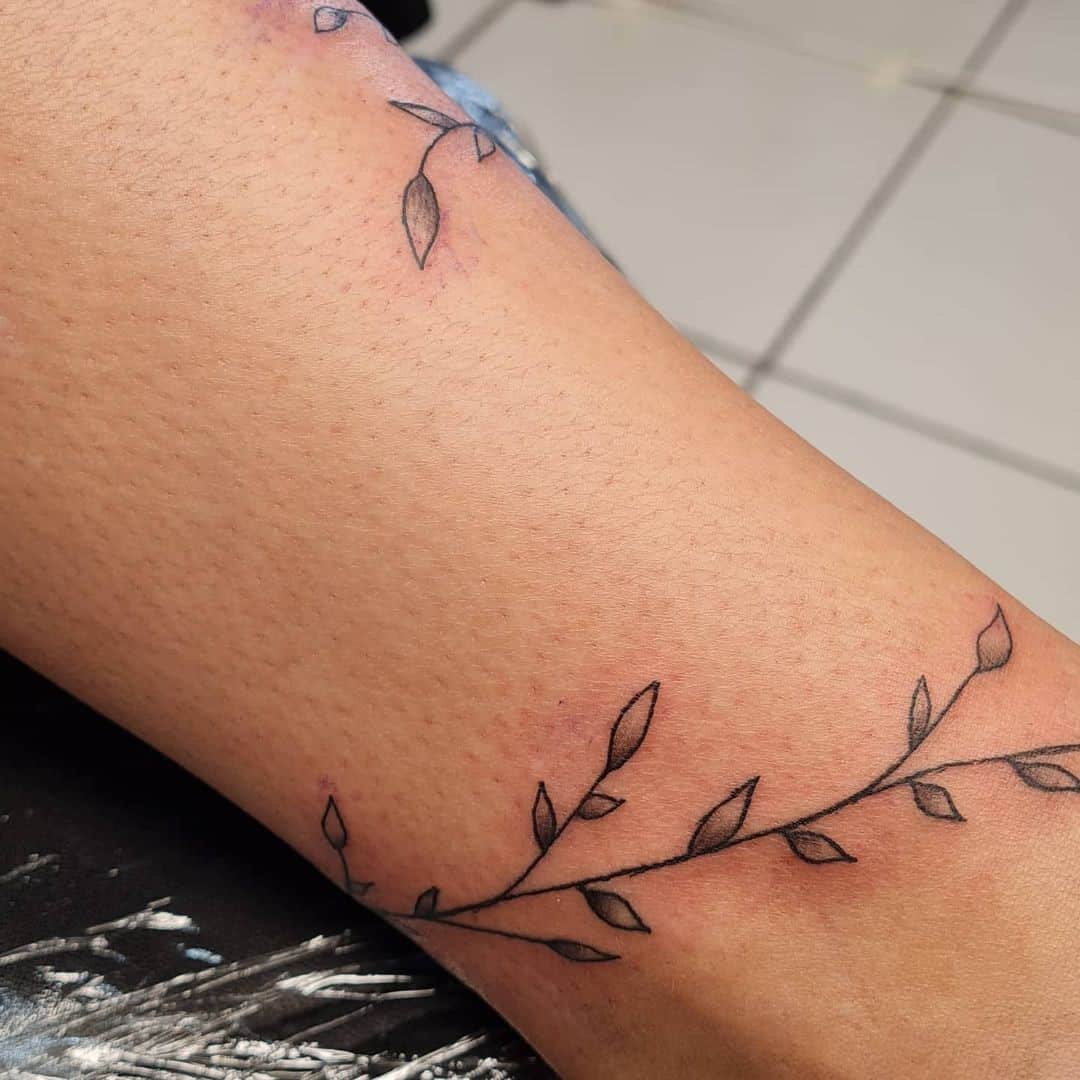 This image will take you less than two hours to place over your body. It is a must-have for anyone afraid of the needle and the tattooing process.
The world will see you as a sensual and calm individual. You're also probably someone who is up for fun yet you're a peaceful soul.
12. Small Black Minimalist Branch Olive Tattoo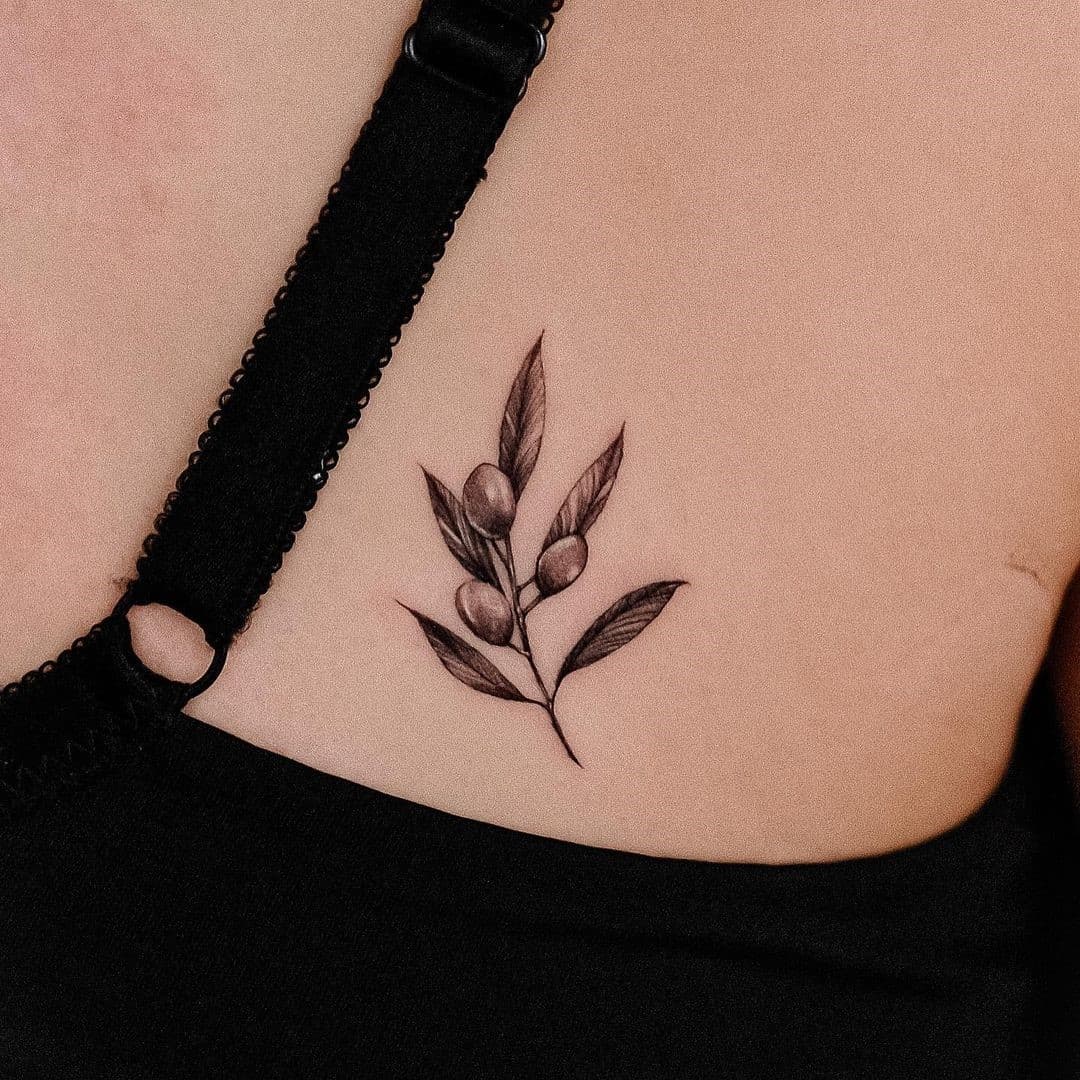 This side or back tattoo is for girls who love back visible ink. It is a gorgeous black design for premium lovers of precision and symbolic tattoos.
It stands for your thoughtful and loving persona. Ideal for charismatic girls or guys.
Fun fact: you will consume most healthy fat when eating olives.
13. Giant Leg Olive Branch Tattoo Piece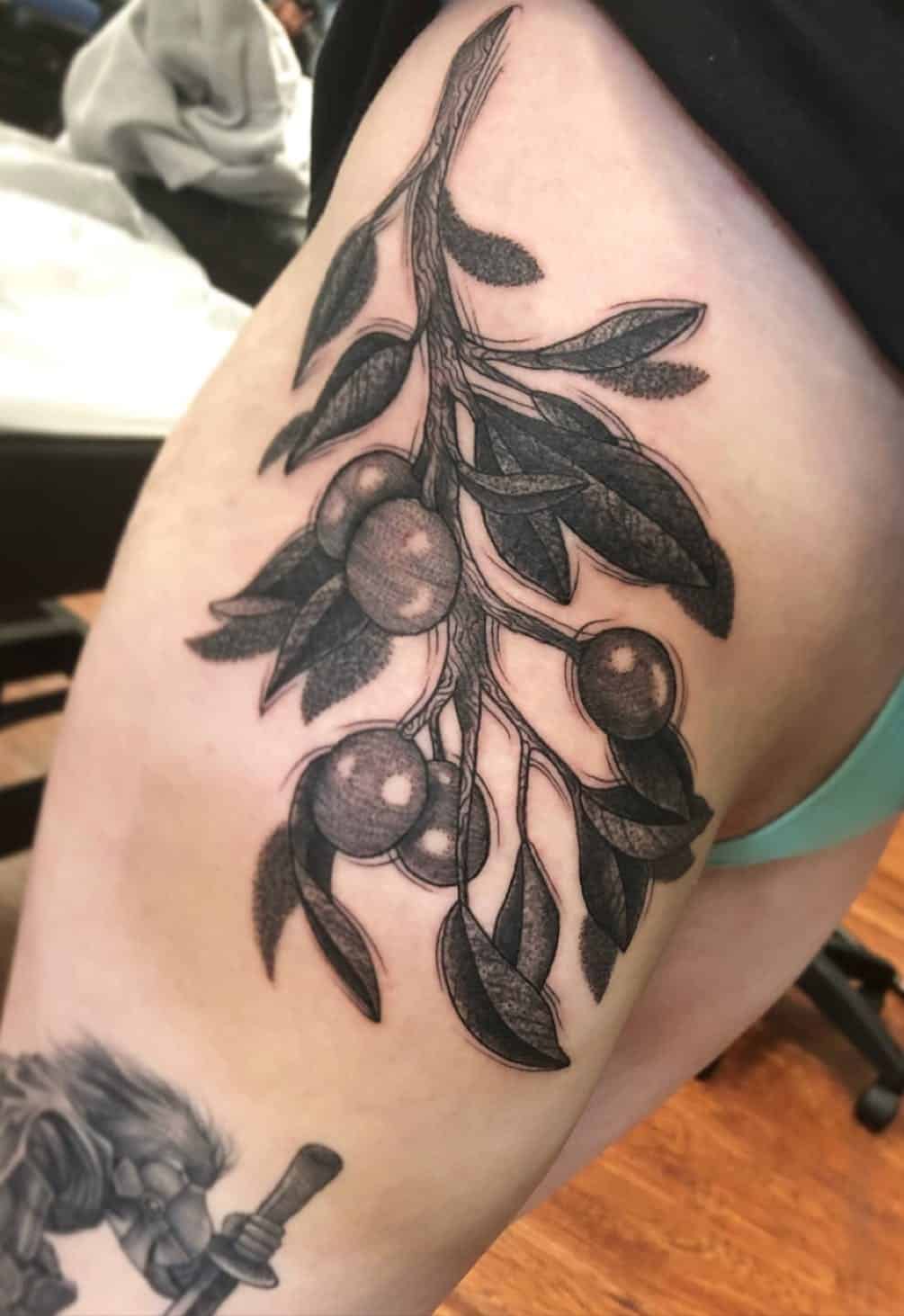 Sexy legs and thicker thighs will look great no matter what you end up placing over them. This tattoo is for women who are proud of their curves. Decorate your skin furthermore and enjoy the black and white combo.
Show that you are feminine & fertile, as well as ready for any new upcoming journey. This is ideal for younger sexy & attention-seeking individuals.
14. Detailed Olive Branch Tattoo Idea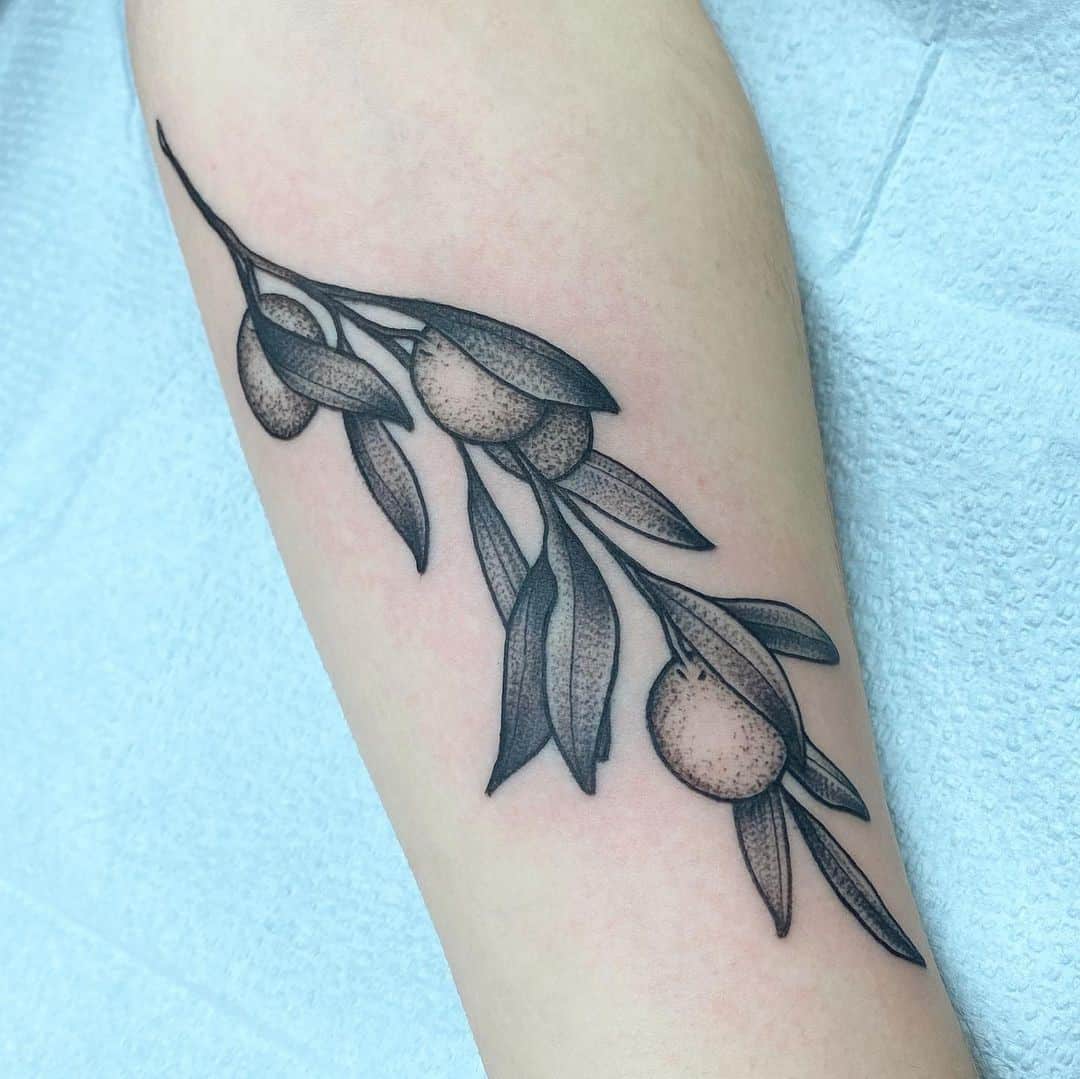 This tattoo is so precise & detailed, yet not too big and time or attention-seeking. Let your powerful side come through and show the world where you stand when it comes to your tattooing process.
Black olive is a symbol of pure power and elegance. If you are someone who has soft and growing (developing) side – you can rock this print.
15. Small & Artsy Olive Branch Tattoo
Lastly, how about this black ink tattoo? It can show the world all of your layers without looking too aggressive or big, and is the perfect piece for anyone wanting to stay minimalistic & office-friendly.
Stay young & determined at your heart. Everyone will feel wise with this print, and it will embrace your growth and time that is ahead.
Did you know that the olive branch is a symbol of peace and victory?