Hair Color Chart: Matching Hair Colors to Your Skin Tone (2023 Update)
When you shop through links on our site, we may earn an affiliate commission. This educational content is not intended to be a substitute for professional advice.
Hair color charts are always slightly different from one brand to the next, which makes things difficult when choosing your next hair color. But learning to understand how hair color charts work will help you pick the perfect hair color like a true hair stylist!
In this guide to hair color charts, find out how to read them, how to pick the perfect shade for your skin tone, and discover 10 of the most popular hair colors in 2022. Whether you want to go red, blonde, brunette, black or a wild color, this guide will help you find the shade that pops.
How Hair Color Charts Work
Hair color charts aren't a fixed thing. L'Oréal will have a different hair color chart to Madison Reed, for example. Nonetheless, they all work in roughly the same way.
The hair color chart is split into the 4 main natural hair colors, which are split again into hair color levels (the number on the box) and hair tones (the letters on the box).
Here's an example of a brunette L'Oréal hair dye box.
The number is 6, which corresponds to a mid-brunette on L'Oréal's hair color chart and has the letters A and M which correspond to amber and brown tones.
The Main Hair Colors – Blonde, Red, Brown and Black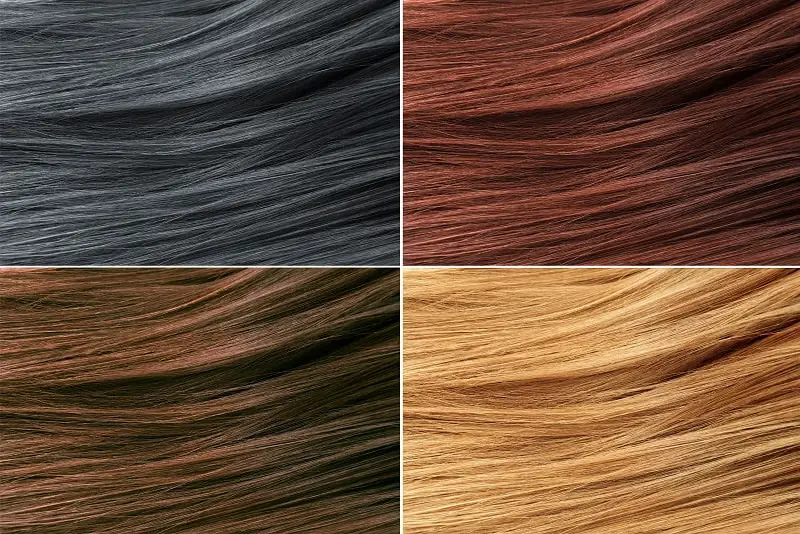 Blonde, auburn, brunette and black are the main hair colors that you'll find on hair color charts. If you're looking for unnatural colors, like bright blue or lime green, then you'll need to find hair dye brands that create those especially.
Hair dye brands creating wild colors include:
Manic Panic – an unbelievable number of colors available,
Garnier – a small but high-quality selection of unnatural hair colors,
Got2B – we love their unusual metallic dyes in particular,
Splat – a good option if you don't want to bleach your hair first.
Hair Color Levels
Most hair dye brands work on a scale from 1 to 10, but of course, a few brands go up to 11 or 12 just so they can be different! When you look at a photo of the hair scale, like the one below, you can see that the hair shades naturally flow from one to the other as you go along the scale.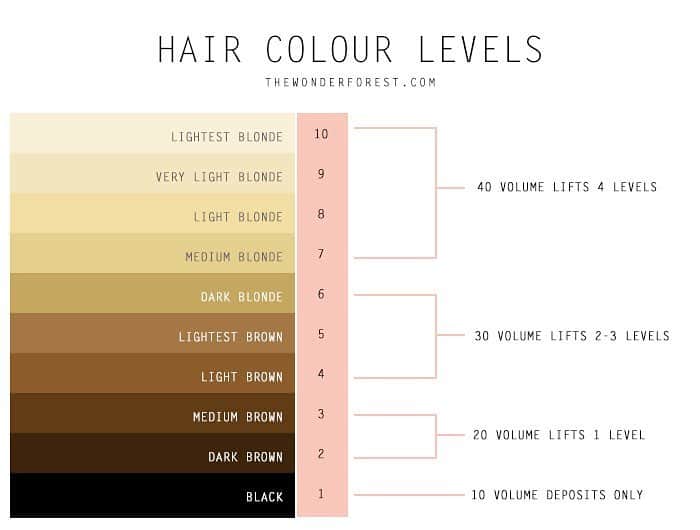 At one end, you have the darkest black shades and at the other end, you have the palest blonde shades. In between you'll find brown hair shades. Once you add in different hair tones to these basic shades (see below) you'll find endless color options including auburns, cool and light tones, and even greys.
To make things confusing, some brands will have black at 10 and blonde at 1, or vice versa. So, when you're switching from one hair color chart to another, make sure you look carefully. The number for your old shade may not be the same.
Bear in mind that you should only move 2 shades lighter or darker in a single hair dye session. If you want to make a crazy change from dark brown to light ash blonde, then you'll need multiple dye sessions to get there safely. For hair dye changes like this, we recommend having it done at a salon rather than doing it at home. A professional can ensure your hair won't be damaged and the color will come out perfectly.
Hair Tones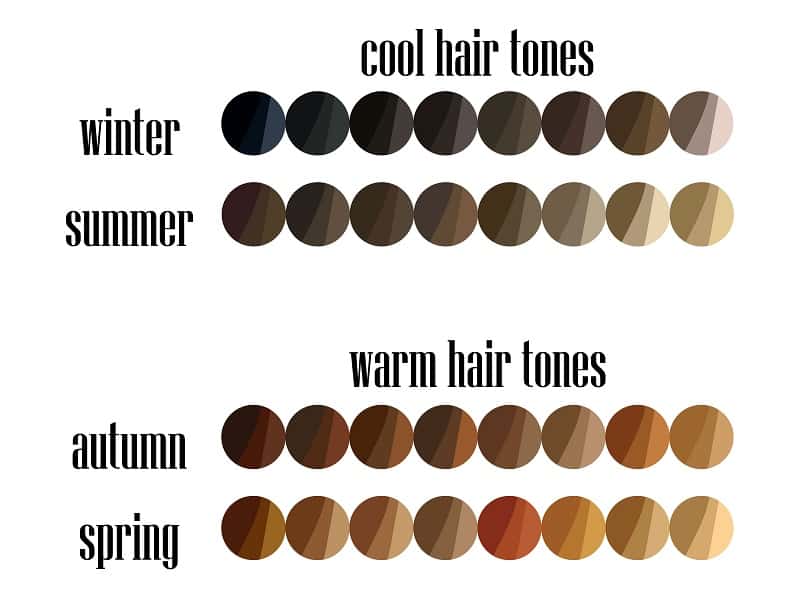 These are the letters on the hair chart that refer to the different tones used to achieve a specific shade. These hair tones can be split into three categories – neutral, cool, and warm.
Neutral shades are pretty self-explanatory, and they're often just marked with the letter N to confirm that they're not too cold or too warm. You might also find neutral marked as:
When gold and ash are combined equally, they cancel each other out.
For warm and cool shades, there are other tones to consider.
Warm:
Cold:
In general, warm shades add more color and depth to your hair while cold shades make it lighter and brighter. When you go towards blonde hair colors, your hair naturally becomes warmer so many blonde hair dyes contain cold tones to balance this out and prevent undesirable "brassy" hair shades.
Next, let's look at some of the popular hair level and tone combinations for each main hair color.
Blonde Hair Color Chart
You can use the shade of blonde to complement or alter your natural skin tone. If you have a naturally warm skin tone (green veins at your wrist) then opt for warm shades like caramel, honey, beige, or vanilla. If you have a cool skin tone (blue or pink veins at your wrist) then opt for cool shades like smoky blonde, silver, ash, and champagne.
Of course, if you want to, you can try the opposite to balance a skin tone that's too warm or too cool.
Smoky Blonde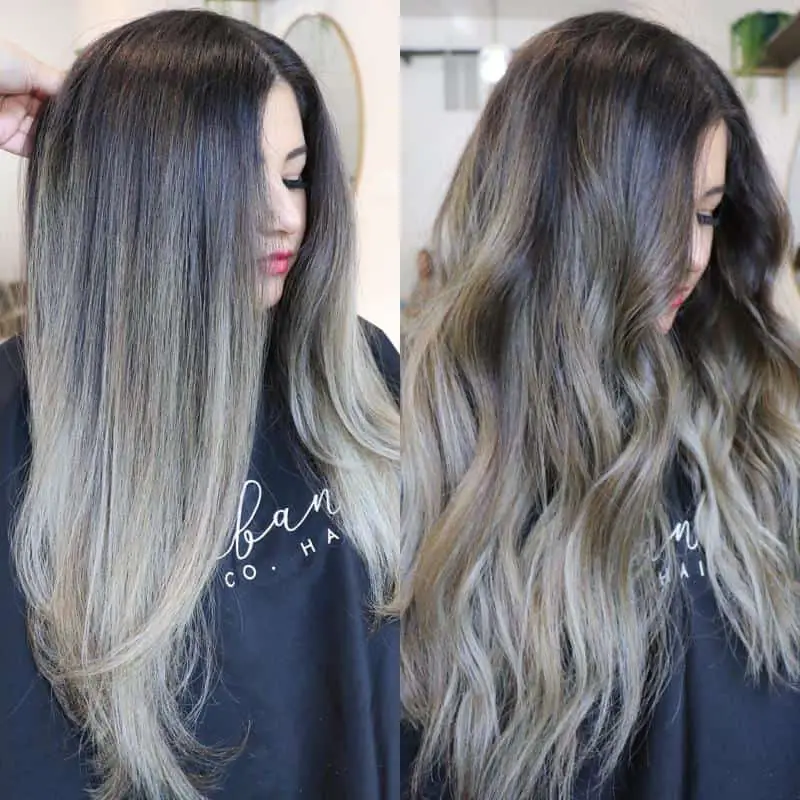 This brunette fades into a beautiful smoky blonde shade. It's a great cool hair tone that can enhance a pale complexion or offset an overly warm complexion. You can fade it into brunette like this, or even try paler cool shades of blonde – ash works well.
Copper Blonde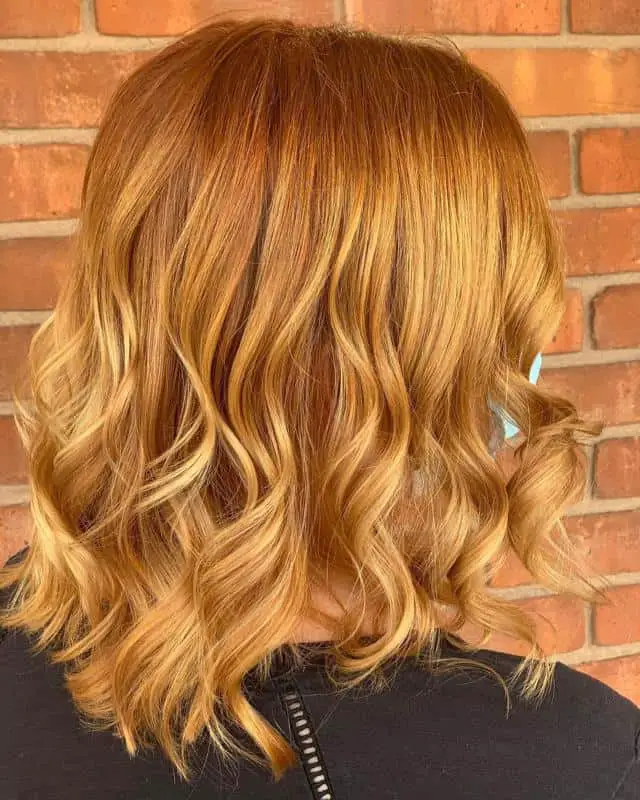 Another dark shade of blonde, but this time we're going for warmth rather than coolness. Copper blonde is right on that line between ginger and blonde with some serious autumnal shades! Gold and copper is a great combination.
Caramel Blonde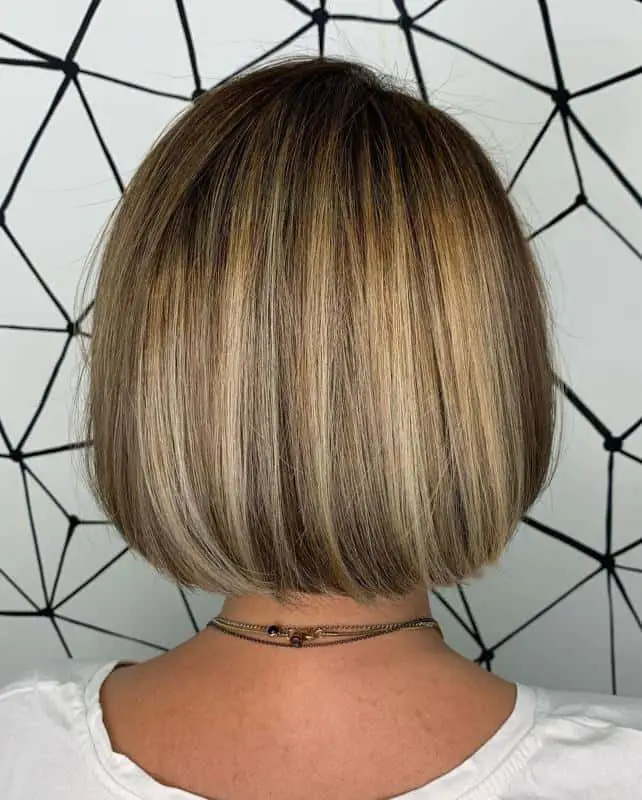 This stunning caramel blonde balayage is mixed with honey hints and darker brunette tones beneath. It's a moderately warm hair color but there are a mix of cooler tones hidden in there. Caramel blonde is a good choice for warm skin tones in general.
Golden Blonde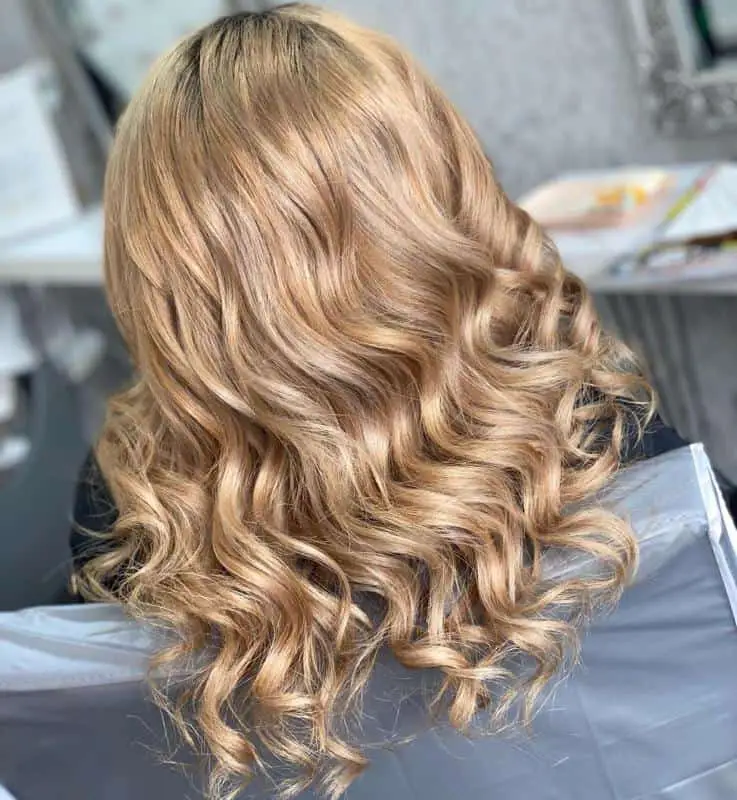 Golden blonde is a warm, sun-kissed blonde hair shade but it's also one of the easiest to turn brassy without the right care. So, follow your hair stylist's advice on shampoo and conditioner. If this is slightly too dark for you, check out similar honey blonde or sunflower blonde shades.
Honey Blonde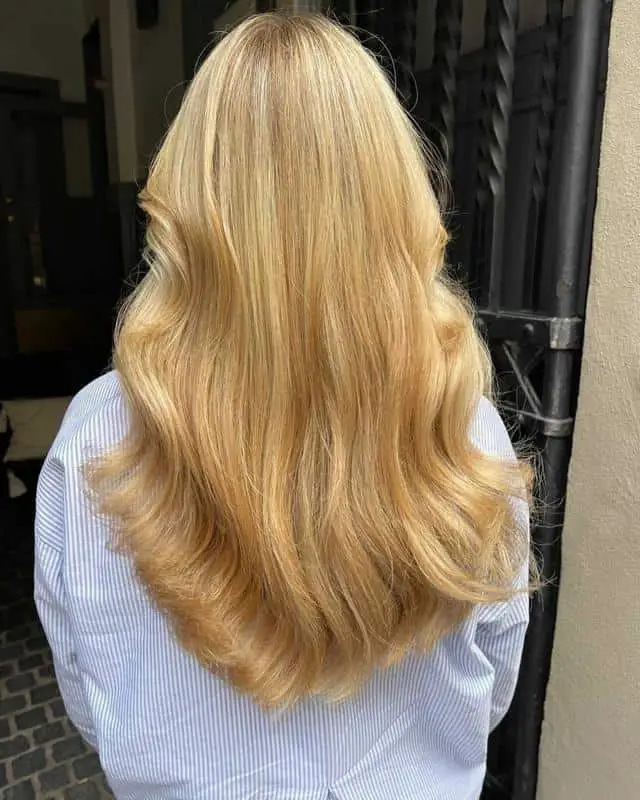 This honey blonde hairstyle with babylights is absolutely gorgeous. With super light shades, it really reflects the light for a luminous quality. If you have very thin hair, this can create a slightly translucent effect, however. Bear that in mind!
Beige Blonde
Another balayage but with beige blonde tones. Beige is quite a neutral color, but you can push it one way or the other by adding honey or ash tones here and there. It's a good color all-year round, with changing highlights to match the seasons.
Vanilla Blonde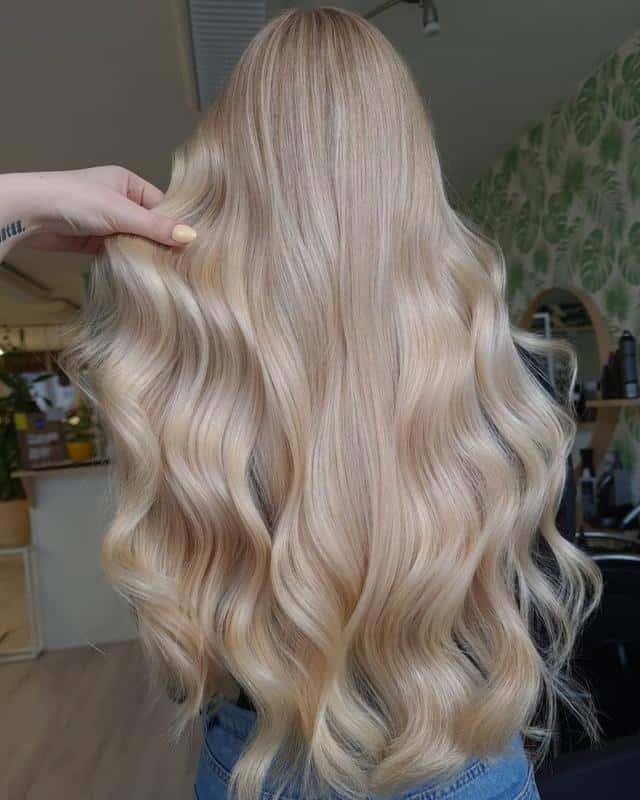 Let's go one shade lighter! This hair color is unbelievably popular right now. It's super sweet, which is fitting, as the name of the shade is vanilla blonde. The key is to add just a touch of warmth, to create a soft blonde shade.
Sandy Blonde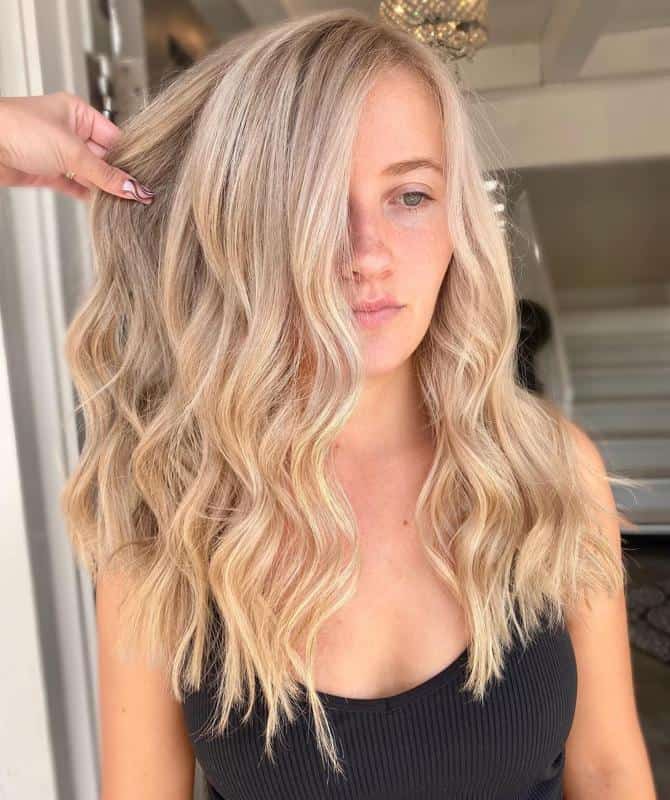 Inspired by sand, this blonde hair shade is neutral-warm and is often quite rough with darker, smoky, and brunette shades to create a beautiful dimensional blonde style. It looks just as great tousled and messy, after a day on the beach, as it does smooth and sleek.
Silver Blonde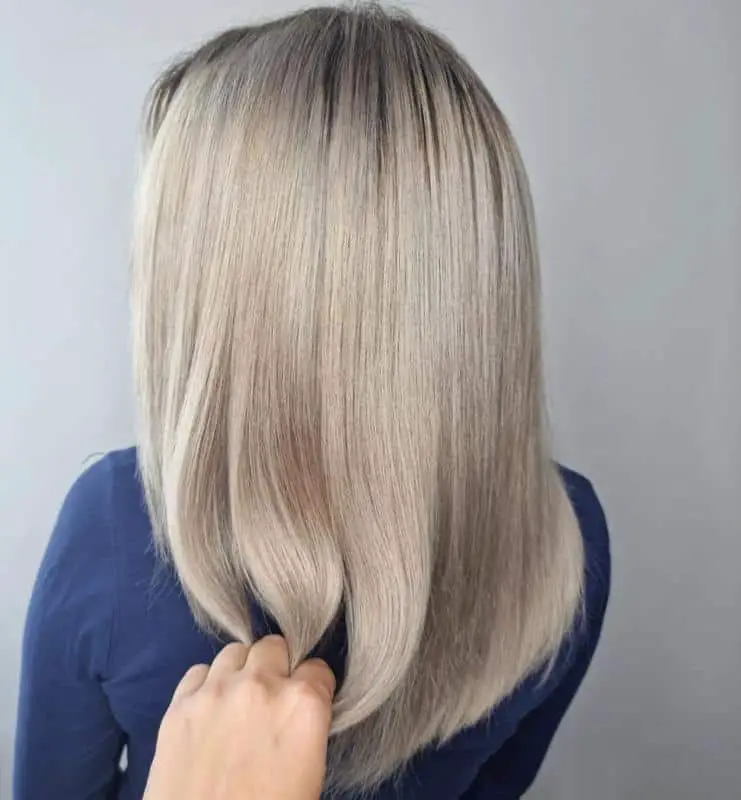 Slightly warmer than ash blonde, this very pale hair color looks particularly amazing when straight and glossy. Silver blonde is a very cool shade, even though it has a touch of warmth that you can see in the photo.
Ash Blonde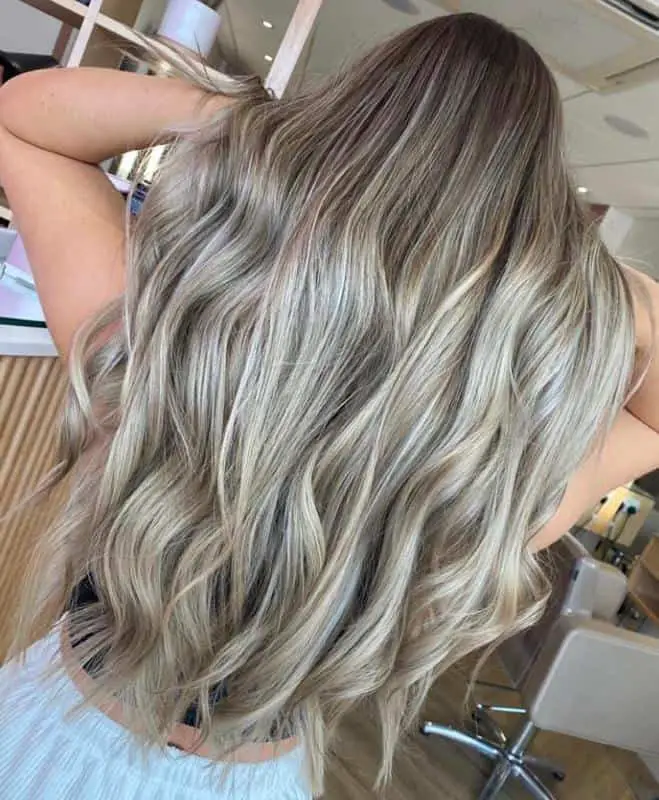 Ash blonde is ashen, surprise surprise. Despite being so light, it actually has a lot in common with smoky blonde hair shades (but just lighter in general). It's a good blonde shade to combine with silvers, smoky cool shades.
Champagne Blonde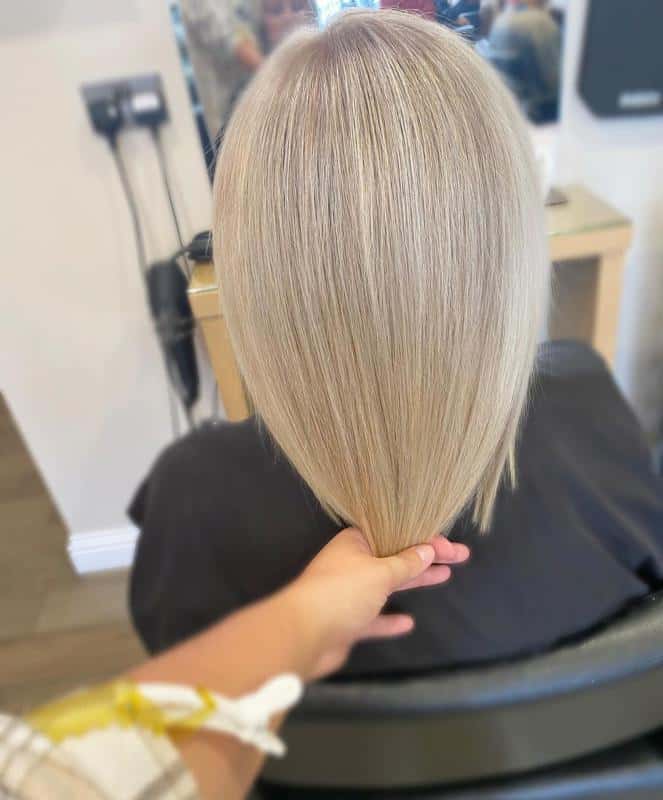 Champagne is typically the warmest of the very pale blonde shades, with slight golden undertones to tint the silver color. If you have a warm skin complexion and want to try a very pale blonde, this hair color will look best on you from the hair color chart.
Also Read:
Red Hair Color Chart
Some shades of red are very easy to define as red – like garnet, cherry, and scarlet. But others that are dark can easily fall into the brunette category. Likewise, very light shades of auburn can become dark golden blonde shades.
Here are some of the top shades from the red hair color chart.
Strawberry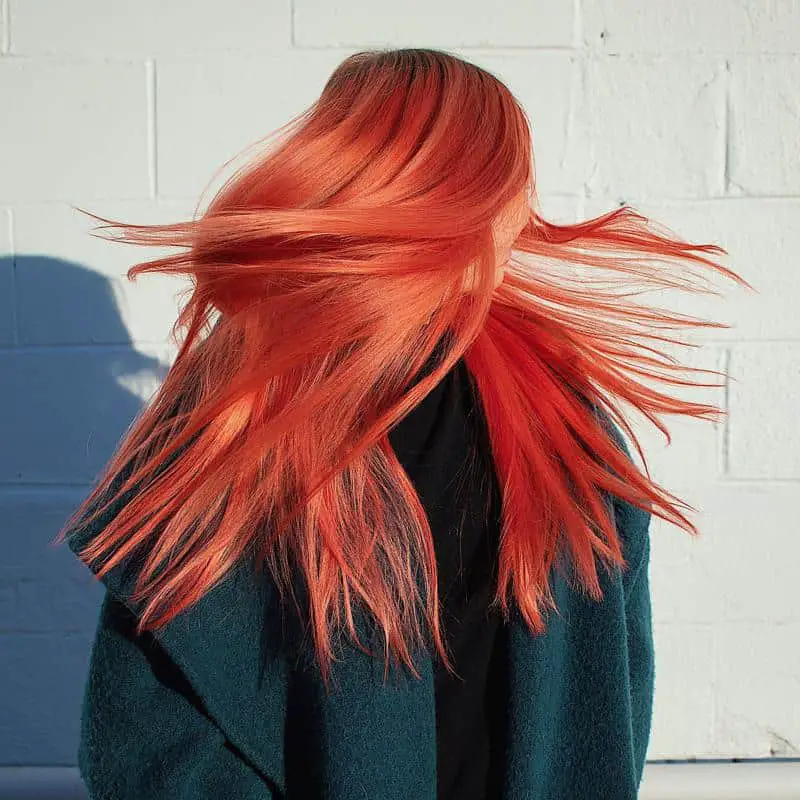 Strawberry, like many hair shades, is slightly different from one brand to another. This one is pastel and quite artificial, but other strawberry hair dyes are softer, smoother, and more auburn. There are plenty for you to choose from!
Ginger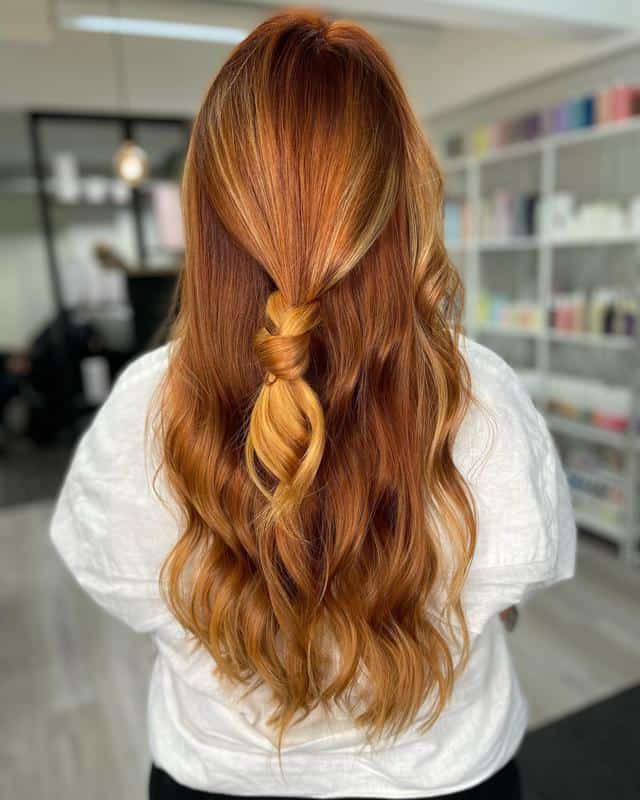 This blend of ginger is truly beautiful. There's a little copper, a little gold, a little strawberry and even a little blonde in there. The key with classic ginger hair dyes is to find something that's natural as a base, then add these extra colors as highlights.
Copper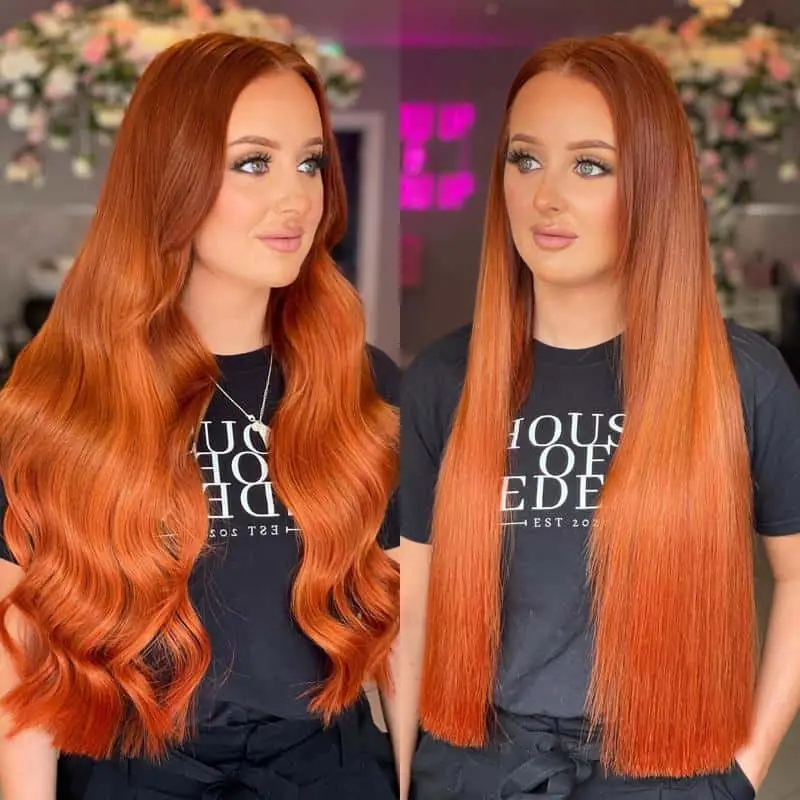 This picture takes copper hair colors to the extreme. Brassy is almost desirable! Your copper red hair color doesn't have to be so vibrant though. Taking it down a hair color level with brunette dye will neutralize it a little, if desired.
Apricot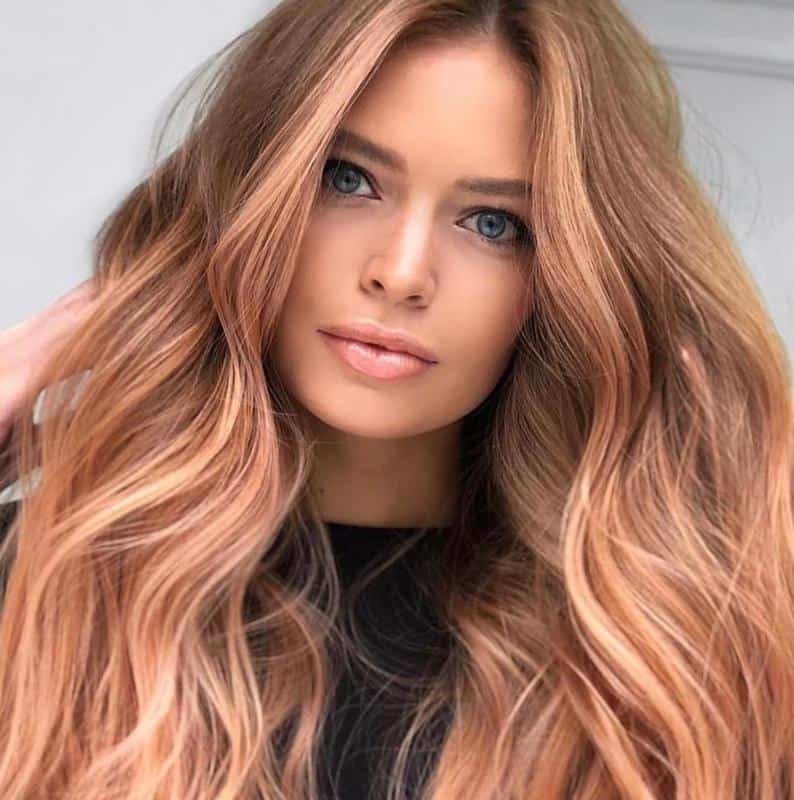 Apricot is softer than copper, but not as natural as auburn. It works really well with a blend of blonde shades, as shown in the photo. If you have very dark hair naturally, it may take several trips to the salon before
Golden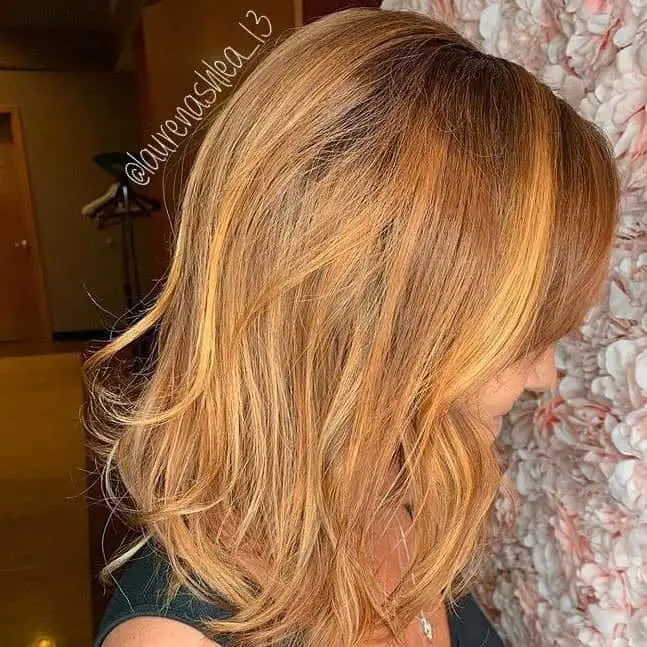 This golden auburn style is really beautiful on a range of complexions. It will highlight the warmth in your skin tone if you're naturally warm, and it will stand out with a great contrast if you have a cool skin tone too.
Scarlet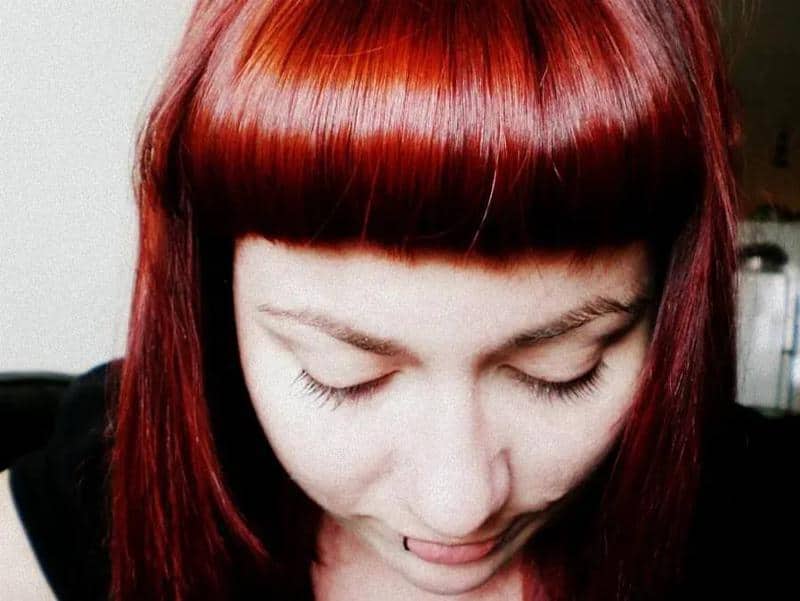 Scarlet is a really true, bright red with dark undertones. If you're looking for a similar shade but with more violet or plum notes, scroll down to garnet, dark auburn, and plum. This hair color looks brilliant when it catches the light too!
Auburn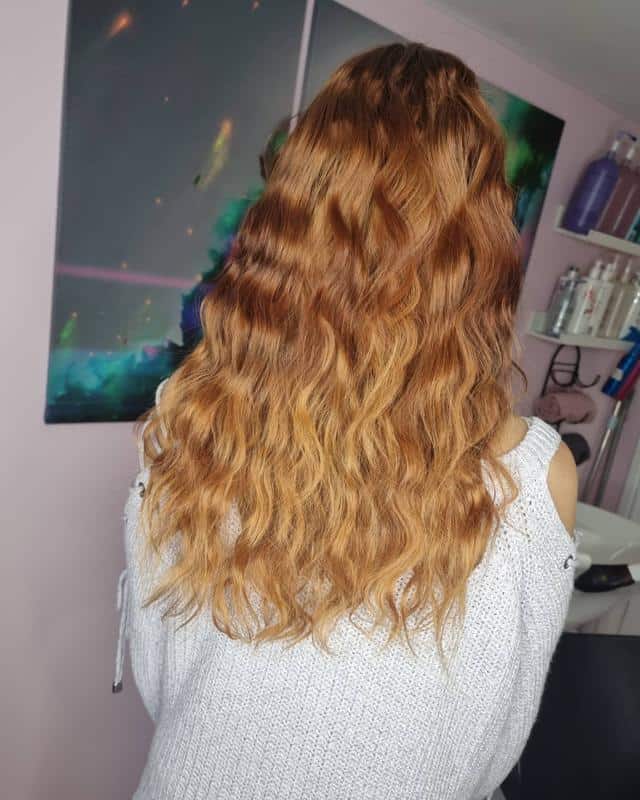 This ombre auburn hair color style looks wonderful in the fall with those gorgeous autumnal shades. If you're looking for one of the most natural red hair colors from the hair color chart, this is a good place to start. It works well with sandy blonde notes too.
Amaretto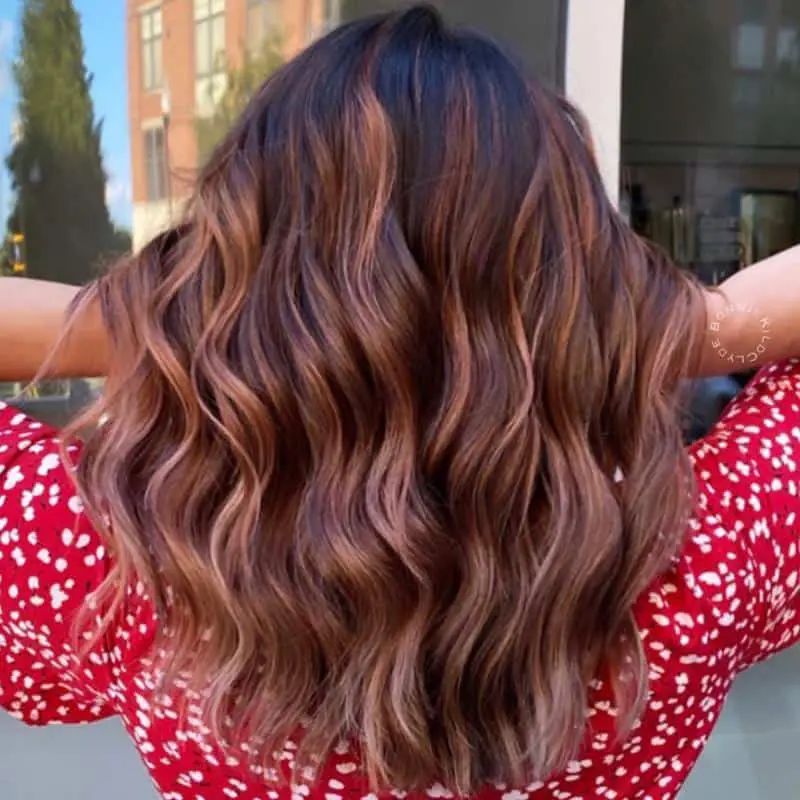 This amaretto balayage shows perfectly how the amaretto hair color is a blend of brunette, cherry, and auburn to create a very warm and rich hair color. If you like espresso, chocolate, and chestnut brunette shades, this is a good one to try as well.
Garnet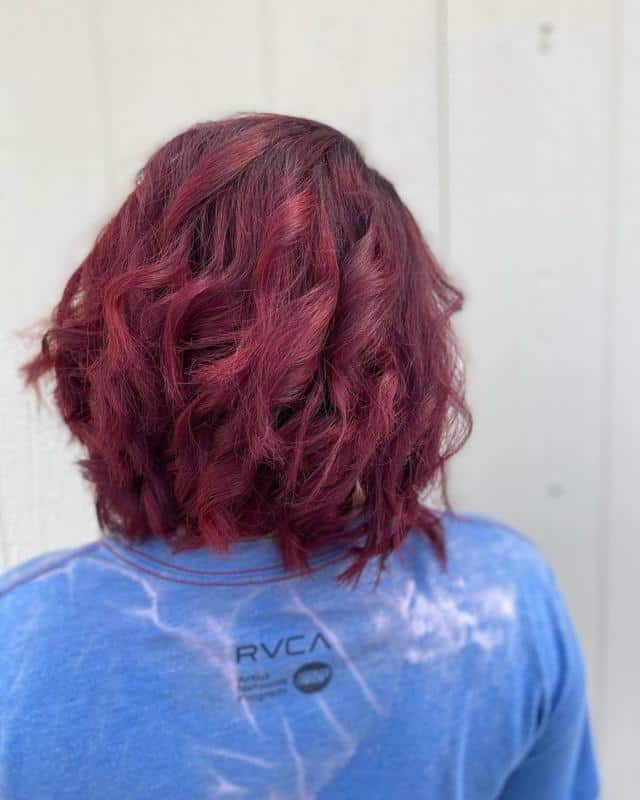 A little lighter than scarlet but with just as much intensity, garnet hair colors are big and bold. They're great for making an impression… but they won't ever be mistaken for a true hair color. This color works well with plum, too.
Dark Auburn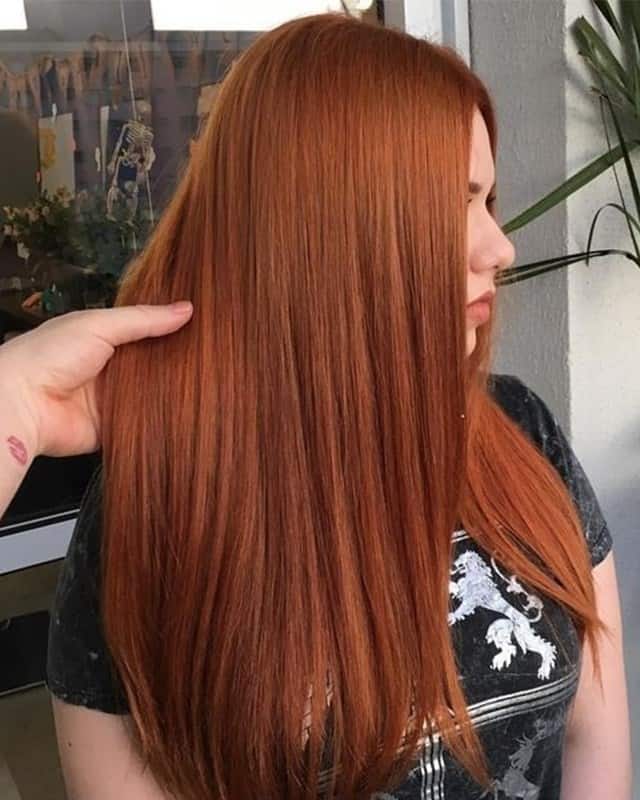 Dark auburn can be the name of any shade that runs between classic auburn and chestnut brown. It's a very natural and flattering hair color that's great for pale complexions. If you want to try red hair but don't want to stand out with a vibrant color, this is the one for you.
Plum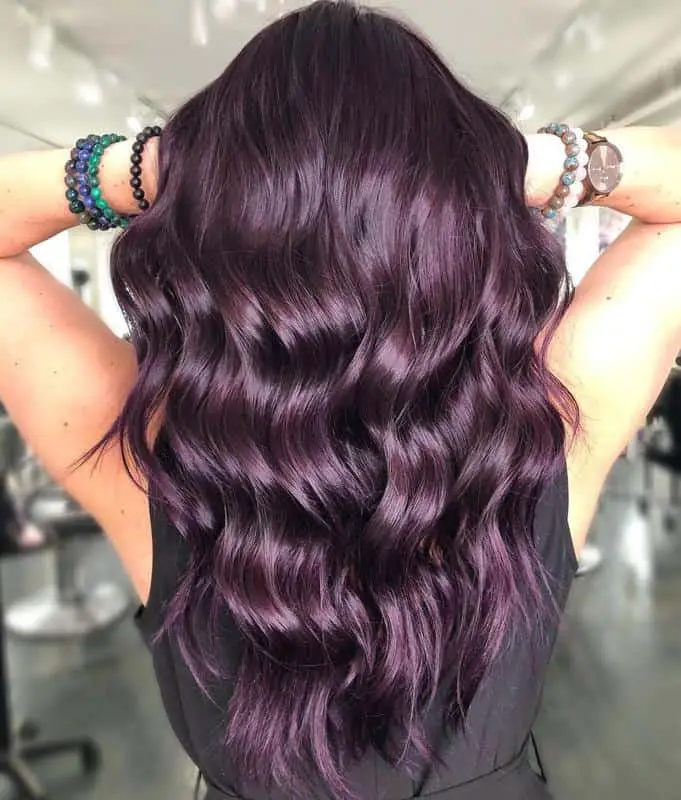 This photo shows plum hair taken to the extreme! Tone it down a little with more auburn and scarlet shades, then you're left with a smooth, shiny plum hair color that will have everyone jealous. Dark purple hair shades aren't just for goths anymore.
Brown Hair Color Chart
Besides black, brown is one of the most accessible hair colors. With minimal need to bleach your hair, it's also one of the easiest to recreate at home with DIY hair dye kits. These top brown hair colors range from light bronde to smoky and espresso shades.
Bronde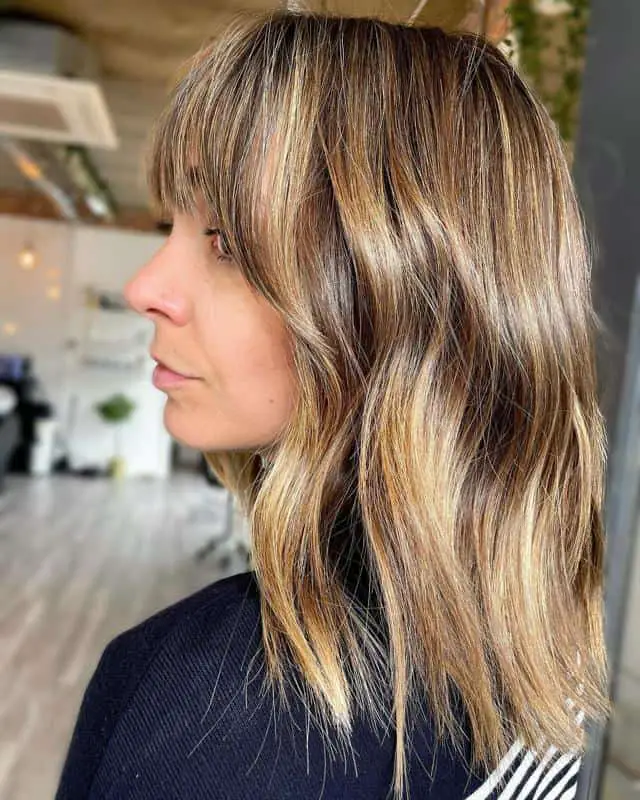 Bronde can be a solid color that's darker than a honey blonde but lighter than an amber brown… or it can be a graduation like in this photo. Blonde and brunette shades blend together so well – there are endless combinations and styles you can achieve with these colors.
Amber Brown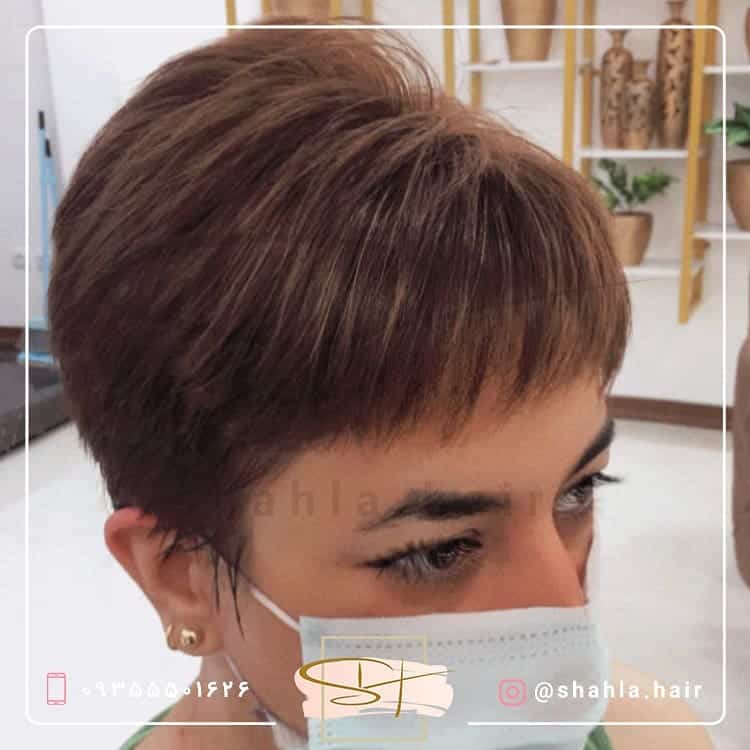 Amber brown raises the red tones in the hair shade to create this gorgeous color that's too dark to be called a ginger. It looks really great if you're trying to slowly transition from brunette to auburn and we love it in the fall particularly.
Chestnut
Chestnut is mid-brown but with very rich tones – there's a healthy dose of red in there to create that bright warmth. Just like chestnuts roasting on a fire! This hair color really makes the warmth in your skin tone stand out.
Caramel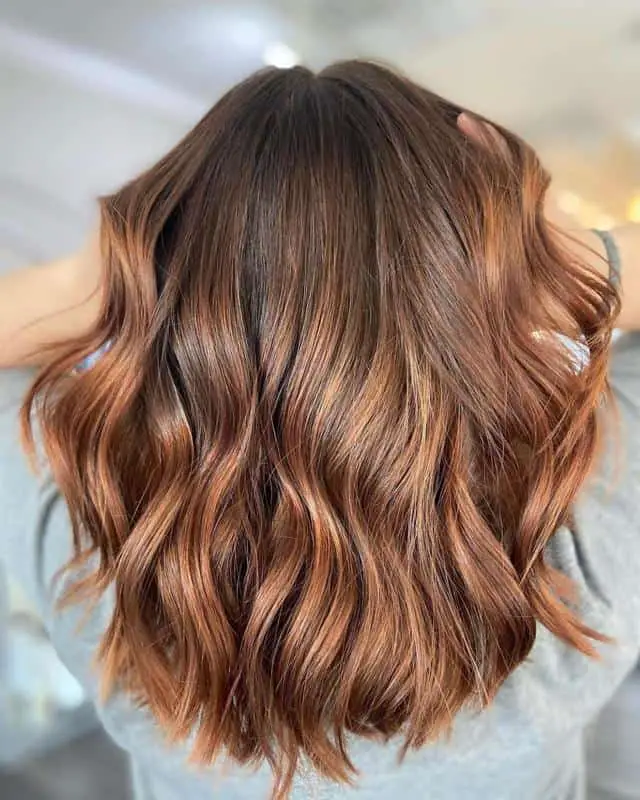 Caramel brown is rich and smooth, albeit not as red-toned as chestnut. Instead, caramel adds hints of neutral golds and beige to a slightly warm mid-brown color to create those gorgeous caramel hues. The photo above adds extra red notes to take it in a new direction.
Smoky Brown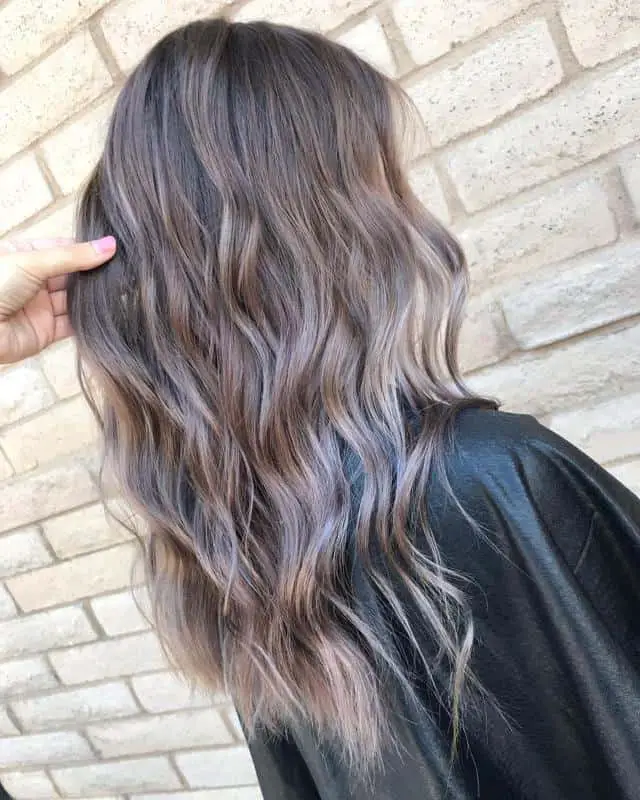 Brown but cold! It's a great hair color if you want a cool tone to balance out your skin tone. Smoky brown hair looks great as one block color, or slowly mixed in with ash highlights and grey tones – you could even try soft black (see below).
Cinnamon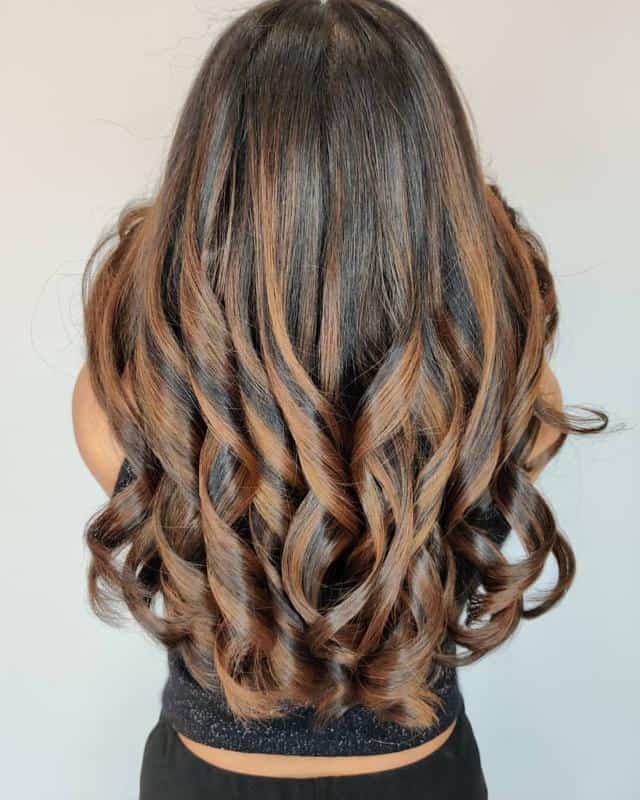 The highlights on those curls? That's a classic cinnamon hair shade! We love how it's combined with a simple dull brown hair color base to really make the warmer color pop. It's clever styled to look a little like cinnamon spice sticks too.
Golden Brown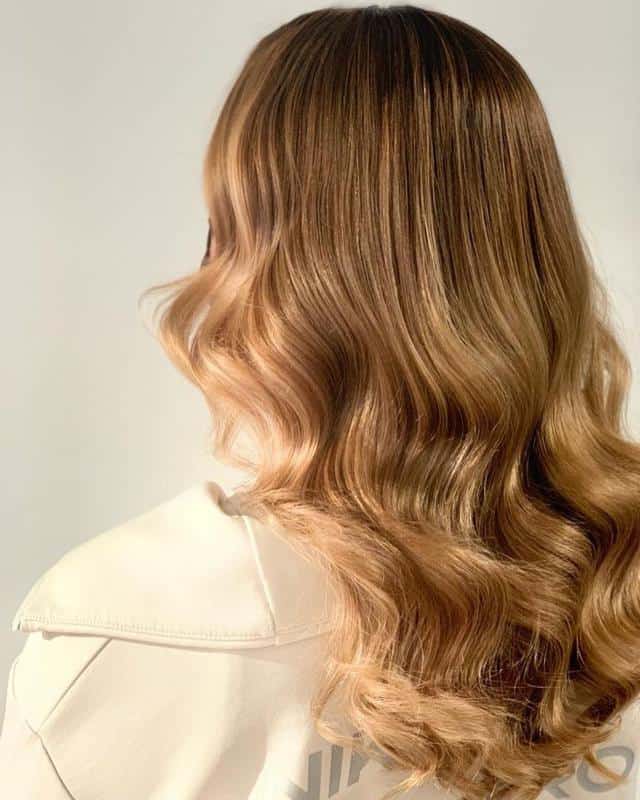 This photo shows how golden-brown hair colors glow with blonde notes when they catch the sunlight! It's a gorgeous color on the brown hair color chart… but it is prone to brassy notes if you aren't careful with how you wash it.
Chocolate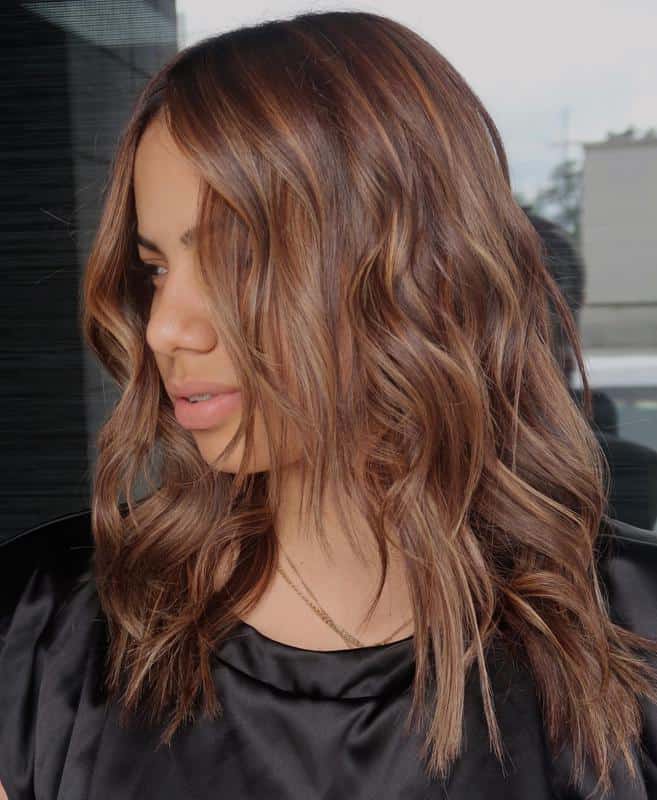 This chocolate hair color is all about warmth. It's like milk chocolate – sweet, smooth and with honey vanilla highlights. Don't worry, dark chocolate gets a place on our list too. This chocolate hair color looks amazing with warm skin tones as well.
Dark Chocolate
If you're looking for a darker chocolate brown shade to complement or contrast with your skin, then dark chocolate is a good option. You could also use plain chocolate as a base with dark lowlights of espresso and smoky brown to deepen it.
Espresso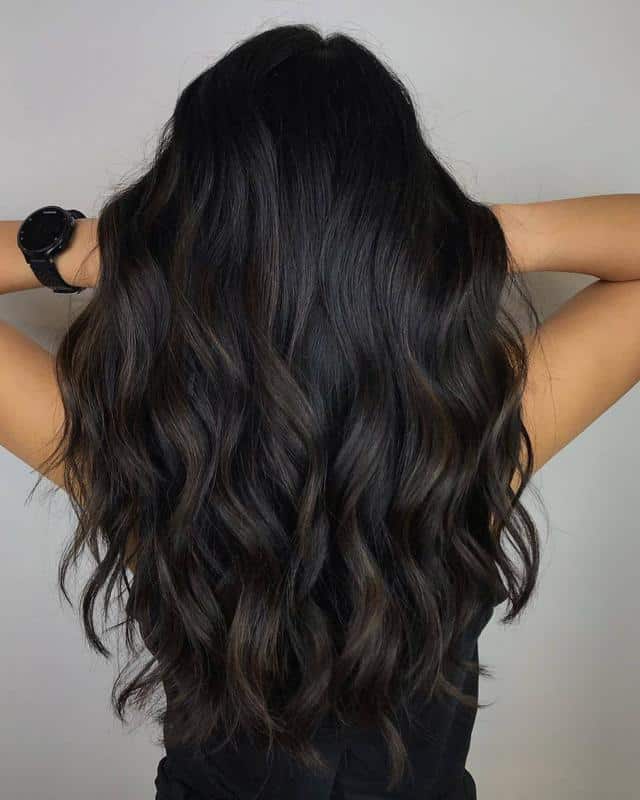 Espresso is one of the darkest brown shades available – any darker and your hair color becomes black with brown highlights instead. A shot of espresso has depth in color, so you'll definitely want to add some different shades in there.
Read More:
Black Hair Color Chart
Black is not "black and white" as there are numerous shades of black hair dye on the hair color chart! Not everyone can pull them off, but they're worth considering. Here are our top 7 favorite black hair colors.
Blackest Black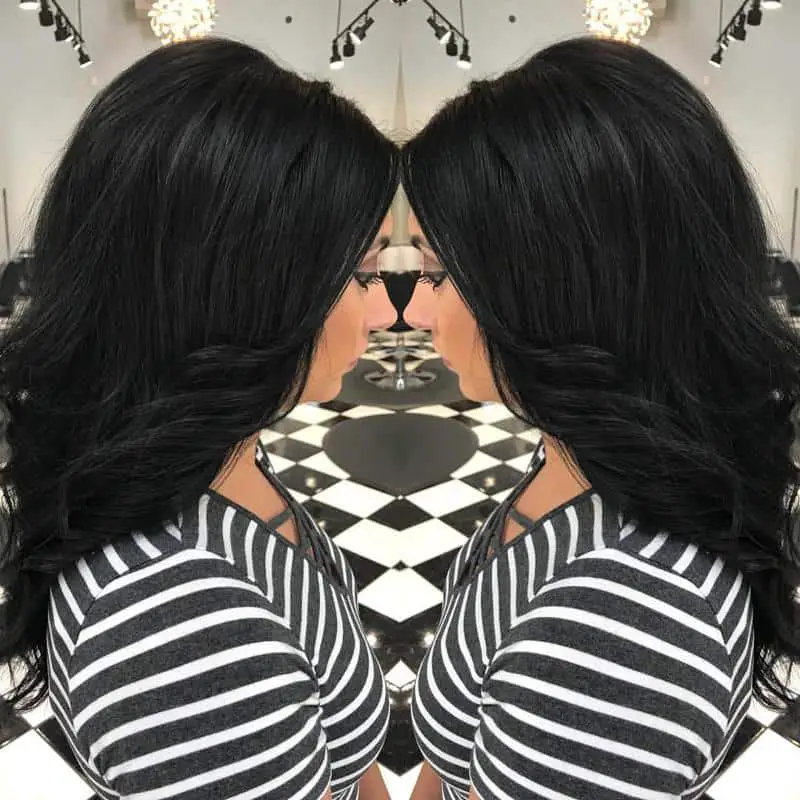 Blackest black can catch the light when it's glossy and styled… but don't mistake that for highlights! Blackest black is just a solid, neutral black color. All other black colors are tinted or softer, so they complement your skin tone. Blackest black creates a very strong contrast.
Blue Black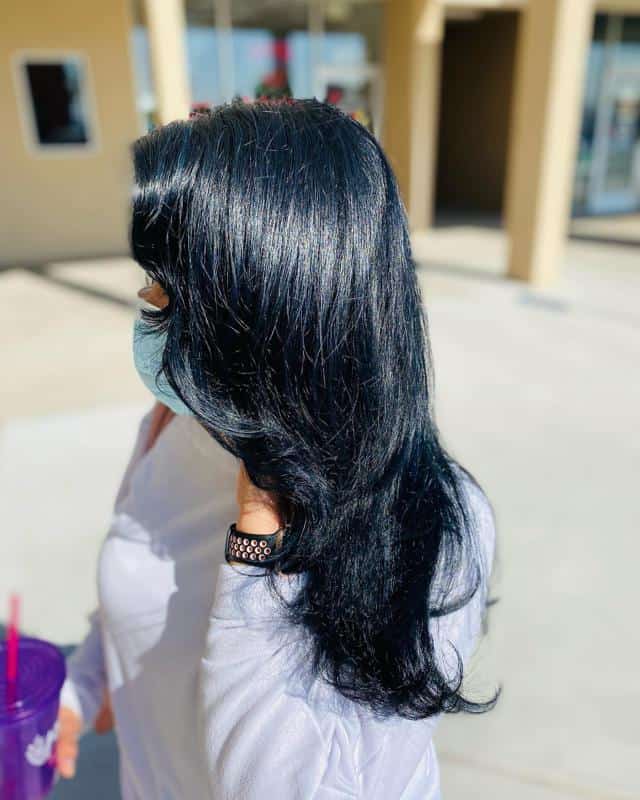 Blue black hair colors add artificial blueness to your locks to create a slightly inky appearance. Blue black hair shades can range from very dark blue, to pure black that only shows a blue tint in direct sunlight.
Plum Black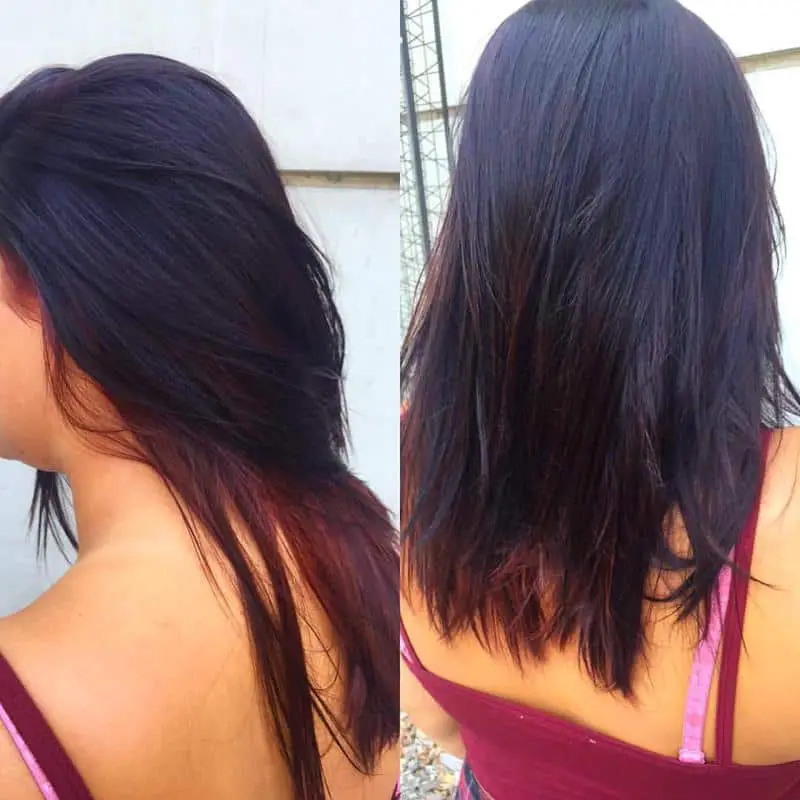 Plum black hair colors are the opposite of blue-black shades. They add warmth to black hair which makes them a better option for warm skin tones. Adding a hint of purple creates plum black – if you want a redder black, check out cherry black hair next.
Cherry Black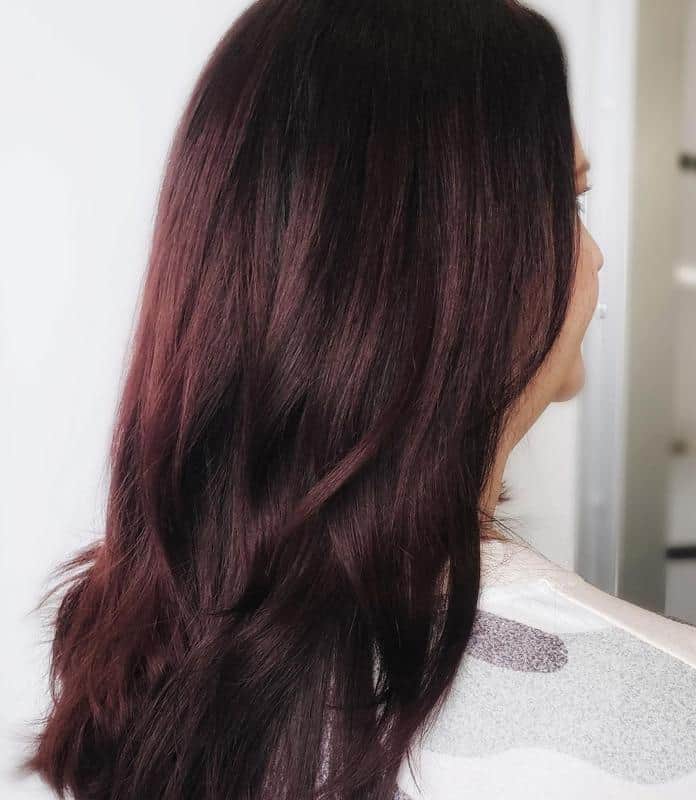 This photo shows a light cherry black – it's strong with the cherry color and subtle with the black underneath. You can definitely go for a stronger black shade, however, when creating this look. It's a good shade for fall/winter.
Brown Black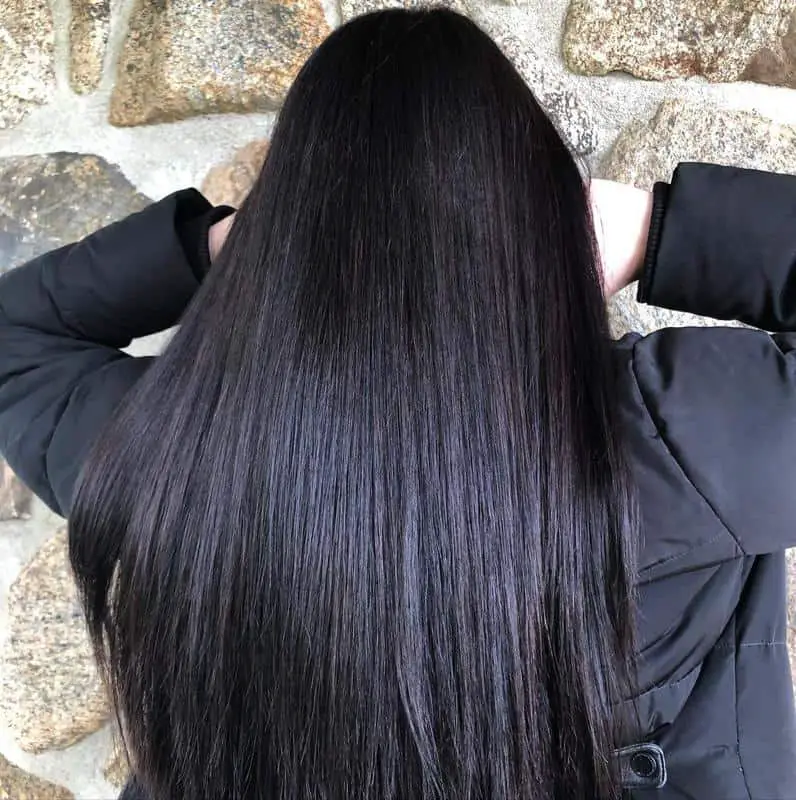 Somewhere between espresso and soft black, you'll find brown-black. It's one of those hair colors that could possibly be real and will keep everyone guessing! It's also softer than harsh black shades and can transition you into the warmer months.
Maroon Black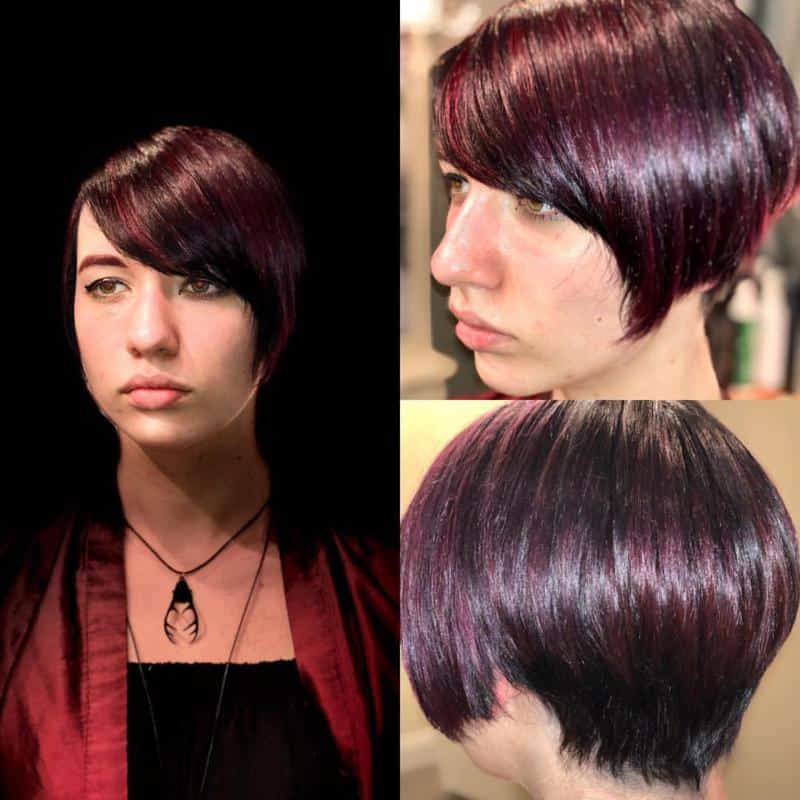 Maroon is almost like a mix of brown, cherry and plum all together. When your hair shade doesn't easily fall into one of those categories, then this could be the name of it. It's like a redder, muddier brown but with that intense darkness lingering beneath.
Soft Black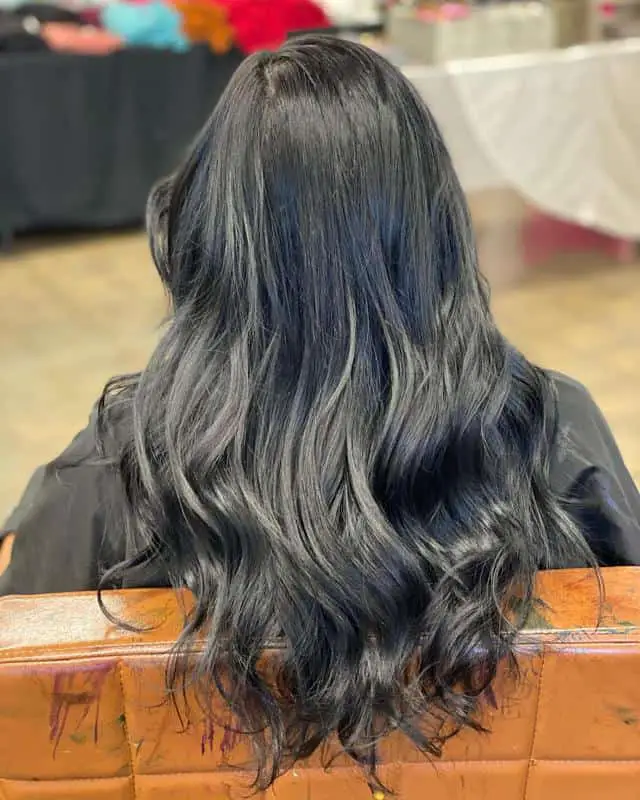 A mix of jet black and espresso brown shades, with some gentle gray highlighting creates the perfect "soft black" hair color. It's nowhere near as harsh as the other black hair colors and it looks way more natural. The warmer hair tones complement all skin tones.
Also Read:
Matching Hair Colors to Your Skin Tone
If you're not sure where to start, you should first identify where your skin tone falls – is it fair, medium, olive/warm, or deep and rich?
Next, you should decide if you want your hair color to complement your skin or use your hair to balance it. The right option from the hair color chart can brighten or darken your skin with a contrast.
Fair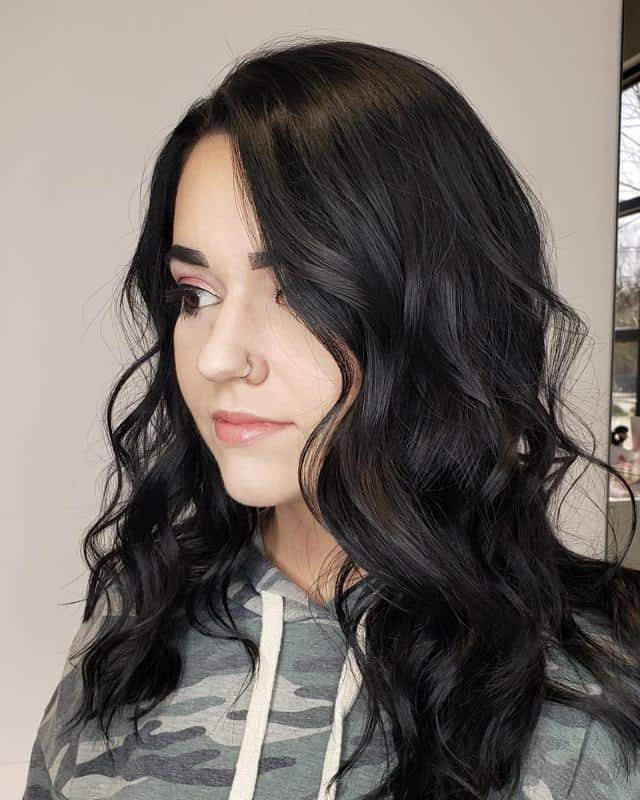 We like ash blonde for fair skin tones, especially if they have warm undertones. Pick a softer mellow blonde base and use ash highlights to cool it down.
If you want to try a red hair color, we recommend you stick with light and natural auburn shades if you want to complement your skin. Think of Emma Stone, for example.
Light ash brown is also a good choice if you want to become a brunette. Dark brunette shades, like chocolate and espresso, can create a harsh contrast, especially if you have a cool skin tone. Light ash brown or even smoky brown are better options.
Likewise, a muted or soft black hair shade will suit fair complexions best.
Medium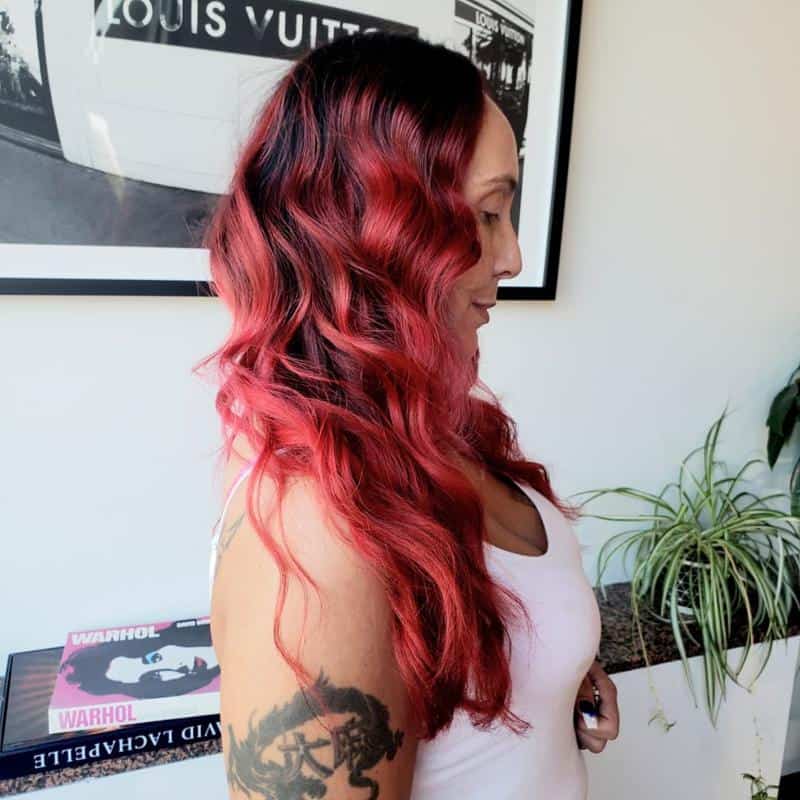 For medium skin tones, we like the way a light beige blonde feels very natural. With your medium skin tone, you'll be "sun-kissed".
If that doesn't suit you or you want more of a contrast with your skin, we recommend going darker rather than lighter. Caramel brown shades will work wonderfully, especially if you have a warm skin tone.
As for red hair colors, you can pull off intense shades well. Deep red shades, including cherry red and scarlet, may be a good avenue to explore.
Finally, if you want to try a black hair color, go for the warmer black shades if you want to complement your skin tone, or go with a blue undertone to balance you out.
Olive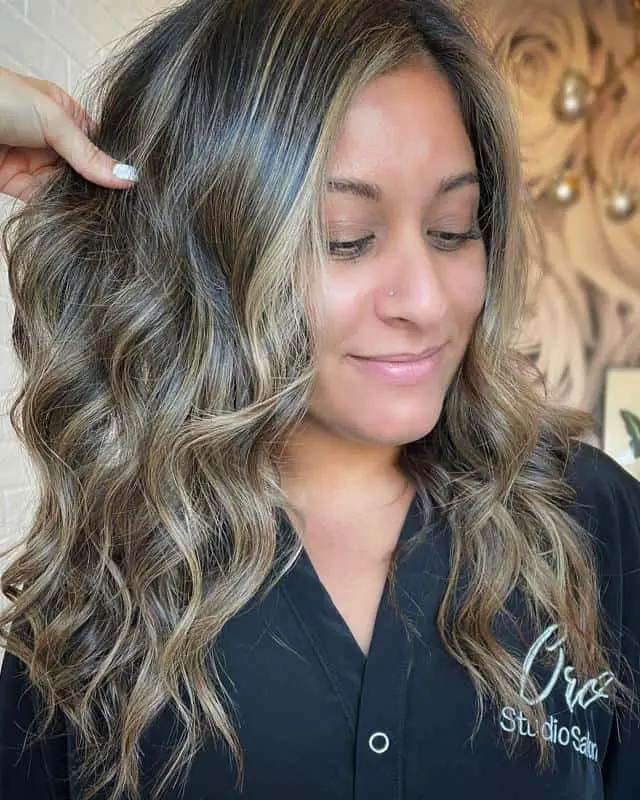 For olive complexions, or if your skin tone is somewhere else between medium and deep, blonde can be harder to pull off. Very light blonde shades can look a bit too fake, and the contrast is a bit over the top. So, we suggest a honey blonde shade with highlights to lighten it if necessary.
Strong natural auburn is another good option for this skin tone. Look at the darker auburn shades – while they contrast beautifully with fair skin tones, they will also look great with your skin tone when you find the right level.
As for brunette hair colors, nearly all shades will work wonderfully with your skin tone. If we had to pick just one, however, it would be a rich coffee brown color. Somewhere between espresso and the chocolate shades will work well.
Again, we like to see a dark black with blue undertones for these skin tones. It really makes the hair pop!
Deep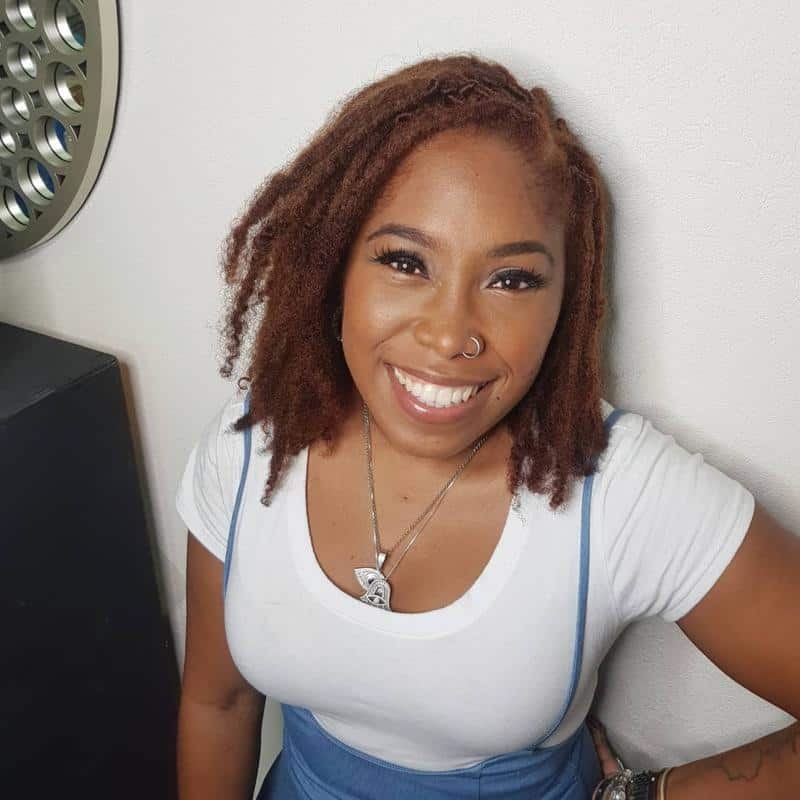 For the deepest, richest skin tones, you might be hesitant to try blonde. But we think you should go for it! Start with the darkest blonde shades if you're nervous – maybe even bronde. Throw in dark ash notes to contrast with warm skin tones too.
An auburn brown mix is also very flattering for this skin tone. A medium brown hair shade with autumnal highlights – soft auburn, gold, and maybe even caramel blonde – looks stunning.
Cool dark brown is a good choice too, especially if you have an overly warm complexion that you want to cool down. By choosing a dark brown hair color that has cool shades in it (beige or ash), you can rebalance your overall look.
Finally, you can go for the darkest black you can find! Jet black hair colors will frame your face nicely and create just the right contrast to make your features stand out.
Also Read: