60 Half-Up Half-Down Hairstyles You'll Fall in Love with (2023 Update)
When you shop through links on our site, we may earn an affiliate commission. This educational content is not intended to be a substitute for professional advice.
A great deal of our mood depends on whether we like our hair or not. Marilyn Monroe once said "Give a girl the right shoes and she can conquer the world" and we can say the same thing for a lovely hairstyle.
If you're looking for a cute hairstyle to spice things up from time to time, half-up half-down is a good choice. Not only is it simple, but also elegant, chic, and whatever you want it to be. Through this ultimate guide, you can learn more about the half-up half-down style and see tons of ideas to try.
What is a Half-Up, Half-Down Hairstyle?
Half-up, half-down hairstyle is exactly what it sounds like – the look where the top section of your hair is pulled up or styled while the remaining hair is not. Also known as a half updo, this hairstyle is a great way to achieve an effortlessly stylish look.
Half updo looks fancy enough to rock in formal events or occasions, but also casual enough to wear on a daily basis. This hairstyle is great for everyone who wants to try something new with hair, but without doing "too much". Plus, it also proves to be practical as it keeps hair out of your face.
What we love about the half-up, half-down style is its versatility. There are tons of things you can do to rock a different hairstyle every day, should you want so. Also, short hair isn't an obstacle. Regardless of hair length, you can find the half updo that works for you and looks cute at the same time.
Celebrities simply adore half updos. Great examples are Khloe Kardashian, Zendaya, Jennifer Lopez, Rihanna, Bella Hadid, Kendall Jenner, and even Kate Middleton. We can't blame them. Half updo works for everyone regardless of the occasion.
60+ Half-Up, Half-Down Hairstyles to Try
Half-up, half-down hairstyles are easy to create and for most of them, you just need a few minutes of your time. This hairstyle is generous in terms of giving you the freedom to explore your creativity. You can spice things up and experiment with different looks using our list as a source of inspiration. Scroll down to see some of the best styles to try.
1. Half-Up, Half-Down Hairstyle With Bows and Ribbons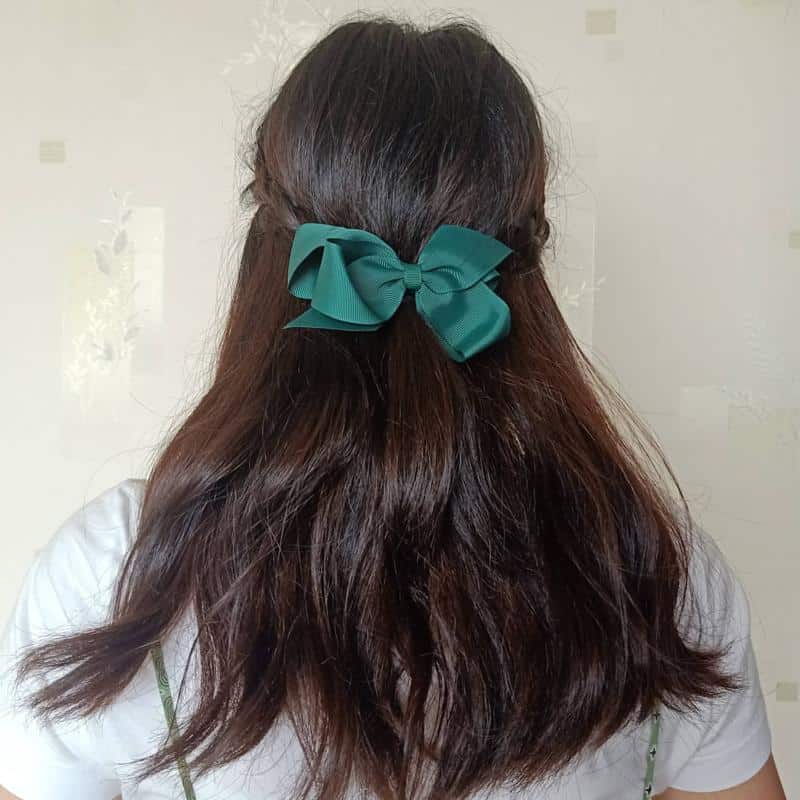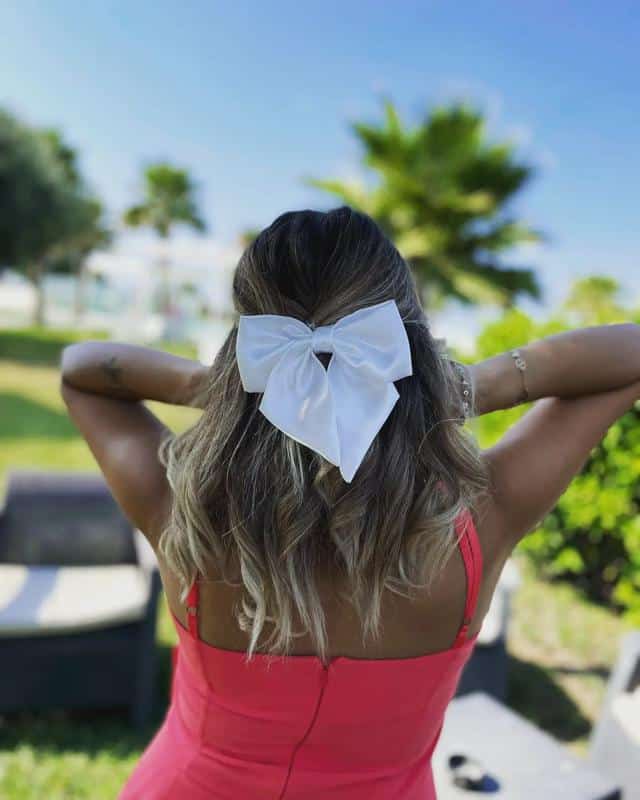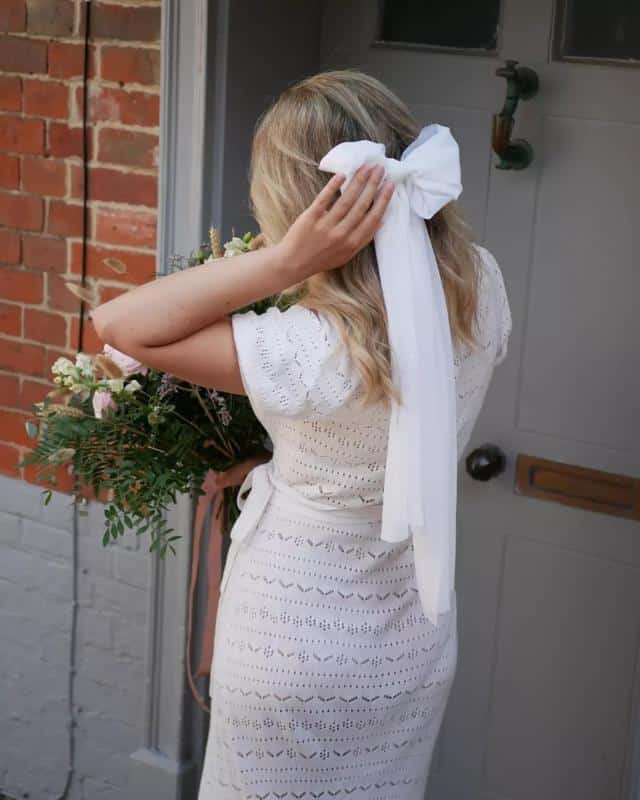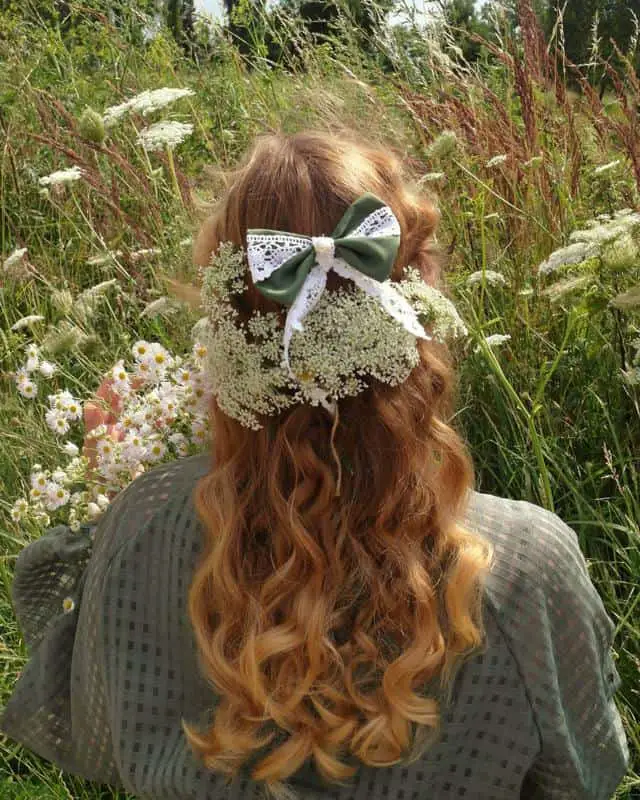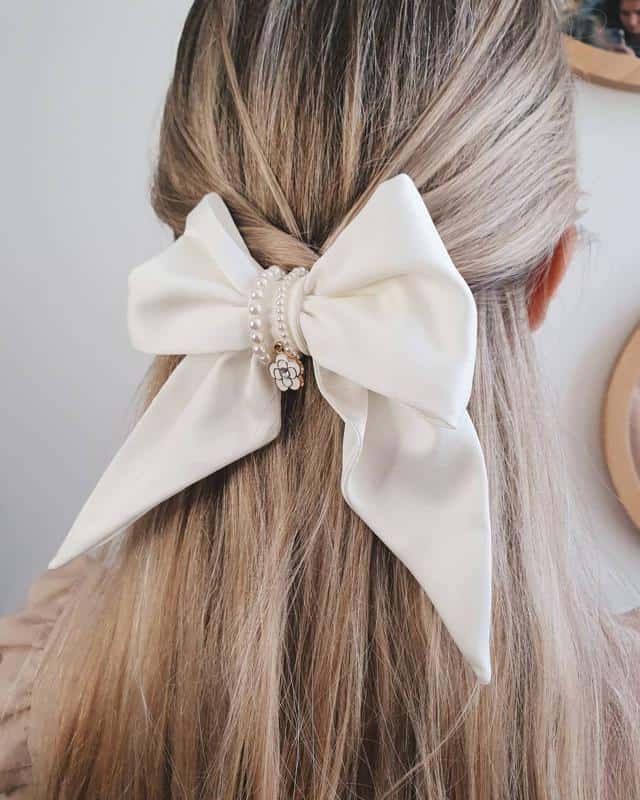 Bows and ribbons are among the most romantic accessories in general. Their inclusion into different hairstyles achieves the same effect.
If you want your half-up, half-down hairstyle to ooze elegance or romantic vibes, then bows and ribbons are a perfect choice. All you need is an accessory of your choice, a few bobby pins, and that's it.
The best thing about these cute hair accessories is that they're available in different sizes and colors. That way, you can style your half updo to match the rest of your outfit.
2. Wedding Half-Up, Half-Down Hairstyles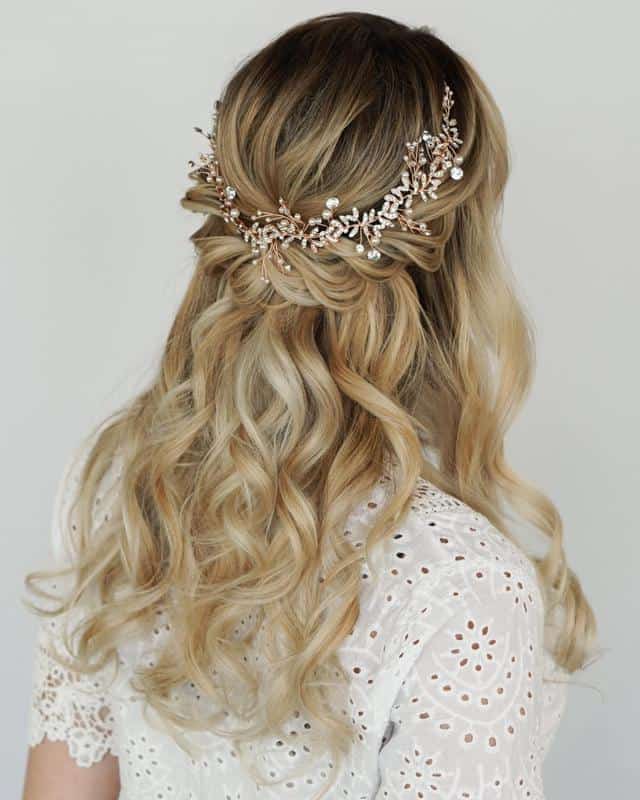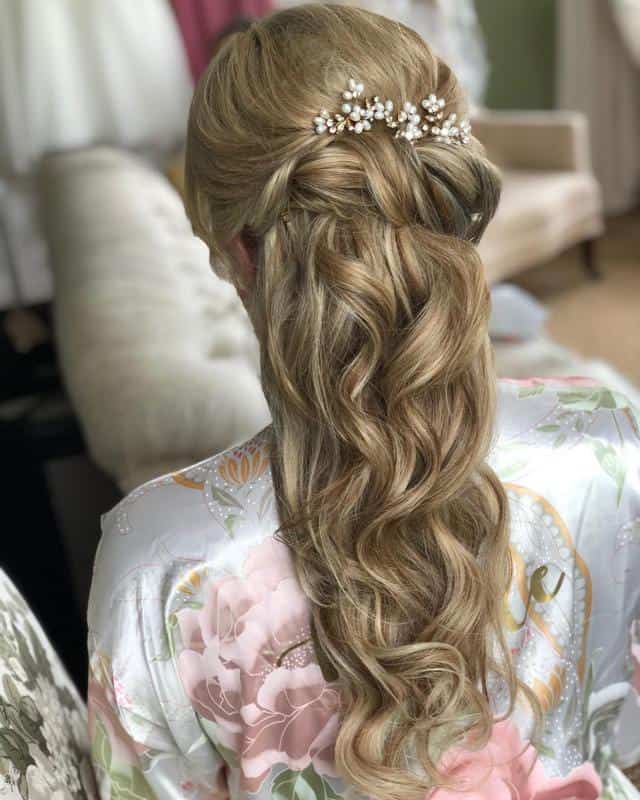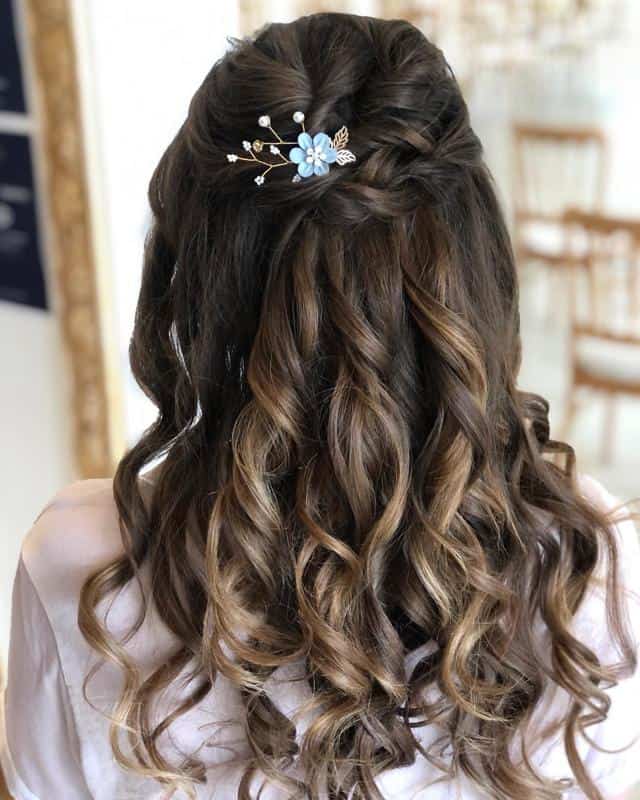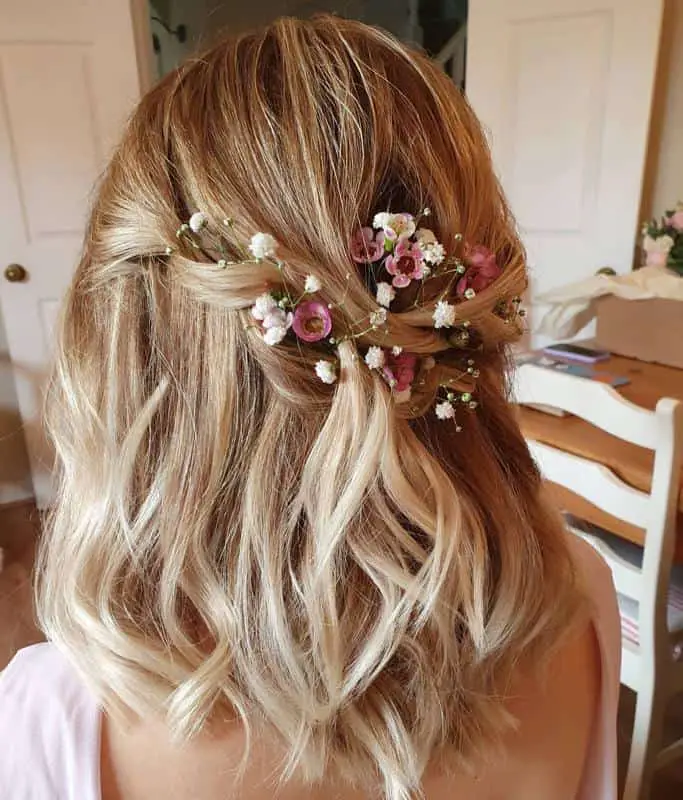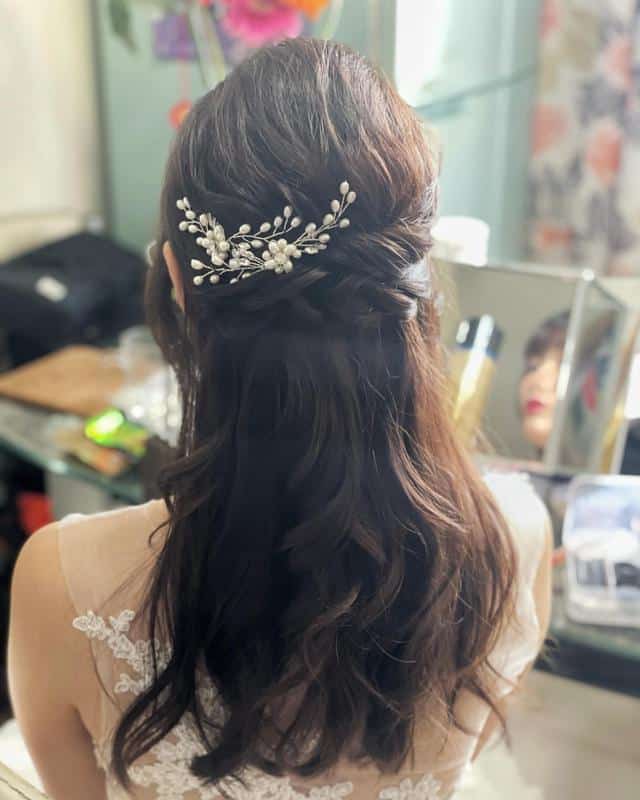 Are you looking for a soft and delicate wedding hairstyle? The half updo is an excellent choice for brides and bridesmaids alike. This is the type of hairstyle you choose if you want hair to be lush and flowy around the face and shoulders, but still sophisticated.
The half updo is practical because it keeps hair off your face, especially in summer. At the same time, it proves to be an ideal hairstyle for women who don't like spending too much time at hairdressers.
Half-up, half-down hairstyle is the perfect match with luscious locks that gently flow down your shoulders and back. You can add subtle accessories to introduce wedding vibes into your look.
Read More:
3. Short Hair Half-Up, Half-Down Hairstyles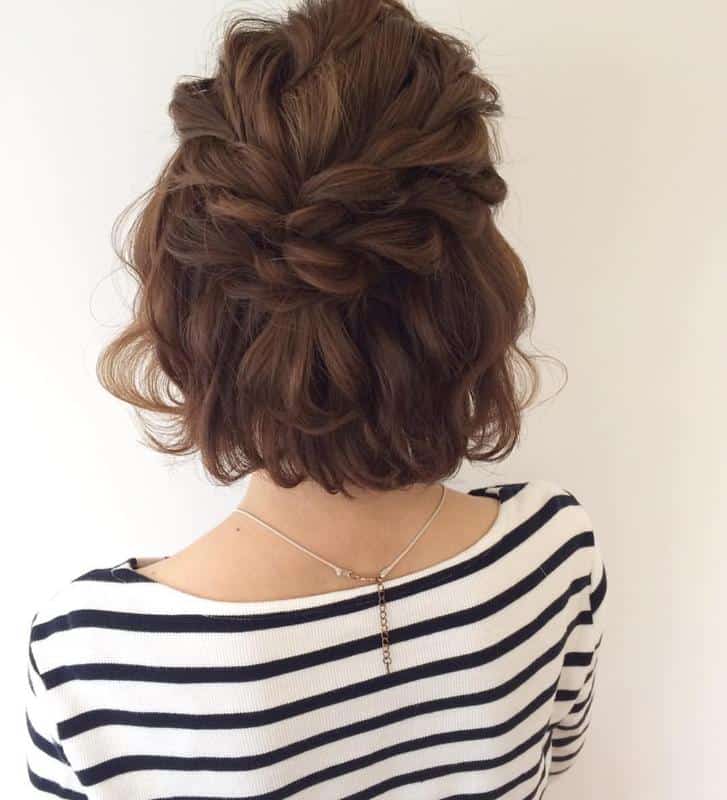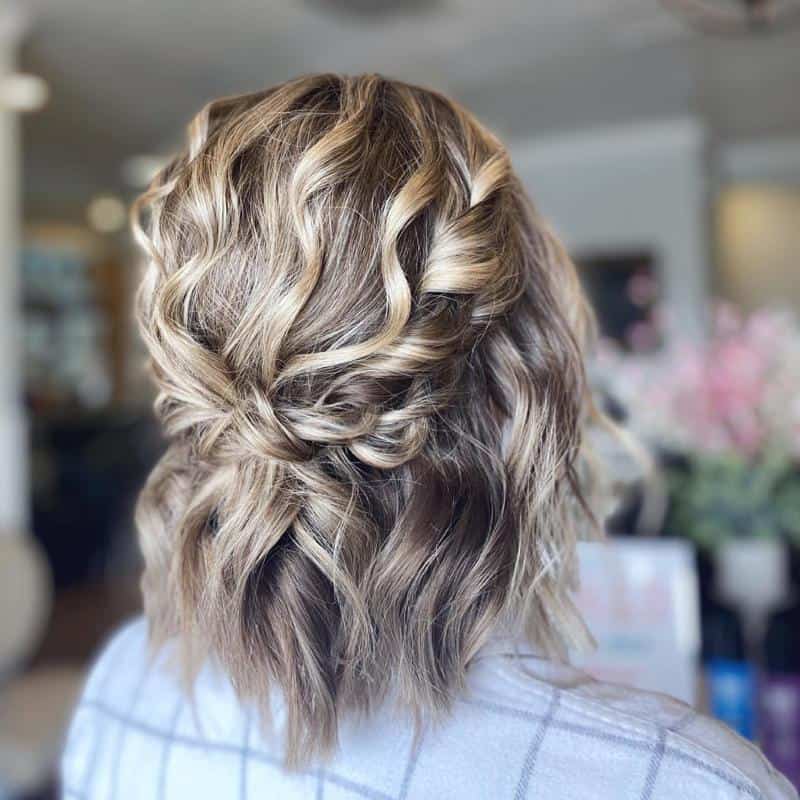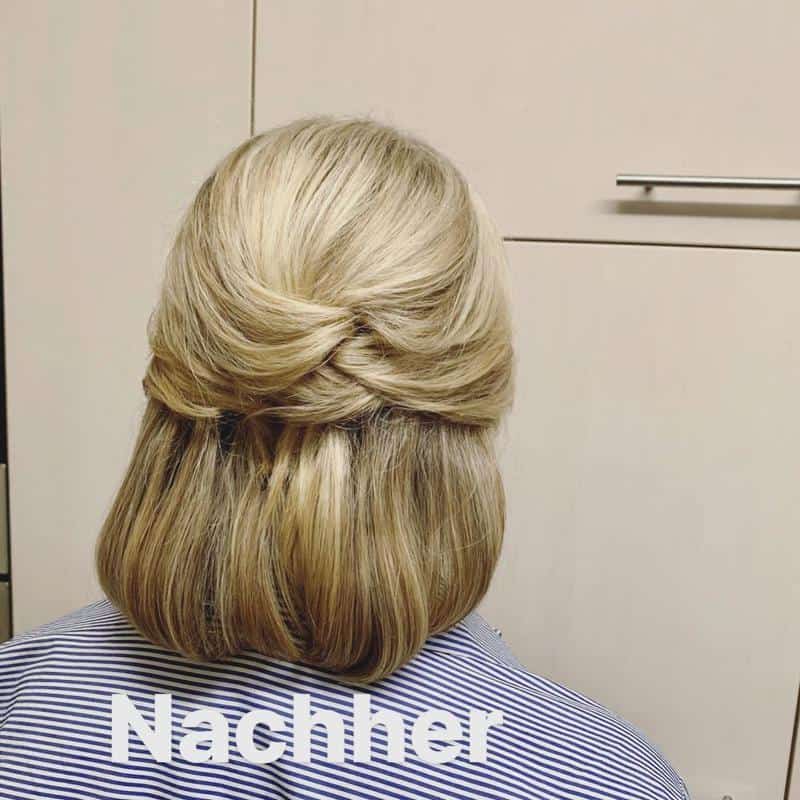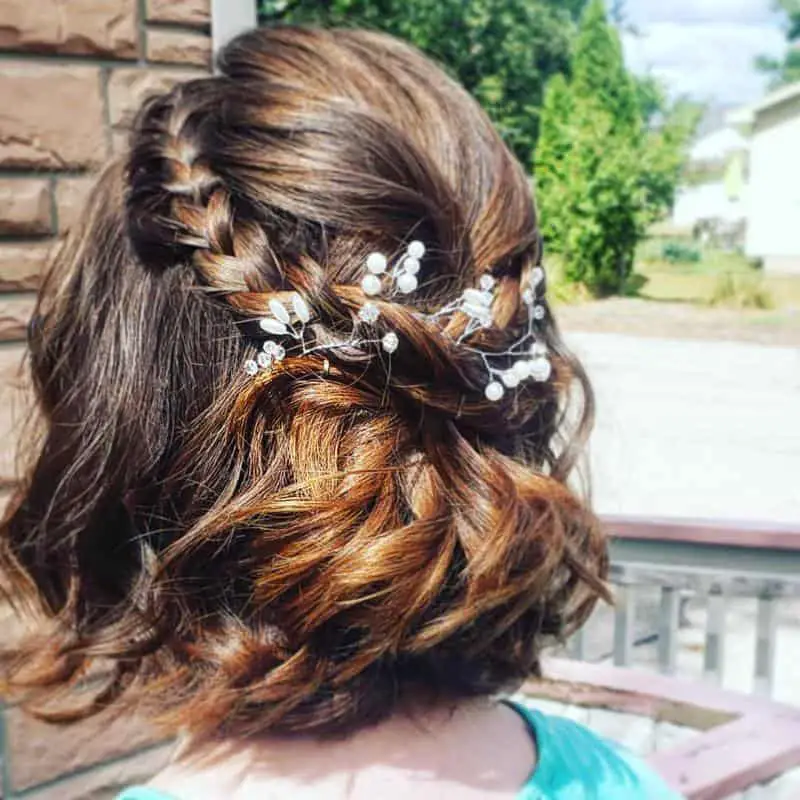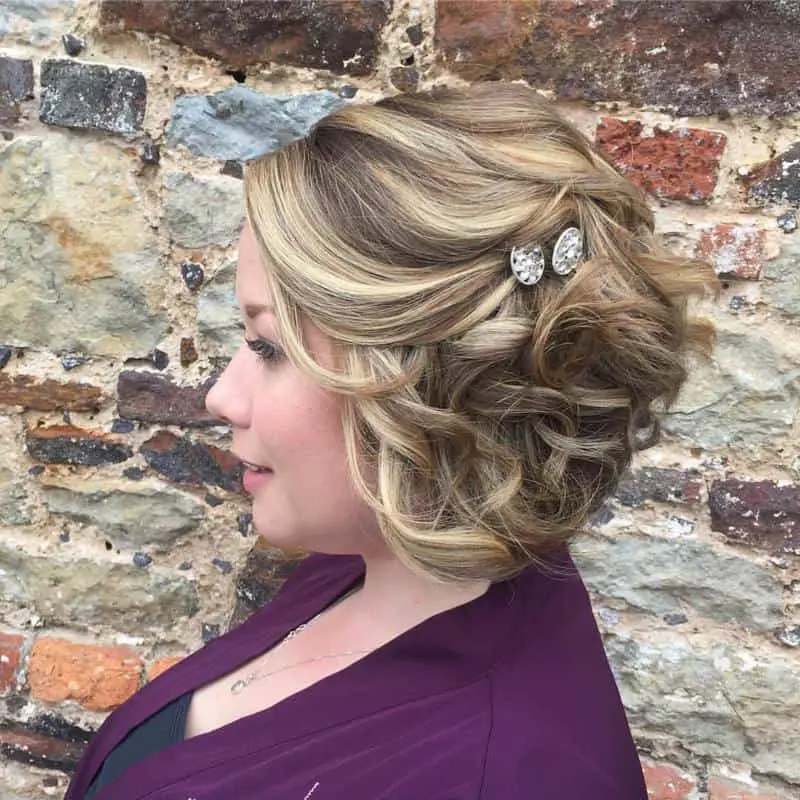 Half updos are not reserved for girls with medium or long hair. Girls and women with short hair can rock these hairstyles as well.
Not only is short hair stylish, but also versatile. With a few simple moves, you can make short hair look elegant and romantic, or edgy if that's what you prefer.
If you have fine hair, your biggest issue is the lack of volume that would give your new do fullness. Volumizing products, round brushes, and drying hair at low heat can help. You may also want to use volume-boosting shampoos and conditioners.
Women with thick hair often have problems with frizz that makes styling challenging. To avoid this problem, you should ask for a hairstyle in layers or use frizz-reducing serums.
By overcoming these simple challenges you will get the most out of your half-up, half-down style for short hair.
Also Read: Top 30 Gorgeous Crocheting HairStyles (Short, Medium And Long Hair)
4. Half-Up Bun Hairstyles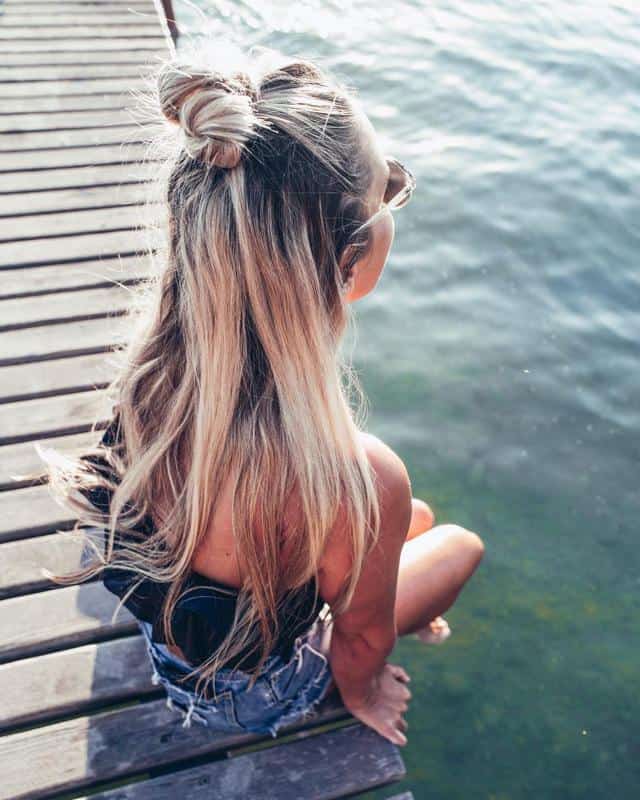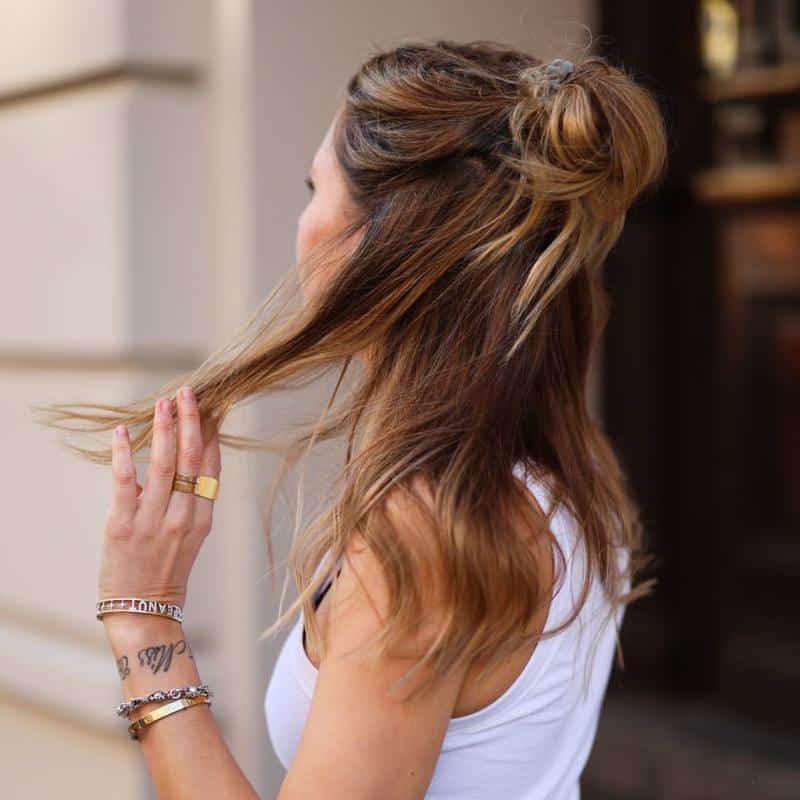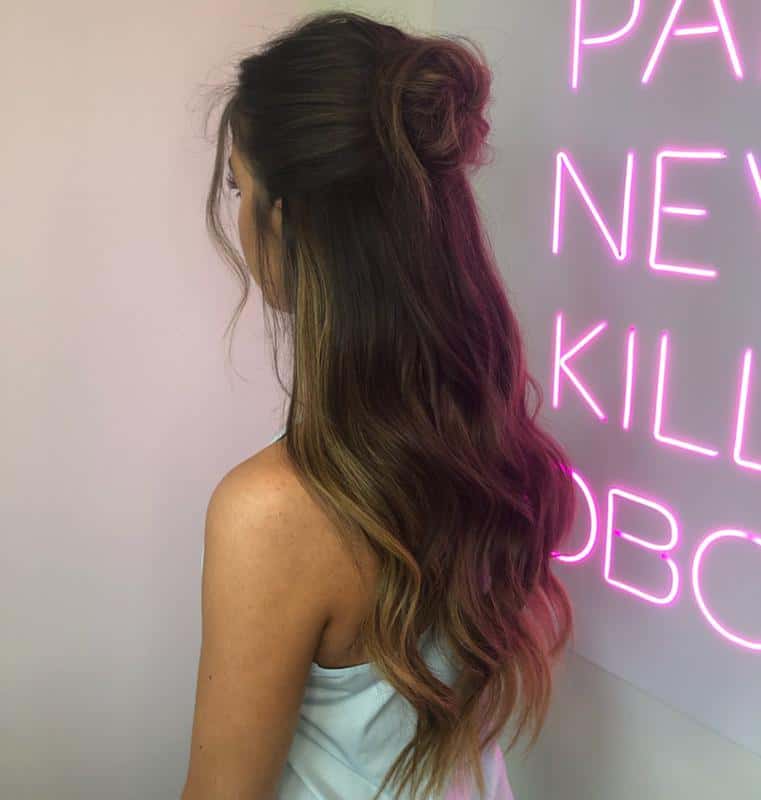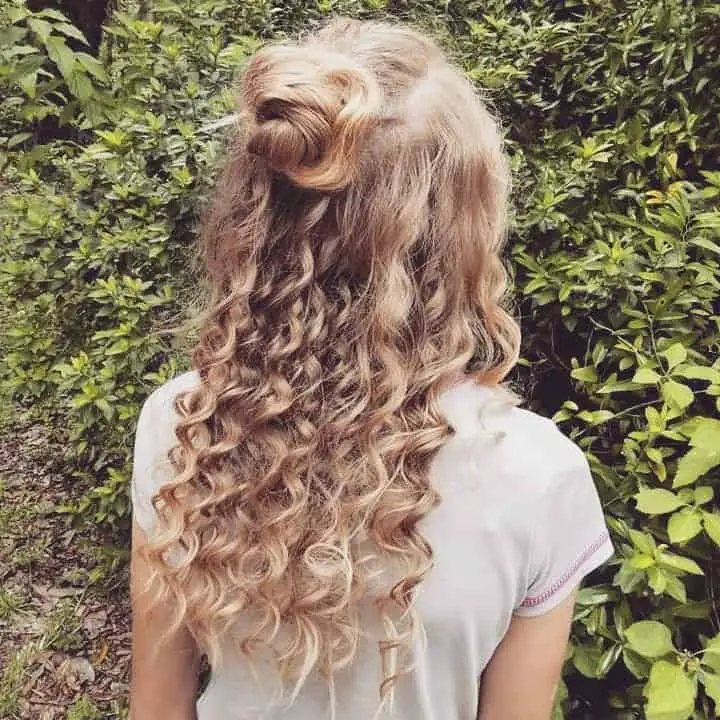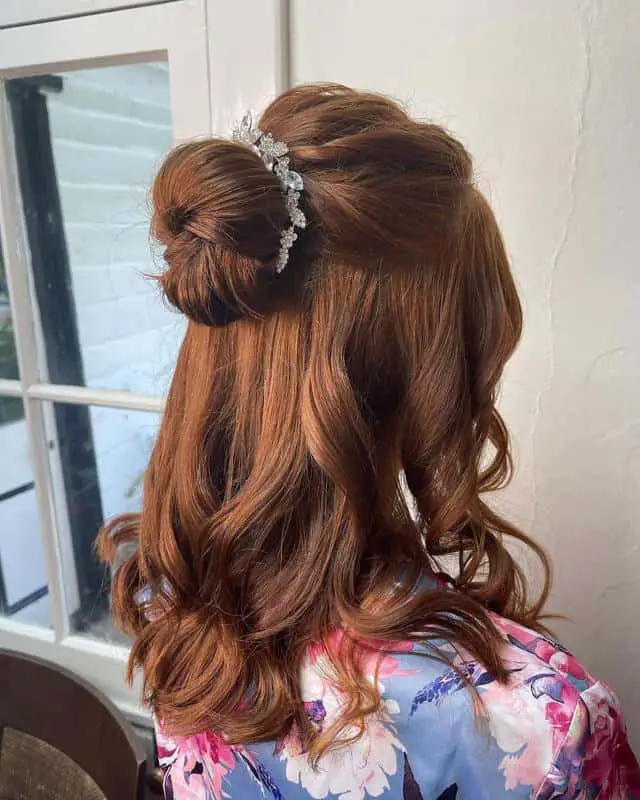 Half-up bun, or just half-bun, is a major trend lately. A perfect low-key, casual hairstyle, the half bun is easy to create and suits any hair length.
You don't have to be a professional hairdresser to create a half-bun that looks as cute as those you see on social media.
Start by separating the top half of hair into a tight ponytail and secure it with an elastic band. Don't just grab your hair and twist it into a bun. If you want the bun to have more volume, you may want to gently tug the ponytail to give some height to it.
Using a comb, tease the tail to add fullness to your look. Twist loose hair around the base of the ponytail. To set the bun in place you will need a few bobby pins and a little bit of hairspray, but don't overdo it.
The best thing about half buns is that you can rock them on top of your head or low. Plus, this hairstyle looks great on straight and curly hair alike.
5. Medium Hair Half-Up, Half-Down Hairstyles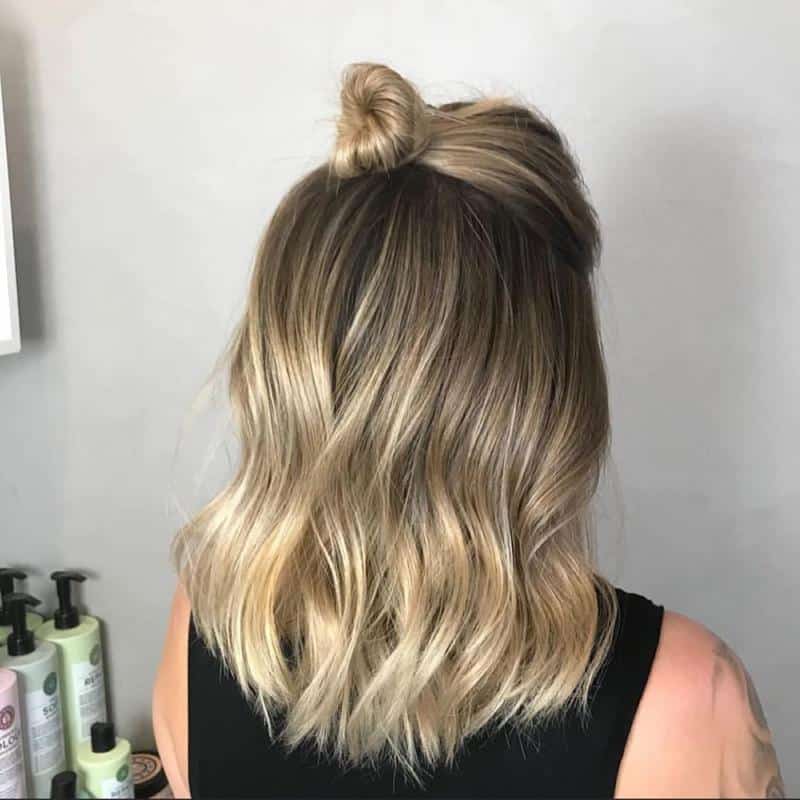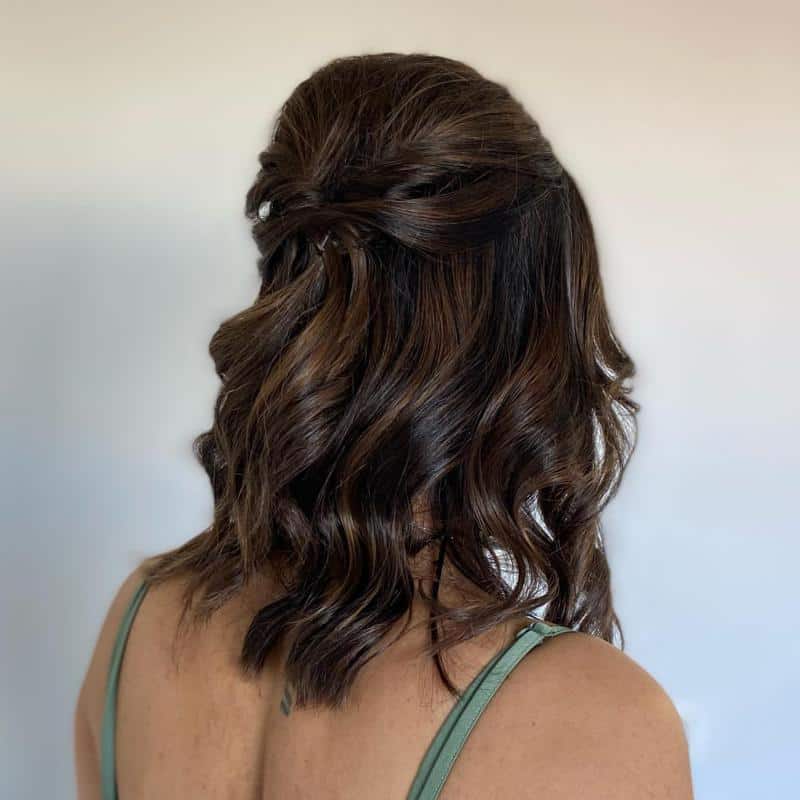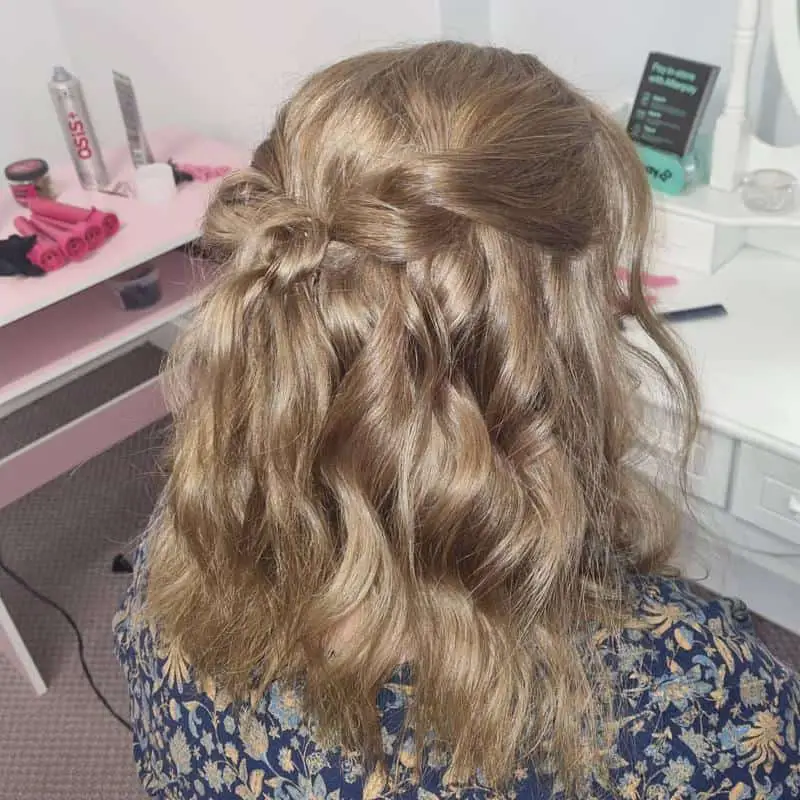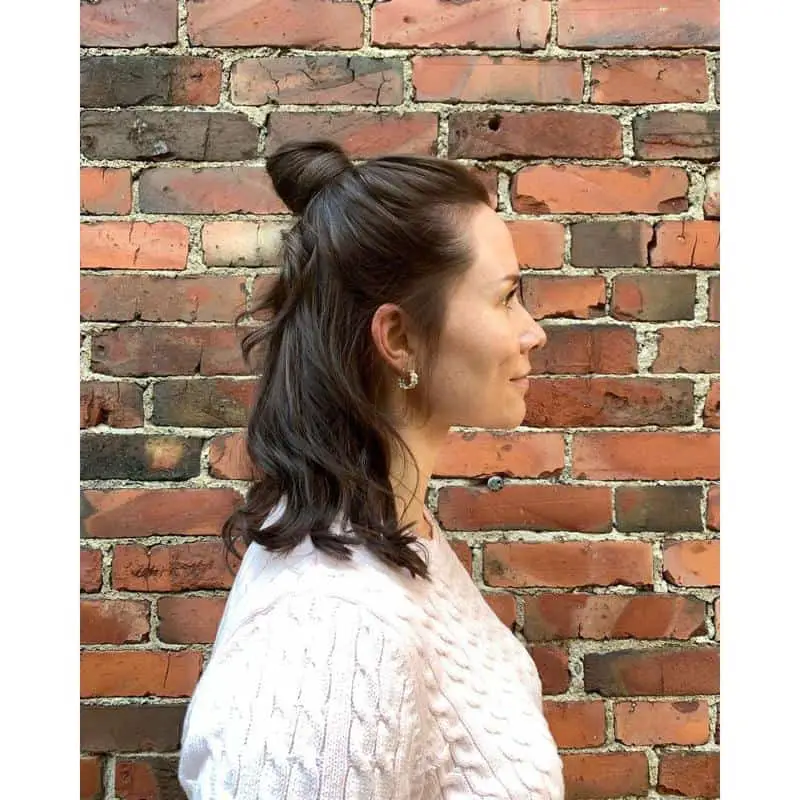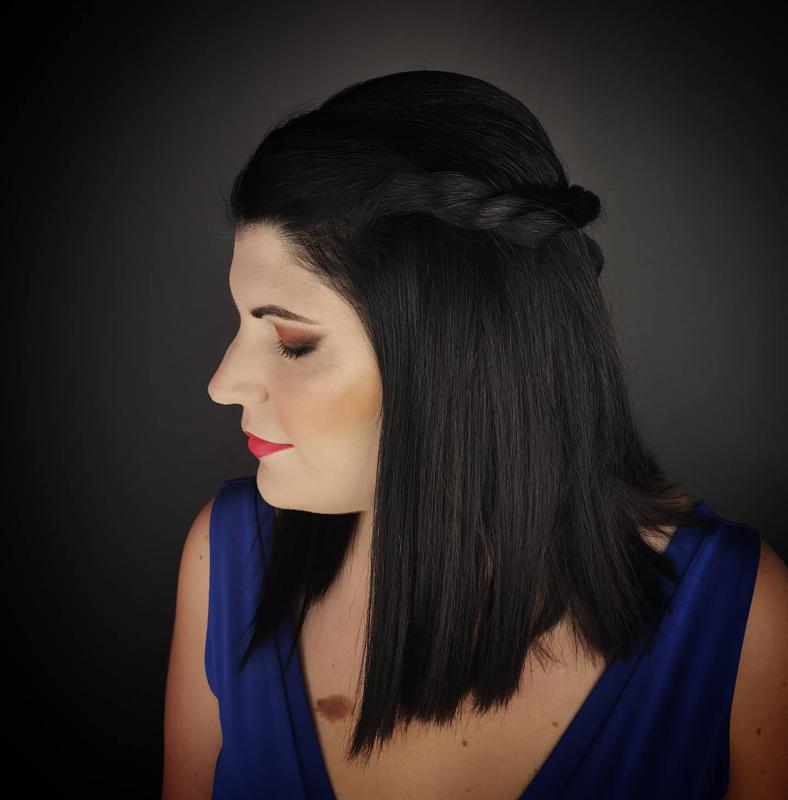 Medium-length hair is quite convenient. You get all the perks that long hair provides, but it's easier to style and maintain, especially if you're busy and always on the go.
Any type of half updo looks great on medium hair. So, you can use your imagination and be creative here. Whether you want a top bun, braids, or simple messy half updo, you can rock it successfully.
For a sleek look, you can straighten hair and do a gorgeous and sophisticated half updo. Or you can opt for a more casual, yet sensual wavy style with messy half-up, half-down.
6. Boho Half-Up, Half-Down Hairstyles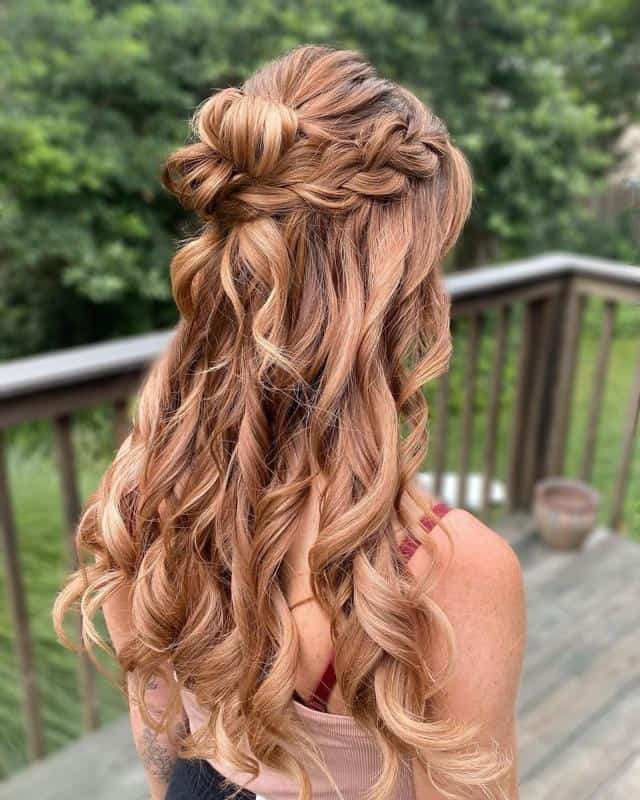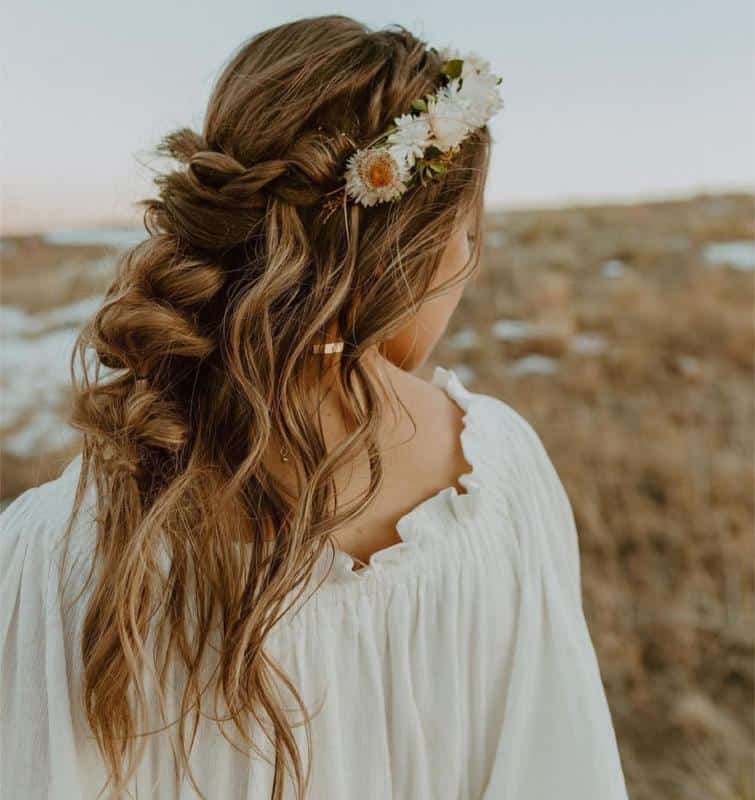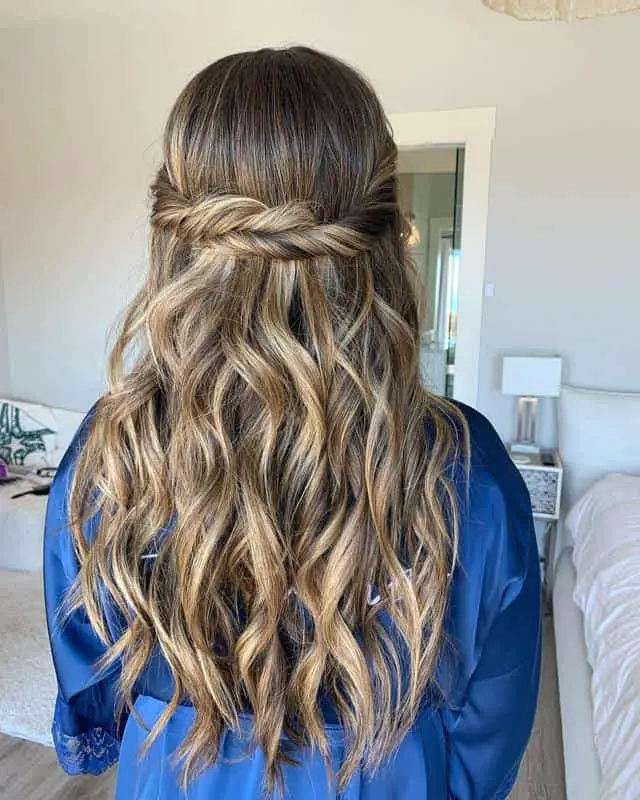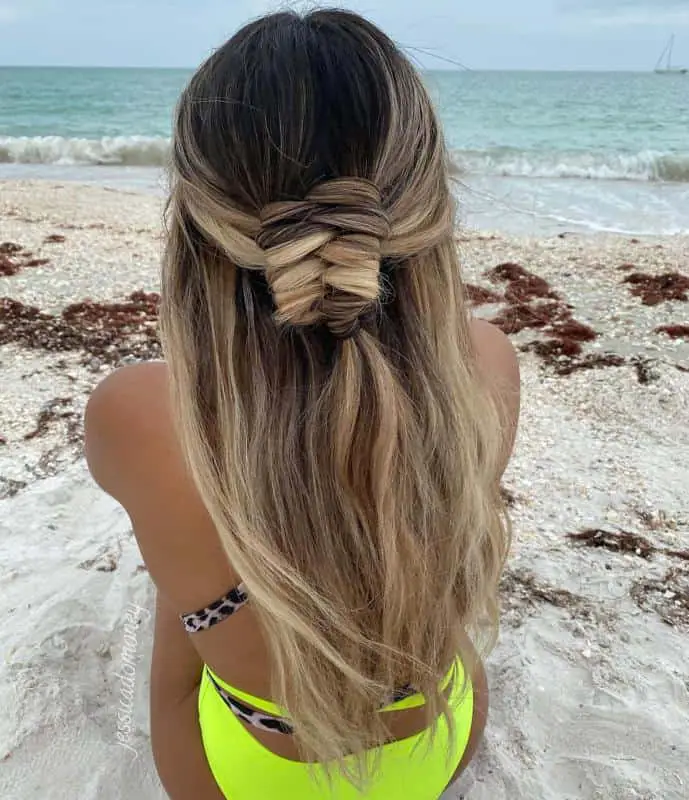 Sometimes you want to look chic without even trying. That's perfectly understandable. Effortlessly chic looks have a unique charm that women and girls of all ages simply adore. We call these looks boho hairstyles. After all, boho is all about going with the flow, enjoying the moment, and staying away from all the rules in design, style, and everything else.
Boho half-up, half-down hairstyles are easy to create as you get to explore your creativity. Even if your hairstyle looks kind of messy that's okay, you can still pull it off. That's the charm of boho hair, it looks lovely even if it's not sleek, straight, and done according to the "rules". Create gentle locks, braids, use hair accessories, options are endless.
7. Beach Waves Half-Up, Half-Down Hairstyles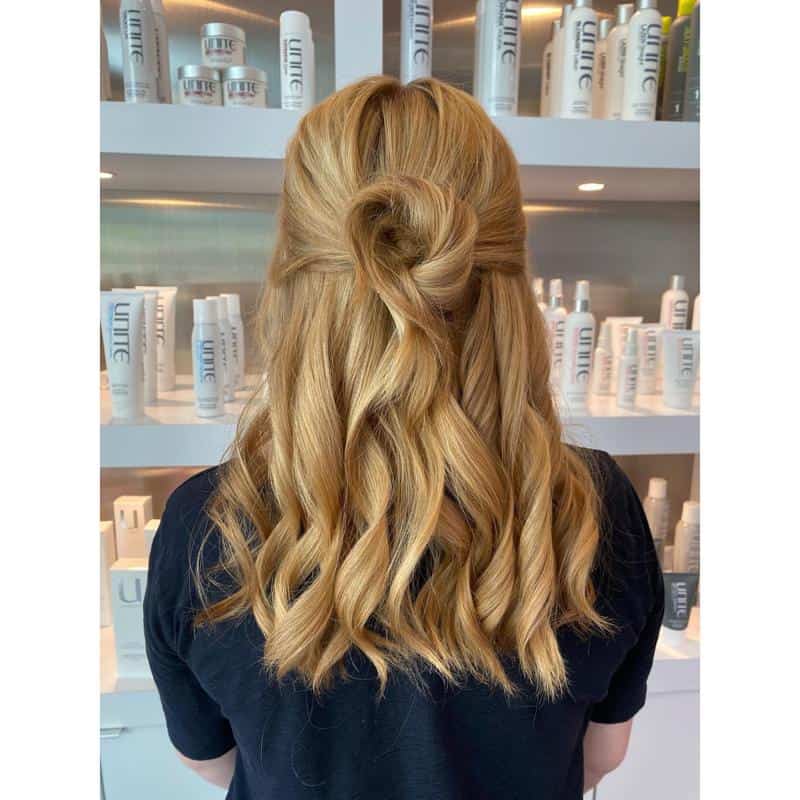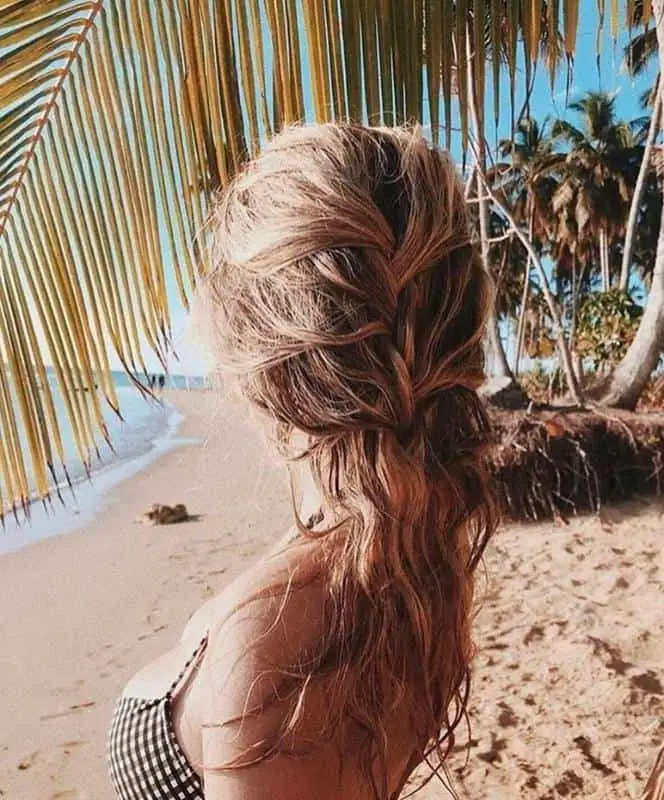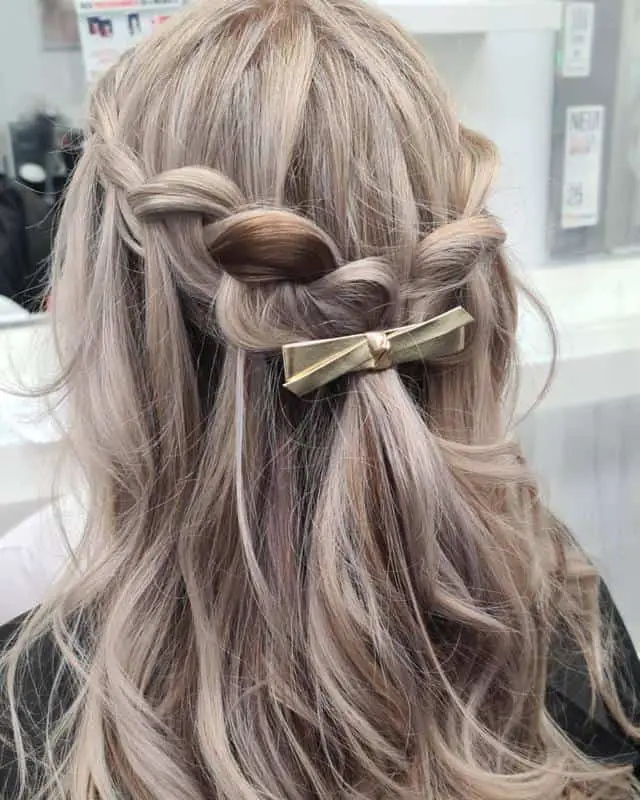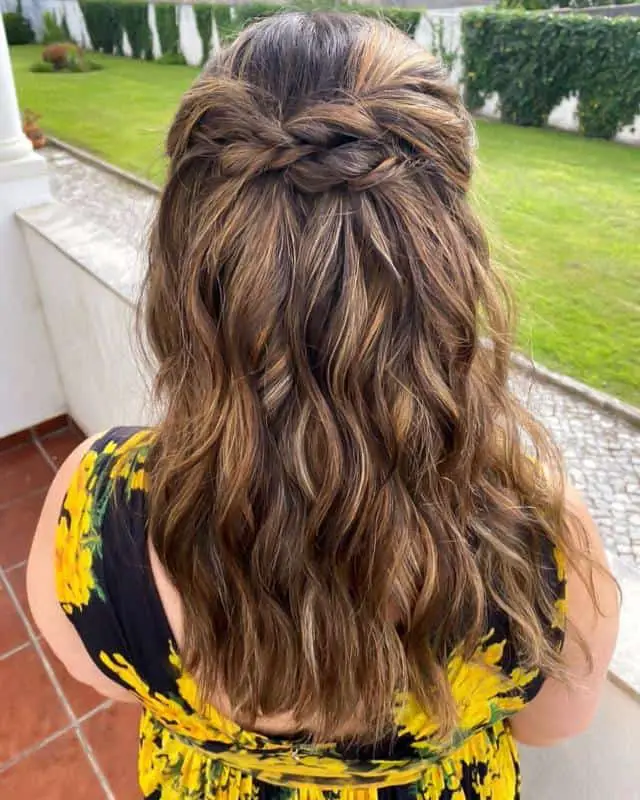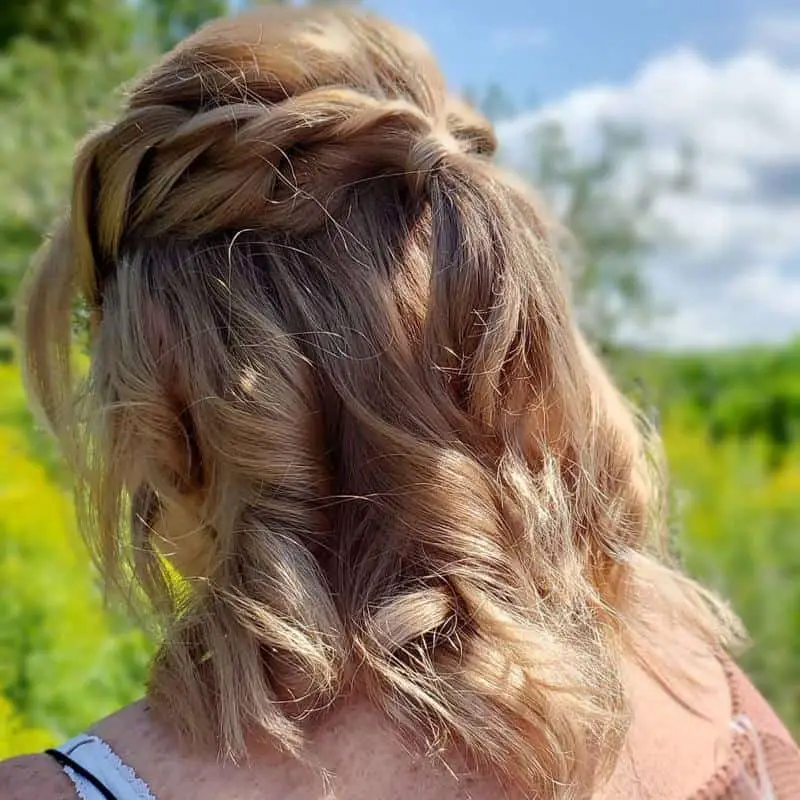 As one of the most popular hairstyles, beach waves look great on everyone regardless of hair length and color. In a nutshell, beach waves are tousled curls that look like you jumped into the ocean, got out, and let hair air dry.
The main feature of beach waves is that they look both polished and casual, kind of like Boho hairstyle. It's not that difficult to create perfect beach waves at home if you don't have time to go to a salon.
To make it happen, you need to prep your hair, wash and use the products you normally do. Then, use a diffuser or let your hair air-dry. To add the texture you can use a curling wand or an iron. Generally speaking, the more irregular and random waves are, the more your hair will look beachy. So you don't need to go for "perfect" and "regular" locks.
Once you create beach waves it's easy to use bobby pins and other accessories to create a romantic, chic, and casual half updo.
8. Braided Half-Up, Half-Down Hairstyles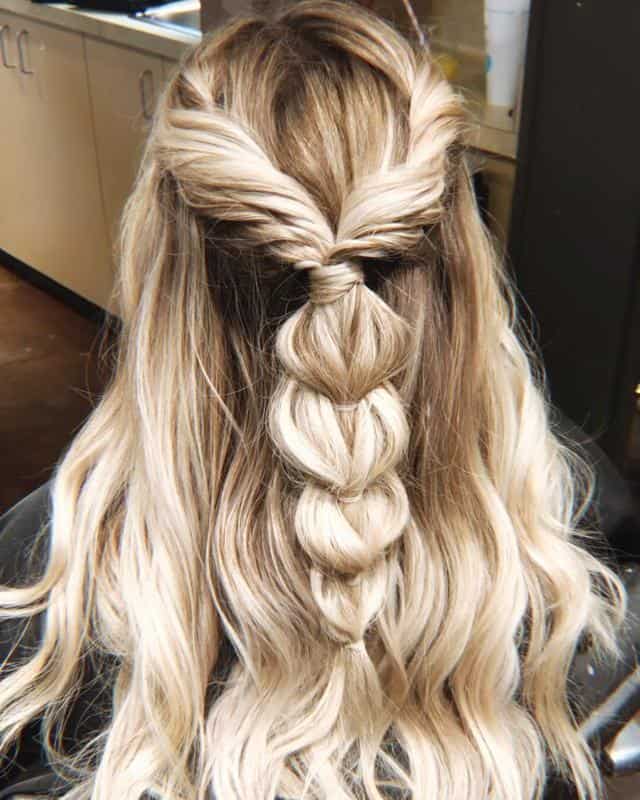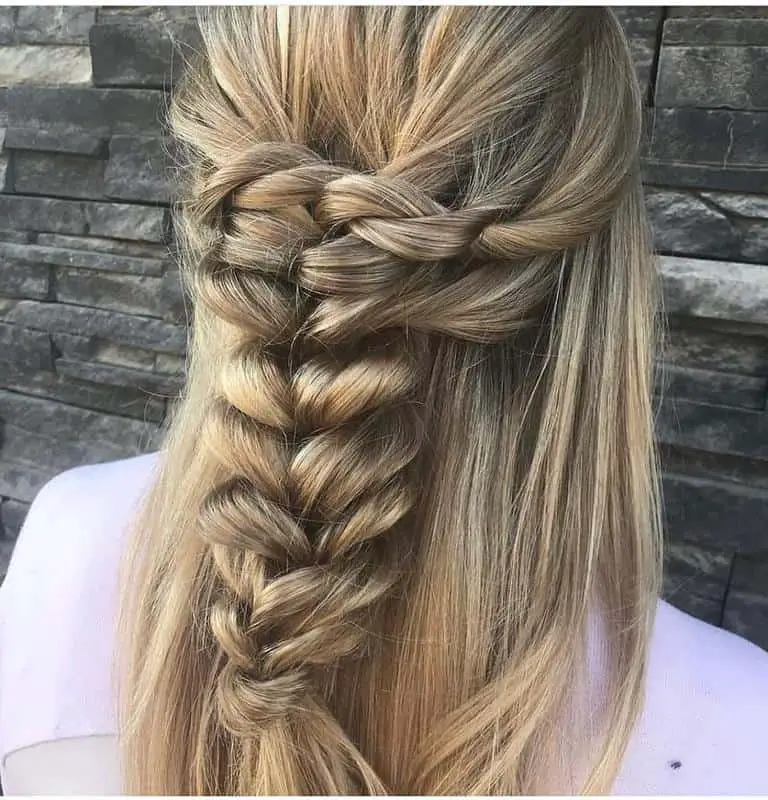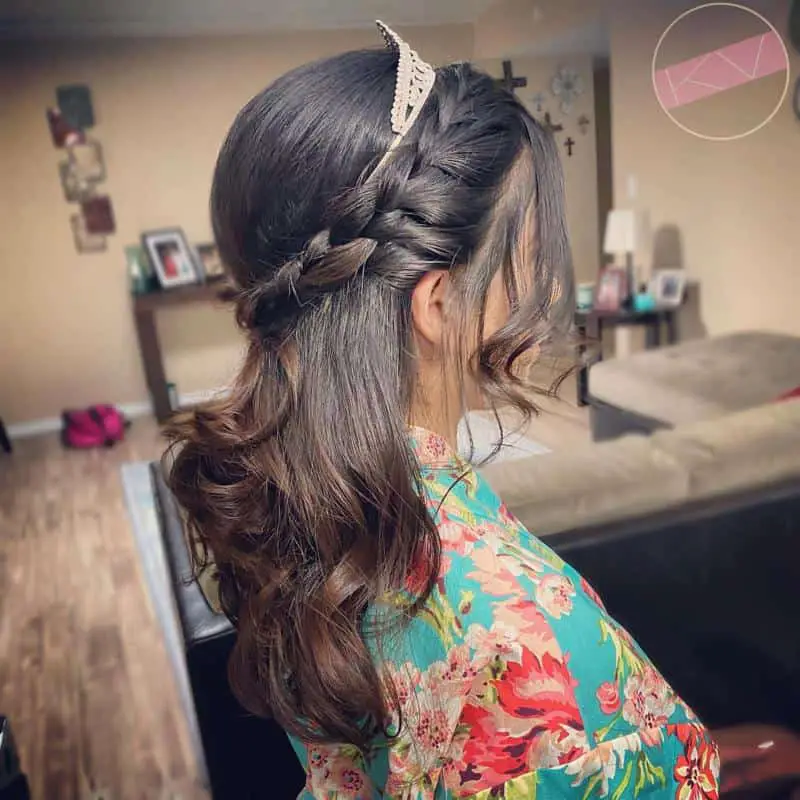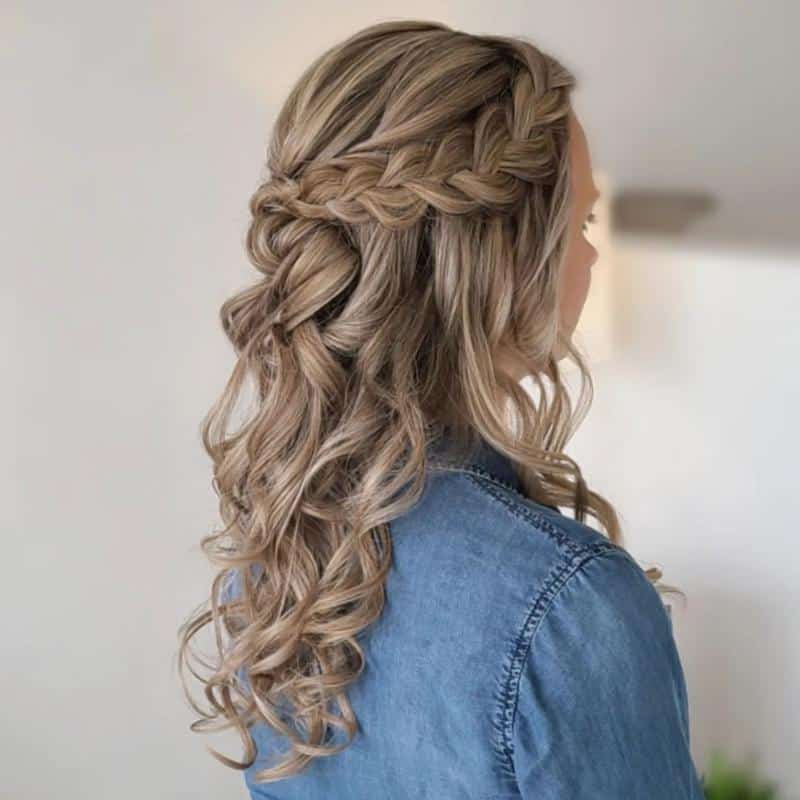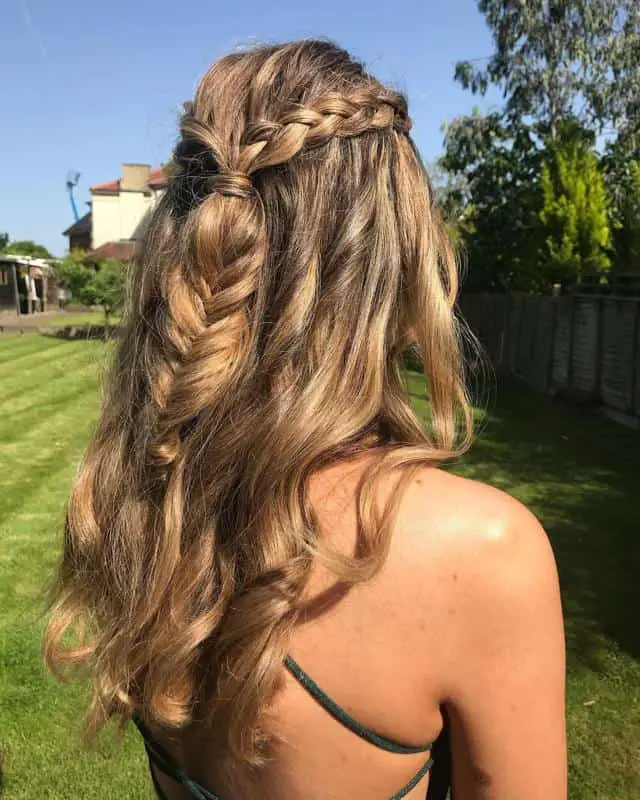 Braids will never go out of style. If you're looking for a timeless, yet versatile hairstyle this is it. There are tons of types of braids and you can add any of them to your half updo. Some girls prefer a specific type of braid e.g. Dutch braid or maybe a fishtail braid. Others love to experiment and try out different braids from time to time.
It all comes down to your preferences, but instead of braiding your all hair, you can go one step further and create a fairytale-like half updo. Your braid can look like a crown or you can go for a more relaxed look if you prefer it.
9. Prom Half-Up, Half-Down Hairstyles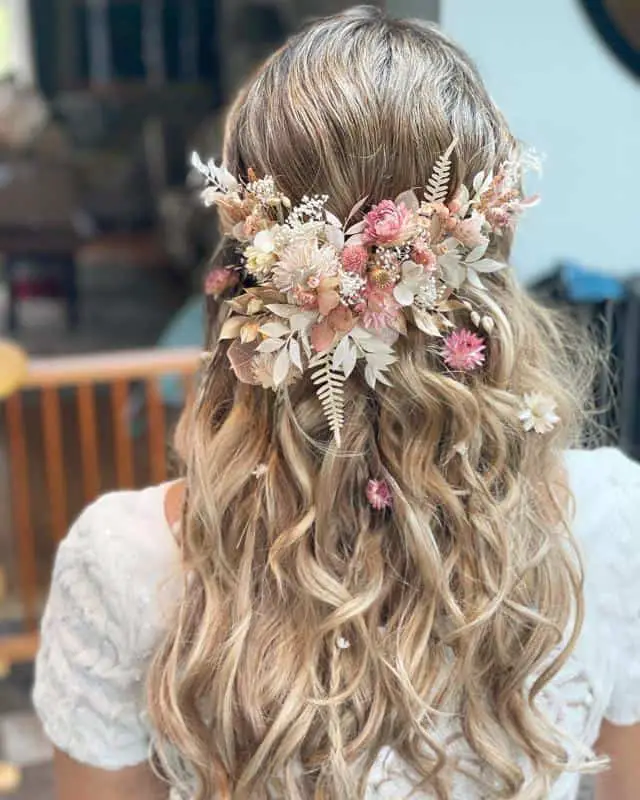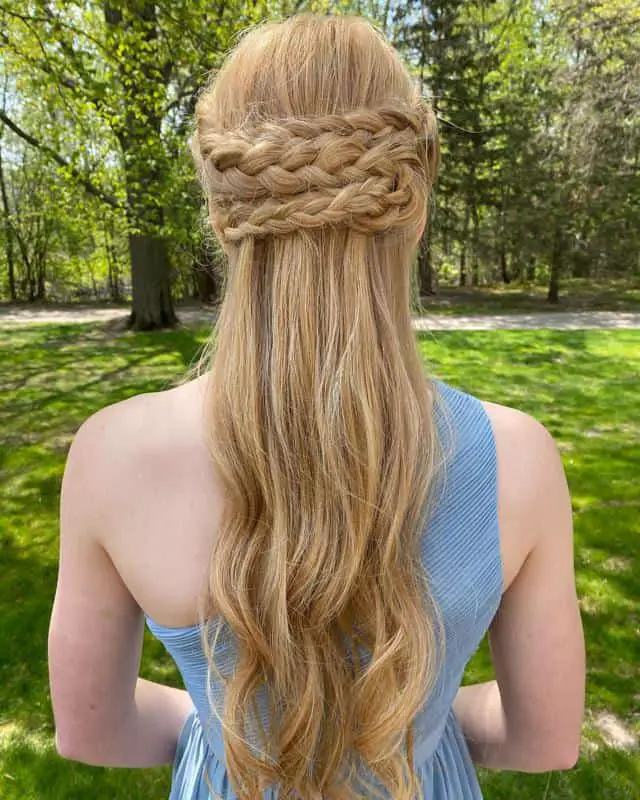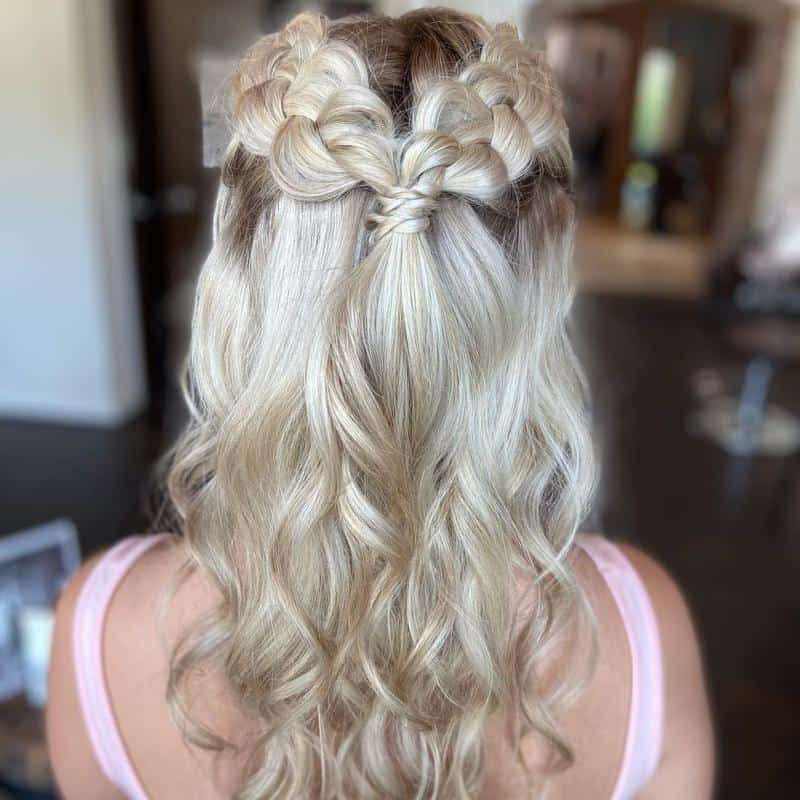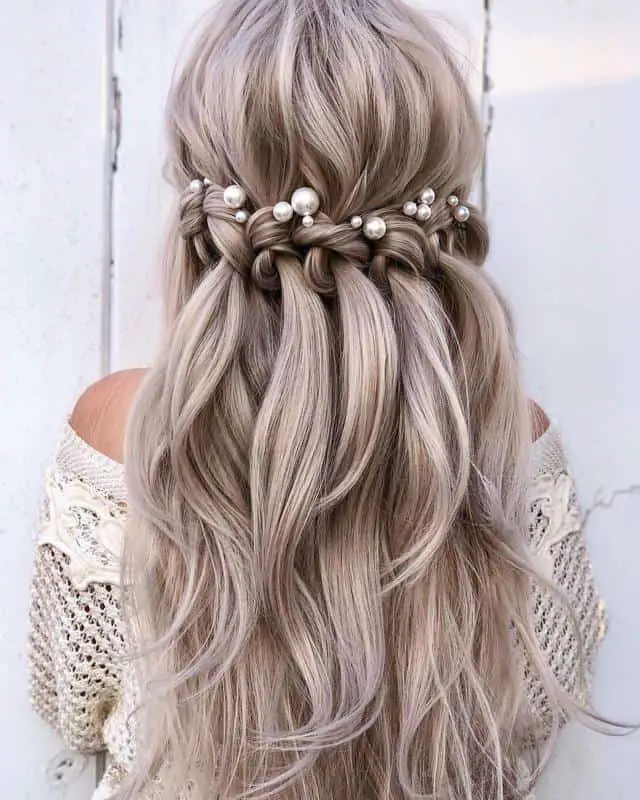 Sophisticated buns are the most popular prom hairstyles, but you can go in a different direction and try something new. Half updos are ideal for proms because they combine both elegance and casual vibes.
You can experiment and play with several ideas here. For instance, you can opt for braids, beach waves, accessories, options are endless. If your hair is usually straight, you can opt to curl or wave it with hot rollers, curling irons, flat irons, or foam rollers.
What makes half-up half-down style ideal for prom is its playfulness. It gives you a dose of free spirit energy that perfectly matches your young age.
10. Black Hair Half-Up, Half-Down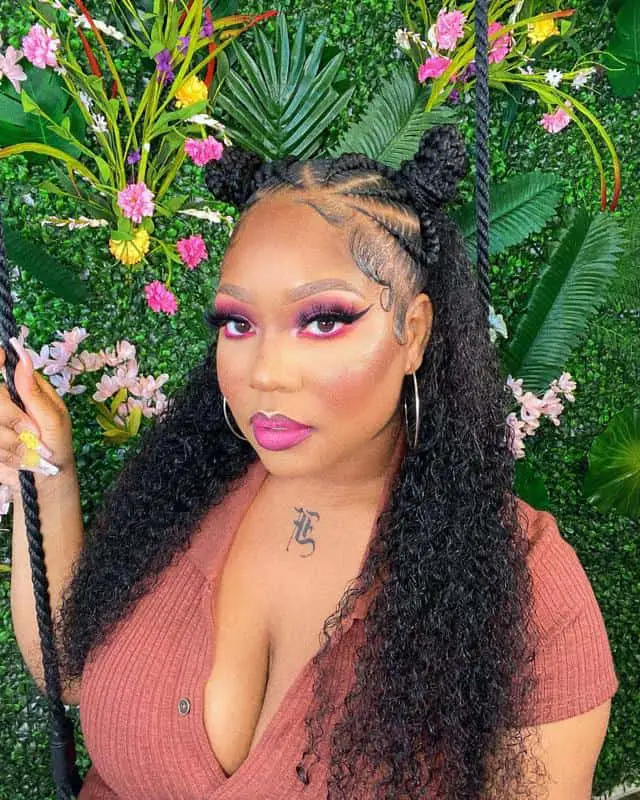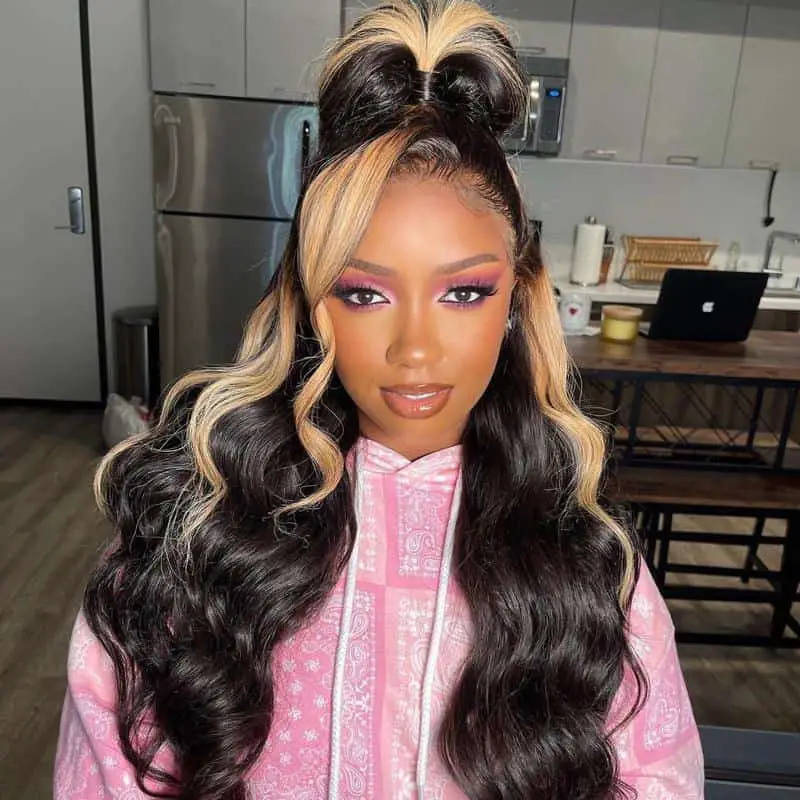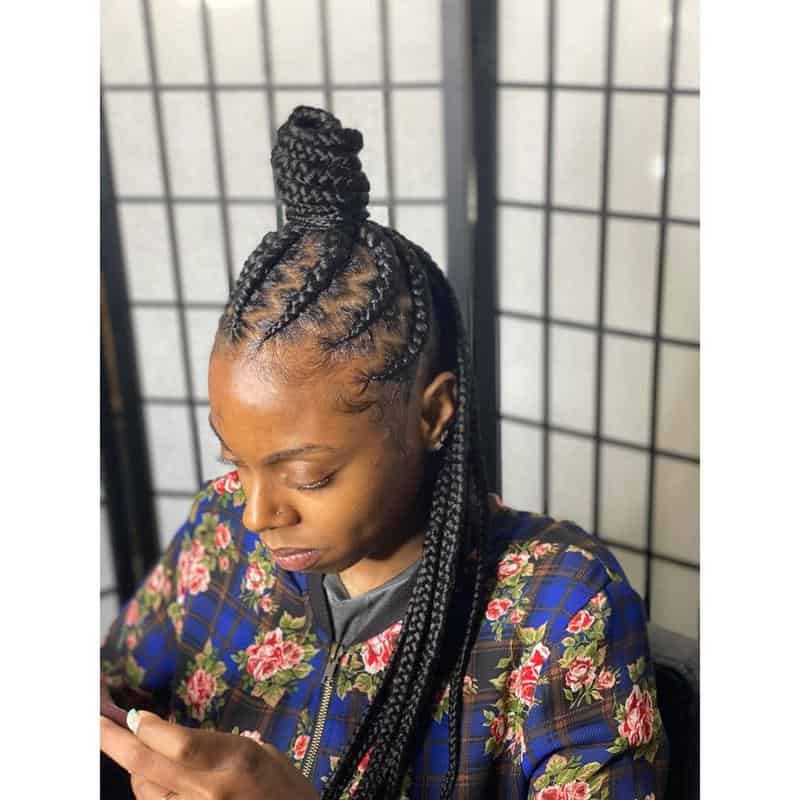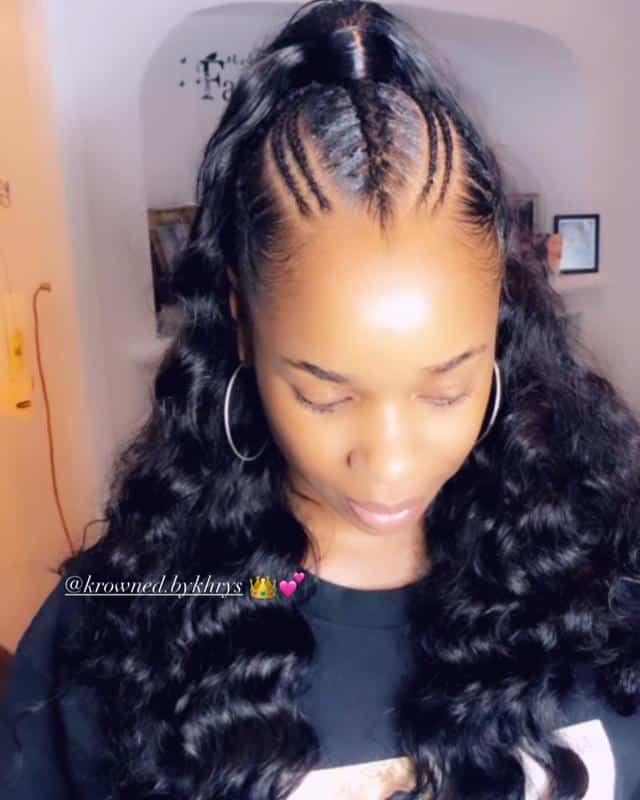 Half-up, half-down hairstyles for black hair are numerous. Generally speaking, all you need is a good arsenal of hair styling products alongside a little bit of creativity. You can create braided half updos, top knots, ponytails, use highlights to bring more attention to your hair.
Besides sleek half updos, you can opt for messy or bed head look for more casual events or occasions.
To get the most from your hairstyle it's important to employ a proper hair care regimen. This applies to any hair type, but even more so for natural black hair since it can become fragile, dry, and damage without adequate care.
Avoid washing your hair too often, once or twice a week is enough. Use moisturizing shampoos and conditioners. Give your scalp a nice massage while washing your hair. Instead of rubbing your hair with a towel, pat it dry.
Invest in high-quality styling products formulated specifically to provide hydration and nourishment to your hair.
11. Hair Knot Half-Up, Half-Down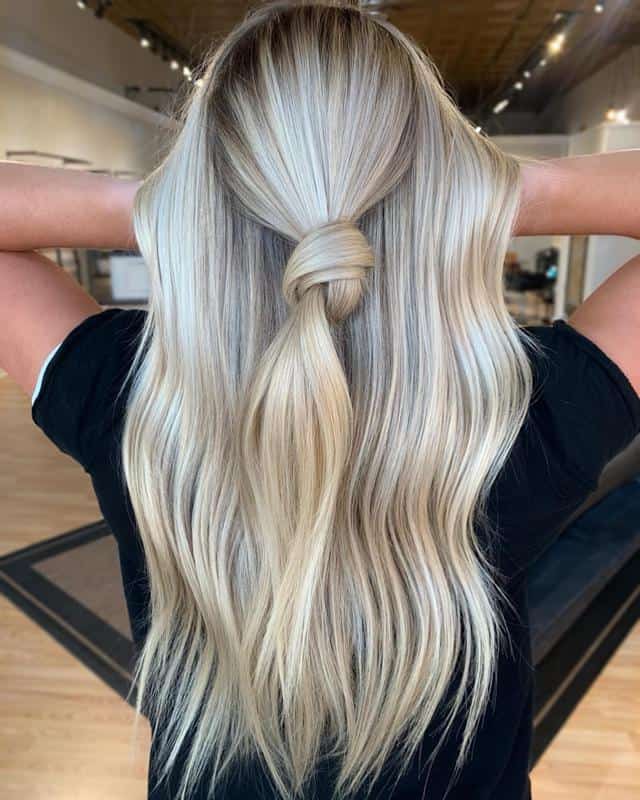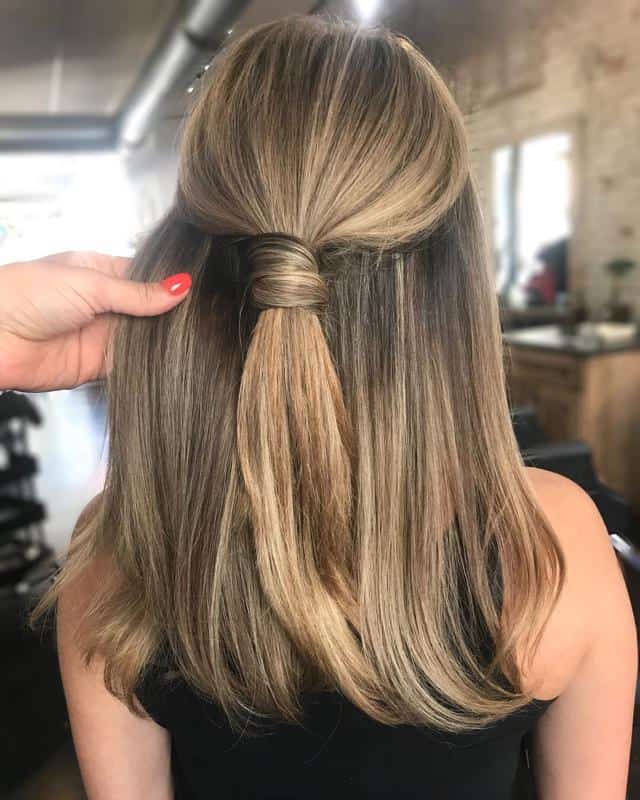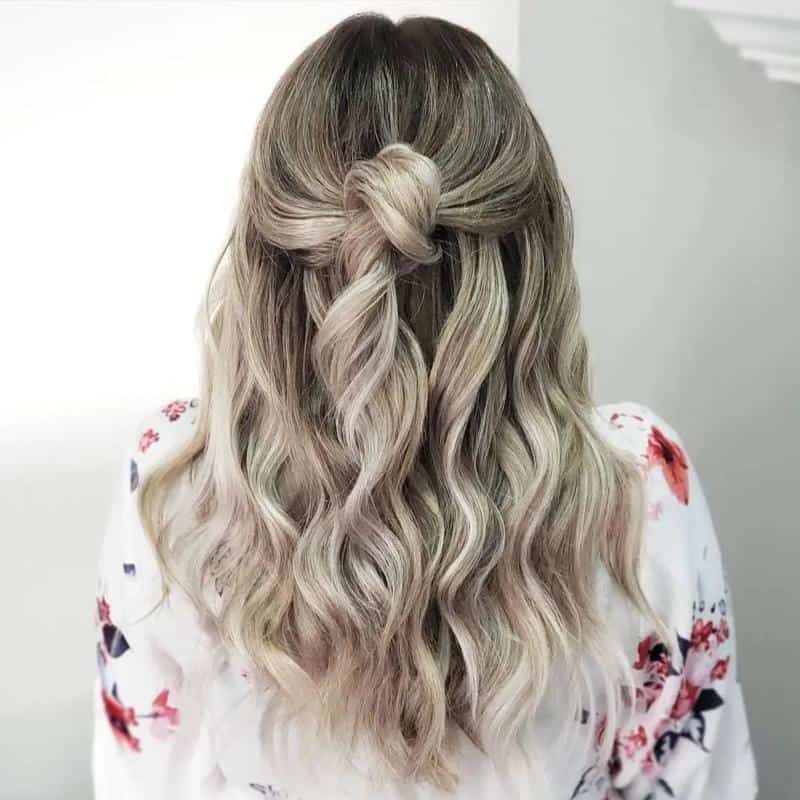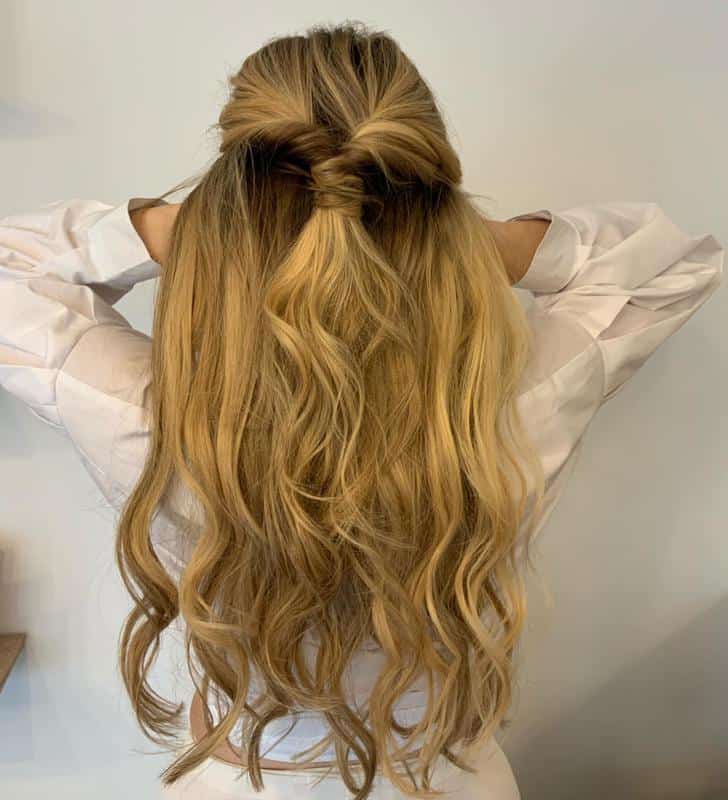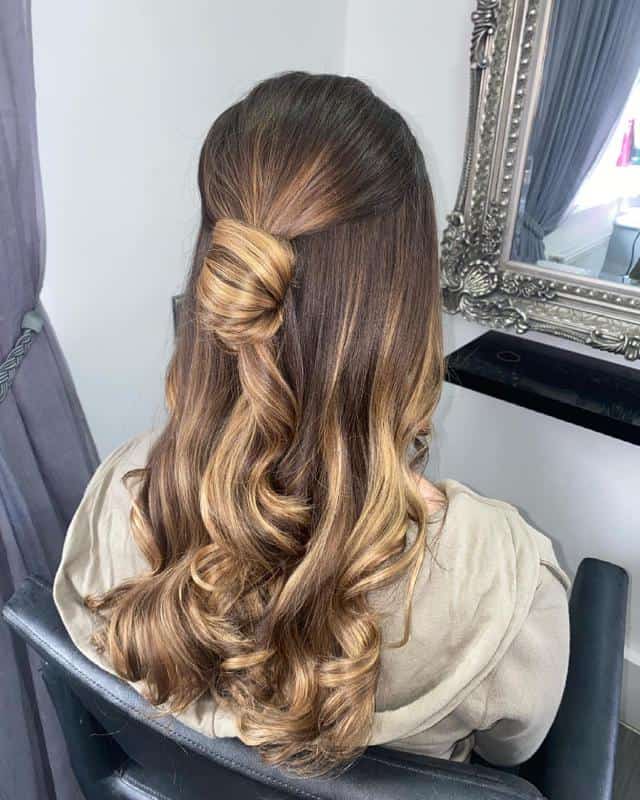 Nobody likes hair knots and tangles. It takes a while, and a whole lot of patience, to get rid of them. But in this case, we're talking about knots you create on purpose. That's right!
In most cases, hair knots are positioned on top of the head, but you can try something new. A cascading half updo is a great option.
To make it happen, you should brush your hair so that it's smooth and untangled. Then, grab a section of your hair in the back and divide it into equal parts. Tie those two parts into a knot the same way you'd start tying laces of your sneakers.
One end of the knot should be left loose and hanging down. Secure the remaining part with bobby pins.
The size of the knot depends entirely on you. If you want a smaller knot at the back of your head, then the initial hair sections you divide should be smaller. For larger knots, you need more hair.
These are the basic instructions. When you master this skill, you can move on to more challenging knots. For example, you can create two smaller knots and use the hanging sections of each to make a big knot.
Hair knots work for long hair the best, but also look great on medium hair. Women and girls with short hair can opt for top knots.
12. Weave Half-Up, Half-Down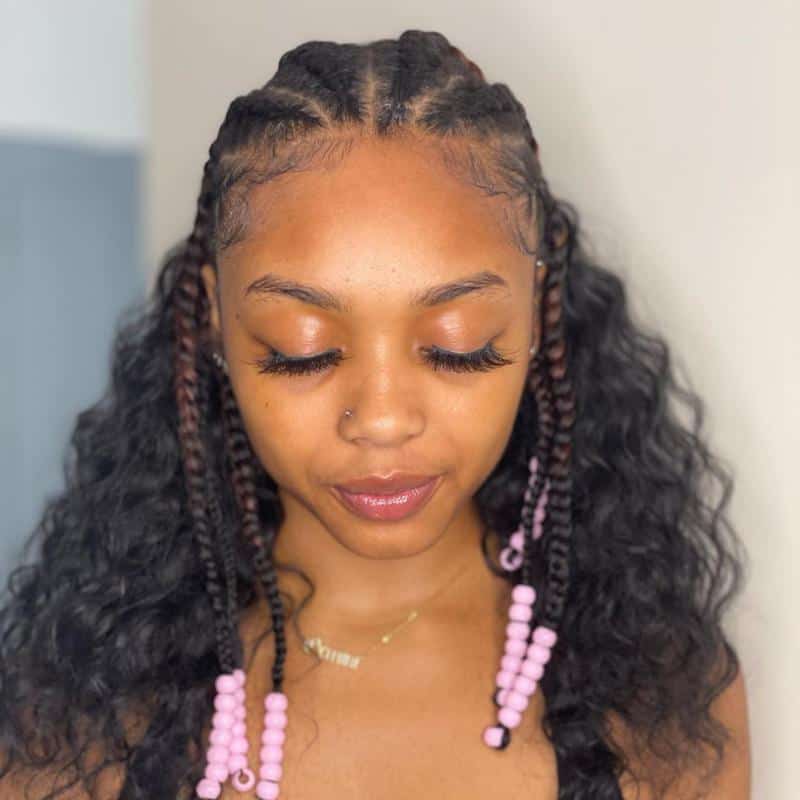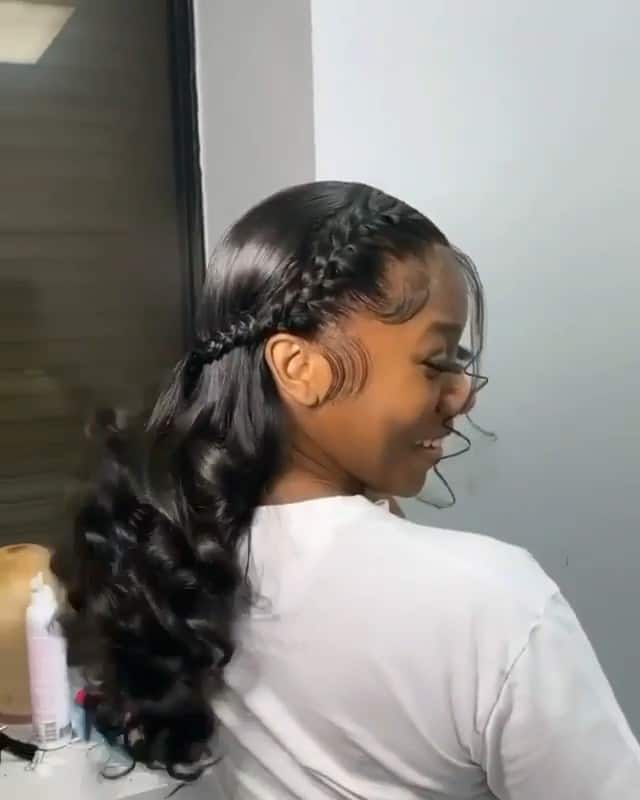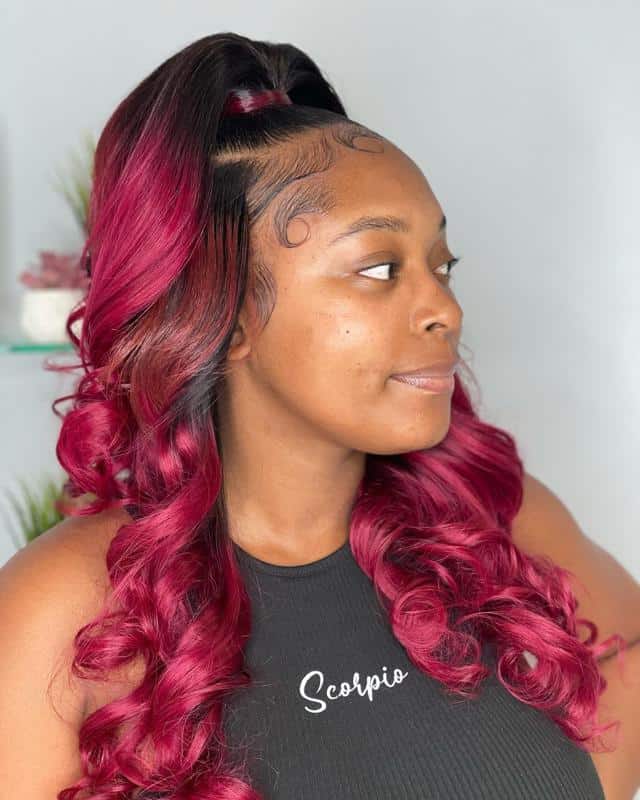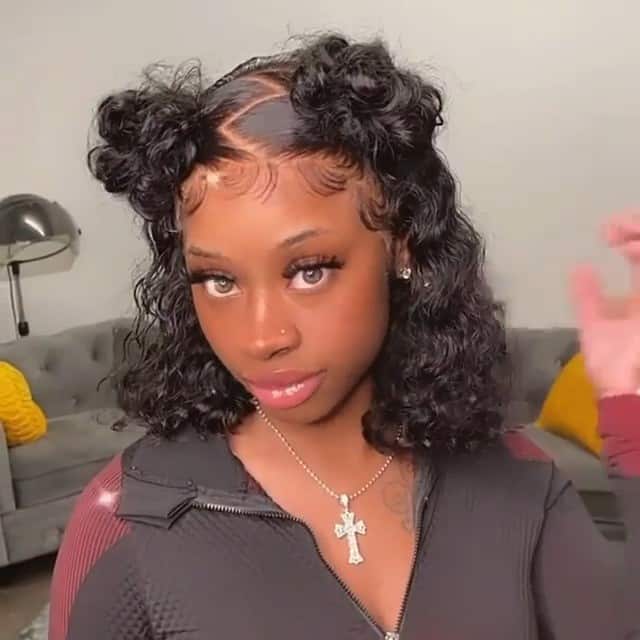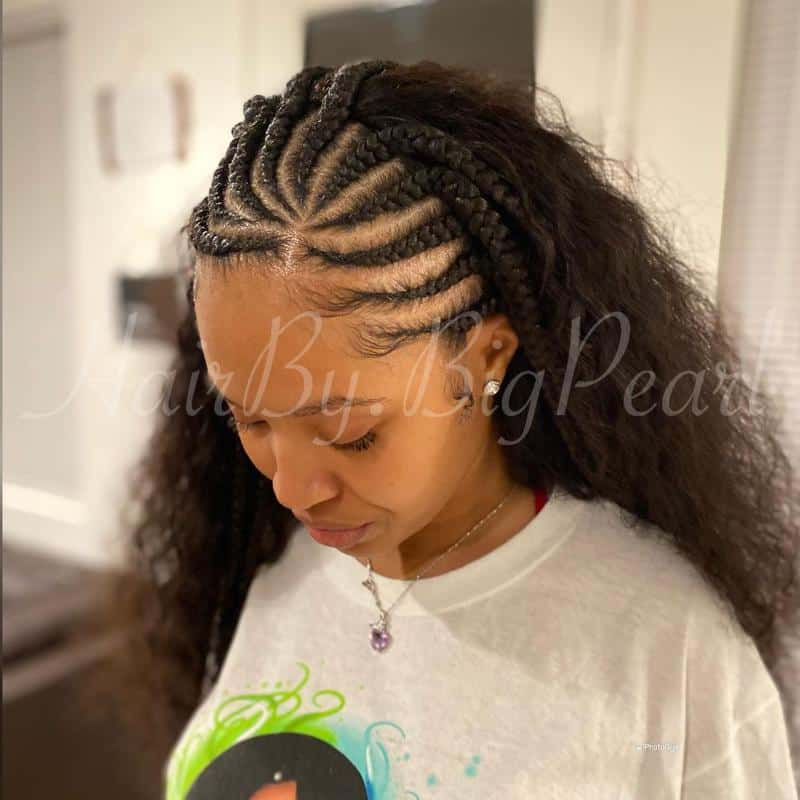 Weave as a hair extension, natural or artificial, that can be integrated into human hair through several methods such as gluing, sewing, or clipping. Having been around for centuries, weaves are a popular choice by many women.
The best thing about weaves is that they allow you to create any hairstyle you like, add more volume and playfulness to your hair, or experiment with different colors and textures without harming your own hair.
Weaves make it easy to create half updos, as they give you more material to work with. Your half updo will look the best if your weave is well-maintained. To keep your weave in perfect condition you should wash your hair (weave included) once a week. When combing, don't rip the comb through the weave and always start detangling from the bottom up while hair is still wet. Avoid scratching your scalp with fingernails or anything sharp and pointy.
How to Get Perfect Half-Up Every Time
As seen throughout this post, there are tons of half-up half-down hairstyles you can create regardless of how long and thick (or thin) your hair is. If you have never created this type of hairstyle you're probably thinking there's no way you can do it by yourself. You can! The easiest way to create a half updo is to pull back your hair from the area above the ears. Hold that hair in place at the back of the head.
You have several options here. One option is to tie the knot or bun. Another option is to opt for a ponytail. You can also go for a fishtail braid or any other braid. Plus, you can use accessories, floral arrangements, or anything else you want. This is the part where your creativity shines.
Once you determine the right option, make sure to secure the top half in place with a hair tie and bobby pins around the sides.
You have several options with an untied section of your hair. You can just brush it, but you can also straighten it, or curl it.
To make your half-up, the half-down hairstyle looks more prominent, you can use volumizing products. They will make your hairdo have a fullness and voluminous look.
The result will be the ever-so-adored effortless chic.
This is the basic instruction that you can use to create any kind of half updo you want. If you want a more dramatic look, you can always include a weave or extensions. Always bear in mind, for a flawless hairdo you need to take care of your hair properly. Use products that protect and nourish your hair, be careful with heat styling and avoid items with harsh ingredients.