Have you ever thought about rocking something different? Have you ever had crocheting hairdos? If not, now is your time to consider this look! Keep on reading as we list and explain what this look is, while also leaving you with some gorgeous options that you won't be able to resist!
Crocheting HairStyles: FAQ
1. What Is A Crochet Hairdo?
Crochet braiding is a way of adding extensions to the hair, but in one unique way and with a unique approach. Crochet braids are considered a protective hairstyle since they are placed by a certified hairstylist who knows how to do these detailed looks. Crochet hair can be worn straight, braided, twisted, or curly, and can last up to eight weeks if cared for properly.
2. Who Should Go For This Hairstyle?
Any woman can wear a crochet braid and crocheting hairstyle look. There are no rules and right or wrong answers when it comes to it. As long as you're willing to wear your hair in this unique braid way, you can go for this look! It is often worn by teens and young women who enjoy braids. On the other hand, it is also worn by those who wish to protect their natural hair and who like to experiment with their looks.
3. Is This Hairdo Pricey?
Crochet hairstyles and braids can be quite pricey to go for since they are such a unique look. Expect to pay around $100-$300 at a hair salon. The final price will depend and vary a lot based on your natural hair length and the outcome that you're trying to achieve. The hairdresser will use a lot of artificial hair when recreating this look, which is why the prices are so high. Also, the placement and installation can take 2-4 hours, so bare with them!
4. How To Achieve The Crocheting Hairstyle?
The look itself is quite complex & not easy to do, which is why you should consider the best hairstylist in town. For women who prefer videos & visual presentations, here's how the process should look like:
Top 30 Crocheting Hair Styles
1. Crocheting Hair Styles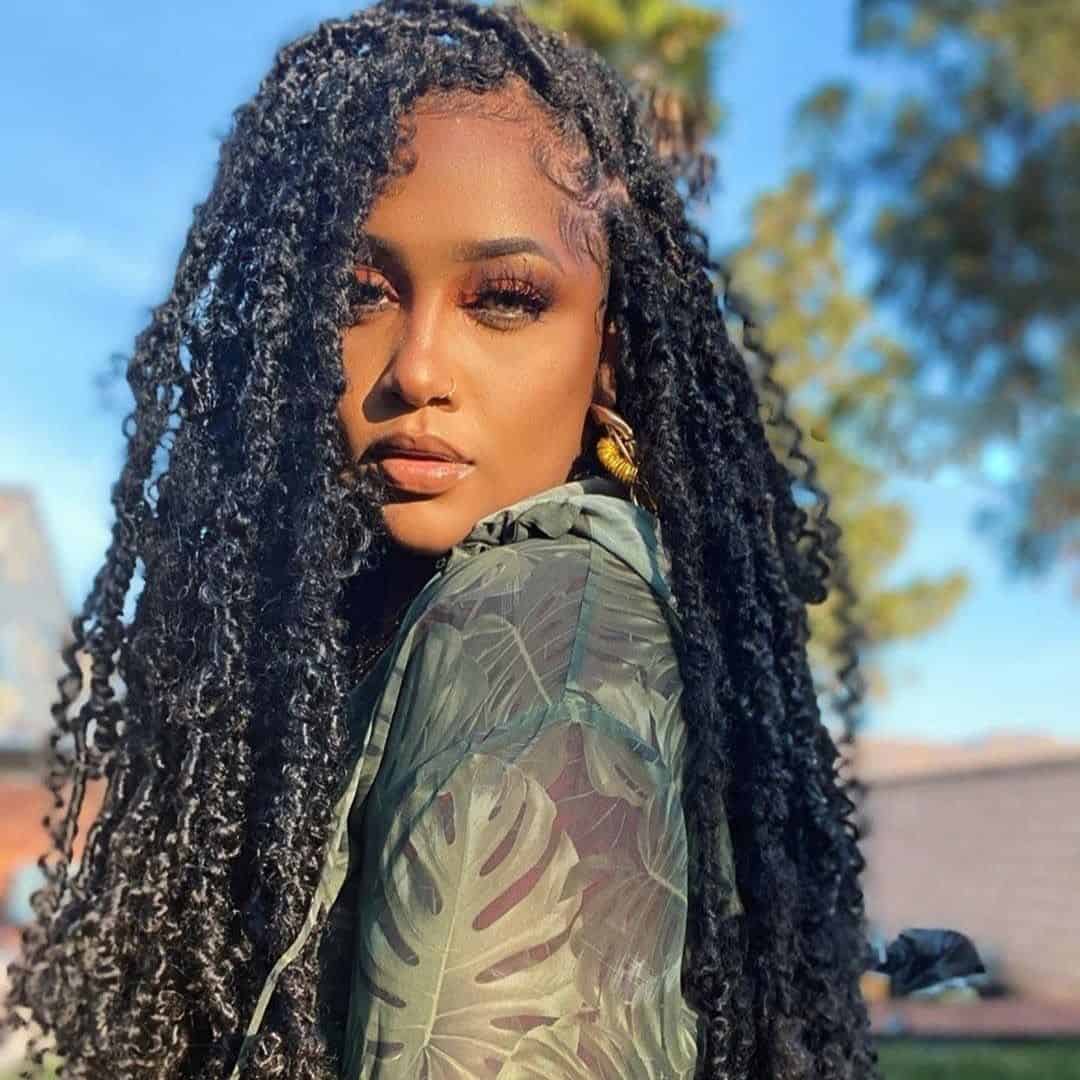 Dark brown or black hair can look so well and pretty with the crocheting hair styling approach. If you're someone who likes simple colors and safe solutions yet you want to give it a go with a difficult cut, this will suit you!
Achieving these braids will take you around 60 minutes to do. The final result is stylish and ideal for everyday wear among all women despite their age.
2. Crochet Hairstyles Braids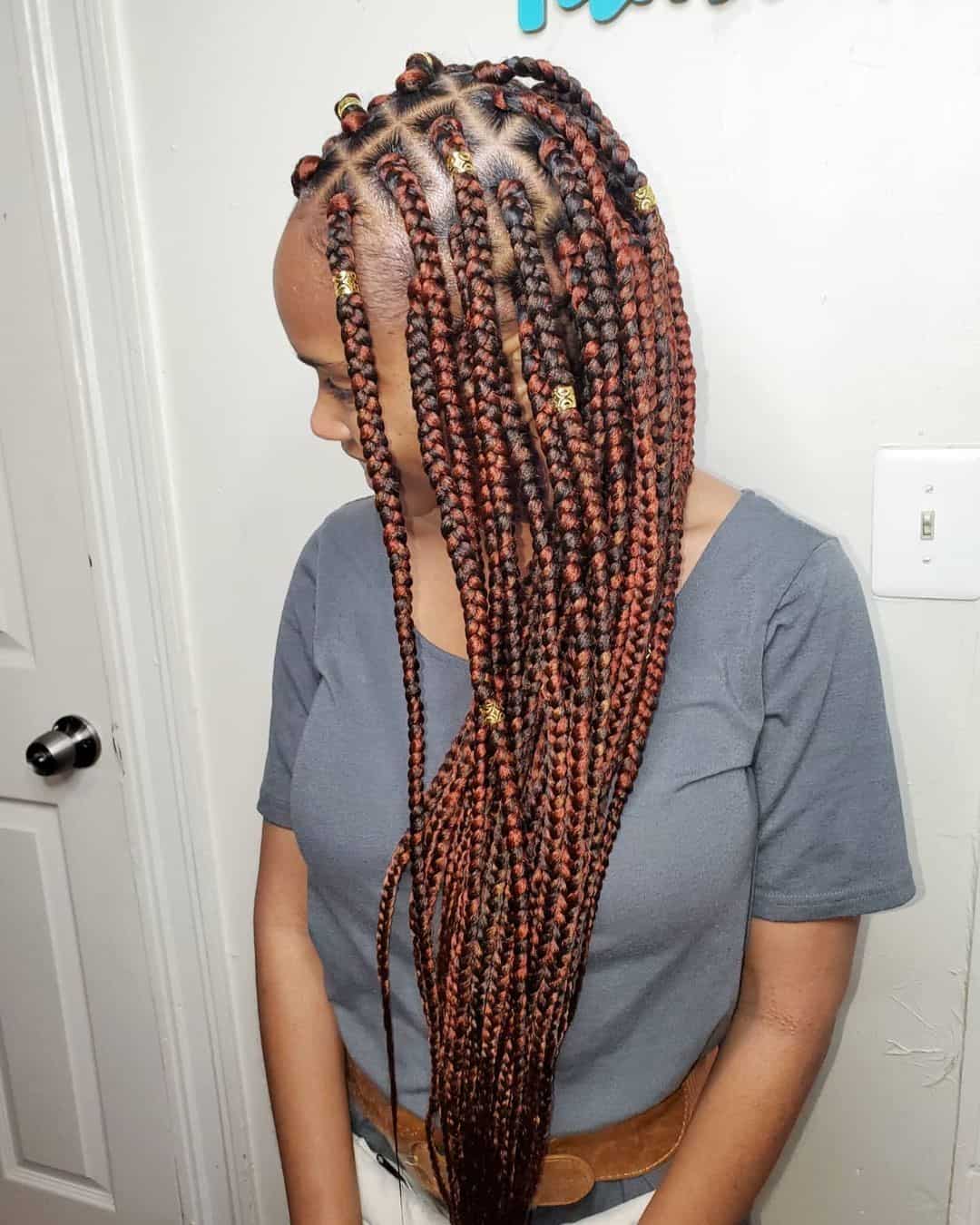 If you're a fan of retro braids and colorful looks you are going to enjoy this one. Spice up your look with some elegant and retro crocheting braids if you are wanting a quick hairdo transformation.
Secure your braids in a place with the right pins or accessories. The end result is very feminine and playful, a must for girls who like retro ideas.
3. Crochet Curly Hair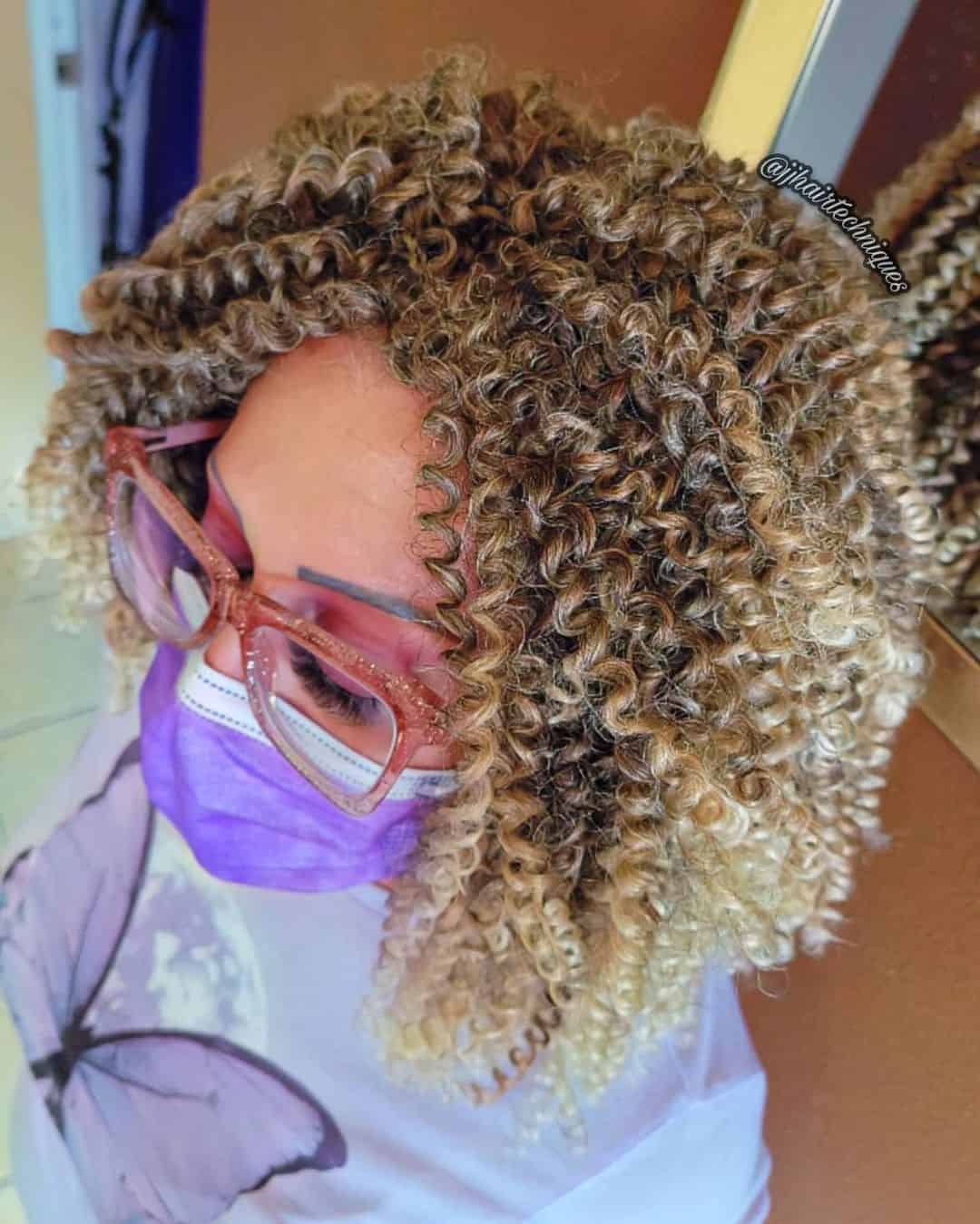 Are you someone who likes and enjoys their curly and wavy looks? If you're a fan of drama and glamour you're going to appreciate this beauty.
Why not consider coloring your hair in this bright blonde color? If you do so, you will end up with glorious blonde crochet braids that will suit your vibrant personality. Heads up since blonde looks can be quite tricky to go for and achieve.
4. Crochet Hair Braids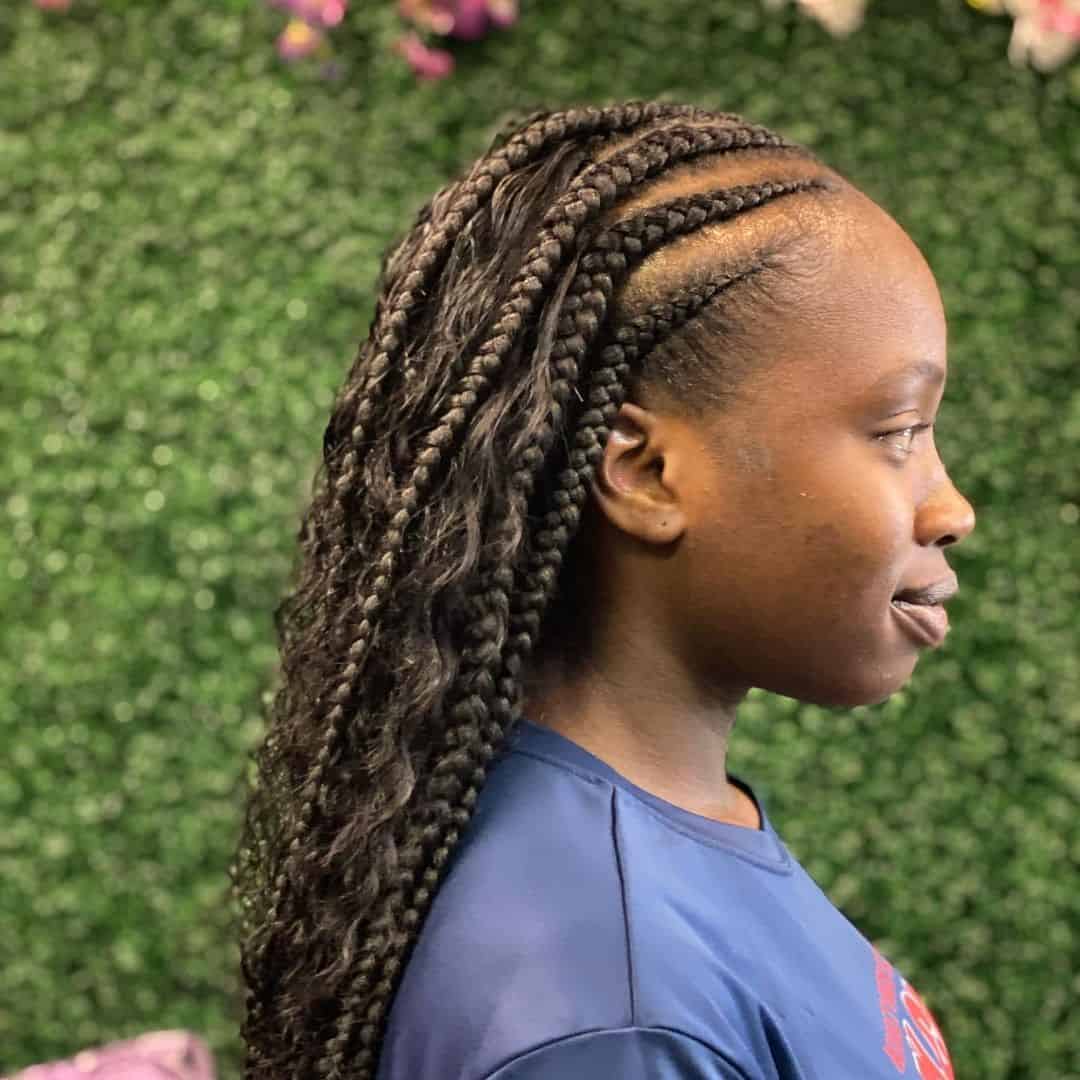 If your hair is quite thin and you have a receding hairline you can consider this hairstyle. It will suit most women who struggle with their natural hair texture and their natural thickness or length.
Add these crotchet braids and achieve this long hairdo. They are a feminine look that will suit natural brunettes in such a lovely way.
5. Crochet Braiding Hair Look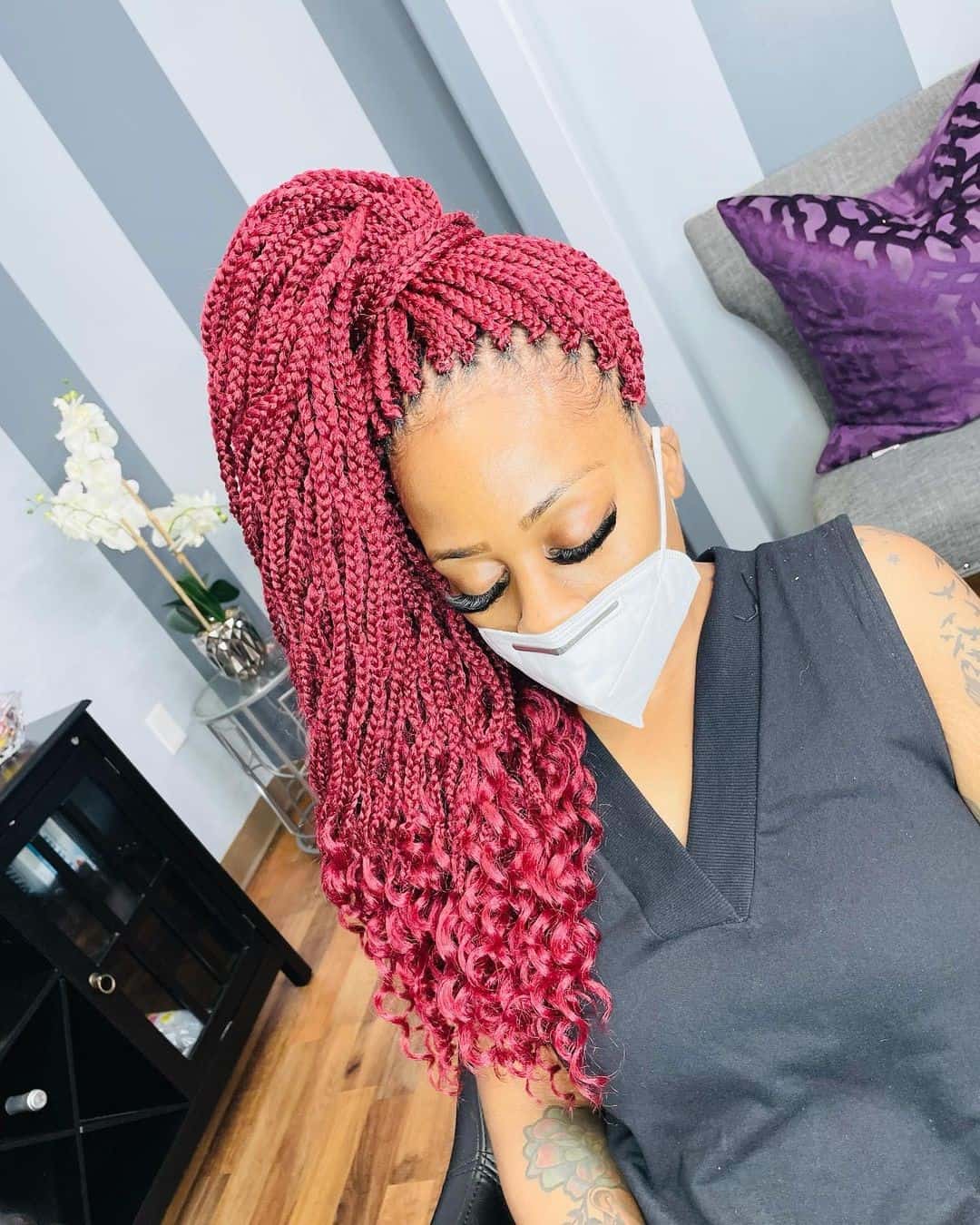 Are you someone who has super red hair and you're satisfied with your curls? If so, you can further emphasize them and enhance them with this hairdo. It will look so lovely on younger girls!
Make sure that you trust your hairstylist before you give it a go with this look. These red crochet braids will look feminine and extravagant on most young women who love to look fiery and fierce.
6. Crochet Short Hair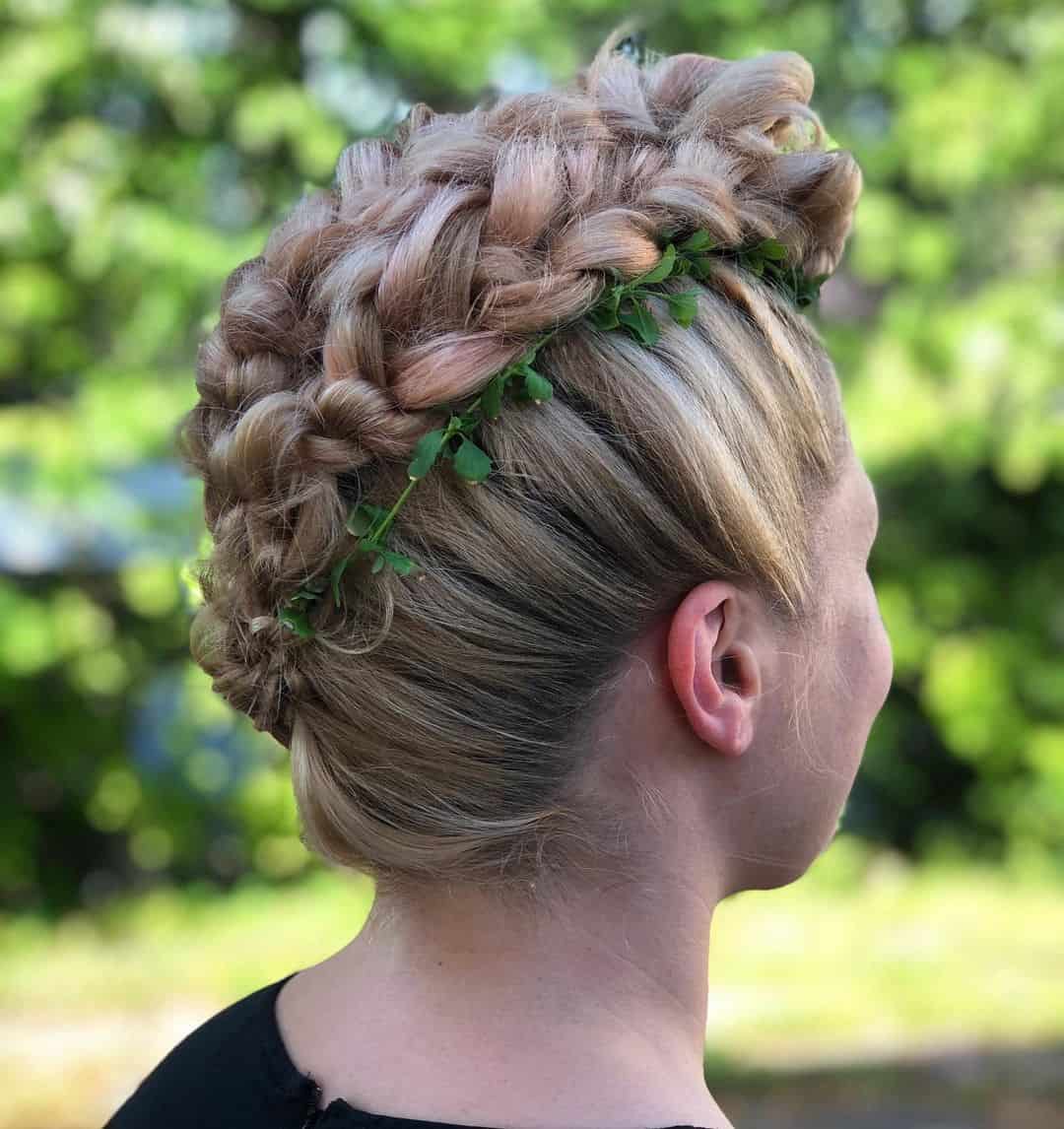 You can make your braid a bit different with this approach. No reason to stick to simple or common crochet braids. You can give it a go with these that are tied at the top portion!
If it is the fall or spring season you can consider adding some elegant floral details. This way, this crochet braid will look trendy and ideal for brides or bridesmaids!
7. Crochet Hair Braid Pony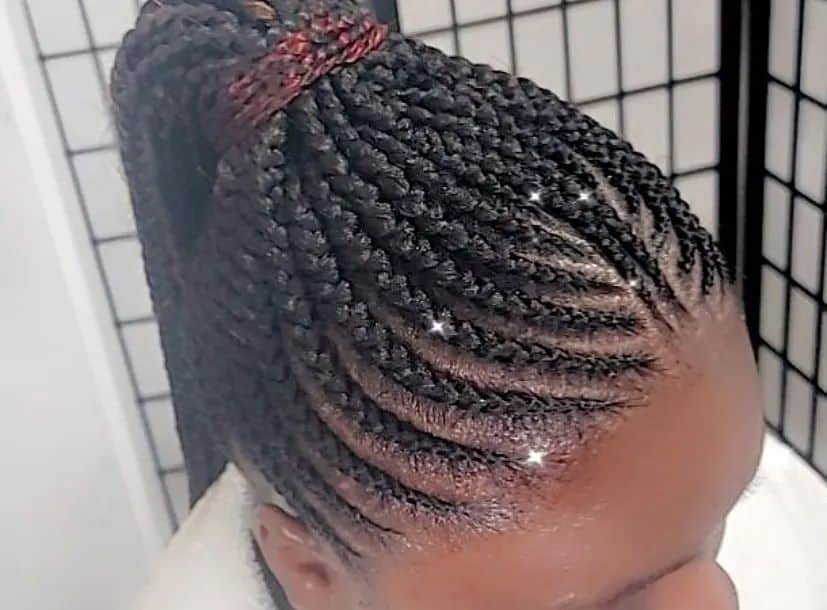 If you're someone who likes braids and tied-up looks you're going to enjoy this one. Women who like simplicity and practical looks will enjoy this idea for their everyday wear.
If you're someone who likes buns and simple hairstyles this one will look amazing on you. If you're a low-key and low-maintenance person just know that this hairdo is super easy to maintain and recreate.
8. Crocheting Hair Style Ponytail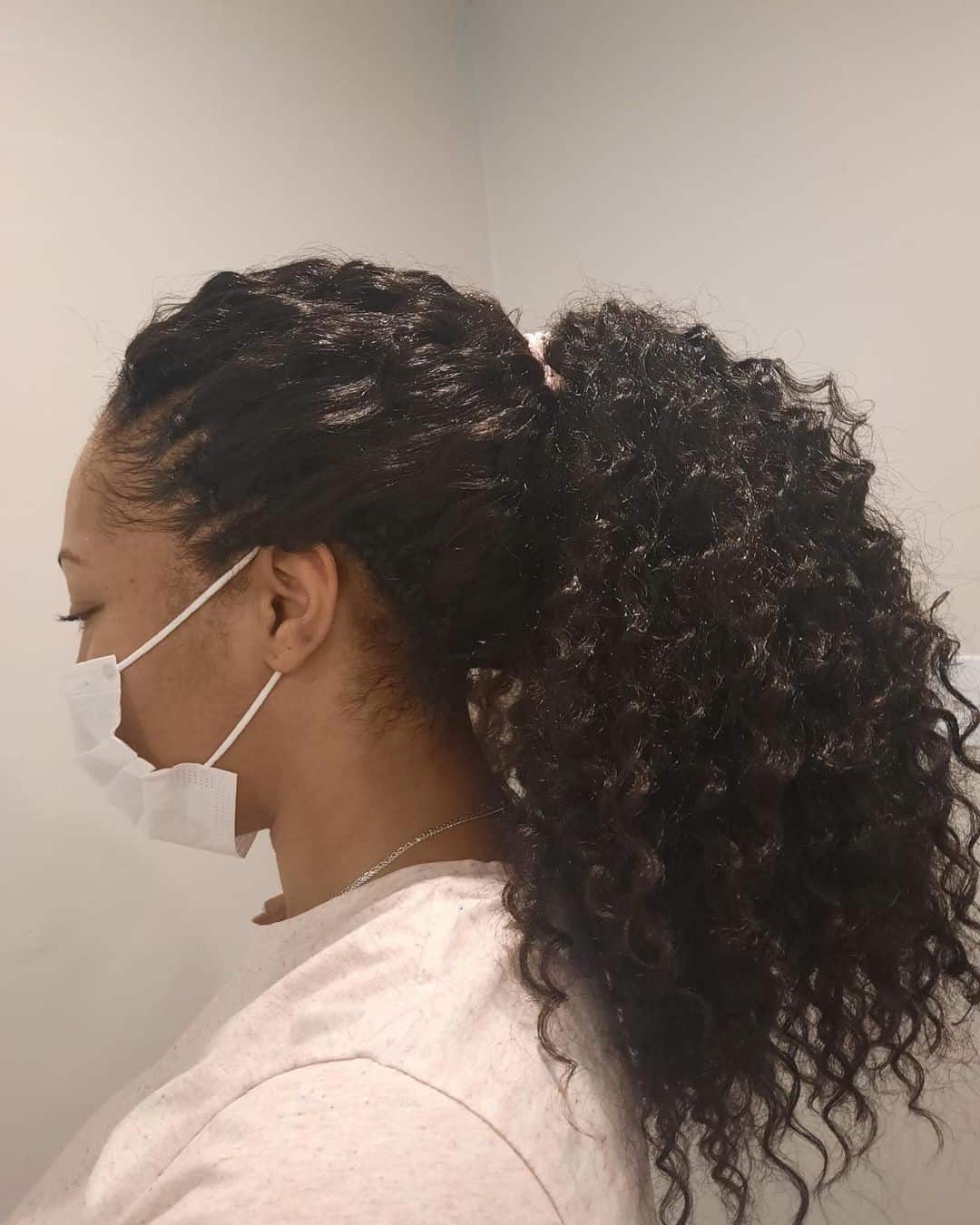 If you're someone who has long hair and naturally curly hair you're going to like this outcome. Women who are proud of their natural curls will enjoy this look the most.
Show off your feminine Afro curls with this crochet hairdo! Make sure that you secure it in the back with the right kind of hair clips or bobi pins just to be safe during the day.
Also Read: Top 40 Elegant Messy Ponytail Hairstyles (2022 Updated)
9. Blonde Crochet Hair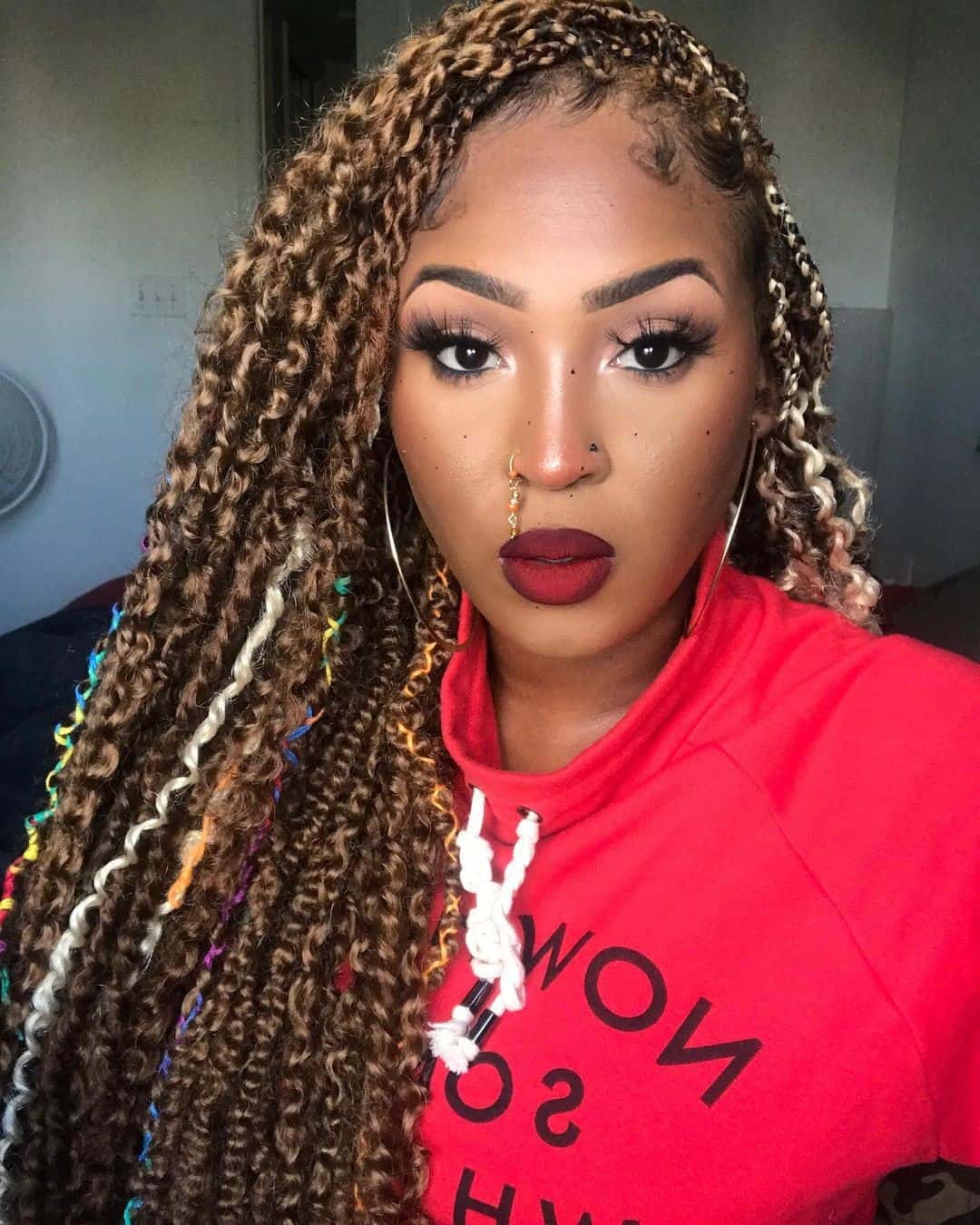 Women who like loud colors and funky designs will enjoy this beauty. Go for these curls and these gorgeous waves if you're a fan of dominant colors and loud crochet ideas.
Add some accessories and bits and pieces throughout your hair to achieve this feminine and retro look for your everyday wear.
10. Long Curly Crocheting Hairdo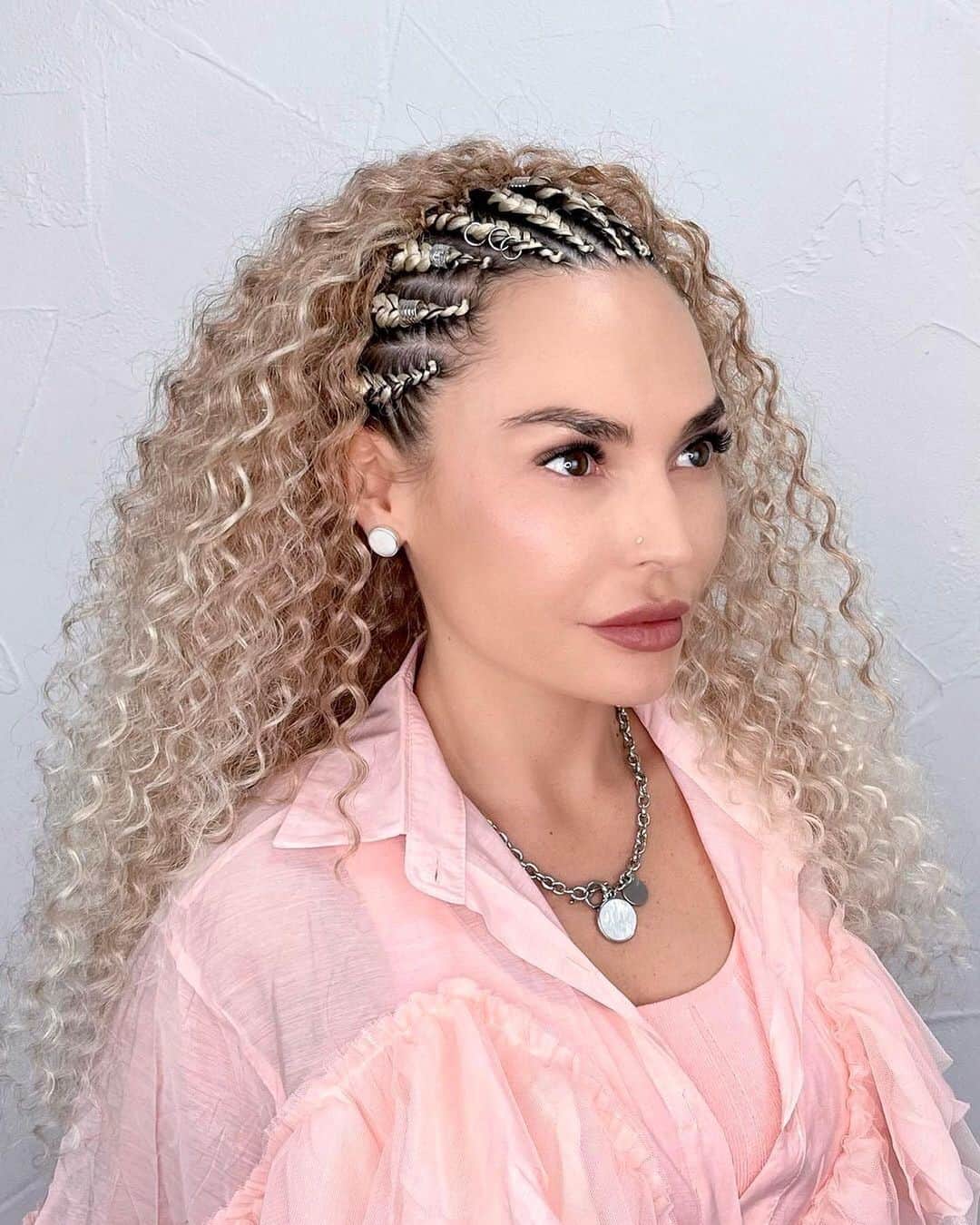 Long blonde curly hair is a common trend on the market. Are you a fan of loose curls and braids? Try and combine this look to achieve the most stylish outcome! These tight and seamless braids will look the best on teens or younger women who like elegant ideas.
It will take around three hours for your hairstylist to leave you with these luscious curls. As long as you're equipped with patience and you have time to invest in yourself why not give it a go with this hairdo?
11. Purple & Pink Crochet Hair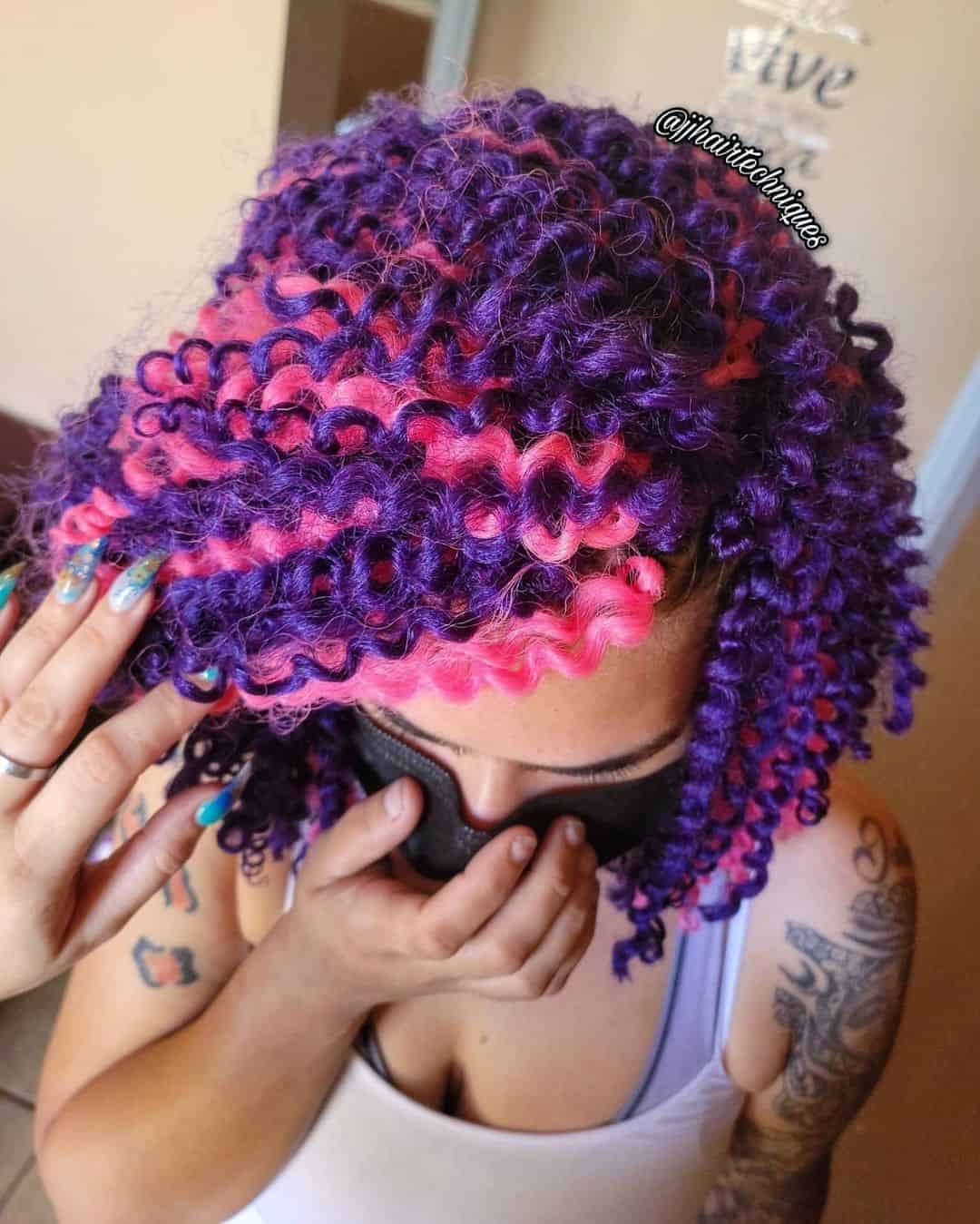 If you like to wear funky and loud colors you're going to enjoy this hairdo. This crochet look is retro and colorful, ideal for any lady that wishes to stand out.
Emphasize your curls at all times with the right curling products. You will enjoy this style for your summer night outs, raves, as well as parties.
12. Long Dark Brown Crocheting Hair Style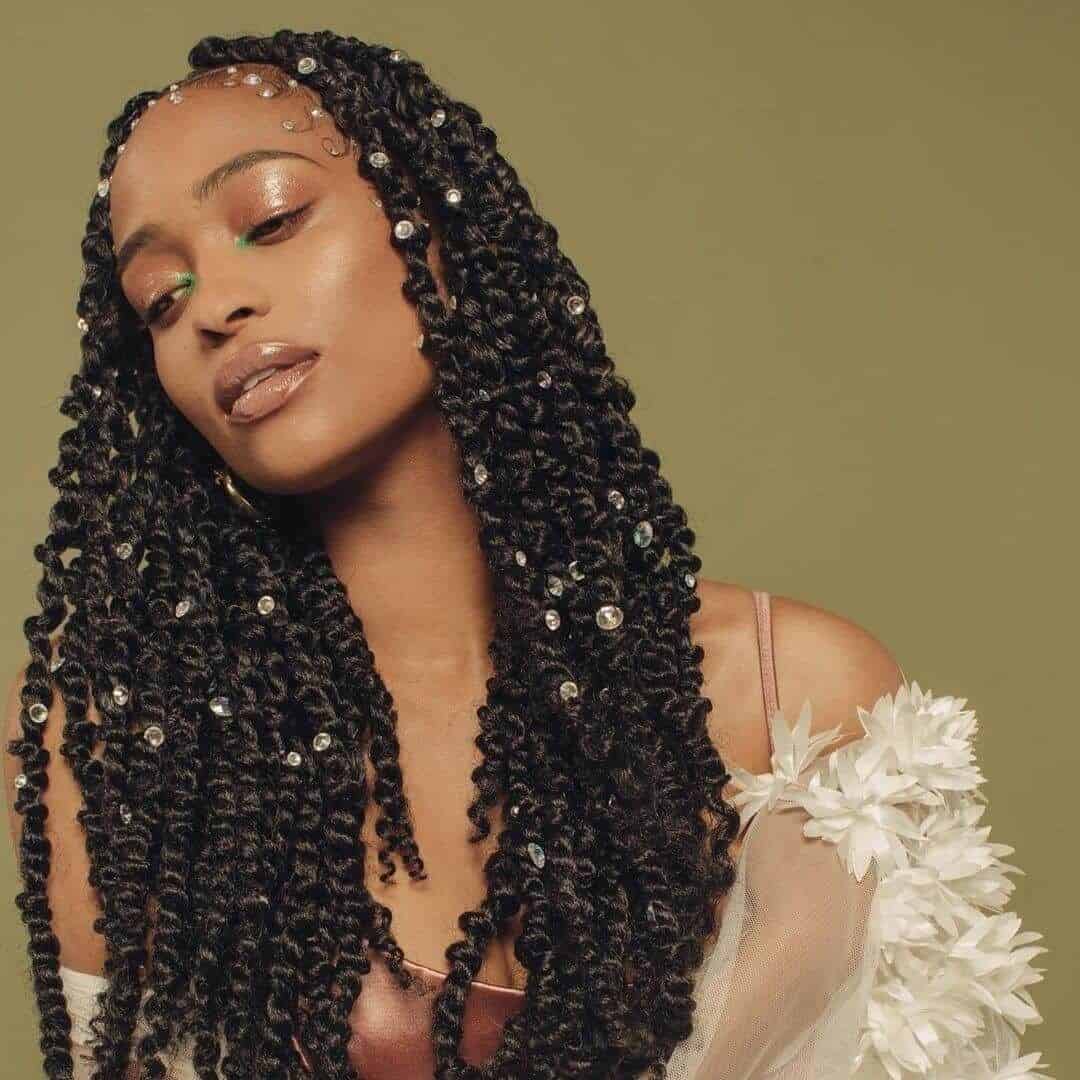 If you have naturally long and dark hair you're going to like this design. It looks so playful with these braids and details, ideal for true lovers of the crocheting hairdo approach.
Add some beads and accessories on top of your strands to give it that pop. If you're in your twenties and you love the hip hop or RnB scene and icons just know that this look is specific to that era.
13. Blonde Crochet Hair Extensions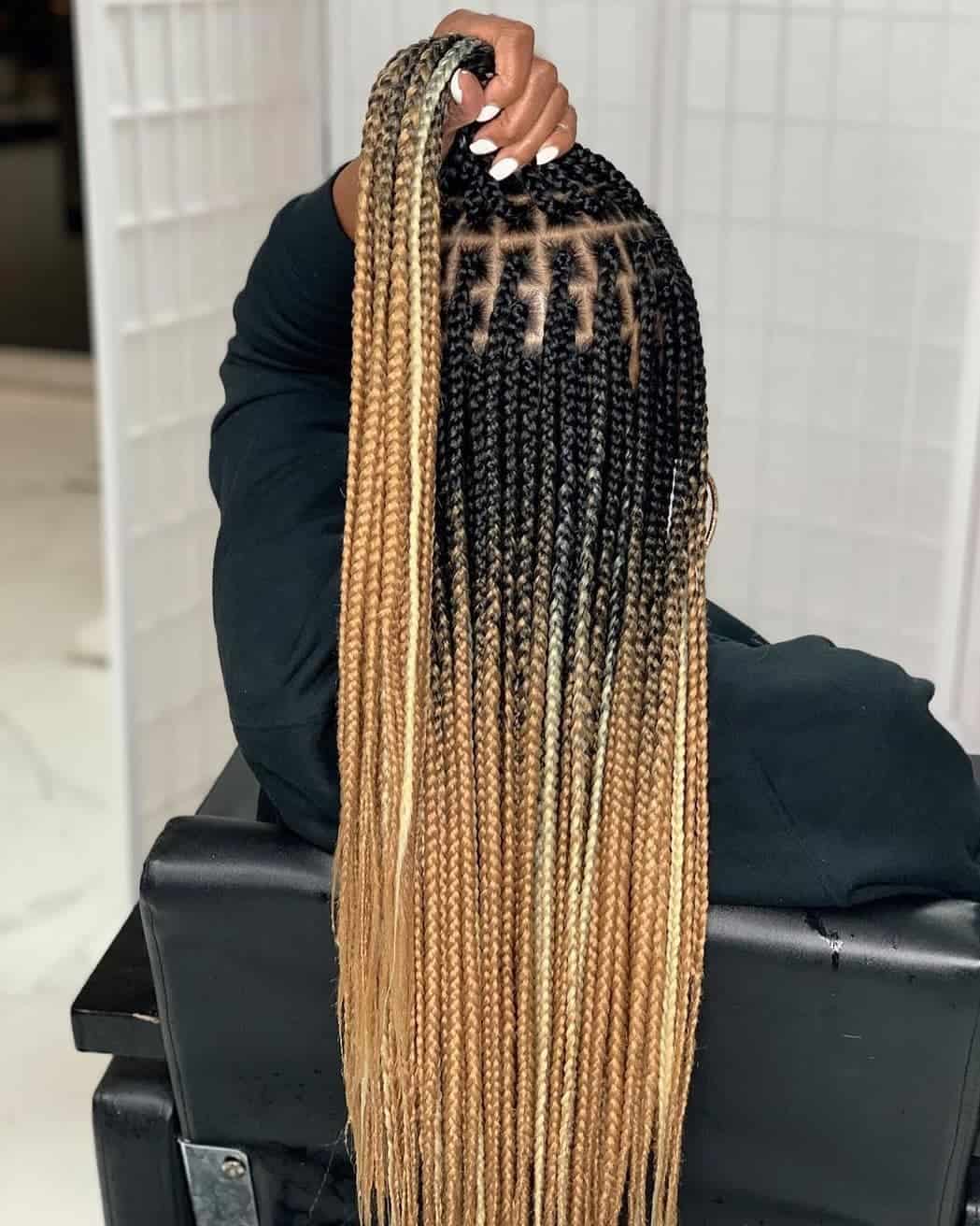 Dark brown or ombré looks are feminine and flirty. Are you someone who likes stylish ideas and you're a fan of current and modern cuts? You're going to enjoy this change!
Show off your braids and this ombré coloring technique if you're into modern looks. Let your strands and crochet braids speak for themselves at any given moment! Stick to straight hair since it is a lot more low-maintenance to go for.
14. Retro Dark Brown Crochet Hair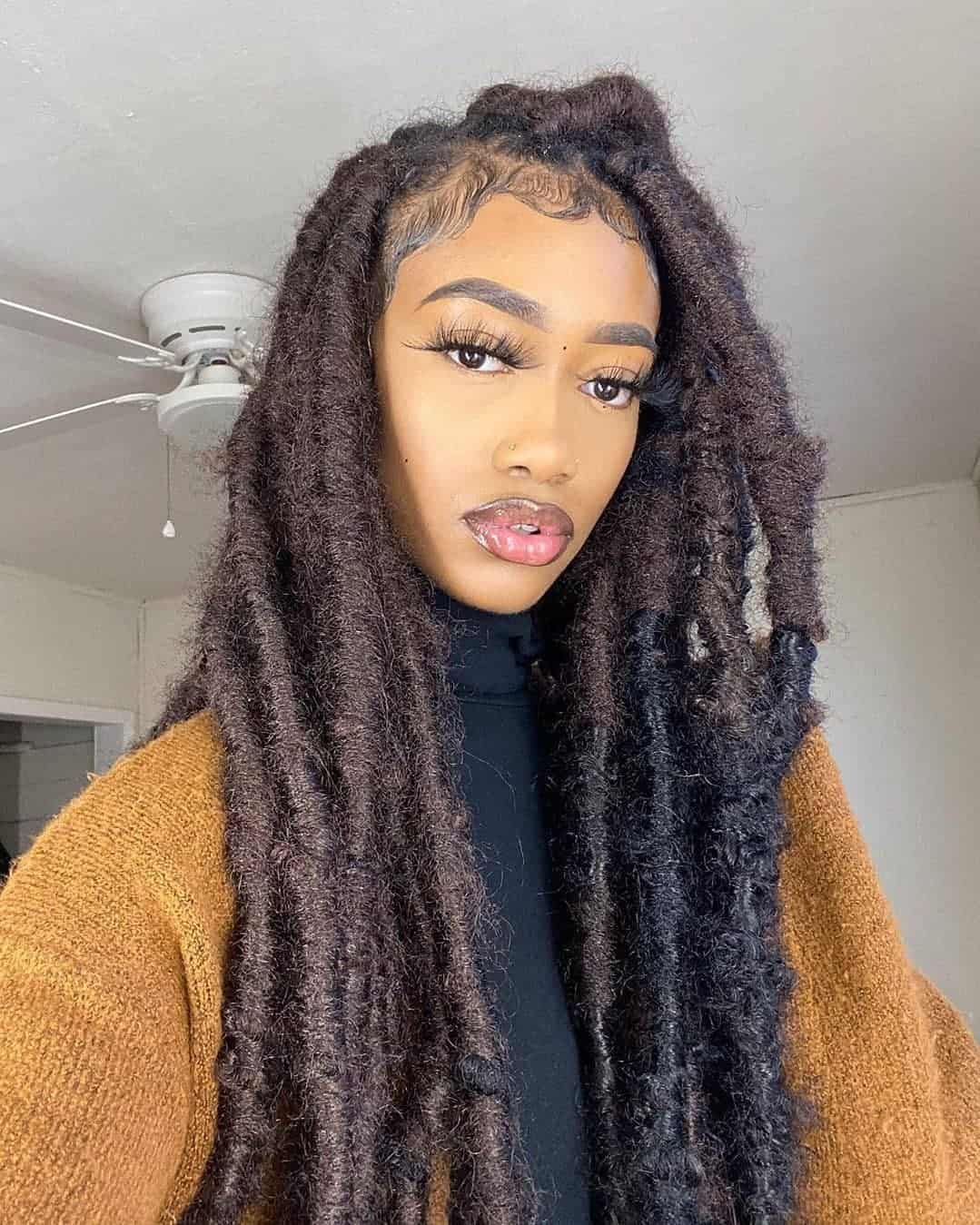 If you like retro curls and crochet ideas you're going to enjoy this look. It will emphasize your natural beauty and your natural dark brown color. Show off these curls and make them work at any day or night-time event.
Set your hair in place with hairspray and make sure that your braids are done by a professional stylist. Once done the right way they can last for weeks with ease.
15. Long Black Braids Crochet Hair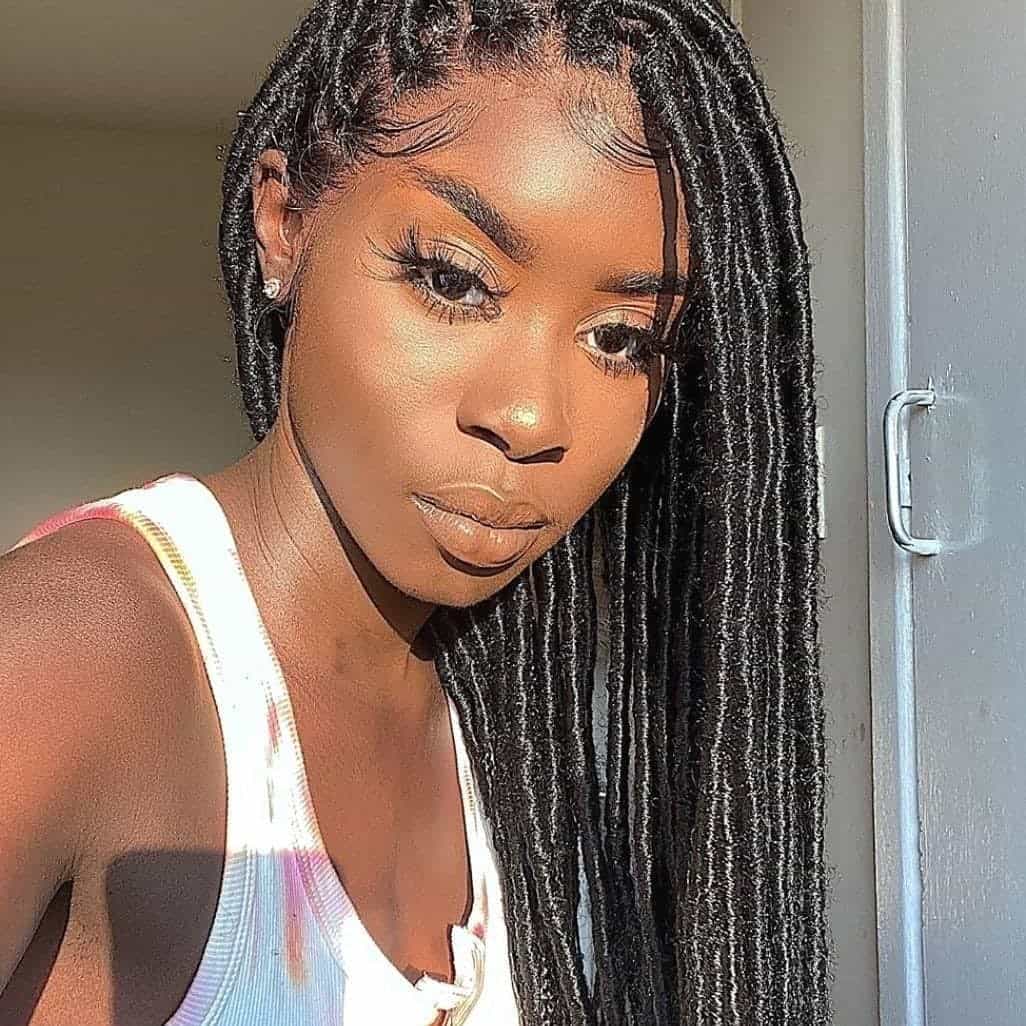 If you're someone who likes straight and sleek hair or shiny hair you're going to enjoy this beauty. It is a must-have look for women who enjoy crochet looks and a must-have for those who like inches.
This installation process will take you 2-3 hours to do, especially if you plan on sticking to longer strands. Make sure that you're someone who is patient and doesn't rush the process.
16. Short Crochet Hairdo Idea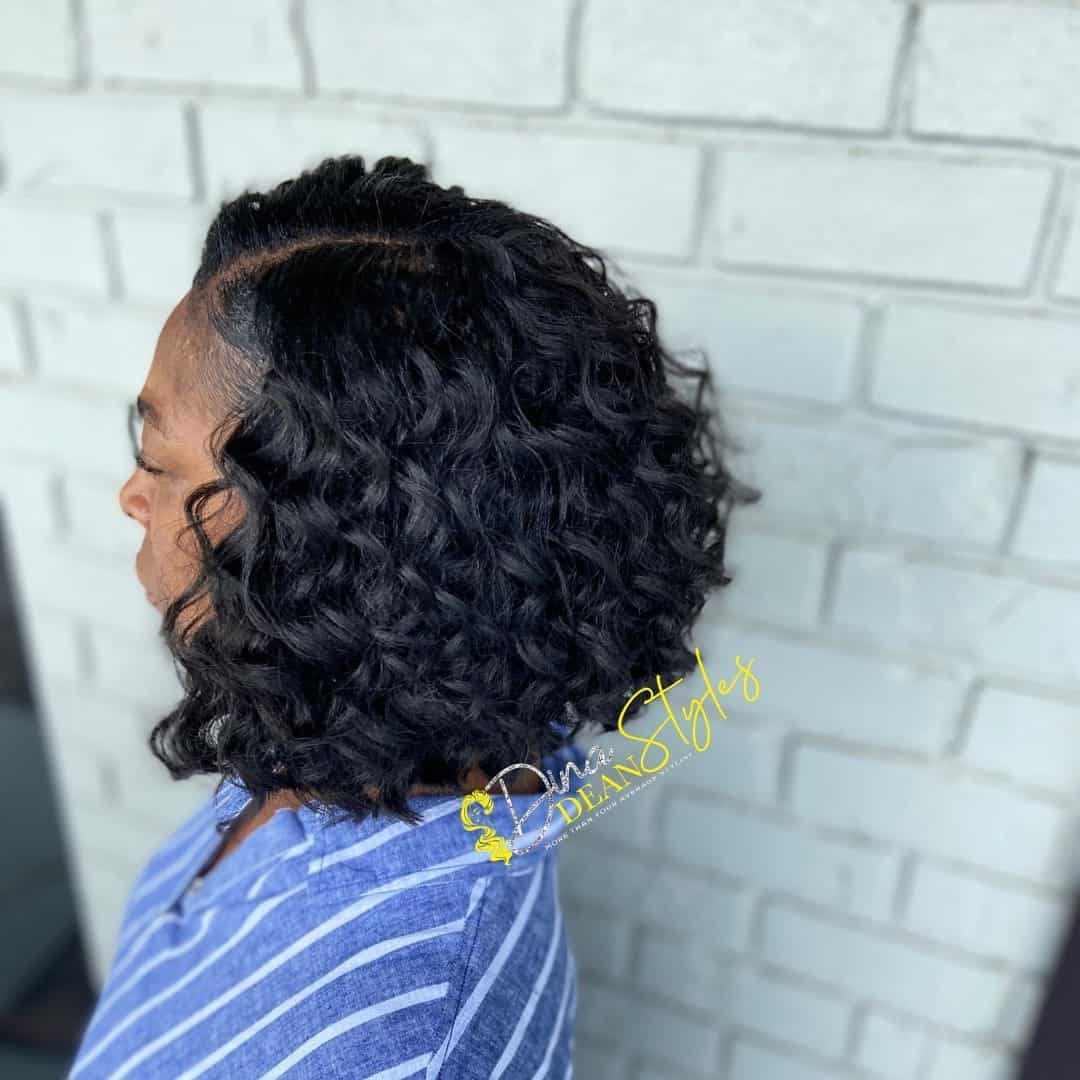 How about you give it a go with short and seamless looks? Are you someone who enjoys short wavy looks? If so, give it a go with this elegant crochet beauty!
Curl your hair and your strands to achieve this elegant look. Make sure that you're up for low-maintenance and low-key ideas. The end result is perfect for busy moms or workaholic women who need a practical look.
17. Medium Crochet Black Hair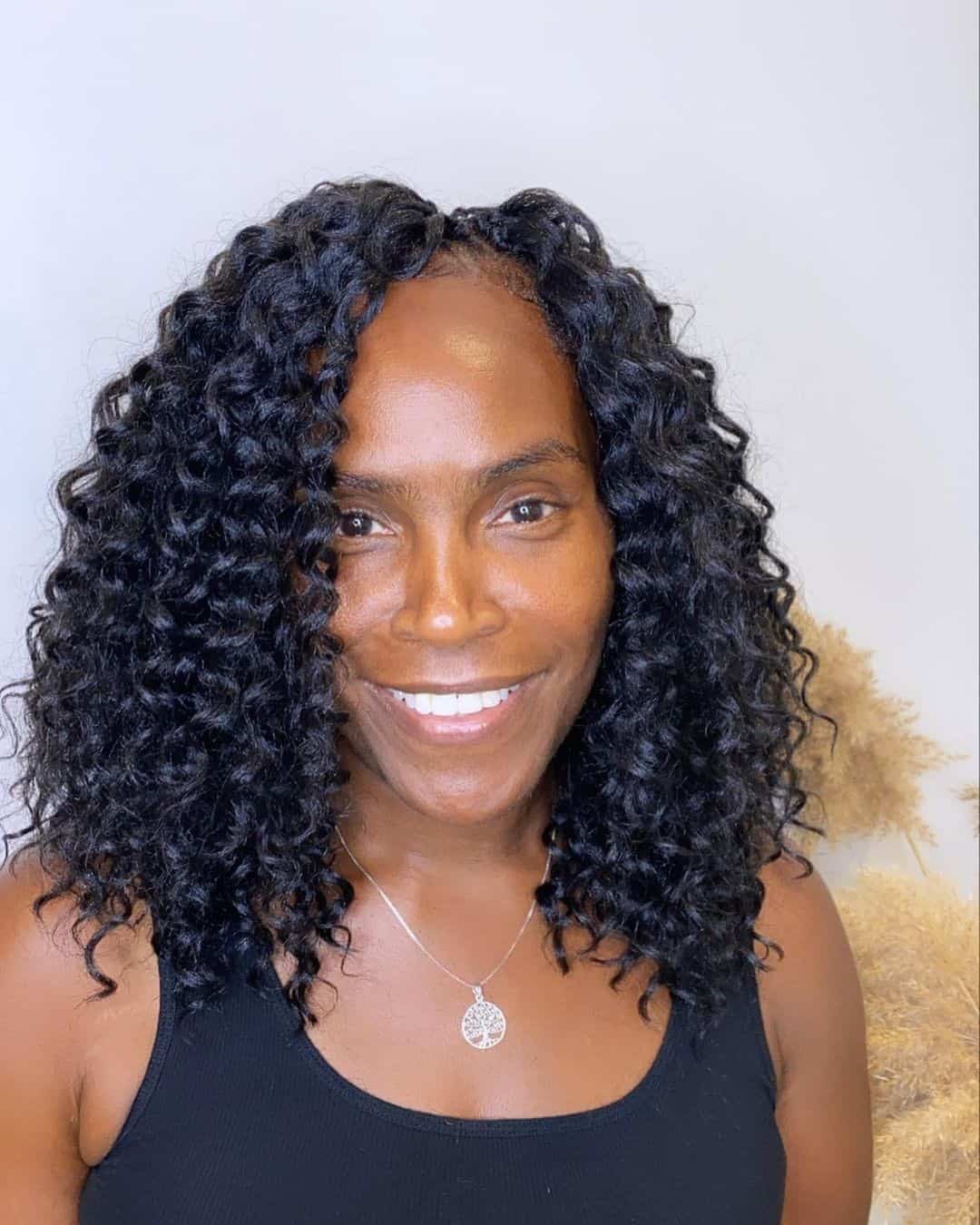 If you're someone who likes beach waves and elegant curls you're going to gravitate toward this beauty. Women who like shorter looks and defined curls are going to like this dark brown crochet hair.
Use loads of sea salt spray to set your curls in place. This hair item will do wonders and it will work the best with any hair type or length.
18. Black & Red Crochet Hair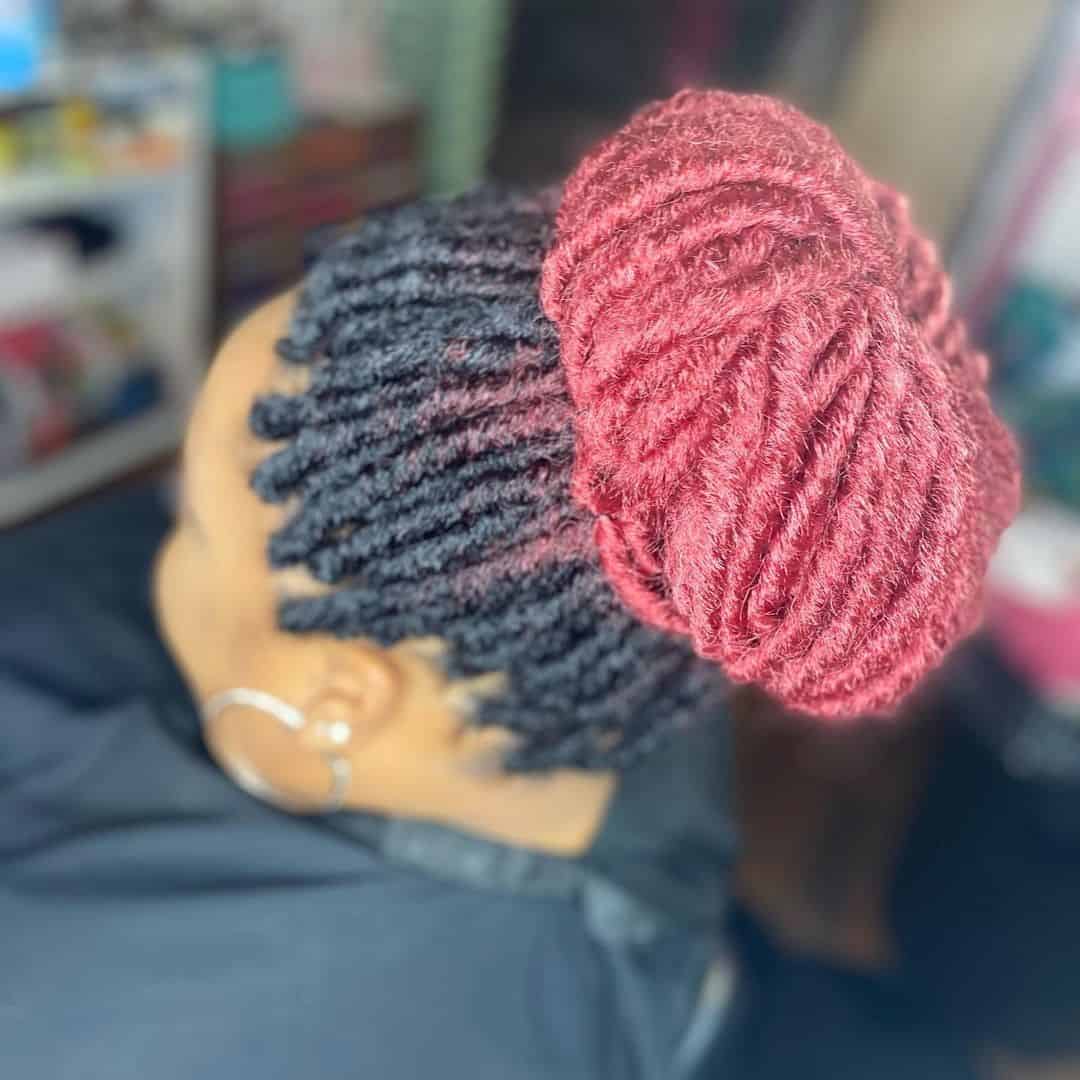 How about you try out some pops of red and black? This updo hairdo will work amazing on women who like sporty looks and practical everyday buns.
You can work out with this hairstyle and hit the gym regularly. Loads of women prefer this crochet bun since it is playful and ideal for those who are always running late or for women who are running errands.
19. Strong & Healthy Crocheting Hairstyle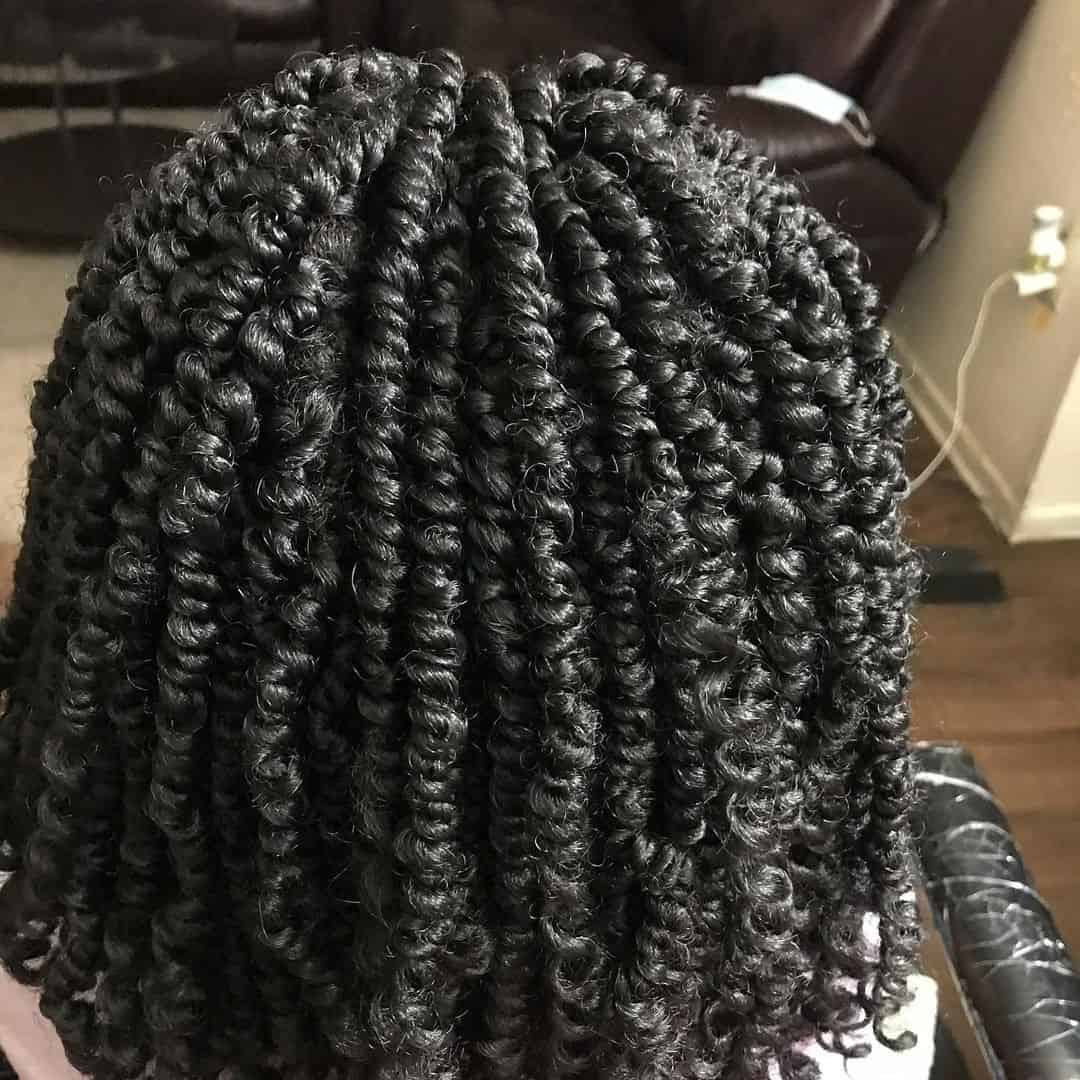 Do you have naturally thicker hair and curls? Are you a fan of noticeable volume and you have that c curl pattern? If so, give it a go with this look.
Brush out your hair and embrace the natural volume. Your hairstylist will only add some crochet braids to achieve this thickness and this amount of volume for everyday styling and slaying.
20. Ombre Look Crochet Hair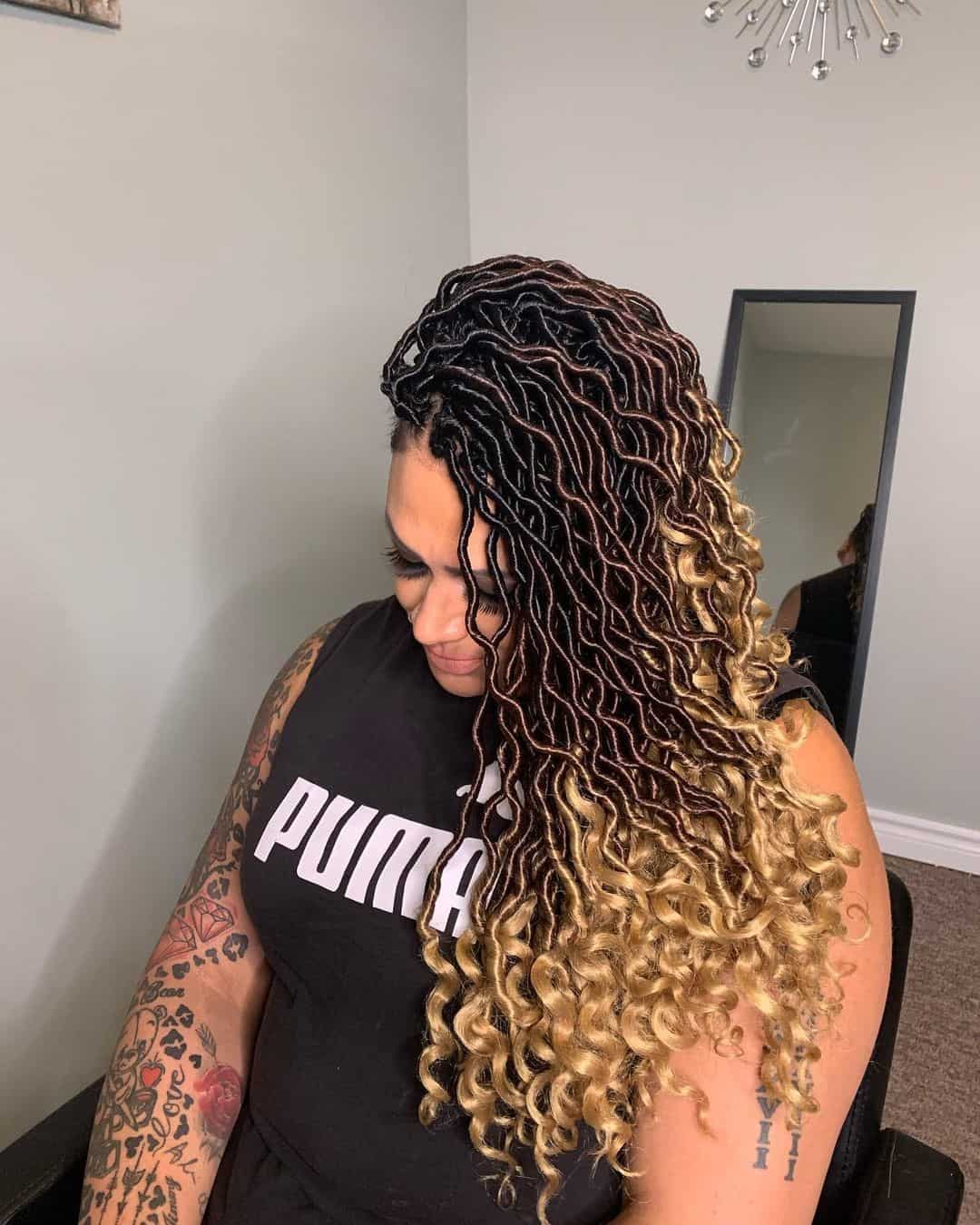 Ombré hair is chic and modern. It is a common go-to hairdo for the summer season due to its elegant color placement and flashy highlights. If you need something that will switch up your look – why not this?
Brush out your curls and you will achieve this volume. Your hairstylist will need 3-4 hours to install these braids and to color your hair. Heads up since you will spend quite some time at a hair salon.
Also Read: Top 40 Unique Ombre Hair Color Ideas(Blond, Black, Brown And Colorful)
21. Detailed Look Crochet Hair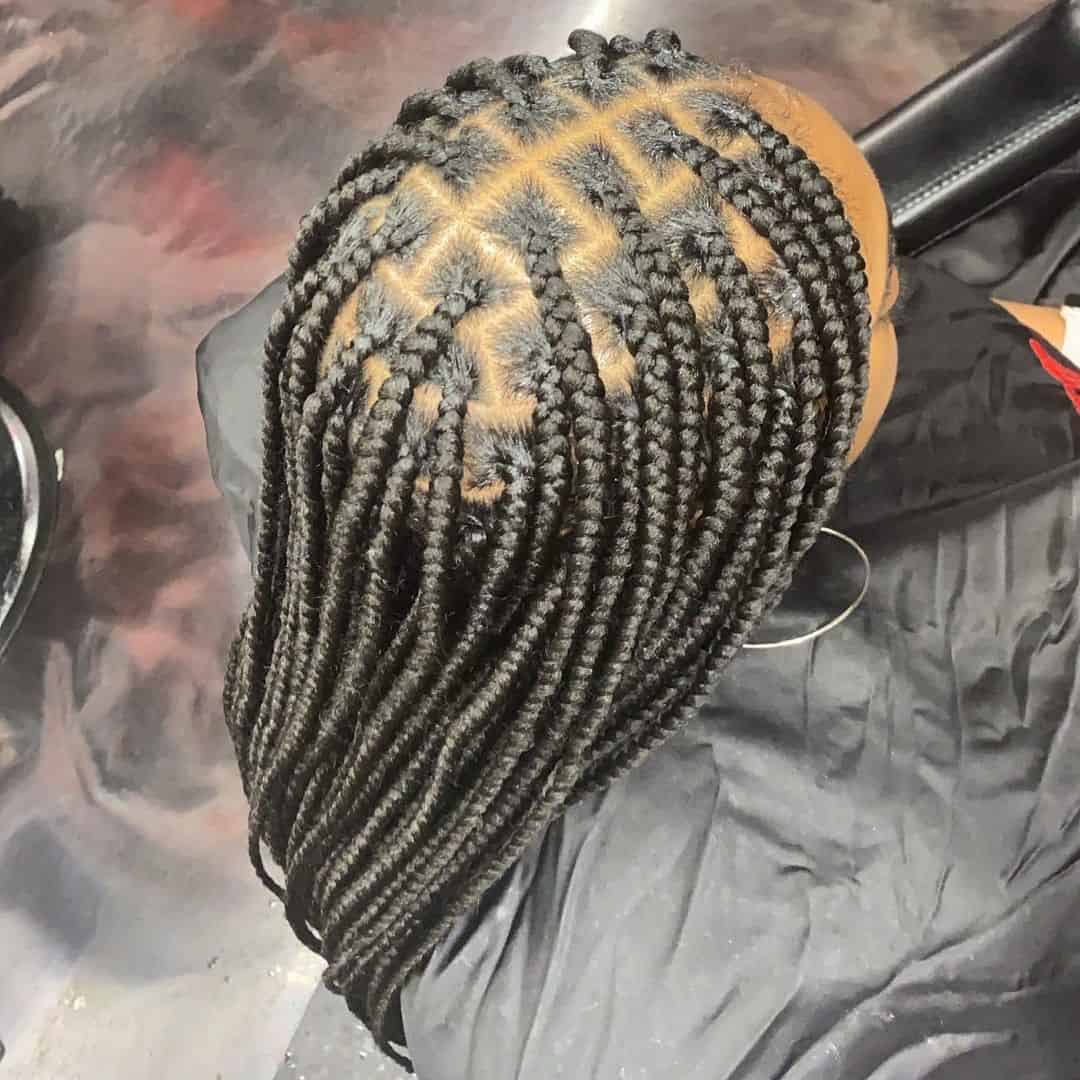 Precise braids and crochet braids are naturally pretty and perfect on top of your natural hair and texture. If you're someone who likes to experiment with your looks quite often you're going to enjoy this one.
Make sure that your braids are set in place and that you use the right kind of elastic. Your hairstylist will take their time when giving you this look, it is all about precision.
22. Side Hair Crochet Look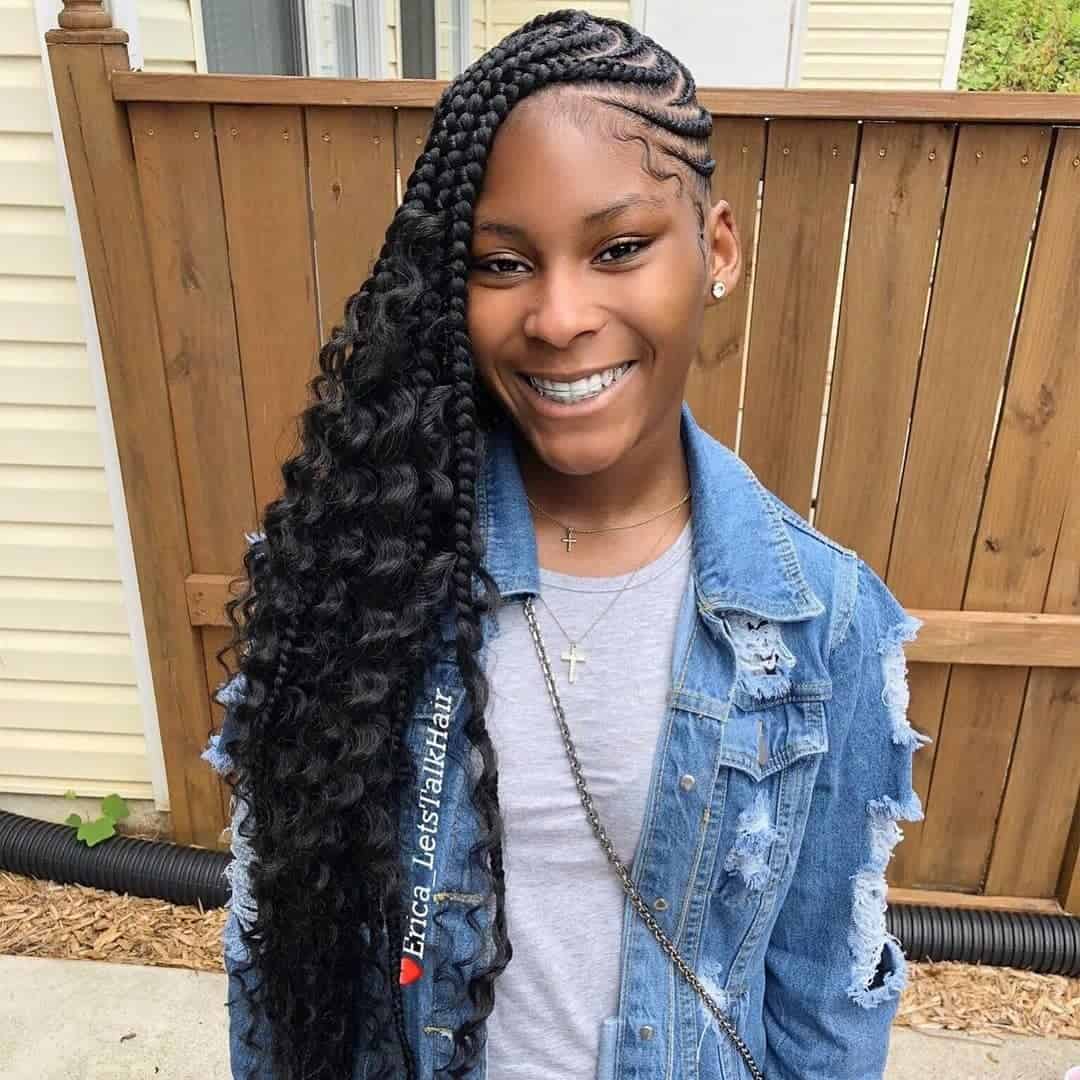 How about you consider this side braid look? It is different from the rest and it looks lovely on younger women who like modern haircuts. If you follow the hip hop and RnB scene you're going to like this idea.
Ask your hairstylist to braid these crochet strands on one side only. Separate the curls and you will achieve this elegance with ease. The look itself is party-perfect and ideal for teens.
23. Hot Orange Crocheting Hair Style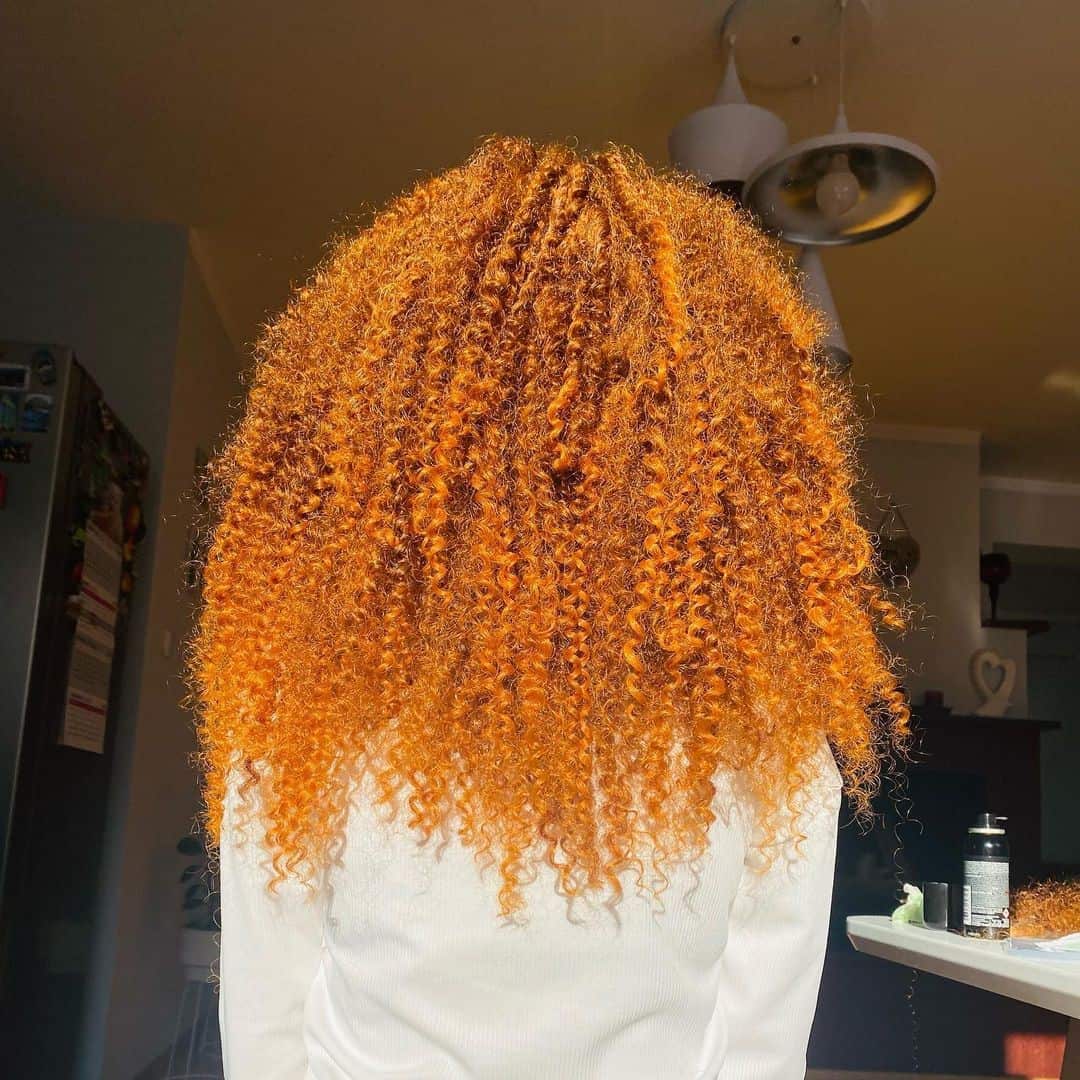 Do you like retro colors and bright orange ideas? A lot of women prefer this look since it is so different and outgoing. If you're someone who likes to wear funky cuts you should consider this one.
Make sure that the coloring process goes per plan. The color itself is high-maintenance and to get, so find the best hair colorist that is out there and near you!
24. Black & Red Crochet Hairdo Braid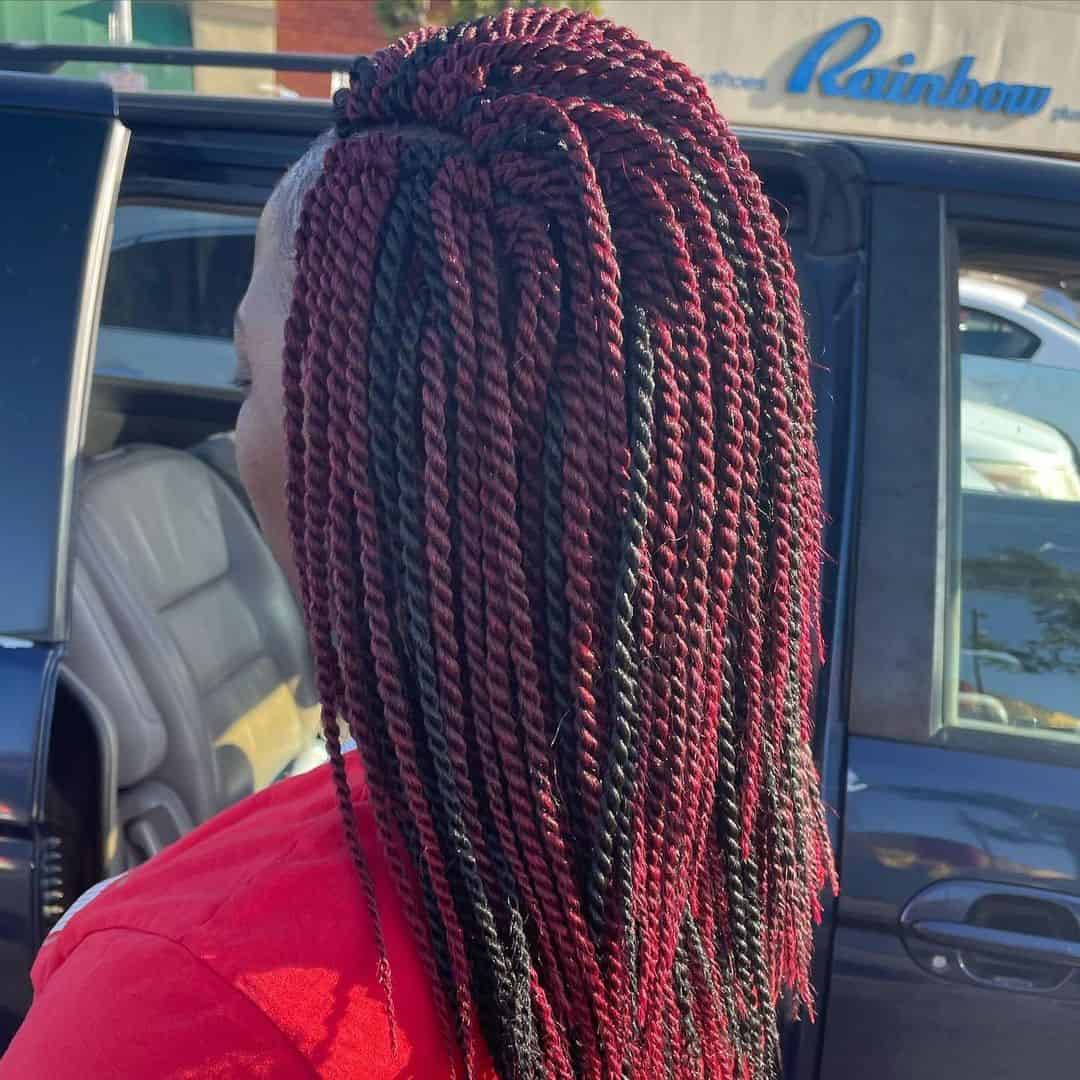 Black and red braids and this crochet look will look amazing on women who like party hairdos. If you're someone who wants to stand out with your chosen look you will gravitate toward this one.
Make sure that you secure your braids and that you use the right hair ties and elastics for this loose wavy look.
25. Hot Pink Crocheting Hair Style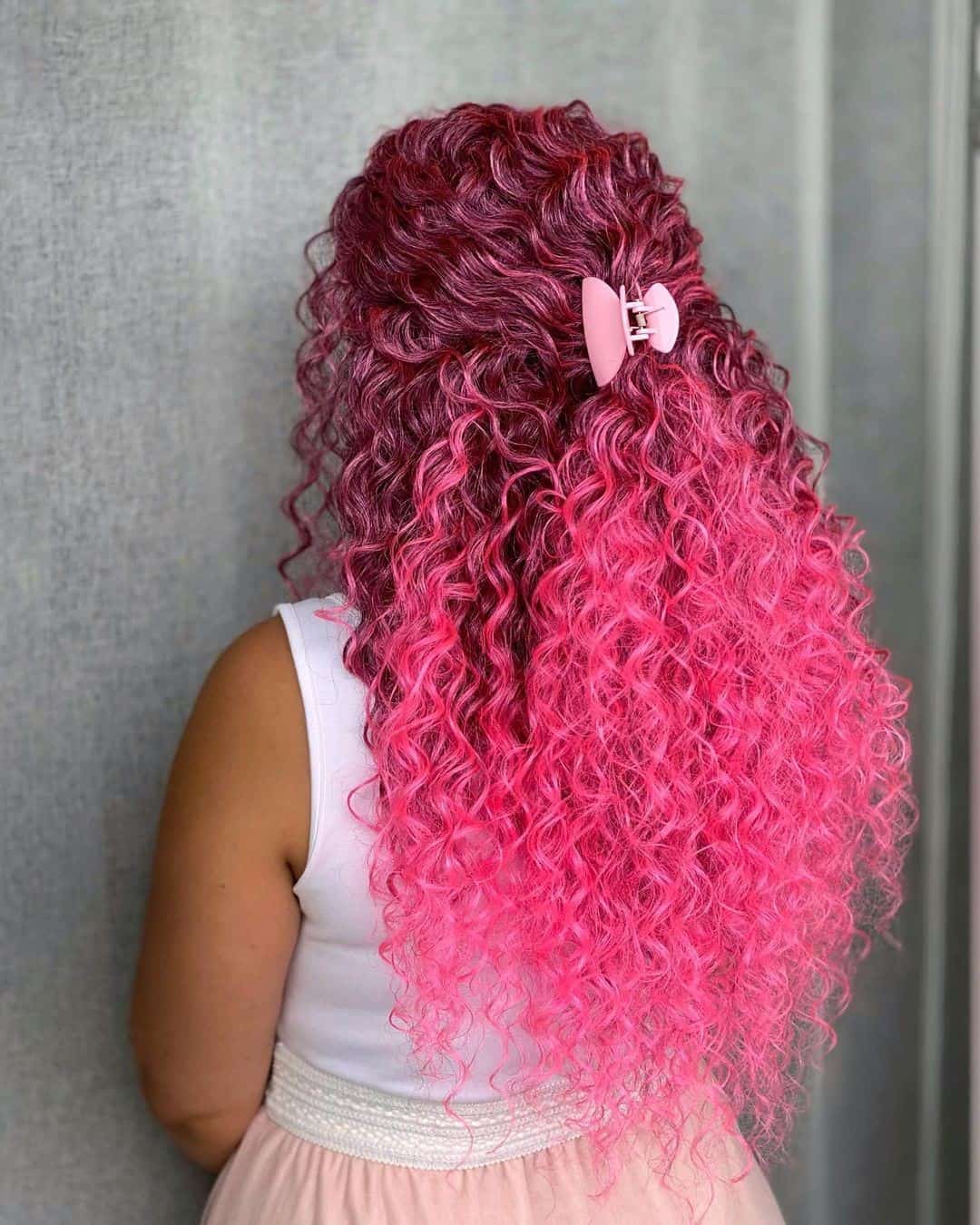 Pink hair is quite outgoing and bold. Are you someone who likes to stand out and you want to wear bright ideas? If so, you will like this retro pink crochet hairdo.
Let your colorist play with your hair. This color in particular is hard to achieve, and you will also need to retouch it every 2-3 months to maintain the look.
26. Light Blonde Crocheting Look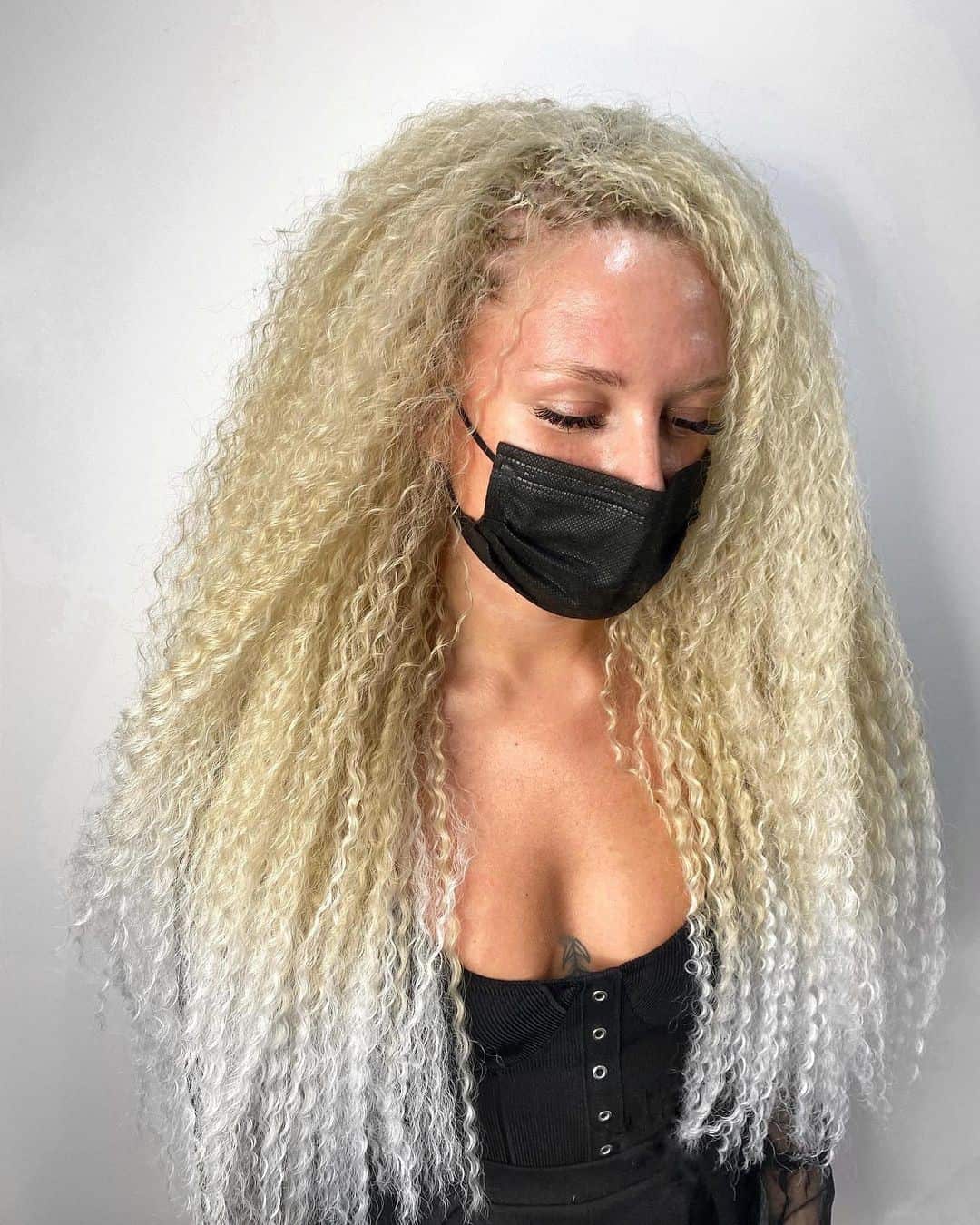 Light blonde curly hair is quite popular among any age group. Heads up since this look is very hard to achieve and maintain. Bleaching is also tricky and time-consuming, so book the best hair colorist you know!
Curl your hair with a curling wand or a curling iron to achieve this look. It will take you 2 hours to achieve this beauty and these crochet braids, and around 30 minutes to get these curls each time.
27. Tight Grey Look Crochet Hair
If you're into black hair colors and dominant ideas you're going to enjoy this vibe. It is a perfect choice and a common go-to by mature women. Tie it in a ponytail and in the back to fully enjoy its strands and shine.
The best part about this look is that it is low-maintenance. It won't take you more than 2 hours to achieve the initial application, and the upkeep is a quick 10-minute touch-up each day.
28. Hot Red With Bangs Crochet Hair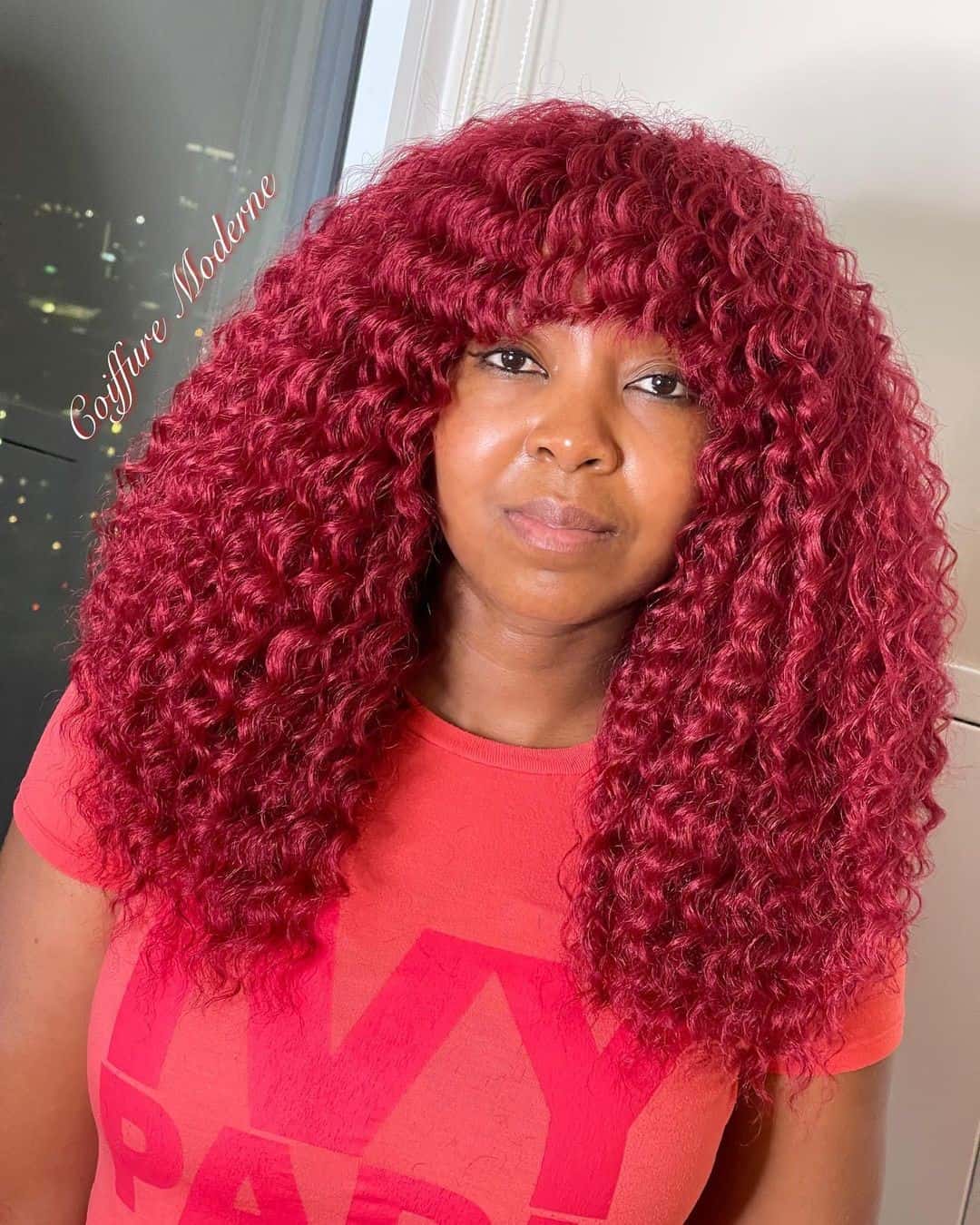 Hot fiery red looks are so popular and common among different age groups. If you like to stand out and you're a fan of retro curls you're going to like this vibe.
Make sure that you cut your hair every 2 months. Color-touch-ups are also necessary every 2 months.
29. Pink & Red Crocheting Hairstyle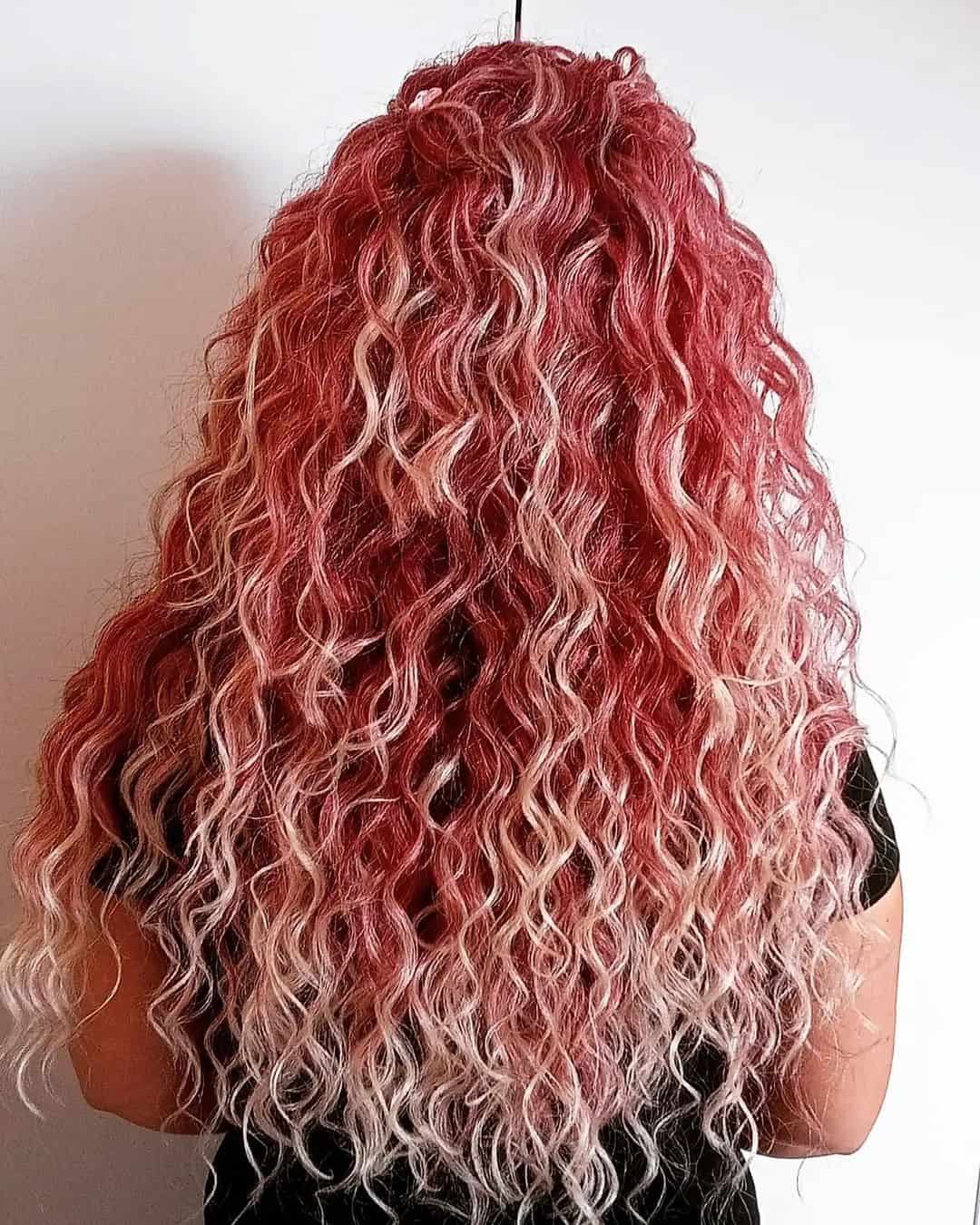 Do you like pink hair and pink elegant looks? If so, why not go with this vibe? These waves and this curl pattern are every girl's dream, ideal for dominant ladies.
Curl your hair with the right hair foam or hair gel. This look will suit teens and those who love to seek attention everywhere they go.
30. Wavy & Curly Crocheting Hair Look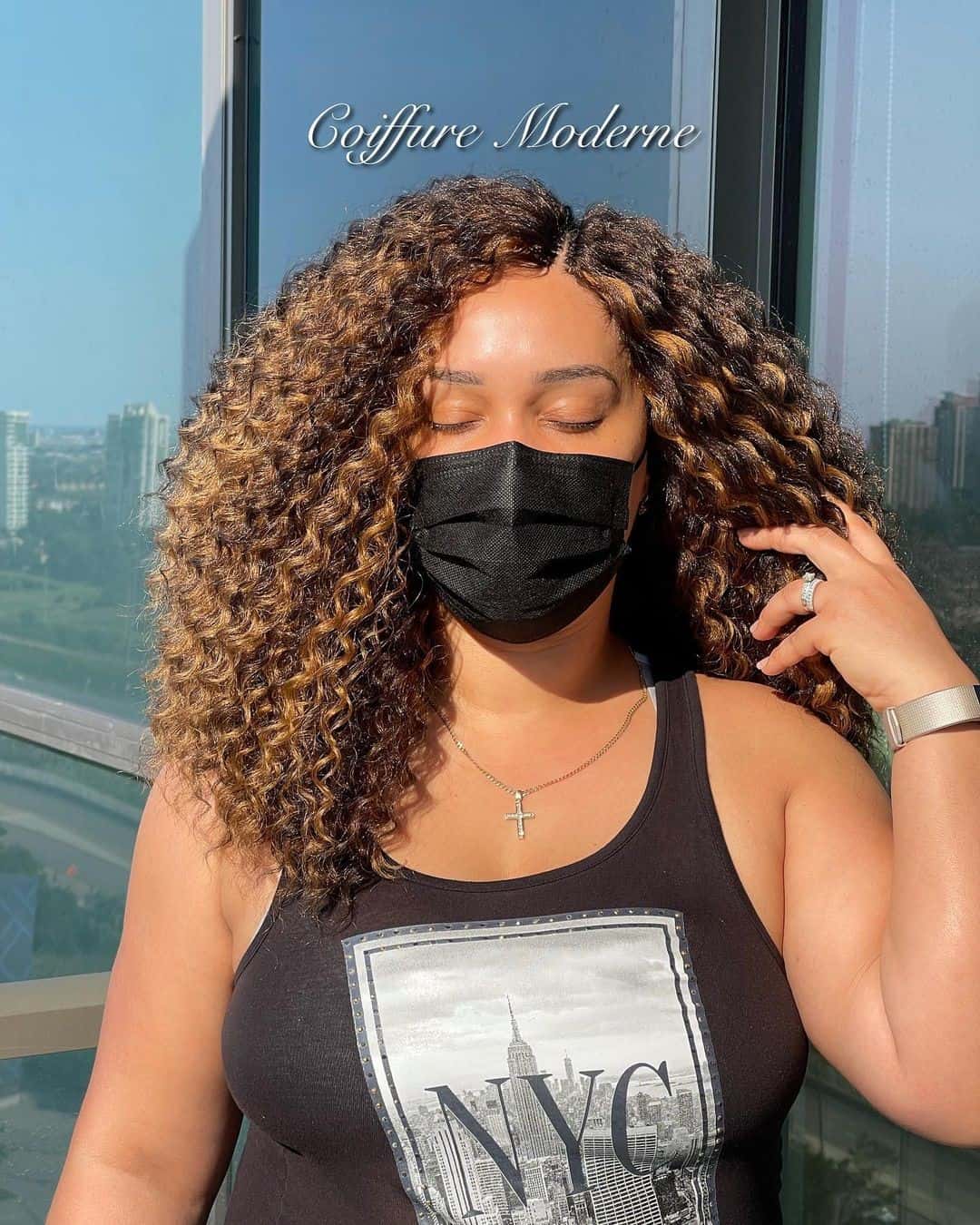 Lastly, how about this curly or wavy look? It has all the elements of a fierce elegant ombré and balayage, ideal for girls who want to make a subtle color change to their look.
This idea is perfect for anyone who knows how to wear their curls. Show off your natural hair texture, but add a pop of color and volume with colored crochet pieces so that you don't damage your natural hair.
Which Look Is Your Favorite?
Are you ready to wear or rock some of these looks? If so, which one? Let us know which hairstyle is your favorite from the list, we can't wait to see what you end up wearing soon and in the near future.
Also Read: