Top 30 Makeup Tips For A Round Face (Simple, Neutral & Everyday)
When you shop through links on our site, we may earn an affiliate commission. This educational content is not intended to be a substitute for professional advice.
Do you have a round face? If so, welcome to the club girl! This face shape is quite common and most women have round face shapes while guys have square-shaped and defined cheekbones. Women who have a round face might have some issues and questions when it comes to their makeup tips and tricks, as well as the proper application process.
Keep on reading as we discuss and discover some ideas and ways on how you can do your makeup to make your face more defined and prominent with some simple makeup tips.
Round Face Makeup Tips: FAQ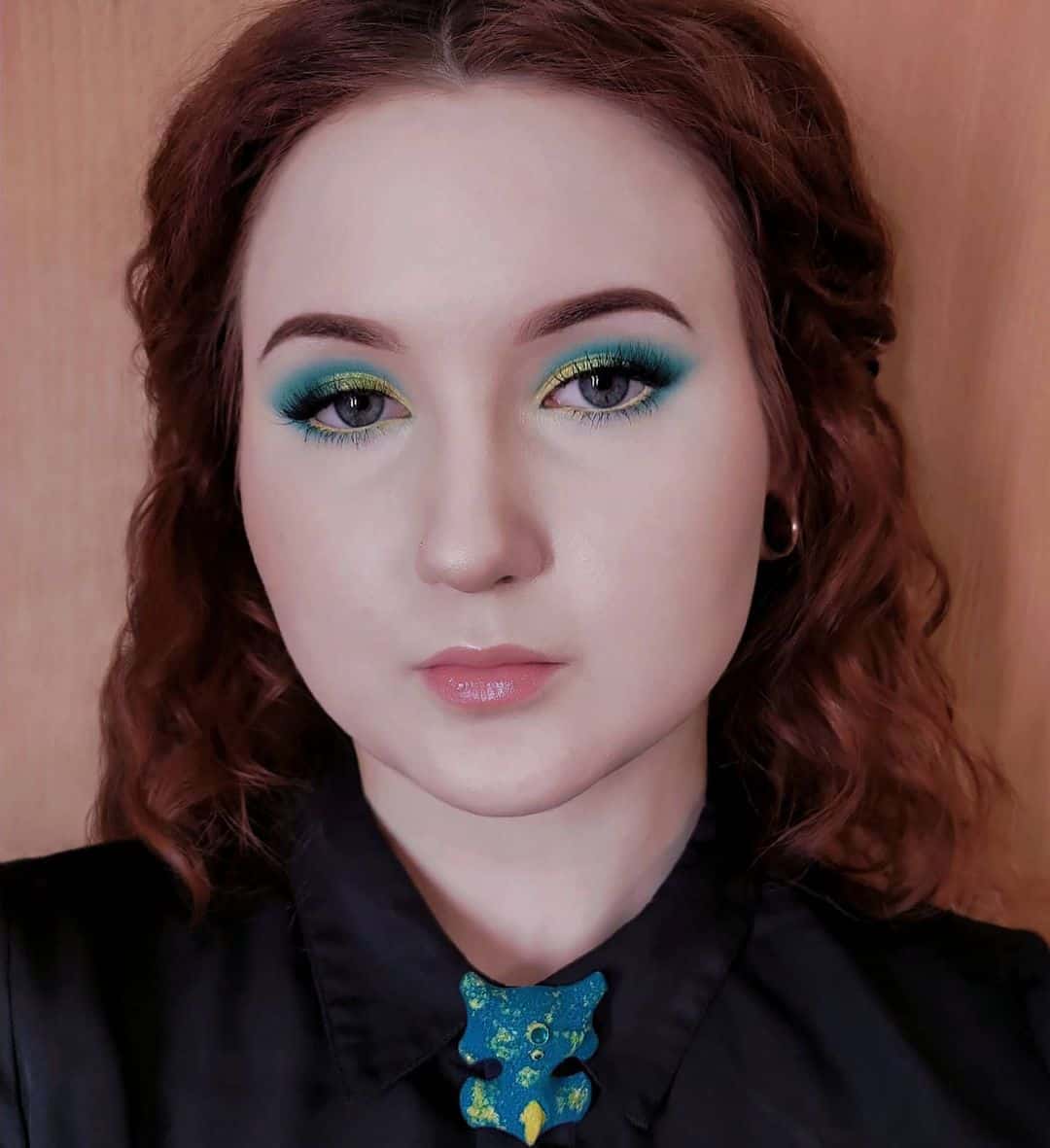 1. What Is A Round Face?
A round face is a face that has no specific or unique features, meaning that no parts of your facial or bone structure are as prominent. This face shape is quite round and can be characterized as a face with even symmetry all around.
2. How To Do Your Makeup If You Have A Round Face?
Most makeup artists have their own unique approach on how to do your makeup and how to give you a slimmer face. With their unique addition of finishing touches, you will easily achieve a sculpted look. Here are some ways on how you can do this makeup look!
Contour your face
The easiest way on how you can achieve a defined look is with the use of cream or powder products to contour and slim your face. Make sure that you use a flat makeup brush to apply your liquid bronzer. Apply it to the outer parts of your face, such as your chin, cheeks, and forehead. Some women also like to contour their noses. Blend in the product with a damp beauty sponge.
Use powders
Once your face is bronzed and sculpted you should use a matte powder bronzer to set these products in place. By applying a matte powder you will set the contour in place, meaning that it will not move for hours! This is perfect for those who need a long-lasting makeup look.
Reverse contour
Add a light bright and beige concealer underneath your eyes, but also underneath your cheeks to highlight these areas. Play with the natural lighting and shadows to sculpt your look.
Brows can make a lot of difference
Going for a bold and defined eyebrow will help with your dimension and it can also prolong your face. By adding a darker brow arch you will achieve a sexy and dominant face look.
3. Can You Do Your Makeup On Your Own & How Quickly?
Most women can easily do their makeup and on their own. There are no strict or specific rules when it comes to doing your makeup. This is why everyone with a round face can do all of these looks that we are going to talk about and lost down below! Just make sure that you have 20-40 minutes to spare to achieve all of these flawless makeup makeovers.
4. Which Makeup Items Will You Need?
You will need to be careful with your makeup products and makeup application. No face or skin type is the same, meaning that you will have to adjust your approach based on your needs. Here are some makeup items that we advise getting and incorporating into your routine:
A bronzer that is 2-3 shades darker than your skin tone
A liquid bronzer for those who like to do full beats
Concealer that is one shade lighter than your skin tone
Matte translucent powder
White shadow for the inner corner
Brown shadow for sculpting of your eyes
Eyebrow pencil that is around your natural brown color tone or one shade darker
Simple, Neutral & Everyday Makeup Ideas
1. Simple Makeup For Round Face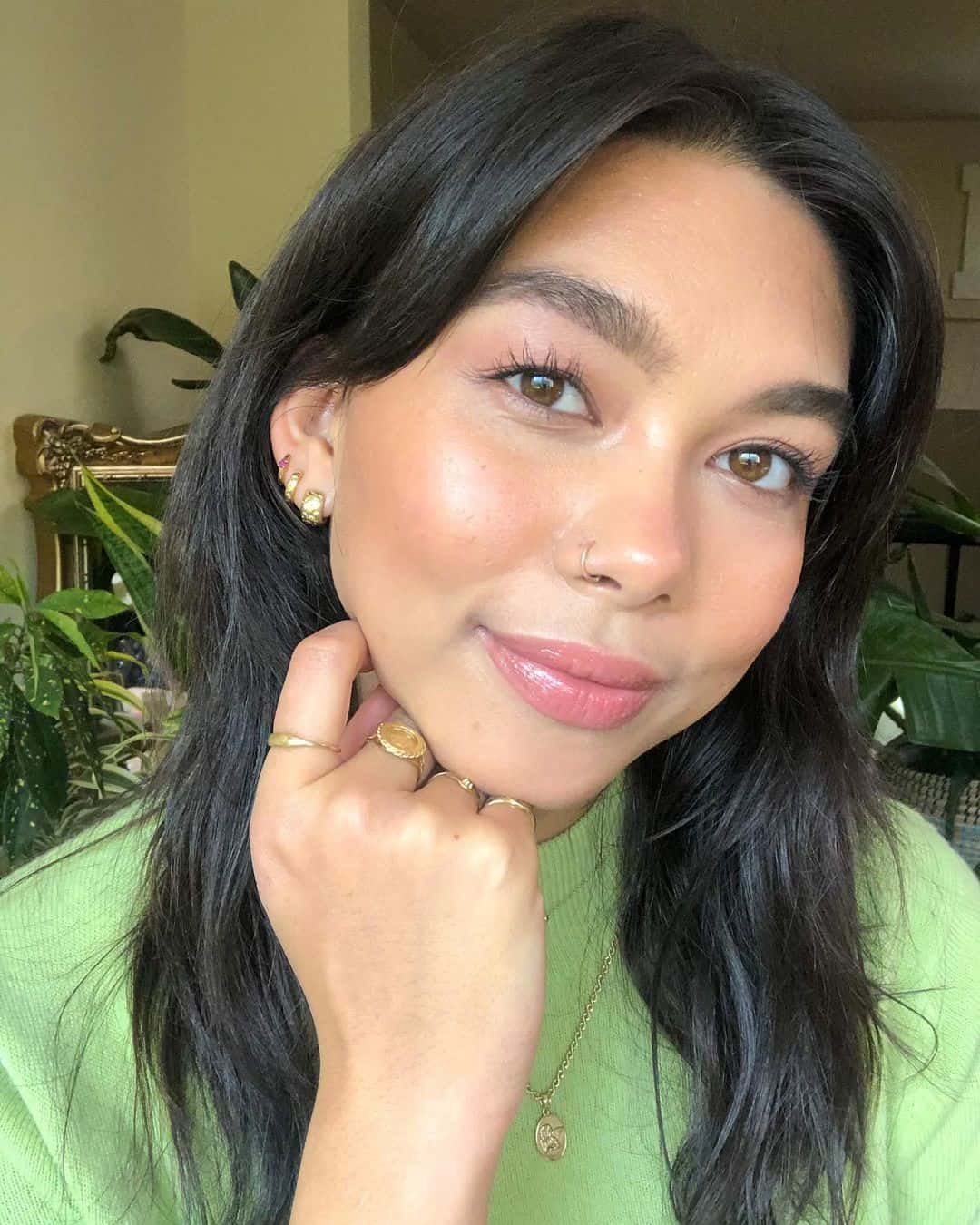 If you like and enjoy feminine soft makeup and you're a fan of elegance yourself, this look will intrigue you! You will end up with a rounded face look and shape by piling a lot of bronzer onto your cheeks. Play with dimension and light by adding a lot of liquid highlighter also.
2. Pink Eye Makeup Look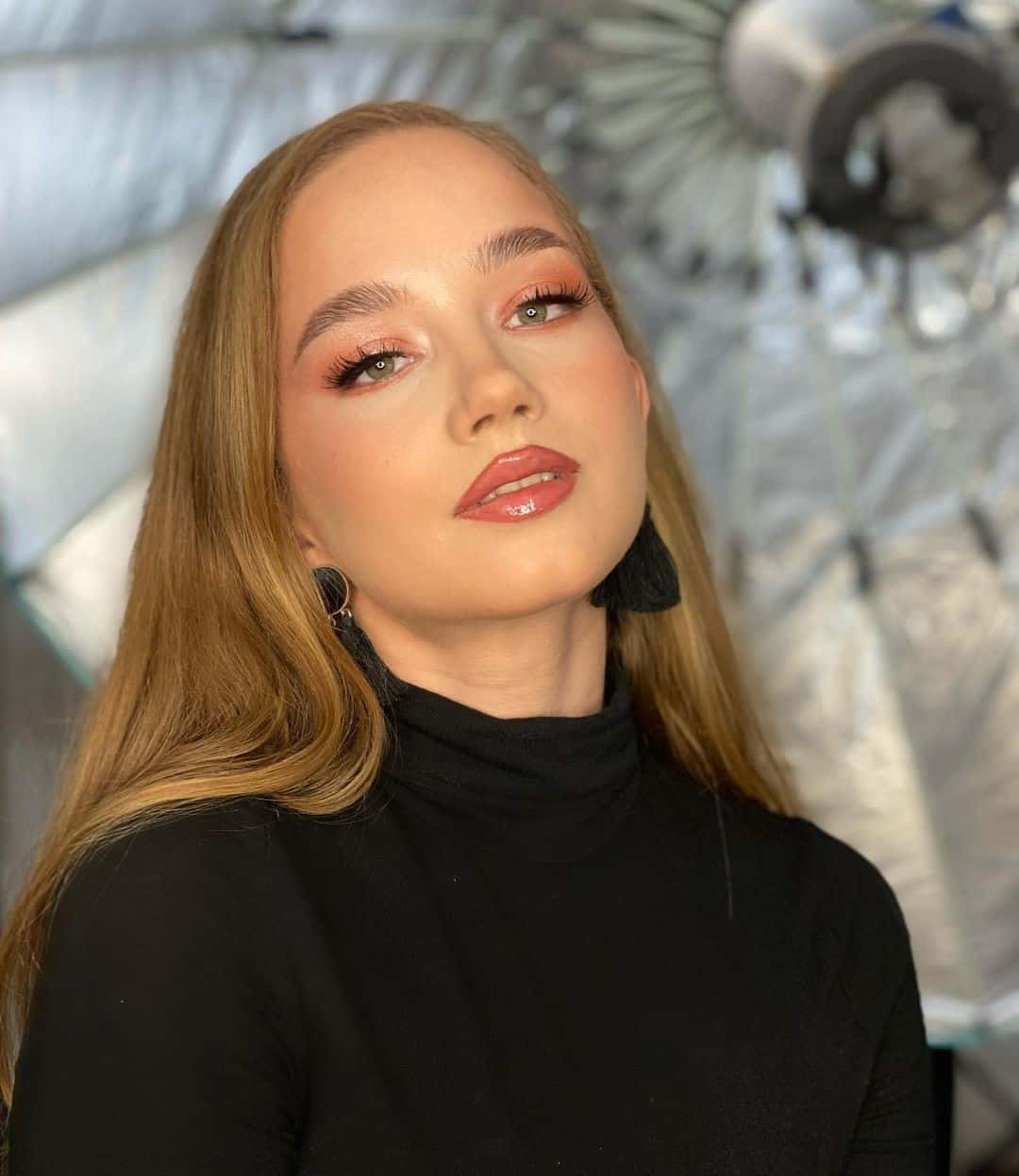 Women who are always in a rush and those that are in a hurry will enjoy this beautiful look. You can actually multi-task with your makeup products for a quick and efficient look. A lot of women who have an orange or a pink eyeshadow can achieve this look. Simply apply your liquid eyeshadow to your eyelids and your cheeks. Play with dimension and shape to get the attention off of your rounded look.
3. Makeup Look Cat Eye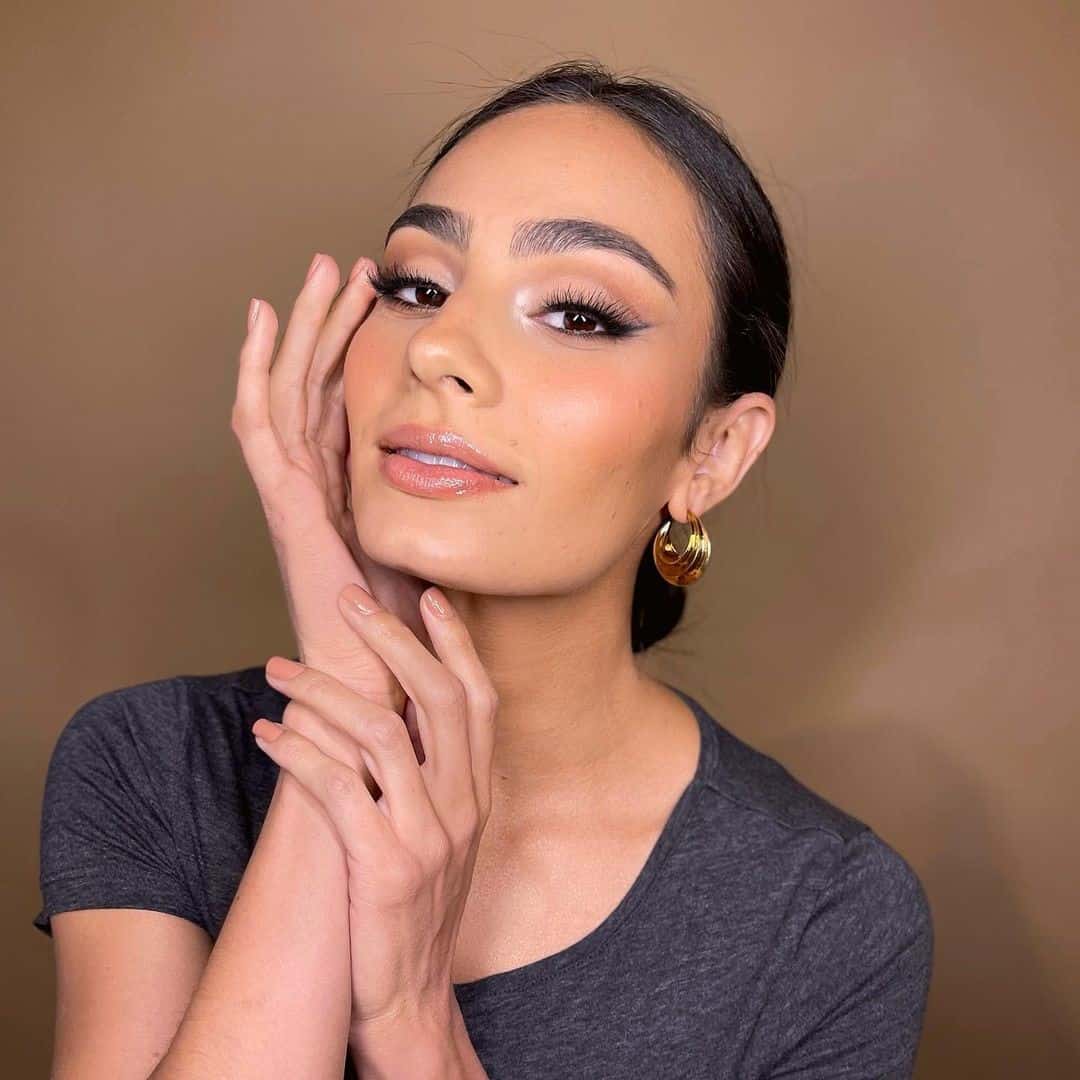 If you're someone who often ties their hair up and in a bun just know that your face shape will come to play and it will look a lot more prominent. You should contour your cheekbones to play with the light and to define your feminine features. Add a liquid and a powder bronzer to achieve and show off your new feminine look.
4. Round Face Sculpted Look With Eyeliner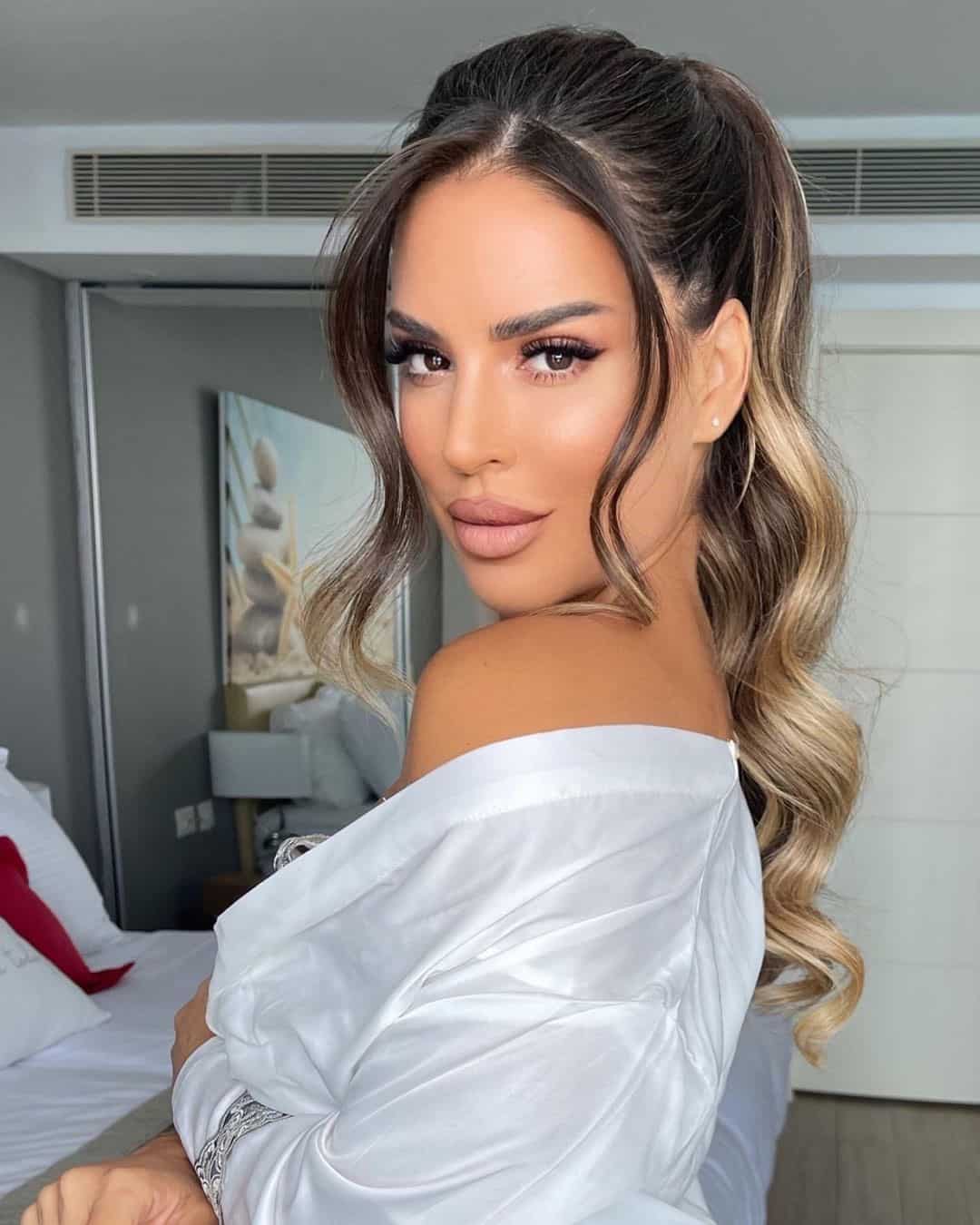 Do you see how brows can frame the face? Are you someone who can draw them on your own and you know how to shape or pluck them? Go for this lifted eyebrow look since it will contour the rest of your features. You will end up with a lifted forehead, as well as that soft feminine makeup look.
5. Makeup Tips For A Defined Jawline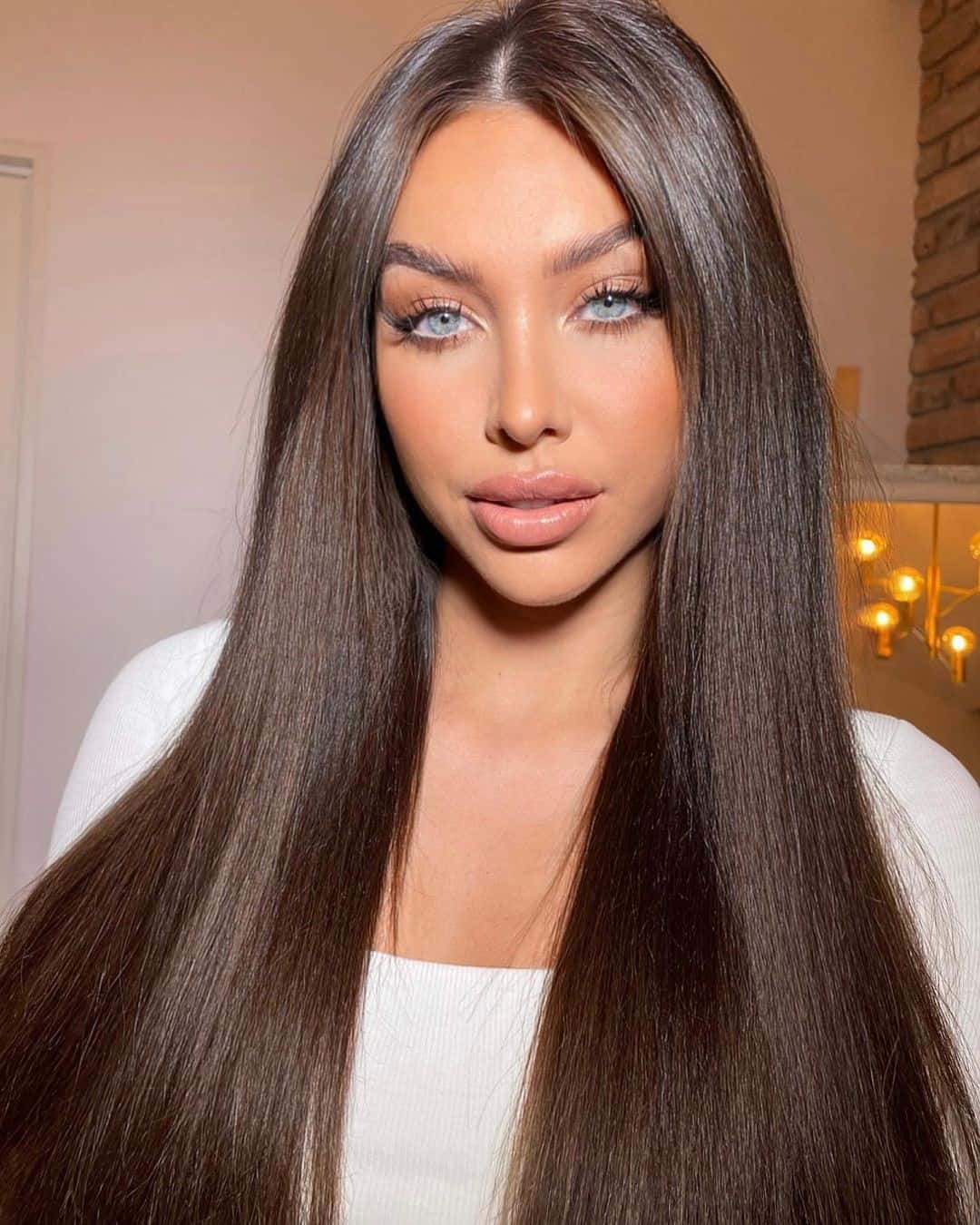 Take the attention away from your rounded face shape and show off this elegant beauty! You can add dimension with a lot of powder bronzer and a counter line around your jaw. The end result once combined with these fluffy bushy brows will look perfect for your office wear.
6. Cat Winged Eyeliner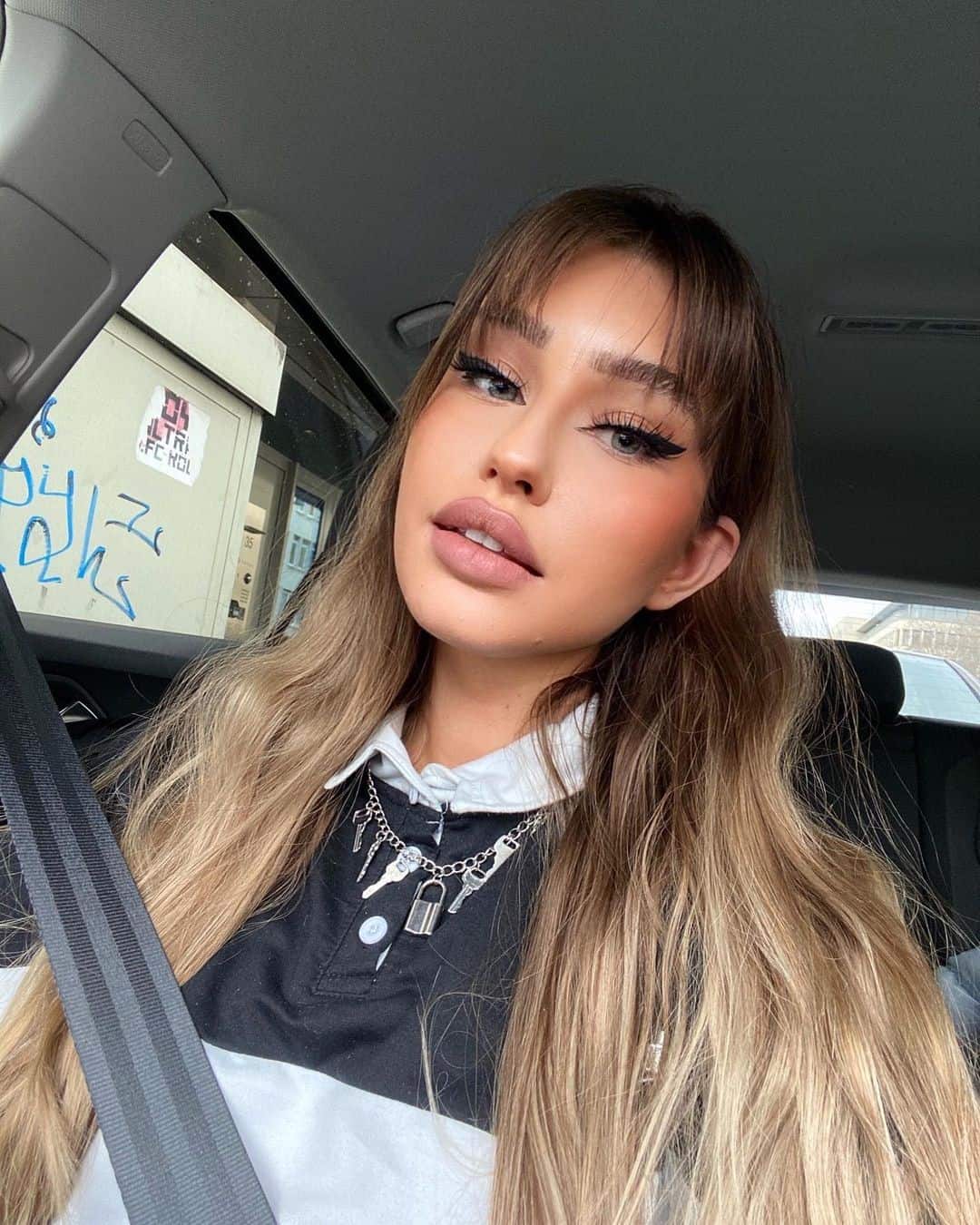 You can create dimension around your eyelid area and get a sculpted and lifted forehead. If you're someone who knows how to do a fierce black winged liner you're going to enjoy this makeup for your everyday wear.
7. Glowy Dewy Makeup Look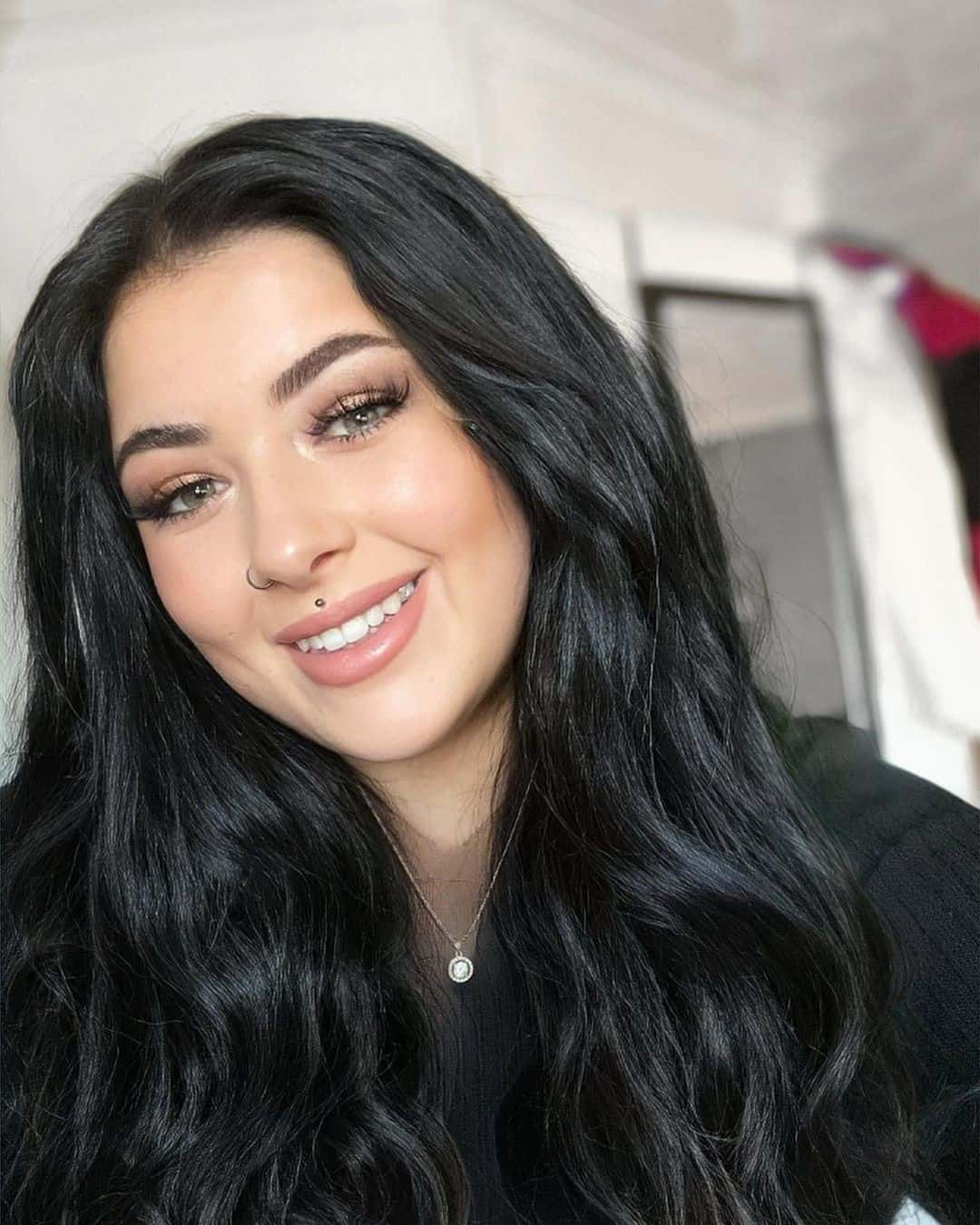 Do you enjoy soft and glowy makeup yourself? Are you someone who likes to do stunning everyday glam looks? If you want a look that is not too hard to do and you're looking for an office-friendly solution, this will intrigue you. Show off your cute forehead and draw your eyebrows a bit more flirty to get a defined non-rounded look.
8. Soft Everyday Makeup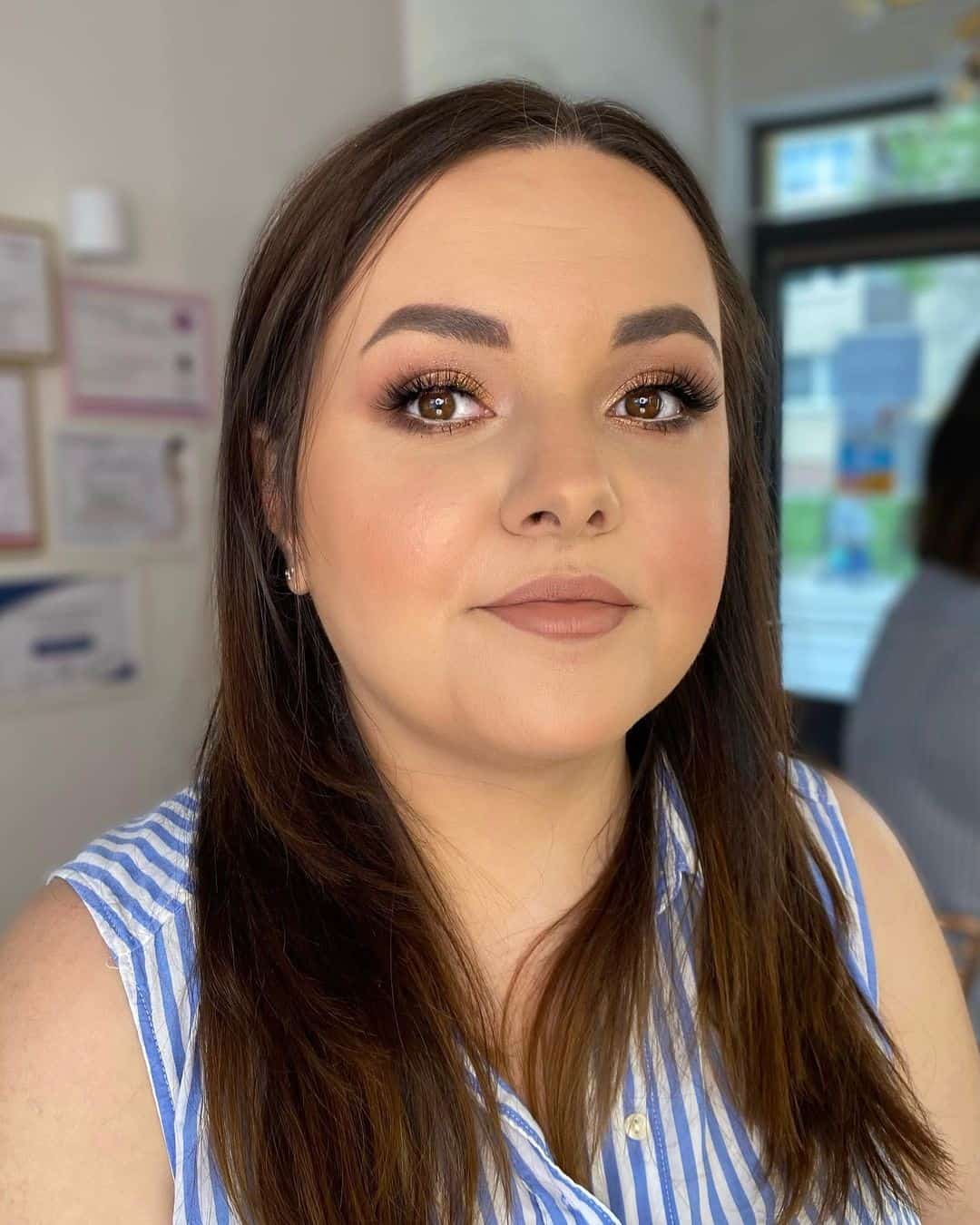 If your face shape is round and you're someone who likes to do simple makeup on a daily, try this out. You will achieve this beautiful glowy look with the right element of blush and bronzer. Make your eyes pop with your favorite glitter shadow as well.
9. Orange Color Makeup Look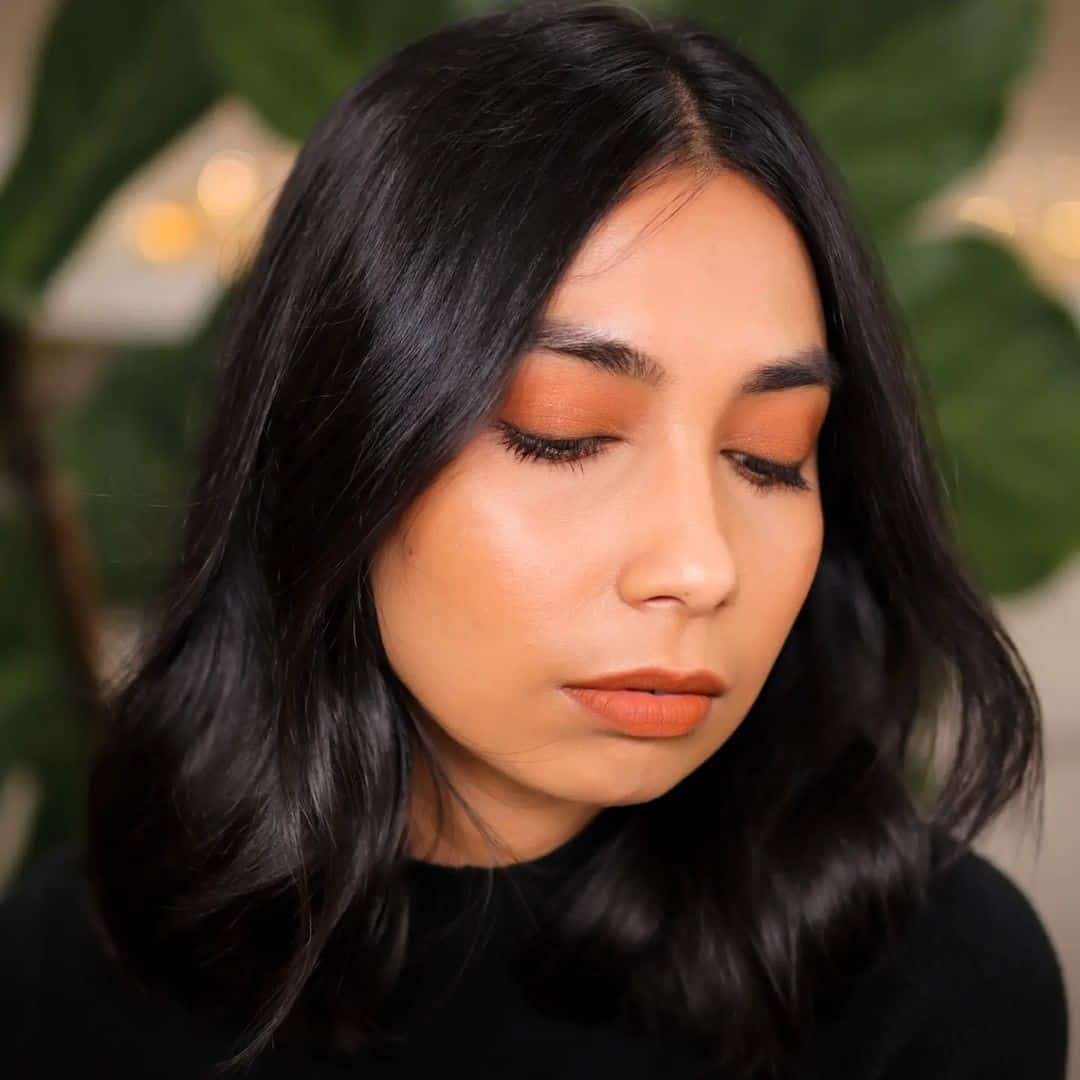 Women who need a makeup look that is flirty and that they can wear for the fall will appreciate this look. You can achieve it with a simple orange shadow and orange lipstick. The end result will look cute and you can show it off for the office or night-outs. The orange color will naturally and easily slim out your face and contour it, so why not try it out?
10. Glowy Bronzed Look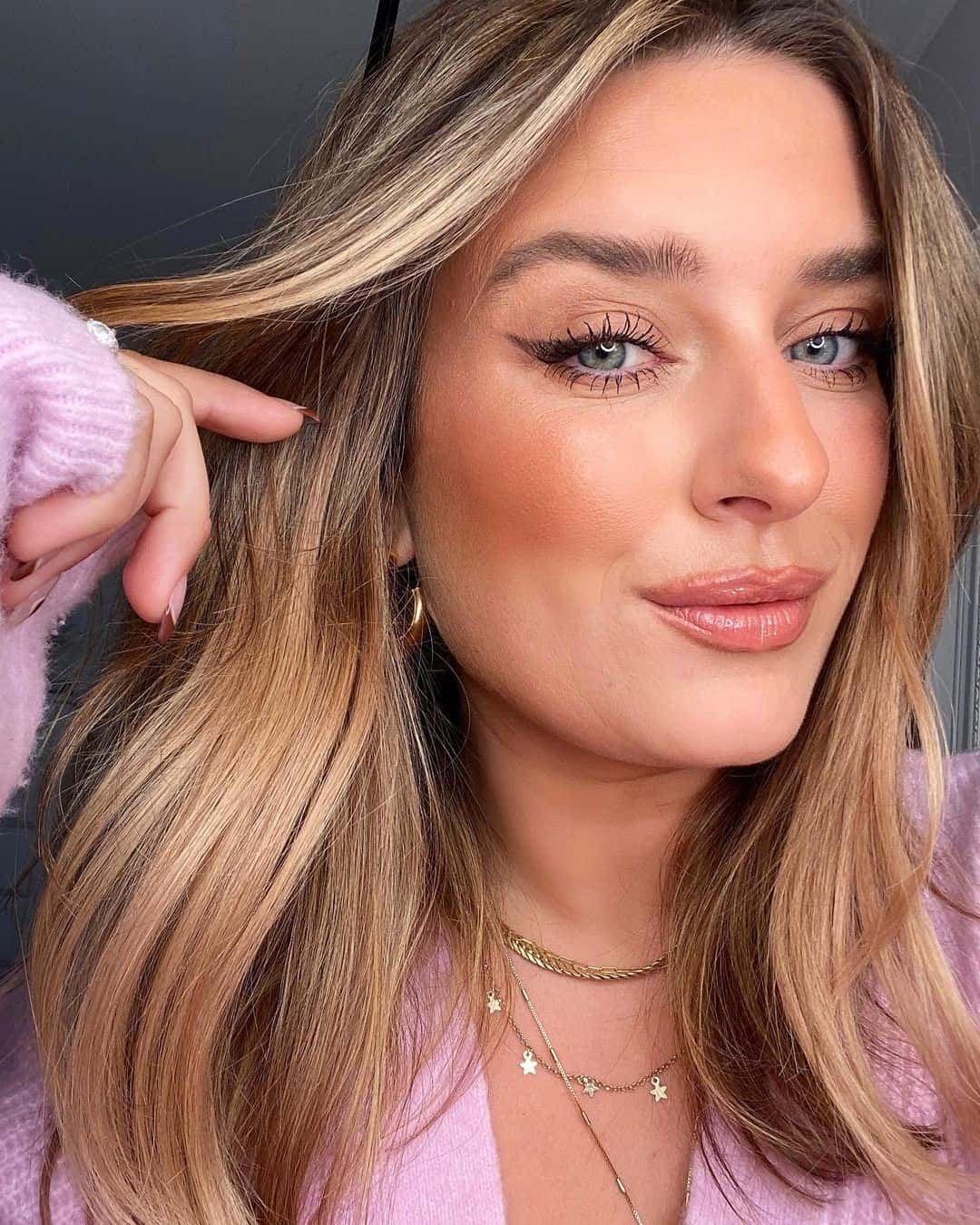 Super bronzy and modern, this look is for girls who are into cute summer makeup ideas. If you're into glowy and shimmery looks this will suit you. Spice up your features and emphasize your cheeks with a glowy bronzer. The end result will sculpt you to perfection!
11. Neutral Glow & Brown Shadows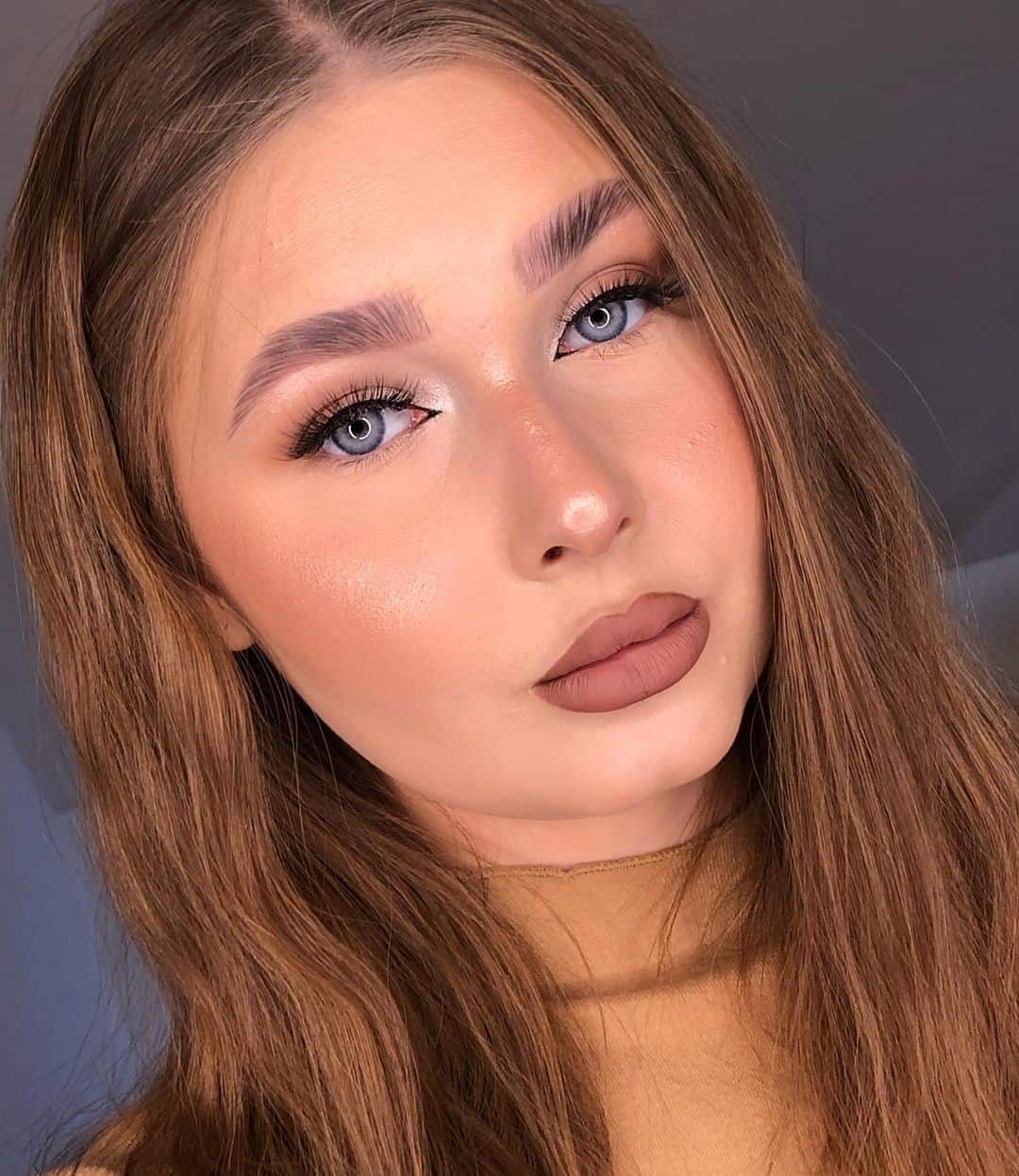 You can wear this makeup look and idea for your formal and night-out moments. If you're someone who likes to do and wear Instagram makeup-inspired ideas this is cute and for you. Add a lot of powder on top and bronzer to create shadow onto your sides and to experiment with new modern ideas.
12. Subtle Makeup For Young Women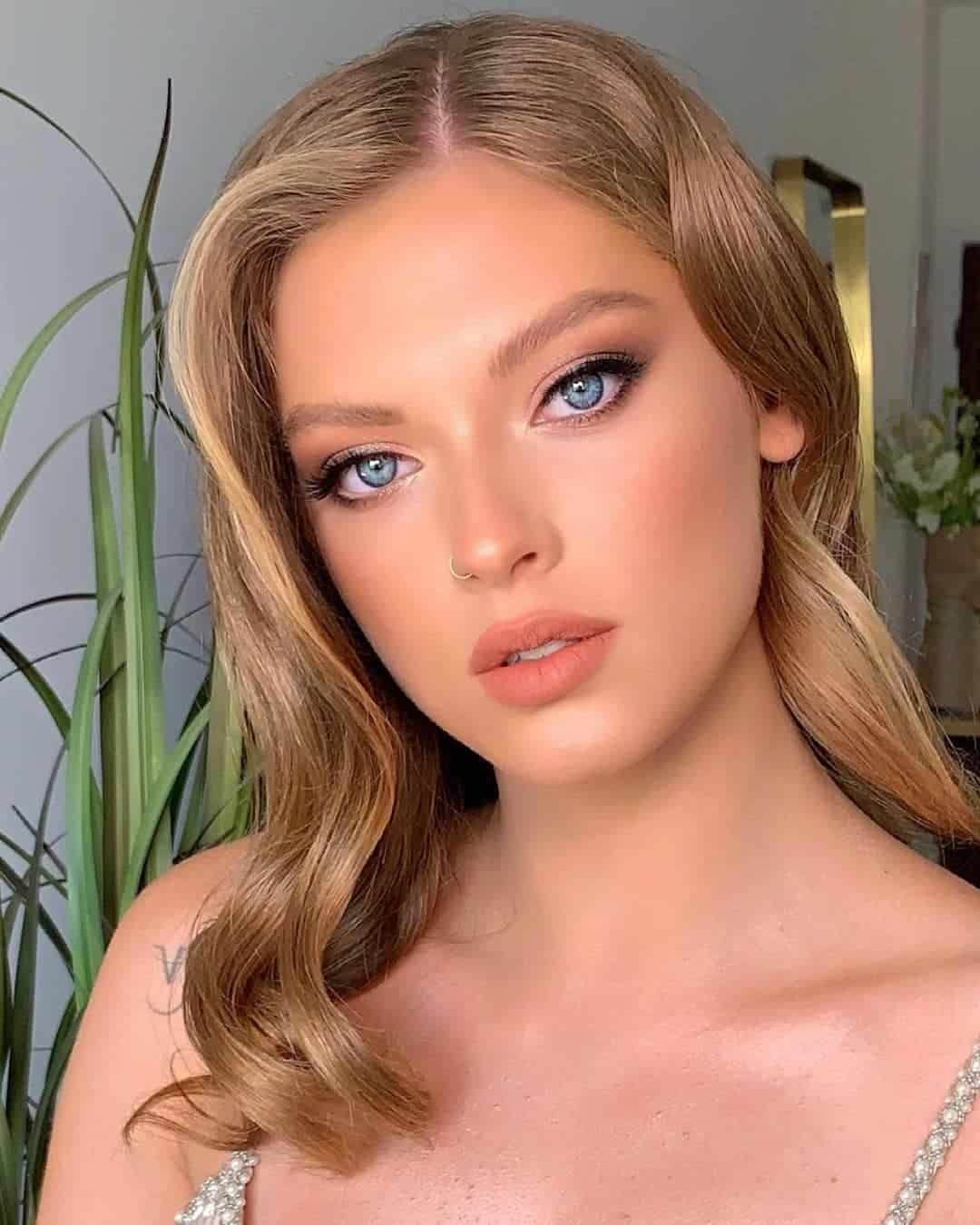 If you're someone who likes shiny ideas and you like to do the most you can for everyday wear test this look out! It will take you 30 minutes to do your makeup in the morning and to leave the home looking flawless. Add the right bronzer on the sides to round up this beauty.
13. Glamorous Everyday Makeup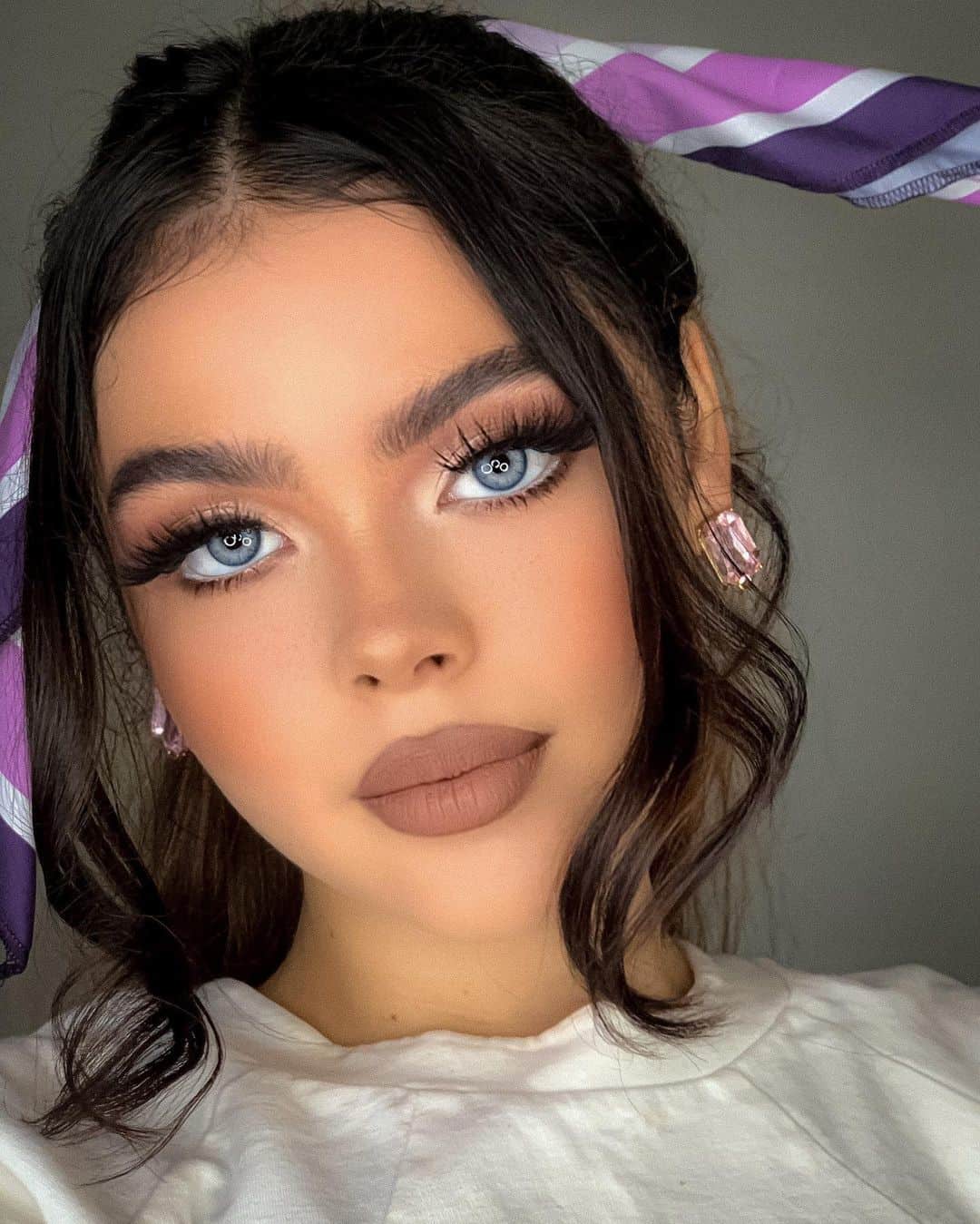 You can also add dimension and elegance to your makeup with a pair of wispy lashes and with these gorgeous brows. Brush them upwards and you will achieve a whole different dimension and vibe with your everyday makeup. Set it in place with a makeup setting spray to make sure it lasts throughout the day.
14. Nude Makeup For A Round Face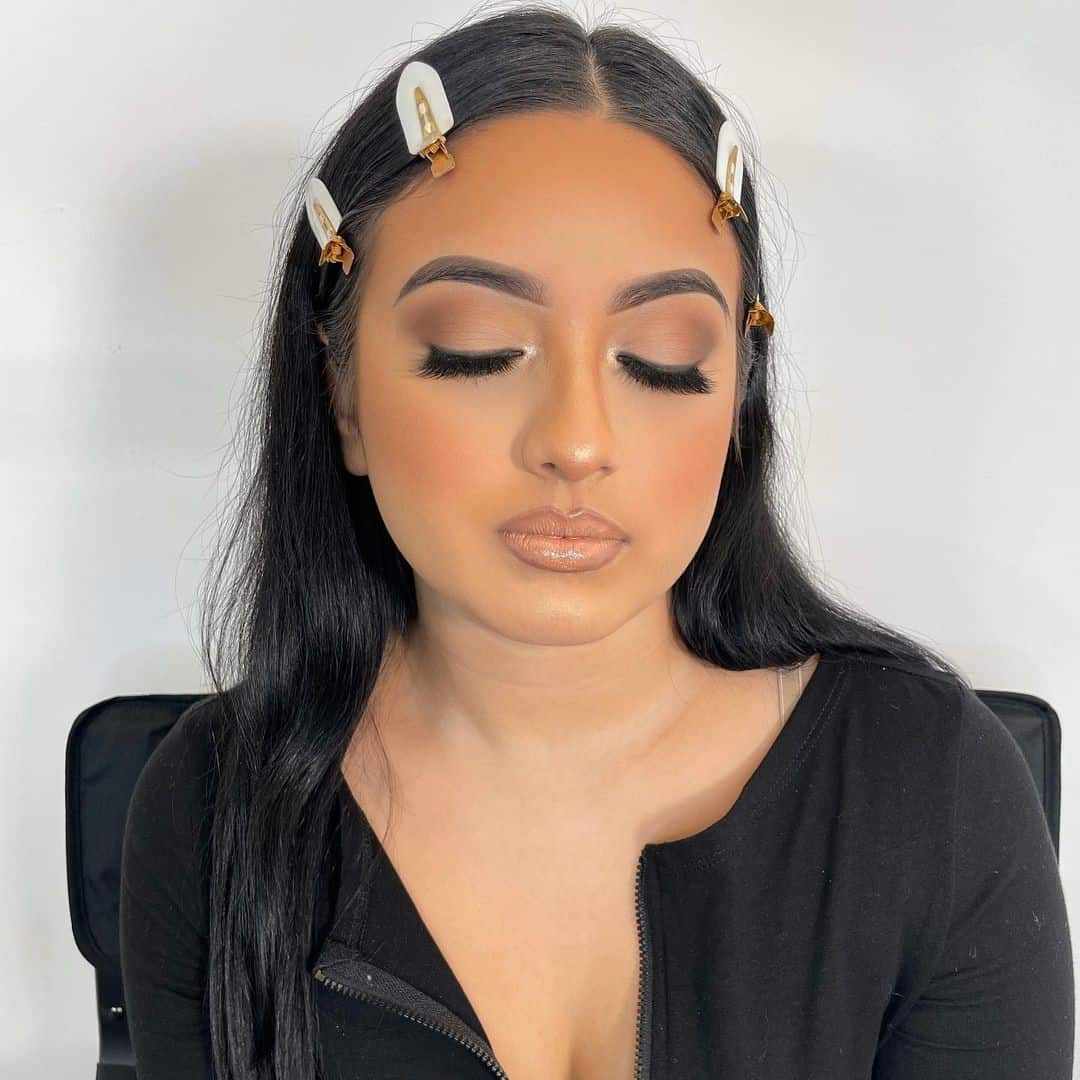 If you're a fan of smokey eye looks and you're someone who knows how to do makeup on your own you will like this concept. Blend out an eyeshadow over your eyelids and use enough product on your cheeks to play with its brown and bronzy concept.
15. Simple Cute Flirty Look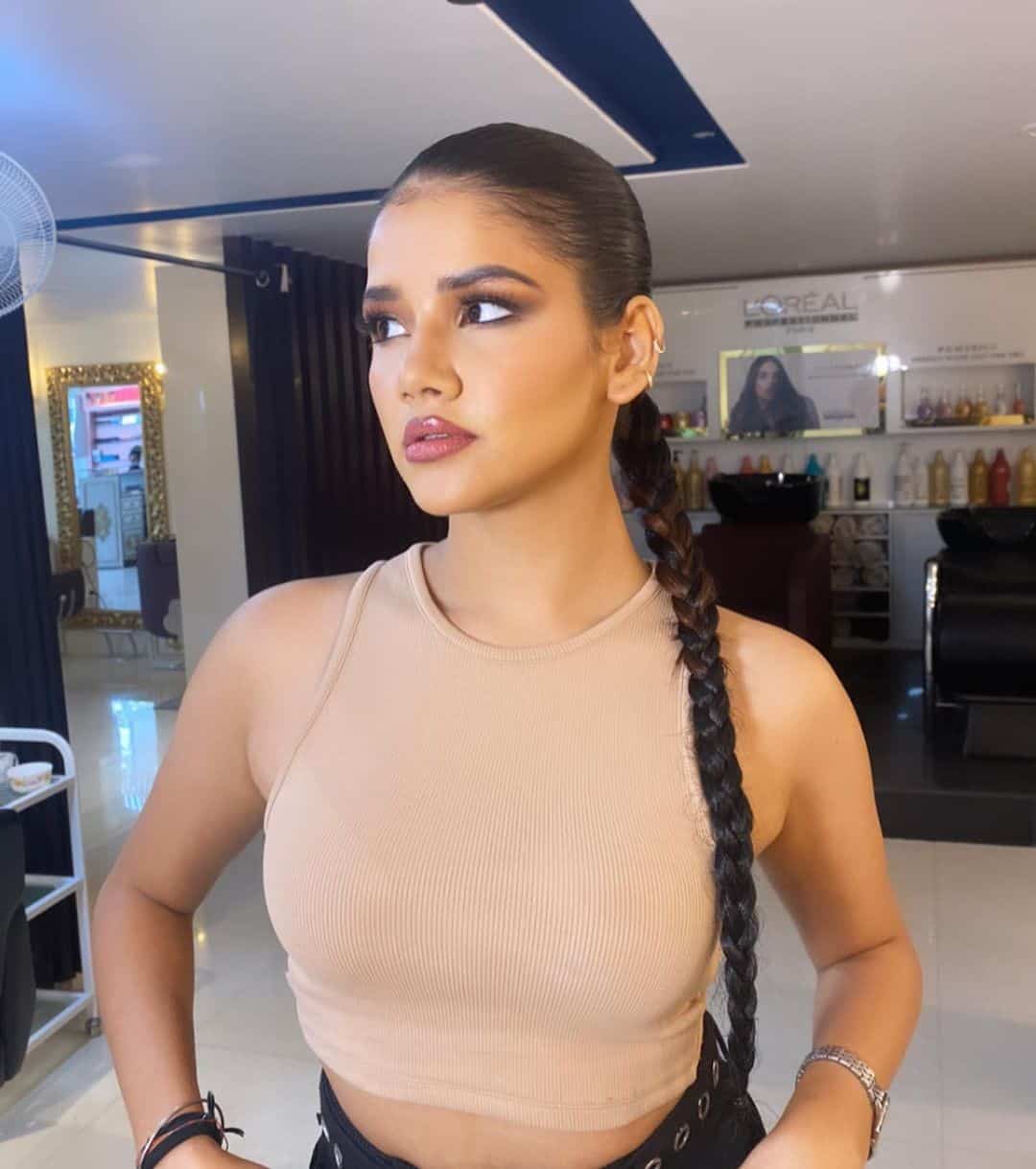 Add a smoked-out brown shadow onto your eyelid to create elegance. You will also make your eyes appear slightly smaller, which means that this look will suit every girl who likes to play with kohl pencils and eyeliners. Go heavy with a liquid bronzer to make your face diamond-shaped in no time.
Dramatic Colorful Makeup Ideas For Round Face Shapes
1. Night-out Pink Color Shadow Look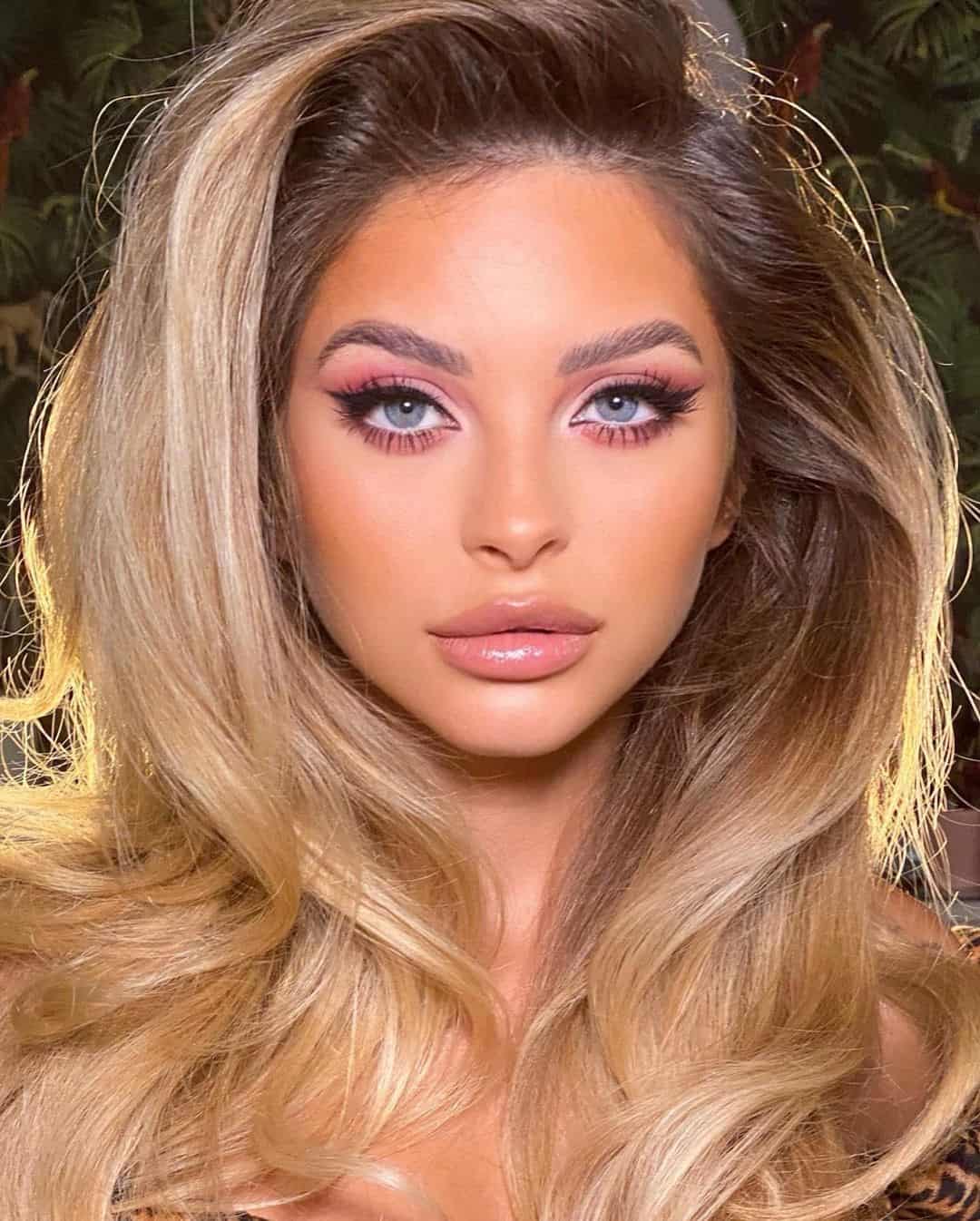 Looking for your night-out-inspired makeup look? Are you a fan of elegance and that subtle glow? Go for a pink shadow to create this definition. If you are a party girl and someone who wants to add an emphasis to their cheekbones or chin, this is cute and perfect for you!
2. Blue Eyeliner Makeup Graphic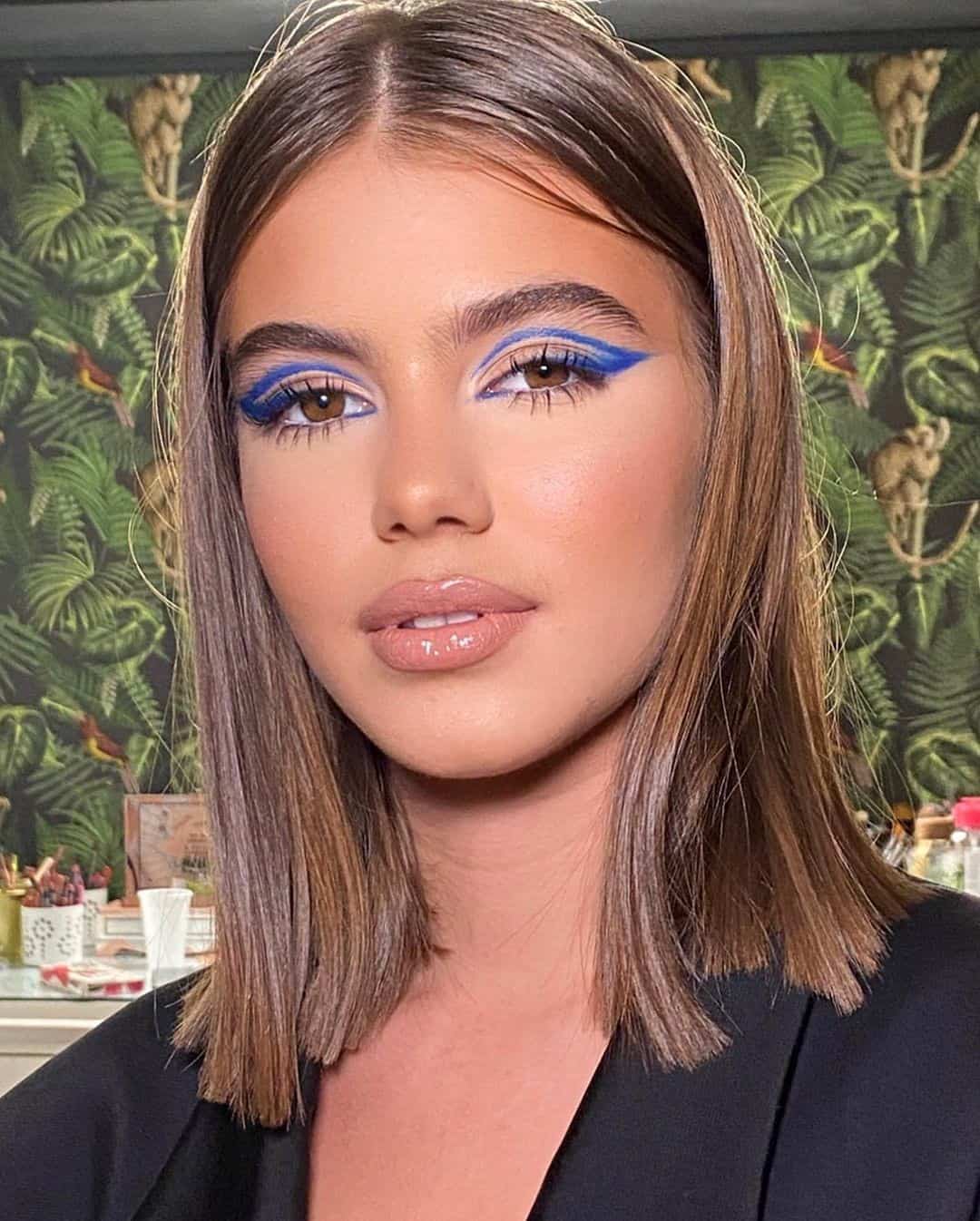 Not a lot of women dare to wear bright blue and retro colors. Do you like to look different? Are you a fan of elegance and bright colors? By doing this graphic eyeliner makeup you will end up with a chiseled look and more femininity around your cheekbones. Make them the star of the show and add this unique element to show it off!
3. Glowy Elegant Makeup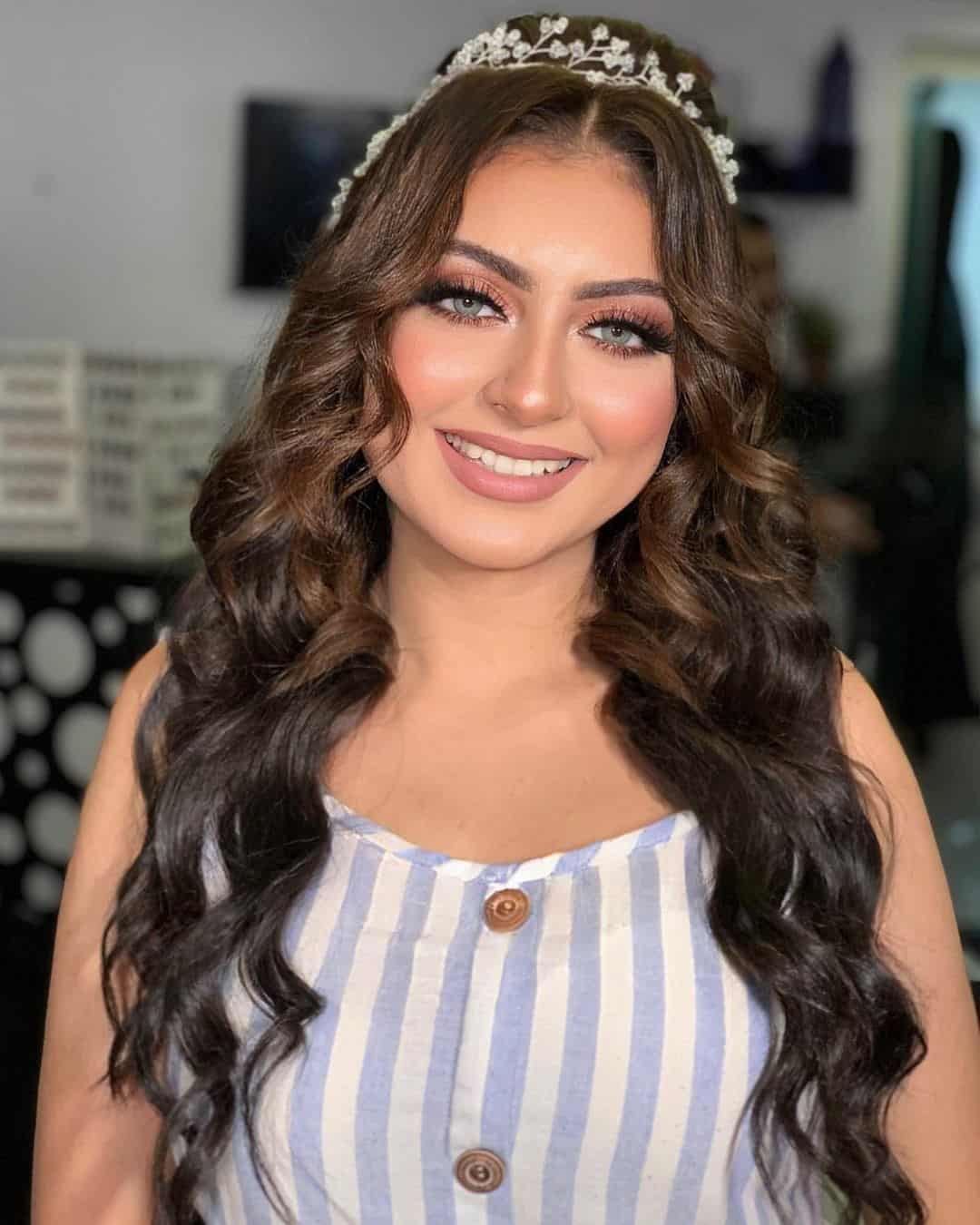 Women who are getting married in the near future and those who need a flirty look will like this makeup idea and concept. Hide your round features by adding a lot of bright glittery shadow and wear this look for your big events. You can also contour your face by playing around with your hair and adding depth here or there.
4. Purple Makeup Idea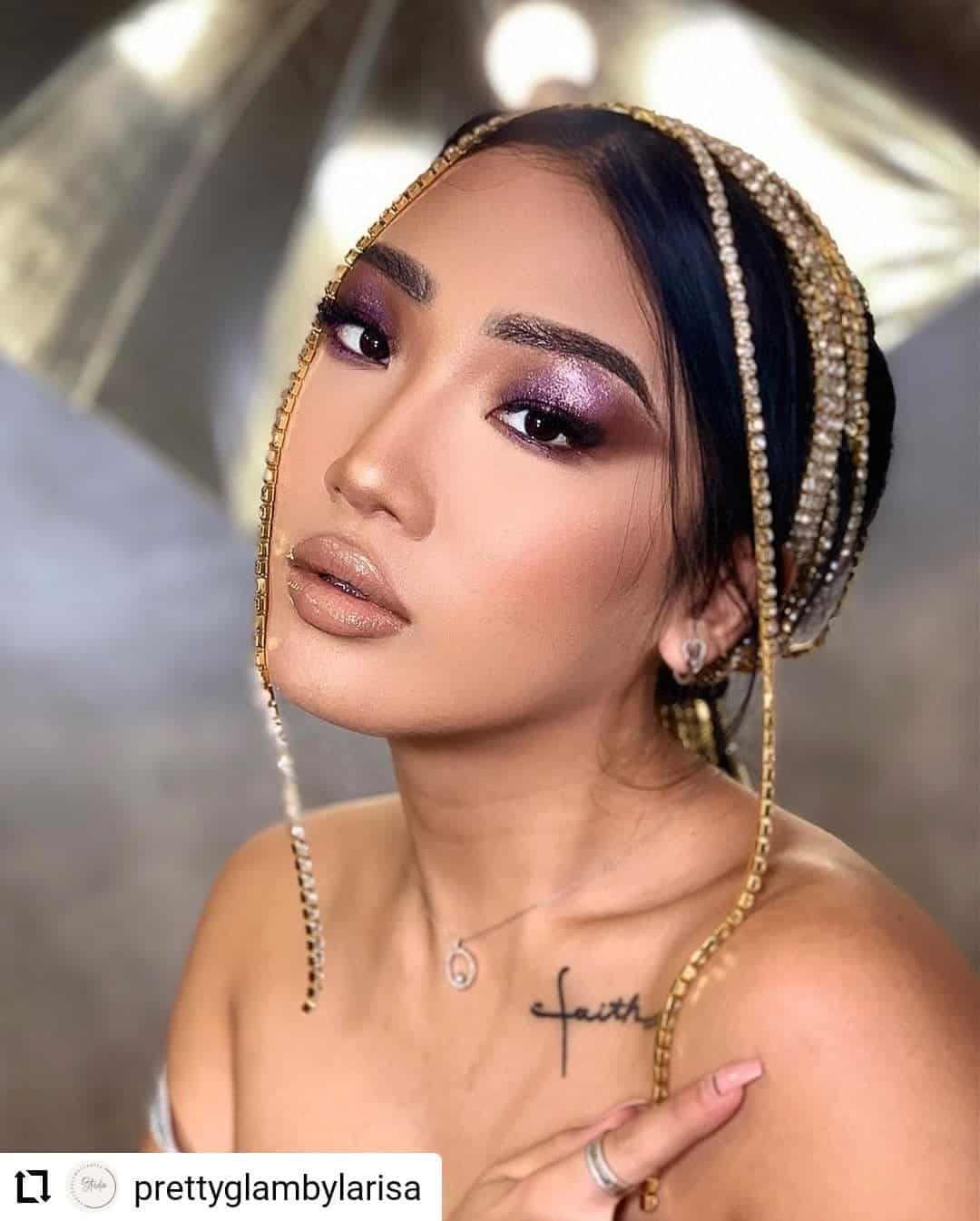 A purple shadow that is placed all the way up to your eyebrow will make your eyes a lot more flashy. This look will make you look like an elegant night-out queen. Show off your flirty side and add a heavy amount of liquid bronzer to achieve this sexy look.
5. Night-out Makeup Inspo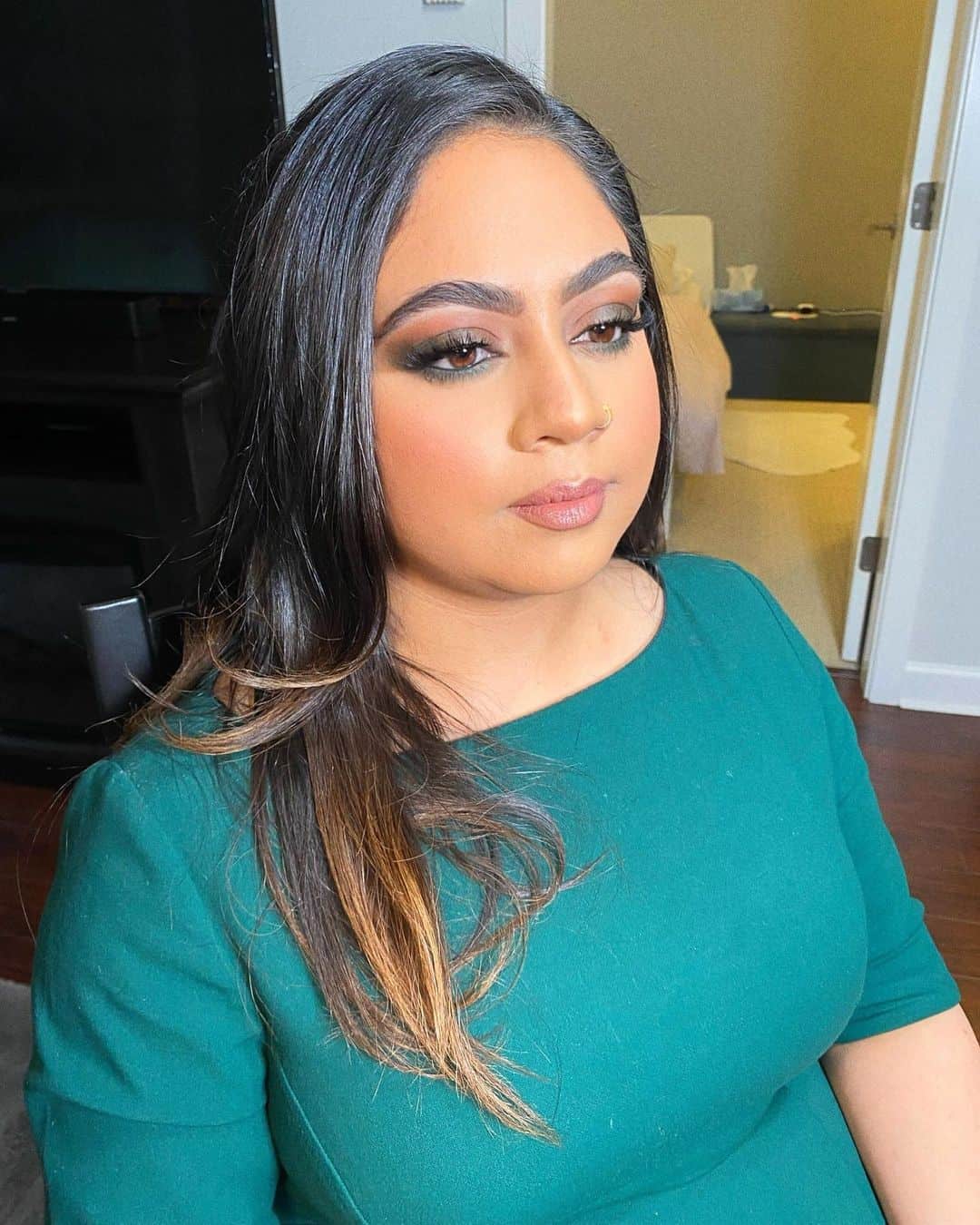 Women who need something cute and cool for night-outs and those whose favorite color is green should experiment with this beauty. Once you add a pair of flirty and wispy lashes you will look like such a fabulous queen who can rock sexy makeup. Go for darker brows since they will also shape your face in the right direction.
6. Black Liner Makeup Look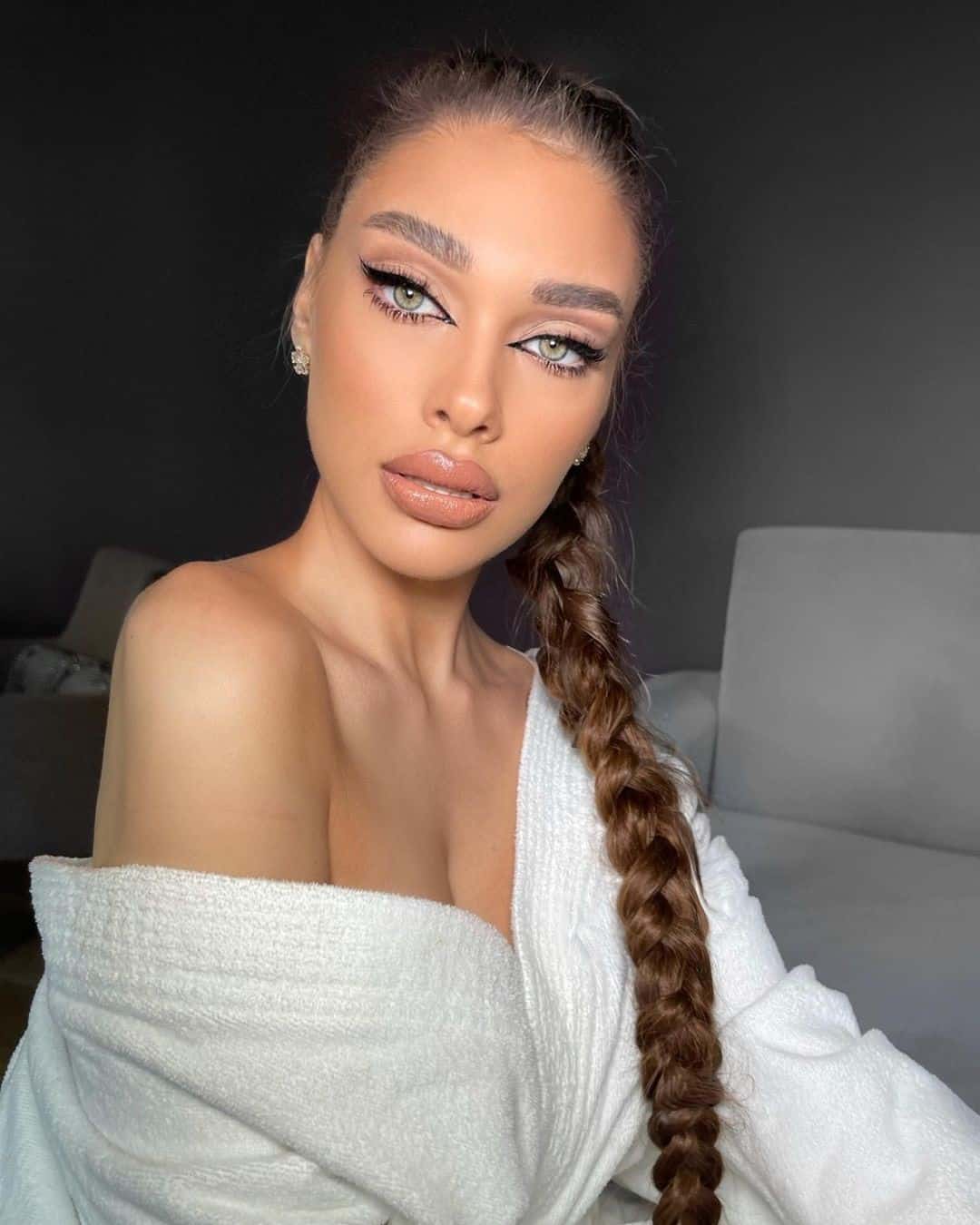 Is it your big birthday? If so, why not try out this beauty? If you're in your twenties you're going to enjoy this glowy look the most. Go for this dark black eyeliner to add elegance and to create dimension with your eyelids and your rounded face shape. The best night-out and party look!
7. Night-out Glamorous Makeup Look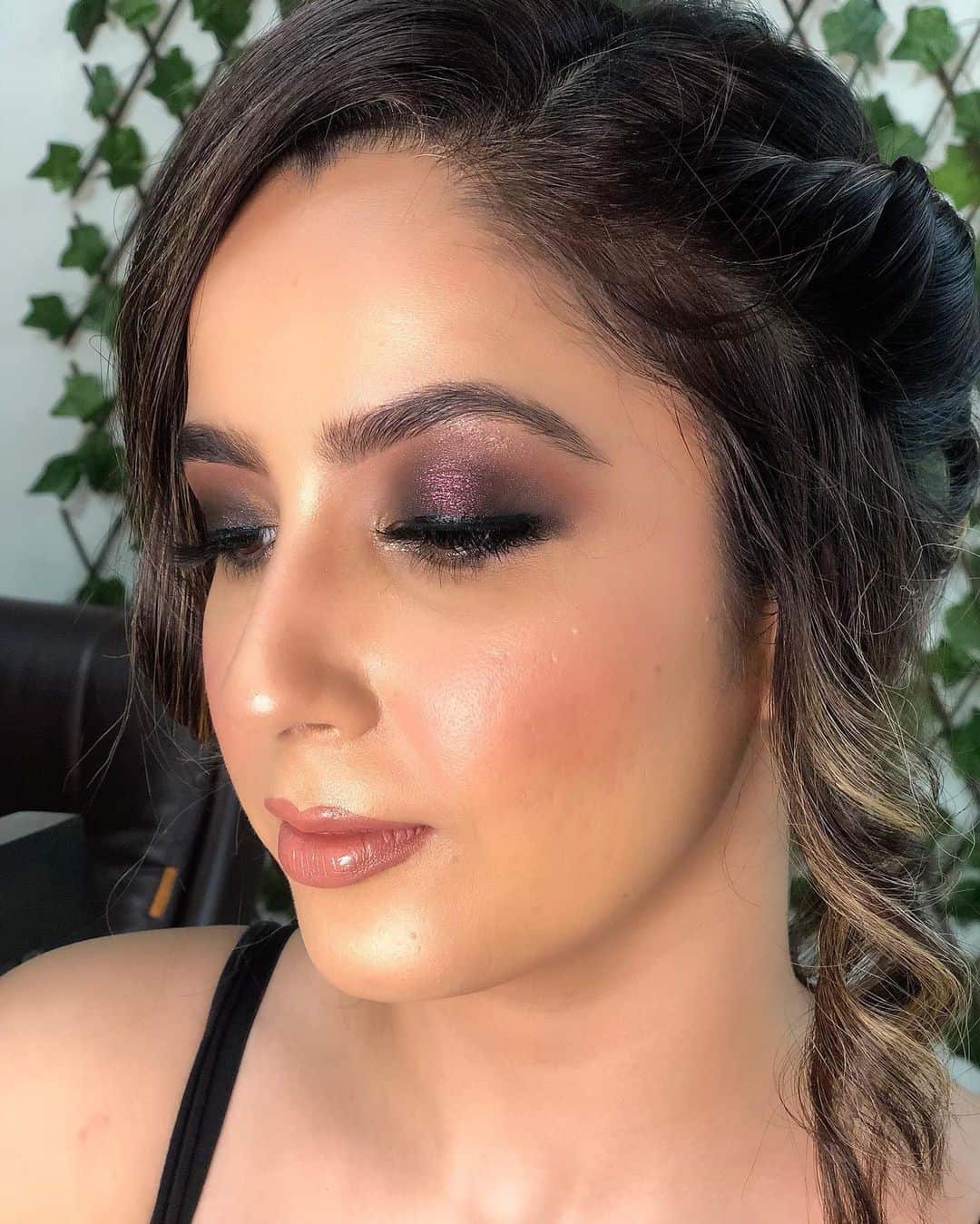 Formal looks and bright purple shadow can look like a dream team combo! If you need something that is elegant and can define your eyelid, consider this beauty. It will take you around two hours to achieve something similar.
8. Blue Winged Liner Idea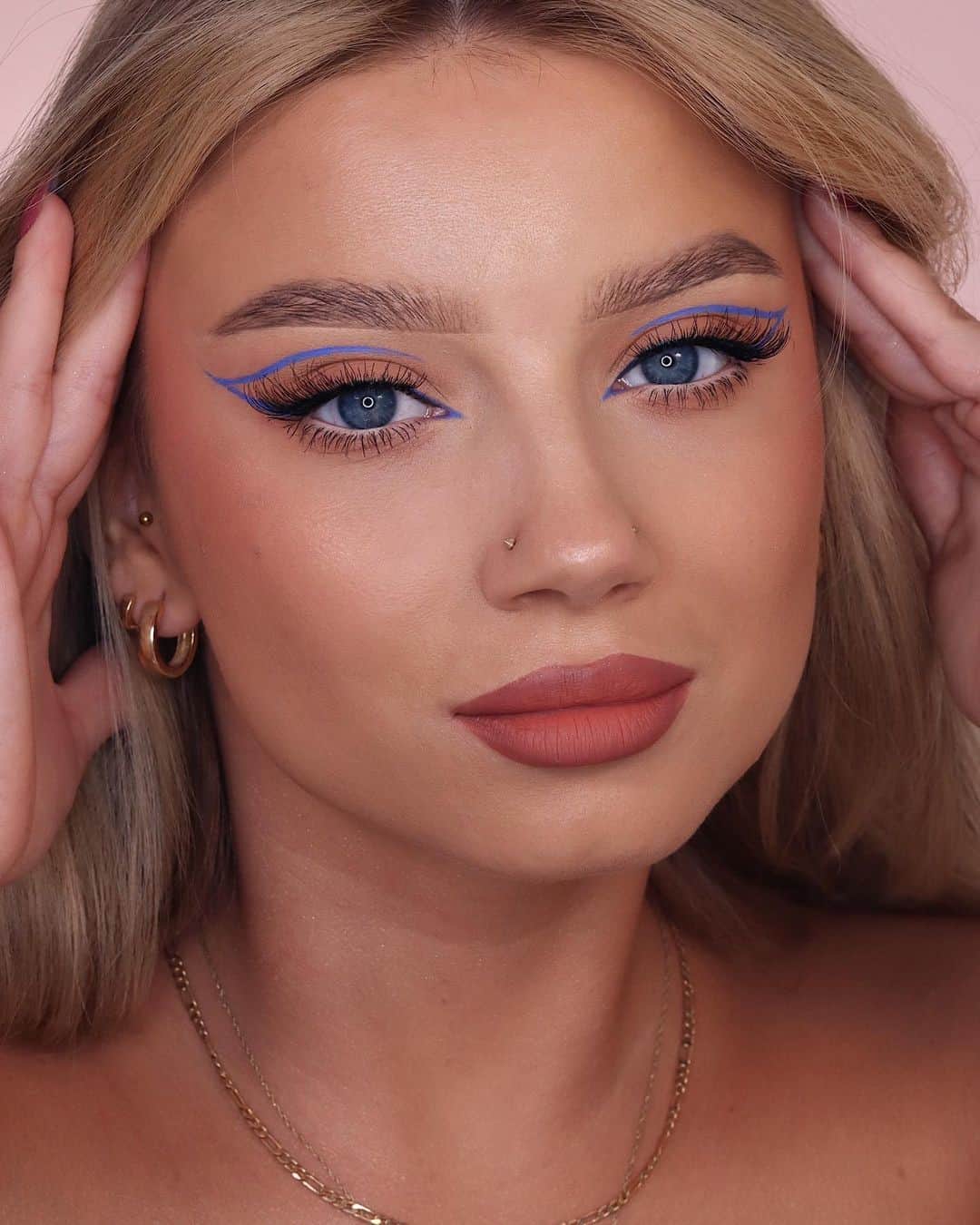 Do you prefer graphic liners? Do you know how to do complex looks yourself? If you're someone who is skilled and always willing to learn, why not experiment with this concept? This liner method will make you look a lot more fierce and square-shaped. Go for pink shadow and pink lipstick to add more dimension to your face.
9. Makeup Looks For Round Faces Neutral Style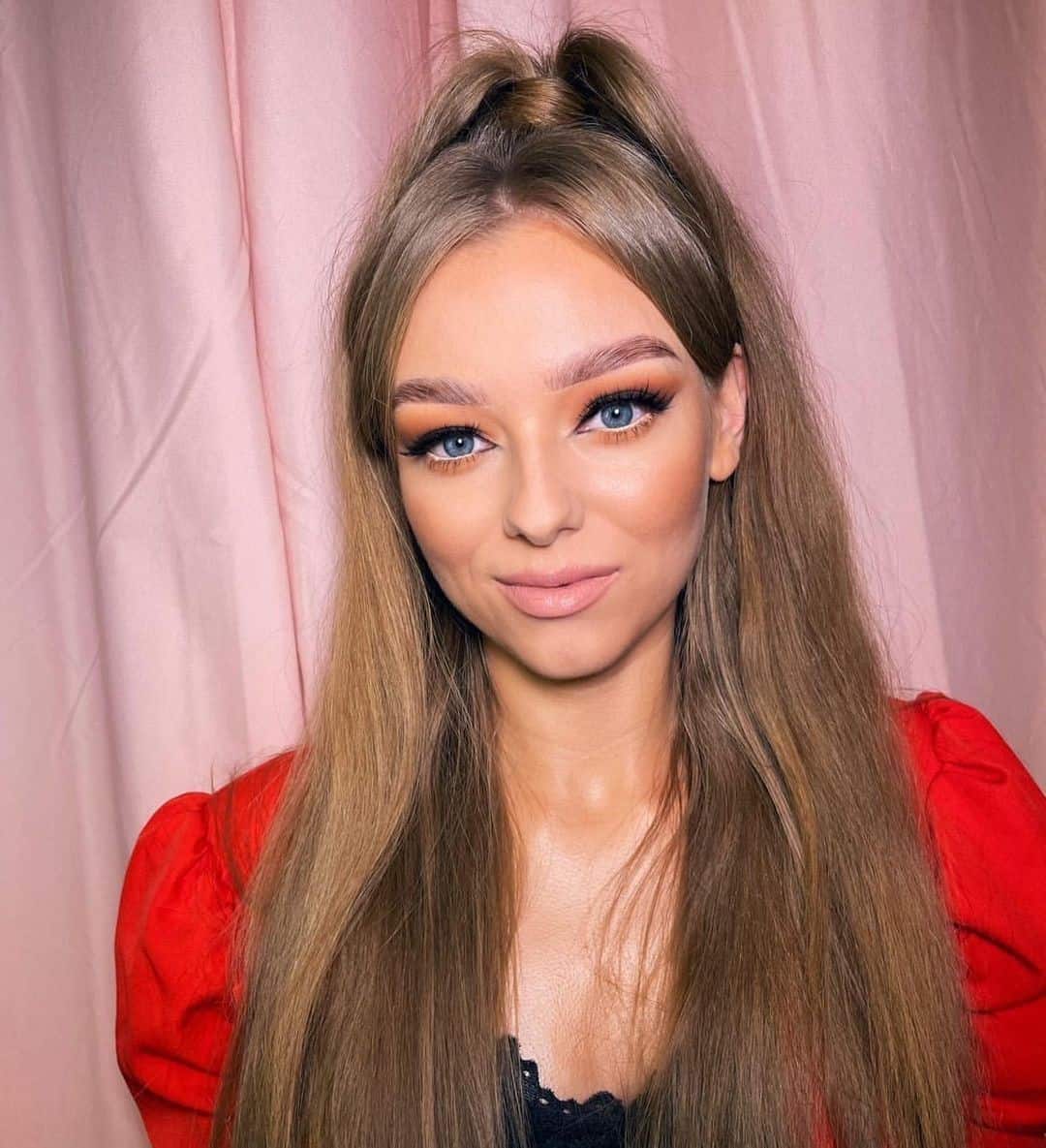 The perfect look that you can achieve in 20-30 minutes! Go for these upward fluffy bushy brows to make your face a lot more mean-looking. Those who are skilled and women who know how to switch up their brow looks will enjoy this elegant beauty.
10. Colorful Idea Yellow & Red Combined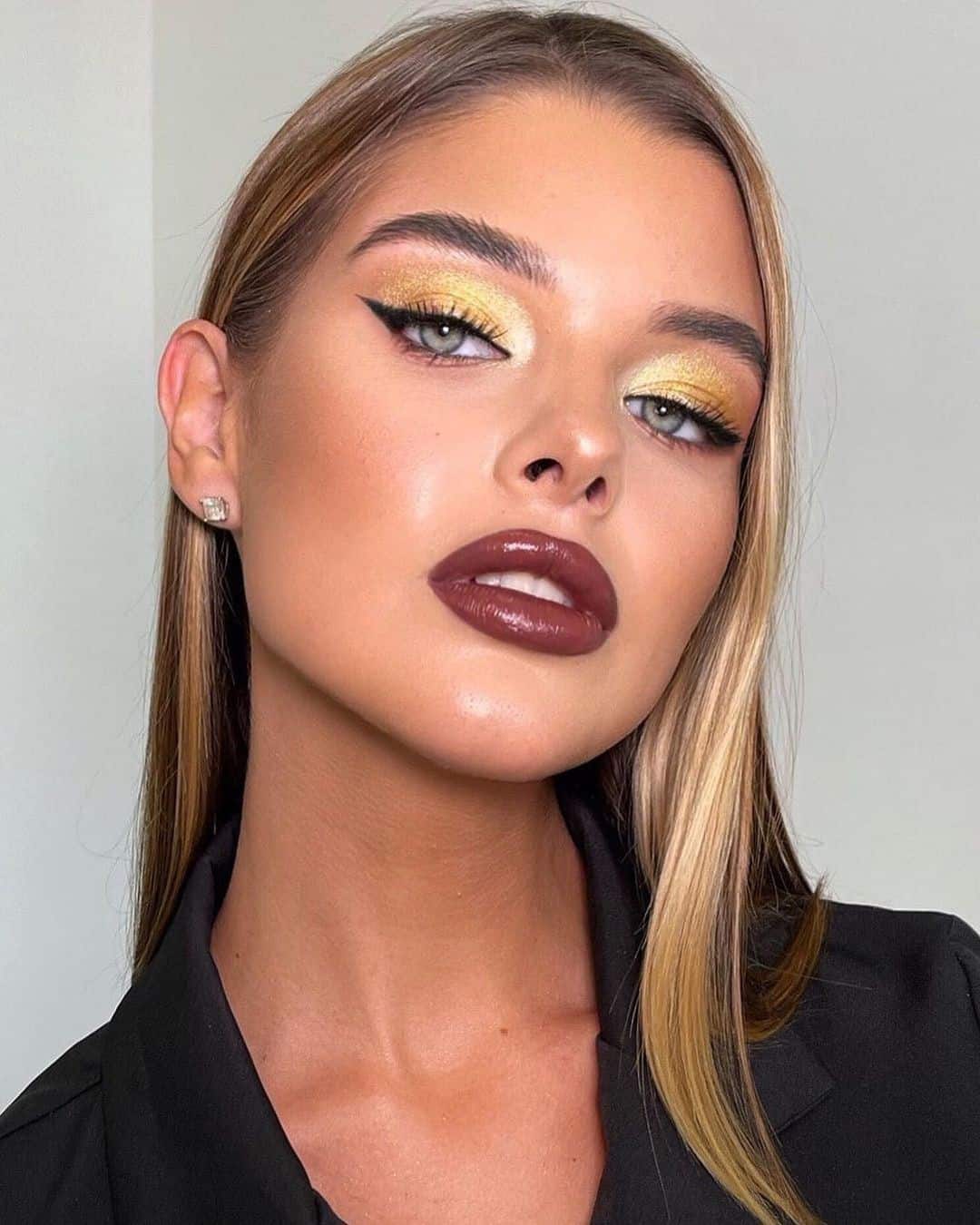 Yellow color and a yellow shadow can open up your look and your eyes. Make them a lot more prominent and big with this makeup approach. Round up the look with red lipstick to make your makeup feminine and more extravagant. You will enjoy this look for your night-outs and parties the most.
11. Night-out Feminine Makeup Smokey Look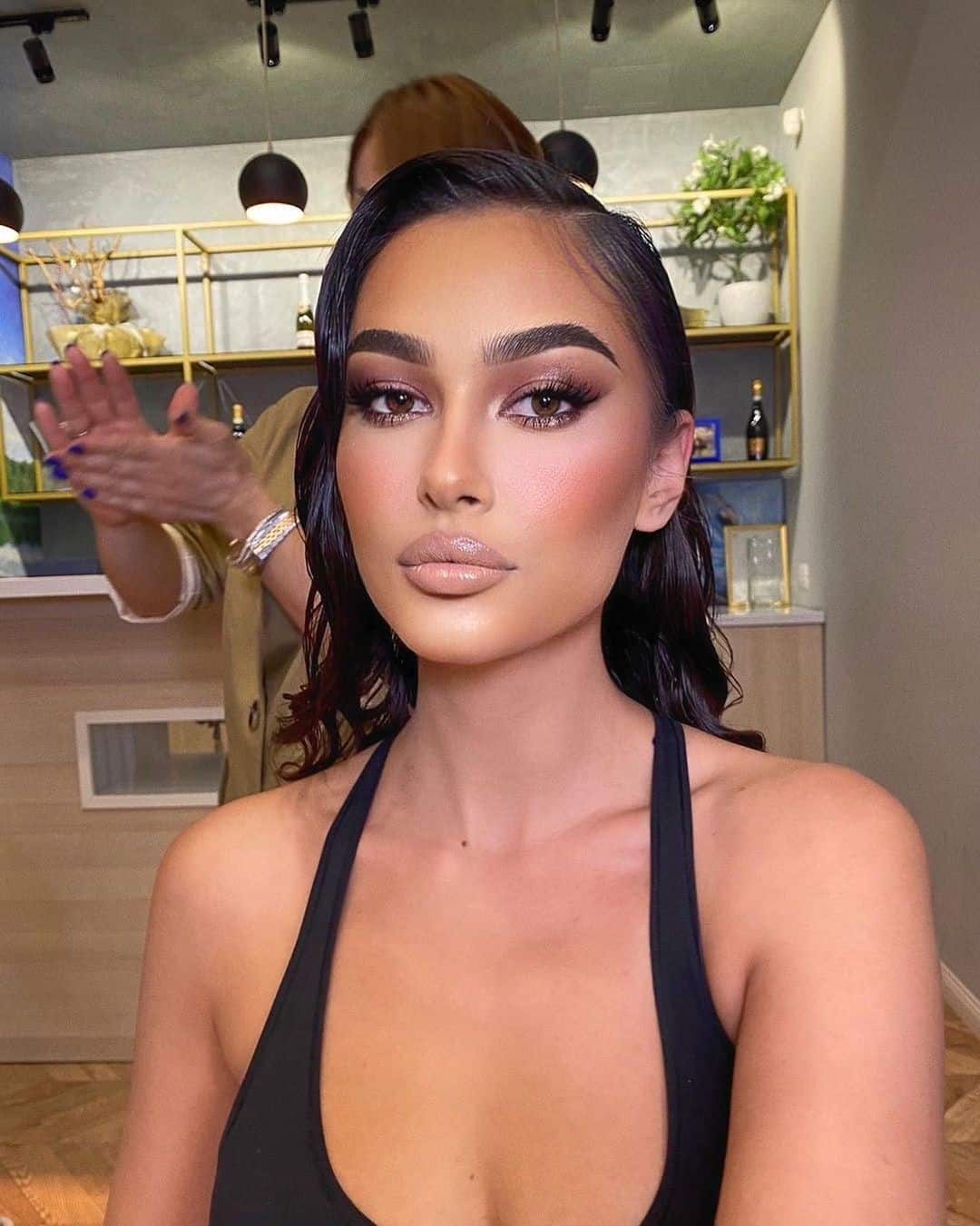 Do you enjoy glitter? Do you know how to do this makeup look yourself? Women who are in their twenties will like this the most. Go for thicker dark brown brows since they will pull out your face and define it even more around your forehead.
12. Arabian Inspired Makeup For Definition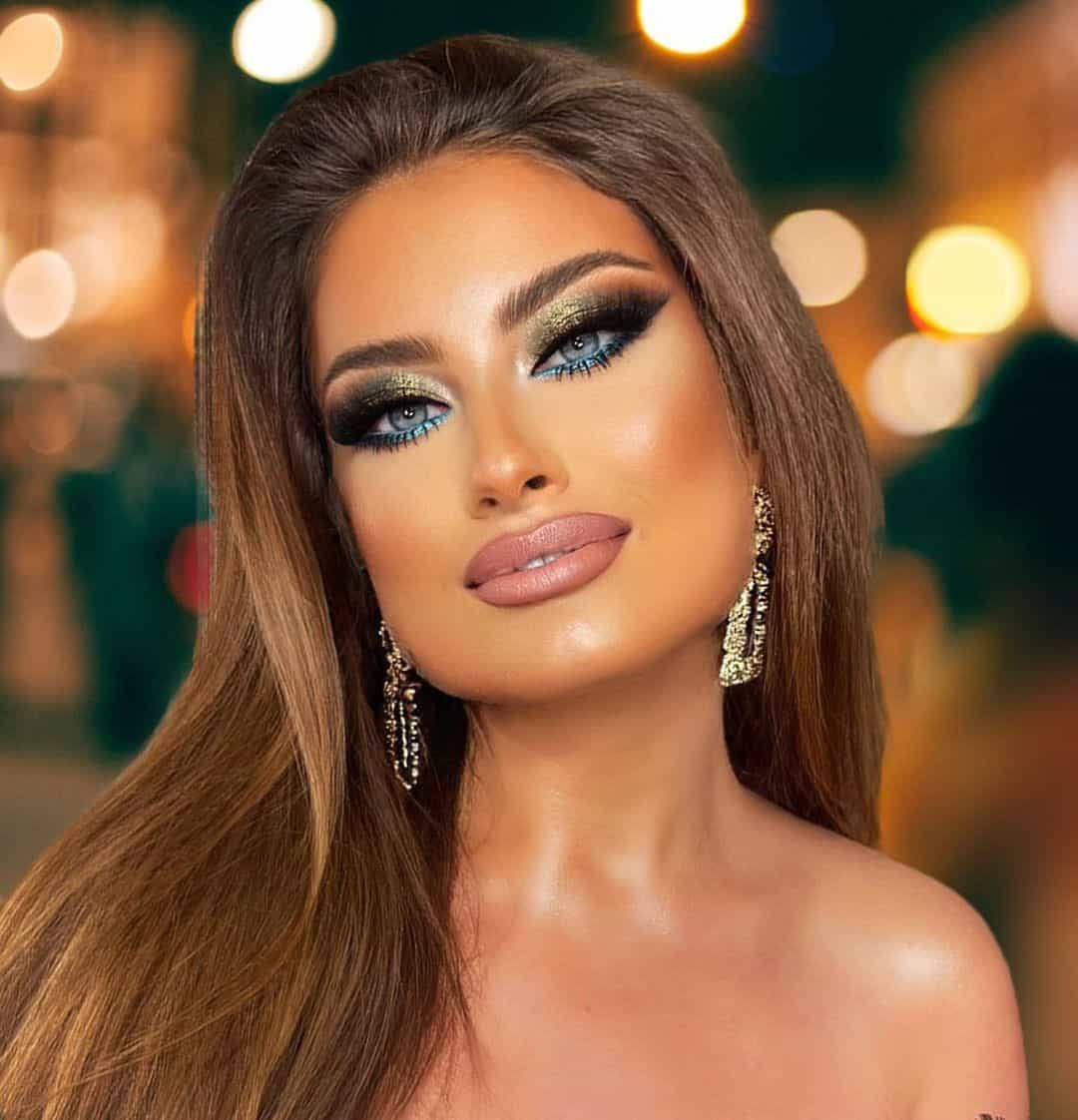 Not a lot of makeup artists know how to do this makeup look. If yours is skilled enough and they know how to do this Arabian makeup, give them a call! It will take you 2 hours to achieve this beauty. The end result is a must-do for your homecoming or prom day.
13. Winged Out Liner For A Round Face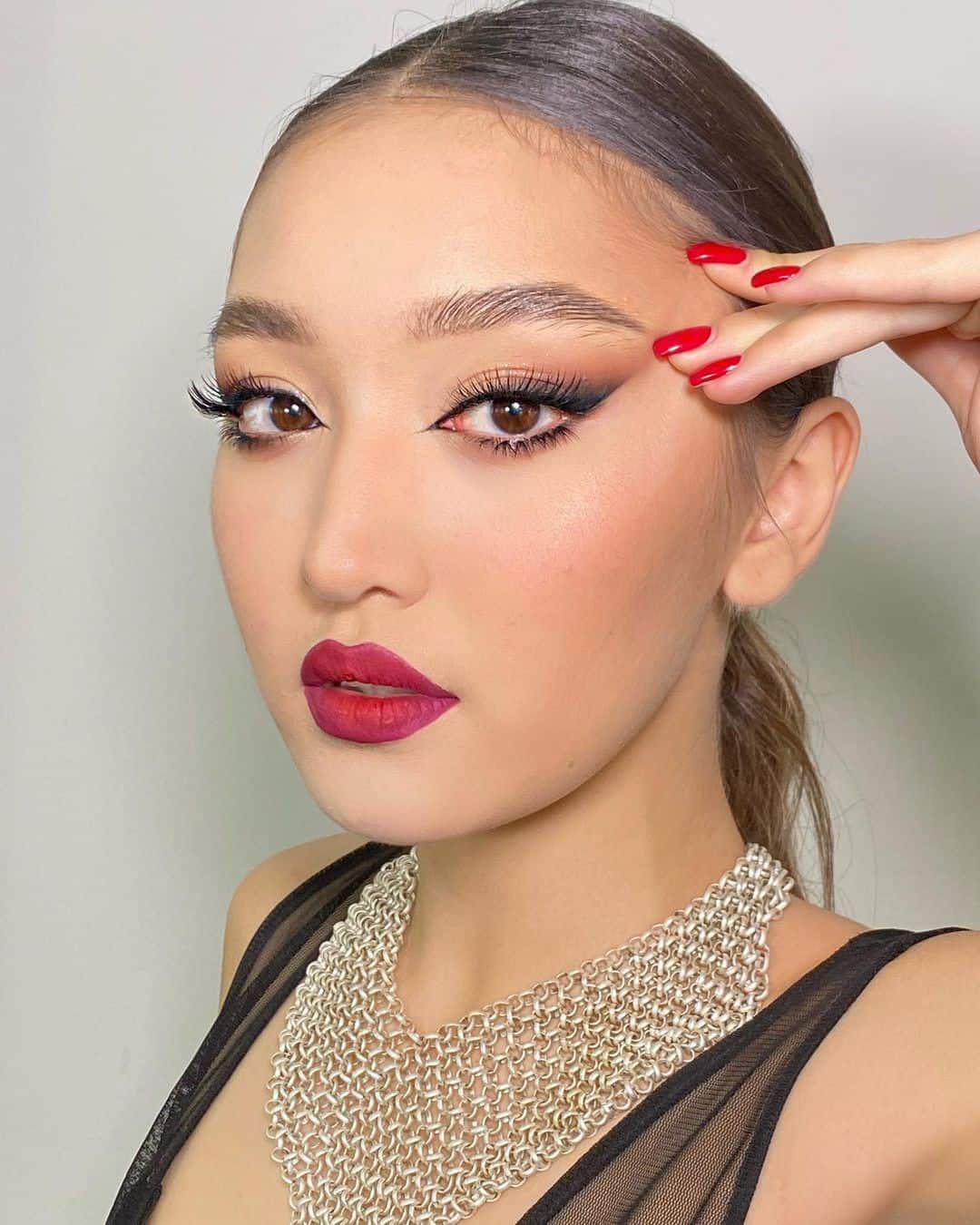 Go for this defined eyeliner and red lipstick. If you're someone who likes elegance and you want to try out something new and flirty, this is a must-do in your case! The look itself will define your eyes even more while giving you volume and definition around your lip area. Go for a matte makeup setting spray to prolong its wear time.
14. Matte Makeup Look Idea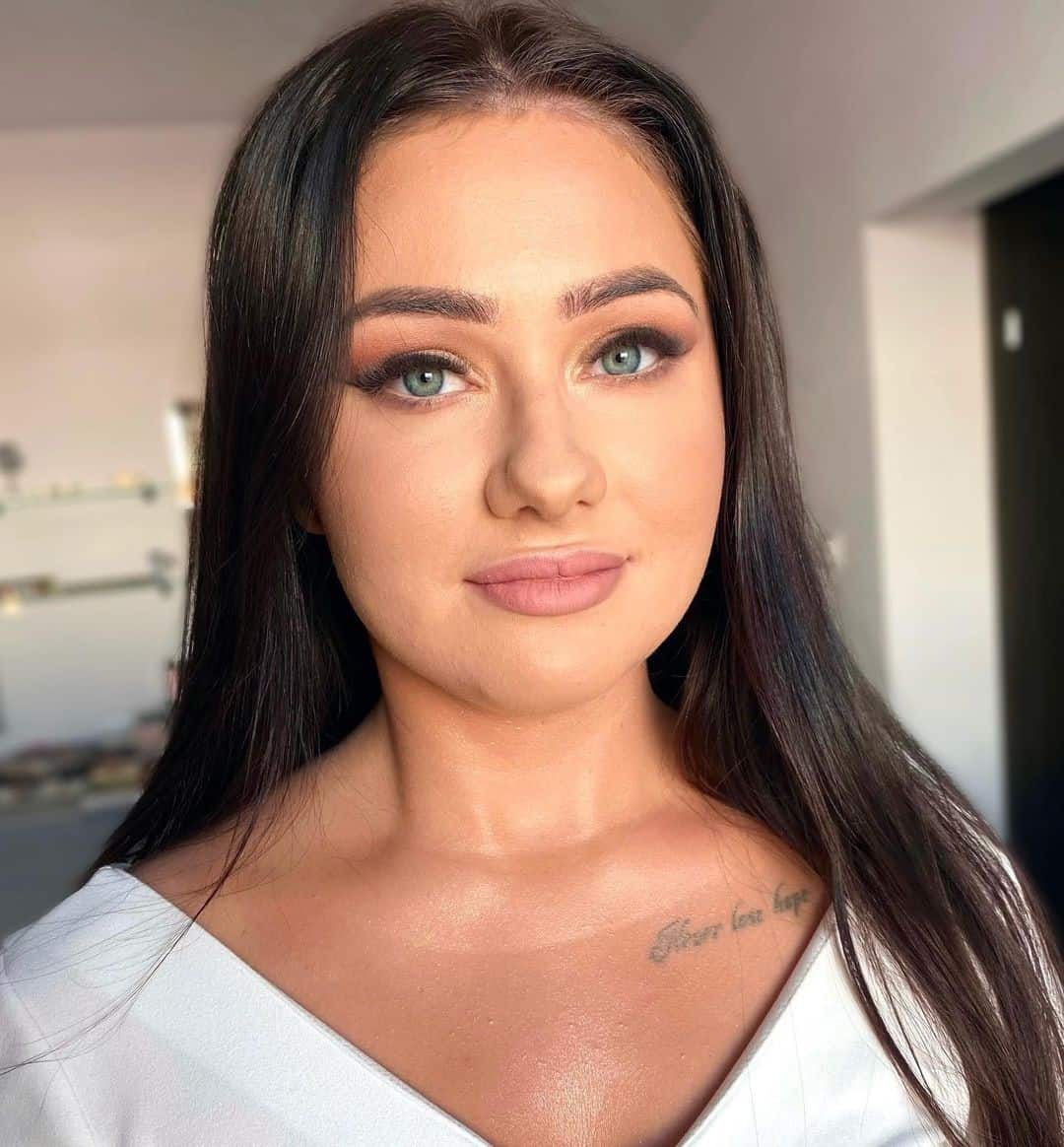 If you're a bridesmaid or someone who needs a cute look for a wedding of some sort you should try out this idea. It will take you 30-50 minutes to do this transformation. If you want to make your eyes more dominant play with color and show off this beauty!
15. Professional Makeup Look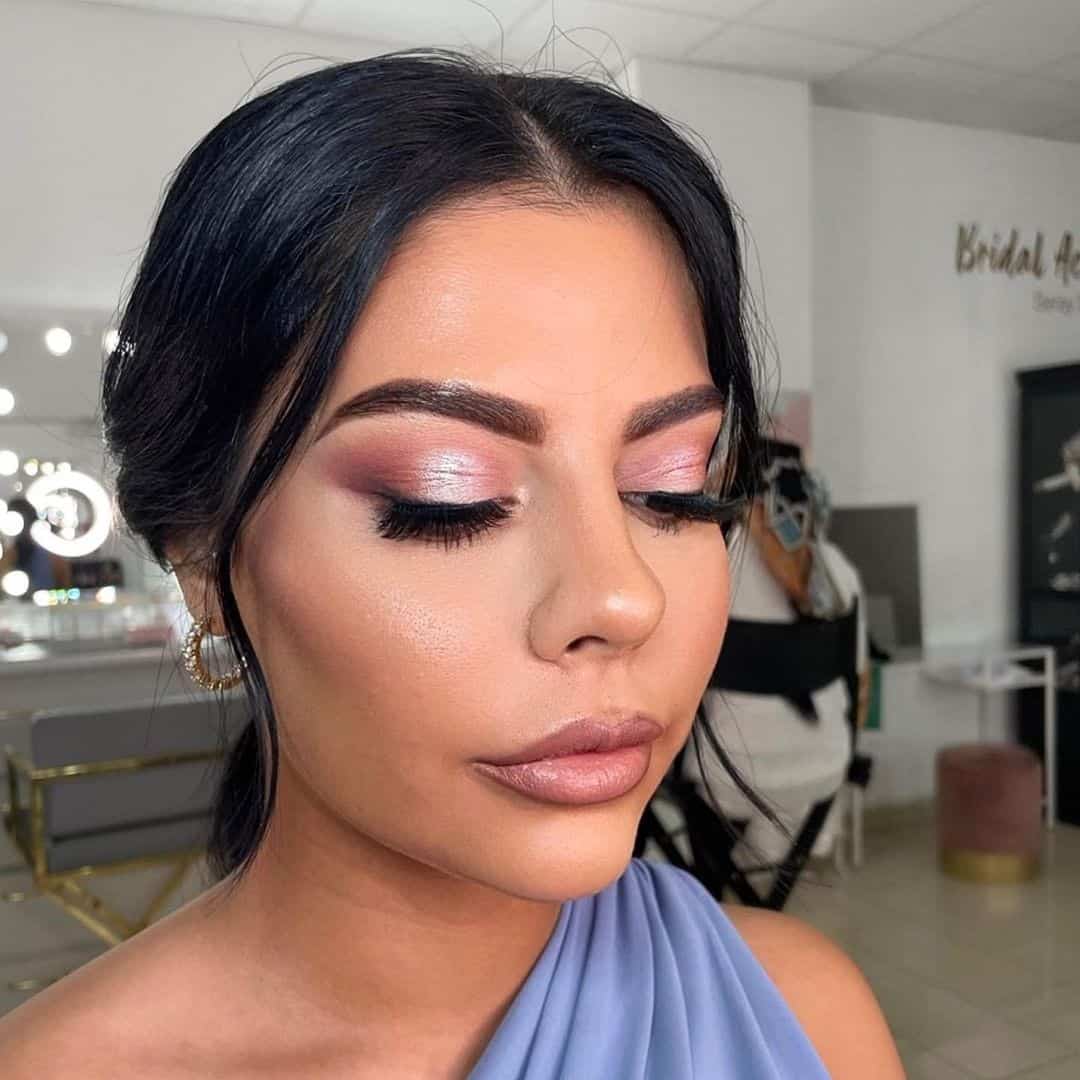 Lastly, add elegance to your eyelid with this halo eye makeup. It will create focus on your eyelid and will take away from your rounded face shape. If you're in the mood for something glowy and feminine this will suit you. Show off this eyelid and round up the look with a dark brown brow to finish off this elegance.
Want To Experiment With Your Makeup?
Did you enjoy our makeup tips and tricks? If so, let us know which design and makeup idea were your favorite. Which one out of these looks you can't wait to recreate or do on your own? Let us know, we can't wait to see you experiment with one of these looks.
Also Read: