40+ Best Short Haircuts for Round and Chubby Faces (2023 Update)
When you shop through links on our site, we may earn an affiliate commission. This educational content is not intended to be a substitute for professional advice.
All face shapes have their charms and there is no particular face type which is innately more attractive than any other.
However, different face shapes do require different hairstyles in order to achieve the most flattering look.
Thin, square faces, for example, often suit long and straight hair, while rounder faces look best with some layering around the cheekbones.
There are literally thousands of different haircuts and styles in the world, but only a few that will really flatter and bring out the best in your natural face shape.
If you have a chubby face and a double chin, there are many hairstyles that can help slim down the overall appearance of your face (if that's something that you want!). In this article we'll take you through various looks which suit a rounder face as well as tips on how to help draw attention away from a double chin.
Tips for Styling a Chubby Face
With so many hairstyles available, how can you tell which one will suit you the best? Below is a quick guide to knowing what style to opt for.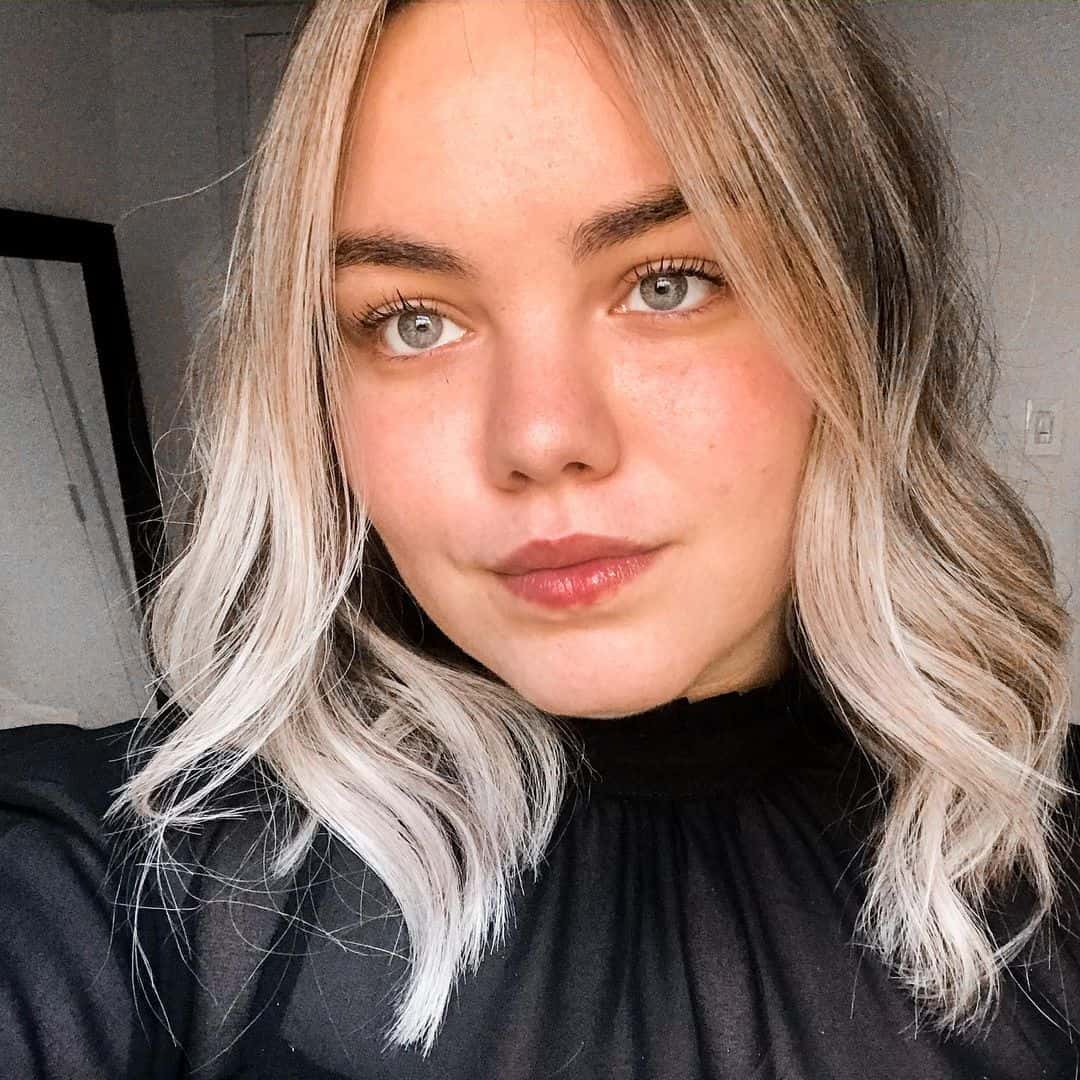 Draw Attention to your Best Features
The first and most vital rule when it comes to getting a new haircut is deciding which features of your face you want the cut to draw attention to. If you have great eyebrows and beautiful eyes, it's best to avoid bangs, or stick to short ones, so that they don't obscure your best features. If you have a larger forehead, on the other hand, bangs might be a good idea as they can help reduce the appearance of the forehead.
Choose something which inspires confidence:
At the end of the day, your new haircut is supposed to make you feel good about yourself. If you're on the edge about a daring haircut, consider whether or not it might backfire and make you regret your decision. You don't necessarily have to play it safe, but equally don't opt for a bold look just because it's on trend. Always go with a look that will give you confidence.
Trust your Gut
Everybody has their own opinion when it comes to hairstyling, but when it's your hair, yours is the only one that matters. Don't let people discourage you from a cut you have your heart set on.
Bobs for Chubby Faces
The classic bob has been around for yonks, and is a very popular cut for women with round faces. Here are some of the best bob styles for chubby faces and double chins.
Long Bob with Bangs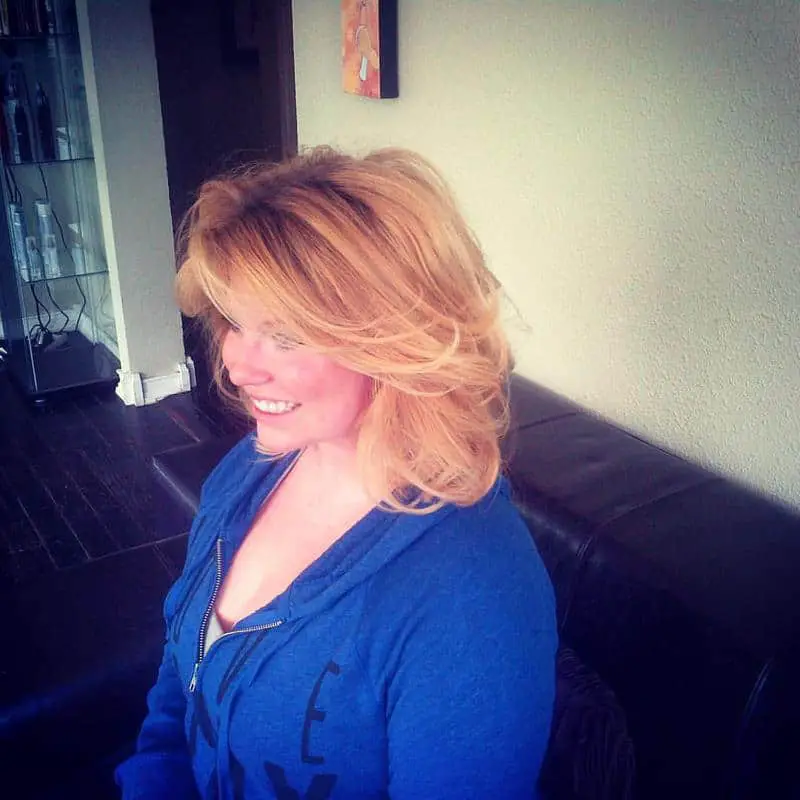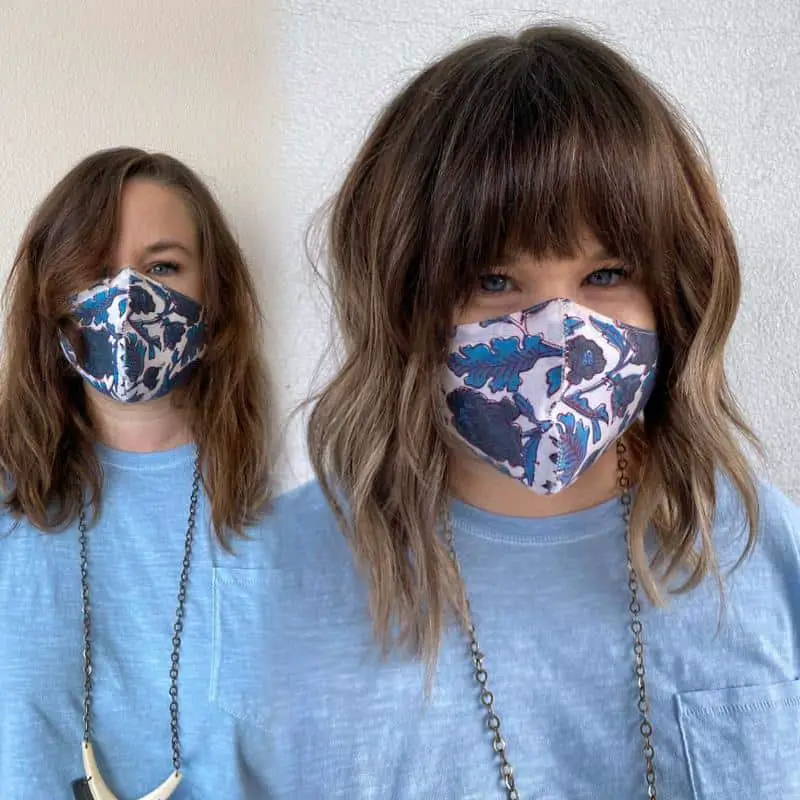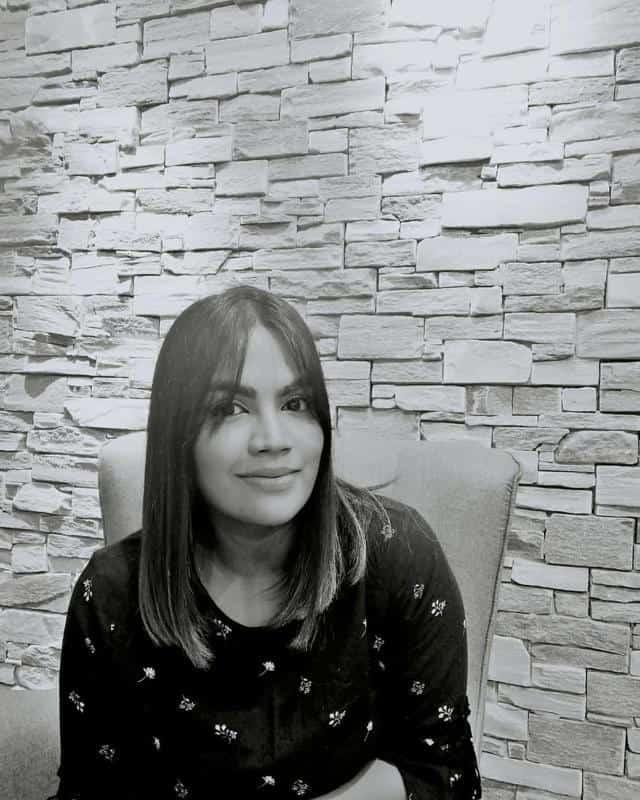 If you want to give your hair a refresher and try something fun and shapely, then a long bob with bangs is definitely a look you should consider. You can choose to have classic bangs, although this tends to suit more angular faces. For chubby faces, it's recommended that you get side bangs on the longer side. This will help shape your face and make it seem less wide.
Textured Bob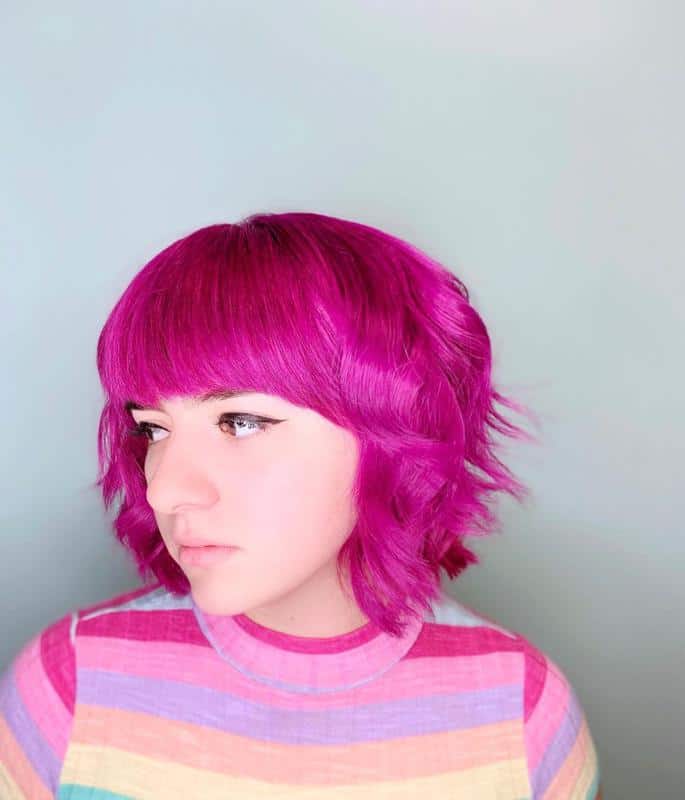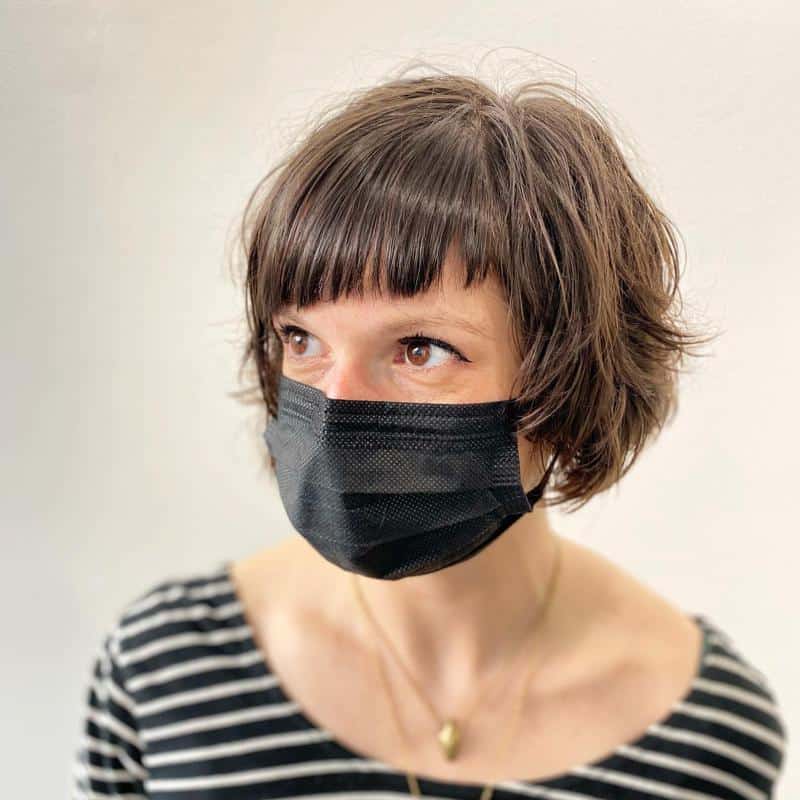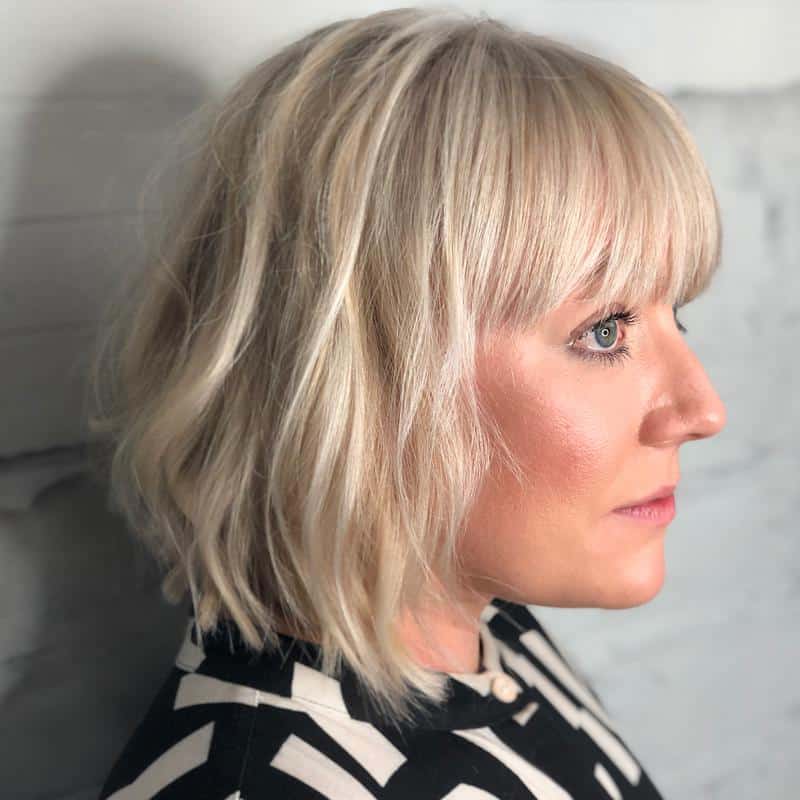 The bob is a classic cut, used for centuries to bring out the most flattering shape to a woman's face. When you bring in some textured layers, however, you get something even edgier and more flattering.
The best part about a textured bob is the volume it brings, as the layers spring up and create more body. Any hairdresser will tell you that voluminous hair helps slim out the face, making this bob look a go-to for anyone with a rounder face.
If you add bangs to this look then you can also slim down the face and create more of a structured shape.
Blonde Balayage Bob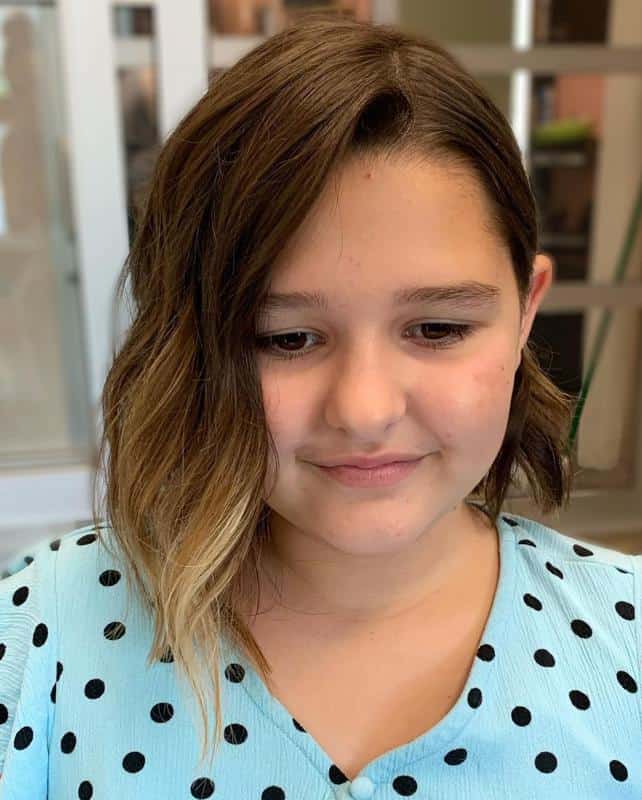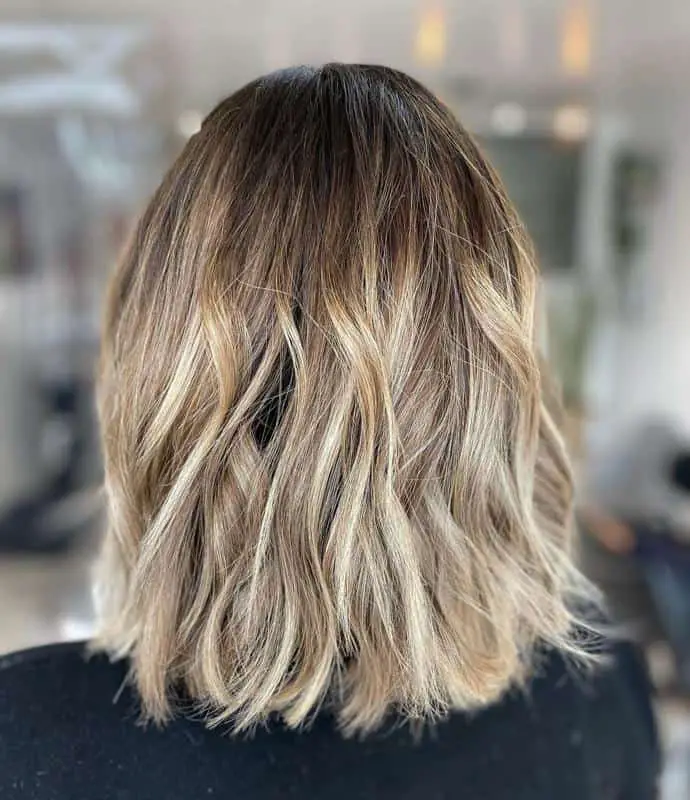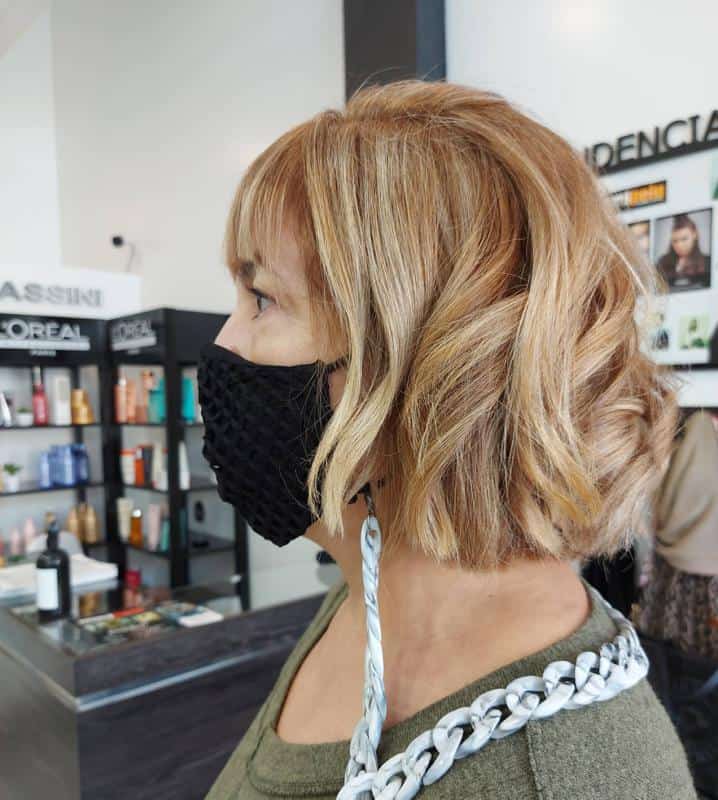 Balayage is a trend that's here to stay. It comes from the French word for 'sweeping' and refers to the sweeping effect of the color on the hair. With a good balayage, your hair will get gradually lighter towards the tips.
Combined with a bob, a blonde balayage is a luxury look which will give you a lot of confidence. If you want to walk out of the salon feeling a million dollars, then this style is definitely for you.
If you want a more structured look that will square out your face, then you can also add bangs!
Asymmetrical Bob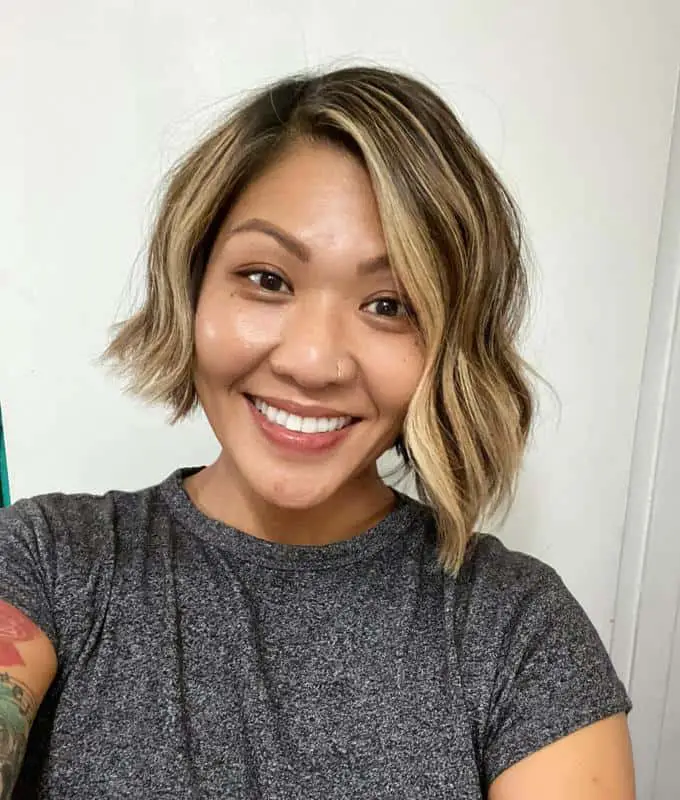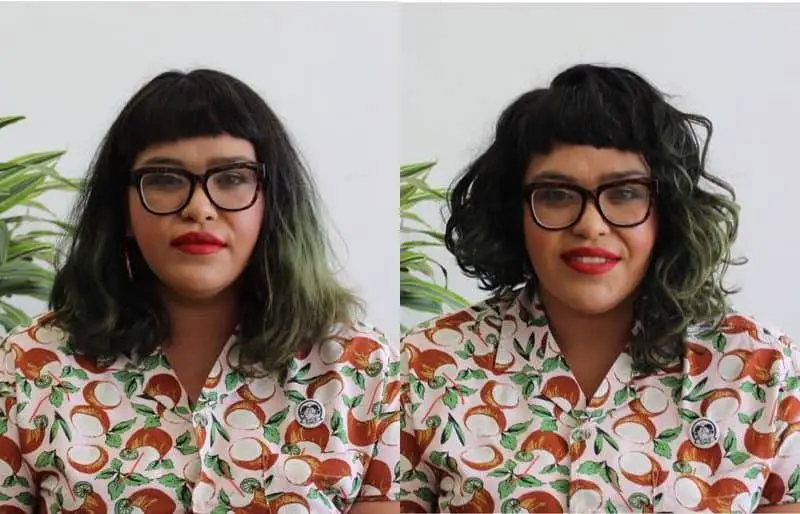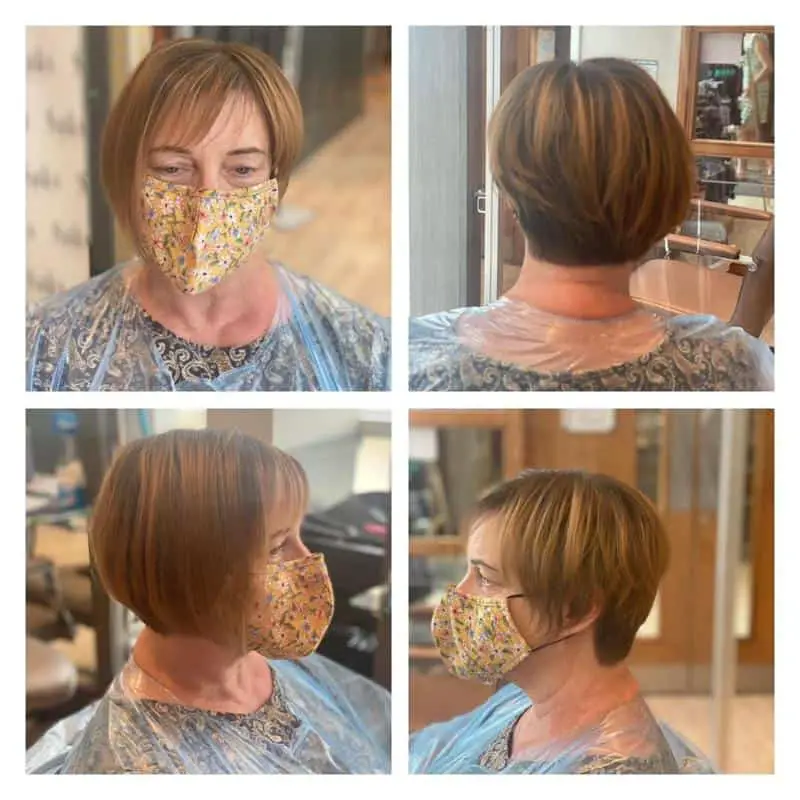 If you want a bob with a twist, then an asymmetrical bob might be just up your alley. With this style, you get the conventional shape of an ordinary bob, but can choose to have one side longer and with a different shape to the other. This creates a really unique and special look which can easily be personalized.
The asymmetrical bob works great for round faces because the hairdresser can add layers and a sweeping fringe to help frame the face and bring out the most striking features.
A-line Bob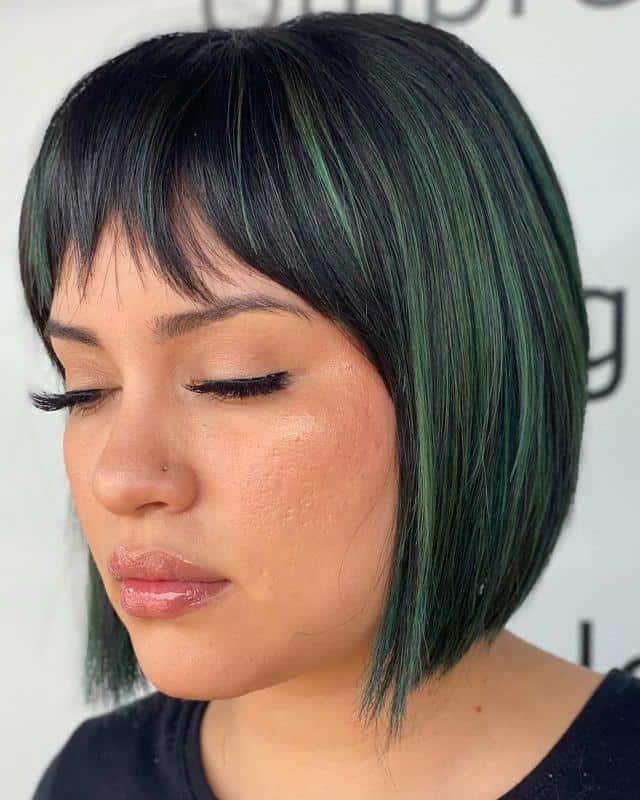 An a-line bob is one which gradually gets shorter towards the back, with the longest strands framing the face. This is a popular look because it allows you to maintain the appearance of longer hair, while having short enough hair that it's very easy to care for.
An a-line bob is a great choice for those with a wider and chubbier face as it tends to be very structured and can compliment cheekbones and jawlines. This will help square out your face and make it look slimmer overall.
Also Read: 80 A-Line Bob Hairstyles: Structure Your Face and Make You Look Feistier and Bolder
Choppy Bob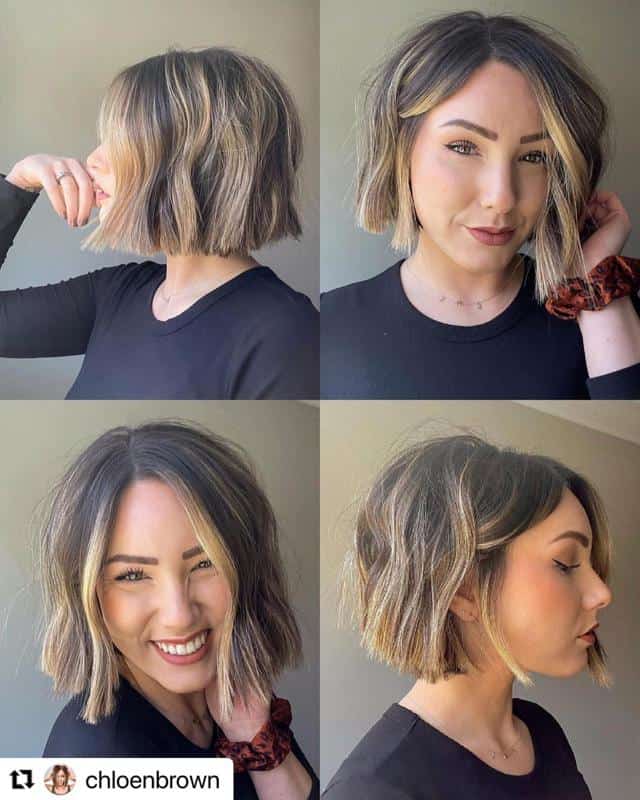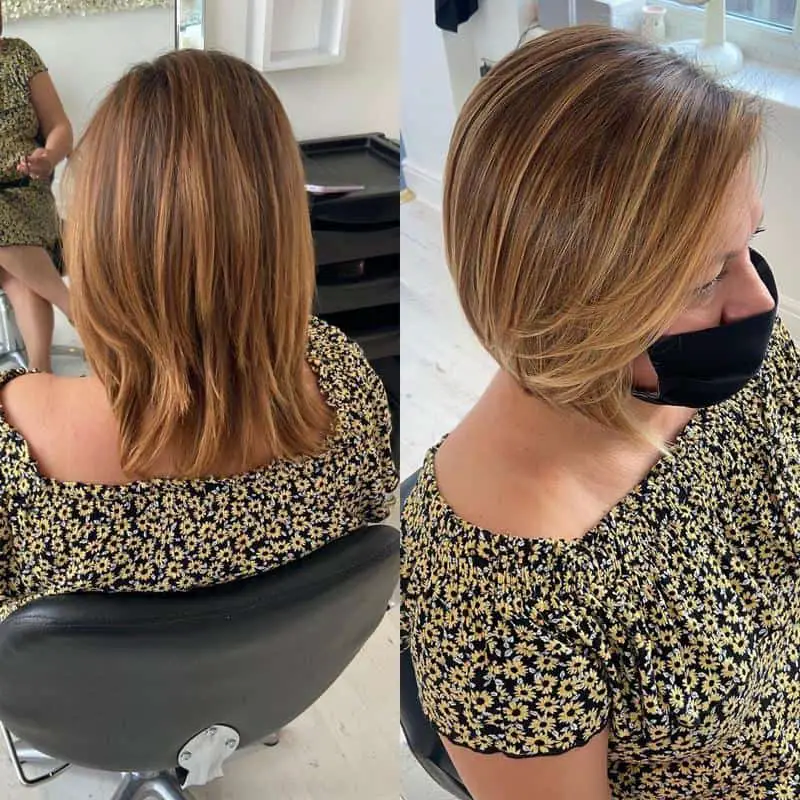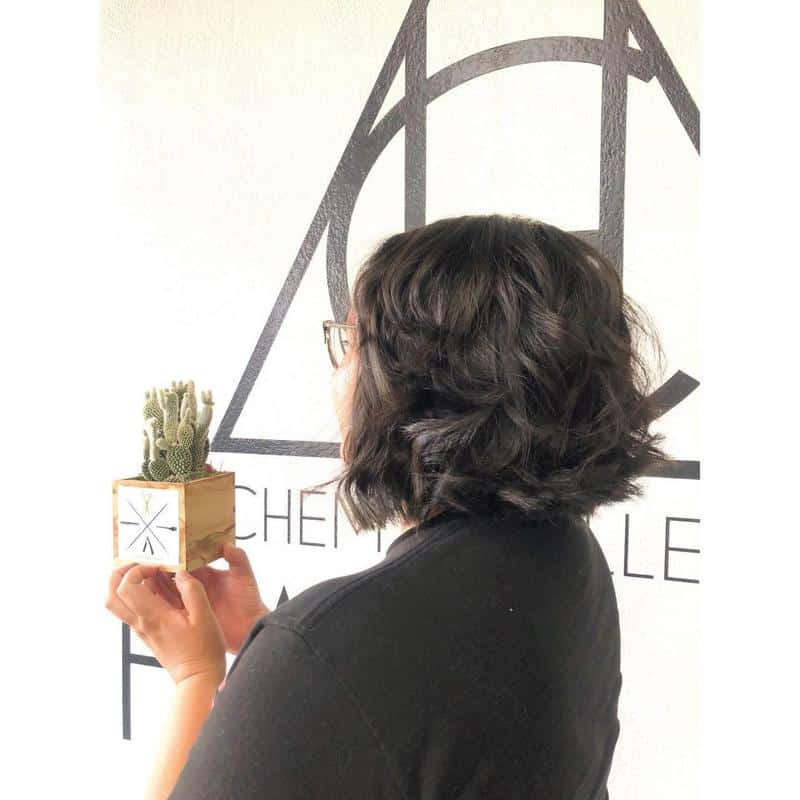 The bob is a go-to look for disguising chubby cheeks as it helps elongate the face. When you add the texture of a choppy look, you end up with more volume and a lot more fun! These cheeky hairstyles pack a lot of personality and will no doubt give you a big confidence boost when leaving the salon.
Textured Lob (Long Bob)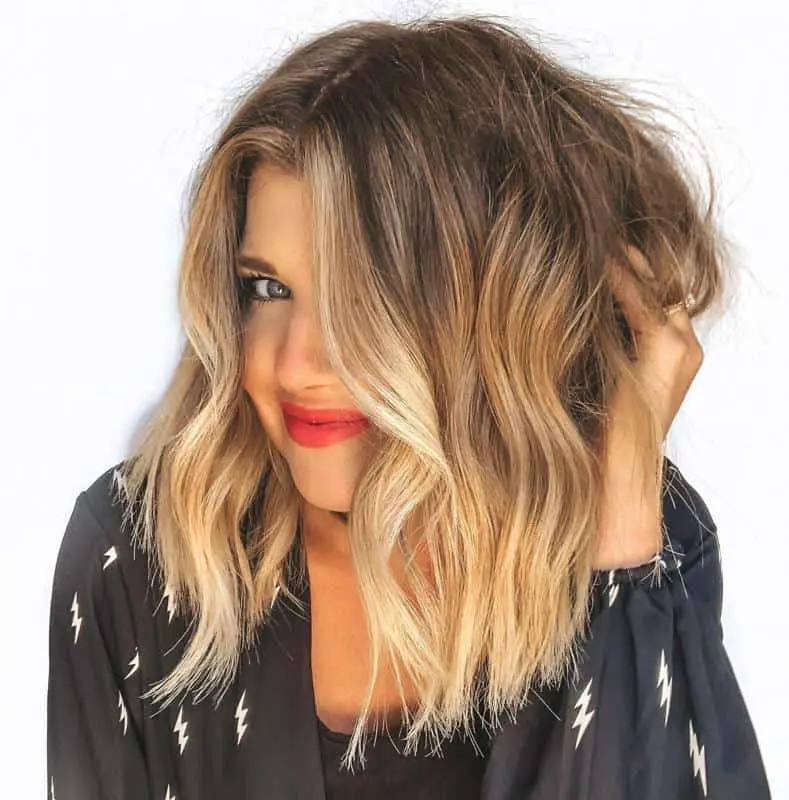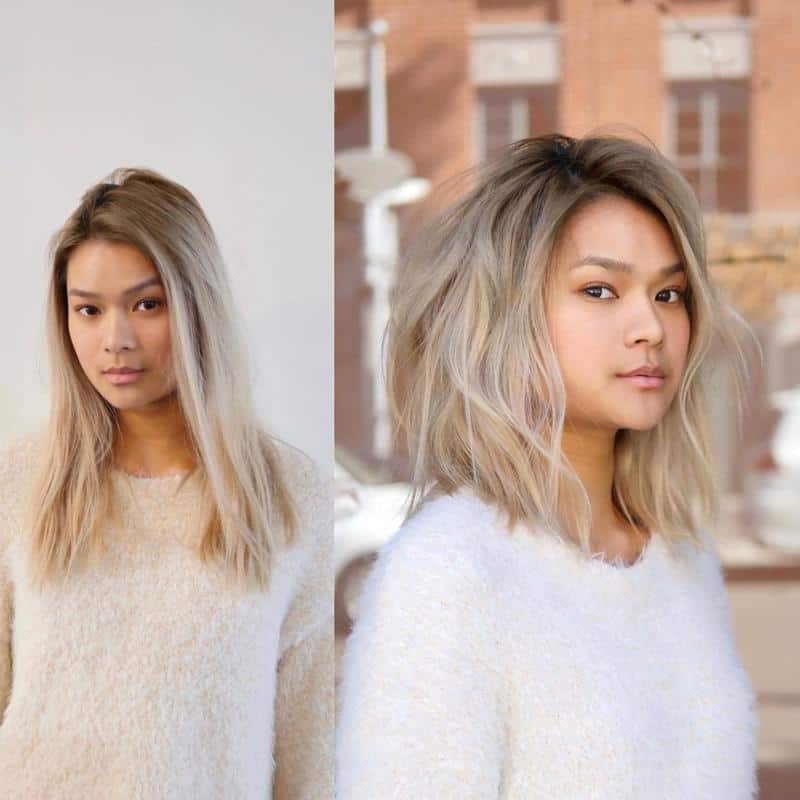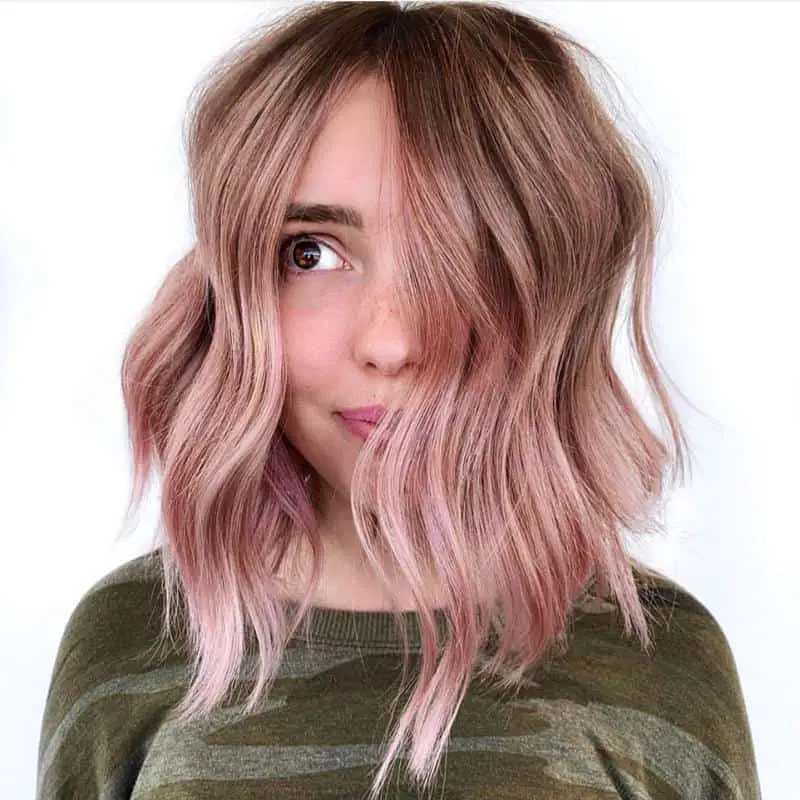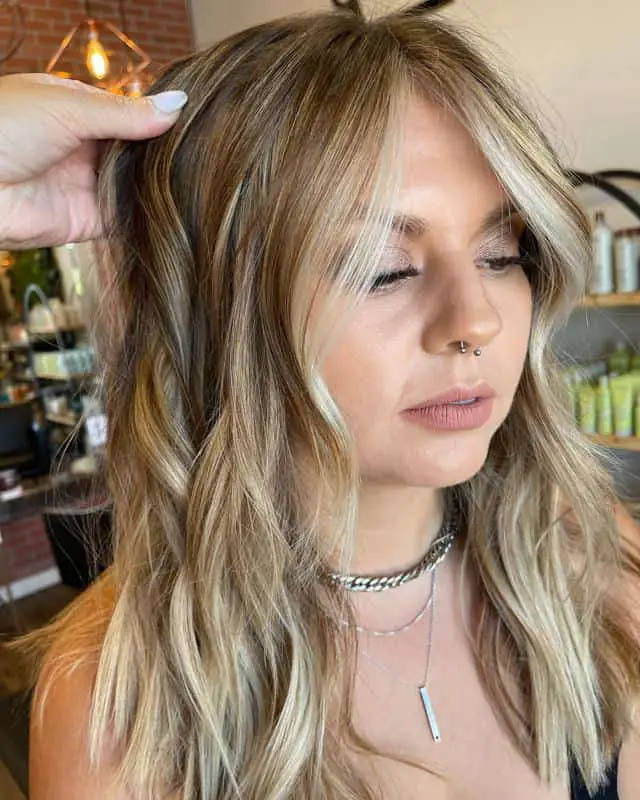 A lob is just a shortened word for a long bob. This is a great option if you want to retain the length of your hair, but it give a fresh shape and style. It's also a nice medium ground if you know that you want to go shorter but aren't ready for a big chop just yet.
You can opt for bangs with this look, or keep the hairline even all round. Many like to get some layers to provide a bit of texture and extra volume. Speak with your hairdresser about what lob style would suit you best.
Short Bob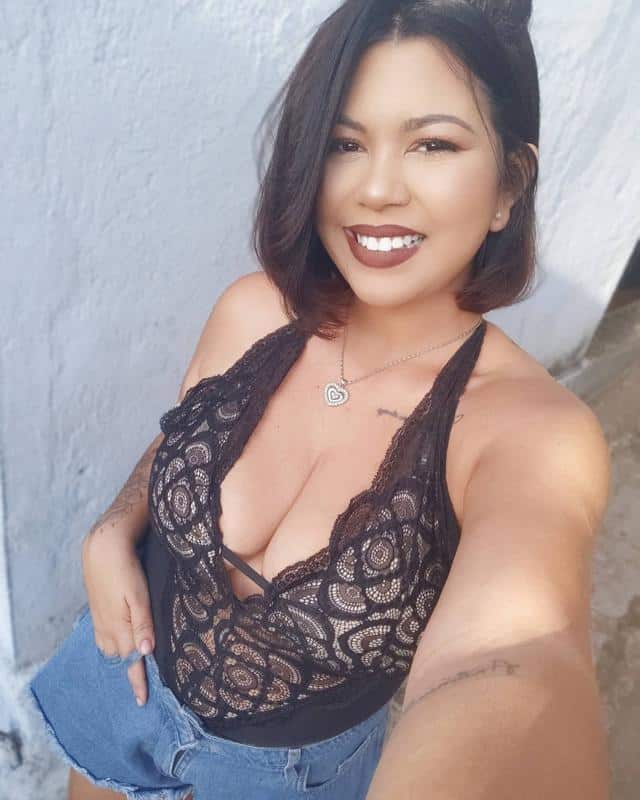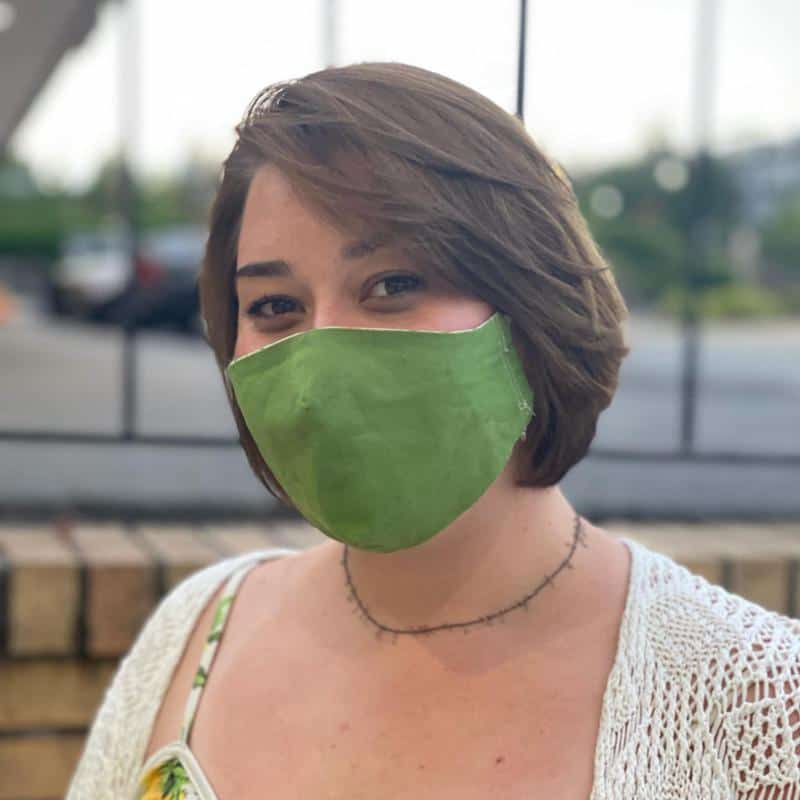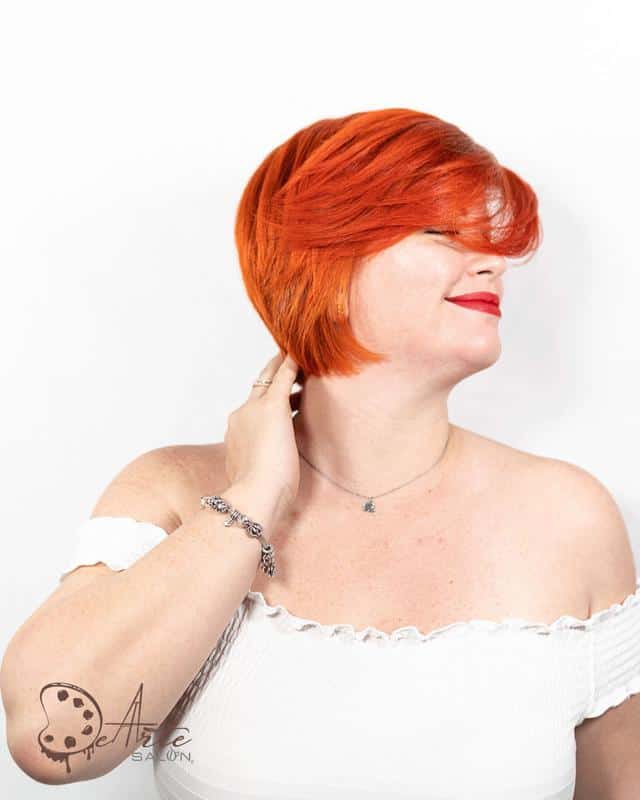 If you can't decide if you want to go as short as a pixie cut, you can instead opt for a short bob. This will give you the same lightness of feel and ease of maintenance as a very short cut, but will still retain the illusion of length — giving you the best of both worlds!
While bobs have been around for a long time, the short bob is still a daring look as it breaks long-haired feminine convention. If you like to push boundaries and experiment with your hair, then a short bob is a good way to go.
The angle of the cut tends to be very flattering for chubby faces as it can cut in at the cheekbones and jawline, giving you more definition. As with all bobs, short or long, it will also work to slim down your face as it elongates it. Adding bangs will also help frame the face and can I've you even more structure and definition.
Many combine highlights with a short bob to make it more lively and fun. If this sounds like something you'd be interested in, then speak to your hairdresser about which colors would suit your skin tone.
Pixie Haircuts for Chubby Faces and Double Chins
After the bob, the next most popular hairstyle for round faces is the cute and stylish pixie cut. Here are some of the best pixie cuts to help slim out a full face.
Asymmetrical Pixie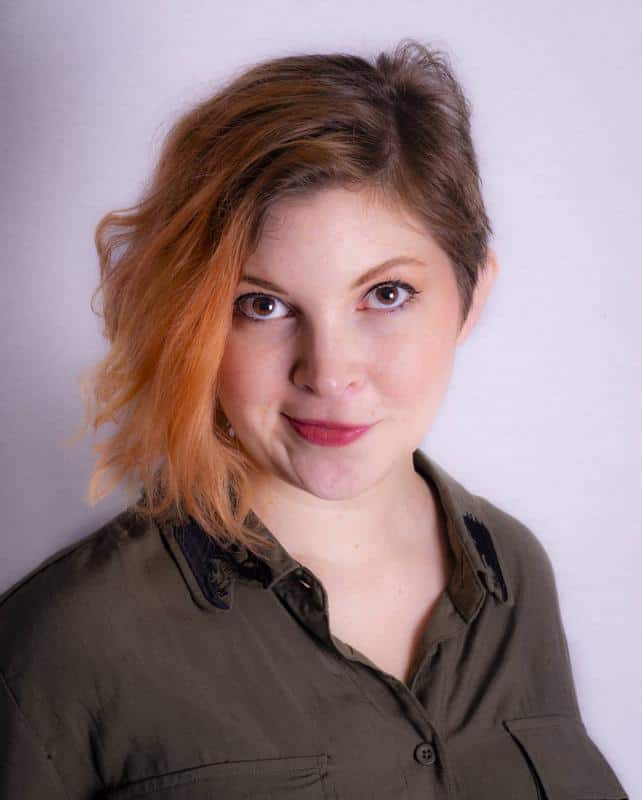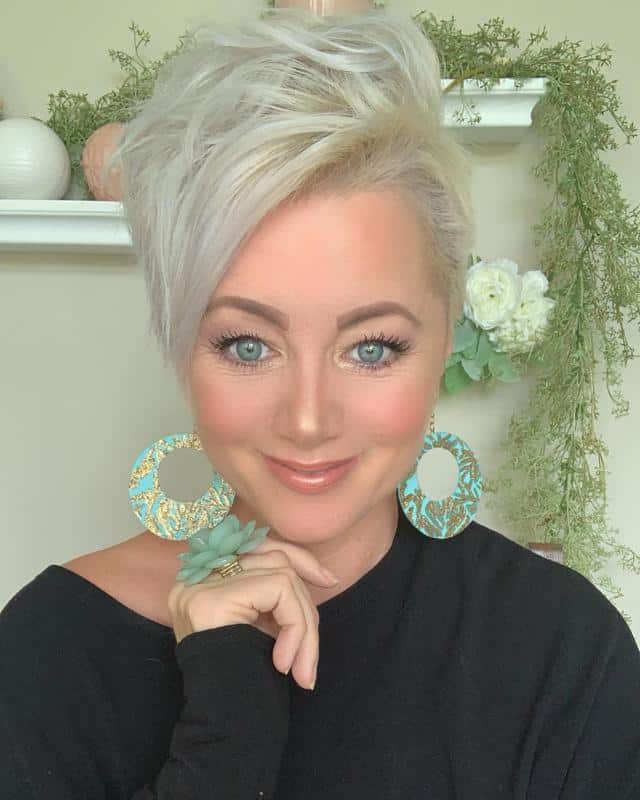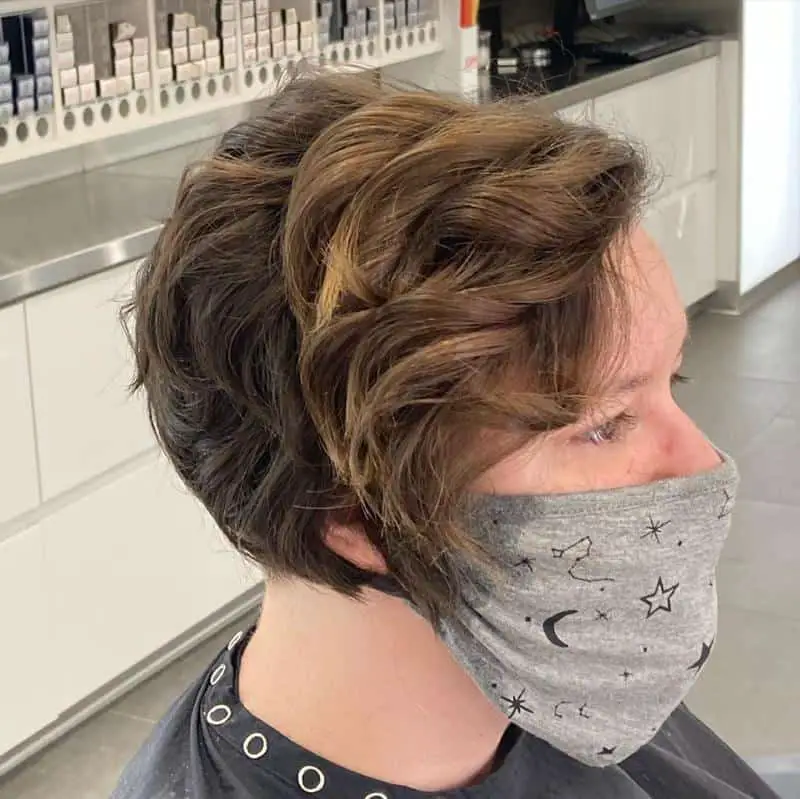 The classic pixie cut with some asymmetrical styling gives a unique and edgy look, which can also be very feminine. The advantage of this cut is that the length and the exact shape can be left down to you and your stylist to decide, and they can adapt it to bring out certain features of your face.
It's a popular choice for chubby faces because it usually incorporates long bangs which can frame the face and make it appear slimmer.
Side Swept Pixie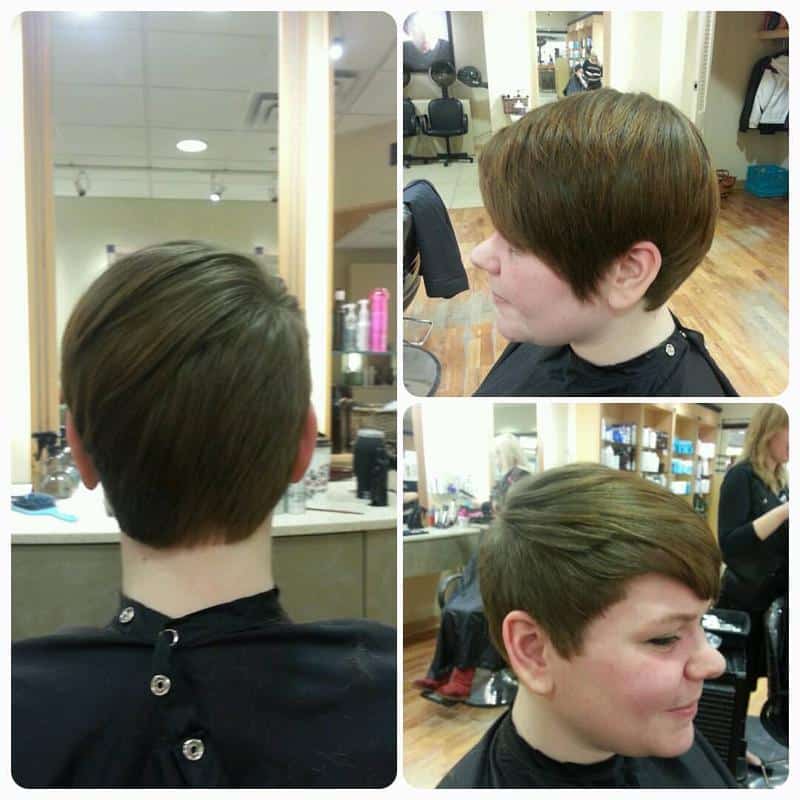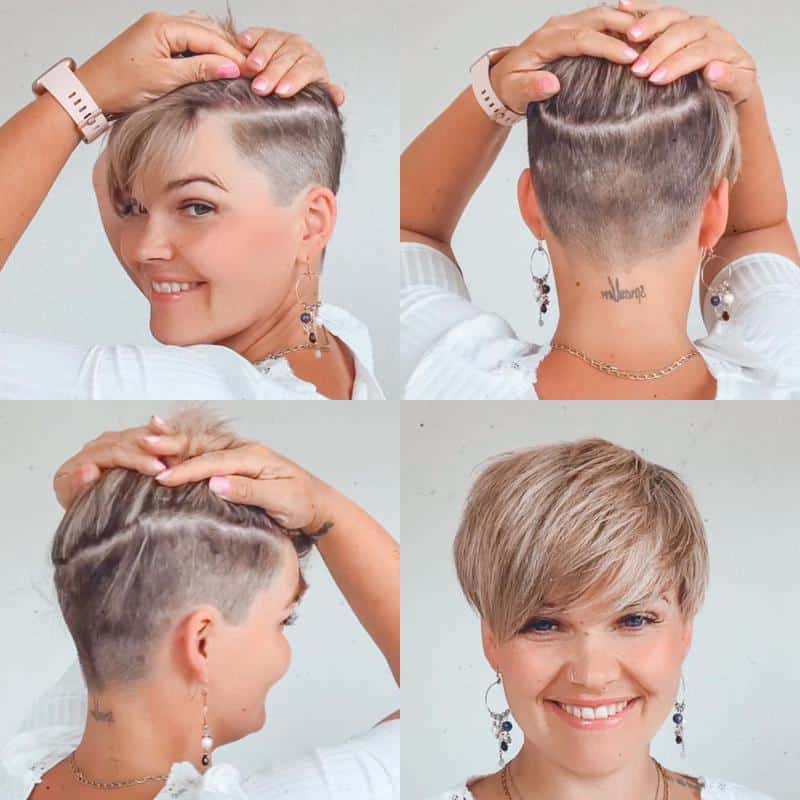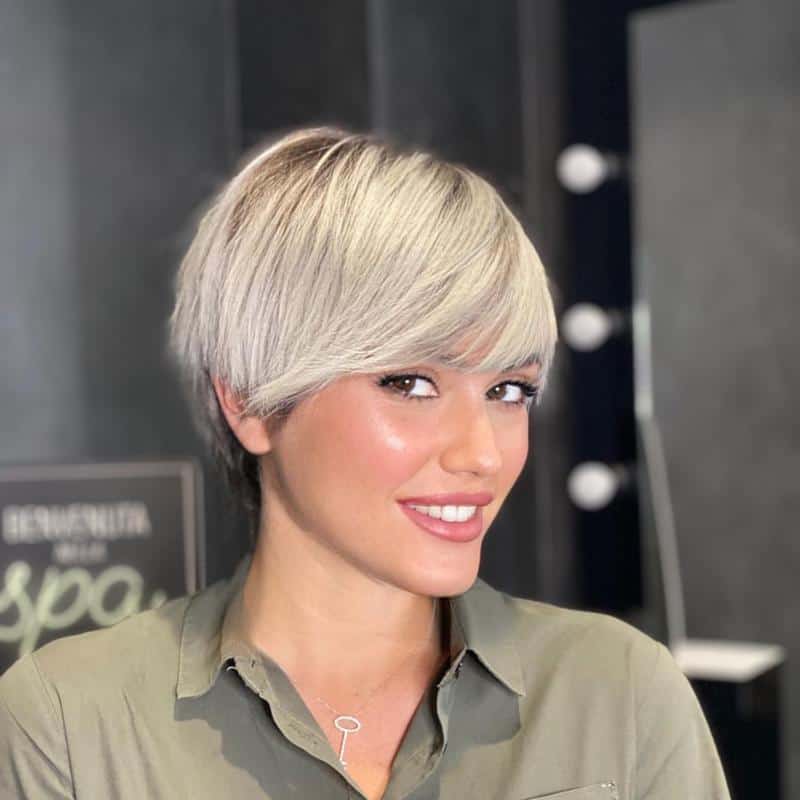 Naturally, the pixie cut is always a bold and cute look. But when it comes to chubby faces, the side swept pixie works wonders. This is because it surrounds the face and makes it appear much smaller. It especially helps the cheek area appear less wide. It can also help draw attention to the features more central to your face, like your eyes and lips. In this way, it's also a beautifying haircut.
Short Pixie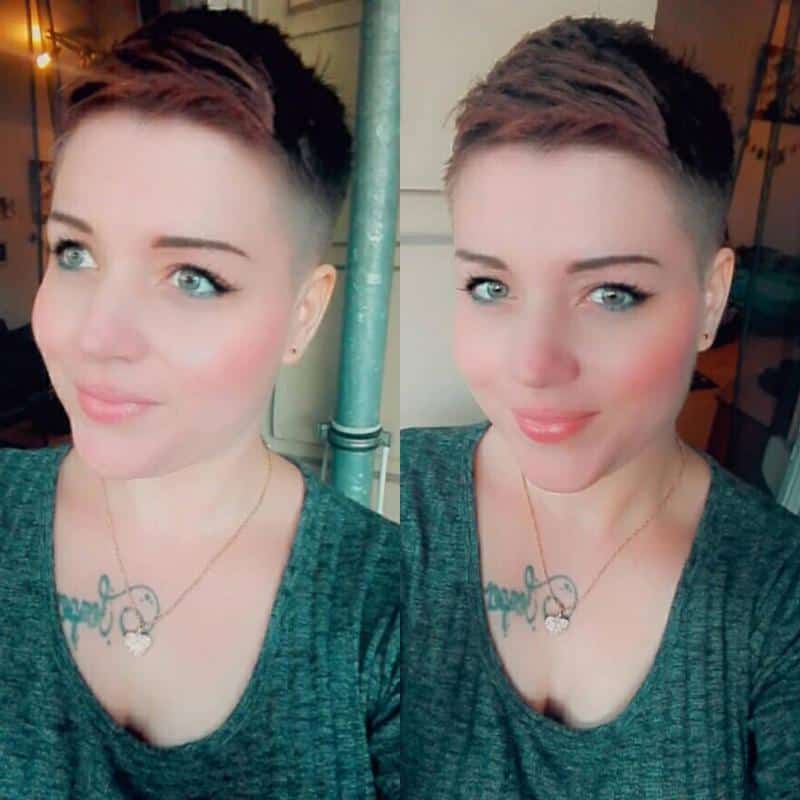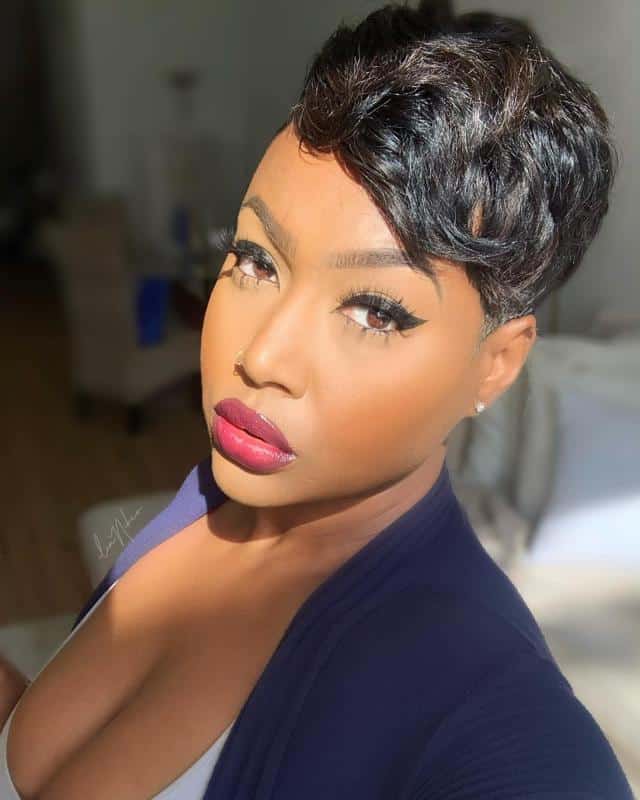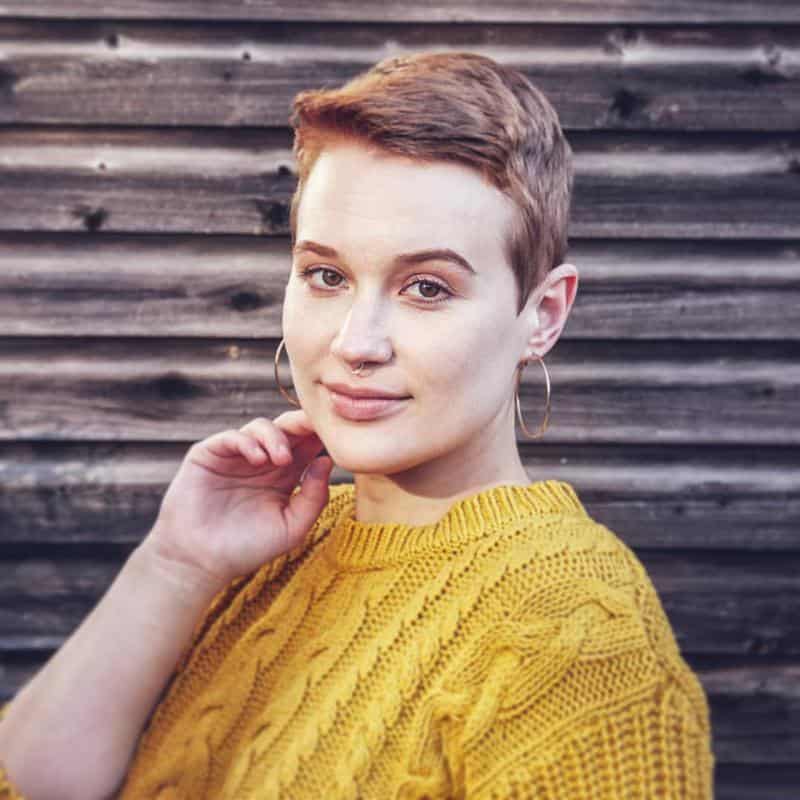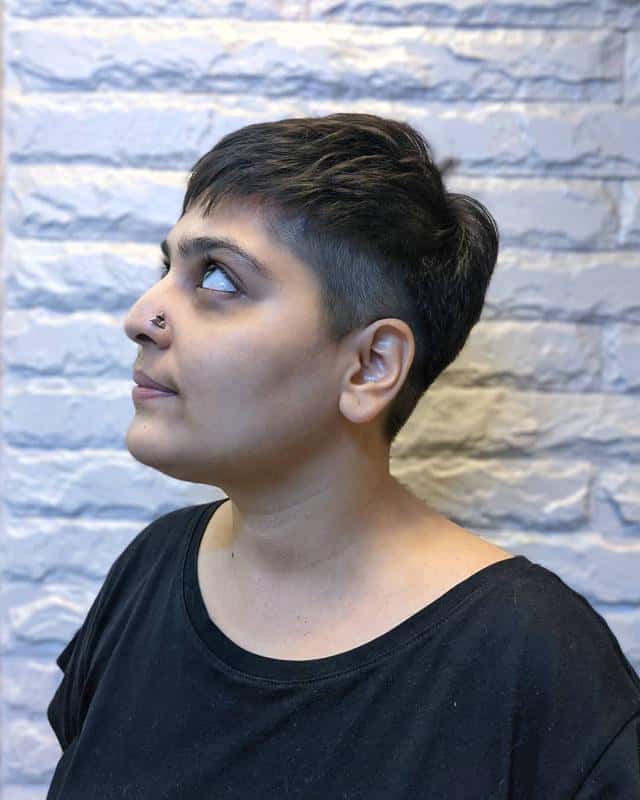 A short pixie cut can really transform your look. If your face is on the chubbier side, you might think a short cut will highlight its roundness. However, this is not actually the case, and pixie cuts can be very flattering. This is because they add height to the top of the head, making the whole face seem longer and more angular.
A perk of having a pixie cut is that you don't need to spend much time tending to your locks. If you like to be ready and out the door as quickly as possible — while still looking great — then a short pixie is the way to go!
Layered Pixie Cut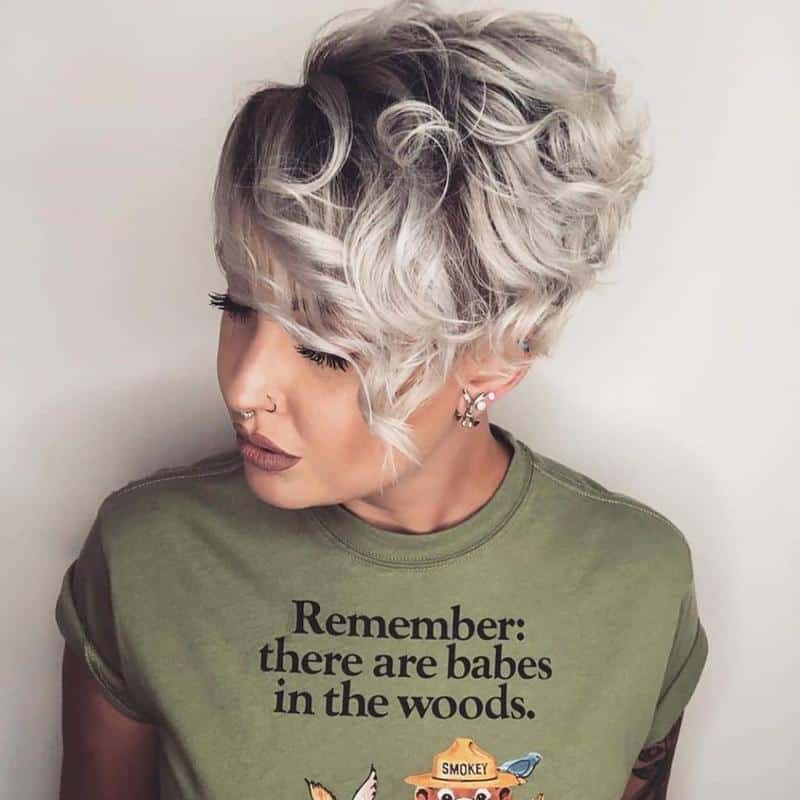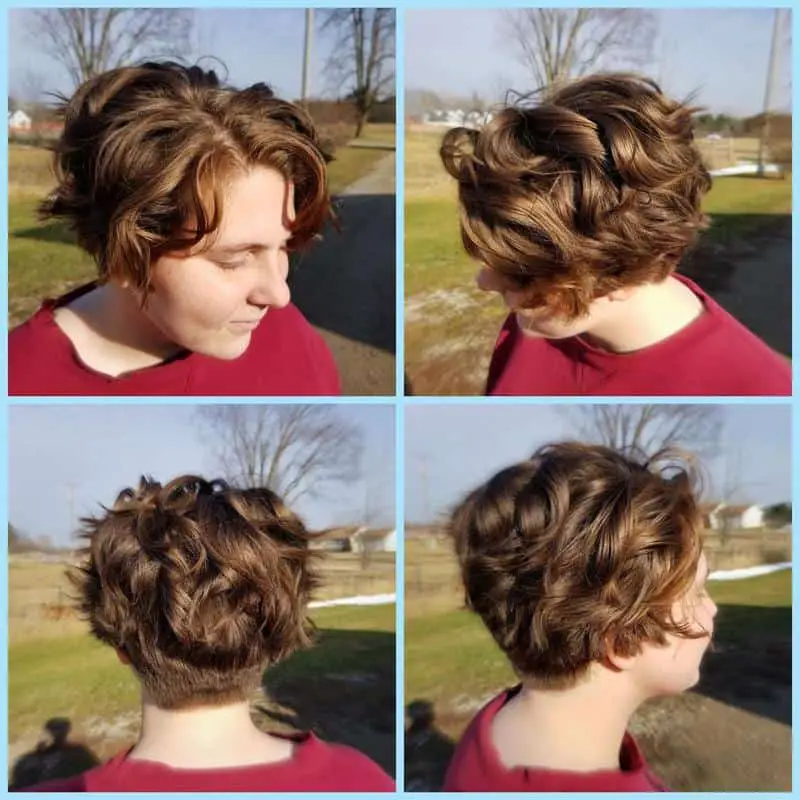 The layered pixie can be as short as long as you like, but the idea is to have lots of texture thanks to various layers. This texture will add body and volume, creating a slimmed down facial look. Layered pixie cuts are a popular choice for women with round faces and double chins, as the increased body of the hair elongates the face and balances out the chin area.
More Hairstyles for Chubby Faces and Double Chins
If neither a bob or a pixie cut appeals to you, don't worry. Here are some more haircut inspiration ideas for round faces.
High Bun with Bangs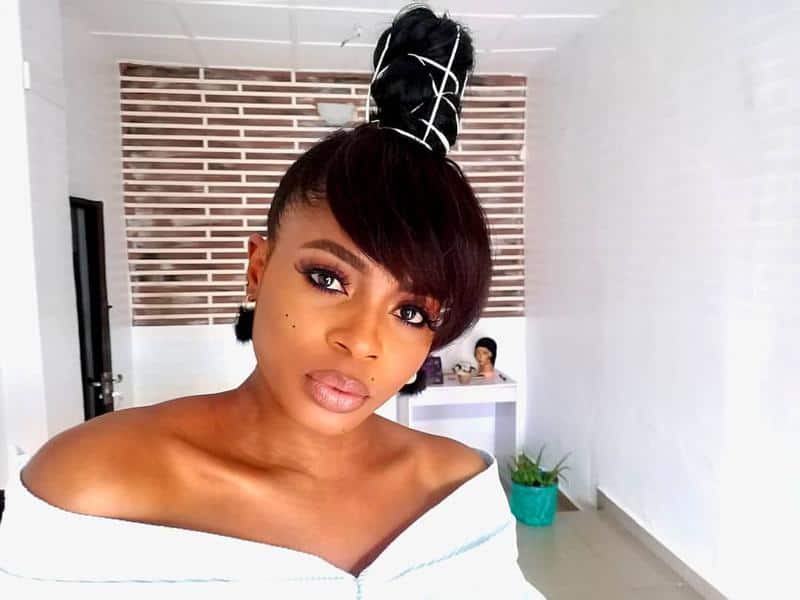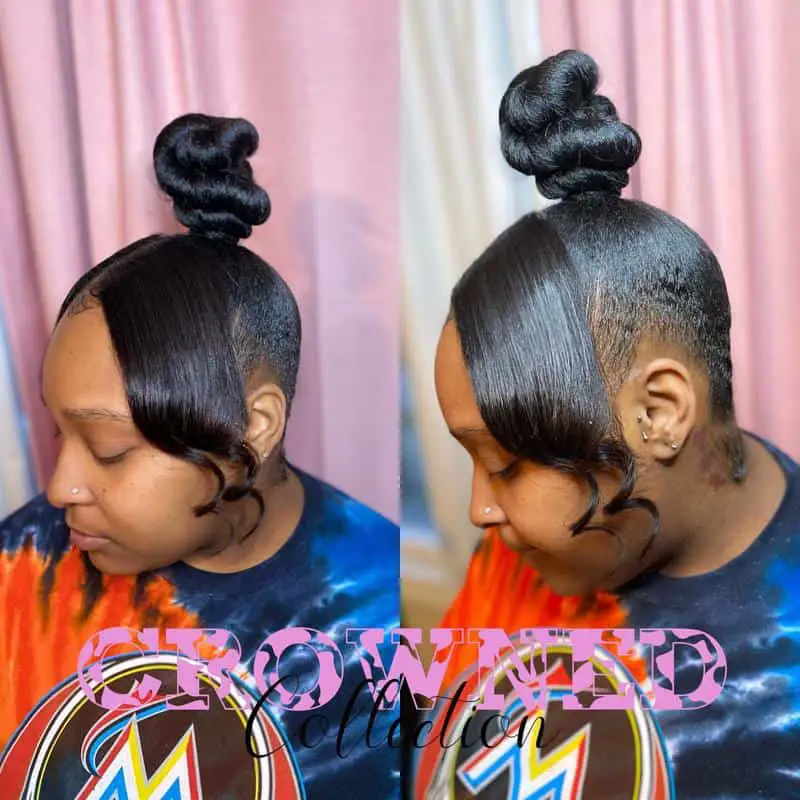 This one is not so much a cut as a style, so as long as you have bangs, you can create this look for yourself at home. It's perfect for fancy events and going out in the evenings, and it's a great compromise if you can't decide whether you want to go short or keep your hair long.
The bangs frame the face and so create a slimming aesthetic. The bun, meanwhile, gives your face a bit of a lift which can make your face look more angular. This look will also give the illusion that you're a few inches taller too!
Layered Waves with Bangs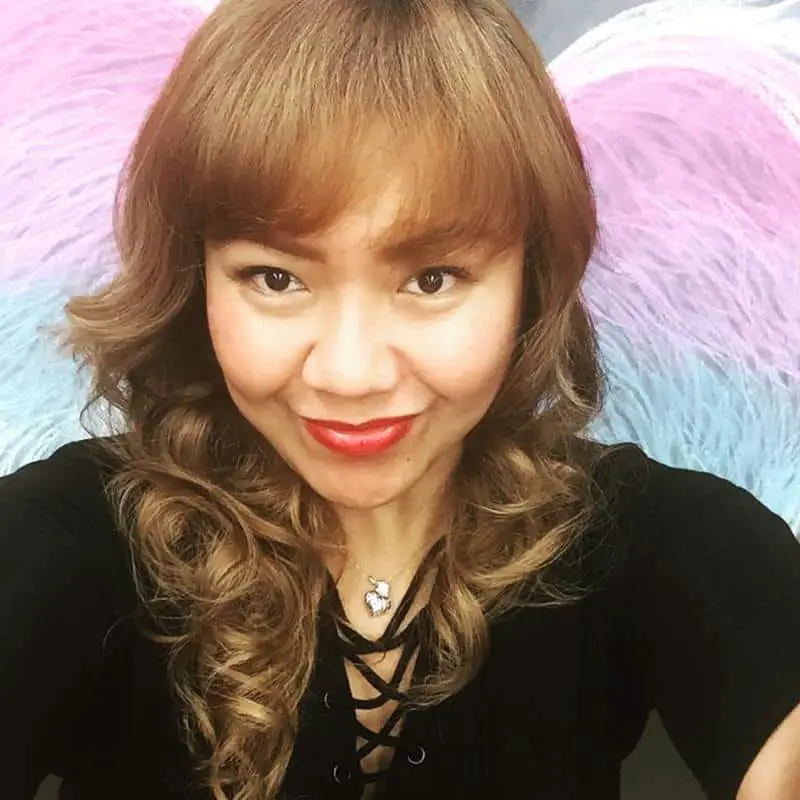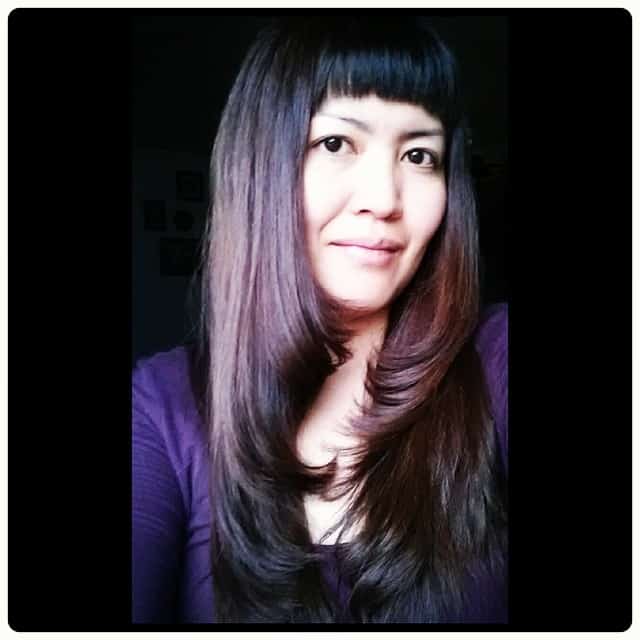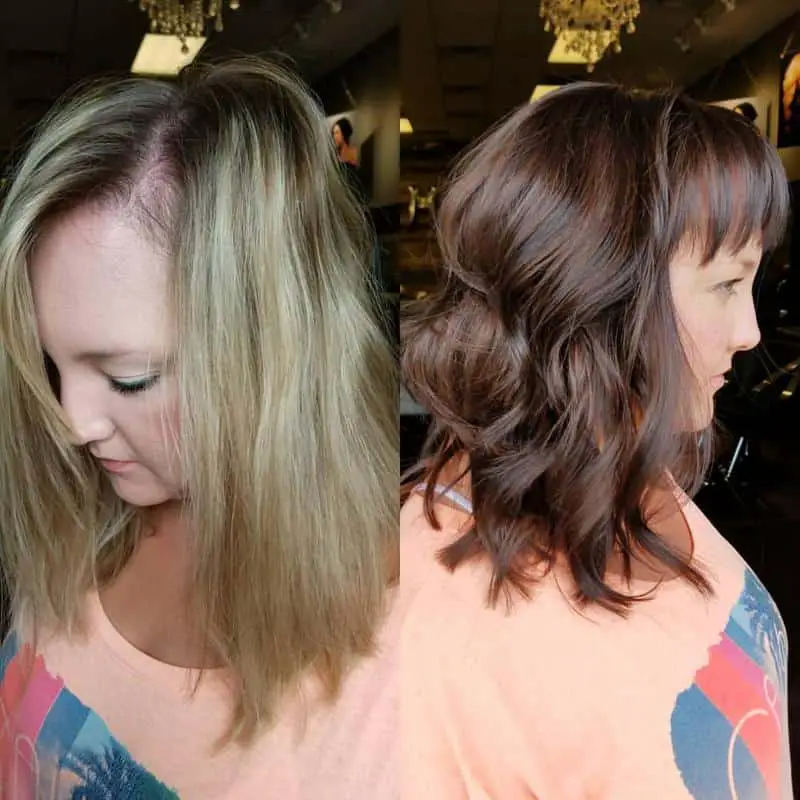 Layered, wavy hair with bangs is becoming increasingly popular in salons. That's because it's a very flattering hairstyle for almost all face shapes. On top of that, it's also very feminine and gives off an effortless, beach vibe. Plus it actually is fairly effortless to maintain, as the cut will naturally give you a textured and wavy appearance without the need for much styling. To really flatter a chubby face, you might want to opt for shorter layers that will compliment the chin and cheekbone area.
How to Reduce Face Fat?
Some people are just born with chubbier faces than others and there's nothing wrong with that, and often it's a very attractive look (just think of the gorgeous Selena Gomez and her chubby cheeks!). However, if you want to achieve a slightly thinner face, there are things you can do. Below is a list of ways to help reduce face fat.
Do facial Exercises
For example, for more defined cheekbones you can hold your mouth in an elongated 'o' position for 10 seconds. You can find plenty of these online, and they can be very effective when performed frequently.
Do Cardio
Cardio helps you burn fat everywhere, and it's a known face that weight loss usually shows on the face first.
Drink plenty of Water
Staying hydrated actually helps prevent water retention and bloating, meaning your face will look slimmer.
Avoid Alcohol and Refined Sugars
Alcohol dehydrates you, bringing us back to the bloating issue. Alcoholic drinks are also full of sugar, which should be avoided if you want to achieve a slimmer look.
Don't Overdo it on the Salt.
Too much salt causes bloating and can cause dehydration.
Tips for Caring for Short Hair
As most of the hairstyles on this list are on the shorter side, here are some pro tips for keeping short hair in tip-top condition.
Brush Less Often
You're less likely to get knots and tangles with short hair, so you don't need to comb or brush very often. Instead, run your fingers through your hair.
Avoid Heated Styling Tools
Hairdryers , straighteners and curlers can all dry out and damage your hair. Avoid these if you want your hair to stay shiny and soft.
Wash your Hair Regularly
Short hair will get greasier quicker than longer hair, so make sure you wash regularly to keep it looking great. If you don't have much time in the mornings, you can always use dry shampoo instead.
Visit the Hairdressers Frequently
To maintain the length and shape of your hair, you'll need to visit the salon at least once every 3-6 weeks.
Conclusion
Hopefully this article has given you plenty of inspiration for a brand new hairstyle which can flatter a rounder face.
Make sure you discuss with your hairdresser exactly what you want, and he/she will be able to provide their own ideas about how to slim down a chubby face and hide a double chin. This will ensure you get the best look possible, and leave the salon feeling confident!
Also Read: