Top 15 Easy Red And Gold Nail Designs
When you shop through links on our site, we may earn an affiliate commission. This educational content is not intended to be a substitute for professional advice.
Are you in the mood for some bright and festive nail colors? A lot of women prefer the red & gold nail trend, especially for the winter & Holiday season!
Are you one of those women as well?
Do you want to find out and figure on your own how you can achieve some of the prettiest red & gold nail designs?
If so, keep on reading!
In this article, we will teach you about all the different color options, their symbolism, as well as their true meaning. See for yourself down below!
Why Go For The Red & Gold Nail Design?
Red & gold look beautiful, feminine & quite soft once mixed together. These two colors are ideal for every woman, no matter her age, hair color, nail length, or nail shape!
You can wear the red & gold manicure during any season. However, most women prefer this color combo especially for Thanksgiving, Christmas, as well as New Year's Eve!
Red & gold scream luxury, wealth, as well as sophistication, so why not embrace them during the holiday season, as well as during the season of giving?!
If you wish to feel boujee, you will love this article, as well as our stunning and feminine red & gold manicures!
What Do These Colors Represent & Symbolize?
The red color is the color of passion, love, as well as joy. It is also considered as a sensual color that men love to spot on women. This is why, also, a lot of women love to wear that staple matte red lipstick!
The color gold is associated with passion, wisdom, as well as compassion. It is a beautiful precious metal that screams wealth, sparkle & glamour! If you are someone who wants to stand out and you crave attention, always wear bright gold jewelry!
Why You Should Mix These Two Colors Together?
These two beautiful & feminine colors will look glamorous once paired together.
If you are a fan of noticeable nails and you love to DIY your projects and your own manicures, go for this combo!
It will come in handy for the holiday season, if you are off to a party, the club, or if it is your birthday!
Do not wear these two polish colors together during your everyday activities. They may be a bit too much and a bit too flashy once worn together.
Top 15 Red & Gold Nail Designs
Red & Squoval Nails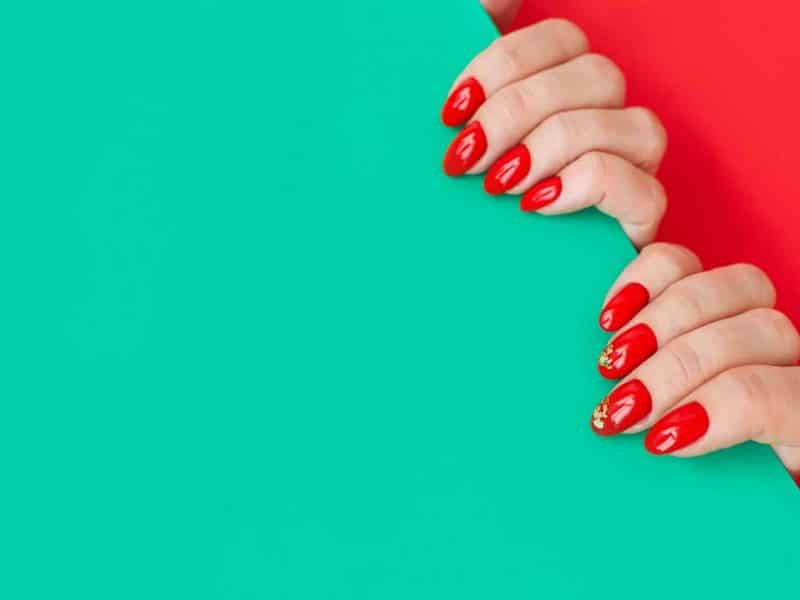 If you are a fan of natural & shorter nails, you will enjoy this design. You can embrace your natural nails & use your regular nail polish, or you can stick to gel extensions. Just stay away from acrylics, that's for sure. The beauty is sometimes in the simplicity of your manicure, so enjoy the "less is more" approach!
How to achieve this design?
Color all of your nails in red, initially. After the first coat dries move onto the gold polish. Draw some dots or flakes over 2-3 of your chosen fingers – this is totally up to you. Once these dry down as well set your manicure with a topcoat.
Square Shaped Medium Long Red Nails With Hints Of Gold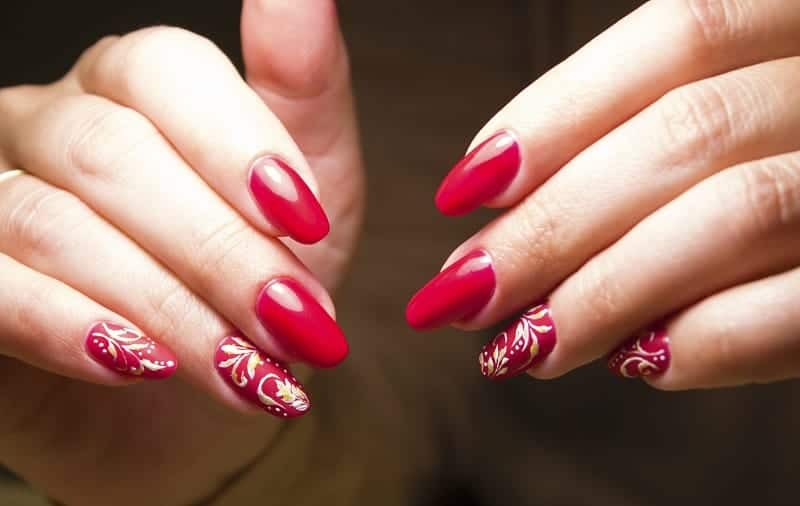 Are you a fan of medium-long nails? A lot of women prefer this length and shape over other manicures. Why? This is the most common & basic shape and length that you can pull off! You can go for either natural or artificial nails, just make sure that they are well-shaped and neat, that's all that matters.
How to achieve this design?
Go for matte red nail polish and color your nails with it. You will enjoy this as your base since it is a lot different than your other polishes. Once your nail polish sets take some golden stickers and place them down. Gold leaves are a good idea to begin with + you can find these in plenty of drugstores or online.
Red Square Shaped Nails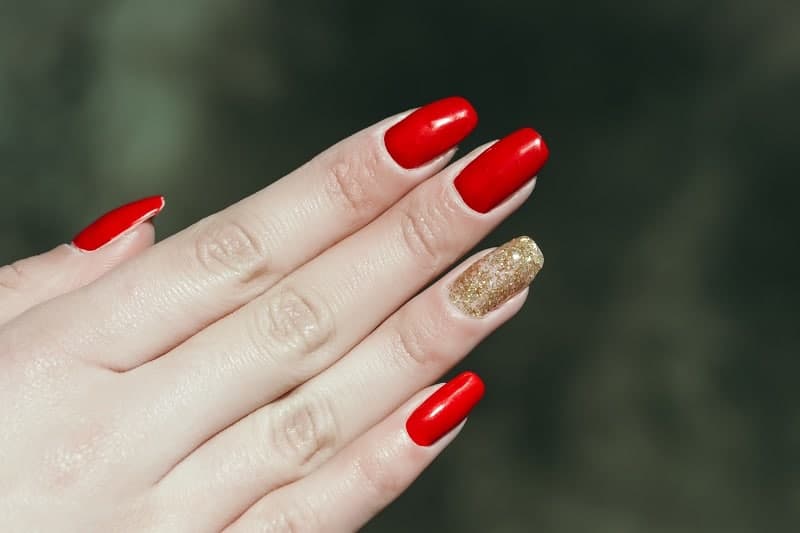 These are shorter-medium long nails that will look great on mature women. If you are in your 30s or 40s and you are not too sure what shape, color, or design to go for – this is your ideal manicure. If you can grow your nails long & strong (as shown in the picture) you will enjoy this piece of art!
How to achieve this design?
Make sure that your nails are healthy to begin with. Once they reach your preferred length shape them into a square. Color all of your nails red, and just leave out your ring finger and go for a gold detail on that nail.
Oval Red Nails With Gemstones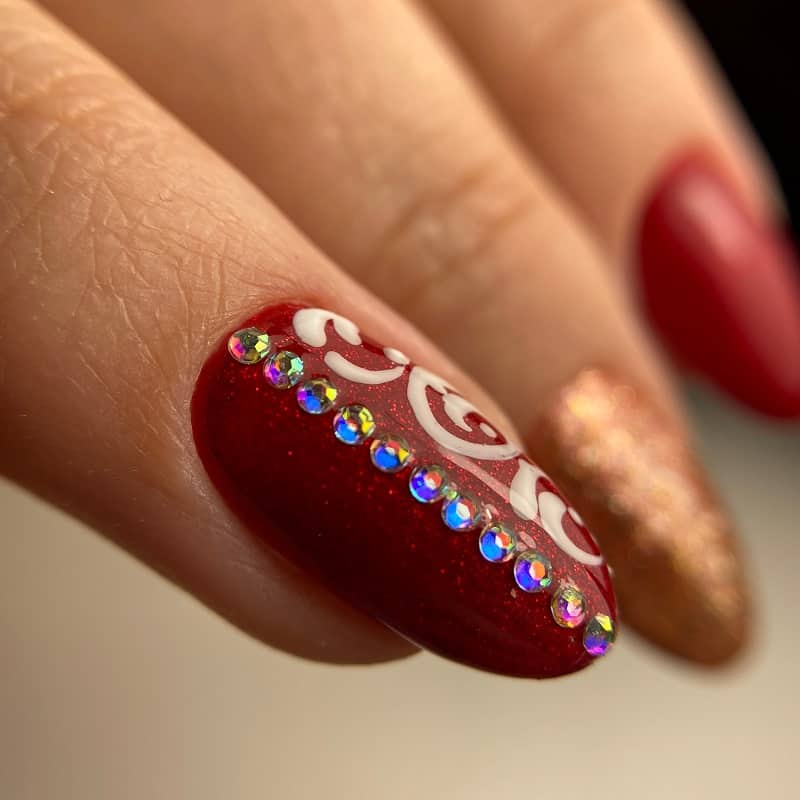 Do you want your natural nails to stand out? Maybe you are a fan of shorter yet neat & precise manicures? This nail design will suit women who are all about the details yet who like their natural nails. No reason to go for extensions or acrylics, let your minimalistic approach scream for itself!
How to achieve this design?
The entire focus is on these little gemstones. Are you a fan of crystals and precise work? Make sure to find several different crystals or gemstones that you will place one by one only on one of your natural nails. Go for any pattern, just make sure that you are precise with the application.
Long Acrylic Nails With Gold Flakes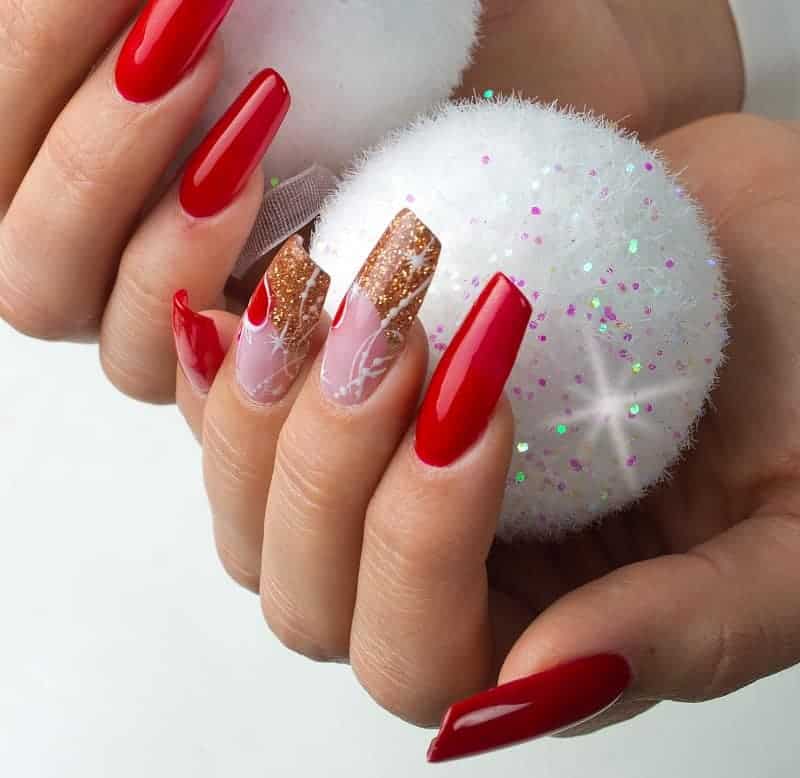 Younger women who prefer stunning, noticeable & giant nails will adore these acrylics! Although they are not natural, these nails are something that will look amazing on younger women who have an important event, or a formal gathering.
How to achieve this design?
Make sure to book yourself a skilled nail tech. Time-wise, acrylic nails such as these can take up to three hours of your time! Make sure that you are patient, and come prepared to the nail salon with your inspo picture.
Red & Gold Mixed Together Oval Nails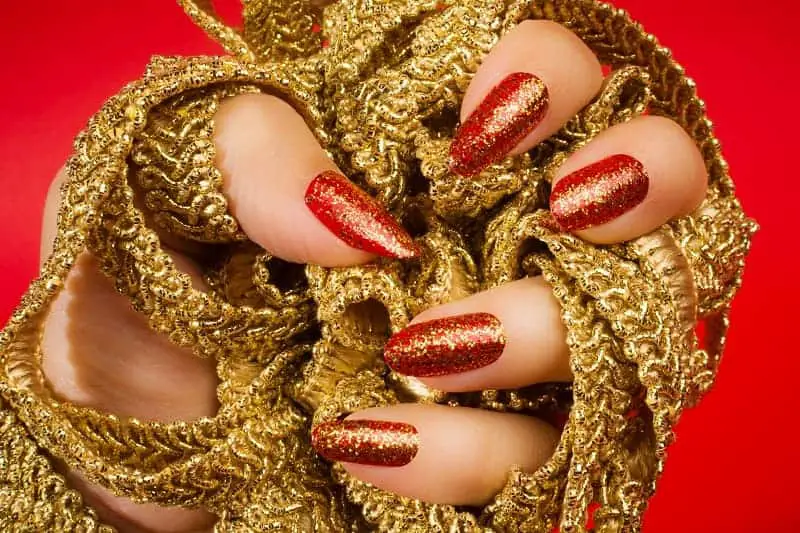 Did you know that you can mix these two colors together directly on top of your nail? Although not the most common color combo, these nails may come in handy for any festivals or upcoming formal events. You will enjoy these because of their oval shape, as well as because of their soft edges.
How to achieve this design?
You should use two coats of your favorite red nail polish underneath. This base will look feminine and flashy. However, you can also spice it up by adding glitter flakes on top! Use a golden nail polish that has small particles that remind of gold. Set the manicure with your favorite shiny topcoat.
Detailed Red & Gold Christmas Inspired Nails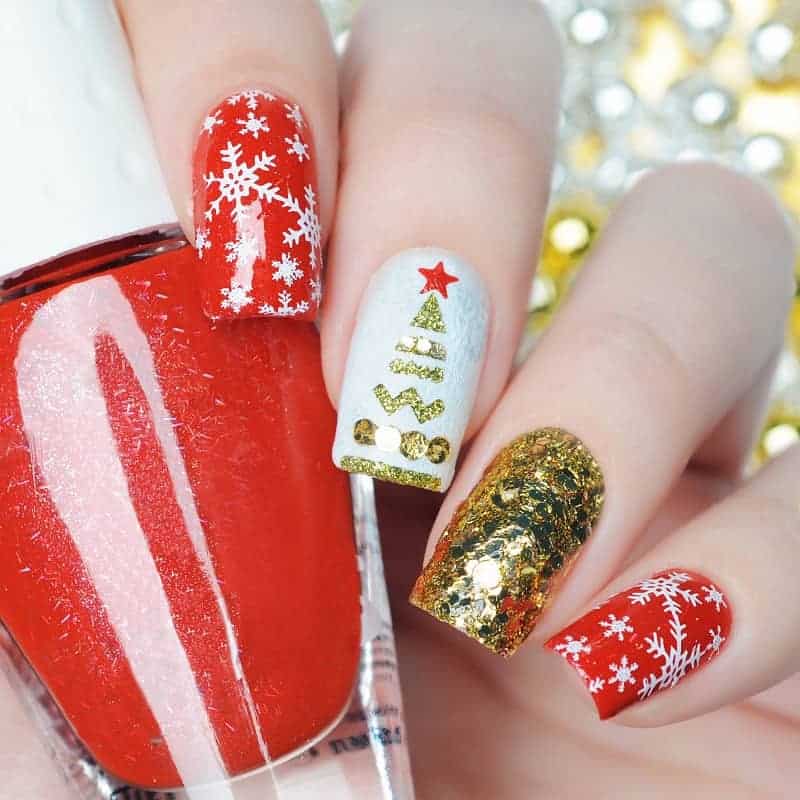 If you are in the mood for some holiday nails and you need a noticeable manicure, this is for you! You will enjoy these flashy & playful designs, especially for Christmas! Make sure that you are young & wild before you commit to this print. It may suit teens or younger women the best.
How to achieve this design?
Chances of you achieving this manicure on your own are quite slim, so be smart about it. We recommend that you find an amazing nail artist that knows how to do nail art & nail drawings. If not, you can also purchase some nail stickers online & on Amazon. This may be a bit more cost-efficient.
Coral Inspired Gold Nails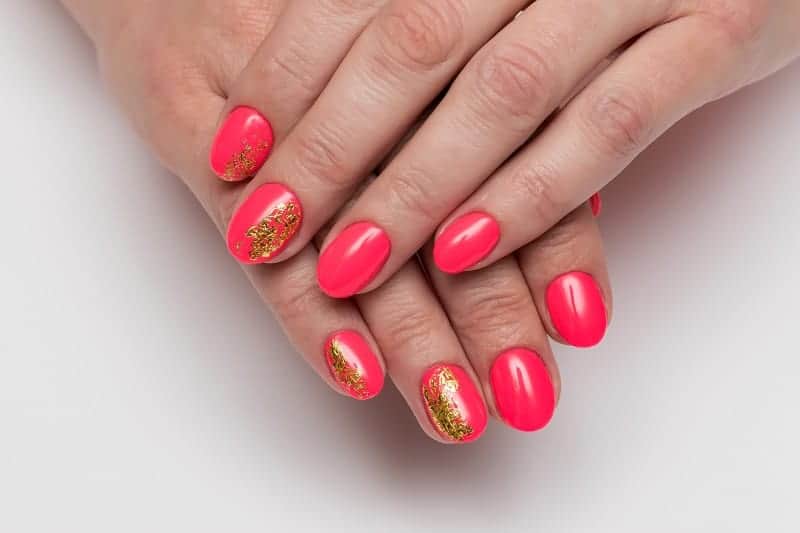 Who says that your nails need to be dark red? In fact, you can go for this bright coral red polish and proudly stand out! This will look amazing on shorter nails, and it will suit women who love that natural & effortless look. Also, if you are fed up with dark red polishes, step out of your comfort zone and give this one a chance!
How to achieve this design?
Paint your nails two times with this coral red. After the polish sets, use golden stickers and golden flakes and spread these only over your 2-4 fingernails. Time-wise, you will achieve this manicure in less than an hour!
Red Oval Nails With A Pop Of Gold At The Tip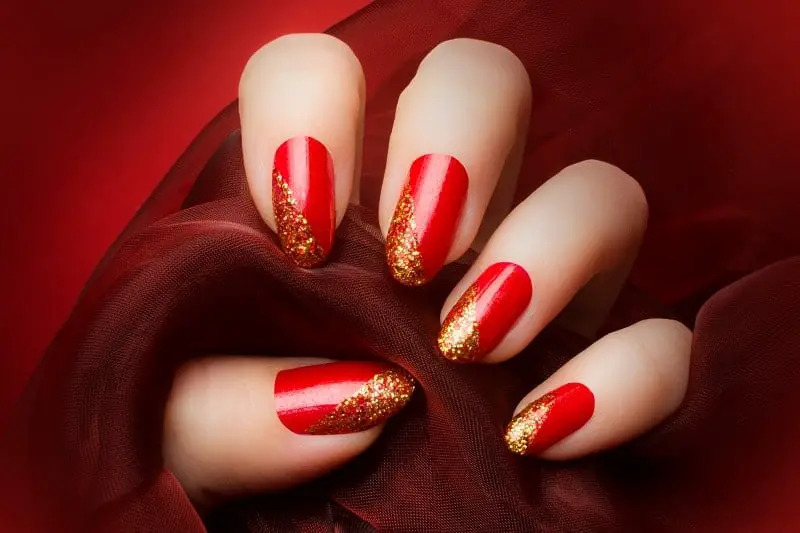 If you are a fan of a French manicure, you might love this spiced-up version of it! These are beautiful red nails that have a pop of gold at the top, over the part where your French manicure would go. You can wear these nails if you are off to a wedding, and especially if it is the prom season! The more glitter – the better.
How to achieve this design?
Paint all of your nails red, and get yourself some French manicure stickers. Place these at the top of your nails and then use golden gel polish to achieve that soft & subtle transition. These stickers will act as an amazing guide and will allow you to give yourself a precise manicure, on your own!
Square Shaped Red Nails With A Hue Of Gold On Ring Fingers
Some women may need a manicure that is wearable for the office. Luckily for you, this design is quite universal and you can, easily, wear it anywhere you want! If you prefer simpler nails and you don't want a dramatic length – this is your absolute winner!
How to achieve this design?
Go for a brighter red polish, possibly even one that has some flecks of glitter! Paint all of your nails with this polish, aside from your ring fingernails. Give these a pop of gold with your favorite shimmery golden shade.
Short And Natural Red Nails With Gold Glitter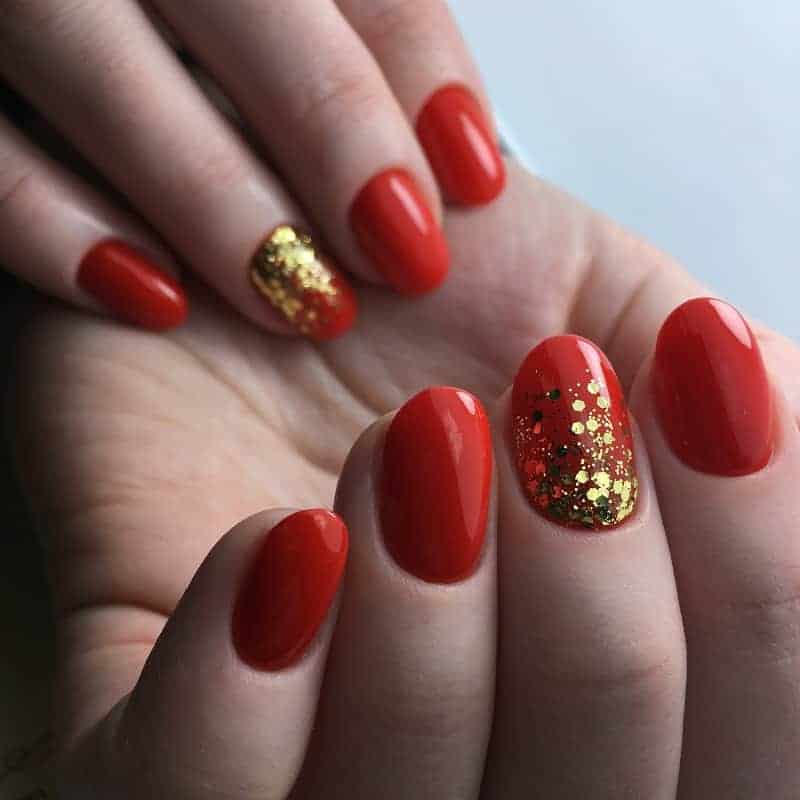 If you can't grow out your nails you can always leave them as they are and embrace their natural length! These nails, in particular, will look great on women who are a bit older and more mature. If you need durable nails that are practical to wear around the house (which can also survive house chores) – these are for you!
How to achieve this design?
Color all of your nails in your favorite red polish. Use two coats. Once the product dries down take either gold glitter or a golden foil and glue it on top of your 2 nails (per your choice). Last, but not least, set the manicure with your favorite top coat!
Artsy Red Nails With Gold Flakes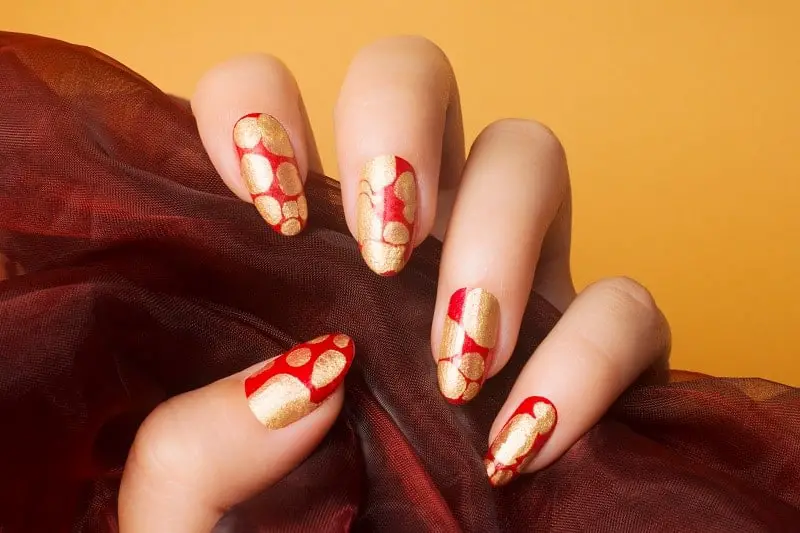 Are you an artsy person? Do you prefer noticeable, dramatic, as well as colorful nails? This manicure is quite fun & bold to get + it will look the best on younger women who wish to stand out. If you know how to draw and you love DIY projects, give this manicure a go!
How to achieve this design?
It is important to work slowly and precisely. These nails are done in such a way where two of your colors are intertwining with one another. Let them separate in the middle and you will achieve this cracked manicure look, perfect yet so simple!
Extra Long Acrylic Nails With Glitter Decorations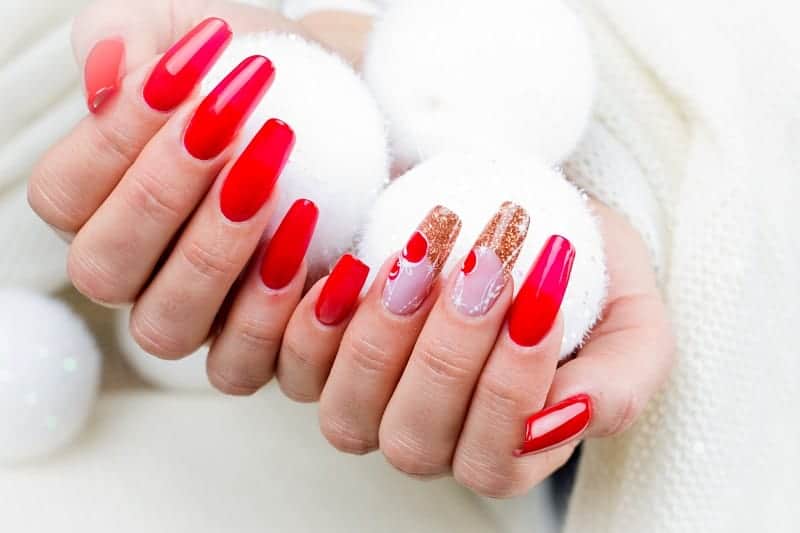 Teens who are off to their prom or younger women who are all about drama and details will enjoy these acrylics. They are very long & bold + they are perfect for birthday parties!
How to achieve this design?
You probably can't grow your nails this long + you can't give yourself these precise details on your own. This is why you should book yourself a skillful nail tech who knows how to do dramatic lines & feminine acrylics.
Square Shaped Dark Red Nails With Gold Lines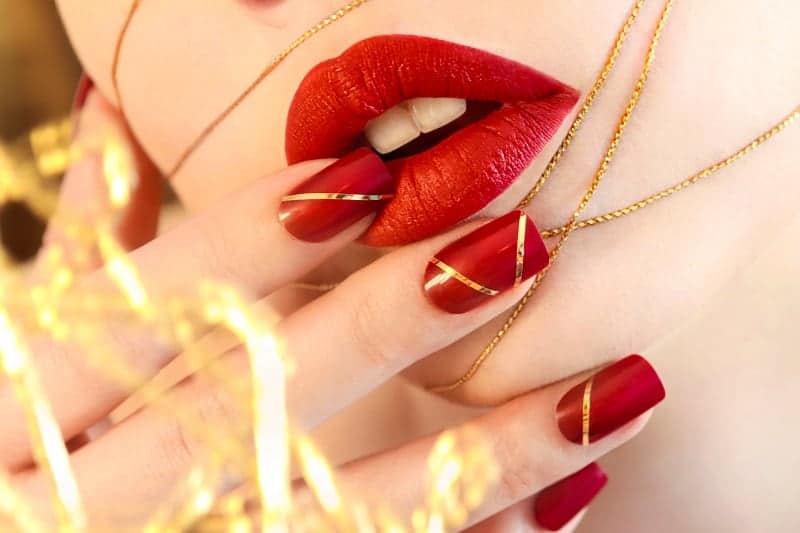 Subtle lines and some hints of color can look so adorable and minimalistic. If you prefer nails that are sophisticated and not too flashy, you will enjoy these medium square-shaped ones!
How to achieve this design?
Use two coats of your favorite red-colored nail polish. Once it dries down, use a piece of thread and dip it into your golden polish. Pull the thread over 2-3 of your nails and you will achieve this abstract polish look!
Red & Gold Nails With Bow Details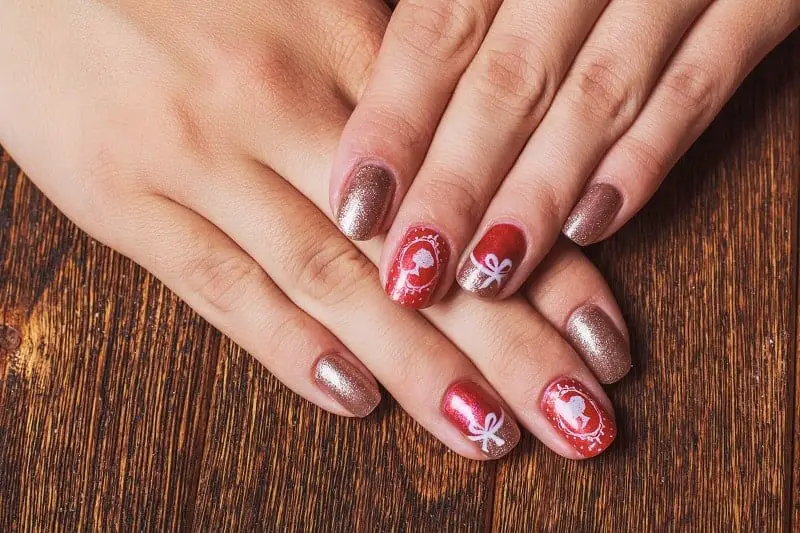 Last, but not least, are you ready to welcome the holiday season? If so, the best way that you can do it is with these fun nails! They are the perfect choice for your Christmas or New Year's Eve!
How to achieve this design?
Color your nails in both golden glitter and bright red nail polishes. Once these dry down use a white nail polish and a small pen-like tool to draw presents, bows, as well as snow! Make sure that you are patient and precise since this manicure is a bit complicated on its own.
Ready For Your New Manicure?
So, are you ready to play with your new holy grail nail polishes? Why not let us know which one of these top 15 red & gold nail designs was your favorite? We have a little bit of everything, catered per everyone's personal style and preference! Let us know your ultimate favorite in the comments down below!
Also Read: