Top 33 Sweet Snowflake Nail Design Ideas For Winter
When you shop through links on our site, we may earn an affiliate commission. This educational content is not intended to be a substitute for professional advice.
Snowflake nails are not for everyone. Are they your cup of tea? Do you like cute little nails with different details? If so, you're going to like our article and our list of recommended options. Keep on reading as we present you with some cool and modern options. We can guarantee that you're going to find something for yourself down below.
FAQ
1. What Does A Snowflake Symbolize?
Snowflake is used to describe your preference for cool weather. It is used to show your love for all the little sparks and joy that we preferred as kids. In modern times, the snowflake is a symbol of Christmas and Christ's birth, but you can go for it even if you're not a religious person.
Also Read:
2. How Pricey Are Snowflake Nails?
Snowflake nails don't have to be too pricey. Are you in the mood for something different and sweet? Expect to pay around $30-40 for this manicure. Your nail artist will use some nail stickers or nail glitter to give you this cool and detailed manicure. If you're patient enough you can easily master this design and creation on your own, meaning that it won't cost you as much to do this mani!
3. How To Do Snowflake Nails?
Did you know that you can do this manicure and this nail design on your own? It is easy to do and simple, as long as you are equipped for it. Make sure that you have a nail primer, 2-4 polish colors, a small nail brush, and a topcoat.
Step 1: prime your nails with one coat of your nail primer.
Step 2: color your nails in your favorite polish or several different shades (this part is up to you).
Step 3: draw a little snowflake design with your nail brush. Dip your thin detailed brush into a darker shade so that it pops on your white base, or go for a lighter color if your base is black, etc.
Step 4: you can also add a ton of glitter or do this process in an easy way, with a snowflake nail sticker.
Step 5: set the manicure in place with your favorite shiny or matte top coat.
Top 33 Snowflake Nail Design Ideas
1. Stiletto Pink Snowflake Nails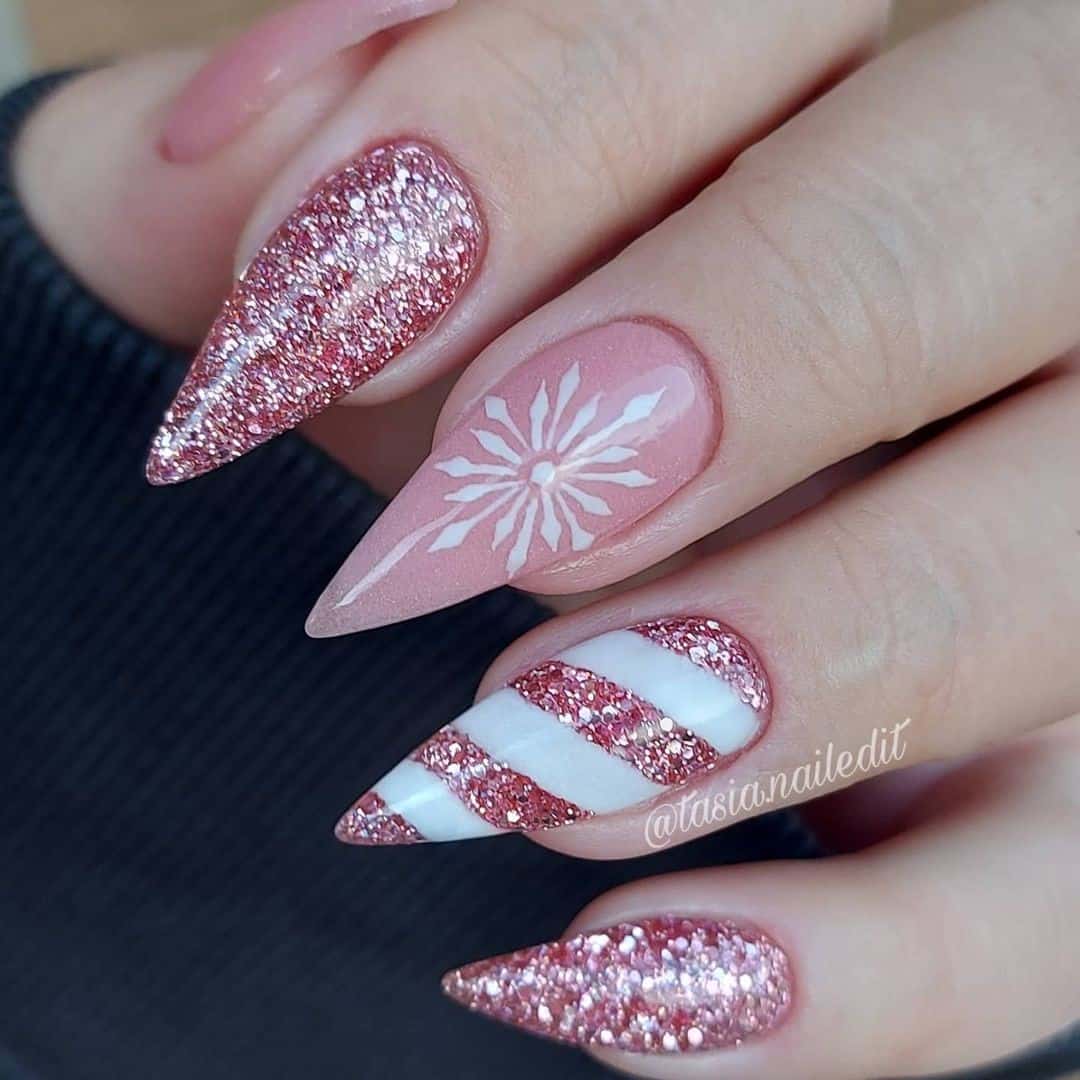 Cute little snowflake details that you're going to like if you prefer pink and girly nails. You can also decorate them with some candy cane and pink glitter details. Once done this way they will look really cute and childish, perfect for those who are still kids in the heart.
2. Short Glitter Snowflake Nails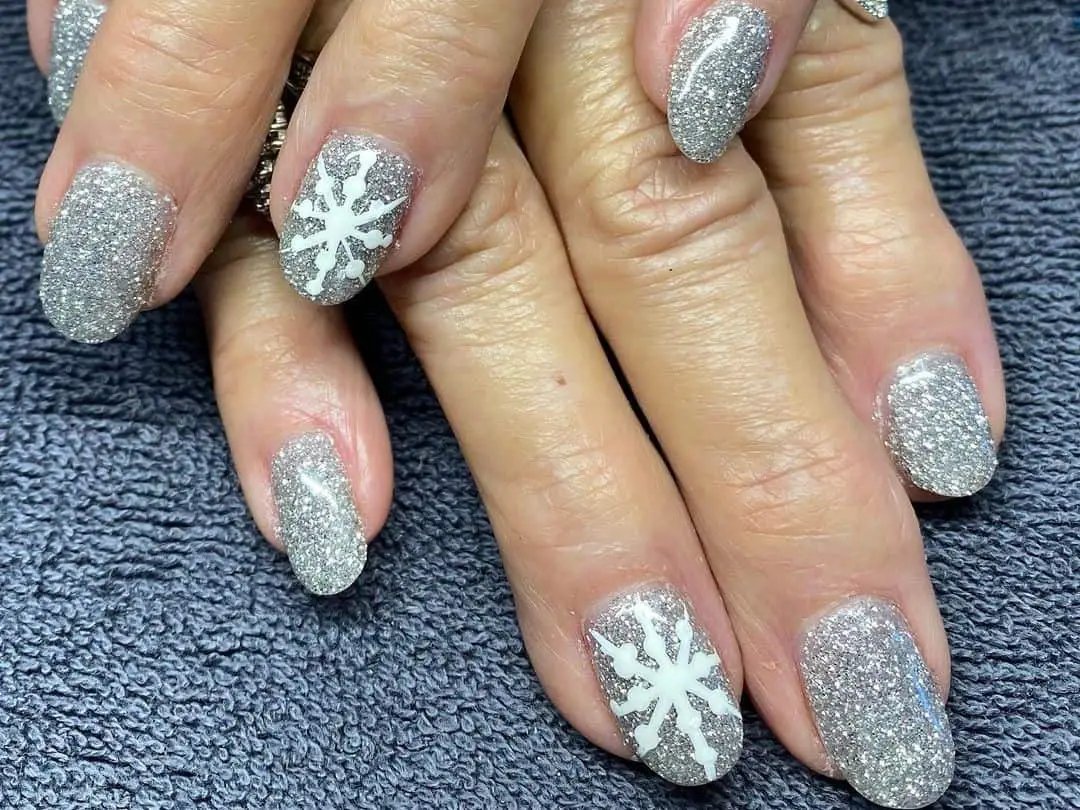 These shorter grey and glitter nails are super cute and sweet. If you like stylish nails and you're a fan of natural manicures just know that you can do this on your own. It won't take you more than 60 minutes to do the whole print, including glitter, style, and snowflake detail.
3. Nude & Glitter Square Snowflake Nails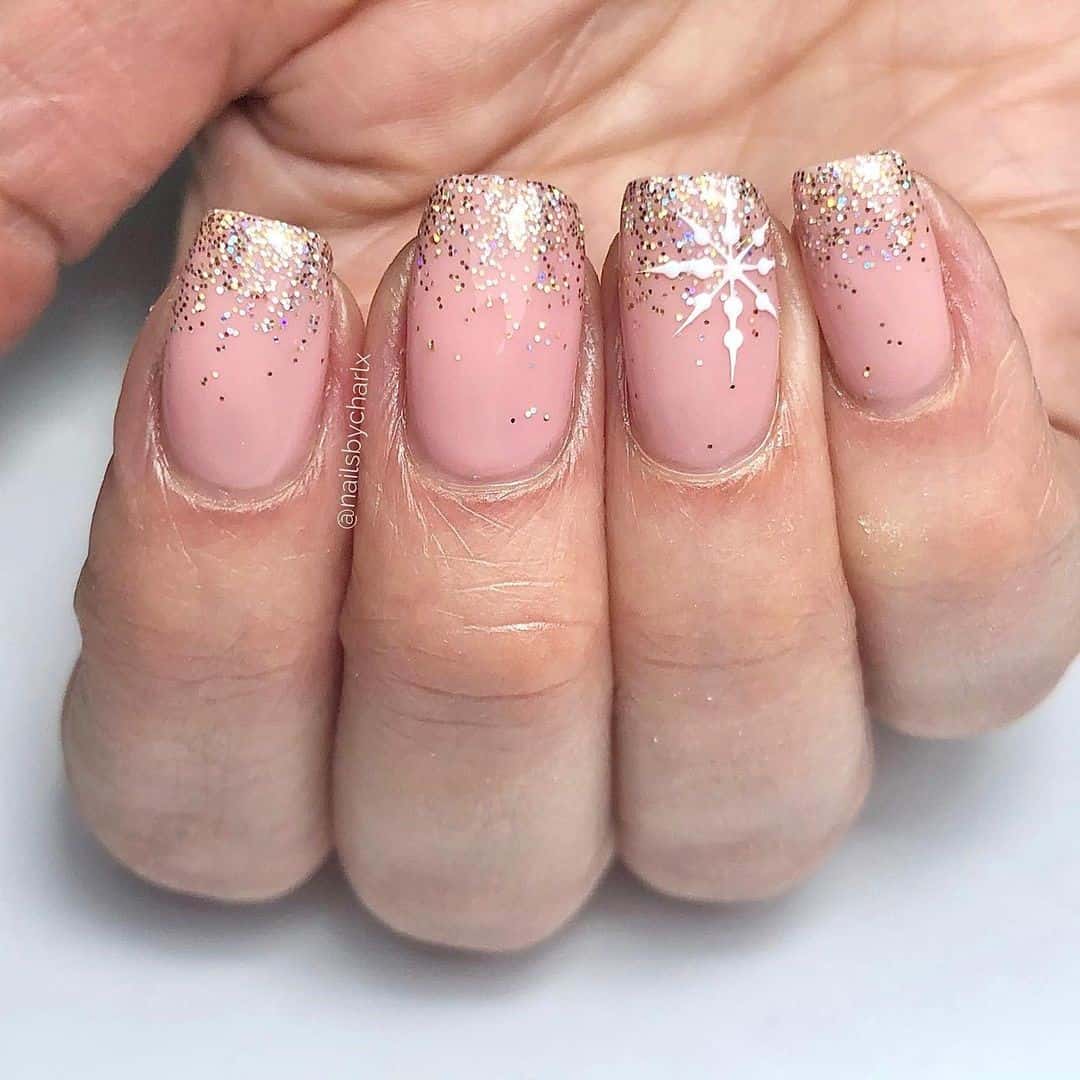 Another short and sweet manicure that one can rock on top of their natural nails. Do you enjoy shorter looks and something that you can wear every day and up in your office? Show these off and add a ton of glitter details and a small and delicate star detail to make them more stylish. The end result is perfect for workaholic women.
4. Feminine French Nails With A Snowflake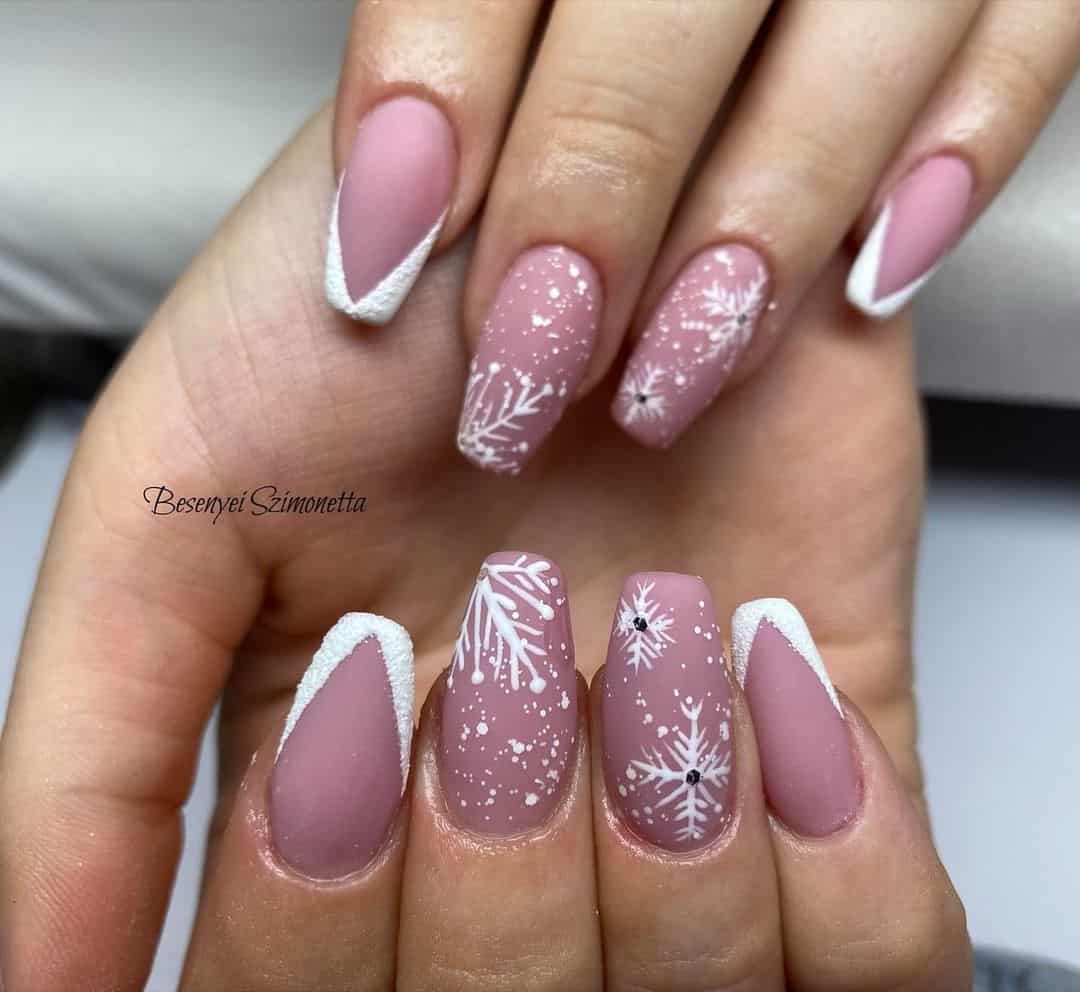 You can go for these medium-length nails and play around with their French vibe. Women who like square coffin manicures and those who need something that is elegant and office-friendly, this is it! Show these off for your formal wear and enjoy their elegance with subtle star detail.
5. Long Acrylic Snowflake Nails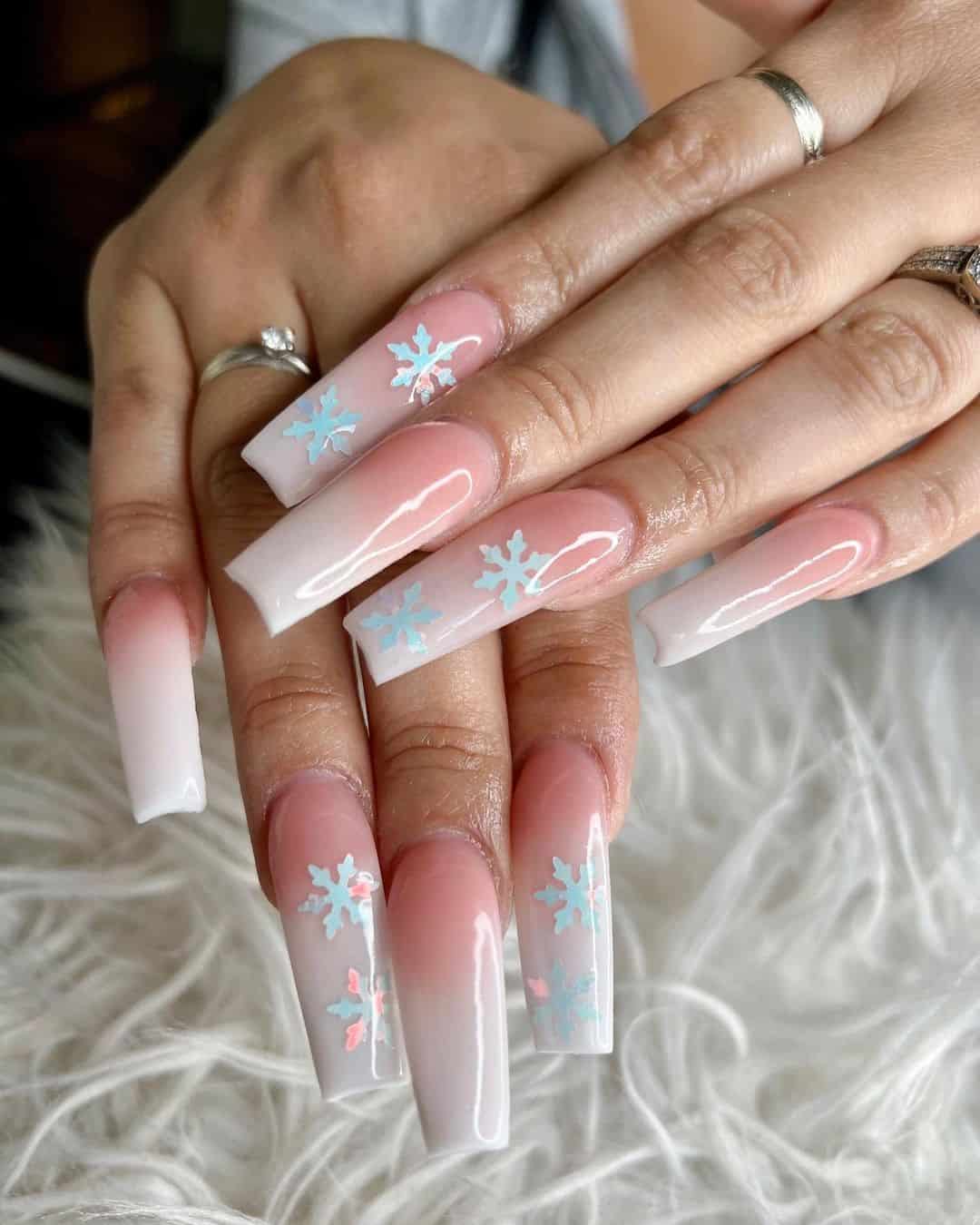 Not a lot of women dare to wear these nails. Do you prefer and like these longer nails? They are one of a kind and often worn by those who like to show off their creative side. If you are in your teens or twenties you will see and appreciate the beauty of this design. Heads up since it is very hard to maintain and do on your own due to their length.
6. Natural Oval Snowflake Nails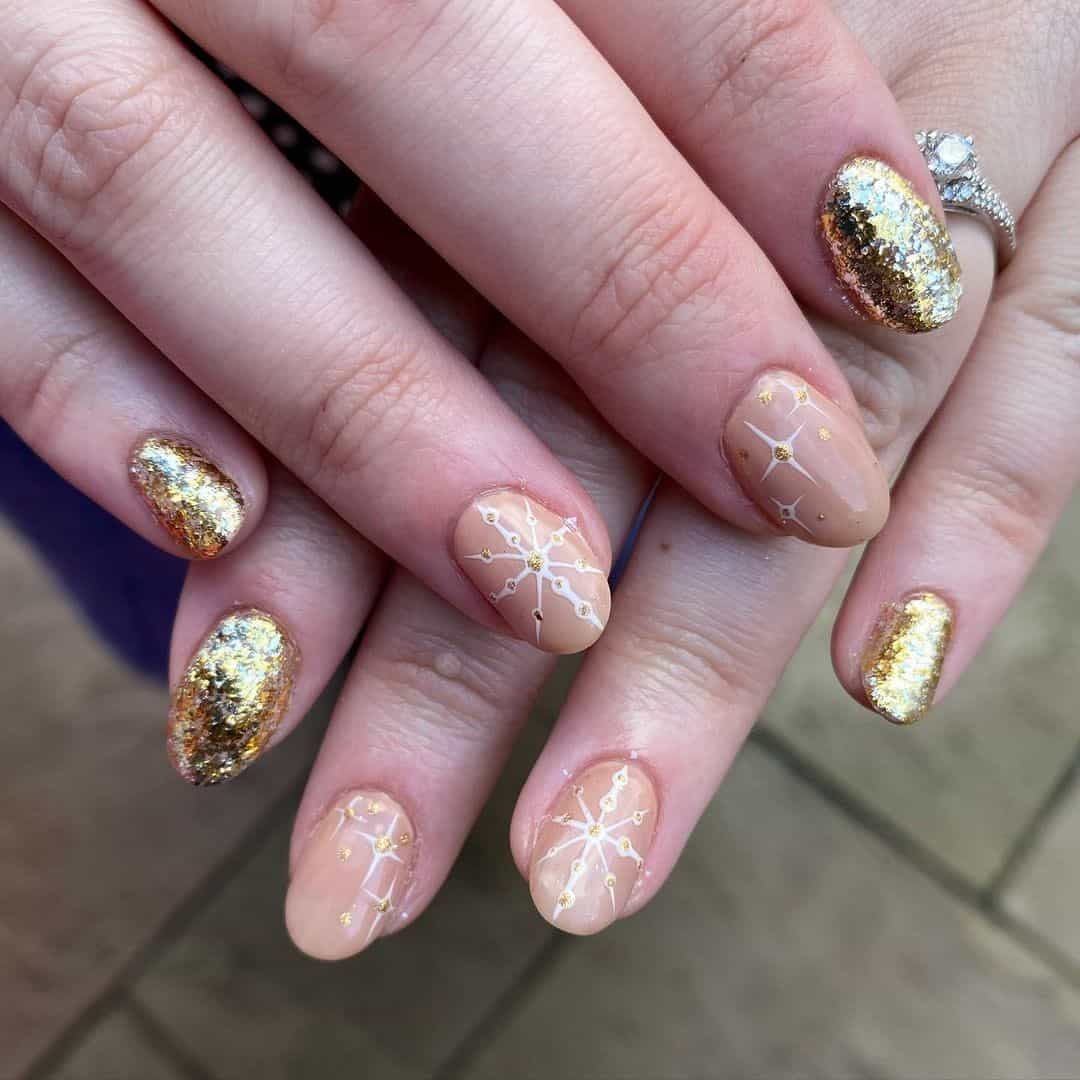 You can go for these cute and short little almond nails. This combo is for women who like their natural nails and only want to add a few intriguing details on top. The best part? This manicure will take you less than 30 minutes to do! It will look so sweet with this golden snowflake detail for formal or everyday wear.
7. Square Pink Manicure With A Snowflake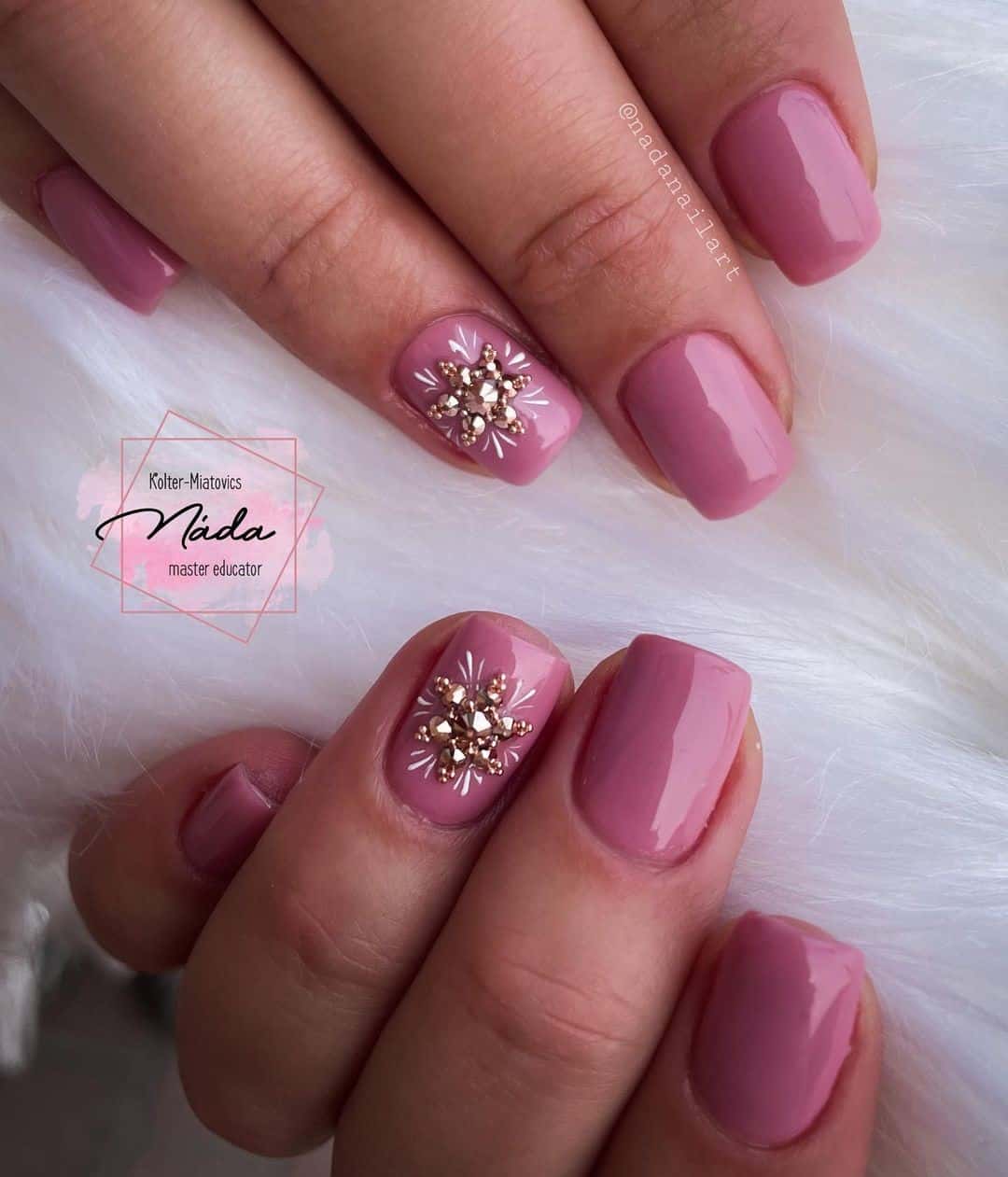 Light and cute pink when done in this coffin shape, these nails are fancy and feminine! You will enjoy their true beauty that is done and decorated with this snowflake glitter detail. Women who need something that is office-friendly and perfect for everyday wear (without being too flashy) will like this beauty.
8. Red Coffin Gel Manicure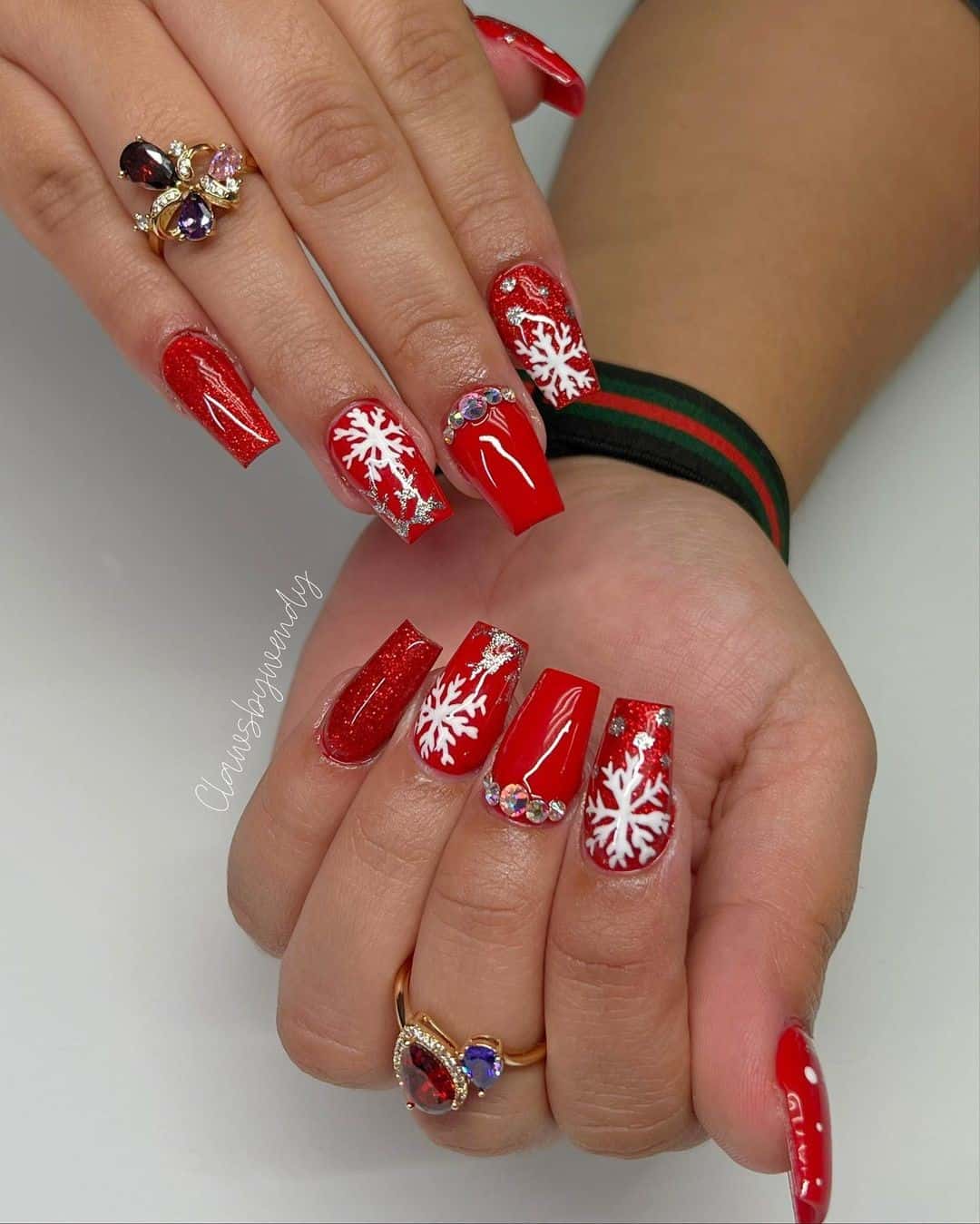 Hot red coffin manicure that you can wear and pair along with your favorite little red dress. Do you have an important event going on? Want to make a strong first (fire) impression? Just know that you can easily do it with this manicure. Women who are in their thirties will prefer this beauty!
9. Burgundy & White Snowflake Nails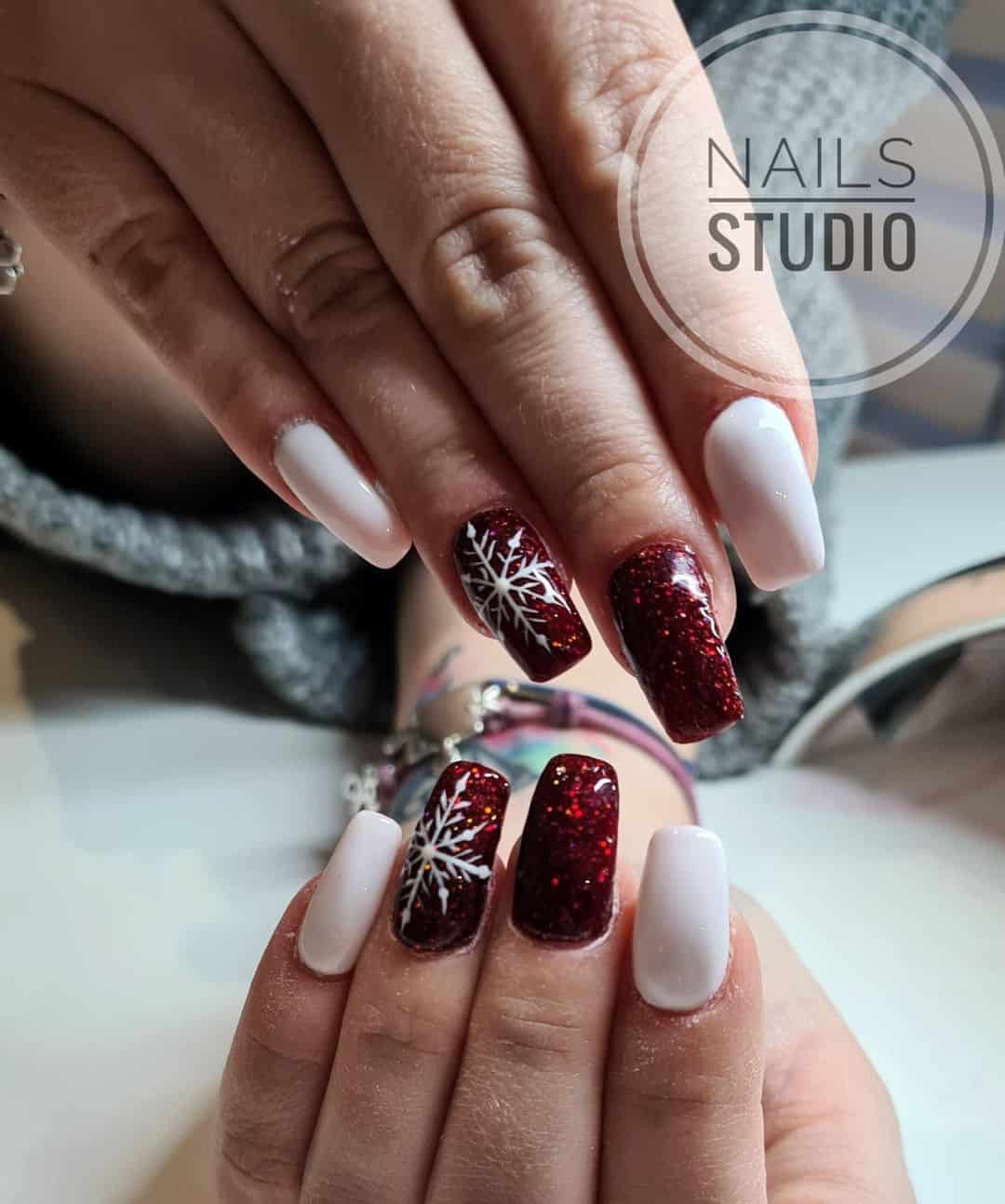 Try out this red and white duo if you're someone who enjoys elegant and colorful nails. Add a snowflake detail with the help of gemstone details or with some chunky glitter. Women who like to wear the color red and those who often wear bright red lipstick will also enjoy this combo.
10. Blue Nails With A Snowflake Detail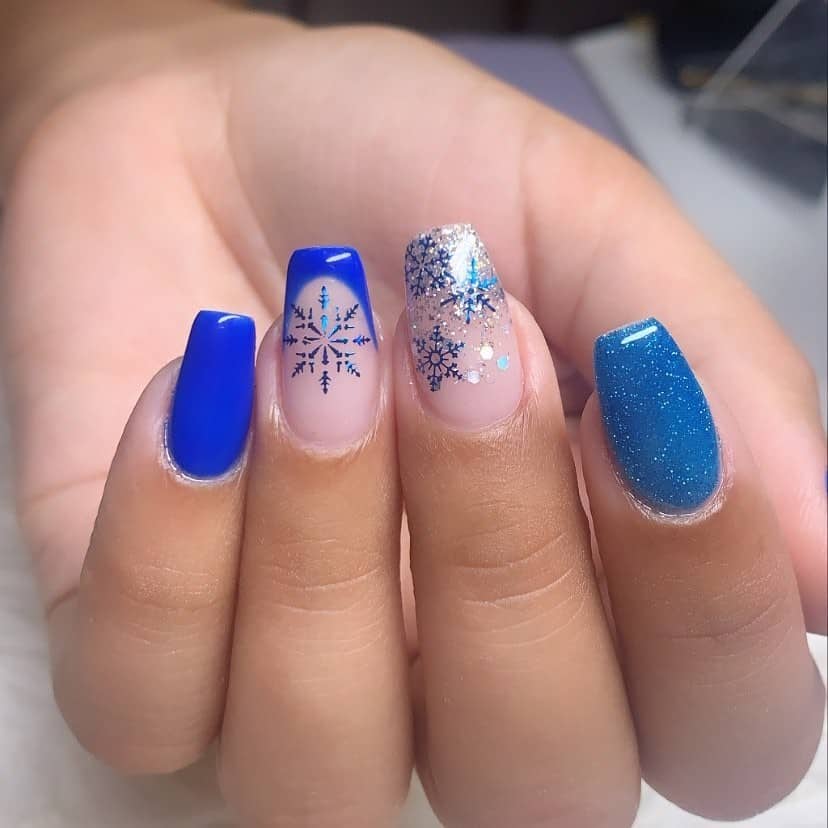 Short coffin nails with a dash of white and blue will look so feminine and fancy. If you are quite young and you prefer shorter nails (or you want something that is low-key and low-maintenance), this is perfect for you!
11. Nude Oval Beige Nails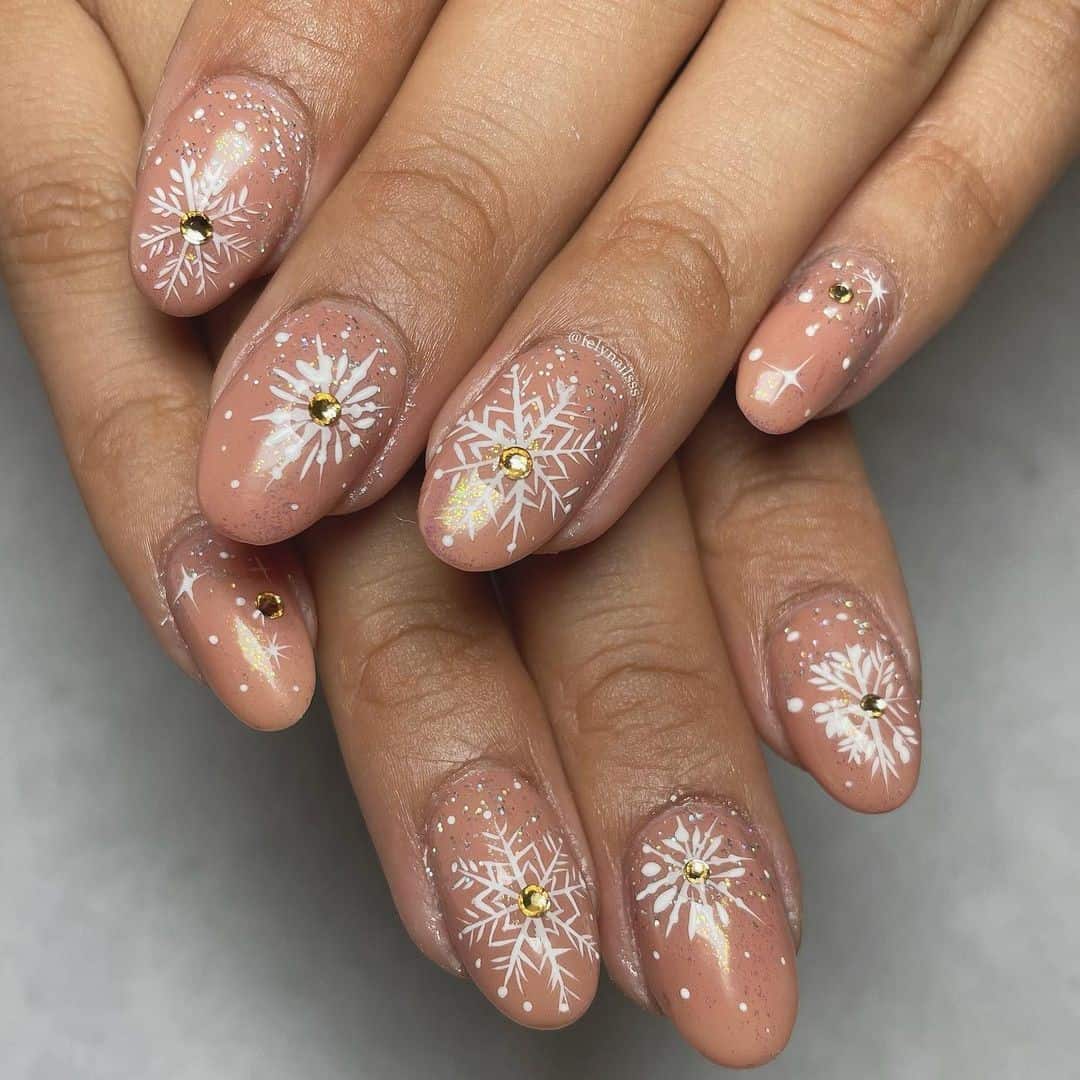 This oval manicure with nude elements is for women who like to wear cute nails for everyday wear. If you want to spice them up just enough for the holiday season and you're not too sure how to do that, give this a go! Decorate your nude nails with some white flakes and you'll enjoy their subtle elegant form.
12. Coffin Green Nails With Snowflake Details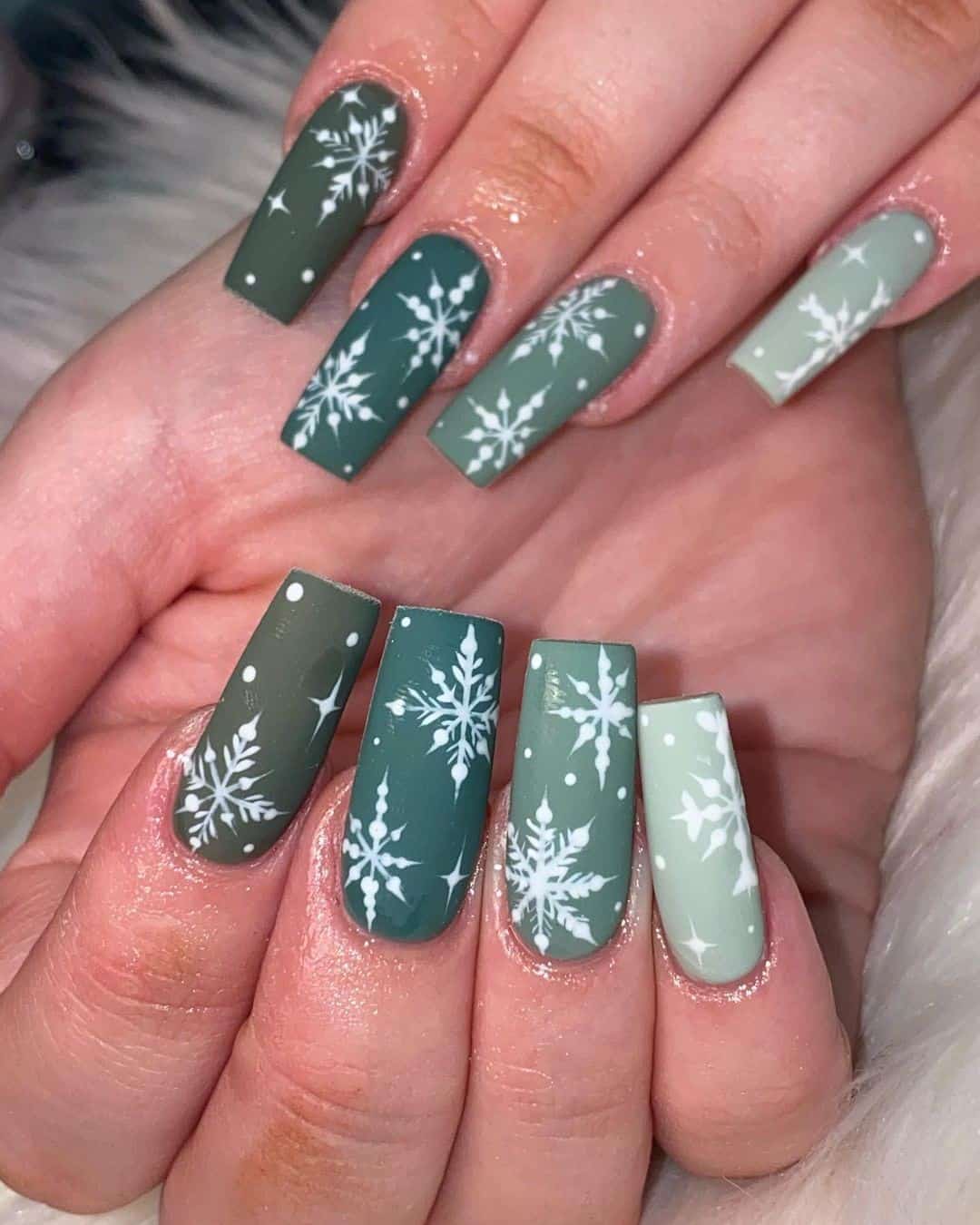 Do you dare to wear such long and sexy acrylic nails? These are only for women who like to seek attention and looks. Make sure that you're up for some different green colors and that you trust your nail artist when it comes to this ombré green snowflake masterpiece!
13. Short Square Coffin Snowflake Nails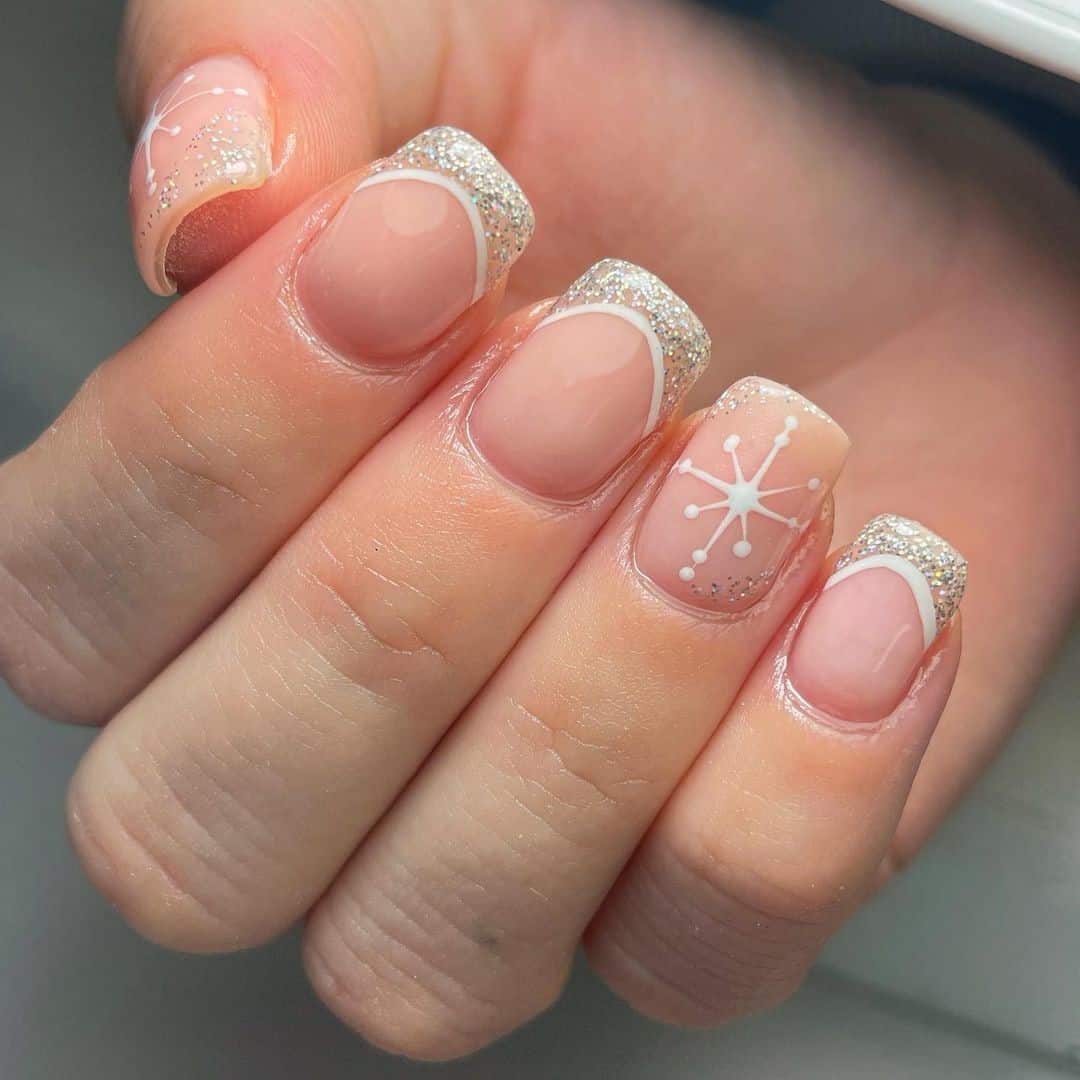 This coffin-shaped manicure is for women who enjoy sparkly nails! Do you like them? This will suit anyone who is a fan of glitter. Add just one simple star or snowflake detail to one of your nails. With this little trick, you will add so much elegance to your manicure in a simple way.
14. Oval Shiny Burgundy Mani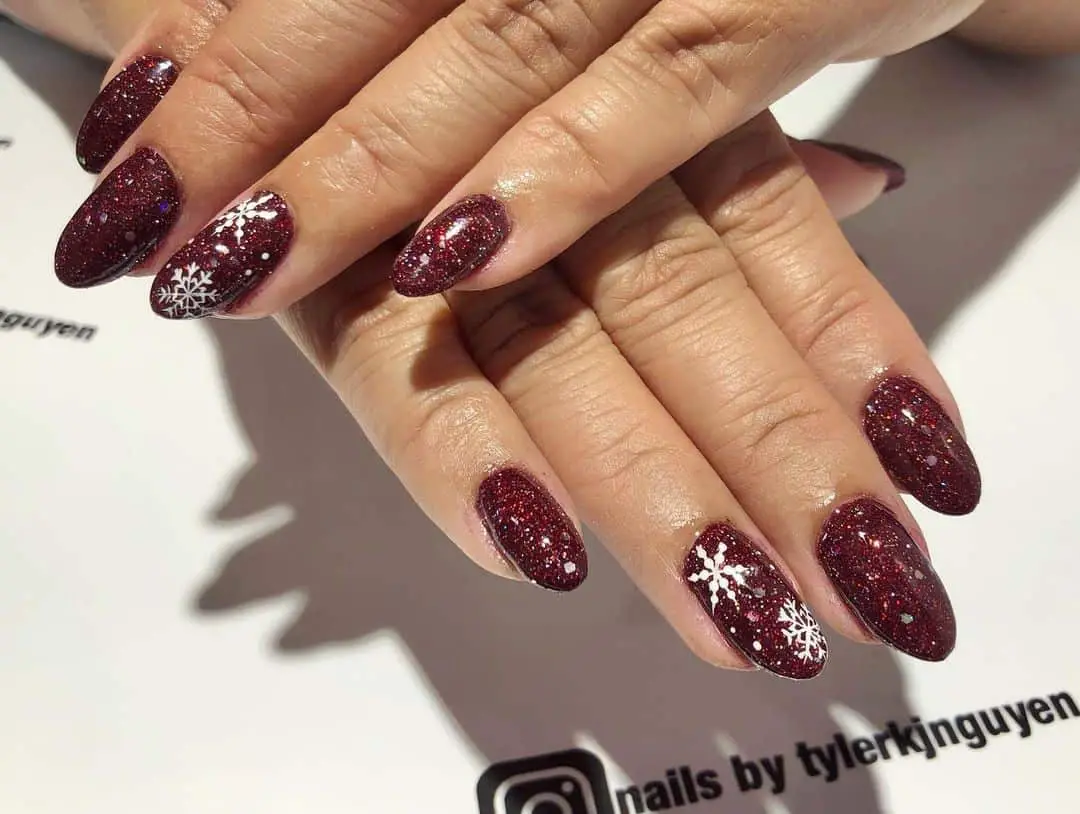 A dark burgundy manicure that women love to wear to their office. Do you like to look sensual and sexy? If that is the case you're going to like this design. Make sure that you add a ton of glitter on top. This will look feisty and truly unique.
15. Short Natural Snowflake Nails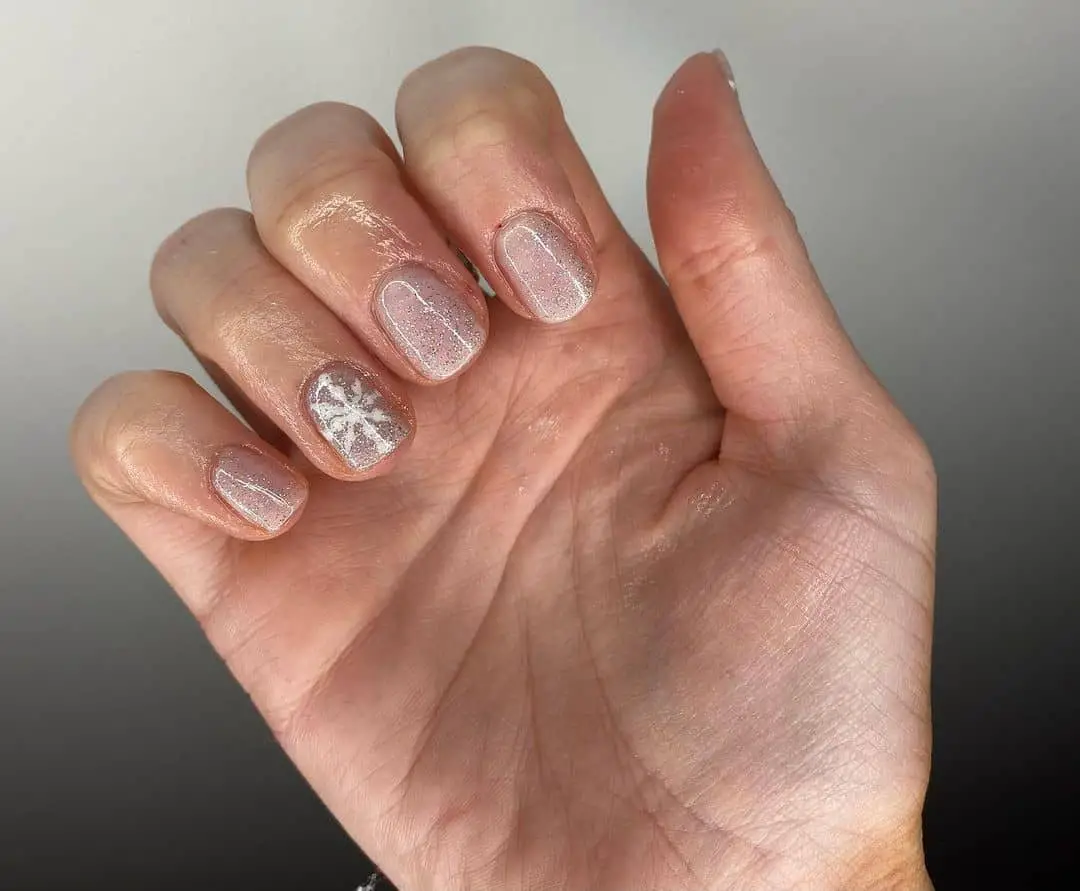 Cute nails that you're going to fancy for every day. Do you like short and shiny nails? This one will suit you if you're a low-maintenance girl. They are super easy to do, recreate and maintain. If you're someone who likes nude manicures give this one a go! Decorate it with your favorite snowflake detail while you're at it.
16. Light Rosy Almond Snowflake Nails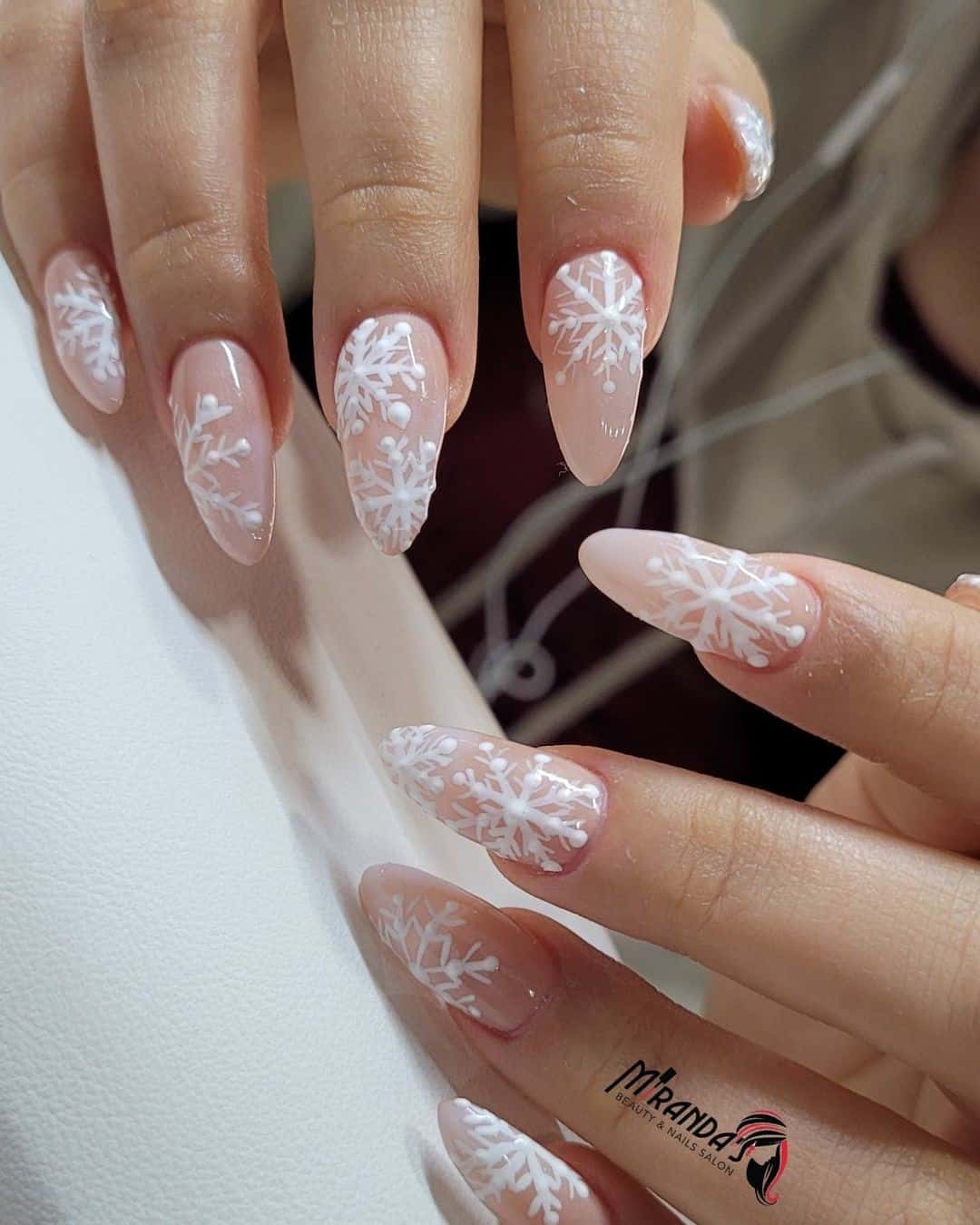 Almond shape and this color combo go so well together. If you're someone who enjoys long and fancy nails this will suit you. Take your time when it comes to drawing these stats. They are not as easy to do, which means that it will take some time and patience to master them.
17. Blue Snowflake Nails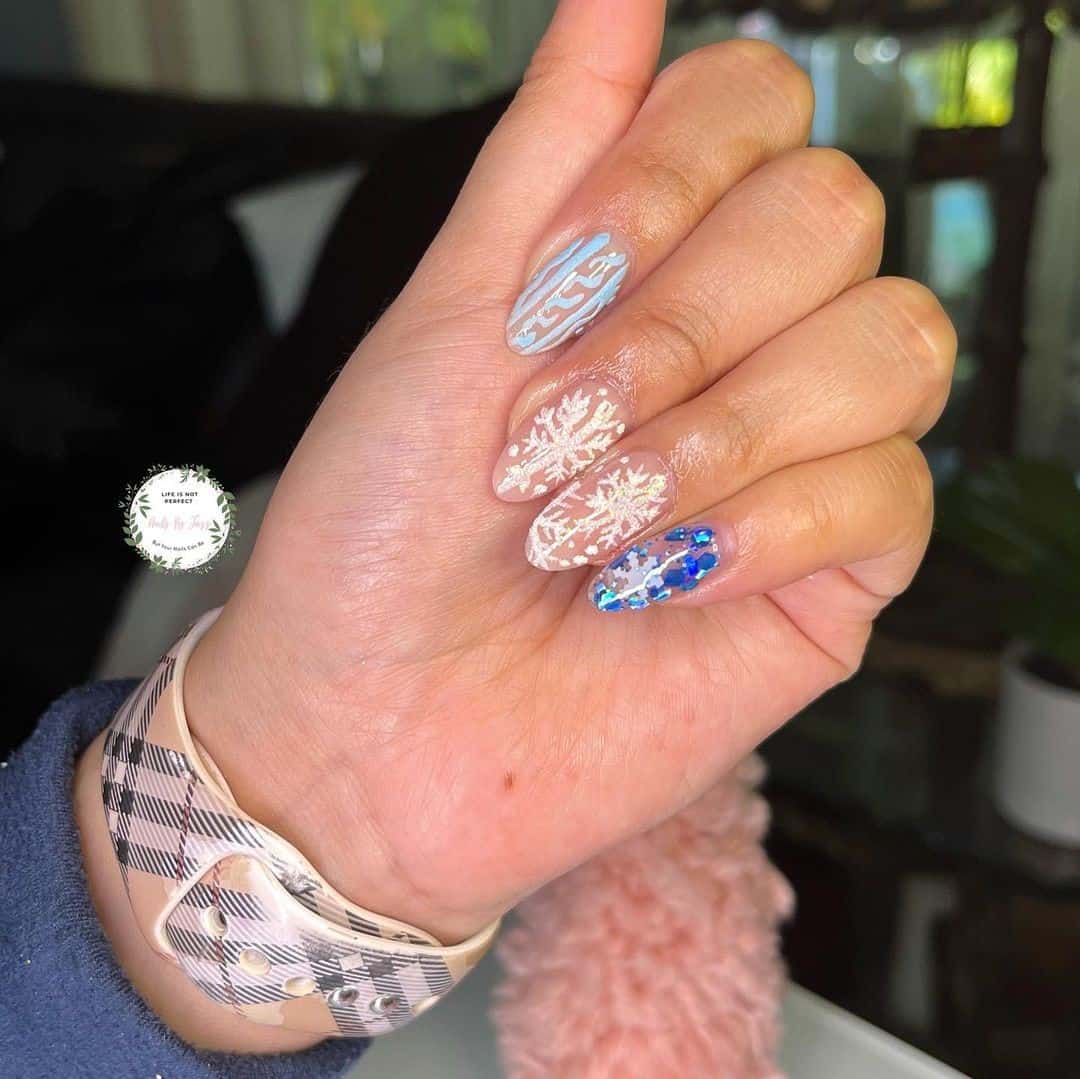 Try out this short and sweet almond manicure if you're someone who likes natural nails. If you're someone who prefers to do nails on your own, this is for you! Add some snowflake details and snowflake combos on your own with different nail polishes and colors. Experiment till you get the perfect color combo that suits you.
18. Acrylic Long Snowflake Nails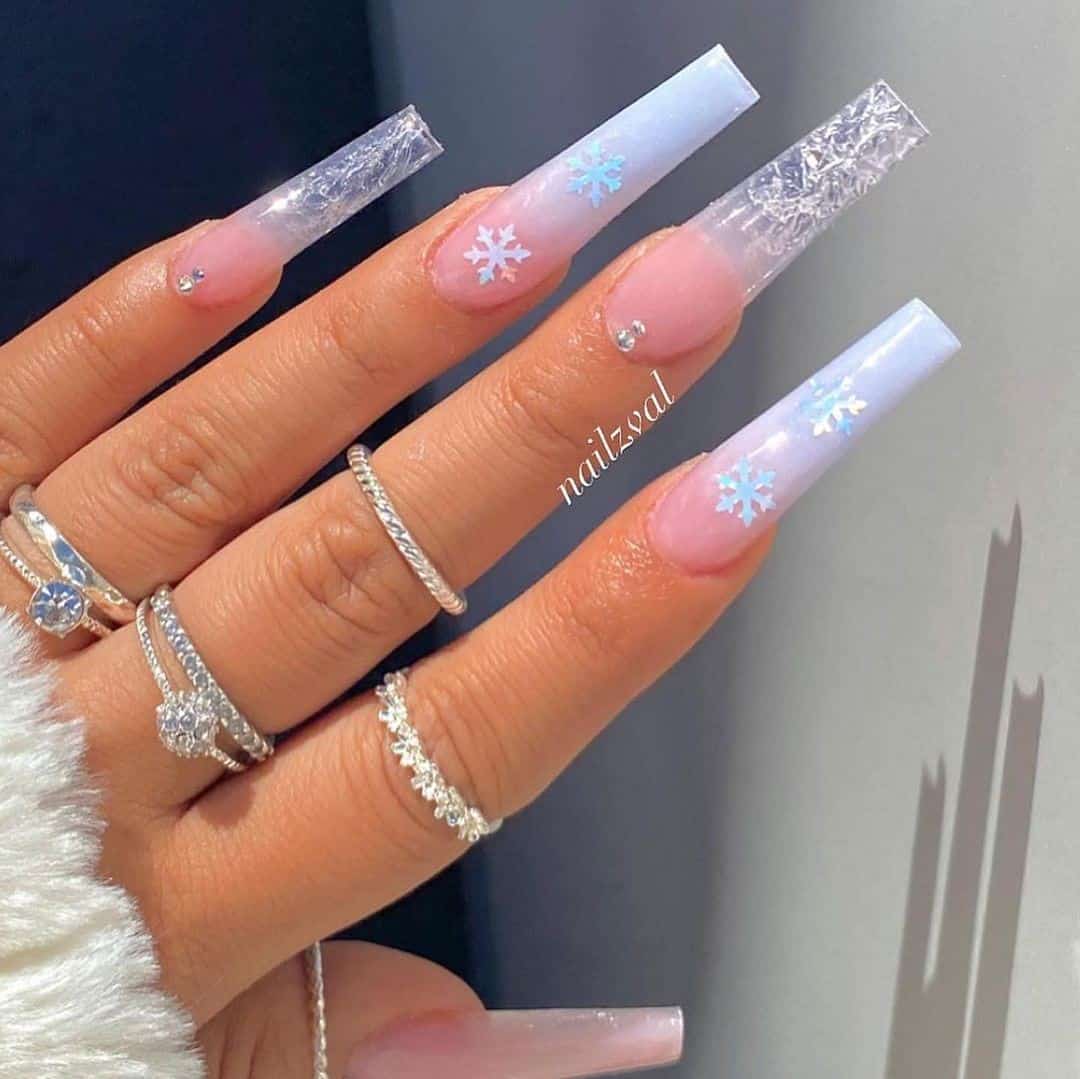 Go with this coffin manicure and add some blue to it. These nails look like they've found their inspiration in Frozen, wouldn't you agree? Try to rock them in their full glory and this length. Women who can wear longer acrylics with snowflake details to their work will enjoy this sexy and glorious look.
19. Shimmery Red Snowflake Nails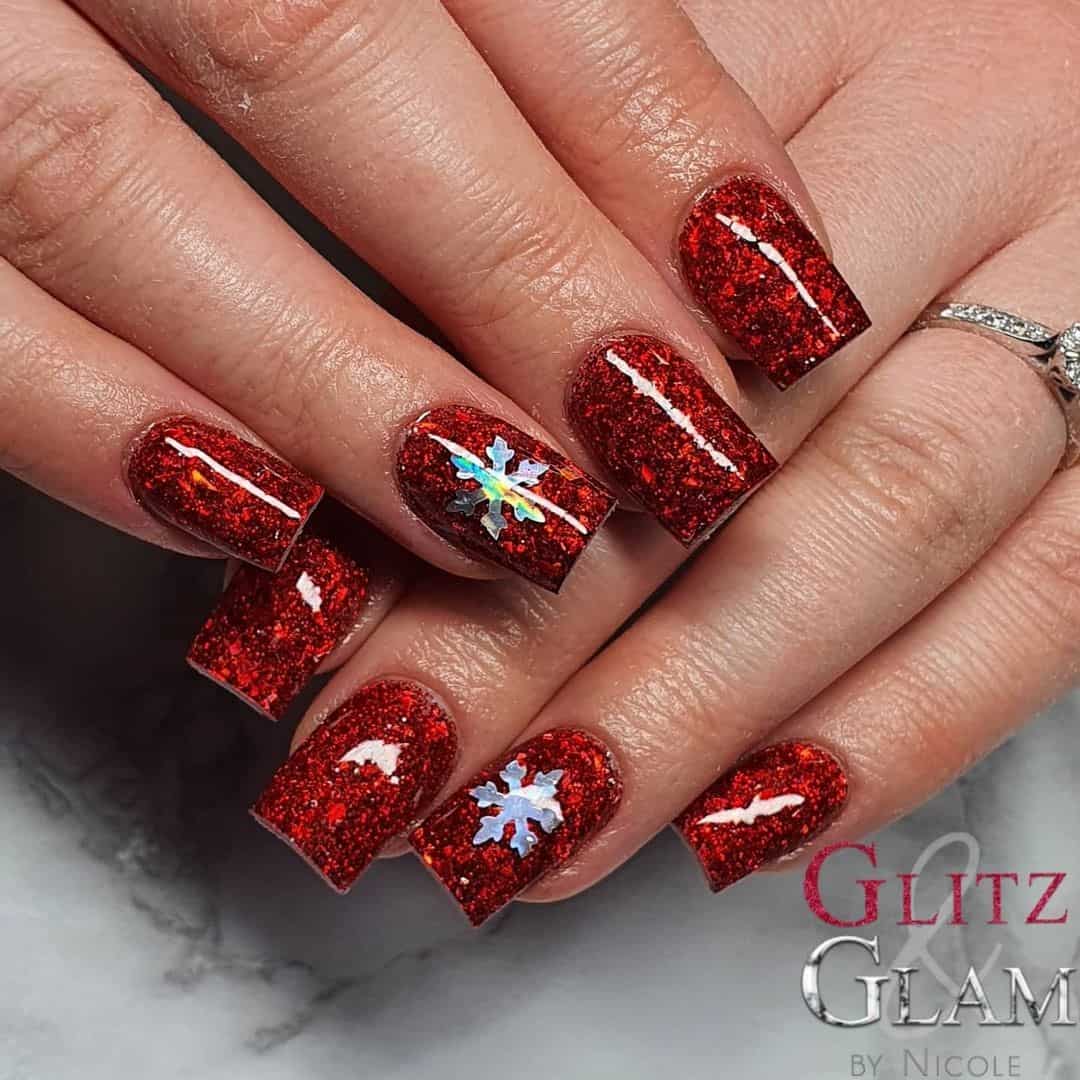 Short red nails with a ton of glitter are such a vibe for the winter season! Spice go this glitter red manicure with a snowflake detail on one of your nails. Women who like to look elegant and really fancy/sensual will like this beauty. Add some shiny top coat on top to round up the look.
20. Long Acrylic Nude Snowflake Nails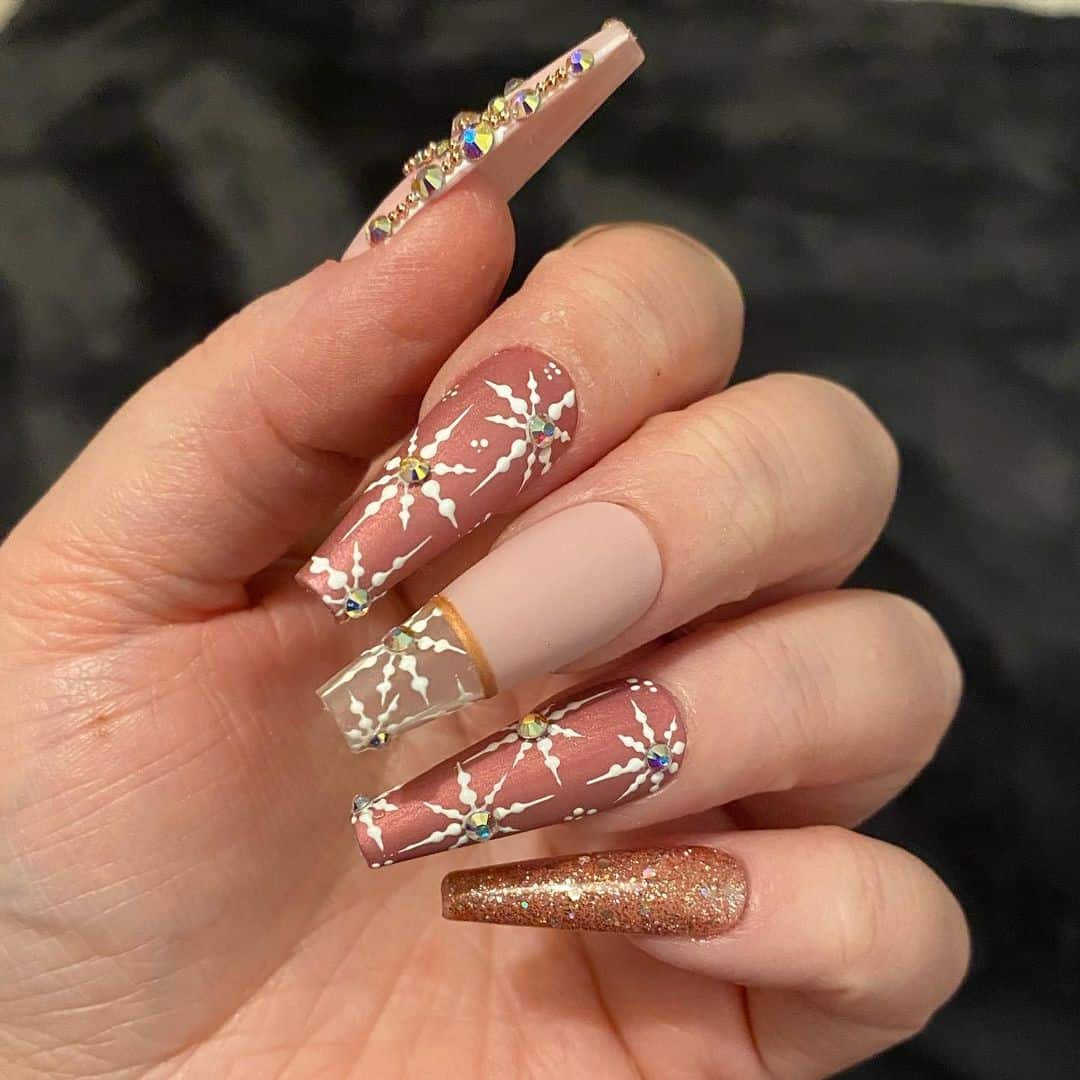 Test these nude acrylics with some pink and orange additions of color. Anyone who likes longer nails and acrylics will see the true beauty in this design. You should have around 3 hours to spare since this design requires patience and a mind of steel.
21. Light Purple Lilac Snowflake Nail Design
Not a lot of women like to wear purple or lilac nails. Do you dare? These nails are so modern and different. You should go for acrylics since this length is quite hard to achieve otherwise. Go for a cool penguin sticker and choose some stars or snowflakes while you're at it. The end result will look cartoon-like and will satisfy your inner child.
22. Bright Red Oval Manicure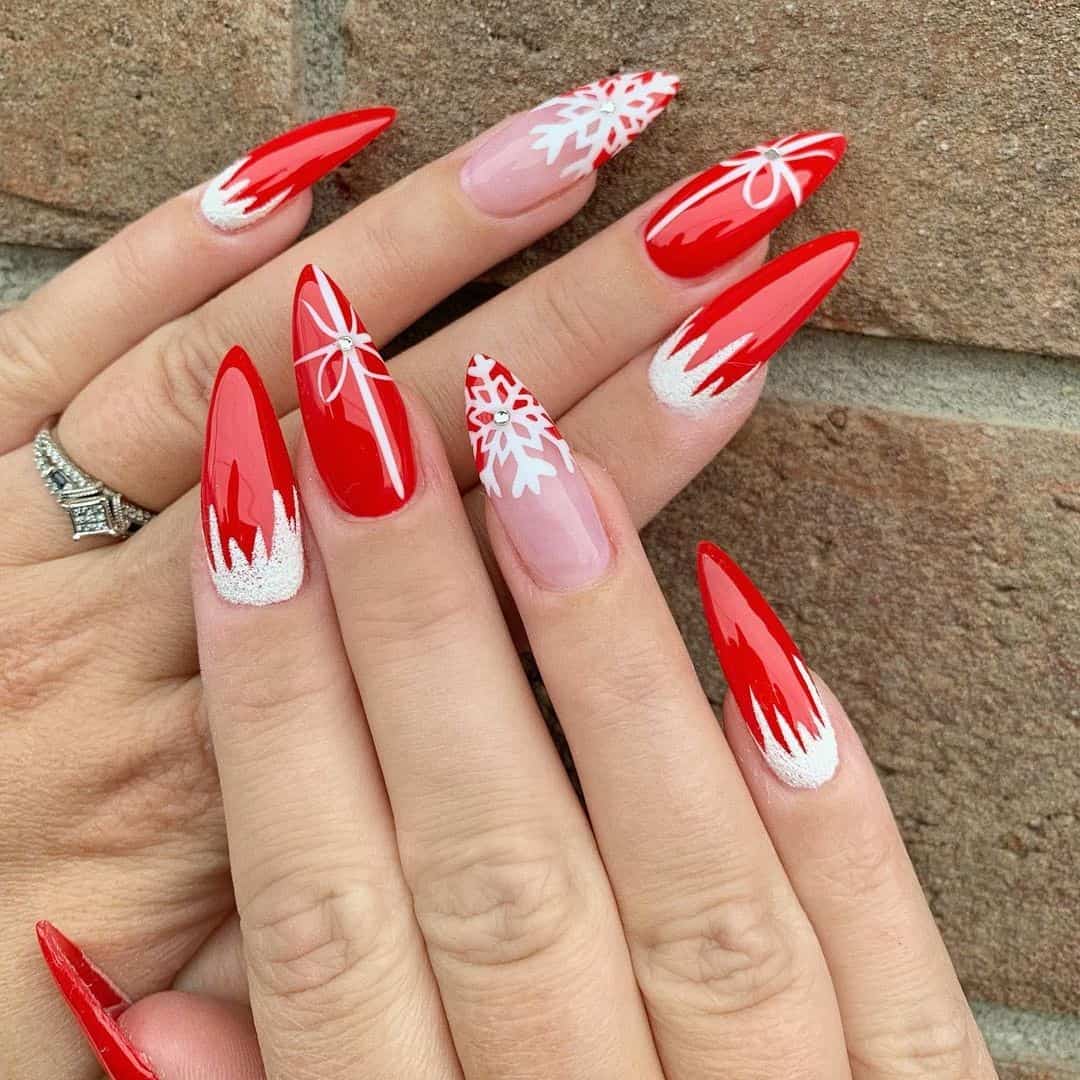 Pointy and long red nails will scream for attention. Do you like that vibe? Go for this red color and almond shape. The end result will look amazing when paired along with white snowflake detail. Women who like to wear red lipstick will also like this outcome.
23. Grey Snowflake Nail Design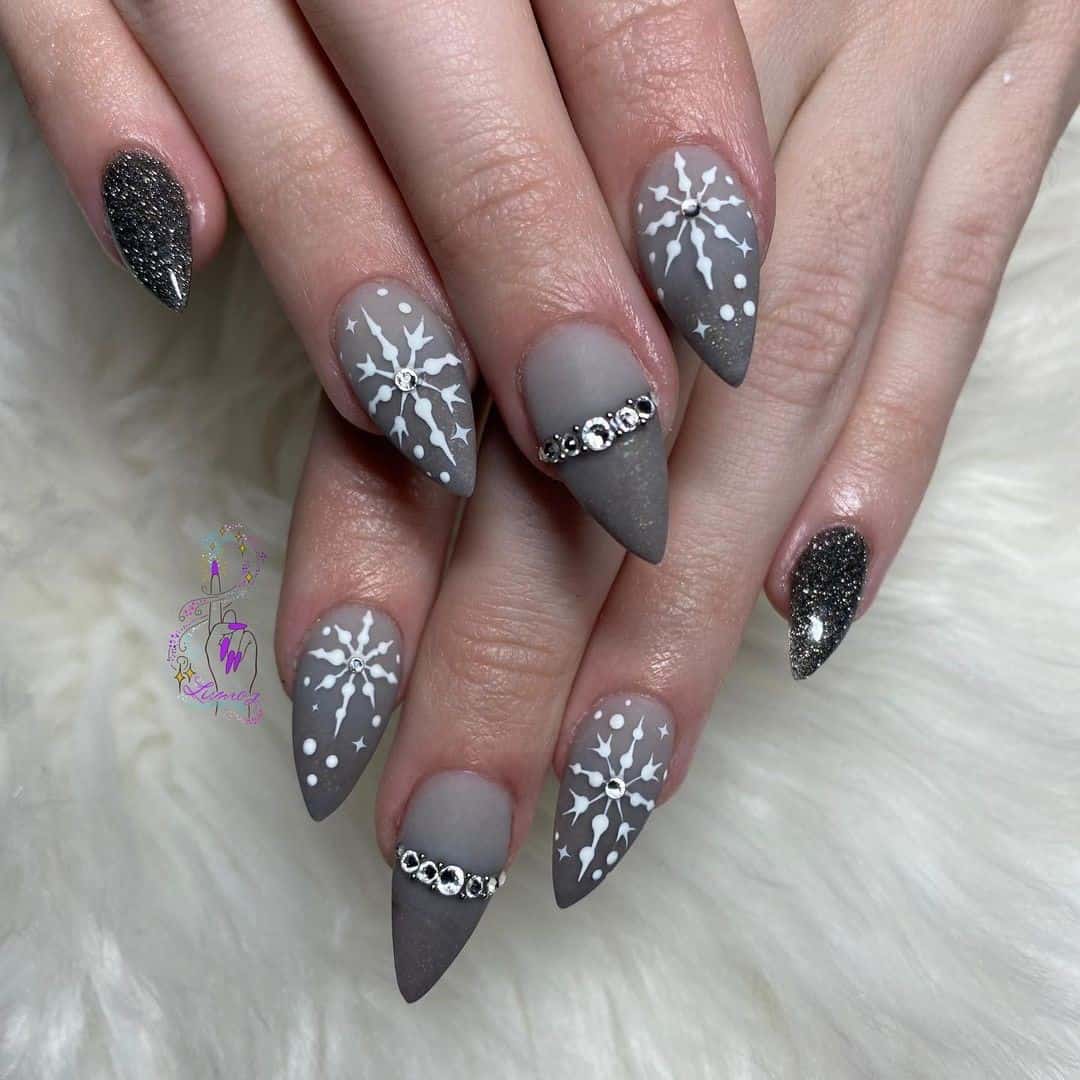 These short pointy nails are so unusual in their grey combo. You will enjoy this stiletto look if you're someone who likes cute low-maintenance nails. Take your time to do them and be precise. We recommend adding some white glitter or gemstones to recreate this snowflake pattern.
24. Coffin Long Acrylic Snowflake Nails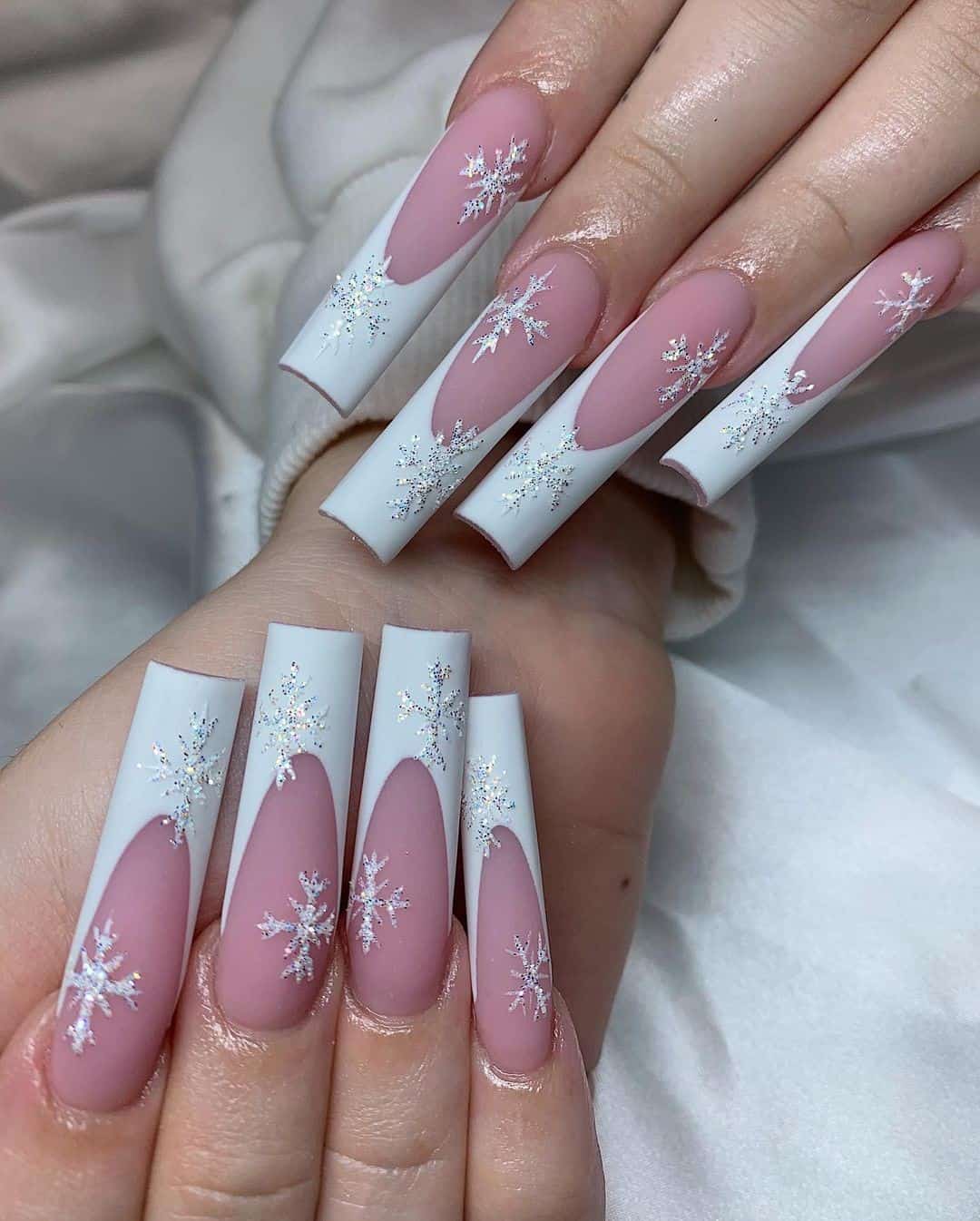 Super long acrylics are usually worn by younger women. This French manicure is for those who have time and money to get their nails professionally done. This manicure will take you 2-3 hours to do. Anyone who likes elegance yet wants a mini cute detail will like this duo.
25. Nude Snowflake Nail Designs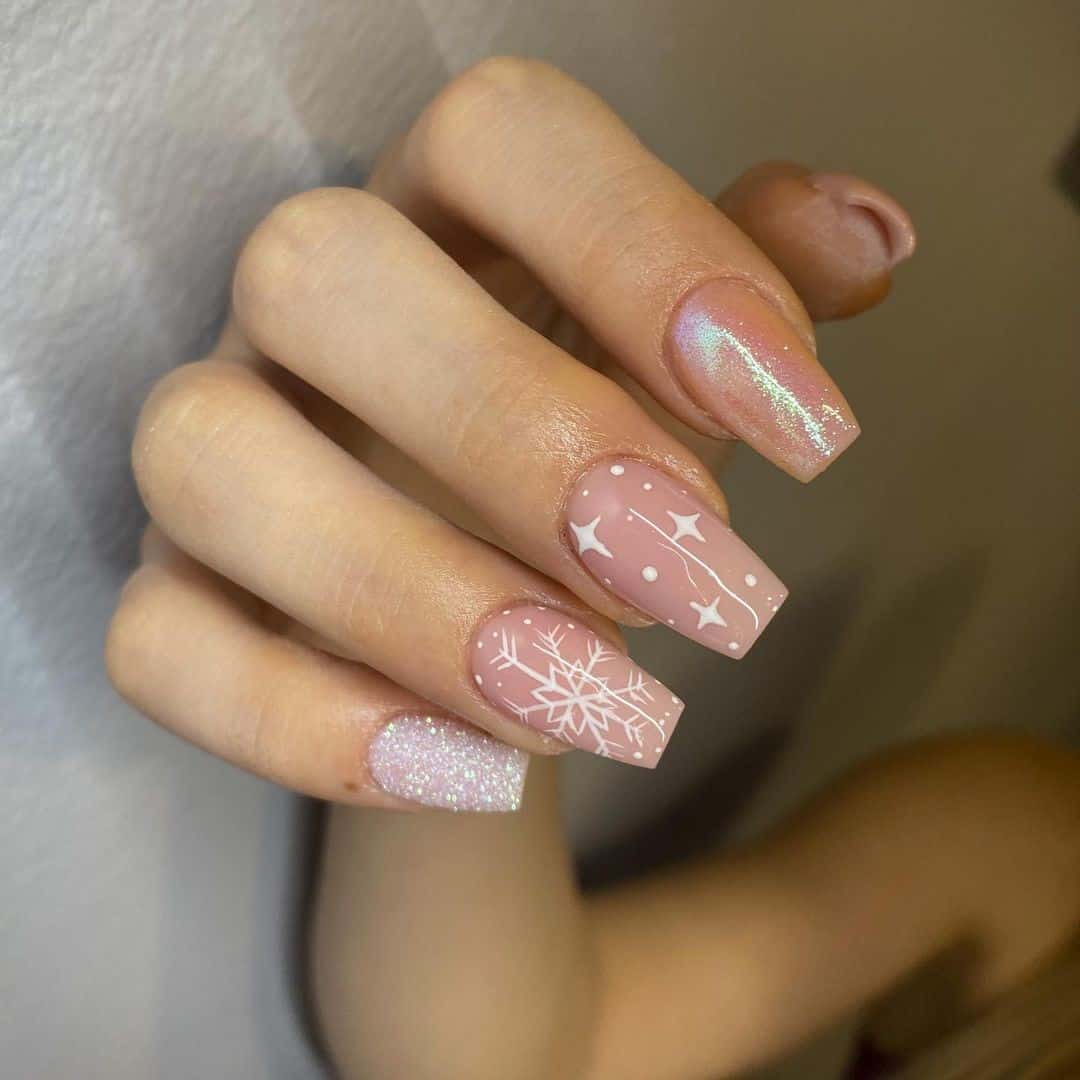 If you need a manicure that can be worn by anyone and at any given point, consider this beauty. Nude nails are a common go-to by low-key and minimalist women. This design will look the best once you add a ton of gloss on top. Be precise and slow when it comes to doing snowflake details.
26. Long Acrylic Gemstones Snowflake Nails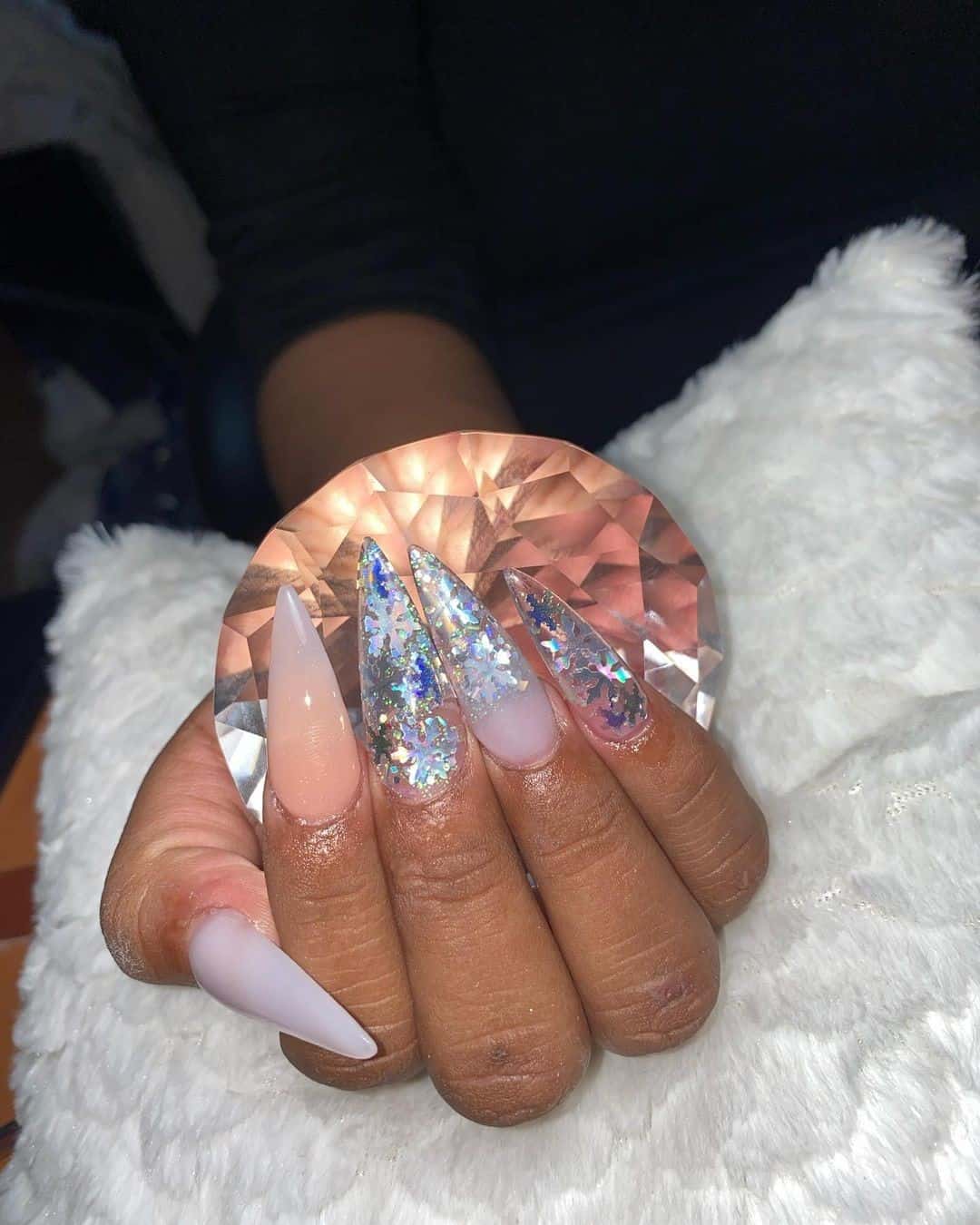 How cool are these gemstone and diamond nails?! Just know that not a lot of people can or will dare to wear such manicures. If you wish to stand out at any point and you're into glamour, this screams for fancy vibes! Go for holographic nail stickers and embrace your little crazy snowflake design.
27. White & Nude Snowflake Nail Design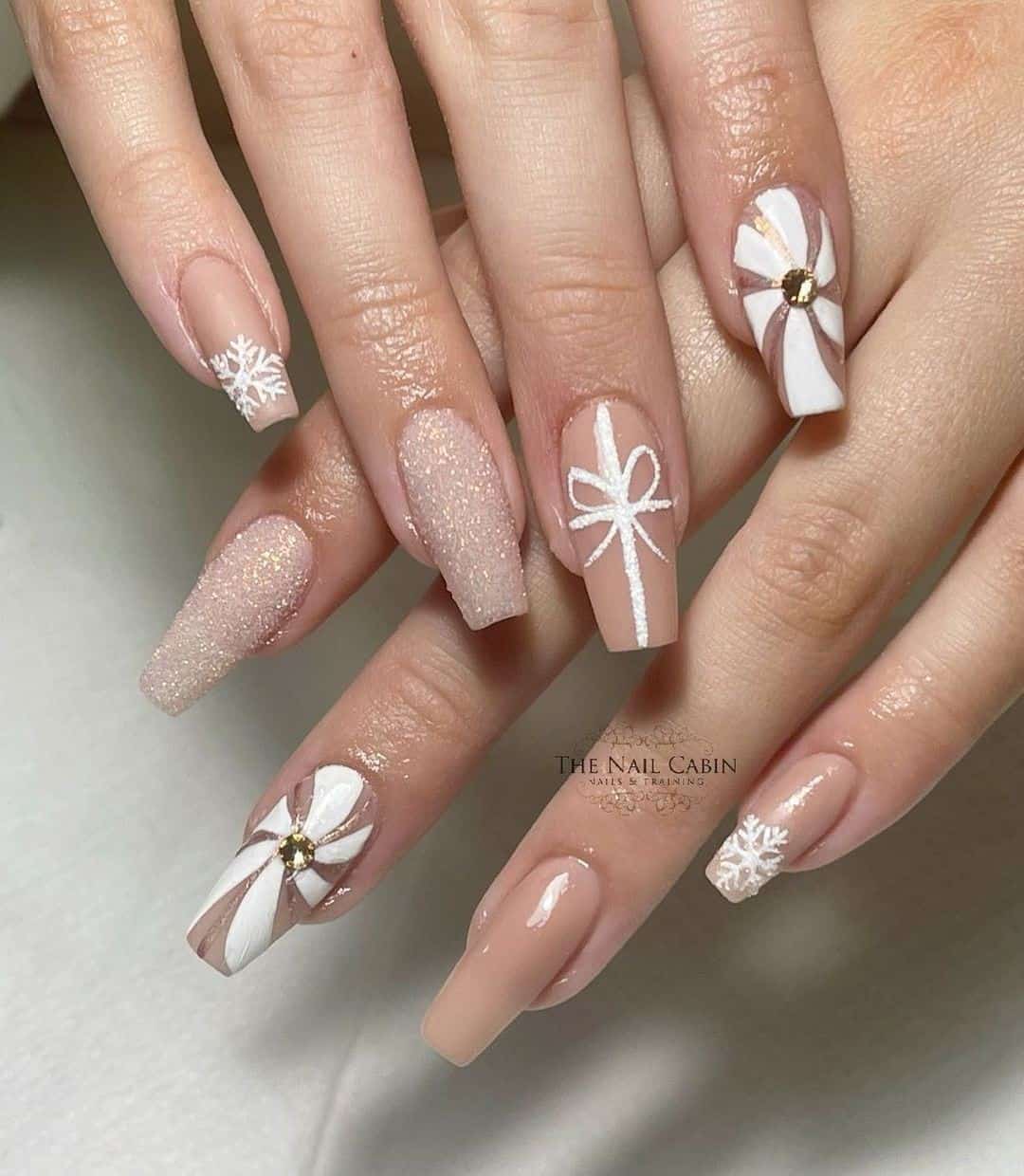 Long coffin nails can look sensual and romantic. Do you like elegant nails yourself? These will look so lovely for formal events. You should give them a go if you're a fan of classy looks. Simply spice up the look with 2-3 different snowflake ideas and show off their beauty.
28. Short Natural French Mani With Snowflakes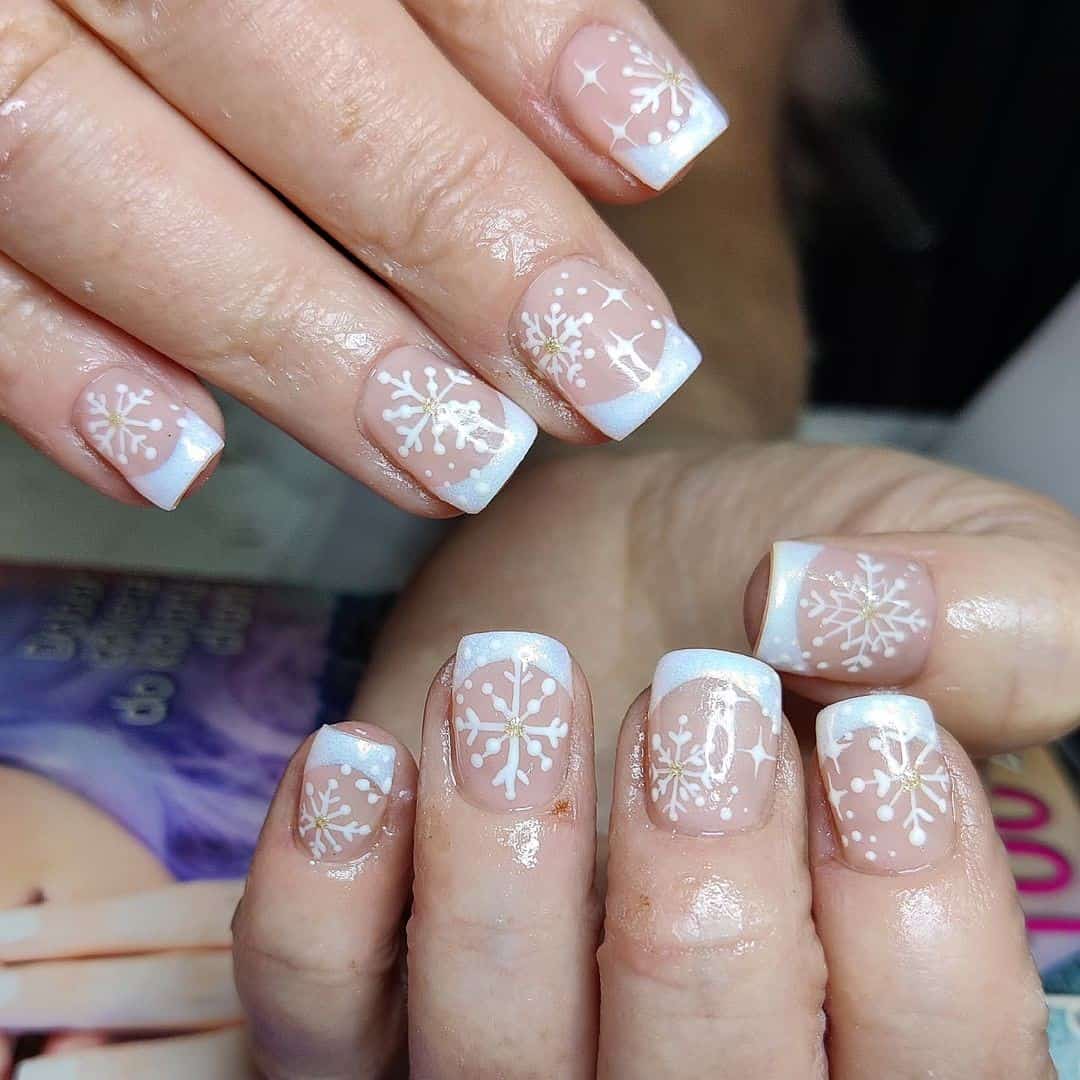 This short manicure is for women who like classy looks. Give yourself time to draw on top and recreate this beauty. You should use a thin nail brush to get these snowflake details. You will love this manicure for everyday wear, as well as for the office.
29. Pink Holographic Snowflake Nails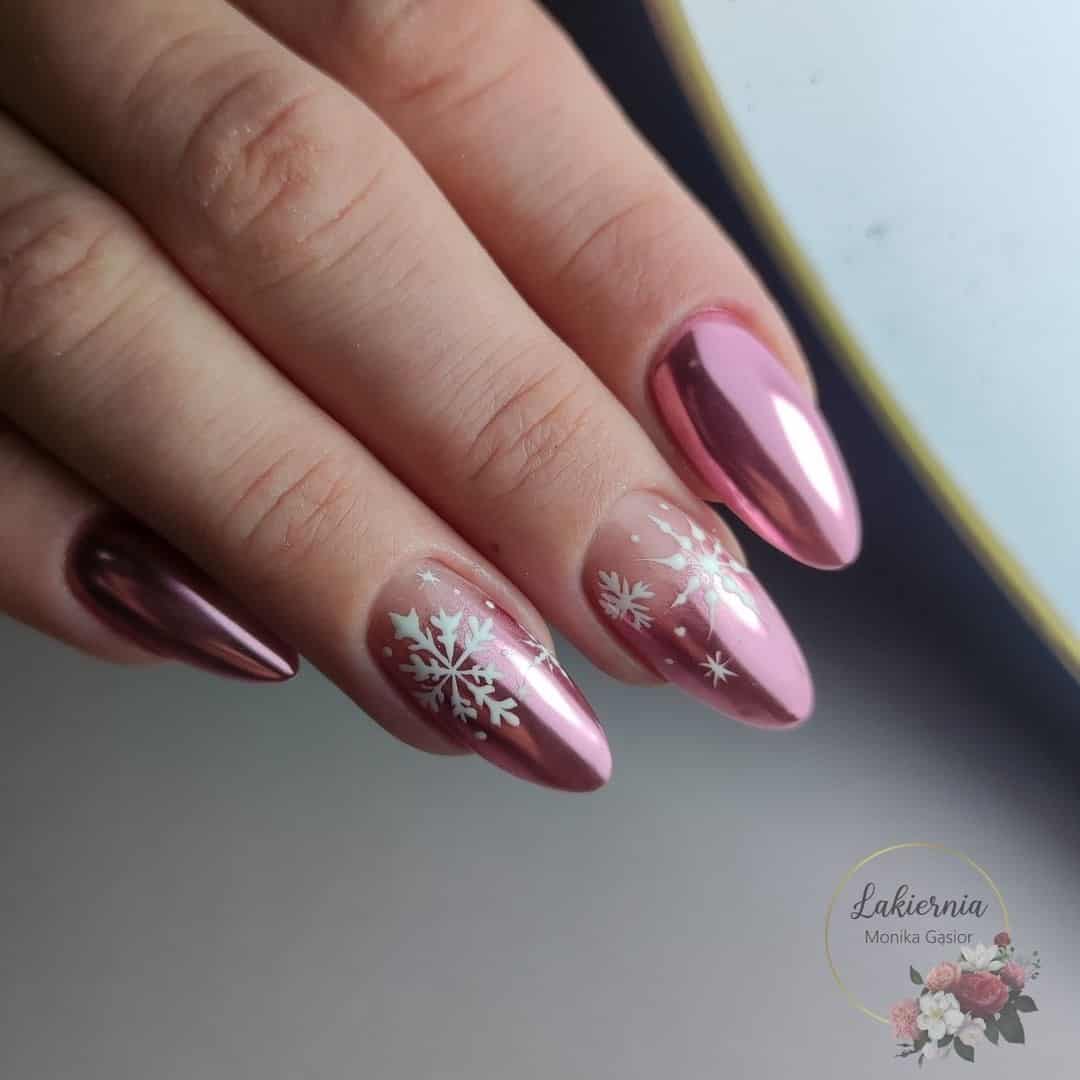 Almond manicure is a lot easier to maintain and achieve. Go with this hot pink metallic shade and know that it will suit you while asking for looks and attention! Women who are into flirty looks and nails that are reflecting different colors will enjoy this beauty. Go for a white polish on top to round up the snowflake look.
30. Modern Long & Nude Snowflake Nail Designs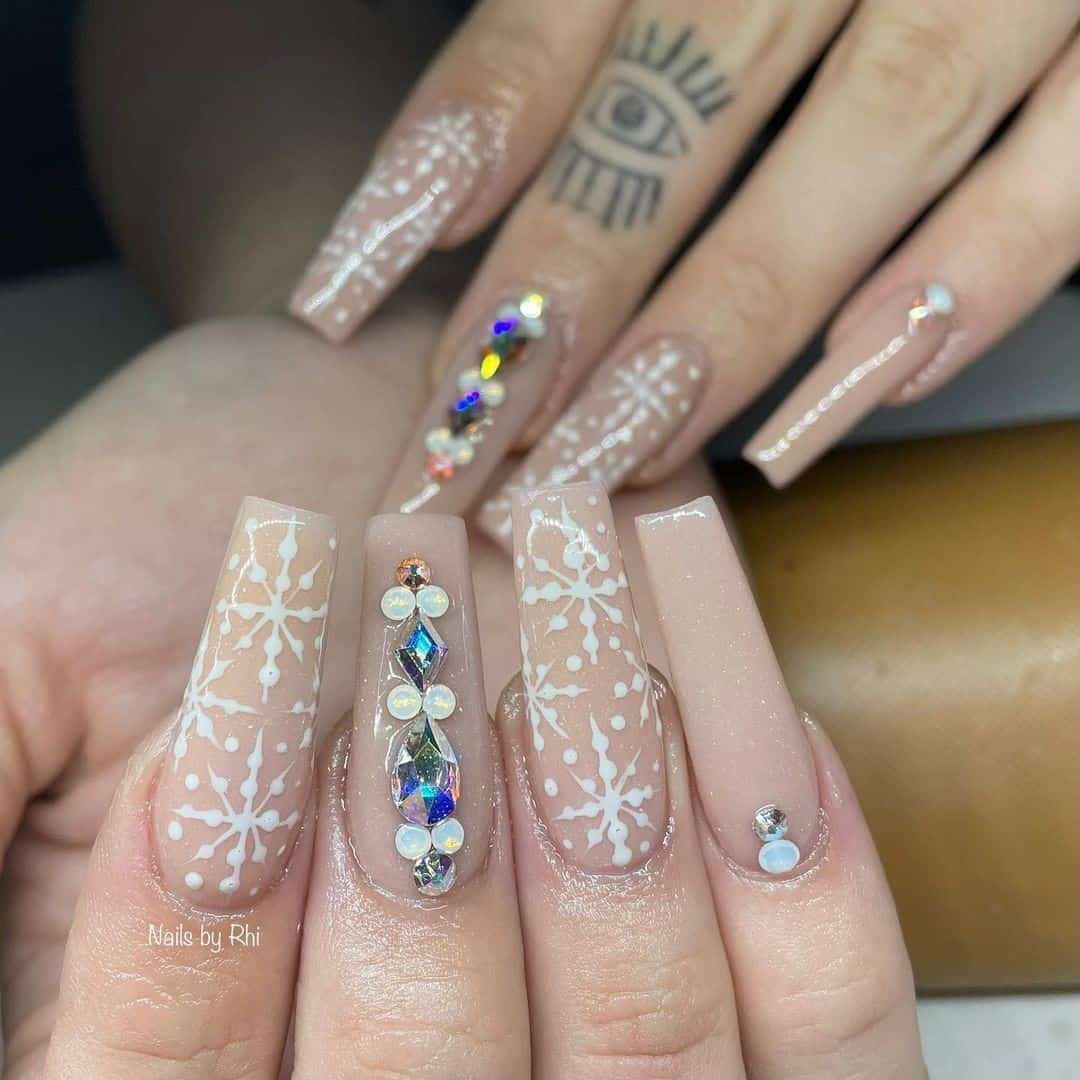 Gorgeous and playful! These coffin nails will take you some time to "nail". You should book your nail artist and give it a go with this design. Heads up since it will take you 2-3 hours to end up with this manicure. Women who prefer glamour will know how to rock these nails.
31. Coffin Manicure Nude & Blue Duo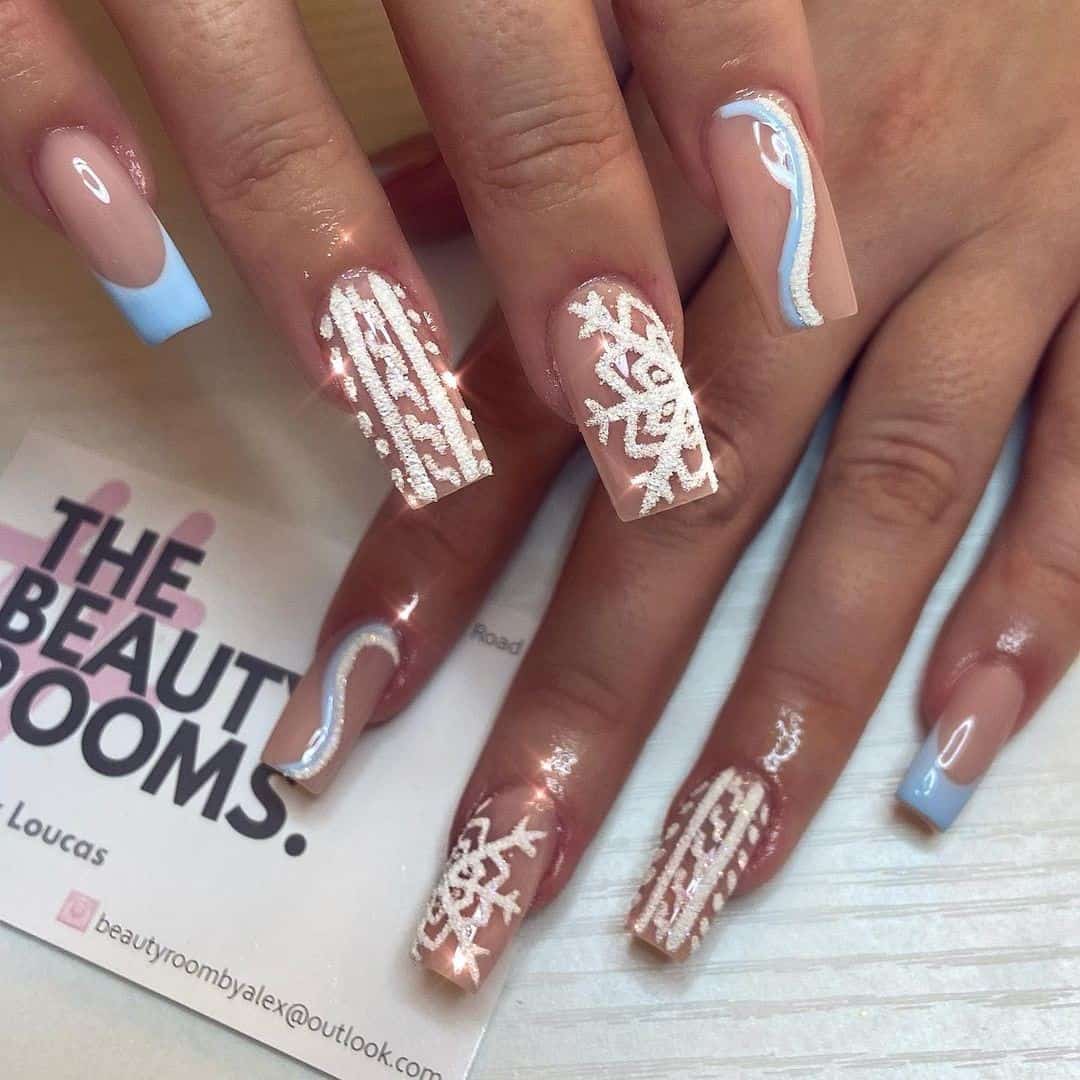 Women who want something new will like this design. If you're in your thirties this will interest you. Make sure that you have $40 to spare since that is a common price for this nail design and this manicure. Pay close attention ration to details since they are so finely done.
32. Short Oval Natural Nails With A Snowflake Print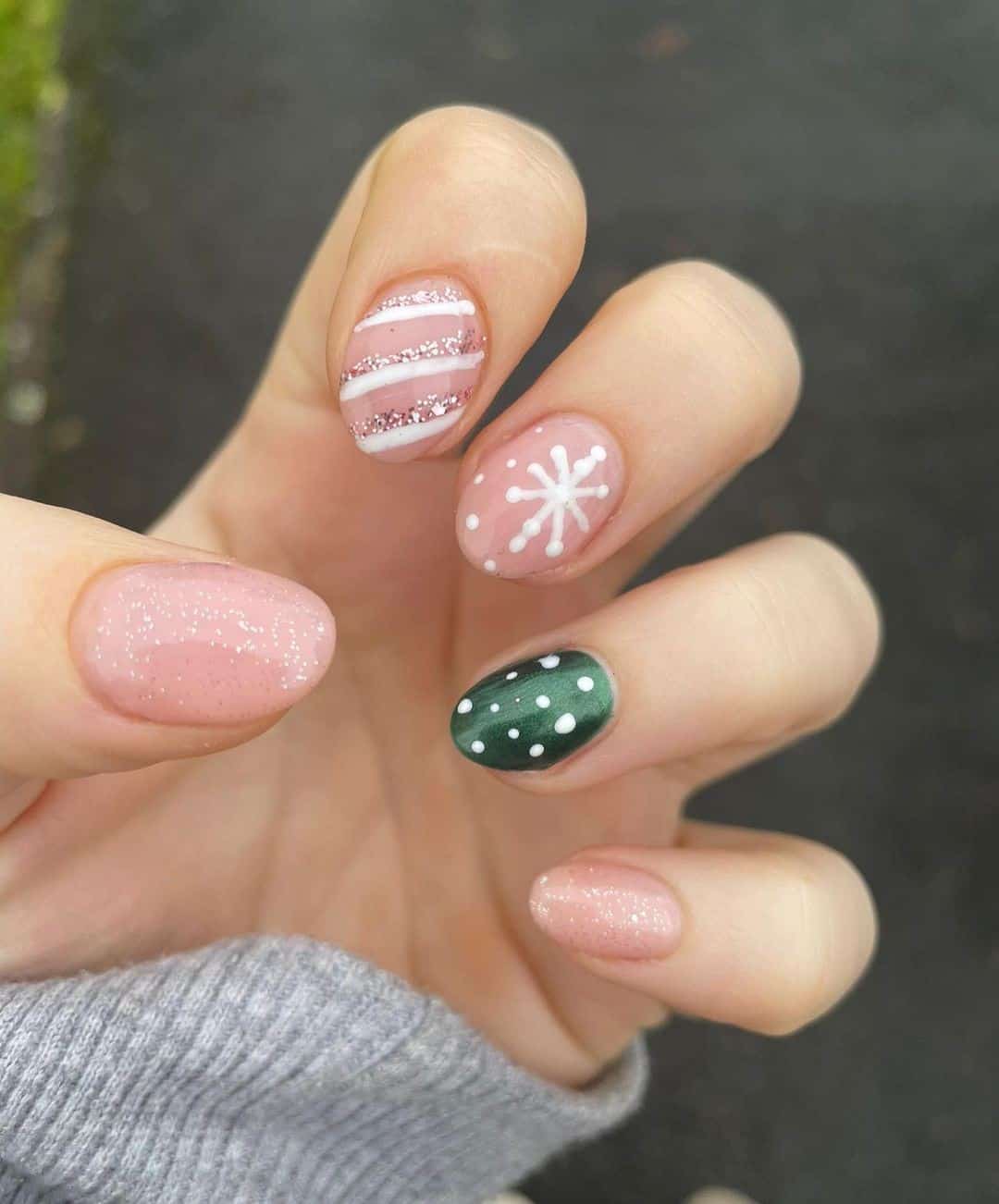 You can draw some cute snowflake designs on top of your short and natural nails. Women who are in their twenties will fancy this design. Make sure to use a small and fine nail brush to achieve all these tiny little details. The end result is perfect for workaholic women who want to make a statement.
33. Glitter Natural Snowflake Nail Manicure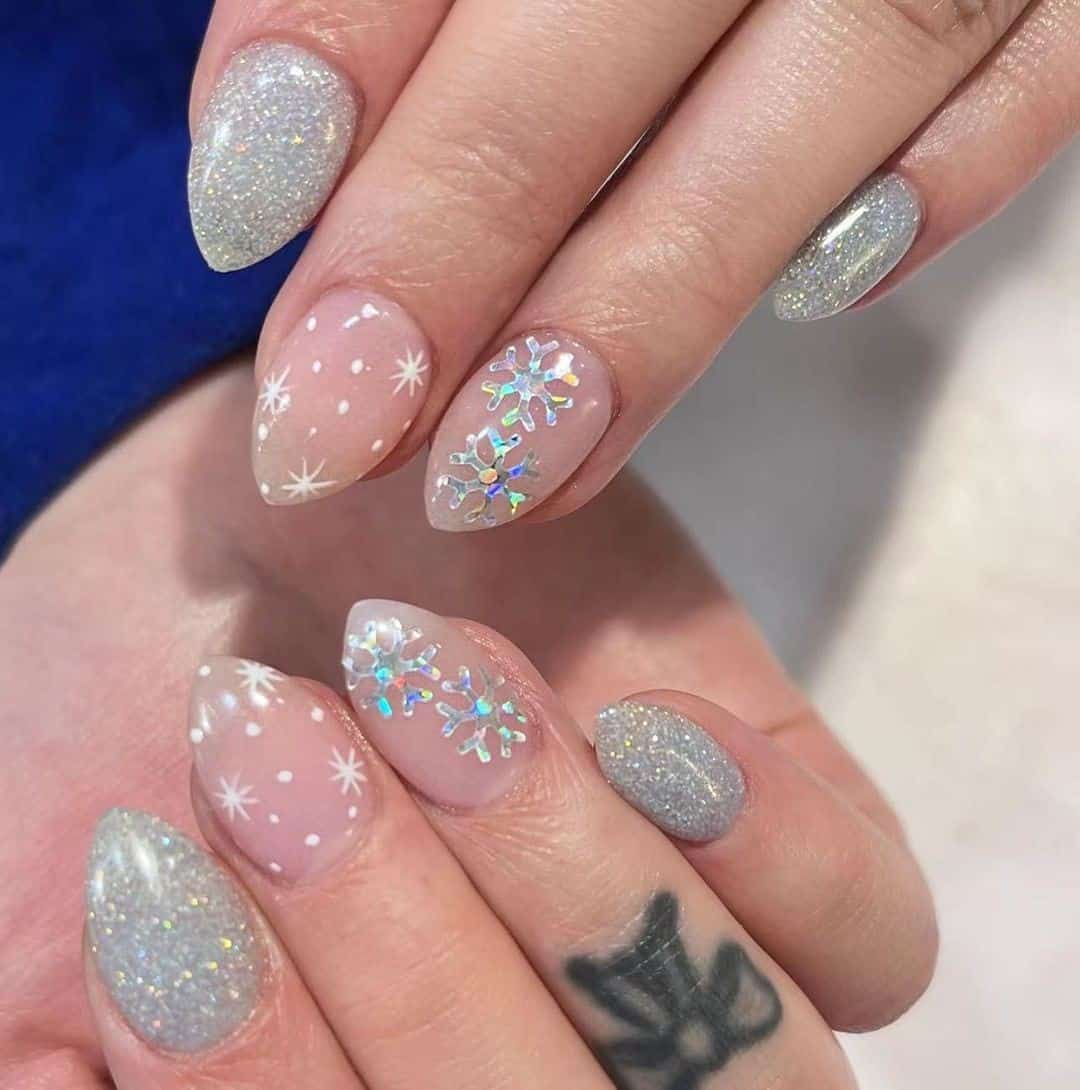 Lastly, go with these short and sweet nails. Stick to white and grey glitter to make these nails stand out. You can also add some snowflake stickers or gemstone details to spice it all up! You will enjoy this manicure for any event or gathering, both formal or informal.
Want A Snowflake Print?
So, did we meet your expectations? In this article, everyone can find something cool for everyday wear. Which snowflake design was your favorite? Let us know where you stand and what you can't wait to wear!