Top 15 Easy Red And Black Nail Arts
When you shop through links on our site, we may earn an affiliate commission. This educational content is not intended to be a substitute for professional advice.
Red and black nails are super sexy nails that will suit younger women, as well as businesswomen. Are you a fan of feminine colors? Do you like nail polishes and designs that are quite unique?
If so, you will love this article! We will help you choose and find your perfect manicure for either a formal event or for your everyday wear.
Keep on reading and see for yourself!
Why Go For This Color Combo?
Red & black nails scream sexiness! This color combo usually looks the best on women who love to stand out and who prefer feminine looks. Red & black can look great together, and these two colors will look great with any outfit of your choice. If you love to look flirty and you like the attention, this manicure is for you!
What Do These Colors Symbolize?
If you end up going for black nails, just know that they stand for power, mystery, and elegance. Black is the most worn color worldwide, and it is easy to pull off and pair along with any other shade or clothing item!
Red color means power, love, passion, as well as joy. The color red is one of the most sensual colors that will look great once paired along with matte red lipstick, or any other red accessory.
Top 15 Red & Black Nail Arts
Square Shaped Long Red & Black Nails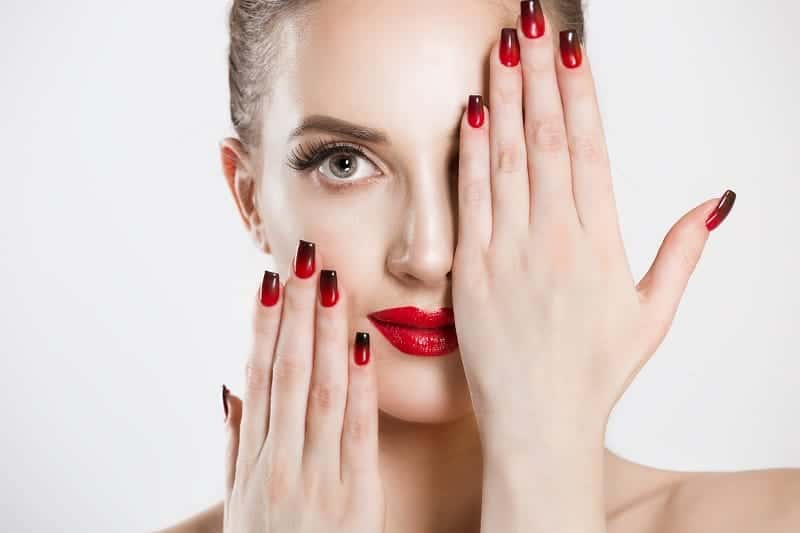 Are you a fan of square-shaped nails? Do you prefer longer natural nails or even acrylics for that matter? If so, this ombre manicure will suit your preference & your style!
Who should wear these nails?
Women who love dramatic & attention-seeking nails can go for this style & shape. It will usually look the best on younger women, as well as those who are off to a special gathering, something formal, or their birthday party.
How to get this manicure?
Make sure to grow your nails to medium or long length. Once you get to your ideal size, paint all of your nails in your favorite red polish. Then, use a small round brush and achieve the ombre effect starting at the tip of the nail. Smudge the middle with a nail buffer so that it has a seamless transition!
Also Read: Top 30 Beautiful Ombre Nail Design Ideas For 2022
Long Acrylic Oval Shaped Nails With Gemstones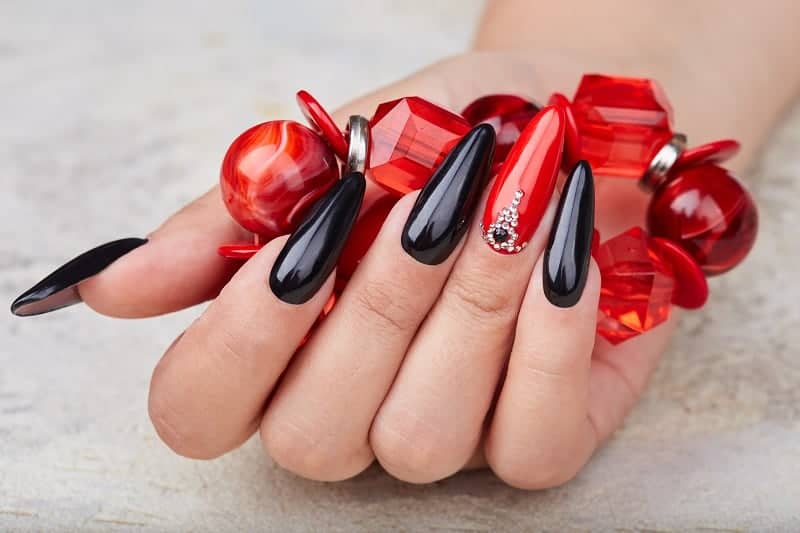 If you love dramatic nails and you are a fan of acrylics, you can go big & bold! This manicure is very noticeable and is usually a go-to by teens who love the "rebel" nails.
Who should wear these nails?
If you have an important play, a prom, or if you are into rock-inspired manicures – this is your perfect match! Nails such as these are not the best solution for your 9-5 job, but they are for someone who is into flashy designs.
How to get this manicure?
You can reach for either glue-on nails or ask your nail tech for a set of acrylics. Once they place them down they will color most of your nails in black. They will leave only one nail colored in red, but they will also stack gemstones on top of it!
Short Black Oval Nails With Floral Prints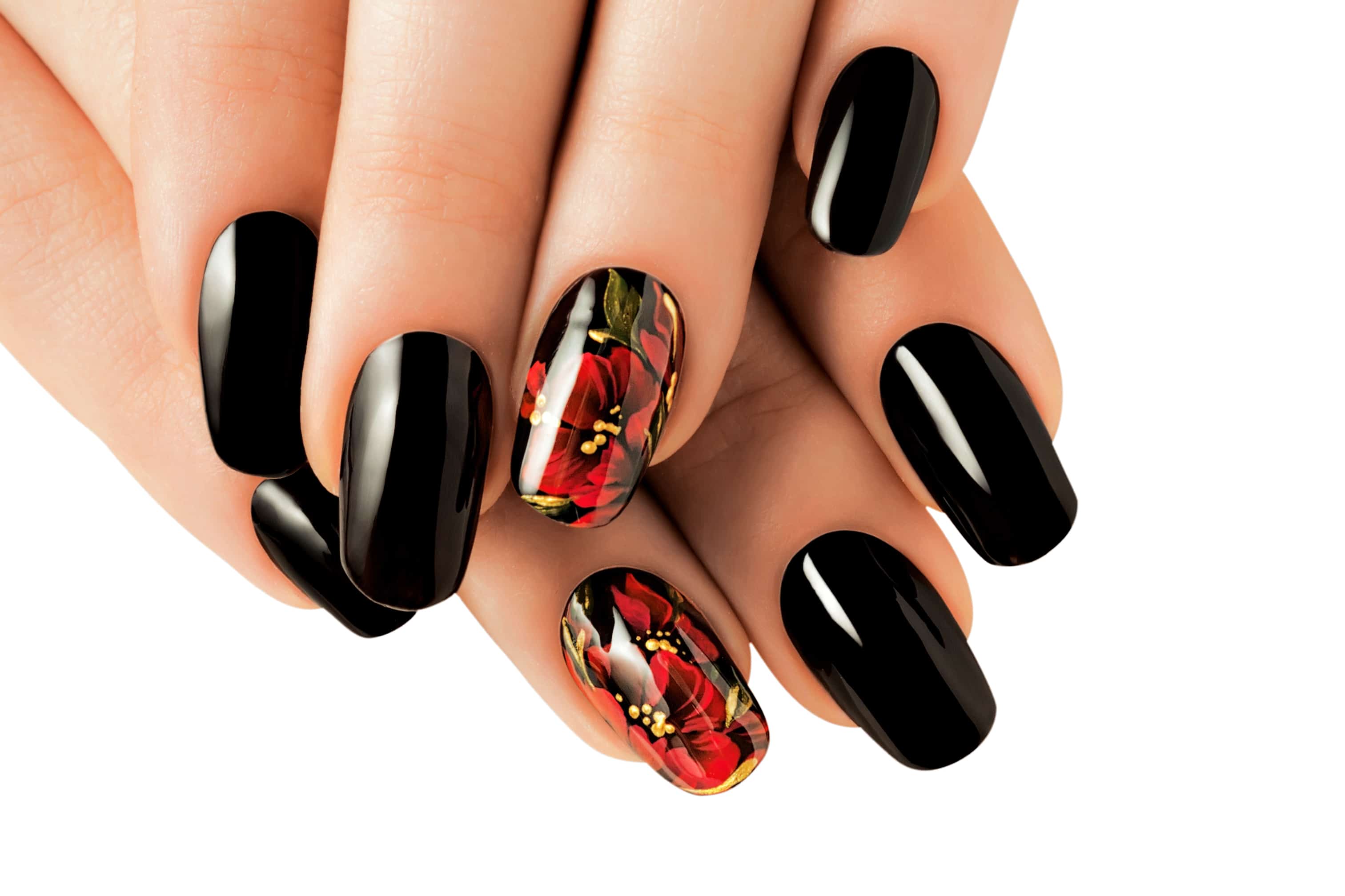 This is the perfect office manicure that will suit women who are into shorter nails. These are cute squoval nails that will look feminine and beautiful on mature women, and they are quite neat & formal as well!
Who should wear these nails?
If you have a 9-5 office job and you are someone who loves the professional look – go with this style! Eight out of ten of your nails are colored in black, and only two have some feminine red patterns. If you are a mom, a teacher, or just someone who prefers simplicity, go with this manicure!
How to get this manicure?
Shape your nails into a squoval (a mix between a square and an oval) and round up your edges. Color all of your nails in black, and make sure you have some nail stickers with you (preferably floral ones). Glue these down and enjoy a pop of red color!
Natural Short Oval Nails With Black And Red Ombre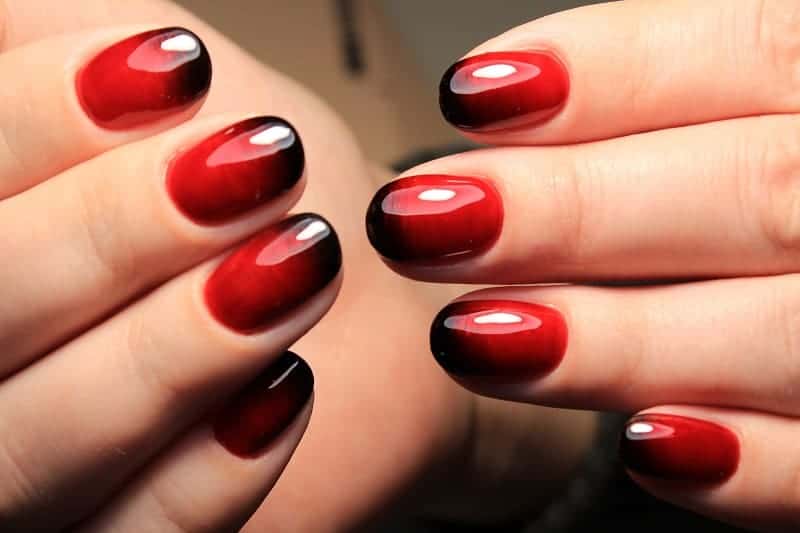 These are one more beautiful & short feminine nails that you will love if you are into neat manicures. Women who need something that can't break easily should embrace this design!
Who should wear these nails?
Anyone can wear these shorter red & black nails. However, they might suit someone who is quite handy around the house the best. If you wash the dishes quite a lot, you run around doing errands, and you usually have places to be, go with this manicure! It is super easy to maintain as well.
How to get this manicure?
Let your nails grow just above your fingertips. These natural nails are easy to maintain and achieve. Simply color them in red, but go for black french tips. Set the manicure with a top coat.
French Nails With Red Tip And Black Lines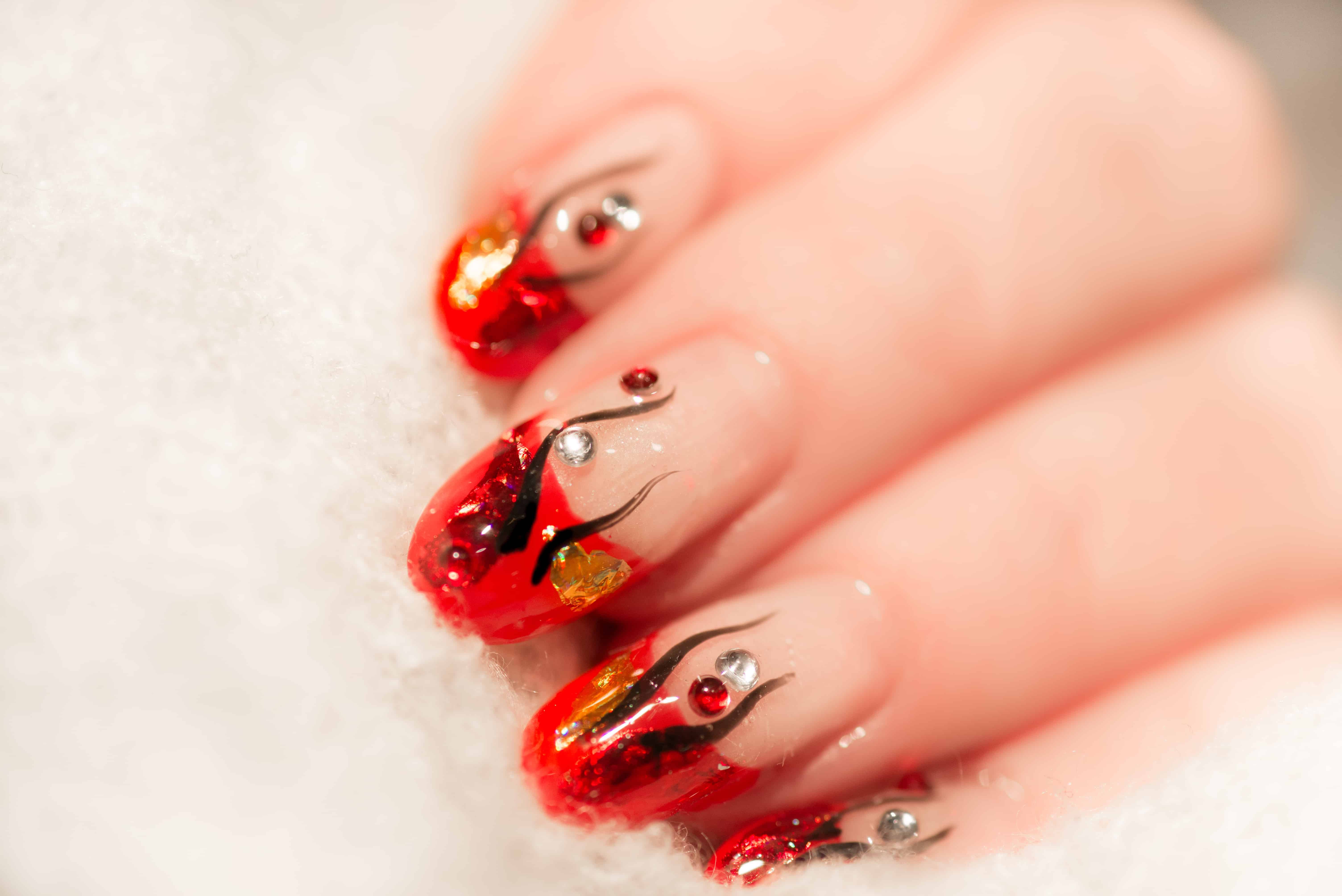 Some women love nail art and nail painting, as well as bright drawings. If you are someone who gravitates toward artsy nails and you want to stand out, our lucky number five design will scream your name!
Who should wear these nails?
Usually, younger women or women who are in their twenties will fancy something similar. If you are crafty and you love to play around and draw on top, you might fall in love with this design!
How to get this manicure?
Color your nails with a simple base coat. However, go for red french tips! If you have some gemstones place them down to 2-3 nails with nail glue.
Short French Nails With Black, Red & White Lines
French manicures can have a whole different meaning and vibe to them! If you are a fan of trendy looks yet you want to add a dash of uniqueness, follow this trend!
Who should wear these nails?
Women who need something that is office-friendly yet still appropriate for their everyday wear. If you usually gravitate toward French nails and you like elegant manicures, why not opt for this design?
How to get this manicure?
Make sure that you have several different nail stickers (French nail stickers) that you will place on top. Do one line at a time till you achieve this beautiful black, red & white pattern.
Also Read: Top 30 Creative Nail Designs With Lines (Short And Long)
Halloween Inspired Black & Red Nails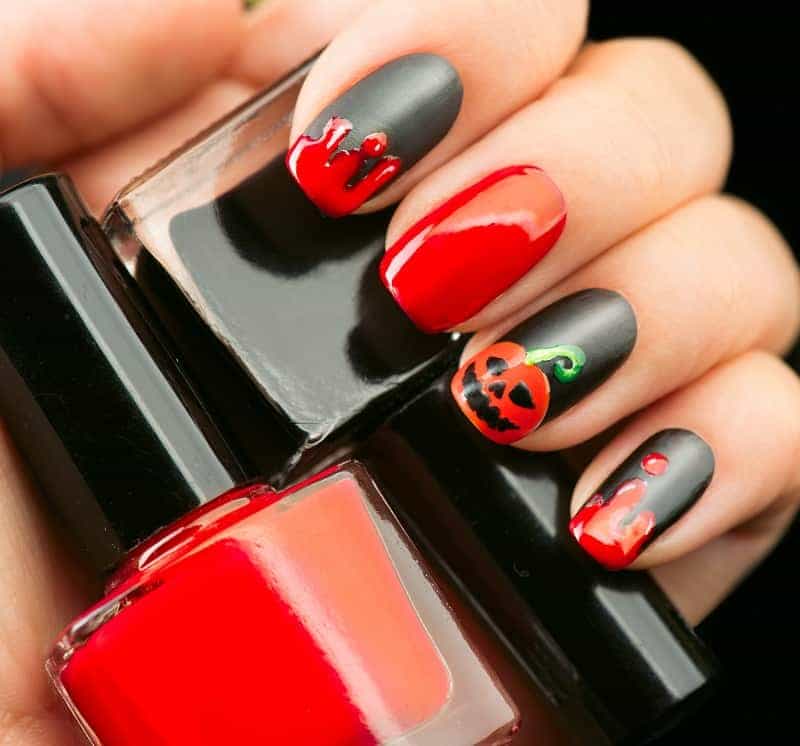 Halloween inspired manicures and designs such as this one can come in handy for October! Also, if you have kids just know that they will go crazy over these nails!
Who should wear these nails?
Younger women, teens, as well as kids who are off to a party (especially a Halloween party) will love this look! You can wear these nails to festivals, casual gatherings, or if you are a babysitter, or a mom-to-be! They may not be office-friendly, but they are a statement piece for sure!
How to get this manicure?
Achieving these nails on your own is quite difficult, so rather stick with a professional manicurist. If not, you can also purchase your favorite nail stickers online or at some beauty stores. Simply glue these down and enjoy your spooky manicure!
Short Square Nails With Red Rose Design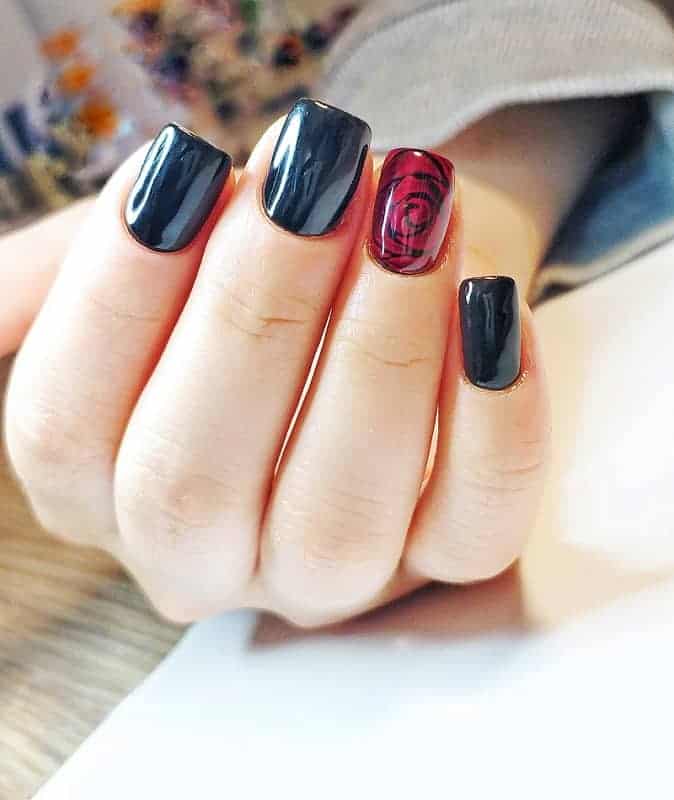 If you like square nails and you are a fan of shorter nails embrace this floral design. It is very feminine, beautiful, as well as office-friendly.
Who should wear these nails?
Women who like neat and short nails should go for this design. You will also love them if you have an office job or if you love your natural nails + you tend to stay away from fake acrylics. If you believe that less is more, this is your go-to!
How to get this manicure?
Shape your nails with a nail file into a square. Once you achieve your preferred nail shape, color all of your nails in black, aside from your ring fingernails. These two should be colored in red. Once the red polish sets in, use a nail cracking polish in black. These were a huge thing ten years ago, and you can still find them in some drugstores. This polish will crack on its own as it dries down, and it will resemble a lot to a rose or petal design!
Super Long Stilleto Red & Black Ombre Nails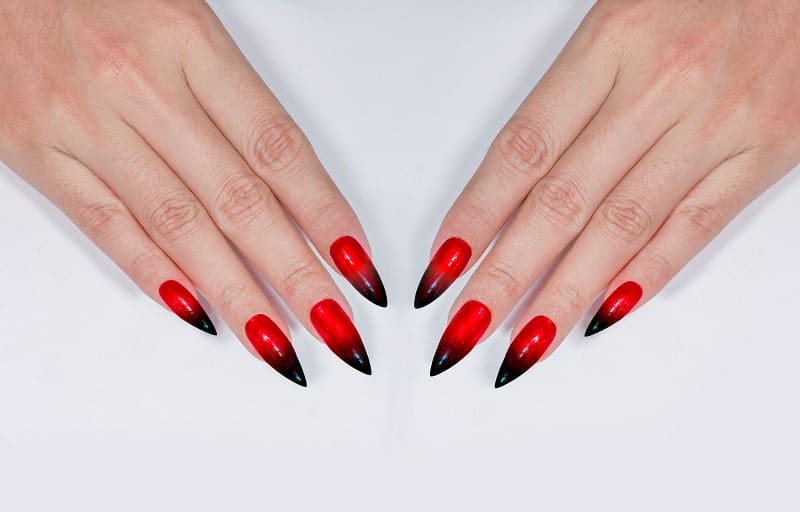 Are you a fan of sharp, long, as well as dramatic nails? Not a lot of women can pull off this manicure. However, do you dare to try? If you love the ombre color wheel and you like gel extensions or acrylics, bring this inspo pic with you to your nail tech!
Who should wear these nails?
Younger women or women who don't have a lot of chores to do around the house will like these nails. They are quite high-maintenance, and they will come in handy for parties as well as festivals!
How to get this manicure?
Book yourself a nail appointment. Ask your nail tech for long acrylics and an ombre transition. Go for a black top that will gradually fade into red!
Black, Red & White Natural Square Nails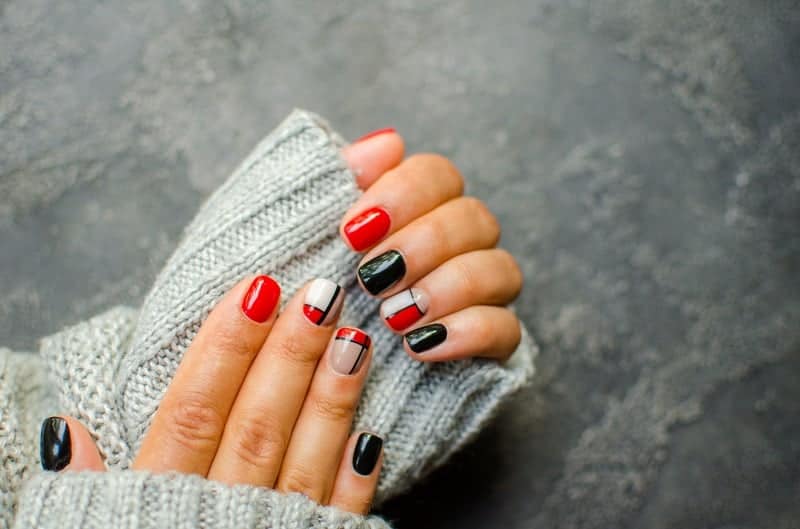 Sometimes, less is truly more! I mean, just look at these cute nails! They are done in such a precise way and are covered in details that you will adore.
Who should wear these nails?
Women who don't feel comfortable or like themselves in long acrylics. Also, these shorter nails will suit first-time moms, as well as anyone who is into easy to maintain manicures. The color scheme is very unique, so embrace its beauty and prove to others that shorter nails can also look stunning.
How to get this manicure?
Color some of your nails in red, some in black, and the rest in white. Do some geometrical lines and experiment with different shapes as well thicknesses. The outcome will look like a unique painting!
Ladybug Inspired Squoval Nails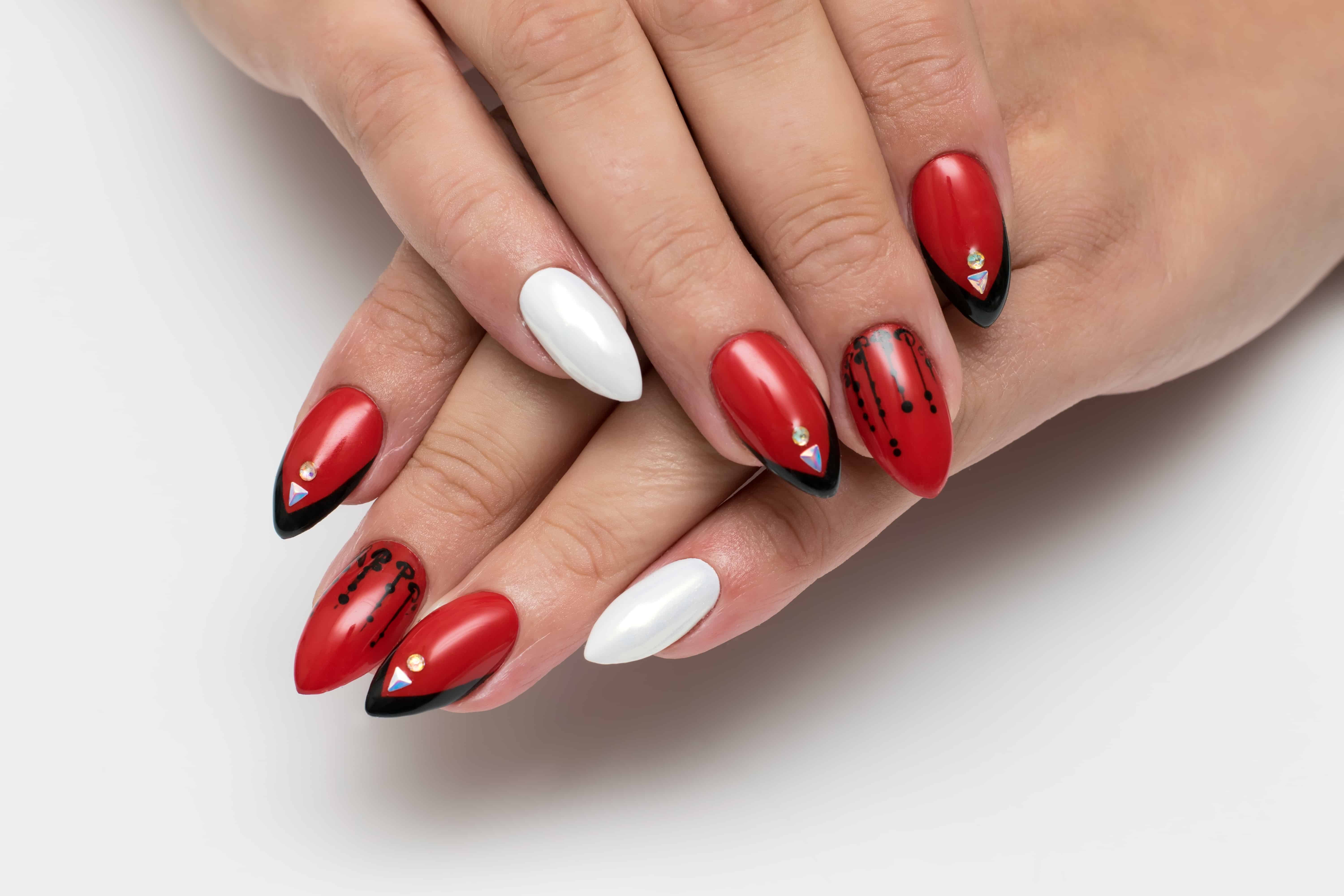 Do you love animals? Are you a fan of ladybugs in particular? Although it may seem a bit unusual, this color scheme and nail design will look feminine on your nails! If you love pointy manicures as well as cute playful nails, go with this design.
Who should wear these nails?
If your work environment is not as strict or up-tight you can go for these nails. They are wearable by anyone and to any event! However, you might enjoy them the best if you end up getting a matching set with your daughters, they are super playful and are perfect for kids!
How to get this manicure?
Make sure to invest around 2 hours of your free time if you plan on drawing them on your own. After your red base dries down use your favorite black polish and do some outlines that will reminiscent of dots and the ladybug herself.
Short Matte Black Nails With Heart Symbol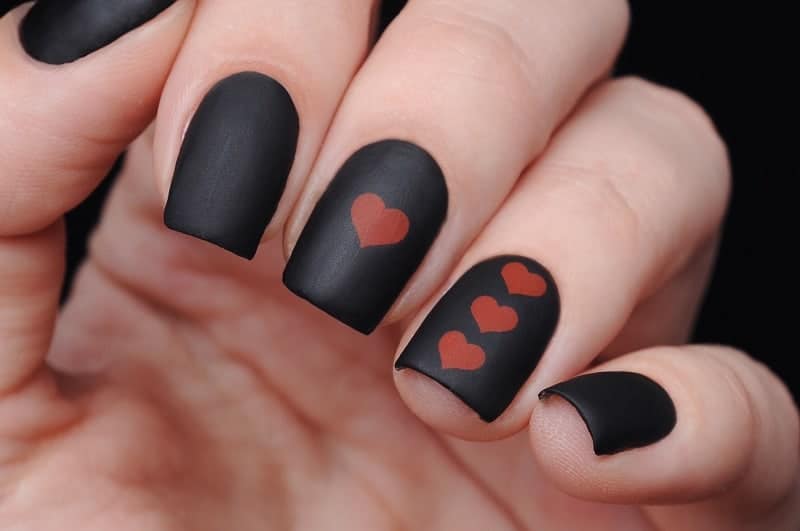 Some women prefer matte nails over shiny ones, are you one of them as well? These are super short matte nails that you might especially love for the Valentine!
Who should wear these nails?
Women who like shorter & easy to maintain nails that look neat & feminine. Also, this shape & length will suit everyone, especially women who love durable nails that won't chip or break easily!
How to get this manicure?
Color your nails with a matte black polish. Once it dries down find yourself 2-3 different heart-shaped nail stickers and place them over your preferred nail. Once down set them with a topcoat.
Long Oval Nails In Black & Red Polish With A Gemstone Design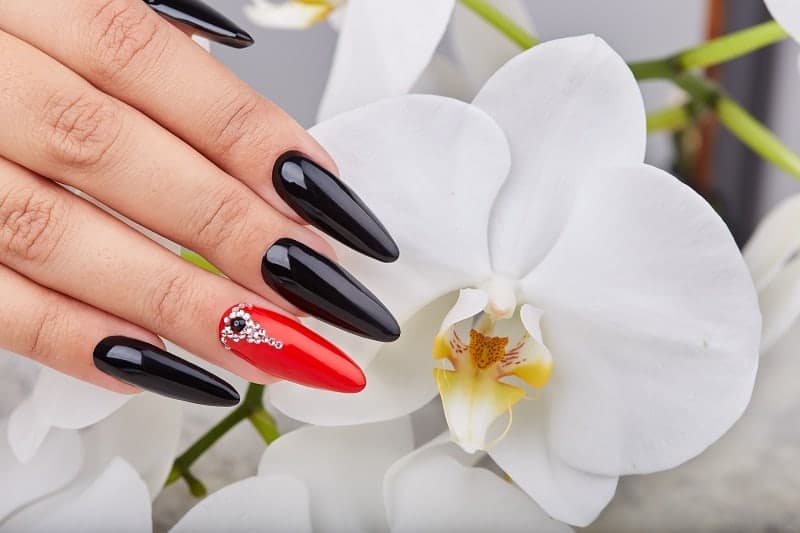 Wanting the most dramatic, boujee, as well as long nails? These are quite colorful, loud, as well as feminine. They will look the best on younger women as well as teens, as well as those who wish to make a statement with their acrylics!
Who should wear these nails?
You can wear them to any formal event you want. They might not be the best solution for everyday wear, so heads up!
How to get this manicure?
Find yourself an amazing nail artist. They will either give you gel extensions or acrylics once you arrive. To make your nails pop, they will stick to some bright gems which they will place on your ring fingers one by one.
Short Oval Bright Red Nails With Black Prints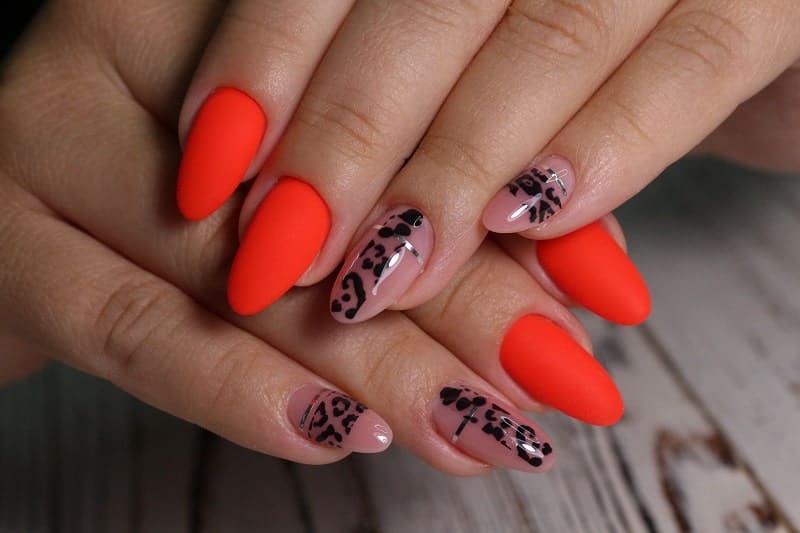 Do you want to try out a red-colored nail polish that is different than the rest? Why not go for a bright coral? This shade is perfect for women who wish to stand out, as well as for those who like bright & flashy colors!
Who should wear these nails?
You might prefer this design for the summer season, and especially if you are off to the beach. Go for an oval shape and add some pops of black just to make your nails a bit more unique!
How to get this manicure?
Just shape your natural nails into an oval shape. Color them with your coral red polish. After it dries down, reach for a black shade and add some lines over 3-4 different nails.
Short Oval Red Nails With Black & Golden Design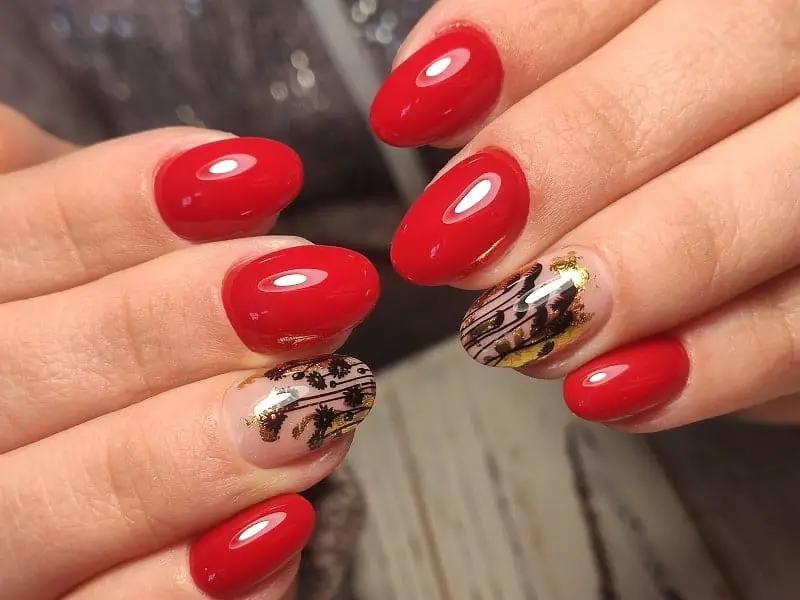 Last, but not least, you can also experiment with this short and neat manicure! If you like minimalistic and durable nails, you will appreciate this design.
Who should wear these nails?
Women who write a lot, type a lot, or simply do a lot of chores around the house will love this nail inspo. Make sure that you are okay with their length and shape since they are quite short. These may not be ideal for party girls, or even teens who want to get noticed.
How to get this manicure?
If you are a fan of black, red & gold make sure to incorporate all of these colors to your design. Color eight of your nails in red, and make your ring fingernails pop with a hue of gold and black! Easy to achieve, just use a small toothpick to get this design!
Which One Was Your Favorite?
Which nail design and nail color combo was your favorite? We know that you will love at least one design out of our 15 different options. Let us know your go-to in the comments down below!
Also Read: