30+ Popular and Eye-Catching Purple and Blue Combination Hairstyles
When you shop through links on our site, we may earn an affiliate commission. This educational content is not intended to be a substitute for professional advice.
30 Combinations of Blue and Purple Hairstyles
Here are some tips for styling your hair with magical shades of purple and blue.
1. Pink Blue and Purple Hair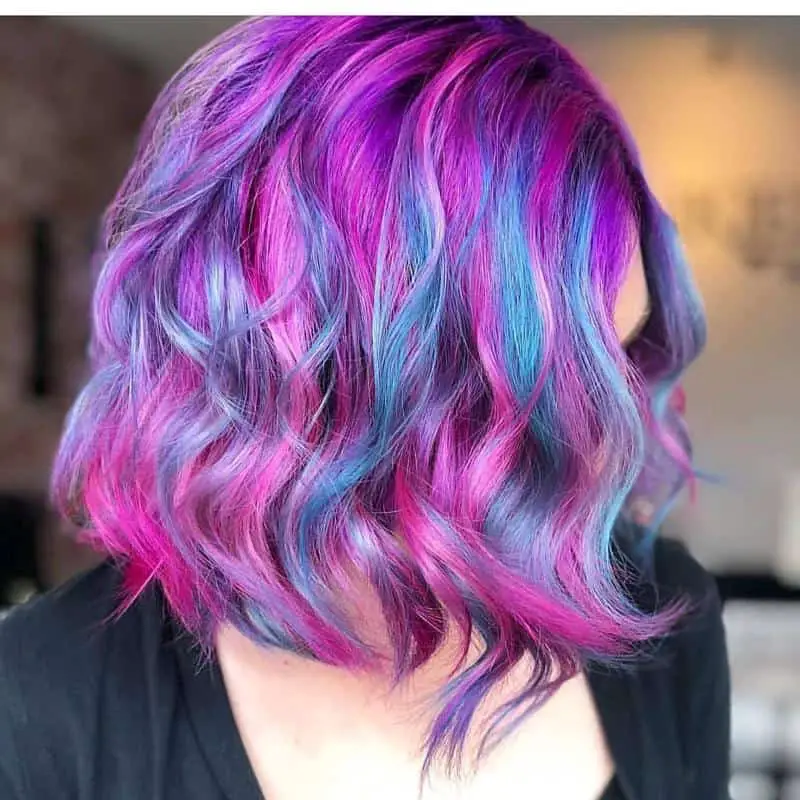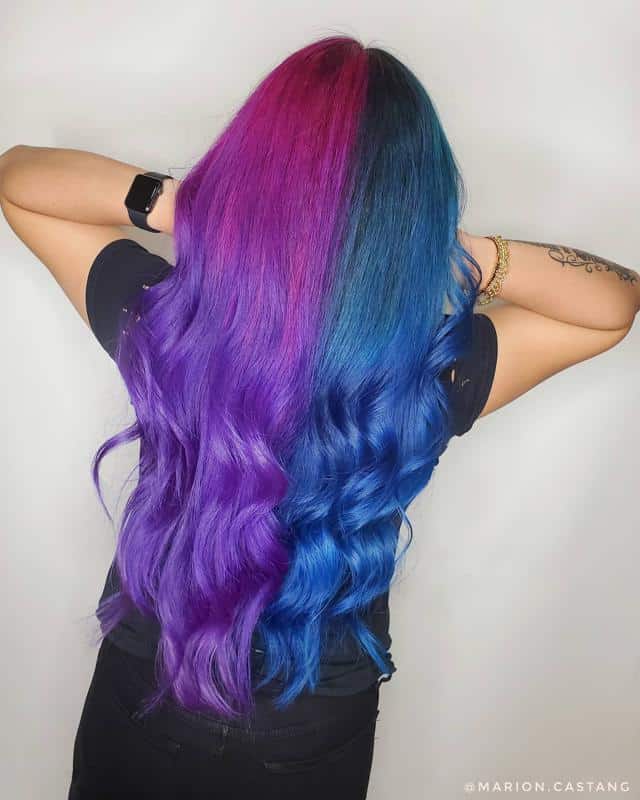 Combining bright pink and blue-colored hair with pastel purple will make your hairstyle look like a mermaid's tail. It's so interesting to observe and admire it. There are so many possibilities you can try out and play with. From choosing one bright color while others are pastel, to choosing all pastel colors. Although it's a very fun appearance, it will probably take a lot of time to achieve this result and a lot of time to take care of it. Make sure you're using a mask at least once a weak and apply a nourishing conditioner after every wash.
2. Two Colored Balayage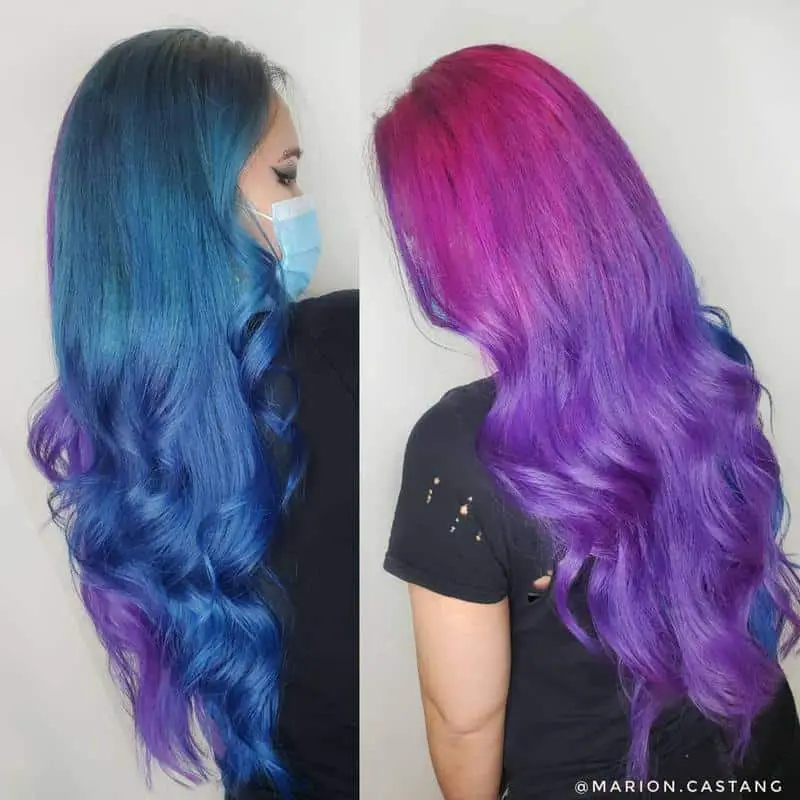 This balayage has so much potential. You can choose to start from your roots with a lighter blue color and end with beautiful shiny purple ends. It's a very icy and stunning hairstyle. On the other hand, you can also choose to start with pink roots that melt into purple but end with a blue shade. Whichever way you go for, you will end up feeling like a fairy.
3. Dark Blue Hair With Purple Highlights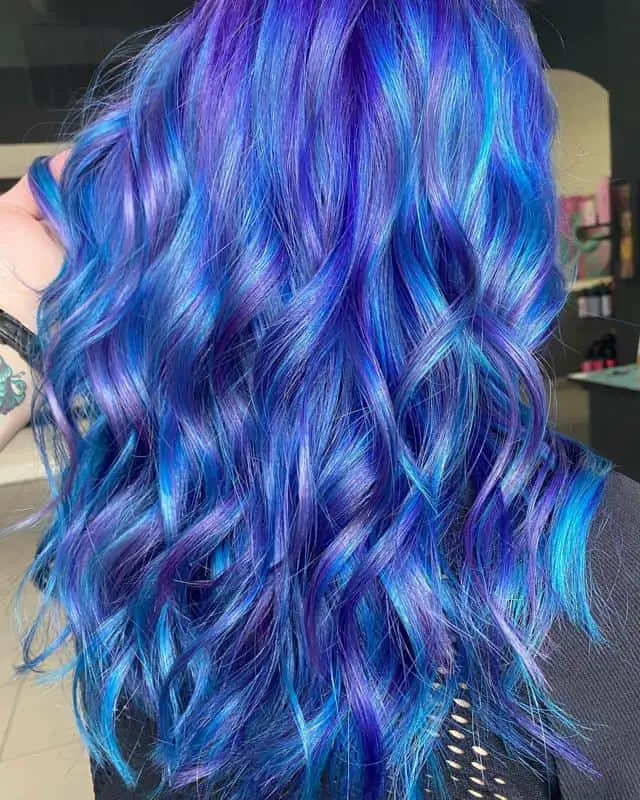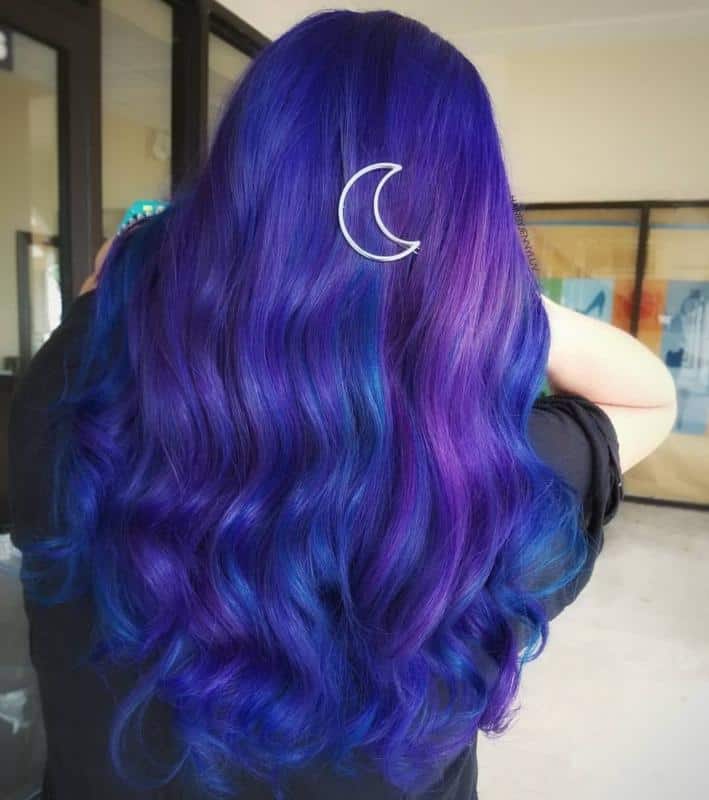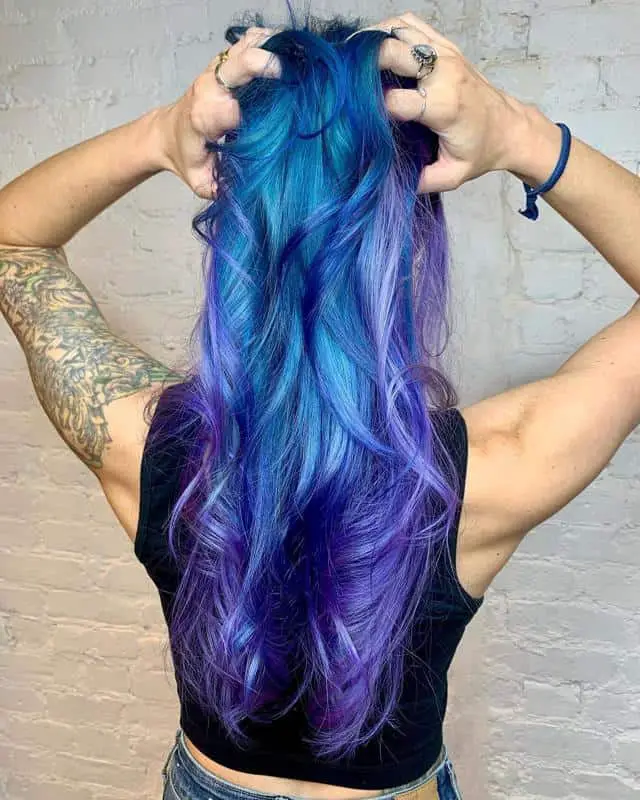 Pastel purple highlights will melt in perfectly in a dark blue hair color like a love potion. Blue is much more dominant in this look than other colors, but purple adds so much dimension to it. You can play and add highlights throughout the whole hair or just add few strands of purple. You can also choose to add different shades of purple or choose to dye a whole segment another color. Have fun with it!
4. Unicorn Surprise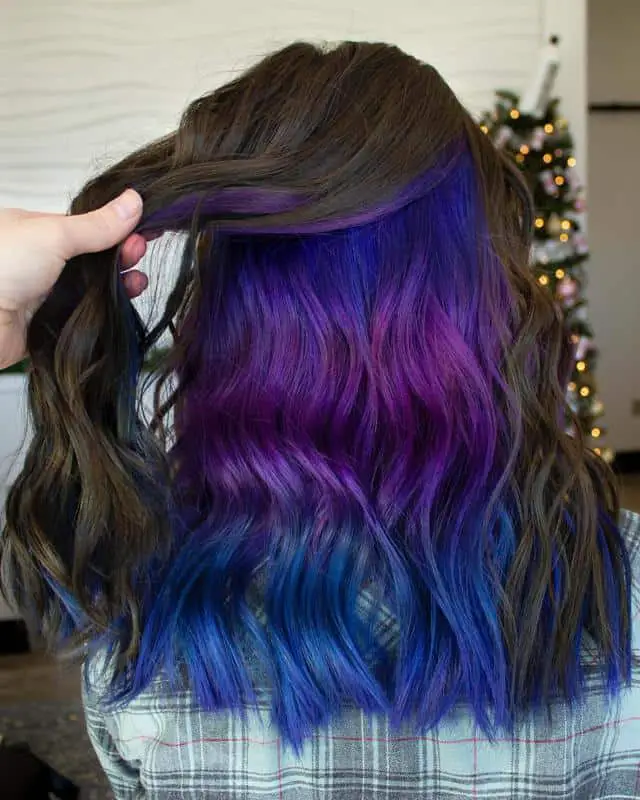 This hairstyle is perfect if you don't want to dye your whole hair but still want to spice it up a bit. Coloring a segment or the back of your hair will add some fun to your messy buns and up-do hairstyles. It's like a regular stone with a colorful crystal underneath it.
5. Purple Rainbow Hairstyle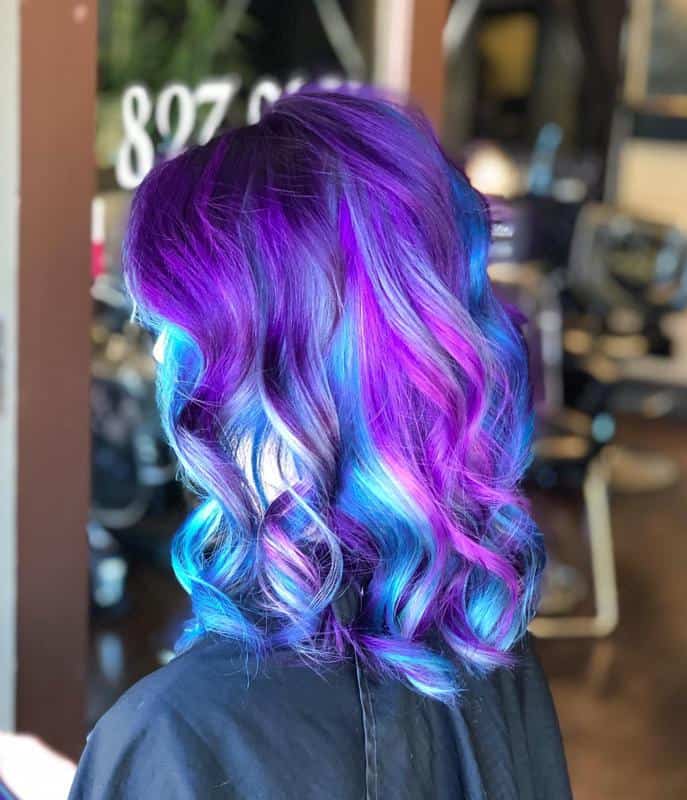 Starting off with a dark brown that slightly turns into a dark purple ending with bright pink tones that pop up between the blue ones, will make your hair look like a magical rainbow. Adding pink shades of purple enhances warmth and lights up the whole appearance. It will take a lot of bleach to achieve these shades, but the end result is like watching crystals shimmer under the moonlight.
6. Blue Side of a Purple Coin
Having each side of your hair colored a different color that complements each other very much but also gives two totally divided looks can be very fun. Using darker shades of purple and blue on dark brown or black hair is a perfect way to avoid all the bleaching that goes into obtaining lighter shades. It gives you the possibility to choose a vibe you want to focus on each day.
Also Read:
7. Short Cotton Candy Hairstyle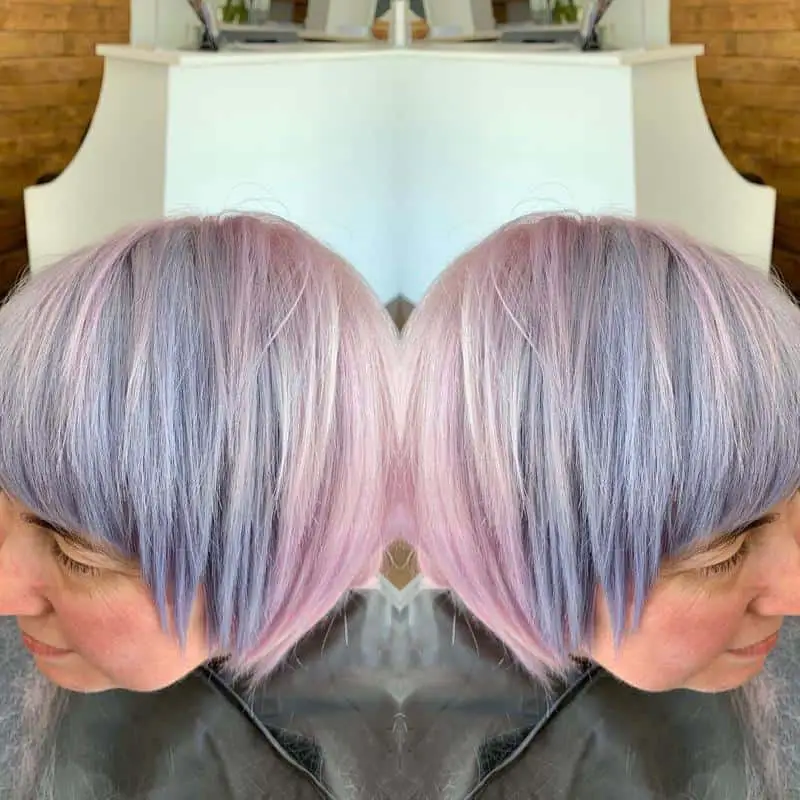 Mixing two pastel shades of blue and purple is the closest you'll get to look like a unicorn on Earth. Two pastel shades complement each other very well and give the result of a very well combined hairstyle. A very happy and interesting hairstyle.
8. Pastel Dreams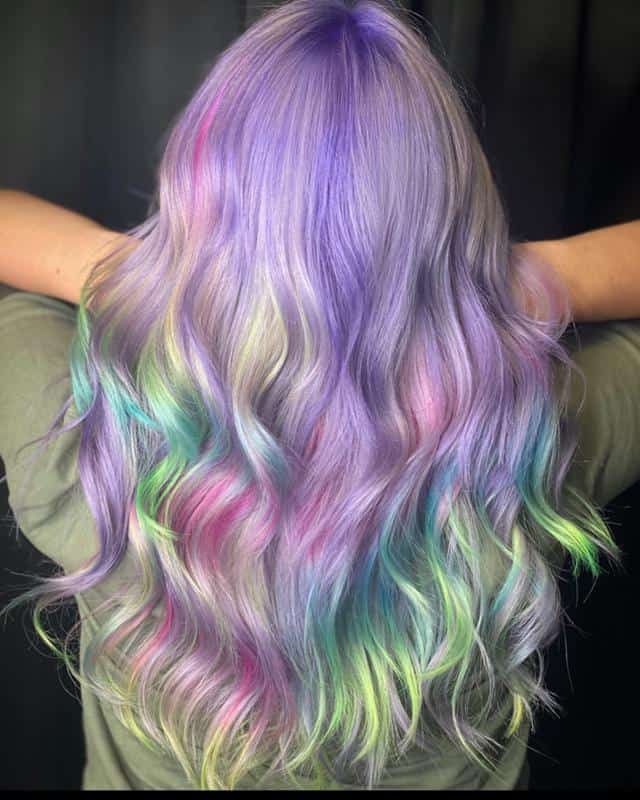 Doing a balayage that starts with pastel purple or pastel blue and ends with not one, but multiple colorful and exciting shades of pink and blue is really a dreamy hairstyle. Lilac is a very romantic shade of purple and looks even more magical when combined with other pastel shades. Adding curls to those fun pops of color will make them pop out even more.
9. Pastel Blue Ombre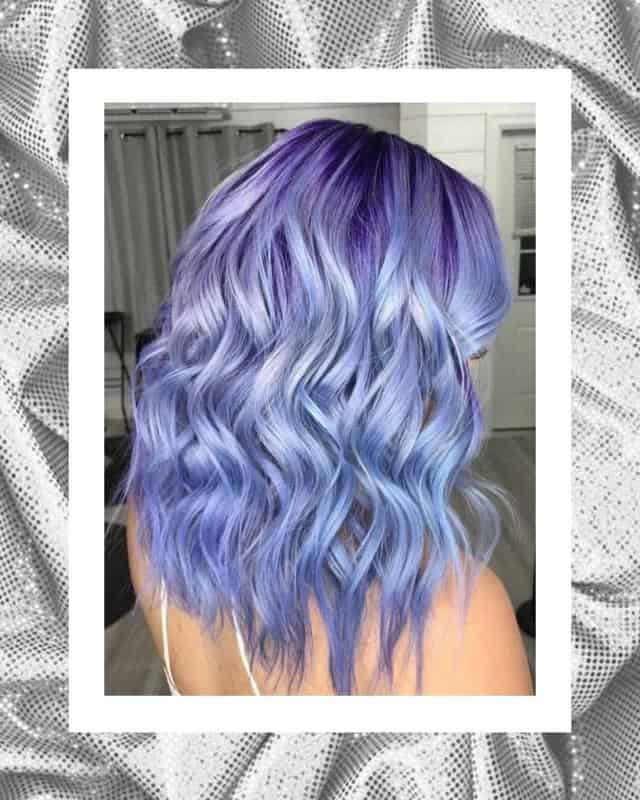 Purple highlights make this blue-toned hairstyle look luxurious. Two colors fuse together perfectly and therefore complement each other. This hairstyle can look great even straight since the hints of purple add another dimension to the whole hairstyle.
10. Magical Mermaid Braids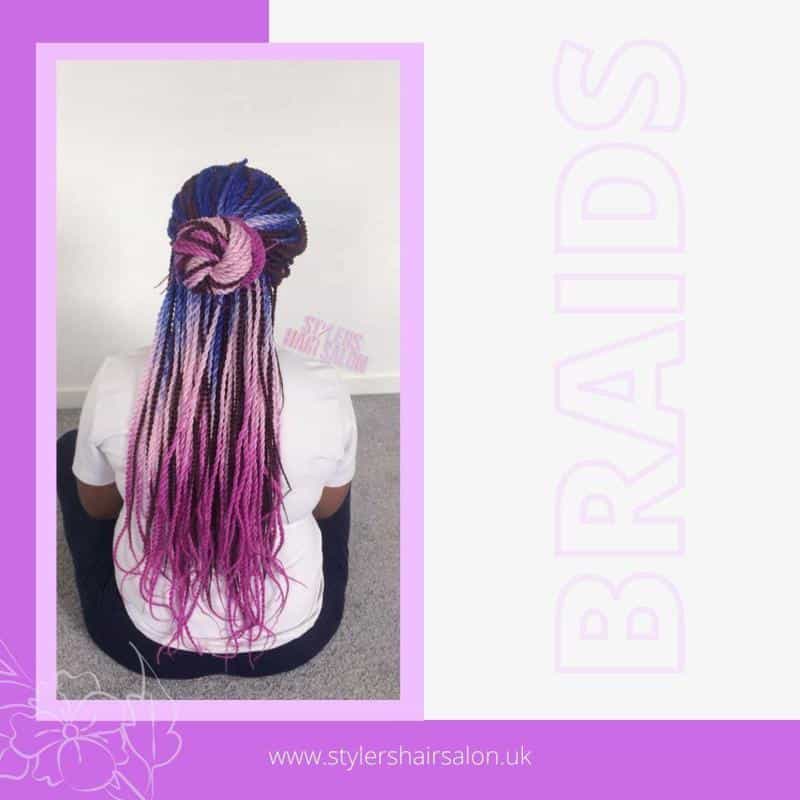 Having dark chocolate brown highlights pop out of this magical mix is a great twist. Deep-sea blue base, that transforms into an almost white shade of pink with a twist of purple cotton candy at the end is a very well mixed combination. Without the warm tone of brown, it would look like a pastel dream, this way it's quite a charming twist.
11. Short Hair With Blue and Purple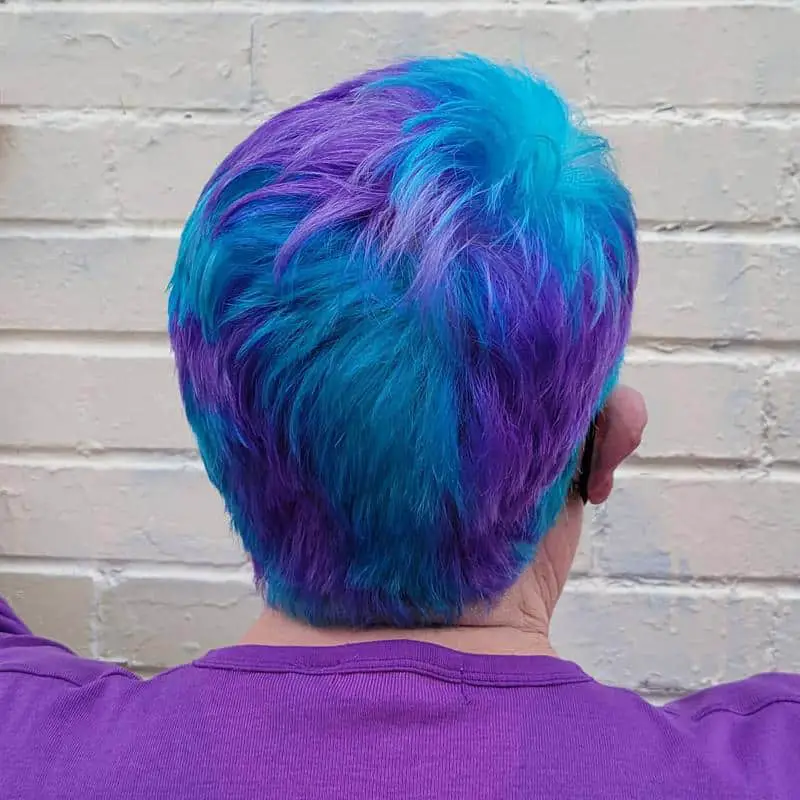 A perfect combination of deep blue mixed with pastel pink and pastel blue shades. It looks more chaotic than a balayage or ombre since there are multiple shades of the same colors. Shorter hair will always be easier to maintain and prepare in the mornings. It's a very simple hairstyle that can change your overall appearance a lot.
12. Blue Skies With a Hidden Rainbow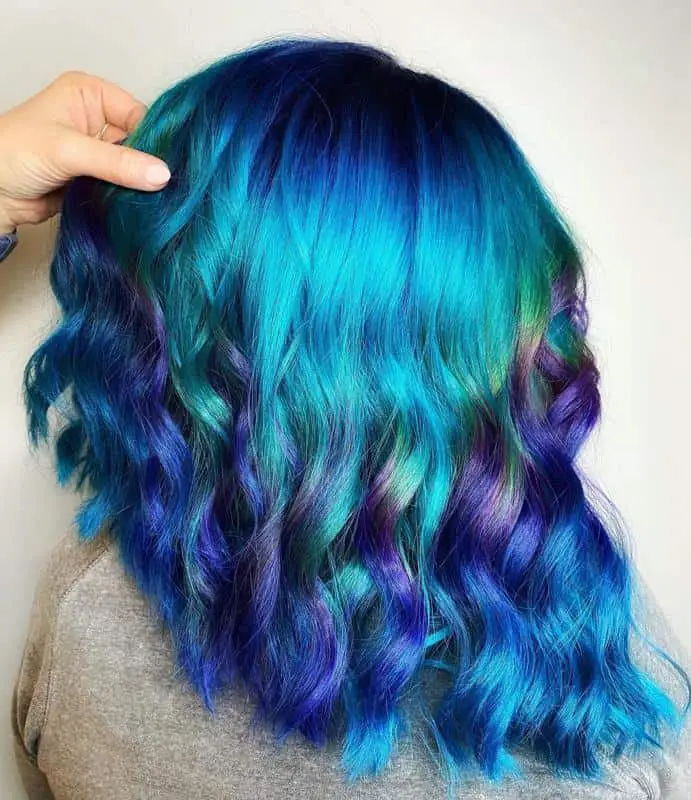 You don't always have to mix two colors in order to get a fun and colorful look. Blue has so many shades that when combined together, end up looking delightful. The presence of multiple vibrant shades of dark blue, pastel blue and teal give a well-rounded blue look. Whether you choose to add some other hidden highlights in there, to make it look like a rainbow in blue skies, it's a matter of choice. Just know that it definitely won't fail you!
13. Shorter Lavender Hairstyles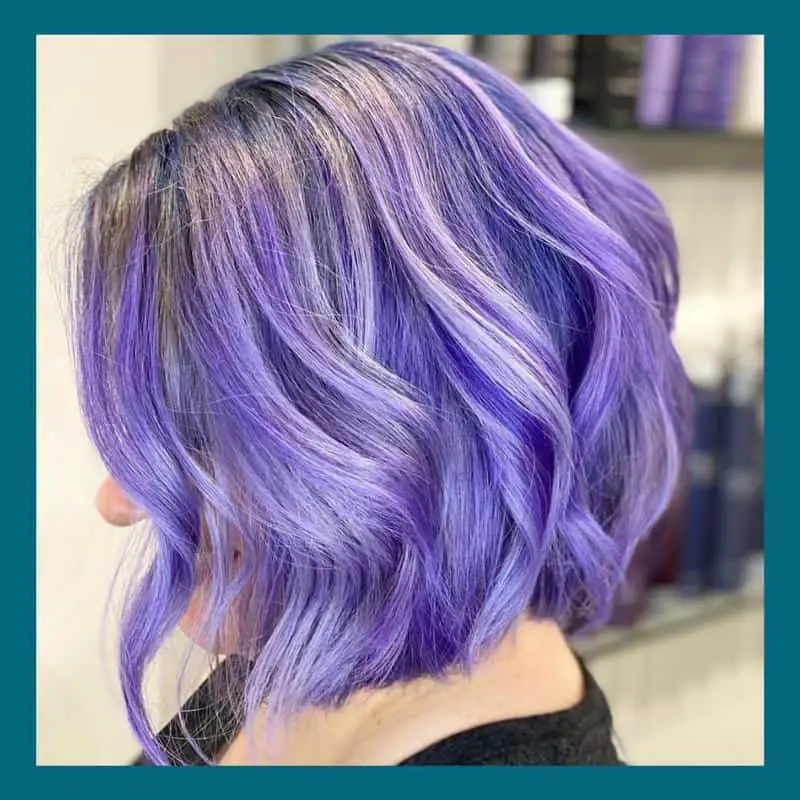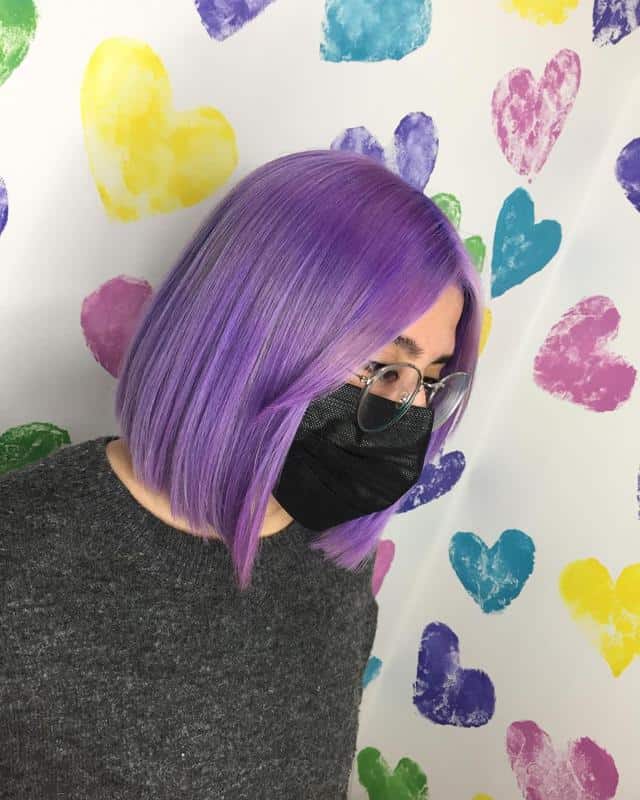 Lavender is a pale blue-purple color with a trace of mauve. Adding it to your hair will give you an old-fashioned romantic look. It will add a breath of fresh air combined with nurturing floral tones. A very enchanting color to add to your hair.
14. Sunset on a Beach Hairstyle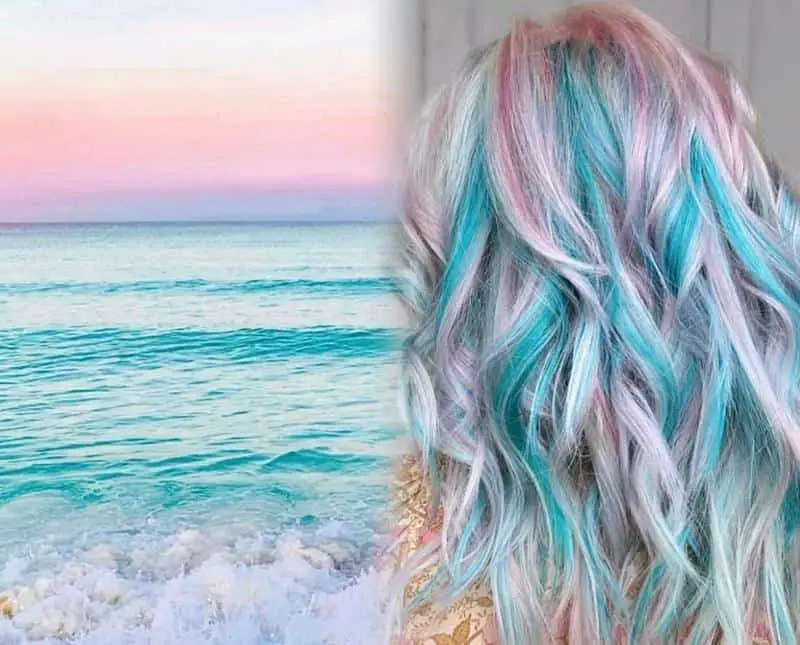 A teal shade of blue reminds of clear seawater by the beach, while pastel pink highlights will remind you of the sun setting down. A very fun hairstyle to play with, whether it's straight or curly. It's a perfect light and breezy summery hairstyle.
15. Light Blue Highlights on Blond Hair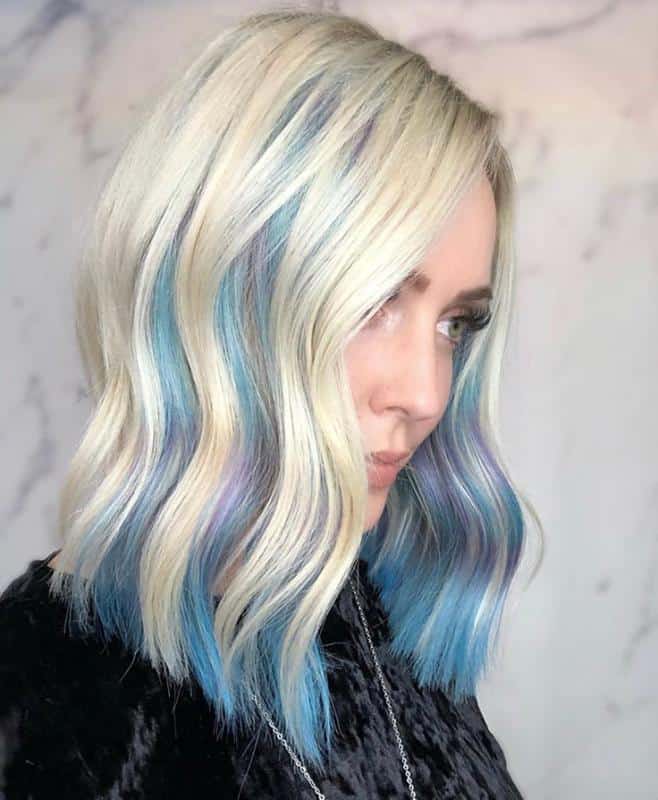 Adding light blue highlights to an already blond bleached hair will first of all be easier. Most importantly, it will give a warmer touch to your hairstyle since blue is a cold color. It feels much more vivid and airy with blue tones, and it can bring out your eyes. It can also be a very classy and formal hairstyle that can get very interesting with the smallest amount of work.
16. Dark Blue Ombre Highlights on a Platinum Blond Hair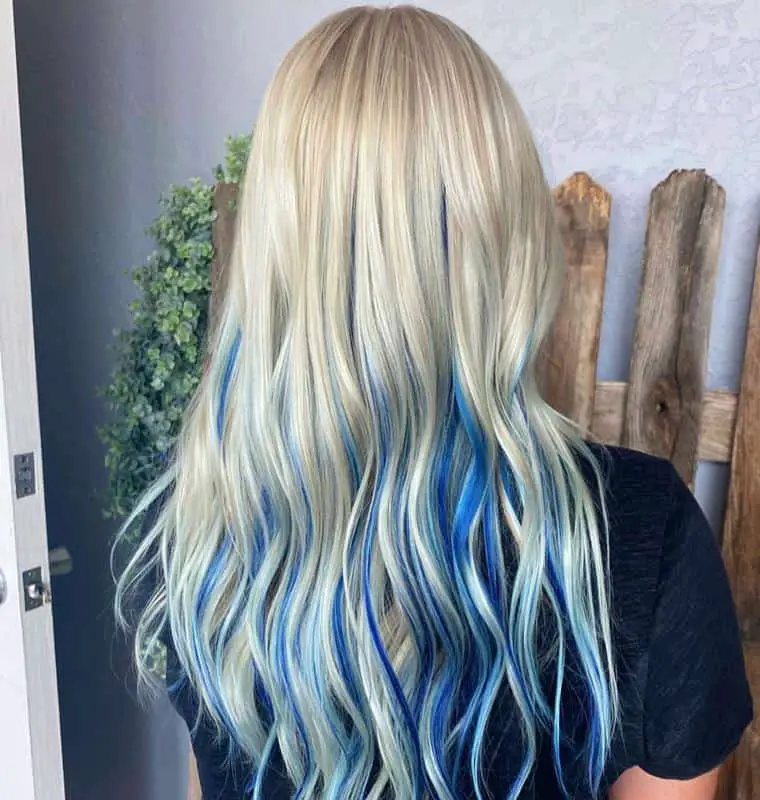 Adding dark blue tones to a bleached blond gives platinum blond hair some character. It's much more eclectic and vibrant. It takes the spotlight and draws attention to itself. It's an easy way to change your hair, without having to bleach it even more since it's a darker shade of blue. You can even try using a semi-permanent color.
Also Read: Top 40 Unique Ombre Hair Color Ideas(Blond, Black, Brown And Colorful)
17. Blue and Purple Ends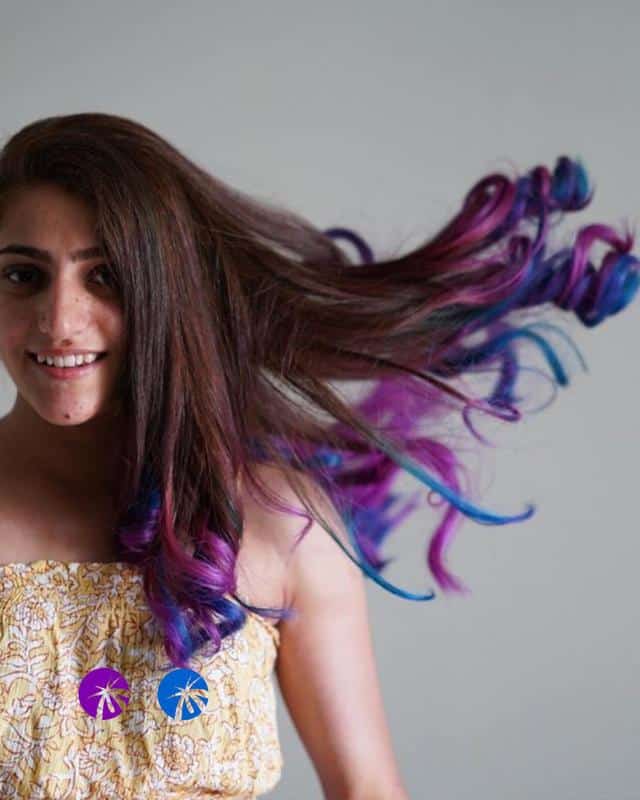 If you don't want to spend a lot of time in the salon, and you don't want to damage your hair with bleach, this is a great option for you! Adding darker shades of purple and blue doesn't require bleaching your hair beforehand. It's also a great way to experiment and see how the colors would look on your hair before deciding to dye all of it.
18. Unicorn Hair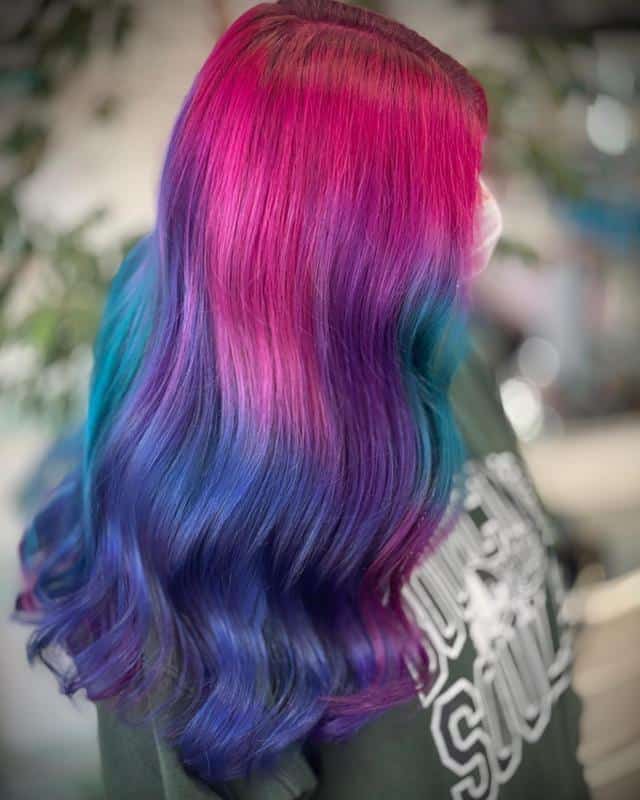 A very fun and festive hairstyle! Perfect to try out semi-permanent dyes for a summer festival. It gives out a dreamy but also strong and vibrant touch. Braids with these colors can look so much more fun and powerful since there are so many bright colors that you can't not notice it!
19. Lavender Highlights on Blond Hair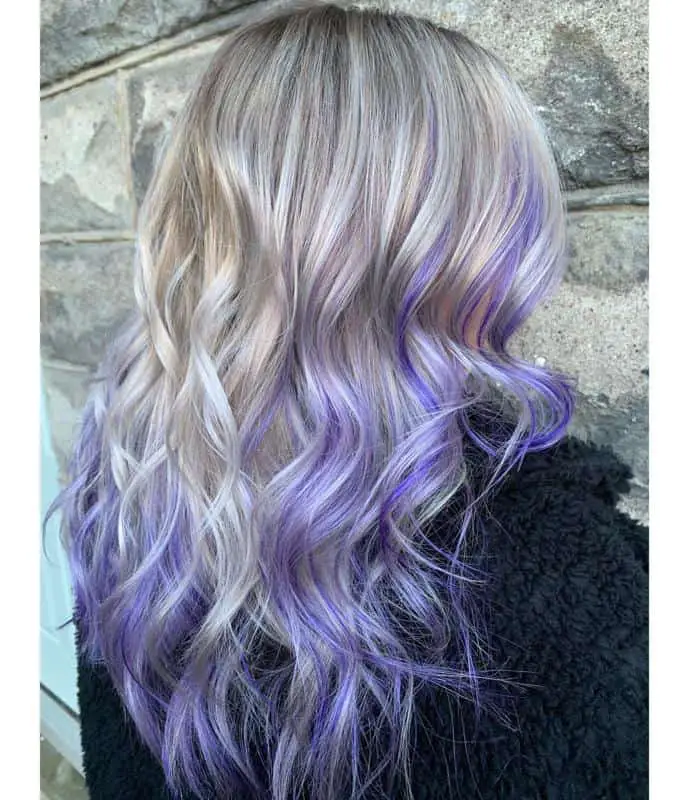 Everything gets dreamier when lavender is added to the mix. Adding this subtle purple tone to blond hair makes will make you look like a Disney princess. The final appearance is very delicate and romantic. Curling the highlights will make them less subtle and more eye-catching. It's also easy to obtain since the hair is already bleached.
20. Dusty Mauve Purple Highlights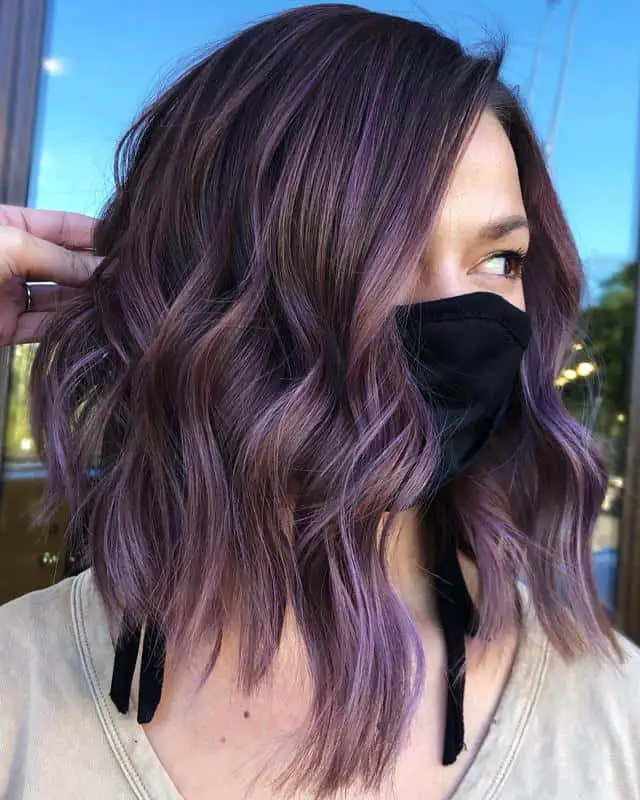 This is one of the most consistent purple hairstyles. Since the base color is medium brown, dark purple is not that hard to achieve and it blends in perfectly. It's a more subtle purple transformation but very easy to achieve and take care of. It's also a good formal hairstyle.
21. A Purple Surprise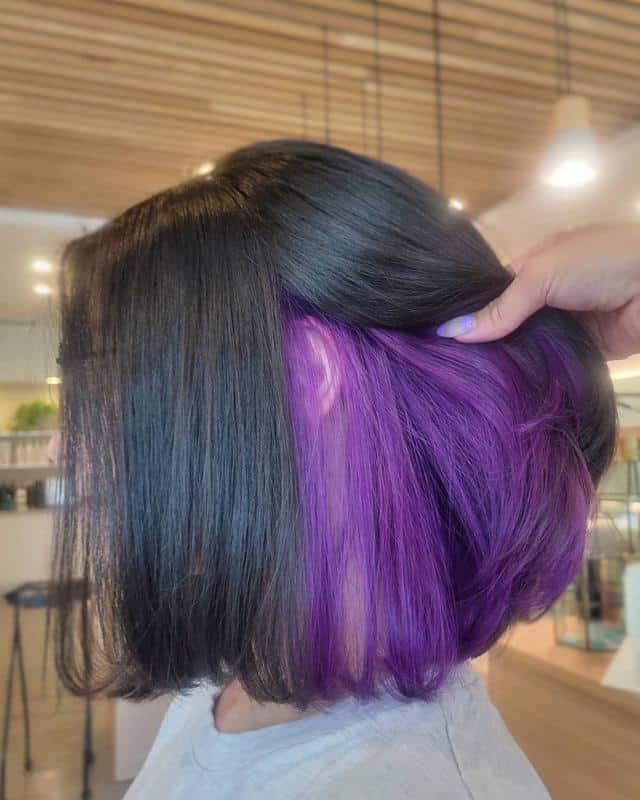 A great way to add a small change that you can decide to show off when you want to. It's a great choice for people that don't want to wear a vibrant purple shade to work, but want to have fun with it in their free time. It blends great with the darker brown and is not hard to achieve. A very low-maintenance hairstyle.
22. Mermaid Tail
A perfect combination of blue, green, and purple. This hairstyle will bring out your inner mermaid self! It's very colorful and interesting to look at. It's what you would imagine a mermaid's tail looks like. A truly charming hairstyle.
23. Peacock Colors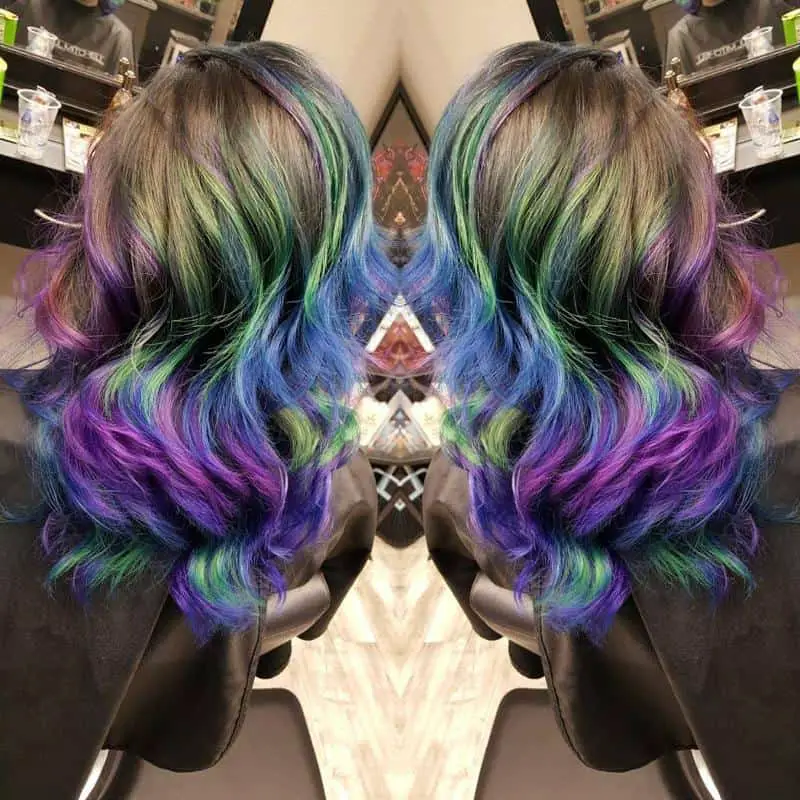 This hairstyle is a very big change. It's very colorful and bright. It almost reminds of a peacock's tail when it's spread out. Like the peacock itself, this hairstyle will serve to seduce and captivate other people's minds.
24. Teal Dutch Braid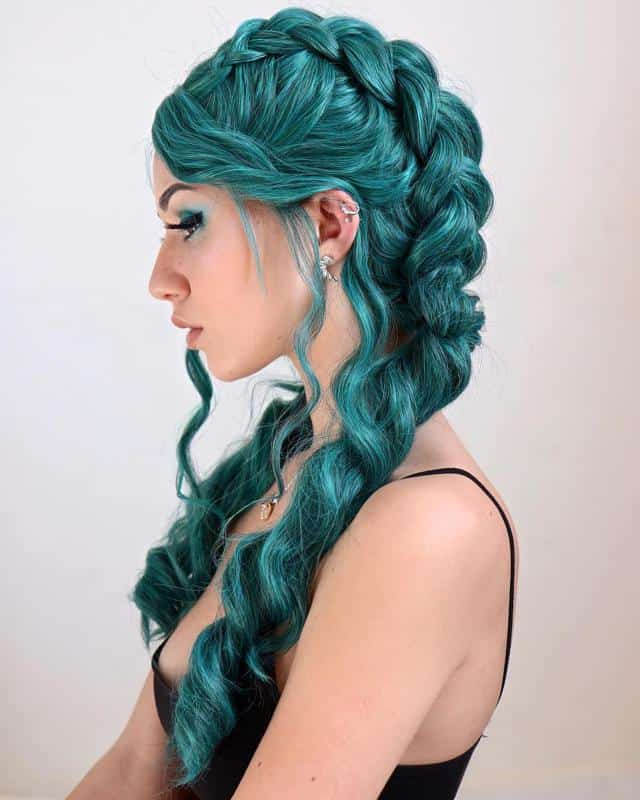 This hairstyle looks very prestigious and sophisticated. Partly because of an emerald-like color and partly because of the volume that is added by the loose Dutch braid. It's a great hairstyle to have at a costume party. Overall, it's very elegant but simple.
25. Neon Purple Hair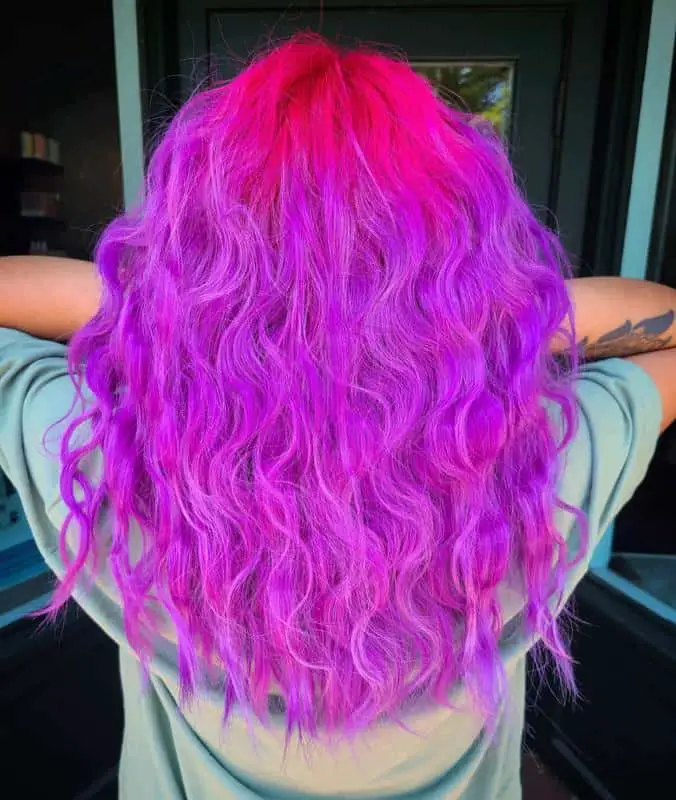 A hairstyle that seems to take you to a 70's disco club that has purple lights that reflect off a mirrorball. It's a perfect representation of purple-pink skies that everyone loves to see. A very effective and compelling alteration.
26. Straight Electric Blue Bliss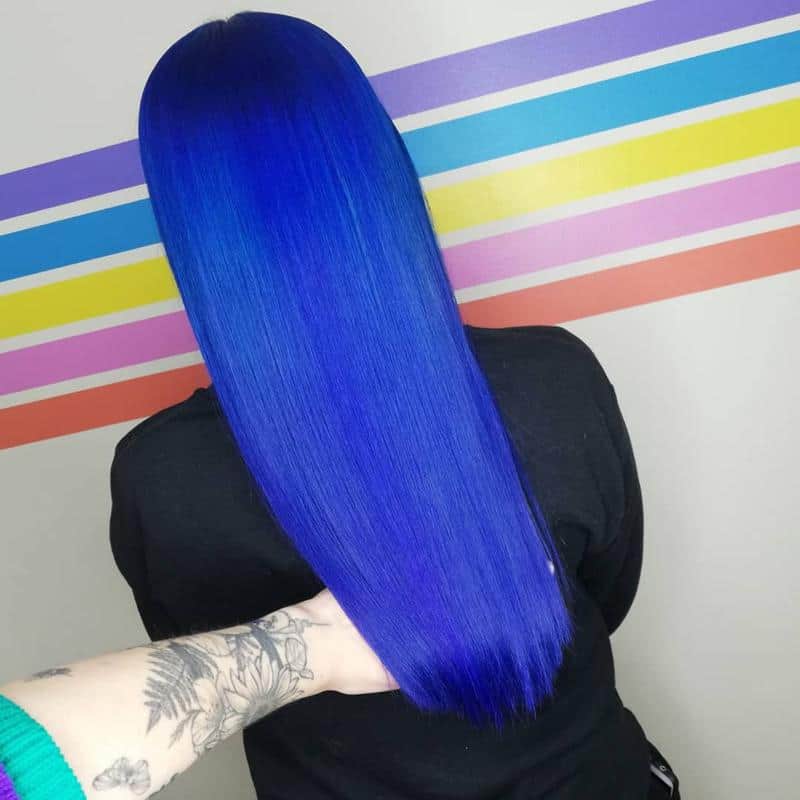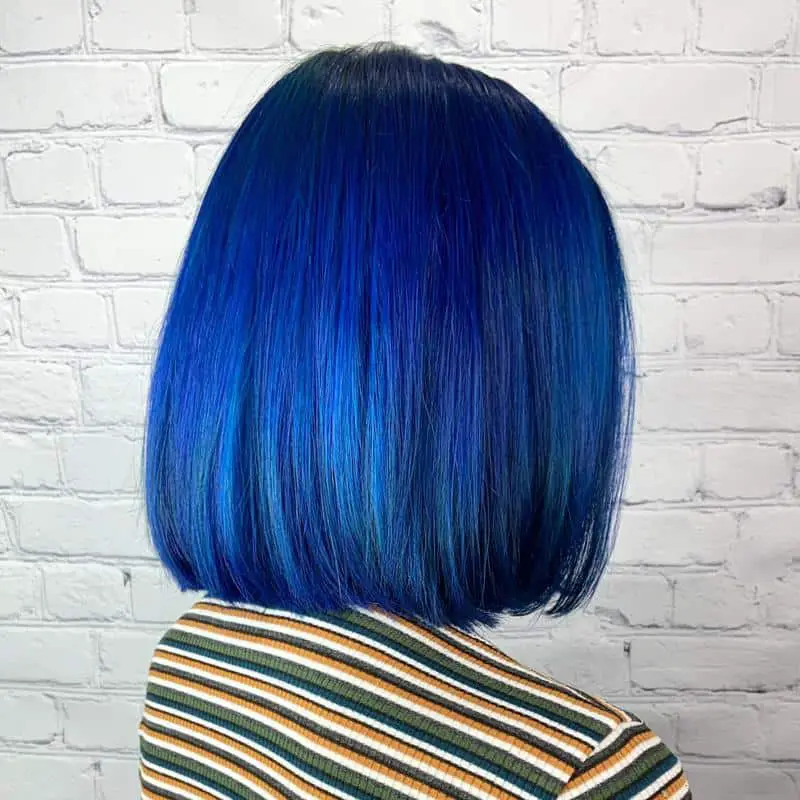 Definition of electric blue can vary, but this cyan-looking blue shade is what you would imagine a bolt of lightning would look like. Very much like the lightning, this hair color is very much powerful and it strikes to the core. Very potent transformation, but needs a lot of maintenance to keep it looking electric.
27. Frozen Cascades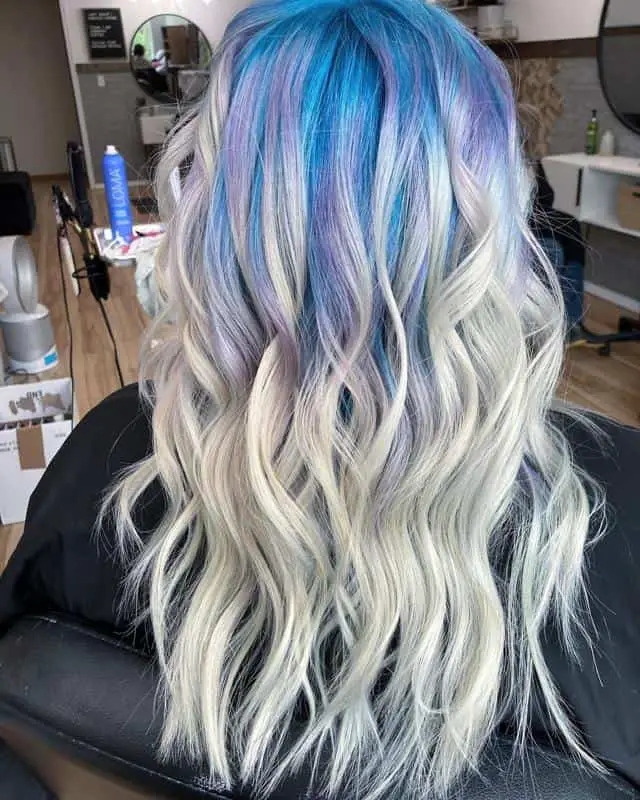 These pastel tones of purple and blue boost up the blond hair. It's looking like a magical icy sculpture. It's a very fun and feisty blend.
28. Royal Blue Balayage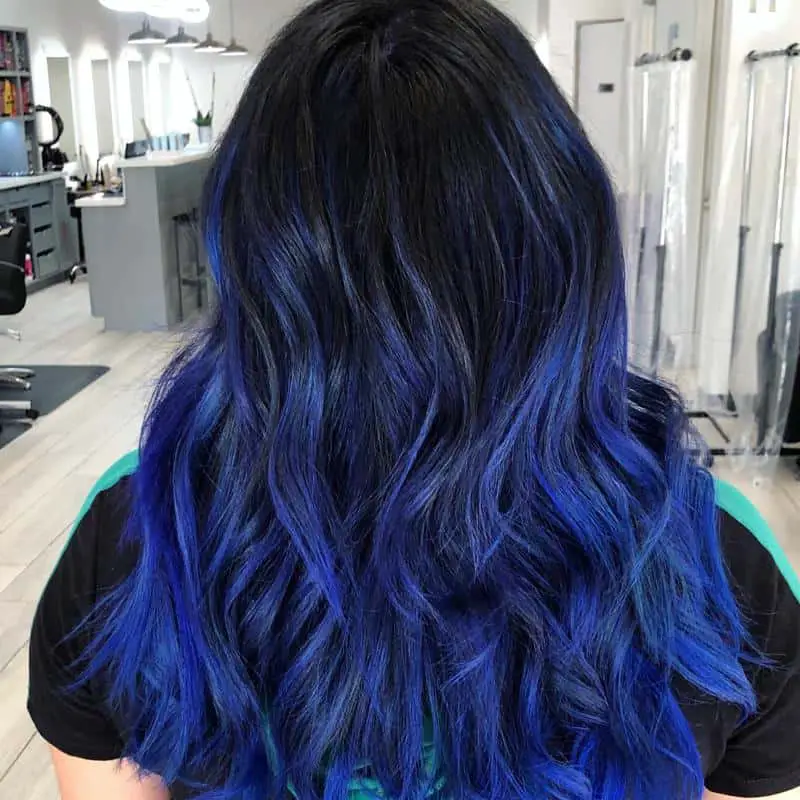 A black hair base would normally go perfectly with a darker blue shade. Although, this royal blue nuance gives a whole new level of gist to the hair. It's powerful, it's classy, it's sophisticated. Very simple but powerful transformation.
29. Turquoise Seafoam Hair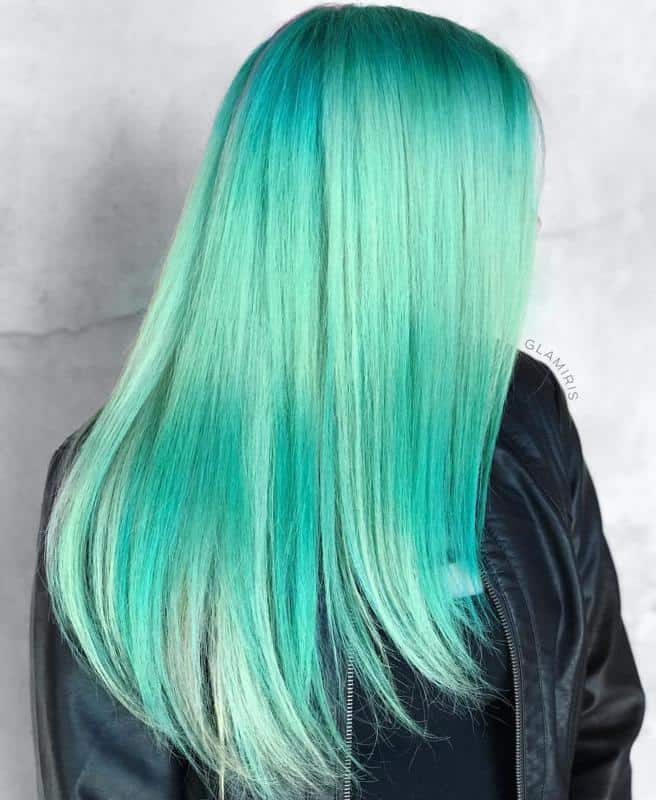 It's a perfect color to add to your hair during the summertime. It's light but strong and can be very festive. With some blue on the top and maybe dark purple at the end, it can give out an attractive feeling. It's also an easy color to maintain since you don't have to worry about it turning green!
30. Red-Blue Short Hair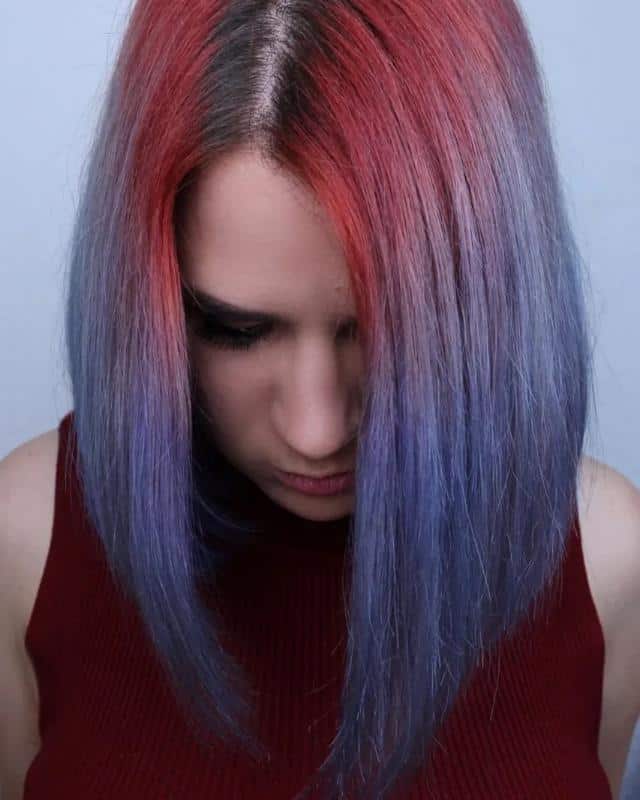 Opting for a lighter red shade instead of pink when combining it with blue, will give you a stronger rather than a fairylike look. It's the perfect balance between fire and ice, cold and warm colors. It will bring out your eyes and transform your overall appearance.
Why Choose Blue and Purple for Your Hair?
If you've ever wished to add some magical touches to your style, and you love blue or purple color, adding them to your hair will make a personality statement for itself. It can make your hair look like a colored cotton candy you'd eat as a child on a fair.
It can also make you look like a mythical mermaid. Blue has a very calming psychological effect, while purple has been associated with luxury and wisdom. There is no doubt that a mix of blue and purple will bring out traits of your inner magical fantasy.
It's a very mesmerizing combination of colors to go for. Although there is a range of hues to choose from when it comes to these 2 colors, what we usually see is either pastel or brighter shades. The main rule is: there are no rules. There is no right way, you can choose to do highlights with multiple colors, or balayage with two colors, or you can just dye your ends a certain shade…whatever you want!
How to Choose the Right Shade for Me?
Choosing the right shade of color will depend on the tone of your skin. If you have lighter skin, lighter colors will suit you better, as for darker skin, darker shades would look best. Both blue and purple are considered cold colors, and there is an array of shades varying from a bright baby blue to dark deep blue, and also green or teal nuances.
How to Achieve the Shade I Want?
Achieving these bright colorful tones will also depend on your base color. Blue and purple are not naturally found in hair, so it takes a bit of knowledge and skill to achieve them. Usually, if you have lighter-colored hair, it will be easier for you to obtain a lighter and brighter nuance of blue and purple. However, if you have darker hair, the blue and purple will look much darker on your hair.
For those reasons, hairstylists usually need to bleach your hair in order to achieve the exact shade you want. If you already have dyed your hair a certain color, you will probably need to strip down that color before you bleach it and then color it blue or purple. On the other hand, if your hair is bleached and you want to obtain a darker shade of blue and purple, the hairstylist may decide to mix blue and purple with some darker shades in order to get you what you want.
How to Maintain the Color
Blue color can also turn green with time, which can be fixed by using purple shampoo. It may be also worth mentioning that these colors, even though they fade easily, are hard to take out of your hair if you choose to go brown or blond, which is even harder. It's important to take good care of your dyed hair by using a color-safe shampoo and a moisturizing conditioner. Using a hair mask once per week is also a must if you've bleached your hair.
A fix-up is usually needed every 4 weeks, depending on the shade of colors you have. Be sure to consult with your hairstylist on what to use on your hair if you're going to the pool or sea since chlorine, salt, and sun can make your color fade more quickly. It is also recommended not to wash your hair more than 2 times a week, since it will shade much faster with each wash.
Also Read: