FRENCH TOAST AND SAUSAGE MUFFINS
When you shop through links on our site, we may earn an affiliate commission. This educational content is not intended to be a substitute for professional advice.
Breakfast is typically something I'm scarfing down on the way to work or a meal I skip entirely, so to break that habit I put together some scrumptious French Toast and Sausage Muffins that can actually be prepped the night before! French toast and breakfast sausage is one of my favorite combos because the flavors work together perfectly to satisfy that sweet and savory craving. The muffin size makes portion control easy and a great brunch option for a large group!

…..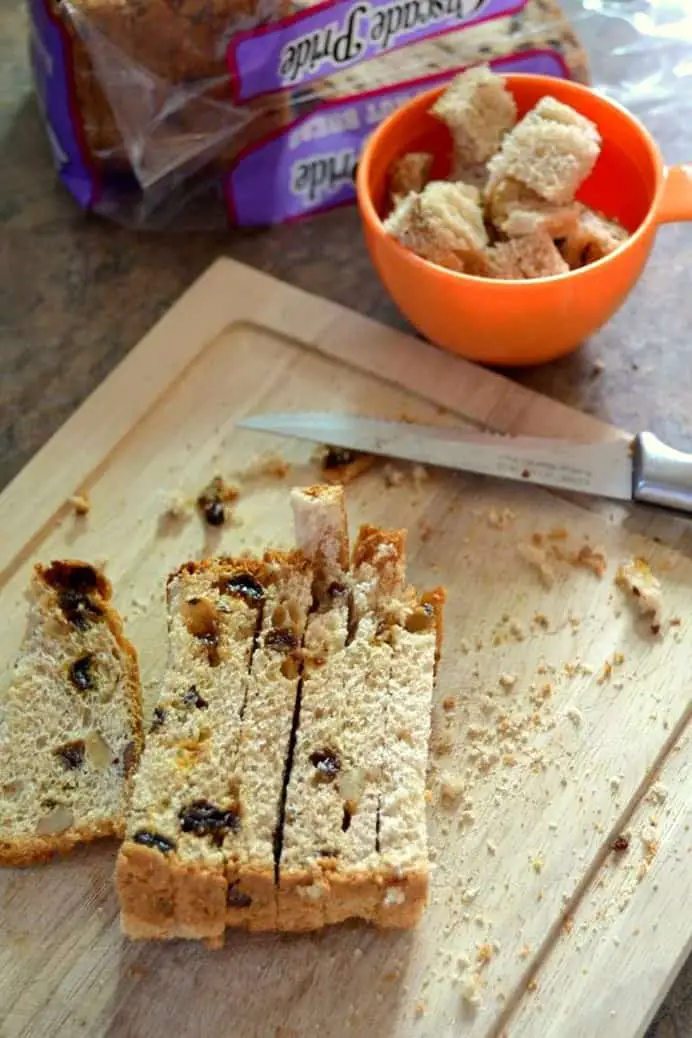 (makes 1 dozen, serves 4-6)

Ingredients:

3-4 Tbs unsalted butter

4 1/2 cups cinnamon raisin bread, cut into small cubes

6oz turkey breakfast sausage (regular pork sausage works just fine too)

Salt and pepper to taste

3/4 cup milk

4 eggs

1 tsp vanilla extract

1 tsp ground cinnamon

1/2 tsp ground nutmeg

Syrup or powdered sugar for topping

Butter a 12 cup muffin tin and then distribute about 1 cup of the bread cubes evenly between the cups. Press the bread cubes down lightly to create a 'base' to the muffin. And don't scrimp on the butter either! The better you butter the easier those muffins will pop out after baking.

Add 3 cups of the bread cubes to a medium sized bowl, set aside, and keep remaining 1/2 cup of cubes separate.

In a large skillet over medium heat, cook turkey sausage for 8-10 minutes or until no longer pink. Use a spatula to break up large chunks while cooking. Season with salt and pepper. Add cooked sausage to the bowl with bread cubes and stir to mix. Spoon mixture into muffin cups. Top muffins with the remaining 1/2 cup of bread cubes.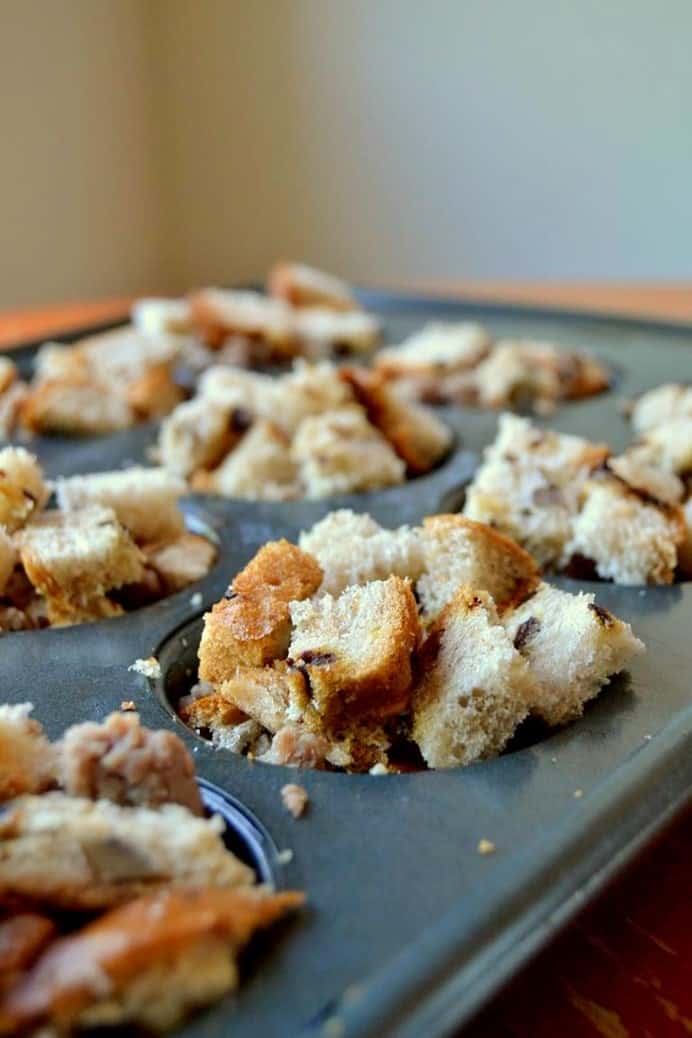 In a large bowl or measuring cup, whisk together milk, eggs, vanilla extract, cinnamon, and nutmeg until well mixed. Pour evenly over the muffin cups. Cover muffin pan with foil and refrigerate for 2 hours or overnight.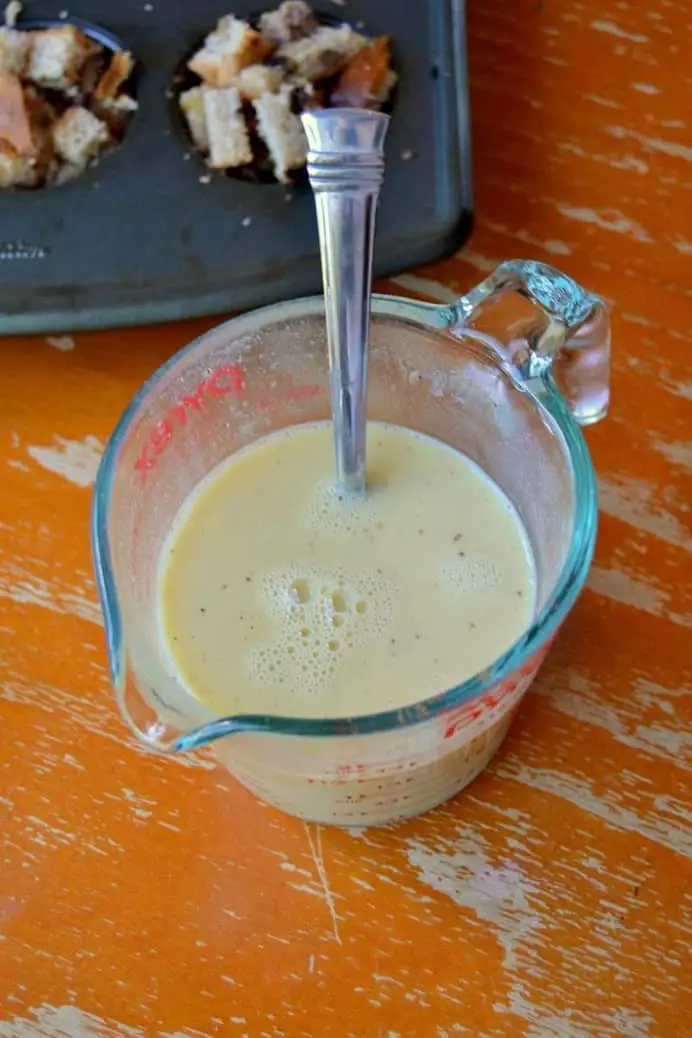 When ready to cook, preheat oven to 350 degrees F (176 degrees C). Remove foil and place muffin pan in the oven. Bake for 25 to 30 minutes or until the top is crisp. Remove from the oven and place on a cooling rack for 5 to 10 minutes. Run a butter knife around the edges of the muffins to loosen them up. You can gently lift each one out using a knife or spoon or tip the pan on its side and carefully shake them out.
Top with a little powdered sugar or syrup and serve!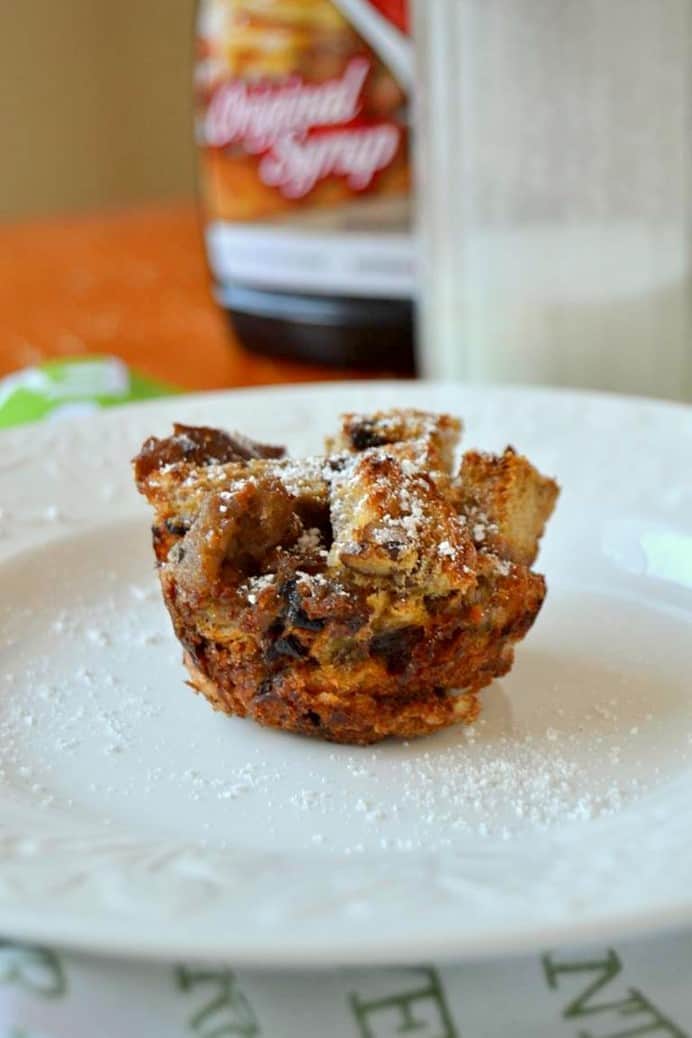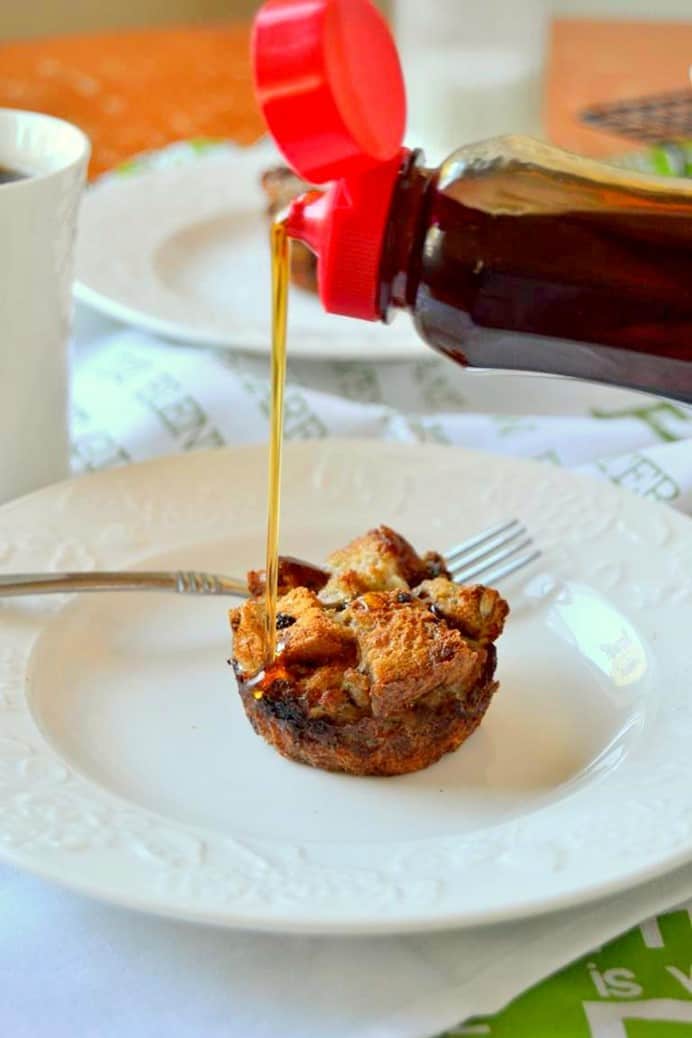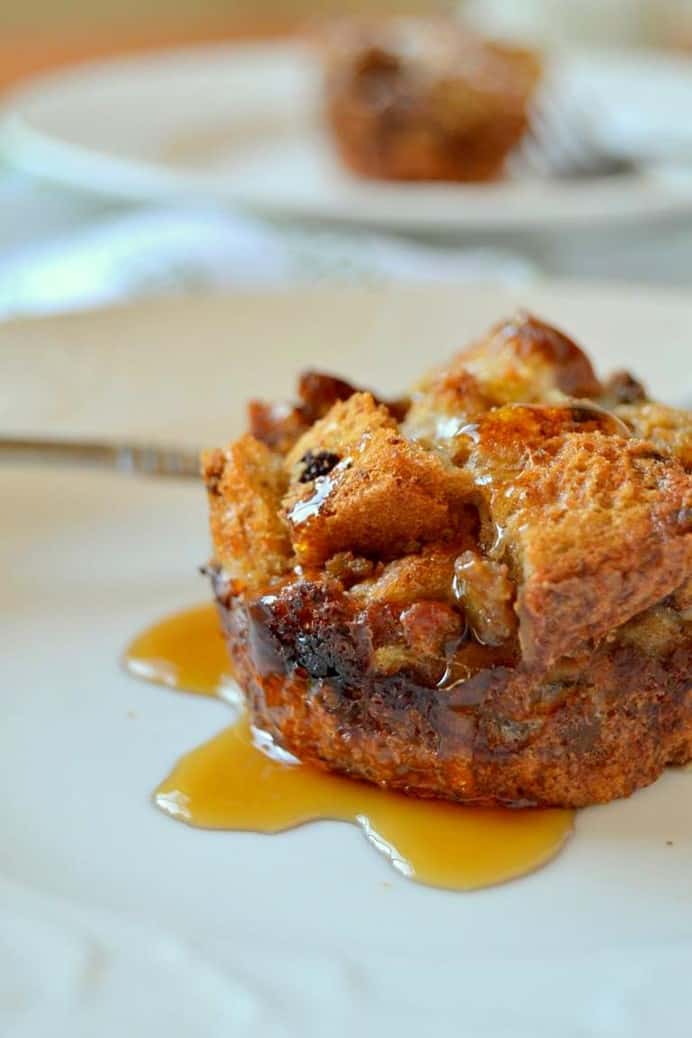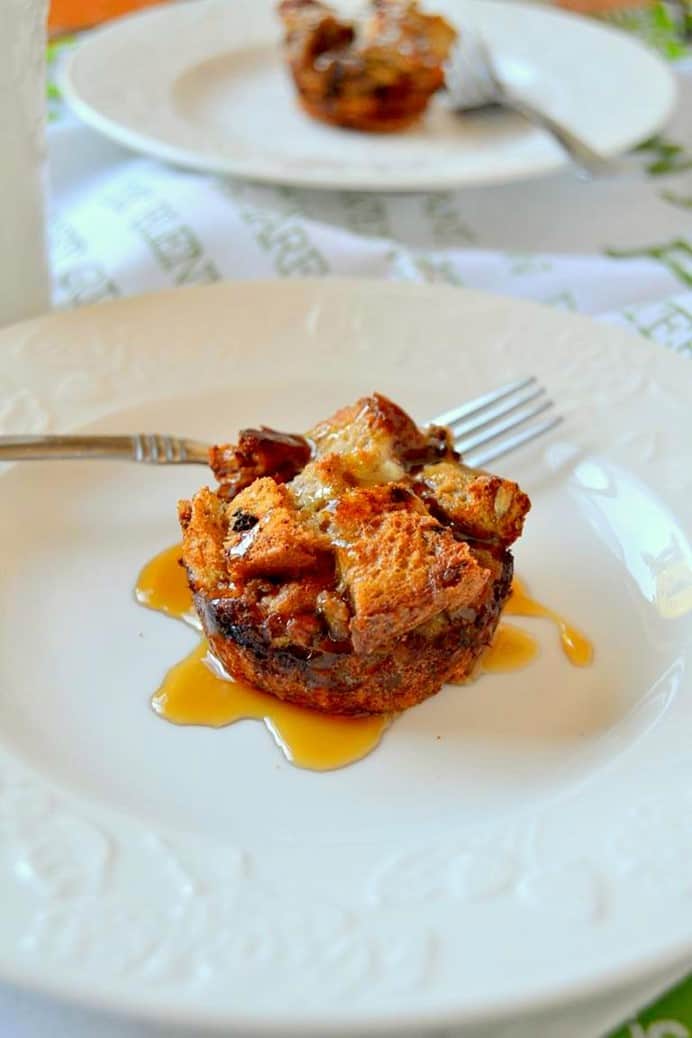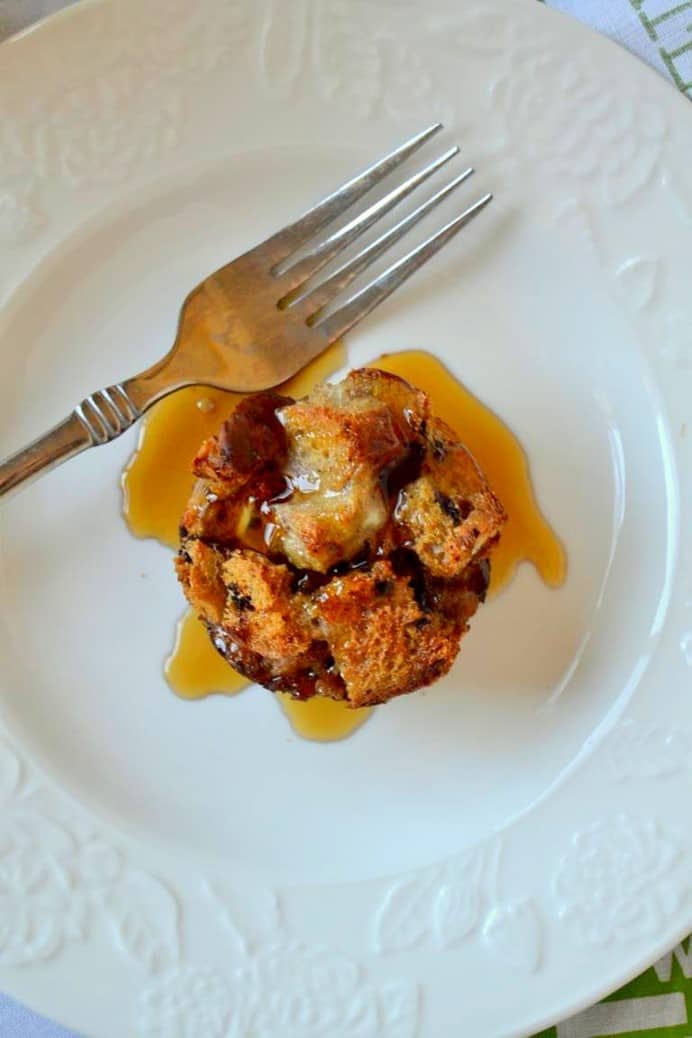 Enjoy!