ROASTED BEET & SQUASH SALAD WITH BALSAMIC REDUCTION
When you shop through links on our site, we may earn an affiliate commission. This educational content is not intended to be a substitute for professional advice.
Beets will forever be on that fine line of you either love them or hate them and if you hate them… this recipe is NOT for you.

I like to channel my inner Dwight Schrute and fully embrace beets and their earthy flavor. This time I went even further by using their greens in this salad and pickled the stems to use in other dishes, putting every bit of them to good use. To balance out the strong beet flavor, I added some roasted butternut squash, candied pecans for a little sweetness and crunch, goat cheese crumbles for tangy richness, and then drizzled a balsamic reduction across the top. This winter salad ended up being as pretty and colorful as it is healthy and filling!

(makes 4 servings)

Ingredients:

1 1/2lbs beets (red and golden)

1 to 1 1/2 lb butternut squash

1 Tbs olive oil

1 tsp garlic powder

Salt and pepper

1 to 2 Tbs fresh parsley, finely chopped

3 to 4 Tbs goat cheese crumbles (or more if you love goat cheese as much as I do!)

Candied Pecans:

1 cup pecan halves

1/4 cup brown sugar

Balsamic Reduction:

1 cup balsamic vinegar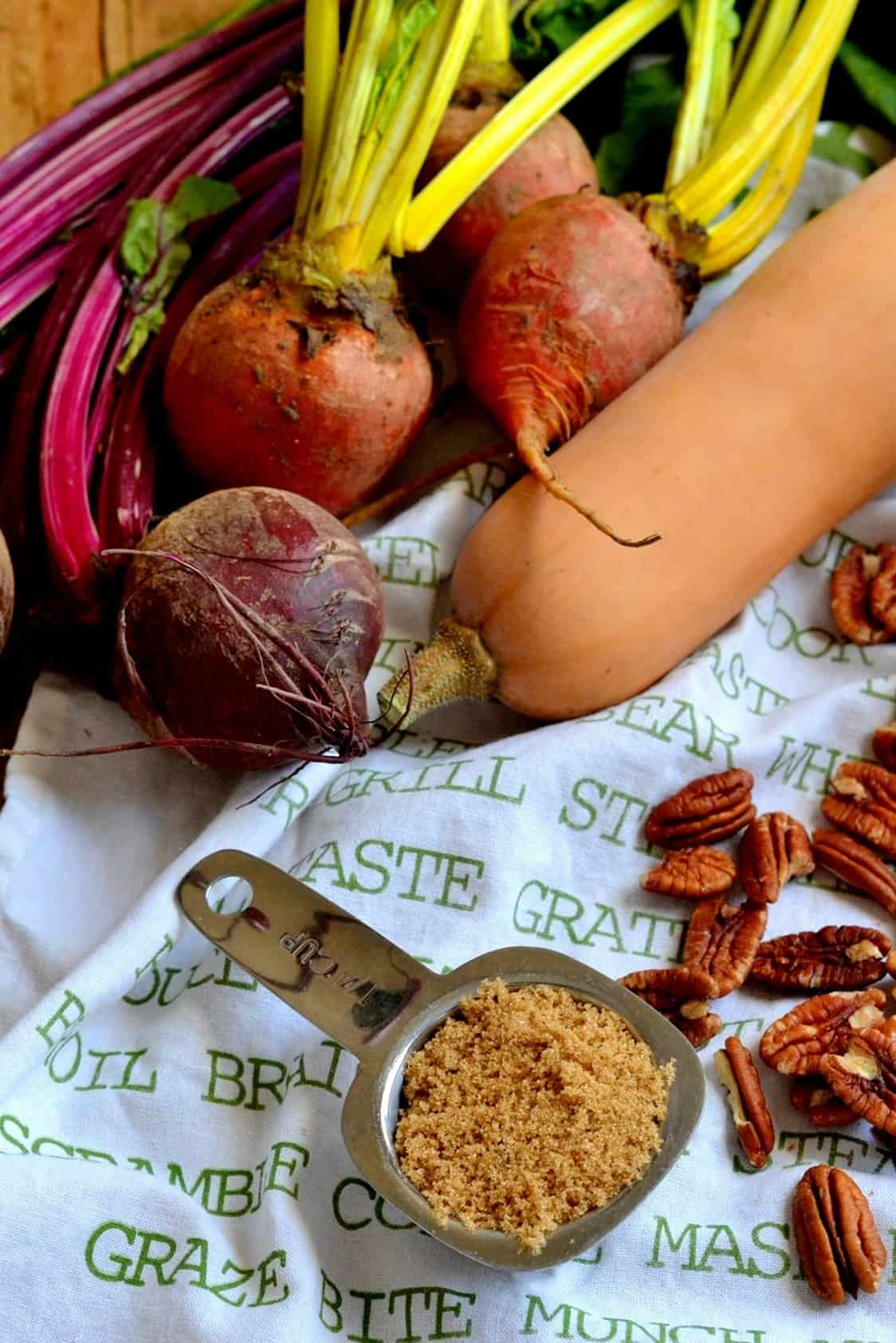 A word to the wise!

Even though the beets and squash take a little while to bake, I suggest doing the candied pecans first and here's why.. I was multitasking a little too much during this recipe and totally forgot about the brown sugar and pecans cooking in my saucepan, resulting in burnt on brown sugar on some of the pecans and the saucepan. Luckily the pecans still tasted pretty good, but save yourself the mess and just make these first, giving them your FULL attention.

Line a plate with wax paper and set aside.

Combine pecan halves and brown sugar in a small saucepan and heat over low-medium heat. As the brown sugar starts to melt, start stirring the two together. Cook for about 5-7 minutes, stirring constantly until brown sugar is completely dissolved and pecans are coated. Transfer the pecans to the wax paper lined plate to cool. These can also be made the night or even weeks before. Just transfer them to a sealed container or zip-lock bag until you're ready to use them.

Cut the greens from the beets, leaving about 1/2 inch of the stems attached. Save the remaining stems if you want to pickle them like I did. Wash the greens, pat dry, and then finely chop them. Set aside on a plate. If your beet leaves were really torn up or already wilted (sometimes the grocery store selection isn't great) you can always substitute the greens for 3 cups of spinach or kale. Just finely chop them and set aside until you're ready to cook them.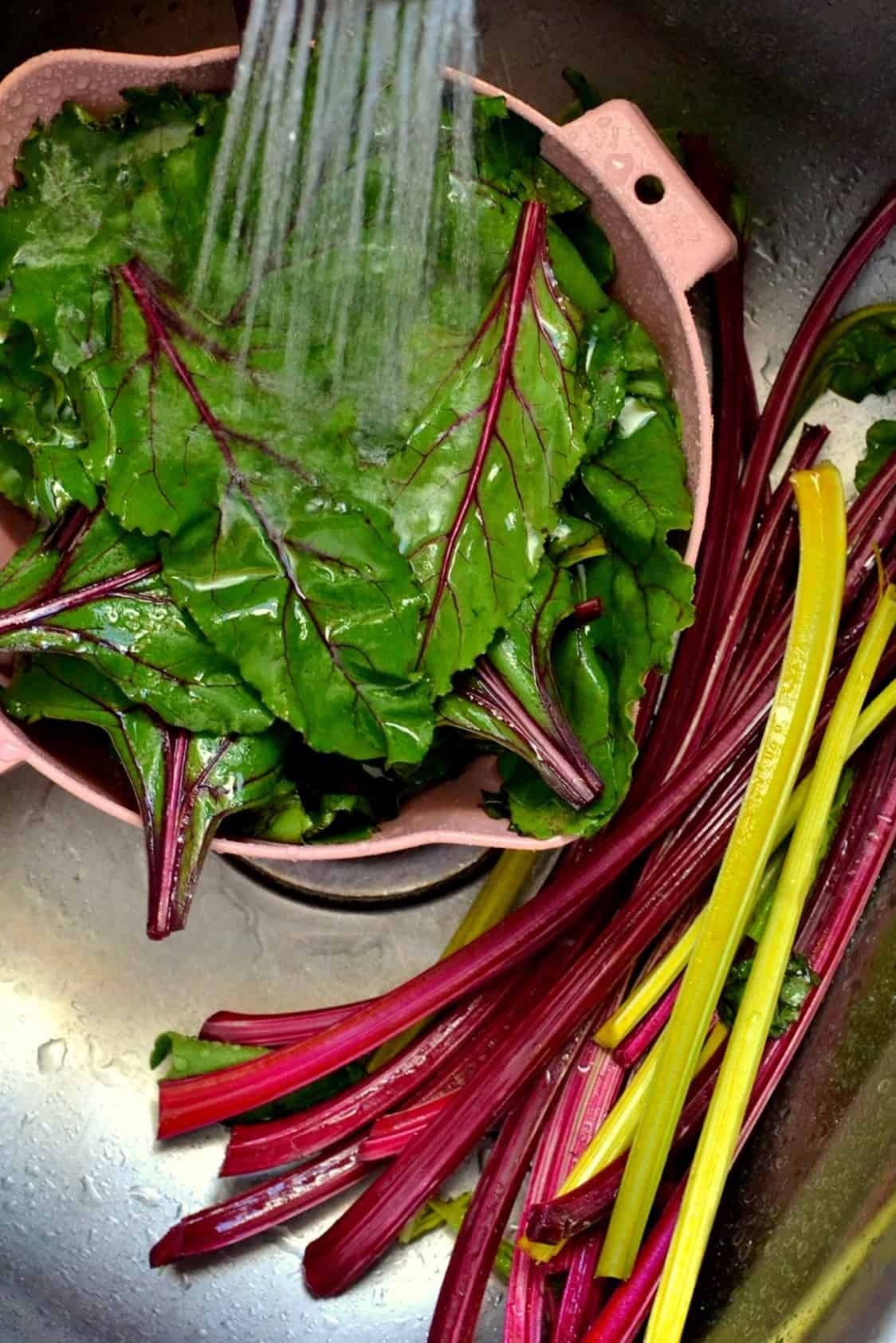 Scrub beets under running water and then place in an ovenproof baking dish. Add 1/4 inch of water to the dish, cover tightly with foil, and place in the oven to bake for 35 to 40 minutes.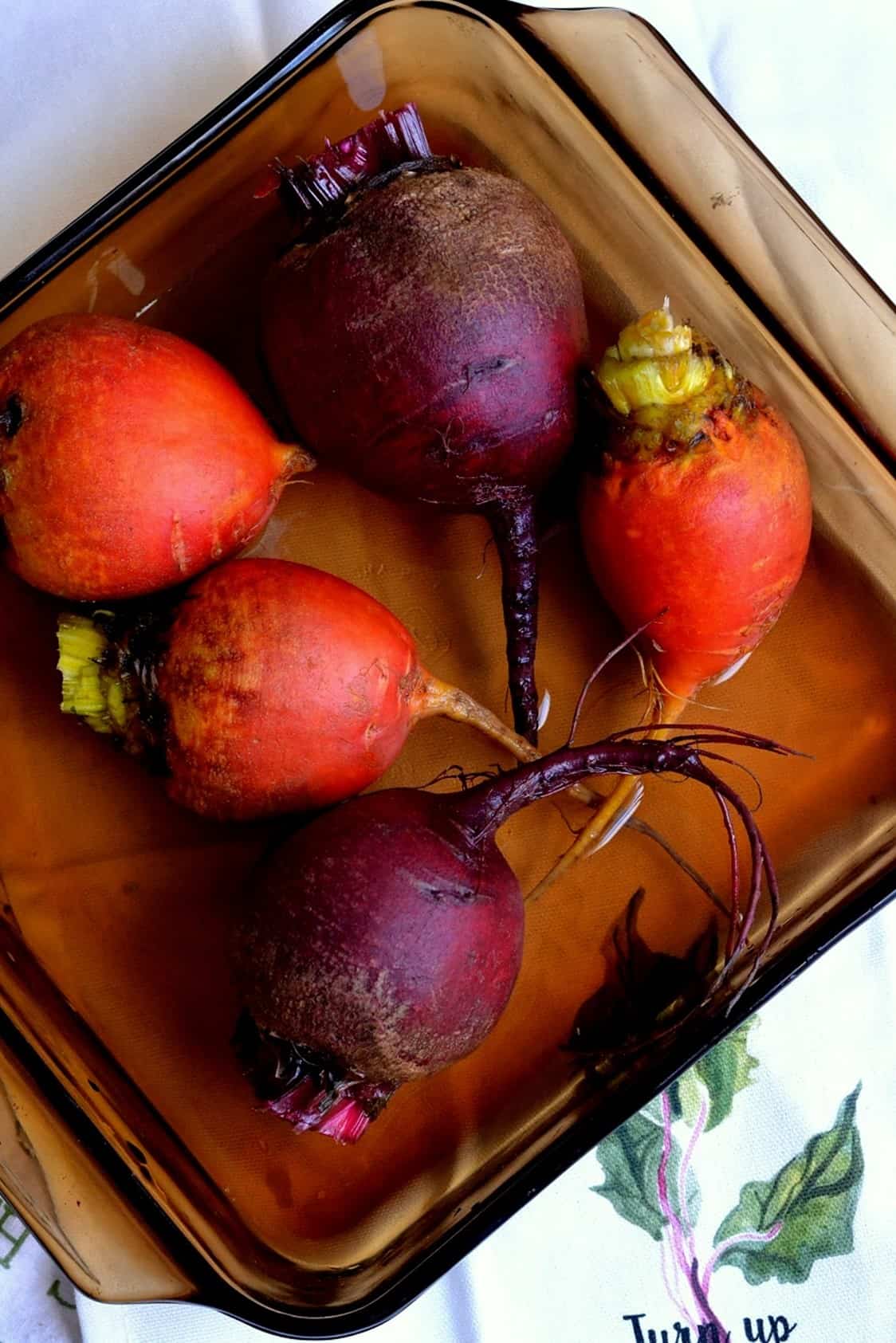 Peel the butternut squash and then dice into bite sized cubes. I find it easiest to cut it into inch thick disks, cut the disks into 3 or 4 strips, then finally into cubes (like cutting up potatoes). Don't forget to scrape out the seeds and stringy insides in the bottom portion of the squash. Add squash to prepared baking sheet and drizzle with olive oil. Sprinkle with garlic powder, salt, and pepper, then toss to coat evenly. Place in the oven when the beets have 20 to 25 minutes left to cook.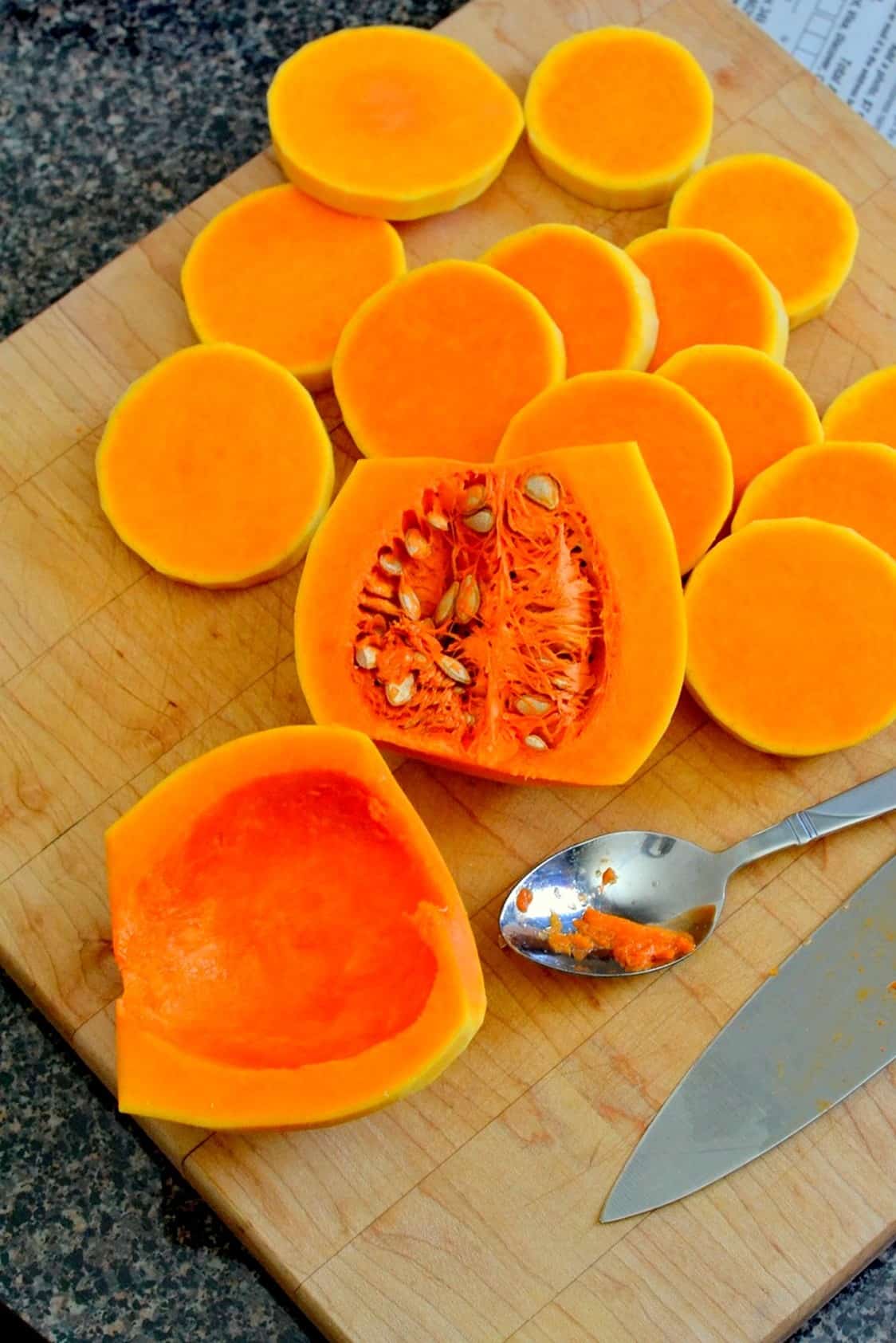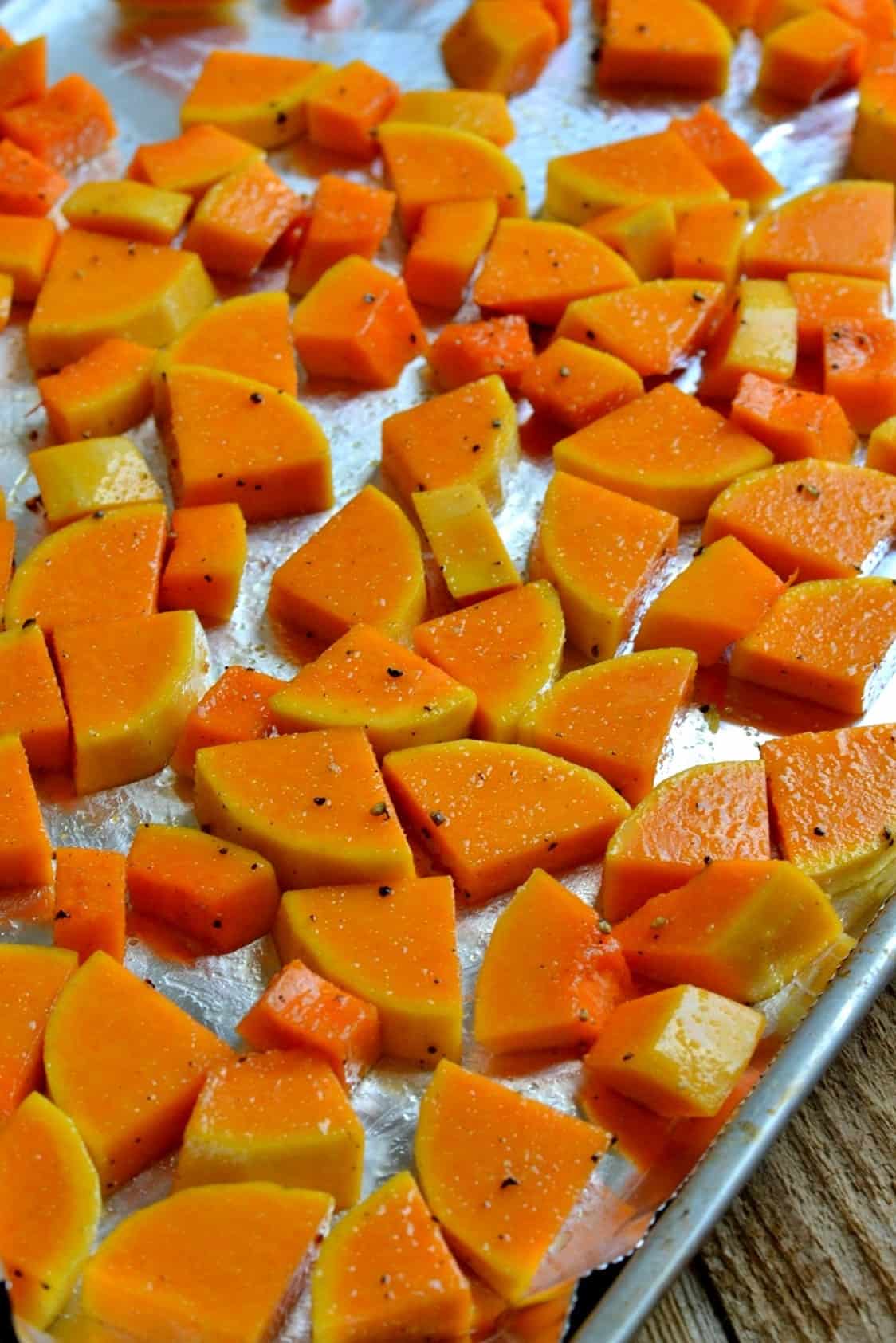 While those are baking you can make the balsamic reduction (this is one thing I WAS able to successfully multitask with).

In a small saucepan, bring balsamic vinegar to a boil over medium to high heat. Reduce heat to a simmer and cook for 5-7 minutes stirring every few minutes. When the vinegar is thick enough to coat a spoon, it's done. Remove from heat and set aside to cool. If you're making ahead you can transfer it to a small canning jar, seal, and store in the refrigerator. Just allow it to come back to room temperature before using or it can be a little thick.

When the beets and squash are done cooking, remove from the oven. Both should be tender and easily pierced with a fork. Uncover the beets to cool, but cover the squash to keep warm.

When beets are cool enough to touch, but still warm, cut the two ends off and peel. I found using a paper towel works best. The texture of the paper towel helps remove the skin of the beet and protects your hands a bit better from getting stained. They'll still get good and red (it fades after a few washes), so wear gloves if you're worried about it.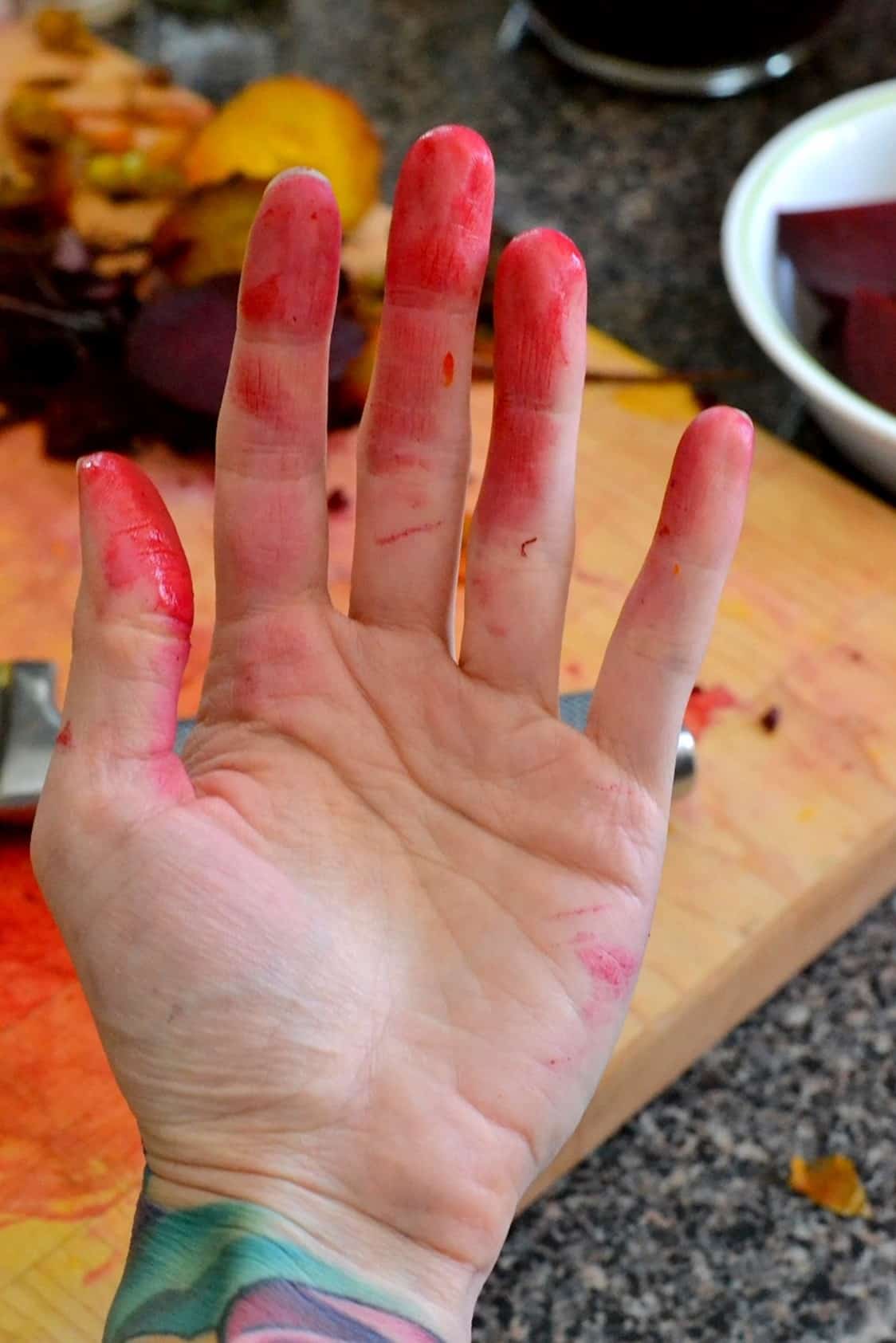 Chop the peeled beets into 1/4 of an inch thick half moons, transfer to a plate and cover with foil to keep warm.

Heat a skillet over low-medium heat. Add 1/2 Tbs of olive oil to coat the pan and then toss in the chopped beet greens. Saute for 1-2 minutes or until they're just wilted and season with a little salt and pepper. Remove skillet from heat.

Now to assemble your masterpiece!

Distribute the cooked greens onto 4 plates. Top with beet slices, butternut squash pieces, candied pecans, parsley, and crumbled goat cheese.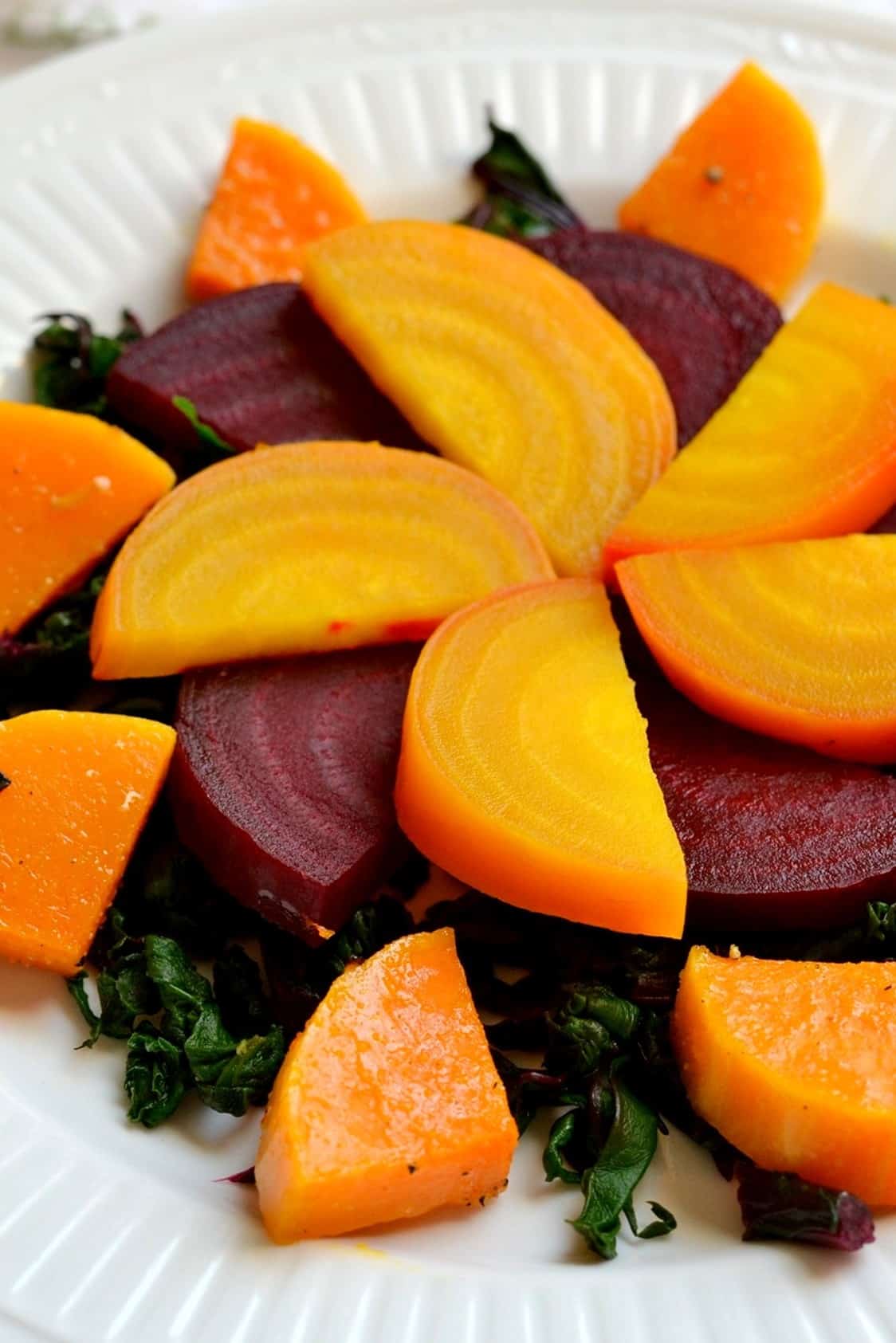 Drizzle as little or as much of the balsamic reduction across the top and serve right away. Best eaten warm or at room temperature.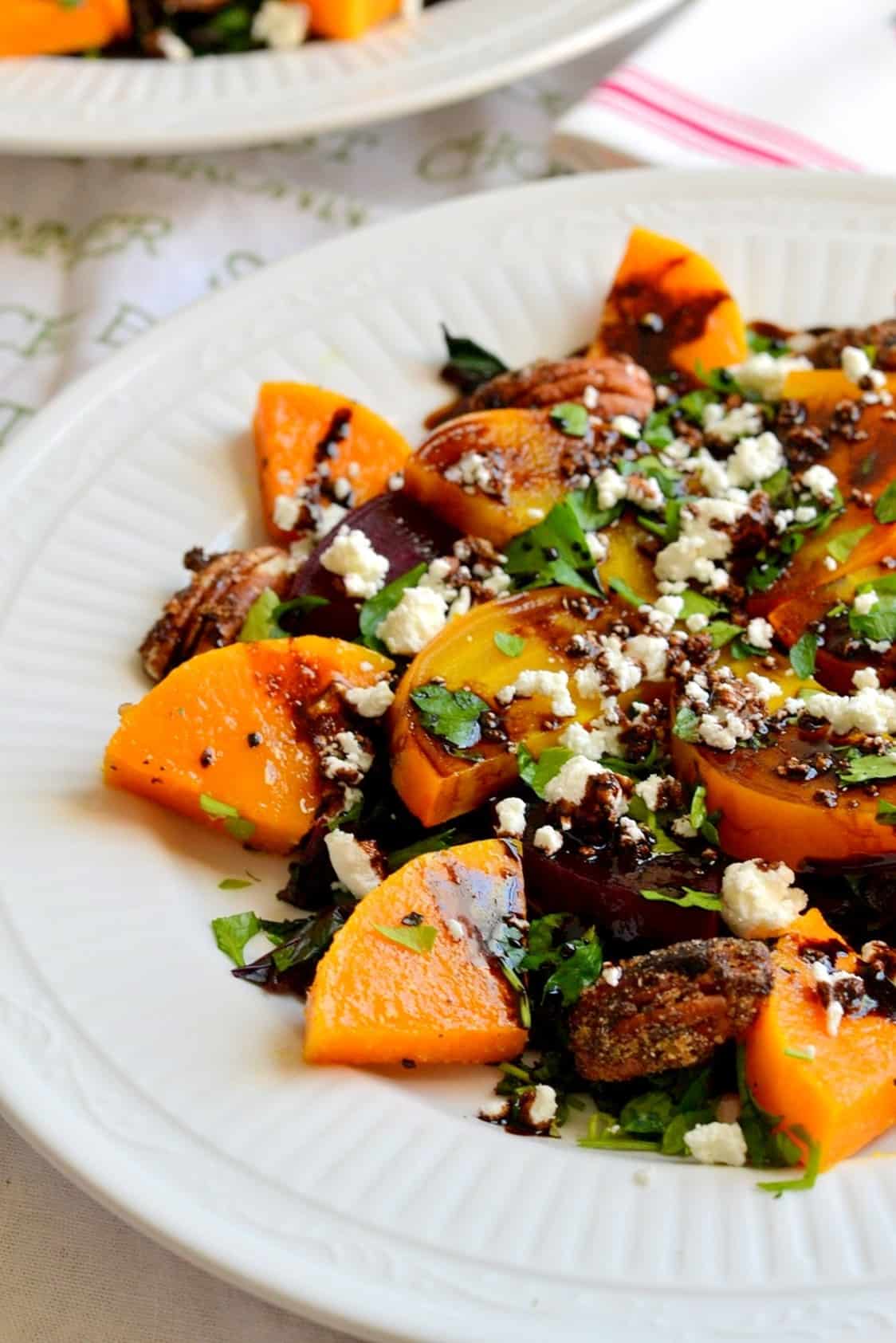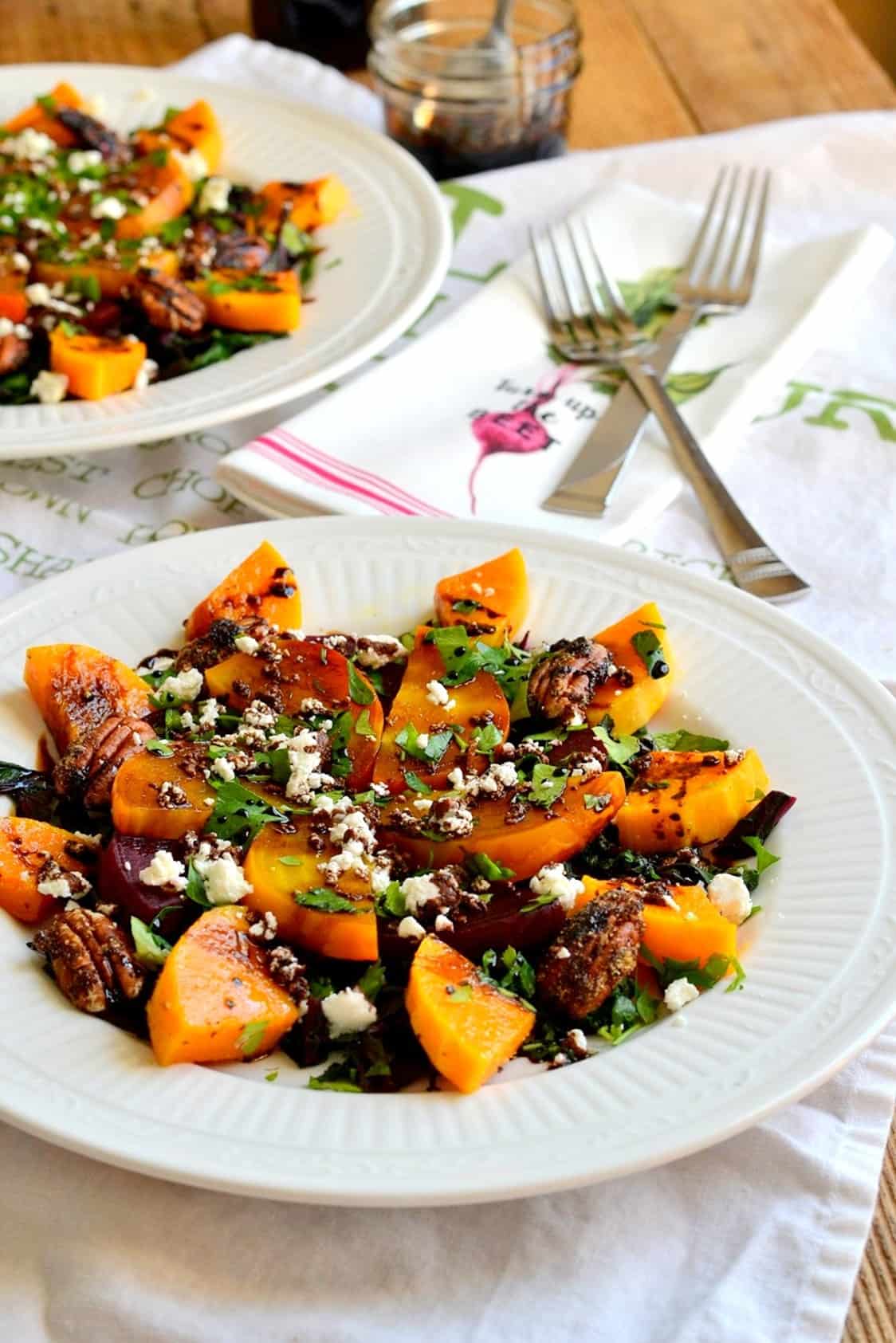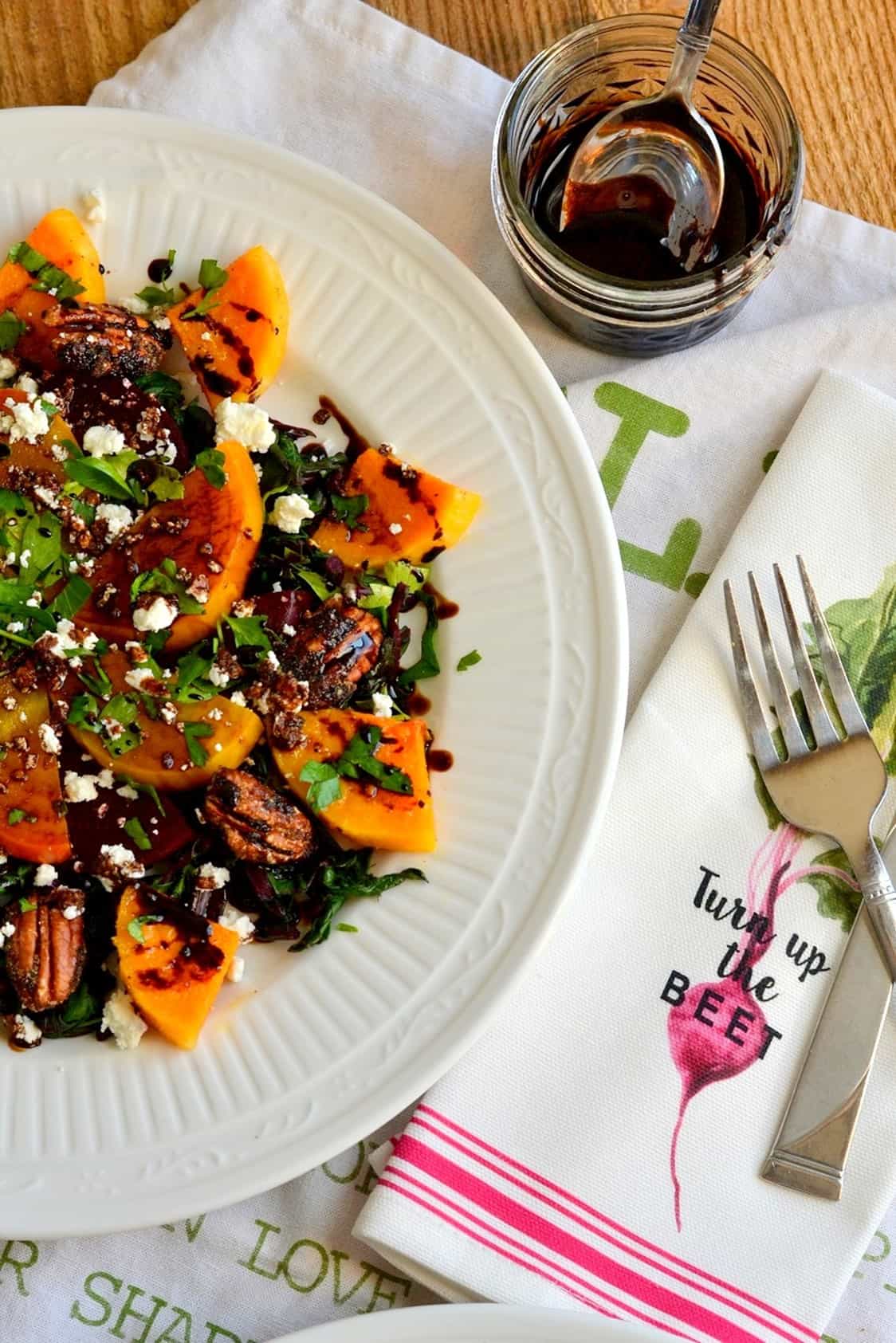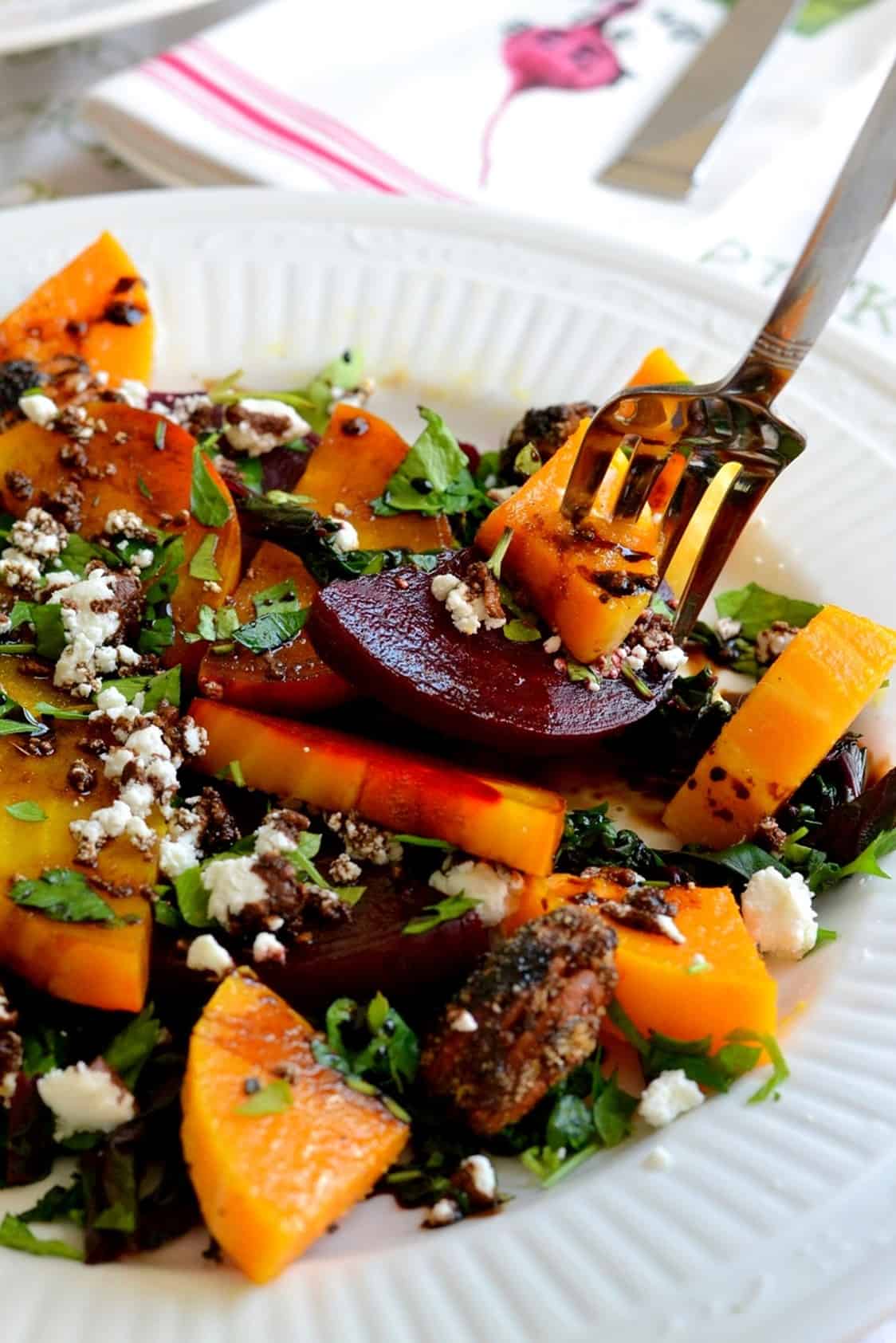 Enjoy!